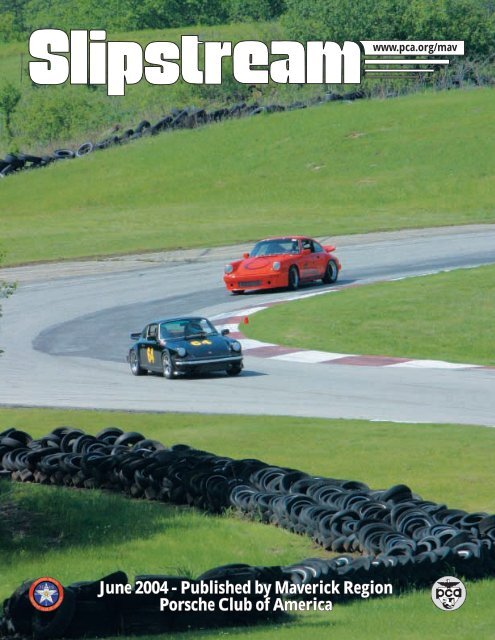 Slipstream - June 2004
The monthly newsletter of the Maverick Region of the Porsche Club of America
The monthly newsletter of the Maverick Region of the Porsche Club of America
SHOW MORE
SHOW LESS
Create successful ePaper yourself
Turn your PDF publications into a flip-book with our unique Google optimized e-Paper software.
www.pca.org/mav

June 2004 - Published by Maverick Region

Porsche Club of America
---
PREFERRED BRANDS.

PREFERRED DEALERSHIPS.

Porsche Perfect Service Award

No.1 in the nation for customer

satisfaction for our second consecutive year

Audi Magna Society

Honoring the top 30 Audi dealerships

Volkswagen Wolfsburg Crest Club

Honoring the top seven Volkswagen

dealerships in six regions

At Boardwalk Auto Group, the brands we offer would

mean very little if our customers didn't prefer the

brand of customer service they receive from us. This

year, we're proud to have earned all three of our

manufacturers' highest awards for delivering the finest

possible customer satisfaction to our customers. Which

proves the measure of a fine dealership isn't which

brands it represents but how it represents them. We

chose the brands, and we continually thank our customers

for choosing us.

5930 W. Plano Parkway

214.576.1911

5930 W. Plano Parkway

214.452.3800

601 S. Central Expwy.

214.453.5000
---
www.pca.org/mav

Volume 56, June 2004, Issue 6

Departments

Zone 5 Presidents ..........................................................1

List of Officers/Board Chairs .......................................4

Road Ramblings (President's Column)......................5

Curves Ahead (Editor's Column)...............................8

Maverick Minutes..........................................................8

New Wheels........................................(see next month)

Anniversaries................................................................28

Advertiser Index...........................................................28

Unclassifieds.................................................................28

Upcoming Events

Calendar of Events..........................................................1

Happy Hour at Bavarian Grill ......................................2

Maverick Lunches...........................................................2

Nacogdoches Tour..........................................................2

2004 Autocross & Time Trial Schedule........................3

Board Meeting ................................................................5

Past Event Recaps

Happy Hour at Joe T. Garcia's.......................................9

May at Mayo's ...............................................................10

Rennsport Reunion II ............................................14-15

Autocross #2..................................................................16

Time Trial #2.................................................................17

Time Trial #3.................................................................18

Paris Tour.......................................................................19

A Trip To Stuttgart..................................................20-21

Mavericks at Mayfast....................................................24

Miscellaneous

Trivia Contest................................................................13

AX & TT Results.....................................................22-23

September DE Application .........................................27

Day June - Events

5-6 TT#4 & AX#3 (MW)

8 Board Meeting at

Park Place Porsche

10 Happy Hour

12-13 Nacogdoches Tour

13 Autocross #4 (Penn)

15 Plano & Bedford Lunches

19-20 Drivers Education (MSR)

29 Addison Lunch

Day July - Events

4-10 **PARADE '04 - Fort Worth**

15 Happy Hour

20 Plano & Bedford Lunches

27 Addison Lunch

31 Dinner Social

There will be no July Board Meeting

Photography

Kevin Hardison, Charlie Davis, Matt Platts,

Dennis Chamberlain, Wayne Brown, Jay

Walker, Jack Ormberget

Cover Photo by Matt Platts

Eric Erz chases James Shoffit through the

"bus stop" at Mayfast in Hallett (article p.24)

Day August - Events

6-8 Post Parade Weekend

7-8 BMW/Porsche Club Race (MSR)

10 Board Meeting at Autobahn

17 Plano & Bedford Lunches

19 Happy Hour

27-29 Arkansas Tour

28 Time Trial #5 (MW)

29 Autocross #5 (MW)

31 Addison Lunch

Day September - Events

7 Board Meeting

9 Happy Hour

17-19 Drivers Education (MSR)

21 Plano & Bedford Lunches

28 Addison Lunch

Photo by Matt Platts

Bill Miller at Mayfast proves he's

from Texas (yeah, right!)

Slipstream (USPS 666-650) is published monthly by the Maverick Region Porsche Club of America, 9047 Oakpath Ln, Dallas,

TX 75243. Subscription price is $24.00 per year. Periodical postage is paid at Dallas, Texas.

Postmaster: Send address changes to Bob Knight, Slipstream, 9047 Oakpath Ln, Dallas, TX 75243.

Opinions expressed herein are not necessarily endorsed by the Club's membership or officers. Contributions will be printed on a

space available basis. Chartered regions of PCA may reproduce items from this issue provided the author/artist and Slipstream

are credited. Slipstream is printed by Ussery Printing Company in Irving, Texas.

2004 Porsche Club Zone 5 Presidents

ARK-LA-TEX

Kenneth A. Chandler

318-865-8210

bad968@aol.com

COASTAL BEND

Tinker Floyd

361-993-5757

tinker986@aol.com

LONE STAR

Stan Wenger

713-467-0453

stan@stanandjanelle.com

MARDI GRAS

Brad Bradford

504-546-0964

sandrahh@pipeline.com

OZARK

Ron Mott

501-954-9162

pcar_914_6@msn.com

WAR BONNET

Mike Lindsey

405-773-4568

mlindsey21@cox.net

ZONE 5 REP

Brooke Van Horne

tvdrug@flash.net

CIMARRON

Dick Dobson

918-251-3310

dickdobson@webzone.net

HILL COUNTRY

Weston Dillard

512-423-8327

westondillard@austin.rr.com

LONGHORN

Ruth Parks

830-537-4242

porscheladyruth@earthlink.net

MAVERICK

Keith Olcha

817-251-6865

olcha@aol.com

OZARK MOUNTAIN

Leslie Morse

501-530-1537

therainmeister@netscape.net

WHISKEY BAY

Ray Quick

225-767-7666

mercuray1@yahoo.com

1
---
11:30-1:00, Tuesday, June 15

11:30-1:00, Tuesday, June 15

11:30-1:00, Tuesday, June 29

2
---
3
---
2004 Maverick Region - Board, Officers & Chairs

Maverick Region President

Keith Olcha

W - (817) 706-7678

H - (817) 251-6865

keith.olcha@charter.net

711 Manchester Court

Southlake, TX 76092

Keith has been a regular at all of our driving

events and has recently been heavily involved

in the planning of our Driver's Education

program. Keith has also started driving his 911

RS in PCA Club Races.

Vice-President

Noby Takahashi

W - 972-761-4311

H - 214-327-8911

vp@mavpca.org

9201 Garland Road, #115A

Dallas, TX 75218

Noby has been a member since 2000. He is an

active participant in many Maverick driving

events and has helped out with the Autocross

schools. He drives a 2001 Boxster S.

Secretary

Mimi Spreen

H - 972-420-9953

secretary@mavpca.org

709 Reno Street

Lewisville, TX 75077

Mimi has been a PCA member since 1989,

including being actively involved in 2 other

regions. She served with husband, Carey,

as Vice President for 2 years. She drives a

1970 914-6.

Treasurer

Bob Knight

W - (214) 461-1426

H - (214) 349-1108

treasurer@mavpca.org

9047 Oakpath

Dallas, TX 75243

A member since 1986, Bob has previously

held the offices of President and Vice

President, edited Slipstream, and has won

the Selcer Memorial award. He owns a 2000

Boxster S.

Drivers Education

John Sandusky

W - (817) 777-0421

john.c.sandusky@lmco.com

John has been a member since 1986. He has

become increasingly involved in Drivers'

Education events over the past few years. He

drives a track prepared 1990 C2.

Logistics & Support

Joe McGlohen

H - (817) 861-2792

retread@ix.netcom.com

704 Bowen Court

Arlington, TX 76012

Joe has been involved in virtually every type of

event that the Maverick Region holds.

Joe was the 2001 Selcer Memorial award winner.

He owns a 912 and a 914 2.0 liter.

Communication

Wendy Shoffit

H - (972) 506-7449

wendy@shoffit.com

1112 Santa Fe Trail

Irving, TX 75063

A member since 1997, Wendy is a past

Slipstream Editor and has won the Selcer

Memorial Award. 2001 PCA Family of the

Year. She owns a '90 C4 Cab and a '78 SC.

Rallies & Event Ad Design

Teri Davis

H - (940) 682-4719

chuxtress@yahoo.com

P.O. Box 213

Weatherford, TX 76086

Teri is a past Slipstream Editor and the

current Rally Chair. She has also been a

major force behind Round Up and the

recent Rally Schools.

DE Chief Instructor

Club Race Co-Chair

Bryan Henderson

W - (817) 858-7526

H - (817) 354-6045

BDHender@comcast.net

AX Chair, TT Chief Instructor

Chuck Machala

W - (940) 381-9070

C - (940) 206-4338

ax@mavpca.org

Membership

Joel Nannis

W - (817) 329-1600

H - (972) 722-2735

membership@mavpca.org

Managing Newsletter Editor

Matt Platts

H - (817) 919-1253

editor@mavpca.org

DE Asst Chief Instructor

Keith Olcha

W - (817) 706-7678

H - (817) 251-6865

keith.olcha@charter.net

TT Chair, AX Chief Instructor

Bill Miller

tt@mavpca.org

Goodie Store

Robyn Howard

Cell - (972) 679-0112

robyn.howard@century21.com

Slipstream Advertising

Mike Brodigan

H - (817) 488-8520

C - (817) 233-0068

mike.get@att.net

Driving Education - Tech

Ray Leudecke

(972) 342-7412

pcar968@yahoo.com

Driving Rules

Bill Dugan

H - (817) 265-0704 (
---
Road Ramblings

Courtesy of GoRace.com

by Keith Olcha, Maverick Region President

Last April 23rd through 25th was the

weekend for the Rennsport II Reunion at

Daytona International Speedway. The

first Rennsport Reunion was held in 2001 at

Lime Rock Raceway in Connecticut. The

Rennsport Reunions were conceived as a way

pull together the world-famous historic cars

from Porsche's racing past as well as many of

the drivers who drove those now vintage cars

to their glory in the heyday. Besides viewing the cars and

talking to their famous drivers (who are not typically the

current owners of these now classic vintage race cars), there

were several heats of vintage races where these cars could be

seen on the racetrack again. In some ways it was even more

exciting to see cars on the track together that normally were

generations apart and never raced against one another. For

example, one heat

had 917s and 962s

racing against oneanother.

For the

Rennsport Reunion

II, PCA club racecars

and their drivers

were eligible and

invited to participate.

All told there

were over 400 cars

there, I believe. I was

not able to get down

there because Karen

was in Europe and I

was left home as

president of the

household. However,

several Mavericks

went and drove well

on the famous

Daytona oval and

road course - the same used for the last 30 years in the

Daytona 24-hour Sports Car race held each year at the end of

January. To find out more about the Rennsport races and the

results you can do a Google search for "Rennsport Reunion",

and/or visit www.gorace.com. The last time I personally had

any opportunity to see a collection of 50 years of Porsche racecars

was at the 50th anniversary Porsche celebration held at

the Monterey Historic races at Laguna Seca Raceway in 1998.

I'm told Rennsport II Reunion was even better. And as a final

note, special congratulations to 64 year old Dave White, an

acquaintance from Tampa, for winning overall in race #2,

the Eifel Cup in a 108 car field, the 1975 RSR 3.8 that he's

owned since new. Dave had about 20 years of age on the next

several drivers he beat in that race. Dave also has about 30

years of track experience at Daytona. I guess it shows.

Next month, Parade finally gets here. Now that it's

2 years since the region and the Parade Committee started

the process, I'm really getting excited. I can't wait for a week

of unadulterated Porsche sensory overload. It's also a chance

to visit with other PCA friends from around the country. I'm

not sure if this is a good thing or a bad thing, but it's in our

backyard. I kind of liked the idea of taking a vacation to

Tampa last year to attend Parade. The setting of the

SaddleBrook resort was tropical and serene. But I also like

the idea of not having to drive 4 days, too. Plus, I will sleep

at home for a few evenings and get a little bit of work done

here and there. Like I said, there are good and bad points.

But no one can argue that it will be Maverick Region's

chance to roll out the red carpet for our PCA counterparts

from around North America. If you are not signed up as a

... cars on the track together that

normally were generations apart ...

Parade participant, please consider coming out to a few of

the events that are geared for spectators. You will enjoy it.

There is the Concours D'elegance in downtown Fort Worth

on Monday July 5th morning/afternoon, the autocross out at

Texas Motor Speedway on Wednesday, Thursday, and Friday

until about 2:30pm, and the club race qualifying and races

on Saturday of that week. Please review the official website at

www.parade04.org.

We had a great Saturday night dinner social at Mayo

Performance in May. There were dozens of Porschenuts

throughout the shop talking cars and bench racing. We ate a

buffet of Babe's Fried Chicken and homemade cookies for

dessert. Lastly I'd like to remind everyone that June is full of

driving events. There are two autocrosses, one time trial, and

a DE at MotorSport Ranch. Look for the ads in the pages

ahead. I look forward to seeing many of you next month at

Parade '04. Till next month…

5
---
6
---
Email: mayos@imagin.net or

FAX at (817) 267-4939

• ENGINE AND TRANSMISSION SERVICE

• SUSPENSION AND ALIGNMENT SPECIALISTS

• TIRE SPECIALISTS –

O.E.M.

DOT COMPETITION

RACING SLICKS

• SPECIALISTS IN EARLY PORSCHE FUEL

INJECTION SYSTEMS

7
---
Curves Ahead

by Matt Platts, Editor

April was a very busy month for

Maverick Region drivers. You'll find

this issue packed with articles,

photos, and results of the Autocrosses and

Time Trials that were held. First, there was

a dual Time Trial weekend at Mineral

Wells. Both days were well attended and

everyone involved had fun. You'll find

articles about these TTs on pages 17 & 18,

with Porsche results and driver standings on page 23. You

can see by the "Fastest Porsche of the Day" results that

competition was particularly tight during TT#3 with only

4.7 seconds between the 1st place and 10th place drivers.

TT#2's times were a little higher than course #2 would

have normally been, partially because the track was watersaturated

all day.

You will notice an obvious omission as you reach the

end of this issue, the "New Wheels" section is gone! Due to

a computer glitch at PCA National, our membership chair,

Joel Nannis, was unable to pull down our list of new

members. So, for all of you new Mavericks out there, don't

Maverick Minutes

by Mimi Spreen, Secretary

The May board meeting was held on

Tuesday, May 4, at Autoscope in

Plano. Attendees were Chuck

Machala, Keith Olcha, Lanean Hughes,

Noby Takahashi, Bob Knight, Michael &

Marie Wingfield, Mike Brodigan, Wendy

Shoffit, Joel Nannis, Bill Miller and Mimi

Spreen. The meeting was called to order at

6:53.

Keith - Received info from Ted Glover regarding

counties for the next couple of tours. Gave the info to

Noby, so insurance can be requested for those tours.

Chuck - has 2 versions of the AX schedule for 2005.

After discussions, there are already some conflicts, so he

will get with Lanean and the TMS dates. So far, there will

be one AX at TMS and 2 at Pennington.

Joel - we have members

Bob - Has a picture of when Maverick Region signed

our charter. Keith will put it with the plaque. We have

money.

Mike Brodigan - has come up with rate increase recommendations

including discounts, etc.

Bill Miller - Time trials have had a strong turnout and

alot of newer drivers. We are also training workers. There

have been 3 TT and there are 3 left to go. There have been

no problems with teching at the track.

Wendy (as Matt) - need articles for Slipstream for

AX2 and TT3, article and picture for the Paris tour and

Mayfast DE (Noby agreed to write the article for Mayfest).

We also need an article for May at Mayo's, and Hope

fret - we'll make up for this by giving you an extra-large

list as soon as that data becomes available to us again.

Keith mentioned in his article that June is going to be

another busy driving month. We have a Time

Trial/Autocross weekend at Mineral Wells, followed by an

Autocross at Pennington Field. This June 13th Autocross

will be our only Autocross at Pennington this year as their

schedule filled up early. We always expect a great turnout

at this event because itís the most 'central' (read: closer to

Dallas) venue that we use. This is also a great spectator

event because of ample parking and viewing areas

(including shaded areas with trees!). If you have never

been to a Maverick Autocross, consider stopping by and

seeing how much fun there is to have. Pennington Field is

conveniently located just South of Airport Freeway on

Central Drive in Bedford.

Lastly, I would like to remind everyone that the

weekend of June 12th-13th includes a tour to

Nacogdoches. I'm sure Ted Glover has some great East

Texas roads picked out for the trip. This is your last

chance for a tour before the summer heat sets in.

Shelter update. July Parade issue deadline is June 4. June

Board meeting at Park Place. Want another ad for the June

19 & 20 DE for Slipstream.

Wendy (as Wendy) - 540 Parade entrants and 141 are

Mavericks.

Noby - no comments about his new car, oh yeah,

nothing about insurance either!!

Lanean - Need President's trophy from Keith.

Michelin tires will be raffled off and awarded at May at

Mayo's. All profits will go to the Hope Shelter project. Will

announce the winner that night.

Mimi - due to lack of advertising and the DE conflict,

the Father's Day Picnic is being cancelled this year. If the

Casey's will have us back next year, we'll be sure to have

lots of advertising and hopefully no major conflicts. The

Holiday Party is getting bigger and bigger, we should

either have it catered or have it at a place that can accommodate

100+ without invading someone's house. Looking

into several options.

Board meetings for the rest of the year are as follows:

June - Park Place Porsche

July - no Meeting (Parade)

August - Bobby Archer's

September - Boardwalk Porsche

October - Autobahn Porsche

Nov and Dec - Keith Olcha's house

Motion made to adjourn the meeting at 8:10. Motion

seconded and passed.

8
---
Photo by Dennis Chamberlain

Happy Hour at Joe T. Garcia's

by Dennis Chamberlain

Happy Hour Crew: Jay Easley,

Tinker Edwards and Dennis Chamberlain

Our first Fort Worth

happy hour was a

success, due in large

part to perfect weather and a

perfect setting – the patio of

Joe T. Garcia's.

There are many who

consider the main attraction

of Joe T's to be the

expansive, lush patio

seating area rather than the

food. Maybe so, but I didn't find any one of the 38 attendees

offering me any leftovers. Say what you will, but in my

opinion their simple cheese nachos and those little enchiladas are

to die for.

Be careful where you point that thing,

Charlie!

The Marimba band

provided entertainment

– but not nearly as

much as first time

happy hour attendee

Costa Triantaphilides

and his fiancé Susan

(1988 930 cab). Costa

is a fellow CPA and

the city auditor for

Ft. Worth. Not only

that, but he's the

chairman of the

American Institute of

CPA's governmental

accounting division.

Few of you will know

much about governmental

accounting, but I'll

tell you a secret about it

-- it is impossible.

Photo by Dennis Chamberlain

Matt Platts &

Elaine Cash

Recent members Tommy and

Linda & Tommy Yater

Linda Yater (2001 Boxster S) were

also attending for the first time.

For our June 10 happy hour, we're moving all the way

from Ft. Worth to Plano. In keeping with the Porsche Parade's

German theme, we're going to the Bavarian Grill. Stay tuned for

more details.

Photo by Dennis Chamberlain

Photo by Dennis Chamberlain

Mike & Judy Brodigan

9
---
Photo by Matt Platts

May At Mayo's

By Sydney Steele

Wow! What a great night. That Mrs. Jan and Mr. Ed Mayo

sure are nice to open up that big garage for a whole

bunch of nice people to sit around and look at me. They

really seemed happy because everyone was eating chicken,

drinking from bottles that look very different from mine, and

doing a whole lot of laughing and talking. A very exciting part of

the night was when daddy carried me all around to see the cool

cars. They looked very big to me, but I think mommy would love

to see me (and

her) in a 914

some day…hint,

hint daddy. I

even got to lie

on the back

of a 944. Don't

worry; Mr. Matt

wiped it down

first so mommy

wouldn't freak

out about me

getting a little

dirt on me.

A big treat

for the night was

a Silent Auction

for a set of

tires. Mr. Jerry

and Mrs. Myra

Ed's shop transforms into a dining room very well! Sutton donated

Photo by Matt Platts

Geneva & Jasmine say "hi" to the author...

these tires. I think they made the Hope Shelter very happy, cause'

Mr. Nelson won the tires with his very generous bid. The club is

trying really hard to rebuild the Hope Shelter and this money will

be a big help.

I tried to show everyone that I am a true "Porsche girl" by

almost getting under one of the cars. Daddy says that you are

never too young to learn all about Porsches. Maybe I could get a

job one day in that big garage. I can't wait for next year to come,

cause' I will have some teeth then. I sure would like to taste that

yummy looking chicken and run around with those really nice

girls that played with me. I sure did have a fun time with mommy

and daddy. I just can't wait to see all of these nice people again!

ISTOOK'S

Motorsport

Services

PORSCHE + AUDI PERFORMANCE and RACING SERVICES

TRACK SUPPORT CHASSIS FABRICATION CUSTOM EXHAUSTS

Authorized installer/tuner for REVO Performance Software, FIKSE

Wheels, and STOPTECH Performance Brake Systems

Watch for the ISTOOK/AINES Motorsports

AUDI S4 Twin Turbos on Speed Channel

2733 West 7th Street (repair shop)

3333 Suffolk Drive #104 (race shop)

Fort Worth, Texas 76107

(817) 332-6547 (repair shop)

(817) 924-2100 (race shop)

10
---
11
---
1033 N. Henderson St.

Fort Worth, TX

(817) 877–1772

Forgeline • Brembo • Eibach • Sparco • Borla • Hoosier • MOMO • Red Line • OMP • Teamtech • Fuel Safe

12
---
13
---
Rennsport Reunion II

by Wayne Brown

On April 23-25, 2004, Brian and James Redman hosted the

second Rennsport Reunion, this one at the famous Daytona

International Speedway. With over 500 racing Porsches

present, it was stated that this was the largest gathering of historic

Porsches ever! The weekend included photo shoots, Concours,

racing, social gatherings & dinners, vendors, and lots and lots of

'oogle'-ing. David Baker (with daughter Emily, and Tom Petrushka)

and I (with daughter Megan, and Lone Star Region friends Bryan

Gregory and Haas Fogle) made the 18 hour tow to experience a

'weekend of a lifetime'.

... I have never seen so many people

intoxicated on Porsches ...

met Hurley Haywood, Norbert Singer, and Brian Redman;

saw Lucas Luhr, Emmerson Fittipaldi, Jerry Seinfeld, Hans Stuck,

Jacky Ickx and Joe Buzetta. Chris Economaki spoke a lot over the

P.A., also interviewed the podium finishers for each race.

To see, hear, and smell the 41 'plastic cars' (that's what they

called the group with the purpose-built, composite-bodied race

cars) on the track at speed; spitting fire, sliding/drifting, and dicing

for position was absolutely unforgettable. Watching the

owners/drivers 'racing' these historic masterpieces, not just driving

Of all of the superlatives I heard over the RRII weekend,

"incredible", "wow", "outstanding", "sensory overload", "unbelievable",

and a bevy of others, I think "overwhelming" was the most

appropriate. It seemed that nearly every significant Porsche was

represented: 901, 902, 904, 906, 907, 908, 910, 911's in every

conceivable configuration – including R, RS, RSR, RSA, IROC; 912,

914, 917, 924, 924 carrera, 928, 930, 934, 935, 936, 944, 944 turbo,

944 cup, 951, 954, 956, 962, 964, 968, 'Cup' cars ALL over the place,

absolute multitudes of the newer 993, 996, Boxster series. Cayenne.

GT1, GT2, GT3/R's. Carrera GT. 356's, 4 cams, 550 spyders, RSK 60

& 61, Elva Porsche, Gmund Porsche, Abarth Porsche, March Indy

Photo by Jay Walker

Speechless!

Photo by Wayne Brown

110 Porsches take the green flag

Porsche, LeMans Prototypes, Daytona Prototype. Porsche Police

cars and even a Porsche tractor! (nope, didn't see a Porsche Mooney

– on the ground, anyway) Garage after garage filled with

restored/running racing history. These cars, some worth in the

millions, were left unattended – the unstated rule of 'look but don't

touch' being universally observed. The P.A. system had continuous

interviews with historically significant owners / drivers. Personally

them, was simply awe inspiring. The 'cup' cars (62 cars) were stunning

to watch – each with bright, innovative graphics – lap times

rivaled the 962's. The 'less than 2.5 liter' group was filled with

Porsche's early racing models. Their speeds were impressive and

displayed without a doubt how these small displacement machines

became known as 'giant killers'. Did I mention being overwhelmed?

After qualifying Saturday morning, many of these same cars

were displayed in the Concours d'Elegance. They were all so

pristine – even the ones that had been on the track that morning!

Thousands of people milling around, pouring over, and trying

not to drool on this display of over 100 of Porsche's best

examples. David put it well, "...I have never seen so many people

intoxicated on Porsches. It was as if they had some endorphin rush

thing going on.... ...like kids in a video arcade with unlimited

tokens. Neither words nor pictures can capture the experience."

To repeat – overwhelming.

All of this would have filled the weekend, but we also got to

drive Daytona International Speedway – it's huge! First impression

– NARROW – three wide was nervously uncomfortable through

the Nascar turns. Second impression – ROUGH – didn't want

to turn loose of the steering wheel, even to shift gears. Third

impression – STEEP – think the banking is even steeper than TMS;

Photo by Jay Walker

Photo provided by Wayne Brown

Photo by Jay Walker

Jerry Seinfeld & Porsche #1

Wayne & Megan Brown with Hurley Haywood

The *best* IROC cars

14
---
Photo by Wayne Brown

Photo provided by Jay Walker

Photo by Jay Walker

One of Emily Baker & Megan Brown's favorites

Jay Walker tries on Phil Daigreponte's 908 Spyder

Pit road doubled as Concours parking

felt like you'd tumble off on the slow pace laps. Fourth impression

– FAST – the chicane works great – fast, safe, and has a good rhythm

to it. Allowed for great exit speeds that built all the way to turn one

- saw 158 mph in my aerodynamics-of-a-brick 914. Fifth

impression – FUN – David Baker and I qualified 3rd and 4th in a

field of 110, the largest to ever take the green flag at Daytona.

'No passing' with the drop of the green flag until you passed the

start/finish line made for an interesting start strategy, though

David's and my puny 2.8's weren't likely to 'out-drag' the highpowered

3.3/3.4 turbos, 3.8 RSA's, 3.6 RS's, and Carrera Cups that

made up the remainder of the top 30 spots on grid. Combine

all of the above with a GT2 blowing his right rear at 145 mph, right

in front of you on the high bank of Nascar 4, spinning wildly

out of control as you're trying to pick your way through large tire

carcass pieces raining down into your open cockpit car –

EXCITING. Turn One, sorta like TWS, has multiple lines through

it . . . and I don't think I ever got it right. When you see David, ask

him about chasing down, catching, and passing J.C. France in 'THE'

Brumos #59 914. Evidently J.C.'s crew was more than just a little

irate that he had ruined a brand new set of slicks while trying to

stay ahead of David. Hmmm, trying to think of a word that

encompasses all of this . . . yeah, overwhelming.

I think I can safely say that the Mavericks in attendance,

Lanean Hughes, Lee Wilkins, Doug Molny, Ed and Ned Cullin, Jim

Buckley, Alan Smith, Tom Petrushka, David Baker and I, all had

an extraordinary experience. Not to say we didn't have the

typical racing woes. Mike Hardage (Lone Star) had a rare GT3

transmission failure. Jim (with Tom's help) rushed to replace a

clutch disc before his Sunday afternoon race – only to develop

shifter problems. Alan had carburetor jetting issues that shortened

his weekend. David developed a transient traction loss problem in

Turn 4 at the race start – but had a great time working his way back

up through the field. I broke an aluminum suspension piece but

was able to use the track's TIG welder to fix it by race time – only to

throw a fan belt in the first quarter lap – to end my race.

"It's not the cars, it's the people."A weekend like this makes one

briefly question that motto – some pretty spectacular cars there. But

more impressive are the people that don't keep these cars locked up

in a garage or museum, that bring them out, display, and drive

them, and that allow us to share in the excitement and pride of

Porsche's racing history. Overwhelming.

15
---
Autocross #2

By Cody Sears

Did I ever tell you how much I love being a part of the

Maverick Region Porsche Club? Did I ever tell you just

how great the people are in this club? No? Well then, I'm

going to. Don't worry though, I'll also tell you about AX #2 since

that's the reason I'm supposed to be writing this article in the

first place.

Let me start by saying that Autocross # 2 was officially our

Parade dress rehearsal. Not only was this our last chance to

hold an event at Texas Motor Speedway before our big Parade

event there, but we also had members from the national

committee in attendance to inspect our fine skills at putting

on a quality autocross. I'm very pleased to say that overall,

things went great. We did find several areas that need work,

but we are finally down to just the tweaking phase and I

believe we have all the major stuff taken care of. Whew, I can't

believe Parade is only a few months away.

Photo by Kevin Hardison

... Did I ever tell you how much I love being

part of the Maverick Region Porsche Club ...

Charlie designed a course this time with not only one, but

two new features that I have never seen in an autocross. How

do you keep coming up with these, Charlie? He had a triangleshaped

skid pad with a chute down one side for the exit, and

then he also had the "House of Seven Portals". If you picture a

floor plan of a five-room house with doors going to each

room, and now create that on a large slab of concrete with

about 300 cones. Wow, it was an absolute blast to drive! The

weather was great and everyone had a good time. Yadda,

yadda, yadda.

Now, about the great people in our club.

It all started when I went to hook my 914 up to the truck

Saturday night for towing and I noticed a sound, which I

thought to be one of the many small pebbles from Mineral

Wells caught up in my right rear rotor. After spending all day

with the Maverick Region AX Parade committee as well as the

National Parade guys, I was just a little too tired to mess with

it then, so I figured I would pop it out in the morning at the

track. And since the outer pad had more than half of its life

left, I wouldn't have guessed that my inner pad could be worn

to the metal. Well, you know what? It was. Of course I didn't

see this until 7:30am while sitting in the paddock parking area

at TMS. Did I mention that it was my birthday?

Jerry Sutton proving that you can hook up on the challenging surface.

So there I am, on my birthday with no spare rear brake

pads in my possession on a Sunday morning. It really looked

like I was done for the day before I even started. Oh yeah,

something else you should know. I've changed my font pads

multiple times, but I have never had to change my rears

before. So, obviously, I had no idea about the nifty little tricks

that are involved in changing the rear inner brake pad of a 914.

So here's what happened…

Joel Nannis, by some miracle, had a spare set of rear pads

buried at the bottom of his track gear. Charlie Davis talked me

through the initial stages of changing the pad over the radio

while he was getting things prepared at the track for our big

Parade dress rehearsal. Jerry Sutton overheard the radio talk

and spent some time showing me some important things, like

how to get to the loosening screw through the trailing arm.

Yes, that's right – through the trailing arm! Mitch Williams

loaned me his tools that had the extra long allen wrench

needed to get through the trailing arm. And Rick Gonzales

sacrificed much of his track walking time to sit there and help

me actually get the thing changed out. Of course, there were

others who pitched in and more that offered to help as well. So

in the end I got to run on my birthday after all. And what a

great day it was. Many thanks to all you guys, you are the best!

Okay, I do have just one more thing to say. You know I

have to do it; it's like a tradition or something. Here goes.

Ready? It really is not just the cars… it's the people!

Photo by Kevin Hardison

Photo by Kevin Hardison

Photo by Kevin Hardison

Scott Janke headed for the triangle skidpad.

Lee Wilkins in a Class 18 Cayenne S.

Paul Adams diving into the corner.

16
---
Time Trial #2

By Bob Kuykendall

Photo by Kevin Hardison

Saturday Morning, April 24th. It's 5:45, pitch dark with

lightning dancing behind the tops of the nearby trees and

housetops. And now it's raining…. hard! Oh well, so much

for the Time Trials this weekend. Hey, I can go back to bed!

Surely, Wendy will call me and all the other PCA members at any

moment to announce that the day is done.

But, wait! It's now 6:15 and the moment of truth. Now or

never! So I head out toward Ft. Worth and if it gets worse, I

can always retreat. No such luck.

This is foul weather all right!

OK, now I'm past Weatherford and driving the only

Porsche in town. Is this nuts or what? As I turn toward Mineral

Wells I see it! Yes, a 914 being towed by an aggie-colored

pickup. Cody Sears is going to the TT, so now there will be two

of us there. Hey, we can take turns and drive as many laps as

we want, since we'll be the only ones there.

Mark Steele capturing a very wet TTOD by almost four seconds!

Are you kidding me? As I pull into the Airport, I see at

least 30 cars assembled. These people must be as crazy as me,

and soon we are GO for driver's meeting at 9:00. Thanks to Bill

Miller, it starts on time as we wolf down those McGriddles

supplied courtesy of Chuck McCoy. Finally, a member of

Mineral Well's finest pulls up in his patrol car. Says he is just

curious, but I know what he's doing, as he's probably running

our plates thru DMV.

A fine misty rain absorbs the course as I and the other

Photo by Kevin Hardison

Rocky Johnson blurring past the camera.

course workers hit the track. But wait, those Canadian geese in

Turn Two have to be shooed off before the track goes hot. This

is fowl weather all right!

This is Course 2 with the extended loop-de-loop to the far

right past start-finish. The first two drivers DNF immediately.

"Those idiots!", I chuckle a bit to myself, until later on when I

pull the same stunt and DNF on the first run.

Someone noted that there are actually a few seconds of

traction out there. Not sure I found any as the track was

extremely slippery, especially that little concrete pad in the

pavement in Turn Three. I finally nailed a decent run, and as I

anxiously go to check the posted times, I am simply amazed

how Mark Steele and others are faster by a full 9-10 seconds.

Maybe they're using studded tires!

By 11:30, run groups A and B have both completed

multiple runs. Decision made to skip lunch and press on! The

sky is worsening as the misting rain turns into solid drops.

Now the spins are getting good! James Shoffit shows off with

a full figure 8 maneuver in the final turn, only backwards!

That number 550 2.7-liter red Darth Vader 911 owned by

Richard Diller is on the track! I can tell because I can no longer

hear my radio. Wow, those straight pipes are loud. So is that

"stinger" do-dad that Cody added to his 914 after his tail pipe

fell off last week.

Can it be? It's 1:15 and we're through? Someone suggested

fun runs, but this crew is hungry! Wendy suggested the

Farmhouse Restaurant in Cool, and she immediately had

twenty takers. Great country cooking- chicken fried steak,

lemon chess pie and sweetened tea. Seems PCA is not just

about the cars or the people, but also the calories!

Photo by Kevin Hardison

Photo by Kevin Hardison

Photo by Kevin Hardison

Bob Kuykendall's entry in the cannonball contest.

Cody Sears sliding his way through the river.

Wendy Shoffit gets the biggest splash award!

17
---
Time Trial #3

By Jeremy Johnson

Sunday April 25th was the third Time Trial for this early

racing season. I haven't been able to attend a Time Trial since

October of last year, so I was really anticipating the event.

This was one of those back to back weekends. Time Trial

#2 was on Saturday and Sunday would be TT #3. I'll leave the

weather report regarding TT #2 for someone else, but needless

to say it was a little wet (too bad I couldn't take advantage of

that). Getting up on Sunday was a little unnerving. The

weather in Denton was still very rainy. A quick look at the

Mineral Wells weather maps showed that it was *supposed* to

be partly cloudy with a high in the 70s, but we all know how

... he is living proof that smooth is fast ...

the weather in Mineral Wells can be. Thankfully, during the

drive out, you could see the clearer bluer skies to the west and

I was becoming more and more comfortable with what was

going to be my first ever race in a solid axle RWD car.

Arriving at the Mineral Wells Ring, there was an almost

ominous fog hanging over the course. Though by the time the

drivers meeting began, it was all but gone. The course for the

day would be course #3. This is a very fast counter clockwise

course with only a few checks and balances to keep you in line.

The course was mostly a series of long fun sweepers (can you

say drift??) with one 'excuse me' chicane to bring us back in

check at the end of the never ending back stretch. This was

definitely a horsepower course. But amazingly, the lower horsepower

cars were running very competitive times. This can be

attributed to the amazing agility of the light weight cars like

914s and the great 'never say brake" attitude of drivers like

Cody Sears and Ron Bailey. I actually think they might have

been on throttle the entire course. The course must have had a

few slick spots left over from the rain (or at least that was the

excuse I heard), because there were still quite a few spins,

particularly in the hard off camber right after the first long left

hand sweeper.

I was lucky enough to be working corner #1 where there

wasn't a ton of action, but I could see most of the racing.

Corner #2 was not quite so lucky. I remember more than one

panicked call in that a cone was down in the chicane and there

wasn't time to get to it before the next racer came barreling

through. Those two are going to be sore on Monday! Charlie

Photo by Charlie Davis

Eric Erz brought his "new" 911SC out for a familiarization session

Davis was also on course in several different spots no doubt

getting some terrific action spots and picking up all the car

numbers that were flying off during the day.

Top time of the day was taken by the very smooth driving

Richard Diller in his 'some one get that guy a muffler or at least

get me some earplugs' Red 911. Richard did not look fast, but

was running consistent great times all day. He is living proof

that smooth is fast. Drivers like Jason McCall, Mark Steele,

Chuck Machala and James Shoffit were also in the hunt for

TTOD. The fast cars were a very diverse group. Ranging from

a Boxster to a 993 to a 911 SC and finally to the Pontiac

Firebird. No one type of car had a distinguishable advantage

on course.

In summary, it was a great event with a lot of runs on a

very fun course. Attendance was a little low, most likely because

of the fear of bad weather, but we still had 30 drivers. Even with

that many drivers, we were able to get 12 laps in and were all

done by 3:00PM or so. I regularly attend several different club

events and the PCA events are, without a doubt, the most

organized of the bunch. Everyone was very open to the

American Iron and Japanese cars that showed up to try

their hand at a Time Trial. I think the only negative for the

entire event was that the Schoolhouse Diner isn't open on

Sundays too.

I can't wait until next time!!!

Photo by Charlie Davis

Photo by Charlie Davis

Photo by Charlie Davis

Wendy Shoffit snakes through the chi-caine

Shelly Burbank sweeping through a right-hander

Mike Lockas puts his suspension through it's paces

18
---
Paris Tour

by Shelly Linders

Paris! What more could a person ask for! Ok… so maybe

it was Paris, Texas, but it was a beautiful drive! I know

that a lot of us were really hoping for the weather that

we ended up with! After the clouds and rain went through on

Friday and Saturday; Sunday turned out to be gorgeous! How

lucky were we! Sunny and mid 70's!

My friend, Tina and I, met everyone at Baglestein's in

Plano, had our driver's meeting and we were off! All the

convertibles had their tops down, which was a little chilly in

the morning, but it warmed up fast! Sunburn and all!

Considering that this was my first tour, I had never

experienced the adrenaline rush of the speed and skill that

is involved in maneuvering your vehicle! Wow! I was having

a blast! We saw some very interesting towns that would take

you way back in time if you thought about them too long!

The people that we passed were very pleasant and waved as

we went by. The back roads that we took were absolutely

beautiful! The roads were lined with huge trees and where

there weren't trees there were farms!

After concentrating hard on your driving, you really

work up an appetite! We pulled into Paris, where we

stopped to eat at The Depot. This was a home-style

restaurant

that had all

the home

cooked

entrees that

you could

imagine.

Tina and I

enjoyed our

conversation

with John

and Chris as

they filled

us in on

their past

experiences

on tours that

they have

been on. We

The Eiffel Tower in Paris, Texas (really!) all filled up

with great

Photo by Bob Bianconi

Photo by Bob Bianconi

food and preceded on with our second half of the tour. Ted

led us over to the Eiffel Tower where we lined up our cars

for pictures in front of it. It was a lovely sight! The cowboy

hat on top of the tower was quite a TEXAN addition to a

Paris monument! It was greatness! After all the pictures

were taken, we were off again!

The windy roads of Northeast Texas

I did notice that I wasn't as white knuckled as I had

been in the beginning of the tour. Perhaps, I was getting

used to the "spirited" driving. Whatever it may have been, it

was a fantastic journey! Soon it would be time for the tour

to end and Ted made his final "goodbye". We all went our

separate ways, and as I went home, I thought to myself, I

can't wait until the next one.

Photo by Bob Bianconi

The weather cooperated perfectly

19
---
A Trip To Stuttgart

by Jack Ormberget

My wife and I just celebrated our 2nd Anniversary with a

romantic vacation to Paris, Nice and London. Because she is

so wonderful and understanding of my "Porsche" problem,

she allowed me to detour us for 2 days to the unromantic city of

Stuttgart and a tour Zuffenhausen. Don't get me wrong, Stuttgart has

its' charms, but my proposal essentially was a detour to a blue-collar

industrial car production facility. I accept that it doesn't really measure

up well against walks along the Champs de L Esyee and Montmartre,

moonlit dinner cruises on the Sein and the sunny beaches of Nice.

Despite all, she relented. It must be love.

We stayed in Bad-Cannstatt, which similar to Zuffenhausen, is a

suburb of Stuttgart. Best known for its mineral baths or spas and the

health benefits from them, we were excited about the prospects of

testing the bubbly waters for ourselves. Let me just say that from our

vantage point, these people in their bathing suits did not look all that

healthy. Nor was the water as warm and frothy as I had expected!

Next time, I'll opt for more time in the hotel hot tub.

From our hotel, it was a very easy train ride to the stop called

"PorschePlatz." For anyone wishing to make this visit, the rail/subway

system of Stuttgart is fantastic. I guess it shouldn't be surprising as

Germans run it.

As our train pulled into the station, we could see the Porsche f

actory. Actually, the "factory" is really a mini town in itself.

Janet and I made our first stop the Porsche Museum, as we were

told to check in there and wait for our tour guide. The Museum was a

little disappointing in my opinion only because I would have liked to

see more examples from their amazing history. I liken their museum

to going to Las Vegas, only the odds are more in your favor. By this I

mean that you won't know which cars will be there on any given visit,

but you are sure to be treated to a winning selection.

Believe it or not, the Carrera GT on the floor actually was not my

favorite car to see. My favorite was the 959 Gruppe B Prototype. With

it's disk rimmed wheels and monochromatic pearl white finish, it was

both elegant and striking. Additional vehicles of note included many

race cars I didn't recognize beyond their Martini paint schemes. Some

of my other favorites included a 911 GT-1, a 904, a 996 C4 cut-away

and a very interesting 356 Polizei car that I later learned was at

Rennsport Reunion II.

After scrutinizing and photographing everything in the tiny

museum, I sat down to wait for our tour guide. While patiently

waiting for me, Janet struck up a conversation with another Porschewife

who was also enduring her husband's Mecca. The couple, Don

and Tricia Delaney, is fellow PCA'ers from the Alabama Region.

Don works for Mercedes Benz USA and was in Germany for several

weeks of training for the new M class that his line was going to be

producing for the next model year. Tricia made the trip to Europe to

sightsee during the last few weeks of his stay. Unfortunately, this

changeover in production will preclude them from coming to Parade

and see how us Texan's throw a party.

At 10:00 am sharp, Sigrid Mauz director of factory visits for all of

Porsche and her staff arrived to assign our tour guides and divide the

crowd into manageable groups. I now realize why the tours are

limited as our access and intrusion into the workers space is very

intimate. Our guide, Ralph, impressed us with his knowledge, insight

and his very good English. He also made the tour interesting by

answering some very direct and in-depth questions about the brand,

the products and corporate strategy from our group.

Before we began our tour, Ralph stated that the chassis assembly

facility was in process of completing some of the 997 prototypes and

therefore we would not be allowed to see that area. Actually, our tour

was limited to only the engine assembly building. While we were

slightly disappointed, people in the auto business often say that 50%

of a car's value is in it's engine. I feel we all got more than that percent

of enjoyment from the visit.

As we entered the Engine Plant, we were greeted by a display that

included several examples of fully assembled current production

model engines, including a twin-turbo 996, a standard 996, a Boxster

and a turbo Cayenne. (Many of us, especially Boxster owners, were

able to see our car's engines for the first time.)

Ralph explained that the production facility had several stations

of flowing assembly lines where the different model engines were

built. The lines were segregated into Cayenne, Boxster, normally

aspirated 996's/GT3 and the GT2/turbo models. As one would expect,

the production floor was immaculate and each worker really exuded a

pride to be working for the company. Ralph informed us that before

any worker can turn bolts on any engine, they must become a fullfledged

mechanic. He added that they never allow apprentice workers

to work on the lines as any slip in quality could dramatically impact

the brand. While it could also be argued that it has an impact on the

price of the finished product, I for one am satisfied with that exchange.

The first station we passed was the production loop for turbo and

GT2 engines. It was a relatively small operation but obviously as

Photo by Jack Ormberget

Photo by Jack Ormberget

A very cool cut-away Carerra-4

The correct subway stop is easy to identify

20
---
complex as these

engines are, there

were many parts

and equipment

moving around.

Next we

moved to the

normally aspirated

996 loop.

Given the present

sales levels,

these engines

were only being

produced at half

capacity. Engines

were mounted

to an engine

stand that would

pass by each

worker at a pace

of every 5 minutes.

Build sheets

The '98 LeMans winning GT1

accompanied

each engine and were attached to a cart pre-loaded with the

components required for that specific engine number. This meant that

a outside of knowing that it was a 996 engine, the worker didn't know

if he would be building a stock motor, what market it was being built

for, whether it had performance upgrade options or a complete GT3

model. With those choices, I can't imagine there is much boredom to

their jobs.

Next we passed the Cayenne assembly line. The tremendous sales

numbers of this model was clearly evidenced by the pace of this

assembly process and the number of motors that they were building.

Porsche designed the motor and assembly process to allow them to

maximize production while retaining the highest quality output.

Before an engine is completely assembled, there was a station that

allowed a mechanics to pressure test the cooling system and

combustion chamber integrity. After passing this test, the engine

would go through final assembly. Next the engine would move on to

a wet pressure test chamber. The engine would then be filled with

fluids and turned mechanically at low rpm's to verify a tight build.

Finally, engines that passed this test would go on to the last test

chamber where it would be run on combustion, with full fluids and at

various loads on the dynometer.

All engines are run on the test bench and horsepower and torque

numbers for each engine is recorded. For those who would like to

know, Ralph said that the factory keeps these figures and they can be

requested. He also said that according to German law, all engines must

perform within a +/- range of 5% to be considered within specification.

I asked if the engines that showed much stronger HP and torque

numbers could be shipped to us in America, but unfortunately my

request was denied. He added that any performance outside of this

range would be considered flawed and a complete disassembly and

analysis would occur. Flawed parts would be identified and the

factory and/or supplier would take the appropriate measures to

prevent further failures.

Ralph drove the point home when he explained that for each

engine that passed by, there was a customer on the other end waiting

for that motor to be installed into their car and hoping for a speedy

delivery. Furthermore, for each engine that didn't make specifications,

there would be a customer who would likely see their vehicle's

delivery date be delayed by at least several weeks.

Photo by Jack Ormberget

In addition to the various bench and measurement tests, there

was another aspect of quality control of which some Porsche buyers

are not aware. Each and every car is taken off the lot for a "real world"

street test. This test is especially daunting for the factory as there have

been instances where accidents have occurred and again, the client

would have to wait for a new car to be built from scratch.

The next part of our tour took us to a parking lot where

completed cars were waiting for their final test drives. The view here

was more spectacular than what one might see at most dealerships.

I have yet to visit a dealer that has over 60 GT3's, turbos, turbo

cabriolets, targa's, and other 996 and Boxster models in both US and

rest-of-world configurations in stock!

I could have stood there soaking up the view for a while longer,

but the 8 degree Celsius temperature and biting wind prompted Ralph

to escort us back to the engine plant and the warmth of the indoor.

The women were much relieved.

Back inside, our final stop in the engine facility was the area at

which completed engines were being mated to transmissions.

Completed drive trains were then hooked to a ceiling transport system

and carried off soon to be linked to a completed chassis. Within this

area, completed Cayenne and some Boxster motors were also being

loaded onto transport crates for shipment to either Leipzig or Valmet,

also awaiting installation to completed a chassis.

The end of our tour took us back to the museum where

discussion focused on the "prototypes" that were floating around the

factory. Don confirmed with Ralph that a certain "flat black" 996 that

passed by our group was in fact a 997 prototype. The entire car

including rims was painted flat black. Despite passing by within just a

few feet, the flat paint job made the car was so unremarkable that most

of us including myself just disregarded it. I guess the psychology

behind using flat colors and such tricks really do work to keep things

under wraps until a formal launch of a vehicle. The rumor was that the

front and rear bumpers and details were changed, but no one could

really explain how they were different. (Since by now we have likely all

seen the released photos, it is known what the differences really are for

the 997.)

Ralph jokingly added that spy photographers who spend their

time hiding and camping out by test tracks and other high security

areas, could get just as many photos of these prototypes as they often

pass in and out of the gates on the same real world driving tests that

pre-delivery vehicles

make. Keep

that in mind

when you go and

be sure to take

pictures outside

the gates, since

cameras are not

allowed beyond

the museum.

All in all, this

was a very interesting

trip to take

and I would highly

recommend it.

I don't know that

I will ever get

Janet to go back,

but if I include

European delivery

with my next

vehicle...

959 Gruppe B Prototype in a striking pearl white

Photo by Jack Ormberget

21
---
PRINTER OF SLIPSTREAM SINCE 1982

Autocross #2 Results

Class Car # Name Car Time Plc Pts.

Class 2

66 Sears, Cody Red 914 67.011 1 9

26 Bailey, Ron Blue 914 73.292 2 7

Class S2

49 Reese, Darryl Red 914 81.644 1 9

Class 3

31 Lockas, Mike White 944 70.652 1 9

Class 4

54 Sutton, Jerry Red 911T 73.305 1 9

Class 4L

45 Sutton, Myra Red 911T 74.417 1 9

Class S5

401 Fleming, Eric Silver 911 SC 80.925 1 9

Class 5L

11 Shoffit, Wendy Black 911 SC 69.640 1 9

Class 6

1 Machala, Chuck Silver Boxster 65.892 1 9

79 Adams, Paul White 911 68.86 2 7

83 Atkins, Jeff Red 911 69.913 3 5

76 Miller, Bill Black 911 Coupe 70.726 4 4

Class S6

105 Snodgrass, Tom Yellow Boxster 70.457 1 9

36 Ormberget, Jack Black Boxster 71.306 2 7

451 Machala, Tim Silver Boxster 71.781 3 5

911 Kuykendall, Robert Black 911 75.240 4 4

337 Campbell, Bill Red Boxster 75.459 5 3

Class S6L

15 Burbank, Shelly Red 911 74.000 1 9

Class 7

27 Olcha, Keith Red Boxster S 67.510 1 9

7 Fallon, Steve Blue Boxster S 67.525 2 7

242 Shaffer, Darron W-Green Boxster S 70.574 3 5

72 Heragu, Keerthi Yellow Boxster S 73.518 4 4

14 von Bose, Botho White Boxster S 77.624 5 3

Class S7

40 Fleming, Jerry Blue 964 72.694 1 9

Class 7L

4 Mayo, Jan White Boxster S 77.004 1 9

Class 8

61 Georgas, Bill White 911 70.599 1 9

555 Janke, Scott Gray 993 73.755 2 7

924 Georgas, Kevin White 911 77.105 3 5

Class S9

204 Bell, Bryan Silver 996 72.862 1 9

Class 10

111 Hardison, Kevin Blue 914 70.255 1 9

19 Petri, Brian White 914 74.598 2 7

Class 11

3 Nannis, Joel Yellow 914 78.431 1 9

Class 12

619 Johnson, Rocky White 968 67.724 1 9

Class 13

99 Steele, Mark Red 993 68.432 1 9

161 Randall, Rick Black 911 Carerra 68.665 2 7

120 Stubbs, Fred White 911 RSA 74.269 3 5

Class 13L

9 Steele, Lisa Red 993 72.681 1 9

Class 16

21 Gonzales, Rick Yellow 914-6 68.477 1 9

Class S18

166 Wilkins, Lee Titanium Cayenne S 75.239 1 9

Class S18L

991 Wilkins, Linda Titanium Cayenne S 77.603 1 9

USSERY PRINTING

3402 CENTURY CIRCLE IRVING, TEXAS 75062

972-438-8344

FAX 972-721-1847

Fastest Porsches of the Day

Car# Name Car Time

1 Machala, Chuck Silver Boxster 65.892

14x Gulick, Leeds Black 911 SC 66.544

66 Sears, Cody Red 914 67.011

27 Olcha, Keith Red Boxster S 67.510

7 Fallon, Steve Blue Boxster S 67.525

619 Johnson, Rocky White 968 67.724

99 Steele, Mark Red 993 68.432

21 Gonzales, Rick Yellow 914-6 68.477

161 Randall, Rick Black 911 Carerra 68.665

79 Adams, Paul White 911 68.860

22
---
Time Trial #2 Results

Class Car # Name Car Time Plc Pts.

Class 2

66 Sears, Cody Red 914 89.702 1 9

Class 3

44 McCoy, Chuck White 944 96.969 1 9

Class 5

64 Shoffit, James Black 911 SC 90.000 1 9

Class 5L

11 Shoffit, Wendy Black 911 SC 94.022 1 9

Class 6

1 Machala, Chuck Silver Boxster 90.801 1 9

76 Miller, Bill Silver Boxster 91.630 2 7

Class S6

911 Kuykendall, Robert Black 911 94.506 1 9

337 Campbell, Bill Red Boxster 103.89 2 7

Class S6L

15 Burbank, Shelly Red 911 97.863 1 9

Class 7

242 Shaffer, Darron W-Green Boxster S 93.209 1 9

Class 9

204 Bell, Bryan Silver 996 95.967 1 9

Class 10

111 Hardison, Kevin Blue 914 97.229 1 9

19 Petri, Brian White 914 102.851 2 7

Class 12

619 Johnson, Rocky White 968 90.158 1 9

Class 13

99 Steele, Mark Red 993 84.401 1 9

161 Randall, Rick Black 911 Carerra 88.297 2 7

Class 16

550 Diller, Richard Red 911S 91.463 1 9

Time Trial #3 Results

Class Car # Name Car Time Plc Pts.

Class 2

66 Sears, Cody Red 914 78.027 1 9

26 Bailey, Ron Blue 914 81.541 2 7

Class 3

44 McCoy, Chuck White 944 83.052 1 9

Class 5

64 Shoffit, James Black 911 SC 74.675 1 9

102 Erz, Eric Orange 911SC 76.271 2 7

Class 5L

11 Shoffit, Wendy Black 911 SC 77.781 1 9

Class 6

1 Machala, Chuck Silver Boxster 75.334 1 9

76 Miller, Bill Black 911 Coupe 76.629 2 7

79 Adams, Paul White 911 78.628 3 5

257 Takahashi, Noby Silver Boxster 78.857 4 4

Class S6

337 Campbell, Bill Red Boxster 87.154 1 9

Class S6L

15 Burbank, Shelly Red 911 79.711 1 9

Class 7

242 Shaffer, Darron W-Green Boxster S 76.764 1 9

Class S7L

720 Kavanaugh, Susanna Black Boxster S 81.046 1 9

Class 9

204 Bell, Bryan Silver 996 78.307 1 9

Class 10

18 Buckner, Gerald White 914 82.299 1 9

19 Petri, Brian White 914 83.344 2 7

12 Nadason, Michael Yellow 914 98.826 3 5

Class 12

619 Johnson, Rocky White 968 75.445 1 9

Class 13

99 Steele, Mark Red 993 74.292 1 9

161 Randall, Rick Black 911 Carerra 76.325 2 7

Class 16

550 Diller, Richard Red 911S 73.078 1 9

Fastest Porsches of the Day

Car# Name Car Time

99 Steele, Mark Red 993 84.401

161 Randall, Rick Black 911 Carerra 88.297

66 Sears, Cody Red 914 89.702

64 Shoffit, James Black 911 SC 90.000

619 Johnson, Rocky White 968 90.158

1 Machala, Chuck Silver Boxster 90.801

550 Diller, Richard Red 911S 91.463

76 Miller, Bill Silver Boxster 91.630

242 Shaffer, Darron W-Green Boxster S 93.209

11 Shoffit, Wendy Black 911 SC 94.022

Fastest Porsches of the Day

Car# Name Car Time

550 Diller, Richard Red 911S 73.078

99 Steele, Mark Red 993 74.292

64 Shoffit, James Black 911 SC 74.675

1 Machala, Chuck Silver Boxster 75.334

619 Johnson, Rocky White 968 75.445

102 Erz, Eric Orange 911SC 76.271

161 Randall, Rick Black 911 Carerra 76.325

76 Miller, Bill Black 911 Coupe 76.629

242 Shaffer, Darron W-Green Boxster S 76.764

11 Shoffit, Wendy Black 911 SC 77.781

Photo by Kevin Hardison

Photo by Charlie Davis

Bill Campbell splashing through the "river" at the back of the course.

After getting closer and closer all day, Richard Diller finally 'punted' a cone!

23
---
Mavericks at Mayfast

by Noby Takahashi

I

'm still trying to figure out how I got suckered in to writing this darn

article. This isn't part of my VP gig! In any case, quite a few Maverick

die-hards had an awesome time up at Hallett Motor Racing Circuit

for the annual Mayfast DE event. Hanging around our raceports (i.e. a

hard awning covered parking spot) were Eric Erz, James Shoffit, Bill

Miller, Alex Cobb, Matt Platts and Bob Lewis. Many other Mavs and

familiar faces were there; Bob Everson in his GT3, Randall Johnson and

Arun Menon from Park Place, the Turley's and their 48-ft monster

trailer, Becky Laughlin, Brooke Van Horn and Ron Forristall. I was

really looking forward to this event since I didn't have my car for most

of April with installation of the roll cage.

Instead of caravanning up there, we decided to head up there

separately. Left Dallas around 11:30 on Friday morning to ensure

arrival at the track by 5:00pm (it should be about a 300 mile trip if you

don't make a wrong turn…). After unloading our cars, we left the track

to head over to the infamous Budget ZZZZZZZ Motel in Cleveland.

We each reserved non-smoking, single rooms for two nights, our total

interesting start to the weekend. Toto, we're not in Dallas…

Checked in at the track bright and early on Saturday morning,

they had Eric, Matt (his first time at Hallett), Alex and I in the White

group, and Bob, James and Bill in the Blue group. Bill was able to

convince the event organizers to move him up to Yellow right away. It

took us a while to figure out that Yellow is higher than White for

Cimarron Region (they were grouping people by car model). By the

third session, James, Eric and I joined Bill in Yellow. James is awfully fast

with that new suspension, we had to break his tranny to slow him

down. We had a blast running together.

"Well, the tour bus must have let out"

bill ranged from $75 to $82 (Matt was the big loser). Bill ended up with

the shower/closet combo in his room, Eric had the palatial suite, and I

had the tub that wouldn't drain (not too keen on bailing water in the

middle of my shower). Off we hop across Hwy 99 to the Hickory

House Restaurant. Friday night, the place was packed. Words can't

Photo by Matt Platts

Noby's cool new roll cage and custom door panels

Photo by Matt Platts

James, Noby, and Eric navigate the "bus stop"

describe how Bill was so excited to find Chicken Liver on the menu.

Finished dinner, it's still only 7:00pm. Time to cruise around Cleveland.

We found a Wal-Mart and decided to hang out there for a while. Then

it was off to Downtown Cleveland and the Cleveland Lounge. Six of us

walked in, the place went quiet and someone in the back muttered,

"Well, the tour bus must have let out". We all sat down for a beer and

got our clothes a tad 'smoky' hanging out with the regulars . What an

I think we all had a great weekend. The track dried up quickly on

Saturday morning, the weather was great on both days. Smiles everywhere,

the friendly competition, all the lies and deceit (Eric was trying

to tell us that he didn't brake for The Bitch?). Hanging out at the

Wal-Mart on both nights. How many of us gave Craig (the guy from

Joplin in an used PDE 996) a hard time about his braking? The

Cimarron folks did a great job of maximizing our track time. I must

admit that my best experience of the weekend was getting a ride with

Grant Phillips (sp?) in his GT3 (we were clocking him at low 1:24 on

Sunday). Phenomenal driver, throw and catch, throw and catch, throw

and catch, drift through every corner on the track. He was kind enough

to show me a few racing tricks along the way.

Hallett is a really fun track; it's definitely worth the long drive. It is

a track that rewards skillful driving. I'm looking forward to Octoberfast

Club Race/DE (also organized by Cimarron Region), October 1-3.

I think few of us will be over at the Lakeshore Inn in Mannford (it's the

place that Chuck Machala gave a 1-star rating). One thing to note, the

Cimarron folks aren't planning to have a Club Race School at this year's

event (due to the low attendance last year). If anyone is interested in

signing up for the school, we all need to send an e-mail to Gary

Bernard. The Parade TMS Club Race will be my Rookie Candidate

event but I would still take the school at Hallett if it's offered.

Photo by Matt Platts

Photo by Matt Platts

Photo by Matt Platts

James pushes Bill up through "the bitch"

Alex Cobb puts his Targa through the paces

James waves for the camera

24
---
German Engineering With Southern Hospitality.

Personal Service.

At Nine-Eleven, we've built a reputation for understanding our customers' needs —

quality service, convenient location, state-of-the-art diagnostics, and personalized service

that is unmatched in the Metroplex. When you trust your car to us, you will have the

peace of mind that it will be serviced correctly the first time. Every time.

Access.

We strongly believe in access to those who will actually work on your car. Our

technicians are available in person, by phone, and even by pager if you have questions

or need timely information about your car.

Facility.

Our clean shop, well-stocked parts department, and comfortable waiting room ensure

that you and your car will get the kind of service you deserve. Maintained tools and

equipment. Clean cars. We are meticulous about details.

Parts.

Our parts department is also second to none. Our knowledgeable staff will assist you in

finding that necessary part or after-market option you require. We are an authorized dealer

for high-performance Recaro seating, Yokohama Tires, Bilstein Shocks, Bosch, and many

others. This ensures that whether you are a casual driver or an enthusiast who needs race

prep assistance, Nine-Eleven has the experience and knowledge to keep your car running

at peak performance.

Newkirk

Crown Rd.

Cindy Lane

IXXI

Royal Lane

Joe Field Rd.

Emerald

I-35

Nine-Eleven Enterprises, Inc.

Service, Accessories & Parts for BMW,

Mercedes & Porsche

2120 Cindy Lane, Dallas, Texas 75229

972-241-2002 www.nine-eleven.com

Convenience.

We are conveniently located near the intersection of Stemmons and LBJ Freeways

in Dallas. We offer emergency towing service 24 hours a day and have arranged

for special rental car rates with area rental agencies. Come by for a visit between

7:30 a.m. and 5:00 p.m. Monday-Friday, or call for a service appointment.

25
---
26
---
27
---
Unclassifieds

Unclassifieds are available free to Maverick Region Members and are $5 to all others (contact Matt Platts for payment details). Please limit size to no more than 6 lines.Ads will run for 3 issues, then removed unless

you request that it be run for an additional 3 issues. Email your ad to unclassifieds@mavpca.org by the 10th to have your ad run in the following month's Slipstream. Be sure to include a contact name and phone

number. If you are selling a car, include mileage and price. Check your ad for accuracy the first time it runs. Contact the editor to have your ad pulled sooner. Due to space constraints, photos can not be included.

1990 911 C2 Cabriolet Baltic Blue Metallic, Oyster leather interior, excellent color

combination. Cd, a/c, cruise, power top, boot, ABS. Tiptronic trans. Power seats,

windows, and locks. New rear tires, retractable spoiler, 69K miles. Beautiful car! I have

owned it for over a year and only had time to put 3K miles on it.This car wants to be

DRIVEN!!! $23,500 Contact Steve at (214)893-6939 or marz01@msn.com (1)

911 SC or Carrera engine lid Guards Red, excellent condition. $270.00 Call Gary

Thompson at 972-234-2923 (1)

1988 Carrera Cabriolet 20th Anniversary Edition, 3.2L H6 FI, Has all its original parts

and has been kept in a garage the entire time. The owner was ill the last couple of years

of his life, and it has been driven infrequently. The color is "diamond blue" and I

understand 1988 was the only year they used this color, and then only for this 20th

edition model. 74K miles. $27,000. Contact Tonja Terrazas (972) 888-6092 or

tonja@thomasedwards.com (2)

1996 993 Coupe Guards red with black interior. Non-smoker and never wrecked.

70,000 miles. Hi-fi sound system, dual paddle power seats, 17" cup wheels, hand

painted wheel caps, recently replaced windshield, new pirelli p-zero tires and porsche

brakes, inspection, records. 37,000. Brad Nace, brad@bradnace.com,

214-503-0980 or 214-459-8289 (2)

1987 911 Carerra Coupe Rare "Venetian Blue Metallic". Navy leather. 3.2L, G-50

5-speed.A/C, cruise, power driver's seat, mirrors, locks, windows, sunroof. Blaupunkt,

Fuchs wheels. New heavy duty battery, alternator, front and rear shocks, clutch, rear

brakes and tires. Hardwired Valentine One, fire extinguisher,

perf chip. Garaged. Non-smoker. Service records. Professionally maintained. 167k

miles. $20,000. Brian Moore 972-567-9977, swixson@earthlink.net (2)

911 DE Gear Sparco Evo Seat, Red incl Brey Krause brackets and Sparco slider exc

cond $550 OBO. American Racing Harness 5 pt cam lock $150 OBO. ROH wheels

Porsche offset 7s and 8s, 5 spoke alloy black w/silver rims, w/no rash great cond

w/Kumo Victoracers (50%) $650 OBO. Brey Krause Harness Guide Bar fits 911

coupes, like new. $200 OBO. BK Camera mount, like new $100. Call Terry at

214.303.5112 or terry.blechar@nbc.com (2)

1990 Porsche Carrera 2 Targa Guards Red, Tan Leather, Detachable Face Stereo with

6 disc Changer, Updated Tear Drop Side View Mirrors, 2001 10 Spoke 911 Wheels,

Fully Adjustable JRZ Suspension, Anti-Sway Bars by the Racers Group, Tinted

Windows, Full Bra and Car Cover. Daniel Davis, ydmdtx.ydmdtx@verizon.net (3)

Anniversaries

45 Years

Roger Chaney

Fort Worth

35 Years

Charles Davis (Teri) Weatherford

30 Years

Richard A. Cross (Karen Phillips)Mesquite

25 Years

Joel Nannis (Erika)

Rockwall

Slipstream Advertiser Index

Autobahn Motorcar Group (800) 433-5602 Page 15

Autoscope (972) 867-7467 Page 11

Boardwalk Porsche (214) 576-1911 I.F.C.

Bob Johanneson Fabrication(800) 544-2956 Page 26

Bobby Archer's Motorsports (817) 877-1772 Page 12

Buckley's Precision Racing (817) 239-7969 Page 22

Dallas Auto Sports (214) 320-2228 Page 26

Dallas Euro Cars (972) 243-4911 Page 7

German Technologies (817) 540-0712 (returning soon)

Glen Gatlin, Jr. (214) 965-6102 B.C.

Istook's Motorsport Svcs (817) 332-6547 Page 10

Louden Motorcar Svcs (214) 241-6326 I.B.C.

28

20 Years

John P. Fullingim (Kristin) Dallas

Thomas Grunnah (Christian) Plano

Henry E. Sims (Jean)

Tulsa

Wayne Smith

Arlington

Raymond Kendall

Lake Dallas

D. M. Kelly (Sherry) Plano

1989 930 Slantnose Black/Black factory slantnose all OEM. 42,000 Miles. 5-Speed.

Always garaged.Non-smoker.Runs great and has had no major mechanical issues.Car

has the Porsche toolkit and air compressor. Added to the car since I bought it in 2001:

New windshield, front air dam (with underbody spoiler guards), brakes (in 02),

Driven sparingly in 2003. Includes the Porsche car cover (silver) and battery

trickle-charger. $49,900. E-mail with questions or for pictures. Mark L. Wilson,

tomcatVF84@msn.com (3)

2003 Boxster S Arctic Silver Metallic w/Black Leather interior and top, Xenon

Headlamps, On Board Computer, Bose Digital package w/windstop,

Aluminum/Leather shifter and brake, 18" Carrera Wheels, Heated seats, CD shelf,

cruise control, Excellent condition, only 4,300 mi. Always garaged, like new.

Unexpected change on plans forced me to sell. Original MSRP $60,035, asking

$51,000. For more info or pictures contact Mario at 214-697-3553 or

mario@tekVizion.com (3)

B&B Stainless Dual Intake/Exhaust Oval 4 inch chrome tips. This exhaust was used

for ~4,000 miles after an engine rebuild, fitted to B&B headers. Deep throaty sound

perfect for track use. Currently fitted onto a '85 911 Turbo look.Perfect condition, no

leaks/rust, lifetime warranty.$700. Contact Orsel McGhee (972)771-6511,

TexasOB@hotmail.com (3)

Cookie Cutter 6X15 Wheels (4) Painted platinum (gold) with Porsche center hubs.

Mounted with vintage 195/60 Yokohama 008R's. These wheels/tires have been stored

in separate boxes since 1989 and are in good condition. $250. John Fulton,

817/994-2114 (3)

1994 968 Coupe Adventurine Green met with Tan leather int, Six speed, 66K miles,

new Yoko tires & recent 60K mile service. Pwr windows, sunroof, AM/FM with cassette

and car cover. Car is perfect in and out, always garaged. Only 3,000 miles on it in

the last 3 years. Needs someone with more time than me to enjoy everything this great

car has to offer. $22,500 OBO. Contact Steve Cochran at 817-975-0283 (Day) or

972-473-4637 (Eve). Email for pictures, scochran@metroPCS.com (3)

2000 360 MODENA F1 S/N 118655. Titanium with navy leather interior and headliner.

Red calipers, Scuderia shields, racing seats, Stonegard 3M film, EITHER

Challenge grille OR standard panel, new tires & brake pads, Valentine 1 wiring above

rearview mirror. Norwood maintained, amazing performance. Euro with all

conversion paperwork. 12,300 miles. Priced for quicker sale: $119,500 obo. Call Brian:

214-277-1103 (3)(2)

These advertisers support the Maverick Region . . . the Mavericks support these advertisers!

Jerry DeFeo Designs (972) 240-5800 Page 9

The Man's Shop (817) 265-1116 B.C.

Mayo Performance (817) 540-4939 Page 7

Mean Green Travel (940) 565-8111 Page 13

Metro Volkswagen (972) 659-9999 Page 12

911 Enterprises (972) 241-2002 Page 25

Park Place Porsche (214) 559-4222 Page 6

PartsHeaven (800) 767-7250 Page 19

Soundwerk (817) 281-9381 Page 13

Ussery Printing (972) 438-8344 Page 22

Zims Autotechnik (817) 267-4451 Page 25

For advertising rates and information contact Mike Brodigan at (817) 488-8520

15 Years

Bernard H. Fritz (Monica)

10 Years

Peter A. Dysert, II (Linda)

5 Years

Gary Dobbie (Eric)

Brian Boss (Jennifer Nester)

Arlington

Dallas

Dallas

Dallas
---
Slipstream Advertiser

for 25 years!

Louden Motorcar Services has been

servicing fine European motorcars in

Dallas since 1977. From the moment you

drive in, it is apparent that quality is our

number one priority. From the comfortable

waiting room to the well-kept workshop,

Louden Motorcars exhibits professionalism.

We've been winning awards for the

quality of our service for years. Louden

has been rated "Best in Dallas" twice by

D Magazine, "Best in Texas," "Top Ten in

the U.S." and "Best in the West" by the

Robert Bosch Corporation (worldwide

leader in fuel injection and electronics).

And we'd like the opportunity to show

you why.

11454 Reeder Road

Dallas, Texas 75229

(972) 241-6326

www.loudenmotorcars.com
---
L E G G M A S O N V A L U E T R U S T

WHAT WILL YOU MAKE

OF TODAY'S MARKET?

For over 20 years, Value Trust has searched all types of markets for stocks that appear to be

undervalued. Our investment approach has remained steady in good times and bad, and it has

made Value Trust the only fund to outperform the S&P 500 for each of the past 12 calendar years.

Average Annual Returns as of 6/30/03

Value Trust

S&P 500*

One Year

(6/30/02 - 6/30/03)

18.84%

-0.25%

Five Year

(6/30/98 - 6/30/03)

4.82%

-1.61%

Ten Year

(6/30/93 - 6/30/03)

16.46%

10.04%

Life of Fund †

(4/16/82 - 6/30/03)

16.79%

13.77%

* Source: Lipper Inc.

†

"Life of Fund" numbers for the S&P 500 are for the period beginning 4/30/82 and ending

6/30/03

For more recent performance or a free prospectus containing more complete

information, including charges and expenses, contact your Legg Mason

Financial Advisor. Read the prospectus carefully before investing.

Glen Gatlin

First Vice President - Investments

2100 McKinney Avenue, Suite 1950

Dallas, TX 75201

(214) 647-3507 • (866) 388-6627

EMAIL: ggatlin@leggmason.com

Past performance does not guarantee future results. Value

Trust's inception date is 4/16/82. The investment return and principal

value of the fund will fluctuate so that an investor's shares,

when redeemed, may be worth more or less than the original cost.

Calculations assume reinvestment of dividends and capital gains

distributions. Performance would have been lower if fees had not

been waived in various periods. The S&P 500 index is based on

common stock prices, including reinvestment of dividends and

capital gains distributions, and is generally considered representative

of the U.S. stock market. Source: Lipper Inc.

Legg Mason Wood Walker, Inc.

Member NYSE, Inc. • Member SIPC

www.leggmasonfunds.com

Bob Knight, Slipstream

9047 Oakpath Ln

Dallas, TX 75243-6353

Periodical Postage

Paid at Dallas, TX