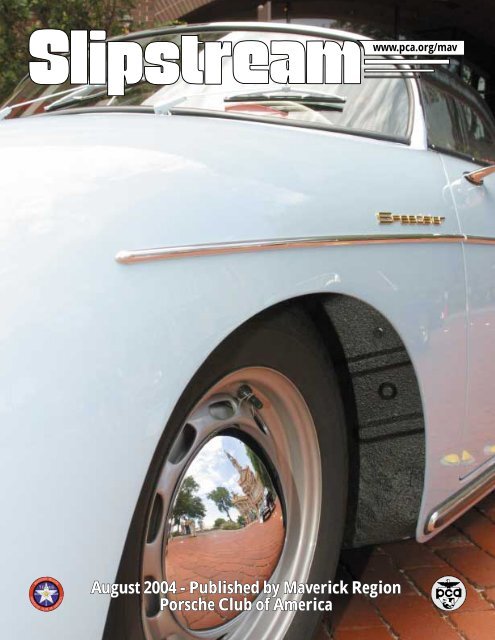 Slipstream - August 2004
The monthly newsletter of the Maverick Region of the Porsche Club of America
The monthly newsletter of the Maverick Region of the Porsche Club of America
SHOW MORE
SHOW LESS
Create successful ePaper yourself
Turn your PDF publications into a flip-book with our unique Google optimized e-Paper software.
www.pca.org/mav

August 2004 - Published by Maverick Region

Porsche Club of America
---
PREFERRED BRANDS.

PREFERRED DEALERSHIPS.

Porsche Perfect Service Award

No.1 in the nation for customer

satisfaction for our second consecutive year

Audi Magna Society

Honoring the top 30 Audi dealerships

Volkswagen Wolfsburg Crest Club

Honoring the top seven Volkswagen

dealerships in six regions

At Boardwalk Auto Group, the brands we offer would

mean very little if our customers didn't prefer the

brand of customer service they receive from us. This

year, we're proud to have earned all three of our

manufacturers' highest awards for delivering the finest

possible customer satisfaction to our customers. Which

proves the measure of a fine dealership isn't which

brands it represents but how it represents them. We

chose the brands, and we continually thank our customers

for choosing us.

5930 W. Plano Parkway

214.576.1911

5930 W. Plano Parkway

214.452.3800

601 S. Central Expwy.

214.453.5000
---
www.pca.org/mav

Volume 58, August 2004, Issue 8

Departments

Zone 5 Presidents ..........................................................1

List of Officers/Board Chairs .......................................4

Road Ramblings (President's Column)......................5

Curves Ahead (Editor's Column)...............................8

Maverick Minutes..........................................................8

New Wheels..................................................................27

Anniversaries................................................................28

Unclassifieds.................................................................28

Advertiser Index...........................................................28

Upcoming Events

Calendar of Events..........................................................1

Happy Hour at Champps Americana..........................2

Maverick Lunches...........................................................2

Arkansas Tour .................................................................3

East Texas Tour ...............................................................3

Autocross/Time Trial......................................................4

Board Meeting ................................................................5

Past Event Recaps

Happy Hours at Bavarian Grill & Sea Grill.................9

Parade 2004, An Event To Remember!......................10

From Boxing to Boxsters (Parade Concours)...........14

Parade Tech Quiz & Historics.....................................15

Parade Autocross Lists ...........................................16-17

What A Party! (Parade Volunteer Worker Party).....18

Parade Hospitality........................................................19

Boardwalk DE at MotorSport Ranch........................20

Autocross #3..................................................................22

Time Trial #3.................................................................23

Autocross #4..................................................................23

Nacogdoches Tour........................................................24

Miscellaneous

Trivia ..............................................................................13

September DE Registration Form..............................26

Day August - Events

6-8 Post Parade Weekend

7-8 BMW/Porsche Club Race (MSR)

10 Board Meeting at Autobahn

17 Plano & Bedford Lunches

19 Happy Hour at Champps

27-29 Arkansas Tour

28 Time Trial #5 (MW)

29 Autocross #5 (MW)

31 Addison Lunch

Day September - Events

7 Board Meeting at Boardwalk

9 Happy Hour

17-19 Drivers Education (MSR)

21 Plano & Bedford Lunches

28 Addison Lunch

Photography

Matt Platts, Elaine Cash,

Dennis Chamberlain, Linda Bambina,

Kevin Hardison, Bob Bianconi, Scott Olson,

Bill Campbell

Cover Photo by Matt Platts

William Noblitt's 1958 Meissen Blue 356A

at the 2004 Parade Concours d'Elegance

Day October - Events

2-3 Time Trial #6/Autocross #6 (MW)

5 Board Meeting at Keith Olcha's

9-10 Hallett Club Race

14 Happy Hour

16 Swap Meet

19 Plano & Bedford Lunches

23-24 Drivers Education (MSR)

31 Charity Autocross (TMS)

Day November - Events

9 Board Meeting at Bobby Archer's

13 Founder's Day

16 Bedford & Plano Lunches

18 Happy Hour

21 East Texas Tour

30 Addison Lunch

Photo by Matt Platts

Juta Aldenhof, Peter Porsche and George Maybee

pose on one of George's Porsche tractors

Slipstream (USPS 666-650) is published monthly by the Maverick Region Porsche Club of America, 9047 Oakpath Ln, Dallas,

TX 75243. Subscription price is $24.00 per year. Periodical postage is paid at Dallas, Texas.

Postmaster: Send address changes to Bob Knight, Slipstream, 9047 Oakpath Ln, Dallas, TX 75243.

Opinions expressed herein are not necessarily endorsed by the Club's membership or officers. Contributions will be printed on a

space available basis. Chartered regions of PCA may reproduce items from this issue provided the author/artist and Slipstream

are credited. Slipstream is printed by Ussery Printing Company in Irving, Texas.

2004 Porsche Club Zone 5 Presidents

ARK-LA-TEX

Kenneth A. Chandler

318-865-8210

bad968@aol.com

COASTAL BEND

Tinker Floyd

361-993-5757

tinker986@aol.com

LONE STAR

Stan Wenger

713-467-0453

stan@stanandjanelle.com

MARDI GRAS

Brad Bradford

504-546-0964

sandrahh@pipeline.com

OZARK

Ron Mott

501-954-9162

pcar_914_6@msn.com

WAR BONNET

Mike Lindsey

405-773-4568

mlindsey21@cox.net

ZONE 5 REP

Brooke Van Horne

tvdrug@flash.net

CIMARRON

Dick Dobson

918-251-3310

dickdobson@webzone.net

HILL COUNTRY

Weston Dillard

512-423-8327

westondillard@austin.rr.com

LONGHORN

Ruth Parks

830-537-4242

porscheladyruth@earthlink.net

MAVERICK

Keith Olcha

817-251-6865

olcha@aol.com

OZARK MOUNTAIN

Leslie Morse

501-530-1537

therainmeister@netscape.net

WHISKEY BAY

Ray Quick

225-767-7666

mercuray1@yahoo.com

1
---
11:30-1:00, Tuesday, August 17th

New Location!!!

TGI Friday's

901 N. Central Expy

(Southbound Service Road)

Collin Creek Mall between

Plano Parkway & 15th Street

11:30-1:00, Tuesday, August 17th

11:30-1:00, Tuesday, August 31st

2
---
3
---
2004 Maverick Region - Board, Officers & Chairs

Maverick Region President

Keith Olcha

W - (817) 706-7678

H - (817) 251-6865

keith.olcha@charter.net

711 Manchester Court

Southlake, TX 76092

Keith has been a regular at all of our driving

events and has recently been heavily involved

in the planning of our Driver's Education

program. Keith has also started driving his 911

RS in PCA Club Races.

Vice-President

Noby Takahashi

W - 972-761-4311

H - 214-327-8911

vp@mavpca.org

9201 Garland Road, #115A

Dallas, TX 75218

Noby has been a member since 2000. He is an

active participant in many Maverick driving

events and has helped out with the Autocross

schools. He drives a 2001 Boxster S.

Secretary

Mimi Spreen

H - 972-420-9953

secretary@mavpca.org

709 Reno Street

Lewisville, TX 75077

Mimi has been a PCA member since 1989,

including being actively involved in 2 other

regions. She served with husband, Carey,

as Vice President for 2 years. She drives a

1970 914-6.

Treasurer

Bob Knight

W - (214) 461-1426

H - (214) 349-1108

treasurer@mavpca.org

9047 Oakpath

Dallas, TX 75243

A member since 1986, Bob has previously

held the offices of President and Vice

President, edited Slipstream, and has won

the Selcer Memorial award. He owns a 2000

Boxster S.

Drivers Education

John Sandusky

W - (817) 777-0421

john.c.sandusky@lmco.com

John has been a member since 1986. He has

become increasingly involved in Drivers'

Education events over the past few years. He

drives a track prepared 1990 C2.

Logistics & Support

Joe McGlohen

H - (817) 861-2792

retread@ix.netcom.com

704 Bowen Court

Arlington, TX 76012

Joe has been involved in virtually every type of

event that the Maverick Region holds.

Joe was the 2001 Selcer Memorial award winner.

He owns a 912 and a 914 2.0 liter.

Communication

Wendy Shoffit

H - (972) 506-7449

wendy@shoffit.com

1112 Santa Fe Trail

Irving, TX 75063

A member since 1997, Wendy is a past

Slipstream Editor and has won the Selcer

Memorial Award. 2001 PCA Family of the

Year. She owns a '90 C4 Cab and a '78 SC.

Rallies & Event Ad Design

Teri Davis

H - (940) 682-4719

chuxtress@yahoo.com

P.O. Box 213

Weatherford, TX 76086

Teri is a past Slipstream Editor and the

current Rally Chair. She has also been a

major force behind Round Up and the

recent Rally Schools.

DE Chief Instructor

Club Race Co-Chair

Bryan Henderson

W - (817) 858-7526

H - (817) 354-6045

BDHender@comcast.net

AX Chair, TT Chief Instructor

Chuck Machala

W - (940) 381-9070

C - (940) 206-4338

ax@mavpca.org

Membership

Joel Nannis

W - (817) 329-1600

H - (972) 722-2735

membership@mavpca.org

Managing Newsletter Editor

Matt Platts

H - (817) 919-1253

editor@mavpca.org

DE Asst Chief Instructor

Keith Olcha

W - (817) 706-7678

H - (817) 251-6865

keith.olcha@charter.net

TT Chair, AX Chief Instructor

Bill Miller

tt@mavpca.org

Goodie Store

Robyn Howard

Cell - (972) 679-0112

robyn.howard@century21.com

Slipstream Advertising

Mike Brodigan

H - (817) 488-8520

C - (817) 233-0068

mike.get@att.net

Driving Education - Tech

Ray Leudecke

(972) 342-7412

pcar968@yahoo.com

Driving Rules

Bill Dugan

H - (817) 265-0704 (
---
Road Ramblings

by Keith Olcha, Maverick Region President

Porsche Parade 2004 was a success. Every

Maverick who helped, no matter what

they did, was needed, appreciated, and

it showed. After I took off my name badge at

the end of the final banquet on Saturday

night July 10th, I personally asked several

people their parting thoughts. The ones I

spoke to all had a great time. Some said it was

the best Parade they had been to in the last

few years. While it got hot after all by the end of the week, the

weather for the Concours and the Rally was cooler than

average with no rain. In this issue of Slipstream and also the

next I believe, we'll have various articles covering Parade and

the many events and activities throughout the week.

The turnout was large, as expected. Hundreds were at

the Concours on Monday, July 5th. Three of the banquets I

was at each had over 800 people. I entered the Concours

and the Autocross with my 2002 Boxster S and the Club

Race in my 1993 RS America. I would have entered the

remaining two Parade competitive events- the Technical

Quiz and the Rally, but my responsibilities in helping set up

the Texas Motor Speedway and instructing in the Drivers

Education created time and place conflicts. It was all fun,

especially preparing the Boxster for the Concours. I spent

16 total hours over the course of two weeks in the evenings

cleaning and preparing the entire car for judging in the

full-preparation category. While waiting for the judges,

Carey Spreen asked me how much time I'd spent on the car.

the "Pre-Race" show before the live Formula One telecasts?

I realized that I was suffering from SWS, SpeedChannel

Withdrawal Syndrome. I had gone several weeks without

watching enough SpeedTV, and I was feeling the

effects. Wayne prescribed two doses of "World Rally

Championship" that night, and to call him in the morning.

Things are back to normal now and I feel much better. By

the way, Wayne's 914 race car is pictured in this months

"Excellence" in the article on the Rennsport Reunion II at

Daytona earlier in the year.

On a final note, the 2004 election for 2005 officers takes

place in November of this year. This entire executive

committee is stepping down with many officers having

several years on the job. A nominating committee is being

formed now to find candidates for the ballot in November.

Previous executive committee members take the time

and effort to properly transition to the new executive

committee and help them in every way we can. Most

positions run unopposed, as well, given the volunteer

nature of this club. Please look in Slipstream next month

and contact the nominating committee. Please feel free to

speak with me about a position if you've got questions. In

addition to the President, Vice-President, Secretary, and

Treasurer positions, there will also be several event chairperson

positions open this year as well. Please look through

the positions and think about what you might want to do.

The positions can be fun, the time goes quickly, and the

contribution is greatly appreciated. Till next month.

"I spent 16 total hours... cleaning

and preparing the entire car"

After I told him, he looked at me and said: "You know there

are people who spend 16 hours on the 4 wheels and tires

alone…100 hours is not uncommon for a class-winning

car." I thanked him for his support as the judges were just

moments away from judging my car and likely laughing at

my efforts. Well, in the end I scored 296 out of 300 possible

points, which is actually a good score on a fair-good-very

good-excellent scale. The last 10 points from 290 until 300

settle all the rankings in this kind of event.

While getting ready for Parade, then attending the

events during Parade week, and then trying to catch up on

work the week after Parade, I did come down with an

illness. Fortunately I was able to get a quick diagnosis from

a doctor friend, Wayne Brown. I told Wayne that something

was just not right; I was feeling empty even after such a f

ulfilling event as Parade. He asked a few general questions,

but being the car-nut he is honed in on the problem right

away. He asked me some specific questions, telling me that

if I knew the answers to all or most of them, that I myself

would realize what was lacking: First, did I know what

products the D.R. Chipper company makes? Second, what

are the names of the hosts of "Dream Car Garage?" Third,

what kind of Bobble-Head is on Dave DeSpain's desk?

Fourth, what is the name of the doctor who promotes

"Cortislim?" Fifth, what night of the week has Motorcycle

racing? Finally, What automobile manufacturer sponsors

5
---
6
---
Email: mayos@imagin.net or

FAX at (817) 267-4939

• ENGINE AND TRANSMISSION SERVICE

• SUSPENSION AND ALIGNMENT SPECIALISTS

• TIRE SPECIALISTS –

O.E.M.

DOT COMPETITION

RACING SLICKS

• SPECIALISTS IN EARLY PORSCHE FUEL

INJECTION SYSTEMS

7
---
Curves Ahead

by Matt Platts, Slipstream Editor

Ithink it's finally over! The largest Maverick

Region event in recent history is behind us.

Besides some final housekeeping, packing,

and accounting, Parade is a memory (and a

fond one, at that!). I don't know about you, but

I sure learned a lot about downtown Fort

Worth that I didn't already know. I think it was

a great host city. The Worthington did a great

job of handling the crowds, and their conference

facilities were top-notch. I really enjoyed putting together

the a/v presentations. I'm grateful that the Worthington's a/v

crew and equipment were up to the task. The entire week was a

lot of work for a lot of people, and I heard nothing but compliments

for the entire event and it's staff. Good job everyone!

You will find that this August issue of Slipstream serves two

purposes. First, it will provide you with peveral post-Parade

related articles. Second, it will catch us up with several events

that occurred prior to Parade, but had to wait to be published

Maverick Minutes

because of the Parade special issue. There's a lot of reading

packed in, and I think you'll really enjoy it.

Now that Parade is behind us, we can focus on our regularly

scheduled events. Autocross & Time Trial weekends start up

again this month, then wrap up the season in October. There are

also a couple of tours coming up soon; a 3-day trip to Arkansas

at the end of the month, then a 1-day tour through East Texas

in November. And last, but by no means least, we are hosting

two more DE's before the end of the year. The first is our regular

September DE, then we have added a new DE weekend in

October. Can you say "Great Weather"? October sounds like the

perfect time of year for a DE to me. I'll see you there!

Lastly, I would like to talk a little about Slipstream. As many

of you know, I'm quickly approaching two years as Editor of this

find publication. As much fun as this time has been, I'll be ready

for someone else to take over at the end of the year. Please contact

me if you are interested in becoming part of the Slipstream

"team". It's a very rewarding job.

by Michael Wingfield

The June board meeting was held Tuesday, June 8, at Park Place

Porsche. Attendees were Noby Takahashi, Wendy Shoffit, Lanean

Hughes, Chuck Machala, Bill Miller, Joel Nannis, Dennis

Chamberlain, Jan Mayo, Marie Wingfield, Michael Wingfield, and Keith

Olcha who called the meeting to order at 6:58 PM.

Keith – Getting excited about Parade, which is almost here. We have

59 entrants for the Parade Club Race with more applications on the way

from folks that participated in the Barber Club Race and still have a

healthy car. The Parade DE has about 156 entrants registered for the two

one-day events.

Jan –"Parade is going to happen!"Committees are tackling the small

details and tying up the loose ends.Jan expects great results from the Silent

Auction, and has requested an item from Peter Porsche. She asked that the

board decide how to handle the seven bookcases purchased in July 2002

for use in the Parade Art Show and Parade Goodie Store. Originally, the

thought was that Parade would buy the bookcases from the region.

Lanean made a motion that the region not sell the bookcases to Parade,

but rather loan the bookcases at no charge. The motion seconded and

passed. Lanean made a second motion that the region either donate the

bookcases to the Hope Shelter after Parade, or sell the cases with the proceeds

donated to the shelter. The motion seconded and passed.

Wendy – Parade currently has 955 total entrants (550 primary

entrants + 405 co-entrants). Maverick Region represents approximately

28% (154) of the primary entrants.Parade binders,75 pages of local information,

schedules and maps, are ready. New applications for the Parade

DE continue to arrive. TT#4/AX#3 held this past weekend generated just

over $1,000 profit, with about 30 participants each day. James Shoffit is

updating the AX software program, and will have it ready for AX#4 at

Pennington field this coming weekend.

Wendy (as Matt Platts) – General plea for Slipstream content for the

August issue. Unfortunately, the June issue went to the mail house a few

days late and will reach the membership a little later than usual. A search

for someone to fill the position of 2005 Slipstream Editor is underway. If

you're interested, contact Matt.

Lanean – Parade sponsors have donated quite a bit to make the event

happen. Zymol will have a 4-day car wash set up so participants can wash

their cars before/after the competition events. The Hope Shelter received

about $7,000 from the May Poker Run event. The funds will go to the

Rebuilding Hope building project. Rebuilding Hope has obtained a lot for

the new building. After Parade, a team of volunteer architects will begin

work on the new building design.

Noby – Insurance is in place for the Parade Club Race and DE event.

He also has several pads of waiver sheets to turn over to Wendy.

Noby (as Bob Knight) – We still have some money left.

Chuck – AX#4 at Pennington Field this Sunday (6-13), and will be

the last test of the Parade AX process and equipment before Parade.

Bill – We have a good group of regular attendees that are helping to

grow the TT/AX program,even when Joel slicks the track with oil (again!).

Joel – Currently, Maverick Region has 1181 members. However, we

have not received the latest membership updates from PCA National due

to software issues at PCA National. He wants to revisit the possibility of

reducing the cost of Slipstream by allowing members to elect NOT to

receive the magazine.Rather,each member can elect to download only the

electronic version of Slipstream from the Maverick web site. He will investigate

the possibility of following the Hill Country Region model for the

electronic newsletter.

Dennis – Approximately 50 people turned out for the Sea Grill happy

hour. The June Happy Hour will be at the Bavarian Grill (Plano) on

Thursday (6-10-2004) and at the Smokehouse (Colleyville) in July.

Michael – The June DE at MSR is ready to go.We sold out the Green

and Blue groups and have just a few spots left in Yellow and White. These

may fill before the event.

Michael (as Mimi Spreen) – yes, I'm still writing. The August Board

meeting will be held at Autobahn in Fort Worth on August 10. Motion

made to adjourn the meeting at 7:54 PM, with the motion seconded and

passed.

8
---
Happy Hour at Sea Grill & Bavarian Grill

Photo by Dennis Chamberlain

Photo by Dennis Chamberlain

by Dennis Chamberlain

Happy Hour Crew: Jay Easley,

Tinker Edwards and Dennis Chamberlain

We returned to the

Sea Grill on Thursday,

May 20, for the first time

in a year and a half, and

the food was every bit as

good as I had remembered.

Apparently, our

members remembered,

too, because we had one

of the largest turnouts of

the year - a total of 52

attendees, of which 40 stayed to eat.

We had three new (or relatively new) members, including

Rick and Susan Stein, who are fellow certified public

Susan & Rick Stein

Lourdes & Bob Kuykendall

accountants. The

three of us got

together and had

a stimulating

discussion of

Internal Revenue

Code section 179

and its unique

interaction with

code section 168.

Recent members

Bob and

Lourdes Kuykendall

(1988 911) were

attending their first

happy hour, as was

new member

Shelley Linders

(1998 Boxster),

who brought her

friend Tina Wright.

First time happy

hour attendees also

included Steve and

Sarah Boyd (99

Boxster). For those

of you who might

not know, Steve is our new webmeister, and he has made

substantial improvements to the Maverick web site. Other

members attending their first happy hour were Tim and

Sherie Machala (2001 Boxster S – driven by Sherie).

Then, a month later we headed to the Bavarian Grill in

Plano. It seemed that a German theme would make sense

for our June Happy Hour, considering the fact that the 2004

Parade would be starting in another month. I was

concerned about having a happy hour so far north in

Plano, partly due to the traffic through the High Five

project. As it turned out, the High Five wasn't the problem.

Instead, there was a bizarre tie-up below the George Bush

overpass that made headlines for days.

But the traffic still didn't restrict our turnout, which

was 50 members – almost as many as the previous month's

count at the Sea Grill. And there was an added advantage of

having a happy hour in Plano – Michael and Marie

Wingfield were in

attendance. Other

new faces and new

members included

Ed and Tracey

Gross, in their

brand new 2004

Boxster.

The award for

longest distance

probably would

have gone to Keith

and Karen Olcha,

Tracey & Ed Gross

were it not for

Jean and Dave

Frick coming

from the other

side of Ft. Worth.

I figure they

must have driven

about 275 miles

Speaking of Keith,

he had the line of

the evening on the

subject of the

George Bush overpass

crisis. Too bad I

can't publish it.

For our August 19 Happy Hour, we'll be returning to

Champps American Grill in Addison. Hope to see you

there.

Photo by Dennis Chamberlain

Photo by Dennis Chamberlain

Photo by Dennis Chamberlain

Photo by Dennis Chamberlain

Photo by Dennis Chamberlain

Karen & Keith Olcha

Tina Wright & Shelley Linders

Sarah & Steve Boyd

Tim & Sherie Machala

9
---
Parade 2004, An Event To Remember!

by Scott Olson

It was quite a scene: A dull gray multistory parking garage

in downtown Ft. Worth, usually vacant for the weekend,

was now swarming with activity on a warm Saturday

afternoon. Porsche automobiles of all types and years moved

toward the first floor, where several wash bays were waiting.

Stocked with soap and wheel cleaner, each car got a cool

bath. After a thorough rinse, cars were slowly driven

upstairs where the owners waxed, polished, cleaned,

vacuumed, and detailed each car. This was the opening day

to prepare for the Concours 'de Elegance. The show was two

days away, but already owners had wheels off, hoods up,

doors open, and in some cases, seats out to complete the

concours cleaning. There was a wide selection of cleaning

products organized into plastic bins near each car. The buzz

of vacuums filled the air. Porsche owners are not much

different from other automotive enthusiasts – except that

once a year, Porsche owners gather for Parade.

... A variety of activities catered to Porsche

enthusiasts of all ages and interests ...

Hosted by the Maverick Region, Porsche Club of America this

was the 49th annual Porsche Parade. Over 1500 Porsche enthusiasts

from all across the country gathered in Ft. Worth, bringing

over 700 cars to North Texas for the week.

A variety of activities catered to Porsche enthusiasts of

all ages and interests. The first event was the Concours d' elegance

car show on Main Street in Ft Worth. With almost 80

cars entered, a group of judges descended upon each car for

a precise inspection. Owners could compete in three groups:

Restoration, (cars may be repaired or painted), Preservation

(as delivered from the factory) and Preparation (cleaned and

well presented). Cars were further divided into Touring

(driven – undercarriage not judged) and Full (undercarriage

is judged). Awards were then given in divisions to cars of

similar age, year and model.

On Monday, the Concours cars were lined up on the

brick Main Street in Ft. Worth. The old court house

provided a magnificent back drop to the scene. Top award in

Restoration class was David Seeland from Colorado, with a

1967 912. Chuck Leighton, with a 1975 911S won the

Preservation award and a brand new 2004 GT3 of Gerry

Curts won the Preparation award.

On Tuesday, over 100 two-person teams drove a time and

distance rally, which took participants on a route from Ft

Worth through the North Texas countryside and ending at

Texas Motor Speedway. Top Wednesday, nearly 200 Porsche

owners matched wits by taking a 2-hour technical quiz, with

tough questions from all areas of Porsche

history, specifications and marketing documents. Charles

Swanson was the overall winner and top score by a female

was earned by Debbie Cooper. All week there were

activities for children, including remote control car races, a

kids autocross and a field trip to spend the night at the Fort

Worth Zoo.

Later in the week, drivers at TMS participated in

a competitive Autocross and DE (Driver's Education) training.

The DE was held on the Texas Motor Speedway

road/oval course, complete with chicane on the front

straight. Wrapping up the week, drivers went wheel to wheel

in competitive Porsche Club Racing on Friday and Saturday.

Club Racing is an opportunity for Porsche Club members to

compete with each other in a "Gentleman's Race." The cars

are both straight stock and fully prepared race cars but all

must meet strict safety requirements. Dan Pastorini,

Houston Quarterback piloted his Porsche 996 to a win in the

Feature race.

The week was action packed and filled with other events

– even an art show, a goodie store, tours and hospitality areas

- for all types of Porsche owners. The 50th Porsche Parade

will be June 25 - July 2, 2005 in Hershey, Pennsylvania.

Go to www.Parade04.org for full results and pictures as

well as a list of all the wonderful sponsors who made this

event possible.

10
---
11
---
1033 N. Henderson St.

Fort Worth, TX

(817) 877–1772

Forgeline • Brembo • Eibach • Sparco • Borla • Hoosier • MOMO • Red Line • OMP • Teamtech • Fuel Safe

12
---
Parade Posters

August 26th or Later

We have a limited number of these posters left

featuring Bill Dugan's famous Panorama cover photo!

Available sizes in stock are 8x10, 11x14, 20x26 and 24x36

$10 $12 $15 only $20!

Driver's Education Car Numbers as low as $8 each!

These are heavy duty individual 10" tall magnetic numbers and

are available in white, black, red, yellow, blue and green.

Custom work is also available in any color . . . including metallics!

Coming soon!

graycatgraphics.com

Hats • Shirts • Banners • Posters

Calendars • Track Photography

Car Numbers • Digital Photo Editing

Kevin Hardison

Irving, Texas • (972) 849-8512

See the Application Form on

Page 26 or online at

13
---
"From Boxing to Boxsters"

By Bob Bianconi

Photo by Scott Olson

Report from the 49th Concours d'Elegance

That's the title from Sundance Square's monthly flyer. It is

referring to the premier events scheduled during June and

July in Sundance Square. And so it was that Sundance

Square and the City of Ft. Worth were our hosts for the 49th

Porsche Parade Concours d'Elegance. The day was perfect

weather-wise and the lineup of cars along the red bricks of Main

Street was pretty impressive.

Seventythree

cars were

official entrants

in the Concours

d'Elegance. The

cars ranged from

some of the earliest

356's to the

latest GT3's and a

little bit of everything

in between.

They came from

Massachusetts,

Washington

State, California,

you name it.

There were also

entrants from

Maverick,

Lonestar and Hill

Country Regions

representing

Texas. Judging

Scott Olson captured a great view of the Concours began at 9 with

the winners officially

announced at the Concours banquet that evening.

Special for me was the chance to escort Peter Porsche, Peter

Schwarzenbauer (PCNA) and Jack Bair (PCNA) along the

Concours venue as they attempted to pick the

car for the honorary judges choice award. Trying to get a

concensus here is pretty difficult considering that each car is

beautiful, historic or both. Finally they concluded that a black

356 owned by Bill Jones, from right here in Texas, was the best

of the best. But, maybe Peter's comment

was the best of the day:

"The Cars are cleaner than when they come from the

Factory!"

Besides the perfectly prepared Concours cars, there were

lots of other Porsche-related eye-candy to see. Doug Molny

arranged for a great display of Club Race cars and Charlie

Davis was able arrange for a large group of cars from the 914

Special Interest

Group (SIG).

Not to be out

done, there were

a pair of RS

Americas, a car

driven from

Mexico and several

Porsche

tractors owned

by the one and

only George

(and Sharon)

Maybee from

Colorado. You

remember

George; his place

has been shown

in Pano and

Excellence. It's

the Gmund factory

re-created in

Colorado. What

a great guy.

Perhaps one

Main Street in Fort Worth was a perfect venue

of the best displays outside the Concours itself was the historic

display coordinated by Ed Mayo. Somehow Ed managed to display

all the significant 911 models in honor of the 40th year

anniversary.

I can't end without thanking the Concours team of Dennis

Poquiz, Bill Campell, Scott Olson, Andy Miller and Doug

Molny. Special thanks go out to John Takehara, head judge,

Stephanie Anderson, chief of scoring, James Shoffit, Parade

scoring and Karen Erz, trophies.

Everyone did just a superb job.

Photo by Scott Olson

Photo by Matt Platts

Photo by Bill Campbell

Bob Bianconi with Peter Porsche

Photo by Bob Bianconi

Cleaning every last bit

Early in the day before the crowds

14
---
Tech Quiz & Historics

Photo by Linda Bambina

by Ed Mayo

To paraphrase a well known football sportscaster,"turn off

the engines, the party's over." Well, our party is over, and

by all accounts we threw a pretty good one. My part of

this wing-ding was the tech quiz and the historic car display. I

have learned that I would much rather take the quiz than write

it! I started almost 2 years ago, wrote about 350 questions, had

help from Cliff Blackshear, who wrote the Cayenne section,

and Keith Olcha, who did the club race section. My daughter

Michele took all my handwritten questions and transcribed

them to an electronic media. Also, besides all the other things

she had to preside over, her "chairness" did a lot of computer

work for me. Michele was also very considerate in that she had

her baby two weeks before Parade started so she could help me

at registration. The PCR requires that the quiz be reviewed

by the tech committee, the quiz was done and in their hands by

end of January 04. Most of their reviews were back to me

by end of April, then started the process of all the revisions that

were necessary. David Seeland gave me the lion's share of

revisions. He is really good at making the question structure

perfect enough that it's not likely to be protested. He should

know, back when

he used to take the

quizzes he protested

more than 10

questions one year.

It was difficult

to fit the tech

quiz into the busy

schedule of this

year's parade, so

for the first time

in memory, it was

held Wednesday Yes, Ed even used PowerPoint!

evening instead of

Saturday morning. This was to accommodate the club race

being a part of Parade week. However as Mike Robbins

pointed out to me, this was not the first time a PCA race was

held in conjunction with the parade. It seems we were not

the first to do this, a PCA race was run as part of the 1964

Parade. So we only repeated history, not made it.

I did accomplish the two goals I had set out for the quiz

though. They were for the winners to score in the 70 to 80%

range and to not have any protests.

During this same time frame I was also trying to gather

cars for the historic display. I quickly discovered that I wasn't

going to get the

collection of race

and special model

Porsches that I

had wanted. The

distance to Texas,

and the number

of other events

(Amelia Island,

Rennsport Reunion,

and Speedsterfest)

were too big to

Tech activities were very popular overcome. On a suggestion

from Keith

Photo by Linda Bambina

Olcha, I instead worked

towards gathering a complete

range of 911 models

to commemorate the

model's 40th anniversary. I

had one of the two

remaining 901 prototypes,

to an 04 GT-3, and 18

significant models in

between. It was amazing to

look at the stages of evolution

between those two

bookends. I would like to

thank Tom Williams, Mike

Orlie, and Jay Moore for

their help Monday morning

getting the historic

display organized.

Photo by Elaine Cash

The "newer" end of the historics display

was eye-catching

So I get through these two events and think that now I

can coast the rest of the week, then Mark Shevitz, our ace

emcee guy, tells me that he will be gone on a short business

trip Thursday night, so I'll need to emcee the tech quiz

awards banquet. Well, somehow I got thru that, but with a

much greater appreciation of what Mark does that he makes

look so easy.

So now we can look forward to the Hershey Parade, I'll

be easy to spot, I'll be the one looking very relaxed!

15
---
Parade Autocross Lists...

By Charlie Davis

We made lists for the 2004 Parade AX. Here is a list of our goals:

1. Be safe

2. Put on an event that entrants enjoy and remember

3. Be accurate…no errors

4. Run the event quickly, with little down time

5. Give more than 3 runs

6. Be on schedule

7. Make the course big and fast

8. Minimize DNFs due to getting lost

9. Make it entertaining for the spectators

10. Attract Club Race entrants

11. Set a good example of timing and posting

12. Set a good example of pylon usage

Here are the results:

1. No accidents! Nobody even came close.

2. Time will tell, but they were smiling and talking about it during

the week. I noted that after the first day, the word spread about how

much fun it was. A lot of people decide to not run on Wednesday,

but the next two days were well attended. I think they liked it…

3. We did a great job. There was one complaint about a DNF called

in error, but there were no protests all week (FTE).

Note: FTE means "First Time Ever", a Maverick tradition is to "break

new ground"

4. We had only a couple of unavoidable coolant spills, which we

cleaned up quickly. It ran like clockwork!

5. We gave everyone 5 runs. (FTE).

6. We started behind schedule every day due to the wrecker being

late, but we caught up and finished before 1:00 PM 2 of the 3 days.

The day we finished late was due to a massive spill.

7. It was big (just under a mile in length), fast (TTOD winner a

veraged 43.7 MPH), and fun too, I hear. Some of us are spoiled with

the size of the MineralRing. I had several attendees mention how big

and smooth the TMS Bus Lot was…and that they wished they had a

facility like that. Wonder what they would have thought of the Ring?

8. Most DNFs were due to over-exuberant driving, not confusion.

9. We had great announcing by Terry Zaccone and Dan Shields! Oh,

and Mark Shevitz helped out one day. (FTE)

10. Fourteen Club Race drivers entered the AX.

11. We posted results quickly following the end of each group. 5-10

minutes was typical. There were zero timing problems all week.

12. Unfortunately, we failed with the pylons. The Safety Committee

insisted that we add a few "pointer" cones, but they were located

inconsistently. Bummer…

This AX was a group effort. We struggled at times over the

past year and a half to get everything planned and tested. We had

several new things to sort out:

1. Truxster with roof platform for Loggers

2. New timing hardware

3. New timer software (for the new hardware)

4. New PA system

5. Hundreds and hundreds of new pylons

6. New parking lot

7. New PCR rules and classes

Plus, we had some new operational protocols to adapt to.

Everything worked beautifully thanks to the Parade AX

Committee, who worked diligently to make this event a great success:

1. Cody Sears

2. Jerry Fleming

3. Mike Lockas

4. James Shoffit

5. Mitch Williams

6. Darron Shaffer

7. Rose Gohlke

8. Steve Christensen

9. Shelly Burbank

10. Ed Mayo

11. Chuck Machala

12. Kevin Hardison

13. Tim Machala

14. Andy Mears

15. Rocky Johnson

Although she was not on the committee (due to other

important work), I want to thank Wendy Shoffit for helping with

workers and timing. Then there were the hundreds of volunteers

who braved the Texas weather to help out. Thanks!

Here are the statistics:

1. Total Competitors = 227

2. Total Runs = 1105 (4.87 runs/competitor, average)

3. Total run time = 900 minutes (a car every 48 sec)

4. Total Pylons Hit = 203 (1 pylon per 5.44 runs)

5. Total DNFs = 88 (7.96%)

6. 14 Club Racers entered the AX. (They took four 1st, three

2nd, and two 3rd trophies. That should dispel the myth that

Club Racers can't autocross!)

7. 144 drivers peaked (best time) on the 5th run.

8. 48 peaked on the 4th run.

9. 23 peaked on the 3rd run ("real" AXers peak early).

10. 1 peaked on the 2nd run.

11. 1 peaked on the 1st run. (but not THAT early…)

12. Percentage 911s = 27.75%

13. Percentage 911s (and variants) = 51.10%

14. Percentage 914s = 14.54%

15. Percentage water pumpers = 44.49%

16. Percentage water dumpers = 0.88%

17. Percentage Club Race drivers = 6.17%

The number of competitors was low, probably due to competition

from the other events. There were lots of MR members who

worked the DE and CR instead of running the AX. Some entrants

with 2 drivers per car also skipped the AX to do the DE. Then there

was competition from the RC car event and the kid's AX. Such is

Parade…choices…and this year they were good choices!

It's interesting that once again (5 years in a row), the Boxster

beat the Boxster S. Both the S and P categories turned out this way.

Class S4 was 84.332 vs Class S5 at 84.549, both Boxster S's. Class

P23 was 81.480 vs Class P24 at 81.723, both non-S Boxsters. I think

it's conclusive now…for AXing, the late (big) Boxster is a better

weapon than the Boxster S.

16
---
The Top 30 Times, regardless of Class are:

1 74.942 M4 914-6 Tom Provasi LPrieta

2 76.719 M3 911 William Walker Carrera

3 78.252 M4 914-6 Greg Curtiss RMR

4 78.419 P18 996 Richard Cowell GCoast

5 79.125 M4L 914-6 Sandi Provasi LPrieta

6 79.344 P22 996 TT Dennis Howard C'peake

7 79.612 M4 911E Tim Fleming SacValley

8 81.420 P18 996 Mike Hansen GCoast

9 81.480 P23 Boxster Chuck Machala Mav

10 81.603 P18L 996 Diana Hansen GCoast

11 81.723 P24 Boxster S Dan Shields SCoast

12 82.083 P11 911T Don Lillig KCR

13 82.109 P24L Boxster S Sharron Shields SCoast

14 82.294 I2 914-6 Carey Spreen Mav

15 82.446 I3 911S Jim Buckley Mav

16 82.449 P24 Boxster S Keith Olcha Mav

17 82.633 I3 944 T Henry Hoeh M-NY

18 82.789 M3 914-6 Ricardo Gonzales Chicago

19 82.934 P18L 996 Erinn Cowell GCoast

20 82.943 P12 911S James Bricken LHorn

21 82.988 P11 911L Terry Zaccone GGR

22 83.207 M3 914-6 Rick Gonzales Mav

23 83.519 P4 914-4 Cody Sears Mav

24 83.530 P18 GT3 Gerry Curts SCoast

25 83.598 I3 GT3 Steve Kidd GCoast

26 83.741 P14 911SC James Shoffit Mav

27 83.908 P22 996 TT Justin Howard C'peake

28 84.067 I3 993 Mark Steele Mav

29 84.076 M4 914-6 Ron Mott Ozrk

30 84.133 P15 911 Dave McGuigan GGR

There were several "new" drivers, who were outstanding from

my perception. Some of these may be known to others, but they surprised

me. First was William Walker, who had the 2nd fastest time

overall in M3. Next was Don Lillig, who beat Terry Zaccone in P11

(this hasn't happened often!). Then there was Diana Hansen, who

was less than 0.2 second behind her husband in P18 and the 10th

fastest time overall. Diana also gets my "hero" label for jumping into

the Pre-Staging arena on Wednesday and helping us run that successfully.

Last year in Tampa, MR did well in the AX and brought home

lots of those "interesting"sand thingies (every MR AX entrant except

one brought home a trophy from Florida). So this year, Suncoast and

Gold Coast members paid us back somewhat. Especially P24 where

Dan Shields beat Keith, Darron, and Tim. Note that 3 of the 4 ladies

in the Top 30 list are from Florida.And the Floridians took home nice

looking trophies, thanks to Karen Erz. (wink)

Oh, I forgot to mention that the rain and lightning missed us.YES!

We were very tired, but pleased that we orchestrated a class event.

I've posted a list of the results of the 2004 Parade AX.All runs are

listed and I've included a "Best Driver" list, where I attempt to normalize

the car out of the equation. The Parade-Best Autocross Driver

Index is based on Speed, Consistency, and Control. Go take a look at:

http://members.rennlist.com/chuxter/Parade04AXresults.xls

17
---
What A Party!

by Linda Bambina

More than 450 folks enjoyed Riscky's BBQ served in

the spacious Stampede Room at the historic

Stockyards during Parade's Volunteer Worker Party

sponsored by new sponsor CDOC. Plenty of great parking,

clear signage, and a Big Smile and "Howdeee!" from Minnie

Pearl (Taxi Breithaupt!) welcomed everyone with the yellow

ticket of Parade Smooches. While often this special "thank

you party" is little more than a quiet reception for the

hundreds of folks who help to pull off each Parade, this year's

gathering was a REAL

Party! Live C & W music

from our own Hill

Country Maverick, Ted

Morgan and his friend

Ruben Darnell were the

opening act in a series

of "special guest" appearances.

Maverick DJ, John

Hamilton was also on

hand to play the traditional

western dance tunes

throughout the evening.

Before the night was

over, we had visits, songs Linda Bambina "Dale Evans"

and silliness from Patsy

Cline (our own local "CRAZY" lady, Lanean Hughes,

coordinator/facilitator extraordinaire), Willie Nelson

Photo by Alan Bambina

Photo by Linda Bambina

Volunteer Worker co-chair's, Don & Taxi Breithaupt "Minnie Pearl"

(Joe Holzer singing his OWN "revised" lyrics on some

famous-Willie-songs), Dolly Parton (would you believe

Aubrey Sutton????), Gabby Hays (Alan Bambina really

... our own local "CRAZY" lady ...

looked like him!) and Trigger

who brought the house down

when welcoming Peter

Porsche who came in as Roy

Rogers! He was led

(dragged?) to the stage by

Dale Evans (me!) wearing

ribbon ringlets attached to a

white plastic cowgirl hat and

decked out in a plastic tablecloth

circle skirt with mylar

fringe. Peter looked very

much like the "King of the

Cowboys" in his Texas-Flag,

fringed cowboy shirt and

western hat as we all sang

"Happy Trails To You" as our

good-bye and good-night to

the camera-crazed crowd of

smiling faces.

Photo by Linda Bambina

Photo by Linda Bambina

The Shoffits as themselves

(well... sort of)

Jan & Ed Mayo took time out to relax a little!

18
---
Hospitality

by Fran Ussery

After nine days of smiling and being "nice", I can be

ME again! Actually, that was a wonderful nine

days. I'm talking about Parade Hospitality at

Porsche Parade 2004 in Fort Worth. For those of you that

came by and gave me and my wonderful staff (Tinker

Edwards, Michele deJong, Tricia Henderson, Sandi Lapp

and Clay Perrine) big hugs, we thank you. For those of

you Mavericks that did not take part in Parade... shame

on you. You missed one Texas-sized party.

... AND acted as "wrench" on the

coke fountain ...

Part of being the 2004 Hospitality chair was hosting

three venues during the week. The first venue and

actually the first impression of Parade 2004, was our

welcome "tent" on the east side of Fort Worth,

Saturday and Sunday opening the Parade week. This

area was staffed by Tricia Henderson and Sandi Lapp,

who braved the sun and heat to greet the travelers with

cold water, maps and information and beautiful Texas

smiles. And of course, they were dressed the part!

Thanks, ladies! We also want to thank your sponsor,

Autobahn, for providing the water and to Bimbo

Bakeries (Mrs. Baird's) for providing the facility.

The largest venue was the hospitality room at the

Worthington Hotel, sponsored by Park Place Porsche.

In our 6,000 square feet, we had displays from many of

the other Parade sponsors including PCNA, an internet

cafe sponsored by Powerhouse Racing, information

central with maps and brochures for entertainment

areas, historical and cultural areas and shopping areas.

In addition to the free-flowing coffee, soft drinks,

snacks and popcorn, we hosted a wine tasting and a

"kegger." With music by "We're from Comfort and

You're Not" (members Don Breithaupt, Ted Morgan,

Jean Fricke, all Mavericks, and Joe Holzer from New

York), we had a great Tuesday night party. And what

better decoration than a speed yellow GT3 from

PCNA.

Our coolest venue was TMS hospitality, again

sponsored by Park Place Porsche and handled by

Michele deJong. To offset the heat of the autocross, the

Clubhouse at the Lone Star Condos was converted into

a cool shelter with tables and chairs, lounges to relax,

Gatorade, water and snacks and a Texas-shaped pool

for those that needed emersion therapy! Thanks,

Michelle.

My two right hands (yep I have two right hands!)

Tinker Edwards and Clay Perrine were there to help

with all aspects and to answer questions and soothe the

tired spirit. In addition, Tinker developed the Texas

Parade Passport, researching places and things,

definitions and Texas history for our visitors as well

as bringing in lots of information on services and

restaurants for our guests. Clay not only acquired and

reformatted the seven computers for the internet cafe,

he maintained it during the week, set up a game

computer and Playstation AND acted as "wrench" on

the coke fountain. Wow, thanks to you both.

Am I glad the week is over? Yes. Am I glad the week

is over? NO! By Friday, I was having the time of my life,

I made some great new Porsche friends with Maverick

Region folks and those that came to our Parade from

across the country. If you missed it...shame on you!

Just ask those that attended, they'll tell you!

PRINTER OF SLIPSTREAM SINCE 1982

Photo by Linda Bambina

Fran Ussery (Ms. Hospitality!) poses with her kids, Erin and Adam

USSERY PRINTING

3402 CENTURY CIRCLE IRVING, TEXAS 75062

972-438-8344

FAX 972-721-1847

19
---
Boardwalk DE at MotorSport Ranch

by John Sandusky

The June DE was a Great

(Pumpkin) time. Father's Day

weekend provided the framework

for a (Cherry) successful event

at Motorsport Ranch. Many new

(Lime Green) participants coming

out to their first event experienced

a weekend of Blue(Berry) skies and

ample sun(-ripened Oranges).

Great fun (and no Lemons) was

everywhere. Participants also used

this weekend as a chance to go over

their cars one last time to avoid

any (Banana peel) slip-ups at the

upcoming Parade.

Photo by Jean Frick

Porsches cooling off...

Photo by Jean Frick

Does this look odd to you?

Many thanks to Boardwalk

Porsche for sponsoring this event.

OK, ok - what's with all the fruit

references you ask? Well, If you were

there - you already know. Because

it was the MANGO colored event

hats, complete with Boardwalk logo,

that were seen everywhere.

Come on out and join the fun.

See you at the next DE in September

(18-19). And our new event for

2004, October 23-24.

Photo by Jean Frick

Photo by Jean Frick

Photo by Jean Frick

Who knew James Bond drove a Porsche?

Dave Frick and his instructor, Wally Ruiz,

prepare for Battle

It's all too much for Cody

Photo by Jean Frick

Photo by Jean Frick

Grid fills up as another run group prepares to hit the track

Photo by Jean Frick

Photo by Jean Frick

Instructors at rest

DE'ing in comfort!

Joel, Joe, and John solving the world's problems... it's all about teamwork!

20
---
ISTOOK'S

Motorsport

Services

PORSCHE + AUDI PERFORMANCE and RACING SERVICES

TRACK SUPPORT CHASSIS FABRICATION CUSTOM EXHAUSTS

Authorized installer/tuner for REVO Performance Software, FIKSE

Wheels, and STOPTECH Performance Brake Systems

Watch for the ISTOOK/AINES Motorsports

AUDI S4 Twin Turbos on Speed Channel

2733 West 7th Street (repair shop)

3333 Suffolk Drive #104 (race shop)

Fort Worth, Texas 76107

(817) 332-6547 (repair shop)

(817) 924-2100 (race shop)

21
---
Autocross #3

by Al Swanson

My dad and I woke up at 6:00 AM at the luxurious

Mineral Wells Best Western Resort. This was much

easier than waking up at 4:00 AM and driving almost

3 hours to Mineral Wells from Greenville, Texas. Besides, we

had done the Time Trial the day before and needed a full

night to sleep off the belly full of Baris Italian food. We had

our first cup of hotel room coffee while trying to ignore the

bad news weather forecast on the television. The next step in

our routine was to drive my little yellow 914 to the local

Whataburger, where one can enjoy a deluxe breakfast while

observing the owner's stuffed animal heads prominently

displayed in the dining area.

... power out of the box to the

dreaded doughnut! ...

After checking out of the hotel, we were at the track

shortly after 7:00 AM. Volunteers had set up the Joel Nannis

designed course the night before, so after unloading my

dad's 3.2L 914-6, we were ready to walk the course. The first

feature had many different names; dueling skid-pads,

double barrel shotgun, crazy eight, and so on. This was

basically a counterclockwise skid-pad followed immediately

by an adjacent clockwise skid-pad. Joel did a good job

setting these up, because I did not hear of any wet-sump

motors suffering from oil starvation.

After exiting the crazy eight, there was a long right

hand sweeper reminiscent of the time trial course the day

before. This was essentially a full throttle feature. At the end

of the sweeper was an eight-cone slalom with a gentle right

hand curve which lead you to the box. It was possible

to enter an exit the box on a straight line, but everyone

quickly figured out this resulted in a bad line to the next

feature, not to mention the possibility of taking out a wall

of pointing cones. Most people ended up downshifting and

turning in the middle of the box and then were able to

power out of the box to the dreaded doughnut!

You had to enter and exit the doughnut through the

same gate. Once inside, you had to maneuver your car

around a fifteen foot diameter mini skid-pad while

avoiding an outer circle of penalty cones waiting for anyone

that might have entered a little too hot. After exiting the

doughnut, you had to fight off your dizziness and locate the

single pivot cone out on the tarmac. Then all you had to do

was negotiate the offset gates that brought you to the finish

chute. This finish chute was immediately after the timing

trap and must have been comprised of fifteen or twenty

fluorescent green cones on each side which all still counted

as penalty cones. This was a big incentive to be going slow

after you finished (ask Mike Lockas).

Each of the 28 drivers got 5 laps in the morning and 4

laps in the afternoon. The threatening weather held off and

we were done by 2:00. The usual "go-fast" drivers were fast:

Chuck Machala, Mark Steele, and Cody Sears. These guys

were all 15% faster than my car (notice I blame it on my car,

not the driver). Chuck and Mark are not only great drivers,

but they also have technologically advanced driving

machines. Cody is the one I have a hard time

rationalizing. Allegedly, the only difference between his

car and mine is soft

compound racing tires.

To help me shed

some light on this

mystery, I asked Cody

to take me for a ride

after the time trials on

Saturday. I do not

Photo by Kevin Hardison

recommend this for

pregnant women or

anyone with a heart Chuck Machala blurring into the doughnut.

condition. All I needed

to experience was the first hard turn after the long backside

straight away on course number one. Of course Cody had

his foot planted to the floor almost from the first turn, so

his little red 914 had to be at terminal velocity by the end of

the straight. We passed the braking cones with full throttle

applied, as if they were any other ordinary boundary

marking cones. I then saw all the black tire marks on the

pavement where most mortals abruptly apply their brakes.

These too we passed at full steam without regard. I had

given up any hope of slowing down enough to make the

turn and resigned myself to the certainty of launching

straight ahead into the knee deep grass of the adjacent

pasture when suddenly I felt a shooting pain in both my

shoulders and my hips simultaneously. When I regained

consciousness, Cody was chirping his tires around a tight

corner muttering something about never figuring out the

correct line. Now I understand.

Photo by Kevin Hardison

Photo by Kevin Hardison

Photo by Kevin Hardison

John Swanson getting hooked up.

Cody Sears taking an aggressive line in the skidpad.

Al Swanson joining in the mid-engined parade.

22

Full Autocross & Time Trial results can be found at http://www.pca.org/mav/Autocross/YTD2004.htm
---
Time Trial #3

by Rocky Johnson

It REALLY is the people/suspension tuning is an art, not a science.

Friday afternoon, June 4th, I was preparing to load the car to

head out for TT #4. I was pretty psyched because we were going to

run course #1. When we ran that course at the start of the season

in April, I was lucky enough to have posted top time of the day for

Porsches. In the interim, I made some suspension

changes that I felt sure would knock off

additional time.

While I was checking around the car, I

noticed the dust cover on the right front wheel

bearing was missing. Mild irritation ensued. I

would have to head to the local dealer in Friday

afternoon traffic to replace the missing part,

since I was leaving early Saturday morning for

Mineral Wells. Several phone calls later, irritation

turned to major concern. No one had the

part in stock, but they would be happy to order

it for delivery early the following week.

Many of you may know that Dan Gage and his cousin, Paul

Smyth, own the Econo Lube N' Tune & Brakes in Lewisville. They

offer pre-tech inspections for DE's, along with their other services.

In fact, Dan had been kind enough to let me use his lift and

offer his assistance when I made the suspension changes. Dan and

Paul both drive 944 Turbo's and the part is the same, so I called

Autocross #4 - Some folks get it

by Lauren Dunn

As I drug myself out of bed Sunday morning (not usually so

hard), hooked the trailer to my convertible (something fundamentally

wrong there), checked the lights (no running

lights – odd) and iced down the cooler, that thought kept running

through my head.

The folks at my office don't get it. Many of them watch

NASCAR. Sometimes they ask how my weekend was…

"What did you do this weekend, Lauren?"

"I slapped some magnetic numbers on my car and went racing

with a bunch of guys in a parking lot."

"Oh…"

As I was grabbing a bottle of water from

my cooler before trekking out for my afternoon

work assignment, I met someone who

got it. A young fellow with a Miata had conned

his mother in to coming out to see what was

going on to "prove" it was safe. She didn't need

much convincing as she promptly starting

explaining to me how much we were all

learning from our driving exercises.

The sun had taken its toll on me by that

point in the day, so my mind started to wander a

bit. It started counting. 3 Texas Region SCCA

events. 1 Oklahoma SCCA event. 4 Equipe Rapide

events. 2 North Texas S2000 Owner's Club events. 1 SCCA

National Tour event, 1 Maverick PCA school and now a Maverick

Region PCA event. And it's June. That's 14 days of working on my

sunburn, about 90 runs (or their equivalent) on various tires, 2700

Photo by Kevin Hardison

Photo by Kevin Hardison

James Shoffit spinning for the camera

and still able to smile about it!

It's not trick photography.

Myra Sutton's front wheel is really

that far off of the ground!

Dan to see if he might have a spare. No, he didn't, but he offered

to let me use one off his car, since he wasn't driving until the next

DE. I said I would come right up and take it off his car. In the 30

minutes it took me to get there, Dan had removed the part,

cleaned it up and had it waiting for me. Once again, Dan had

proved the old saying "It's not the cars, it's the

people." That's the good news. Now on to the

time trial.

Instead of just making one change, checking

the results and then fine-tuning, I actually

made two changes. The second was based on

what I assumed (I know, I know) would be the

result of the initial change. Bad idea! The car

basically handled like a pig. Any dreams of

another TTOD were shattered. In fact, I was

lucky to finish in the top ten. Back to the drawing

board. By the next DE in June, I had a spare

part in the toolbox and had done a bit more finetuning.

This had a happier result. Most of the

understeer was gone and the car was handling fine. According to

my lap timer, I turned a 1:26:00 at MSR. Now I realize that's no

great deal for you hot shoes, but it was a personal best for me. I

figured it wasn't too bad for an old f--t, as my good friend Noby

likes to call me. Now if can just figure out how to knock off

another second or two!

miles in transit, 120 gallons of gas, 6 hours of cone mark removal

and to show for it? Four etched wine glasses on top of the fridge.

Which is what led me to realize why I was standing in the sun

in a parking lot on this particular Sunday. Y'all get it.

Everyone I've met whether fastest, slowest or in the infinite in

between enjoys watching the other cars on the course. They enjoy

(though they'll never admit it) the fine black powder that collects

in their pores. They enjoy the tinge of burnt race fuel in the air.

They enjoy the smell of hot brakes and the growl of a loud

exhaust.

And then my mind wandered back in to

the conversation I was in and I heard her say

something about him trying anything that was

dangerous so I offered, "No danger here… but

you might like it!" She smiled and pondered

that while I headed off to chase cones.

After 48 hairpins, 16 laps around the

skidpad (8 times each direction) and the discovery

of 17 new swear words, I can't even begin

to count the number of things I did wrong on

this course. Through some miracle the 7 other

Miatas, 2 Subarus and 2 Toyotas in OJ found

more things to do wrong than I did. I've watched

the video, and I can count the number of things

I did right, but let's just say I don't need to take off my shoes…

Congrats to everyone who had a great time improving their

skill during this event. Thanks again for making us non-Porsche

owners feel welcome!

Full Autocross & Time Trial results can be found at http://www.pca.org/mav/Autocross/YTD2004.htm

23
---
Nacogdoches Tour

by Sara Gutreise

Nacogdoches Part 2 is the 2004 version of the Maverick

Region Porsche Club tour deep into the Piney Woods of

East Texas. Part 2 was a different tour than Part 1 in 2003.

There were different roads, there were new roads, there were

higher gas prices (choke!), and new restaurants to indulge… the

best part of the tour. As the tour participants know – all good

roads lead to good food.

After driving winding roads all morning, we had lunch in

Crockett, just on the Eastern edge of the Davey Crockett National

Forest. We ate a New Orleans style lunch at Benton's New Orleans

& Italian Café. "This restaurant is just off the square and offers

spiced-to-perfection seafood gumbo and a saucy shrimp Creole

counterbalanced by garlic bread and excellent salads." That is how

Texas Highways magazine described the food. They just forgot to

describe the desserts. The two favorites being bananas foster pie

and chocolate mousse cake. A hand painted mural of a New

Orleans courtyard covers one of the inside walls, and makes you

wonder where you really are. New Orleans or Texas.

For all you blues afficianados, Crockett is also the site of the

Sam (Lightnin') Hopkins memorial.

And yes, the town was named for you-know-who after he

camped nearby on his way to the Alamo. The site was very near

the Old San Antonio Road. A family of Tennesseans donated the

land for the town and named it after Crockett, who they had

known back in Tennessee.

After lunch, we headed east through the Davey Crockett

National Forest and other great roads close to the Louisiana

border. We arrived in Nacogdoches with time to rest and ponder

how the 175 mile drive from Dallas to Nacogdoches took us over

400 miles? Really, it was just a typical tour. There is no quickest

line between two points, and even Porsche says, "The secret to

life is enjoying the curves it throws at you."

Following the Sunday morning run through the beautiful

historic section of Nacogdoches between the Chadwich trained

"Ted the Streak" and the untrained "Borrowed Shoes Miller", the

Porsches lined up and headed southwest.

Dallas was Northwest. So, in a normal tour round-about

way, after driving some of the most beautiful canopied roads in

Texas, we did start to head in a northwesterly direction. We had

to, since our lunch stop was going to be at Fuller's Find Food in

Tyler. This homestyle restaurant was started in 1950 and is still

run by the Fuller family. 50 years! Try and find a restaurant that

has been around that long in Dallas.

After lunch it was back into the Porsches for a nap. Actually,

after lunch we drove more of the beautiful back roads (like

Sammy Hagar says, "I can't drive I-20") back to DFW. Another

great tour by our fantastic Tourmeister!

For all the members who have not participated in a tour,

you are missing a lot. I have seen and learned about parts of

Texas that I never knew existed. And, what makes it even better,

is that I have enjoyed the great roads, great food, great hotels,

and great company in a great car. If Ferry Porsche had come to

Texas, I am sure this is just the way he could have done it.

24
---
German Engineering With Southern Hospitality.

Personal Service.

At Nine-Eleven, we've built a reputation for understanding our customers' needs —

quality service, convenient location, state-of-the-art diagnostics, and personalized service

that is unmatched in the Metroplex. When you trust your car to us, you will have the

peace of mind that it will be serviced correctly the first time. Every time.

Access.

We strongly believe in access to those who will actually work on your car. Our

technicians are available in person, by phone, and even by pager if you have questions

or need timely information about your car.

Facility.

Our clean shop, well-stocked parts department, and comfortable waiting room ensure

that you and your car will get the kind of service you deserve. Maintained tools and

equipment. Clean cars. We are meticulous about details.

Parts.

Our parts department is also second to none. Our knowledgeable staff will assist you in

finding that necessary part or after-market option you require. We are an authorized dealer

for high-performance Recaro seating, Yokohama Tires, Bilstein Shocks, Bosch, and many

others. This ensures that whether you are a casual driver or an enthusiast who needs race

prep assistance, Nine-Eleven has the experience and knowledge to keep your car running

at peak performance.

Newkirk

Crown Rd.

Cindy Lane

IXXI

Royal Lane

Joe Field Rd.

Emerald

I-35

Nine-Eleven Enterprises, Inc.

Service, Accessories & Parts for BMW,

Mercedes & Porsche

2120 Cindy Lane, Dallas, Texas 75229

972-241-2002 www.nine-eleven.com

Convenience.

We are conveniently located near the intersection of Stemmons and LBJ Freeways

in Dallas. We offer emergency towing service 24 hours a day and have arranged

for special rental car rates with area rental agencies. Come by for a visit between

7:30 a.m. and 5:00 p.m. Monday-Friday, or call for a service appointment.

25
---
26 27
---
New Wheels

by Joel Nannis, Membership Chair

May

Thomas Eanes

2521 Shirley Avenue

Fort Worth, TX 76109

2001 986

Richard & Jeff Guyer

18401 Turnbridge Drive

Dallas, TX 75252

2004 889

Charles Holt

5020 Falcon Hollow

McKinney, TX 75070

1975 914

Robert & John Jamieson

6776 Patrick Circle

Dallas, TX 75214

1996 911

Thomas & Cathy Lassiter

3446 Heather Hill Drive

Garland, TX 75044

1988 986

Donovan Manzarek

2860 Ragland Road

Mansfield, TX 76063

1983 930

Derek & Kimberly Morgan

802 Crown Court

Keller, TX 76248

1979 911

James & Amy St Peter

17628 Windflower Way

Dallas, TX 75252

1997 993

Spencer & Phil Watkins

1409 South Lamar #551

Dallas, TX 75215

1999 986

Neil & Jo Ann Woodland

1983 Chisholm Trail

Frisco, TX 75034

2001 986

If you have any changes that you would like to make to the

MRPCA membership guide, call Joel Nannis at 817-329-1600

June

Elgin & Rachel Allen

4707 Chapel Hill

Dallas, TX 75214

2004 996

Richard & Rita Baker

3001 Lakeway Drive

Rowlett, TX 75088

1997 986

Brian & Tracey Bergfield

6808 Lochwood Court

Garland, TX 75044

1986 911

John Calhoun

9416 Patagonia Lane

Plano, TX 75025

2003 996

William Clipp

3509 Melanie Lane

Plano, TX 75023

2004 996

David Coppock

5418 Vanderbilt Avenue

Dallas, TX 75206

2005 996 S

Jonathan Couch & Natalie Cooper

2901 W Rochell

Irving, TX 75062

2002 986

Jefferson Davis

713 McCoy Street

Irving, TX 75062

1976 914

Curtis & Becky Frisbie

2921 Hornby Lane

Flower Mound, TX 75022

2004 996

Kenneth & Kathy Geary

1817 Countryside

Carrollton, TX 75007

2003 996

Judy & Chris Kellner

409 Meadowcreek Road

Coppell, TX 75019

1991 911

Remember to Renew!

Contrary to magazines which start reminding you to renew 13 years before your current

subscription expires, PCA only sends out one renewal notice. If you do not pay your dues before

(or *slightly* after) your membership expires, you will be dropped from the national roster.

That means you'll no longer get Panorama, Slipstream, or first priority into DEs! PCA makes it

easy to renew with both mail-in forms and online registration. Besides, it's only $42 per year!

If you are thinking of not renewing, please contact one of the board members on page 4 so we

can know what we're doing that isn't suiting you. If we don't know that there's a problem, we

can't fix the problem.

We want you to be happy in the club and are doing our very best to schedule a variety of events

for everyone.

Help us help you and RENEW!

Leamon Lafayette

5310 Harvest Hill Road Suite 233

Dallas, TX 75230

1986 911

Todd Murphy

119 W Hall

Grapevine, TX 76051

2002 986

Jim Nackley

7300 Breamar Terrace

Colleyville, TX 76034

2002 996

Nathan Neely

2148 Lavaca

Carrollton, TX 75010

1998 986

Cipriano Negrete

11071 Snyder Drive

Frisco, TX 75035

1998 986

Michael Piper

8613 Mesa Verder Drive

Plano, TX 75025

1991 944 S

John Quinones

6511 Josephine Drive

Arlington, TX 76017

2004 996

Oscar Ramirez

3808 Saddlehead Drive

Plano, TX 75075

1999 986

Wilfredo Rivera & Veronica Diaz

4022 Travis Street #C

Dallas, TX 75204

2002 986

Troy & Debby Stephan

1226 Caledonia Court

Allen, TX 75013

2004 986 S

Gary Taylor

8922 White Pine

Dallas, TX 75238

2000 986

Rene & Kelly Tullier

6542 Woodland Drive

Dallas, TX 75225

2004 Cayenne

Mark & Paula Vanderburg

5937 Brookhaven Drive

Plano, TX 75093

1990 964

James Weber

8101 Clayton Drive

Plano, TX 75025

2002 996

Jeff Gedcke & Donna Perry

2011 Frostwood Drive

Tyler, TX 75073

1989 911

27
---
Unclassifieds

Unclassifieds are available free to Maverick Region Members and are $5 to all others (contact Matt Platts for payment details). Please limit size to no more than 6 lines. Ads will run for 3 issues, then removed unless

you request that it be run for an additional 3 issues. Email your ad to unclassifieds@mavpca.org by the 10th to have your ad run in the following month's Slipstream. Be sure to include a contact name and phone

number. If you are selling a car, include mileage and price. Check your ad for accuracy the first time it runs. Contact the editor to have your ad pulled sooner. Due to space constraints, photos can not be included.

1986 944 Turbo Guards red/black int. 5 spd. trans 67kmiles and recent 60k

service. The car is in great condition inside and out and has been garaged

most of it's life. The car has all original equipment and currently has Z rated

Dunlop tires in factory sizes with approx 75 % tread left on them. The car is

being offered for sale @ $16,000.00 which includes a freshly painted

front bumper and mirrors by GTI. Please contact Kyle @ 817 683 0102 or

Kyle@hlmotorcars.com (1)

1988 Carrera Cabriolet Commemorative Edition 911 in special Diamond

Blue Metallic with Silver Blue interior. Has all it's original parts, has been

lovingly cared for. Owner was ill during the last couple of years of his life,

has been driven infrequently. 74k miles, $27,000. Contact Tonja Terrazas at

972-888-6092 or tonja@thomasedwards.com (1)

Four 15" Spoked Alloy Wheels (sometimes referred to as a Spider Web design)

fitted as standard equipment on the 924 Turbo. With center caps. Wheels

can also be used on 944's. Wheels are straight but will need to be refinished.

$200. John Dolan. 972-822-0175 (cell) or 972-235-4622 (home),

Dolbens48@aol.com (1)

1984 911 Targa Metallic Burgundy, pristine condition, 79k miles only.

Whale-tail and front-chin spoilers, Blaupunkt CD stereo, power windows,

covered parking always --no rain/snow. No road rash, new tires and breaks,

engine and transmission rebuilt, runs strong and rides smooth, clean.

$16,900.00 obo. Includes extra set of wheels and 2-piece bra. E-mail for lots

of pics. Contact Gabriel at 972/233-9468 or gga2porsche@yahoo.com (1)

1984 Porsche 944 very good condition. Blue metallic, recently resprayed.

Black leather interior, no cracks or fading. Runs great. Complete maintenance

records. 170K+ miles (broken odometer). Cold A/C (converted to R-132).

$2000. Email MarkJson@aol.com or call 972-284-3536 for details.

1964 Chris Craft Classic 17' Mahogany Delux Runabout. Chevy 283 inboard

V8, new seats front and back, fresh varnish and bottom paint, custom trailer,

lake ready. Same owner last 26 years, 2nd overall, 680 total hours.

Excellent condition. Contact Steven Snay @ 940-464-3289 (1)

Anniversaries

20 Years

Dave Casey (Doris)

15 Years

Gerald Faulconer (Karen)

10 Years

Darwin P. Binek (Kelly C.)

Robert W. Gordon (Robert K.)

Douglas O. Wickey

Copper Canyon

Dallas

Arlington

Coppell

Richardson

Slipstream Advertiser Index

Autobahn Motorcar Group (800) 433-5602 Page 17

Autoscope (972) 867-7467 Page 11

Boardwalk Porsche (214) 576-1911 I.F.C.

Bob Johanneson Fabrication(800) 544-2956 Page 25

Bobby Archer's Motorsports (817) 877-1772 Page 12

Buckley's Precision Racing (817) 239-7969 Page 18

Dallas Auto Sports (214) 320-2228 Page 21

Dallas Euro Cars (972) 243-4911 Page 7

German Technologies (817) 540-0712 (returning soon)

Glen Gatlin, Jr. (214) 965-6102 B.C.

Istook's Motorsport Svcs (817) 332-6547 Page 21

Louden Motorcar Svcs (214) 241-6326 I.B.C.

1985/1 Porsche 944 Black/tan, 5 speed, engine professionally rebuilt/installed

2K miles ago by AutoScope in April 2003; many new parts, including engine

mounts, brakes, shifter, hatchback seal and gasket, etc.; no A/C (needs

compressor); interior needs work; car runs/drives well, looks sharp from ten

feet or more; front valence underneath has cracks. $3,000. John Dolan.

972-822-0175 (cell) or 972-235-4622 (home), Dolbens48@aol.com (1)

1998 Boxster Arena Red/Savannah: one-owner/one driver - 38,500 miles.

Hardtop, skins, hatch mounted luggage carrier, nearly new Toyo tyres,

17" Speedline wheels w/colored inserts. Always garaged and covered.

Park Place does big inspections - I do oil changes/minor repairs. Porsche

owner/driver since 1958. Very nice example. $25,500.00. Contact Al

Magazzine (VOODOO) days: 972-586-6055; nights: 214-987-2068.

E-mail: amagazzine@dfwairport.com. Pics on request (2)

2001 BMW 325Ci Coupe Black/Tan, excellent condition, one owner garaged,

factory warranty in effect, including maintenance. Just serviced 24,900 miles,

5 speed auto/shift kit, AM/FM/CD audio system, sport package with special

seats, 16" wheels, power roof, Xenon lights, seat options, dimming mirrors etc.

Car is very clean and detailed. $25,500. Contact Doug@214-533-5844 or email

dbielefeld@sbcglobal.net (2)

1990 Miata Red, 114k miles, one owner, new brakes, all scheduled

maintenance. Contact Brad KHallett, 972-867-4890 or bh1412@aol.com(2)

1988 Carerra Cabriolet Black/black, 5-speed, 36,000 miles. Garage kept in

mint condition. Two owners, both in Dallas area, car has been serviced by Park

Place from the beginning. $29,000 firm. Contact Peter at 214-684-8688 (2)

1990 911 C2 Cabriolet Baltic Blue Metallic, Oyster leather interior, excellent

color combination. Cd, a/c, cruise, power top, boot, ABS. Tiptronic trans. Power

seats, windows, and locks. New rear tires, retractable spoiler, 69K miles.

Beautiful car! I have owned it for over a year and only had time to put 3K miles

on it.This car wants to be DRIVEN!!! $23,500 Contact Steve at (214)893-6939

or marz01@msn.com (3)

911 SC or Carrera engine lid Guards Red, excellent condition. $270.00 Call

Gary Thompson at 972-234-2923 (3)

5 Years

Buddy Neighbors (Kim)

Dennis Ware (Rochelle)

Paul Dippel (Shelia)

Regie Allen (Preston)

Myron Dolecki (Brian)

Kurt Reuland

Larry Megason (Ginger)

M L Walters (Mike)

Brandon Worrell (Kim)

These advertisers support the Maverick Region . . . the Mavericks support these advertisers!

Jerry DeFeo Designs (972) 240-5800 Page 10

The Man's Shop (817) 265-1116 B.C.

Mayo Performance (817) 540-4939 Page 7

Mean Green Travel (940) 565-8111 Page 13

Metro Volkswagen (972) 659-9999 Page 12

911 Enterprises (972) 241-2002 Page 25

Park Place Porsche (214) 559-4222 Page 6

PartsHeaven (800) 767-7250 Page 15

Soundwerk (817) 281-9381 Page 13

Ussery Printing (972) 438-8344 Page 19

Zims Autotechnik (817) 267-4451 Page 25

For advertising rates and information contact Mike Brodigan at (817) 488-8520

Frisco

Plano

Plano

Rockwall

Colleyville

Whitehouse

Longview

Plano

Frisco

28
---
Slipstream Advertiser

for 25 years!

Louden Motorcar Services has been

servicing fine European motorcars in

Dallas since 1977. From the moment you

drive in, it is apparent that quality is our

number one priority. From the comfortable

waiting room to the well-kept workshop,

Louden Motorcars exhibits professionalism.

We've been winning awards for the

quality of our service for years. Louden

has been rated "Best in Dallas" twice by

D Magazine, "Best in Texas," "Top Ten in

the U.S." and "Best in the West" by the

Robert Bosch Corporation (worldwide

leader in fuel injection and electronics).

And we'd like the opportunity to show

you why.

11454 Reeder Road

Dallas, Texas 75229

(972) 241-6326

www.loudenmotorcars.com
---
L E G G M A S O N V A L U E T R U S T

WHAT WILL YOU MAKE

OF TODAY'S MARKET?

For over 20 years, Value Trust has searched all types of markets for stocks that appear to be

undervalued. Our investment approach has remained steady in good times and bad, and it has

made Value Trust the only fund to outperform the S&P 500 for each of the past 12 calendar years.

Average Annual Returns as of 6/30/03

Value Trust

S&P 500*

One Year

(6/30/02 - 6/30/03)

18.84%

-0.25%

Five Year

(6/30/98 - 6/30/03)

4.82%

-1.61%

Ten Year

(6/30/93 - 6/30/03)

16.46%

10.04%

Life of Fund †

(4/16/82 - 6/30/03)

16.79%

13.77%

* Source: Lipper Inc.

†

"Life of Fund" numbers for the S&P 500 are for the period beginning 4/30/82 and ending

6/30/03

For more recent performance or a free prospectus containing more complete

information, including charges and expenses, contact your Legg Mason

Financial Advisor. Read the prospectus carefully before investing.

Glen Gatlin

First Vice President - Investments

2100 McKinney Avenue, Suite 1950

Dallas, TX 75201

(214) 647-3507 • (866) 388-6627

EMAIL: ggatlin@leggmason.com

Past performance does not guarantee future results. Value

Trust's inception date is 4/16/82. The investment return and principal

value of the fund will fluctuate so that an investor's shares,

when redeemed, may be worth more or less than the original cost.

Calculations assume reinvestment of dividends and capital gains

distributions. Performance would have been lower if fees had not

been waived in various periods. The S&P 500 index is based on

common stock prices, including reinvestment of dividends and

capital gains distributions, and is generally considered representative

of the U.S. stock market. Source: Lipper Inc.

Legg Mason Wood Walker, Inc.

Member NYSE, Inc. • Member SIPC

www.leggmasonfunds.com

Bob Knight, Slipstream

9047 Oakpath Ln

Dallas, TX 75243-6353

Periodical Postage

Paid at Dallas, TX