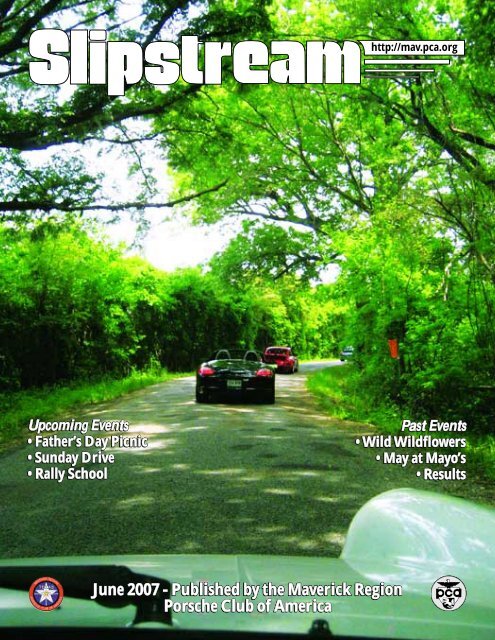 Slipstream - June 2007
The monthly newsletter of the Maverick Region of the Porsche Club of America
The monthly newsletter of the Maverick Region of the Porsche Club of America
SHOW MORE
SHOW LESS
Create successful ePaper yourself
Turn your PDF publications into a flip-book with our unique Google optimized e-Paper software.
http://mav.pca.org

Upcoming Events

• Father's Day Picnic

• Sunday Drive

• Rally School

Past Events

• Wild Wildflowers

• May at Mayo's

• Results

June 2007 - Published by the Maverick Region

Porsche Club of America
---
http://mav.pca.org

Departments

Zone 5 Presidents ..................................................................1

My Thoughts (Editor's Column)........................................3

List of Officers/Board Chairs ..............................................4

Catch My Draft (President's Column) ..............................5

Maverick Minutes ..................................................................8

New Wheels ..........................................................................27

Anniversaries ........................................................................27

Unclassifieds..........................................................................28

Advertiser Index ..................................................................28

Upcoming Events

Calendar of Events ................................................................1

Father's Day Picnic ................................................................2

Sunday Drive ..........................................................................2

Rally School ............................................................................2

Maverick Lunches..................................................................3

Happy Hour at CHAMPPS ................................................3

Board Meeting........................................................................5

Time Trial #5 at MW ............................................................7

Autocross #5 at MW..............................................................7

PCA Member Raffle............................................................10

Past Event Recaps

Wild Wildflowers ................................................................13

May at Mayo's ......................................................................14

Time Trial #2 ........................................................................16

Autocross #3..........................................................................17

Happy Hour at Mac's Grill ................................................24

Miscellaneous

In the Zone..............................................................................9

From the Tech Q&A..............................................................9

Porsche Club of America News ........................................22

Trivia Contest ......................................................................18

Day June

3 Sunday Drive

5 Board Meeting

9-10 LSR DE at TWS

10 Rally School

12 Lewisville Lunch

17 Father's Day Picnic

19 Bedford & Plano Lunches

21 Happy Hour at CHAMPP's

26 Addison Lunch

30 Time Trial #5 MW

Day August

7 Board Meeing

14 Lewisville Lunch

16 Happy Hour

18 Rally

21 Bedford & Plano Lunches

28 Addison Lunch

Slipstream (USPS 666-650) is published monthly by the Maverick Region Porsche Club of America, 9047 Oakpath Ln, Dallas,

TX 75243. Subscription price is $24.00 per year. Periodical postage is paid at Dallas, Texas.

Postmaster: Send address changes to Bob Knight, Slipstream, 9047 Oakpath Ln, Dallas, TX 75243.

Volume 49 June 2007, Issue 6

Go Online For Latest Updates on Events

http://mav.pca.org

DE - Drivers' Education event

HCR - Hill Country Region (Austin-centered)

LSR - Lone Star Region (Houston-centered)

MW - Mineral Wells Airport, Mineral Wells, Texas

MSR - Motor Sport Ranch, Cresson, Texas

TWS - Texas World Speedway, College Station, Texas

TMS - Texas Motor Speedway, Fort Worth, Texas

Penn - Pennington Field Stadium, Bedford, Texas

Day July

1 Autocross #5 MW

1-5 Parade in San Diego

10 Board Meeting

10 Lewisville Lunch

17 Bedford & Plano Lunches

19 Happy Hour at Rio Mambo

21 Rally to Post Parade Party

31 Addison Lunch

Day September

6 Board Meeing (note: Thursday)

11 Lewisville Lunch

15 Time Trial #6 MW

16 Autocross #6 MW

18 Bedford & Plano Lunches

20 Happy Hour

22-23 Drivers' Education MSR

25 Addison Lunch

Photography

Charlie Davis, Clint Blackman,

Wendy Shoffit, Bob Bianconi

Dennis Chamberlain

Cover Photo by Wendy Shoffit

May Sunday Drive through the Bluebonnets

Opinions expressed herein are not necessarily endorsed by the Club's membership or officers. Contributions will be printed

on a space available basis. Chartered regions of PCA may reproduce items from this issue provided the author/artist and

Slipstream are credited. Slipstream is printed by Ussery Printing Company in Irving, Texas.

ARK-LA-TEX

Kenneth A. Chandler

(318) 865-8210

bad968@bellsouth.net

CIMARRON

Bruce Bartovick

bbartovick@ststulsa.com

COASTAL BEND

Jak Schaefer

jakschaefer@grandecom.net

HILL COUNTRY

West Dillard

president@hcrpca.org

2007 Porsche Club Zone 5 Presidents

LONE STAR

Burnell Curtis

(281) 337-1937

bpcurtis@verizon.net

LONGHORN

Jim Basey

jbasey@satx.rr.com

MARDI GRAS

Scott Foremaster

(504) 734-5726

4master@cox.net

MAVERICK

James Shoffit

cell (972)786-6246

president@mavpca.org

OZARK

Rick Daes

(501) 565-5113

rdaes@aristotle.net

WAR BONNET

Richard Davis

rkd@zipbang.com

WHISKEY BAY

Ron J. Gaubert

(337) 280-2550

rongaubert@cox.net

ZONE 5 REP

Caren Cooper

C - (512) 698-2747

zone5rep@hcrpca.org

1
---
2
---
My Thoughts

by Jan Mayo, Slipstream Managing Editor

The term R.S.V.P. comes from the French expression

"répondez s'il vous plaît", meaning "please respond".

Or from my New Mexico world (it's up to you to put

in the Spanish/Indian inflections), respond por favor. In

any language it means, Tell Me You're Coming, and if you

tell me you're coming, COME. It's just good manners.

So that saying my next thought is on the Father's

Day Picnic (gaze left). It's a grand laid back day with an

easy people's choice concours/wash and shine and food and pool and hot

dogs and games (for big and small) and munchies and snacks. And in

order to not have 43 bags of chips and no guacamole Tracey needs you

to RSVP to coordinate all that.

Speaking of concours, and not the easy one at Father's Day but

more like the serious one at May at Mayo's, it takes a lot of work to prepare

a car. But it also takes a lot of work and dedication to be a judge.

Bob Bianconi had three pairs of judges for M at M's who have judged at

Parades for several years. For a region that doesn't "do" concours that's

pretty amazing. If you have any interest in being a judge talk with one

of these guys (see Bob's article on pg 15) to find out more. Then check

out the folks at Parade. They take their judging responsibility as seriously

as the contestants. There is a growing need for dedicated judges on both

the regional level and the national level. So come on and jump on in,

the water's fine.

Oh, speaking of water, the Bell's have a glorious pool so, after you've

rsvp'd to Tracey that you're coming to the Father's Day picnic and

concours, pack the back of your Porsche with your suits and towels

along with your general cleaning supplies. It's going to be a glorious

party!

So.... did you all enjoy the segues from rsvp to concours to judging

and back to rsvp?? Welcome to my world of logic.

It's M U R R R D E R!

WHAT: Interactive Murder Mystery Dinner with

"Entertainment presented by Keith and Margo's

MURDER MYSTERIES of Texas"

WHEN:

LOCATION:

Saturday, August 4 at 7:30pm.

Old Mill Inn at Fair Park

MINIMUM # REQUIRED: 40 guests (Otherwise the

event will cancel….please RSVP NO LATER THAN

JULY 3).

ATTIRE: Upscale casual (no jeans, t-shirts or sneakers

allowed)

PRICE IS $64 PER PERSON and INCLUDES: Hors

d'oeuvre reception, three course gourmet dinner,

totally interactive whodunit, all taxes and all

gratuities. A Cash Bar will be available as well.

PRE-PAYMENT IS REQUIRED. Your seats are not

guaranteed until your payment is received. Sign up

online at www.clubregistration.net or send an email

to social@mavpca.org.

3
---
2007 Maverick Region - Board, Officers & Chairs

President

James Shoffit

H: 972-506-7449

C: 972-786-6246

president@mavpca.org

James joined PCA in 97 and is active in Club

Racing, Drivers Ed, Autocross and Time Trial.

He instructs at DE, AX, and TT. Track Car is

a 78 911SC, and the search for a daily driver

Porsche is in progress. James is a co-owner

of a software development company in

Lewisville.

Vice-President

Mark Gluck

C: 817-706-9061

vp@mavpca.org

Mark drivers a Boxster S and has been a

Maverick member since 1999. He is active

with Drivers Education, Tours, and Social

events, as well as with many Hope Shelter

charity projects.

Secretary

Charlie Davis

H: 940-682-4719

secretary@mavpca.org

Charlie joined PCA & MR in 1970,

having a 1969 911S. He's been Pres. V-Pres,

Zone Rep, & PCR Chair. He's currently the

914 Advocate and drives the Truxster to

AX/TT events. He has a 1972 911S and a

1973 914 2.0.

Treasurer

Bob Kuykendall

15801 Ranchita

Dallas, TX 75248

W: 214-535-9852

H: 972-385-9008

treasurer@mavpca.org

Bob has been a member of PCA since 2004

and is active in Autocrosses and Time Trials.

He is also an instructor for Driver's Ed events

and drives a 1988 911 Carrera.

DE Co-Chair /

DE Co-Chief Instructor

John Sandusky

W - (817) 777-0421

john.c.sandusky@lmco.com

AX, TT Chair, Chief Instructor

Bryan Bell

C - (214) 789-6895

ax@mavpca.org

Membership

Club Race Co-Chair

Joel Nannis

H - (972) 722-2735

membership@mavpca.org

Managing Editor

Jan Mayo

H - (817) 595-4651

C - (817) 313-9406

editor@mavpca.org

Sponsorship & DE Co-Chair /

DE Co-Chief Instructor

Keith Olcha

W - (817) 706-7678

H - (817) 251-6865

keith.olcha@charter.net

AX/TT Timing & Scoring

Darron Shaffer

H - (972) 390-9709

C - (972) 898-3002

darron.shaffer@gmail.com

Membership

Club Race Co-Chair

Bill Miller

W - (972) 830-2676

bill.miller@tm.com

Photo & Layout Editor

Matt Platts

C - (817) 919-1253

W - (817) 440-2090

photo@mavpca.org

DE Registrar

Michael Wingfield

H - (972) 491-2766

DERegistrar@mavpca.org

AX/TT Tech Inspection

Travis Howard

C - (214) 616*6152

thoward914@yahoo.com

Socials

Ed & Tracey Gross

(H) - (972) 491-2104

social@mavpca.org

Content Editor

Wendy Shoffit

H - (972) 506-7449

C - (972) 977-9821

content@mavpca.org

Safety, DE Tech Insp

Joe McGlohen

W - (817) 366-1678

H - (817) 861-2792

retread@ix.netcom.com

AX/TT Worker CoChair

Shelly Burbank

H - (817) 978-4899

Goodie Store

Christy Dominick

(H) - 817-909-0966

goodiestore@mavpca.org

Event Ad Design

Mark Gluck

C - (817)706-9061

vp@mavpca.org

Club Race Registrar

Wendy Shoffit

H - (972) 506-7449

C - (972) 977-9821

content@mavpca.org

AX/TT Worker CoChair

Mike Lockas

C - (972) 422-0264

mikeldean@earthlink.net

Web Site

Denny Payne

webmaster@mavpca.org

Club Photographer

Kevin Hardison

H - (972) 401-3955

W - (972) 438-8344

khardison@usseryprinting.com

Rally Chair

Teri Davis

H - (940) 682-4719

teri@poppings.com

AX/TT Schools

Tom Snodgrass

H - (972) 939-7967

C - (972) 754-2064

tom.annette@verizon.net

Email List Moderator

Bob Benson

W - (817) 264-8357

H - (817) 457-8833

bbenson1@airmail.net

Printing

Fran Ussery

W - (972) 438-8344

H - (817) 481-8342

fran@usseryprinting.com

Swap Meets Chair

David Mock

H - (817) 795-4149

C - (817) 907-5413

sales@44andmoreparts.com

AX/TT Schools

Kevin Hardison

H - (972) 401-3955

W - (972) 438-8344 ext. 154

khardison@usseryprinting.com

Email List Moderator

Matt Platts

C - (817) 919-1253

W - (817) 440-2090

matt@platts.net

Advertising

Lisa Steele

H - (214) 709-6418

ads@mavpca.org

Concours Chair

Bob Bianconi

C: (817) 932-4155

concours@mavpca.org

Sunday Drive Chair

Clint Blackman

H: (214) 696-8000

cb3law@sbcglobal.net

Mentor Program

Dennis Chamberlain

W - (972) 788-0871

Dennis@dennischamberlaincpa.com

Mailing & Technology

Andy Mears

H - (940) 321-8683

W - (214) 360-9221

amears@attglobal.net

Zone 5 Representative

Caren Cooper

C - (512) 698-2747

zone5rep@hcrpca.org

Past President

Rocky Johnson

H - (903) 356-6531

C - (972)816-1769

rrjjaj42@aol.com

Please help us to keep growing!

4
---
Catch my Draft

by James Shoffit, the Maverick Region President

Absolutely, positively dead last. That's

where I placed at our first Concours

event. At least we can all sleep at night

knowing that the president doesn't get any special

privileges at the events! After the scoring

was all done, I was chatting with Bob Bianconi,

the Concours chair, and told him I couldn't

believe I came in last place. He quickly said

"oh, no you didn't, some guy only got 88 points out of the 140."

I then reminded him that I WAS the one that got the 88 points!

When I was a kid I was in a bowling league. I was horrible

at it. Lowest scores of anyone in our league. But at the end

of the season I had brought my average up so much that I got

this absolutely huge trophy declaring me "Most Improved". I

am sure hoping Bob has one of those awards for me at the end

of this year – I think that's the most I can hope for!

Bob ran an absolutely fabulous event – 32 people showed

up in spite of it raining all day long. It was so well organized,

and punctual; it was a pleasure to participate in and attend.

And next time I expect to at LEAST earn Next To Last Place.

Thanks, Bob!

In other news, one of our great Autocross, Time Trial, and

DE participants and former AX/TT Tech Inspection chair suffered

a horrific accident. (I will save you the agony and tell

you this has a happy ending). Rick Randall was home alone

swimming in his pool when he

dove in head first and hit the

steps. He broke 6 of the 7 vertebrae

in his neck, completely

crushing number 5. He heard it

all snap and knew he was paralyzed.

Somehow he got himself

OUT of the pool using nothing

but his chin – he will have to

show us that trick when he

completely recovers. He yelled

for help for about 40 minutes

until a neighbor heard him and

they careflighted him to the

hospital in Fort Worth. He had

We'll see you back out in the sun

real soon Rick!

surgery on his neck, replacing bone with titanium, and gluing

the rest back together, and now he has motion in all limbs and

is already up and walking. He will have to wear the big halo

device for the next 3 months, which means he won't have to

wear a tie for a while. (Has anyone ever seen Rick in a tie ?

Can't remember…) Anyway, he spent a couple of weeks in the

hospital, and will spend a couple more in rehab, then he will

be back home for the next 3 months till he gets the halo off.

Amazing that he lived (first of all), that he wasn't paralyzed,

and that he has full use of his limbs. Luckiest guy on earth. Of

course anyone who has seen him drive knows he is lucky every

time he saves a spin!

Photos by Charlie Davis

PCA National has made a request of us – please log into

www.pca.org and make sure your email address is right. If you

have trouble getting logged in, please contact myself, Joel Nannis

(membership@mavpca.org) or PCA National to get signed in.

Once you are logged in and at the www.pca.org home page, click

on the "View and Update your PCA record" link near the top of

the middle section. You can also update what cars you now have,

your address, your associate member, etc. Pretty soon we might

start emailing event notices and other pertinent information, so if

you are interest in those, make sure your email address is correct.

In June we have the Father's Day Picnic at a new location

– Autocross and Time Trial chair Bryan Bell and Autocross

and Time Trial Registration chair Andrea Bell are hosting the

event. Their house is one of the neatest houses I have visited,

and is well worth the drive out there. Look for more details on

page 2.

Then on June 30/July 1, we have another Time

Trial/Autocross weekend in Mineral Wells – come on out and

try it out if you haven't before. We'll even loan you a helmet if

you want. I won't be at that weekend's festivities – I will be

driving to Parade in San Diego – but don't let that stop you!

Come on out and join the fun! See you soon!

5
---
©2007 Porsche Cars North America, Inc. Porsche recommends seat belt usage and observance of all traffic laws at all times.

Our service department is like having your own pit crew.

Let our factory-trained technicians prepare your Porsche with the unique treatment it deserves to meet your

demanding pace whether on the street or the racetrack.

For a limited time, we will provide complimentary Nitrogen replacement for the air in your tires when you pit

in for your DE Tech Inspection. Call Park Place Porsche to set your appointment today.

Park Place Porsche

(214) 525-5400

6113 Lemmon Avenue

Dallas, TX 75209

www.parkplacetexas.com

Showroom hours M - F 8:30AM - 8:00PM,

Sa 8:30AM - 6:00PM

6
---
7
---
Maverick Minutes

by Charlie Davis

James convened the meeting at 7:15 PM. He

started off with a sad announcement concerning

Rick Randall, who recently broke his

neck diving into his swimming pool. He said an

operation was pending to fuse vertebrae in his

neck. Wendy volunteered to send flowers when

Rick gets out of ICU.

James then mentioned he and Wendy had a conversation

with the Parade Kids chair in San Diego. She was struggling

for a T-shirt budget. One of the T-shirts will honor our late

Lanean Hughes, who was instrumental in creating various

Parade activities for children. James suggested that Maverick

Region sponsor the Parade Kids T-shirts at the 2007 Parade.

However there were some issues with the Parade Treasurer.

We volunteered Teri, who was not in attendance, to contact

San Diego and see if it's possible for us to donate $550 for

these shirts, without reducing the Parade Kids budget.

Wendy asked if everyone had seen the Panorama article

about the new Hope Shelter. She plans to submit our sponsorship

of that building project in the 2007 Charity Contest.

Jan, as usual, needs information about all pending events

and articles concerning previous events.

Bob B reported there were 32 cars registered for the concours

to be held at Cinco de Mayo at Mayo's. He and his team

are all set for staging to begin at 4:00 PM on Saturday. We

discussed if drinks, especially water, would be available for

the competitors who arrive early for prep?

Denny reported he had received an e-mail from Steve

Boyd, who said that our Flickr Pro account needs to be

renewed. He said he would handle it. He asked for guidance

from the board concerning an ad for other car club events.

We suggested that he ask on a case by case basis.

Mark said that we have insurance. He has sent a request

for insurance for the Club Race.

Bryan reported that TimeTrial #2 and Autocross #3 went

well, but were not as well attended as he expected. He thinks

that rain reports were at least partially responsible for this.

We discussed how to reverse this trend. Charlie was appointed

(officially) as AX/TT Rules Chair. Denny will create a new

e-mail account to facilitate communications with the Rules

Committee (rules@mavpca.org) and will put a link to this on

the website.

Bob K reported he was doing quarterly financial statements

again. The most recent might look like we don't have

money however, this is not the case. Some of our PayPal

deposits didn't make it into the first quarter report. The

($105,000) is not a correct number. Our finances are OK!

Bob reported we had $230 donated to charity at the recent

DE. Andrea also has some money from sales of car numbers

and the water donation can is stuffed with cash. The audit of

the 2006 books is still pending. The Fort Worth Post Office

will send an e-mail to Andy regarding our recent move. Jan

noticed there was no Slipstream ad for any one DBA "Track

Store". It seems Bobby Archer changed his business name

when he moved near TMS. All is OK.

Joel said preparations for the Club Race are going well.

Rocky is doing the Club Race shirts. Putting on his

Membership Chair hat, our membership remains about the

same. He is working on getting a total membership list.

Currently, his membership database does not have all the

affiliate members. We discussed whether we need a Regional

Membership Directory published in Slipstream. We have been

doing this for years and continue to have a few members concerned

about their personal data being published. Our decision

was to continue publishing it for the present.

Lisa, with Jan's concurrence, said Slipstream is full of

advertisements. She has started a waiting list for potential

advertisers.

Tracey reported that our Founders Day banquet will be

held at the Austin Ranch on Saturday, November 10. She is

working on a Murder Mystery at Fair Park. The cost will be

$64.00 per person, which includes everything. We agreed that

the first Saturday in August (the 4th) would be a good date for

this event. They require a minimum of 30 registrants (last

time we had a Murder Mystery, 45 people attended).

Someone suggested we lower the price for children's meals at

May at Mayo's. After some discussion, we decided to make 10

and under free. Tracey reported she has 86 registrations for

May at Mayo's.

Kevin asked if AX/TT attendance was down? We agreed

it was. We discussed what to do about it, including new web

site content, a series of Autocross articles to be written by

Bryan Bell, including course diagrams with follow up articles,

and finally wondered if not having results after four events

might be discouraging.

Robyn reported her chair was empty.

Travis contended that tech inspection was OK. He also

reported he and Robyn attended Hill Country Region's

Autocross School. It was held at a new facility called "The

Driveway" in Austin, a small road course. He said all students

had new cars! No one there had ever seen a 914 and were

intrigued with his car!

Charlie, in the interest of time, passed.

James delayed adjourning the meeting at 8:37 PM

because there were no cookies!

8
---
In the Zone

by Caren Cooper, PCA Zone 5 Representative

One of my goals as Zone Rep is to increase communication

among the regions. Given the geographical size of Zone

5, it is critical that we make good use of technology. To

that end, it is important for Zone 5 to have a website.

Fortunately, Suresh Hariharan, current Hill Country Region Vice

President, graciously agreed to serve as Zone 5 Webmaster.

Suresh has been working on a Zone 5 website that, among other

things, will allow regions to post event information in an effort

to promote cross-region event attendance. When you see Suresh

at the track, please join me in thanking him for taking on this

project!

March and April saw a flurry of activity as spring weather

finally arrived. In mid-March, I participated in the PCA Club

Race & DE co-hosted by the Hill Country and Lone Star

Regions at Texas World Speedway in College Station. We had

chamber-of-commerce weather from start to finish! Special

thanks to the dozens of volunteers who put on a very wellorganized

event that was great fun and incident-free.

On Saturday, March 31st, the annual Zone 5 Presidents'

Conference was held in Dallas, Texas. Fifteen region officers

attended, including Vu Nguyen, PCA Executive Director. Vu

presented the latest news from the national office. Everyone in

attendance was very impressed with his organizational insight,

the team he has put together, and the PCA resources that are

being developed. The conference began with the presentation

of certificates to six of the 11 Zone 5 Regions that are celebrating

major anniversaries this year: Cimarron (20 years), Coastal

Bend (20 years), Hill Country (30 years), Ozark (30 years),

Longhorn (45 years), and Maverick (45 years).

On April 20-22, the Houston Grand Prix was held on the

Reliant Park street circuit. The attendance at the Porscheplatz

was outstanding and the response to the call for volunteers was

amazing – thank you to all who volunteered! A special thank

you to PCA Past President and current Porscheplatz chair, Bob

Miller, and to Larry Hayes of IMSA for their support and help!

Looking forward, Spring is here and there is so much activity

all around Zone 5 – what a perfect time of year to check out the

website calendars for other regions and drive over for an event!

Caren and Vu Nguyen at the Z5 President's Meeting

Photos byJames Shoffi

From the Tech Q&A

by Jim Slauson, Boxster/Cayman PCA Tech Advisor

Question: I have had the classic problem with the airbag

warning light. Although I've had the seat buckle replaced

and the gold contacts fix, I still occasionally have the light

come on. The local dealer has been unable to come up with a permanent

fix. My question is, when the light is on, will the airbags still

deploy? In other words, how serious an issue is it to be driving with

the light on?

Answer: The airbags will still deploy should you have a buckle

failure. The problem is do you know that the light is on

specifically for that? You may check it and it may be on for

the buckle at that time; however what if you have a control unit failure?

Since the light is already on you may not even know that there

is a far more serious issue with the system.

Another scenario would be that the light came on and you assumed

it was just the buckle when in fact it may be the airbag. A good rule

of thumb for any safety equipment is to repair it whenever required

and maintain it. You may be glad that you did one day.

I would suggest though that you take it perhaps to another Dealer

for a second opinion. I would also like to see a copy of the fault and

in its expanded view. This would list all of the details that are pertaining

to it.

Jim Slauson - PCA WebSite - 3/6/2007

If you would like to read more tech questions and answers like

this one, go to www.pca.org and click on "Tech Q&A." Select the

car model you are looking for and then the Classification of

question. From there, click on the Subject you want and read to

your heart's desire. Feel free to submit your own question to have

answered. These experts are amazing!

9
---
10
---
Email: mayos@imagin.net or

FAX at (817) 267-4939

• ENGINE AND TRANSMISSION SERVICE

• SUSPENSION AND ALIGNMENT SPECIALISTS

• TIRE SPECIALISTS –

O.E.M.

DOT COMPETITION

RACING SLICKS

• SPECIALISTS IN EARLY PORSCHE FUEL

INJECTION SYSTEMS

11
---
German Engineering With Southern Hospitality.

Personal Service.

At Nine-Eleven, we've built a reputation for understanding our customers' needs —

quality service, convenient location, state-of-the-art diagnostics, and personalized service

that is unmatched in the Metroplex. When you trust your car to us, you will have the

peace of mind that it will be serviced correctly the first time. Every time.

Access.

We strongly believe in access to those who will actually work on your car. Our

technicians are available in person, by phone, and even by pager if you have questions

or need timely information about your car.

Facility.

Our clean shop, well-stocked parts department, and comfortable waiting room ensure

that you and your car will get the kind of service you deserve. Maintained tools and

equipment. Clean cars. We are meticulous about details.

Parts.

Our parts department is also second to none. Our knowledgeable staff will assist you in

finding that necessary part or after-market option you require. We are an authorized dealer

for high-performance Recaro seating, Yokohama Tires, Bilstein Shocks, Bosch, and many

others. This ensures that whether you are a casual driver or an enthusiast who needs race

prep assistance, Nine-Eleven has the experience and knowledge to keep your car running

at peak performance.

Newkirk

Crown Rd.

Cindy Lane

IXXI

Royal Lane

Joe Field Rd.

Emerald

I-35

Nine-Eleven Enterprises, Inc.

Service, Accessories & Parts for BMW,

Mercedes & Porsche

2120 Cindy Lane, Dallas, Texas 75229

972-241-2002 www.nine-eleven.com

Convenience.

We are conveniently located near the intersection of Stemmons and LBJ Freeways

in Dallas. We offer emergency towing service 24 hours a day and have arranged

for special rental car rates with area rental agencies. Come by for a visit between

7:30 a.m. and 5:00 p.m. Monday-Friday, or call for a service appointment.

Row 8-Hanger 4

Northwest Regional Airport

Roanoke, TX 76262

817-491-0033

Forgeline • Brembo • Eibach • Sparco • Borla • Hoosier • MOMO • Red Line • OMP • Teamtech • Fuel Safe

12
---
Photos by Clint Blackman

Mavericks Wild about Wildflowers

by Clint Blackman

Maverick Region's first "Sunday Drive" was "a blooming

success"…Literally! Our first Sunday Drive on April 29th

was a "drive tour" of the Ennis Bluebonnet trails. Fortyseven

"flower powered" Mavericks in twenty five Porsche automobiles

took off from the Dowdy Ferry What-a-Burger on Interstate

45 in search of the official Flower of Texas. This year, Ennis celebrated

their 56th annual Bluebonnet Trails Festival. The Festival is

built on a system of specially marked roads that showcase "acres

upon acres" of wild bluebonnets. The Ennis area has the largest

collection of bluebonnets in North Texas.

Our drive

route took us

through Palmer,

Bristol and Crisp,

Texas. The drive

itself was quite fun

as we traveled

down winding

"tree canopied"

roads and "up and

down" hills of

rolling pavement,

Disappearing into the bluebonnets

flanked with beautiful

flowers. Those who went "topless" were filled with the sweet

fragrance of spring bluebonnet perfume. We made four "flower

photo stops" to see and photograph bluebonnets mixed with

varieties of other wild flowers including Indian paintbrush, primrose,

wild mustard and coreopsis. (For us non-floral types: that's

orange flowers, pink flowers and two types of yellow flowers!) To

say these fields were "carpeted" with color is no exaggeration.

Our group really got thousands of "OOOhs" and "Ahhhhs" per

gallon on this trip.

Two hours passed too

quickly as we ended our

tour in Ennis at Bubbas'.

There we feasted on a

hearty meal of barbeque

beef and ribs underneath a

miniature "airshow" of

World War II era flying aircraft

models that were suspended

"in flight" over the

dining room. The best part

of the tour was the gathering

old friends and new

members to celebrate our

Sunday Drive friends friendship and love for

driving these great cars.

Our next Sunday Drive is June 3rd and we drive to the East

Texas Oil Museum in Kilgore. October 7th is our Texas State

Railroad "Rail Picnic" tour. We finish the year on November 11th

with a Tyler State Park Sunday "Picnic in the Pines" Drive. Come

"Sunday Drive" with us.

Photo by Wendy Shoffit

What a sight

Photos by Clint Blackamn

13
---
Photo by Charlie Davis

May at Mayo's

Nathan Hardwick - Age 7

Once upon a time there was a garage. It was called the Mayo's

Garage.

In the garage there was juicy fried chicken stored in a thin

cardboard box.

We had mashed potatoes, fresh sweet corn, salad and rolls.

There was also a car show that had really cool cars and some

people won clear 1st place medals with white writing that said,

"1st Place Winner."

Our car almost won, but this other car beat us by 6 points.

We had 117 points, but that

other car had 123! No!

Although that's funny because

we started out with 140 and lost

23, the same number they

would've had if someone took

off the 1 in 123. (And it's also

funny because you count

1...2...3... etc.)

The best was Ed Mayo's

car. He only lost 2 points

because of a bug splat.

There were lots of games

for kids like me. They had a

piñata filled with candy and

money. There was also sidewalk

Lisa and Sydney Steele hopscotching

chalk.

May at Mayo's Concours D'Elegance Report

by Bob Bianconi

Aber das Spyder gesagt worden: Zählt es, wenn ich deutsch bin?

(But the Spyder said: "Does it Count if I'm German?")

Whew… it's over. Our first in a millennium, Concours

D'Elegance. And guess what, our esteemed President took……….

last place – and by a wide margin no less. But the good sport that

he is says that he sees the shopping list of judge's findings as opportunities

for improvement next time! Go, James!

After the car show we ate cake! On it there was a perfect circle.

But it wasn't just a plain circle, it had the Porsche Club symbol

on it.

I hope next year will be even better (but that will probably be

impossible) and I hope that my Grand Grand (Grandfather) will

win a prize.

Nathan lining up for his first swing at the Pinata

Nonetheless, it is with a big smile that I can report that 27 cars

participated in our first 2007 Concours D'Elegance held at

Photos by Wendy Shoffit

Photos by Bob Bianconi

The early cars take front and center while the newer cars fill in the back

Judge Jerry checking the door pockets

May@Mayos. That's just simply a great turnout despite what promised

to be a drizzly day. Drizzle, no drizzle, it was like that all day. It

even sprinkled for about 3-4 minutes as folks prepared their cars

about an hour before judging began. But with a few wipes of the

towels, all was better.

Photos by Bob Bianconi

14
---
It cleared up nicely by judging time and at 5PM, three judging

teams went about their business of finding dirt. And with the exception

of James' car, there actually was very little dust or dirt to find! But

we're jumping ahead. Here's an explanation of how the Concours

worked.

In our Maverick Concours, cars are broken into seven classes so

that each is judged among its peers. Points are deducted from a total

of 140 and the car with the least amount of points deducted wins the

class. In addition, the car with the overall highest score (least points

deducted) among all the entrants is designated as the "Best of Show."

Judging turned out to be tough with so many well prepared cars.

It was obvious from the start that folks took great pride in getting

their cars ready to display. In fact, just about everyone was seen putting

the last minute finishing touches on their cars. The team of

judges spent 4 minutes on each car (one judging the interior and one

the exterior) and then spoke with each owner about the things they

found and could work on for next time.

Best of Show went to Ed Mayo's yellow 1972 911S. This car

scored 138 out of 140 points (yikes!).

Not Done Yet…

Besides the awards based on the point scores of the judged

cars, everyone was given a chance to vote for their favorite car.

This is called the People's Choice Award. When all the votes

were tallied, one car emerged as the clear winner. This car had

more than 3 times the votes than its closest rival! And that car

was the beautiful red 914-6 owned by Dennis Carter.

Congratulations, Dennis!

Dennis gets last minute help from Rich and Diane Johnson

Photos by Bob Bianconi

Photos by Bob Bianconi

Host Ed Mayo won "Best of Show"

So, what's next? With so much interest by Maverick members,

we'll do 2 things. First, schedule a fall 2007 Concours

D'Elegance. Second, we'll do a short series of Slipstream articles

on car preparation (pay attention James). Matter of fact

we'll ask our judges what they typically see so that we can all

avoid those little mistakes next time

Here are the Concours D'Elegance results

Entry Class Number of Entrants Class Winners!

356 (All) 3 Jack Griffin 1961 Heron Grey 356

Early 911, 912 and

914 through 1977 6 Ed Mayo 1972 Yellow 911

SC & Carrera 1978-1989 7 Jay Moore 1987 Cassis 911

964 & 993 1990-1998 2 Alan Bambina 1994 911 Speedster

996 & 997 3 Ron Knight 2003 Black 996

924, 928, 944, 968 3 Ed Hughes 1991 White 928

Boxster & Cayman 3 Chris Christenson 2000 Red Boxster

The highly coveted People's Choice Award

Photos byWendy Shoffit

Thanks go to our volunteers, timers and to our three

National-level judging teams:

Alan Bambina and Jerry Sutton

Charlie Davis and Joel Nannis

Ron Knight and Ed Mayo

Oh yeah, that brings me to the title of this column. Right

off the bat, it's my turn to go under the white glove judging

microscope. And there it was, plain for all to see… a spider

web in my cup-holder. How? How could that be there? I just

cleaned that, I thought. But there it was. Aarrg. Points deducted…

I thought I heard the spider pleading that it was a

German spider…

15
---
Time Trial #2 April 21, 2007

Photos by Charlie Davis

Class Num Name Car BestTime

2 111 Hardison, Kevin Blue 914 90.078

2 95 Howard, Travis Yellow 914 92.731

2 199 Dominick, Christy Silver 944 93.896

2 991 Payne, Denny Silver 944 96.719

2 65 Howard, Robyn Red 944 97.573

2 15 Leto, Gary Red 914 100.563

3 44 McCoy, Chuck White 944 89.577

4 31 Lockas, Mike White 944 85.518

5 391 Jackson, Alan Black 911S 90.027

5 426 Bradley, Richard Guards Red Carrera 95.968

6 99 Steele, Mark Red Boxster S 85.197

6 592 Morgan, Derek Blue 911SC 85.285

6 234 Gross, Ed Carmon Red Boxster 88.954

6 9 Steele, Lisa Red Boxster S 89.572

6 34 Frick, David Seal Gray Boxster 99.080

7 204 Bell, Bryan Silver 996 81.241

7 242 Shaffer, Darron W-Green Boxster S 84.917

7 2 Larson, Jeff Cobalt Blue Cayman S 86.627

7 81 Herrmann, Jeff Black 912 88.694

L 77 Dobbins, Tannia Red Boxster S 87.992

L 23 Moseley, Marilynn Cobalt Blue Cayman S 89.475

L 20 Bell, Andrea Silver 996 91.775

L 17 Sanchez, Denise Black 911 Targa 105.524

OA 281 O'Keefe, John Black Corvette 83.124

OA 28 Gosler, Grant Black Corvette 86.334

OA 98 Hansen, Jon Silver Mustang 87.513

OA 79 Savage, Lisa Black Corvette 89.554

OA 66 Wilkinson, James Blue Mustang 93.830

OA 82 Hennington, Trevor Maroon Camaro 97.376

OE 27 Monday, Ryan Silver Elise 92.866

OJ 74 Garner, Gabby White WRX STI 82.043

OJ 196 Hawkins, Ken Brown 280ZX 89.880

OJ 713 Volchik, Artem Black 300ZX 101.923

What's with the shoulder action, Kevin?

Back by popular demand - the Top Ten

Bell, Bryan Silver 996 81.241

Garner, Gabby White WRX STI 82.043

O'Keefe, John Black Corvette 83.124

Shaffer, Darron W-Green Boxster S 84.917

Steele, Mark Red Boxster S 85.197

Morgan, Derek Blue 911SC 85.285

Lockas, Mike White 944 85.518

Gosler, Grant Black Corvette 86.334

Larson, Jeff Blue Cayman S 86.627

Hansen, Jon Silver Mustang 87.513

Whozzat behind those Foster Grants?

Mark & Lisa Steele

Jeff Larson looking good in his Cobolt Blue Cayman

16
---
AX #3 April 22, 2007

Photos by Charlie Davis

Chuck McCoy

Ed Gross

Geneva Spreen

Class Num Name Car BestTime

2 111 Hardison, Kevin Blue 914 78.478

2 95 Howard, Travis Yellow 914 81.805

2 199 Dominick, Christy Silver 944 82.511

2 914 Perrine, Betty Orange 914 83.477

2 65 Howard, Robyn Red 944 83.623

2 991 Payne, Denny Silver 944 84.474

3 44 McCoy, Chuck White 944 79.170

3 82 Milton, James Gold 911 SC 80.949

3 11 Shoffit, Wendy White 911 SC 82.856

4 31 Lockas, Mike White 944 74.643

4 3 Perrine, Clay White 944 80.019

5 190 Spreen, Carey Red 911 SC 75.342

6 99 Steele, Mark Red Boxster S 76.680

6 66 Steele, Lisa Red Boxster S 78.823

6 234 Gross, Ed Red Boxster 80.381

7 204 Bell, Bryan Silver 996 74.375

7 242 Shaffer, Darron W-Green Boxster S 76.324

7 81 Herrmann, Jeff Black 912 76.864

7 2 Larson, Jeff Blue Cayman S 77.160

7 23 Moseley, Marilynn Blue Cayman S 81.195

7 426 Bradley, Richard Red Carrera 88.651

L 77 Dobbins, Tannia Red Boxster S 80.350

L 20 Bell, Andrea Silver 996 80.508

OG 944 Lumpkin, Martin Black 325is 79.659

OG 113 Hansen, Emily Blue R32 91.867

OJ 476 Vasey, Michael Silver STI 70.869

OJ 112 Lin, Jonathan Grey Evo MR 77.259

OJ 196 Hawkins, Ken Brown 280ZX 84.298

Sometimes it's a matter of inches:

Good Andrea (above) ooops not so good James (below)

Top Ten

Vasey, Michael Silver STI 70.869

Bell, Bryan Silver 996 74.375

Lockas, Mike White 944 74.643

Spreen, Carey Red 911 SC 75.342

Shaffer, Darron W-Green Boxster S 76.324

Steele, Mark Red Boxster S 76.680

Herrmann, Jeff Black 912 76.864

Larson, Jeff Blue Cayman S 77.160

Lin, Jonathan Grey Evo MR 77.259

Hardison, Kevin Blue 914 78.478

Richard Bradley

17
---
Trivia Contest

June

It's Easy To Play:

Enter online at http://mav.pca.org or email

answers to: Trivia@mavpca.org. Thanks to

Bob Kuykendall for putting this together!

Rules: 1 Point per each correct answer. 1 entry per

member. Drawing to tie break. Deadline 6/30/07.

Congratulations to our April winner,

Darron Shaffer

Honorable mention to: Mark Hanna, Bryan Bell, and

Clarence White

March Answers: 1) c 2)b 3) a 4) b 5) d

April prize:

$25 gift certificate to:

1. Per the April trivia, our own Maverick member, Ed Mayo,

competed in the last Cannonball Baker sea-to-shining-sea

cross country race in 1979. What car did he drive?

a.Corvette; b. Porsche 356; c. Ferrari; d. Chevy Blazer

2. The Porsche Rennsport Reunion III has been announced

for Nov 2-4 of this year. It will be held at:

a. Sebring; b. Laguna Seca; c. Motorsport Ranch Cresson;

d. Daytona

3. It took Ed Mayo how long to get from New York to LA in

the Cannonball Baker run?

a. 22 hours; b. 38 hours; c. 51 hours; d. 4 hours by plane

4. The Porsche 928 was made from 1978 to 1995. It was

referred to by many as:

a. "The ultimate Grand Tourer from Munich;" b. "Fastest V8

car in the world;" c. "Land shark;" d. "Two 914's in one"

5. The new Porsche Cayman with optional Bose Surround

Sound has how many speakers?

a. Four; b. Eight; c. Ten; d. Twelve

Zim's Autotechnik

18
---
Mother's Day

Memorial Day

www.parkplacetexas.com

PRINTER OF SLIPSTREAM SINCE 1982

USSERY PRINTING

3402 CENTURY CIRCLE IRVING, TEXAS 75062

972-438-8344

FAX 972-721-1847

2007 Calendars

Sunday

Monday

Tuesday Wednesday Thursday Friday Saturday

1 2

3

4

5

6

7 8

9

10

11

12

13

14 15

16

17

18

19

20

21 22

23

24

25

26

27

28

29

30

31

6113 Lemmon Ave. (Between

Dallas, TX 75209 . 214.525.5400

Mockingbird and Inwood)

This full color 17"x22" twelve month calendar features

many of the Porsches from the Maverick 2006

Autocross and Time Trial seasons!

They're done and ready for sale through the Maverick Goodie Store.

Thanks to everyone who purchased calendars at Founder's Day!

I can't wait to start working on next year's versions!

www.graycatgraphics.com

Hats • Shirts • Banners • Posters

Calendars • Track Photography

Car Numbers • Digital Photo Editing

Kevin Hardison

Irving, Texas • (972) 849-8512

19
---
ISTOOK'S MOTORSPORTS

2729 TILLAR ST.

FORT WORTH, TEXAS 76107

(817) 332-6547

(817) 332-6548 FAX

We are now building and taking orders for Porsche 924/944's for SCCA, PCA and NASA racing for

the 2007 season.

With the addition of the PCA 944-SPEC (SP1-SP3) series, there is now a greater than ever venue

to economically race these cars. In SCCA, you can have a GT2, GT3, EP, or ITA racer. With PCA,

you can pick from a number of classes, dependent upon your car.

Cars are built from mild to wild, depending upon what class you plan to enter and to what level

you want to participate.

Our experience building and racing Porsches goes back to our 911's in the mid and late 70's,

and 944's in the 80's in SCCA, IMSA GTU and Firehawk, PCA in the late and early 80's/90's,

and Speedvision GT, Rolex GT and GT in 2000 up. In addition to the Porsches, we have had a

hand in building five AUDI S4's for the Grand AM Cup, and a couple of AUDI TT's for SCCA.

We can build on our inventory of chassis's, or take yours and develop it into the race car you want.

Get ready for the 2007 season NOW!! We plan to attend and support as many race events for

2007 as our racing schedule will allow.

Don Istook and B.J. Jones

What ever symptom your car has, we have the prescription to fix it!

Complete automotive service from oil changes to

performance upgrades.

Owners: Bill Bernick & Rick Jordan - 28 Years Experience Porsche Trained

Specializing in: VW BMW AUDI Porsche Mercedes • We service all makes and models

Your Complete Satisfaction

is our Goal! 1425 FM 407 • Suite 950 • Lewisville, TX 75067 • 972-317-4005

20
---
's

Mustard

Racing

Services

German and British Car Service

and Maintenance by appointment.

Specializing in:

• All Porsche 914's

• Early 911's through 1989 model year

• Race Track Support

• Competition Car Maintenance

• Race Ergonomics & Instrumentation

2700 (Suite B) West Pioneer

(just South of Pioneer, West of Corzine St.)

Arlington, Texas 76013

817-366-1678

21
---
Porsche Club of America News

by Roger Johnson

PCA is very excited to announce two new on-line tools to assist you in communicating with your Region as well as organizing events.

The first new tool is on-line event registration. This tool can be accessed at: http://clubregistration.net/. Key features include:

• Registration for any type of event, while it can be used for complicated events like DE's and Club Races, it can just as easily be used

for a dinner meeting or a tech session. Club Racing has already adopted it as their preferred method for registration.

• Your members will create a profile and then never have to enter that information again.

• Car numbers are saved for future events

• Run groups can be assigned

• Accepting credit cards through PayPal is an integrated feature which makes it easy for your Region as well as your members.

• A variety of reports are available.

• Available 24x7

ClubRegistration.net was developed by Chris Alvarado of the Hill Country Region working closely with both the PCA Website Committee

and Club Racing. We thank Chris for all his hard work on this and Chris is making it available at no charge to those Regions who wish to use it.

This email was sent with the second new feature. We are very excited about the new Emailer. It gives Regions the ability to email all

their Region's members in the PCA membership database who have not opted out of receiving emails. There are many features to this

application which will be covered in an up-coming Regionfocus. This tool allows PCA to have more frequent and more immediate contact

with its members.

Key features of the Emailer are:

• Region Presidents and Membership Chairs have the capability of emailing all members in their respective Regions. Zone Reps can

email everyone in their zone.

• Membership chairs can easily email new members as well as those who have recently dropped their membership.

• Region Presidents and Membership Chairs can email their Region management team.

• The editor allows for you to quickly send simple emails very quickly, but will also allow you to create very sophisticated messages as well.

Those knowledgeable in HTML can paste it into the editor to build even more sophisticated messages.

• You can personalize the message with easy to use substitution strings. This allows you to personally greet your members with things

like "Dear John Smith."

• Graphics can be uploaded and included in the email. There is a PCA header as the default, but you use whatever header you like.

• Members can opt-out of receiving emails by following a link at the bottom of the email they received.

Those that have access to the emailer will see it as a selection on their logged-in page on PCA.org. If you are not registered with PCA as

a Region President or Region Membership Chair you wouldn't see it as a selection. Click on "Emailer" and you will see the lists you can send to.

Click on "Compose" and create you message.

We think you will find this new tool to be very powerful. With power comes responsibility. Please use this tool with some thoughtfulness.

You need to respect your members email accounts and only send messages of value. You want to make sure that when they see a message in

their inbox from PCA they will know it has value and that they want to open it.

We're addressing Newsletter Editors in this

message because we need to get the word out to all

members to update their member profile. There

are thousands of members who have no email

address in their profile and many thousand more

with out-of-date email addresses. Please ask your

members to go to PCA.org, log in, and review their

email address in the blue box on the right side.

Everything we can do to get member email addresses

up-to-date will make the Emailer work better for

your Region and PCA in general.

Watch for the upcoming Regionfocus for more

details. As always your feedback is most welcome.

Roger Johnson, PCA Website Chairman

websitechair@pca.org

Jim Selders, PCA IT Chairman

jimselders@pca.org

22
---
AUTOSCOPE

601 COIT ROAD @ PLANO PARKWAY

PLANO, TEXAS 75093

972-867-7467 (972-TOP-SHOP)

www.autoscopeltd.com

Official Texas Distributor/Install house for

G.I.A.C. Porsche Software:

Featuring GIAC's Hammer Program. Flash-loaded Performance software installed

through the OBD port directly into the car's ECU. The Flashloader TM Software

Switcher allows switching between as many as five GIAC-Tuned programs. No more

sending out your ECU and waiting for it to return to have some fun, no more messy

chip soldering or ECU swaps. It's simple plug and play with programs including 91-

octane performance or 100-octane performance, as well as Valet and Anti-Theft

and back to Stock settings.

"European Car" magazine (March issue) tested a GT2 with GIAC's 91-octane software,

stock engine, free flowing air filter, free flowing exhaust and a diverter valve

which obtained a Whopping 600 bhp and a Thundering 630 bhp on the 100-octane

performance software. 0 to 60 in 3.3 seconds and high 10's in the 1/4 mile.

Many of the world's fastest Porsches use GIAC's software. Let's flash your Porsche.

Software available for :

911, 911 Turbo, 959, Boxster, Cayenne and Cayenne turbo.

For 23 years, Autoscope has been dedicated to catering European Car owners of the Dallas

and Plano area with two locations.

Dallas- 9796 Ferguson Road. 214-320-8280

Plano- 601 Coit Road, 972-867-7467

Autoscope understands the meticulous care and pampering you give your Porsche, from the routine maintenance

services to perfomance add-ons, we have the latest in diagnostic tools by Porsche and Bosch to troubleshoot

and maintain it's integrity.

No other independent facility in Plano can match our combined expertise and training.

www.autoscopeltd.com

G.I.A.C, BREMBO, JRZ, B&B, GHL, B&M, KINESIS, UUC, EIBACH, REDLINE,

MOTUL, ROYAL PURPLE, SCHROTH, GROUND CONTROL, BMC and more.

23
---
Photos by Dennis Chamberlain

Happy Hour at Mac's

by Dennis Chamberlain

Our return to Mac's was well worth the wait, and the food

was even better than I remembered – not to mention the

weather. Last year we hit Mac's during the hottest part of

the summer, and I remember snapping off Porsche photographs

outside in the sweaty heat, with my shirt clinging to me like saran

wrap. When I got my tripod out of the back trunk of my Boxster S

I practically burned my hand (you Boxster owners will understand).

This year the temperature

was mild, and we

had a great turnout of close

to forty.

Richard and Linda Fogle

We had old members, we had

new members, and we had potential,

prospective members, including Judd

Taylor's boss, Richard Fogle and his

wife, Linda.

We also had Monda Degan and

Mark Hannah, who looked like a

Newlyweds Mark and

Monda

Photos by Dennis Chamberlain

Photo by Dennis Chamberlain

couple of happy campers. I caught

them out behind the restaurant making

out. This is one the reasons that

you always need to have a camera

ready. You'd almost have thought they

were married. Or maybe you would

have thought they were almost married.

How many times have two

Maverick members gotten engaged? I

can only think of one other time, and

it was before I was a member.

Personally, I feel that this kind of trivia

Judy Brodigan is a lot

more interesting

than the "how many grams does

a 1979 911 lug nut weigh" kind of trivia.

But I digress….

For our June 21 Happy Hour

we're returning to Champps in

Addison. Great selection of various

kinds of food, and a great area for us to

meet. Hope to see you there!

Ken Berry

Photo by Dennis Chamberlain

24
---
25
---
26
---
New Wheels

by Joel Nannis

If you have any changes that

you would like to make to the

MRPCA membership guide, call

Joel Nannis at 817-329-1600

Arnett, James

Richardson, TX 75082

2000 986 Boxster

Boone, Andrew

Dallas, TX 75237

2007 997 GT3

Dewitt, Randall (Michele)

Frisco,TX 75034

2002 996

Fallner, Cynthia

Dallas, TX 75225

Farlet, Paul

Granbury, TX 76048

2006 987 Boxster

Fella, Henry (Sara Woodeward)

Fort Worth, TX 76110

1987 911

Fowler, Michael (Brandi Bray)

Cleburne, TX 76033

2006 997

Garvey, Bryan

Dallas, TX 75205

1971 911 T

Havelaar, Ron (Marylou)

Arlington, TX 76017

1975 911 S

Henderson, Shane

McKinney, TX 75070

1984 911

Smith, Glen (Judy)

Burleson, TX 76028

2007 Cayman S

Vaughn, Lisa

Fort Worth, TX 76135

2002 996 TT

Von Horvath, Richard

Irving, TX 75038

2003 996 TT

Sullivan, Charles (Janine)

Mansfield, TX 76063

1978 930

Welcome, New Members!

You have just joined one of the best and most active PCA

Regions in the country! Some clubs focus solely on social

events, while others focus on just show and shine concours

events. Maverick Region is a club that focuses on providing our

members with the tools necessary to have the ultimate in driving

experiences.

You will notice that our region has many Time Trials,

Autocrosses, and Drivers' Education (DE) events (in addition to

a yearly Club Race). This has been the spirit of the region for

quite some time. We have some of the finest instructors in the

country. Make sure you take full advantage of the driving experiences

we have to offer.

Racing is not ALL we focus on, though. If racing doesn't

suit you, we have monthly happy hours, three monthly lunch

gatherings, regular dinner socials, frequent driving tours on

some fabulous roads in and around Texas, driving rallies (fun

for the whole family), and regular opportunities to support

our perpetual charity, the Hope Shelter.

If we don't have what you're looking for, just ask us... we

might just add something extra to the calendar.

Please also feel free to share article ideas (and submissions)to

editor@mavpca.org.

We'd love to hear from you!

Anniversaries

5 Years

Snyder, Steve (Terri)

Plano

Frishkey, James (Janice)

Plano

Norwood, Paul

Roanoke

Chandler, Garry

Denton

Bailey, Dusty

Plano

Bray, Frank (Pat Meyer)

Dallas

Chambers, Garret (Amy Mills)

Dallas

Heragu, Keerthi (Charitha)

Richardson

Holt, William

Dallas

15 Years

Sabert, Don

Kansas

Kuzu, Ibrahim (Nermin)

Garland

Lowry, Wade (Kevin)

Geiger, Tony (Barbara)

Beaumont, Gary (Barbara)

Gade, Michael (Regina)

Ellis, Richard (Janice)

Carden, Randal (Derrell)

20 Years

25 Years

30 Years

Bedford

McKinney

Highland Village

Colleyville

Carrollton

Grand Prairie

27
---
Unclassifieds

Unclassifieds are available free to Maverick Region Members and are $5 to all others (contact editor for payment details). Please limit size to no more than 6 lines.

Ads will run for 3 issues, then removed unless you request that it be run for an additional 3 issues. Email your ad to unclassifieds@mavpca.org by the 10th to have

your ad run in the following month's Slipstream. Be sure to include a contact name and phone number. If you are selling a car, include mileage and price. Check your

ad for accuracy the first time it runs. Contact the editor to have your ad pulled sooner. Due to space constraints, photos may or may not be included.

For sale: Fox, four layer, Evolution car cover for 968 coupe. Approximately one year

old and in great shape. $75. Arnie 972-527-9450. (1)

Wanted dead or alive: Early 911 MFI magnesium stacks, linkage, and other related

MFI parts. Manual (no electric) Sport seats (Tan would be great). Scott Wolthuis 817-

92-1046 or ScottWerks@charter.net. (1)

For sale: Track Stuff: Southsport Track Trailer, Track Wheels/Tires, Seats and

Harnesses. Southsport Track Trailer (stored inside garage) with extended length tire

rack, long enough to hold six 18" wheels with room to spare. Includes spare tire for

trailer and tongue jack. Bought new in 2002 for $900; will sell for $650 OBO. Choice

of 2 Hitches: Evo hitch fits 97-2002 986's (that have black removable rear

bumperettes) including 2" chrome trailer ball. $200. Or Willwood Hitch fits 99-2002

996 and Boxsters (that have black removable rear bumperettes) including 2" chrome

trailer ball and locking receiver pins. Bought new in 2002 for $360 plus shipping.

$300.Set of 17"Porsche wheels (Boxster 8.5/17 wheels front;996 9.0/17 rears) with heat

cycled (one run session at Motorsport Ranch) Kumho Victoracers 245/45 front and

275/40 rears, including 14 mm HR spacers and longer wheel bolts $900. True and

straight, no curb rash but some nicks/scratches in the paint. One Pair Black Leather

Porsche GT3 seats (made by Recaro) including the anti-submarine bars. $1600 OBO.

Two Sets (enough for two cars, both sides) of Team Tech Ram Pack 5 point Harnesses

includes shoulder, lap and sub straps—one is red belts with silver tabs; other is black

with silver tabs;driver side of set has shoulder pads sewn in the shoulder straps. Rotary

release buckles. Interchangeable for bolt in (race car application) or clip in (street car

application) $200 per set. Set of 18" 996 Turbo Hollow Spoke Wheels, with Michelin

Pilot Sport Cup Tires mounted (perhaps a few track days left on tires). One of the

front rims is slightly bowed and you can use or replace as you decide; I ran this rim as

is for almost two years with no issue. Other 3 are true and straight. $450 OBO. Call

Paul 214-457-1217, boxster99t@tx.rr.com. Due to shipping difficulty, DFW-area only

please on wheels, seats and trailer. (1)

For sale: 2003 Carrera 4S Arctic Silver/Black. 14,800 miles, always garaged, perfect

condition,clean title.Sports exhaust,OEM sports shifter,Bose,etc.Asking $58,500.Call

Dan at (214)394-7697 or email ptins@mac.com. (2)

Wanted: 1972 911S Coupe Would like to purchase from good home a relatively

unmolested numbers-matching 1972 911 S Coupe (not Targa) in very good to excellent

condition with good history and fundamentals such as Owners Manual and Tools.

Please call George at 775-750-8202. PCA Member of Sierra Nevada Region and former

Maverick. (2)

For sale: 993 transmissions One with limited slip diff @ $3600. One with standard diff

@ $3000. Ring&Pinion @ $1200. All in excellent condition, less than 30K miles. Carl

Amond (817)481-8371 or email carlamond@att.net. (2)

For Sale: SPARCO EVO 1 seat Red, excellent condition, includes Brey Krause mounting

brackets with slider for 911 Carrera. Asking $400 OBO. Looking to improve lap

times…Please contact Terry @ 214.245.5606 or tjblechar@cbs.com (2)

For Sale: 2004 911 4S Porsche Cabriolet: BLK w/BLK Top, BLK Leather Interior 12K

miles Fully Loaded Excellent Condition Under Warranty $74,900 Contact Mike 214-

707-9988 (2)

For Sale: Four 7X15 Cookie Cutter rims painted, great for autocross. $150 for all four.

Keller area. Denny Lendzion (817) 431-8634 (2)

For Sale: 1989 944 S2 PCA F Class Race Car This car has everything you need to win.

Previous owner had many podium finishes with this car. Complete Racers Edge bushings

and Leda double adjustable shocks. Racers Edge A-arms, custom exhaust with 3

inch pipes and Borla muffler. Comes with 18" CCW rims, 17" Supercup rims. Spares

include drive axles, water hoses, wheel bearings, etc. This car is

completely setup for PCA F class with all the legal modes you can make. All maintenance

hasbeen done in the last year. Contact Mark Steele at 972 939-9690. See the following

web site for more details: http://mysite.verizon.net/msteele944/index.html.

email marksteele@bigfoot.com (2)

For sale: 2005 Cayenne 24,400 miles almost two years left on warranty,

$36,950, all services current, Jarama Beige Metallic exterior,

moonroof, light wood steering wheel with Tiptronic S and audio controls,

heated seats (nice), colored crest hub covers, front and rear floor mats, never

tracked, all wheel drive. Ed Fickes 817-605-1849, efickes@sbcglobal.net (3)

For Sale: 1995 911 Cabriolet Silver w/black top and Dark Grey

interior, 38k miles. 6 speed manual, full leather, new yokohomas, 6 cd changer, excellent

condition, garaged, non smoker, records. $39,500 Mark Nesselroad

972.571.3375 (3)

Slipstream Advertiser Index

For Slipstream Advertising rates and information contact Lisa Steele at (214) 709-6418

These advertisers support the Maverick Region . . . and Mavericks support these advertisers!

44 and More Parts (817) 907-5413 Page 24

Autobahn Motorcar Group (800) 433-5602 B.C.

Autoscope (972) 867-7467 Page 23

Boardwalk Porsche (214) 576-1911 I.F.C.

Bobby Archer's Motorsports (817) 877-1772 Page 12

Buckley's Precision Racing (817) 239-7969 Page 13

The Complete Garage (972) 789-1500 Page 7

Dallas Auto Sports (214) 320-2228 Page 21

Dallas Euro Cars (972) 243-4911 Page 19

Eagles Canyon Raceway (940) 466-9775 Page 10

Fifth Gear Motorsports (972) 317-4005 Page 20

Gray Cat Graphics (972) 849-8512 Page 19

Impact Signs and Graphics (817) 329-3491 Page 24

Istook's MotorSport Svcs (817) 332-6547 Page 20

Jerry DeFeo Designs (972) 240-5800 Page 7

Louden Motorcar Svcs (214) 241-6326 I.B.C.

Mayo Performance (817) 540-4939 Page 11

Mean Green Travel (940) 565-8111 B.C.

Metro Volkswagen (972) 659-9999 Page 11

Mustard Racing (817) 366-1678 Page 21

911 Enterprises (972) 241-2002 Page 12

Park Place Porsche (800) 553-3196 Page 6

PartsHeaven (800) 767-7250 Page 21

RUF Auto Centre (214) 269-1571 Page 25

ScottSearch (214) 800-2836 Page 26

Soundwerk (817) 281-9381 Page 19

Ussery Printing (972) 438-8344 Page 19

Zims Autotechnik (817) 267-4451 Page 18

28
---
Slipstream Advertiser

for 25 years!

Louden Motorcar Services has been

servicing fine European motorcars in

Dallas since 1977. From the moment you drive

in, it is apparent that quality is our

number one priority. From the comfortable

waiting room to the well-kept workshop,

Louden Motorcars exhibits professionalism.

We've been winning awards for the

quality of our service for years. Louden

has been rated "Best in Dallas" twice by

D Magazine, "Best in Texas," "Top Ten in

the U.S." and "Best in the West" by the

Robert Bosch Corporation (worldwide

leader in fuel injection and electronics).

And we'd like the opportunity to show

you why.

11454 Reeder Road

Dallas, Texas 75229

(972) 241-6326

www.loudenmotorcars.com
---
Bob Knight, Slipstream

9047 Oakpath Ln

Dallas, TX 75243-6353

Periodical Postage

Paid at Dallas, TX