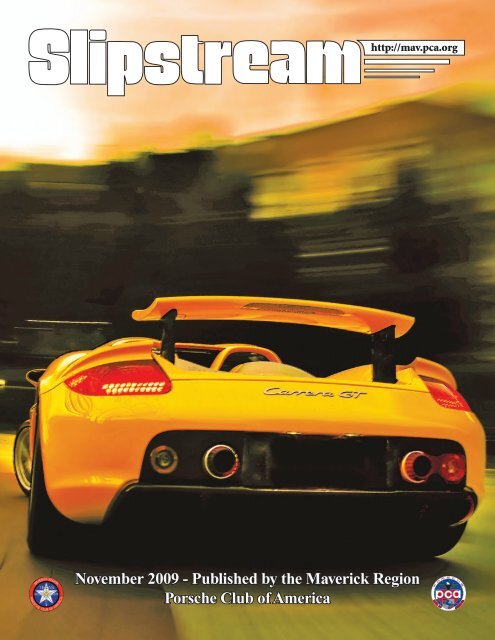 Slipstream - November 2009
The monthly newsletter of the Maverick Region of the Porsche Club of America
The monthly newsletter of the Maverick Region of the Porsche Club of America
SHOW MORE
SHOW LESS
Create successful ePaper yourself
Turn your PDF publications into a flip-book with our unique Google optimized e-Paper software.
http://mav.pca.org

Upcoming Events

• Father's Day Picnic

• Sunday Drive

• Rally School

Past Events

• Wild Wildflowers

• May at Mayo's

• Results

November 2009 - Published by the Maverick Region

June 2007 -

Porsche Published

Club by

of the

America

Maverick Region

Porsche Club of America
---
http://mav.pca.org

Departments

Zone 5 Presidents ........................................1

Drifting (President's Column) .....................2

Maverick of the Month ................................2

List of Officers/Board Chairs ......................4

Windscreen (Editor's Column) ....................5

Maverick Minutes ........................................8

Cliff's Ramblings .......................................17

New Member Spotlight .............................19

Tech Corner ...............................................28

New Wheels ...............................................31

Anniversaries .............................................31

Unclassifieds ..............................................32

Advertiser Index ........................................32

Upcoming Events

Calendar of Events.......................................1

Founders' Day ..............................................3

Lewisville & Grapevine Lunches ................5

Night Rally ..................................................5

Driver's Education - EC ...............................7

Tech Session - Park Place ............................7

Detailing Clinic - Cooper Clinic ..................7

Board Meeting .............................................8

Sunday Drive - Christmas Lights ...............12

Happy Hour - Trinity Hall Irish Pub .........24

Past Event Recaps

Sunday Drive at the Track ..........................12

Fall DE Kicks Off ......................................14

Happy Hour at Blue Mesa Grill .................24

Autocross #5 Slip & Slide ................... 26-27

Miscellaneous

The Monterey Historics .............................10

New Arrivals ..............................................11

My 911 and the Unnecessary Investment ..18

Trivia Contest ............................................20

Volume 47 November 2009, Issue 11

Go Online for Latest Updates on Events

http://mav.pca.org

Day November

4 Board Meeting

7 Founders' Day

7 Detailing Clinic

10 Lewisville Lunch

14-15 Driver's Education - EC

19 Happy Hour

21 Night Rally

26 Grapevine Lunch

Day January

1 HAPPY NEW YEAR

6 Board Meeting

12 Lewisville Lunch

21 Happy Hour

28 Grapevine Lunch

31 New Member Party

EC - Eagle's Canyon, Slidell

MW- Mineral Wells Airport, Mineral Wells

MSR- Motor Sport Ranch, Cresson

RS - Ranger Stadium, Arlington

TMS- Texas Motor Speedway, Fort Worth

Penn- Pennington Field Stadium, Bedford

Day December

2 Board Meeting

5 Tech Session

8 Lewisville Lunch

12 Holiday Party

13 Sunday Drive/Christmas Lights

17 Happy Hour

24 Grapevine Lunch

25 MERRY CHRISTMAS

Day February

3 Board Meeting

9 Lewisville Lunch

18 Happy Hour

25 Grapevine Lunch

Cover Photo by

Justin Moon

Carrera GT

@ Apex

justinmoon@marketchasers.com

www.justinmoonphotography.com

Slipstream (USPS 666-650) is published monthly by the Maverick Region, Porsche Club of America, 2973 Timber

Creek Trl, Fort Worth, TX 76118. Subscription price is $24.00 per year. Periodical postage is paid at Fort Worth, TX.

Postmaster: Send address changes to Jan Mayo, Slipstream, 2973 Timber Creek Trl, Fort Worth, TX 76118.

Opinions expressed herein are not necessarily endorsed by the Club's membership or officers. Contributions will be

printed on a space available basis. Chartered regions of PCA may reproduce items from this issue provided the author/

artist and Slipstream are credited. Slipstream is printed by Ussery Printing Company in Irving, Texas.

ARK-LA-TEX

Kenneth A. Chandler

(318) 222-4400

bad968@bellsouth.net

COASTAL BEND

Rene' Molinia

(956) 789-5469

rmj951@swbell.net

2009 Porsche Club Zone 5 Presidents

LONE STAR

Lynn Friedman

bromilia@hal-pc.org

MARDI GRAS

Richard Martin

rmmhr@cox.net

OZARK

Rick Daes

(501) 565-5113

rdaes@aristotle.net

WHISKEY BAY

Mike Hamza

mhamza1@bellsouth.

net

CIMARRON

Jay Jackson

jjackson@

benefitinformatics.com

HILL COUNTRY

Adrienne Boer

president@hcrpca.org

LONGHORN

Ron McAtee

rmcatee@satx.rr.com

MAVERICK

Mike Brodigan

972-786-6246

president@mavpca.org

WAR BONNET

Louis Lackey

louis.lackey@

anheuser-busch.com

ZONE5 REP

James Shoffit

C - 972-786-6246

james@shoffit.com

November 1
---
Drifting

Mike Brodigan, President

Boy the year has sped by fast.

It has been almost a year

since I was elected Prez of the

Maverick Region! First of all I want to

say a big THANK YOU to all the officers

and activity chairs that made us such an

awesome car club. "It's not just the cars,

it's the people" still stands as true as ever.

Well, I have decided to run for re-election. I have

amassed a war chest full of campaign money, $2.37 I

robbed from Judy's "laundered money" (the stuff I forget to

take out of my pockets) and have established the Committee

to Re-elect the President. This committee is comprised of

myself, my neighbor's dog, Belle, and my wife. My wife

didn't really agree to join the committee; I just caught her

when she was busy with something else and I got one of

those "yes dear, whatever" responses. As of this writing, I

am unopposed, but that will not deter our efforts!

I do have a strong campaign platform. This year isn't

over yet, but I think it has to be one of the best ever for the

Maverick Region. The problem is, I can't really take credit

for any of it, but that has never stopped Rick Perry, George

W, or Barack. The following are some of the region's big

success stories.

Our events are incredibly well supported. The club

race was a huge success; all of our social activities are well

attended, and the driver's education events are drawing

rave reviews. The time trials, rallies, and autocrosses are

running strong. We started two new recognition programs:

Maverick of the Month, and New Member Spotlight. The

Sunday drives have a cult-like following. I think Cliff

could stage a bloodless coup any time he wanted to. We

also had a re-launch of Round-Up, a great weekend with

our Maverick friends. We had a huge contingent at Parade

and took home far more than our fair share of trophies and

member recognitions. Have you noticed Slipstream now has

a color cover, and four additional pages to give our members

more value? Last, but certainly not least, is our continuing

support of the Huffaker-Hughes Hope House. (More on this

next month). Okay, I know I cannot take credit for any of

this, and I am serving another year because nobody else

wanted the job. It is our Chairpersons and all the hundreds

of volunteers that make this club so great. Thanks to all of

you for making our region so great, and my job so easy.

Mav of the Month

Congratulation to Lisa Steele, our November Mav of the

month. It is kind of hard to talk about all the things Lisa does

for us, because she is in there helping with EVERYTHING!

It seems that at any of our events, every time you turn

around, there's Lisa with that awesome charm and milliondollar

smile. Lisa is our Region Secretary, is responsible

for the social activities at DE's, and is a helping hand with

all of our social events. Lisa has been the advertising chair

for Slipstream, and is the reining Selcer Award winner for

outstanding service.

For being the Maverick of the Month, The Silver

Fox in Grapevine is giving Lisa dinner for two at

their award winning steak house.

Lisa, thanks for all you do!

See y'all soon, Mike

2
---
November 3
---
President

Mike Brodigan

H-817-488-8520

C-817-233-0068

president@mavpca.org

Mike enjoys the Maverick social events,

is a Drivers Education instructor and

does a little Club Racing as well. His first

Porsche is a 1999 Boxster that he intends

to own forever. He also has a track

prepared 1989 944 Turbo S (Chouncey).

Position Milton, James Chairperson

AX Chair Christy Payne

Lewisville Milton, James

TT Chair Travis Howard

AX/TT Lewisville Registrar Andrea Bell

AX/TT Rules Charlie Davis

AX/TT Safety Chuck McCoy

AX/TT Schools Bryan Bell

& Lisa Steele

AX/TT Tech Insp Jeff Herrmann

AX/TT Timing Darron Shaffer

AX/TT Workers Mike Lockas

Club Race Co-Chair Joel Nannis

Club Race Co-Chair Bill Miller

Club Race Ads/PR Lori Mauthe

Club Race Registrar Wendy Shoffit

Concours Jack Griffin

DE Chair John Hamilton

DE Chief Dvg Instr. John Sandusky

& Keith Olcha

DE Registrar Joel Nannis

DE Safety Bob Benson

Email List Modr. Bob Benson

Goodie Store Christy Payne

Happy Hours Monda Hanna,

& Mentors Mike Lockas

& Bob Lewis

Membership Joel Nannis

Past President James Shoffit

Public Relations Tracey Gross

Rallies

Carey Spreen

Slipstream

Advertising Jan Mayo

Editor Richard Bradley

Event Ad Design Mark Gluck

Mailing & Tech. Andy Mears

Printing Fran Ussery

Staff Wendy Shoffit, Matt Platts,

Andy Mears, Jan Mayo

Tannia Dobbins

Socials

Sponsorship

Sunday Drives

Swap Meets

Tech Sessions

Trivia Chair

Web Site

Zone 5 Rep.

4

Wendy Shoffit

Keith Olcha

Clint Blackman

Robyn Howard

Ed Mullenix

Jerry DeFeo

Denny Payne

James Shoffit

Vice President

Bryan Bell

C-214-789-6895

vp@mavpca.org

Bryan bought a 1999 996 and joined

PCA in 2003 after longing for a 911 his

whole life. Then fell in love with driving

one! He is active in Drivers Education,

Autocross and Time Trial. Bryan

works at Digital Print, Inc. located at

Motorsport Ranch in Cresson.

Andrea Bell

H-817-270-4132

Bryan Bell

C-214-789-6895

drivingschools@mavpca.org

Bob Benson

H-817-457-8833

bbenson1@airmail.net

Clint Blackman

W-214-696-8000

cb3law@sbcglobal.net

Richard Bradley

C-214-763-5338

editor@mavpca.org

Jerry DeFeo

972-240-5800

trivia@mavpca.org

Tannia Dobbins

C-254-338-9392

tldobbins@embarqmail.com

Mark Gluck

C-817-706-9061

mark@markgluck.com

Jack Griffin &

Frank Briggs

concours@mavpca.org

Tracey Gross

H-214-383-6813

pr@mavpca.org

John Hamilton

C-817-919-0882

de@mavpca.org

Secretary

Lisa Steele

H-214-709-6418

secretary@mavpca.org

Lisa has been a member of Maverick

Region since 1995 and has had several

Porsches currently driving a 1999 red

911. She is active in Drivers Education,

Autocross and Time Trial. For the past

year Lisa's 911 wore number 11 identifying

her as the Ladies Top Driver of 2007.

Monda Hanna

W-972-450-3835

monda.hanna@opco.com

Jeff Herrmann

C-254-338-1758

Rider81@embarqmail.com

Carl.G.Herrmann@us.army.mil

Robyn Howard

972-679-0112

red86944@yahoo.com

Travis Howard

C-214-616-6152

TT@mavpca.org

thoward914@yahoo.com

Bob Lewis

972-255-8629

binabob@gmail.com

Mike Lockas

W-972-540-0245

mikeldean@earthlink.net

Jan Mayo

H-817-595-4651

C-817-313-9406

ads@mavpca.org

Chuck McCoy

H-972-956-0776

Andy Mears

H-214-394-5857

andy@mavpca.org

Bill Miller

W-972-830-2676

cr@mavpca.org

Ed Mullenix

C-972-231-5356

techcorner@mavpca.org

Please help us to keep growing!

Treasurer

Jim Falgout

W-972-669-2370

C-972-345-3009

treasurer@mavpca.org

Jim just joined Maverick Region in

August, 2008. He drives a 1992 968

cab and has recently enjoyed several

social events. Jim is looking forward to

participating in all the driving events.

Joel Nannis

H-972-722-2735

membership@mavpca.org

Keith Olcha

W-817-706-7678

H-817-251-6865

keith.olcha@verizon.net

Christy Payne

H-817-909-0966

ax@mavpca.org

goodiestore@mavpca.org

Denny Paynes

webmaster@mavpca.org

Matt Platts

C-817-919-1253

W-817-440-2090

Matt@Platts.net

John Sandusky

W-817-777-0421

john.c.sandusky@lmco.com

Darron Shaffer

H-972-390-9709

C-972-898-3002

darron.shaffer@gmail.com

Wendy Shoffit

H- 972-506-7449

C- 972-977-9821

crreg@mavpca.org

James Shoffit

H-972-506-7446

C-972-786-6246

James@shoffit.com

Carey Spreen

C-817-422-3480

rally@mavpca.org

Fran Ussery

W-972-438-8344

H-817-481-8342

fran@usseryprinting.com
---
Windscreen

Richard Bradley, Managing Editor

What a great month this is

going to be! Plenty of events

to pick from and then we

have the onslot of the holiday season. Are

you as ready as I am to put on a jacket and

enjoy those brisk morning drives? It has to

be one of my favorite times of the year, and

it's not just because I have a convertible, but

because it's time to share with friends and family! Speaking

of friends and family, please come spend some time with

fellow Mavericks at our annual Founders' Day on November

7th, our Holiday Party on December 12th, or any number of

other social and driving events. Each and every event has as

much to offer as you have to give.

From the looks of what is between this month's covers,

everyone is keeping busy coming and going and enjoying our

favorite marquee, from racing in California to new cars and

babies, to driving the track whether on Sunday or for the fall

DE season. And look at the number of New Wheels we have

joining us...WOW! Isn't that amazing? Hope to see each and

everyone at the New Members' Party in January if not before.

Keep your stories coming and I promise to get them in print.

I don't always get them in right away, but I promise I will.

November 5
---
6
---
November 7
---
Maverick Minutes

Lisa Steele, Secretary

On a cool, crisp evening

of October 7th, Mike

began the board meeting

promptly at 7:00 P. M. He started

the meeting with inquiring about the

Selcer Award, where it was and when

he could get it so that he could award

it to someone at this year's Founders'

Day. I chimed in to let him know that I will take it off

of the perfect little wall space in my house and make

sure he gets it.

Jan Mayo reported that the advertising is going right

along and she spoke for Richard, who was unable to

attend the meeting, that Slipstream is going GREAT!

Jack Griffin announced that he had a concours

committee meeting and it was decided that they will

put on a "detail tech session" at the Cooper Center on

November 7th. People can come and learn how to take

care of the car before putting it in an actual concours.

Steve Pazstor from Tropicare will be on site to help

with the detailing.

Wendy reported that Founders Day is moving right

along with the help of her committee (Robyn Howard,

Andrea Bell, Christy Payne, Jan Mayo, and Lisa

Steele). The room at the Marriott will accommodate

about 75 people. Looks like it is going to be a fabulous

Hollywood Glam theme! Wendy also announced that

things are moving right along with the Christmas Party

on December 12th at the Campbell's house. Just as in

the past, it is suggested that everyone bring gift cards

for the Hope Shelter but it was requested that only

Wal-Mart cards be given. Wendy also assured Christy

that they could work side-by-side on the New Member

Party before she relinquished all Social duties to her.

Jim Falgout announced that "We have money."

Travis Howard was pleased to say that Time Trials

are done! The double TT at Mineral Wells was good

with a nice turn out on Saturday. Travis reported

that the season went well with no incidents and that

attendance at events was about the same as last year.

He plans on keeping the schedule of events about the

same for next year. Travis also plans on talking with

Hans at RUF to sponsor a TT at MSR for next year as

well. Great Season, Travis!!

Robyn Howard reported that the Swap Meet at

Zims was good. Al Zim gave a 15% discount on parts.

Robyn would like to plan two swap meets for next year.

Jack Griffin spoke up and said that he would love to

combine a concours with a Swap Meet. Sounds like

the perfect plan!

It was my turn to talk next and I had two items

on my agenda. I clarified a few things that I am

responsible for as part of my secretarial duties. First

I will be bringing a ballot box and plenty of printed

ballots for the voting of the 2010 Officers to Founders'

Day. It appears that all 2009 officers are on the ballot

once again for next year. However, there is also space

for any write-ins. The next item on my agenda was

actually Jim Falgout's idea. With Hospitality and

Social events having so many receipts, Jim thought it

might be a good idea to have a debit card for these

event chairs to use. After a little discussion, debit

cards were approved!

Christy Payne who always has Goodies, reported

that the last autocross was WET! Due to the weather

and the complexity of the original AX design, the

8
---
course was changed. It was a great

turnout of 40 people even with the rain.

The course design winner, Jarrett Jan,

will have his course laid out for the

Charity AX. BTW…Congratulations

to Denny Payne for getting TTOD on

that very wet course!

Clint Blackman is planning a Sunday

Drive in Mineral Wells on October

25th. He announced that he has been in

contact with a group called Mad Maps.

They are a motorcycle company that is

going to help out Clint with giving him

a 20% discount on all maps. Clint says

these are GREAT drives and he very

excited to use The Sidewinder Drive

though Mineral Wells. On this drive,

Clint has also arranged for the group to

stop off at The Crazy Water Company

for a tour. The Christmas Lights Drive

is scheduled for December 13th. Jan

spoke up to let Clint know that last

month's Sunday Drive to MSR brought

in $300 for the Hope Shelter during the

charity laps.

John Hamilton had several items of

business. First, he let everyone know

that the major dealers in the area will

be launching the new Panamera on Oct.

17th. Each dealer should have three

on hand for people to try out. Second,

John announced that the new brochure

holders are at the dealers. Third, survey

results from the last DE at MSR were

very good with some serious comments

and some "wishful" comments. Overall,

the surveys showed great ratings of the

instructors. The next DE will also be at

MSR but will be the 1.7 course going in

the clockwise direction.

Bob Lewis reported that the last Happy Hour at

Blue Mesa was very nice with FREE appetizers. The

next HH is scheduled for October 15th at Uncle Julio's

and the November HH is all set for November 19th at

Trinity Hall Irish Pub.

Ed Mullenix reported that the September 5th Tech

Session at Boardwalk was well attended with about 25

people. He is planning on doing a tech session once

a quarter. Ed is trying to plan a "Do- It- Yourself"

We're re-open for business and moving forward with the legacy that was

developed by the founder and owner, Dan Butts. For over 25 years,

GTI has served the Dallas - Ft. Worth metroplex with superior and

skilled workmanship with an intensive focus on attention to every detail.

Don't forget to tell and invite your friends. You'll also want to bring your

car to enter it into GTI's Grand Opening Car Show for a chance to win

one of many prizes!

Date: Saturday, Dec. 5

Time: 10:00 am to 2:00 pm

Where: 1118 S. Airport Circle

Suite 120

Euless, TX

Food Fun Networking Car Show Prizes

www.germantechnologyinc.com

Metro (817) 540-0712

session with light to routine servicing with a time limit

of about 2 hours.

Tracey Gross continues to do a Fabulous job with

the Spotlight on a New Member in Slipstream.

Back to Mike to wrap up the evening. He reported

that there were lots of Mavericks at Hallett. Mike

would like for next month's meeting be a "calendar

meeting" to get dates set for next year, so I guess this

means that our calendar girl, Robyn, will be running the

meeting. One last thing…Mike announced that Mav of

the Month is….Lisa Steele (big smiles on my face).

November 9
---
The Monterey Historics

By Linda Bambina

Wow. Three days of taking

pictures of cars and

saying,

"wow" almost wore me

out.

Have you ever heard

of the "The Historics?"

Technically the name this year is the 36th

Rolex Monterey Historic Automobile

Races. They are held each year at

the Mazda-Leguna Seca Raceway in

California near the end of August.

Fran Ussery, MAJOR car enthusiast that she

is, organized our three-couple-entourage (Ussery,

Mayo, Bambina) last October in prep for this 3-day

August premier racing

experience. She found

out early on that Porsche

would be the featured

marque thus creating a

"magnet" for our group.

Note the carefully

chosen word "Premier"

Linda and Alan Bambina share a

moment with one of the racers

as in outstanding,

foremost, amazing. Or,

for me, just plain WOW!

I quote from the 112

page, full-color, fabulous photo filled program:

"…a true celebration of the automobile and

motorsports. Hundreds of racing cars have been

gathered here today so their owners can have some fun

and share the pleasure with you." Owners bring their

special Ziploc-baggy "Racecars with a History" from

all over the world to shine, show and RACE them once

again. While there are 15 Official Races for the variety

of ages and classes of cars, there is almost non-stop

track activity: warm-ups, practices; Demonstration

Laps; & Porsche Exhibition Laps of all

kinds. It was also interesting that the

Panamera was the Pace Car, and it was

always FULL of delighted dignitaries."

Speaking of delights: the owners were

genuinely happy to share the pleasures of

their cars in the paddock. They let you get

up close and personal, (taking hundreds

Photos by Linda Bambina

of photos); even INVITING you to sit in a one-of-akind

'52 Jowett Jupiter, so they can take YOUR picture!

They regale you

with their stories,

restoration

details, and the

racing history

of their distinct

automotive

marvel. They

answer questions

for three days

and are happy to do so.

They indirectly share indescribable pleasures (more

wow's) as they round the "Andretti hairpin," or take the

"Rahal Straight" and then descend the famous

"Corkscrew" which drops you into the "Rainey Curve."

We're talkin' major craziness here with these million

dollar beauties.

Since you can

wander all over the

track the result is

more pictures.

Suffice it to say,

between the 3

cameras in our

group, I'm sure we

took thousands of

shots. I hope you

enjoy the ones our

Mav Editor chose.

If you want to

know specifics

about the CARS…

contact Ed Mayo

or Fran Ussery, they have those weird brains that hold

like a gazillion details! I just take pictures and watch

with my mouth open.

10
---
New Arrivals / New Wheels or The Next One...

By Brian W. BoltonIf you look at the two pictures,

the first one is titled, The Next

One... it was taken in October

of 2007. The second picture was taken

in August of 2009. The difference

between the two is that I did not own

the car in the intervening period, until

now, and therein lies the tale.

I was 46 when I got my first 911, a gorgeous 997

C2S, Seal Grey with contrasting Black wheels, full

leather, carbon fiber, Nav and Chrono, sports adaptive

seats, the works. As an added benefit,

she came with H&R springs and

Tubi Manifolds that changed the

soundtrack into a deep metallic bark.

Running at high revs through a tunnel

with the windows down and roof

open is like eating a pint of peanut

butter and chocolate ice cream, the

taste and texture is immense and you

can't stop... just one more.

I learned a lot with this car, it

was my daily driver and it took me back to an earlier

passion of youth in the UK, the track. Several DE's

at MSR and ECR took me finally to the white group

and I learned a whole lot about the car and myself.

I went from road tires, through Cups on separate

track wheels, to Hoosiers over a period of a couple

of years and learned each step of the way. The

same with brake pads as I was taught to explore the

monster brakes, and finally had Rick Jordan at Fifth

Gear Motorsports fit GT3 control arms on the front

which transformed the car. It took the understeer out

and made the car very neutral. When you can get the

front end tucked in, then you can experience the 911

rotation that everyone talks about.

The rub in here was the title, GT3. One fateful day

in October 07', a Porsche mate and I saw this GT3 and

I thought it looked incredible. I had him take the picture

above and I placed it on my lap top named, 'The next

one.' I was determined that one day, I would have one

of these amazing cars.

Whenever I came across a GT3 on track, there

was no way I could stay with it if it was driven even

half decent. I sat as a passenger in a noted white RS

and was amazed at how he was able to place the car

and adjust its attitude seemingly by will (being highly

skilled probably helped). Later, the owner of a nice red

GT3 took pity and let me drive his on the parade laps,

not a place to explore the limits but a time to deepen

the dream and determination.

So earlier this year when I started to look for my

own GT3 I came across a white one with red decals

and wheels in New York City on Rennlist. These are

as rare as a rear end deposit from a rocking horse. I

made contact with the owner, Doug, and after a couple

of photos it was obvious that

it was the very same car that

had existed in digital form

on my lap top for the last 18

months.

Doug had seen it on the

internet shortly after I had

and it had the same effect

on him as it did me. He

brought it from Texas to NY.

After 7000 miles, a bunch of

DE's, the addition of carbon fiber seats, Shroth 5 point

harnesses and a splendid powder red roll bar, Doug now

found himself ready to make the step from road car to

race car and sell his

prized GT3.

For me, it was

a no brainer. The

stars had aligned,

it was my time to

be custodian of

this car and after

good humored

negotiations, she

was placed on a truck home back to Texas. The first

weekend I took five seconds a lap out of my time at

ECR. It's everything I ever imagined. I'm living the

dream. Anyone want a very, very nice 997S...

My thanks to Park Place for facilitating and Doug

De P of NY PCA for making the car available and

taking good care of her.

Oh, and the baby? That's Arabella, born May 14th.

Marisa and my first. She is the real star of course...

"The next one..."

November 11
---
A Sunday Drive at the track!

by Belinda Bush

I

had an experience on the September Sunday

Drive like I haven't had before. Instead of a nice

leisurely drive in the country, we went down to

the Motorsport Ranch for a really exciting drive on the

track. Wow! What a difference!

After the usual PCA meet and greet time, we went

to the briefing room where we talked about the track and

how to drive it. This was very

interesting and really helpful

when we actually drove on

the course. My instructor was

David Flanders and he is a

great people-oriented guy.

After the briefing, we got

in the cars and proceeded to

the track. Since we didn't

have to wear helmets (yay!

no helmet hair), I could easily

hear Mr. Flanders as he guided

me through the turns, reminded me when to brake, and

encouraged me as each lap got smoother and faster.

Even though we were just doing "parade laps" and

weren't "racing," it was exhilarating just to be able to

drive my car on the track where I could hear the engine

rev and not

have to worry

about potholes

or traffic lights.

It was also

great to know

that the other

drivers were

experiencing the

same coolness

that I was.

The athleticism of the Porsche is indescribable and

getting this little "taste" of it on a real track has left me

wanting to learn to drive it at a higher skill level. Maybe

the next DE!

Thanks for a great Sunday Drive.

12
---
November 13
---
Fall DE Season Kicks off at Motorsport Ranch

By Carrie Carrera

After a long hot summer, the first of the three fall

DE's are in the books. We experienced 3 solid

weeks of rain leading up to the event. A race

at Eagle's Canyon Raceway, and Drivers' Edge event had to

run in rain-soaked conditions the previous 2 weekends. Rain

almost every weekday as well, and some strong storms. So

when the sun came up on Saturday

morning at the Maverick event, we

were thrilled. Except for a very few

drops mid-day, the entire weekend

was dry.

Well, at least the track was

dry with respect to rain from the

sky. There were a few places on

the track that were still damp, and

water draining from the rain-soaked

grass ran across the track between

Ricochet and Little Bend. This

is probably why our experienced

instructors didn't notice that there

was another wet substance on the

track after a certain spec Boxster

sprung an oil leak and dropped

considerable oil on the track.

Several spun around heading into

Little Bend however no contact and

mostly no damage to anyone.

The track crews went to work to clean up the oil which

was dropped all the way to Tombstone (that's the name of the

turn!!). They were careful to make sure to get all of the oil

clean and sweep all of the oil-dry material. We were delayed

for nearly an hour, and then got back underway with the blue

group. The crews did an excellent job cleaning the track –

there wasn't another single report of a problem as a result of

the spill. Our corner worker crew, led by Bob Benson had a

relatively calm event after that, with great flagging. We try

to have a boring event for them, don't we?

A huge thank you to our sponsor, Boardwalk Porsche.

In addition to being the event sponsor, they also sponsored

the Bar-B-Que at the track on Saturday night. Several of

our participants carry the name and colors of the local

Porsche Dealerships – and it's fantastic that we have such

great support in Maverick Region – we are the envy of other

PCA regions around the country. Speaking of sponsors,

Yokohama Tire Company had representatives with a shade

tent in the paddock to answer questions and show off their

latest tires. We have all at one time or another had to go

to our friends at Performance Speed Tech (PST) behind the

club house – either for assistance with our cars, or to get

Joel Nannis, Mr. Black Flag and our DE mascot Sophie

out of the heat in their great race shop. AJ from PST joined

with Yokohama to provide a free set of tires to one of our

lucky drivers on Sunday morning.

Our instructor teams were Johnny-on-the-spot on the

grid to assist our students in improving their driving skills.

We are proud of the several advancements from green to

blue, blue to blue solo and a few

promotions to yellow group. The

advanced instructor team – yeh,

those guys in the dark blue shirts,

were busy giving the yellow and

white drivers a few pointers, and

assisting with the check ride

evaluations. Jan Mayo, our grid

captain, did a stellar job and is

training her understudy Lisa Steele

for future events- we never noticed

the difference. Great job ladies!!

We have a new Driver Education

Chairman for our club – although

the only way you could even tell was

maybe because everything went so

smooth? ! ? John Hamilton took

over the leadership of this event

series for Maverick Region this

summer, and has done a fantastic

job so far. Survey says… John has

added his stamp to the events with the introduction of the hot

pink driver feedback forms- I know he made them pink just

to remind everyone about the Komen Foundation that Lori

Mauthe supports. John is looking for and implementing

changes to improve our events for our customers, to keep

attendance high.

Sophie, the wonder dog and our mascot, returned for

the September DE. Besides keeping the Team 1 instructors

in line, she was occasionally seen sucking-up to Mr. Black

Flag Joel Nannis on the pit wall. Now Joel is a great guy and

fun to talk to, yet you want to see him on the grid side of pit

wall, and not in the hot pits because you got 4 wheels off or

worse case, experienced a spin. Joel's kind and encouraging

words keep us going safely all day.

By the time you are reading this, our DE season for 2009

will be nearly over. We are coming back strong in 2010 with

6 events for your driving pleasure. Watch for updates and

details in Slipstream.

See you at the track!

14
---
We can help you earn Deductible Rewards. Earn $100 off

your deductible for every year you don't have an accident,

up to $500 total. Call us today.

(972) 377-7788

TERRY BLECHAR

7500 STONEBROOK PARKWAY,

SUITE 102

FRISCO

TerryBAgency@Allstate.com

Feature is optional and subject to terms and conditions. Available in select states now and in most states by

1/31/06 (subject to regulatory approval where required). Deductible Rewards apply to collision

coverage.Allstate Fire and Casualty Insurance Company: Northbrook, IL. © 2009 Allstate Insurance Company

November 15
---
16
---
Cliff's Ramblings

by Cliff Blackshear

Are ya ready for the Panamera? Lets look at some

specs shall we?

- Eight cylinders (for now).

- 96 mm bore. 83 mm stroke. Thats 4.8 liters.

- Compression ratio 12.5:1 S and S4, 10.5:1 Turbo.

- HP, 400 S and S4., 500 Turbo.

- Torque, 369 lb.-ft. S and S4., 516 lb.-ft. Turbo +

568 lb.-ft available with Sport Chrono option.

- Weight; S=3968 lbs., S4=4101 lbs., Turbo=4343 lbs.

- 0 to 60 times; S-5.2 sec., S4-4.8 sec., Turbo-4.0 sec.

OK, now the specs everyone looks at are above. So what

is Porsche giving us here?

I've been looking at the pictures given us for nearly

a year now. Look at rear shots and it is just ugly. I have no

other way to put it. Just awful from the rear is how myself

and my collegues have reacted. Now we all have seen the car

for real in the last couple months at Porsche training centers

and go "WOW," it looks nothing like the photos from the rear.

Thank goodness. It actually looks cool from every angle.

From my Porsche technician perspective? I look back

here. My first "new product experience" from the factory was

the 1973 914 2.0 liter. Had barely been working at dealer

level for a few months and was still a "wet behind the ears,

wide eyed newbie."Yet had driven many 1.7 914's, many 72-

73 911 T, E, and S cars and mostly repaired multple used cars

(many were not Porsches). Had performed a seat belt recall

on a 914-6 (my first federal mandated recall campaign).

We watched the truck driver climb into the 2.0

liter and twist the key. It was so quiet. The 5 million pound

muffler (you would have to hold one of the mufflers in yer

hands to understand), was doing it's job. I felt disappointed

when I heard it light off. Then I had the opportunity to drive

one. Super crisp throttle response, much quicker to the red

than any 1.7 I'd driven. It was awesome to drive. All 102 hp.

Momentum cars "rock" in my opinion.

Then I watched CIS introduced on 73 911T,

turbocharging on 930, water along with engine front/transaxle

rear 924, 924T, 928, 928S, 928S4, 928GT, 928 GTS, 944,

944S, 944 Turbo, 944S2, plus amazing durable SC and 1984-

1989 Carrera, 964, 993, 986, 996, 987, 997, Twin Turbos,

GT3s' GT2s', Carrera GT, and finally 9PA (Cayenne, 6 cyl,

8 cyl. and twin turbo 8 cyl.).

So here comes Panamera. I see something that has

not really been done before. BMW and Mercedes Benz kinda

have a car in this segment. But Porsche takes it to a different

Panamera The 4 Seat Land Rocket!

level. Strictly 4 people. Rear seating is huge and extremely

low to the ground. Low CG was a priority with engineering

mandate. Note the tunnel down the middle. Rear wheel drive

and 4 wheel drive only. To have more than 4 passengers meant

a whole different goal that compromised low CG. Porsche

decided to not make that compromise. The interesting thing

to me is how much time was spent making sure rear seat

passengers have everything that could be needed in a car that

achieves some pretty amazing performance numbers.

Folks, this car hauls the mail. Has a suspension

system that is on edge, monster brakes and gobs of power.

Yet with all that, it is amazingly efficient for its' size.

Top Speed? 175mph S and 4S. 188mph Turbo.

Unbelievable.

Has an adaptive anti-sway bar system that keeps it

flat in corners no matter how hard it is being driven. Active

Suspension Management. 7 speed PDK.

I have no aspirations to sell anyone a Panamera. It

should sell itself or else go the way of the 968 and be the most

misunderstood car Porsche ever built. Ask most any long term

Porsche technician and they will tell you the 968 was the one

car we saw the least in our shop. It was that well thought out

and reliable. I can honestly look back at that car and it is just

such a shame the way it "died on the vine." Interesting to me

that economics at that time and economics now are so similar

when it comes to possible impact on the factories' offerings.

The 928 died during that same period, yet it was just not quite

as reliable as the 968. It was however, very well sorted and

had so much future promise............ Look at any 928 today.

The body style is still "right now." So ahead of its' time.

Go drive a 997 Turbo or GT3 and that's a whole

other stratosphere. Addictive pure sports cars that just make

yer blood flow at near boiling point. Pull the red in 3rd in

a GT3, pin the throttle in 4th and watch how quickly 140

mph + arrives with 5th and 6th left to go. Twitch the wheel

and feel the immediate response. Careful with the brakes or

you'll detach a retina.

So here we go again with something new from the

Weissach research engineering group.

Cayenne proved to be a sport utility that no one else

has even come close to building. Put a Sport Utility Benz,

Bimmer, anything from USA or Japan on a track with the

Cayenne and see how quickly they get lapped.

I have not driven a Panamera yet. I'll bet "Nothing

Even Comes Close."

Rambling, full of it as usual, and trying to

not early apex in life........

November 17
---
My 911 and the Unnecessary Investment

by Steve Chevier

Last night we had an unusually cool evening, for

Texas anyhow, and as fate would have it, I was free

of honey-dos. The girls had gone out shopping

and I was dying for a drive in the country. The evening sun

was setting over the houses across the street shining right at

my west facing garage. As the door went up, the light panned

from the floor up and graced my '86 911. I followed it up with

the chime of "laaaaa" like the sound of angels from some

religious encounter. Oh she sure is beautiful and black, but the

light down her curves sends chills down

my spine. The visual of many dreams I'd

had growing up. "If only I had a black,

mid 80's 911," I used to think, "then life

would be complete."

I took the Targa top off like a little

boy unwrapping a Christmas present. My

grin grew exponentially. I slid in feeling

the supple leather wrapping around me

like a hug from an old friend welcoming

me back. It's good to be with you again I thought. I've missed

you. She fired up with throaty gurgle. My investment of a new

Flowmaster exhaust was worth every penny.

We headed out west down Keller-Hicks road and found

our way to HWY 156 North. It's a wonderful drive through

small towns with little traffic and lots of open space. We stop

off to watch a plane landing at Alliance airport right over the

road. With the top off, it's a great experience hearing the plane

approach drowning out the sounds of the bugs and passing

cars. Not far down the road we come up on TMS from the

back way. The "Victory Circle" loop around the speedway is a

must with its curves and two long straight-aways. I did notice

this time that the posted speed limit is actually only 30 mph.

What a waste….dare I chance it.

Leaving the speedway we headed again up 156 until we

rolled into Justin. Just past the old boot factory, we turned back

east on 5th Street. It's another great winding road with tight

corners, rolling hills and pastures of horses. The temperature

changes with the sweet smells of the country. All that you

hear are the crickets and bugs mixing with the sound of my

exhaust notes and the whirl of the squirrel fan in the rear.

Shifting through the gears and breaking hard I'm reminded

over and over why I love this car. My childhood dreams were

not an illusion I created from fantasy, they were a prediction

of what was to come. I'll never suppress my kid's dreams,

however crazy they seem. If you believe, you can make it

happen. I live mine every day.

Passing back under HWY35W, the echo of my new

exhaust bounces off the underpass and I give it a little rev for

the down shift. Everything else is silent, except for my roar.

We head north up 35 into Denton and find our way out to the

municipal airport. I can remember coming out here when I

went to UNT and watching the planes right from the edge of

the runway. There used to be an old barn on a dirt road just

SE of the airport. In it was a late 60's GTO left by someone.

I used to sit in it and dream about having my own fun car for

those cool evening drives. The barn has long been removed

and new buildings are in it's place now. I still have a hood

plaque from the GTO hanging in my garage to remember our

time together. I think it jumped off the car one day and said

"take me with you." I suppose it wasn't

right, but anyone who leaves a fine car in

a barn to die, doesn't deserve to own it.

Except for the sound of my 911, the

airport only rings with insects calling

out to the night. We head north again

to 380 and east into Denton. Cruising

through the campus of UNT I reminisce

about my years there. The evenings I

sat out under the moon wondering if I

was ever going to graduate and dreaming of a night like this

without a care in the world. The looks from others who are

now following in my foot steps, gaze upon me and my pride

and joy. I'm guessing my dream is not just mine.

Heading down 377 and leaving town, the smells and

sounds once again give way to the country life. I pass what

used to be Steve Probst's MG repair shop. One of the guys

I got to know real well when I had one myself. I ponder the

path of life that has gotten me to where I am today. Enjoying

a cool evening on country roads, living out the dreams I once

had that are now my life. It's all good.

I love the sound of this car. I love the sound of the crickets

and insects in the country. I love to hear the whine of the fan

and the occasional sounds of the tires being pushed to the

limits of machine and man.

I roll back into the driveway with the grin still on my face

and shut her down. The clicking sounds of contracting metal

continue as the heat and smell of the engine cut through the

cool evening air. Sitting on the driveway next to her, I ponder

when the next trip will commence. It's then that I realize, not

once on my 2 and a half hour journey did I feel the need to

turn on the radio. The Alpine head unit, Focal speakers and

Rockford amp were the biggest investment I made after I

acquired my dream car. It is indeed the most unnecessary

investment.

Perhaps I'm just getting older, or that I truly believe that

you don't have to mess with perfection. The joy of owning a

23 year old Porsche is not just how it performs, it's also the

very distinct sound it makes. It's like no other car I've owned.

I love it.

Until another adventure,

18
---
NEW MEMBER SPOTLIGHT: Roger Fitch

by Tracey Gross

We first met this month's

New Member at the July

Happy Hour at Mac's

Steak and Seafood. He wasn't even a PCA

member then but came out to Colleyville

and enjoyed meeting everyone.

He also braved the cold and

rainy weather to attend the final

Autocross of the season at the TMS bus lot. There

he was taken for a "run" with one of our instructors

and really enjoyed it.

Roger originally hails from Ohio, but has been

in the Dallas area for the past 42 years (arriving via

Braniff Airlines, if that brings back any memories).

He used to drive a Corvette until he realized he

wasn't comfortable working on it and only kept

it detailed. But since he enjoys doing his own

repairs and maintenance, a couple of years ago he

purchased a 1973 Porsche 914.

Roger is a worker-bee and bought his home as

a fixer upper and says the results have been very

rewarding. He also enjoys working in the yard and

traveling whenever he can. He is the youngest of three kids

and sometimes considers his dog, a Whippet, as his child.

He's also been involved with the Dallas AFI film festival

since its inception three years ago.

Welcome to the Maverick Region PCA, Roger!

November 19
---
2700 B West Pioneer PkWy

(125 feet s. of Pioneer, on the W. side of Corzine st.)

Arlington, texAs 76013

817-366-1678

November Trivia

It's Easy to Play:

Play here for Fun and Education and find the

Answers below

OR

Play for Prizes on the Web at http://mavpca.org

with the

Answers and Winners to be posted at the end of

the Month

Thanks to Jerry DeFeo for putting this and the

Web Trivia together!

Congratulations to our September Web Winner,

James Shoffit,

who will

receive a $25 Gift Certificate to

Zims Autotechnik

1. According to Porsches website, which of the following is the

'slowest' in a 0 to 60 time?

a. Cayman S b. Panamera S c. Panamera 4S

d. 911 Targa 4

2. While excellence may have been expected, one of the

following Porsche's for the street are absolutely horrible on

the life expectancy of brake pads. Which one is it?

a. Porsche 911 b. Cayman c. Cayenne d. Boxster

3. How many different models of some variation of the 911

does Porsche now offer?

a. 6 b. 9 c. 12 d. 15

4. The new Panamera has an upscale optional audio system. It

is made by a company that is famous for their home systems

which can cost up to $100,000. Who makes it?

a. Orb b. Bose c. Burmester d. Bang & Olufsen

5. Which of the following four items is NOT a well known

name for a Porsche specialist shop?

a. Elephant b. Kangaroo c. Pelican d. Mustard

Answers: 1) b 2) c 3) d 4) c 5) b

20
---
RAC Performance is THE Authorized dealer for RUF Automobiles and Conversions in America. But that's not

all. At RAC Performance, you can get expert maintenance and repair services at very competitive prices. You also

get one-on-one treatment – you are a person, not a job number. So, whether you need an oil change, a major repair,

or just want your car to look like new again, there's only one place you need to look – RAC Performance.

• Sales of New RUF Automobiles and Conversions

• Sales and Consignments of Pre-owned Luxury and Exotic Automobiles

• Full Service and Repairs for 944 to 997 and Everything in Between

• Preparation of Your Porsche for Track Days and DEs

•Show-Quality Detailing • Free Loaner Cars Available • PCA Discounts

214-269-1570 www.racperformance.com

3219 Commander Drive, Dallas, Texas 75006

November 21
---
ECR Half Page Slipstream Ad.pdf 10/19/06 11:10:00 PM

22
---
November 23
---
Happy Hour at Blue Mesa Grill

by Chris Christensen

We weren't sure if we needed a

boat or a large SUV to get to

this month's Happy Hour. It

rained most of the way there, but we did opt

for the SUV and arrived safely. There were

few Porsches in sight; we can only assume

they were left home high and dry – a good

decision.

Unfortunately the rain scared away some of the Happy Hour

regulars and so we had a slightly smaller

crowd show up – about twenty enthusiasts

in all. Since this was our first visit to

this Blue Mesa, we got a kick out of the

entrance to the restaurant – sort of looked

as if we entering Hernando's Hide Away or

something similar - followed by a march up

two flights of steps to the entrance to the

restaurant. It is unique to the say the least.

Dinner could be had free-of-charge

by partaking of the free appetizers awaiting

guests in an area adjacent to the bar. There is even someone there

to prepare soft tacos and fixing's that would run a few bucks in

most restaurants. And if chips are your thing, you could indulge

and binge until you were all-chipped-out. Throw in a beer for

$2.50 and you're in almost freebee heaven. No need to move

past Go – just hang until Blue Mesa's Happy Hour is finished at

around 7:00 PM and hit the road. Dinner has been had for little

dinero.

But, since we were there we did share Happy Hour with all

our Porsche friends. It was nice to see and meet some folks who

have not been in attendance for quite awhile; past Happy Hour

Chairman Dennis Chamberlain visiting from New Mexico and

Hank Gaines, Alan & Kay Leibel, and Clint Blackman who had

not been to one of our Happy Hours in quite some time stopped

by for dinner. So we hope to at least to see them come back

on the scene and of course Dennis and wife Brenda are always

welcome if they are in town. We enjoyed meeting all of you….

and for some of us who remember, it was a pleasant reunion.

We are always looking for nice restaurants that offer

something different and we think the Blue Mesa Grill is that

place. They have some very interesting entrees including a

very light tortilla soup. Not what I am used to, but I have been

informed by the powers-to-be that it is available in many Mexican

Restaurants - more of a clear broth with all the usual ingredients.

Since it was very light, it made a good starter, leaving enough

room for a sizable entrée to follow. A very unique appetizer that

we witnessed was the Painted Desert Soup. It really was not a

soup at all by popular standards, but an almost even split of black

24

Bonnie, Mark,& Addison Thaler

photos by Bob Lewis

beans on one side and chili corn chowder on the other. Look

pretty tasty – maybe next time.

Grill specialties topped out at $15.95 with most other menu

items priced in the $10.range - friendly prices for the whole family.

One nice touch; Blue Mesas contributes one dollar of every taco

sold to a variety of charities. Every month the recipients for

various causes change a bit, but it is nice know that this restaurant

owner cares and makes such a donation. There are five Blue

Mesa restaurants in the Metroplex including; Southlake, Plano,

Addison, Dallas and Fort Worth – that's a

lot of tacos sold each month!

Next month's Happy Hour will be at

Uncle Julio's located at 16150 Dallas

Parkway North, Dallas, starting at the usual

time of 6:30 PM. We will be able to compare

Mexican restaurants back to back– we all

have our favorites – and maybe the Uncle's

will be up to the challenge. Then in

November we have another new place that

surely will be come a favorite for the variety

of beer they sell. It is Trinity Hall Irish Pub at the Mockingbird

Station. Look forward to seeing you all there.
---
November 25
---
AX#5 - Slip & Slide

By Marty Lumpkin

Well for all of you stuck to the Cowboys

game or afraid of a little rain, BOY!!!

did you miss out. I'm not going to lie, I

love wet course days (I was dropped a few times as a

child). No tires were harmed during the event, but rev

limiters, on the other hand, were tested on more than a

few cars. Horsepower was not required at all, in fact I

turned the boost on the turbo down to 6 psi from 16 psi

that I normally run on the street (it's like a poor man's

traction control).

Tires do not seem to make a huge difference on

the slip & slide (our fearless autocross chair Christy

put a new course together to up the fun factor.) I did

note that Chuck had a new set of race rubber that was

kicking out the water very well, to go along with his

most excellent driving. Bryan "The Show" Bell was

working on his new movie Fast & Furious The Bus Lot

Drift. I heard but have not confirmed that Denny took

top time, even if this is incorrect he was showing well

with green monster, street tires and all. I was happy

to have clean runs in the morning, but felt brave after

lunch turned the boost up to 10 psi and was unable

to make another run without looping the car (it would

seem it takes about 8 seconds to make a full 360 and

get back on course).

My wife ran clean all day! Before the runs she was

not happy it was a wet course, after she would not miss

a rain day. Alicia took both the autocross and time trial

schools this year during the freezing rain so she had

learned car control in the worst possible weather. Now

that she is closing in on the end of the year I am happy

to report major improvements: no cones, no instructor,

Christy, the 2009 Autocross Chair, had fun in her

Spitfire ... er, Crossfire!

Photos by Charlie Davis

no DNF's. I, on the other hand, had cones pulled from

the car after the run and as I learned the car will not

turn with the brakes locked up, a big DNF. If I had just

taken an instructor I would have made the trifecta. It

would seem I need to tighten the nut behind the wheel

a bit for next year.

As any good club

member and car nut

would do I brought more

new blood to the club.

Those who were there

may recognize my old

Mustang Cobra was out,

the new owners (Charlie

and his wife Andy) were

beating the tar out of the

old snake. They shared

the car with Mike (who I

put pressure on each and

every day to get a sports

Watching from under a trusty

umbrella -- the choice equipment of

the day.

car and play with us). They also came with guests, the

little blue S2000 owned by Jason and Misty who is

learning to drive the car, but shifts a little soon in a car

with a 9k redline. They have been running a few events

with the SCCA but enjoyed our set up much better. We

will be seeing them in the future, so remember addicts:

like share, bring friends!!! I saw a few other new faces

including another 944 Turbo. Welcome all; thanks for

playing in the rain.

We will have run the last two time trials before you

get to read this and no more AX or TT for the rest of

the year which means the start of maintenance time.

For the first time EVER I still own the same car

at the end of the season as the beginning (pause

for shock and awe). With a ton of help the car has

improved.

For those who have a passion for the older cars

it's been a fun year. The 944 turbo has had a few

quirks including boiled brakes, leaking all of its

coolant out during two events (sorry, James) one

trip home on a borrowed trailer (Thanks, Denny

and Christy), replaced the trans with a limited slip

unit (thanks to Mike and Mark), new ball joints

(big thanks again to Mike Lockas), broken sway

bar mount, add one sports seat, chips, boost

controller, wastegate, exhaust, tires, etc, etc., etc.

26
---
Slip & Slide continued...

While you may think this would be a pain it's not. And,

as for cost even with all I have done I still have less in

the Turbo than the cost of a used minivan. So if you

need to find me I have to replace the struts and shocks,

so there is a chance I will be under the car turning a

wrench dreaming of next season.

Autocross #5 Results - Porsche Classes

Name Time Class

James Milton 56.083 1

Robyn Howard 60.670 2

Chuck McCoy 54.677 3

Adam Ussery 55.896 3

Travis Howard 57.563 3

Amir ElBaghdady 59.114 4

Ed Gross 54.952 5

Michael Pelletier 55.109 5

Avery Murphy 56.193 5

Carey Spreen 57.477 5

Joel Nannis 57.791 5

James Shoffit 55.203 6

Fran Ussery 55.492 6

Wendy Shoffit 56.475 6

Greg Hutmacher 58.693 6

Darron Shaffer 58.876 6

Denny Payne 53.911 7

Tannia Dobbins 57.119 7

Martin Lumpkin 58.806 7

Mark Steele 56.472 8

Niul Burton 57.604 8

Lisa Steele 58.452 8

Richard Diller 56.066 9

Rick Gonzales 56.411 9

Gary Kelley 56.417 9

Jeff Herrmann 56.641 9

Bryan Bell 57.062 9

Tracey Gross 57.581 L

Alicia Lumpkin 61.460 L

Autocross #5 Results - Other Cars

Name Time Class

Larry Laabs 61.903 3X

Ray Nannis 63.864 3X

Charlie Carnevale 59.580 5X

Mike Carney 60.084 5X

Christy Payne 57.555 6X

Jason Hall 58.612 6X

Michael Vasey 54.002 8X

Bob Pinard 56.924 8X

Carey Spreen kicks up the rain as he slips and slides

around the course.

Ed Gross shows us how he got the second

fastest time of the day!

November 27
---
Tech Corner

By Ed Mullenix

Thanks go to Ken Schnitzer

and Paul Berman of Park

Place Porsche for offering

to host the next Tech Session

on Saturday, December 5th.

They will have a new Panamera

hooked up to the new Porsche

Diagnostic Tester to demonstrate its wizardry.

There will be other technical offerings as well.

It is my understanding that there will be a

Panamera there to test drive but you need to call

the sales department there for arrangements. At

this tech session, we will also include a limited

"Do It Yourself " session. Park Place will make

two lifts available for members to perform minor

maintenance or just look underneath their cars.

There will be a limited number of slots available

so RSVP to techcorner@mavpca.org with what you

want to do on the lift. If you plan to do maintenance,

it would be greatly appreciated if you would buy the

necessary parts from Park Place.

Technical Chair

It was exciting to see so many members at the Swap

Meet at Zims. I got a picture of the Prez there making a

deal and one of my trained attack weennie dog protecting

the set of "cookie cutters" that I

bought. Nothing makes a do it

yourself junkie get that glazed

look in his eye like the prospect

of a swap meet!

SPELLS, INCANTATIONS,

& REPAIR PROCEDURES

Thanks to the members who

have expressed interest in the

Tech Corner column. I received

several emails from you with

questions, repair tips, etc. Denny

Payne, the webmaster is working

on setting up a Tech Corner tab

on the Slipstream website to provide our members with

a blog to share their wisdom with others.

Ed

HONEYMOON

E X P E R T S

Owned and operated by Jay Walker, II,

maverick region member since 1997.

940-565-8111

800-441-2431

1021 W. Prairie at UNT | meangreentravel.com

28
---
- 11,000 sq Feet of the Top Technology

- Comfortable Waiting Area with WIFI

- 100+ Years of Technician Experience

- Fully Air Contitioned Shop

- Green Building, Eco Friendly

- Convenient Location

- Competitive Pricing

- Same Friendly Service

Specializing in: Porsche

www.fifthgear.com

We service all makes and models • Come see us in our new shop!

1975 Archer Way • Lewisville TX, 75077 • 972-317-4005

1 mile West of I-35 behind Sonic!

November 29
---
German Engineering With Southern Hospitality

Personal Service.

At Nine-Eleven, we've built a reputation for understanding our customers' needs —

quality service, convenient location, state-of-the-art diagnostics, and personalized

service that is unmatched in the Metroplex. When you trust your car to us, you will

have the peace of mind that it will be serviced correctly the first time. Every time.

Access.

We strongly believe in access to those who will actually work on your car. Our

technicians are available in person, by phone, and even by pager if you have questions

or need timely information about your car.

Facility.

Our clean shop, well-stocked parts department, and comfortable waiting room ensure

that you and your car will get the kind of service you deserve. Maintained tools and

equipment. Clean cars. We are meticulous about details.

Parts.

Our parts department is also second to none. Our knowledgeable staff will assist you

in finding that necessary part or after-market option you require. We are an authorized

dealer for high-performance Recaro seating, Yokohama Tires, Bilstein Shocks, Bosch,

and many others. This ensures that whether you are a casual driver or an enthusiast who

needs race prep assistance, Nine-Eleven has the experience and knowledge to keep your

car running at peak performance.

Newkirk

Crown Rd.

Cindy Lane Lane

IXXI

Royal Lane

Joe Field Field Rd. Rd.

Emerald

I-35

Nine-Eleven Enterprises, Inc.

Service, Accessories & Parts for BMW,

Mercedes & Porsche

2120 Cindy Lane, Dallas, Texas 75229

972-241-2002

www.nine-eleven.com

Convenience.

We are conveniently located near the intersection of Stemmons and LBJ Freeways

in Dallas. We offer emergency towing service 24 hours a day and have arranged

for special rental car rates with area rental agencies. Come by for a visit between

7:30 a.m. and 5:00 p.m. Monday-Friday, or call for a service appointment.

911/930- 1969 to 1989

AIR CONDITIONING!

•

•

•

Technically Superior!

RetroAir/

800-840-6162…For More Info..

www.retroair.com /sales@retroair.com

Custom Garage

Interiors

By American GarageWorks

America's Premier Garage Improvement Specialist

• Designing & Consulting

• Multiple Cabinet Choices

Steel, Aluminum, Stainless, Wood etc…

• Multiple Flooring Options

• Themed Interiors

• Overhead Storage Systems

Racks & Hoists

• Parking Lifts/Vehicle Turntables

• Vacuum Systems

Exhaust & Debris

• Custom Lighting

• Compressed Air

Delivery Systems & Compressors

• Access Controls

(High Security Containment & Hands Free

for Garage Doors & Gates)

• Audio-Visual Centers

• Nitrogen Tire Inflation System

• Equipment & Tool Procurement

• Underground Vehicle Storage

866.326.4422

Commercial – Residential

www.Custom-Garage-Interiors.com

30
---
New Wheels

by Joel Nannis

Anderson, Carlton

Shady Shores, TX 76208

2001 911 C2

Galvez, Juan

Irving, TX 75039

2001 996 C2

Sims, Ed

Flower Mound, TX 75028

2001 Carrera

If you have any changes that

you would like to make to the

MRPCA membership guide, call

Joel Nannis at 817-329-1600.

Glavez, Juan

Irving, TX 75039

2001 996 C2

Asbury, Scott (Andrew Brown)

Dallas, TX 75240

2008 Cayenne

Guckian, Mark (John Mays)

Dallas, TX 75229

2009 Carrera

Stoltzfus, Warren (Mika Kiser)

Carrollton, TX 75007

2006 Carrera S

Grubbs, Kenneth (Linda)

Fort Worth, TX 76132

2006 Cayman S

Austin-Weeks, Doug (Melissa)

Fort Worth, TX 76132

1999 911

Hiser, Kelly

Sherman, TX 75091

1990 944

Taylor, Marcus

Dallas, TX 75206

2007 997

Johnson William

Frisco, TX 75034

2009 997

Boivin, Gilles (Lisa Concannon)

Carrollton, TX 75007

1990 964

Jacobs, Allan

Little Elm, TX 75068

2000 911

Vazquez, Hector

Laredo, TX 78040

1974 911 carrera

Joyce, Edward

Dallas, TX 75225

1979 930

Calvert, Burt (Karen)

Dallas, TX 75252

2006 Carrera S

Knizley, Andrew (Elizabeth)

Paris, TX 75461

1979 928

Walker, Mark (Becky)

Fort Worth, TX 76132

2008 Boxster

May, William Jr (Gloria May)

Colleyville, TX

2005 996

Carmichael, Pat (Sean)

Allen, TX 75002

1969 912

Langston, Glenn

Frisco, TX 75035

1981 930

Warwick, Steve (Gabriela)

North Richland Hills, TX 76180

1997 Boxster

Sebert, Donald (Harriet)

Dallas, TX 75252

1999 Boxster

Castro, Manuel

Desoto, TX 75115

2010 GT3

Mezzera, Martin (Caroline)

Dallas, TX 75223

1992 964 C2

Corbett, Kevin

Dallas, TX 75204

2009 911

Rao, Madhu (Roshni)

Irving, TX 75063

2008 Carrera S

Draper, Chris (Larry)

Grapevine, TX 76051

1988 924S

Rubin, Candace

Dallas, TX 75209

1999 911

Save the flash!

Owning a Porsche is

a unique experience.

Do your part to preserve

the experience...

keep the flash alive!

Anniversaries

Fogg, William

15 Years

Lucas TX

November 31
---
Unclassifieds

Unclassifieds are available free to Maverick Region members and are $5 to all others (contact editor for payment details). Please limit size to no more than 6 lines. Ads will run for 3 issues, then

removed unless you request that it be run for an additional 3 issues. E-mail your ad to classifieds@mavpca.org by the 10th to have your ad run in the following month's Slipstream. Be sure to

include car year, make and model, its mileage and asking price, as well as a contact name, phone number and /or e-mail address. All parts will be advertised on our website. Check your ad for

accuracy the first time it runs. Contact the editor to have your ad pulled sooner. Due to space constraints, photos may or may not be included.

For Sale: 1964 356 SC Coupe, Rebuilt engine by 5th Gear Motorsports in

Lewisville, new fuel tank, new kingpins in front end, new tires, 3 pt. seatbelts

installed. Battery box has been replaced and car converted to 12 volt by previous

owner. This car is a driver not a trailer queen. It can be viewed at 5th Gear

Motorsports in Lewisville. Asking $32,000 negotiable. michaelepping@hotmail.

com or call 817-455-0951 (1)

For Sale: 1974 914 2 liter, Marathon Blue Metallic. 69,000 mi Bought in

1980 with appx 4,000 mi as a 1.8. In 1983 at 10,000 put in 2.0 motor. 1995 entire

wiring harness replaced. Typical 914 rust spots repaired or replaced. Various other

repairs and replacements that old cars need. Full records. 2009 replaced clutch &

pressure plate and new Kumho tires. $8,000 Jan Mayo, cdih@ATT.NET (1)

For Sale: 1990 911 C2 Cabriolet 5spd, White with blue. 66,000 mi., 2nd

owner (first CA, now TX). Always garaged. No mechanical issues what so ever.

Serviced at Mayo and Zim's. Body & Paint (9/10). Original Top (8/10). Completely

rebuilt AC including in dash module (Remanufactured by Otto's in Venice, CA).

New Brakes, rotors, and lines. Over $30K invested. Asking $21,500.00 Contact

Frank Labriola Office: 817-812-3166, Mobile: 516-384-4987 or srcfl@att.net (1)

For Sale: 2001 Boxster S, $14,750 Beautiful Guards Red with black

interior. 97K miles. Excellent condition. Recent 90K maintenance completed

by independent Porsche shop (who also maintains all service records since I've

owned this car). Pictured with hard top. I also have the soft top that goes with the

car (in perfect condition). Everything works superbly, air is cold, CD player, and

original owner's manual. Call 254.338.9392 or email tldobbins@embarqmail.

com for more details. (2)

Want to buy: 1999 or 2000 Boxster with Tip, Looking for a friend. No

Black, burgundy or green. Overall condition and service records are important.

Please email: pcarfan@gmail.com if you have one for sale or know of a good one.

I would prefer to buy one from a PCA or Porsche Board (forum) member as it

seems we take better care of our cars!! Thanks, Rob T. (2)

For Sale: 1986 Porsche 944 Turbo, 86,000 miles 3rd owner. Track or daily

driver 86 944 Turbo. Includes the following: trailer hitch, track trailer, phone dial

wheels, 2 sets of kuhmo victor races, one used, the other has 1 20 minutes DE

session, one new set of bridgestone street tires, roll bar (not installed), new dash

cover (not installed). The body rates about a 6, the interior rates a 7 on this car. Car

has a stage 3 chip installed, new belt, rollers, waterpump, etc... installed about 2K

miles ago. Good AC, includes also a floor jack, extra brakes pads and oil filters.

This car is very quick, but time does not allow me to pursue this hobby. I want to

sell all of this together for $13K firm. I can be contacted at 254-592-6728 or email

at ninefiftyoneporsche@yahoo.com located in Allen, TX. (2)

For Sale: 1980 911 SC Euro race car, If you want to run up front with the

other Euro SC's this is the car for you. Raced as 1981 Euro SC PCA E class,

club race car. Built from the ground up in 2008. No sunroof car so it is light

weight. Engine was rebuilt with new 9.8:1 compression pistons and cylinders this

year and has 1500 miles on it now. Suspension was setup by Buckley racing with

Smart racing and Elephant racing components so it handles as well as it goes.

Car is fully sorted and ready to race. Includes 2 sets of 16" fuchs and various

spares parts. Build sheet available upon request. $33K call 214-356-2005 or email

msteele911@gmail.com for more details. (2)

For Sale: 1976 912E, Rebuilt engine and transmission just15,000 miles ago. This is

an example of black over black, with cold A/C, and good rubber. Asking $10,000.

I just don't use it any longer. Contact Jerry C Hubbard 214-328-7384 or jerhub@

earthlink.net (3)

For Sale: 1978 911SC "Stock D" racecar, Race ready podium finisher.

Original unrebuilt 3.0 engine. Transmission rebuilt Nov 08 with 2 races on it.

Buckley Racing suspension. 1 set 8,9 Fuchs. Call or email for build sheets and

pictures. Asking $19,000. Delivery available within 500 miles of the DFW area.

Contact Jeff Frazier 817-781-0959 or porsche737@ymail.com. (3)

For Sale: 1978 911SC non-sunroof "Stock D" racecar, Race ready

podium finisher. Built by Buckley Racing, Ft. Worth. Fresh motor and trans by

Buckley Racing as of July 08. No expense spared on the build of this car. Custom

cage. 2 sets of Buckley Racing lightweight wheels and 1 set Fuchs. Call or email

for build sheets and pictures. Asking $33,500. Delivery available within 500 miles

of DFW area. Contact Barry Rietz 817-680-0693, barry@airtransusa.com (3)

For Sale: 2008 Boxster S, black/black, 8000 miles, 6 speed, red dials/seat

belts, Cayman S wheels, Bi-Xenons, chrome exhaust pipe, clear side markers,

Bose, preferred package, Porsche Windstop, auto climate control, Cert of Auth.

Orig MSRP - $62.5. Sale price $44,900. Contact Mike at 972-824-4470 or email

at mika28@verizon.net. (3)

Slipstream Advertiser Index

These advertisers support the Maverick Region... the Mavericks support these advertisers!

All State Insurance (972) 377-7788 Page 15

American Garage (866) 326-4422 Page 30

Autobahn Motorcar Group (800) 433-5602 B.C.

Autocrossnumbers.com (972) 670-2483 Page 25

Autoscope (972) 867-7467 Page 16

Boardwalk Porsche (214) 576-1911 I.F.C.

Boxster Spec (817) 896-5825 Page 13

Buckley Racing (817) 239-7969 Page 23

Eagles Canyon Raceway (940) 466-9775 Page 22

Fifth Gear Motorsports (972) 317-4005 Page 29

Fly-A-Sim (972) 242-5999 Page 19

German Technologies Inc. (817) 540-0712 Page 9

Istook's MotorSport Svcs (817) 332-6547 Page 25

Jerry DeFeo Designs (972) 240-5800 Page 20

Jim L. Flagout (972) 669-2370 Page 13

Louden Motorcar Svcs (972) 241-6326 I.B.C.

32

For advertising rates and information contact

Jan Mayo at janmayo@att.net

Mayo Performance (817) 540-4939 Page 15

Mean Green Travel (940) 565-8111 Page 28

Mullenix Motorsport (972) 231-5356 Page 22

Mustard Racing (817) 366-1678 Page 20

911 Enterprises (972) 241-2002 Page 30

Park Place Porsche (800) 553-3196 Page 6

PartsHeaven (800) 767-7250 Page 19

RAC Performance (214) 269-1571 Page 21

RetroAir (972) 960-6899 Page 30

Silver Fox (817) 329-6995 Page 2

Soundwerk (817) 281-9381 Page 31

State Farm Insurance (214) 387-0003 B.C.

UPS Store (972) 420-1250 Page 15

Ussery Printing (972) 438-8344 Page 13

Zims Autotechnik (817) 267-4451 Page 23
---
Slipstream Advertiser

for 25 years!

Louden Motorcar Services has been

servicing fine European motorcars in

Dallas since 1977. From the moment you

drive in, it is apparent that quality is our

number one priority. From the comfortable

waiting room to the well-kept workshop,

Louden Motorcars exhibits professionalism.

We've been winning awards for the quality

of our service for years. Louden has been

rated "Best in Dallas" twice by D Magazine,

"Best in Texas," "Top Ten in the U.S." and

"Best in the West" by the Robert Bosch

Corporation (worldwide leader in fuel

injection and electronics).

And we'd like the opportunity to show

you why.
---
Jan Mayo, Slipstream

2973 Timber Creek Trail

Fort Worth, TX 76118

Periodical Postage

Paid at Fort Worth, TX