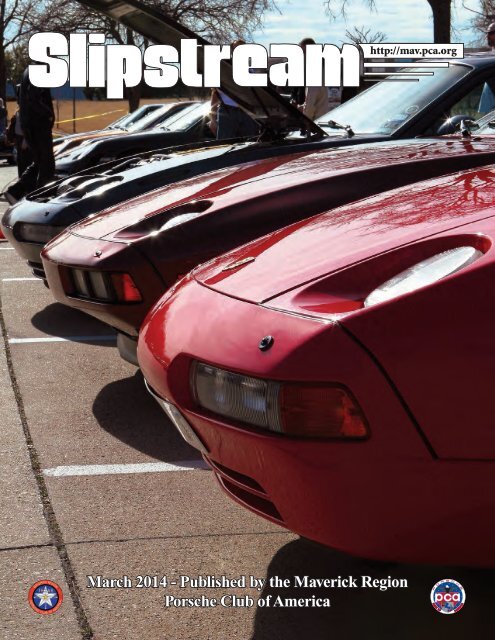 Slipstream - March 2014
The monthly newsletter of the Maverick Region of the Porsche Club of America
The monthly newsletter of the Maverick Region of the Porsche Club of America
SHOW MORE
SHOW LESS
Do you know the secret to free website traffic?
Use this trick to increase the number of new potential customers.
http://mav.pca.org

Upcoming Events

• Father's Day Picnic

• Sunday Drive

• Rally School

Past Events

• Wild Wildflowers

• May at Mayo's

• Results

March 2014 - Published by the Maverick Region

June 2007 -

Porsche Published

Club by

of the

America

Maverick Region

Porsche Club of America
---
©2013 Porsche Cars North America, Inc. Porsche recommends seat belt usage and observance of all traffic laws at all times

Sport Exhaust system

SportDesign front fascia

The sights and sounds of personalization brought to you

by Porsche Tequipment, available at Porsche of Plano.

SportDesign rear spoiler

With the Porsche Tequipment range of accessories, you can make your vehicle even more distinctive.

Whether you opt for the Aerokit Cup, sport exhaust system, sport tailpipes, or new wheels, the decision is

entirely yours. All Porsche Tequipment products are designed with the complete vehicle in mind and by the

same Porsche engineers and designers who also develop the vehicles themselves. We encourage you to

stop by and have a member of our team explain the available Tequipment options for your vehicle. Proven

performance in the workshop or at the track, at Porsche of Plano, it is our passion.

Experience Sport Exhaust on your mobile device by scanning

the QR code above or stop by to hear it in person.
---
http://mav.pca.org

Go Online for the latest updates on events at http://mav.pca.org

Visit us on Facebook at http://www.facebook.com/groups/mavpca/

Departments

Zone 5 Presidents..........................................1

Drifting (President's Column).......................2

Maverick of the Month.................................2

List of Officers/Board Chairs........................4

Carey On (Editor's Column).........................5

Maverick Minutes.........................................6

New Wheels and Anniversaries...................31

Advertiser Index..........................................32

Unclassifieds...............................................32

Features

January Trivia................................................7

Destination Restoration...............................10

Garage Glimpses.........................................14

Insurance Tips.............................................18

Of Special Interest.......................................20

Cliff's Ramblings........................................22

I Get Around...............................................24

Upcoming Events

Board Meeting..............................................7

Autocross 1, Pennington Field......................8

Drivers' Education 2, Eagles Canyon...........8

Sunday Dr: Chicken Run to Babe's.............12

Maverick Lunch Series...............................19

2014 Porsche Parade...................................24

Monthly Social: Tolbert's Restaurant..........27

Carrera of the Americas Club Race............30

Past Event Recaps

All Member Party.......................................16

Monthly Social............................................26

Slipstream (USPS 666-650) is published monthly by the Maverick Region, Porsche Club of America, 155 Jellico

Southlake, TX 76092. Subscription price is $24.00 per year. Periodical postage is paid at Fort Worth, TX. Postmaster:

Send address changes to Hiram Saunders, Slipstream, 155 Jellico, Southlake, TX 76092.

Volume 52, Issue 3, March 2014

March

Sun Mon Tue Wed Thu Fri Sat

1

2 3 4 5 6 7 8

9 10 11 12 13 14 15

16 17 18 19 20 21 22

23 24 25 26 27 28 29

30 31

Day March

2 Autocross 1, Pennington Field

5 Board Meeting

8-9 Drivers' Education 2, ECR

11 Lewisville Lunch

16 Sunday Dr: Chicken Run to Babe's

20 Monthly Social: Tolbert's Restaurant

27 Richardson/Southlake Lunches

Day May

2-4 COTA Club Race

4 All British & European Car Day

7 Board Meeting

10 May at Mayo's

13 Lewisville Lunch

15 Monthly Social: TBD

18 Autocross Academy, Penn

22 Richardson/Southlake Lunches

25 Autocross 2, Pennington Field

25 Sunday Dr: Grandpappy Pt, Texoma

31 Drivers' Education 4, ECR

Driving Event Venues

COTA Circuit of the Americas, Austin

DR Dallas Raceway, Crandall

ECR Eagles Canyon Raceway, Slidell

MSR MotorSport Ranch, Cresson

MW Mineral Wells Airport, Mineral Wells

Penn Pennington Field Stadium, Bedford

April

Sun Mon Tue Wed Thu Fri Sat

1 2 3 4 5

6 7 8 9 10 11 12

13 14 15 16 17 18 19

20 21 22 23 24 25 26

27 28 29 30

Day April

1 Porsche Parade Registration opens

2 Board Meeting

8 Lewisville Lunch

12-13 Drivers' Education 3, MSR

17 Monthly Social: TBD

24 Richardson/Southlake Lunches

26 Saturday Dr: Germanfest Muenster

Day June

1 Drivers' Education 4, ECR

1 Autos in the Park: Mav Concours

4 Board Meeting

7 Time Trial 1, Mineral Wells

8 Autocross 3, Mineral Wells

10 Lewisville Lunch

15-21 Porsche Parade, Monterey, CA

19 Monthly Social: TBD

26 Richardson/Southlake Lunches

29 Autocross 4, Pennington Field

On the Cover:

A school of 928s joined us at

our annual All Member Party

at the Hackberry Creek

Country Club in January.

Photo by Gareth Maurice

Opinions expressed herein are not necessarily endorsed by the Club's membership or officers. Contributions will be

printed on a space available basis. Chartered regions of PCA may reproduce items from this issue provided the author/

artist and Slipstream are credited. Slipstream is printed by Ussery Printing Company in Irving, Texas.

ARK-LA-TEX

Kirk Bristol

kbristol911@gmail.com

COASTAL BEND

Jose Carreras

missionortho@aol.com

2014 PCA Zone 5 Presidents and Zone Representative

LONE STAR

Greg Platt

president@lsrpca.com

MARDI GRAS

Rick Payton

rpayton35@aol.com

OZARK

John Bullen

JohnCBullen@gmail.com

WHISKEY BAY

Henry Carter

hjcarterod@gmail.com

CIMARRON

Bill Jacobi

bjacobi@sbcglobal.net

HILL COUNTRY

Courtney Gross

courtney.e.gross@gmail.com

LONGHORN

Jack Merrell

911scracer@gmail.com

MAVERICK

John Hamlton

president@mavpca.org

WAR BONNET

Grady Buckhalter

grady.buckhalter@gmail.com

WHITE RIVER

Leonard Zechiedrich

uber930@gmail.com

ZONE 5 REP

Lynn Friedman

zone5rep@pca.org

1
---
Drifting: When is a Door Not a Door?

By John Hamilton, Region President

Some of you may remember

this old play on words -- the

answer is "when it's ajar" -- but

it's a good lead-in to my column

this month. As you may recall, one

of our key results areas is "inclusion,"

which means including

as many Porsche people in our

variety of events as possible. NOTE: That was

not "Porsche Club" but "Porsche" people. This

is not an exclusive club but an inclusive club.

Hopefully, you noticed last month's article on the

356 Tub Club, and as you turn the pages, you'll see

this month's article on the 928 Club. Both of these

clubs are D/FW based, and include many, many

Porsche owners who are proud of their Porsches. I

had the pleasure of attending the 928 Club monthly

breakfast meeting in February (they meet the first

Saturday of each month at Jakes Uptown in Grapevine),

and it was an incredible show of Porsche 928s

and their owners, who have tremendous pride in their

Porsche automobiles. Both clubs supported us by

their participation at our All Member Party in January,

which made that quite the incredible car show!

So watch the upcoming issues of Slipstream

for more articles about the 356s, the 928s,

the 914s, the 924s and 944s and 968s, as they

are all a part of our great Porsche family.

BTW: the real question/answer is: "When

is a Porsche not a Porsche? NEVER!!!"

Mav of the Month

Our Mav of the Month

is yet another great contributor

who, behind the

scenes, makes everything

work so smoothly that

you don't even know

it's happening. Robyn

Howard has organized

the Swap Meet at Zims

for four years; she has

been the Registrar for

Autocross and Time Trials

for three years; and she

creates the Autocross and

ALEXIS A. V. CAMPBELL, Proprietor

1235 William D. Tate Ave

Grapevine, TX 76051

Time Trial events in Club Registration and then

transfers all the data from the registration computer

into the timing computer before every event. She

greets and checks in all the drivers at the events. She

will make sure she talks to everyone at the events while

trying to make the event as inclusive as possible. She

has organized the Autocross School for the last four

years, recruiting instructors and contacting potential

students. She builds participation in the Autocross

and Time Trial events using

emails, Facebook, phone

calls and texts, and she is the

contact person for questions

about Autocross and Time

Trials answering emails and

phones calls. And when

she's not doing that, Robyn

is a corner worker at our

Drivers' Education events

on the "off" weekends!

So for all you do, Robyn,

thank you from the bottom

of our hearts. Enjoy your gift

certificate to the Silver Fox

in Grapevine, and know that

we really appreciate the

many, many things you do!

2 March
---
• Expert maintenance and repair services • Track Day Preparation

• Performance and appearance upgrades from GMG, Manthey, FVD and More

• Superior customer service and free loaner cars • PCA Discounts

• Show quality detailing services • We build Spec Boxsters

We also Buy and Sell Quality Pre-owned Porsches

Like a Personal Trainer for your Porsche!

Come See Our New Facilities!

Thanks to you, we've outgrown our old facility, and have moved to

our new, 36,000 square foot service and sales facility.

Come visit us at the corner of Midway Road and Skylane Drive,

right across the street from Addison Airport.

3236 Skylane Drive, Dallas, Texas 75006

214-269-1570 • www.racperformance.com

© 2011 RAC Performance, Glenn Zanotti Art Director/Photographer.

3
---
President

John Hamilton

C-817-907-7823

president@mavpca.org

John enjoys DEs, Happy Hours, the

Porsche Parade, and other social events.

He and wife Chris have owned Porsches

since 1996 and joined the Club in 2002.

John's Grandfather in New Jersey owned

a 1960 356B Coupe and later a 1965

356SC Cab which is how it got into his

blood.

POSITION CHAIRPERSON

AX Chair Travis Howard

TT Chair Travis Howard

AX/TT Registrar Robyn Howard

AX/TT Rules Charlie Davis

AX/TT Schools Robyn Howard

AX/TT Tech Insp Position Open

AX/TT Workers Robyn Howard

Charity Chair Chris Hamilton

Club Race Co-Chair Jim Buckley

Club Race Co-Chair Pat Heptig

Club Race Co-Chair Joel Nannis

Club Race Registrar Wendy Shoffit

Concours Chair Andy Kay

DE Chair Chris Tabor

DE Chief Drvng Instr. John Sandusky

DE Equip. Mgr. Luke Edson

DE Registrar Wendy Shoffit

DE Safety Bob Benson

DE Sponsorship Daren Kirbo

Email List Moderator Bob Benson

Goodie Store Pat Friend

Histographer, Tenured Charlie Davis

Membership Susan and Tom

Froehlich

Monthly Socials Paul and Veronica

Ramos

New Member Welcome Stephanie Ho

Randy Csanadi

On-line Calendar Brendan Eagan

Past President Mike Brodigan

Public Relations Linda Bambina

Slipstream

Advertising Pat Friend

Editor Carey Spreen

Event Ad Design Gareth Maurice

Mailing & Tech. Andy Mears

Printing Fran Ussery

Content Wrangler Linda Bambina

Mentor Wendy Shoffit

Social Chair Tracy Robertson

Sunday Drives John Harvey,

Brendan Eagan

Swap Meets Robyn Howard

Tech Sessions Ed Mullenix

Trivia Chair Jerry DeFeo

Website

Denny Payne

4 March

Vice President

Gareth Maurice

C-817-821-2940

vp@mavpca.org

Gareth still remembers the cover of

the car magazine that drew him into a

lifetime of loving cars. He spent many

afternoons riding his bike as a young

kid to the local newsstand to buy and

read everything he could. He now

owns a Midnight Blue 911S and enjoys

driving it in wonderful Texas!

Linda Bambina

214-616-1936

pr@mavpca.org

Bob Benson

817-457-8833

bbenson1@airmail.net

Mike Brodigan

817-233-0068

Jim Buckley

cr@mavpca.org

Randy Csanadi

mrpca.nmhhwt@gmail.com

Charlie Davis

chuxter@1derful.info

Jerry DeFeo

972-240-5800

trivia@mavpca.org

Brendan Eagan

calendar@mavpca.org

Luke Edson

214.796.2241

ledson@edsontech.com

Pat Friend

214-616-2477

ads@mavpca.org

goodiestore@mavpca.org

Susan & Tom Froehlich

membership@mavpca.org

Secretary

Wendy Shoffit

C-972-977-9821

secretary@mavpca.org

Wendy and husband James joined

Maverick Region in 1997, when

their daughter was only 9 months

old. Jasmine is now ~17. They own 3

Porsches including a 1978 911SC as

a dedicated racecar, which she enjoys

autocrossing. Her daily driver is a 2000

Boxster. She also serves as the PCA

National Newsletter Chair.

Chris Hamilton

hope@mavpca.org

John Harvey

214-808-1414

tours@mavpca.org

rocky@airmail.net

Robyn Howard

214-991-0873

ax@mavpca.org

drivingschools@mavpca.org

Travis Howard

214-616-6152

tt@mavpca.org

ax@mavpca.org

Pat Heptig

214-649-7907

cr@mavpca.org

Stephanie Ho

mrpca.nmhhwt@gmail.com

Andy Kay

817-483-5258

concours@mavpca.org

Daren Kirbo

254-396-2973

daren@huckabee-inc.com

Andy Mears

214-394-5857

andy@mavpca.org

Ed Mullenix

972-231-5356

techcorner@mavpca.org

Please help us to keep growing!

Treasurer

Jim Falgout

W-972-669-2370

C-972-345-3009

treasurer@mavpca.org

Jim joined Maverick Region in August,

2008. He drives a 2003 996, which is

the third Porsche he has owned. Jim

enjoys attending Maverick Region

social and driving events.

Joel Nannis

cr@mavpca.org

Keith Olcha

keitholcha@verizon.net

Denny Payne

webmaster@mavpca.org

Paul & Veronica Ramos

972 821-9333

hh@mavpca.org

Tracy Robertson

817-300-3340

social@mavpca.org

John Sandusky

817-777-0421

john.c.sandusky@lmco.com

James Shoffit

972-786-6246

james@shoffit.com

Wendy Shoffit

972-977-9821

crreg@mavpca.org

deregistrar@mavpca.org

Carey Spreen

817-422-3480

editor@mavpca.org

rally@mavpca.org

Chris Tabor

817-371-4888

de@mavpca.org

Fran Ussery

W-972-438-8344

H-817-481-8342

fran@usseryprinting.com
---
Carey On...

By Carey Spreen, Managing Editor

It has been a

rough winter

for those of us

whose Porsches

are our daily

drivers. Icy streets

and summer

performance tires

make for a dicey combination. The

last couple of months have been

the time of year when a Cayenne

was the sensible Porsche to drive.

Nevertheless, when the 911 was

new, it ws well known for its prowess

in the snow. A 911T took first place

in the 1968 Rally Monte Carlo, with

Vic Elford driving and Chris Stone

navigating, and a 911S, driven by

Pauli Toivonen and navigated by

M. Tiukkanen, took second overall.

Porsche 911s then proceeded to

take first and second in each of the

next two Monte Carlo rallies, proving

that Quick Vic's win wasn't a

fluke. So don't let a little snow keep

you from enjoying your Porsche,

but make sure you have the right

tires before you venture out!

What kind of tires are best

for Porsches that are driven in

winter? Well, it just so happens

that Porsche AG publishes a list

of recommended winter tires on

their website. This list shows tires

for not only the current models

but for 993s, 964s, 928s, 968s,

944s, 924s, 911s, 912s, and even

914s! Although I can speak from

personal experience that driving

a 914 in the snow, especially one

that has been stiffened and lowered

for autocrossing, is a white-knuckle

ride. With the majority of their

mass right there in the middle, if

they lose traction, they can spin

like a top if the driver isn't careful!

But now it's March, and hopefully

the ice and sleet have been relegated

to the weather history books

for another year. And to celebrate,

our first Sunday Drive of the year,

dubbed the Chicken Run, begins

in Duncanville and takes the scenic

route to Babe's in Cedar Hill.

Also note that registration for

the Porsche Parade, which was

originally set for March 11, has

been postponed to April 1. And

this year's All British and European

Car Day takes place on May 4.

Finally, I would like to welcome

three new advertisers to Slipstream:

Innovative Autosports (ad below),

Yard Art (pg 23), and The Car

Guy Show (pg 25). Please consider

using their services, and tell them

that you saw their ad in Slipstream.

Read on!

Certified Porsche Technician

General Maintenance

Performance Upgrades

Suspension Modifications

Alignments (Track and Street)

Track Preparation

Tech Sheet Inspections

Custom Built Spec 996s and Spec Boxsters

Custom Fabrication

2520 Tarpley Rd, Suite 100

Carrollton, Texas 75006

972-418-1996

innovativeautosportstx@gmail.com

5
---
Gimme a Minute: February Board Meeting

By Wendy Shoffit, Region Secretary February 5, 2014

The meeting

began early

at 6:59 pm.

President John

Hamilton started

by congratulating

Tracy Robertson

on an incredible

All Member Party, with over 200

people in attendance and who

knows how many cars. We believe

the central location was a big part

of the turnout, as well as grass roots

efforts made by Stephanie Ho,

Andy Kay, and Jack Griffin. Kudos!

The COTA Club Race is going

forward, with all the caveats mentioned

last month being agreed

upon. We need a volunteer coordinator

to get Mavericks to help us.

Contact Linda Bambina or Wendy

Shoffit if you would like to help out.

Although we had some postal account

issues (that will be addressed

after tax season), Slipstream got out

in great time! Many members had

them in hand by the third of the

month. Great job, Carey and all!

VP Gareth Maurice said that all is

going well. Insurance is taking longer

to get, so he asked for chairs to

give him a little more notice. Both

starting and ending locations are

now required. He's also currently

working on needed Slipstream ads.

Drivers' Ed Chair Chris Tabor is

ready for the February DE. We had

new DE ads for Feb & Mar events.

He presented the new radios, which

were lighter and more compact. He

attended a Texas World Speedway

(Lone Star Region) DE, at which

he noticed a larger number of

members helping out, even if they

weren't participating in the DE.

He asked for more board members

to come to socialize and answer

questions, particularly Saturday

mornings. A suggestion was made

6 March

to have special shirts to be visible?

It's under consideration.

Rally Chair Don Sebert reported

that there are plans for a morning

rally in July, with a social lunch

afterwards. Details TBD. Send fun

rally ideas to Don or Carey Spreen.

Social Chair Tracy Robertson

reported that we sold over 200

raffle tickets, which will allow us

to make a donation to the Hope

Shelter. The winners of the raffle

were Kyle & Debbie Fahrenthold,

gracious hosts of the Cars & Cattle

event last year. Congratulations!

We also had great warm up prizes,

which she hopes to continue next

year. She thanked all her helpers

who made it happen! Next year it

was suggested we could look for a

sponsor to help defray costs. She

wants to stay at Hackberry Creek

Country Club and work with them

on their fees, as well. All agreed

we should stay there next year.

Treasurer Jim Falgout reported

we have ~$60K in bank accounts,

including some large outgoing deposits

that have been made, including

COTA. We are in pretty good

standing.

Editor Carey Spreen said that

although Slipstream got to the

mailer later than hoped (still working

on improving the processes),

it was still earlier than "normal."

We may need to increase the

number of issues printed. He also

encouraged ALL event chairs to

contribute past event articles.

Ad Chair Pat Friend announced

a new full page advertiser, Yard

Art. He encouraged everyone

to support our advertisers.

Tech Chair Ed Mullenix said

that the tech session on the IMS

Bearing replacement had good

turnout, despite chilly temperatures.

Although he had a snafu

with the display car's engine having

already been replaced, he had a

backup plan that worked just fine.

DE Registrar Wendy Shoffit announced

the Green and Blue

run groups were full for the Feb

DE and good attendance in the

higher groups. She is revamping

the emails to entrants, including

more useful information

than in past. We need COTA

volunteers to help out in May!

Sunday Drive Chair John Harvey

has set up a tour for March 16

called the "Chicken Run," starting

in the Cedar Hill area. He is also

working on one for Saturday, April

26 to Muenster for Germanfest,

which might include a Parade of

cars. May 25 is slated for a drive to

Lake Texoma and a re-visit to the

Point Restaurant at Grand Pappy

Point. Working with Gareth on

ads and insurance. He now has

six drive leaders to make tours

safer and more manageable.

Calendar Boy Brendan Eagan is

staying on top of the web calendar.

If chairs want to send links to upcoming

events or past event photos,

he can include those.

Monthly Dinner Social Co-Chairs

Paul & Veronica Ramos said the

March event will be at Tolbert's

in Grapevine, per a member

suggestion. They're also looking

at possibly holding one at Hackberry

Creek Country Club. They're

moving these events around the

metroplex and taking suggestions.

Membership Chairs Tom & Susan

Froehlich were happy to report

a new all-time high of 2,296 total

members, a net gain of ~30 this

month. With help from others they

are contacting non-renewals to help

with membership retention. That's

where we have the most influence.
---
Swap Meet Chair Robyn Howard said we're all set for

the Zims Swap meet October 18.

AX & TT Chair Travis Howard announced that Dallas

Raceway had been sold and will be turned into a truck

junkyard. He had to cancel events planned there

and move them where he could. AX #1 will now be

March 2 at Pennington Field in Bedford. He's working

with Jim for deposits and Gareth on insurance.

PR Chair Linda Bambina is happy with her PCA

National Enthusiast of the Year entry for Travis

Howard. She got much help from wife Robyn.

She has more "Garage Glimpses" articles coming,

but is looking for great subjects to feature.

Member Michael Vatter was in attendance and

suggested that all new members be contacted by

phone to invite them to upcoming events and answer

questions. John Hamilton had done that for

him, which made a great impact. Stephanie Ho

currently emails new members to invite them to

the monthly dinner social and is having great success.

Past phoning efforts have been less fruitful.

John Hamilton lastly announced Robyn Howard as the

next well-deserved Maverick of the Month! Congratulations,

Robyn!

Meeting was adjourned at 8:26.

JANUARY TRIVIA

It's Easy to Play!

Play here for fun and education

and find the answers below

OR

Play for prizes on the web at

http://mav.pca.org, with the

answers and winners to be posted here

after each month's contest has closed.

Thanks to Jerry DeFeo for putting this

and the Web Trivia together.

Congratulations to our January winner,

ROB BOWEN,

who got all five correct. Honorable Mention goes to

Jack Griffin, Cyril Reif, and Jacques Krielen, all of

whom also got all five correct. The winner

was chosen by random drawing.

Rob will receive a $25 gift certificate to

1. Name the long straight bar fastened to the chassis at one end and to a

suspension part at the other end, which, when twisted, tends to keep

car level.

a. Spring Bar b. Strut Bar c. Torsion Bar d. Sway Bar

Source: 1984 PCA Collection of Terms

2. Name the odd-shaped bar attached to both the chassis and the

suspension that tends to limit the amount of body roll.

a. Spring Bar b. Strut Bar c. Torsion Bar d. Sway Bar

Source: 1984 PCA Collection of Terms

3. Name the system that activates the spark plugs to burn the fuel in the

combustion chamber.

a. ABS b. Supercharger c. Ignition d. Turbocharger

Source: 1984 PCA Collection of Terms

4. Who is the new Editor for PCA's national magazine, Porsche

Panorama?

a. Vu Nguyen b. Betty Jo Turner c. Allen Caldwell d. Pete Stout

Source: Current Porsche Panorama masthead

5. Panorama's new Editor was also Editor at what magazine before

coming to Panorama?

a. Car and Driver b. Christophorus c. Porsche World d. Excellence

Source: www.9magazine.com, others

Answers: 1) c 2) d 3) c 4) d 5) d

7
---
8 March
---
WHEN IT'S TIME FOR SOMETHING SPECIAL

We Buy, Sell & Trade the World's Finest

PRE-OWNED TIMEPIECES

ROLEX | PATEK PHILIPPE | BREGUET | JAEGER-LECOULTRE

and many more

Rolex 1655 "Freccione"

Explorer II

Patek Philippe

3970 Rose Gold

Patek Philippe

Chronograph 5070 G

Visit our website, updated daily, to view our extensive selection of

pre-owned wristwatches.

Authorized Dealer of Most Major Brands

214-522-2400

800-454-4367

MAVERICK

PCA RACER

6821 Preston Road

Dallas, Texas 75205

customersfirst@deboulle.com

www.deboulle.com

9
---
Destination Restoration: What, Where, and How to Search

By Ash Seidl-Staley

Recently I was emailed by a

fellow Maverick member who

asked about my online search

techniques in relation to Porsches. We

live in an age dominated by the Internet;

anything and nearly everything

can be found with the power of a

modem and the click of a few buttons.

But what about using the Internet to find Porsche

parts? Is there an easy way to search online,

or at least to find a site that connects you with

people that are experiencing the same issues you

are facing with your own car? The unfaltering

answer is yes. There are tons of sites related to

our cars, each with their own perks and uses.

When I search on the Internet for anything, be

it a part or an issue, the first thing I do is "Google

it." I know that this saying is a cliché for my generation,

but I can't deny that the Google search engine

directs me to the top three sites I view most often.

The first site is www.porsche.com, the Porsche AG

website, and after surfing a bit there (i.e., building my

Photos by the Author

dream GT3), I can be directed to the PCA website,

www.pca.org. From there I can access all of the technical

issues submitted and posted in the PCA archives.

This site is perfect to check on specific model recalls,

issues with the newer cars, and all the Panorama

Tech Q&A submissions. One of the most important

resources on the PCA website, often ignored, is the

telephone number list of the tech experts. Most

members don't realize that when they are faced with

vehicle emergencies or other obscure issues, they

can pick up their phone and talk with a specialist

right away. Nine times out of ten, the information

can be found through extensive Internet searches,

but having a friendly Porsche Gearhead on the line

provides instant feedback and soothes the nerves.

Googling a problem also brings up hits to links that

other people have posted, oftentimes being the exact

question I had to begin with. Thanks to the recent

resurgence of restoration projects across the United

States, there is an intense desire to preserve Porsche

history. As a result, various websites have popped up

to provide a foundation for parts catalogs and forum

discussions. My favorite (and probably most used)

www.fifthgear.biz

Performance

• Track Set-up

• Exhaust Upgrades

• Performance Alignments

• Suspension Modifications

• Performance Maintenance

Maintenance & Repair

• 100+ Years of Technician Experience

• 11,000 sq Feet of the Top Technology

• Comfortable Waiting Area with WIFI

• Fully Air Conditioned Shop

• Green Building, Eco Friendly

Sales

• Trade your old Porsche

in for a newer model!

• Consignment Sales

• Accessories

Specializing in: Porsche • We service all models

Set up an

appointment today! 1975 Archer Way • Lewisville TX, 75077 • 972-317-4005 1 mile West of I-35 behind Sonic!

10 March
---
site is www.pelicanparts.com. After

registering and creating a username,

I get unmatchable access to

all things Porsche. My resources

include access to technical articles,

the ability to connect with thousands

of Porsche Gearheads, and

the ability to buy and sell parts in

the website's classifieds postings.

With a few clicks of my mouse

I am immersed into a thriving

Porsche economy that can tackle

any customization, modification,

or problem relating to my cars.

Suspenseful page turners

Another site similar to Pelican is

rennlist.com. Like Pelican, it has

access to forums and discussion

boards, but this site takes things

further by splitting each model

into separate searchable categories.

What makes rennlist.com even

more unique is that it breaks down

each individual 911 model into

smaller groups. This makes it easy

to inquire into and search on a

specific question about a 993 fuel

leak or a GT2 suspension upgrade.

Lately I have been using another

resource for my mechanical questions:

good old books! There are

tons of literature out on the market

that relate to Porsches -- histories

of the cars, model overviews, and

technical specification books

flood mechanics' bookshelves.

In my opinion, having the Haynes

manuals and specification books

for your specific model are a must,

but if you own an older 911 or

914, there are three books you will

need to add to your collection. The

first two, "101 Projects for Your

911," and "How to Rebuild and

Modify Porsche 911 Engines," by

Wayne Dempsey, cover practically

everything you might do or want

to do with your Porsche. And the

third, for 914s, is Tom Wilson's

book "How to Rebuild Your Volkswagen

Air-Cooled Engine." I have

spent, and plan on spending, many

nights studying and reading these

books so that I am ready to act on

any mechanical issue or desired

modification relating to my cars.

Prescriptions for 914 illnesses

I also want to stress that not every

issue a Porsche faces can be diagnosed

or solved with a book or the

Internet. Many of the newer cars,

with all of their computer technologies,

require service and inspection

to take place at a dealership or

certified Porsche mechanic. For

example, problems with the complex

M96/M97 engines (used in

Boxsters, Caymans, and 996s) can

be determined by the owner, but

unless he is fearless and ready to get

dirty, need to be fixed by professionals.

Not all of us can be Gold

Meisters, but with properly applied

determination, calming patience,

and intense motivation, we can

come close.

11
---
Hoosier R7, A7,

Race Slicks,

H2O, and

Vintage in stock

Lowest Prices in the Nation

sales@hoosierdirect.com

12 March
---
©2014 Porsche Cars North America, Inc. Porsche recommends seat belt usage and observance of all traffic laws at all times.

You don't have to pay a premium

for premium Porsche service.

At Park Place Porsche, you'll find high-performance service at competitive prices. Our

Master-Certified technicians and advisers work exclusively on Porsche vehicles, giving

them a focus and passion that can't be matched. We offer the only on-site Porsche body

shop and the only Porsche-Certified body shop in the Dallas-Fort Worth area—Park Place

Bodywerks—giving you comprehensive service, all in one place. And you can enjoy Park

Place's exceptional service and amenities—like complimentary Porsche loaner cars and

hand car washes—for less than you'd think.

Park Place Porsche

6113 Lemmon Avenue

Dallas, TX 75209

214.525.5400

park-place.porschedealer.com

13
---
Garage Glimpses: Double Your Pleasure -- Porsche and Corvette

By Linda Bambina, Region PR Chair

Chris Sorrells began building

his dream garage in his head

years and years ago. He finally

built it for real about three years ago.

Finding the perfect lot -- in a perfect

location -- was just part of the journey

to the stunning home that Chris

designed and built with the oh-socapable

input from his dynamic wife, Gabe. Chris is a

Developer/Contractor, although in semi-retirement

Their '58 and '14 Corvettes share space with a '13 991

now. The details in this garage are meticulously well

thought out. My photos just give you a broad, sweeping

view, but there are so many interesting details

-- it is amazing and joyful! That's it! This garage is

The German/American theme is omnipresent!

14 March

Photos by the Author

joyful! Talk about

Boys and their Toys!

Chris knew he'd need

a lift, since he'd have

several "toys" in his 30

x 40 foot space. In 2003

he had gotten a brand

new C-5 Corvette and

promptly joined that

club. True to form,

Gabe totally immersed

herself as Social Chair of

that very active group.

Gabe and Chris Sorrells Chris got involved

with the National Corvette Restorers Society after

he acquired the 1958 Convertible C-1 (283 cid/245

hp, dual four-barrel carbs) that now rests on its lift,

surrounded by all kinds of awards and trophies won

from coast to coast. Red and White Dynamite.

The Sorrells always

had another sports

car on their bucket

list: a Porsche! Gabe

simply fell in love with

a 2013 911 S Cabriolet,

the paint a unique

burgundy called Amaranth

Red Metallic.

It's "her" car now. So

of course, for Chris's

birthday ("AND anniversary

and Christmas

present for the next The toolbox hints that this

decade," says Gabe!) garage is not just for show.

she bought Chris his

latest heart's desire, a totally spec'ed out 2014 Torch

Red C-7 Corvette Stingray. (Not "Rocket Red"?)

Chris emphasizes that it is a terrific working garage: a

great place to detail a car, easily cleaned, has a built in

compressor, plugs and hoses in all the most convenient

places, lots of storage, and plenty of places to hang

photos, posters and autographs from favorite drivers of

all kinds of cars. They've got some terrific neon signage

and lots of model

cars, too. The Sorrells

stress that they appreciate

all kinds of cars and "love,

love, love" to attend races!
---
Parts or Service, We Deliver Excellence.

Over 300,000 parts in stock.

Expert service and repair.

Parts and Service for: Porsche, Mercedes-Benz, BMW, Mini, and Smart Car.

817-267-4451

Visit us online at:

1-800-356-2964

www.allzim.com

zimips@allzim.com

1804 Reliance Pkwy. Bedford, TX 76021 M-F 8am to 5:30pm

Zims Autotechnik is not affiliated with Porsche AG or PCNA Registered Trademark of Dr. Ing h.c.F. Porsche A.G.

Experience Your Porsche in a New Way!

By driving on a real North Texas racetrack

Eagles Canyon Raceway is the beautiful culmination of years worth of

research, planning & design into the rolling hills of North Texas near DFW.

Eagles Canyon Raceway features 2.55 miles, 4 straights over 1,300 feet long, 11

turns, and 340 feet of overall elevation change. Eagles Canyon is a true driver's

track, and is planned to host all classes of events from the top level racing series

to club racing and private HPDE days.

We are proud to receive PCA events including Club Racing and look forward to

each and every event!

With an EC Membership you can enjoy driving on a track that is quickly

becoming history in the making. We offer all that you need including a

challenging track, high octane fuel & a grill for lunch. Join us by signing up at

www.eaglescanyon.com or call for information at 940-466-9775.

940-466-9775

www.eaglescanyon.com

15
---
Annual All Member Party: New Location and Record Turnout!

Photos by Charlie Davis, Linda Bambina, Gareth Maurice, and David Robertson

Maverick Region's All Member Party (known in

days gone by as the New Member Party until

it dawned on us that only new members were

showing up!) broke all attendance records this year.

For the last few years we had held it in the Keller/N.

Fort Worth area, and often got over 100 attendees.

However, this year, we no longer had access to that

facility, so Social Chair Tracy Robertson moved it

to Hackberry Creek Country Club in Las Colinas,

where the club holds its monthly board meetings.

This turned out to have been an insightful move, as

Las Colinas is more centrally located for our members.

As a result, over 250 new, old, and potential

members RSVP'd for a gorgeous afternoon of food,

beverages, friendship, and of course, Porsches!

You probably know that we held a raffle this past

year, selling the chance to win a one-year lease on a

new Macan S, with a portion of raffle proceeds going

to our charity, the Huffaker-Hughes Hope House.

The All Member Party is where we drew the name

of the lucky winner, Kyle Fahrenthold. Kyle and

wife Debbie are no doubt counting the days until

they get the keys to Porsche's latest new model.

We hope you were able to make it! If not, here are a

few photos to remind you not to miss it next year.

Region PR Chair Linda

Bambina, with assistance

from Sue Crimm and VP

Gareth Maurice, takes

the "Newbie Photo."

The new Mavericks are all smiles as they become a part of our biggest

and most successful All Member Party yet.

Tourmeister John Harvey (in the Bavarian Alpine hat)

previews the 2014 Sunday Drive series.

Region President John

Hamilton (in the Texas

Straw hat) introduces each

event chair to the group.

16 March
---
The Porsche display group, organized by Jack Griffin, was a big hit.

Left to right: 1987 928 S4 (Andy Kay), 1955 356 Continental Coupe (Jack

Griffin), 1964 904 (Randall Johnson), 2005 Carrera GT (Brian Shiu), and

2005 997 Carrera S (Jason and Carrie Morski). All five were driven to the event!

Jack speaking with the

owners of the 904.

We were pleased to be treated to a large turnout

from the DFW 928 Owners' Group, arranged

by Concours d'Elegance Chair Andy Kay.

Event

organizer

Tracy

Robertson

gives

away door

prizes.

It's always a treat to see members of the

Tub Club bring out their 356s.

The sound

that the 904's

4-cam Carrera

engine made as

it drove away

was glorious.

Kyle and Debbie Fahrenthold,

winners of the Macan Raffle.

They had purchased their raffle

ticket at the party, less than an

hour before the drawing!

The parking lot was full to overflowing. Thanks to all

who contributed to this year's All Member Party!

17
---
Insurance Tips: Am I Covered While Driving On-Track?

By Ryan Staub, Lockton Affinity Motorsports, and Kansas City Region PCA

Editor's Note: Ryan Staub is the

Motorsports Practice Leader at Lockton

Affinity Motorsports. He has been

participating in autocrosses, HPDEs,

and Club Racing since 2001. Staub instructs

with PCA, BMW CCA, ACNA,

and many other organizations. When

he's not at the track, he's developing

and managing insurance solutions for

the motorsports enthusiast community.

Each year

Porsche

Club of

America Regions

organize many

high-performance

drivers' education

events. Over

the years, PCA has earned a

tremendous reputation for putting

on educational, safe, and

structured events. These events

target what PCA members are

most passionate about – appreciating

the fine automobiles they

own in a way that just can't be

recognized in daily street driving.

For many years, PCA driving

enthusiasts had a sense of comfort

knowing that their standard

auto policies covered them while

participating in PCA Drivers'

Education events. Most policies

had language that only excluded

coverage while participating in

"timed or competition events."

Since PCA DEs are educational in

nature and untimed, most insurers

would pay for damages incurred

at these events. Incidents causing

damage to vehicles at PCA DEs are

rare, but when they do happen,

the damage can be significant.

Around the 2003-2004 timeframe,

it seems that many insurance

underwriters recognized the

additional exposure presented by

individuals involved in DEs, and

modified their exclusions section

accordingly. At the beginning, a

few companies implemented new

language to exclude coverage "on

a surface used for racing", "in a

performance driving event", or

even worse, "at a racetrack facility."

Since the initial rollout of the

exclusions, it seems that the majority

of auto insurers have followed

suit with these restrictive exclusions

for individuals involved in DEs.

Around the 2003-2004

timeframe, it seems

that many insurance

underwriters recognized

the additional exposure

presented by individuals

involved in DEs, and

modified their exclusions

section accordingly.

Many PCA DE enthusiast members

have researched this topic in the

past, prior to 2003, and believe

that they are still covered while

driving in events. Enthusiasts

must understand that insurers do

have the ability to change policy

terms at each policy renewal. The

typical policy holder receives their

renewal, looks at the bill, and sends

a check to renew their policy. In

the pages following that bill, insurers

include a coverage update that

details any policy changes. Unfortunately

these changes often go

unnoticed by insurance consumers.

For individuals involved in DEs,

it is very important to review

your policy before you go to your

next track event. Many insurance

consumers don't file their current

policies, but insurance agents will

always send a copy of the current

policy upon request. A quick review

of the exclusions section of the

policy typically reveals any language

targeted at eliminating coverage

while participating in events held at

racetracks. Enthusiasts' vehicles are

often the most treasured property

they own, so it is important that

they do their research and understand

whether coverage is included

under their standard policy while

participating in DEevents.

DE Participants that do not have

coverage under their standard

auto policy, and who aren't willing

to take the financial risk of driving

on track without coverage, do

have options available. PCA has

partnered with Lockton Affinity

Motorsports and endorsed their

HPDE Insurance. The PCA – HPDE

Insurance Program offers singleevent

and annual/multi-event

physical damage insurance at a very

affordable rate. The premiums are

based on value, and the average

premium for our members is $205

per event. When applying, PCA

members can enter their member

number to receive up to a 10%

discount on their premium!

Do not assume that you still have

coverage while participating in DEs

based off of research or questions

asked of your agent years ago.

Before your next event, check your

policy and go to that event knowing

whether you will or will not be

covered in the case of an unfortunate

incident that causes damage to

one of your most prized possessions.

If your research shows that

you do not have coverage, consider

getting supplemental through

Lockton Motorsports: http://www.

locktonmotorsports.com/partner/

porsche.

18 March
---
Darren Houk and his wife Tanya are new Mavs

(for about a year now), and he is a new advertiser

to Slipstream as well. He "especially enjoys

the

2700 B West Pioneer PkWy

(125 feet s. of Pioneer, on the W. side of Corzine st.)

Arlington, texAs 76013

817-366-1678

19
---
Of Special Interest: The DFW 928 Owners' Group

By Andy Kay, Region Concours d'Elegance Chair

Back in the early 70s, concern

was rumbling in the

offices at Porsche that the

venerable 911 would not meet

the new stringent emission standards

about to be imposed in the

USA. So the 928 was born, a clean

sheet design from the ground up,

something never done solely by Porsche before.

The 928 was a true high-speed GT in every sense of the

word. In Europe, the task was to cruise the Autobahn

all day at 120 mph and compete with other modes of

transportation. The 928 was launched in 1978 and immediately

won the coveted Car of the Year award.

Photos by Jim Mayzurk

The indoor Concours d'Elegance in 2012

A parking lot full of 928s at Third Coast 2010

With over 400 928 cars in the DFW area, the DFW

928 Owners' Group has become one of the largest

local 928 groups in the USA, if not the world.

The group meets the first Saturday of the month

for a breakfast get-together at various venues

around the DFW area. It is not unusual to see 20

to 30 gleaming examples of this marque at each

meeting. Tech sessions often follow the breakfast

meetings, covering topics ranging from changing

the timing belt to electrical troubleshooting.

The social aspect of the DFW 928 group is very

strong, with many local functions being planned

during the year. The group is informal from a

membership point of view, and all are welcome

to attend. Ownership of a 928 is not required.

Details of meetings and events are posted on

the DFW Yahoo group, as well as the website of

928sRus, http://928sRus.com. Send an email to

Laura@928sRus.com to be added to the mailing list.

Every year in November, up to 70 928 cars attend the

famous "Third Coast" get-together, held in Marble

Falls, TX. This year is the fourteenth anniversary of this

event, and again 928 owners will attend from all over

the States.

In 2009 the DFW group hosted the 928 International

Owners Club here in Dallas, and 928 owners from

all over the world attended this prestigious event.

Editor's note: If you are a member of a special-interest Porsche

group and would like to publicize it in Slipstream, please

send an email with the details to editor@mavpca.org

Five red sharks in front of the Junction House restaurant during Third Coast 2011

20 March
---
The Art of Paint Protection

After Installation

A virtually invisible urethane film

professionally applied to high-impact areas

of your vehicle to protect your paint job from

stone chips, sand, road debris and bug acids.

During Installation

Norm Schilling

Owner and Installer

16 Years Experience

Highest Quality Guaranteed

2530 Tarpley Road, Suite 100

Carrollton, TX 75006

When all HAIL breaks loose...

Roofing Solutions

Specializing in all years and models of

Porsche exclusively for more than 30 years

Complete and Meticulous Maintenance and Repair

Tuning and Diagnostics (Carbs, MFI, CIS, OBD I & II)

Custom Engine and Transmission Rebuilds

Competition Car Preparation (Track or Autocross)

By Darren Houk

(817) 692-8496

A+ Rated

1521 Baccarac Ct Euless, TX 76040

817 540 4939

www.mayoperformance.com

email: Mayos@imagin.net

www.RoofingSolutionsHOUK.com

www.roofingsolutionshouk.com

817.692.8496

Showroom by Appointment

5500 Meandering Rd

Ft. Worth, 76114

21
---
Cliff's Ramblings: Track Rats and Real Rats

By Cliff Blackshear

Ya know, I have come to the

conclusion that rodents have

great taste in cars. We are once

again seeing a number of cars

with problems caused by rodent

invasion. The colder-than-usual

weather that we are having seems to

have driven rats to look for a new

warmer home. 911s are their favorite Porsche.

I know from experience as a dealer level tech

since 1972 that the 911 is a car that is often bought

and only driven on weekends. They often do not

move from a spot in a garage for weeks. The little

creatures simply see a new home sitting there.

Many rodents and insects are suffering in this

weather. Their nest is not keeping them comfortable,

so they are in the market for a new home. The engine

compartment is enclosed, and has limited access with a

nice open space under the intake manifold for a nest.

Four cars came into our shop recently within a twoweek

period of time -- three 911s and one Boxster.

Their check engine lights were on, and their fuel/

ignition software was defaulting to an emergency

run program due to input data degradation. Horsepower

and torque were cut by 50-70 percent.

Twelve 911s had to have their engines removed and

new engine wire harnesses replaced. No Boxsters were

attacked. A few Cayennes had minor damage. It was

interesting. They all seemed to attack exactly the same

wires: the +61 exciter wire to the alternator, the wires

going to the oil level sensor, and the vacuum lines in

the immediate area. It seemed that these wires impeded

proper nest-making real estate. The Cayennes

suffered a small amount of firewall insulation damage

in the engine compartment on the driver's side.

Over the years, I have observed that another constant

area of invasion has been around the pollen

filter/battery mounting area of 911s and Boxsters.

We find nests around the pollen filter, and occasionally

holes in the filter, with subsequent damage to

wiring under the dash. They also get to the wiring

for the fuel pump and fuel tank level sending

unit, which is immediately below the battery.

Please bait around your garage area.

Some years ago, when the 997 had just been introduced,

my workshop experienced a weird event.

Across from our building is a huge field. About

seven tenths of a mile up from us, Walmart bought

a number of acres of land and built one of their

super large stores. Displaced rodents migrated to

my world looking for a new place to nest. In the

parking lot at the front of our building we had

many 911s, Boxsters and Cayennes—all new cars.

2014 911 Twin Turbo nesting area

Remaining insulation in that 911 Twin Turbo

Moving on . . .

I'm pretty excited about this year's Club Racing

events. I missed going to Sebring in February -- I just

could not make it. That track is brutal on the cars,

and since it is an early race in a new season, it seems

that drivers really get amped up for it. Lots of carnage

and damaged equipment this year. I wish I could have

been there. I spoke with the esteemed Mr. Shoffit

today about the race, and he verified everything I had

heard. Both he and Bernard Nussbaumer were lucky

enough to have both survived and finished well.

Easy events to which to travel are looming: Hallett,

Texas World Speedway, and Eagles Canyon Raceway

for example. The really big one is going to be COTA

(Circuit Of The Americas) over May 2-4. For those of

you who usually attend Sunday drives, social events and

continued on page 28

22 March
---
Colleyville

6407 Colleyville Blvd.

(Highway 26)

Colleyville, Texas 76034

817-421-2414

Lewisville

490 Oak Bend Drive

(35E - North of Round Grove Rd.)

Lewisville, Texas 75067

972-459-6919

Allen

Highway 75 North @ McDermott

(Inside Stacy Furniture Center)

Allen, Texas 75013

214-547-8144

Plano

3500 Preston Road

(at Parker)

Plano, Texas 76093

972-769-0093

Grapevine

1900 S. Main Street

(Inside Stacy Furniture Center)

Grapevine, TX 76051

817-328-0200

23
---
I Get Around: My Parents Bought a New Car

By Dick Badler

Courtesy High Gear, the Rocky Mountain Region Newsletter

They bought a new car last

summer. You have to understand:

they're 87 and 85.

My father had a stroke a year and a

half ago. Nothing cognitive, but he

can't drive. My mother only drives in

daylight. This past fall, they moved

into an assisted living complex.

I have this vision of my parents coming into the

dealership showroom: my father holding on tight

to his walker, with my mother making her way, following

knee replacement surgery. The salesperson

doing a few double-takes and finally getting out,

"Uh, can I help you?" and "What color do you like?"

and "Do you have a trade-in?" and "Lease or buy?"

They've never owned a Porsche. The closest

they came was in 1983, when they bought a '78

Mercedes-Benz 450 SL. My father had been pining

for one for years. This one I found for them

-- same year as my SC. Same low mileage. Silver, with

the dark blue soft top. I called them up and said,

it's now or never. They called it their "SL-ela."

They kept it for about ten years. The standing joke

was that they were going to give it to my wife when

they grew tired of it. Or at least sell it to her. But

then, one day, my father told me they traded it in on

a Lexus ES. I told them they'd regret it. They did.

My fondest memory is of the '62 Buick LeSabre. We

went cross-country in it, my two sisters, my parents

and I, New York to LA and back, in five weeks. No

air. I got the worst case of chapped lips in recorded

history, from sticking my head out the window -- like

a dog -- and then moistening my lips with my tongue.

Over the course of the trip, I rated my parents'

driving. Turns out, so to speak, that my mother

24 March

was faster. To pass the time, I played chess with my

father, using one of those portable sets where you

push the pieces into holes. It was the only time,

ever, that I sat in the middle, between my two sisters.

My usual place was behind my father, natch.

My father drove home for me my first sports car. It

was a '64 Triumph TR-4, which I bought from a family

friend for $800, my life savings. I was 17, and couldn't

drive a stick. That night I just sat in it, and played

the radio. The next day, he took me out to learn the

wonders of British gearboxes and friction points. At

one point I lurched it so hard the fuel lines came off

the carburetors. I lost half a tank of gas before we

realized where that funny smell was coming from.

Then there was the '67 Buick Wildcat. Convertible.

My parents let me drive it into New York City the night

of my senior prom, to the Village, to see B.B. King at

the Village Gate. I remember who I took as my date,

and I remember a second couple, but I don't remember

who the third couple was. It was that kind of night.

My parents took me to college in that car.

When my first daughter was born, my parents drove

up from Virginia in a Honda Accord. I remember

my mother rushing into the hospital, carrying a

pair of binoculars. She said, "You never know how

far away from the window they put the babies!"

In recent years, my parents had a 3-series

BMW wagon, which was great for trips from

Virginia to Florida for the winter, including a

ride on the car-train. Except my father totaled

it one morning. Ran into a tree. Don't ask.

So they replaced it with a Cadillac CTS wagon,

which they hated, because of what they claimed

was bad three-quarter rear-view visibility.

A few years ago, I got my father a gift subscription

to Car and Driver magazine. I took advantage

of one of those "renew now and give a new

subscription to someone as a gift" deals.

It became a routine, during our weekly telephone

conversations: "What do you think I should replace

the Caddy with?" I didn't know how to answer. So I

turned it around and said, "What do you want?"

Toyota Avalon, he said. The perfect appliance,

I said. But it takes regular gas, he said.

How about a Hyundai Genesis? Hmm, I said. It

may out-Lexus Lexus, the way Lexus out Mercedesed

Mercedes, at least for the money. Does it

take regular gas? That's what they bought.
---
I visited my parents for Thanksgiving last fall. I drove

the Hyundai, and it really wasn't bad. In fact, it really

was a lot like a Benz for, what, two thirds the price.

But the real joy came when I programmed the in-car

Nav to get to my sister's house for Thanksgiving Dinner.

The house is some seven miles away and, really,

over a route that's not that complicated. But so be it.

We tested the Nav on Thanksgiving Day, and it worked.

Let me put this into perspective: my father is an

Electronics Engineer. To this day, he can explain to

you how a computer works. Or a television. He used to

argue how Plasma technology is inherently much superior

to LCD. And so was Betamax. Around when I was

born, he worked on the development of the LP record.

But, as I was programming the Nav, he was gently

pushing toward me the never-opened, inch-thick Nav

manual, which I simply ignored.

But my real mitzvah was programming the Nav to get

. . . home. To quote my mother, "Now we won't get lost

again!"

Yikes. So many memories. So many drives to look forward

to.

Catch Us If You Can!

Cable Channel KTXD 47 • Sundays 6pm

Encore Presentations

Fridays 1:30am • Saturdays 11:30am

SlipstreamAD.indd 1

2/12/14 9:56 PM

25
---
Maverick Monthly Social: Wildwood Grill

By Stephanie Ho, Monthly Social New Member Welcome Team

Birds of a feather flock together,

and so do Porsche

car enthusiasts! We had a

great start to 2014 with our January

Maverick Monthly Social. Lots of new

members showed up to meet us at

the Wildwood Grill in Southlake.

This was the first Monthly Social

for Bill and Jennifer Coutts, who then went to our

All Member Party too. Steven and Brenda Cloutier

Photos mostly by the Author

Ben Connell, Stephanie Ho, Sue

Connell, and Norm McCollough

Photo by Veronica Ramos

Breda Shelton, Michelle Bey, George Shelton,

and Region President John Hamilton

have been members since August, and this was also

their first Monthly Social. George and Breda Shelton,

along with their niece Michelle Bey, had just left their

grandson's birthday party before joining us for the

first time. They have been members since October.

George had recently made a memorable purchase

from Autobahn Porsche, where Region President John

Hamilton helped with George's selection of a finelycrafted

and luxurious 2013 Panamera for his family.

Also attending their first Monthly Social after joining

our club in November were Brooks and Kim Poland,

and Barry and Cindy Goodson. Barry's nickname is

26 March

l to r: Brooks and Kim Poland, Steven and Brenda Cloutier, James Shoffit, Myra and Jerry Sutton
---
Bill and Jennifer Coutts

Clockwise around the table: Chris Hamilton, Cheryl Koeppen,

Bobbie and Frank Briggs, Doug Koeoppen, and David Ward

Bear, and he jokingly told us that it stems from giving

good hugs.

David Ward joined the club in October, attended his

first Monthly Social in November (the night of a storm),

and has since then attended many if not all of our social

events, including the Holiday Party and All Member

Party. So did Ben and Sue Connell, who became our

Monthly Social regulars.

Our Maverick Region Porsche Club has many wellorganized

and fun activities. If you haven't been to a

Monthly Social, or just haven't been to one recently,

come on out and join us. We cordially invite you to be

members of our Porsche Monthly Social flock! We start

with drinks and some of us stay for dinner. This

month's Social will be at Tolbert's Restaurant in

Grapevine -- another new venue for us.

David Ward with Cindy and "Bear" Goodson

Photo by John Hamilton

Your Monthly Social Team: Paul and Veronica

Ramos, Randy Csanadi, and Stephanie Ho

27
---
continued from page 22

rarely Club Races? Come out for COTA -- it is an amazing

track. FIA-sanctioned tracks are the best of the best,

and very rare on this continent. This one has lots of

elevation changes and is super smooth and technical.

Sebring is currently the most heavily-attended Club

Race of the season. When you arrive the day before

Test and Tune starts, you will see a gigantic number of

18-wheelers filled with amazing Porsche race cars. It is

an awesome Club Race. This is a good spectator event

in my opinion. Porsche Motorsports shows up, Michelin

shows up, and you can watch the races on line.

COTA is going to match that event as time goes

by. Right now every racer wants to taste that track.

When they do, they want to come back. The atmosphere

is electric. Austin is such an interesting

city. Food is awesome, and found in so many little

nook and crannies that are interesting. Many of

our Maverick family have a hand in making the

event happen. I view it as the perfect storm for Club

Racing. FOLKS, IT IS IN OUR BACKYARD!!

I will be there working technical inspection. My oldest

daughter will be there doing photography duties

for me. She has amazing photo skills. Her work has

been shown at galleries in Austin. She is currently

learning new skills from a Professor that is the official

photographer for COTA. I am soooooooo stoked . . .

More thoughts: the new GT3 is amazing. In the past

it was simply noisy and rough on public roads, with

an engine that was more than happy at its 8-grand

redline. A super fun car to drive. Now it has PDK with

programming that hates civilian street driving. It is set

up for serious performance. Jeez, what a cool car! The

new twin-turbo 911 is just ridiculous with performance

abilities. Go drive a Cayenne and you will never want

to own any other Sport Ute. The Panamera looks like

a beached whale to me and yet when I drive one it

simply amazes me. There is no four-person people

mover that does what it does; it is a phenomenal car.

The Cayman and Boxster are ridiculous with performance.

With some more horsepower, the Cayman

could have possible performance numbers that would

be way beyond 911 capabilities (my opinion) . . .

In my forty-two years working at the dealer level,

watching the new models come out, it never gets

boring. Walking around the shop, stressing over

weird issues, conversing with factory folks, and the

most fun part? Interacting with all of you . . .

Ramblin!

Cheers!

PRINTER OF SLIPSTREAM SINCE 1982

28 March
---
Since 1971

Providing personalized service

on all Porsche automobiles.

• Complete servicing and repairs

on all air or water cooled models

• In-house machine shop

• M96/M97 reconditioning

• Performance and track mods

2530 Tarpley Road • Suite 700

Carrollton, Texas 75006

(972) 417-0997

For hassle free information on

any property in the DFW area,

call 972.365.7370

Michael Picolo

www.realestatecarguy.com

michaelpicolo@ebby.com

29
---
30 March
---
New Wheels

By Susan and Tom Froehlich, Membership Co-Chairs

If you have any changes that

you would like to make to the

MRPCA membership guide,

contact the Froehlichs at

membership@mavpca.org

Ahmed, Irfan (Huma Naz)

McKinney, TX

2014 911

Applegate, John (Paige)

Westlake, TX

2014 911

Aramayo, Carlos (Daniel)

Richardson, TX

2014 Cayman S

Bukowitz, Patrick

(Justin Fleming)

Dallas, TX

2001 911 Turbo

Carlisle, Robert

Argyle, TX

2007 911

Chan, Anthony

Plano, TX

2006 Cayenne

Claytor, Nelson (Denise Merkle)

Fort Worth, TX

2010 911 GT3RS

Donaldson, Sharon

Dallas, TX

1985 911 Carrera

Heimbuch, Scott (Susan)

Dallas, TX

2014 Cayman 981

Hiltunen, Jouni

McKinney, TX

2001 911 Turbo

Jackson, Janis

Fort Worth, TX

2010 911

Jones, Timothy (MaryAnn)

Southlake, TX

2007 Boxster

Kinzbach, Brad

Lindale, TX

2014 Cayman

Kort, Roger (Cynthia)

Richardson, TX

2002 996 Turbo

Liebnick, Allen (Barbara)

Plano, TX

2000 911 Carrera

Luckett, Jim

Dallas, TX

2011 Panamera

Matthews, Frank (Martha)

Colleyville, TX

2014 Cayenne

Mullen, Shane (Danielle)

Carrollton, TX

2012 911 S

Murphy, Bob

Frisco, TX

2003 911

Murray, Pat

Irving, TX

2006 Cayman S

Nguyen, Chris

Southlake, TX

2013 Cayenne

Osee, Samuel (Lilly Huang)

Dallas, TX

2007 GT3RS

Patterson, Mark (Rene)

Dallas, TX

2014 Cayenne

Redding, Jeff (Angela)

Fort Worth, TX

2006 Carrera

Rodriguez, Alex

(William Hernandez)

Plano, TX

2010 Panamera

Rosenbohm, Henry (Maggie)

McKinney, TX

1995 911

Sastry, Vivek

Frisco, TX

2014 911

Maverick Membership Totals

Members ~ 1,393

Affiliate Members ~ 903

Total Membership ~ 2,296

Singer, Stuart (shelly)

Dallas, TX

1999 986

Sullivan, Gayla

Frisco, TX

2011 911 GTS

Tong, Jimmy

Plano, TX

2005 GT3

Vafa, Daniel

Dallas, TX

2009 911

Van Dongen, Corne (Silvana)

Irving, TX

2007 Cayman S

Varner, Raison (Kathryn)

Plano, TX

2006 Cayman S

Weiss, Mark (Linda Burkhead)

Dallas, TX

2008 Boxster S

Willis, David

Plano, TX

2006 Cayman S

Anniversaries

15 Years

Flowers, William L. (Nona)

10 Years

Blakewell, Bob (Suzy)

Thompson, James E.

Fort Worth

Fort Worth

Dallas

5 Years

Beunier, Rene D. (Rose)

Grossman, Ira

Jahn, Patricia A. (Christopher)

Ramirez, Ricardo A.

Ruzycki, Mike (Judy)

Schabel, Michael J.

Tabor, Clifford F.

Valdivia, Jessie (Lorraine)

Wilson, Matt

Copper Canyon

Frisco

Plano

Dallas

Plano

Allen

Coppell

Plano

Fort Worth

31
---
Unclassifieds

Unclassifieds are available free to Maverick Region members and are $5 for all others (contact editor@mavpca for payment details). Please limit size to no more than 6 lines. Ads will run for 3

issues, after which they will be removed unless you request that they be run for an additional 3 issues. E-mail your ad to classifieds@mavpca.org by the 10th of the month to have your ad run in the

following month's Slipstream. Be sure to include car year, make and model, its mileage and asking price, as well as a contact name, phone number and/or email address. All parts will be advertised

on our website. Check your ad for accuracy the first time it runs. Contact the editor to have your ad pulled sooner. Due to space constraints, photos may or may not be included.

Wanted to Buy: 997 or 993 Carrera. Local

Maverick member looking for a well-maintained

997 with manual transmission. Cabriolet or coupe,

including S and 4S, considered. Alternatively, looking

for a 993 Cabriolet with manual transmission. Contact

Dan McElroy, dan@mcelroy-law.com or (214) 763-

5251 (03)

For Sale: 2008 Boxster S RS60 Spyder, Limited

Edition #xx/1960. GT Silver Metallic, Carrera Red

Natural Leather interior, Hard Top, Sport Exhaust, 6

speed, Bi-Xenon Headlamp pkg, Self-Dim Mirrors &

Rain Sensor, Heated Seats, Sport Chrono pkg w/o

PCM. Outstanding condition, 19K miles, $41,950.

Call Tom at 214-536-0930 (03)

For Sale: 1996 911 Cabriolet, Guards Red with

Gray top and Gray Lthr interior; spectacular and

unique color combo. Excellent condition, 111,000 mi,

majority highway, never tracked. 6 Spd., Fab-Speed

Stainless Exhaust, Fikse 17 in. wheels with Custom

Machined Center Caps, Bird Engineering Console,

Hard Wired Valentine One, Valve Guides at 87,000

mi, always garaged and covered. Porsche car cover

included. $42,500.00. Contact Tom Mahon, 214-244-

8315 or t_mahon@swbell.net (03)

For Sale: 2008 Cayman S, only 15,000 miles.

One owner and still in Porsche factory warranty

until July 2014. Silver with black leather interiro.

Absolutely pristine condition. No track use. Just the

perfect toy car. Many options including Sport Chrono

Package with sport suspension, CD player, bi-xenon

headlamps, Bose premium sound. No damage history.

Garage kept, dealer maintained. If you're looking

for one of the world's great performance cars with

incredible handling at a fraction of the original price,

this is the one. Priced to sell quickly at $34,900. For

more information and appt to see, call Pat at (214)

616-2477.

For Sale: 1999 Boxster, Glacier White, Graphite

Grey Top and Int. 47,171 miles. RMS, clutch, IMS,

water pump and more recently done at Mayos Perf.

Many extras. Excellent condition. Asking $13,000

OBO. Please contact Heinz at 214-717-1141 or

heinzhackmann1@gmail.com (03)

For Sale: 2012 911 Turbo S Cabriolet, GT

silver, black interior and top. 11,800 miles w/

remaining factory warranty. Excellent condition

and properly serviced. PDK, ceramic brakes, torque

vectoring, adaptive sport seats, center locking wheels,

new tires, Sirius XM w/phone, Sport Chrono, 6-disc

CD changer. Priced for quick sale $137,500 or best.

Contact George Reich at greich@echex.net (03)

For Sale: 2011 911 Carrera GTS, Guards Red

with beige interior, 7,850 miles, all original, in

excellent condition, no competition. Original PCA

member owner, dealer maintained, new Michelin Pilot

Sports and new battery. Factory aerokit body, PDK,

sport seats, sport chrono plus, Bose sound system.

Price $82,000. Contact Milton Barley at milton.

barley@charter.net or call 817-731-8256. (02)

For Sale: 1999 911 Cabriolet, red, with matching

hard top, 75K miles, maintenance records. $19,500.

Call Nathan at 940-372-7089. (02)

For Sale: 2012 911 Turbo S Cabriolet, silver

with full leather black interior. Turbo logo on arm

rest, aluminum vent slats, center lock rims. PDK,

ceramic brakes, 11,500 miles. Excellent condition,

wife's pampered car used to go to the store and back

(literally). Properly serviced, non-smoker, non-track,

original owner. $139,900.00. Contact George Reich

972-882-9990 or greich@echex.net (02)

For Sale: 1989 911 Carrera, Black, Rare 1989

Carrera W/T, 126K mi. VIN# WP0AB0918KS120324

Black w/Champagne interior. Factory air, windows,

seats, locks. $29,900.00 USD. Contact Mark at 214-

697-8234 (01)

Slipstream Advertiser Index

32 March

These advertisers support Maverick Region -- Tell them you saw their ad in Slipstream!

Ascot Diamonds (972) 991-0001 Page 19

Autobahn Motorcar Group (800) 433-5602 B.C.

The Car Guy Show KTXD-47 Page 25

deBoulle Diamond & Jewelry (800) 454-4367 Page 9

Eagles Canyon Raceway (940) 466-9775 Page 15

Ebby Halliday--Michael Picolo (972) 365-7370 Page 29

Falgout & Associates, P. C. (972) 669-2370 Page 25

Fifth Gear Motorsports (972) 317-4005 Page 10

Hoosier Tires Direct .com (515) 203-3503 Page 12

Innovative Autosports (972) 418-1996 Page 5

Invisibra (214) 704-9299 Page 21

Louden Motorcar Services (972) 241-6326 I.B.C.

Mayo Performance (817) 540-4939 Page 21

Maverick Goodie Store http://mav.pca.org Page 32

For advertising rates and information contact

Pat Friend at ads@mavpca.org

Mullenix Motorsport (972) 417-0997 Page 29

Mustard Racing (817) 366-1678 Page 19

Park Place Porsche (800) 553-3196 Page 13

The Phoenix Insurance (214) 253-0570 Page 28

Porsche of Plano (214) 576-1911 I.F.C.

RAC Performance (214) 269-1571 Page 3

RetroAir (972) 960-6899 Page 25

Roofing Solutions by Darren Houk (817) 692-8496 Page 21

Silver Fox (817) 329-6995 Page 2

Sorted Out Organizing Services (713) 724-9543 Page 12

UPS Store (972) 420-1250 Page 29

Ussery Printing (972) 438-8344 Page 28

Yard Art 5 Locations Page 23

Zims Autotechnik (817) 267-4451 Page 15
---
Hiram Saunders, Slipstream

155 Jellico

Southlake, TX 76092

Periodical Postage

Paid at Fort Worth, TX

©2013 Porsche Cars North America, Inc. Porsche recommends seat belt usage and observance of all traffic laws at all times. Porsche recommends four winter tires when driving in cold, snowy, or slippery conditions.

Simultaneously breaks new ground,

while clinging to the current one.

Take the performance that Porsche is known for. Then add to that the strength of a 400 horsepower engine, the design and

greater stability of a wider body, the extraordinary traction and agility of all-wheel drive, and an unmistakable illuminated rear light

strip. The sum of which is a sports car that holds your attention as tightly as it holds to the road. Porsche. There is no substitute.

Experience the control of all-wheel drive.

The new Porsche 911 Carrera 4S.

Autobahn Porsche

2815 White Settlement Rd.

Fort Worth TX 76107

(817) 336-0885

www.Autobahn.PorscheDealer.com

Porsche recommends