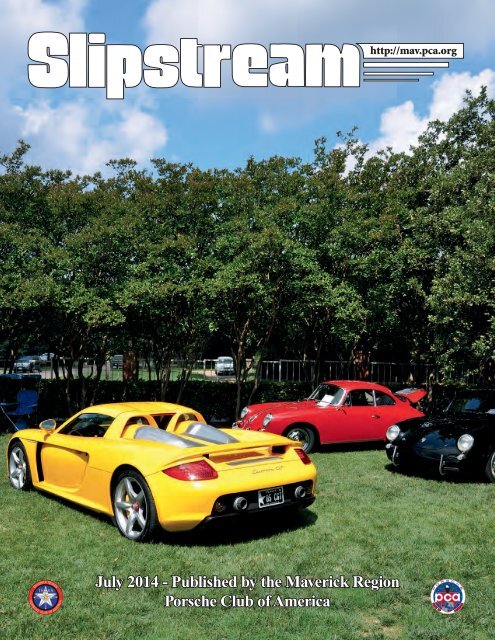 Slipstream - July 2014
The monthly newsletter of the Maverick Region of the Porsche Club of America
The monthly newsletter of the Maverick Region of the Porsche Club of America
SHOW MORE
SHOW LESS
Create successful ePaper yourself
Turn your PDF publications into a flip-book with our unique Google optimized e-Paper software.
http://mav.pca.org

Upcoming Events

• Father's Day Picnic

• Sunday Drive

• Rally School

Past Events

• Wild Wildflowers

• May at Mayo's

• Results

July 2014 Published by the Maverick Region

June 2007 -

Porsche Published

Club by

of the

America

Maverick Region

Porsche Club of America
---
©2013 Porsche Cars North America, Inc. Porsche recommends seat belt usage and observance of all traffic laws at all times

Sport Exhaust system

SportDesign front fascia

The sights and sounds of personalization brought to you

by Porsche Tequipment, available at Porsche of Plano.

SportDesign rear spoiler

With the Porsche Tequipment range of accessories, you can make your vehicle even more distinctive.

Whether you opt for the Aerokit Cup, sport exhaust system, sport tailpipes, or new wheels, the decision is

entirely yours. All Porsche Tequipment products are designed with the complete vehicle in mind and by the

same Porsche engineers and designers who also develop the vehicles themselves. We encourage you to

stop by and have a member of our team explain the available Tequipment options for your vehicle. Proven

performance in the workshop or at the track, at Porsche of Plano, it is our passion.

Experience Sport Exhaust on your mobile device by scanning

the QR code above or stop by to hear it in person.
---
http://mav.pca.org

Go Online for the latest updates on events at http://mav.pca.org

Visit us on Facebook at http://www.facebook.com/groups/mavpca/

Departments

Zone 5 Presidents..........................................1

Drifting (President's Column).......................2

Maverick of the Month.................................2

List of Officers/Board Chairs........................4

Carey On (Editor's Column).........................5

Maverick Minutes.........................................6

New Mavericks and Anniversaries..............31

Advertiser Index..........................................32

Unclassifieds...............................................32

Features

Trivia.............................................................7

Garage Glimpses...........................................8

Destination Restoration...............................10

Commentary from the Left Seat.................14

Crash Collection.........................................15

Upcoming Events

Summer Rally to Islamorad..........................5

Board Meeting..............................................7

Drivers' Education 5.....................................9

Maverick Lunch Series...............................24

Monthly Social: Bonefish Grill, Southlake.....27

Save the Date: Sept 28................................30

Past Event Recaps

Concours Corner.........................................16

Autocross Academy....................................18

May at Mayo's.............................................24

Monthly Social: Mac's Steaks.....................26

Volume 52, Issue 7, July 2014

July

Sun Mon Tue Wed Thu Fri Sat

1 2 3 4 5

6 7 8 9 10 11 12

13 14 15 16 17 18 19

20 21 22 23 24 25 26

27 28 29 30 31

Day July

No July Board Meeting

8 Lewisville Lunch

17 Monthly Social: Bonefish Grill

24 Richardson/Southlake Lunches

Day September

3 Board Meeting

5-7 Boxtoberfest

6-7 Drivers' Education 5, MSR 3.1

9 Lewisville Lunch

13 Time Trial 2, Mineral Wells

14 Autocross 5, Mineral Wells

18 Monthly Social: TBD

25 Richardson/Southlake Lunches

28 Save the Date!

Driving Event Venues

COTA Circuit of the Americas, Austin

ECR Eagles Canyon Raceway, Slidell

MSR MotorSport Ranch, Cresson

MW Mineral Wells Airport, Mineral Wells

Penn Pennington Field Stadium, Bedford

August

Sun Mon Tue Wed Thu Fri Sat

1 2

3 4 5 6 7 8 9

10 11 12 13 14 15 16

17 18 19 20 21 22 23

24 25 26 27 28 29 30

31

Day August

2 Summer Rally to Islamorada

6 Board Meeting

12 Lewisville Lunch

21 Monthly Social: TBD

28 Richardson/Southlake Lunches

Day October

1 Board Meeting

5 Time Trial 3, MSR

12 Sunday Drive

14 Lewisville Lunch

16 Monthly Social: TBD

19 Drivers' Education 6, MSR

23 Richardson/Southlake Lunches

25 Time Trial 4, Mineral Wells

26 Autocross 6, Mineral Wells

31 US Grand Prix, COTA

On the Cover:

Black, red, and yellow Porsches pay

tribute to the German flag at

Autos in the Park.

Photo by Dave Nelson

Slipstream (USPS 666-650) is published monthly by the Maverick Region, Porsche Club of America, 155 Jellico

Southlake, TX 76092. Subscription price is $24.00 per year. Periodical postage is paid at Fort Worth, TX. Postmaster:

Send address changes to Hiram Saunders, Slipstream, 155 Jellico, Southlake, TX 76092.

Opinions expressed herein are not necessarily endorsed by the Club's membership or officers. Contributions will be

printed on a space available basis. Chartered regions of PCA may reproduce items from this issue provided the author/

artist and Slipstream are credited. Slipstream is printed by Ussery Printing Company in Irving, Texas.

ARK-LA-TEX

Kirk Bristol

kbristol911@gmail.com

COASTAL BEND

Bryan Kerrick

2014 PCA Zone 5 Presidents and Zone Representative

LONE STAR

Michael Globe

president@lsrpca.com

MARDI GRAS

Rick Payton

rpayton35@aol.com

OZARK

John Bullen

JohnCBullen@gmail.com

WHISKEY BAY

Henry Carter

hjcarterod@gmail.com

CIMARRON

Randy Kaplin

rwkaplin@swbell.net

HILL COUNTRY

Robert Price

president@hcrpca.org

LONGHORN

Jack Merrell

911scracer@gmail.com

MAVERICK

John Hamlton

president@mavpca.org

WAR BONNET

Grady Buckhalter

grady.buckhalter@gmail.com

WHITE RIVER

Leonard Zechiedrich

uber930@gmail.com

ZONE 5 REP

Lynn Friedman

zone5rep@pca.org

1
---
Drifting: Get Involved!

By John Hamilton, Region President

At the June board meeting, we

had attendees volunteer to be

our nominating committee

to help find people to fill possible

vacancies on our executive committee

(president, vice-president,

secretary and treasurer). But there

are many, many other positions (see

page 4) that need to be filled or refreshed each year.

"How can I get involved?" is the question I often hear,

and that's good question! One of the best ways is to

come join us at our monthly board meetings, held

on the first Wednesday of each month (except July).

It is there that you can learn about the workings of

each of the committees, and where there is a need

for assistance. You can then apply your passions and

skills to an area of the club that needs those assets.

"When should I get involved?" This depends on your

family, work and other time requirements, but that

doesn't mean there isn't a job you could do at home

at your computer, too. Examples: assistant editor for

our Slipstream magazine; registrar for our Time Trial,

Drivers' Education, or Autocross programs; liaison

to the Porsche Panorama national club magazine. Not

every position needs to be one that exists today; it's

where YOU know you can contribute to the whole.

"Why should I get involved?" That's a personal question.

Every person has a different feeling about how

they should give back to the organizations in which

they partake. If you think you can make a difference,

I encourage you to join us at one of our board meetings,

or just email me at president@mavpca.org with

your thoughts and feelings. After all, "it's not just

the cars, it's the people" that make a difference.

ALEXIS A. V. CAMPBELL, Proprietor

1235 William D. Tate Ave

Grapevine, TX 76051

Time Trial, after an extremely successful, innovative

and growth-oriented time of their leadership.

So as you see them during the remainder of this year,

please help us thank and congratulate them on their

dedication to our club. They are two of the finest

examples of club contributors we have ever had.

Congratulations, Robyn and Travis, for being our

Mavs of the Month. Enjoy your gift certificate to the

Silver Fox in Grapevine, for it is a small token of our

appreciation for what you have contributed to our club

over the past decade.

Mavs of the Month

Not so coincidentally, our Mavs of the Month are

long-term contributors who have made a difference

in many of our activities month-after-month

and year-after-year. Robyn and Travis Howard have

driven our Autocross and Time Trial programs for

years in the positions of Chair, Registrar, management,

repair and improvement. In addition, they

both participate in each of our Drivers' Education

programs with Travis as Gridmaster and Robyn as

corner worker. At the end of this year, they'll be

stepping down from their positions in Autocross and

2 July
---
Like a Personal Trainer for your Porsche!

• Expert maintenance and repair services • Track day preparation

• Performance and appearance upgrades from GMG, Manthey, FVD and more

• Superior customer service and free loaner cars • PCA discounts

• Show quality detailing services • Spec 996 and Spec Boxster Race Cars

We Also Buy, Sell and Consign Quality Pre-owned Porsches

3236 Skylane Drive, Dallas, Texas 75006

214-269-1570 • www.racperformance.com

Air Conditioner

Recharge and Inspection $ 199 00

Plus Sales Tax

Includes r134a Refrigerant, Plus Car Wash and Vacuum

3
---
President

John Hamilton

C-817-907-7823

president@mavpca.org

John enjoys DEs, Happy Hours, the

Porsche Parade, and other social events.

He and wife Chris have owned Porsches

since 1996 and joined the Club in 2002.

John's Grandfather in New Jersey owned

a 1960 356B Coupe and later a 1965

356SC Cab which is how it got into his

blood.

POSITION CHAIRPERSON

AX Chair Travis Howard

TT Chair Travis Howard

AX/TT Registrar Robyn Howard

AX/TT Rules Charlie Davis

AX/TT Schools Robyn Howard

AX/TT Tech Insp Position Open

AX/TT Workers Robyn Howard

Charity Chair Chris Hamilton

Club Race Co-Chair Jim Buckley

Club Race Co-Chair Pat Heptig

Club Race Co-Chair Joel Nannis

Club Race Registrar Wendy Shoffit

Concours Chair Andy Kay

DE Chair Chris Tabor

DE Chief Drvng Instr. John Sandusky

DE Equip. Mgr. Luke Edson

DE Registrar Wendy Shoffit

DE Safety Bob Benson

DE Sponsorship Daren Kirbo

Email List Moderator Bob Benson

Goodie Store Pat Friend

Histographer, Tenured Charlie Davis

Membership Susan and Tom

Froehlich

Monthly Socials Paul and Veronica

Ramos

New Member Welcome Stephanie Ho

On-line Calendar Brendan Eagan

Past President Mike Brodigan

Public Relations Linda Bambina

Rally Chair Don Sebert

Slipstream

Advertising Pat Friend

Editor Carey Spreen

Event Ad Design Gareth Maurice

Mailing & Tech. Andy Mears

Printing Fran Ussery

Content Wrangler Linda Bambina

Mentor Wendy Shoffit

Social Chair Tracy Robertson

Sunday Drives John Harvey,

Brendan Eagan

Swap Meets Robyn Howard

Tech Sessions Ed Mullenix

Trivia Chair Jerry DeFeo

Website

Denny Payne

4 July

Vice President

Gareth Maurice

C-817-821-2940

vp@mavpca.org

Gareth still remembers the cover of

the car magazine that drew him into a

lifetime of loving cars. He spent many

afternoons riding his bike as a young

kid to the local newsstand to buy and

read everything he could. He now

owns a Midnight Blue 911S and enjoys

driving it in wonderful Texas!

Linda Bambina

214-616-1936

pr@mavpca.org

Bob Benson

817-457-8833

bbenson1@airmail.net

Mike Brodigan

817-233-0068

Jim Buckley

cr@mavpca.org

Secretary

Wendy Shoffit

C-972-977-9821

secretary@mavpca.org

Wendy and husband James joined

Maverick Region in 1997, when

their daughter was only 9 months

old. Jasmine is now 17. They own 3

Porsches including a 1978 911SC as

a dedicated racecar, which she enjoys

autocrossing. Her daily driver is a 2000

Boxster. She also serves as the PCA

National Newsletter Chair.

Chris Hamilton

hope@mavpca.org

John Harvey

214-808-1414

tours@mavpca.org

rocky@airmail.net

Robyn Howard

214-991-0873

ax@mavpca.org

drivingschools@mavpca.org

Travis Howard

214-616-6152

tt@mavpca.org

ax@mavpca.org

Your Name Here! Pat Heptig

214-649-7907

cr@mavpca.org

Charlie Davis

chuxter@1derful.info

Jerry DeFeo

972-240-5800

trivia@mavpca.org

Brendan Eagan

calendar@mavpca.org

Luke Edson

214.796.2241

ledson@edsontech.com

Pat Friend

214-616-2477

ads@mavpca.org

goodiestore@mavpca.org

Susan & Tom Froehlich

membership@mavpca.org

Stephanie Ho

mrpca.nmhhwt@gmail.com

Andy Kay

817-948-8538

concours@mavpca.org

Daren Kirbo

254-396-2973

daren@huckabee-inc.com

Andy Mears

214-394-5857

andy@mavpca.org

Ed Mullenix

972-231-5356

techcorner@mavpca.org

Please help us to keep growing!

Treasurer

Jim Falgout

W-972-669-2370

C-972-345-3009

treasurer@mavpca.org

Jim joined Maverick Region in August,

2008. He drives a 2003 996, which is

the third Porsche he has owned. Jim

enjoys attending Maverick Region

social and driving events.

Joel Nannis

cr@mavpca.org

Denny Payne

webmaster@mavpca.org

Paul & Veronica Ramos

972 821-9333

hh@mavpca.org

Tracy Robertson

817-300-3340

social@mavpca.org

John Sandusky

817-777-0421

john.c.sandusky@lmco.com

Don Sebert

214-613-6900

rally@mavpca.org

James Shoffit

972-786-6246

james@shoffit.com

Wendy Shoffit

972-977-9821

crreg@mavpca.org

deregistrar@mavpca.org

Carey Spreen

817-422-3480

editor@mavpca.org

Chris Tabor

817-371-4888

de@mavpca.org

Fran Ussery

W-972-438-8344

H-817-481-8342

fran@usseryprinting.com
---
Carey On...

By Carey Spreen, Managing Editor

First of all, I need to correct an

error from last month's Garage

Glimpses article about Frank

and Bobbie Briggs' garage. I mistakenly

identified Frank's 1995 993 as a

2005 model -- sorry for the confusion!

DE Chair Chris Tabor is looking for

an Equipment Manager -- for more

information, see the ad on page 25.

Looking ahead to August: We will be holding a Gimmick

Rally on Saturday morning (before the full heat of

the day arrives), August 2, finishing at Islamorada Fish

Company on the shores of Lake Ray Hubbard. Rallies

are held on public roads at legal speeds. A rally is not a

race -- it's a test of your observational and navigational

skills. And in this case it has a great seafood lunch at the

end!

Look for Parade results in the August issue!

5
---
Gimme a Minute: June Board Meeting

By Wendy Shoffit, Region Secretary June 4, 2014

John Hamilton started the meeting

at 7:03 pm. He reminded everyone

that there will not be a July board

meeting. He welcomed visitors Jim &

Mihyun Ford and Mark & Michelle

Jones. He reported for the Membership

Chairs, the Froehlichs, saying

that we are unfortunately down this

month from an all time high of 2,367 to now 2,353.

There will be more efforts made to increase renewals.

John said that a nominating committee needed

to be established according to the bylaws (usually

at the July meeting, but since there won't be

one…). David Robertson, Wesley Lincoln, and

Chris Tabor stepped up, with David as the chair.

The Autocross/Time Trial Chair and Registrar are

stepping down after November this year. Travis and

Robyn Howard have been doing their jobs for eight

years, and they want to move on to new possibilities.

We will be advertising for their positions and

hopefully create a committee of people to do the

work the two of them have been doing for years.

John also mentioned we had a visitor at the last DE,

the President of the Porsche Club in Slovenia, whose

daughter lives in the area. They had also come to a

lunch event about four years ago. Worldwide reach!

Lastly, John mentioned he received an email from a

new member in the publishing business, suggesting we

go to full color issues of Slipstream and would like to

help us with that. A group of Mike Brodigan, Richard

Solomon, and Ed Mullenix will discuss this further.

Goodie Store and Advertising Chair Pat Friend

introduced his friends, the Joneses, and looks

forward to their getting involved. He said that

all ads are currently paid up. There have been

a few new ads added over the past few months.

The Goodie Store is also doing well.

Treasurer Jim Falgout mentioned we have ~$85K in

the checking account. He has not received any money

from COTA yet, including the return of our $27.5K

deposit. He has also not received any DE sponsorship

money, but is sure he'll get some of that soon.

Concours Chair Andy Kay has had a busy month. He

first had May at Mayo's with over 40 cars on display. He

also had a concours detailing event at Jack's Garage,

where they gave out lots of tips. Griot's products were

sold, but that wasn't the focus of the event. Lastly,

he coordinated the Porsche effort at the Autos in

the Park at the Cooper Aerobics Center on June 1.

Great event with light judging. Both the PCA judges

and the Cooper judges chose the same winners. Will

put on a more strongly judged event in the fall.

Social Chair Tracy Robertson also said what a

success May at Mayo's was, with over 160 people

attending. She suggested we might charge a

nominal fee for a concours entry to encourage

more RSVPs instead of walk-ups.

Linda Bambina said people are doing well meeting

Slipstream deadlines. She also noted that we

have nearly 70 Mavericks attending Parade this

year in Monterey, many of whom will be wearing

special logo'ed windbreakers from the Goodie

Store. She also mentioned she will have more

details soon about the special event in Tyler.

Richard Solomon also discussed the above event,

which is a fundraiser for Tyler Junior College. He

worked with Billy Hibbs on more details to make the

event more affordable, but still keep it charitable. Mr.

Hibbs and the college are covering the fee for Vic

Elford. Now the cost is only $50 per person, which

is fully tax deductible. It will go directly to the college

for their automotive department. The date of

September 28 has been confirmed. There will be a

food, drink, and valet option that should run about

$20, but they will continue to look for sponsorship.

The event will be limited to 200 people. Porsche of

Plano is interested in being involved in some way.

Mike Brodigan made mention that he would

like to see information on the Monthly Dinner

Socials earlier on the website. He is offering his

help to the Ramos' and will contact them. Suggestions

of sending the information directly to

calendar@mavpca.org will help speed things up.

Drivers' Education Chair Chris Tabor said we had

a great DE event the prior weekend. We are almost

halfway through the events for the year. All the

events have been profitable so far, thanks greatly

to the vice chairs of the events. He thinks they are

more social and more fun. The events have sold out

the Green and Blue groups, and through advancements,

we're working to fill the higher run groups.

Park Place Porsche would like another event in the

fall, perhaps the MSR 3.1 for a single day. Details

6 July
---
to be determined. He does need a new equipment

manager, though, and will actively recruit.

Autocross/Time Trial Chair Travis Howard said

we had a great Autocross school at Pennington. We

had 16 students and 22 volunteers. We would have

had more students, but were limited by the number

of instructors we had. Fortunately, three students

returned the next weekend for the real autocross,

in addition to three people who were not able to

get in to the school event. Both events were successful

and enjoyable. TT#1 and AX#3 are coming this

weekend (June). Richard Diller is continuing to help

improve the loose gravel in Mineral Wells. Registration

is expected to continue to go up in number.

DE Registrar Wendy Shoffit made a suggestion that

the region purchase loaner helmets for DE events

at Eagles Canyon to help some newcomers. She

thanked Travis and Robyn for the great AX school,

paving the way for her 17 year old daughter, Jasmine,

to feel comfortable entering the Parade Autocross.

John Hamilton lastly announced that Travis and

Robyn Howard are the Mavericks of the Month!

APRIL/MAY TRIVIA

It's Easy to Play!

Play here for fun and education

and find the answers below

OR

Play for prizes on the web at http://mav.pca.org, with the

answers and winners to be posted here after each

month's contest has closed. Thanks to Jerry DeFeo for

putting this and the Web Trivia together.

Congratulations to our April/May winner,

WESLEY LINCOLN,

who got all five correct. Honorable Mentions go to

Jacques Krielen, Thomas Fitch, and Chris Christensen,

who also got all five correct. The winner was chosen by

random drawing. Thanks to all for playing!

Wes will receive a $25 gift certificate to

1 There is talk and confirmation that Porsche will have a "baby

Panamera" in the future. In what Model Year is it expected to

debut?

a. 2015 b. 2016 c. 2017 d. 2018

Source: Car & Driver, April 2014, p 62

2. The platform for this new Porsche will be shared with what

other Car?

a. Audi A3 b. Audi A4 c. VW Passat d. VW CC

Source: Car & Driver, April 2014, p 62

3. Which of the following is true of the Porsche Version of the

Platform?

a. Multiple Drive Wheel Options b. Rear Drive ONLY

c. Front Wheel Drive ONLY d. 4-Wheel drive ONLY

Source: Car & Driver, April 2014, p 62

4. Which of the following is NOT true of the Powertrain?

a. Turbocharged 6-cylinder Engines b. Normally aspirated

V-8 Engine c. Diesel for Europe d. Plug-in Hybrid

Source: Car & Driver, April 2014, p 62

5. What is the estimated starting price?

a. $30-$35K b. $40-$45K c. $50-$55K d. $60-$65K

Source: Car & Driver, April 2014, p 62

Answers: 1) c 2) b 3) d 4) b 5) c

7
---
Garage Glimpses: All in the Family – Carl Amond

By Linda Bambina, Region PR Chair

Photos by the Author

Carl Amond

has lived

in a number

of homes,

in a number of

countries. But it

wasn't until Y2K,

after he retired,

that he finally found a home that

had space on the property to

build the 2,400 sq. ft. garage of

his dreams. Of all the "working

garages" that I have viewed, his is

the most functional, the most like

a professional mechanic's shop.

Carl's first Porsche was a primo

1962 Super 90 Cabriolet purchased

in 1966, and he has long since

stopped counting. He started

SCCA racing in a Mini Cooper in

1971 and first joined the Northern

New Jersey Region of PCA.

His business took the family to

England in 1986, then Germany

in 1988. Upon returning to the

States, they joined Maverick Region

in 1992. Club Racing captured his

attention in '95. Moving to his current

home in 2000, wife Barbara got

her pool and Carl got his garage.

One stop tire mounting . . .

8 July

A few clever license plates and

an original 914 ad from 1970

Anticipating future needs in this

space, Carl has carefully placed

electrical power, compressed air, as

well as TIG, MIG, stick, and acetylene

welding in all four corners of

this brimming workshop/garage.

He has 15 engines in storage or

in tear-down mode (yep, builds

his own). Workbenches hold

tools, parts, boxes, and cleaning

rags for several on-going projects.

One corner holds a tire mounting

rig, balancing machine, bead

blaster, lathe/milling machine,

parts washer, and an air compressor

the size of Rhode Island.

One very distinctive aspect to this

garage space is that light streams

in from three sides of the back

walls. The paned windows climb

from mid-wall to almost 15 feet

near the ceiling. The view in the

back is of a heavily wooded area,

incredibly tranquil, dappled light

and all. (Plus there is an apartment

built over the garage where son

Chris lives.) The whole structure

had to be bricked and designed to

match the main home's exterior,

according to deed restrictions, so

it is a very beautiful building!

The entire family has been "absolutely

supportive" and has developed

a shared passion for automobiles.

A shiny metal gift from his

boys proclaims "Amond & Sons

Garage est. 2001," and any given

day will find some or all of them at

work on the Spec Boxsters which

they build and maintain. Barbara

supplied an oversized welcome mat

that says it all: "My World, My

Universe, My Garage." Carl is happy

to tell me that she's also his Number

One (Boss) for his Pit Crew,

supplying Gatorade, cold washcloths,

and a smile for her husband

and avid racing sons. Carl has also

become an inventor of specialized

tools as well as developer of specialized

engine parts for his race cars.

Ask him how he solved two different

oil starvation issues for their

Spec Boxsters, and how many

4-inch pulleys they have sold!

. . . and balancing!
---
Floor-to-ceiling windows provide lots of natural light.

With 2400 square feet of floor space, there is room

for several people to work at the same time.

The Proprietor is In!

High Performance D.E.

Sponsored By:

Registration Begins August 6 th at 8am

Register at: register.pca.org

PORSCHE

OF

PLANO

9
---
Destination Restoration: Some Much-Needed Air

By Ash Seidl-Staley

Photos by the Author; Diagram by Dave Darling, Pelican Parts

I

have said it

before and

I am going

to say it again: I

absolutely love Air

Cooled Engines! I

mean, what's not

to love? They're

practical, easy to work on, durable,

and the noise they make sends

shivers down my spine while permanently

slapping a hulking smile

on my face. The sound and feel

of my 914's 2.0-liter engine makes

my day every time I turn the key.

I can get up on the wrong side of

the bed, have the worst morning

ever, spill coffee all over myself,

and hit every single red light on

the way to work, but as soon as I get

out of my car the smile is there.

Much like me, my 914 can have

her bad days as well, and being

the owner, it is my job to make her

smile again. Since January she has

been having issues idling, and from

the way she bogged and slugged

around corners I could tell she was

sucking down an uneven fuel/air

mixture. I traced each issue back to

the most obvious source: a vacuum

leak. Knowing what my issue was

was one thing, but fixing it has

become an unexpected challenge

that I am still tinkering with today.

The first step I took was to get rid

of the air filter system already on

the car. The previous owner of my

914 had a very custom, but very

wrong, air filter bolted onto the car.

Instead of a stock air filter box, or

carburetors, he had a single, exposed,

circular K&N air filter sitting

on top of the throttle body. There

were no hose connections, nowhere

for air to get pulled from, and it

made an annoyingly loud hissing

sound while running. If another

914 owner was in my shoes, typically

he would use this opportunity to

swap out the Fuel Injection system

completely and throw on a set of

carbs. I'm not going to lie; I did

think about that, but I figured the

next 914 would become my custom

hot rod and that this 914's engine

Standard 1974 914

2.0-liter Air Filter box

www.fifthgear.biz

Performance

• Track Set-up

• Exhaust Upgrades

• Performance Alignments

• Suspension Modifications

• Performance Maintenance

Maintenance & Repair

• 100+ Years of Technician Experience

• 11,000 sq Feet of the Top Technology

• Comfortable Waiting Area with WIFI

• Fully Air Conditioned Shop

• Green Building, Eco Friendly

Sales

• Trade your old Porsche

in for a newer model!

• Consignment Sales

• Accessories

Specializing in: Porsche • We service all models

Set up an

appointment today! 1975 Archer Way • Lewisville TX, 75077 • 972-317-4005 1 mile West of I-35 behind Sonic!

10 July
---
would be kept stock. This meant that tracking down

a stock 1974 2.0L air box jumped to the top of my

to-do list. After a couple of days of searching, I finally

acquired one from a fellow Gear Head on PP (Pelican

Parts). When it arrived I made sure it fit, cleaned it

up, and re-painted it black. Now that I had the proper

box, I started mapping out all of the vacuum lines,

and with the help of a hand-drawn diagram (also

found on Pelican Parts) I started fixing the air flow.

As I looked down into my engine bay I soon realized

that this particular engine needed a lot more than

I had originally expected. Half of the things I was

supposed to connect hoses to didn't exist! Apparently

my 914 does not have the proper cold start valve, the

one that has two nozzles. One is supposed to connect

to the air auxiliary regulator, and the other is the

connection to the fuel line. My car is also missing a

deceleration valve. Both of these parts are now on my

list of things to get, but they can be a little pricey, so

I figured out how to delete these connections from

the system without affecting drivability. Fitting the

air box onto the throttle body was surprisingly easy

(fastening an airplane seatbelt is harder!). And with

the diagram I was able to connect all remaining hoses.

The whole time I was putting in hoses and swapping

out cracked ones, I couldn't believe how the previous

owner had got the car to run without all the proper

vacuum connections. He was missing three very

important hoses that connect straight to the air box.

The first is a small metal T that is supposed to pull

clean air down into each of the heads. The second

is the hose from the gas tank evaporating canister

which runs along the driver's side rocker and pops

out underneath the relay board in the engine bay.

The third is the Oil Breather hose or PCV Valve.

Since I don't have the proper cold start valve, I spliced

the line coming from the Air Auxiliary Regulator

with the line from the cylinders and connected both

to the air box. The last connection I made, since my

914 2.0-liter D-Jetronic hose diagram from Pelican Parts

distributor and other hoses were already properly

connected, was the second evaporation line from

the front of the car. This line plugs into the small

nipple on the side of the fan housing. Whether the

nipple is on the driver's side or passenger's side

depends on engine capacity and model year.

Now that most of my hoses are connected I can

already feel a difference in engine performance. The

bogging and sluggish feel is gone, and my idle mixture

screw actually affects the idle now! My next step is to

source a deceleration valve and connect it to the last

port on my air box. Until then I will cruise my 2.0 liter

through the streets of Plano, undoubtedly enjoying the

deep rumble reverberating off the buildings and

overpasses!

Air Filter box cleaned and bolted into its new home

11
---
12 July
---
©2014 Porsche Cars North America, Inc. Porsche recommends seat belt usage and observance of all traffic laws at all times.

You don't have to pay a premium

for premium Porsche service.

At Park Place Porsche, you'll find high-performance service at competitive prices. Our

Master-Certified technicians and advisers work exclusively on Porsche vehicles, giving

them a focus and passion that can't be matched. We offer the only on-site Porsche body

shop and the only Porsche-Certified body shop in the Dallas–Fort Worth area—Park

Place Bodywerks—giving you comprehensive service, all in one place. And you can

enjoy Park Place's exceptional service and amenities—like complimentary Porsche

loaner cars and hand car washes—for less than you'd think.

Park Place Porsche

6113 Lemmon Avenue

Dallas, TX 75209

214.525.5400

park-place.porschedealer.com

13
---
Commentary from the Left Seat: That First Car Guy Moment

By Robert L. Turner

Editor's Note: Rob Turner is author

of The Driver, a Marc Lange series

of novels (available through Amazon),

and member of

Maverick Region.

I

think we all

have a story.

It's that one

moment when

you encounter

something for the

first time and it changes your life.

Like seeing Fangio, Moss or Shelby

at some long ago competition that's

somehow seared in your memory

like so many black & white period

photos. The ear-piercing sound of

a shrieking V12, the smell of hot

brakes and black rubber streaks

left on the road in a series of slides.

What about the car itself? Seeing

that blood red Ferrari GTO or

Porsche 917 in Gulf colors. Or

maybe it was working with your

dad, brother or grandfather, cleaning

spark plugs while they turned

the bolts on an engine rebuild.

There was that spark that got you

interested in cars. Something that

pushed you over the edge, never

to look back uphill, because you

couldn't climb back up to the

top of that crest if you wanted to.

Yeah, you are a car geek and if

you are reading this magazine, I

suspect I know at least one marque

that you kinda like. So buckle

up, we have some stories to tell.

I am much the same; I come

by auto fanaticism naturally. My

mom's second husband was French

after all. Come on . . . the 1960s, a

French guy that smoked Gauloise

cigarettes, cooked incredible

French food, and looked like a

French movie star? Of course, he

knew how to work on cars too.

He seemed born to it. In 1967 he

bought a '63 Austin Healey 3000

Mk III, medium blue with a dark

14 July

blue leather interior. The car was

only four years old, but it may as

well have been 100. It was broken

all the time. How could this nearly

new car spend so much time with

its hood open, its insides being

exposed? Easy! Lucas Electronics.

The Prince of Darkness; the

Earl of Sitting-On-Jack-Stands.

He worked on it each weekend to

get it running again; it seemed to

work on the weekdays and, as if by

magic, broke down on Friday evening.

I remember that it required

a lot of tools and parts that seemed

The first thing that hit me

was the smell. Then miles of

leather and chrome, that huge

thin-rimmed steering wheel, the

wood smooth to the touch, the

impossibly tall chrome shifter

set into the gated gear pattern,

all unmistakable Ferrari.

to only come from a place very far

away, and it came with a lot of dirty

fingernails and broken knuckles.

And it required a lot of money…

which we did not have much of.

But when it ran, it was like nothing

else. That sound, the deep basso

thunder of the inline 6-cylinder

motor, that impossibly low exhaust

hanging just centimeters from

the ground, and for me at least,

those tiny buckets in the back that

were supposed to be seats . . . with

no seat belts. Ah . . . the Sixties.

We drove it once from St. Louis

to Lexington, KY one summer

so I could meet my real father.

I remember sitting in the back,

hanging on, looking at the speedo,

seeing 120 mph on the dial; the

wind rushing not so much around

me as though me. Funny, I was

not even afraid of falling out. I

trusted my Step-Dad completely.

We drove it around Lexington trying

to find our hotel. The car may

have come from another planet.

Which I suppose it did, since back

in the 60s, a car that came from

England probably seemed completely

alien to the locals. People

pointed and stared. Many had

never seen such an automotive

sight. Our motel was on a road

called Versailles Rd (locally pronounced

Ver-Sales). We had trouble

finding it since my Step-Dad in

his French accent pronounced it

correctly. The locals said they had

never heard of Versailles Rd, but

they knew where Ver-Sales Rd was.

No dummy, he finally figured it out.

You know that motel is still there,

forty-seven years later. Now it is a

Baptist Seminary, but back then it

was one of the only games in town.

I saw a '65 Chevy Impala twodoor

pull up and park next to the

Healey. Two people exited the car,

anxiously looked around as if trying

to spot something. They were

looking for me. It was my Dad and

Step-Mom. Wow, it was the collision

of two very different worlds. One

urbane and the other . . . well, let's

just call it a bit country. I remember

looking at my Mom in a panic. The

two people that walked towards us

were dressed in Bermuda shorts

and matching short sleeve shirts. I

looked back at my Mom and Step-

Dad, they were dressed like movie

stars. She nodded her head, yep

that was my Dad and Step-Mom. It

was going to be a long summer . . .

Finally it was Labor day and I was

glad to be back home in St. Louis.

One afternoon after school, my

Step-Dad took me to a European

car dealership, and while he bought
---
some parts to fix the broken Healey

(believe it or not), left me alone

to wander around the cars that

were for sale. Oh . . . that magical

moment, the beauty, shapes that

could only be described as otherworldly.

I touched a Lamborghini

GT350 and actually sat in it. I put

my hands around the steering

wheel and gear shift, but dared not

move them, fearful that I might

break something. I saw a bright

red 275 GTB/4. A real Ferrari! It

was something my Step-Dad had

only talked about, but here it was,

right in front of me. And nobody

was looking! I slowly clicked open

the door and climbed inside.

I was transported into another

world; this was beyond anything I

had sat in before. The first thing

that hit me was the smell. Then

miles of leather and chrome, that

huge thin-rimmed steering wheel,

the wood smooth to the touch,

the impossibly tall chrome shifter

set into the gated gear pattern, all

unmistakable Ferrari. I breathed

in; it smelled of hand cut leather,

rubber and a faint whiff of oil --

intoxicating perfume for a 7-year

old. I just sat there soaking it all

in. There were other great cars on

the show room floor: Maseratis,

Lotuses, and Jags. But what did it

for me was the Lamborghini and

the Ferrari. I was hooked! Smitten

with the beauty of the shapes

the Italian houses produced.

So you see, it was all a set up after

all. I would be car guy for life. I

came by it naturally too. I have the

tools, the dirty fingernails and

broken knuckles to prove it. Oh

and I have owned 11 Porsches too.

But those are other stories. And on

that exhaust note, till next time.

Unique Gift Idea: The Crash Collection

By Jim Hirsch

Editor's Note: The following was written by a Maverick

Region member who wanted an opportunity to pass along

a gift idea to other members. It is not an advertisement.

We Porsche enthusiasts often have a difficult time

finding that perfect gift for our significant other,

which demonstrates not only our passion for exciting

automobiles, but also an appreciation for the

machines and the art they represent. At the same

time, we want a gift that hits the right chord for

the recipient, who may not understand our overwhelming

desire for all things mechanical that

feed our need for speed in our Porsche vehicles.

Maybe I'm the only person who regularly finds himself

in this predicament when trying to pick out a birthday,

Valentine, or any other special day gift that hits on

all cylinders for both the giver (me) and the recipient.

This most recent Valentine's Day was especially problematic

for me given that I recently ordered a new 981

Boxster S. In my case, the challenge was what to give

my spouse as a gift since I had a new Porsche coming

my way. She is not a car enthusiast and has simply tolerated

my hobby for the 44 years we've been together.

Luckily, I recently came across a wonderful solution to

this conundrum in the February issue of Automobile

Magazine, in their Ignition section, with the title "Salvaged."

That article unveiled a new style and design

of jewelry called the Crash Collection. This collection

includes necklaces, cuffs, rings, and earrings, and even

cufflinks -- all made from high-end car parts of vehicles

that had unfortunate meetings with other objects.

If you're looking for the perfect gift that says "car

passion" to you and simply "passion" to your significant

other, take a closer look at the Crash Collection at

http://minabea.com/product-category/crash/. I can

vouch for the high quality craftsmanship and excellent

customer service that I received in the items we've

added to our personal crash collection.

15
---
Concours Corner: May and June Event Recap

By Andy Kay, Concours d'Elegance Chair Photos by Linda Bambina, Charlie Davis, and Carey Spreen

As I wrap up the spring round

of Concours and events, I must

say, I'm impressed with Maverick

turnout and enthusiasm for all

events!

May at Mayo's

The spring season began Saturday,

May 10 with the "May at Mayo's" Concours d'Elegance.

A perfect sun-filled day in Euless brought more than

47 Porsches out for a day of Show and Shine/People's

Choice camaraderie.

The turnout was exceptional, with more than 160

"judges" casting their ballots. As tough as the competition

was, the winners were all stand outs!

Class

Winner

356: All years Jack Griffin

356 Continental

914: All years Bill Miller

914

Early 911/912: 1964-1977 Nick Johnson

912

911 SC/Carrera: 1978-1989 Tim Terleski

911 Carrera

964/993: 1990-1998 Jay Moore

RS America

996/997/991: 1999-2014 Stephanie Ho

Turbo S

Boxster/Cayman: All years Susan Froehlich

Boxster Spyder

924/944/968/928: All years Andy Kay

928S4

Other:

Ajai Cadambi

Carrera GT

Tech Sessions Attract A Crowd

On Sunday, May 18, 22 PCA members turned out to

a Detailing Tech Session at Jack's Garage in Dallas .

Great questions, conversation, and detailing tricks were

shared. The most popular topic was the proper use of

an orbital, or "buffer" as many call it. It must have been

pretty helpful because the Griot's Orbital inventory

sold out quickly.

Autos In the Park

On Sunday, June 1, Jack Griffin hosted the 9th Annual

Autos In The Park at the Cooper Aerobics Center in

Dallas. Over 250 cars from seven different car clubs attended

the most popular car show in Dallas. The Maverick

Region had a concours within Jack's show. I tip my

hat to our judges, Les Linenschmidt and Alex Kader,

who did a great job. Two of the three German Class

winners from the main Autos In The Park competition

were also First Place winners in our concours! Congrats

to Chuck Lawson and Don Sebert for the DOUBLE

WIN at Autos in the Park!

Class

Winner

356 All Years: Chuck Lawson

356

914 All Years: Clay Perrine

914-6

Early 911/912:1964-1977

Larry Brownell

911

911 SC/Carrera:1978-1989 Ron Davis

911 Cabriolet

964/993:1990-1998 Don Sebert

RS America

996/997/991: 1999-2014 Donnie Toler

997 GT3RS

Boxster/Cayman: All Years Fred Payne

Boxster S

924/944/968/928: All Years Jim Thompson

928

Other

Ajai Cadambi

Carrera GT

Coming Up This Autumn

I look forward to the Fall season, when we move to a

"Touring" format. This is a timed event, with each car

starting with a perfect score of 165 points. Areas to be

judged include Interior, Exterior, and Storage Area.

There are point deductions based on the condition and

cleanliness of each area. The contestant with the most

points per class wins!

The event is meant to be fun, and should not be confused

with Porsche Parade-type "stress level" judging. If

you would like to be a judge, please contact me at concours@mavpca.org.

16 July
---
May at Mayo's winners: Concours Chair Andy Kay,

Ajai Cadambi, Stephanie Ho, Nick Johnson, Jay Moore,

Susan Froehlich, Tim Terleski, Jack Griffin, Bill Miller

Autos in the Park winners: Donnie Toler, Fred

Payne, Ron Davis, Clay Perrine (kneeling),

Chuck Lawson, Ajai Cadambi, Larry Brownell

Dave Nelson

Reflection of May at Mayo's from Richard Cross' 356

The PCA portion of Autos in the Park

17
---
Maverick Autocross Academy 2014: Results and Accolades

By Various Autocross Students

Editor's Note: Here are some comments from the students

at this year's Autocross Academy, as received by Autocross

School Chair Robyn Howard.

From Garry Pearson:

In your email you thank me for attending the Novice

Autocross School. You're 100% wrong -- it's definitely

me who should be doing the thanking, to you and

all the PCA members who organized the school.

It was a blast!!! Every time someone asked how I

was doing, the ear-to-ear

grin and wide smile gave

me away. Why didn't

I try this much, much

earlier? I didn't know

what I was missing!!

I really just said to my

wife on Saturday, "My

schedule has changed for

this weekend. I should

check this Autocross

stuff out, I wonder what

it's all about?" Waaay to

late to register, but you

and your team members

accommodated me in

amazing fashion, firstly

by welcoming a curious

spectator, and then allowing me to participate,

and finding an instructor at the last minute.

I learned SO much about my car and how it can

be driven when in much more capable hands than

mine. Ray [Nannis] was excellent in showing and

explaining the correct way to drive, use of throttle,

brakes and steering, and so patient in answering all

my questions. Not to mention the ability to point out

the "better" way drive. Advising me how I need to

"un-learn" almost 40 years of "not so good" driving

habits, and always in the nicest possible way. I am

by no means a "technical" car guy, so Ray was VERY

tolerant of my rookie (read "dumb") questions, and

naiveté in those aspects of my car. Conclusion: I have

a whole lot of learning and un-learning to do!!

The atmosphere of openness and welcome

from all the PCA members was quite overwhelming.

What a wonderful group of people, all who

LOVE their Porsches. Everyone was great and

patient, from the first introductions to the final

Results Compiled by Dean! Yamada

invitations from instructors after the event, "Do

you want to come on a fun run?" I have so many

names to try to remember . . . great people.

My car is my daily driver. And the week after the

Autocross I found myself looking for the correct

line through corners, telling myself to "move your

hands down, dammit," and feeling my car in a whole

different and more observant way. Not to mention

heightened awareness of my car and surroundings.

Class Car# Name Driving Fastest

3 111 David Pennington 2012 Porsche Panamera (Blue) 55.843

4 24 Kurt Scaggs 1987 Porsche 911 (Red) 51.333

4 19 Andrew Hoetger 1986 Porsche 911 (White) 54.269

5 590 Sue Crimm 1982 Porsche 911SC (Guards Red) 43.123

6 156 Casey Wolthuis 1975 Porsche 911 (Blue) 43.123

6 56 Scott Wolthuis 1975 Porsche 911S (Blue) 49.036

6 20 Bob DiRienzo 2013 Porsche Boxster (Red) 49.730

6 51 Erik Holt 1996 Porsche 911 (White) 50.859

6 5 Garry Pearson 2008 Porsche Cayman S (Black) 52.035

6 7 Doug Edny 1999 Porsche 911 (Black) 53.835

6 561 Gregory Ibanez 2014 Porshe Cayman (White) 55.135

6 322 Hunter Biederman 2001 Porsche Boxster S (Blue) 55.255

7 1 David Asencio 2007 Porsche Carrera 4S Cab (Artic Silver) 51.446

7 11 Deanna Asencio 2007 Porsche C4S Cab (Silver) 52.836

8 4 Tracy Robertson 2009 Porsche 911 (White) 50.524

1.X 64 Jasmine Shoffit 2012 Fiat 500 (Red) 56.490

Will I be back for more? Too late for that question --

I'm hooked! I've just enjoyed another Autocross yesterday,

and courtesy of my

daughter, who I convinced

to come out and watch,

I have the pictures and

video to prove it. She did

comment that the smile

on my face just couldn't be

wiped off! What a blast !!

As I started this response,

a "BIG THANK

YOU" to you and all the

Maverick members for a

great day and welcome

to PCA Autocross.

From David Pennington:

I thoroughly enjoyed

the Novice Autocross School. As someone who has

never owned a "sports car," I learned the exhilaration

they produce. The skid pad was a blast. My

instructor, Tom [Monheim], was very patient and

knowledgeable and I learned a great deal about

what my car, a Panamera, can do. I would definitely

recommend the class to anyone who wants to improve

their driving skills and wants to have a day of fun.

From Bob DiRienzo:

The autocross school was great fun! I learned

a lot from my instructor and my driving skills

improved over the course of the day. The event

was very well managed, and it was evident

that safety was a priority, as it should be.

Definitely worth the time and money invested. I do

plan to attend some autocross events in the future as

my schedule allows.

18 July
---
19
---
ParkPlace.com

Body repair experts as

HIGH-PERFORMANCE

as your Porsche.

Trust your Porsche to Park Place Bodywerks. It's the only Porsche-certified dealer collision center

in the Metroplex. Where you'll find factory-trained technicians, working in modern facilities with

state-of-the-art equipment. And the same award-winning level of service you'd expect from the

area's premier dealership for Porsche and other exceptional vehicles. Don't settle for anything less

than true Porsche expertise—schedule your Bodywerks appointment at bodyshop.parkplace.com.

Bodywerks is certified to service:

v

PARK PLACE BODYWERKS FORT WORTH | 5760 S. Bryant Irvin Rd. | 817.263.3965

PARK PLACE BODYWERKS DALLAS | 3316 Atwell St. | 214.443.8250

PARK PLACE BODYWERKS GRAPEVINE | 1300 Texan Trail | 817.310.7685

20 July
---
The Art of Paint Protection

After Installation

A virtually invisible urethane film

professionally applied to high-impact areas

of your vehicle to protect your paint job from

stone chips, sand, road debris and bug acids.

During Installation

Norm Schilling

Owner and Installer

16 Years Experience

Highest Quality Guaranteed

2530 Tarpley Road, Suite 100

Carrollton, TX 75006

Certified Porsche Technician

General Maintenance

Performance Upgrades

Suspension Modifications

Alignments (Track and Street)

Track Preparation

Tech Sheet Inspections

Custom Built Spec 996s and Spec Boxsters

Custom Fabrication

2520 Tarpley Rd, Suite 100

Carrollton, Texas 75006

972-418-1996

innovativeautosportstx@gmail.com

21
---
For hassle free information on

any property in the DFW area,

call 972.365.7370

22 July

Michael Picolo

www.realestatecarguy.com

michaelpicolo@ebby.com
---
Experience Your Porsche in a New Way!

By driving on a real North Texas racetrack

Eagles Canyon Raceway is the beautiful culmination of years worth of

research, planning & design into the rolling hills of North Texas near DFW.

Eagles Canyon Raceway features 2.55 miles, 4 straights over 1,300 feet long, 11

turns, and 340 feet of overall elevation change. Eagles Canyon is a true driver's

track, and is planned to host all classes of events from the top level racing series

to club racing and private HPDE days.

We are proud to receive PCA events including Club Racing and look forward to

each and every event!

With an EC Membership you can enjoy driving on a track that is quickly

becoming history in the making. We offer all that you need including a

challenging track, high octane fuel & a grill for lunch. Join us by signing up at

www.eaglescanyon.com or call for information at 940-466-9775.

940-466-9775

www.eaglescanyon.com

Parts or Service, We Deliver Excellence.

Over 300,000 parts in stock.

Expert service and repair.

Parts and Service for: Porsche, Mercedes-Benz, BMW, Mini, and Smart Car.

817-267-4451

Visit us online at:

1-800-356-2964

www.allzim.com

zimips@allzim.com

1804 Reliance Pkwy. Bedford, TX 76021 M-F 8am to 5:30pm

Zims Autotechnik is not affiliated with Porsche AG or PCNA Registered Trademark of Dr. Ing h.c.F. Porsche A.G.

23
---
May at Mayo's: A First-Timer's Perspective

By Sue Crimm

Being a newbie,

I wasn't

quite sure

what to expect

when I arrived at

May at Mayo's.

Carey Spreen and

I got there early so

he could help stage the Show and

Shine Concours, and I could help

set up the greeting and check-in

area. For me, the best part of PCA

(besides driving like a bat out of

hell at the Autocross School) is

meeting all of the friendly PCA

people. So needless to say, I was

thrilled to help check everyone in!

Andy and Adrienne Kay put together

the Concours and prize giveaway.

The lucky winners received

some great Griot's Garage auto

detailing products as well as unusual

and rare medals containing the

Maverick Region logo on one side

and the Porsche crest on the other,

officially approved by Porsche Cars

North America (and Porsche is very

particular about the use of their

crest). While Andy and Adrienne

checked in the cars, Wendy Shoffit

and I checked in the attendees.

Then the serious fun started.

Everyone got a ballot and started

voting for their favorite cars. We

had a few from the 356 Tub Club,

some fantastic 911s and Boxsters,

and a yellow Carrera GT that got

everyone's attention showed up

-- one of only two in the DFW area!

Maverick Region Social Chair

Tracy Robertson outdid herself

again and had On the Border cater

the event. She and Ed Mayo

thought up a wonderful staggered

Photos by Charlie Davis

Boxster/Cayman class winner

Susan Froehlich embellished her

entry with a couple of accessories.

buffet system that had everyone fed

in good time for the awards ceremony.

Our illustrious President

and part time DJ John Hamilton

drew the winning tickets and

invited the lucky winners up front

to receive their Griot's products

and get their photos taken.

24 July
---
President John

Hamilton did

Disc Jockey duty

while Concours

Chair Andy

Kay gave out

the awards.

Social Chair Tracy

Robertson likes to get into

the spirit of the event.

She was successfully able

to cope with the largest

turnout ever for May at

Mayo's. This may have

been the only chance she

had to close her eyes the

whole time she was there!

Since 1971

Providing personalized service

on all Porsche automobiles.

• Complete servicing and repairs

on all air or water cooled models

• In-house machine shop

• M96/M97 reconditioning

• Performance and track mods

2530 Tarpley Road • Suite 700

Carrollton, Texas 75006

(972) 417-0997

25
---
Maverick Monthly Social: Mac's Steaks & Seafood

By Frankie Manley Andrew

A

mix of 33

brand new

members

and an assortment

of longtime

members met on

a Spring evening

at Mac's Steaks &

Seafood in Colleyville. At around

6pm, Porsches began showing up in

the Mac's parking lot, a handsome

sight. Mac's has been a mainstay

for the club, due to the restaurant's

great food and central location.

Walter Otstott with Brooks

and Kim Poland

University of North Texas Chemistry

Professor, while Mary is a biochemistry

professor at Texas Woman's

University.

Photos courtesy of Stephanie Ho

Larry and Kate Keen, Monthly

Social Co-Chair Veronica Ramos,

Karen and Ed Reynolds

that Porsche Panorama, the PCA National

magazine, has great articles,

and mentioned one about a guy

selling his Porsche, regretting it and

later finding, buying and restoring

the same car.

Barbie and Michael Manley

Daniel York, at the second meeting

he has attended, is anxiously awaiting

his 2015 Macan S in dark blue

metallic. Daniel, owner of Rusty, a

1-1/2 year old German Shepherd,

is an auto finance representative at

Chase Bank. He prefers work in his

field of study, criminal justice. Two

other new members were Mary Anderson

and Tom Cundari. Tom is a

James and Dorothy Loney

with Patrick Bukowitz

All the while members are circulating,

Stephanie Ho is greeting

all, making sure everyone is having

a good time. "I just want everyone

to feel welcome," she said. Paul and

Veronica Ramos, who arrange the

Monthly Socials, were also meeting

and greeting.

Another new member, Mark Commins,

volunteered that he is restoring

a red 1966 911. He reminded us

New members Mark Berry

and Ted Belden

Mark Berry, who drives a 2011

Carrera GTS, is a product manager

for a software company, also a new

member. Ted Belden was the newest

member, at his first meeting. Ted,

who has a 2002 Carrera, is employed

as a builder of trade shows.

Back: Daniel York and the Author;

front: Mary Anderson

and Tom Cundari

26 July

Saundra and Jon Hamel

Natalie and Wesley Lincoln with

Steven Cloutier and Mark Commins
---
Comments were circulating about some longtime

members not in attendance, due to a get-together for

Porsche Parade attendees the same evening. Many of

us were regretful that we were not with them as they get

ready to head to the Parade in Monterey, California in

mid-June. Maybe they will take a trip up Highway One.

Wish we were there.

Be sure to meet up with us for this month's Maverick

Social on Thursday, July 17 at the Bonefish Grill in

Southlake!

The whole Maverick Social crew

protect your

investment

Dallas Ft. Worth Clear Bra offers expertly

designed clear bra applications for a nearly

invisible layer of paint protection against rocks,

bugs, and other road debris.

(469) 682-3497 • clearcoatfilm.com

Serving Dallas/Ft. Worth and surrounding areas.

2700 B West Pioneer PkWy

(125 feet s. of Pioneer, on the W. side of Corzine st.)

Arlington, texAs 76013

817-366-1678

27
---
When all HAIL breaks loose...

Roofing Solutions

By Darren Houk

A+ Rated

(817) 692-8496

www.RoofingSolutionsHOUK.com

www.roofingsolutionshouk.com

817.692.8496

Showroom by Appointment

5500 Meandering Rd

Ft. Worth, 76114

Specializing in all years and models of

Porsche exclusively for more than 30 years

Complete and Meticulous Maintenance and Repair

Tuning and Diagnostics (Carbs, MFI, CIS, OBD I & II)

Custom Engine and Transmission Rebuilds

Competition Car Preparation (Track or Autocross)

1521 Baccarac Ct Euless, TX 76040

817 540 4939

www.mayoperformance.com

email: Mayos@imagin.net

28 July
---
Colleyville

6407 Colleyville Blvd.

(Highway 26)

Colleyville, Texas 76034

817-421-2414

Lewisville

490 Oak Bend Drive

(35E - North of Round Grove Rd.)

Lewisville, Texas 75067

972-459-6919

Allen

111 Central Expressway North

(Inside Stacy Furniture Center)

Allen, Texas 75013

214-547-8144

Plano

3500 Preston Road

(at Parker)

Plano, Texas 75093

972-769-0093

Grapevine

1900 S. Main Street

(Inside Stacy Furniture Center)

Grapevine, TX 76051

817-328-0200

29
---
PRINTER OF SLIPSTREAM SINCE 1982

Rev it up ...

Save the date!

Sept. 28th 2014

30 July

Limited availability for this one of a kind experience. Watch for details.
---
New Mavericks

By Susan and Tom Froehlich, Membership Co-Chairs

If you have any changes that

you would like to make to the

MRPCA membership guide,

contact the Froehlichs at

membership@mavpca.org

David Clarke

Frisco

Andrew Glaze

Rockwall

Robert McIntosh

Arlington

Lewis Friedland

Southlake

Pam Adams

Dallas

Jared Orem

Plano

Maverick Membership Totals

Members ~ 1,454

Affiliate Members ~ 916

Total Membership ~ 2,370

Transfers in:

Charly Everett

Hurst

Edward Carter

Frisco

Mitchell Fonberg

Dallas

Colin Smith

Fort Worth

Frank Viola

Keller

Mike Gill

Dallas

Jim Ford

Frisco

Craig Delaughter

Ft. Worth

Andre Yanez

Fort Worth

Per-Magnus Hyltenius

Dallas

Darrell Lohoefer

Lewisville

Alan Nusbaum

Leesburg

Aruna Sheth

Plano

Brent Herrington

Frisco

Travis Hofeldt

McKinney

James Prewitt

Grand Prairie

Mark Commins

Farmers Branch

Dan Sellers

Richardson

Christopher Reedy

Argyle

Mark Fleniken

Saint Jo

Anniversaries

Due to a change in the method that

PCA National provides New Member

and Anniversary information to us, we

are unable to bring you Anniversaries

for July. We hope to have this remedied

as soon as possible, and will make sure

that we list any Anniversaries that we

have missed in the mean time!

Save the flash!

Flashing your high beams at

fellow Porsche drivers is a

time-honored tradition . . .

keep the flash alive!

31
---
Unclassifieds

Unclassifieds are available free to Maverick Region members and are $5 for all others (contact editor@mavpca for payment details). Please limit size to no more than 6 lines. Ads will run for 3

issues, after which they will be removed unless you request that they be run for an additional 3 issues. E-mail your ad to classifieds@mavpca.org by the 10th of the month to have your ad run in the

following month's Slipstream. Be sure to include car year, make and model, its mileage and asking price, as well as a contact name, phone number and/or email address. All parts will be advertised

on our website. Check your ad for accuracy the first time it runs. Contact the editor to have your ad pulled sooner. Due to space constraints, photos may or may not be included.

For Sale: 2006 Carrera, 19,500 miles, Seal Grey

Metallic, natural leather brown interior, 6-speed

manual, HRE 19", Michelin Sport PS2, Navigation,

Sycamore steering wheel, Bose Hi End sound,

clear bra, tinted windows. Second owner, PCA &

Maverick Member. Always garaged, never tracked.

Meticulously maintained by Porsche of Plano. All

records. $44,000 OBO. Ken Johnson, califdad@

hotmail.com or call 214-870-3365. (07)

For Sale: 2005 Boxster S, Arctic Silver w/

black top and black interior. Original owner, daily

driver, dealer maintained with all records. 6MT, 19"

Carrera Classics, Bi-Xenons, sport steering wheel,

sport shifter, factory chrome exhaust tip. Complete

with both keys, original window sticker, certificate

of authenticity, etc. Never tracked, raced or abused.

See photos for door dings and mild wheel rash - 108K

miles daily driver, after all! Transaction to close when

my Boxster GTS arrives first week of September 2014.

Asking $16,900. craigdelaughter@gmail.com (07)

For Sale: 1996 996 Cabriolet, Midnight Blue

exterior with blue fabric top, Sand/tan interior

leather. Single Maverick region owner, 49,800 miles.

Additional hard top and wind defector. Rear main

seal, intermediate bearing and clutch new. GT 2 and

3 suspension. B & B Tri-flow headers and exhaust.

$27,000. Contact Bruce Hecht, 214.365.2712 Direct,

214.769.5576 Cell, or bhecht@swearingen.com (07)

For Sale: 2004 Boxster S, Lapis Blue Metallic

with Graphite Grey leather interior, power seat

package, Bose sound package, Xenon headlamp

package, Tiptronic S, 18" Turbo Look II wheels

and Porsche Stability Management, 14,434 miles.

$29,900. Contact Michelle Bresette, 817-479-3074,

817-929-8737 (cell), or itsmbresette@gmail.com (06)

For Sale: 2000 Boxster, Silver/Grey top, tan

interior, daily driver, 112K mi., A/C blows cold,

heater works great. 5-spd. manual. Two keys, owner's

manuals. Last maintenance done by Autobahn. Asking

$9K. Can provide pics. Contact Faye at flparkhill@

gmail.com or (817) 807-5658. (06)

For Sale: 2006 Cayenne, Silver w/black interior,

V6, Tiptronic, AWD, Silver, 2006, satellite radio,

radar detector, 82,300 miles, new spark plugs, tires,

battery, $21,000. Contact 817-692-1479. (06)

For Sale: 2008 Boxster Limited Edition, VIN

WP0CA29848U710389, 8400 miles, manual trans,

Orange/Black, Cruise Control, Leather Heated Seats,

Power Mirrors, Rear Window Defroster, Side Curtain

Airbags, Tilt/Telescope Steering Wheel. This is the

most PRISTINE LIMITED EDITION Boxster in the

world. NO blemishes, absolutely PERFECT! If you

do not want the most pristine 2008 Porsche Boxster

Limited Edition -- do not call. CarFax available.

Porsche wind stop, Sport Chrono package, Bose

High End sound package, floor mats interior cover,

black w/Alcantara seat inlays, Bi-Xenon headlights

and Cabriolet roof in black, $35,900. Contact Glenn

Douglass, 214-649-9105 (06)

For Sale: 2007 Cayman S, 26,200 miles. 3.4 liter,

295 HP. Arctic silver metallic, black leather interior,

6-speed manual. New Michelin Sport-2 tires & TPM

sensors; original manuals and tools. 'Clear Bra'

protection on bumper, nose & mirrors. 18" Cayman-S

wheels; self-leveling bi-xenon lamps; 8-way heated

power seats; Bose sound & CD changer; plus, plus.

Current on maintenance. Never raced (older owner).

Pristine condition; this beauty deserves to be more

than my garage queen. VIN WP0AB29877U783310;

$35,700. Contact for photos. Jack (214) 402-4122;

Jack@Howley.me (05)

Slipstream Advertiser Index

These advertisers support Maverick Region -- Tell them you saw their ad in Slipstream!

Ascot Diamonds (972) 991-0001 Page 22

Autobahn Motorcar Group (800) 433-5602 B.C.

Dallas Fort Worth Clear Bra (469) 682-3497 Page 27

deBoulle Diamond & Jewelry (800) 454-4367 Page 12

Eagles Canyon Raceway (940) 466-9775 Page 23

Ebby Halliday – Michael Picolo (972) 365-7370 Page 22

Falgout & Associates, P. C. (972) 669-2370 Page 28

Fifth Gear Motorsports (972) 317-4005 Page 10

Goodie Store http://mav.pca.org Page 32

Hoosier Tires Direct .com (515) 203-3503 Page 15

Innovative Autosports (972) 418-1996 Page 21

Invisibra (214) 704-9299 Page 21

Louden Motorcar Services (972) 241-6326 I.B.C.

Mayo Performance (817) 540-4939 Page 28

Mullenix Motorsport (972) 417-0997 Page 25

For advertising rates and information contact

Pat Friend at ads@mavpca.org

Mustard Racing (817) 366-1678 Page 27

Park Place Porsche (800) 553-3196 Page 13 & 20

The Phoenix Insurance (214) 253-0570 Page 24

Porsche of Plano (214) 576-1911 I.F.C.

RAC Performance (214) 269-1571 Page 3

RetroAir (972) 960-6899 Page 28

Roofing Solutions by Darren Houk (817) 692-8496 Page 28

Silver Fox (817) 329-6995 Page 2

Sorted Out Organizing Services (713) 724-9543 Page 5

Stuart's Paint and Body (214) 221-6999 Page 19

Tomato Werks Detailing (956) 453-5515 Page 30

The UPS Store (972) 420-1250 Page 22

Ussery Printing (972) 438-8344 Page 30

Yard Art MyYardArt.com Page 29

Zims Autotechnik (817) 267-4451 Page 23

32 July
---
SLIPSTREAM Advertiser Since 1978

WHY YOU SHOULD TRUST YOUR

PORSCHE TO LOUDEN MOTORCARS

• Award winning service for 35+ years

• Rated "Best in Dallas" a record 3 times

• Rated "Best in Texas"

• Rated "Top 10 Shops in U.S."

• Rated "Best in the West" by the Robert Bosch Corporation

• A Better Business Bureau accredited business for 3 decades with an A+ rating

• The first ASE "Blue Seal of Excellence" business in Dallas

• Racing background at Daytona, Sebring, and Riverside

• Master Certified Technicians

• Bosch Authorized Service Center

• Air conditioned shop for technician efficiency and comfort

• We do not sell cars, thus we must survive on our 35+ year service reputation

See what our customers are saying about us at:

LoudenMotorCars.com

Theresa@LoudenMotorcars.com

11454 Reeder Road

Dallas, Texas 75229

(972) 241-6326
---
Hiram Saunders, Slipstream

155 Jellico

Southlake, TX 76092

Periodical Postage

Paid at Fort Worth, TX

©2013 Porsche Cars North America, Inc. Porsche recommends seat belt usage and observance of all traffic laws at all times. Porsche recommends four winter tires when driving in cold, snowy, or slippery conditions.

Simultaneously breaks new ground,

while clinging to the current one.

Take the performance that Porsche is known for. Then add to that the strength of a 400 horsepower engine, the design and

greater stability of a wider body, the extraordinary traction and agility of all-wheel drive, and an unmistakable illuminated rear light

strip. The sum of which is a sports car that holds your attention as tightly as it holds to the road. Porsche. There is no substitute.

Experience the control of all-wheel drive.

The new Porsche 911 Carrera 4S.

Autobahn Porsche

2815 White Settlement Rd.

Fort Worth TX 76107

(817) 336-0885

www.Autobahn.PorscheDealer.com

Porsche recommends