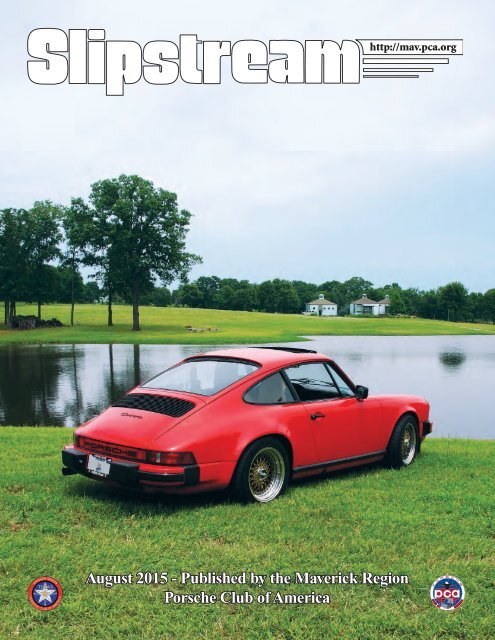 Slipstream - August 2015
The monthly newsletter of the Maverick Region of the Porsche Club of America
The monthly newsletter of the Maverick Region of the Porsche Club of America
SHOW MORE
SHOW LESS
Create successful ePaper yourself
Turn your PDF publications into a flip-book with our unique Google optimized e-Paper software.
August 2015 - Published by the Maverick Region

Porsche Club of America
---
http://mav.pca.org

Volume 53, Issue 8, August 2015

Find event updates at http://mav.pca.org

Join our Facebook Group at http://www.facebook.com/groups/mavpca/

Departments

Zone 5 Presidents..........................................1

Shifting Gears (President's Column).............2

Maverick of the Month.................................2

List of Officers and Board Chairs.................4

Around the Bend (Editor's Column).............5

New Mavericks and Anniversaries..............31

Advertiser Index..........................................32

Unclassifieds...............................................32

Features

Trivia.............................................................7

"... it's the People".........................................8

Destination Restoration...............................12

The 60th Porsche Parade.............................16

Upcoming Events

Autocross 7 and 8: LSP................................5

Member Directory Info...................................... 7

August Board Meeting..................................7

Executive Council Election...........................9

Photo Workshop 2.........................................9

August Maverick Social: Wildwood Grill...23

Cimarron Region PCA Club Racing...........23

Escape to Rushmore....................................27

Maverick Lunch Series...............................30

Past Event Recaps

Cooper Center Concours...............................6

Saturday Drive: Rancho Sereno..................14

Maverick Social: Love & War in Texas.......22

August

Sun Mon Tue Wed Thu Fri Sat

1

2 3 4 5 6 7 8

9 10 11 12 13 14 15

16 17 18 19 20 21 22

23 24 25 26 27 28 29

30 31

Day August

5 Board Meeting

11 Lewisville Lunch

15 Photo Workshop 2

16 Autocross 7: LSP

20 Mav Social: Wildwood Grill

27 Richardson/Southlake Lunches

Day October

4 Time Trials: MSR

7 Board Meeting

10 Rally

10-11 Drivers' Education 5: ECR

11 Autocross 9: MMS

13 Lewisville Lunch

15 Mav Social: TBD

17 Swap Meet

18 Sunday Drive: TBD

22 Richardson/Southlake Lunches

Driving Event Venues

COTA Circuit of the Americas, Austin

ECR Eagles Canyon Raceway, Slidell

LSP Lone Star Park, Arlington

MMS Mesquite Memorial Stadium, Mesquite

MSR MotorSport Ranch, Cresson

MW Mineral Wells Airport, Mineral Wells

September

Sun Mon Tue Wed Thu Fri Sat

1 2 3 4 5

6 7 8 9 10 11 12

13 14 15 16 17 18 19

20 21 22 23 24 25 26

27 28 29 30

Day September

2 Board Meeting

6 Autocross 8: LSP

8 Lewisville Lunch

11-13 Boxstoberfest

17 Mav Social: Arthur's in Addison

19 Saturday Drive: Ben Wheeler

24 Richardson/Southlake Lunches

26-27 Drivers' Education 5: MSR

Day November

4 Board Meeting

8 Autocross 10: LSP

10 Lewisville Lunch

13-15 Club Race & Solo DE: MSR

19 Mav Social: TBD

21 Sunday Drive: Oct. Rain Date

26 Richardson/Southlake Lunches

On the Cover: Jack Griffin's

Guards Red '85 911 was one of

many beautiful club Porsches at

the June Rancho Sereno drive.

Photo by Neill Flood

Slipstream (USPS 666-650) is published monthly by the Maverick Region, Porsche Club of America, 155 Jellico

Southlake, TX 76092. Subscription price is $24.00 per year. Periodical postage is paid at Fort Worth, TX. Postmaster:

Send address changes to Hiram Saunders, Slipstream, 155 Jellico, Southlake, TX 76092.

Opinions expressed herein are not necessarily endorsed by the Club's membership or officers. Contributions will be

printed on a space available basis. Chartered regions of PCA may reproduce items from this issue provided the author/

artist and Slipstream are credited. Slipstream is printed by Ussery Printing Company in Irving, Texas.

ARK-LA-TEX

Kirk Bristol

kbristol911@gmail.com

COASTAL BEND

Bryan Kerrick

2015 PCA Zone 5 Presidents and Zone Representative

LONE STAR

Michael Globe

president@lsrpca.com

MARDI GRAS

Rick Payton

rpayton35@aol.com

OZARK

John Bullen

johnc8551@yahoo.com

WHISKEY BAY

Henry Carter

hjcarterod@gmail.com

CIMARRON

Randy Kaplin

rwkaplin@swbell.net

HILL COUNTRY

Robert Price

president@hcrpca.org

LONGHORN

Jack Merrell

president@longhornpca.org

MAVERICK

Jim Falgout

president@mavpca.org

WAR BONNET

Grady Buckhalter

grady.buckhalter@

gmail.com

WHITE RIVER

Leonard Zechiedrich

whiteriverregionpca@

gmail.com

ZONE 5 REP

Lynn Friedman

zone5rep@pca.org

1
---
Shifting Gears: Activities During Summer Hiatus

By Jim Falgout, Region President

August is normally the hottest

part of the summer in North

Texas. However, the way the

spring and early part of the summer

has gone, who knows? At any rate, the

Maverick Region typically has fewer

events in July and August, and this

summer is no different. However, we

do have another Photo Workshop on Saturday, August

15. That is a good indoor activity. Also, we have our social

events: lunches and an after-hour event.

This year, since we have partnered with Equipe Rapide,

we do have an autocross at Lone Star Park on Sunday,

August 16. Hope it is not too hot for that one.

As I mentioned last month, PCA

had its biggest annual event in the

last week of June, Parade. You will

find information about it in this

issue. It is a great event that everyone

should go to at least once.

Another event, which I was able

to attend last year, is the Werks

Reunion. It is held in August in

Monterey, California, during "Car

Week." This year it is on Friday,

August 14. That is tremendous time to be in Monterey.

The Historic Races (aka Rolex Monterey Motosports

Reunion) are held at Mazda Raceway Laguna Seca that

same weekend. There is a really nice Concours in Carmel.

There are auctions by RM Auctions, Russo Steele,

Mecum and Gooding. Of course, that is also the time of

the Pebble Beach Concours d'Elegance. So if you can

go to the Werks Reunion, you can do a lot of car events.

This year the Werks Reunion is celebrating 40 years of

the 911 Turbo. (This year is also the 60th anniversary

of PCA.)

A special

congratulations

to Al Zim who

celebrated his

50th

anniversary

as a PCA

member in July.

A special congratulations to Al

Zim who celebrated his 50th anniversary

as a PCA member in

July.

Shifting gears back to our region,

I want to remind you that

we are going to publish a printed

Member Directory this fall. If

you do not want your information

to be included, see the steps

you need to take on page 7 of this issue.

I received an email from a member this month volunteering

for our new committee on Social Media. That is

2 August

SAUL FRAIRE, Chef-Proprietor

1235 William D. Tate Ave

Grapevine, TX 76051

817-329-6995

Mav of the Month

great. We can always use more volunteers.

Now is a good time to reassess

how you can help make your club even

better. YOUR CLUB WANTS YOU . . . to

get involved. You will really be glad you

did.

Any of you who have participated in a Sunday or Saturday

Drive know what a great job our Tours Committee is

doing. The current leadership in that committee had a

good example to follow and they have improved on it.

Again, this was a case of some folks stepping up to make

sure an activity

they enjoyed

would continue

and be enjoyed

by many. For the

tremendous job

he has done

leading this activity

to greater

heights, our Mav

of the Month is

Tom Martin.

Thanks Tom,

keep up the

good work.
---
Like a Personal Trainer for your Porsche!

• Expert maintenance and repair services • Track day preparation

• Performance and appearance upgrades from GMG, Manthey, FVD and more

• Superior customer service and free loaner cars • PCA discounts

• Show quality detailing services • Spec 996 and Spec Boxster Race Cars

We Also Buy, Sell and Consign Quality Pre-owned Porsches

3236 Skylane Drive, Dallas, Texas 75006

214-269-1570 • www.racperformance.com

PCA Special

Precision Alignment

$149 00

Plus Sales Tax

Ride Height Adjustment and Corner Balancing Available at Extra Cost. Call for Estimate.

Offer Includes Complimentary Car Wash and Vacuum.

3
---
President

Jim Falgout

president@mavpca.org

Jim joined Maverick Region in August,

2008. He drives a 2003 996, which is

the third Porsche he has owned. Jim

enjoys attending Maverick Region

social and driving events.

POSITION CHAIRPERSON

AX Chair Wesley Lincoln

TT Chair Travis Howard

TT Registrar Robyn Howard

AX/TT Rules Travis Howard

AX/TT Schools Robyn Howard

Charity Chair Chris Hamilton

Club Race Co-Chairs Jim Buckley

Pat Heptig

Joel Nannis

Club Race Registrar Wendy Shoffit

Concours Chair Andy Kay

DE Chair Chris Tabor

DE Chief Drvng Instr. John Sandusky

DE Equip. Mgr. Wesley Lincoln

DE Registrar Wendy Shoffit

DE Safety

DE Sponsorship Daren Kirbo

Email List Moderator

Goodie Store Pat Friend

Histographer, Tenured Charlie Davis

Membership Susan and Tom

Froehlich

Monthly Socials Stephanie Ho

Member Welcome Chair Stephanie Ho

On-line Calendar Brendan Eagan

Past President John Hamilton

Public Relations Linda Bambina

Rally Co-Chairs Don Sebert

George Luxbacher

Slipstream

Advertising Pat Friend

Editors Carey Spreen

Jim Hirsch

Event Ad Design Jasmine Shoffit

Mailing & Tech. Andy Mears

Printing Fran Ussery

Content Wrangler Linda Bambina

Mentor Wendy Shoffit

Social Chair Tracy Robertson

Sunday Drives Tom Martin

Neill Flood

Swap Meets Robyn Howard

Tech Sessions Ed Mullenix

Trivia Chair Jerry DeFeo

Website

Denny Payne

4 August

Vice President

Gareth Maurice

C 817-821-2940

vp@mavpca.org

Gareth still remembers the cover of

the car magazine that drew him into a

lifetime of loving cars. He spent many

afternoons riding his bike as a young

kid to the local newsstand to buy and

read everything he could. He now

owns a Midnight Blue 911S and enjoys

driving it in wonderful Texas!

Linda Bambina

214-616-1936

pr@mavpca.org

Jim Buckley

cr@mavpca.org

Charlie Davis

chuxter@1derful.info

Jerry DeFeo

972-240-5800

trivia@mavpca.org

Brendan Eagan

calendar@mavpca.org

Neill Flood

tours@mavpca.org

Pat Friend

214-616-2477

ads@mavpca.org

goodiestore@mavpca.org

Susan & Tom Froehlich

membership@mavpca.org

Chris Hamilton

hope@mavpca.org

John Hamilton

817-907-7823

jhamil3@msn.com

Pat Heptig

214-649-7907

cr@mavpca.org

Secretary

Wendy Shoffit

C 972-977-9821

secretary@mavpca.org

Wendy and husband James joined

Maverick Region in 1997, when their

daughter was only 9 months old.

Jasmine is now 17. They own 3 Porsches

including a 1978 911SC as a dedicated

racecar, which she enjoys autocrossing.

Her daily driver is a 2000 Boxster.

She also serves as the PCA National

Newsletter Chair.

Jim Hirsch

972-740-7377

editor@mavpca.org

Stephanie Ho

hh@mavpca.org

Robyn Howard

214-991-0873

drivingschools@mavpca.org

Travis Howard

214-616-6152

tt@mavpca.org

Andy Kay

817-948-8538

concours@mavpca.org

Daren Kirbo

254-396-2973

daren@huckabee-inc.com

Wesley Lincoln

940-597-7152

ax@mavpca.org

George Luxbacher

rally@mavpca.org

Tom Martin

tours@mavpca.org

Andy Mears

214-394-5857

andy@mavpca.org

Ed Mullenix

972-417-0997

techcorner@mavpca.org

Please help us to keep growing!

Treasurer

Richard Solomon

C 903-530-8281

treasurer@mavpca.org

Richard joined Maverick Region in

2012 when he fulfilled a 30+ year

dream to own his first (of many) 911,

a 2009 Silver Carrera! Although fairly

new to the club, he is excited about

being more involved and meeting more

Porsche fanatics!

Joel Nannis

cr@mavpca.org

Denny Payne

webmaster@mavpca.org

Your Name Here!

Tracy Robertson

817-944-5490

social@mavpca.org

John Sandusky

817-777-0421

john.c.sandusky@lmco.com

Don Sebert

214-613-6900

rally@mavpca.org

James Shoffit

972-786-6246

james@shoffit.com

Wendy Shoffit

972-977-9821

crreg@mavpca.org

deregistrar@mavpca.org

Carey Spreen

817-422-3480

editor@mavpca.org

Chris Tabor

817-371-4888

de@mavpca.org

Fran Ussery

W-972-438-8344

H-817-481-8342

fran@usseryprinting.com
---
Around the Bend...

By Jim Hirsch, Managing Editor

Our PCA motto, "It's not just

the cars, it's the people" had

me reflect on our current region

membership and the state of auto

enthusiasts in general.

For example, when I cruise over to

Keller's on Northwest Highway during

any Saturday night, I don't drive my

Porsche, nor do I remember seeing any vehicles of the

Porsche persuasion parked anywhere in the rear lot.

When my old, big-cammed Mustang with the requisite

narrow front and wide drag rear tires rumbles into the

lot, heads turn and nod and I'm greeted with approving

smiles. Would I receive the same welcome if I drove my

981S and took a prime parking spot?

Similarly, when I participate in an SCCA Track Night

in America event or an Equipe Rapide autocross, my

Porsche (and by association, me) receive appreciative

glances from other participants and a welcome conversation

about mid-engine handling traits.

Would my odd-tired, under-braked, and visibly shaking

Mustang receive unbelieving stares and "I hope he never

gets close to me" mumbles when I park on the grid?

And yet, when I attend a Cars & Coffee type of

event with either ride, I'm greeted with open

arms (and ears) by at least one side or other of

the parking lot. However, there are pretty clear

lines of division as to which cars are welcome to

park in certain locations of the lot.

It's easy to generalize which cars and people are most

welcome in these and any similar gatherings. Yet, once

I start a conversation with enthusiasts at Keller's, MSR,

or virtually any vehicular event, I almost always quickly

realize how much all of us have in common.

It turns out that we are all in love with, know as much

as we can about, and fret about that odd noise or stray

piece of dust invading our rides.

My bottom line is whether you are a car show (concours)

aficionado, a wrencher who knows every oil

pump replacement option since 1948, a racer who lives

for the next apex, or simply someone who enjoys the

drive in a Porsche, this club and our members all appreciate

the variety and enthusiasm brought to our group

by each of us.

So, in this heat of August, make a point to go outside

your comfort zone of auto enthusiasts you talk with and

try to gain a greater appreciation of their viewpoint of

what makes our club not just about the cars, but about

the people.

Who can say that a concours trophy or an autocross trophy

is more valuable? The club enthusiasts who worked

hard to earn either trophy, and by association, all of us,

are the real winners in this all-consuming hobby

we love.

Challenge yourself to check out our full slate of

upcoming events and participate in one that

you have not tried before. I guarantee that you

will meet lots of interesting people.

5
---
Cooper Center Concours: Autos in the Park 2015

By Andy Kay, Region Concours Chair

Photos by George Luxbacher and Linda Bambina

On Sunday,

June 7,

hundreds

turned out for the

10th Annual Autos

in the Park Concours

d'Elegance

at The Cooper

Aerobics Center in Dallas. This is

Jack Griffin's charity event benefiting

Texas Scottish Rite Hospital and

The Cooper Institute.

The Maverick Region area was

once again in a prime spot

If you have not attended this annual

event and have an appreciation

for fine automobiles, be they

American or European, you owe it

to yourself to see it next year. There

is no charge for spectators, and you

will be amazed at the quality and

range of cars that are right here in

the DFW area.

Southwest, Jaguar, Pontiac, Porsche,

Rolls Royce, and Shelby. PCA's Maverick

Region had the largest turnout

with 53 registered cars on display.

The overall awards were divided

into pre- and post-1980 cars from

four classes: American, British, German,

and Italian. Maverick members

winning the German class were Bob

Aines with his 1969 911E and David

Bradley with his 911 GT2.

The Maverick Region had our own

Concours-within-a-Concours. Alan

Bambina judged the eight classes,

with the following results.

356, All Years Mike Harling

914, All Years Rich O'Day

Early 911/912 Umesh Oza

911, 1978-1989 Jason Morski

964/993 Michael Picolo

996/997/991 Gabe Sorrells

Boxster/Cayman Susan Froehlich

924/944/968/928 Andy Kay

The Froehlich's Boxster Spyder

proudly displayed our

national and regional badges

I would like to thank the following

sponsors for their support:

Autoscope

Boardwalk Ferrari

Garages of Texas

Hagerty Collector Car Insurance

Park Place Porsche

The Phoenix Insurance

Tesla Motors

Tin Lizzy Auto Interiors

Wheel Experts

Finally, I would like to send a very

special Thank You to longtime Maverick

Region member and prior

Concours Chair Jack Griffin for

the best car show venue in North

Texas!

Class winners of our club Concours

(not shown: Andy Kay and Michael Picolo)

Maverick members made certain our

club was well represented at the event

There were 240 registered cars

from various North Texas car clubs,

including Austin Healey, Corvette,

Ferrari, the Italian Car Club of the

6 August

There were two Best Of Show

awards: Mike Harling won the Air

Cooled division with his beautiful

356 Carrera, and Gabe Sorrells won

the Water Cooled

division with her

2015 Turbo S. We

also raffled off

a Griot's Garage

prize, which went

to Larry Brownell.

The "Director"

Maverick Porsches for as

far as the eye can see!

View more photos at

http://bit.ly/mavphoto3
---
JUNE TRIVIA

It's Easy to Play!

Play here for fun and education

and find the answers below

OR

Play for prizes on the web at http://mav.pca.org, with

the answers and winners to be posted here after each

month's contest has closed. Thanks to Jerry DeFeo for

putting this and the Web Trivia together.

Congratulations to this month's winner:

TRAVIS HOWARD,

who got 3 out of 5 correct. Runner-up, also getting

3 correct was Tom Martin. The winner is selected by

random drawing. Travis, please contact Kirk at Zim's to

claim your $25 Gift Certificate.

Thanks to all for playing!

1. Back when the 911 first came out it was raced in

D-Production. In the 1966 LeMans a private entry drove his

Porsche to the races on public roads, Raced, Finished, and

nonchalantly drove home again. What did he Place overall?

a. 9th b. 14th c. 18th d. 23rd

Source: Porsche, A Tradition of Greatness, p 176

2. Porsche offered Special Competition Packages that turned

the Cars into a Track Star at comparatively low cost. One

included anti-sway bars, special Brake Pads, and a Driver's

Footrest. What was it called?

a. W171 b. Z28 c. HO17 d. P913

Source: Porsche, A Tradition of Greatness, p 176

3. There were TWO Engine kits; one comprising Special

Carb Jets, Venturies, and Air Filters; and another including

Blueprinted Heads and Manifolds. Together they raised the

130HP 2 Liter Engine's HP up to _____. What was the new

HP?

a. 145 b. 155 c. 165 d. 175

Source: Porsche, A Tradition of Greatness, p 177

4. In 1967 the 911R was just barely stock so as to stretch

various rules in rallies and GT Racing. Who conceived this

Race Car?

a. Ferry Porsche b. Butzi Porsche c. Ferdinand Piech d.

Vasek Polak

Source: Porsche, A Tradition of Greatness, p 177

5. Also in 1967 was a Polish Driver, Sobieslaz Zasada, that

outright won the car-killing Argentine Grand Prix; a 2000

mile open road contest that killed more cars than finished.

What type of Porsche was he driving?

a. 911R b. 911ST c. 911S d. 912

Source: Porsche, A Tradition of Greatness, p 177

Answers: 1) b 2) a 3) d 4) c 5) d

7
---
". . . it's the people": Charlie Davis

As told to Linda Bambina

Charlie has been an active

Maverick member for a bit

less than 50 of the region's

53 years. He epitomizes the idea of

a Maverick (individualist; rebel; nonconformist)

more than most, and he

certainly personifies the concept of

active more than most. As an engineer/

"frustrated physicist", risk-taker, major geek, inventor,

photographer, out-of-the-box thinker, envelope

pusher, and agent of change, he has been infusing these

personality traits, plus his talents, interests, and enthusiasm

into our club for five decades. And all the while

he encouraged others to try new ideas of their own for

more unique activities than you would believe, all in an

effort to keep interest high and needs met as our club

has continued to go, go and grow!

In 1972, Charlie organized

a 2 1/2-day tour to

Eureka Springs, AR and

continued to be involved

for many years. One of

the stops was "The Tree"

on Magazine Mountain.

"There were many 'traditional'

elements of

this tour, and one was

throwing Frisbees off

the escarpment into the

trees below. We never

lost any member when

doing this. The tree

was removed for safety

reasons when the Lodge

was rebuilt."

One of our newest

members, Valerie Fitzau,

had only visited with

him a little bit at the All Member Party several years ago,

but had this incredibly astute observation: "In Porsche

model years, Charlie is a classic."

When the club was just getting started, Charlie stepped

up as Region President twice, VP twice, and Secretary

once (not his thing!). He joined the National level

PCR (Parade Competition Rules) Committee for an

amazing 12 years, chairing it four times. He created his

legendary "Charlie's Charts," which was a computer-onpaper-set

of formulas to determine class placement at

driving events. He moved from that National Position

into being the Representative for Zone 5 for four more

8 August

"The Tree" - as yet another

stunning composition in

Charlie's portfolio.

Photos by Charlie Davis and Linda Bambina

years, overlapping our region's first DFW Parade in

Texas. Charlie had long been a strong advocate in the

80s of computerized Parade registration and scoring

of the competitive events. At the 1987 DFW Parade he

was very involved with the first implementation of his

"heavy use of computer ideas put into action." With his

creative wife Teri as the Parade Chair (the first female

to do so), the two of them made history. (Oh, the stories

about that effort!)

Charlie went on to create

and participate in the

National Club Computer

Systems Committee in

1988, as well as to join

the Parade Advisory

Committee ('88-'91).

His insight, influence,

and vision for the club at

the national level earned

him the highest respect

and he was named the

first recipient of the

Hank Malter National

Zone Rep Award. This

award is "presented by

the Zone Representatives

to individuals within

Porsche Club of America

who, in the opinion of

Charlie captured by Linda

in his traditional pose at

the 2015 Parade.

the thirteen Zone Representatives, have distinguished

themselves by making outstanding contributions to the

club. The PCA Zone Representatives Award is made

solely at the discretion of the Zone Representatives.

This unique award may or may not be given annually."

Let me squeeze in here and relate that Charlie was also

the first recipient (in 1976) of Maverick's highest "Enthusiast

of the Year" honor, the Selcer Memorial Award.

He and wife Teri won it again in 1981.

In 1998, Charlie organized the 914 Special Interest

Group and ran it for 8 years.

For the 2004 Parade, Charlie put on one of the best

Autocrosses ever, with a LOT of help from his friends.

Charlie continues to be a major force in Maverick

Region as a promoter of photography for Slipstream.

His photography of Maverick Region events began

long before he met Teri, but it continued as a way to

help Teri when she was Slipstream Editor for five years

(not unlike how Leonard Turner and Betty Jo Turner

of Porsche Panorama worked as a husband-wife team.)
---
He was also The Man who took the incredible 50th Anniversary

Poster Picture of our "50 Family" Porsches at

Texas Motor Speedway, thank you very much! Now he

is involved with teaching digital photography sessions

for club members, creating contests, and encouraging

casual photographers to submit their work to a special

folder on the webpage (his idea); the goal is to make

them less casual. He also submits photos for many of

our Slipstream articles. He even has one Porsche Panorama

cover to his credit.

Charlie loves to tell stories, with or without his photography

as an enhancement. Go to www.1derful.info

to see how clever he is capturing the light. Click on the

"Pix" link and watch the slide show of his "50-year collection"

of friends, flowers, old buildings, old Porsches,

and old faces (use the QR code below).

A gallery of his 2015 Parade photos is also available

for viewing at: http://www.1derful.photography/

Parade%202015/index.html

Charlie is offering a photo workshop

for our members who would

like to learn some of his "tricks of

the trade" and improve their own

photography skills. Get more info

from the ad directly below.

Announcing the 2015

Maverick Region

Executive Council Election

Nomination Committee

(contact: nominations@mavpca.org)

John Hamilton (Chair)

James Shoffit (Member)

Mike Brodigan (Member)

For additional information, or to submit your name as

a nominee for any of the Executive Council positions

(President, Vice President, Secretary, or Treasurer),

please contact any member of the Nomination

Committee.

Due date for nominations is

Tuesday, September 1, 2015

Final voting and announcement of our 2016 Officers

will take place at our Founders' Day celebration.

9
---
We Buy, Sell & Trade the World's Finest Timepieces

Authorized Dealer for major brands including:

Patek Philippe • Rolex • Bell & Ross • Blancpain • Corum

F.P. Journe • Girard Perregaux • Jaeger LeCoultre • Tudor

Visit deBoulle.com to view our extensive collection of pre-owned timepieces.

MAVERICK PCA RACER

10 August

6821 Preston Rd., Dallas, Texas 75205 214.522.2400 deBoulle.com
---
©2015 Porsche Cars North America, Inc. Porsche recommends seat belt usage and observance of all traffic laws at all times.

Some artists paint canvases.

Others sculpt marble.

Ours service Porsches.

At Park Place Porsche, we elevate automotive service to an art form. Our Master-Certified

technicians and advisers work exclusively on Porsche vehicles, from the Boxster to the 918,

giving them unmatched focus and passion. We offer an on-site Porsche body shop as well

as one of the only Porsche-Certified body shops in the Dallas–Fort Worth area—Park Place

BodyWerks—providing you with comprehensive service, all in one place. And you'll enjoy

exceptional Park Place amenities, like complimentary Porsche loaner cars and hand car

washes. It's everything you need to keep your automotive masterpiece running flawlessly.

Park Place Porsche

6113 Lemmon Avenue

Dallas, TX 75209

214.525.5400

park-place.porschedealer.com

11
---
Destination Restoration: Breathing Life into a 944

By Ash Seidl-Staley

Recently my

914 has

dominated

the subject matter

of the articles I

have contributed to

our prestigious Slipstream,

and frankly

my 944 is getting a

little bit jealous. In all actuality, she has

no need to be this jealous, since behind

the scenes of this column I have been

pulling double duty, tinkering away

on both cars at the same time, with

nearly the same amount of dedication.

Throughout this past year I cleaned and

reassembled the entire top half of the

944's engine while I was waiting for the

914's new parts to arrive, and while its

older parts soaked in cleaning solutions

or were drying from re-sprays. I have accomplished

so many tasks that I was able

to finish both cars and get them ready

for the open road before this summer's

Texas-sized heater kicked on. And, like

I highlighted the transformation of my

914, it is only fair that the 944 have her

debut on the public stage as well. So

without further ado I give you my 2.5L

1987 944, reborn!

Now if you remember the horror stories

I have told about my 944 these last

3 years, you can surmise that it took a

heck of a lot of work to get it roaring

back to life; for those who don't know let

me give you a synopsis. Way back when

(2012) my timing belt snapped while I

was driving to school. This caused all

but one of the valves within the cylinder

head to bend. I took the car to a small

shop, which fixed the valves and belt for

a reasonable price, despite the months

it actually took them to complete it.

It was only after about a week of having

the car back that the balance shaft

belt and the timing belt both decided

12 August

The Reborn 944

to snap. This subsequently damaged

my valves again, though thankfully this

time it was only two of them. This is

the point in the story where I decided

to stop spending the money at a shop,

and instead opted to do the mechanical

work myself. Truth be told, I was so

furious at the situation that I put the

project on the back burner and let the

car reflect on its behavior for nearly six

months. It wasn't until the summer of

2014 that I started to clean and work

under the hood again.

Picking up where I had left off the

prior year, I removed the damaged cylinder

head and had the valves redone at

a machine shop. In addition to the valve

work I opted to have the entire cylinder

head resurfaced. The resurfacing was

much needed because the compression

numbers for each cylinder 1-4 (~120,

~145, ~150, and ~110 respectively) indicated

that the cylinder head might be

warped. After some measurements, the

machine shop determined that the head

was indeed warped and that, thankfully,

there was enough "meat "on it for it to

be a candidate for resurfacing.

After shelling out 120 bucks and waiting

three days, I was given a shiny resurfaced

head. With all my parts in hand,

I started putting everything that I had

taken off of the car back together. The

first roadblock in the build came about

when I discovered that two of my belt

tensioners were out of whack. This was

something that was missed by the shop

to which I took the car the first time!

These faulty

tensioners

were wobbling

and

not spinning

as freely as

they should;

their sporadic

movement

likely

Getting back together

caused the belts to miss and snap.

After replacing the tensioners and putting

on the new belts, I had to get the

timing belt tensioned properly. Again I

chose to attempt the procedure myself.

I used the 90-degree trick of bending

Photos by the Author

the belt to guesstimate what the proper

tension should be. Being too much of a

chicken, and a little frustrated from the

belts previously snapping, I pushed the

car on down the road to an import shop

and had the mechanic there double

check my work. With his green light I

brought the car back home to finish

putting everything together. The cylinder

head gasket, cam housing gasket,

cam housing, intake, vacuum lines, and

fuel rail all went back on without issue.

With adrenaline-fueled excitement I

attempted to start the car but was only

met with shudders and coughs.

What did I miss? Was it not in alignment?

Was there something else wrong

with the car? My mind raced with possible

suspects. I methodically went down

the list of possibilities one by one. The

fuel pump made its famous buzz when

the key was turned, so, theoretically I

was getting fuel from the tank to front

of car. The starter could be heard kicking

things into motion. The car turned

over and over, but it just would not fire. I

checked battery, spark plugs, wires, and

the ignition coil to see if I hooked everything

up right. Everything checked

out ok, so I opted to pull the distributor

cap. Lo and behold the rotor of the distributer

was missing the screw that holds

it in place. This meant that the car had

no idea when and where to send the

spark. After locating the screw and attaching

the arm, I replaced the cap and

sat down in the driver's seat ready for

the second attempt. I closed my eyes,

turned the key and . . . VAROOOOM!!

I immediately got out and danced the

happy dance around my apartment

complex shouting "She's Alive!" my

neighbors probably thought I was crazy,

but I didn't care -- I had done it.

Getting this 944 running was one

thing, but getting it ready for Texas

State inspection was quite an ordeal;

one that deserves its own article. Stay

tuned for the next installment, which

will cover the 944's inspection and what

you will need to know when it comes to

your Porsche and the new One Sticker

system. As always, stay safe and wrench

on Mavs!
---
The Art of Paint Protection

After Installation

A virtually invisible urethane film

professionally applied to high-impact areas

of your vehicle to protect your paint job from

stone chips, sand, road debris and bug acids.

During Installation

Owner Installed

Highest Quality Guaranteed

2530 Tarpley Road, Suite 100

Carrollton, TX 75006

www.fifthgear.biz

Performance

• Track Set-up

• Exhaust Upgrades

• Performance Alignments

• Suspension Modifications

• Performance Maintenance

Maintenance & Repair

• 100+ Years of Technician Experience

• 11,000 sq Feet of the Top Technology

• Comfortable Waiting Area with WIFI

• Fully Air Conditioned Shop

• Green Building, Eco Friendly

Sales

• Trade your old Porsche

in for a newer model!

• Consignment Sales

• Accessories

Specializing in: Porsche • We service all models

Set up an

appointment today! 1975 Archer Way • Lewisville TX, 75077 • 972-317-4005 1 mile West of I-35 behind Sonic!

13
---
"Little Ranch on the Prairie": The Rancho Sereno Run

By The Alleged

Photos by Bill Orr

Maverick

Region

VP Gareth

Maurice sent

out a short e-mail

blast a while back

informing us that

FM 455, north of

the Metroplex urban sprawl, was

currently being repaved.

This particular road is well known

by sports car enthusiasts, along with

avid motorcyclists and bicyclists, as

a primo example of "the twisties" in

North Texas. Voy "Mitch" Mitchell

lives out that way, and offered to

keep me abreast of the paving process.

Within a few months, a 30-mile

stretch from Van Alstyne to Pilot

Point was finished, so Jon Glover

and I met up with Mitch for a "recon"

drive, one of the preludes to a

Maverick Sunday Drive.

Recon drives are huge fun, because

with just a few fast Porsches on the

route, you can really . . . umm . . .

trust me on this -- it's huge fun. So

I elected to use this stretch as the

start of a Saturday Drive to Rancho

Sereno in Whitesboro. The final leg

of the route was gleaned from a previous

Sunday Drive. It was a clean,

fast route with minimal to no traffic

and relatively miniscule population.

Neill Flood and I met with Mike

Maberry, the owner of the ranch,

back in February. The locale and

grounds are indeed "sereno," and

Mike is arguably the finest gentleman

I have ever met. Mike was

14 August

agreeable towards allowing the PCA

to enlist his ranch as a final destination

point; thus the wheels were set

in motion for a spring drive.

Catering arrangements were made

with Rohmer's of Muenster, and

after a few spirited pre-drives, we

mapped out the route on our GPS

units and were ready to go. Set a

date, published all the info, printed

up all the paperwork, and then eagerly

awaited the drive date.

Then the Lord reached out to

Noah and commanded him to build

an ark. It was to be 300 cubits by 50

cubits by 30 cubits. Noah lived in

Plano at the time. And we all know

what happened next. A massive rainfall

washed away our plans in one

fell swoop. I have never seen that

much water since the Flood of '55,

when the Naugatuck River flooded

the Naugatuck Valley region of central

Connecticut.

The drive was rescheduled for three

weeks out. Surely that would allow

enough time for the water to subside,

right? On the day of the drive,

the weather report looked good and

there were no published road closures,

so 56 Porsches departed from

the Grayson Community College

campus in Van Alstyne.

Then came the best part -- the

twisties. A myriad of varied corners:

never ending sweepers, ess bends,

kinks, undulating turns over slight

elevation changes, all over excellent

tarmac. And with no sign of Noah

and his ark.

With just over 10 miles of the 100-

mile route to go, the drive groups

ran into a slight snag. A full-blown

road closure. Yep, completely shut

down. One could only surmise that

flood water was the reason, but regardless,

all of the group leaders

and their herds worked together to

determine an alternate route to the

final destination. I was impressed, to

say the least.

Ultimately all the hardy Mavericks

rolled onto the manicured grounds

of Rancho Sereno, greeted by our

host Mike Maberry and the catering

crew of Rohmer's Restaurant.

We all enjoyed a Texas BBQ lunch,

complete with peach cobbler, iced

tea and the camaraderie of fellow

Mavericks.

Mavericks ate, communed, relaxed

and enjoyed some great photo ops

of their Porsches amidst the bucolic

vistas of the ranch. Good stuff.

There was plenty of food left over,

and it was promptly donated to the

Sacred Heart Outreach in Muenster,

where it will be enjoyed by families

in need.

Our Sunday Drive "Masters"

with our Rancho Sereno host

Sincerest thanks to Mike and Lisa

Maberry of Rancho Sereno, Troy

Sicking of Rohmer's Restaurant &

Catering, Tracy Robertson for handling

the Punchbowl evites and payments,

Voy Mitchell for the recon, all

the drive group leaders: Neill Flood,

Jon Glover and Chris Sorrells, plus

Gabe Sorrells and my wife Jan for

taking care of the sign ups, and to

all the Mavericks who participated

in the drive and made this event a

success.

See you all in East Texas in September

at the next Sunday Drive!

View more photos from

Bill Orr and Neill Flood at

http://bit.ly/mavphoto2
---
Experience Your Porsche in a New Way!

By driving on a real North Texas racetrack

Eagles Canyon Raceway is the beautiful culmination of years worth of

research, planning & design into the rolling hills of North Texas near DFW.

Eagles Canyon Raceway features 2.55 miles, 4 straights over 1,300 feet long, 11

turns, and 340 feet of overall elevation change. Eagles Canyon is a true driver's

track, and is planned to host all classes of events from the top level racing series

to club racing and private HPDE days.

We are proud to receive PCA events including Club Racing and look forward to

each and every event!

With an EC Membership you can enjoy driving on a track that is quickly

becoming history in the making. We offer all that you need including a

challenging track, high octane fuel & a grill for lunch. Join us by signing up at

www.eaglescanyon.com or call for information at 940-466-9775.

940-466-9775

www.eaglescanyon.com

Parts or Service, We Deliver Excellence.

Over 300,000 parts in stock.

Expert service and repair.

Parts and Service for: Porsche, Mercedes-Benz, BMW, Mini, and Smart Car.

817-267-4451

Visit us online at:

1-800-356-2964

www.allzim.com

zimips@allzim.com

1804 Reliance Pkwy. Bedford, TX 76021 M-F 8am to 5:30pm

Zims Autotechnik is not affiliated with Porsche AG or PCNA Registered Trademark of Dr. Ing h.c.F. Porsche A.G.

15
---
The 60th Porsche Parade: Mavericks Stand Out in French Lick

By Carey Spreen

Photos by Linda Bambina and Carey Spreen

When it was announced at

the 2013 Parade that the

60th Parade was to be held

in French Lick, Indiana, many of us

scratched our heads in puzzlement.

Where the heck is French Lick, and

what possessed the Parade Committee

to choose that location for PCA's annual

convention, especially on the 60th anniversary of

the founding of the club?

We need not have worried. French Lick turned out to

be a superb location for a couple thousand of our closest

Porsche friends to gather for a week of competition

and socializing. Granted, when I arrived in town the day

before the Parade began, the football field at the local

high school was under a couple of feet of water, and

there was a brand new lake in front of the West Baden

Resort, as Tropical Storm Bill had just passed through,

capping off several days of the deluge that North Texas

was suffering through at the same time.

But the staff at

the French Lick

Resort and West

Baden Resort

(the two Parade

headquarter hotels)

accommodated

the storms

without missing

a beat, moving The Onsite Porsche Museum

several events

that were originally planned to be outdoors to indoor,

or at least covered, venues. For instance, the Welcome

Party, usually held outdoors on the evening of the first

day, was moved to the ground level of the resort parking

garage. Surprisingly, that same location was where part

of the Concours

d'Elegance was

held the very

The Historic Display included the

Le Mans winning 911 GT1

next morning.

The "60 4

60" display, a

showing of one

Porsche for

each year that

the club has

been around

(beginning

with a 1955

Speedster), was

moved into a large tennis

enclosure, which

was fortunately airconditioned,

and was a

relief from the humidity

outside. Maverick

Region member Don

Breithaupt had the

honor of representing

1986 with his beautifully-maintained

black 3.2

Carrera.

The rain moved out

of the area as the week

progressed, and the

grounds started to dry

up. In fact, there was no more precipitation for the

other outdoor competitive events: the TSD Rally and

the Autocross. The TSD Rally took place on some very

scenic, very twisty, and very narrow two-lane roads in

the area, and was designed for novices, although it gave

the experts a run for their money as well. Amazingly

there were no protests, which is unheard of in a Parade

TSD Rally.

The Autocross

ran over a twoday

period at the

French Lick Airport,

up and down

the runway in a

series of slaloms

and chicanes. It

looked deceptively

simple, but there

were many DNFs

The 1986 "60 4 60" 3.2

Carrera of Don Breithaupt

as participants figured out which way the course went.

There was a big delay the first morning, when a corporate

jet needed to land, so the course workers removed

all of the cones from the runway and then replaced

them once the plane

had taxied to its location.

The morning of

the second Autocross

day, the skies looked

very dark and angry,

but the clouds moved

on without spilling

Groups of Mavericks could

be found everywhere

The weather was perfect for

the actual Porsche Parade

a drop, so everyone

got dry pavement for

their four runs.

16 August
---
Maverick members "dressed to the nines"

for the Victory Banquet

In all, our region acquitted itself quite well in the Parade

competitive events. Below are the scores that the

Mavericks accumulated during the week.

TSD Rally

Class R03 – Unequipped Navigational

• 31st Place: Myra Sutton (Driver), Jerry Sutton (Navigator),

447 pts

• 44th Place: Gig Philipp (Driver), Cathy Philipp (Navigator),

825 pts

Class R05 – Unequipped

• 8th Place (Trophy): Don Breithaupt (Driver), Carey

Spreen (Navigator), 294 pts

Gimmick Rally

Two-person teams

• 10th Place (Trophy): Gig Philipp (Driver), Cathy Philipp

(Navigator), 27 pts (tiebreaker 1600)

• 17th Place: Myra Sutton (Driver), Jerry Sutton (Navigator),

27 pts (tiebreaker 400)

• 77th Place: Bob Knight (Driver), Linda Knight (Navigator),

21 pts (tiebreaker 750)

• 82nd Place: Alan Bambina (Driver), Linda Bambina

(Navgator), 20 pts (tiebreaker 1042)

Teams of more than two people

• 15th Place: George Luxbacher (Driver), Dee Luxbacher,

Grant Abel, and Jamie Abel (Navigators), 26 pts (tiebreaker

1080)

• 18th Place: Steven Cloutier (Driver), James Dollar and

Jim Dollar (Navigators), 24 pts (tiebreaker 1200)

• 20th Place: Tom Minnella (Driver), Darion Minella, Marissa

Minnella, and Barb Minnella (Navigators), 22 pts

(tiebreaker 0)

Autocross

Class S02M, Showroom Stock 986 Boxster

• 1st Place (Trophy): Travis Howard, 2003 Boxster, 58.21

seconds

Class S02L, Showroom Stock 986 Boxster

• 2st Place (Trophy): Robyn Howard, 2003 Boxster, 57.72

seconds

Class S11M, Showroom Stock Cayenne, Panamera, Macan

• 3rd Place: Jerry Sutton, 2012 Cayenne, 66.31 seconds

Class S11L, Showroom Stock Cayenne, Panamera, Macan

• 1st Place (Trophy): Myra Sutton, 2012 Cayenne, 63.92

seconds

Class P06M, '72 to '77 911

• 1st Place (Trophy): Ed Mayo, 1972 911S, 57.95 seconds

Class P06L, '72 to '77 911

• 1st Place (Trophy): Julia Underwood, 1972 911S, 71.95

seconds

Class P07M, '78 to '83 911SC

• 2nd Place: Carey Spreen, 1982 911SC, 58.70 seconds

Class I04M, Progressed 6-cyl, 2.4 to 3.2 liters

• 1st Place (Trophy): James Shoffit, 1978 911SC, 52.88

seconds

Class I04L, Progressed 6-cyl, 2.4 to 3.2 liters

• 1st Place (Trophy): Wendy Shoffit, 1978 911SC, 52.80

seconds

Technical and Historical Quiz

Class Q06M, 914

• 4th Place (Trophy): Carey Spreen, 28 general + 16

model-specific

Q09M, Boxster/Cayman

• 13th Place: Travis Howard, 11 general + 9 model-specific

Newsletter Contest

Class V, Regions of 800+ members

• 7th Place: Slipstream – Editor Carey Spreen, 539

pts (tie)

A few of our many Maverick Region winners

View more photos at http://bit.ly/mavphoto1

17
---
YOUR FAVORITE

CHILD DESERVES

ITS OWN ROOM.

Introducing Garages of Texas, a community of first-class, affordable, completely customizable garage suites.

Here, you don't rent space. You buy it. Giving you complete financial control and the power to make it your own

with unlimited customization options. So, stop fighting for space in your family garage. Upgrade to a garage suite

and move your motorhome, boat or show cars to the showroom they deserve.

Contact our sales team at 214.435.4898 or jgriffin@GaragesOfTexas.com for more information.

www.GaragesofTexas.com • Facebook.com/GaragesofTexas

Located at W. Plano Pkwy. & W. Park Blvd., in Plano, Texas

18 August
---
19
---
20 August
---
Certified Master Technician

General Maintenance

Performance Upgrades

Suspension Modifications

Alignments (Track and Street)

Track Preparation

Tech Sheet Inspections

Custom Built Spec996s and SPBs

Custom Fabrication

2520 Tarpley Rd, Suite 100

Carrollton, Texas 75006

972-418-1996

innovativeautosportstx@gmail.com

21
---
Maverick Monthly Social: Love & War in Grapevine

In spite of the flood and FM 2499

being closed during our June

social, about 45 die-hard PCA

Mavericks came and visited their

Porsche friends at Love & War in

Grapevine!

Photos by Stephanie Ho

As you can tell from the photos above, our members enjoyed the food and conversation

Welcome Scott and Jenny

Brittain attending our Monthly

Social event for the first time

New member Mark Graves

Karen and Ed Reynolds

New member Bill Orr joined in

April 2015, welcomed by PCA

Maverick Monthly

Social Chair Stephanie Ho

Sylva and Gordie Cohen, new

member John Savickas

Tom Martin, Paula McCollough,

Sue Connell, Norman McCollough

22 August

Plan to join

us in August!

Lively discussions before dinner

Mike and Lois McMorran,

Walter Otstott
---
Cimarron Region

Porsche Club of America

Announces the Original and 14 th Annual

Hallett Motor Racing Circuit

October 3-­‐4, 2015

4 th Annual BOXSTER CHALLENGE

Registration opens August 17th at 9:00 pm at

http://register.pca.org

Contacts: Race Chair Jon Jones at 918 740-­‐7951

or jjone20@aol.com

23
---
For hassle free information on

any property in the DFW area,

call 972.365.7370

When all HAIL breaks loose...

Roofing Solutions

By Darren Houk

A+ Rated

(817) 692-8496

Michael Picolo

www.realestatecarguy.com

michaelpicolo@ebby.com

www.RoofingSolutionsHOUK.com

www.roofingsolutionshouk.com

817.692.8496

Showroom by Appointment

5500 Meandering Rd

Ft. Worth, 76114

Since 1971

Providing personalized service

on all Porsche automobiles.

• Complete servicing and repairs

on all air or water cooled models

• In-house machine shop

• M96/M97 reconditioning

• Performance and track mods

2530 Tarpley Road • Suite 700

Carrollton, Texas 75006

(972) 417-0997

24 August
---
ParkPlace.com

Body repair experts as

HIGH-PERFORMANCE

as your Porsche.

Trust your Porsche to Park Place Bodywerks. It's the only Porsche-certified dealer collision

center in the Metroplex. Where you'll find factory-trained technicians, working in modern facilities

with state-of-the-art equipment. And the same award-winning level of service you'd expect from the

area's premier dealership for Porsche and other exceptional vehicles. Don't settle for anything less

than true Porsche expertise—schedule your Bodywerks appointment at bodyshop.parkplace.com.

Bodywerks is certified to service:

v

PARK PLACE BODYWERKS FORT WORTH | 5760 Bryant Irvin Rd. | 817.263.3965

PARK PLACE BODYWERKS DALLAS | 3316 Atwell St. | 214.443.8250

PARK PLACE BODYWERKS GRAPEVINE | 1300 Texan Trail | 817.310.7685

25
---
26 August
---
Plan to join other Maverick

Region members as we make

a colorful fall drive up to

South Dakota to participate

in Escape to Rushmore.

Specializing in all years and models of

Porsche exclusively for more than 30 years

Complete and Meticulous Maintenance and Repair

Tuning and Diagnostics (Carbs, MFI, CIS, OBD I & II)

Custom Engine and Transmission Rebuilds

Competition Car Preparation (Track or Autocross)

Find more info at

escape2015.pca.org

1521 Baccarac Ct Euless, TX 76040

817 540 4939

www.mayoperformance.com

email: Mayos@imagin.net

27
---
28 August
---
Lewisville

490 Oakbend Drive

(35E - North of Round Grove Rd.)

Lewisville, Texas 75067

972-459-6919

Plano

3500 Preston Road

(at Parker)

Plano, Texas 75093

972-769-0093

Colleyville

6407 Colleyville Blvd.

(Highway 26)

Colleyville, Texas 76034

817-421-2414

Allen

111 Central Expressway North

(Inside Stacy Furniture Center)

Allen, Texas 75013

214-547-8144

Grapevine

1900 S. Main Street

(Inside Stacy Furniture Center)

Grapevine, TX 76051

817-328-0200

29
---
PRINTER OF SLIPSTREAM SINCE 1982

2700 B West Pioneer PkWy

(125 feet s. of Pioneer, on the W. side of Corzine st.)

Arlington, texAs 76013

817-366-1678

30 August
---
New Mavericks

By Susan and Tom Froehlich, Membership Co-Chairs

Albright, Roger

Dallas

2013 Boxster S

Callaway, Robert

Dallas

1991 911 Carrera 2

Duncan, Dave

Richardson

2015 911 Carrera 4 GTS

George, Dorian

Fairview

2015 Cayman S

Greico, Frank

Frisco

2013 911 Carrera

Hanke, Zachary

Celina

1985 944

Hart, Jim

Haslet

2007 Cayman

Hartman, Brad

Dallas

2015 Macan S

Jaunzemis, Vilnis (Candace)

Frisco

2015 Macan S

Lagrone, Jo

Plano

2014 Cayman

Lappalainen, Juha

Coppell

2009 911 Carrera S Cabriolet

Larson, Ray

Coppell

2014 Cayenne GTS

LaSorte, Darren

Dallas

2007 911 Turbo

Millheim, Roger

Frankston

1981 928S

Miner, David (Kristi)

North Richland Hills

2011 911 Carrera 4S

Nations, Aaron

Allen

2001 Boxster S

Randall, Clark

Dallas 2006

911 Carrera Cabriolet

Sebastian, Steve

McKinney

2001 Boxster

Trampel, Joe

Dallas

1972 911E Targa

Voelker, Robert

Coppell

2013 Boxster S

Ward, Greg

Arlington

2009 Cayman S

Say hello to your fellow

Porsche drivers!

Flashing your high beams at fellow Porsche

drivers is a time-honored tradition . . .

keep the flash alive!

If you have any changes that

you would like to make to the

MRPCA membership guide,

contact the Froehlichs at

membership@mavpca.org

Maverick Membership Totals

Members ~ 1,568

Affiliate Members ~ 878

Total Membership ~ 2,446

Transfers In

Carter, Mike

Little Elm, TX

Transfer From: Northern

Ohio (NOO)

Millheim, Roger

Frankston, TX

Transfer From: Hill Country

(HCT)

Smith, Kip

Dallas, TX

Transfer From: Alabama

(ALA)

Stubbs, Fred

Granbury, TX

Transfer From: West Texas

(WTX)

Anniversaries: July

Al Zim (Bret)

William Johnson

50 Years

30 Years

20 Years

Norman Davis (Brian)

William Johnson

15 Years

10 Years

Donald Brown (Linda)

David Hodges

Joseph Lasich (Kathleen)

Robert Lebovitz (Joyce Sanders)

George Luxbacher (Dee)

Bedford

Dallas

Colleyville

Dallas

McKinney

Dallas

Grand Prairie

Dallas

Lewisville

David Nuccetelli

Jason Rogers

Michael Thompson (Lisa)

Rob Wallace (Dawn)

5 Years

Chuck Bray

David Crounse

Mark Fidler (Trey)

John Fiorello (Carolyn)

Patrick Frye (Olivia Thomas)

John Kable

Dal Ladymon

Brian Larson (Edie)

John Leidel (Stephanie)

Mike Schirato

Rob Stephens (Sandra)

David Touchstone (Emily)

Sean Wayton (Kathleen)

Dallas

Colleyville

Plano

Dallas

Frisco

Keller

Euless

Fairview

Frisco

Wichita Falls

Dallas

Fort Worth

McKinney

Dallas

Garland

Dallas

Southlake

31
---
Unclassifieds

Unclassifieds are available free to Maverick Region members and are $5 for all others (contact editor@mavpca for payment details). Please limit size to no more than 6 lines. Ads will run for 3

issues, after which they will be removed unless you request that they be run for an additional 3 issues. E-mail your ad to classifieds@mavpca.org by the 10th of the month to have your ad run in the

following month's Slipstream. Be sure to include year, make, model, color, mileage, and asking price, as well as a contact name, phone number and/or email address. All parts will be advertised

on our website. Check your ad for accuracy the first time it runs. Contact the editor to have your ad pulled sooner. Due to space constraints, photos may or may not be included. No dealers please!

For Sale: 1982 911 SC Targa, Red wine metallic

with a tan interior, 89,000 miles. Original engine,

top end rebuilt Dec. 2008. Paint is mostly original

and is in good shape. Dashboard has small cracks

and the door pockets are black (rather than tan). Top

is in great condition. A/C system (uninstalled), but

parts included. Great driver's car. Awesome looking.

$20,000. Text 940-781-7225 for pictures. (08)

Wanted: 964 Carrera 2 Coupe, Manual trans.

Seeking a car with
---
SLIPSTREAM Advertiser Since 1978

WHY YOU SHOULD TRUST YOUR

PORSCHE TO LOUDEN MOTORCARS

• Award winning service for 35+ years

• Rated "Best in Dallas" a record 3 times

• Rated "Best in Texas"

• Rated "Top 10 Shops in U.S."

• Rated "Best in the West" by the Robert Bosch Corporation

• A Better Business Bureau accredited business for 3 decades with an A+ rating

• The first ASE "Blue Seal of Excellence" business in Dallas

• Racing background at Daytona, Sebring, and Riverside

• Master Certified Technicians

• Bosch Authorized Service Center

• Air conditioned shop for technician efficiency and comfort

• We do not sell cars, thus we must survive on our 35+ year service reputation

See what our customers are saying about us at:

LoudenMotorCars.com

Theresa@LoudenMotorcars.com

11454 Reeder Road

Dallas, Texas 75229

(972) 241-6326
---
Hiram Saunders, Slipstream

155 Jellico

Southlake, TX 76092

Periodical Postage

Paid at Fort Worth, TX