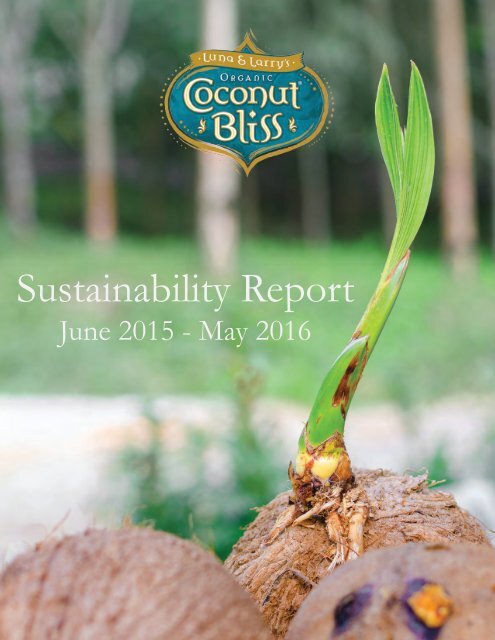 Coconut Bliss Sustainability Report 2016
Create successful ePaper yourself
Turn your PDF publications into a flip-book with our unique Google optimized e-Paper software.
Sustainability Report

June 2015 - May 2016
---
Greetings

It is with great delight that we present the First Annual Sustainability Report from

Luna & Larry's Coconut Bliss! Our goal with this first report is to identify and define

our activated core values that support the principles of a sustainable work force and

business. This includes the following highlights:

Ingredient Integrity (Organic Certified, Non-GMO Verified, Kosher

Pareve, Vegan and Fair Trade Ingredients)

Blissful Giving (A Night of Bliss Fundraiser, Scoop for a Cause)

Office Sustainability (Remodeled to LEED Gold Standards, Recycling

Hub, Love Food Not Waste Composting Program, LED/Daylight Sensor

Lighting, High-Efficiency HVAC and Abundant Natural Light)

Blissful Culture (Generous Health Benefits, In-House Lunch Program,

Education, Volunteer Pay and a Buying Club)

As our Mission Statement asserts, "…we embody transparency, integrity and

respect for our employees and our business partners…" These attributes flow

through our decision-making processes, and put sustainability values at the heart

of our business paradigm.

We are dedicated, with heart and soul, to continuous improvement, and to a

business model that is not only sustainable but also regenerative for future

generations. With passion, education and conscious leadership, we intend to

model and inspire the changes we wish to see in the world. Our Annual

Sustainability Report serves as a touchstone for accountability and transparency,

and will continue to evolve with us and in service to the greater good.

With Reverence and Passion,

Kim Gibson Clark

President & CEO
---
Table of Contents

THE BEGINNING OF BLISS 4

BLISS TODAY 5

WHY WE DO IT 6

RECOGNITION 7

INGREDIENT SOURCING 8

BLISSFUL GIVING 12

BLISS HQ 13

BLISSFUL CULTURE 14

BLISS PRODUCTION 15

SUSTAINABILITY MISSION STATEMENT 16

Company Mission Statement:

We create blissful experiences through exceptionally delicious,

organic, plant-based desserts that our customers can trust. We

embody transparency, integrity, and respect for our employees and

our business partners. We are an example of how business can be

abundant, inspiring and kind to the Earth and all beings.
---
The Beginning of Bliss

Coconut Bliss founders Luna Marcus and Larry Kaplowitz met at a permaculture

educational center in Oregon's Willamette Valley, where they found an

inspiring social environment dedicated to sustainable lifestyle practices. After

giving up dairy, they found themselves unsatisfied with the ice cream alternatives

that were available at the time. The soy and rice-based ice creams left them wanting

more, both in texture and integrity of ingredients.

Inspired by the many uses of coconut milk in other cuisines, Luna and Larry

decided to try it as a base for ice cream. Working with a simple, hand-crank ice

cream maker purchased from a thrift store for $1.50 they came up with the

perfect recipe: organic coconut milk sweetened with organic agave syrup. With

their new dairy-free, soy-free and gluten-free ice cream base, they began to experiment

with unique flavor combinations.

After months of tasting parties for friends and neighbors, they saw great

potential in their product. It was time to expand on the idea and share it with

the world. In 2005, Luna & Larry's Coconut Bliss® began selling hand-packed

pints to local natural food stores.

Based in Eugene, Oregon, Luna and Larry transformed their idea into a

successful business with products available throughout the U.S., Canada,

Germany and Australia. Coconut Bliss® can be found in most natural food

stores and a growing number of conventional grocers, as well as scoop shops

and smoothie bars.

4
---
Bliss Today

To this day Luna & Larry's Coconut Bliss®

is committed to creating the finest coconut

milk ice cream on the planet. Our products

are sold across the United States, Canada,

Germany and Australia.

Carrying on the tradition of quality and integrity, all of our products are

CERTIFIED ORGANIC and NON-GMO PROJECT VERIFIED, our cocoa,

coffee and chocolate are FAIR TRADE CERTIFIED, and 16 of our 19 flavors are

CERTIFIED KOSHER PAREVE.

Coconut Bliss is happy to support the

sustainable foods movement

through membership in:

Sustainable Food Trade Association

Organic Trade Association

Green America

Provender Alliance

Plant Based Foods Association

5
---
Why We Do It

Coconut Bliss' mission includes the statement,

"We are an example of how business can be abundant,

inspiring and kind to the Earth and all beings."

In order to achieve this, we embrace the

business model of the triple bottom line:

People, Planet, and Profit.

We take care of our people first, knowing that a business doesn't run without people, and a

business doesn't run well when its people are not well cared for.

We honor the planet that provides the resources for our products by using only certified organic

ingredients that are ethically produced. In turn, we thoughtfully craft these ingredients into divinely

creamy dairy-free coconut milk ice cream that tastes delicious and meets many dietary needs.

In addition to offering this amazing product in 19 different flavors, we grow our company by

forging relationships with our customers through exceptional customer service, and working to

provide meaningful experiences with a product and brand they can trust.

Our Team

6
---
Recognition

Green America is one of the oldest

environmentally focused non-profits in the

country. The People & Planet Award recognizes

businesses for their dedication to a green

economy: a bottom line that includes protecting

workers, communities, and the environment.

RE:think Business Certification recognizes

business' positive impact on our environment and

community. The RE:Think certification is awarded

to businesses who have demonstrated conservation

and efficiency actions across five categories:

Materials and Waste Management, Energy Efficiency

and Conservation, Water Conservation, Water

Quality, and Purchasing.

The City of Eugene, Oregon recognizes

businesses who are Bring RE:Think certified

with the Mayor's Bold Steps Award. As a triple

bottom line business, Coconut Bliss is proud to

have qualified as a Bold Steps Award Finalist.

7
---
Ingredient Sourcing

We Believe in Organic!

For Coconut Bliss, organic certification has always been a top priority. It is

the only way to ensure every ingredient is farmed in harmony with nature. The

prodigious use of synthetic pesticides in conventional farming damages the

life-giving biodiversity of the soil, contaminates groundwater, and is harmful

for the farm workers who apply these chemicals. Buying organic ingredients

supports the farmers who maintain our healthy soils and reduces our exposure

to petroleum-based pesticides.

It is important to note that purchasing certified organic products is the most

reliable way to avoid Genetically Modified Organisms (GMOs). The USDA

National Organic Program (NOP) has never allowed the use of GMO seeds,

and requires controls to mitigate GMO drift.

100% of our

products are

CERTIFIED

ORGANIC!

8
---
We Love our Supplier

Partnerships!

One of our longest standing supplier relationships is with the people who produce

our certified organic coconut milk in Thailand. The family-owned organic coconut

farm and processing facility is home to groves of lush coconut trees and a biodiverse

landscape. Luna & Larry went to Thailand to see the farm and connect with the people

when they first realized they were going to need a large, steady supply of organic

coconut milk. In 2011, several members of the Bliss crew visited the farm and facility

again. We continue to be impressed by and appreciate their dedication to organic

farming practices and the good care provided to their employees.

Another source for our organic coconut milk is here in Springfield, Oregon, just a

quick trip from our office in Eugene. We teamed up with a local organic juice

producer to turn shredded coconut from farm cooperatives in the Philippines into

fresh, premium coconut milk. This venture has helped secure our supply of organic

coconut milk, created a new product line for an Oregon business, and increased

revenue for our local economy.

Our commitment to organic ingredients led us to Maisie Jane's California Sunshine

Products as we were sourcing almonds for one of our new 2015 products, Coconut

Almond in Chocolate bars. In addition to being certified organic, their farming

practices promote and protect the health of the bees that pollinate the orchard. This

includes planting native foliage, grasses and flowers, which provides the bees a safe

habitat while attracting them to the almond trees. Their partnerships include the

Xerces Society and other research facilities working to establish industry practices that

are less harmful to our endangered pollinators.

We have found that through our diligent and mindful ingredient procurement, we

have a far-reaching and positive impact on our global food system and the

environment.

9
---
Non-GMO Verified

All Coconut Bliss products are verified free

of GMOs (Genetically Modified Organisms) by

the Non-GMO Project. As an organically

certified product our ingredients cannot come

from GMO sources, but by being Non-GMO

Project Verified we support the efforts of the

Non-GMO Project to raise awareness of the

hidden truth about GMOs in our food supply.

In 2014, GMO crops in the U.S. made up 93

percent of all corn planted and 94 percent of

soybean acreage. Although GMO crops have not

been proven safe for human or animal

consumption, they show up in vast amounts of

processed foods, from corn syrup (regular, high

fructose, and solids) to soy in baby formula; all of

this unlabeled and with the majority of

consumers unaware.

100%

of our

products are

Non-GMO

PROJECT

VERIFIED!

The Non-GMO Project's Product Verification

Program is the first and only system in the United

States designed to test if a conventional product

has met defined standards for the presence of

GMOs. These rigorous standards provide

third-party verification that the best practices of

GMO avoidance are in use, and include strict and

comprehensive traceability, segregation and

testing requirements.

Look for the USDA Organic seal or the

Non-GMO Project Verified logo to avoid GMO's

in your family's diet. We will continue to work

towards a future where we have informed choices

about the foods that sustain us, and the special

treats that make us smile.

10
---
Fair Trade Certified

Ingredients

The farmers of cocoa and coffee typically

own < 5 acres of land and have little

negotiating leverage in a global market.

Without a collective voice, the farmers

and their families may be impoverished

for generations. The fair trade movement

empowers producers at the local level

by paying them fair wages for their labor,

improving their local living conditions,

and giving them a stronger voice in the

market. This is accomplished through

producer cooperatives who receive

training to deal directly with market

buyers and demand a living wage. To

certify as a Fair Trade cooperative,

portions of the farmers' revenue must be

reinvested into the community. The

cooperative directs these investment

funds to more training, purchasing

equipment, building schools, and

healthcare programs.

Organic Fair Trade Dark Chocolate

Our cocoa, coffee, and chocolate are

all certified Fair Trade. We are proud to

be part of the fair trade movement that

supports these farmers and their

dedication to work and community.

Organic Fair Trade Cocoa and Coffee

11
---
Blissful Giving

Philanthropy has always been a cornerstone of our business, which is

demonstrated through a generous donation program that supports

communities nation-wide and an annual, local community benefit and

fundraiser, A Night of Bliss. This is a lively and fun community

celebration and fundraiser featuring endless Coconut Bliss sundaes, live

music, silent auction, raffle, kids activities and more! A Night of Bliss is

our way of giving back to the community where we live and work.

We donate 5% of sales from our selling events to our Scoop for a

Cause program. These funds go directly to our A Night of Bliss

beneficiary. In 2015 our beneficiaries were awarded over $16,000

from the two programs combined.

Beyond Toxics works to guarantee environmental protections and health for

all Oregon communities and residents. We are proud to support the important

work they do. We value the long-term partnership built upon mutual

respect and care for the earth. It is our delight to have chosen Beyond Toxics

as our 2016 A Night of Bliss and Scoop for a Cause beneficiary.

YOUTH

From June 2015 - May 2016 we

donated .4% of sales to the following

organizational groups:

COMMUNITY

ENVIRONMENTAL

12
---
Bliss HQ

In February 2016, Coconut Bliss headquarters moved to a new office. We worked with a local

architecture firm to remodel a former banquet hall into a space that our employees would find

comfortable and inspiring, while incorporating the latest sustainability measures. At the time of this

report, the points accumulated for LEED certification puts our office in the running for the GOLD

level certification. Some of the highlights are:

Energy savings is 34.5% better than ASHRAE Standard 90.1 (the LEED reference

standard). This was accomplished with Energy Star rated appliances and freezers, LED light

fixtures, energy efficient HVAC properly zoned to reflect space use type, and efficient

ventilation fans.

Lighting is 40% more efficient than ASHRAE Standard 90.1 (the LEED Reference

Standard). Lighting includes LEDs and sensors in offices, restrooms, and hubs.

Water use reduced 48% over baseline standards through high-efficiency dual-flush toilets

and sinks with sensors.

A recycling hub where materials can be divided into 12 different waste streams.

Compost is collected and picked up by the city of Eugene's Love Food Not Waste program.

Windows enlarged and skylights added to allow in as much natural light as possible.

Every office equipped with bamboo-topped adjustable sit/stand desks and furnished with

a recycling bin and re-usable paper collection file.

Office copy paper and printed materials use recycled paper - 100% post-consumer fiber.

Covered, secure and convenient bicycle parking provided.

Beautiful outdoor space designed for eating, meeting or working out of doors.

Planters atop office dividers create an eye level green space and add to fresher air quality.

Alternative spaces provided for stretching or working, allowing a change in posture.

13
---
Blissful Culture

Benefits

At Coconut Bliss we invest in our employees. We provide medical, dental and vision

insurance, paid at 100% for employees and dependents. We also offer a generous Paid

Time Off (PTO) benefit, as well as 401-K, holiday, jury duty, parental and bereavement

pay. For wellness needs not covered by health insurance, employees can take advantage

of our company's Health Reimbursement Arrangement (HRA) fund. Additionally,

Coconut Bliss offers Company Sponsored Education, a Paid Volunteer Program,

Buying Club and of course all the Coconut Bliss you can eat!

Perks

A unique employee benefit is our lunch program. Four days a week an organic,

vegetarian midday meal is prepared in-house by our talented chef. While employees

pay a nominal amount to cover the ingredients, the company pays the chef 's salary.

Providing a nutritious, on-site lunch is a stress-reducer and a time-saver for our active

employees. It also brings our team together in an informal setting allowing inspiring

conversations to organically flow.

Work / Life

Coconut Bliss places an emphasis on employee work/life balance. Our employees

enjoy abundant and dynamic lives outside of the office, generous wages, and excellent

benefits. We summarize our working environment as collaborative, supportive,

playful and focused.

14
---
Bliss Production

While the family-owned facility where 90% of

Coconut Bliss products are made is not new, it has

undergone substantial updates. Solar panels span

the entire roof of the warehouse, enabling them to

employ energy directly from the sun. All old-style

fluorescent, metal halide, mercury vapor, and

incandescent light fixtures have been replaced with

the latest energy efficient lighting options. New

T5 fluorescent bulbs have been installed in

warehouse areas and new LED fixtures are in

production areas to cut energy usage, while motion

detectors turn lights on and off as needed.

Addressing water quality, a decade ago they

installed a Dissolved Air Flotation (DAF) unit that

removes dissolved solids from the effluent stream.

This makes the waste water cleaner, which eases

operations at the city's water treatment facility. The

solid waste is then given to a nearby farm for their

compost.

Our Future

As we continue to grow, finding opportunities to

increase the availability of organic acreage is one

of our top priorities. We are exploring opportunities

with local and regional growers to address some of

our ingredient needs. Working with the OTA and

their farmer transition resources, we hope to bridge

the gap for growers who are interested in

transitioning to organic.

Another goal for 2017 is to actively measure and

record our emissions, energy and water usage. With

this data, we plan to set reduction goals for our

office energy and water usage as well as identify

opportunities to increase sustainability awareness

around our events and travel needs. We will seek to

continually improve our processes and practices with

each year.

15
---
Sustainability Mission Statement:

Luna & Larry's Coconut Bliss is dedicated to contributing

to a sustainable future for our community and the planet.

Our company culture encourages and supports sustainable

practices at all levels of our business. Our products are created

with thought and care, and environmental impact is at the

forefront of our decision making. We partner with companies

that are environmentally conscious to source certified organic

ingredients that are ethically produced. Our intent is

continuous improvement in our practices and business model.

coconutbliss.com

info@coconutbliss.com

Toll Free 844-305-5441

# shareyourbliss

16