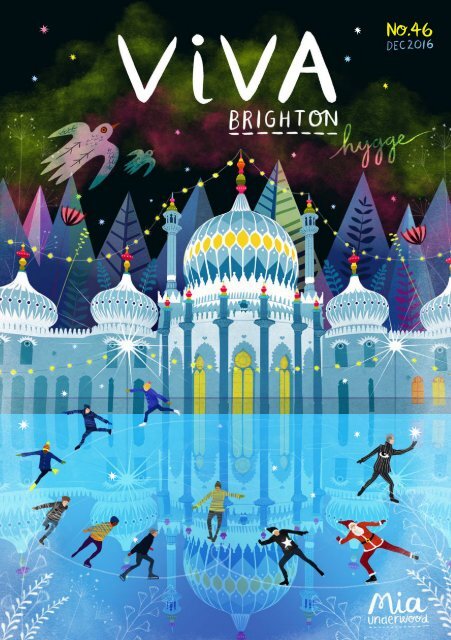 Viva Brighton Issue #46 December 2016
Create successful ePaper yourself
Turn your PDF publications into a flip-book with our unique Google optimized e-Paper software.
No.46
---
vivabrighton

Issue 46. December 2016

EDITORIAL

...............................................................................

Having procrastinated long and hard over what to say about hygge,

the elusive Danish art of living well, and this month's theme, I

retreated, with the definitive guide - Louisa Thomsen Brits' The

Book of Hygge - to my sleep-crumpled bed one Sunday morning in

November. Outside, Storm Angus was doing its best to blow the

roof off the house, and I spent the next hour or so sipping coffee,

absorbed in the book with a Jack Russell to warm my feet. Whilst I completely failed to

pen a helpful synopsis (I suggest you turn straight to pg 83 for that), it was an excellent

and, I found out, hyggelig start to the day. I highly recommend it.

But that's all I've got to say on the subject. You see, I've learned that hygge is something

that has to be experienced and nurtured, not intellectualised. Something to revel in, not

write about. Like most things that require us to surrender ourselves to the moment, it

easily evaporates on over-thinking, but it's not hard to find; it's in life's simple pleasures

and everyday rituals. So long as you're paying attention.

So give it a try. Count your blessings, seek out kinship and community, cultivate comfort

and joy. Spend less time consuming and more time being consumed; in the moment, the

conversation, the company of others. So, happy hygge hunting, and hyg dig!

THE TEAM

.....................

EDITOR: Lizzie Lower lizzie@vivamagazines.com

DEPUTY EDITOR: Steve Ramsey steve@vivamagazines.com

WRITER/ACTING ART DIRECTOR: Rebecca Cunningham rebecca@vivamagazines.com

PHOTOGRAPHER AT LARGE: Adam Bronkhorst mail@adambronkhorst.com

PUBLISHER: Becky Ramsden becky@vivamagazines.com

ADVERTISING: Anya Zervudachi anya@vivamagazines.com, Hilary Maguire hilary@vivamagazines.com,

Nick Metcalf nickmetcalf@vivamagazines.com

CONTRIBUTORS: Alex Leith, Alexandra Loske, Amy Holtz, Andrew Darling, Ben Bailey, Cara Courage,

Chloë King, Di Coke, Holly Fitzgerald, JJ Waller, Jay Collins, Joda, Joe Decie, John Helmer, Julia Zaltzman,

Lisa Devlin, Lizzie Enfield, Louise Schweitzer, Martin Skelton and Nione Meakin

Viva Brighton is based at Brighton Junction, 1A Isetta Square, BN1 4GQ

For advertising enquiries call 07596 337 828. Other enquiries call 01273 810 259

Every care has been taken to ensure the accuracy of our content. We cannot be held responsible for any omissions, errors or alterations.
---
Barfields Butchers

Free range naturally reared meat

Order Xmas meat online

Free delivery in

Brighton & Hove

Free range bronze turkeys, geese, ducks, capons & chickens

35-day aged 100% grass-fed beef from native breeds

Rare breed pork from Sussex & Southdown lamb

www.barfieldsbutchers.co.uk

Or come and visit us at our Fiveways shop

11 Kings Parade, Ditchling Road, Brighton, BN1 6JT 01273 503349
---
CONTENTS

...............................

Bits and bobs.

8-23. A gluten-free pub, a mysterious

painting, the 'pretty hygge' Whitehawk

Ultras, Joe Decie's hyggelig strip, and

absolutely nothing uhyggelig (we hope).

Photography.

25-29. 'Who knows what really happened?'

Jack Latham's photographic

exploration of an Icelandic miscarriage

of justice (maybe just a bit uhyggelig).

My Brighton.

30-31. David Bramwell waxes lyrical

about amateur enthusiasts, and not so

lyrical about the i360.

53

59

Photos © Jack Latham / INSTITUTE

25

Columns.

33-37. Lizzie Enfield ponders the limits of

language, Amy Holtz reflects on childhood

naivety, and John Helmer writes about

wondering what to write in his column.

On this month.

39-53. We learn about: satirising a turbulent

year, hunting for ghosts and QI facts

(separately), a notorious avant-garde play,

a paraorchestra, and what Russell Kane's

afraid of.

Art and design.

54-65. A crocheted Christmas dinner; 'a

typical Brighton winter scene' (except for

the ice-skating yeti, flying jellyfish clock,

etc); and the Kalevala-inspired illustrator

and Marimekko designer, Sanna Annukka.

....5 ....
---
CONTENTS (CONT)

...............................

The way we work.

67-71. Artists' studios, and their inhabitants,

open up in front of Adam Bronkhorst's

lens this month.

Food and drink.

72-79. An unbeatable cabbage experience,

a blue-cheese soufflé recipe, tea

tasting, martini making, and the latest

Edible Updates.

74

67

77

Features.

81-97. How does a café staffed by deaf

people work? Why might a former Hove

resident be made a saint? Why does a

Brighton company quiz all employees

on their dreams? Why do we feel like

hibernating in the winter? What does

the real Santa think of imposters? What's

the most hyggelig theatre in town? How

does hygge architecture work? And what

is hygge, anyway?

Inside left.

98. By 1981, quite a big tree had grown

inside a house in Upper Gardner Street;

we have the photo to prove it.

....6 ....
---
Heartfelt best wishes

from Middle Farm

for a happy Christmas and a wonderful New Year

Delighting in the distinctive

Revelling in the remarkable

Embracing the extraordinary

Middle Farm, Firle, Lewes, East Sussex BN8 6LJ

Christmas order line 01323 811411

info@middlefarm.com www.middlefarm.com
---
THIS MONTH'S COVER ART

..................................................

For this month's cover, we looked to the most

hyggelig local artist we could find to come up with a

design, which summed up our theme and connected

it with Brighton. Mia Underwood says, "It's funny

how hygge has become this big trend in the UK

this year, but there's something that's been lost in

translation. It's not about buying expensive candles

or spending money, in fact it's the opposite. It's

something you make, not something you buy off a

shelf. I have many happy memories of doing drawings

as a child whilst my mum or mormor (Danish

for 'grandmother') was cooking away, creating

delicious smells. I would be in my own cosy world,

a warm feeling of contentment, relaxed and happy.

I remember walking into my grandparents' house

and being welcomed by a wonderful warmth, the

delicious smells of cinnamon buns baking and coffee

brewing, with candles lit, of course."

These memories inspired one of the projects which

drew us to Mia's work: a book called Nordic Crafts.

"The book shares several of my mormor's favourite

knitting patterns and craft projects. She was so full

of energy and heart, always busy. Soon after she

passed away, I came up with the idea and submitted

the concept to CICO Books and they loved

it. In Denmark, it's far more common for people

to be into crafts and making, and it has been for

many generations, but it's more of a recent trend

over here. I miss the craft supplies you can get in

Scandinavian countries and I miss the shops I used

to visit, but I feel very lucky to have a Tiger shop in

Brighton!"

"I work in lots of different media: traditional drawing,

painting, digital art, graphic illustration - and

I use lots of styles... it depends what I'm trying

to convey. In this case I combined pen and pencil

drawings, physical textures and hand-written text,

then brought it all together in Photoshop. I don't

....8 ....
---
MIA UNDERWOOD

..........................................

really have a process I follow; every piece of work is

different, that's what makes it come alive for me."

The illumination of the Pavilion in the background

was inspired by the Dr Blighty projections earlier

this year, which were put on as part of the Brighton

Festival. "I found the whole experience very moving,"

Mia says, "seeing so many people come to

watch this beautiful outdoor event. It inspired me to

transform The Royal Pavilion into a cosy, Nordicstyle

winter palace. And it's a very special building

for me personally because I got married there. It

holds happy memories for me and is an iconic building

for Brighton, one of the first things that comes

to mind when I think of the town. Rather than just

have people ice skating, I wanted it to have a rhythm,

a flow, a story, and a message. I wanted all the skaters

to be different races, and celebrate Brighton, because

it's such a welcoming, diverse city."

"2016 has been a tough year, with iconic figures dying,

stupidity and hate being spread across the world

through politics. This is a time to celebrate love, and

happiness, when we need them most." RC

Mia will be selling handmade pieces and prints, as

well as copies of Nordic Crafts, at Little Papa's House

(venue 48) in the Artists' Open Houses this Christmas.

Visit miaunderwood.co.uk or follow her

@miaunderwood_art

....9 ....
---
BITS AND BOBS

...............................

DI COKE'S COMPETITION CORNER

Winter is here, and it's definitely the season for a crackling log

fire and cosy candlelight. This month, our competition prize is

a gift set from Wick Candle Boutique in Hove: a La Montaña

Winter Oranges candle and poster.

To enter our December challenge, we'd like you to get creative

and write a short poem on the theme of keeping cosy and warm

in winter. Share your poem (no more than 50 words) on the Viva

Brighton Facebook page using the #VivaBrightonComp hashtag.

Alternatively, email your entry to competitions@vivamagazines.

com before 31st

December 2016. The

poem that best captures

the theme will feature in

the February issue and

win the prize. The submission

must be your own original work.

Full terms and conditions can be found at vivabrighton.com/

competitions. The competition is open to all ages, but entries

by children under 18 must be submitted on their behalf by

an adult.

Wick Candle Boutique, 120 Portland Road, Hove. Visit

wickcandleboutique.com or find them on Facebook and Twitter

@WickCandleHove.

COMPETITION WINNER

In October we asked readers to share a photo inspired by

'Beautiful Italy' - we loved this atmospheric shot by Lynn

Mackeonis. "This was taken in the early evening, whilst a

jazz band played - Lake Orta is the most beautiful fairytale

place near Milan." Lynn wins £50 to spend at Bella Italia.

Di Coke is very probably the UK's foremost 'comper',

having won over £300,000-worth of prizes. For winning tips

and creative competitions, check out her blog at superlucky.

me and SuperLucky Secrets book.

....10....
---
BITS AND BOBS

...............................

CHARITY BOX #9: CAROUSEL

We're a learning-disability-led

arts charity, which means that our

artists, who all have a learning disability,

control all the work that we

do: the planning, the management

and the delivery. We work with

hundreds of people of all ages every

year. We're always looking to the learning-disabled

community for writers, musicians, singers and filmmakers,

but we also welcome advocates and patrons.

The biennial Oska Bright Film Festival is one of

our flagship events. The next one is in November

2017, and submissions are open now. We have six different

bands, and a monthly 'Rock House' jam, usually

at The Green Door Store. And we do a monthly talkradio

show on Radio Reverb, which is also available

as a podcast.

Last year a team of artists created

the online graphic novel

Curing Perfect, and now we've

developed an app to take the discussion

one step further. There's

a lively debate because of the

new screening tests for Down's

Syndrome. Do we want a world of perfect humans?

Where does our community fit in? Carousel is allied

with Creative Minds, a national conversation about

such issues in the arts and society.

Our next club night, the Blue Camel Club, is on

Monday 5th December at The Old Market in Hove.

It's a chance for everyone to party; the amazing Daniel

Wakeford (of The Undateables fame) is performing.

Better get in quick. Lizzie Lower interviewed Lisa Wolfe

carousel.org.uk / curingperfect.com

ASK THE

LEGAL

EXPERT

How it works and how it can help you.

Legal advice on your terms

Got a question about how

the law applies to a situation

or problem you're having?

Only

£99

(inc. VAT)

We can help you with up to 45 minutes of

one-to-one friendly advice and guidance,

with the certainty of a fixed price.

Call us today on

01273 838 674

QualitySolicitors

Howlett Clarke

Changing the way you see lawyers.

www.qualitysolicitors.com/howlettclarke

@QSHowlettClarke @HowlettClarke QualitySolicitors Howlett Clarke
---
FESTIVE PACKAGES AT RENDEZVOUS

CHRISTMAS PACKAGE

THREE COURSE FESTIVE DINNER

DRINK ON ARRIVAL

LIVE ENTERTAINMENT

£5 FREE BET

NEW YEAR'S EVE PACKAGE

FOUR COURSE DINNER

DRINK ON ARRIVAL

EXCLUSIVE PERFORMANCE FROM NAVI -

KING OF POP

DJ UNTIL LATE

£5 FREE BET

£35 per person £65 per person

THE RED LOUNGE IS THE PERFECT PLACE FOR SHARED PARTIES THIS FESTIVE SEASON.

CALL IN TODAY 01273 605602 / BNEVENTS@CAESARS.CO.UK

01273 605602 infobrighton@rendezvouscasino.com rendezvouscasino.com/brighton

Rendezvous Casino Brighton, Brighton Marina Village BN2 5UT rendezvousbrighton • Rendezvousbton

Over 18s Only | Challenge 21 Policy in Operation | Know When To Stop Before You Start, visit gambleaware.co.uk | drinkaware.co.uk | Rendezvous Casino is a part of Caesars Entertainment UK Limited
---
BITS AND BOBS

...............................

JJ WALLER'S BRIGHTON

"Hygge? Had to look this one up…" says JJ Waller. "Very trendy, which supporting Whitehawk

FC is not… that's more like following a punk band." But, he tells us, "the supporters are

pretty hygge." So we've heard. The Whitehawk Ultras are about as close-knit and passionate

a community of folks as you'll find anywhere. Here's one of their number, Julia, who's just got

engaged to a Dane. "How hygge is that?!"

....13....
---
JOE DECIE

...............................

....15....
---
BITS AND BOBS

...............................

Painting by Jay Collins

PUB: THE PRESTONVILLE ARMS

When the property developer Daniel Friend

planned a new middle-class area to be built north

of Brighton Station in the mid-1860s, he made

a pub central to those plans, and the Prestonville

Arms came into being, built as an elegant

endpiece to the curve joining the bottoms of

Hamilton and Brigden Road.

The Post Office Directory of 1866 lists one Richard

Cave as being its first landlord, until a George

Postlethwaite took over in 1890. I imagine that

neither man even thought about making the

place the city's (country's?) first gluten-free pub;

but that's what the latest landlady, Jacqueline

Boucher, has done, as the Prestonville celebrates

its 150th anniversary.

I spend a pleasant couple of late-Friday-afternoon

hours in the pub conducting an interview,

and then chat to Jacquie, who tells me about

their new chef - Monkey, who used to do the

food in the Connaught, in Hove - and their

guest-ale policy, and their vinyl nights, and their

open fire, and their themed for-sale art shows. At

the moment, presumably because Halloween has

just happened, the theme is skulls.

I haven't been in the pub for a couple of years,

and it's had a good scrub since then. It's much

brighter, and it's got a really cared-about feel to

it; I sink a couple of well-kept pints of Frontier

(it's owned by Fuller's) listening to Nouvelle

Vague, and watching the Friday-evening crowd

start to grow, thinking that it's been well worth

the five-minute hike up from the station.

A nice place for a pint, then, but its main USP

is Monkey's gluten-free menu, which includes

a Sunday roast. The policy is strict: no wheat

products are allowed in the kitchen at all, to

avoid the slightest chance of contamination. Back

to Jacquie: "My son is a celiac, so I know a lot

about how difficult it is to get gluten-free meals

in pubs. When people come in and say 'what's

gluten free on the menu?' and I say 'everything',

they think they've gone to heaven." Alex Leith

....17....
---
VALUATION DAY

Antiques and Works of Art

Tuesday 24 January

10am to 4pm

Bonhams specialists will be

at The Courtlands Hotel to

offer free and confidential

advice on items you may be

considering selling at auction.

ENQUIRIES AND

APPOINTMENTS

01273 220000

hove@bonhams.com

VENUE

The Courtlands Hotel

19-27 The Drive, Hove

BN3 3JE

PAIR OF BOHEMIAN

OVERLAY GLASS

VASES CIRCA 1850-60

£7,000 - 9,000

bonhams.com/hove

A family-run, independent retailer with nearly 80 years of trading and

experience. Specialists in items of the highest quality.

Antique and contemporary jewellery • Silverware • Watches • Repairs and valuations

Marston Barrett Ltd

Established 1938

72-73 High Street, Lewes, BN7 1XG • 01273 474150

www.marstonbarrett.com
---
BITS AND BOBS

...............................

SECRETS OF THE ROYAL PAVILION:

BEAUTY, BEARS AND BLEEDING HEARTS

A beautiful young woman is walking through snow

and ice, accompanied by two submissive and loyal

polar bears. Her slim figure is silhouetted sharply

against an inky blue starry sky. She wears a long

gown and veil of gauzy white fabric, embroidered

with pearls and crystals. Her face is turned

towards the viewer and we see her large, dark,

almond-shaped eyes. Her cherry-red lips stand out

against the cold colours of the picture. But there is

another splash of red in the picture: she is holding

a bright red heart in her hands, blood dripping

through her fingers. It is a detail you only see at

second glance, once you are drawn into the painting,

trapped by its beauty, brilliance and darkness.

What is the story behind this mysterious painting

in the collection of Brighton Museum?

The Ice Maiden is a small watercolour and gouache

painting by the French-born artist Edmund Dulac

(1882-1953). Dulac had studied art in Paris, but

moved to London in 1904, where he carved out a

career as one of the most prolific artists of what is

often called 'the golden age of book illustration'.

He mostly illustrated fairy tales and fantasy novels,

but also designed posters and stamps.

The painting entered our collection in 1953,

but it baffled curators until the 1970s, as no-one

knew who the Ice Maiden was or what story she

was telling. Eventually the link was made to the

book in which the painting appeared. It was one

of six plates for the fantasy novel The Dreamer of

Dreams, published in 1915 and written by Queen

Marie of Roumania, a granddaughter of Queen

Victoria. The Ice Maiden is a beautiful stranger

who a wanderer named Eric meets in an icy

Northern region. The picture shows the moment

he first sees her: 'Everything about her was white,

glistening and shining; so shining that the human

eye could hardly bear the radiance.' She comes out

only at night, in search of broken hearts, which

she picks up carefully and takes back to her castle

made of ice. Most of Dulac's illustrations walk a

narrow path between beauty and cruelty, mystery

and menace, and one wonders whether they were

actually created for children.

Alexandra Loske, Art Historian and Curator at the

Royal Pavilion

The Ice Maiden is not permanently on display, but

if you'd like to find out more about its story and

early 20th-century fairy-tale illustration in general,

come to a Bite-Size Museum talk at Brighton Museum

on 13th Dec, 12pm. We will bring the painting

out of storage, and there will also be a chance to see

a first edition of The Dreamer of Dreams. Free with

admission. See brightonmuseums.org.uk

Dulac's 'The Ice Maiden', courtesy of Royal Pavilion and Museums, Brighton and Hove

....19....
---
BITS AND BOBS

...............................

MAGAZINE OF THE MONTH: THE COLLECTIVE QUARTERLY

You have to feel sorry for hygge.

The flavour of the month at the

beginning of the year, and now at

the butt end of snarky comments

from people who should know

better. Ahhh, we Brits. Build 'em

up. Knock 'em down.

At the same time, everyone who

has come into our shop this year

saying they have been to Copenhagen

or Denmark (me included)

just drools with pleasure. "The atmosphere!"

we say to each other.

"It's so… warm and together." I think that's hygge

at work. I'm all for it.

(A short commercial break. Louisa Thomsen Brits,

a good friend of our shop and author of one of

2016's best books on hygge, will be with us on the

evening of December 12th to explore with us what

it means and how to cultivate it in our lives. Keep a

look out for booking details. It's free!)

A number of our magazines are deliberately, provocatively

and brilliantly not hygge at all. I'm

thinking of Adbusters, for one. But many aspire to

hygge and a few actually seem to

me to achieve it.

The Collective Quarterly is one

of those. It's a magazine about

one place at a time and the people

who live and work there. It's

not soft, but it is always respectful

and warm-hearted. In their

own words, they are 'dedicated to

documenting the life and work of

those living purposefully.'

The current issue journeys to

Maine, generally, and to Penobscot

Bay, in particular. A place close to the sea

where individuality and community co-exist beautifully,

where artists and car mechanics and fishermen

work cheek by jowl. The writing and the photography

are just beautiful. The articles are simple

and deep, longish but not hard work. Reading The

Collective Quarterly makes me feel connected, a part

of something bigger and more at ease.

Unless Louisa tells me differently, I think that

might just be the hygge I am looking for.

Martin Skelton, Magazine Brighton

TOILET GRAFFITO #23

¡Ay, caramba! We thought the Brexit comedown was bad.

Luckily Brighton is still a land of love and liberty and we'd like

to extend a warm embrace to any Mexicans* in need of succour.

As endorsed by this lavatorialist, we've got some pretty decent

food here, and we like women, the devout, the queer, the curious

etc, etc, etc. Viva Mexico (and all you other) cabrones!

But where might you find this warmest of welcomes?

*insert spurned nationality/gender/sexual orientation/creed here

Last month: The Basketmakers Arms

....21....
---
BITS AND BOBS

...............................

SPREAD THE WORD

Here's Janine Maer in Havana, Cuba, reading

her copy of VB44 in front of a massive sign that

apparently read VIVA CUBA LIBRE!

She tells us that she loved touring the vibrant city

in a classic car, seeing the beautiful old buildings

and Afro-Cuban art in the Callejon de Hamel,

listening to salsa, eating dinner in a paladar - the

unofficial restaurants in the private homes of

hospitable locals - and, of course, drinking lots

of rum cocktails. Viva Cuba Libre! sounds like a

magazine we'd be willing to work for.

And that's Jo

O'Reilly Westwood,

at the

gateway to Christiania

in Copenhagen,

searching

for hygge in the

homeland. She's

not absolutely sure

that she found it,

or that she even

knew what she was

looking for, but she did meet some mighty colourful

characters along the way…

Keep spreading the word, and send your

holiday snaps to hello@vivamagazines.com

ON THE BUSES #20

CLEMENTINA BLACK (Routes 29 & 49)

A powerful advocate

for social

justice, Clementina

Black roared

around the country

in the 1880s,

exhorting women

to join unions to

fight for financial

reward and

equality. "Underpaid

wives of underpaid men bear upon their

shoulders a burden… too heavy for any human

creature," she wrote. Clementina put forward

the first motion for equal pay for women at the

TUC in 1888; as Honorary Secretary of the

Women's Trade Union, later President of the

Women's Industrial Council, she was in a position

to do so.

Born at 58 Ship Street in 1854, Clementina

was the daughter of town clerk Peter Black and

portrait painter Maria Patten. She was 21 when

her mother died of 'a rupture' after lifting her

disabled husband, leaving Clementina to care

for him and her seven younger siblings (who included

mathematician Arthur Black and Russian

translator Constance Garnett). The family was

brilliantly educated at home in Brighton, and

spoke fluent French and German. Clementina

began to write, with the fictional A Sussex Idyll

published in 1877, but when she moved to London

to further a literary career, her focus altered.

Friendships with Fabian socialists, suffragettes

and the Marx family helped alert Clementina

to the plight of working women, and she hurled

herself into campaigns to open the eyes of middle-class

society who preferred not to see who

did their laundry or scrubbed their floors. We

owe her. Louise Schweitzer

Illustration by Joda, jonydaga.weebly.com

....23....
---
You won't find the best views of Brighton

and the Downs at the top of the i360

You'll find them at the

gallery next door

BRIGHTON

PHOTOGRAPHY

Home of the world famous Brighton & Hove Calendar

www.brightonphotography.com | 52-53 Kings Road Arches | 01273 227 523

Steyning Grammar School

Day and Boarding school in the UK

Top 10% Nationally for Student Progress

No Tuition Fees • Full Boarding Fees Per Term £3610

Year 9 (13 years old) and Year 12 (16 years old) Places Available for September 2017

'The inclusive SGS Boarding

community is a model for the

world on how we can live in

peace and harmony with each

other" Ofsted Outstanding Sept 2015

raising standards

improving lives

Church of England

Voluntary Controlled

For further details on the School, Sixth Form College, curriculum and prospectus, visit our website

www.sgs.uk.net or call Suzie Plimmer, the Boarding Registrar, on +44 (0) 1903 817601

twitter.com/sgsboarding

facebook.com/ sgsboarding
---
PHOTOGRAPHY

..........................................

Jack Latham

Real-life Nordic Noir

"I'd grown tired of the way

photography struggles to tell

stories," says Jack Latham, the

Brighton-based photographer

whose book Sugar Paper Theories

was recently shortlisted for the

prestigious Paris-Photo/aperture

2016 Photobook Awards.

"So I started looking at the nature

of storytelling, and in particular

Icelandic folklore." While carrying

out this research, he came across a

controversial murder case from the

70s, involving the disappearance of

two men near Reykjavik, and the subsequent arrest,

conviction and imprisonment of six young people.

The prosecution, he discovered, had found no

conclusive evidence to incriminate the defendants;

all they had to go on was confessions to the crimes,

which had been issued after an extreme campaign

of interrogation on the part of the police. The

six, who had been bullied into actually believing

they had been involved in the murders, were

sentenced to up to 17 years in prison for their roles

in the 'crime'; two of them had died since being

released. "I realised I'd found the subject for my

next project," he says. "Who knows what really

happened? The bodies of the disappeared men

were never even found."

On numerous subsequent trips to Iceland, Jack

met, and in many cases befriended, people involved

in the case, from the four still-living suspects, by

now convinced of their innocence, to a number

of conspiracy theorists who had been obsessed

with the case for decades, and had developed a

number of interesting - and on occasion completely

implausible - theories about it.

"Afterwards I was delighted to be able to persuade

Gisli Gudjonsson to get involved

with the project," says Jack. "Gisli

is to psychology what I am to

photography - completely obsessed

- and his clinical analysis of the case

helped hold the project together."

Gudjonsson is an expert in 'memory

distrust syndrome', leading in many

cases to false confessions: it was

his expert-witness evidence that

helped lead to the freeing of the

Birmingham Six and the Guilford

Four. He was briefly involved in

the Icelandic murder case in the

70s - he gave one of the defendants a lie-detector

test - and has since worked on it to help reverse

their convictions, having become convinced their

confessions were unreliable.

Jack asked Gisli to write the text of the book, happy

in the knowledge that the Icelander's words would

be completely even-handed and clinically thought

through. This would give Jack the chance to weave

a meandering visual narrative of half-truths, police

fabrications, conspiracy theories and red herrings

around that text, using his own photographs,

newspaper clippings, excerpts from the suspects'

diaries, and remarkable photos taken by the police

during the interrogations, which posed the suspects

in reconstructions of the 'murders'.

Sugar Paper Theories is, then, an intelligent book

about the blurred nature of 'truth' in narrative and

storytelling, as much as it is a careful analysis of the

case in question. It's a timely book, too, published

by Here Press and the Photographers Gallery

just before the public inquiry into the case by the

Icelandic judiciary that should finally clear the

names of the six accused. Alex Leith

herepress.org

Photos © Jack Latham / INSTITUTE

....25....
---
PHOTOGRAPHY

...............................

Clockwise from top left: Hlynur Þór Magnússon (testified that abuses occured in the course of the Geirfunnur investigation), Kristján #6 and Kristján #8

(reconstructions of Geirfinnur's death from original police archive). © Jack Latham / INSTITUTE

....26....
---
PHOTOGRAPHY

...............................

Conspiracy Theorist's Desk © Jack Latham / INSTITUTE

....27....
---
PHOTOGRAPHY

...............................

Conspiracy Theorist #1 © Jack Latham / INSTITUTE

....28....
---
PHOTOGRAPHY

...............................

Clockwise from top: Gísli Guðjónsson, Harbour Shop, Keflavík and

Erla's Goldfish. © Jack Latham / INSTITUTE

....29....
---
Photo by Adam Bronkhorst, adambronkhorst.com

....30....
---
INTERVIEW

..........................................

MYbrighton: 'Dr' David Bramwell

Catalyst Club curator, writer, podcaster

Are you local? Yeah, I've been here 23, 24, 25

years now...

What brought you here? Many things. I guess

the thing that clinched it for me was that it wasn't

Coventry, Scunthorpe or Doncaster, where I'd

lived for the first 23 years of my life. It was also

a gig at the Brighton Centre, Rollercoaster - My

Bloody Valentine, Dinosaur Jr, Jesus and Mary

Chain and Blur all on the same bill. I came

for the weekend, saw the gig, hung out with

friends… Why would you ever leave?

What's kept you here? The feeling that I'm still

on holiday here has never quite left. I do worry

that at some point I'll wake up, find it was all a

dream and I'll have to go back to a regular job in

Doncaster. I can't imagine where else I'd live.

Have you got a favourite pub? Maybe the

Basketmakers, because it's just slightly off the

beaten track and a proper local. I love the notes

in all the tins in there. You can entertain yourself

for hours by pulling them out and reading all the

inane witterings. And the Bee's Mouth is one of

those places where, if you're in the mood for an

adventure, you're going to end up in a conversation

with somebody and something weird is

going to happen.

When did you last swim in the sea? Probably

six weeks ago. Always in Kemptown between the

nudist beach and the pier, because that's usually

quieter. Any excuse, if it's a manageable temperature.

You experience the pain and, afterwards, the

sweet pleasure.

What do you think of the i360? Can you see

it from your window? Thankfully no. I haven't

been on it. I imagine as a one-off, overpriced

experience, it would be a great thing to do. But it

spoils our skyline. When I'm up on the Downs,

or in the city all I see is a large ugly pipe. It's not

for me.

What is the Catalyst Club? It's a monthly

spoken-word night where three guests each talk

for 15 minutes about something they love, their

passion. The subject matter is not revealed until

the night, and so it's a lucky dip for the audience.

It's not a debating club and we're not trying to

change the world. It's just about stuff you love.

It could be as geeky as adjustable spanners or

lawnmowers or Concorde, or it could be way

out there like werewolf erotica or bodybuilders

in bondage. It's open and egalitarian. You don't

have to be asked to speak and you don't have to

pay a fortune to go. I want to hear the lady down

the road who's got a collection of zinc bath tubs

and wants to talk about them. It's a home for the

amateur enthusiast. I rile against the age we live

in, where academia and science are the only areas

we seem capable of going to for experts. They are

not always the best storytellers.

Is Brighton an unusually happy hunting

ground for speakers at the Catalyst Club?

Yes, of course. Brighton prides itself on its love

of counterculture and oddness. You just need to

look at the listings of what's on. Promoter friends

will put on a gig out of town and bang their heads

against the wall when nobody comes, but here

you put on this obscure Swedish band who make

hip-hop music using farm machinery and it's a

full house. There's a gentle eccentricity about

many of the people here.

Interview by Lizzie Lower

....31....
---
Before

20% OFF!!

Refresh &

Rejuvenate

for the

After

DERMAL FILLERS

ANTI-WRINKLE INJECTIONS

MINI FACE-LIFT

CHEMICAL PEELS

Dr Ayanna Knight

MB ChB, MRCGP

Cosmetic Skin Care, Health & Wellbeing

01273 696295

www.skinbrighton.co.uk

Holistic Health Clinic, 53 Beaconsfield Rd, BN1 4QH

䔀 䴀 䄀 䤀 䰀

最 椀 昀 琀 ⴀ 眀 爀 愀 瀀 瀀 攀 搀 䀀 栀 漀 琀 洀 愀 椀 氀 ⸀ 挀 漀 洀

吀 䔀 䰀

㜀 㜀 㘀 㔀 ㈀ 㤀 㜀 㔀 㜀

䌀 唀 刀 刀 䔀 一 吀 䰀 夀 䄀 嘀 䄀 䤀 䰀 䄀 䈀 䰀 䔀

䄀 吀 䴀 刀 䘀 䄀 䌀 䔀 䠀 䄀 䤀 刀

䄀 一 䐀 䈀 䔀 䄀 唀 吀 夀

匀 䄀 䰀 伀 一 䄀 吀

匀 䔀 嘀 䔀 一 䐀 䤀 䄀 䰀 匀
---
COLUMN

...........................................

Amy Holtz

The truth is, I'm a Minnesotan

Standing at the stop lights

on Church Street behind a

mother and her daughter,

I overhear the girl say,

in a small, hopeful voice,

"But Obama can just come

back in another four years,

right?"

The lights change but I

find myself frozen in place.

Life always seems so much

brighter when you're

young, when you don't exactly understand how

everything works.

When I was a kid, my grandparents' fake Christmas

tree (which I didn't realise was fake until I

was too old for fooling) was always covered in

what we called 'bubble lights'. They were little

bulbs topped by a candle filled with water. Once

they were switched on, the bulb would make the

candle different colours - reds, greens, golds, and

once they got hot enough, the water bubbled up

in the candle. During the holidays, they were always

flickering, casting shapes up the walls; they

gave the room a life of its own which you could

happen upon and get lost in.

There were lots of other Christmas traditions:

clam chowder, though we were thousands of

miles from an ocean; Nat King Cole's voice and

the sweep of strings in the dimmed living room;

the fabric advent calendar from another era -

sewn sequins clinging to old-fashioned toys that

marked the long, long wait till Christmas Eve,

when we were finally allowed to open presents at

Gramma's house. But it was the moment when

the lights came on that

always sent us kids loopy

with anticipation.

Waiting for all this was a

kind of agony-spiked thrill,

radiant against your small

being. Magic, in a way -

because as kids we couldn't

grasp how everything

happened, so perfectly,

just when it should. If

you've been lucky in life,

the adults around you made everything warm,

plentiful and right. You don't worry about losing

these moments, about the time when they'll be

no more, because loss isn't something you've

learned yet.

It's been three years since my Grandpa died;

two since I said goodbye to my Gramma in their

house, where I spent my childhood. I'm not the

same since. On quiet, now-dark nights at home, I

light tall votives - dollar saints, we call them; not

because I believe, but because they're beautiful,

rich with the primary colours and stories of

my youth. It's only now, staring at their glow,

that I see how much they look like those lights,

drawing the tree in a silhouette against the walls

I grew up in.

On Church Street, the little girl is rushing to

keep up with her mum across the street, blue

hockey socks blurring with the movement. The

response is low, the mother shaking her head.

I wait again for the light to go red. I pretend

to search my pockets because I'm embarrassed.

Somehow, there're tears in my eyes.

....33....
---
─ 挀 愀 猀 栀 洀 攀 爀 攀 樀 甀 洀 瀀 攀 爀 猀 愀 渀 搀

挀 愀 爀 搀 椀 最 愀 渀 猀 昀 漀 爀 眀 漀 洀 攀 渀 愀 渀 搀 洀 攀 渀

䘀 爀 攀 攀 倀 ☀ 倀 眀 椀 琀 栀 挀 漀 搀 攀 㨀 嘀 䤀 嘀 䄀 㘀

洀 椀 猀 琀 礀 挀 愀 猀 栀 洀 攀 爀 攀 ⸀ 挀 漀 ⸀ 甀 欀 簀 ㈀ 㜀 アパート 㐀 㠀 㜀

ToppingTiesMysteriousMasks

FurtiveFlasksHeavenlyHats

GlamorousGlovesPartyPizazz

GladRagsFrivolousFascinators

UniqueUmbrellasSexyScarves

ToppingTiesMysteriousMasks

FurtiveFlasksHeavenlyHats

GlamorousGlovesPartyPizazz

GladRagsFrivolousFascinators

UniqueUmbrellasSexyScarves

ToppingTiesMysteriousMasks

FurtiveFlasksHeavenlyHats

GlamorousGlovesPartyPizazz

GladRagsFrivolousFascinators

UniqueUmbrellasSexyScarves

Fabulous Event Accessories

95 St Georges Road,BN2 1EE

www.barbarylane.co.uk

Find us on facebook!

Searching for the

extraordinary?

we have carefully selected the finest

food & drink found in s ussex. your hamper can also

be personalised for that extra special touch.

get free uk

delivery.

Quote V i V adec

o rder by december 16th for a c hristmas present

that is anything but ordinary.

www.theS u SSexhampercompany.co.uk | 01273 387 220
---
COLUMN

...........................................

Lizzie Enfield

Notes from North Village

Illustration by Joda, jonydaga.weebly.com

"That's a lovely dress. You look like the Danish

prime minister," I tell a friend, just back from

Denmark, with a new dress.

Of course I don't mean Lars Løkke Rasmussen,

the actual Danish PM, but Birgitte Nyborg, the

fictional one from Borgen.

"Tak," she replies. "Got a busy day making progressive

policy before going home to do hygge."

That's how far Danish culture has infiltrated

ours: a few notions about politics and a vague

understanding of an untranslatable concept that

has something to do with wearing knitted socks,

lighting a lot of candles and eating pastries.

We are doing the latter but with lights and shoes

and cynicism.

"Hygge sounds like a lot of hard work," I say.

"It does!" friend agrees. "All that time spent setting

the scene before relaxing."

Scandinavians put a lot of effort into relaxation.

A few years ago I found myself in Norway and,

if I had a Norwegian krone for every time I

was told how 'relaxed' Norwegians were, I'd be

almost as rich as their herring millionaires.

Being relaxed seemed to involve dressing down

in a fastidious way, carefully cultivating a hipster

beard and sitting around in cafes drinking

meticulously prepared coffee whilst listening to

Comfortably Numb - I kid you not, it was played

constantly in all the 'relaxed' cafés in Oslo.

There are reasons that some words don't translate

across cultures, and that's because neither

does the thing they describe.

The French probably have a specific word that

means having a cigarette after cycling home

in the afternoon to have sex with your lover.

We don't, because we don't need it any more

than we need mmbwe, a South African word

which describes a round pebble taken from a

crocodile's stomach and swallowed by a chief!

Or biritululo, the practice of comparing yams

to settle a dispute. That's a Papua New Guinean

word, which we have no more use for than

we do the Finnish poronkusema, the distance

equal to how far a reindeer can travel without a

comfort break.

We have enough of our own words that don't

translate into other languages without adding

to them: all those different ways of walking, for

example. You need about ten words in Spanish to

get close to ambling, or stomping or wandering.

And serendipity always stumps translators, who

can't even begin to explain 'off', as in, something

is a bit off. Or ish, as in, someone is a bit off-ish.

The closest you get to 'stuff' is a collection of

things. And then there is stuff that we do for

which there are no words, like collapsing on the

pavement after a night on the town and having

to be dragged home by friends, or going out in

winter dressed in a short skirt and a vest.

I'm going to be too busy-ish dreaming up new

words and being flabbergasted about serendipitous

stuff to even think about hygge this winter.

....35....
---
COLUMN

...........................................

John Helmer

Meta

Illustration by Joda, jonydaga.weebly.com

"You should put that in your column," says Poppy.

"Put what in my column?"

"The thing I just said: it was really smart and funny."

"Sorry, I was thinking about something else."

"Daddy! You should listen to your daughter - what

were you thinking about?"

"Hygge."

"What was that noise you made?"

"It's a Danish word. Google Translate says it means

'fun', but I'm not sure that's right. To be honest, I'm

not sure I know what it means."

I'm making tea, Poppy's making herself an omelette

for breakfast.

"Are you going to put this in your column?" she says.

"What?"

"This conversation we're having."

"No. That would be too meta."

"Meta?" Now I'm really testing her patience.

"You know: writing about writing, films about

films—? Like the credits on The Simpsons when

they're on the sofa watching the TV, and the TV is

showing them on the sofa watching TV?"

Infinite, nightmarish recursion.

Meta is a word I learned from Poppy's older

sister. My theory is that it migrated down

the food chain from Academia via Media

Studies. "…Writing my column about

what I'm going to write my column

about: that would be meta."

Poppy shrugs and fills a Tupperware tub

with quinoa salad she has made for her

school lunch (this is Fiveways, after all)

then breaks off to tend to her omelette. I

finish making tea and take a cup to Poppy's

mother, who is in bed recovering from her

operation, which had something to

do with lymph nodes.

"Poppy's trying to get me to put stuff about her in

my column."

"What's it supposed to be about this month?"

The sun is not up yet. Kate's eyelids are drooping

with fatigue from the painkillers, but there's a

scented candle burning, dissipating the sense of a

sickroom. It looks cosy in there. From the kitchen

we can hear Poppy humming Silent Night.

"Hygge. Except I don't know what it means."

"Are you going to write more about my cancer this

month?"

"No. I keep getting messages on Twitter from people

saying it makes them cry."

"Is that bad?"

"I was aiming for wryly amusing. This is new territory."

I think about another word that begins with

meta - a word we try not use too much: metastasis.

Back in the kitchen, Poppy is cramming two pumpkins

that she and her sister carved for Halloween

into an Ocado bag. "For the goats," she explains.

"Do goats eat pumpkins?"

"They eat everything." Poppy's school keeps a

collection of goats it has named after inspirational

figures from the arts and sciences. "—and they fight

all the time. Alan Turing keeps headbutting Maya

Angelou…"

Shouldering her Fjallraven Kanken backpack, she

makes for the door.

"So what was it?" I ask.

"What?"

"The smart and funny thing you said."

"Oh. Can't remember. Bye Daddy!"

"What about a kiss for your old dad?"

"I'm not even going to answer that."

'Hygge', I think to myself, closing the door behind

her; 'where am I going to find out what hygge

means..?'

....37....
---
Get the

factor

Beautifully renovated, Long Furlong Barn is set in the picturesque South

Downs National Park just outside Worthing and within easy access of

London, Brighton and Southampton. It is fully licensed for civil ceremonies

and offers you stunning architecture, modern facilities and first class food. All

will combine to ensure your special day is a truly memorable occasion.

Call us: 01903 790 259

Email us: enquiries@longfurlongbarn.co.uk

Visit us: www.LongFurlongBarn.co.uk

Clapham | Worthing | West sussex | Bn13 3xn

the SUSSeX SYMPhONY ORCheStRA PReSeNtS A

ChRiStMAS CONCeRt

NARRAted bY bbC tv'S SAllY tAYlOR

tChAikOvSkY'S the NUtCRACkeRSUite

hUMPeRdiNCk'S ChildReN'S PRAYeR

leROY ANdeRSON'S A ChRiStMAS feStivAl

12 dAYS Of ChRiStMAS | CAROlS fOR All

7.30PM SAtURdAY 10th deCeMbeR All SAiNtS ChURCh, hOve

tiCketS £15, ConC & nUS £10, Under 16 £5,

family of 4 £30 fROM www.SSOMUSiC.CO.Uk
---
LOCAL MUSICIANS

..........................................

Ben Bailey rounds up the Brighton music scene

THE FICTION AISLE

Fri 2, Hope & Ruin, 8pm, £5

The Fiction Aisle's Tom

White doesn't like to sit

still. The band put out their

second album this summer,

only six months after

releasing their debut. At that

rate he should have another

ready for us by Christmas. Despite being better

known as the frontman of Brighton indie rockers

Electric Soft Parade, the soundtrack-style

songwriting of Tom's latest output has already

eclipsed his former band in terms of scale and

ambition. They'd be worth catching even without

the great local support: but you'll also get

Hattie Cooke's wistful bedroom electronica and

catchy psych-pop from ones-to-watch Fukushima

Dolphin.

STUDIO 9 ORCHESTRA

Sun 4, Brunswick, 7.30pm, £donations

The first Sunday of every month sees big-band

groups from across the south coast squeezing

onto the stage of the Brunswick. This month it's

the turn of 19-piece Brighton ensemble Studio

9 Orchestra, featuring Red Gray on vocals.

Though they might be out to challenge your

preconceptions of big-band music, that's not

to say they favour gimmicks over proper jazz

chops. Mixing it up with swing, ballads, funk

and Latin tunes, the band also make a point of

working with local songwriters. If you've been

to the Love Supreme festival at any point over

the last three years, you may well have seen

them already.

OUTLAW STATE

Fri 9, Green Door Store, 7.30pm, free

Promoters Kingdom

of Dirt have carved

out a nice niche for

themselves putting on

monthly blues-rock

gigs at the Green Door

Store. This, their last of the year, is also an EP

launch for headliners Outlaw State. After a summer

of festivals, the Brighton five-piece knuckled

down to commit some of their crunchy riffs and

squealing licks to the proverbial tape. With four

likeminded bands on the bill, there's plenty of it

to go around. Dead Whisky and Just Like Fruit

open the night, while the second slot goes to

Junkyard Choir, a kind of bluesy power duo with

a fuzzed-up guitar sound, gravelly vocals and

appropriate beards.

JUST LIKE FRUIT

Wed 14, Patterns, 7.30pm, free

New in town and clearly

keen to put themselves

about, Just Like Fruit are

also headlining this show,

Ears & Eyes, less than

a week after their appearance at the above blues

bonanza, and two days before another gig at the

Hope & Ruin. There's something pleasingly

familiar about the catchy phrases and straightforward

sound that this former London five-piece

have claimed as their own. It's pop, via rock and

roll, via rhythm and blues. This Patterns gig is

the launch party of the band's first release, an EP

on Normanton Street's local label QM Records.

....39....
---
COMEDY

....................................

The Treason Show

2016: who's laughing now?

"It's as if some cosmic wishing spell has been cast

over The Treason Show, and that things that I wonder

about start happening," says the satirist Mark

Brailsford. "If I had the mindset of a fascist dictator,

I would imagine that it was me controlling events

to my advantage. It's almost like that. Everything

I'm dreaming of happening, for the comedy value,

is happening.

"I've been… running to stand still is an understatement.

Running to go backwards, actually

- it felt like I was just running backwards. You

couldn't keep up. One month - the Brexit month

- it changed every hour, let alone daily. When

even the 24-hour news channels were struggling

to keep up… we were all just, 'oh my god, that's

changed, that's changed'. When Gove knifed Boris,

we junked 20 pieces of comedy in five minutes,

in the rehearsal.

"For the best-of-2016 Christmas show, my problem

is going to be - which bits? At the moment I could

probably do twelve best-ofs, with all the material

we've had."

For example, this year we saw a prime minister

make "the biggest miscalculation of any political

career since Suez. He'll be remembered along the

lines of, 'I have in my hands a piece of paper', when

Chamberlain was standing on the plane steps - a

gag we used."

The referendum fallout has been so fruitful, in

terms of satirical songs, that "we could do Brexit:

the Musical. And actually, I dare say that might

happen". Brailsford also mentions "the Labour

Party civil war", and the rise of an American politician

who is effectively "a big button marked 'laugh'.

"You only have to say what he's really saying and

boil it down to a sentence, and you get the laugh,

just for the pure ridiculousness of… not hearing it

from his mouth, you really hear it, rather than see

the bombast and the combover floating around. It's

almost too easy, actually. Say what he says."

Compared with the last days of the coalition, "when

it all felt a bit… fag ends of everything", 2016 has

been a great year for satire. But, Brailsford says,

"it is that thing of satire - anything that's good for

satire is bad for the world."

Will 2017 be better? "Yeah, for comedy, definitely.

For the world, no. You've got Putin creating Cold

War 2.0, the Americans and Nato generally reappraising

their relationship with Russia… there is

now a new Cold War front, I think, and it's messier

and more dangerous than it ever was in the old

Cold War. And you've got all the fall out of what

will be the collapse of Isil, terrorists fanning out

across Europe, scare stories in the right-wing press,

general mayhem in political spheres, with the

independence vote in Scotland. You're going to get

Brexit mess everywhere. It's worse for the world,

but it's comedy gold for us." Steve Ramsey

The Treason Show's 'That Was the Year That Was'

mini-tour comes to The Old Market from Mon 12th

to Thurs 15th, and the Pavilion Ice Rink from Tues

27th to Thurs 29th. See treasonshow.co.uk

(This interview was done in late October, when

Trump's campaign looked dead and buried)

....41....
---
COMEDY

.....................................

Harriet Braine

The fine art of stand up

"What the world needs is

something big and silly" says

Harriet Braine, from a hotel

in Vienna where she has been

on holiday running between

Klimt and Schiele, thinking

up new songs.

Harriet spent nearly five

years studying art and art

history at Edinburgh, which

formed the basis for her

alternative career, as a singersongwriter

who sets new

lyrics to popular tunes.

She can write her own music and occasionally

does, notably for a student musical called The Big

Diamond, but it was for her skill with the ancient

art of burlesque that led to her big break, when

she caught the attention of 'Funny Women'.

This leading female comedy community was

created in 2003 in order to help women perform,

write and do business with humour. They crisscross

the country, auditioning over 2,500 hopefuls

in hundreds of heats. 2016 Awards touched

down in Dublin, Edinburgh, Manchester, London

and Brighton. Harriet won Best Newcomer.

I talk to her soon after her victory. Her advice

to wannabe comedians is simple. "Go for it, full

throttle and don't play safe". Her favourite role

model is Victoria Wood.

Harriet was born in 1991 in Kingston upon

Thames, Surrey. Her mother was a designer and

her father a keen amateur musician who encouraged

her to play on the ancient family piano. She

chose to study at Edinburgh University as they

offered a combined Fine Art and Art History

course: she passed her

degree and remained

a further year to do a

Masters.

"After our course, we organised

an exhibition and

decided to have a party.

We played games with art

and I started singing silly

songs about art history

set to popular tunes. I

remember something

about 'Matisse, Matisse,

Matisse, you cut things

up and stick them down/you weren't so keen on

the colour brown' all to a Dolly Parton tune. It

seemed to go down rather well. I do a trumpet

impression, which helps, and I can sing in a joke

German accent for Bauhaus stories."

In the few months between graduation and getting

a job at the Maritime Museum in Greenwich, Harriet

had time to write more songs. Her ambition

now is to play at 'bigger and better gigs,' and she is

already attracting wider professional attention: she

was recently commissioned by the BBC to write a

piece for their 100 Women season.

Harriet accompanies herself on the guitar: no

backing track could be sufficiently flexible to accommodate

her comic interventions and trumpet

impersonation. "Writing lyrics comes naturally

to me", she says, "but they need the music to be

funny."

Louise Schweitzer

Harriet Braine is appearing in Charity Chuckle,

raising funds and awareness through stand-up

comedy: Komedia, Wednesday 7th, 8pm

....42....
---
MUSIC

.....................................

Concerts for Corbyn

The Farm's Peter Hooten

Best known for '90s anthem

All Together Now, The Farm

are a highly political Liverpudlian

band and one of

several acts performing at

People Powered - Concerts

for Corbyn, at the Dome

this month.

How active are The Farm

these days? We usually

do a few festivals every summer, but we aren't an

active band in the true sense of the word. However,

we have been in the studio again recently, working

on new ideas, because we're angry again. We'd love

to get them out in the future, as they are songs

with a message.

What's the People Powered show all about? It

will be one massive collaboration. The idea is to

counter the received wisdom that Corbyn is unelectable.

We've seen what can happen in the USA

when character assassination, vindictiveness and

bigotry control the narrative. I think Corbyn appeals

to people who are fed up with the status quo,

and even those who oppose him would concede

that he has honesty and integrity. He has given

people hope, which can never be underestimated.

Has there always been a political element

to your music? I wanted The Farm to follow

in the footsteps of The Clash, The Specials and

The Jam. The first song I ever wrote was called

Violent Playground, which was about deprivation in

Thatcher's Britain. It's no love song, I can tell you.

Many Liverpool groups were producing brilliant

pop songs at the time, but I wanted to reflect what

was happening in real life.

How did you react to the Hillsborough inquest

earlier this year? I felt a deep sense of sadness.

Part of me was euphoric,

but to tell you the truth

when I heard the verdict

of the jury, I just cried my

eyes out. I was at Hillsborough

in '89, so the

fight for justice was in my

DNA. I knew the truth, as

I had witnessed my fellow

Liverpudlians mount a

remarkable rescue operation. It is unforgivable

that the authorities had put us through 27 years of

anguish and heartache.

How true is Billy Bragg's song Scousers Never

Buy The Sun? Their sales have never recovered,

but it was never a popular paper on Merseyside,

even before their disgraceful lies [about Hillsborough].

Many trade unionists and progressives

wouldn't touch it, because of the way Murdoch

supported Thatcher and vice versa. Some shops do

still sell it, but not many people would own up to

buying it, which reveals how toxic it actually is.

Has British politics changed at all since The

Farm started in the early '80s? If anything, the

country has moved to the right, but the resistance

is not as well organised for various reasons, mainly

due to anti-union laws. Media commentators are

generally happy with this and they call it 'politics

of the centre', but it is nothing of the sort.

Can music really affect politics? Music can be a

soundtrack for a generation. I think it can change

attitudes, and if you can influence attitudes you

can change society. If only David Cameron had

listened to the lyrics of one of his favourite songs,

Eton Rifles.

Interview by Ben Bailey

Brighton Dome, Fri 16th Dec, 6.30pm, £26.50

....43....
---
lOuT prOMOTiONs preseNT

winter

nov '16 – jan '17

Hove's Independent, High Quality

Live Theatre and Venue

new season

FeATURING:

From Ibiza To The

Norfolk Broads

Tom's Film CLUB

Plus our family

christmas show:

the magic lamp

The Old MarkeT, BrighTON

Friday 16Th deceMBer

£22.50 adv dOOrs 7.30pM Over 14s welcOMe

TickeTs: lOuTprOMOTiONs.cO.uk

theoldmarket.com

videos / reviews / tickets
---
SPOKEN WORD

.......................................

Anne Miller

QI elf

Anne Miller is one of the researchers - or 'elves'

- on QI, and a co-author of 1342 QI Facts To Leave

You Flabbergasted. She shares her Quite Interesting

story with Viva…

I found my first QI fact on the wall of the

Dundee Science Centre. It was that an eagle

can swallow enough botulism toxin to kill

300,000 guinea pigs. I then became an intern on

the programme before joining as a researcher.

It's the kind of job that as a child I wouldn't even

have dreamed could exist.

Good facts are often those that people think

they know but don't. One question we had

recently was: 'What did the Famous Five have

lashings of?' It's not ginger beer. They have lashings

of eggs and potatoes and tomatoes and even

poisonous snakes at one point but the ginger-beer

line was from the 1980s TV comedy series The

Comic Strip Presents...

We elves rarely find the same stuff because we

don't tend to read the same things. I like hanging

out in the London Library and finding weird

books that haven't been opened for 50 years.

Anna [Ptaszynski] particularly likes the Newspaper

Archive website and James [Harkin] reads

tons of RSS feeds and blogs; he's usually read the

entire internet before lunchtime.

We don't even try not to get sidetracked.

Unless we're really time pressured, it's accepted

that we're going to go off on tangents. Like most

people, you start out looking for one thing and

end up somewhere completely different. Between

the show, the QI books, the spin-off podcast and

the new TV show, we can always use what we find

somewhere.

The way we check facts depends on what the

fact is and where it's from. There's one I love

in the new book which is that on the Mir Space

Station, the wake-up alarm was the same noise as

the emergency alarm. That was from an interview

with [astronaut] Helen Sharman, so we trusted it.

If it was, say, a fact about Cadbury's, we'd read up

about Cadbury's and then cross-reference it.

Sometimes you really want something to be

true but can't back it up. I was sure I'd been

told that Agamemnon from Greek mythology

couldn't be killed on land or water so was killed

getting out of the bath. Sadly, I've never been

able to find a source.

You can never really switch off from this job.

You'll be at the post office or on holiday and find

yourself on the lookout for good facts. I was in

the post office waiting to post a parcel when I

noticed a greetings card that said 'stressed is just

desserts backwards'. That ended up in one of the

QI books.

The main thing all QI elves have in common

is curiosity. We're the sort of people

who won't just look at the book

we came to get but the one

next to it too. That's why

on my desk at the moment

I've got books about

parrots, bumblebees,

Scotland and bacteria.

Nione Meakin

Anne Miller and James

Harkin will discuss 1342

QI Facts To Leave

You Flabbergasted

at the

Ropetackle

Centre,

Shoreham

on Tuesday

6th, 7pm

Photo © Alasdair Miller

....45....
---
THEATRE

....................................

Ubu Roi

'Sort of trash, in a good way'

"I think it is a load of

nonsense," says Isabel

Sensier. "But it also

tells you things about

the human condition.

I think it can be

both."

Sensier runs the

theatre company

Squall and Frenzy,

which is putting on

Alfred Jarry's notorious

1896 play Ubu

Roi. Avant-garde and

foul-mouthed, it features schoolboy humour and

"a lot of lewd acts". One of the stage directions

simply says 'a huge orgy happens'.

"Jarry basically put the play on as a prank,"

Sensier says. This was a time when people would

go to the theatre "wearing their opera dresses…

Jarry set it all up to be like a proper play, and

then the first word of the play is 'Pshitt'. So he's

sort of putting a giant middle finger up at his

audience, really. It's not surprising that there was

almost a riot when it came out."

Sensier suspects that Jarry himself thought

of Ubu Roi as "sort of trash, in a good way".

However, the play is now seen as pioneering; the

Encyclopaedia Britannica calls it 'a forerunner of

the Theatre of the Absurd'. And, Sensier adds,

"he was actually saying a lot of things about society.

But the stuff he was saying wasn't welcome.

People didn't want to hear it."

The plot follows Pere Ubu, a "bumbling idiot"

who "takes over as king and kills a lot of people

and is a terrible king… He wants to be king

because he wants to be rich, he wants power.

And he openly admits that, and openly admits to

sexual depravities,

and nobody cares,

and he's still allowed

to be king.

"Pere Ubu is very

relevant to a lot of

figures we've seen

across history, and

I think that's why

it's endured. It's

quite scary to watch,

really, seeing somebody

who says 'yeah,

I don't care about

the good of my people, I am just in it for power.'

Because most politicians won't say that, but they

will do that.

"There's a line in there, somebody challenges him

on something he's doing, and he says 'well isn't

injustice just as good as justice?' And that, I think,

really speaks to the politics that are happening,

not just in the US but also in this country, at the

moment. It's quite scary.

"I think [the play] tells you that people are sheep.

And that they will let things happen passively, and

then later realise that it wasn't a good idea to let

that happen." In Squall and Frenzy's production,

they've given Pere Ubu yellow hair and a

permatan-orange face.

"It's like a very dark, adult pantomime," Sensier

says of the play. "It's very physical, it's very funny,

and I think the majority of the time, the audience

will probably be laughing… what we're hoping to

do is that the second after they laugh, they think,

'Oh god, what did I just laugh at?'" Steve Ramsey

Ubu Roi, the Marlborough, Wed 14th - Thurs 15th,

8pm, £9/£7. (Also Wed 7th, Jubilee Hall, Lancing),

squallandfrenzy.org

....46....
---
COMEDY

....................................

Russell Kane

'Sometimes you find glitter'

The evolution of Russell Kane, from guyliner and

skinny jeans to suits with 'spring-loaded crotches',

is nearly complete. As he continues his Right Man,

Wrong Age tour, we find out whether the clothes

really do make the (grown-up) man.

Right Man, Wrong Age has received some great

reviews, with critics calling it 'relatable' and

'thought-provoking'; is there a part of you that

worries about what the critics say? Or is it all

about the volume of laughter on the night?

In the early days, yes, when I was trying to shine

at Edinburgh - critics were important. But when it

comes down to it, funny is funny. The critics can't

agree about some of my idols - McIntyre, Kay,

Stewart Lee - so it proves that funniness is something

that cannot really be broken down.

Appearance seems to be just as much

a talking point with comedians as it

is for actors and presenters. You've

said, 'Whether you're black,

white, with spiky hair, flat

hair, lesbian, straight,

you can be whoever

you

want to be on stage as long as you're funny.' But

is comedy any less superficial than other areas

of showbiz? It's bullshit; you should be able to

express yourself without some idiot swiping at your

personal appearance…

Doesn't putting on a suit signify a kind of

homogenised comedic success, as in, you gotta

look like Jimmy Carr or Stewart Lee or Michael

McIntyre to make it as a 'serious male comic'?

I decided I wanted a more grown-up, businesslike

look. So that I looked as if I were dressing for a big

posh event. I liked the way it made me feel, and ran

with it. Now I couldn't imagine it any other way.

What advice, if any, do you think mature

Russell would give to noughties Russell, just

starting out his stand-up career? Start earlier!

1999 ideally.

Your vlog, Kaneing, is blisteringly topical - is

anything off-limits, comedy-wise? Or is every

issue fair game? Everything. I make an effort to

mock lefty stuff as well (even though I'm a Greenvoting

Guardian reader). It's important to shine the

light of mirth on everything. Sometimes you find

glitter where you were not expecting it.

Any target on Kaneing you're hoping might

bite? Any Tory would be ace. Kanye too.

They say having kids sharpens our sense of

mortality - but has little Minna changed what

you personally find funny? Or made you see

things you used to find funny from a different

angle? Minna is like a book of material. She brings

new jokes every day. But as for my personal sense of

humour - it's the same as it ever was: high-energy,

random, and a little bit childish.

What do you find most frightening about getting

older? Death, obviously. I hate a deadline that

I can't shift. Interview by Amy Holtz

Brighton Dome, Sunday 4th, 8pm

....47....
---
LEWES CHAMBER MUSIC

FESTIVAL

CHRISTMAS

CONCERT

16th December 7:30pm

St Michael's Church, Lewes

MOZART

CLARINET QUINTET

Eusebius Quartet

Matthew Hunt

TICKETS: £15 || FREE for U26

www.leweschambermusicfestival.com

Charity No 1151928 01273 479865 and at Baldwins Travel
---
MUSIC

.....................................

Choir with no name

A home from homelessness

The charity Choir with

No Name was founded in

2008 to provide opportunities

to sing for people

affected by homelessness.

The group now have four

choirs across the country,

and are bringing two of

them to the Dome on the

20th for a Big Christmas

Singalong. Their London Choir Manager Emma

Broomfield tells Viva they are 'certainly in the pop

Christmas classics camp'.

How did the Choir with No Name start? Our

founder Marie Benton was working for a bigger

homelessness charity, and she'd always sung in

choirs. She knew choirs are a great place to find

community, a great place to find meaning, and

also that the act of singing as a group can be

incredibly therapeutic.

In what ways does homelessness affect the

lives of your members? Homelessness is a varied

experience for different people. The vast majority

of people in our choirs have a recent experience of

homelessness… [others] may have been in their own

flat for a long time, but often a roof over someone's

head is not the end of the journey… Moving on can

be really isolating, and there's tons of studies nowadays

about how social isolation is a killer. There's

something really important about community - that

our members have somewhere they can come and

see friendly, smiling, familiar faces every week.

In what other ways does the choir benefit

people? A lot of the root of what we're doing

is building up people's sense of self-esteem.

Homelessness can destroy your sense of identity and

the feeling that you're a

worthwhile person. Being

in a group, achieving,

getting up on a stage in

Brighton in front of 1,000

people or more, what

that does to a person's

confidence can't be

bottled.

What big achievements

have you shared through doing this? There's

so many... We recorded an album and an EP…

We've done really big gigs where we've performed

with Coldplay… But equally, we'll go and sing at a

community centre with the local school choir. Just

bringing two different groups of people together to

sing can be the most magical thing.

Do you have a personal highlight? It's a really

tough time for small charities at the moment… So,

for me, the highlight is that week in, week out, we're

still there and we're doing it.

What should we expect at your Brighton show?

When we're on stage, we're there to entertain, put

a smile on people's faces and leave people feeling

better than they did at the start. Expect lots of

Christmas cheer, lots of Christmas classics, and lots

of chances to get involved as well.

What's the best way to help homeless people

over the winter period? It's great for us to think at

Christmas what can we do to help somebody we've

just walked past in the street, but it's a much wider

issue. People talking to their MPs and trying to

encourage society as a whole to think about how we

tackle homelessness is as important.

Interview by Chloë King

choirwithnoname.org

....49....
---
MADNESS

Sat 3 Dec

MICHAEL BALL & ALFIE BOE

Tues 6 Dec

Chrismas

Book now for your festive season

NE-YO

Sat 10 Dec

JOOLS HOLLAND

Sat 17 Dec

Sat 3 Dec

Sat 3 Dec

Sun 4 Dec

Sat 10 Dec

Sun 11 Dec

Fri 16 –

Tue 20 Dec

Etsy Christmas Market

Christmas Open Day

Brighton Philharmonic

Orchestra: The Best of

British Film Scores

Brighton Gay Men's Chorus

Brighton Festival Chorus

Christmas Concert

A Winter's Trail

Sponsored by

box office 0844 847 1515 *

www.brightoncentre.co.uk

*calls cost 7p per minute plus your phone company's access charge

the smash hit 'best-of' review of the year

our 'best-of' review of the year

THE TREASON SHOW

"Savagely funny-fantastically silly" THE GUARDIAN

"Savagely funny-fantastically silly" THE GUARDIAN

The Argus

The Argus The Latest

Humbug!

The Latest

Rejoice

In association with

THE TREASON SHOW

Tue 20 Dec

Mon 26 –

Fri 30 Dec

Sun 1 –

Mon 2 Jan

01273 709709

brightondome.org

The Big Christmas

Singalong

Catch Me! (Attrape Moi)

Alice in Wonderland

Images: Catch Me!

Merry

Brexmas

Humbug

2016

THAT WAS THE YEAR THAT W

Sell out shows

2011, 2012

2013 2014

& 2015

Rejoice

THAT WAS THE YEAR THAT WAS

2016

12 - 15 December @ 8 pm

tickets £16.50 & £14.50 concs

Early bird price 13.50 till 5 Dec

Box office 01273 201801

theoldmarket.com

27 -29 December @ 9pm

tickets £16.50 & £14.50 concs

www.ticketsource.co.uk/treason-show

Box office 01273 709709

12 - 15 December

tickets 16.50 (14.50 conc

Early bird price 13.50 til

Box office 01273 20180

www.theoldmarket.co

Meal deal !

2 courses & show

£32.50

(Ice Rink only)
---
PARANORMAL

.....................................

Ghost Hunters

...in The Old Police Cells

What are psychics and mediums? There're

different types; some can see the future or predict

things, but psychic mediums can get their evidence

from someone in the spirit world.

Where's the best place to look for ghosts? We

pick locations that have a pedigree of legend or

folklore; it isn't often that we turn up to a place that

doesn't have history. The Old Police Cells is well

known for paranormal activity and notable crimes,

like the Solomon Case. Henry Solomon became

the first Chief Constable of Brighton in 1838. In

those days, the Chief Constable used to do all the

interviews; a guy - probably just a petty thief - came

in for a crime, but he must have thought his number

was up. When Solomon turned his back, this

guy whacked him over the head with a poker from

the fire, and he later died. The Mods and Rockers

also had their fights here - there's a lot of graffiti

from that era, people inscribing their names on the

walls, like 'Ted's a Rocker'. Interestingly, the toilets

have stayed the same. Philip, the museum's curator,

worked out that over 1.3 million people have used

those toilets. Over a couple of hundred years, it just

makes you think how many people have been in

and out.

Do you have to die in the place you end up

haunting? They usually have some link. We do

these events with a medium so they can try to connect

to those ghosts - but we sometimes get spirits

that have no connection with the place whatsoever.

What about sceptics? We love them. Strangely

enough, it's usually the person who doesn't want to

be there that gets the encounter! A guy once came

along who didn't believe - he was a bit disruptive,

standing back with his arms folded; a negative

presence in the group. Our medium spotted this

and brought him up to the Ouija board. He put his

hand on it and it came to life - leaping around - but

when he took his hand off, it stopped. The medium

asked him to try again and said, 'Give this guy a

message that's significant to him'. We were sworn

to secrecy, but the board spelled out a specific place

he'd just been to; he couldn't believe what had

just happened. People tend to get ghost hunts the

wrong way around; if we're going to do a hunt -

some people think we're mad! But we're going to

see if there is such a thing as a ghost. We're openminded

about it.

Can mediums ever put their 'Out of Office' on?

My wife is a medium; the gift is there when she

needs it, but she can switch it off! If there's someone

sitting next to her at McDonald's and she had a

strong sort of feeling - she may not tell that person.

There's nothing worse than someone tapping you

on the shoulder and saying 'I've got someone here

for you!'

Amy Holtz interviewed Andy Ayres

Ghost Hunter Tours are rustling for ghosts at

The Old Police Cells Museum, 10th, 9pm

....51....
---
ORCHESTRAL MUSIC

.........................................

Bowie deconstructed

Charles Hazlewood, Paraorchestra founder

I first came up with

the idea of forming

The British Paraorchestra

in 2012.

To put it in context,

I have four kids and

my youngest child was

born with cerebral

palsy, so in her short

life she's given me a

wonderful introduction

to the disabled

community. I started wondering why it was that

in a career spanning more than 20 years conducting

orchestras all over the world, I'd never come

across musicians with disabilities. At this point,

in early 2012, the London Paralympics was fast

approaching, and this set my mind to thinking

how is it that in sport, so much has been done to

promote disabled athletes that people no longer

look at disabled sport and think that it's some

kind of nice, warm, fuzzy therapy - it's worldclass

sport, nothing less. So I thought if sport can

do that, music certainly can.

The Paralympics was a once-in-a-lifetime opportunity,

when the eyes of the entire world

would be focused on us. So I formed a new

orchestra, The British Paraorchestra; it's just like

any other orchestra, except for the fact that the

musicians in it, aside from being at the top of

their game, all have a disability. They made their

debut at the closing ceremony of the 2012 Paralympics,

playing standalone, but also alongside

Coldplay, which was a great way to launch the

movement. It's gone from strength to strength.

Performing 'A Celebration of David Bowie'

at Glastonbury Festival 2016, as the first ever

classical music headliner was a seminal moment

for us. The main structure of this project

includes my orchestra, The Army of Generals,

who are a crack squad

of amazing virtuoso

musicians, with a

strong number of

Paraorchestra members.

We headlined

The Park stage at

midnight, when all

the other stages are

shut down, and the

whole of Glastonbury

descended to watch

this incredible celebration of David Bowie, reexpressed

and re-imagined by Philip Glass.

Anyone who loves Bowie will know that he

wrote two really great albums during his

so-called 'Berlin years', Low and Heroes.

They are highly electronic and meditative. They

completely re-wrote the rule book on what pop

records should or might be, and they're really

progressive pieces of work. What Glass does is to

take some of the important themes, melodic fragments,

chord progressions, and textures from the

two iconic albums, and to rework them through

his own particular mill, so it's a bit like looking

at Bowie through a Philip Glass-shaped prism.

These symphonies sound absolutely like Glass,

not Bowie, and yet there's the half-remembered,

shadowy ghosts of ideas and a familiarity that

chimes. It's trademark Glass; pulsing, meditative,

hypnotic, and it loops around and around, attracting

more foreign bodies as it moves forward.

It's really insistent, very intense, and all filtered

through this incredible, kaleidoscopic colour

prism, the orchestra.

As told to Julia Zaltzman

The British Paraorchestra & Friends present A

Celebration of David Bowie. Philip Glass: Heroes

Symphony/Low Symphony at De La Warr Pavilion,

Bexhill, Wednesday 14th, 7pm £26.50

Photo by Lily Holman

....53....
---
ART

....................................

....54....
---
ART

....................................

Focus on: Nonsense, by Graham Carter

Limited edition giclee print on etching paper,

40.5 x 70cm, £80

This is a print I've made for the 2016 Burning

the Clocks [pictured left]. It's the fourth one I've

done. I guess not a lot of people know that they're

available to buy. It's a limited edition, with all profits

going to Same Sky to help fund Burning the Clocks.

Each year they have a theme so everyone knows

what kind of lanterns to make. The first few were

quite straightforward - The Deep, then Urbano,

then The Cosmos - because they conjured up a

lot of imagery. This year the theme was Nonsense,

which proved a lot trickier.

I felt I should include a typical Brighton winter

scene so the viewer could connect more with

the image. I've taken inspiration from Heath Robinson,

Monty Python and nonsense rhymes from

the 60s.

You might spot a Terry Gilliam-inspired giant

cat in there somewhere. The baby driving the

trousers was inspired by the legs on top of the Duke

of York's Cinema (they appeared in last year's print

too) and the pointing hand and the mechanical submarine

were inspired by the Beatles' psychedelic

period. Things like that.

A lot of my work is about pattern and colour.

The subjects are usually characters and landscapes,

fantasy based but with a hint of realism. Then

there's a few nostalgic elements from TV shows I

watched as a child. It all goes into a melting pot and

spews out onto the page.

I love the Burning the Clocks brief, as it frees

me up to let loose. I do something different each

time but they are definitely a set. With each image

I try to focus on the glow of the lanterns.

As told to Lizzie Lower

Burning the Clocks, Brighton city centre, Wed 21st.

The event relies on crowdfunding and the support of

local businesses to enable it to go ahead each year. You

can help to make it happen by buying a print, going to

the crowdfunding page or purchasing a lantern-making

kit, which includes wrist bands to join the parade.

Graham's Burning the Clocks limited edition prints

from 2013-2016 are available from boxbird.co.uk

....55....
---
ART

....................................

Focus on: 'Stitchmas Dinner' by Kate Jenkins

30 x 30cm, crochet

The Stitchmas Dinner took about a week from

start to finish. I made up the elements and put

them together to see if extra things needed to be

added. It will be mounted on card with a real knife

and fork and a crocheted cracker. It's one of about

40 pieces in the show.

I've always got something in mind to crochet.

I'm bad at drawing, so I'll just make it freehand. I

always say the hook is like my pen. I like things that

are a challenge. There's not yet been anything that

I haven't been able to crochet.

I grew up in the Valleys with nothing to do, so

my nan and my mum taught me how to knit and

crochet when I was about twelve. I carried them on

when I came to Brighton to study fashion. The art

stuff came about when I had no budget for advertising

so I decided to make something that people

would talk about. And then it just escalated…

I've got a few famous customers, and I've got

a few things in different museums around

the world. I made a pork pie years ago, and

the original went to the museum of pork pies in

Melton Mowbray.

Every year I pick a theme. Next year it will be

music. I'm calling it Sex and Drugs and Rock in Wool.

For the drugs I'm going to make Viagra and, for

music, I'm going to do vinyl, and then for the sex,

look at Playboy and bunny girls and the images of

50s pin ups. I'm desperate to get going on it. I've

got so many ideas. As told to Lizzie Lower

Christmas Stitchmas is at 114 Church Street, Brighton

from 30th November until 4th December, then at

Kate's Pantry in Arundel Mews by appointment.

cardigan.ltd.uk

Photo by Emma Wood

....57....
---
t h o u g h t f u l d e s i g n

widgetandme.com

prints designed & made in Brighton

Artists

& Makers

2016

Festive gifts & treats

Lewes Town Hall (Fisher Street)

Saturday 3 rd December

10am - 5pm

www.facebook.com/artistsandmakerslewes
---
ART & ABOUT

....................................

Art & About: In town this month...

Creatures of the Revolution, a song-story performed to a backdrop of film projections,

filmed in Brighton's historic Booth Museum, is a journey into an

otherworldly gothic fairy-tale. Amidst the stuffed birds, pinned butterflies

and dinosaur bones of the museum, a musical troupe waits to entertain you.

This intriguing collaboration between Carousel musicians, performers and

digital artists, will be at Fabrica on Thursday the 8th. [fabrica.org.uk] From

the 1st, Hotel Pelirocco hosts Editions, the first in a series of collaborations

between Brighton-based screen-printing studio The Private Press and nine

of the UK's leading contemporary graphic artists, including Rose Blake,

Supermundane and the The Stereo-Typist, who've all created new work

for the show with The Private Press using an interesting mix of inks, papers

and techniques to produce a small run of collectible prints.

[theprivatepress.org]

Supermundane at Editions

Dan Walters at Unlimited

Unlimited have gone all zoological this month, with

Christmas Party Animals, a collection of vibrant prints by

local illustrator extraordinaire Dan Walters of See Creatures,

alongside a colourful array of animal-inspired prints,

jewellery, textiles and homewares from their collective of

designers and makers. [unlimitedshop.co.uk]

Brush, the hairdresser-meets-gallery space at

84 Gloucester Road, has a solo show by the

retro-inspired illustrator Dupenny until the

8th, then, from the 10th, Wintertide brings

together a selected group of contemporary

artists including, amongst others, Romany

Mark Bruce, Will Blood, Hizze Fletcher

and Julie Kuyath. [brushbrighton.co.uk]

'Celestory' (detail) by Romany Mark Bruce

Photo by Simon Dack

Burning the Clocks is a reason to go out on the 21st, to mark the

shortest day of the year. Join in by buying a lantern-making

kit (including wristbands to join the procession) from organisers

Same Sky, and, after parading it through the city, commit it

to the blazing bonfire on Brighton beach, to mark the solstice.

[samesky.co.uk]

....59....
---
ART & ABOUT

....................................

'Carousel' by Sarah Jones (venue 36, Milton House)

Kirk Budden at the Hive

The 2016 Christmas Artists' Open Houses festival

continues for the first two weekends of December, with

56 venues open around the city. Check out Fabula's

Many Ways to Tell a Story at Hove Museum (venue 10).

The collective of international and local artists, united

by their love of storytelling, have been in residence at

the museum. The show continues into the new year.

[aoh.org.uk] As if you needed more, there's an alternative

trail of pop-up galleries this Christmas… Alt Open

Houses will see an abundance of art exhibited for sale in

venues including: The Hare and Hounds, Tattoo Workshop,

North Laine Brew House, Presuming Ed, Bison

Beer, Hive, Maple, Cafe Plenty, Nordic Coffee Collective,

Glazed, The Artpothecary, and Twin Pines. We're

particularly looking forward to the handmade quilts by

tattoo artist Kirk Budden, at Hive in Hove, which, he

admits, are a 'bit on the dark side'. There is such a thing

as too much jolly. [altopenhouse.com]

Sophie Darling

MADE Brighton returns

for one day only

at St Bartholomew's

Church, on Saturday

10th from 10.30am-

6pm, promising a selection

of the nation's best

and most interesting makers, at a down-to-earth,

table-top event. And Sophie Darling and Holly

Murray (the pair behind the much missed Kimchi

leather company) have a pop up shop at 48 Preston

Road. It's open every Friday, Saturday and Sunday

until Christmas from

12-6pm, selling exquisitely

printed scarves,

sweatshirts, and t-shirts

...and out of town

alongside twinkling

metallic handbags,

clutches and purses.

Farley Farmhouse bring their Lee Miller Archive

print room and gift shop to Lewes House on the

17th from 1-4.30pm. They've also got a shop at

the farmhouse in Chiddingly from the 15th until

the 21st [farleyfarmhouse.co.uk]. The shop at

Charleston is open at weekends until the 18th and,

on the 3rd and 4th, there's Charleston Covered, a rare

opportunity to see the house and collection 'put to

bed'; when paintings, sculpture, and furniture are

covered in white linen. [charleston.org.uk]

© leemiller.co.uk Potter but with Wool at MADE

....61....
---
Friday, Saturday & Sunday 12-6 November, December

and by appointment

OPEN

FRIDAY

SATURDAY &

SUNDAY 12-6

NOVEMBER

DECEMBER

SOPHIE DARLING AND HOLLY M LEATHER

SAND, 48 PRESTON ROAD BN1 4QF

https://www.facebook.com/sophiedarlingandhollymleather/

SOPHIEDARLING.COM 07866 423226 HOLLYMLEATHER.CO.UK 07811 416051
---
ART & ABOUT

....................................

Up the road at St Anne's Galleries in Lewes there's Settlement, an exhibition

of paintings by Paul Newland, who's intrigued by the edges of town, and

Alexander Johnson, whose current work conveys his wonder at the ancient

trees and farm buildings surrounding his Laughton home. [stannesgalleries.

com] Also in Lewes, at the Stable Gallery, Paddock studios, Overlooked is an

exhibition of paintings, photography, fragments and objects by Jenny Arran

and Zuky Serper. Cracks in pavements, marks on bone and patterns in stone

become Jenny's abstract landscapes, painted on small rough wood panels.

Zuky reworks overlooked objects, dovetailing handmade porcelain fragments

with found pieces of wood. It's on from the 2nd until the 4th, 10am-5pm.

'Oak Trees at Dawn' by Alexander Johnson

Bob Marley © Jill Furmanovsky

At Norman Road in St Leonards, the

Lucy Bell Gallery have 30/30/30, an exhibition

by the music photographer Jill

Furmanovsky. From being an 11-yearold

Beatles watcher, hanging around

outside Abbey Road Studios, she went

on to have a 40-plus-year career in music

photography, with access to some of

the greatest acts of the period. [lucy-bell.

com] The De La Warr Pavilion has an

intriguing-sounding exhibition running

all month: Buoys Boys, by Fiona Banner,

is an 'immersive installation exploring

her ongoing interest in language and its

limitations'. This will be joined on the 10th by The New Line, a collection of contemporary commercial prints,

many taken from the Jobbing Printing Collection developed by Philip James at the V&A's National Art Library.

Together they chart the enormous social, political and technological changes occurring across Europe in the 1930s.

Christmas makes to join in with…

Charleston are holding a series of Christmas craft workshops to help you deck the

halls... Expect paper cutting, table centrepieces, willow decorations and Christmas

wreaths. [charleston.org.uk] There's more making at Ditchling Museum of Art +

Craft with a Creative Christmas Crafts workshop on Sunday 4th, for ages 3+. Full

of creative crafty decoration ideas for kids and grown-ups to make together. £5 for

kids (+ £0.17 online booking fee!), accompanying adults free. [ditchlingmuseumartcraft.org.uk]

Brighton artist (and instagrammer extraordinaire) Philippa Stanton

is holding two Christmas wreath-making workshops on the evenings of the 6th and

the 8th. Flowers, foliage and materials will all be provided (as well as cheese, wine and Christmas cake) but places

are limited to eight on each evening so you'd best get in quick. (£28, 5ftinf@gmail.com)

© Philippa Stanton

....63....
---
Photos © Sanna Annukka / Marimekko Design House

....64....
---
DESIGN

....................................

Sanna Annukka

Marimekko illustrator

At 33, Sanna Annukka has already

achieved much of what it is possible

to achieve from a top-level illustration

career. Represented by agency

Big Active, she is currently working

on The Nutcracker, her third book,

due out in a Penguin imprint for

Christmas 2017. She has designed

patterns for the iconic Finnish

homeware label Marimekko for

eight years - after their CEO spotted

her album artwork for the band

Keane featured in British Vogue.

"Their album is folkloric, like

sinister fairy tales," Sanna tells me over tea. "It suited

my style and my love of the Kalevala." The Kalevala,

she explains, is a classic Finnish text formed of dense,

evocative poetry laden with allegoric imagery like

the Sampo… A mill that produces endless grain: a

symbol of prosperity so strong it was adopted by the

Finnish banking industry.

When Marimekko first asked Sanna to create a

body of designs to celebrate the anniversary of the

Kalevala, it realised a huge ambition. Sanna grew

up in Brighton to Finnish-English parents. "I live

here," she says, "but my work is about my Finnish

heritage and culture… because I'm not living there,

I can romanticise. Nostalgia is a big thing in my

work, something I want to share and celebrate with

other people."

Sanna spent childhood holidays exploring the wilds

of Finland and Lapland. "We'd travel north to fish

under the midnight sun," she says. "For a kid to be

wild - just camping, collecting berries, fishing for our

dinner, foraging, connecting with nature - I feel so

lucky to have had that experience…

"The songs in the Kalevala are

from the northern regions of

Finland, actually Karelia where

my family roots are… I feel linked

to the prose, the heroes - singers

that create harps from the bones

of a pike, to play beautiful music

that the forest creatures gather to

marvel at…

"With Marimekko, it's all about

storytelling as well. Every pattern

is a story."

Sanna has found a double-edge

to early success. Her style has

been developed by market demand, and is sometimes

pulled away from her more organic interests. Balancing

her love for analogue printmaking and the applied

fine arts her father collected in an increasingly

digital marketplace is something she has battled with.

"I was catapulted into the digital, commercial world,"

says Sanna. "I went completely into illustration on

Photoshop. It worked great and served a purpose - I

was making money from illustration - but I felt, after

a while, I needed to get back into the craft of making

an image."

You can see this ambition in Sanna's latest projects.

She has begun working in brass, ceramics and tapestry,

her goal to create a personal brand composed

of small editions of collectible design objects. "I

talk about a brand in the sense that it's just me and

my work," says Sanna. "It's not in order to become

worldwide famous and flog loads. A brand, for me, is

what I want to leave as my stamp on this world.

"I just want to resettle and get into playfulness and

exploration… I want to be in there, with my hands,

getting mucky." Chloë King

....65....
---
M a r i m e k ko

L i n u m

O r l a Ki e l y

I l s e Ja c o b s e n

C a m p e r

a n d m a ny m o re . . .

1 7 1 - 1 7 2 H i g h S t re e t Le we s B N 7 1 Y E p h o n e 0 1 2 7 3 4 7 0 2 4 8 v i s i t w w w. t h e l a u re l s l e we s . c o. u k
---
THE WAY WE WORK

This month, Adam Bronkhorst visited five of the artists and makers

getting ready to exhibit in Brighton's biggest Open House. New England

House is open from the 8th-10th, visit aoh.org.uk

We asked each of them: what gets you in the festive mood?

adambronkhorst.com | 07879 401 333

Jake Spicer, Draw Brighton

"Decorating the studio skeleton (we don't have a Christmas tree)."
---
THE WAY WE WORK

Rea Stavropoulos, artist

"Christmas carols, mince pies and mulled wine, all at once."
---
THE WAY WE WORK

Ken Eardley, ceramicist

"When the Open House starts."
---
THE WAY WE WORK

Peter Mullett, Clever With Leather

"Spending all of my Nectar points on champagne."
---
THE WAY WE WORK

Heike Roesel, fine-art printmaker

"Smelling wood burning in chimneys when walking along dark streets in the winter."
---
DRINK

...........................................

Bluebird Tea Co.

A winter's brew

The Little Book of Hygge tells me that 'hot drinks are what 86% of

Danes associate with hygge'. I'd been reading it in preparation for

this month's editorial meeting - well, I'd been reading it anyway,

but the chosen theme gave me reason to read it in the office, with my shoes off, and my hands wrapped around a

hot tea. I could see what they meant. So I happily volunteered to do a bit of tea tasting.

Only I cheated slightly. I did visit the Bluebird Tea Co, and spend an indulgent 20 minutes or so smelling and

sampling the different blends, and I did come away with a few sachets to try at home (the Christmassy 'Snowball',

plus the new 'Peppermint Cream'). However, the one I want to write about is not strictly speaking a tea.

'Mulled Cider' is a mixture of apple, ginger, cinnamon, cloves, lemon peel, rosehip and hibiscus, and while I'm

told it makes a really good winter brew, I decide to use it to use it as a mulling mix. Lewes Bonfire Night seems

like the perfect occasion.

I pour two litres of cider into my slow cooker, add two heaped dessert spoonfuls of the blend (plus some extra

ingredients), and leave it to stew for a few hours. Once it's infused, I sieve out the bits and add a splash of dark

rum. The result is delicious: sweet and citrusy and spicy. It's enough to keep me - and at least one or two others -

warmed up, right through until the bonfires have been lit. RC
---
Food & Drink directory

ADVERTORIAL

The Better Half

The Better Half pub has put

the heart and soul back into

one of the oldest public houses

in the city, just off Hove

seafront. There's a superb wine

and spirits list and some great ales and ciders on

offer, as well as a hearty and wholesome menu to

enjoy, making the best of local ingredients. The

Better Half is relaxed, friendly and easy-going,

making all feel welcome and comfortable when

you visit.

1 Hove Place, Hove, 01273 737869, thebetterhalfpub.co.uk

Bluebird Tea Co.

Brighton's independent Tea

Mixologists are gearing

up for another spiced and

steaming Christmas with

their new Mulled Cider fruit

tea and award-winning Snowball tea lattes on tap

in their instore tea bar. Visit their colourful tea

wall, a few doors down from Komedia, to pick 'n'

mix your own tea gift boxes as well as beautiful

teapots and infusers galore! Tea's the reason to

be jolly, after all!

41 Gardner St, 01273 325 523, bluebirdteaco.com

Terre à Terre

Our Christmas Menu

is renowned for its

cheeky puns as well as its delicious flavours.

No difference this year with dishes like

Chimchimney Soufflé and Sooty Tops and Ding

Dong Dengaku, featuring on both the Festive

Set menu and the Party menu. The popular

afternoon-tea experience has a seasonal twist,

and we have a range of goodies to go, from

organic wine and boozy rum truffles, to mulled

spiced chutney and Calabrian fig balls.

71 East Street, 01273 729051, terreaterre.co.uk

Edendum

Christmas is here and

so are our special festive

menus. Book a table

and enjoy your party with friends, family or

colleagues. All the recipes are completely homemade,

as always. Edendum is a slice of Italy

transported to Brighton, with authentic flavours,

fragrances and freshly cooked recipes that will

give you a chance to discover some lesser known

Italian dishes, a selection of fine Italian wines and

a range of traditional products for sale.

69 East Street, 01273 733800, edendum.co.uk

Caxton Arms

Tucked away near the

station, the Caxton Arms

is an old-school Brighton

pub. Serving modern British

pub food seven days a week,

this hidden gem has been recently refurbished.

Whether you're visiting for a game of pingpong

in our charming courtyard, to sample our

seasonal menu or for a Sunday roast, you can

always expect a warm welcome.

36 North Gardens, 01273 387346

The Westbourne

The Westbourne is a rarity, a

truly independent freehouse.

The bar features an ever

changing range of excellent

craft beers and cask ales

from exciting breweries, with

proper cider showcased in the

Cider Shack. There is a delicious gin menu, a

covered, heated terrace and a serious Sunday

roast offer all delivered by a friendly, passionate

team.

90 Portland Road, Hove, thewestbournehove.co.uk
---
Photo by Lisa Devlin, cakefordinner.co.uk

....74....
---
RECIPE

..........................................

Chimchimney Soufflé and Sooty Tops

Brighton Blue soufflé served with 'Apple Tattie Pave Pie' and artichoke

sauce, by Terre à Terre's new head chef, social-history enthusiast Judith Lang

Whenever an event happens, it's always marked by

food. We use food to celebrate, we use food to commiserate;

it's something that connects everyone. When

you speak to people from different cultures, they each

have their own sort of oral history through food.

I moved to Japan straight after I finished studying,

because it was the most foreign place I could think of.

There are very few similarities between Britain and

Japan. I was supposed to only be there for a year. That

was my plan, but I kind of fell in love with the place a

bit more than I planned to. The food was incredible,

the people, the places… I wasn't done after a year.

The tradition I loved most was Kaiseki, which is,

instead of having one plate of food, you have a lot of

small dishes. So you have your pickles, your rice, your

miso soup, your toppings. It's a more communal way of

eating; it takes longer, you spend time over it, and you

really get the value of it. Also, the seasonality of Japan

is incredible. As an example, there's a dish called Nabe,

which is a big pot, a stew, and you wouldn't dream

of having it outside of Nabe season. It's traditional,

and it's just that there's a lot more connectivity to the

seasons and the food that's available.

Terre à Terre reflects this ethos with seasonally inspired

dishes from all over the world. One of our new

dishes that is firmly rooted in Europe is the soufflé,

which combines blue cheese and apple for a rich and

satisfying winter dish.

For the Blue Cheese Soufflé (serves six):

50g butter, 60g plain flour, 250ml warmed milk, 1tsp

Dijon mustard, four large yolks, five large egg whites,

and 125g Brighton Blue cheese.

Coat the inside of six ramekins with soft butter and

then a little flour. Melt the butter in a pan over a low

heat. Sprinkle in the flour and stir to combine, then

cook it out for five minutes until it smells biscuity.

Slowly pour in the warmed milk while whisking. Cook

out the mix on a low heat until it's smooth and thick.

Add the mustard and cheese, and stir until melted.

Take the mix off the heat and beat in the egg yolks.

Allow the mix to cool fully.

In another bowl, whip up the egg whites until stiff

peaks form. Gently fold the egg whites into the (now

cool) cheese mix. Divide the mix between the ramekins

and bake in a bain marie for 15-20 minutes at 180°

until risen and slightly golden. Remove from the ramekins

and chill until required. To serve, put the soufflés

in a hot oven for 7 minutes until re-risen and golden.

For the Apple Tattie Pave Pie:

1kg desiree potatoes (peeled and thinly sliced), two

onions (thinly sliced), two large cooking apples (peeled,

cored and thinly sliced), and 500ml stock.

In a lined baking dish, layer the potatoes, apples and

onions, with seasoning in between each layer. Add

stock and cover with a layer of parchment to prevent

drying out. Bake at 180°C for about 30 minutes, until

a knife goes in without resistance. Chill and press. To

serve, reheat in the oven with the soufflé.

For the artichoke sauce:

400g sliced Jerusalem artichokes, 150ml full-fat milk,

pinch of mace, salt and pepper to taste.

In a pan, simmer the artichokes in the milk and mace

until very soft. Add a pinch of seasoning. Blitz in a

high-speed blender until smooth, then pass through a

sieve and finish with a splash of double cream.

We serve this in a filo pastry collar with pan-fried

Jerusalem artichokes, pickled vegetable, onions in sage

oil, kraut, beet sauce and fried sage leaves. RC

....75....
---
All the staff at the

Prestonville Arms wish you

a very merry gluten-free

Christmas

圀 椀 琀 栀 漀 瘀 攀 爀 ㈀ 䈀 爀 椀 琀 椀 猀 栀 昀 愀 爀 洀 栀 漀 甀 猀 攀 挀 栀 攀 攀 猀 攀 猀 Ⰰ 挀 甀 爀 攀 搀 洀 攀 愀 琀 猀

愀 渀 搀 䔀 渀 最 氀 椀 猀 栀 眀 椀 渀 攀 猀 漀 渀 猀 愀 氀 攀 Ⰰ 琀 栀 攀 爀 攀 椀 猀 猀 漀 洀 攀 琀 栀 椀 渀 最 昀 漀 爀

攀 瘀 攀 爀 礀 漀 渀 攀 Ⰰ 愀 氀 漀 渀 最 眀 椀 琀 栀 愀 最 爀 攀 愀 琀 爀 愀 渀 最 攀 漀 昀 氀 漀 挀 愀 氀 猀 漀 甀 爀 搀 漀 甀 最 栀

戀 爀 攀 愀 搀 猀 Ⰰ 瀀 椀 挀 欀 氀 攀 猀 愀 渀 搀 挀 栀 甀 琀 渀 攀 礀 猀 ⸀ 䌀 漀 洀 攀 ☀ 猀 愀 洀 瀀 氀 攀 漀 甀 爀

昀 愀 渀 琀 愀 猀 琀 椀 挀 爀 愀 渀 最 攀 椀 渀 愀 昀 爀 椀 攀 渀 搀 氀 礀 ☀ 爀 攀 氀 愀 砀 攀 搀 攀 渀 瘀 椀 爀 漀 渀 洀 攀 渀 琀 ⸀

一 伀 圀 吀 䄀 䬀 䤀 一 䜀 伀 刀 䐀 䔀 刀 匀 䘀 伀 刀 䌀 䠀 刀 䤀 匀 吀 䴀 䄀 匀

䠀 䄀 䴀 倀 䔀 刀 匀 䤀 一 匀 吀 伀 䌀 䬀
---
FOOD REVIEW

...........................................

Northern Lights

Scandi-style salmon (and meatballs, of course)

"Anything else?"

asks the barman.

I've left my main

course halfway

through, to get

a second pint of

draught Swedish

pale ale, so I don't

want to get drawn

into a conversation

whilst waiting at the bar. Meatballs on mash isn't

half as appealing when it goes cold. Nevertheless,

there's something I need to know.

"Can you ask your chef how they get their

vegetables to taste so amazing?" I say. I've never

experienced such tasty cabbage.

"Ask her," says the guy, pointing me to a woman

leaning at the bar next to me. It's the chef, taking a

break. She smiles...

I'm in Northern Lights, the Scandinavian bar/

restaurant, eating a late lunch with Lizzie Enfield.

If you haven't been, it's in a lovely old fisherman's

cottage in Little East Street; it's run by a group

of friends, one of whom is Finnish; and it's where

Brighton-based Scandies go if they fancy a bit of

home away from home. It's THE place to go to

watch the Ice Hockey World Championships, apparently.

And their meatballs are famous.

Lizzie, being a freelance journalist, is generally on

hand if I need a last-minute lunch companion, and

she's great company. It's late for lunch: the place

doesn't open till 3pm on a Friday. Which is OK by

me, hunger being the best sauce, and all that. We've

been swapping stories about journalistic assignments

we've had in Nordic countries as we pick at

our shared first course: 'Lime vodka and dill cured

salmon, horseradish

sauce, pickles

and rye bread'. She

nearly fell into the

sea while skating

near the edge of the

frozen bit of the

Baltic. I jumped naked

into an ice-hole

on a lake in Finland.

That sort of thing. The salmon, and the pickle, is

scrumptious.

I've had the meatballs here before, and they looked

very different from the ones which arrive about five

minutes after we finish the starter. Five of them

are piled high on a neat wheel of mashed potato,

in a moat of gravy, next to mounds of red cabbage,

red onion and carrots. They taste firm, and herby,

and much better than I remember. We swap taste

notes… and then I try the cabbage. And from now

on, unless I learn the chef's secret, I'm always going

to be disappointed by cabbage.

A few minutes later, I'm at the bar, buying that second

pint, and I get my chance. The chef, who turns

out to be from Yorkshire (the first disappointment

of the afternoon; I wanted her to be Icelandic, or

something) tells me: "I don't boil them, I put them

in the oven."

Is that it? Is it that simple? I shovel up the second

half of my meal, wondering if she's keeping some

sort of secret to herself. The Swedish ale, I must say,

is excellent: I've still got a half left as Lizzie wanders

off to her next assignment: ice skating, as it happens,

with her daughter, at the Pavilion. "Be careful," I

warn, and mull over whether or not to have a Black

Death vodka to wrap things up. Alex Leith

Photo by Alex Leith

....77....
---
FOOD

.............................................................

Edible updates

There's no stopping the new launches including, excitingly, Kemptown

Kitchen, being opened on Upper St James's Street this month, by the team behind

Curry Leaf Café. I'm told it will be 'a bit more modern and playful' than

the original, offering seven-day delivery, small plates, cocktails and an open

kitchen. Welcome too to Zona Rosa on College Road, and some new chains: Noo Noodles on Cranbourne

Street, serving 'build your own' noodle dishes. Dum Dum Donutterie in Brighton Square, offering 'artisan

doughnuts, baked not fried'. And Crepeaffaire, on East Street.

I am reliably informed by Viva's Anya that the new 1847 menu is fab, and the new Doughbo kitchen at Hobgoblin

comes highly recommended.

Florence Road Market is open on the 3rd and 10th with the usual, plus festive music, handmade gifts, street

food, trees, and… live donkeys. As you ask, a local charity that uses donkeys therapeutically is bringing them to

raise money for the One Church Brighton homeless night shelter.

There's more seasonal cheer at Stoneham Bakehouse, who are hosting a Festive Breads workshop on the 12th,

while the Brighton Food Tours Christmas Special will help get your bells jingling… £40pp includes food,

drink and discounts on gifts.

Woodlandia at Patterns is offering the chance to 'get lost in an enchanting snowy forest', and the Royal Pavilion

is hosting a magnificent Christmas in the State Banqueting Room on the 9th and the 16th.

Last but not least, congrats to Bedlam Brewery, who crowdfunded over £500,000 to move forward plans for

their first Brighton pub. Happy New Year! Chloë King

....78....

Illustration by Chloë King
---
DRINK

...........................................

Sussex Hamper Company

How to win friends and influence people

Most of us have received a Christmas hamper at some point but, no

matter how exciting all that cellophane and shredded tissue, there's usually

a couple of duff items in there to pad it out.

This is most definitely not the case with Sussex Gin Martini Hamper we take delivery of from The Sussex Hamper

Company. Presented in a beautifully made birchwood box and closed with smart straps hand cut by artisan

leather worker Wolfram Lohr, it's a very splendid thing. And, as if the box weren't present enough, inside - nestled

in an abundance of shredded paper - are a bottle of Sussex Dry Gin and one of Sussex Bianco Vermouth (everything

the SHC put in their hampers is locally sourced); both are made with sap tapped from the silver birch trees

that grow in the woods surrounding the small-batch distillery nestled below Blackdown Hill in the South Downs

National Park. We'd sipped them both in our December 2013 issue, describing them as 'subtle, understated,

refreshing and clean' and giving them 'top marks'. Nothing has changed.

Accompanying the bottles is a handwritten card, with instructions for making the perfect martini. Like most

things made with the best ingredients, there's very little fuss, but I am required to leave the mixture in the freezer

for 30 tortuous minutes… Time I spend thinking very fondly of the sender indeed. Lizzie Lower

There are 19 hampers to choose from, including dairy- and gluten-free options. They take seven days to prepare, so

best order quick. The Martini Hamper costs £94, thesussexhampercompany.co.uk

Photo by Lizzie Lower
---
Have yourself a Merry

sussex CHristMas!

Select Sussex

Christmas

produce online

& get your

grocery box

delivered to

your door

without the

supermarket

queues.

Browse our loCal treats & kiCk start CHristMas:

www.finandfarM.Co.uk

Have a

Bluebird

Christmas!

BB x

Brighton's independent Tea

Mixologists have just unveiled

their NEW Christmas teas +

gifts. Their award-winning teas

are hand blended in small

batches. Shop with Bluebird in

store or online!

41 Gardner St., Brighton

BN1 1UN

Opening hours:

Mon - Fri 10.30am - 6pm

Sat

10.30am - 6:30pm

Sun

10.30am - 5.30pm

www.bluebirdteaco.com
---
COFFEE

.........................................

Dottie's Café

'Just teach the customers to sign'

Statistics suggest that

Brightonians are the biggest

coffee drinkers in the

UK, and the city centre

streets are certainly full of

coffee shops and cafés, from

the international chains to

the independent one-offs.

But none are anything

like Dottie's Café, in East

Brighton Park. Dottie's is

almost exclusively staffed

by deaf people.

The café was opened in

October this year, by

Ruthanne Garrett, with help from her twelveyear-old

daughter, Maida. Ruthanne's connection

with Brighton's deaf community goes back a long

way. She has long been a sign language interpreter

and has run a job club for unemployed deaf

people. The café presented itself as the perfect

opportunity and space to offer employment and

inclusion to the deaf people she'd been working

with. Getting the café on its feet was at first a

challenge, but one to which the community rose;

Ruthanne was overwhelmed with support from

crowdfunding and volunteers.

Having secured the premises, she put out an advertisement

for people to run the café and found

a newlywed couple, Jonathon and Stephanie,

both deaf and both with excellent experience

in café management. Along with Darren, the

kitchen manager, they now run Dottie's, with

Ruthanne behind the scenes. In addition to the

core staff team, they offer temporary work to

other deaf people enabling them to gain valuable

work experience.

So how do hearing customers who cannot sign

communicate with deaf staff who do? "Just teach

the customers to sign,"

says Ruthanne. And so,

next to the written English

on the menu there is the

symbol and action description

for the sign. Customers

seem thrilled at the

encouragement to try out

a new language, and the

place bustles with silent

conversation.

The café is named after

Ruthanne's mother, whose

generosity of spirit

inspired the direction of

the project. "She opened her house to anyone,"

Ruthanne says of Dottie, who used to run a

small community café from her home, offering

hot, home-cooked meals for whatever price the

customer could afford to pay.

Dottie's Café has a similarly community-spirited

ethos. Beyond its mission to help deaf people find

employment, and to encourage the hearing community

to engage with the deaf, it also has plans

to help in other ways. Community Manager

Stephanie tells me about the Wellbeing Room

they have opened, offering reasonably priced

massages and therapies for those who might not

otherwise be able to afford them. And about the

English classes they will run for refugees as well

as the more affordable, home-cooked food they

offer for those who might not be able to afford a

meal out, or indeed a hot meal at all.

Dottie's is a café for our times, then; or perhaps

more accurately, what our times call for. A true

community café with its doors open to everyone.

And the cake is pretty great too.

Holly Fitzgerald

Wilson Ave, BN2 5PB

....81....
---
䌀 栀 爀 椀 猀 琀 洀 愀 猀 䐀 愀 礀 䰀 甀 渀 挀 栀

匀 椀 砀 挀 漀 甀 爀 猀 攀 猀

ꌀ 㠀 ⸀

瀀 攀 爀 瀀 攀 爀 猀 漀 渀 Ⰰ ꌀ 㐀 挀 栀 椀 氀 搀 爀 攀 渀 甀 渀 搀 攀 爀 ㈀

䈀 漀 砀 椀 渀 最 䐀 愀 礀 䰀 甀 渀 挀 栀

圀 栀 礀 渀 漀 琀 眀 愀 琀 挀 栀 琀 栀 攀 琀 爀 愀 搀 椀 琀 椀 漀 渀 愀 氀 最 愀 琀 栀 攀 爀 椀 渀 最 漀 昀

琀 栀 攀 匀 漀 甀 琀 栀 搀 漀 眀 渀 䠀 甀 渀 琀 猀 洀 攀 渀 漀 甀 琀 猀 椀 搀 攀 琀 栀 攀 圀 栀 椀 琀 攀

䠀 愀 爀 琀 愀 渀 搀 琀 栀 攀 渀 猀 椀 琀 搀 漀 眀 渀 琀 漀 愀 琀 爀 愀 搀 椀 琀 椀 漀 渀 愀 氀

挀 愀 爀 瘀 攀 爀 礀 氀 甀 渀 挀 栀 ⸀

ꌀ㈀ 㐀 ⸀ 瀀 攀 爀 愀 搀 甀 氀 琀 Ⰰ ꌀ 㔀 ⸀ 挀 栀 椀 氀 搀 爀 攀 渀 甀 渀 搀 攀 爀 ㈀

一 攀 眀 夀 攀 愀 爀 ᤠ 猀 䔀 瘀 攀 䜀 愀 氀 愀 䐀 椀 渀 渀 攀 爀

䔀 渀 樀 漀 礀 愀 猀 瀀 氀 攀 渀 搀 椀 搀 攀 瘀 攀 渀 椀 渀 最 椀 渀 漀 甀 爀 䌀 漀 甀 渀 琀 礀

匀 甀 椀 琀 攀 眀 栀 攀 爀 攀 礀 漀 甀 眀 椀 氀 氀 戀 攀 最 爀 攀 攀 琀 攀 搀 眀 椀 琀 栀

愀 最 氀 愀 猀 猀 漀 昀 ᰠ 昀 椀 稀 稀 ᴠ 漀 渀 愀 爀 爀 椀 瘀 愀 氀 昀 漀 氀 氀 漀 眀 攀 搀 戀 礀

愀 猀 甀 瀀 攀 爀 戀 昀 椀 瘀 攀 挀 漀 甀 爀 猀 攀 搀 椀 渀 渀 攀 爀 愀 渀 搀

挀 漀 昀 昀 攀 攀 Ⰰ 眀 椀 琀 栀 攀 渀 琀 攀 爀 琀 愀 椀 渀 洀 攀 渀 琀 昀 爀 漀 洀

漀 甀 爀 爀 攀 猀 椀 搀 攀 渀 琀 䐀 䨀 愀 渀 搀 愀 挀 攀 氀 攀 戀 爀 愀 琀 漀 爀 礀

最 氀 愀 猀 猀 漀 昀 猀 瀀 愀 爀 欀 氀 椀 渀 最 眀 椀 渀 攀 愀 琀 洀 椀 搀 渀 椀 最 栀 琀 ⸀

ꌀ 㜀 㔀 ⸀

瀀 攀 爀 瀀 攀 爀 猀 漀 渀

吀 愀 戀 氀 攀 漀 昀 琀 攀 渀 椀 渀 礀 漀 甀 爀 瀀 愀 爀 琀 礀 ꌀ 㘀

圀 栀 礀 渀 漀 琀 猀 琀 愀 礀 漀 瘀 攀 爀 渀 椀 最 栀 琀 㼀

吀 眀 漀 渀 椀 最 栀 琀 一 攀 眀 夀 攀 愀 爀 戀 爀 攀 愀 欀

䄀 瘀 愀 椀 氀 愀 戀 氀 攀 漀 渀 アパート 琀 栀 Ⰰ アパート 猀 琀 䐀 攀 挀 攀 洀 戀 攀 爀 漀 爀 猀 琀

䨀 愀 渀 甀 愀 爀 礀

䔀 渀 樀 漀 礀 琀 眀 漀 渀 椀 最 栀 琀 猀 ᤠ 愀 挀 挀 漀 洀 洀 漀 搀 愀 琀 椀 漀 渀 眀 椀 琀 栀 漀 甀 爀

䜀 愀 氀 愀 䐀 椀 渀 渀 攀 爀 漀 渀 一 攀 眀 夀 攀 愀 爀 ᤠ 猀 䔀 瘀 攀 愀 渀 搀 琀 栀 爀 攀 攀

挀 漀 甀 爀 猀 攀 搀 椀 渀 渀 攀 爀 漀 渀 琀 栀 攀 猀 攀 挀 漀 渀 搀 攀 瘀 攀 渀 椀 渀 最

ꌀ 㤀 ⸀

瀀 攀 爀 瀀 攀 爀 猀 漀 渀

攀 瘀 攀 渀 琀 猀
---
THE LOWDOWN ON...

.............................................

Hygge

Author Louisa Thomsen Brits

The closest English

synonym for hygge

is 'cosiness', but

there's much more

to it than that. It's

not just about woollen

socks and cake

and lighting candles.

It's about abandoning

yourself to the

moment, and luxuriating

in it. It's about embracing comfort, and

wellbeing, and good company, and community.

We've recently been fed a diet of Scandinavian

film and food and design; now we're starting to

look at the tender values that uphold Scandinavian

- and in this case Danish - society. My book -

Hygge, the Danish Art of Living Well - is one of nine

or ten that have been published recently on the

subject, and there is good reason that this Danish

lifestyle philosophy is so zeitgeist...

It was recently announced by Collins that

'hygge' was in their 'words of the year' shortlist.

Two of the others were 'Brexit' and 'Trumpism'.

It's mildly depressing to be connected with

those terms, but it is no coincidence. In fact it's

encouraging, in these troubled times, that we're

paying attention to empathy and togetherness.

Hygge can be many things. It can be enjoyed

inside or outside, alone or with other people, in

winter or in summer. But Christmas, as I know

from childhood holidays with my Danish mother's

family, is the most hyggelig time of the year. Ideally

this is a time for abandoning our cares for the

moment and indulging in a feeling of belonging

and togetherness with friends and family. We have

a special word for it: 'Julehygge'.

We need to encourage ourselves through this

period of darkness

by appealing to our

senses, nourishing

each other and

enjoying life. When

we hygger we set aside

our cares and come

together to shelter

each other from the

difficulties of everyday

life and the disquieting

presence of everything that makes us fearful.

The opposite of 'hyggelig' is 'uhyggelig':

it's not just the absence of hygge, not just that

someone forgot to light the candles, but a feeling

of actual fear. One of the motivations for creating

hygge is to place ourselves in a circle of warmth

that secures us from the darkness that surrounds

us - and ultimately from the fear of death.

There are some downsides to hygge. It often

manifests publically as little clusters of people

wholeheartedly engaged in one another, but appearing

uninterested in everything else on the periphery.

To an outsider it can seem impenetrable.

Lewes, for example, is a very hyggelig town.

There's a very strong sense of community. When

people move to Lewes or the surrounding area, it

doesn't take long for them to develop a very strong

sense of belonging and connection.

Danes just hygger, they don't dissect it.

They're quite amused at the extent we're all adopting

it, and obsessing about it. As told to Alex Leith

The Book of Hygge - the Danish Art of Living

Well, Ebury Press, £12.99. A percentage of any

royalties East Sussex resident Louisa makes from

the book will go to the Clocktower Sanctuary in

Brighton: "you can't hygger unless your basic needs

of food and shelter are met."

Photos from 'The Book of Hygge' by Louisa Thomsen Brits (Ebury Press, £12.99). Photography by Susan Bell

....83....
---
TRADE SECRETS

..........................................

Santa Claus

Christmas logistics

Are you the real

Santa Claus? Of

course! Absolutely.

And there is only one.

Have you ever

bumped into somebody

pretending to

be you? Well I don't

come down here very

often, you know,

before Christmas, but

I have heard tales that

people dress up like some rather slapdash version

of me and they end up in supermarkets and shopping

centres and that sort of thing.

Do you look forward to Christmas Eve? I

look forward to it a great deal. To be honest, on

the night it's hard work. Both Rudolf and I need

a drink at the end of it. But one of the nicest

things is - actually before Christmas - meeting

the children.

What do they want to know when they meet

you? Well they ask about Rudolf, and they ask

about the elves, they ask where and when, and

what's going on. The way it seems to happen is,

because I'm often quite tired, as you can imagine

it's very, very busy, I have one elf who comes with

me, and to be honest, on a couple of occasions

they've actually had to wake me up - they've

had to shout to wake me up - which is a little bit

embarrassing, but there you go. I'm not getting

any younger!

How old are you, if you don't mind me asking?

Well, it's like asking a lady her age, isn't

it? Put it this way: I'm older than most of the

children in Brighton, all put together.

Have you ever been asked for a present that

you've had to say 'no' to? Probably a surfboard.

If I were going to give the children any advice,

it would be that you

just can't get the

surfboard down the

chimney. Skis are

different - skis are

narrower. You can

get skis down the

chimney, but you

can't get a surfboard…

and anyway,

it's the wrong time

of year.

It makes sense to wear your big red suit here,

because it's freezing cold on Christmas Eve,

but don't you get too hot when you're delivering

presents to children on the other side

of the world? Well, actually, I have several red

suits. I've got one which is really heavy, fleecy,

but if you look very carefully at pictures of me in

Australia, for instance, you'll see it's actually a lot

thinner. And those boots, too, they're not quite

as furry.

What do you do after Christmas, when you've

got a bit of free time? Carpentry, as you can imagine.

The thing about the North Pole is there's

a lot going on. And if you come down a little

bit from the North Pole, there are reindeer and

there are polar bears, and there are all sorts of

things. And what you won't see in any aerial view,

of course, is the underground workshops where

all the elves and I are making the presents.

There's a bit of a dispute in my house over

whether we should leave you out sherry or

whiskey… I'm very much a whiskey drinker, so

a little tot of whiskey would be good. And that

would be whiskey with an 'e'.

Rebecca Cunningham

Santa will be visiting Preston Manor on the 17th,

18th, and the 20th-23rd December

Photo by James Pike

....85....
---
Quote

VIVABRIGHTON

for 10% off online

and in store

A boutique and workspace in the North Laine producing our own range of fused glass

alongside a range of handmade gifts, homeware and accessories.

We also run fused glass workshops - dates for 2017 now available, see online for details.

74 North Road, Brighton BN1 1YD

www.littlebeachboutique.com
---
THE

hygge

SHOPPING

GUIDE

George IV tree decoration

£12.95, Royal Pavilion Shop

The Year

of Living

Danishly

by Helen

Russell

£8.99,

Junkfunk

Orange Panettone

flavour tea

Poler Stuff indoor/

outdoor 'Napsack'

£110,

Pelobros

Handmade

sheepskin

slippers

£25,

Artemis of

Brighton

£4.85, Chi Trading

Joanna Corney

illustrated fairy

lights

£25,

Little Beach

Boutique
---
吀 爀 愀 渀 猀 昀 漀 爀 洀 礀 漀 甀 爀 栀 漀 洀 攀 眀 椀 琀 栀 漀 甀 爀 昀 椀 渀 攀 猀 琀 焀 甀 愀 氀 椀 琀 礀

匀 㨀 䌀 刀 䄀 䘀 吀 洀 愀 搀 攀 ⴀ 琀 漀 ⴀ 洀 攀 愀 猀 甀 爀 攀 椀 渀 琀 攀 爀 椀 漀 爀 猀 栀 甀 琀 琀 攀 爀 猀 ⸀

琀 ⸀ ㈀ 㜀 アパート アパート アパート 㠀 㐀 ㈀

攀 ⸀ 挀 漀 渀 琀 愀 挀 琀 䀀 戀 攀 氀 氀 愀 瘀 椀 猀 琀 愀 猀 栀 甀 琀 琀 攀 爀 猀 ⸀ 挀 漀 ⸀ 甀 欀

眀 ⸀ 眀 眀 眀 ⸀ 戀 攀 氀 氀 愀 瘀 椀 猀 琀 愀 猀 栀 甀 琀 琀 攀 爀 猀 ⸀ 挀 漀 ⸀ 甀 欀

圀 栀 愀 琀 椀 猀 昀 愀 洀 椀 氀 礀 洀 攀 搀 椀 愀 琀 椀 漀 渀 㼀

䄀 挀 漀 渀 昀 椀 搀 攀 渀 琀 椀 愀 氀 Ⰰ 瘀 漀 氀 甀 渀 琀 愀 爀 礀 Ⰰ 挀 漀 猀 琀 ⴀ 攀 昀 昀 攀 挀 琀 椀 瘀 攀

猀 攀 爀 瘀 椀 挀 攀 Ⰰ 愀 氀 氀 漀 眀 椀 渀 最 猀 攀 瀀 愀 爀 愀 琀 椀 渀 最 瀀 愀 爀 攀 渀 琀 猀 琀 漀 猀 漀 爀 琀

漀 甀 琀 琀 栀 攀 椀 爀 椀 猀 猀 甀 攀 猀 眀 椀 琀 栀 愀 渀 椀 渀 搀 攀 瀀 攀 渀 搀 攀 渀 琀

洀 攀 搀 椀 愀 琀 漀 爀 Ⰰ 爀 愀 琀 栀 攀 爀 琀 栀 愀 渀 最 漀 椀 渀 最 琀 栀 爀 漀 甀 最 栀 挀 漀 甀 爀 琀 ⸀

䤀 愀 洀 愀 渀 攀 砀 瀀 攀 爀 椀 攀 渀 挀 攀 搀 Ⰰ 氀 攀 最 愀 氀 氀 礀 焀 甀 愀 氀 椀 昀 椀 攀 搀

䘀 愀 洀 椀 氀 礀 䴀 攀 搀 椀 愀 琀 漀 爀 氀 椀 瘀 椀 渀 最 氀 漀 挀 愀 氀 氀 礀 Ⰰ 眀 栀 漀 挀 愀 渀 漀 昀 昀 攀 爀

昀 氀 攀 砀 椀 戀 氀 攀 愀 瀀 瀀 漀 椀 渀 琀 洀 攀 渀 琀 猀 漀 昀 琀 攀 渀 愀 琀 猀 栀 漀 爀 琀 渀 漀 琀 椀 挀 攀 ⸀

䌀 漀 渀 琀 愀 挀 琀 洀 攀 漀 渀 猀 昀 䀀 猀 愀 爀 愀 栀 昀 漀 爀 猀 琀 攀 爀 ⸀ 挀 漀 ⸀ 甀 欀

漀 爀 挀 愀 氀 氀 㜀 㤀 㔀 㘀 㠀 㐀 㔀 㠀

眀 眀 眀 ⸀ 猀 愀 爀 愀 栀 昀 漀 爀 猀 琀 攀 爀 ⸀ 挀 漀 ⸀ 甀 欀
---
MY SPACE

..............................................

Photos by Lizzie Lower

Brighton Little Theatre

'Space is tight'

How big is Brighton Little Theatre Company?

We've just over 200 people in the company, and

most of us multitask. We've got a youth section too.

Can all of you get in the theatre at the same

time? Oh gosh, no! The theatre seats 75. We perform

down here in the bar too. Very intimate shows

that seat 30 people.

How long have you been here? The building

dates back quite a long way. It's been a church,

a school and an artist's studio, but our founder

members set up here in 1940. Candida was our first

production. We recently received a box from our

last founding member, Cicely Spence, who died this

year. It contained, amongst other things, the minutes

from the beginning, with all the attendances

recorded. It's such an interesting record.

How many shows do you perform? We do

between ten and twelve shows a year, back to back.

So on a Sunday after one show comes down, the

crew and the cast will be clearing the old set and

building the next. Space is tight, so everything has

to be thought about carefully and everybody has to

be on the ball.

What challenges do those size restrictions

present? The directors are members, so they know

the theatre. There are height constraints, and the

stage isn't raised, but it's amazing what can be done.

We've recently put on One Man Two Guvnors with

two huge trucks moving about the stage. All spaces

have to be used to their maximum. Our costume

store is also the men's dressing room, our bar area is

the box office and a rehearsal area, and the kitchen

doubles up as the ladies' dressing room.

I didn't know you were here… We meet people

all the time who've lived in Brighton for years but

who didn't know we were here. We always say we're

Brighton's best kept secret.

Lizzie Lower interviewed Patti Griffiths, Margaret

Skeet, and Felicity Clements

9 Clarence Square

The Wizard of Oz runs from 9th - 17th.

brightonlittletheatre.com

....89....
---
CityCycling

Skills

Everyday cycling

for everyone!

New to cycling?

Keen to cycle again?

Want to know

how to fix your bike?

Free cycle training and

maintenance courses

To find out more:

www.brighton-hove.gov.uk/cycletraining

east.central@brighton-hove.gov.uk

01273 295456

Funded by Department for Transport's: Sustainable Travel Transition Year

Funeral Director of the Year 2014

01273 621444

Traditional and Green Cremations & Burials

At ARKA Original Funerals we make sure that you feel comfortable and unpressured

about making decisions for the funeral of a loved one. Our team has a wealth of experience

arranging unique ceremonies with sound environmental practices and sustainably sourced coffins.

136 Islingword Road BN2 9SH • 01273 621444 or 39-41 Surrey Street BN1 3PB • 01273 766620

www.arkafunerals.co.uk • info@arkafunerals.co.uk
---
HISTORY

...........................................

Mother Riccarda

Beatific Brightonian

"This is not a simple little nun

thinking 'oh, I'll do my best'. No,

no, she would have been aware,

absolutely would have been

aware," says the journalist Joanna

Bogle. "If you sheltered Jews, you

were risking your life."

***

Catherine Hambrough was

born in 1887, into the "minor

aristocracy", and spent part

of her childhood in Hove. It's

unclear how long she was here,

though Bogle feels that "certainly

this was her home… It was

in Hove that her parents made the decision to

become Catholics, and it was that that defined the

rest of her life." She was baptised as a Catholic at

St Mary Magdalene's, on Upper North Street.

Someone of her background "would have had

access to a rather pleasant social life," Bogle says.

However, Hambrough preferred to go to Rome,

in her mid-20s, and take up the austere life of

a Bridgettine nun, under a new name: Sister

Riccarda.

By 1943, she was Mother Riccarda, and evidently

quite senior among the Bridgettines. When the

Germans occupied Italy, she was effectively put

in charge of the convent's efforts to hide dozens

of Jews.

These fugitives were sheltered in the nuns' own

quarters, so that if soldiers insisted on searching

the building, the sisters could say demurely,

'please, not our bedrooms!'

The situation "made life very difficult for the

nuns," Bogle says - particularly as the Jews could

no longer claim their food rations.

It fell to Riccarda to deal with the food issue (she

appears to have gone hungry

herself), and to smooth over

any cabin-fever-type tensions

among the fugitives. One of

them, interviewed by Bogle years

later, said that 'you instinctively

went to her when you were

troubled… she put everyone at

ease. We called her Mamima –

Little Mother.' Riccarda is now

being officially considered for

sainthood.

"To be honest, it would have been

relatively easy for the nuns to

shut the door and say, 'we know

you want help, but we really can't,'" Bogle says.

"They were extremely vulnerable. Remember

that these nuns had nothing; they never imagined

themselves doing this. One reason you join a

convent is, not for an easy life, but let's say an

ordered life, a certain academic… it's reading and

praying and studying, and helping other people

to study, and teaching. It's not exactly adventure

work, you know.

"It's interesting - we all like to think, don't we,

that we'd be heroic. But the evidence is that lots

of us aren't, when it comes to it. It's interesting

that, particularly in the case of Mother Riccarda,

these were women who'd made a decision to live

in a more austere way, and to give the whole of

their lives to something that was true and good.

And so, I think they didn't really hesitate when the

question was put to them. I think the decision to

lead a nobler life, if I can put it like that, certainly

can lead you to do heroic things. I find that quite

touching." Steve Ramsey

Joanna Bogle's book, Courage and Conviction, is

published by Gracewing

....91....
---
CNM

TRAINING SUCCESSFUL PRACTITIONERS

COLLEGE OF

NATUROPATHIC

MEDICINE

CHANGE CAREER

Train to become a…

Nutritionist Herbalist Acupuncturist

Homeopath Naturopath Natural Chef

Postgraduate Courses and Short Courses also available

Colleges throughout the UK, Ireland, Finland, USA

Part time and full time studies

01342 410 505 www.naturopathy-uk.com

Attend a FREE

Open Evening

at CNM Brighton

or CNM London

A SUSSEX HOUSE

If you're looking for somewhere to breathe, relax,

write, create, retreat in Sussex, you've found it.

With space to sleep nine, fire pits and nine acres

of meadow and secluded woodland, it's also

perfect for photoshoots and location filming.

sussexhouseparty.wordpress.com/retreat

gilly@gillysmith.com

0793040 0805
---
HEALTH

.....................................................

Seasonal Affective Disorder

Beating the winter blues

''In ancient times, in winter, we'd huddle in caves,

round the fire, and we'd eat the salted meat and

whatever else we'd stored, and we'd pretty much

hibernate. We were supposed to. Then later, when

we became farmers and tilled the soil, we'd go to bed

at 4pm," says Marilyn Deane, one of the trainers on

the Beating the Winter Blues course at Brighton &

Hove Recovery College.

Many in the neuroscience world would argue that

we're still supposed to hibernate, or at least to sleep a

great deal longer during the darker months. The Suprachiasmatic

Nucleus (SCN), aka our body clock,

is located near the visual region of the brain, and

is thus strongly affected by what we see. When it's

dark, the SCN triggers secretion of melatonin, the

hormone that makes us feel sleepy. In other words,

the less sunlight there is, the higher levels of melatonin,

and the more sluggish and drowsy we feel,

which doesn't bode well when we wake up on dark

December mornings. Low levels of sunlight also result

in lower levels of serotonin, the neurotransmitter

connected with mood and appetite. And so arise

the symptoms of Seasonal Affective Disorder (SAD):

persistent low mood, lethargy, wanting to sleep

more, and craving carbs to kickstart dipping energy

levels and temporarily elevate mood. We can quibble

about whether we should be specifically diagnosed,

but there aren't many of us who hurl our hats in the

air and whoop as the daylight hours become shorter.

If the electric light hadn't been invented, enabling us

to remain awake and work long after sundown, then

we'd probably still be living in sync with the seasons.

So it's Thomas Edison we should be berating for

getting our SCNs out of whack and exacerbating the

incidence of SAD.

The right kind of lightbulbs, though, in the form of

a Light Box, can be just the ticket for lessening SAD.

A Light Box simulates natural sunshine, and if you

wake up on a winter morning and have 30 minutes of

rays, melatonin will be released in the early evening

rather than earlier in the day, resulting in sleep at the

end of the evening rather than fatigue throughout

the day.

Eating fruit and veg that are rich in antioxidants and

anthocyanins - colourful fare, basically - is central

to keeping SAD at bay. Supplements of Vitamin D,

'the sunshine vitamin', can play a pivotal role, too.

Exercise, be it yoga, running, or whaling the tar out

of a punchbag, is also crucial. Or even creating "a

summer room or space that reminds you of summer

and makes you feel happy.

"The last lesson on the course is about Christmas

and how to cope with it. Back in 1840, apparently,

you'd send a tiny greetings card, and that would be it.

These days, it's become a challenge, a list of all these

things that you 'must do' and that can make you ill.

Instead, ask yourself 'What Christmas do I want?'"

Andy Darling

Brighton & Hove Recovery College

southdownhousing.org

....93....
---
WHEN WE PULL

YOUR HOME TO PIECES YOU'D

BETTER TRUST US TO KNOW

WHAT WE'RE DOING.

And we do.

Our business is built on trust. When you choose Nutshell to renovate,

rebuild or restore your beautiful home, you should have absolute

confidence in us. And it's a two way street.

We like to work for people with whom we can have an intelligent dialogue

and with whom we can discuss the decisions that crop up along the way.

It's surprising how much more smoothly things go when you build relationships.

This has been our mantra from the very beginning and over the years our many

clients have become good friends. It's made for more efficient, smoother running

projects and great outcomes.

Call us and start building a relationship today.

Tel: 01903 217900

info@nutshellconstruction.com

www.nutshellconstruction.com
---
BRICKS AND MORTAR

..............................................

Hygge, al fresco

Making the streets our home

Hygge is not just about

the cosy domestic scene.

It's equally applied to

outdoor places that

people want to linger

in, hang out with their

friends and socialise

in - and Brighton and

Hove has one of the

world-leading examples

of this at its heart. New Road was redesigned by

Gehl Architects, a Danish studio that understands

hygge instinctively. It applied these principles to its

design of New Road, turning it from an unloved cut

through to the paved and much-traversed avenue we

have today. The seat lights may no longer be in use,

the number of cars may challenge the pedestrian-first

ethos, and the outdoor tables be land-grabbing, but

the use of the road for socialising, lazing hours away

people-watching and mooching about cannot be

doubted. New Road is an essential part of Brighton's

sense of place, and the Laine-and-Lanes experience.

Chef and author Trinne Hahnemann recently described

hygge as 'more than cosiness' and as 'setting

the stage of how things should be', an everyday experience

of where we live, work and play that meets our

emotional and social needs. Hygge places are vibrant,

they have a strong identity, they connect people of all

ages and backgrounds, they make the city a beautiful

place to be, and they encourage an active use of

space, as much about any leisure pursuits as about

people-centred and considered urban design.

With so much public realm change happening in the

city over the coming years, places with that magic

hygge feel to them could be in jeopardy, either

being removed totally or developed out of character.

Photo © Gehl

Equally, we have an

opportunity now to

shape places anew with

their redevelopment.

One such site is

Madeira Terraces, the

landmark Victorian

arches linking the city

and the Marina - a

significant part of our

most important public realm, the seafront.

The Council commissioned a draft creative vision of

this site, the resulting idea of boxing the arches into

50 glass-fronted pods, for business, café and retail

use, and landscaping its seafront walkway. An alternative

plan, and one that takes in The Drive above the

arches too, is the People's Promenade, led by a collective

of architects and creatives from the city. Like

the Council's thinking, this plan restores the Arches

for business and retail use, and also includes hotel

and social or affordable housing, and turns the pavement

of The Drive into a green park-like space.

Whichever scheme is adopted, it provokes the question:

what do we want it to look like? The Arches as

they stand are in desperate need of some TLC. They

serve a function, but only to a degree - could this

opportunity be used to create that hygge place that

we want to linger in, hang out in and while away the

hours, and create an avenue to joyfully promenade

along to the Marina? With planning applications imminent,

now is the time to be having that conversation

across the city. Cara Courage

Both Madeira Terraces schemes are open to comment.

Go to the Council pages, 'Madeira Terraces and

Madeira Drive' and Facebook for People's Promenade

to find out more.

....95....
---
Photo by Adam Bronkhorst, adambronkhorst.com

....96....
---
BUSINESS

............................................

Propellernet

Investing in dreams

What's your dream? It's a strange question to face

when you start a new job, but one that's asked of

everyone who joins the search-marketing agency

Propellernet. The answers are written down, put

in a ball, and added to the 'dream machine'. And,

when the company hits a major target, they draw

one of the balls at random, and help to make that

dream happen. Of course, that can lead to your

talented team walking out of the door to pursue

their heart's desire. But, Propellernet's MD Nikki

Gatenby says, "what a wonderful way to say

goodbye to someone."

It's just one of the costs that they factor into the

running of the company - "our fun tax" - which

she's more than happy to pay. "You know what,

there's a massive cost saving too, because our

people are happy, and they do great work because

of it. Our absence rates are low, our

staff turnover is low and our recruitment

costs are low. So that offsets it.

"Our client-retention rates are really

good, and most of our business comes

from referral from our current clients,

which means they must be happy with us.

It's that Richard Branson quote: "look after

your staff and the rest will follow".

"Dreamballs is like the tip of the iceberg...

Our co-founder, Jim Jensen, said his dream

is to get into property development. Lots

of people in our team would like to get on

a housing ladder, but that's very hard in

Brighton, so earlier this year, we bought

a six-bedroom house in Brighton

that we're knocking into flats, and we

offered first refusal to members of our team to

buy the flats. So, double whammy on our dreams.

Profit from that will come back into the business

to be invested into more dreams.

"There's countless stories like that. Our profitand-loss

account looks so bizarre compared with

other agencies. There's no other agency we know

that also has a technology product, a housing

project, a safari project, and Brighton Housing

Trust charity arm, a film-production company,

and so on.

"We wanted to run a business where we had

fun, and made life better for other people. Our

whole proposition is to make life better. Is this

piece of work going to make life better for people

online? Is working with this client going to make

their life better? Can we make life better for

each other? If we put that lens across

everything that we do, we ask ourselves

the right questions before we even

think about money. Because if you put

people and purpose first, the money will

come. If you put money first, people tend

to leave.

"We're not aiming for the point where

everyone is so relaxed that they're not

doing work, and it's just a coffee shop -

which it can get misinterpreted as. It's

about doing brilliant work because you're

engaged, you're excited, you're happy. And

thousands of pieces of research bear that

out, that if you're happy you'll be more

creative and productive, and you can

do better work." Lizzie Lower

....97....
---
INSIDE LEFT: AN UPPER GARDNER STREET TREEHOUSE, 1981

..........................................................................................

"Only Brighton Pavilion can rival its attraction," wrote Violet Monger, in 1971*, of the Upper Gardner Street

Saturday Market, which back then, as now, saw a hotchpotch of market and food stalls lining the street, pulling

in flocks of punters eager for a bargain, as it had done since the 1890s. She was worried that the Brighton Corporation

had earmarked the whole area for a Compulsory Purchase and Clearance order; and a public inquiry

was about to be held in order to decide what to do.

She needn't have worried, as it happened; this picture, from the James Gray collection, was taken ten years

later (5th April 1981), and you can see clearly that most of the street is still inhabited. Only numbers 37 and 38

are derelict, with all the windows boarded up, apart from one in no. 37, which has a tree growing through it, a

sure-fire sign of the decade or so it had remained empty. Next door, you can just see the doorway to what was

then an auction house and storeroom.

So why was the area spared the wrecking ball? For this we must thank Planning Officer Ken Fines, who in

1976 proposed that North Laine should be turned into a conservation area, an idea that was much mocked at

the time, but which was thankfully taken up by the Council, with the result that the area slowly turned slowly

into the thriving jumble of independent stores it is today.

Take a walk along Upper Gardner Street today, and you'll see that the two derelict cottages in the picture,

both owned by the Council, were knocked down, and fairly sympathetically replaced with red-brick dwellings

constructed to fit in - size-wise, at least - with the terrace. The auction house that was next door is nowadays

occupied by the zero-waste restaurant Silo.

Just a note on the graffiti on the walls of the houses. In 1981 Brighton and Hove Albion were playing in the

First Division (the equivalent of today's Premiership) which meant that a higher class of hooligan was invading

the town of a Saturday afternoon, as evidenced by the daubing of 'Chelsea' and 'AFC' (Arsenal) on the façade.

*Quote taken from the excellent 'The North Laine Book' (Brighton Town Press, £12.99); thanks to

the Regency Society for their kind permission to use the photograph. Alex Leith

....98....
---
eeze up...

to the Downs...

kids go

free!

See leaflets

for details

Buses

run every Sat,

Sun and bank

hol (except 25

Dec)

Breeze up to Devil's Dyke, Stanmer Park

or Ditchling Beacon by bus!

For times, fares, leaflets and walk ideas:

Visit brighton-hove.gov.uk/breezebuses

Phone 01273 292480

Or visit traveline.info/se to plan any bus or train journey

6016
---
1 Malling Street, Lewes, BN7 2RA . 01273 471 269 . alistairflemingdesign.co.uk