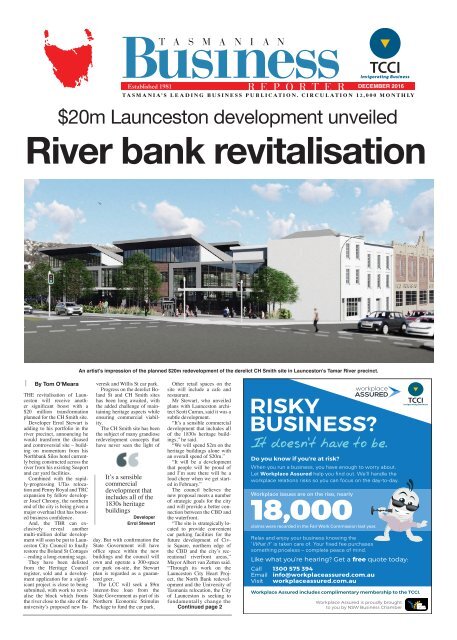 Tasmanian Business Reporter December 2016
You also want an ePaper? Increase the reach of your titles
YUMPU automatically turns print PDFs into web optimized ePapers that Google loves.
DECEMBER 2016

T A S M A N I A' S L E A D I N G B U S I N E S S P U B L I C A T I O N . C I R C U L A T I O N 1 2 , 0 0 0 M O N T H LY

$20m Launceston development unveiled

River bank revitalisation

An artist's impression of the planned $20m redevelopment of the derelict CH Smith site in Launceston's Tamar River precinct.

By Tom O'Meara

THE revitalisation of Launceston

will receive another

significant boost with a

$20 million transformation

planned for the CH Smith site.

Developer Errol Stewart is

adding to his portfolio in the

river precinct, announcing he

would transform the disused

and controversial site – building

on momentum from his

Northbank Silos hotel currently

being constructed across the

river from his existing Seaport

and car yard facilities.

Combined with the rapidly-progressing

UTas relocation

and Penny Royal and TRC

expansion by fellow developer

Josef Chromy, the northern

end of the city is being given a

major overhaul that has boosted

business confidence.

And, the TBR can exclusively

reveal another

multi-million dollar development

will soon be put to Launceston

City Council to finally

restore the Boland St Cottages

– ending a long-running saga.

They have been delisted

from the Heritage Council

register, sold and a development

application for a significant

project is close to being

submitted, with work to revitalise

the block which fronts

the river close to the site of the

university's proposed new In-

veresk and Willis St car park.

Progress on the derelict Boland

St and CH Smith sites

has been long awaited, with

the added challenge of maintaining

heritage aspects while

ensuring commercial viability.

The CH Smith site has been

the subject of many grandiose

redevelopment concepts that

have never seen the light of

It's a sensible

commercial

development that

includes all of the

1830s heritage

buildings

Developer

Errol Stewart

day. But with confirmation the

State Government will have

office space within the new

buildings and the council will

own and operate a 300-space

car park on-site, the Stewart

plan is regarded as a guaranteed

goer.

The LCC will seek a $9m

interest-free loan from the

State Government as part of its

Northern Economic Stimulus

Package to fund the car park.

Other retail spaces on the

site will include a cafe and

restaurant.

Mr Stewart, who unveiled

plans with Launceston architect

Scott Curran, said it was a

subtle development.

"It's a sensible commercial

development that includes all

of the 1830s heritage buildings,"

he said.

"We will spend $2m on the

heritage buildings alone with

an overall spend of $20m."

"It will be a development

that people will be proud of

and I'm sure there will be a

loud cheer when we get started

in February."

The council believes the

new proposal meets a number

of strategic goals for the city

and will provide a better connection

between the CBD and

the waterfront.

"The site is strategically located

to provide convenient

car parking facilities for the

future development of Civic

Square, northern edge of

the CBD and the city's recreational

riverfront areas,''

Mayor Albert van Zetten said.

"Through its work on the

Launceston City Heart Project,

the North Bank redevelopment

and the University of

Tasmania relocation, the City

of Launceston is seeking to

fundamentally change the

Continued page 2

RISKY

BUSINESS?

Do you know if you're at risk?

When you run a business, you have enough to worry about.

Let Workplace Assured help you find out. We'll handle the

workplace relations risks so you can focus on the day-to-day.

Workplace issues are on the rise, nearly

18,000

claims were recorded in the Fair Work Commission last year.

Relax and enjoy your business knowing the

'What if' is taken care of. Your fixed fee purchases

something priceless – complete peace of mind.

Like what you're hearing? Get a free quote today:

Call 1300 575 394

Email info@workplaceassured.com.au

Visit workplaceassured.com.au

Workplace Assured includes complimentary membership to the TCCI.

Workplace Assured is proudly brought

to you by NSW Business Chamber
---
2 Tasmanian Business Reporter - DECEMBER 2016

NEWS

Tassie honey has Brisbane abuzz

TASMANIA'S Australian Honey

Products Pty Ltd is revelling in

more sweet success, having been

named the 2016 Agribusiness Exporter

Award winner at the 54th

Australian Export Awards in Brisbane.

The accolade is another feather

in the cap for owner Lindsay

Bourke, of Launceston, who was

named the producer of the 2015

'World's Best Honey'.

The Australian Export Awards

Agribusiness Award recognises

outstanding international success

River bank revitalisation

From page 1

way our city has been operating.

"Development of the site in a manner

that is visually appealing, restores

the highly-regarded

heritage values

of the buildings and

achieves the strategic

function of the

location is extremely

important both in

real terms and as an

expression of confidence

to residents and

visitors to Launceston.

"In years to come, I think historians

will note that 2016 was the year in

which Launceston finally found a way

forward for the C.H. Smith site, one

in the field of agricultural products

services or technology, including

processed foods and beverages and

the forestry fisheries and fibres industry.

Australian Honey Products beat

out finalists from each state and

territory from fields such as beef

production and processing, vegetable

production and innovation,

coconut industries, allergen sensitive

food production, and another

honey producer from Western Australia.

Mr Bourke started as a

The extensive car park.

which protected the best elements of

our past, and paved the way for a positive

future."

Treasurer Peter Gutwein said the $9

million application

from council for car

parking would be expedited,

adding that

10 councils had submitted

infrastructure

projects worth $36

million as a result of

the stimulus package.

"This site has been

a hole in the ground for two decades.

This is a fantastic outcome with the

collaboration of government, local

government and developers," Mr Gutwein

said.

one-man-operation with 200 hives

in 1966. The business has grown

to be a globally-recognised producer

of honey and honey based

products, including honey beverages,

ales, meads and honey nectar

concentrates.

The business boasts more than

3600 hives and employs up to 30

staff during the peak season. It

produces 200 tonnes of honey a

year, and have built a new state-ofthe-art

processing facility in Sheffield

which will be used for the first

time this processing season.

The company exports 70 per

cent of its award winning honey

products to Asia, the UK, Europe

and the Middle East, with its

biggest markets including China,

Hong Kong, Canada, Oman, Korea,

Japan and Taiwan.

It also provides an expert pollination

service for the Tasmanian

agriculture sector as well as exporting

live bees to Canada, and now

offers the accredited Certificate III

beekeeping training program to

nurture our next generation of apiarists

right here in Tasmania.

Honey producer Lindsay Bourke.

Claremont development

T A S M A N I A' S L E A D I N G B U S I N E S S P U B L I C A T I O N . C I R C U L A T I O N 1 2 , 0 0 0 M O N T H LY

e dition

Tasmanian Business Reporter can now be delivered directly to your inbox. With our 12,000-strong monthly print

readership, our new up-to-date digital distribution will keep Tasmanians abreast of the all latest in local business

news. From this month we will distribute electronic editions of the Tasmanian Business Reporter as we go to print.

To confirm your copy sign up to our mailing list via

tbreditorial@fontpr.com.au

T A S M A N I A' S L E A D I N G B U S I N E S S P U B L I C A T I O N . C I R C U L A T I O N 1 2 , 0 0 0 M O N T H LY

Tasmania's business newspaper is published

monthly by the Tasmanian Chamber of Commerce

and Industry. It is distributed to businesses in

Tasmania as well as key decision-makers.

Circulation: 12,000

Managing Editor: Tom O'Meara

Ph: 0418 135 822

Editor: Becher Townshend

Ph: 0418 370 661

Special Projects: Gil Sellars

Ph: 0448 901 371

73bigideas@gmail.com

Advertising: 0401 252 586

www.tasmanianbusinessreporter.com.au

Editorial & Advertising email:

TBReditorial@fontpr.com.au

Publisher:

Tasmanian Chamber of Commerce and Industry

309 Liverpool St, Hobart, TAS 7000

Ph: 6236 3600 Fax: 6231 1278 admin@tcci.com.au

TFGA House, 194-196 Cimitiere St, Launceston TAS 7250

Ph: 6331 1144 laun@tcci.com.au

Production:

aldridge.media

Ph: 0431 241 775

aldridge.media@iinet.net.au

Printer: The Mercury

Level 1, 2 Salamanca Square, Hobart, 7000

Below, Speaker Elise Archer, left, Vos chairman Michael Vos and Premier Will Hodgman announce

the $25m One Bournville development, seen in an artist's impression, above.

VOS Group has unveiled

details of an

idyllic $25m residential

apartment development

on the banks of the River

Derwent, adjacent to

Claremont Golf Course.

The One Bournville

development will be

Vos Group's second

largest development

currently under construction,

behind the

Mac 1 hotel in Hobart.

Claremont Golf

Club members, local

residents, Vos representatives,

sub-contractors

and Tasmania's top political

figures, including

Premier Will Hodgman,

were among the 100

people to attend the

launch of the project at

Claremont Golf Club.

Vos chairman Michael

Vos said the development

was a good

news story for Tasmania

and a reflection of

the business confidence

in the state. After the

approval of their de-

Grant helps TCCI to get workready

velopment application

earlier this year, Vos

Group has started site

works in preparation for

construction to begin on

the 16 units making up

stage one early in 2017.

Vos director Darren

Vos said it was an

exciting project and a

wonderful opportunity

for anyone looking to

own a unique piece of

Tasmanian real estate.

"The development

consists of 69 contemporary

residential

apartments, 11 of

which have already

been pre-sold," Mr Vos

said.

"These modern,

low-maintenance

apartments will have

THE Tasmanian Government has

provided a $75,000 grant to the

Tasmanian Chamber of Commerce

and Industry to deliver independent

support for employers via its

Work Readiness for Growth Industries

Program.

The initiative, part of a twoyear,

$900,000 government Budget

spend, includes:

• a phone and email contact for

employers requesting information

and assistance;

• workplace advice for employers

considering employing a participant

of the program; and

• workplace visits to advise and

mentor participating employers.

panoramic views over

the river while half

of the apartments will

also have views over

the golf course and to

Mt Wellington.''

The development is

expected to create 100

local jobs and could

double membership

of Claremont Golf

Course.

This support will build on the

TCCI's expertise and industry-informed

knowledge of work readiness

for our growth industries,

helping participants to develop

greater confidence in recruiting

new employees and learn new

skills to build productivity and create

a great workplace.
---
Tasmanian Business Reporter - DECEMBER 2016 3

NEWS

Exclusive: Eslake report reveals storm brewing

Ageing population stunts growth

TASMANIA'S ageing population

is creating the perfect

storm to stunt the state's economic

growth and force a reduction

in work force participation.

The higher the proportion

of workers over the age of 65,

the lower the proportion of

younger people (15 to 65) in

the workforce.

The disproportion of older

workers has also helped create

fewer working hours per

population and the lowest

productivity in the country.

The growing problem is

confirmed by Australian Bureau

of Statistics which reveals

that Tasmania has the

lowest proportion of people in

the 20 to 44 age group and the

highest aged 65 and over, in

the nation.

Respected economist Saul

Eslake will reveal his concerns

and consequences of

the Tasmanian demographic

problem when he delivers the

Tasmanian Chamber of Commerce

and Industry Tasmania

Report on December 14.

Last year's inaugural TCCI

Tasmanian Report, supported

by strategic partners, B&E

Personal Banking, TasCOSS,

Chartered Accountants Australia

and New Zealand,

Southern Cross Television

and the Federal Group, highlighted

the challenges and

opportunities in merging economic

and social needs.

Mr Eslake said the ageing

population and economic

challenge wasn't unique to

Tasmania and was emerging

in many smaller island states.

"In Tasmania, the conundrum

is an unbalanced, aged

workforce which works fewer

hours and has the lowest

labour productivity in the nation.

This means the average

dollar value of goods and services

produced per hour, per

head creates lower average

living standards.

"The ageing population

also makes it harder to off-set

lower labour force participation

by increased work hours

because older workers, understandably,

typically prefer to

work fewer hours than younger

workers.

"The only sustainable way

of offsetting the impact of an

ageing population on living

standards is increased productivity.

"If retired workers have

accumulated assets which

they can run down to fund

higher spending, it may offset

the impact of population

ageing on living standards

"Unfortunately older Tasmanians

typically have less

wealth than mainlanders.

Mr Eslake last year revealed

that Tasmania's gross

state product (GSP) was

$18,334, or 27 per cent below

national average.

Fewer Tasmanians had jobs

than the national average;

fewer hours were worked and

Tasmanians produced less in

dollar value of goods and services

for each hour worked.

Mr Eslake will also expand

on reasons for why Tasmania's

economic growth rate of

1.3 percent was the lowest in

the nation.

Energy and utilities

dropped 8.6 percent in income

in 2015/16 mainly due

to drought and the Basslink

breakdown.

Agriculture returns also

dropped 4.4 percent through

floods and reduced prices in

the dairy industry.

Book: www.tcci.com.au

Dan kicks off expansion in Launceston

DESPITE an overwhelming response

to the opening of Dan Murphy's

liquor outlet in Launceston,

plans for a Hobart outlet will be a

case of later rather than sooner.

General Manager of the huge Dan

Murphy's liquor operation, Campbell

Stott, is keen to consolidate the

inaugural store before considering a

second outlet.

"We have brought an exciting

business model to Launceston and

we want to bed it down before considering

another store in Tasmania.

"We may think about it in the

next couple of years but finding

1000 square metre sites in appropriate

areas takes time," Mr Stott said.

Mr Stott said the opening weekend

was very exciting and trading

since had been very strong.

"A good example of volumes of

people visiting the site has been

the signed-up members to our free

membership club which provides

additional discounts within the

stores and through the on-line

business and delivery to clients,''

he said.

"In the first 10 days of trading,

3000 Tasmanians signed up and the

membership rate continues.

"It became obvious when talking

to clients over the opening weekend,

that they were astounded by

the range of product particularly the

wines, spirits and craft beers.

"I was pleasantly surprised by the

volume and quality of Tasmanian

craft beers, whisky and wines which

have been very popular with clients

as well as the wider range of products

from Australia and overseas.

City logs on to Internet of Things

Dan Murphy's general manager Campbell Stott, left, national operations manager Daniel Ellul, Launceston store manager Josh Velthoven,

Victoria and Tasmania area manager Tim Ohem and Victoria and Tasmania state manager Tyson Holberry cut the ribbon at Tasmania's first

Dan Murphy's store in Launceston.

Minister Michael

Ferguson with

Definium CEO Mike

Cruse.

LAUNCESTON will

become the first city in

Australia to be covered

by an Internet of Things

(IoT) network.

A $100,000 city-wide

LORA network will provide

a long range, low

power network, similar

to Wi-Fi and ideally suited

to IoT applications.

The project is a collaboration

between the University

of Tasmania's

Sense-T, Definium Technologies

and CSIRO's

Data 61.

Minister for Information

Technology and Innovation,

Michael Ferguson,

announced the

commitment, calling it

an exceptional opportunity

to bring together

manufacturing capability,

application development,

community participation,

researchers and

government.

"There are hundreds of

possible applications for

this network. It could range

from simple things like

tracking animals, monitoring

bins, detecting water

levels, or measuring air

quality, to more complex

projects using movement

sensors and accelerometers

in the area of telehealth,"

Mr Ferguson said.

"I expect we'll see projects

developed and creative

ideas in areas we currently

can't even anticipate.

"This is a first for Australia

and shows the State

Government's commitment

to the Smart Cities

project and innovation. It's

through projects like this

that we'll see new businesses

and new opportunities."

"Craft beers sales have increased

from five per cent two years ago to

12 per cent today and rising."

Mr Stott, is based in Dan Murphy's

Melbourne headquarters and

The devices used to

run IoT will be made

locally – the network

gateways and sensors

will be manufactured by

Definium Technologies,

a Launceston-based IT

company.

The project will be run

out of the new Enterprize

Innovation Hub.

Professor Brigid Heywo

od Deputy Vice Chancellor

(Research), from

the University of Tasmania,

said the announcement

was very exciting

as it clearly indicated

Tasmania's intention of

taking one of the critical

next steps in advancing

IoT capability and capacity

in Tasmania.

spends much of his time visiting

and working with the 205 outlets

around Australia.

His management priorities are

culture, systems and employing top

talent. Dan Murphy's Launceston

outlet on the corner of Bathurst

and York Streets operates seven

days a week and employs 22 Tasmanians.
---
4 Tasmanian Business Reporter - DECEMBER 2016

THOUGHT LEADERSHIP

www.tcci.com.au

Scientists

back salmon

farming

WHEN Tasmania was

in the midst of the nasty,

negative forestry war,

there was one value-adding

industry hailed as the

state's saviour – salmon

farming.

In recent weeks, the

sustainability and environmental

credentials of

the sector were called

into question during an

ABC Four Corners story.

Many environmentalists

were slamming

salmon and calling for a

boycott – quicker than it

took South Africa to rip

through Australia's Test

batsmen in Hobart.

They rushed to cast

shadows over the industry

with one-liners

suggesting "something

fishy'' is going on, without

any regard for the

$700 million it pumps

into the economy or the

thousands of people it

helps keep in work.

We prefer to rely on

Michael

Bailey

TCCI Chief Executive

independent scientific

evidence. So, several

members of the scientific

community specialising

in this field provided

us advice at our recent

board meeting at Campbell

Town.

As the TCCI has many

members associated with

the industry, including all

of the big players, we felt

it important to seek independent

advice.

We do not want to give

anyone the chance to say

that our position has been

swayed by the industry.

What we learned follows,

and we are working

on a forum to put the

facts back into the discussion.

• Tasmania has some

of the world's best researchers

specialising in

wild salmon farming at

the CSIRO, IMAS and

within the industry itself.

Understanding of the impact

of aquaculture on

the environment and the

ability to minimise this

impact, has evolved dramatically

over the last 10

years and is among the

world's best practice.

• Macquarie Harbour

is a very complex waterway,

industry data showing

that one area is working

well, while another is

struggling, is accurate.

Essentially such a

large waterway has environmental

zones within

zones and the industry

have been reacting to this

for years.

• The move of the regulator

function to Department

of Primary Industries,

Parks, Water

and Environment was a

good move by the State

Government and has

provided a better governance

model.

• The industry is focussed

on sustainable

growth and best practice

animal management.

This includes making

sure that fish food mimics,

as well as possible,

the wild food that the

animal would be eating

and also treating them

with antibiotics if they

become ill. Pink flesh is

an indicator of a healthy

fish, not an industrial

conspiracy.

Any fish that is ill and

treated with antibiotics

(always under the supervision

of a vet) then goes

through a lengthy withdrawal

period to ensure

that there is no residue in

their system at harvest.

By the way, the incidence

of sick fish has

reduced dramatically

in Tasmania as fish

management practices

have continued to improve.

This improvement

has come from industry

reacting to great and

ground breaking scientific

research done right

here in Tasmania.

• The industry downstreams

everything. All

of the value of this product

is held in Tasmania

and shared with a variety

of businesses, functions

and communities. This is

exactly the sort of industry

that Tasmania needs.

• There is a need for a

public zoning process to

map where the industry

should expand in the future.

This would allow the

community and industry to

understand where expansion

is planned.

This will need to be conducted

in 10-year cycles

to react to increasing sea

temperatures making some

Huon

Aquaculture's

salmon

pens in

Tasmanian

waters.

areas less and others more

viable.

• The science shows that

the industry is sustainable

and has a long and exciting

future in Tasmania.

My worry is that we are

starting to see an argument

that the whole industry is

dirty and should be shut

down.

The "Boycott Tasmanian

Salmon" bumper stickers

are already appearing.

What we have learned in

Tasmania is that too often

these arguments are played

out on emotion rather than

fact.

Please listen to experts

and base opinions on science

rather than an emotion-driven

bandwagon.

Mission targets China thirst for craft brews

AUSTRADE is organising

a trade mission to

China for makers of craft

beer, spirits and other

premium alcoholic and

non-alcoholic beverages.

Sally

Chandler

Tradestart Adviser

The trade mission in

the form of a roadshow is

visiting the first and second

tier cities of Beijing,

Shanghai, Guangzhou

and Kunming to access

buyers. Places are limited

to 20 companies.

The roadshow is the

first trade mission designed

to showcase premium

Australian beverages

to select importers,

distributors, traders, corporate

buyers and media

together with top-ranking

hotels, bartenders and

restaurants.

China's hospitality entrepreneurs

are seeking

to offer an increasing

number of unique and affordable

luxury beverage

choices alongside more

traditional mass market

brands to on-premise

consumers.

The mission will start

in Beijing on Friday,

March 3, 2017 before

travelling to Shanghai on

Monday, March 6, then

Guangzhou on Wednesday,

March 8 and finally

Kunming on Friday,

March 10.

At the end of the mission,

delegates have the

option of attending the

2017 China Wine and

Spirits Fair in Chengdu.

The program in each

city will begin in the

afternoon with an educational

seminar in

a master class style to

demonstrate the attributes

of the exhibited

beverages.

Product displays will

be set up for businesses

to interact with buyers

and the media and each

day will end with a cocktail

function for networking.

Brewers will have the chance to showcase their product in China.

Table wines are not included

in this mission.

In 2015, China's whisky

imports increased by

19.8 per cent to 15.77

million litres and sales

of imported premium

beer increased by 58.9

per cent to 538.5 million

litres.

Under the China Australia

Free Trade Agreement

(ChAFTA) the 10

per cent tariff on Australian

distilled spirits will

be eliminated by January

1, 2019 and the tariffs

on juice and mineral

water will be eliminated

over the same period

from 20 per cent.

China currently does

not have an import duty

on beer.

Applications to take

part in the mission are

required before December

15, 2016 and Austrade

will then review

the registrations and the

successful applicants

will be notified accordingly.

Should your company

be interested in taking

part in the mission please

contact me for information

on costs, the payment

structure and financial assistance.

For international

trade and investment

assistance contact

the TCCI's Trade-

Start adviser, Sally

Chandler, at sally.

chandler@tcci.com.

au or phone

1300 559 122.
---
Tasmanian Business Reporter - DECEMBER 2016 5

NEWS

Forest industry turnaround

By Guy Barnett

Resources Minister

IN A remarkable turnaround, Tasmania's

forest industry is growing

again.

More and more Tasmanians are

finding employment in this great

industry, whereas only a few short

years ago thousands were being

thrown out of work.

Renewed confidence and enthusiasm

is driving investment in new

opportunities that add value to our

wood products.

This resurgence can be seen in

sawmills, processors and other forestry-related

operations across the

state and particularly in regional Tasmania,

where our productive industries

are so critical.

There is much to be excited about,

with investment up, exports up, and

jobs up.

The fightback is being led by a revitalised

business sector, which has

been unshackled by the pro-growth

policies of the State Liberal Government.

In Geilston Bay, one of our leading

fine furniture makers Craig Howard

is showing how value-adding initiatives

can deliver greater returns from

our native timbers.

While this has been a largely boutique

business, Mr Howard is creating

up to nine new jobs by investing

in upgrading his processing equipment.

This will enable the efficient production

of high-value, thick veneer

products from iconic craft wood species

for fine furniture-making and

luxury boat fit-outs, as well as in

building and construction.

Multiplying the value of every

piece of timber used in the creative

process, it will add considerable

worth to the end product, with flowon

benefits that are industry-wide.

An initiative highlighting the opportunities

that exist to grow the productive

value of forestry, it is also an

example of how the Government is

backing the industry because we are

investing $100,000 in the project.

The business was one of 13 successful

recipients of grants from our

recently announced Wood and Fibre

Processing Innovation Program, designed

to encourage exactly this kind

of value-adding.

The $1.25 million program received

strong interest, with 41 applications

for funding, demonstrating

again the industry's growing confidence

and willingness to invest.

Many of the projects we are funding

involve biomass.

There is

much to

be excited

about, with

investment

up, exports

up, and jobs

up.

An important source of renewable

energy in Europe, biomass has great

potential in Tasmania, not only as

an alternative power supply but also

because it would add value to forest

residues.

Each of the successful applicants

under the program give more reason

for optimism about the future of this

industry.

But there is much good news

across the sector.

For example, SmartFibre, a subsidiary

of the state's largest native

forest sawmiller, Neville Smith

Forest Products, is investing $3

million in expanding its woodchip

export plant at Bell Bay.

In a ground-breaking partnership

with SFM Forest Products,

the SmartFibre PureForest project

will deliver Tasmania's first native

forest exports carrying full Forest

Stewardship Council (FSC) certification.

On a related note, and in another

welcome development, Forestry

Tasmania also recently received

FSC Controlled Wood certification

for its plantation operations.

In October I outlined to Parliament

the Government's plan to deliver

resource and job security to

allow the industry to continue to

grow.

With a new name of Sustainable

Timber Tasmania, Forestry Tasmania

will be put on a sustainable footing,

ending the public subsidies.

I was pleased to also have the opportunity

to speak at a meeting organised

by the Tasmanian Chamber

and Commerce and Industry, with

key stakeholders attending, to explain

our plan.

As I told Parliament, the Liberal

Government looks forward with

confidence to the sunrise industry

of the future, with new directions,

new value-added products, new investment

and new jobs based on our

renewable, sustainable production

forests.

Switching. It's easy.

It's where you end up that's most important.

To get covered

please contact:

Northern Tasmania: Southern Tasmania: North West Tasmania:

Courtney Osborne

0417 563 546

cosborne@stlukes.com.au

Alicia Frankcombe

0417 561 948

afrankcombe@stlukes.com.au

Rebecca Roth

0439 392 453

rroth@stlukes.com.au

Jan Hooper

0459 022 553

jhooper@stlukes.com.au
---
6 Tasmanian Business Reporter - DECEMBER 2016

THOUGHT LEADERSHIP

Putting value

on valuables

www.tcci.com.au

A year of contrasts

DIRECTOR,

INSURANCE SOLUTIONS

CHRISTMAS is just

around the corner – hopefully

Santa's feeling generous.

And if he is, make sure

your home and contents

insurance covers all your

new gifts.

In fact, it's a good

time to really look at

your sums insured and

your policy to make sure

you're covered for the

full replacement value of

your home and your contents.

Most policies cover

you "new for old" these

days.

So while you think

your old and beloved

lounge suite is only

worth a few hundred

An active business is

a much more complex

structure than simply

static land and buildings

dollars, it might actually

cost a few thousand dollars

to replace.

We strongly recommend

that you get an

insurance valuation for

your home.

An insurance valuation

is very different from a

market valuation, and

only needs to be done

once every five years or

so.

It's a much better way

to find out you're under

insured than at the time

of a claim.

Your building sum insured

should be enough

to cover the cost of rebuilding

your home –

including any sheds,

outbuildings, fences,

driveways and any other

aboveground (or underground)

improvements.

For your contents, it's

a great idea to go around

each room and take photos

of your furniture,

knick knacks, paintings,

collections etc – and take

photos of your jewellery

and other valuable items

so you have "proof of

ownership" if you have a

claim.

While you're doing

that, work out the replacement

value of everything

you have in each

room (including the carpets,

curtains and blinds)

to get a better appreciation

of what your contents

sum insured should be.

If possible, email your

photos to your broker to

keep on your file.

It is human nature to

think it won't happen

to you, and hopefully it

won't.

But these are a few

easy steps to give you the

peace of mind that if you

do have a claim, you're

well prepared.

Sally Bevis is a director

at Insurance

Solutions Tasmania

Pty Ltd (AFSL

315540) - brokers

for the TCCI. Information

is general

in nature. Contact

Sally via sbevis@

inssoltas.

There were plenty of highs for shipping in the state in 2016. The positivity is set to continue with news the world's

largest shipping line, Maresk, will be calling in Bell Bay in 2017.

DID you blink? That was

2016 that just went by.

Not an insignificant

year I would say in terms

of freight and logistics.

Let's recap 2016.

It marked the year of

the extension to the Tasmanian

Freight Equalisation

Scheme for Tasmanian

exporters to be

closer to our northern

cousins in regards to

freight levels.

We have seen great

confidence in the expectation

of trade development

in Tasmania

with Searoad completing

the new build of their

vessel for Bass Strait

trade, Toll confirming

an upgrade of vessels

for 2018, a new service

for King Island, signifi-

Brett

Charlton

Agility Logistics

cant works on the state's

roads, MSC retaining a

weekly service into Bell

Bay, Swire maintaining

services into Hobart and

Bell Bay, progress on

the Hobart runway expansion,

Launceston airport

winning Australia's

best airport, the recent

announcement of a new

direct air freight service

to Ningbo, China ex-Hobart

and the recent news

that the world's largest

shipping line, Maresk,

will be calling in Bell

Abbey

Guilbert

Workplace Relations

Bay in 2017.

Our cup runneth over.

It has not all been beer

and skittles of course.

While the dizzy heights

of expectation for the

extension to the TFES

for exporters were not

reached in the first year,

it has certainly laid some

great stepping stones for

growth in confidence to

enter new markets and

potentially value-add to

our current exports.

There will be some

scrutiny on the extension

to the scheme over 2017

and I would encourage

all that use the TFES

to shout its praises and

provide commentary as

to how it has benefited

trade at every opportunity.

At the beginning of

2016 we were all switching

off lights and moving

generators around

the state so we could recharge

our iPhones, then

in June we were watching

bridges and ports being

washed away.

We certainly were

shown the forces of

Mother Nature in 2016

and it would be a brave

person to say for certain

what the weather patterns

will be in the future.

Brexit and the results

of the US election have

sent a shock wave of

"perception of reality"

into the ether and I expect

we are all entering

2017 with an underlying

position of optimism

but with a side dish of

"what's next?"

Thank you for reading

my columns.

I do get some feedback

from time-to-time letting

me know that they are

being read.

Please feel free to drop

me a line at bcharlton@

agility.com if you have

any comments or questions.

I wish for all a safe

and enjoyable Christmas

with family and friends.

See you in 2017.

High price of underpaying staff

A RECENT Fair Work

Ombudsman investigation

into a business in

Hobart serves as a timely

reminder that it is always

best to continually check

you are paying the correct

pay rates to staff.

The Fair Work Ombudsman

found that

workers had been paid

$11 to $13 per hour at a

Muffin Break franchise

outlet which resulted in

more than $46,000 in underpayments.

As casuals, employees

had been entitled to be

paid more than $23 for

ordinary hours, weekend

rates of up to $33.24 per

hour and public holiday

rates of up to $52.23 per

hour.

The business was then

sold and it has been made

clear that the current

owner was not involved

with the underpayments.

The Fair Work Ombudsman

is also currently

undertaking inquiries

into:

• Wages and conditions

of people working under

the 417 Working Holiday

Visa Program (2016).

• Trolley collection

services procurement

by Woolworths Limited

(June 2016).

• Procurement of

housekeepers by four

and five-star hotel groups

(May 2016).

• Identifying and addressing

the drivers of

non-compliance in the

7-Eleven network (April

2016).

A full list of inquiries

and information regarding

those can be

found on the Fair Work

Ombudsman's website:

www.fairwork.gov.au/

about-us/access-accountability-and-reporting/inquiry-reports#dsdbi

and

this does not take into

account the other complaints

that the Fair Work

Ombudsman receives on

a daily basis.

The 2015-16 Fair Work

Ombudsman Annual Report

(www.fairwork.gov.

au/annual-report) shows

that in 2015-16 the Fair

Work Ombudsman had

more than 25 million

customer interactions

which included:

• 15,308,115 website

visits (up 14 per cent);

• 5,024,736 pay tool

calculations (up 66 per

cent);

• 4,417,001 fact sheet,

guide and template

downloads and views (up

13 per cent);

• 415,862 advice over

the phone (down 12 per

cent);

• 60,407 email subscribers

(up 22 per cent);

• 58,543 online enquiries

answered (up 72 per

cent);

• 18,220 online learning

centre courses started

(down 11 percent) ;

• helped customers resolve

more than 29,900

workplace relations matters;

and

• recovered more than

$27.3 million for 11,158

workers.

The message is clear –

if the correct pay rates are

not paid, businesses will

be caught (and potentially

fined).

The good news is that as

a business there are a number

of avenues that you

have to ensure that you are

complying with your minimum

rates of pay as prescribed

in the legislation,

which includes:

• Fair Work Commission:

www.fwc.gov.au/;

• Fair Work Ombudsman:

www.fairwork.gov.

au/; and

• TCCI: www.tcci.com.

au/Home

At TCCI there are a

number of ways which we

can assist with any questions

you have, for example:

• pay and conditions

guides;

• pay rate audits; and

• a partnership with the

Australian Institute of

Management with TCCI

members receiving 25

per cent off remuneration

reviews if they contribute

to the National Salary Survey.

Workplace Assured;

access to our Helpline

and access to consultants.

Contact us via our

website, 1300 559

122 or workplacerelations@tcci.com.au
---
Tasmanian Business Reporter - DECEMBER 2016 7

THOUGHT LEADERSHIP

www.tcci.com.au

Macquarie Point call for action

I RECENTLY met Labor's

Federal Infrastructure

spokesman Anthony

Albanese when he was

visiting Hobart.

He's no stranger to

Tasmania having visited

dozens of times over

the past 10 years, both as

a Minister and now as a

Shadow Minister.

Our discussion soon

got onto the Macquarie

Point development

which he played a key

role in, way back in June,

2012.

The opening line of

his press statement from

June 22 summed up the

anticipation attached to

the project.

"Every so often an opportunity

comes along as

a Minister to make a decision

that will transform

a community for decades

into the future." (Anthony

Albanese, June 22,

2012)

More than 40 months

later, he lamented over

the lack of progress on

the site.

"I find it extraordinary

that years later, and

about 20 visits by me to

Hobart, there is so little

action on this site,"

(Anthony Albanese, the

Mercury, November 3,

2016)

Mr Albanese noted

the project has the potential

to unlock more

than a billion dollars'

worth of investment.

The lack of progress

has been a major frustration

for many in the

business community

here in Hobart.

It's clear that nothing

can really happen without

moving the sewerage

works on the site.

It's a significant spend

($145 million according

to recent reports) but it's

an inevitable one.

TasWater has rightly

said that it's not prepared

to stump up for the project,

leaving the responsibility

with the State Government.

Labor has urged

the Premier and State

Growth Minister to engage

with Infrastructure

Australia to try and progress

a solution.

The bottom line is,

something has to happen

soon or the fiveyear

anniversary of Mr

Albanese's $50 million

announcement will tick

over without a major step

forward.

Now is not the time for

finger pointing it's time

for a practical way forward.

Hobart's Macquarie Point awaits a way forward.

Investors need confidence

that the redevelopment

has momentum

and that their ideas can

be properly and transparently

assessed.

This project could be

one the most exciting opportunities

in the country

over the next decade or

so, but we have to get it

right.

Labor stands ready to

work constructively with

all levels of Government

on a way forward.

Make a date with a business matchmaker

MANY people want

to own their own business,

and the majority

of them would prefer to

buy an existing business

so they do not have to

build a business from the

ground up.

The problem is that

many of these potential

business buyers do not

have an idea about what

Identifying workplace hazards

By Craig Hortle

IDENTIFYING hazards

in the workplace is a key

way to ensure that your

workers are safe.

The difficulty is to ensure

that the method you

use to identify hazards is

user friendly.

A simple method to

ensure that all hazards

are identified is to seperate

the worksite into different

aspects of work:

• physical work environment;

• equipment, materials

and substances used;

• work tasks and how

they are performed; and

• work design and management.

To determine the hazards

in each work area,

the hazards themselves

can be divided into common

hazard areas:

• manual tasks;

• gravity;

Dean

Demeyer

Business Broker

kind of business to buy,

so many of them automatically

default to what

• electricity;

• machinery and equipment;

• hazardous chemicals;

• extreme temperatures;

• noise;

• radiation;

• biological; and

• psychosocial hazards.

These common hazards

can be identified in

the work area by implementing

a workplace inspection.

Regularly walking

around the workplace

and observing how

things are done can help

you predict what could

or might go wrong.

Look at how people

actually work, how

plant and equipment is

used, what chemicals

are around and what

they are used for, what

safe or unsafe work

practices exist as well

as the general state of

housekeeping

they know from daily

life and look into retail

businesses, particularly

You can also consult

your workers.

Ask your workers

about any health and

safety problems they

have encountered in doing

their work and any

near misses or incidents

that have not been reported.

Worker surveys may

also be done to obtain

information about matters

such as workplace

bullying, as well as muscular

aches and pains

that can signal potential

hazards.

Finally you may want

review available information.

For example, risks relevant

to particular industries

and types of work

is available from regulators,

industry associations,

unions, technical

specialists and safety

consultants.

Manufacturers and

food retail. For current

baby boomer business

owners, who currently

own more than half

of Australia's 420,000

small businesses, and

who are looking to sell

their business and retire

comfortably, this can

be cause for worry.

Will they be able to

find a buyer?

suppliers can also provide

information about

hazards and safety precautions

for specific

substances (safety data

sheets), plant or processes

(instruction manuals).

Analyse your records

of health monitoring,

workplace incidents,

near misses, worker

complaints, sick leave

and the results of any inspections

and investigations

to identify hazards.

If someone has been

hurt doing a particular

task, then a hazard exists

that could hurt someone

else.

These incidents need

to be investigated to find

the hazard that caused

the injury or illness.

Contact Craig Hortle

or Janelle Whitehouse

at the TCCI

on 1300 559 122 or

safety@TCCI.com.au

How many people are

looking to buy niche

businesses that require

special skills?

The key is a good

broker, who will match

a niche business with

the right buyer.

Most people end up

buying a different business

to that which they

initially inquired about.

Understanding what

potential buyers' goals

and objectives are for

owning a business is

key.

A great broker will

always run a "buyer"

database along side of

their "seller" database,

and proactively match

businesses with buyers.

From the seller's perspective,

knowing how

to prepare a business

for sale and knowing

how to market it to the

right people is critical.

If you have a niche

business to sell that you

worry will not attract

buyers, rest assured that

with an expert handling

the process and an existing

database of buyers, in

many cases, the perfect

buyer can be found.

H O T E L

ENJOY THE WATERFRONT

Ask your business

broker how they handle

these critical aspects

for successfully selling

your business – it could

make all the difference

to when you sell your

business and retire comfortably.

Information is

general in nature.

You can contact

Dean via dean.

demeyer@

finnbusinesssales.

com.au or

0419382359.

15% off midweek when you mention this offer!

Negotiated corporate rates & group packages available. Conference

and meetings facilities. Wireless/broadband internet. Cafe and catering.

Security parking and lifts. Mini gym & sauna.

6270 1444 / 1300 733 422 15 Hunter Street, Hobart

www.zerodavey.com.au
---
8 Tasmanian Business Reporter - DECEMBER 2016

FOCUS ON BUSINESS

Bankers getting down to business

LEADING Tasmanian customer-owned

financial institution B&E

Personal Banking has a long and

proud history of putting customers

first.

Not only does B&E help Tasmanians

fulfil their personal banking

needs, it offers a comprehensive

range of business banking products

and services as well.

With nearly 50 years' experience

between them, B&E's statewide

business banking team – Kris Wye

and David Ponting – appreciate that

running a business can be both challenging

and rewarding.

Just as financial institutions are all

different, so too are business bankers

and having the right one on your

team can make or break your business.

Whether your needs are simple

(an everyday business account) or

more complex (a business loan), you

should feel confident that you have

a dedicated business banker, who

understands your business and your

long-term business goals and objectives.

So with this in mind, we asked

Kris and David to tell us what they

consider as key attributes of a good

business banker.

Time is money

"A good business banker recognises

that your time is precious,"

said Kris.

"They should be available when

and where you need them. If you

don't have access to their direct

number or mobile, ask for it! It's

about being responsive and flexible

in order to help you solve your financial

challenges quickly and efficiently."

Know how

"Your business banker must have

the experience and expertise to help

you manage risk and build your

business," said David.

"They will take the time to understand

your business. They may not

be an expert in your field but they

will get to know you and the industry

you operate within."

"People often don't look beyond

the 'friendly banker'," said Kris. "It

is important that you and your banker

can work together but they should

also offer you superior service, valuable

advice and guidance."

Support

"When choosing a business banker

it's important to not only consider

what services you will need now but

what you might need in the future,"

said David. "Have you thought

about how

much support

will you need

as your business

changes

and grows?"

"A business

banker

should see

your growing

business

as an opportunity

to provide

you with

more useful

services and

solutions

along the

way," added

Kris.

" T h e y

should be

helping your business thrive at every

stage."

Nurturing trust

David and Kris both agreed that

banking arrangements are often

long-term.

"A business banker should invest

the time to develop and nurture

your relationship," said Kris. "Open

and honest communication really is

key," enthused David.

"It shouldn't be left up to you to

make a call – your business banker

should initiate contact to build trust

and forge an ongoing relationship."

One-stop shop

"We see it all the time – business

owners with complex and inter-connected

business and personal banking

needs," said Kris. "It makes

sense that your business banker services

all your business and personal

banking needs."

"One of the most important factors

to consider is whether or not

your business banker has the authority

and the discretion to make onthe-spot

decisions," said David.

"To save time and money, make

sure you are dealing directly with

the person who is making the decisions

and not a go-between."

Local knowledge

"As locals, Kris and I understand

the Tasmanian market," said David.

"A good business banker is attuned

to local market conditions and will

have a good understanding of market

forces at play in the local and

wider-economy.

"From helping you borrow capital

to planning for the future, a local

business banker is an invaluable

partner to your business – creating a

relationship that is mutually beneficial

is so important," said Kris.

B&E's business banking team is

here to help you and your business

succeed.

Contact Kris Wye on 0455 093 421

or David Ponting on 0472 848 938.

we're big

4 business

banking.

David Ponting

Business Banking Manager

(South)

Kris Wye

Business Banking Manager

(North)

8034

At B&E, we're not just Big 4 personal banking, we're Big 4 business banking too.

From business loans and overdrafts through to everyday banking, our Business Banking Team is here to help you. As a leading Tasmanian customer-owned financial institution, we

can tailor our products to suit your individual business needs. We offer simple solutions, with fast, local decision making. And of course we can come to you, at a time that suits you.

Meet the team: With 50 years' combined experience, David Ponting and Kris Wye have helped hundreds of local businesses with their business banking needs. Whether your

business is expanding or you want to take advantage of market opportunities, the team will make your business banking as easy and stress-free as possible.

Call Kris (North) on 0455 093 421 or David (South) on 0472 848 938 for a no obligation chat about your business banking needs today.

b-e.com.au | 1300 306 716

B&E Ltd ABN 32 087 652 088. AFSL & Australian Credit Licence 236870.

me
---
T A S M A N I A' S L E A D I N G B U S I N E S S P U B L I C A T I O N . C I R C U L A T I O N 1 2 , 0 0 0 M O N T H LY

Tasmanian Business Reporter - DECEMBER 2016 9

Awards turn up mining gems Course

NEWS

THE 2017 Tasmanian Women

In Resources Awards has

been launched ahead of April's

awards ceremony.

The AusIMM Women in Mining

Network Tasmania (WIMnet) are

accepting applications in five

key categories to recognise the

important role women play in the

resources sector.

The categories are Exceptional

Woman in Tasmanian

Resources, Gender Diversity

Champion in Tasmanian Resources,

Excellence in Diversity

Programs and Performance,

Outstanding Tasmanian Tradeswoman,

Operator or Technician

and Exceptional Young Woman

in Tasmanian Resources.

Dozens of people attended the

launch at QVMAG at Inveresk.

ABOVE LEFT: Tarrisha Simpson,

South32-Temco, left, Ariel

Pasco, Grange Resources, Kelly

Down, Bell Bay Aluminium and

Sarah Courtney, MP

BELOW LEFT: Alison Hilder,

TMEC, left, John Stanton, Atlas

Copco Australia, Sue Stanton,

Jacinta Bradshaw, Ted Bradshaw,

Kimberley Consulting

Group

Pictures:Rob Burnett Images

IN BRIEF

STEM success

THE state's best and brightest science

and technology minds have

been celebrated with the inaugural

Tasmanian STEM (Science, Technology,

Engineering and Mathematics)

Awards.

The awards form part of the

eleventh Science Meets Parliament

event, which brings together the

state's top scientists and elected

representatives, to celebrate our science-related

achievements.

University of Tasmania Associate

Professor Calum Wilson won the

Premier's Tasmanian STEM Researcher

of the Year Award for his

research on the effects of harmful

pathogens on the agricultural

environment, resources and crop

sustainability.

The Minister for IT and Innovation's

- STEM Innovation of the Year

Award was won by the CSIRO Data

61 project for its innovative nanotechnology

advances aimed at understanding

bee pollination.

MyState matters

MYSTATE Bank announced today

that it will offer its more than 105,000

customers Apple Pay, which is transforming

mobile payments.

MyState customers across Australia

will be able to use Apple Pay to

make quick and secure purchases

wherever contactless payments are

accepted with a MyState Visa debit

card.

The bank is also partnering with

children's education charity, The

Smith Family, to help bring the spirit

of Christmas to nearly 15,000 disadvantaged

children across Australia.Until

December 14, all MyState

branches around Tasmania will collect

donated new toys and books as

part of The Smith Family's national

annual Toy & Book Appeal.

Loan standards

THE National Credit Providers Association,

the peak body for small

loan providers in Australia, has started

formulating additional industry

standards.

The NCPA has agreed to develop

a Code of Conduct and has begun

initial consultation in line with the

Australian Securities & Investments

Commission guidelines and standards.

NCPA chief executive Phil Johns

said it was a formal and long-term

plan from the NCPA to self-regulate

the industry it represents.

options

for busy

schedule

FACED with an increasingly

complex and competitive

business environment, it has

never been more important

for directors and senior executives

to invest in professional

development.

However, those same pressures

often make it difficult to

fit learning into busy schedules.

The Australian Institute of

Company Directors

helps to solve

this problem by

providing flexible

learning options

that suit the busy

schedules of Tasmanian

directors,

The Company

Directors

Course is now

available in a

variety of

formats

executives and

business owners.

Traditionally

offered as an intensive

five-day

course in Hobart,

the AICD's Company

Directors

Course is now available in a

variety of formats: five days

intensive, one day per week

over five weeks, five days

over two weeks and the fiveday

intensive in Launceston

in January 2017.

The Company Directors

Course is designed to help

develop the skills and knowledge

of directors and senior

executives, ensuring they

understand key regulations

and current good governance

practices.

Christine Edwards, former

CEO of the Myer Foundation,

a recent graduate of the

Company Directors Course,

said: "I wanted to understand

governance through rigorous

learning, and to do that

through the AICD, given its

high professional standing in

this area.

"The most outstanding benefits

from the course were

making the critical shift from

executive leadership to directorship,

and understanding the

complex responsibilities

of directors."

The flexibility

of course formats

proved invaluable

for recent participant,

Stephanie

Van Brecht, Operations

Manager

of Eskleigh Foundation

Inc.

"Completing

the course in the

split format was

fantastic. It allowed

time, during the remainder

of the week, to reflect

on the course content as well

as to catch up on work that

had mounted up in your absence,"

Ms Van Brecht said.

"When you commence the

second week you are fresh,

ready and enthusiastic to

jump back into it.

"It was also very easy to

manage and maintain family

commitments with this format.

If you get the option I

would highly recommend this

course and particularly the

split format in which it can be

delivered."

WANTED

Business

movers and

shakers

• Promotions

• Appointments

• Awards

• Celebrating

success

Share the news

with the

Tasmanian

business

community

Send your news

snippets, with a

high quality photo,

to TBReditorial@

fontpr.com.au
---
T A S M A N I A' S L E A D I N G B U S I N E S S P U B L I C A T I O N . C I R C U L A T I O N 1 2 , 0 0 0 M O N T H LY

10 Tasmanian Business Reporter - DECEMBER 2016

APPOINTMENTS AND ANNOUNCEMENTS

Baby steps

modernise

Parliament

Chris Elliott Nic d'Emden Camille O'Meara

Carolyn Ranson

Finance duo

promoted

CROWE Horwath has

appointed Chris Elliott

as Managing Partner in

their Launceston office.

Chris is highly regarded

in the financial

services sector, having

spent the past 30 years

focussed on delivering

expert wealth planning

advice to assist his clients

in achieving their

lifestyle and financial

aspirations.

Crowe Horwath has

also promoted Nic

d'Emden as Associate

Partner.

In 2014, Nic was

awarded the FPA Certified

Financial Planner

Professional of the Year

Award for Tasmania.

In 2012 and 2013 he

was also named in the

AFR Smart Investor

Masterclass for Financial

Planning, ranked in the

top 10 financial advisers

from around Australia.

O'Meara joins

CCF Board

THE Civil Contractors

Federation in Tasmania

has welcomed Stornoway

General Manager, Business

Services, Camille

O'Meara, as their newest

branch board member.

Camille has a passionate

interest in the civil

construction industry,

working in construction

and manufacturing her

entire career.

This includes time

with Shaw Contracting,

Stornoway (twice

in her career), 10 years

in manufacturing with

Cadbury and working

as a consultant to the

industry.

"My passion for involvement

in the CCF

stems from a belief

that I can contribute to

assisting the industry

in dealing with issues it

faces, and be a positive

advocate for our industry,"

Camille said.

Utas North

appointment

Thinking of selling or

buying a business?

Australia's largest specialist

business broker network is

now in Tasmania.

Call Dean Demeyer on

0419 382 359 for a FREE, no

obligation assessment

of your business.

THE University of Tasmania

has appointed James

McKee as director of

the Northern Expansion

Project.

The project will

deliver new inner-city

university campuses in

Launceston and Burnie,

and a strengthened Australian

Maritime College

at its existing Newnham

location.

Mr McKee arrives in

the role from the Office

of the Tasmanian Co-ordinator

General, key

partners in the design and

delivery of the Northern

Expansion Project.

"This truly is a

once-in-a-generation opportunity

for Launceston

- it will fundamentally

change the community

and economy for the

better," Mr McKee said.

"I'm very excited by the

opportunity to be part of

that."

Lawyer

joins MyState

SIBYLLE Krieger will

join the board of MyState

Limited.

MyState Chairman

Miles Hampton said Ms

Krieger had 35 years of

broad commercial experience

as a lawyer, economic

regulator and non-executive

director.

She was a partner in

two large commercial law

firms for 22 years.

WANTED

Business

movers and

shakers

• Promotions

• Appointments

• Awards

• Celebrating

success

Share the news

with the

Tasmanian

business

community

New B&E

retail role

CAROLYN Ranson has

joined B&E Personal

Banking as Retail

Manager for Northern

Tasmania, bringing over

27 years extensive retail

banking experience to

the role.

Mrs Ranson will lead

B&E's regional retail

team to deliver superior

customer service,

ensuring the home and

personal finance and

everyday transactional

needs of Tasmanian customers

are met. Most

recently, Mrs Ranson

was Service Quality

Manager with ANZ.

B&E Chief Executive

Officer Paul Ranson

said: "We have invested

significant resources to

review and improve our

retail model over the last

12 months and Carolyn's

role will be crucial

support for this evolution

and the company's overall

growth strategy."

Fastway gets

local owners

FASTWAY Couriers'

Launceston franchise is

under new management.

Now locally owned

and operated by new

regional franchisees

Tom Wendt and

Rob Cadwallander,

the Launceston team

services the greater

Launceston region,

including Ulverstone,

Devonport and Burnie.

Fastway offers personalised

courier delivery and

pick-up services for large

and small businesses.

Fast firm

recognised

LAUNCESTON architecture

and design firm S.

Group has been listed at

54th spot on the 2016

Australian Financial

Review's Fast 100 list.

The annual list recognises

business across the

country and is determined

by the annual growth of

each company over a fouryear

period – S. Group's

growth listed as 61.3 per

cent.

S.Group is inolved

with the 75-metre tall,

20-storey, four-star hotel

proposed for 2-6 Collins

Street, Hobart.

SOLUTIONS

IN PRINT

your print specialist for over 90 years

Speaker Elise Archer

CHANGES have been made to the House of

Assembly Standing Orders in a move to modernise

the Parliament.

Tasmania's first woman Speaker Elise Archer

said she was proud have led the push to

change rules dating back over a century that

didn't contemplate female members, which

meant the House was strictly reserved for

elected members only.

This meant a nursing mother was unable

to enter the chamber to vote or participate in

debates at short notice without an accompanying

infant being declared a "stranger in the

House" and ordered to leave.

More than 60 years after a woman MP

was first elected to the House of Assembly in

Tasmania, proposed changes to our House's

Standing Orders will remove this outdated

categorisation for a child under 12 months of

age, allowing a nursing mother to enter into

and to participate in the proceedings of the

House free from discrimination.

Existing provisions still remain allowing

the Speaker to maintain control over the

Chamber at all times and the member also has

the option of a "pair" to ensure they are not

disadvantaged during a vote.

A final recommendation being put forward

is the automatic entitlement of a member

to 12 weeks' maternity leave without needing

the formal consent of the House. Under

current rules, members can be held guilty of

contempt if they are absent for more than 14

days without this consent.

Woolston Printing - 2016 Christmas Ad - proof 2.pdf 1 18-11-2016 6:19 pm

Extending a

warm thanks to

our Tasmanian

clients for their

business during

2016!

Best wishes

for 2017!

www.finnbusinesssales.com.au

Send your news

snippets, with a

high quality photo,

to TBReditorial@

fontpr.com.au

sales@paperstat.com.au

6391 8481

www.woolstonprinting.com.au
---
Tasmanian Business Reporter - DECEMBER 2016 11

EVENTS NEWS

EVENT:

2016 Innovative

Tasmania Awards

LOCATION:

Wrest Point

Casino Hobart

DATE: Friday

October 28, 2016.

ABOVE: Luke Scott, left, and Emma Price from the City of

Launceston with Kim Evans from the Department of State Growth.

ABOVE: Co-presenter of the Innovative Region Award, TCCI chair Susan

Parr, left, Sue Sherriff of the Georgetown Chamber of Commerce and

co-presenter Jen Newman of Regional Development Australia, Tasmania

Committee.

LEFT:

Joris Roell of

Linii Tasmania,

left, with

Rosanna

Coombes of

NRM North,

presenter

of the Innovative

Environment

Award.

ABOVE: Martin Dingemanse of Mode Electrical, left, and Carol

Harding of Australian Innovation Research Centre, presenter of

the Innovative Service Award.

LEFT:

Dr Sukhwinder

Singh Sohal,

left, with

Assistant

Minister of Industry,

Innovation and

Science, Craig

Laundy,

presenter of the

Innovative

Science and

Technology

Award.

ABOVE: Aksael Wachter of NANOPROTECH, left, with Ben

Lovitt of Bellamy's Organics, presenter of the Innovative

Product Award.

LEFT:

Darren Cundy

of UTAS,

left, presenter

of the Young

Innovator of the

Year with Jodie

Snooks from

the House of J.

ABOVE: John Hislop, left, and Gilda Sorella from Deviant Distillery and

Bill Woodworth of Bell Bay Aluminium, presenter of the

Innovative Process Award.
---
Tasmanian Business Reporter - DECEMBER 2016 12

PROPERTY MATTERS

Tassie's East Coast on the up

Scott Newton

Property Matters with

Knight Frank

Our column this month comes from Adele Plunkett

and Leanne Dann with a rundown of the residential

market conditions on the East Coast. If you have

been considering a sea change or a weekend getaway,

read on.

THE 2015/2016 financial year has

seen great improvement in the real

estate market on Tasmania's central

east coast, with property settlement

numbers being the strongest since

2009/10.

Contributing factors for this have

been low interest rates, improved

confidence levels in the state economy,

and the tourism marketing of

the Great Eastern Drive Tasman

Highway.

Days on market have decreased

and a sure sign that the market is

turning is multiple offers occurring

on a regular basis.

Most local businesses reported

great trading for 2015 and are now

indicating 2016 YTD has been even

better.

The majority of property sales in

the last few years have been to re-

Coles Bay is the ideal place for a sea change.

tirees and those wanting a second

home holiday property to utilise

now, with the aim of retirement in

due course.

Over the last 12 months we have

noticed a new enquiry base, investors

looking for houses with potential

for holiday letting.

Astute owners and good marketing

can generate excellent rental returns

with the bonus of being able

to have a holiday home which pays

for itself and some personal use

when time allows.

Expat Tasmanians are also keen

to own their little piece of the state

again, most appreciating the beauty

of our coast and value for money

compared with interstate and international

markets.

The temperate climate and beautiful

scenery of the East Coast offers

a great lifestyle, which is continually

being improved with better

services for residents.

Health services are well provided

for through May Shaw Health Centre

located in Swansea and local GP

and paramedic services in other locations.

As well as providing an excellent

aged care facility, May Shaw have

a number of specialists visiting on a

regular basis providing regular access

for coastal residents.

Fast growing visitor numbers to

the East Coast have underpinned the

confidence of many local businesses.

Beautiful national parks, unspoilt

coastal waterways and beaches together

with our excellent vineyards

and local seafood are major draw

cards for our growing economy.

Active coastal communities also

offer a variety of cultural activities

including the arts and music, theatre

groups and a range of sporting clubs

including fishing, golf and bowls or

for those wanting a quiet peaceful

lifestyle - magnificent nature walks

in three national parks within easy

reach.

Residential subdivisions are back

in focus with several to enter into

the market in early 2017.

The 2015 change to the Tasmanian

Interim Planning Scheme has

The temperate

climate and

beautiful scenery

of the East Coast

offers a great

lifestyle, which is

continually being

improved with

better services for

residents.

allowed many to take up the option

to subdivide their small acreages

with the minimum area changing

from 2ha to 1ha.

This in turn has created more activity

for tradespeople both locally

and statewide with building applications

on the increase.

A great positive vibe is alive and

well on our Central East Coast at

present. Mariners, fish farms, subdivisions

and golf courses have all

been mentioned in the headlines and

even if just a few of those mentioned

go ahead, this will add to confidence

and property value on the coast.

We are booming and open for

business.

PROPERTY VIEW

DECEMBER 2016

For sale or lease by Expressions of Interest

CENTRAL BUSINESS DISTRICT

168 Collins Street, Hobart

Knight Frank is pleased to present this

exceptional property to the market. Features

include:

• Central CBD position

• Attractive fit-out to remain

• Outstanding street presence

• 9 secure undercover parking spaces

• Leaseback until 1 July 2017

• NLA: 836sqm (approx)

• Land area: 379sqm (approx)

For sale by Expressions of Interest

LANDMARK RETAIL OFFERING

10 Derwent Park Road, Derwent Park

• Rare opportunity to acquire a landmark

property of substantial proportions within

Hobart's preferred showroom precinct

• Retail warehouse complex with a gross

building area of 5,290sqm (approx) and

100 (approx) customer car parks; large yard/

hardstand to the rear; zoned 'Commercial'

• Includes 7 Linear Court, Derwent Park:

land area of 1,503sqm (approx); zoned

'General Industrial'; improved with concrete

hardstand

Scott Newton: 0409 186 261

Hayden Peck: 0412 766 395

View at Knightfrank.com.au/3306446

For sale by Expressions of Interest

SIGNIFICANT OFFICE INVESTMENT

162 Macquarie Street, Hobart

• Offered for sale in one line are all 6 strata

titles in this quality office building, set over 5

levels plus basement car park for 34 cars

• Outstanding location within Hobart's

traditional Macquarie Street office precinct;

Salamanca & Parliamentary Precinct nearby

• NLA: 3,443sqm (approx); total strata area:

4,381sqm (approx); zoned 'Central Business'

• 96% of tenancies leased with estimated net

income of $671,025

Scott Newton: 0409 186 261

Richard Steedman: 0408 559 046

View at Knightfrank.com.au/3290876

For sale from high $400,000s to early $700,000s

'WATERmarque'

38 Waterworks Road, Dynnyrne

The WATERmarque residential development

presents a rare opportunity to purchase a

brand new home in sought-after Dynnyrne.

• Architecturally-designed 2 and 3 bedroom

townhouses

• Style and comfort in a peaceful setting

• Professionally styled interiors

• Contemporary open plan living.

• Secure double garage

• Go to www.watermarquetas.com.au to

register your interest

Matthew Wright: 0458 290 588

Richard Steedman: 0408 559 046

View at Knightfrank.com.au/3291202

Pam Corkhill: 0419 103 867

Anne Boman: 0409 571 542

View at Knightfrank.com.au/HBT160444

KnightFrank.com.au PH: 03 6220 6999 5 Victoria Street, Hobart