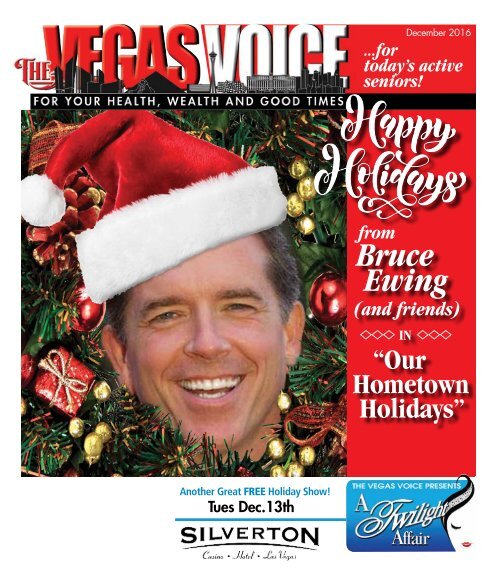 Do you know the secret to free website traffic?
Use this trick to increase the number of new potential customers.
December 2016

Oct. 2012

...for

today's active

seniors!

from

Bruce

Ewing

(and friends)

IN

"Our

Hometown

Holidays"

Another Great FREE Holiday Show!

Tues Dec.13th
---
2 www.thevegasvoice.net

Accept my invitation

and receive a complimentary

$100 Meal Card to either Flemings, or

Hank's Fine Steaks & Martinis!

Many people are concerned today about the market and the direction

it will be heading - big deficit, potential for inflation and possible

future market downturns similar to those we experienced back in 2001 and

again in 2008, unrest in the Middle East…the list goes on and on. If you're

like most Americans, you have questions and concerns regarding these critical

issues and the impact they could potentially have on your lifestyle, your future

and your legacy.

REDEFINING YOUR RETIREMENT

The world is changing, the economy is changing and the rules

are changing every day.

Please accept our personal invitation to attend a Private Financial Workshop

where we can discuss these important issues that could potentially

impact your future. Designed to discuss your retirement concerns and goals

and address any questions or concerns you may have in a quiet and relaxed

environment, this exclusive offer is by invitation only.

This Private Financial Workshop is being offered to you at NO COST

or Obligation. As part of our appreciation for your time, to thank you

for attending, you will receive a complimentary $100 Meal Card.

We will:

• Educate you on investment choices and help guide you on

building your portfolio.

• Show you what you are really paying your advisor in

fees and commissions.

• "Stress Test" your current portfolio, to determine the

actual risk of your current investments.

• Discuss tax efficient retirement planning - where you will learn

how to position your assets utilizing effective tax planning strategies.

• Instruct you on how you can help protect your assets from

the catastrophic costs of long term illness.

• Properly inform you about Social Security - How to

maximize Social Security income for both you and your

spouse, and reduce taxes on benefits you are already receiving.

Intention of this workshop is to educate - Nothing Will Be Sold.

This Private Educational Workshop can provide a unique opportunity to learn how some very simple steps can help

provide you with a more reliable and certain future retirement. HAVE DINNER ON ME! At this private workshop, you will

be presented with a $100 Meal Card to be used at Hank's Fine Steaks & Martinis, or Flemings, at your leisure.

Annuities Made Simple

170 S. Green Valley Parkway

Suite 300 | Henderson, NV 89012

(The District - Next to the

Cheesecake Factory)

POWER OF 4

Your choice!

(Downtown Summerlin)

1980 Festival Plaza Drive I Suite 300

Las Vegas NV 89135

Call Gregory Kinkead Today

702-521-3014

greg@annuitiesmadesimple.com

No purchase required to

receive meal card.

in

f

Choose one of the available dates and times for this no obligation, complimentary

offer and receive $100 Meal Card to Flemings, or Hank's Fine Steaks & Martinis on me!

Please note: This offer is limited to those who have not attended a

Annuities Made Simple seminar or consulted Gregory Kinkead for advice.

www.annuitiesmadesimple.com

Securities offered through Centaurus Financial Inc., - Member FINRA and SIPC.

Annuities Made Simple and Centaurus Financial, Inc. are not affiliated.
---
december 16

3

MADE SIMPLE

702.521.3014 (Main) 702.944.0365 (Fax)

POWER OF 4

Guarantee your lifetime income

with simple solutions

Principal Preservation

• Protection from market loss

• Guaranteed minimum interest

Lifetime Income

• Single and joint guaranteed lifetime income

• Increasing income options available

4 Simple Solutions

Guaranteed Death Benefits

• Legacy Protection

• Lump sum death benefit without surrender charge

Attractive Interest Rates

• Bonus options available

• Choose from multiple indexes

Schedule your appointment today and receive a free breakfast or lunch buffet gift card

Choose either Green Valley Ranch Hotel and Casino or Red Rock Hotel and Casino

1980 Festival Plaza Dr.,# 300 (Downtown Summerlin)

Las Vegas, NV 89135 • 702/521.3014 (main) • 702/944.0365 (Fax)

Most things in your life will have a guarantee.

Why not guarantee your retirement income?

Please note: This offer is limited to those who have not attended a Annuities Made Simple seminar or consulted Gregory Kinkead for advice.

I am your

Simple Annuity Solution

Gregory S. Kinkead

CEO, Founder

170 S. Green Valley Parkway,Suite 300

Henderson, NV 89012 • (The District - Next to Cheesecake Factory)

Greg@AnnuitiesMadeSimple.com

www.annuitiesmadesimple.com

Securities offered through Centaurus Financial Inc. Member FINRA and SIPC.Annuities Made Simple and Centaurus Financial Inc. are not affiliated.1980 Festival Plaza

Dr. # 300, Las Vegas, NV 89135 / 702.521.3014. All annuity guarantees are based upon the claims paying ability of the issuing insurance company.

Find me on

POWER OF 4

in

f
---
The Mystique of

Southwestern Art

by Crystal Czerkas Sarbacker

Taos, Tulsa, or Vegas?

It's your choice!

Crystal Czerkas-

I

Sarbacker

f you would like to see the Mystical Pueblos collection

by my dad, Victor Czerkas, the only known private student

of the noted Russian impressionist, Nicolai Fechin, you might stop by the

Taos Museum in New Mexico or the Mustard Seed, a Tulsa Oklahoma antique

and fine furniture retailer currently featuring Czerkas paintings and limited edition

giclees...

Or you could call Ray and I for a private showing right here in Vegas, or a special

online tour! What could be easier?

Czerkas (1914 -2004) was born in the US to Russian immigrants, and his heritage

and fluency in slavic languages facilitated his relationship with Fechin. The

influence of his mentor can be seen in Czerkas' bold use of color, fearless brush

strokes, and choice of subject matter as seen in the Mystical Pueblos series now

on display in Taos or at The Mustard Seed. Fechin was fascinated by the American

Southwest, and at his insistence Czerkas made regular visits to the area

At The Ovens

Oil where he became very intrigued by the

pueblo communities and their surroundings.

Like Fechin, Czerkas was inspired

by the Southwest and he sought to

preserve its beauty throughout his life.

In addition to the Mystical Pueblos

series, Czerkas created many watercolor

and oil paintings based on his world

wide travels. He is listed as a noted

California Watercolorist, the winner of

Gathering at the Wall Oil over a hundred awards for his paintings,

and his artwork can be found in

the collections of the Senator Robert

Kennefamily, and many motion picture

celebrities including Rock Hudson.

Pueblo Gathering

Watercolor

For more information contact

The Mustard Seed, The Taos

Art Museum, or call Ray at

702-463-0966.

2880 BICENTENNIAL PKWY. SUITE 100-244

HENDERSON, NEVADA 89044

Phone 702.251.4441 . Fax 702.666-0427

Volume 13, Issue 10

PUBLISHER/EDITOR . Dan Roberts

PRESIDENT . Ray Sarbacker

POLITICAL EDITOR . Rana Goodman

ENTERTAINMENT EDITOR . Evan Davis

NIGHT LIFE EDITOR . Sam Wagmeister

TRAVEL EDITOR . Stu Cooper

TV HOST . Rich Natole

GRAPHICS EDITOR . Michael Roberts

ACCOUNT EXECUTIVE . Lou Lozitsky

ACCOUNT EXECUTIVE . Debbie Landry

ACCOUNT EXECUTIVE . Helen Britas

PROJECT DIRECTOR . Bill Caserta

Marty Allen

Adrea Barrera

Richard Black

Yvonne Cloutier

Dianne Davis

www.thevegasvoice.net

CONTRIBUTING COLUMNISTS

Chuck Dean

Alice Edwards

Jan Fair

Tiffany Fairfax

Linda Gomez

dan@thevegasvoice.net

ray@thevegasvoice.net

rana@thevegasvoice.net

evan@thevegasvoice.net

lou@thevegasvoice.net

debbie@thevegasvoice.net

Ali Guggenheim

Kathy Manney

Kyo Mitchell

Mary Richard

Crystal Sarbacker

The Vegas Voice is mailed/delivered to all residents in:

Anthem Country Club

Country Club Senior Apts.

Destinations Centers

Horizon Pines

Las Vegas Meadows

Quail Estates

Seven Hills

Pat Warren

Beverly Washburn

Devon Wickens

Vicki Wentz

James White

Siena

Solera @ Anthem

Solera @ Stallion Mtn.

Sun City Anthem

Sun City Aliante

Sun City MacDonald Ranch

Sun City Summerlin

The Vegas Voice is also distributed throughout the Vegas Valley; from

North Las Vegas to Boulder City - including select local casinos,

bookstores, coffee shops, and all libraries and community

centers.

What Do You Think?

Do you agree with our columnists? Did anyone get you angry, make

you think or simply put a smile on your face?

Please tell us by forwarding your comments, thoughts or suggestions

to Publisher Dan at: dan@thevegasvoice.net.

And whatever you do, don't forget our website. Read about the latest

information about us grown-ups so you can keep up to date with

everything going on.

4 www.thevegasvoice.net
---
Dan Roberts

Another Year, Another Health Crisis

Roberts Rules

"And the tradition continues."

That was my immediate reaction

concerning Rana's latest medical

adventure.

Loyal readers are very familiar

with my periodic columns on my

Ladylove's physical issues. Like the

"swallows returning to Capistrano",

you can now be guaranteed that

come December, the political editor

of The Vegas Voice will have a new

health crisis.

Last month marked my 4 th anniversary

with Rana. During this time,

we have smiled, laughed, played

crusading journalists in exposing

the Nevada guardianship scandal

(mostly her, I proudly admit) and

enjoying life to the fullest.

But I have also played her nurse and caregiver.

It started two years ago when Rana fractured

her shoulder on our European cruise.

Then last December, an angiogram revealed

that her artery was blocked and a stent was

urgently inserted to relieve her heart threatening

problem.

december 16

December 2016

Oct. 2012

...for

today's active

seniors!

Guardianship Update

Editorial

As 2016 comes to an end, The Vegas Voice before previous Nevada legislative sessions

from

wanted to write something to let the

Bruce

"bad and "Reform Commissions" advocating

guys" know that even during the holiday Ewingher same belief – beginning in 2002.

season, we're still watching them. (and friends) Ramm was never part of the solution, but

Let's begin with our elected law enforcement

officials (next page). We're still wait-

"Our Yet, despite all the reform success, no one

IN (just one) of the guardianship problems.

Hometown

ing for them to do their jobs. Holidays" has been arrested, no public employee fired

On a positive note, another obstacle and not one victim from this guardianship

in guardianship reform is leaving. Sally gulag has received a dime of compensation.

Ramm, elder rights

Another

attorney

Great Holiday

for

Show!

the Nevada Speaking of money, in 2016 the: (a) Attorney

General and Nevada Court system

Tues Dec.13th

Aging & Disability Services, who served as

the government's "go-to expert" on guardianship

announced that she was retiring in funds for guardianship issues; and (b)

were awarded $3,000,000.00 in non-state

January.

since October 2015 (one month after private

Ms. Ramm was the individual who scolded

Publisher Dan for his "harsh" testimony raided pursuant to subpoenas) she and her

guardian April Parks' office and home were

before the Nevada Legislature in 2015. She attorneys were awarded over $300,000.00 in

advised that "these things take time" and fees from her former wards.

pointedly told him that such tone was not All that money, but nothing for the victims

or to implement reforms. And the "bad

conducive for guardianship reform.

The Vegas Voice thereafter uncovered guys" continue to hope that The Vegas

numerous statements made by Ms. Ramm Voice will simply go away.

This year – diabetes.

"I got it wrong" I confessed to her when

we remembered that this was now the third

consecutive negative end-of-the-year health

news. "I was guessing knee surgery."

Rana shot me that "look" which all "life

& love partners" understood. Apparently, my

Queen was not amused. If I did not know better,

I would think that besides her medical

maladies, she also lacks a sense of humor.

So as I sat with her at the doctor's office,

I understood that, once again, there will be

changes in our lives.

(As an aside, how long would YOU sit in

the waiting room for your scheduled appointment?

In this instance, it was 97 minutes

– yeah I timed it – before my New York

attitude took over. You know… like jumping

up and throwing a massive screaming fit, or

hunting down the doctor [who does not even

offer a half-hearted apology] and threatening

to lock him in one of those claustrophobic

examination rooms…but I digress).

Anyway, Rana immediately decreed that

effective forthwith, our friends "Ben & Jerry"

were no longer welcomed in our home and

that all deserts will now be sugar-free. "We're

going to eat healthy even if it kills us" was

her upbeat declaration.

"What do you mean WE?" I quickly asked

as I reached for the bag of Doritos.

"You're the one with the diagnosis."

And then, as only Rana can, she

jumped on that proverbial soapbox

pontificating that 2017 will be the

year of getting and staying healthy

- and active. "I'm not kidding" she

remarked over and over (and over)

again.

"Save that thought" I said as I

leaned back on my recliner and

waved my hand to indicate that she

was blocking my view of that big

screen television. But I (eventually)

concluded that Rana was serious.

"Let me ask you something", I

asked as she handed me the car keys

while shutting off the TV. "Does this

mean that we're now going to have

home-cooked meals?"

"One crisis at a time" she calmly replied

as we headed to her favorite restaurant. And

to add insult to injury, we "agreed" to a salad

for our respective dinners.

As we chowed down on this rabbit food, I

asked what plans she has for next December's

health crisis. Perhaps we can have a contest

for Vegas Voice readers, I (now regretfully)

suggested.

Realizing (too late) that my mouth was

moving faster than my brain, I told her to

pick categories for 2017. "I'm choosing hip

replacement." Once again, my Rana was not

amused.

Luckily, I hid that bag of Doritos.

***Rana and I, along with everyone at

The Vegas Voice wish you and yours a very

joyous, happy and HEALTHY holiday season.

May all your hopes and dreams come true in

2017.

5
---
Rana Goodman

What a Trip

On My Soap Box

As 2016 comes to an end, I told Dan I needed

something fun to lift my spirits.

I had just returned from my regular semiannual

doctor's appointment. Instead of

telling me I was good to go for another six

months, he showed me the results of my latest

blood work and, shaking his head, tells me I

now have diabetes.

I know this is not an earth-shattering diagnosis.

Many of my friends are in the same

boat, but you have to understand, I have always

been an incurable "choc-o-oholic" and

ice cream addict.

I have a "sweet tooth" you won't believe.

My doctor patted me on the head and assured

me that dark chocolate was ok…Humpfff!

My Dan then gave me great news. Along

with travel editor Stu and his wife Sharon, he

had arranged a cruise for us.

It would be a "cruise to nowhere" on the

largest cruise ship in the world - The Harmony

of the Seas. This ship has a huge zip line,

(I love them) and an amazing slide that (get

this) starts on deck 17 and ends on deck 5.

You'll be as dizzy as hell when you

get off; but what fun if you want to

feel like a kid again. I was ready to

go!

We arrived in Fort Lauderdale

and the weather couldn't have been

more glorious - 70 degrees. After

spending the day visiting Dan's family,

we headed to the ship.

And when I say the ship was huge,

I'm not kidding. Royal Caribbean's

Harmony of the Seas is mammoth.

This was a special maiden voyage

for media and travel agents so

we were given the royal treatment. A

nice sized balcony cabin with the sea

air wafting in.

Other cabins were open for viewing

and all I can say is WOW. One

was a four bedroom, four bath with a

spa on the deck with a wet bar, huge

living area and 24-hour butler service.

And for those regular readers who

are aware of my unfortunate experience two

years ago when I tripped and broke my shoulder

(ending the cruise before it even started)

Dan made sure I only brought flat shoes. I'm

proud to announce that there was no tripping

or broken bones at the buffet.

The dinner? It was an invitation to the captain's

table - a perfect day!

Walking around the ship we found some

of the fun (at least for me) things to do –

namely shopping! The "Boardwalk" for the

kids (and guys) is where we found the slide.

My lord, the slide was HUGE.

On the next deck, a replica of Central Park.

The beautiful park was surrounded by cabins

with balconies for those that wanted to sit outside

and enjoy the magnificent garden view.

Now I was ready for adventure! To ride the

slide and zip line. My timing, unfortunately

was as bad as being at Costco on Sunday.

Both were closed while the ship was entertaining

the various VIPs. But, as I happily reminded

Dan, there was always that deck with

all that shopping!

6 www.thevegasvoice.net
---
ecember 16

7

Vicki Wentz

It's Beginning to Look a Lot Like Christmas!

Vicki's Voice

Well, my friends, it's almost Christmas time.

Are you ready? Don't you just adore it when

people slap you on the back and ask jovially,

"Are you ready?"

Because, you know darn well that they

wouldn't ask that if THEY weren't ready, and

they're simply dying for you to tell them no,

you're nowhere near ready, just so that they

can say, "Gee, I've had my Christmas gifts

bought since, oh, I think it was like Labor Day."

And, you're supposed to stand there amazed

and envious, as they tick off all the things

they're planning to do during the season;

things that they have time to do because their

shopping is done...things that you have never

done, and probably never will do, because your

shopping is generally not finished until, oh,

like the 24th.

If this showoff sounds like you, let me say

- on behalf of all the folks who are realizing

today that the only present we've bought so

far is a chocolate bar covered with a wrapper

that looks like a $1,000,000 bill, because our

grandson loves money and chocolate (just like

his grandmother) and you already ate half of

that - SHUT UP!

We don't want to know how well organized

you are, because we have only yesterday put

away the last of the beach towels, stored the

deck furniture, and discarded the little pilgrim-hat

place cards. Yes, our beautiful green

wreath with a big red bow hangs on the front

door, right above the now-mushy Halloween

pumpkin, and this is the best we can do, so

GET OFF OUR BACKS! (ahem)

In the meantime, to help us all feel a little

more Christmas spirit, I have composed a Tabernacle-Choir-quality

piece entitled, "Jingle

This!" It is to be sung to that timeless Christmas

favorite we all enjoy.

Let's all sing along together now, especially

mothers - you know, those carefree, unstressed,

perfectly-coiffed, baking, shopping,

entertaining, wrapping, decorating, schlepping

mothers - who desperately need a holiday

song of our own. Sing it LOUD, Ladies!

A-one and a-two, and a--

Jingle Bells, Mommy yells "Decorate the

tree!

"Hang up now, no texting, and "Don't

take that tone with me!" Heee!

In the yard, It's so hard. Putting up the

lights;

Daddy's shouting words that really aren't

too Christmas-like!

Grandma comes to call, with cookies

large and small,

They're gone so fast that Mommy missed

her favorite bourbon balls;

She didn't get a bite, the kids begin to fight,

And, Daddy's drinking eggnog, asking,

"Who needs outdoor lights?" Oh!

Jing-a-ling, Caroling? Are you kidding

me?

The baby and the dog have both thrown

up beneath the tree! Heee!

In the mall. What a ball, Swimming

through the throngs;

Waiting hours for Santa while they're

blasting Christmas songs!

At home, unknown to all, the teen's still

on her call,

So, Mom cannot reach Dad to ask, "So,

base- or basket- ball?"

She's got a giant list, and she is getting pi-

-...uh...mad,

She buys a dozen fruitcakes for the people

she might miss! Oh!

Home she'll go, Through the snow, Hungering

for peace;

She gets there; tree's still bare, Christmas

spirit ceased. Hey!

Jingle bell, "What the hell? "Someone do

the tree!

"Where is Baby Jesus? "Do you know

you're killing me?!"

Teenager is bored, "What extension cord?

"This is lame! Can I go out?" She's so hard

to ignore.

The stockings must be hung; the tinsel

must be flung,

The presents wrapped, the candles lit, and

carols must be sung! Oh!

Jingle bells, no one yells, Kids are fast

asleep;

Mom and Dad are on the floor assembling

"G.I. Jeep." Hey!

Clock strikes one, finally done,

Check 5 little beds; Now, it feels like Christmas,

as you

Kiss 5 little heads...

And, God bless us, one and all. With love,

from Vicki.

Vicki Wentz is a writer, teacher and speaker living in North Carolina. Readers may

contact her - and order her new children's book! - by visiting her website at

www.vickiwentz.com.
---
Beverly Washburn

Love Letters

Hollywood Memories

Hard to believe it's December already and

the Holidays are here! Whatever you celebrate,

may it be filled with love, happiness, good

health, prosperity, peace and much laughter.

Thanks to so many of you who responded

and reached out to me about my last column

regarding the loss of my little "fur baby" Reggie.

Your thoughts and kindness were much

appreciated.

I'd like to write this month about a recent

play I did with my good friend Tony Dow

(Wally) from "Leave it to Beaver."

As you can see by the first photo, Tony and

I go way back, almost 60 years when we were

just teenagers.

The year was 1959 and I, along with every

other teenage girl in America had a huge

crush on "Wally." As fate would have it, I was

filming a TV show which just happened to be

next to the stage where Leave it to Beaver was

filming.

I knew Barbara Billinglsey ( June Cleaver),

because I did a sitcom with her at CBS in 1955

in which I played her daughter. Leave it to

Beaver was a closed set, but because I knew

Yvonne Cloutier

her, they let me on the stage to say hello.

I was thrilled to see Barbara again, but not

only that, it was the perfect excuse for me to

meet the man (ok, make that boy) of my

dreams!

The casting director happened to be on the

set and asked me to come back the next day to

read for a role in an episode called "The Blind

Date Committee." I was fortunate enough to

be cast and

thus began

our lifel

o n g

friendship.

Now all

these years

later, we

were reunited

in a

two-person

play called

" Love Letters."

It was

a delight to

do it with

Tony. He is

not only a

wonderful actor, but a dear friend. You may

recall that he wrote the foreword for my book

A Rock Singer with Horn-Rimmed Glasses

as well.

The play is about two people who start out

as friends in grammar school and continue

their friendship for more than forty years until

the time of her death. We performed it in

Moraga, California to a sold out audience, for

which we were very grateful.

We'll be performing together again this

coming January along with Paul Petersen

( Jeff Stone from "The Donna Reed Show")

at the Orleans here in Las Vegas. This time

we'll be doing re-enactments of old time radio

shows. Paul is another dear friend of mine so

I'm really looking forward to it.

Until then, Happy Holidays to all of you. I'd

like to thank all of you for being loyal readers

of my column and I wish each and every one

all of life's blessings.

Until next time, remember that the best

thing to hold onto in life is each other.

Beverly Washburn graced the silver screen as a child actress and is the author of Reel

Tears which can be bought online at Amazon.com or ordered through Barnes &

Noble bookstores. You can contact Beverly at: bjradell@hotmail.com. Check out her

awesome, new website: www.beverlywashburn.com.

Musical Moments

"That'll be the day… when I die." And he

did.

He was only 23, in a plane crash during a

snowstorm with a pilot not qualified to fly by

instruments. Also on that fateful trip, Ritchie

Valens and The Big Bopper, J.P. Richardson.

Along with the pilot, they all died.

Waylon Jennings, scheduled to be on that

flight, allowed the "Big Bopper," to take his

place. The plane, headed for Moorhead, Minnesota,

crashed in Clear Lake, Iowa soon after

departure.

Buddy Holly, renowned rock and roller, left

this earth way too soon.

Rolling Stone magazine voted Buddy Holly

(who wore horn-rimmed glasses and sang

with a musical hiccup) the 13 th greatest "rock

n roll" artist of all time. His original name was

Charles Hardin Holley. The E was dropped out

of his last name when it was omitted on a recording.

He was born in Lubbock, Texas in 1936 and

died in 1959. Buddy's date of death was immortalized

as The Day the Music Died from

Don McLean's hit song American Pie.

A life-sized statue of Holly is located at the

Lubbock, Texas Convention Center. The statue

depicts him tapping his heel while playing his

Fender Stratocaster. He always tapped his heel

to the music.

Holly's first million-seller That'll be the

Day, was from that expression John Wayne

used in 1956 movie, The Searchers. Holly's

group was called The Crickets because after

recording, I'm Gonna Love You, Too, a real

chirping cricket was heard on the recording at

the end. And so they used that name.

Holly parted with studio owner, producer,

and his longtime manager Norm Petty, because

Petty insisted on co-credit song royalties

that he recorded with The Crickets. Petty withheld

the royalty money owed to Holly. After the

split, Holly moved to New York.

Finances forced Holly to go on his final

tour, the Winter Dance Party. He made his

only appearance on The Dick Clark Show in

1958 when he performed It's So Easy, with The

Crickets.

He had many hit songs. He also performed

using two different guitars and drums.

Holly was married to Maria Elena Santiago.

She was pregnant at the time of his death and

couldn't go to his funeral because she suffered

a miscarriage. She still owns rights to his

name, image, trademarks, and Holly's other

intellectual properties.

He wrote and co-wrote most of his songs.

Bob Dylan said he was influenced by Buddy's

music. Paul McCartney eventually purchased

Holly's publishing rights.

Many books and articles have been written

about Buddy Holly. He has been inducted into

many musicians' Halls of Fame and was posthumously

awarded a star on the Hollywood

Walk of Fame.

Yvonne Cloutier, a former teacher/principal, with a music background, specializes

in ragtime piano. She is an author and has written an easy-to-read book on Scott

Joplin. She reports about music on SCA-TV.com/Anthem Alive! You can contact her

at www.mytimeisragtime.com.

8 www.thevegasvoice.net
---
$4 MOVIE TICKETS & MORE IN DECEMBER!

SENIOR 50+

WEDNESDAY

• 10X SLOT POINTS / 6X VIDEO POKER

• $4 MOVIE MATINEES

• 1/2 POINT BINGO & BOWLING

• FREE STARBUCKS TALL COFFEE

• $108,000 FREE SLOT TOURNAMENTS

• 15% OFF PIZZA ROCK AT

GREEN VALLEY RANCH

BOB

1/2 POINT DINING SPECIALS

DECEMBER:

CAFÉS, BUFFETS, OYSTER BAR,

TIDES SEAFOOD & SUSHI BAR,

8 NOODLE BAR

STN

GET THE APP FOR HOT DEALS AND MORE

Cannot be combined with any other offers. Must have a

Boarding Pass and valid ID. Must be 50 years of age or older.

Movie matinees before 6pm. Complete details at Rewards

Centers. Sign up for Station Casino's MyGeneration today!

december 16

9
---
Marty Allen

Marty's Top Ten

Hello Dere

Bill Caserta

You Have to Laugh

Bill's Blurbs

1. A lot of kids want to join the Diplomatic

Corps. Why? Every day you can pick up a

paper and read about some Embassy getting

stoned!

2. Husband while having

a terrible fight with his

wife, yells: "You're

going to drive me to

my grave!" In two

minutes, she had

the car in front

of the house.

3. In Hollywood,

a silver

wedding anniversary

means

the 25 th husband.

4. My friend Benny said he's the luckiest

man in the world. He's got a wife and a cigarette

lighter – and they both work!

5. My other friend Max complains about

how his wife looks. He told me that "if all

the girls are sisters under the skin, he wished

she'd go back under there and send out her

sister."

6. My buddy Sherman said he lost a fortune

overnight. He went to bed feeling

like a million bucks and woke

up feeling like two cents.

7. The reason it takes

women longer to

get dressed is because

they have

to slow down at

the curves.

8. Don't drive

with one arm

around your girl.

Let her drive and

you can then use both arms.

9. Did you hear about the man who

crossed a chicken with a racing form? It laid

odds.

10. New country song: "When Skirts Look

Shorter, The Men Look Longer."

For over the past decade, Marty Allen has performed with his on and off stage

singing partner Karon Kate Blackwell.

A (Different) Christmas

Tale: It was coming up to

Christmas and Sammy asked

his mom if he could have a

new bike. She told him that

the best idea would be to write

to Santa Claus.

But Sam, having just played

a vital role in the school nativity

play, said he would prefer

to write to the baby Jesus. His

mom told him that would be

fine.

Sam went to his room and

wrote: "Dear Jesus, I have been

a very good boy and would like

to have a bike for Christmas."

But he wasn't very happy when

he read it over.

So he decided to try again.

This time he wrote: "Dear Jesus,

I'm a good boy most of

the time and would like a bike

for Christmas." He read it back

and wasn't happy with that

one either.

He tried a third version. "Dear Jesus, I

could be a good boy if I tried hard and especially

if I had a new bike." He read that one

too, but he still wasn't satisfied.

So, he decided to go for a walk while he

thought about a better approach. He passed a

house with a small statue of the Virgin Mary

in the front garden. He crept in, stuffed the

statue under his coat, hurried home and hid

it under the bed.

Then he wrote this letter. "Dear Jesus: If

you want to see your mother again, you'd

better send me a new bike."

Don't Mess with the Mrs. The police

officer pulls over a speeding car. The officer

says, "I clocked you at 80 miles per hour, sir."

The driver says: "Goodness, officer, I had it

on cruise control at 60. Perhaps your radar

gun needs calibrating."

Not looking up from her knitting the wife

says: "Now don't be silly, dear. You know that

this car doesn't have cruise control"

As the officer writes out the ticket, the driver

looks over at his wife and growls, "Can't

you please keep your mouth shut for once?"

The wife smiles demurely and says, "Well

dear you should be thankful your radar

detector went off when it did or your speed

would have been higher."

As the officer makes out the second ticket

for the illegal radar detector unit, the man

looks at his wife and says through clenched

teeth: "Woman, can't you keep your mouth

shut?"

The officer frowns and says: "And I notice

that you're not wearing your seat belt, sir.

That's an automatic $75 fine."

The driver responds: "Yeah well, you see

officer, I had it on but I took it off when you

pulled me over so that I could get my license

out of my back pocket."

The wife says: "Now, dear, you know very

well that you didn't have your seat belt on.

You never wear your seat belt when you're

driving."

As the police officer starts writing out the

third ticket, the driver turns to his wife and

barks: "WILL YOU PLEASE SHUT UP?"

The officer finally looks over at the woman

and asks, "Does your husband always talk to

you this way, ma'am? "

Her response: "Only when he's been drinking."

Bill Caserta is the Project Director for The Vegas Voice and has a very "unique" sense of

humor. He welcomes all funny submissions at: billbuck52@hotmail.com.

10 www.thevegasvoice.net
---
Evan Davis

Holiday Shows

I Know a Place

It seems like every month there is another

holiday or a "theme event" to occupy our

time. For December, we all know the major

holidays and there is, of course, a majority of

entertainment revolving around these themes.

Let's forget for a moment about the theme

shows and concentrate on what's happening

on the local scene. Most of the local entertainment

seems to be in restaurants and a few

lounge.

On the west side of town, there are a few

Italian restaurants with music. Let's start with

Salvatore's in the Suncoast with a piano bar

and a singer on Tuesday and Thursday nights.

Lots of local talent stop by to sit in for a number

or two.

Siena Italian Trattoria on Sahara has entertainment

on Thursday nights. Kent Foote

brings his Vegas Goodfellas to perform to a

huge crowd that loves to dance and drink.

They made Siena a weekly hangout for us active

adults on the west side of town.

As you party your way closer to the strip, you

will pass Club 7777. There Reno Bellamy puts

his mojo to work with many musicians and

Legendary singer Sonny Charles of the

Checkmates will be performing at our

Vegas Voice Twilight Affair

singers coming in to hone their skills until

2 am. This place is perfect for late comers to

dance all night.

Keep going east and you'll find the Tap

House. It also displays an open mic atmosphere,

dance floor and reasonable food and

drink prices on Monday nights.

Downtown and the strip area hosts places

like The Lounge at El Cortez. It features Rita

Lim with Joey Ugarte and the Jazz Vibrations.

Kenny Davidsen performs at the Tuscany

and Pia Zadora at Pia's Place in Piero's Italian

Restaurant - all happening on Friday nights.

By the way, Pia sings both Friday and Saturday

nights.

Slide along the strip and catch live entertainment

at places like The Barrymore, Ferraro's

Italian Restaurant, Bootlegger Bistro

and, of course, the Silverton Spa & Casino. And

don't forget our free Vegas Voice Twilight Affair

show on Tuesday, December 13 th at 6 pm.

Go west young man and you'll find entertainment

Wednesday through Sunday at the

Italian American Club or Ichabod's Lounge

7 nights a week. Both have dance floors and

Ichabod's touts gaming 24/7. Good food and

reasonable prices are indeed a welcomed surprise

in these local restaurants and clubs.

You can also find me at the Peppermill on

Tuesdays at 1 pm taping a podcast with Ninon

De Vera De Rosa. It features the Evan Davis

Jazz Corner where I tell everyone what's going

on in town at the local scene.

Allow me another quick plug for our Vegas

Voice Twilight Affair on Tuesday, December

13 th . It will be our very, very special Holiday

Show. (See page 13.)

I have the great pleasure of hosting a star

studded lineup. Scheduled to perform include

the lead singer of the Checkmates, Sonny

Charles, a wonderful group JazzMin and a

young star, Chloe, and many more entertainers.

Come on out and enjoy a fantastic show!

Evan Davis is the entertainment editor of The Vegas Voice. You can

read his entertainment blog and sign up to receive his free email weekly

Calendar of Events at www.EvanDavisJazz.com. You can also email

him at: evan@thevegasvoice.net.

december 16

11
---
Adrea Nairne-Barrera

The Great Grape Incident

This month's title refers to a specific evening

and event, but to be more explicit, I am

writing about what NOT to feed your pets during

this holiday season of treats and goodies.

A few weeks ago, I was carrying a plate of

white seedless grapes to the couch to munch

on while watching TV. I piled too many in the

dish and some rolled off to the floor.

Everything happened so fast. I barely had

the chance to pick up what I thought was only

4 or 5 grapes.

I grabbed them immediately, but realized

the 13-pound Shih Tzu had something in his

mouth. He would not give it up. He growled

when I tried to open his jaw.

Then I looked at my other dog, Louie. He

was just waiting for more to drop.

Knowing in the back of my mind that

grapes and raisins are bad for dogs, I looked

it up on the computer. I found out my dogs

could actually die from it.

Our vet had late hours that evening and I

almost ran red lights getting there with two

stunned dogs. They induced vomiting and

Sam Wagmeister

She Married a Wanderer

discovered that Louie had eaten 3

big grapes and Tyler had crushed

one.

This is the one time I was glad

that Louie inhales his food because

they were still whole! My poor dogs

had no idea what hit them, but

thank goodness our vet handled the

situation before anything was fully

digested.

Below is a list of foods that can be

poisonous to pets and I would like

to share it with you this holiday season.

You may be surprised at a few

of these.

We don't always think about how

their systems are different from

ours, but it is. This list is taken from

the Humane Society website and

for more information, you can also

google many other sources.

In alphabetical order, they are:

Alcoholic Beverages, Apple Seeds,

Apricot Pits, Avocados, Cherry Pits,

60's to 60

Candy (particularly chocolate and any candy

containing the toxic sweetener Xylitol) Coffee

and Chocolate-covered espresso beans, Garlic,

Grapes, Gum (can cause blockages and contains

artificial sweetener), Hops, Macadamia

Nuts, Moldy Foods, Mushroom Plants, Mustard

Seeds, Onions and Onion Powder, Peach

Pits, Potato Leaves & Stems (green part),

Raisins, Rhubarb Leaves, Salt, Tea (because

it contains caffeine), Tomato Leaves & Stems,

Walnuts, and Yeast Dough.

There are additional sites that provide more

extensive lists, so I urge everyone to watch all

that holiday candy and avoid people food

treats for your pets. Even little kids with candy

canes can innocently poison your pet.

It only takes one mistake and a small dog's

kidneys could shut down or they become lethargic

and sick. In our house, Superman has

nothing on our Louie when it comes to moving

"faster than a speeding bullet" if there's

food involved. He must get that from me.

Wishing everyone a holiday season filled

with love and happiness!

People & Places

The joke that's making the rounds is that

going to work for producers Terry Cashman would knock on restaurant doors and say

the founder of the hottest new show on The

and Tommy West. He worked nights and 'would you hire us?'" Then an opportunity:

Strip, The Bronx Wanderers, is Carol Adinolfi.

weekends playing guitar and singing in "She pushed me to do a play on Broadway.

As wife of lead singer Vinny Sr. and

"weekend warrior" bands.

The fact that I did opened a lot of doors.

mother of drummer Nicky and versatile

After helping produce and sell millions of Thank God that she pushed. She's always

musician/singer Vinny Jr., the tongue-incheek

records "when the record business was the believed in me."

line is, "Without her, it would be a

record business" for the likes of Dion and Since the band's residency at Bally's Win-

one man show."

the Belmonts, The Earls, Partridge Family dows showroom, responsibilities for the

Truth be told, without her there very possibly

and Jim Croce, the industry hit a brick wall wife-mom have expanded. In addition to

would be no Bronx Wanderers, the

and their company was closed. "Things got those original tasks, she sits on the elevat-

band whose show is drawing rave reviews

rough."

ed platform at the back of the showroom,

and loyal fans from their east coast, Florida,

Carol, who had become a stay-at-homemom

mouthing the music, commanding the vid-

and Midwest festival tours.

to raise young son Vinny, picked up eo screens and performing on the air guitar,

Before their Vegas residency, they were a

the ball and went to work while Dad Vinny air keyboard, air saxophone while dancing

touring band playing summer events and

became a stay-at-home-dad to raise eventual

drummer Nicky. "She jumped right in. fan attending for the first time.

up a storm treating each performance as a

thing not music," credits husband Vinny,

celebrations in cold weather cities and

"even laundry." Then, reflectively, he adds,

heading to Florida for the winter months.

She was just about the family's sole support. It took Vinny 40 years to land on The Strip

"It was always a family business. I make the

Their dynamic presentation of Baby Boomer

It was a rough time. I had been the bread and each night during the show, he pays

music."

oldies drew first timers who quickly carved

winner," he recalls.

homage to his bride, adding, "Welcome to

They met on a blind date 35 years ago

notches on their attendance scorecards.

In those lean days, Vinny recounted, "I my dream."

and married two years later. "Carol Mackenzie,"

Vinny reminisces of the dark haired

With up to 225 travel dates a year, it was

Mom Carol who glued the schedule together,

"travel plans, payroll, schedules, book-

the hidden gems of Las Vegas Entertainment for The Vegas Voice. He would love to

Sam Wagmeister, a local Realtor specializing in Las Vegas senior communities, covers

beauty with Italian roots, "I thought I was

getting a redhead."

keeping, internet and social media…any-

hear what you think. Contact Sam at: GreatLasVegasMusic@Gmail.com or (702) 245-6556

Music has been Vinny the Dad's life since

12 www.thevegasvoice.net
---
Holiday Edition

Tues., Dec. 13th

Scheduled to Appear

Chadwick Johnson

Chloe Adelaide Watson Jonathan Karrant Sonny Charles

JazzMin Vocal band

Dangerous Curves

Gary Anderson

Musical

Director

In the beautiful Veil Pavilion

Tue., Dec. 13 th , 2016

Doors at 5:30 pm. Show begins at 6 pm.

For reserve seating

call/text Evan Davis: 702/630-6111

First 100 peopledecember

16

Or call The Vegas Voice at

702/251-4441

Your Host:

Evan Davis

50%

Off Buffet

coupon

and it's FREE!

13
---
Tiffany Fairfax

It's the end of the year and the war is

over. 2016 has been a yearlong brutal political

battle for the presidency.

I had predicted the winning party from

the get-go based on my astrological formula,

but even I have to admit I had my

doubts. Now I am totally validated knowing

for sure that Astrology doesn't lie.

Pollsters, pundits, media propagandists

will fabricate and fudge, but the science of

Astrology is spot on.

A new season begins. December is known

for its Winter Solstice, the beginning of the

winter season when the Sun reaches 0°

Capricorn very early on the morning of the

21 st . That's the shortest day of the year with

the least amount of daylight.

Luckily, the holiday lights and decorations

will add brightness to the darkness.

This year, Hanukkah begins the same

day as Christmas – a double holiday. The

25 th is a very interesting day from an astrological

point of view because Venus, the

planet of money, love, beauty and desire

makes very favorable aspects to Jupiter,

Uranus and Saturn.

The day looks merry, jubilant, surprising

and top notch. Santa is bringing some

luxurious presents with the Venus/Jupiter

trine.

Foods also look rich and indulgent with

stately presentations. A very bountiful,

beautiful holiday it promises to be.

However, with all of this celebration and

festivity, there is one little kink: Mercury is

Retrograde! This last Mercury Rx of 2016

Cosmic Jackpot

Time to Celebrate!

falls during our holidays.

It begins on the 19 th and extends into the

New Year to January 8, 2017. Mercury Rx is

déjà vu all over again.

"Haven't I already done this?" is the

question we ask ourselves. Apparently not,

or it wouldn't resurface. Repeat...re-do…

resolve! It will happen again during the

retrograde period.

The New Moon on the 28 th at 7° Capricorn

plants the seed for the coming month

of work, responsibility and achievement.

Emotions are more serious and playfulness

comes to an abrupt halt.

As the month ends, the impending new

year nudges us to make sensible resolutions.

2017 is only a few days away and the

party is practically over.

Except, there's a last burst of energy:

Uranus, the planet of surprises, individuality,

independence and brilliance turns Direct

to forge a pathway for personal genius

and uniqueness in the coming year. There

is always a silver lining!

Happy Holidays and a Very Happy New

Year to All.

P.S. Do you remember (when I wrote the

February column) that 2016 is the Year of

the Monkey? I said, "The Monkey likes to

play tricks on us."

That certainly was the case this year. A

lot of monkey business going on. The good

news - it ends on Jan 28 th when the Year of

the Rooster takes over.

Until then, I'm ready for a long winter's

nap. Wake me when the rooster crows.

Tiffany Fairfax is a Professional Astrologer with 30 years experience. She is

certified in both Traditional and Magi Astrology. You can contact Tiffany

at: QueenOfAstrology@aol.com.

Psychic Phenomenon

Ali Guggenheim

The Fractal Phenomenon

"The Universe is built on a

plan, the profound symmetry

of which is somehow present

in the inner structure of

our intellect." Paul Valery

Fascinating, intriguing,

thought provoking, profound

and infinitely complex its discovery

is a phenomenon that

has significantly impacted our

perception on many different

levels of our existence. Yet,

brow-raising is not a response

you'll get when mentioning

the word.

That's because, most people

don't know of its existence, or,

how much of an intricate part

it plays in every realm of our

existence; geometry, art, consciousness, nature

and even the Universe itself.

When, mathematician Benoit Mandlebrot

discovered, and coined the name fractal

in 1975, the mathematical community

snubbed him. However, it didn't take them

long to figure out how wrong they were.

They found that Fractal geometry is unparalleled

at measuring and modeling the

world of natural phenomena. "It seems to be

true," said one scientist, "since nature continually

follows this form."

Simply put, fractals are a mathematic

structure generated by a geometric sequence

that is reproduced over and over again to

create intricate large, small, and eventually

even microcosmic sized replicas of the same,

infinitely. Much like the ripples from a stone

thrown into a pond, the ripples continue beyond

our perception.

Fractals confirm Einstein's theory: "If

there is one of anything, then, there are infinite

amounts of the same."

Fractal means a never ending pattern.

Since numbers are everywhere, everything

is a part of a pattern which is reflections of

reflections, wheels within wheels. Life itself is

a Fractal.

Based on this principle it makes sense, because

we can witness it in every aspect of our

reality. In nature we see fractals over and over

again, showing up in many different ways,

clouds, butterflies, snowflakes, broccoli, animal

furs' colors and markings, trees, etc.

Once we realize that everything is made

up of a series of numbers, we can recognize

how intricately fractal affects everything we

know. Therefore, it is a crucial part of our

evolution when we understand how it affects

consciousness. Otherwise, as the saying goes,

"history repeats itself."

Everything in this universe comes

equipped with its very own echo of the originating

pattern - a Unit of Consciousness.

Units of Consciousness make decisions on

behalf of the material to which they are attached.

In consciousness, we see the same patterns

repeat themselves. We all have experienced

those annoying reoccurring thoughts and

repeat the same good and not so good actions.

Each and every conscious observation is a

microcosmic butterfly effect that has macro

cosmic consequences. A fractal brain begets

a fractal consciousness begets a fractal cosmology.

Conscious observation is a water drop

interpretation of an infinite wave. Without

conscious observation, there is merely an infinite

wave function with only the potential

to be collapsed into an objective reality.

The good news is that we do have some

control. By changing our thoughts, we can

change our vibration, ourselves, and even

our world. I wish us all good thoughts for a

wonder-filled new year.

To learn more about Ali, spiritual consultations, coaching, classes, workshops, and

readings, call, give her a call: 702/373-9081.

14 www.thevegasvoice.net
---
december 16

15

Our Hometown Holidays...

Four performers from four different backgrounds,

sharing their funny stories & memories from Holidays Past...

Favorite songs from the season, as well as some new, original music!

Bruce Ewing

Joan Sobel

Rhonda Carlson

Musical Theater

Composer/Lyricist,

Musical Director,

Coach & Author

Las Vegas Performer

from "Forever Plaid"

"Phantom" and "THE

PHAT PACK"

Kevan Patriquin

Las Vegas Performer

from "EFX at MGM"

"Phantom" and "THE

PHAT PACK"

World-wide Concert

Soloist & Opera

Singer, as well as

Carlotta in Las Vegas'

"Phantom"

Friday, Dec. 16th, 2016

Doors open at 6:30pm • Show begins at 7pm

Sun City

MacDonald Ranch

For more information call:

The Vegas Voice

702/251-4441

www.thevegasvoice.net

Community Center

Tickets: $ 20 in advance

$

25 at the door
---
Charlie Christy - Executive Director

Bringing Joy

Alice Vo Edwards

Las Vegas: Home Sweet Home

Ms Senior Nevada is composed of seniors

(most were in a MSN Pageant) working

within the organization to bring joy to other

seniors. We share our message of healthy,

happy, active ageing. Our group continues to

find ways to share

our blessings.

Another Christmas

is upon us

and the fact most

of us still have a

few things not

finished from this

year should not

discourage us from going full steam ahead

for Christmas 2016.

In November we were privileged to contribute

to Life Long Dreams. It is really our

honor to participate with this wonderful

group. The annual production (see photo) is

held at Sam's Town, under the leadership of

Genevieve Dew and Danny Titus.

Their goal is to help "challenged" children

and young adults fulfill their dreams

of performing (this is its ninth year). Their

motto is: Our only "special need" is to perform.

This production is a yearlong effort

with training and practicing; they make

the props, they learn the songs and dances.

Until you've witnessed

someone

in a motorized

wheelchair, racing

across the

stage, microphone

in hand

and singing, or

their selected

"beautiful" girl (Queen) being assisted on

her royal walk, you can't imagine the joy this

brings to them, and to all of us that are fortunate

to witness it.

By the way, MSN keeps growing. Seniors

have so much to contribute. Contact us to see

how you can become involved.

This is your opportunity, there is room for

all to promote health and happiness. Happy

holidays.

I was talking to an

out-of-towner who

was just visiting for an

event and they referred

to Las Vegas as the city

of Babylon. They didn't

know it, but a gauntlet

has been thrown down

and I accepted the

challenge.

Outsiders often view

Vegas as a party town.

Those of us who live

here and have come to

think of Vegas as home see much more

than the glitz and glamour of the Strip.

Take a moment to stop and appreciate

the life we have here. We breathe clean

air, enjoy gorgeous sunsets, take jaunts

to Red Rock, Mt. Charleston or Valley of

Fire, or perhaps make a day trip of it and

head to Utah, Phoenix, or California.

We enjoy the relatively low cost of living

and more spending power due to no

state income taxes. Life can be very good

here.

Unfortunately, it is far from perfect.

We have problems with healthcare, with

safety, with lack of adequate provisions

for the overall well-being within the

community.

People are lonely, sad, depressed, anxious,

scared and commit suicide so regularly

we are the 8th highest nationwide

for suicide. There are issues that need

to be addressed to help Vegas continue

to evolve in a positive direction for the

good of her citizens.

And that is why Lift Up Vegas was born.

I started the Lift Up Vegas movement

on the premise of wanting to improve

life for Vegas residents; to explore issues

of happiness and well-being, and

provide education and actionable items

that can improve our happiness. We call

ourselves "Happiness Advocates."

I'd like to think we are not the first

happiness advocates. In fact, I might go

so far as to speculate that Thomas Jefferson

may have been our nation's first

happiness advocate.

In the Declaration of Independence,

our founding fathers emphasized the

importance of happiness when they

wrote that individuals are endowed with

these unalienable rights, "life, liberty,

and the pursuit of happiness."

There are plenty of organizations out

there fighting for your rights as they relate

to life and liberty. But if one is not

happy, where will the joy be in that life

or liberty?

In this column, my goal is to share

with you issues that affect the "pursuit

of happiness" in our community, and

action items you can take to get involved

in positive change - for yourself,

for others and for future generations of

Las Vegans.

I hope you will join me on the exciting,

every day journey of lifting up Vegas,

being the best version of yourself,

and helping Vegas be the best version of

herself, also. I dream of a day when our

out of town friends no longer view Vegas

in Babylonian terms, but can instead see

the good we are doing here and admire

us.

Action Steps:

(1) Pay it forward. Buy the unsuspecting

stranger at the drive through or restaurant

a meal anonymously.

(2) Do something nice for someone

today. You'll feel good, and so will they.

(3) Hug someone. Physical touch is

amazing in how healthy it can be when

used appropriately.

(4) Like and share Lift Up Vegas at

www.facebook.com/LiftUpVegas.

Alice Vo Edwards is the author of "My Best Friend Died" and "Put Away The Razor,"

and founder of the Lift Up Vegas project for inspiring Happiness and Wellbeing in Las

Vegas. Contact Alice at alice@liftupvegas.org

16 www.thevegasvoice.net
---
ecember 16

17

Rich Natole

Singer Rita Lim

Each month, I get the privilege of writing

about someone in our entertainment community.

A person who I think is worthy and

deserving of more attention.

My hope is to get entertainers some exposure

to help their careers. Too many talented

artists have to fight for a fair chance.

We've all seen and heard many singers in

Las Vegas. Whether it's in a small club or a

large showroom, there seems to be many of

them who call this town home.

Here's an exceptional one who's name you

should write down as a must see! Rita Lim is

an extraordinary talent. A singer with all the

star elements.

As I have written in previous articles, surviving

in this entertainment business can be

difficult, no matter how good you are. We have

to be smart in order to overcome all the obstacles.

Rita Lim seems to be doing everything right.

The key is to keep working and growing.

The experienced performer learns not to

focus on fame. Although it can certainly lead

to bigger dollars, it doesn't usually last, as careers

tend to be like roller coasters.

Fame should be looked at as the icing on

the cake. If you concentrate on working as

much as you can, it will lead to increase exposure

and open up other opportunities.

Singer and entertainer Rita Lim is working

all the time. A few months ago, I was a guest

on one of my favorite live radio shows,

The Dennis Bono Show.

Rita performs regularly on Dennis'

program. That's where I first noticed

her talent.

I also invited her to be my guest on

our TV/podcast show, "Watching The

Vegas Voice." I found her to be a very

down-to-earth and sweet person to interview.

She is a great talent who is definitely

on her way to a bright future.

Rita grew up in Los Angeles and spent

some of her youth in many Asia countries.

She also always had a natural gift

for singing.

Whether its smooth jazz or the classics,

Rita has a style all her own. Her

voice has been described as being "Rich,

Warm and Throaty."

She can sing anything - from Cole Porter

to the most contemporary standards. In my

opinion, that's what makes a great singer. You

can never be too versatile in this business.

Rita has performed at such venues as The

Italian American Club, Southpoint Hotel, Tuscany,

and the Suncoast to name just a few. Rita

has also performed and wowed the audience

at our Vegas Voice Twilight Affair hosted by my

fellow columnist (and entertainment editor)

Evan Davis.

You can catch her currently singing with

Joey Ugarte and the Jazz Vibrations. They perform

regularly at the El Cortez Hotel in the

Parlour Bar and Lounge.

Rita also works with Carolyn Freeman of

the American Jazz Initiative. She is dedicated

to keeping Jazz alive and vibrant in Las Vegas.

Look for the talented Rita Lim in a venue

near you. She is, without any doubt, a real

singer and so much more.

Rich Natole is a comic/impressionist headlining entertainer & host of The Vegas Voice

Television/Podcast Show. For more information visit: www.richnatole.com. You can

also contact Rich at: rich@richnatole.com.
---
Stu Cooper - Travel Editor

This and That to End the Year

Happy Destinations

Kathy Manney

This time of year, many accept as true,

stories of miracles. And this story advocates a

miracle.

Santa Fe, New Mexico is rich in culture and

well-kept with plenty of sky overhead. Settled

in 1610, Santa Fe is a historic town with a

bustling Spanish style plaza at the heart of its

compact walk-able downtown.

Near the plaza sits Loretto Chapel. Completed

in 1878, it had no access to the choir

loft twenty-two feet above, other than a ladder.

Churches of this time often used ladders

rather than stairs. The Loretto Sisters however,

were uneasy using a ladder due to the long

habits that they wore.

They requested carpenters to build a

staircase to the loft, but it was determined

that entry to the loft would have to be

by a ladder - as a staircase would interfere

with the chapel's small interior space.

The Sisters prayed to St. Joseph, the patron

saint of carpenters, for a staircase. On their

final day of prayer, a man appeared at the

chapel with a toolbox asking for work and offered

to build a staircase.

Locking himself in the chapel with a small

Every time I think I have heard it all in the

travel business, there seems to be something

new. Iceland was the new and upcoming destination

twenty years ago. Today, it is an accepted

and most interesting travel destination.

Same can be said for Cuba. And today, it is a

growing destination that Americans are clamoring

to visit.

So I shouldn't be surprised when a representative

from a company called Natural

Habitat Adventures stopped by our office recently

and recommended a tour called "Classic

Polar Bear Adventure." Every October and

November this company sends travelers on a

six or seven-day adventure to Churchill, Manitoba,

Canada to witness the great polar bear

migration from Canada up to the Arctic once

the pack ice forms. Who knew?

This soft adventure, "semi" luxury trip to

the far north seems to provide over 1,500 travelers

during the migration season one of the

great wild life experiences in North America.

It is a "semi" luxury trip because the best accommodations

in Churchill (a city of 900), is

a Holiday Inn.

But polar bear sightings are absolutely

guaranteed and naturalist tour guides accompany

the group for the entire trip. Groups are

limited to 16 and personal attention is paid to

every traveler.

The trip starts in Winnipeg with round

trip private charter flights to Churchill. This

is wildlife, natural habitat eco-tourism at its

absolute best.

If you are interested in a trip like this, give

us a call at 800/698-1101 and we can send

you a brochure. Like I said, when I think I

have heard it all, there is always something

new.

Loretto Chapel's Miraculous Staircase

*Publisher Dan, Rana, Sharon and I had

a great inspection cruise on the Royal Caribbean

Harmony of the Seas. The Harmony of

the Seas is now the world's largest cruise ship

and seems to have every conceivable bell and

whistle a ship can have.

Water slides, zip lines, an ice skating rink

and a seven story sliding pond highlight the

features on the ship. If big and WOW is what

you want, then the Royal Caribbean Harmony

of the Seas is the ship for you.

*Our next meeting(s) for the Vegas Voyagers

is tentatively scheduled for the weekend of

January 28 - 29. We hope to have two meetings;

one at Buckman's at the Revere Golf Course at

Anthem in Henderson and the other one at the

Sun Coast Hotel and Casino in Summerlin.

Hold the date and be sure to look in the

January edition of The Vegas Voice for the exact

times.

** From the Vegas Voyager family, we want

to wish all of you a Happy Hanukah, Merry

Christmas and a Happy and Healthy New Year.

Around Our World

number of primitive tools, the stranger requested

absolute privacy. What he created is

a stunningly elegant circular staircase standing

20 feet tall with no center support.

The staircase rests uniquely on its base

against the choir loft. The risers of the 33

steps are perfect and are from an extinct wood

species.

It is a staircase built without nails, only

wooden pegs. The structure has two 360 degree

turns and no visible

means of support.

Its construction continues

to mystify architects,

engineers and

master craftsmen. They

marvel at the number of

stair risers relative to the

height of the choir loft,

the types of wood and

other materials used in

the staircase.

The itinerant carpenter

disappeared without

payment or thanks. The

sisters searched for him.

They even ran an ad in

the local newspaper. Still, there was no trace

of the man.

Believers claim that he was St. Joseph who

came in answer to the sisters' prayers.

Built on a much smaller scale, the Gothic

Revival style Loretto Chapel was patterned after

King Louis IX's Sainte-Chapelle in Paris.

The convent chapel, complete with spires

and buttresses, was to be named "Our Lady

of Light Chapel" and be under the care of the

Sisters of Loretto.

To build the beautiful Gothic chapel, it is

said that the sisters pooled their own inheritance

money to raise the $30,000 needed. The

ornate stained glass windows were purchased

in 1876 from the DuBois Studio in Paris.

The helix-shaped spiral staircase was built

sometime between 1877 and 1881. Today the

Loretto Chapel is a private museum operated

and maintained, in part, for the preservation

of the Miraculous Staircase. Weddings

may be arranged in the chapel that include a

highlight of the wedding couple being photographed

on the staircase

During our visit, sunlight streamed

through the stained glass windows, casting

reflections of color on the hard wooden pews,

but it was the beautiful staircase that we came

to see and held our attention and marvel.

Kathy Manney enjoys visiting interesting places and being an Adventure Diva. Her

"Must See" travel journeys continue - always with enthusiasm.

18 www.thevegasvoice.net
---
december 16

19
---
Crystal

Merryman-Sarbacker

The Travel Company

Vegas Vacationers present

Celebrate the Reason for the Season!

Journeys That Inspire

from Collette Vacations

Now come together with other like-minded travelers and

walk in the footsteps of the forefathers of your faith.

Each tour is very inclusive and offers amazing value while

also focusing on service and quality, including:

• A professionally planned itinerary with the services

of a professional Tour Manager throughout

• Expert local guides with religious knowledge

• Mass offerred daily on most pilgrimage tours

• Breakfast daily & many dinners

• Sightseeing & admission fees

• Much, much more!

*All prices subject to change.and are based on per person, double occupancy. Single room

upgrades available at extra cost. MasterCard, VISA, Amex accepted or private checks.

20 www.thevegasvoice.net
---
december 16

21

Designed Especially for Active Seniors!

Vatican

Faith City

Introducing 8 Extraordinary New Itineraries*:

Greece: In the Footsteps of Paul the Apostle -

Follow one of the world's most epic journeys

11 days from $2209 per person, dbl. occ. Departures start March 8, 2017

Includes 3 night cruise to Greek Islands and Turkey w/ Mykonos, Santorini, Crete, &

Ephesus, a UNESCO World Heritage site, where Paul the Apostle spent three years

during his ministry. You'll even visit the House of Mary where she is said to have

spent her last days. Extraordinary!

Israel: A Journey of Faith -

Embark on an inclusive faith-based journey into the past

9 days from $1999 per person, dbl. occ. Departures start January 11, 2017

Israel: Pilgrimage to the Holy Land -

Seek spiritual renewal on this epic journey

9 days from $2099 per person, dbl. occ. Departures start February 8, 2017

On the Trail of Martin Luther -

Journey through Germany into the history of the Reformation

11 days from $2049 per person, dbl. occ. Departures start March 15, 2017

Pilgrimage to Fatima & Lourdes with Barcelona -

at Spain and Portugal's most revered sites

10 days from $1649 per person, dbl. occ. Departures start March 12, 2017

Be in Fatima on 100th anniversary, May 13, 2017, of Mary's appearance to

the three shepherd children. Limited avail. from $2249 per person, dbl. occ.

Pilgrimage to Poland -

featuring the inspiring and poignant sites of Poland & Pope St. John Paul II

9 days from $1399 per person, dbl. occ. Departures start February 6, 2017

St. Patrick's Ireland -

See the Emerald Isle through the eyes of its patron saint

10 days from $1849 per person, dbl. occ. Departures start March 19, 2017

Shrines of Italy -

Find inspiration in the heart of the Roman Catholic world

11 days from $1999 per person, dbl. occ. Departures start January 24, 2017

Special Attention to Groups!

* Itineraries may vary depending on departure dates, special events, etc. and will be confirmed at

time of reservation.

Airfare is available at some great rates but is not

included in rates shown

Collette's latest booklet on these faith based tours will be mailed

mid December. Call Crystal now to reserve your copy at

702 419-0550
---
22 www.thevegasvoice.net

The Low Tech Solution to the High Tech TV Problem

TVSoundScoopZ, aka SoundScoopZ,

have been nicknamed "The Low Tech solution

to the High Tech problem, created

by the TV manufacturers."

They are The Sound Bar Alternative

created by Winner Technologies, Inc.

of Las Vegas, Nevada. With a customer

satisfaction rating of 99.99%, they help

solve the problem of muffled voices and

difficult to understand conversations

while watching TV.

An independent Speech Transmission

Index test (STI) was conducted by Freytag

& Associates, an industry expert in

Acoustical and Noise analysis. The STI

test showed that TVSoundScoopZ scored

an A+ (Excellent) with the TV's factory

speakers. The same TVs, without TV-

SoundScoopZ, only scored a B (average).

This standard audio industry test determines

the clarity and quality of voices

coming out of speakers.

Rick Broida of CNET, The Cheapskate,

said, "It's ingenious...It works. It has

the potential to become a zillion-dollar

product. My only complaint is I didn't

think of it first."

Pulkit Chandna, Freelance contributor

to TechHive and featured in PCWorld,

states, "Sound, it seems, has literally taken

a back seat as most current TVs have

down- or even rear-facing speakers. In

many cases, this can lead to muddled audio

and an overall underwhelming viewing

experience. TVSoundScoopZ aims to

change this sorry state of affairs..."

Before Winner Technologies, Inc. created

TVSoundScoopZ the consumer's

only choice was to crank up the volume

of the TV or purchase an expensive

($150-$400) sound bar. Unfortunately,

sound bars don't solve the problem of

muffled voices because they re-direct the

Bass and Treble frequencies. TVSound-

ScoopZ only re-direct the upper frequencies,

Treble, where our normal conversations

take place and not the Bass.

Since the successful Kickstarter campaign

TVScoundScoopZ have been available

on corporate and reseller websites,

Amazon, Groupon, catalogs and As-

Seen-on-TV programs. Efforts are currently

underway to make them available

at many retailers in various trade

categories. They have been the focus of

several articles on CNET, PC World, several

catalogs and a host of bloggers and

journalist.

In addition to a product that works as

advertised, assembly and fulfillment is

performed by Opportunity Village (OV).

OV is the largest provider of jobs for

people with handicaps in Nevada. Working

with OV allows the company to help

provide jobs and participate in providing

meaningful lives.

There are 300 million Flat Panel TV

that have been sold in the US since 2008.

That number is projected to increase by

35 million TVs every year.

TVSoundScoopZ are now available

for under $20 (see ad below). This price

includes FREE shipping anywhere in the

United States. They are ready to install

in just minutes and come with a 100%

satisfaction guarantee.

For more information, contact Steve

Boden, President. He can be reached

by telephone 949/533-5125. His email

address is: stevelboden@gmail.com.
---
december 16

23
---
24 www.thevegasvoice.net

Chuck Dean

Holidays & Military Moments

Vet 2 Vet

The house was decorated pretty much like

it had been when I was a kid and the smell of

holiday food cooking filled the air. For some

reason it all made me edgy though, and I remember

sneaking out the back door to get in

my car to drive away.

It was my first holiday season at home after

a year in Vietnam. I couldn't understand why

I was so out-of-sorts.

My stress level was rising by the minute and

I felt guilty for wanting to be alone at a time

that had always been full of loving closeness.

I was experiencing the effects of my military

moments as they collided with the normalcy

of life without the interruption of a war.

I didn't understand what was going on, and

those around me knew even less. In spite of

it all, we made it through and I'm glad that

I can now look back and sort of put two and

two together.

Returning home after serving in a war zone

has always been tough - both for veterans and

family members. But holiday seasonal stress

has its own complications when you combine

it with past military moments.

Just the loneliness of being away from home

during the holidays is bad enough, but when

a friend dies from a grenade/IED explosion or

the enemy mounts horrendous offensives at

the same time the rest of the world is rejoicing

in "peace on earth, goodwill to men", our life

views get a little cockeyed.

It can become so confusing that it's easy to

want to crawl in a hole until it all blows over.

I've been there; believe me, it's a stressful time.

So, what can we do? I found that by getting

a better understanding

of what

was ailing me

was at least half

the battle won.

When I connected

the dots

- wartime service

on holidays

to present time

holidays, things

began to line

up. It was easier

then to recognize

and admit

that I was being stressed because of what I had

gone through; at which time I could then decide

what I was going to do with it.

(A little stress is good for you, by the way. It

keeps you on your toes, but how bad is high

level stress? A recent study found that high levels

of stress could raise the risk of heart disease

as much as a five-cigarette-a-day habit, not to

mention a 50-point jump in bad cholesterol.

Who needs it?)

Remember that life is what you end up with

when everything else is done. A huge part of

enjoying that life is to wind down on holidays

and relax with those who mean so much to

you...those for whom you were willing to be in

harm's way to protect.

Try this for a new year's mantra: Take command!

You either have life, or life has you.

Nice to have an option.

Chuck Dean served as an Army paratrooper in Vietnam and through that experience

was led to address the many transitional issues veterans struggle with. In 2008 he was

the recipient of the prestigious Hirsch Foundation Leadership Award for his writing and

work in support of veterans and their families. He is the author of several important

books for veterans. All can be found on Amazon at: http://www.amazon.com/author/

chuckdeanbooks

In Our Backyard

Debbie Landry

What's In Our Backyard?

What's in our backyard? What isn't in the

backyards of Vegas Valley residents? There's

plenty to see and do in our Silver State, but

what about our bordering states - Utah,

California and beautiful

Arizona?

This column will

take a look at the great

places to see, and

things to do for the

50+ crowd surrounding

our Southern Nevada

backyard.

First stop, Newport

Beach. I happened

to visit this quaint beach city in Southern

California last month.

What a great time of year for a visit!

The beach sand is still warm to the toes,

the water looks and sounds inviting - but

no doubt too cold for an afternoon swim,

though I was tempted.

There's just something about the salt

water, the salty air, the smell – it brings me

home with wonderful memories of Nags

Head, North Carolina and the Atlantic

Ocean. What memories!

Ok, back to Newport Beach. What's happening?

The annual

Christmas Boat Parade

is turning 108 years

young this holiday season!

The parade will be

held December 14-18

in the Newport Bay

harbor. Winding some

14 miles around the

harbor affording viewers,

homes, restaurants, yacht clubs and

the public an incredible sight of lights and

boats that have delighted millions of people

for over a century.

Any place on the shore is FREE to

view. Visit www.visitnewportbeach.

com/christmas-boat-parade for more

information!

Safe Travels until next time!
---
december 16

25

Kyo Mitchell

Why Do I Still Feel Unwell?

Many individuals have

felt unwell or experienced

symptoms that told them

that something was wrong

in their body. After seeing

a medical professional,

they may be told that the

lab tests show nothing

wrong.

The symptoms or feeling

of being unwell however,

may persist. For

individuals who have experienced

this, it can be

a very frustrating matter.

Not only is your quality of

life declining, but no one

seems to have an explanation as to "why."

The human body is extraordinarily complicated.

You can study it for a lifetime and

still only scratch its surface in terms of understanding

how the body works.

To be good in medicine, you can never stop

studying and learning. However, sometimes

the paradigms we learn and use to medically

treat people are incomplete. This is why many

chronic medical problems persist.

The current medical paradigm is based

on cell theory, originally put forth by Dr. Rudolph

Virchow who is considered the father of

pathology. Cell theory states that diseases are

due to something that disrupts the normal

functioning of your cells.

If your cells are healthy, you are healthy

and feel good. If your cells begin to malfunction,

you will feel unwell and will eventually

develop a disease.

Following this logic, most western lab tests

measure what is happening in your cells. If

the lab tests are within normal parameters,

you are considered healthy. If the lab tests fall

outside the normal parameters, then your

cells are seen as malfunctioning and you

have a disease.

While cell theory is correct, it is not complete.

Sometimes it is not what is happening

inside of your cells, but what is happening

outside of them that determines your health

or even your ability to recover from a chronic

disease.

Think of your cells like yourself. They need

A Healthier You

nourishment to survive. They produce wastes.

They need medicine occasionally to get well

and toxic substances can harm them.

Any nourishment or medicine reaching

the cells must come to them by means of

the blood vessels. The wastes and any toxic

substances in their environment must be removed

by means of the lymphatic vessels or

veins.

However, the cells are not directly connected

to either the blood vessels or the lymphatics.

There is a space between these structures

known as the extracellular space.

The extracellular space has a very complex

structure providing specific pathways from

the blood vessels to the cell and from the cell

to the lymphatic vessels.

If the structure of the extracellular space

is damaged, clogged up or disrupted in some

other manner, nourishment and medicine

have a much more difficult time reaching the

cell, and it is more difficult to remove wastes

and toxins from around the cell. The cells

malfunction, nor because of what is happening

inside of them but rather what is happening

around them.

Conventional medicine, despite its

strengths, rarely addresses problems in the

extracellular space. This is more effectively

addressed by traditional forms of medicine

such as acupuncture, herbal medicine or homeopathy.

If conventional medicine has not

helped resolve your problem, this may be the

reason why.

No Gift More Compassionate

The Holidays are supposed to be a time

of joy, but for those facing a terminal

illness, and their family members, this

time of year can be especially challenging.

Feelings of impending loss, nostalgia

for times past and a struggle to

manage pain and symptoms can be even

harder to face when paired with the demands

of the holiday season and social

and family responsibilities that often

can't be ignored.

How Can Hospice Care Help?

The choice to pursue hospice treatment

can be an emotional one. It's important

to remember that hospice is not

about death, but rather about the quality

of life as it nears its end – for the patient

and their family, friends and caregivers.

Hospice care is designed to comfort

patients and family members when patients

have reached a point when curative

treatment stops, and acceptance of

living each remaining day fully begins.

Hospice's mission is to meet the physical,

emotional and

spiritual needs

o f

people

who

have lifelimiting

illness.

The goal

is to relieve

pain and

prevent suffering, while assisting in the

completion of end-of-life tasks that are

important to your loved one - including

putting affairs in order and providing

support to loved ones after the patient

has passed away. This support can come

as even more of a relief during the busy

and stressful holiday season.

Don't be afraid to ask for hospice help.

It can be the greatest gift you give your

loved one, yourself and other family

members this holiday season.

Dr. Kyo Mitchell served as faculty at Bastyr University in Seattle and Wongu

University in Las Vegas for over a decade. Dr. Mitchell practices in Summerlin and

can be reached at 702-481-6216 or rkyomitchell@gmail.com.
---
James J. White, D.D.S

Using Oral Hygiene Devices

It may come as a shock to some, but the

biggest cause of tooth loss in adults has

nothing to do with decay. While cavities will

always play a role, the biggest offender is

periodontal disease.

Periodontal disease is a gum infection

that eats away the tissue and bone that hold

the teeth in place. It begins as gingivitis,

and as it progresses into full-blown periodontitis,

pockets will form around each

tooth, providing bacteria with secluded hiding

places and dragging your pearly whites

into a self-perpetuating cycle of doom.

The good news is that it doesn't have to

be that way. Here are things you can do to

prevent periodontal disease.

1. Use a hard-working toothbrush. Although

any brush is better than none, don't

overlook the benefits of an electric model.

Studies show that those who brush with

them show lower levels of plaque and fewer

examples of gum disease.

2. Floss. Even the most efficient toothbrush

can have trouble reaching the narrow

spaces between the teeth. It's the best

means yet of doing away with bacteriarich

plaque that loves to build up in those

narrow spaces. Although dental plaque is

bound to promote gum disease and cavities,

it has a few more tricks up its sleeve.

Left to grow unchecked, it can cause bad

breath, instigate heart disease, contribute

to diabetes and even increase your body

mass. Just a few minutes a day with dental

floss can save you from all that.

3. Flush that plaque away. Rinsing

your mouth with water may wash away

plaque that's already dissolved, but it

won't do a thing to improve the health of

your gums. That's where the oral irrigator

can make a difference.

Alternatively known as a dental water

jet, it hits the area around your teeth

pressure at a vigorous 1,200 pulses

each minute to remove 99% of stubborn

plaque.

4. Lose the fear of fluoride. The regular

use of fluoride mouthwash and toothpaste

can reward you with a 40% reduction

in dental cavities. Communities that

have added it to their water supply have

seen a lower rate of cavities compared to

areas that lacked this protection.

5. Consider the use of a night guard. You

may have the habit of grinding your teeth

either during the day or as you sleep. The

friction that this practice generates can do

irreparable harm to the teeth. A custom

night guard will provide a soft cushion to

prevent tooth destruction.

6. Always carry interdental stimulators.

When you're grabbing food on the go, it's

hard to treat your teeth with the after-meal

care they deserve.

Interdental stimulators can help. Most

can be had in plastic or wood, and when

used between the teeth after eating, they

gently remove food particles and plaque

from obscure hiding places with no additional

fuss. These devices take up little

room in your pocket or purse, and your

gums will thank you for using them.

7. Don't forget regular professional

cleanings. When it comes to the health of

your teeth and gums, no over-the-counter

device can come close to providing the

cleaning you'll get while relaxing in your

dentist's chair.

Don't let bacteria wreak havoc with your

teeth and gums. It's your mouth. Isn't it

worth a little preventative care?

DENTAL BENEFIT MEMBERSHIP PROGRAM

FOR SENIORS WITHOUT DENTAL INSURANCE

This program is offered at the office of:

James J. White, DDS

1140 N.Town Center Dr., #170

Las Vegas, NV 89144

Annual fee: $280.00

Includes: • 2 routine cleanings

• 2 periodic examinations (including

periodontal & oral cancer exam)

• 1 set of diagnostic x-rays

• 1 consultation

• 5% discount on ALL restorative services

• 5% discount on automatic annual renewal

If you are one of over 100 million Americans

without dental insurance, call now:

702/ 562-8833

www.jameswhitedds.com

26 www.thevegasvoice.net
---
december 16

27

Linda Bateman-Gomez

Brows

Timeless Beauty

Brows are one of those personal features

that you probably either love or hate. Some

are blessed with amazing ones and others are

destined to a lifetime of pencils and shadows.

I can remember in high school feeling like

all I could see when I looked in the mirror was

my eyebrows. They were the commanding feature

on my face and I didn't have a clue what

to do with them.

Luckily, thanks to Brooke Shields and her

famous brows, having them thick and ungroomed

seemed to be somewhat acceptable

in the 70s. Similar to lashes, the many looks

and trends that follow brows are very specific

to each decade.

In the forties, very thin brow lines penciled

on were the look of the time - one which became

popular again in the 90s too. As they say,

things always circle back!

Fast forward 25 years and brows have resurfaced

as a major focus of the face and grooming

is all the rage! There are special brushes,

primers, shadows, and scissors. You can wax,

tweeze, shave or dye them!

There are salons that do nothing but brows.

There are celebrity eyebrow artists and thousands

of videos and photos of all the brows.

The current trend is thick, but well-groomed

and colored in. The shaping is very important

and there are numerous tools and even stencils

to help you get the perfect brow shape.

Our brows, with age and having suffering

through decades of varying trends, do thin.

So aside from just brow pencils, there are also

shadows that you can brush on.

My company carries a felt tip

marker to color random gray

eyebrows like this. When the gray

gets too heavy to color with a felt

tip, you can have them professionally

dyed.

Do not attempt to do them

at home, this is one area where

going to a professional pays off.

Aside from the dangers of getting

chemical in your eyes, you

can also come out looking like

Groucho Marx and you are stuck

with them for weeks!

Some quick tips: If you try a

professional brow groomer, take

a picture with you just like you would for a

hairstyle you might like to try.

For at home: (1) Try brushing them straight

up and trim any that are extremely long or

uneven with the rest.

(2) If you have curly brows or ones that tend

to stray, try a wax primer to help keep them in

place.

(3) Take an eyebrow brush and a matching

color (try one shade darker than your brows)

and start at the area nearest your nose. Brush

up to fill and follow to the end.

(4) Take the brush and smooth the top over

so as to not have them straight up.

(5) If you see any gray hairs, take a marker

and color them in.

(6) Try a brow setting gel if you tend to have

brows with a mind of their own. It works similar

to the way hairspray does!

And there you go - your eyes are framed and

your brows are on fleek!!

Linda Bateman-Gomez has an international beauty company based in Las

Vegas that specializes in cosmetics and other beauty products. She would love to

hear from you with questions, ideas or tips you'd like to share! Contact Linda at

TimelessBeauty2020@gmail.com or through her website www.fullips.com.
---
Mary Richard

The Goodies Are Coming, The Goodies Are Coming!

Health Fitness

The holidays are quickly upon us. How

did that happen? All that hard work of losing

weight, toning up during the year may go

"bust" in just a few weeks if we are not careful!

It took me several weeks to lose the 10

pounds that suddenly "appeared" after the

holidays last year! Where the heck did they

come from, I asked?

But I vow NOT to deprive myself of the wonderful

goodies that will be enriching my life

over the next few weeks. I'm often asked how

do I keep my energy up and WHERE do I get

my energy?

I've been like this my whole life – full of energy,

life to the fullest! My mother used to tell

me that I just never stayed put! (One reason

that she put me into dance school at such an

early age was to help use up that bottled-up

energy!)

If I have a really full day ahead of me, I try

to have a 3 egg omelet with lots of veggies, a

little cottage cheese and some fruit for breakfast.

I eat a light lunch and light dinner.

With my part-time job, two volunteering

jobs, plus teaching my six Zumba classes per

week, there are times that I cannot have a full

dinner, so I make my lunch the larger meal

of the day.

I'm constantly searching the web for lower

caloric recipes for desserts. Believe me, I am a

true chocoholic! GIVE ME CHOCOLATE!

But that can surely add up calories! So, I

try to have a little dessert whenever the time

comes for me to indulge!

Parties are abundant during the next few

weeks. Temptation is there – for sure! I try to

take one (or two) pieces of the temptation and

then walk away! How many times have you

been hounding around the goodies and end

up eating more than you originally intended?

Also, I've mentioned in previous columns,

that I will munch on something at home

before going out to a home party. A little bit

of veggies helps to fill the tummy, so I'm not

tempted to gobble up everything in sight when

I get to the party. Also drinking lots of water

tends to fill me up.

There are so many ways to help keep off

those sneaky pounds that creep up before you

know it. And I try to walk more during the

holidays. When parking my car for all my

jobs, I try to park a little further and allow

more walking time.

Let's try to burn off some calories and still

enjoy the holidays to the fullest!

Positive attitude and good health

to all!

Mary Richard was crowned Ms. Senior Nevada 2006, was first runner-up for Ms.

Senior America 2006 and is a life-time dancer. She is one of the original columnists

for The Vegas Voice. She is now an aerobics instructor throughout Las Vegas/

Henderson. Mary can be reached at mary-vegasvoice@cox.net.

28 www.thevegasvoice.net
---
december 16

29

50% OFF DINING

THURSDAYS IN DECEMBER

SWIPE AT KIOSK FOR VOUCHER.

Silver Members Earn 50 Points to Participate in Offer.

Must print coupon at the Redemption Kiosk and present to your server or cashier. Maximum value of $100 off.

Cannot be combined with other offers or promotions. Not valid at Wuhu Noodle, Twin Creeks, Starbucks or Johnny Rockets. Not valid for take-out

orders. Gratuity not included. Must be 21 years of age or older. Management reserves all rights. See Silverton Rewards Club for complete details.

I-15 & BLUE DIAMOND RD. • 702.263.7777 • SILVERTONCASINO.COM
---
Jan Fair

A No-Brainer Minute

Jarring Brain-Healthy Gifts to Give for the HoliDAZE

THE VEGAS VOICE

SERVICE DIRECTORY

AIR CONDITIONING / HEATING

Chazell A/C & Heating/702-647-3355

Servicing the valley since 1992. www.chazellac.com.

LIC#0053650.

GARAGE DOORS

All Access Garage Door Co / 702-882-1320

Honest pricing. No gimmicks. Broken springs replaced.

Full service on doors and motors. $15 off for readers of

the Vegas Voice. LIC#0066752A.

HOME SERVICES

Aztek Services / (702) 260-6955

Residential repairs, installation and maintenance.

Henderson Area ONLY. Call Lou.

HOME STAGING & REDESIGN SERVICE

Impressionable Spaces / (725) 200-3081

Sell your home quickly and for top dollar. Call Judy Grove.

Medicare Plans

Rae Rocco / (702) 897-9929

Independent Agent, No charge for consultations

PEST CONTROL

Sun Country Pest Services / (702) 263-7346

Licensed, insured.

PET AND HOME SITTERS

Toni's Pet and Home Sitters / (702) 499-8606

Care for all needs, loving and dependable. VET recommended

for 14 yrs. Henderson and surrounding areas

PLUMBING

Sanderson Plumbing / (702) 610-7236

Very dependable. Lic. #78397.

A great (and affordable) way to build your business!

To place your business listing, contact Advertising Sales

702/592-4818

REAL ESTATE

Francine Fields / (702) 375-2276

Senior Real Estate Specialist Windermere Prestige Properties

30 www.thevegasvoice.net
---
december 16

31