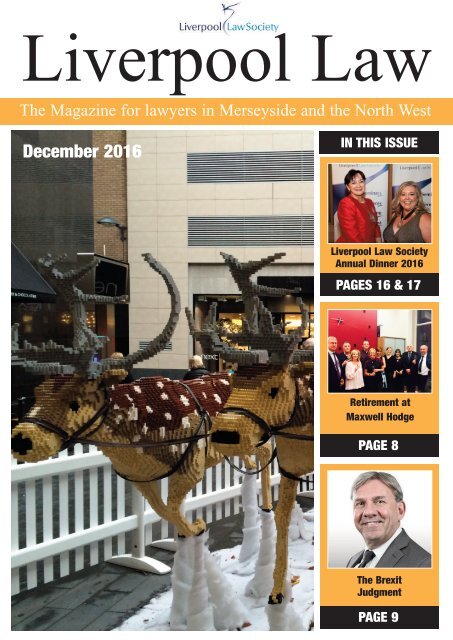 Create successful ePaper yourself
Turn your PDF publications into a flip-book with our unique Google optimized e-Paper software.
Liverpool Law

The Magazine for lawyers in Merseyside and the North West

December 2016

IN THIS ISSUE

Liverpool Law Society

Annual Dinner 2016

PAGES 16 & 17

Retirement at

Maxwell Hodge

PAGE 8

The Brexit

Judgment

PAGE 9
---
Win 2 weeks in

Australia

Conveyancing is more enjoyable with InfoTrack

WIN a 2 week trip to Australia for two

InfoTrack's platform uses enjoyable technology to challenge and evolve the conveyancing process.

Now, you could be enjoying 2 weeks in Australia for simply doing your job. For every SDLT, AP1

or eCOS performed using the platform, you'll automatically be entered into our prize draw.

The more you use the platform, the more chance you have of winning.

SDLT

AP1

eCOS

For more information or to sign up today, just visit:

www.infotrack.co.uk/takemetoaustralia or call 0207 922 5777
---
Welcome

From the Editor

3

Welcome to the December edition of Liverpool Law.

e

This edition marks the end of T my third year as editor of the magazine. 1 I have had such fun over the

year in the monthly meetings of the editorial committee at the Liverpool Law Society offices. We

spend a lunchtime a month reviewing the previous month's edition and the content of the next month's

edition and try very hard to think of new ideas to try and interest and entertain you.

This month is such a good month because This we edition have marks just enjoyed the end the Annual of my Dinner third year at the as Adelphi editor and of

we I have are able had to such include fun the over wonderful the year photographs in the monthly that Ray meetings took on our of behalf. the editorial We've also committee been sent at

some great photos from MJLD We taken spend at their a lunchtime Shiverpool a event. month It reviewing would be fabulous the previous if any member month's

firms could ease our "what do we include next" concerns by sending in photos from Christmas parties.

If you have never submitted anything to Liverpool Law before (or even if you have) it is a great way to

send in your contribution and we promise any sent in (that will not get us into trouble!) will be printed

in our January edition.

h u u p d

I also want the to say wonderful thank you photographs everybody who that has Ray taken took the on time our and behalf. the trouble We've to submit also been an article sent

for publication to us this year as well as all the people who take the time and trouble to go out and meet

people for interviews or who write up events for us. Without

It would

all this support

be fabulous

we would

if any

not have

member

a

magazine to publish.

SYLVIA SHEPHERD

EDITOR

Editor@liverpoollawsociety.org.uk

That just leaves me to wish a very Happy Christmas and New Year to all our members.

Sylvia Shepherd

Editor

editor@liverpoollawsociety.org.uk

t l t e d

Without all this support we would not have

azine to publish.

K

Liverpool Law

Needs YOU!

Liverpool Law Society

Magazine is produced by and

for Liverpool Law Society

Members. This is our

opportunity to share our

news, events and

celebrations with our friends

in the legal community.

All members' contributions to

Liverpool Law are warmly

welcomed. Please send your

article (and photo captions

where possible) or request

for further information, or

assistance to the editor at

editor@liverpoollawsociety.org.uk

Photographs should be

provided in the highest

resolution possible to ensure

a good reproduction.

The views and opinions

expressed in Liverpool Law

are those of the individual

contributed and not those of

the Liverpool Law Society.

Published by Baskerville

Publications Limited

25 Southworth Way

Thornton

Thornton-Cleveleys

Lancashire FY5 2WW

Tel: 01253 829431

Email:

j.baskerville@jbaskerville.co.uk

Photographs for

Liverpool Law

If any member has photographs

of Merseyside or surrounding

areas and would like them to be

featured on future front covers

of Liverpool Law, please email

editor@liverpoollawsociety.org.uk.

This month's photograph

features the reindeer at

Liverpool One by Peter Holland

Follow us on Twitter

@LpoolLawSociety

Like us on Facebook

www.facebook.com/

LiverpoolLawSociety

Diary Dates

Thu 26th Jan 2017 6pm onwards

New Qualifieds and Merseyside JLD and LLS Meet &

Greet Event

Fri 17th February 2017

Legal Awards nomination deadline

Tues 28th February 2017

Pathways to the Legal Profession

Thu 30 March 2017

Merseyside JLD and LLS Quiz night

Deadlines 2017

14TH DEC FOR JAN

16TH JAN FOR FEB

13TH FEB FOR MARCH

20TH MARCH FOR APRIL

13TH APRIL FOR MAY

15TH MAY FOR JUNE

19TH JUNE FOR JULY

17TH JULY FOR AUG

14TH AUG FOR SEP

1 1

Editorial Committee

Dates 2016 & 2017

05/12/2016 AT 13:00

03/01/2017 AT 13:00

06/02/2017 AT 13:00

06/03/2017 AT 13:00

03/04/2017 AT 13:00

02/05/2017 AT 13:00

05/06/2017 AT 13:00

03/07/2017 AT 13:00

07/08/2017 AT 13:00

04/09/2017 AT 13:00

02/10/2017 AT 13:00
---
y

responding to many consultations, year. We also have so many great

and the representative side of the General Committee members and

role does seem to grow year on we don't shout enough about the

year. I have also spent a

hard work they put in, chairing

considerable amount of time committee meetings, arranging

engaging with other professional speakers, contributing to the

organisations, and making links training programme and

with the wider business

responding to consultations,

community and local government, amongst many other things. A

as well as continuing the great special mention must go to our

work done by my predecessor, editor, Sylvia, who has done such

Emlyn, in strengthening our links a good job making Liverpool Law

with the MJLD, Universities, and the exceptional publication it has

!

ALISON LOBB

other educational bodies, all of become. They are all very

which I hope can be continued. dedicated people who are PRESIDENT

enthused by their roles and put in

This is my chance to thank those a lot of their own time so that all

who have supported me through of us may benefit. A very well

an incredibly busy year. The done and thank you to you all. you ! during the year.

Society wouldn't be here without

our fantastic staff. Sarah, Liz,

Of course without the backing of

Ann, Kimberley and Jo do an

my partners and colleagues at

amazing job to run the business,

Morecrofts I wouldn't have been

deliver massive amounts of

able to ! fulfil ! the ! role at all, ! ! and ! I! ! ! ! !

training – far more than any other

am very grateful to them for

Local Law Society - organise

allowing me to take it on, and

numerous brilliant events and

supporting me throughout the

provide all the services to our

year.

!!

members which they need and Of course I am also very

expect from us.

appreciative of all of you!

Without our members there

I want to thank the Officers who wouldn't be a society, and there

have formed "my" team. John, certainly wouldn't be a President. around"!

Nina, Julie, Philip and of course, Thank ! you ! for making ! ! it a ! year ! to ! Alison ! Lobb !!

Emlyn, have given me so much remember, for welcoming me, President

support, encouragement and helping me, joining in and

supporting our activities and

Sponsored

4 From the President

President's Mentions

And so here we are at my last

President's column. By the time

you read this I will only have a

matter of days left before I hand

over the jewel on 13th

December, so this is the time for

me to look back on a wonderful

year.

Firstly, and fresh in my mind – a

huge thank you to you all who

came to the Annual Dinner – I

hope you had as good an evening

as I did! Yet again the staff at the

Society organised an evening

which ran brilliantly from start to

finish and they need to be

congratulated for that. Of course

many thanks to Kingsley for

sponsoring the event – and for

leading the way on the dance

floor.

When I was preparing speeches

for the dinner and for the AGM

and looked back over everything

that had taken place during the

year, I have to say I was quite

amazed at how much I had

managed to pack in. I have been

fortunate to enjoy the hospitality

of our colleagues in London, the

Joint V and beyond, and enjoyed

some memorable social occasions,

but, of course, it's not about just

that. This year we have had a lot

of dialogue with Chancery Lane

and the SRA and been involved in

CHARITY SPOTLIGHT

assistance, without which I

wouldn't have got through the

Crisis Skylight Merseyside

Operating across Liverpool, St. Helens, Wirral and Sefton,

Crisis offers an outreach to the homeless and vulnerably housed

in the North West. With the festive period looming, the work

done by Crisis staff and volunteers is never more important.

Offering a wide range of services, Crisis seeks to provide assistance

in a number of ways. From finding training courses, volunteer work

and work placements; to help with CV preparation, interview

technique and job hunting; vocational training for everything from

plumbing and tiling, to cooking, health and safety, and teaching

English as a foreign language. In doing so, Crisis inspires the

necessary skills and confidence in its 500 clients through 75 weekly

classes.

A myriad of factors have ensured that issues relating to

homelessness have continued to rise over the past five years. A

reduction in social-sector housing and not least the issues arising

from government policies such as the 'Bedroom Tax' and Universal

Credit has meant that organisations such as Crisis are all the more

necessary. Those using services therefore are not only those

sleeping 'rough', but are accessed by families and young people

alike, often subject to repossession or eviction. In 2015/16, 57,750

households were accepted as homeless, with a further total of

275,000 households approaching their local authority in the last

year alone for homelessness assistance.

Despite growing demand for services, the organisation continues to

positively affect the lives of clients in the Merseyside area. Dan,

age 20 said, "Crisis has helped me to come out of my shell and

making art has been a big part of that. It's been a real outlet." Using

( ( ( ( (

(

( ( ( ( ( (

( ( ( ( ( ( ( (

( ( ( ( ( ( (

((B87F(7F4(D4=78>4(3458
---
Society News

5

Symposium on the proposed Hillsborough Law

Date: Wednesday 15 February 2017

The Hillsborough Disaster was a tragedy. The behaviour of public

institutions in its aftermath was a disgrace. Institutions whose

failings led to the disaster sought to distort the truth and mislead

the public, reckless as to the devastating effect of their actions on

the families of those who died in the disaster.

At the recent Hillsborough Inquests, it became clear that over the last 27

years not enough has changed. Both South Yorkshire Police (SYP) and

the Yorkshire Ambulance Service (YAS) ignored their previous

apologies and sought to deflect blame onto others. We saw first-hand

the further distress that this caused our clients, who had taken the

apologies as a sign that SYP and YAS were finally ready to act with

transparency and in the public interest rather than in the interests of

institutional defensiveness.

Our clients, who have fought tirelessly against this culture of

institutional defensiveness in their battle for justice, are adamant that

other people should not be put through the same pain that they have

been through. This is how the idea for the Public Authorities

Accountability Bill ('the Hillsborough Law') came about. It is clear to

our clients that the current legal framework regarding institutional

transparency is not fit for purpose. In drafting the Hillsborough Law, we

sought to plug this gap.

The drafting process was led by Pete Weatherby QC, our lead counsel in

the Inquests, and we were fortunate to receive crucial feedback and

agreement from the other legal teams who represented bereaved

families recent Inquests.

In developing the draft, we were keen to ensure that the Hillsborough

Law is as clear and straightforward as possible, both in terms of the

language used and its implementability. Another key concern for us was

ensuring that the law was robust enough to challenge the culture of

institutional defensiveness in public bodies, but did not unfairly burden

either public bodies or individual public servants. Having achieved this

balance, we believe that the draft bill will gain the support of public

institutions as a fair and logical codification of a mindset that they

should already be striving towards.

The main provisions of the draft bill are as follows:

Section 1: creates a statutory duty for public authorities, servants and

officials to act at all times with transparency, candour and frankness

Section 2: creates a statutory duty for public authorities to assist in

court proceedings where their acts or omissions are or may be relevant

Section 8: makes these duties enforceable by court proceedings or by

way of judicial review to the High Court

Section 11: creates criminal offences where a public servant

intentionally or recklessly misleads the public or court proceedings or

any inquiry or investigation where the duty of candour arises

Section 12: removes the current legislative gap which allows former

public servants to refuse to assist public inquiries

The full draft text of the bill and Explanatory Note are available at:

http://www.thehillsboroughlaw.com . We welcome all feedback and

suggestions, particularly from members of the legal profession, so

please get in touch with us at thehillsboroughlaw@gmail.com if you

have any comments or ideas related to the Hillsborough Law.

You may also be interested in attending the Hillsborough Law

symposium which is being hosted by Liverpool University in February.

The symposium, details of which are below, will provide an opportunity

for robust analysis and discussion around the draft bill and will hear

from a diverse range of voices.

Symposium on the proposed Hillsborough Law

Date: Wednesday 15 February 2017

Location: University of Liverpool

The University of Liverpool is hosting an event that will consider

whether the proposed Hillsborough Law as drafted can meet the

intended aims and how it can be improved. The event will be followed

by the Eleanor Rathbone Lecture delivered by Professor Phil Scraton

'Hillsborough: Resisting Injustice, Recovering Truth' which will take

place at 5pm on Wednesday February 15, 2017.

Participants will be invited to deliver short presentations outlining their

contributions to topic-based working groups, followed by discussion

and questions from the drafters of the proposed law and other

participants. These will be broadly structured around the following

thematic areas:

1. Do the duties in clauses 1-2 adequately meet the aims of the proposed

law (as set out in the Explanatory Note)?

2. Have the 'duty of candour' provisions in Regulation 20 of the Health

and Social Care Act 2008 (Regulated Activities) Regulations 2014 and

Appendix 5 of the NHS Standard Contract had a positive effect in

combatting 'institutional defensiveness'?

3. Are there international examples of statutory, regulatory or policy

regimes that effectively reduce institutional defensiveness and improve

transparency, candour and frankness by public bodies? What can be

learnt from these regimes for the UK context?

4. What essential features must 'Codes of Ethics' (clause 9) have in both

content and implementation in order to help change the culture of

defensiveness in public-facing bodies?

5. How might the proposed law be improved to more effectively

achieve the aims of transparency and candour by public servants as set

out in the Explanatory Note?

6. Contributions that do not fall into the above categories from

specialists in accountability of public bodies, Freedom of Information,

whistleblowers, international comparative law, and public law generally

are welcomed.

Speakers will be confirmed in due course.

Elkan Abrahamson,

Jackson & Canter

QUALITYSOLICITORS DAVID ROBERTS & COMPANY

We require an experienced residential conveyancer to cover

maternity leave for a period of one year from January 2017 on a

full time basis. There are real prospects for this temporary

position to lead to a full time permanent role.

The successful candidate will be a qualified solicitor/licensed

conveyancer/Filex with at least 3 years practical experience of

residential property matters.

We are a Lexcel and CQS accredited firm and pride ourselves

on providing excellent client care, it is therefore essential

that candidates can demonstrate a friendly, helpful attitude

in addition to a high standard of knowledge and

understanding of property law.

This post is a key role within our residential property

team and therefore salary will not be a problem for the

right candidate.

Please apply in writing with C.V to:

Gwen Roberts

QualitySolicitors David Roberts & Co

96-98 Victoria Road,

New Brighton CH45 2 JF

Email: Gwen.Roberts@davidroberts.co.uk
---
6 News from the Sub-Committees

News from the Sub-Committees

Non Contentious Business

Sub-Committee

The Non Contentious Business Sub Committee met on the 20th

October 2016.

Unfortunately, our pre-arranged Speaker was unable to attend and I was

unable to secure a replacement in time for the meeting. In the

circumstances, I gave a short presentation about Dementia Action

Alliance ("DAA"). The DAA is an alliance of organisations across

England committed to transforming the lives of people living with

dementia and those who care for them. The DAA includes many

charities, third sector organisations and businesses. The DAA is under

the umbrella of The Alzheimer's Society and we looked at the principles

of building a dementia-friendly community for businesses.

The principles benefit all of our clients and many are matters of

common sense and basic good manners. It is important to always

remember these factors when we and our staff are helping our clients

and others in our community. The principles include speaking clearly,

body language (e.g smiling warmly) and making eye contact, using

friendly tones and respecting an individual's personal space, listening,

showing patience and having awareness of noise and lighting and the

environment which may affect a person living with dementia in a

different way.

One of the symptoms of dementia is that a person's perception may be

altered – for example a black mat can signify a 'gaping hole' to a person

living with dementia which may cause alarm and distress. Dementia can

result in confusion in handling money and therefore helping people find

their way in a clear manner without making too many choices and

taking 'one thing at a time' are all very important. We had a very good

discussion about these issues which apply to everyone. It should also be

noted that as our workforce ages and with the removal of fixed

retirement ages, dementia may affect our workforce and must be borne

in mind by the professionals as responsible employers.

The meeting continued to approve the Minutes of the Meeting of the

20th June 2016. There were no consultation papers.

Jo Downey reported to the Committee about training. A total of 42

persons were booked onto the Residential Conveyancing Conference

which was chaired by Mrs Angela Hesketh with skill and

professionalism. Jo tried to ensure that the Speakers were relevant but

unfortunately some may not have met expectations and the situation

will be kept under review. The Conference offered a very good

opportunity for networking.

Future Conferences will include the Commercial Property Conference

(10th May 2017) and creating sponsorship was discussed. The Private

Client Conference (17th May 2017) will probably be held in

conjunction with STEP as usual. We discussed the future of training in

relation to the new regime which is being introduced on the 1st

November 2016. The training organised by Jo is excellent and in the

literature about each course information will be included to demonstrate

clearly how the new competencies are met. The Season ticket will

remain very attractive to members.

Please note that one of our members has resigned and please let me

know via the Law Society Office if you would be interest in joining our

dedicated and lively team.

Naomi Pinder

Chair

-

-

-
---
Law News

7

Disposal of a Child's Body, Cryogenic Preservation

In this case, the Judge Mr Justice Peter Jackson was asked to make

important decisions regarding who should have the responsibility of

dealing with the remains of a terminally ill 14 year old child. The

case has hit the headlines because it concerned the cryogenic

preservation of a human body but the Judgment did not make any

direct finding regarding the suitability of this proposed course of

action.

The young girl can only be called JS because she was a minor child and

privacy is awarded in almost all family disputes which place the best

interests of the child as central. JS had terminal cancer, her parents were

divorced and there had been no contact with dad since 2008. The

divorce was bitter and the parents had not reached any agreement

regarding the child who was in the sole care of mum.

themselves and without parental involvement.

At the age of 14 teenagers are still forming their capacity to make

reasoned decisions, often very well informed and opinionated but not

always right. The reasoning is not comparable to that of an adult, there

is no reason why it should be. That is why parents and society guide

young people and there are rules to protect them concerning all types of

activities from pornography to alcohol consumption to gambling.

Mr Justice Jackson states that in making the Order authorising mum to

make the decisions for JS he was giving precedence to the welfare

principle enshrined in the Children Act in which the predominant

feature would be the wishes and feelings and acute emotional needs of

JS. If this logic is followed, I submit that he knew that by making the

Order the cryogenic preservation would be sanctioned.

JS was a bright girl who had researched cryogenic preservation on the

internet. She was not ready to die and wanted to try for the potential life

at some point in the future possibly offered by cryogenic preservation.

Mum was in agreement but dad was not and the case proceeded to

court.

When a minor child dies, their statutory next of kin are both parents.

The death is automatically intestate because with the very limited

exception of minors serving in the armed forces, a child cannot make a

valid Will. A disagreement regarding the disposal of the body should be

avoided (see my recent comment Ashes to Ashes).

It is interesting from a legal point of view on a number of levels. The

application concerned the position both during JS's life and after her

death and the Judge was being asked to create a framework of certainty

in JS's best interests to cover both time frames. The Judge held that his

decision was about removing as far as possible the uncertainty about

what could happen during JS's lifetime and after her death.

If there is a dispute after death, the case is normally brought after death.

The Judge emphasised the extraordinary circumstances and used his

inherent powers to extend the Judgment beyond death. He held that the

cryogenic procedures would need to be put into place before her death

and the argument simply could not wait to be resolved.

The Judge made a specific issue order under the Children Act 1989

permitting mum to continue to make arrangements during JS's lifetime

for the preservation of her body after death and to prevent dad from

getting involved. After death he held that mum should be the sole

Administrator of the estate under s116 of the Supreme Court Act 1981

and that she should have sole authority to decide who should view the

body and to make the arrangements for disposal of the body. Thereby

excluding dad from all the entire process.

Note again that he does not make any direct ruling regarding the rights

and wrongs of the proposed method of disposal nor about whether or

not the decision of JS was correct or sensible. He stated the old legal

maxim that hard cases make bad law and I expect that the judgement

could be suitable for the Court of King Solomon.

With the greatest respect to Mr Justice Peter Jackson, I have

observations regarding parts of his Judgment. He states that there is no

doubt in his mind that JS had capacity to bring this application, she was

a bright, intelligent and articulate girl who had not been coerced or

steered by a family member or anyone else. If she had been over 18 she

could have made a Will appointing mum as sole executrix and therefore

giving mum power to deal with the disposal of the body (within legal

parameters). He did not wish JS to be prejudiced by her age.

Mr Justice Jackson stated that no-one has the right to tell anyone else

what they should think, least of all a young person in JS's position. He

was clearly moved and impressed by JS.

I take issue with these comments. The age at which a child can make a

decision is 18 upon attaining the age of majority. Over the years cases

have come before the family court challenging this and famously the

Gillick Case in the 1980s which concerned the availability of the

contraceptive pill to minor girls who sought to make the request

As a postscript part of the Judgment (Part 3) Mr Justice Jackson

expressed grave concern about the actual outcome and particularly the

fact that on the day of death, mum was preoccupied in making the

practical arrangements at the expense of being with JS. Furthermore, the

voluntary organisation carrying out the arrangements was underequipped

and disorganised and the process caused grave concern to the

medical and mortuary staff.

Another point arises which was not raised in the arguments before

court… was JS actually dead? Her body is now in a state of suspended

animation, ready to be brought to life at some stage in the future, so is

the body actually dead or living or undead? From a legal point of view

the Judgment covers the position both before and after death but the

point is fascinating.

This is a tragic case concerning childhood illness and family

breakdown. I think that the outcome is bleak on all fronts.

Naomi Pinder

The Jackson Canter Group

One small step OR a giant leap??

Well that's it folks, the training regime which has been in place

since the 80's (some of us remember the 80's better than others) has

now gone, finished.

From here on in 'the shackles are off' (as I've heard it described) with

regards to how you remain competent within your role. Points will no

longer be counted, instead the magic formula is:

REFLECT PLAN RECORD EVALUATE

Easy…..

Liverpool Law Society will continue to run a year-round

programme of events, which will provide opportunities to ensure

individuals maintain a level of competence appropriate to their

work and level of responsibility and comply with applicable

legislation.

AND not just training but with events held in conjunction with: CIOT,

CISI, ICE, ICAEW, LeO, Professional Liverpool, SRA & STEP

Liverpool & more, there are plenty of opportunities to network.

If you have any questions, thoughts or concerns, or require at any time a

statement of training you have attended, please do not hesitate to

contact me: jo@liverpoollawsociety.org.uk

Jo Downey,

Director of Education & Training,

Liverpool Law Society
---
8 Local News

MoJ reduce small claims limit

Last month the Government announced that they would be raising

the small claims limit. The Ministry of Justice said it wanted to

raise the limit in the small claims court for all personal injury

claims from £1,000 to £5,000.

The Law Society has responded by alleging that the plan will clog up

the courts with litigants in person while also 'completely undermining

the right of ordinary people to receive full and proper compensation'.

The full consultation admitted that litigants with claims under £5,000

will not normally need to appoint a solicitor to act on their behalf.

"These proposals will completely undermine the right of ordinary

people to receive full and proper compensation from those that have

injured them - often seriously - through negligence," Law Society

president Robert Bourns said. "This five-fold increase will stop people

getting the legal advice they need in order to bring claims for the

compensation they are entitled to in law.

'People may be tempted to try to bring claims themselves without expert

advice. This will clog up the court system, creating a David and Goliath

situation where people recovering from their injuries act as litigants in

person without legal advice - those defending claims can often afford to

Fond farewell to Director

of Liverpool Law Firm

Leading Liverpool Law firm Maxwell Hodge Solicitors say a fond

farewell to Carol Head as she retires as Business Services Director

from the company after 20 years of service.

Carol was appointed in 1996 by the then named Maxwell Entwistle &

Byrne as Practice Manager and was originally based at their Huyton

Branch in Sherborne Square.

In 2011 Carol and her Business Services Team were relocated to

Maxwell Hodge's Head Office in Castle Street, Liverpool City Centre

and in 2013 Carol was appointed as Business Services Director.

Carol said of her retirement: "To have been the Business Services

Director at Maxwell Hodge is of course a huge privilege. For me

however it has been far more, I have been surrounded by talented,

dedicated and friendly colleagues who I will miss dearly. I don't feel

like I am retiring I am simply starting a new chapter in my life".

Simon Leyland, Chief Executive at Maxwell Hodge, paid tribute to

Carol: "I am honoured to have managed the company alongside Carol.

She was a wonderful mentor to me and many others and is respected by

all who have had the pleasure of working with or knowing her. On

behalf of the whole company, I thank her sincerely for all she has given

to Maxwell Hodge over the years".

pay for legal advice. This undermines ordinary people's ability to access

justice - especially if defendants refuse to accept liability, forcing people

to fight through the courts without legal help.

"Spinning this proposal as an attack on the 'compensation culture' and

claiming it will reduce premiums is misleading. If you are injured

through no fault of your own you should be allowed to claim for that.'

Robert Bourns added: 'We do, however, support the proposal to prevent

claims being settled without medical evidence. This should curtail the

practice of some insurers trying to persuade people to settle for less than

their claims are worth without evidence of the actual value."

Donna Scully, a Partner at Carpenters Solicitors added "It is our view

that the Government is embarking on a potentially disastrous course,

littered with dangers and potential pitfalls. We have consistently pointed

out the 'unintended consequences' since the reforms were announced in

2015.

"The proposed reforms are short-sighted, unfair and may have the

opposite effect. Previous reforms such as LASPO, have demonstrated

that ill-considered and predominantly one-sided agendas do not achieve

their objectives."

"This spurious questioning of the legitimacy to pursue justice and

compensation is deeply troubling for one injury only. Condemning

legitimate and reasonable claims challenges one of the basic

foundations of our centuries-old legal system and our system of

restorative insurance cover. The focus for reforms should be to tackle

fraud. Genuine claimants should not be penalised. So much more can be

achieved by an open dialogue and collaboration to find real solutions to

tackle fraudulent and other unwelcome behaviour. The reforms are a

very blunt instrument that will attack genuine motor insurance

customers instead of dealing with those intent on committing fraud."

Kirsty McKno, Chair of the Civil Litigation Committee will be

attending the MP's Summit to highlight the economic impact that this

will have on the region. Kirsty said "This is fundamentally about access

to justice but if implemented the proposed reforms will also have a

significant economic impact on PI firms, both claimant and defendant.

It won't just be solicitors that are affected by this, there will be the loss

of support staff and the knock on effect to amongst others the suppliers

of ancillary services and owners of those offices in which law firms are

based. At an empirical level the consultation is potentially flawed and it

is important that we understand the data used and how to address the

conclusions drawn by the consultation in order to respond to them

appropriately."

Liverpool Law Society is organising a meeting with Matthew

Maxwell Scott and Capital Economics to discuss the consultation

and these economic concerns. Attendance at the meeting is vital if as

a Society and individual Claimant and Defendant firms we are to

better understand what the industry faces and the best approach

that may be taken in response to the Consultation. Further details

will be circulated to members.

Nicholas Thomas

Liverpool Law Society are saddened to learn of the death of

Nicholas Thomas of Blain Boland.

Nicholas joined the legal profession as an articled clerk in 1974

and was admitted as a solicitor in 1982, becoming a partner at

Blain Boland in 1984.

Nicholas was very well known and well respected in Willaston,

both by legal colleagues and the wider community.

Carol Head retires as Business Services Director

The Society offers its condolences to Nicholas's family, friends

and colleagues.
---
Brexit

9

The Brexit Judgment is all about the

Supremacy of our elected Parliament

It seems that the whole world is

commenting on the decision of the High

Court in relation to Brexit. In fact some

press reporting has verged on the

hysterical.

We need to make one thing clear from the

start. This is not a judgment on Brexit itself.

It is a judgment on what powers the

government has, to make decisions in

relation to Article 50 without referring to

Parliament. The Lord Chief Justice could not

have made this any clearer.

'It deserves emphasis at the outset that the

court in these proceedings is only dealing

with a pure question of law. Nothing we say

has any bearing on the question of the merits

or demerits of a withdrawal by the United

Kingdom from the European Union'.

I think everybody has now heard of Article

50. This is the process that begins our exit

from the EU. In very simplified terms the

court decided that the process cannot be

triggered by the Government. It has to be

done by Parliament. It is a purely legal point.

It has nothing to do with the pros and cons

of Brexit.

The Government argued that it could start

the process without going to Parliament

because of 'Royal Prerogative'. These are

words that most Law Students forget shortly

after finishing their degree. They rarely raise

their head in real life. Royal Prerogative

describes decisions which the monarch of

the day could make without having to refer

back to parliament. It is a concept that goes

back to the 14th Century and the days of

power struggles between the monarch and

the barons.

Over time those powers have devolved to the

government ministers. The powers are

sometimes used in foreign affairs and might

include the making of treaties with other

nations.

This is important in relation to last month's

decision. When we entered the European

Union in the 1970s Parliament enacted the

European Communities Act 1972. If we

want to exit the Union that Act has to be

repealed. The government's case was that it

must have been Parliament's intention in

1972 to give any future government power,

by way of royal prerogative, the power to

cancel any treaties relating to our

membership. This argument was very firmly

rejected by the Court.

The overriding point is that Parliament is

sovereign. The 1972 Act was passed by

Parliament. There is nothing in that Act to

say that a future government can cancel it.

Only Parliament can repeal an Act that it has

passed. The Lord Chief Justice said

'The most fundamental rule of the UK's

constitution is that Parliament is sovereign

and can make and unmake any law it

chooses. As an aspect of the sovereignty of

Parliament it has been established for

hundreds of years that the Crown – i.e. the

government of the day cannot by exercise of

Royal Prerogative override legislation

enacted by Parliament.'

The government argued that this case was

different. It argued that it had the legal

power to trigger Article 50 because this is all

about foreign relations and therefore within

the Prerogative. This again was rejected. It is

self evident that laws enacted since we

joined the EU have become part domestic

law. So as soon as Article 50 is triggered,

UK laws will be affected. This is not just

about foreign affairs but will fundamentally

change our laws. Those powers are for

Parliament and not the government.

The case will now go to the Supreme Court

– possibly before all 11 judges. I would be

very surprised if their decision is any

different. There is nothing in either the 1972

Act or even the Referendum Act of 2015 that

gives Mrs May and her ministers powers to

cancel an Act of Parliament.

This is not a battle between the courts and

Parliament. In fact it confirms that nobody –

neither judges nor the government can

override the supremacy of Parliament. In

fact it is part of our historical protections.

The courts will not allow any government to

act beyond its powers. If it wants to change

the law it can legislate and to do that it has

to go through the correct process.

So where does this leave Brexit?

I cannot imagine that Parliament will try and cancel

the result of the referendum. A majority of voters

chose Brexit. It would certainly trigger a major

constitutional crisis if that outcome was blocked

altogether. Indeed many MPs who supported Remain

have said that they will respect the will of the people.

What it does mean is that the process will have to be

carefully examined by Parliament. Brexit minister

Davis Davies has acknowledged that this would

mean a new Act of Parliament.

This might slow the formal process but it will ensure

that the elected members of parliament will have the

final say on the detail of the exit.

It is easy to forget that this was something that was at

the heart of the Leave campaign i.e. the recovery of

the supremacy of our parliament.

The High Court has confirmed this.

The judgment should be welcomed by both sides of

the debate itself. It is not a decision about the rights

or wrongs of Brexit. It is a clear line in the sand

about what powers Ministers have to disregard those

elected by the people.

Steve Cornforth

EAD Solicitors

-
---
10 Movers & Shakers

Senior North West corporate lawyer Ian Vicary joins

Excello Law

Ian Vicary, a senior corporate lawyer who has been working in the

north west for over 25 years, has joined national, commercial law

firm Excello Law from Top 50 firm Weightmans LLP where he was

a former Head of Corporate and more recently led the Liverpool

company and commercial team.

Ian qualified in 1990 from Chester College of Law and specialises in

significant acquisitions, disposals and refinancing, as well as

shareholder disputes, banking and general commercial transactions.

In the past year Ian has advised on the sale of the Afonwen laundry

business to Johnsons Services Group for in excess of £50m.

George Bisnought, Founder and Managing Director of Excello Law,

commented: "Ian is a major corporate lawyer across the North West and

has been involved in some of the region's largest transactions. He

brings a wealth of expertise and first-class contacts to our growing

business across the region and will be a great asset as we continue to

expand our legal services and capabilities."

He has previously worked as Head of Corporate for Aaron & Partners

and as a partner at Hill Dickinson LLP, where he advised on one of the

North West's largest transactions – the sale of Norse Merchant Shipping

Group to Maersk for £250m.

Ian said: "I was attracted to the Excello Law business model due to the

flexibility it offers lawyers to focus on developing our services to clients

in the way we see best, complemented by a collaborative culture across

a national team of senior, commercial lawyers."

Hill Dickinson appoints first Chief Operating Officer

Hill Dickinson has hired Iain Johnston as its first chief operating

officer (COO). Iain Johnston, who took up the position of COO in

November, will be charged with further strengthening Hill

Dickinson's position in the marketplace, accelerating the firm's

development and overseeing the day to day operations of the

business.

Prior to joining Hill Dickinson, Iain spent 11 years running GB Group

PLC and was involved with Alterian PLC for 13 years, including

running the business as deputy chairman prior to its sale. In addition as

CEO he helped turn around the Loewy Group and has spent 16 years as

chairman of Event Marketing Solutions.

CEO Peter Jackson commented: "I am delighted to welcome Iain to

Hill Dickinson. His arrival marks the next step for us in terms of

understanding and maximising the commercial advantage that

technology has brought to some of the complex and evolving markets

we operate in. Iain will be key to us accelerating our growth journey

whilst delivering an outstanding client experience. I look forward to

working with him over the coming years."

Iain Johnston said: "Having worked with Hill Dickinson for the last 18

months in a non-executive director capacity, I have seen first-hand the

potential of the firm. I'm honoured to be taking on the role and looking

forward to being part of Hill Dickinson's next exciting chapter."

Iain Johnston

DWF Liverpool announces six senior promotions

Legal firm DWF has made six senior promotions across its

Liverpool-based commercial and insurance teams reflecting an

ongoing commitment to investing in key practice areas and

growing its sector expertise for the benefit of its North West,

national and international clients.

The senior associate promoted to partner is real estate specialist Luke

Hopkins, while those promoted to associate are Costas Nicolaou in

litigation plus Sarah Mir and Hannah Fitzgerald in personal injury.

DWF has also promoted David Hulbert in commercial litigation to

director-level, equivalent to partner at DWF, and the final promotion

is within the partnership.

Andy Nichol, Liverpool's Executive Partner and a Real Estate

specialist at DWF, comments: "Each of these individuals has been

instrumental in driving DWF in Liverpool forward, not only in terms

of their particular legal expertise but also the quality of service they

deliver to our clients and positive impact they have on their

colleagues. All of those promoted this year exemplify our values and

are very much the future of DWF, so I'm pleased that we can

recognise and reward their commitment to us and look forward to

supporting each of them in the next phase of their careers."

DWF employs circa 330 people in Liverpool and acts for leading

North-West based companies including Peel Holdings and Money

Group.
---
11

Movers & Shakers

-

-

-

-

-

This month marks the one year

anniversary of leading law firm

Maxwell Hodge's Woolton

Branch.

The company decided to launch

its South Liverpool Office in

November 2015, after the success

of its other 8 branches, which are

spread across Liverpool and the

Wirral. Claire Banks, Director at

Maxwell Hodge said: "We were

very keen to have an office in

Woolton and have been delighted

with our first year. We pride

ourselves on working in

communities and with the people

who live there. Woolton is a

lovely village. People who live,

work and trade there have been

most welcoming to us. We look

forward to continuing to

development working

relationships in the years to

come."

Staff at the Woolton Branch got

together for an informal gathering

with champagne and birthday

cake to mark a successful 12

Maxwell Hodge celebrate a successful 12

months in Woolton

months since last November. The expansion means that the

practice, which employs over 70 people, is now able to offer

its legal services to clients in the South Liverpool area.

Simon Leyland, Chief Executive commented "We pride

ourselves on being a law firm at the heart of the local

community, having been established for over 150 years.

Opening an office in Woolton has been an ambition of ours

for a while and although only open for 12 months, this

addition to the Maxwell Hodge family is already proving to

be a very successful development in Maxwell Hodge's long

history".

Leading law firm Kirwans has bolstered its service

offering by moving its Liverpool office to the heart

of the Commercial District and announcing the

appointments of two specialist lawyers.

The new city centre office at 1 Temple Square, Dale

Street, Liverpool, will complement the firm's existing

offices in Prenton and Moreton, Wirral and Southport.

Newly appointed associate Julie Hunter and solicitor

Lindsey Knowles have joined the team to further

enhance the development and expansion of the firm's

commercial and personal legal services.

Julie Hunter, formerly of Bermans, brings a wealth of

commercial expertise to Kirwans' litigation

department, in particular in the areas of business

disputes including finance litigation, asset finance and

loan agreements.

Lindsey Knowles, who joins the firm from Percy

Hughes and Roberts and is an active member of the

Employment Law Committee of Liverpool Law

Society, will further enhance Kirwans' current

employment law offering, working on a broad range of

employment matters on behalf of employers and

employees alike.

Managing Partner David Kirwan, whose late father

founded the firm in 1947, said: "Kirwans is committed

to expanding our services in Liverpool, and the new

Kirwans boosts services with new office

location and key hires

location together with the key

appointments of Julie and Lindsey

underline our determination to do just

that.

"The organisation's longstanding success

has been built on the high standard of

service delivered to our clients by our

talented and much-valued team. This is

an exciting time for the firm as we

welcome new faces and grow our service

offering throughout the UK."

David Kirwan
---
12 Local News

Tim Farron MP's Visit to 'Breakfast at the Cathedral'

'River in the City' is a Christian project based in Liverpool city

centre, serving city professionals and enabling connections between

life, spirituality and faith. River in the City has been involved in city

life and has put on regular events over the last seven years. The

project comes to an end later this month, as its coordinator Revd.

Keith Hitchman is moving on to a new role.

The last ever 'River in the City' event was a City Breakfast held in

Liverpool's Anglican Cathedral and featuring as its keynote speaker,

Tim Farron MP, leader of the Liberal Democrat Party. Tim spoke clearly

about how his Christian faith shapes his life and how he approaches his

leadership and political role of trying to improve people's lives.

Tim emphasised that the free gift of God's grace is open to everyone. It

is an absolute foundation of the Christian faith that God loves all and

through Him sins are forgiven and redemption is found in Jesus. In

today's modern world there is so much emphasis on working hard to

achieve good results and we are certainly expected by ourselves, clients

and colleagues to do our best in everything we do. This is all good but

sits uneasily with Grace which is an underserved free gift of forgiveness

and life in Jesus. Grace is amazing and wonderful!

Tim was at pains to point out that he does not seek to impose his

morality on other people, he is worried about any politicisation of the

church and went as far as to say that he does not agree with an

established church. He regards being an essential part of the

establishment as a constraint of a living out his faith in a life of public

service.

Tim regards personal integrity as of paramount importance, such as

keeping your word and DOING GOOD and not just thinking about it.

Tim referenced the fact that love and action are always linked together

in the Bible and to fail to take the opportunity to do good is a sin.

Tim regards rampant secularism as dangerous which views faith as an

eccentric aberration to be tolerated. Tim clearly respects all beliefs and

frameworks but he said that nothing exists within a vacuum even

secularism has a framework otherwise it could not function at all.

Tim came across as an extremely decent man who has an objective

morality for instance that it is right to help people and it is wrong to

demonise the poor. He is moderate and believes that it is right to show

compassion to those less fortunate and to exercise careful stewardship

of resources.

Naomi Pinder

www.gcs-title.co.uk | 01435 868050 | underwriters@gcs-title.co.uk

Guaranteed Conveyancing Solutions Limited is authorised and r

egulated by the Financial Conduct Authority

.

Registered in England and Wales No. 3623950

Legal Indemnity Insurance
---
THE UNIVERSITY OF

LIVERPOOL IS SEEKING

LAY MEMBERS

OF COUNCIL

The University of Liverpool is a member of the Russell Group

of leading UK research intensive universities, and is consistently

in the top 1% in global rankings.

We have recently agreed an exciting new strategy to

take us into the top 100 of universities worldwide, and

we are seeking individuals who match our ambitions to

serve on our Council.

We are proud to:-

• Carry out research with impact – in the recent

Research Excellence Framework, 81% of our

research was rated 'World Leading' or

'Internationally Excellent'

• Have a diverse student body being taught by the

brightest academic minds

• Have a reputation for widening access

• Have a global outlook and reach, rooted in a

firm commitment to the Liverpool City Region.

The role

As the University's governing body, the Council is

responsible for approving the University's strategy and

supporting policies; determining key business

decisions; and monitoring institutional and executive

performance.

Lay members play a key role, bringing expertise from

other sectors and independent perspectives to the

governance of the University.

Who are we looking for?

Council members are drawn from a variety of

backgrounds. We are particularly interested in

identifying experienced individuals from the worlds of:

Arts, Heritage and Culture; Audit; Education; Finance;

HR; Media; and Risk Management. However,

candidates from other backgrounds should not be

deterred from applying.

A commitment to public service is essential.

We would particularly welcome expressions of interest

from BAME, disabled, female and LGBT candidates, as

well as those with a particular connection to the

University, or the Merseyside region.

Informal enquiries should be directed

to Patrick Hackett, Deputy Vice-Chancellor

(0151 794 2017/ p.hackett@liverpool.ac.uk).

Further information is available at:

www.liverpool.ac.uk/lay-members.

The closing date for expressions of

interest is 5pm on Friday 16 December 2016.

www.liverpool.ac.uk
---
14 Law Firm Management

How to survive the Professional Revolution

Had Isambard Kingdom Brunel been a lawyer and not an engineer,

suspension bridges might have remained the domain of

orthodontists and we might still be rowing wooden boats to the

Balearics for our summer holidays. As it turned out, his engineering

genius helped shape the Industrial Revolution and put the Great in

Great Britain - in much the same way my colleagues say I put the

Bone in Bone Idle.

According to Horrible Histories, the Industrial Revolution changed

forever the way goods were made as mechanisation moved the country

from workshop-based micro production to factory-based mass

production. Falling costs and rising efficiency led to lower prices and

faster delivery. Once consumers had tasted the forbidden fruit there was

no going back and flat-cappers found themselves working weekends to

keep the industrial magnates in their shiny toppers.

There is much evidence to suggest that the legal sector is now at the

forefront of the Professional Revolution - a term which, if adopted,

could land me an entry in Wikipedia, somewhere between David

Walliams and Robbie Williams.

Wide-scale regulatory reform, a succession of competition-hungry

governments, comparison websites, Google-educated do-it-yourselfers,

AI (the IBM, not the Countryfile, version), sophisticated IT platforms

and increasingly savvy buyers are changing forever the way legal

services are bought and sold. Add to these factors the profession's

passion to do the right thing by its clients and we are seeing a

downward pressure on fees, accelerated response times and the biggest

shake up of the legal sector since at least the advent of email. Like the

Industrial Revolution, the Professional Revolution looks unstoppable

and the pace of change likely only to accelerate.

If the Industrial Revolution taught us anything (beyond the fragile

nature of our ozone layer) it was that revolutions create both winners

and losers. Over the medium term, those with the time and financial

muscle to invest in meeting each new challenge become stronger and

those without it become weaker. This dynamic creates the ideal

conditions for market transformation and the transactional activity we

have seen so far is likely to be just the tip of the iceberg.

Against this cheery backdrop, if you want to give your law firm the best

chance of being on the winning side, here are SIX BUSINESS BASICS

that will help provide a firm foundation for success:

STICK TO THE BUSINESS FUNDAMENTALS Before and since

Isambard Kingdom Brunel was a lad, successful law firms have been

good at finding the work, doing the work, billing the work and

collecting the bills. Try not to let the revolutionary white noise distract

you from these core business fundamentals and from doing them really

well.

TRUST YOUR GUT The fact that you are still in business today

means that you know what you're doing. So follow the gut instincts that

have served you well and keep on with the things that your experience

tells you work - like doing a fantastic job for every client, showing them

how much you care, listening to their needs and keeping those who

recommend you motivated to do so again.

WATCH YOUR CASH Even very profitable businesses go under

because they run out of cash. So watch your bank accounts like a hawk,

don't shock your bank manager with nasty surprises, don't breach

banking covenants, don't take on liabilities you haven't pre-funded and

try not to draw profits you haven't yet made.

MONITOR RATHER THAN MIRROR YOUR COMPETITORS

Don't waste your time trying to keep up with the Kardashians. Do

things your own way and spend all your excess energy explaining your

special proposition to your clients and recommenders.

NAIL YOUR ROUTE TO MARKET Whether you generate business

leads via direct marketing, Google Ads, social media networking, joint

venturing with work referrers or local or national advertising, try to

have as few intermediaries as possible wedged between you and your

paying clients. The huge upsurge we have seen in advice on ABS

collaborations and investments into law firms has largely been driven by

the desire of collaborators and investors to back law firms whose future

work flows are under their own control.

And finally…

RUN TILL YOU'RE TACKLED!

Nigel Wallis,

O'Connors LLP.

O'Connors LLP is a Liverpool and London-based law firm that

advises law firms, chambers and other providers of legal services on

start-ups, structures, regulation, funding, mergers, acquisitions,

disposals, contractual arrangements and insurance. For further

information, please contact Nigel Wallis, Pamela Rafiq or Mark

O'Connor at O'Connors LLP via www.oconnorsllp.co.uk.

-
---
Annual Dinner 2016

On 10th November LLS hosted its

189th Annual Dinner. Over 270

members and guests arrived at the

Adelphi Hotel for what has long

been the highlight of the Society's

social calendar.

The Annual Dinner is an opportunity

for old friends and colleagues to catch

up, for new entrants to the market to

introduce themselves and for all of our

members to celebrate the city's vibrant

legal profession. It was especially

heartening this year to see a good

number of our colleagues from the

local bar in attendance, undoubtedly

drawn by the evening's main speaker.

The President was delighted to

welcome the Hon. Mr Justice Edis, the

former Liverpool barrister and now

High Court Judge, who regaled the

guests with tales from the robing room

of the Supreme Court. He also

commented upon the prevailing

political uncertainty and noted that

such times have been survived in the

past. The guests also heard from the

President and Vice President of

Liverpool Law Society and the toast

to the Society was given by Robert

Bourns, President of The Law Society.

Robert gave an impassioned speech

about the importance of lawyers to the

rule of law.

The President, Alison Lobb with Top Table guests

Front row: Professor Sir Mark Hedley DL, Deputy Lieutenant of Merseyside, Mrs Alison Lobb,

The Hon Mr Justice Edis, Lady Edis, His Honour Judge Clement Goldstone QC, Honorary

Recorder of Liverpool, His Honour Judge Graham Wood QC, Designated Civil Judge for

Merseyside & Cheshire

Back row: Sheriff Jim Davies OBE DL, The High Sheriff of Merseyside

Her Honour Judge Margaret De Haas QC, Designated Family Judge for Merseyside & Cheshire

Mr Robert Bourns, President of The Law Society of England & Wales, Councillor Roz Gladden,

The Lord Mayor of Liverpool and Mr Andrew O'Byrne QC, Leader of the Northern Circuit

Brabners

Atlantic Chambers

The President's chosen charity for this

evening and for her year was The Roy

Castle Lung Cancer Foundation

Charity. Representatives from the

charity attended the Dinner and over

£1800 was raised for this excellent

cause.

After dinner the guests were invited to

dance the night away in the grand

ballroom before heading off into the

night, before heading back to the

office fresh faced in the morning!

Nina Ferris

Joint Hon Secretary

Hill Dickinson

The President with sponsors Kingsley

Morecrofts

St John's Buildings Chambers
---
His Honour Judge Graham Wood QC, The Hon Mr Justice

Edis and Professor Sir Mark Hedley

Councillor Roz Gladden., The Lord Mayor of Liverpool and

Alison Lobb, President

EAD Solicitors Quinn Barrow Middletons Solicitors

The University of Liverpool and members of the MJLD

DWF

Atlantic Chambers Complete Counsel Weightmans
---
18 Council Report

CHARLIE JONES

Council Member's Report

Since my last report there has

been no Council Meeting. The

next Council Meeting will be in

December, at which I will be

attending.

There is much, however, going

on. You will no doubt have seen

the reaction of the President of the

Law Society, Robert Bourns, to

the vitriolic attack upon the

Judiciary following the decision in

relation to Article 50. Quite

rightly, Robert underlined that the

existence of an independent

Judiciary is vital to the way our

country works, the rule of law,

and basic freedoms. To me, it

beggar's belief that Politicians and

the media can seek to influence

rational decisions made upon the

law by making such a fuss. If

those Politicians or the media

moguls were locked up without

going through due process, they

would be the first to whinge, and

wouldn't we know about it! Well

done to the Law Society for

standing up for, and reaffirming

its support for what is right.

You will no doubt all have

received a survey from the Law

Society related to the Law

Society's 'Value Proposition'

project, in which the Law Society

is endeavoring to assess what we

the profession want from the

Society. I understand 3,000

people completed the survey,

which in some quarters is

considered a result. I have to say

that out of approximately 160,000

solicitors, it seems a shame that

only 3,000 have actually

completed the survey. I can only

assume that many do not really

have much interest in how our

profession proceeds in the future,

which seems a pity, and amazes

me.

The debate in relation to the

governance of the Society, and in

particular Council, continues.

Council will be debating in

December (and the Council

Meeting is on 14 December),

further issues such as who should

constitute council, and you will

have seen in the last edition of

Liverpool Law Robert Bourns'

summary of what was discussed

on the last occasion. It is your

council. It is very important,

therefore, that you let current

Council Members know what

your views are. You should

receive this edition of Liverpool

Law shortly before the next

Council Meeting, so if you do

have views, I would be grateful if

you could contact me with them.

When I speak at a council meeting

I prefer to speak on behalf of

Merseyside and District rather

than myself. If you do not have

views, I will vote as I see fit,

which may not be what you want.

Talking of the independent

Judiciary I mentioned above, it

remains a fact that not enough

solicitors are rising to high office

within the Judiciary. Historically,

the Judicial roles, were, in the

main seemingly reserved for the

Bar. Solicitors, over the years,

have perhaps felt they would not

be chosen, or, in the alternative,

do not have enough time to apply.

I believe there is a very real need

for greater solicitor input into the

Judiciary. We are well equipped

to fulfil the function, often better

than members of the bar due to

our experiences in dealing with

clients direct. I would encourage

individual solicitors to consider

applying, and also encourage

firms to encourage their

employees to apply for, judicial

office. Only with encouragement

from firms, and in particular

senior and managing partners, will

we be able to address the present

imbalance.

I believe congratulations are due

to local firms for great

achievements in the awards

department on a National basis.

In no particular order, many

congratulations to the Jackson

Canter Group who won two

awards at the Law Society

Excellence Awards. The Group

won the Excellence in Pro Bono

Award. Chris Topping won

Human Rights Lawyer of the year.

This is a great achievement and

reflects well on Liverpool as a

legal centre (not least in pro bono,

a subject the big London firms

think they 'own'!) Also

congratulations to MSB solicitors,

short listed for the Family Law

Regional Firm of the Year of the

North in the Family Law Awards,

together with others representing

Liverpool, namely Gemma Ellison

of The Jackson Canter Group, and

Tracy Winstanley of Heaney

Watson, who are short listed for

Young Solicitor of the Year and

Dispute Resolution Practitioner of

the Year respectively. Good luck

to you all.

Longevity in the law is something

to be amazed at, particularly

nowadays one might think.

However, I recently had the

pleasure, tinged with sadness, to

attend the Thanksgiving Service

for the late Lieutenant Colonel

Charles H Elston TD DL LLD at

St Hildeburgh's Church in

Hoylake. Charles was a Partner at

Weightmans LLP (albeit well

before it was an LLP), my own

firm, and his story is quite

remarkable. He was born in 1916.

In 1936 he joined Weightmans

having been at University, and in

1939 he qualified. He then joined

the Army to fight a war. In 1942

he was captured by the Japanese

and spent three years in a

Japanese prison of war camp

building bridges and railways. In

1945 on VJ day he was released.

He returned to Liverpool. In 1946

he resumed work at Weightmans,

where he worked until 1992.

When I joined Weightmans

Charles was a Partner, soon to

become a Consultant. He was a

man who immediately inspired

awe. He was polite, courteous,

incredibly brainy, and respected

by all. Indeed, he was a co-author

of that well known mini magnus

opus, 'A Century of Liverpool

Lawyers'.

A full obituary will appear in

Liverpool Law, hopefully in

January. Charles died age 99 at

COUNCIL MEMBER

Charlie.jones@weightmans.com

the end of the Summer, just short

of his 100 year anniversary in

December 2016. He was a great

Liverpool Lawyer. I feel

honoured and privileged to have

worked with him, learned from

him, and been present at his

Thanksgiving Service, at which

his sons John and David told us

his remarkable story.

I hope all readers are able to enjoy

a restful and happy holiday season

as the end of the year and the

beginning of a new one

approaches.

I wish Season's Greetings to all.

As usual, if you have anything

you want to talk to me about,

please do not hesitate to make

contact.

Charlie Jones

Co Council Member Merseyside

and District

Partner, Weightmans LLP

charlie.jones@weightmans.com

01512427919.

Need an expert in medical or

dental negligence?

Refer to us. City : Allerton : Garston

0151 733 3353

www.gadllp.co.uk
---
19

The Law Society

The following is the report to Council Members from Catherine Dixon, Chief Executive of the

Law Society. If members require any further information or have suggestions then they

should contact Charlie Jones.

Professional survey

As Council members will know, we are conducting an important piece of work looking at the value

we deliver to our members. We asked for members' input to help us shape our development so it

can meet their needs and those of our profession. The survey has now closed and more than 3,000

people have completed it, which is a really good result. We'll update you further once the data has

been analysed.

Case Studies

Real-life stories make complex issues resonate with audiences unfamiliar with the law. Whether it is

a family facing homelessness in the run up to Christmas, a widow deprived of her inheritance

because of a probate dispute, a woman losing their job after becoming pregnant or the experience of

someone going through an immigration tribunal process. Hearing cases from those affected adds

weight to their issue and explains the role of the law and of solicitors at key moments in people's

lives. Through Professional Update, Social media and other routes, we are asking our members to

help us identify clients willing to speak about their experiences. Gathering stories can make the

public, decision makers and our colleagues aware of justice issues and strengthen our response the

government's consultations. We are asking members who think they have a relevant case study to

get in contact and provide as much detail as possible. Our current focus is on clinical negligence

case studies.

Criminal Advocacy training

We want to support solicitors in providing high-quality, criminal advocacy. We have therefore

collaborated with the City Law School and the Youth Justice Legal Centre to develop structured

training courses tailored for our members who practise in the criminal courts.

Media

The vitriolic reaction to the decision by High Court judges that Article 50 should be triggered by

Parliament and not by government continued to receive extensive coverage this week. Writing for

The Times' daily legal e-newsletter, 'The Brief', Robert Bourns, president of the Law Society of

England and Wales, called attention to the fact that an independent judiciary underpins Britain's

democracy and the rule of law. The Times along with City AM, Law Society Gazette, Politics

Home and Solicitors Journal reported remarks by Attorney General Jeremy Wright QC at the Law

Society defending the judiciary.

Law Society Gazette reported that the prime minister will intervene personally this month in longrunning

efforts to liberalise India's legal services market. It also carried the story about the SRA

pressing ahead with a public warning about the involvement of solicitors in fraud schemes after

being warned by the Law Society not to "diminish the profession".

The Times carried a feature article on pro bono for National Pro Bono Week. And the Western Mail

carried a feature on the impact of employment tribunal fees on employment claims in Wales, noting

that since the introduction of the fees unfair dismissal claims are down 72%, race discrimination

cases by 58% and disability discrimination claims by 53%.

-

Report to Council from the

Chief Executive

With over 60 members Atlantic Chambers is able to offer a wide

range of expertise within our specialist practice groups.

Civil Litigation including Clinical Negligence,

Family, Chancery & Commercial, Crime,

Employment, Proceeds of Crime & Public Law

4-6 Cook Street, Liverpool L2 9QU

T 0151 236 4421 F 0151 236 1559

DX: 14176 Liverpool 1.

E-mail: info@atlanticchambers.co.uk
---
20 Conveyancing

eConveyancing starts to take shape –

an interview with Adam Bullion, General Manager of Marketing & Product at InfoTrack

Why is changing technology

important?

It has become clear that advances in

technology, such as the advent of the

internet and the smartphone have

changed human behaviour. From our

professional lives, where we work

longer hours due to remote

technology, to the behaviour in our

personal lives, where we expect to

have access to information instantly

and be able to perform many tasks

wherever we are, whenever.

Consumer behaviour also has

changed, and ecommerce has become

king, so we no longer need to ever

leave our homes to buy goods. These

daily efficiencies are also expected by

staff, and as a business owner it is our

duty to implement the appropriate

technology to meet these changing

needs, particularly when, regardless

of technological advances, many

business processes remain stagnant.

In terms of the conveyancing

process where do you foresee the

potential for change?

I believe that the conveyancing

industry is a legal sector that is

overdue for change. Aside from

searches, many parts of the process

have already become electronic and

are hosted online, such as the

submission process for the SDLT and

AP1 forms. However, no provider has

taken advantage of this ability, until

now. At InfoTrack, we look at the

most cumbersome and form heavy

sections of conveyancing and turn

these into electronic versions that are

easier to complete and enjoyable to

use. Upon review, we identified the

contract pack as the next segment of

the process where administrative

processes can be reduced and

optimised. With this in mind, we have

created eCOS (electronic Contract of

Sale) which combats the time

consuming process of copying

information into a contract, as well as

dealing with the slow and unsecured

way in which these documents

(including the TA6 and TA10) are

handled. eCOS is a fully electronic

process that conveyancers can take

now advantage of and be seen by

their clients as truly forward thinking.

Tell us more about eCOS, what

does this do?

We created eCOS (electronic

Contract of Sale) to be a paperless

solution that gives conveyancers the

ability to compile the full contract

pack electronically, including the

TA6, TA10, contract, title and plan.

Our smart eCOS portal also allows

the contract pack to be easily sent and

received by both the conveyancer and

the client within InfoTrack, so you

can rely on it being a fast, paper-free

and completely secure process that

requires no printing scanning, posting

or faxing. These contract packs can

also be signed electronically by all

parties involved, using the latest in e-

signature technology. At InfoTrack,

our mission to build the end to end

conveyancing process online is being

enacted one process at a time, and

eCOS is the next step.

Are electronic signatures

acceptable forms of signing legal

documents?

With a growth rate of over 53%

annually, e-signatures are rapidly

being adopted in many industries and

at different levels of transactions. The

Law Society recently released a

practice note on the use of electronic

signatures in law, and with secure,

stringent measures put in to maintain

the highest level of security,

electronic signatures are highly

regarded and are an efficient way of

signing documents. The technology

we use is by DocuSign, the global

industry leader in e-signing.

Would you offer any advice to

conveyancers looking to adopt new

technology?

InfoTrack aspires to create

technology that is not only incredibly

efficient and simple to use, but also

makes day-to-day processes more

enjoyable. I believe that good

technology should be a joy to use, as

well as providing clear operational

benefit. So when adopting new

technology for your firm, I always

suggest that a series of questions are

asked; does it add value to the

customer? Does it reduce operating

costs? Is it relevant? Will it help us

excel in our core competencies? Will

it reduce cost/improve quality/provide

a set of functions that did not exist

before? Those technologies that will

be most valuable should respond

'yes' to all those questions.

VFS LEGAL FUNDING

RELEASING CASH FLOW

Do you want to improve

your Cashflow?

VFS provides quick, simple and cost effective funding

solutions that release YOUR funds locked up in YOUR profit

costs and disbursements.

The funds can be used by you for any purpose. Including, for

example, Tax and VAT payments, removing the need to rely on

costly, fixed term repayment loans from secondary funders.

Disbursement funding ('DCF')

VFS funds the ongoing disbursements incurred on PI, Clinical

Negligence and Litigation cases until their natural conclusion.

Costs advance facility ('CAF')

VFS can provide immediate funding against most bills that

have been served – releasing cash back into the practice.

For a no obligation discussion please call 020 3747 9333

or email enquiries@vfslegal.com or visit vfslegal.com
---
22 Local News

-

-

As part of Liverpool's ambition to become

the most active core city in the UK by

2021, free support is on offer to Liverpool

based organisations to help get their

workforce more active.

Research shows that introducing physical

activity initiatives within the workplace can

reduce absenteeism by up to 20%, in addition

to improving teamwork, communication,

morale and supporting Corporate Social

Responsibility.

Pledge your organisation's support to the

Liverpool Active Workplaces campaign and

you'll have access to:

- Workplace Toolkit, that will provide

information, signposting to sources of support

and practical ideas that can be implemented

within your workplace

- free places for staff on the Physical

Activity Champion training course, which

will help your employees to promote and

advocate physical activity in your workplace

- a small grants programme for you to

Sign up your organisation to the Liverpool

Active Workplaces programme

apply for funding to pilot physical activity or

sport initiatives in your workplace

a mass participation step challenge taking

place in January 2017, where employees can

set their own personalised step target to get

active (pedometers are on offer to help staff

count their steps). Employees will also

contribute their steps towards your

organisational's total - could you become the

most active organisation in Liverpool?

The Liverpool Active Workplaces programme

is designed to be as quick and easy as

possible to implement within your

organisation. As part of signing up, you'll

also receive help and leadership from a

designated member of the Merseyside Sports

Partnership team.

Sign your organisation up today by visiting

http://www.merseysidesport.com/liverpoola

ctiveworkplaces

For further information about this

initiative please contact Danny Woodworth

via d.woodworth@merseysidesport.com or

call 077300 28773.

The annual employment law conference

took place on 12 October 2016 and was

chaired by Emlyn Williams of Weightmans

LLP in the comfortable surroundings of

Weightmans' Liverpool office.

Diarmuid Bunting of St Johns Buildings

opened the conference with an interesting and

detailed review of the law relating to

associative discrimination. His chambers

colleague Kevin McNerney then followed

with a very topical consideration of the

potential impact of Brexit on employment

and discrimination law, ultimately concluding

that the short term impact was unlikely to be

significant for employment lawyers.

Rachel Weddespoon of Nine St John Street

Chambers delivered a comprehensive review

of the law of whistle blowing, offering useful

references for those running and defending

such claims. The final presentation before

lunch was delivered by Julian Allsop and

Douglas Leach of Guildhall Chambers who

provided detailed guidance on pursuing and

defending employment claims in the civil

courts.

During the lunch break the delegates, who

attended from a wide range of firms and

businesses, seized the opportunity to

exchange views and experiences with each

other and the conference's guest speakers on

recent developments in employment law and

their experiences in practice. Given the

impact of tribunal fees on the level of

employment litigation being conducted, this

was a particularly timely opportunity for

delegates to discuss the implications for their

own practices and the opportunities to

diversify.

After lunch Daniel Northall of Littleton

Chambers delivered a practical session on the

law relating to injunctions and interim relief,

giving useful tips to particularly focussed on

enforcing post-termination restrictions.

Retired Employment Judge Michael Malone

then had us all enthralled by his presentation

on faults and fixes for employment tribunal

advocates, during which he had the room

captivated by (anonymised!) tales from his

time as an Employment Judge.

The day was rounded off by Lindsey

Knowles of Kirwans Solicitors who gave us a

whistle-stop tour of recent developments in

employment law, including an update on the

online court, a review of forthcoming

legislation and a guide to the appeal cases to

watch out for in the next 12 months.

The feedback from delegates was excellent

and was unanimous in its support for

continuing to hold the conference on an

annual basis. We will start the preparatory

work now!

Nicky Benson

Chair of the Employment Committee.

Employment Law Conference
---
News

23

Northern Circuit Directory -

Supplement

Judge Lynch's Supplement to his Northern Circuit Directory 1876-2004 is now

available to purchase.The supplement follows the format of the original work. It

is A4 size, hardback with dust jacket and runs to 256 pages with over 500

photographs of Circuit events and individuals. The book is up to date to 1 July

2016, introducing 417 members of the Bar elected to the Circuit over the past

ten years.

It also updates original entries where there have been changes in circumstances or

more information has come to light. It also includes many lists of those concerned in

the administration of justice in the North-West such as Presidents of Law Societies,

District Judges, Coroners, Chairmen of Magistrates, Chief Probation Officers, Chief

Constables, High Sheriffs, Lords Lieutenants and Prison Governors.

All 1250 copies of the Directory have been sold and it is not an economic

proposition to print more unless there is a demand for at least 300 copies. However,

Judge Lynch has the book as a PDF on disc which he will post out free of charge to

anyone who contacts him at LynchD516@aol.com

A fund which has been set aside from the sale of the Directory means that this very

substantial supplement is available for only £10. The following chambers have

stocks of the book:

St John's Buildings, Manchester

Oriel Chambers, Liverpool

15 Winckley Square, Preston.

Anyone who wishes to have a copy posted out should email Judge Lynch. The price

is £14 including postage and packing.

The supplement has been extremely well received by the many circuiteers who have

had copies. Both volumes constitute a unique chronicle of 140 of Northern Circuit

history.

The Merseyside Christian Lawyers' Group

wish to invite you to the

Annual Lawyers' Carol Service

at St Nicholas' Church (Liverpool Parish Church), Chapel

Street, Liverpool, L2 8TZ on Monday 19th December 2016

at 6.00pm

Preacher:

the Bishop of Birkenhead,

the Right Reverend Keith Sinclair

with accompaniment and performed music

by the

Formby Brass Band.

All those connected with the practice, administration or

study of the law, and their friends and family are most

welcome.

Drinks and mince pies afterwards in the church foyer.

Save the Date

Professionals' Dinner

6th July 2017

-

-

-
---
24 Letter to the Editor

-

-

-

-

-

-

Dear Editor

I have a new Boss starting shortly and he's

caused something of a furore. There's always

high emotions when there is a change at the

top but this time especially so. The candidate

selected is an unusual choice and many are

concerned - to the point of rioting in the

streets. Personally, I think it won't be as bad as

the scare mongers suggest.

Our Bosses can come from varied backgrounds

with CV's to match. We had an actor once - I

was pretty dubious about his skill set I must

admit but the world didn't end, so we live and

learn. More recently we had the son of a

previous Boss (rarely a good idea). If ever

there was a Boss to be worried about then it

was that one. His CV wouldn't have got him a

job at your local Bank (unless his dad owned

it) and if we had an entrance exam, well, call

me an intellectual snob but I have my doubts.

And yet that one managed to get himself

reappointed.

I think the biggest challenge for the new Boss

is the comparison with his immediate

predecessor. Our outgoing Boss was a young,

handsome man full of drive and passion, who

came in on an enormous wave of hope,

breaking barriers and prejudices to take his

place in History. Of course he then had huge

expectations to live up to, not always met, but

he did a fine job nevertheless. The new Boss

almost starts from an opposite position -

therein perhaps lies an advantage, if we steer a

steady course he could do better than expected.

The defeated candidate was predicted to take

the role easily, maybe the majority of the

decision makers backing the new Boss didn't

feel they could openly shout about their

support. My own view is that the defeated

candidate was perhaps not the best person to

have been put forward for the job. Whilst a

capable woman, with a lot of relevant work

experience, her understanding of good IT

practice was poor and that's no good in this

technical age. Her husband once held the job

himself (another story!) and therefore, other

than showing that Caesar's crown can be

passed to wife as well as son or brother, I think

the advancement of the feminist cause wasn't

going to be as great as her supporters

suggested.

So against this backdrop our new Boss stands.

The criticism levelled against him ranges from

his age (about the same as the defeated

candidate but older than his popular

predecessor) and his ruthless although (some)

successful business activities. For me, about to

be working with him, I'm not concerned about

the latter. It's the politically experienced who

can be more dangerous - they use their own

lives as glossy CV's and say whatever they

think the audience wants to hear. It takes time

to discover what lies beneath. Knowing up

front what you are getting is a head start.

A bigger concern to people is the ideas that the

new Boss has. Let me say this now, they

ALWAYS start out with big and, on occasion,

mad ideas. This shouldn't be a worry. First of

all, the Boss won't be a king. Smile as they

might, even the Boss's biggest supporters will

want their backs scratching for any help they

provide. The political wrangling required will

need to be world class.

On top of this factor, mountains of paperwork,

endless meetings, queues of people wanting

just a minute with the Boss. There'll be

speeches to write and practice, domestic and

foreign trips to take, formal dinners to attend.

Throw in dealing with any natural disasters,

bumps in the economy and terrorist threats and

pursuing personal projects can become a

distant dream.

Of course where the strain of the job isn't

enough to distract a Boss from pursuing a less

palatable agenda, those of us based at HQ have

a few tried and tested techniques to assist.

Never underestimate the role of the spouse, or

the role we will encourage. The busier the

spouse is using their new found position of

influence, the more they inevitably have to

discuss with the Boss. The Boss will be

pestered to support this, or turn up at that; even

half an hour or so a day of the Boss talking to

Mrs Boss reduces risk elsewhere. Another

strategy is to identify one of a new Boss's goals

and then focus, focus, focus.

Our new Boss is apparently keen to build a

new boundary wall. The neighbours are

hopping mad (many of them use our land as a

short cut to work without our permission, the

new Boss does not like it one bit) but the wall

may well not happen, that's not the point. We

could start with design, choosing an architect

acceptable to all involved, the inevitable

reviewing of plans. Finding funds will take

some time (see above) and sacrifices

elsewhere. Then there's sourcing materials,

which lucky company will be given the

contract to supply the concrete or will we

choose more than one? Tours of many

concrete plants may well be deemed necessary

to decide. Should we use more

environmentally friendly materials? We had

better commission a study.

Yours faithfully

Yes President

Letter to the Editor

maybe a spoof Sir Humphrey??
---
"SAN CARLO HAS THE INGREDIENTS

OTHERS CAN ONLY DREAM OF"

The Observer

Aldo Zilli now part of

the San Carlo team

WWW.SANCARLO.CO.UK

41 Castle St, Liverpool, Merseyside, L2 9SH

liverpool@sancarlo.co.uk | T: +44 (0)151 236 0073

@SanCarlo_Group

WINNER OF THIRTY FIVE PRESTIGIOUS AWARDS
---
26 Regulation

Regulation Update

The latest regulation news from Michelle

Garlick of Weightmans LLP

Welcome to the last of the regulatory

updates for 2016. How time flies

when you're having fun! It's certainly

been a busy year with a number of

significant consultations underway on

how we are to be regulated in the

future, thematic risk projects, an

increase in cyber attacks, Brexit and

of course the election of Mr Trump!

Here is a round-up of what's been

happening in the past month or so:

The Continuing Competence

Regime: Are you ready?

As you will be no doubt be aware,

from 1 November 2016, the CPD

regime has been replaced with a

continuing competence regime. Under

this new regime, solicitors are no

longer able to use the hours based

approach to CPD but instead must

make a declaration on their practicing

certificate application forms that they

have "reflected" and "addressed any

identified learning and development

needs." As part of the new regime and

the SRA's outcomes focussed

approach, the SRA is leaving it to

individual organisations and solicitors

to ensure that they have appropriate

systems in place to ensure compliance.

A survey carried out by the Solicitors

Journal concluded that more than a

quarter of the 250 respondents

questioned were not ready, or unable

to say that they were ready, for the

new regime. Firms also had the option

to opt in to the regime ahead of its go

live date on 1 November 2016, but

less than a quarter (23.6%) had

positively done so by 15 October

2016.

These are quite worrying stats and

concern has been expressed by

commentators that many firms and

individual solicitors haven't yet

appreciated that the new regime will

take some time to understand what is

expected of them and to get used to a

new system. If you haven't started to

address this yet, then you really need

to do so pronto!

Fraud

Last month we discussed the increased

number of reports to the SRA of law

firms being linked with potentially

fraudulent investment schemes.

Despite a caution by the Law Society

not to "diminish the profession," the

SRA has gone ahead with a public

warning about the involvement of

solicitors in fraud schemes. The SRA

Board has approved plans to send out

warning notices concerning "get rich

quick" schemes endorsed by solicitors.

The warnings have been published

and sent to mass media publications.

Since last month, two solicitors

involved in uncertain investment

schemes have been prosecuted at the

SDT.

•Mandeep Dhariwal, of Lawcomm

Solicitors, was fined £40,000 and

ordered to pay costs of £20,000 after

acting for six different companies

offering investments in graphene,

diamonds, oil contracts and films.

Nearly £9 million was passed through

client account relating to these

investments.

• Mel Goldberg, of Mel Goldberg

Law, was struck off for a number of

breaches and ordered to pay £40,000

in costs. He was involved in a

suspected investment scam wherein he

took millions of pounds from

investors who were looking to make

money from water purification

technology and paid it to other people

without the investors' knowledge.

Beware of what you say on Social

Media!

The solicitor who represented local

authorities at tribunals and tweeted

messages boasting about his successes

in cases involving children with

special needs has been rebuked and

ordered to pay £600 in costs. He

posted six tweets in total, one of

which reported a "great win" at a

tribunal and another which allegedly

said that the decision of the tribunal

"sent some parents into a storm." The

reputational damage that this has

caused will I'm sure far outweigh the

sanction imposed. This really does

serve as a warning to us all to think

before we tweet!

Personal Injury market

The SRA at the end of October

published a "perception" survey on

the PI market following the changes

introduced by LASPO. This research

forms part of the SRA's thematic risk

project on this area of law and ties in

with the visits the SRA has been

making recently to a number of PI law

firms. Some interesting, if not

particularly surprising, comments

were made in the report in relation to

solicitor competence, behaviours and

practice so if you are a PI lawyer and

are looking for some bed-time

reading, then check out the SRA's

website or contact me for a copy.

One solicitor , who could perhaps

have done with reading the report, has

been fined £7,000 and a further

£7,000 in costs by the SDT after using

old signatures on a set of Particulars

of Claim whilst acting for the

claimants in an RTA claim. One

claimant having withdrawn their case,

the solicitor issued new proceedings

but used the old Particulars, removing

the reference to the first claimant with

Tipp-Ex and handwriting on the

statement of truth to refer to the

revised first and second claimant. It

was found that he attempted to

mislead the court and the defendant

into believing that the particulars of

claim had been signed by the

claimants when this was not the case.

It was also found that he failed to act

in the best interests of his clients.

PII

The debate about changes to the

minimum terms has been trundling on

for some time now and, as promised,

the SRA is looking at it again. We all

know that securing an indemnity

insurance policy is one of, if not the,

largest business expense for any law

firm and in a bid to tackle this, the

SRA wants to achieve minimum terms

where costs remain as low as possible

whilst also ensuring that clients have

the right level of protection in place.

Crispin Passmore, SRA Executive

Director of Policy has said: "we want

to create a more flexible way for firms

to provide adequate and appropriate

cover without spending more on

premiums than is really necessary.

That could mean lower costs for firms

and therefore lower costs for the users

of legal services."

In order to understand the impacts of

any changes properly, the SRA has

analysed ten years of claims data

(from 2004 to 2014) and published

their analysis of the professional

indemnity insurance trends for law

firms. Having reviewed the SRA's

findings, though, I'm struggling to

understand what it hoped to achieve or

will learn from those statistics – a

statement to the effect that "a high

proportion of claims came from a

narrow set of activities, in particular

conveyancing" is not exactly groundbreaking!

The Law Society is interrogating the

data provided by the SRA in more

detail and I will keep you updated

with any developments in regards to

any proposed changes.

Government's Tailored Review of

the LSB and OLC

As part of the UK government's

requirement to reform public bodies,

the Tailored Review of the Legal

Services Board and the Office for

Legal Complaints has now opened.

Individuals and organisations that

have an involvement with, or are

interested in, the LSB and/or OLC are

invited to provide their contributions

via a short survey call for evidence.

Meanwhile, the Legal Ombudsman

has also issued a call for evidence on

proposed changes to its complaints

scheme including to extend the

scheme to allow small businesses to

complain and to introduce a tiered

system of case fees depending upon

when the case is resolved instead of

the one standard fee of £400 which is

currently imposed. An option is for the

fees to range from £200 where a

complaint is informally resolved

without a preliminary decision being

issued; £450 where the complaint is

resolved before a final decision; and

£750 where the ombudsman has made

a final decision. It is anticipated that

this will put service providers off

seeking a final Ombudsman's decision

whilst at the same time refining the

"polluter pays" principle. The oft-cited

argument that complainants should be

asked to pay a fee if they are

unsuccessful has reared its head again

as a result of these proposals but

frankly, we have to accept that this

will never happen! Having said that,

the Ombudsman is also asking for

comments on whether, and if so how,

section 133 (3) (i) of the Legal

Services Act 2007 could be

incorporated into the scheme rules to

allow the Ombudsman, when

dismissing or discontinuing frivolous

or vexatious complaints, to award

costs against the complainant in

favour of the OLC for the purpose of

providing a contribution to resources

deployed in dealing with the

complaint; if in the ombudsman's

opinion that person acted so

unreasonably in relation to the

complaint that it is appropriate in all

the circumstances of the case to make

such an award. This could be an

interesting development if introduced,

although I do wonder how often the

Ombudsman would be inclined to

make such an award when deciding on

whether the complaint is frivolous or

vexatious?

And finally

The SRA has confirmed that it will

not be forcing firms to publish pricing

information but it is considering what

additional data about firms the SRA

should be publishing. In a discussion

paper published by the SRA,

stakeholders' views are invited on

what regulatory data should be

published and made available to

consumers to assist them in choosing

a law firm that is right for them. At a

time when the SRA is talking about

wanting to reduce the burden of

regulation, its decision is in my view a

welcome one - It is the market, not the

regulator, which should drive the need

for firms to keep such MI and data

and many firms will I'm sure do so in

order to identify and capitalise on

opportunities for growth.

Which just leaves me to wish you all a

very Happy and risk free Christmas!

Michelle Garlick

Weightmans LLP
---
-

-

-

-

-

-

-

-

-

-

-

-

-

-

-

-

-

-

-

-

-

-

-

-

-
---
28S

Merseyside JLD

M

News from the MJLD

Shiverpool

MJLD members were treated to an evening of ghostly and ghoulish

delights aboard the Shiverpool Bus tour. Taking in some of the more

ghastly sites of the city centre and stopping for cameos from the jilted

bride buried alive within the grounds of the Anglican Cathedral; a

deathly spectre accused of the murder of his poor and unassuming

mother; m and an escapee of an insane asylum - the ride was as frightful

as it was entertaining!

The tour proceeded, stopping under

the dim light of the Liver Building as

the hostess expertly regaled

Liverpool's most notorious ghostly

tales, eventually heading towards the

Philharmonic and the Georgian

Quarter. Beginning and ending at Ma

Boyles just off Water Street, guests

later took part in a 'Guess the name

of the Killer Clown' raffle, with the

ank you to our sponsor for the evening winner receiving Anakin a meal Seal, for two to everyone at at Ma Boyles and

the Alchemist, kindly donated by

Anakin Seal.

r for the evening Anakin Seal, T to A everyone big thank you at to Ma our sponsor Boyles forand

the evening Anakin Seal, to everyone

at Ma Boyles and most importantly a

thank you to all the brave souls those

who took part (especially during the

audience participation section…)

Liverpool Law Society Annual Dinner

T

Committee members (in their finest attire) attended the Liverpool Law

Society Annual Dinner on 10th November at the Adelphi Hotel.

The event is widely considered the most distinguished black tie event of

A big thank you to our sponsor for the evening Anakin the legal Seal, calendar, to everyone and celebrates Ma the commercial Boyles and success of the legal

T community and those who serve within it.

The MJLD can say with certainty that a great evening was had by all –

we look forward to next year's event!

T

COMING SOON

Christmas Event – December – details to be communicated very soon!
---
Looking for a simple solution

for legal indemnities?

es?

Cover is just a

click

away.

O ur free res

idential online

s ervice is ea

sy to use.

Just follow

these simple steps:

Register e and start ordering today!

or call

020 7256 3847

Unable to meet et our

self-issue criteria or

need cover

for new builds, development

or

commercial risks?

Our

bespoke underwriting team have the expertise to assist

you,

please email

enquiries@crminsurance.co.uksurance.co.uk

C onveyancing Risk Management Limited is authorised and regulated by the Financial Conduct

Authority, Registration No. 481621.

Registered in England No. 04568951.

Registered Office: 150 Aldersgate Street, London EC1A 4AB.
---
£ £ £

£

£

£ £

-

-