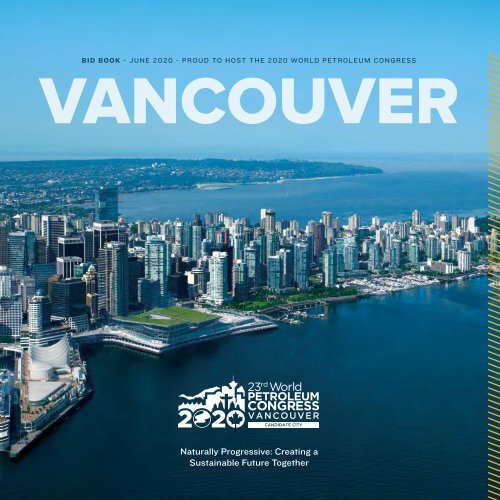 VANCOUVER
WPC-2020-Vancouver-Bid-Book_s
WPC-2020-Vancouver-Bid-Book_s
SHOW MORE
SHOW LESS
Create successful ePaper yourself
Turn your PDF publications into a flip-book with our unique Google optimized e-Paper software.
BID BOOK - JUNE 2020 - PROUD TO HOST THE 2020 WORLD PETROLEUM CONGRESS

VANCOUVER

Naturally Progressive: Creating a

Sustainable Future Together
---
TABLE OF

CONTENTS

////////////////////////////////////////////////////////////////////////////

TABLE OF CONTENTS

Welcome 4

Executive Summary 6

Vancouver As A Destination 8

6 Reasons To Meet Here 12

Canada's Metropolitan Coast 14

Letters Of Support: Government 16

Vancouver Convention Centre 20

Vancouver Hotels 22

Visa Requirements 24

Vancouver International Airport 26

Local Transportation 28

Local Flavours 30

Letters Of Support: Industry 32

Canadian Energy Overview 42

Congress Activities 44

Technical Tour Program 48

Spousal Programs 50

Pre & Post Conference Tours 52

Legacy Program 54

Supporters 58
---
WELCOME

A world class venue is also critical to a

successful Congress and the award winning

Vancouver Convention Center, located on

Vancouver's waterfront with a dramatic

mountain backdrop, will provide unparalleled

facilities and hospitality.

Canada is known worldwide for our open

nature and friendly ways, our global outlook

and our savvy and progressive approach to the

production and consumption of energy. This is

an exciting time in the oil & gas industry, with

challenges and opportunities that are being

addressed innovatively by an emerging

generation with optimism, fueled by the open

exchange of ideas and ongoing dialogue.

With this spirit, we believe there is nowhere

better on our planet than Vancouver and

Canada for our industry to come together

in congress to talk about this future.

We are honoured to invite the world's oil and

gas industry to assemble in Vancouver in 2020

and kindly request your support of our bid to

host the 23rd World Petroleum Congress.

Respectfully Yours,

//////////////////////////////////

On behalf of the Canadian

Association of the World Petroleum

Council ('WPC Canada'), we are

deeply honoured to nominate the

beautiful and incredibly vibrant city

of Vancouver, British Columbia,

Canada to host the 23rd World

Petroleum Congress in 2020.

4

successful Congress starts with the

A strong support of a robust national oil

and gas sector. Canada is the fifth largest

oil and gas producer in the world. Our

nation has some of the largest remaining

oil and gas reserves on the planet and

enjoys one of the most open and active

investment markets.

The Canadian oil and gas industry

will be at the forefront of the 2020 WPC

Congress displaying some of the most

advanced technologies in the industry

and discussing the critical challenges

facing the global oil and gas industry

over the next decade.

The City of Vancouver itself is an emerging

energy center with modern LNG export facilities

along the coastline of the province of British

Columbia expected to be built within the

coming years.

Just a quick one hour flight from Vancouver is

Calgary, Alberta, the center of the Canadian oil

and gas industry and the host city of the very

successful 16th World Petroleum Congress in

2000. Here Canadian oil and gas companies are

headquartered and are ready to discuss

investment opportunities within Canada's energy

sector. Technical tours of Canada's Oil Sands

and shale gas facilities will also be a part of the

2020 WPC Congress in Canada.

If you have not visited Vancouver or other parts

of British Columbia, you will definitely be in for

a treat. Considered one of the top most livable

cities in the world, Vancouver is set in one of

the most majestic and breathtaking parts of

North America.

Its pristine coastline, nearby islands, coastal

mountains, including the internationally

recognized resort village of Whistler, and old

growth rain forests offer up many incredible

opportunities to explore and engage in

unique adventures.

Canada's awe inspiring Rocky Mountains are

just a short trip away from Vancouver and

provide additional opportunities to experience

Canada's natural wonders.

Warmer and more temperate than most

of the balance of Canada, expect summer

temperatures in the mid-20s Celsius, ideal for

a full range of activities. Within the city, there

are also many fascinating indoor and outdoor

attractions to visit including world-famous

Stanley Park, beautiful Grouse Mountain

and the fun atmosphere of Granville Island.

Denis Painchaud

Chairman, World Petroleum

Council Canada

Dr. Randall Gossen

Past President, World

Petroleum Council

5
---
EXECUTIVE

SUMMARY

//////////////////////////////////

The World Petroleum Council is dedicated to the promotion of

sustainable management and use of the world's petroleum resources.

In order to achieve success, the global oil & gas industry needs

to encourage continuous dialogue and thoughtful planning in an

environment that supports meaningful and respectful collaboration.

For these reasons, the Canadian Association of the World Petroleum

Council ('WPC Canada') believes that Vancouver is the perfect

destination to host the 23rd World Petroleum Congress in 2020,

as the Naturally Progressive choice.

6

On Canada's west coast, Vancouver is a

shining example of what our country

offers to the world - a scenic, safe, secure

and ethnically diverse city that has hosted

some of the world's most important

gatherings, including the 2010 Winter

Olympics where 2,600 athletes came

from over 82 nations, for 17 days of

record-breaking athletic performances.

The city itself is ranked the third most livable

in the world by the Economist Magazine,

and the award-winning conference centre -

the main gathering place for much of the

conference, is central to the city. Vancouver

is easy to get to, with so many direct flights

from around the world arriving to an

international airport has been voted the

best in North America for a record seven

years in a row.

Canada is the 5th largest oil & gas producer

in the world, and a member of key global

organizations like OECD and the G7. British

Columbia, the province that Vancouver calls

home, is an emerging energy center itself,

with new, modern LNG export facilities under

consideration. And Calgary, the heart of the

Canadian oil and gas industry and all its

corporateheadquarters, is a short one-hour

flight from Vancouver.

Your support of the Vancouver 2020

bid will also support plans to launch an

ambitious made-in-Canada legacy plan

for the benefit of all WPC members. This

legacy plan will be the platform to groom

a new generation of energy leaders, and

support the importance of Environmental

Stewardship, provide Education and

Training for a broad spectrum of participants

including Indigenous Peoples, cultivate

future industry leaders through targeted

Leadership Development, promote the

importance of developing emerging

Technology within Sustainability ambitions,

and support the goal of the World Petroleum

Council's Legacy programs to benefit all

National Committees.

Vancouver looks forward to the opportunity

to welcome the world's energy nations and

its leaders, to the 23rd World Petroleum

Congress in 2020, and show participants

why we believe we are the naturally

progressive choice.

7
---
VANCOUVER: TOP MEETING DESTINATION

8

////////////////////////////////////////////////////////////////////////////

Vancouver is recognized

as one of North

America's top meeting

destinations thanks to

an easily navigable

infrastructure and

state-of-the-art facilities

including the globally

lauded Vancouver

Convention Centre.

Vancouver has become

a mecca for planners,

delegates and visitors

seeking a breath of fresh air

alongside innovative venues,

inspiring surroundings and

scores of expertise. We've

hosted events ranging from

intimate meetings to the TED

Conference to the Olympics

– and we're confident we'll

make your event just as

successful and memorable.

9
---
VANCOUVER: A WELCOMING DESTINATION

10

Vancouver is truly a unique

destination for conferences

and meetings.

The city's spectacular beauty sets it

apart and is complemented by the

nature-inspired design of the LEED

Platinum-certified Convention Centre.

What is not as obvious is the

microcosm created by three 5-star

hotels adjacent to the centre and

several 4-star properties within

easy walking distance.

Katherine McCartney,

TED Conference

Once our delegates arrived in

Vancouver they knew they were

going to experience something truly

special, exciting, and memorable.

They told us that everything had

exceeded their expectations, and

many wanted to repeat the whole

event all over again in Vancouver.

This city and its infrastructure

provided the perfect backdrop

for our organizing committee.

Dr. Harvey Lui,

World Congress of Dermatology

We've held our biennial GLOBE Series

events in Vancouver since 1990,

which hosts nearly 10,000 visitors

from 60 countries. Vancouver

continues to be an enormous draw for

our delegates given its easy access

from foreign markets (particularly Asia),

it's beauty, climate, cleanliness and

reputation for safety. The cosmopolitan

nature of the city lends itself to

excellent food and shopping, and the

tourism infrastructure is superb.

We know that hosting the event in

Vancouver remains a key factor in

keeping delegates coming back, and

inspires new delegates to want to come.

Nancy Wright | Chief Operating

Officer GLOBE Series

////////////////////////////////////////////////////////////////////////////

Awards

#1 North American City for

Economic Potential

FDI Magazine 2015

Most Livable City in North America

Mercer Quality of Living Survey 2015

World's Best Food Cities

Condé Nast Traveller 2015

7th Consecutive year as Best Airport

in North America

Skytrax World Airport Awards 2015

12th Consecutive year as Canada's

Best Destination

Travel Weekly 2014

World's Healthiest Places to Live

Time Magazine 2014

#1 Convention City in North America

for International Associations

International Congress and Convention

Association 2015, 2014, 2011, 2010,

2008, 2006

Top Travel Destination in Canada

Travel + Leisure 2014

Top 10 Beach Cities in the World

National Geographic Traveler 2013

World's Most Reputable City

Reputation Institute, City RepTrak 2012

World's Best Convention Centre

International Association of Congress

Centres 2008, 2002

11
---
VANCOUVER: 6 REASONS TO MEET HERE

12

////////////////////////////////////////////////////////////////////////////

THE VANCOUVER CONVENTION CENTRE

Two-time winner of the International Association of Congress

Centres (AIPC) award for "World's Best Convention Centre."

The 466,500 square feet (43,340 square metres) facility is

built 40% over water, with floor-to-ceiling glass throughout to

treat guests to phenomenal harbour and mountain views.

LOCAL EXPERTISE AND INDUSTRY

Vancouver, already one of the most livable cities in the world,

has enacted a Greenest City action plan, a strategy for

staying on the leading edge of urban sustainability. The City

of Vancouver has committed to becoming a renewable city,

with 100% of its energy coming from renewable resources, by

2050. The energy sector has, and will continue to play a key

role in leveraging industry expertise to help the city achieve

these goals.

UNIFIED, SUPERIOR SERVICE

Vancouver is unlike any city that you've planned a meeting

in before. Our hospitality community is unified, meaning that

Tourism Vancouver along with hotels, venues and suppliers

work together seamlessly to make sure your experience in

our destination exceeds all expectations.

SPECTACULAR BY NATURE

Vancouver offers the winning combination of a modern,

diverse city and a stunning natural setting. Attendees will

love how easy it is to experience urban activities (such

as shopping, dining, and cultural attractions) and then to

explore mountaintops as well as pristine waterways in

the same day.

ACCESSIBILITY

Vancouver enjoys a reputation of being one of the most

accessible cities in the world. To get to Vancouver, there

are more than two dozen international flights in and out

of award-winning YVR every day, with over 75 bound for

the United States. In addition, Vancouver is considered

Canada's most walkable city, supported by a light rail

transit system.

ACCOMMODATIONS

With 21 convention hotels downtown and meeting space

ranging from 2,000 to 51,000 square feet (185 to 4,700

square metres), meeting planners have many possibilities to

choose from. And with 13,000 hotel rooms in the city's

downtown core, and 28,000 in Metro Vancouver, delegates

have plenty of choice as well, including three world-class

properties that connect to the Vancouver Convention Centre.

13
---
VANCOUVER: CANADA'S METROPOLITAN COAST

14

Vancouver's June Events

Vancouver International Jazz Festival

Bard on the Beach Shakespeare Festival

City of Bhangra Festival

Dragon Boat Festival

Vancouver Craft Beer Week

Vancouver International Children's Festival

Vancouver Whitecaps FC Major League Soccer Season

BC Lions Canadian Football League Season

Scotiabank Half Marathon & 5K

Shipyard Night Market

Richmond Night Market

Playland at the PNE

June Weather

Average High:

19 ºC /66ºF

Average Low:

11 ºC /51ºF

Average Precipitation:

45.2mm

////////////////////////////////////////////////////////////////////////////

Experience summer in

one of the most livable

cities in the world, with

world class safety,

stability and culture.

June is the best time of

year to see everything

Vancouver has to offer.

#8 IN PEACEFULNESS

The Global Peace Index (GPI) is the product of the Institute

for Economics and Peace (IEP). Launched in May 2007 and

updated annually, it ranks 162 countries around the world

according to their peacefulness. Canada is #8 in the 2016

GPI rankings.

#3 IN LIVEABILITY

The latest findings of The Economist Intelligence Unit's

(EIU) Global Liveability Ranking – which provides scores

for lifestyle challenges in 140 cities worldwide – places

Vancouver as the world's #3 most liveable city.

#4 IN QUALITY OF LIVING

The Mercer Quality of Living Survey is conducted to help

governments and major companies place employees on

international assignments. The survey also identifies those

cities with the highest personal safety ranking based upon

internal stability, crime, effectiveness of law enforcement

and relationships with other countries. Vancouver is ranked

#4 for high personal safety and quality of living in the world,

and top city in North America.

15
---
VANCOUVER: LETTERS OF SUPPORT

///////////////////////////////////////////////////////////////

16 17
---
VANCOUVER: LETTERS OF SUPPORT

///////////////////////////////////////////////////////////////

18 19
---
Vancouver Convention Centre

FACILITY SPECIFICATIONS

FUNCTION SPACE

Exhibition Space

Meeting Space

No. of Meeting Rooms

Ballroom Space

TOTAL

20

WEST BUILDING

220,500 ft² / 20,485 m²

60,000 ft² / 5,600 m²

52

53,000 ft² / 4,920 m²

333,500 ft² / 30,980 m²

EAST BUILDING

91,000 ft² / 8,500 m²

25,000 ft² / 2,300 m²

20

17,000 ft² / 1,600 m²

133,000 ² / 12,400 m²

COMBINED FACILITY

311,500 ft² / 28,940 m²

85,000 ft² / 7,900 m²

72

70,000 ft² / 6,500 m²

466,500 ft² / 43,340 m²

////////////////////////////////////////////////////////////////////////////

ANTICIPATING YOUR EVERY NEED

As the only two-time winner of the

International Association of Congress

Centres' (AIPC) Apex Award for the "World's

Best Conference Centre" in 2008 and 2002,

the Vancouver Convention Centre's service

standards, facilities, project management and

technical capabilities are second to none.

Our entire team of experienced and friendly

professionals is dedicated to providing the

best possible service to ensure a memorable

and successful event.

When it comes to convention centres, we are

leading the way with the fastest connection

and technology offers of any other facility,

including connection speeds up to 1GB per

second. All of your technology requirements

are already on-site and part of our

infrastructure. In fact, we had the capacity

to accommodate the complex needs of the

world media when our facility served as the

Main Media Centre for the 2010 Olympic

and Paralympic Winter Games.

ANYTHING BUT CONVENTIONAL

We take great pride in our culinary expertise.

The food and the care with which it's served

rival that of five-star restaurants, with

tantalizing West Coast Cuisine – a mélange

of the best ingredients, Asian influences

and imaginative pairing. Operating one of

Canada's largest capacity kitchen spaces

with a unique 'scratch' kitchen philosophy,

we use only the freshest local and seasonal

ingredients. Taking full advantage of the

province's award-winning wine industry,

we exclusively feature British Columbia's

VQA quality wines.

PLANNER TESTIMONIALS

"Everything we need in a convention city –

restaurants, attractions, nightlife, culture – it's

all wrapped up in Vancouver. And, without a

doubt, the Vancouver Convention Centre is

#1. There is no other convention centre in the

world that has the view that this one does.

It's amazing and stunning."

- Million Dollar Roundtable

"Service, Service, Service. In the 23 years

that I have run this meeting, this is BY FAR

the best service, friendliest team and

professional centre I've ever dealt with.

Thank you!!"

- Pediatric Academic Societies

FUNCTIONAL, BEAUTIFUL AND 'GREEN'

It's easy to think green at the Vancouver

Convention Centre. With our sustainable

practices, unique building features and

commitment to work closely with clients to

create sustainable events, we are one of

greenest convention centres in the world.

We have an extensive facility-wide recycling

program, which recovers nearly half the

total volume of waste generated, and have

hosted Vancouver's first audited zero-waste

event. Our iconic West building has been

awarded LEED (Leadership in Energy and

Environmental Design) Platinum certification,

making us the first convention centre in

the world to receive the highest level of

LEED designation.

The West building also features a unique

marine habitat, a sophisticated drainage and

water recovery system and a seawater

heating and cooling system. As well, our six

acre "living" roof (the largest in Canada and

the largest non-industrial living roof in

North-America) features more than 400,000

indigenous plants and grasses as well as

four beehives.

FUTURE EVENTS

Here are just some of the groups who will

take advantage of our combination of city

and award-winning convention centre.

• TED Conference LLC

2017 TED

April 2017,

1,500 delegates

• International Union of Geological Sciences

2018 Resources For Generations Congres

June 2018, 5,000 delegates

• SIGGRAPH International

Conference and Exhibition on Computer

Graphics and Interactive Techniques

August 2018

15,000 People

• Million Dollar Round Table

2024 Annual Meeting

June 2024

8,000 People

21
---
Vancouver Convention Hotels

Downtown Convention Hotels

Hotel Rating

Total Guest

Rooms

Maximum

Committable

Group Rooms

Total Meeting

Space (Sq Feet/

Metres)

Largest Meeting

Room (Sq Feet/

Metres)

Total Meeting

Rooms

Capacity

Theatre-Style

Capacity

Banquet-Style

Tourism Vancouver works with all of our city's

fine hotels to match your needs with the right

property. We help you source and secure

guest rooms and meeting space ideal for your

group. All hotels are located within the downtown

core and within walking distance of the

Vancouver Convention Centre.

NUMBER OF ROOMS IN PROXIMITY TO

VANCOUVER CONVENTION CENTRE

20-30 Minute Walk: 7,800 rooms

15-20 Minute Walk: 7,000 rooms

0-15 Minute Walk: 6,200 rooms

22

3

5

22

1

2

3

4

5

6

7

8

9

10

11

2

20

17

19

15

21

11

6

7

13

16

9

1

18

10

Century Plaza Hotel & Spa

Coast Coal Harbour Hotel

12

13

Coast Plaza Hotel & Suites

14

Delta Vancouver Suites

15

Empire Landmark Hotel Vancouver 16

The Fairmont Hotel Vancouver 17

The Fairmont Pacific Rim

18

The Fairmont Waterfront

19

Four Seasons Hotel Vancouver 20

Holiday Inn Hotel & Suites

21

Hyatt Regency Vancouver

22

14

8

4

12

JW Marriott parq Vancouver

Metropolitan Hotel Vancouver

Pan Pacific Vancouver

Pinnacle Hotel Vancouver Harbourfront

Rosewood Hotel Georgia

Shangri La Hotel Vancouver

Sheraton Vancouver Wall Centre Hotel

Sutton Place Hotel Vancouver

Trump International Hotel & Tower

Vancouver Marriott Downtown Hotel

The Westin Bayshore, Vancouver

////////////////////////////////////////////////////////////////////////

1. Century Plaza Hotel & Spa ★★★ 240 150 5,300/492 3,500/325 3 275 250

2. Coast Coal Harbour Hotel ★★★★ 220 125 8,000/743 5,000/465 8 400 360

3. Coast Plaza Hotel & Suites ★★★ 199 100 15,300/1,421 4,500/418 21 360 360

4. Delta Vancouver Suites + Wosk Centre for Dialogue ★★★★ 225 140 18,000/1,672 6,500/604 11 270 200

5. Empire Landmark Hotel Vancouver ★★★ 357 200 13,666/1,269 4,836/449 12 320 300

6. The Fairmont Hotel Vancouver ★★★★ 556 400 37,000/3,437 11,400/1,059 16 1,500 1,000

7. The Fairmont Pacific Rim ★★★★★ 377 250 15,000/1,394 6,852/637 9 500 450

8. The Fairmont Waterfront ★★★★ 489 350 24,000/2,229 7,050/654 14 780 590

9. Four Seasons Hotel Vancouver ★★★★★ 372 275 21,270/1,976 5,560/516 12 700 500

10. Holiday Inn & Suites Vancouver Downtown ★★★ 245 75 6,415/596 3,500/325 4 225 150

11. Hyatt Regency Vancouver ★★★★ 644 500 45,000/4,180 13,940/1,295 29 1,650 1,300

12. JW Marriott parq Vancouver + The Douglas ★★★★ 517 500 65,000/6,039 15,604/1,450 29 1,800 1,200

13. Metropolitan Hotel, Vancouver ★★★★ 197 100 7,800/724 1,929/179 7 150 110

14. Pan Pacific Vancouver ★★★★ 503 350 42,000/3,901 6,808/632 20 700 600

15. Pinnacle Hotel Vancouver Harbourfront ★★★ 442 350 31,000/2,879 7,920/736 19 800 600

16. Rosewood Hotel Georgia ★★★★★ 156 140 9,847/915 2,673/248 7 250 200

17. Shangri La Hotel, Vancouver ★★★★★ 119 60 6,586/612 1,832/170 6 125 120

18. Sheraton Vancouver Wall Centre Hotel ★★★★ 733 600 48,652/4,520 10,489/975 35 1,350 930

19. Sutton Place Hotel Vancouver ★★★★ 396 250 12,148/1,129 3,150/292 16 330 280

20. Trump International Hotel & Tower ★★★★★ 147 147 15,000/1,394 5500/511 7 442 400

21. Vancouver Marriott Downtown Hotel ★★★★ 438 260 16,000/1,486 6,632/616 12 600 450

22. The Westin Bayshore, Vancouver ★★★★ 511 450 51,334/4,769 15,521/1,441 35 2,000 1,400

23
---
WPC 2020: VISA REQUIREMENTS

Canada is looking forward to welcoming you. Every year,

more than 35 million people visit Canada to enjoy the many

opportunities our country has to offer.

24

///////////////////////////////////////////////////////////////

Depending on where you live, and the

reason for your visit, you will need to

meet certain entry requirements. In some

cases, if you plan to stay in Canada for a

certain period of time, you will need

a Temporary Resident Visa.

• Andorra, Anguilla, Antigua and Barbuda,

Australia, Austria, Bahamas, Barbados, Belgium,

Bermuda, British Virgin Islands, Brunei, Cayman

Islands, Chile, Croatia, Cyprus, Czech Republic,

Denmark, Estonia, Falkland Islands, Finland,

France, Germany, Gibraltar, Greece, Hungary,

Iceland, Ireland, Israel, Italy, Japan, Republic

of Korea, Republic of Latvia, Liechtenstein,

Lithuania, Luxembourg, Malta, Monaco,

Montserrat, Netherlands, New Zealand, Norway,

Papua New Guinea, Pitcairn, Poland, Portugal,

Samoa, San Marino, Singapore, Slovakia,

Slovenia, Solomon Islands, Spain, St. Helena,

Sweden, Switzerland, Taiwan, Turks and Caicos

Islands, United States;

• British citizens and British overseas citizens -

A British citizen or a British overseas citizen

who is re-admissible to the United Kingdom;

• British National (Overseas) - holder of a British

National (Overseas) passport issued by the

United Kingdom to persons born, naturalized

or registered in Hong Kong;

• British Subjects - holder of a British Subject

passport issued by the United Kingdom which

contains the observation that the holder has

the right of abode in the United Kingdom;

• Hong Kong Special Administrative Region -

holder of a valid and subsisting Special

Administrative Region passport issued by

the Hong Kong Special Administrative Region

of the People's Republic of China;

• Holy See - holder of a passport or travel

document issued by the Holy See.

FLYING TO CANADA?

ENTRY RULES HAVE CHANGED

Canada has introduced a new entry requirement,

known as an Electronic Travel Authorization (eTA),

for visa-exempt foreign nationals travelling to

Canada by air. Exceptions include U.S. citizens

and travellers with a valid visa.

Eligible travellers can apply online for an eTA.

This new requirement has become mandatory and

travellers will need an eTA before they can board

their flight to Canada. To find out more, visit

Canada.ca/eTA.

To make this process as easy and fast as possible,

you are welcome to speak with a member of our

Convention Services team, who have a wealth of

knowledge on this matter.

www.tourismvancouver.com/meetings/contact

More info is available at www.cic.gc.ca.

25
---
YVR AIRPORT FAST FACTS

• Voted best airport in North America

for the seventh year in a row

• Premier gateway to theAsia-Pacific

region

• 25 minutes south of downtown

Vancouver (9.3 miles / 15 km)

• Transfer service to downtown via

SkyTrain rapid transit system

(CAD $9.00)

• 226 arriving international flights per

week week in the summer and 187

during winter (excluding USA)

• 78 arriving USA flights per day

during summer and 70 in the winter

• 235 arriving domestic flights per day

during summer and 206 during

winter

• 56 airlines serve YVR, connecting

people and businesses to more than

118 non-stop destinations worldwide

• A record 20.3 million passengers

served in 2015

Vancouver

International

Airport

Scheduled North

American Destinations*

NORTH AMERICAN DESTINATIONS

NORTH AMERICAN BC DESTINATIONS

& MEXICO DESTINATIONS

British

Columbia

Airport Airline Flights Per Week Airport Airline Airport Flights Airline Per Week Flights Per Week

Canada

British

Airport Airline Flights Per Week

Code Summer Canada

'16 Winter '15 Code Code Summer '16 Winter '15 Summer '16 Winter '15

Columbia

Code Summer '16 Winter '15

Calgary YYC AC, TS 1 , WG, WS 209 Calgary 205

Abbotsford YYC AC, TS 1 , WG, WSYXX 209 IX 205 14Abbotsford14

YXX IX 14 14

Edmonton YEG AC, WS 117 Edmonton109

Anahim YEG Lake AC, WS YAA 117 8P 109 7Anahim Lake -

YAA NORTH 8P AMERICA 7 &-

Fort McMurray YMM AC + , WS 22Fort McMurray 17

Bella YMM Bella/Coola AC + , WS QBC 22 8P 17 7Bella Bella/Coola 7

QBC 8P 7 7

BRITISH COLUMBIA

Montreal YUL AC, WS 47Montreal 29

Campbell YUL AC, River WS YBL 47 8P, 9M 2 29 47Campbell 48 River YBL 8P, 9M 2 47 48

Ottawa YOW AC, WS 27Ottawa 14

Castlegar YOW AC, WS YCG 27 AC + 14 21Castlegar 19

YCG AC + 21 19

Regina YQR AC, WS 19Regina 10

Comox YQR AC, WS YQQ 19 8P, 9M 2 , AC 10

+ 56Comox 54

YQQ 8P, 9M 2 , AC + 56 54

Saskatoon YXE AC + , WS 19Saskatoon17

Cranbrook YXE AC + , WS YXC 19 8P, AC + 17 30Cranbrook32

YXC 8P, AC + 30 32

Toronto YYZ AC, WG, WS 203 Toronto 113

Dawson YYZ Creek AC, WG, WS YDQ 203 BH 113 6Dawson Creek 6

YDQ BH 6 6

Whitehorse YXY AC + , 4N, WS 21Whitehorse 18

Fort YXYNelson AC + , 4N, WS YYE 21 9M 18 -Fort Nelson6

YYE 9M - 6

Winnipeg YWG AC, WS 41Winnipeg 34

Fort YWGSt. John AC, WS YXJ 41 AC + , WS ++ 34 37Fort St. John 32

YXJ AC + , WS ++ 37 32

Gulf Islands - 101, 25, SS1 48Gulf Islands 41

- 101, 25, SS1 48 41

Kamloops YKA AC + 33Kamloops47

YKA AC + 33 47

TERRACE

PRINCE

RUPERT

MASSET

United States

Airport Airline Flights Per Week Kelowna YLW 4N, AC + , WG, WS 84 99

SANDSPIT

Airport Airline Flights Per Week Kelowna YLW 4N, AC + , WG, WS 84 99

Code Summer

United

'16 Winter

States

'15 Masset ZMT 8P 6 6

Code Summer '16 Winter '15 Masset ZMT 8P 6 6

Anchorage ANC AC 7Anchorage-

Nanaimo

ANC AC

YCD AC + , IX

7 -

56Nanaimo 48

YCD AC + , IX 56 48

PORT

BELLA

COOLA

Atlanta ATL DL 2Atlanta -

Nanaimo Harbour

ATL DL

ZNA 8O, H3, SS1

2 -

73Nanaimo Harbour 68

ZNA 8O, H3, SS1 73

HARDY

68

CAMPBELL

RIVER

Chicago ORD AC, UA 28Chicago 14

Penticton

ORD AC, UA

YYF AC +

28 14

25Penticton 20

YYF AC + 25 20 TOFINO

COMOX

Dallas DFW AA 21Dallas 14

Port Hardy

DFW AA

YZT 8P

21 14

18Port Hardy18

YZT 8P 18 18

Denver DEN UA 21Denver 14

Powell River

DEN UA

YPW 8P

21 14

26Powell River 26

YPW 8P 26 26

Detroit DTW DL 1 -

Prince George YXS AC + ANCHORAGE

, WS 65 64

Detroit DTW DL 1 -

Prince George YXS AC + , WS 65 64

Honolulu HNL AC, WS 11 20

Prince Rupert YPR AC + WHITEHORSE

, BH 21 20

CANADA

Honolulu HNL AC, WS 11 20

Prince Rupert YPR AC + , BH 21 20

Houston IAH UA 10 7

Qualicum Beach XQU XC, OR 66 26

Houston IAH UA 10 7

Qualicum Beach XQU XC, OR

FORT

66

McMURRAY

26

Kahului (Maui) OGG AC, WS 8 22

Quesnel YQZ 9M 2 13 14

Kahului (Maui) OGG AC, WS 8 22

Quesnel YQZ 9M 2 13

EDMONTON

14

Kona (Hawaii) KOA AC, WS 1Kona (Hawaii) 8

Sandspit YZP AC + SASKATOON

12 7

KOA AC, WS 1 8

Sandspit YZP AC + 12 WINNIPEG 7

Las Vegas LAS AC, WS 23 25

Sechelt YHS 8O, H3 18 17

VICTORIA CALGARY REGINA

Las Vegas LAS AC, WS 23 25

Sechelt YHS 8O, H3 18 17

Lihue LIH WS - 7

Smithers YYD AC + SEATTLE

MINNEAPOLIS

, BH 19 13

Lihue LIH WS - 7

Smithers YYD AC + , BH

PORTLAND

19 13

Los Angeles LAX AA,AC,AS,DL,WS 90Los Angeles 70

Terrace

LAX

YXT

AA,AC,AS,DL,WS

AC + , BH, WS

90 70

67Terrace 58

YXT LIHUE AC + , BH, WS SALT LAKE 67 CITY 58

SAN FRANCISCO

Minneapolis MSP DL 14 13

Tofino YAZ OR, XC 23 7

HONOLULU

& SAN JOSE

DENVER

Minneapolis MSP DL 14 13

Tofino YAZ OR, XC 23 7

LAS VEGAS

New York JFK CX, DL, PR 18 11

Trail YZZ 8P 13 13

KAHULUI

New York JFK CX, DL, PR 18 11

Trail YZZ 8P

PALM SPRINGS

13 13

Newark EWR AC 7 7

Victoria YYJ 8P, AC + , WG, WS ++ KONA LOS ANGELES &

171 169

ORANGE COUNTY PHOENIX

Newark EWR AC 7 7

Victoria YYJ 8P, AC + , WG, WS ++ 171 169

SAN DIEGO

Orange County SNA WS 7 6

Victoria Harbour YWH 8O, H3, JB 39Victoria Harbour 39

Orange County SNA WS 7 6

YWH 8O, H3, JB 39 39

MEXICO

Orlando NEW MCO WS - 2

Williams Lake YWL 8P, 9M 2 33Williams Lake 33

Orlando NEW MCO WS - 2

YWL 8P, 9M 2 33 33

SAN JOSE DEL CABO MAZATLAN

Orlando NEW SFB N8 2Orlando NEW -

SFB N8 Airport Airline 2 - Flights Per Week

PUERTO VALLARTA

Airport Airline Flights Per Week

Mexico

MANZANILLO

Palm Springs PSP AC, WS 2 20

Code Summer Mexico

'16 Winter '15

Palm Springs PSP AC, WS 2 20

Code Summer '16 Winter IXTAPA/ '15

Phoenix PHX AA, AC, WS 18Phoenix 28

Cancun PHX AA, AC, WS CUN 18 AC, EG, TS, WG, 28 WS 2Cancun 13

CUN AC, EG, TS, WG, WS 2 13

Portland PDX AC + , AS +++ 42Portland 35

Huatulco PDX AC + , AS +++ HUX 42 WG 35 -Huatulco 2

HUX WG - 2

Salt Lake City SLC DL 2 14Salt Lake City 7

Ixtapa/Zihuatanejo SLC DL 2 ZIH 14 AC 7

-Ixtapa/Zihuatanejo 1

ZIH AC - 1

San Diego NEW SAN AC 7San Diego NEW -

Manzanillo SAN AC ZLO C6, 7 WG -

-Manzanillo1

ZLO C6, WG - 1

San Francisco SFO AC, UA, WS 62San Francisco 45

Mazatlan SFO AC, UA, WS MZT 62 WG, WS 45 1Mazatlan 2

MZT WG, WS 1 2

San Jose NEW SJC AC 14San Jose NEW -

Mexico SJC City AC MEX 14 AC, AM - 14Mexico City 12

MEX AC, AM 14 12

Seattle SEA AC + , AS +++ , DL 125 Seattle 95

Puerto SEA Vallarta AC + , AS +++ , DL PVR 125 AC, TS, WG, WS 95 3Puerto Vallarta 12

PVR AC, TS, WG, WS 3 12

Washington DC IAD UA 1Washington - DC San IADJose UA Del Cabo SJD AC, 1 WG, WS-

1San Jose Del 5 Cabo SJD www.yvr.ca AC, WG, WS 1 5

*Destinations and airlines are subject to change without notice.

Based on schedule information available: November 2015

NON-STOP Destinations* NON-STOP

INTERNATIONAL DESTINATIONS

Airport Airline Flights Per Week

Asia

Code Summer '16 Winter '15

Airport Airline Flights Per Week

DESTINATIONS 2015/16

Beijing Asia DESTINATIONS PEKCodeAC, CA 2015/16

Summer 14 '16 14 Winter '15

BC & MEXICO DESTINATIONS

BRITISH COLUMBIA, CANADA

FORT

NELSON

ANAHIM

QUESNEL

LAKE

ANAHIM

QUESNEL

LAKE

WILLIAMS

BELLA

LAKE

WILLIAMS

COOLA

LAKE

Brisbane NEW BNE AC 3 -

PORT

HARDY

POWELL

RIVER

KAMLOOPS

POWELL

Sydney WHISTLER

SYD AC, QF

RIVER

8 KAMLOOPS 7

CAMPBELL

WHISTLER

RIVER

SECHELT

KELOWNA

COMOX SECHELT

KELOWNA

QUALICUM BEACH

TOFINO

PENTICTON

NANAIMO

CASTLEGAR

CRANBROOK

QUALICUM BEACH

PENTICTON

GULF ISLANDS

NANAIMO

MAPLE BAY

ZIHUATANEJO

SMITHERS

DAWSON

CREEK

South Pacific

PRINCE

GEORGE

TRAIL

GULF ISLANDS CASTLEGAR

MAPLE BAY

TRAIL

VICTORIA

Airport Airline Flights Per Week

VICTORIA

Europe

Europe Code Summer '16 Winter '15

ANCHORAGE

Amsterdam AMS KL, TS 1 9 5

Amsterdam WHITEHORSE AMS KL, TS

CANADA

1 9 5

Dublin NEW DUB AC 3 -

Dublin NEW DUB AC 3 -

Frankfurt FRA DE, FORT LH, McMURRAY TS 1 11 7

Frankfurt FRA DE, LH, TS 1 11 7

Glasgow GLA TS 1 1 -

Glasgow

EDMONTON

MONTREAL

GLA TSSASKATOON

1 1 -

MONTREAL

London WINNIPEG

OTTAWA

(Gatwick) LGW TS

London (Gatwick) LGW 1 , WS 13 2

TS 1 , WS 13 OTTAWA 2

TORONTO

VICTORIA CALGARY REGINA

TORONTO

London (Heathrow) NEW YORK LHR AC, BA 21 14

London NEWARK (Heathrow) SEATTLE LHR AC, MINNEAPOLIS BA 21 14

DETROIT

NEWARK

CHICAGO Manchester WASHINGTON D.C. PORTLAND MAN TS CHICAGO

Manchester MAN 1 2 -

TS 1 2 -

LIHUE

UNITED MunichSTATES

SALT LAKE CITY

Munich

MUC UNITED STATES

HONOLULU SAN FRANCISCO MUC

LH

LH

7

7

-

-

& SAN JOSE

DENVER

Paris Paris ATLANTA

CDG CDGLAS TSVEGAS

1 , AF 1 , AF 7 7 3

ATLANTA 3

KAHULUI

Reykjavik PALM SPRINGS

Reykjavik KEF

ORLANDO KONA LOS ANGELES & KEFFI FI 3

DALLAS 3 - -

ORANGE COUNTY PHOENIX

ORLANDO

HOUSTON Rome SAN DIEGO

Rome NEW NEW FCO FCOTS TS HOUSTON 1 1 - -

Zurich Zurich ZRH MEXICO ZRHWK WK 3 3 - -

DETROIT

DALLAS

Vancouver

International

Airport

CANCUN

MEXICO CITY

HUATULCO

Scheduled International

Guangzhou Beijing CANPEKCZ AC, CA 7 14 7 14

Hong Guangzhou NORTH Kong AMERICA HKGCANAC, CZ CX & 21 7 21 7

Manila Hong Kong MNLHKGPR AC, CX 7 21 10 21

BRITISH COLUMBIA

OsakaManila KIXMNLAC PR 6 7 - 10

SeoulOsaka ICN KIX AC, AC KE 14 6 14 -

Shanghai/Kunming Seoul PVG ICN AC, AC, MU KE 21 14 17 14

Shenyang/Chengdu Shanghai/Kunming SHEPVG 3U AC, MU 3 21 3 17

Taipei Shenyang/Chengdu TPESHEBR, 3U CI 12 3 10 3

BRITISH COLUMBIA, CANADA

Tokyo Taipei (Haneda) HNDTPE NH BR, CI

FORT

7

NELSON 12 7 10

Tokyo Tokyo (Narita) (Haneda) NRTHNDAC, NH JL 14 7 14 7

FORT

ST Tokyo JOHN (Narita) NRT AC, JL 14 14

www.yvr.ca

INTERNATIONAL DESTINATIONS

FORT

ST JOHN

PRINCE

Airport Airline RUPERT

SMITHERS Flights DAWSON Per Week

MASSET

TERRACE

CREEK

Code Airport Airline Summer Flights '16

PRINCE Winter Per Week '15

SANDSPIT

GEORGE

South Pacific

Code Summer '16 Winter '15

Auckland AKL NZ 5 5

Auckland AKL NZ 5 5

Brisbane NEW BNE AC 3 -

Sydney SYD AC, QF 8 7

CRANBROOK

Airport Airline Flights Per Week

Code Summer '16 Winter '15

NEW YORK

WASHINGTON D.C.

SAN JOSE DEL CABO MAZATLAN

CANCUN

PUERTO VALLARTA

MEXICO CITY

Airport Airline Flights Per Week

MANZANILLO

HUATULCO

Code Code IXTAPA/ Summer Summer '16 '16 Winter Winter '15 '15

ZIHUATANEJO

Caribbean/ Caribbean/

Central Central America America

Airport Airline Flights Per Week

Santa Santa Clara, Clara, Cuba Cuba SNU SNUTS, WG TS, WG - - 2 2

Varadero, Varadero, Cuba Cuba VRA VRAWG WG 1 1 1 2 2

Airlines serving YVR*

American British Canadian Cathay Pacific Central

Airlines American

Airlines

CI

Airways British

Airways

MU

Canadian North

North

CZ

Cathay Airways Pacific

Airways

DE

Mountain CentralAir

Mountain Air

DL

CI MU CZ DE DL

China China China Southern Condor Delta

Airlines China

Airlines

WK

Eastern China

Eastern

BR

China Airlines Southern

Airlines

H3

Condor

BH

Air Delta Lines*

Air Lines*

JB

WK BR H3 BH JB

Edelweiss EVA Air Harbour Air S

Hawkair Helijet

Edelweiss EVA Air Harbour Air S

Hawkair Airways Helijet Airways H

AS +++

FI IX

JL XC

FI IX

JL XC

AS +++

AIRLINES SERVING YVR

AIRLINES SERVING YVR

AM

AC

AC

CA

AF

AM

AC

AC

CA

AF

Aeromexico Air Canada / Air Canada Air China Air France

Air Canada Express Rouge

Aeromexico Air Canada / Air Canada Air China Air France

NZ

4N

TS

Air Canada Express Rouge

AS

NH

NZ

4N

TS

AS

NH

Air Air North Air Transat Alaska All Nippon

New Zealand

Air Air North Air Transat

Airlines

Alaska

Airways

All Nippon

AA New Zealand BA

5T CXAirlines

9MAirways

AA

BA

5T CX 9M

Horizon Air Icelandair Island

Japan KD Air S

Horizon Air Icelandair

Express Island Air

KD Air S

Airlines Japan

Express Air Airlines

KL KE LH OR 8P

KL KE LH OR 8P

KLM Royal Korean Air Lufthansa Orca Pacific Coastal

KLM Royal Korean Air Lufthansa Orca Pacific Coastal

Dutch Airlines

German Airlines Airways S

Dutch Airlines

German Airlines Airways S Airlines S

Airlines S

PR QF

PR QF 101 SS1 3U

101 SS1 3U

Philippine Qantas

Philippine Qantas Salt

Salt

Spring

Spring

Seair Sichuan

Seair Sichuan

Airlines Airlines

Airways Airways Air S

Air S Seaplanes S

Seaplanes S Airlines

WG WG

25 25 UA UA 8O 8O WS ++ ++

Sunwing Tofino Tofino Air Air S S

United

West Coast

WestJet

Airlines**

Air S

Airlines

* Delta * Air Air Lines includes Delta Connections

** ** United Airlines includes United Express

+ +

Air Air Canada includes flights operated by Air Canada Express

++ ++

WestJet includes flights operated by by WestJet Encore

+++ +++

Alaska Airlines includes flights operated by Horizon Air

1 1

Charter Charter flights flights may may have have one one stop en-route

2

2 H

Code Code share share airline airline H

Operates from Helijet facility

S

S

Operates Operates from from South South Terminal/public floatplane facility

Destinations Destinations and and airlines airlines are are subject subject to to change without notice.

Based

Based

on

on

schedule

schedule

information

information

available:

available:

November

November

2015

2015

NON

NON

DES

DEST

INTER

INTER

15 hrs

15 hrs

GUANGZ

HONG KO

GUANGZH SHA

HONG KON TAIP

SHAN

MANILA

TAIPE

MANILA O

12 hrs

BRISBA

BRISBAN

SYDN

SYDNE

www.yvr.ca

www.yvr.ca

26

27
---
VANCOUVER: LOCAL TRANSPORTATION

28

////////////////////////////////////////////////////////////////////////////

Accessibility

Coordinating your delegates' travel from one location to the next is a major challenge in most cities. Thankfully,

Vancouver makes things easy with its reliable, clean, green and efficient public transportation network;

its variety of coach companies providing group travel options; and its world-class network

of ferries designed to move people and cars throughout the surrounding region with comfort and ease.

BY CAR

• For travelling executives, there are several Vancouver

sedan and limo services to make the most of your

time so you can sit back and relax while travelling

around the city.

GETTING AROUND VANCOUVER BY FOOT

• Vancouver is rated Canada's most walkable city

• Downtown core has 21 convention hotels and

the Vancouver Convention Centre all within a

one mile radius

BY PUBLIC TRANSIT & COACH

• TransLink operates over 100 public buses,

the SkyTrain, and the SeaBus

• Fares range from $2.75 to $5.50

• SkyTrain stations are wheelchair accessible

• Scenic SeaBus connects North Vancouver

to Vancouver in 12 minutes

• Vancouver has many affordable and efficient

coach companies for various group sizes

TransLink Public Transit

COMPASS CARD

To travel on SkyTrain, SeaBus or West Coast Express,

you need a Compass Card or Ticket to open fare

gates or to tap on a station validator.

BUS

Vancouver's vast network of buses, trolleys and community

shuttles link to various hubs, SkyTrain stations

and destinations throughout Vancouver.

SEABUS

The SeaBus is a passenger only ferry that crosses

the Burrard Inlet, connecting downtown Vancouver

with the North Shore in 12 minutes.

FARES

Buying a single fare lets you travel for up to 90 minutes

across the Lower Mainland, allowing you

to hop on and off. You can travel for one, two or

three zones by bus, SeaBus or SkyTrain.

The Skytrain fare from Vancouver International Airport

(YVR) to downtown Vancouver is $9CDN

and the return is $4CDN.

Weekdays from start of service to 6:30 p.m.

Zone Adult Price Concession Price

1 Zone $2.75 $1.75

2 Zone $4 $2.75

3 Zone $5.50 $3.75

Weekdays after 6:30 p.m. and all day Weekends

and Holidays are a 1 Zone rate.

SKYTRAIN

Vancouver's SkyTrain is one of the longest automated

light rapid transit system in the world. The Expo

and Millenium SkyTrain Lines connect downtown

Vancouver with the cities of Burnaby, New Westminster

and Surrey. The Canada Line connects

downtown Vancouver to the Vancouver International

Airport (YVR) and the city of Richmond.

TransLink has been operating in Vancouver

for 125+ years.

www.translink.ca

29
---
VANCOUVER: LOCAL FLAVOURS

Vancouver has one of the most celebrated culinary scenes in the world. Visitors

can look forward to indulging in the best tower of fresh seafood, the finest housemade

charcuterie, the most delicious taco truck, and the best of B.C. wines. The

city's restaurants, wine bars, tasting rooms, cocktail dens, food trucks, farmer's

markets and bakeries will be something WPC 2020 delegates will never forget.

30

Vancouver's restaurants always

deliver – whether you're looking

for a place to host your event

or restaurants to recommend

to your delegates. With great

restaurant neighbourhoods,

highly professional Destination

Management Companies and

the overall assistance from

Tourism Vancouver, many meeting

planners have held incredibly

successful dine-arounds for their

delegates. The opportunities await

your conference.

WHAT THE CRITICS ARE SAYING

"It's a mix of really strong Asian and Pacific

Rim influence, but there's also that whole

Northwest product-driven mentality that they

have in Portland, Seattle and San Francisco.

The kind of mentality among cooks and

diners that you get when you have a lot of

good ingredients around you."

– Anthony Bourdain

"From grazing among food stalls in Granville

Island's Public Market to sampling dim sum in

Chinatown, Vancouver is a foodie's

fantasyland." - USA Today

"This is Vancouver, where the culinary bar is

raised higher and the restaurants are more

trendsetting than anywhere in the United

States." - Seattle Times

"The number of truly outstanding restaurants

in Vancouver is astonishing, and the prices

are ridiculously low when compared to other

food capitals..." - The New York Times

"Fusion is the operative word in restaurantrich

Vancouver, where Northwest meets

Japanese meets Indian meets Chinese."

- National Geographic Traveler

////////////////////////////////////////////////////////////////////////////

Group Restaurants

Neighbourhood

Total Capacity Seated

Total # of Private Rooms

Largest Private Room Capacity

Less than 10 minutes walk from

Vancouver Convention Centre

Ancora Waterfront Dining and Patio ancoradining.com Downtown 93 1 24 No

Al Porto Ristorante alporto.ca Gastown 200 4 200 Yes

Black + Blue glowbalgroup.com Downtown 240 3 24 Yes

Blackbird Public House & Oyster Bar donnellygroup.ca Downtown 200 1 200 Yes

Blue Water Café + Raw Bar bluewatercafe.net Yaletown 150 1 72 No

Bridges Restaurant, Bistro & Bar bridgesrestaurant.com Granville Island 300 1 150 No

Cactus Club Café Coal Harbour cactusclubcafe.com Downtown 600 2 44 Yes

Chambar Restaurant chambar.com Downtown 320 2 80 Yes

Chewies Steam & Oyster Bar - Downtown chewies.ca Downtown 296 1 296 Yes

CinCin cincin.net Downtown 140 1 30 Yes

Cioppino's Mediterranean Grill cioppinosyaletown.com Yaletown 200 7 40 No

COAST Restaurant glowbalgroup.com Downtown 160 1 36 Yes

Five Sails Restaurant fivesails.ca Downtown 140 2 125 Yes

GLOWBAL glowbalgroup.com Downtown 300 4 60 Yes

Gotham Steakhouse & Cocktail Bar gothamsteakhouse.com Downtown 300 3 50 Yes

Hawksworth Restaurant hawksworthrestaurant.com Downtown 110 2 63 Yes

Hy's Encore hyssteakhouse.com Downtown 90 3 60 Yes

Keg Steakhouse + Bar Yaletown kegsteakhouse.com Yaletown 520 1 24 No

Kirin kirinrestaurants.com Downtown 180 1 24 Yes

La Terrazza laterrazza.ca Yaletown 200 2 55 Yes

L'Abattoir Restaurant labattoir.ca Gastown 200 1 40 Yes

Loft at Earls Yaletown earls.ca Yaletown 96 1 96 No

Mahony & Sons Burrard Landing mahonyandsons.com Downtown 500 1 75 Yes

Miku mikurestaurant.com Downtown 204 1 30 Yes

Minami minamirestaurant.com Yaletown 280 2 40 No

Provence Marinaside provencevancouver.com Yaletown 108 1 20 No

Rogue Kitchen & Wet Bar roguewetbar.com Gastown 375 3 80 Yes

Steamworks Brewing Company steamworks.com Gastown 350 3 120 Yes

The Teahouse Restaurant vancouverdine.com Stanley Park 120 3 100 No

Wildebeest wildebeest.ca Gastown 146 1 50 Yes

31
---
VANCOUVER: LETTERS OF SUPPORT

32

///////////////////////////////////////////////////////////////

///////////////////////////////////////////////////////////////

33
---
VANCOUVER: LETTERS OF SUPPORT

34

///////////////////////////////////////////////////////////////

///////////////////////////////////////////////////////////////

35
---
VANCOUVER: LETTERS OF SUPPORT

36

///////////////////////////////////////////////////////////////

///////////////////////////////////////////////////////////////

37
---
VANCOUVER: LETTERS OF SUPPORT

///////////////////////////////////////////////////////////////

38 39

///////////////////////////////////////////////////////////////
---
VANCOUVER: LETTERS OF SUPPORT

///////////////////////////////////////////////////////////////

40 41

///////////////////////////////////////////////////////////////
---
CANADA: A GLOBAL RESOURCE

172

BILLION

BARRELS

CANADA IS No.3

IN LARGEST

PETROLEUM RESERVES

42

NUMBER

ONE

SUPPLIER

OF CRUDE OIL

TO THE U.S.

40% OF U.S. IMPORTS

ARE CANADIAN

FIFTH

HIGHEST

GLOBAL

SHALE RESOURCES

NEARLY

600 TRILLION

CUBIC FEET

////////////////////////////////////////////////////////////////////////////

The Canadian oil and gas industry is incredibly influential on the global

stage, even though it is relatively youthful. With approximately 500

companies actively participating, supporting 500,000 jobs across the

country in the industry, it's no wonder Canada is seen as a leader.

Our country contributes over $120 billion a year to the economy, and

has welcomed on average over $53 billion a year in new investments in

each of the past 3 years, resulting in this industry leading as the largest

private sector investor in Canada. 40% of our countries production have

been invested in and led by foreign companies representing the U.S.,

Asia, Europe and the Middle East. Its impact on the Canadian economy,

directly and indirectly, contributes 10.6% to Canada's GDP.

CANADA

IS RANKED

5TH LARGEST

GAS PRODUCER

AND

6TH LARGEST

OIL PRODUCER

IN THE WORLD

ADDITIONAL INDUSTRY HIGHLIGHTS

• There are 18 LNG projects proposed

for development in BC

Many major international petroleum

producers and consumers are participants

in these proposed projects

• 500,000 Canadians are employed directly

or indirectly by the oil & gas industry

• 25 foreign companies invest in

the Canadian energy sector

Across the U.S., Asia, Europe

and the Middle East

• Canadian Production in 2015:

Crude oil – 3.85 million barrels/day

Natural gas – 15 bcf/d

CANADA'S

NATURAL GAS

AND

LIQUIDS PIPELINES

TOTAL

830,000

KILOMETRES

• Canada has both conventional and

unconvential oil and gas exploration,

including on shore and off-shore

• Export Numbers by volume

and revenue:

Crude oil: Volume – 1,112 mmb/yr

Annual Value - $56.8 billion

Natural gas: Volume – 3.2 tcf/yr

Annual Value - $13.1 billion

• Oil and gas industry current

comprises about 12% of the

Toronto Stock Exchange

• The industry creates $120 billion/year

in total revenue

43
---
WPC 2020: OPENING & CLOSING CEREMONIES

The Opening & Closing Ceremonies as well as Canada Night will be set against one

of the most beautiful backdrops in the world. Located on the edge of the downtown

harbor with breathtaking views of the North Shore mountains, the Vancouver

Convention Centre is the perfect setting for an event to remember.

44

////////////////////////////////////////////

Panoramic views of the harbour, water

and mountains, a central location in

downtown Vancouver, Canada's

largest "living" roof and interior

finishes that incorporate local

materials and unique art pieces, the

Vancouver Convention Centre feels

more like a high-end hotel than a

meeting venue. The addition of the

LEED-certified West Building tripled

the size of the original facilities for a

combined total of 466,500 square

feet of meeting, exhibition ballroom

and plenary theatre space. The centre

is the only two-time winner of the AIPC

award for World's Best Convention

Centre, as well as the first convention

centre in the world to receive the

highest possible LEED

rating (Platinum).

THE WPC 2020 GALA EVENT

BC Place is continually evolving its food and beverage offerings, focusing on

fresh, local products sourced by BC's own award-winning Executive Chef,

William Tse. BC Place is an incredible venue for hosting the Gala event.

45
---
WPC 2020: FUTURE LEADERS GALA

TELUS WORLD OF SCIENCE

The TELUS World of Science offers a unique

venue unlike any other in the city. With the ability

to accommodate from 20 to 1,400 guests, you'll

be able to host any type of event. Enjoy a fun

evening for conference attendees, or a sit-down

formal dinner, buffet or cocktail reception.

In addition to built-in fun, you can enjoy outdoor

spaces, hands-on galleries and theatres that can

seat up to 400. Our green roof and patio are

also a picture perfect location for special events.

46

Imagine a gala event for WPC future leaders at this amazing waterfront

venue. Delegates can ignite their minds and discover the wonders of

science at the TELUS World of Science. Immersing themselves in

interactive displays, inspirational feature exhibitions, and jaw-dropping

live science demonstrations.

////////////////////////////////////////////////////////////////////////////

VANCOUVER: UNIQUE VENUES

VANCOUVER PUBLIC LIBRARY

Let the unique architecture of the Vancouver

Public Library's Central Branch add a touch

of grandeur to your special event.

Capacity: 400 Dining / 700 Reception

GROUSE MOUNTAIN

Rooms with a 360-degree panoramic view

of the city, sea and mountains, as well as a

theatre, outdoor patio, an alpine cabin and

a traditional log Hiwus Feasthouse.

Capacity: 1000 Dining / 1,000+ Reception

Vancouver's unique geography lends to many

interesting meeting spaces and places, whether

it is on the ocean, the top of a mountain or in a

heritagebuilding. Here's just a sampling of

what we offer.

UBC MUSEUM OF ANTHROPOLOGY

Most noted for tented or open-air events

on spectacular grounds overlooking the

ocean amidst the soaring totem poles.

Capacity: 120 Dining / 1,000+ Reception

BOAT AND YACHT CHARTERS

Explore and celebrate an event on

the Pacific Ocean while surrounded

by mountains and cityscape.

Capacity: 275 Dining / 450 Reception

VANCOUVER ART GALLERY

Historic turn-of-the-century building

with marble walls, columns and steps

as backdrop to contemporary and

historic exhibits.

Capacity: 250 Dining / 500 Reception

VANCOUVER AQUARIUM MARINE

SCIENCE CENTRE

Formal dining among beluga whales to

cocktail receptions in a living art gallerystyle

setting with tropical fish, reef sharks,

and British Columbia themed exhibits.

Capacity: 350 Dining / 1,400 Reception

47
---
23RD WPC: TECHNICAL TOUR PROGRAM

48

////////////////////////////////////////////////////////////////////////////

WPC-Canada intends to offer

a comprehensive technical tour

program featuring areas of

active investment and growth

in Canada's petroleum industry.

Tours will be offered to Canada's

oil sands region in northern

Alberta, as well as to its vast

shale resources in northern

British Columbia and western

Alberta. These tours will feature

developments of some of

Canada's leading petroleum

producers, and will highlight the

rapid continuous improvement

in cost structures, resource

recovery, and environmental

performance being achieved

through the deployment of

cutting edge technologies.

OIL SANDS

Tours will be offered to the Fort McMurray

region of north eastern Alberta, where over

2 million barrels per day of production is

currently being achieved. The oil sands can

be recovered by two primary methods:

mining for the 20% of the resource less than

70 metres (200 feet) below the surface; and

in situ (Latin for "in place") for the 80% of the

resource that lies deeper than 70 metres

below the surface.

North of Fort McMurray there are several

world scale mines that produce bitumen

from the oil sands, including mines operated

by Syncrude, Suncor, Shell, Canadian

Natural Resources and Imperial Resources.

This region experiences long summer days

with temperatures often above 30 degrees

Celsius, and very short winter days/long

winter nights with temperatures often

below 30 degrees Celsius. Construction,

maintenance and operating activities are

carried out around the clock every day

of the year despite the wide range of

weather conditions. Several of these

mines process the bitumen into synthetic

crude oil on site at world scale upgraders.

Tours will highlight:

• Regulatory requirements for development

and operations

• Resource quality, mine planning and

mining efficiency and technology

innovations to reduce costs

• Tailings management and mine

reclamation requirements

• Upgrading technologies, product

quality and product market dynamics

Where the oil sands are too deep to mine,

projects employ well based technologies to

mobilize the bitumen so it can be pumped

to the surface. Many of these projects

employ a technology call Steam Assisted

Gravity Drainage (SAGD), which uses two

parallel horizontal wells spaced five metres

above/below one another with horizontal

sections stretching up to a kilometre from

the well pad. Tours will highlight:

• The continuing evolution of reservoir

management to improve the efficiency of

steam delivery and emulsion production

• Multi-well pad design to minimize

surface footprints

• Drilling advances to improve accuracy

and reduce costs

• Technology innovations, including

the introduction of solvents to reduce

steam requirements

In both tours broader topics will be

addressed such as:

• Technology innovations to reduce

energy use and cost and improve

environmental performance

• Greenhouse gas emissions have been

reduced by 26% per barrel between

1990 and 2011

• Canada's Oil Sands Innovation Alliance

(COSIA) where participating oil sands

producers share innovations in four

environmental priority areas – tailings,

water, land and greenhouse gasses.

COSIA companies have already shared

over 560 distinct technologies and

innovations that cost over $900

million to develop.

• Local stakeholder engagement strategies,

particularly those dealing with local

aboriginal stakeholders.

• Over $8 billion of revenue has been

earned by aboriginal companies through

working relationships with the oil sands

industry over a 14 year period, and over

1,700 aboriginal employees are in

permanent jobs in the oil sands industry.

SHALE RESOURCES

Canada has vast shale resources currently

being developed in western Alberta and

northern British Columbia. These areas are

in the foothills of Canada's Rocky Mountains

with two of the primary plays being the

Duvernay and the Montney. A range of

companies are actively developing these

resources, from emerging independent

Canadian producers to large Canadian

based producers though super-majors

and national oil companies. Employing the

latest drilling, completion, and fracing

technologies these companies are

continuing to drive down costs, improve

environmental performance and improve

resource recovery. Much of the resource is

liquids rich natural gas, and in Canada there

is a high demand for condensate to use as

a diluent for bitumen produced in the oil

sands to achieve a viscosity to enable it to

be moved to market by pipeline, providing a

natural synergy between the two resource

development plays. Tours will highlight:

• Advances in drilling technologies,

including rig design and automation,

multi-hole well pads and reductions

in land use

• Advances in fracing technology

• Advances in surface processing

technology

• Mid-stream and pipeline infrastructure

• Product market developments

in North America

• Opportunities for Liquefied Natural Gas

(LNG) development on British Columbia's

west coast and for petrochemical

development in Alberta to take full

advantage of the abundant resources.

49
---
SPOUSAL PROGRAMS

SPOUSAL PROGRAMS

////////////////////////////////////////////////////////////////////////////

EXPLORE

BEAUTIFUL BRITISH COLUMBIA

GASTOWN WALKING FOOD TOUR (2.5 Hours)

Join "Gassy Jack" and tantilize your taste

buds on this two hour walking tour through

historic Gastown. Laugh and learn about the

neighborhood's colourful history and culture

while sampling local trendy eateries

(8-10 tastings).

WONDERS OF GRANVILLE ISLAND

(3 hours)

Besides the fabulously fresh public market, this

heritage area is home to many specialty shops

and quality art studios, a quaint brewery, eclectic

theatres, the innovative Emily Carr School of

Fine Arts and the Kids Only Market (nobody is

too old for it!). Let our local artist introduce you

to some of his peers and take a chance to craft

your own souvenir!

50

STANLEY PARK & SEASIDE BIKING

ADVENTURE (3 hours)

Just minutes from downtown, the Stanley Park

Seawall boasts spectacular mountain, ocean,

forest and city views. We cycle counterclockwise

along a paved path past the famous

totem poles, under the Lions Gate Bridge, along

two of the city's most popular beaches until we

reach English Bay. We continue on the Seaside

Bicycle Route, arguably the world's most

beautiful urban bike path past parks, marinas,

and elegant condos and town houses. There will

be a mid-way stop for a tasty snack and drink.

VANCOUVER HIGHLIGHTS (4 Hours)

Vancouver's is proud of its share of spectacular

sceneries and vibrant neighbourhoods. Join our

experienced guide for a snapshot of the city

along fashionable Robson Street, through the

magnificent 1,000-acre Stanley Park, past

English Bay, over False Creek to Queen

Elizabeth, through the colourful Chinatown

and the historic Gastown.

COASTAL RAINFOREST NATURE WALK

(4 Hours)

Just 30 minutes from downtown Vancouver,

discover the fascinating ecosystem of the

Northwest Pacific Rainforest. See, smell and hear

the genuine rainforest while your experienced

naturalist guide explains the workings of this

unique ecosystem. A gourmet snack under the

canopy is the ultimate opportunity to savour this

enlightening encounter with the untamed

Vancouver – an once-in-a-lifetime experience!

VANCOUVER'S INSPIRING GARDENS

(4.5 Hours)

No visit to Vancouver is complete without a

chance to enjoy its outside-the-path gardens.

Start with the most intriguing Dr. Sun Yat-Sen

Classical Chinese Garden in Chinatown – the

first authentic classical Chinese garden ever

built outside of China. Next is the Queen

Elizabeth Park with its sweeping vista of rolling

lawns, dramatic rockwork and city skyline.

And for the finale, stroll the Van Dusen

Garden featuring over 7, 500 different species

from 6 continents.

////////////////////////////////////////////////////////////////////////////

FIRST NATIONS HERITAGE TOUR (5 Hours)

The First Nations peoples inhabited the Pacific

Northwest for thousands of years and their

history and continuing culture are in evidence

throughout Vancouver. In Stanley Park, learn the

history and significance of the totems poles and

be transferred to the University of British

Columbia campus to visit of the world-renowned

Museum of Anthropology. Wander through the

Great Hall, contemplate and marvel at dramatic

views over the Haida houses. The tour ends

with a stop at Hill's Gallery, the largest Northwest

Coast native art gallery in North America.

BOWEN ISLAND EXCURSION (5 Hours)

Bowen Island is a small community off the coast

of BC where visitors can experience the charm

and warmth of a small town surrounded by the

Pacific Ocean and rainforest. This breath-taking

excursion provides you with an exciting

opportunity to experience the sea, forest, and

small-town hospitality all in one day!

WHALE-WATCHING SAFARI TOUR (5-7 hours)

Just 45 minutes from downtown Vancouver,

embark a high-speed vessel for a comfortable

safari guided by a trained naturalist. Enjoy

breathtaking scenery while searching for whales,

dolphins, porpoises, seals, sea lions, eagles,

and a variety of seabirds.

INDIAN ARM WILDERNESS PADDLE

ADVENTURE & BEACH BBQ (6 hours)

This fully guided, all-inclusive program is ideal

to experience the natural beauty of the Indian

Arm, a 15km glacial fjord located 15 minutes

from downtown. Embark in a classic wooden

sea-kayak and watch seals, bald eagles and

blue herons in their natural habitat. Top the

adventure with an outdoor BBQ lunch in a

picturesque beach and return to the city,

exhilarated and renewed!

FRASER VALLEY WINERY TOUR &

LUNCHEON (6 Hours)

Escape the city and explore the nearby Fraser

Valley wine country. Stroll through local vineyards,

learn how grapes from the vineyard become an

award winning wine and enjoy a wonderful lunch

overlooking the vineyards.

FOREST, MOUNTAIN & CANYON (6 hours)

Make the journey across the magnificent Stanley

Park and the Lions Gate Bridge to the North Shore.

Discover the world-famous Capilano Suspension

Bridge; experience the surrounding rainforest via

the Treetops walkways; board the Skyride for a

breathtaking ascent to the top of Grouse Mountain.

At the top, enjoy the "Theatre in the Sky", visit the

Refuge for Endangered Wildlife or simply roam

around taking in the spectacular views

A DAY IN THE MOUNTAINS – WHISTLER

EXCURSION (10 hours)

From crisp mountain air to crystal clear lakes

and lush emerald forests, the alpine resort of

Whistler is British Columbia's year-round

playground. The day begins with a spectacular

drive along the Sea to Sky Highway including

a stop at the spectacular glacier-fed, 1,100 feet

Shannon Falls. In Whistler, enjoy a guided tour of

the Squamish Lil'wat Cultural Centre experience

and free time to stroll through the cobble stone

village and take into the mountain surroundings.

ENCHANTING VICTORIA (12 Hours)

Take a day trip to Vancouver Island to discover

Victoria, the province's capital city. Many of the

brick and stone buildings from the last century

have been restored, adding to the scenic beauty

of the city. British influence remains apparent

today with double-decker buses, traditional pubs

and specialty shops. The journey includes return

ferry crossing through the Gulf Islands and the

visit of the Butchart Gardens, world-famous for

spectacular year-round floral displays.

51
---
PRE & POST CONFERENCE TOURS

PRE & POST CONFERENCE TOURS

////////////////////////////////////////////////////////////////////////////

EXPLORE MORE

OLD ENGLISH CHARM IN VICTORIA

(2 Days/1 Night)

From horse-drawn carriages to unforgettable

flower basket displays, Victoria is distinctive

and genteel – not to be missed! Your package

includes return coach/ferry transportation,

overnight downtown accommodation and

admission to the Butchart Gardens. While

in Victoria, take time to explore the Royal

British Columbia Museum or join a

whale-watching excursion.

52

WHISTLER & VICTORIA CIRCLE

(3 Days/2 Nights)

Board our private coach for a journey onto

Vancouver Island. Visit the famous Butchart

Gardens and enjoy a city tour of Victoria before

checking in at your hotel. Detour to Cathedral

Grove for a walk though an old growth Coastal

Douglas-fir forest before taking back the ferry

back to the mainland. Spend the night and the

next morning in the heart of Whistler village.

Take in final awe-inspiring scenery as you return

to Vancouver via the Sea to Sky Highway.

OKANAGAN VALLEY – WESTERN CANADA

WINE COUNTRY (3 Days/2 Nights)

Take a chance to explore the interior of British

Colombia with a short trip to the Okanagan

Valley, internationally renowned for its orchards

and award-winning wineries. Your package

includes, 2 nights accommodation in either

Kelowna or Osoyoos (your choice) and a full day

of touring with lunch and wine tastings. Transfer

to/from Okanagan Valley are not included.

SALMON FISHING IN CAMPBELL RIVER

(3 Days/2 Nights)

Make your way to Vancouver Island and the

legendary fishing Painter's Lodge. This full

service resort is the perfect base for

unparralleded salmon fishing and relaxation

within stunning scenery of sea, sky and

mountains. Your package includes 2 nights

accommodation, 2 half-day salmon fishing,

all fishing supplies (tackle, bait, raingear, etc.)

as welll as cleaning and packaging of your

catch. Transfer to/from Campbell River are

not included.

CANADIAN ROCKIES GATEWAY

(4 Days/3 Nights)

Travel by luxury motor coach and traverse the

varying landscapes of Western Canada from the

Pacific Coast, through pastoral landscapes of

interior British Columbia, the heart of the Rocky

Mountains to the rolling foothills of Alberta's

ranching country.

////////////////////////////////////////////////////////////////////////////

ROCKY MOUNTAINEER RAIL TOUR

(4 Days/3 Nights)

Enjoy the most spectacular train ride in the

World! Peer up at a mountain so mighty that its

summit is capped with clouds; journey beside

a river that is a rushing torrent of foam; spot

a deer, moose, or maybe even a bear while

marveling at scenery so magnificent it leaves

you wide-eyed with amazement… untamed

and majestic, this is Western Canada and the

world-renowned Canadian Rockies. See it up

close, see it in comfort, and see it all in daylight

with the Rocky Mountaineer.

SOUTHERN ALBERTA (4 Days/3 Nights)

Make the trek to Alberta's south to check out the

amazing scenery of Waterton Lakes National

Park, venture through ancient riverbeds of the

mysterious Badlands and explore one of the

world's largest Dinosaur fossil collections at the

renowned Royal Tyrrell Museum in Drumheller.

The remarkable culture and lifestyle of local

Aboriginals comes alive at Head-Smashed-In

Buffalo Jump, a UNESCO world heritage site.

Layer the trip with a visit to Fort Macleod for

the story of Canada's famous Mounted Police.

CYPRESS HILLS INTERPROVINCIAL PARK,

SASKATCHEWAN

(3 Days/2 Nights)

Cypress Hills Park spans the SE corner of

Alberta and the SW corner of Saskatchewan.

You will also find the National Heritage Site of

Fort Walsh on the South side of the park. It is a

great place to relax, discover the outdoors or

have an adventure. If you have a sense of

adventure or looking to get off the beaten track

then Cypress Hills has something for you. With

zip-lining in the Saskatchewan side, or hiking

trails into the back woods of the forest, there is

as much adventure as you want there to be.

Canoe and Kayak on one of the lakes in the

park, travel by car to the viewpoints overlooking

the prairies at the highest point between the

Rockies and New Labrador or try one of the

programs to get you out into nature.

CALGARY & BANFF NATIONAL PARK

(5 Days/4 Nights)

Banff National Park is a world famous destination

that has somehow managed to maintain its

wilderness. A few steps away from the main

tourist hot spots are the natural treasures that

inspired awe in the early explorers, and which

will become your selection of adventures for the

day. There's something for every interest and

ability level, let the mountains heal your soul!

LAKE WASKESIU, SASKATCHAWAN

(3 Days/2 Nights)

Welcome to Lake Waskesiu, Saskatchewan,

where you can experience lake living at its most

serene. Waskesiu is the social and recreational

center of beautiful Prince Albert National Park.

Offering 3875 Square kilometers of parkland.

This glacier carved landscape sits on a transition

zone where the prairieland meets the boreal

forest lending its self to a diverse landscape

unique the world over. The community and the

Park offer a wide variety of activities for the

whole family to enjoy from beaches, adventure

trails, golf, fishing or just a leisurely stroll down

the Waskesiu River boardwalk. Come meet

some new friends and neighbours and enjoy the

fully modern townsite.

ALASKA CRUISE (7 Days/7 Nights)

Sail to Alaska onboard a luxury liner through the

Inside Passage – one of the world's most scenic

sea routes and one of the few where large ships

can sail close to the coastline. The shoreline

scenery is spectacular with snowcapped

mountains, picturesque lighthouses, killer

whales, sea lions and porpoises. This is a land

overflowing with nature's gifts, America's last

and greatest wilderness. Ports of call may

include Juneau, Skagway and Ketchikan, a day

in Glacier Bay, a day sailing to Alaska and one

back to Vancouver.

53
---
WPC CANADA: BUILDING A LEGACY

54

////////////////////////////////////////////////////////////////////////////

WPC CANADA LEGACY FUNDS COMMITMENT

The global oil and gas industry

continues to change at a pace never

seen before as new technologies

open up new potential. The challenge

of operating successfully in a world of

lower energy commodity prices, often

in high cost environments continues.

Local communities and special

interest groups are engaged with

the oil and gas industry in a more

involved and complicated manner

than in the past. And, an ever

sharpening focus on carbon

emissions adds even more to the

challenges facing the oil and gas

industry around the world.

The WPC Canada believes that local communities

are partners in the development of oil and gas

resources and local communities should share in

the economic and social benefits associated with

resource development. Accordingly, the WPC

Canada intends to build a legacy program funded

by revenues from the 2020 WPC Congress to

support the WPC Canada's local partners focused

on 4 key pillars:

• Environmental stewardship

• Education and Training including programs

focused on Indigenous Peoples

• Leadership Development promoting the

future leaders of the oil and gas industry

• Technology and Sustainability

And, the WPC Canada will also make an enhanced

contribution to the WPC international governing

body to support legacy programs around the

world benefitting the various National Committees

and their own local communities!

55
---
WPC CANADA: A DEMONSTRATED LEADER

56

////////////////////////////////////////////////////////////////////////////

THE HISTORY OF WORLD PETROLEUM

LEGACY IN CANADA

WPC Canada hosted the World Petroleum

Congress in Calgary, Alberta, Canada in the

year 2000. At the conclusion of this

memorable event, the WPC Canada launched

the first ever WPC Legacy Program focused on

education when $250,000 (C$) was donated

to two provincial technical colleges. A further

$4.2mm (C$) was set aside in a new Millennium

Scholarship Foundation.

From 2002 to 2009 the Foundation awarded

1,600 scholarships of $3,000 each to

students across Canada pursuing studies

in Engineering, Environmental sciences,

International business, and Geology. The WPC

Millennium Scholarship Program was intended

to complement other programs operated by

the Government of Canada in support of

students studying in Canada. Hosting the

World Congress in 2000 also made it possible

to support an active and vibrant youth chapter

in Canada. As a consequence, the WPC

Canada and its own Future Leaders Committee

has been very active in promoting and

supporting many youth oriented programs

and successfully hosted the Future Leader's

global Forum in Canada in 2015.

The legacy of the 2000 World petroleum

Congress has had a positive impact in the lives

of over 1600+ people throughout the nation.

Building on the WPC Canada's track record of

prior Legacy success, the WPC Canada intends

to create an even more impactful Legacy for

others in Canada and around the World

through the Legacy program associated

with the 2020 WPC Congress!

THE LEGACY FOCUS FOR 2020

WPC Canada has identified 4 key strategic

pillars to focus on with the support of

Legacy funds:

Environmental Stewardship

• Legacy funds will be used to support

initiatives and research into environment

stewardship and how petroleum producers

and transporters can have the least

environmental impact on the world

around us.

Education and Training

• Legacy funds will be used to carry on and

enhance the success of the Legacy Program

from the WPC Congress in 2000. Much of

Canada's oil and gas activities occur over,

on or near native lands. WPC Canada will

develop and support programs targeted at

providing industry related education and

training for indigenous peoples in an effort

to strengthen their partnership with the

energy industry.

Leadership Development

• Drawing new talent to the energy industry

is absolutely critical to the success of the

industry's future. WPC Canada will devote

funds to promoting the energy industry to

youth, with a strong focus on attracting

female youth to the industry, and to the

development of the industry's future leaders.

Technology and Sustainability

• Technology is changing rapidly within the

oil and gas industry as is the application of

technology. WPC Canada intends to support

and encourage the use of new technology

by supporting forums, technical papers, field

testing, and promoting the rapid changes

in the industry that can benefit all players.

The WPC Canada is also committed to

providing an enhanced contribution to

the WPC international governing body for

the benefit of all National Committees.

The international governing body has the

responsibility of supporting and building

the industry across the globe. WPC Canada

respects this commitment and will share legacy

funds with the international committee to

support the World Petroleum Council's efforts

to share the benefits of a WPC Congress

with all members.

WPC CANADA – A DEMONSTRATED

LEADER IN BUILDING A LEGACY

The WPC Canada is excited at the prospect of

hosting the 2020 WPC Congress in Vancouver,

Canada where local communities will play a

prominent role in delivering the most efficient,

impactful and unforgettable Congress to date.

With your support, the WPC Canada will build

on its previous Legacy success and share that

success with more people than ever before

through innovative and thoughtful programs

that will benefit local communities in Canada

and around the world!

57
---
WPC CANADA: SUPPORTERS

58

////////////////////////////////////////////////////////////////////////////

WPC Canada is honoured to have the support of these Canadian governments,

organizations, associations and businesses, who are collaborating to support this

WPC 2020 bid proposal.

GOVERNMENT OF

BRITISH COLUMBIA

GOVERNMENT

OF ALBERTA

GOVERNMENT OF

SASKATCHEWAN

59
---
"Canada is known worldwide for our open nature and friendly ways, our global outlook and

our savvy, progressive approach to the production and consumption of energy."

Denis Painchaud

Chairman, World Petroleum Council Canada

"The WPC Canada committee is strong and enjoys membership from all areas of the country.

We are extremely well positioned and connected to succeed in our goal of creating a positive

impact on our shared industries future!"

Joanna Desjardins

Assurance Director for Canada, ConocoPhillips

"We believe there is nowhere better on our planet than Vancouver and Canada for our

industry to come together in this congress to talk about our future."

Dr. Randall Gossen

Past President, World Petroleum Council
---
CONTACT INFORMATION

801 – 7th Avenue S.W.

Calgary, Alberta, Canada T2P 3P7

Email: info@wpccanada.com

Phone: 1-403-218-2000