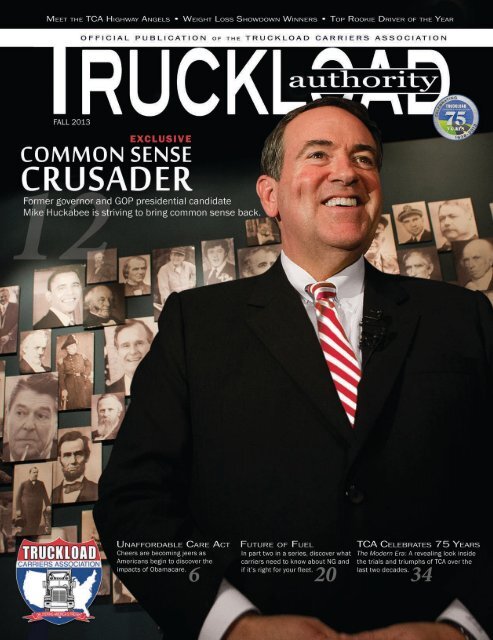 Truckload Authority - Fall 2013
Create successful ePaper yourself
Turn your PDF publications into a flip-book with our unique Google optimized e-Paper software.
Trailer Tracking's

Best Offensive

Playbook

Joe Gibbs Racing uses FleetLocate to monitor their race car haulers for maximum

performance on and off the track. FleetLocate can help you get the right trailer

tracking plays in place to realize cost savings and operational improvements.

FleetLocate offers Rich Data through continuous trailer monitoring with

exception based reporting for improved trailer utilization to help you right size

your fleet, increase loads per trailer and drive more revenue.

"FleetLocate

has the winning

for mula that

drives customers

to reach new

heights in

business."

– Coach Joe Gibbs

Adopt a Trailer Playbook with Winning Strategies.

Call 1-888-517-3630 or visit FleetLocate.com/Playbook

©2013 Spireon, Inc. ©2013 Joe Gibbs Racing, Inc. All Rights Reserved.

©2013 Game Plan for Life. Licensed under authority of Joe Gibbs Racing, Huntersville, NC. Toyota trademarks used with permission.
---
Fall Edition | TCA 2013

resolve to build consensus

President's Purview

As I look back on our 75-year history, I continue to be reminded that despite

the advancements the industry has made during that time, we continue to be

plagued by many of the same issues we have faced throughout our history. All this

on top of the new issues that have emerged. In some ways, we are an industry of

two steps forward, one step back. We find ourselves an industry that struggles to

find the unanimity we need to be decisive. Sometimes we work against ourselves

because consensus on issues can be difficult to find.

We have always been an industry that has been great at playing defense. For

decades we were successful at fighting attempts to raise user fees and taxes. We

lived by the mantra of "sometimes it's not what you pass but what you defeat."

Yet any coach will tell you that a good defense isn't enough to win games. In

today's legislative and regulatory world, it isn't what you oppose, it is what you

can support. I have said a number of times over the last 10 years or so that we

need to decide what we can support or we won't have a seat at the table. Notice

that I didn't say two seats or three seats.

In a trade association the majority rules. If it is 51 percent on one side and 49

percent on the other, the majority wins. I think we all agree with that. However,

from a practical standpoint, the 51-49 proposition is wrought with challenges,

not the least of which is that almost half of the members will be working against

your efforts. In a larger sense if the trucking associations from the state level to

the national level are divided on the right course of action, our efforts to advocate

successfully are lessened at the outset for the same reason.

I find myself wondering if we need to pause to consider this fact. It is true that

we are one industry, but an industry nonetheless that remains divided in a number

of areas. When I consider that many of the issues we face today are the same as

yesterday, I can't help but think that in part, it is because we haven't been able to

build consensus within our ranks. I don't mean to suggest that 100 percent support

on all issues is a realistic possibility, but the higher the majority the more

confidence we have in our positions. The more confidence we have in our positions,

and the fewer within our own ranks working against us, the more successful

we will be.

When I look at the size of our industry and the resources that should be at our

disposal, we have the capability to proactively bring our issues to the forefront

and be successful in advancing our agenda. But first, we have to agree on that

agenda. This requires the will to compromise and to prioritize. It is time to realize

the full potential of the trucking federation.

Chris Burruss

President

Truckload Carriers Association

cburruss@truckload.org

Chris Burruss

President's Picks

Common Sense Crusader Common sense is

not so common these days, but Mike Huckabee

is doing his part to change that. Page 12

Future of Fuel, part two Is deploying an

NG powered fleet right for you? We give you

the facts. Page 20

75 Years Of TCA The Modern Era: Take

a behind-the-scenes look at the last two

decades of TCA. Page 34

TCA 2013 www.Truckload.org | Truckload Authority
---
555 E. Braddock Road, Alexandria, VA 22314

www.Truckload.org

FaLL 2013

chairman oF the board

Tom B. Kretsinger, Jr.

President & COO, American Central Transport

President's Purview

3 | Resolve to Build Consensus by Chris Burruss

LegisLative Look-in

6 | Unaffordable Healthcare Act

11 | From Where We Sit Obamacare Edition

12 | nationaL newsmaker excLusive

Common Sense Crusader with Mike Huckabee

17 | Capitol Recap

18 | Where States Stand

President

Chris Burruss

cburruss@truckload.org

vice President – deveLoPment

Debbie Sparks

dsparks@truckload.org

director, saFety & PoLicy

Dave Heller

dheller@truckload.org

First vice chair

Shephard Dunn

President & CEO

Bestway Express

second vice chair

Keith Tuttle

President

Motor Carrier Service, Inc.

executive vice President

William Giroux

wgiroux@truckload.org

communications director

Michael Nellenbach

mnellenbach@truckload.org

director oF education

Ron Goode

rgoode@truckload.org

treasurer

Rob Penner

Vice President

Bison Transport

secretary

Russell Stubbs

President

FFE Transportation Services, Inc.

tracking the trends

20 | Future of Fuel, Part II

a chat with the chairman

24 | Uncommon Leader with Tom B. Kretsinger, Jr.

immediate Past chair

Robert Low

President & Founder, Prime inc.

The viewpoints and opinions of those quoted in articles in this

publication are not necessairly those of TCA.

in exclusive partnership with America's Trucking Newspaper:

member maiLroom

32 | Supporting TCA and Wreaths Across America

taLking tca

34 | 75 Years of TCA, Part II: The Modern Era

38 | Meet TCA's Highway Angels

40 | Weight Loss Showdown Winners

42 | Trucking's Top Rookie Driver

44 | TCA Officer's Summer Retreat

46 | Mark Your Calendar

1123 S. University Ave., Ste 320, Little Rock, AR 72204

www.TheTrucker.com

vice President

Ed Leader

edl@thetrucker.com

editor

Lyndon Finney

editor@thetrucker.com

associate editor

Dorothy Cox

dlcox@thetrucker.com

PubLisher + generaL mgr.

Micah Jackson

publisher@thetrucker.com

creative director

Raelee Toye

raeleet@thetrucker.com

Production + art director

Rob Nelson

robn@thetrucker.com

the tca executives' choice

contributing writer

Cliff Abbott

cliffa@thetrucker.com

contributing writer

Aprille Hanson

aprilleh@thetrucker.com

Production + art assistant

Mingte Cheng

mingtec@thetrucker.com

administrator

Leah M. Birdsong

leahb@thetrucker.com

Published quarterly, Truckload Authority is the Truckload Carriers

Association's first ever official publication. America's leading

trucking executives are already calling it "the best executive

publication in trucking."

"Truckload Authority is the key

publication I use to keep on the

cutting edge of products, services, critical issues,

and truckload trends."

Chairman Tom B. Kretsinger, Jr.

President & COO, American Central Transport

advertising and marketing dePartment

Raelee Toye, Sales Director

raeleet@thetrucker.com

nationaL marketing consuLtant

Kurtis Denton

kurtisd@thetrucker.com

nationaL marketing consuLtant

Kelly Brooke Drier

kellydr@thetrucker.com

© 2013 Trucker Publications Inc., all rights reserved. Reproduction without written permission

prohibited. The publisher assumes no responsibility for unsolicited material. All advertisements

and editorial materials are accepted and published by Truckload Authority and its exclusive partner,

Trucker Publications, on the representation that the advertiser, its advertising company and/

or the supplier of editorial materials are authorized to publish the entire contents and subject

matter thereof. The publisher reserves the right to accept or reject any art from client. Such entities

and/or their agents will defend, indemnify and hold Truckload Authority, Truckload Carriers

Association, Target Media Partners, and its subsidiaries included, by not limited to, Trucker

Publications Inc., harmless from and against any loss, expense, or other liability resulting from

any claims or suits for libel, violations of privacy, plagiarism, copyright or trademark infringement

and any other claims or suits that may rise out of publication of such advertisements and/or

editorial materials. Press releases are expressly covered within the definition of editorial materials.

photography courtesy of:

AP Images, p. 1, 6, 8, 10, 14, 15, 17 Truckload Carriers Association,

Convention Photography (Lennie p. 32, 35, 37, 38, 40, 44

& Helene Sirmopoulos,) p. 34, 36, 37 TheConservativeDiva.net, p. 8

FotoSearch, p. 11, 17, 18, 19, 20, 37 The Trucker News Organization, p.

Matt Nichols, p. 4, 24, 25, 26, 28, 31 16, 17, 18, 21, 22, 37, 42

Mike Huckabee, p. 13, 16

Tom B. Kretsinger, Jr. p. 28

4 Truckload auThoriTy | www.Truckload.org Tca 2013
---
e v e r e s t

r e e f e r s TL SS CL

More Standard Features. More Productivity. More Long-Term Value.

When everything depends on delivering on time, on temperature and on the money,

you can rely on Great Dane's Everest series of refrigerated trailers. Whether you're hauling

cross-country or locally, no one offers more standard features to support your bottom line.

• Satin-Finish Stainless Steel Rear Frame

• Corrosion-Fighting Stainless Steel Front Bottom Rail

• Moisture-Resistant Composite Sill Flooring System

• PunctureGuard Lining

• 100% LED Lamps and Long Life Lighting System

• Platinum Performance Plus Wheel End System

(with exclusive six-year warranty)

Also available with our exclusive ThermoGuard and CorroGuard

technologies for maximum lifespan.

CorroGuard

P R O T E C T I O N

drive away with more

Find an approved Great Dane location near you by visiting

www.greatdanetrailers.com, or download our new mobile

app for free from the App Store or Google Play.

Explore our line of reefers online at

greatdanetrailers.com/refrigerated

Great Dane and the oval are registered trademarks of Great Dane Limited Partnership.
---
Fall Edition | TCA 2013

Legislative Look-In

Unaffordable Healthcare Act

By Lyndon Finney

The date is March 23, 2010.

President Barack Obama is seated at a

desk in the East Room of the White House,

pen in hand, putting his signature on the

Patient Protection and Affordable Care Act.

Surrounding him are a number of Democratic

lawmakers, administration officials

and a young African-American named

Marcelas Owens of Seattle, whose mother

died of a treatable disease after losing her

healthcare insurance, and who himself became

the administration's poster child for

healthcare reform.

In the photo, Vice President Joe Biden

has a big smile on his face, as does then-

Speaker of the House Nancy Pelosi and Senate

Majority Leader Harry Reid. The widow

of the late Sen. Ted Kennedy, a healthcare

reform proponent, is behind Obama, she

too with a smile. Biden got so giddy at the

ceremony that after introducing the president,

the VP failed to remember that he

was still within earshot of live microphones

and uttered the now famous line "This is a

big (expletive deleted) deal."

Turns out he was correct, but not in the

manner Democrats had hoped.

A close look at the act, now known

as PPACA (pa-pa-ka) by supporters and

Obamacare by detractors, had passed

without a single GOP "aye."

Fast forward to September 2013.

Many of those Democratic smiles have

turned to scowls because the Obama administration

has seen cheers turn to jeers

and toasting become roasting as more and

more businesses and individuals figure out

that for most Americans, there's nothing

affordable about Obamacare.

Obamacare, they say, has become a

monstrosity of a mess and a deadly financial

disaster.

Set to go into full implementation Jan.

1, 2014, the administration has already

backed off one major proposition.

In what was obviously a political ploy,

Obama decided that businesses with 50 or

more full-time equivalents (FTEs) will not

have to provide "affordable" healthcare

plans to their employees until 2015.

Remember, there's a mid-year election

in 2014, but Obama may have played the

wrong political card.

Most Obamacare opponents agree that

the requirement that every American purchase

healthcare insurance beginning January

1, 2014 — either through an exchange

approved by the federal government or

through their employer — will have many,

many more political consequences in 2014,

especially when policy holders see their

bills for coverage.

Those exchanges were scheduled to

be open October 1, but in August, the

administration announced it would not

sign agreements with those exchanges as

Truckload Authority | www.Truckload.org TCA 2013
---
Rate increases vary from 30

percent higher to 100 percent

higher than rates that have

been previously available for

a healthy individual through a

traditional insurance company

such as Blue Cross.

Tom Kane, Senior Vice President,

Stephens Insurance

planned between September 5 and September 9,

putting into question whether the exchanges would

be up and running by October.

Of course, what employers who offer insurance

will charge their employees is generally a privately

held issue, but the public exchanges are a different

matter.

"It varies from what I've seen from 30 percent

higher to 100 percent higher than rates that have

been previously available for a healthy individual

through a traditional insurance company such as

Blue Cross," says Tom Kane, senior vice president

of Stephens Insurance in Little Rock, Ark., which

has among its clients many trucking companies.

Stephens Insurance is part of Stephens Inc., one of

the nation's largest off Wall Street financial investment

companies.

Kane says although costs to individuals who purchase

insurance through their employers might not

be known yet, there is one thing for certain — those

prices will increase and probably substantially.

A National Journal analysis of new coverage and

cost data puts an exclamation point on Kane's prediction.

For the vast majority of Americans, premium

prices will be higher in the individual exchange

than what they're currently paying for employersponsored

benefits, the report said.

Adding even more out-of-pocket expenses to

consumers' monthly insurance bills is a swell in

deductibles under Obamacare.

The National Journal reported that health law

proponents have excused the rate hikes by saying

the prices in the exchange won't apply to the

As the implementation date for Obamacare

nears, even Secretary of Health and Human

Service Kathleen Sibelius had to admit that

insurance premiums could rise for some with

individual plans.

Obamacare added a number of new taxes that

will be levied on businesses, including a tax

against fully insured premiums. While businesses

will pay the tax, most expect that costs

will be passed along to policy holders in the

form of higher premiums.

millions receiving coverage from their employers.

But that's only if employers continue to offer that

coverage — something that's looking increasingly

uncertain.

Already, UPS, for example, cited Obamacare

as its reason for nixing spousal coverage. And

while a Kaiser Family Foundation report found that

49 percent of the U.S. population now receives

employer-sponsored coverage, more companies

are debating whether they will continue to be in the

business of providing such benefits at all.

Kane noted that in Arkansas, it had already

been announced that healthcare insurance for public

school teachers would have to increase 50 percent

in 2014.

After all, insurance companies don't have a

clue what's going to happen when those 46 millionplus

Americans join the healthcare system either

through their employers or the exchanges, including

many who will be medical "train wrecks."

"Their actuaries are really scratching their

heads," Kane said. "The big guess for insurance

companies is how are the numbers going to play

out? How many people are going to sign up for

their plans and what kind of health and claims are

they going to bring to that insurance company?"

Employees of companies that offer medical plans can

opt to buy from the exchange, but don't expect the

price at exchanges to be any cheaper, Kane said.

Obamacare does provide for premium tax credits

to persons who cannot afford coverage — individuals

or families with income between 100 percent and

400 percent of the federal poverty level.

So where is the money for those subsidies going

to come from?

By taxing everybody else, including trucking

companies.

There are about five different taxes, Kane noted.

"One is the health insurance fee that is a tax

levied against fully insured premiums for the entire

health insurance industry," he said. "In 2014 it

is projected to be $8 billion. That will increase to

$14 billion and then indexed after that. So every employer

that has a fully insured health plan will have

about a 2.3 percent increase just for that one little

tax. Then you have the effectiveness research tax.

Blue Cross is telling us for the average employer, not

small group, but average employer with 100-plus

employee lives who are fully insured, will experience

a 4.2 percent increase just do to those taxes."

Want to hear more about taxes?

"There's the tax being placed on the

pharmaceutical industry, the tax on medical

devices and some other taxes and fees

that are all tangled up in this," Kane said.

Guess who'll wind up actually paying those pharmaceutical

and medical device taxes?

That's right, the consumer.

But businesses, among them hundreds of carriers,

won't escape the wrath of paying more.

Remember that under Obamacare, insurance

companies must use a single rating system.

No longer will they be able to give better rates

to companies with young, healthy employees who

have low utilization. Those companies will be assessed

the same rate as companies with older, less

healthy and high-risk employees who heavily utilized

their insurance.

OK, you say, it is wonderful that so many more

Americans will have access to medical care with

that new insurance.

But finding a doctor may be another thing entirely.

"You have a chronic shortage of primary care

physicians today," Kane said.

Most large primary care clinics are filled to capacity

now. One professional organization says the

country will need 45,000 more primary care doctors

by 2020.

So what's going to happen when those new policy-holders

can't find a doctor?

"Interesting enough, Massachusetts has had

healthcare reform for five or six years and they

have less than 10 percent of their population uninsured,"

Kane noted. "In some cases emergency

room encounters have increased. Logic would make

you think if everybody has health insurance then

emergency room encounters should come down.

But that's where they can be seen. For a lot of the

population, they don't know where else to go."

To help ease the shortage, Kane said states need

to pass legislation to enable healthcare extenders

such as physician assistants and nurse practitioners

to do more.

"We are going to have to give them more authority

and less oversight because we can't produce

enough primary care physicians to solve the problem.

We have to look to other resources," he said.

Many, many trucking companies in the 50 FTEplus

category did get a break when the provision

requiring them to provide an affordable health plan

was extended until 2015.

How should those companies spend 2014 getting

ready for 2015?

The first thing they will need to do is to conduct

a study on the impact on them as a company and

their people, Kane said.

"They should run an actuarial model where they

input the income of every single employee and the

cost of premiums and determine what the impact

is going to be to them if they offer insurance and if

they don't offer insurance," he said. "But probably

equally important is that they can see the impact to

their employees if they choose not to offer coverage.

There are some strategies that an employer

can offer a plan that is deemed a qualified affordable

plan (a plan with an employee cost of no more

than 9.5 percent of his or her household income)

knowing that a lot of those drivers won't elect a

coverage. They don't today. We are seeing a lot of

employers who are in those industries where they

have a lot of low-paid employees that are offering

what is called a skinny plan. Offering a qualified

plan right beside a skinny plan is one strategy that

we are seeing out there."

But consumers need to be aware, he said. A

skinny plan is not comprehensive medical insurance.

"It's going to have a limited benefit similar to

what we used to call the mini-med plans, but the

skinny plan would have some health benefits like

Truckload Authority | www.Truckload.org TCA 2013
---
a m e r i c a ' s

m o s t

r e a d

i n d u s t r y

P u b l i c a t i o n

Find Out why.

On news stands natiOnwide.

FOr subscriptiOns Or tO advertise

call (800) 666-2770.

OFFicial partner OF trucklOad authOrity

G e t y o u r t r u c k i n G n e w s e v e r y d a y a t t h e t r u c k e r . c o m
---
The biggest positive is their

low-paid employees are going to

have access to health insurance. The

negative is the cost to provide all of

this through the affordable care act is

going to be significant. Everybody is

going to be impacted by this.

Tom Kane

preventive care. But if someone had a major cancer

and a half million dollars in claims, the mini plan is

not going to do them much good."

But the so-called 'affordable plan' would provide

comprehensive coverage.

The federal government has established safe

harbor for businesses related to the 9.5 percent requirement,

Kane said.

"No employer knows what their employees'

household income is and they can't require employees

to furnish that," he said. "So the Internal

Revenue Service established safe harbor rules that

said if you benchmark your plan to the lowest W2

employee and your plan is less than 9.5 percent of

that income you are safe harbor."

Employees may also wind up finding their portion

of the premium based on income, Kane said.

"An employer can have different levels of employee

contributions, so that as employees' income

goes up, their share of the medical premium goes

up and that keeps them inside that 9.5 percent."

Part of Kane's job is to share both sides of

the story with clients, so what is he telling them

will be the biggest overall positive and negative

Many expect that President Barack Obama will be wiping his brow quite often on Nov. 4, 2014,

when the mid-term election results start coming in.

impacts of Obamacare?

"Depending on the employer, the biggest positive

is their low-paid employees are going to have

access to health insurance," he concluded. "The

negative is the cost to provide all of this through

the affordable care act is going to be significant.

Everybody is going to be impacted by this. "What

my concern is, is that the general public does not

understand today what this is going to cost. And

we won't really know until after the rates begin to

become public."

It was Pelosi herself who as then Speaker of the

House said during the debate, "We need to pass this

bill so Americans can find out what's in it."

The Democrats did pass the bill, and Americans

are now beginning to find out after almost four

years, what's in it.

And so while those same Democrats who were

smiling on March 23, 2010, may have a brief opportunity

to crack a small smile toward the end of

2014 because PPACA has survived at least one year,

there'll be many who'll be scowling and looking back

at the current administration with disdain as they

start looking for new jobs in mid-November.

Because Americans finally understood what

Obamacare was all about.

GREAT WEST'S COLLISION

AND REPAIR EXPRESS

The Great West C.A.R.E. SM program. You might wonder

why we picked that name. Simple. Care is what we do, and

care is what you get with Great West Casualty Company.

Let's say you experience a breakdown or a collision in

an unfamiliar area. How do you pick a local repair shop

you can trust to do the job quickly, and do it right?

That's where we can help. We have approved lists of quality repair

shops and have local adjusters wherever you need assistance.

We'll help you choose the right shop so you can be back on

the road in no time. Plus, any time, day or night, you can talk to

a real, live person who'll give you the answers you need.

Great West Casualty Company – Because no matter

where you are, we're with you every step of the way.

WE CARE 24/7

GREAT WEST CASUALTY COMPANY

The Difference is Service

Not available in all states. All policy

exclusions apply to this coverage.

Please see your agent for exact

provisions.

TO FIND AN AGENT VISIT GWCCNET.COM

AND CLICK ON "FIND AN AGENT"

800-228-8053

gwccnet.com

10 Truckload Authority | www.Truckload.org TCA 2013
---
From Where We Sit

OBAMACARE EDITION

executives discuss the NEW HEALTHCARE

REFORM LAW AND ITS IMPACT ON BUSINESS.

"There is no question that it will affect our bottom line and frankly it already has. Two or three years ago when it was

looming in the background of discussion, my health insurance broker said that 17 percent of our 20 percent renewal

increase was due strictly to Obamacare. We did an actuarial of our census roughly eight to ten months ago and if we

changed nothing in our program, the increase to provide healthcare would be somewhere in the range of $500,000-

$600,000 in premiums. It is bad legislation."

Shepard Dunn, President & CEO, Bestway Express, Inc.

"One area of large concern is the impact on independent contractors. We are hopeful that the IRS will consider owneroperators

to be classified under the safe harbor provisions of the Internal Revenue Code in the same way as income taxes

are. However, there remains great uncertainty at this time. Owner-operators need to start learning about obtaining requisite

insurance as the law is implemented. They will need to either purchase qualifying insurance or pay penalties on their

1040 returns."

Tom B. Kretsinger, Jr., president and COO, American Central Transport, TCA Chairman

"We're evaluating all of our options right now. We want to continue to provide competitive benefits to our employees.

We do know the Affordable Care Act imposes new taxes on us that we have never had to deal with before,

and that will impact our bottom line. The new regulations are challenging and we plan to maintain a competitive

health plan."

Cliff Yentes, Corporate Risk Manager, Dart Transit

"From the beginning, I always felt the premise of Obamacare was delusional. It would have been far more effective

if the president had said we need to make sure that the people who are uninsurable — not the ones who just choose

to be because they'd just rather buy a truck or a Camero and they just don't want to spend the money on insurance

— are put in a high risk pool and let the government subsidize that pool. If they really are at a point where they are

not insurable in a traditional marketplace — and there are people like that — and we force an insurance company

to take them without regard to preexisting conditions with no lifetime benefits, that absolutely skews everybody's

cost up."

Mike Huckabee, former GOP presidential candidate and host of Huckabee on Fox

"It's a mystery to most people; it's thousands of pages of government regulations. Nobody

has read it. Senators, congressmen, the president ... none of them have admitted they've

actually read the whole thing. It was put together by a legal staff. I'm sure there's some

good in it, there's a lot of harm in it, there's a lot of cost. The reason people are wary

is because they don't trust the government, and they know anything the government

gets into is going to get muddled and fuddled, and it's going to be twice as expensive

as they said it is, and it's not going to create the intended result."

J.J. Keller, president and CEO, J.J. Keller and Associates

TCA 2013 www.Truckload.org | Truckload Authority 11
---
with

COMMON SENSE CRUSADER

Exclusive to Truckload Authority

By Micah Jackson and Lyndon Finney

One day several years ago, the senior vice

president of a major healthcare system in a

Southern state walked into his marketing and

public relations department carrying a handful

of wall signs.

The organization's operational and personnel

manual contained thousands upon thousands

of words and was thicker than a National

Football League playbook.

The executive, himself, a man of few words,

had decided to write a CliffsNotes version of

the manual and now he wanted those words

prominently displayed in every office in the

department as a reminder that there is more to

running a department than reading rulebooks.

"The rule of common sense is practiced

here," the signs read.

Although he is definitely a common sense

proponent, it's fairly certain that Mike Huckabee

doesn't have one of those signs hanging in

his office at Fox News where he hosts his television

show, "Huckabee on Fox," every Saturday

and Sunday evening — nor in his office in

Florida where each morning he broadcasts "The

Huckabee Report" and hosts his three-hour

radio program, "The Mike Huckabee Show"

each afternoon on Cumulus Media Networks.

He doesn't have to.

Because it doesn't take a sign to know that

Huckabee, a former Southern Baptist pastor,

former governor of Arkansas and Republican

presidential hopeful, espouses common sense.

Call him the "Common Sense Crusader"

if you like, because crusading the conservative

cause [which many Americans believe is

a synonym for common sense] is exactly what

Huckabee's been doing since he became vice

president of the student body at Hope, Ark.,

High School in 1971.

"You can't spend money you don't have and

you can't borrow money you can't afford to pay

back," he says of the Obama administration's

penchant to spend, spend, spend and borrow,

borrow, borrow.

"We spend [healthcare dollars] on treatments

rather than prevention and cures because

there is no money in cures and there

is no money per se to be made in prevention,

but there's a lot of money to be made in treatment,"

he intones about America's healthcare

system, which consumes 17 percent of the

nation's gross national product.

"[There once] was a universal understanding

that there is a God and that He's part of

who we are as a nation, part of who our founders

believed was involved in us from our inception.

We've abandoned that and moved to this

notion that we are truly on our own, that we

make up our own rules," he says in concern for

the national culture, which he believes is leaning

far too far to the left.

God has given Huckabee a pulpit for his

common sense beliefs for many years, first as

pastor of two churches in Arkansas where he

established 24-hour television stations, then

as governor of Arkansas [he's the third-longest

tenured chief executive in the state], as a GOP

presidential candidate in 2008 and now as a

nationally-respected broadcaster.

It was his frustration with the American

way of life that moved him from the pulpit to

politics.

"A lot of it had to do with being a father and

watching what was going on in my children's

world — school and culture — and coming increasingly

to the conclusion that a lot of people

who had values like mine didn't want to get

involved in the political atmosphere, which I

certainly can understand," he said during an

exclusive interview with Truckload Authority.

"But the result was we'd essentially ceded

our nation over to people who had a world view

that was totally different than not only what I

felt was my world, but the world view that was

more traditional in the country. And I kind of

talked myself into it by realizing there comes a

point where I can complain about what's wrong

— which is the equivalent of sitting up in the

cheap seats and screaming at the umpire — or

I can get down on the field and join the game,

and that's what it came down to for me."

It's a move he never regretted because his

common sense beliefs are tied directly to a

personal belief that one should be satisfied with

whatever they are doing at the precise moment

they are doing it.

"Everything I've done has been a very satisfying

experience and at the time I did it, it was

absolutely the most satisfying," he emphasized.

"So I really couldn't say I am more satisfied

now because I loved being governor, I loved

being a pastor, I loved working in advertising

and communications, which is what I did before

I went into the pastorate. So in every endeavor

I felt like this is where I am supposed to be

right now and I loved being there right then.

People have asked me whether it's 'do I miss

the pastorate or do I miss the governor's office,'

and I tell them if you mean do I look back

fondly, yes. Do I long for it and wish I was back

there, no. I feel like I've read that chapter and

it's time to turn the page to the next one."

That next one is using his broadcasting pulpit

to try and help bring that left-leaning nation

back to the right.

His message generally centers around three

topics about which he believes every American

should be concerned with addressing right now

— the economy, the culture and healthcare.

And, he has some very profound thoughts

about trucking as well.

As for the first lesson, point blank, Huckabee

says the administration's economic strategy

is seriously flawed.

"To me that's simple. You can't spend money

you don't have and you can't borrow money

you can't afford to pay back. That's the rule

every individual has to live by, it's the rule of

every business; it is not the rule of federal government,"

he said. "Their attitude is we spend

money and borrowing has no consequence, and

that's simply not the case. The long-term result

is that it leaves a debt that future generations

won't pay, but the short-term result is that it

really makes it impossible for particularly the

entrepreneurs in America to survive because

what happens is when the government takes

more and more of what those businesses earn,

it's as if the government is saying 'you worked

for your money, but we don't value what you

do. We value what we do; therefore what we

12 Truckload Authority | www.Truckload.org TCA 2013
---
Read full

interview

here:

Get the free mobile app at

http:/ / gettag.mobi
---
do is more important than what you did,

so we are going to take that money you've

earned because what you do with it is not

very valuable. What we do with it is more

valuable.'"

But Americans don't need to believe they

should get off scot-free, as the old saying

goes, so now it's time for another common

sense lesson.

"I do think people need to stop thinking of

taxation as evil because a certain level of it is

important," Huckabee said. "What they need

to see is that when the government takes

something from us we have to assume they at

that moment believe that what they are going

to spend it on is more valuable, more important,

more critical than what we would have

spent it on."

But sadly, he added, he thinks there are

very few Americans that would say "you know

I think the government is going to be far

more responsible than I would have been."

Huckabee made his most renowned — and

widely criticized by the left — statement about

the nation's culture following the Sandy Hook

Elementary School shootings last year.

He made headlines in the U.S. and abroad

for stating on Fox News: "We ask why there is

violence in our schools, but we have systematically

removed God from our schools," and

further asked: "Should we be so surprised that

schools would become a place of carnage?"

The criticism, if anything, strengthened his

resolve about the national culture.

Life just got more comfortable with Webasto's NEW SmarTemp Control.

The SmarTemp Control from Webasto is a revolutionary temperature controller that works with

Air Top 2000 ST bunk heaters. Precisely manage the comfort of your bunk with a turn of a dial.

No more idling to stay warm. No more guessing at the temperature. Maintain constant bunk

temperatures and lower fuel costs. With Webasto SmarTemp Control, life just got more comfortable.

Controls

Displays

Provides

Webasto Air Top 2000 ST bunk heaters

set temperature and ambient bunk temperature

preventive maintenance reminders

Displays heater diagnostic codes

Large backlit LCD screen

Easy USB connection for PC diagnostics

Call us: 1.800.215.7010 Online: SmarTempControl.com

14 Truckload Authority | www.Truckload.org TCA 2013
---
The country has abandoned a long-held belief

that God is part of who we are as a nation,

Huckabee said, and that He was involved from

the very inception of the United States.

"First of all, it's been harmful to us sociologically.

But I think it's been untrue to our

[nation's] foundation. And what I would say is

when people don't believe there is a God, they

are responsible. So then they end up living

as they did in the time of the [Biblical] judges

when everyone did what was right in his own

eyes," Huckabee said. "And so today, we don't

have any moral standards that are fixed and

solid. We can redefine marriage, we can redefine

life and we can redefine personal responsibility

to each other. What's happened is we do

have a god today, but [our] god has become

government and government has become the

ultimate provider."

Huckabee said an overwhelming majority

of the country is center right, but that if the

government and the media had their way, that

would change.

Like Washington, the media is totally out of

touch with mainstream America, Huckabee says.

"I tell people even at Fox [considered the

most conservative news media] there's a mindset

that's not necessarily liberal, it's just that it's

New York," Huckabee said with a hint of chuckle

in his voice. "There's a New York attitude that's

just disconnected from the people who live in

Arkansas or Kansas or Montana or places outside

the big city. I have these discussions all

the time and I tell the people at Fox: 'You guys

need to get out more because the audience that

watches you every night is not the audience

that you run into on the subways, Sixth Avenue

or 48th Street. The people that you are talking

to are people who go to church on Sunday,

they shop at Walmart, they drive pick-up trucks,

they probably have a deer head in their den;

they have a different world. They own guns.

You don't get it.' I tell people I live in the land of

God, guns, gravy and grits and it's not at all the

world of New York or Los Angeles where these

are closed systems that are really, really out of

touch with so much of America."

A prime example of "so much of America" occurred

in August 2012 when Chick-fil-A President

Dan Cathy ignited a national debate by publicly

expressing his opposition to same-sex marriage

and his support of the Biblical definition of marriage

between a man and a woman.

Gay right groups quickly called for a national

boycott of Chick-fil-A.

Huckabee immediately organized a national

"Chick-fil-A Appreciation Day" event and had

Cathy appear on his television program.

Huge crowds turned out on the appointed

day, in some cases blocks long.

The Biblical definition of marriage is directly

linked to the Biblical definition of a family,

which brings us to common sense lesson No. 2:

America's cultural shift goes back to

the sense that the base unit of government

shouldn't be viewed as the federal institution

of government, rather it ought to be viewed as

the family, Huckabee believes.

"The family is the first unit of government

that any individual encounters; it's the unit of

government that is most fundamental, basic

and necessary," Huckabee said. "If it works

right, then we need less and less of the structures

that are above that. When it fails, we

end up with more and more structures that are

above that because when a family functions

right and a child learns the difference between

right and wrong, it diminishes the need for

authorities, whether they are policemen, counselors,

every kind of rehab-type therapist. The

more that individuals and families break down,

the more government is needed."

If there is going to be a game changer in

the political landscape of the country and perhaps

hence a cultural shift back to the right,

healthcare — or more specifically Obamacare

— will be a catalyst.

"It will have a dramatic effect on the races

of 2014 and not in a good way for the Democrats,"

Huckabee said.

But he was quick to add a warning to his

own Republican Party.

TCA 2013 www.Truckload.org | Truckload Authority 15
---
CAT Truckload Authority 052013_Layout 1 5/20/13 12:41 PM Page 1

We've

Got

Your Back.®

"

Our trucks operate all over the

country and we want some

continuity in our scales, and we

get that with CAT Scale.

CAT Scale does have our back

because of their accuracy, and

on a scale of 1-10 they are

a 10 or 11 for sure!

"

– Aaron Tennant

Tennant Truck Lines

Read more about

The CAT Scale Guarantee at

www.catscaleguarantee.com.

1-877-CAT-SCALE (228-7225)

"One thing that would save the Democrats from a disastrous 2014 is

if the Republicans spare the Democrats from having to face the consequences

of Obamacare by instead forcing them into a government shutdown

that would take attention totally away from the fact that millions

of Americans are moving now from fulltime to part-time employment.

That because of Obamacare, more millions of Americans will lose their

insurance rather than gain it and that because of Obamacare, more

millions of Americans will see a dramatic increase [in healthcare costs]

than a decrease."

Common sense lesson three quickly became evident.

"There will be anecdotal points at which some people will actually

see a decrease in cost but those will be overwhelmed by the number of

people who will have more than they can pay and it stands to reason

that if you add 30 million people to a system, or potentially you do, you

have fewer doctors in which to operate it. The people you add are the

sickest and the poorest — the ones who will need the most subsidies

and the greatest amount of healthcare — it's actuarially impossible for

that to cost less money. That is completely beyond the realm of reality."

Huckabee agrees with a statement by Sen. Harry Reid, D-Nev., one

of the architects of healthcare reform, who once said that Obamacare

was a Trojan horse for socialized medicine.

"Ultimately, the only way a program like this can work is with a

single payer and the single payer is going to be the government. At

the time the law was being written, I really didn't want to believe that

was the intent, but whether that was their strategic intent or simply

the law of unintended consequences, there aren't many insurance

companies that are going to be able to live under the rules of Obamacare

and create a policy that's affordable for the people who are going

to have to buy it."

As for trucking, Huckabee quickly points to the role the industry

plays in the country's success, regardless of political leaning, cultural

shifts and a spend, spend, spend, borrow, borrow, borrow mentality.

"Virtually everything Americans have in their homes from their

groceries to their office supplies to their clothing wouldn't be there if

it were not for the truckers. Truckers move most of the materials from

point A to point B and the economy collapses without that kind of commerce,"

Huckabee said. "The second thing is that most people have no

idea the level of training and safety consideration that truckers first of

all out of responsibility but frankly sheer necessity, have to employ. A

big trucking company can ill afford for one of its drivers to do something

that costs that company millions in liability, which is exactly what

can happen if somebody is reckless or careless.

"So it is in the trucking company's best interest to have very high

standards of quality for hiring people, maintaining those standards,

making sure drivers are well trained and well rested. All of the factors

that go into a safe and efficient delivery system are critical. People underestimate

that. They don't think about that. But if they ever stopped

and backed up and looked at it, they'd understand the truckers are

probably the most responsible drivers on the road and the safest ones

and they are also carrying the things that we couldn't do without.

"The main thing they need to understand is when they say 'those

doggone truckers,' they need to say 'thank God for those truckers.'"

Now that's real common sense.

Like us on

Facebook.

© 2013 CAT Scale Company

get mr. huckabee's advice on how best to further

trucking's legislative goals. Plus, find out if he is more

likely to run for president again in '16 or return to his

work as a pastor. the answers could surprise you.

Get the free mobile app at

http:/ / gettag.mobi

16 Truckload Authority | www.Truckload.org
---
Liability Lunacy

Rep. Matt Cartwright, D-Pa., in late July

introduced legislation that would raise the required

insurance minimum for motor carriers

from $750,000 to $4,422,000 per truck, an

increase of almost 500 percent.

Congress established the current insurance

minimum in1980.

Before being elected to Congress last year,

Cartwright was a member of the law firm of

Munley, Munley and Cartwright, a firm that

specializes in accident and injury claims. After

Cartwright was elected, he resigned from the

firm, which is now called Munley Law.

"This is a matter of public safety," Cartwright

claimed. "Tragically, more than 100,000

people have been killed in commercial vehicle

collisions since 1980. This legislation is essential

to protecting our nation's highways

and ensuring that victims receive the proper

amount of compensation for their losses."

Executives familiar with the legislation

believe the new minimum would add about

$3,500 a year to the premium for each truck a

company owns.

Dave Heller, director of policy and safety at

TCA, called the proposed minimum outrageous

and unfair to motor carriers.

"We are of the belief that this is not making

a mountain out of molehill, this is making

Mount Everest out of a molehill," Heller

said. "TCA policy dictates that liability coverage

should be at a reasonable minimum level

to protect the public, not a level that leaves

plaintiffs' attorneys salivating."

David Owen, president of the National Association

of Small Trucking Companies, was

also very direct.

CapItol

recap

A review of important legislative and regulatory news

coming out of our nation's capital.

For more news

Get the free mobile app at

"It is a fact that even with today's $750,000

http:/ / gettag.mobi

minimum requirement, regardless of fault at

the crash scene, the truck, its company, and

its insurer are the first to come under scrutiny

from lawyers looking for someone to sue.

"The very idea that the Federal Motor Carrier

Safety Administration (FMCSA) through

CSA promotes the notion that a big truck-auto

crash where the truck is clearly not at fault,

goes against the carrier's record equally with

at-fault crashes, fuels the fire of unfair, frivolous

and fraudulent lawsuits in today's adversarial

agency atmosphere, and promulgates

litigation harassment of the entire industry.

"Raising liability minimums at this time is

short-sighted, has nothing whatsoever to do

with safety or fairness, and should not be considered

seriously. What we need today is tort

reform, not escalation of corporate liability."

Given Congress' agenda in the next few

months with both government funding and a

replacement bill for MAP-21 among critical issues

to be discussed, it's unlikely Cartwright's

efforts will go anywhere, but TCA members

should go ahead and contact their representatives

and ask them to help defeat the effort.

Nevermore to "Roll"

If the Department of Transportation adheres

to its schedule, the Final Rule on the

National Highway Traffic Safety Administration's

stability control rulemaking will be

placed in the hands of Transportation Secretary

Anthony Foxx before Thanksgiving.

This rule would require electronic stability

control systems on truck-tractors and motor

coaches that address both rollover and lossof-control

crashes.

If you remember, early in the rulemaking

process there was discussion of whether the

requirement should be for a roll-stability system

or electronic-stability system.

Roll-stability systems control only for lateral

motion, while the term electronic stability

is what is better known as full stability.

Both platforms build on antilock braking

but move along the path toward intelligent

rollover avoidance. Full stability goes four

steps beyond roll stability to include not only a

lateral acceleration sensor but also a yaw sensor

to measure the vehicle's position along a

vertical axis, a steer-angle sensor to measure

driver input and intent, a brake-pressure sensor

to measure the driver's braking intent, and

a load sensor to control the trailer's pressure

on the tractor.

NHTSA eventually opted for electronic, or

full, stability.

NHTSA said rollover and loss-of-control

crashes involving heavy vehicles is a serious

safety issue that is responsible for 304 fatalities

and 2,738 injuries annually, adding that

they are a major cause of traffic tie-ups, resulting

in millions of dollars of lost productivity

and excess energy consumption each year.

Of course, many motor carriers today

equip their trucks with safety technology far

beyond roll or electronic with advanced collision

mitigation systems that include the use

of radar to detect objects in the truck's path.

In the very near future, video will add to the

impact of collision mitigation.

With the comment period closed on the

Final Rule, a check of the comments indicates

70 percent for the rule and 30 percent

against.

The Final Rule is scheduled to be published

next March.

Since the rule is now mandated by MAP-

21, it is getting a lot of attention in Washington

and should be published by that date.

The implementation date will be part of

the Final Rule.

TCA 2013 www.Truckload.org | Truckload Authority 17
---
WHERE

STATES

STAND

An inside look at key

transportation

legislation in

statehouses across

America.

CONNECTICUT

The Connecticut Legislature agreed to a bill stipulating that money coming

from the Special Transportation Fund may only be used for projects related to

transportation starting July 1, 2015. Last year, the state used $70 million from

the fund to help alleviate the fiscal 2012 deficit.

ILLINOIS

Gov. Pat Quinn signed into law an extra $1.5 billion in spending for road construction

and child welfare investigations.

INDIANA

To encourage alternative fuel usage, the state Legislature passed a bill that state

agencies can pay 10 to 20 percent more for alternative fuel vehicles than those

with traditional fuel. For vehicles that use natural gas, weight restrictions were

lifted to allow an extra 2,000 pounds. Natural gas Class 8 vehicles purchased in

the state will also receive a $15,000 tax credit under the new legislation, with

trucks weighing at least 33,000 pounds receiving an income tax credit.

MAINE

In order to provide more transparency for transportation projects, including the

proposed $2 billion east-west highway toll road in the state (230-mile route

across the state that would connect Canadian points), the Legislature passed a

bill that allows all details of the project, including records, notes, summaries,

etc., totaling more than $25 million to be made available to the public. It refers

to the Department of Transportation's public-private partnerships.

MARYLAND

Gov. Martin O'Malley signed off on legislation that invests about $800 million

annually and $4.4 billion over six fiscal years on infrastructure. Under the

Transportation Infrastructure and Investment Act, the governor announced $1.2

billion for highway and transit projects. The legislation is estimated to create

more than 57,000 jobs.

18 Truckload Authority | www.Truckload.org TCA 2013
---
Get the free mobile app at

Find out

http:/ / what gettag.mobi

legislation

did not pass

here

MASSACHUSETTS

State lawmakers voted to pass a transportation finance bill by overriding Gov.

Deval Patrick's veto. The bill includes a 3-cent-per-gallon gas tax increase and $1

increase for cigarette tax. The bill is set to gain $500 million in new taxes, which

will be funneled into infrastructure and stalled highway improvement projects.

MINNESOTA

The state's new transportation bill did not include an increased gas tax or metro

sales tax, but aims to include $130 million for Met Council transit projects and

$300 million for roads. A one-time payment of $95 million will go to the Minnesota

Department of Transportation for pedestrian and road updates.

NORTH CAROLINA

Referred to as the "Strategic Mobility Bill," transportation funding is now divided

into state, regional and local categories. Projects would compete for funding

with other projects in its category, a system that lawmakers believe will

create more growth and needed transportation updates for small communities.

The plan calls for the completion of 85 more projects in 10 years which would

add an estimated 65,000 jobs.

OHIO

Under a two-year transportation bill, the speed limit on rural interstates was increased

to 70 mph and will provide $3 billion for long-term transportation projects.

Improving infrastructure under the bill will add about 65,000 new jobs,

lawmakers said. The bill also added a plan to sell bonds backed by the Ohio

Turnpike, which was under the wire to either be sold or leased.

OREGON

Lawmakers passed the Interstate 5 Bridge replacement project in March, agreeing

to fund $450 million of the total $3.4 billion cost, paid for by federal grants

and toll revenue. However, the Washington Legislature will not pay its proposed

$450 million share. The bridge connects Portland and Vancouver.

TEXAS

After three special sessions, the Texas Legislature reached a deal that aims

to provide $1.2 billion a year for transportation, moving half of what comes

through the state's Rainy Day Fund for roads and bridges. Voters will get the

final say about using money from the Rainy Day Fund in November 2014. The

bill also stipulated the Texas Department of Transportation find a way to save

$100 million to help pay off long-term debt.

VERMONT

A two-year, $109-billion transportation funding bill is aimed at highway, rail

and airport projects. It is projected to bring $408 million to the state within two

years. A 4 percent tax on gasoline will be phased in during those two years and

diesel will be raised by 3 cents per gallon. It also decreases the cents-per-gallon

excise tax on gas by 6.9 cents.

VIRGINIA

The Virginia Legislature implemented an additional $3.4 billion in transportation

funding. The state now has a 3.5 percent wholesale tax on gasoline, with a

6 percent levy on diesel, which replaced the 17 ½ cent-per-gallon gasoline tax.

State sales tax also increased to 5.3 percent. The bill is said to generate $272 to

$335 million annually.

WASHINGTON

An $8.7 billion transportation budget signed by Gov. Jay Inslee is said to go

toward maintining state roads and major transportation projects. Inslee vetoed a

few proposals, including spending $81 million for a replacement bridge extending

Interstate 5 over the Columbia River.

WEST VIRGINIA

West Virginia's Legislature passed the state's budget, with $7.2 billion dedicated

to state appropriations. The State Road Fund makes up 11 percent of those

appropriations for the 2014 fiscal year.

WYOMING

Gov. Matt Mead signed into law a 10-cents-a-gallon fuel tax which raised the

state diesel and gas tax to 24 cents. The goal was to raise about $71 million in 2014,

with $47 million going toward state highways, $16 million for country roads.

WISCONSIN

The Wisconsin Legislature approved a measure — which will be in the hands of

voters in November 2014 — that prevents the state from taking money from the

state road fund for projects other than transportation. Transportation advocates

say the legislation falls short of what's needed for infrastructure. The fund is

said to be $6.8 billion less than what the state needs for infrastructure throughout

the next 10 years.

TCA 2013 www.Truckload.org | Truckload Authority 19
---
Fall edition | TCA 2013

Tracking The Trends

Future of Fuel

Two-Part Investigative Report

Is NG a fit for your fleet?

Experts Discuss What

Carriers Need to Know

About NG

By Dorothy Cox

This is the second of a two-part report on the future of

natural gas and what carriers need to know about deploying

NG-powered trucks.

It's Dallas in August, and the heat is shimmering in the air like

a living thing and wilting man, beast and machine.

But at the Clean Energy Fuels station just outside the

city, a tanker filling up one of the facility's mammoth storage

tanks is wreathed in a cool mist and Clean Energy Fuels' Matt

Feighner, vice president of the company's national truck team,

explains the "fog" is moisture vapor in the air, created because

of the temperature of the fuel (liquefied natural gas or LNG is

loaded at negative 260 degrees), and the heat outside.

The LNG was manufactured and loaded up at Clean Fuels'

Willis, Texas, plant and trucked to the facility. It will take about

an hour to transfer the 10,000 LNG gallons or about 5,900

diesel-equivalent gallons, into the huge, conical storage tank.

All this is being done on one side of the station while on the

other side, there are lanes open for the public and for Dillon

Trucking, which Feighner said was awarded work by Owens

Corning on the condition they agreed to run natural gas trucks.

"They purchased a terminal and asked Clean Energy to build

them a public station," he explains. "Dillon receives a very low

rate for their fuel as the anchor tenant for the site. They receive

a royalty payment for each gallon we pump to the public, which

further lowers their cost. It's a great partnership."

Indeed it is, and Feighner says this station "is a posterchild

for future projects. Almost from day one we've sold

more fuel to the public than we do to Dillon. This is a very

popular station." FedEx, Frito-Lay and PAM Transport are

other heavy-duty fleets that fuel there, with trash trucks and

taxis fueling occasionally as well.

Clean Energy and other companies such as Shell, Northville

Natural Gas, Trillium and others are pursuing the natural gas

infrastructure dream as fast as they can, confident it is a costeffective

and viable diesel alternative.

The 97-year-old Northville, based in New York — perhaps

the lesser-known company — has been in the natural gas

fueling business since the fall of 2011, and has two CNG

stations open in Frankfort, Ind., and Vincennes, Ind., another

under construction in the Midwest, and five in the planning

stages in New York, Georgia and Kentucky.

Major competitor Trillium CNG, a business unit of Integrys

20 Truckload Authority | www.Truckload.org TCA 2013
---
Truckload_halfpg_V_ad_21May13_P.pdf 1 5/21/13 12:35 PM

Energy Group, just opened a new site at the Green Team of San Jose, Calif., a refuse

and recycling collecting facility and Trillium also is replacing all of its bus fleet — 152

buses — from diesel to natural gas, and 78 paratransit vehicles from gasoline to

natural gas as vehicles are retired from the fleet.

It's simple: On the supply and development side there is money to be made, and

on the trucking/transportation end, there is money to be saved.

Investor T. Boone Pickens said at the Great American Trucking Show last month

that the estimated 8 million Class 8 trucks in America could save 3 million barrels of

oil a day if they switched to natural gas.

"There's 25 billion gallons of diesel sold in this country every year and as an

industry we're going after all of it," says Feighner.

So far, he adds, CNG is the more familiar fuel to the public but that will change.

As far as LNG, which is seen as more applicable to long-haul trucking,

liquefying and transporting the fuel are two cost components you don't have

with CNG, he says.

LNG, however, best "replicates the diesel experience in terms of fuel."

A downside with LNG is that it's extremely cold: -260 degrees Fahrenheit,

and is delivered in a cryogenic trailer to the LNG station and stored in cryogenic

tanks. Over-the-road transportation can impact the price compared with pipeline

transportation of CNG.

And although LNG stores twice the energy volume as CNG, it has a 7-day

shelf life — if you don't use it, the fuel will slowly vent over a few weeks' time

until empty.

Is NG a fit for everyone? No. Is it the be-all and end-all diesel alternative? No.

Another downside with LNG is that the federal government has its hand

in the till in the form of a more expensive excise tax, something Feighner

says is being quickly rectified.

"The federal government is taxing LNG on a volume metric basis, not an

energy-equivalent basis, so it gets taxed at 1.7 times the amount as diesel.

Diesel is 24 cents and LNG is 41.

"As an industry, we are in the process of correcting this. There's a bill

on the floor [in Congress] to fix that. We're not asking for any favors; we

C

just want parity with diesel," Feighner says.

Even the most ardent supporters say natural gas will never replace diesel, as did

M

Daimler Trucks North America's General Manager of Marketing and Strategy David

Hames in August at the fourth annual Commercial Vehicle Outlook Conference. Y

On a diverse panel discussing the future of fuel economy, Hames —

CM

acknowledging that Daimler "is deep into the natural gas market," shared he

was "not of the mind that natural gas will replace diesel. It's an alternative

MY

fuel that will take an increasing role" in trucking.

Some stakeholders say NG equipment is too cost-prohibitive.

CY

One carrier executive says the additional cost of up to $70,000 for a 450-

hp engine with 650-mile fuel range is too high, and wouldn't be economically CMY

feasible for his company until that figure is closer to $20,000.

The cost of the engine is in the $10,000 to $15,000 range, noted Robert

K

Carrick, sales manager, natural gas, Freightliner Trucks. "The majority of

the cost," he said, "is in the tank packages. Most customers are trying

to put the same amount of fuel on board that they have on their diesel

products, and that drives the cost up.

"However, if they carefully choose routes that make sense in terms of

mileage and fuel availability, they will find that less fuel onboard will work. As a

result, the upcharge for the engine and tank packages can be in the $55,000 to

$60,000 range, but then you need to add FET and state taxes to that amount,

which can add another 20 percent to those figures."

LNG Pump

www.Truckload.org | Truckload Authority 21
---
Jim Harger, chief marketing officer for Clean

Energy, said the weight of the CNG 135-gallon

truck is 2,200 pounds heavier than a diesel truck

with the same amount of fuel. Conversely, an

LNG truck with the same capacity is less than

250 pounds heavier, he notes.

Then there's the length of time it takes to fill

up. Refuse trucks can sit overnight at a terminal

and "time fill" for six hours, then be ready for

drivers in the morning, while that's not a fit for

OTR trucking.

With LNG, "You have twice the range and it also

pumps faster at a minimum of 12 gallons a minute

and up to 24 to 30," Feighner says. That bears

on Hours of Service regulations, where "the companies

are slip-seating those trucks. They need

rapid fueling; they need to keep their trucks on

the road hauling and earning money — not queuing

for fuel."

Harger explains that in order to achieve a 135-

gallon "complete fill," a CNG-powered truck would

need to be "time filled over several hours to avoid

heat gain, and hence storage loss, from a fast-fill CNG

station." And like Feighner, he agrees this impacts a

driver's HOS for most trucking applications.

Of course maintenance needs differ from

diesel and some training and special clothing

is needed for LNG fueling, whereas there are

no special clothing or safety devices needed

for fueling with CNG, says Cummins' Roe East,

general manager of on-highway NG business.

When fueling with LNG drivers wear gloves

and safety goggles to prevent contact during the

fueling process. Feighner says if LNG gets on the

skin, there's enough oil on the skin's surface to

make it glance off. "The only part of your body

Outside it's a sweltering summer day, while inside this liquefied natural gas (LNG) tanker, the negative 260-degree fuel is

forming ice crystals on the outside of the pump as it's being put into a mammoth storage tank.

that can't handle contact with LNG is your eyes."

Regarding maintenance on NG vehicles, East

says that "the safety risks with NG are not different

than diesel, just the precautions are different."

He explains that when some diesel escapes,

it drops to the floor, whereas with natural gas,

it rises to the ceiling as a vapor. So, just as

typically one wouldn't find equipment or devices

that create sparks or open flames near the floor

with diesel, so with NG there can be no ignition

sources set near the ceiling and there should be

good ventilation near the ceiling.

Also, ventilation has to be in conjunction with

use of a methane detector. There are fire code

guidelines which are governed by a local fire

marshal, East says.

"We don't envision a world where everything

runs on NG," East says, "but some fleets will find

it very attractive to run on NG."

That's what truck and engine OEMs and the

companies like Clean Energy and Shell and the

others are banking on.

Just do the math, says Feighner. "A barrel

of oil is trading at over $100 bucks today; the

equivalent energy in natural gas is trading at $20.

So everybody is trying to figure out how to take

advantage of that difference and that gap in fuel

cost is predicted to increase over our lifetime."

As author, journalist and energy expert Robert

Bryce said at GATS, "let the best fuel win."

Northville builds, owns and operates CNG and LNG stations. We build

new fueling infrastructure across the country based on your fueling needs.

Northville builds, owns and operates CNG and LNG stations. We build

new A Northville full fueling century infrastructure

builds, owns the energy, and

across

operates Northville the country

CNG is and

based known LNG

on

stations. to your be fueling an We efÞcient build

needs.

new fueling infrastructure across the country based on your fueling needs.

operator, and a reliable and fair partner. We offer transparent cost+ fuel

contracts, A full full

and century

century

for our in

in

ßeet the energy,

the energy,

partners Northville

Northville

to share is known

is known

in the

to

proÞtability to be an efÞcient

be an efÞcient

of stations.

operator, and a reliable and fair partner. We offer transparent cost+ fuel

operator, and reliable and fair partner. We offer transparent cost+ fuel

contracts, and for our ßeet partners to share in the proÞtability of stations.

contracts, and for our ßeet partners to share in the proÞtability of stations.

For more For more information, please please contact John Klein at 631-753-4214 or or johnk@northville.com

For more information, please contact John Klein at 631-753-4214 or johnk@northville.com

22 Truckload Authority | www.Truckload.org TCA 2013
---
Fall Edition | TCA 2013

A Chat With The Chairman
---
Sponsored by

THE ABILITY TO DO MORE

In the heart of every great leader lies

an unshakeable awareness of what's

most important in life. Uncommon people

have a keen awareness that today's

insurmountable obstacles and never

ending tasks will often later be exposed

as trivial when gazing through the prism

of time and experience. Chairman Tom

B. Kretsinger, Jr. is certainly one of these

few uncommon leaders. He knows

what's most important and, for him, it all

starts with his family.

In the second of four illuminating

"chats" with Mr. Kretsinger, he gladly

pulls the curtain back and gives

Truckload Authority readers an exclusive

inside look at his family life and, in

particular, his relationship with his father

and mentor, Tom B. Kretsinger, Sr. Also,

he lets us in on his most embarrassing

moments, his favorite ways to relax, the

one thing that annoys him most in the

workplace, and how he got his very

unusual middle name. Plus, as his oneyear

term as chairman hits the midway

point, he gives us an exciting update

on the efforts and progress being made

under his leadership thus far.

Foreword and Interview by Micah Jackson
---
Sponsored by Mcleod software

McLeodSoftware.com | 877.362.5363

It's important for TCA members to get to

know you both professionally and personally.

Identify for us some of your key

mentors in trucking and how they have

impacted you.

First of all would be my father, Tom Kretsinger,

Sr. I graduated law school and passed the bar in 1981,

a year after deregulation. My father and grandfather

both had practiced law as motor carrier lawyers. I

came in on the tail end of that. I would also include

my mother, Carolyn Kretsinger. I remember my freshman

year in college I planned on being an art major.

My mother prudently advised that it would be better

if I went to law school and used art as a hobby.

I thought that made a lot of sense. (Although, I quit

painting shortly thereafter).

In 1972, my father bought a company originally

named E.K. Motor Service out of Joliet, Ill. Back then,

what he really wanted was the authority. That was

prior to deregulation and he started growing that

company. With him I've learned the legal side of

trucking as well as the other types of law. In 1998, I

closed my law practice and came to the trucking business

fulltime. He was really the one who led me, or

restrained me, when needed, as I learned the business

side of trucking.

Others in the industry … I have the utmost respect

for Duane Ackley. He is smart, really knowledgeable,

very modest, and very giving of his advice and I've

always listened very carefully to everything he says.

When you get into the TCA officer lineup and you are

in that for a number of years, some people cycle in

and out. I've learned a lot from the fellow officers and

particularly Robert Low. He is a very smart guy and

a great businessman, a very good person to listen to

and learn from. I've definitely taken advantage of his

knowledge.

Your father, as you mentioned, played a key

role in your life, both professionally and personally.

Tell us about your relationship with

him through the years and even to this day.

He's 83 today and still comes into the office a

few hours every day. The thing I would say first and

foremost about my father is he is a family man. We

are a large family. I am the oldest of eight children,

seven of whom are alive. The next generation is 20

some people (lost count) with the following generation

just starting at three with one on the way. At the

Christmas picture when we get together, there are

over 40 people. So if you know him well, you know

his first priority on everything goes back to family.

I am fortunate to have been raised by a mother

and father who care about that. In this world, that's

increasingly rare. They've been married 58 years in

February.

We also had the opportunity to meet your

daughter and your three beautiful grandchildren

earlier this year. Tell us about your

family.

My wife of 31 years, Jo, and I have four children

(now young adults). There is Mary, 29, the mother

of my three grandchildren, Ian, Mira and Adam;

there is Tom III who is 26. He's going to have a baby

in another month, a girl. There is my independent,

adventurous daughter Bess, who is 24, and she's very

interesting. She lived in Italy for a while. She's ridden

a bike across the United States for charity. My youngest

Benjamin is about to turn 22.

Chairman Kretsinger is part of a large family that includes seven living brothers and sisters, four

children and three grandchildren and another due September 30. From left are the children of his

daughter Mary; Mira Elise Wilhoit, 4; Adam Louis Wilhoit, who will be 2 years old on December 3rd;

and Joshua Wilhoit, 6.

Like many businesses in trucking, American

Central Transport is a family-run operation.

So what's it like to work side-by-side with

your dad and brothers, and what have been

the keys to making it work?

There are three brothers in the business. There's a

lot more family outside the business. I think the thing

that everyone realized early on is we all have different

abilities. I think my brothers would be the first to

tell you they don't think they can do what I do and I

would be the first to tell you I cannot do what they do.

That works. Family business is interesting and if you

study trucking, almost every trucking company is a

family business, even public companies. Most of them

are really young businesses. They started in the '80s

and '90s, so you have a situation with most where the

founder is aging—in their sixties, seventies and eighties—and

the next generation is coming into play.

The advantage of a family business is that you

think long term. If you work for a public company, it's

all about meeting expectations for the next quarter.

We think long term, even in generations, really, in a

family business. I think another advantage is family

businesses tend to look at what they are doing as

more than a job. And so they are more vested in the

long-term success of the company.

The downside depends on how you handle it. In a

family business everybody wears different hats. One

hat may be as an employee or management. Another

hat may be as an owner or stockholder. Another hat

may be as a sibling, a son, a daughter or a parent. I

think where conflict typically arises is when those

things overlap and people forget which hat they are

wearing and wear more than one hat at the same time.

The answer to that is for people to always be aware of

what role they are acting in in any given situation.

Another thing—and I learned this a long time

ago from Dan England, who's probably the industry

expert on this — family members can come to believe

they own a position or division they've been in it for

years and create little fiefdoms. Every family member

must understand that they are in a particular role for

the purpose of helping a business and when the business

needs something different—it could be because

of growth, it could be because increasing complexities

of the business exceed skill levels—that a family

member can't consider themselves to be owners of a

particular division or position. They need to be able

to flex to meet the needs of the company instead of

the company flexing to meet their individual needs or

wants. In all families, the company is really the goose

that lays the golden egg, so you need to be able to take

care of the goose. It is an interesting dynamic.

Alexis De Tocqueville once noted that there is

no permanent aristocratic class in America with the

elimination of fee tails, or the ability to leave property

in a family for generations. Without that, simple multiplication

eventually dooms family businesses over

a couple generations. Many today should develop

long-term succession or exit strategies as the family

members multiply and the founder ages.

You are well known as a hunter and fisherman.

What do you love about these hobbies?

These hobbies are a good excuse to be outdoors.

I grew up on a farm where my brothers and I and

sister Ruth spent a lot of time outdoors. I like being

outdoors. I became passionate about fly fishing about

three years ago. Being from the Midwest, I've always

loved mountains and streams, but so much of your

life you don't get to spend any time in mountains and

streams, especially living in the Midwest. Fly fishing

gets you into some really beautiful places that you

otherwise would never be … Fishermen all lie about

how big the fish was and how many they caught, but

it's really more about being out in beautiful places

than the fish … I practice catch and release. Hunting's

fun and we get a bunch of guys together. It happens

mostly in Arkansas, around Stuttgart … and it's a lot

of fun. We have an annual pheasant hunt in South

26 Truckload Authority | www.Truckload.org TCA 2013
---
Sponsored by Mcleod software

McLeodSoftware.com | 877.362.5363

Dakota. You drive down with your buddies, talk the

whole way, spend a few days eating all that Arkansas

food, which is absolutely terrible for you because

everything is fried, and get up early and shoot some

ducks and have a ball. As chairman, I have taken full

advantage of many of my trips by taking a rod and

reel and adding a day for the mountains.

Here are some rapid-fire questions ...

The books you would most highly

recommend:

I read a lot of history, a lot of English and American

history. I particularly like Alison Weir on British

monarchs and anything Churchill. I like Shakespeare,

particularly Henry V's St. Crispin's Day speech. I am

currently devouring anything Hemingway, having

just finished "A Moveable Feast" by Ernest Hemingway.

I like philosophy. Franz Kafka's "The Trial"

is one of my favorites. I read a lot of stuff people

wouldn't be terribly interested in. I like what I call

factions. They're history, but written as a novel. Those

are always interesting … Gore Vidal, Leon Uris, James

Michener. I just read "The Paris Wife," by Paula

McLain. It's written about Hemingway's stay in Paris

through the eyes of his first wife, Hadley. That was

kind of interesting. I also engage in some light reading

about fly fishing and fly tying. My favorite is Norman

McClean's "A River Runs Through It," and Hemingway's

"Big Two Hearted River."

Your favorite childhood memory:

I grew up on a 100-acre farm back in the day before

air conditioning was popular or used by many

people. Bill and Bob (my brothers) and I spent all

of our time outdoors on the farm, and my favorite

memory is walking barefoot across a dusty farm road

and feeling my toes in the warm dust.

You are an avid chef. What is your culinary

specialty?

Well, what I'm really good at is not something

that's good for you. I know quite a bit of Italian

cooking. I can make pasta a number of different

ways and I do like cooking. My routine after work

typically is go to the store, see what's good, what's

fresh, what's on sale, go home and cook it.

The way you most often spend a Sunday

afternoon:

We're home bodies and spend most weekends

at home. Sometimes it's outdoors on the back deck.

Sometimes I'm tying flies or reading a book. Our

routine … I'll go in the office on Saturday, Sunday

mornings and fiddle around while everybody is sleeping

and maybe write an article or maybe catch up on

cleaning out my desk and then in the afternoon we'll

watch football or tie flies or read a book and by 3

o'clock I'll start to think, "what am I going to cook for

dinner?"

What's the most difficult class you ever had

in college or law school?

You don't know study until you go to law school.

I thought I studied in college and thought I was a

decent student, but law school was on a completely

different level. I would say in law school, the most

difficult time was first semester for a couple reasons.

One, you not only have to read everything, but you

have to read it three or four times until you really

understand it. And read the footnotes and everything.

And the other big adjustment is I got through

college with a good memory, so if the answer was

"A," I could remember that and do well on tests. That

doesn't help you in law school because they're not

black and white, right or wrong answers, like you

get in college. They're more discussions around the

issues. First you learn to spot an issue. That was a big

adjustment and took a lot of reading just to get there.

Then you must discuss the arguments and supporting

law on each side and reason to a conclusion. In law

school your entire grade in each class is based on one

test at the end of the class and it's all essay. The first

year we did a practice test that didn't count halfway

through and I flunked everything. And I'd never gotten

below a "B" in my life so that was, from a difficulty

standpoint, crossing that hurdle was the hardest

I've ever worked in my life. It's referred to "thinking

like a lawyer" and it takes about a year. But once you

cross that hurdle law school becomes easy and even

enjoyable.

A particular class that

was hard? I could never get

through German.

What are some of your

biggest pet peeves?

I can spot politics pretty

well. I had a lot of exposure to

politics when I was practicing

law. When I see it in business,

it peeves me quite a bit.

But as my Bishop once said,

"Whenever two or more of

you are gathered … there will

be politics."

Where is your favorite place to visit?

Well, I'd say right now it's a toss-up. I really like

Coeur d'Alene, Idaho. But being newly acquainted

with Big Sky, Mont., I'm impressed. It's got all the

beautiful things of Colorado, except the crowd and

the best fly fishing I've ever experienced.

What has been your most embarrassing

moment or your most humbling moment?

I've been known to show up at a meeting with

two different colors of penny loafers, one black and

one cordovan. I've done that and not noticed it until

I was up on stage. So that's pretty good. I remember

in my early speaking days I was called up on stage

and they gave me a lavalier microphone. I had never

messed with one of those before. As I was walking up

the steps, I tripped a little bit and that thing fell on the

floor and broke into a million pieces. I was down on

the floor getting the pieces, trying to figure this thing

out. I'm not very mechanical. Clumsy runs in the family.

I've got it and Mary has definitely inherited that

from me. That speech could've gotten off to a better

start.

AS Members may or may not know, your

middle name is Bark. Tell us how you got

that name:

It's the surname of my great grandfather, Tom B.

Bark. He walked into northwest Iowa as a young man

in the 1800s, settled there, and became a prominent

banker and businessman in that town. My grandfather

Kretsinger, from Kansas City, was playing in a

band at Lake Okoboji in the Roaring Twenties where

he met this man's daughter, my grandmother, Katherine

Bark. Tom Bark told him, I'm not going to have

my daughter marry some "horn-tooting Valentino."

He told him that if he wanted to marry his daughter

he needed to go to law school and make something

of himself. So, he did. He went to Kansas City Law

School, passed the bar, and they got married and

moved to Kansas City. Their oldest son they named

Tom Bark Kretsinger, my father, who then had me.

My son is also named that. Four Tom Barks. Actually

up until sixth grade everyone called me Bark as my

first name. As you might imagine this was fraught

with explanation every time I introduced myself. So in

the seventh grade we switched schools and they asked

me, "What's your name?" And I said "Tom." As a result,

everyone in my family and everyone in Kearney,

Mo., calls me "Bark." To everyone else, I'm "Tom."

28 Truckload Authority | www.Truckload.org TCA 2013
---
Keep your

in sight.

Anytime & anywhere.

Over 800 customers, 10+ years of proven reliability,

200,000 assets tracked, delivering 15% increased

trailer capacity. With the broadest portfolio of asset

management products to choose from,

SkyBitz is the one choice.

Contact SkyBitz today and get your business in sight.

Come see us at TCA 2013, booth #406.

Visit us at www.skybitz.com

or call 866-922-4708
---
Let's turn our attention to your work as

chairman ...

We are at a midway point in your

chairmanship, so bring us a report on the

key initiatives being strengthened under

your leadership thus far.

There are a lot of good things happening, The

Financial Oversight Committee has been active and

they've done a lot of good things that improve corporate

governance and tighten our financial practices

and reporting. This will be a benefit to the association

for many years to come. This initiative was started

under Chairman (Robert) Low and I've continued it

and watched it grow and improve.

There are other exciting things happening. In May

we got together and held a strategic planning session.

The officers focused on the big picture and called out

critical objectives for TCA over the next three years.

After that meeting, the staff was tasked with coming

back with action plans, which they did and presented

at our officer's meeting in August. There are some really

good things in there. The action plans cause us to

meet our objectives in the strategic plan. They are specific,

have a timeline and have an owner. We looked to

see that they were realistic in terms of our budget and

our resources and we asked the question "how do we

measure this?" This work is being refined prior to the

officers meeting in October at the American Trucking

Associations Management Conference and Exhibition

in Orlando. Upon final approval, we will put these

in a balanced scorecard to measure if we are winning

the game or not. The scorecard is something staff

can review regularly and the officers as a group on a

monthly basis. This will focus the organization and

lead us to even greater accomplishments.

I am very excited about the officers group. We

have a lot of smart people, a lot of good people who

are committed to the organization and to improving

corporate governance over the years as we work

through our respective terms. So I am very excited

about that.

The Wreaths Across America program is growing

and this month on September 12 we have our first

charitable gala in Washington to raise money for the

program. I see more things to come from that. Check

www.truckload.org for the Wreaths Across America

television commercial for members to run in their

local markets to help us enhance trucking's image.

I encourage all to find a way to get involved as we

move toward our goal of decorating the graves and

honoring of all our servicemen and women over the

years. You can donate money, a truck, a dispatcher or

running the commercial.

Lindsay Lawler, the Highway Angel spokesperson,

has embarked on a multiple truck stop tour that

will further spread the good word about our driver

heroes. The Scholarship Fund has grown to $1.5 million

and is funding about 75 scholarships a year and

that's continuing to grow.

We are raising the bar set by former Chairman

Robert Low on driver health even farther and in addition

to the Weight Loss Challenge, on Driver Appreciation

Week there is a big effort to increase the number

of free health fairs available to our driver force at 18

TravelCenters of America / Petro Stopping Centers

across the nation September 17-18. In the future our

webpage will become the "go to" resource for drivers

interested in becoming healthier.

TCA again is sponsoring the Capitol Christmas

tree as it makes its way across the nation later this

year.

Truckload Academy is growing and recently

added a fleet manager certification to its list of certification

programs. Webinars and other content are

available online to keep our members at the forefront

of information and education needed to succeed in

this increasingly complex business.

TCA leadership and officers recently met

for a few days in a fantastic locale. Tell us

about that and some of the fun things the

group did.

We have a gentleman on staff, Bill Giroux, who

knows a lot about setting up meetings in these locales

better than anyone I know. Traditionally the chairman

picks the place each year where we get together and

meet, plan and have some team building activities.

What I told Bill was that I would like a place with

mountains, trout streams and something for the ladies

to do. He came up with Big Sky, Montana. I'd never

been there before. It's a wonderful place. On top of

that, it is surrounded by some of the best trout fishing

in the world. We met for three days and did a lot

of work on the budget, on strategic planning and on

reviewing the various TCA programs.

T H E FACE S O F F U S I O N F L O O R

the

inventor

GOPAL PADMANABHAN, Havco's V.P. of Product Development,

is a perfectionist. It's a trait that has helped him invent

industry-changing products, like Fusion Floor by Havco – a

trailer floor that delivers strength without added weight.

Improve your ROI and put Fusion Floor to work for you today.

LESS WEIGHT – Up to 360 lbs. lighter for a 53 ft. trailer vs. hardwood alone

STRONGER – Almost twice as strong as a conventional hardwood floor of comparable thickness

LESS MAINTENANCE – Nearly 100% impervious to warping, cupping and de-bonding

LONGER LIFESPAN – Retains over 80% original flex strength after 10 years of use

800.792.4040 | FUSIONFLOOR.COM | PUT IT ALL ON RED

30 Truckload Authority | www.Truckload.org TCA 2013
---
We had some fun, too. One of the biggest thrills

for me was we gave the officers and their wives a

choice of activities that they could participate in one

morning, and 14 of them signed up for fly fishing.

They've never done that before. Fly fishing can be like

golf; it takes a little coordination, which is why it took

me so long to learn it. I wasn't sure how this would go

off. Everyone learned it, everyone caught fish and on

the way back on the bus you could see the excitement

that everyone was having. After that meeting I stuck

around Montana for three days. I spent one day with

an old college swim teammate who works as a guide

on the Madison River. We fished all day and then I

went up to Helena and saw Ray Kuntz of Watkins

Shepherd. (He now knows not to invite me fly fishing

unless one is serious). We had ball fishing for two

days. One interesting thing was we fished the Missouri

River near Helena. Now the Missouri River goes

through Liberty, Mo., and is a big, wide, muddy looking

river in Missouri. But up in Montana, it's quite

different. It's clear, it's in mountains, and it's much

smaller and narrower and holds a lot of trout.

What feedback are you receiving from

members since the new HOS tweaks were recently

implemented?

I think it's too early to tell the impact and the reason

I say that is that July and the first part of August

are typically the softer months in the year. So I think

that tends to mask whatever productivity hit there is.

I think the jury is out on what the loss to productivity

is. Clearly, there's a hit in a couple regards. One is

some of the time is taken away. You can't take away

time without taking away some productivity. The

other thing the rules do is take away flexibility. And

you can't take away flexibility without impacting

productivity to some extent. How much remains to

be seen. The last time we talked, we were still awaiting

a court decision so people were still hoping that

wouldn't happen. I think now that's a done deal the

challenge in this industry will be to look at a driver's

time as a valuable resource and learn to use that to its

best advantage.

Since we last spoke, the Obama administration

announced a delay in implementation

of the employer mandate. Do you believe

that delay was motivated more for practical

reasons or political reasons? perhaps

even both?

I think both, but I think you can chalk up most

of what they do in Washington to political reasons.

And lots of moves made now are in anticipation of

the mid-term elections for next year. I think there are

a lot of practical problems with the Affordable Health

Care Act. I think people in Washington underestimate

the ingenuity of Americans. They may not like

what's going on but they will figure it out and if that

means converting a lot of people to 29 hours a week

they'll do that. If that means providing insurance for

the employee but not the spouse they'll do that. I just

don't think these "technocrats" we have in Washington

really understand the subject matter of this much

less the business impact. It's going to continue to be

uncertain; even the experts on it are still learning as

regulations come out.

The thing that concerns me the most about all this

is what will happen to our owner-operators. Hopefully,

we won't see an attempt to reclassify them as

employees to bring more people under this because

they don't have enough people under it to pay for it.

Or if that does not happen are they still going to have

to opt into something and what does that look like?

I do believe that regardless of what happens,

healthcare will be more expensive. It has to. We are

covering more things and somebody has to pay. It's

not free. There are a whole lot of taxes in this. All

those are simply going to be passed on to the users,

so I really don't see anything good coming out of

this. Whoever is the next president will have a mess

on their hands. They will kick the can down the road

to that person. In the meantime, businesses and employees

continue to wonder what is going to happen

to them.

Find out what tom believes

are the traits every great

leader possesses. plus

much more.

Get the free mobile app at

http:/ / gettag.mobi

TCA 2013 www.Truckload.org | Truckload Authority 31
---
Fall edition | TCA 2013

Member Mailroom

"I couldn't be in Washington for

TCA's Wreaths Across America gala.

What can I do to show my support for the program?"

Thank you for supporting our veterans.

There are actually quite a few ways to help. You can start

by visiting TruckloadOfRespect.com, which TCA set up to raise

awareness of and funds for Wreaths Across America. It costs $15

to place a remembrance wreath on a veteran's gravestone, and

this site provides you with a couple of options for helping to cover

that expense. You can make a simple donation to pay for the

placement of one or more wreaths, or you can help raise money

by setting up your own fund-raising page that is connected to

TruckloadOfRespect.com. You can set your own fund-raising

goal and personalize the page. Then, you can use the tools on the

page to send your URL to your friends and colleagues with a message

about supporting this great cause.

Several companies have come up with interesting ways of their

own to raise money. One held a golf tournament and another designed

and sold a mug to its customers. Both gave the proceeds

to Wreaths Across America. Two other companies "adopted" either

a local cemetery or a specific section of Arlington National

Cemetery. They then rallied their employees to cover the cost of

placing wreaths on gravestones at their sites.

Of course, if you work for a trucking company, another key

way to help is answering the call for volunteers to transport

the wreaths from Maine to veterans cemeteries across the nation.

In October, be on the lookout for an e-mail about this

from TCA.

If you have additional questions about how you can get involved,

please contact Debbie Sparks, vice president of development

at Truckload Carriers Association, at dsparks@truckload.

org or (703) 838-1950.

32 Truckload Authority | www.Truckload.org TCA 2013
---
Fall Edition | TCA 2013

Talking TCA

Lana Batts, TCA President 1994-2000

This is the second in a series of three articles

on the past, present and future of the

Truckload Carriers Association.

In this issue, 1990-present.

By Aprille Hanson

It was Nobel Peace Prize winner Albert Camus

who once said, "Freedom is nothing but a chance

to be better."

After the trucking industry was deregulated in

1980, it was truckload's chance to do better and

it did.

In 1990, 10 years after deregulation of the trucking

industry, truckload carriers were free to thrive, unions

fell apart and less-than-truckload was weakening.

"What that did was allow people like Fikes Truck

Line to come in and contract authority for 48 states

and not have to go through the process" of seeking

approval on a federal level, said Gary Salisbury,

president and CEO of Fikes Truck Line. "It opened

up the playing field for so many big companies like

J.B. Hunt all the way down to even Schneider National

and the big guys to help make them into the

success they are today."

The young bucks of truckload were here to stay

and the taste of victory was sweet.

While truckload was giddy, so were shippers

and receivers.

"Like most businessmen, and this is the case

of shippers, they're looking at other cost factors. If

they can see their transportation costs decline as a

lesser expense, they're going to be happy," said Bill

Giroux, executive vice president of the Truckload

Carriers Association.

Just like a fresh-faced 18-year-old finally getting

a taste of adult freedom, truckload wasn't about to go

back to being regulated. It even got a new name in

1997 — going from the Interstate Truckload Carriers

Conference to TCA.

"By the mid-1990s, there was a realization that

what we ended up with was regulation from a different

agency," said Lana Batts, president of TCA from 1994

to 2000, adding the U.S. Department of Transportation

took on that role. "There was a recognition we are not

Chris Burruss, TCA President 2004-present

deregulated; that a deregulated industry was a joke."

In the early 1990s, 50 percent of employees for

businesses in transportation, maritime and aviation

were subject to random drug testing.

"That concerned many pro deregulators that

somehow that was going to creep back in and

change the industry again," Giroux said. "They

weren't against doing the testing; it was the number

of employees that would be doing it, so it was

more splitting hairs on that."

Besides drug and alcohol testing hitting the industry

in the 1990s, other signs of regulation came

from the "megatrends" taking place in Washington,

Batts said.

"There was a need for cleaner environment; it

means you're going to go after trucks," Batts said.

"Safer highways means you're going to go after

trucks. You just go down the list of what was there,

it was pretty evident."

In the mid-1990s, a decision of TCA's future

was hanging in the balance — does the organization

become the "lead dog" for truckload or would

they work hand-in-hand with the American Trucking

Associations?

"TCA made the decision they were going to work

within the ATA structure and that our goal was to make

sure the ATA policy and what ATA was doing reflected

the needs of the truckload industry," Batts said.

However, as TCA began to gain more traction in

the world of motor carriers, boosting membership

and with attendance at annual meetings, a rift was

formed between TCA and the ATA.

"Walter McCormick came on board with ATA and

all that changed," Batts said. "Rather than have truckload

be a partner with ATA, he viewed our efforts as

sponging off of ATA. It caused a huge rift in 2000."

The tipping point was McCormick's proposed

plan, the "Wren Report."

"Basically, it said in order to be a member of TCA,

you first had to become a member of ATA. ATA's dues

are substantially different than TCA's dues. TCA employees

were going to become ATA employees. There

was just a feeling that was not the way to go."

Batts said the key point of the plan was to try to

make more carriers get involved, but TCA voted the

plan down in March of that year.

"I always kind of viewed it as ATA is a nonprofit organization

like a church. You have those who are going

to come every Sunday and those that are only going to

come on Christmas and Easter," Batts said. "You can't

tell the people that only come on Christmas and Easter

that they can't come. And that's what ATA's Wren Report

attempted to do."

While the rift "set truckload back for a while,"

Batts said more of a partnership between the two

organizations begin to form when former Kansas

Gov. Bill Graves became ATA's president and CEO

in 2003 and Chris Burruss became president of TCA

in March 2004.

"When I came to TCA, the relationship between

ATA and TCA had improved, but was still very much a

work in progress. While we had in place an affiliation

agreement and had carved out our roles, the lines of

communication really didn't exist," Burruss said. "We

seemed to continually step on each others' toes despite

trying to color in the lines with respect to our

areas of focus. Having grown up around the federation

and having been with two state associations prior

to coming to TCA, I have seen the federation at its

best and worst. I know very well that a strong national

presence hinges on strong state presence and the two

must feed each other. All politics is local in nature. As

the organizations that represent the largest part of the

industry, ATA and TCA need a strong relationship that

allows each to leverage off each other to fulfill their

respective missions. Bill Graves and I remain committed

to eliminating any barriers that exist to prevent

us from doing that. We have established more direct

communication ties between the leaderships of both

organizations and have found ways to elevate the visibility

of each organization to the other."

When he came on board, Burruss found many policies

obsolete.

"We worked to align our policies with those

of ATA," he said. "This was a little give and take.

Where we could, we modified our policies to mirror

ATA's. Where we were firm on an existing policy we

pressed ATA to compromise. Today, with perhaps

one exception our policies are largely harmonious.

This is healthy for the entire industry."

During the turmoil that had existed prior to Burruss

joining TCA and Graves joining ATA, TCA did find one

new purpose — be the teacher for truckload.

"If ATA was in fact wanting to be the government

advocacy group [for trucking] what TCA would become

is the operational advocacy group," helping motor carriers

run their companies better, Batts said. "So we focused

on education and training. Our annual meeting

didn't invite political guys. It was, 'How do you recruit

drivers?' … 'How do you get your fuel miles down?'

What my goal and how I wanted to get membership,

is to say, 'Come to our meeting and we'll either figure

out how to make you more money or not spend as

much money.'"

One of those members who benefited from this

new style was Shepard Dunn, president and CEO of

Bestway Express, Inc. out of Vincennes, Ind.

Dunn said he was just a "pup" when he joined

TCA in 1994 and is still "wet behind the ears" compared

to others.

"In those days I was so green to trucking … I'd

go to these meetings and I didn't have a clue what

they were talking about because I didn't understand

the lingo," Dunn said, who is now the TCA first vice

chairman. "I kept trudging through and talking with

people. It took a while and then the light flickered on."

With each passing year, truckload was putting

its foot down, leaving a deeper impression

on the industry.

"They were much better at figuring out costs

down to the tenth of a mile," Giroux said of truckload

carriers. "They were really the experts at that

time too and being able to figure out the differences

between using different tires and different aerodynamics

and doing different things to the truck that

made them more efficient."

In 1994, the North American Free Trade Agreement

(NAFTA) opened the borders for free trade between

Canada, the United States and Mexico. Due to

the political instability in Mexico, Giroux said Canadians

have benefited most from the agreement.

"It opened up more opportunities for Canadian

companies to come south," Giroux said. "Since NAFTA

has taken place … free trade has doubled, maybe tripled

since that time."

During the 1990s, the TCA conventions had less

glitz and glam and more mud flaps, Dunn said.

"The technology has changed so much. It used to

be tractors and trailers and mud flaps and oil com-

34 Truckload Authority | www.Truckload.org TCA 2013
---
panies and that has changed for sure,"

Dunn said. "You see more of technology

and smartphones and all the gadgets

that make a truckers' lifestyle easier."

During Batts' tenure, TCA only had

13 employees, but the organization was

able to pull off annual meetings where

thousands attended.

"It was interesting the way we did it.

I would say, 'You can bring your spouse,

but they are going to be doing this or

that,'" Batts said. "My mother would

come and be behind the registration

desk folding T-shirts … No one could say,

'my job is done.'"

At the conferences, staff meetings

would always be bright and early with a

batch of "fluffy eggs."

"Eggs are not fluffy at 5 in the morning,"

Batts laughed.

The dawn of the 21st century

brought technology advancements, but

also economic and natural disasters.

In 2005, Hurricane Katrina devastated

much of the South. Truckers were

ready to help, despite the blow to the

industry — several roads and bridges

were destroyed, which interrupted fuel

supplies. The industry's fuel bill was $83

million higher than in 2004.

"I remember it well. I remember

sending trucks down there, I remember

everybody pitching in," said

Don Freymiller, who served as chairman

of what was then the Interstate

Truckload Carriers Conference in

1990-1991. "I remember the trucking

industry rose to the need in a very

positive way."

Beginning in 2007 and extending

into 2008 and beyond, the United States

got the biggest wake-up call since the

Great Drepression of the 1930s.

In trucking, 3,000 companies

— mostly small companies or owneroperators

— went out of business.

The stock market plunged; between

October 2007 and March 2009, stock

market losses totaled $11.2 trillion.

Throughout 2008 and 2009, 8.4

million jobs were lost. Throughout

three years, the average working

household saw their income decline

by $2,700. The eight trillion dollar

housing bubble burst. By 2009, the

median price of a home fell back by

nine years. In 2008, more than 3

million homeowners foreclosed.

In 2009, 176 banks went under in

the United States.

Long-standing U.S. companies,

particularly automakers like General

Motors and Chrysler faced bankruptcy.

The federal government

stepped in with expensive bailouts.

The United States was in economic

crisis and the trucking industry

was along for the ride.

"Things became very difficult

for trucks," said Ray Haight, CEO of

Transrep and chair of TCA from 2008-

2009. "Many thought we lost about

10 years of advancement … We had

to reestablish our business."

The joke, as Haight said it was

put, was, "If you want to buy a

small trucking company, just buy a

big one and wait."

The economic outlook was bleak. In

2009, gas prices reached $4.70. Truck

bankruptcies increased and the used

truck market tanked, with 200,000

trucks sold to overseas companies.

Dark times called for a guiding

light and TCA once again became the

spotlight for its members.

"There are things with TCA that

will help you become more efficient

and a better business person,"

Haight said. "The focus was still as

it has been today and is that it still

has value … We stayed the course.

We reinvented ourselves and recommitted

ourselves to education

and how trucking companies can

run their companies efficiently."

Part of reinvention meant educational

webinars and online training,

in order to help members who could

no longer travel much outside of

work because of strict budget cuts.

At that point, the organization

had to "pull the covers back and

show what we got. As far as I'm

concerned TCA had more to offer

on return investment than any association,"

Haight said.

"We did lose membership," he

Thousands of drivers across the nation participated in the first health and wellness fairs

held in conjunction with National Truck Driver Appreciation Week at Travel Centers of

America/Petro Stopping Centers locations last September. The second annual celebration,

now themed "Make Your Destination Another Birthday," were scheduled this year during

NTDAW.

A truck loaded

with wreaths pulls

into Arlington National

Cemetery last

December as part of

the Wreaths Across

America program. TCA

is a strong supporter

of the program and

in September held

what will become an

annual gala event to

raise awareness of and

support for Wreaths

Across America.

said. "I can appreciate some companies

had to do that and I'm proud

to say many of those companies are

back now."

And despite the cut-throat economic

climate, Haight said TCA still created

long-lasting friendships and some

memorable stories.

"I remember Kevin Burch speaking

at an independent contractors division

meeting when the lights went out and

he continued to talk when it was pitch

black in the room," Haight said with a

laugh. "I've formed life-long friendships

with people. We keep in contact, we see

each other, we vacation together. TCA is

sort of like the Wizard of Oz – you've

got this whole production and you look

behind the curtain and it's such a small

staff that puts this on."

Kevin Burch, who took the TCA

helm from 2009-2010, said he and

Haight shared the same "passion for

the industry," and did their best to

keep the organization afloat.

"Back in '08, '09, '10, it was pretty

difficult times," Burch said. "They were

calling me saying, 'Kevin we've never

used our line of credit' … there was not

a lot of retaining the membership."

The image of the industry and best

practices for companies took center

stage in Burch's chairmanship, he said.

If the people couldn't come, Burch committed

to going out to the people.

"I went to every conceivable get-together

I could. I figured it up … I traveled

more than 55,000 miles," Burch

said, with the message, "'We're in there

for you' … Chris Burruss and I really

traveled a lot. It was a change in the

way TCA did things. Before, chairmen

just kind of went to the annual convention,

divisional meetings."

Though the economy was struggling,

new, safer technologies like electronic

logging devices and mobility systems

were being pushed onto companies.

Giroux said the technology surge,

the "high tech bubble," appeared in the

late 1990s to the early 2000s and burst

soon after, seeing start-up businesses

collapse. Those that survived were still

dedicated to pushing their products during

the recession.

"People were coming out with all

these new technologies. It's tough

to buy a new truck with government

regulations with EPA issues, roll-over

technology, when you were just trying

to meet payroll," Burch said. "So

I think in the years since I was chairman,

every year the technology was

getting better, more affordable."

Burch, president and CEO of Jet

Express based in Dayton, Ohio, said

his company now has trailer skirts

and trailer tails — only a dream a

few years ago.

"We're seeing a dramatic improvement

on our mileage, but I'll

be honest: back in 2009 we couldn't

have afforded to buy it," Burch said.

At the height of General Motors'

uncertainty in Detroit, it was the very

spot that Burch, the city's native,

chose to have the TCA officer's retreat.

It was a fitting scenario to the

trucking industry as a whole — the

economy may have been suffering,

but TCA was there to lend a hand.

"We went to a food bank to help

package food for the needy," Burch

said.

In 2004, Hours of Service regulations

were changed for the first

time in 60 years.

"It led to a chain of lawsuits, from

both sides of the aisle in the industry.

Some propped up by trucking organizations,

some anti-truck groups," Giroux

said. "It started and it continues."

The rule was written and rewritten

and lawsuit after lawsuit was filed until

the Federal Motor Carrier Safety Administration

agreed to throw out all the previous

rules and start all over.

"Seems this is about the sixth

change in Hours of Service due to

lawsuits," Giroux said.

The most recent ruling, which became

official July 1, was handed down

on August 2 by the U.S. Court of Appeals

and upheld the rule with the exception

of one minor aspect that does

not impact long haul trucking.

However, as most trucking organizations

attest, there is a glimmer of

hope in the court's most recent closing

statement that FMCSA "won the

day not on the strengths of its rulemaking

prowess, but through an art-

TCA 2013 www.Truckload.org | Truckload Authority 35
---
The road to

protecting

your fleet

Insurance Brokers & Consultants

Transportation Insurance Specialists

Since 1970

888-313-3226 Offices in PA, MD, SC

www.ecbm.com

less war of attrition" as trucking would

still like to see more flexibility in the

sleeper berth provision.

Trickle-down effects from continuous

HOS variations have made a permanent

mark on the miles that freight is

delivered. Most major retail companies,

like Walmart and Target, have more distribution

centers popping up around the

country so sending freight directly from

coast-to-coast isn't always necessary.

"A decade ago, the average run of

trucks was somewhere between 800

to 1,200 miles. That's down around

500 now," Giroux said. "Some of that's

due to the additional CSA, the driver

shortage, trying to get drivers home

more often."

Giroux added the new HOS ruling

may be an end to a "normal" weekend.

"If you do the math based on the

rest periods between 1 and 5 a.m. …

you'll quickly find out you cannot get

that driver home on the weekend because

it continues to shift because of

that rest period," Giroux said. "That's

going to be a challenge to the industry

that says, 'You'll be home on the weekend,'

… in our process of this, what is

a weekend? Weekends for some people

are a Tuesday and Wednesday now."

Salisbury said more drivers today

are numbers driven — often with degrees

in transportation and logistics,

straight out of college — rather than the

emotional truckers of yesteryear with

"diesel in their blood."

"Part of what has forced that to

change is guys don't want to go out and

stay for a month or two months. They

want to have a life outside of that truck,"

Salisbury said. "Predominately going

forward, we'll see the average length of

haul get a little shorter. What that's going

to create probably is more trucks on

the road and learning how to be a little

more efficiently run … That opens the

Pandora's Box of Hours of Service."

Within the last five to seven years,

Dunn said he's seen more drivers gravitate

from long-haul to short-haul, which

goes back to what have always been issues

in recruiting: lifestyle and wages.

"It's home time, or lack of should

I say; wages today were the same as

they were 25 years ago, less inflation,

but there's something wrong with that

picture. It's tough to make a living,"

Dunn said. "In today's society more

people aren't willing to do those things

with growing families as they used to.

I'm not so sure we've fixed those issues;

we still have a long way to go."

However, Dunn said there was a

definite switch on how to draw in drivers

— to bring in a trucking executive

his company referred to as "a doctor

of love."

"We wanted someone to be that

driver advocate from the trucker executive

side. What can we do to better

serve them," Dunn said. "We had

a driver's lounge with fruit baskets

out to try to make them healthier,

so they were able to throw an apple,

an orange or banana in the cab

with them … anything to make them

feel welcomed, warm and fuzzy. The

shift has moved; you couldn't hire

them if you didn't have a new truck

to offer them. And that's not what's

happening today. It's funny to see

the changes over the years and

what's important to them."

From top to bottom, business magnate

and financier T. Boone Pickens, publishing

executive and former GOP presidential

candidate Steve Forbes and country music

artist Lindsay Lawler have appeared at

TCA's annual conventions.

Companies are also doing their

best to design products with transportation

in mind.

"For instance, televisions are now

very, very thin. You can ship one

truckload of televisions that may have

been three truckloads 10 years ago,"

Giroux said.

For Salisbury, the biggest issues

of his chairmanship from 2011 to

2012 and the previous years haven't

changed today — recruiting good

company drivers and owner-operators,

driver pay and the public's image

of the average trucker.

"That's the biggest similarities

from 1990 to 2013. It's still the driver.

He's the guy that makes it all happen.

I think we put Band-Aids on a lot of

the stuff," Salisbury said. "At some

point in time, we have to turn our attention

back to the driver."

Burruss' initiation into the trucking

industry in 1992 revolved around

drivers.

"One of the first projects I was

handed was the driver shortage," he

recalled. "While the demand for drivers

ebbs and flows with the economy, the

shortage has continued to be there. We

just seem to push it under the surface

when that demand ebbs. While there is

some debate over how large that shortage

is, there is no question in my mind

that it is real. This has been fueled by

retirements from the existing pool, driver

qualification standards and the lifestyle

itself. The reality is that we must

find a replacement pool."

Lifestyle and regulations will

play a big part in building that pool,

Burruss believes.

"Today, people largely don't want

to spend weeks at a time away from

home," he said. "People don't want to

36 Truckload Authority | www.Truckload.org
---
1994

Congress approves and

President Bill Clinton signs

the North American Free

Trade Agreement opening

the border between

Canada and Mexico to

free-flowing commercial

vehicle traffic.

1996

The Interstate Truckload

Carriers Conference

assumes responsibility for

the Professional Truck

Driver Institute.

ITCC establishes

Ambassadors Club for longtime

conference members.

1997

ITCC changes its name

to Truckload Carriers

Association.

1999

TCA establishes Truckload

Academy to provide

comprehensive training

for all levels of truckload

carrier personnel, from chief

executive to driver.

Over 1 million trucks

are registered

in the United States.

work in an environment where the rules governing

how they can do what they do change constantly."

Salisbury said in the 1990s, the image of the

everyday trucker fell apart.

"We didn't get the reputation we got now overnight,"

Salisbury said. "It's going to take awhile to

turn this big ship around."

However, as always, TCA is working hard at

righting the ship with programs like Highway Angel

designed to raise public awareness of heroic acts by

professional truck drivers.

"I believe improving the image of trucking

remains extremely important," Burruss said. "How

we are viewed by the general public has a direct

effect on the rules and laws that govern how we

operate. If we are to fight against rules and laws

that have no proven positive impact on safety,

we will need the help of others in the future. Our

challenge over the years hasn't been that we can't

come up with a campaign, it's that we haven't

been successful in presenting the picture of our

industry we want people to see. We talk about it at

our meetings and we all agree on the great things

this industry does, we just haven't presented that

to those outside our industry. Part of the challenge

is that we must find a way to fund a campaign

that draws financial interest from the full scope of

our industry not just our members; our collective

federation members have been funding these

efforts alone for years."

Salisbury said: "TCA's always been at the forefront

of changing the industry; public opinion drives

public policy … To change the image is to change

the policy."

"One thing I see TCA doing is getting better and

stronger," Salisbury added. "I think the best days are

ahead of us as an association."

Looking forward, Batts said there must be a culture

of commonality between trucking interests to

succeed.

"You can't make the differences become defining

differences," Batts said.

While TCA members can be proud of 75 years of

growth and change, the words of Winston Churchill are

fitting: "If we open a quarrel between past and present,

we shall find that we have lost the future."

The future is ours.

From left, TCA Director of Education Ron Goode, TCA President Chris Burruss and TCA Chairman Tom B. Kretsinger Jr.,

right, congratulate Kenny Cass of FedEx Freight, who was named 2012 Highway Angel of the Year during an awards ceremony

last December. The Highway Angel program, which recognizes drivers' good deeds, is a TCA image program.

2001

TCA takes over the

administration of the North

American Transportation

Management Institute,

which provides training and

certification of fleet safety,

maintenance and driver

trainer personnel.

2003

The Hours of Service rule is

changed for the first time

in 60 years with the most

prominent change

being the increase in the

daily driving limit to 11

hours from 10 hours.

In the final installment, we will explore the future

of the Truckload Carriers Association and present

the views of current executives on how truckload

carriers will continue to thrive in the midst of more

regulation, an uncertain economic outlook and the

looming driver shortage crisis.

2007

A major engine greenhouse

gas emissions standard

becomes effective,

eliminating what had been

common for years — black

smoke billowing from an

exhaust pipe on the side of

a tractor.

2008

The recession results in

the closure of over 3,000

motor carriers, mainly small

carriers. Many independent

contractors are also put

out of business.

2010

With the recession easing,

demand for drivers

increases 20 percent.

After two years of testing,

the Federal Motor Carrier

Safety Administration

implements the

Compliance, Safety,

Accountability (CSA)

program.

TCA

TCA 2013 www.Truckload.org | Truckload Authority 37
---
TCA Honors America's

2013 Highway

By Aprille Hanson

Highway Angel recognition is

awarded for a driver's good deeds

ranging from simple acts of kindness

— such as fixing a flat tire

— to heroic life-saving efforts, such

as pulling someone from a burning

vehicle and administering CPR.

The program, sponsored by Internet

Truckstop, focuses on improving

the public's image of truck driving as a

profession and helps make individual

drivers feel better about themselves

and the industry they have chosen.

As the program continues to focus

on improving the public's image of

truck driving as a profession and providing

a program that recognizes drivers

and helps individual drivers feel

better about themselves and their profession,

companies use this program

as a source of increasing morale and

self image among their driving force.

The Highway Angel program and

the image it reinforces is being emphasized

during a Highway Angel

Truck Stop Tour headlined by country

recording artist Lindsay Lawler,

the national spokesperson for the

Highway Angel program.

The tour began in August in

Prescott, Ark., where Fikes Truck

Line, headed by former TCA Chairman

Gary Salisbury and the latest

sponsor to sign on for the tour,

debuted the official Highway Angel

Truck Stop Tour truck and stage.

Each stop on the tour features

an hour-long acoustic performance

by Lawler from atop the flatbed

truck, as well as a live, two-hour

radio remote through Renegade Radio,

with whom Lawler already hosts

two radio shows (including On The

Road to Music City, which is trucking

industry-centered).

Tour stops continue through October

30.

Other tour sponsors include TA/

Petro Stopping Centers and Tennant

Truck Lines. In this issue, we feature

recent recipients of the Highway

Angel award.

Albert Wallace

of Hartsville, N.C.,

drives for Epes

Transport System,

Inc., of Greensboro,

N.C.

Shelly York

of North Little Rock,

Ark., drives for ABF

Freight System,

Inc., of Fort Smith,

Ark.

Robert Phillips

of Cleburne, Texas,

is an independent

contractor leased

to American Central

Transport, Inc. of

Liberty, Mo.

Jon "AZ"

Atzenhofer,

of Oklahoma City,

drives for FTC

Transportation, also

of Oklahoma City.

Adam Phillips

of Portage, Ind.,

drives for Ruan

Transportation

Management Systems

of Des Moines,

Iowa.

Carl and Eva Marshall, owner-operators,

drive for Marshall Trucking in Payette,

Idaho.

"Best in class"

cargo coverage

Whatever you are hauling, Northland has you covered.

Our premium or custom cargo plans offer protection

at every level. For more than 60 years, Northland has

proven itself best in class.

Call your agent or broker for a plan tailored to

your unique needs, or visit northlandins.com.

© 2013 The Travelers Indemnity Company. All rights reserved. M-16993-2 New 11-12

38 Truckload Authority | www.Truckload.org TCA 2013

NL-2-BestClass_TA.indd 1

8/9/13 11:02 AM
---
angel award recipients

Adam Phillips

of Portage, Ind.,

drives for Ruan

Transportation Management

Systems

of Des Moines,

Iowa.

Calvin White

of St. Pauls,

N.C., drives for G&P

Trucking Company,

Inc., of Gaston,

S.C.

Robert Woolf

of Leland, N.C.,

drives for Con-way

Truckload of Joplin,

Mo.

Sponsored by:

Harry

Cogswell

of Battle Creek,

Mich., drives for Pitt

Ohio of Pittsburgh,

Pa.

Bernard

Poeppelman

of Anna, Ohio,

drives for Freight

System, Inc., of

Fort Smith, Ark.

John Lilley,

of Kelowna, British

Columbia, drives

for Bison Transport

of Winnipeg,

Manitoba.

Brandon Walker

of Council Grove,

Kan., is an owneroperator

leased

to Dart Transit

Company of Eagan,

Minn.

Ronnie Milner

of Valparaiso, Ind.,

is a driver for ABF

Freight System,

Inc., of Fort Smith,

Ark.

Mark Randall

of Mesquite, Nev., is

a driver trainer for

Werner Enterprises

of Omaha, Neb.

Country singer Lindsay Lawler

is surrounded by truck stop employees

and drivers during a stop

on the Highway Angel Truck Stop

Tour that continues through October

30.

Read their acts of

courage here:

Get the free mobile app at

http:/ / gettag.mobi

Rather than being burdened with administrative

tasks, why not focus on revenue generation and

leave the rest to us?

PeopLease Corporation will help your business

enhance employee productivity and improve

overall profitability.

ADDITIONAL SERVICES:

• Safety Programs

• Cash Flow Improvement

• Tax Deposits & Reporting

• DOT & Regulatory Compliance

• Health Insurance & Other Benefits

(800) 948-4453 • www.PeopLeaseCorp.com

TCA 2013 www.Truckload.org | Truckload Authority 39
---
TCA Honors

weight loss winners

By Lyndon Finney

Keith Kitch, a driver manager for

Halvor Lines, had been invited to the

home of his boss Buck Hammann to

watch a NASCAR race.

As is the custom with most gatherings

of that sort, everyone arrived ahead

of race time and the conversation turned

to the Truckload Carriers Association's

Trucking's Weight Loss Showdown.

Halvor Lines owner John Vinje, who

stresses health and wellness to his employees,

had decided to enter his company

into the competition.

Hammann mentioned they needed

one more employee to complete the 12-

member team.

"My wife kind of nominated me,"

Kitch recalled recently. "She said, 'why

don't you do it?' So I told my boss if they

needed one more person I would."

Some 10 weeks later, Kitch had lost

56 pounds (22.4 percent of his starting

body weight) and had won individual

honors in the competition along with a

check for $2,500 from the sponsor of the

individual contest, Cline Wood Agency of

Leawood, Kan.

What's more, Superior, Wis.-based

Halvor also won the team competition by

losing 380 pounds and along with that

honor received $11,000 worth of Lindora

Clinic's services, donated by TA Petro of

Westlake, Ohio.

Team Halvor Lines' total weight loss

represented a 13.2 percent drop in the

team's combined weight. All 12 members

of the team lost 5 percent or greater

of their starting body weight.

The top driver was Tessa Ramsey,

who dropped 54 pounds.

Trucking's Weight Loss Showdown is

managed by the Lindora Clinic, a personalized

weight management company.

It addresses the trucking industry's

weight problems and related medical

conditions in an innovative fashion

through friendly and informative competition.

Teams of 12 professional drivers and

office staff from six carriers worked hard

to determine which company and which

individual could achieve the greatest

percentage of weight loss.

Over a 10-week period that started

in June, participants followed the Lean

for Life program, a moderate-carbohydrate,

low-fat, moderate-protein menu

plan that is coupled with exercise, nutrition

education and lifestyle changes. The

competitors received weekly phone calls

from Lindora's coaches, who educated

them on nutrition and behavioral changes,

helped boost their morale, supported

them through their personal challenges

and recorded their weight loss.

"I had tried to lose weight on my

own before," Kitch said, but was never

able to do what he did during the competition.

His first-week loss of 10 ½ pounds

motivated him to push ahead with fervor.

"It was a much better program than

I'd been on before," he said. "I had a

coach that I talked to every week and

if I had questions or a problem, I could

call her at any time. We had support every

day through an e-mail that included

a pep talk. The information book they

gave us was easy to follow. You read

a segment a day instead of the whole

book at once. That way you didn't get

overwhelmed with information and

could focus on the message for that

day."

So, 56 pounds lighter, how does he

feel?

"Great. I have a lot more energy,"

Kitch said. "You don't realize how much

weight that is until you carry a 50-pound

sack of dog food. I have a lot more energy.

I'm not as stressed and that helps

me be more focused on my work."

Becca Mathews, the health and

wellness coordinator for Halvor Lines,

Inc. said, "We are so grateful that we

were chosen to compete in this Showdown.

Our thanks go to both Cline

Wood Agency and TA Petro for their

generous prizes. We plan to use the

team's prize for future wellness programs

here at Halvor Lines, as we are

committed to building a strong culture

of safety and health improvement for

our employees."

According to Mathews, since only

12 people could participate on the company's

official Showdown team, Halvor

Lines began an internal weight-loss

challenge earlier this year that was open

to anyone. She stated that 730 pounds

were shed throughout the entire company,

including the weight lost by the official

team. "Our ultimate goal is to lose

1,000 pounds by the end of this year.

The Showdown has given us the opportunity

to showcase our commitment to

provide health resources and initiatives

for all our employees and their families,"

she said.

Overall, 72 people — 44 drivers

and 28 staff — participated in the third

Keith Kitch, left, a driver manager for Halvor Lines, accepts a check

for $2,500 from John Cline of the Cline Wood Agency, after being

named individual winner of the third Trucking's Weight Loss Showdown.

The Cline Wood Agency sponsored the individual competition

in the showdown.

Showdown. Between all of them,

1,604.5 pounds were shed. On

average, all teams lost about 9.8

percent of their collective weight,

and 54 individuals — or 75 percent

— lost 5 percent or more of their

starting body weight.

Other carriers participating

were American Central Transport

of Liberty, Mo.; Bay & Bay Transportation

of Rosemount, Minn.;

E.W. Wylie Corp. of West Fargo,

N.D.; Freight Exchange of North

America of Chicago; and Grand

Island Express of Grand Island,

Neb.

"When TCA launched the

Showdown, we took up what

many considered to be an insurmountable

challenge: helping

drivers and the rest of our industry

live longer, healthier lives," TCA

President Chris Burruss said. "But

as the results of each of our Showdowns

have proven, nothing is impossible

if we work together."

40 Truckload Authority | www.Truckload.org TCA 2013
---
IT'S

ALL

WE DO.

Independent contractors are the backbone of the industry

and the National Association of Independent Truckers, LLC (NAIT) and TransGuard

General Agency, Inc. (TransGuard) are working to provide superior insurance

products to Owner/Operators.

TransGuard has a singular focus on the transportation industry; it's all we do.

TransGuard has provided NAIT members with leading edge

products for years and we are proud to be associated with

NAIT, an exclusive TCA-endorsed member program.

Our leading-edge products backed by extraordinary

customer service improve life on the road.

TransGuard coverages include:

Occupational Accident

Contract Liability

Physical Damage

Non-Trucking Liability

Occupational Compensation

Workers' Compensation

– Corporate, Fleet, Casual Labor

Non-Occupational Accident

These coverages are membership benefits exclusively available through NAIT

with insurance services provided by TransGuard. TransGuard has a nationwide

network of retail producers who, coupled with 30+ years of experience in this

market, is an industry leader in providing risk solutions to Owner/Operators and

the Motor Carriers they support.

Since 1981 the National Association of

Independent Truckers (NAIT) has offered

Owner/Operators

access to

comprehensive

benefit programs and money-saving

services. Member benefit categories

include Health and Wellness benefits,

Insurance, Business Tools, and

Entertainment programs. NAIT provides

buying power to our members – savings

on just about everything needed by an

independent trucking entrepreneur.

For additional information on our

Independent Contractor Program,

please contact Business Development services.

Business Development

800.237.0062

www.transguard.com

www.naitusa.com
---
TCA Honors America's

top rookie

By Aprille Hanson

Professional trucker Kyle Lee's philosophy for

getting a load delivered is simple — "if you're ontime,

you're late."

"I've got to be there at least 15 minutes prior,"

Lee said. "I'm always ready, always up early."

It is this kind of attitude that led Lee, a driver for

TMC Transportation based out of Des Moines, Iowa,

to be named Trucking's Top Rookie at the Great

American Trucking Show in Dallas Aug. 23 from a

group of 10 finalists.

"I was proud to be honored in that way. I'm

still kind of shocked because all the bios for all the

other rookies are awesome," Lee said. "It means a

lot to me because I'm achieving in all the areas I

hoped to. I'm staying professional. I'm above where

I guess I thought I was at."

The Top Rookie, sponsored by several trucking

entities and organizations, including the Truckload

Carriers Association, receives several prizes including

$10,000, a custom plaque, a one-year supply of

5-Hour Energy drinks, another $1,000 and 100,000

MyRewards points from Pilot Flying J.

The other nine finalists receive $1,000 and a

prize package. There were 46 drivers from more

than 20 companies competing for the honor. Five

fleets were represented in the finalists.

Randy Castle, Lee's fleet manager who nominated

him for the title, said it was "overwhelming"

when Lee was named Top Rookie. His "get-up-andgo"

drive sets him apart from other drivers, Castle

said.

"When a job comes up, he goes and gets it. He

goes from point A to point B. There's no messing

around," Castle said. "When a problem comes up,

he doesn't let it shake him up."

Lee, 25, of Ottawa, Kan., joined the U.S. Army

in February 2009, serving just shy of four years as a

wheel mechanic. He was primarily stationed in Germany,

but did one tour in Afghanistan.

"I drove an unarmored civilian Freightliner. My

biggest duty as a mechanic was to fix and repair

any issues on the military trucks … and to help with

recovery and moving big items" in the Middle East,

Lee said. "Being over in a life-or-death area, it becomes

more like your family rather than a bunch of

people," he added of his fellow soldiers.

Before his military service, Lee had worked a

few warehouse jobs and at a post office, but when

his time in the U.S. Army ended, the jobs just

weren't there.

"Trucking was," Lee said. "It was the best option

out there."

Top Rookie Kyle Lee and his wife Kayla smile as

they receive the check for $10,000. Lee is holding

5-month-old Adelaide. Son Koy, 5, stands in

front of his mother.

IHS Efficiencies Put Cash Back In The Pockets of Fleet Owners. Lots of cash!

With the rising cost of fuel, trucking companies are

open to innovative ways to reduce costs and maximize

profits. Enter Innovative Hydrogen Solutions with a

twenty-first century fix.

IHS has the "Holy Grail" for fleet owners: the i-phi

hydrogen injection unit. This product has a written 10%

fuel savings guarantee, extends oil life, reduces maintenance

costs while extending engine life and lowering

emissions. The i-phi hydrogen injection fuel system is

easy to use, yields significant improvements in bottom

line fuel efficiency, and delivers unparalleled roadway

safety for drivers.

The i-phi is attached to the truck and runs on distilled

water that a driver can fill. The unit will not freeze

in winter weather or overheat in the summer; a reservoir

always maintains the temperature at about 80 degrees

year round! Hydrogen is NOT stored on the vehicle.

The splitting of water into hydrogen and oxygen gas

occurs ONLY when the engine is running and the electrolysis

process is triggered by a vibration switch on the

engine.

All design parameters were developed and crystallized

in conjunction with IHS by WARDROP ENGI-

NEERING to AMSE specs. CLEAN AIR TECHNOL-

OGIES INC. and PAVE at Auburn University are third

party entities involved with emission and weighted fuel

tests for the validation and verification of the i-phi. If

the feed tube is 'pinched' and pressure builds in the unit,

a five pound pressure relief valve will expel any hydrogen

created while the engine was running.

Innovative Hydrogen Solutions has completed a

two year reliability in field study of componentry with

a public utility based in western Canada. Innovative Hydrogen knows

they have the long sought after solution. They have provided thirdparty

quantification, verification and certification in order to prove it to

the world. IHS is so confident in the quality of the i-phi that they will

back it up with a five-million dollar per occurrence insurance policy.

IHS has introduced a NO Cost and NO Risk while saving money

on your fuel bill with IHS Fleet Placement Program! The Fleet

Placement Program allows fleet operators to pay for the system with

their fuel savings. IHS will track fuel economy data on a per trip

basis with a state of the art Traffilog GPS system measuring fuel in

Brake Specific Fuel Consumption (BSFC), giving the fleet owner an

idea of potential savings. Once data is compiled, the

hydrogen system is installed and the fleet owner will

pay to IHS 70% of the calculated fuel savings. The

remaining 30% is pure profit.

If you are ready to maximize

your profits with the innovative

i-phi with no up-front cost to you,

please contact Bruce Peck, VP

Business Development, Innovative

Hydrogen Solutions, at

www.innovativehydrogen.com.

Or call us at

1-866-447-6960

Calculate your

savings here:

"LET'S CLEAR THE AIR"

42 Truckload Authority | www.Truckload.org TCA 2013
---
driver of the year

Sponsored by:

Lee drives a 2006 379 Peterbilt flatbed, running

primarily in the Midwest and is home on most weekends

to spend time with his three children. He also

serves in the National Guard.

"They are awesome about it," Lee said of TMC.

"I tell them I got drill and whether it's a Friday, Saturday,

Sunday drill, they get me back for it. If I got

drill the next two weeks, they'll say, 'OK, hit us up

when you get back.'"

The treatment he's received from TMC Transport

officials has been unlike any other job, Lee said.

"They have just treated me and my family so

well," Lee said. "When my daughter was born, they

said just take the week, help your wife get back in

the house, spend time with your baby girl."

His wife Kayla and two of his children, Adelaide,

5 months old, and Koy, 5, were with him when he

was named Top Rookie. Lee also has a 5-year-old

son Mavrick.

Kayla Lee said the family had prayed that

whoever needed the money would receive the

honor and receiving it was "awesome" for their

family. Kyle Lee said they will use the money to

pay off debt and set some aside to help buy a

home.

At the ceremony, his son Koy said he was proud

of his father, smiling while holding a large plaque

for the honor.

"I'm pretty proud of myself too," Koy said, looking

at the large plaque.

"It has your name on it," Koy said to his father.

Several speakers were on hand to congratulate

and share stories about each of the finalists.

TCA President Chris Burruss spoke before Lee

was announced as the winner.

"I appreciate what you guys do not only for our

country and the economy but for me and my family,"

Burruss said. "Thank you for bringing the groceries

and medical supplies, books for schools and

parts for cars; the list goes on and on. You truly

make a difference out there. I would simply say we

need drivers for our industry, but we need quality

drivers and each of you are surely that."

Lee said he is thankful for comments of support

from those like Burruss, who is a veteran.

"It makes me proud of what I did," Lee said.

"I'm still proud I'm serving my country and for others

who served."

Looking to the future, Lee said he's excited

about becoming a trainer for TMC Transport.

"I am really looking forward to taking TMC's

training a trainer course, to take on other new rookies

and hopefully rub off some of the ways I run,"

which includes being safe, on-time and [using]

strict route management, Lee said. "I would just

say [to other rookies] stay positive. If you get into

it, just put your head down and go with it … Like a

line on a football field, you just got to look at what

your goal is and just keep pushing to achieve."

Lee added if his children wanted to pursue a career

in trucking, he'd support them continuing this

new family legacy.

"I'd tell them be smart about who they decided

to work for," Lee said. "It's a good industry to be in

… make choices wisely and be careful."

Drivers were nominated through motor carrier

employees, the public or training organizations. To be

eligible, those CDL-holders had to be employed by a

trucking company for less than a year and graduated

from a certified training school. Drivers had to submit

an essay and answer several questions in a nomination

form and testimony letters from those that nominated

a driver were included in consideration for the

honor. Other judging criteria included on-time deliveries,

work record and non-job-related activities.

TCA 2013 www.Truckload.org | Truckload Authority 43
---
TCA Officer's Retreat Big Sky, Montana

Each year the officers and staff gather at a retreat chosen by the

chairman to conduct business, to fellowship and to team build.

This year's retreat was held at Big Sky, Mont., where the group

looked at where we currently stand on our budget, where we believe

we will finish the year financially, to review the budget for the coming

year and to discuss ways to grow the association.

This year a unique aspect of the retreat was the presentation of a

three-year strategic plan, development of which began at the Safety

Meeting earlier this year.

Another primary purpose of the retreat is for officers to get to

know the staff, for staff to get to know the officers and for both

groups to get to know spouses and significant others.

The afternoon was devoted to business, the morning given over

to recreational activities so everyone could get to know each other

on a more personal basis, a reversal of the normal retreat schedule

because of the rainy afternoons in Montana during the summer.

Top row, L-R: Dan Doran (President, Ace Doran Hauling &

Rigging) and Russell Stubbs (President, FFE Transportation, Inc.)

gather around a campfire. / TCA First Vice Chair Shepard Dunn (President

and CEO, Bestway Express) and TCA Chairman Tom Kretsinger,

Jr. (President and COO, American Central Transport) partake of one of

the outstanding meals at the meeting / Chairman Kretsinger.

Middle row, L-R: Chris Burruss (President, TCA) discusses

TCA business with staff and officers, including Immediate Past

Chairman Robert Low (Founder and President, Prime, inc.) and Tom

Kretsinger, Jr. / Rafting group back row, left to right, Aaron Tennant

(President and CEO, Tennant Truck Lines), Michael Nellenbach (Director

of Communications, TCA), Josh Kaburick (COO, Earl L. Henderson

Trucking), Shepherd Dunn, Rob Penner (COO and Vice President,

Bison Transport), Bill Giroux (Executive Vice President, TCA). Middle

row, left to right, Ashley Bollaert, Jane Witt, Tom Witt (President,

Roehl Flatbed & Specialized), Libbet Dunn, Kathy Penner, Dan Doran,

Tom Kretsinger, Jr., and Robert Low. Front row, left to right, Kim

Kaburick, Jeff Arnold (N. American Transportation Management Institute),

Anne Doran, and Ron Goode (Director of Education, TCA).

Bottom row, L-R: The afternoons were given over to the

business of the association. Pictured are Jeff Arnold, Shephard Dunn,

Tom Witt, Josh Kaburick, and Aaron Tennant; Rob Penner is all smiles

in anticipation of a trip on the rapids; Janet and Tom Witt grab a quick

bite before beginning another day of recreational activities; Shepard

and Libbet Dunn pose for the photographer before a meal.

44 Truckload Authority | www.Truckload.org TCA 2013
---
Mark your calendar

To register or to learn more about any upcoming events

visit truckload.org or call 703.838.1950.

2013 Dates

September 12

September 12

September 19-20

October 10-11

November 4 - 5

2014 Dates

January 29-31

March 23 - 26

2015 Dates

March 8 - 11

Event

Wreaths Across America Gala

Fine-tune Your Background Check Policies:

Avoid EEOC's New Initiatives

Benchmarking TC-05: Scottsdale: Invitation Only

Benchmarking TC-01: Minneapolis: Invitation Only

Benchmarking TC-06: Chicago: Invitation Only

2014 Recruitment and Retention Conference

2014 Annual Convention

2015 Annual Convention

Location

Grand Hyatt, Washington D.C.

Internet - Webinar

Scottsdale Marriott Suites, Old Town

Hilton, Minneapolis/Bloomington

Renaissance O'Hare Suites Hotel, Chicago

The Renaissance Nashville Hotel

Gaylord Texan, Grapevine, Texas

Gaylord Palms, Orlando, Fla.

Are you upgrAding your trAiler fleet?

We think "outside the box"

Do you?

If so,…

Are you looking for a new approach

for the disposition of your used equipment?

Call RCM-Remarketing Consultants Management

We Can Help!

We will provide you with new & different alternatives. These would

include a variety of options from; Remarketing Services, to outright

purchase, or perhaps a Sale-Lease-Back. We have extensive expertise

in creating Sale-Lease-Back to fit each fleets particular needs. We truly

think "outside the box" to achieve the optimum of getting the greatest

value for your used equipment and maximum fleet utilization.

YOUR TRAILER SOLUTIONS PARTNERS

Call Phil or Paul today @ (623) 792-5478

RCM

Dedicated Services LLC

46 Truckload Authority | www.Truckload.org TCA 2013
---
YOU DON'T WORK 9 TO 5, THAT'S WHY

THERE'S AN OIL THAT WORKS 24/7.

Long hours. Overnight hauls. To you, that's standard procedure. And that's why we created an oil that

works overtime. Shell Rotella ® T6 Full Synthetic engine oil is our hardest working oil yet. It delivers the engine

cleanliness and wear protection you expect from Shell Rotella, ® improved protection in extreme temperatures

and up to 1.5% in fuel economy savings.* In fact, Shell Rotella ® T6 never stops giving you its best every day.

Kinda like you. Learn more at www.rotella.com

THE SYNTHETIC ENGINE OIL

THAT WORKS AS HARD AS YOU.

*As demonstrated in 2009 on-the-road field testing in medium duty trucks, highway cycles, compared to Shell Rotella ® T Triple Protection ® 15W-40.
---
IMAGINE

your drivers are able to send

clear, quality document images

anywhere, any time

Make it a Reality

With TripPak MOBILE 6.0, you can offer your drivers the freedom

wherever they are, whenever they need it. TripPak MOBILE is the

• Drivers capture documents from their smart phone or tablet

With quality images

from TripPak MOBILE,

your fleet keeps moving

so increased cash flow

becomes a REALITY.

• Image enhancement tools including auto-focus, auto-cropping,

auto-corner detection, and document scoring provide crisp, clear

images

• Images recorded by document type with trip indexing information

• No special hardware requirements – all the driver needs is a smart

phone or tablet (Apple or Android)

• Signature-capture capabilities

• Trip status updates and notification capabilities

100% technical support provided

for all scanning solutions

Search TripPak

www.trippak.com | 800-298-7202