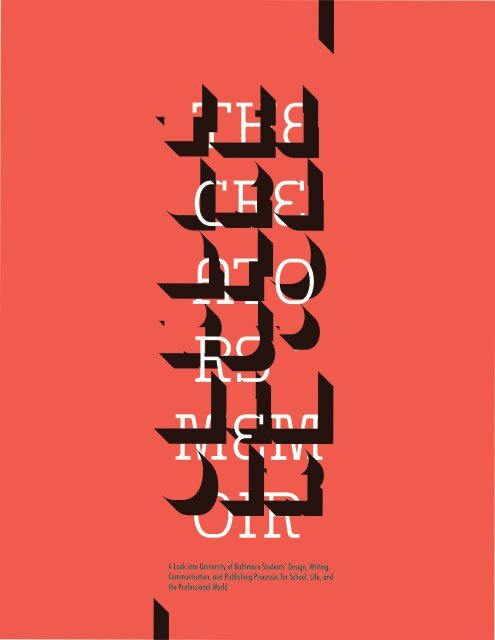 Create successful ePaper yourself
Turn your PDF publications into a flip-book with our unique Google optimized e-Paper software.
Foreword

-

versity of Baltimore under the direction of professor Roger Friskey, fall semester, 2016.

Class members were mainly Digital Communications majors and English majors in the professional writing

specialization.

We conceived of our project as an eBook, which could be downloaded from the Klein Family School of

we feel about the joys (and frustrations) of writing. See why we believe good writing is fundamental to

digital communications. And get some valuable tips on how to approach a writing assignment, and how

We hope you will enjoy our articles.

Table of Contents

Hassan Abdale: Why Writing Matters

Sarah Boies: So You Want to be a Writer: A Look into the Publishing Process

Jessicka Cue: Death Knell: Resume Mistakes Could Be Killing Your Opportunities:

Paul Didwall: Digital Communication: Essential to Contemporary Marketing

Savannah Garrison: How Writing Ruined Me, And Why it is still My Career Path

It's not just a shoe.

LeQuita Harrison: Writing Blah Blah Blah for Yourself: My Five Ways to Getting into the Writing Mode

2
---
Cynthia Hunter: Visual Marketing Strategies

Diane Lane: Variations of Design

Taylor Lynn: Oh, no! Not Writer's Block!

Amanda Marquez: Writing to be a Millionaire: How the University of Baltimore Helped Me Monetize My

Writing Skills

Teresa Morgan: College Cubbies: Where to Write, Study and Eat at the Same Time

in Academia

Steven Scott: Good Writing, Good Writer?

Career Around

Jalesa Vincent: Interview Jitters: 4 Strategies To Make Interviewing Easy

Geneka Young: Essentials for Working Remotely

By Ana Hart

a poetry workshop with the wonderful Kendra Kopelke. A simple sentence from Professor Kopelke forev

-

to quality writing; but it was a brand-new concept to me back then, even though I had been stretching

my wordsmithing muscles since I was a child. As writers, we tend to show with language instinctively,

long before we ever hear this phrase. However, having these three words always etched in the back of my

mind helped propel my writing to the next level.

writing long before being admitted to the University's Creative Writing program, now that I am at the

end of my studies I can honestly say that the success I've had as a writer is in no small part thanks to the

techniques and insights shared by UB's English professors and students alike.

3
---
A Room of One's Own

expands our vocabularies—something all aspiring writers should strive toward.

-

vorite authors, the essay's theme is women writers and their place within the literary world. It also argues

for physical space necessary to write successfully. Dense and cerebral, "A Room of One's Own" still makes

me think every time I pick it up, although I have read it many times.

In my opinion, the physical setting that Woolf speaks of is immensely important when it comes

window. A shelf with my favorite books (and including the Oxford English Dictionary, a thesaurus, and

-

-

tractions fall away. It is a place I've dedicated solely to writing (of all kinds), and creating this habit helps

with both intention and concentration when I sit down to write.

Writer's Block

I don't believe in writer's block. Sure, it's not always easy to get started when it comes to writing,

I am fully aware of it, but that doesn't matter. I do it to unclutter my brain so to speak, to get whatever's

writing groove.

Inspiration is fantastic, of course, but you can write about anything once you've researched the

gaining knowledge you will able to use in a pinch later down the line. I freelanced some marketing work

this summer thanks to my internship in Baltimore Style magazine (which was facilitated by another fantastic

UB English professor and Style's Editor-in-Chief, Betsy Boyd), and I learned about topics as varying

as cultural happenings across Carroll County Maryland, getting home ready for sale, and the newest

breakthroughs in hair restoration techniques.

Writing Workshops

Workshops played an important part of my Creative Writing focus here at University of Baltimy

work with (what I thought was) the sole purpose of others' critique. But the feedback I received

turned out to be incredibly useful for both editing my work, and practicing to always keep my intendhiding

between the sentences, encouraging me to explore unexpected feelings my writing stirred up and

to spend more time developing characters that particularly resonated with them. I found workshopping

4
---
advantageous because I knew that when several people expressed the same sentiment about a passage, it

obviously needed addressing. I would like to encourage the reader to share her work with fellow writers.

It can only help in the long run.

I'm sure you've heard it before: be relentless when it comes to editing your writing. Even simply

reading what you wrote out loud can help you pinpoint the areas that need improvement or the ones that

meaning (see under: nice). Can you convey the same meaning using only one third of the words? Do

Tolstoy, very few people are going to read your 1,200-page novel.

about 500 words long and would only take about a minute and a half to read. Most people will spare that

much time on something that grabs their attention.

Give It Time

Writing is a process. It gets better with practice, and best when you give it time to ripen. Write

of days, and next week too—if you have the opportunity. Each day will bring its own insights and a new

Ana Hart is a writer and a senior in University of Baltimore's Creative Writing Program. You can read her

blog, "Growing Pains," at baltimoreschild.com.

Why Writing Matters?

By: Hassan Abdale

Student

University of Baltimore

B.A Digital Communication

Introduction

Why writing matters? Imagine you were a one of the smartest individuals in the world and knew

how to cure HIV/AIDS but the only problem was that you lacked the communication skills to persuade

weren't one of the smartest individuals in the world. Writing matters because writing equips individuals

with communication and critical thinking skills. Plus, you wouldn't be able to read this concept idea. In

this ebook, I will discuss my journey with writing and how it played a role in the stages of my life.

5
---
fan of writing. I didn't enjoy the preparation of writing an essay such as searching for articles and apply

-

out with friends and partying till morning. I was living in a dorm, which meant I had all the freedom I

want to put the work in. Like many individuals in the world, they want plenty of success but don't like the

-

ful individuals have failed, but learned from their experiences.

-

Life is a Feeling Process

you. One thing that I've helped me overcome failure was being honest to myself by accepting them. My

-

ence others like myself to get interested in writing. All these life lessons made me excited and motivated

to enter my second year.

In my second year, I changed my major to communication. I couldn't wait to start a new major

my time on bettering myself. Since all of my classes were full year, I focused on the early steps of writing

an essay like I learned during the summer. If we had full creative control on essays, I started with brainstorming

my idea by using Google scholar and the university's library. Once I found my idea, I would go

to my school's library or database to get information for my topic idea. During the year, I started to enjoy

reading books, something I wasn't used to. My older sister who loves books always told me "if you don't

read book, you're dumb." At the time, I thought she was just expressing her own love to books to me but

she was actually right. She always argued that books make you a better communicator, writer, and thinker.

By reading books, I would learn from masters like Robert Greene by emulating him then through him,

me. My grades improved tremendously, which helped myself, get enrolled at the University of Baltimore.

Everything I learned from York University and writing encouraged myself to take my talents to the University

of Baltimore. Going to the University of Baltimore meant fresh start and Iooked forward to the

challenge.

New School, New Skills

Coming to the University of Baltimore, I remained a digital communication major with a focus in

to utilize the writing lab throughout the semester. From the jump, I felt at home. I enjoyed having the

the University of Baltimore, this school taught me the most about myself as a student and a person.

6
---
During my years at the University of Baltimore, I continue to apply the skills I learned previously,

met with my professors, and attended the writing workshop at campus. All these tools gave me the

ability to perform my full potential. For example, I've made the dean's list every semester since attending

shown me to always give my all in everything I do and positive results will show.

Good writing skills are a primary asset at every stage in your life whether it's school or your

career. In the workplace, employers place a high value on sharp writing skills. For example, employers

choose their future employees by reviewing their resume and cover letter. If your resume and cover letter

you an interview. With my experience, I applied to Morgan Stanley as an operations analyst through the

serious. For example, there was questions asking for my SAT/ACT writing portion scores, how well I can

but in your future career. During the interview, I had two one on one interviews and a group presentation.

When I gave the interviewer my resume and cover letter, they were both congratulating on how

I critically analyze how the mainstream media controls and manipulates society to follow ideologies by

giving inaccurate information. To resist media manipulation would be to understand a text's structure

structure. With Twitter, users are restricted to 140 characters to send as tweets. Twitter was inspired by

SMS messages that only require 160 characters, but Twitter wanted to leave 20 characters for the username.

Although there have been many frustrating reviews regarding the 140 characters, it also allowed

for users to condense their stories well by getting straight to the point. Another positive is that the charidentifying

the main point of my message in a creative way. Twitter helped avoid unnecessary words by

condensing my words to build on my writing skills.

invest in is "Kurzweil 300." It is an education platform used to provide individuals who struggle with

literacy to build on their comprehensive skills. It helped me pronounce words, check grammar, and build

on my study skills. When I study for exams, I would copy and paste my notes on a note pad, where a

-

sions. I also have scanner, which scans any paper material such as documents, papers, and books to my

computer. Once the scanned document is downloaded to my computer, I'm able to transfer it to Kurzweil

for the computerized voice to read the document to me. I believed that for myself to improve my literacy

skill would require to invest in technologies to help to reach my full potential in college.

Conclusion

Overall, this ebook showed how far I've came as a writer. My journey with writing is an ongoing

progress that I will continue to work on everyday. Writing is one of the most important skills to have and

I believe it's important for all individuals to practice on their writing skills to show themselves that they

are capable of doing anything they put their mind to.

-

7
---
So you want to be a writer: A look into the Publishing Process

By: Sarah Boies

Do you ever look around at all the editorials, books, features, and personal essays and wonder

how the hell they got published? Wherever we look it seems that everyone is publishing something, in

fact the term published author or professional writer has seemed to become synonymous with anyone

with a blog, social media account, or personal journal.

publisher? How do you get articles published? Who do you talk to? What helps publishers take you seriwell-guarded

by published authors, who wanted no competition from fresh wordsmiths.

Incase this whole degree thing doesn't work out; I decided to seek out the answers to these questions,

in hopes that someday I would be able to be a lucrative freelance writer. I decided to look at the

process of traditional publishing and self-publishing (both electronically and in print), to gain insight on

the tips and tricks of the trade, and seek justice for all of my fellow aspiring authors.

Getting Started

Before you are published, you are going to have to prove to agents that you are worth betting on.

you need to demonstrate that you have an audience that is willing to support you, that will follow your

push; buy your book, follow your link, promote your publication, join a community, etc. Having a Twitter

following, Public Facebook page, Instagram, personal website or blog with user statistics will all show

that you have an audience and an established name.

Getting started, create professional social media accounts and a website, and ask your friends,

family, coworkers, and family friends to follow you. Begin posting appropriate content: small updates of

-

ers that you enjoy and communicate with them and they will be more willing to help promote your voice.

Traditional Publishing

aware of.

Advantages

• Designed to help writers with editing and design

• Allows writer to focus on the writing process

• Publishers have contacts with print distribution centers

• Books published through traditional publishing have ability to become critically acclaimed

• Potential to become house-hold name

• Payment Advance and Flat Fee from Publisher

8
---
Disadvantage

• Time consuming process

• Lower acceptance rate

• Loss of creative rights and control

•

• Fewer royalty checks than Self-Publishing

But if traditional publishing seems like the right route for you, here is what you can expect to happen.

-

tion houses do not accept unsolicited submissions, meaning that an agent is required to get in the door;

to the writer until publication; the agent will then take a percentage of the money given to the writer by

the publishing agency.

genre. As mentioned, agents receive a percentage of commission, so be sure to search their terms of ser

vice for "Terms of Representation" which outlines their commission in domestic and foreign sales, as well

-

-

lished work, awards, or associations. Pay careful attention to the agencies submission requirements, as

of your agreement, your agent will work on getting a publishing agency to sponsor the book using inside

knowledge of editors.

If a publishing house decides to publish your book, the rights from the writer will be bought, and

a payment advance will be issued based on future royalties (part of which will be given to your agent).

to the public.

Self-Publishing

Self-publishing has become increasingly popular among writers, enabling them to be both writer

and publisher. With the help from top companies like Amazon, Apple, and Barnes & Noble self-publishing

has become an easier process. One thing to note, is that self-publishing is not limited to eBooks,

there are many organizations who also specialize in print publishing. With self-publishing, it is extremely

important to look at the advantages and disadvantages before deciding whether it is the right path for you

and your work.

Advantages

•

• Possibility of larger return on investment

• Freedom of Control on cover photo, cover format, fonts, and distribution format

• You do not have to rely on an agent

• Freedom on rights and pricing

Disadvantage

9
---
• Marketing of book is dependent on you

• Strong reliance on fan-base and following for sales

• Lack of Creditability- much harder to obtain

•

layout, and look of book

• Less channels of distribution

• Writer is responsible for cost of physical copy sales, cover photos, and writer photos

If self-publishing works best for you, here is what you can expect to happen. Firstly, decide whether you

would like to publish electronically, in print, or a combination.

Electronic publication is a growing market; nearly all published books have an electronic edition

ing, because there is no cost for printing the book. And the book is usually available for sale within 24-48

availability for consumers, and (barring they have internet) can reach a larger range of audiences who

may not be able to get to a certain distribution location. However, this means that writers must focus

more on marketing, in order to boost awareness about their product. Writers must also choose to learn

formatting skills or make the decision to outsource, which can then limit future editing of the product.

When choosing electronic publication, the only cost is in the setup of the book. Depending on

the company you choose to publish with, your cost will vary. While neither hosts cost money strictly to

publish, writers should keep in mind the cost that goes into pre-publishing and the amount the server

will take from royalties. For example, Amazon requires the publisher to format their book so that it is

expect to see that cut into their initial investment. With amazon you must also provide your own cover

photo, which again adds into the initial investment. However because of these additional costs to the

costs and time that goes into pre-publishing, you will come to a decision on which company to use for

the text, setting the pricing, choosing a look, and writing a summery page to go on the about page. Each

30-60 days, you will receive a check and be able to analyze how your book is doing online.

can use the print copy as a marketing strategy by creating an online conversation where select audience

members receive a signed copy of the book. As the reader shares this information with their friends,

an author.

allows you to use their tools to create format and design, or use their professional publishing services.

print publishing through Barnes & Noble's, users can expect to pay for the publication based on the type

of cover they choose, the length, paper color, and text/image color. All of the tools to make these choic -

es are available through setup. Like Amazon, Barnes & Noble will distribute your books through sales

10
---
direct deposit.

-

son prices (higher pricing for print and lower for electronic) which can than boost sales in the electronic

market. Readers who may have read the book and loved it, can then buy hard copies to share with friends

who may read books online (whether due to accessibility, age, or preference), further boosting sales.

Hopefully this description of the traditional publishing process and self-publishing process has

answered some of your questions about the publishing world. As students, we tend to focus on the wriṯ

ing and editing process, and completely fail to address the steps beyond; and without paying for semi -

nars, books, or associations. But with the right information and contacts, we can take the steps necessary

to break into the publishing world on our own.

Sarah Boies is a Digital Communications major. She is interested in writing, communications, and web de -

sign and hopes to pursue a career in copywriting or public relations.

Death Knell: Resume Mistakes Could Be Killing Your

Opportunities

By J. Cue

Near the end of every UB's student's college career, they will have enrolled in a seminar course.

Students in the Digital Communication program at the University of Baltimore will take the Seminar in

Digital Communication Course which is designed to help students simulate or complete work in their

and resumes as well as demonstrate practical experience.

Now rewind to the days of old (early in my junior year) when I had a killer resume. I mean— any

errors, and needless mistakes. Not to mention the language was downright dull. As a Digital Communi -

cations major I found it shameful that my resume was not only a killer, it had become serial. Failing to

communicate anything other than regret. Instead of giving life to my accomplishments and my goals, I

had written the obituary for my career—my resume was the ultimate dream job killer.

I've learned that the quickest way to kick yourself out of the competition for a job is to submit a

dull resume with littered avoidable mistakes. Amid watching my future crumble in the distance, I aṯ

use language that accurately describes my roles and contribution while focusing on future positions. I

descriptive language now listed on no more than two pages. My resume had become my advocate—com -

municating in my voice.

Career Coaches are available by appointment through UBworks.

Although Digital Communications majors are well prepared for the workforce, competition is

will notice on your resume, one of the main criteria used to qualify or disqualify you for a position. Simi -

larly, grammar errors and avoidable mistakes are the most common reason for rejection. It will serve stu

11
---
dents well to avoid current resume and cover letter mistakes. Find creative ways to utilize your resources

stellar resumes, here are a few highlighted tips as well as couple of missteps to bypass when putting your

best foot forward.

1. Word Match

nothingness. An article on Big Interview stated Applicant tracking systems reject 75 percent of candidates.

Failing to include key terms in your resume and cover letter may result in your resume going

un-noticed. Your resume should contain the same keywords as your desired job listing. If not, you may

man hands.

-

2. Eliminate errors and misspellings

Grammatical errors are the #1 resume killer according to Brad

Hoover, CEO of Grammarly, an online proofreading service. Remembering to spellcheck and proofread

seeking process. However, for better results, have your documents reviewed by someone else. E.g., a career

advisor, professor, co-worker, friend, or family member. Having someone else scan your documents

ensure you are ready to submit, free of common blunders that could cost you an interview.

Cover letters/Cover e-mails should never have abbreviations or emoticons. Using all capital letters and

text language like "lol, WTH, and Idk" have no place in professional correspondence.

3. Get to the point

Your resume is your "branding" document— you get to determine how far back it goes. However,

it's essential to remember to limit your record to 1-2 pages. Don't waste precious space telling your

readers about every job you've ever had. Focus on the relevant information. You can still demonstrate a

lengthy work history with useful formatting techniques like bullets points and short paragraphs. Illustrate

you rallied your editing team to elicit 75% more journal submissions than last year. "Consider your re-

4. View from the other side

Like most candidates, your resume may go through the applicant tracking system before it lands

on someone's desk, and if you're fortunate, it will eventually get viewed by a hiring manager. If that hap-

12
---
pens, be the one who shows consideration. What would make his/her job easier when it comes to evalu -

ating you as a job candidate? Try communicating your experiences as precisely as possible. Organize and

Finally—Avoiding common resume and cover letter mistakes is about remembering the basics. Your goal

is to get your resume scanned by human eyes. Watching for these errors should not only get your resume

into human hands but hopefully land you an interview as well.

If you are concerned that your resume will extinguish your opportunities, following these tips are

an excellent starting point. Good luck!

Written by Antoinette Dais

A Detailed catalog of how to write an assignment and the process a writer goes through when writing.

-

tion, and a need to succeed.

You have a writing assignment due but you have no idea what you want to write your assignment

on or what you want the topic to be. How do you come up with the inspiration to write let alone a good

procrastinated, waiting until the last moment or you were waiting for inspiration to hit you in the face

easier. Research can lead to forming an argument for your assignment and making your topic more solid,

and maybe blogs that will help you with your topic. You start typing up ideas using a spider diagrams

-

erences to go through so that your ideas have solid backing and examples. But before you do that, you

have to organize all your thoughts and ideas plus make the paper interesting enough to keep your reader

involved.

13
---
through Facebook, you come back to your paper. Now you are stuck. You are struggling with coming up

this journey that you were forced to start.

Using your amazing writing skills and remembering your time limit, you start to brainstorm some

check your citations. You also get a phone call from your best friend so you take some time to chat while

also trying to stay inspired enough to continue writing this paper.

Now it is midnight and you still have not come up with a decent ending to your paper. So what do

you do at this point? Well, look at your check list. Cry about the assignment? Check. Procrastinate until

the last moment to write said assignment? Check. Procrastinate by listening to music and watching cat

oh. FINISH YOUR PAPER! At this point you are probably bullshitting the last few sentences due to lack

of sleep or concern for your grade. You just want this paper DONE with.

Making sure all your references used are cited correctly and you avoid plagiarism. Checking for grammar

and punctuation errors that would give your reader(s) a headache. By this time, it must be 2 in the morn -

Good job. Now go to bed with your alarm clock set for 6am and get the little bit of sleep you can sneak in

Antoinette Dais is a Junior that attends the University of Baltimore. Antoinette is majoring in English and is

planning on graduating in the spring of 2018.

Digital Communication: Essential to Contemporary Marketing

Paul Didwall

My Digital Communication Reasoning

Digital Communication is one of the more popular programs at the University of Baltimore, and

yet it is one that I found almost by accident. I had initially planned on majoring in Business, with a con -

Community College (HCC).

At the community college level, there is not much in the way of specializations. Given my inter -

est in marketing and advertising, I took a slew of business classes that would prepare me to transfer to a

four-year institution and major in Business, with a focus on marketing. I truly thought this was exactly

how I wanted to proceed with my education, and it was not until my last semester at HCC that I started

degree brought to light the simple fact that a business degree was not what I actually wanted.

Having already decided on University of Baltimore for the next step in my college career, I looked

reading about the Digital Communication program, I found a few key pieces of information that helped

me make up my mind.

14
---
to. I like to have options, and a Digital Communication gives me just that. In looking at careers in the

-

Communication would be something I far more enjoyed.

What to Expect in the Professional World

In keeping with the idea that there are many career paths available within Digital Communication,

I must expand upon some of them. I am currently interning at an advertising agency, and have

found this degree to be suitable for a variety of the functions within this type of organization. For instance,

there are relevant jobs on the account management team, the social planning team, and the creative

team. Moving outside of the agency environment, there are positions in corporate communications

that tie in to a digital communication degree, and other positions that are very marketing intensive.

-

ed me to this major. Marketing does not have the same edginess and excitement that is found in Digital

Communication – at least not from what I have seen. Digital Communication focuses on the fun, creative

side of marketing, and worries less about the strategic, number crunching side. Even with this in mind, it

degree path, digital communication and marketing majors alike will receive a well-rounded education, as

In talking with a senior level employee at the ad agency where I intern, she informed me that both

her and her husband were marketing majors. She went the advertising route, while her husband went into

With this, it seems that Digital Communication aligns more with advertising than a standard marketing

Some schools require students to take a plethora of theory classes, and fewer that are directly applicable

-

the working world.

school has many seminars and activities for students to be involved in, but also is accommodating to

most interesting collegiate courses I've been involved with. So far, nothing has seemed repetitive; a fact

that is less true when looking at general electives at any school.

I can say that the Digital Communication instructors are primarily industry professionals. I attribute

much of the quality education to the fact that these are people who have not been in academia their enbest

instructions and anecdotes.

-

15
---
With classes that are diverse rather than repetitive, it makes for a more well rounded education. I

tion major lists many jobs that the track will prepare you for, and I truly believe these are all options.

-

-

thing that digital communication absolutely prepares students for. Being that I was initially on the fence

about staying in a business program or switching to digital communication, I can say with great certainty

that I made the right choice.

Paul is a digital communications major, specializing in public relations. He enjoys reading about cars and

travel, and is always listening to music when he works. Upon graduation, he hopes to pursue a career in

advertising or corporate communications.

3 Ways To Get Inspired When Writing

By: Roxy Flores

-

tion whenever my mind decides to stop all work in progress.

Look at your environment

For me, it's my environment that really gets me inspired while writing. One of the best things

about being a part of the University of Baltimore community is that there is a whole city to explore when

inspiration here then you just don't know where to look. Being out and around can really help create a

better understanding of what you want to write and the audience you are writing for.

Here are a couple of places that I found that really help me when I'm writing:

Baby's On Fire located on Morton Street

-

fast, lunch and an assortment of drinks. While it's worth going just for the European pastries, Stumptown

15 minute walk from UB's campus. If you don't want to hang out in the shop there is some outside seating.

A perfect spot for when the weather is nice.

For me, there is something about this place that always gets me thinking. I'm not quite sure if

it's the setting or the people who go there, but many stories have been created at that shop. As a bonus,

write your papers.

Universtiy of Baltimore's Student Center

-

16
---
-

ular are usually quiet, making this place ideal for studying. Something else that's nice is that there are lots

of outlets for people to plug in their phone and computer chargers.

Move around

the screen for an hour really does nothing productive. Just walking around my room can get my body

stuck at home doesn't mean you can't walk around the area available to you. Move around, take a break,

Unplug

While writing you can get easily distracted by everything around you. Most importantly, your phone or

TV. When starting a train of thought you can easily lose it when the chime of a text message disrupts

your thinking. When trying to start a paper your mind can easily wander to whatever is on your TV.

Unplug. Put your phone on do not disturb or if you're particularly bad at constantly checking your

of writing time.

ideas that you might want to explore. You might be surprised how much the technology around you is

something to write about.

Forget being perfect

realize is that strive for perfection can actually be hurting my writing. When I get stuck on an assignment

sometimes I have to actively remind myself that I don't have to be perfect. Do the best you can with the

time given to you! No one expects you to write a perfect essay in three days. Once I get into this mindset

close to being a full idea, but the point is I wrote things down.

topics you might want to explore in your paper or story. Get a little messy; creativity doesn't come from

being perfect. Finding inspiration can be one of the hardest things to do, but hopefully some of these tips

really resonate.

Roxy Flores is an English major who is interested in editing and publishing and hopes to pursue a career in

the publishing industry.

17
---
And why it is still my career path

By: Savannah Garrison

Writing is intimately intertwined in every facet of my life. I wake up and go to work as an intern

technical writer where I assist a logistics team edit manuals and training materials. In the evenings,

I commute to the University of Baltimore where I am an English Professional Writing undergraduate

dually pursuing a Master's degree in Publications Design. Practically every assignment handed out by my

professors involves writing of various genres, word count, and page length. Although writing is integral

to my life, it has also become the bane of my existence. Why would anyone choose to write as their profession?

My Dream

My life revolves around writing. While writing has ruined my life, it has also changed my life.

-

love, and for many other moments. My parents and family members read to me when I was a toddler and

reading which has developed into an infatuation with words in general. I plan on plastering quotes and

and sayings. My passion for writing and reading have culminated into my dream of one day opening and

owning my very own bookstore. When you walk inside the doors, it will be as if you have stepped inside

the pages of a book. I envision that quotations from my favorite authors and stories will decorate the

walls, and every person who walks inside will sense my love for words like a palpable cloud.

Without Words

count requirement, I make it about 150 words in - approximately where I am right now in this post -

before all of the vocabulary I have accumulated run like wild stallions out of my mind, and ideas cease

motif found in two novels, or a lab report. Writer's block is single handedly the worst aspect of being a

Usually that battle involves nothing intellectual. For me, it can be broken by moving away from my work,

-

there.

Sometimes it is. Sometimes it is not. It is truly a gamble, and I do not like taking risks. Author

Neil Gaiman had another suggestion that I have also found useful. "Put it aside for a few days, or longer,

just me) as if you've never seen it before. Start at the beginning. Scribble on the manuscript as you go

about it and know what the next few words are. And you do it all one word at a time."

To Sleep or Not to Sleep

As a night owl, maybe it is my fault that my best work is always produced at night. But I still

18
---
lame writing. If my academic career, and therefore my future livelihood, did not depend on writing

For example, two semesters ago I had both an essay for a Shakespeare class and a biology lab report due

on a Monday. I went away for the weekend to celebrate my friend's birthday so, as you can guess, I did

not touch those assignments. Sunday night rolls around, and I slave over those two papers until 5:30 am.

Unfortunately, I had to go to work that Monday, so I took a 30-minute power nap, made myself a cup of

to work a half day and then go home. I quickly passed out on my couch for three hours and then readied

myself for an evening class. Sleep is extremely important to me, so I am not the happiest of campers when

Moving in Slow Motion

Time. What an interesting little beasty. As I take my crisscross, applesauce position in front of

my laptop, assignment bouncing around in my head, time decides to be a little cheeky with me. I type up

all the necessary information, name, class, professor, date, assignment name, into the upper right-hand

to write, and it is no respecter of genre. Regardless if the writing is for school or my job or personal work

I cannot seem to turn up the dial on my speed of putting thoughts to paper. One possible explanation

the best technique for writing, but it has managed to see me through high school as valedictorian, maintain

a 4.0 in college, and land a sweet internship.

-

grow on me, and I am sure it will eventually become a part of my writing habits. A second factor of my

inability to master time is distraction. I do not like sitting in silence, so I almost always have either music

deterrent from the project at hand. Both of these pieces contribute to the writer I have become.

Savannah Garrison is a senior majoring in English Professional Writing and minoring in Business Management.

She is currently on track to graduate in May 2017, and will transition to a full-time technical writer

position at AASKI Technology where she has been an intern since May of 2015. In the future, she plans on

working her way into the world of editing and publishing and eventually has dreams of opening up her own

bookstore.

Its not just a shoe.

19
---
connected with cultures, evolved into a status symbol, and most importantly attached itself onto people

making the shoe a second nature choice to many. I wanted to explore how the Jordan can be seen as

Peter C. Moore actually designed a prototype shoe called the Nike Air Ship for Michael Jordan, but later

designed for a rookie, Michael Jordan, and in many opinions started the shoe deal wave of today. When

Nike gave Jordan his own shoe many people couldn't believe this move, but later we see the genius behind

the deal that I'm sure no one could have seen coming.

very reason, the NBA actually put a ban on the shoe but Michael Jordan still wore his shoes. In doing

$5000 every game he wore the Nike Air Ship/Jordan 1, which would have been terrible for the rookie if

Nike bloom into something great! Nike created the Banned Campaigns using the Jordan 1 which only

grabbed the shoe more attention, thus the release of the shoe to the public in 1985 in multiple colorways.

to the stores to purchase the shoe that retailed at only $65 compared to today's $140-$220. Due to the low

-

better than the normal canvas material shoes skaters were used to. Nike created a shoe for one sport that

Honestly, art in general, is always seen as this sense of rebellion and this was the creation of a new genre

in that rebellion. Looking at this current point in time and to the future, it looks like the Jordan 1 will

always be a staple in society and the culture no matter what.

that many use as inspiration. For me when it comes to design, something that is created with propose but

one set of rules and can be used in so many ways, thus making it stronger is something the Jordan Brand

established with the AJ1.

against following the norm and is the result of one's emotions, feeling, observations, experiences, and so

and most designs have a unique representation that developed into more versions of the original. Both

20
---
-

ness of a player and fans, emerged as the underdog and won, and gives people a feeling of victory, freedom,

and the feeling of being able to accomplish the unmeasurable.

Baltimore. He was born and raised in Baltimore, MD and looks to gain his bachelors next semester. Once he

graduates he plans on pursing his Masters locally. He specializes in publication layout design, graphic design,

believes once someone can communicate genuine content the world is theirs for the taken.

Writing Blah Blah Blah for Yourself:

My Five Ways to Getting into the Writing Mode

Written by LeQuita C. Harrison

Every step she took towards the cave the heavier the air grew. Sweat dribbled down her temples

and the sword in her grip suddenly felt too light as she approached the unknown. Just a foot away from

the shadows that reached out for her, a low growl slithered ice through her veins. Whatever sat within

Sometimes that's how I feel when obstacles suddenly pop up in my life of professional and creative writing.

Doubt starts to unravel and I am stuck between decision- making or problem-solving. When I'm

writing a fantasy story I may come across writer's block and not know where to take my main character.

It is similar in my professional writing as an intern for the Johns Hopkins University Press, making sure

the information in a journal's article is correct to continue for publishing.

Writing has its perks. It can be enjoyable, informative, or plain uneasy. Regardless of the direction

you wish to go, remember creative writing is just that- creative.

You may have read or watched interviews of great authors who some say 'write to please people'

towards the latter. I always tell myself when I'm indulged in my fantasy book-in-progress, "LeQuita, if

you've been caging up inside like that dragon who can sing or your theories about Area 51 cover ups.

Weird? But who cares.

Here I will give you a few personal ways on how I prepare myself to getting into the writing mode.

Find a place you feel most comfortable.

"A man cannot be comfortable without his own approval."

- Mark Twain

Is it a library where you can hear a pin drop? Is it at a café where there's people and the great

sit down, and write. Well, you don't have to go at this exact moment, but go to that comfort place to free

your mind.

21
---
a mile a minute. Sometimes whenever I'm on the campus of University of Baltimore, where I am studying

for an English Degree in Professional Writing, I like to sit in the Student Center's Quiet Room which has

a fantastic view and nice lounges that helps me focus.

Eat or Listen to Music

Pizza loaded with green peppers, onions, mushrooms, black olives, peperoni, sausages, and extra

tomato sauce. Nachos and tortilla chips. A family size bag of Doritos. A bowl of cheesy pasta slathered in

why not eat while you write?

I enjoy eating. It comes second to my passion for writing. When I'm not eating, I am writing, and

when I'm not writing, I'm eating. Don't be ashamed, if that is how you can concentrate. Again, do something

that keeps your mind active, and alert, yet in peace.

"We are a thousand miles from comfort. We have traveled land and sea, but as long as you- WRITINGare

with me, there's no place I'd rather be…" (I'd Rather Be by Clean Bandit). Here is a peaceful upbeat

song, one of many I enjoy listening too while I write. From Tasha Cobbs to Bruno Mars, music has always

Read what you like

"Write. Rewrite. When not writing, or rewriting, read. I know of no shortcuts." —Larry L. King

If you don't read, how will you learn anything? Take advantage of the moment to sit back and

relax and while you are at it, butcher the book, magazine, or article. What do I mean? While you read,

highlight, or take notes on your favorite quotes, lines, parts, chapters, or even characters so later you can

Do research as well because having knowledge about the genre or style of publication you are

writing may depend on what you learn. Make sure you do not let this preside over your own style and

imagination, because this is a very easy trap to fall into. I have learned from many author interviews that

that take a break and write down your wishes, goals, and ideas for your work and stick to that for a while.

Or simply just pick up your favorite publication and read it for pleasure.

Just Write It

—Joyce Carol Oates

22
---
a cliché but a true one. Take the time to write your stories, your articles, your essays, your poems, or that

surprised on how much you can accomplish when you refrain from over editing your work.

Take Breaks

author of "Why Your Life Sucks

reduce writer's block which are the devil incarnated to us writers and can reduce stress. Everyone faces a

period of stress in some point of their life, especially, when your daily task involves mental cooperation.

Go on a trip to Hawaii or around the corner at the new Rainbows clothing outlet to let your mind take a

breather.

Many people enjoy rock climbing, reading books, spending time with family and friends, or just

staying wrapped in the comforters eating an ice cream cone. Your mind is a treasure of gold, so protect

crazy. So, stop what you're doing for a while and take a break. Go to sleep for an hour and wake up prepared

to journey on.

"I think all writing is a disease. You can't stop it."

—William Carlos Williams

are bold and challenge themselves can succeed in whatever is their heart's desire. Don't worry about the

time that sulks by or the many people who dislikes your work, because at the end of the day it's all about

you. You control what you write. You control what you think and what you imagine. You control the eyes

you want to shock and you control the smile upon your face. Write blah blah blah for yourself and watch

the world bow at your feet.

LeQuita C. Harrison is an English in Professional Writing major who is interested in professional and crelequitacharrison.wordpress.com.

Visual Marketing Strategies

Cynthia Hunter

In this day and age, people have a jumbled sense of why branding and marketing are so important,

so I feel the need to set the record straight!

23
---
Listen Up: 90% of the information our brain process is visual. It's no shocker that online success

really boils down to getting viewers to pause. You need to move people in a way that intrigues them

enough to want to learn more. Be that moment that catches the audience's attention or that "thing" they

stop long enough to take notice of. And what is it that's causing them to pause, you asked? You guessed it,

visual content!

want to stand out in the online world. You do want that, right? Yes, I thought so. To help you on your

journey to instantly recognizable status, I've gathered together the best visual marketing strategies for

your social media or blogs, in one place so you can gorge yourself on a heaping serving of visual amazingness.

Our eyes are overwhelmed with text!

We've become a society that's too busy to invest in devouring words as a means of communication.

It's why we shorten everything to acronyms. It's why we rely on scanning headlines and sub-headlines

as means of determining if deeper exploration is warranted. Being swallowed in a sea of bright lights

even realizing it. More than ever, visuals are superior form of 'pattern interrupt' to the textual and bright

light ridden overwhelm of this technological era. Without realizing it we've come to rely on visuals to

communicate with one another.

And why not? I mean, if a picture can say in a brief moment what it takes 1,000 words to convey, why

wouldn't we?

fraction of the time reading text would take. Visuals are the least inhibited way we have of conveying our

message, while simultaneously being the easiest for others to consume.

For these reasons, among many others, visuals have become an intricate piece of business success.

and time again with each new visual-based social platform that shows up and quickly grows in popularity.

Pinterest got the ball rolling but Vine, Instagram, Snap Chat, SlideShare and others that have sprung

about in the past couple of years are capitalizing on the same premise.

Visuals garner more attention!

surprising seeing as 90% of the information transmitted to the brain is visual.

of videos or images.So let's get real, you'd be a fool not to leverage them to build awareness for your

keting strategies in your business. True story!

Who better to learn from than the legends already out there dominating the visual scene.

I reached out to 5 visually savvy bloggers and online superstars at University of Baltimore and asked

them:

-

"What's your favorite visual marketing strategy and why?"

24
---
YOU can bring this strategy to life for your brand.

Jane

Visual Marketing Strategy: Templates for all my visuals

Tools Used: Canva & Pic Monkey

Why: I recently was talking to Cynthia – I invested in her one on one brand mentorship – and one of her

recommendations was that I create 7 templates in Canva or PicMonkey to use for all of my social media

• It saves time

• I don't have to be creative every time I make a new visual

• I know my visuals will look awesome

• My brand is represented consistently everywhere I have an image

Jill

Visual Marketing Strategy: Twitter Lead Generation Cards to increase email newsletter sign ups

Tools Used: Mail Chimp (or other newsletter service)

Why: I use Twitter lead generation cars to boost the number of relevant sign ups to my email newsletter.

cantly.

-

Mike

Visual Marketing Strategy: Multiple "pins" per post

Tools Used: Pinterest, Adobe Illustrator/Photoshop

Why: I started creating multiple pins (graphics used on Pinterest) for the same post as an experiment. I

was trying to see what type of pins performed better than others + discover my style. What I found in the

Mary

Visual Marketing Strategy: Add branded logo on every blog image

Tools Used: Canva

Why: I really like this strategy for three main reasons:

• For brand recognition on all social platforms for visual consistency

• It helps me to stand out on a Pinterest user's home feed, I'm instantly recognizable

• A powerful, obvious signature look helps prevent my work from being stolen

Adrian

Visual Marketing Strategy: My visual Marketing Strategy is using beautiful, pinnable images with my blog

post titles

Tools used: I use a mixture of Photoshop, Canva, and PicMonkey as well as gorgeous fonts and graphic

25
---
kits

Why: It's my favorite strategy because my images usually catch people's attention on Pinterest which in

Hand claps to this great resource!

Seriously, if you want to grow your business and reach new levels of success do yourself a favor.

Choose one of these strategies right now and go for it. You've got no excuse!

entrepreneurial dream. Choose the right visual special sauce for your business and drizzle it all over your

brand.

Cynthia Hunter is a senior Digital Communications student at University of Baltimore. Hailing from Bal

timore City, Cynthia uses the people and environment surrounding her in her everyday life. Cynthia's sole

-

purpose in life is creating jewelry and using it as a tool for women empowerment. Her current obsessions

include noise canceling headphones, rose quartz crystals, and tree hugging. Cynthia strives to get an excellent

education inside and outside of the classroom.

By Justin A. Johnson

As a kid I had a many problems to deal with: cleaning up my room, taking the trash out, going to

school and listening to my teacher. One might say that at the time I was a child that had a bit to deal with,

I know I would. However, no matter how many bags of trash my father made me take out, or how long

I had to sit pretzel position listening to my teacher talk about whatever I should have been listening to,

of us see as a job, particularly if you are a student or an individual who writes for a living. Yet, the essence

of writing allows you to indulge yourself in your day-to-day fantasies by expressing yourself freely on a

piece of paper, or on a computer.

through middle school, high school, and now my years at the University of Baltimore. I realize the thera

peutic processes of writing that you gain for a lifetime. Furthermore, just from my own experiences with

-

writing, I have noticed what writing has done for me and could certainly do for you:

• Release tension.

Physicians around the world proved that people tend to hold more tension in their shoulders and

back. Nonetheless, I believe that we hold most of our stress in our brain. When we are stressed, we release

by Canadian Biochemist in 1936 named Hans Seyle. His ideology proved that when we humans experi

ence fear, panic, or stress our sugar levels along with our awareness, and heart rate increases rapidly. And

-

though you might assume that this is a good thing (and it could be at times), it does depression, weight

26
---
should put time in your schedule once a day to write down any thought you have, or anything that has

been bothering you consistently; just to release that built up tension on you brain muscles.

• Figuring out the problem.

Writing down your emotions or your tangled thoughts can help you liberate any built up tension

that is having a nice nap on your mind. However, that is not the only great thing that writing does.

Russian-American novelist Ayn Rand stated, "Words are a lens to focus one's mind," which is quite true.

Each word you decide to make a part of your story is jotted down because, that word means something

-

ly how you feel, and sometimes you stumble across a feeling that you probably did not know you had.

• It can help you recover memories.

Most of the time when you write, you may come across a sentence/word that sticks out to you; It

may bring about a memory. Although, not all memories are amiable, recalling something from the past

-

ful in my everyday life not just as student, but also as an ordinary person. I have dealt with little to no

stress and have always learned something about myself each time I write. Writing is an activity that does

not require an excessive amount of time. It is a process that does require you to be honest with yourself.

an individual. In one of his studies, participants were asked to write for 15-30 minutes for 3-5 days; some

illustrated that people who wrote about their emotions experienced better mental and physical health

compared to individuals who did not.

-

ers in the late 20th century said, "You must stay drunk on writing so reality cannot destroy you." We have

to get back the reality where a pen is more deadly than a sword, to the extremity where words are louder

-

thors, bloggers, copy editors, freelancers, even people who job does not require them to write. Moreover,

writing styles you can scope out while still gaining aid of writing therapeutically:

1. Free Writing.

Normal prose that allows you to form ideas without any formal/academic writing structure. With

this formation of writing your thoughts are your playground.

2. Poetry.

27
---
haiku, limerick, ballad, sonnet, etc.

3. Letters.

We live in the era of technology now, so when it comes to a good ole letter from the heart it may

self a pat on the back here and there.

Are you motivated now to write your way to that dreamland of yours, where there are no prob

-

lems awaiting you? You have the power, the strength and the urgency to improve your life by simply writ

-

helps you relax. Go ahead and give writing a try.

-

Justin Alexander Johnson is a junior at the University of Baltimore who is majoring in English. Justin is an

Johnson believes that anything is possible if you are willing to work hard and become the best-unknown

version of yourself.

audience

Be especially mindful of the don'ts!

By Henry Kenny

Imagine starting your own business. You already went through the process of brainstorming,

creating a business plan, and getting the necessary permits. Now you're ready to create buzz about your

those in your neighborhood. Posting an ad is also a great idea but very likely outside your budget. So, the

last option is… Social Media.

that would be interested in your content. If you've ever been on Facebook, I'm sure you've seen advertise

-

ments for an item you may have googled once just an hour before. Let's say you're on Amazon looking for

-

while also promoting your brand. I will be covering Tumblr, Twitter, and Instagram. I will go more in

depth into the power of hashtags, gifs, and geotagging.

28
---
Tumblr

Tumblr is that somewhat hidden gem. Not a lot of people know about it or use it but at the same time,

the website has millions of users. It is even used by major companies and celebrities for various reasons.

Beyonce, for example, uses the website to post pictures from her travels and daily life. It is seldom used

to interact back and forth with fans. Another example is the major restaurant chain Denny's. They

adopting the same humor as the users of Tumblr usually have.

best move. Instead, you should consider making posts that are more serious. For example, you could answer

questions regarding the law and steps to get a lawyer. As for posts, you could provide tips for certain

legal issues and resources that could help whatever their situation may be. A good idea would be to post

the resources on your main website then post a link onto the Tumblr blog so that interested viewers will

inevitably check out your website and learn about your resources.

Tumblr has a lot of features that really maximize engagement including a post feature that lets you

post quotes. You can also post videos, photos, gifs, audio, and chats. Tumblr is a very versatile website

Twitter

Twitter is the 3rd most used social media site in the world. With nearly 310,000,000 monthly

users it's no surprise it's one of the main places to see targeted ads. Twitter is the ultimate place to blog

and get information out to people in real time. Used by almost anyone that's anyone, interactions happen

literally every second.

For businesses & brands, this place is great to talk with clients, consumers, customers, and fans.

Another way to utilize twitter posts is just by tweeting about your brand and what you have to

restaurant you may want to tweet pictures of what your food looks like with a caption that reads, "Fresh

which is a hashtag-driven medium. People do check out the hashtags to see what other people are saying

Instagram

Instagram & Facebook, these two social media behemoths are run by the same people and most

likely consume 90% of your social media time. On Instagram, you have the chance to look into the world

of celebrities, YouTubers, that old friend from high school, and pages solely dedicated to someone's pet

hedgehog. All in all, it opens you to a world outside of your usual space, and it comes with pictures!

29
---
In order to successfully utilize Instagram, you're going to need followers. In order to gain followers,

you're going to have to follow people, consistently post content, and use hashtags. Hashtags on Instagram,

your brand. Speaking from experience, the more tags & hashtags the better. Also giving a greeting or like

to other users will let them know you exist.

Do not use services to buy followers. Yes, you will gain followers but they will not really engage

your service. It's a waste of money. For added exposure use geotagging, which allows you to add the location

of where you took the picture. If someone is looking for your service in your area, they'll see your

post and check out your page!

Conclusion

Before going out into the world of social media throw away everything you know about writing.

When I got to college I had to get rid of the typical essay writing style that was drilled into my skull since

their isn't much room for creativity. I understand it may be hard to break out that habit but once you do,

you'll feel so much better and creative. In order to write professionally or just for social media, your writyour

business, whether that's fun, serious, or witty. Just make sure you have the ability to diversify your

writing style. Posting to Social Media shouldn't be a tedious and boring task, have fun!

Henry Kenney, III is a Digital Communications (PR Specialization) major who is interested in Social Media

and hopes to pursue a career in Public Relations.

Variations of Design

How Design is Used in Creating Plans!

By: Diane Lane

Usually when people think of design they think of creative styles or patterns. However, there are

a lot of things associated with design. Design is the creation of a plan or assemblage of an item, system or

measurable human interaction. For example, Architectural blueprints, business process etc. In Particular,

the project, set goals for the weeks to come, and determine metrics for success."

Blueprints:

require the creativity that you think of when you say the word "design." people also associate the word

"design" with being cool. Blueprints are cool! For instance, because blueprints are made using a contact

30
---
However, not only are blueprints cool, but they are very helpful. Particularly, if you ever get the urge for

home renovations you should look at your blueprint to see what kind of space your working with, and so

you do not mess up the current electrical system in your endeavors.

Business Process:

A business process is also another form of design, because it includes plans and design elements

-

chart requires one of the design elements; drawing. If you can draw you can use your creative abilities to

Engineering Drawing:

Engineering drawing is another interesting type of design, because it also includes drawing, an

element of design. Particularly, with engineering drawing you can also use your creative design talents

from one mind to another." Interesting

isn't it!

My Experience:

direction I would like to go with the project. Also, when writing I also make sure I use the "Design think-

When people hear design they think of creative styles or patterns. However, design involves, "the

creation of a plan or convention for the construction of an object." So you can create objects using design.

Pottery:

Who doesn't love pottery? Pottery involves forming clay into an item of your choice. In Particular,

of the clay and a quiet atmosphere is quite relaxing. If you ever want to relax while also being artistic. Design

is used in pottery, because you are creating something. Usually before you form the clay into whatclay

down into even slabs you can use that or using the wheel to "throw" the clay in a spinning motion.

Graphic Design:

Usually when people hear graphic design they don't think of the physical aspect of it they just

think of logos on the web. However, graphic design involves various categories. One of them being editorial

design. Within editorial design there are magazines, newspapers and books.

31
---
-Magazines

We all know what magazines are, and have enjoyed reading them at some point. Even if you only

read magazines to pass time. Particularly, if you have to you the restroom or when waiting in the dentist

a part in all of them. Magazines are obviously a creation of design just in words on a physical page that

you can touch. Using the design approach, you also have to plan out how you want the information in a

magazine to be displayed.

-Newspapers

Newspapers do not tend to attract younger audiences unless they include word searches or comics. In

fact, because newspapers tend to be factual based. We generally associate them with our grandparents. Or

an adult that would like to know important things that are going on in the world. Magazines tend to be

more "gossipy" which of curse attracts the younger generation, because they are more concerned with being

cool, knowing what's popular and what celebrities are up to. Newspapers have editors like magazines

and it also involves a planning process. For example, what's going to be on the front page! what will catch

everyone's attention! Of course just like magazines newspapers have to go through the process of being

printed. Also, newspapers tend to use cheap paper like newsprint.

-Books

made of cardboard covered in cloth or leather and are usually sewn together. Paperback books have cov-

-

As you can see Design is more than creative styles or patterns, and is used in many things that we commonly

use!

Diane Lane is a talented student at University of Baltimore. Diane is currently in the progress of obtaining

her Bachelors in Digital Communications. Her interests include decorating, reading, music, and traveling.

Later on, she hopes to pursue a career in Interior Design.

Oh, no! Not Writer's Block!

By Taylor Lynn

Writer's block, the bane of any writer's existence. Every writer dreads this moment because it

means that they are at a standstill; nothing seems to be coming out. It's an unfortunate part of being a

writer, and while some don't want to admit it, it does in fact, happen to everyone eventually. It's simple

32
---
forms of writer's block and a few possible solutions for each one:

• Ready, Set, Blank…

Sometimes the ideas just won't come no matter how much you want it to. You end up staring at

beginning, middle or right around the end.

Solutions:

just what you need to get inspired.

-Force yourself to write something. It doesn't matter what it is just start writing, Maya Angelou

herself said, "What I try to do is write. I may write for two weeks 'the cat sat on the mat, that is that, not

it's as if the muse is convinced that I'm serious and says, 'Okay. Okay. I'll come.'" Sometimes just going

through the motions of writing can get the brain ticking.

-Start at the end or the middle! Starting can be hard so at times when you know where you want

• Brain Overload!

And at other sides you can have too many ideas to count. When this happens it came become stressful to

choose.

Solutions:

-Bullet point all your ideas from best to worst.

keeper and what will run you into a dead-end soon.

• But Everything must be Perfect!

When you work hard on something whether you admit it or not you want everything to be perfect;

whether it's the perfect word or sentence, only thing that seems to matter is that it must be perfect!

Being a perfectionist is rough, and can make the writing process even harder at times.

Solution:

can always change it later.

-

33
---
• Lost in the Outline

Solutions:

-Keep writing, even if it might mean it takes longer for you to get to your point sometimes you

swer. Just because it's not what you originally planned doesn't mean it's bad.

-

• Mic Drop Fail

look at it, it doesn't seem nearly as good as you thought it would.

Solutions:

-Re-evaluate the idea. Just to remember why you thought it was a great idea and work from there.

-Talk it out with someone. Saying it out loud or having someone ask questions can help you realize

what you need to executive your idea better or make you realize why it wasn't as good as you thought.

Writing A Little More Every Day

By Taylor Lynn

have for it. Sometimes it can feel like taking out the trash, you know you need to replace it but instead

you wait until it's almost spilling out to do it. While writing can be taxing once you get started it can be

all the gross running. So here are some tips to make the process less hairy-grabby:

1. Take a deep breath. Worrying about it will not make it go faster, in fact, it will only make things

more stressful.

2. -

ter you eat? Or at two a.m. when the world is quiet. I found that I write the best in the mornings. Whenever

this moment of the day comes try to take a moment and write something down.

3.

every day or at the same place. Even if it's only for a few minutes, do it anyways. Try to repeat these patterns

every chance you get that way before you know it, it will become a habit and you'll soon be doing it

on a regular basis.

34
---
4. Write whatever comes to mind. Even if it's not the exactly what you want to say, write it down.

can edit unnecessary things later. Whenever I'm having a hard time with a paper for class I do this. I go

5. Never go back. At least not while you are still writing. Sometimes you'll want to re-read the paragraph.

DON'T. Resist the urge. All this will do is make you groan over all the mistakes you make so for,

-

6. When you hit a rut work on something else. Sometimes you just can't think of anything on your

subject and that's okay! When that happens open a new page and write about something else. Sometimes

a change of pace is exactly what you need.

7. -

ishing a whole writing project, reward yourself for putting the enough in. You deserve it!

Taylor Lynn is an English major who is interested in writing and hopes to pursue a career in Publishing.

Writing to be a Millionaire

How University of Baltimore Helped me Monetize My Writing Skills

By: Amanda Marquez

I absolutely love reading and writing, and to make money I always told myself I would become a

content writer, or write SOPs for a major corporate company. What I was simply trying to do was transnot

even know I had a passion for writing, I just knew journalism interested me, but when I got accepted

to Pennsylvania State University College of Communications at University Park and tuition was 40,000

a year, I had to rethink that. Not because It was impossible but if I was investing that much money in

school it better be for something that I actually want to do. I quickly changed my major to English. Although,

I did not know exactly what I wanted to do, I knew that was the major with which I wanted to

invest my money.

I worked some odd jobs while attending Penn State, but when I transferred to University of Baltimore,

they made it a little easier for full time working students; therefore, felt I could handle a full time

"real world" job, and I applied as "Director of HR and Communications at a larger corporate company

-

cided to take the job, but I gave myself a year, by the time I graduated at University of Baltimore, I would

-

ated for you, create your own space in the world. Break barriers and prove to the world, you can do what

35
---
you love and make money doing it.

University of Baltimore helped greatly and opened my eyes to how my writing skills could be

-

working events and the English department is very well rounded.When I went to Penn State I learned a

lot of skills, how to write business proposals, APA format, analyzing texts, focusing on themes and more

whereas University of Baltimore helped me to apply these skills to real world jobs and scenarios, while

also teaching me more skills along the way. Now, I work directly with the CEO and can essentially learn

how to be a CEO while using my communication and english skill learned at both Penn State and University

of Baltimore. One major tip for English graduates: Do not be afraid to go outside of your comfort

virtually anything. I am learning HR but, I realize without my english degree, It would be really hard to

successfully do 60 percent of my job description.

What I am doing now is stepping stone to where I want to be, so do not disregard the "nonsense"

jobs.I took my writing skills and have founded my own blog and am now creating a platform to reach

women world-wide. I am now exploring ways to best monetize my writing, and I did that with the help

of University of Baltimore. I applied my passion of writing to my passion of helping and have created a

a youtube channel which has proven to make a lot of money if you have a lot of views as seen with the

many "Youtube famous" stars that completely quit their day job to pursue blogging, or the now contemporary

term: vlogging. As long as you are driven you can make any passion lucrative, just have to be

smart and driven to do so.

You do not have to be 100 percent great at what you love, you just have to have the drive and

dedication to get there. I met a woman who became a millionaire that graduated from University of

Baltimore with a liberal arts degree. Writers are creative, magnanimous, and analytical, which is why we

I have learned that a lot of the awesome "writing jobs" are hidden under names or titles that you would

not search in a typical Craigslist search for a job. To be honest some of the best writing jobs out there are

not tiled "writing jobs" or something similar. Some of the best jobs out there will challenge not only your

writing skills but your people skills, communication skills, and ultimately will make you a well rounded

human being.

Monetizing your writing skills is possible, and can lead to being very lucrative. You just have to

have drive, to do it, and University of Baltimore has greatly helped me with that.

Amanda Marquez Undergraduate Student

College of the Liberal Arts

Senior

"I am an outgoing, curly head with a lot drive! I am a senior at University of Baltimore, and plan to one day

in my family to graduate college in 2017. If I can do it, so can you!"

36
---
By Denise McAllister

-

ing a work, school, and home life balance as well as learning new technology that did not exist when the

two-decade absence. I spoke with other students with similar experiences and discovered that my situation

was not unique. It is my hope that this article can help other older students who are returning to

college (or just starting) to meet and overcome these obstacles.

-

low students, Bilal Bahar and Colleen Williams this was true for them as well. Each of us faced our own

personal insecurities with the education system in order to continue with the academic process. Bilal,

Colleen and I are Interdisciplinary Studies (IDIS) majors here at UB. Like many older returning students,

we had a diverse set of interests and experiences and it was hard to pick a precise major so the IDIS proin

my other courses.

students in the same academic program. Rarely does any one IDIS student focus on the same three disciplines

so we see each other in some classes over a few semesters but with less continuity than do those in

we each share some of the same disciplines, our academic paths rarely connect otherwise.

We each have business as a core discipline but I have never shared a business class with either

Colleen or Bilal. Colleen and Bilal both have Community Studies and Civic Engagement as a core discipline

and have more of a relationship but they are not on the same academic path. Bilal has already started

to use his educational experience to move into the social entrepreneurial arena. He started a youth

empowerment foundation, EVOLVE, that already works in some schools in Baltimore County Maryland.

Bilal's Story

Bilal's story is powerful. He is a Baltimore native who graduated from Forest Park High School in

1992. Despite graduating, he states that his education was mediocre due to athletic prowess on the footcollege

until a life-changing trip to Nigeria in 2006. He found on that trip that he was not able to maintain

a proper intellectual conversation with his conference peers because of his lack of education and

experience. He also wanted to continue to mentor youth in his community but he lacked structure and

support from local agencies.

Beginning very simply at Community College of Baltimore County (CCBC) Essex in 2006, he was

37
---
was a huge obstacle as he explained that he brought that fear and anxiety to the classroom early in the

process. He was resistant to the authority of the professors but needed those professors and peer tutoring

centers because of his academic challenges. It took time for Bilal to advance through some academic

prerequisites at the community college level. He did advance, graduate and transferred to UB. He uses his

core disciplines to advance his foundation and he works as a consultant in the local entertainment induschange

rapidly and new operating systems can be frustrating for those of us who had to learn how to

use them versus younger students that use technology intuitively. Bilal stood up in our capstone class to

to submit work and asked for patience and assistance.

Colleen's Story

City Community College (BCCC) in that discipline. She transferred to UB but chose the IDIS curriculum

Colleen is a native of Trinidad, graduating from a traditional compulsory school there in 1997.

-

pleting her studies at the community college and will graduate this spring. Colleen's major obstacle has

that doing well is important to her on a personal level because of her depression and anxiety. Academically

she feels comfortable but the classroom presentations are more challenging. She also struggles with

maintaining a school, work, and life balance that can sometimes be exhausting.

My Own Path, the Journey of a Late Bloomer

I began my college career in the 1980's but had little direction. I raised a family and decided to

return when my daughter dropped out of a four-year school hoping that it would motivate her to work

harder. She joined the Navy and I motivated myself! It has been a challenge to maintain personal relationships,

work full-time, and attend school full-time. I agree with Colleen, it is exhausting! I have been

insecurities and struggle to maintain balance as well!

I had to take a remedial math class having forgotten most of my high school algebra. I was also

required to take classes not invented until this century. One of those classes was a computer literacy

requirement that has proven to be one of the most important of my prerequisites. I learned operating

system basics and to understand technology vocabulary that I previously believed was too complicated

38
---
when presenting my capstone project last semester. I would urge new and returning students to take a

similar class upon returning to school.

I was still not comfortable with technology but that foundation course helped me take other

steps to learn newer programs and platforms as my academic career proceeded. I do have issues keeping

current with the newer technology as it changes so rapidly. I am usually a platform behind! Fortunately, I

had a great primary education that allowed me to write well but I had not done formal research in many

love the online access available to UB students. It makes academic research work so much easier. Research

was my least favorite part of writing when I began but now I enjoy the process. Having become

-

and editing a paper.

I chose the IDIS academic path because of its diversity and believed that it would provide me with

a more balanced education as an older student. I gained numerous advantages as an IDIS major. I have

-

path were I to do it all over again. I would major in English or Digital Communication. In the beginning,

the word digital frightened me. I thought that it was too complicated but it just means I am doing

IDIS curriculum.

I would urge returning students to complete the computer literacy requirement before they transas

COSC 100, Introduction to Computer Technologies. It is important to get comfortable with technology

before discounting its advantages. It is a digital world that we live in and we do not have to fear it. It

is not that scary once we master the technology and mastering my own personal bias and insecurity was

will assist me as I make a career transition in the middle of my life.

Denise McAllister is an Interdisciplinary Studies major at UB graduating in December 2016. She hopes to

-

dening, hiking, and other outdoor activities.

College Cubbies

Where to write, study and eat at the same time.

By Teresa Morgan

In the midst of your hectic life as a college student, do you sometimes have to forgo a meal to

campus to do both – have breakfast, lunch, or dinner while writing or going over your notes without

-

39
---
here is that the area is sometimes used by student organizations, so it's best to inquire at the information

desk in the lobby if an event is scheduled there. If the booths are occupied, there are many smaller tables

with chairs and a few near electrical outlets where you can charge your laptop or phone.

-

ter. It's smaller than the student center areas, but more secluded and much quieter. An additional perk is

-

tor and keep walking.

* Perfect Place #3 is outside the back door of the theatre room (308) in the Liberal Arts and Policies

needs silence to study.

able sofas with large tables to hold everything while you eat and write.

-

* Perfect Place #5 suits the student who needs to be completely alone to study. It's near room 218 in the

one table with four chairs. All yours if you get there at the right time.

301, 302 and 304.

ness. It's large, airy, well-lit and has sofas, booths, tables, chairs, plus snack and drink machines.

-

* Perfect Place #11 for students who appreciate luxury and choices, the Angelos Law School Building

lots of tables and chairs and if you want to enjoy great weather, use the outdoor patio. A computer desk is

a short walk down the hall.

-

beyond the Café.

* Perfect Place #13, also found in the ALSB, is a cubby with one table and chair to the right of the elevator

are long counters with stools overlooking the lobby.

* Perfect Place #15 and I do mean perfect, is a picturesque patio with waterfalls and a multitude of tables

40
---
the ALSB. A short trot down a staircase and you're in student nirvana for studying, writing, and eating.

Who could ask for more?

Good Writing ≠ Good Writer

By Steven Scott

You should write more… I hope you read that in your 70-year-old grandma voice then screamed,

"It's 2016, learn how to text!" And now I hope you feel bad because she probably has some form of arthritis,

and it's just not that easy for her. Anyway, you should write more… but have you ever heard of nerd

they want $150, and I probably wouldn't do it anyway.

being a writer, that cute 'puppy getting distracted by a squirrel' routine isn't going to cut it.

Sure, everyone has their stories about how they waited until the last minute to do something, but

more absurd and the word count grows exponentially.

We've pretty much made stalling an art. At this point, writers have made a larger contribution to

We showcase our lack of focus and time management like it's a Pulitzer. I blame high school.

1. Nobody really teaches you the organizational skills needed to handle the increased responsibil-

-

work that needs to be done now. Your friend needs to talk now. You're trying to handle the present, who

they hell has time to worry about a paper due in two-weeks.

2. It's kind of cool to be the kid who can get an A on a four-page essay you did the night before.

Your classmates may give you shit about it, but there's a level of respect there. You're the kid who can

write.

Fast-forward to college, and again, nobody really bothered to reinforce that foundation of good

habits you need at this higher level. It's cool though, you're the kid who can write. You're majoring in

English. You're gonna be good.

And, in fact, you are good. It may take you a little longer, but you're still able to get by with elev-

41
---
I'm just now building my platform. I had my reasons why it took me so long; my kids, my military career,

and even my education took precedence. I needed a stable income for my family, I needed to dedicate

myself to bettering my soldiers, and I needed to improve my understanding of literature and form to be

successful. All bullshit of course.

My kids are older, my rank is higher, and my classes are harder, but nothing about my situation

has really changed except my perception. And I have my time at the University of Baltimore to thank for

that. Out of everything I've learned here from understanding proper form to expanding creative thought,

the most important take away I have is this:

If you love writing the way you say you do, treat it with some respect. If you plan on making it

your profession, take that shit seriously now. Don't wait until you third year of college to start creating the

structure you'll need to produce consistently.

when you say you want to be a writer, it's probably because you haven't been taking care of business. So…

Stop daydreaming and letting yourself get hypnotized by the blinking cursor on a blank page.

Stop checking your Instagram, your Facebook, and the delivery status of your last Amazon order. Stop

making excuses about why you don't have time. Learn how to focus and produce before you end up the

most well-written assistant manager at Wal-Mart, Target if you're lucky.

Have a Plan

A lot of aspiring artists seem to think planning is creative kryptonite. We want freedom and spontaneity,

but the truth is, you have to plan for that. Whether you're working on character or career development,

you have to have some idea of what you're trying to accomplish.

What's your story about? If can't answer that question in a sentence or two, you haven't put the

proper thought into your story. Your story outline, however, should be way more than that elevator pitch.

doll of outline ideas, and there are plenty of other resources out there as well including mobile apps.

http://self-publishingschool.com/11-ways-outline-book/

Your characters have direction, but how about you? Where do you see your self in 2 years? How

about 5 years? What do you want from your career? How do you reach your audience and build your

online platform? Will to try to self-publish? Do you need an agent? Etcetera, etcetera, etcetera.

I got overwhelmed just typing all that. It's a lot to think about, but a career plan can really help

you put all of these things in perspective. Below are some links I found helpful, but again, these are just a

drop in the bucket.

http://writersinthestormblog.com/2016/02/design-your-writing-career-from-the-top-down/

https://hollylisle.com/designing-your-writing-career/

https://janefriedman.com/business-plans-for-writers/

http://www.macgregorliterary.com/blog/ask-agent-create-career-plan-writer/

42
---
thing down, and put it someplace where you have to look at it everyday.

-

Manage your Time

it comes to managing your time, the most important things to remember are prioritization and assessment.

Take one day and write how you spend each half hour block of time. You can say that writing is

have to plan your schedule around what's most important to you and set deadlines to help keep you on

schedule for you.

https://medium.com/the-year-of-the-looking-glass/the-sanctity-of-your-calendar-f96415b-

6f3ea#.uusbpujc2

http://calnewport.com/blog/2007/10/15/monday-master-class-how-to-schedule-your-writinglike-a-professional-writer/

Focus

https://pacemaker.press/plans/create/new

By my estimate, lack of focus is the number one dream killer in the world. A 5-year plan or daily

writing schedule is only as useful as the person's ability to follow-through. It turns out all the mumbo

jumbo about focusing on your breath is true. It's like exercise for your brain. Mindfulness practice helps

bolster the impulse control we need to actually write. See the links below for articles on mindfulness and

some guided meditations.

http://marc.ucla.edu/body.cfm?id=22

http://www.mindful.org/meditation/mindfulness-getting-started/

your career or dedicate time to produce, it's ok, I hear Wal-Mart is always hiring.

dent and smart-ass.

-

College Tips from an Ex-Slacker:

By: William Stiles

43
---
Dear Incoming Freshman,

Congratulations on graduating high school and getting accepted by the University of Baltimore,

and if you where like I was when I graduated, congratulations on just barely passing high school and

making it out. I never really cared about academics in high school and my grades where very low but just

high enough to get by. When I got to college I thought I could easily turn my bad habits around and sucto

require you to get rid of many bad habits that you learned in your early academic career. Here are a few

Tip #1: SHOW UP

having to miss because of prior arrangements; this applies to people that just "don't feel like it" or think

they have better things to do. Unless you are extremely sick or there is an emergency with your immediate

family, you should be in class. Skipping classes is an easy way to not learn the material and start to fall

behind causing you to play a game of catch up that you simply can't win. Another reason to not skip class

is because attendance is part of your grade. For most classes, if you skip two or four classes, you have automatically

failed which is a huge waste of money. By not being in class, not only are you screwing yourself

over, but you're also screwing over other students at your university who would have really wanted to

else can get in. So is it fair that you took that spot and committed to that class just so you cannot show up

and fail it,

No. If you don't feel like actually going to classes you should have never signed up for college in

people to not show up, you should still go to class anyway and make up the assignment later. Your teacher

might let you turn it in later and you don't want to lose more points just from not showing up.

Tip #2: Keep Track of Your Work

next class in the time remaining. By the middle of the school year, my agenda book would be destroyed

from being crushed by my binders, lost, or just completely ignored. Also I would always leave my book

give you those annoying little books anymore (but I think they sell them in the bookstore somewhere)

because they expect you to take responsibility for remembering what you have to do. With no one forcing

me to write down my assignments like they did in High School, I decided that I would be able to memorize

all of my assignments.

readings, which lead to me failing most of my classes. When I got back to school next semester I tried usall

the time, the apps that had my assignments on them where usually buried by all the social media and

entertainment apps I had and I would never check them. I needed something that was as easy to carry

44
---
and stick to it.

Tip #3: Learn to Say No

One of the biggest challenges you will have during this time is trying to balance your social life

key to a successful future but you also want to keep your friends and you cant work all the time and managing

this can be very hard. One of the biggest things I had to learn is how to say no to people. You have

to realize that although it's not totally bad to do certain things from time to time, you can't do everything.

reevaluate whom you're hanging out with.

Tip #5: Maybe You Don't Have to Say No (Balancing your Schedule)

If saying no to your friends is to scary of a thought for you, you have an event you can't miss such

as a job or family occasion, or you just really want to go to something but have a lot of due dates the next

ahead in order to get the work done in advanced. For example, I planned on going out and having fun

with my friends on Halloween (Monday) but I had a lot of work that was due the next day. Knowing this

I decided to make the Sunday before Halloween a "work-only day" where I would stay in my bedroom

all day and just get work done with breaks in-between each assignment so I wouldn't lose my mind. By

doing this I was able to enjoy my Halloween without having the fear of having to rush all my assignments

in the morning the next day. I recommend using this strategy more than saying no to everyone because

it allows you to keep your social life while also being able to get your work done for school. Saying no

should only be used if you forgot to plan ahead and have work that has to get done in a short amount of

time.

So that is just a few of the tips that I've learned that have helped me be successful during my

academic career. I promise if you follow these steps you will learn to love academics like I did and also be

successful throughout your college career. Good luck!

Love,

William

Skateboarding, Music, and Graphic Design, which he hopes to obtain a career in.

Interview Jitters: 4 Strategies To Make Interviewing Easy

By Jalesa Vincent

-

ternships, mentorships or work-study. However, these opportunities are not that easy to attain and aren't

45
---
esearcher or social media consultant. Yet, the transition between graduate to working professional is the

run.

Following are four key strategies to improve your interview skills.

1. Dress for the job you want and beyond.

-

days working world has conformed to a casual dress attire, do not fall victim to the same mentality. Many

individuals who are seen dressing casually already work for the company and have been with a company

for a number of years. Whether you wear a suit or something less formal depends on the company

about the company's dress code. If those options aren't available, you can also seek help from a professional

clothing sales person with whom you trust.

1.

-

-

sions that can be a great start to your interview. When speaking precisely, always use appropriate language.

Using professional language during an interview is important as it gives the impression that you

know how to conduct yourself in a professional setting. Be sure to steer clear, as well as aware of inappropriate

slang words and avoid foul references to age, race, religion, politics or sexual innuendos. At the end

of the interview, employers are always sure to ask "do you have any questions for us?" Be sure to listen

throughout the interview, and take notes of things you would like to ask and further elaborate on.

Employers love this because it shows that you have been listening and are committed to the job.

1. Organize your portfolio professionally.

When arranging your portfolio, be sure to showcase your range of skills. However, do have your

featured portfolio work arranged in a manner most appealing to the company, with your most releprograms

and always provide both print and digital versions of your portfolio. Having the extra digital

version is for the interviewer as a take away, something to remember you best.

1. Have knowledge of the company

Having common knowledge of the company interviewing you is good to know especially when

-

to know a company's culture and work environment. Following a company's social media accounts can

46
---
conversation and can come across as impressive, showing that you have done your research with a true

interest in the company.

Lastly, its always good to know a company's history; past, present and future. While most companies

focus on their growth, knowing their history and how you can contribute, as a growth factor is

employers, making the transition from graduate to working professional an easier experience. Keep in

mind that your versatility and knowledge will enable you to be exposed to additional opportunities. Also,

don't forget to follow up; whether it be by email or phone call. According to Adler & Elmhorst, a follow

up interview proves your interest with the company and the position.

From my own experience, I have had a number of successful interviews by following these four

basic, yet planned strategies. Many times, within the research portion of getting to know a company, I

culture needs.

Jalesa Vincent is a Digital Communications major. Her interests include graphic and web development

design. She hopes to pursue a career in Marketing and Communications and one day own a Web Design

company based in Bermuda.

By: Christina Watson

WHAT'S THE BIG DEAL ABOUT TAKING NOTES?

How many times have you heard this line "college isn't like high school" probably enough times to

roll your eyes every single time you hear it, including now. Well, it's true! College is not like high school

and it's probably for the better because some of us don't want to relive those dreadful four years or maybe

you do because you coasted through without a sweat! Here's the thing, in high school (depending on

where you went) you could sometimes get away without studying, showing up for class or even taking

notes. It doesn't quite work like that in college, every minute counts for something and if you do it right,

you can have a little bit more free time to do things that you really want to do. For me, that's hanging out

with family and friends, taking mini-trips and having a good old fashioned lazy day.

the basics of college life. It was in this course that I learned about more about the importance of managing

my time and that included how much time I spent studying, sleeping, working and other various

activities. If you don't want to be the person who's up until 3 A.M. doing that last minute cram study

-

portantly, your social time. I've found that the better my notes are, the less time I spend trying to re-learn

the information. If you're the kind of person whose style of notetaking is to just copy down what's on the

47
---
well, you're going to have to do a little better than that. From my experience, most professors don't write

anything on the board so I had to learn to take better notes, fast.

Retaining information is just as important as writing it down and in order to do that, you have

are saying but your classmates as well. I take notes the old fashioned way, by using pen and paper. Many

college students now are used to having some sort of technology based device that they will use instead.

Typing notes is faster, but a study done by Princeton University's Pam Mueller showed that writing notes

that "students who were taking longhand notes were forced to be more selective and that extra process

-

DIFFERENT METHODS FOR NOTES

on a graph, how quickly new information can be forgotten based on a 1-hour lecture. We lose about 40%

1.

-

-

od can be used in most lecture classes, keeps the information organized and is easy to review.

Of all the methods listed, this one is my go-to because it just works for me. I'm able to quickly jot

down related key information without having to go into lengthy detail. It forces me to think about how I

want to write the information so that I can recall it the best. I've used the outline method in almost every

class I've taken at UB because it's that versatile.

1.

48
---
-

I did not use this method in school because it seemed like too much and as much as I think I'm

organized, I'm not this organized!

1. Mind Map

ideas and subtopics. Grace Fleming, a homework and study tip expert explains that for visual learners

this is that you can be as creative and colorful as you like.

Even though I take notes by hand, there are technological tools that can help students with

CUT YOUR STUDY TIME IN HALF

Studying. Something you'll never stop doing when you're in college. It's just a way of life. You can,

however, make studying not as long, not as hard and not so last minute. Now that you've chosen a method

of notetaking that works best for you, you've done at least half the work it takes to study. Your study

will come in handy because you don't want to spend too much time studying that you neglect to get a

good night's sleep. Keep track of your notes and go over the information that is relevant to your test or

exam.

PREPARING FOR FINAL PROJECTS

Much like studying, this is where time management really kicks in. Final projects are usually due

bite you in, you know where! It's important to stay aware of due dates, especially if you have a syllabus—

49
---
yes, these are still a thing in college.

I wanted to focus this chapter on note-taking because of how important it is in school but also in

your work life. We always make little reminders to ourselves about things that are important to us. I use

my phone to remind of appointments, I jot down tidbits of information in my notes app on my iPhone

and sometimes write a sticky note to myself. I hope that you found something useful in one of these

surprise yourself at how much more you can get done in the most productive way possible!

My name is Christina Watson and my chosen major at the University of Baltimore is Digital Communication

with a special focus in Public Relations. I want to pursue a career in Public Relations working with

small businesses.

ESSENTIALS FOR WORKING REMOTELY

By Geneka Young

Books for Inspiration

rapid growth of all three can be simultaneously exciting and overwhelming. Our attachment to theses

and tweets. So I like to start my day reading motivational inserts to prepare me for the day.

Mark McGuiness is a creative coach who has authored several self-help books for the creative entrepreneur.

Some of his work included Resilience: Facing Down Rejection and Criticism on the Road to

Success, Maximize Your Potential and Manage Your Day-to-Day. My favorite books from this author are

Productivity for Creative People and Motivation for Creative People. In this book, McGuiness gives tips

and strategies on how to manage your commitments and get the important work accomplished. He also

motivates you to get sh*t done! McGuiness has conducted plenty of research that proves his solutions

• Organization leads to Creativity

•

•

50
---
• How to get your smartphone addiction under control

•

• Check it out here: http://www.amazon.com/

2. Computers & Other Devices

carrying an ultraportable laptop or tablet that's light weight, has great battery life and packed with features

that will suit your needs will make working remotely easy.

MacBook Pro is extra light for portability and has an excellent battery life. It's equipped with a 2.0GHz

-

Book Pro also has a voice commanded personal assistant name Siri. Siri can set reminders, conduct basic

searches via the web and within your devices. If you own an IPhone or iPad, you'll be able to access your

work via iCloud on all your devices. Apple can be pricey, but your investment is proven to last twice as

longer than its competitors. Plus, if you're a student, you're eligible for a discount and your purchase

comes with free Beats by Dre Solo headphones.

-

-

es at once. For example, Jackery products have external chargers under $50 that can charge your iPhone,

gets up to 8 hours of use from 15 minutes of charging. I had a co-worker, who was extremely talented at

developing activations for our biggest campaigns. His only problem, was that he would miss important

conference calls, submit his reports late and expect me to catch him up. His favorite excuse was that his

phone or laptop died. He's no longer on our team. Why? Because no matter how talented you are if your

team can rely on you, you're no good to them. Besides, "My phone or laptop died" is the worse excuse

you can give a supervisor. Don't be that guy! Go to Amazon.com and buy a charger here: http://www.

amazon.com/

3. Apps for Working Remotely

browser, mobile and most tablet devices. Its features are customizable project boards, automated work-

-

-

tion with other popular collaborative tools such as MindMeister, Slack, Dropbox and Google Drive.

-

tively on projects and meet our deadlines. I also can work with clients and track how much time I spend

51
---
version.

Another app that's a necessity for marketing professionals is Hootsuite. Hootsuite is a social

and is accessible for remote team management. You can manage all your social media platforms in one

content out into the world for you.

4. Keep a Journal. Yes, a Journal

-

I know there are hundreds of apps available for brainstorming and taking notes. But there's something

about putting ink to paper that's a better process for creatively. Studies show that writing on paper

sharp, and it will make you a better writer. With that said, get yourself a notebook to outline those ideas

then use your apps to make them come to life.

In this chapter, we've discussed all the essentials needed to work remotely—Devices, apps, books

our essentials aren't cheap. We have expensive devices and million dollar ideas that need protection from

-

-

sions and intellectual property. Since 1997, Incase has led the way with modern and minimalist products

-

that are centered on mobility and protection. Incase's award winning ICON pack features multiple comout

of durable 840D nylon construction and the padded faux-fur lined laptop compartment can carry

books, laptop, tablet, journal and portable charger on my back without feeling like I'm carrying bricks!

Check out more from Incase here: http://www.goincase.com/

Geneka Young is a Corporate Communication major at the University of Baltimore and currently works as a

marketing strategist for a major recording label. She lives in Maryland with her cat Simba.

Challenging the Status Quo in Academia

By David Pope

tradition of America there's also an historic saying – Broke College Student. Unless your great granddad

52
---
life through education.

Beyond the novelty of academic pursuits, the reality of the college experience is that it is an inguess

who's the capital? You are! So, in order to seek the best possible Return On Investment (ROI), the

order to become adept in the nuances and vastness of adobe suite, it takes quite an extensive amount of

practice and applying the range of techniques at the user's disposal.

-

easily than other areas of study. It would be quite the task to monetize Criminal Justice or Psychology

aspects of the program, he or she can essentially operate as a one-person media creation and company

-

quirement places an emphasis of developing understanding of page layout/design, illustration and preman,

one band concept. Many individuals who seek to venture into entrepreneurial endeavors may have

the ability to create a business plan and marketing idea of how to bring the company into fruition. Re-

-

ment.

A student that has met the graphics design criteria in the digital communications major will have

-

-

compassing all components of ones needs. From logo design, to website design to producing promotional

produce an end product that can meet the needs of small business clientele. Archaic methods of promotion

with catchy tag lines, jingles, and newspaper adds have all but been forced to join the dodo bird in

extinction. Social media is the new frontier of brand recognition. In order to manipulate social media a

can market itself to would not have the means to do such. However, with skills in adobe suite and other

are all areas that should be explored as potential clients.

-

53
---
Before the student can market his or herself to the outside world, the aforementioned skills

-

dividual that can be commissioned to do work for someone else, the presentation should be viewed in a

professional light. All of such requirements are all available through courses available at the school. Along

with the previously mentioned design classes, there are theory courses are intertwined within the program

requirements itself.

decision-making tools for integrating product, price, distribution, and communication decisions and

anorganized approached to marketing a product or service. Communications 391: Public Relations

Strategies is described as: Students will learn the strategies and tactics (traditional and digital) that public

include situation and audience analysis, as well as media mix and dealing with clients. Special attentions

will be given to maximizing visibility via social media. CMAT 391 is another class that provides knowhow

that can place to student ahead of the average individual.

"hustler" part comes into play in regards to how a student manipulates the resources in his or her advantage.

To be rather frank, the shroud of mystique placed upon the academic and the larger world of acaother

business institution seeking consumers. Athletic programs fuel most big name colleges and highly

fall upon deaf ears.

Academic institutions have existed almost exclusively on taking advantage of the student who's

not seeking direct monetary rewards for success matriculation through a program. Isn't it time for the

Dave Pope is a Senior Digital Communications Major, with a focus on Public Relations who seeks to one day

create his own Marketing and Branding Consultancy Firm

54