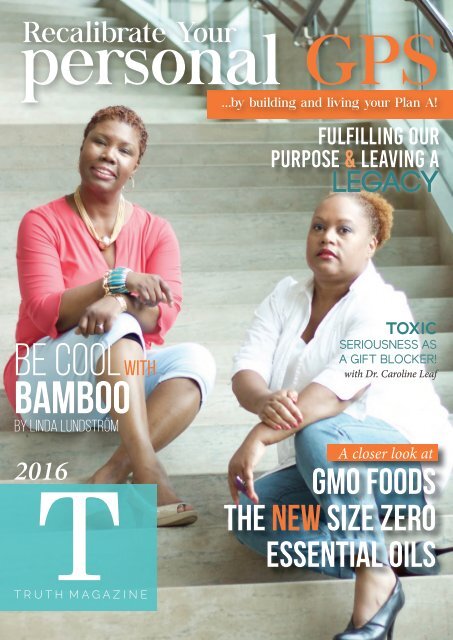 Create successful ePaper yourself
Turn your PDF publications into a flip-book with our unique Google optimized e-Paper software.
FULFILLING OUR

PURPOSE & LEAVING A

LEGACY

BE COOL With

BAMBOO

by Linda lundstrÖm

TOXIC

SERIOUSNESS AS

A GIFT BLOCKER!

with Dr. Caroline Leaf

2016

T

T R U T H M A G A Z I N E

A closer look at

GMO foods

the NEW size Zero

Essential Oils
---
C

K

Our distinguished Newborn Specialists provide excellent

night care service for your baby.

We carefully match our newborn specialist to your

family's need to foster a secure environment of trust and

compassion, essential to building a nurturing relationship.

J

K

For service contact us at:

T: 416-916-0042

F: 416-916-0215

E-mail: info@zealousbabycare.com

www.zealousbabycare.com

N
---
TRUTHMAGAZINE

Executives

Editor in Chief

Nadine Miller

Publisher and Editor

Cheryl-ann Philip

Production Manager & Layout Artist

Jessica Chandrathasan

Designer

Krisika Suthan

Copy Editor

A Guiding Light

Those seeking a purposeful life will find a guiding light in The Naked

Truth Gospel, an organization that promotes a healthy way of thinking

and living. Through a faith-based perspective, The Naked Truth Gospel

provides attendees of its conferences and events with a new way of

recalibrating their personal GPS, or Guiding Principles for Success.

Its flagship program, Truth Conference, is a wellness, personal

development and enrichment weekend getaway in scenic Niagara Falls.

The Conference explores a wide range of topics through interactive

sessions with expert coaches and provides a fun and safe environment

in which to network and share ideas with others along with invaluable

takeaway tools to continue the journey of life following the path of

truth, change and love.

Keisha Johnson

Advertising

Nadine Miller & Cheryl-ann Philip

Contributions

Alicia Chandrathasan

Nadia Ackah

Naomi Adowaa

Laura Gambino

Nicole Waldron

Under development is the Real Truth

Talk Show – a new Canadian talk series

which brings fresh, lively, energetic

and healthy conversation with a

variety of guests from different

backgrounds and experiences on

lifestyle topics.

If you would like to be a part of the

audience and join in the debate, send your

request today along with your testimony

and contact information to info@realtruthshow.com.

Please include in subject line Talk Show Testimony. The

Real Truth Talk Show is hosted by Nicole Waldron.

3
---
TRUTHMAGAZINE

IMAGINE - DESIGN -CREATE - ACHIEVE

www.gnmgenesis.com

416-628-0991 (Office) | 647-785-6540 (Mobile)

Contents

Introducing The Naked Truth Gospel 3

A Twist of Fate Led to My Plan A 5

Paintings By Camille Laurany 6

Are You Stressed? 7

Toxic Seriousness As a Gift Blocker 8-9

A4 the New Size Zero? 11

Recalibrate your Personal GPS 12

The Effects of Technology on Children 13

Life Coaches 14-15

Be Cool with Bamboo 16

To GMO or not to GMO? 17

Losing Sexy 18-19

Finding My Own Happiness 20

Fullfilling our Purpose and Leaving a Legacy 21

Niagaras Getaway Spots 22

Credits 23

4
---
TRUTHMAGAZINE

A TWIST OF FATE...

Led TO MY PLan A

When Angela Gordon's dad suffered a stroke and

had to be placed in a fulltime care facility, she had no idea the

twist of fate it would be for her. Taking time off to travel to

Jamaica to care for him left the corporate executive with a new

appreciation and compassion for the aged. It also inspired in her

a vision to impact and elevate the standards of care and lifestyle

for seniors in Jamaica. "When we went to visit my dad and saw the

conditions of the nursing

home it broke my heart,"

Angela recalls. She had

observed that during

his stay, there were 12

residents to a room. And

although he was loved

and taken care of by

the staff, she said "the

conditions were far less

than he was accustomed

to in his daily living ...he

gave up on life, he gave

up the will to live."

Reflecting on her

dad's passing and the

overburdened health

care system in Jamaica, Angela Gordon

Angela envisioned a more

dignified way to care for

the aged in her island

home. In fact, working

at the time with Ontario's largest telemedicine provider, she

was exposed to innovative solutions of how communication

technologies [remote monitoring] can transform and improve

healthcare, manage cost and make it more accessible to patients

in their home and this gave her hope for Jamaica. Angela said that

on her return to Canada, God impressed on her to do something

different to help transform [this facet of] health care in Jamaica.

She shared the vision with her then CEO who encouraged her to

create the Caribbean's first virtual nursing home.

Angela says the next step of the vision is the hub for

the virtual home care which will roll out the remote

monitoring system [service] that allows patients to

manager their health and communicate with their health

professionals from the comfort of their homes in between

appointments. "This will ease some of the burden on the

health system as it will reduce emergency and hospital

visits and by extension reduce significant cost to the

Jamaica government and enhance healthier living for

patients while supplying their health care providers with

ongoing patient data between visits," she explained.

Rooms are being added to their flagship in Montego Bay for

operations to begin next year (2017). They intend to also

operate a training centre for nurses by partnering with the

local nursing schools and colleges to provide coop training

and offer accreditation for remote care for chronic disease

management. The government of Jamaica has seen the

value of this innovation and is committed to working closely

with Angela to enable the delivery of remote monitoring

service, starting with Western Jamaica.

"Transforming home health care in Jamaica, is bigger than

me and anything I would come up with myself," Angela

admits. "That was not my passion. I had no desire to do

that, but God gave me a vision and as I walk in obedience

he unfolds more details of the plan." Reflecting on her

corporate journey from marketing and later reengineering

business operations, she says "what I thought was my plan

A life, I realized very recently, is actually my plan B life

and every milestone in my plan B is preparing me to fully

achieve the A plan God has for me to contribute to the

greater good. It's an amazing journey, and I too am being

transformed along the way.

Keisha Johnson

Today that vision has unfolded into a much grander three phase

project that includes: the creation of a high standard nursing

home in phase 1; establishing a virtual home care hub for remote

monitoring in 2017; and developing a retirement and wellness

resort with medical centre, which is earmarked for completion

in three years.

Partnering with her brother a builder/contractor, they

completed phase one by transforming their homestead in

Montego Bay, St. James into a model assisted living care facility.

The 15 room facility offers only private and semi-private

(maximum 2 persons per room) accommodations in an intimate

and elegant setting that allows the residents to enjoy a quality

lifestyle with planned programs, 24 hour nurses and ready

access to medical specialists. Since the home opened in 2015

with her mom among the first fifteen residents, it has caught

the attention of the Jamaican Ministry of Health as a model for

home care facilities.

"It's a beautiful facility," she explains "with lots of space, ample

grounds, common areas to share and talk. We have church

services for the residents, they go on frequent excursions

and enjoy formal dining. It's like being in their own home in a

different location and they are loved by nurses."

5
---
TRUTHMAGAZINE

Paintings By Camille Lauren | For more visit artofciel.com

66
---
TRUTHMAGAZINE

Are You

STRESSED ?

Stress! There's so much stress around us, at work, at

school, with friends and even in the comfort of our own homes.

We live and breathe in a world that pumps stress into even the

most simplest of activities, making downtime essential. Yes, we

must all meet the demands of work, family, friends, and society,

but most importantly you need to meet your personal demands

to be healthy and happy. Taking care of your body, your mind,

and your own pleasures is all important to maintaining a stress

free life. One of the best ways to go about this is to change your

diet! Eating foods like asparagus, avocados, blueberries, and

cashews will help reduce the production of bad stress-inducing

hormones. Exercise like yoga, kick-boxing and dance are great

ways to reduce stress, stay healthy, and reflect on yourself in a

physical and spiritual way. There's so much that can be done to

help reduce those worry lines, but the first step to recovery is to

kick back and smell the roses.

WHAT STRESS DO YOU HAVE?

ACUTE EPISODIC CHRONIC

This type of stress is short

and often times unexpected.

The slight panic you get when

your friend yells 'boo' and

the adrenaline from a roller

coaster are both a result of

acute stress. Fortunately this

stress is not the kind that is

bad for you - infact it can help

you when you're scared and

is more linked with the more

primitive parts of human

nature. However, just like all

stressors this also comes with

its own side effects. Some

include, emotional distress like

a feeling of anger mixed with

anxiety, muscular problems

(aching back and sore

neck), and more biological

symptoms like sweaty palms

or an elevated heart rate.

Whatever the case, just make

sure to stay calm and relaxed.

Episodic stress defines the

people who feel acute stressors

on the daily and are always

worried about something. No

matter what the case may be

you feel frantic, impatient, or

have a serious case of anxiety!

Some symptoms may include

having headaches, migraines,

hypertension and chest pain.

It is definitely more scary but

like all things, can be fixed

with time, patience and some

much needed self-love. Just

like with acute stress you must

step back and take a breathe

of fresh air. Take things slowly

and plan things ahead. Try not

to over complicate your life

and to cut out the things or

people that make you worry.

Chronic stress is what

destroys lives, friendships, minds,

and bodies. It's the stress that

keeps you up at night, making you

question everything from your

life to the alphabet. This is the

type of stress that comes when

you feel like you just can't escape.

Same job, same rude co-worker,

same traffic on the way home,

same meal, same tv shows and

repeat. The scary part is that

one can get used to this, and live

with it for years. It's something

that becomes so natural that you

don't even realize it anymore.

Which is why, chronic stress

must be acknowledged not by

a doctor, but by you as soon as

possible. With propre self-love,

a nutritious diet, and the help of

loved ones, you can get back on

your feet and start the day anew.

by: Kriska Suthan

reference: The Stress Solution by Lyle H. Miller, PhD, and Alma Dell Smith, PhD.

7
---
TRUTHMAGAZINE

8

Dr. Leaf 's

Recipe for a

Happy Healthy

Tummy

Avocado-Cilantro Hummus

-1 medium ripe avocado,

peeled and pitted

- 1 cup chickpeas (garbanzo

beans), drained and rinsed

-¼ cup fresh cilantro

(coriander), chopped

-2 Tbs freshly squeezed

lemon juice

-1 tsp freshly squeezed lime

juice pinch lemon zest

-½ tsp cumin -salt and fresh

ground pepper to taste

-1 clove fresh garlic, minced

-1 chili pepper, finely

chopped and seeded

(optional)

-3 Tbs tahini

- dash chili pepper

Blend all ingredients

together in a food

processor or strong

blender until creamy. Add a

little water if needed

D R. C A R O

Toxic Seriousness As A Gift Blocker -

Have Some Fun!

Sometimes we get so caught up

in the cycle of toxic thoughts and

emotions and words and choices that

we forget who we are – our true

selves – and we seem to operate

like automatons doing what we are

supposed to do and barely surviving.

God came to give us life and life

more abundantly, but when we

are toxic and not walking in our

PERFECTLY YOU

way of thinking,

this pours out

into our outlook

and can be

reflected in our

schedules, the

way we manage

time and the

choices we make

about our health.

Our bodies are amazingly resistant

and can be pushed to extremes.

But at some point your body

and your brain will say "enough."

We can become too serious, but

having fun is more infectious than

a virus. In fact, it is viral. Try to not

laugh when those around you are

in paroxysms of hysterical laughter.

Try having a bad day when you

have just had a good belly laugh.

In fact, having fun will detox your giftblockers,

improve your health and

make you clever to boot because your

gift (your unique way of thinking) is

neurologically developed when you

have fun. Having fun is one of the

most powerful antidotes to stress

you will ever find. And it's free. It's a

tremendous resource God has built

"having fun is

more infectious

than a virus. In

fact, it is viral"

into your brain to bring perspective

into your life, help surmount

problems, add sizzle to your

relationships and make you feel good.

I love having fun with my children.

They do the craziest things and

say the funniest things that make

me laugh. I love going for walks with

them and the dogs and hearing their

stories. I love sitting in a jacuzzi or

sana with them and making up silly

songs and voices and – well, anything

that makes us

laugh. Our eldest

daughter loves

finding funny

quotes that make

us laugh. And

Mac loves telling

jokes (see some

links to clean

jokes below). Our

second daughter

has a way of making comments

that has us rolling, so we all wait

in anticipation. Our son is always

playing with words in a really funny

way. If we allowed our schedules

to take over, we never would

have these important moments.

The point is, we cannot afford to be

too serious because it will contribute

to the breakdown of our gifts.

Many studies show why laughter

deserves to be known as "the

best medicine" (Proverbs 17:22). It

releases an instant flood of feel-good

chemicals that boost the immune

system. Almost instantly, it reduces

levels of stress hormones. A really

good belly laugh can make cortisol

drop by 39%, adrenalin by 70% and

the "feel-good hormone," endor

8
---
TRUTHMAGAZINE

L I N E leaf

phin, increase by 29%. It can even

make growth hormones skyrocket

by 87%! Other research shows

how laughter boosts your immune

system by increasing levels of

immunity and diseasefighting cells.

Just look at some of the myriad of benefits

of having fun; humor gets both sides of

your brain working together, which is one

of the keys to releasing potential. Some

studies even suggest that laughter helps

to increase the flexibility of thought

and is as effective as aerobic exercise

in boosting health in body and mind.

In fact, according to research, laughing

100 to 200 times a day is equal to 10

minutes of rowing or jogging! This

sounds more fun than the gym! Laughter

quite literally dissolves distressing toxic

emotions because you can't feel mad or

sad when you laugh. When you laugh and

have fun, endorphins are released which

make you feel so great and at peace,

those toxic thoughts can't get out of

your brain fast enough. Fun protects

your heart because when you laugh

and enjoy yourself, your body releases

chemicals that improve the function of

blood vessels and increase blood flow,

protecting against heart attack. Fun

reduces damaging stress chemicals

quickly, which, if they hang around in

your body for too long, will make you

mentally and physically sick. Fun and

laughter also increase your energy levels.

Having fun through play and laughter is

the cheapest, easiest and most effective

way to control toxic thoughts and

emotions and their toxic stress reactions.

It rejuvenates the mind, body and spirit

and gets positive emotions flowing.

Reference:

DR.Caroline Leaf's Blog, Drleaf.com

9
---
"

o

h

o

T

o

a

v

i

TRUTHMAGAZINE

BARA'S

CARIBBEAN CUISINE

127 Dundas Street East (1 block East of Hwy. 10)

Mississauga, Ontario L5A 1W7 905.232.0223

L

y

m

t

a

10
---
TRUTHMAGAZINE

A4 the new size zero?

STAY HEALTHY LIKE AN OLYMPIAN!

BREAKFAST SMOOTHIE

Ingredients

1 cup fresh or frozen organic

blueberries

1 avocado ripe, pitted and

1 banana, sliced

2 cups of water ½ cup of ice (if needed)

"Paper thin" or "A4 waist" is the latest style to sweep social media and prey

on women's hang-ups about their body image. Originating in Asia, the trend

hashtag #A4waist involves women holding a sheet of paper vertically in front

of their stomach to demonstrate that they are "paper thin".

This trend has crossed international waters and has landed on the shores

of North America and our kids are embracing it in full measure.To qualify

a woman must not have a waist that is wider than the piece of paper held

vertically; holding it horizontally does not count. Imagine, defining your body

image by a "letter" size piece of paper!

Let's stop this nonsensical thinking and mad behavior and start affirming our

young women, letting them know that they are "fearfully and wonderfully"

made and that when God created them He said it was "good". Let's speak life

to our girls, embrace them and tell them that that they are a gift from God;

and that the Father loves them just the way they are.

Cheryl-ann Philip

10

time national champion

& World medalist

Directions

Ready In 5mins

- Blend blueberries, avocado, banana and

water/ice in a blender until smooth.

- For a GOLD medal performance (for toning

and weigh-loss) Add 1 cup fresh baby spinach

or kale

GREEN MACHINE SMOOTHIE

(EVENING DRINK)

Ingredients

2 tbsp extra virgin coconut oil

½ cup chopped fresh mint

2 chopped medium rib celery

1 cup frozen mango 1 cup kale, ribs and

stems removed

2 cups water

Directions

Ready In 5mins

- Blend coconut oil, mint, celery,

mango, kale and water in a blender

until smooth.

- For a GOLD medal performance Add

1 cup fresh baby spinach

- Add 2 cups coconut water instead of

water (not from a can & no added

sugar ie. buddha coconut water)

Recipes from Ohenewa Akuffo

Canadian Olympic freestyle wrestler

11
---
TRUTHMAGAZINE

Recalibrate

Your

Personal GPS

Guiding Principles for Success

What does it mean to "recalibrate your personal GPS" - Guiding Principles for

Success? It is an evaluating and re-evaluating the things in life we currently

hold dear, and asking questions such as "How important is this to my personal

fulfillment? Does it reflect values that are important to me? "How would my

family remember me? "What am I doing to make a positive impact in my corner

of the world?" Oftentimes upon self-reflection we realize that those things we

were aggressively running after really did not mean much when compared to:

being home for family gatherings; taking time out to say a kind word; helping

someone; being a role model for your kids, and being a part of something

greater than ourselves, Miles Munroe, author of Understanding Your Potential

writes: "People generally fall into one of three groups: the few who make things

happen, the many who watch things happen, and the overwhelming majority

who have no notion of what happens. Every person is either a creator of fact

or a creature of circumstance. He either puts color into his environment, or,

like a chameleon, takes color from his environment."

The quest for actualizing self-potential can lead individuals to their "Plan A"

life, establishing a true sense of purpose and connection to God, characterized

by a sense of emotional, physical and spiritual wellbeing. Individuals living their

"Plan A" life understand that they have valuable and God-given abilities with

which they can create and leave a legacy on Earth. They receive and reflect the

love of God and understand God's plan for them. Miles Munroe sums it up best

like this: "You must decide if you are going to rob the world or bless it with the

rich, valuable, potent, untapped resources locked away within you."

Laura Gambino

C

M

Y

CM

MY

CY

MY

K

12

think@justthink1st com 647 287 4741 justthink1st com

justthinkfirstTO
---
TRUTHMAGAZINE

The effects of Technology on Children

Children in the current generation have been surrounded by

technology since they have been born, and depend on it for the

tiniest of things. If every generation to come preferred to glue

their eyes to a screen than spending quality time with a loved one,

what will be the effects on both society and on themselves? People

used to interact face to face or write letters that helped convey

our emotions, but nowadays kids use texting, emailing and emojis

to express feelings. We say technology helps us connect with our

community but in reality, it makes us miss lots of opportunities.

Technology creates the illusion that we are connected with others,

but in reality we are stuck in a technological bubble that keeps

us isolated from human contact and interaction. This has a huge

impact on everyone, and especially children, as it affects their

social skills. The more time adolescents spend on the web and social media, the less time they have for face to face

communications. This makes it harder for them to be able to read body language, have proper voice tones and

their abilities to have eye contact when talking with someone. Isolation, created by technology also causes a shorter

attention span in children as it distracts them from concentrating on other things.

The mannerisms of one attracted to technology can be compared to those who are addicted to alcohol or drugs.

When introduced to technology, a person can become so obsessed with it that they cannot seem to focus on anything

else. Hence, just the mere idea of doing anything else becomes boring, and they can't stay on track the way a normal

person would. As a result of these temptations, students become isolated while they lose themselves in their own

addictions. Not only does this damage their social skills, but it eventually damages their abilities to make friends in the

future, be it a workplace or even in marriage.

Alicia Chandrathasan

Song of Encouragment

Boy, keep your head up.

As the dreary sorrow clouds hang over your head,

Fill your mind with whimsical hopes of tomorrow.

Boy, keep your mind clear.

As the world attempts to disturb and corrupt free

range minds

I pray that you will sing songs of free verse, breathe

words of truthfulness and walk in the steps of

wisdom.

My boy, keep your stride strong.

Walk into this downward world with confidence that

you will never change it,

but you can attempt to save it.

To my boy; though the world is cold, a thief that

wonders to take hold of all hope, the pedestal of

darkness, a place of mourning and fear,

Take heed of the grace in front of you, that this is

not the end.

There is always tomorrow.

Upwards skies maybe clear, with blue perfectly

paired with the orange of the immaculate sun and

hope clouds that are pearly white.

That can brighten your day and strengthen your will

power.

My son, be mindful of these things as you spend your

time on this earth.

Hope and perseverance is in the every day.

Nadia Ackah

13
---
TRUTHMAGAZINE

LIFE

COACHES

YOUR PERSONAL

TOUR GUIDES FOR

SUCCESS

You may have heard it said that success leaves

clues and that when the student is ready

the teacher appears. My teacher in this life

lesson appeared in two separate interviews

I saw with Usain Bolt and Michael Jordan.z

Speaking candidly with veteran Jamaica

journalist Ian Bowen, the world's fastest

man, Usain Bolt, told Bowen that he always

does exactly as his coach tells him. Ian

Bowen listened intently to Bolt's recount

of examples of applying unquestioning

obedience then remarked almost in shock,

"so you really are like a child in your coach's

hand?" Bolt's response was golden, his facial

expression evinced, 'is there any other way?'

A few days later I received a video from

Tai Lopez that referenced basketball great

Michael Jordan in an object lesson on humility.

Jordan was described as the cockiest NBA

player ever, yet he was also described as

the humblest when it came to learning from

his coaches. He had a reputation to do

exactly as they advised without question.

As you already know, both these men

are legendary in their craft for their

accomplishments. Bolt created Olympic history

at Rio 2016 by being the first sprinter of all

times to win gold in the 100m, 200m and 4x100m

relay thrice! Jordan is the most decorated

NBA player. He led the Chicago Bulls to six

NBA championships and earned the league's

Most Valuable Player (MVP) award five times.

Without doubt, both sportsmen possess

incredible talent and trained very hard.

But what's remarkable to me is that with all

their talent, athletic prowess and success

they listened unquestioningly to their

coaches. They mastered the art of being

14

10
---
TRUTHMAGAZINE

So I began to reflect on what is it about

these star performers that makes them

comply unquestioningly to the advice

of their coaches? Could it be that they

have a clearer view of the end game and

desire it bad enough to do whatever it

takes to get it? Maybe. Maybe it is such

certainty of purpose that helps them

to remain teachable, coachable and

trainable. What is obvious is that success

leaves clues and I am ready to learn.

So alternately, I reflected on what

sabotages us from being teachable,

coachable and trainable. What is it that

we fear why we do not implement the

advice of a proven expert who has our

best interest at heart and who has

nothing to gain from our failure? Is it

ignorance? Arrogance? Lack of trust?

Then it hit me like a ton of bricks, that I have

displayed a huge deficit in this area. For even

though I love to learn and often seek advice

and appreciate the value of a mastermind, I've

had a predisposition, almost unconsciously, to

follow my own way. Have you ever done that?

Not that anything is wrong with going with your

gut. That natural instinct clearly has its place.

But when you want to achieve a goal that you've

never pursued or have pursued and failed, the

advice of proven experts is often the game

changer to accelerate you towards success.

That's the reason for coaches. They know how

to help you to get to your goal with efficiency.

But the work to get there is squarely your

responsibility. And it starts with an awareness

that you need their help, followed by your

decision to heed and implement their advice.

For me it was all three. For you it may

be something else. But that moment

of awareness was very humbling yet

equally liberating. It made me eager

to course correct. A process I started

with apologies, followed by seeking

out requisite coaches and mentors

and submitting fully to their counsel.

I am learning that being teachable,

coachable and trainable is imperative

to success. If it worked so well for

Michael Jordon and Usain Bolt and

the countless other successful people

who have applied this principle, then

certainly it can work for me and for you.

This article was

first published

in the Toronto

Caribbean

Newspaper in

August 2016.

It is reprinted

here with full

permission of

the author and

the publisher.

- Keisha Johnson

15
---
TRUTHMAGAZINE

The Power of Essential Oils

Essential oils have been used throughout the world for centuries as

one of natures most powerful support tools available to help the body

both physically, and emotionally. Essential oils are naturally occurring, it's

volatile aromatic compounds are found in the seeds, bark, stems, roots,

and flowers that embody the regenerating protective, and immunestrengthening

properties of plants. Each and every essential oil contains

compounds that have unique healing and therapeutic benefits.They are

extracted through the process of steam distillation or cold pressing, and

just one drop can be 50-70 times more powerful than herbs.

Many essential oils have antibacterial, anti-viral, antiseptic, and antiinflammatory

properties. It is important that quality pure grade essential

oils be used to produce the desired results.They can be used aromatically,

topically and internally, if therapeutic grade. In addition to the health and

emotional benefits, essential oils are also an affordable and convenient

option that are often used as natures medicine cabinet.

Diana Leshuk

Be Cool With Bamboo!

Did you know that there

Linda Lundström

are wonderful fabrics

made from bamboo? Yes,

bamboo! As a fashion

designer,I Love creating

with Bamboo/Lycra jersey.

It has a beautiful drape

and dyes up into rich

intense colours. Combined

with Lycra or Spandex it is

perfect for making styles

with stretch that fit the

contours of a womanly

body. In addition to being

soft and supple, fabrics

made from bamboo fibres also have other beneficial properties. Bamboo actually

has a cooling effect. Studies have shown that bamboo can be a few degrees below

the ambient temperature. That's why bamboo mats are used in hot climates to sleep

on. When made into fabric bamboo gives it what is referred to in the fashion world

as a 'cool hand'. There is also an anti-microbial aspect to bamboo, making it less

hospitable to bacteria which can cause odour and decay. In the world of textiles,

bamboo falls in the rayon category. These are cellulose fibres that come from

various kinds of wood. With the growing demand from designers for environmentally

responsible fabrics, the popularity of apparel with bamboo rayon has grown rapidly.

Bamboo is plentiful in many parts of the world. It does not require pesticides or

herbicides and is a quickly growing, renewable resource. Together with its washability

and comfortable coolness, bamboo is being used for flooring, cutting boards,

home accessories, bedding, as well as all types of apparel. To make sure that you

are buying authentic bamboo clothing, check the content label to see if it is properly

labelled as 'bamboo' or 'bamboo rayon'. Then close your eyes and feel the 'cool

hand'.

16

www.Lindalundstrom.ca
---
TRUTHMAGAZINE

TO GMO OR NOT TO GMO ?

Have you ever wondered where food comes from?

Oftentimes we conjure up images of a farmer planting seed.

However, did you know that many seeds are genetically altered

before they are planted? These seeds are called genetically

modified organisms (GMOs) and they grow into genetically

modified (GM) foods.

GMOs are plant-based seeds whose genes (DNA) are altered

to act in a way that does not happen naturally and may contain

genes from another plant-based organism.

GMO crops have been developed to have certain benefits such

as: resist damage due to weather such as frost or drought;

produce more crop helping to keep food prices lower; ripen

slower and last longer during shipping; bruise less easily;

need less pesticides; have less disease caused by insects and

viruses; have more of a certain nutrient like vitamin A in GM

rice to fight malnutrition in developing countries.

Since 1994 about 85 GM foods have been approved for sale

in Canada. This includes GM foods grown in Canada (canola,

soybean, corn, sugar beet) and GM foods imported from

other countries. While the U.S. plan to label all genetically

modified food products, Health Canada does not require

labelling because before selling or advertising a genetically

modified food in Canada, manufacturers and importers

must submit data to Health Canada for a safety assessment

and nutritional adequacy.

Buying 100% organic-labelled products is usually the

easiest way to identify and avoid GM ingredients as

both the U.S. and Canadian governments do not allow

companies to label products "100% / Certified Organic"

if they contain genetically modified foods.

The long term consequences on our health and environment

have not been adequately investigated and some potential

concerns are: Can GM foods cause allergies? Can GM foods

cause resistance to antibiotics? Can GM crops contaminate

regular crops? If you are concerned about GM foods, call

food companies to see if they use GM ingredients, look for

"GMO free" foods, try buying organic foods or plant your

own garden with GMO-free seeds.

Cheryl-ann Philip

Top GMOs are: cottonseed, soy, corn, zucchini, sugar

beets, papaya, dairy, aspartame, canola, yellow

squash, rice, tomatoes, potatoes, peas, bananas,

apples, strawberries, pineapple.

March 2015 issue of the Consumer Reports magazine

Reference:

Eatrightontario.ca

17
---
TRUTHMAGAZINE

LosingSexy

ERYN-FAYE FRANS, LL.B.CANADA'S PASSION COACH®

WIFE, MOM, AUTHOR, SPEAKER & PATIENT

Within hours of being released from the hospital, Eric

took me to my hair salon. He knew that my curly hair,

which had been jammed into a hairband since I began

projectile vomiting everywhere, was beyond matted. He

figured out (long before I did) that since I couldn't get my

incision wet or lean over, washing my hair at home wasn't

going to be logistically possible. So he called Joseph to

make an appointment the minute we knew I was going to

be released.

I could barely walk. I had eaten a handful of meals in 15

days, my "good" days had included one or two S L O

W laps around the ward with my IV stand in tow, and I

was still battling tremendous pain from my surgery and

the subsequent infection of my incision. Needless to say,

I was not in Tough Mudder shape. When Eric escorted

me into the salon, I saw horror on Joseph's face. I initially

brushed off hisreaction because I had seen that look on

the faces of several friends when I had been in hospital

and had grown somewhat immune. "It can't be THAT bad.

I just lost a few pounds," I thought. But then I saw myself

in the full-length mirror.

"THE PERSON IN THE REFLECTION WAS A HAGGARD,

DANGEROUSLY SKINNY CANCER PATIENT DEVOID OF

HER USUAL SPARKLE. IN ONLY 15 DAYS, I HAD LOST

SEXY."

I continued to chat with Joseph while he meticulously combed out

every tangle and gently dried my hair. But in the back of my mind,

it was beginning to dawn on me that what I lost in the hospital

was far more than physical. As I mulled over this revelation in

the following days, I realized that I had relinquished my sexy one

piece at a time. It was completely understandable – when you are

in an emergency situation, you do whatever it takes to survive.

Don't eat because we don't know when we will rush you

into surgery. Ok.

Poop into a bag attached to your abdomen for the next

ten months. Ok.

Don't watch as we pry open and clean this oozing

wound. Ok.

Walk around with this "vac" attached to you 24 hours a

day to suction out the infection. Ok.

Oh, and you have colon cancer and will be in treatment

for months. Ok.

"Little by little, sexy was disappearing."

And believe it or not, those were actually the easy ways I

handed over sexy. The tough ones entailed my husband. Eric

rarely left my side. When I encouraged him to get out of the

hospital, he would respond, "You don't get to go, so why

should I?" I did succeed in kicking him out from time to time,

but it was always a struggle. His default position was to stay

with me. This devotion meant that he got roped into duties

that no woman wants her husband to have to do. Once I could

get up, he helped me to the toilet and held me steady when

I was dizzy. He flushed the toilet when I forgot. He saw my

naked, saggy ass flapping in the breeze of my hospital gown.

He knows more about my bodily functions now than I do.

He sponge-bathed me every morning. He figured out where

the linen cart was stored on the ward and raided it for fresh

gowns and washcloths. We had a routine – after I woke up

and got some pain meds in my system, I would brush my teeth

and wash my face before he cleaned the rest of me. Parts

of my body that had once been enticing were no longer so

– they were just parts that stank and needed to be bathed.

18

Hold this bucket so you don't throw up all over yourself. Ok.

Shove this tube up your nose and down your throat so we can

pump out the shit that has backedup into your stomach. Ok.

Roll over so we can stick this enema up your butt. Ok.
---
TRUTHMAGAZINE

He was, and continues to be, unflinching when it

came to my colostomy. If it scared or disturbed

him, he never let me see. But privately I wondered

how anyone would want to make love to a woman

attached to a bag of shit. (And exactly what

position works best forthat?!)

Losing a key self-defining feature is enough to

rock the core of any relationship, but I felt the loss

particularly acutely because my professional world

over the past decade has revolved around unpacking

intimacy for people. I would like to think that I have

modeled sexy so others could choose the courage to

embrace it within themselves. And now it was gone.

Sexy isn't a look. Sexy isn't

perfectly applied makeup,

no matter how much I adore

my red lipstick. Sexy isn't a

36-24-36 body. Sexy isn't a

narcissistic swagger. And sexy

isn't even a jacked-up sense of

self-confidence.

Sexy leads us into the uncomfortable world of the erotic.

It is a gritty acknowledgment of our own sexuality. It is

the understanding that we have all been created with a

disarmingly intimate way to connect with another human

being. It is the confidence to be simultaneously alluring,

vulnerable, sensual and authentic with that person.

Sometimes it'sdemure. Sometimes it's flashy. But when

someone owns their sexy, you know.

For me, regaining sexy is much more difficult than Justin

Timberlake makes it sound. I suppose I could walk around

humming, "I'm Bringing Sexy Back," but first I have to

excavate some deeply held beliefs...and those beliefs all

revolve around worthiness.

- Am I worthy of sexy when I feel so desperately

inadequate?

- Even when the act of sex is impracticable due to

physical limitations, am I worthy enough

to embody sexy in my marriage?

- If I choose to believe I am worthy, even when I don't

feel it just yet, will my sexy come

back?

Answering these questions affirmatively is a daily stuggle

because I am having to over-write latent messages that I had

to be perfect to be worthy of sexy. I've come to realize that,

while I didn't hold others to this standard, I was absolutely

brutal on myself. I also believed my sexy was something that

made me worthy of being loved by Eric. The logical extension

of that fear is, of course, that if I lose sexy, then he won't love

me anymore.

It is slowly dawning on me that this concern is complete and

utter crap. In the midst of these horrific circumstances, he has

been a living embodiment that our marriage is built on far more

than whether I can put out or not. Watching him, I am learning

about the sweetness of commitment. I am learning about the

value of friendship. I am learning about the fierce loyaltyborne

of decades together. I am learning what it's like to be loved

when I feel completely unlovable. I hope that, even as I reclaim

sexy, I will release my façade of worthiness.

COURAGING: Believing you are

worthy of love even when you have

lost sexy.

FOr more visi t: WWW.couraging.ca

Twitter : @Erynefaye

Eryn-Faye Frans

- Can I put cancer patient and sexy in the same

sentence?

19
---
TRUTHMAGAZINE

Finding my own

Happiness.

Growing up, I have been through

harsh circumstances that made

me see life in such a depressing

way. It was hard to be mentally

present in many occasions and

feelings of depression, defeat,

and worthlessness filled my mind.

It was hard to enjoy anything and

ultimately, it was

"FEELINGS OF

DEPRESSION, DEFEAT AND

WORTHLESSNESS FILLED

hard to enjoy my

life. I would miss

opportunities

on purpose

because I didn't

want to be seen

or heard. There were times where

I struggled to see the good in

anything; it was either black or grey

for me, never white. I have had many

days of crying, acting like I was

okay, and having this overwhelming

need to please people. The reality

is, I was dying inside but, I was also

cracking

jokes, helping people and somehow

getting "okay" grades in school.

Sometimes I look back and I just

want to get back the opportunities

I lost, or be more engaged in

people's lives but now, daily I remind

myself to intentionally learn new

ways to live better, and get better.

It is so easy to deny

the reality of change

in your life if you look

inwardly, that is why

it is so encouraged

to connect with

people no matter

how uncomfortable you may feel

and tell/show them your pain and

scars. Over the years, I have learnt

so much and continue to seek help

and exposure on how I can be

free mentally, more in love with

my life, and more interactive

and sociable with the people

around me.

20
---
TRUTHMAGAZINE

FULFILLING OUR PURPOSE AND LEAVING A LEGACY

In our fast-paced, digitally fueled lifestyle, periodic

withdrawals for relaxation, reflection, and life planning

have become necessary for managing one's life. Look no

further Truth Conference is the perfect place to do so.

It offers attendees the opportunity to withdraw briefly

from their treadmill lives and explore practical knowledge

and tools for achieving their Plan A lives. Session

presenters expose attendees to various guiding principles

for successful living.Every year the third weekend in

September at the Americana Conference Resort & Spa

in Niagara Falls, Truth Conference provides a getaway

weekend for attendees to recalibrate their personal GPS

(Guiding Principles for Success), to navigate towards

fulfilling lives of their choice, in other words, their Plan A

lives.

Karen Bennett, an intensive care nurse, has attended

both previous conferences and is looking forward to the

third. Of last year's workshops, she especially enjoyed one

that focussed on changing thought patterns as a way of

changing one's life. "I loved the fact that we can change

our thoughtpatterns," she says.

She even saw how her newly acquired perspective

was applicable to her professional life. "I'm

looking forward to getting away and relaxing and

to learning something I didn't know before, to

The schedule is packed on Saturday, but is more

relaxed on Friday and Sunday. 2016 keynote speaker,

naturopath Shantell Jovin, ND, will speak about the

fallout of negative stress. Other speakers include

personal branding guru Henry Wong and former

Canadian Olympian Ohenewa Akuffo.

Sessions will cover not only personal branding and

physical fitness, but also financial freedom, benefits

of essential oils, marriage readiness for singles, and

marriage intimacy for couples.

Each topic will be discussed in an hour-long session that

includes a Q & A period. Attendees are encouraged to

use their private times on Friday and Sunday to engage

in introspection and careful reflection. To complement

a full day of work in back-to-back sessions on Saturday,

the night has been reserved for play. Entertainment

will include a tropical-theme reception and banquet, a

photo exhibit, live R & B music, raffle prizes, and more.

Conference organizers Cheryl-ann Philip and Nadine

Miller were motivated to organize the conference by

their observation that many people are dissatisfied

with their current, Plan B, lives—the results of poor

choices made earlier.

"

We pass this

way but once

"

Some people believe they cannot change their lives; some

lack information or resources for improving their lives;

some are confused by too many choices. "We felt that we

could make a difference by being conduits," says Philip, "by

bringing the resources to the folks so that they can make

informed life choices." Miller points out that for some

people their lives are falling apart; others are running on

empty. By organizing the conference for people from all

walks of life, Miller says, "This is our way of helping and

giving back."

Truth Conference aims to equip men and women to

make real changes in their lives by recalibrating their

personal GPS—their Guiding Principles for Success—to

start moving towards their "Plan A" life, now.

Cheryl-ann Philip & Nadine Miller

21
---
TRUTHMAGAZINE

N I A G A R A F A L L S A T T R A C T I O N S

T H E F U R Y

M A R I N E L A N D

Fun things to do at scenic Niagara Falls,

one the seven wonders of Canada and the

home of Truth Conference a beautiful

destination getaway for couples, family

fun and singles retreat.

For more information visit Niagara Falls

Tourism www.Niagarafallstourism.com

T H E S K Y W H E E L

A E R O C A R

B I R D K I N G D O M

22
---
TRUTHMAGAZINE

jessica chandrathasan

Volunteers

Krisika suthan

I'm studying at UWaterloo. I enjoy

designing, photography and being

creative. My motto is "Risk? or

Regret? You choose."

Contact: Jessica.chandran@gmail.com

I am a 2nd year student studying

at UWaterloo. I love designing,

experimenting and creating while

snacking on just about anything.

Contact: krisika.suthan@gmail.com

CREDITS

Vectors Designs from Freepik

Quotes from Adventureinyou.com, Lifehack.com

All font types from Dafont.com

Reference - Myles Munroe, Understanding Your Potential

Images from Pixabay.com

Niagara Falls Attractions , NiagaraFallstourism.com

23