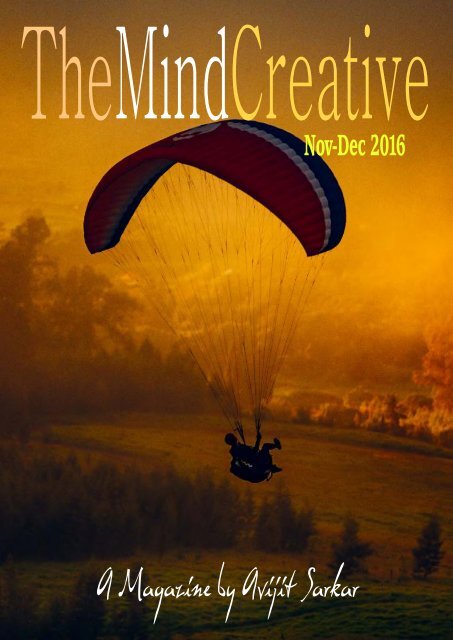 The Mind Creative NOV-Dec 2016
A magazine by Avijit Sarkar
A magazine by Avijit Sarkar
SHOW MORE
SHOW LESS
You also want an ePaper? Increase the reach of your titles
YUMPU automatically turns print PDFs into web optimized ePapers that Google loves.
TheMindCreative

Nov-Dec 2016

1
---
E

Autodidacts have been

a source of inspiration and

awe for many. Their

ability to learn and apply

themselves to complex

subjects to a point of

perfection is indeed

admirable.

One such person was Wilson Alwyn

Bentley - a farmer from Vermont. He

gave gems of knowledge to the world of

photography and science and yet

remained in relative anonymity

throughout his life. I have enclosed an

essay about this amazing man and his

extraordinary achievements in the

Photographer's Corner.

It gives me great pleasure to enclose

the works of internationally known

painter Artur Bordalo (aka Bordalo II)

in the Artist's Corner. His works go

beyond art; they create expressions to

underline the fact that it is possible to

create impeccable works of art and visual

beauty with the help of discarded and

reusable material. Creativity, in every

form, has a wide appeal across age, sex

and social structures and I think that

each 'creative' should try and use their

art forms to heighten social awareness

about things that might make the world

a better place in the future.

The role of the music conductor in an

orchestra has always mystified viewers.

When the conductor waves the baton and

controls the dynamics and the nuances

N

ditors's ote

of a musical score, one cannot but

shake one's head in wonder. What

most of us are unaware of are the

technical and aesthetic norms that

form the foundation for the music

conductor. The article in the

Musician's Corner might be quite

enlightening for curious music lovers.

Lopa Banerjee and Santosh Bakaya

- both wonderful writers - have been

contributing to this e-zine for a long

time. It gives me great pleasure to

publish a review of their recent works

in the Reviewer's Corner.

Cartooning is arguably the best

'weapon' for those fighting against

recognised establishments including

governments and the church. If you

are one with a similar bent of mind or

even remotely curious about such

works that often have destabilised

establishments, then head over to the

Cartoonist's Corner.

The cover story is about an art that

has somehow been often overlooked

but one that requires a closer look of

appreciation. I have dedicated the

cover story to this veritable art -

Ventriloquism.

And, by the way, this issue is a

combined bumper issue for November

and December!

Happy reading!!

2
---
In This Issue

7 The Art and the Craft of

Ventriloquism

23 The Cartoonist's

Corner

Old-Time Anti-Church

Cartoons

46 The Fiction Writer's

Corner

The Fragrance of

Frangipani

By Rhiti Chatterjee Bose

67 The Musician's

Corner

Conducting Music

82 The Poet's Corner

Poems by Santosh

Bakaya

95 The Humorist's

Corner

With Robert Benchley

110 The Reviewer's

Corner

14 The Artist's Corner

Paintings by Bordalo II

32 The Essayist's Corner

The Wretched Lives of

Domestic Servants

by Razi Azmi

Bat and the Baton

By Kersi Meher-Homji

57 The Playwright's Corner

Enigma

By Floyd Dell

75 The Photographer's

Corner

The Snowflake Man of

Vermont

87 The Scientist's

Corner

Factual Legends

102 The Traveller's

Corner

Reviews by

Reena Prasad and

Rhiti Chatterjee Bose

3
---
Contributors

Kersi Meher-Homji is a journalist, author and

biographer. He writes regularly for Inside Cricket, the

Sydney Morning Herald and other publications. He is

the author of many books and his most notable

biography is The Waugh Twins, about cricketing

legends Steve and Mark Waugh.

Reena Prasad is a poet from India, currently

living in Sharjah (United Arab Emirates). Her poems

have been published in several anthologies and

journals. She is also the Destiny Poets UK's, Poet of

the year for 2014 and one of the editors of The

Significant Anthology released in July 2015. More

recently, her poem was adjudged second in the World

Union Of Poet's poetry competition, 2016.

Rhiti Chatterjee Bose is based in Bhubaneswar

and is a mother to two adorable trouble makers. She

is a writer and editor, with several online and print

publications. She is also the founder of Incredible

Women of India, an e-zine, documenting real life

inspirational stories of Indian women. When not

writing, she morphs into an obsessive cake and

cookies baker, a self-proclaimed Madhubani artist

and a compulsive reader.

Email: rhitibose@gmail.com

Artur Bordalo is the grandson of famous lisbon

painter, REAL BORDALO, aka BORDALO II has been

decorating the streets of Lisbon with his own

colourful artwork for years. He is most notoriously

known for his blending of trash and other objects into

his paintings by turning burnt aluminium cans, old

tires, scrap wood and neglected appliances into

colourful animals. This is his way of recycling and

critiquing the world on its need for nice things that

are based on junk.

4
---
SANTOSH BAKAYA says that she has 'almost

an insane passion for writing on any topic under the

sun, having penned eight books - three of them

mystery novels for young adults, a couple of quiz

books, and my Ph. D thesis on Robert Nozick.' She

has also published a collection of essays - Flights

from my Terrace about the extraordinary

ordinariness of everyday existence. Her poetic

biography of Mahatma Gandhi, Ballad of Bapu, was

published by a couple of months back, and is being

critically acclaimed. Her poems have figured many

times in the highly commended category of the U.

K based poetry website, Destiny Poets. She has

won the International Reuel award for writing and

literature 2014 for my long poem Oh Hark!

Recently, she also won the Incredible Woman of

India 2014-15 award.

Floyd James Dell (June 28, 1887 – July 23,

1969) was an American newspaper and magazine

editor, literary critic, novelist, playwright,

and poet. Dell has been called "one of the most

flamboyant, versatile and influential American Men

of Letters of the first third of the 20th Century." A

lifelong poet, he was also a best-selling author, as

well as a playwright whose hit Broadway comedy,

Little Accident (1928), was made into a Hollywood

movie.

Razi Azmi is a former academic with a Ph.D in

history and a passion for travelling. He has been

a regular columnist in the Daily Times (published

from Lahore) and has his own BLOG at

www.raziazmi.com where he publishes his

travelogues and articles about contemporary

political and social issues. He can be reached at

raziazmi@hotmail.com

5
---
Robert Charles Benchley (1889 – 1945) was

an American humorist best known for his work as

a newspaper columnist and film actor. From his

beginnings at the Harvard Lampoon while

attending Harvard University, through his many

years writing essays and articles for Vanity

Fair and The New Yorker and his acclaimed short

films, Benchley's style of humour brought him

respect and success during his life, from New York

City and his peers at the Algonquin Round Table to

contemporaries in the burgeoning film industry.

6
---
7
---
Ventriloquism (according to the Merriam-Webster dictionary)

is "the production of the voice in such a way that the sound

seems to come from a source other than the vocal organs of

the speaker". This art is more often a 'stagecraft' wherein the

ventriloquist uses a puppet so that the ventriloquist's voice

seems to come from the puppet.

History

The word's origin can be traced back to the Latin phrase "to

speak from the stomach". Strangely enough, ventriloquism was a

religious practice wherein the

noises produced by the

stomach were thought to be

the voices of the dead, who

took up residence in the

stomach of the ventriloquist.

The ventriloquist would then

interpret the sounds, as they

were thought to be able to

speak to the dead, as well as

foretell the future! The

Greeks referred to this artform

as Gastromancy and

one of the most successful

early gastromancers was

Eurykles, a prophet at

Athens.

In the 'Middle Ages',

ventriloquism was akin to

witchcraft. As spiritualism

developed into stage

magic and escapology,

ventriloquism became more of a performance art (starting around

the 18th century) and then slowly dropped its mystical trappings.

8
---
Ventriloquism as an 'art' form

The earliest example of a ventriloquist dates back to 1753 in

England, where Sir John Parnell is depicted in an engraving

of William Hogarth as speaking via his hand. In 1757, the

Austrian Baron de Mengen is known to have implemented a small

doll into his performance. During the late 18th century,

ventriloquists were very well established as entertainers in

England. However during those early years, ventriloquists used

this art to project voices so that they seem to come from far away

(unlike modern ventriloquists). A well-known ventriloquist during

this period - Joseph Askins - who performed at the Sadler's Wells

Theatre in London in the 1790's, used this art as a dialogue

between himself and his invisible friend "Little Tommy". During

these years, other performers started using dolls or puppets into

their performance.

The Sadler's Wells Theater

This art form established itself firmly in the world of

entertainment during the era of the 'music hall' in the UK and the

'vaudeville' in the US. Fred Russell (often acknowledged as the

father of modern ventriloquism) accepted a permanent act at the

Palace Theatre in London, where he used he used a dummy called

"Coster Joe" in his act – a cheeky boy who would sit on his lap

and then engage in an entertaining 'conversation' with the

ventriloquist. This form has since been the most common one

used by ventriloquists down the decades.

9
---
Ventriloquism in India

In India, the art of ventriloquism was made popular by Y. K.

Padhye and M. M. Roy, who are believed to be the pioneers of this

field in India. Padhye's son Ramdas Padhye followed in his father's

footsteps and made the art popular amongst the masses through

his performance on television. Ramdas Padhye's son Satyajit

Padhye is now a 3 rd generation ventriloquist in India. Also, in

recent times, Indusree a gifted female ventriloquist from

Bangalore has performed with with 3 dummies simultaneously.

10
---
The popularity of ventriloquism

Satyajit Padhye

Ventriloquism's popularity waned

for a while, probably because of

modern media's electronic ability to

convey the illusion of voice. In the U.K.

in the 2000s there were only 15 fulltime

professional ventriloquists, down

from around 400 in the 50s and

60s. However, in recent times, a

number of modern ventriloquists have

developed a following, following a

growth in the live comedy shows. In

2001, Angelique Monét performed

on Theatre Row her one-woman off-

Broadway show Multiple Me (written by

Edgar Chisholm) where she portrayed

several personalities using multiple

dummies to display the shifts. In

2007, Zillah & Totte won the first

season

Zillah and Totte

11
---
Technical details

One of the difficulties that ventriloquists have to tackle, is to

produce all the sounds that they make with lips slightly separated

and in fact, nearly closed. This gets harder for certain

'labial' sounds like f, v, b, p, and m and sometimes the only choice

is to replace them with others. A widely parodied example of this

difficulty is the use of the phrase "gottle o' gear" used by less

skilled ventriloquists instead of "bottle of beer". Some

ventriloquists also take advantage of the fact that the sounds

th, d, t, and n when spoken quickly allow them to use words that

can be difficult for listeners to differentiate.

The ventriloquist's dummy

and neoprene.

Modern ventriloquists utilise a

variety of different types of

puppets in their presentations,

ranging from soft cloth or foam

puppets, flexible latex puppets

and the traditional and familiar

hard-headed knee figure. The

classic dummies used by

ventriloquists vary in size

anywhere from twelve inches tall

to human-size and larger, with

the height usually falling between

thirty-four and forty-two inches.

Traditionally, this type of puppet

has been made from papiermâché

or wood. In modern times,

other materials are often

employed, including fibreglassreinforced

resins, latex,

12
---
IMAGES:

http://ventriloquistcentralblog.com/

http://www.axtell.com/

https://www.flickr.com/photos/bob07024/1380349185

http://animatedventriloquistdummies.yolasite.com/

http://www.puppetsandprops.com/

http://www.theatrestrust.org.uk/

http://www.suruchigupta.in/

13
---
Mathew Brady

14
---
Artur Bordalo aka Bordalo II, was born in

Lisbon and grew up watching his grandfather Real

Bordalo painting in the city of Lisbon. In fact, he has

derived his name Bordalo II after his grandfather

whom he considers to be Bordalo I! A true 'creative'

often finds form and inspiration in things that others

might discard and even overlook in life. The works of

Bordalo II are shining examples and he has been

creating extraordinary works of art from 'trash' and

garbage. The vivacity in his art is proof of an

amazingly imaginative mind. His works also

underline the fact that in this consumer's world, we

often forget the value of things and often even forget

that beautiful can be created from things that we

have learnt to 'throw away'.

On his web-page http://www.bordaloii.com/, the

artist has this to say about himself:

I belong to a generation that is extremely

consumerist, materialist and greedy. With the

production of things at its highest, the production of

"waste" and unused objects is also at its highest.

"Waste" is quoted because of its abstract definition:

"one man's trash is another man's treasure". I

create, recreate, assemble and develop ideas with

end-of-life material and try to relate it to

sustainability, ecological and social awareness.

The works in this section is a testament to Bordalo

II's imagination, dexterity and creative skills.

15
---
These works are from "Big Trash Animals".

In the artist's own words - "this is a series of

artworks that aims to draw attention to a current

problem that is likely to be forgotten, become

trivial or a necessary evil. The problem involves

waste production, materials that are not reused,

pollution and its effect on the planet. The idea is

to depict nature itself, in this case animals, out

of materials that are responsible for its

destruction. These works are built with end-oflife

materials: the majority found in wastelands,

abandoned factories or randomly and some are

obtained from companies that are going through

a recycling process.

Damaged bumpers, burnt garbage cans, tires

and appliances are just some of the objects that

can be identified when you go into detail. They

are camouflaging the result of our habits with

little ecological and social awareness.

16
---
17
---
18

By Andrey Atuchin
---
19
---
20
---
21
---
22
---
23
---
Over the centuries, artists and,

specifically, cartoonists have been

fighting and creating anti-establishment

cartoons and caricartures against the

catholic church.The church, in recent

times, has been severely criticised for

its beliefs, cover-ups and undue power.

However, according to the cartoons in

the ensuing pages, there has been a

grudge against the church since

centuries. These 'old-time' American

cartoons depict varying degrees of

detestment and suspicions towards the

catholic church.

Sources:

Public Domain, Wikimedia Commons

Harper's Weekly, 1875 / Public Domain, Wikipedia

Pillar of Fire Church, 1928 / Public Domain, Wikipedia

via dzehnle.blogspot.com

via catholicleague.org

1925 / Public Domain, Wikimedia Commons

Pillar of Fire Church, 1925 / Public Domain, Wikimedia Commons

Klansmen: Guardians of Liberty, 1926 / Public Domain, Wikimedia Commons

via patheos.com/blogs/mcnamarasblog

Punch, 1850 / via corjesusacratissimum.org

via lancemannion.typepad.com

24
---
25
---
26
---
27
---
28
---
29
---
30
---
31
---
32
---
The Wretched Lives

Of Domestic Servants

By Razi Azmi

IMAGES

https://www.linkedin.com/pulse

https://commons.wikimedia.org/wiki/

http://www.mazdoorbigul.net/

33
---
In one episode of the incessant Israeli-Arab conflict, about a

decade ago newspapers published pictures of Israeli children

cheerfully writing messages on bombs and artillery shells ready

to be fired on villages in south Lebanon. Political parties and

movements often put children at the forefront of rallies and

demonstrations to push their own demands, to which the

children can barely relate, if at all.

States brainwash children to be "loyal" citizens, whatever

that means. We definitely know what it means in North Korea,

where malnourished children sing in praise of the "dear leader".

Mao Zedong organized teenagers into his dreaded "Red Guards"

who ripped the fabric of Chinese society.

But these are the mental forms of the exploitation of

children. There is also the crude physical and sexual abuse of

poor children, rampant in the Third World.

In the mid-1990s the sexual abuse of domestic servants in

the Gulf countries made headlines when Sarah Balabagan, a

15-year Philippine girl, was jailed in the UAE for stabbing to

death her Arab master who had raped her. The international,

cultural and judicial aspects of the affair generated huge

publicity, but the ill treatment of domestic servants from poorer

countries in relatively rich countries and within their own

countries is widespread and quite well-known.

In the late 1990s, there was the case of Shokina, a runaway

Bangladeshi maid in Kuwait, one of the few that get reported.

When interviewed by a journalist in the Bangladeshi embassy in

Kuwait, her face was covered in bruises, her arms had long

claw-like scars down to her wrists and burns from cigarette butts

dotted the back of her hands. She had been kicked in the back,

punched in the head, scratched on the face, pinched, pulled and

spat on by her mistress.

In a welcome move, the Indian government has just

announced a ban on children under 14 working as domestic

servants. The new law also bans children from teashops,

restaurants, hotels, motels, resorts, spas or other recreational

centres.

34
---
To what extent will the ban be enforced in practice is highly

questionable. Many parents of the children the law is aimed to

help will be concerned with the consequences of the loss of

employment, however harsh the conditions. For many children it

may mean sliding into full starvation from a state of deprivation,

oppression and semi-starvation.

35

Crippling poverty

forces parents to send

their children, sometimes

as young as five or six, to

work in other people's

homes or in factories,

sweatshops, workshops,

hotels, restaurants,

roadside eateries and

tea-stalls.

Children who should be going to school and enjoying sports

and other recreational activities are instead condemned to a life

of servitude where their labour is exploited for up to 18 hours a

day, seven days a week, for a pittance. In addition, they are the

victims of beatings and insults almost on a daily basis and, not

infrequently, also of sexual abuse.

According to research in the nineties, child labour is most

concentrated in Asia and Africa, which together account for more

than 90 percent of total child employment. Though there are

more child workers in Asia than anywhere else, a higher percentage

of African children participate in the labour force.

Asia is led by India which has 44 million child labourers, giving

it the largest child workforce in the world. In Pakistan, 10 percent

of all workers are between the ages of 10 and 14 years. Nigeria

has 12 million child workers. Child labour is also common in South

America. For example, there are 7 million children working in

Brazil.

Last year, researchers in Indonesia interviewed 44 girls in

seven cities, more than half of whom complained of physical or
---
sexual abuse. They received wages ranging from nothing to $50

a month. Many complained of not getting enough to eat, sleeping

in store rooms, working 14 to 18 hours a day and never having a

day off except during the Muslim festival of Eid ul-Fitr.

Despite the evidence of mistreatment, the report said few of

the 19 government officials interviewed were prepared to admit

there was a problem or a need to have regulation in the area. It

quoted an official from the National Ministry of Manpower as

saying that if maids were given a day off "they would not know

what to do and would not know where to go".

The Indonesian Minister for People's Welfare, Alwi Shihab, said

the practice of wealthier families taking care of children from poor

families had long been the basis for the system of maids in

Indonesia and did not need regulating. "You Westerners don't

understand – it's a cultural issue," he said, adding that maids "can

run away if something is wrong". An official from the Ministry of

Women's Empowerment went further, saying that girls should not

be viewed as domestic workers as "they are regarded by

employers as their own children".

Nevertheless, Jakarta complains about the treatment of

Indonesian domestic servants in neighbouring Malaysia and

Singapore. A couple of

years ago, the then

president, Megawati

Soekarnoputri, met the

mother of Nirmala

Bonat after Malaysian

papers published

pictures of the

Indonesian maid whose

employer repeatedly

burnt her with an iron.

Nirmala's mistress

tortured her for over five months, before she was spotted by

someone wearing bloodstained clothes, rescued from her

tormentor and taken to the authorities.

36
---
authorities.

According to a newspaper report in Bangladesh, a woman

had attacked her female servant with a red-hot iron and nearly

blinded her out of jealousy, as the little girl was attracting the

sexual attention of her husband.

I personally knew of a senior, divorced Bangladeshi diplomat

in Morocco whose maid-servant, whom he had imported from

back home, was a virtual slave, confined to the four walls of his

flat, not allowed to see or talk to anybody. After many years of

faithful service, with not a day off, she was flown back to

Bangladesh on a one-day notice, and paid just about $500 as

wages for years of toil and deprivation after her arrival.

While those like her live lives of virtual slavery, in some

Saharan countries, such as Mali, Niger and Mauritania, real

slavery is still practiced. According to Romana Cacchioli, Africa

program officer for the campaign group Anti-Slavery International,

"the slave women attend to all the domestic duties, making

sure the masters don't even lift a cup. Water is brought for the

masters, food is brought for them. Their clothing is washed and

their children looked after".

Anyone familiar with the duties of domestic servants in

countless homes in India, Bangladesh, Pakistan, Singapore,

Malaysia, Indonesia and the Middle East, would think that Romana

Cacchioli is describing their plight, rather than those of slaves

in north Africa.

The Indian government's initiative in this matter is a welcome

move. It is a shame that governments have done precious

little to enact legislation to prevent the exploitation and abuse of

domestic servants and virtually nothing to enforce the laws and

regulations that exist. The miserable condition of domestic

servants in the Third World is one of the saddest untold stories

of our times, for many are those who are complicit in this crime

and, therefore, have a vested interest in keeping silent about it.

37
---
Bat and the Baton

By Kersi Meher-Homji

38
---
Music and cricket make an odd couple. Add movies dealing

with both and you have an eternal triangle of bliss and harmony.

How many musicians play cricket and how many cricketers

sing professionally?

Australia's former Test fast bowler Brett Lee has mastered

Indian film music and sings duets with Asha Bhonsle in Hindi. Also

he plays the piano. With brothers Shane and Grant he formed a

popular band Six and Out in 1990s. Along with other former

cricketers Richard Chee Quee, Gavin Robertson and Brad McNamara,

Brett and Shane Lee released a song Can't Bowl, Can't

Throw which was about the infamous Scott Muller-incident of

1999. This song made the Top 100 in the ARIA chart.

Did you know that India's mystery

spinner BS Chandrasekhar hummed

songs of legendary Indian singers

K.L. Saigal and Mukesh when bowling

in 1970s and 80s?

Shane Warne the Musical was

staged in front of packed audiences in

Australia in 2008. To my knowledge

there is no Sachin Tendulkar the

Mehfil.

However, this September was released

a movie (biopic) MS Dhoni, the

Untold Story on India's former Test

captain and wicket-keeper. It grossed

Rs 66 crores (£7.79m) in first three

days. The Dhoni movie is on worldwide release so will likely wind

up as one of the highest grossing sports flicks in history. It has

the hit song Har galli mein Dhoni hai.

Another Indian movie on cricket theme, Azhar, was released

recently. The story is inspired by the life of former Indian captain

Mohammad Azharuddin who was incriminated as a match-fixer in

39
---
late 1990s. A box-office flop, Azhar, includes songs Bol do na

zara, Itni si baat hai and Oye, oye.

The famous Indian Test off-spinner Harbhajan Singh has

brought out a musical album as a tribute to his mother titled Meri

Maa. My friend Anindya Dutta, a cricket writer, has sent me this

link: http://youtu.be/KsxyWMgvICU

Also the West Indies all-rounder

Dwayne Bravo launched a Hindi musical

album recently called Chalo

Chalo. Here is the

link https://m.youtube.com/watch?

v=cW-WWs3voIL8

How many of us know that the legendary Australian batsman

Sir Donald Bradman played piano with panache? The snappy Fox

Trot Our Don Bradman was a best selling 78 rpm record in 1930.

Even today it is sung with nostalgia.

During the visit of the West Indies team to Australia in

1930-31 Bradman was present at the Grand Opera House to hear

his song 'Every Day is a Rainbow Day for Me'. It was composed

by Bradman himself to words by Jack Lumsdaine and sung by

Elsie Hosking.

Bradman did not believe in visiting pubs after play. Once after

making a big score in a match in England in 1930, he was found

40
---
missing. Everyone rushed round the hotel, page boys darted here

and there calling his name. Someone suggested that he had been

kidnapped.

Just then the soft sound of piano permeated from the music

room. And there was Don quietly playing on piano a tune he had

heard at a show two nights previously! After all, what's the

difference between cricket and music? Both need scores.

Music was in Bradman's family. As he grew up in Bowral in

New South Wales, he had heard his father George play the violin

and his mother Emily the piano and the accordion by ear. Don's

sister, Lilian, who later became a professional music teacher,

taught him to play the piano and discovered that he had a natural

ear. Don's uncle Dick and cousin Hector were violinists.

Don's granddaughter Greta Bradman, now 37, is a famous

opera singer. She has sung at the finest concert halls in the world.

The internationally acclaimed soprano has also performed at the

home of cricket, Lord's in London.

In 2014 the Adelaide Symphony Orchestra performed a concert

"Our Don" at the Adelaide Town Hall, music by Natalie

Williams, a monologue by actor Gary Sweet with archival footage

of the cricket icon and Greta Bradman humming in the background.

41
---
The former New Zealand cricketer Jeremy Coney could play

guitar, double bass and the piano. He said that music was pivotal

to his family; "Mum sang, Dad played the piano and we kids

danced."

The great Australian cricket all-rounder Keith Miller was a lover

of Western classical music. When I had interviewed him in 1996

for my cricket book Six Appeal, he had replied, "Don't ask me

about cricket. Ask me about horse racing or classical music."

England's Sir Neville Cardus (1889-1975) is still considered as

the greatest cricket writer and music critic. He wrote as eloquently

on Ranji and Bradman as he did on musicians Sir Edward Elgar,

Frederick Delius, Sir Thomas Beecham and Henry Purcell.

How's this for a tongue-in-cheek muso-cricket name coincidence?

Cardus would have loved to commentate on the Birmingham

cricket Test of July 2004. In that match, England's opening

batsman Andrew Strauss played off-Key [Robert] as the West

Indies bowler Dwayne Bravo applauded by taking a couple of

wickets. New Zealand fast-medium bowler Neil Wagner came on

the scene a decade later.

The celebrated tenor Luciano

Pavaroti was both a football and a

cricket fan and actually played cricket

in 1960s. A story circulates that

when bowling in a social match, the

umpire gave a batsman not out.

Pavaroti was so outraged that he

appealed

opera

style "Howzattttttt" so loud and for

so long that the umpire had to

change his decision!

Australian rock band Sherbet's album Howzatt topped the

charts for many years in 1970s and 1980s.

42
---
Zubin Mehta, the famous music director and conductor of

Israel Philharmonic Orchestra, is a cricket fanatic. A proud Indian,

he was "in mourning" when the Indian cricket team lost to Sri

Lanka during his concert tour of Australia in July 2008. When we

meet we discuss only Indian cricket!

Another Zubin is on his way up in music, Sydney-born Dr

Zubin Kanga. In his 30s, he has won many international awards

as a contemporary pianist. Recipient of the prestigious 2012 Art

Music Award, he was the winner of the Best Newcomer Award at

the 2010 ABC Limelight Scholarship.

The Kanga family is renowned for its exploits in cricket. Zubin

Kanga's great grand uncles PD, MD, DD and HD Kanga were

well-known cricketers in India from 1888 to 1903. Zubin's grand

uncle Homi Kanga was the first Indian to score a double century

in first-class cricket.

There are hit songs involving cricket: The Baggy Green by

John Williamson, Shane Warne by Paul Kelly, Here come the

Aussies by the 1972 Australian cricket team, among many others.

And of course that Come on Aussies come on, come on jingle

during the Kerry Packer Cricket World Series days in 1970s and

80s is still chanted with energy during Test matches around

Australia.

Not to forget the Caribbean calypso We don't like cricket;

we love cricket. Tall and fiery West Indian bowler Curtly Ambrose

formed a band along with his captain Richie Richardson called The

Big Bad Dread and the Bald Head. While Ambrose plays the

bass guitar, Richardson takes on the rhythm guitar.

According to H. Natarajan and Nishad Pai Vaidya in Cricket

Country, famous Indian Test cricketer Sanjay Manjrekar released

an album called Rest Day. He also sang in a Bengali movie. "I

used to worship Kishore Kumar", he once said.

Sunil Gavaskar, considered an all-time great opening batsman,

released a Marathi song Ye jeevan mhanje cricket [My life

43
---
means cricket]. Another Test cricketer S. Sreesanth brought out

an album Jaago India. One-day cricket specialist Suresh Raina

sang Tu mili, Sab mila for a Hindi movie Meeruthiya

Gangsters last year.

When English cricketer Ben Hollioake passed away aged 24

after a car accident in 2002, his Surrey teammate Mark Butcher

sang You're Never Gone at his funeral. Cricket writer Anindya

Dutta informs me that this song was written by Butcher himself,

who plays the guitar to back his singing skills. Mark now has

a Mark Butcher Band, with four others. They released an

album Songs of the Sun

Horse.

The 2009 multi Academy

Award winning Indian

movie

Slumdog

Millionaire features cricket as

one of its major themes. The

magic moment comes when

Jamal Malik from the Mumbai

slums wins big money on Who wants to be a millionaire? by

correctly naming the batsman scoring the most number of centuries

in first-class cricket. There are references to cricket legends

Jack Hobbs, Sachin Tendulkar (of course!), Ricky Ponting and the

quirky umpire Billy Bowden, among others in this movie. The

song Jai ho is the highlight of the movie!

Australian music guru 'Molly' Meldrum once famously said, "If

I have my time again, I won't be coming back as a rock'n'roller,

video buff or a TV presenter... I'll be a cricketer and loving it."

Just as music can be classical, popular or rock, cricket is

diversified as Test, first-class, one-dayer and Twenty20 tamasha.

Have your pick. Give me "Test stars" Saigal, Pankaj, Hemant,

Talat, Manna Dey, Suraiya, Lata, Asha, Geeta, Guru Dutt, Mukesh,

Rafi, Kishore … anytime against the current Bollywood moremiss-than-hit

noise.

44
---
My suggestion to Swami Army, the group which follows Indian

cricketers around the world: Give up the stereotype jingles

like India jitega, jitega and start crooning Saaré jahhan sé achha,

Hindustan hamaara during the next cricket World Cup.

Encore, do-baara, Jai ho!

IMAGES:

http://shermanwoodturning.com/

http://www.thomasschoolwear.co.uk/

http://www.abc.net.au/news/2015-07-27/don-bradman-playing-piano/6647740

http://www.india-forums.com/

https://plus.google.com/112120842577715642033

http://www.india.com/showbiz

www.wastatickets.com

http://www.cricketcountry.com/

45
---
46
---
The Fragrance of

Frangipani

IMAGES:

http://howto-garden.com.au/

www.pinterest.com/explore/sad-girl-drawing/

images.indianexpress.com

http://www.stockz.co.uk/

http://www.informationng.com/

http://hanswisbrun.nl/2013/03/26/einsteins-formules-en-een-fles-scotch/

47
---
It was the first thought that came to her as she woke up. He

was gone. And, soon, this bedroom, the house in whose eastern

corner it sat, and the tiny garden outside with its gnarled old red

hibiscus and the half-grown mango tree they had planted together,

all those would be gone as well. It was the strangest feeling

ever.

It has been the same since the last month; every morning

came with this heavy feeling of nothingness that engulfed her

thoughts; a strange kind of absence within, for being present in

the real world.

Her world, which she knew, was about to be taken away. Well

it has been slipping away for a while now anyway.

*****

Rimu was only four when they had moved into this house; this

is where she grew up. This is where she became who she was

today. Defiant tears welled up in her eyes and she pushed them

back. She lay in bed, staring at the ceiling. Was that damp patch

always there? She had not noticed it before. She had not noticed

a lot of things before. How could she be such a fool? She closed

her eyes for a while, maybe all of it was a mistake, maybe it was

a nightmare or a hallucination, and maybe she was imagining it

all.

Her father had always told her she had an over-imaginative

brain, maybe it was one of the stories she had written, which had

slipped out of the pages of the book and taken the shape of a

nightmare… was it? Could stories come alive from the pages and

spread themselves over the writer's life?

Rimu laughed out loudly; twenty-three years' worth of memories

in this place and now she would have to leave it all behind.

Life does throw some really bad jokes down the neck. With her

laughter, a fresh bunch of tears rolled over. She cried and she

laughed, at the same time.

Snippets of her childhood flashed through her eyes

48
---
Rimu is seven; she is on the terrace, it's pouring down. She

is dancing in the rain and out of nowhere her mother comes and

wraps her up in a towel and drags her in, laughing at her

playfulness.

And then a few other incidents….

Rimu is fifteen; she had just lit her first cigarette as her

parents return home unexpectedly from a party, where they

should have stayed much longer. Their faces, horror-stricken, still

made Rimu laugh.

She is nineteen; that was the first time she told her parent's

she wanted to quit medical school and become a writer. The hurt

in their eyes, the disbelief, as if Rimu was taking away a dream

from them, this particular memory still haunted her.

Her parents were both doctors

and this news had devastated their

hopes. Rimu had snatched their

most precious dream right from their

eyes.

Her mother had understood her

better and had accepted the news,

although her heart was shattered.

But her father had looked at her

mother and exclaimed, 'Has she

gone mad?!'

Rimu always knew that he was

dissimilar from her. He wouldn't understand.

He never did.

How Rimu wished that she could tell her father that all writers

were kind of mad and that without insanity they would be

nothing. She wished she could tell him so much more; there were

so many words unspoken, unshared. Ah! The irony of bring a

writer. She could share all her thoughts with her readers but not

49
---
her father.

Not just these, so many more, uncountable, unfathomable,

unforgettable memories. Good ones, funny ones, some sad ones,

memories nonetheless clouded her mind.

Her phone started beeping; she looked at the caller's name

and ignored the call. A call from the editor could wait. She was

not in the mood.

She got up from her bed, and walked towards her window.

The tiny garden was in her view. She looked around her room,

and wondered if memories have their own aroma. If they did

then it would be the fragrance of frangipani for her. The frangipani

tree was always there, even before the times they had moved in.

It was one of the reasons why her father wanted this house. He

was a quiet man, and he preferred living in this secluded suburbs

away from the suffocating concrete jungle of Kolkata. And over

the years this place had become a part of Rimu, her creations,

her stories. This tiny garden was her father's pride and joy and

on Sundays he would spend hours tending to the plants and

trees. It twitched her heart knowing that she would never see

that darling man bent over a rose shrub in the cold January

mornings… she would never ever see that again, ever.

Rimu wished, she had spent more time with her father, trying

to know what went on inside his quiet mind. She had always been

closer to her mother, taking her side, sharing her life with her.

Although she was poles apart from her father, she still loved him

dearly. A nameless pain twitched in her heart, a dull numb agony;

it felt as if someone had put twenty kilos worth of hurt on her

shoulders.

The tree was in full bloom this year after the showers, as if

mocking the dry, parched pain within her.

She looked at her desk, filled with papers, notebooks and

discarded pieces of writing and a space in the middle where her

laptop sat. She had not written a single line in the last month. As

if the incident had sucked out the power from her to create.

50
---
She felt as if she was a character

within a story now; that she

was not the story teller anymore.

Rimu looked around her room,

once more. She had thought of

moving out of this house, so many

times and getting a place for herself.

She was, after all, a best-selling

author now; she could afford to

do so. But the comfort of home,

the secluded solace of the place

had always pulled her back.

But probably she needed this void, this loss in her life, to

make her move, to take the next step out in the real world.

Rimashree Sen Verma… she read her name written in bold

letters on the books that she had written, copies of which were

stacked on the table by the window. Rimu had converted the walls

of her room into a mini library; it was stacked in shelves from

floor to ceiling with books. This was probably her most favourite

place in the entire world. She had created magic right in this room

with her work.

All these meant so much to her, yet right now it was rendered

meaningless.

A new story, a new beginning was due.

The old grandfather clock downstairs struck eight. Rimu jolted

up from her reverie, eight already! The packers and movers

would be here by nine. They were to vacate the house today.

In ten minutes she was downstairs, showered and ready for

the task ahead. She saw her mother sitting in the dining room

chair, her back towards her, nursing a cup of tea in her hand.

The image of her mother like that, pierced a hole through her

heart, she would not see her sitting like this ever, this was the last

time, in this home.

51
---
This vision of her mother, a woman who has lost her man, her

companion, would stay with Rimu forever. In every crease of her

mother's body was a sign that she had given up, she didn't care,

not any more. Dr. Mitali Sen, her mother, the best gynaecologist

in town, was now a broken soul.

She inhaled deeply and went and hugged her mother from

behind. Mitali gently patted her daughter's head. 'Tea?' she

whispered.

'You sit; I'll make my own tea.' Rimu replied, squeezing her

mother's shoulders

'Make some more for me too.'

'

'Sure' Rimu replied, 'So when are you joining back work Ma?

'Never.'

Rimu stopped in her tracks, 'Never' she repeated, 'but why?'

'I can't, I simply can't continue Rimu, not without him.

Without your dad, I… I… just can't.'

Rimu came back to the table, 'Ma, it has been over a month

now; I know you are hurting, I am hurting too. But you must get

back to work. It will help you to ease the pain.'

'Ease the pain…' Mitali whispered the words… 'Ease the pain…'

'Ma, please, you have to move on from this loss.'

'Loss…' Mitali looked blankly at her; her eyes were losing focus.

Rimu suddenly felt that this person was someone else, not her

mother. First she lost her dad and now her mother is slipping

away too.

'Ma, Ma…' she shook her, 'the packers and movers will be here.

Do you understand? We have to leave this place today.'

52
---
'Today,' she repeated.

'Yes, ma, today, we have to move, today. There is no other

choice. Tomorrow's the last date mentioned in the papers.'

Mitali was slowly gaining back composure. 'Okay,' she

breathed, 'Okay, today, yes today.'

Rimu poured the tea into two mugs, 'Your tea Ma…' She

stopped midway; Mitali had gone back upstairs while she was

making tea. Rimu put one of the steaming mugs on the counter

and took her tea out into the garden.

The fragrance from the maddening bloom of frangipani was

overwhelming, but in a good way. The heady scent comforted her

inner being. It was obviously harder for her mother to accept

after being married for over thirty two years.

Rimu felt that it had to be a hallucination,

this couldn't be real. The numbing

pain, the ever rebelling tears, the unwillingness

to accept, she has created them

over papers over and over. She has typed

out this feelings, edited them, marked

them, proofread them, these feelings were

too strong to be real, it had to be a story.

Was she losing it too? Like her mother?

Were the stories getting to her?

She placed her empty mug on the

grass and sat down cross-legged. The

garden was small but there was a sign of love through all the

branches, leaves and blooms. Her mother had never been too

fond of the garden; it was only her father's sanctuary. Rimu used

to join him occasionally in the garden, share awkward fatherdaughter

moments while planting trees or weeding.

She wished she had told him, once, even with all the empty

space dividing the two of them, she still loved him. He was still

her dear Baba.

53
---
She lay down on the bed of fallen flowers and leaves and

scooped up some dried frangipani from the ground and smelled

them deep. She lay there hugging the ground, as if afraid to let go.

Someone honked from outside the gate. Rimu got up slowly

and brushed off the frangipani flowers from her hair. The movers

have arrived.

As the last piece of item was taken out of the house, Rimu felt

light. This burden of memories was too heavy to carry on forward

with.

Rimu looked at her mother; she seemed to have gained some

composure since morning. She was silently closing the open windows.

Mitali walked out in the garden, as the truck went away

towards their new flat. The women looked at their beloved house

one more time. Rimu had her hands wrapped around her mother's

shoulders.

This was a deeper loss than death for her.

'Sometimes I feel I was alone all these years anyway,' Mitali

suddenly said, stroking her daughter's hair, 'He was there with me

professionally, but deep down, somewhere, within, he was alone

too! I never noticed he needed more from me, from us, than what

I gave him.'

'I never noticed it too Ma, I wished we both had given him

some more time. But it still doesn't justify what he did. He broke

our home.'

'He did.'

Rimu fought back tears. It was hard for her to live without her

father, but it must be a million times harder for her mother whose

husband had cheated on her after thirty two years of companionship.

*****

54
---
Dr. Nilesh Verma had fallen in love.

An affair, which had been on for almost over a year, had torn

the world Rimu knew for so long. He had left them, for a woman

only six years older than Rimu. That was three months ago.

Two months ago a notice arrived from court to vacate the

house together with the divorce papers.

That was the final nail.

And then that night came, when Nilesh came by to see his

daughter. He knew for sure his wife was out of town. Rimu was

hardly able to conceal her anger. Nilesh had tried to reason, show

her the signs of an already broken relationship. He had tried to

justify why he had done, what he had done. But Rimu had been

like a child, demanding her peace back.

Defeated Nilesh had risen from the sofa to leave.

55

Rimu had said, 'I won't

let you go Baba, I won't.

You can't do this to us, not

after so many years. You

can't take away my home.'

'I can't be your keeper

of sanity forever Rimu, you

are old enough and you need to get out from your stories and face

the real world. You must. There's too much of imagination inside

that head, way too much insanity.' Nilesh had turned his back on

her.

That was his final mistake.

One strong hard blow on his head from behind with a metal

vase had knocked him unconscious. All Rimu knew at that

moment was that she couldn't let him go. Later, on that moonless

night, in the infinite dark hour of madness, she had dug a deep

grave just next to the Frangipani tree. She had buried her own

father. She didn't let him go.
---
The last one month had devoured Rimu from inside; her life had

turned into a horror story, a saga of disgust and decay.

She couldn't tell her mother either.

Dr. Nilesh Verma was reported as 'missing' a month ago; at

least that's what the newspapers said. People claimed that he was

probably murdered and disposed by his mistress. He had already

given the house to his mistress and that made the case even

stronger. A scandal that had been brewing

for months in their small town had turned

into a potboiler.

It had, of course, thrown Mitali down

into further depths of depression. Rimu had

watched in despair. There was no way she

could go back on her life, and edit or

correct or rewrite what she had already done.

Her story would remain unedited for an eternity.

*****

'Chalo, time for a new home.' Rimu squeezed her mother's

hand. 'Just you and me.'

'Yes, it is.' Mitali smiled through her eyes.

As mother and daughter left hand in hand through the gate,

Rimu looked back; the frangipani was still spreading fragrance.

Memories, the good ones, they hardly ever fade, do they? You

kind of carry them along where ever you go. And for the bad ones,

they remain buried next to the frangipani tree.

Maybe some stories of loss are better left untold.

IMAGES:

http://howto-garden.com.au/

www.pinterest.com/explore/sad-girl-drawing/

images.indianexpress.com

http://www.stockz.co.uk/

http://www.informationng.com/

http://hanswisbrun.nl/2013/03/26/einsteins-formules-en-een-fles-scotch/

56
---
The

Playwright's

Corner

57
---
Enigma

By Floyd Dell

The following one-act play is reprinted from King Arthur's Socks and Other

Village Plays. Floyd Dell. New York: Alfred A. Knopf, 1922. It is now in

the public domain and may therefore be performed without royalties.

58
---
Characters: He and She

[A man and woman are sitting at a table, talking in bitter tones.]

SHE: So that is what you think.

HE: Yes. For us to live together any longer would be an obscene

joke. Let's end it while we still have some sanity and decency left.

SHE: Is that the best you can do in the way of sanity and

decency--to talk like that?

HE: You'd like to cover it up with pretty words, wouldn't you?

Well, we've had enough of that. I feel as though my face were

covered with spider webs. I want to brush them off and get clean

again.

SHE: It's not my fault you've got weak nerves. Why don't you try

to behave like a gentleman, instead of a hysterical minor poet?

HE: A gentleman, Helen, would have strangled you years ago. It

takes a man with crazy notions of freedom and generosity to be

the fool that I've been.

SHE: I suppose you blame me for your ideas!

HE: I'm past blaming anybody, even myself. Helen, don't you

realize that this has got to stop? We are cutting each other to

pieces with knives.

SHE: You want me to go. . . .

HE: Or I'll go--it makes no difference. Only we've got to

separate, definitely and for ever.

SHE: You really think there is no possibility--of our finding

some way?... We might be able--to find some way.

HE: We found some way, Helen--twice before. And this is what it

comes to. . . . There are limits to my capacity for self-delusion.

This is the end.

SHE: Yes. Only--

HE: Only what?

59
---
SHE: It--it seems . . . such a pity. . . .

HE: Pity! The pity is this--that we should sit here and haggle

about our hatred. That's all there's left between us.

SHE: (standing up) I won't haggle, Paul. If you think we

should part, we shall this very night. But I don't want to part this

way, Paul. I know I've hurt you. I want to be forgiven before I go.

HE: (standing up to face her) Can't we finish without

another sentimental lie? I'm in no mood to act out a pretty scene

with you.

SHE: That was unjust, Paul. You know I don't mean that. What I

want is to make you understand, so you won't hate me.

HE: More explanations. I thought we had both got tired of them.

I used to think it possible to heal a wound by words. But we ought

to know better. They're like acid in it.

SHE: Please don't, Paul--This is the last time we shall ever hurt

each other. Won't you listen to me?

HE: Go on.

[He sits down wearily.]

SHE: I know you hate me. You have a right to. Not just because

I was faithless--but because I was cruel. I don't want to excuse

myself--but I didn't know what I was doing. I didn't realize I was

hurting you.

HE: We've gone over that a thousand times.

SHE: Yes. I've said that before. And you've answered me that

that excuse might hold for the first time, but not for the second

and the third. You've convicted me of deliberate cruelty on

that. And I've never had anything to say. I couldn't say anything,

because the truth was ... too preposterous. It wasn't any use

telling it before. But now I want you to know the real reason.

HE: A new reason, eh?

SHE: Something I've never confessed to you. Yes. It is true that

I was cruel to you--deliberately. I did want to hurt you. And do

you know why? I wanted to shatter that Olympian serenity of

60
---
yours. You were too strong, too self-confident. You had the air of

a being that nothing could hurt. You were like a god.

HE: That was a long time ago. Was I ever Olympian? I had

forgotten it. You succeeded very well--you shattered it in me.

SHE: You are still Olympian. And I still hate you for it. I wish

I could make you suffer now. But I have lost my power to do that.

HE: Aren't you contented with what you have done? It seems to

me that I have suffered enough recently to satisfy even your

ambitions.

SHE: No--or you couldn't talk like that. You sit there--making

phrases. Oh, I have hurt you a little; but you will recover. You

always recovered quickly. You are not human. If you were human,

you would remember that we once were happy, and be a little

sorry that all that is over. But you can't be sorry. You have made

up your mind, and can think of nothing but that.

HE: That's an interesting--and novel--explanation.

SHE: I wonder if I can't make you understand. Paul--do you

remember when we fell in love?

HE: Something of that sort must have happened to us.

SHE: No--it happened to me. It didn't happen to you. You made

up your mind and walked in, with the air of a god on a holiday. It

was I who fell--headlong, dizzy, blind. I didn't want to love you.

It was a force too strong for me. It swept me into your arms. I

prayed against it. I had to give myself to you, even though I knew

you hardly cared. I had to--for my heart was no longer in my own

breast. It was in your hands, to do what you liked with. You could

have thrown it in the dust.

HE: This is all very romantic and exciting, but tell me--did I throw

it in the dust?

SHE: It pleased you not to. You put it in your pocket. But don't

you realize what it is to feel that another person has absolute

power over you? No, for you have never felt that way. You have

never been utterly dependent on another person for happiness. I

was utterly dependent on you. It humiliated me, angered me. I

61
---
ebelled against it, but it was no use. You see, my dear, I was in

love with you. And you were free, and your heart was your own,

and nobody could hurt you.

HE: Very fine--only it wasn't true, as you soon found out.

SHE: When I found it out, I could hardly believe it. It

wasn't possible. Why, you had said a thousand times that you

would not be jealous if I were in love with some one else, too. It

was you who put the idea in my head. It seemed a part of your

super-humanness.

HE: I did talk that way. But I wasn't a superman. I was only a

damned fool.

SHE: And Paul, when I first realized that it might be hurting

you--that you were human after all--I stopped. You know I

stopped.

HE: Yes--that time.

SHE: Can't you understand?

I stopped because I

thought you were a person

like myself, suffering like

myself. It wasn't easy to

stop. It tore me to pieces.

But I suffered rather than

let you suffer. But when I

saw you recover your serenity

in a day while the love that I had struck down in my heart

for your sake cried out in a death agony for months, I felt again

that you were superior, inhuman--and I hated you for it.

HE: Did I deceive you so well as that?

SHE: And when the next time came, I wanted to see if it was real,

this godlike serenity of yours. I wanted to tear off the mask. I

wanted to see you suffer as I had suffered. And that is why I was

cruel to you the second time.

HE: And the third time--what about that?

[She bursts into tears, and sinks to the floor, with her head on the

62
---
chair, sheltered by her arms. Then she looks up.]

SHE: Oh, I can't talk about that--I can't. It's too near.

HE: I beg your pardon. I don't wish to show an unseemly

curiosity about your private affairs.

SHE: If you were human, you would know that there is a

difference between one's last love and all that have gone before.

I can talk about the others--but this one still hurts.

HE: I see. Should we chance to meet next year, you will tell me

about it then. The joys of new love will have healed the pains of

the old.

SHE: There will be no more joy or pain of love for me. You do

not believe that. But that part of me which loves is dead. Do you

think I have come through all this unhurt? No. I cannot hope any

more, I cannot believe. There is nothing left for me. All I have left

is regret for the happiness that you and I have spoiled between

us. . . . Oh, Paul, why did you ever teach me your Olympian

philosophy? Why did you make me think that we were gods and

could do whatever we chose? If we had realized that we were only

weak human beings, we might have saved our happiness!

HE: (shaken) We tried to reckon with facts--I cannot blame

myself for that. The facts of human nature: people do have love

affairs within love affairs. I was not faithful to you. . . .

SHE: (rising to her feet) But you had the decency to be

dishonest about it. You did not tell me the truth, in spite of all

your theories. I might never have found out. You knew better

than to shake my belief in our love. But I trusted your philosophy,

and flaunted my lovers before you. I never realized–

HE: Be careful, my dear. You are contradicting yourself!

SHE: I know I am. I don't care. I no longer know what the truth

is. I only know that I am filled with remorse for what has

happened. Why did it happen? Why did we let it happen? Why

didn't you stop me? . . . I want it back!

HE: But, Helen!

SHE: Yes--our old happiness.... Don't you remember, Paul, how

63
---
eautiful everything was--? (She covers her face with her hands,

and then looks up again.) Give it back to me, Paul!

HE: (torn with conflicting wishes) Do you really believe, Helen...?

SHE: I know we can be happy again. It was all ours, and we

must have it once more, just as it was. (She holds out her

hands.) Paul! Paul!

HE: (desperately) Let me think!

SHE: (scornfully) Oh, your thinking! I know! Think, then--think

of all the times I've been cruel to you. Think of my wantonness-

-my wickedness--not of my poor, tormented attempts at

happiness. My lovers, yes! Think hard, and save yourself from

any more discomfort. . . . But no--you're in no danger. . . .

HE: What do you mean?

SHE: (laughing hysterically) You haven't believed what I've

been saying all this while, have you?

HE: Almost.

SHE: Then don't. I've been lying.

HE: Again?

SHE: Again, yes.

HE: I suspected it.

SHE: (mockingly) Wise man!

HE: You don't love me, then?

SHE: Why should I? Do you want me to?

HE: I make no demands upon you. You know that.

SHE: You can get along without me?

HE: (coldly) Why not?

SHE: Good. Then I'll tell you the truth!

HE: That would be interesting!

64
---
SHE: I was afraid you did want me! And--I was sorry for

you, Paul--I thought if you did, I would try to make things up to

you, by starting over again--if you wanted to.

HE: So that was it. . . .

SHE: Yes, that was it. And so–

HE: (harshly) You needn't say any more. Will you go, or shall I?

SHE: (lightly) I'm going, Paul. But I think--since we may

not meet this time next year--that I'd better tell you the secret of

that third time. When you asked me a while ago, I cried, and said

I couldn't talk about it. But I can now.

HE: You mean--

SHE: Yes. My last cruelty. I had a special reason for being cruel

to you. Shan't I tell you?

HE: Just as you please.

SHE: My reason was this: I had learned what it is to love--and I

knew that I had never loved you--never. I wanted to hurt you so

much that you would leave me. I wanted to hurt you in such a

way as to keep you from ever coming near me again. I was afraid

that if you did forgive me and take me in your arms, you would

feel me shudder, and see the terror and loathing in my eyes. I

wanted--for even then I cared for you a little--to spare you that.

HE: (speaking with difficulty) Are you going?

SHE: (lifting from the table a desk calendar, and tearing a leaf

from it, which she holds in front of him. Her voice is tender with

an inexplicable regret.) Did you notice the date? It is the eighth

of June. Do you remember what day that is? We used to celebrate

it once ayear. It is the day--(the leaf flutters to the table in front

of him)--the day of our first kiss. . . .

[He sits looking at her. For a moment it seems clear to him that

they still love each other, and that a single word from him, a mere

gesture, the holding out of his arms to her, will reunite them. And

then he doubts. . . . She is watching him; she turns at last toward

the door, hesitates, and then walks slowly out. When she has

65
---
gone he takes up the torn leaf from the calendar, and holds it in

his hands, looking at it with the air of a man confronted by an

unsolvable enigma.]

CURTAIN

IMAGES

https://pixabay.com

http://www.newdmagazine.com/

66
---
67
---
68
---
Conducting is the act of directing a musical performance by

way of visible gestures. Orchestras, choirs, concert bands, and

other musical ensembles often have conductors. Beyond the

gestural aspect of the art form, other significant aspects of

conducting include scholarship, score reading ability, and having

a trained musical ear. A strong foundation in composing, music

theory, and orchestration is particularly important. The

conductor's task is, simply put, to bring a sense of unity to a

given piece of music.

Through the use of gestures (baton technique) the conductor

provides the tempo (tactus) and a beat (ictus) that allow the

members of the ensemble to establish the proper timing to

present a given composition. The conductor is also the final

arbiter of issues such as phrasing, dynamics (loud or soft), and

articulation—components that contribute to creating a unified

realization of the music being performed.

Nomenclature

The principal conductor of an orchestra or opera company is

sometimes referred to as a music director or chief conductor, or

by the German word, Kapellmeister. Conductors of choirs are

sometimes referred to as choral director, chorus

master, or choirmaster, particularly for choirs associated with an

orchestra. Conductors of military bands and other bands may

hold the title of bandmaster. Respected senior conductors are

sometimes referred to by the Italian word, maestro ("master").

History of conducting

An early form of conducting is

cheironomy that uses hand

gestures to indicate melodic

shape. This has been practiced at

least as far back as the Middle

Ages. In the Christian church, the

person giving these symbols held

a staff to signify his role, and it

seems that as music became

69
---
more rhythmically involved, the staff was moved up and down to

indicate the beat, acting as an early form of baton.

In instrumental music of the Baroque era, a member of the

ensemble usually acted as the conductor by providing a

discernible beat. This was sometimes the principal violinist, who

could use his bow as a baton, or a lutenist who would move the

neck of his instrument in time with the beat. In opera

performances, there were sometimes two conductors: the

keyboard player was in charge of the singers, and the principal

violinist was in charge of the orchestra.

By the early

nineteenth century, it

became the norm to

have a dedicated

conductor, who did

not also play an

instrument during the

performance. The size

of the usual orchestra

expanded during this

period, and the use of

a baton became more

common, as it was

easier to see than bare hands or rolled-up paper. This practice

provided a silent way to indicate tempo and beat.

70
---
The first conductors to utilize a baton can be traced back as

early as 1794. However there were many prominent conductors

who did not or do not use a baton. Richard Wagner was largely

responsible for reshaping the conductor's role as one who

imposes his own view of a piece onto the performance rather than

one who is simply responsible for ensuring entries are made at

the right time and that there is a unified beat.

Wagner's Theories

Wagner wrote extensively about the art of conducting and

established the conductor as a supreme figure whose wisdom and

musical prowess were unquestioned. For Wagner, the

modification of tempo (speed) as it relates to phrasing was of

supreme importance. Prior to Wagner, the conductor's task was

primarily to beat and adhere strictly to the metronomic

designations in a given score. This produced a conducting style

that lacked flexibility or a more nuanced expressiveness. Wagner

emphasized the idea of melos (or song), in which tempos could

be adjusted, faster or slower, to give a different contour to a

particular phrase for expressive effect.

Gestures

In the late twentieth century, a New York composer Walter

Thompson created a live composing sign language known as

"sound-painting" to be used in the medium of structured

improvisation. At present the language includes over 750

gestures used as communication tools by the

composer/conductor to indicate the type of improvisation desired

of the performers.

Technique

Conducting is a means of communicating artistic directions to

performers during a performance. There are no absolute rules on

how to conduct correctly, and a wide variety of different

conducting styles exist. The primary responsibilities of the

conductor are to set the tempo, execute clear preparations and

beats, and to listen critically and shape the sound of the ensemble.

An understanding of the basic elements of musical expression

(tempo, dynamics, articulation) and the ability to communicate

71
---
them effectively to an ensemble is necessary in order to conduct.

In fact, conducting gestures are often choreographed beforehand

by the conductor while studying the score, or may be spontaneous.

The grip of the baton varies from conductor to conductor. Despite

a wide variety of styles, a number of standard conventions have

developed.

Beat and tempo

The beat of the music is typically indicated with the conductor's

right hand, with or without a baton. The hand traces a shape in the

air in every bar (measure) depending on the time signature (type

of rhythm), indicating each beat with a change from downward to

upward motion. The images below show some of the most

common beat patterns, as seen from the conductor's point of view.

2/4, 2/2, or fast 6/8 time 3/4 or 3/8 time

4/4 time slow 6/8 time

Dynamics

Dynamics are indicated in various ways. The dynamic may be

communicated by the size of the conducting movements, larger

shapes representing louder sounds. Changes in dynamics may be

72
---
signaled with the hand that is not being used to indicate the beat:

an upward motion (usually palm-up) indicates a crescendo (going

from soft to loud); a downward motion

indicates a diminuendo (going from

loud to soft). In order to adjust the

overall balance of the various

instruments or voices, these signals can

be combined or directed towards a

particular section or performer.

Cueing

The indication of entries, when a performer or section should

begin playing (perhaps after a long period of silence), is called

"cueing." A cue must forecast with

certainty the exact moment of entry so

that all the players or singers affected by

the cue can begin playing

simultaneously. Mere eye contact or a

look in the general direction of the

players may be sufficient in many

instances, as when more than one

section of the ensemble enters at the same time. Larger musical

events may warrant the use of a larger or more emphatic cue

designed to encourage emotion and energy. An inhalation, which

may or may not be a semi-audible "sniff" from the conductor, is

a common element in the cueing technique of many conductors.

Other musical elements

Articulation may be indicated by the character of the ictus,

ranging from short and sharp for staccato, to long and fluid for

legato. Many conductors change the tension of the hands:

strained muscles and rigid movements may correspond

to marcato, while relaxed hands and soft movements may

correspond to legato or espressivo.

Phrasing may be indicated by wide overhead arcs or by a

smooth hand motion either forwards or side-to-side.

73
---
A held note is often indicated by a hand held flat with palm up.

The end of a note, called a "cutoff" or "release," may be indicated

by a circular motion, the closing of the palm, or the pinching of

finger and thumb. A release is usually preceded by a preparation

and concluded with a complete stillness.

Conductors aim to maintain eye contact with the ensemble as

much as possible, encouraging eye contact in return and thus

increasing the dialog between players/singers and conductor. Facial

expressions may also be important to demonstrate the character of

the music or to encourage the players.

SOURCE and IMAGES

https://www.pinterest.com/pin/560557484852851643/

http://listtoday.org/classical-music-18-cool-wallpaper.html

http://chickwithastick.net/

http://www1.lehigh.edu/news/requiem-and-children

http://imgur.com/r/classicalmusic/wBulPFl

http://www.harrisonparrott.com/

http://amarillosymphony.org/about/music-director/

https://au.pinterest.com/pin/37365871880849829/

74
---
75
---
Extracts from the essay in The Public Domain review

https://publicdomainreview.org

76
---
In 1885, at the age of 20, Wilson Alwyn Bentley, a farmer

who would live all his life in the small town of Jericho in Vermont,

gave the world its first ever photograph of a snowflake. Throughout

the following winters, until his death in 1931, Bentley would go on

to capture over 5000 snowflakes, or more correctly, snow crystals,

on film. Despite the fact that he rarely left Jericho, thousands of

Americans knew him as The Snowflake Man or simply Snowflake

Bentley. Our belief that "no two snowflakes are alike" stems from a

line in a 1925 report in which he remarked: "Every crystal was a

masterpiece of design and no one design was ever repeated. When

a snowflake melted, that design was forever lost."

It started with a microscope his mother gave him at age of 15,

which opened the world of the small to young Wilson. A lover of

winter, he made plans to use his microscope to view snowflakes.

His initial investigations proved both fascinating and frustrating as

he tried to observe the short-lived flakes. So that he could share

his discoveries, he began by sketching what he saw, accumulating

several hundred sketches by his seventeenth birthday. When his

father purchased a camera for his son, Wilson combined it with his

microscope, and went on to make his first successful

photomicrograph of a snow crystal on 15 January 1885.

In addition to the development of the hardware, Bentley also

had to devise a protocol to capture a snow crystal and transport it

with minimal damage to the camera's field of vision. What he found

worked best was to capture the crystals on a cool velvet-covered

tray. Taking care not to melt the crystal with his breathing, he

identified a suitable subject and lifted it onto a pre-cooled slide with

a thin wood splint from his mother's broom and nudged it into place

with a turkey feather. The slide was then carried into his

photographic shed and placed under the microscope. The back-lit

image was focused using a system of strings and pulleys he devised

to accommodate his mittened hands. Once focused, the sensitised

glass plate — the "film" — was exposed and stored for further

processing, development and printing.

Bentley also devised his own processing methods. In addition to

developing the original image, he also created a post-development

process to enhance it. Since each photograph was taken of a white

snow crystal against a white background, Bentley was dissatisfied

77
---
with the initial photograph.

He felt he could improve the

contrast and enhance the

detail if he presented the

crystal against a dark

background. To do this, he

painstakingly scraped away

the dark emulsion

surrounding the snow crystal

image from a duplicate of the

original negative using a

sharp penknife and steady

hand. The altered image was

then carefully placed upon a

clear glass plate and then printed, giving it a dark background.

Even after years of practice, this post-production process often

took as long as four hours for a complex snow crystal.

With 70-75 photographs per storm and notes on the

conditions under which they were collected, Bentley accrued a

considerable understanding of snow. In 1897, he became

acquainted with Professor George Perkins, a professor of geology

at the University of Vermont, and they prepared the first paper

on snow crystals published in the May 1898 issue of Appleton's

Popular Scientific entitled "A Study of Snow Crystals."

78
---
While photographing snowflakes was his passion, Bentley also

turned his interest to examining and sizing raindrops for seven

summers from 1898 to 1904. From that work, he gave us early

insights into raindrops and their size distribution in storms. After

some experimentation, he developed a simple yet effective

apparatus for gathering raindrops: a shallow pan of wheat flour.

At first, he simply photographed the imprints made by the falling

rain in the flour. Then in 1998, he made a serendipitous finding.

In his journal, he wrote: "In the bottom of each raindrop

impression in the flour there could always be found a roundish

granule of dough nearly exact size of raindrop. After

experimenting with artificial raindrops I could measure [its]

diameter before falling into the flour, and thus tell if the dough

granule corresponded in size with the measured raindrop."

Over the tenure of his

raindrop studies, he

collected 344 sets of

raindrop pellets from over

70 distinct storms, including

25 thunderstorms, to which

he added meticulous

weather data about the

storm: date, time of day,

temperature, wind, cloud

type and estimated cloud

height. He concluded that

different storms produce

different size raindrops and

different size distributions.

He concluded that the size of drops and snowflakes could tell a

lot about the vertical structure of the storm.

Unfortunately, Bentley was so far ahead of his time that he

wasn't fully appreciated by contemporary scientists. They didn't

take this self-educated farmer seriously. It was 40 years later —

the study of cloud physics and precipitation processes would not

blossom until the 1940s — before his raindrop work was

rediscovered and and corroborated.

79
---
Although he dropped his study of raindrops after a few years,

he continued to photograph snow crystal and speculate on the

nature of snow. From his large data archive, Bentley's analysis

convinced him that the form the ice crystal took (hexagonal plate,

six-sided star, hexagonal column, needle, etc) was dependent on

the air temperature in which the crystal formed and fell. Nearly

three decades would pass before Ukichiro Nakaya in Japan would

confirm this hypothesis.

He also wanted to promote

his work for its beauty, and thus

submitted articles and delivered

lectures that focused on his snow

photography over the years. His

lectures were popular, and from

them he was dubbed The

Snowflake Man and Snowflake

Bentley by the newspapers. Over

one hundred articles were

published in well-known

newspapers and magazines. His

best photographs were in

demand from jewellers,

engravers and textile makers

who saw the beauty in his work.

He continued to farm the

acreage with his older brother for all his life. Though not an

outgoing man, he loved to entertain by playing the piano or violin

and singing popular songs. He also played the clarinet in a small

brass band and could imitate the sounds of many animals.

Bentley never married.

In early-December 1931, Wilson Bentley walked six miles, illdressed,

through a slushy snowstorm to reach his home. Not long

thereafter, he contracted a cold, which grew into pneumonia.

"Snowflake" Bentley died on 23 December at the age of 66. In

March of that year, he had taken the last of his photomicrographs

of snow, still using the same camera that took the first one.

80
---
The Burlington Free Press wrote in a Christmas Eve obituary for

Bentley:

"Longfellow said that genius is infinite painstaking. John Ruskin

declared that genius is only a superior power of seeing. Wilson

Bentley was a living example of this type of genius. He saw

something in the snowflakes which other men failed to see, not

because they could not see, but because they had not the patience

and the understanding to look."

On the morning he was laid to rest in the Jericho Center

cemetery, it began to snow, leaving a dusting over the burial

ground.

81
---
82
---
IMAGES: http://www.allwallpaper.in/

83
---
MY SOLITUDE

The moon sobs, I head towards the window

Bedimmed and grim, alas, it has lost its glow.

The silence is at an ear-callousing crescendo

Why is the moon sad, I am desperate to know.

The blustering wind outside makes the trees dance.

Ears pricked, senses alert, I watch, as if in a trance.

This dancing finesse draws a roaring applause

From the clouds, as in my ruminations, I pause.

With malevolence, the clouds rumble and grumble

With my chaotic feelings, in the solitude I fumble.

In the cacophony, trying to hear my heart beats

And remembering long forgotten words of Keats.

Alas, the 'sweet converse of an innocent mind'

Has fallen to the inexorable sweep of time unkind.

The moon sighs at the shenanigans of mortals

When lost innocence suddenly lisps and chortles.

And with baby steps, into the present tumbles

Looking for mother's lap, it stumbles and fumbles

And one ominous cloud after another, grumbles

In the distance, a lullaby a fond mother mumbles.

Lo and behold, in the corrosive darkness all around

Something flutters and, magically ,fireflies abound

Bright with hope and promise and shimmering light

Trying to cock a snook at the dark, intimidating night.

They flicker, pregnant with fire, bloated and steady

Wrapped in the fragrance of the jasmines heady

Tick, tick goes the ancient and grotesque wall clock

As, with my heart, I have a heart to heart talk.

84
---
Solitude no longer daunting, is like mother's hug

Warm, welcoming and snug, like a bug in a rug.

In this winsome bondage, memories riotously rage

Fluttering merrily in the compassionate cage.

Replete with mother's caresses, so loving and soft

Thus fortified by the touch, I hold myself aloft

Lit by the spark of the fireflies in the dark.

My heart now, begins to sing happily like a lark.

My confused path now lit by the feisty fireflies

No longer in ambush lie the dormant sighs

On a new journey of companionship I embark

My solitude no more sullen, but a joyous spark.

85
---
KNOCK, KNOCK

The lovely, dark and deep woods talk in a weird whisper

As the nocturnal breeze becomes crisper.

The leaves gurgle and lisp

Fervently embracing like rhymes interlocked.

Strange sounds assail the ears, trying to shock.

A frog croaks, perched on a hard-hearted rock.

Knock, knock, knock!

Is a woodpecker knocking at a tree trunk?

Someone sobbing, or close to tears?

Ah soft, a lover's gentle touch, dulcet tones assailing

Trailing, Sailing,

Paling Into oblivion

Dark.

Is some hoary horseman giving his harness bell a shake?

Galloping away at a canter, desperate to arrest a heart-break?

The trees stand erect, taut and indignant at the world's wrongs.

The cicadas go mad, cajoling one to hearken to their unsung songs.

Under an ancient tree woebegone

Stands a lost spirit mouthing a monologue Incoherent and Ill –

crafted.

Glazed eyes riveted on a figure silhouetted

On a termite – infested log.

86
---
87
---
Factual

Legends

88
---
89
---
Crater Lake

The Native American Klamath tribe has a tale in its folklore

that the Crater Lake in Oregon was once a very tall mountain

called Mazama that was inhabited by their pagan underworld god

llao. When llao engaged in a fierce battle with the sky god Skell,

the sky was awash with fire and brimstone. When Llao was

defeated and escaped to his underworld, Skell made the entire

mountain collapse on Llao. In the process llao was then trapped

forever. Skell then created a beautiful lake over the collapsed

mountain.

Scientific research

has shown that this

mythical story is

probably based on a

7,700 year old

volcanic eruption

which was probably

40 times the size of

the famous May 1980

cataclysm at Mount

St. Helens. During this

ancient event, a huge

reservoir of magma

ruptured the crust, blew a hole in the landscape, and left a

massive crater to be filled in with rainwater.

Sri Lanka and The Ape Men Army

The great Indian Sanskrit epic "Ramayana", features an

incident wherein Sita, the wife of the god Rama, is stolen by the

demon king Ravana and taken to his demon kingdom on the

island of Lanka. Following this, an army of ape-like men, along

with Rama's brother Lakshman, built a floating bridge (known as

Rama's Bridge) between India and Lanka, from which they

crossed over and successfully vanquished Ravana, the demon

king.

90
---
Strangely enough, the bridge itself actually exists. Aerial

surveys clearly show a 48-kilometre-long submerged stretch of

limestone shoals and sand

stretching between the

two landmasses - India

and Sri Lanka. This bridge

– which is only a few

meters below the water's

surface in some parts – is

likely the inspiration for

the ancient Hindu legend.

It was reportedly

above the water until a

15th-century cyclone

brought a huge storm

surge into the channel

and sunk it beneath the

waves.

The Guest Star

The Persian scholar and

astronomer Sina wrote a detailed

description (in 1006) about a special

star spotted by many astronomers

across the world. This particular star

was named as the "guest star". In

his book Kitaf Al-Shifa, Sina

described that this star, which was

present in the sky for a few months,

kept changing colours and then

finally faded away, leaving behind a stream of sparks.

We now know that this star that Sina described was not a

comet, but a supernova. This event took place over 7000 years

ago and its light only reached Earth at the turn of the first

millennium. Its visible wavelengths have since dissipated from

view but the high-energy remnants of SN 1006 can still be seen

thanks to NASA's Chandra X-ray Observatory. The colour change

91
---
can be scientifically attributed to the merger of two white dwarfs,

which would create a particularly energetic supernova, bursting

with colour.

The Lost City of Atlantis

The fable of Atlantis, described by the Greek philosopher

Plato, is probably one of the most well-known legends. He wrote

a tale of a highly developed civilisation sinking under the waves

of the ocean and lost forever. There have been many arguments

about this story and many modern-day archaeologists believe

that this is based on the collapse of the Minoan empire. A massive

volcanic eruption rocked the region of Santorini (referred to as

Thera in ancient texts). This caused an immense earthquake that

made the center of the island collapse. The resulting tsunami tore

across to Crete bring in tidal water from the Aegean Sea. As part

of this destructive nature's force, the Minoan civilisation sunk

beneath the waves and was never heard from again.

Thunderbird

This is an interesting one.

One Native American folklore

describes a beneficent

superhero by the name of

Thunderbird who swooped

down into the dark depths of

the ocean to seize and drag out

an evil whale that was depriving

tribes of resources. The tale

also describes the powerful

waves that were created as a

result of this epic fight and of

the deaths of countless people in the chaos. The war apparently

ended with Thunderbird pulling the whale out of the water and

dropping it dead on land.

Interestingly, in the 1980's, geologists came across evidence

92
---
suggesting that a powerful earthquake hit the pacific Northwest

in the 1700's. This enormous quake created a tsunami that not

only hit the American coast where this tribe lived but also reached

the shores of Japan!

Scientists also think that a massive carnivorous bird (called

Aiornis) might have existed during that period in North America

and the settlers who might have seen this huge bird (of wingspan

up to 16 feet) could have been inspired to create Thunderbird.

The Great Flood

Most readers would be very familiar with the great Biblical

flood and the story of Noah and his Ark. There is a belief among

researchers that the story used in the Bible might have been

influenced by another ancient text that predates the Bible.

This ancient text, from the Mesopotamian era dating back to

7 th century BCE, talks about gods conspiring to create a massive

flood to destroy the world. One of the gods, Ea, however asked a

man named Utu-Napishtim to make a boat and escape with his

family and a large collection of animals. This, obviously, sounds

quite similar to the story of Noah's Ark described in the Bible.

The question is whether there was actually a huge flood. Well,

geological records show that at the end of the last glacial

maximum (around 11,500 years ago), the Black Sea - north of

Turkey - ran dry of its glacier meltwater (since the glacier melted

93
---
into the North Sea instead. Around this time, the Mediterranean

Basin was getting filled up with the saltwater from the Atlantic

Ocean. Ultimately, the Mediterranean Sea overflowed into the

Black Sea in a very dramatic manner. Scientists think that it

would have swallowed up any land in between and would possibly

have created a waterfall that would be at least 200 times the size

of Niagara Falls! This might have been the inspiration for the

Biblical story.

However, there is more mystical recent discovery. This

particular study has now confirmed that the worst flood of the last

10 millennia took place along the Yellow River at the exact date

referenced in ancient texts! The archaeological evidence

uncovered at the source also hints that the mythical first line of

monarchs in China – the Xia dynasty – may have actually existed!

SOURCE: http://www.iflscience.com/

IMAGES:

http://www.evacation.org/

http://www.rense.com/general30/nasa.htm

https://au.pinterest.com/pin/421297740117525456/

http://www.disclose.tv/

94
---
95
---
Images:

http://counterterror.typepad.com/my-blog/2014/09

http://yorruloaded.com/2016/02/06/ways-to-cure-hiccups/

96
---
Anyone will be glad to admit that he knows nothing about

beagling, or the Chinese stock market, or ballistics, but there is

not a man or woman alive who does not claim to know how to

cure hiccoughs. The funny thing is that the hiccoughs are never

cured until they get darned good and ready.

The most modest and unassuming man in the world becomes

an arrogant know-it-all in the presence of hiccoughs—in

somebody else.

"Don't be silly," he says, patronizingly. "Just put your head

under your arm, hold a glass of water against the back of your

neck, and count to five hundred by fives without taking a breath.

It never fails."

* * * * *

Then, when it has failed, he blames you. "It's absolutely surefire

if you only follow my directions," he says. He also implies

darkly that what is ailing you is not just merely hiccoughs. "My

method can't be expected to cure drunkenness, you know," he

says.

To date, I have been advised to perform the following feats to

cure hiccoughs:

Bend the body backward until the head touches the floor, and

whistle in reverse.

Place the head in a pail of water and inhale twelve times deeply.

Drink a glass of milk from the right hand with the right arm

twisted around the neck until the milk enters the mouth from the

left side.

Hop, with the feet together, up and down a flight of steps ten

times, screaming loudly at each hop.

Roll down a long, inclined lawn, snatching a mouthful of grass

up each time the face is downward.

I have tried them all, with resultant torn ligaments, incipient

drowning, lockjaw and arsenic poisoning, but, each time, at the

finish of the act, and a few seconds of waiting while my mentor

says, triumphantly: "See! What did I tell you?" that one, big

hiccough always breaks the tension, indicating that the whole

performance has been a ghastly flop.

* * * * *

97
---
My latest fiasco came as the result of reading the prescription

of a Boston doctor, and almost resulted in my being put away as

an irresponsible person. "All that the sufferer has to do," wrote

the doctor, "is to blow up an ordinary paper bag, as if to explode

it and then hold it over the mouth and nose tightly, breathing in

and out of the bag instead of in and out of the open air."

This, according to the doctor, creates an excess of carbon

monoxide gas in the bag, which is breathed over and over again,

acting on a nervous center of the brain and curing the hiccoughs.

Being alone in the room at the time, I blew the bag up and held

in tightly over my face, including not only my mouth and nose,

but my eyes as well, like a gas-mask. I subjected myself to this

treatment for possibly three minutes, walking around the room at

the same time to keep from getting bored.

* * * * *

When I removed the bag I

found myself the object of the

silent but terrified scrutiny of

my wife, who had entered the

room without my knowing it,

and who had already motioned

for corroborating witnesses

from the next room,

two of whom were standing in

the doorway, transfixed.

My explanation that I was

curing hiccoughs did not go very big, as what I had obviously

been doing was walking around the room alone with a paper bag

over my head. This is not a good sign.

Incidentally, I still have my hiccoughs.

98
---
Do

We

Sleep

Enough?

Images:

www.designtrends.com/graphic-web/wallpapers

https://byronsheroes.wordpress.com/2015/08/13/to-sleep-perchance-to-dream/

www.askideas.com

99
---
Does the average man get enough sleep? What is enough

sleep? What is the average man? What is "does"?

It is said that Napoleon was able to go for days without sleep

and then make up for it with a sleep of twenty-four hours'

duration. The temptation is to say "And look at Napoleon now!"

but that would be not only an old fashioned crack

but an irrelevant one. Napoleon happens to be

doing all right now, in a bigger tomb than any of

us sleepy-heads will ever get.

Some people claim that they can do with four

hours' sleep, without explaining what they mean

by "do with." Do what with? I can do all kinds of

things with fifteen minutes' sleep, including

gagging, snorting and getting my head caught

between the couch and the wall, but don't boast

about it.

Napoleon is said to have ... Sorry*

* * * *

A man who goes to bed, let us say, at seven in the evening, or

even seven-fifteen, can get his eight hours' sleep and still have

from three a. m. (or 3:15 a. m.) on to do what he wants in. He

can milk cows, cut ice, or, if he happens to live in New York, go

up to Harlem for the early show. Then there are always long walks

in the country.

But even eight hours' sleep do not do any good if they are spent

wondering what it is that is lying across the foot of the bed just

over your ankles. Unfortunately I am without a dog at present, so

there is no way for me to explain to myself what it is that lies

across my ankles just after I get to sleep. All that I can do is hope

that it is someone that I know.

* * * * *

100
---
There are several different schools in the question of what

position is the most restful during sleep. Some claim that one arm

should be wrapped around the head (to keep curiosity-seekers

from discovering who is in the bed) and the other extended

backward so that the hand clutches the electric-light switch, in

case screamers or chain-rattlers get into the room. This leaves

the feet to be arranged at the pleasure of the sleeper.

Others are convinced that a really recuperative night can be

spent only by sitting bolt upright in bed, with the eyes open and

a large blunderbuss across the knees. In this proposition it is best

to keep the lights on, as clicking them on and off constantly

makes quite a racket which is likely to disturb the sleeper.

I, personally, like to sleep with my

head out the window and my feet in a

tepid foot-bath (72 degrees). Thus I am

able to watch up and down the street

and, at the same time, draw the circulation

away from my head, where it is so

unhappy.

* * * * *

Infants need the most sleep, and, what is more, get it. Stunning

them with a soft, padded hammer is the best way to insure their

getting it at the right times.

As a person gets older he needs less and less sleep, until by the

time he is ninety-five or a hundred it doesn't make any difference

whether he gets any sleep at all. This scientific fact accounts for

the number of nonagenarians one sees on the street at three and

four in the morning. Or maybe it is just that they look like

nonagenarians.

The best way to induce sleep is to take off all the clothes, get

into some comfortable sleeping garment and lie down in bed. You

can then always get up, put on some comfortable hunting togs

and go out and run down a fox.

101
---
102
---
The photographs in the ensuing pages will take the

reader to a different world - to the beauty of Naples, a

hundred years in the past. These are actually 'inked'

photographs taken by travellers to Naples in the early

1900's. These type of photographs (created using a

technique called

) were widely used

in those days and the inked photographs were given

or sold as souvenirs.

The photographs show the bustling life and the

growth of the city during that era. Modern day

travellers to Naples are, of course, witness a very

different kind of city. The grandeur of the past is still

visible through the veils of contemporary

development and changes to the environment, as is

always the case with most ancient cities.

SOURCE: http://mymodernmet.com/naples-1900-photos

103
---
104
---
105
---
106
---
107
---
108
---
109
---
110
---
Reena Prasad's

Review

of

By Dr. Santosh Bakaya

111
---
112
---
Where Are The Lilacs?

By Santosh Bakaya. New Delhi

Published by: Authorspress (2016) 200 pp.

Rs.395/$ 20 (paperback)

ISBN : 978-93-5207-332-0

Having read Santosh Bakaya's Where are the Lilacs in one go

at first, I found it disconcertingly unforgettable but oddly enough,

therapeutic too. It is a book that demands to be read and re-read

not only for its theme, the elegant, eloquent appeal the poems

make or the clear voice of humanity that emanates from the

verses but also because there is no one who believes in the

almost lost cause of compassion and love as agents of change as

much as its author, Dr. Bakaya. She has a doctorate in political

theory and a life membership vested in unearthing the underlying

goodness of humankind.

There are 111 poems and each one takes you to places fraught

with strife and lays bare the futility of a life spent on picking on

the differences we find in our colour, countries, race, tongues and

beliefs forgetting that the charm and longevity of a species lies in

the harmonious coexistence of its differences. The first half of the

book, refers aptly to The Peace of Wild Things and begins with a

poem titled And the rain pours

Ah, soft, the delectable petrichor

Wafts from the rain-drenched earth

In this birth is lost the stench of gore

The poems that follow are wafts of that petrichor seeking to

drown out the noise of battle and the stench of loss. Sparrows

hop cheerfully on dead trees till they turn the limpid air into life

breaths with their energy. This poetess loves birds with every

fibre of her being. There are ring necks, parrots, doves in hordes,

finches, lovekeets, canaries and a host of other freedom-loving

feathered beings singing and cooing wherever one thinks that all

113
---
the good things have come to an end. They seem to symbolize

the hope that springs eternal in human hearts. In another poem,

The Air With a Bipolar Disorder, a rogue gust turns gentle

Moving towards a tiny orphan sleeping under a tree

Softly it caresses his tangled tresses

It seems nature is tender towards the frail, the downtrodden

and the homeless. Perhaps the callousness we humans have

developed is a direct consequence of us having turned away from

nature.

Dr. Santosh's poems take us to places we have forgotten, the

banks of the Lidder, the shepherd's shacks, a hoopoe promenading

under a walnut tree, a peacock dancing under the neem while

somewhere a girl in a boat catches raindrops on her face transporting

us to an era when life was simple and joyful. We go drawn

by the grace and melody in the verses, hoping to retain some of

this pearly happiness to tide over the cares of a battle-worn world

and realize that it is exactly what the poet is gearing us up for in

the second part of her book where 'Over the whole earth/Still it

is Thor's day' (H.W.Longfellow)

Here too she is direct and honest, nothing in her poetry is

contrived and its sheer strength is based upon the fact that her

poems have a timeless immediacy being drawn from a wide

range of issues faced by common people caught in the quagmires

of political and socio-economic threats to their fragile peace. One

group of poems is particularly wrenching. Dr. Bakaya makes sure

that the young victims of strife -Aylan, Gowhar, Burhan, Shaista,

Danish Farooq and a lot more are not forgotten and dismissed as

mere statistics. Even a scarecrow is not spared by shrapnel

His sole marble eye

Also bids goodbye

To a world that has lost its marbles

( The Scarecrow Sad)

114
---
Some other poems that strike us with their intensity of

anguish and yet never falter from their rhyme are Howls where

one can hear the wails of a family shattered by bombers. In

Where Were You?, the poet seems compelled to ask :

Where were you when the world was burning?…/Don't you

see, a little compassion will be awesome

And in yet another poem she questions Why Should Our

Battle-Cry Be Hate?

Her poems are capable of turning the unwary into sobbing

jelly-mass but the realization soon sets in that nothing in Dr

Bakaya's poems are begun without them reaching a shore by

having a note of harmony at least by the end of a poem or in the

next one.

It enables the reader floundering in the anguish of loss and

fear to get a grip on himself or herself and look just a bit too

searchingly at the musical verses, and you can even spot the poet

wiping her own tears while holding out a tissue to her reader.

These poems can become a road map to a journey to build in

ourselves an invincible fortress of peace. We, the peace mongers

as she calls us, the wounded readers, the despondent viewers

and the cynical humans feel the need to understand that every

war, though different, though fought with different intentions and

words or weapons, leaves behind orphans whose lives can never

be re-arranged back in harmony whatever treaties might come

later. A war cannot be rectified but it can and must be prevented.

Defence attorney and Harvard Law Professor, Alan Dershowitz

in his 2005 book: The Case For peace, a book about resolving the

Arab-Israeli conflict comes to the conclusion that "peace is both

a radical and traditional solution." Santosh Bakaya's Where are

the Lilacs? is a radical as well as courageous attempt to sow some

much-needed seeds of peace in the killing fields where, as

Pushcart poetry Prize nominee Dr. Koshy A.V. says in his blurb,"

we hear the most wretched sound, that of doves crying, that of

people tearing each other apart." Therapy for every human.

115
---
Rhiti Chatterjee Bose's

Review

of

By Lopamudra Banerjee

116
---
117
---
Published originally in Rhiti's blog, 'My Scattered Thoughts'.

Book Details

The Broken Home: English Translation of Rabindranath

Tagore's Bengali novella 'Nastanirh'

Translator: Lopamudra Banerjee

Published by: Finaldraft Editing and Publishing Services

Number of pages: 92 pages

Price: Rs. 200/- (Amazon India), $2.99 (Amazon.com)

Publication year: May 2016

Nashtanirh is a Bengali novella by Rabindranath Tagore set in

19 th Century Bengal which was published in 1901. There is a lot

of speculation that the story is loosely based upon Tagore's own

relationship with Kadambari Devi, his sister –in-law (brother

Jyotirindranath's wife) who committed suicide four months after

Tagore's wedding to Mrinalini Devi.

It is also the basis for the brilliant film 'Charulata' by Satyajit

Ray which was released in 1964.

The original version is beautifully written by Gurudev, it is a

classic in Bengali literature. So when I discovered that Lopamudra

Banerjee is translating this Magnum Opus I was elated beyond

words can describe.

The plot is about how the liberal thinking 'Bhadrolok

Bangali' Bhupati is completely blind to his wife Charu's loneliness

and discontent. He fails to acknowledge her feelings and

frustration. So when Amal, his cousin arrives, he incites

passionate feelings in Charu, creating turmoil in the web of

relationships between the three.

Banerjee explores the emotions tenderly, her language is

eloquent, and choice of vocabulary is fitting to the era. With any

translation there remains a risk that the translator might not be

able to evoke the sentiments which are portrayed in the original,

118
---
ut Banerjee very efficiently has managed to keep the unique

soul of Nashtanirh alive in her version of The Broken Home.

When you pick this version of Tagore's Nashtanirh you will be

taken on a journey through a time which is sepia toned. Banerjee's

translation of Gurudev's masterpiece is something that will

keep your thoughts lingering for a long time. Her use of lucid

language, her perfect depiction of the characters, the ideal

portrayal of the settings makes it an unputdownable read. Since

I have read the original version in Bengali, I can say that it is a

near perfect homage to the creation of Tagore.

This will be a treasure for a lot of readers who are unable to

read Bengali, Banerjee has just brought Tagore closer to such

readers. I would love to read further works of translation from

this amazing writer.

You can buy the kindle version here:

https://www.amazon.in/dp/B01FWMBGN0

https://www.amazon.com/Broken-Home-Translation-

Rabindranath-Nastanirhebook/dp/B01FWMBGN0/ref=sr_1_1?ie=UTF8&qid=147347808

4&sr=8-1&keywords=the+broken+home+lopamudra+banerjee

Facebook Page:

https://www.facebook.com/brokenhomeNastanirh/?fref=ts

Lopamudra Banerjee's author page on Facebook:

https://www.facebook.com/lbanerjee.author/?fref=ts

119
---
The Mind Creative

www.themindcreative.com.au

themindcreative@gmail.com

www.facebook.com/TheMindCreative

www.pinterest.com/themindcreative

Cover Photograph: https://unsplash.com/

All original works used in this magazine are for educational purposes

and for viewing by readers. These works are not, in any way, to be

used for commercial reasons or for profit.

120