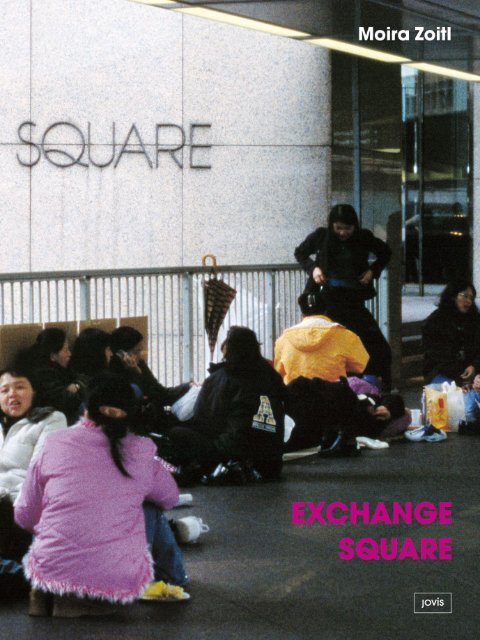 Exchange Square – Aktivismus und Alltag ausländischer Hausarbeiterinnen in Hongkong
ISBN 978-3-939633-59-4
ISBN 978-3-939633-59-4
SHOW MORE
SHOW LESS
You also want an ePaper? Increase the reach of your titles
YUMPU automatically turns print PDFs into web optimized ePapers that Google loves.
Preface

Vorwort

Every Sunday, tens of thousands of domestic workers

from South and Southeast Asia gather in the middle

of Hong Kong's renowned financial and shopping

district and take possession of public space. This impressive

occupation and the accompanying actions

on the street surprised me, for it presents such a stark

contrast to the "invisible" work of these women in

private households. In my artistic work I have been

concerned for many years with public space as a site

of political participation, where the spatial order of

nationally and sexually defined gender orders becomes

visible, and with the conditions of women's

paid labor and the unpaid labor of reproduction. The

situations of migrants working in private households

at the intersection of these fields are what inspired

Chat(t)er Gardens. Stories by and about Filipina Workers,

a project that engages precisely with the life and

working conditions of these women.

The book Exchange Square collects works that have

emerged since 2002 as well as theoretical and photographic

contributions on the issue. Alongside the anthropologist

Nicole Constable, who illuminates the

politics of everyday life of foreign domestic workers

in Hong Kong, Cynthia Ca Abdon-Tellez from the

NGO Mission for Migrant Workers (MFMW) explores

in an interview the globalization and economization

of migrant labor, which turns those affected

into a commodity.

In addition, the volume pictures of the Philippine

photographer Corazon Amaya-Canete, with whom

I collaborated numerous times in the framework of

Chat(t)er Gardens, present a variety of political and

social activities of domestic workers in urban space:

from parties, slam-poetry events, and demonstrations

to shared relaxing, eating, or card playing on the

street.

Ralf Hoedt's contribution focuses on the urban environment

of the periphery residential areas in which

the domestic workers, each on their own, pursue

their occupation during the week.

The project Chat(t)er Gardens and this volume Exchange

Square could not have been realized without

the amazing support and contributions of countless

people in Hong Kong and elsewhere. Most are mentioned

in the appendix: I would like to thank once

again personally all those who over the last years have

stood by my side.

Moira Zoitl

info@moirazoitl.com

6
---
Jeden Sonntag versammeln sich mitten im renommierten

Finanz- und Shoppingdistrikt Hongkongs

zehntausende Hausarbeiterinnen aus Süd- und Südostasien

und nehmen für einen Tag den öffentlichen

Raum in Besitz. Diese eindrückliche Okkupation

und die damit einhergehenden Aktionen auf der

Straße haben mich sehr überrascht, da sie in starkem

Gegensatz zu der "unsichtbaren" Arbeit der Frauen

im Privathaushalt stehen. Seit vielen Jahren beschäftige

ich mich in meiner künstlerischen Arbeit mit

dem öffentlichen Raum als Ort der politischen Teilhabe,

in dessen Raumordnung national und sexuell

definierte Geschlechterordnungen sichtbar werden,

und mit den Bedingungen der Erwerbs- und Reproduktionsarbeit

von Frauen. Die Situation der im

Haushalt tätigen Migrantinnen in Hongkong am

Schnittpunkt dieser Themenfelder regte das Projekt

Chat(t)er Gardens. Stories by and about Filipina Workers

an, das sich genauer mit den Lebens- und Arbeitsbedingungen

dieser Frauen auseinandersetzt.

Das Buch EXCHANGE SQUARE versammelt die seit

2002 entstandenen künstlerischen Arbeiten sowie

theoretische und fotografische Beiträge. Neben der

Anthropologin Nicole Constable, die in ihrem Text

die Politik des Alltagslebens ausländischer Hausangestellter

in Hongkong beleuchtet, spricht Cynthia Ca

Abdon-Tellez von der NGO Mission for Migrant

Workers (MFMW) im Interview unter anderem über

die Globalisierung und Ökonomisierung migrantischer

Arbeit, die die Betroffenen zu einer Handelsware

("commodity") macht.

Die Bildstrecke der philippinischen Fotografin Corazon

Amaya-Canete, mit der ich im Rahmen von

Chat(t)er Gardens bereits mehrmals kollaboriert habe,

zeigt zudem die vielfältigen politischen und sozialen

Aktivitäten der Hausarbeiterinnen im Stadtraum,

von Parties, Slam-Poetry-Events, Demonstrationen

bis zum gemeinsamen Relaxen, Essen oder Kartenspielen

auf der Straße.

Ralf Hoedts Beitrag konzentriert sich auf das städtische

Umfeld der peripheren Wohngebiete, in denen

die Hausarbeiterinnen, jede für sich, unter der

Woche ihrer Beschäftigung nachgehen.

Das Projekt Chat(t)er Gardens und das hier vorliegende

Buch EXCHANGE SQUARE wären nicht

ohne die großartige Unterstützung und die Beiträge

unzähliger Menschen in Hongkong und anderenorts

zustande gekommen. Die meisten sind im Anhang

erwähnt. Hiermit möchte ich mich nochmals ganz

persönlich bei allen, die mir in den letzten Jahren zur

Seite gestanden haben, bedanken.

Moira Zoitl

info@moirazoitl.com

7
---
Statue Square, Bring Back

HK$ 3.670! Snake Rally

Video 3:45 min.

Camera / Kamera: Niki Mossböck

Editing / Schnitt: Julia Pontiller.

© Moira Zoitl 2007

104
---
Maria Theresa Hamto

performing BABAE/WOMEN

Chater Road, Central Hongkong 2004

Video 10 min.

Tagalog, engl. ST / UT

Camera / Kamera: Niki Mossböck,

Moira Zoitl

Editing / Schnitt: Moira Zoitl

© Moira Zoitl 2005

92
---
P. / S. 42: 20 August 2006, Indonesian women rest inside

Victoria Park in Causeway Bay after the rally. /

20 August 2006, indonesische Frauen ruhen

sich nach der Kundgebung im Victoria Park aus.

42