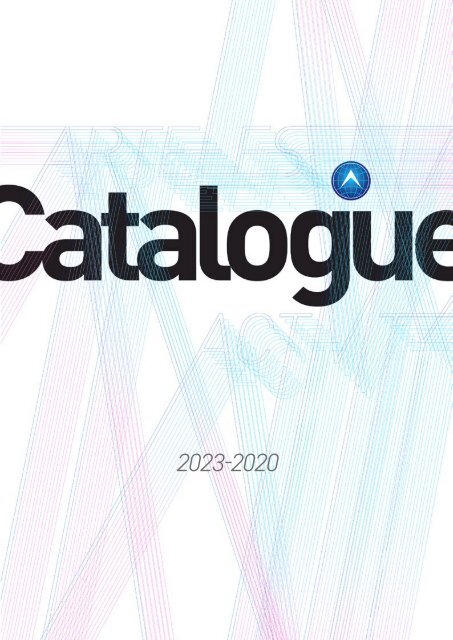 Arteles Catalogue 2015-2020
Arteles Creative Center's residency artists and their projects 2015-2020
Arteles Creative Center's residency artists and their projects 2015-2020
SHOW MORE
SHOW LESS
You also want an ePaper? Increase the reach of your titles
YUMPU automatically turns print PDFs into web optimized ePapers that Google loves.
2020-2015
---
Funders

ARTS PROMOTION CENTER FINLAND

EUROPEAN UNION / JOUTSENTEN REITTI RY

SKR - FINNISH CULTURE FOUNDATION

PIRKANMAA REGIONAL FUND

HÄMEENKYRÖ
---
About

This catalogue presents residency artists and their projects.

All the past residency program participants have been asked

to send information about their projects done in Arteles

Creative Center. Those who have given the information so far are

presented in this catalogue.

Arteles catalogue was published first time in the beginning of

2012 and it is updated regularly.

You can find the latest version of the Arteles Catalogue from

http://www.arteles.org/artists_projects.html

Kiitos - Thank you

Arteles would like to thank all the residents, workers collaborators,

funders and supporters for their work, participation

and activity.

This all would not be possible without you.

Best Regards,

Arteles Team

Arteles

Creative Center

Hahmajärventie 26

38490 Haukijärvi

Finland

info@arteles.org

www.arteles.org

Design: Teemu Räsänen. All rights reserved. Arteles 2020
---
Residents 2020

Silence Awareness Existence - Theme program

January, February, March

Argentina

Solange Baqués // Photography, site specific

Ana Engelman // Drawing, painting

Australia

Julie Barratt // Artist books, works on paper, installation

Grace De Morgan // Writing

Maria Takolander // Creative writing

Luna Mrozik Gawler // Multidisciplinary, writer

Christian Bishop // Sculpture, sound, printmaking

Ana Tiquia // Transdisciplinary art

Amanda Page // Drawing, printmaking, sculpture

Isabel Rumble // Multidisciplinary

Kate Koivisto Wheeler // Painting, drawing, objects

Belgium

Elise Guillaume // Video, photography

Brazil

Julia Anadam // Performance, installation

Canada

Joëlle Anthony (aka J.M. Kelly) // Writing, acting

Melanie Furtado // Sculpture

India

Katharina Kakar // Literature, visual arts

Italy

Giulia Mattera // Performance art

Netherlands

Sophie de Vos // Photography

New Zealand

Gaylene Anne Barnes // Filmmaking, visual art, writing

Norway

Hanne Dahl Geving // Visual & performing arts

Poland

Martyna Gryko // Book arts, watercolor, painting

South Africa

Stephanie Fichardt // Multimedia

Karolina Rupp // Sculpture, installation, video

Spain

Ayesha L. Rubio // Writing, illustration, animation

Turkey

Asli Sonceley // Multimedia poetry / science

UK

Lorraine Hamilton // Sculpture, immersive installation

Joshua Legallienne // Sonic art

Rachel Pursglove // Poetry, painting, performance

Rebecca Wyn Kelly // Sculpture, site-specific, installation

Sophie Molins // Film, photography and ritual

USA

Erik Daniel White // Painting

Robert Fowler // Design, poetry, music

Christina Cucurullo // Sound, writing, performance art

Shana Kohnstamm // Sculpture, visual art

Kit S. Carlton // New/Mixed Media

Matt Shaw // Filmmaker

Kate Speranza // Painting, sculpture, jewelry

Dove Hays // Painting, sculpture

Phil Harris // Photography

Jeremy Billauer // Digital fabrication, speculative tech, installation
---
Silence Existence Awareness program / MARCH 2020

Joshua Legallienne

UK

About

I am an artist exploring the sonic qualities of everyday

materials. For many years I have been working on Action

Without Action, a collection of sculptural works and

performances that produce acoustic sound without the

use of loudspeakers, electronics, or conventional sources

of energy. My works are constructed from materials not

usually associated with sonic creation, instead relying on

the interaction of natural phenomena and kinetic actions to

produce sound. I believe committing to the act of listening

and giving one's full attention is a political act, awareness

gives us agency. In line with this, my work exists only when it

is experienced live – it is predominantly undocumented and I

have no website or accessible online presence.

Action Without Action

During my time in Hämeenkyrö I worked on a collection of

text-based sound works. I conducted experiments in the

environment and the studio, producing a number of new

texts. The residency offered the space – both physically

and mentally – to consider and critically examine my artistic

processes on a fundamental level. I spent a lot of time outside

in the snowy landscape, listening and observing changes

in the natural environment. I experienced visceral groans

from the frozen lake, cedar trees squeaking in the wind,

finches singing outside my window, and many variations of

snow under foot. I miss the daily group meditations, shared

silences, conversations in 110º heat, stargazing in the snow,

but most of all, my fellow residents whom I found much

inspiration in. It was very sad to leave the residency earlier

than expected due to the development of the pandemic but

I will look back fondly on this time as one that was peaceful

and productive.
---
Silence Existence Awareness program / MARCH 2020

Elise Guillaume

Belgium

www.eliseguillaumeart.com

About

Deeply concerned with the current state of the environment,

I explore and document industries which exploit Naturesuch

as the mining or the fishing industry. My process

involves visiting, sometimes infiltrating sites for research

and development. As a young woman, I notice similarities

between the treatment of Nature and women, leading me

to explore this strong relationship between body and Earth.

Through photography and audiovisual mediums, I find links

in between these places to create contrasting narratives.

I studied Fine Art in London at Central Saint Martins, a

BA at Goldsmiths University and will next begin an MA in

Contemporary Art Practice at the Royal College of Art.

Film and photography

During my residency at arteles, I spent a lot of time

meditating, reading and being out in nature. I walked long

hours; documenting the environment through film, sound

recording and photography. The first steps of my practice

are always very instinctive and so its important to give myself

permission to be drawn to whatever feels right without

thinking about it too much. The silence gave me time and

space to really see, observe and listen to things I wouldn't

usually notice as much. My senses became more aware.

Being back home now, I am working towards a series of

abstract photography as well as a new video using the

recordings I made during the residency. Arteles is an

incredible place for both spiritual and creative practices. I'm

so grateful I was able to join and hope to be back some day.
---
Silence Existence Awareness program / MARCH 2020

Grace De Morgan

Australia

www.gracedemorgan.com

About

Born in Hong Kong, Grace is a Sydney-based writer

and playwright who is interested in exploring faith and

ambivalence through comic drama. She has written for

the Australian Theatre for Young People, The Big Issue,

Canberra Youth Theatre, Channel Ten's Good News Week,

Junkee, Melbourne Fringe, news.com.au, Penguin Random

House, Playwriting Australia, ABC's The Roast, SBS Life,

Seizure, the Sydney Morning Herald, The Wheeler Centre,

and VICE. Her non-fiction wine book 'Everything Happens

For A Riesling' is available in stores and online.

Mostly Ugly Crying

When I applied for the residency, my hope was to finish a

play about sex robots and start a screenplay about rhythmic

gymnastics. I did neither of these things. At the end of

February, I had wound up my job and had my heart broken.

This meant I came into the March residency with a lot of

grief and heaviness. I had to learn to let go of my soaring

expectations of myself and surrender to the situation. I ended

up finding great solace in being with the other residents,

reading apocalyptic novels, walking in the woods, listening

to Lana Del Ray on repeat, taking saunas, cooking chicken,

meditating badly, and ugly crying. Then COVID happened.

It was brutal and within days I had to return to Australia. It

was surreal to leave the safe bubble we had built at Arteles.

Honestly, I'm still in shock about how it ended and I miss the

other residents and staff more than I can say.
---
Silence Existence Awareness program / MARCH 2020

Robert Fowler

USA

www.whaltho.com

About

Out of Chicago, USA, Robert is a designer, writer, and

musician. His influences come from a curiosity of the natural

world–working with colors and shapes, resembling scientific

diagrams and information. Ending up with results that are

absurd, yet familiar and organic. Whaltho is the identity

which he assumes while working, finding that a separation

from his birth face exposes a philosophy of creation inspired

by an interaction with the source of his life long ingenuity

and observations. He has played in a band in Chicago for

three years called Faintlife, and performs solo experimental

electronic music. His work has been shown in multiple

independent gallery shows in Chicago.

The space between each moment is connected by a line–a

line with a particular color, and each moment of a particular

shape. What shape has no line before it, and what color could

it possibly be? The cold woods may know.

Continuing simplicity

Moving myself to Finland and escaping from the life I've

been connected to turned out to be realization that the

simplicity in existing remains active in all circumstances.

Looking out of my window into the snowy forest strangely

reminded me of looking through my home studio's window

at the brick wall of the apartment next to my own, two

feet away. The self, in varying environments, is still the

self. Only the reactions, and being sensitive to the effects

thereof, alter as your surroundings change by physically

relocating. I found myself, my self, using identical methods

to manipulate my surroundings into artistic expression as I

always have. However, the output changed, and such change

was welcomed. Because I needed to feel change to be

encouraged by a new habitat to warp my sense of creation

into something fresh–into something I could have never

created in any other situation. This conformity to space and

elevation from attachments is something I will hold dear in

my memory.
---
Silence Existence Awareness program / MARCH 2020

Solange Baqués

Argentina

www.solangebaques.com

About

Solange Baqués was born in Buenos Aires, Argentina. She

has a Degree in Political Science and Foreign Affairs. She

studied Photography with Ángela Copello, Adriana Lestido

and contemporary art with Fabiana Barreda and Lorena

Ferández. Participated in Proyecto Imaginario 1 & 2.

Solange explores identities through memories and family

albums. She builds small altars and plays constantly with

the idea of emptiness, life and death, remembrance and

forgetfulness and invites the viewer to complete her pictures.

During "Art in Origin" ,residence in Santander - Spain with

Andrea Juan, Solange started to link these same ideas

with the environment, her last work "Quietness" shows our

emptiness and reflections.

Selected to be part of Yumi Goto's workshop in Buenos Aires

2019, "The Photobook as an Object" , gave form to her book

"Memoria Imaginaria".

Through the Window

This project born silently as the Corona Virus spread madly

around the world. As people were suggested to stay at home,

Argentina was one of the first country to close all borders.

I could not return home as of April 15th. 2020. Thanks to

the continous support of Ida, Franziska and Teemu in this

complicated worldwide situation. I can assure that this was

by far one of the best experiences I ever had, KIITOS.
---
Silence Existence Awareness program / MARCH 2020

Christina Cucurullo

USA

www.spookstina.com

About

Christina Cucurullo is an experimental and experiential artist

whose work is an exploration of impermanence. Creating

textural loops from an array of pedals, toys, bass, vocals,

synth and found sounds, her performances are intense

and haunting. Since 2016, Cucurullo has played festivals

and venues across the US and Mexico under the moniker,

Spookstina. Her tour history includes performances inside

of a giant Wayne White puppet exhibit (Chattanooga, TN),

the Museo del Metro during rush hour (Mexico City, MX), an

hour-long set at a 48-hour non-stop drone festival inside of

an old shopping mall (Miami, FL), and many more.

For nearly 20 years, Cucurullo has been heavily involved in

all aspects of North Carolina's DIY music community. She

is co-founder and co-director of All Data Lost (Raleigh, NC);

an annual DIY music festival in its third year, dedicated to

highlighting and connecting experimental musicians and

performance artists across NC and the US. She is passionate

about providing artists with new and positive opportunities

for personal and artistic growth.

When she's not immersed in music, Cucurullo works full-time

for the Exhibits & Digital Media section in the basement of

one of the largest natural science museums in the southeast

USA (1mil+ visitors per year).

During her residency at Arteles, Cucurullo will be both

working on material for an upcoming album and enhancing

the conceptualization of her live performances.

Dreams & Nightmares

I began my time at Arteles working on some field recordings

and textural-based sound recordings inspired by the wintry

world around me, encapsulated in ice and snow. Wanting

to get closer to the human and environmental conditions of

darkness and fear, I began taking walks through the forest

in the middle of the night, armed with a meat hammer and

heavy metal flashlight. During these walks, I followed leftbehind

footprints in the snow through the tunnel of the

flashlight's beam, and experienced a heightened sense of

sound through the darkness. Over the following weeks,

the severity of the COVID-19 pandemic set in and created

a roller coaster of emotional chaos. Many of us needed to

leave Arteles immediately, or become stranded indefinitely.

While being in the midst of this panic and anxiety, I began to

explore surreal themes of dreams and nightmares and how

they are separated from waking life by a thin veil between

consciousness and the subconscious. Likewise, how mirrors

create portals between life and death, and how it is through

them that we see a true reflection of how we've moved

through time. I wanted to see where and how light came into

play during dark moments in our life and how they could give

way to a new experience. My work continues, as traveling

home brought me into a world different from that which I had

left; a changed reality.
---
Silence Existence Awareness program / MARCH 2020

Julie Barratt

Australia

juliembarratt.wordpress.com

About

Julie Barratt is an Australian artist who lives and works on

Darumbal country in the tiny remote community of Zilzie on

the southern end of the Great Barrier Reef. Julie is a visual

artist, curator and arts industry professional whose practise

encompasses printmaking, photography, artist books, works

on paper and installation. In addition to her solo practise, she

collaborates with other printmakers, book artists, writers,

sound and performance artists.

Julie is passionate about community arts and artists,

inclusion and accessibility and this is apparent in her work

as an arts industry professional who has worked for many

years in the sector as a curator, regional manager and

producer. She is regionally located and globally connected,

and has worked in places as far flung as as New York, Seoul,

Wilcannia, Bristol, and Kathmandu, where she set up art

studios for young deaf Nepali women as a stepping stone

into employment.

Predominant themes in Julie's work lie in narrative explorations

of the human condition, personal, family and place histories,

and the consciousness of objects. Her works are often sitespecific,

responding to environmental energetics and often

include elements that are labour intensive and contemplative.

Living in close proximity to the ocean and the elements has

provoked a renewed awareness of our fragile environment

and the subtle dependencies between water, life and nature

in our eco-system. Julie's most recent works on paper are a

collaboration with the tide pools at the bottom of her garden.

The Isolation Files

Borders were closing, and all the while the smell of fresh

bread baking in the kitchen and snow softly falling, rendering

the landscape soft and dreamy, added to the very surreal

feeling of being in some sort of a dream! I was handed a

sheath of papers with the latest updates from Australia and I

continued to focus on my creative work as a diversion to the

ever escalating feelings of panic, of being 'stuck', of fear of

family members becoming sick. In this mindset my creative

work gradually developed over the following weeks into a

Unique Artist Book titled 'The Isolation Files'.

The Isolation Files Artist Book is a visual diary of my thoughts

and feelings during a month of turbulence and escalating

world fear, rendered through the mediums of photographs,

screen and stencil printing, stitching and mixed media. I

began the month of my Arteles residency reading the sublime

poetry of Mary Oliver, by the end of the month I was reading

constant ABC updates on COVID 19.

With all flights currently suspended to Australia at the time of

writing , I contemplate life in the Finnish woods and how best

to utilize this unforeseen gift of time...

breathe in breathe out.
---
Silence Existence Awareness program / MARCH 2020

Joelle Anthony

Canada

www.joelleanthony.com

About

J. M. Kelly is the occasional pen name for the writer, actress,

and playwright, Joëlle Anthony. Born in Portland, Oregon,

she makes her home in British Columbia, Canada. However,

she has spent the last year, traveling around the US, Canada,

and Europe cat-sitting for people while they go on holiday,

and intends to continue doing that indefinitely.

She spent her childhood with her nose in a book, often in

the backseat of whatever antique car her dad had at the

time. She's worked as an actress, a Minor League Baseball

souvenir hawker, the Easter Bunny, and various other notso-odd

jobs. Now she mostly writes novels, but she still

dabbles in sketch comedy, nonfiction, and teaching writing

to both kids and adults (www.thewritepotential.com). With

a developing interest in stand-up comedy and a love of

theatre, a return to acting seems to be inevitable, and while

she intends to work on fiction at Arteles, she suspects there

will be some comedy written as well. She hopes so!

Her first four books are for children and teens. Speed of

Life, Joëlle's third novel, was a White Pine nominee, hailed

by Publisher's Weekly as: a believable portrait of blue-collar

teens struggling to make it work against tough odds. She's

also the author of the 2017 Middle Grade novel, A Month of

Mondays, which was an OLA Forest Kid Committee Summer

Reading List pick, a VOYA Top Shelf Award winner, and a 2019

Chocolate Lily Nominee. She is currently finishing her first

novel for adults, an historical novel set in 1962 Vancouver, BC

called Between Over and Next.

Xenia

While I was here at Areteles, I read Stephen Fry's latest book,

MYTHOS, a retelling of Greek mythology. It was my formal

introduction to "xenia", the Greek gods' idea of hospitality,

which Zeus prized above all else. For my entire adult life, even

without a name for it, xenia had naturally been ""my thing""

and I'd done it well. When I saw the kitchen at Arteles, I knew

why I was here. I'd come to write, but I happily laid down my

pen in exchange for a knife and cutting board.

While here, instead of working on my novel, I made food for the

other artists, first as they settled in, and then to comfort and

nourish them as Coronavirus ravaged the world, and sent us

all spinning. The kitchen became a place for hasty midnight

goodbyes, breakfast sandwiches tucked into a carry-on bags

for long flights, and drinking Salmiakki together in hopes of

Finland leaving a good taste in our mouths to remember it by.

On one of our last nights, which was right in the middle of our

residency, the kitchen was a place to make pizza together,

while we pretended for one night, everything was okay...

I didn't do much writing, and the fact is, fifteen days after the

residency officially ended, I'm still here, still cooking for (and

with) the others who are also stranded here. Now I'm writing,

too, but we'll have to wait and see what happens with that.

This residency was partially funded by a generous grant from

Canada Council for the Arts.
---
Silence Existence Awareness program / MARCH 2020

Shana Kohnstamm

USA

www.shanakohnstamm.com

About

Blurring the boundaries between fine art and high craft,

I create soft sculptures that are both familiar and strange,

whimsical and dangerous, utilitarian and decorative. My

fascination with wool as a medium drives me to push the

boundaries of what is expected of textile and fiber art, and

my joy of experimentation translates to the artwork I create.

In the Bubble

One of the most stimulating and transformational experiences

of my adult life, the Silence Awareness Existence residency

provided me with a rich entry point into global empathy,

a renewed mindfulness practice, and elevated studio

productivity... all tools needed for this shift in our fragile

reality.

My studio practice was surprisingly fruitful, with the easy

camaraderie of shared workspace and a joyousness for the

exploration of my medium. Utilizing local Finnish wool for

my projects made the work even more poignant, as I took

inspiration from the forest floor as well as meditational

imagery.

The lack of "everyday distractions" gave me room not only

to explore and experiment in my studio, but also to read

and ingest some hefty spiritual guidance, strengthen my

meditation practice, and ultimately bask in the sweet silence

of a like-minded community.

Although cut short due to the pandemic, the time spent in

our peaceful forest bubble (while the rest of the world was

ramping up in panic) was ultimately a bountiful present/

presence, which I'm certain to be unpacking for years to

come.
---
Silence Existence Awareness program / MARCH 2020

Ayesha L. Rubio

Spain

www.ayeshalrubio.com

About

Ayesha L. Rubio is a visual artist and writer.

She works mainly in creating children's books for the

international market. Still, her Fine Arts background and her

love for film and literature keep her curiosity alive to expand

her creativity into different practices and fields in the artistic

realm.

She has a particular interest in exploring emotions, the

language of the dormant mind, and the relationship between

humans and nature. One of her recurrent scenarios is the

woods as the symbolic space to step into subconsciousness

and inner exploration where fears, dreams, and desires, are

always mirrored by the wilderness' symbolism.

A window with a view

It was snowing when we drove from the bus station to Arteles.

As the landscape cleared from buildings and traffic lights

to give space to the white planes and trees, I knew I was

exactly where I needed to be. Everything that followed was

an immersive journey into the unknown wilderness of the

surroundings I instantly merged with.

Every day I sat at my desk, and I could spend hours just

looking through my window. The window I became obsessed

with. The light through its uneven glass, painted the wall with

brush strokes changing colors, depending on the weather:

snow, sun, rain. It framed the tree in front of me, where

the jackdaws perched all day long, busy with their musical

chatter. Or the flight of the geese back and forth over the

frozen lake. My window presented me with a landscape of

silence and beauty that made me wish I could put wheels to

it and just carry it with me forever.

That window was the lighthouse keeping my focus on the

writing process, providing a constant flow of creativity.

The silent weekends and the daily meditation cleared all the

noise in my head, and I felt at peace. I discovered the quiet

joy the sauna ritual gave me. Carrying the logs, starting the

fires, filling the water tank, feeding the hungry flames until

everything was wrapped in that unique steam. The crackle of

the fire, the white wilderness, and my window was everything

I could ask for.
---
Silence Existence Awareness program / MARCH 2020

Sophie de Vos

Netherlands

www.sophiedevos.work

About

Sophie's work consists of her fascination for what it means

to be human. Human nature, dealing with the passing of time,

transience, decay and loss are returning subjects in her work.

For human beings, these subjects are often emotionally

charged, while in nature they're the most common thing

in the world. Sophie shows and questions this contrast in

her work by creating images in which the human body is

combined with natural materials. Words are an important

part of Sophie's work as well, and this shows in her use of

titles. Her photographic series tell a story both visually and

through language.

Sophie's artistic practice revolves mostly around photography

and works on paper, in which Sophie uses minimal visuals to

get to the essence of the subjects and issues at hand.

It feels like falling

During her residency Sophie created a series called 'It feels

like falling'. The title is about both silence and existence,

referring to the question: If a tree falls in the forest and no

one is there to hear it, did it actually make a sound?

The images show fragile flowers, enclosed and therefore

preserved by ice. By touching and cherishing them, you will

simultaneously undo the preserving and thereby alter or

damage them.

The project refers to what trauma-specialists call 'frozen

thoughts' that cause traumatized people unable to access a

certain memory. This frozen quality complicates verbalization

and so the trauma remains to exist in silence.
---
Silence Existence Awareness program / MARCH 2020

Lorraine Hamilton

Scotland

www.lorrainehamilton.co.uk

About

I have been working with sculpture, collaborative performance

and installation since graduating from Glasgow School of Art

in 2011. My work oscillates around the contradiction of the

highly personal and the collective; that which is expressed

privately, deeply, emotionally and that which is shared and

impressed upon by others.

Ephemeral and non-traditional materials are often the

bridge through which I articulate these opposing desires. I

have previously used tactile and absorptive materials such

as powders, jelly, sugar, plaster and cloth which invite

audiences and participants to touch and interact with

them, but which also prompt ethical decisions around one's

actions, as a reflection of how we all shape one another and

our environments. I aim to enable a deeply personal and

embodied experience for those that interact personally with

my work, whilst prompting reflection on collective and social

activity. My work is deeply rooted in feminist practice and

those which are considered domestic, drawing out subtle

power balances and questions of agency.

"...but does it melt?"

During my time at Arteles I became friends with silence.

Apprehensive about what this new experience might reveal,

I was surprised to find joy in the quiet; a lightness in myself

and a new way of being around others.

My work is often rooted in impermanence; things are ever

changing. No material stays the same, and there is beauty

in that uncertainty. The daily shift in the landscape was

matched by our ever-changing circumstances.

The biggest lesson was to not trust in what tomorrow brings,

but focus on what today has to offer. Take that walk, laugh

loudly with people, go to the public sauna, share in the

salon, do what you want in this moment because next week

may not bring the same opportunities. The daily meditation

practice also served this change in perspective; a focus on

experiencing the moment was an important lesson.

What I created in my residency reflects this learning as well as

contradicting it. I started the month creating works in ice and

soap, materials I contrived to be worn away by the elements

and the viewers touch. I ended it creating paintings that are

like time capsules, setting transient moments in a clear resin,

like leaves suspended in amber. I wanted to freeze these

moments of impermanence and capture them forever.

This residency has given me so much; my time was sadly

cut short due to the global pandemic but the 18 days I had

revealed unexpected things about myself and my work.
---
Silence Existence Awareness program / FEBRUARY 2020

Stephanie Fichardt

South Africa

www.stephfichardt.com

About

Born in Johannesburg a year after south africa's transition

into democracy, Stephanie has always found herself

contemplating if that which is ought to be. this contemplation

comes in many forms but the most prevalent would be

through socially engaging events as well as her meditative,

repetitive art-making process.

Meditation on parts of the whole

This drawing forms part of an ongoing meditation on parts of

the whole, connection and the context of individuality. Within

the context of current events, the drawings shape looks

somewhat viral. This was not the intention when creating the

piece but it perhaps speaks to the universal forms of Things.

Either way, the month that produced this piece was a fruitful

invitation into self-isolation.
---
Silence Existence Awareness program / FEBRUARY 2020

Rebecca Wyn Kelly

UK

www.rebeccawynkelly.com

About

I was raised on the West Coast of Wales in a village called

Aberarth. My upbringing has had a profound influence on the

things I value and hold dear. I am passionate about the land

and being in nature because I grew up surrounded by it.

In wales we have a term called 'Hiraeth'. There is no direct

translation, but the closest word is longing. I long for the land

and feel placed when I am in it.

My artistic practice is rooted in the genre of Eco-Art. The

land is my studio, and I thrive on installing work in remote

locations. By choosing to commit to the land, I challenge

what a studio or a gallery can be.

The landscape is the foundation of my artistic practice, and

the elemental materials I gather are a catalyst for the work

I produce. Natural materials are enchanting. To me, they

are magical and unimaginable. I don't wish to destroy or

dramatically change the self-contained quality of the articles

I find. Instead, I want to preserve their beauty and become

part of their journey by displacing or reworking them in some

way.

As an Eco artist, the environment is at the forefront of what

I do. With climate change and the severe consequences of

this, I feel that there is an urgency in the Art world to produce

work that doesn't feed the pressing planetary problems.

Silence awareness existence

Nothing likes to be filled more than silence. In the absence

of communication, the sounds of others activate your

conscious. The raucous symphony of voices in your head

summons you to greet the past. It's a private invitation to tell

the untold and to unsay things said.

These mute calls are a source of comfort, an assurance that

you are not alone in your reticence.
---
Silence Existence Awareness program / FEBRUARY 2020

Ana Tiquia

Australia

workplaceproject.net

About

I am a transdisciplinary artist who was born and lives in

Melbourne, Australia on the unceded lands of the Wurundjeri

People of the Kulin Nation. My work encompasses a range

of practices: curation, producing, futures research and

strategy, visual and participatory arts practices. I am also a

trained yoga practitioner and teacher. My current research

explores energy futures, futures of labour, the role of arts

practice in socio-ecological transition, and the power

dynamics encoded in algorithmic systems. I am also one half

of artist duo EXOGAMY.

I began with a moving image practice, but over the past decade

my mediums and artistic strategies, and the conversations I

seek to have with audiences have transformed. Collaborative

and participatory practice has become an important part of

my work, whether I'm curating, producing or in the artist role.

I recently completed my Master in Strategic Foresight – a

degree that merges futures studies with strategy. This has

led me to explore the interplay between arts and futures;

exploring the role of arts and culture practice in relation to

future inquiry, imagining, and social change. My most recent

projects are public interventions; participatory, performancebased

installations that invite audiences into dialogue with

'The Future'.

Acts of attention

Asking "what is one's 'practice'?" has parallels to the

question "what does one do with one's life?". What to do with

the time we have at this residency? What to do with the time

we have with each other? What to do with the time we share

on our planet? The easy answer in our neoliberal capitalist

times would be: "to be productive". For me, following the

'productivity line' to dictate my own practice has become too

easy and too problematic, equally.

I began my residency at Arteles by asking "how do I

'de-capitalize' my practice, and the way I approach and

appreciate my work? How do I embrace other forms of

value, and reframe 'productivity' in my work and action?".

I was curious about the other rhythms of work and rest that

might emerge in a month of cultivating silence, awareness

and contemplating existence. I was keen to know where

my attention would go, once a focus on 'productivity' was

put aside. I turned my attention towards intuitive impulses

to make, play, research, contemplate, and rest; both in

my practice with Christian Bishop as Exogamy and in my

individual explorations. We embraced spontaneity and

worked with whatever materials we had at hand.

A playful project that began with daily painting of icicles using

blackcurrant ink became an act of attention to phenomena

in the landscape we worked in. As temperatures rose the

reddened icicles would pale, eventually disappearing all

together as we entered above-zero temperatures. In an alltoo-hot

winter for Southern Finland, this playful gesture

rendered each icicle as a barometer: an amplifier of attention

that revealed in the microcosm of Arteles the macrocosmic

realities of global warming and our changing planet.
---
Silence Existence Awareness program / FEBRUARY 2020

Christian Bishop

Australia

www.christianbishop.art

About

I am a multi-disciplinary artist living and working in Naarm,

Melbourne, Australia. I work broadly across many mediums

including sculpture, photography, printmaking video

and sound. My art practice materialises as immersive

installations, interventions and site activations exploring

feeling and place, landscape and human connection. I am

passionate about being immersed in the landscape, whether

that be rural or urban. My practice involves attuning to

energy present in these places – to me the landscape is

about something deeper than just a visual cue. I am also

facinated by boundaries and this translates from spaces

around me into culture, subcultures and socially isolated

peoples and their blurring of boundaries though creative

outputs. For many years I ran experimental arts and music

collectives and explored rave culture as a form of cultural

and social resistance, performing under the name Xian. I am

half of artist duo EXOGAMY.

Melancology

Arteles provided a unique opportunity to step back from the

commitments of daily life to explore themes of collaboration,

place and community. I drifted between working on solo

projects to collaborating with Ana Tiquia as Exogamy.

The Nordic winter landscape provided a sharp contrast to the

Australian summer of bushfires and floods. Even on opposite

sides of the globe it is evident the world is experiencing

unprecedented environmental changes from human impact.

This extreme global weather provided a backdrop to explore

notions of place and ecology with underlying themes of

landscape as collaborator.

The initial process was fluid and began by reading, thinking

and discussing ideas around how one would collaborate

directly with the landscape itself. The local landscape was

explored daily, by walking, looking, listening and feeling.

These explorations led to contact recordings of ice melting

and cracking, the sonic properties of trees and their root

systems, the creation of feedback loops between objects

and a mobile sound source. There were also the embossing

and printing of birch trees with natural inks, weavings of

reeds and branches, video recordings of strobing night

footage, and the collecting and assembling of branches as

rudimentary structures.

All these explorations culminated as impromptu

performances; the ritual planting and raising of three

flags (birch, lichen and sapling) as a reclamation to stolen

landscapes, a site specific birch and water intervention in

a sauna space and a performance playing back a recorded

storm resembling a blackened noisy dirge.

All in all what was set out to be achieved was far beyond

expectation and has provided new and exciting material and

ideas for many future projects.
---
Silence Existence Awareness program / FEBRUARY 2020

Luna Mrozik Gawler

Australia

www.lunamrozikgawler.com

About

Luna Mrozik Gawler is a multidisciplinary artist and writer

who lives and works upon the unceded lands of the Kulin

Nation, in Narrm/Melbourne, Australia. Her research-led

practice seeks to queer expectations of human supremacy

and separatism while examining the ideological foundations

and ramifications of Anthropocentric paradigms through

installation, performance, media, and text. This work is

often generated through direct collaboration with locations

and multispecies participation. It is commonly durational,

immersive and/or interactive, and considers alternative

knowledge productions as well as embodied processes to

expand upon post-human and new materialist frameworks.

Lost in the woods and (re)composition

The questions that Arteles, its silence and its complex

ecologies, brought forward for me orbited knowledge

production. How can method and outcome seek alternative

pathways to knowing, and displace the anthropocentric

inclinations of artist and audience in the meantime? How

can we come to distrust the normalised and befriend the

undulating discomfort of the uncanny? How do we extend

sensory experience, change our sense of personhood or enter

into multispecies and elemental conversation? In traversing

the dark and knotty spaces of these questions I worked with

the various inhabitants of landscape and the weather around

Arteles. Disrupting my expectations and welcoming the

trouble of new practices and impossible tasks, I attempted

to not just deeply listen to the biosphere but identify the

areas of exchange in which I participated, bodies on bodies

co-authoring an inclusive conversation. I attempted to work

with, and be guided by the material and agency of the site,

attempting communication and translation with snow, soil,

rain and wind in the process. Amongst the often odd and

sometimes failing experiments I ended my time with several

short video works, an installation, a performance for video,

a new sensory tool for an on-going project and also began

the theoretical work on an inclusive, material methodology

for the composition of performance work. I also briefly got

misplaced, and rediscovered in the woods, which really only

helped in the long run.
---
Silence Existence Awareness program / FEBRUARY 2020

Kit S Carlton

USA

www.kitscarlton.com

About

Ostensibly, Kit Carlton's path to a studio practice

appears divergent & sidewinding: she holds a dual BA in

Anthropology/English from TXST, briefly studied nonhuman

primates at Texas Biomed and has held various positions

across industries. However, in 2016 she walked the Camino

de Santiago to discover her raison d'être and upon return

earnestly pursued the call to Art. She has since steadily

exhibited her work locally & nationally. Most recently on a

syndicated t.v program & through a collaboration with the

nationally recognized nonprofit, NWNoggin.

Themes naturally blended in her work include myth,

symbolism, space (outer/inner/multidimensional),

epigenetics, & perception.

As a New/Mixed Media artist, her process starts by employing

traditional methods and once a satisfactory result emerges,

the work is transferred into the digital realm for further

exploration. Often this process reciprocates whereby results

yielding from digital processing are incorporated back into

the original/analog work. Consequently, Carlton considers

her work a bridge between these two mediums/realms—

each one influencing the varying fields of perception created

by its own particular time, space & place.

She also regards each piece as its own authentic,

metaphysical inquiry into the connection between the

physical & immaterial. Carlton believes that once a viewer

internalizes an emotional response to the work in another

specific time, space & place the work then becomes by sheer

experience a further preservation and transmutation of the

work—perhaps this is because of her deep-seated belief that

Art is the study of Spirit and it is Spirit that evolves us.

Study of Light

Created works utilizing concepts of c, here and now and

elsewhere in theoretical physics. The conical structures

represent the two halves of future time/light and past time

and light.
---
Silence Existence Awareness program / FEBRUARY 2020

Rachel Pursglove

UK

www.rachelpursglove.co.uk

About

I have an MA in Fine Art from the University of Central

Lancashire. I'm interested in painting, poetry, literature,

language and conversation. I like to run, I like to read and

watch films and I am currently taking singing lessons.

My aim is to strip back the conventions of being an artist,

beginning with this very honest statement, to re-evaluate

what art means to me.

I'm 30 years old, I have a dog called Alfie and I've just quit

my job to go on a residency to Finland for a month. I struggle

with depression and anxiety and have done for many years.

Making art has drifted away from me and has left me feeling

discontented with life. So I've made an impulsive decision to

travel to a new country, meet new people and reside myself

to a month of solitude. I've had little experience of meditation

and mindfulness but I'm ready to see where the programme

takes me. I hope this experience will help to determine where

my artistic practices lie.

Am I still an artist if I'm not making any art? Is my running my

art? Is my singing my art?

Between sun and moon

I experienced a simpler way to live life, a way of life that I

have been craving too long. My time at Arteles has taught

me how to live each day with purpose and I will be forever

grateful, the residency has given me a voice, it provided me

an environment in which to grow. I have reconnected with

myself and found a community of unified individuals. Before

I started this residency I asked myself, what does art mean

to me?

It's the things that fill my everyday, sounds, time, place, light,

taste, conversation, the present, actions, stillness, breath,

nothing.

I meditated, reflected, ran around the meditation circle 50

times, exposed myself, immersed myself in silence, liberated

myself, pushed the boundaries of repetition & boredom,

explored the confines of my own mind. I stopped and looked

at myself and the world around me. Found solace in solitude.

Questioned the need for simplicity in art. What does it mean

to be human? My connection to nature. Resilience. Simple

gestures. How body and mind can respond to its environment.

Hold to my own convictions. Ritualistic.

Photographs by Matt Shaw
---
Silence Existence Awareness program / FEBRUARY 2020

Karolina Rupp

South Africa / Germany

www.karolinarupp.com

About

Karolina Rupp (b. 1988, Germany) grew up in Pretoria,

South Africa. With a background in sociology, anthropology

and photography, Karolina worked in a Pretoria-based art

studio and as of early 2016 is living in The Netherlands.

Currently in her final year of the BFA at the Royal Academy

of Arts (The Hague), Karolina's work has shifted from relying

entirely on lens-based media to an artistic practice rooted

in sculpture and installation. Imbued with phenomenological

undercurrents as well as the elements of chance and

surprise, her interest lies in the intuitive artistic process

itself as a potential catalyst to discover and make sense of

the unknown. Her work has been shown in various group

exhibitions both in South Africa and The Hague.

Seeing what comes

Travelling to Arteles without a plan or specific project felt

liberating but also a little daunting. The first two weeks I

was experimenting with different materials and techniques

that fall outside of my usual artistic practice while

simultaneously diving into shadow psychology, dreams

and texts on reconnecting with the natural environment. I

felt safe, understood and curious during this special time

which allowed me to work without pressure and expectation

in an artistic community that left nothing to be desired. I

contemplated my working process, my relation to art and

how work and maker are paradoxically always interlinked but

still separate(d) and how this tension moves continuously.

Also, for the first time I was able to test some of my work

in nature rather than an indoor setting which was incredibly

interesting and insightful. Most importantly though, I started

trusting the unknown, the mystery again.
---
Silence Existence Awareness program / FEBRUARY 2020

Hanne Dahl Geving

Norway

About

Hanne Dahl Geving is a Norwegian artist based in Trondheim,

Norway. As an artist, Geving is interested in topics that affect

humans mental health, such as loss, depression, loneliness

and eating disorders. In her latest work, Den som sover,

synder ikke, Geving looks closer at how emotions are been

dealt with when experiencing loss. Den som sover, synder

ikke was in 2019 presented as an installation at Teaterhuset

Avant Garden in Trondheim, Norway. Geving´s work is often

drawn from personal experiences and she has worked with

photography, installation, sound, performance, artist book

and video. She has a Bachelor in Photography from The

University for the Creative Arts in England and a Master in

Photojournalism from Mitt University in Sweden. Geving has

had exhibitions in Norway, Sweden and England.

Food, body and such torment

For the last year I have been working on, MAT, KROPP OG

FAENSKAP (FOOD, BODY AND SUCH TORMENT). The

project focuses on eating disorders and aims to create a

more complex image of the disease. By making an installation

and using sound from five different woman, overlapping and

repeating each other in a constant loop of inner thoughts and

feelings, the intent is to create a sense of chaos. Entering

the installation will invite the audience into the inner thoughts

and feelings of five woman with an eating disorder.

During my time at Arteles I spent the month working intensely

on the project, going through transcripts and producing a

sketch that gave me an idea of how the final work would feel

and sound like. The space, people and the silent days gave

me a chance to concentrate on my artistic practice without

any form of distractions and really giving me the time to

evolve as an artist and individual.
---
Silence Existence Awareness program / FEBRUARY 2020

Matt Shaw

USA

mattshaw.me

About

From an interest in histories of place that recognize the

relationship between humans and other species, Matt

Shaw's work stands at the intersection of experimental and

documentary filmmaking to combine research, conversation,

and observation to read the landscape as archive. Born in

New York's Hudson Valley, he received his BA in Human

Ecology from College of the Atlantic and his MFA in Moving

Image from the University of Illinois at Chicago. He lives and

works on the coast of Maine.

Wind / Rain / Snow

As weather patterns change, the body responds. Rain

melts a brief accumulation of snow and we reassess our

expectations of Winter. Days of cold rain meant recording

radio waves from the studio, propping microphones in the

window, and photographing the still effervescent light from

inside.

A good number of days allowed for walks. Images of humans'

mark on the land and the response of fellow species in

Haukijärvi came together on slide film and movie film. Audio

was collected of song birds, ice on the lake, wind in the

spruce trees, cars and trucks in the distance. New ideas of

working with the land emerged and have been brought home

to facilitate the necessary looking and listening.
---
Silence Existence Awareness program / FEBRUARY 2020

Maria Takolander

Australia

www.mariatakolander.com

About

Maria Takolander was born in Melbourne, Australia, in 1973

to Finnish parents. She is a fiction writer, poet, essayist,

reviewer, scholar and interviewer. She is the author of two

books of poetry, The End of the World (Giramondo 2014)

and Ghostly Subjects (Salt 2009), with a third, Trigger

Warning, forthcoming with UQP. Her poems were selected

for The Best Australian Poems and/or The Best Australian

Poetry every year from 2005, and are anthologised in

Motherlode: Australian Women's Poetry 1986-2008 (2009),

Thirty Australian Poets (2011), the Turnrow Anthology of

Contemporary Australian Poetry (2014), Contemporary

Australian Poetry (2016) and #MeToo: Stories from the

Australian Movement (2019). Her poems are also represented

internationally in special Australian-poetry issues of Agenda

(UK), Chicago Quarterly Review (US), Kenyon Review (US),

Lichtungen (Austria) and Michigan Quarterly Review (US).

Radio National Australia aired a program about her poetry

in 2015, and she has performed her poetry on TV and at the

2017 International Poetry Festival of Medellín, Colombia.

Maria is also a prize-winning fiction writer and the author of

The Double (and Other Stories) (Text 2013), which was named

one of the best books of the year by The Australian and other

forums. Maria is now finishing a novel about climate change,

the most urgent issue of our time.

A cli-fi novel

When I left Australia, the country was in the grip of an

unprecedented environmental crisis, with an area twice

the size of Belgium having been burnt by bushfires after

years of record-breaking heat. Sydney, Melbourne and

Canberra were blanketed by hazardous smoke for weeks

on end, making life in the major cities as catastrophic as

life in the bush. I arrived in Finland in February, in the last

month of the northern winter, when the land should have

been blanketed by snow and the lakes frozen. Instead, cars

were stirring up dust as they passed down country roads,

and lakes were slushy and unstable. My grief and anxiety

were profound. So too, though, was my sense of the aching

beauty of the world. Each day, from my studio window in

the 'yellow house' at Arteles Creative Centre in Haukijärvi,

I observed an environment that presented to me subtle but

nevertheless exquisite variations of sky and water and land.

As the sun moved along the horizon, casting its gradations

and patterns of light and shade, these silent visions of the

world moved through me, setting the pace and mood of my

days. My month at Arteles was an extraordinarily nourishing

and generative one. I couldn't think of a better place from

which to have worked on my cli-fi novel.
---
Silence Existence Awareness program / FEBRUARY 2020

Melanie Furtado

Canada

www.melaniefurtado.com

About

Melanie Furtado is a sculptor from the west coast of

Canada. Her sculptures revolve around the representation

of the human body through portraits, solitary individuals or

groups of figures. Each sculpture is shaped by hand from

direct observation using the earthy malleability of clay. Once

this modeling is complete, the piece is transformed into

elemental materials such as cast glass, lost-wax bronze or

fired clay. Melanie involves individuals from all walks of life to

collaborate as models for her sculptures. Her work explores

the human experience and our relationships to each other

and to ourselves through the use of body position, volume

and space.

Sculpting

My month at Arteles was a time of re-connection with nature,

stillness and silence in the excellent company of a community

of artists.

I had the joy of creating a new figure sculpture in my current

series of Women in collaboration with performance artist and

previous resident Giulia Mattera. This sculpture was created

from direct observation, slowly building up the forms in clay

over 9 days to create a representation of her body. This clay

piece was then molded and cast into plaster.

Each of the artists in residence inspired me with their various

practices and creative approaches. They all kindly agreed to

participate in a drawing project, wherein they sat completely

still gazing out my bedroom window for 15 min while I created

a small portrait sketch of their profile.

The month also afforded the opportunity to develop a sauna

addiction, to enter deep reflection during the silent days, and

to be inspired by the Finnish landscape.

I leave Arteles with both a greater sense of clarity and with

new questions.
---
Silence Existence Awareness program / JANUARY 2020

Julia Anadam

Brazil

www.instagram.com/julia.anadam

About

I'm a journalist that wanted to go further with words, so I

started to dance. But the words never left — and I still find

myself writing through gestures and movement. My work

is deeply connected to silence, presence, embodiment.

And also to the mystic ways of the Tarot and other Oracles.

Through this mix, somehow, I aim to walk the way to develop

a language of the invisible through symbolic gestures —

knowing that is the process that matters most.

Between sun and moon

Arteles is a magical place. After a few days (specially without

internet), you go to the forrest and you start to hear the words

of the wind, the wings of the faeries and the silent presence

of the life around. One of my projects involved this presence:

two sheets with words attached to a rock on the ground,

crossed by a red wool string. On the right side I wrote words

related to the feeling of being in a cocoon - nest, feathers,

comfort, bedlinen. On the left side, words that would reflect

the loss of innocence, of not being a kid anymore, or losing

contact with the magical world - small, tears, closed. As the

days went by it snowed, rained, and then it snowed again

to the point that the work couldn't be seen. The sheets face

the forrest — and they are faced back, by everything and

the sun and the moon. I realized that the forrest is watching

what we do and they witness our healing, laughing, crying

and loving. I love the idea that I won't be around to see how

the work will be doing in other seasons — or or if it will leave

some memories or words. It is a great metaphor for what we

do in life…

This presence involved all other themes I researched -

shadow-light, flowers, the sun and the moon. As a final gift

to myself I could make music in a small blue piano found in

the corridor.
---
Silence Existence Awareness program / JANUARY 2020

Asli Sonceley

Turkey / USA

www.aslisonceley.com

About

My work is in reaction to climate change and to review

my identity as a first generation immigrant. I am currently

investigating the links between mental health and

planet's health via artistic compulsions vs chosen form of

communications.

Solastalgic Diaries

I came to Arteles for the silence. To listen to my body and to

the forest's body. To mold my climate anxiety into something

serviceable.

In the forest I felt sheltered from the news and the noise. But

when weeks passed with a nervous long wait for the snow, I

heard climate change roar louder than before. Clarity set in.

Out of fragmented strains of essays, poetry and audiovisual

pieces, I began to form a coherent narrative: My Solastalgic

Diaries*.

Earth is a body in distress.

She is sending messages, captured as data, reaching human

minds in familiar formats: text, images, news. But our content

feed is condensed. Her voice becomes diluted.

If we ignore her cues, Earth will us feel them in our bodies.

Growing evidence links environmental damage to pandemics.

Modern society can be vaccinated. We are however intensely

vulnerable to widespread mental disorder. Because we no

longer speak Her language. We have forgotten our mother

tongue.

The spiritually turbulent artist archetype plays a rational role

as patient zero. Her body receives the distress calls of the

Planet body. She becomes so riddled with psychic imbalance

that she must dance it off. Sing it off. Paint it off.

Artist is a translator. She alone can trap Earth's abstract cues

into language. Solastalgic Diaries imagines the possibility of

speaking our mother tongue again. My

wish is to inspire emotional stamina and to restore healthy

intra-planetary dialogue.

------

*Solastalgia: "A form of homesickness one gets when one is still at

home." Glenn Albrecht. Resource discovered thanks to generous

artist Giulia Mattera.
---
Silence Existence Awareness program / JANUARY 2020

Kate Koivisto Wheeler

Australia

www.gothamstudios.org/kate-koivisto-wheeler.html

About

Kate Koivisto Wheeler's experimental practice is founded in

drawing and painting, and extends across different media

including objects, installation, jewellery, textiles and found

materials. Her work incorporates connectivity and an organic

process of 'layers' that develop over time and crystallise

into form, distilling an essence. She combines the abstract

and the figurative, material and conceptual, interior and

exterior, nature and culture. Her work includes both solo and

collaborative projects. Of Nordic and northern heritage, she

currently lives on the south west coast of a large island in the

southern hemisphere.

Snow, stars, sunstones

I arrived with 3 drawings I'd worked on for months, "Edda"

(Old Norse term given to the medieval Icelandic texts

containing Old Norse lore), directly laid them on the slab of

ice outside the yellow house. They were soon rained onto,

then frozen under ice, then snowed onto. I wondered if they

would stay under ice or be released by the end of the month.

Two weeks later they were exposed again, and I took them

back inside and dried them by the heater. They are "Silver"

(begun first), "Gold" (next) and "Diamond" (begun last):

respectively "Past", "Present" and "Future", as the 3 Norns.

There is a relationship to human lives, the cosmos, eternity

and infinity.

I made many small drawings (A5) continuing a series in

between abstract and figurative - feeling: and 48 paintings

on small panels the same size. Snow falling on the ground

outside was echoed in the paintings on my desk. And the

view from my window connected with my drawings on the

wall.

At my desk one sunny day, I had an impulse to go outside,

gather 12 stones and bring them inside. I wrapped them in

aluminium, in a way sealing in the light and heat of the sun.

They later led to an outdoor performance, "Sunstones", in

the snowy stone circle on the last day of the month when

January's final residents departed. As the North Star is

used for navigation, research says sunstones were used by

ancient Norse to guide them over the ocean when the sun or

stars were covered by cloud.
---
Silence Existence Awareness program / JANUARY 2020

Martyna Gryko

USA

About

As a child, I was surrounded by nature. My earliest memories

are of my grandparent's farm in Zdroje, Poland where I grew

up. Today, I find that reconnecting with nature brings me

closer to my true self. Through the practice of mindfulness, I

began to notice the cycles of life, death, and rebirth that are a

constant of our universe. Moments strolling in the park, taking

photographs, and time spent observing the natural world,

are my primary sources of inspiration and the driving force

of my artistic practice. I obtained a BFA at the College for

Creative Studies in 2017. This allowed me to study various art

mediums and philosophies. I've always been conscientious

of sustainable art making practices due to my interest in

eco-philosophy and nature. I found that printmaking and

book arts most aligned with this method of art practice. This

led me to work with natural and found materials to create

a body of work using paper-making as a metaphor for the

life and death cycles present in nature. The work documents

several layers of process: interaction with my environment,

collecting scrap wood and building it into an assemblage,

accumulating paper material and plants, shredding, soaking,

blending the material into pulp, and finally restructuring the

pulp to cover the underlying structure, pressing the water out

with my hands. I am very passionate about how handmade

paper can be used as an expressive medium to create works

of art, not just in codex format. I also explore the theme of

nature through watercolor painting, printmaking, and poetry.

Painting and Poetry

While in residency at Arteles, I had the chance to reconnect to

my artistic practice. During the Silence Awareness program,

I participated in daily meditation sessions and silent days. I

explored my surroundings by taking long walks around the

lake and observed the beautiful Finnish landscapes. This

allowed me to tune in to my inner world and unlocked new

channels of creativity. In the beginning, I decided to continue

working on a currently ongoing series of watercolor paintings

featuring mushrooms and trees. After two weeks in the

program, I felt myself become more receptive and emotionally

open. I noticed that after meditation my ideas flowed more

easily. I was inspired by my day to day interactions with other

residents and time spent in the sauna and began to write

poetry. This month has made it possible for me to commit

to my artistic practice and create paintings and a series of

poetry about my time spent in residence.
---
Silence Existence Awareness program / JANUARY 2020

Ana Engelman

Argentina

www.anaengelman.com

About

My name is Ana Engelman. I was born in Buenos Aires in

1976. I am a Visual Artist and graduated in Sociology. The

painting appears as a necessity. I am interested in the

practice of painting itself. Observe the reaction between

the materials and the support. Painting is an investigation, a

report that I do. Find out what the Memory Record is. I look

in the answers for some evocative detail that allows me to

reconstruct part of my ancestral history that I don't know.

Certain questions cover my purpose: in relation to Space, my

intention to catch the essential. I look for the permanent that

lacks variables. What is the territory I am exploring like? Is it

a territory anchored in another time? In relation to Time, Is it a

stopped time? What is the past? I am creating drawings and

paintings on different paper and unprepared fabrics, using

fatty media and water such as graphite and ink. Series work.

The palette is black and white, achieving a range of values

with different vanishes. Work in layers considering the white

of the paper. Achieving a temperature according to the base

color of the hot or cold paper. I intend to create a stripped

space that enables the observer the possibility of abstracting

from his time, experiencing loneliness, distancing himself

from the tangible and real.

How does nature freeze?

The experience in Arteles produced an expansion and a

strengthening of my bond with painting. In the creative

process it was the ideal place to be able to concentrate

and work on my work in a calm way, to be able to explore

freely and deepen the development of work. My intention

of approaching these beautiful landscapes was to explore

the territory that appears in my work, in my research it was

very relevant to get in direct contact with the snow and

the cold. And so it was that the experience paid off with

several rethinking about some questions and new forms of

answers. The walks, the meditation, the intense dreams,

the silence were sources of inspiration for the daily work. It

was an expansion work where I used some new techniques

and deepened others already worked, I could experience

releasing some patterns (for example in the brushstroke) and

from there creating new ones, beginning to form a proper

language of expression. They were intense days, shared

with beautiful souls and experiences that fed my being as a

painter and as a person.
---
Silence Existence Awareness program / JANUARY 2020

Phil Harris

USA

www.pharris.art

About

I've spent about two-thirds of my life working primarily in

photography, with some detours into other media. My major

preoccupations over the years have ranged from history,

memory and narrative handmade photo processes to the

spiritual quality of deterioration. My current work is about the

patient observation, recording, acceptance and encoding of

the processes of time and change.

Photography and drawing

This was my second time at Arteles. I spent the month

working on my time-and-change-based photography

project, and also challenged myself to sit down and draw.

I also read, wrote, meditated and explored the area on foot.

What a phenomenal place!
---
Silence Existence Awareness program / JANUARY 2020

Gaylene Anne Barnes

New Zealand

www.gaylenebarnes.com

About

Since completing a Diploma of Fine Arts on an Amiga

computer in 1991, I have worked as a computer graphic artist,

video editor, animator, painter, writer, designer, director and

producer. I have freelanced on many creative projects in

New Zealand, as well as developing my own practise as an

artist and filmmaker. My recent work includes the feature

documentary film Seven Rivers Walking Haere Maarire (NZ,

2017), a solo exhibition of paintings, Origins (Nelson, 2019),

and a book of poems and images, Circumscribed (London,

2020).

I'm also a farmer with an organic vegetable family farm (and

a small flock of Finnsheep!). As with most farmers, I have a

born-n-bred impetus to 'produce' and to be a caretaker of

nature, as one creates. Discovering and painting the icon,

with it's methodology of sacred matter, has been a major

influence. I am currently curious about the sacred and the

story in art and nature; the unfolding of conscious thought

and form; the potential for miracles; the zero-point; and the

many hands that create the evolving image/s on this planet.

Whilst I have brought several projects to work on during

my Arteles residency, including a screenplay, I will also

take the opportunity provided by the theme, and evolve my

contemplative meditation practise, and see what happens in

the cloister! When in NZ, you are welcome to visit my studio

in the upper room of St John Anglican Church, Woolston,

Christchurch, NZ.

Filaments and Durations

A thought struck me on day three and it was a blessing to

nurture it at Arteles. Those branching veins, these braided

trees, in this living forest – I thought – Angels track across

these filaments. From the proto-filaments of our cellular being,

to the massive galaxy filaments of the universe. Along these

routes that surround galactic voids and magnetise our body,

we track. We are one, of this filament, coalescing in space,

with the trees. The artists here at Arteles, and creative souls

everywhere, are connecting threads in endless co-creation

of this universe – except, perhaps, when we stop, to spend

20 minutes twice a day in quiet emptiness, in the meditation

room.

On this day of silence, I watch a fly. I give this living creature

time. In this moving image project I film beings in longduration.

Attending to life. To watch and be with. An openeyed

meditation? How hard! We come to nature with our

stories, an agenda, some myths, a narrative. I want to see

change, action, I want to be doing. So, I was filming. I was

seduced by the images of nature – the low angle light, the

frosty ground, the tall trees swaying in the wind. Seduction

first, followed by distraction – the need to see it in another

way, a new angle, and always this anticipation, waiting for

change .... I am only beginning, to learn to Be. Thanks you

Arteles and Finland.
---
Silence Existence Awareness program / JANUARY 2020

Amanda Page

Australia

pagestudio.com.au

About

Amanda Page makes works about transformation. In

capturing and recording changes of state in materials and

processes, Page explores change as a universal condition

that connects all matter.

Works develop from observing transformative processes in

natural systems and phenomena, such as weather patterns,

temperature, erosion, interaction between organisms,

metamorphosis, growth and decay, where organic

substances break down into simpler forms of matter, and

how matter and energy change under varying circumstance.

Particular phenomena, cycles of life and death, and

the coalescing and dissipation of natural systems are

investigated and embodied in the works.

Page uses constructed parameters to record processes of

melting, freezing, molding and transforming materials into

various states. Perishable materials reference loss and

fragility in natural systems and capture the interaction of

forces and energies.

Page uses water, ice, sunlight and camera-less exposure

processes combined with drawing, printmaking and

sculptural methods to catalyse, explore and articulate

processes of change. Specific areas of investigation include

capturing ice in its natural frozen form, freezing water to make

ice forms, melting ice and recording the marks it leaves in its

trace and melting and casting materials into molded forms.

Snow Showers

Using the cyanotype process of exposing light to an

emulsion coated surface, I recorded snow showers and

other atmospheric activity. The process captures changes in

weather patterns in the season of winter.

Melted snow and rain pool and reflect too little light to affect

a change in the emulsion surface, producing patterns of blue

and white in a patchy, uneven surface coverage. In contrast,

strong solar activity transforms the whole surface into dark

blue where the light has absorbed most. Snow showers create

a mottled, saturated effect that references the cosmos.

Duration exposures reveal nature's transformative process

by capturing natural phenomena and changing sequence in

weather patterns.
---
Silence Existence Awareness program / JANUARY 2020

Sophie Molins

UK

www.weddingdressinspace.com

About

Recent projects include:

- Sending a divorced women's wedding dress into space

where it dances to a score by Michael Nyman.

- Inland Island - A feminine sensory ethnography of the

mountains at the St Bernard's pass.

Current projects:

- Lost Sheep. A sensory ethnography through addiction,

articulating the importance of love attachment and

community. This is deeply connected to my work in a recovery

house where I volunteer running a Spiritual Guidance group.

- A sugar corset exploring consumption; sugar; colonial trade

and women's waste sizes.

- Weekly documentation at a local Auction house of loved

collections by recently deceased.

INTERESTS include

Systems – education; prisons; climate change Nature,

seasons, climate, walking, swimming.

Reading poetry and psychoanalysis, iyengar yoga and

mediation.

I have an MA from UCL Anthropology dept. in Ethnographic

and documentary film and am particularly interested in the

anthropology of healing and ritual. I also have an MA in Fine

art from Central St Martins.

I have won funding from the Arts Council and The New York

Times Eddie Adams Award.

I have worked as a senior lecturer in Photography at the

University of Roehampton and as The Arts coordinator for a

climate change charity Artists Project Earth.

Switch On The Dark

Going through old work I became interested in playing with an

image of a mesmerised woman by Dora Maar. I told the group

a story of how the Victorian search for spirits unwittingly led

to the discovery of the great communications systems of our

time. The telegraph; Morse; The Cold Cathode Ray (TV) and

The Telephone were all results of experiments to contact the

spirits of the departed.

I took this work outside on my walks through the woods

and to the lake. I love Northern European Pagan rituals and

folklore so I photographed potential wood folk similar to The

Groke or the Krampus.

I made a book out of materials I found in the supermarket,

the kitchen, the store cupboards and old Finnish magazines

from the 2nd hand shops and began to knit and sew and

made glass Sugar.
---
Silence Existence Awareness program / JANUARY 2020

Isabel Rumble

Australia

www.isabelrumble.com

About

I am a multidisciplinary artist and yoga teacher from

Melbourne, Australia. I have been fortunate to delve into

the various creative outlets of dance, music, visual art and

yoga, each informing the other in my creative practice and

sculpting the person that I am.

An underlying theme in my work is the investigation of the

breath as a balancing force, and mode of connecting to self

and place. Employing various breath drawing techniques,

repetition as a force in performance, and spontaneity in

image making, I position the intuitive body over the analysing

mind. I encourage bodily awareness whilst drawing parallels

between the body and rhythms in nature.

At the core of my life and work I recognise the urgent need

to remedy humanity's disconnection from the natural world.

I hope to contribute to this discussion through my creative

outlets.

Temporary bodies

Paper cannot hold breath forever, twigs scratch their

temporary bodies.

How many lines do I draw before I understand this language?

Arteles was a time of growth, self enquiry, and community.

I came away feeling the power of art and nature, and the

urgent need to nurture both. Meditation became even more

integral to my creative process and I will continue to delve

deeper into this space. Whilst silent days were insightful, and

solitary time was plentiful, the connections shared with each

of the other residents has had a huge impact on my approach

to art making. My views around art have evolved, I trust again

in this form of expression.

I approached the month with the intention of furthering my

ongoing investigation into the breath and its ability to map

a space and a time. I drew my breath on paper most days,

a meditative process. In the forest I found a place to hang

them, and the installation grew over time. The place became

important, almost sacred as it held vulnerable records of

intimate moments. Each time I walked the overgrown path,

my relationship to this small patch of forest deepened.

I recorded the installation with photographs at intervals as

the elements and time made their way into the paper, and

created a video of the final piece.
---
Residents 2019

Silence Awareness Existence - Theme program

January, February, March & December

Argentina

Diego Javier Alberti // Electronics Arts

Australia

Christina Marks // Multi-disciplinary

Cecilia White // Interdisciplinary art, poetry

Catherina Leone // Drawing

Alicia Douglas // Painting

Kenneth Lambert // Media, installation

Nicki Brancatisano // Drawing, animation, installation

Phoebe Anne Taylor // Photography, writing, performing arts

Fiona Kemp // Visual Art

Ilija Melentijevic // Visual and interactive art

Jovana Yoka Terzic aka Animal Bro // Visual art

Melissa Delaney // ext, drawing, performance

Mattie Sempert // Ficto-critical writing, essays

Belgium

Matthieu Levet // Music, sound art, programing

Brazil

Pauline Batista // Visual arts, photography

Nathalia Favaro // Sculpture, drawing, video

Canada

Sasha Amaya // Dance, choreography, spatial design

Louise Page // Painting, installation, video

Elin Kelsey // Hope and the environment; resilience in other species

Denmark

Jacoba Niepoort // Painting, drawing, public murals

China

Jia Zeng // Painting, fiber

France

Emma Barthere // Photography, visual art

Germany

Franziska Walther // Book author, illustrator, designer

Hong Kong

Jennifer Kumer // Self-publishing, creativity coach

Italy

Ioana Vrabie // Analogue photography

Giulia Mattera // Performance art

Japan

Asako Shimizu // Photography

Natsuki Suda // Composer

Netherlands

Ellen Ter Beek // Visual arts, writing

New Zealand

Charlotte Watson // Drawing, sculpture, writing

Norway

Henning Gärtner // Writing, theatre, performance

South Africa

Leanne Olivier // Oil painting, sculpture, performance

South Korea

Ji Yoon Lee // Painting, installation art, media art

Taiwan

Eric Chi-Puo LIN // Literary writing, journalism, art criticism

UK

Imogen Davis // Photography

USA

Josh Bell // Poetry

Amy Loder // Research, education, curation

Soramimi Hanarejima // Creative writing, cognitive linguistics

Erin Purcell // Photography

Victoria Smith // Painting, mixed Media

Alexander Lumans // Fiction Writing

Michael West // Writing

Paul Rubery // Philosophy, art history, photography

Tanya Long // Visual art

Carter Scott Horton // Actor, writer

Andalyn Young // Dance, performance, writing, video

Brooke Larson // Writing, performance, collage

Leslie Schwartz // Writer

Hungary

Dóra Lázár // Conceptual art

Gábor István Karaba // Conceptual art

New Course - Theme program with Margi Brown Ash

April, May

Australia

Courtney Cook // Painting, photography, mixed media

Anita Nadia Lever // Art Therapist, installation, art therapy educator

Brooke Krumbeck // Visual art

Melita White // Composer, poet, writer

Rozina Suliman // Theatre design, installation

Anna Loren // Acting, writing, theater

Corrie Hosking // Literature, illustration, art therapy

Jake Moss // Art, writing, Film

Megan Louise // Performance, Design, Visual Art

Canada

Hazel Bell Koski // Painting, stencil making, storytelling

Luke Nicol // Painting, drawing

Paige Cooper // Writing: Fiction

Germany

Andrea Frahn // Singer, songwriter

Netherlands

Sophia van der Putten // Dance, theatre, dramaturgy

Julia van der Putten // Dance, theatre, dramaturgy

UK

Miranda Gavin // Photography, text, performance

USA

Connie Noyes // Multidisciplinary

Kate Mulley // Theatre, fiction, poetry

J. Matthew Thomas // Art, architecture, curation

Erin Purcell // Photography

Serena Gelb // Digital drawing, painting, video

Sam Paige Smith // Drawing, lithography, performance

Brian Patterson // Video, film, writing

Donna Glee Williams // Writing: novels, poetry, short stories

Iceland

Olafur Johann Olafsson // Painting, writing, drawing
---
Back to Basics - Theme program

July, August, September

Enter text - Theme program

October, November

Australia

Marie Bogoyevitch // Drawing, printmaking, works on paper

Emily Weekes // Writing

Jennifer Rooke // Drawing

Stuart Cooke // Poetry, essay, translation

Andrew Goddard // Sound, light, space

Canada

Catriona Wright // Poetry and fiction

Jason Wright // Art education, drawing

Ireland

Lian Bell // Performing arts, visual arts

Japan

Chiho Iwase // Painting, sculpture, drawing

Mexico

Ana Gómez de León // Photography

Netherlands

Ea ten Kate // Textile

Norway

Agnieszka Foltyn // Installation, social intervention, public art

Per Stian Monsås // Installation, social intervention, public art

Singapore

Namie Rasman // Music, sound, voice

South Africa

Hiten Bawa // Architecture, art, accessibility

Carlie Schoonees // Composer

Peter Pitout // Painting

Spain

Mapi Rivera // Photography, creation, mysticism

Taiwan

Tingying Lin // Photography, visual arts

Ingbing Tsiu // Photography, visual arts

UK

Carly Seller // Visual art, performance

Isolde Freeth-Hale // Singer-Songwriter, producer, choral music

Dan Shay // Projection, installation, moving image

USA

Shawn Creeden // Sculpture, performance, social practices

Jaime Maseda // Performance, writing, music

Vanessa Castro // Music

Michael Heyman // Poetry, performance poetry, music

Kerry Downey // Video, drawing, writing

Jojin Van Winkle // Video, sound, photography

Pamela Salen // Design, photography, text

Michelle La Perrière // Drawing, collage

Phil Harris // Photography

Hannah Donovan // Poetry, photography, visual art

Anjali Khosla // Wvvriting

Sylvia Montesinos // Painting

Australia

Sherryl Clark // Writing

Sabine Pick // Paper collage

Jessica Raschke // Writing, text-based installation

Dale Collier // Trans-disciplinary, performance, av, installation

Brazil

Daniela Avelar // Text, printed matter

Paloma Durante // Performance, site specific, writing

Canada

Matthew Hollett // Writing, photography

Mélodie Vachon Boucher // Graphic novel, poetry, illustration

Kai Choufour // Public art, food, hypernarratives

Leah McInnis // Conceptual, interdisciplinary, building

Croatia

Snježana Banović // Theatre & cultural history

Russia

Tatiana Bonch-Osmolovskaya // Prose, poetry, visual poetry

Spain

Carlos Battaglini // Literature

Singapore

Berny Tan // Visual art, writing, curating

South Africa

Benjamin Stanwix // Graphic novel, poetry, illustration

Catherine Boulle // Live art research, writing, podcasting

South Korea

Suji Han // Media & web installation, video

UK

Jerome Holt // Writer, photo therapist, human being

USA

kt coleman // creative non-fiction, poetry, conceptual art

Nicole E. Miller // Fiction, Memoir, Translation

Erin Kate Ryan // Fiction-making

Zoe Chronis // Interdisciplinary

Carolina Wheat // Writing, drawing, & sound

Julie WillsI // nterdisciplinary drawing & sculpture

Ayoto // photography, visual arts

Lucas Southworth // Creative Writing, fiction
---
Silence Existence Awareness program / DECEMBER 2019

Jacoba Niepoort

Denmark

www.jacobaniepoort.com

About

I spend most of the year painting street art around the globe.

I have an obsession with big-scale art projects, and a love

for painting in public spaces. The way we use and own our

common spaces and the politics and money surrounding this

interests me greatly. And so I paint outdoors to share my art

and messages, and to add art to an audience of everyday

people who might not attend gallery or museum shows.

In between wall projects, I make smaller works on paper. I find

this stage equally important in balancing my own creative

process. It is a time for solitude, hitting reset and developing

new ideas in an otherwise fast-paced, physically demanding

and social mural-life.

My works are inspired by everyday interactions with the

world around me. I work with topics of universal feelings and

connections between people, as well as exploration of the

self. When I work indoors it is usually with permanent ink

on paper. Outdoors it is with giant paint markers and house

paint. In both cases I work figuratively.

Focus

The purpose of my month-long stay at Arteles was focus: to

reflect, plan, and to create sketches for new works. I work as

an urban artist creating public murals in different locations

globally, so daily life is full of week-to-week changes, in

location, time-schedules and projects. Every year, a quiet

month in one location creates the necessary space to hit

reset. This year it also allowed time to plan an upcoming solo

exhibition with ballpoint pen works on paper.
---
Silence Existence Awareness program / DECEMBER 2019

Caterina Leone

Australia

www.caterinaleone.com

About

Caterina Leone is a Melbourne-based artist revitalising

the historic drawing technique of silverpoint to create

intimate self-portraits that question societal notions of

gender. She inserts herself into the religious, mythological

and art historical iconographies that have fascinated her

since childhood, and which, due to her biological sex, hold

conflicting connotations of exclusion and reverence. In doing

so, the artist is able to explore her identity and how it has

been shaped by patriarchal, societal ideas of femininity.

Born in Sydney, she studied at the National Art School and

worked in arts administration, writing and curating before

moving to Melbourne in 2017 to pursue her own art practice.

Her work has been featured in online and print publications,

most recently in Synaesthesia Magazine in April 2018.

Caterina has been included in numerous group exhibitions

and juried art shows in both NSW and Victoria, such as The

Way We See Ourselves, a group exhibition at West End Art

Space that was selected for the 2018 Melbourne Fringe

Festival. A solo show at Rubicon ARI in May was followed

by exhibition at Scott Livesey Gallery alongside Lily Mae

Martin and other figurative artists in August, and FUTURES

exhibition in November 2019.

Art, ecology, spirituality

My experience at Arteles was affected by my having

backpacked across Europe for two months beforehand. It

also came at the end of a difficult year of extreme burn out

and resulting health issues. As such my expected prolificacy

had to make way for rest, and my usual fast pace reduced to

a crawl. This is the best thing that could have happened to

me. I embraced meditation for the first time. I spent time in

reflection and redefined my art practice.

I began with a daily self-portrait. These were experimental

and varied in length and materials. Some are almost invisible,

having been painted with snow, or with the barest hint of

watercolour added. Others are white oil stick or paint on

white paper. They allowed an element of play and freedom

usually missing from my practice. They were eventually

abandoned, but without them I could not have found my

true, ongoing, body of work for the residency. Working in my

customary silverpoint (drawing with silver and gold), these

works explore my - and by extension humanity's relationship

- to nature, placing myself in the landscape, slowly dissolving.

There is an uncomfortable element introduced by the fully

realised figures being the ones to interact least with the

surrounding scenery, hinting at our need to return to a more

simple, natural existence for our own survival.

My residency at Arteles allowed me to find a path forward for

an art practice that is sustainable for my health and aligned

with my beliefs. The completed body of work will show at

Tinning St Presents in Melbourne later in 2020.
---
Silence Existence Awareness program / DECEMBER 2019

Christina Marks

USA / Australia

www.christinamarks.com

About

Christina Marks is an Australian multi-disciplinary artist and

dramaturg living in Brooklyn, New York with her husband and

many plants. Her work currently focuses on inter-genarational

inheritance, the legacy of trauma, and the relationship to the

natural world in connecting to individual and cultural agency.

You can find her on insta @inclement.air and @ditch.witch, as

well as www.christinamarks.com.

Let Go or Be Dragged

Approaching my time at Arteles, I had planned many

projects, had many ideas started primed to be finished. I

hardly touched the plans I had packed with me. Instead, a

number of new process were birthed into my practice.

Finding inspiration in the space opened in my eyes and mind

by sweet and confrontational silence, I came across an

illustrative style that was unlike any other I had experimented

with. This I hope to develop into a picture book for adolescents

and adults.

The world I have created in these illustrations lives in the grey

area. My characters inhabit the space between identity as

it is experienced, as it is told to us in narrative, and as it is

chosen. The monochromatic scale and permanency of ink

drawing leads the generation of these images on a path of

definition - something which the characters themselves will

never attain.

I am incredibly grateful to my fellow artists, the space (mental

and physical) provided by Arteles Creative Center, and Ida,

Teemu and Guilia for welcoming these brand new babies

brought into the cold-yellow winter light of the nation of birch

trees.
---
Silence Existence Awareness program / DECEMBER 2019

Eric Chi-Puo LIN

Taiwan

www.ericthink.com

About

A literary writer, a journalist, and an art critic, Eric Chi-Puo LIN

paints a picture by taking three different threads—"literary

creation", "trend observations", and "news reporting"—and

weaving them into a cohesive image.

He has worked as Deputy Editor-in-Chief at Business Today

magazine, Chief Editorial Writer at CommonWealth Magazine

Group, Acting Editor-in-Chief at Taiwan Panorama magazine,

Special correspondent for GQ magazine, and Art Director at

Queen Stone Jewelry.

Because he is both author and journalist, and has worked

as a foreign correspondent, he had opportunities early on

in his career to observe life closely all around the world, and

these experiences have been a rich source of inspiration

in his literary writing and commentary on trends. Over the

years, he has developed a literary style rooted in what he

calls "observation on the move".

His essays in recent years have focused on two topics: "Fold

in Time and Space" and "Practicing How to Live". With his

"Fold in Time and Space" writing project, he has sought to

explore how globalization and the rise of the Internet have

caused time to change shape in our lifestyles and in our

sensory perceptions of the world around us. Based on the

results of the research and field investigations, two styles of

"new journalism" and "Literary Prose" will be intertwined in

his writing.

Fold in Time and Space

During the residency, I closely observed and explored the

subtle changes in temperature, silence, light, and color of

the Hämeenkyrö wilderness in winter. And with Silent Days,

I smoothly returned to myself and explored internally. Many

issues of life and creation have been therefore gazed clearly

and transparently.

This made my creative results beyond expectations. In

addition to completing parts of "Fold in Time and Space"

writing project, I also created a new literary style and started

new creations on photography, drawing at the Arteles

Creative Center.

It is particularly worth mentioning that the artists and writers

who were in residency at the same time can be described as

a "Dream Team". Through daily communication and creative

brainstorming, we not only help each other to explore new

artistic realms, but also have precious international and

cross-disciplinary friendships.

Everything happened in residency is a real and perfect dream.

This residency was supported by The Department of Cultural

Affairs, Taipei City Government.
---
Silence Existence Awareness program / DECEMBER 2019

Alicia Douglas

Australia

www.aliciadouglas.com

About

Alicia grew up on the Central Coast of NSW, Australia, and

she now lives and works in Sydney, Australia. As a painter, her

work is focused on capturing the landscape, greatly inspired

by the lands of Australia and also by far away shores.

She has been oil painting since childhood and after high

school studied fine art at a technical institute and then at

University level. Since this time, she has been involved in a

variety of group and solo exhibitions and now works as a

Visual Arts assistant at a high-school and also at a gallery

in Sydney.

As an artist and as a human being her interest lies in the

psychology of how we see the world and visually respond to

it. She is endlessly fascinated by the process of interpreting

what we see and creating a visual image/language from

this. Her last solo exhibition was inspired by a period of time

spent in the Scottish Highlands. So greatly affected by the

vastness of the landscape and the silence due to its isolation,

she focused on creating work that reflected felt emotions

experienced from being immersed in such an environment.

Creating a quiet contemplation in her work that reminded us

just how noisy our lives can become.

Before darkness descends

The days are short in Finland in winter time, very different

to Australia. I completely underestimated the impact that

this environment would have on my practice. As a landscape

painter I found myself chasing the light at Arteles. I built

my days around the ability to explore the countryside and

paint en plein air, knowing that the sun (if any) would begin

to appear after 9am and then start to disappear around 3pm.

With each new day, I felt the Finnish countryside gradually

seeping into my psyche. I walked and walked and walked

and looked, really looked at the landscape around me.

Breathing the fresh air and looking at the colours and all the

intricacies of the trees, the sky, the lakes and at the same

time experiencing the overwhelming silence. When I wasn't

in the landscape I would close my eyes and imagine the

colours and shapes of the land – it felt like it all was becoming

a part of me and this would spill out through my brush and

onto the paper.
---
Silence Existence Awareness program / DECEMBER 2019

Jennifer Kumer

Hong Kong / Netherlands

www.jenniferkumer.com

About

Jennifer Kumer is a visual artist, design activist, trained

creativity coach, and creator of the Empathic Wisdom Cards

(project funded on Kickstarter). As an avid advocate for

emotional literacy and mental health, she devotes to helping

empaths heal & thrive through embodying their fullest

creative potential.

She walks her own talk by living a semi-nomadic lifestyle

based in the Netherlands while traveling and creating from

artist residencies around the world as she coach and facilitate

experiences helping people reconnect with their emotions

and creativity. She uses mixed-media and publication as a

medium to express her fascination with the human psyche

and make light of the often-overly-serious world of personal

development. You can often find themes of abstract marks,

organic shapes, and dynamic colors featured in her work.

Sign up to her newsletter to follow her journey and receive

updates on news, events, and offerings.

Conscious Relating Deck

Conscious Relating Deck is a simple way to explore

communication and deepen intimacy. I designed the deck

along with my partner initially to stay connected even

though we were physically apart during the time I was at the

residency. To make the best of the limited time we were on

the phone with each other we often did authentic relatingstyle

sharings with a prompt that one of us would come up

with and a 5-minute timer for each to share. Sometimes we

would reuse prompts from previous sharings, and sometimes

we'd come up with new ones. Now and then we'd try hard to

remember that one prompt we both loved and look through

journals to find it, that's when I had the idea, why not compile

them together into a collection so it's accessible? What's

even better, why not design it to be visually and functionally

inviting so other couples can also experience the beauty of

such a communication practice?

With these inspirations in mind, we created the card deck.

It contains all the prompts we've used to deepen our

relationship and many new ones co-created to support

couples celebrate their love.

We designed each prompt to give couples the space to

reflect, explore, and connect on the many aspects of their

relationship.

Through testing and feedback, I created a working prototype

in the last week of the residency. It'll soon be available for preorder,

stay in touch via my newsletter if you are interested!
---
Silence Existence Awareness program / DECEMBER 2019

Ellen Ter Beek

Netherlands

www.ellenterbeek.nl

About

I am what I have become I guess. But I always thought I could

become everything I wanted to be. Inventor, writer, painter,

traveler, philosopher, poet, soothsayer; those kind of things.

I've never fantasized about working nine to five being a

consultant in what I call a corporate environment. Quite

interesting though if you can float above it to observe that

world. Observing is something I like to do and lately I try not

to find anything of what I find.

In order to make my dreams come true, I started studying

visual arts at a later age at the Royal Academy of Art in The

Hague (NL) and graduated in 2010. A theme in my work is

deconstruction and transience. I am fascinated by the

beauty of deserted places where traces of human existence

are erased by nature.

Through my stay at Arteles I want to consciously give back

the time to myself to discover in silence what my own source

is. And maybe discover that I still am despite what I have

become.

Re-collections

My stay at Arteles was all about concentration and taking

the time to be. From that concentration and the freedom to

create whatever you want, I started to draw a lot. It's hard

not to be inspired by the Finnish landscape, nature, dead

straight birches and lakes that lie like mirrors in the woods

or fields. The days of silence helped me to spend hours

with that, which I experienced as the greatest luxury there

is. But also the interaction with the other residents and their

work proved very fruitful for me. My intention was to find my

source and, more than that, I found a further development

for my themes and visual language. Everything was a gift at

Arteles. The coincidental finds, the encounters, the silence

and the people. Under the windowsill in my room I found the

word 'grateful' written. I couldn't think of a better word to

express my experience with the silence awareness program

at Arteles.
---
Enter Text program / NOVEMBER 2019

Jerome Holt

UK / USA

www.jeromeholt.com

About

Often described by others as an environmentalist or a treehugger,

I see myself as a simple human being who has an

appreciation for the nature of the planet earth and an interest

in human interactions, culture and education. I often cause

reactionary behavior in others, sometimes merely through

an act of self expression, even when I am not trying to

illicit reactionary behavior. Tapping into a large array of life

experience, I am on a path to share my art, in the hope that it

will help others see things they might not have seen before.

I write non-fiction, fiction and social commentary. My

current work includes commentary on the need for big

picture thinking education, humorous short stories about

relationships with women and a screenplay about the moldy

culture of Hollywood.

In our current sea of image based society, I feel the

power of photography is being diluted by commercialism,

consumerism and the advertising culture now ingrained in

nearly every human being, as we become more driven to sell

ourselves. Photo therapy is a new term for an old concept,

based around the idea of using photography as a mirror.

The photographer attempts to allow the subject to see their

facets, their true selves - in my current work I attempt to show

the affect of concepts of loneliness on human individualism.

Writing, Music, Photography

For two weeks I worked four to five hours a day on writing

short stories, based around the theme of relationships.

These short stories I intend to use in a collaborative book

with a female writer from Finland, whom I met after I left

Arteles in Helsinki. Together we will share our funny, serious

and somewhat cathartic stories from our male/female

perspectives, highlighting the dynamics of having intimate

relationships with other human beings.

Once I had put to paper the bare bones of about these

short stories, I then changed course and set up the Arteles;

keyboard, drum machine, laptop and mixer - to experiment

with music, eventually managing to finish two experimental

sound scapes using samples taken from walking the woods,

fields and lakes of the area.

By the end of the residency I started venturing out into

the dark night with my camera, with the idea of doing long

exposure night photography - which you can see on the

opposite page.
---
Enter Text program / NOVEMBER 2019

Kt Coleman

USA

www.instagram.com/k.t_coleman

About

kt coleman (b. 1994) is a Portland, Maine based multidisciplinary

artist and writer. Her often text-based works nod

to self-discovery, interpersonal connection, and the role art

plays in offering room for self-reflection. She aims to foster

empathetic connection with the viewers'/readers' selves and

their environments and finds inspiration in the peculiarities of

the everyday. She spends her free time romping in the Maine

woods with her very polite dog, Timber, who shows up from

time to time in her self-referential works.

Self-reflective interventions

In Arteles, I spent a lot of time with myself. I'd been

generating statements from autobiographical assessments,

all I-statements, which I'd been compiling in a master list. It

occurred to me that the autobiographical perhaps wasn't so

important and that this work was about me relating not only

to myself, but to others. I began considering my contextual

audience and translated the statements into Suomi. I printed

the statements onto pull-tab flyers and put them out into

the Tampere public. Unfortunately, they were removed.

Regardless of their short life span, I'd like to hope that they

were accessed and reflected upon, providing a moment of

unseen intimacy in a broad gesture between myself and a

mystery reader.
---
Enter Text program / NOVEMBER 2019

Daniela Avelar

Brazil

www.danielaavelar.com.br

About

Investigates the relation between visual arts and litterature

creating from the possibilities of the white colour, silence,

collection, appropriation and writting. Currently, the

investigations around the white colour as concept and

experience, appear with the desire to exhaust the colour

through objects and writting restriction procedures. Is also

part of her process editing and creating printted matter

works: trabalho produz riqueza (2019); Álbum (2018); além

da página – exposição impressa coletiva, pela plataforma

parentesis (2018); o enviou-lhe uma mensagem (2016);

encontros possíveis e A arte a maneira de abordar seu chefe

para pedir um aumento (2015).

Tente perceber devagar

Tentar perceber devagar

or try to perceive slowly

as it is language that structures the universe and not reality

to start something in another language

I read about the test

there is nothing in the world today that is not

tested or subjected to test:

what is this? what is for? it works?

maybe that is why I tried the word maybe twenty times

shared different ways of failure

folded almost a hundred paper boxes

moved the snow from one place to another

wrote empty texts with masking tape

and kindly destroyed small things

possível e impossível

a set of concret accomplished possibilities

in contrast to imagined possibilities

the failure of not getting things done

o ritmo involuntário das coisas

e o teste como realidade temporária
---
Enter Text program / NOVEMBER 2019

Suji Han

South Korea

www.sujihan.com

About

My work focuses on the process of compression and

translation happening between cyber and physical space.

The compression happens when human existence enters

cyberspace. The translation when information wanders into

the sea of data and gets distorted, edited, and reinterpreted

through the process of downloading, capturing, copying. My

research-based work explores the blurred space between

the physical space and the digital through pseudo-scientific

methods such as educational video, digital installation, data

collection, and sound composing.

"I spend most of my time in digitized space where time and

space feel compressed, "iron-ized"; as if it had been ironeddata

stacked on top of itself and then flattened again. This

compressed time and space runs differently from the space

where body temperature and scent can be felt. Because of

that, I can stay connected with others in the same space even

through time differences and long distances. The blurred

line between cyber and physical space continues to expand

new opportunities for relationship such as ego sharing,

intertwining, interlacing, and interfacing.

오늘 나는 단어 아마도로 하루를 시작할 것이다

hoje vou experimentar a palavra talvez"

Collaboration with Daniela
---
Enter Text program / NOVEMBER 2019

Zoe Chronis

USA

www.zoechronis.com

About

I re-enact methods of public address and propaganda

according to my own political fantasies. I've constructed

solar balloons to distribute leaflets by air; installed a

commemorative plaque at the location of an anti-war sitin;

and filmed hand-lettered cards based on early cinema

conventions. I've often viewed communication as a problem

to solve or a secret to reveal, but the politics of language is

never what I expect. I am digging myself deeper into doubt

about the public role of an artist or a citizen. I am looking for

a true meeting. I want to be pinned to the wall with a spear.

And should I tell everybody or just you? I have a bad habit of

asking the wrong person the wrong question at the wrong

time. In spite of this, I have faith in the power of communityled

media and currently work for public access television in

Brooklyn, New York.

Amarillo Ramp

Thought I'd found, in someone else, a way to reconcile an

impossible choice between a solitary life spent posing

problems for art and power (antisocial) and a concrete

intimacy full of hope and commitment (communal). I started

with a word on the wall, moved onto sentences, then images.

I was thinking about modes of public address and the kinds of

audiences brought into being through speech. I was reading

for the hundredth time, Michael Warner's notion that "a public

exists by virtue of being addressed." I started falling down,

then rolling down the dirt ramp out back, an image of Robert

Smithson's Amarillo Ramp. I constructed fake bricks and

crashed into them. I composed a site-specific pamphlet and

distributed it to my fellow residents. Nancy Holt and Robert

Smithson travelled from place to place creating site-specific

earthworks. In 1973 Smithson was my age when he died in a

plane crash while surveying the site for Amarillo Ramp. For a

long time I've been in serious doubt about the public role of

art, the politics of politics. Never considered myself a fan of

land-dominating art (just a participant in a land-dominating

nation-state); but on my way to Finland He'd asked me about

Smithson and I surprised myself by defending the work:

"Isn't it extreme? The state of a person who puts themself in

a room with salt and mirrors!? How to exist alongside all this

material, and this perception?" Going public means building

a structure through which others enter, either by force, or—
---
Enter Text program / NOVEMBER 2019

Matthew Hollett

Canada

www.matthewhollett.com

About

I'm a writer and visual artist from Newfoundland, Canada,

currently living in Montreal. I love long walks with a camera and

notebook, and much of my work revolves around landscape

and memory. My first book, "Album Rock" (published by

Boulder Books in 2018) uses creative nonfiction and poetry

to explore the history of a strange photograph of 1850s

nautical graffiti. My collection of poems about photography

and seeing, "Optic Nerve", will be published in 2021. Right

now I'm working on a novel about a quirky kid who imagines

the ghosts of beached whales drifting through the forest.

My academic background is in visual arts, but writing has

gradually taken over my life. Still, I love working between

language and image, and past projects have included

photographing handwriting or composing visual poems with

leaves and seaweed. I also write code, and am interested in

new media and interactive narratives. I have an MFA in Media

Arts from NSCAD University, and make a living as a web

designer. My most recent publication is "Between Seasons

on the North Head Trail" (betweenseasons.ca), a visual essay

about hiking in one of my favourite places.

Walking, writing, looking closely

At Arteles I crunched footprints in frost-blasted fields,

lay in the snow and looked up at Orion, watched birds flit

through a field of dead sunflowers, bought opera glasses

at a secondhand shop, crashed a tiny lichen dance party,

wrote a poem about frost ("it froths tall grass into a rollicking

snickersnee"), traced the shadow of a plant on the studio wall,

watched moss catch raindrops, read Tove Jansson's short

stories, didn't know the names of birds, wrote about walking

outdoors ("the field-edge cuffed in uncut wheat"), shook

reindeer lichen's tiny hands, held up a frosted leaf so the sun

shone through, asked many questions, took a selfie under

a mushroom looking up, lived on lingonberry jam, showed

everyone the "hair ice" in the woods, wrote a poem about

xanthoria lichen ("dime-a-dozen sunbursts bespangling

trees"), ate a Sibelius Monument's worth of macaroni, left

footprints on a frozen lake, wrestled with a novel, listened

to the swans ("an orchestra tuning down instead of up"),

followed my own footprints from the day before, tried sauna

and smoked trout and salmiakki ice cream, enkindled healthy

rituals and new friendships, pilfered a shoelace from the lost

and found, startled a huge hare, tried hard to find the right

verbs, and lingered outdoors so long my fingers stung.
---
Enter Text program / NOVEMBER 2019

Carlos Battaglini

Spain

www.carlosbattaglini.com

About

One day I realised that my belly was growing and I got scared

by the idea that I had life all worked out. A mortal lack of

vertigo. Thousands of walks along the beach forced me to

listen to that voice, "it's time to do what you want, write full

time, man, explain what you think about the world". It was

the same voice that celebrated death "don't you think it's

wonderful to know that you will cease to be, one day, so as to

convince yourself of what you really want to do now?"

So, I finally pushed my job at the EU external action service

into the background to fully focus on writing, my real passion.

Hence, I live now only for literature – most likely I have

developed Literary Asperger's syndrome, if it exists.

I write because I have a strong need to express what I see

around. I write about different topics, being the realism the

genre I work the most. Novel is the core of my job, but I also

deal with poetry and plays. I'm about to publish a book of

short stories about people who want to change their lives.

On my website I also write about my trips around the world

(with especial emphasis on Africa), books reviews, opinion

articles. I also make interviews to different writers. During the

following years, I will transform all my material (that currently

stays at the computer) into new books.

Moreover, I have collaborated with plenty cultural institutions

including El País (main Spanish newspaper). I hold a

bachelor on Political Scientist and Sociology and a Master

on environment. My latest award was a finalist prize at a

Spanish short story contest.

Poetry, novel, learning

CARLOS BATTAGLINI - I left everything to become a writer,

join me.

Does inspiration exist or not? Many writers swear that yes,

others deny that such a ""muse"" is a reality of this world.

Debates aside, the truth is that I never felt as comfortable

writing as in Arteles. Aided by the charm of the place: snow,

pines, swans, walks on the lake ... the words came to me in a

surprisingly placid way.

Undoubtedly, meetings and conversations with others (the

kitchen turned into a temple for exchanging experiences and

knowledge) or the reading of Finnish authors, also helped me

to write fluently.

So I made significant progress in writing a book of poems that

deals with identity, the search for meaning, absurd journeys

... In addition, I had time to progress with the research phase

of a novel that asks about what's behind human intentions

I don't know if inspiration is an illusion or a certainty, but

what I am sure of is the immense creative power that Arteles

and Finland propitiates.
---
Enter Text program / NOVEMBER 2019

Sabine Pick

Australia

www.sabinepick.com

About

Sabine Pick is an Australian artist based in Byron Bay. Her

career as a graphic designer has played an integral role in

her art making practice of collage and mixed media. With

this background in typography, she gradually developed a

vocabulary of wooden letterpress forms and found materials

— old art books, and print materials. Pick became fascinated

by the patina and worn, old colours of archival and discarded

papers. Through her, delicately balanced compositions, Pick

seeks to create new stories and conversations in this slow,

subtle and intuitive process of collage.

Minimalist paper collage

The majority of my time at Arteles was making paper

collages. I had no set intentions, in coming to Finland, other

than to have time and space. My art practice consists of

using fragmented shapes, that have been created by cutting

or tearing letterpress printed letters, parts of my handwriting

and parts of pages from old art books which are then

arranged into minimalist collages. Each piece is very intuitive

and unplanned. The shapes or papers take the original

readable letter, image or word and turn it to an unreadable

form. The edges of the paper and the hidden parts of the

letters or shapes, are meant to evoke ideas, thoughts or

questions.

I spent my month reading, listening to music, cutting up

paper, cooking and looking out at the landscape. And of

course made some wonderful new residency friends.
---
Enter Text program / NOVEMBER 2019

Sherryl Clark

Australia

www.sherrylclarkcrimewriter.com

About

I've been writing for more than 30 years, initially short

fiction and poetry and gradually moving into novel writing.

In 1996 I had my first children's book accepted, and began

to focus more on writing for children and young adults. In

2013 I completed an MFA in writing for children and YA at

Hamline University in Minneapolis/St Paul, and then a PhD in

creative writing at Victoria University in Melbourne. My thesis

topic was the writing of new fairy tales for today's children.

All along, I continued to work on my adult crime novels, and

the first of these - "Trust Me, I'm Dead" - was published in

July 2019 by Verve Books UK. I have also continued to write

poetry and short fiction. I find that a focus on character,

voice and structure helps me to build and wrestle my ideas

into stories that flow better and become stronger as I rewrite.

Novel works

My plan for Arteles was a crime novel - I had worked out

a way to bring my character to Finland, and Ida helped me

contact a detective at the Police University College who

gave me lots of good information and insights. However,

almost as soon as I arrived, a children's verse novel I have

been thinking about and wanting to write for nearly two years

pushed its way to the front. So I worked on this first, and as

well as loving the solitude and peace of writing in my room,

I found the vege cafe in Hameenkyro to be really inspiring -

probably two thirds of the verse novel was written there.

I did also write almost half of the crime novel (first draft),

weaving in the streets of Tampere, the landscape, the

weather, and my police information. But along the way I

found and researched some fascinating Finnish history that

created an exciting new idea for the story. Everything about

being at Arteles has found its way into the work I created. The

silence and solitude that I embraced was a great experience,

and led to a piece about ""looking into the abyss"" of what it

means to be a writer.
---
Enter Text program / OCTOBER 2019

Catherine Boulle

South Africa

www.nyupress.org/9781776144648/acts-of-transgression

About

I am a writer and researcher from South Africa, based at the

Institute for Creative Arts (ICA), University of Cape Town. My

research is on contemporary live art in South Africa, and

I'm currently producing a podcast that features in-depth

interviews with South African artists and curators who

perform or curate live, interdisciplinary works.

The idea for the podcast came out of the book 'Acts of

Transgression: Contemporary Live Art in South Africa,' which

I co-edited with Director of the ICA, Jay Pather. The book,

published early this year, was initiated in response to a literary

vacuum: before 2019, there was no text dedicated to live art

in South Africa. There was also no substantive discourse to

speak about the politically resonant form that it takes in our

country. The book sought to begin filling this gap.

The vision for the podcast is to extend the work begun by

'Acts of Transgression,' but in a more accessible manner –

free from academic jargon and freely available for download.

We want to immerse listeners in the ways in which artists see,

think, respond and create, and to consider how the talking

and thinking through of complex performative artworks

becomes a facet of the work itself.

Listening, re-listening

My time at Arteles was dedicated primarily to the ICA podcast.

I only appreciated the complexity of the project when I

sat down to edit – distilling hours' worth of conversations

with artists and curators, both site-specific and in-studio

interviews, as well as music, narration and performances,

into coherent hour-long episodes. This entailed mapping

out the recordings (electronically and on post-its around my

room), listening and re-listening, chopping and changing,

until I'd shaped a draft ready to be shared with my colleagues

at home. Arteles provided an invaluable period of focus and

contemplation, where I could be completely consumed by

the meticulous task of audio editing, while refining the vision

for the podcast.

In addition, the connections I made with other artists

encouraged me to pursue a personal project that I'd been

thinking about for some time – since interviewing my mother

about her experience of endometriosis, and the impact it

had on how she perceives her body. This conversation,

which I shared with my Arteles cohort, led me to interview

many of my fellow women residents about personal stories

of embodiment – how our bodies "keep the score" of our

struggles and traumas, telling the stories of our lives even

when we don't have conscious words for them. I am in the

beginning phase of turning these conversations (and more

still to be conducted) into a podcast titled 'Embodiment'. The

generosity and openness of the women around me was a

tremendous gift.
---
Enter Text program / OCTOBER 2019

Kai Choufour

Canada

www.tomorrowgallery.ca

About

Septic Age

I see art and life as a hypernarrative, a web, with pathways

connecting the physical, digital and spiritual. I am interested in

food hacking, metamorphism of value, comedic investigation,

naturalization of technology, inventions of the contrary, and

metaphysical presentation. I am a conceptual artist invested

in the capturing of natural phenomena and propagation of

wonder through relationships with nature. It is important for

me to work poetically, freely, sincerely and constantly. In my

practice everything collapses into itself repeatedly; song,

poetry, architecture, literature, design, food, and visual art

are used as tools for uncovering the new, illuminating the

past, navigating utopian ideals, and for discovering intrinsic

parallels that are present within dreams, art, film and daily

life. I believe in love, kindness and gratitude. I believe that

by exaggerating the present, we can put more emphasis on

our future.

I don't care

what they say

blue sky

sunshine

free wifi

rock and roll
---
Enter Text program / OCTOBER 2019

Leah McInnis

Canada

www.leahmcinnis.com

About

How does the space of our minds relate to the constructed

spaces our bodies inhabit? Lately, I have been seeking to

define my relationship to working and thinking through the act

of constructing large forms out of reclaimed materials. These

forms reference familiar architectures and can be climbed

and rested on by others. I wonder how these constructions

relate to the space of the contemporary art gallery? Or

the junk yard? The home? Through writing, another space

is created. Located in the mind, the space of reading and

writing is fleeting and intangible. A few years ago, I began

constructing specialized spaces for reading, and then later

I built exaggerated stations for writing. Both endeavours

carried their own successes and failures. Perhaps the

failures are more exciting... I hope that through this practice

of building and thinking I can better understand how to be in

a world that embodies contradictions: beautiful, sad, sincere

and ironic.

Where's the beach?

Why do people seek out familiarity in new places? What is

the same about these trees and the ones that scratched

my face when I was two inches tall. Where does your hand

go when your eyes are focused on the screen. Deliberating

between sharpening pencils with a buck knife and moving

debris around the barn. Or, we could climb higher into the

forest and whisper about ufo's. We could tumble failed

projects onto the fire so the night lasts at least one hour

longer. Prancing over deadfall in my stolen parka. Seeking

out delights within small cardboard boxes, imported and

inexpensive. I asked how public space is used back home,

and the best response was that it doesn't exist. Except for

the opera houses, which seem to be infallible. But then there

was the beach. The metaphorical Xanadu populated by

surfing dogs. I noticed the grass was eroded so I tried my

best to fix it up. I sharpened pencils with knives until they

were smaller than a lentil. I watched people move from room

to room and I watched the leaves fall until that tree looked

like a death metal band logo.

A fleet of little swans talking to a team of tiny devils. And

what information would be sought? Perhaps, they would ask,

"Where is the beach?" and the laughter could lead you home.
---
Enter Text program / OCTOBER 2019

Dale Collier

Australia

www.dalecollier.com

About

Conceptual artist Dale Collier fuses sculptural objects

with digital technology to perform contemporary historical

critique while re-examining the 21st Century roles of the

First Nations artist, activist and ally. Collier's work utilises

intertextuality to challenge and interrogate postcolonial

frameworks, contemporary falsehoods, nationalistic

propaganda and northern European convict/settler tradition.

Often manifesting as institutional critique, their site-specific

projects traverse live spaces and places of key cultural,

geo-political and environmental concern. Dale was raised

on Yuin Country and now resides between the Wonnarua,

Worimi & Darkinjung Nations. Since 2015 their work has

exhibited extensively as solo projects, as a collaborator

and also artistic producer with renowned Australian artists,

choreographers and curators in multiple institutions and

organisations internationally.

In 2010 Collier graduated with 1st class honours in a

Bachelor of Digital Media from the Queensland College of

Art receiving the Award for Academic Excellence. Collier has

won numerous awards including the Margaret Olley Post

Graduate Art Scholarship Award, University of Newcastle

2014, the Brenda Clouten Memorial Travelling scholarship

Maitland Regional Art Gallery 2016 and The Annual Student

Art Prize, Wattspace student Gallery 2017. Collier was also

recently awarded the 2019 Windmill Trust Scholarship to

deliver a large-scale reciprocal creative project, taking place

between Barkindji Country/Broken Hill and Worimi Country/

the port city of Newcastle.

Incommensurable Con Text

Dear Ned,

I Thought it would rain.

I hope you get this. Been reading for you. Not books or words,

no academy, just the swamp of my temporary surroundings.

Birch, pine, a great spotted bird and golden leaves. Falling.

I thought maybe, if the swan danced for you things might

change.

We can't keep going around like this. Parading about town

with our head in bucket, guns blazing. Won't stop them

criticising, we're still going to get shot down y'know. Besides,

it looks mighty stupid.

Been thinking of you lots, how you hold such esteem, such a

loose canon. Makes me wonder, what if I danced for you. Like

a swan. What would happen? Would everybody stop carrying

on like we exist on an island, only an island? Would we still

be a sensation not a place? It's not really that either, I mean,

sure it'll float. Doesn't mean it's a good idea. Doesn't mean

we're free from context. Seriously though, we can't keep

going around like this.

I really thought it might rain. But not in bullets, not a meteor

shower, not fish from the sky. But falling water, rising tides,

we could go swimming don't you think? Let off some steam,

get outa that rusty old suit. Still, I'm devoured by dehydration.

Some kind of madness, so much moisture, breathing but the

air's not the same. Just want to know how to help, just thought

maybe, if I dance for you. Like a swan. To give it water..

This project has been assisted by the Australian Government

through the Australia Council for the Arts, its arts funding and

advisory body.

This project is supported by the NSW Government through Create

NSW.
---
Enter Text program / OCTOBER 2019

Carolina Wheat

USA

www.elijahwheatshowroom.com

About

Carolina Wheat (American b. 1974) currently works in

Brooklyn. Born in Detroit, bred in surrounding wetlands and

vacant industrial wastelands, her writing, soundscapes,

visual art-work, and curating attempts to tap into spirits.

Playing with ancestry and historical temporary dance places,

she incorporates a supporting mystic yet scientific artistic

expression system.

With a BFA in textile surface design from the UofM and an

MFA in Writing from SAIC, early on she realized working

for the NYC fashion industry wasn't as cool as fabricating

installations for the Detroit electronic rave scene in the mid-

90's. Later, her deep dark love of vocals, sound, music and

radio transmitted her to volunteer for WCBN, FreeRadioSAIC

and was one of the founding members of CHIRP (Chicago

Indie Radio Project).

She has exhibited her textile and sound work, as well as

curated numerous politically and socially conscientious

exhibitions in Detroit, Berlin, London, Chicago, and New

York. She is one of the 10 original founding members of the

Nasty Women Exhibition and continues to work with artists/

collectors as activists Internationally with the gallery she

co-owns and operates, Elijah Wheat Showroom. Carolina

has been nomadically curating innovative exhibitions for

the last 25 years in creative spaces. As a leader in Higher

Education admissions, she has professionally fostered the

careers of thousands of aspiring artists. She and her creative

expertise has appeared in The New York Times, Vulture,

Hyperallergic, Fast Company, MAAKE Mag, The Brooklyn

Rail, The Guardian, China Daily, among others.

YA Mystic Fiction

Focusing on lucid dreaming amongst the rolling autumnal

hills and yellowing birch trees and deciduous forests of

Finland, Wheat-Nielsen's writing folded into the otherworldly.

Waking daily to record nightly adventures, the remainder of

the sunlight was spent exploring the woods, researching

binaural beats, writing by hand a YA 'Mystic' Fiction Novel

and voraciously reading. There were hours upon hours of

dedicated creative time, with no phone and little internet

contact, nourishing a grieving soul. This writing is loosely

based on the Tibetan Book of the Dead, therefore, Wheat-

Nielsen considered human existence and the afterlife deeply

within the work. Channeling her younger self, higher spirits

and working to exchange knowledge amongst the Akashic

records, the writer completed about 35,000 words towards

her first novel.
---
Enter Text program / OCTOBER 2019

Berny Tan

Singapore

www.bernytan.com

About

Berny Tan is a Singaporean artist, curator, and writer. Her

interdisciplinary practice explores the tensions that arise

when one applies systems to – and unearths systems in –

intangible personal experiences, complicating the false

binary between rational and emotional. Her projects are

attempts to reframe this space of ambivalence as generative

rather than paralytic.

Tan's strategies reflect a fundamental interest in language

as it is read, written, and spoken by her. She sees language

itself as a system through which her subjectivit(ies) can be

simultaneously articulated and encoded, allowing her to

interweave the confessional with the analytical, the affective

with the critical.

Tan recently concluded an MA in Contemporary Art Theory

at Goldsmiths, University of London, and holds a BFA (Hons)

in Visual and Critical Studies from the School of Visual

Arts. She previously worked as Assistant Curator for OH!

Open House, a non-profit that explores Singapore's cultural

geography through art. She has also exhibited her work in

Singapore, New York, and the United Kingdom, with two solo

exhibitions in Singapore in 2018.

Talismans for Disentanglement

This series of textual embroideries plays with the form of the

Taoist paper talisman, much like the ones my grandmother

gives me as a good luck charm. Here, the traditional talisman's

red print on thin yellow paper is echoed by the use of red

thread on unbleached calico fabric. Each piece features a

single sentence sewn in a vertical column centralised on a

narrow piece of fabric, with one word per line. The end of

each line is always connected to the start of the next, as if

the entire sentence was sewn with a single thread, giving the

back of each piece a calligraphic quality. Hanging by a thin

thread, rotating in the air, the content of the sentence on the

front and the pattern of the stitching on the back become

equally important.

The sentences I have composed are written from the second

person point-of-view, addressing myself as 'you', as if I have

detached from myself and am contemplating my thoughts

and behaviour from a forced change in perspective. These are

direct statements that position themselves at the intersection

of confrontation, warning, mantra, truism, instruction.

Each sentence also contains words in parentheses, sewn

in a lighter pink thread, providing a second reading of the

sentence that reveals a fallacy in my thinking. Though the

sentences take the form of a talisman, they are not prayers

or blessings. They are intentionally encoded in analytical

language yet loaded with emotion, situated at the interstice

between the cryptic and the confessional.
---
Enter Text program / OCTOBER 2019

Lucas Southworth

USA

everyoneherehasagun.blogspot.com

About

I grew up in Oak Park, Illinois, and am currently a professor

of writing at Loyola University Maryland. My collection of

stories, Everyone Here Has a Gun, won AWP's Grace Paley

Prize (University of Massachusetts Press, 2013). Recently, I

have started focusing on using creative writing toward social

justice and community engagement pursuits, working with

a literary non-profit in Baltimore, a branch of the Baltimore

public library, and in a public school.

My fiction tends to investigate spaces between form or

genre. My interest lies in blurring or layering a range of styles,

structures, and voices to explore how stories are consumed,

written, and dreamed. I am also interested in ways sudden

disruptions of the familiar, the traditional, or the cliché can

unsettle, alter, and ultimately add to the reading experience.

I am working on a novel now, for example, that uses jagged

transitions between science fiction, speculative, and literary

realism to represent the rifts caused by a murder in a

seemingly safe space. Ultimately, it focuses on characters

dealing with trauma and shock and then surfacing from it as

they assign new symbols of safety. The book is interested

in both the incredible fragility of the human experience and

how recovery often happens deep in the meaning-making

apparatus. I am also finishing a new collection of short stories

that studies characters living on a spectrum of silence—from

the voiceless to the disenfranchised to the severely quiet

or reclusive. Characters include D.B. Cooper and Buster

Keaton.

The Holy Sandwich

I ended up making significant progress on the late draft of a

novel at Arteles and, surprisingly, writing a long short story. I

hadn't planned on writing the story, and, in fact, hadn't written

a short story in about a year. But I started it on my solo travels

to Arteles and then kept going. The residency provided me a

depth of time, focus, and space to write what became a really

language-based piece, where every sentence in each section

began with the same word. It's the kind of thing that would

have taken months in my regular life, since I would have had

to dip back in over and over, work for two hours just to find a

groove, and then inevitably run out of time and start all over

again. At Arteles, I never had to leave that groove, so the

story came fast. It's a story that takes a look lots of different

monsters (including a diabolic sandwich) and ultimately the

interplay between safety and fear. Other residents might find

references to conversations we had in there, too. Ideas and

images from our sauna discussions worming their way in.
---
Enter Text program / OCTOBER 2019

Julie Wills

USA

www.juliewills.com

About

My work is inspired by the tools of desire: wishes, hopes,

pleas for divine or cosmic intercession, and superstitious

rites. These are the things we turn to when something is

desperately wanted but cannot be achieved through hard

work or other rational means. I create work about strategies

for emotional survival—and particularly, the strategies we

utilize when there is no logical course forward.

Much of my recent work incorporates a longstanding interest

in text, signification, legibility and poetic language. I create

lists that present themselves as a rational ordering of like

items, but carry an emotional weight through metaphor and

implied narrative. I frequently draw imagery from celestial

sources; the moon, stars and cosmos recur throughout in

varying forms. Stars fall from the sky, disrupting the known

order of the universe. Through such imagery I explore

constancy and volatility, current conditions, and hope for an

unrealized but longed-for future.

Astronomy Explained

"Astronomy Explained," a college textbook found on the

Arteles bookshelf, served as an unexpected source of

linguistic material for my work over the Enter Text residency

period. I appropriated, recombined and repurposed language

fragments found in this text; these passages became the

basis for a month's worth of drawings, installations, and

collage compositions.

Some phrases are section headings found intact in the

book's table of contents:

THE FATE OF A LOW MASS STAR

THE STARS THAT NEVER RISE

Others are snippets pulled from one context and paired with

another found elsewhere:

A LITTLE SALT SPRINKLED IN THE FLAME // INTENSIFIES

THE DARKENING

The cosmos is a recurring metaphor in my work. It offers

mystery and potential and the chance that even though

the laws of physics and social convention are not working

in my favor, something else might be. I've culled these text

fragments for their open-ended metaphors, less interested

in learning about the structural phenomena described than I

am in the possibilities evoked through the language.
---
Enter Text program / OCTOBER 2019

Tatiana Bonch-Osmolovskaya

Australia / Russia

antipodes.org.au/en.aboutTatianaBonch.html

About

I am a writer and an artist with natural science background. I

prefer texts that make a reader think, texts with inner layers,

texts with non-linear path of reading. Having a mathematical

education myself, I practise combinatorial writing / writing

in formal restrictions, in poems and visual poems as well as

in prose. The subjects I am interested in vary from ancient

mythology and history of Crimea, amazing Australian nature

and its cultural heritage, to contemporary social, cultural and

political situation, human rights, feminism, and especially

freedom of expression. Though this is a wide spectre

of topics, they all call to me as a part of my motherland

history and family heritage, my own life story, as well as the

contemporary social and political situation.

I write prose and poetry and make visual artwork using my

knowledge of mathematics and formal literary restrictions

as developed by French group OuLiPo and other authors of

ergodic literature like Vladimir Nabokov, Italo Calvino, Mark

Danilevsky etc. I am attracted to intellectual joy and gaining

new knowledge from texts. This reading should not be not

easy, with hidden riddles and puzzles without clues, but its

comprehension provides a delight as finding a way through

a maze.

I am also interested in visual representation of beautiful

mathematical objects like polyhedra, labyrinths, and visual

illusions. And I love sharing my knowledge and passion for

knowledge with children and adult learners.

Writing, walking, seeing

I came to Arteles to work on a novel and most of the time I

focused on this. It went well, and I wrote the first chapters

and a bit of culmination, for the first draft of course.

But Arteles surrounding called for long walks, meditation

on the nature, and making photos and videos. And I walked

by enchanted forest, filled with fly agaric mushrooms and

broken cars. I haven't seen a moose but was almost eaten by

a dozen of squirrels just outside the house.

I played with reflections turning images of semi frozen lake

upside down. Maybe it's my Australian background to look

at the sky upside down, but this provides an interesting

perspective.

I saw swans on the lake and made a video poem "migration/

emigration" walking by the fields after swans.

Some spaces in the forest asked for a spider web, as

concentrating from the cold wet air, and I weaved webs there.

In Arteles library I noticed a book with "Fallen" by Jane

Hammond and made a homage photo series "Tears on the

Fallen".

It was a wonderful experience and I am happy to become

familiar with amazing Arteles people.

Even if Charles Maier claimed, "Nostalgia is to memory as

kitsch is to art," so photos are surrogates of the memory, I

made lot of photos to remember Arteles.

And, almost forgot, I worked on a series of meander poems

like this: "Everything written here is a sincere truth, except for

this very last sentence".
---
Back to Basics program / SEPTEMBER 2019

Emily Weekes

Australia

About

I'm a writer. I've been writing professionally for over a decade,

mostly non-fiction and often for others. My writing work is

varied and purposeful but it leaves little time to wander and

wonder … consumed by finding the perfect words to help my

clients tell their stories. I love my work but I miss my writing.

I began writing to make sense of the world. In a time before

social media, I wrote travel pieces about far-flung places not

yet Insta-famous. Writing grounded me as I took in the world

around me. Once home, I came back to writing to capture my

experiences and share different stories with the world.

But I've now lost the spaciousness that once sparked my

creative mind, and feel torn by two worlds – the creative

versus the productive. At work, I can transform a blank page

into beautiful prose, at speed and to brief. But is that a valid

creative process? It feels too mercenary. Besides, it's not my

story being told.

Coming to Arteles is a chance to reconnect with the part of me

that began writing from the heart. All the artists, musicians

and writers I admire have led me here; as I laugh, cry and

wonder at their expression, I think, I need to do this too.

Animistic Observations

Being at Arteles gave me a sense of quiet and the

spaciousness I was craving. In the space created for us,

removing iPhones and the Internet, I was able to listen to

ideas and stories calling to be told. I toyed with fragments,

characters, settings and wisps of memories tugging at my

attention – only this time, I had the space and time to tune in,

listen and meet them on the page.

I disappeared into books, articles and zines, reading

whatever caught my eye and seeking out new voices and

ways of playing with words, curious to see what others found

beguiling. I flexed my beginner muscles by drawing and

playing the guitar. Shutting down self-criticism for a time.

For me, this was the point. At Arteles I was free to follow my

whims and desires as they came knocking.

Exploring the landscape of Hameenkyro was its own gift,

watching the natural light change as a new season dropped

in. I cycled and walked for miles, happily lost and talking to

locals wherever I could, collecting treasures from the forest

floor and dancing with strangers at a local Finnish tango

meet-up. I was part traveller part writer, gleaning what I could

from every moment.

Sharing this month with twelve strangers – soon to be friends

– was profound. I swapped my usual world of deadlines for a

soul-enriching schedule of sauna and meditation, tuning into

my creative instincts, the changing landscape and a sense of

stillness within.
---
Back to Basics program / SEPTEMBER 2019

Namie Rasman

Singapore

www.namierasman.com

About

This human has cat-like instincts and is constantly intrigued

by sounds around her. Ideally, Namie would like to be a cat

but obviously it isn't the task that the universe has assigned

to her. Aside from taking care of cats, she loves listening to

and writing music. Her daily routine also includes using her

voice to sing, teach and have conversations with others.

Drawing inspiration from nature, relationships and various

affairs of the world, she colours her compositions in a delicate

and cathartic manner. You'll hear musical influences from

Jazz, Soul, Folk and Electronica. To date, she has released a

4-track EP titled, ""Notes"" as Namie Rasman. She currently

writes and performs her original works as Namie & The Waves

with 4 other musicians and is working towards releasing their

music in the near future.

On another note, an eye-opening collaboration with George

E. Lewis—under the Nu Ensemble assembled by Dr. Timothy

O'Dwyer at Singjazz Club in 2016—sparked her interest in

Extended Vocal Techniques (EVT). During her final year

in LASALLE College of the Arts, she explored EVT for her

practice based research dissertation. Her paper was about

vocal mimicry of environmental sounds in Singapore. Armed

with curiosity, creativity and her quirky charm, Namie

strives to incorporate all her artistic interests into her works;

finding balance among free improvisation, use of EVT, Jazz,

Electronica and many other influences. She embraces

challenges and finds herself collaborating with fellow

musicians and artists of various disciplines.

What lies beyond...

September 2019 was nothing but magical. The dreamy

days and nights offered a safe and cosy environment to

disentangle all the knots that were left unattended over the

years of being in a crowded country. Courage was needed

in order to have love, acceptance and patience for myself.

Inevitably, there were many internal battles in my head which

subsequently became songwriting ideas. What lies beyond is

a song conceived during the final week inspired by the sleep

paralysis I encountered earlier in the month. The demon

talked about in the song is a metaphor for all my fears and

insecurities that became apparent. It is about time to stand

up against all of those.

Although songwriting has always been an intimate process

with my notebook, pencil, piano and laptop, arranging and

performing songs have mostly been a group effort with other

musicians. Having time alone during the residency allowed

me to dive back into practicing being a self-reliant vocalist. I

spent my days analyzing my usual songwriting process and

thinking about the steps I needed to take or erase that will

allow me to conveniently and creatively create a song that

can be performed live using the instruments and equipment

I have; voice, midi keyboard, TC-Helicon's Perform VE and

laptop with Ableton Live.

There was a lot of introspection, exploring and admiring

nature, making friends, practicing and creating. And I'm glad

explored what lies beyond my comfort zone.
---
Back to Basics program / SEPTEMBER 2019

Jennifer Rooke

Australia

www.jenniferrookeart.com

About

My artistic practice centres around drawing as a diaristic

process, incorporating various forms of mark-making and

writing. I keep personal written diaries based upon my

everyday experiences and surroundings which become

resources for my visual works. My drawings vary in scale,

medium, time, detail and subject matter. These drawings

can sometimes transform into full installations. My recent

research has been centred around women writers, poets

and artists with particular interest to how they represent

themselves through their life-writing, including collections

of letters, diaries and autobiography. The journal is an

important solitary space for women to explore and perform

identity outside of traditional gender roles. Drawing

functions as a similar space in which to practise the private

self; an opportunity to visualise and develop ideas, personal

histories and feelings. I am interested in the private practice

of these forms and how these shift when made public.

To be continued

I sketched most days of the residency, working from photos

of my recent travels in northern Europe and looking to my

surroundings in the Arteles house and studio. I morphed

these observations into more imagined scenes and began to

develop some larger drawings. I appreciated having the time

and space to let my larger drawings rest and work on them

when it felt right.

It was liberating not having a phone for a month. I started

reading more and re-discovered my love for fiction; a long

influence on my practice. I continued my daily habit of

journaling and learned a new way of setting up my diary to

create an ordered space for reflections, a calendar, notes

and ideas.

I really enjoyed getting to know the other residents throughout

the month; there was a balance of having space to myself

and being with other creative minds. We would eat breakfast,

go for walks, swim in the lake, play drawing games, watch

films, talk, laugh, sauna, go for day trips, watch the sky, sit by

the fire, and dance in our barn-based Klub Krümble.

My mind felt calmer and more focused throughout the month

and since leaving, I have been thinking about what habits

I want to continue outside of Arteles and what I want to

change. The Back To Basics residency refreshed my way of

living and working and I take with me a lot of starting points

for new drawings and things to work on professionally and

personally.
---
Back to Basics program / SEPTEMBER 2019

Marie Bogoyevitch

Australia

www.instagram.com/marie.bogoyevitch.art

About

I am a Melbourne-based artist inspired by the beauty of the

natural world, the plants, the sea, the sky, to create works on

paper. A major part of my art practice builds on the attention

to detail and accuracy of centuries of traditional botanical

art. By presenting enlarged portraits of Australian native

plants, my aim is to encourage the viewer to appreciate

their incredible structures and beauty. By removing the

distractions of colour and creating each work with delicate

black ink marks, I seek to capture the abstract qualities of

leaves, seedpods or flowers. More recently, I have developed

interests in printmaking, based on the use of solarplate

etching to transform my drawings, photos and other natural

objects including leaves, flowers and feathers into prints.

This is allowing me to introduce colour, image overlays,

repetition and image distortion into my work in a way that

was not easily possible with drawing alone. During my time

in Arteles, I am looking forward to developing these ideas

further.

Thinking & Inking

I explored ideas around image collection, distortion and

magnification. Over many days throughout the residency

month, I painted black ink directly onto leaves, bark or

flowers of plants to create abstract images to retain the

essence of each plant form. Later, slicing and interweaving

these mages developed more complex inter-relationships,

provoking thoughts around living systems and our human

contact with them. In contrast, stippled ink drawings of

birch bark were a meditative escape exploring the detailed

beauty of the magical silver birch trees of the Finnish forests.

It was an incredible month at Arteles- watching the colours

of the forest change, seeing mists roll in over the lake, taking

the time to find new mushrooms and lichen, stargazing

and experiencing wonderful sunrises and sunsets – these

memories will influence many projects into the future.
---
Back to Basics program / SEPTEMBER 2019

Peter Pitout

South Africa

www.peterpitout.com

About

I am a South African artist, currently residing in the south of

France.

The coastal city of Durban, South Africa, where I spent my

childhood, has had a large impact on my work.

Memories in color of the KwaZulu-Natal coastline and of

the Indian ocean, have remained with me and influenced my

palette greatly.

The diverse cultural landscape, heavily influencing my

relationships with others and my personal conception of the

human condition.

Its mainly from these origins, that I believe, my principal

subjects of choice arose

- Human form and identity and ethereal landscapes.

Beyond the symbolism of my work, there is the creative

process itself. It's an essential part of me, that I need and

depend on. Studio time, the unfolding of a new piece, and the

act of painting, in itself, is what drives me.

Animistic Observations

Arteles was a time of silent reflection.

A time to invite nature back in.

The context of the residency, induced a gradual dissipation,

of the need to research and classify.

No need to name the days, the trees, the town…

A new found freedom of abstract analysis, of things not

known,

led me to artificial constellations, maps of nowhere and

seasonal based color studies.

It was liberating, and an essential element of my experience

I hope to conserve.

I discovered an ancient light.

Light amongst the clouds.

Light on the lake.

Static in the mist.

Lightning in a cloudless sky.

Starlight and Auroras.

Light Being.

One subject, I'll take with me moving forward.

The impact of the surrounding environment.

The river in the sky.

The movement of the clouds.

The reflections on the lake.

Bodies of water scattered amongst the landscape.

Analysis of the displacement of water arose.

Ideas on the history of the storm are forming.

I've left Arteles with newly formed ideas concerning my work

and concrete future projects in mind.

The experience was both one of artistic exploration and a

moment of very personal self analysis.

Many elements of which, Im still working through …

It was a special, privileged time and space, to discover,

contemplate and crystalize new ideas.

I re-evaluated what art could be, thanks to the artists I was

fortunate to share the residency with.

I am eternally grateful to the Arteles team, for inviting me on

this beautiful and unforgettable journey.
---
Back to Basics program / SEPTEMBER 2019

Chiho Iwase

Japan

www.chihoiwase.com

About

I am a visual artist based in London. In my practice, drawing

is one of my essentials to expand on my ideas and build up

my observational skills. Therefore, my work generally begins

with drawing and is developed into painting and sculpture.

I am currently working on portrait paintings which are

not reproduction of individual expressions but refer to

our sensibility and spiritual energy. I attempt to portray

contemporary mythological figures rising up within my

imaginary narratives based on my social experiences and

cultural background. I also focus on depicting human beings

as parts of nature and tend to add abstract expressions

inspired by natural phenomenon. I am searching potential of

portrait paintings and approaching functions of portraits in

ancient believes and primitive societies.

Animistic Observations

I caught sight of trees with branches looking like arms when I

was in the train from Helsinki to Tampere. Each branch had a

different expression and every tree was showing its emotions.

That image had been in my mind during the residency.

I had grown up in Japan and the nature worship behind

Japanese culture always influences my artwork directly

and indirectly. Shinto, Japanese original religion, has full of

animistic thoughts. The term animism is used for primitive

cultures and generally considered to be naive. However,

the idea of non-human beings having souls is still found in

everyday life in Japan and I believe that makes Japanese

culture unique. Considering about animism is also an

occasion to face modern issues in different angles. Animistic

life indicates logical relationships between human and nonhuman

beings. I have tried to reflect that view in my art but

recognised myself loosing the sense of animism.

Arteles gave me an opportunity to observe nature in animistic

way as I realised that I could only open the doors of my

perception when I feel I am a part of nature. I walked around

sketching and I was purely inspired by the nature. The talking

clouds drifting in the blue sky, forest dressed in autumn

costumes, fog flowing on the field like a dragon, countless

stars blinking in darkness, fallen tree walking on the lake, and

mushrooms mysteriously grown…

I came back to London and saw a group of mushrooms

growing in my garden for the very first time. A mushroom

fairy must follow me.
---
Back to Basics program / SEPTEMBER 2019

Lian Bell

Ireland

www.lianbell.com

About

As an artist, set designer, and arts manager I do lots of

different kinds of work. Sometimes I imagine spaces that

communicate to an audience, that augment or challenge

an audience's reading of a live performance, that try to give

people a different way of looking at the world around them.

Sometimes I make art that considers our intimacy with objects

and spaces – and how those things exist in our memories

and imaginations. Sometimes I work with artists to help them

safeguard the time they need to think creatively, to introduce

them to new ideas and new people. Sometimes I embed

myself into arts organisations to deliver events. I always work

with groups of people in organic and collaborative ways to

imagine and forge our own path through unknown territory.

Conversations and walking are always important parts of my

process, and sometimes are the outcome too.

Profile photo by Conor Horgan

Silence, circles, conversations

My time in Arteles feels like it might be a stepping off point,

but I don't know yet where I'm stepping off to. I don't usually

make work on my own, so this was a challenge and an

opportunity for me to see what kind of things emerged from

myself alone. I came with no specific project in mind and

tried to listen hard and follow interesting thoughts as they

appeared.

I took photographs, I came across unexpected new friends,

I made things with my hands and gave them away, I wrote

things and kept them to myself, I drew things and burned the

drawings, I cycled very slowly and waved at passing cars.

I thought a lot about hospitality, about obligation, about

misremembered colours, about hugs, about being happily

lost in translation, about rowan trees, about things in pairs.

I tried to think about my brain from the inside. I tried to

recalibrate how I think about the body that carries that brain

around. I tried not to think about what to do with all these

thoughts.

For the month we had no phones and limited internet, and

being removed from the world was pure pleasure. It felt

good to be among people who were always fully present. It

felt good to be warmed through by the sauna. I was happily

selfish and missed no one. I stopped reading the news, and

haven't started again. I ate too much smoked salmon. Being

introduced to meditation and starting a daily practice gave

me something new that I've taken into my life. The beautiful

land, the changing clouds, and the little gravel roads around

Haukijärvi are still in my thoughts every day. I'm very grateful

for the lessons in how to be still and quiet and present.
---
Back to Basics program / SEPTEMBER 2019

Mapi Rivera

Spain

www.mapirivera.com

About

Creation is for me a path of initiation, of approach to the

Mystery, a way of transcending my boundaries as human

being. Photography is my main means of expression. I am not

interested in photographing the moment, but in documenting

interior states; visions, dreams, vivid and experienced

perceptions. My photography is felt, pre-felt, since there is a

previous preparation, on a physical, emotional, psychic and

spiritual level.

Through the photographic images I believe and I re-create

("Creo porque creo". In Spanish this is a play on words). And

I create because I believe in the regenerating and healing

power of images. For this reason I intend to create images

from love, joy, enthusiasm, so that, in turn, they have the

power to broaden our heart, widen the vision of the beholder

and point the way back to our true selves.

Kääntää (elävän elämän) juuri

I traveled to the end of the earth (Finlandia) to reverse my

roots (käänna juuri), restore and orient them towards the

living light from the center of my heart. I didn't know it before

going, but I realized when I arrived at that place of wide

horizons and huge skies.

I was told through a dream to procure gold leaves in order

to transform some roots that I've found in the forest. The

gold leaf is an element that has been used throughout

the centuries, both in the east and in the west, to restore

works of art and cracked objects. The skies of the baroque

altarpieces and the cracks of the Kintsugi pottery inspired by

the Japanese wabi-sabi philosophy, are symbolic wounds,

access roads to the supernatural.

In this place where I was a foreigner, I felt at home and I

recovered my inner space. I uprooted my fears, deployed

hidden experiences that lost their strength when I brought

them to light. Finally, I focused all that power to make a total

turn towards pure love, the sensitive manifestation of living

light.

From the present moment and focused on my future, I

uprooted my past, healed my own wounds, and surrendered

myself to living life (elävän elämän).

* The photos I present are not definitive images but works in

progress
---
Back to Basics program / SEPTEMBER 2019

Hiten Bawa

South Africa

www.hitenbawa.co.za

About

Hiten Bawa is an artist, architect and Accessibility

Consultant based in Johannesburg, South Africa. Hiten is a

profoundly deaf person with bilateral cochlear implants. He

works primarily with acrylic paints, watercolours and inks

to express his cultural identity and perspectives of people

with disabilities. Bawa's artwork overlaps his interest in the

South African Indian diaspora and South Africa's Apartheid

based architectural structures which manipulate access as

a medium of control. Bawa also goes on to parallel the hand

signals of sign language with Classical Indian Dance hand

movements and local taxi hand directions in a creole styled

visual language from his unique perspective.

He holds a Master of Architecture (Prof) degree from the

University of Cape Town and runs his own creative practice

called Studio HB. He is currently working on designing

barrier-free environments for people with disabilities across

housing, transportation, interior design, urban design and

landscape design. Bawa was a finalist for the inaugural SA

TAXI Foundation Art Award in 2015 and is a part of the J.P.

Morgan Abadali Art Collection.

The Architecture of Painting

My time at Arteles was filled with periods of deep

introspection, experiments and engaging in multiple creative

processes from designing a residential house to sketching

and painting. It was a good opportunity for me to re-evaluate

my creative practice which had been pulling me in different

directions and return to the basics of drawing and painting as

well as what it means to be a visual artist.

Taking the cue from the program title, Back to Basics, I

returned to experimenting with different painting techniques,

creating colour swatches and compiled a library of scaled

architectural elements. My creative process started with

the elements of the art and drawing inspirations from my

surrounding including the magical forests of Finland. The

process then evolved into an exploration of stories about the

South African Indian diaspora inspired by Ahmed Essop's

book "The Haji and Other Stories".

The outcomes of the process are a portraiture painting of an

Indian bride and two unremarkable buildings in downtown

Johannesburg called Master Mansions and Orient House that

featured in Essop's stories. The painting of Master Mansions

incorporated South African hand signs and Indian influences

along with explosive colours scheme to convey my identity

as a South African Indian.
---
Back to Basics program / AUGUST 2019

Jason Wright

Canada

www.jasonwright.ca

About

Jason Wright is a practicing artist and arts educator based

in Vancouver. Jason teaches with the Vancouver School

Board, Arts Umbrella, and is faculty at Kwantlen Polytechnic

University where he teaches drawing and sculpture. Jason

has participated in various teaching initiatives including the

Vancouver Biennale/ Liceo Boston Open Borders project

in Bogota, Columbia, Connected North (Northern Arts

Connection), Arts Umbrella Teen Scholarship Program and

Arts Umbrella Summer Teen Intensive.

In the summer of 2019, Jason presented his arts-based

educational research at the INSEA World Congress at the

University of British Columbia and exhibited new work at the

Arbutus Gallery, KPU-Surrey Campus.

Jason has a BFA in Visual Arts from Simon Fraser University, a

BEd in Art Education from the University of British Columbia,

and an MFA in Sculpture from the University of Regina.

Pedagogical Drawings

I came to Arteles wanting to draw (which is good, because

I brought a lot of paper and pens and pencils). I spent the

last year thinking about drawing in relation to teaching, (I'm

a drawing teacher), drawing-as-pedagogical-action, drawing

that shows and guides, and I spent a fair bit of time looking

at instructional manuals and step-by-step DIY drawings and

examining how they function, and how simple-not-simple

IKEA instructions and beautifully rendered architectural

drawings, and even quickly drawn maps on napkins for

confused tourists can still be useful, even in the age of

YouTube tutorials and Google searches, and whether usevalue

has any place in art at all, really.

In Arteles, I tried to draw like those schematics and diagrams,

yet the early drawings felt superficial and a bit illustrative and

empty, and I became frustrated by the stupidity of trying to

mimic these real-world things, mimicking the arrows and

squiggled lines of instruction in aid of something helpful and

utilitarian. So I embraced the non-utility of them all. I began

to create diagrams for nothing-in-particular, how-to drawings

for non-sensical acts, undecipherable charts accompanied

by working notes (equally without rhyme-or-reason), and

simple (comedic, smart-ass) disruptions of the recognizable.

Blueprints of folly. For folly's sake. (Which sounds like a

pretty nice swear. like "For folly's sake, stopping eating all

the licorice.")

The Finnish landscape made it's way into the drawings

too, the black and white birches in particular (tall drawings

themselves).

Plus there was sausages and cider.
---
Back to Basics program / AUGUST 2019

Jojin Van Winkle

USA

www.jojinprojects.com

About

Jojin Van Winkle is a visual artist, writer and assistant

professor of art, teaching foundations and new media. Her

film/video and audio practice centers around the practice of

listening, focusing on resilience, environmental stewardship

and human rights issues. Her current research is a

multimedia, documentary-based project which examines the

roles and impacts of destruction in everyday lives of women

in rural areas.

Van Winkle has participated in artist residencies internationally

and nationally. She exhibited large-scale installation art

across the United States before working in video and film.

She is an associate producer for the documentary, "The

Land Beneath Our Feet" (2016, 60 min.) and the USA-based

cinematographer for PBS/ Independent Lens documentary,

"In the Shadow of Ebola", (2015, 27 min.).

Jojin has a Master of Fine Arts (MFA) and a Master of Arts

(MA) from the University of Wisconsin-Madison, both focused

on film and video. Her Bachelor of Fine Arts (BFA) is from

the School of the Art Institute of Chicago. She enjoys the

experience of "flow" through meditation, running, swimming,

scuba diving, and being outdoors.

Destruction Project Studies

My first day at Arteles I took a run. Parked on a nearby

property were several dented cars with racing number

painted on them. Curious, I wrote the neighbor, dropping off

a translated letter in their mailbox.

A week later experiences unfolded. Kai who owns the racing

cars and keeps them at this parents' farm, agreed to talk with

me.

Kai brought out more cars from the barns as we discussed

Jokamiesluokka (Jokkis), an unique racing sport. During the

next several weeks, I meet his partner Tiina, also a Jokkis

driver, got to know them as a family, joining them at their

nearby summer cottage and taking portraits of them with

their daughter.

I attended a Jokkis race in Laitila. Kai introduced me to Ilona.

I photographed her preparing her orange VW bug, racing and

winning the women's competition.

In Jokkis—the playing field embraces equity. At the end of

the competition, if someone wants your car, you have to put

it up to be sold via a lottery.

I spent time documenting Kai's "car graveyard" that is really

his spare parts storage. Old cars are nestled in the forest,

enveloped in moss and lichen. His very first racing car lives

there amongst other treasures.

At the start of my residency, I worked on a narrative film script,

"Driving in Reverse", writing 40 pages. I ran daily, culminating

with a 14km run to a local veggie buffet. I saunaed as much

as possible at Arteles and the Wednesday's public sauna.
---
Back to Basics program / AUGUST 2019

Andrew Goddard

Australia

www.andrewgoddard.art

About

Andrew Goddard is a sonic and visual artist based in

Melbourne, Australia. Andrew's practice at present generally

begins with a process of material collection; using various

recording technologies to collect sonic, visual and sculptural

materials, which are then presented in an installation

context. This allows the viewer the freedom to navigate the

relationships between elements in a spatially and temporally

unfolding environment. Having recently completed his

Honours year in Fine Arts at RMIT, Andrew is seeking to

expand upon the projects developed during this study in

order to prototype new works.

Observe, Transduce, Transform

When I arrived at Arteles at the beginning of the month, I

had brought with me a range of audio recording and lighting

equipment, and had a fairly open plan to work on developing

my knowledge with the equipment through a process of

material collection and prototyping. I found the combination

of the landscape, a mediation routine, the lack of internet

and the nearby presence of such wonderful artists to be a

really fertile environment for working through ideas. I ended

up developing several projects as outcomes, including a

small number of sculptural works, which were relatively new

territory for me.
---
Back to Basics program / AUGUST 2019

Carly Seller

UK

www.carlyseller.com

About

I am a multi-disciplinary artist, artist facilitator, and yoga

teacher based in Plymouth. Through my playful and meditative

practice, I respond to the intertwining of the land, the body

and the breath. I create quiet, observant work using processled

practices that navigate a balance between control and

interruption. My work spans photography, moving image,

textiles, objects, and performance. Opening my practice

up to experiment with different mediums has enabled me to

intuitively explore states of flow, and find fluidity and stillness

in my making process. My current research involves sacred

spaces and places, and the innate healing qualities of the

environment.

Sensitivity. Uncertainty. Discomfort.

I arrived at Arteles with questions rather than ideas.

I went swimming in lakes. I sat in meditation. I felt the intense

heat of the sauna followed by the shock of cold water. I

moved my body on my mat, and then off of it. I got naked in

nature, and was bitten by mosquitoes, many times. During

these experiences, I felt heightened sensitivity, uncertainty,

vulnerability, and discomfort. These feelings were often

followed by the sensation of release; this is where my work

came from.

Following a desire to work with performance, I learnt new

things about my body and encountered some limits. Some

performances were long, taking days to prepare and hours

to action. Some performances had the same duration as the

daily meditations. Other performances were fleeting, within

the 10-second parameter of my cameras self-timer function.

There was a simplicity to life at Arteles that was reflected in

the simplicity of the modes of working I found myself using.

I found new ways of working, more sustainable ways of

maintaining my practice.
---
Back to Basics program / AUGUST 2019

Afternoon Collective

(Agnieszka Foltyn & Per Stian Monsås)

Norway

mishifoltyn.tumblr.com

About

Afternoon Collective is a multi-disciplinary arts collective by

Per Stian Monsås and Agnieszka Foltyn founded in 2016. Our

goal is to highlight the role of art in every day spac-es and

life, creating a durational exchange or dialogue between site

and the public. Through site-specific installations and social

performative interventions, our work is at once provocative,

spectacular, ephemeral, subtle, monumental, temporal,

long-lasting, accessible, and mundane.

ALLOFIT

We want to directly engage in everyday life with art.

Through our work, we define value.

We make art present.

We forage, ferment, grow, and change.

We live our politics.

We respond to the physical and social context in which we

are located.

We participate in community.

Our projects aim to:

Bring people together

In meaningful ways

In a certain space

For a certain duration.

• cider workshop • pizza oven • shooting range • collective

dinners • Babette's Feast • portal raising • nest walk •

kombucha making • Flåklypa Grand Prix • mushroom

foraging • berry popsicles • Pina • cider party • cider

balancing activity • pinnebrød •
---
Back to Basics program / AUGUST 2019

Michael Heyman

USA

www.nonsenseliterature.com

About

Michael Heyman is a scholar and writer of literary nonsense,

poetry, and children's literature, and a Professor of

Literature at Berklee College of Music in Boston, where he

teaches courses on Children's Literature and music, Poetry,

Performance Poetry, and Arthropodiatry. He is the head

editor of The Tenth Rasa: An Anthology of Indian Nonsense.

His poems and stories for children and adults can be found

in the journals Poetry International, Solstice, and FUSION;

and in the books The Puffin Book of Bedtime Stories, The

Moustache Maharishi and other unlikely stories, and This

Book Makes No Sense: Nonsense Poems and Worse, the

latter of which he also edited. His latest work wanders into

the hills and dills and dales and bales of sound poetry for

children.

Moosefly Madrigals

Representative of the itchiness of artistic yearning, the

fruitless struggle for home and family, the overcommitment

to all the wrong things, the persistence in folly, the triumph of

wrong-headedness in the face of flaming failure housed in the

cathedral of corrupted endeavor ensconced in the flaming

fruitcake of futility, my "Ode to the Moosefly" will surely be

better than the Cats reboot and an antidote to Schprongfest

2019.
---
Back to Basics program / AUGUST 2019

Kerry Downey

USA

www.kerrydowney.com

About

I am an interdisciplinary artist and educator based in

New York City, with a practice that includes video, works

on paper, performance and writing. My work explores

relationality through the many ways we inhabit our bodies

and access forms of power. I am interested in the boundaries

of the self and how we are physically, psychologically, and

socio-politically entangled in our environments. Driven

by experimentation, my techniques present the body as

sensorium and the self as process – a visceral, materially rich

place of flux and multiplicity. Stemming from my experiences

as a queer and gender nonconforming person, I'm inspired

by art's ability to help us connect with our vulnerability and

desire. My art poses new models for transformation that

challenge capitalist modes of production and recognition.

This is a world of messiness and reverie.

Hauntings

While at Arteles I finished a series of drawings (over two years

in the making) and developed writing that accompanies the

images. These writings, both poetry and prose, act as a

parallel body of work, exploring the same concepts, themes,

imagery, and sensations as the works on paper. My process

for both drawing and writing involved shifting from automatic

drawing and free writing to careful editing. My practice was

deeply influenced by my time in nature - sitting and walking

meditation, hiking and biking, alone and with others.
---
Back to Basics program / JULY 2019

Anjali Khosla

USA

www.anjalikhosla.com

About

Anjali Khosla is a writer and a professor of journalism &

design at The New School. Her fiction, nonfiction, and poetry

have appeared in Gossamer, Fast Company, Tarpaulin Sky,

Juked, the New York Daily News, Glitter Pony, and other

publications. Broadsides of her poems have been printed

by the Massachusetts Center for Renaissance Studies and

Broadsided Press. This past March, her first poetry chapbook

and chatbot were published by Wendy's Subway and Nor By

Press in Brooklyn. Now Anjali is working on a novel.

Water Writing

I swam nearly every day.

In this way, I made enormous progress on my novel.

"My father's father died before my father landed in Sydney. I

suppose he was my grandfather, my Dada, though it is hard

to match such names to people you never met because they

were not interested in meeting you. My father brought me

back, from the Sydney airport, which he did not leave before

returning to the States, a t-shirt printed with aboriginal

artwork, a Quantas vanity set (eye mask/kidnapper mask,

bar of soap/weapon, sewing kit/more weapons, toothbrush/

also a weapon, comb/harmonica, pre-moistened towelette/

no other use, tiny toothpaste that tasted like glue, zip-up

pouch in which I stored my rubbery Alvin and The Chipmunks

figurines) and some small souvenir koalas, each one wielding

a paper Australian flag glued to a toothpick, if you squeezed

their backs their hand paws and feet paws would spread

apart and you could clip them to your jacket or your pant

leg, your lampshade, a dried-out purple marker, the dining

table edge, your My Little Seahorse Pony's petroleum back

as it bobbed in the bathtub or your then-patient mother's hair

as it cascaded down the back of a chair, glossy as a black

grackle's wing. Arjun would attach his to his penis just to

upset us. I still have one of the koalas, it's clipped to a hanger

in my clothes closet. The flag is long gone."
---
Back to Basics program / JULY 2019

Carlie Schoonees

South Africa

www.soundcloud.com/carlie-schoonees

About

I am classical music composer who likes to explore different

sound worlds, colours and techniques and the way one can

create music out of vastly different forms of inspiration. The

themes in my music vary from my own profound experiences,

nature and mental health to atrocities such as the holocaust

and apartheid. I also compose absolute and film music and

enjoy musical problem solving. In my future work I aim to

focus more on social issues such as gender-related themes

and circumstances and events in my home country.

Braille to music

The main composition I worked on at Arteles is about The

Aversion Project. During Apartheid homosexual and bisexual

men in the South African Defense Force were submitted to

electric shock therapy in an attempt to change their sexual

preferences. If these men did not seem "cured" they were

given involuntary gender reassignment surgery without

proper medical care. Many of the victims committed suicide.

I have come to learn about this atrocity only on the internet

and nobody I have asked in South Africa has ever heard

thereof. Thus the theme of this composition is being unheard

and unseen. This led me to the idea of converting the text

of the Wikipedia article on The Aversion Project into Grade

1 Braille which I taught myself at Arteles. I used the dotted

patterns to construct rhythms, textures and chords. The

composition will be an interdisciplinary stage production in

multiple parts. It is still a work in progress. The aim of this

composition is to spark discourse about gender identity

and confront the audience with this painful chapter in South

African and LGBTQ+ history.
---
Back to Basics program / JULY 2019

Dan Shay

UK

About

I seek to create space for us to reflect on our relationship

with technology.

My work has explored experimental film, installation,

performance and visuals for live music and theatre - with a

consistent thread of the projected moving image. I have been

drawn to working with projection as it represents a metaphor

for the material and immaterial spaces in our lives, the visible

and invisible. I am interested in exploring experimental forms

of moving image and projection.

This situation enables me perspective on my ongoing

practice, time to advance my ongoing research and develop

narrative for my Navigating Technologies project, and a

comparative natural context to respond to.Going offline for

this residency provides a valuable opportunity to evaluate

the effect of contemporary online connectivity on focus,

privacy and mental state.

Aspiring to cultivate a greater awareness of our mediated

ways of seeing the world around us, and the impact of this

on us as humans. Through this we can develop and guide

ourselves towards a deliberate, appropriate balance and

affirming our autonomy in our world of technical immersion.

Practising Balance

My time at Arteles was reflective, engaged and prolific.

Responding to the rural environment and residency context

lead me to complete a series of varied projects within my

ongoing field of research into how technology mediates

our experience in the world. Establishing a well-balanced

routine of research and studio practice, engagement,

experimentation and meditative reflection has set a valuable

precedent.

Comprising of personal and collaborative projects over

the month I created: a balancing performance video, live

projection mapping on woods to sound, crafting a cardboard

viewfinder, converting a Sauna into a Camera Obscura,

projected international photographic collages, a performance

walk to Nokia (in Nokian boots), A handmade Hashtag fishing

Line, Boot phone connecting people photograph, Interactive

installation of 'luminous woods', projected poetry dialectic

and installing a working model lighthouse on the Hämeenkyrö

Jarvi.

Applying a playful approach to serious issues around

our relationship with technology allowed for instinctive

outcomes. Constructing these prompted valuable capacity

for consideration and conversation. The month 'offline'

allowed experience of one extreme to counterpoint habits

of excessive time 'online' and this perspective helps to

find considered balance. Throughout this I reflect on the

term 'Nature', exploring a hypothesis that as technological

developments have become absorbed into our phenomena

of the physical world; we could now look to re-define 'nature'.
---
Back to Basics program / JULY 2019

Sylvia Montesinos

USA

www.sylviamontesinos.com

About

Sylvia Montesinos began painting as a child, and in spite of

studying graphic design, her curiosity about human biology

and behavior drew her to medicine and psychiatry. She went

on to earn an MD specializing in psychiatry in 2002 and

worked for eight years in mental health. When opportunity

arose, Montesinos decided to refocus her efforts on her first

love by studying art at the University of New Mexico. Born

and raised in Costa Rica with a bicultural background, she

has been inspired by the many painters in her Ecuadorian

father's family.

Montesinos' current body of work is informed by past

and recent memories as well as by the natural residential

surroundings where she lives in Florida. She responds both

intuitively and visually to the composition as it unfolds before

her thus exploring impermanence and the mutability of the

moment. Analogous with the idea of "going with the flow",

she allows water to make its way across the paper creating

organic forms, as it plays with the medium. After a recent

health crisis, unpredictable, amorphous, permanent ink blots

have become metaphors of her life. Painting has become a

way for her to grapple with uncertainty. Like a splatter of black

ink on a white sheet of paper, mediums such as watercolor,

gouache and ink reflect her reality—this spontaneity,

unpredictability, and ephemeral sense of control we all feel

in our lives.

Memory and Space

Finnish countryside, open space, a house full of kindred

spirits, daily meditation, a day of silence, and nightless

nights resulted in the emergence of fragments of memories

assumed lost. During a brief time three years ago after a

stroke, when vision meant seeing shadows, visual perception

no longer was the means to catalog experience and sound

became the principal sensory experience. Two bodies of

work emerged exploring fragments of memory through

abstractions depicting sound and limited visual perception.
---
Back to Basics program / JULY 2019

Ea ten kate

Sweden / Netherlands

www.eatenkate.com

About

My practice revolves around the way in which all cultures,

through all ages, choose to signify that objects have value,

are sacred, are of importance. How we tend towards

symmetry, rhythm, patterns and bright colors.

This fascination stems from people reacting to my work,

different people being convinced that the same work was

definitely influenced by traditional crafts of a people or region

they recently visited or were otherwise interested in. So one

and the same work could be, according to viewers, from the

Amazon, from India, and from Lapland.

These interactions made me realize that there are far more

similarities than differences between how we visually express

that things are of value, like humans are born with this innate

visual vocabulary that is influenced by its surroundings but

still follows the same basic shapes and patterns.

My work does not represent any specific culture, it represents

humanity's urge to create culture from whatever is around

them. Using textile to create my works is a very deliberate

choice. It is a tactile material, engaging more senses than

just sight. It is soft and harmless, yet capable of carrying

identities, uniting people, and projecting vast ideas in one

single work.

The resulting works and projects range in size from intimate

to monumental. Color plays an important role, and works

evolve organically – each segment relating to the previous

and informing the next one.

Bits of Nature

Instead of using the nature around Arteles as an inspiration,

I used it as a library of building blocks. Breaking down plants

to their smallest components, I rebuilt them into shapes that

merge the natural and the man-made to form the mythical.

On a practical level i experimented with ways of preserving

plant matter and the construction of embroidery into 3D

shapes.
---
Back to Basics program / JULY 2019

Phil Harris

USA

www.pharris.art

About

I've spent about two-thirds of my life working primarily in

photography, with some detours into other media. My major

preoccupations over the years have ranged from history,

memory and narrative handmade photo processes to the

spiritual quality of deterioration. My current work is about the

patient observation, recording, acceptance and encoding of

the processes of time and change.

"Duration" photographic project

The Duration project is a photographic depiction of the

passage of time and the process of change. The same scene

is photographed multiple times with a handheld camera. The

resulting images are then stitched together in the computer

and printed on paper or another substrate at a large enough

scale to see clearly, both close up and far away. At Arteles, I

used the quiet and drama of the summer Finnish landscape,

waters and sky to push this project further.
---
Back to Basics program / JULY 2019

Pamela Salen

USA

www.pamelasalen.com

About

My interdisciplinary creative practice and research is

significantly informed by the documentation of lived

experience utilizing narrative and visual storytelling. My

practice foregrounds positive psychology, self-reflection,

embodied creative processes, and visualization as a way of

sense-making. Through material and digital-mediated ways

of documenting and coding everyday lived experiences,

I generate insights and create meaningful and authentic

narratives that address issues of: memories and domestic

space, displacement, loss and healing, social and individual

wellbeing, gender equity, and belonging by examining

psychological, emotional and spatial environments. From

visualizing ideas; to working with materials; to the physical

and digital spaces that we occupy; to the places we inhabit—

through deep observation, I discover and uncover patterns

and make connections that challenge the status quo to raise

awareness about the above issues to provoke meaningful

social and individual change. I work with processes of image

making that combines analogue and digital photography,

paper sculpture, and dimensional typography to capture the

emotional aspects of narratives and as a new way of seeing

these issues and reconstructing experiences.

I was born in Minneapolis, Minnesota, USA. I hold a AAS

(2000), BFA (2009) and PhD (2015) in Visual Communication.

From 2010 to 2019, I lived and worked in Melbourne, Australia.

I am currently looking for my next destination to call home.

You Are Home

I am no longer searching for home. I am no longer seeking

an address, dwelling or destination to claim my sense of

place, identity or belonging. I am home. My body, my being,

my presence is home. My connection to matter and spirit

is home. Everyday I run to meditate, exercise my strength

and exhale negativity. I walk to collect beauty and absorb

mysteries and histories. I inhale the wind and the gravel. I

collect and create to make joy, patterns and marks to signify

what is felt. What I have made, arranged and pieced together

during my residency is my home.
---
Back to Basics program / JULY 2019

Hannah Donovan

USA

www.hannahdonovanart.com

About

I am a poet, photographer, and maker of all things wacky

and whimsical. My art, in whatever form it may take, helps

deepen my connection to mind, body, and spirit as I navigate

this life. We are our only constant companions, and how do

we make sense of that, come home to that, find solace in

that, and expand that to involve higher selves and deeper

relationships with others?

Inhabiting the realm between fantasy and reality, my poetry

details my inner landscape as I engage with the outer world.

My writing excavates unexplored truths and unearths what

confuses, alienates, depresses, or uplifts me. It awakens me

to what is, what has been, and what could be in terms of a life

well-lived and authentically carved.

While my poetry serves as a reflective, often serious selfexpression,

my photography, collage work, embroidery, and

drawings make their home in lightness and quirk. I seek to

capture the humor of everyday objects and the cohesion of

unlikely pairs, twisting the viewer's attention to see what they

may have missed as they were rushing through their day.

My work as a whole reveals in me the playful and the pensive,

the polished and the rough. I offer my creations to my

community and beyond as a chance to be seen, heard, and

understood, hopefully opening the door for others to discover

their deep wells of creativity, their capacity for growth, and

their truest version of self.

Back to Play

Freedom to play was at the forefront of my experience. The

structure of the program (no phone, no internet) allowed

for me to create, experiment, fail, and succeed without the

distraction or self-judgment that technology and social

media can sometimes foster in me.

I began the month by carefully cutting up a book, page by

page, to create erasure poems that could both stand alone

and converse as a collective unit about longing, loss, and

the destruction anxious thought and action can have on the

psyche. I also wrote original poems throughout the month

(my primary medium), and as my bond deepened with my

fellow residents I wrote two poems collaboratively with

another poet at the program.

Much to my surprise and delight, what I am most proud

of creating during my time was in a brand new medium.

About halfway through the month, I stumbled across some

cyanotype chemicals and decided to experiment, having

always wanted to try. Using a mixture of Finnish flora and

shapes cut from magazines, I created visual poems on both

plain paper and magazine clippings and then exposed the

treated pages to the never-ending summer light. Some of the

cyanotypes explore the interconnectedness of humans and

the natural world, while others simply celebrate the variety of

shapes and textures found in Finnish plant life.
---
Back to Basics program / JULY 2019

Stuart Cooke

Australia

About

Born in 1980, Stuart grew up in Sydney and Hobart,

Australia. He has travelled widely, and lived in Argentina,

Chile, England, Mexico and the Philippines. One of the

most widely-published and -recognised Australian poets of

his generation, he is the winner of a number of prestigious

grants and prizes, including the Dorothy Porter Prize and the

Gwen Harwood Prize. His second book of poems, Opera,

was hailed as "remarkable" by Cordite Poetry Review, and

JM Coetzee called his recently published collection, Lyre,

"a triumph." In 2012 he completed a doctoral dissertation

on Indigenous Australian and Chilean poetics, which was

later published as the critical work, Speaking the Earth's

Languages (2013). His innovative translation of an Aboriginal

(Nyigina) song cycle from Australia's West Kimberley,

George Dyuŋgayan's Bulu Line (2014), received international

attention, and was included in the 50th anniversary edition

of Jerome Rothenberg's seminal anthology, Technicians of

the Sacred (2017). Stuart has also published short fiction and

creative non-fiction, and many translations of Latin American

poets, including João Cabral de Melo Neto, Gabriela Mistral,

Pablo Neruda, Pablo de Rokha, Gianni Siccardi, and various

Mapuche poets from southern Chile. Stuart lives with his cat

Pablo in Brisbane, Australia, where he is a senior lecturer in

creative writing and literary studies at Griffith University.

A New Project

Back to Basics gave me the time and space to step out of

my normal practice (poetry & scholarly essay) and consider

a new project in a completely different form (creative prose).

I wanted to make the most of the opportunities - life without

internet or phones, daily meditation, a thriving workspace

with lots of different artists - so I deliberately went in to

the residency without too many plans or goals. Instead, I

wanted to see how wide I could cast my net: each day, in my

wandering, reading, meditation and conversations, ideas and

feelings about how to proceed would come to the surface,

and I tried to explore as many of these as possible. I didn't

want to over-determine anything, either, so I tried to avoid

struggling for too long with any one scene or idea; rather,

my focus was on looking for emergent narrative threads

and themes, and experimenting with different structural

possibilities and voices. What emerged wasn't much more

than a collection of fragments and notes, but together they

constitute something like a path forward, or a skeleton on

which my book will be able to grow. Given that the project

largely autobiographical, I needed time to sit with the history

of my self, no matter how uncomfortable it might be; I'm

really grateful for the opportunity to do this. If it weren't for

Back to Basics, this book might never have begun.
---
New Course program / MAY 2019

Miranda Gavin

UK

www.outsideherart.com

About

I create works using photography, text, film and performance,

sometimes under the guise of a persona, The Handbag

Projectionist. This work is personally motivated and

responds to my life and passions—it is raw and intuitive with

the process being as important as the outcome.

These bodies of work often explore identity, gender relations

and power dynamics using a variety of approaches that

embrace experimentation. Some are situated in domestic

contexts in which there is a focus on themes of love, abuse and

betrayal. The dissemination of the work, including the spaces

in which the work is shown, is as integral to the concept of

the work as its subject—context as well as content. Creative

personal self-expression knows no boundaries: it is porous,

flexible, dynamic and vital.

I am fascinated by life, by philosophy, psychology and the

human situation; by flora, fauna, stars and seas. Nature

grounds me, inspires me and heals me. I have had a varied life

and career. My life and work are difficult to separate and run

in tandem, often involving travel including living and working

abroad. I am very curious and like to peek round corners to

see what is there. I love narratives but also fragments and

find myself drawn to paradoxes.

Everything was covered in pollen

Dandelion clocks & Atlantis unbound

This was time out of time to experiment and play, to feel inner

sense and to share ideas, histories and food. My process

was a free form jazz song set to the rhythm of spring bursting

through the studio windows. It was rapid fire intoxication

and metamorphosis. The experience of pushing limits,

confronting dreams and of finding peace and structure

through ritual and receptiveness.
---
New Course program / MAY 2019

Brian Charles Patterson

USA

www.briancharlespatterson.com

About

I'm interested in consciousness and the role "art" plays as an

essential and universal language within it.

Rites

My work at Arteles was largely internal and long in coming.

The month was full of synchronicities and uncanny

coincidences that began as soon as I boarded my plane

for Finland. It immediately became clear big shifts were in

play. My creative work during the residency served as an

interface between the corporeal and ethereal; it shadowed

a deeper, intrapersonal work done through meditation,

ritual, and play. The work shown derives from the collision

of karmic cycles that run as deep as the elements and seem

to occur as predictably as an orbit. The making of this video

helped me heal and close unresolved chapters in my life that

have dogged me and my practice for years. It opened new

chapters with a greater, gratitude, compassion, and insight

into my trajectory as an earthly being.

https://briancharlespatterson.com/arteles-1
---
New Course program / MAY 2019

Julia & Sophia van der Putten

Netherlands

www.sophiavanderputten.com

About

Julia:

Dramaturgy, rituals, writing

Sophia and Julia van der Putten are sisters, both working in

the field of performance, dance and theatre in Amsterdam

and abroad.

Sophia (1992) is choreographer, performer and dance/theatre

teacher. Julia (1994) is dramaturg. In 2019 they collaborate

on the solo performance NOBODY, which will premier at

Amsterdam Fringe Festival the same year.

During their residency at Arteles they continue their research

for NOBODY. As well as establishing a healthy daily work

practise on a collaborative and individual level.

Sophia:

Movement, camera, rituals

My time at Arteles has been a deep inner journey of healing

my past and planting seeds for my future. In the first two

weeks of the residency I developed the base for my own

movement practice, together with my sister and collaborator

dramaturg Julia van der Putten. The practice, which I named

Chimera practice is based on physical experiences I had with

alienation from my body. In our research Julia and I question:

In which way are we in contact with our body? And what

happens if this contact is disrupted?

I ended the second week with an open studio, which the other

residents attended. I asked them for feedback on what they

experienced while watching me. Their feedback has played

an important role in deepening my practice.

The last two weeks I collaborated with video artist and

resident Brian Charles Patterson. We researched relations

between the body, camera and projection. Our collaboration

has been inspiring and fruitful to me. In the closure night we

presented a performance with movement, camera and voice

over, in which I researched the discrepancy between what is

shown in live performance of the body and on the projected

camera image.

I left Arteles with precious memories, my rituals of practice,

with trust in myself and with renewed energy and inspiration

for my art.

I started this residency under the title 'dramaturg' which in

my eyes means: not the artist.

Artistic yes, collaborator yes, academic author sometimes,

independent artist/author no.

The first few weeks I therefore spend working on my masters'

thesis and collaborating as dramaturg with my sister Sophia.

Especially the second week was very fulfilling and inspiring,

when we worked in the studio on her movement practice.

But I started to realise that this title of dramaturg was a safe

haven that I needed to be able to leave.

Thanks to the residency's program, place and residents I

felt balanced again. Which is why I created and performed

a group ritual in the context of the workshop on personal

myths, in the second week. I called it 'For the Remembering

of the Forgotten Words' and it was fully complete with

singing, fire and the amazing words from the Earthsea books

by Ursula K. Le Guinn. Whilst preparing the ritual I wrote

down the following:

Steal, borrow, remember, contextualize, de-contextualize,

re-contextualise, use with care, listen, be quiet, stutter,

whisper, speak.

After the ritual I started doing just that: I borrowed some

confidence, remembered my love of writing, wrote a lot,

painted, had great conversations, danced, facilitated a

session on feedback (still a dramaturg), started to let go of

my fear of stuttering, and finally I spoke the words I wrote

myself out loud.

I claimed my creative authorship, which I will continue to

grow alongside my work as dramaturg and academic.
---
New Course program / MAY 2019

Rozina Suliman

Australia

www

About

Rozina Suliman is a theatre designer with a background in

installation art, independent curating and arts administration.

She holds a Bachelor of Fine Art from the Queensland College

of Art (2005) and a Bachelor of Production & Design from the

Western Australian Academy of Performing Arts (2017).

Previous theatre work includes set and costume design

for The Talk and The Advisors (The Last Great Hunt),

costume design for Coma Land (Black Swan State Theatre

Company), Mangoes, earrings and a glimpse of hope,

The Wedding, Skinless and Ad Infinitum (LINK Dance

Company), The Threepenny Opera (WAAPA) and set design

for Grease (St Hilda's Anglican College), Salon (Timothy

Brown Choreography) The Little Mermaid and Sleeping

Beauty (Ballet Theatre of Queensland) Video Set, Cavill Ave,

Slowdive, The Pitch and Hey Scenester! (Claire Marshall

Choreography) and Journey (Connect 2 Productions).

Rozina worked as design assistant to Bryan Woltjen on A

Flowering Tree (Opera Queensland) and Good Little Soldier

(Ochre Contemporary Dance Company) and Bruce McKinven

on Let the Right One In (Black Swan State Theatre Company).

She has also been part of the core creative team for the

Woodford Folk Festival Fire Event & Closing Ceremony since

2017, co-designing and making the Auryx puppets in 2017

and designing and making set sculptures in 2018.

Freedom, Fiddle, Frolick

"Rozina wholly embraced "time out of time" on the New

Course Residency at Arteles. Coming to the program without

a current project and a pending deadline was incredibly

freeing. It allowed her to fully disconnect from the outside

world and created space within which to explore and

interrogate her own creativity and ways of being.

Rozina spent her time spent fiddling with creativity in ways

that were outside of her usual ways of working, participating

in workshops, meditation and yoga practices and frolicking

in nature. She collected stimuli in abundance, new rituals,

experiences, memories and collaborators. She conducted

experiments in 2D art forms, did a group collage, re-wrote

and performed a myth, found her entelechy, re-discovered

a long lost writing practice, started a photographic series

involving the landscape and rubber boots, did a collaborative

animated performance of 'Hope for the Flowers', spent two

Sundays cooking with others for five hours creating themed

feasts for the rest of the group, started writing a series of

stories, visited land art nearby and walked and explored for

hours in the landscape near the residency as well as the local

nature reserve.

At times she struggled without a deadline, at times she

embraced it. Most importantly, she spent the time creating

from a detached perspective without judging the outcome.

The month was rich and full and the work she did at the

residency felt like just the beginning…
---
New Course program / MAY 2019

Anna Loren

Australia

www.annaloren.net

About

Anna Loren is an actor, theatre maker and educator. Former

Artistic Director of heartBeast Theatre, Loren studied at The

Actors Workshop, Brisbane and later at the Rose Bruford

College of Theatre and Performance, London, after being

granted a postgraduate scholarship. Here she developed her

skills in devised and experimental theatre practices, exploring

innovative modes of storytelling. Loren has trained with a

diverse range of companies, directors, voice and movement

specialists including Beatrice Pemberton (Complicitè),

Gabriel Gawin (Song of the Goat), Struan Leslie (Movement

RSC), Irina Brown (Director), Niamh Dowling (Alexander

Technique), Barbara Houseman (Voice RSC), LaBoite, Punch

Drunk, Zen Zen Zo and the Trinity International Playwriting

Festival. As a drama facilitator, she has taught for The Actors

Workshop and NIDA Open (Brisbane), as well as The Rose

Bruford Youth Theatre, NCS The Challenge and the Drama

Club (London).

An Australian woman, of Burmese-Indian descent, Anna is

strongly motivated by the need to diversify the landscape of

Australian Theatre and, by doing so, broaden our perspective

of the Australian experience. Through an MA and a string of

productions, Loren has explored ensemble-devised work,

as a way of taking greater ownership over her practice. Now

a participant in Playlab New-Writing Theatre's Incubator

program, she is continuing this journey by writing new work

for the stage, work that better represents her as a theatre

maker and as a person and, that gives voice to suppressed

women's narratives.

Visibility matters, and what place is more visible than centre

stage.

Find the Form

I arrived at Arteles with the concept for a play, and a pile

of relevant research. The program provided the space

and guidance necessary to take these abstract concepts,

and find the form into which to funnel them. I used the

opportunity to experiment with the language, shape and

form of the piece, through both collaboration and focused

solitude. While I had a clear idea of what I hoped to achieve,

there were many surprises along the way. I learned so much

more than I could have anticipated from Margi Brown Ash

and the other residents, many of whom have left a lasting

impact on me personally and, on my rituals of practice. In

leaving the program I can confidently say that I have found

the form, the voice and language of the play, and that I have

a clear roadmap moving forward into the next stages of

development.
---
New Course program / MAY 2019

Paige Cooper

Canada

www.twitter.com/paigesaracooper

About

I'm a fiction writer from the Canadian Rocky Mountains. I'm

interested in complicity and escapism in the face of this

slow-motion apocalypse we're living in, which usually means

that my realist short stories have fabulist elements.

My first book, Zolitude (Biblioasis, 2018), won the 2018

Concordia University First Book Prize, was longlisted for

the Scotiabank Giller Prize, and was a finalist for both the

Governor General's Literary Award for Fiction, and the

Paragraphe Hugh MacLennan Prize for Fiction. CBC, Toronto

Star, The Walrus, The Globe and Mail, The Puritan, and Quill

& Quire all listed it among their best books of 2018.

I live in Montreal where I edit fiction for Cosmonauts Avenue

and pay the rent with freelance copywriting.

Next book

I came to Arteles with nothing but an image and a few

unfinished short stories, and left with the first two chapters

of a new novel. Am I too superstitious to describe it? Yes, I

am. But I haven't been so excited about a project in a long

time.
---
New Course program / APRIL 2019

Luke Nicol

Canada

www.lukenicol.com

About

Originally from Canada, I have lived in Turku, Finland with my

family since 2015. I have primarily been a landscape painter

for about 15 years. My main interest has always been Lake

Superior, one of the world's largest bodies of fresh water,

and its surrounding boreal forest.

Along with my landscape practice, I maintain an avid interest

in a range of human activities. I am fascinated by our use of

tools, equipment, and machinery for everything from shaping

land and providing for ourselves to communication and

personal expression. I like to use realist depictions of these

things, and our physical interactions with them, to explore

our versatility as a species.

Like many, I am concerned about climate change, and feel

that an in depth exploration of how and why we continue with

unsustainable activities that damage ecosystems will, if not

inspire change, at least help me to understand.

Human Activity Studies

My time at Arteles was used to create small, realist, acrylic

paintings of various human activities that can be linked

to climate change. I am interested in how we are able to

continue with activities despite knowledge of the ecological

harms they cause. The paintings depict some aspect of the

cycles of marketing, demand, production, or consumption.

These studies are preparatory work towards a future project

in which many elements will be combined into large paintings

that portray a large scope of human activity and its ecological

impacts.
---
New Course program / APRIL 2019

Courtney Cook

Australia

www.courtneycookartist.com

About

Exploring the idea of nostalgia, my work is layered just as

memories are. My practice navigates liminal space, the

threshold of the non-physical spaces between two points in

life. I am drawn to our vast internal worlds which are more

often than not, reflected in our external lives.

My work is process driven by colour, shape, shadow, form

and the varying emotions of life embed themselves into my

memory. These memories evolve into painterly thoughts,

which wait to be responded to in the studio. Through the

process of laying down material and intuitively placing

colours upon colours, shapes and forms evolve and the work

begins to take on a life of their own. This process is often

quick to start and then it eases into a slow, gentle and honest

dialogue about painting itself. I am not afraid to leave works

in places of untidiness. A place that leaves the viewer and

often myself wondering whether something is finished or

whether it is not.

In-between Finnished

I attended the Arteles without a project or expectation.

However, I did come with intentions. One being to establish

a practice and process that will be sustainable through life's

challenges and restrictions. Through my time at Arteles I

adjusted my practice based on the limitations of space as

well as being limited in what surfaces I could paint on due

to luggage size and weight restrictions. Through exploring

these limitations, my process was pushed into a space

that opened up many doors for me to enter and explore. I

explored new concepts and ideas that had been wanting to

surface. I believe it was the surrender to these limitations that

have allowed my process to shift and change in a way that I

truly feel is going to be career long sustainability.
---
New Course program / APRIL 2019

Hazel Bell Koski

Canada

www.hazelbellkoski.com

About

Hazel is a self-directed, Metis woman of mixed Anishinaabe,

Finnish, Irish, and English heritage. Hazel was born and

raised on the unceded Coast Salish Territories of the

Səl̓ ílwətaʔ, Xʷməθkwəy̓ əm, & Sḵwx̱ wú7meshsi First Nations.

She is grateful to have been mentored by mountains, ferns,

eagles, bears, cedars, slugs, and barnacles.

She has a BFA in Film Studies from Ryerson Polytechnic

University and has maintained a multi-disciplinary arts

practice for over twenty years, including filmmaking,

painting, textiles, installations, public interventions, creative

facilitation, and stencil making.

The central themes of hazel's art and life work are truth and

beauty, kinship and the radical inter-connection of all beings,

and colour and play.

Hazel is a bridge between Indigenous and European cultures,

youth and elders, and the human and more than human

world.

She has extensive experience working with diverse

intergenerational communities. She currently works with

an organization called, IndigenEYEZ, they use land based

learning and the creative arts to empower indigenous youth

and adults through out British Columbia.

Hazel has partnered and collaborated with many

organizations including Partners For Youth Empowerment

Global, Brittania Community Services Centre, the Toronto

District School Board, Sketch Working Arts for Street Youth,

The Transformative Learning Centre University of Toronto,

Toronto Public Libraries, the Institute of Noetic Sciences,

and Grassy Narrows First Nation.

Her first language is colour.

My feet listen

"I had a wonderful time at Arteles. Deep gratitude to Ida,

Carrie, and Teemu for the support and care.

I spent my time resting, reading, exploring the rituals of my

practice, painting, sewing, stencil making, and being guided

and mentored by the fabulous Dr. Margi Brown Ash (MBA).

While at Arteles I made many small paintings and stencils.

One of my large stencils was of a pair of Joutsen that are

filled with Finnish Mythology and stories.

This trip to Finland was both an ancestral pilgrimage and

creative rejuvenation. My ancestors had been calling me

Finland for many years. I listened with my feet and quieted

my mind.

Through daily meditation, yoga and collaborative workshops

I was able to develop practices that support my studio work

and life. I have yet to see what will unfold as I integrate my

time in Finland and at Arteles.

I had a healing time practicing the art of Sauna!
---
New Course program / APRIL 2019

Connie Noyes

USA

www.connienoyes.com

About

I am a multidisciplinary artist currently living and working in

Chicago/USA. I received my MFA from the School of the Art

Institute of Chicago and MA in Psychology and Art Therapy

from Notre Dame de Namur University, Belmont, California.

My work is an immersion in mourning research.

Two-years ago when my father and husband died within

days of each other, the fundamental drives of my practice

changed radically. Raised in a culture where the delicate and

complicated process of mourning was rushed to clear the

way, move on, or "get back to normal", this stoic posturing

left no room for ritual or its importance in healing the complex

emotional experience of grief. As my research expands,

mourning rituals created in the studio based on personal loss

have given way to an increased focus on the socio-political

climate of the moment. Due to an escalation of violence and

disparity the collective felt experience of grief is palpable.

Regardless of our differences grief is a common ground.

By acknowledging this commonality, my work is a path to

connect individuals and communities in intimate, creative

and regenerative spaces for healing.

Movement, video, performance

"Breathe" is a project I began in 2018. This project navigates

grief by drawing a relationship between birth, death and the

unknown. The unknown before life and after death, the places

we've been or the places we go bookend the transitions

in and out of our corporeal reality. In the images and as

performance the bag is a symbol of both womb and body

bag. I carried the bag with me to Arteles knowing I wanted to

somehow embody these transitions in nature.

At the beginning of the residency I walked to find sites for

this performance. First was the lake. It was quiet and made

yawning sounds as it woke from its icy nap. Within three

weeks it would flow renewed. The second site I spotted as

we walked the meditation circle during our morning ritual.

The snow was falling hard and put a temporary stop to the

spring thaw. I wanted to live snow - bury myself in its flurry

and depths.

I never know what will happen once inside the bag. I listen

to what is going on outside of me and feel the ground

underneath. Starting in stillness and with a breath I begin.

Breath often informs the first movement. Each vignette, this

small moment in time inside the bag will assume a perfect

path, no matter the outcome.

Images:

Breathe: Frozen Lake, Arteles, Haukijärvi, Finland, still video

image, stretch vinyl fabric, zipper, thread, nature, 2019

Breathe: Blizzard, Arteles, Haukijärvi, Finland, still video

image, stretch vinyl fabric, zipper, thread, nature, 2019
---
New Course program / APRIL 2019

Kate Mulley

USA

www.katemulley.com

About

Kate Mulley is a playwright, librettist/lyricist, producer,

and dramaturg whose work explores gender, power, and

sexuality through a feminist, and often historical, lens. Her

work has been developed and performed on three continents

at theaters including Luna Stage, Shanghai Dramatic Arts

Center, Dixon Place, the Flea, Theatre503 and the Soho

Theatre.

She has an ongoing collaboration with composer Andy

Peterson. Their musical Razorhurst was commissioned by

and had its world premiere at Luna Stage and will receive its

Australian premiere at the Hayes Theatre in Sydney in June

2019. Outlaw was workshopped at Dartmouth College and

Barn Arts Collective and performed in part at Dixon Place.

Kate has been a Playwriting Fellow at Shanghai Theatre

Academy, a Tennessee Williams Scholar at the Sewanee

Writers Conference and a finalist for the Juilliard Playwriting

Fellowship. She graduated from Dartmouth College with a

degree in Theater and History, received an MA in Writing for

Performance at Goldsmiths College, London, and an MFA in

Playwriting from Columbia University. She currently lives in

New York.

American Drama

My time out of time at Arteles was spent on a number of

projects, some of which I intended to work on while in

residency and some of which came out of workshops and

conversations with Margi and other residents. I completed

a second draft of my novel American Drama. I started

painting watercolors for the first time since middle school.

I compulsively created collage poetry until it filled my entire

studio space. I have since created an instagram account for

the work I made (@rhizomaticgloss) and will continue that

practice. I went for long walks in the forest. I rode a bike

for the first time in 20 years. I made fires and read books

and watched the days get longer and longer. It was an

unforgettable month.
---
New Course program / APRIL 2019

Brooke Krumbeck

Australia

www.bk-dieci.com

About

Working under the pseudonym, BK DIECI, I am an emerging

artist working across a variety of mediums including painting,

drawing, textiles and digital media.

My art practice has been evolving over the last four years as

I have continued to explore the concepts of perfectionism in

relation to the female form, chronic illness and environmental

themes with particular attention to endangered flora and

fauna.

Tired of the female form having been depicted at times

with the typical 'pretty' face and the 'ideal' body I have

challenged these notions and created works that are scarred,

bleeding and littered with abstract forms incorporated within

disintegrating bodies that are bound within nature. Diagnosed

over a decade ago with several autoimmune diseases I have

continued to battle these internal conditions, which play mind

games on sufferer's physical appearance that in turn lead

can lead to depression and anxiety. Coupled with countless

images of the ideal woman, societal expectations and the

demands we put on ourselves it can begin to implode both

physically and psychologically as reflected in my artworks.

Closely intertwined within these narratives are stories of our

local environments with a dedicated focus on endangered

flora and fauna. Within each artwork I explore the impact

of humans on their surroundings in pursuit of perfection.

I want to raise awareness of what we are losing within our

communities and ignite discussion around these issues that

maybe not everyone is aware is currently occurring.

Wild Woman

My intentions for the residency were not to execute a project,

but to work on my arts practice processes and see what

evolved over my month's stay at Arteles. I came with an open

mind and prepared to learn new rituals of practice that I could

implement into my artworks to ignite new ideas and projects.

During the residency I set about experimenting with materials

that I had brought with me and found materials from the

Arteles studios, local secondhand stores and objects found

in nature. I explored new techniques and played with various

mediums including painting, drawing and textiles.

I took inspiration by soaking up the sounds, sights and smells

of Arteles and its surrounding environment in the Finnish

countryside. Throughout the month I iterated on ideas to

eventually arrive at a set of projects I am executing in my

studios located in Sydney, Australia. These include a series

of large-scale paintings, an illustrated book and a series of

original hand-made, ethical tapestries and kimonos made

from sustainable materials.

The New Course program at Arteles provided me with a

framework to intensively work through my own personal

self and arts practice leading to an entire new body of work

to come in the following months. I continue to maintain the

rituals of practice learned during my stay and through various

iterations this is set to inform the final works.
---
New Course program / APRIL 2019

Anita Lever

Australia

About

My creative practice shapes, defines and redefines how I am

in the world, how I think, relate to myself, to others and to my

environment.

This creative practice evolves, expands and contracts

as I am shaped and reshaped by my internal and external

experiences.

Having had a strong career spanning twenty years within

University contemporary art galleries and creative workshops

in Sydney, I decided to embark on further study in art therapy.

I am particularly focused on the fusing of multi approaches

and creative thinking within therapeutic environments, in

particular, within adult mental health.

As an artist and art therapist working within an openstudio

setting, I am immersed within a studio environment.

This allows me to witness on a daily basis, how creativity

can inform as well as transform not only who I am working

alongside, but also my own shifting relationship to materials,

media, art-forms and self.

Focusing on materiality that speaks to my own emotional and

psychological geography, I am drawn to the fluidity of inks,

the un-controlling nature of encaustic wax, the concealing

qualities of gouache, the poetry of paper, fabric and thread

as they intersect, dialogue and awaken new possibilities for

creative exploration.

Currently, I am mining the therapeutic investment within

my own art making through my own energetic and somatic

awareness that can leave its trace not only in the artwork but

the spaces and places of creation and contemplation.

Leaning into RED

April became the month when time went out of time, when

the silver birch trees, woodpeckers and the frozen lake

invited me to reshape my inner emotional landscape through

call and response. I willingly surrendered to this wisdom and

ancient knowledge and learnt about the Finnish ancestors.

My creative process reflected the ever-changing colours of

the fields, the forest stories and the enchanted lake as they

woke from the long winter to summon in the call of early

spring. The cool grays of the forest became white with the

late fall of snow, the trees over the fields turned rusty red

and the cool white of the lake mellowed into warm blues and

yellows of budding pussy willows along their banks. Easter

was coming. Renewal.

The changing colours and the outlines of the natural

environment I saw everyday from my studio window, became

my brush and palate as I grew the work through installation,

drawing, video and performance. 'Songs of Sorrow' night

snow series, the 'Into Red' lament in the woods, the contours

of trees as I rubbed their secrets onto fine tracing paper, all

whispered their stories to remind me to care for them, to care

for myself.

Rituals of dancing with sticks, meditative walking the sacred

stone circle, the healing power of sauna and snow, myth

making, new friendships and fish soup all collaborated to

remind me that life is fragile and precarious and if you slow it

down, you will witness a depth of such richness that is a true

awakening. It is real.

"
---
New Course program / APRIL 2019

J. Matthew Thomas

USA

www.studiotaos.com

About

J. Matthew Thomas is an artist, architect and community

organizer based in Taos, New Mexico. He uses the tools of

architecture to explore both social and aesthetic patterns,

confronting issues of identity through community activation

and material culture. With solo exhibitions at Central

Features in Albuquerque, and at the Taos Center for the Arts,

Thomas's mixed-media paintings are well known throughout

New Mexico. His work has also been exhibited in Germany

and at Vivian Horan Fine Art in New York City. He received

the Visionary Artist Award from the Peter & Madeleine Martin

Foundation for the Creative Arts in 2015.

Thomas creates platforms for local engagements through

The Paseo Project, an initiative that fuses art and temporary

events as the impetus for community involvement and

transformation. He regularly curates events and community

programs at The Harwood Museum of Art, Pecha Kucha

Night Taos, and The Paseo Project. Thomas received a

Bachelor of Arts in Architecture from Kansas State University

and a Master of Arts in Architecture and Urban Design from

Columbia University.

"You can actually see a lot doing

nothing..."

Finland is the most forested country in Europe with forests

covering three quarters of the land area. Trees are a

major economic driver in the country, with 25% of exports

consisting of wood or wood products. Driving along the roads

that weave across the countryside of this Nordic country,

piles of wood line drives and pull offs. Wood is a part of the

culture - from saunas to architecture. Since 1935 Finland has

increased forest growth by over 55 million square meters. It

is a renewable resource they have stewarded and continue

to use and enjoy.

I'm here at the turn of the seasons. By the time I leave, the

day's light will have increased by two hours. With the sun

rising an hour earlier at 5:00 am and the sun setting at 9:30

pm. They are the longest sunrises and sunsets I've ever seen.

The haze of pink, baby blue and deep gray that lingers for

hours. The sun making a wide arc across the sky, framed by

the tree branches.

The trees support the many birds that wake up the morning

sky, the magpie, the blue tit. Flying by their webbed branches

are white swans and cranes. Moss comes to life around and

on the trees. Dripping from the branches, wrapped around

the trunks. The soft pillow moss emerges from the ground in

patches, crawls up large boulders or lines dead tree trunks.
---
New Course program / APRIL 2019

Melita White

Australia

www.melitawhite.com

About

I am a composer and musician, and have recently started

writing poetry and creative non-fiction. My work across all

mediums focuses on feminist themes and personal issues.

I have researched, explored and created feminist music

since the early 2000s, an under-explored area of study and

creation.

As a composer, I work with instruments and recorded sounds,

ranging from small-scale solo and chamber works to epic,

electroacoustic works centred around feminist themes and

stories and personal tales. I prefer to work with sounds that

are organic in nature and like to work with the human voice.

Sometimes my music is deeply personal and is a form of

therapy for me, while also bringing to light important issues.

Intimacy, connection and vulnerability are themes that I

explore in all of my work. My focus on feminist issues aims

to validate women's experiences and give them a place

in the world. My work as a composer and poet stimulates

discussion and brings deeper human issues to the surface,

where they can be shared and worked through. I believe that

artistic expression is intrinsically connected to the social

structures around us, and that it has the potential to heal and

change.

Meeting the Self

My month at Arteles consisted of intense periods spent

looking deep within, surfacing shadows, and drawing

inspiration and creative materials from without. Rather than

focus on a particular project, my primary goal was to stay

open to the process of the residency and reconnect with

my music making. This happened quickly and in new ways.

The themes of movement and play guided my choices and I

found myself improvising on unfamiliar and unconventional

instruments in experimental ways; often in the forest, in

the snow and in the sunshine. The results were surprising

and I found myself returning to my roots as a musician and

performer. Freeing the body and creative process from initial

constraint or structure resulted in the creation of a plethora

of rich and interesting sounds. Nature and interactions with

nature were another focus of the recordings I made: from bird

song to a frozen lake and bees entering a hive. As always,

nature delivered some of the most complex sounds of all.

Back home this raw material will be shaped into a series of

electroacoustic compositions. I also aim to develop a new

experimental performance-based practice using all kinds of

objects and instruments to make sound with.
---
Silence Awareness Existence program / MARCH 2019

Nathalia Favaro

Brazil

www.nathaliafavaro.com

About

Nathalia Favaro is an architect, designer and artist. These

fields plays complementary roles in her research. Through

clay, drawings, photography and video she explores our

relation with the territory. She holds a Bachelor in Architecture

from Mackenzie University in 2006, Buenos Aires University

- UBA in 2004 and Design from Senac in 2010. She was an

artist-in-residence at EKWC-European Ceramic Work Centre

in the Netherlands 2017, at Gaya Ceramics, Indonesia and

Labverde, Brazil 2018.

Walking, writing, reading

The starting period of the residency period was into studying

the different types of silence that exist once we stop talking.

This lead me to think about situations we put ourselves in

when we use speak. Also, I learned that for Finnish people

"silence is better than gold" and I developed a series of

collages called "Finish Dialogues".

As a manner of being present and recognizing the space I

was in, I practice daily walking and meditation. I got amazed

by the variety in shape, texture, form, density that snow can

have and how the white landscape contributes to calm the

mind.

This atmosphere reflected in my work and it turned in multiple

medias: drawing, watercolor, photography and video. The

first ones ended up in an artist book, I tried to reproduce

the experience of walking among the birch trees. The

photographs are at the same time a memory and a presence

in the place, where I can just have part of the experience with

me. The video brings a comparative force in different levels:

the nature and the human.
---
Silence Awareness Existence program / MARCH 2019

Natsuki Suda

Japan

natsus3.wixsite.com/aqua

About

I am inspired by sounds of nature and scenery. There are no

human beings in my music. It expresses a mysterious world

in the depth of plants, objects and living things, invisible to

the eye. I process the sounds of nature to make a rhythm to

express my feelings felt from nature. I make songs based on

that sound. I use instruments like a piano, a violin, drums, a

guitar and digital sounds. I process the sounds of nature like

rain, wind, and waves, and more.

I have cultivated my musicality with influences such as

classic, jazz, bossa nova, EDM, pop, and electronica.

My music is a fusion of noise and instruments. I express the

growth and change of life with gradually changing sounds

and music.

There is this mysterious world that forms the deep, unseen,

internal core of all that we see. I aim to bring that world to life

more than ever before though sound and music.

Life to Sound

I had time to face myself at Arteles. I want to make music I

want to make, which expresses the formation of the world and

all of its things through sound. In order to make that happen,

I have to get away from my busy daily life, my work, noisy

towns and the ties of people. By coming to Arteles, I could

make that split more concrete. So I could find my potential.

I surrounded myself with nature to hone my senses and feel

its essence untouched by human hands. I thought about what

meaning each part has and why it exists. I felt the primordial

energies of nature.

I recorded the sounds of the wind, the water, the snow, the

cries of birds, and so much more. I processed these sounds

and made music based on them. For everything that exists,

nothing is in vain. If even one thing were missing, this would

all fall apart. I could feel every part of the life that supports

such a fragile world, and expressed the contrast between the

seen and unseen worlds through music.
---
Silence Awareness Existence program / MARCH 2019

Melissa Delaney

Australia

www.sociocreativetrust.com

About

Currently living and working in Ho Chi Minh City, Vietnam

Melissa's recent research dwells in the intersections

between wellness practice and social sculpture. Drawing

from a background as an electronic and experimental artist,

Melissa uses whatever medium suits at the time. This includes

directing festivals, sound art, video, digital photography,

performance, text and writing, drawing, installation, textile

art, strategy as art, and making spaces for herself and others

to be creative.

As an individual artist and part of the collective sociocreative

trust, In addition to a rich experience of experimental art

practice, Melissa is exploring wellness studies including

meditation, nutrition and yoga which coincides with her

interests in the slow movement, in food, in food systems, and

influences the way she works with others. Melissa is keen

to always make her own time, and also values those small

moments.

Forest performance

The red thread of fate : forest performance

The red thread of fate is a story with universal traces

throughout many cultures including chinese, japanese,

korean, jewish and others. The red thread links soulmates,

they are forever connected by a red thread and upon meeting

can recognise each other by the thread that binds.

I found a site in the forest near the residency, it was a few

days after we'd had the last snow and following the spring

equinox. There was a small clearing in the forest with mossy

rocks which appeared perfect for the performance site. The

rocks had naturally formed seats and ledges and held both

the ball of thread and myself perfectly.

The performance was enacted privately and documented

through photography on my huawei android device. It was a

day of silence at the residency which added to the intensity

of the site and my actions.

I started by binding myself by the wrist 7 times, seven having

significance as a spiritual number and a number of creation.

I then began to bind trees in the forest, again using 7 to

bind and to create a sacred space within the ritual. After a

meditative and deliberate binding ceremony i then sat on the

largest mossy rock and finished binding myself. I bound my

legs and my ankles.

To close the performance I removed the bindings and they

remain in the forest.

This performance was a call out to my soul mate(s), a call out

to the forest and to nature, to being grounded and supported.
---
Silence Awareness Existence program / MARCH 2019

Ilija Melentijevic

Australia / Yugoslavia

www.ilkke.net

About

I started drawing from an early age and never stopped. My

first solo exhibition was at age 5 in 'Honey Bee 2' kindergarten

in Belgrade, Yugoslavia.

To me, pursuing art feels much like scientific research,

discovering things that are already ""out there"" but dormant

and unseen. I take special interest in creating narrative,

interactive and procedural media such as comics, animations

or games.

Being at a new chapter of my life, I am in a period of

heightened open-mindedness, and am learning a lot by trying

new things and letting my environment and circumstance

take me in unplanned directions. After years of flamboyantly

lush wilderness of Australia, I welcome the understated

eloquence of Finnish winter.

Spaces Between Spaces

The program's focus on silence and meditation led me to

become interested in emptiness, something I tried to explore

visually as negative space. In an effort to make this allcontaining

medium more tangible and subject-like, I played

with equating white and black areas on paper. I also wanted

to make the drawing process itself a meditative experience

where I can be fully immersed in the detail of the moment and

let the larger picture grow in an almost emergent manner.

I was happy to find that the resulting organic style has an

ornamental esthetic that wouldn't feel out of place on a cave

wall or the bark of a tree.
---
Silence Awareness Existence program / MARCH 2019

Jovana Yoka Terzic /

Animal Bro

Australia / Yugoslavia

www.animalbro.net

About

My art practice is closely related to my relationship with nature

and often with my current environment. Most of my work

revolves around universal themes of rebirth, transformation,

interconnectedness, personal quest and ancestral heritage.

Animal Bro is my attempt to embrace and manifest my animal

persona and is the backbone of my mission as an artist to

reconnect people to nature.

I don't premeditate the creative process much in advance as

it naturally comes into focus as I grasp what the character

is of a place. My only plan is to be quiet, listen, and make a

visual record what I hear. I look forward to spending a month

in a wintry forest in Finland, and take part in the silence that

man, bird, bug and beast share together in awareness and

awe of the land that they grew out of.

Overlapping Realities

I used the time at Arteles to merge my artistic and spiritual

practice into one. My work is centered around nature, my

understanding of it, and relationship to it. I am always mindful

of the mood and spirit of a place, something I find often

reflects in the local mentality and culture as well. Recently

I also started visually exploring the notion that bringing

heightened perception into everyday life enables one to see

multiple realities all existing in the same space and time.

The minimalistic elegance of Finnish landscape in winter

greatly influenced my style and use of colour in this series of

ink drawings.
---
Silence Awareness Existence program / MARCH 2019

Victoria Smith

USA

www.vsmithpaints.com

About

I am an American artist based in New York City.

I depict my experience of environments, emotions and

memories in an interconnected way.

Realizing the advantage of limitation as a means towards self

liberation, I choose to work in solitude with minimal materials.

Living in a fast-paced, stressful world has proven to be

unhealthy. Getting lost, allowing my mind to wander and lose

track of time gives me access to imagination and awareness.

I earned my B.F.A. in painting at the School of the Museum of

Fine Arts in Boston, Massachusetts.

At Arteles Creative Center, I intend to get lost in every

moment.

Reboot the Soul

My time at Arteles helped me in my attempt to move away

from the influence of competitive corporate culture that has

increasingly defined art as an abrasive urban career.

Through my long walks, meditation and time spent in the

sauna, I allowed myself to re-examine my art practice.

Shifting from a process primarily based on imagination to

one of awareness, I was able to incorporate imagery with

abstraction, making it a richer experience.

During the silent days, I read a lot which led me to decide

to permanently withdraw from social media. I also built

an installation in my room which reflected my time in the

surrounding forest and farmlands.

I hope this reclaimed awareness permeates not only my work

but my lifestyle structure as I move forward.
---
Silence Awareness Existence program / MARCH 2019

Giulia Mattera

Italy

www.giuliamattera.com

About

Giulia Mattera is an Italian performance artist, whose

research-led practice questions ecology, gender, daily life

and social structures as ritualised behaviours.

With a strong visual focus her research based practice

explores natural elements via the body. By using repetition

as a tool to erase pre-constructed meanings, she sets herself

tasks that deal with failure and challenge the preconceptions

of body-mind limitations.

She has showed her work in the USA and all around Europe:

Grace Exhibition Space (Brooklyn, NYC), Venice International

Performance Art Week (Venice, Italy), Warsaw International

Performance Art Weekend (Warsaw, Poland) and in numerous

British venues.

She holds a Masters degree in Performance Making from

Goldsmiths College (London, UK), whereas her undergraduate

studies focused on theatre, art and communication.

Seeing youRself sensING

During my time at Arteles I spent 18 days in silence, without

speaking. Meditation has changed flavour, consistency. Not

verbalising makes it easier to break off the loops of thoughts.

I wanted to observe the effects of prolonged silence on my

body, in my mind.

Arteles itself is an enchanting place; the residency a lifechanging

experience, a spiritual sensorial journey. The

bonds with the other residents have given rise to stimulating

experimentations which have triggered openness and trust

towards the creative process.

I shared the gifts of silence in a site-specific performance.

The performance Seeing youRself sensING took place in the

woods near Arteles at dusk on the 20th March 2019, when

the spring equinox and the full moon coincided (this overlap

only happens once every fourty years circa).

On the day of the performance, every participant received

a personalised envelope containing: an invitation letter with

instructions, an origami airplane, a folded paper to open

only once arrived to the roots, a quote. The invitation letter

suggested to dedicate the day on retrieving denied feelings.

The instructions invited the participants to embark on a

group silent walk in the woods, following a path marked by

27 ribbons around tree trunks. The last ribbon was attached

to the roots of a fallen pine tree; I was inside the roots. The

performance was a ritual of acceptance and emancipation

during which each person burned their denied feelings and

saw themselves sensing.
---
Silence Awareness Existence program / MARCH 2019

Fiona Kemp

Australia

www.fionakemp.com

About

I am a multidisciplinary artist whose body of work explores

the way certain objects, images and repetitive practices

resonate memory. The media varies according to the nature

of each project and additional study in clinical psychology

informs the theoretical underpinnings of some of the work.

There are certain patterns and themes that have become

identifiable in the work over time. This is interesting to me as

it has not been driven by a conscious process.

Often, going on in the background, there is some sort of

collection developing, and this can, over time, evolve into a

work.

It also seems work emanates out of a lived space or activity.

For example, I spend time each week swimming laps in a

pool and many works are conceived from within this fluid and

moving space.

World View

This residency implicitly acknowledged that artmaking is

a form a meditation and I was excited to be entering into it

without a distinct project in mind. My aim was to engage with

the spatial and temporal landscape in order that it inform the

work produced. A number of significant projects emerged,

and rituals developed;

Every day I walked down to the lake and stood in approximately

the same place at the same time and filmed the lake.

Every day I carried with me a cheap plastic inflatable earth

which changed my relationship with the earth around me.

Toward the end of our time at Arteles a fellow resident, on

viewing the body of work, said that it made her feel time

passing which she found challenging.

For me, I felt like a conduit. From the moment I arrived and had

the time and space to focus on the work it took up residence.
---
Silence Awareness Existence program / MARCH 2019

Alexander Lumans

USA

www.alexanderlumans.com

About

I spent part of 2015 as a Fellow on The Arctic Circle Residency

for its Summer Solstice Expedition in Svalbard, Norway. This

residency involved a three-week June excursion aboard

a tall ship that sailed the international waters of Svalbard.

Since the residency's conclusion, I have worked on a novel

manuscript entitled The Half-Finished Heaven. Personally

visiting the Arctic gave my manuscript the nuanced

foundation successful fiction requires. I was able to research

climate change, survival practices, and phenomena unique

to the region. Thanks to this influential visit, I have acquired

a deep love of all things Arctic. Most importantly, I met four

female Norwegian Polar Guards. (A Polar Guard's main job

is to protect their hires from polar bears.) These four have

since served as the inspiration for my novel's protagonist

and story.

Living in the Colorado has inspired me to be more focused on

contemporary climate change as a subject matter; Norway's

terrain and ecology reflect much of what my work addresses

in terms of the most serious environmental threats. In

addition to this, I have become invested in portraying what it

means to be a woman working in an industry, environment,

and culture that has historically and predominantly been

the realm of men. By addressing the Arctic's people and

environment in novel form, I will offer insight into a region

shaped by both international and local decisions in hopes

that those decisions can be made with increased awareness

and empathy in the future.

The Half-Finished Heaven

While in Arteles residency, I greatly advanced the current

draft of my in-progress novel manuscript. I read, researched,

explored, and developed a greater understanding of my

project as a complete artistic piece.
---
Silence Awareness Existence program / FEBRUARY 2019

Phoebe Anne Taylor

Australia

www.phoebe-anne.com

About

As a child, I would daydream. I often found myself caught

on the thread of a story and I would let it unravel through

the recesses of my subconscious. It was in this space that

I found my passion for narrative, and started to explore

artistically what that meant for me; in ways expected, such

as writing, theatre and film - and mediums which could

capture a single moment in time and reveal something larger

under the surface - music, visual art and photography. This

was how I went about life, discovering my own point of view,

throwing myself at every art form with gusto and seeing what

stuck.

Today, I am an independent artist working out of Melbourne,

Australia. This allows me the freedom to experiment and

continue to develop my practice, particularly looking at multifaceted

work. I am known primarily as a theatre practitioner

and actor, but I am also a writer and photographer, a textile

artist and clown, a musician and occasional painter, a teacher

and a student, an explorer and home-body… I am infinitely a

visitor in my own brain, finding out new ways to go and see,

ever open to the next dreaming.

Waiting for Snow

Phoebe spent the unseasonably warm month of February

dreaming in thought bubbles, thawing frosts and surreal

landscapes. She created the seeds for four multidisciplinary

projects to take formal shape when she returns to Australia,

but also spent her time allowing the landscape to lead her

creative journey. She explored many avenues of her practice,

including but not limited to: completing the first draft of a

full length stageplay "Transition/Transmission - a love letter",

researching sound design techniques, concocting bubble

mixtures, wireworking, crocheting snowflakes, falling in

the snow, painting the forest with light, philosophising,

meditating, baking bread and, perhaps most preciously,

sharing in different artists' approach to their own work.

Phoebe enjoyed the time and space to regroup and not judge

what her mind wanted to explore on any given day; and was

reminded that when one gives themselves freedom, there is

no limitation, label or construct that restricts the output and

desire of the imagination.
---
Silence Awareness Existence program / FEBRUARY 2019

Elin Kelsey

Canada

www.elinkelseyandcompany.com

About

I am fascinated by the extraordinary capacity for resilience

and agency that exists within ourselves and within the 8.9

million other species on Earth. Trees have more senses than

humans. Evidence of tools used by stone age chimps date

back 5,000 years. When you gaze into your dogs eyes, both

you, and your dog experience a rush of endorphins that are

similar to the chemical reaction that occurs when a mother

looks into the face of her baby. I am coming to Finland

because I want to be immersed in the productive silence of

the forests in the dark of winter. I want to let my mind go

quiet so I can shift from an intellectual understanding to a

felt visceral awareness of the existence of all of the other

plants, animals and microorganisms whose lives make my

life possible.

The combination of days spent in silence and free of the

internet created an unexpected gift of unallocated time. I

found myself waking at 3:00am with a fully formed poem just

waiting to be written down. I let myself revel in this sense of

time unfolding as it wished - writing, eating, hiking, forest

exploring - at whatever hour, and for as long, as the trees and

wind and thoughts and ice dictated.

I came with the intention to write about resilience in ourselves

and other species. Every moment, the changing state of ice

on the driveway, the groaning of the lake, the emergence of

the song birds' voices immersed me and reminded me of the

intricacy of forces and relationships that drive the forming

and reforming of winter and spring.

Snow has a clever way

of teaching impermanence

A Cure for Hope Blindness

One moment, you're confidently walking atop the crust

and the next

crash,

sink

flail

You're sunk.
---
Silence Awareness Existence program / FEBRUARY 2019

Tanya Long

USA

www.tanyalong.com

About

Tanya Long's artistic practise is largely focused on finding

out what else can be done with analogue photographic tools

and materials other than using them in the service of creating

a mechanically rendered representation of reality. She works

primarily in the color darkroom without negatives. Long is

guided in her work by three major interests:

1) The reduction of photography to its essence: light and

time.

2) The application of the characteristics of Minimalism and

other 1960's conceptual art to photography. For example, the

emphasis on surface, color and objecthood. As well as the

use of seriality, systems, standardized industrial materials

and performative, pre-conceived actions.

3) Freeing the Photograph from the genre of Photography: the

Photograph as Painting, as Sculpture and as Performance.

These interests are also applied when working with nonphotographic

materials.

Site responsive installation

"The woods are lovely, dark and deep..."

I worked intuitively and in direct response to the Finnish

winter landscape while employing some of the constant

themes that run through my practice:

Light and Dark

Time and Space

Color and Surface

Objecthood
---
Silence Awareness Existence program / FEBRUARY 2019

Diego Alberti

Argentina

www.diegoalberti.net

About

I live and work in Buenos Aires. Since I was young, I

was interested in computers, robotics, and electronics

technologies in general. Video games, radios, sound

equipment and videocameras, served as games in my

childhood influenced by television, in particular by popular

80's programs about science and technology.

Then I studied Image and Sound Design, and Graphic Design

at the University of Buenos Aires where I found an Electronic

Arts fields thanks to my teachers and students (most of them,

great artists today).

I spend most of my time making electronic stuff, programming

and also dedicated to electronic synthezisers music. I also

teach in many of the Electronics Arts degrees on several

institutions here in Argentina.

If I would have more free time, I will cook and read much

more.

From Transcription to Translation

I always think in electronics as a part of nature. Actually

like some kind of nature itself. I found that SAE at Arteles

was an excelent enviroment to challange this believe. The

experience was so enjoyable and exiting that a simple idea

that I was keeping in my mind became a real full scale artistic

project.

My friend and fellow resident at Arteles, Brooke Larson, put

my ideas and images in words in such a way I was never be

able before. She wrote:

"I remember being struck by the fluidity of the movement.

So often we think of code as fixed and linear. But here was

code interacting with light, with people, with nature, and with

accident (as people fell into the snow!). The result looked

almost like a musical notation of relationship moving through

the landscape. Code behaving more like poetry than a set

of commands. I was struck with the realization that code is

both artificial and organic, in much the same way that poetry

is artificial and organic: a balance between human ingenuity

and deep natural patterns. I was also struck by the way the

lights in motion create a pattern that resembles the striations

of birch tree bark. It was as if the code shined a flashlight

behind the lines and dots present in the bark of the forest."

Many thanks to Brooke, Phoebe, Andalyn, Leanne and

specially Imogens for her invaluable collaboration.
---
Silence Awareness Existence program / FEBRUARY 2019

Franziska Walther

Germany

www.sehenistgold.de/Gold2017/

About

Creating a book means to me creating a synthesis of the

arts. Being the graphic designer as well as the typographer,

illustrator, writer and researcher I combine artistic and

scientific strategies in an interdisciplinary approach. I work

process-oriented and with an open mind – meaning that the

journey is the reward and also the journey influences the final

outcome in a way which is not predictable. This agility and

natural growth requires trust in the process. This is both a

considerable task and a great joy to me.

As a kid I wanted to become an archeologist – to decipher

secret scriptures. One reason for that was the exotically

decorated living room of my aunt Grete who had worked in

Egypt and had brought back home objects which sparked my

imagination. Later on I wanted to discover the wonders of the

world on the vessel of French film maker Jacques Cousteau.

The heroine of my youth was Sophie Scholl – I wanted to

become as bold as her. In my books I continue that path: by

exploring new shores and cultivating courage.

A Random Collection of Silence

I spent my time at Arteles working on the conceptional

foundation of my new book project. I developed the plot

and sketched a rough, first draft. Working on a book about

happiness I also used my time in Finland for an experiment: I

was very curious what might happen if the inner voice doesn't

have to shout anymore to drown out the hustle and bustle

of everyday life. I wanted to discover new perspectives and

different facettes of myself by taking a look inside. After a

while I also started to draw a silent comic. By letting go of

my usual result-oriented approach I rediscovered my joy.

Beside that I also enjoyed many hours of wood burning

sauna, breathing crystal-clear air, walking through the

forest, watching the sky and the clouds, daily meditation

and yoga, feeling free of expactations, being part of a group

of like-minded people without being consumed in social

constraints ...
---
Silence Awareness Existence program / FEBRUARY 2019

Andalyn Young

USA

www.andalynyoung.info

About

A majority of my work has appeared as collaborative

performance incorporating dance, theater, and design. More

recently I have expanded into explorations of writing, video,

and the merging of contemplative practice with artistic

practice.

The work gravitates toward consistent interests: unearthing

the sublime in the banal; inviting intimacy in the face of

vulnerability; seeking the funny in the tragic and the tragic

in the funny.

I begin with the body as a site of inquiry. I'm drawn to states

that embrace multiplicity and contradiction. Some days it's

all precision and speed; other days, a slow and steady melt.

Stayeth Empty

I spent much of my time at Arteles exploring movement

practices that invite presence, full-bodied awareness, and

release from control. I also deepened my meditation practice

and allowed this foundation to transform my approach to

artistic work.

Inspired by the lush language of seekers and contemplatives

throughout history, I began using found text to create a

poem for multiple voices. This process led to new methods

of experimentation including a physical approach to

choreographing language and a willingness to grant words

the dignity of sound without demanding rationality.

I slowed down, fell for the sake of falling, and improvised to

The Beach Boys. I spent a lot of time turning my head and

finding secret fullnesses hidden within birch trees, fear, and

all the empty spaces.
---
Silence Awareness Existence program / FEBRUARY 2019

Carter Scott Horton

USA

www.carterscotthorton.com

About

Carter Scott Horton received his Bachelor of Fine Arts in

Theatre from the University of the Arts in Philadelphia. In

2018 alone he originated three characters in New York world

premieres of professional onstage productions, as well as

performed in several classic works.

Carter draws inspiration for his writing from a wide range of

work, and dedicates his free time to exploring the boundaries

of his taste through new theatre and contemporary film,

especially by Lucas Hnath and Yorgos Lanthimos. He holds

Shakespeare in a particularly high regard, and guides the

integrity of the work into the 21st century by applying a

poetic style to his own contemporary ideas. He illuminates

the current landscape of American aristocracy in his new

play "Auction" ,through the use of iambic pentameter and a

streamlined five-act structure.

Carter's intention for his time at Atreles is to challenge the

given nature with which we approach reality, up-end that

which is needlessly inherited, and pursue the answers

for life in a day so concerned with tomorrow. He seeks to

acknowledge and embrace the strangeness of our time in

new, poetic ways.

Auction

As my first residency, and the first acknowledgement of my

writing by an establishment, I entered Arteles with caution

and doubt in my worth. Perhaps there had been a mistake, I

submitted half of a play I had started writing two years prior

and nearly dropped entirely. The experience and wisdom

of my fellow residents quickly turned from intimidating to

inspiring and I found that the poetry of my script flowed freely.

In the silence and the snow, a dysfunctional cast of characters

screamed their lines to me, and my work transformed from

playwright to scribe. Within three weeks, my first draft of my

first full-length play was completed; in iambic pentameter,

no less.
---
Silence Awareness Existence program / FEBRUARY 2019

Leanne Olivier

South Africa

www.art.co.za/leanneolivier/

About

My art is about documenting performance art (ritualistic

dancing): captured in oil paintings. I am interested in the

Shamanistic traditions around the world and use clay, mud,

ash and bones as a way of exploring and connecting to a

primal source which is found in these shamanistic cultures.

The line between human and animal (consciousness)

becomes destabilized in my work. The clay slip (clay &

water mixture) painted on the bodies and faces is used as a

medium (mask) to unmask deeper realities. It goes beyond

race, gender and the narrow instructions of what makes us

human. It is the recognition or embodiment of the OTHER. I

aim to extract the negative connotations which surround the

'animalistic' and use art as a liberation to open a platform for

a more embracing and enlightened relation to the complexity

of all life.

Un-becoming

During my residency at Arteles my aim was to give myself

wholeheartedly to SILENCE, AWARENESS, EXISTENCE.

I took a step back from my own processes and ideas.

Being in a space of un-knowing and un-becoming, as well

allowing space for new ways of thinking and engaging with

my fellow artists in residence. This was all done with a

sense of playfulness and curiosity. Silence and awareness

may often imply seriousness, yet can also be a space of

lightheartedness and sincerity. I believe creativity flourishes

in this state of being. I received many insights into my own art

and new ways of exploration going forward. Unexpectedly, I

found a passion for words previously unacknowledged...the

irony of a silence residency.
---
Silence Awareness Existence program / FEBRUARY 2019

Imogen Davis

UK

www.imogendavisphotography.co.uk

About

I focus my practise mainly working with alternative

photographic mediums using the environment around me

to influence my work. My interests lie in playing with light

in different ways to manipulate my images and the objects

I have chosen to work with, to create unique photographs.

Whilst creating images, I have in mind the big question of

what is it to be conscious and what does that mean. On the

face of it, this seems like an easy question. We all know what it

is like to be conscious. It allows for our individual experience

of the world, making possible the magic and mystery of

our everyday life as well as our interaction with an external

reality. "This consciousness that is myself of selves, that is

everything, and yet nothing at all – what is it? And where did

it come from? And why?" We, in human nature, are always

trying to explain and understand the world, the longing for

certainty within our own specific interests and beliefs and

selves. There must be more to life than survival and chance,

something must be added from outside of this closed system

to account for something as different as the unconscious.

I mostly print in the darkness, the red light of the darkroom

enveloping me whilst I navigate in the shadows finding my

papers and playing with the light. I have grown to love the

inconsistent and originality of each piece I make, encouraging

the new and loving the accidents.

Ears Are Not Alone in Listening

Whilst in Finland my work focused on the idea of process

within film photography, I set up a darkroom and worked

primarily with a homemade pinhole camera creating

interesting, naturalistic photographs of the environment in

which I was living.

I also brought the outside into the studio, working with

ice trying to capture my inner silence. My silence was

deafening, it pulled on my inner thoughts and feelings and

the deep emotions I had pushed down and tried to forget.

It is something that our modern lifestyles tend to suppress;

having grown up in the constant bustle of London pure

silence is always elusive, just out of grasp even in the most

peaceful of moments.

In the Aesthetics of Silence Susan Sontag wrote about the

difference between a look and a stare, a look being voluntary

whilst a stare is a compulsion. I followed my compulsions

fuelled by silence and stared into myself as well as being

absorbed by my environment.
---
Silence Awareness Existence program / JANUARY 2019

Henning Gärtner

Norway

henninggartner.wordpress.com

About

I am a writer and theatre maker.

I come from Tromsø in the North of Norway. I have spent my

life looking for a home, a community, a place to belong. Does

such a place exist? I think it does; and the place is art. As I

never seem to settle down, I have come to accept that my

home is the art and the artists I love, and the art I make.

Currently I live in Berlin. The book I am working on, is a

memoir in which I explore shame, loneliness, and longing.

Trollvinter

At Arteles I was like the Moonmintroll who wakes up in

Midwinter. I had been in hibernation for a long time, and now

woke up to a strange world of snow and darkness.

I sat by my window for hours. There were frozen trees

everywhere. I saw stones, birds, a cat sneaking by. All this

WHITE, I thought. I rarely read poetry but now I saw it: Poetry

appears in silence.

Strange new friends would walk by. I asked Tuu-tikki to take

a portrait of me. "Above your head is an empty space", she

sang as she took my picture through the window. "That's

where your ideas come from."

Thank you for the silence!
---
Photo: Ioana Vrabie
---
Silence Awareness Existence program / JANUARY 2019

Ioana Vrabie

Italy

www.ioanavrabie.com

About

Ioana was born in Communist Romania, was raised in

Tuscany, Italy and studied photography at University of the

Arts London. Her artistic production is the intuitive response

to her own sensibilities and her multilayered identity.

A part from living in different countries, as a former flight

attendant, she has travelled all around the world, experiencing

a reality that has always been extremely changeable and

dynamic. Therefore, in her images, she aims to see beyond

the palpable and to dissolve the concrete and substantial

of conventional reality to explore the quantic possibilities

somehow contained within them.

Each photograph is triggered by a state of profound

emotional connection with her surroundings and it contains

an extraordinary layering, where even dissonant slivers of

existence merge to create what Ioana calls, a New Reality.

The eye is inescapably drawn deeper and deeper into images

that appear almost as oneiric sculptures, a mesmeric shaping

of the visibly predictable into fresh, intensely vibrant forms

and concepts merged in an unexpected unity.

In an age that thrives on technological advancement, Ioana

shuns the digital, because she really enjoys the state of

profound presence that only shooting analogue allows. She is

fascinated by the fact that everything happens in the camera

and it remains a mystery until the film gets developed.

Far from being digitally contrived, her pictures are conceived

through a multiple exposure technique that allows the

essential grace and elegance of her subjects to merge and

melt together to radiate from within each photograph.

"Ioana Vrabie's analogue photography represents what I call

Romantic Conceptualism. Personal yet Universal concepts

wrapped in exquisite beauty."

- Lorenzo Belenguer, Art Critic for the Huffington Post based

in London.

Two projects

1. White solid space

The apparent whiteness of the snow surprised me: the deeper

I looked into it, the more I noticed that the same landscape

looked different every day.

It was mainly for the effect of the sky: whatever the colour,

the shape, and the light coming from above, it was painting

the white canvas below.

On the other hand, the snow reacted to the sky differently,

depending on how fresh or how frozen it was, creating

extremely interesting and new to my eyes phenomena.

The reflections of the sky on the snow (solid water) were

totally different though from the ones on the sea (liquid water)

that I am used to see in Ibiza where I live.

In "As Above So Below" analogue double exposure

photograph I have playfully created on the frozen and

covered in snow lake a reflection that would have been

natural on water.

2. Postcards from a future past, printed digital photographs

and writing

Residing in Arteles's ancient buildings, so imbued with

history, in the rural surroundings of Haukijärvi, brought

me back to an analogue past, so dear to my heart, where

communication was slow, handwritten and tridimensional.

I have started to send digital printed photographs belonging

to my diary as unexpected postcards to friends and

collectors, to explore both the relativity of what we consider

future, past and present and the almost lost surprise and

sensual pleasure inherent in receiving, opening and reading a

letter. I thank Arteles for this new inspiration and I am looking

forward to develop and expand this project in the near future.
---
Silence Awareness Existence program / JANUARY 2019

Pauline Batista

Brazil

www.paulinebatista.com

About

I was born and raised in Rio de Janeiro (Brazil) and have

since lived in the US, Germany and the UK. I recently finished

my MFA at Goldsmiths University in 2017, and continue to

live and work in London. For myself, research and exchange

with other artists form the base of my practice. Last year I

collaborated with artist Madeleine Stack on a film and an

exhibition Fatal Softness- which was subsequently reviewed

MAP Magazine and featured on AQNB. This year I exhibited

as part of She Performs, a platform for "female artists to

show work and discuss current social issues surrounding the

questions of feminism and gender relations".

About my practice:

My practice questions the impulse to render information,

bodies and the 'quantified self' transparent. I examine the

implications of the blurred lines between artificial and

organic, virtual and physical, inert and animate and highlight

our society's misguided aim at human perfection and cyborg

immortality.

My work gives access via an oscillation between body and

machine, connecting different nodes of research and medium

from photography to sculpture, video and prose in order to

create a larger network that the viewer is invited to decode. I

explore the ways in which technological advancements allow

unprecedented access to the inner workings of the flesh,

and the ensuing trans-humanist hopes of the convergence

between technology and the body.

As sci-fi dreams and nightmares become a reality, I question

whether those who are granted access will determine the

social, economic and genetic casts of the future.

Frequency for Futures

I used this period there to read about time and to connect

with the missing aspect of my research. I often deal with, and

explore the latest in technological innovations and its impact

on our lives and psyche. While I do touch upon the natural

world, I had never truly explored its heavy role in the network

of interconnectedness that involves all aspects and beings in

the world around us. I continued my investigation into modes

of thinking through, with and about our future on earth. But

this time with a less futuristic approach, as I was immersed

in a very non-technological environment.

I became fascinated with an electrical tower inside of the

nature reserve. In the middle of the deepest silence I have

ever experienced we came upon this tower and a very distinct

buzzing sound coming from it. The way the tower infringed

upon this reserve was overwhelming- the sound penetrating

the silence as we approached its base.

I am now in the process of working on a larger film project

where the tower and its frequency, alongside pink noise

frequency captured both in nature as well as from traffic

nearby entering the forest via sound waves, have a role to

play. The project will deal with the invisible links between

corporeal and technological organisms and speculations

on future forms of communication between all the diverse

players in our current, deeply interconnected networks of

existence.
---
Silence Awareness Existence program / JANUARY 2019

Asako Shimizu

Japan

www.shimizuasako.com

About

I am a Tokyo-based professional photographer. The camera

for me is a magic tool which could reveal some tiny messages.

I carefully try to feel the aesthetic message itself through

nature. "Taking things as they come" is very important for

my awareness. We have a word "Sinrabansyou" in Japan. In

English it might refer to the whole of creation, the universe,

or all nature beyond human concept.There is also a word

"Hokou" which suggests a faint light which glows gently

inside from the bottom. This is a unique word about the truth

and wisdom in a figurative sense as expressed by Chinese

philosopher Zhuangzi. I believe that the particles I captured

with my camera could be the one of pale lights. It dawns

on me that I could be a connector "myself" just as a USB

connects between subjects and lens. So I scoop up the little

"Hokou" particles and lights, and unleash them on my image

works.

Capturing Awareness

A country in vague lights.

You see a quiet smile in the painfully cold air.

The weak sun and the dazzling moon resonate.

The smile layers the flow of time in numbness.

You stand at sage land.

Hearing sounds like groaning in the depths of the lake,

and echoing birds song in the coldest skies.

You came from the far end of world,

pondering their happiness and suffering.

Is that an illusion?

When the forest overlaps the lake at dawn,

beautiful wisdom eggs spring forth.
---
Silence Awareness Existence program / JANUARY 2019

Ji Yoon Lee

South Korea

www.lee-jiyoon.com

About

Ji Yoon Lee is an artist exploring materiality. She use form

and letter to reflect the human condition in the modern

world. The concept of embracing our solitude, a concept

surrounding much of Herman Hesse's work, is an idea she

aligns herself with strongly. Ji Yoon is seeking the individuality

in relationship between existence and space through the

repetition of gravity forces and creation-destruction.

Ji Yoon Lee studied sculpture in Dongguk University in Seoul,

South Korea. Currently she is based in South Korea.

Solitude, Stillness and Independence

During my time in Arteles, I really enjoyed the time of stillness

and detachment that from urban vibe. I was focused on

materials and movements in my artwork and also it was the

best time that I could have a deep thoughts about the myself

in my life.

I used the magnetic stirring machine, pigments and plaster to

create 3D forms made by its core-energy. And with using the

idea of the detachment of two different dimensions, I put the

3Dform on the paper to express the solitude I felt in society.

At the same time, through the observation of movements in

the stirring machine, I did paintings with oil-pastels.
---
Silence Awareness Existence program / JANUARY 2019

Charlotte Watson

New Zealand

www.charlottewatson.org

About

Since practising in Melbourne, Watson's primary method of

working has been drawing, particularly as a means of relaying

the internal and unspeakable. Monochromatic materials,

chosen for their sublime but historical qualities, draw the

viewer into a space that is seductive but psychologically

charged; where distorted geographies and obscured figures

stand in for the unconscious and its volatile role in informing

narratives of the self. Graduating from the University of

Canterbury (Christchurch, New Zealand) in 2011 with a BFA

in Sculpture, Watson is now based in Melbourne, Australia.

Reassess my practice

Arteles was a welcome break from the world. Far from

the familiar, I experienced a roller coaster of thoughts and

realisations that, without the distance from my usual setting,

simply would not have had the space to emerge.

My intention for my residency was to write and draw, and the

solitude and quiet in the snow lent itself nicely to that. More

so, the silent days and distance from everyday distractions

allowed me to think about my artistic practice in the big

picture; the ways that it needed simplifying, the ways that it

needed expanding and how I value my time. Arteles' Silence

Awareness program was also extremely valuable in the way

it provided the necessary conditions for deep thinking. In

particular, the isolation and disconnection showed me that

the digital/technological norm we assume in everyday life

actually does my brain a disservice.

Being in an environment with other residents encouraged me

to view my art practice more laterally. Shared conversations,

along with the luxury of time, enabled me to reassess my

creative values, which in turn have made me more confident

to pursue avenues that I have long desired for my practice.

The challenge now is to take these learnings into the real

world and, in the words of Jane Kenyon, 'be a good steward

of my gifts'.
---
Silence Awareness Existence program / JANUARY 2019

Michael West

USA

www.greatbiguniverse.com

About

Follow your bliss and the universe will open doors for you

where there were only walls," wrote Joseph Campbell, the

American mythologist.

I've been a professional astronomer for three decades and

feel blessed to be able to explore the universe for a living.

I got my PhD in astronomy from Yale University in 1987

and have held research, teaching and leadership positions

around the world since then.

One of the things I'm proudest of is my willingness to take

risks and to follow my bliss wherever it leads. I've lived on

four continents, learned several languages, and given up

tenured professorships at two universities, all in pursuit of

my dreams.

I love writing and sharing the wonders of the universe

through words and images. I'm particularly fascinated by

the interplay between science and culture. As Maria Mitchell,

America's first woman astronomer, said, "We especially need

imagination in science. It is not all mathematics nor all logic,

but it is somewhat beauty and poetry."

My essays have been published by The Wall Street Journal,

Washington Post, USA Today, Scientific American, Discover

magazine and more. I've also written two books, most

recently A Sky Wonderful with Stars, published by University

of Hawaii Press.

Life is short, and in the end we're the sum of our experiences.

Carpe diem!

Silence, Awareness, Writing

It was a wonderful month at the Arteles Creative Center, a

life-changing experience. I made great progress towards

completing a creative nonfiction book I've been working

on for years, a collection of astronomy-themed essays that

explore what it means to be human in a vast and seemingly

impersonal cosmos.

The Silence Awareness Existence residency program and

the breathtaking Finnish countryside provided a unique

environment to tune out distractions and to focus on my

writing for an extended period of time. I gained new insights

into my writing style. I came to appreciate the beauty of

silence. I learned that a month-long block of creative time

with no other responsibilities is a treasure. As a newbie to

meditation, I looked forward to the inner calm it brought

daily. And this visit – my fifth to Finland – kindled within me a

desire to move to this enchanting country someday.
---
Silence Awareness Existence program / JANUARY 2019

Kenneth Lambert

Australia

www.kclart.com

About

Lambert is a conceptually driven artist whose practice

investigates the human psyche through the lens of

technology. His practice extends across digital media and

installation. Lambert approaches his experimental art

practice with the deliberation of a scientist and philosopher

combined. His intention is to entice the viewer into a state

that is self-reflective.

Lambert's work has been recently recognized with his

inclusion in 2018 the Churchie Emerging Artist Prize, Lismore

Portrait Prize, Hidden Sculpture Walk and the Alice Prize. He

is also this year's recipient of the Newington Armory Award:

Artist in Residency and has been invited to take part in 2019

Arteles Artist residency program in Finland.

Active Experimentation

My time at Arteles was defined by 3 objectives. (1) Respond

to the environment, (2) Experiment and develop new skills

and (3) Make meaningful connections.

Project 01. Acceleration (a = Δv ÷ Δt)

The intention with this installation was to reflect on the

growing anxiety around climate change. Utilizing the theory

of acceleration to convey that even 1º variation in the earth's

temperature is problematic. Haukijärvi itself experienced

unusual variables for the 2019 winter, creating uncertainty

around whether the lake, Parilanjärvi would actually freeze for

project. As we began installation the ice beneath us started

to crack and felt unstable so the project was abandoned for

safety reasons.

Project 02. Forms (a = Δv ÷ Δt)

The forms grew out of failure. With the Mylar material left

over from project 01, I decided to see if I could translate the

original concept into an alternate execution. But first I needed

to learn how to sew, which eventually happened after some

perseverance. The end result was 12 forms which where

installed in around the forest area of Arteles. The winter snow

would eventually engulf the forms making them part of the

landscape despite their sharp metallic juxtaposition.

Project 03. Forest Meditation

In response to the "Silence and Existence" theme I embarked

on a meditative practice of wrapping trees with hazard tape.

Through some research I discovered that although Finland is

75% forest and it's environmental credentials are the best in

the world, the forests are under threat because of the lack of

biodiversity after centuries of cultivation.
---
Silence Awareness Existence program / JANUARY 2019

Louise Pagé

Canada

www.bornonthe263.com

About

I was born and raised in northern Saskatchewan, where the

prairies and the boreal forest meet. The light and the infinite

sense of space peculiar to that landscape influences my

work, you could even say that they are the source of it.

My work is grounded within the framework of inquiry

and exploration - spiritual, psychological, metaphysical,

conceptual and visual curiosity.

My process is intuitive. I'm drawn to the transient nature of

the world, the fluidity of perception, visual impressions that

are both fleeting and lasting, universally shared experiences,

privately felt.

My tendencies lean towards making large-scale work that

transcends the everyday, creating visual experiences in

alternate environments, inviting the viewer into a natural

correspondence with beauty, encouraging pause and

reflection.

Bringing an idea to life is like an ongoing conversation

between me the receiver, me the messenger, me the maker

and me the witness.

For the last couple of years I have been working exclusively

with my 'hai' lights project, rice paper collages and piano

wire - travelling throughout western Canada creating

distinctly unique visual expressions, using the environment

as canvas, mark making in space, weaving light throughout

the countryside - much like a spider weaving its' web through

the landscape -

both seen and unseen - visible and invisible -

The transient nature of this work lends itself to cycles and

ceremonies, comings and goings - reminding us of the

temporary nature of everything - of everything!

Naked with strangers (soon to be friends)

Yes it's true, we all got naked with people we had only just met -

the Finnish sauna - remarkable really - words elude the

experience -

But naked bodies were just the beginning -

it wasn't long before we exposed not just our physical flesh,

but also laid bare our creative vulnerabilities, as our artistic

processes revealed themselves in the naked light of the

Finnish winter.

I came to regenerate, to reflect, to research, to reside in

peaceful detachment from the mundane of the everyday - to

strip down, to lay bare, to open up, to see what the naked eye

could not -

to find whatever showed up -

The heart piece took its time, the vision blurred, its visibility

felt rather than seen - the pulse faint, but not dead - it

remained in the background of making, but in the foreground

of feeling, incubating in a timeless space and place -

'hai' lights happened - two installations in spite of a cold so

deep even the bones questioned the reason for it.

One in a birch forest - Koivu - amongst the long shadows of

the winter sun, up for a week in varying light.

One on a Kokku - a pile of fallen branches collected in autumn

in communities throughout Finland - gathered to be burnt in

celebration of light during the summer solstice -

'hai' lights - planting light in the darkest season -

a tribute, a visual reminder of the light within.

Naked with strangers

in the coldest, darkest season -

in Silence, with the Awareness of the vulnerability of our

Existence -

Grateful for its gifts
---
Residents 2018

Silence Awareness Existence - Theme program

January, February, March, December

Argentina

Verónica Meyer // Sculpture, painting, textile

Mer Miró // Drawing, installation, music

Australia

Prudence Holloway // Performer, composer, sound designer

Iona Massey // Poetry & fiction

Isobel Markus-Dunworth // Photography, videography, sculpture

Darryl Rogers // Video, virtual reality, augmented reality installation

Catherine Davies // Actor, theatremaker, general disruptor

Lux Eterna // Video, performance, photography

Vivienne Robertson // Mysticism, photography, philosophy

Gabrielle Paananen // Puppetry, illustration, natural History

Alanna Lorenzon // Drawing, writing, sculpture

Warren Ward // Writing, nonfiction, cultural history

Mel Dare // Painting, drawing

Belgium

Conrad Willems // Chinese painting, installation

Camille De Gend // Visual arts, writing, sculpting

Brazil

Tomás Franco // Sound, music, video

Carol Rodrigues // Literature

Canada

Hannah Gross // Performance, writing, video

Matthis Grunsky // Painting, sculpture

Ella Morton // Experimental analogue photography, film, land art

Yannick De Serre // Drawing, installation, printmaking

Drew Sparks // Photography, video

China

Ruhan Feng // Drawing, printmaking, installation

Denmark

Esther Flytkjær // Photography, text

Hong Kong

Julvian Ho // Drawing, painting, installation

Papaya Fung // Chinese painting, installation

Ireland

Agnieszka 'Uisce' Jakubczyk // fibre art, paper art

Jennifer Ahern // Collage, ceramics, installation

Tomas Penc // Sculpture, installation, sound

Netherlands

Simone Engelen // Photography, video & performance

Portugal

Ana Marchand // Painting, photo, writing

South Africa

Toni Stuart // Poetry, performance

Kathy Robins // Mixed media, sculpture, collaborations

South Africa

Ja Min Yie // Painting, drawing

Switzerland

Wanda Wieser // Sculpture, collage, alchemy

Spain

Pilar García de Leániz // Illustration

UK

Ross McCleary // Writing, poetry, performance

Sarah Duncan // Drawing, printmaking

USA

Tim Moran // Painting, ink drawing

Angela Ellsworth // Interdisciplinary

Kelley P Donahue // Drawing, installation, ceramic sculpture design

Robert Dowling // Performance, writing, photography

Paul Sunday // Painting, photography, collage

Paula Jeanine Bennett // Music, installation, words

Simon Klein // Media art, photography, performance

Jonah Groeneboer // Sculpture, installation

Lenna Minion // Lighting, show production, writing

CV Peterson // Performance, bioart, installation

Amanda Robles // Audio, video, installation

Lenna Minion // Lighting, show production, writing

Serena Gelb // Painting, writing, photography

Venezuela

Elena Victoria Pastor // Photography, mix media

Comic Blast! - Theme program

April, March

Australia

Grace Lee // Illustration

Jonathan McBurnie // Drawing

Canada

Jacqueline Huskisson // Drawing, comics, printmaking

Stanley Wany // Comics, Writing, Mixed Media

Emilie St.Hilaire // Comics, writing, drawing

Iran

Fatemeh Mohamadi // Painter and illustrator

Maysam Barza // Comics, illustration, concept art, painting

Norway

Anders Kvammen // Comics, illustrations, silk print

South Africa

Audrey Anderson // Mark making, ink, narrative

Jessica Bosworth Smith // Contemporary Art & Illustration

Audrey Anderson // Mark making, ink, narrative

Nas Hoosen // Comics, drawing, graphic novels

South Korea

Monica Lee // Illustration, painting, surface design

Taiwan

Huang Yu Chia // Chinese brush painting, illustration

UK

Amy Gallagher // Illustration, comics, design

Joshua Brent // Illustration, animation, comics

Alice Dansey-Wright // Art, Design & Illustration

Neil Slorance // Comics, illustration

Kate Anderson // Drawing, animation

USA

Jessica Hayworth // Illustration, comics, drawing

Philip King // Comics, illustration, painting

Christopher Sperandio // Comics

David Ross // Technology, comics

Emily Schulert // Comics, textiles, print

Susannah Lohr // Drawing, painting, sculpture
---
Back to Basics - Theme program

June, July, August, September

Enter text - Theme program

October, November

Argentina

Pompi Caputo // Art photography

Australia

Jayne Fenton Keane // Poetry

Naomi Taylor Royds // Multi-disciplinary, sculpture

Linda Loh // Visual Art, new media, video, painting

Tamara Lazaroff // Fiction & Creative Non-Fiction

Jacky Cheng // Sculpture, fibre, printmaking

Britt Salt // Installation, architecture, sculpture

Dierdre Pearce // Sculpture, installation

Michele Sierra // Sculpture, photomedia

Gabrielle Hall-Lomax // Photography

Belgium

Nel Bonte // Visual art

Stella Teunissen // Visual Arts, textile design

Canada

Sydney Southam // Film, performance, ceramics

Zackery Hobler // Photography

Denmark

Eva mm Engelhardt // Textile installations, sculpture, embroidery

Germany

Katharina Lökenhoff // Picture installation, artistic research

Hong Kong

Blythe Cheung // Visual Arts

Iran

Pedram Sadegh-Beyki // Generative Art, new media, animation

Mexico

Ilián González // video, photography, installation

Netherlands

Stijn Pommée // Visual arts, writing

Singapore

Isabelle Desjeux // ArtScience, photography

June Cheong // Film, photography, writing

South Africa

Simon Taylor // Video, photography, documentary

Stefan Blom // Psychologist, writer, illustrator

South Korea

Dana Y'Sol // Photography, sound, video

Argentina

Majo Moirón // Writing

Australia

Joanne Anderton // Writing

Chloe Maree Higgins // Creative non-fiction, memoir, essay

Aurora Scott // Writing, audio

Canada

Leah MacLean-Evans // Writing

Cypros

Aliye Ummanel // Poetry, drama, theatre director

Denmark

Lotte Pia Stenfors // Writing, bodywork, music

Hong Kong

Cally Yu (Yeuk Mu, Yu) // Literary, theatre, dance

Ireland

Mark Leahy // Writing, performance, art

Mexico

Ximena Perez-Grobet // Book art

New Zealand

Jane Tolerton

// Non-fiction

Norway

Lisette Frimannslund // Photopainting, drawing, writing

Serbia

Anja Savic

// Calligraphy, typographic design

Singapore

Michelle Tan // Text, performance

USA

Teresa Cervantes // Performance, poetry, sculpture

Daniel Zentmeyer // Performance, poetry, sculpture

Nathan Bell // Painting, drawing, sculpture

J. Sayuri // Illustration, video art

Aaron Sandnes // Sculpture, drawing, painting

Anna Carlson // Textiles, text, printmaking

Freddie Dessau // Art, writing, flaneuring

Daniel J. Cecil // Fiction, non-fiction

Hannah Kezema // Hybrid poetry, drawing, music

Spain

Laura Feliu

// Photography

UK

Ross Whyte // Music, sound art, composition

Anna Rhodes // Landscape architecture

Zoë Ranson // Fiction, creative non-fiction, text-based performance

Za Othman // Painting

Daniel Pasteiner // Painting, objects

USA

Lauren Ruth // Sculpture, Performance, installation

Enrica Ferrero // Textiles, painting, photography

Mia Cinelli // Design, sculpture, installation

Sima Schloss // Drawing, painting, collage

Anja Schütz // Photography

Evan James // Fiction, Nonfiction

Ken Steen // Music Composition, Sound Art & Video

Nora Sørena Casey // Playwright

Kendall Schauder // Fibers, art &tech, performance

Gail Baar // Visual art, fiber art

Luther Bangert // Juggling, movement, performance

Helen Lee // Performance, Video, Installation

Ben Davis // Photography, bookbinding

Catherine Taylor // Writing, video
---
Silence Awareness Existence program / DECEMBER 2018

Ruhan Feng

China

www.ruhanfeng.com

About

Ruhan Feng is a visual artist. She works with drawing,

printmaking, installations, and photographing.

Born and raised as the only child in a Chinese family and later

living alone in the United States for 6 years, she consider

herself as a family-raised but self-trained person.

Influenced by Buddhism and Daoism, she pursues the

teaching that man is an integral part of the nature. Her work

involves time, space, and materiality and investigates her

relationships to this world through multi-layered and multidimensional

perspectives. In her recent work, she looked into

her personal experience, memories, and struggles to explore

and reconstruct her identities as Chinese, an expatriate, and

woman, which ulteriorly challenges the normative and biased

definitions of family, marriage, gender, and social character

rooted in Chinese traditions.

Ruhan received her MFA in Printmaking at Rhode Island

School of Design in 2017, and a BA with honors at Stony

Brook University in 2014. In 2018, she was a residence

artist at Mass MoCa in US. Also, she is selected for Artist-in

Residence program at Anderson Ranch, US in 2019 spring.

Reflections in Blandness

I accidentally lost all the data in my phone. Photos, messages

and histories were all gone. Look forward, don't look back—

the first thing I learnt at Arteles.

Then I started to pay attention to whatever was presented

to me: the air, the coldness, the wind, the snow, the grey,

the whites, the lack of light, the lake, the red chair facing the

emptiness, the disco ball in the kitchen, the fire, the sauna,

the sun and colors it brought, the animals foot prints, the

trails, the trees, the Christmas, the peacefulness, and the

blandness.

One day I was writing my journal and suddenly I smiled: I'm

doing an extravagant thing. I left everything behind and spent

all my savings traveling to a far-off land to read, to write, to

make art and just to rest. But I felt truly contented. It's the

pure joy of life.

If reflection is the threshold of the visible world, I'm stilling

trying to peek into the truth of life from the phenomenal world.
---
Silence Awareness Existence program / DECEMBER 2018

Agnieszka 'Uisce'

Jakubczyk

Ireland

www.behance.net/uisceartef3b

About

I am a textile artist originally from Poland, living in Ireland. My

primary interest in my artistic practice is weaving. Recently I

started experimenting with paper making techniques.

I aim to use my creations as narratives, I want to communicate

through my art about issues touching a human as an individual

and as a part of society. For this reason, I am searching for

common symbols as well as developing my own language

of symbols. Symbolism is a subtle tool – many symbols can

reach and be understood by people in an emotional as well

as intellectual way. I believe such symbols have much more

potential for conveying subtle messages than our spoken/

written language.

I am inclined to use natural materials and also to include

up-cycled materials, which normally are not considered

valuable. I have used paper packaging, old unravelled

knitwear, birch bark, plastic, black rubbish bags… These

things, usually disregarded, have a lot of artistic value as

a material, if used in a well planned and thought-through

way. Saying it more simply: I am interested in the process

and results of transforming something unimportant, even

ugly, into beautiful, harmonious and evocative pieces. In

my practice using particular materials is significant part of

communication through my art.

Finnish December Diary

I am a textile artist of Polish origin, living in Ireland for many

years. In my art practise I use up-cycled materials; I am

particularly fond of using paper packages as a medium for

my woven pieces.

At my Silence Awareness Existence residency I wanted to

be a quiet observer, to look into my inner self and silently

watch my surroundings in a very focused way. It was time of

experimenting with very new to me paper making techniques,

working from pulp. I wanted to concentrate on, and express

through art, my personal reaction to darkness, quietness,

stillness in nature, on how my mind would respond to such

an unusual environment. I also wanted to explore non-verbal

ways of communicating with others.

My creative plan for the residency was to make a textile/fibre

diary of my psychological/physical experience. I was creating

a new piece of art every day, combining what I brought with

me (some materials and fibre-making techniques) and what I

find there (materials, experiences, experiments)… The diary

consist of 30 works altogether (including two triptychs and

a diptych). I also made over 20 other experimental pieces,

including two works which I 'planted' outdoors to let nature

transform them.

The program enabled me to switch off outside interfering

factors and focus on exploration, what is in me and around

me. There were some very challenging aspects, hidden fears,

sensitivities and anxiety… But despite, and also because of

them, new ways of expression were opened to me.

Thank you Arteles…
---
Silence Awareness Existence program / DECEMBER 2018

Tim Moran

USA

www.timmoranart.com

About

I set out to write a description of my work, but as I jotted

down notes and fragments of ideas, I ran a bit off course. I

began writing more to myself than to you. What unfolded was

a sort of credo, a set of directions for my own method of art

making.

At first, I thought to call this my "manifesto," but that was

too severe. Then "manual" was too technical. Eventually,

I stumbled onto a Latin term that was both accurate and

ludicrous, so I present to you the first three chapters of...

The Enchiridion of Semi-Automatic Art

1.

No plans.

No studies.

No sketch.

These things are contrary to the work.

2.

Lay the foundation now. Go as far as you can without

stopping.

Curse, regret and obliterate, but leave behind the ghosts of

your hesitant marks.

Attack the canvas. Put pride in your feet and your spine and

move.

Let symbols be symbols. Let faces be faces.

Lean in to mischief. Keep pulling the thread of curiosity.

Experiment. Learn.

Never say no to impulse.

Refine and embellish. Take the collar off your imagination.

Make rules and break them.

Get far away and listen. Listen to your instincts. Listen to

what others have to say.

3.

Take a break when you start to go crazy.

Take a break when your feet hurt.

Take a break when you're tired, or you're sad. When you just

can't today.

You won't force good art if you have to force it.

Don't Think

Painting. Drawing. Gesture and removal. Experiments with

sound and silence.

Waking to the late sun. Sauna team. Vegetables.

Anxiety. Planting seeds for pulling weeds.

Finding creatures.

Driving the blue car.
---
Silence Awareness Existence program / DECEMBER 2018

Iona Massey

Australia

About

A poet and writer of fiction, Iona loves how words can so

lightly depict both the wild and the domestic, the sacred and

the everyday, revealing them afresh. Sometimes playfully and

sometimes with solemnity, words form the matrix Iona has

woven into her multifarious portfolio, informed by the many

layers of her experience: as a teacher, nurse, daughter, sister,

friend, wife, mother, explorer, pilgrim and mystic. Winner of

the Commonwealth Short Story Competition, Special Award

for a Children's Story 2010, and now with a full-length Young

Adult novel completed, Iona looks forward to discovering

what creative pearls silence and the Finnish landscape

produce.

Still; ness in Haukijärvi

From the beginning I wanted to be open and surrender to

what 'is' and those daily early mornings of traipsing through

the snow, from my room in the yellow house to the meditation

room, stay with me. Still; ness in Haukijärvi, a poem, was

inspired from my first walk of many to the nearby frozen lake,

which was the view from my desk. The ice and snow, the

birch and spruce of Finland in December were captivating

and a very different landscape for me. The hushed stillness

of it resonated within me an echoing silence so full of an

intuitive wisdom. I came to Arteles with an old idea for a

fictional text and though at first it felt like I was pulling teeth I

set the goal and wrote 500-700 words most days. (I continue

to write at least 1500 words per week of this new novel.) But

my true transformation came from understanding there's a

Wild Woman in the Forest, a poem, who needs nurturing and

support to produce her art. As a writer being around artists

of different media, more than anything I was reminded how

art is a practice which needs time to experiment and develop.

Arteles gave me that.
---
Silence Awareness Existence program / DECEMBER 2018

Kelley Donahue

USA

www.kelleydonahue.com

About

Kelley Donahue is an artist and ceramics teacher from

Brooklyn, NY. The majority of her work is ceramic sculpture

(large and small) with layered patterns painted on the surface

with underglaze. She also makes experimental pop songs

and soundscapes, ink drawings on paper, dresses and

costumes inspired by the music and 2 and 3D work. Although

ceramics takes up most of her time for making work, she likes

to experiment with new materials regularly. She received her

MFA from Alfred University in 2014 and has has shown at

galleries in Boston, Beijing, and Manhattan.

Drawing and sewing

I spent my time at Arteles doing things that were relatively

new to me. I brought an array of fabrics that I previously had

printed with my drawings, and used them to sew clothes that I

designed spontaneously and intuitively without any planning.

It had been 15 years since I spent time sewing and had never

been very successful at executing my vision since I couldn't

get the hang of using a pattern. This was an interesting way

to see how my progress in understanding fabric and how it

can take shape around the body has been nurtured by other

creative practices over the last decade and a half. I also

brought a style of ink pens I'd never worked with before and

made drawings that I had envisioned myself making for quite

some time but this was the first attempt at creating them.

The aesthetic inspiration that seemed to guide my work over

the month came from the surrounding forest, particularly

the birch trees. I also spent time doing kundalini yoga and

exploring internal worlds which impacted the imagery and

styles that came through in the clothes and drawings.
---
Silence Awareness Existence program / DECEMBER 2018

Prudence Holloway

Australia

www.prudenceholloway.com

About

Prudence is a performer, musician and composer based in

Sydney, she has trained at the Victorian College of the Arts,

The Conservatorium of Music and more specifically in the

Meisner technique and the Estill Method.

Prudence has composed and sound designed for a number

of Sydney-based productions including Brecht's Caucasian

Chalk Circle (STS), Flame Trees (Tunks Productions), She is

the resident music director of SheShakespeare an all-female

Shakespeare company and composed/designed for two sellout

seasons of As you like it & Macbeth.

Prudence is driven by the subtle and nuanced ability of sound

composition to support and shape the narrative of stage and

screen. She is looking forward to working collaboratively to

create soundscapes for works on screen.

Ambience and Space

My time at Arteles allowed me to disconnect from the

expectation of having to "create" and rather play and

discover. Using meditation and mindfulness as a starting

point my aim was to listen and see, responding to what the

landscape wanted to give me on any particular day. The dark

and silent days allowed for more acute listening free from

the distraction of everyday interference and noise. I found

myself chasing the quietest of sounds in the distance, trying

to capture the wind blowing through the trees, the snow

falling in an attempt to keep myself present in the meditative

calmness I felt in the Finnish landscape. Working with the

ambient sounds of Arteles I layered that with vocals and

instrumentation before putting it with drone footage, an

attempt to transport the viewer giving them a sense of space.
---
Silence Awareness Existence program / DECEMBER 2018

Isobel Markus-Dunworth

Australia

www.isobelmarkusdunworth.com

About

I am a Sydney-based visual artist who works across

photography, videography and sculpture. My practice

considers the physical and performative connotations of

the photographic medium and how we can expand our

modes of working to consider the medium sculpturally. The

photographic lighting studio is utilised in my practice as the

site or stage for experimentation and ideation. Most recently

I've been working on producing large format positive

photographic slides that catalogue a specific series of

archetypal objects or scenes as well as creating slow moving

video works that reference specific photographic tropes.

Time, Space & Stillness

My time at Arteles could be summed up in 3 words; time,

space and stillness. The intense cultural and geographic

quiet that the Finnish landscape and time at Arteles offered

me allowed me the time and space to quietly ruminate on

my practice and motivations and allowed me the stillness

to reflect critically but compassionately on my modes of

working. I found the embedded quietness of the Finnish

people one of the most enduring sources of fascination

and admiration, I became acutely aware of my own internal

white noise and need to fill space with sound. Meditation

and quiet were guiding instruments that allowed me to settle

more lightly into a quieter, slower, more reflective method

of working. I became acutely aware of the way the Finnish

landscapes piques our senses; the dense, limited sounds of

ice cracking and trees waving, the ever so gentle presence

of limited light with the drawn out, forever-dusk days and the

fresh chill of the icy air, which doesn't even seem to defrost

at midday. I was drawn to capturing artefacts of this space,

sounds, visuals, images of people and places, working

across mediums to play freely in the wonderful time, space

and stillness that my month at Arteles offered me.
---
Silence Awareness Existence program / DECEMBER 2018

Esther Flytkjær

Denmark

www.estherf.dk

About

I have combined the act of walking and wandering alone

with my curiosity for photographing and discovering light

in the darkness. I enjoy seeing how light speaks to us and

influences our perception of space and the ordinary. My

camera is used as a way to connect to my surroundings and

nature - and becoming aware of my own existence.

In addition to my artistic practice, I occasionally contribute

writing and photography to news publications.

I live and work in Copenhagen, and hold an MA in Media

Studies from University of Copenhagen. In 2017, I joined

a masterclass at Fatamorgana (The Danish School of Art

Photography) and in 2018, I graduated from International

Center of Photography (ICP) in New York.

Nocturnal roaming

I was pleased to have the time to do different things and

working with different cameras during my stay at Arteles. Not

all came out as I expected, but I embraced the mistakes and

integrated them into my work. The images came to reflect my

process of wandering in a specific location with a constant

change of light and weather conditions, and chance became

an important element in my work.

The series of photographs, which I call ""Nocturnal roaming""

is from the time around winter solstice, where days are short

and nights are long and the perfect time for exploring the

darkness and how changing of light sometimes makes the

familiar unfamiliar. The series also reflect psychological

states of mind and the experience of solitude, longing and

search.
---
Silence Awareness Existence program / DECEMBER 2018

Ana Marchand

Portugal

www.anamarchand.com

About

I see my life in all the fields as an artwork on progress.

the main interest is the experiment the way

I'm very concerned with oriental philosophies.

for long time I was a traveler of the world

Now I'm an inside traveler.

and my interest is:

- art as a constant renewable source of energy.

-art has a meditative object

Place and experience

The purpose of my residence in Arteles was to experience a

new and total unknown natural environment.

The work that came out of my hands would certainly also be

different,

Day time my time was mostly busy on the hikes abroad.

Upon returning to the studio, the work developed slowly,

Liquid sediment lay on small boards or sheets of paper, and

which, as snow or ice slowly formed.

The surrounding light was a faint light.

The blue tone of the dawn and the end of the day began to

appear with various modalities

At the end of the stay there was a body of work coherent in

its different expressions:

painting

photography

writing
---
Silence Awareness Existence program / DECEMBER 2018

Darryl Rogers

Australia

www.instagram.com/darrylbrogers

About

My practice endeavours to alter the constituent variables of

space and time attempting to poke holes in the seemingly

impervious materiality of the world around us. This

exploration is often resolved in representing the natural

elements in time based mediums as a type of durational

painting or "timescape". My work whilst originally being

video based is continually expanding with new technologies

which help question and interpret these ideas in new and

exciting ways. I am interested in the what lies beyond the

edge of everything and it tends to conjure characteristics of

illusion, miracle, quantum mischief and the metaphysical.

Re-Framed

The starkness and contrasts of winter in Finland prompted

a rethinking of my work process and subject matter. The

discovery of an old wooden frame in the painting cupboard

and Arteles carpentry workshop prompted some radical

camera mounting ideas. All of this lead to Re-Framed, a series

of videos that looks at landscape, time and the interaction

between. https://vimeo.com/310218854
---
Enter Text program / NOVEMBER 2018

Leah MacLean-Evans

Canada

www.macleanevans.ca

About

Leah MacLean-Evans is an Ottawa-based writer of fiction and

poetry. She loves the places where the magical, the natural,

and the urban collide, and is particularly interested in hybrids

of the fantasy and literary genres. She was the 2017 winner of

the Blodwyn Memorial Prize for Fiction and the 2018 winner of

the League of Canadian Poets' National Broadsheet Contest.

Her work has appeared in Canthius, Qwerty, untethered, On

Spec Magazine, and other journals across Canada. She has

an MFA in Writing from the University of Saskatchewan, is the

proofreader of Grain Magazine, and is on Canthius' editorial

board.

Routine and Ritual

During my month at Arteles, I worked on two projects I had

already begun. The first was a series of poems inspired

by the farming simulation genre of video games, which I

continued to draft new poems for. The second was a novel

that I had set aside a year prior and was on the verge of

abandoning. Arteles gave me the creative and emotional

freedom to reread it, and to my great surprise I still liked it.

In between writing new poems, I edited the novel, mapping

out the scenes with sticky notes on the studio wall. After

many walks among the forest of birch and pine trees, kitchen

chats with other residents, hours reading, and saunas when

the writing was slow or sticking, I had made decisions on

the novel's final revisions and explored new ways of bringing

video game forms and content into poetry.

Being at Arteles was something like the moment of

emerging from the public sauna's icy lake: routine and ritual,

peacemaking with frozen water, dazed and with a huge

lungful of fresh breath.
---
Enter Text program / NOVEMBER 2018

Lisette Frimannslund

Norway

www.lisettefrimannslund.com

About

I am a visual artist originally from Bergen, Norway, but now

living and working in The Hague, Netherlands. I hold an MSc

in Industrial Design Engineering and - more recently - a BFA

from The Royal Academy of Art in The Hague.

I like to work in a project-based way where I can zoom in,

investigate and research a place, an event or a memory,

and just see where that takes me. What I meet. What I

discover. My own perception, associations, memories and

interpretations of these chance meetings and discoveries

all get mixed together in the work. I combine elements of

photography, drawing, writing and painting; often in the form

of an itinerary; a part fact, part fiction travelogue through

time, space or mind.

Each project also comes with its own set of rules that I do

not neccessarily follow. I often like to let a book that I can

somehow link to the project dictate how the project will be

formed. Or even let the book set the rules.

At Arteles I will try to use my own writing as the starting point

for my project, and not the image; which is what I usually do.

Rule 16: See what is before you

I came to Arteles with a specific text/image project in mind

(working title Postcards from the Woods) and a.o. a set of

Rules for Life in the Woods (after Thoreau). "The plan" was to

use my month of focus to try out a new way of working; doing

a lot of the writing part of my project first, before moving

on to the images. After a week I abandoned that idea; it just

didn't work. Or I don't work like that. It's funny how I always

forget, and then always remember. I need to walk, cycle or

simply move through a landscape to think; to let the ideas

come to me.

Being able to start each day with an hour of diary writing

gave me a morning routine. I slowed down, let go of my

original plan and just took my camera with me on long walks,

letting the things I would meet become the project, or a

whole new project all together. During my walks in the quiet I

photographed and collected colour memories, recorded the

sound of my footsteps on the frozen leaves, noticed all the

lines of the landscape and reawakened some long forgotten

memories.

I moved my stuff from my bedroom desk to the studios

and started printing, drawing and writing down what I had

collected on my walks. Taking my time and not rushing

anything.
---
Enter Text program / NOVEMBER 2018

Majo Moirón

Argentina

vimeo.com/user7476487

About

Majo Moirón was born in Buenos Aires in 1985. She is a

writer. She also explores the infinite possibilities of art videos

and documentary films inspired by poetry and literary works.

She has published her own book of short stories called Lobo

Rojo (Blatt & Ríos). Some of her short stories has also been

included in collections such as "El amor y otros cuentos"

(Reservoir Books, Argentina), "El tiempo fue hecho para

ser desperdiciado" (Libros del Perro Negro, Chile) and "The

Portable Museum - Issue 3" (Ox and Pigeon, US) . During her

time in Arteles, she will be working on her next book called

"El diario blanco".

The white diary

The forest trees are finite and tall, they move from one side to

the other as if they were warming up a dance. They are white

with black spots, like exotic tigers. To get to the wooden

pier of the lake you have to cross the road. The silence is

hollow, it comes and goes according to the trucks passing

by. The same trucks that carry fuel and food in Argentina,

and in all parts of the world. I recognize the brand as a

sign of belonging. Massive monsters that travels on wet

and dry roads stretching over different types of geography.

Sometimes, their tires are stained with dust. Others, with red

soil. Here the forest keeps them wet. The water on the cement

seems to cut the road with a knife. I feel the force of the truck

at the edge of the road and imagine the friction drags me

and lift me to death. I walk on the edge and fall into the wet

shoulder instead. A mattress of grass, a city of microscopic

life. I return home and sit down to do what I came for: make

the language dance as soft birches. I turn on the computer

and open the files. Thousands of windows waiting with ideas

that do not become whole anywhere. I can't stop writing as

if I did it again after years. I decide to stay in a room all day

to sort it out, but instead I keep writing. My body is burning.

I have a hard time understanding the grief inside my body

and try to believe that as long as I keep alert of what goes on

outside, I will find the reason. The proliferation of bacteria in

a liquid environment: it is clear that I am brewing something

new, other than pounds from the amount of chocolate.

The morning begins to fill with frost. Over the lake, a

uniformed layer of ice, still finite, was formed to protect itself

during the winter. I think of the fish that swim in it during the

summer. I imagine them frozen too, suspended in time. It

makes me envious. The landscape of the forest became my

brand-new organ. Nothing binds me to Buenos Aires. When

I try to remember myself there, it is a suffocating scene. The

particles in the air are heavier in hot weather and I can't get

immerse into my own life.
---
Enter Text program / NOVEMBER 2018

Lotte Pia Stenfors

Denmark

tigerdrage.wordpress.com

About

Born 1971 in Copenhagen, grew up in Denmark, Africa and

Norway. Veterinarian , phD, microbiology scientist. Language,

belonging, coexistence and survival were subjects I circled

and explored, even when working in science. Gradually,

in poetry and movement, I approached the ways the body

experiences, writing my way through years of education

and growth; dance therapy courses, voice, songwriting,

dance and movement classes, and recently two therapeutic

bodywork educations, all the while heavily challenged by

illness and the changes that inflicted. Am I allowed to be

funny, sexy, intelligent, focused, while I am in recovery from

surgery? Can I be simultaneously joyful, interested, and in

strong pain?

Lately, learning about trauma, its expressions, subtleties and

its slow and organic healing, pushes me to address something

tense and rich. How does it feel, being autonomous in my

physical self? How does it feel when I am powerless? What

imprints in beliefs and stories do experiences of invasion and

overwhelm leave on my identity, presence and belonging?

Will that change when expressed (written, shouted,

whispered, sung)? Can all parts of my human experience

be allowed to be, simultaneously, even be expressed?

How does my scientific/biological knowledge understand,

embody, and speak about what I sense, believe, or deeply

feel? Can I find a language for that? Language in all forms;

my senses, words, voice, breath and eyes, everything they

say. Are they heard? Can I hear you, the language of the skin,

of the nervous system? Of myself?

Wildlife observation

Arteles gave me a gentle space to observe and document the

levels of my brain: sensory (instinctual), emotional, cognitive.

With no demands or time frames, I watched my outlay of

working, my why's and resistances, needs and impulses. I

was overwhelmed. Also from the baggage I brought – so I

wrote "Baggage". And "List of places I have cried". I started

noticing the smaller, passing thoughts and sometimes they

led into poems or chapters of projects with working titles

such as "50 ways to be invaded", "Catalogue of obedience",

"Uncomfortable writing" and "Instinct and intimacy". I

spent a lot of time not able to write: obsessing, doubting,

procrastinating, doing nice things like exploring the sauna,

nature and the kitchen, silence, company. I battled with futility

and deep instinctual fear. Kept writing from it, collecting the

observations, the data, and maybe finding letters for the

alphabet of "what the body says". I drew shame, and made

collages with absurdities of different traumas: hospitals,

invaders, illness, love. My science background surfaced with

poetry about molecular chaperones. I found the reflex to catch

small movements in the outskirts of my attention; the almostnot-there-thoughts,

where instincts express and I can know

myself deeper. To watch silently, and suddenly something is

there: a moment, a twitch, a squirrel, flying geese, insight,

joy, longing. I watched all the sunrises, couldn't sleep, talked,

cried in the field, and felt whole again in the watersplashingroom.

I found brave writing, truthful, and playful.
---
Enter Text program / NOVEMBER 2018

Hannah Kezema

USA

www.tatteredpress.org/hannah-kezema

About

Hannah Kezema is an artist who works across mediums.

She's the author of the chapbook three (2017, Tea and Tattered

Pages), as well as several online and print publications that

can be found in Full Stop, Spiral Orb, Emergency Index,

Gesture, and other places. She holds an MFA in Writing &

Poetics from the Jack Kerouac School of Disembodied

Poetics and a BA in Literature from The New School. Along

with Angel Dominguez, she co-founded the performance

art collaborative DREAM TIGERS. She continues to explore

failure, trauma, asemic writing, and the cross-overs of

text and image, while intermittently working on a project

which investigates ancestral memory, poem-as-ritual, and

divination.

A Diviner's Notebook

While at Arteles, I was able to complete a draft of my

manuscript, A Diviner's Notebook, that I have been

intermittently working on for the past four years. The text

centers around my great-great aunt, who was a rebellious

psychic medium, but it also explores other aspects/absences

in my ancestry, interweaving female occult figures and saints

and my own divinatory practice, along with photographs

and ephemera. During my four weeks, however, I did much

more than write. I wasn't only granted the time to reignite

my near-dormant artistic practice but also to reconnect

with my intuition in a palpable way. What fueled the writing

was the cultivation of certain rituals, and most surprisingly,

self-care. I'd wake early and often begin the day with a tarot

reading for myself, which became a compass for the artmaking

as well as a vehicle for communing with the dead

who inhabit the text. I wandered through the quiet woods,

collecting birch twigs, which I made dolls out of by wrapping

them in colorful yarn. This was something I later realized

connected me with another part of my ancestry, specifically,

my great grandmother, who would make dolls out of various

materials. This is also a divinatory practice in itself. I worked

with the moon cycle adamantly and pestered relatives with

my incessant questioning. I wrote two songs and had many

stimulating conversations with residents and staff about

process and care. I fell in love with sauna and the lakes.

Every day, I chased the sun.
---
Enter Text program / NOVEMBER 2018

Daniel J. Cecil

USA

www.writerdanieljcecil.com

About

My name is Daniel J. Cecil, and I'm an American writer born in

Ohio and currently residing in Seattle, Washington. I studied

for a Bachelor of Arts in theatre at Baldwin-Wallace and the

University of Hull, England. As part of a collaborative theatre

group in London, I began writing plays, and soon ventured

into short stories and novel-writing. I moved to Amsterdam

in 2009, where I was an active member of the Amsterdam

writing scene, running several reading series and working

as the Managing Editor of Versal, the international arts and

literature journal. In 2015, I returned to the United States

to study for my Master of Fine Arts (MFA in Fiction) at the

University of Washington, Seattle. I received my Masters in

2017 with distinction.

My fiction work focuses on themes of identity and the ways in

which identity is shaped and manipulated in contemporary,

capitalist culture. I'm currently interested in how authority

between characters is established — within groups and

interpersonal relationships — taking the work of René

Girard's mimetic theory as a jumping off point. My time at

Arteles will be spent working on finalising the draft of my first

novel "The Factory of Russian Dolls", which explores these

themes in depth.

My work has appeared in The Rumpus, The Stranger, The

Plant, Bookslut, Rock and Sling, and the Heavy Feather

Review, among others notable publications.

Drafting "that" novel

I set out to finish a draft of a novel in progress, The Factory of

Russian Dolls, while at the Arteles residency.

Here's a synopsis of the book:

In 1989, a young documentary filmmaker from Ohio named

Alistair Selby wins his first art grant to document the fall of

the Berlin Wall. Green and inexperienced in Berlin, lost and

confused in the tumultuous upheaval created by the fall of

the Iron Curtain, Al gravitates to a squat in Kreuzberg called

the Hotel. There, he meets and falls in love with Eugene

Lowenstein, a painter whose mission statement is to change

his audience's perception of reality using art and, in the

process, make them one with the universe.

Alistair and Eugene work together to create installations

inside the Kreuzberg Hotel — mysterious rooms that act as

portals into the infinite. With the help of strange rituals and

LSD word spreads and the cult around Eugene and his work

grows. When musician Diane Freeman is brought into the

fold, threatening Al and Eugene's romantic entanglement,

Al's jealousy unfurls into a surreal journey through time,

space, guilt, and revenge. Lyrical and thrilling, A Factory of

Russian is an exploration of the power struggles that make

us who we are, and those that rip us apart.

Big thanks to the Arteles staff for giving me the opportunity

to complete this work.
---
Enter Text program / NOVEMBER 2018

Freddie Dessau

USA

freddiedessau.weebly.com

About

As an artist and writer, I attempt to obscure the distinction

between art and literature. I endeavor to use text to express

with clarity a multitude of instances of my lived experience.

Through essays, short stories, and poetry as well as visual

art I explore the connection between words and self.

Creating mostly paper-based works, including vignettes,

comics and posters, through mediums ranging from collage,

photography, performance, installation, and drawing I

investigate my memories, my interests, and obsessions:

storytelling, travel, art and social criticism as well as with

humor. I consider my art practice both highly personal and

autobiographical, a direct record informed by representing

my experiences and choices, and the knowledge that I've

gained from these experiences and choices. Recent work

reduces the materiality to bond paper and inkjet prints still

mindful of the appearance of text as well as its meaning.

In creating each vignette, a logic is applied: a staccato of

short sentences avoiding compound phrases. Things may

not always be as they appear. My work then questions the

comforting dishonesty when appearances serve a convenient

necessity.

Nonets

Inspired by the nature around me and my recent experience

I composed nonets — short poems with lines descending

syllabically — to perform spoken word in the future. Often

these poems were combined with images and sometimes

posted on Instagram for dissemination and sharing.
---
Enter Text program / NOVEMBER 2018

Mark Leahy

Ireland

http://www.markleahy.net

About

I am a writer and artist operating among textual practices

and performance. Born in Ireland, I live in the South West of

England. Working with the body as sensing and as affected,

I use language, models of perception, and everyday objects.

Including spoken word, task-based actions, and song my

performances address the body as desired and as desiring,

and as a site of inscription and mediation. My textual practice

utilizes constraints, structuring rules, and operates to cross

or question category and genre divisions including around

identity and agency. Recent live work includes 'threaded

insert' (Plymouth Art Weekender, 2017; Cardiff, May 2018);

'subject to gesture' (Liverpool, Apr 2017); 'his voice'

(Plymouth, Oct 2015; Manchester, Feb 2016), 'flat-head selftapping'

at Chelsea School of Art (May 2015) and 'answering

machine' for Experimentica14 at Chapter Cardiff (Nov 2014).

Other live works were presented in Bristol, London, Galway

and Liverpool.

I was commissioned to write texts to accompany work by

artists including Nathan Walker, Katy Connor, Steven Paige,

and LOW PROFILE. Critical publications include essays in

C21 Literature, Open Letter, Performance Research Journal

and Journal of Writing in Creative Practice.

I teach part-time at Plymouth University, have managed a

variety of exhibition, installation and performance projects,

and am a director of artdotearth.org and chair of the board

of TakeAPart.

Gestures and Bodies

Over the month at Arteles I worked on 2 main pieces of

writing, one a 'translation' of Bruno Munari's 'Supplement

to the Italian Dictionary', and one a development of texts

generated from a series of performance works.

The Munari translation has now been developed to a second

draft stage, and requires some final editing before considering

publication options. Alongside this writing I made a series of

postcard sized collages that engaged with gestures, poses

and bodies. These used images of sportspeople, models,

politicians and others to comment on gender, ability, and

the social codes around bodies in public and private. These

collages led me to develop a series of very short animations,

gifs, using still images made in the photo studio. I dressed

in costumes that reference sports, branding, identity, and

gender and photographed myself against the green-screen

cloth. These image series echo the collages, and also pick

up on aspects of Munari's book on gestures.

The textual material from the performance of 'his voice' was

a collection of saved tweets generated from live searches

of Twitter. At Arteles, I worked on analyzing, sorting and

categorizing this material. I have now developed a five-part

structure for the body of text and will further edit this material

for publication.

Overall it was a very productive time that allowed me to focus

on new projects free from distractions.
---
Enter Text program / OCTOBER 2018

Nathan Bell

USA

www.nathan-bell.com

About

Unfinnished Business

Nathan Bell is a Los Angeles based artist and designer. He

is strongly influenced by music, pop culture and vintage

graphics, blending his ideas with a hand done aesthetic.

Bell cleverly crafts words in his drawings and paintings to

describe life scenarios. Often combining his talents as artist

and designer. His works have been shown at Subliminal

Projects, The Hole NYC, HVW8, ForYourArt, See Line Gallery,

and Los Angeles Municipal Art Gallery alongside artists

including Dave Muller, Johanna Jackson, Ed Fella, Sage

Vaughn, Ron English, and Shepard Fairey. Bell's work has

been featured in Artslant's Collector's Catalogue as well as

books, catalogues and various music related materials.

Studies &

Sketches

Works in progress &

Works in regress

One offs &

Blow Offs

Knicks &

Knacks

Take it & or

Leave it

Kiitos &

Cheetos.
---
Enter Text program / OCTOBER 2018

Jane Tolerton

New Zealand

www.janetolerton.co.nz

About

I am a New Zealand non-fiction writer who has mainly written

about women and World War One. I did a history degree

and journalism diploma and worked for newspapers and

magazines before writing an award-winning biography of

Ettie Rout, a New Zealander who was probably first in the

world to run a safer sex campaign - during World War One. I

interviewed 85 veterans of that war and have done two books

from the interviews. My other oral history books are Convent

Girls and Sixties Chicks. My 2017 book was Make Her Praises

Heard Afar: NZ women overseas in WW1. I have just put out a

little book for the 125th anniversary of women's suffrage: But

I Changed All That: 'First' New Zealand women. I am working

on a book about why New Zealand got the women's vote so

early, 1893, but no woman MP until 1933 - a contrast with

Finland where women got the vote in 1906 and there were

women MPs the following year.

Kiwi Teens

I produced an e-book titled Kiwi Teens on the Western

Front. I had a very short deadline as it had to be 'published'

- up on the website - by 11 November 2018, the centenary

of Armistice Day in 1918.I had to edit up interviews I did 30

years ago with three very young soldiers of World War I; they

went at 15, 17 and 19. Then I had to organise photographs

and edit and proofread the copy. Because I had one month

of undisturbed time, I was able to think this book out. I added

much more contextualising material than I had planned.

Being away from my own country, New Zealand, meant that I

had a good distance - and I saw a need for more context. The

e-book was up two days before Armistice Day - and that day

I went on national radio and television, and appeared on a

panel. I was so grateful to Arteles because without that time

and space, this could not have happened.
---
KIWI

TEENS

ON THE

WESTERN

FRONT

SYDNEY STANFIELD

LESLIE SARGEANT

THOMAS ELTRINGHAM

Edited by JANE TOLERTON

WORLD WAR I ORAL HISTORY ARCHIVE
---
Enter Text program / OCTOBER 2018

Aliye Ummanel

Cypros

About

Began with poetry and added drama. Studied American

Culture and Literature and then had an MA degree on Theatre

Theory, Criticism and Dramaturgy. Never thought of theatre

practice but became a theatre director. The Artistic Director

of Nicosia Turkish Municipal Theatre and dramaturge

(responsible for the repertoire) of Cyprus Theatre Festival

nowadays.

Have two poetry books published (Kuyu/The Well and Düş

Geceye Düşünce/When Dream Fall Upon The Night) and have

three plays staged (Passa Tempo, Kayıp/The Missing, Ev/The

House). Many poems published in several magazines, a play

(Passa Tempo) published in a French anthology. Three plays

translated into English and Greek. Directed eight plays. Both

in poetry and drama I am interested in simplicity, depth and

rhtym. I try to transfer my style in poetry to my dramatic work

both in writing and directing. In my poems you can hear an

existentialist's voice and meet the motifs of the island I come

from: yellow fields, owls, the sea, the moon (Cyprus has one

of its own) etc. Love is also a very common theme. And in my

dramatic work I am deeply interested in what is happening

beyond what is seen. I try to deal with social and political

issues of my generation who was born and raised within a

political conflict and through my art I try to understand and

fight against this conflict. My plays several times brought

people of the divided island together to watch their common

stories.

Time of Birch

Prose. Pause. Poetry.

Three words to describe "before Arteles", "arriving at Arteles"

and "at Arteles."

Not that I say prose is bad but one needs a pause and stillness

to hear the voice of poems. The residency at Arteles was an

escape from routine of hectic everyday life and its sounds

that cover poetry -that's why I name that period as prose. It

gave a chance for a rest to let the poems flow. Sooner with

the stillness and harmony of an amazing landscape life was

like poetry.

When I arrived at Arteles an evening last october without

my baggage -since it was lost during my trip- I had nothing

but a notebook, my pencil case and a book including

interviews with writers about writing in my back pack. All the

other things I needed were provided by Arteles: a room to

create, a window full of trees and new images to trigger new

poems. Next morning when I met the birch trees my poetry

encountered a new image and its sound. And then followed

the spruce, the mushrooms, the moss, etc. In the end of the

residency period I had a file of poems equal to the number of

days I had spent there. The title of the file is "time of the birch"

and I hope these poems will be included within my next book

which will have the same title. Beside that, early notes for a

new play was bonus and conversations with amazing artists

deepened my art and life.
---
Enter Text program / OCTOBER 2018

Ximena Pérez Grobet

Mexico

www.ximenaperezgrobet.com

About

Ximena Pérez-Grobet, founder and owner of Nowhereman

Press, has been creating her own artists books since 1994. Her

work has been shown in galleries, book fairs and museums

throughout Europe, USA, Mexico and Latin America.

She also collaborates with other artists and collectives,

producing artists books and special editions. She is the

director of Artists' Books for Artists, receiving commissions

from other artists to turn their projects into books.

She has worked as an editorial designer and art book

producer in various publishing houses around the world. She

also collaborates in museums and public with artists books

workshops.

Awards: 2010 – Charnwood Book Prize, UK for her artist

book 24 hours, Nowhereman Press. 2011 / 2013 – Art Libris

& Banc de Sabadell, Barcelona for her Incis: Mar Arza and El

Laberinto de la soledad de Octavio Paz.

Knitting Finnegans Wake

When I arrived to Arteles I was already in the middle of a

project which is making an artist book out of a published

novel by James Joyce called Finnegans Wake. The idea of

the project is to knit printed text as James Joyce knitted

literature. I want to make visual the complexity of the novel.

I was able to finish knitting the whole book during my stay

in Arteles. I arrived with all the book threads which I hang in

my bed room wall as soon as I arrived to Arteles. During the

process of knitting I could easily see how I was going through

my knitting taking down each group of threads every two

days approximately in order to knit page by page. It took me

one day to knit a whole page and as I was moving along I was

getting faster in my knitting. At the end I knitted 24 pages;

during my forest walks I have taken a series of photographs

thinking to use them as artists books which I will be working

in a near future.
---
Enter Text program / OCTOBER 2018

Aaron Sandnes

USA

www.aaronsandnes.com

About

It is important for me to use the platform of art making to

address my political concerns. My artwork directs attention

towards social themes of power, violence and anarchism by

subverting minimalist tropes. As an artist, I make my work

from the position of the Anti-Hero. For me, the symbol of the

Anti-Hero (commonly understood to lack conventional heroic

attributes) represents the idea of overcoming alienation.

This theme allows me to explore my political interests

while simultaneously drawing from my life experiences. I

adopt certain languages from the Minimalist canon with a

distinct political slant. Ad Reinhart's Black Painting(s) enact

a form of protest addressing social and artistic ideals. My

Death Marks the Spot series act in protest to governmental,

capitalist violence. Politically, I am focused on the spaces

in which commitment to any ideology obstructs humanity

from progressing. I reference anarchy as I see anarchistic

acts as attempts to reconcile these obstructions. Though

my artwork spans a range of disciplines I often employ

red herrings as a conceptual framework to contradict the

expectations of my gestures with political themes. Exploiting

seductive aesthetics is a methodology that enables me to

interject my political positions without being overtly didactic.

By producing accessible art objects, I am able to permeate

my position from the inside, rather than explicit display from

the outside.

Remembered, Explored, Connected

My time spent at Arteles was filled with feelings similar to

the sensation of shifting into neutral. While coasting, I had

time and space to catch up on sleep, perfected an amazing

burrito bowl, laughed and danced, remembered forgotten

ideas; completed new work that I had planned; explored new

ideas. But most of all, I connected with brilliant and generous

artists around dinner tables and bonfires.

Club Handcuffs Forever ( NB/AS)
---
Enter Text program / OCTOBER 2018

J. Sayuri

USA

www.jsayuri.com

About

I am a multimedia artist, born and raised in Los Angeles,

California and currently working and living in Portland,

Oregon. The mediums I work with depend entirely on the

project at hand, however, I am currently working in video art

and digital illustration. One of the more exciting projects that

I am working on is ASMR Crafting with Sayuri and Gabby

La La - a highly stylized ASMR crafting show that features

myself and my collaborator creating both mundane and

fantastical crafting projects.

Video, Collage, Illustration

During the Arteles residency, I edited my whispering ASMR

crafting videos and created a series of collages. The videos

are a continuation of my work before coming to Arteles and

my collages are a new project I started at Arteles. .

For the past year, I have been creating ASMR whisper-crafting

skits with my collaborator, Gabby La La and video editing

has been a struggle for us. However, I enjoy the technical

challenges of creating multimedia work to tell my stories

in different ways. During the residency, I taught myself the

basics of Adobe Premiere to finish editing these skits in a

more professional way.

Tired from video editing, I created my collages. These are

inspired by the Finnish landscape - mushrooms, blue skies,

ice, lakes. I cut out images from National Geographic and

Finnish nature books. All three collages integrate butterflies,

a symbol of transformation - important to document a shift in

my creative practice. Upon returning home, I created 3-color

risograph prints of each of these collages.

In my non-art making life at Arteles, I walked the birch tree

forests and visited the sheep down the road. I relaxed in the

silence. I hope to integrate this calm into the work I make.
---
Enter Text program / OCTOBER 2018

Joanne Anderton

Australia

www.joanneanderton.com/wordpress

About

My primary genres are science fiction, fantasy, and horror,

and I love to explore anything a little out of the ordinary. I

have published a trilogy of science fiction/fantasy novels,

'Debris', 'Suited' and 'Guardian'. I've also published a

collection of short stories, 'The Bone Chime Song and Other

Stories'. My speculative fiction has won two Aurealis Awards,

an Australian Shadows Award and a Ditmar.

I have recently started branching out into different genres and

forms. My children's picture book 'The Flying Optometrist'

was published in 2018 and is inspired by the work my father

does in remote and regional NSW. I have just completed a

Masters of Arts in Creative Writing, and discovered a love

of non-fiction and the personal essay. Speculative fiction

will always be my first love and I will never stop writing my

strange, creepy little tales. But there are different kinds of

stories, and I feel like I'm finally giving myself permission to

find the right way to tell them.

I'm excited for the space and dedicated writing time Arteles

will provide, and will use it to complete the projects I

began in my Masters. In particular, a novella about ghosts,

relationships, and old houses.

Walking, Writing, Synchronicity

I came to Arteles with the rough draft of a novella called 'A

Scribble and a Nothing' and a plan to undertake a structural

rewrite and edit. I was hoping I'd find the space (physical

space and head space), time, and motivation in the landscape

and the company of other artists, to dive deep into my work,

refine my processes, and rediscover my love of writing. I feel

like I did that, and then some.

From someone who struggles to get out of bed, I became a

writer who watched the dawn from her desk. There was no

need to impose discipline, my body and mind created their

own rhythm, alternating between forest walks and chapter

rewrites. Even on the days I struggled, being so immersed in

a world of writing and art helped me find new ways to look at

the work and expand my artistic practice.

Arteles gave me what I needed in a way that was almost

eerie. 'A Scribble and a Nothing' is a ghost story, set in an old

house, surrounded by the bush, with mushrooms and faerie

rings and a little lost girl. In one way or another, I found all

of these things in the grounds, the forests, even the work of

other residents. It was a strange and inspiring synchronicity.
---
Enter Text program / OCTOBER 2018

Cally Yu (Yeuk Mu, Yu)

Hong Kong

callyyu.wordpress.com

About

I am a Hong Kong based Chinese writer. I enjoy dancing

with words, playing with different textures of experiences,

Imagination is my medicine. Green is my music, I write

poems, short stories, theater text and art critics. I also formed

a community art project group, named grey and green ping

pong, to advocate creative aging.

Textual Snapshots

Text and the Nature

During my stay in Arteles, I walked, I listened, I lost in the

wood everyday and re-learn how to read, how to write from

the nature. The drifting clouds taught you the thickness

of the sky. The unexpected snow taught you the power of

quietness. The birch let you know what is gracefulness. Every

flower has a story to share. A toxic mushroom was a letter.

Falling leaves showed you the diversities of yellow.

Far away from the chaotic Hong Kong, I could re-taste the

details of nature and re-think how to catch all these small

movements and insights. I wanted to try new narrative

method, not the usual practices on poem, short stories or

pose, and finally, I used the traditional Japanese narrative

form: Haiku as my textual snapshots. Under the restrictions

of 17 (5-7-5) syllables, I still feel free from opening my ears

and heart to catch the tempo and sound. I enjoy so much in

playing between restriction and freedom, poetic imagination

and details, text and the nature.Thanks for everything.

"
---
Enter Text program / OCTOBER 2018

Anna Carlson

USA

www.annacarlson.com

About

Anna Carlson is a visual artist practicing in the ever-changing

climate of Minnesota, USA. She earned her MFA in Graphic

Design from the University of Minnesota in 2013, after a

long career in clothing design. Since 2013, her work has

been recognized in numerous exhibitions including the New

Bedford Art Museum (Massachusetts, USA) and Oregon

College of Art and Craft (USA).

Carlson creates patterned surfaces to illustrate how language

— spoken, written, and worn on the body — captures a

moment in time.

She builds layered surfaces with transcribed stories,

thread-traced words, and imprinted images that refer to the

intertwining of people and places that influence a kinetic

self-identity.

These altered texts and textiles reflect the changing nature

of words and meaning as well, and how we navigate these

shifts. Ambiguity plays an important role in this work,

connecting viewers with their own memories. Carlson aims

to create interventions — objects/texts that will prompt

recollections — that will alter the course she and fellow

wonderers/wanderers choose to take next.

What does a conversation look like?

Her voice pauses, hesitates, repeats.

Faster, slower, stronger, weaker.

Her life, her work, her parents,

her memories captured

and released on the paper.

The visible voice,

not a text, not a score, not a graph,

expressive gestures

with spaces between.

Textural transcription

During the month of October, I transcribed a series of

conversations with my mother and explored many intertextual

connections. I wanted to trace her shadowed recollections,

through the recorded sound, and into a visible space.

Translating her voice into words on a page legitimized

the ephemeral sound recording. However, mechanical

transcription and typography cannot capture the nuances of

spoken language. By drawing as I listened, I could express

the rhythm and tonality of her voice.

Alongside the transcribing, I also worked on a series of

stitching samples that were placed in the forest to become

entwined in a nest, or serve as a surface for moss to grow.
---
Enter Text program / OCTOBER 2018

Anja Savic

Serbia

www.theletterist.com

About

Anja Savic is an artist and designer with a B.A. in

Comparative Literature from Bard College (New York), an

M.Res. in Humanities and Cultural Studies from The London

Consortium/Birkbeck College (London) and further study in

Graphic Design at Parsons School of Art + Design (NY). In

her work experience in advertising she discovered a passion

for typography and letterforms, which she now marries with

her literary + cultural theory background to unpack and

reinterpret text and language through a form of visual poetry.

Her calligraphy is not the traditional calligraphy of perfectly

rehearsed line weights, curves and swashes, but rather an

intuitive, curious and even perhaps rebellious attempt to get

to the core - the spirit - of a particular word or phrase and

then reimagine and reconstruct it in a more visual, tactile

form.

Ripping it up.

As a print designer accustomed to relying rather heavily

on software and traditional formats, my goal for my time

at Arteles was to focus more on making art exclusively by

hand; to break free from the sometimes too product- or goalorientated

nature of my design work and dwell more in the

magic, torture and unknowns of process. Being surrounded

by writers made me think a lot about how essential editing

is to storytelling...how interesting stories (and memories) are

often neither linear, nor whole, and yet perhaps only in their

fragmentation do we really begin to approach their essence. I

discovered the visual expression of this idea in the medium of

collage...or as I called it with the artists in my studio: ripping

it up. As I now look up the Urban Dictionary definition of this

phrase, I realize it sums up my Arteles experience both in the

studio and beyond...surprisingly well.

rip it up (verb. rip)

1. A term which commands one to literally rip apart a piece

of material.

2. A command or suggestion to rip apart one's material

(performance or practiced routine).

3. A command or suggestion to a person to perform

competitively to a much higher degree of skill above the

current competition.

4. A command to set a new standard of excellence.

5. A suggestion to introduce a newly profound and exciting

atmosphere in lieu of boring, dull or un-lively circumstances.
---
Back to Basics program / SEPTEMBER 2018

June Cheong

SIngapore

www.vimeo.com/junecheong

About

June is a writer and filmmaker. She weaves stories from

anecdotes, words, light and shadow. In her commercial

work, which spans ads, corporate videos and short films,

you will find a preoccupation with discovering the truth of a

person. This narrative impulse continues in her artistic work.

The structure of a good story – a beginning, a middle and

an end – and how we apply these formal parameters to the

unfettered chaos of our lives is endlessly fascinating to June.

Her method is documentary-esque and her aesthetic is a

poeticised reality - the interior made external.

In every film and photo she creates, June is interested in

exploring the form, the boundaries and the limits of narrative.

She firmly believes that people are made of the stories they

have heard and the stories they tell themselves. Trained as a

journalist, June's starting point for her art is usually the reallife

events in the community around her. Then imagination

takes over, followed by weeks of research. These influences

percolate and then emerge as a new photo or a film.

What stories do we keep? What shadows do we dwell in? What

truths do we hide from ourselves? These are the questions

that June likes to ask. June also has a tendency towards these

particular themes: memory, identity, loneliness, obsession,

gender and social politics, and time.

At Arteles, June hopes to rediscover and hone her personal

aesthetic in writing, filmmaking and photography. She hopes

the light, space and greenery of the residency will re-ignite

her spark of artistry.

Finding My Voice

I began my residency with a question – who am I as an artist?

I arrived at Arteles, buzzing with ambition to remake my

life and brimming with grand plans to create new art. Then

I encountered the forest, the lake and the pastel houses

scattered across the countryside, all of which seemed to

exist beyond time. Well, almost… if you ignore the lights and

flat-screen TVs inside those silent houses. And I melted into

this dream-like space.

There was so much space I did not know where to place

myself. The long, empty days nudged me to unfold into

myself. Questions stirred within me: What do I want to say?

Is my art valid? What does art mean to me?

I had plenty of questions but no clear answers. I set about

finding answers by throwing myself into whatever felt right.

Every day, I wrote and I walked. When I wrote, I plunged into

a neo-noir world of low-income immigrants – a story that had

burrowed itself into my mind half a year ago but I never found

time to give voice to. When I walked, I took photographs of

the spaces I came across. In between, I talked and laughed

with my fellow residents as we swapped stories about life

and art.

I'd given myself over to the quiet rhythm of residency life

and it rewarded me with serendipitous magic. As September

drew to a close, the sun began setting earlier. That was when

I realized I am drawn to taking photographs in fading light.

I was still taking photographs at the same time every day

but dusk descended earlier with each passing day and the

hushed light gave my photographs a neo-noir cinematic

quality that I loved.

Outside in the autumnal chill, taking photos of warmly lit

windows, I felt like an outsider peeping in at a world that was

alien to me. I relooked the scripts I had written over the month

and they too were about foreigners in a strange cosmos that

they yearned to be part of. This was the first gasp of my

artistic voice. And for this start, I have to thank Arteles.
---
Back to Basics program / SEPTEMBER 2018

Catherine Taylor

USA

About

I am a writer and a founding editor of an independent press.

Most of my writing is nonfiction of one kind or another: long

essays, literary journalism, hybrid-genre writing, etc. My

most recent book, You, Me, and the Violence, is a meditation

on personal and political autonomy that moves from puppets

to military drones. I've also written a hybrid-genre book of

memoir and political history, Apart, that combines prose,

poetry, cultural theory, and found texts from South African

archives, and a book about contemporary midwives. I am

co-director of the Image Text Ithaca MFA which brings

together writers and photographers for creative and critical

study.

The intersection of our personal lives with public histories

interests me deeply. When do we insist on separating these

spheres and when are they fused?

Recently, I've been thinking about the tension between

freedom and responsibility—as a parent, as a member of a

community, as a part of a nation. What do we long for when

we long for "freedom"? What does it mean to be free in one's

personal life? What does it mean to be free as a citizen? What

sacrifices do these freedoms require? What conditions might

allow us to go rogue or to recommit?

I've also been thinking a lot about a line from Rousseau

where he says that if you want to be useful, it is essential to

be read in the provinces. I wonder what would happen to my

work if I took this seriously.

Rowing, Riding, Reading, and Writing

The most important work I did at Arteles was relearning how

to read. Being offline gave me exactly what I had hoped for:

the ability to settle down and focus. Rowing on the lake and

riding a bike around the country roads also helped me shift

away from the busy task-oriented life I lead at home. I read

over twenty books while at Arteles; this alone was heavenly

and restorative. But I also began work on a complex, researchdriven

book that I have wanted to write for many years. Over

the long, uninterrupted days, I figured out some central

elements of the book, compiled the scattered research I'd

done in the past, and wrote over 150 pages of notes. I also

spent joyful time with the other residents around the bonfire

and in the sauna. I am so grateful for the revitalization of this

month. Thank you.
---
Back to Basics program / SEPTEMBER 2018

Michele Sierra

Australia

www.cargocollective.com/michelesierra

About

I am an Australian artist and cultural psychologist whose art

practice is expressed through an interdisciplinary practice

combining photo-media, sculpture and drawing.

It is informed largely by a professional background in Jungian

psychology, extensive travel and an enduring interest in the

study of consciousness and Eastern philosophy.

My current sculptural works arose through a quiet, intuitive,

receptive process. Working primarily with wax and wood,

the works I have created are either cast or photographed.

Photography has offered the best medium for capturing

the critical moments of interaction of light with the objects'

essence. The process of positioning the artefacts for

the camera exposed their idiosyncratic, performative

characteristics. Transitional afternoon light, when the

boundaries between worlds are most attenuated, revealed

the forms as a living impulses. What results from this

conjunction is often unexpected.

In-Between

Saturated by an image dominated culture and an increasingly

noisy world, what influence do silence and seclusion have on

the artist? What effect does a work of art create in the viewer,

when it arises from this silence? My art practice explores the

phenomena of interstitial space, indistinctness and silence

in relation to the creative process and space for alternative

ways of seeing.

I am curious about in-between spaces, the almost

imperceptible intervals between form and formlessness,

where time is ambiguous and thresholds of contrast collapse

into ephemera. There are dynamic forces at play in 'between'

spaces, in the fecundity of silence and the magnetic pull of

seemingly inert objects. The physical and metaphorical

dimensions of materials intrigue me too: Could it be that

apparently inanimate objects have their own vitality? I often

wonder how we choose to define the boundaries of what is

'living'.

The Arteles residency was an opportunity to go off-line,

immerse myself in a landscape that contrasts vividly with my

native Australia, and experiment with my creative practice.

Arriving without a predetermined project plan and no art

materials moved me to source organic materials on site and

discover juxtapositions of silence and sound, fire and water,

connection and isolation, inspiration and emptiness, known

and unknown. All artwork was returned to ground, to atomise

once more into the interstice.
---
Back to Basics program / SEPTEMBER 2018

Pompi Caputo

Argentina

www.pompicaputo.com.ar

About

Pompi Caputo was born in the city of Buenos Aires, Argentina.

She studied biology at the University of Buenos Aires where

she obtained a degree in biology.

As a biologist, she worked on the link and interaction

between nature and the human being, where nature and

society interrelate in complex systems.

Slowly she was immersed in the world of arts and

photography. She studied photography and art in Imaginary

Project -platform of image study-; the Argentine School of

Photography; and did workshops with Adriana Lestido,

Margarita García Faure, Fabiana Barreda, Vero Somlo among

others.

She was selected in the Festival of Light 2014 and 2016. She

was a winner in 2016 visual Arts French Alliance call. She was

selected in the 105n edition of the National Salon of Visual

Arts in the photography discipline, in 2016.

Pompi's work is the mystical force of nature. Life, its flow, its

love. Each landscape is born from the power of connection

and meditation with the environment. Ecology, awakening

universes within its powerful force invokes the inner being

and its poetic unfolding in nature.

Her creative development is crossed over the search for

images that allow reflection on nature - human relationship.

Nature as a metaphor, is the element that she chooses to

tell another thing. Time goes through everything and every

instant is one among infinite possibilities that can occur.

In the different projects she is intertwining this gaze. Her

work is completed, merges, transcends, transmutes into the

other.

A dialogue between matter, existence

and different space and time

During my residency in Arteles I could experience the use of

other senses. I used photography as a vehicle to reproduce

my sensations and perceptions in nature. The drawing and

the performance helped me in this process.

Some of the questions that guided me during this month

were, ¿What happens if I light my shadows?, ¿ What happens

if I allow myself to see from another place?, ¿What happens

if I change the times or I perceive them differently?, the time

of the rock is a second and the time of a drop in a waterfall is

eternal. ¿What is the reason for our existence?

With these questions I entered the forest daily to walk and

feel. The view was just one more sense. And the forest

guided me to the place where I stayed, I drew, I wrote, I

photographed, I meditated. I tried to be the forest, and to

feel me part of it. It's not easy, I'm always there. Like a tree,

like a rock, like the sun but always like me.

But something happened during those moments, something

difficult to explain with words. I hope I can do it with my

images.
---
Back to Basics program / SEPTEMBER 2018

Eva mm Engelhardt

Denmark

www.etc-andthemadness.dk

About

Eva mm Engelhardt is a textile artist, with a Bachelor in

textile crafts and hand embroidery. She works from her thirdfloor

studio in Copenhagen, but also in public places where

a needle might slip unseen through the every day fabrics we

surround ourselves with.

Her artistic style emerged from street art and the cartoon

universe, giving a rebellious and rough edge to the fabric

genre. The theme of her work often revolves around human

nature. The oddness, darkness and peculiarity of people, their

choices and inner emotions. At the moment she is focusing

on sewing full size humanoid sculptures, an embodiment

of the theme at hand. At the same time experimenting with

combining sewing techniques and hand embroidery. Fabric

and thread joining forces.

Parallel to the purely artistic work, Eva has a mission to keep

the old hand embroidery techniques alive and relevant. She

is currently working on developing embroidery courses and

kits where techniques and materials are combined in new

ways with the stitchers own picture universe, in order to

bring new life to an ancient craft.

Entering The Shadowlands

The human figure has a way of pulling my focus and

consuming my attention when I interact with people. Words

have a way of merging into a long stream of sound, becoming

unintelligible. Words can be manipulative, misunderstood,

come out wrong. Body language on the other hand, is

involuntarily, brutally and delicately honest. That these

shapes we live in, can express so much with just the slightest

of movements and gestures, is inspiring.

As I work with my figures, I sit with a feeling I want to

communicate through the textiles, the foam, the threads…

This is my starting point. From there I choose the colours and

texture, the length and the width. When they are stuffed, they

lie there, motionless and neutral, newborn and unknown.

During the process I prop them up in the position I wish them

to take before I leave my work area. I treat them as if they

have life, with grace and dignity, thereby giving them life and

making it easier to pull them out of the materials.

The creatures that came to life at Arteles, were unexpectedly

inspired by the surrounding nature and its fairytale feel.

At home, in Copenhagen, they come out as humans, with

their clothes and their gadgets, stretched and pulled by too

many expectations. The Arteles beings stretch to reach the

treetops, the farthest roots of mushrooms and the hidden

layers of the world, and I follow them willingly through the

wild and wonderful greens of the forest.
---
Back to Basics program / SEPTEMBER 2018

Ben Davis

USA

www.benjamindavis.space

About

I am a visual artist working in the medium of photography,

and if the projects lend themselves to it, creating handbound

books after sequencing the images. Growing up in a small

town, I learned to view simple, minimal scenes as a more

complex setting. By delving into everyday life and finding

unique details I am able to show people how I view our

commonplace surroundings. I seek to create images that

look further into what is typically considered mundane and

shedding a new light on it.

My current focus is still life images, whether they are found

or constructed. The work seeks to show objects from an

alternative perspective, giving a new meaning or life to the

items. The photographs give a personality to the objects and

act as a portrait. I look forward to the change of scenery from

where I currently live in an over commercialized environment

to the peaceful area surrounding Arteles.

Home

My time at Arteles was the first time I was able to focus on my

photographs and myself in a few years. The quiet of the area

mixed with the bubble created from limited internet access

and no phone was a blessing that allowed me to translate

how I was feeling through the lens, while spending time

marinating on my images. Walking for hours each day in the

countryside while shooting let me ruminate on what I was

photographing in a way that a sprawling city does not.

The following selection of images are from a larger series

investigating the small towns and houses surrounding the

residency. Around two weeks into the month I started to feel

a bond with these simple domestic spaces. The clean lines,

small touches of home, and soft color palettes reminded

me of the area that I grew up in. There was something

infectiously tranquil to me about how organized the towns

were. The calm of these houses was something I sought to

capture and share. I have been continuing this project and

the idea of warmth in these small, quiet villages at my current

residency in Iceland.
---
Back to Basics program / SEPTEMBER 2018

Katharina Lökenhoff

Germany

www.katharina-loekenhoff.de

About

"Crossing"

The starting point of my work is the experience, that many

problems caused by "globalization" can be dued to an

experience of separation. Not feeling the connection causes

fear, the main reason (and not only the effect) of most

catastrophes that are happening in the world right now.

How can we develop the intense experience where we are

not separate from our so-called 'environment'? In my artistic

research project I am looking forward to make interviews with

other artist at Arteles to learn about their working methods

and to get hints to new ways of crossing the borders and

thereby find new life strategies to heel the rift between us.

Comming from a residency in Iceland (NES, Skagaströnd), I

will also go to other places for the interviews: South Africa

(Gratmore Art, Cape Town from December until March),

Argentina (ACE, Buenos Aires in April), Italy (Numerovernti,

Florenz in Mai) and Thailand (Sam Rit Residency in summer

́19). I am also invited to the Off Biennale "Something Else" in

Cairo in November where I hope to have an exchange about

"Crossing" as well.

The results of finding new methods will be presented in an

exhibition, a blog and a catalog in summer 2019. My own

approach to the subject of crossing the threshold is through

a colour experience. Working with an intense reference to the

body with large coloured fabrics, I focus on the qualities of

colour as the equivalent of what constitutes life around and

in us. Adequate to this topic I ́m working with the material of

a waxed skin, silk material dipped in beeswax. Its haptic and

visual appearance mirrors the theme of crossing borders in

the phenomenon of the skin as a membrane: It is the aim

of "Crossing" to show that cultural life/ - survive can be

redefined and made possible through exchange rather than

demarcation.

"Crossing", interviews/images

I focused on the parallel-process between creating huge

waxskin-images and to interview the other artists about

future enabling methods in times of Digital Reality. Both

"Crossing"- activities are dedicated to find new and

sustainable life strategies by crossing borders. Here is the

QUESTINAIRE for the interviews:

-What comes to mind when you hear the expression "crossing

the threshold"?

-Do you share the opinion, that many people today are

insecure due to strong cultural, social and environmental

changes in the world?

-Do you make an inner correlation between fear and not

feeling connected to others or the world?

-Please describe your artistic creative process.

-Is there any experience in your life which opens you to this

art practice?

-How do you prepare yourself for your artistic process?

-What kind of relation exists between your inner world (soul)

and the so-called "Virtual Reality"?

-Do you have the longing to heel a kind of rift between and in

us and that you do it not only for yourself?

-Can a creative art practice help to create methods for a

healthy and positive life?

-Does an artist have a certain responsibility for the world

because of his possibilities and special abilities?

See the interviews and other pictures on my website:

www.Katharina-Loekenhoff.de
---
Back to Basics program / SEPTEMBER 2018

Stefan Blom

South Africa

www.blom.studio

About

I am a practicing psychologist specializing in relationships

with a Masters degree in clinical psychology. The

interconnection of relationships with self, others, spaces and

objects interest me. I share relationship messages on the

web, is the author of the book, The Truth about Relationships

(available in three languages) and an artist with a comfortable

identity crisis. I project my observations of relationships onto

videos, objects, photographs, spaces and illustrations. The

projections as words are personal reflections, observations

from relationships and through simply experiencing life.

At the moment I am interested in work that reflects human

nature in all its interesting and authentic contrasts and

dimensions. Topics of interest at the moment are intuition,

intimacy, energy, presence, vulnerability, being and

relaxation.

My time at Arteles is a big gift. I don't want to miss a second,

because I see it as a rare opportunity to grow and expand.

At the moment, I am not so much interested in definitions,

but rather open to experiences. Less theory, more intuition

is how I aim to live.

My intentions are to be as present and open as possible; and

to absorb this experience with awareness and gratitude.

Lost & found

The interconnection with self, others, spaces and objects

interest me. I project my observations of relationships onto

videos, objects, photographs and spaces. The projections

(often as words) are collected through intuitive reflection,

observations of relationships and living my life fully.

At Arteles, I created very personal work that reflects my

emotional journey during the month. I worked with themes

like feeling safe, getting lost, sitting with silence and being

found. It is not often that I feel lost in a safe space or that

my life is not mapped out in advance. To be able to wander

in safe spaces, initially made me feel lost, but in time I felt

deeply presence. I realised that getting lost and longing are

at the root of being found...of presence and gratitude.
---
Back to Basics program / AUGUST 2018

Zackery Hobler

Canada

www.zackeryhobler.ca

About

Zackery Hobler made his most recent pictures while

following a prescribed burn team through Southern Ontario.

In early spring, the team develops prescriptions for tracts

of land owned by conservation authorities for the purposes

of restoration and propagation of native species. While

these fires have their own specific environmental goals,

the dramatic beauty of the human-led interventions in the

invasion of foreign flora are the linchpin of systemic and

ongoing benefits.

The images depict boundaries of space between the viewer

and the landscape, and the boundaries of time, of heat

and fuel. Flames rising up in seconds, soon disappearing,

and the ashes are left on the land for what comes. While

recognizing the attempts of conservation, these pictures

also recognize the attempts of pictures to convey a cautious

optimism about the future of colonialism and the relationship

of creating a visual history of the new landscape returning to

some resemblance of the old, change opening the landscape

for repair, to accompany the voices reconciling land where

barriers have been built for centuries.

While at Arteles, Hobler plans on reflecting on this recently

made work and taking advantage of the technological

solitude to read and get in touch with the poetic aspects of

his photographic exploration: to glean openly and sort later,

uncovering the flurry of thoughts that accompany the mental

scattering of the technology-soaked first world. Hobler

wonders about a photograph's longevity in a society headed

toward post-capitalism, wandering about to make poetry of

it if he can.

Untitled

While disconnected from the Internet at Arteles, the question

of values presented itself. What are my values? How could I

maintain them in my practice and in my daily life?

Throughout the residency, there was a lot of time to work

through these questions and I made hundreds of pictures

while at Arteles. One day, though, the oat fields across the

road were being harvested. The combine started cutting the

field to the east. Unsure of whether there was something to be

made of it, I just watched. The day ended and the machines

went away. That evening I resolved that I would go see the

harvester up close the following day.

The tractor drove up and down the long aisles of oat. The

process was obviously mechanical: a hungry, complex

device carved and collected florets and atomized the chaff

and stem. The whole thing rode along lines laid in the spring

by a different machine. There were human variations in the

lines. The farmer was still in control.
---
Back to Basics program / AUGUST 2018

Luther Bangert

USA

www.lutherbangert.com

About

I am a juggler and a mover, seeking and exploring the

dialogue and potentiality between objects and body, through

contemplative play. My performances and practices draw

upon traditional circus technique, contemporary circus,

yoga, martial arts, butoh, and contemporary dance. These

are synthesized into a field where the inherent spectacle of

juggling can be as deep as its contemplative and expressive

ability.

In my juggling, I look for new pathways through space, how

to let an object can carry the body, how to leave the body

behind, how to affect form and the space within it, how to find

the stillness in between the movements. How to tell a story

with abstract and unclaimed movement and play.

In these days, I live in New York City, street and stage

performing, collaborating, practicing, learning.

Soft, Sway

My time at Arteles inspired and allowed me to step back

from my normal way of working and being, and to do

things without rushing to an end. I focused on my juggling

and movement practices, and stepped back from being a

performer for other people, and spent most of my practice

time in the forest. I sought to find what is there in my practice

and performance when it is as close as possible to being the

thing that is happening, only - bringing my own expectations

to the process as little as possible, and without an outside

human eye and mind.

In this way, I adopted the forest environment as my

inspiration, and, audience. Experimenting with how the forest

environment can influence movement, in spatial terms, and in

energetic terms. Working with wood and form as an impetus

for juggling patterns and choreography. Working with sound

as a way to influence touch and feel of the pieces. Juggling

and moving softly, with a keen awareness of surroundings,

and without exhibition in mind.

This project ended up being pleasantly as much, or more,

about the practice and the laying out and examination

of ideas, as it was about a final performance. I performed

an improvisatory piece in the area of the forest I had been

practicing in, on the final day, called ""Tread Softly,"" as a

sharing of the things I had discovered.
---
Back to Basics program / AUGUST 2018

Zoë Ranson

UK

www.zoeranson.com

About

I'm a fiction writer and performer, from Hackney, via Waltonon-the-Naze.

I make stories, from the very short, to the

epically long, sometimes for the stage.

Naturally drawn to the off-kilter, my work concerns identity,

with a focus on the magical space between adolescence and

adulthood, where the boundaries of possibility and inception

blur.

Pop Music has been my lodestar since childhood, and plays

a dynamic role in my practice. I'm interested in frictions

between sexual politics and popular culture, and the lasting

impact of founding cultural experiences on the artistic mind.

Lately I find myself pre-occupied with the idea of 'home' -

what that is, and how the notion of it changes. During my

residency I'm interested in the effects of exchanging the

noise and grime of my city for the stillness and space of the

Finnish countryside. How will that shift in tone, temperature

and mood impact on what I make and how I think.

Timidity is Laughable

I came with a project to edit, but that wasn't what the

Arteles environment had in store. Instead, bolstered by my

meditation practice, I embarked on something new. The

words came with crisp lucidity, forming a story which grew

each day with the stubborn brilliance of the sunflowers in the

cornfield. I photographed them to measure time; watched,

as with each dawn, a solitary bloom became a congregation.

And I felt myself alter with it. As my thoughts gracefully

revealed themselves, I felt in control, able to express myself

with an exactness that often eludes me.

Music remains as vital as ever to my practice. I had two

anthems that I returned to: Midnight Radio from Hedwig and

the Angry Inch Soundtrack and Roadrunner by Jonathan

Richman, because even in the wild, I believe in rock and roll!

I danced in the berry bushes, along the gravel road that lead

to the lake, on the wooden raft which jutted out a jetty where

I spent my mornings watching the sunrise. And I wrote. Filled

five notebooks, ran dry two pens.

Meditation and yoga require no equipment, only commitment.

The routine and structure of these pillars freed me creatively

to explore without judgement; to work unconcerned of

the outcome, trusting there will be something valuable, or

beautiful, or transient. The residency taught me affirmation:

I am enough. I found new clarity, expanding from the

parameters of the ordinary to the extraordinary to produce

the most honest thing I have ever distilled.
---
Back to Basics program / AUGUST 2018

Dierdre Pearce

Australia

www.dierdrepearce.com

About

I am a sculpture and installation artist fascinated by

relationships between people and technologies. I make

'objects for thinking with' that operate as tools, costumes

and toys, and present the works in interactive installations,

or interventions in non-gallery spaces.

My current focus is the relationship between a physical,

embodied self and a digital 'presence'. How is this experienced

and reconciled? What are the implications for managing an

integrity of self, relationships with others, and functions such

as memory, daydreaming, analytical thought and prayer?

While its possible to imagine digital presence as a copy of

an individual, I think it is one that is unavoidably altered by

the manner in which it is created - attributes established in

response to corporate drivers, histories aggregated with

those of multitudes of other individuals, and faculties defined

by algorithms created by data technologists. I am exploring

this idea in a new research project which spans digital

constructs and wearable objects over the next few years.

I am completing a PhD in visual arts at the School of Art

and Design, Australian National University, Canberra,

Australia and have previously been an academic in biological

chemistry. In both disciplines I make and test objects as a

way of understanding the world, and work at the interface

between people and the technologies they create.

Measured

My residency program had three components: to register my

response to being off-line for a month, to read some key texts

related to my research on the relationship between a body

and its developing digital 'presence', and to explore these

ideas and experiences through art practices.

My reading focused on French philosopher Bernard Stiegler's

Technics and Time, Donna Harraway's 'Simians, Cyborgs

and Women' (including the classic 'Cyborg Manifesto') and

recent essays by N Katherine Hayles, in which she positions

human consciousness within an environment increasingly

dominated by the 'cognitive non consciousness' of machines.

Engaging with these ideas while experiencing my body's

response to withdrawing from the net was fascinating: the

sickening sense of deceleration and disorientation, the

hunger for distraction and 'productivity' of the first few days

gradually replaced by a feeling of being enclosed by my skin

and of welcoming the extra time and effort involved in being

offline.

Responding to these two flows of information, I explored ways

of perceiving changes in time and space, such as converting

time I would usually spent online to stitches in a crocheted

blanket. measuring time through the changing plant life

around me or through rising bread dough, and constructing

an archive of details in the landscape that allowed me to

navigate my environment in the absence of Google maps. At

the end of the residency I made an installation - measured -

related to my changing perception of time.

I thank fellow residents and the Arteles team for the

experience!
---
Measured, 2018 (work in progress, detail) installation view, Arteles Creative Center. Dimensions variable.

Rise and fall, 2018, mp4 file, 7 second loop.

Twenty nine days in Finland without the internet, 2018 (details), yarn. 1.2 m diameter.
---
Back to Basics program / AUGUST 2018

Kendall Schauder

USA

www.kendallschauder.com

About

Kendall schauder is an artist who is comfortable working

with a variety of mediums. Her pieces explore her experience

of living with dyslexia and she draws inspiration from textiles

and how they are created. For kendall textiles have become

a language to be read; a language that comes to her more

naturally than reading & writing the English language. By

learning about materials, techniques & machinery kendall

has come to understand this way of reading, and her

performances & sculptures capture these moments of

comprehension. Through her work, kendall questions her

own capabilities of learning & activates her curiosity.

Creating a grid

My process throughout the residency released old thoughts

that had grown stale overtime and allowed them to take the

form of something new. I came to Finland with a suitcase full

of old sketchbooks, notes, tickets, maps & letters, ready to let

them go and create a space for new ideas. Spending hours

grinding up old sheets of paper with two rocks I found sitting

near the shed, to create a pulp that I could use to make new

blank sheets of paper. These new not so blank papers were

embed with old ideas though reorganized to a state where all

context is completely illegible. Each paper also embed with

thin threads organized to create a grid that encompasses the

complexities of the material itself.
---
Back to Basics program / AUGUST 2018

Za Othman

UK

www.corduroyark.com

About

I like painting through the night and into the small hours.

There's a unique feeling that comes from working all night

whilst the rest of the world sleeps, with only my paints and

Leonard Cohen for company.

I look forward to meeting the characters that appear on the

canvas, and enjoy seeing the different responses they get

from others. It amuses me that people can find them silly and

humorous, but also dark and sinister at the same time – like

the Muppets directed by David Lynch.

My dream is to let these characters tell old stories in new

ways, and maybe one day give them life in a travelling puppet

show that ventures to the Western Isles off Ireland and

Scotland.

Painting and drowning

I had no plans for this residency but I did harbour a fantasy

that all the meditation, non-distraction and communing

with nature would take me to a place of stillness, clarity and

unfettered creativity.

In reality, I quickly got stuck deep in the mud, both literally and

otherwise. Drowning in a sea of self-doubt and insecurities

resurrected from what seemed like a distant past, I tried to

stay afloat for a while, but finally gave in and let myself sink.

I sank past my hazy ways and self-defeating tendencies,

engulfed by a constant cacophony of voices telling me that

whatever I may be, I am certainly not an artist.

And suddenly there I was, a wreck at the bottom of the

ocean. But there I noticed how silent and still the water was

all around me, inhabited by sublimely strange creatures,

mysterious and incomparable to the more familiar beasts we

see nearer the surface. And then, this plain discovery:

I love painting and that is the start and the end of this very

simple story.
---
Back to Basics program / AUGUST 2018

Stella Teunissen

Netherlands

www.stellatextile.cargocollective.com

About

I am a visual artist and textile designer from The Netherlands,

currently based in Ghent. After receiving my Bachelor's

degree in Product Design at the Utrecht School of Arts, I

graduated for my Master's in Textile Design at LUCA School

of Arts in Ghent.

During my master studies, I developed working methods

in which I constructed, deconstructed and reconstructed

materials. I unravelled my own dyed knits and knitted them

again. Furthermore, I had cut screen-printed sheets of

wood into strips, and wove them back into a surface again.

Within this play of shape, colour and material, the final

outcome of the design originates partly by chance, creating

a 'controlled accident', which sometimes even surprises me

as the experiments' instigator. This constant loss of control

runs like a red thread through my work. Recently I started to

experiment with natural dyeing of yarn and fabric, using plant

materials found in my own garden. Many factors in the dyeing

process influence the result. In this way of experimenting

with colouring and printing on textiles, I discovered again an

exciting unpredictability in the process.

I consider my time at Arteles as a time to experiment.

I am eager to learn new techniques and I am curious and

open-minded about the ways in which a natural setting can

influence my work. Being in surroundings without outside

pressure I hope to find a mindful daily rhythm, that allows me

to re-discover the joy of making.

Feuillemort adj. Having the

colour of a faded, dying leaf

During my time at Arteles I researched natural textile dyeing

and eco printing – creating patterns on fabric with all sorts of

plant leaves. In the forests and fields I found raw materials:

birch tree bark and leaves, blueberries, wild rosemary,

dandelion roots, oak leaves and geranium. I discovered a lot

while experimenting hands on without the use of the internet.

Instead of looking up things when I had questions or doubts

regarding technique, I just continued by trial and error. This

gave me a lot of insight in the process of natural dyeing and

offered me tools and new skills.

Besides my creative practice there was a lot of time to...

Contemplate – I thought a lot about what 'home' means to

me, but also about the concept of 'play' – being curious

as a child. Alongside that, the exploration of nature and

connecting to all the beautiful people I've met at Arteles were

important to me. I really enjoyed the cooking together, sauna,

4 o'clock tea, nature trips, bike rides and sharing stories. In

order to structure my workdays I found my mindful rhythm

through writing morning pages, yoga or wandering around

in the forest in the morning and group meditation by night.

I can truly say this was the most amazing and refreshing

month in a long time. During this time of being isolated from

the 'outside world' I gained a lot of new ideas and input

regarding my creative practice as well what's important to

me in life to build my happy home.
---
Back to Basics program / AUGUST 2018

Stijn Pommée

Netherlands

www.stijnpommee.com

About

Amsterdam based artist Stijn Pommee (1994) graduated in

2016 from the Gerrit Rietveld Academy (NL) and has been

working at the Academy as a tutor since then.

He often works with simple gestures, using different means

such as texts, images and interventions in public space.

Getting Distracted

In my application to Arteles, I put: "I want a period of time,

free from all distractions, so I can be free to be distracted".

It's a quote from Mary Ruefle and It's also exactly what I got

during my stay in Finland! A time to get away from it all and get

distracted again by new things I loved doing. Without having

a plan beforehand, having the time to do just —whatever!

And I did. On my table: A sculpture made out of three twigs,

delicately balancing on top of each other. A loom made by

hand. A pocket woven out of white cotton to organize my

notes and texts I wrote during my stay. A useless comb — I

cut off my hair the day before coming there. Three of many

drawings. A note carefully folded. A piece of wood from the

building — that I send as a letter to a friend. A photograph of

one of the different sculptures made out of twigs.

Not on my table but still equally relevant: Picking blueberries

in the morning for breakfast. Waiting in front of the window

for the hare that visits the garden at night. A three-hour walk

to the local bar— and walking back again. Looking at the

clouds pass by. Reading a lot of books from other people—

the ones I had brought myself bored me to death. Watching

the countless dragonflies hovering around.
---
Back to Basics program / AUGUST 2018

Helen Lee

USA

www.instagram.com/momentumsensorium

About

My passions and curiosities have always leaned towards

the sensorial, the tactile, the internal workings; how these

components can bring us closer to truth, self discovery and

evolution in ourselves, to other people and our environment.

As part of my process, I utilize silence, mindfulness,

exploratory pursuits in sensory stimulation and deprivation

and various movement formats including Yoga and Butoh.

Stillness, pause, slowing down can present itself to be quite

a challenge as our world evolves technologically. In a culture

of massive sensory overload, we often have some place to

be, something to do. It is easy to numb ourselves, to hide, run

away or find a new distraction. I am curious of the fears that

consume us when we try to move out of our comfort zones.

What I find quite wonderful and fascinating is the continuous

ebbs and flows of this practice. I believe there is a never a

final destination in anything that we do.

Studying Dance and Theatre at University of Hawaii at Manoa

was a transformative time in where I made discoveries

about self acceptance and courage. Currently, I am a MFA

candidate at the School of Art Institute Chicago in the

Performance Department with an interest in Film, Video,

New Media and Animation. In my new work, ""a glimpse of

me, my mom"" I am unpacking family history, investigating

home, identity, memory, travel, migration, immigration,

displacement, belonging, guilt, shame and what it means

to be Korean American through performance, storytelling,

video, animation and installation.

I Don't Even Know If That Was Real

Most days at Arteles, I was in deep investigation of myself,

grappling with time, anxiety, hopes, fears... often obsessing

and trying to reconcile the past. I shifted between being

very productive and feeling restless and aimless. The

abundance of time and light was both disconcerting and

magical. Time seemed expansive and went on and on...

I felt as if I travelled to a far distant land, in a completely

other universe. Previously having participated in silent

meditations with no allowance to create work, it was truly

satisfying to make work with no set schedule, no phone and

barely any internet. A truly incredible journey of discoveries

made about home, spirit, ancestry, nature and friendships.

things i did:

slept a lot / stayed up late / laughed till my belly ached

cried / read 3 books / collected my hair / cut my hair

sewed hair into my skin / bled on paper

looked at old family photos / wrote 엄마 repeatedly

made an interactive frame / made an interactive room

spent a lot of time in the kitchen / made kimchi

wrote letters / taught yoga / meditated

"Try to love the questions themselves as if they were locked

rooms or books written in a very foreign language. Don't

search for the answers, which could not be given to you now.

Live the questions now. Perhaps then, someday far in the

future, you will gradually, without even noticing it, live your

way into the answer." -Rainer Maria Rilke
---
Back to Basics program / AUGUST 2018

Britt Salt

Australia

www.brittsalt.com.

About

My practice is an ongoing spatial experiment where

fundamental elements such as line, form and space

intertwine. Employing repetition and materials that have an

inherent ability to create movement, my research centres

on the symbiosis of art and architectural practice and

questions how these genres influence the notion of place

and impermanence in contemporary urban environments.

Materiality and methodical process are a constant

foundation for my conceptual enquiries. Using industrial

materials such as metal mesh has led to my engagement

specifically with the urban environment and how inhabitants

relate and are influenced by their built surroundings. In my

sculptural work and site-specific installations materials such

as vinyl and aluminium mesh are drawn, folded and woven

into unexpected shapes and patterns, creating spaces that

gently shift with the viewers' movement and interaction.

When viewed from different angles, manifold patterns and

forms emerge; objects can be viewed through other objects,

interiors conflate into exteriors, and forms appear then

disperse.

My career has increasingly spanned both art and architectural

practices, attracting awards such as the prestigious Art &

Australia/ Credit Suisse Private Banking Emerging Artist

Award in 2013. Significant achievements also include receipt

of the Freedman Foundation Travelling Scholarship for

Emerging Artists, supporting residencies at ACME studios

(London), Draw International (France) and Red Gate Gallery

(Beijing). In 2015 I was curated into Sala del Portal, Venice,

which coincided with the 56th Venice Biennale; I also

undertook a residency at Youkobo Art Space Residency,

Tokyo. In 2018, I will travel to Finland and Iceland to develop

new work.

Suspended Space

During my time at Arteles I explored tapestry weaving

techniques as a method for drawing. Working intuitively,

I unearthed vibrant patterns from a foundation of

monochromatic lines. Each shift of direction these horizontal

wefts take culminates in an optical pattern, disrupting

the linear surface of the drawing. As these patterns pulse

ephemerally atop the solid black and white surface, they

allow an in-between space to come forth and be perceived

as an entity.
---
Back to Basics program / AUGUST 2018

Gail Baar

USA

www.gailbaar.com

About

I am a musician and visual artist. For the past 12 years I have

been using fabric to explore simplicity and minimalism. By

using simple shapes I play with interaction and relationships.

These shapes can suggest human forms or become a visual

landscape and interpret our interaction with what we see.

I am using a pared down palette of white, black and grays

to lose the distraction of color, leaving space for silence.

Sometimes the simple shapes contrast with stitched lines,

or fabric that has been painted or marked in some way. I

often use paper and make collages to jumpstart the creative

process. As I find a place to store artwork, I think about the

differences between musicians and artists - one works with

sound, the other visually, and how in the end what we are

trying to accomplish is the same.

Finland in Abstract

I was curious to find out how a change in environment would

affect me, and I was looking forward to trying new ideas while

I was at Arteles. I spent my time taking walks as I usually did

at home, but here the quiet surroundings of lake, trees and

the occasional sheep set the tone for the month. I came back

to the beautiful view out my window of the lake and the everchanging

clouds that gave stability and silence to my days.

I found I could take time to really look at what I was working

on, and then if I decided I didn't like it there was time to find

another direction. I hung up each piece as it was finished

and could see the progression of my idea. By the end of the

month I had finished a group of pieces I was excited about,

and now I can see the influence of my surroundings: stacked

stones, rooflines, doors and the variety of window shapes,

and silence all became a part of my new work.I could see

the rhythm of my days, and that I needed both time for

creativity as well as time away, doing something different,

giving me time to think about my process. Some days I took

a break from fabric and drew ideas in a sketchbook and used

watercolors, or made collages. I spent time in the evenings

writing in a journal about each day, both what I was doing

and thinking.
---
Back to Basics program / JULY-AUGUST 2018

Linda Loh

USA

www.lindaloh.com

About

Linda captures incidents of fleeting colour, light or reflection,

then submits them to an iterative process of translation, using

a fusion of digital, photographic and painterly procedures.

She also makes minimal installations with shiny objects, and

paintings with electronic devices or liquid pigments. These in

turn could be source material for further pieces. Works may

include digital files to be shared and viewed online, digital

pigment prints - small or huge, on paper or fabric - screen

based moving image works and projection installations.

Deploying abstraction, she plays with perceptual experience,

and ponders the aesthetic dichotomies of works arising from

quiet, light-based phenomena, alternating with those that

embrace vivid colour and strong forms. Increasingly, she

is interested in methods and opportunities to present her

work in the intangible online space, beyond the boundaries

imposed by the physical, political, and commercial world.

Such an approach, as yet undeveloped and experimental,

aligns with her interest in the ephemeral elusive nature of

experience and perception, and indeed mind itself.

Ephemeral technological sublime

At Arteles I embraced the open sense of time and lack of

interruption by getting into an expanded studio flow. One of

my goals was to extend my digital technical skills by reviewing

software packages I already use, and teaching myself new

ones; a challenge without the internet, but I was prepared.

In parallel, I made photographs and videos of everyday

moments, usually in response to light-based phenomena.

I also put ink and watercolour paint onto sheets of paper,

large and small, indoors and outdoors. All these activities fed

into each other, incorporating the unique features of the rural

Finnish setting: lakes, forests, rocks, skylines, reflections, air

and water movements, the never-ending daylight, eventually

the moonlight, the calm, the silence. All were transformed

beyond their source. Super-coloured projections filled the

idiosyncratic studio space, and found their way onto grass

and rocks outside. Silent, slow-moving videos of unknown

forms morphed across dark spaces and into the landscape.

A huge painting was hung in the forest, draped over a boulder

or flown behind a bicycle. It was ultimately fed to a bonfire,

in a spectacular, fleeting farewell. Digital evidence is all that

remains.
---
Back to Basics program / JULY 2018

Ilián González

Mexico

www.iliangonzalez.com

About

Through my career I have used and produced different

media; film and theater in the beginning, and later video,

photography and installation. These tools have given me

a space to convey questions about the individual and his

environment. I consider the acts of mixing, cutting and pasting

as a mode to create meshes that re arrange and vitalize

habits of perceiving and reflecting upon our paradigms.

My work questions how the subject and its relations can be

looked at from within its social context. Through connections

that come from absolute concepts such as nature, time and

geometry, I try to encourage contemplation; a personal one

arising from within an individual´s psyche, as well as one

that links with the sensible world outside, considering that

knowledge and imagination both feed from a source which

is, at the same time, both near and hard to approach.

Crossbreeding, the filectum lichenoides

& petasites hibridus series

To live and work in Arteles not only nourishes a close

relationship with the surroundings, the Back to Basics

theme also persuades us to simplify and reduce the stimulus

from the outside world, quietly inducing to reflection and

silence. Probably this was supplying an essential attribute to

everyday life and affinities with the other amazing artists in

the residence.

The vegetation in Hämeenkyrö arouse a natural game on

links and associations. The abundance of a certain plant

(petasites hibridus or devil's hat) that looked like an invader

for its tropical aspect and big lush leaves, awoke my interest

in hybridization within nature. I proposed myself to work with

the materials found at hand, keeping an intention to do a

personal open process, to maintain a weightless laboratory

with an ephemeral outcome. I started to play with the idea

of rudimentary crossbreeding, mixing different species

and observing the counterpoints in the result. Somehow, I

think the complexities involved in current discussions over

migrating issues can also be found in the ever-present search

for equilibrium in ecosystems.

Dress photo credit: Anja Schutz
---
Back to Basics program / JULY 2018

Sydney Southam

Canada

www.sydneysouthamart.com

About

Sydney Southam is a visual artist, filmmaker, performance

artist, and professional pole dancer. She often works with

archival 16mm film, exploring themes of nostalgia, death,

memory, and identity. Her current work explores the

backstage and domestic lives of exotic dancers and how

their private and professional lives are defined through

ideas of feminism, objectification, power, and love. Sydney

is one of the founding members of Vancouver-based Iris Film

Collective, and the curator of the potluck dinner and artist

talk series Special Sunday Supper. Her films and artwork

have shown across Canada, Europe and Asia, at venues such

as MOCA Taipei, Gabriel Rolt Galerie (Amsterdam), Athens

International Film and Video Festival, Antimatter Media Art

Festival, Aesthetica Short Film Festival, Access Gallery,

Emmedia Gallery, Yinka Shonibare Guest Projects, Vivo

Media Arts Centre, Western Front, and the Haida Heritage

Centre. She graduated from Central Saint Martins with a BA

Fine Art First Class Honours in 2011 and from the University

of Toronto with a BA in English, Philosophy and Cinema

Studies in 2007.

Glory, A Meditation

While at Arteles, I began to develop a performance that

has lived in my psyche for some time. The work arose out

of my experiences working as a stripper and the aftermath

of sustaining an injury and being forced to leave the

industry. I began to study Qi Gong and delve more deeply

into my meditation practice in attempt to heal the physical

and emotional trauma I had experienced in relation to my

dominant movement practice. I began to draw parallels

between the circular and microcosmic orbit movements of

Qi Gong and many similar movements I had performed as an

exotic dancer; in fact, many spiritual healers move their hips in

a circular or figure eight pattern as they work on clients. This

immediately brought to mind the idea of "stripper as healer",

as well as notions of public versus private performance. On

my last day at Arteles, I asked the other artists to join me in

the meditation room and respond to a performance through

drawing, writing or photos. As the music progressed, my

body gradually began to oscillate between the grounded,

meditative movements of qi gong, and the more recognizable,

sensual exotic dance movements. There is a natural flow

between them, and each movement I performed came from

a grounded place. This grounded, meditative dance will last

the duration of the song, roughly 7-10 minutes, and by the

end I remained still, the rhythm of my breath audible, until my

breathing finally slowed. I plan to develop this work further,

and am so grateful to the other artists for supporting me.

(Photos by Anja Schutz)
---
Back to Basics program / JULY 2018

Ken Steen

USA

www.vimeo.com/kensteen

About

Ken Steen's music sound and video art is recognized

internationally for its authentic vitality, remarkable range

and distinctive personal vision. Whether acoustic, electronic

or some multimedia combination, his work has often been

characterized as seductively gorgeous, featuring sumptuous

textures of gradual yet unpredictable evolution. Since

2010 his work in various forms has enjoyed more than 150

performances or installations on 5 continents: from Mumbai

to Tripoli, Stockholm, Buenos Aires, Ljubljana, Reykjavík,

and New York City.

Steen is Professor of Composition and Music Theory, and

director of Studio D (the electronic sound/noise/music

studio) at the University of Hartford's Hartt School, in West

Hartford, Connecticut USA.

Sound & Walking

There were 2 primary threads that I followed during my time

at Arteles:

Thread 1):

organizing, editing, copying, inventing new sonic notations

and choreographies, alongside preparing scores and

dreaming about upcoming performances of 2 new works

that I had composed while at EMS in Stockholm during June

2018. In this time, and in this place for 12 violins, a cello and

quadrophonic field recordings (premiered on August 19th

at Promisek in Connecticut USA, by violinist extraordinaire

Katie Lansdale along with an ensemble students and

colleagues); and Suspensions for Oboe, English Horn and

electronic audio soundtrack, to be premiered by Duo Agosto

on September 1, 2018, in Granada, Spain.

Thread 2):

collecting a variety of field recordings using a quadrophonic

binaural (8 channel) microphone to be used in future sonically

immersive compositional and installation projects.

Both threads were fundamentally supported by being

grounded within a dynamic and passionate community of

artists, and an intense focus on walking as an intentional

form of meditation. Walking enabled me to be more clearly

present in each moment of the day, in each interaction and

nourishing conversation. This in turn encouraged broad

thinking, deep consideration and sonic/artistic risk-taking as

these two new works were wrought into final form and source

materials for future works were collected.
---
Back to Basics program / JULY 2018

Simon Ker-fox Taylor

South Africa

www.periphery.co.za

About

Simon's approach to art moves playfully between what is

real and constructed without letting go of authenticity. Story

and character narratives, whether true or imaginary, are at

the centre of his work. His style is raw, close and real, often

drawing on encounters with natural elements. He has licensed

a creative documentary feature film to the BBC and has been

engaged by a range of clients including Al Jazeera, The Daily

Show with Jon Stewart and Fox among other international

broadcasters as well as a range of non broadcast clients

such as London Business School, The University of Cape

Town and the Heinrich Boll Foundation to create media. A

member of Berlinale talent campus his work his work has

shown in festivals and exhibitions internationally, recently a

solo exhibition with the Association for Visual Arts Gallery

followed by a video art instillation. Interested in the creative

processes that collaborations provide he has been drawn to

Arteles and to find artists, spaces and institutions to create

new work with.

Migratory Brids

Conceptual art considering the complexity of migration

patterns in humans and the effect of movement on notions of

home and ideas around personal security.

Photographic collage, lithography, photography.
---
Back to Basics program / JULY 2018

Nora Sørena Casey

USA

www.norasorenacasey.com

About

Nora Sørena Casey loves to create vivid theatrical worlds

that break free of reality. This emphasis on imagination takes

many forms, including site-specific works, musicals, and

plays that seamlessly move across time and space. From

plays like "False Stars," a collaboratively-created reclaiming

of the family drama, to experimental new musicals like

"Waiting," Nora blends humor and lyrical language to explore

sex, love, identity and power in contemporary America.

Nora plays include "Take the Car" (Williamstown Theatre

Festival, Brooklyn College), "Resistance Training" (Women-

In-Theatre Festival), "Waiting" (Columbia Stages), "Dreams

of Malinche" (Everyday Inferno), and "Not Afraid" (PowerOut).

Her play "False Stars," premiered at the Corkscrew Festival

in a "fast-paced, heartfelt and precise" (Stagebuddy)

production that was "packed with young talent" (New York

Times).

Holding Up the World

I spent the month working on two writing projects: the first

draft of a fantasy novel and a short, site-specific play for a

garden called "Holding Up the World." Inspired by the artistic

engagement of other residents with the landscape, the

play includes an aspiring performance artist trying to bring

together body, word, and nature to change the world. It's a

funny play.

The space, both outside and in the studio, was a wonderful

opportunity to create a mess of outlines, drafts, and story

maps. Hopefully out of chaos came something new and

interesting.
---
Back to Basics program / JULY 2018

Anja Schütz

USA

www.anjaschütz.com

About

For the past several years I've been fascinated by the human

search for meaning. Not actively participating in any religion

myself, I explore connecting points in a shared humanity and

the line that exists between us and other, unseen worlds.

Various portrait projects seek to discover a common thread

among groups of people by inviting subjects to pose for

situations which evoke within them tenderness, defiance,

revisiting of traumas, celebrating joy, and so on–-in short,

experiences which define us individually and collectively

within each person's experience of the same event. In each

of these experiences, whether they are light-hearted or more

difficult, I seek a stillness that distills all of us to the same

point of being.

This same stillness is something I seek in my landscape and

still-life work. Is it possible to create a body of work that

invites us all to a similar contemplation?

Nukkua / To Sleep

A dream revealed my project to me a few weeks before I

came to Arteles. Recent years have involved loss of loved

ones, loved places, as well as the ongoing, gradual loss of

someone I love dearly. Coming here, I knew I'd spend my time

at the residency thinking and working around the meaning of

grief and death, both literal and symbolic. My dream felt very

connected to this, though I'm still exploring its message even

after this month.

The process of shooting the project initially yielded a bit of

frustration until Jacky Chen (a fellow resident), introduced me

to ink-transfers. This took my imagery from being too crisp

and clear into the dreamy, surreal realm I was looking for. This

month was such a wonderful example of what happens when

one steps outside of familiarity to embrace a new place, new

friends and new techniques!
---
Back to Basics program / JULY 2018

Jacky Cheng

Australia

www.jackycheng.com.au

About

Jacky Cheng was born in Kuala Lumpur, Malaysia. In 2003,

she received her Bachelor of Architecture (Hons 1) from

University of New South Wales, Sydney and has since put

architecture on hold and pursued her love for 'creating and

making' in smaller scales. Jacky is a practicing artist, an

educator as well as a leader in the Vocational Education and

Training sector in Australia.

Jacky works across several mediums incorporating her

philosophy of 'slow art' - a visual participatory, most notably

in bas-relief paper sculpture. Her introduction into paper

manipulation is an amalgamation of cultural practices as a

child as well as her curiosity in paper architecture during

her tertiary education years. Her recent experimentation in

fibre, stitching and weaving opened an array of processes for

future body of works.

Her multiple award winning manual hand-cut paper

enchantment has since been featured in ABC Kimberley

Projects - 'The Paper Cutter', ABC Arts - 'How art changed

my life' as well as participated in numerous curated art

exhibitions, art awards, collaborative works, art feeds and

articles locally and internationally.

Her teaching accolades includes both state and national

awards in Best Trainer/Teacher of the Year in Vocational

Education and Training (VET) sector bestowed by the

prestigious Australia Training Awards as well as a finalist for

the Curtin University Teaching Excellence Award.

Today, Jacky continues to practice and teach in Northwest

of Western Australia where she has lived and worked since

2006.

In-between

I rarely get the opportunity to indulge in simple pleasures

such as 'play' in my practice. One month of switching off from

my bureaucratic world – acknowledging and sifting through

whatever idea comes to mind was not an easy task. But I soon

gave in to time, be present and fiercely 'play'. I embarked

on a journey of making, doing, observing, practicing and

enthusiastically embraced the unknown - a journey that

led to inquisitiveness within my given space. I began to

revisit and explore my first love - architecture and its spatial

qualities from a few standpoints – sociological, physiological,

psychological and perceptive space. Threading or rather

stringing two adjacent walls and corners with the intention

of drawing the eye outdoors; cutting and dissecting a book

and investigating its relationship through the act of 'intuitive

doing' intrinsically opened up multiple ideas and concepts

for future projects and assisted me in investigating multi

faceted projects. Back to Basics is a crucial element in any

practitioner's journey. I am embracing the 'in-between' state

of my being - neither here nor there. Nevertheless, I am

excited with possibilities.
---
Back to Basics program / JULY 2018

Blythe Cheung

Hong Kong

www.blythecheung.com

About

Collect remnants of the ever-changing world, distil

overlooked mystery and wonder among seemingly mundane

and repetitive happenings into carries of their own kind.

These debris, magic that radiates beauty, define the finest

moments and so makes them worthy.

My multi-disciplinary practice mainly consists of drawings/

writing/ installation/ performance/ sound. Each component

works together like notes of a chord, and contributes a unique

tone to the composition. Through different passageways, I

find the delicate balance to enrich and amplify meanings,

bridges new points of entry to a collective experience that

resonates within and beyond. In a place where we see the

extraordinary in ordinary, we perhaps catch a glimpse of

eternity.

夏 渺 橋 綠

The pronunciation of Hämeenkyrö, the municipality where

Arteles is, rings a bell to me in Cantonese - 夏 Haa6 渺 Miu5 橋

Kiu4 綠 Luk6. These Chinese characters translates into - vast

summer, emerald bridge - and from there onwards, words,

pictures, sounds, and textures eventually fold themselves

into this piece of work - a performative, sculptural reading

material - I first started making in Arteles, July 2018.
---
Back to Basics program / JULY 2018

Tamara Lazaroff

Australia

www.tamaralazaroff.com

About

I'm an emerging writer of fiction & creative non-fiction

based in Brisbane, Australia. Over 25 of my short stories

and personal essays have been published, broadcast and

performed in Australia, the UK and New Zealand. Some have

won, been highly commended or been longlisted for awards,

including the Biennial Literary Award, the Elizabeth Jolley

Shor