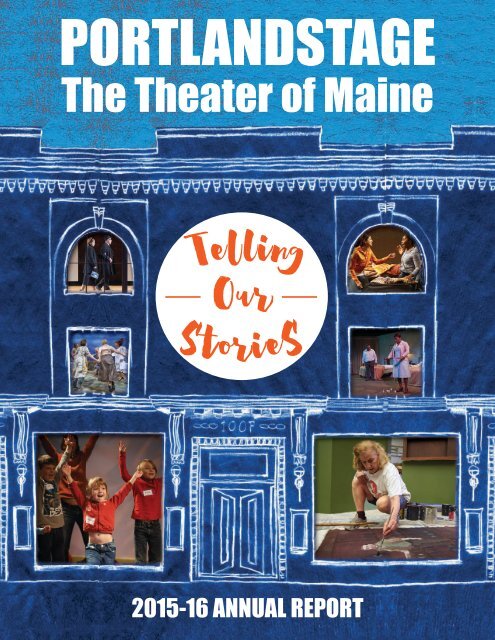 You also want an ePaper? Increase the reach of your titles
YUMPU automatically turns print PDFs into web optimized ePapers that Google loves.
PORTLANDSTAGE

The Theater of Maine

Telling

Our

StorieS

2015-16 ANNUAL REPORT
---
ANITA STEWART, EXECUTIVE AND ARTISTIC DIRECTOR

Share the story of how you became involved with Portland Stage.

I first came to Portland Stage in December 1989 to work on Fugard's Sizwe Bansi and the Island. What I remember most was

the incredible talent and skill of the staff. Portland Stage worked miracles with budgets half the size of other theaters I was

designing at. I also remember the "can do" energy of the intern company and the really smart questions that the audience

asked. It was an impressive place.

Can you share a story where you saw first-hand the power of a program at Portland Stage impacting someone's life?

From watching working men wipe tears out of their eyes at the end of Papermaker, to seeing a woman in a hijab engage

with Veils, to hearing a child speak for a first time in front of his class during a PLAY program, to participating in an intense

discussion about art and religion following Asher Lev, to watching a girl who would cling to her mother suddenly take center

stage, part of what makes me want to come to work every day is knowing just how powerful theater can be for members of

our community. Participating in and witnessing transformation is really my compensation.

Can you describe a production or program that transformed how you thought or felt?

As Artistic Director, every play and every program is a moment for transformation and growth. Each show is an opportunity

to take all that I have learned and apply it to make a piece of art that is more meaningful, more complete, more right. What I

love about theater is that it is never finished. There is always more to discover and new ways to engage with both artists and

audiences.

What do you wish more people knew about Portland Stage?

Just how much we are doing with incredibly limited resources and how dedicated Portland Stage staff and artists are.

What would you tell someone who is thinking about becoming involved with Portland Stage – attending a shows or event,

subscribing, donating or volunteering? Theater is a way of engaging in the world we live in. We tackle hard topics in safe

spaces, we imagine worlds that help inform ourselves and our community. When you let go and engage it is intoxicating.

Give us three words to describe Portland Stage!

Vibrant, nourishing, provocative!

What do you do when you aren't at Portland Stage?

Work in my vegetable garden and spend time with my children and husband.
---
Board Photo: Samantha Bowen, Pamela Cleghorn,

Dawn Hagin, Lily Hanstein, Stephen Jenks, Greg Lanou,

Elizabeth Margolis-Pineo, Sara A. Murphy, Darrell Pardy,

Malcolm Poole, Stephen Sears, MD, Nelson A. Toner

Not present: Benjamin Bertram, Barry Holmes, David

Jourdan, Judy Miskell, Moriah Moser, Hilary Rapkin,

Joe Rosenfield, Venita Simcock

MALCOLM POOLE, PRESIDENT, BOARD OF TRUSTEES

Share the story of how you became involved with Portland Stage.

In the '80s when Portland Stage Company inhabited the sub level of a parking

garage, I began holding season tickets. I had been stationed in New York City

while in the US Coast Guard and had access to Broadway and Off Broadway

shows through the USO and other organizations and always had a good time

enjoying live theater. Portland Stage's high quality has been consistent, the

themes challenging, and the acting has always been superior.

In 1999 I was invited to join the Board of Trustees, more from a business

and finance aspect than an artistic one. I have served on the Board or on a

committee up to the present, now serving a second term as Board Chair. I enjoy

the organization, its challenges, the fine people associated as staff, trustees,

Affiliate Artists, interns, and audience. I have witnessed tremendous growth in

programming, financial stability and reach in the Portland community under the

leadership of Anita Stewart. It has been fun to be a participant.

What do you wish more people knew about Portland Stage?

I am very fortunate to be a fifth generation Portlander. The arts give the city

texture, color and make for quality of life experiences. Portland Stage is at

the heart of bringing color and texture and life to the whole State of Maine.

Portland Stage offers many ways to be involved and connected in small ways,

by taking in a show, and in large extended ways, like Culture Club, Theater for

Kids, and especially the intern program.

Give us three words to describe Portland Stage!

Worthy of support.

BOARD OF TRUSTEES

PRESIDENT

MALCOLM POOLE

BENJAMIN BERTRAM

SAMANTHA BOWEN

PAMELA CLEGHORN

DAWN HAGIN

LILY HANSTEIN

BARRY HOLMES

STEPHEN JENKS

DAVID JOURDAN

GREG LANOU

ELIZABETH MARGOLIS-PINEO

JUDY MISKELL

MORIAH MOSER

SARA A. MURPHY

DARRELL PARDY

HILARY RAPKIN

JOE ROSENFIELD

STEPHEN SEARS, MD

VENITA SIMCOCK

NELSON A. TONER

Board members as of Fall 2016
---
MAINSTAGE

SUSAN THOMAS, COSTUME SHOP MANAGER

How did you start working at Portland Stage?

I first came to Portland Stage as an Intern for the 2001-2002

season after graduating from Smith College. I had spent the

last two summers of college working as a stitcher in

the costume shop of Shakespeare & Company.

Having grown up in Maine, I cannot describe

how happy I was to get to be working at

Maine's only LORT theater company that

just happened to be only one town over

from my family!

What do you wish more people knew about

Portland Stage?

The first thing I'd like people to know is that

Portland Stage creates its own productions, we

are not a touring house. If there is something

truly beautiful on stage we built it here, if there

is something ugly on stage we likely made it

too. It takes a lot of skill and many long hard

hours of work, but we get it done on time and

with a very small crew. The other thing people

don't know is that we are a training ground

for young theater artists. Every year we have

a new crew of interns that almost doubles our

staff size. Each of those interns comes in with

basic skills and will leave with a wealth of knowledge that

they could not get at most other theaters. When I was an intern

I came with a decent foundation of sewing skills, but it was

at Portland Stage that my sewing horizons truly opened up.

"If there is something

truly beautiful on stage

we built it here, if there is

something ugly on stage

we likely made it too."

Portland Stage is a small theater where most departments only

have one staff member and an intern doing the work of what

in other theaters 6-10 people would do. For the first time, I

got to work on all the hard projects, doing everything

from tailoring to corsetry and even single handedly

running wardrobe backstage. The experiences I

gained in nine months would have taken years

to accumulate working at other theaters, and

has greatly shaped me into who I am today. I

am happy to now be the one carrying on the

tradition and training the next generation of

theater artists.

What would you tell someone who is thinking

about becoming involved with Portland Stage –

attending a show or event, subscribing, donating or

volunteering?

I have several amazing volunteers who work

with me in the Costume Shop. Our volunteers

have different levels of sewing skills and are all

different ages. We have tons of fun and learn

a lot from each other as we tackle challenging

sewing and craft projects ranging from full

Marie Antoinette gowns to making a pair of

feather wings for the Wright Brothers.

Give us 3 words to describe Portland Stage!

Small but mighty.
---
ARTISTS

SALLY WOOD, AFFILIATE ARTIST, DIRECTOR OF PAPERMAKER AND

DANCING AT LUGHNASA

Tell us about your first experience at Portland Stage.

The first time I came to Portland Stage, I was a junior in

college. I was dating someone who whose father lived in

South Portland, and we ended up taking a crosscountry

trip to look at grad schools and see the

world. I very much remember sitting in the

audience before the play even started and

thought to myself, "If I could ever work at a

place like this, if that could ever happen, I

would know I was successful."

Can you describe a production or program that transformed

how you thought or felt?

One that leaps out is Veils by Tom Coash. Doing a play about

women who choose to be veiled was incredibly eyeopening.

I didn't realize my biases, but they were

there, subconsciously. The choice to be veiled

and the decision not to are both liberating, and

there is room for both viewpoints. Tolerance

for a wrong word and generosity of spirit are

so nice to have in the room.

How have you seen the power of a play

or program at Portland Stage impacting

someone's life?

At our Open House, I was teaching a workshop

in Stage Combat, and this young man, maybe

12 years old, came to the workshop, and at

first, he was pretty reluctant to stand up and

try things out, but eventually really seemed to

enjoy himself - he even came back for a second

session! Afterward, his mother thanked me

for the workshop. She told me she had been

struggling with getting him to engage, that he

was in foster care with her, and asked if we did

any mentoring because the workshop seemed

to open him up in ways in the way she had

been searching for.

"I thought to myself,

'If I could ever work

at a place like this, if

that could ever happen,

I would know I was

successful.'"

What do you wish more people knew about

Portland Stage?

I think that people would be astounded to

know what Ted [Technical Director] and Susan

[Costume Shop Manager] do at the theater. I

am often astounded by their abilities to take

something from a design process to reality. I

think they're like the superheroes of Portland

Stage, but they have excellent secret identities.

What would you tell someone who is thinking

about becoming involved with Portland Stage –

attending a show or event, subscribing, donating

or volunteering?

I would say do it! Jump in! Live Theater needs you!

In this day and age, when it's so easy to get lost

on a smartphone or sitting behind a computer,

The Human Experience is a great gift.
---
AUDIENCE

AUSTIN SUTHERLAND, 'RUSH 35' AUDIENCE MEMBER

How did you start attending Portland Stage?

The first show I attended was Our Man in Havana, through

the Rush 35 program. I was curious about the quality of the

theater and performances, as all I knew about the

stage were the banners hanging from the second

story of the building. I figured that I should

give it a try, given the discounted tickets

available for people under 35 years old. I

was absolutely blown away by the intimacy

of the theater, the quality of the acting and

set design, and how the play made us think

and reflect.

Can you describe a production or program

that transformed how you thought or felt?

The most moving performance I saw was The

Mountaintop. I was brought to tears near

the end as the actors took us on a journey

through the civil rights movement and to the

current day, celebrating the advances our

society has made but also warning us of how

far we still have to go.

What do you wish more people knew about

Portland Stage?

"We are so fortunate to

have such a quality theater

producing relevant and

thought-provoking shows that

are so accessible to us."

I wish that young adults in our community

knew about the Rush 35 program and how valuable Portland

Stage is to the cultural vibrancy of our city. We are so fortunate

to have such a quality theater producing relevant and thoughtprovoking

shows that are so accessible to us. When we

consider possible plans for a date night, Portland Stage is at

the very top of the list.

What would you tell someone who is thinking about

becoming involved with Portland Stage – attending

a show or event, subscribing, donating or

volunteering?

Portland Stage offers the best in play selection,

acting and set design on the main stage,

while also contributing to our community

through camps, educational programs and

competitions for new playwrights. Portland

Stage brings so much to the community within

their auditorium and outside of it. I can't think

of another organization that so authentically

and consistently embodies what is special

about our city.

Give us three words to describe Portland

Stage!

Relevant, thought-provoking, high quality.

What do you do when you aren't at Portland

Stage?

I am currently a Director of Product

Development at Unum. In my free time, I love

playing hockey with Maine Morning Hockey, running along

the Eastern Prom, and serving on the Board of the Munjoy Hill

Neighborhood Organization.
---
NEW WORK

TOM COASH, PLAYWRIGHT, VEILS

Tell us about how you became involved with Portland Stage.

In 2013 my new play Veils won the Clauder Competition

for New England Playwrights, which included participation

in the Little Festival of the Unexpected playwriting

workshop followed by a wonderful world premier

production in the next season. From the first

introductory phone call to the closing night

of the premier I felt like I was part of a new

family and continue to feel the same way

now years, later. I have a very warm place

in my heart for Portland Stage.

Can you tell us about the power of a play

or program at Portland Stage impacting

someone's life?

The premier of my play Veils at Portland Stage

in 2014 remains one of the high points in

my life. I had been working on this play for

over five years, rewriting and rewriting. Veils

had more than twenty staged readings under

its belt before Portland Stage boldly took the

leap and produced it, which is a big leap

for a theater, to produce an unknown play

about a controversial subject by an unknown

playwright. It's taking a big risk artistically and

financially. They took the risk, took me in hand,

and put on a dream production. Veils has

"Veils has since won several

awards, and has had six

full productions including

a run in London. Portland

Stage most assuredly

launched this play and gave

my career a major boost."

since won several awards, including the M. Elizabeth Osborn

Award for 2015 Best New Play by an Emerging Playwright

from the American Theatre Critics Association and has so far

had six full productions including a run in London. Portland

Stage most assuredly launched this play and gave

my career a major boost. That first production at

Portland Stage remains my favorite production

I've ever had of any of my plays and I would

dearly like to return with another one.

What do you wish more people knew about

Portland Stage?

I wish more people around the country

knew how really, really great the new play

program is at Portland Stage. The Little Festival

of the Unexpected combined with the Clauder

Competition, the great audience and

community support, and the superb quality

of the productions makes Portland Stage one

of the best places in the country to develop

and premier a new play. I also wish more

people were aware of the fantastic connection

Portland Stage has with local schools and

young people and their dedication to involving

the theater in the community and vice-versa.

Give us three words to describe Portland Stage!

Collaborative, innovative, family.
---
IMPACT

HEIDI NICHOLS, TEACHER, PRESUMPSCOT SCHOOL

How did you become involved with Portland Stage?

Presumpscot School was selected as a Pilot School for the Play

Me a Story Program. My principal asked another teacher and

me if we would be interested in having your group

come to work with our students. I ended up being

the contact person since my second graders, at

the time, were the first group to be a part of

the workshops. That was six years ago, and

Portland Stage has made nearly 20 visits to

our school during that time.

What do you wish more people knew about Portland Stage?

What a gem it is! Portland Stage is an exceptional group

of very talented people. The Play Me a Story presentations

are well planned, of top quality, and just plain fun

for all ages. Their theater is wonderful in every

way. Every seat is a good one, and it has a

nice cozy feel to it. Our teachers prefer it over

the Merrill which can be a bit overwhelming,

especially since we always seem to sit in the

"nosebleed seats."

Can you share a story where you saw firsthand

the power of a play or program at

Portland Stage impacting someone's life?

I am currently teaching 5th grade. When I

mentioned to my students that we were having

our first Play Me a Story performance soon, they

got very excited. However, when I told them

that they wouldn't be involved in the workshops

this year, they became upset and somewhat

mad! They wanted to know why they weren't

included this year. I explained that they had

been fortunate to participate in the workshop

longer than any other grade level but that didn't

help the complaining to die down. I guess they

really enjoyed the workshop sessions! They have

pleaded with me to include them. On another

note, being able to relate how much voice the

actors put into the reading of the books, really

helps to teach reading orally with expression.

The transfer of this skill is seamless for many.

"The Play Me a Story

presentations are well

planned, of top quality,

and just plain fun for

all ages."

What would you tell someone who is thinking

about becoming involved with Portland Stage

– attending a show or event, subscribing,

donating or volunteering?

It is a great group to get involved with. Our

students and staff always look forward to having

the Play Me Story group visit us. The kids love

seeing and hearing the stories and working with

the actors afterward. It's such a treat!

Give us three words to describe Portland Stage!

Awesome, fun and engaging!
---
EDUCATION

HANNAH CORDES, EDUCATION MANAGER

How did you start working at Portland Stage?

My first experience at Portland Stage was as an Education

Intern. My year as an intern shaped me as an artist, prepared

me for the professional world of theater, and provided

me with invaluable experiences and skills. As a

result of this unique, hands-on experience, I

was hired by Portland Stage as the Education

Manager at the end of my internship!

Can you share a story where you saw the

power of a play or program at Portland

Stage impacting someone's life?

Last year during our Roald Dahl Camp, we

set up a James and the Giant Peach-themed

obstacle course. After all the campers had

all gone through once, I decided to give them

a bigger challenge: go through the obstacle

course as a team, maintaining physical

contact with each other the entire time. At first,

they struggled to make it through, but then

something amazing happened: they figured

out that the people in the front of the line could

make their way through the course in ways

to make it easier for the people in the back.

They realized each person could help the rest

of the group by pausing in certain places,

changing their levels, helping each other

balance, and by cheering their teammates on.

Watching these third, fourth, and fifth graders

work together seamlessly, communicate kindly

and efficiently, and approach each other with generosity and

care, was one of the most moving experiences I've ever had

as an educator.

"Watching [the children]

work together seamlessly,

communicate kindly and

efficiently, and approach each

other with generosity and

care, was one of the most

moving experiences I've

ever had as an educator."

Can you describe a production or program that transformed

how you thought or felt?

During a school visit to an elementary school, we animated

a poem from The Snow Queen by focusing on certain

words and coming up with a movement for them.

The first word was "hope." When we asked the

students what the word hope meant to them, I

was in awe of their maturity and depth. They

told us that hope was "light in the darkness,"

"your heart's deepest desires," and "the thing

that keeps you going through hard times."

Without even trying, these students summed

up what it means to be human and to find joy

in the smallest of things, something that many

adults struggle to do on a daily basis.

What do you wish more people knew about

Portland Stage?

I wish more people knew about the important

work that we do with young people. From

our in-theater programming to our in-school

outreach, we encourage students to become

creative collaborators, effective communicators,

and generous individuals. We bring play and

literacy together, allowing students to explore

their expressive selves in a safe, inclusive

environment.

What do you do when you aren't at Portland

Stage?

I am usually cooking, reading, acting, directing, exploring

Maine, eating delicious food throughout Portland, teaching,

babysitting, or, obviously, watching Gilmore Girls.
---
LEARN

RYAN STRACK, STUDENT & ACTOR

AAHANA BHATT, PLAY ME A STORY

"Being onstage with

professional adult

actors really helps

you become better by

learning from them."

How did you became involved with

Portland Stage?

I first became involved with

Portland Stage after I moved to

Maine, and was interested in

working on my acting. I was 9 at

the time. We found the Portland

Stage camps and tried them, and I

liked them. I did more camps and

also participated in a production

of A Christmas Carol. I have

also been in the Middle School

Shakespeare Conservatory.

How has Portland Stage made an

impact on your life?

Portland Stage really had an

impact on my life when I joined A Christmas Carol, because

I had no idea what was going to happen but I had a great

time and made new friends. It also really helped with my

acting because being onstage with professional adult actors

really helps you become better by learning from them.

Give us three words to describe Portland Stage!

Fun, social, learning.

What do you do when you aren't at Portland Stage?

I read a lot, I play soccer and other sports, I play with my

cats, and I play video games.

"We drive from

Augusta to make

sure we expose our

daughter to the

theater world through

Portland Stage."

How did you became involved with

Portland Stage?

My husband and I always wanted

our daughter Aahana to get

involved with acting or some other

aspect of the stage. We found

online that Portland Stage provides

a program for young kids to start

acting in the early stages of life.

This motivated us and we made a

commitment to drive from Augusta

to Portland and make sure that we

expose our daughter to the theater

world through Portland Stage.

How has Portland Stage made an

impact on your life?

During the early days, Aahana took some time to get

comfortable with the environment and the teachers. After

a short time, we found that she started mimicking actors

while watching TV. When months passed, we also found

that even while talking with us she started using those facial

expressions, enthusiasm, and excitement. We could see that

in her personal life Aahana was able to express her feelings

and communicate better.

Give us three words to describe Portland Stage!

Awesome. Friendly. Nurturing.

What do you do when you aren't at Portland Stage?

Ice skating, dancing, singing, swimming, cooking with Dad,

creating art and painting, or simply family fun.
---
SUPPORT

GEORGE "BUD" & CHERYL HIGGINS, EDUCATION SUPPORTERS

What do you wish more people knew about Portland Stage?

Portland Stage is a community of people who love theater;

the craft, the excitement, and the emotion. The plays as well

as numerous related activities, such as cast talk-backs

and the detailed educational materials on every

play, provide incredibly rich life-long learning

experiences. While we have liked some plays

better than others, all have made us think,

and many have caused us to examine our

beliefs and value systems, or want to find

out more about a time period in history.

Besides learning from the plays themselves,

we have come to recognize the incredible

commitment Portland Stage professionals

have, not only to bringing excellent theater to

Maine, but also constantly expanding the ability

for people of all ages, especially students, in

the larger community of Greater Portland to

experience the thrill of live performance. It

is a joy and a privilege to be a part of this

incredibly gifted and committed community.

Can you describe a production that transformed

how you thought or felt?

So many to choose from! With recent memory

most top of mind, we thoroughly enjoyed The

Irish: And How They Got That Way. The cast, music and

message were all captivating. When we laugh, cry, muse

and reflect during a performance, we depart in a better

place.

"While we have liked some

plays better than others,

all have made us think,

and many have caused us

to examine our beliefs and

value systems..."

Give us three words to describe Portland Stage!

Organic, provocative, community.

What would you tell someone who is thinking about becoming

involved with Portland Stage – attending a show or

event, subscribing, donating or volunteering?

Bring friends to a performance or tech

event. Share a favorable review of a

specific performance with your immediate

community of friends and associates.

Experiencing live theater at Portland Stage

always enriches our life in some tangible

way. Joy, angst, reflection, contemplation,

unease, contentment and hope are a few

gifts these performances provide.
---
OUR RESPONSIBILITY: STABILITY, TRANSPARENCY, GROWTH

REVENUE

CONTRIBUTED

Grants and Foundations $ 170,708

Individuals $ 326,982

Corporations, Events, Bequest, Endowment, Infrastructure $ 177,470

TOTAL CONTRIBUTED $ 675,160

EARNED

Education $ 141,083

Subscriptions $ 423,755

Single Tickets / Group Sales $ 418,442

Misc. (Rentals, Advertising, In-Kind) $ 339,852

TOTAL EARNED $1,323,133

TOTAL INCOME $1,998,292

EXPENSES

PROGRAM ACTIVITY

Actors / Guest Artists $ 377,685

Facilities / Occupancy $ 166,985

Royalties $ 66,799

Performance Costs $ 174,616

Production Costs $ 166,367

Education $ 320,046

Additional (In-Kind / Deprec.) $ 192,605

TOTAL PROGRAM ACTIVITY $1,465,103

ADMINISTRATION

Staff $ 313,088

Administrative Costs / Benefits $ 127,568

Marketing $ 167,456

Additional / Development / Events / Facilities $ 7,452

TOTAL ADMINISTRATION $ 615,565

TOTAL EXPENSES $2,080,669

TOTAL NET GAIN (LOSS) ($82,376)

Our cash position is very strong – we have not utilized our line of credit since May 2015. Even though it was budgeted,

Portland Stage did not draw from our endowments in FY16. PS was cash neutral for the year. Depreciation, a non cash

event, was $120,327 which caused the net gain to be negative.
---
STATEMENT OF FINANCIAL POSITION FY16

30-Jun '16 30-Jun '15

ASSETS

Cash $ 464,508 $ 235,289

Accounts / Pledges Receivable $ 8,795 $ 22,345

Prepaid Expenses $ 29,082 $ 23,774

Bequest Portion $ 44,000 $ 42,000

Property & Equipment $ 2,636,444 $ 2,498,414

Less Accumulated Deprecation ($ 1,208,557) ($ 1,088,230)

$ 1,427,887 $ 1,410,184

Other Assets (Bequest / Investments) $ 1,151,431 $ 1,164,998

TOTAL ASSETS $ 3,125,703 $ 2,898,580

LIABILITIES

Notes Payable $ 1,130,334 $ 1,023,018

Accounts Payable / Accrued Expenses $ 31,453 $ 5,772

Deferred Revenue $ 568,562 $ 391,347

Other Liabilities (Notes, Leases, Deposits) $ 17,270 $ 12,983

TOTAL LIABILITIES $ 1,747,619 $ 1,433,120

NET ASSETS $ 1,378,084 $ 1,465,460

TOTAL LIABILITIES AND NET ASSETS $3,125,703 $2,898,580

STRATEGIC GOALS

To

reach

$1M

for endowments

in FY17.

To

sustain

5%

annual growth

in contributed

income.

To

achieve

90%

positive survey

responses.

ACCOMPLISHMENTS

100%

of Endowment

income

re-invested.

436

Rush35

members.

Over

700

pounds of food

donated during Lost

Boy Found in

Whole Foods.
---
DONORS 2015/16 SEASON

Executive Producer ($50,000 +)

Edwin F. Gamble Charitable Lead Trust

Susie Konkel

Producer ($25,000 - $49,999)

Davis Family Foundation

Mr. Harry W. Konkel

The Shubert Foundation

Executive Director ($15,000 - $24,999)

Brooks Family Foundation

George & Cheryl Higgins

Managing Director ($10,000 - $14,999)

Anonymous

L.L. Bean

Libra Foundation

Migis Hotel Group

Morton-Kelly Charitable Trust

Moser Family Foundation

Roy A Hunt Foundation

Louis & Prudence Ryan

Director ($5,000 - $9,999)

Anonymous

Bon-Ton Stores, Inc.

Margaret E. Burnham Charitable Trust

Fisher Charitable Foundation

Jebediah Foundation

Gordon Russell

Anna Marie & John E. Thron

Wex, Inc.

Wright-Ryan Construction

Production Manager ($2,500 - $4,999)

AAA Northern New England

Bangor Savings Bank

Drs. James & Susan Carter

Debra L. Coyman

Diversified Communications

Austin & Eileen Farrar

Ed & Jan Gerry

Goodwill Industries of NNE

Green Design Furniture Company

Steve & Carolyn Jenks

Ann Loughridge Kerr

Helen & George Ladd Charitable Corporation

Maine Arts Commission

Maine Theater Fund of Maine Community

Foundation

Judy Miskell

Ralph T. Perry & Mary Louise Seldenfleur

Hilary Rapkin & William Stiles

Backer ($1,000 - $2,499)

Jonathan & Nancy Aldrich

Anonymous (2)

Apple Lane Foundation

Tenney & Newell Augur

Sally & Ron Bancroft

Benjamin & Judy Bertram

Mr. & Mrs. John C. Bloom

Jane G. Briggs

Patricia A. Clark

Kris & Ken Conant

Doug & Carolyn Davis

Dr. & Mrs. Joseph R.D. deKay

DLMC Foundation

David & Heidi Fitz

Paul & Linda Draper

Ron & Donna Forest

Mr. & Mrs. Jay & Lenore Friedland

Cynthia Frye-Macomber & Robert

Macomber

Lisa Gorman

Bob & Marge Healing

Thomas L. Hinkle & Gary Duford

Derrick & Patricia Hollings

Brenda & Barry Holmes

David & Lynn Jourdan

Sara Kingdon & Dmitry Opolinsky

Cornelia Kittredge

Kenneth Spirer & Joan Leitzer

Peter & Kathleen Leslie

M & M Consulting, LLC

Maine Community Foundation

Blaine D. Moores

Marta Morse

Moriah Moser & Dan Morgenstern,

MD

Ann & Ted Noyes

Carole Palmer

Malcolm & Patti Poole

Harry & Anne Pringle

Charles W. & Melissa G. Redman

Redmond Family Foundation

The Robert & Dorothy Goldberg

Charitable Foundation

Elaine Rosen

Maxine Sclar & Robert J. Yamartino

Stephen D. Sears & Cathy Sears

Maggie & Stacy Stevens

Anita Stewart & Ron Botting

Gretchen Wetzel

Bryon Winn & Mauria Brough

Sue Yandell

Supporter ($500 - $999)

Tom & Diana Allen

Anonymous

Gregg & Emily Carville

Pamela Cleghorn

Timothy Cloudman & Lori Garon

Marilyn Coburn

Gerald & Susanne Colson

Karen L. Day

Beth De Tine

Carol De Tine & Roger F. Woodman, Jr.

Dan DiMillo

Mr. & Mrs. Charles W. H. Dodge

Elizabeth Ehrenfeld

Embers Stoves & Fireplaces

Lynne & John Erkkinen

Jim & Betsy Fitzgerald

Ken & Cheryl Freye

David & Dorothy Glendinning

David & Jane Good

Richard & Anna Hamilton

Peter & Judith Haynes

Katherine Heye

Alison & Horace Hildreth

Becky Hunt & John Monroe

Alice Wheatland Ingraham

Anne & Dick Jackson

Sheila & Philip Jordan

Peter & Nancy Kaye

Beth & Jamie Kilbreth

Hal & Brigitte Kingsbury

Lincoln & Gloria Ladd

Greg Lanou & Tracy Skillin-Lanou

Daniel Marra & Barbara Leonard

Bradford & Susan Matson

Margaretmary McCann

Irv & Kathy Meeker

Betsy Morrell

Lincoln & Allison Paine

Darrell Pardy & Carolyn Hughes

Nancy & Frank Read

Dixon & Susan Myer Riley

John M. Robinson Fund

Rachel & Joe Rosenfield

John Ryan & Jenny Scheu

Schwab Charitable Fund

William Shain & Sandra Lipsey

Peter L. Sheldon

Joseph & Susan Spagnola

Susan Stephens

Wendy & Eric Suehrstedt

Jennifer Tipton

Katharine Watson

Gail & Melvyn Zarr

Donor ($250 - $499)

Anonymous

Ann S. Waldron

John & Judy Adelman

Janice B. Adler

Joy & Chip Ahrens

Elizabeth & Ted Baker

Holly & John Benoit

Robert & Kristin Buckwalter

Lindsey & Andrew Cadot

Thomas & Pamela Carnicelli

Judith & Andrew Coburn

Jacqueline & Irvin Cohen Jr.

Steven Cohn

Happy & Ernie Copley

Nancy Crowell

Mr. & Mrs. Chase F. Donaldson

Barbey & Ned Dougherty Family

Fund of the Greater Cincinnati

Foundation

Mary C. Doughty

Susi Eggenberger & Doug Rogers

Michael & Jill Epstein

Karen & Fredric Farber

Dr. & Mrs. David Flavin

Barbara & Nicholas Fowler

Judy Gass

James Gertmenian & Susan King

Phyllis & Bernard Givertz

Dr. Jane Glass

Gorham Savings Bank

Laura Henderson & Will Rudy

Karen Herold & Mark Isaacson

Roslyn & Stefan Hershfield

Willard Hertz

Barry Hilton

Robin Ishmael

Herbert & Kathleen Janick

Charles & Jean Johnson

C. David Keith & Stephen Simpson

Bud & Wendy Kellett

Dennis & Sandra King

David & Nancy Kling

Steve & Polly Larned

Doug & Marianne Linder

Mary Griffith Lynch

Emily & Dick MacKenzie

William & Paige Mangum

Rob & Doris McAfee

William A. McCue

Peter & Eve-Susan McPheeters

Rick & Debby Molander

Mary K. & K. Scott Morrison

Jeffrey & Rowan Morse

WAYS TO GIVE

Individual Support: Your financial support of Portland Stage makes you a partner as we fulfill our

mission–and provides you with some great benefits, too! Your generous contributions give us the

ability to offer the engaging theater you have come to love, plus give back to our community.

Recurring Gift: Make a recurring gift and support Portland Stage year round!
---
Sandra & Richard Neiman

Lenny & Merle Nelson

Chip Newell & Susan Morris

Larry Nicks

James & Judith Parkhill

Sheri & Matt Poftak

Lloyd & Nancy Porter

James & Jane Puiia

Peggy & Lew Pusch

Lenore & Norman Rapkin

Gordon & Susan M. Richardson

Donna Rubin

Curtis & Cornelia Scribner

Sandra Scully

Joan & Nick Semenuk

Rick & Celeste Shinay

Kathy Silvia

Cathy Stankard & Gregg Palmer

Dennis Stepro & Charlene Wolfe-Stepro

Bruce Stone & Linda Burns

Deborah & Hall Thompson

Jane C. Wellehan & David Ruff

Natalie West & Robert Sellin

Tom & Willo Wright

Anne B. Zill

Investor ($100-$249)

Christenia Alden-Kinne

Jonathan & Ruth Appleyard

Charles & Sarah Arnold

Greta Averbach

Ann Babbitt

Steve & Brenda Babirak

Robert Bahm & Jan E. Baker

Peter & Lyn Ballou

Mary G. Barthelman

Katharine Bassett

Marjorie Belanger

Thomas & Marjorie Berman

Dave & Nancy Berrang

Don Bessey

Richard Boisvert

Jim & Sarah Bowie

Nona & Doug Boyink

Dr. Rebecca Brakeley Wall & Mr. Jesse

Wall

Jamie Hogan & Marty Braun

Emily & Norman Breitner

Susan Bruce & Rick Hauck

Dan & Dale Bryant

Anthony S. Bucci

Malcolm Burson & Eleanor Goldberg

Nan Butterfield

Paul & Stephanie Castle

Bill Chance & Deb Wray

Christopher Clark

Rae Clark-McGrath

Carol & Lindsay Copeland

Lawrence & Janet Crane

Robert & Judith Crown

Bill Daviero

Endicott & Nanette Davison

Joe & Audrey Delafield

Jonathan & Bonnie Dietz

Shannon Dowdle

Mary Lou Dyer

East Brown Cow Management

Nancy Egan & J. Otey Smith

David Ellenstein

Marvin Ellison & Frank Brooks

Guy Emery

James & Diana Fallon

Maxine Farber

Mr. & Mrs. James M. Farr

David N. Fisher

David Fluharty & Linda Hjortland

Allen & Sally Foehl

Richard Evans & Jean Foy

George & Martha Gilmore

Matthew & Lynn Goldfarb

Carol Goloff

Peter & Carin Green

Dawn Hagin

Marion & Stephen Hall

Peter & Janice Hanson

Marjorie M. Hassan

Janet Henry & Vernon Moore

William Holtzman

Janet Hryniewicz

Elizabeth & Christopher Hunt

Susan E. Hunter

Sandra Jensen & Samuel Broaddus

Daisy Kaplan

Eric Kawamoto

Frances Keene

Patrick & Valerie Kelly

Carol F. Kessler

Paul M. Knight

Marilyn A. Lalumiere

Neil & Cathy Lamb

Nathaniel Larrabee II & Joyce N.

Larrabee

Denise LaRue & Bob Furman

Stephen Legawiec & Dana Wieluns

Legawiec

Richard & Nancy Lemieux

Mike & Meg LePage

William & Donna Locke

Martin Lodish & Kristin Schardt

Theda Logan

Jane & John Lunt

Dr. Chris Lutes

Elizabeth Margolis-Pineo

Susan Margonelli

James & Anne Marsh

John & June McClean

Frank & Susan McGinty

Roger & Latie McLean

Sarah S. Meacham

Barbara & Steve Melchiskey

Joseph & Gloria Melnick

Frank & Nancy Miles

Ellie & Charlie Miller

Jim Millinger

Conner & Wendy Moore

J. Mason & Margaret Morfit

Ellen Murphy

Dr. Donald & Mrs. Murray

Margaret Myatt

Michael Nash & Janice Gregg

Leonard & Nancy Nemon

Elizabeth Niven

John & Karen O'Brien

John & Denise Palmer

Richard & Carole Palmer

James & Diane Paterson

Linda & David Pence

Ted Reed & Susan Pollis

Victoria S. Poole

Carole A. Pope

Barbara Psichos

Hope Putnam

Janice Rey

Leslie Richfield & Scott Horton

James & Anne Rose

Larry & Robin Rubenstein

Bonnie B. Rukin

Stephen Ryan & James Bishop

Dr. & Mrs. Hilton Ryder

Jennifer Sarah

Glenn & Sonnhilde Saunders

Elena Schmidt

Carol Schreck

Tracy Schroeder & Ken Rotner

John & Sheila Schwartzman

Mike & Pam Schwotzer

Elizabeth Scully

Mr. & Mrs. Frank Seabury II

Alexander & Rumena Senchak

Orrin & Linda Shane

Linda Shary & Jeffery Logan

Scott & Nancy Sheriff

Mr. & Mrs. Paul Shiebler

John & Janice Siegle

David Small & Betty Bricker-Small

Mark & Judith Smith

Richard & Patricia T. Smith

Sarah Smith

Alan & Jonell Solander

Mary & Scott Steidl

Lynn & Allen Stevens

E.C. Stiker

Frank & Carrie Strasburger

David & Kathleen Stuchiner

Judith & Peter Sullivan

Kristin G. Sweeney

Volney & Kathleen Taylor

Adam Thibodeau

Carrie Thomas

Adam R. Travis

Nina & Robert Trowbridge

Mary Turner

Cheslye & John Ventimiglia

Meg Thompson Villarreal

Elizabeth Volckening

Patty & Lyle Voss

Nancy Wade

Brian & Mary Anne Wallace

James & Mary Lee Ward

Diana Washburn

Joel Cutler & Lucinda Wegener

David & Susan Wheatland

Kay White

Judy & Norman Wilson

Ms. Lois Winter & Ms. Val Healey

Jon Wojciechowski

Rick & Janet Wolf

Bill & Patty Zimmerman

In Memory Of

John Heye,

given by George & Cheryl Higgins

Ruth G. Salzberg,

given by Meryl Troop & Paul Lichter

Sam Silver,

given by Margaret Myatt

Dorothy McCann,

given by Deborah Hayden

Josiah Drummond,

given by Marion & Stephen Hall

Wilma Redman,

given by Susan H. Hasty

Susan Camardo Reilly,

given by Ellen Murphy

Company Match: Consult your employer about ways to increase the value of your giving.

Corporate Support: Our corporate partners share our belief in the importance of artistry, education &

community, while benefiting from the visibility that a sponsorship can provide.

Planned Giving: Including Portland Stage in your estate plans can offer tax advantages to your

beneficiaries while providing long term support for the theater that you love.
---
VOLUNTEERS

USHERS, GREETERS, STITCHERS, OFFICE ADMINISTRATORS & MORE

Greg Adams

Maddie Akeley

Deb Alford

Bonnie Amadei

Sue Andelman

Steven Andelman

Joan Anderson

Ro Anderson

Sherry Andre

Debbie Andrews

Priscilla Armstrong

Elizabeth Atwood

Steve Barmore

Wendy Barmore

Steve Bates

Kathy Beach

Lynne Beasley

Synawata Belanger

Dotty Bennett

Janet Bentz

Sue Bergoffen

Gene Bergoffen

Keith Powell Beyland

Vanessa Winfield Beyland

Pat Bittermann

Barbara Black

Eric Blanchard

Judith Blanchard

Linda Blanton

Steve Bourey

Lisa Bowe

Deborah Boyajian

Janice Boyko

Jim Boyko

Jim Braley

Meg Braley

Sharon Brobst

Rich Brobst

Meg Broderick

Shannon Broderick

Sandy Brooks

Bruce Brown

Diana Lee Brown

Danton Brown

Dottie Bruce

Sue Bryer

Connie Burns

Dianne Catalano

Jennifer Caven

Jan Chapman

Susan Chapman

Sara Cheney

Lou Christen

Patrick Christian

Kathy Clark

Pamela Cleghorn

Virginia Collins

Amber Collins

Sue Comyns

Michael Connolly

Bill Cook

Florence Cooley

Ruth Corbett

Johanna Corman

Anne-Marie Craven

Paul Craven

Lynne Cullen

Jim Czimbal

Judi Czimbal

Brain Daly

Laurel Daly

Pauli Daniels

Laurie Davis

Anne Demers

Noel DeYoung

Kim DiMillo

Josie DiPhillipo

Kathy DiPhillipo

Esphabad Dodd

Elizabeth Dodson

Paul Dodson

Priscilla Donahue

Norm Drucker

Ann Dugovic

George Dugovic

Alleen Eastwood

Carol Eisenberg

Sheila Emple

Richard Estabrook

Claire Feeney

Jody Fein

Linda Fenton

Mary Jane Ferrier

Susan Fine

Leslie Flemming

Robert Fowler

Adam Frederick

Sally Gaffney

Linda Gaumond

Buzz Gautreau

Daryl Geer

Madeline Gielow

Bob Geilow

Gaetane Gonyea

Shirley Grange

Jess Grasso

Benson Gray

Paula Greenlee

Mary Griffin

Andrea Handel

Tom Handel

James Hastrich

Laurie Hasty

Barb Hauke

Steve Hauke

Ann Havener

Ceci Haynsworth

Charlotte Herrick

Ted Herrick

Robb Hetzler

Luisa Hetzler

Sharon Hickey

Myrna Higgins

Rebecca Hitchcock

Ann Hitzrot

Richard Horton

James Hostrich

David Howe

Sally Howe

Bob Irwin

Irish Irwin

Bob Islet

Sue Isler

Andy Jennings

Laurie Jensen

Sheila Jepson

Nora Johnson

Sally Johnston

Anita Jones

Spencer Jones

Susan Jones

WAYS TO VOLUNTEER

Volunteers help us keep the theater moving forward. It takes a lot of hands and helpers to produce the

exceptional theater that our audiences have come to expect. Consider helping us out as a volunteer, and

make as big or as small a time commitment as you can!

Ushers: Sign up to usher for our performances! Ushering can involve anything from taking tickets to

working concessions during intermission to guiding patrons to their seats. The best part? You get to see

the show too!
---
Murial Kenderdine

Richard Kimball

Tirrell Kimball

Margaret Kimball

Karen Kirk

Mary Ann Kotros

Rachel Krawczyk

Sheera LaBelle

Bernie LaBreck

Denis Lachman

Ginny LaCroix

Jeanne LaJoie

Linda LaRoche

Barbara Larrivee

Ana Lazar

Livia Leigh

Carole Logan

Tom Logan

Frank Lorello

Jeremy Lota

Karen Luse

Rick Lynch

Susan Maccalous

John Maclaine

Emily Mahaffey

Linda Malaquist

Rick Malaquist

Paul Manoff

Ray Marcotte

Crystal Marshall

Rosemary Mason

Jane Ann McCabe

Marie McCann

Shaden M. McCann

Deborah McCoy

Martin McDonough

Sharon McHold

Maureen McHugh

Donna Melancon

Jean Meyer

Sarah Mills

Judith Mitchell

Bruce Moore

Brad Morrison

Betsy Morrison

Ann Morse

Joan Mueller

Louise Munsen

Pat Murray

Roberta Muse

Josephine Mussomeli

Reta Nappi

Julie Neuls

Sandy Nickerson

Dennis Noonan

Marcia Noyes

Elizabeth Oatley

Brian O'Connor

Linda O'Donnell

Jackie Olivieri

Terry O'Sullivan

Mary Palmer

Ruby Parker

Joyce Parker

Sandra Paul

Richard Peltier

Janice Peltier

Larry Perkins

Delene Perley

Jim Perley

Lenora Perry

Gay Peterson

Elaine Piccini

Jon Pomerleau, Jr.

Jim Price

Paula Proctor

Tracy Quadro

Susan Quimby

Joe Quinn

Vestay Rand

Sam Rapaport

Val Razsa

Marie Reidman

Jeffrey Roberts

Janet Roberts

Gail Robertshaw

Chris Robinson

Jack Rogers

Mary Rokosz

Stephanie Cooper Scherr

Sally Serunian

Tom Settlemire

Claire Shea

Marilyn Sherry

Jerry Sherry

Roy Shigley

Martha Simpson

David Simpson

Linda Skinner

Kiya Smith

Whitney Smith

Jerry Sherry

Geri Stiles

Kathleen Stokes

Marjorie Stone

Stephen Strand

Mary Ann Strand

Mary Stuart

Jonathan Swan

Lyn Swan

Tina Takacs

Audrey Tanner

Sondra Taylor

Audrey Tanner

Donna Thivierge

Ralph Thivierge

Maria Thompson

Kathy Tosney

Edie Tucker

Linda Twomey

Cheslye Ventimiglia

Pam Waite

Laura Waite

Liz Walsh

Cathy Walz

Norm Walz

Jean Wandel

George Watson

Linda Webb

Bruce Webb

Lesli Weiner

Deena R. Weinstein

Martha Welty

Lisa Wendler

Wolfgang Wendler

Bart Weyand

Tricia Weyand

Denver Rey Whisman

Ellen Elizabeth White

Rob Wood

Cheryl Worcester

Ginny Wright

Joseph Wrobleski

Liz Wyrick

Neil Wyrick

Ilse Yanis

Lynn Young

Brent Zachau

Mark Zema

Roberta Zuckerman

Barry Zuckerman

Office Administration: Put your name on our call list for office help. Let us know you're interested

and we'll give you a call to help us out with anything from mailings to taking actors on grocery runs to

lending a hand with special events.

Stitchers: Every Portland Stage show has new costumes designed and created right here in our costume

shop. Interested in meeting new people who share your interest in sewing and theater? Join our volunteer

stitchers today!

Call Development at Portland Stage at 207.774.1043 x110 for more information.
---
VISION FOR THE FUTURE

As a leading arts institution in our state, Portland Stage is a hub of creative activity. Our community takes pride in the theater

and actively engages in its wide range of first-rate productions and transformative programs. Our nationally known innovative

education programs are built with the same rigor as our professional productions. Acknowledged as a gem in the theater field,

our productions attract outstanding artists as well as a diverse audience, while our artistic programs incubate new work and

inspire new artists. Our open and inviting building allows artists and audiences to connect around the work which is relevant

to our community and sparks discussion and dialogue. We have strong financial underpinnings and an effective staff and

Board, which allow continued innovation and improvement. We are transparent in our objectives and collaborate with other

like-minded institutions.

OUR VALUES

Our work is always evolving to stay relevant. We are entrepreneurs who innovate, ask questions, cultivate and incubate. From

artists to audience, from long time subscribers to interns and students, our productions, as well as our education and artistic

programs, continually evolve to meet the needs of our constituents, thus remaining relevant to our community.

Our work engages, connects and builds understanding. Through the intimate, personal exchanges that happen through live

theater and hands-on programs, we help to shape our community and build greater understanding of the "other." We interpret

and share stories from around the world to better understand ourselves and our place in the world.

Our work is created in our community for our community. Building productions from the ground up, we combine the best local

talent with artists from around the nation. We engage our community in this process and build lasting relationships as a result.

Our artists interact with students and the broader community, deepening these connections.

Credits: Harvy Blank* & Kim Staunton* in The Mountaintop by Katori Hall; Cast of Dancing at Lughnasa by Brian Friel; Tyrone Davis Jr.,* Jamil A. C.

Mangan,* Corey Turner in Lost Boy Found in Whole Foods by Tammy Ryan; Donetta Livinia Grays* in Veils by Tom Coash

*Member, Actor's Equity. Photos: Aaron Flacke, Todd Brian Backus, Samara Yandell.
---
Thank you!

STAFF

Executive & Artistic Director Anita Stewart

Business Manager Paul Ainsworth

Properties Master Meg Anderson

Literary Manager Todd Brian Backus

Scenic Carpenter Daniel Brodhead

Social Media & Marketing Associate

Lena Castro

Education Manager Hannah Cordes

House Management/Box Office Associate

Chris DeFilipp

General Manager Megan Doane

Technical Director Ted Gallant

Stage Manager/Group Sales

Myles C. Hatch

Production Manager/Lighting &

Sound Supervisor Emily Kenny

Company Manager Alex Kimmel

Finance Director Martin Lodish

Assistant Box Office Manager

Renee Myhaver

Director of Communications, Marketing &

Audience Engagement Eileen Phelan

Development Assistant Elinor Reina

Education Administrator Julianne Shea

Audience Services Manager Donald Smith

House Management Associate

Adam Thibodeau

Costume Shop Manager Susan Thomas

Stage Manager Shane Van Vliet

Development Director Samara Yandell

INTERNS

2016/17 Season

TJ Baldassare

Lynda Birt

Charlotte Brooks

Ian Chace

Julia Fitzgerald

Colby Frederick

Victoria Heikenfeld

Megan Lampron

Tyler Metteer

Gary "Chipper" Morris

C.M. Taylor
---
PORTLANDSTAGE

The Theater of Maine

25A Forest Ave, Portland ME 04101

www.portlandstage.org | 207.774.1043