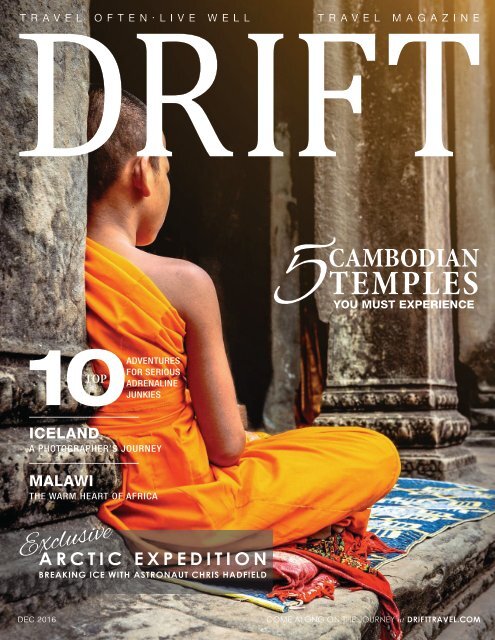 DRIFT Travel Dec 2016
In this issue of DRIFT, our passionate team brings you a diverse range of travel stories that range from luxury to outrageous; from the comforts of home to the far corners of the earth.
In this issue of DRIFT, our passionate team brings you a diverse range of travel stories that range from luxury to outrageous; from the comforts of home to the far corners of the earth.
SHOW MORE
SHOW LESS
Create successful ePaper yourself
Turn your PDF publications into a flip-book with our unique Google optimized e-Paper software.
TRAVEL OFTEN . LIVE WELL

TRAVEL MAGAZINE

CAMBODIAN

TEMPLES

5YOU MUST EXPERIENCE

10

ADVENTURES

FOR SERIOUS

TOP

ADRENALINE

JUNKIES

ICELAND

A PHOTOGRAPHER'S JOURNEY

MALAWI

THE WARM HEART OF AFRICA

Exclusive

ARCTIC EXPEDITION

BREAKING ICE WITH ASTRONAUT CHRIS HADFIELD

DEC 2016

COME ALONG ON THE JOURNEY at DRIFTTRAVEL.COM
---
GET YOUR COPY

in PRINT

CLICK TO SUBSCRIBE

Subscribe now and save 25%

Use coupon code: save25

2 . DRIFTTRAVEL.COM
---
The Case for Better Travel.

www.raden.com
---
DEC 2016

COME ALONG ON THE JOURNEY at DRIFTTRAVEL.COM

INSIDE this issue

ISSUE'S TOP 10 8 Thrills of a lifetime.

18 ARCTIC EXPEDITION

Polar bears, glaciers and an astronaut.

TRAVELLING EDITOR

30 St. Regis Punta Mita, Mexico

AT A GLANCE 34 Riomaggiore, Italy.

36 CAMBODIA

5 Siem Reap temples you must visit.

46 BEAUTIFUL BALI

Two locations, one lasting impression.

62 WHISTLER, BC.

Romancing the snow - without skis.

TRAVEL OFTEN . LIVE WELL

ADVENTURES

FOR SERIOUS

TOP ADRENALINE

JUNKIES

10

ICELAND

A PHOTOGRAPHER'S JOURNEY

MALAWI

THE WARM HEART OF AFRICA

Exclusive

ARCTIC EXPEDITION

BREAKING ICE WITH ASTRONAUT CHRIS HADFIELD

TRAVEL MAGAZINE

CAMBODIAN

TEMPLES

5YOU MUST EXPERIENCE

52 LIFE & STYLE

How to pack stylishly for the tropics.

54 SAN FRANCISCO

Three restaurants we loved.

56 MALAWI

Warm heart of Africa.

66 TRAVEL GEAR

Pack more and spend less.

68 ICELAND

A photographic journey.

80

#WHERETONEXT

Canouan Island, St. Vincent and

the Grenadines.

HOLIDAY 2016

Whether your travel itch this

season is adventurous, serene,

frosty or tropical, it's all

inside this issue of DRIFT.

Come along on the journey.

2 . DRIFTTRAVEL.COM
---
Cathay Pacific Airways Limited

Travelling well

means rest assured.

Explore other travellers' #lifewelltravelled experiences

and share your own memorable moments.

cathaypacific.com/lifewelltravelled
---
4 . DRIFTTRAVEL.COM
---
a travel note from the

EDITOR

For travel lovers like you and me,

the cold weather doesn't mean

hibernation. It means finding world

destinations that embrace the season

and introduce us to new experiences

that broaden our minds and add to

our passport stamp collections.

30

In this issue of DRIFT, our passionate team

brings you a diverse range of travel stories that range from luxury to

outrageous; from the comforts of home to the far corners of the earth.

Whether your travel plans include a fun family road trip across the

United States, or a grueling solitary trek across the desert, I understand

how much you love to travel. I do as well and that is why I work hard to

ensure that each issue of DRIFT travel magazine is beautifully curated,

artistically crafted and chocked full of travel inspiration. Come along

on the journey!

30

Travel often and live well,

Tracey Drake

Editor-In-Chief & Creative Director

editor@DRIFTtravel.com

Connect with me on

Instagram: @TraceyDrakeEditor

54

Oh, the places I've been!

30

BEACH FRONT BEAUTY

IN PUNTA MITA

Forty minutes from Puerto Vallarta,

St. Regis Punta Mita provides a

Mexican luxury haven, far away

from the pressures of everyday life.

54

CULINARY CRAWL IN

SAN FRANCISCO, CA

After spending three days in Cali's

eccentric coastal city, I'm excited

to share three amazing culinary hot

spots you must try - and soon!

80

A SPECIAL LITTLE

CARIBBEAN ISLAND

In this issue, our #WhereToNext

is Canouan, a tiny island in the

Caribbean that got my attention,

and it will grab yours too.

TRAVEL OFTEN . LIVE WELL . 5
---
PUBLISHER

GLOSSY MEDIA

EDITOR-IN-CHIEF | CREATIVE DIRECTOR

TRACEY DRAKE

PRODUCTION/EDITORIAL TEAM

BONNIE CONRAD, JANE CROSS, ELIZABETH DEAN,

TRACEY DRAKE, LAURA FRIIS, KERI HARVEY, ERIC HIMEL,

WILLIAM LAKE, PETER MANDEL, JOSIE SALDAT, TODD

TALBOT, SYLVIA TENNANT

CREATIVE | PHOTOGRAPHY

GALYNA ANDRUSHKO, ADOBE STOCK, SERGE

BERTASIUS, STEVE DRAKE, FEATUREWELL, LAURA FRIIS,

CHRIS HADFIELD, ERIC HON, DENIS KABANOV, KARIN

KAMON, CHRISTIAN MUELLER, VADIM PETRAKOV,

MICHAEL PICCAYA, EKATERINA POKROVSKY, MEGAN

SCRAPER, SHUTTERSTOCK, DEBBIE STEEPER, ST. REGIS

PUNTA MITA, DIETMAR TEMPS, BARRY TUCK, ANDREY

VERGELES, JIXEN YU

SALES & CIRCULATION DIRECTOR

STEVE DRAKE

ADVERTISING & PUBLISHING RIGHTS INQUIRIES

sales@DRIFTtravel.com | www.DRIFTtravel.com

Published by: Glossy Media

All rights reserved. No part of DRIFT magazine may be

copied or reproduced without permission.

© COPYRIGHT DRIFT TRAVEL MAGAZINE

GLOSSY MEDIA

2015-2016

6 . DRIFTTRAVEL.COM
---
TRAVEL OFTEN . LIVE WELL . 7
---
Enjoy the Thrill of a Lifetime

TOP

10by: BONNIE CONRAD

Ultimate Adventures for

Adrenaline Junkies

8 . DRIFTTRAVEL.COM
---
For some people, the perfect vacation means relaxing on the beach and reading a good book, but for

the adrenaline junkie, that kind of staid getaway simply will not do. Whether you love to surf and

kayak or climb and explore, the world gives you plenty of ways to indulge your love of adventure travel

and get your fill of adrenaline rushes. Here are 10 great destinations for travelers who are not afraid to

put themselves out there, in search of the next great adventure.

TRAVEL OFTEN . LIVE WELL . 9
---
1

Diving the

Great Barrier Reef

If you love diving, it is hard to beat

the beauty and drama of the Great

Barrier Reef in Australia. You'll

probably want to stay away from the

touristy places and book your trip

with a local who understands your

need for adventure. Once you n the

Great Barrier Reef is the most popular

dive spot in the world.

2 Kayaking

in Belize

Belize is a land of natural beauty, with stunning rainforests and abundant

wildlife at every turn. The water sports here are exceptional as well, and

guiding your kayak down its raging rivers (Moho River is a fast water dream

for kayakers) will certainly get your adrenaline pumping.

3Rock Climbing

Yosemite

A favorite spot for rock climbing

is Yosemite in California's Sierra

Nevada mountains. The stunning

rock formations known as El

Capitan and Half Dome are the

most popular climbing locations,

but there are hundreds of other

lesser-known places to throw a

line and get your fill of adrenalinefueled

adventure.

10 . DRIFTTRAVEL.COM
---
TRAVEL OFTEN . LIVE WELL . 11
---
12 . DRIFTTRAVEL.COM
---
4Skydiving in Interlaken,

Switzerland

Can you imagine yourself leaping

from a plane into the great blue

yonder and enjoying breathtaking

views of the Swiss Alps? That is

exactly what you will experience

when you visit Interlaken, an

underappreciated part of the Swiss

countryside that simply must be

seen to be believed. Interlaken is

truly a paradise for fans of fun,

with skydiving and paragliding

opportunities at every turn. If you

love to fly, Interlaken is the place to

get your wings.

5Running with the

Bulls in Pamplona

Adult men and women can run in the footsteps of Papa Hemingway by

fleeing from 1,000-pound bulls on the run through the streets of Pamplona,

Spain. The 2017 Running of the Bulls is July 4-15, 2017 with daily bull runs

and nightly street parties.

6

Volcano Boarding in

Nicaragua

If you are a true thrill seeker, you

have gone dune boarding. Maybe

you even traveled to locations in the

Middle East and North Africa to

indulge your passion. But have you

ever boarded down the side of an

active volcano? When you travel to

the wilds of Nicaragua you can do

just that. Nicaragua is one of the few

places where you can sail down the

side of an active volcano, and while

it is not for the faint of heart, volcano

boarding is an experience you

will not soon forget.

TRAVEL OFTEN . LIVE WELL . 13
---
7

Scaling the Top of

Mount Everest

For the expert climber, Mount

Everest represents the literal and

figurative pinnacle of the sport.

The climb is arduous and the risks

are quite real, and when you reach

the summit, you will be part of a

small and exclusive club. Even the

Nepalese foothills around Mount

Everest are filled with unique

encounters, so plan to spend some

time getting to know the area. A trip

to Mount Everest is truly the thrill

of a lifetime, perfect for anyone in

search of stimulation.

8

Braving the Skywalk at

the Grand Canyon

Imagine walking out onto a ledge

and stepping into oblivion. That is

exactly what you can do on the west

side of the iconic Grand Canyon

in Arizona. The installation of a

glass walkway extending over that

massive canyon was big news, and

now that it has been completed, the

walkway is a big hit. The floor of

the walkway is glass, but so are the

walls. The Grand Canyon walkway

is the perfect place for adrenaline

junkies to test their mettle.

14 . DRIFTTRAVEL.COM
---
9

Hiking in

Death Valley

It would be hard to find a more

extreme environment in which to

indulge your love of hiking than

Death Valley. Conditions in this part

of Eastern California are extremely

dry, and natural sources of water are

almost nonexistent. As if that were

not enough, there are poisonous

lizards, dangerous snakes and all

manner of scary desert wildlife. The

average traveler would wonder why

anyone would want to hike here,

but for the adrenaline junkie it is

all about pushing limits and seeing

what they are capable of.

10

Surfing Big Waves

in Hawaii

If you have always wanted to ride

the biggest waves, Hawaii should

be your travel destination. The

Hawaiian islands are renowned

for their enormous waves, and

the surfing here is outstanding.

Whether you are an experienced

surfer or a relative newcomer, you

can find waves that suit your needs

and abilities. Hawaii is also the

perfect spot for solo travelers, with

lots of new friends to make and

pristine beaches to explore.

TRAVEL OFTEN . LIVE WELL . 15
---
every single day, more than

EIGHT MILLION PEOPLE

get on an airplane & travel

Those who love to travel crave information on new countries to visit, exciting sights to see and once-in-a-lifetime adventures

to experience. DRIFT covers all the travel bases for our readers; from hotels, airlines and cruises to city guides, culinary

destinations, secret beaches and must-have accessories.

Published six times a year, DRIFT is an exciting magazine that is a pleasure to read and an inspirational resource for travel lovers.

Working with many of the best travel experts in the industry, each issue of DRIFT offers up articles on exotic destinations, city

secrets, adventure meccas, resort reports, global hot-spots, grab-n-go technology and travel gear. Using our publication mantra

"travel often, live well" as a launching point, DRIFT is filled with exclusive editorial on where to go, how to get there and what to do

once you arrive; stories punctuated with meaningful, useful, expertly written travel guides and awe-inspiring travel photography.

share your story

with MILLIONS of

travel lovers

ADVERTISING, ADVERTORIAL & PRODUCT PLACEMENT:

sales@DRIFTtravel.com

TOURISM PR & PARTNERSHIPS:

editor@DRIFTtravel.com

TRAVEL WRITER & PHOTO JOURNALIST SUBMISSIONS:

submissions@DRIFTtravel.com

16 . DRIFTTRAVEL.COM
---
Tidal bore rafting.

There's nothing quite like that moment when the river shifts

directions and goes from serene to exhilarating. And just think,

rafting the most extreme tides in the world is only one of the

things in Nova Scotia that will make your heart skip a beat.

A real-life

discovery

channel.

Explore all there is to do at NovaScotia.com

TRAVEL OFTEN . LIVE WELL . 17
---
18 . DRIFTTRAVEL.COM

Working icebreaker Kapitan Khlebnikov
---
POLAR BEARS, GLACIERS & AN ASTRONAUT

ARCTIC EXPEDITION

Words and photography: Laura Friis

M

y polar obsession began in 2005, with my

first trip to Antarctica. Perhaps because of

my biologist background, my travels have

taken me to the earth's wild places, where

the impact of human activity is less (but never absent) and

you can escape the noise and trappings of civilization to

some extent and see how the world once was.

In the summer of 2016, there was a remarkable

opportunity to do something truly special: the Kapitan

Khlebnikov, a Russian icebreaker, was planning a

circumnavigation of the Arctic Ocean. Affectionately

known as the KK, she had spent many years as a tourist

ship with Quark Expeditions but had gone back to her

regular icebreaking duties in Russia in early 2012. So

top ice class expedition ships rarely go, and the helicopters

gave us unparalleled access to remote areas.

The KK, on this leg of the voyage, was going to try to cross

into the Canadian Arctic along the north coast of

Greenland. The Arctic sea ice is diminishing every year,

but what thick multi-year ice there is tends to accumulate

along the northeastern part of the Canadian Arctic and

the top of Greenland, so we knew it would be a challenge.

We encountered sea ice the day after leaving Svalbard, and

spent two days trying to find a way west along the

Greenland coast. As polar travelers know, the quickest way

through ice is to go around it, so although we did a bit of

ice-breaking, mostly we were just pushing our way

through leads and between floes, eventually reaching a

I BOOKED A TICKET TO GREENLAND

and boarded Kapitan Khlebnikov, a working icebreaker, for an

adventure to circumnavigate the Arctic Ocean.

when I was informed of her return, "Book me to

Greenland!" I said. And, not long after, "and the Canadian

High Arctic too!"

And so, at the end of July, I was on my way to

Longyearbyen in Svalbard, to meet up with the ship.

Icebreakers are a different design than regular expedition

ships. The KK is a working icebreaker, 123 meters long,

with 24,000 horsepower and a cruising speed of 15 knots

in open water. In expedition mode, she carries a

maximum of 110 guests, six zodiacs, and two helicopters.

Her hull strength means she can venture where even the

northern point of 81° 25' N (about 500 nautical miles

from the North Pole). Then, facing massive pressure ridges

across nearly solid sea ice cover, and with no leads visible

from satellite imagery or helicopter flights, the Captain

made the decision to turn back.

After the initial excitement of boarding the ship and

learning our way around; the lifeboat drills, zodiac travel

briefing, helicopter travel briefing, and polar bear safety

briefing ("Can you run 100 meters as fast as Usain Bolt?

Well, a polar bear can"), life aboard settled into something

approaching a routine. The ship carried a full complement

of specialists in the Arctic – culture, history, geology,

TRAVEL OFTEN . LIVE WELL . 19
---
KK anchored opposite Quttinirpaaq National Park

headquarters, Tanquary Fjord, Ellesmere Island

glaciology, wildlife biology, so no matter what the

question, someone knew the answer. Most important, the

goal of the expedition team was to get us off the ship as

much as possible.

We spent the first several days exploring Northeast

Greenland National Park, the largest national park in the

world – larger than British Columbia - and a UNESCO

World Heritage Site. Then we continued on south,

exploring all the fjords, glaciers, archaeological sites (both

Thule and Norse), Sirius patrol stations and communities,

from Ittoqqortoormiit to Tasilaq, Nuuk, Kangerlussuaq

and Qaanaaq, that we could access as we traveled along

the coast.

We had two types of shore excursions, both preceded by a

helicopter flight to check for bears and hiking routes, and

then a few of the expedition team, appropriately armed,

going in to set up a perimeter or to take groups hiking. If

the weather was calm and a beach accessible, we would go

ashore by zodiac (no docks here) and then go off in groups

(chargers, who go for distance and elevation, medium

walkers, and contemplative meanderers who are more

interested in examining the landscape around them than

going for distance.) I belong to the latter. The chargers

may see more muskox, but we probably come out ahead

with lemmings, wheatears and ptarmigan.

Alternatively, the team would find us a nice open spot,

usually elevated and with good vantage points and fabulous

views of glaciers, fjords and ice, to fly us to, so we could

meander at will while the gun bearers kept watch.

In either case, I would often find a spot to just sit,

experience the near total silence (something nearly

impossible at home), observe the wildlife and just absorb

the stunning landscapes around me.

Because of the near-24-hour daylight, if an amazing

opportunity presented itself, we could be off in zodiacs or

helicopters at nearly any hour. In the end, this is an

expedition, and ice and weather, and of course our

Captain, are ultimately in charge.

Greenland is 80% covered by an ice sheet with an average

thickness of 1500 meters. Around the periphery of the ice

sheet are innumerable glaciers, flowing inexorably

downwards. Over millennia, the landscapes have been

20 . DRIFTTRAVEL.COM
---
carved by the glaciers, revealing a geologist's dream of a

country, ancient rocks exposed by the irresistible power of

the ice. As a glacier melts, vast quantities of rocks of all

sizes are deposited in a jumbled heap along its edges and

at the front. Huge rocks are left on the landscape randomly

as the glacier retreats - and the glaciers are definitely

retreating. As we sailed south along Greenland's coast, we

did see glaciers reaching tidewater, but many more just

visible on the mountainsides.

We could tell areas which had been recently glaciated by

the presence and extent of lichen on the exposed rocks.

Lichen grows very slowly, so the size of the patches on

rocks can be an indication of when the ice retreated, and

can easily be decades or hundreds of years old.

Although we were far above the treeline, there were still

trees. Arctic willow and birch are most common, but they

grow along the ground rather than upright, and can also

reach ages of many decades. Like their upright cousins to

the south, these trees also change color in the fall,

producing vivid splashes of red and orange across the

landscape. As I walked over the tundra, I found myself

Aerial view of lake on glacier, Scoresbysund

Icebergs at Ilulissat with ground vegetation

TRAVEL OFTEN . LIVE WELL . 21
---
Photo credit: Chris Hadfield

Writer Laura Friis (center) with astronaut Chris Hadfield (left)

and son Evan Hadfield (right)

apologizing to the lichens and old trees I was walking

over, hopefully not damaging them with my passage.

When, after three weeks, we reached Kangerlussuaq on

Greenland's west coast, it was time for most of the

passengers to head home and a new group to join us

aboard, to explore the rest of Greenland's coast and then

sail west into the Canadian Arctic. Among the joining

passengers were Canadian astronaut Chris Hadfield and

son Evan, and with them, the team of Generator Arctic, a

group of photographers, writers and musicians, none of

whom had been to the Arctic before. Unlike the previous

three weeks, when the passengers were all seasoned polar

travelers, we now had an amazing group of very talented

people experiencing all of this for the first time. And that

in turn improved my own experience immeasurably, by

seeing these incredible landscapes all over again, through

their eyes. We heard fascinating space stories from Chris

and some intriguing talks from the Generator team –

AND they brought guitars making for memorable evening

music in the bar.

We continued north, exploring another UNESCO World

Heritage Site: Ilulissat and the adjacent Sermeq Kujalleq

glacier, which is flowing at several kilometers a year (up to

45 meters a day), produces enormous numbers of icebergs

(35 billion tonnes per year, more than any other glacier

outside Antarctica). We spent an exhilarating few hours

zodiacing among these massive icebergs with occasional

humpback whales for company. Despite the volume of ice

flowing from the main ice sheet, the active face of this

glacier is retreating every year.

22 . DRIFTTRAVEL.COM
---
CANADIAN ASTRONAUT

CHRIS HADFIELD,

SON EVAN AND THE GENERATOR ARCTIC

TEAM JOINED US THREE WEEKS IN.

Village of Uummannaq, NW Greenland

TRAVEL OFTEN . LIVE WELL . 23
---
24 . DRIFTTRAVEL.COM
---
WITH NEAR 24-HOUR DAYLIGHT,

IF AN AMAZING OPPORTUNITY PRESENTED ITSELF,

WE COULD BE OFF IN ZODIACS OR HELICOPTERS

AT NEARLY ANY HOUR.

Big ice.

That is part of what draws so many of us back. From the

gigantic white blocks of ice calving from the glaciers of

Scoresbysund or Ilulissat, maturing over the years as they

roll and split and age, displaying incredible shades of blue,

textures from pebbled to ridged to as clear as glass, every

iceberg is different and beautiful. Their history can be

traced through the layers, the number of times it has

rolled by the "water lines". The glacier ice from which the

iceberg is formed is thousands of years old, but once the

iceberg leaves the fjord and begins its journey south, its

life is often only a year or two. Finding a particularly

sculpted and weathered iceberg with infinite shades of

green and blue can keep photographers happy for hours!

A few glaciers and fjords later, we stopped for a visit at

Qaanaaq, our last stop in Greenland, and then headed

west into the Canadian Arctic.

Our first stop in Canada was at Grise Fiord on Ellesmere

Island, where Canada Customs and Immigration officers

cleared the ship and all of us. At this point, two Canadian

helicopters and crew joined us, having spent four days and

14 refueling stops to reach us from their base in Quebec.

We had planned a community visit, but the inclement

weather (huge waves) made a shore landing difficult, so

the helicopters came into play, ferrying some of the school

children and townspeople to the ship to visit us, and

taking the Hadfields into town to visit with the school.

Zodiac and iceberg. Rodefjord, Scoresbysund

Then we turned north again, sailing up between Ellesmere

and Axel Heiberg islands and into Tanquary Fjord, where

we reached our most northern point of this part of the

voyage, over 81° N at the headquarters for Quttinirpaaq

National Park, Canada's second largest national park. The

snow was now beginning, making hikes even more

interesting because of the wildlife tracks we could easily see,

and accentuating the geological formations of the

mountains around us. Helicopter flights, charging and

TRAVEL OFTEN . LIVE WELL . 25
---
meandering continued each day, and we were also able to

visit Eureka weather station, one of the few inhabited

spots this far north (80°N).

Eventually we had to turn our ship south again, having

a final magnificent encounter with a polar bear on the

sea ice, and then, once again blocked by ice, circling

back around Devon Island (with a brief stop for a polar

swim by the intrepid or foolish) to reach Resolute, the

end-point of our voyage. More snow, fog and big waves

hindered the zodiac landings a bit, but we made it to

the airport, and eventually were winging our way south

again, as the KK continued west through the rest of the

Northwest Passage and its home port in Russia.

Since our return, I've adjusted to the southern noise

levels again, have been happily following the

photographs and videos being posted by the members

of Generator Arctic.

And yes, I'm planning my next return to the ice.

About the author: Laura Friis is a travel consultant

at Departures Travel (departurestravel.com) specializing

in adventure travel and helping others to experience

these amazing destinations.

For more information on arctic and antarctic

expeditions visit quarkexpeditions.com

26 . DRIFTTRAVEL.COM
---
Polar bear, NE Greenland

TRAVEL OFTEN . LIVE WELL . 27
---
the

editor

when was the last time you saw

something for the first time?

by: TRACEY DRAKE

If you have never experienced St. Regis hospitality,

you are truly missing out on something very

special. On a trip to Mexico, I spent some time

at the lovely St. Regis Punta Mita Resort, and

experienced a tropical travel experience filled

with luxury amenities, elegant dining, and white

sand. While you may have traveled to Mexico

many times, you haven't been to this Mexico.

Punta Mita – which translates to Gateway to

Paradise - is off the beaten path, as it should be.

As you leave Puerto Vallarta proper, you travel

through authentic Mexican countryside, enter

into the State of Nayarit and eventually arrive

at the gates of this 1,500 acre master planned

community; greeted by the smiling faces of The

St. Regis staff, armed with pitchers of ice cold

Margaritas. This welcome was a glimpse into what

became four days of what I can only describe

as "always attentive but never intrusive" bliss.

30 . DRIFTTRAVEL.COM
---
ST. REGIS PUNTA MITA

TRAVEL OFTEN . LIVE WELL . 31
---
• Getting Here: Punta Mita is a 40-minute scenic drive from the airport in

Puerto Vallarta. Limo, shuttle and taxi services are readily available and can

be booked in advance.

THE FINER POINTS

• Packing: Bathing suit, beach sandals, shorts, sunblock and a good book

should be the bulk of your suitcase contents but pack at least one nice resort

outfit for dinner.

• Attractions: Do not miss snorkelling to Hidden Beach on Marietas

Islands (Vallarta Adventures) and board a helicopter at the St. Regis for an

unforgettable aerial tour (Punta Mita Expeditions).

FOLLOW

@TraceyDrakeEditor

on Instagram & Twitter

or search hashtag #TheTravellingEditor

32 . DRIFTTRAVEL.COM
---
Starting from the stunning decor in the hotel's open

air reception lobby, The St. Regis Punta Mita Resort

has so much to offer including a collection of aweinspiring

infinity pools, beach cabanas, Remède Spa,

numerous casual and formal dining options, as well

as access to two 18-hole Jack Nicklaus golf courses.

My beach front deluxe suite was well appointed,

with Mexican charm and high end finishes. The

suite was large with a very private ocean-view walkout

terrace, and a spa bathroom with an oversized

soaker tub and an incredibly private outdoor shower.

As part of the long standing signature St. Regis

Butler Service, you are assigned a personal butler

who is just a quick call, text or email away to get

whatever you may need - coffee, reading material,

drinks, garment pressing or even a private party

planned in your suite. They take care of everything,

including packing and unpacking your suitcases.

Here, you can do nothing at all - enjoying the white

sane beaches and peaceful sounds of the waves

washing ashore. Or you can do whatever you desire.

The staff at St. Regis are happy to arrange yoga, beach

activities, water sports, excursions to Marietas Islands

where you can snorkel into Hidden Beach (which I

highly recommend!) and even a private helicopter

tour to see this spectacular region from the air.

This St. Regis waterfront resort is casual elegance

at its best. The sprawling property was carefully

curated to maximize guest privacy; even with the

hotel booked to capacity for large weddings or

special events like the very popular Punta Mita

Beach Festival (held in July each year), the private

casita-style accommodation and lush landscapes

meant it never feels busy or crowded or rushed.

It is probably a good reason why celebrities love

St. Regis Punta Mita. In fact, I spent an entire

afternoon on the pure white sand beach, swimming

and lounging in a hammock with my book and

my thoughts, and never saw another person.

Paraiso – yes, paradise.

FOR FURTHER INFORMATION: STREGIS.COM/PUNTAMITA

TRAVEL OFTEN . LIVE WELL . 33
---
AT A GLANCE:

Riomaggiore, Italy

by: ELIZABETH DEAN

34 . DRIFTTRAVEL.COM
---
CINQUE

TERRE

by: JANE CROSS

Situated right on the Gulf of Genoa, in the

province of La Spezia in the Liguria region of

Italy, and one of the five famous Italian fishing

villages known as Cinque Terre, Riomaggiore

is one of the prettiest villages in the world.

Charming by day and breathtaking by night,

the origins of Riomaggiore dates back to the 8th

Century, when the inhabitants of the Vara valley,

searching a milder climate to grow grapes and

olive trees without the fear of pirate raids, moved

to the coast. The town climbs steeply up along the

ridges overlooking the sea and it is characterized

by a multitude of colorful stone buildings,

slate rooftops and open air balconies that

welcome each day in the village of Riomaggiore.

TRAVEL OFTEN . LIVE WELL . 35
---
36 . DRIFTTRAVEL.COM
---
MUST SEE TEMPLES

IN SIEM REAP,

5C AMBODIA

by: WILLIAM LAKE

Siem Reap is the most popular tourist destination

in Cambodia, and the temples of Angkor

Archaeological Park attract millions of visitors every

year. Most people will have heard of the legendary

Angkor Wat, but there are many temples located in

Siem Reap and surrounding provinces which are

also worth visiting.

The temples in Cambodia were built by kings

during the Khmer Empire, or what is known as the

Angkor Period. The Angkor kings built up a vast

empire which covered Vietnam, Laos, Cambodia

and Thailand. During this time, they built huge

reservoirs, canals, large cities, and the largest

religious monument the world has ever seen.

TRAVEL OFTEN . LIVE WELL . 37

Koh Ker Temple
---
ANGKOR WAT TEMPLE

The magnificent Angkor Wat is a UNESCO World

Heritage site and is the largest religious monument

in the world. It was built in the early part of the

12th century by King Suryavarman II and was

dedicated to Vishnu, a Hindu god. However, by the

end of the 12th century, it had been converted into

a Buddhist temple.

Angkor Wat was built to represent Mount Meru,

the home of the Hindu Gods. The five towers

represent the five peaks of the mountain, the walls

symbolize the surrounding mountain range, and

the moat represents the ocean.

Angkor Wat is famous for its extensive carvings

which mainly depict stories from Hindu epics. On

the east gallery, you can see the famous "Churning

of the Sea of Milk" scene with carvings of 88 devas

and 92 asuras churning the sea under the guidance

of the great Vishnu.

Angkor Wat Temple

38 . DRIFTTRAVEL.COM
---
It's an irritating reality that many places and

events defy description. Angkor Wat and

Machu Picchu, for instance, seem to demand

silence, like a love affair you can never talk

about. For a while after, you fumble for words,

trying vainly to assemble a private narrative,

an explanation, a comfortable way to frame

where you've been and what's happened. In

the end, you're just happy you were therewith

your eyes open- and lived to see it."

ANTHONY BOURDAIN

TRAVEL OFTEN . LIVE WELL . 39
---
40 . DRIFTTRAVEL.COM
---
KOH KER TEMPLE

Banteay Srei Temple

Located around 120km away from Siem Reap, Koh

Ker is far less crowded than the temples near Siem

Reap town. The peaceful surroundings and Koh

Ker's unique place in Khmer history makes Koh

Ker one of the most fascinating temples in Siem

Reap province.

Located deep inside the jungle in a sparsely

populated area, Koh Ker was once the capital of

the Khmer Empire. Much of the temple is closed

to visitors as the area is completely surrounded by

jungle. However, more than 20 monuments can

still be explored by visitors.

The most fascinating aspect of Koh Ker is the

unique pyramid design. The seven tiers of the

pyramid are unique for temples built during the

Khmer Empire and many people note the striking

similarities between Koh Ker and some of the

ancient Inca ruins built in South America. This has

led to some historians to believe that this wasn't a

coincidence and is proof that temples all over the

world were built by aliens.

Koh Ker Temple

BANTEAY SREI TEMPLE

Banteay Srei is an early example of Khmer

architecture and was built in the 10th century.

This Hindu temple is unique because it was

the only temple not to have been built by a

king. Instead it was built by two of the king's

courtiers.

Buddhist monk at Angkor Wat Temple

The name translates into English as the

"Citadel of the Women" which historians

believe is related to the intricate carvings on

the red sandstone walls. Local legend says

that the carvings are so beautiful that they

could only have been carved by the delicate

hands of a woman.

This unique temple is a very popular choice for

visitors and is located about half an hour away

from Angkor Wat.

TRAVEL OFTEN . LIVE WELL . 41
---
BAYON TEMPLE

Ancient columns at Bayon Temple

The Bayon is another beautiful and extremely

popular temple. It was built in the late 12th and

early 13th centuries by King Jayavarman VII. The

temple sits in the center of Angkor Thom which

was once the capital city of the Angkor empire.

This Buddhist temple was later changed to a

Hindu temple before being changed back again.

This means that you'll see a mix of Hindu and

Buddhist carvings on the bas reliefs and walls.

This unique temple features 49 towers, 37 of which

remain today. Probably the most famous aspect

of Bayon temple are the carved faces which are

said to represent the face of King Jaravarman VII.

Bayon Temple

42 . DRIFTTRAVEL.COM
---
More than 200 faces were carved into the temple.

Although Bayon temple has undergone some

restoration work, it is still largely unrestored,

which only adds to the charm of the temple.

TA PROHM TEMPLE

Ta Prohm temple was made famous as it was used

as a backdrop for the first Tomb Raider movie

starring Angelina Jolie as Lara Croft. Due to its

unique appearance, Ta Prohm is one of the most

beautiful temples in the Angkor Archaeological

Park. After the fall of the Angkor Empire, Ta

Prohm was left to the mercy of the jungle and the

trees are literally growing through the middle of

the temple giving it a very unique appearance.

Ta Prohm was built in the same style at Bayon

temple. It's located just outside Angkor Thom and

was built by King Jayavarman VII in the early 13th

century to be used as a Buddhist monastery. At that

time, it was home to more than 12,000 people with

nearly 800,000 people living in the surrounding

villages providing supplies and services for the

people living in the temple.

There are hundreds of temples located around

Cambodia and the most popular temples are

located around Siem Reap town. Angkor Wat is

the main reason why people go to visit Siem Reap,

but many of the smaller temples are also worth

visiting. Take your time to explore Angkor Wat

and the other fascinating temples built during the

Khmer Empire.

Ta Prohm Temple

TRAVEL OFTEN . LIVE WELL . 43
---
When asked about my travels to Bali,

I always answer with an enthusiastic,

"You MUST go!"

words by: SYLVIA TENNANT

photographs by: MEGAN SCRAPER

46 . DRIFTTRAVEL.COM
---
I realize that there are countless

breathtaking tropical islands on

our planet, but given the vibrant

spectrum of experiences offered by

this destination, it has become my

first suggestion for many, especially

those who have never explored

Indonesia. Wandering yogis, avid

entrepreneurs, jet-set fashionistas,

families with young children, and

what seems like everyone in between

are flocking to Bali, and have been

for years. The luxury travel industry

on this island is brimming with

elusive properties, and I jumped at

the opportunity to experience both

Seminyak and Uluwatu through a

bespoke artisanal journey with the

Alila brand. World-renowned for the

authentic character of their resorts,

sustainable approach and awardwinning

service, I knew that my time

spent under their spell would be a

treat for my senses.

TRAVEL OFTEN . LIVE WELL . 47
---
I began at Alila Seminyak, the beach

front property that occupies prime

real estate along the lively southwest

coast of Bali. Marrying tropical luxury

with minimalist design, the resort is

a work of modern art and features a

Balinese temple within its manicured

grounds. Rooms are equipped with

fine details, including floor-to-ceiling

sliding doors that open to a soft ocean

breeze and black sand beach view. I

was quick to spot surfers from my giant

bed and thrilled to discover that the

bathroom amenities were locally made

and organic. The multiple infinity

pools, open-air candlelit dinners,

and evening (I suggest the Bali 75,

an innovative rose water concoction)

made it very clear as to why this resort

is renowned for exceptional design,

service, and cuisine.

Just steps from the front gates of Alila

Seminyak, the sophisticated offerings

of Bali's hottest neighborhood await.

The fashion, food, and nightlife lends

to a cosmopolitan ambiance that feels

glitzy but relaxed. Exploring beyond

the bustle into more traditional

surroundings was easy. The resort's

concierge planned a guided morning

bike ride through the rice paddies and

charming village of Canggu, topped

off with a picnic on Cemagi beach. It

was a truly special way to get a peek

into daily Balinese culture, and just

one of the many customizable ecoluxury

experiences available to guests.

48 . DRIFTTRAVEL.COM
---
TRAVEL OFTEN . LIVE WELL . 49
---
50 . DRIFTTRAVEL.COM
---
From Seminyak, I traveled south

along jungle-lined ancient roads to the

expansive property of Alila Uluwatu.

Perched high above the cliffs on the

edge of the Indian Ocean, the opulence

of this remote location is obvious at

first glance. Architecturally, the resort

seamlessly blends the dramatic natural

landscape with a contemporary woodslatted

design. Upon arrival, I asked a

porter why the winding paths to the

villas were unusually arranged. He told

me that it was of utmost importance to

work around the preexisting flora and

fauna during the building process,

which relied on locally sourced,

recycled, and sustainable materials.

in sight. As I slowly make my way

back to my villa for the final time,

I am in awe of how effortless this

experience has been. The Alila brand

has created sanctuaries for travelers

who expect natural luxury in beautiful

surroundings. There is nowhere else

I would rather be, and I'm certain I'll

return again.

The villas are light-filled, spacious, and

supremely private, with larger-thanaverage

plunge pools and day beds.

Curated gardens are lush with tropical

plants. The walk from my villa to

breakfast at Cire, one of two in-house

fine dining restaurants, made me feel

as though I was within the grounds of

a private estate. The morning market

menu is filled with local, nutritious

ingredients, which are served poolside

under palm trees overlooking the

incredible view. The main pool is a

prime location to lounge, and there are

plenty of private areas to do so. It truly

feels as though you're swimming high

above the ocean within the clouds.

Post-pool, I enjoyed a traditional

Balinese massage with essential oils

and ancient healing techniques at

the Alila spa. Their holistic approach

to relaxation is unparalleled and my

spa experience was calming for both

body and mind. For those who prefer

to explore, the famed Uluwatu temple

is only a 15-minute drive from the

resort. Be sure to stay into the evening

to catch the Kecak fire dance at sunset.

At night, the walkways are softly lit,

the air is fragrant with the sweet smell

of frangipani, and there isn't a soul

TRAVEL OFTEN . LIVE WELL . 51
---
Eric Himel's

LIFE+STYLE

by: ERIC HIMEL

Packing for a warm destination is one part identifying

your style and one part having a plan. Just because

you are going to a tropical island that doesn't mean

you have to dress like Gidget. Don't be literal, be

smart. Pack for the weather, comfort and of course -

dress with style!

IDENTIFY YOUR STYLE

What's your vibe? Nautical, boho, feminine, edgy,

preppy? Pick a theme that is really you and stick to it

when packing.

CALYPSO ST. BARTH

MOKRA CROCHET

COTTON SHORT

RADEN A50 BLUETOOTH

LUGGAGE SET IN PINK

THE ESSENTIALS

You've chosen your theme, now make a list and check

it twice. Pack only what you need and nothing more.

Bathing Suit: For a one week trip, pack 3. One should

be a one piece when you aren't feeling your best.

Shorts: To throw over your bathing suit or for day

trips.

Tops: To go with your shorts, natch! Both day time

tanks and a sexy slinky one for evening.

Day Dress/Cover Up: Interchangeable that will take

you from pool to lunch and back.

Night Wear: Whether you choose a dress or separates,

this look should adhere to the three C's: comfort,

coordinated and chic!

SUNNY SIDE UP! PACKING FOR THE TROPICS

ERIC HIMEL (erichimel.com)

is a widely known celebrity stylist, fashion expert and media personality. Himel attended

Parson's School of Design and trained under Project Runway's Tim Gunn. Now based in

Los Angeles, Himel's roster of celebrity clientele has included Jenny McCarthy, Giuliana

Rancic, Pete Wentz, Gabby Douglas and more,. Eric is best known for his signature Closet

Purge and now offers Virtual Styling Sessions.

52 . DRIFTTRAVEL.COM
---
VALENTINO

ROCKSTUD SANDALS

Shoes: Pack three pairs: sandals for the pool, laceups

for excursions and dressy sandal or wedge for

evening.

Sunglasses: Polarized for ultimate eye protection.

Bags: Pack two - a tote bag that you carry on the plane

and doubles for the pool. And a clutch for evening!

EDIE PARKER

ANCHOR CLUTCH

Accessories: two pairs of earrings, one day, one

night. Bangles that go with literally anything. And a

oversized soft scarf that doubles as a sarong.

TRINA TURK

RESORT WEAR

ERIC'S EXPERT TRIPS:

• DON'T pack the same day as your trip!

• DO color coordinate.

• DO try on outfits beforehand.

• DON'T pack structured or constricting clothing.

• DO get a pedicure.

KENDRA SCOTT

BANGLES

TRAVEL OFTEN . LIVE WELL . 53
---
#havefoodwilltravel

SAN

FRANCISCO

by: TRACEY DRAKE

If it's true that the way to the heart is

through the stomach, then the adage

"I left my heart in San Francisco" could

never be more true. This hilly, quirky

California coastal city is in the midst of

a culinary revolution, and it is the best

reason to visit (or revisit) San Francisco.

DRIFT recently spent three days in

San Fran, and came back with our

three favorite spots to eat. Each offers

up memorable ambiance, exceptional

food and some interesting menu items.

54 . DRIFTTRAVEL.COM
---
One Market | 1 Market Street | onemarket.com

Fine dining San Francisco style pretty much sums

up the understated elegant decor and world class

menu offerings at One Market. One of the hottest

culinary destinations in the city, Chef/Partner Mark

Dommen and Sommelier/Wine Director Tonya

Pitts offer a wonderfully symbiotic food and wine

experience. The restaurant's open kitchen offers a

contemporary nod to a sophisticated menu that

leans toward the classics.

DRIFT RECOMMENDS:

Main: Pancetta-wrapped Day Boat Scallops

Dessert: Chocolate Caramel Pecan Tart

Drink: Smokey Margarita

Twenty Five Lusk | 25 Lusk Street | 25lusk.com

The ambiance of Twenty Five Lusk is decidedly Mad

Men Meets the 21st Century with just the right mix

of cool, vintage and ultra modern. With a 130-seat

main dining room, lower level lounge, and two bars,

Twenty Five Lusk offers seasonally inspired creative

cuisine, a worldly wine list and an inspiring variety

of craft cocktails. Executive Chef/Partner Matthew

Dolan puts an excellent spin on rustic food, tailor

made for a modern, urban palate.

DRIFT RECOMMENDS:

Main: Sunchoke Risotto

Dessert: Gingerbeer Cake

Drink: SF Yacht Club

Dirty Habit | 12 Fourth Street | dirtyhabitsf.com

On the fifth floor of Hotel Zelos in San Francisco's

bustling SOMA district, Dirty Habit is a chic

escape from the city. The dramatic film noir decor

immediately envelopes you. Dirty Habit is definitely

for those seeking a hip, social dining and drinking

atmosphere. Chef Thomas Weibull does a brilliant

job making the shareable, seasonal cuisine shine in

this bar-centric hot spot, that also offers a genius

craft cocktail menu.

DRIFT RECOMMENDS:

Main: Camembert Ravioli

Dessert: Foie Gras Ice Cream Sandwich

Drink: Artist's Fizz

TRAVEL OFTEN . LIVE WELL . 55
---
THE WARM HEART OF

AFRICA

by: KERI HARVEY

When David Livingstone first clapped eyes on Lake Malawi,

its surface danced with twinkling stars. He named it the

Lake of Stars, though it's also called the Calendar Lake for

being 365 miles long and 52 miles wide at its broadest, with

12 big rivers flowing into it. It's a massive expanse of water,

waves break onto the sandy beaches and on appearance

it's a vast freshwater ocean stretching beyond the horizon.

'Lake Malawi is quite unique," smiles local lake guide

Johnson Nthenda. 'It's only the third largest lake in Africa,

but it was the first lake in the world to be proclaimed a

56 . DRIFTTRAVEL.COM
---
Kayaking and snorkeling on Lake Malawi

national park to protect the marine life of a tropical, deep

water, Rift Valley lake. Because nearly 1,000 species of fish

mostly dazzling, brightly colored cichlid live in its waters,

and new species are still being discovered every year.'

Islands in the lake are boulder strewn and dotted with

baobabs; wildlife is regularly seen on the lake shores.

Zebra, bushbuck, klipspringer, baboons, monkeys and

rock hyraxes live along the lake, otters frolic in the waters

and in the quiet reaches are hippos and crocodiles. Tiny

deserted beaches and coves are everywhere, giving the

lake a island paradise appeal. This is also a favorite area for

kayakers, who go island to island enjoying pristine nature.

With goggles and snorkels, we slip quietly over the side

of the small wooden fishing boat and into the tepid

lake water. Before long we are part of an underwater

Pied Piper scene, with clouds of neon colored cichlid

fish following us through the clear water. As we turn,

so does the cichlid cloud of yellow and blue behind us,

and if feels like we are swimming in a tropical aquarium.

TRAVEL OFTEN . LIVE WELL . 57
---
'That's exactly what this spot is called,' laughs Johnson

when we are back on the boat, 'it's The Aquarium because

it always looks like that underwater.' The southern section

of the lake around Cape Maclear is a proclaimed national

park, yet over 7 000 local people still live on the shores

here and use the lake for water and subsistence fishing.

Here people live close to nature, so if there's no

fish there's no dinner - though good catches of tiny

silvery capenta are sun dried for leaner times. Stilted,

wooden drying racks topped with grass mats dot the

lake shore, some empty and some packed with drying

capenta. Virtually everyone who lives in the area is a

fisherman, bar a few freelance tour guides like Johnson.

'Actually I'm from the capital Lilongwe,' says Johnson,

'but there are too many people living there (780

000), so I prefer to live here on the lake. It's quiet and

beautiful.' But there are many more places in Malawi

fitting this description too Mount Mulanje, the

Zomba plateau and the Nyika plateau, Vwasa Marsh

and Liwonde National Park, just to mention a few.

At 3 000m, Mount Mulanje has the highest peak in southcentral

Africa. The mountain covers 1 000km and looks

more like an entire mountain range than a single mountain.

It offers the longest roped climb in Africa 1 700m of it and

the mountain is so high it has its very own climate. Ominous,

though, is the tallest peak named Sapitwa, which means

'Don't go there'. But if you do, the views are spectacular

over vast tea plantations all the way to Mozambique.

From the magical Zomba plateau Mount Mulanje is clearly

visible. The bowl of the mountain top is a forest reserve,

and down below the town of Zomba was once the capital

and is now Malawi's university town. It has a colonial

atmosphere and is threaded with streams and adorned with

majestic mahogany trees. Just half an hour north of Zomba

is Chingale, where craftsmen specialize in carving the

uniquely Malawian 'chief 's chairs' from a single tree trunk.

Also in southern Malawi, at the bottom tip of the lake,

is Liwonde National Park, with the famous Shire River

running through it. It's been a national park since 1979

and has been restocked with wildlife that naturally

occurred there, after it was shot out by trophy hunters.

It was an ambitious conservation project that now draws

nature lovers from around the world to experience

African wildlife in thoroughly magnificent surroundings.

58 . DRIFTTRAVEL.COM
---
Fish market in the village of Cape Maclear, Malawi

Colorful wooden fishing boats on the beach in Cape Maclear, Malawi

TRAVEL OFTEN . LIVE WELL . 59
---
So too, the Nyika plateau in the north of the country.

It's Malawi's biggest national park and one of the most

unusual in Africa. High altitude rolling grassland, vast

herds of eland, trout streams and prolific flowers, yet

it's all dwarfed by the scale of the landscape. Ground

orchids, proteas, irises and aloes grow here in a natural

garden that is a wonderland for hikers, campers and

cyclists. The eastern edge of the plateau forms a wall of

the Great Rift Valley, though at times you may believe

you have found a piece of Scotland. Nearby Vwaza

Marsh Wildlife Reserve offers great sightings of elephant

and buffalo, and guided walking safaris are offered too.

Johnson's fire on the lakeshore has burnt to coals, and he's

grilling fresh whole chambo on it. The pot of white rice is

cooked and chopped garden tomatoes have been heated over

the flames. 'This is what we eat most nights in the village,'

he smiles, and we tuck in and eat in silence. Fresh and

flavorsome, our fish dinner is superb, sitting on the beach

of the Lake of Stars. Johnson smiles as we lick our fingers.

In Chembe village in the distance, we can hear the chatter

of fishermen over the glassy lake surface. They're preparing

for another night out, fishing with paraffin lamps and

moonbeams, from their dugout wooden canoes. They

often fish in twos, dragging a net between them. Kampango

and chambo are what they are after to feed their families,

but everything caught is eaten. A couple of boats do have

motors, but most are poled by hand for miles and miles.

'The lake's not always this smooth,' says Johnson. 'In

the windy season it gets very rough with big waves, just

like the sea. But Malawians are good sailors, so it's not

a problem and we still go fishing.' He smiles a flawless

white teeth smile and puts more fish on our plates.

'Please eat,' he says, with characteristic Malawian

hospitality, 'there's no chambo in South Africa,

and it's a long way to come back for seconds.'

For more travel information: www.visitmalawi.mw

Senga Bay Beach, Lake Malawi

60 . DRIFTTRAVEL.COM
---
Simple made perfect

Delta Hotels by Marriott TM Victoria Ocean Pointe Resort

DeltaVictoriaOPR

DeltaVictoria

DeltaOceanPoint
---
There aren't many places on this planet that offer as

many mind blowing experiences as the mountain

community of Whistler, British Columbia on

Canada's rugged West Coast. Whether you

live just down the highway or you fly around the world

to get there, Whistler delivers. The natural beauty alone

makes it hard not to be wooed into the romantic spirit.

My wife Rebecca and I made Nita Lake Lodge our re'treat'

for the weekend and it was ideal for a couple who rarely

get a weekend for themselves. Quiet, friendly, and 100%

West Coast in design and setting, Nita Lake Lodge was

the perfect launch point for a whirlwind romantic

weekend for two. We've had getaway experiences in

the past where we just frittered the time away, but here

we had a planned itinerary and it turned out to be just

the right balance of fun and relaxation. The fun list

included Superfly Zipline tours, the Peak 2 Peak gondola

experience and a night at Basalt, one of the village's

culinary hot spots. Relaxation was comprised of two spa

visits as well as a little down time at the lakeside lodge.

62 . DRIFTTRAVEL.COM
---
An Insiders Guide to a Romantic Getaway to

WHISTLER, BC

skis not required!

by: TODD TALBOT

TRAVEL OFTEN . LIVE WELL . 63
---
THE SPA

We had a couples massage at

the Spa at Nita Lake Lodge.

Equipped with a serene steam

room, relaxation lounge and

rooftop whirlpools which

extended our massage into a few

hours of pampered indulgence.

Ironically one of the most talked

about experiences in Whistler is

a spot where you aren't allowed

to talk! Scandinave Spa is quite

a draw for visitors to Whistler

but we were still unsure of the

hot/cold/rest method at first.

Our one minute of cold started

out as one second. But after

three rounds of the treatment

we were hooked, and Rebecca was stealing a little

extra time in the cold pool when I wasn't looking.

>THE RESTAURANTS

Basalt, Aura and Christine's. We had three amazing

meals that left us so satisfied, we just snacked for the

rest of our visit. The food was fantastic at all three

restaurants and the staff and servers took it to another

level. Basalt impressed us with it's intimate ambiance

and bold decor: phallic sconces on the walls and

copper pendants over a bar made of volcanic lava

(the definition of basalt). Christine's, at the peak

of Blackcomb Mountain, is all about the view, and

if you arrive in a thick fog you may want to wait a

few minutes. We pushed back our reservation and

waited out the fog which gave us not only a splendid

view of the mountain but also the marmots playing

outside. I was able to get a couple of amazing photos

of our meal, enhanced with the naturally stunning

mountain backdrop. At Aura, located overlooking the

lake at our hotel, we enjoyed the

offering of a trio which was over

the top. We sat in the window

indulging on the sunset and

the deconstructed cheesecake!

>THE ACTIVITIES

The activities appear to be at

the bottom of our list but they

really weren't. Everything about

our weekend away was on

point, including the experience

at Superfly and the Peak 2

Peak Gondola. Ironically, both

endeavors have a treacherously

deep expanse between two

mountains to be crossed on

cables. On the Peak To Peak,

from those cables we were safely contained in a glassbottom

gondola and were at ease to snap dramatic

shots of the fog lingering over the mountain. At

Superfly, we were balls to the wind and contained only

by a harness and helmet. The guys at Superfly made

our excursion for us. They injected the right amount

of humor and information all the while ensuring

everyone's safety. They went above and beyond to

solidify our opinion capturing what it is to experience

the Whistler romance. From two opposing platforms

they photographed our descent on the 'romantic line"

where Rebecca and I held hands while speeding between

the trees to our final destination on the mountain.

It did make me think about making a move to this

mountain village. With one of the world's greatest

playgrounds at your doorstep, even the real estate

savvy can be tempted!

64 . DRIFTTRAVEL.COM
---
TRAVEL OFTEN . LIVE WELL . 65
---
TRAVEL GEAR

PRODUCTS FOR THE SAVVY TRAVELER

66 . DRIFTTRAVEL.COM
---
It is increasingly harder to avoid paying checked baggage

fees. Every airline charges them, and many are very strict

about the width of your carry-on case. If you are a messy

or unorganized packer, there are products on the market

that make it easy to organize your suitcase and who knows -

you just may fit everything into a carry-on and avoid costly

baggage fees altogether!

TUMI JEWELRY ROLL

From Tumi's Voyageur collection comes this ultra-chic

jewelry travel roll. Light as a feather and a must-pack to

protect jewelry and accessories during travel, it features

a smartly-organized interior with multiple pockets and

special earring holders. tumi.com

EAGLE CREEK PACKING CUBES

Available in seven colors, the Pack-It Original Starter Set

from Eagle Creek will help you organize the contents of

your bag so you can travel with the assurance that you

know where everything is. Sized perfectly to fit in most

carry-on suitcases, it compresses 8-12 dress shirts or slacks,

minimizing wrinkles. eaglecreek.com

OUR TOP

PICKS:

PACK MORE IN

LESS SPACE AND

SAVE MONEY ON

BAGGAGE FEES.

ZIPLOC SUITCASE SPACE BAGS (NO VACUUM

CLEANER REQUIRED!)

The Space Bag Travel Bag by Ziploc is ideal for storing

clothing and can compress up to 5 sweaters or shirts. It

provides twice the storage and is airtight, waterproof, and

reusable. No vacuum is required as compression is activated

by rolling the bag. ziploc.com

PACKING TIP:

Disposable hospitalstyle

shoe covers let

you stuff footwear

into any bag without

getting clothing dirty.

TRAVEL OFTEN . LIVE WELL . 67
---
ICELAND

a photographic journey

Featured Photographer: Debbie Steeper

Debbie Steeper, a

photographer based

in British Columbia,

Canada, loves to

photograph fashion,

architecture and

fascinating landscapes.

With a 360 degree

creative mind, Debbie

continually seeks to

find new places to

explore and curate her photographic point of view in

interesting ways. Debbie's work has been published in

numerous fashion and lifestyle publications.

CAMERA EQUIPMENT:

Canon 5D MK III

Canon 24 - 105 F4

Canon 70 - 300 F4

FOLLOW DEBBIE ONLINE:

Website: www.debbiesteeper.com

Instagram: @debbiesteeper

68 . DRIFTTRAVEL.COM
---
The spectacular Gulfoss Waterfall, on the Hvítá River in Southwest Iceland, crashing to the canyon below.

TRAVEL OFTEN . LIVE WELL . 69
---
70 . DRIFTTRAVEL.COM
---
Skeletal remains of a US Navy cargo plane rest on a surrealistic landscape of black sand.

TRAVEL OFTEN . LIVE WELL . 71
---
Strokkur Geyser erupts every four to eight minutes, spewing boiling water up to 100 feet in the air.

72 . DRIFTTRAVEL.COM
---
Spectacular waterfalls are a stunning backdrop

for Icelandic homes at the base of the mountain.

TRAVEL OFTEN . LIVE WELL . 73
---
Pleasure boats moored in the harbor of Iceland's capital city, Reykjavík.

74 . DRIFTTRAVEL.COM
---
TRAVEL OFTEN . LIVE WELL . 75
---
76 . DRIFTTRAVEL.COM
---
Summer cottages, with views to the snow covered mountains, offer

pastoral respite from city life.

Outbuildings are protected by shoring them up with rocks and hay to

help keep out the strong winter winds.

Hardy Icelandic horses dot the frozen landscapes, with their manes

blowing in the punishing winds as they stand without any shelter

through the harsh winter weather. This breed stock has remained

pure, as Icelandic law prevents horses from being imported into the

country and once a horse leaves, it may not return.

TRAVEL OFTEN . LIVE WELL . 77
---
ICELAND WAS THE LAST COUNTRY

to be settled in Europe, when emigrants

from Scandinavia and the British

Isles first came to live on the island

in the ninth and tenth century. It

remains the most sparsely populated

country in the continent. Iceland's

harsh natural environment has bred

a resilient nation that has learned

to exist under extreme conditions,

and harness the natural resources

they create for its own prosperity.

Today, Iceland is a progressive, modern

society that continuously ranks at the

top of measurement's for quality of

life and its economy is one of the most

productive economies in the world,

per-capita, and it is considered one of

greenest eco countries on the planet.

Iceland also boasts a prospering music

scene, a burgeoning film industry,

and Icelandic design is coming of age.

78 . DRIFTTRAVEL.COM
---
Iceland is a country of sharp contrasts. A place where fire and ice coexist.

Where dark winters are offset by the summer's midnight sun. A

country where insular existence has spurred a rich and vibrant culture.

ICELAND TOURISM

Öxarárfoss Waterfall is easily accessible and lies within ÞingvellirNational Park.

TRAVEL OFTEN . LIVE WELL . 79
---
#WHERETONEXT

CANOUAN ISLAND

Unspoiled and virtually undiscovered, Canouan

is the Caribbean's new found destination for

discerning travelers. Located in the heart of St.

Vincent and the Grenadines, and just west of

Barbados, Canouan Island is only 3.5 miles long.

This small oasis offers perfect weather and an

abundance of natural beauty including calm water

bays, scenic tropical coves, pristine white sand

beaches and one of the Caribbean's largest coral

reefs. A newcomer to the island is Pink Sands Club,

a luxury resort that opened in October 2016. Watch

for it in the Winter 2016 issue of DRIFT magazine.

80 . DRIFTTRAVEL.COM
---
TRAVEL OFTEN . LIVE WELL . 81