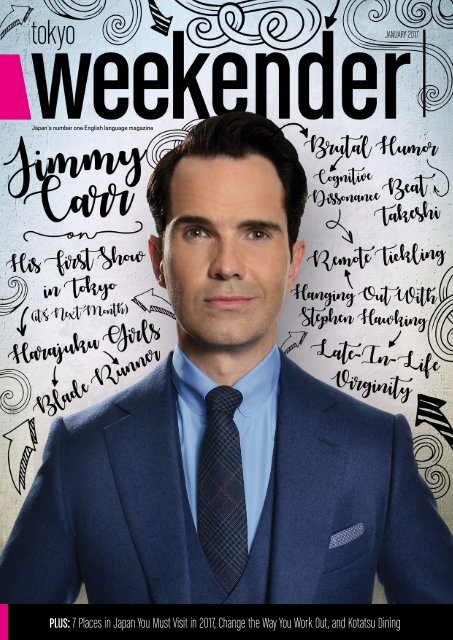 Tokyo Weekender January 2017
Jimmy Carr live in Tokyo Plus: 7 Places in Japan You Must Visit in 2017, Change the Way You Work Out, and Kotatsu Dining
Jimmy Carr live in Tokyo
Plus: 7 Places in Japan You Must Visit in 2017, Change the Way You Work Out, and Kotatsu Dining
SHOW MORE
SHOW LESS
You also want an ePaper? Increase the reach of your titles
YUMPU automatically turns print PDFs into web optimized ePapers that Google loves.
JANUARY 2017

Japan's number one English language magazine

PLUS: 7 Places in Japan You Must Visit in 2017, Change the Way You Work Out, and Kotatsu Dining
---
Join the Conversation, Join the Club

JOIN TOKYO WEEKENDER'S INSIDERS CLUB TO FIND OUT ABOUT LIMITED OFFERS THROUGHOUT TOKYO, ATTEND

EXCLUSIVE EVENTS, GET THE LATEST INFORMATION ABOUT PRODUCTS BEFORE THEY LAUNCH, AND LET YOUR

VOICE BE HEARD. CHECK OUT WWW.TOKYOWEEKENDER.COM/WEEKENDERINSIDERS FOR MORE DETAILS
---
22

14

18 26

radar

THIS MONTH'S HEAD TURNERS

8 AREA GUIDE: ASAKUSA

Universally renowned for its sacred ground,

Tokyo's original pleasure district comes

alive when the sun goes down.

10 STYLE

January calls for keeping New Year's

resolutions, and staying warm while

staying chic.

12 BEAUTY

Get the year off to a fragrant beginning

with our roundup of Japanese and Japaninspired

scents.

14 TRENDS

Best way to warm up in winter: eat all your

meals with legs curled up cozily under a traditional

kotatsu – at home or a restaurant.

in-depth

COFFEE-BREAK READS

18 COVER FEATURE: Q&A WITH

JIMMY CARR

We chat with the popular British comedian

as he prepares for his first show in Tokyo

next month.

20 FINDING THE SILVER LINING

IN A POST-TRUTH WORLD

And other thoughts on how to get over

2016, and get through 2017.

21 MORE THINGS TO LOOK FORWARD TO

Extra silver linings in the form of film, literature,

sport, music, games and stage shows.

22 SEVEN PLACES IN JAPAN YOU

MUST VISIT IN 2017

First on our list? The exquisite and

fairytale-like Wisteria Flower Tunnel.

26 FITNESS SPECIAL: CHANGE

YOUR WORKOUT

From martial arts to the so-hot-right-now

Surfset Fitness trend, we've got 13 unique

workout ideas and accessories for you to try.

guide

CULTURE ROUNDUP

33 ART

Remembering the brilliance of David Bowie,

and a nostalgic look at Sony's past.

36 AGENDA

It's a musical month as the famed Harvard

Glee Club comes to Japan, as do PJ Harvey

and jazz legend Hermeto Pascoal.

38 PEOPLE, PARTIES, PLACES

Mingling with road racers, a princess, and

the president of Ceremony.

JANUARY 2017
---
JANUARY 2017

Publisher

President

Executive Producers

Editor in Chief

Senior Editor

Creative Director

Features Writer

Contributors

Sales Director

Sales Executives

Media Strategist

Media Consultant

Media Relations

Media Producers

ENGAWA Co., Ltd.

Takanobu Ushiyama

Asi Rinestine

Naoya Takahashi

Annemarie Luck

Alec Jordan

Liam Ramshaw

Matthew Hernon

Vivian Morelli

Luca Eandi

Bill Hersey

Dorothee Erle

Bunny Bissoux

Takaaki Murai

Hirofumi Ohuchi

Kahori Terakawa

Nobu (Nick) Nakazawa

Yu Suzuki

Mandy Lynn

Mary Rudow

Junko Shimaya

Yumi Idomoto

Claudia Sun

EST. Corky Alexander, 1970

Published monthly at JPR Sendagaya Building 8F

4-23-5 Sendagaya, Shibuya-ku, Tokyo 151-0051

(03) 6863-3096 / (03) 5413-3050 (fax)

editor@tokyoweekender.com

To subscribe to the Tokyo Weekender, please call

(03) 6863-3096 or email:

customer-support@tokyoweekender.com

For ad sales inquiries, please call

(03) 6863-3096 or email:

sales@tokyoweekender.com

広 告 に 関 するお 問 い 合 わせ 先

電 話 :(03)6863-3096

メール:sales@tokyoweekender.com

Opinions expressed by Weekender contributors

are not necessarily those of the publisher

Published by ENGAWA Co., Ltd.

4 | JANUARY 2017 | TOKYO WEEKENDER
---
@mizrama: Liam, thanks for stepping in to the Eds'

Chat while Alec is away on holiday. As Weekender's

creative director, what's your favorite thing about

our January issue?

@liam_ramshaw: Thank you very much. I'm a little

nervous because I have some very big shoes to fill

(literally size 16), but I'll try my best. Have to say I

really enjoyed this month's Fitness Special [page 26].

It's going to help with my New Year's resolutions.

@mizrama: Are you going to try aerial yoga? I

can picture you hanging upside down from a silk

hammock.

@liam_ramshaw: I think jiu jitsu is more my style. I

don't think a silk hammock would support my hefty

frame. How about you? Any fitness resolutions?

@mizrama: Well I did try the Surfset Fitness

workout in Ginza. It's a new trend from California

that involves surfboards balanced on Bosu balls. It

helped a little with my craving for the beach and the

ocean. But mostly, I would like to laugh more in 2017

– so I'm looking forward to Jimmy Carr's show next

month [page 18].

@liam_ramshaw: I would certainly agree with that.

After a tough year, I think we all need more laughter

in our lives. Anything else you're particularly

looking forward to this year?

@mizrama: Actually, I just watched the trailer for

Martin Scorsese's new film, Silence [page 35]. Can't

wait for that. It's got a great cast … speaking of

which, I hear you used to hang out with Andrew

Garfield?

@liam_ramshaw: Indeed, he was the childhood

friend of the guys I used to live with in London.

He would often pop round for house parties. I can

confirm he was handsome, talented, charming and

an all-round good egg – but an absolute nightmare to

have around if you wanted to hook up with any girls.

After all, who would you want to speak to if Spider-

Man was sitting in the lounge?

@mizrama: Pity you weren't into jiu jitsu back then.

JOIN US ON FACEBOOK

FACEBOOK.COM/TOKYO.WEEKENDER

FOLLOW US ON TWITTER

@TOKYO_WEEKENDER

TOKYO WEEKENDER WEBSITE

WWW.TOKYOWEEKENDER.COM

FOLLOW US ON INSTAGRAM

TOKYOWEEKENDER

TOKYO WEEKENDER | JANUARY 2017 | 5
---
Where to find

TOKYO WEEKENDER MAGAZINE

WANT TO MAKE SURE YOU PICK UP A COPY EVERY MONTH? HERE'S WHERE TO GET YOUR HANDS ON THE MAG

VENUES AROUND TOKYO

Find the full list of physical stockists at

tinyurl.com/TW-mag-distribution

DOWNLOAD

Amazon: bit.ly/tw-amazon

Magzter: bit.ly/tw-magzter

SUBSCRIBE

Tokyo Weekender website: bit.ly/tw-subscribe-direct

Fujisan: tinyurl.com/TW-subscription

MORE INFORMATION AT WWW.TOKYOWEEKENDER.COM

6 | JANUARY 2017 | TOKYO WEEKENDER
---
WHAT'S ON OUR RADAR THIS MONTH...

We're mingling with the 24-hour party people of Asakusa, lusting after a Moncler

Grenoble après-ski jacket, and feeling toasty with a traditional kotatsu.

8 AREA GUIDE 10 STYLE 12 TRENDS

TOKYO WEEKENDER | DECEMBER | JANUARY 2017 2016 | 7
---
AREA GUIDE

FLOAT THROUGH

ASAKUSA

UNIVERSALLY RENOWNED FOR ITS SACRED GROUND, TOKYO'S ORIGINAL

PLEASURE DISTRICT COMES ALIVE WHEN THE SUN GOES DOWN

Words and photographs by Luca Eandi

24 HOUR

PARTY PEOPLE

Even though Asakusa's Rokku entertainment

district saw its heyday a century

ago, it still caters to nightlife with a host

of rakugo (storytelling) theaters, cinemas

showing classic films, and other adultoriented

recreation. There are still a

few dozen geisha offering their hosting

services, giving Kyoto's hanamachi a run

for its money. Many bars are spread out

through Rokku. Kamiya offers an electric

concoction, Denkibran, which is a mix of

brandy, gin and wine, while Samboa is

the whiskey bar of choice. Post-drinks, you

may want to take a jinrikisha (rickshaw)

to Denbouin-dori for food at one of the

numerous izakayas lining the street. And if

you miss the last train, no worries, Bunka

Hostel offers a more communal alternative

to capsule hotels.

SERENITY NOW

The main draw in Asakusa is Senso-ji, a

Buddhist temple dedicated to the bodhisattva

Kannon. The first temple on this location

dates back to 645 AD, making it the oldest

in Tokyo. Following reconstruction after

being leveled in World War II, the temple

became a symbol of recovery and amity,

and remains one of Tokyo's holiest sites,

hosting the popular Sanja Matsuri festival

in late spring. Commanding the entrance

to the temple, the imposing Kaminarimon

(Thunder Gate) is a popular meeting spot

and background to millions of tourist

selfies. On the rare occasion that it's open

to the public, a visit to Demboin Garden,

on the grounds of Senso-ji's head priest's

residence, affords visitors a serene oasis

away from the hordes of tourists.

8 | JANUARY 2017 | TOKYO WEEKENDER
---
TAKE ME TO THE RIVER

Positioned on the banks of the Sumida River, Asakusa has a great outlook on the water

and the several bridges that cross it. A prime location for enjoying the view is from

Kuritsu Sumida Park, right on the banks of the river. Every spring, the park's cherry

trees blossom to the delight of hanami partakers, who take up every square inch of park

ground with tarps, or enjoy the sakura from traditional yakatabune houseboats on the

water. Looming in the background across the Azuma Bridge, the Asahi Beer Tower

can't be mistaken – it's the building that looks like a mug of golden

beer, complete with frothy head. Tokyo Skytree is also

omnipresent in the skyline to the East.

SNACKS APLENTY

There are many delights to sample as

you trek around Asakusa. Traditional

Japanese snack foods are found

throughout, such as daigaku-imo

(candied sweet potatoes) at Chibaya,

dorayaki (red-bean pancakes) at

Kamejyu, and kuzumochi (arrowroot

mochi) at Funawa. The sweet

bread melonpan is a specialty in the

neighborhood, and Kagetsudo has

been making them since 1945. You can

view the process of making intricately

shaped, filled pastries from start to

finish behind the window at Ganso

Kimuraya Ningyoyaki on Nakamisedori.

For more savory treats, soba

noodle shops are everywhere in

Asakusa, with Namikiya, Benten, and

Asada being some of the better spots,

but really, you can't go wrong with

most of the neighborhood staples.

ARCADE CLASSICS

Over 90 souvenir shops and snack shacks

make up Nakamise-dori, the stretch between

Kaminarimon and Senso-ji's Hozomon gate.

This is Asakusa's most popular pedestrian-only

shopping lane, but it's not the only one worth

strolling down. For a calmer neighborhood

atmosphere and a touch of nostalgia, head

west of the temple for Hisago-dori, a covered

shopping arcade made up of family-owned

shops with lots of charm. While there, you can

visit the Edo Shitamachi Traditional Crafts

Museum and learn about sashimono furniture-making,

antique tool design and copper

crafts. Also nearby, and not to miss on a nice

day, is Hanayashiki, the oldest amusement

park in Japan, in operation since 1853.

TOKYO WEEKENDER | JANUARY 2017 | 9
---
STYLE

VALENTINO GLOVES

Leopard print is a tricky one, and it should always be worn in

moderation to avoid looking garish. However, if you include just the

right amount of it to an outfit, it can add a touch of elegance. These

supple leather Valentino gloves are a good example of that right

amount; and we love the gold-studded and turquoise trim. Pair them

with a black or camel coat, and enjoy the extra warmth from the

sumptuous cashmere lining. valentino.com

JANUARY CALLS FOR KEEPING NEW YEAR'S

RESOLUTIONS, AND STAYING WARM WHILE STAYING CHIC

Compiled by Vivian Morelli

ADIDAS BY STELLA

MCCARTNEY BACKPACK

January means a new year, which means a

new you, and this part usually includes a vow

to exercise more regularly. While the chances

of keeping this resolution throughout the

year are generally rather slim, using beautiful

workout gear can be a motivating factor.

This Adidas by Stella McCartney backpack is

designed for runners, with a reflective shell

that ensures visibility during evening jogs.

Use this lightweight bag to store a water

bottle and some essentials, and head to

Tokyo's Imperial Palace for a reinvigorating

loop around the moat. adidas.com
---
BURBERRY HOODIE

January is probably the coldest month in

Japan, and thanks to the lack of insulation

in homes, it's essential to layer as many

clothes as possible in order to survive

the freezing season. Stay toasty with this

fleece-back cotton hoodie from Burberry,

with a hood lined with the label's

signature checked pattern. The polished

gold zippers stand out against the rich

burgundy hue. Wear yours around the

house or layer it under your winter

jacket. While it belongs to the loungewear

category, we think it's also appropriate

for the office. burberry.com

SMYTHSON

2017 DIARY

These days, thanks to widely available

technologies, people don't use paper

agendas nearly as much. However,

there is a certain old-school, traditional

charm associated with jotting down

notes on crisp paper that just doesn't

exist with tablets and smartphones. For

the new year, treat yourself to the best

version possible of a diary, from UK

brand Smythson. Virtually unchanged

from its 1908 design, it boasts leather

binding, gilded featherweight paper,

and an internal silk pocket to stow

important documents and business

cards. smythson.com

MONCLER

GRENOBLE JACKET

Moncler's Grenoble line is all about

high-performance alpine gear and

après-ski looks. Whether you're

planning on hitting the slopes or

staying in the city this winter, a warm

and practical jacket is a must-have.

While most sports jackets usually

lack in the style department, this

number from the French-Italian brand

manages to combine both comfort

and chic. Filled with insulating down

and feathers, this quilted jacket has a

flattering cinched waist and convenient

zipped pockets to safely store

essentials. moncler.com

NIKE WAIST PACK

Head out for an outdoor run or to the gym without worrying about where to put your

phone and keys, or having them accidentally slip out of your pocket. This waist pack is

a sleek and modern version of the infamous fanny pack. You can simply tie the bucklefastening,

elasticized band around your waist and discreetly hide it under your workout

clothes. This mini bag comes with two pouches, one of which is removable to provide

flexible storage on the move. nike.com
---
TRENDS

KOTATSU COMFORTS

BEST WAY TO WARM UP IN WINTER: EAT ALL YOUR MEALS WITH LEGS CURLED UP

Compiled by Annemarie Luck

COZILY UNDER ONE OF THESE TRADITIONAL JAPANESE HEATER-AND-FUTON TABLES

AT HOME

THE STORY Although the kotatsu has

been around for centuries in Japan, the modern

form is somewhat different to the original

sunken hearth and charcoal burner. Today,

it consists of a low table that has an electric

heater fixed underneath. The contraption is

covered by a futon or quilt, which extends

over your legs as you seat yourself on the

ground around the table. It's so cozy that pets

are bound to join in, and no-one will judge

if you fall asleep and stay put all night long.

WHAT TO EAT Nabe (hotpot) on a portable

stove. Also, if you arrive at a friend's

kotatsu dinner party with a bag of mikan

(mandarin oranges), you'll receive a round

of applause. We're not entirely sure why,

but mandarins and kotatsu go together like

popcorn and movies.

WHERE TO BUY ONE We like the

brand Nakamura (nakamura-jpn.co.jp). Their

kotatsu kits are available from Rakuten for

around ¥40,000, and you can even buy the

quilts separately should you want to switch

them up every now and then. To purchase

the kit pictured above, visit tinyurl.com/

TWkotatsu-rakuten

12 | JANUARY 2017 | TOKYO WEEKENDER
---
RYOGOKU TERRACE

THE STORY With a strong focus on health, this tucked-away terrace restaurant offers

nutritious, balanced dishes. It also encourages you to exercise by offering rental gear,

and shower and locker facilities in the pleasant Runcube space just next door. Wondering

where to run? The restaurant is situated alongside Sumida River, with a jogging or walking

path easily accessible.

WHAT TO EAT Go for the lunch set, which includes soup, rice, and your choice of three

main dishes. They offer millet in place of white rice if you prefer, and you can look forward

to plenty of healthy Japanese ingredients such as seaweed and daikon. For dinner,

it's nabe, naturally.

THE KOTATSU During winter, the terrace is transformed into a comfy scene of blankets

draped over heater tables, dotted around the raised wooden floor. Best of all, your view is

of Kyu Yasuda Garden, where you can also take a stroll after lunch.

1-12-21 Yokozuma, Sumida-ku. www.ryogokuterrace.jp

YOYOGI CURRY

SANRIKU

KOTATSU TRAIN

THE STORY How to revive the tradition of

kotatsu and boost railway profits at the same

time? Create a kotatsu train! For the past decade

or so, Sanriku Railway has been offering

a special two-car train boasting 12 kotatsu,

giving travelers the chance to experience the

ultimate winter wonder expedition.

WHAT TO EAT Reserve a bento one day

before boarding the train – your lunch box

options include Sea Urchin and Abalone

(¥1,600), Sea Urchin (¥1,700), and Scallop

(¥1,200). To reserve the coffee and sweets set

(¥700), make sure you ask for it when buying

your ticket.

WHEN TO GO Until March 26, on weekends

and national holidays only, the train

will run between Kuji and Miyako, with the

roundtrip starting at 12.13pm and finishing

at 4.46pm. A one-day pass costs ¥2,500 and

reservations can be made between 9am and

6pm by calling 0193 62 8900. For more info

(in Japanese only), visit www.sanrikutetsudou.com

THE STORY Opened in 2013, this

terraced restaurant has a prime spot

just near the entrance of Yoyogi Village,

which is a trendy little space near

Yoyogi Station featuring eateries,

coffee shops, and plenty of greenery.

WHAT TO EAT Curry, of course.

They have a few different kinds to

choose from – we've tried the Asian

Chicken, and the Butter Lemon with

Shrimp, and both were delicious, not

very spicy, and reasonably priced at

¥980. If you're there for dinner and

want to expand on the selection, they

also offer a variety of starters (try the

Stewed Octopus and Olive with Tomato),

and meat dishes, along with a complete

menu of drinks which are served

from their cute bar at the back of the

restaurant.

HOW TO ORDER Until April, they

have closed in their terrace, and added

blankets and heaters to all the tables,

making this the best curry experience

we've yet to have.

1-28-9 Yoyogi, Shibuya-ku.

yoyogi-curry.com

TOKYO WEEKENDER | JANUARY 2017 | 13
---
BEAUTY

NIGHTINGALE

BY ZOOLOGIST

A couple of years ago, Toomo

Inaba left Tokyo for a quieter life

in Kyushu's countryside, where he

continues his work as a fragrance

reviewer, producer, and self-taught

perfumer. Although Nightingale is his

own official debut scent (launched

in October), he has in fact created

50-odd private blends over the past

several years, and his company

Zoologist features a range of deluxe

fragrances by different perfumers.

He describes his inspiration for the

pink floral chypre as coming from

an ancient Japanese poem, picking

out one line in particular: "Soon you

will be wearing a black robe and

enter nunhood. You will not know

each rosary bead has my tears on

it." The notes include plum blossom,

agarwood, patchouli and moss.

Nightingale Eau de Parfum ¥14,200,

www.zoologistperfumes.com

SCENTSATIONS

GET THE YEAR OFF TO A FRAGRANT BEGINNING WITH OUR

ROUNDUP OF JAPANESE AND JAPAN-INSPIRED SCENTS

Compiled by Annemarie Luck and Mandy Lynn

SCENT THREE: SUGI

BY MONOCLE

The third of a series of fragrance

collaborations between Monocle

and Comme des Garcons, Sugi

(Japanese cedar) is described as

a "delicate, clean and energising"

fragrance. It's a unisex scent with

top notes of Meditarranean cypress

and pepper from Madagascar,

followed by iris from Florence

and cedar from Virginia, and

finished with pine and Haitian

vetiver.

Scent Three: Sugi Eau de Toilette

¥10,800, available from The Monocle

Shop in Tokyo or from monocle.com

14 | JANUARY 2017 | TOKYO WEEKENDER
---
SAKURA

BY MIYA SHINMA

Born in Shizuoka, Miya Shinma now

divides her time between France

and Japan, but her perfume range

is devoted to her country of birth.

Inspired by the cherry blossom,

Sakura has robust notes that meld into

soft floral nuances. Its characteristic

scent starts off strong (like a woman

who knows exactly what she wants),

wrapping one in its musky embrace,

before fashioning into a scent of

freshly cut peonies amid hints of

blackcurrant. It ends with tones of

citrus and rose. We've got one bottle

to give away; follow us on Instagram

(@tokyoweekender) for details.

Sakura Eau de Parfum, ¥21,400,

miyashinma.fr

Le Labo

GAIAC 10 TOKYO

BY LE LABO

Known for its niche perfumes,

Le Labo created Gaiac 10

exclusively for Tokyo. This means

that its soft scent is tailored to suit

Japanese tastes (or in this case,

noses), and it's only available

from the store in Daikanyama.

We popped by to take a whiff, and

the salesperson led us outside into

the fresh air for optimal smelling

conditions (because that's how

gentle the scent is). It's a beautiful

woody and musky blend that

develops into a powdery,

romantic fragrance.

Gaiac 10 Eau de Parfum ¥51,840,

www.lelabofragrances.jp

KYARA AND KAZEHIKARU

BY DI SER

We've chosen two different perfumes

by this Japanese brand that's based

in Hokkaido and also sells herbs and

medicines, organic cosmetics, and organic

health foods. Their fragrances are made

without any synthetic materials, and they

favor high quality over mass production.

Kyara is named after the fragrant wood

that's used in kodo (incense burning), and

contains agarwood, cedarwood, rose otto,

patchouli, and sandalwood. Kazehikaru

represents "the wind that dances about

the land," and includes yuzu, neroli, shiso,

Japanese rose, and vetiver.

Kyara Parfum ¥120,000, Kazehikaru Eau de

Parfum ¥10,000, www.diser-parfum.com

HANA HIRAKU

BY PARFUM SATORI

Independent perfumer Satori Osawa mixes her

pretty potions in a small Yoyogi studio, which

has walls lined with tiny bottles of ingredients.

When we visited, she showed us a collection of

her perfumes, which are inspired by Japanese

culture – her signature scent, Satori, even comes

packaged in a porcelain bottle that's shaped

like a chatsubo (traditional tea jar). Her latest

creation, Hana Hiraku, launched in October

and is inspired by Japan's blooming magnolia

flowers. It's a dry Oriental with top notes of

creamy melon and bergamot; middle notes of

magnolia, jasmine, and rose; and a unique finish

of miso, bees wax, and wood.

Hana Hiraku Eau de Parfum ¥16,000 (before tax),

www.parfum-satori.com

TOKYO WEEKENDER | JANUARY 2017 | 15
---
「masai balloon」2016 acrylic on canvas 53×53cm

Hokkaien

Gaien West St.

Aoyama Cemetary

Nogisaka Station

The National

Art Center, Tokyo

National Graduate

Institute for Policy Studies

Gaien East St.

Kensuke Miyazaki / Super happy !

Saturday 14th January - Sunday 29th January, 2017

Opening Hours: 12:00 - 19:00 | Closed: Mondays

Opening Reception: Friday January 13th from 18:00 onwards

To Shibuya

Gonpachi

Roppongi Dori

Roppongi Station

Hiroo Station

Nishi-Azabu Intersection

Roppongi Hills

Mori Art Museum

NANATASU GALLERY

〒 106-0031 Tokyo, Minato-ku, Nishi-Azabu 2-12-4 Ogura building 3F

Te l : 03-6419-7229 | Web: www.na n a t a s u . j p

Door to Door Pickup Service

24 Hour Staff Supervision

One daycare visit available

Open 365 Days

No Cages

Athletic Dog Club co., Ltd.

1F 1-8-18 Akatsutsumi, Setagaya-ku, Tokyo 156-0044

Tel: 03-3327-1003 I Fax: 03-3327-7407 | E: athletic.dog.club@gmail.com

www.pethoteltokyo.com (Japanese) | http://adc.pipi.cc (English)

16 | JANUARY 2017 | TOKYO WEEKENDER
---
ON THE EDGE OF A CLIFF?

It's not always easy facing a brand-new year. But we've got plenty in store to keep you

inspired: a good laugh with Jimmy Carr, 13 unique fitness trends and tips, and seven

extraordinary Japan destinations – literal cliffs included.

TOKYO WEEKENDER | JANUARY 2017 | 17
---
Interview by Matthew Hernon

As Jimmy Carr prepares for his first show

in Tokyo next month, we called him up

and chatted about his brutal humor, losing

religion, and why laughing at an old lady

falling over doesn't make you a bad person

Japan will be welcoming one of the

biggest names in British comedy

this February with Jimmy Carr set

to perform his stand-up routine

for one night only at Yamano Hall in Yoyogi,

Tokyo. Anyone who's seen the 8 Out of 10 Cats

host perform live will know this is not a show

for those easily offended. Expect a barrage of

witty one-liners covering every taboo topic

imaginable, all delivered with a deadpan

expression.

WHY DID YOU DECIDE TO INCLUDE

JAPAN ON YOUR TOUR?

It's not a place on British or American

comedians' radar, but I think it should be.

I've played all over the world and a close

friend kept telling me I had to go. It'll be

my first time to visit and I imagine it'll be

as close as I'm going to get to actually being

in Blade Runner.

WILL YOU HAVE MUCH FREE TIME TO

EXPLORE THE CITY?

I've got five days with a long list of stuff to do.

Everything from the cat petting cafés to the

horror theme parks. I'm fairly obsessed by

Japanese food and a huge sake drinker so I'm

planning to go on a bit of a culinary tour as

well as have a few nights out. Oh, and the Harajuku

girls that I've seen in documentaries;

I want to spend a day exploring that whole

scene. I'm looking forward to all of those

things as much as the show.

SPEAKING OF THE SHOW, WHAT KIND

OF CROWD ARE YOU EXPECTING?

I guess it'll mostly be British expats, but

wherever you go there's also the Anglophile

thing with people who love comedy from the

UK, so I hope there are Japanese people there

who speak amazing English. The highest

calling for linguistic ability is being able

to understand a joke in a foreign language.

18 | JANUARY 2017 | TOKYO WEEKENDER
---
Alberto E. Rodriguez/ Getty Images

FOR THOSE WHO'VE NEVER SEEN

YOU LIVE, HOW WOULD YOU

DESCRIBE YOUR STAND-UP?

It can be pretty brutal. My sense of humor

is quite dark. There are certain jokes you'll

tell friends that you think maybe can't be

said in public, but I never want to have that

barrier with the audience. I try to view

them as friends, knowing that if I say something

crude they'll get that it's just a joke.

IS IT HARD TO KNOW WHERE TO

DRAW THE LINE?

The lovely thing is that I feel I don't have

to draw the line because the audience does

that for me. Anyone can get a reaction by

saying something controversial; the trick is

to make people laugh before they gasp. It's

a kind of cognitive dissonance that I love.

You don't get to choose when you laugh; it's

a reflex that chooses you. When you see an

old lady falling over in the street you laugh

straight away, but that doesn't make you a

bad person. You call for help a second later.

I did a program for the BBC about

laughter and it really is a fascinating form

of communication that predates language

by more than a million years. It's a social

noise that people don't really make when

they're on their own, even if they've seen

something funny on YouTube. Apes used

to try and make each other laugh by tickling,

but for humans there's a limit to the

number of people you can do that to, so

we try to elicit the same response through

humor. You could say jokes are a remote

form of tickling. That's effectively what

I'm doing when I'm on stage. It's fun.

DO YOU PREFER DOING STAND-UP

TO TELEVISION WORK?

I wouldn't say that. TV shows are a joy. For

a program like QI, I turn up as a guest and

have a laugh with friends. It's a dream job.

There's more responsibility when presenting,

but you've got 20 people behind the

scenes working to make you look good. At

the same time, I get to mess around with

my favorite comedians. It feels like I'm

standing on the shoulders of giants. With

stand-up, whilst there's more freedom,

you feel extra pressure because you have

to make it great by yourself.

SO, YOU STILL GET NERVOUS?

Yes. In Japan, I'll be on my toes and nervy

for the first couple of jokes. Then at some

point you stand back on your heels and

think, "I've got this."

WAS IT ALWAYS

YOUR DREAM TO

BE A COMEDIAN?

Not at all. I was a

marketing executive

at an oil company

until 26 and just got

bored so I decided to

do something more

interesting. At that

point in my life I'd

stopped believing in

God and subsequently

felt freer. If you

think there's a life

beyond this one, you

tend to compromise

more and not take

risks. After reading

The God Delusion by Richard Dawkins, and

God Is Not Great by Christopher Hitchens,

I realized all we have is right here, so it

was time to start living.

YOU ALSO LOST YOUR VIRGINITY

THEN. DO YOU GET TIRED OF

PEOPLE ASKING YOU ABOUT THAT?

No I don't because I think it's nice for

someone in the public eye to say, "You

know what, I didn't have anything worked

out when I was 25, but things still turned

out all right." When you're a teenager you

see life as a kind of race, and social media

exacerbates the burden on youngsters

to conform, and to outdo each other. On

Instagram, there are constantly pictures of

people having the best days of their lives

or skinny girls posing with pancakes. The

reality is skinny girls are hungry and many

of us are just sat bored at home eating cornflakes.

Life isn't as wonderful as it appears

on these sites, and during our youth we all

have to go through embarrassing experiences;

but when we get older we can look

back and laugh.

DO YOU DRAW ON THOSE

EXPERIENCES FOR YOUR SHOWS?

I get material from small things like conversations

or watching the news. I guess

I see the world through rose-tinted glasses

that are always looking for jokes. It's like

a puzzle. You have a phrase or an idea that

might be funny, then you work back to try

and figure out why it's a gag.

BEST COMEDIANS EVER?

Peter Cook or Spike Milligan. They are the

Lennon and McCartney of comedy. Nobody

in the industry has done anything

they haven't. Neither of them were

stand-ups; they were just funny guys

doing their thing.

WHO'S THE MOST FAMOUS

PERSON IN YOUR PHONEBOOK?

That'd probably be … Stephen Hawking.

He's a huge fan of going out drinking and

eating spicy food. Also, for a cosmologist

he's a bloody good laugh.

YOU CAN INVITE THREE GUESTS,

LIVING OR DEAD, FOR DINNER –

WHO DO YOU CHOOSE?

I'm going to go for three living because

the smell from the corpses would be

off-putting. Heston Blumenthal, Gordon

Ramsay and Jamie Oliver. I mean, we're

having dinner, you just want the food to be

good, right? If you're talking about company,

it'd have to be comedians, but I'd feel

bad leaving people out. Who am I loving at

the moment? Maybe three female comics:

Michelle Wolf, Tina Fey and Sarah Millican.

That'd be an entertaining evening.

ANY JAPANESE PERSON YOU'D

LOVE TO MEET?

I'm a big fan of Beat Takeshi. He was a

big comic back in the day, and then made

these incredible films like Sonatine and

Hanabi, which I thought were phenomenal.

You need a lot of talent to be able to

produce that kind of work while also acting

brilliantly as a clown. Another person

I'd love to meet is Sonny Chiba. Watching

his martial arts movies, you get the feeling

he's just basically very cool.

HOW ABOUT A GAG FOR THE ROAD?

Hmm, it's difficult because jokes are

never as good on paper. Maybe one about

dwarves as they usually get overlooked. I'll

tell you what I know about dwarves: very

little. I can say that as they look up to me.

Thanks very much.

Catch Jimmy Carr on February 27 at Yamano

Hall. More info at tokyoweekender.com

TOKYO WEEKENDER | JANUARY 2017 | 19
---
Finding the Silver

Lining in a Post-

Truth World

And other thoughts on getting over 2016 – and making it

through 2017 – by Brian Christian

Well, that's a relief! We've made

it to January and that tinseltangled,

sparkle-and-spangles

Christmas thing is over for

another year. It's not so much the excess and

over-indulgence that grates, nor the inescapable

loop of syrupy festive pop (if I hear

"Walking in a Winter Wonderland" one more

time…). It's not even the kawaii cuteness of it

that I find irritating: all those woolly Rudolph

hats with cartoon red noses and floppy antlers,

or the strangely menacing green elves lined

up to welcome you at department store doors.

These I can cope with. It's the peace and goodwill

I can't stand.

Does anyone really buy into that stuff

anymore? If the experience of 2016 has

taught us anything at all, surely it has to be

that the naïve notion of "goodwill to all men"

is an old idea that has had its day. As every

Twitter troll instinctively grasps, we now live

in a not-so-brave new world where blinkered

intolerance has found its voice and it's the

loudest in the room. And it's not going to shut

up any time soon.

It came as no surprise when it was

announced that the 2016 word of the year in

both the USA and Great Britain, according to

I THINK OF A

PESSIMIST AS

SOMEONE WHO IS

WAITING FOR IT TO

RAIN. AND I FEEL

SOAKED TO THE SKIN

– LEONARD COHEN

the Oxford Dictionary, was "post-truth". There

were times when it felt like expertise and

knowledge just didn't count: Global warming

is a China-inspired fiction, Brexit means Brexit,

and Santa Claus is coming to town. Why stick to

the truth when there are better stories to tell?

When the twin refrains of a successful US

presidential campaign are "lock her up" and

"build that wall", when a desperate clamour

for shelter is drowned out by the hostile

thunder of slamming of doors across Europe,

when gunmen and bomb-makers target the

ordinary and the innocent in the name of

some one-eyed warped crusade then it's hard

to share in any rose-tinted concept of love and

brotherhood, comfort and joy. In the words of

the late and much lamented Leonard Cohen:

"I don't consider myself a pessimist. I think

of a pessimist as someone who is waiting for

it to rain. And I feel soaked to the skin."

Or at least that's the way I might feel if

I didn't spend most of my days working with

children, the young men and women who will

in time be the generation that will have to pick

up the pieces of our fractured and far-fromperfect

world and set about the task of bringing

it together again. They may just be starting

out on their adventures but I know they do

so with an understanding that diversity is

something to be celebrated; that the opinions

of others, though they may be different from

their own, are far from worthless; that listening

quietly can often achieve as much and

more than shouting out loud.

Late in the old year, a new study from the

Harvard T.H. Chan School of Public Health

found that having an optimistic outlook on

life – a general expectation that good things

will happen – may help people live longer. The

study went as far as to suggest that healthy

behaviours only partially explain the link

between optimism and reduced mortality risk:

it is apparently a distinct possibility that optimism

might even have a direct positive impact

on our biological systems. No more Mr Scrooge

for me. From now on my glass is going to be

half full and every cloud will have a silver tinsel

lining. My New Year's resolution for 2017

is to put my faith in the potential of the next

generation. Theirs is the authentic voice of

the future.

Who knows? By next December I might

even feel able to hum along to "Winter Wonderland"

again. "Sleigh bells ring, are you

listening…"

Brian Christian is the Principal of the British

School in Tokyo.

20 | JANUARY 2017 | TOKYO WEEKENDER
---
Words by Matthew Hernon

NEED A FEW EXTRA SILVER LININGS TO TRULY EMBRACE THE NEW

YEAR SPIRIT? BESIDES HAVING A LAUGH WITH JIMMY CARR, HERE'S

OUR PICK OF UPCOMING EVENTS AND SHOWS TO MARK IN YOUR DIARY

FILM

Japan's best hope of an Academy Award

this year unsurprisingly comes in the Best

Animated Feature Film section, with Makoto

Shinkai's Your Name (Kimi No Na Wa)

expected to be nominated. In the Best Picture

category, Martin Scorsese's religious epic

Silence should be one of the favorites. Based

on Shusaku Endo's novel of the same name,

it comes out here on January 21. Other Japanrelated

Hollywood films being released this

year include Ghost in the Shell (above) and

The Outsider. (See more on page 35.)

MUSIC

Guns N' Roses' (right) popular tour "Not in

this Lifetime" is set to arrive in Japan this

month. The reunited line-up will be performing

in Osaka, Kobe and Yokohama, before

finishing things off with two shows at Saitama

Super Arena. It should be a great way to start

the year, however, April could arguably be the

best month for live music here with concerts

from the likes of Coldplay, Norah Jones and

The Stone Roses.

SPORT

The World Baseball Classic

begins in March with all the

games from Pool B – involving

Japan, Cuba, China and

Australia – taking place at

Tokyo Dome. The player who

will no doubt create the biggest

buzz amongst home fans

is all-rounder Shohei Otani.

The 22-year-old is considered

one of the most exciting

baseball prospects this country

has ever produced. In

football, Samurai Blue are

aiming to reach their sixth

consecutive World Cup.

They're currently second in their qualifying

group with just one point separating the top

four teams.

LITERATURE

So far all we know about Haruki Murakami's

next novel is that it is due out in February, it's

going to be "a very strange story," and it'll be

quite long. Regardless of whether it's

well-received or not, the 67-yearold

will undoubtedly be one of the

favorites for the Nobel Literature

prize come November. Is 2017 finally

going to be his year?

STAGE

Two of Britain's best-known comedians

will be doing their stand-up

routines in Tokyo this February.

Jimmy Carr is performing in Yoyogi

on the 17th, while Eddie Izzard will

be delivering his self-deferential

pantomime style to guests at the

Tamagawa Kumin Kaikan a week

later. If a musical is more your

thing, then a visit to one of Tokyo's five Shiki

theaters (www.shiki.jp/en) is recommended.

"The Hunchback of Notre-Dame", "The Lion

King" and "The Little Mermaid" are just some of

the shows you can see in the first half of 2017.

TRANSPORT

A luxurious hotel within a train, Twilight Express

Mizukaze will begin operating on June

17 with prices ranging from ¥270,000 to ¥1.25

million. The service offers five courses: One

way trips lasting one night and two days (Sanyo

Outbound/Inbound and Sanin Outbound/Inbound),

and a circular tour around the Sanyo

and Sanin areas lasting two nights and three

days. twilightexpress-mizukaze.jp

GAMES

Following the disaster that was Wii U, Nintendo

bosses are hoping their latest console will bring

fans flocking back. March sees the launch of

Nintendo Switch: A portable tablet with detachable

controllers that you can dock with your TV.

The one title that's got most people talking? "The

Legend of Zelda: Breath of the Wild."

TOKYO WEEKENDER | JANUARY 2017 | 21
---
Words by Bunny Bissoux

7 PLACES IN

JAPAN YOU

MUST VISIT

IN 2017

HOW TO AVOID THE POST-FESTIVE-SEASON

ANTICLIMAX? START PLANNING YOUR

NEXT HOLIDAY NOW WITH OUR ROUNDUP

OF EXTRAORDINARY DESTINATIONS

WISTERIA FLOWER TUNNEL AT KAWACHI

FUJIEN, KITAKYUSHU

Established in 1977, this private garden is only open to the public

for a few weeks between late April and mid-May, and during maple

leaf season in autumn. Located deep in the mountains of Kitakyushu,

visitors can enjoy two beautiful wisteria tunnels and various other

structures featuring more than 20 varieties of the flower including

some blossoming trees which are over 100 years old. The admission

price varies depending on the bloom of the flowers, but it's well

worth the cost and the effort to reach the remote location in order

to experience the spectacular violet canopies overhead.

HOW TO GET THERE The most convenient way to visit is to rent a

car from Fukuoka, with the drive from there taking just over an hour.

However, considering traffic jams and parking problems, it might be

a better idea to take public transport. Head to Yahata Station, then

catch a bus to Kamishigeta, and walk for approximately 50 minutes to

the garden. Make sure to thoroughly plan your route and check the

opening times in advance, and if you want to avoid the crowds, then

try to avoid a weekend trip. During peak season, tickets (¥500-¥1,500)

must be bought in advance too. kawachi-fujien.com

22 | JANUARY 2017 | TOKYO WEEKENDER
---
JIGOKUDANI

"HELL VALLEY"

IN NOBORIBETSU,

HOKKAIDO

The appropriately named Hell Valley is

just a 20-minute walk from the Noboribetsu

Onsen town, providing magnificent

landscapes clouded in bursts of ominous

steam. There are several walking

trails around the hills and valley incorporating

the various local sights and natural

attractions. Nearby volcanic activity

is the source of the area's hot steam

vents, spring waters, and Oyunuma, a

sulfurous pond (with a temperature of

around 50 degrees Celcius) that creates

natural hot streams flowing through the

forest – perfect for a mid-hike footbath to

revive tired feet. The most popular time

to visit is around mid-October when the

autumn colors reach their peak, and just

before the first snow fall arrives. Whilst

the hot springs are open all year round,

take into account that some of the higher

trails might not be accessible during the

winter months.

HOW TO GET THERE If you're arriving

at New Chitose Airport you can take

an Airport Limousine Bus directly to the

Noboribetsu Onsen, or drive from Sapporo

City in approximately 90 minutes.

www.noboribetsu-spa.jp

EDO TOWNS MAGOME AND

TSUMAGO IN THE KISO VALLEY,

NAGANO

Magome and Tsumago are old post towns along

Nakasendou, an ancient road connecting Tokyo and

Kyoto during the Edo period. Both towns have preserved

their historical charms, with electrical wires

and modern conveniences mostly hidden from view,

creating an almost authentic Edo atmosphere (don't

worry, the ryokan inns are up to speed with all mod

cons). The high end of Magome offers panoramic

views over the mountains, but while picturesque, it

has a more touristy feel in comparison to Tsumago,

which boasts a shrine, temple and castle amongst

its assets. If trekking in the outdoors is your thing,

then you can follow an eight-kilometer walking trail

connecting the two towns, with a handy luggage

forwarding service offered at each of the local

tourist offices. Download an English hiking map

at tinyurl.com/TWnakasendou-hike

HOW TO GET THERE Despite the rural setting,

there are multiple ways to access the area. Highway

buses to Magome run from Nagoya (90 minutes)

and Tokyo (around 4.5 hours), or you can take the

shinkansen followed by local trains to Nagiso via Nakatsugawa.

Local bus services and taxis also operate

between the towns and nearby stations.

TOKYO WEEKENDER | JANUARY 2017 | 23
---
HACHIJOJIMA, IZU ISLANDS

Palm trees, a warm climate all year round, and a jungle habitat – and all

just an hour's flight from Tokyo. If you're looking for an alternative to an

Okinawan getaway, then Hachijojima, the southernmost of the Izu islands,

can offer you a slice of paradise surprisingly close to Tokyo. This unique

subtropical island has cinematic ocean views, lush green mountains,

and volcanic terrain with incredible scenery surrounding you in every

direction. You can enjoy a wide variety of activities from diving and

snorkeling with tropical fish amongst the coral to relaxing in one of the

many natural onsen baths. Cultural attractions include the Native History

and Traditional Crafts Museum, and the Osato district, which preserves

some of the island's darker history as an exile for criminals. If you're

still wanting more, how about a botanical park exhibiting rare glowing

bioluminescent mushrooms?

HOW TO GET THERE The island has its own airport with three flights a

day from Haneda Airport, but if you have time to spare and fancy relaxing

on the water then you can take the 10.5-hour overnight Tokai Kisen ferry

from Tokyo's Takeshiba Terminal. www.tokaikisen.co.jp/english/

PALM TREES,

A WARM CLIMATE

ALL YEAR ROUND,

AND A JUNGLE

HABITAT

SEIGANTOJI PAGODA AND

NACHI FALLS, WAKAYAMA

A UNESCO World Heritage location incorporating

Japan's tallest waterfall (133m) and a

series of religious sites including Kumano Nachi

Taisha Shrine and the majestic three-story

Seigantoji Pagoda. The close proximity of the

structures is a rare example of the harmonious

amalgamation of Buddhism and Shinto

(known as shinbutsu shugo), which was

commonplace before the two religions were

forcefully separated in 1868. The site's earliest

incarnation was most likely as a place for nature

worship, and for most of their history the

buildings have functioned as one combined

religious institution. The temple is the first

stop of the Saigoku Kannon Pilgrimage, which

covers 33 Buddhist temples, and is undoubtedly

a rewarding location for any visitor who

cares to make the trip.

HOW TO GET THERE The main shrine

is a 30-minute bus ride from Kii-Katsuura

Station, which is a 90-minute train journey

from Shirahama Airport (direct flights from

Haneda Airport), or about three to four hours

if you're traveling from Nagoya, Osaka or

Kyoto. For a slightly more arduous pilgrimage,

you could opt for a 10-hour bus ride from

Shinjuku, straight to the Katsuura Onsen area.

kumanonachitaisha.or.jp

24 | JANUARY 2017 | TOKYO WEEKENDER
---
TOJINBO CLIFFS, FUKUI

The rugged cliffs at Tojinbo are one

of only three similar kinds of rock

formations existing in the world.

The columnar rocks were originally

formed around 13 million years ago

from volcanic activity, further shaped

by coastal erosion, making this a

unique and dynamic part of the Fukui

coastline stretching over one kilometer.

Various local legends tell some

macabre tales about ghosts haunting

the area, but thankfully these days a

retired police officer and volunteers

are working together to prevent

possible suicides and keep it a happier

tourist destination. The awe-inspiring

spot provides impressive views from

the top of the cliffs, or if you want to

get a closer look you can take a short

pleasure boat trip around the rocks.

HOW TO GET THERE Traveling by

train takes around four hours from

Tokyo to Fukui Station, followed by

another 45-minute journey to Mikuni

Minato Station. From there, take a local

bus arriving near the cliffs in about

10 minutes, or walk there in just over

half an hour. Alternatively, you could

make a 6.5-hour road trip from Tokyo.

www.toujinbou-yuransen.jp

TOTTORI SAND DUNES, TOTTORI

Spanning over 30 km², these spectacular sand dunes are

the only example of this type of landscape in the country.

Ash and sediment from the mountains were brought

into the sea from the Sendai River where sea currents

and winds bring it up the shore, forming the constantly

reshaping and rippling dunes. Hills of sand can reach

heights of up to 50m offering remarkable views of the

surrounding sea and land. Ten years ago a Sand Museum

(www.sand-museum.jp/en) was opened, heralding itself

as Japan's only open-air museum exhibiting "sand sculptures,"

which due to their medium are always temporary.

While the dunes have existed for over 100,000 years,

recently their scale has noticeably decreased due to a

various causes thought to include natural disasters as

well as the high frequency of visitors to the area, so tread

with caution.

HOW TO GET THERE Fly from Haneda Airport to Tottori

Airport (75 minutes), then take a bus from the airport

to Tottori Station (20 minutes). From the station, take a

local bus bound for Tottori Sakyu and get off at the last

stop (20 minutes). To get around the sand dunes you can

enjoy camel riding or a tour in a horse-drawn carriage,

and you can even try paragliding and sandboarding.

www.tottori-tour.jp/en

TOKYO WEEKENDER | JANUARY 2017 | 25
---
Change Your

Workout

Need to burn some calories, but bored of your standard training sessions? Over the

next five pages, we round up five Japanese martial arts to try, along with some new

fitness trends, gadgets, and workshops to keep you fit and inspired

Compiled by Dorothee Erle & Annemarie Luck

MARTIAL ARTS

Last year's fitness trend was all about less

is more, with many choosing to do weight

training from home, or to count the number

of steps taken each day in lieu of taking time

out for a jog around the block. But there's something

to be said for turning your workout into

a sociable occasion and joining a group class,

especially if you're new to the city, or simply feel

like meeting new people. And since we're in Japan,

it makes sense to try something traditional. To that

end, we're recommending five martial arts to try,

including a couple of classics as well as some more

modern ones. Then, over the next few pages, we've

collected a few fitness treats for those who love a

good trend – or a good gadget.

JIU JITSU

If you prefer more action to meditation, Japanese jiu jitsu might be a

good option for you. Developed by samurai warriors as a weaponless

fighting technique to be used in times when they had no sword on

hand, it's considered to be one of the oldest Japanese martial arts. The

jiu jitsu-ka learns to react quickly to an opponent's attack, using their

energy against them, and incapacitating them with techniques such

as pins, joint locks and throws. In this sense, it's a little like wrestling

as it requires full body effort and contact, which also makes it ideal

for strength and cardio training. The sport also focuses on breathing

techniques, increases flexibility, and endurance.

WHERE TO TRY IT Axis Jiu Jitsu Academy, www.axisjj.com

26 | JANUARY 2017 | TOKYO WEEKENDER
---
AIKIDO

Derived at least partly from jiu jitsu, aikido is among the youngest of the traditional

Japanese sports. As the "ai" in "aikido" indicates, it focuses on peaceful

resolution of a conflict. Another big aspect is self-development. While aikido

is always practiced with a partner, there are generally no competitions, and

the movements are almost like a choreography. Aikido is great for a full body

workout – although beware there is a bit of throwing and falling involved,

so you might end up with a few bruises. It is much more predictable than

jiu jiutsu, though, so it allows the practitioner to reach a state of relaxation.

In aikido, the opponent's power is used against him or her, which makes

it a good option for all ages and levels as superior strength is not required.

WHERE TO TRY IT Aikikai Foundation, www.aikikai.or.jp/eng/index.html

KENDO

Although this modern Japanese martial art,

which got its start in the 1800s but was only officially

named kendo in 1920, is mostly associated

with samurai-style sword fighting, kendoka

(kendo practitioners) use wooden swords

called bokken rather than sharp blades. As

etiquette plays an important role, every fight

begins and ends with an exchange of formal

bows. A kendo bout is only five minutes

long, and ends when one kendoka twice

strikes the other on a designated strike

zone (head, trunk, forearm, and the part

of the throat just beneath the chin).

A short yell, called kiai, is uttered each

time a strike is made. Besides improved

strength, endurance and overall

fitness, kendo sharpens the mind

and reactive abilities.

WHERE TO TRY IT

Tokyo Kyumeikan Kendo Dojo,

kyumeikan.info

KYUDO

With origins dating back to the Yayoi period (300 BCE

to 300 CE), Japanese archery was developed into the art

form kyudo during the Edo period. For many, a sign of

a good kyudoka is an aura of serenity, hence mental

training comes first, followed later by attempting

to hit the target, which stands 28m away from you,

and is only 36cm in diameter. If you hit the target,

everyone shouts "sha," which means "arrow" or

"shot." Interestingly, in Japanese archery, the

kyudoka always shoots two arrows in succession.

They rotate in opposite directions and can be

seen as a "female" and a "male" arrow. With its

focus on mindset, kyudo can be viewed as a

kind of moving meditation, and so is especially

recommended for those seeking a spiritual

way of training body and mind.

WHERE TO TRY IT Koto-ku Kyudo

Renmei, kokyuren.com/english.html,

or Shinjuku-ku Archery Association,

shinjuku-archery.com/index.html

IAIDO

This martial art got its start in the 1500s,

and is performed with a Japanese long

sword called katana. However, the focus

is not on combat but rather on being

present, aware, and being able to swiftly

draw one's sword in order to respond to

a surprise attack. The iaidoka learns how

to react to an endless set of situations,

ending their motion with the re-sheathing

of the sword. In a way, iaido is more

about choreography and defense than

attack, with the focus being on the development

of a focused and clear mind,

calm nerves, and balance of the body.

WHERE TO TRY IT Isokai,

www.mugairyu.jp/english/index.html

TOKYO WEEKENDER | JANUARY 2017 | 27
---
TRENDS

SURFSET FITNESS

If you love surfing, this "so hot right

now" workout might pale in comparison

to the real thing. But for Tokyoites,

who don't have the luxury of living

ten minutes from the beach, Surfset

Fitness is the closest you're going

to get to feeling the freedom – and

getting the kind of toned body – that

comes with the water sport. Founded

by Californian Mike Hartwick, this

unique form of exercise has made,

erm, waves around the world, and

arrived in Tokyo just a few months

ago in the form of a neat little studio

in Ginza, complete with boards for

decoration, a sun-filled workout space

packed with elevated surfboards, and

a temperature of 33 degrees Celsius.

Climb onto the RipSurfer X – which is

strapped to a metal frame and balances

on Bosu balls to simulate the feeling

of being on water – and prepare to

squat, "paddle", wobble, and jump

into the surfing position. We tried the

45-minute beginner class, which is

enough to make your muscles feel stiff

the next morning, but there are more

advanced classes for those who really

want to challenge their core stability.

WHERE TO TRY IT

Book a trial class at Surf Fit Japan

(sorry guys, but the classes are for

women only), surffit.jp

TRX SUSPENSION

TRAINING

This bodyweight system has already

been around for a while, but it's hit

the spotlight lately thanks to the

industry's recent focus on "functional

training." TRX was developed by an

American Navy Seal, Randy Hetrick,

who created stretchy straps inspired

by those used on parachutes. The key

difference between TRX and your

average gym machine is that you're

effectively using your own body as

a machine. Your movements are not

limited to one plane, and you can

adjust the straps to make the moves

more challenging. Best of all, if you

buy your own set of straps, you can

take them with you wherever you go.

WHERE TO TRY IT

Maga Gym, www.magagym.com,

and Club 360, www.club360.jp/fit-360

AERIAL AND ACRO YOGA

Take your yoga skills to the next level

with two unique forms of the practice:

aerial and acro. While the latter combines

acrobatic elements with yoga and

often requires a partner, aerial yoga

is performed with a soft hammock

and sees you holding asana poses in

the air – hence it's often referred to as

anti-gravity yoga. We think acro yoga is

ideal for couples' bonding, but if you've

ever dreamt of being a circus acrobat,

it's aerial yoga all the way.

WHERE TO TRY IT

Acro Yoga Japan, acroyogajapan.tokyo,

and Anti Gravity Fitness,

antigravityfitness.jp

28 | JANUARY 2017 | TOKYO WEEKENDER
---
ULTIMATE

PILATES

Although we don't look quite as impressive

as famed pilates instructor

Kathi Ross-Nash on a Reformer

(below), we went along to Maki

Okazaki's Pilates Aoyama studio to take

a bash at mastering the mechanics of pilates

apparatus. While we've tried a mat

class in the past, taking a private lesson

with Okazaki gave us exclusive access

to the impressive equipment, orginally

developed by Joseph H. Pilates himself.

Our favorite machine? Definitely the

Cadillac, a six-foot tall structure that has

all sorts of bells and whistles. It can be

used for anything from rehab work to

acrobatic tricks. With gentle but precise

guidance, Okazaki (right) took us through

a series of controlled stretches, making

sure we pinched our core muscles and

properly rolled the spine with breathing

techniques. Although we didn't manage

to try the "inverted hanging pike" (one

day!), the session was enough to make

us feel lengthened and strengthened.

Besides the Cadillac, Okazaki's studio

boasts other equipment too, including

the Reformer and the Ladder Barrel.

Okazaki, who speaks English and is

passionate about the work she does, will

be sure to ask you about any injuries you

may have, before tailoring the exercises

to suit your needs and skill level. The

machines provide a total body workout

to help you stay flexible, improve your

balance, and maintain a powerful core.

They are also excellent for rehabilitation.

Okazaki – who is a second-generation

pilates master, and studied in New

York with students of Joseph H. Pilates

including Romana Kryzanowska, Kathy

Grant, and Lolita San Miguel – founded

Pilates Aoyama in 2005 and works with

dancers, athletes, and businessmen.

"Most of my clients are non-Japanese,

and half of them are men," she tells us.

"Pilates helps them with recovery after

injuries, enhances sports performance,

and strengthens the entire body, while

also helping to correct alignment." The

ultimate goal, however, is balancing

body, mind, and spirit, and Okazaki's

method goes beyond just putting your

body in motion: "We offer a holistic

experience, because it's not just your

fitness; it's about your life."

JOIN A WORKSHOP WITH

LOLITA SAN MIGUEL

In February, Okazaki will host a threeday

workshop featuring Lolita San

Miguel – who studied under Joseph H.

Pilates. It will include lectures as well as

mat and equipment exercises, and will

run for six hours per day from February

3-5 (one-day participation is possible).

40 spots, ¥32,000 per day, apply by emailing

info@pilatesaoyama.com. More info

at pilatesaoyama.com

A 60-minute private session at Pilates

Aoyama costs ¥10,000 (no membership fee

required). Book a slot between 6.30am and

8pm by emailing info@pilatesaoyama.com

or calling 03 5411 1147. The studio is five

minutes from Omotesando Station; more

information at pilatesaoyama.com

Kathi Ross-Nash

TOKYO WEEKENDER | JANUARY 2017 | 29
---
TRENDS

TECH

HYPERICE VYPER

As warm-up and recovery are just as important as training, the

Vyper by HyperIce focuses on just that. The vibrating foam roller

relaxes muscles through a deep tissue massage. The device gets

the circulation going pre-workout, but its main purpose is the

release of knots, muscle pain and aches. hyperice.com/vyper.html

CLUB 360 IS GENUINELY THE FIRST

GYM THAT HAS LISTENED TO MY NEEDS

AND TAKEN A HOLISTIC APPROACH TO

MY BODY AND LIFESTYLE. I CAME IN

WITH CHRONIC BACK AND HIP PAIN

FROM YEARS OF SITTING IN OFFICES,

BUT I AM NOW PAIN FREE

– PAUL

THE 360-DEGREE

APPROACH

When you log onto Club 360's website, one of the

first things you'll notice is their focus not just on

fitness classes but also on physiotherapy, sports

massage, and healthy living. Their expert team is

made up of personal trainers and therapists who are all

dedicated to the 360 approach: ensuring you develop both a

healthy body and mind. Whether you choose to join a group

boxing class, an outdoor bootcamp session (begins at the

picturesque Arisugawa Park in Hiroo), or you'd prefer more

individualized, one-on-one training, you are guaranteed to

leave feeling like a better version of yourself. We also love

the fact that there are qualified physiotherapists on hand,

so should you be recovering from an injury, your workout,

treatment and rehabilitation can all happen in one spot.

They even offer a 360 Wellness for Life Program, which

helps cancer patients manage chemotherapy side effects

through prescribed exercise and oncology massage.

Cma3 Building B1, 3-1-35 Motoazabu, Minato-ku.

www.club360.jp

ZEPP 2 3D SWING ANALYZER

For those who want to improve their

golfing skills, the Zepp 2 3D Swing

Analyzer is the way to go. The device is

worn on a golf glove and analyzes your

swings, giving an instant evaluation.

It also helps you improve your future

swings with the help of its Smart Coach

training system. www.zepp.com

MOOV NOW

This gadget is more than just

your ordinary fitness tracker.

The water and dust proof

device, which can be worn

around your wrist or ankle,

can be connected to your

smartphone, where it not

only measures your fitness

level and counts your

reps, it also acts as a real

time personal coach.

welcome.moov.cc

30 | JANUARY 2017 | TOKYO WEEKENDER
---
You're Going to Love Our New App

The ultimate guide to Tokyo's daily events, news, restaurants, personalities

and opinions – by the people who know it best.

Download the Tokyo Weekender app for free from iTunes or Google Play.

More information at www.tokyoweekender.com
---
BE INSPIRED

If you haven't yet met Sony's robot dog, Aibo, head to the Sony Building for

an exhibition that looks back at the electronic giant's history. Plus, a David

Bowie retrospective, and a Naked 3D projection mapping extravaganza.

TOKYO WEEKENDER | | | DECEMBER JANUARY 2017 2016 | | 33
---
Courtesy the David Bowie Archive © Victoria & Albert Museum, London

ART & FILM

DAVID BOWIE IS

Finally making its way to Tokyo after a very successful world tour, this retrospective on the career of David Bowie is a treasure trove of

memorabilia for fans of the iconic artist. More than 300 objects, from handwritten lyrics, costumes, photographs, set designs, artwork

and rare performance material make up the exhibit. Fifty years of work is collected here, eulogizing Bowie's creative breadth and influence,

one style at a time. Warehouse Terrada Until April 9 davidbowieis.jp

THE ART WORLD

OUR PICK OF THE CITY'S BEST EXHIBITIONS

Compiled by Luca Eandi

IT'S A SONY

The Sony Building has been

a familiar sight in Ginza for

50 years, and before it is torn

down to make way for Sony

Park in 2018, the electronics

giant is looking back at its

own prolific history with "It's

a Sony." The exhibit features

hundreds of products, gadgets

and marketing materials from

Sony's 70 years in operation,

including the first color TV, the

iconic Walkman, the robot dog

Aibo, and many others.

Sony Building Until March 31

www.sonybuilding.jp/e/ginzasonypark/event

34 | JANUARY 2017 | TOKYO WEEKENDER
---
"Amusement park made from robot arms" from "Robot City" © Tatsuya Tanaka

FILM

Three top Japan-related Hollywood

movies set for release in 2017

ROBOTIC ART IN GINZA

Mitsubishi Electric shows off its latest creation at the Metoa exhibition space, and it's

sure to make you wonder what our future robot overlords will be like. Witness a robot

dance performance, a robot mimicking a giraffe, and a live digital light painting crafted

in real time, all courtesy of Mitsubishi's manufacturing robot arms. If that's not enough,

enjoy the works of miniature master Tatsuya Tanaka, whose intricate dioramas are also

on display. Metoa Ginza Until January 15, www.metoa.jp/event/roboticart-in-ginza

SILENCE

A film Martin Scorsese's been trying to make for almost

three decades. The renowned director was on

the shinkansen heading towards Kyoto back in 1989

when he first read Shusaku Endo's novel Silence.

The story follows two Jesuit priests sent to Nagasaki

during the Edo period to investigate claims that

their mentor has committed apostasy. Stars Andrew

Garfield, Adam Driver and Liam Neeson.

GHOST IN THE SHELL

A tale about a cyborg counter-cyberterrorist unit

based on Masamune Shirow's manga of the same

name. An international task force unit known as

Public Security Section 9 must thwart a new enemy

trying to sabotage Hanka Robotics' artificial intelligence

technology. Stars Scarlett Johansson, Michael

Pitt and Beat Takeshi.

TOKYO ART CITY BY NAKED

Specializing in 3D projection mapping art, Naked is best known for light-up

displays at Tokyo Station and Omotesando Hills. For this new show, the art

group headed by Ryotaro Muramatsu will reprise its city-themed collage

style and philosophy that "the city is art" with snapshots of projected Tokyo

landmark buildings. Additionally, the artists' "Tokyo Hikari Vision" work will

be reproduced at a smaller scale on a model of Tokyo Station.

Shibuya Hikarie Until January 21 tokyoartcity.tokyo

THE OUTSIDER

An action thriller set in post WWII Japan that

tells the story of a former American GI who gets

sucked into the criminal underworld after a cellmate

from the yakuza helps with his release from

prison. Stars Tadanobu Asano, Shiori Kutsuna

and Jared Leto

TOKYO WEEKENDER | JANUARY 2017 | 35
---
1

3

2

4

6

7

8

5

AGENDA: THE WEEKENDER ROUNDUP OF WHAT'S HAPPENING IN JANUARY

1

JAN 31

2

JAN 4-31

3

JAN 1-21

4

JAN 1-26

PJ HARVEY

Two-time Mercury Prize

winner Polly Jean Harvey

returns to Tokyo for her first,

long-awaited performance in the

metropolis since 1995.

Where: Orchard Hall

How much: ¥12,500

More info: www.creativeman.co.jp

and tokyoweekender.com

THE PEOPLE BY

KISHIN

Renowned photographer

Kishin Shinoyama exhibits stunning

portraits of celebrities and common

folk from his illustrious five-decade

career.

Where: Yokohama Museum of Art

How much: ¥1,500

More info: kishin-yokohama.com

JB BLUNK

EXHIBITION

A rare chance to see

more than 30 ceramics produced

with natural materials by legendary

Northern California artist, J.B. Blunk

– his first show in Japan since 1954.

Where: Blum & Poe

How much: Free

More info: www.blumandpoe.com

KENJI MIZOGUCHI &

YASUZO MASUMURA

FILM FESTIVAL

Classic films with women as

protagonists are the focus of this

festival featuring the work of two

masterful Japanese directors.

Where: Kadokawa Cinema Shinjuku

How much: ¥1,600

More info: cinemakadokawa.jp

JAN 7-15

FURUSATO

MATSURI TOKYO

Taste specialties

from Japan's many prefectures

all in one spot, with special

consideration given to donburi,

ramen, sake, and beer.

Where: Tokyo Dome

How much: ¥1,600

More info: www.tokyo-dome.co.jp

6 JAN 1-15

THE RETURN OF

HOKUSAI

This museum's opening

collection celebrates the life and

works of legendary Japanese

woodblock printing artist

Katsushika Hokusai.

Where: Sumida Hokusai Museum

How much: ¥1,200

More info: hokusai-museum.jp

5 7

JAN 1-31

JOMONESQUE

JAPAN 2016

5,000-year-old Jomon-era

pottery is on display in this exhibition

featuring flame-style pots, clay

figures and stone rods.

Where: Kokugakuin University

Museum

How much: Free

More info: museum.kokugakuin.ac.jp

8

JAN 7-8

HERMETO

PASCOAL

80-year-old Brazilian

jazz music legend Hermeto Pascoal

brings his wildly creative and

transgressive compositions to Tokyo.

Two sets per night.

Where: WWW X, Shibuya

How much: ¥8,500

More info: frue.jp

36 | AUGUST JANUARY 2016 2017 | | TOKYO WEEKENDER
---
11

9

10

12

9

JAN 15-16 10 JAN 12-15

SETAGAYA

BOROICHI

An intangible folk cultural

asset, this flea market's been going

strong for over 400 years and

features around 700 stalls hawking

everything imaginable.

Where: Boroichi-dori

How much: Free

More info: tokyoweekender.com

WIDE EYED THEATRE

COMPANY: A FAERIE

TALE

Enjoy a tale of magic, deceit and

betrayal with this interactive,

promenade-style play performed

in English.

Where: Nakano F

How much: ¥3,000

More info: www.wideeyedtc.com

JAN 1-14

AMANA PLATINUM

PRINTS EXHIBITION

The various benefits of

durable platinum photographic

prints are exulted in this exhibition

by Amanasalto, Japan's top

practitioner of platinotypes.

Where: Ima Concept Store

How much: Free

More info: imaonline.jp

11 12 JAN 16

HARVARD GLEE

CLUB

For the first time in 24

years and only the third time ever,

America's oldest collegiate men's

chorus club is set to make its longawaited

return to Japan.

Where: Kioi Hall

How much: ¥3,500-¥5,000

More info: tokyoweekender.com

TOKYO WEEKENDER | | JANUARY 2017 | 37
---
People,

Parties, Places

TOKYO'S LONGEST RUNNING SOCIETY PAGE WITH BILL HERSEY

Takako Vosman, Steve Haynes, & Reme Bosman

It's Sunday, December 3, and thanks to the holidays, we're

working ahead – way ahead this time – to make our January

issue deadline. Where does the time go? Tokyo's gone all out

to look its best over the holidays. I do hope you were able to

get together with family and friends and check out some of

the beautiful decorations at churches, shopping malls, restaurants,

parks, hotels, and more. Many were truly amazing.

Looking ahead, it's going to be a busy January with a full schedule

of interesting things to see and do. These include good movies, plus a

variety of music from pop to classic, several good stage plays, lots of

art exhibitions, sports events, Japanese festivals, fashion shows, and

I'm sure as always after the holidays, some great bargain sales.

Many of my friends travel over the holidays and hopefully enjoyed

wherever they went and whatever they did. I enjoy Christmas

and New Year's here, but will also try and head out for Guam, the

Philippines, Thailand and/or Sri Lanka, and take advantage of the

warm weather in a few of those places while it's cold here.

Some of the highlights of my end-of-year activities included

working with the Weekender, Hilton Tokyo, Coca Cola, Mercedes

Benz, Sony, Walt Disney, Toho-Towa, Lufthansa, Tohoku Shinsha,

and 20th Century Fox, as well as all the wonderful warm, caring and

giving friends who helped with setting up the 19th annual Christmas

party for less fortunate kids from six different schools. This event

took place at the Hilton Tokyo. Mike Williamson, GM at the Hilton,

and the Hilton staff have all been super generous with food, gifts,

services and attitude. The kids this year (six to 12) were fantastic.

A big thanks as well to Steve Haynes (Rudolph the Red-Nosed Reindeer),

Rene Boseman (Santa Claus), and Hiroshi Watabe (Michael

Jackson).

Talking about talent, the party closed with the ambassadors'

wives and the cream of Tokyo society joining the entertainers and

children in singing and dancing to the Village People's "Y.M.C.A."

A big and very sincere thanks to all who helped make the holiday

season a very happy one for so many. God bless you all.

TREK-SEGAFREDO EVENT – HIROO

To celebrate the success of Trek-Segafredo in Japan, Segafredo

Zanetti Japan paid homage to the cycling team and to the Rio gold

medal winner, Fabian Cancellara, as he bid farewell to professional

cycling. The event was a marvelous get together for cycling lovers

at the newly decorated Trek-Segafredo Café in Hiroo. Guests included

Fabian Cancellara, the new Swiss ambassador with his wife and

daughter, Japanese professional road racer Fumiyuki Beppu, all the

Trek-Segafredo members, members of the press, and fans of the racers.

It was a colorful, exciting event with the sports superstars – a

really special event.

ILBS'S CHARITY CHRISTMAS BAZAAR

Happy to report that the International Ladies Benevolent Society's

annual Christmas Bazaar at the Tokyo American Club was, as

38 | JANUARY 2017 | TOKYO WEEKENDER
---
1 2 3

4

6

5

7

8 9

10

11

13 14

12

HILTON, WEEKENDER,

HERSEY CHARITY PARTY

1. Hilton Tokyo's G.M. Mike Williamson

2. Santa (Rene Boseman) his wife Takako and

daughter Nana, and great kids

3. Maali Siam (Palestine) 4. Itsumi Sano

5. Lynn Lai 6. Katerina Karatsolis (Greece),

Kyoko Fujisawa (Yodobashi Camera), Beatrice

Correa du Lago (Brazil), Kumiko Meric

(Turkey), Kyoko Spector 7. Guardian Angels

Keiji Oda, Lilo Maruyama 8. (Yodobashi)

Kyoko Fujisawa, Bill & Beatrice. 9. The Ireton

family, Michael (Hiroshi Watabe) 10. Anna

Shiga 11. Wahida Fatime (Afghanisan) 12.

Rachadawan Lathapip, Yupadee Bunnag

(Thailand) 13. Cristina Escala (Peru) 14.

Steve Haynes

TOKYO WEEKENDER | JANUARY 2017 | 39
---
ILBS CHRISTMAS

BAZAAR

1. Hisako Inayama, Mary Katayama

2. Clara Nakasato, Fumiko Tottori,

Candy Sato 3. Ana Maria Diaz

(Colombia), Lolita, Irina Spassky,

Barbara Allen 4. ILBS President

Daniele Yoshikoshi, Kumiko Oshima,

Beverly Nakamura 5. Princesses

Noriko & Ayako 6. Tomoko Takada,

Alifah Rahman Yamasaki

1

2

SAUDI NATIONAL DAY

7. Ceremony's Tsukasa Shiga.

UAE Amb. Khalid Al Ameri, Qatar

Amb. Yousef Bilal, Bahrain Amb.

Dr. Khalil Hassan, Ros Roman Ji

8. Sara Matasie, Ms. Qari, Foreign

Correspondents' Club President

Khaldon Azhari, Saudi Cultural

Office Hakima Bathawi, Dr. Amani Al

Hibshi (NEC) 9. Al Ain Restaurants'

Ziad D. Karam 10. Pakistan Defense

Atache Shirez Khan, the host Saudi

Amb. Ahmad Younos S. Al Barrak Dr.

Muhammad Abdur Rahman Siddiqil

(Int'l Muslim Center)

4

6

3

7 8

5

10

9

12

13

11

AT THE MERICS' TURKISH

RECEPTION

11. Irish Amb. Anne Barrington with Japan

Maritime Self-Defense Force Petty Officer Yuko

Naito and Rear Admiral Takehisa Nakao 12. The

hosting couple Turkish Amb. A. Bulent Meric, his

wife Kumiko and Akie Abe 13. Gonzato Gonzales

(Venezuela), Bosnia Herzegovina Amb. Anesa

Kundurović, Karen Muradell (Honduras) and David

Villagomez (Ecuador) 14. Pakistan Amb. Farukh

Amil, Kyoko Spector, Afrah and Hassan Sarwar

17

14

15

GOLD MEDAL

CYCLISTS EVENT –

SEGAFREDO

15. Yulia Gusynina Paroz, Lydie-

Line, their daughter Lydie-Line,

Swiss Amb. Jean-Francois Paroz

16. Segafredo CEO, Pascal Heritier

and the company's rep. Director

and head of Asian Region Brian

Mori 17. Olympic (Rio) gold

medal winner Fabian Cancellara

with Jean-Francois Paroz

16

40 | JANUARY 2017 | TOKYO WEEKENDER
---
always, a super success. The many charitable, hard-working ILBS

ladies working at the busy bazaar got into the holiday fashion mood

(lots of red!), and raised a considerable amount of money that, together

with their many projects, goes to a variety of worthwhile

causes. My dear friend Daniele Yoshikoshi, who is president of ILBS,

was at the helm this year, and I was sure that she and the others who

put so much time and effort into the project would make it one of the

biggest and best bazaars ever.

I appreciated Princess Takamado's mother, Fumiko Tottori, introducing

two of her three granddaughters, Princess Noriko and

Princess Ayako. Like their late and great father, Prince and Princess

Takamado are really cool, and very internationally minded. A big

congratulations to them and the ILBS ladies for yet another charity

project well done.

THE MERICS' TURKISH NATIONAL DAY

Going back a bit, it was wall-to-wall people at Turkish Ambassador

Ahmet Bulent Meric's National Day party. Bulent and his wife Kumiko

are a popular couple and guests included Akie Abe, the wife

of Prime Minister Abe, who was super chic for the event. In addition

to the bountiful buffet of Turkish food in the dining room, tents

had been set up in the garden where they were serving the popular

traditional Turkish kebab. It was a thoroughly enjoyable evening in

every way.

SAUDI NATIONAL DAY – PALACE HOTEL

Our Saudi friends celebrated their national day at a noon-time reception

at the luxurious Palace Hotel. In addition to relaxing and

chatting with long-time friends, I met several VIPs for the first time.

These included UAE Ambassador Khalid Omran Al Ameri. Thanks

to former Ambassador Al Mokarrab, I've had the privilege of visiting

his country seven times – once for the UAE's 20th anniversary,

another time for their 25th anniversary, and the rest just to visit

friends living there. On one trip, we drove to all seven of the Emirates.

Thanks to another very capable diplomat and good friend, Saudi

Ambassador Al-Shobokshi, and the Saudi national guard, I was a

guest in their country for the annual Jenadriyah culture festival. I

visited Riyadh and Jeddah, and a young officer of the National Guard

took me to visit his "uncle's" camp in the desert. After dinner under

a big tent, half a dozen of his nephews sang and danced. They also

surprised me by giving me some beautiful Arab clothes to wear. After

joining in an unrehearsed dance, I went over to the "uncle" and

said, "I feel like Lawrence of Arabia." He laughed and said, "You look

like Saddam Hussein." The next night, my guide took me to meet

two young singers whom he introduced as the Michael Jacksons of

Saudi Arabia.

The national day at the palace was very special. Our congratulations

to Ambassador Al Barrak, his staff, and the Saudi

people. It was also great getting to know Dr. Muhammad Abdur

Rahman Siddiqi, the chairman of the International Muslim Center

in Japan, and I appreciated his invitation to the 9th International

Peace Seminar on Prophet Muhammad. The seminar was titled "Islamic

Perspective on Terrorism" and featured guest speaker Rayyan

Fawzi Arab.

CEREMONY'S BIRTHDAY DINNER FOR SHIGA

I hadn't heard of Jisaku Tsukiji restaurant, but when I received an

invitation to celebrate there with Ceremony's president Tsukasa

Shiga, I knew it would be something special. Tsukasa and his family

always choose the best. It was his birthday, and the restaurant –

which is on the river and has about 19 tatami rooms, interesting

rock formations, goldfish-filled ponds, and many statues – is Japan

at its best. The multicourse Japanese meal included their speciality

chicken. I would definitely recommend you try it out while you're

in Tokyo: Jisaku Tsukiji, 14-19 Akashi-cho, Chuo-ku, 03-3541-2391.

HOLIDAY HAPPENINGS

Tokyo does slow down a bit for Japanese New Year (Shogatsu), but if

you live here, you know how busy it is the rest of the time. With all

the happenings before the 2020 Olympics, we're seeing all kinds of

overnight changes. The "Roppongi clean up" campaign is working

on the north side, with Midtown, museums, shops and restaurants

all getting a facelift, and big new buildings going up everywhere.

A perfect place to see what's happening is around the popular

Franciscan Chapel Center Catholic Church. Directly across from

the chapel, a big new apartment building is being built, and a few

minutes' walk from there, a huge new building that will house a

much-needed modern police station is under construction. I recently

talked with one foreigner and one Japanese local who were each

wearing fashionable uniforms with armbands that read "Minato-ku

Safety and Security." They told me their main job is helping tourists

with directions, or helping people with any problems they might

have in Roppongi. (Both, I might add, were big enough to handle

any kind of trouble they might come up against.)

On the south side of Roppongi (Tokyo Tower, Roppongi Hills),

change seems to be a bit slower. However, thanks to the late great

land developer Minoru Mori, they do have the Roppongi Hills mall

with its theaters, shops, restaurants and super art museum. Morisan

also bought the land down the hill behind dear Dr. Eugene Aksenoff's

famous clinic, and they seem to be working on plenty of

new buildings in that area. I'm sure they'll soon clear out or at least

clean up the big old Roi Building across the street from Don Quixote.

Just for your information, my club-going friends tell me that

they don't go to Roppongi that much any more; these days they prefer

Shibuya for food, nightlife and fun. I plan to get out and check

things out in the new year, and will keep you posted on many of

the changes in our ever-evolving city.

Team Trek, Olympic cyclists Gregory Rast,

Jasper Stuyven, Bauke Mollema

Segafredo CEO (center) Pascal Heritier with super

Hiroo Segafredo staff

Bill with team member Fumuyuki Beppu

TOKYO WEEKENDER | JANUARY 2017 | 41