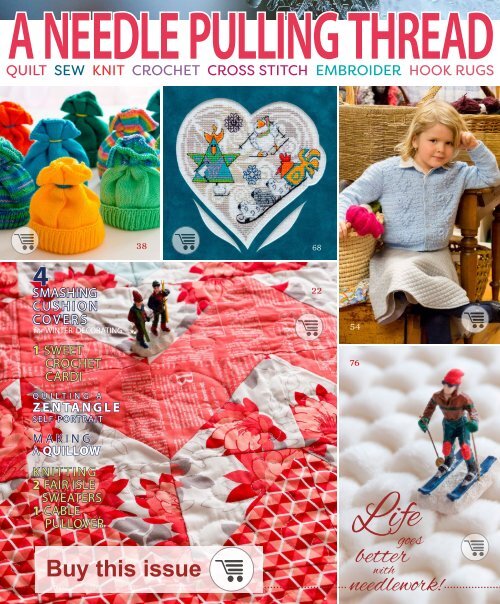 A Needle Pulling Thread Winter 2016-17 Sampler
Winter Fun with Hot Colours: In this winter issue, we take the blah out of frosty scenes and add sparkle and hot colours! You'll find several exciting quilts that explore several quilting techniques such as: making a free motion quilted Zentangle Self Portrait, making a Quillow, try an easy way to make the stain glass effect, play with half square triangles using different intensities of printed pattern fabrics, and how to pair up stenciling and machine embroidery. Then warm up your wardrobe with 2 Fair Isle sweaters, a child's crochet cardi with bobbles and vines, and the exquisite trio of winter accessories using the sparkling bead knitting. There's so much more...including 3 cozy cushion tops using punchneedle, smocking, and Swedish weaving. Stay warm this winter!
Winter Fun with Hot Colours: In this winter issue, we take the blah out of frosty scenes and add sparkle and hot colours! You'll find several exciting quilts that explore several quilting techniques such as: making a free motion quilted Zentangle Self Portrait, making a Quillow, try an easy way to make the stain glass effect, play with half square triangles using different intensities of printed pattern fabrics, and how to pair up stenciling and machine embroidery. Then warm up your wardrobe with 2 Fair Isle sweaters, a child's crochet cardi with bobbles and vines, and the exquisite trio of winter accessories using the sparkling bead knitting. There's so much more...including 3 cozy cushion tops using punchneedle, smocking, and Swedish weaving. Stay warm this winter!
SHOW MORE
SHOW LESS
Create successful ePaper yourself
Turn your PDF publications into a flip-book with our unique Google optimized e-Paper software.
A NEEDLE PULLING THREAD

QUILT SEW KNIT CROCHET CROSS STITCH EMBROIDER HOOK RUGS

4

SMASHING

CUSHION

COVERS

for WINTER DECORATING

1 SWEET

CROCHET

CARDI

QUILTING A

ZENTANGLE

SELF PORTRAIT

MAKING

A QUILLOW

KNITTING

2 FAIR ISLE

SWEATERS

1 CABLE

PULLOVER

38

Buy this issue

68

22

54

76

Life

goes

better

with

needlework!
---
Artful

evolution

The creative sensation pro II sewing

and embroidery machine is the evolution

of the PFAFF ® brand's advanced

technology. The result is performance with

superior precision and control.

PFAFF, PERFECTION STARTS HERE, IDT (image), STITCH CREATOR, SHAPE CREATOR and CREATIVE SENSATION are trademarks of Singer Sourcing

Limited LLC or its Affiliates. © 2016 Singer Sourcing Limited LLC or its Affiliates. All rights reserved. All statements valid at time of printing.

NEW!

Exclusive Double

Ribbon Stitches

PFAFF ® Precision Portfolio

Perfect control in each and every stitch.

• ActivStitch Technology

This revolutionary technology delivers gorgeous embroidery

even when using challenging threads like metallic.

• The Original IDT System

Absolutely even fabric feed from both the top and the bottom.

Only from the PFAFF ® brand!

• Precise Positioning feature

Place every embroidery design exactly where you want it.

• Exclusive Stitch Creator feature

Create new 9mm stitches or edit built-in ones with

professional finish.

• Shape Creator feature

Combine decorative stitches or design elements instantly to

create unique borders and designs.

Ask your local dealer for a personal

demonstration!

www.pfaff.com/en-CA

NEW

At participating Canadian dealers

Like us on
---
epertoire

Editor's letter

My sewing machine is my best friend.

Together, we spend countless hours creating,

and making all my sewing dreams come true.

I know its quirks and hum and I'm quick to

forgive when it acts up. When I don't get a

chance to sew, well, I miss it like I miss the sun

on a cloudy day.

For me, buying a sewing machine is like

buying a car. It's an important investment

since we're going to be best friends. When

shopping for my new sewing machine I read

about as many sewing machines as I was able

to stand; doing this a little at a time helped,

as there's a lot of information at our fingertips

today. I read up on all the models and their

features to narrow down the selection to

the features I was most interested in. Then,

it was even more important to test drive the

selected ones for a good comparison.

A sewing machine needs to feel right, like a

favourite coat, so I can let the 'sewing fun' be

the highlight of our time together. For this to

happen, there's a familiarity that will come as I

get to know it… And then there's the manual. I

know, not my favourite part, right? I mean who

wants to read?! "I want to sew!" Yet, it's a very

important tool - know the manual, know the

sewing machine, without tears.

Today's sewing machines are so very 'ultra', they

have the capabilities to do so many things that

10, 20 years ago we never would have imagined

was possible. By the same token, perhaps all

you wish is a simpler sewing machine to finish

off your embroidery project, hem the odd

pair of pants, dabble in making Halloween

costumes once a year. Whatever your need,

sewing machines are an important investment,

in terms of budget and more importantly for

what you're going to use it.

Your sewing machine dealer is a vital part of

you owning a sewing machine. They'll be the

ones at your rescue when your sewing machine

needs a tune up or repair after all that sewing

you've been doing…choose wisely.

Here's the winter, already at my door, a chance

to hybernate so to speak and sew as much as I

can, to which I say, "Let it snow!"

Cheerfully,

Life goes better with needlework!

3
---
30 84

26 80

40

46

44

50

FREE

2016

winter

CONTENTS

34

12

18

72 62

4
---
12 Cheryl Stranges

machine embroidery

A Calm Winter, A Body Pillow Cover

18 Brampton Sew N Serge

Doreen G. Teasdale

quilting

Après Ski Banner

22 Jackie White

quilting

Bonfire After Skiing Quilt

26 Rosalie I. Tennison

quilting

Making a Quillow

30 The Quilt Store

Jacqueline Grice

quilting

Quilted Zentangle Self Portrait

34 Donna Housley & Cathy McLean

quilting

Quilted Hand Muff

36 Cynthia MacDougall

knit together

Keeping it Cozy

38 Cecilia Doyle Smith Reid

knitting

Tiny Tot Toques

40 Denise Powell

knitting

Snowflakes & Evergreens Cardigan

44 Jacqueline Grice

knitting

Berner Oberland Cabled Pullover

46 Brenda Franklin

bead knitting

Glitter in the Snow Winter Accessories

50 Red Heart, Cathy Payson

knitting

My Little Girl's Fair Isle Tunic

54 Ruth I. Forbes

crochet

Blooms A-Popping Cardigan

62 Joanne Gatenby

cross stitch

…Late for Work

68 Maria Gollek

cross stitch

Winter in my Heart

72 Kim Beamish

Hardanger

Blissful Triad Bookmark

76 Judith Marquis

smocking

Winter Snowdrifts Cushion

80 Christine Allan

Swedish weaving

Cobblestone Way Cushion Cover

84 Christine Baker

needlepunch

Cookies and Cocoa Cushion Cover

36 58

special

features

10 A Year in Review

58 In the Loop

Woodstock Fleece Festival

88 Beading with domes & gears

Beaded Snowflake Brooches

Maria Rypan

Artist Review

93 Karen Miller

Beyond Swallowtail

83 Monika Kinner-Whalen

A View from Shelby's Garden

94 Rebecca Sham

Chinese New Year

88

94

93 83

in

every

issue

3 Editor's Letter

6 Mark Your Calendars!

6 Advertiser Index

8 Hooked on Books

The latest in needlework books

33 The Heart of the Art

Letters to the editor

61 Knitting

Standard Abbreviations & Terms

98 Business Directory

A NEEDLE PULLING THREAD ● winter 2016

5
---
MARK YOUR CALENDARS!

To list your event in this space please call 1.866.969.2678.

Creativ Festival West!

The Creative Stitches & Crafting Alive! Shows

are Western Canada's #1 Sewing and Crafting

events showcasing, Sewing, Scrapbooking,

Quilting, Knitting, Needlework, Fibre Arts,

Beading and Paper Crafting, with Hands On

Classes, Educational Seminars & Free Stage

Shows!! Friday 9am-6pm, Saturday 9am-5pm.

Details at www.CreativeStitchesShow.com.

Victoria, BC: March 10-11, 2017

Pearkes Recreation Centre

Abbotsford, BC: March 24-25, 2017

TRADEX

April 1-2, 2017

Celebration of Colour

Presented by Region of York Quilters Guild

Newmarket Community Centre,

200 Doug Duncan Dr, Newmarket, Ontario L3Y 3Y9

Sat: 10am-5pm, Sun: 10am-4pm. Featuring an

exhibit of quilts, a charity raffle quilt, vendors,

and tea room. Admission $7.00. For more

information visit regionofyorkquiltersguild.ca.

April 8-9, 2017

Reflections of Georgian Bay Quilt Show

Presented by Georgian Bay Quilters' Guild

Tiny Township Community Centre,

91 Concession Road 8 East, Tiny, Ontario L0L 2J0

Sat: 10am-5pm, Sun: 10am - 4pm. Admission

is $5 and men are our guests. Quilted exhibits,

vendors, tea room, door prizes, demonstrations.

Plenty of free parking, handicap access. The

location will be well signed. For more information

email us at GeorgianBayQuiltersGuild@gmail.com

or online at www.gbqg.ca or on Facebook.

QUILT MAGIC

NO-SEW WALL HANGING KITS

So much fun and EASY to do!!!

Quilt Magic is just

like painting with

numbers, except

that you use fabric

instead of paint!!

Sandpiper

Creations Canada

1-800-671-2272

■ No sewing

■ No gluing

■ No special tools

■ Instructions

included

brandor

Order Securely On-line at:

www.sandpipercreations.ca

www.quiltmagic.ca

website!

April 28-29, 2017

Creativ Festival

International Centre

6900 Airport Rd, Mississauga, ON L4V 1E8

Two-day interactive experience, where shopping,

inspiration & creativity flourish! Get in-theknow

and stay on top of what's hot, new and

next in the world of sewing, knitting, quilting,

beading, needlework, paper crafts, embellishing

and other creative art forms. Design it! Create

it! Embellish it! Make it YOU! For more info:

www.creativfestival.ca or call 1.855.723.1156.

April 28 - 30, 2017

Ontario Hooking Craft Guild (OHCG)

51 st Annual Conference, Workshop & Rug Show:

"Images of Canada"

(Traditional and primitive rug-hooking)

Best Western Cobourg & Cobourg Community Centre

The OHCG celebrates the traditional art and

craft of rughooking with wool fabric & yarn,

while embracing new and creative ways to hook

rugs. The OHCG Annual Conference & Rug Show

celebrates Canada's 150 th in picturesque Cobourg.

See hundreds of wonderful rugs on public display

Sunday April 30 th . Admission $10.

For more information visit www.ohcg.org.

May 25 - June 3, 2017

Saskatchewan Stitches Conference

St. Peter's Abbey, Muenster, Saskatchewan

The Saskatchewan Stitches Conference offers

creative classes with renowned fibre and

needle work artists and attracts participants

from across Canada who love to sew, knit,

quilt and rughook. Forms and details at

www.saskstitches.ca or call 1.800.344.6024.

Show Guide Unlimited, the 2016 edition of the

Ontario Show Directory is now available! An

extensive listing of the years best shows including

art and craft (juried and non-juried), needlework,

woodworking, festivals and bazaars throughout

Ontario; also craft show tips, etiquette and

useful planning calendar; available at $24.99 plus

$5.00 S&H. For more info or to order online visit

www.ontarioshowguide.com, or call 1.800.671.2272.

Advertiser Index

97 BF Designs

99 Brother

98 Business Directory

96 Canadian Quilters' Association

97 Crochet Designs by NanaRuth

96 Embroidery Association of Canada

100 Gütermann Creativ

97 Harebrained Happenings

97 Haus of Stitches

21 Irish Tourism

97 Lowery Workstands

71 MarNic Designs

75 Mary Maxim

87 Ontario Hooking Craft Guild

02 PFAFF

65 Red Heart

97 Rypan Designs

06 Sandpiper Creations

97 The Bead Gauge

07 Unique Knitting & Crochet

25 WonderFil Threads

71 X's & Oh's

PUBLISHER, EDITOR-IN-CHIEF, ART DIRECTOR

Carla A. Canonico

carla@ANPTmag.com

PUBLISHER, ADVERTISING SALES

John De Fusco

john@ANPTmag.com

PHOTOGRAPHERS

John De Fusco, Carla A. Canonico

QUILTING CONTRIBUTOR

Elaine Theriault

KNITTING CONTRIBUTOR

Cynthia MacDougall

cynthia@ANPTmag.com

PROOFREADER

Erica Killins

BEADING EDITOR

Brenda Franklin

brenda@ANPTmag.com

GRAPHICS ASSISTANT

Sondra Armas

SOCIAL MEDIA

Chris Wokral

Alessia De Fusco

Website : www.ANPTmag.com Facebook : ANPTmag

Toll Free: 1.866.969.2678 Ravelry : ANPTmag

SUBSCRIPTIONS

A Needle Pulling Thread (ISSN 1715-4650) is a quarterly publication.

Subscribe online, by phone, or by mail.

In Canada:

A Needle Pulling Thread

Subscriber Services

1025 Rouge Valley Dr

Pickering, ON L1V 4N8

In the USA:

A Needle Pulling Thread

Subscriber Services

PO Box 197

Niagara Falls, NY 14304-0197

Subscription rates for 4 quarterly issues:

PRINT: Canada : CAD$29.95/year USA : USD$29.95/year.

DIGITAL: Canada : CAD$19.95/year USA : USD$16.95/year.

PRINT + DIGITAL : Canada : CAD$35.90/year USA : USD$35.90/year.

Applicable taxes extra. For back issues please visit our web site or call

us for availability. Also available on iTunes and Google Play.

RETAILERS

If you are interested in carrying A Needle Pulling Thread in your

store, please call 1.866.969.2678 or email john@ANPTmag.com.

EDITORIAL

Designers and other contributors who would like to be considered

for future issues please email Carla with a brief description

of your work and your proposed project for the magazine.

SPECIAL THANKS TO

All the contributors, The Foglia Family, The Miles Family, Rosalie I.

Tennison, Alessia and Adriano, mom.

A Needle Pulling Thread ® is a registered trademark. No part of this publication

may be reproduced without written permission from the publisher.

©2016 A Needle Pulling Thread. All rights reserved. Volume 11 Issue 4.

All designs, patterns, and information in this magazine are for

private, non-commercial use only, and are copyrighted material

owned by their respective creators or owners.

Made possible with the support of the Ontario Media Development

Corporation.

We acknowledge the financial support of the Government of Canada

through the Canada Periodical Fund (CPF) for our publishing activities.

6 ●

A NEEDLE PULLING THREAD winter 2016
---
7
---
hooked on books

Yarnitecture

Jillian Moreno

Create your dream yarn! Discover the pleasures

of designing and building custom-made yarn by

spinning it yourself, choosing everything from color

to feel and gauge. Jillian Moreno leads you through

every step of yarn construction, with detailed

instructions and step-by-step photos showing you

how to select the fiber you want (wool, cotton,

silk, synthetic), establish a foundation, and spin

a beautiful yarn with the structure, texture, and

color pattern that you want. Moreno also offers 12

delicious original patterns from prominent designers,

each one showcasing hand-spun yarns.

240 Pages, ISBN 978-1-61212-521-3

Upper Canada Quilt Works Publishing

Storey Publishing

www.thomasallen.com

Needle Felting from Basics to Bears

Liza Adams

Make the cutest little creatures from wool! Needle

felting is all the rage, and this book shows you how

to create tiny bears, rabbits, dogs, cats, fairies, dolls,

cupcakes, and more.

• Basic instructions and step-by-step photos

show you what you will need and how to

begin, plus advanced options for once you've

mastered the basics

• Learn to make joints so that the arms and legs

can really move

• Instructions on how to make unique details such

as pointed ears, long tails, and different noses

and muzzles

130 Pages, ISBN 978-0-8117-1662-8

Stackpole Books

www.rowman.com

Tatting Jewellery

Lyn Morton

Here is a new title on the intricate skill of tatting; one

of the oldest forms of lace making still in use today.

This practical and informative book showcases the

use of this accessible and thriving craft, ideal for

creating fantastic necklaces, bracelets, pendants

and earrings. Lyn Morton's wide-ranging collection

of charming and innovative patterns will inspire

tatters of all levels, from the relative beginner to the

experienced and dedicated tatter seeking to create

their own unique accessories.

112 pages, ISBN 978-1-86108-676-1

Guild of Master Craftsman

www.thomasallen.com

Cool Chunky Knits

Tabetha Hedrick

Get your knit on with this stylish and quick-knitting

collection of patterns designed for today's super

popular chunked-up yarns and fashions! Knitters

from beginner to intermediate levels will enjoy

exploring the simple but engaging stitch patterns–

easy lace, subtle textures, and fun cables.

• Includes patterns for the fashions knitters want:

cowls, infinity scarves, shawlettes, slouchy hats,

fingerless gloves, headbands, and more

• All designs are knit with bulky, super bulky, or

chunky yarns

• Many patterns require only one or two skeins

of yarn

112 pages, ISBN 978-0-8117-1648-2

Globe Pequot Press / Stackpole Books

www. rowman.com

DIY Woven Art

Inspiration and Instructions for Handmade Wall

Hangings, Rugs, Pillows, and more!

Rachel Denbow

Featured in this comprehensive weaving guide are 15

fresh and funky fiber art projects–from texture-rich

wall hangings to retro rugs and even a chic purse.

Each will add a pop to your surroundings and your

style. And no need to invest in a pricey loom. Author

Rachel Denbow steps you through how-to's for 3

simple, portable looms.

DIY Woven Art jump-starts creativity with beginnerfriendly

instructions.

122 pages, ISBN 978-1-63250-431-9

Interweave

www.interweavestore.com

Crochet to Calm

Stitch and De-Stress with 18 Simple Crochet Patterns

By the Editors at Interweave

Discover the most rewarding way to de-stress at

the end of a hectic day—crochet! The soothing,

repetitive motion of this classic craft can clear your

mind while providing a creative outlet. Best yet?

You'll create gorgeous projects you can proudly wear

and display!

Crochet to Calm features 18 rewarding projects, from

home accents to cozy. The projects are quick to make,

so you'll have plenty of time to try them all! Featuring

a foreword by Mandy O'Sullivan, the founder of

CraftsasTherapy, Crochet to Calm will help you relax,

one stitch at a time.

112 pages, ISBN 978-1-63250-495-1

Interweave

www.interweavestore.com

8 ●

A NEEDLE PULLING THREAD winter 2016
---
hooked on books

When Bad Things Happen to Good Crocheters

Survival Guide for Every Crocheting Emergency

Beth Wolfensberger Singer

Whether you call her the crochet guru, call her

your own personal crochet fairy godmother, or just

call her for crochet emergency help, author Beth

Wolfensberger Singer is here to save the day. From

uneven edges to wonky corners to too-tight stitches

to dealing with yarn ends or a forgotten increase,

Beth offers level-headed advice on what to fix,

how to fix it, and when you can just fudge it. Also

included are 6 original crochet designs--so readers

can test drive their new-found crocheting expertise.

124 Pages, ISBN 978-1-62710-394-7

Taunton Press

www.thomasallen.ca

Walking Foot Quilting Designs

Melissa Marginet

A brilliant quilter, Melissa Marginet has compiled in

this golden nugget of a book, step by step diagrams

and pictures to help you quilt your quilt. The

designs shown can be made as simple or complex

as described in clear and comprehensive diagrams.

Walking Foot Quilting Designs will become for you a

reference book you'll keep by your sewing machine

and quilt with confidence using its creative guidance.

100 Pages, ISBN 978-0-9952741-0-5

Self-published

www.melissamarginet.ca

By the Bundle

Emma Jean Jansen

Quilters love collecting these precut bundles, but

often don't know what to do with them. Because

they are a specific cut of fabric (18" x 22" instead of

a ¼ yd cut from fabric that measures 9" x 44" and is

much less usable) the instructions for a project need

to be specifically written to accommodate these fat

quarter cuts. All of Emma's patterns are written with

this in mind in addition to providing irresistible new

quilt designs to finally put these collections to use in

her widely appealing designs. Emma's patterns cross

over beautifully between the modern and the new

traditional quilt maker alike.

128 pages, ISBN 978-1-940655-17-8

Lucky Spool

www.thomasallen..com

The ABCs of Quiltmaking

Piecing, Appliqué, Quilting & More

Janet Lundholm McWorkman

Quilting school is now in session, and it's never

been so fun to hit the books! Take the challenge to

move beyond basic patchwork with 12 skill-building

lessons, including paper piecing, strip piecing,

bargello, set-in seams, appliqué, crazy quilting, and

more. Learn the tools, terms, and techniques that are

the bedrocks of quiltmaking. Use your new skills to

finish a gorgeous final exam, an ABC-themed sampler

quilt, plus a handful of quick-finish projects. It's a

complete quilting course in one book.

80 pages, ISBN 978-1-61745-222-2

C&T Publishing

ctpub.com

Piecing Makeover

Simple Tricks to Fine-Tune Your Patchwork • A Guide to

Diagnosing & Solving Common Problems

Patty Murphy

Do your quilt blocks tend to misbehave?

Perfect your patchwork with a visual, step-by-step

guide to 21 popular quilt blocks. Piecing expert Patty

Murphy shows you how with fail-proof techniques

that can be used in all types of quilt designs, from

traditional to modern. Say goodbye to patchwork

problems like mismatched seams, blunt points,

and too-small blocks, and learn to avoid common

mistakes in sashings, borders, and bindings. Though

mistakes happen to all of us, these easy techniques

will help beginning and intermediate quilters

achieve quiltmaking success every time.

144 pages, ISBN 978-1-61745-257-4

C&T Publishing

ctpub.com

Addicted to Scraps

12 Vibrant Quilt Projects

Bonnie K. Hunter

Scrap it up!

Don't crumble under the weight of your scraps–

embrace them with best-selling author, Quiltmaker

columnist, and esteemed teacher Bonnie K. Hunter.

Piece 12 unique, multicolored scrap quilts in Bonnie's

signature style. Turn leftover strips into usable fabric

that's readily available for projects with the easy-touse

Scrap User's System. This complete guide to scrap

quilting includes full-size templates, 2 paper-piecing

patterns, and a full chapter on quiltmaking basics.

96 pages, ISBN 978-1-61745-303-8

C&T Publishing

ctpub.com

A NEEDLE PULLING THREAD ● winter 2016

9
---
A Calm Winter

a body pillow wrap

An adventure in stenciling & machine embroidery

12

A NEEDLE PULLING THREAD

●

winter 2016
---
Après Ski

banner

Looking out from the ski chalet

18

A NEEDLE PULLING THREAD

●

winter 2016
---
Two Knitting Tours, Multiple Departure Dates!

Choose

Choose

to

to

discover

discover

knitting

knitting &

craft

craft

in

in

the

the

North

North &

Northwest

Northwest

of

of

Ireland

Ireland

or

or

the

the

South

South

and

and

West

West

of

of

Ireland.

Ireland.

Both

Both

tours

tours

include

include

workshops

workshops

and

and

craft

craft

based

based

sightseeing

sightseeing

as

as

well

well

as

as

general

general

sightseeing.

sightseeing.

www.irishtourism.com/knitting

Toll free 1877 298 7205

Local

Local |

Flexible

Flexible |

Trustworthy

Trustworthy

21
---
For hints, tips,

events and more.

For more quilting tips, events, and

all the latest news, connect with us!

wonderfilspecialtythread

WonderFil

@wonderfilthread

WonderFil Specialty Thread

WonderFil Specialty Threads offer 25 different novelty

thread lines ranging from 100wt to 3wt in cotton, rayon,

polyester, and metallic.

Find a store near you

TM

www.wonderfil.ca

25
---
Making a Quillow

A quillow is a small quilt

that folds up and tucks into

a pocket to create a pillow.

These versatile quilt/pillows

are favourites with children

and come in handy for picnics

or as an emergency blanket

for a car. If your feet are cold,

you can tuck them in the

pocket while you read your

latest issue of ANPT.

The most difficult part of

making a quillow is attaching

the pillow top to the quilt.

Any small quilt top that's

less than 40" wide and

approximately 50" long can

be turned into a quillow.

All that's needed is a 12"

matching quilt block for the

pillow front with roughly

4" borders. With these and

some sewing magic, you can

make a quillow!

For this project, we'll make

a simple 9-patch block and

alternate it with solid blocks

for the quilt top and use

a combination of smaller

4-patches for the pillow top.

26

A NEEDLE PULLING THREAD

●

winter 2016
---
Quilted Zentangle Self Portrait

Anything is possible one stroke at a time

30 ●

A NEEDLE PULLING THREAD winter 2016
---
Snowflakes

& evergreens

cardigan

The Snowflakes and

Evergreens Cardigan is a Fair

Isle cardigan with winter

elements which will quickly

become a favourite during

the cold winter months.

The large shawl collar can be

turned up against a windy

day and the sleeves are

generously sized to allow

for layering.

This design is knitted

circularly whenever

possible, using steeks

(bridge stitches) to form a

cylinder that is cut open for

the cardigan front opening.

Steeks are also used for the

sleeve openings and even

the neckline, all to keep you

knitting with the right side

facing you. The only purl

stitches are in the ribbing,

top section of the sleeves,

bands, and collar.

40

A NEEDLE PULLING THREAD

●

winter 2016
---
Glit ter

in the

Snow

Winter Accessories

46 ●

A NEEDLE PULLING THREAD winter 2016
---
My

Little

Girl's

Fair Isle and Intarsia Tunic

A fairly quick knit, considering there's

Fair Isle and Intarsia techniques to

create this sweet tunic. Perfect for

winter weather, it has bright contrast

for that extra burst of colour.

FREE

50

A NEEDLE PULLING THREAD

●

winter 2016
---
62 ●

A NEEDLE PULLING THREAD winter 2016
---
Tested and

Approved!

Give moms one less thing to worry about.

With the new Baby Hugs yarns, all the

little things you make for those precious

little ones contain nothing but love.

That's because only Red Heart offers

baby yarns that have been tested

according to Oeko-Tex Standard 100.

This means that Baby Hugs yarns have

been tested and certified as free from

harmful levels of over 300 substances.

Learn more at:

Redheart.com/yarn/baby-hugs

© 2016 Coats & Clark 16-032

65
---
Inspired by life as it

unfolds around me.

- Maria Gollek

MarNic Designs

Counted cross stitch patterns from the

beginner to the advanced skill level

xxxxxxxxxxxxxxxxxxxxxxxxxxxxxxxxxxxxxxxxaspiring to inspire before I expire

www.MarNicDesigns.com

xxxxxxxxxxxxxxxxxxxxxxxxxxxxxxxxxxxxxx

A NEEDLE PULLING THREAD ● winter 2016

71
---
BlissfulTriad Bookmark

72

This bookmark is all white but you can mix and match fabric

and colours to coordinate with any colour scheme.

Experiment and have fun!
---
®

EXCLUSIVE

Ltd.

NEEDLEWORK and CRAFTS

Mary's Home Solutions • Creative Projects • Yarn • Needlework

Latch Hook • Quilting • Gifts • Puzzles • Beads • Colouring Books!

Canadian Locations

marymaxim.ca

marymaximretail.ca

Paris, ON 1-888-442-2266

London, ON 519-963-1490

USA Location

marymaxim.com

Port Huron, Michigan

1-800-962-9504

Making Beautiful Easy:

in Our NEW Mary Maxim

Simply Casual Yarn!

Call for a

complimentary catalogue

When requesting catalogue,

please quote CODE 121

75
---
COBBLESTONE

WAY

Cushion Cover

Winter is my favourite

season, mostly because

I like to play in the

snow. More so when

I was younger, but I

still love to bundle up

and head out for a nice

winter walk. Usually the

sidewalks are uneven

and hard to walk on.

They always remind me

of the old cobblestone

roads in Europe. They

were hard to walk on any

time of year, more so in

heals. So in the winter

when the sidewalks

are all uneven and

icy, it brings me back

to Europe and the old

sections of town with

their cobblestone roads.

80
---
Cookies and Cocoa

Cushion Cover

After a busy day of winter activities, what

is more inviting than a warm cup of hot

chocolate and some homemade chocolate

chip cookies?? Get that 'inviting feeling'

all season long with this cute cushion

featuring felted wool, buttons and

punchneedle embroidery.

84

A NEEDLE PULLING THREAD

●

winter 2016
---
A NEEDLE PULLING THREAD ● winter 2016

87
---
Beaded Snowflake Brooches

When you fan crystal-tipped bugle

points around a filigree dome, you

get a dramatic snowflake. This is an

adaptation of my famous Fanwheel

Snowflakes which start off with a circle

of beads. Here, we explore overlapping

points around a metal dome-shaped

filigree cap.

For fun and instant gratification, you

can add bugle points around any gear

to make really trendy snowflakes as

ornaments or brooches. I will show

you the basic technique for attaching

your bugle points around any gear

shape. Feel free to let your creativity

go wild as you embellish the gear

center. See photos for ideas.

88
---
Embroiderers'

Association of

Canada, Inc.

Check us out at

www.eac.ca

Join Us: membership@eac.ca

You'll be glad you did.

Membership gives you:

Annual Seminar with National

and International Teachers

Embroidery Canada Magazine

published quarterly

Correspondence Courses at all

Levels

Chapter Programmes

Extensive Library

June 14 - 17

The International Centre, Toronto, Ontario

Enter Canada's 2017

National Juried Show!

Challenge yourself! Enter quilts into Canada's premier quilting show!

Deadline to enter is February 1, 2017 • www.njs.canadianquilter.com

Cash prizes worth over $ 30,000!

Big Quilt Bee

Join us in Toronto in June...

• Celebrate Canada's 150th Birthday!

• Participate in the Big Quilt Bee!

• Workshops • Lectures • Merchant Mall • Daily Demos

• Fantastic Evening Entertainment

• Over 400 Quilts on Display

including the National Juried Show!

2016 National Juried Show: Best of Show

Helen Fujiki, Election Night Euphoria

For more information visit:

www.canadianquilter.com

Canadian Quilters' Association/Association canadienne de la courtepointe

canadianquilters

association

cqaacc

canadian_quilters

@cqaquiltcanada

96 ●

A NEEDLE PULLING THREAD winter 2016
---
Brenda Franklin

519.638.9958

help@bfdesigns.on.ca

Brenda Franklin designs more

than just realistic cross stitch. Also

available are beaded knits, bead

stitch, intarsia and needle felting.

Check out www.bfdesigns.on.ca

for the complete line of books,

patterns and kits.

Rypan Designs

416.247.1993

www.rypandesigns.com

NEW! Downloadable Patterns!

Maria Rypan is an international

designer, researcher & instruction

book publisher recognized for her

'Gerdany' beadwork and projects

for many publications. Since 1995

Maria teaches, produces a kit line and

presents on beading & global folk arts.

626 Main Street

626 Main Street

Humboldt

Humboldt

306-682-0772

306-682-0772

Harebrained Happenings

416.282.9949 or 416.284.7924

www.harebrainedhappenings.com

Harebrained Happenings is the

brain-child of two talented ladies

who have come together with

their love of crafts, and folk art. Our

company incorporates the love

we have for our pets with design

patterns for quilting, tote bags, and

wall hangings.

Crochet Designs by NanaRuth

416-754-0998

www.NanaRuth.com

NEW! Downloadable Book!

Main focus is traditional designs in

crochet and knit for children.

All garments are designed and/

or handmade with discerning

attention to comfort and finishing.

Baptismal sets, dresses, suits,

blankets and shams, cardigans, hats

and other items.

Saskatchewan Saskatchewan

Stitches

Conference

Proud

Sponsors

Proud

Sponsors

&

&

S W I S S D E S I G N

S W I S S D E S I G N

15 th

YEAR!

May 25 - June 3, 2017

St. Peter's Abbey, Muenster

for more information call

1-800-344-6024

www.saskstitches.ca

Fabric and yarn you won't find just anywhere!

The Bead Gauge

Use this unique tool to find the size

of your seed beads.

Put 10

beads on a

needle,

slide along

the scale,

read size at

right.

Easy to use credit card size plastic card

www.beadgauge.com

Phone: 519-956-9632

Lowery Workstands

The Strong Steel Workstands from England

www.workstands.com

Available in

Canada from

Tygarth

Enterprises at

519-956-9632 or

email to:

tygarth@cogeco.ca

Authorized Authorized Dealer Dealer For For

A NEEDLE PULLING THREAD ● winter 2016

97
---
BUSINESS DIRECTORY To list your business in this space please call 1.866.969.2678.

Brenda Franklin Designs

7570 Mapleton SR 18 RR 1, Alma, ON N0B 1A0

519.638.9958 bfdesigns.on.ca

help@bfdesigns.on.ca

More than 500 charts available for counted

needlework, latch hook rugs, beadwork, beaded

knits and knitting patterns. Mail/fax order or ask

for our products at your local shop. Contact us for

custom designs or needle felted sculpture.

Brampton Sew & Serge

289 Rutherford Rd S, Unit 7, Brampton, ON L6W 3R9

905.874.1564 sewnserge.com

monique@bramptonsewnserge.com

Welcome to Your One Stop Sewing Centre! We are

authorized dealers of Baby Lock, Husqvarna Viking,

and Singer sewing machines and sergers. We also

offer a full schedule of sewing classes for everyone.

Bytowne Threads - Ottawa, ON

1.888.831.4095 bytownethreads.com

mlj@bytownethreads.com

Featuring AURIfil® thread from Italy. Extra-long

staple Egyptian cotton threads: 12wt, 28wt, 40wt &

50wt - 252 colours. Bobbin threads, black & white:

60 and 80wt. Polyester threads 240 high-sheen

colours. Wool threads 180 colours.

Country Concessions

1 Dufferin St, Cookstown, ON L0L 1L0

705.458.4546 or toll-free 1.888.834.4407

countryconcessions.com

quilting@countryconcessions.com

Visit our lovely and unique quilt shop in the quaint

village of Cookstown. We have over 7000 bolts of

cotton fabrics plus a wide selection of patterns, books

& notions. You will be so glad you came for a visit.

Evelyn's Sewing Centre / The Quilt Store

17817 Leslie St, Unit 40, Newmarket, ON L3Y 8C6

905.853.7001 or toll-free 1.888.853.7001

thequiltstore.ca

Evelyn's Sewing Centre in Newmarket is your Quilt

Store Destination! The staff here at Evelyn's is always

on hand to provide Quilt Wisdom, Quilt Inspiration

and most of all we pride ourselves as the place to

make... All Your Quilt Dreams Come True!

Gitta's

271 Lakeshore Rd E, Mississauga, ON L5G 1G8

905.274.7198 gittas.com

questions@gittas.com

Gitta's, named after owner Gitta Al-Basi, nestled in

the east village of Port Credit, is the place where

stitchers meet with their stitching friends, shop for

stitching supplies and see the new stitching designs

from Europe and the United States.

Hardanger House

4708 52 St, PO Box 1223, Stettler, AB T0C 2L0

403.742.2749 or toll-free 1.866.742.2749

tnplisting.com/hardanger-house.html

Patterns from Canadian, American and European

designers, linen and evenweave fabrics from Zweigart,

DMC pearl Cottons, Caron Collection threads, and

all the related stitching accessories are kept in stock.

Many additional items can be special ordered.

Haus of Stitches

626 Main Street, Humboldt, SK S0K 2A0

306.682.0772 or toll-free 1.800.344.6024

hausofstitches.ca

Our one of a kind store offers everything you need

for sewing, quilting, knitting, rug hooking and

needlework. Authorized dealers for Janome and

Elna.

Impressions Embroidery & Engraving

#8-449 Mayor Magrath Dr S, Lethbridge, AB T1J 3L8

403.942.3934 impressionslethbridge.ca

impressions22@shaw.ca

Our shop does embroidery and laser engraving.

Laser engraving is a beautiful process for fabric,

as nothing cuts cleaner and more precisely than a

laser. We now carry a nice array of fabric as well to

compliment the abilities of the laser.

Joyce's Sewing Shop

325 Wortley Rd, London, ON N6C 3R8

519.433.5344 joycessewingshop.com

joycesewingshop@bellnet.ca

Our mission is to make sewing fun by providing

professional training to teach the benefits of sewing,

to provide excellent service and quality products

to make your sewing easier and to provide friendly

customer service to make you a happy sewer.

My Sewing Room

148-8228 MacLeod Trl SE, Calgary, AB T2H 2B8

403.252.3711 mysewingroom.ca

Queenofeverything@mysewingroom.ca

Canada's Largest Independently Owned Quilting

Store with fabric, patterns, kits, notions, sewing

machines and more! My Sewing Room boasts over

10,000 bolts of 100% cotton fabric from designers

and manufacturers from around the world.

Needles & Knits

15040 Yonge St, Aurora, ON L4G 1M4

905.713.2066 needlesandknits.com

Fabulous selection of yarns. Extremely

knowledgable and expert help. Cozy and friendly

atmosphere. Classes. Guild night every first Tuesday

of the month. Tea with Tove, the owner, every

Thursday from 6-8pm.

Pine Ridge Knit & Sew

17477 Hwy 2 PO Box 68, Trenton, ON K8V 5R1

613.392.1422 pineridgeknitsew.com

yvette@pineridgeknitsew.com

We have knitting machines by Artisan and Silver

Reed, embroidery machines by Husqvarna/Viking

& White. Sewing notions and supplies, books and

software. Hands-on lessons and classes. Wide variety

of yarns, threads, dress and pant zippers.

Rosalie I. Tennison, Quilt Appraiser

Certified by American Quilters' Society 2005

Newmarket, ON

905.953.1441 R.Tennison@sympatico.ca

What if something happens to your treasured quilt?

Do you have written proof of its value for your

insurance company? Get an appraisal now.

Ruby Pearl Quilts

500 King St W, Suite 8, Oshawa, ON L1J 2K9

905.436.3535 rubypearlquilts.com

joy@rubypearlquilts.com

We are your full service source of professional quilting

equipment, products, & courses. Led by 44 years of

sewing experience & more than 20 years of quilting

experience, we have the experience necessary to help

you push your hobby to the next level!

Ruti's Needlebed

10 Thomas St, Mississauga, ON L5M 1Y5

905.821.9370 ruti.ca

Mississauga's Finest Quilting and Knitting Store!!

Come see our huge selection of yarn, fabric, supplies,

sewing machines and knitting machines…a local

store for all your quilting, sewing, knitting needs! We

offer a wide variety of classes.

The Yarn Guy

15 Gower St, Toronto, ON M4B 1E3

416.752.1828 or toll-free 1.800.836.6536

theyarnguy.com info@sewknit.ca

See us on Facebook, follow us on Twitter!

Knitting machines, sewing machines, repairs, parts

for Passap, Studio, Singer, Silver Reed, Superba,

White. Sewing notions and supplies, books, ball

yarns, coned yarns, TAMM yarns, Paton's yarns,

Bernat yarns, Phentex yarns, Bernat kits & crafts.

Sew Fancy Inc.

Guelph, ON

519.824.4127 sewfancy.com

sales@sewfancy.com

Your Premier Canadian Source for Specialty Sewing

Supplies including Smocking, Heirloom Sewing,

Goldwork, Silk Ribbon Embroidery, Needle Tatting,

Swarovski Crystals, Sashiko, Quilting and more. Visit

the website for the latest in sewing supplies.

Stitch-It Central

189 Thames Street S, Ingersoll, ON N5C 2T6

519.303.1563

stitchitcentral.ca sales@stitchitcentral.ca

Stitch-It Central is a store to satisfy all your cross

stitching needs. We have everything such as

notions, books & magazines, project kits, charts,

gift collections & certificates, papers & accessories,

fabrics and linens, and so much more.

That Sewing Place

16610 Bayview Ave #10, Newmarket, ON L3X 1X3

905.715.7725 thatsewingplace.ca

jaret&liana@thatsewingplace.ca

Introducing That Sewing Place as your sewing

source and Authorized Dealers for Bernina and

Brother machines. Jaret & Liana focus on placing

your sewing needs first, providing outstanding

support, service, and training.

The Stitching Corner

#2, 185 First St E, Cochrane, AB T4C 2E9

403.932.3390 stitchingcorner.ca

nygabe@telus.net

Your Needlework Shop in Cochrane.

The Stitcher's Muse

99 Commercial Street, Nanaimo, BC V9R 5G3

250.591.6873 thestitchersmuse.com

info@thestitchersmuse.com

A divine little shop with supplies for all your hand

stitching needs! Friendly, knowledgeable, helpful

staff. Cross stitch, canvaswork, needlepoint,

embroidery, counted thread, lace making and

more. Books, patterns, fabric, threads, tools.

Ultimate Sewing Centre

191 Bloor St East, Oshawa, ON L1H 3M3

905.436.9193 ultimatesewing.com

ultimatesewing@bellnet.ca

For all your sewing needs be sure to call Durham's

largest one stop shop: Janome and Elna Sewing

Machines, Sergers, & Embroidery machines,

over 3000 bolts of first quality cottons, Floriani

Embroidery supplies, the latest notions, books, &

patterns, year round classes, and so much more!

Upper Canada Quiltworks

PO Box 64, Brockville, ON K6V 5T7

613.345.3956 Fax: 613.342.3327

uppercanadaquiltworks.com

Visit us online for a wide selection quilt patterns

and books. Techniques include felted wool, fusible

appliqué, punchneedle, rag quilting and printing

photos on fabric.

98 ●

A NEEDLE PULLING THREAD winter 2016
---
Get your game on!

Bring your quilting and crafting to a whole new level.

Create your own unique quilts, wall hangings, games, placemats and so much more with Brother's

Q-Series sewing and quilting machines, and ScanNCut home and hobby cutting machine.

Brother's ScanNCut comes fully loaded with an exciting collection of quilt block patterns so

you can design your own one-of-a-kind creations with the push of a button! Now, cut your

favourite material into any shape — no matter how intricate — without ever touching bulky

design cartridges or even a pair of scissors.

Brother's ScanNCut and Q-Series sewing and quilting machines —

the only thing limiting your creativity is your imagination.

CM650W

ScanNCut2 - cut incredible appliqué,

fabric pieces and quilt blocks with ease

Create your own magnetic, quilted tic-tac-toe

board like the one featured here.

See how at brother.ca/tic-tac-toe

Visit brother.ca/findadealer to find your closet

authorized Brother dealer.

NQ900

Stylist - Q-Series sewing & quilting

machine. Fall in love with the large

workspace and wide table

INSPIRING CREATIVITY FOR GENERATIONS

Brother and its logo are trademarks of Brother Industries Ltd., Japan. All specifications are subject to change without notice. © 2016 Brother International Corporation (Canada) Ltd. 11/2016 83458

99