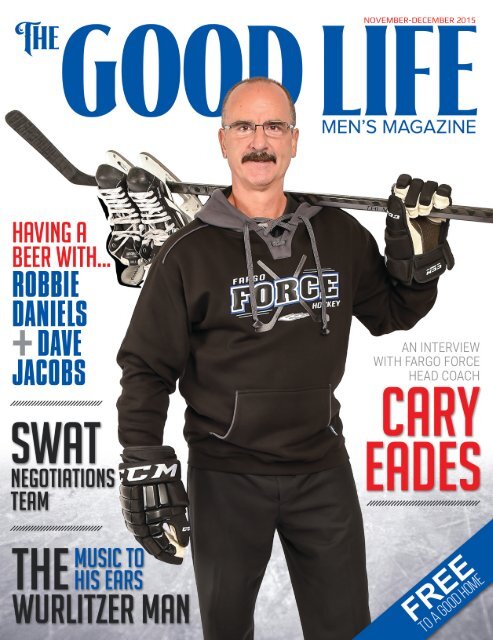 The Good Life – November-December 2015
Featuring USHL hockey coach, Cary Eades. Local Heroes - SWAT Negotiations Unit, a day in the life of a flight instructor, and more in Fargo Moorhead's only men's magazine.
Featuring USHL hockey coach, Cary Eades. Local Heroes - SWAT Negotiations Unit, a day in the life of a flight instructor, and more in Fargo Moorhead's only men's magazine.
SHOW MORE
SHOW LESS
Create successful ePaper yourself
Turn your PDF publications into a flip-book with our unique Google optimized e-Paper software.
3
---
BY: MATT LACHOWITZER | PHOTO: URBAN TOAD MEDIA

When it comes to recognizing issues with your vehicle, using your senses is a good indicator that something

could be wrong. In this article, which is the first in a series of 4, we will talk about how becoming in-tune with

your senses (your sense of smell in this article) can help aid in recognizing issues with your vehicle.

When there is a burning smell while preparing your food, it's generally a good indicator something isn't right

correct? The same rule of thumb applies when it comes to your vehicle. Any abnormal smell generally is an indication

something isn't right. Some odors are only apparent when the vehicle is running, others when it's hot,

and others when its sitting, so here are a few examples of what you may be smelling and what systems of your

vehicle they may be coming from.

Hot Burning Oil: A scent that is somewhat thick,

heavy, and sometimes accompanied by smoke coming

out from under the hood or the exhaust, is usually

an oil leaking or burning issue.

Maple Syrup: A sweet odor that's usually accompanied

by steam from under the hood of the vehicle

could be a coolant or Antifreeze leak.

Burnt Toast: A light, somewhat pungent odor, could

be an indicator of an electrical short.

2

Gym Socks: When turning on your heater/air conditioning

and you get a whiff of your high school gym

locker, that is a good indication that you have good

old mildew growing inside of your A/C evaporator and

possibly a plugged cabin air filter.

Rotten Eggs: Sulfur or rotten egg smell that's continuous

could be a sign of emission failure.

Burnt Paper: A smell that resembles that of burning

the Sunday paper could be an overheated clutch.
---
Metal: A metallic odor that is hot usually accompanied

by a sweet odor of antifreeze or

coolant could be a symptom of your vehicle

overheating.

Burnt Carpet: A smell that will typically omit

from the wheel area of your vehicle after the

brake pads have been overheated.

A Gas Station: This is typically raw gasoline.

Any fuel smells will usually indicate there is a

leak in the fuel system

Hell: This is the smell of sulfur (formally

called brimstone) and usually indicates gear

lube leaking from the manual transmission,

transfer case, or differential housing; or that

one of those components has overheated.

Burning Rubber: This is typically a smell

emitted from the engine compartment and

indicates an issue with the drive belts of the

vehicle.

Exhaust: This can be the result of oil burning

in the engine compartment or a faulty

exhaust pipe that is allowing exhaust gas to

enter the cab of the vehicle.

ALWAYS consult with a professional at the

Automotive Service Center of your choosing

when it comes to any issues that you smell,

especially since it could be an issue bigger

than expected. Also, when talking with your

automotive professional, make sure to talk

about the particular scent being smelled

along with any other relevant information to

make the diagnostic process easier.

Just remember, smells are important in detecting

issues, just like when food is being

prepared. If you can smell any of the odors

listed above, be sure to have your vehicle

looked at by a professional service center.

Thank you for reading and stay tuned for Part

2 of Recognizing Vehicle Issues Using Your

Senses. ■
---
VOLUME 3 • ISSUE 3

NOV•DEC

2015

IN EVERY ISSUE

02

12

16

34

CAR CARE

RECOGNIZING VEHICLE ISSUES USING YOUR

SENSES - PART 1

FATHERS

REMEMBERING MILITARY FAMILIES DURING

THE HOLIDAYS

HAVING A BEER WITH ...

ROBBIE DANIELS AND DAVE JACOBS

LOCAL HEROES

SWAT NEGOTIATIONS UNIT: HOW UTILIZING

BASIC SKILLS RESOLVES CRISIS SITUATIONS

08

28

02

ON THE COVER

20

MAKING A WINNING TRADITION

AN INTERVIEW WITH FARGO FORCE

HEAD COACH CARY EADES

PUBLISHED BY • Urban Toad Media LLP

www.urbantoadmedia.com

The Good Life Men's Magazine is distributed six times a year by Urban Toad Media LLP.

Material may not be reproduced without permission. The Good Life Men's Magazine

accepts no liability for reader dissatisfaction arising from content in this publication. The

opinions expressed, or advice given, are the views of individual writers or advertisers

and do not necessarily represent the views or policies of The Good Life Men's Magazine.
---
16 34

CONTENTS

06

08

26

CONTRIBUTORS

MEET THIS ISSUES CONTRIBUTING WRITERS

CLASSES IN THE CLOUDS

AN AFTERNOON AT THE FARGO JET CENTER

THE TROUBLING TASTES OF TRADITION

REMEMBERING HORRID HOLIDAY MEMORIES

OF MEALS PAST

28

32

MUSIC TO HIS EARS

THE WURLITZER MAN ON FALLING IN LOVE

WITH THE ORGAN

HELP FOR THE HOLIDAYS

DEALING WITH LOSS DURING THE HAPPIEST

TIME OF THE YEAR

OWNER | CREATIVE DIRECTOR • Dawn Siewert • dawn@urbantoadmedia.com

OWNER | PHOTOGRAPHY • Darren Losee • darren@urbantoadmedia.com

ADVERTISING INQUIRIES

dawn@urbantoadmedia.com • 701-388-4506

darren@urbantoadmedia.com • 701-261-9139

michelle@urbantoadmedia.com • 701-361-1760

READ AN ISSUE ONLINE: issuu.com/thegoodlifemensmag

FOLLOW URBAN TOAD MEDIA

ON TWITTER & FACEBOOK5
---
They take their work seriously!

Jessica Ballou is a proofreader by

day, freelance writer and blogger

at www.beyoutiful-beauty.com by

night. She also works part time at

a beauty store where she gets paid

to gush about lipstick and eye

shadow. She has a very sarcastic

sense of humor and frequently

quotes TV shows and movies. She

graduated from Concordia College

in 2012 with a bachelor's in print

journalism. She lives in Fargo with

her boyfriend and adorable black

lab/dachshund mix named Bella.

Danielle Teigen is a word nerd.

She considers it a hazard of the

trade — she's a professional

communicator with a background

in journalism, marketing, and

public relations. Editing is one of

her favorite activities, as is writing.

Read her work at danielleteigen.

areavoices.com. When she isn't

writing, Danielle enjoys running,

watching movies, and spending

time with her husband and twoyear-old

son. Both provide plenty

of humor in her life and her

writing. Follow her on Twitter at

@danielleteigen.

Matt Lachowitzer is the Owner

and Founder of Matt's Automotive

Service Center, located in Fargo at

3007 Main Avenue and in Moorhead

at 1234 1st Avenue North. He is an

ASE Certified Master Technician

with over 20 years of proven

experience. Matt was recently

awarded Entrepreneur of the Year

by the Fargo/Moorhead/West

Fargo Chamber of Commerce and

Matt's Automotive was recently

named The best place to have

your vehicle serviced and repaired

by the Fargo Forums "Best of the

Red River Valley". Matt and his

wife, Char, along with their three

children, Kalin, Ryker, and Krimsyn,

reside in rural North Dakota where

they enjoy being outdoors and

living in the country. Visit www.

mattsautoservicecenter.com.

6
---
Paul Hankel has lived in Fargo his entire life. He

tried moving away, but came right back! A selfdiagnosed

workaholic, Paul loves anything having

to do with marketing, promoting and bringing

attention to the Fargo-Moorhead area. He writes

for several local and regional publications

and is also a full time marketing consultant.

According to Paul, the lifestyle, the people, and

the opportunities that lie within our city and our

region are almost overwhelming! When he's not

working, Paul loves spending time with his family,

working on their new house, and going out for

beers with Darren and Dawn!

Meghan Feir On a stormy Wednesday morning

many moons ago, Feir (pronounced "fear")

was born, so according to Mother Goose, she

has issues. She prefers decaffeinated coffee

and long walks on the beach (as opposed to

caffeinated short ones). An old soul paired with

the enthusiasm of a 5-year-old child, Feir loves

Jesus, words, music, classic movies, the Oxford

comma, and real flannel. According to her, she

lives in the North, not the Midwest. Visit her blog

at meghanfeir.wordpress.com.

7
---
8

BY: PAUL HANKEL | PHOTOS: URBAN TOAD MEDIA
---
A glimpse into the day to day life of a flight instructor,

when your office is located at 10,000 feet!

o begin this assignment, this writer sat down

and made a list of any and all jobs that could

possibly be more fun and interesting than being

a flight instructor. I can up with the following:

professional golfer, professional video game

player, professional poker player, and being the food and

wine, or nightlife writer for any magazine.

The first three would be awesome. However, they require a lot

of luck, practice and talent to achieve. There's also a limited

window in which to do the job, as skill sets deteriorate. The

last one, while fun and exciting, would make you tired,

disillusioned due to too much of a good thing, and would

wreak havoc on your waistline.

Pretty much every male walking this planet has dreamed of

being a pilot, whether it be flying fighter jets or flying gigantic

Boeing airplanes across the country and world. The thrill of

flying thousands of feet in the air at hyper fast speeds, seeing

new parts of the country and world, and the prestigious

status one has as a pilot are enough to make being a pilot

attractive to anyone.

What a lot of people forget about is that someone has to

teach those, 'flyboys,' how to fly! That's where Mike Paulson

and Steve Schlangen of the Fargo Jet Center come in to

play. Both former military members, with a passion for

aviation, Paulson and Schlangen both flew commercially

and privately, before becoming flight instructors at Fargo Jet

Center. For years now, they have been teaching people how

to fly, in order to get their private aviation and other types of

flight licenses.

9
---
Mike Paulson

• Flight School Manager, Fargo Jet Center

• From Fargo, North Dakota

• Gained interest in flying from playing with model planes as a child

• Started flying in 1973, while still in high school

• Earned his Private Pilot License and joined Air Force ROTC

• Was a flight navigator in the Air Force

• Left the Air Force and flew freight, life flights

• In 1989 took over managing Valley Aviation, now Fargo Jet Center,

in Fargo

Steve Schlangen

• Assistant Chief Flight Instructor, Fargo Jet Center

• From La Crosse, Wisconsin

• Gained interest in flying from exploring the technical challenge of flying

• Graduated from the University of Minnesota with an Aerospace

• Engineering degree in 1982

• Employed by the Navy as a Civilian Contractor in 1982

• Received his Private Pilot License in 1983 from a Navy flying club

• Worked in Naval Engineering

• Left the Navy and moved to Reno, Nevada to pursue advanced

flight training

• Moved to Fargo in 1996 and flew corporate flights

• Joined the Fargo Jet Center as an instructor in 2012

Paulsen and Schlangen's histories and

reasons for teaching are varied, however

their reasons stem from a love for flying and

a passion for helping others learn the art. "I

really enjoy the variety," said Paulsen, "We

train people in the areas of private aviation

all the way up to commercial aviation. Every

day is different. We may have up to five or six

different training flights per day, of varying

types." For Schlangen, it was the love of

flight that he sees in his students, "I've never

been in a sector of work where students are

so passionate about what they're doing.

People (here) are motivated, and its people

that share the same passion for flying as I

do."

What a lot of people don't realize is that

almost anyone can be a privately licensed

pilot. While there are some physical

limitations, most anyone with the time,

resources, and desire to fly can become

commercially licensed.

Fargo Jet Center Flight School: What you need to know

• There is no FAA minimum age limit to begin flying lessons; however you

must be 16 years old to fly solo, and 17 years old to be certified as a pilot.

• Fargo Jet Center has had students as young as 12 years old!

• Flight school consists of classroom time, web-based and in-plane education

• Flight school is flexible. Students learn and advance at their pace.

• Students could graduate in as soon as 2-3 months, or take several years

• Students are trained in airplanes as well as flight simulators

• You don't have to own a plane to be a pilot. Fargo Jet Center and other

centers rent out planes, such as the Cessna 172, for hourly wet fees

(fuel included)

• While rather expensive to get, your private aviation license is life-long,

as long as you keep it up to date

10
---
Cessna 172 Skyhawk

4-seater

Very popular as a training aircraft because of its easiness to fly and durability

Can fly up to 14,000 feet

Ideal cruising altitude is 4,000 - 9,000 feet

Top speed of 188 mph

Life in the clouds is always a good time,

according to Paulson and Schlangen,

especially when it's what you do for

a living. They've been instructing for

years and show no signs of stopping.

When asked what living the good life

meant to them, they looked at each

other, smiled and said, "This!" Turning

a childhood interest into a lifelong

career of helping people make their

dreams come true…not a bad way to

make a paycheck.

Need something to do for an

anniversary or date night? Interested

in taking flying lessons, but want to try

it out first? Call Mike and Steve at the

Fargo Jet Center and they'll take you on

a Discovery Flight. For $149.00, they'll

give you a tour of their flight facility,

take you and one guest up on a flight,

and show you what Fargo-Moorhead

and the surrounding areas look like

from a few thousand feet up! ■

11
---
12FATHERS
---
Remembering

Military

Families

During the

Holidays

During the holiday season,

many of us turn our attention

to those in need. One group

that endures great hardship,

but is often overlooked,

is the military family. Most of us

do not stop to think about the

responsibilities and pain these

families bear – especially around the

holidays. Throughout the year, they

sacrifice time spent with their spouse

or parent during deployments, they

sacrifice friendships and a stable

home life each time they move across

country, and they sacrifice peace of

mind because they love someone in a

dangerous occupation.

These stresses are only magnified from

Thanksgiving to New Year's Day. And

even though military deployment is

necessary to help keep peace around

the world, for military families it

means long separations, emotional

distress and lifestyle adjustments.

While ordinary working parents may

say goodbye to their children for

the next eight hours, parents leaving

for deployment say goodbye for the

next six months. Imagine missing

the birth of your child; fearing your

infant will forget who your are; or

feeling guilt over knowing your

spouse is struggling alone, while at

the same time worrying that your

family will do a little too well without

you. The family left at home doesn't

have it much easier. Military spouses

13
---
FATHERS

14

suddenly find themselves in the role of single parent

– taking on the roles of mother, father, accountant,

mechanic, home repair expert and full-time chauffeur

of the family - often in cities where they have no family

to call upon for support.

Deployment during the holidays means that the

military dependents commemorate Christmas dinner

and ring in the New Year as an incomplete unit, while

the deployed member spends the day without family

in a foreign, or even hostile country. Imagine how

heartbreaking it must be for a parent consoling a child

who doesn't understand why Mommy or Daddy can't

be home with them to enjoy the Thanksgiving turkey,

open presents on Christmas or watch the fireworks on

New Year's Eve.

Military families are also called upon to move often –

relinquishing a stable home life, leaving behind friends,

and the negative impact of this transient lifestyle can

hit the hardest during the holidays. This is a season

meant to be celebrated with loved ones, but what about

the military family who just moved to a new town and

can't afford to travel to visit family or friends? Another

way that military families sacrifice is the emotional toll

from worrying over the safety of their loved one and

the stress of this lifestyle. But even with these powerful

emotions present, they try to keep the holiday mood

festive even though part of their family is away.

So, as you consider helping those in need this holiday

season or throughout the year, recognize the many

sacrifices military families make. If you know a military

family with a deployed spouse, consider making them

a part of your family over the holidays. Invite them over

for Thanksgiving dinner, offer to take a family holiday

portrait to send to the deployed family member, or give

them long distance phone cards to help them keep

in touch. However you may choose to help a military

family, consider it a gesture of thanks for the sacrifices

they have made to help preserve our freedom. By

serving their families, you are honoring those who

serve our country. ■

Copyright 2015 Family First. All Rights Reserved.

Reprinted with permission.
---
GIFT IDEAS

This holiday season Urban Toad Media LLP

and The Good Life Men's Magazine would like

to thank all the members of our military and

their families. Thank you for your sacrifice and

your dedication.

Please remember these brave men and

woman who give so much every day. Don't

forget to add them to your holiday shopping

list.

Please consider a gift to one of the many

charities that support our military members

and their families. One less gift under your tree

could make the world of difference to someone

else.

Wounded Warrior Project

www.woundedwarriorproject.org

Fisher House

www.fisherhouse.org

Folds of Honor

www.foldsofhonor.org

Soldier's Angels

www.soldiersangels.org

Veteran Tickets

www.vettix.org

Operation Homefront

www.operationhomefront.net

Don't forget

the service dogs!

The United States War Dogs Association

www.uswardogs.org

15
---
Good Life: If Batman and Superman were in high

school together, what sports would they each have

been in?

Robbie: Superman would obviously be in track

because he's fast. Is speech a sport? That's what

Batman would do.

Good Life: In what order would these three things be

in the food chain?

1. A cob of corn

2. A bison

3. A dragon

Dave: A dragon's on top of the food chain. He's going

to eat the bison, and the bison eats the corn, which in

turn fertilizes the earth.

Robbie: I'm with Dave.

Dave: Are you from MSUM, by the way?

Good Life: Moving on…

Bribed with beer, Robbie

Daniels and Dave Jacobs, two

radio personalities for 107.9 The

Fox, bravely stepped up to the

table, had a seat and answered

odd questions at Drekker Brewing

Company. The coworkers have

been on the air together for 20

years, resulting in a friendship that

constantly plays off each other.

They may be on the air every

morning dishing out their two

cents, but there are plenty of tidbits

you don't know about them. Read

on, you curious cats.

16
---
GL: If you could make up a law for Fargo-Moorhead,

what would it be?

R: We tend to not get too deep into the issues. We're

kind of in the fluff of the issues.

D: We mock the issues more than try to solve them,

that way we feel like we're helping.

R: I think I'd like to see the cities of Fargo and Moorhead

working together a little more than they do, just 'cause

they both have so much to offer. It's fun to see that

Fargo is getting to be such a young, progressive town.

D: It's becoming more and more diverse in a positive

way.

GL: What are your thoughts on man buns? I'm not

talking about man butts.

R: I don't mind them.

D: I'm not here to judge.

R: It's a trend. It's a style. It looks good on some guys.

D: Some dudes are into wearing 'em. If he can't pull it

off, then he won't have any friends, and that's sad.

GL: Did either of you fall asleep while watching any of

the three installments of "The Hobbit" adaptations in

the theater?

D: Yes, but I still enjoyed them.

R: The first one, I couldn't get past the dinner scene

because it seemed too –

D: Stupid?

R: Too game-like, and I love "The Hobbit."

D: I do too, but I'm so familiar with "The Hobbit" and

"The Lord of the Rings," so I can fall asleep and know

what's going on, anyway.

GL: Did you ever have an imaginary friend or animal?

R: I did not.

D: I did. In fact, it's a weird story. I remember living

in southern Alabama and we had swamps behind

our house. My imaginary friend was a pirate and he

brought me back out into the swamp. They always talk

about "when they lost Davey," and there were gators

out there. To this day, I remember following him out,

so I don't know if he was some sort of ghost pirate

or – I don't know. We didn't even find any treasure or

anything.

17
---
GL: What's the weirdest quirk about the other person?

R: You first.

D: She has chip clips in her hair in the morning.

R: They're not chip clips.

D: Yes, they are. It says Frito-Lay on one of them.

R: No, it does not. I have a poof problem, so I need to

use clippies to have it go where I want it to go… We've

been together for a long time. He's approaching 50

and I'm over 50, so we notice those quirky things. Like,

Dave, how many times did I have to tell you where

Drekker's was, and I finally said, "C'mere, gimme your

hand. I'll lead you there." I think the beauty of working

together as long as we have is we know our strengths

and weaknesses, you know, like, I can't pronounce

words, so Dave'll do it for me.

GL: What's the strangest thing that's ever happened

on your radio show?

R: Well, we had a stalker once, way back in the day. He

was just an oddball who would call us and tell us the

radio was in his head.

D: I told him, "Don't worry, we're switching to digital,

so that won't happen anymore." He believed it.

R: We haven't seen him for years.

GL: What is something you wish everyone knew?

D: How to be polite. Manners. People have forgotten

their manners. Now I'm going to add my new

law. You're going to get a ticket if you forget your

manners.

R: People are so rude. You don't know what people

are going through.

D: Everybody's got their fights. There's nothing

wrong with being polite.

R: Be nice.

GL: What does "the good life" mean to you?

D: To me, the good life is to keep things simple. You

make more money, you spend more money. How

much do you really need? All you need is a pint a

day, and that's of whatever gets you through the

day. I'm not saying to be an alcoholic. What I mean

is, keep your life simple.

R: You know, the good life for me is simple, too. I'm

blessed with family, I'm blessed with children, and

I'm blessed with great co-workers. I really am. I have

the good life. ■

18
---
19
---
"It all starts with effort and work ethic.

We want our players focused,

and to bring their lunch buckets and

work boots to work every day."

— Cary Eades, Head Coach, Fargo Force

Coach Cary Eades brings a

tradition of excellence and winning

with him, as he takes over as head

coach of the Fargo Force.

20
---
MAKING A

WINNING TRADITION

An Interview With Fargo Force Head Coach Cary Eades

BY: PAUL HANKEL | PHOTOS: URBAN TOAD MEDIA

On an off the ice, Fargo

Force head coach

Cary Eades has

had a remarkable

career. Following his

successes on the ice,

he began coaching some thirty years

ago. Following a successful tenure as

head coach of the Sioux Falls Stampede,

Eades was named head coach of the

Fargo Force. He takes over a squad that,

despite two down season, is hungry to

return to the top of their league. The

Good Life met up with Eades at the

arena to chat about his hockey career,

his life and his plans for the Force this

season.

THE GOOD LIFE: You were born and

raised in Vancouver, British Columbia.

Canada is often seen as one of hockey's

Mecca's. What made you want to leave

one of the most dominant hockey

countries to play and coach in the

United States.

CARY EADES: I grew up in the

Vancouver, British Columbia area. I

played my youth and junior hockey

there. Then, I got a college scholarship

and that brought me to this country

and area of the country for the first

time, and I really loved it here. I love

the upper Midwest, and the people and

the values that are here. It's nice to be

back in an area that I've spent 19 years

of my adult life in!

GL: Before you began coaching, you

played college and professionally, correct?

CE: Yes, I played my junior hockey in

British Columbia and got a scholarship

to play at the University of North

Dakota.

Eades was a standout Forward at

The University of North Dakota.

His teams won the 1980 and 1982

WCHA Championships. Following a

stellar college career, Eades earned the

opportunity to play professionally.

However, an injury forced Eades to

retire early and shift his attention from

being a player to coaching. He returned

to the University of North Dakota,

where he spent a total of 15 years as

an assistant coach, from 1984 to 1991,

and again from 2004 to 2012. While

there, Eades has the honor of coaching

under such UND head coaching greats

as Gino Gasparini, Dean Blais, and

Dave Hakstol. In between his two stints

at UND, Eades was the head

coach at Warroad

High School, where his teams won

three Class 1A championships. He also

coached the Dubuque Fighting Saints,

out of South Dakota, and led them to a

championship in 1991.

21
---
Eades left the University of North

Dakota and took over as head coach of

the Sioux Falls Stampede. While there,

Eades team made the USHL Playoffs

all three years, winning the USHL Cup

in his last season.

"I don't think there's anyone out there

who puts more pressure on

themselves to win than I do."

— Cary Eades

CE: I came back to UND after playing

professionally for a few years. I

learned a lot from those guys, I've

been really lucky. I'm now in my 32nd

or 33rd year of coaching, and it's been

a great profession, with not too many

stops along the way. I coached in

Dubuque, Iowa, Warroad, Minnesota,

back to Sioux Falls, South Dakota,

and now here.

GL: You're coming from Sioux Falls,

where you had a lot of success. What

are some of the challenges the Force

will face this year?

CE: There are always challenges in

coaching, especially when you're

transitioning into a new situation.

There are a lot of unknowns. Players

have to get to know me and get used

to my coaching style, my nuances, my

pet peeves, and what makes me happy.

Early on in his coaching career, Eades

was referred to as the, 'Latin American

dictator,' by some of his colleagues.

While he says his style of coaching

has softened since then, Eades still

demands certain things from his

players: a winning attitude, hard and

work and focus every day. He's also a

stickler for punctuality, meaning that

if a team meeting starts at 11:00am,

you're there at 10:59:59.

CE: It all starts with effort and work

ethic. We want our players focused,

and to bring their lunch buckets

and work boots to work every day.

The USHL is a tough league, and the

season is more of a marathon than

a sprint, and that takes adjusting to.

Nowadays, I'm a little bit less of a

dictator and take a more democratic

approach. Player input, especially

with today's generation is crucial.

They ask why, and I think, if you take

22
---
23
---
the time to explain why, they'll respond

better.

GL: As with most sports teams in Fargo,

the Fargo Force has quite the fan base,

and all the games are well attended.

How will you handle the pressure to

win and a fan base that is hungry for a

championship?

CE: Well, there's pressure with every

job. I don't think there's anyone out

there who puts more pressure on

themselves to win than I do. I'm not

a good loser, and people will come

to learn that about me! I have high

expectations for being successful and a

real inner drive and a hunger for that.

All you can do is control the things that

you can control. It all comes back to

work ethic and being ready to give it

your best.

Eades says it all starts with a winning

attitude among his players and coaching

staff, and building a foundation of

success. He also said that the first few

weeks are very important, in order to

set the tone with his team. Winning is

contagious, and Eades hopes that his

plans to build a winning culture with

his Force team come to fruition as soon

as possible.

GL: How do you feel about playing

against your old team, the Sioux Falls

Stampede? Will there be a renewed

rivalry?

CE: Well my first year coaching in Sioux

Falls, we met Fargo (Force) in the first

round of the playoffs and they beat us,

but it was a fantastic series. Since we're

the two most northern teams, there's a

natural rivalry there. But in all reality,

it's really no more important that any

of the other teams we will be playing.

GL: What do you remember about the

Miracle on Ice?

CE: I was in college at the time. Those

players were from my era. That win

over Russia, and the momentum that

it created, really carried through as far

as opportunities for players. Then, of

course, the growth of the sport spiked.

It was a great story. The Russians, at

24

"The good life is enjoying each day and enjoying where you're at. We try to teach our players

to enjoy the journey. You can't get too caught up in looking down the road. It is important to

plan for your future, but a lot of great things happen right here and right now." — Cary Eades
---
that time, were seen as, 'the evil empire,' and for anyone

to beat them at hockey, was a story. But the long-lasting

impact was felt for a long time, and still is today. It's still

one of the greatest sporting events to ever take place.

GL: What's your favorite thing about this area?

CE: It's a sports hungry area, and also a great place to

raise a family. There are also lots of recreational activities.

I like fishing, golf and the lakes areas.

When he's not coaching hockey, Eades enjoys golfing and

fishing and enjoys all types of music.

CE: I like to golf and fish, and really enjoy the lakes area.

I'm also a huge fan of music. I love concerts and would

consider myself a We Fest devotee! I really have a lot of

respect for people in the music business and how talented

they are.

GL: If you hadn't become a hockey coach, what profession

would you be in?

CE: I would've become a teacher. I have a Master's degree

in that. But coaching has been my mission and I enjoying

the heck out of it. I'm really looking forward to this new

challenge in Fargo.

GL: What's your definition of living the good life?

CE: The good life is enjoying each day and enjoying

where you're at. We try to teach our players to enjoy the

journey. You can't get too caught up in looking down the

road. It is important to plan for your future, but a lot of

great things happen right here and right now.

From the looks and sounds of it, Fargo Force fans have

a lot to look forward to. With a beautiful arena, filled

with fans and a coach with three

decades of experience and several

championships under his belt,

winning is, no doubt, on the

horizon. Eades takes over a team

that has won in the past, but is in a

league where all 8 teams in their

conference have made

the playoffs within

the last three years.

Competition will,

no doubt, be tough,

but Coach Eades

and his players

will be there, ready

to win, when the

puck drops. ■

25
---
REMEMBERING HORRID HOLIDAY MEMORIES OF MEALS PAST

BY: MEGHAN FEIR | PHOTO: URBAN TOAD MEDIA

Food is a universal bond that brings families, friends

and frenemies together, especially surrounding the

holidays. We all know this. Unfortunately, not every

traditional taste is appetizing.

This can spark wonderment as to how bad food ever became

a tradition when these concoctions should never have been

given a second chance in your great-great-grandmother's

kitchen. For every "Ho, ho, ho," you're just saying "No, no,

nooo" whenever a serving is about to be plopped on your

plate.

Much of my heritage consists of what used to be the

stereotypical Minnesota mix – Swedish, Norwegian,

German… English, Scottish, Russian, Jewish, French, the rest

of Europe, etc. Yes, I am a mutt, but a proud mutt, even if

the following foods only taint the public image of my many

motherlands.

Fruitcake

To be entirely honest, I'm a fruitcake advocate. I like it. Yes,

'tis true. Granted, we don't buy the Americanized 1950s

version that's powered by 90 percent citron. Ours is more of

what Tiny Tim would've savored during those jolly reformed-

Scrooge days.

The bad fruitcakes are now usually sold as gag gifts and used

for doorstops and oversized paperweights. Store-bought,

ageless fruitcakes are to homemade fruitcakes as dollar store,

primary colored silk flowers are to real poinsettias kissed

with Christmas sparkles. One could be classified as a plastic,

while the other is laced in traditions of tastiness and beauty.

Mincemeat Pie

Britain is known for a lot of exceptional things, like their

accents. Luckily for them, their voices make up for their

horrible food. Mincemeat pie is a great example of why firstclass

cuisine doesn't come to mind when you think of the

United Kingdom.

26

Now, mincemeat pie has never touched my lips, but

the fact that suet is one of the main ingredients tells me

enough. Suet, by the way, consists of raw beef or mutton

fat, particularly the nastiness surrounding the kidneys and

loins.

How the land of Shakespeare and Mr. Darcy, decorum

and crooked teeth couldn't produce a better effort in the

kitchen, I'll never be sure.

Vegetable Jell-O Wreath

Molds are cool, I suppose, especially if you're trapped in a

'70s time warp of culinary failures. I come from a family of

stupendous cooks, and this is honestly (besides lutefisk)

the only dish I can think of that has made me question

their good judgment.

Listen to me: Never ever put vegetables in Jell-O, this

includes cabbage. I don't care how neat dark, leafy greens

may look suspended in gelatin. If you must put items in

your lime Jell-O, throw a Polly Pocket or Legos in there –

anything besides cruciferous vegetables. Jell-O shouldn't

resemble the contents of a broken garbage disposal.

Lutefisk Pudding

As if lutefisk itself isn't enough of a wild-caught travesty,

there is a pudding version. I can only imagine that this

concoction's inception was a desperate one. Perhaps a gang

of hangry raccoons that hadn't stocked up for winter raided

the cook's pantry, leaving only lutefisk, rice, milk, butter

and eggs. Okay, yes, I know. They like eggs, so that makes

no sense. I'm just trying to understand.

Lutefisk lesson 101: Don't make an entire side dish

glorifying it. Just mask the slime in mashed potatoes, plug

your nose and get the obligatory glob down the hatch. It

may be a necessary evil in the homes of Scandinavians, but

don't torture yourself more than need be.
---
Head Cheese

Head cheese – even the name sends shivers up my spine.

There is something more dire than dairy about this dish, and

it's so disturbing, it may permanently place a dark blot on

the word "cheese."

Never ever put vegetables in Jell-O,

this includes cabbage. I don't care

how neat dark, leafy greens may look

suspended in gelatin.

Also known as brawn, head cheese is European in nature and

horrendous by trade. Made with flesh from the head of a

calf or pig, it's a cold cut that can taint even the brightest of

sandwich breads.

Head cheese is considered a meat jelly. Just let that sink

in a little. Meat. Jelly. Jam that jelly on your toast

tomorrow morning. The tongue, feet and heart

may also be used, according to the Interwebz.

My mother was swift in reminding me that I

come from Scandinavian great-grandparents

who adored this gelatinous waste. They smacked

their lips in anticipation of what they

deemed as a delicacy. Nearly all of Europe

has historical ties with this dish, so stop

judging my great-grandparents, lest I

judge yours.

Blood Sausage

I'm saving the vilest for

last because that's how

countdown lists work.

Blood sausage is

one of the most

revolting holiday

dishes passed

down to us

from desperate

generations.

This is another

worldwide, e r r ,

favorite. It goes by o t h e r

names, too, such as blood pudding, black pudding,

and, in Deutschland, Blutwurst.

My mom stumbled on a recipe for blood sausage

and discovered it called for a mere 6 cups of blood.

Mmmyeah. I'm going to pass and probably pass out.

It's enough to make you go vegan for a week.

No matter what your family forces you to eat around

the holidays for the sake of tradition, at least it's

torturously endearing. Imagine your great-greatgrandparents

looking down on you with a wink, a

smile, and a gag. ■

27
---
The Wurlitzer Man

on falling in love with the organ

BY: JESSICA BALLOU | PHOTOS: URBAN TOAD MEDIA

28
---
"

The organ

has such a

wonderful sound

that when it plays,

you can't help but

be inspired.

— Lance Johnson

Lance E. Johnson has had a somewhat

unique career. As the founder of a

family business who also boasts the

title of "The WurliTzer Man," he's a

well-known institution in the Fargo-

Moorhead area.

Even though he first set out to be an

electrical engineer back in his college

days, he found his true calling as an

organ builder and organist.

Johnson, owner of Johnson Organ

Company, and his son, who is the

owner of Johnson Organ Services,

have now installed and serviced pipe

organs in six states and band organs in

20 states.

'I fell in love with it'

When Johnson was about four years

old, he asked his parents if he could

sit behind the organist at Bethlehem

Lutheran Church in Fergus Falls,

Minn., so he could better hear her

play, and after that they always sat in

the front pew. His parents gave him a

reed organ for Christmas when he was

15 years old, and later he also gained

an interest in pipe organs.

In 1954 when he was 16, he founded

Johnson Organ Company. In 1958 he

bought an old pipe organ from WDAY

studios, which had been in storage.

In 1963 he sold it to a roller rink in

Moorhead, which is now the location

of a Hardee's, and he played there for

10 years.

He graduated from Concordia College

in Moorhead as an organ major in

1964. But before he decided on the

organ, he studied electric engineering

for a few years at North Dakota State

University (NDSU).

At first he didn't see a future in being

a pipe organ builder or organist, but

when the main organ builder and

servicer near Fargo died in 1958,

Johnson stepped up and worked to

make it into a career.

29
---
"I was thrown into it overnight, and I

fell in love with it," he said.

'Can't help but be

inspired'

Johnson said he knew about the organ

at the Fargo Theatre back when he was

in college, but the manager at that time

wasn't a fan of organ music. In 1972 a

new person took over. In 1973 Johnson

and his organist friends asked if they

could play the organ there, which

hadn't been started up since 1948, and

the manager said yes.

Lance and his organist friends

were and are members of the Red

30

River chapter of the American

Theatre Organ Society, which was

established in 1955. The Red River

chapter became chartered in 1965.

The mission of the society is to save

organs so they don't get destroyed

and the public gets the chance to

hear them.

The organ was finally played again in

December 1973, and it was used to

play a prologue to Walt Disney's fulllength

feature story "Robin Hood."

"We were quite surprised by how

well the organ was received," he said.

"We just kept this thing going, and

now we have four organists."

"The organ has such a wonderful sound

that when it plays, you can't help but

be inspired," Johnson added. "It's a

motivating factor and a great way to

relax."

'One of the proudest

accomplishments'

The organists now play every Friday,

Saturday and Sunday night for about

20 minutes, along with various bigger

events throughout the year.

Johnson said all the playing done

during a movie is improvised and based

on the movie's time period.
---
"I may draw on themes from the

1920s since most of the movies were

from 1920s and earlier, so I'm not

playing modern music, like from

the '30s and '40s, so I'm historically

accurate," he said.

Johnson said all the playing done

during a prologue is from just about

everything under the sun from the

early 1920s to the 1960s. He said they

often play top 40's songs from those

periods, Broadway tunes and songs

that have won awards.

The organ is about three times the size

it was originally, and it sits on a lift

that was built for moving equipment

up and down so it can rise to play

the prologues for movies and then go

back down so people can watch the

movies.

It's the most expensive organ in

Fargo-Moorhead, and it would cost

between $1 million and $1.5 million

to replace. Johnson calls playing the

organ at the Fargo Theatre one of the

proudest accomplishments of his

career.

One of the biggest uses for the organ

involves the Christmas concerts

every year. Starting 10 days before

Christmas, the organists play for 45

minutes during the lunch hour, and

anyone can come in for a free show

while they enjoy their food. These

concerts started in the early 1980s,

and they've become a very big event

for the Fargo Theatre.

Every fall the Fargo Theatre presents

a Silent Movie Night, and this is the

41st year. Proceeds for each year's

event go towards maintaining and

servicing the organ.

A couple thousand school-aged

children come to the Fargo Theatre

each year to learn about both the

theatre and the organ, and Johnson

said that's always a big highlight for

him. ■

31
---
Help for the Holidays

DEALING WITH LOSS DURING THE HAPPIEST TIME OF THE YEAR

BY: MEGHAN FEIR

Holidays, despite the twinkling

lights and the aroma of

freshly baked pies, can also

bring a painful heaviness

to the air. Like a looming

shadow, memories can seem to haunt

you, dampening any joy you once felt

during this festive time of year.

After losing someone dear to your

heart, whether through a breakup,

complicated situation, or death,

dread and anger can often replace the

anticipation once felt for the traditions

and memories you shared. Perhaps

that someone was a wife. Maybe it was

a friend, parent, or even a child.

To an extent, I can relate. After losing

someone I loved with all my being,

32

thinking about caroling and watching

Christmas movies isn't extremely

appealing. You want things to go back

to happier times, when everything

seemed right with the world because

they were by your side. No matter

what other life circumstances were

causing difficulties, lightheartedness

could be found in their presence.

Unfortunately, we live in a society

where it's typically frowned upon for

guys to express their true emotions,

and there's a stigmatization of

mental health. It's not effeminate to

feel pain and grieve, thank you very

much. It's a normal human response.

Men are also born with emotions, so

why shouldn't you address them in a

healthy way?

I won't pretend there's a cookie-cutter

answer to combat everyone's grief

because there isn't, but here are some

ways to support the healing process.

• It can be all too easy to beat

yourself up about the pace of your

grieving process. Don't. Everyone heals

at different speeds. Show yourself

a little grace, and stop penalizing

yourself for loving someone so deeply.

Yes, there comes a time when you have

to make a moment-by-moment effort

to promote healing, but give yourself

time to feel (something men aren't

always encouraged to do).

• There are many facets of strength,

and being honest is one of them. Be

honest with yourself and others. Be
---
strong enough to feel what you're going through. Burying

emotions will only hurt more in the long run. It actually

takes courage to face what you're feeling, and reaching

out for help is a sign of strength.

• If you're proposing to forgo participating in familial

holiday traditions, consider this: When you stop doing

something just to avoid heartache, you will often create

an unhealthy habit of repression.

• Balance your time. Isolation often makes things

worse because you dwell on your loss, and constantly

being surrounded by people won't give you a chance to

completely unwind.

• Don't take your other loved ones for granted. Show

them you appreciate their support, and thank them in

words and actions.

• If you catch yourself laughing and experiencing a

genuinely good time, even if for a few moments, guilt

may follow the endorphin rush. Refuse to feel guilty for

letting a little joy back in your life. In fact, seek after it.

• Take care of yourself. Make an effort to eat healthy,

whole foods and be physically active. It will help ward

off feelings of lethargy, produce endorphins, and support

your body's ability to cope with stress. It's not so much

about physical appearance as it is self-confidence and

taking care of your body.

• Do the things you love, even if you don't feel like it.

• If your friend was grieving, you would (hopefully)

encourage and affirm how loved and valued they are.

Show yourself a little love and be your own friend, not

your enemy.

• Focusing on others is an effective way to clear the

foggy lenses of our own experience. Find ways to brighten

someone's day. Give to those in need. Showing others

you care and that they're appreciated not only benefits

the recipients but also yourself. It's really a gift to the

giver.

• If none of these suggestions help and you still feel

stuck, seek help. Talking to a counselor can give you more

perspective than talking for a few minutes with friends,

especially if your friends just write off your pain with

comments like "Just move on" and "Find a new person

to make you happy." Counselors can help you process

your sorrow. ■

The advice in this article was approved by a professional

mental health practitioner.

33
---
LOCAL

HEROES

SWAT Negotiations Unit:

How Utilizing Basic Skills Resolves Crisis Situations

34

P

icture this: Success involves active

listening, respectful explanations, and

being honest.

Sounds a little like kindergarten, right?

Except in the case of the Red River Valley

SWAT Negotiations Unit, the classroom is

a tense situation involving someone with

a potentially deadly weapon and a tactical

team prepared to use force if those three

skills don't provide a successful resolution.

Fortunately, the SWAT Negotiations Unit

has been successful, explained Team Leader

Deric Swenson. Much of that success is

attributed to the team Swenson works

with, a collaborative group of officers and

investigators from agencies across the area

– Cass and Clay counties, Fargo, Moorhead,

and West Fargo police departments. The

number of team members from each agency

is determined by a formula based on

population and financial contributions to

the unit, Swenson explained.

Swenson joined the negotiations unit 10

years ago, and he said the current team is

one of the best he has had the privilege of

working with. (Working is a bit of a misnomer

because the individuals comprising the unit

actually volunteer to be members and thus

receive no additional compensation for their

efforts.) Each person is tasked with a role that

effectively utilizes his or her particular skills,

whether those skills involve negotiating,

coaching or gathering information.

"It's very rewarding to work with officers

from other agencies," he said.
---
BY: DANIELLE TEIGEN | PHOTOS: URBAN TOAD MEDIA

DID YOU MISS THE ARTICLE ABOUT THE SWAT TEAM IN

THE JANUARY/FEBRUARY ISSUE OF THE GOOD LIFE?

YOU CAN READ PREVIOUS ISSUES OF THE MAGAZINE

ONLINE AT: HTTP://ISSUU.COM/THEGOODLIFEMENSMAG

When Swenson first joined the unit, he said

the team was engaged more than 20 times each

year; however, in the past few years, the unit has

been deployed on fewer occasions-maybe six

times a year. And that's a good thing, Swenson

explained.

Officers are receiving better and additional

training for how to deal with people in crisis, and

the result is not bringing in a team specialized

to do just that. Plus, the negotiations unit can

always be called and canceled if the situation is

resolved, Swenson said.

Joining the Negotiations Unit

A wanted ad written for a negotiations unit

team member might read:

Wanted: A great listener who can effectively

control emotions as well as words. A team

player who understands and appreciates the

integral role each member plays. The ability

to empathize with many different people and

connect with them on various levels. Problemsolver

extraordinaire with an uncanny ability to

provide another person with the tools necessary

to extract him or herself from any situation.

Ads aren't necessary, but becoming a member

of the unit is difficult, to say the least. Team

members are required to have one full year of

patrol experience and self-identify as a potential

candidate. Next, the person is interviewed by

a panel of current negotiators and presented a

series of impromptu situations and scenarios

to work through.

West Fargo Patrol Officer and Field Training

Officer Trent Stanton joined the unit in May

2007, and he said the process for earning a

"Our job is to

eliminate the

need for the

tactical team

to be put in

a dangerous

situation."

– SWAT

Negotiations Unit

Team Leader,

Deric Swenson

35
---
spot on the team has changed

quite a bit in that time. But the

rigors of the new process identify

which individuals will succeed

as negotiators based on their

reactions to the situations they are

presented with, he said.

Learning How to Negotiate

When a team member joins the

unit, training becomes critical

for success. Stanton explained

that one of the biggest challenges

as a new member is learning the

structure of the team. "It's easy

"We do the best we can

and give the person

the tools needed

to get out of a situation ...

We're not dealing with

bad people –

they are just overwhelmed."

– SWAT Negotiations Unit

Team Leader,

Deric Swenson

to be intimidated by the tactical

guys, but over time you gain

good relationships with them,"

he described. "The first year is

stressful."

Part of the structure to learn

involves the three different types

of teams involved with the SWAT

team: tactical, bomb squad, and

negotiations. Together, these teams

help people in crisis situations.

"Our job is to eliminate the need

for the tactical team to be put in

a dangerous situation," Swenson

explained.

36
---
Negotiations typically occur over

the phone, although they sometimes

require robotic equipment,

intercoms or a PA system, or even

texting. The unit is also prepared

to negotiate through Skype, Face-

Time or even Facebook messaging.

Rarely, face-to-face negotiations are

required.

"The system works," Swenson

asserted. "The treatment of people

is the way (the system) needs to

work. We do the best we can and

give the person the tools needed to

get out of a situation…We're not

dealing with bad people – they are

just overwhelmed."

During a negotiation, the unit is

all about slowing things down, but

they are ever aware of the other

teams involved. "We're sitting in a

truck, typically," Swenson explained.

"But the tactical team may be out in

the cold or heat or crouched in an

uncomfortable situation, so we want

to get them to safety by we don't

want to rush things along."

The unit engages in monthly training

exercises as well as an annual event.

The annual training event involves

one day of presentations with the

other days devoted to simulated

negotiation situations. Sometimes,

the negotiations training can last

seven hours or more.

"Training keeps us polished,"

Swenson said.

Debrief sessions and support teams

keep team members mentally fit and

emotionally prepared to handle the

rigors of handling crisis situations.

Applying Skills in Real Life

37
---
The training exercises as well as

other officers supply a steady stream

of educational opportunities. In

fact, one of the biggest benefits of

being a member of the negotiations

unit is the opportunity to apply

the skills in other situations.

"You really learn to say the right

things and how to be respectful,"

Stanton said. "You have to learn

to understand what a person is

actually saying."

Successfully dealing with crisis

situations provides team members

with the ability to deal with

stressful situations outside of work.

Stanton said learning how to gain

38

other people's trust as well as how

to effectively communicate are

fringe other benefits.

As a Patrol Lieutenant and Supervisor

in the Moorhead Police Department,

Swenson uses his negotiation

skills when dealing with

employees or citizens. "We don't

handle situations with violence,"

he explained. "It's not always the

role people expect law enforcement

to be in…our team is about

not using force."

Negotiations Unit 101

Every member of the negotiations

unit has a specific job to complete

when called to a situation. Here's

a primer of the different roles that

need to be filled:

Primary: The person talking with

the individual in crisis. Being the

primary means listening carefully

to what the individual is saying

and interpreting various pieces of

information that could derail or

improve the conversation.

Coach: The team member tasked

with listening to the conversation

and providing insight to the

primary alone. Only communicates

with the primary through passed

notes or whispered comments.
---
Scribe: The individual who writes

down pertinent information on a

white board that can be used during

the course of the conversation or for

intelligence gathering.

Vocabulary

In addition to the roles, the team uses

various terms during a situation, such

as:

Intelligence gathering: Various methods

of collecting information that can

be used by the primary to bring the

situation to a successful resolution.

Could involve searching for information

online or interviewing neighbors,

family or friends who are available.

Hooks: Information that helps

the primary build report with the

individual and gain trust.

Barbs: Information that can elevate

emotions and potentially derail the

conversation.

SWAT: Stands for Special Weapons

and Tactics.

TEMS: Stands for Tactical Emergency

Medical Service.

The most important rule of being

a successful negotiator is never lie,

Swenson said. You may have to deal

with that lie later, so it's been to set

up the situation for success by being

honest and forthright, and never

making false promises.

Stanton explained that keeping a

consistent, soothing tone offers

confidence. No matter how high

tensions run, controlling emotions is

vital. "In the end, we want a successful

conclusion no matter what the person

did," Stanton said. "We don't play

games…it's amazing how the process

works."

For the SWAT Negotiations Unit, the

good life involves bringing everyone

involved in a dangerous situation to

complete safety. ■

39
---
2