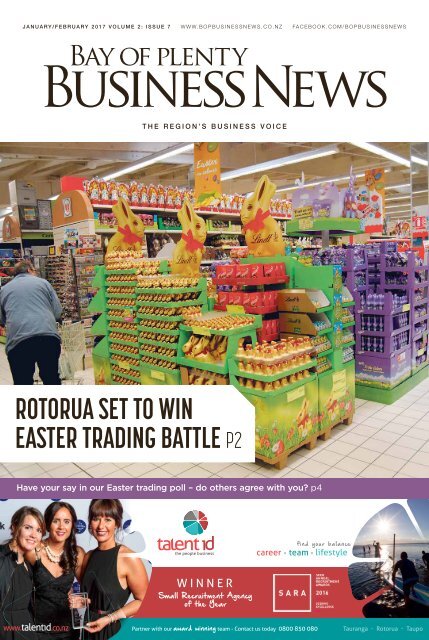 Bay of Plenty Business News January/February 2017
From mid-2016 Bay of Plenty businesses have a new voice, Bay of Plenty Business News. This new publication reflects the region's growth and importance as part of the wider central North Island economy.
From mid-2016 Bay of Plenty businesses have a new voice, Bay of Plenty Business News. This new publication reflects the region's growth and importance as part of the wider central North Island economy.
SHOW MORE
SHOW LESS
Create successful ePaper yourself
Turn your PDF publications into a flip-book with our unique Google optimized e-Paper software.
JANUARY/FEBRUARY 2017 VOLUME 2: ISSUE 7 WWW.BOPBUSINESSNEWS.CO.NZ FACEBOOK.COM/BOPBUSINESSNEWS

Bay of plenty

THE REGION'S BUSINESS VOICE

ROTORUA SET TO WIN

EASTER TRADING BATTLE P2

Have your say in our Easter trading poll – do others agree with you? p4

WINNER

Small Recruitment Agency

of the Year

Partner with our award winning team - Contact us today 0800 850 080

Tauranga • Rotorua • Taupo
---
2 BAY OF PLENTY BUSINESS NEWS January/February 2017

Rotorua likely to embrace Easter trading

After a long campaign Rotorua is on track

to gain parity with other tourist resorts such

as Taupo and Queenstown and introduce

Easter trading this April.

By GEOFF TAYLOR

Previous legislation

has not allowed many

shops to open on Easter

Sunday but a Government

amendment to the Shop

Trading Hours Act passed in

October enables councils to

set their own policies.

Councils across the country

are starting the process

of formulating policies but

Rotorua Lakes Council is

one of the few planning to

introduce a policy in time for

this Easter.

Tauranga City Council has

decided to put off a decision

until next year.

In order to meet a legislative

requirement giving

businesses sufficient time

to consult with staff ahead

of Easter, Rotorua Lakes

Council fast-tracked its processes.

The council went out

for submissions on the plan

on December 19. When submissions

close on January 27,

hearings will be held before a

decision is made in February.

The timing of the

consultation will enable

retailers and employees

sufficient time to prepare

ahead of Easter Sunday

which falls on April 16.

Employees would have four

weeks (February 19 to March

Rotorua deputy Mayor

Dave Donaldson.

19) to advise employers if

they don't want to work on

Easter Sunday.

Rotorua has long been

trying to gain parity with

tourist resorts Taupo and

Queenstown which through

a quirk in law have had

exemptions for Easter

trading. Rotorua Mayor

Steve Chadwick and former

Rotorua Chamber of

Commerce chief executive

Darrin Walsh presented submissions

to a select committee

last year while the mayor

has made two unsuccessful

attempts to change Easter

trading laws when she was

an MP. Current Rotorua MP

Todd McClay's attempt in

2009 was also unsuccessful.

With my economic growth

hat on I will be very

surprised and disappointed

if it doesn't proceed.

Deputy Mayor Dave

Donaldson said that wearing

his "economic growth portfolio

hat" he believed that

Easter trading would be of

great advantage to Rotorua

in levelling the playing field

with the likes of Taupo and

Queenstown.

"I've lived in Rotorua

since 1969 and the place fills

up at Easter. We have hungry

mountain bikers coming

out from the forest and the

supermarkets are closed and

tourists all around looking

to shop and it just doesn't

add up. Among other things

we are a tourist resort. In

Rotorua tourism leads the

way as our biggest employer."

Mr Donaldson said he

expected the submission

process would show widespread

support for Easter

trading among the community

although there would

no doubt be people strongly

against it.

"With my economic

growth hat on I will be very

surprised and disappointed if

it doesn't proceed."

Mr Donaldson said he

hadn't heard "one iota"

of criticism of council for

bringing its consultation

process forward

and asking for

submissions over

the holiday period.

Because of the

timing the council

had tried to be as

transparent as possible

with lots of

publicity about the

process.

Retail NZ public

affairs general manager

Greg Harford said having 67

councils with different processes

regarding adopting

Easter trading is "a bit of a

mess".

"Our sense is that most

councils are going to be looking

at it but not this Easter

because of the tight timeframe.

"Our position is that shops

should be allowed to have

the option to open on Easter

Sunday. We are supportive of

a permissive approach which

allows the business and the

employee to make the decision."

Tauranga City Council is

one of the majority which has

found the timing too tight to

consider trying to implement

Easter trading this year.

Tracy Plane, manager

strategic and corporate planning

said the council had

originally planned to consider

Easter trading in time

for April.

"However, bearing in

mind the tight timeframe and

with a new council in place

since October, precedence

has been given to reviewing

strategy and policy priorities

for the council and its

new committees. The Easter

trading issue was therefore

placed on hold."

"A comprehensive community

engagement process

is required on this topic –

pre-engagement to gauge

community views, along with

formal consultation, hearings

and deliberations if a policy

is required to be developed.

We will plan for this to take

place in 2017/18."

Focus for 2017 on strengths and

opportunities Rotorua Mayor says

A

focus on Rotorua's

strengths and maximising

opportunities will be

key to the district's ongoing

progress in 2017, Mayor Steve

Chadwick says.

"After a year when we've

seen the district continue to

thrive, in 2017 we need to

focus on our strengths and

identify opportunities that will

help us enhance and maximise

those strengths," she says.

One such opportunity

recently saw the council

decide to continue its financial

support for the Crankworx

mountain bike festival, which

last year boosted the local

economy by at least $8 million,

up from $3.7 million the

previous, inaugural, year.

The decision was made to

support proposals for ongoing

hosting rights and Rotorua

subsequently signed an

unprecedented 10-year deal

with the event's Canadian

owners to secure hosting rights

until 2027.

Mayor Chadwick says the

council dealt with the matter

confidentially due to commercial

sensitivities involved in

negotiations underway at the

time, but has confirmed a decision

to support Mountain Bike

Events Limited for Crankworx

Rotorua for the next five years

(to 2021). Council will provide

$75,000 per year for the

event and continue to act as

underwriter to a maximum of

$500,000 over the five years.

These are the same amounts

as agreed to for the three years

Rotorua Mayor

Steve Chadwick.

to 2017.

"This past year has seen

Rotorua continue to thrive and

it's important to make the most

of opportunities like this,"

Mayor Chadwick says. "The

benefits of Crankworx will go

well beyond just the week of

the festival."

Council's underwriting

support for 2015 was $94,000

and for 2016, $39,000 with

repayment to be made through

profits once the event becomes

self-sustaining.

"I'm confident council's

continued support will be a

great investment," the mayor

says.

"Given the economic benefits

more than doubled in the

second year, I'm very confident

about the ongoing success

of this event, along with the

benefits it will bring given the

worldwide exposure it gets."

Last year's Crankworx mountain bike festival

boosted Rotorua's economy by at least $8 million.

Photo: Chester Boyes.

The mayor says councils

have an important role to play

in helping to secure events

which bring economic benefit

and ensuring their success.

"It will be up to Rotorua to

make the most of the opportunities

this creates to ensure we

maximise our investment."

Crankworx is an event that

will contribute to Rotorua's

ongoing progress but other

opportunities also need to be

identified and actioned, Mayor

Chadwick says.

"The local economy is performing

above the national

average, unemployment has

been dropping and sectors like

tourism and retail are doing

extremely well with business

operators feeling very positive.

It's important we keep

building on that increased

activity.

"Rotorua is a place of interest

for businesses and investors

from outside the district

and people looking to move

to the region. Our population

passed 70,000 during 2016

which is a reversal of a decade-long

decline pre-2014

so we're a growing, as well

as thriving, district," Mayor

Chadwick says.

"However, that's not to say

there aren't any challenges

or that there's not more to

do. With growth and progress

come pressures – on infrastructure

like roads, on housing

stock and accommodation

and on service and hospitality

sectors so we need to front

these."

Early 2017 will see council

setting a direction aimed at

continuing Rotorua's progress.

"We need to make sure

we're focused on maximising

Rotorua's strengths and identifying

and acting on opportunities

and we'll ask for the

community's input in defining

those.

"We'll also continue with

projects already underway,

such as working with our lakes

communities on wastewater

schemes and ensuring adequate

ongoing central government

investment in roading,"

the mayor says.

Encouraging the development

of residential and commercial

zoned land in Rotorua

will also be on the 2017 agenda.

"Council will continue collaborating

with government

agencies, businesses, developers

and the community to

deal with challenges and work

on projects and initiatives and

we'll use new ways to have

important conversations with

our stakeholders. I'm looking

forward to another year of progress

for Rotorua."
---
BAY OF PLENTY BUSINESS NEWS January/February 2017 3

Papamoa's coastal ambience is a strong

factor behind its popularity as a place to live.

Papamoa's boom

set to continue

Papamoa's status as the place to be has

been confirmed with its naming as one of

the biggest "hot spots" in New Zealand.

By GEOFF TAYLOR

And Infometrics' latest

regional hotspots report

predicts no let up in the

coastal suburb's boom in coming

years.

The economic analysis

company has predicted that

Papamoa's population would

have grown by 74 percent

(5190 people) in the decade

ending 2023, making it one of

the country's top future population

growth areas.

Only Hobsonville (254

percent), Central Christchurch

(105 percent) and Southwest

Christchurch (85 percent)

rank higher in the list which

also features Orewa/Albany,

Central Auckland, Beachlands/

Drury, North Hamilton, Central

Otago and Central Wellington.

Infometrics says Papamoa

has undergone a transformation

from a rural and holiday

community to a suburb of

Tauranga over the last 20 - 30

years as the city has grown

substantially and, particularly

during the 2000s, the popularity

of coastal property increased

immensely.

"However, the area's growth

is far from finished, with development

expected to continue

spreading eastwards over the

next decade and beyond."

The report describes how

Tauranga has undergone a

transformation from a popular

retirement destination to

a more broadly based growth

city.

The success of the Port of

Tauranga has coincided with

strong business growth in the

city, while Tauranga's lifestyle

has proved a strong drawcard

for families.

The spread of population

growth across all age brackets

has seen major expansion in

Tauranga's social infrastructure,

businesses, and employment

opportunities – a trend

that has been largely self-reinforcing

in terms of attracting

more people to the city.

"Papamoa is one of two

main growth hubs in Tauranga,

and we expect it to outperform

the area south of Tauranga

around Pyes Pa. Completion

of the Tauranga Eastern Link

last year has helped increase

the attractiveness for both businesses

and households to be

sited at Papamoa, providing

more direct access both into the

city and towards eastern Bay

of Plenty.

"The more coastal nature

of Papamoa also holds strong

appeal from a lifestyle point

of view for families as well

as retirees. By June 2016, the

area's population was only running

slightly ahead of Statistics

NZ's low projections, but with

Tauranga City's population

recording one of the fastest

growth rates in the country,

we expect further acceleration

in Papamoa's prospects over

coming years."

Infometrics does see challenges

for Papamoa, principally

because of its "long and

thin" geography.

"Currently, retail facilities

are mainly located in the older

Papamoa Beach area, with

fewer services available further

east in more recently developed

areas. The "ribbon-like"

nature of growth will make

it more difficult to justify a

single large urban hub within

Papamoa East; instead, retail

and other services are likely to

be based around a number of

smaller neighbourhood centres

dotted throughout the area.

"Over the longer-term, as

residential construction spreads

further east away from the

older Papamoa Beach area into

the Te Tumu area, there may

be scope for a more significant

retail centre to be developed."

Papamoa does have industrial

and commercial development

planned but is probably

less well suited to this compared

to an area like Tauriko

which caters well for freight

and logistics-related activities

involving Hamilton and

Auckland, says the report.

"Nevertheless, Tauranga

City Council's focus on

ensuring that new residential

development is accompanied

by employment opportunities

within Papamoa suggests

that business and job growth

will take place over the medium-term,

particularly in the

areas bordering the Tauranga

Eastern Link."

New jobs portal

promotes life in the Bay

A

new

and unique

online portal has been

launched to promote

Bay of Plenty as a thriving

destination, with ample jobs

and lifestyle opportunities.

Better in the Bay promotes

job vacancies, lifestyle

opportunities, and business

and community support,

as well as a profile section

for prospective job candidates.

Site creator Kellie

Hamlett says the portal is

timely in terms of the growth

currently being experienced

in the region.

"The portal is essentially

a job board promoting the

diversity of Bay of Plentybased

jobs and industries.

But it also provides information

on what else we have to

A visual from the Better in the Bay website.

offer – what people look at

when they're considering the

whole package of work-life

balance.

"We have a hugely

diverse range of careers in

the region and with economic

growth being so on-point

at the moment, we have lots

of opportunities to promote

and get excited about."

She says the region has

seen steady growth in the

jobs market over the past two

and a half years, particularly

in Rotorua.

"This is not a flash-in-thepan

type of growth, but more

permanent and we should see

it continue."

The portal aims to appeal

to both locals and those

outside the region looking to

move, featuring information

not only on available careers,

but also opportunities such

as lifestyle and adventure,

outdoor activities, affordable

housing and schooling, as

well as community and

business support services.

The portal also features a

section which job candidates

can upload their profiles for

prospective employers to

peruse.

"One of the unique features

of the site is that people can

profile themselves directly

to employers. Other sites

have similar functionality,

but Better in the Bay has a

more direct approach, where

employers don't pay to view

candidate profiles and can

contact them directly."

Employers can pay to

advertise on the site, with

varying packages available,

while candidates can pay

just $30 for a 30-day profile

listing. Job listings also

feature on the Better in the

Bay Facebook page, while

job seekers can sign up to

receive job updates directly

to their inbox.

"We have a truly unique

offering in the Bay and we

need to celebrate and promote

it while the region is in

such a strong growth phase.

Better in the Bay is about

connecting all the pieces and

bringing them together in

one place."

To find out more or check

the site out for yourself, visit

www.betterinthebay.co.nz.
---
4 BAY OF PLENTY BUSINESS NEWS January/February 2017

From the editor

Happy New Year

to all readers and

businesses and we

wish you a successful 2017.

It is no surprise that

Rotorua Lakes Council isn't

wasting any time in pushing

through processes to allow

businesses to trade on

Easter Sunday this year.

The inability of Rotorua

businesses to open at

Easter despite the city

being packed with visitors

has long been a frustration

for this tourist mecca.

Particularly galling has

been the fact that the city's

competition - Taupo and to

a lesser extent Queenstown

– have for years been

granted an exemption due

to a quirk in the law.

But finally the

Government has acted. An

amendment to the Shop

Trading Hours Act passed

in October enables councils

to set their own policies on

Easter trading.

The Amendment

requires a period of public

consultation and then for

employees to be given

a notice period before

deciding if they will work

Easter Sunday. Because of

this most of the 67 territorial

authorities around the

country including Tauranga

City Council have opted not

to try to push the Easter

trading changes through

before April, preferring to

wait till 2018.

Not Rotorua whose

political representatives

have fought for years for

a change. The council

opened the issue up for

public submissions over

the holiday period and

intends making a decision

in February.

Deputy mayor Dave

Donaldson is pretty

confident most submissions

will be in favour of a change

and it's almost certain that

come this Easter, visitors

to Rotorua will be able to

shop on Easter Sunday, no

questions asked.

Easter trading has been

a contentious issue and

there are certainly personal

considerations both for

employers and staff about

working through Easter.

But as Rotorua's tourism

industry thrives, the sight

of closed supermarkets on

streets filled with visitors

just doesn't make sense.

The change had to

come.

Geoff Taylor

Editor

MONTHLY POLL

tell us your opinion

This month's poll

An amendment passed by the Government in October means

councils around the country can now make their own policy on

whether retailers should be able to trade at Easter.

Tauranga City Council is going to put off any decision until

later this year but Rotorua Lakes Council plans to make a decision

which will take effect in time for this Easter in April.

What do you think? Should retailers have a choice about

whether they want to open on Easter Sunday?

Vote on the BBN website (www.bopbusinessnews.co.nz)

Last month's results

Should we be tipping in restaurants in New Zealand?

Most Bay of Plenty Business News readers aren't keen on

tipping in this country. Fifty-five percent of readers voted no to

ever tipping in New Zealand while 45 percent said they would tip

only when service was exceptional. No one supported the idea of

widespread tipping.

0%

55%

45%

0%

Should retailers be allowed to

open at Easter if they want to?

A. Yes

B. No

Cast your vote at:

bopbusinessnews.co.nz

45%

55%

No never

Only if service is exceptional

Yes Always

Publisher

Alan Neben

Ph: (07) 838 1333 Mob: 021 733 536

Email: alan@wbn.co.nz

Sales director

Deidre Morris

Ph: (07) 838 1333 Mob: 027 228 8442

Email: deidre@wbn.co.nz

Editor

Geoff Taylor

Ph: (07) 838 1333 Mob: 022 694 1595

Email: geoff@wbn.co.nz

Production Manager

Tania Hogg

Ph: (07) 838 1333

Email: production@wbn.co.nz

ADVERTISING

INQUIRIES

Please contact:

Sales manager

Jody Anderson

Ph: (07) 838 1333 Mob: 027 236 7912

Email: jody@bopbusinessnews.co.nz

Account manager

Daphne Keller

Ph: (07) 552 6273 Mob: 027 552 6283

Email: daphne@bopbusinessnews.co.nz

ELECTRONIC

FORWARDING

Editorial:

News releases/Photos/Letters:

geoff@wbn.co.nz

Production:

Copy/Proofs:

production@wbn.co.nz

Subscriptions:

kim@wbn.co.nz

Waikato Business

Publications Ltd specialises

in business publishing,

advertising, design and print

media services.

Bay of Plenty Business News

has a circulation of 8000,

distributed throughout the Bay

of Plenty between Waihi and

Opotiki including Rotorua and

Taupo, and to a subscription

base.

WaikatoBusiness

PUBLICATIONS

12 Mill Street, Hamilton PO Box 1425,

Hamilton, 3240. Ph: (07) 838 1333

Fax: (07) 838 2807 | www.wbp.net.nz

www.bopbusinessnews.co.nz
---
BAY OF PLENTY BUSINESS NEWS January/February 2017 5

Business Hub | Tauranga

GIVING

EMAC ELECTRICAL

A POWERFUL BUSINESS ADVANTAGE

EMAC Electrical's Marty Forsman doesn't lug around a van load of manuals when

servicing kiwifruit cool store machinery any more. He gets all the details he

needs straight from his trusty tablet. His local Business Hub Manager, Sue Dyke,

also checks in with him regularly to make sure he's getting the best value and

support, to help him make the most of his new tools for the trade.

Read the full story at spark.co.nz/taurangabusinesshub

TALK TO US AT SPARK BUSINESS HUB TAURANGA.

WE'RE LOCAL LIKE YOU.

0800 482 842 info@hubtauranga.co.nz

SPA1951_TAU
---
6 BAY OF PLENTY BUSINESS NEWS January/February 2017

Why consider commercial property management?

Having an asset professionally managed

means a landlord is using the expertise,

knowledge, resources and networks of a

company that specialises in commercial and

industrial leasing, sales and management.

Landlords will have the

benefit of innovative

and proactive management

techniques to maximise

returns on their assets and

retain high tenant occupancy.

With more confidence having

returned to the commercial

and industrial property

sector, gone are the days when

the tenants remain in occupation

of the premises but have

declined to formally renew

their lease knowing that the

landlord probably has no other

tenant and no leverage to bargain.

This gives no comfort to

landlords who have invested

heavily in their asset. A landlord

can feel pressured to do

what he can to keep his tenant.

Professional property management

should have legal

advice built in around it to

provide clarification and the

correct procedures for the

implementation of the terms

and conditions of the Deed

of Lease should any issues or

queries arise. Having access

to legal opinions every time

there is a request from a tenant

can be costly for landlords

who try to manage their own

buildings and tenants.

Too many times, operating

expenditures are not

on-charged to the tenant or are

set incorrectly. An operating

budget should be prepared by

the property manager based

on management's best estimates.

Outgoings need to

be recovered to maintain the

landlords' asset and systems

set up correctly for the benefit

of both the landlord and the

tenant.

Relationships between

landlords and tenants can get

strained. A third party buffer

which commercial property

management is, keeps all parties

very aware of their obligations

under the lease and

helps to prevent any breakdown

in communication and

relationships between the

landlord and the tenant.

Importantly, relationships

need to be formed with contractors

such as a handyman,

Talent ID wins national SEEK award

The recruitment industry's

highest accolade

was awarded to a Bay

of Plenty firm at the SEEK

Annual Recruitment Awards

2016.

Talent ID Recruitment

Ltd, with offices in Rotorua

and Tauranga, won the Small

Recruitment Agency of the

Year award ahead of two

Auckland firms.

Director Kellie Hamlett

accepted the award together

with her team, acknowledging

the hard work that

had gone in to achieving the

award.

"The commitment to

excellence every day is what

sets my team apart. I am

so proud that we have been

acknowledged for doing

what we love – exceeding

our clients' and candidates'

expectations in everything

we do."

Emphasis on the Bay,

its people and their unique

requirements has seen the

business achieve a market

leadership position.

Established in 2007, it

provides human resource

consulting together with

temporary and permanent

recruitment services. With a

national database of screened

and job-ready candidates, the

HR qualified team uses local

connections to attract new

talent to the region.

The point of difference is

the care taken to ensure that

the essential 'fit 'is right.

"It's one thing to place

a candidate into a role. It's

quite another to understand

a business like it's your own

and find that perfect person

who fits the team and the culture,"

commented Catherine

Brown, lead consultant in the

Tauranga office. "We take a

360 degree approach so have

the confidence to offer a 100

percent guarantee with every

placement".

The SEEK Annual

Recruitment Awards (SARA)

celebrate innovation and

excellence within the recruitment

industry. The awards

recognise the country's finest

recruitment agencies

and individuals with prizes

awarded to small, medium

and large players together

with top performers and

innovative practices.

Talent ID is committed

to seeing the Bay's growth

continue.

Kellie's heart for the

region shows in her sponsorship

of the Rotorua Chamber

of Commerce Employee

of the Year Award and the

Best Professional Services

Team for the 2016 Taupo

REAL ESTATE MATTERS

> BY JAN COONEY

Jan Cooney is commercial property manager at Bayleys Tauranga.

Phone: 027 408 9339 | www.bayleys.co.nz

roofer, plumber and electrician.

Property management

will convey their expectations

of quality workmanship for a

fair price, for contractors to

take ownership of their skills

and understand that the tenant

and the landlord are not

'cash cows'. It is all about

preventative measures rather

than reactive.

Talent ID director Kellie Hamlett.

Stella Awards for Excellent

Customer Experience.

A member of the Tauranga

Chamber of Commerce

Often the management fee

is included in the 'Outgoings'

Schedule of the Deed of Lease

and therefore a cost to the

tenant.

If you're not having your

property managed, now may

be just the time to do so. A

sound management contract

will not give you any surprises.

executive board, she was

also a judge at the recent

Westpac Tauranga Business

Excellence Awards.

Commercial

Property

Management

Bayleys Commercial Property Management covers both commercial

and industrial across the Bay of Plenty and New Zealand. Situated

in the middle of what is considered to be the Golden Triangle of

investment property is our results driven team.

We understand that to maximise the return on your property

you need:

Professional property management

A business partner that understands your investment,

views and goals

At Bayleys, we believe

relationships are what

businesses are built

on and how they

succeed.

SPEAK TO BAYLEYS TODAY

Jan Cooney

Commercial Property Manager

B 07 579 0609 M 027 408 9339

jan.cooney@bayleys.co.nz

Brodie Thomas

Commercial Property Management Assistant

B 07 579 0608

brodie.thomas@bayleys.co.nz

247 Cameron Road,

Tauranga

Success Realty Ltd, Bayleys,

Licensed Under The REA Act 2008
---
Company top

dog in pet gear

BAY OF PLENTY BUSINESS NEWS January/February 2017 7

When Rio the Schnauzer dog landed with

his owners in New Zealand from London,

he could claim to have the coat he stood

up in as his only possession.

By RICHARD RENNIE

New Zealand immigration

rules are tough on

dogs making this country

home with their owners.

The rules ban the importation

of any materials or products

the dog may have used back

home.

But it was these same rules

that prompted Rio's owner

Lillian Richmond to start the

business she heads up today

with her business partner

Michael Terry.

"When we got to Auckland

and started looking around for

things for Rio, including collars,

dog beds and leads it

struck us how little there was

available, plenty of pet shops

were selling pretty much all

the same stuff," says Lillian.

We have even had interest

from people in remote

parts of the country,

and the owner of a dog

hydrotherapy facility in

Southland is one of our few

stockists of the robes.

The ex-marketer and chartered

accountant decided to

seriously put plans together for

getting their own business into

gear.

And so Animal Outfitters

was born, an online store for

pet owners wanting quality

accessories and equipment for

their furry friends.

Meantime Rio the schnauzer

is now well equipped and

has multiple roles as the company's

mascot, test dog and

photo model for the online web

sales.

Lillian and Michael's exposure

to an expansive range of

pet accessories in the United

Kingdom and Europe had

given them an insight to a trend

they believed would reach New

Zealand sooner rather than

later.

Social media, major demographic

shifts and

ever rising immigration

have all

been forces driving

increasing spend

upon pets, particularly

dogs.

"The quality pet

accessories were

out there, but just

not here yet," says

Lillian.

An astute

marketer, she

has noticed the

increasing "humanisation" of

pet dogs in households with

couples who may not have

children, or with "empty nesters"

whose children have left

home. Greater immigration

also means more of the population

is used to having pets

with quality accessories from

the same sources Lillian and

Michael experienced overseas.

They were not enticed to

push into the excessive "dog

bling" market that includes

such accessories like $400

Don't be afraid to look for help

Welcome to 2017!

By now, everyone

is probably settled

back into work and is hopefully,

refreshed and energised

for the year ahead. But, are

you REALLY ready for it?

I cast my mind back to

something that happened

a few years ago over the

Christmas break. I was

watching my daughter's

swimming lessons and was

struck with the similarities

between being in business

and being a four-year-old

struggling with the concepts

of floating and sinking while

trying to make the art of

swimming look less like the

frenzied attack that was actually

occurring.

How is this similar you

might ask? Well, she was

very enthusiastic and determined

and, over time, she

may have been able to teach

herself to swim – she may

even have become quite good

at it, especially if the level of

natural ability was as high as

the level of enthusiasm.

But surely it made better

sense to get the correct

training and guidance at the

beginning?

Being in business is no

different. The earlier you

seek assistance and guidance

from people who know how

it's done and know how best

to help you do it, the better

off you will be. Learning the

basics and best practice early

pays huge dividends later on.

Confidence, enthusiasm

and determination are admirable

traits and somewhat

essential to success in business.

But how equipped are you

to respond to external factors

that are likely to impact

on your success? Such as…

the bully who dive bombs

the pool … the employee

who disrupts your team …

the awesome plans that you

Rio the Schnauzer with Animal Outfitters creators Lillian Richmond and Michael Terry.

MONEY MATTERS

> BY STEPHEN GRAHAM

Louis Vuitton dog collars.

Rather they sought to provide

items that hit the right notes on

quality at an affordable price,

while also offering owners a

sense of personalised, "specialness"

about them.

"We estimated there are

about 700,000 dogs in New

Zealand, and even if we could

tap into the top five percent of

that market, it would be a great

start," says Michael.

The couple opted for an

online sales model, knowing

Stephen Graham is director and managing partner at BDO Rotorua,

Chartered Accountants and Advisers. To find out more visit bdorotorua.co.nz

or email rotorua@bdo.co.nz

have in mind but that circumstances

always seem to prevent

you from getting across

the line … the New Zealand

economy … the world economy?

Not only do we face an

election of our own this year,

there have been changes in

the global arena that are,

to say the least, unknown

quantities. The changes in

economic climate that could

result from any of these

things could cause havoc

with our carefully laid out

plans for the year.

The fact that these external

factors are just that, external

factors, means that neither

you nor I, or anyone else for

that matter, can change or

dictate any of it.

What should you do?

The analogy between my

(then) four-year-old daughter

and the business world is as

pertinent now as it ever was.

Like her, you should

continue to set goals and

milestones. Learn to accept

advice. Learn to read the elements.

Have your life saver (or

jacket) at the ready.

The goal is to reach the

end of the pool.

Be aware of your surroundings

and know that you

are ultimately in control of

how to get there.

One stroke at a time.

Handling each obstacle as

it appears.

Oh, and don't forget to

breathe!

going up against the big retail

operators is too hard. Offering

an enjoyable, warm and interesting

on line experience would

be another point of difference,

alongside the quality of what

they were selling.

Lillian has some key themes

she sticks to when assessing

products for the company's

range, seeking items that are

well made, long lasting and

look good.

"As well as looking stylish,

a product must also actually

work for the pet. For example

a dog bed inner should provide

ongoing support for the dog's

weight (we use high density

foam) and covers need to be

easily machine washable. A

cheaper bed is often harder to

wash and contains hollow fibre

fill that quickly sags, so the bed

might only last six months."

They also focus on educating

customers about what

constitutes a good product,

combining thoughtful design

with appealing aesthetics and

colours.

Some of their most popular

items are the dog towelling

robes and jackets which they

initially designed for smaller

canines, but have since had

a surge in interest from owners

of larger animals seeking

something stylish that keeps

their pet warm.

"We have even had interest

from people in remote parts of

the country, and the owner of

a dog hydrotherapy facility in

Southland is one of our few

stockists of the robes."

The couple is also proud

to have the jackets and robes

made in New Zealand and

owners appreciate the focus on

quality stitching and use of

buttons over velcro on fabric

the same as that which human

clothing is made from.

Longer term the couple

have some other developments

under wraps, and prospects for

further sales into Australia,

while cat accessories are also

finding a growing market here.

"But cats will always be

cats, there is only so much you

may do with them or spend

upon them."

The couple has enjoyed

moving their business to

Tauranga from Auckland, and

welcome the support received

from Small Business Tauranga.

"If you are new here SBT

is a good way to quickly find

out about other businesses and

services that can help you get

going quicker," says Lillian.

To learn more visit www.animaloutfitters.nz

THE AVERAGE

ICT SPEND IS 4%

www.stratusblue.nz

*According to Computer Economics and Gartner SurveysWHAT IS YOURS?

*

TECHNOLOGY SOLUTIONS

FROM GROUND TO CLOUD
---
8 BAY OF PLENTY BUSINESS NEWS January/February 2017

Biosecurity becomes

a community effort

Getting the Bay of Plenty port community

on board with biosecurity is starting to pay

dividends at the Port of Tauranga.

By RICHARD RENNIE

Widening biosecurity

beyond its

usual boundaries of

customs and Ministry for

Primary Industries biosecurity

officials is the secret

weapon government and the

region hopes will prevent

future devastating incursions

like the Psa bacteria that

almost wiped out the kiwifruit

industry in 2010.

The wider joint efforts

were highlighted with a joint

Biosecurity Awareness Week

at the port in late November

which attracted locals and

cruise ship visitors alike to

highlight some of the imminent

threats to the region

and the country's primary

sectors.

Kiwifruit Vine Health

(KVH) chief executive Dr

Barry O'Neil said a joint initiative

launched earlier this

year was proving successful

in improving communication

of biosecurity risks

and identifying hazard areas.

It included representatives

from the port, forestry, dairy,

kiwifruit, logistics and transport

sectors.

The cruise ship trade had

been identified as one of the

highest risk sectors for biosecurity

incursions, particularly

from passengers bringing

risky food items ashore.

The joint initiative has

invested much in educating

port workers about potential

biosecurity risk areas, and

on likely unwelcome passengers

they may come across in

their work.

Information sheets and

calendars highlighting seasonal

biosecurity risks have

been distributed throughout

the port's industrial area.

Of particular concern is

the brown marmorated stinkbug,

currently on the "least

wanted" list of pests, alongside

the Queensland fruit fly

whose presence would devastate

New Zealand's horticultural

sector.

Dr O'Neil said the stink

bug was of particular concern,

given it was harder to

trap than the fruit fly which

was attracted by pheromones

to traps.

"So far we have found

407 at the border, and this is

a pest that is not fussy, it will

eat about 300 different crops

and trees. Our scientists have

also determined that climatically

New Zealand has a

very favourable climate for

the bug."

The bug is a pest found

in Asia, but has aggressively

invaded the United States. Its

name comes from the smell it

releases when squashed.

Dr O'Neil said thanks to

the initiative that has educated

the port community

of such threats, a container

cleaning worker had raised

the alarm on discovery of

what he thought was the bug

during work one day.

Port of Tauranga commercial

manager Leonard

Sampson said co-operation

from the booming cruise ship

sector had been particularly

heartening.

With more than 80 vessels

entering the port bringing in

excess of 170,000 people, he

said the port had appreciated

identifying ships' food sources

before they docked.

"Cruise companies have

worked to source food from

sources that are secure,

reducing the risk pathway

before they even dock.

"In the last two years there

has been a huge increase in

the amount of practical steps

taken to increase awareness.

Having a collaborative

approach has been better for

everyone."

Dr O'Neil said having 750

port staff working every day

at the border knowing what

to do was a significant help

to MPI customs staff.

Port of Tauranga commercial manager Leonard Sampson (left) and Dr Barry O'Neil.

New Year resolutions – get your HR house in order

We are well and truly on

the other side of the

New Year now and

2017 has certainly started full

of promise for an exciting year

ahead.

New Year is a great time

for reflection to look back over

the year that has been - the

highs and lows - and then to

look forward and plan for the

year ahead with the challenges

HUMAN RESOURCES

> BY KELLIE HAMLETT

Director, Recruitment & HR Specialist, Talent ID Recruitment Ltd

it will inevitably bring. Most of

us have good intentions for the

upcoming year coupled with a

few resolutions that last until the

end of February. You may set

New Year resolutions for 'yourself'

but have you also set goals

for your business and team? A

colleague of mine once noted

three important New Year's resolutions

– business fitness, less

consumption through applying

a sustainable business approach

– recycle, reuse and reduce and

thirdly tackling the big issues in

your business (something we all

love to avoid!).

Perhaps as we approach this

year which will most likely

involve some business growth

and expansion for many, it's

timely to consider a fourth resolution

regarding the human

resource systems and process-

es within your business. The

people you employ are either

going to be your biggest asset or

possibly your biggest liability.

Ensuring your HR systems and

procedures are in place for the

new year, will lead you to start

as you mean to carry on, enabling

your business to focus on

the bigger issues. For example,

do you have up to date position

descriptions, employment

agreements and house rules? Do

you keep accurate and up to date

staff files? Do you conduct regular

reviews with your staff and

are they up to date? Do you have

policies that need to be updated

or reviewed? Are your individual

staff and team targets in place

Small businesses upbeat

about year ahead

New Zealand small businesses

finished 2016

on an upbeat note, with

confidence at its highest levels

in almost two years, according

to ANZ's quarterly Business

Micro Scope survey of small

firms.

A net 20 percent of respondents

- up from 17 percent in

the September quarter - say

they are confident about the

business environment in the

year ahead. Within this group,

micro firms' (0-5 employees)

confidence rose a solid 5

points to +14, while intermediate

firms held steady on +26.

The ANZ composite measure

– a key proxy for growth

for 2017 and have you caught

up with them individually to

note their personal goals for the

year? Do you ever ask your

staff for feedback on their position,

the team and the company?

Knowing where your staff and

team are at, and how they are

working together can help you

to build a more cohesive work

environment for the future of

which will ultimately be more

productive and profitable.

Having your human resource

framework in place will make

it easier to manage your staff

now and in the longer term and

enable you to focus on the bigger

picture. So often we come

across businesses which have

– lifted to +20 during the quarter.

The composite measure is

based on firms' activity outlook,

hiring, investment and

profit expectations, all which

improved in the quarter.

"It was a storming finish

to a good year for New

Zealand's small businesses,"

said Andrew Webster, general

manager retail and business

banking. "If the confidence

plays out, 2017 will be an

excellent year for small businesses

with a net 34 percent

expecting a lift in activity for

their business over the next 12

months."

The composite growth

measure lifted across all five

grown quickly but struggled to

keep up with the basic processes

and requirements for managing

their staff.This can often lead

to staff dissatisfaction down the

track, hinder growth, as well as

compliance issues.

The beginning of the year

is when many businesses are

looking ahead and hiring staff.

One of your New Year goals

could be to ensure your internal

paperwork and systems are in

order, which will enable you to

concentrate on 2017 as a growth

year, a profitable year and one

in which you can take advantage

of the high calibre candidates on

offer who will add value to your

business.

regions – Wellington leads

the way followed closely

by regional South Island.

Auckland continues a gradual

climb while growth prospects

in regional North Island and

Canterbury have started to

gain more momentum.

"While overall sentiment

and growth prospects are positive,

concern about finding

skilled staff continues to create

a potential wedge between

growth prospects and actual

growth. Competition and regulation

are also seen as obstacles

to businesses realising their

growth potential in 2017," Mr

Webster said.

Growth prospects for four

of the five sectors improved

in December with construction

and services leading the way.
---
BAY OF PLENTY BUSINESS NEWS January/February 2017 9

Reach new customers using social media

It's no great secret that social media plays

a big part in our lives. Long gone are the

days when it was solely considered a social

networking tool for young people.

According to Statista, the

number of social media

users around the world

was 1.91 billion in 2014 and

this number is expected to

soar to 2.67 billion by 2018.

In New Zealand, Facebook

is by far the most popular

online platform, with 74.7 per

cent of users. More than 2.5

million Kiwis use Facebook

each month, with the biggest

user group being people aged

25 to 34. Linkedin is the second

most used, followed by

Instagram and Twitter.

In 2017, make your

business visible.

Make your mark

online.

Today, businesses need an

online presence to be successful.

Kiwi companies

have yet to fully realise their

online potential, but we are

catching on to the fact that

without it, we are a great deal

smaller and less visible.

A survey of 217 Kiwi

companies carried out late

last year by OMG Solutions

showed that 93.6 percent use

social media for business,

and 98 percent plan on continuing

to use it in the future.

A total 89 percent of the

companies polled said they

use social media for brand

awareness, and nearly as

many said they use it to

engage with their audiences.

Around half say they rely on

Facebook for online advertising.

For Bay of Plenty businesses

it makes absolute

sense to develop a strong

online presence. And not just

locally. As a small region in a

remote country, social media

is our portal to the rest of the

world.

As a local business seeking

to build a wider, more

visible presence, it's valuable

to start by knowing what

your customers want, and

what you want to achieve

from your social media activity.

Do you want to raise

awareness of your brand,

interact with others in your

industry, promote services

or products to customers, or

build an online community to

discuss ideas?

Being clear about what

you want to achieve is important

as this will ensure your

efforts are well directed and

your results more measurable.

Facebook, Twitter and

other social media platforms

are effective tools to tell people

who you are and what

you do. They are also good

places to showcase your

knowledge of your sector,

stay on top of trends and

developments in your field,

and share your insights with

clients and peers.

Social media allows you

to swiftly share information

with customers, partners and

the public. You can build networks

with others in your

field. You can be bigger,

stronger and more effective

in your business sector.

Gaining followers is

another useful aspect of

social media, which allows

clients and others to show

support for your business. It

also allows you to regularly

connect with those who are

interested in what you do.

Facebook, Twitter and

other social media platforms

are also ideal spaces

to advertise at low cost.

The vast majority of Bay of

Plenty businesses have fewer

than 20 employees and can't

afford costly ads.

Be smart and invest in

effective words and images

to market your brand across

your social media platforms.

You may be surprised at how

many you reach using a lowcost,

well targeted advert.

Social media is powerful,

and it pays to maximise

its business potential. But

social media on its own is

not a silver bullet. To be

effective, it needs to be done

conversationally, and as part

of a broader strategy that

includes other digital marketing

efforts, face-to-face communication,

and print.

For some, social media is

not necessarily about doing

TELLING YOUR STORY

> BY JAMES HEFFIELD

Director of Bay of Plenty communications consultancy Last Word

Writing Services. To find out more visit lastwordwriting.co.nz or

email james@lastwordwriting.co.nz.

more, but about doing it better.

Ask yourself this: What is

the message you want to convey,

and how can you do it in

a way that differentiates you?

Remember that the online

universe is abuzz with

chatter.

To get results, you'll need

well-chosen words and images.

In 2017, make your business

visible. Make your mark

online.

Discard those New Year resolutions

Over the festive period

and the start of the

year people often set

themselves various New Year

resolutions.

If you have, then we urge

you throw them out the door.

Unfortunately, the sad truth

is the vast majority of New

Year resolutions fail. They

tend to be too wide sweeping

and do not help you change

your behaviour and achieve

what you want.

Humans are creatures of

habit. You need determination

and a course of action

to make positive changes in

your life.

This year we challenge

you to do something different.

Don't set resolutions but

take some time to think about

where you would like to be in

one year, three years and five

years in both your work and

The key to successful

goal setting is to

be SMART – they

need to be Specific,

Measurable,

Achievable, Results

focused and Timebound.

personal life.

Then sit down and set

goals. You can encourage all

your family members to do it

too. Each year we sit down

with our three children and

do goal sheets. We encourage

our kids to have a wide

variety of goals of exploring

new interests, academic and

sporting. Now in the third

year our kids look forward to

this annual activity.

The key to successful

goal setting is to be SMART

– they need to be Specific,

Measurable, Achievable,

Results focused and Timebound.

You can set goals in any

area of your life but if you

don't know where to start try

thinking about your life in

categories that include your

career, financial goals, education,

family, attitude, physical,

pleasure or even public

service.

Make sure your goals are

important to you, and that

there is value in achieving

them. Motivation is key to

achieving goals. You also

should write your goals

down including why they are

important to you.

Then pin up your goals

in a prominent place so you

will see them every day.

Share them with others – tell

your colleagues, family and

friends. Our goals sheets are

pinned up on the door of the

pantry.

Now that you have your

goals you need to make an

action plan. Set out the indi-

GROWING YOUR BUSINESS

> BY DARREN MCGARVIE

Darren McGarvie is co-founder and Chief Coach of the

Firestation, the Bay's only business growth centre. To find out

more go to www.thefirestation.nz or email grow@thefirestation.nz

vidual steps you need to do to

be successful. This gives you

a road map to achieve your

goals. Make sure you review

your goals and your progress

throughout the year too.

If you need help to stay on

track to achieve your goals

think about using a professional

coach. A coach is there

to help you understand your

strengths and weaknesses

and help you learn new ways

of thinking and applying

yourself.

But the main benefit of

a coach is accountability.

Coaches offer both encouragement

and a forced discipline

to help you achieve

success in the goals you have

set.

So, make 2017 the year

of successful goal setting to

achieve the success in all

parts of your life.

AVERAGE

*According to Computer Economics and Gartner Surveys

IT SPEND PER USER

www.stratusblue.nz

$3,800 P.A.

*

TECHNOLOGY SOLUTIONS

FROM GROUND TO CLOUD
---
10 BAY OF PLENTY BUSINESS NEWS January/February 2017

HOSPITALITY AWARDS

The winners of the inaugural Restaurant Association's

Bay Hospitality Awards have been announced

The awards were held at a Gala dinner at

Mills Reef Winery.

The Gala dinner was the

first of its kind in Bay,

and with an outstanding

amount of support it is

set to be the first of many.

More than 3,500 votes were

received over the fourteen

categories with the demand

for tickets to the awards

evening exceeding availabil-

ity.

The awards were a chance

for winners to share their successes

with their peers and

fellow finalists as well as

celebrating being the best in

their field.

Hosted by local

Masterchef winners Karena

and Kasey Bird, 250 guests

were treated to dinner and

entertainment by local musician

Lisa Hawkins and internationally

renowned DJ duo

Sweet Mix Kids.

"We are proud to organise

and foster these awards

with our main purpose being

to unite, grow and celebrate

the region's vibrant hospitality

industry," says Marisa

Bidois, chief executive of

Restaurant Association.

The event was organised

by the Restaurant Association

of New Zealand with the

assistance of the Bay of

Plenty Committee, made up

of seven local industry professionals.

"These awards are a

chance to showcase the hospitality

industry and reward

those that excel in our industry,"

says Andrew Targett,

Bay of Plenty Branch president.

"The Bay Hospitality

Awards could not operate,

celebrate and give back to the

hospitality industry without

the support of our sponsors.

We are looking forward to the

2017 awards with planning

already underway".

For more information,

go to bayhospitalityawards.

co.nz.

BAY HOSPITALITY AWARDS 2016 WINNERS

MEADOW FRESH OUTSTANDING

BARISTA

Winner: Joannes (Hans) Kraenzlin

LION CO OUTSTANDING

BARTENDER

Winner: Katie Short - The Barrio Brothers

INDEPENDENT LIQUOR

OUTSTANDING NEW VENUE

Winner: The Rising Tide

CALNAR BUSINESS SYSTEMS

OUTSTANDING CAFÉ

Winner: Love Rosie

PERNOD RICARD NZ

OUTSTANDING BAR

Winner: Mount Brewing Bar

BIDVEST TAURANGA

OUTSTANDING CHEF

Winner: Ian Harrison

Hans Kraenzlin, Folk

Café: Meadow Fresh

Outstanding Barista.

MOANA NEW ZEALAND

EMERGING TALENT

Winner: Jessica Payne - The Pizza Library

Co.

BIDVEST NZ OUTSTANDING

STREET FOOD

Winner: Johneys Dumplings

MENUMATE POINT OF SALE

OUTSTANDING CATERER

Winner: Good Things Kitchen

MENUMATE POINT OF SALE

OUTSTANDING FRONT OF HOUSE

TEAM

Winner: The Flying Burrito Brothers

MILLS REEF WINERY PEOPLE'S

CHOICE

Winner: The Flying Burrito Brothers

SPARK BUSINESS OUTSTANDING

SALES REP

Winner: Dan Shea – Mills Reef

ONEMUSIC OUTSTANDING

DESIGN/AMBIENCE

Winner: Macau Bar & Kitchen Lounge

GILMOURS TAURANGA

OUTSTANDING RESTAURANT

Winner: Harbourside Restaurant.

DO BUSINESS BETTER

PROUD TO BRING YOU THE

BAY HOSPITALITY AWARDS!

WITH OUR HELP!

Find out more!

Call 0800 737 827 or

go to www.restaurantnz.co.nz

NEED STAFF TRAINING, LEGAL ADVICE AND SUPPORT?

WANT TO SAVE MONEY ON YOUR BIGGEST OUTGOINGS?

LOOKING FOR NEW WAYS TO MARKET YOUR BUSINESS?

PHOTO: ELIZABETH CAFE & LARDER, TAURANGA
---
BAY OF PLENTY BUSINESS NEWS January/February 2017 11

Turning innovation

into gold – top tips

Innovation in business. It's unquestionably

important – as a scan of most, if not

all, CEO's strategic priorities and board

agendas will attest.

But equally important,

as the CFO will dutifully

remind us, is

that innovation is pointless

if it doesn't make - or save

- money for the business,

and hopefully appreciable

amounts of it.

That was the key message

behind our recent four-city,

nationwide seminar series,

"Turning Innovation into

Gold", which saw 13 kiwi

entrepreneurs tell the business

story of their personal

journey through innovation.

A journey that covered the

mistakes made, the strategies

that worked (or didn't), the

lessons learned and advice

for others contemplating a

similar path to possible prosperity.

Some common themes

emerged. One of the biggest

issues many of our entrepreneurs

faced was a simple

lack of funding – at start-up,

or at critical growth points

on the journey such as that

scary step into the global

marketplace.

Being innovators, however,

the speakers on tour had

plenty of tips to help others

struggling in this environment

and their innovative

instincts extended beyond the

products or services they'd

created. For Scott Noakes of

classroom management software

company LineWize,

innovation was also about

saving start-up costs by

engaging experts in the business

and giving them shares

in the venture – creating fully

engaged employees in the

process.

Other speakers had simi-

lar tips around collaboration.

Karl Gradon of NZ Mānuka

Group told the Tauranga audience

of the power of giving

your suppliers "skin in the

game" – letting them share

in the prosperity. Amanda

Wiggins of Christchurchbased

Forest Herbs, makers

of therapeutic products

derived from the native

Horopito plant, says her

company benefits immensely

from working closely with a

few key distributors, developing

the relationship, rather

than working with many who

you don't know so well.

Collaboration for Bruce

Davey's Christchurch-based

company ARANZ Medical,

makers of specialised 3D

medical cameras, means

working closely with your

customers – seeking their

referrals and leveraging

their marketing. Jason Low

of Tauranga-based Trimax

Mowing, who manufacture

large mowers for parks and

sports grounds and sell them

globally, also emphasised

the importance of customer

collaboration – in Trimax's

case, that's about constantly

innovating, drawing on what

customers tell Trimax they

want and need.

Leveraging your customer

relationships was also on the

menu for Heilala Vanilla, says

Jennifer Boggis, who pointed

to the benefits of co-branding

with established manufacturers

like Whittakers and

Lewis Road to get the Heilala

Vanilla brand recognised.

Innovation Council speaker

Louise Webster urged

innovators to look for partnerships

both as a way to

improve their speed to market

and to access established

channels to their customers.

Trimax also flew the flag

for the importance of service

and reliability – don't

let your customers down,

a view shared by Prolife

Foods of Hamilton, part of

whose marketing catch cry

is "Providing great food with

obsessive service".

For Binu Paul, Aucklandbased

developer of

SavvyKiwi, an app that

helps people decide which

KiwiSaver provider is the

right one for them, the hardlearnt

lesson was about not

blowing all your funds on

product development. You

never have enough funding at

the start, he said, but whatever

funding you do have, you

must keep a decent amount

aside for market validation.

That importance of clearly

identifying the need (and thus

a viable market) for a product

was echoed by Todd Gisby of

StretchSense and SleepDrops

founder Kirsten Taylor. An

engineer, Gisby worked for

many years trying to develop

an artificial muscle before

realising that what people

really wanted (and couldn't

get) was a type of sensor

that could be woven into

stretchable clothing – which

StretchSense duly delivered.

Taylor, a naturopath, tapped

into an often undiagnosed

need for sleep remedies but

realised there were many

different sleep disorders and

one remedy couldn't possibly

cover them all – hence her

specialised range, targeting

individual disorders.

Gisby's approach to collaboration

differed from the

others on the tour, however;

StretchSense sticks resolutely

to its core – making the

stretch sensors – which they

sell to those producing the

actual consumer products for

the marketplace.

TIPS FOR INNOVATORS

Give experts a share in the business to save money

and ensure engagement

Look for partnerships

Allow loyal suppliers to share in the profits

Develop great relationships with a few key distributors

Use customers for referrals and product development

Emphasise service and reliability

Set aside some funding for market validation rather

than just product development

Clearly identify the need and thus the market

Invest in R & D

IP MATTERS

> BY CERI WELLS

Ceri Wells is a founding partner of national intellectual property law

experts James & Wells. Ceri.wells@haws.co.nz – www.jaws.co.nz

Proud Waikato craft brewer

Darrel Hadley was able to

get around a common obstacle

to marketing new beers

- not being able to secure

outlets for the product – by

opening up his own, on the

back of his experience in

establishing cafes and bars.

Selling the Waikato brand

story and collaborating with

fellow Hamiltonians has

grown this award-winning

brewery brand.

For Gallagher, a global

electronics success, the constant

push for innovation was

illustrated by the amount of

money they put into R&D

– around 9 percent of revenue,

against a New Zealand

industry average of less than

two percent.

And therein lies the

self-evident truth to come out

of the "Turning Innovation

into Gold" seminar series.

Continual innovation is a

key to long-term growth and

competitiveness in the global

marketplace and a higher

standard of living for all, yet

we do little in this country to

really prime the innovation

pump.

Back in the 1980s,

countries like Denmark

and Finland were agriculture-based

economies like

New Zealand with similar

per capita incomes. But they

have now sprinted ahead,

leaving us mired on the farm

in our Wellington gumboots.

In the 1980s Israel's economy

was a cot case – but in

the last year alone, there were

1400 new technology startups

in Israel.

The economies of these

countries have diversified

and become more productive

because their governments

engineered a cultural shift in

attitudes to innovation and

created a business environment

that facilitates and supports

technology based startups.

We can do this too.

Persuading kiwis to invest

in innovation and start-ups

(rather than property) is not

something business alone can

do, because we have a small,

risk-averse domestic market

which is dominated by small

businesses.

The answer lies with our

Government; if it sincerely

believes in a thriving innovation

economy where we profit

from the brainpower we

have here, it needs to unclog

the arteries of innovation

and get things pumping. Our

government must follow the

lead of countries like Israel,

Denmark and Finland which

have R&D tax breaks, assistance

for IP ownership, and

generous, readily accessible

funding for good ideas.

New Zealand needs to be

creating jobs in the high-salary

technology sectors rather

than low-wage farming and

tourism sectors.

What we need is a government

which itself has some

innovative flair and the determination

to create a start-up

welfare state in New Zealand.

THE AVERAGE

ICT SPEND IS 4%

www.stratusblue.nz

*According to Computer Economics and Gartner SurveysWHAT IS YOURS?

*

TECHNOLOGY SOLUTIONS

FROM GROUND TO CLOUD
---
12 BAY OF PLENTY BUSINESS NEWS January/February 2017

Waikato companies attract

significant angel funding

Two Waikato companies are benefiting from

Bay of Plenty-based investment facilitator

Enterprise Angels' growing presence in the

Waikato.

Ruakura-based companies

Quantec and Synthase

Biotech have together

raised more than $1 million,

bringing the total number of

Waikato companies that have

been funded by Enterprise

Angels to five.

Both companies received

strong interest when they

listed on the newly launched

AngelEquity platform.

AngelEquity's goal is to

offer wholesale investors the

opportunity to invest in New

Zealand's early-stage, angelbacked

companies anytime,

anywhere.

Agri-tech company Quantec

raised a total of $429,000 - well

above the targeted $320,000.

The Government's Seed

Co-Investment Fund (SCIF)

committed a further $100,000

Synthase Biotechs' team from left, executive director,

Andrew West, operations manager, Janine Cowling, senior

scientist, Alex Hennebry, chief technical officer, Steve

Hodgkinson and chairman, Mark Backhaus.

to the company.

Quantec uses its patented

discovery of a novel milk

protein to develop applications

in human and animal health.

Between them co-founders Dr

Rod Claycomb and Dr Judy

Bragger have many years'

experience in research and

commercialisation in the dairy

industry in New Zealand and

overseas.

Also based out of the

Innovation Park, Synthase

Biotech has reached its maximum

investment target, with

an injection of $800,000 in the

start-up's first capital raising

outside of its founding group,

including funds from the New

Zealand Venture Investment

Fund (NZVIF) and existing

HVAC-I offers expert solutions

Bigger is often thought

of as better, but this is

often not the case with

a heating, ventilation, and air

conditioning (HVAC) system.

You want the best sized system

for your house or room.

If the system is too big

for the home, the unit heats

up the room too quickly, says

HVAC-I consultant Lauren

Wills. "It then turns off and

on in a rapid cycle. It's not an

efficient method of heating."

HVAC-I owner Jarrad

Seath says size is the main

query customers have when

investors.

Synthase Biotech has

developed a unique and powerful

enzyme trademarked as

Aloxsyn, which remediates

damage from oxidation of fats

in cell membranes.

Chairman and major shareholder,

Mark Backhaus, says

the initial focus is on enhancing

the survival and longevity of

sperm from bulls used in the

dairy industry and on improving

the ability of cows to conceive.

"However, Aloxsyn is a

'platform technology' that can

be applied in many situations,

including extension of shelf

life in foods, providing longer

storage of human organs and

tissues for transplantation, or

considering installing a heat

pump. He advises getting

a number of quotes. "That

way you can compare prices,

brands, and advice from

technicians, and know you're

getting the best fit for your

home".

He offers a few more tips

for homeowners about choosing

systems.

• Wall mounted units sit high

on the wall, and come in a

range of styles and series.

Some options are slimmer

or more compact in size

than other systems, and can

Quantec's technical team from left, Dr Judy Bragger, Dr

Colin Ogle and managing director Dr Rod Claycomb.

biopsy, and in human health

itself," he says.

"Synthase has had an exceptional

12 months, including

winning a grant of $950,000

from Callaghan Innovation and

being listed as a finalist in the

NZ Innovation Awards".

Since launching in 2008,

be more energy efficient.

• If you're looking for a

more energy efficient

option to replace an electric

wall heater, consider a

floor console.

• Ceiling cassettes sit flush

with the ceiling, blow air in

four directions, and can be

placed in the centre of the

room or adjacent to a wall.

• Multi systems can consist

of a number of different

units, all running off the

one outdoor unit.

• Ducted systems are individually

tailored with

Enterprise Angels has facilitated

the investment of more

than $22 million in 53 early

stage and established businesses

across a variety of industries,

driving economic and business

development within the Bay

of Plenty/Waikato region and

New Zealand.

a unit sitting in the roof

space. This provides airflow

to ducts located

throughout the house, and

can be set up with Zone

Control, allowing you to

switch Zones on and off

independently.

Jarrad says additional

options for each system

include the ability to read

and control the system and

adjust settings using a Wall

Controller with a backlit display,

and the option of Wi-Fi

control using a smart phone or

other device.

Air Conditioning & Heat Pumps

Fujitsu Compact Premier

Highwall ASTG09LVCC

Cool down your office

from

$1699

3.4kw Heating, 2.5kw Cooling

Price is including GST and all installation

costs for a back to back install.

Call for a price on any other air conditioning, heating, ventilation systems, ducted

systems, refrigeration or electrical maintenance.

0800 880 770 | sales@hvaci.co.nz | www.hvaci.co.nz

D5110K
---
BAY OF PLENTY BUSINESS NEWS January/February 2017 13

Plans finalised for Zespri's

new head office

Work will start in the next few months on

Zespri's new $40 million head office in

Mount Maunganui.

Zespri chief financial

officer Dave Hazlehurst

says Zespri's new building

will provide a home for

its world-class brand and a

future-proof building to support

the industry's strong

growth outlook.

"Zespri has well and truly

outgrown its existing building

as the organisation has grown

to support the industry's rapid

progress.

"With global sales expected

to more than double to

$4.5 billion by 2025, the new

building will provide the

facilities we need to deliver

this growth for the kiwifruit

industry. We're excited

to show our community and

growers something we can all

be proud of," said Dave.

"This development will

connect us with both our local

community and the global

markets, and includes redeveloping

the public park so

the community can continue

to enjoy this green space in

the heart of the Mount.

"Zespri's investment in the

new building shows our longterm

commitment to Bay of

Plenty which produces around

80 percent of our premium

Zespri Kiwifruit," says Dave.

The new building will

be a hub for the kiwifruit

industry with facilities to host

growers and office space for

other kiwifruit organisations.

It will also provide a fitting

venue to host international

trade, government and media

delegations on behalf of the

industry.

Zespri is investing over

Work soon to start on Southern Pipeline

harbour crossing

Brian Perry Civil, the

local arm of Fletcher

Construction, has won

the contract to construct a

pipeline deep under Tauranga

Harbour as part of the Southern

Pipeline project.

This is the last major

work for the $99M Southern

Pipeline, a large wastewater

pipeline that will divert

much of the city's wastewater

across the harbour to the

treatment plant at Te Maunga.

The Chapel Street wastewater

treatment plant is struggling

to cope with growth pressure,

whereas the treatment plant at

Te Maunga has room for future

expansion. The new pipeline

will give the city's wastewater

network some much-needed

capacity which will reduce the

risk of sewer overflows into

New dealership for

Nicholson Autos

the harbour.

The work under this contract

provides a pipeline link

under the harbour from the

Memorial Park Pump Station

across to the pipeline section

that has been constructed at

Matapihi. The harbour pipe

will be drilled from both ends

to a maximum depth of around

40m.

Construction is planned to

start in March 2017 and will

be completed by December

2017. Brian Perry Civil will

An artist's impression of the new

head office at Mount Maunganui.

take the next few months to

mobilise specialist equipment

and materials required for the

project.

Most of the pipeline has

been completed. The Southern

Pipeline is fully operational

from Maleme Street to

Memorial Park and a new

pump station in Memorial

Park has been constructed.

Remaining sections are a 400m

length between Matapihi Road

and Te Maunga, and the harbour

crossing.

$40 million for design, build,

fit out, furnishing and landscaping

of the new 4800m2

landmark office complex

with basement car parking.

The three-story complex will

stand in a park-like setting

and includes onsite parking

for around 190 cars, mostly

underground, to reduce the

traffic impact on the community.

"We've incorporated some

features to make the building

more efficient and sustainable,

like a smart façade,

efficient heating and air conditioning

services, and water

recycling.

"We've also developed

flexible working arrangements

to allow staff to work

in different workspaces when

doing different work – this

increases productivity and

reduces the physical footprint

of the building," says Dave.

The architects for the project

are Warren & Mahoney

and Beca has been appointed

as the project manager.

The construction contract will

open for tender shortly.

Zespri bought the land

on its site at 400 Maunganui

Road from Tauranga City

Council in December 2015

and has been operating from

the site since 1996.

Work will start on the site

in the first quarter of next

year, with the building set

for completion by the end of

2018. The old brick Zespri

building, constructed in the

1970s, will eventually be

demolished and replaced with

parkland.

By KATEE SHANKS

Nicholson United Autos

has continued with its

promise to invest in the

Eastern Bay with the opening

of a second dealership in

Whakatane.

On December 1 and across

the road from the Nicholson

Autos Holden/Suzuki

Commerce St showroom, the

new Nicholson Autos Mazda

dealership welcomed people

into its new premises.

Nicholson Autos co-owner

Dean Nicholson and general

manager Brad McKenzie said

it was awesome to be able

to keep the Mazda dealership

local.

"Wally Sutherland, who

has had the Mazda dealership

in the region for the past 44

years, did a really good with

the brand," Mr McKenzie said.

"Mazda is riding high in

the marketplace so it's exciting

times."

The new dealership has its

own parts and services department

and employs six people,

in addition to the 20-strong

Holden/Suzuiki team.

The Nicholson Group

opened its Holden/Suzuki

Whakatane dealership only a

few months ago but made it

clear the family-owned business

wanted to be part of the

Eastern Bay community.

Nicholson United Autos general manager

Brad McKenzie and co-owner Dean Nicholson.

ANZ sells UDC Finance

ANZ Bank New Zealand

Ltd has agreed to sell its

asset finance business,

UDC Finance, for NZ$660

million to HNA Group, a

Fortune Global 500 company

focused on tourism, logistics

and financial services.

ANZ New Zealand CEO

David Hisco said the sale followed

a strategic review and

was in line with ANZ's strategy

to simplify its business

and focus on its core banking

activities.

The purchase price of

NZ$660 million represents

a price-to-book ratio of 1.6

times net assets of NZ$424

million as at 30 September

2016.

"UDC Finance is a great

business which is performing

well," said Mr Hisco. "We're

extremely proud of what our

teams have achieved over

the years providing specialist

asset-based finance to New

Zealand businesses for plant,

vehicles and equipment."

Mr Hisco said the purchase

of UDC Finance by one of the

world's largest asset finance

and leasing companies was a

significant vote of confidence

in the New Zealand economy.

"HNA is well placed to

invest in specialist asset

finance products and systems

which will help UDC expand

further in the future," said Mr

Hisco.

HNA doesn't currently

operate in New Zealand so

this sale will maintain competition

in the asset finance and

leasing market which is good

for customers. HNA intends

to preserve UDC's operations,

offering ongoing employment

to all existing UDC employees

and maintaining existing customer

lending.

Since its founding in 1993,

HNA Group has evolved from

a regional airline based on

Hainan Island into a global

company with over US$90

billion of assets, US$30 billion

in annual revenues and

nearly 200,000 employees

across North America, Europe

and Asia. The financial arm

of HNA operates a diverse

set of businesses in equipment

leasing, insurance, and credit

services, including China's

largest non-bank leasing company,

one of the world's largest

aviation finance businesses,

one of the world's largest container

leasing businesses, and

Europe's largest trailer leasing

business.

"UDC's highly diversified

portfolio offers significant

growth opportunities in

Australasia and supports HNA

Group's disciplined approach

to expand our core tourism,

logistics and financial services

businesses," said Adam Tan,

Vice Chairman and CEO of

HNA Group.

"We are excited to welcome

UDC Finance to the

HNA Group family and we

look forward to working with

their experienced management

team as they continue to support

the growth and aspirations

of New Zealand businesses,

investors and consumers."

The UDC sale is subject to

closing steps and conditions

including engaging with investors

on the replacement of the

Secured Investment program

and regulatory approvals.

Completion is expected late

in the second half of the 2017

calendar year.

AVERAGE

*According to Computer Economics and Gartner Surveys

IT SPEND PER USER

www.stratusblue.nz

$3,800 P.A.

*

TECHNOLOGY SOLUTIONS

FROM GROUND TO CLOUD
---
14 BAY OF PLENTY BUSINESS NEWS January/February 2017

EDUCATION

Are you

ready to

step up?

Who you study with, who you learn

from, what resources are available

to you, what employment links are

established… these are important

considerations when selecting where

you undertake postgraduate study.

Wintec's postgraduate programmes

have been designed in close

consultation with industry to ensure

that what you learn will advance your

career in today's workforce regionally,

nationally and globally. You will be

able to choose flexible study options

to gain the knowledge and skills you

need to meet your career aspirations.

As a postgraduate student at Wintec

you are supported in your studies by

well-respected, experienced staff

and researchers. You can make use of

our dedicated resources and advice,

excellent facilities, a broad range of

additional postgraduate workshops,

masterclasses and lectures. Studying

at postgraduate level at Wintec

will also give you access to a global

network of respected academic staff

who are highly skilled and experienced

practitioners in their fields.

Choose from options in Applied

Information Technology, Health

and Social Practice, Sport and

Exercise Science, Media Arts,

and Transdisciplinary Research

and Innovation. You could

also choose from a range of

graduate options in Business.

Find out more at wintec.ac.nz/postgraduate

or phone 0800 2 WINTEC.

create your world

www.wintec.ac.nz/postgraduate
---
BAY OF PLENTY BUSINESS NEWS January/February 2017 15

Get more women on boards,

says Institute of Directors

The Institute of Directors (IoD) urges listed

companies to set gender diversity targets

to improve the concerning NZX gender

statistics – unchanged from 2015.

The NZX reported only

17 percent of board

members were women

in 2016, unchanged in 2015.

New Zealand lags internationally

with UK FTSE100 at 27

percent up from 26 percent

in 2015, Australia's ASX200

at 24.5 percent up from 21.5

percent and the US S&P100

at 23.3 percent up from 22.3

percent in 2015.

The IoD says boards need

to lift their game as board

diversity is critical to maintaining

a competitive and

vibrant economy. The challenges

of disruption and the

modern world call for modern

and diverse boardrooms.

"The IoD has long held

the view that diversity of

thought and perspective in the

boardroom improves business

performance and innovation,"

IoD manager governance

leadership centre, Felicity

Caird says. "The dividend

that diversity pays is bringing

different perspectives and

more robust decision-making,

effective risk management

and better company perfor-

mance."

The IoD urges listed boards

to take active steps to achieve

30-50 percent of women directors.

To help encourage diversity,

the IoD has a number of

programmes and initiatives to

support boards including:

Getting on Board with

diversity – a practical

guide

Released in June 2016

Getting on board with diversity,

offers five practical steps

to help boards ensure diversity

is about attracting and retaining

diverse talent in governance

and highlights some of

the classic challenges boards

can face on the way to greater

diversity. About 1500 people

have viewed the resource on

the IoD website, while copies

were sent to all IoD members

(currently at 8000).

Future Directors

programme

Founded by Michael

Stiassny, Des Hunt and Sir

Stephen Tindall the programme

helps to develop the

next generation of directors

by providing them with the

opportunity to gain board

experience by sitting at the

board table of a New Zealand

company for a year. There are

410 people currently listed on

the Future Directors database,

with 16 private sector companies

have, had or are about to

appoint a Future Director to

their board. In 2016 the programme

was expanded into

the State Sector. Sixty-four

percent of appointments so far

have been women.

Director Search database

The IoD maintains New

Zealand's largest database

of independent directors. We

help boards recruit the best

people by matching the right

skills and experience to a

board. Currently of the directors

registered 29 percent are

women, and the IoD would

encourage more to register,

and companies to use the service.

Mentoring For Diversity

Established in 2011, the

programme in its first three

years linked 74 high-performing

female directors with

experienced chairman and

senior directors for mentoring.

In 2015 the programme

expanded to reflect diversity

in a wider sense including

ethnicity, age, skill and experience

in relation to gender.

So far 111 people have been

through the programme.

The IoD believes encouraging

business to buy in to

diversity is the best approach.

"We must also create a

diversity pipeline at senior

management level to support

development into governance

roles," Ms Caird says. "It is

not realistic to ask the question

why aren't there more

women on boards without

asking where the female chief

executives and senior managers

are being developed.

Nor can we pretend that without

the willingness of senior

board chairs we will have

meaningful change"

"We encourage companies

to continue their diversity

journey as we want the ultimate

aim to achieve diversity

of thought around the board

tables of New Zealand. This

means having different people

working cohesively, exploring

the same issues and bringing

richness and variety to the

board table."

Waikato academic speaks at

TEDxScottBase

University of Waikato

Professor Craig Cary

is one of 10 influential

people who spoke at

TEDxScottBase in January.

Professor Cary is a

microbial ecologist from

the University's School of

University of Waikato professor Craig Cary.

Science. He researches bacteria

that live in extreme

environments, including

deep sea thermal vents and

the soils of Antarctica.

TEDxScottBase, held at

Scott Base, Antarctica, is

being held in conjunction

with the 60th Anniversary of

New Zealand having an official

presence in Antarctica

and aims to celebrate science

and highlight climate

change.

Professor Cary says the

talk was a great opportunity

to showcase more than 40

years of Antarctic research

that has been conducted by

the University of Waikato.

"Our recent work in

understanding how the terrestrial

Antarctic ecosystem

will respond to change will

be the primary focus of my

talk," he says.

The other nine speakers

were American astronaut

Dr Dan Barry, journalist,

adventurer and advocate

for the environment Ashlan

Cousteau, photographer Jane

Ussher, singer Gin Wigmore,

filmmaker Anthony Powell,

Professor Gary Wilson who

has led more than 20 expeditions

to the Antarctic and

Subantarctic Islands, Otago

University's Dr Christina

Hulbe, and business leaders

Jeremy Moon and Claudia

Batten.

Antarctica New Zealand

chief executive Peters Beggs

says TEDxScottBase will

play a crucial role in raising

awareness about climate

change and other issues

across the world.

"What happens in

Antarctica will significantly

impact the entire planet and

we are delighted this line-up

has so much expertise and

appeal. Whether you're interested

in space, music, oceans,

film, sustainability, photography,

history, exploration

or business, TEDxScottBase

has something to offer."

Are you ready

to up a level?

Who you study

with, who you

learn from, what

resources are available to

you, what employment

links are established…

these are important considerations

when selecting

where you undertake postgraduate

study.

Wintec's postgraduate

programmes have been

designed in close consultation

with industry to

ensure that what you learn

will advance your career

in today's workforce

regionally, nationally and

globally. You will be able

to choose flexible study

options to gain the knowledge

and skills you need

to meet your career objectives.

As a postgraduate student

at Wintec you are well

supported in your studies

by well-respected, experienced

staff and researchers.

You can make use of

our dedicated resources

and advice, excellent

facilities, a broad range

of additional postgraduate

workshops, masterclasses

and lectures. Studying

at postgraduate level at

Wintec will also give you

access to a global network

of respected academic staff

who are highly skilled and

experienced practitioners

in their fields.

Choose from options

in Health and Social

Practice, Sport and

Exercise Science, Media

Arts, Applied Information

Technology, Business, and

Transdisciplinary Research

and Innovation.

Find out more at wintec.ac.nz/postgraduate

or

phone 0800 2 WINTEC

THE AVERAGE

ICT SPEND IS 4%

www.stratusblue.nz

*According to Computer Economics and Gartner SurveysWHAT IS YOURS?

*

TECHNOLOGY SOLUTIONS

FROM GROUND TO CLOUD
---
16 BAY OF PLENTY BUSINESS NEWS January/February 2017

IT tops SEEK's

most wanted list

New Zealand's highest advertising industry

on SEEK for 2016 was information and

communications technology [ICT].

However, despite New

Zealand's need to stay

digitally connected and

develop new technology, SEEK

NZ general manager, Janet

Faulding, said there is still

strong demand for frontline service

roles in our labour market.

"When we analysed our

SEEK data to identify New

Zealand's top jobs outside of

the ICT industry, based on the

largest job ad volumes and

growth over the past 12 months,

professionals in frontline service

roles, such as social workers

and police and corrections

officers topped the list, along

with early childhood teachers,"

Janet revealed.

She said New Zealand's

growing population can be

credited for helping fuel growth

across the top jobs on SEEK

for 2016.

"We don't expect demand

on SEEK to slow any time soon

across these top jobs of 2016, as

our population grows so will our

need for professionals in frontline

services and early childhood

education," Janet said.

Social workers

Across the country, demand

for social workers increased

74.02 percent year on year.

The average advertised

MOST WANTED JOBS IN

NEW ZEALAND

Information and communications technology

Social workers

Police and corrections officers

Early childhood teachers

salary on SEEK for social

workers was $51,961.

Police and corrections

officers

Job advertisements on

SEEK for police and corrections

officers have nationally

increased 163.1 percent year

on year. The average advertised

salary on SEEK for police

and corrections officers was

$64,872.

"Police and corrections

officers are vital roles within

our community, which has been

reflected through strong job ad

growth and demand on SEEK.

It will be interesting to watch

if the growth we've seen in this

industry is enough to support

our communities for the next 12

months, or if they'll be looking

to hire more people," Janet said.

Early childhood Teachers

Nationally, jobs for early

childhood teachers on SEEK

increased 76.7 percent year on

year.

The average advertised salary

on SEEK for early childhood

teachers was $58,711.

"We predict there will be

on-going strong job ad growth

on SEEK for these professionals

as our nation continues to grow

and we see more guardians

returning to work and requiring

care for their children during

working hours," Janet said.

New Zealand job market

There were 9.3 percent more

jobs advertised on SEEK this

November than 12 months ago,

with mixed results across the

regions.

"Job ads on SEEK for

Auckland, New Zealand's largest

labour market, have been

firm and steady this November,

up 11 percent year on year.

"Driving this ad uplift are

Auckland's top advertising

industries, which are ICT [up

6 percent], manufacturing,

transport and logistics [up 21

percent] and accounting [up 8

percent]," Janet said.

"In Wellington, advertising

on SEEK was up 3.1 percent

this November, when compared

with the same period last year.

ICT remained our capital's top

advertising industry on SEEK

this November," she added.

Canterbury was New

Zealand's weakest major

labour market this November,

with advertising down 5.7 percent

year on year. The largest

advertising industries for the

Canterbury region were trades

and services, construction and

engineering.

Candidate availability for

major job markets

At a national level, there has

been an increase of 2.5 percent

in the SEEK Employment Index

this November. This points to

favourable conditions for job

seekers as there are slightly

less applications, for each

role. However, underneath this

national figure there is a clear

difference in candidate availability

at a regional level.

It was a hirer's market in

Canterbury this November

when compared with the same

period last year. For each job

advertised there was a higher

than average number of candidates

applying, creating more

competition for job seekers but

providing hirers with a larger

pool of candidates to choose

from.

"It's important for job seekers

in a hirer's market, to have

an up-to-date SEEK Profile

to help them get noticed by

prospective employers because

they're applying for jobs in a

highly competitive market,"

Janet said.

"In Auckland and Wellington

this November, there were reasonable

competition conditions

for job seekers and employers,"

she continued.

Buying a motel touted as a lifestyle change

Cashing in on a lack of

tourist beds is being

encouraged as a way to

make a buck in 2017.

Richard O'Brien, director of

nzbizbuysell.co.nz, a website

showcasing businesses for sale,

says owning a motel can make

excellent lifestyle and economic

sense, for those who enjoy

meeting a diversity of people

and taking pride in running a

ship-shape venture.

He says tourism is soaring

to record heights – and can only

flourish when there's ample

quality accommodation.

"Motel bed nights have been

rising substantially according to

Statistics New Zealand, siting a

30 percent rise year on year in

August, even before the lucrative

summer season. Having a

secure, convenient, clean and

friendly place to stay, will make

or break a visitor's enjoyment

of their trip to New Zealand

- no matter how majestic the

mountains or pristine the water

views.

"Summer is the time for

immediate financial benefits

when owning a motel,

with floods of visitors from

Asia, those escaping Northern

Hemisphere winters and New

Zealanders exploring their

country by car."

Richard says the advantage

of running a motel is that visitors

generally remain independent

so the owner/operators may

choose to be as involved as

they wish.

It's not a complicated business

model, mainly requiring

passion for good service and to

be a good organiser - or have

assistance from those that do. It

can create employment opportunities

for friends and relatives.

A new owner can usually

improve or flavour the business

with their style, providing extra

features and upgrades - stamping

it with that memorable

x-factor.

He sees all types investing

money and themselves

into motels, hotels and tourist

accommodation and says

it can be a long-awaited lifestyle

change - an alternative to

retirement or an independent

profitable change from working

for someone else. Previous

business experience is not mandatory.

Having pride in offering

a great service, attention to

detail and patience will ensure

success

Owners can decide to take

more of a management role or

be completely hands on. This

can alternate depending on your

lifestyle choices. A well-organised

operation will tick along

in the absence of their owners.

Despite perceptions and tales

of hard work involved, taking

...the advantage of running a

motel is that visitors generally

remain independent so the owner/

operators may choose to be as

involved as they wish.

a long holiday in the off-peak

season is achievable – although

the first year will likely involve

all hands-on deck.

Richard says when it's time

to buy a motel, the process is

largely straight forward; talk to

brokers and those in the industry;

search and inquire about

several opportunities that meet

your criteria and budget; check

that the finances stack up over

the past three years.

Research the market and

what's on offer. Reviews, such

as Trip Advisor, will reveal past

client satisfaction and forward

bookings provide a snapshot of

likely immediate income.

He says choosing the right

location is the number one consideration

– from the bustle and

convenience of city life, to an

enviable existence in a rural

semi-tropical paradise.

It's wise not to stress the

budget, and initially leasing

rather than owning the premises

freehold may be smarter.

And always seek professional

advice before you sign a

contract.

Promoting and getting people

through the door is vital,

but there are many avenues,

such as New Zealand accommodation

websites, directories,

associations and information

centres to put you on the map

– and of course the loud and

far-reaching social media voice.

The Motel Association of New

Zealand also offers training,

support and information.

Accommodation options

are as varied as the landscapes.

Motels, hotels, backpackers,

holiday parks, and B&Bs each

have specific benefits to suit

a new owner's individuality,

budget and ambitions.
---
BAY OF PLENTY BUSINESS NEWS January/February 2017 17

Local accommodation provider

continues awards hot streak

Following their recent win at the 2016

Westpac Tauranga Business Awards,

Pacific Coast Lodge & Backpackers has

added another accolade to its collection

at the prestigious TNT Golden Backpack

Awards for Australasian tourism operators.

The Bay of Plenty lodgings

won the Best

Accommodation - New

Zealand section at the annual

event, held at the Skypoint

on the Gold Coast, which

was attended by more than

200 guests

We're honoured to

take the top spot

and it's a privilege

to help make Bay of

Plenty a destination

that visitors rave

about

The awards showcase the

best in the adventure and

backpacking sector across

Australasia. After businesses

and organisations are nominated,

the awards are open

for public voting and the win-

ners are announced.

This is the second time

that owners Sarah Meadows

and Matt Young have won

the category, taking Best

Accommodation in 2014 and

making the finals in 2015.

They were also TripAdvisor

Certificate of Excellence

award winners last year.

Sarah says it was an honour

to be nominated alongside

prestigious backpacking

organisations such as Base

Backpackers Queenstown

and YHA New Zealand.

"These awards are the

original and most established

awards dedicated to those in

the independent travel sector

and rewarding companies

which work the hardest to

make backpacking around

Australia and New Zealand

that extra bit special.

"Backpackers now know

the Bay is the best place to

come to in New Zealand for

you to have the best work-life

balance, and we have worked

hard to provide a network of

contacts and support to help

our visitors.

"We supply up to 180

workers to agencies, pack

houses, orchards – even mums

and dads wanting short-term

help, such as babysitting or

painting the fence.

"Thanks to everyone who

supported us and put in their

vote.

"We're honoured to take

the top spot and it's a privilege

to help make Bay of

Plenty a destination that visitors

rave about."

Tourism Bay of Plenty

head of marketing Kath Low

congratulates Sarah and Matt

on their achievement and

acknowledges their ongoing

contribution to the tourism

industry in the region.

"We couldn't be a thriving,

attractive destination

without operators who are

confident in their knowledge

of the region and passionate

about what they do.

"Sarah and Matt are a

testament to this, constantly

providing outstanding service

to every single person that

walks through their doors,

and we thank them for their

hard work and dedication."

Kath adds that the regional

tourism organisation is

always looking to engage and

support their industry, and

encourages new and existing

businesses to make contact.

"We know we are only as

good as the people who are at

the forefront of our industry

and we want to ensure we

are supporting the businesses

and operators who make our

tourism industry tick.

Pacific Coast Lodge & Backpackers owners

Matt Young and Sarah Meadows.

"Please feel free to make

contact with myself or any of

the team if you would like us

to pay a visit, or if you seek

guidance or direction in any

way."

70129
---
18 BAY OF PLENTY BUSINESS NEWS January/February 2017

New Cath Lab means one-stop

care for heart patients

A new cardiology centre at Tauranga

Hospital will provide care close to home in

a one-stop-shop for heart patients.

THE CARDIAC SERVICES

DEVELOPMENT

CONTAINING THE CATH

LAB INCLUDES:

The Cardiac Catheterisation

Laboratory (Cath Lab)

took its first patients on

January 16. The Cath Lab

forms part of the Cardiac

Services Building 50 development

at the hospital which

also includes a new clinical

physiology area.

Angiograms (taking images

of the arteries), an interventional

cardiology programme

(including ballooning

and stenting of arteries),

implantable devices (e.g.

pacemakers and implantable

cardioverter defibrillators -

ICDs) and other cardiology

procedures will all be provided

at the facility.

"It's a one-stop shop,

with all the services co-located,

which is so convenient

from the patient's perspective,"

said clinical nurse

manager Jason Money. "The

independent Cath Lab will

also give us opportunity to

expand these services in the

coming years so we have

enough capacity to provide

for future growth."

The new Cath Lab features

state-of-the-art equipment

including a $1.5 million

Toshiba Infinix Cardiac

Catheter Lab.

The move means greater

convenience for patients,

with the location of a number

of services being streamlined.

Previously these procedures

required a combination

of three departments:

Cardiology, Medical Day

Stay and Radiology. The new

Cath Lab will operate as a

standalone service.

"It's a win-win," said

Jason. "Not only does it allow

us to give care in one location,

for our patients. It also

allows us to free up resources

for two other departments

from the demands that our

work was previously putting

on them.

"Being focused on cardiac

services in one location like

this gives us greater opportunities

to ensure that the care

we provide to our patients

is efficient and accessible,

with less need for patients to

move between departments.

This is an exciting development.

We've been planning

for it for a few years, so it's

great to see it in place."

The Cath Lab will continue

to provide care for

Whakatane Hospital patients.

The Cath Lab will be

staffed by six nurses and an

HCA assistant who will work

alongside cardiologists, clinical

physiologists and radiographers

rotating through.

A pre and post procedure

day-stay with seven beds

Three echocardiology rooms

One echocardiology

reporting room

Three ECG

(Electrocardiogram) rooms

Respiratory laboratory

Exercise room

Two cardiac implantable

device service rooms

Orbit Travel app makes

business travel easy

Technology plays a key

role in the way we do

business, and we're continuing

to invest in smarter

ways to help you be more efficient

with your business. The

Orbit Travel app is one of our

key innovative solutions we

provide to our clients, focused

on making your business travel

as hassle free as it can be.

Forget paper itineraries.

Our exclusive Orbit Travel

app gives you instant access

to all your trip details, including

flight, hotel and taxi bookings,

as well as maps, destination

guides and more. The

app uses "push technology" so

that any updates Orbit make

to your itinerary will automatically

populate and update the

app, meaning you don't need

to login or re-enter a booking

reference each time you have

travel details updated.

The app is also the only

travel management company

app in New Zealand that

allows travellers to board their

Clinical Nurse Manager Jason Money with the

$1.5 million Toshiba Infinix Cardiac Catheter Lab.

domestic Air NZ flight by

scanning a barcode. In addition,

you can check in with

Jetstar and Air NZ through

the app.

Your own personal assistant,

the app holds travellers'

itinerary details, regardless of

the airline they are travelling

and includes accommodation,

rental cars and taxi

bookings made by Orbit staff.

And even better, you can ever

share your itinerary and travel

details with other people!

Ask us for a proposal

Whatever your business

travel needs, we would love

to have the chance to chat

about how Orbit can support

you – we can meet at your

office, over coffee, or even

just over email.

We can provide you with a

free review of your business

travel policy – or if you don't

currently have a travel policy,

we can provide you with

a recommended approach for

managing your travel.

Already with another travel

management? No worries, we

have a very simple transition

and implementation process.

Contact Deborah Workman

for more information.

Available on

APPLE

Available on

ANDROID
---
19

How to have a healthier 2017

First things first... if you are someone who

has been battling injuries for the whole of

2016 and feel you have been going around

in circles, it is time to start 2017 off right!

Wellness check:

An option I suggest is to

book yourself in with your

local physiotherapist for a full

wellness check. Ask them for

a biomechanical assessment as

well as a functional movement

screen. These two tests can help

pinpoint your strengths and

weaknesses so you can create

a training programme specifically

for you (not a generic programme

that could injure you

further).

It is key to know how your

body moves and what its weaknesses

are, to get the most out

of your workouts and get the

right balance for your body. A

Functional Movement Screen

(FMS) identifies areas of weakness

and tightness and may predict

the likelihood of future injury.

A Biomechanical Assessment

is an assessment of movement

which can explore specific areas

identified by the FMS to find the

underlying cause of the movement

or strength limitations. It

can also identify imbalance or

lack of symmetry in the body

and postural abnormalities.

Exercise:

Once you have had your

wellness check; start exercising.

You don't always have to be in

the gym; go for a walk, play

tennis, go surfing…just getting

active will release those good

endorphins and make you feel

great.

When you go back to work

make sure you take regular

breaks to stretch and move

around. If you are in a physical

job; warm the body up before

you start the day by stretching

key muscles you use, jump on

your oov and fire up your core...

and then do the same after your

shift to help relieve any tightness.

Nutrition:

Although exercising plays a

huge part in how we feel; if

you are not backing it up with

healthy eating and fuelling your

body with the right food, you

will just keep putting stress on

your body.

Stretching:

Most of us don't like to take

the time out to stretch because

it seems like a waste of time. In

fact; this is key to your body's

recovery before and after a

workout. It is also important

to mix up your workouts with

weights, cardio and stretching

such as yoga.

This is to give different muscle

groups a break and to pinpoint

different muscle groups to

help with your overall strength.

Classes like yoga are fantastic

to lengthen and strengthen your

body, create good breathing

patterns and relaxation, which

is good for the mind.

My favourite stretch (and

this is something you can do at

home) is the Psoas stretch.

The Psoas muscle, in my

opinion, is one of the most

important muscles in your

body. It plays a significant role

in determining the efficacy of

spinal function.

The three basics of why the

Psoas is so important:

1. It holds us upright (when

we stand the Psoas crosses

the rim of our pelvis and

pulls the lumbar vertebrae

forward and down creating

this important curve which

allows us to stand upright).

2. It is the walking muscle (the

Psoas muscle initiates the

movement for walking)

3. Helps us react to traumatic

situations (most movements

made in a traumatic situation

will include the Psoas

muscle e.g. running away

from something when in

danger etc.).

To sum it up; the Psoas is

an extremely important muscle

and needs to be looked after to

get the most out of your workouts

and daily life.

WORKPLACE WELLBEING

> BY JOHN APPEL

Director, Flex Fitness | Email: mount@flexfitnessgym.co.nz

BELOW IS A GREAT STRETCH YOU CAN

DO AT HOME TO RELEASE THE PSOAS:

Goal: Release the tightness in your Psoas

Improves: Normal posture, hip extension,

glute activation

Reduces: Lower back and hip pain

Instructions:

1) Get in to a lunge position with the knee resting

on the floor

2) Head, shoulder, hip and grounded knee

should be in line

3) Relax and find your stability in the position

4) Squeeze your glutes as you tilt your hips

forward

5) Hold the position for 30-60 seconds, repeat

2 to 3 times then switch sides

Self care: Although we all lead busy lives with

work/meetings, catching up with friends, running

around after the kids... it is so important to

take time out for yourself. If you feel great it will

rub off on everyone around you.

How much should we be spending on IT?

This depends upon your

industry, stage of business

development,

source of revenue and maturity

level. It also depends on

your business model - for

example, EBay and Trademe,

leading e-commerce sites

will invest more (relatively)

on technology than your

local merchandise shop or

panel beater.

Gartner and other statistical

benchmarking analysis

and a quick internet search

will state that across the

globe "you should spend

three to six percent of revenue

on IT".

However, this rule of

thumb needs more consideration

for a variety of reasons.

Determining what the correct

percentage or level of

annual spend may be a difficult

question to answer as not

all IT spend is a cost.

Some may be an investment,

some a business opportunity

and some biased on

the historical nature of the

organisation and the industry

it is in.

For example, if you are

in the manufacturing sector,

and your line of business

gets along just fine with an

IT spend of five percent of

revenue, but the professional

services arm may need 3 percent

and the app development

or robotic R&D team may

need 25 percent.

Percentage of IT spend

versus revenue have traditionally

been the measures

CEOs liked as they gave

sense of measurement and

objectivity, but sadly they

are not precise due to figures

being constructed on

accounting rules and allocation.

This can lead to dangerous

IT decisions.

Also, what is being measured

and what are you benchmarking

against as a percentage

of revenue or your overall

expenses? Does your website

fall under marketing or IT?

Is that app you are developing,

operational, R&D, marketing

or a technology cost

or investment? Is your cyber

security insurance, IT, technology

or insurance? What

about shadow spending and

other departments technology

use? What cost codes do

each of these fit in? This can

make it difficult to benchmark.

Further to this what

element of technology should

be proportionate to overall IT

spend and what is included in

the technology budget and at

what portion of that spend as

a percentage of the budget,

e.g. Should 4-6 percent of IT

budget go towards security?

According to Gartner,

companies spend 66 percent

of their IT budgets to run IT

(do what it takes to keep IT

systems chugging along), and

spend the rest on business

growth projects or transformation

projects (those that

help the company increase

revenue, enter new markets

or try something new). The

ideal is a 50/50 split, but

achieving it isn't easy.

At Stratus Blue, we

encourage our customers to

benchmark those elements

that keep your business running,

assist in growth and

those that transform it to the

next stage of evolution. We

can then change the question

from "How much should I

spend?", to "How much can

we make or save by spending

x on this?".

TECH TALK

> BY TONY SNOW

For 2017, make a key focus on

knowing your body's weakness

– this is key to improving your

overall fitness and wellbeing.

Director Stratus Blue Ltd. Tony@stratusblue.co.nz | Mobile

021 361 714 T 07 777 0010.
---
20 BAY OF PLENTY BUSINESS NEWS January/February 2017

FOCUS ON YOU

Make every day

a holiday

Create lifestyles that grow

happiness and health

Nutrition, fitness and health coaching

courses fresh to your door

NEW COURSES NOW AVAILABLE

• Certificate in Nutrition and Health Coaching

• Food Coaching in Practice • Meal and Menu Planning Level 1

• Certificate of Nutrition 1

• Certificate of Weight Loss Nutrition

• Certificate of Early Childhood Nutrition

• Certificate of Motivational Techniques

• Certificate of Optimal Sports Nutrition

• Nutrition for Fertility, Pregnancy

& Lactation

• Nutrition Psychology

• Childhood Nutrition

• Dietary Assessment Methods

• Endurance Sports Nutrition - NEW

• Food Psychology

• Food Groups & Dietary Diversity

& Healthy Eating

• Foundations of Physical & Mental Health

• Strength & Conditioning Success in the

industry

• Sugars & The Sugar to 'Fat Myth

Contact us today • www.cadencehealth.co.nz • Ph 07 574 6499

For many of us returning to work means

the end of the space simplicity and fun we

had on holiday. But does this really need to

be so?

By ANNMARIE COULSON

I

believe that with a new

intention we can create a

holiday feel to everyday

life. To get your creative juices

flowing I will share some

ideas my clients and I are

experimenting with.

Reduce technology

One of the joys of camping

is getting away from intrusive

and addictive technology, so

continue this by creating a

daily technology-free time. At

the very least turn the phone

and TV off during dinner and

enjoy connecting with your

family, savouring the food,

and eating dinner in peace.

Schedule white space

It is such an energising gift

to know that you will always

get some daily "me time",

where nothing is booked or

planned. Use the waiting time

around kids' activities to read,

walk or listen to music. Take

a small detour on the way

home from work and spend

time by the river or park to

unwind before domestic bedlam

begins. Make the hour

before bedtime spacious and

do something to unwind and

relax, so that you fall asleep

easily. Find a way to nourish

your senses every day. E.g.

absorb a view, listen to uplifting

music, or savour a piece

of quality chocolate or a cup

of tea. None of these activities

take very long but they really

replenish your energy.

Get out in nature

Enjoy the summer weather,

by eating outside, it doesn't

take any longer, but it makes

you feel in a holiday mood.

Leave the office at lunchtime

and lie under a tree and watch

the clouds or insects in the

grass. In the evenings, watch

the sunset, play tennis, potter

in the garden or walk around

the block. In the weekends

explore river walks or gullies

on foot or bike. Getting outside

does wonders for stress

levels.

Have fun

Create a list of achievable

treats you can give yourself,

and schedule these little

pleasures into your week. Sing

in the car while commuting;

buy a flower or photo frame

for your desk. In your lunch

hour meet with a friend or

visit an art gallery, new café,

bookstore or library. After

work take a fun class, play

with your dog or kids, dance

or sing while you cook or do

housework.

Socialise

Spending meaningful time

with people whose company

you enjoy, makes you feel connected

energised and reminds

you that there is more to life

than work. So socialise all

year around by making connecting

and entertaining easy.

Keep cooking to a minimum

by inviting people for afternoon

tea, dessert, takeaways or

a potluck meal. Save time and

combine socialising with an

activity you are already doing,

like tennis, golf, cycling or

walking. Or invite friends to

join you on an outing such

as berry picking, going to a

market, or attending an event

at the summer garden festival.

Action challenge

Identify what aspects you

love about being on holiday.

How can you give yourself a

taste of that in everyday life?

Many of you will believe you

can't afford the time to follow

these suggestions, but as my

clients can testify these small

changes reap huge returns and

will reward you with increased

energy, focus and joy.

Annemarie Coulson is a

Hamilton-based life coach.

She specialises in supporting

struggling, sad or stressed

clients to make choices and

changes that lead to greater

happiness and life balance.

For more information visit

www.lifecoacher.co.nz or

phone 021 076 5450.

Braemar Hospital

taking good care of you

Braemar Hospital – one of the largest

private surgical hospitals on a single site

in New Zealand.

• More than 100 top class Specialists

• 10 state of the art operating rooms

• Full HDU / ICU facilities

• Ensuites in all inpatient rooms

• Patient lounges and courtyards

• Private chemotherapy

Ask for Braemar

www.braemarhospital.co.nz

24 Ohaupo Road

Hamilton

Phone 07 843 1899 | Fax 07 834 3944
---
Less chemicals key to

Whakatane strawberry venture

Nothing says summer in the Eastern Bay of

Plenty like biting into a sweet strawberry.

BAY OF PLENTY BUSINESS NEWS January/February 2017 21

By KATEE SHANKS

And if you're fortunate

enough to be biting

into a Blueberry

Corner strawberry, you can

do so knowing it's as close to

an organically-grown strawberry

as they can get.

It's not been possible for

Whakatane's Ben and Heidi

Rosewarne to grow strawberries

organically but they

are getting as close as they

can after making a decision

to stop fumigating their

Thornton Road orchard.

The blueberries at blueberry

corner are now certified

organic.

A few years ago and with

the knowledge fumigation

was not environmentally

sustainable, the Rosewarnes

opted to grow in substrate

and began a journey of learning

that continues today.

Fertigation is the injection

of fertilisers, soil amendments

and other water-soluble

products into an irrigation

system in which the

berries grow in a substrate.

The purpose is to significantly

reduce the chemicals

used to keep the berries disease-free.

"Rain is the biggest threat

to strawberries," Heidi said.

"Rain brings disease and

that's why fertigation is so

much more environmentally

friendly."

Once they had decided

to not fumigate, the couple

went in search of someone

with knowledge on a method

and wound up in Masterton

talking to Alan Bissett, a

Scotland-born, Americanemployed,

Wairarapa resident.

Once he had imparted

his knowledge, he suggested

the Rosewarnes travel to

Tasmania where substrate

grown-strawberries are common.

They did and, on their

return, got busy building tunnels

and putting irrigation

systems together.

The Rosewarnes began

with two grow tunnels and

say they experimented their

way to productivity.

"There were a lot of teething

problems and we made

quite a few mistakes. Boy,

did we make mistakes."

The berries are grown in

coir, a natural by-product of

the coconut husk that is dried

in the islands and shipped to

New Zealand. Liquid fertiliser

is fed into the coir and

the strawberry plant takes

what it needs.

There are now nine grow

tunnels on the orchard and the

Non-fumigated strawberries at

Blueberry Corner near Whakatane.

2016/2017 signals the second

season the Rosewarnes' have

used them all. The couple

remains one of only a handful

of New Zealand strawberry

growers' using fertigation

instead of traditional in

ground methods.

As well as reducing the

amount of chemicals used,

irrigation and fertigation

mean the plants continue to

produce berries until about

Easter.

As well as strawberries

the Rosewarnes grow raspberries,

boysenberries and

blackberries in the tunnels.

Their blueberries are 100

percent organic and they also

produce blueberry honey.

When they first began

producing blueberries,

almost 100 percent were

exported. Now only 15

percent is shipped away as

gates sales take care of the

bulk of the fruit.

The end result: a beautiful

sweet strawberry.

07 578 9144

Tauranga Windscreen

54 First ave, Tauranga 3110

info@taurangawindscreen.co.nz

www.taurangawindscreen.co.nz

15094

Hamilton Windscreen LWP.indd 1

2/12/10 9:23:50 AM
---
22 BAY OF PLENTY BUSINESS NEWS January/February 2017

Mussel farm key to

Opotiki's recovery

A mussel barge heading out

to sea to add extra lines.

When the vessel Northern Quest crossed

the Whakatane bar last month, it did so

with 17 years of dreams, disappointments

and interminable determination in its wake.

By KATEE SHANKS

The Northern Quest was

carrying Whakatohea

Mussels Ltd's first commercial

load of mussels, raised

in waters eight kilometres off

the Opotiki coastline where

currents from the Kermadecs

bring nutrient-rich water ideal

for aquaculture.

About 50 tonnes of green

lipped mussels, destined for

local markets and representing

yet another step toward

the revitalisation of a town,

crossed the bar on Northern

Quest.

The history of the haul

dates back to 2001 when

Eastern Sea Farms Ltd

(ESFL) was established by

the Whakatohea Trust Board

and its partners. The Trust

Board owned 54 percent

of the shareholding with

Sealord holding 26 percent

and New Zealand Sea Farms

Ltd (NZSF) controlling the

remaining 26 percent.

The same year EFSL

applied for consent to farm

3800 hectares of water space

off Opotiki.

Over time both Sealord

and NZSF exited the project

and Whakatohea formed a

separate company with local

investors to farm the space

called Whakatohea Mussels.

Consent for a 20-year

period was finally granted in

2009 following a long legislative

process and research into

commercialisation began,

carried out by ESFL's science

provider, The Cawthron

Institute.

The first three mussel lines

were installed in 2010. The

venture now boasts close to

150 lines and, at 300 lines,

enough mussels will be produced

to justify a local processing

plant.

And while Whakatohea

Mussels Ltd battled, tri-

alled and tested, the Opotiki

District Council had also

started a project of its own in

a bid to support the aquaculture

venture.

Opotiki Mayor John Forbes

heads the Opotiki Harbour

Redevelopment Project, a

project designed to improve

navigability at the mouth of

the Opotiki Harbour.

Coincidently, Mr Forbes

began his first term as mayor

in 2001, right about when

the dream began. He has just

been re-elected for his fifth

term.

"I actually recall the day

someone started talking to me

about the potential of mussel

farming but it just didn't add

up," Mr Forbes told Bay of

Plenty Business News.

"But then I began researching

and came to the realisation

it was an exact fit for the

region."

Opotiki was once a bustling

port but in the mid-

1960s ships stopped using the

entrance and now it is laden

with silt. In 2002 the first

stage of a study assessing

the feasibility of improving

the harbour was reported. A

second stage followed before

six possible training wall or

groyne designs were identified.

The six was narrowed to

then, then a final design chosen.

In 2009 permits and consents

were granted to develop

the harbour entrance. 2009

also saw the launch of the

Bay of Connections Regional

Aquaculture Strategy. The

redevelopment of the harbour

will allow produce from the

sea farm to be landed and

processed locally.

The Harbour Project is

now fully consented. Opotiki

District Council has allocated

$5.4 million to the cause, Bay

of Plenty Regional Council

has pledged $20 million, and

Government has provided $3

million, with a view to a further

$26 million once final

geotechnical work is complete.

"In September we issued

the Request for Proposal

(RFP) to two shortlisted

tenderers for the Harbour

Development, Opotiki

District Council chief executive

Aileen Lawrie said.

"This mean detailed

design can start on the harbour

structures and, by March

next year, we will have two

very comprehensive tenders

in front of us."

There is a general feeling

within the town the "twin

projects" will enrich the lives

of the 9000-strong population

of the Opotiki District.

Mayor Forbes believes

the potential long-term benefits

of the projects promise

upwards of 300 jobs; from

boat maintenance to mussel

marketing, a predicted $50

million to the regional GDP

and improved household

incomes.

"However it's not just for

Opotiki, or the Eastern Bay,

or even the wider Bay of

Plenty, this is something that

has to be seen as benefitting

the country.

"Added to that, and it may

seem a grandiose statement,

but I like to think what we

are doing here is also a contribution

toward saving our

planet," Mr Forbes said.

"We're taking away some

of the pressure growing protein

on the land creates, and

we're doing it in the sea. The

ability to feed people worldwide,

with something we are

growing in local waters, is

incredible.

"I've been involved since

pretty much the beginning

and I have never lost the passion.

There have been hurdles

sure, but we're getting there

and that is incredibly exciting."

He wholeheartedly

believes if the Opotiki

Aquaculture industry scales

up, the sky is the limit.

For Whakatohea, it means

some of the 90 percent of the

iwi's 12,000 members living

away from the district may

return home.

A conceptual image of Opotiki's harbour

development showing the groynes on either side.

A clean line of Opotiki mussels.

Prime Minister John Key, Opotiki Mayor John Forbes, Kawerau Mayor Malcolm

Campbell, Whakatane Mayor Tony Bonne and East Coast MP and Ohope resident

Anne Tolley discussing the Harbour Project two years ago.
---
Bay of plenty

BAY OF PLENTY BUSINESS NEWS January/February 2017 23

First on the scene

2016 saw a great selection of Business After Five gatherings (BA5)

throughout Bay of Plenty. Here's a snapshot of some of those events.

1

Mt Manganui's Lysaght Consultants – Tauranga Chamber of Commerce

2

1 Carlene Macrae, Attwood Law; Mike Stott, Lysaght Consultants. 2 Julie Hammon and Alexandra Hammon-Elliott, Hammon Diamond Jeweller. 3 Stan Gregec, Tauranga Chamber of

Commerce; Helena Fowler, ANZ Bank.

3

1

Volunteering Bay of Plenty – Tauranga Chamber of Commerce

1 David Schicker, Bay Venues; Keryn Jarvis, Staples Roadway Tauranga; Juliette Smith, Perfection Enhanced; Dale Kirk, Mike Pero Real Estate. 2 Sarah Errico, Volunteering Bay of Plenty;

Kirsten Richards, Mediaworks.

2

1

Vodafone – Rotorua Chamber of Commerce

2 3

1 Trevor Maxwell, Rotorua Lakes Council; Steve Hughson, Vodafone; Ken Lamb, McDowell Real Estate; Mike Johnson, Nikare Lakeside Lodge. 2 Justin Knowles, NZME Radio; Ricci Harbuck,

Ricci Travel; Martyn Evans, Welsh Valleys Art. 3 Hammond Cardon, Jet Park Rotorua; Norm Rahiri, The Heat.

1

2

Abracadabra Café – Rotorua Chamber of Commerce

1 Justin Kala Genest, Abracadabra Café; Ian and Kathy Hawker, Hawker Investments. 2 Marinus Koppe, Print & Apparel Solutions; Trevor Maxwell, Rotorua District Council. 3 Jon Dimock,

Ministry of Education; Paul Verney, Eves Realty; John Joyce, Elite Business Systems.

3