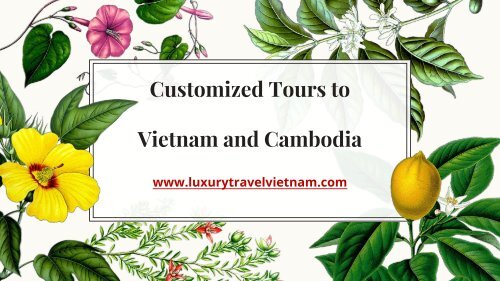 Customized Tours to Vietnam and Cambodia
"
Cambodia's rich culture and history are best experienced in style on Luxury Cambodia Tour Packages, which will create an unforgettable visit to cambodia.
To know more click on : http://www.luxurytravelvietnam.com/cambodia-tour-holiday-packages"
Customized Tours to

Vietnam and Cambodia

www.luxurytravelvietnam.com
---
Discover the Kingdom of

Cambodia from

Highlights to Relaxation

12 Days
---
Discover Exotic Lands

and Enjoy the Warmth

and Comfort of

Cambodia's Beaches 7

Days
---
Signature Luxurious

Experiences in Cambodia

in 10 Days
---
We, Luxury Travel Company provide Cambodia tour packages and customized

tour Packages to any destination in Indochina according to your choice. Often

times, many travel agencies do this at a extravagant cost but Luxury Travel

Company offers our tours packages at affordable price in order not to inconvenient

our clients. Having tours to Vietnam and Cambodia does not mean excess cash

as to be charged.What are your aims of selecting a customized tour package? Tell

our ever ready team in order to arrange for you an exciting Indochina Tour

package that will fit your vacation.
---
Visit Us :

www.luxurytravelvietnam.com
More magazines by this user