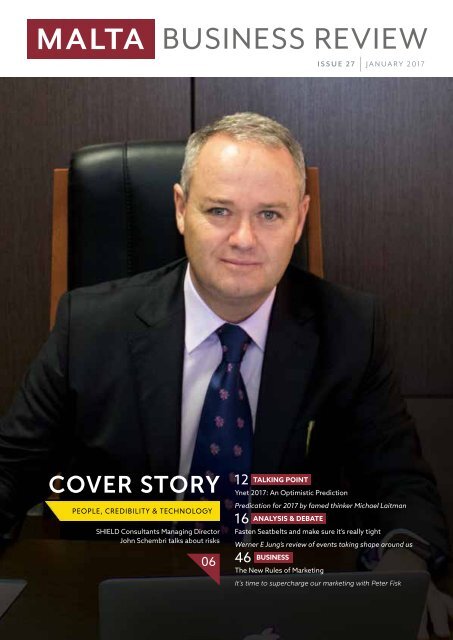 MBR_Issue_27 -January 2017 low res
You also want an ePaper? Increase the reach of your titles
YUMPU automatically turns print PDFs into web optimized ePapers that Google loves.
MALTA

BUSINESS REVIEW

ISSUE 27 JANUARY 2017

COVER STORY

PEOPLE, CREDIBILITY & TECHNOLOGY

SHIELD Consultants Managing Director

John Schembri talks about risks

06

12

TALKING POINT

Ynet 2017: An Optimistic Prediction

Predication for 2017 by famed thinker Michael Laitman

16

ANALYSIS & DEBATE

Fasten Seatbelts and make sure it's really tight

Werner E Jung's review of events taking shape around us

46

BUSINESS

The New Rules of Marketing

It's time to supercharge our marketing with Peter Fisk
---
Design, Innovation

& Excellence

02/06/2017 19:30

BIGHI ESPLANADE &

GARDEN, KALKARA

FOR FURTHER INFORMATION CONTACT

Margaret Brincat M: 9940 6743

E: margaret@mbrpublications.net
---
Malta Business Review

06 COVER STORY

PEOPLE, CREDIBILITY & TECHNOLOGY

Shield Consultants Managing Director, John

Schembri talks about risks

10 SPECIAL REPORT

WORLD EMPLOYMENT AND SOCIAL OUTLOOK

ILO special report on the drivers of the global

growth slowdown

12 TALKING POINT

YNET: "2017: AN OPTIMISTIC PREDICTION

A unique and optimistic prediction for 2017 by famed thinker Michael Laitman

36

your perfect atmosphere

Our Golden Partners

Continental Cars Ltd.

44

12

06

CONTENTS

January 2017

16 ANALYSIS & DEBATE

VIEW FROM THE MOUNTAIN SERIES: FASTEN

SEATBELTS AND MAKE SURE IT'S REALLY TIGHT

Werner E Jung returns with a compelling view of

events taking shape around us

20 EU PRESIDENCY

VISIT BY THE PRESIDENT OF THE EUROPEAN

UNION AND THE COLLEGE OF COMMISSIONERS

Jean Claude Juncker talks of an EU where dignity,

peace and wellbeing are central

22 YACHTING

KEY CONSIDERATIONS WHEN PURCHASING A YACHT

Eqiuom's VAT Director Ayuk Ntuiabane discusses

key areas to consider when purchasing a yacht

16

32 DAVOS 2017

WORLD ECONOMIC FORUM ANNUAL MEETING

An exclusive guide of the most salient newsmakers in DAVOS

courtesy of Florian Eder and Brian Heath of POLTICO

36 FOCUS

WHY RUSSIA IS USING THE INTERNET TO UNDERMINE

WESTERN ECONOMIES

Irish writer Maria Farrell analyses the recent hacking

controversies and cautions on the threats and risks

40 BUSINESS TURNING POINT SERIES

8 BEST PRACTICES FOR IMPROVING YOUR WORK-LIFE

BALANCE

Paul Petroni reasons out why work-life balance is the Yeti of the

professional world

44 LESSONS ALL ENTREPRENEURS CAN LEARN FROM

BUSINESS PIVOTS

There are important lessons to be learnt from transformation,

tells us Nathalie Clarkson

46 THE NEW RULES OF MARKETING

Let's find out why it is time to supercharge our marketing

according to Peter Fisk

52 COMPANY PROFILE

A BUSINESS IMPERATIVE

David Demicoli, Managing Director, Casasoft Ltd showcases the

reasons of his company's growth

PUBLISHER

MBR Publications Limited

OFFICES

Highland Apartment - Level 1,

Naxxar Road,

Birkirkara, BKR 9042

+356 2149 7814

EDITOR

Martin Vella

TECHNICAL ADVISOR

Marcelle D'Argy Smith

SALES DIRECTOR

Margaret Brincat

DESIGN

Jacqueline Muscat, Adam Munton

ADVERTISING

Call: 9940 6743 or 9926 0163/4/6;

Email: margaret@mbrpublications.net

or admin@mbrpublications.net

CONTRIBUTORS

David Abela; Jean Paul Abela; Jackey Backman;

George Carol; Nathalie Clarkson; Jean Paul

Demajo; David Demicoli; Maria Farell; Peter Fisk;

Rob, Boston; Werner E Jung; Thomas Mahoney;

Michael Laitman; Ayuk Ntuiabane; Paul Petrone;

Brian Scudamore; James Vella Clark

SPECIAL THANKS

BOV; Demajo Dental; DOI; Eqiuom; FIMBank;

International Labour Organisation; LinkedIN;

Ministry for Finance; Ministry for Tourism; OPR;

POLITICO Brussels Playbook & Davos Playbook;

PRINT PRODUCTION

Printit

QUOTE OF THE MONTH

After living with their dysfunctional behaviour for so

many years (a sunk cost if ever there was one), people

become invested in defending their dysfunctions rather

than changing them.

Marshall Goldsmith Moj

Disclaimer

All rights reserved. No part of this work covered by copyright may

be reproduced or copied and reproduction in whole or part is strictly

prohibited without written permission of the publisher. All content

material available on this publication is duly protected by Maltese

and International Law. No person, organisation, other publisher or

online web content manager should rely, or on any way act upon

any part of the contents of this publication, whether that information

is sourced from the website, magazine or related product without

first obtaining the publisher's consent. The opinions expressed in the

Malta Business Review are those of the authors or contributors, and

are not necessarily those of the editor or publisher.

Talk to us:

E-mail: martin@mbrpublications.net

Twitter: @MBRPublications

Facebook: www.facebook.com/MaltaBusinessReview

EDITORIAL

Malta Business Review

The editorial board of the MALTA BUSINESS REVIEW and the

Publications Management Committee of MBR Publications

Limited have been involved in ongoing efforts to improve the

value of our publications to our readers. A number of changes

in our current policies have recently been made and are initiated

in this issue. The most noticeable of these is the new cover and

content pages. In designing this cover, we have attempted to

illustrate to the MALTA BUSINESS REVIEW readers that we our

true to our spirit of innovation, value creation and change.

Over the years our Publications Management has discussed

changes in the way that references are cited in same of the new

content design and presentation. Many of our authors like the

current format of an author and biography presentations. This

format has given a direct indication of both who was involved in the research and profiling cited,

and how current the data should be. As printing costs are always increasing, an alteration in print is

also in the offing.

Finally, two broader issues, electronic submission and open access to the published literature are

under consideration. The editorial board is working with the Publications Management toward

enhancing and electronic submission and updating web/online and set out an improved social

media pronounced presence. We trust that these changes, keeping in sync with modern times, will

be welcomed positively and anyone who wishes to recommend any valid suggestions is welcome to

write to us.

At MBR Publications Limited, preserving our strong culture is a top priority. We must continue to

embed the values of integrity, fairness and accountability in all that we do. Doing the right thing

forms the foundation for how we do business, and our Code of Conduct represents our shared

commitment to operate with the highest level of ethical conduct. The quality of the goods or

services that government procures is obviously a very important consideration in deciding which

supplier should be awarded a particular public contract. It follows that in the regulation of public

procurement, particular attention should be given to the role of quality (also called functionality)

in the adjudication of public tenders and the final award decision. Apparently, there are times

when vested interests are concerned that the distinction between responsiveness and qualification

seems to break down, with the result that the distinction between qualification and award criteria

becomes, or rather is intentionally, blurred.

It is in this regard that our company has filed a judicial protest against Yachting Malta. As long as I

remain at the helm of the company, I shall not tolerate anyone trying to use and abuse our good

intentions, and take us for a ride. We shall speak up if we have concerns or suspect violations,

and shall always safeguard our interests, according to local laws and regulations and wherever we

operate, or endeavour to operate correctly, protecting confidential information and intellectual

property— trust is essential to our business success

We stand to fight to ensure best ethical business practices, and that we are always dealt fairly and

in good faith, and shall never allow anyone to take unfair advantage of our sound practices, ideas,

information and written submissions through manipulation, concealment or abuse of privileged

information. Personal investment activities should never conflict with public and business, or client

interests, and we shall never offer, give, solicit or receive anything of value if it is intended to be

used, abused or exploited. We shall stand up to anyone who gives, or appears to give, an improper

business advantage or benefit through manipulation or prejudice.

No amount of intimidation and threats will deter us from pursuing our righteous path, and no

twisting of truth shall discredit and smear our sound reputation.. Only those who have committed

wrongdoing need be afraid. The ones who are on the right side of the coin do not have anything to

fear.

Remember, we are in charge of our own decisions. No one, at any level, has the authority to tell us to

do something unethical or illegal, or intimidate or blackmail us. And in this quest, we are determined

to take whatever action is vital to safeguard our and defend our interests, and protect our noble

reputation.

Malta Business Review's editorial opinions are decided by its Editor, and besides reflecting the Editor's

opinion, are written to represent a fair and impartial representation of facts, events and provide a

correct analysis of local and international news.

Agents for:

Martin Vella

Editor in Chief

4 5

www.maltabusinessreview.net
---
Malta Business Review

COVER STORY OF THE MONTH

COVER STORY OF THE MONTH

Malta Business Review

MBR: When the opportunity presented

itself at SHIELD Consultants, what made

you feel it would be the right fit and

career destiny?

JS: First off, I created SHIELD Consultants

from scratch, with two business

partners, back in 1999 when security

was embryonic in Malta and risk

management a distant pipedream.

The commercial opportunity came

about due to a breakthrough change

in security related legislation and the

decision to change career path at that

time was mine and mine alone. In 2004,

regulations governing maritime security

came into effect on an international

scale. I was still a serving officer back

then and remember reading the laws,

determining in my mind that I could

meet the standard requirements and

simply resigned my commission. It really

was as simple as that. You could argue

that the real drive was a need to be truly

and solely in charge of my own destiny.

Over the years SHIELD has

invested in and built itself a

burgeoning reputation in Malta

MBR: Looking at the broad array of

challenges and risks, are there specific

areas that you focus on?

JS: The area I enjoy working in most is

organizational security and resilience.

Within this, my specialization is in

risk assessment, risk analysis and

designing operational risk management

systems within critical infrastructure.

I particularly enjoy challenging

environments and have been fortunate

enough to contribute in places such as

People,

Credibility &

Technology

By Martin Vella

Prior to our first issue for 2017, the Malta

Business Review always aims to surface the main

challenges, most compelling opportunities, and

best practices in business, we asked SHIELD

Consultants Managing Director, John Schembri,

for his views on the challenges and complexities

and, how corporate affairs professionals can

manage risk within their organisations.

Libya, Saharan Algeria, Kurdistan, Iraq

and even Pakistan. At the moment

Somalia and Lebanon may even be

opportunities, let's wait and see. Of

course, against that backdrop is all the

work we do in Malta.

It is professionally challenging and

intellectually satisfying to assist

organisations in diverse fields such

as aviation, oil and gas, maritime

installations and critical infrastructure to

put together resilient security programs

that can withstand the business case.

MBR: Is the SHIELD Consultants client

the larger, more complex institution or

is it much broader than that?

JS: Good question. We cater for all

manner and size of organisations, really.

Keep in mind that our portfolios include

security, information security, health

and safety, business continuity, maritime

security, emergency response, crisis

management – basically those aspects

of businesses that require attention

from an operational risk perspective.

In Malta we protect a wide range of

organisations, of various structures

and sizes. Our international clients are

actually quite large in size, as you can

expect.

MBR: When services can sound similar

across companies, does it come down

to your people, your credibility or the

technology?

JS: I might have written that question

myself! Thank you! In reality all three

elements create the mix.

The SHIELD team is composed of

amazing individuals, all of whom are

highly qualified and exude the correct

attitude and temperament. Emotional

intelligence within the Company is high,

as it needs to be within the profession.

We invest a lot of effort in selecting the

correct type of person to join our team.

Over the years SHIELD has invested

in and built itself a burgeoning

reputation in Malta, which favours our

credibility, as we are beginning to see

also internationally. Since 2014 our

reputation within the security industry

in general has literally shot up and we do

not intend to relent.

SHIELD embraces and harnesses

technology in a very unique manner.

We are at the forefront of managing

operational risk in near-enough real time

through our own specialist software

solution, STORM.

That combination of talent, ethics, high

standards, hard work and innovation

is a magical brew, which is well worth

nurturing.

MBR: Are the risks different today than

they once were or are we just hearing

about them more?

JS: Risk is an intrinsic part of life, which

in turn, as we know, is ever changing. So

risk is by definition dynamic.

We certainly live in an extremely

challenging epoch, characterized by

volatility, in which a perfect storm of risk

appears to have hit us. Globalisation;

migration; untrammeled liberalism;

nationalism of the pernicious kind;

recurring financial recessions; failing

states; excessively powerful media;

incompetent statesmanship; it can make

for very despondent reading. So yes, in

a sense, the risk is very real and at the

same time, you sense, the media report

with a sense of purpose, if not glee.

But let's not forget that opportunity

is always the flipside to risk and the

times we live in are also characterized

by unprecedented opportunity.

Technology; information systems;

transportation systems; human

intellectual capital; renewable energies;

health care and well-being; State

reconstruction; wealth re-distribution;

sustainable environments – these are

all immensely powerful opportunities

which beckon us to embrace and bring

about meaningful change for the better.

And in my personal world-view, risk

management truly can be a force for

good. Its intrinsic properties dictate so.

Risk is an intrinsic part of

life which, as we know, is

ever changing. So risk is by

definition dynamic

MBR: On another issue, is it disheartening

to see where the relationship between

the police and the public has gone?

JS: If you are referring to the recent

violent attack as a result of road rage, that

was absolutely despicable and should be

condemned in the harshest of terms.

I am wary of being drawn into an

argument in the limited space available.

All I am prepared to say is that the Police

carry out a vital job and we must all, as

responsible citizens, not only uphold

the rule of law but also respect and

support and value the Services, all of

them. Unfortunately politics percolates

down into all aspects of our lives in

this Country and we seem incapable of

taking a detached, objective view.

Personally I am of the opinion that a

lot of good work is happening within

and around the Malta Police Force and

we should all take a longer term view

of improvements rather than criticize

at every turn and opportunity. Public

order and societal wellbeing are in the

National interest and should be above

partisan politics.

MBR: Did you know early on that you

would end up heavily engaged in Risk

Management and that this would

eventually lead to you being recognized

as Malta's Best Entrepreneur of the Year,

as well as scooping two other prestigious

awards in Malta's Best Entrepreneur

Awards 2016, including CSR?

JS: I have always enjoyed the challenge

of facing up to risk, believe me. But

to expect to win the National awards?

That sort of thing is quite simply unforecastable

(laughs).

I truly enjoy working in the risk profession

and feel blessed with the work. The way

I see it, the work we do at SHIELD places

us at the service of our clients, which is

a privilege for which I openly thank all

our stakeholders who might be reading

this article.

MBR: In your Risk Management work,

was it difficult to maintain a positive

attitude with all the difficult situations

you had to face?

JS: Sometimes I feel jaded, I do admit.

That said, I am naturally a "glass half full"

individual and am in love with life. I am

generally risk prone and not risk averse.

My big let down is frustration. Poor

standards and mediocrity generally

irritate me a great deal and try my

patience big time. That said, the

flipside is that I have learnt the value of

perseverance and patience; something I

would not have imagined ten years ago.

I also draw great strength from within my

family, our lifestyle and even my hobbies,

which I have quite a number of. MBR

All Rights Reserved / Copyright 2017

SHIELD Managing Director – Winner of Malta's Best Entrepreneur of the Year Award 2016

"Hailing from a military background as a foundation

for my outlook towards risk management consultancy,

in 2004 I made a conscious transition into business as a

second career after eighteen years of military service,

by founding SHIELD CONSULTANTS LTD. Under my

guidance and technical orientation SHIELD has grown

into a market leader in the field of operational risk

management, comprising five pillar disciplines: security

risk management; business continuity; emergency

planning and crisis management; fire risk and HSE."

6 7

www.maltabusinessreview.net
---
Malta Business Review

SALES & MARKETING

"The Good, The Bad, & The Ugly":

Sales Edition

Clint wipes sweat from his

glistening brow as he faces the

mid-afternoon sun on his walk

back to his car from a sales call. Last quarter

was a lean one, and he just barely met his

sales target. This quarter will be different.

He can feel the warm waters of a whitesand

beach lapping at his toes, waters that

will come to him when he blows past his

target this quarter and qualifies for the

annual company sales retreat. He needs

that vacation.

Angel reads his latest email from Clint, and

sits back in his handed-down office chair.

His employer has a goal to reach, and he's

dead-set on being the one to deliver a

solution. If he delivers, he's got an excellent

chance at being promoted this year. His

latest acquaintance, Clint, appears to

understand those goals. Angel has been let

down by sales reps too many times to feel

any confidence in Clint's ability to deliver.

As the chair emits a familiar squeak, Clint

ponders his next move.

Tuco's the wildcard. He knows that his

firm's target audience often has very

By Rob Boston

specific goals. He knows that his firm's

products help them meet those goals.

Clint's counterpart in marketing is an expert

at crafting content that communicates

how his firm's products help companies

meet those goals, and he's crafted a lot of

very useful content. Problem is, he's not

a field guy. He doesn't get to sit in front

of customers and listen to their problems.

He's got the keys, but he's not sure where

the door to new business is.

These three are far from being desperados,

but they do have a singular mission- to

reach Angel's employer's goals. If they

do that, they all win. Clint gets a nice

commission check, and gets to relax on the

beach for a week next May. Tuco gets to

prove that his market research is accurate,

and that his content is useful. Angel gets

to be a hero, and jumps to the top of the

list of internal candidates for the next

available senior management position.

Here's the bottleneck- Tuco and Clint don't

always work well together. In fact, Clint

has had choice words for Tuco on more

than one occasion because he felt that

Tuco was withholding valuable collateral

that could be used to close deals. Add in

Angel's distrust of Clint, and you've got a

pretty sticky situation.

The fact is, these three don't need to be

adversaries. They share a common goal,

and collectively have the tools they need

to reach it. Clint can use Tuco's content

to demonstrate his firm's ability to help

Angel's employer reach their goals,

thereby proving the value of the content

Tuco has created. When Angel sees how

well-informed and capable Clint and his

firm are, he'll know he's found the solution

he needs to stand out and increase his

chances of promotion.

The question here is how to bring these

three together in a healthy way. At

PandaDoc, we believe in making it easy for

Clint to leverage Tuco's content during the

sales process. In doing so, we allow Clint

to demonstrate his employer's innovation

and ability to his prospects. The result is

shorter sales cycles, higher close rates,

and true ROI for marketing content and

collateral.

BOV

Investment

Funds

Some people think investments are

complex. We can help you better

understand and choose the right

investment strategy that fits your personal

risk tolerance.

BOV Asset Management, at the forefront

of your investment needs

To learn more about how your sales

and marketing teams can work closer

together, check out our latest ebook:

"The Smarketing Libary: Content Assets

Every Sales & Marketing Team Need to

Collaborate On". MBR

Creditline: PandaDoc

EDITOR'S

Note

BOV INVESTMENT FUNDS

8

Image credit: Mental Floss

Rob is the President

of Risr Marketing, a

marketing agency based

in San Antonio, Texas.

He works with the internal team at Risr to

produce content and campaigns for clients

around the world.

2122 7311

bovassetmanagement.com

BOV Branches/Investment Centres

& Licensed Financial Intermediaries

Past performance is not necessarily a guide to future performance. The value of the investment can go down as well as up. Investments should be based on the full details of the Prospectus, Offering Supplement

and the Key Investor Information Document which may be obtained from BOV Asset Management Limited, Bank of Valletta p.l.c. Branches/Investment Centres and other Licensed Financial Intermediaries. BOV

Asset Management Limited is licensed to provide Investment Services in Malta by the MFSA. The BOV Investment Funds is a common contractual fund licenced by the MFSA as a collective investment scheme

pursuant to the Investment Services Act and the UCITS Directive. Issued by BOV Asset Management Limited, registered address 58, Triq San Żakkarija, Il-Belt Valletta, VLT 1130, Malta. Tel: 2122 7311, Fax:

2275 5661, E-mail: infoassetmanagement@bov.com, Website: www.bovassetmanagement.com.mt. Source: BOV Asset Management Limited
---
Malta Business Review

SPECIAL REPORT

SPECIAL REPORT

Malta Business Review

World

Employment and

Social

Outlook

Trends 2017

The ILO's World Employment and

Social Outlook: Trends 2017

takes stock of the current global

labour market situation, assessing the

most recent employment developments

and forecasting unemployment levels

in developed, emerging and developing

countries.

It also focuses on trends in job quality,

paying particular attention to working

poverty and vulnerable employment.

Key findings

1. Economic growth continues to

disappoint and deficits in decent

work remain widespread.

Where is unemployment highest?

Where are workers most likely to be in

vulnerable employment?

Where are they most likely to be living

in poverty? Explore the data behind the

World Employment and Social Outlook –

Trends 2017.

Economic growth continues to disappoint

and deficits in decent work remain

widespread

Global GDP growth hit a six-year low

in 2016, at 3.1 per cent, well below

the rate projected in the previous year.

Looking ahead, global economic growth

is expected to pick up modestly in 2017

(3.4 percent) and 2018 (3.6 per cent).

However, as this report highlights, the

forecasts for growth for 2017 have

continually been revised downwards

over recent years (from over 4.6 per cent

forecast in 2012 to 3.4 per cent forecast

in 2016) and there is persistent elevated

uncertainty about the global economy.

The rather disappointing economic

performance in 2016 and the belowtrend

outlook for 2017 raise concerns

about the ability of the economy to (i)

generate a sufficient number of jobs, (ii)

improve the quality of employment for

those with a job, and (iii) ensure that the

gains of growth are shared in an inclusive

manner. Countries around the globe are

facing the twin challenges of repairing the

damage caused by the crisis and creating

quality employment opportunities for

new labour market entrants. First, global

unemployment is expected to rise by 3.4

million in 2017.

Global unemployment levels and rates

are expected to remain high in the

short term, as the global labour force

continues to grow. In particular, the global

unemployment rate is expected to rise

modestly in 2017, to 5.8 per cent (from

5.7 per cent in 2016) – representing 3.4

million more unemployed people globally

(bringing total unemployment to just

over 201 million in 2017). And while the

global unemployment rate is expected to

hold relatively steady in 2018, the pace of

labour force growth (i.e. those in search

of employment) will outstrip job creation,

resulting in an additional 2.7 million

unemployed people globally.

The increase in unemployment levels

and rates in 2017 will be driven by

deteriorating labour market conditions

in emerging countries (as the impacts of

several deep recessions in 2016 continue

to affect labour markets in 2017). In

fact, the number of unemployed people

in emerging countries is expected to

increase by approximately 3.6 million

between 2016 and 2017 (during which

time the unemployment rate in emerging

countries is expected to climb to 5.7 per

cent, compared with 5.6 per cent in 2016).

Of notable concern are developments in

Latin America and the Caribbean, where

the unemployment rate is expected to

rise by 0.3 percentage points in 2017, to

reach 8.4 per cent – largely driven by rising

unemployment in Brazil.

In contrast, unemployment is expected

to fall in 2017 in developed countries (by

670,000), bringing the rate down to 6.2

per cent (from 6.3 per cent in 2016). In

Europe, notably Northern, Southern and

Western Europe, unemployment levels

and rates are both expected to continue

to fall, but the pace of improvement will

slow, and there are signs that structural

unemployment is worsening. The same

applies to Canada and the United States.

For example, in both Europe and Northern

America, long-term unemployment

remains elevated in comparison to precrisis

levels and, in the case of Europe, it

increased recently, despite the reductions

in the unemployment rate. In fact, in the

EU-28, the share of unemployed people

who had been looking for a job for 12

months or longer reached 47.8 per cent in

the second quarter of 2016, up from 44.5

What are the drivers of the global growth slowdown?

Several drivers have continued to underpin

slow economic growth. In particular,

subdued private investment and trade

flows have remained a major concern for

both current economic conditions and the

medium-term outlook. The trend decline

in investment and trade is creating a large

gap in aggregate demand, which cannot be

fully offset by public spending because of

the tight fiscal constraints (and is unlikely

to be filled by private consumption due to

sluggish employment and labour income

growth). Moreover, forgoing investment

today results in lower productive capital

stock and productivity growth in the future,

thus lowering income growth.

• Weak productivity gains and slack investment

growth are mutually reinforcing: Slow

productivity growth and subdued aggregate

demand – exacerbated by policy uncertainty

in some large economies – continue to

hold back private investment, especially in

developed countries.

per cent for the same quarter of 2012.

Furthermore, in the second quarter of

2016, more than two-thirds of this group

– a total of 6 million people – had been

unemployed for over two years.

2. World Employment and Social

Outlook – Trends 2017

Unemployment levels in developing

countries are also expected to increase in

Low commodity prices are likely to continue

to restrain private investment in the

extractive sectors, while overcapacity in

some highly capitalintensive sectors is likely

to constrain investment growth in China.

Furthermore, fiscal policy remains tight in

oil-exporter economies of the Arab States

and in crisis-hit emerging countries (such

as Brazil and the Russian Federation), which

is likely to result in additional reductions in

public investment in these countries.

• Trade deceleration persists: As aggregate

demand – especially the more tradeintensive

components – remains weak,

trade volumes are unlikely to pick up

in 2017. The global volume of trade in

goods and services is estimated to have

expanded by only 1.2 per cent in 2016,

the slowest rate since 2009 and the thirdlowest

rate of trade growth over recent

years.

Source: UN DESA, forthcoming

2017 (by 450,000), with unemployment

rates hovering at around 5.5 per cent in

2017 and 2018. For many developing and

emerging countries, however, chronic

poor-quality employment – as represented

by high shares of own-account workers and

contributing family workers (collectively

classified as workers in vulnerable forms of

employment) and working poverty – takes

centre stage. MBR

Source: ILO's Trends Econometric Models, November 2016.

10 11

www.maltabusinessreview.net
---
Malta Business Review

TALKING POINT

Ynet:

12

Terrorism, waves of immigration,

Brexit, Donald Trump, jingoism,

ISIS, the legalization of soft

drugs, climate crises, raging

social networking, and a host of

negative dramatic events plagued

us in the past year. Summarising

the year is the easy part; the

wisdom is in understanding

what must change so that next

year's summary will be better.

Rav Laitman with an optimistic

prediction for the year 2017

"2017: An Optimistic Prediction"

2016 was a year of many upheavals in the

entire world. It was a complex, intense

year full of sharp turns that ultimately

permeated the public consciousness

with the recognition that we are in a

problematic social, economic, and security

situation. This recognition is also the best

thing that has happened to humanity, and

it also grants an opening to great hope.

It turns out that we can succeed in anything

or at least prevent deterioration if we just

change our way of thinking. The secret of

success lies in identifying the connection

between the various negative events,

locating the factor that motivates them,

neutralizing it, and in this way, balancing

the course of events in 2017.

The End of the Era of Egoism

According to Kabbalah, the factor that

links a variety of events, both positive

and negative, is the egoistic nature of

humans—the desire to receive pleasure

and delight—the attempt to benefit

maximally and succeed in all areas of life,

even if we trample others on the way

there.

What is surprising about the year 2016 is

that there already are clearly recognisable

signs of the end of egoistic development

after the thousands of years of the

existence of the human species. The wars,

crises, and great disappointments that we

experienced this year are a sign that the

egoistic system in its exploitative form

doesn't work anymore.

The egoistic fuel has run out. There is

no more drive to enter into financial,

commercial, political, military, and

cultural competition because the end

is in sight. In this way, no one wins; all

of us lose. Combine the processes of

globalisation, advanced technology, and

three-dimensional printers in the equation

occupying the world, and the conclusion

is that the future in the labour market

starting from the year 2017 will be very

different than what we have been familiar

with up to now. In such a situation, even

more severe events are liable to happen

than what we were exposed to in the past

year.

A Time for Renewal

Egoism will not disappear. It is inherent

in us from birth. But the moment the

understanding becomes more clear in

the consciousness of humanity that if

we continue to operate only from our

egoistic nature, we will fall into an abyss,

only then can the need for an essential

change be awakened, and from it, we can

begin to search for a new method that will

transcend the negative power of the ego

for somewhere new and positive.

The desire for profit, the drive to

succeed, and mutual competition that

have motivated us up to now—the

characteristics and inclinations of human

nature—will not blur or become extinct.

We need to learn to use them wisely and

beneficially, instead of for an individual's

personal benefit, directed toward the

benefit of all of society.

The method of connection that the ancient

wisdom of Kabbalah offers provides a

way that can change our attitude toward

Michael Laitman

others, treat each other correctly, and

make a living from each other, but with

respect. With the help of a process

that integrates study and experiential

workshops, the ability to connect with

each other is developed. We become

closer to each other emotionally, and we

transcend our innate egoistic nature to a

broad, eternal, and higher reality.

Symbolically, the end of the year is

celebrated with the end of Chanukah, the

Festival of Lights. From the darkness, the

Light breaks through; from the crack in

the ground, the plant sprouts, and from

the crisis, life is born. I have never been so

optimistic toward a new year in which the

two components required for achieving

a good and happy life have been placed

together before our eyes: despair in the

results that we have achieved so far, and

in contrast, the wisdom of Kabbalah is

available to everyone who desires it; it

provides the right direction toward the

royal road. The future is in our hands. 2017

can be optimistic. MBR

EDITOR'S

Note

Michael Laitman is a

leading global thinker and

the founder of the ARI

Institute. He has developed an educational

method that can be applied to every area of

our lives; social, economical, educational and

environmental.

We are dedicated asset guardians,

more than just a service provider.

A partnership built on trust.

Whether you are a successful individual or corporation, you can trust Equiom to protect

and nurture your wealth. We are your asset guardians, here to assist with:

• The establishment, formation and administration of trusts, foundations and companies

• Specialist tax & VAT planning and tailored ownership structures for property, yachts and aircraft

• eBusiness solutions, including eGaming licence applications, corporate structures and VAT advice

Trust | Corporate | Family Office | Tax & VAT

Property | eBusiness | Yachting | Aviation | Crewing

www.equiomgroup.com

Equiom (Malta) Limited is authorised to act as a trustee and fiduciary services provider and as a company service provider by the Malta Financial Services Authority.
---
Malta Business Review

HIGHER EDUCATION

eie educational group

Committed

to Providing

the Best

Education

Learning

Experience

OUR MISSION

To enhance the level of Academic

training and Tuition of both pre and

post graduate levels by:

• Contributing actively towards the

propagation of equal opportunities

for all.

• Continually engaging in the pursuit

of excellence.

• Continually investing in its own

people.

• Striving to afford the best service to

all our clients.

Learning a language or obtaining

an academic qualification is more

important than ever in the global

economy. eie Educational Group provide

students with a first-class educational

teaching and training service at a fair price.

Students ask for an excellent teaching

environment so that they quickly progress

through their course, but also that they will

want to enjoy themselves whilst studying.

At eie Educational Group, you will have a

fantastic studying experience. eie encourage

social interaction trough regular, fun and

varied leisure programmes, as this improves

a learning experience.

eie Educational Group, was established in

January 2000 and their success is built on

a long-standing commitment to the specific

needs of local and international students. eie

constantly expands its worldwide networks,

partners with established renowned

organisations, invests in its facilities and in

social commitments. The eie Educational

Group is redefining the landscape of modern

education.

The eie Educational Group aims to develop

the appropriate competencies and

knowledge needed in planning, evaluation,

research and development tasks in education

and related fields in the midst of societal

changes, both on local and global levels. This

network gives eie the key to be competitive

and to share the collective experience and

continuous professional development with

their cilients.

In a fast moving world, challenges are

demanding and change is constant.

Tomorrow's future depends on today's

knowledge.

Through its companies, the eie Educational

Group is able to offer the following services:

Academic programmes - Certificate,

Diploma, Bachelor, Master degrees

in various subjects for young and

mature adults are offered through

eie Institute of Education (Licensed

by the NCFHE as an institute of

Further and Higher Education –

License Number 2005-TC-001);

Training programmes - Business

courses, thematic seminars for

business excecutives offered trough

eie Mangement Centre;

English Language courses - English

courses at Beginner, Elementary, Pre-

Intermediate, Intermediate, Upper-

Intermediate, Business English and

Advanced levels are offered through

eie Languages Centre (Licensed by

the EFL Monitoring Board – License

Number 282/MB42)

Student Accommodation - Provision

of quality accommodation around

Malta ideal for students offered

through eie Residences

Internships – Organisation of

Work placement and Internships

for international students offered

through eie internships.

For more information about eie's degree

programmes, English language courses

or other business related courses you can

e-mail at info@eie-group.com, phone on

+35621332804/5 MBR

COMMITMENT TO EXCELLENCE

The eie Educational Group

is an acknowledged leader in international education

We specialise in providing

* Higher Educational courses - eie Institute of Education (NCFHE License Number 2005 - TC - 001)

* English Language courses - eie Languages Centre (EFL License Number 282/MB42)

* Executive and Business courses - eie Management Centre

* Internship services - eie Internships

* Student Accommodation - eie Residences

* International Educational services - eie International

• Establishing itself as a leader in the

international education field.

• Contributing towards the social

welfare of the community.

14

eie Educational Group,

Valletta Buildings, South Street, Valletta

Tel: +356 21 332804/5 info@eie-group.com

www.eieEducationalGroup.com
---
Malta Business Review

ANALYSIS & DEBATE

ANALYSIS & DEBATE

Malta Business Review

VIEW FROM THE MOUNTAINS

FASTEN SEATBELTS...

…. AND MAKE SURE IT'S REALLY TIGHT.

By Werner E. Jung

We are all in for a rough ride –

you are going to experience

a new kind of roller-coaster

– one which might not be very joyful

and where we do not know whether the

breaking system at the end will work.

2016 has seen the transformation of

our lives into a post-factual existence.

"I spare myself the idle question of how

we will be in the future, and use the

future instead as a perspective of the

contemplation of today, then I will not

ask who we are, but who we have been",

Roger Willemsen wrote in his manuscript

in 2015 before his early demise in 2016.

It seems that he foresaw the trend

that man is not driving innovation and

technology any more, but instead man

is being driven by technology and his

own innovations. Or as T.S. Eliot wrote:

"Where is the Life we have lost in living?

- Where is the wisdom we have lost in

knowledge? - Where is the knowledge

we have lost in information?"

Whilst the world is anxiously awaiting

what Mr. Trump, holding the most

powerful office of the world, is going

to tweet next – we are all sitting still,

shivering like the rabbit in front of the

rattlesnake. The irony is that Mr. Trump

and his slogan of "Make America great

again" in itself is post-factual. The

"Good Old Days" are not coming back

– manufacturing jobs, when cars were

predominantly assembled by real people

on an assembly line, are a thing of the

past. Real people today program the

robots which do the assembly. What will

happen when the people who voted for

him, most of them not beeing the ones

doing the programming, will realise this?

We are seeing on a daily basis that the

majority of corporate managers, our

so called "business leaders", typically

are whining wimps when it comes to

making tough but sustainable long-term

decisions. What they care about, are

short-term profits, stock prices and their

own bonuses, which in turn are tied to

short-term profits and stock prices…..

All Mr. Trump has to do is to send out

a tweet and the CEOs of Carrier, Ford,

GM etc. cave in, postponing the future

of their industry – but making sure

that their bonuses will still be intact for

another year….

The "Good Old Days" are not

coming back – manufacturing

jobs, when cars were

predominantly assembled by

real people on an assembly

line are a thing of the past

We have all grown used to false promises

by our elected representatives, and in

the words "Grown Used To", lies the real

danger for all of us; and it is our own

damn fault. We have to ask ourselves:

Was the election of Trump, Brexit and

the "right wing" developments we are

experiencing in Europe, just unfortunate

"We were those who knew,

but did not understand,

full of information,

but without perception,

rich on knowledge,

poor on understanding.

So we went,

not stopped by ourselves."

Roger Willemson

or a "hiccup of history" which will correct

itself. Adam Smith, the forefather of

modern macrocroeconomics, believed

that an "Invisible Hand" will eventually

correct market asymmetries and

imbalances and, strangely enough, there

still are economists around who actually

believe this. The effects of globalisation

have shown us to great extent, that the

"Invisible Hand" is exactly what it says

– Invisible! So do not wait for anything

to correct itself – it ain't gonna happen!

The taxpayers are the ones who pay

for market imbalances. Barrak Obama,

in his final address to the nation, said:

"The biggest treat to democracy is

complacency"! All we have to do is look

around us to see the effects. In the US

we have are experiencing the mutation

of democracy to "moneycracy" – "one

person, one vote" hast been transformed

to "one dollar, one vote". And when

we see that in Brussels we have more

than thee lobbyists for every elected

representative, we have to realise that

Europe is not far away.

The extent of our complacency is

exemplified by the reactions to the

terrorist attack in Berlin: whereas

there was a great show of solidarity of

politicians, social groups and media

when the attacks happened in Paris

and Brussels, there was almost nothing

to be seen in and about Berlin. "It

was inevitable – just a matter of time,

when it was going to happen" was the

common attitude one seemed to come

across. How sick can our society get?

The big difference between the EU and

the USA is that America probably can

be fixed. When the going gets tough,

America comes first for Americans – this

is why the right to bear arms is written

into the constitution and why this right

is also being defended by many people

who have no intention of ever buying

a gun. How many people in Europe are

going to stand up for "Europe First" –

certainly not many in my part of the

woods. Where is our solidarity with

Our Europe? A recent survey among

the EU population revealed that

for only 12% of all people put

Europe first.

Malta, normally too small to

notice, in contrast to many

financial institutions, which are too

big to fail, has an opportunity to set a

mark during the next six months of her

presidency of the European Union. Will

she / can she, live up to this challenge

and opportunity? The only alternative

may well be the "Reset" button for

Europe…..

Maybe taking charge of the steering

wheel is a better idea than to fasten

seatbelts…… MBR

EDITOR'S

Note

Werner E. Jung, lecturer

and writer, looks back at

an eventful international

management and consulting career. He lived

and worked in many countries around the

world. As consultant and lecturer he took

a special interest in SMEs and developing

markets. After the financial crisis in 2008,

he discontinued his "old style" teachings and

has taken to research into socio-economic

developments. The focus is on the rising

inequalities and the resulting disruptions.

Mr. Jung holds a degree in Industrial

Engineering and Business Management from

the Swiss Federal Institute of Technology and

the Massachusetts Institute of Technology.

He now lives in the foothills of the Bavarian

mountains. wej@think-different.org

16 17

www.maltabusinessreview.net
---
Malta Business Review

TOURISM

Record Year for

Cruiseline Passengers

IT INTERVIEW OF THE MONTH

Malta Business Review

According to figures published this

morning by the National Statistics

Office (NSO), 2016 was yet another

record year for cruiseline passengers visiting

Malta. Cruiseline vessels entering our Grand

Harbour last year carried a total of 682,222

passengers, meaning an increase of nearly 2%

on 2015. Among the total passengers, more

than 626,0000 were foreign passengers, which

is also a growth of 4.3% on the previous year.

Minister for Tourism Edward Zammit Lewis

welcomed these positive figures for the local

cruise line sector. The Minister noted that

according to a study commissioned by the

Valletta Cruise Port (VCP), it is estimated that

in 2015 the cruiseline industry contributed

around €90 million through direct expenditure

into the Maltese Economy. "Moreover, the

multiplier effect increases this contribution

and creates even further economic benefits",

explained Minister Zammit Lewis.

Minister Zammit Lewis stated that the sister

island of Gozo is also reaping extensive

economic benefits from the success generated

by the cruise sector. In 2016, according to

figures produced by Transport Malta, 19 cruise

port calls were registered in Gozo, carrying

nearly 7,000 passengers. "This number of

passengers is actually double that recorded in

2012,'' continued the Minister for Tourism.

The Minister noted that Malta is

strategically positioned in the middle of the

Mediterranean, and also enjoys a resilient

level of security, while this industry is serving

as an important incentive for regeneration

projects and investment, particularly within

the Grand Harbour region.

Minister Zammit Lewis affirmed that the

Government is committed to continue

investing and working to maintain the cruise

sector on the growth path in the short and

long term through more infrustractural

investment and further collaboration with

stakeholders, in order to attract more

cruiseliners towards Malta and Gozo.

Economic revenue from cruising is not the

only contribution that Malta benefits from

this sector. Passengers spend a few hours on

local shores, and enjoy a taste of what the

country has to offer, that is, a fantastic tourist

destination and a natural choice for their

holidays. Many passengers are charmed by

our islands during their short visit and decide

to return for a longer holiday. "Cruising is

serving as an exceptional and very effective

showcase for our islands", explained the

Minister for Tourism.

Valletta Cruise Port stated that 2016 was

another very positive year, with 42 cruise

companies and 81 different cruise liners

calling the port. Clearly, the cruise industry

is growing year-on-year, and is increasingly

contributing towards Malta's economic

growth and prosperity.

During the year, Valletta Cruise Port, a

subsidiary of the biggest cruise port operator

worldwide, Global Ports Holding, was the

recipient of two awards: namely, the Best

Terminal Operator by Cruise Insight, and

the Best Mediterranean Port & Destination

Award by Cruise Excellence Awards. These

awards reflect the company's drive towards

excellence, and certify the efficient port

infrastructure and outstanding service,

including passenger flows, safety and

security, besides the attractiveness of the

destination itself.

Acquiring 'Homeporting' operations is key

to the growth of this sector, and there is

intense competition within all Mediterranean

cruise ports on this front. The Government

is committed to work relentlessly, together

with all stakeholders, to attract more

cruiseline companies that are interested in

offering cruises that set sail and terminate

at our harbour. "Therefore, it was of great

satisfaction that last year we secured our

second homeporting operation for Malta,

with the prestigious P&O Oceana," Minister

Zammit Lewis stated.

During 2017, this cruiseline is expected to

effect 27 port calls, carrying over 100,000

passengers on a Fly and Cruise programme,

together with another 5 port calls, where

another 10,000 passengers will be visiting

Malta as a port of call. The Minister for

Tourism stated that thanks to such new

initiatives, the cruiseline sector in Malta is

growing succesfully, and our tourism industry,

and economy at large, is benefitting both

directly and indirectly.

"These results reflect the coordinated and

collaborated drive amongst all stakeholders,

particularly Valletta Cruise Port, to continue

developing our product and promote Malta

as a unique and effective destination for

Mediterranean cruises," concluded Minister

for Tourism Zammit Lewis.

Furthermore, the Malta Cruise Network

Forum was also established, bringing

together in one forum all stakeholders to

ensure that Malta delivers efficiently, reliably,

and flexibly, to the cruise lines and their

passengers, while ensuring alignment among

all parties involved.

The forecasts for financial year 2017 raise

the bar even higher, with a target of over

700,000 passenger movements through 330

port calls.

Stephen Xuereb, CEO of Valletta Cruise Port

and COO of Global Ports Holding commented

that: "The cruise industry is growing, with

more new ships being ordered, in line with

increased demand. Between 2016 and 2026,

the total of new beds coming on-board

exceeds 220,000 worldwide. Continuous

timely investment in our infrastructure and

our service delivery is paramount for us to

remain competitive. A planning application

for a €6 million project to widen Quays 4/5

has been submitted. Plans are being finalised

to redevelop the Old Power House to create

further quayside cultural and entertainment,

with additional check-in facilities. 2017 is

also the run-up year to Valletta 2018, where

Valletta will hold the title of the European

Capital of Culture, with the calendar of events

adding exciting layers to what the destination

already offers." MBR

Credit: Ministry of Tourism/DOI

18 19

www.maltabusinessreview.net
---
Malta Business Review

EU PRESIDENCY

Visit by President of the European

Commission Jean-Claude Juncker and the

College of Commissioners

"I urge you to make the European Union a

place where the dignity, the peace, and the

wellbeing of all is effectively and truly central"

This was the message which President of

Malta Marie-Louise Coleiro Preca relayed to

the President of the European Commission

Jean-Claude Juncker who is on an official visit

to Malta with the College of Commissioners.

President Coleiro Preca shared her vision of the

need for a more united Europe, stating that for

meaningful unity to be achieved and nurtured

"we need a stronger European Union".

We need a European Union for the people

Reiterating what she had stated during

the visit of the President of the European

Parliament Martin Schulz in December 2016,

the President said that we need a European

Union which is socially conscious, strongly

democratic, embedded in solidarity, and which

prioritises the wellbeing of every member of

our diverse communities and societies.

Denoting the challenges which are currently

being experienced across the Union, "in

terms of its economic, social, and political

life", President Coleiro Preca said that

these challenges offer an unprecedented

opportunity for deep-rooted review and,

where necessary, reform.

"I urge you to take this chance to adapt the

structures and instruments of our Union, so

that they can fully embrace the real concerns

of all those who call Europe their home", the

President said.

Our traditions embody our core values,

which we make tangible when we safeguard

universal human dignity, when we protect

universal human rights, and when we

celebrate universal human freedoms.

Speaking about our traditions, the President

said that these embody our core values,

values which are made tangible when

universal human dignity is safeguarded;

when universal human rights are protected;

and when universal human freedoms are

celebrated. The President said that securing

a meaningful reform of the Union must not

mean a break with our traditions.

At a time when different interpretations of

the European project and its future are being

proposed, with voices calling for walls to be

built, for borders to be reinforced and for

divisions to be reasserted, President Coleiro

Preca appealed to all those present and said

that "we cannot be silent or complicit when

so much is at stake", whilst adding that "we

must remind one another of the important

gains we have made". Such gains have been

made, the President said, in terms of the

bridges which have been built "to unite

us"; the friendships which have been made

"across our borders; and our solidarity, which

we have nurtured in the service of peace".

There is precious little talk of the

'Founding Mothers' of Europe

Referring to the point which some people

make when saying that a return to the values

of our Founding Fathers is what is needed,

the President reminded those present of

the fact that there is precious little talk of

the 'Founding Mothers' of Europe, stating

that "there is much we should learn from

the example of Europe's women, such as the

Founder of the European Union of Women,

Dr Lola Solar", who had, in 1953, already

recognised the fundamental importance

of a cultural synergy between the different

political and economic ambitions of the

respective countries.

The most essential message of our founders is

their great awareness of the need for friendship,

for solidarity, and for peaceful collaboration

amongst us all. President Coleiro Preca echoed

once more her belief that the spirit of solidarity

must be present throughout our lives. She said

that solidarity "must begin with our individual

choices, percolating up from our families and our

communities, into our societies, our institutions,

and across our nations".

The power of the individual, as a catalyst for

transformation, cannot be underestimated.

The President said that we are the ones who

must begin to make a difference, by rejecting the

structural oppressions which have resulted in one

in four people within the European Union to live

at risk of poverty or exclusion, according to the

latest data from Eurostat.

The President also said that without a Union which

prioritises the emotional, psychological, physical

and cultural wellbeing of its citizens, "there can

be no positive change towards greater equity,

peace and prosperity". "We cannot allow certain

individuals and communities to go on being

systematically excluded, even if they are not the

majority, from full and equitable participation in the

life of our Union. This will only create environments

of hostility, which will result in potential extremism

and violence', the President stated.

President Coleiro Preca stressed that exclusion

cannot be tolerated, irrespective of whether it was

brought about by economic precarity, by social

marginalistion and stigma, by displacement, or by

the inequality experienced by certain individuals

because of their faith traditions, their gender

identity, or their sexual orientation.

The Founders of the Union worked to build

peace and solidarity through our economic

collaborations, in order to lessen social tensions

and reduce poverty.

The President reminded the members of

the College of Commissioners that it is their

responsibility "to ensure that such collaborations

continue, while also ensuring that the social

values of Europe are reflected in the social and

cultural lives of our communities and nations";

she also said that they must revitalise the

European Project by ensuring that the institutions

are connected to the aspirations of the European

peoples, whilst adding that Europe's institutions

must reflect the principles of social inclusion.

"We must work together to make our European

family of nations a better place, where dialogue

replaces division; where friendship triumphs over

suspicion; where peace speaks more strongly

than hostility", President Coleiro Preca said.

Finally, the President urged the College of

Commissioners to make the European Union a

place where solidarity is the defining characteristic

of our European identity, "and an inheritance

of lasting benefit for both present and future

generations". MBR

Photos: DOI/OPR -- Creditline: OPR

Accounting

Multi-currency

Multi-warehousing

Progressive Information Systems Ltd

La Roca, Triq Leli Falzon, Naxxar

+356 21524777

info@progressive.com.mt

Lot &

Serial number

tracking

Job

Costing

progressive.com.mt

Integrated

Point-of-Sale

Business

Intelligence

Sage Evolution ERP is a cost effective solution that brings all aspects of your operating environment

together, giving you the ability to control your financial situation as well as your relationships with your

customers, suppliers and employees.

Annuity

Billing

At Progressive we are Sage specialists and Sage Super Platinum

Business Partners. Talk to us - we promise to deliver the best

solutions that will enable your organisation to unleash its

business potential, on time and at the best price possible.

20
---
Malta Business Review

YACHTING

YACHTING

Malta Business Review

Key considerations when

purchasing a superyacht

Ahead of Ayuk Ntuiabane's attendance as a speaker at the 'Opportunities

in Superyachts' conference on 23 February, Equiom's VAT Director discusses

the key areas to consider when purchasing a superyacht.

Yacht ownership for vessels operating in European waters has become increasingly complicated. The introduction of new

maritime and employment laws, changes to the VAT rules that apply to charters, and the requirement to obtain charter licences

and appoint fiscal agents represent some of the many challenges. One area which is often overlooked relates to setting up the

most appropriate ownership structure for the vessel as well as the ongoing administration.

There is a vast array of company, trust and foundation jurisdictions to select from and, accordingly, it is difficult to identify the optimum

structure without obtaining specialist advice. Making the wrong decision can be costly.

Some of the key areas owners should

consider are:

Ownership structures - ownership

can be by means of companies, trusts

or limited partnerships. For corporate

structures, consideration needs to be

given to the type of company and how

it is structured in terms of directors,

shareholding and capitalisation to ensure

any potential liabilities are ring fenced.

Tax - what is the corporate tax position for

the structure? Are there any tax treaties or

double taxation agreements relevant to

the structure? Are there benefit in kind

charges as a result of the structure? What

are the rules governing inheritance tax in

the chosen jurisdiction? Full consideration

of these tax issues ensures the structure

can be tax compliant from the outset.

VAT – is VAT registration required? If so,

in which jurisdiction should the company

register? VAT fiscal agents may also

need to be appointed for commercial

yachts. Owners should consider the VAT

implications both on acquisition and

disposal of the yacht. Suitable VAT planning

is necessary for all yachts operating in EU

waters regardless of the owner being non-

EU resident and operating within European

waters under temporary admission rules.

VAT planning is essential when VAT rates

vary from 18 to 27%.

Legislation - this is particularly important

where finance is required to purchase the

vessel. Sophisticated corporate laws are

a key consideration as disputes can arise

where there is joint or shared ownership

of the yacht. High regulatory standards

and reporting requirements are therefore

seen as an advantage when selecting a

jurisdiction.

Yacht registration - consider if the yacht

will be chartered, as this will impact on the

choice of flag, the manning requirements,

the registration type and the survey costs.

Many flag states, including the popular

Maltese flag, have qualified ownership

requirements. The flag choice may have

an impact for VAT purposes. There can

be significant variance in costs between

yacht registries as some registries charge

an annual tonnage tax and require the

appointment of a local Representative

Person. Lastly, flags of convenience should

be avoided as they are generally subject to

more frequent port state authority checks.

Insurance - insurance premium tax rates

are another consideration when choosing

a registry. Owners should also ensure the

appropriate level of hull and machinery

insurance and crew medical cover.

Finance - political and economic stability

of the owning vehicle is key where finance

is required to facilitate the new build or

purchase. Banks must be comfortable

with all aspects of the ownership structure

and are more willing to lend to quality

jurisdictions knowing that they can easily

enforce their charge if required.

Corporate administration -

some owners choose to delegate

the administration to their captains.

Invariably they often do not have the

time, particularly for active charter yachts.

The captain's time should be freed up to

manage his crew and concentrate on the

safe operation of the vessel. Delegating

these functions to a trusted corporate

service provider or a yacht management

company with specialist yachting

knowledge and expertise is a wise decision.

The maintenance of company records, VAT

and financial reporting may appear to be

straightforward but the financial penalties

can be significant for non-compliant

companies. The penalties in getting it

wrong, particularly with regard to VAT, can

By Ayuk Ntuiabane

often far outweigh any perceived savings.

In conclusion, professional advice should be

sought at an early stage of the acquisition

process. The legislation and regulations

governing the ownership and operation

of superyachts are continually changing

and what may be appropriate today may

change in the future. It therefore pays to

appoint a professional corporate service

provider which specialises in yachting in

order to ensure ongoing tax compliance

of the structure. This gives absolute peace

of mind for owners, leaving them free to

enjoy their yacht.

As experts in our field, Equiom can advise

you on the most efficient path when it

comes to yacht ownership and the most

effective structure plan for you. Looking

after a fleet of yachts worth €2.3 billion,

we manage a portfolio of ownership

structures for some of the world's most

prestigious and valuable superyachts, with

all the hallmarks of outstanding service

and dynamic, innovative solutions. Equiom

operates across multiple jurisdictions

serving corporate and private clients on a

global scale. MBR

EDITOR'S

Note

Ayuk Ntuiabane works

with Equiom's yachting

and aviation clients and

their advisers to optimise

the asset ownership structures and business

models required for secure and cost-effective

operation of yachts and aircraft within the

EU. This can include the exploitation of these

assets for income, or simply accessing the EU

for temporary use. Ayuk also provides VAT

support and opinions relating to yachting and

aviation financing and asset due diligence.

22

www.maltabusinessreview.net

23
---
Malta Business Review

BUSINESS LEADERSHIP

Why Employees Aren't Invested

By Jackey Backman

Taking comfort to a

whole new dimension

Does it seem that despite everything

you've tried you just can't seem to get

your employees to be truly invested?

Do either of the following somewhat

describe your work environment?

• Employees drag their feet

unmotivated and whiny, giving only

a mediocre performance?

ESSENTIALS

FFICIENCY

XPERIENCE

XCELLENCE

• 2. Do you experience high turnover?

At an estimated $15,000.00 per employee

turnover costs and unmotivated employees

are not only affecting the morale of the

people being left behind every time some

one leaves, which in turn affects the

remaining employees performance, it's

directly impacting your bottom line.

How to tackle the above "symptoms" (and

I do mean symptoms as they are not the

problem only indicators of a problem) slightly

differs. Nonetheless in 500 words here are

some pointers to get you moving in the right

direction.

Ask yourself this question:

"Would you want to work for you?"

Based on the core values of your demographic

employee pool, aka your ideal candidates, do

you provide an Outstanding Employer Brand

that makes your workplace a great place to

work? Human beings are emotionally driven;

are your leaders fully equipped with the EQ

(emotional intelligence) based competencies

to deal with the human element? In other

words, do your leaders even have have the

skills to tackle the problem of employee

retention? It's highly unlikely or you wouldn't

be experiencing these symptoms. That

means the cards are stacked against you right

from the start.

VISION

What is your vision? People want to know

they are part of something great and they

want to make an impact. So if your greatest

allure is a few ping pong tables, flexible

work hours and a hefty pay cheque (all

attractive, value added features by the

way)…I guarantee you there's someone

right around the corner offering a bigger

table.

INVEST IN YOUR LEADERS

Human beings are loaded with insecurities.

People more than ever are turning outwards

to validate themselves. It's far beyond what

kind of car you drive, or which brand of

jeans you wear, today it's whether or not

you get enough likes or who's following

your tweets.

Nowadays your employees need strong

leaders that can validate them and their

choices. They need leaders to point them

in the right direction, that understand how

to drive desired behaviour, create healthy

supportive work environments and how to

give an effective kick in the butt if required,

without all the drama and still achieve the

mandated directives.

BE AUTHENTIC

Authenticity is a huge value for our

Millennial generation. How is your

workplace authentic? It probably is at the

core, but do your employees know it? Is it

communicated through everything you do

and how you operate?

For your success! MBR

Jackey Backman

EDITOR'S

Note

Jackey Backman

specializes in emotional

intelligence, soft skills

development, and

organizational and personal behavioural

change. She is a candid yet compassionate

international speaker and trainer who has

delivered highly motivational and lifechanging

presentations to more than 35,000

people during the past 20 years. In her talent

development and management consultancy

she works exclusively with start-up to midsize

companies (up to $50MM). Through

her highly integrated Business Operating

System (BOS), she consults with and teaches

senior leadership executives and middle

management the essential processes by

which organizations build well-founded,

exceptionally well-formed, solid teams.

The whole process is designed to maximize

human potential and nurture healthy

productive work environments to facilitate

exponential growth. Through her personal

development training company, One Spirit

Inc, she offers certification programs in

Neuro Linguistic Programming, and provides

workshops and retreats for individuals ready

to go beyond conventional thinking to lead

exceptional lives. Through the Emotional

Intelligence Soft Skills Academy (EISSA), a

division of One Spirit Inc., Jackey provides

public workshops where organizations can

send select individuals for highly specialized

and advanced training in various soft skills

including ultimate sales, assertiveness,

communication skills, and dealing with

conflict and confrontation.

Excellence In Air Conditioning

Cutrico Ltd. Mriehel Bypass, Mriehel, BKR 3000 - Malta

T: +356 2149 8658 | sales@cutrico.com | www.cutrico.com

24
---
Malta Business Review

MBR EU & GLOBAL NEWS ROUND-UP

MBR EU & GLOBAL NEWS ROUND-UP

Malta Business Review

COMMISSION ON TOUR:

WELCOME TO POLITICAL GYMNASTICS, 2017 STYLE:

OTHER EU PARLIAMENT HIGHLIGHT — COMMISSIONER OETTINGER …

The first college of

commissioners meeting

for 2017 will take place

Wednesday, after the whole

college travelled to Valletta

in Malta during 2nd week of

January 2017. MBR

PARLIAMENT IS DEFINITELY BACK TO SCHOOL …

Paul Taylor calls for fresh

blood in the European

Parliament, labeling the

declared candidates in next week's

presidential election fixers rather

than leaders. "Europeans deserve

better than a choice between

two dull Italian politicians and a

veteran Belgian federalist out of

sync with public opinion as the

next president of the European

Parliament."

Guy Verhofstadt

Meanwhile, Guy Verhofstadt and Beppe Grillo are set to inject the

building with an unexpected dose of adrenalin today. They propose

Italy's Brexit-supporting populist 5Star Movement ditch their UKIP

allies in the Parliament and join the arch-EU (and sometimes federalist)

liberal ALDE group. If finalized, the merger would cement ALDE as the

third-largest bloc in Parliament, but potentially leave it at the mercy of

its new largest member. Nicholas Hirst covers the basics of the planned

political marriage. MBR

WHAT'S NEXT:

5Star members finish voting in an internal

referendum at noon, and the ALDE bureau

(its executive committee composed of

national delegation leaders) starts at 5:30

p.m. The Parliament deadline for notifying

changes in party group size (which affects

parliament-funded resources for 2017) is

January 11 at 6 p.m.

On the ALDE side, while there is serious discontent among the ranks,

the working assumption is that the plan will pass the party's executive

committee (bureau) and full group. On the 5Star side, it's impossible

to predict their direct democracy system. But Grillo holds all the cards.

If the party rejects the idea, it's proof of how democratic it is. If it's

split, he can gracefully change tack. If it supports the move, his vision

is validated. MBR

Questions that had the EU bubble scratching its collective head

Sunday included:

• How will Verhofstadt square this move with his opposition to

nationalism and populism?

• What else, other than 17 votes for the Parliament presidency, is

changing hands?

• Which political party would want ALDE at a coalition table if it

meant the 5Star Movement tagging along?

• Will this simply push the EPP and Socialist group back together

again?

From a pure party management perspective: how did one side of the

deal start a referendum on it, before many on the other side even

learned of its existence?

Counter-narrative — Maybe this isn't about the European

Parliament. Is the ALDE leadership team of Guy Verhofstadt, Sophie in

't Veld and Pawel Telička attempting to defuse Grillo's destabilization

of Italian (and by extension European) politics by bringing him into the

mainstream tent at European level?

Hypocrisy alert: In the wake of the 2014 European elections,

Verhofstadt wrote on Facebook that teaming up with Grillo would be

"to abandon the European project … It is impossible for any responsible

pro-European group to take the Movement 5Stars on board."

So what changed — a summary of the political agreement between

the two parties: Playbook has seen the shared manifesto and powersharing

deal drafted by ALDE and 5Star leadership. We are bound

not to quote the agreement to protect sources, but here's what you

should know:

The two groups identify themselves as radicals who share core

values including freedom, equality and transparency and believe in a

fundamental overhaul of the EU.

• 5 Star Movement commits to the European Union as an essential

counterweight to uncontrolled globalization.

• The two groups want a smaller Commission, more powerful

Parliament, and a deeper single market.

• They claim the euro currency has failed to deliver.

• The power-sharing arrangement will see the broad ALDE group

in Parliament managed by its "executive vice presidents," in't

Veld (ALDE), Borrelli (5Star) and Marielle de Sarnez (European

Democracy Party).

• The parties admit to being split or diverging on economics and

finance, trade, agriculture, industry, EU regional funding, and

culture policy.

What Grillo says: "Staying in the EFDD is tantamount to facing the next

two-and-a-half years without a common political goal, with a delegation

that will have no interest in bringing home concrete results," he wrote in

a blog post published Sunday 1st week Jan '17.

What the jilted EFDD party has to say: Not happy, but not giving up.

By the numbers — ALDE and 5Stars agree half of the time.

The list of people Verhofstadt is alienating with this move threatens

to be a long one: It starts with Italy's Europe Minister Sandro Gozi,

and continues with vanquished liberal presidential contender Sylvie

Goulard, who blogged of her calm contempt for the plan. MBR

Martin-Schulz-president-European-Parliamen

Commissioner Günther Oettinger presented his case today at 6 p.m. 9th January for taking over the Commission's budget and

human resources portfolio, following Kristalina Georgieva's resignation. The "exchange of views" will be presided over by Ingeborg

Gräßle, who like Oettinger belongs to Germany's Christian Democratic Union.

While around half of MEPs will be playing hardball, Gräßle is firmly in Oettinger's corner. "I'd like us to use the opportunity for what it's

supposed to do — to get to know the candidate in order to better work with him," Gräßle said. "The more we antagonize him, the more

difficult it will be afterward to work together."

UK — JOHNSON FLIES TO NY TO VISIT TRUMP

TEAM: Boris Johnson, Britain's foreign secretary, is expected to meet Trump's son-in-law, Jared

Kushner and incoming White House chief strategist Steve Bannon in New York for the U.K.'s

government's first formal face-to-face meeting with the new Trump administration.

UK — CORBYN COPIES TRUMP PLAYBOOK: "U.K. Labour leader Jeremy Corbyn has signed off on a

plan to adopt Donald Trump-style media tactics in a bid to turn around his poll ratings, according

to a senior party official familiar with the initiative," report Tom McTague and Charlie Cooper.

"Corbyn's inner circle, alarmed at the party's dramatic slump in support, agreed over Christmas to

overhaul their media strategy, taking direct inspiration from the U.S. president-elect's aggression

against mainstream TV networks and newspapers, which they hope will whip up support among

those already distrustful of the media. MBR

BREXIT CORNER …

Commissioner Günther

Oettinger

COMMISSION — MEGA-MERGER HEARING: Dow and DuPont will today defend their $130 billion merger at a Commission hearing. Investigators are particularly

worried that the deal would lead to less innovation, and there are claims that a wider set of three mega-deals in the agrochemical sectors will put an oligopoly

on top of world food markets, with farmers at their mercy. Nicholas Hirst and Simon Marks have the story for POLITICO Pro Agriculture and Food subscribers.

COUNCIL — GERMANY BLOCKING TRANSPARENCY ON SPECIAL TAX DEALS: POLITICO's Simon Marks has learned via a freedom of information request that

Germany has waged a behind-the-scenes fight to prevent the public disclosure of tax rulings between governments and multinational companies. The story is

available to POLITICO Pro Technology and Financial Services subscribers.

CYPRUS REUNIFICATION — THE ENDGAME THIS WEEK: Sara Stefanini reported on a make-or-break week for both Cyprus and the EU, which needs a win to

demonstrate it is a peace-bringing force in the world. The odds for success are slightly better than even, according to Stefanini. If they manage to strike a deal, it

would mean separate but simultaneous referendums to bring a final end to "a 43-year standoff and Turkish Cypriots' inclusion in the European Union." MBR

COMMISSION — JUNCKER CAN'T SHAKE

THE BAD TAX NEWS: This time it's an investigation by EU competition tsar

Margrethe Vestager into ENGIE, the recently rebranded Belgian electricity

company (formerly Electrabel), that's making uncomfortable reading for

European Commission President Jean-Claude Juncker.

Vestager's case suggests the Luxembourg tax authority turned a blind eye

to blatant tax dodging. Juncker, who was the country's prime minister at

the time, has always said he didn't get involved in Luxembourg's generous

Jean-Claude Juncker,

European Commission President

tax rulings in favor of companies like ENGIE. And yet Luxembourg is such a tiny government, and there were

so many tax rulings of this nature, that Juncker is finding it difficult to escape criticism-by-association.

More details, by Nicholas Hirst, are available to POLITICO Energy and Financial Services Pro subscribers. Also

from L'Echo and DPA.

Left-wing MEP Fabio de Masi and Green MEP Sven Giegold argue the role of a secretive EU tax body should

be called into question, as its 19-year existence has done little to limit aggressive corporate tax practices

across the bloc. (Link for POLITICO Pro Technology and Financial Services subscribers). Earlier this week, the

Guardian published an article that accused Juncker of secretly blocking EU initiatives to curb tax avoidance,

via the Brussels tax group, which was first set up in 1998 to prevent EU countries from being played off against

one another by global companies. MBR

TECH — HACKERS INCREASINGLY TARGETING EU, KING SAYS:

"It's clear that many institutions across Europe and more widely, and

that includes the European Commission, are subject to a continuously

increasing number of cyber attacks from different sources," Julian King,

the EU security commissioner, told the FT. "These threats are persistent,

they are aggressive, and more and more dangerous and potentially

destructive." The most dangerous are those that aim to "undermine

Donald Trump and Vladimir Puttin the trust in our democracies," he said.

US — TRUMP ACKNOWLEDGES RUSSIA PLAYED ROLE IN DNC HACKS: Incoming White House chief of

staff Reince Priebus said Sunday that U.S. President-elect Donald Trump accepts that Russia played a role

in hacking the Democratic National Committee and Clinton campaign Chairman John Podesta.

FOCUS ON FINLAND …

Back when Finland was run by Russia, Playbook's great grandparents set off by boat from a Swedishspeaking

enclave in southern Finland, for Australia. A hundred years on from independence from

Russia, celebrations are in full swing and will continue all year. Russia's President Vladimir Putin has also

confirmed a summer visit to mark the celebrations. MBR

MEET MICHEL

BARNIER'S BREXIT

DREAM TEAM: Britain's

negotiating team in

Brussels has been in

the spotlight following

the resignation of Ivan

Rogers from his post

as EU ambassador. But

Michel Barnier, the EU's what of the other side

Brexit negotiator

of the table? Michel

Barnier, the EU's Brexit negotiator, has assembled a

team of roughly 30 staffers from secretaries to top

advisers. The taskforce, which is likely to double

in size, is thus far notable for being composed of

francophone EU nerds and former Barnier staffers.

MAY SENDS SINGLE MARKET SIGNAL: In an

interview with Sky News show "Sophie Ridge

on Sunday," Theresa May confirmed she will

meet Donald Trump in the U.S. next month and

defended the U.K. government's friendly embrace

of the president-elect despite his "unacceptable"

comments on women, reports Tom McTague.

"In the biggest hint yet that she is prepared to

abandon the single market, the Tory leader said

Britain was leaving the EU and will not seek to keep

elements of membership."

A SOFT BREXIT IS A 'FAKE BREXIT' SAYS MICHAEL

GOVE: Fake Brexit must be stopped, writes the now

backbench MP Michael Gove, for BrexitCentral, a

pro-Brexit website.

"The vote on 23rd June last year was not simply

a rejection of the democracy-denying, growthdiminishing,

job-destroying EU, it was a vote for

wholesale change … We are still far too unequal

a society … The good news is that leaving the

European Union makes it easier for us to rebalance

our economy … we need to deliver a full Brexit,

not settle for fake Brexit … We don't want to be

bound by being members of the customs union."

ROGERS FORMALLY RESIGNS FROM UK CIVIL

SERVICE: The former British ambassador in

Brussels did not seek another role within the U.K.

civil service. MBR

Credits: POLITICO Brussels Playbook;

rheath@politico.eu | POLITICO SPRL;

26 27

www.maltabusinessreview.net
---
Malta Business Review

GAMING

DraftKings continues international expansion

About

DraftKings

Photo / DOI: Pierre Sammut

DraftKings is an innovative sportstech

entertainment platform,

changing the way consumers

engage with their favourite sports,

teams and athletes worldwide.

DraftKings, headquartered in

Boston, MA, offers daily and weekly

fantasy sports contests across ten

professional sports in the U.S.,

Canada and the United Kingdom.

Founded in 2012 by Jason Robins,

Matt Kalish, and Paul Liberman,

DraftKings is the exclusive daily

fantasy sports partner of Major

League Baseball, The National

Hockey League, NASCAR and the

Canadian Football League.

The Malta Gaming Authority has

issued a Controlled Skill Games

License to DraftKings, with

regulations that will protect consumers,

while bringing sports fans in Europe closer

to the sports they love.

DraftKings Inc., announced that its

subsidiary, DK Malta OpCo Ltd has been

granted a Controlled Skill Games License

from the Malta Gaming Authority (MGA),

following Malta's recent introduction of a

new regulatory regime for certain games

of skill.

DraftKings is the world's largest skill-based

Fantasy Sports (FS) platform, allowing

players to compete in daily or weekly

Manager Game-type online contests

across the largest variety of professional

sports, including seven leagues of Football

(soccer), North American Sports (NFL,

MLB, NBA, NHL, CFL & NASCAR), Mixed

Martial Arts, Golf (PGA & European Tour)

and eSports.

The Skill Games License will enable

DraftKings to operate in Malta and other

select European countries. DraftKings

intends to begin offering Fantasy Sport

contests in some markets in the first

quarter of 2017, with additional countries

to follow.

"Malta's intention to regulate digital skill

games with a prize was first announced in

December 2014 when the MGA published

a consultation document. From then

onwards, the MGA sought the input of

various industry stakeholders and experts

in order to develop a framework which

facilitates the development of the sector,

while ensuring adequate protection for

players and fairness of the games", said

Executive Chairman of the Malta Gaming

Authority Joseph Cuschieri.

We have taken a responsible, fair and less

conservative approach in order to enable

companies such as DraftKings, in obtaining

a license to operate in Malta and other

European countries, whilst protecting the

consumers. Such a regulation will again

put Malta at the forefront in the sector

of the digital economy", said Minister for

Competitiveness and Digital, Maritime and

Services Economy Dr Emmanuel Mallia.

"We are excited to embark on this

important phase of our international

expansion," said DraftKings co-founder and

CEO Jason Robins. "We are pleased that

Malta has recognized the need for special

regulation of certain skill-based games

such as online fantasy sports, which are an

important and growing sector of the digital

economy. The Malta Gaming Authority has

been a terrific partner in terms of depth

of analysis, appreciation of DraftKings's

product, and examining how our system is

built to provide maximum enjoyment and

peace of mind to our customers. We take

pride in being regulated by this Authority."

DraftKings's announcement comes

nearly a year after it began successfully

operating in the United Kingdom. With

more than seven million registered players

worldwide, DraftKings has experienced

significant growth since its 2012 inception.

In 2016, the company saw year-to-year

growth of 20 percent, and a twelvefold

increase since 2014. In the United

Kingdom, DraftKings has averaged nearly

20 percent month-over-month growth of

its user base in the first nine months of

operation, outpacing the growth curve of

the US launch for the same time period.

"We are excited to embark on this

important phase of our international

expansion," said DraftKings co-founder and

CEO Jason Robins. "We are pleased that

Malta has recognized the need for special

licensing of daily fantasy sports and other

skilled based games. The Malta Gaming

Authority is an innovative organization

and it is clear that they have put a lot of

thought and rigor into this process."

The strength of the company and success in

the United Kingdom underpins DraftKings'

further European expansion. MBR

Credit: THE MINISTRY FOR COMPETITIVENESS AND

DIGITAL, MARITIME AND SERVICES ECONOMY/DOI

28
---
Malta Business Review

BUSINESS NETWORKING

Getting

Face

Time Is

The Best

Way To

Network.

Here's

How To

Kill It.

By Brian Scudamore

Call me old-fashioned, but I have

found person-to-person networking

is still one of the most powerful

business tools there is. Twitter, LinkedIn

and the rest have their place, of course.

But in a digital era when everyone is

swarming virtual channels, old-school

networking is especially important. It's a

lost art, and one that's worth re-learning.

The numbers show how influential face

time is: Ninety-five percent of people

say it's essential for long-term business

relationships. Studies show that 93% of

communication is done through body

language, and face-to-face meetings

generate 30% more ideas than virtual

ones.

As someone running four companies, I

depend on the power of my networks to

help me efficiently problem-solve, share

news, and create new opportunities. Here

are my key tips for building and nurturing

your network the old-fashioned way.

Pick Up The Phone

How did I successfully pitch the 1-800-GOT-

JUNK? story to Oprah and the Wall Street

Journal? I picked up the phone. It sounds

simple, but a phone call – even a cold call

– can have huge impact. In fact, you're

10 times more likely to close a deal over

the phone than over email. It's a more

effective way to make an emotional appeal

and it's a way to stand out from a crowded

inbox (a critical advantage, given that the

average person receives 121 emails per

day). So get dialing.

Make Conferences Work For You

Even better than a phone call? Making your

first impression face-to-face. Conferences

are a great place to do this, especially if

you make a conscious effort to connect

with the key players and influencers once

they're off the stage. I once chased down

Subway founder Fred DeLuca after he

was done speaking so I could ask for his

advice about franchising. From there, we

developed a mentor-mentee relationship

that lasted fifteen years and changed

my business for the better – all because

I didn't let the opportunity for a one-onone

pass me by. MBR

EDITOR'S

Note

Brian Scudamore is the

founder and CEO of

O2E Brands, the banner

company for 1-800-GOT-JUNK?, WOW 1

DAY PAINTING, You Move Me, and Shack

Shine. He is a strong believer in ongoing

personal and professional development, and

likes to show others how to use goal-setting

to take the lead in their own business. As

someone who is passionate about people,

he created a corporate culture where we are

building something bigger, together. The

author is also Forbes contributor and shares

stories of entrepreneurship: vision, growth

and people.

CORPORATE

Brief

EDITOR'S

Note

30
---
Malta Business Review

DAVOS 2017

DAVOS 2017

Malta Business Review

World

Economic

Forum

Annual

Meeting

Welcome to POLITICO's

Davos Playbook, our

guide for this month's

gathering in the Swiss

Alps. Florian Eder and

Ryan Heath have teamed

up to make this little

extra goodie possible for

you.

Anthony Scaramucci Stars

As 'The Trump Whisperer':

The billionaire founder of SkyBridge Capital

was mobbed by journalists clamoring to get

into a hastily organized press briefing after

his on-stage session with the forum's Philipp

Rösler on Tuesday. Speaking shortly after

Theresa May announced the U.K. would not

seek to remain in the EU's single market,

Scaramucci backed May's determination

to go it alone. "I wouldn't bet against the

United Kingdom," he said.

Gossip: Scaramucci was called home

shortly after his remarks in Davos and was

already on a plane to the U.S. on Tuesday

evening.

Background

THE EUROPE FIX: Donald Trump bookends this

Davos. Opening festivities (in a sense) from his

office in Trump Tower on Monday, he lashed out

at Angela Merkel, declared NATO "obsolete" and

rooted for the EU's downfall in his first interview

with European newspapers since winning the

presidency. The Donald's ascendance to the most

powerful job in the land closes things up here on

Friday too. And of course, in between Theresa

May delivered her Brexit démarche to Europe, in

another sobering dose of reality.

The world as the Davos crowd knew it for decades

is coming apart at Mach speeds. Sure, the

"European project" was bruised up by migration,

economic stagnation, financial crises and various

populist uprisings. Nothing compares to the

double blow of its second-largest economy pulling

out altogether, and a new president in America –

usually the patron saint of Europe's postwar order

– sounding openly hostile to it.

The diagnosis of the predicament, mixed in with

anxiety only a few steps removed from panic, is

dominating discussion so far. Ideas are not in short

supply. POLITICO co-hosted an event Wednesday

Europhiles can temporarily

rejoice until the next Trump

tweet: Scaramucci said Trump "wants to

have a great relationship with the EU. I really

believe that, if we can get the trade deals

right." He couldn't offer any commitment to

continue negotiations on the EU-U.S. trade

deal TTIP, however.

DAVOS PLAYBOOK WOULDN'T

BE POSSIBLE WITHOUT Gabe

Brotman and Vince Chadwick.

BREAKFAST BATTLE: Gillian Anderson

(of X-Files fame) is throwing around some rare

7 a.m. A-list star power,

headlining a breakfast

discussion on forced

labor. That's the time

slot normally reserved

for worthy and wonky

discussions like Deloitte's

"Smart cities and smart

nations," one of the

sessions that will go headto-head

with Anderson

today. Let's see if the host,

CNN's Richard Quest, can

pull in the same numbers

Anderson does. Playbook

will keep tabs.

called, prescriptively, "Fixing Europe's Disunion."

One of the panelists, Pierre Moscovici, the former

French finance minister and current European

economic commissioner, argued "the way to

combat populists is to be popular — to show

results," primarily by improving the economy.

"More Europe" is his answer. Joseph Stiglitz, the

Nobel Prize-winning economist, blamed the euro,

but seconded Moscovici's call for budget transfers

from rich countries to poor and a eurozone finance

minister. Others talked about touting the EU's

benefits more effectively, and much was made of

spending more on infrastructure. But how any of

this will go down with European voters, say in a

Germany asked to pick up these checks, wasn't

discussed.

For the last 50 years of the 20th century, the point

of the EU was not to repeat the first 50 years: A

Continent, at peace and prosperous, nothing more

or less. The power of this narrative – that one

Big Idea – is gone. It needs a new one. The EU's

leaders see an opportunity in the current crisis

too, to find that elusive fix. "Brexit is a wake-up

call for us," Moscovici said. Though the European

political class hopes it's sufficient, it won't leave

Davos any more optimistic than it arrived.

That's where the

compliments ended: Brussels

is too far removed from local markets and

concerns in the eyes of Trumpland: "His

[Trump's] political observation is not that

he wants the EU to go away but that it

is not being managed effectively for the

people it is supposed to serve."

The most direct criticism

of Trump: Without naming the U.S.

president-elect, Xi told participants: "We are

not jealous of the success of others. We will

open our arms to other countries."

RAGE AGAINST THE MACHINES:

Alert readers will have seen the signs long

ago, and the World Economic Forum itself has

been pushing the theme of a "Fourth Industrial

Revolution" for more than a year. In a widely read

article published December 21, the New York

Times' Claire Cain Miller pinpointed automation,

not China, as the real American jobs killer. The

European Parliament released a report January

12 on how to regulate robots' role in our world,

while McKinsey analysts declared automation is

inevitable. Then there's Uber's head-first dive into

driverless cars and Amazon's exponential use of

robots. Like it or not, pretty much everyone will

be forced to talk automation this week.

So it was no surprise that WEF founder and chief

Klaus Schwab addressed the issue in his speech

to open this year's event. What did surprise

was Schwab's stirring language as he called for

more humanization and voiced fears that we

now face "nearly an avalanche" of technological

transformation with little political capital left to

help pay for the adjustment. Hence Schwab's

lament: "Davos is a global village but an isolated

place."

Bankers are used to being bashed; for politicians it's

a daily ritual. But tech titans who bask in delivering

convenience are not ready for the backlash their

products are generating. Automation could eat

the global middle-class alive. That may be the real

killer message from Davos 2017. Donald Trump

and Marine Le Pen may be symptoms of emerging

populism. Globalization may indeed be one of its

causes. But if the tech sector can't do more to

solve the problems it helps create, then the Davos

Man could truly face extinction.

DAVOS INSIGHT — CHINA MAKES ITS PITCH:

Chinese President Xi Jinping sounded more

Silicon Valley than single-party Communist

leader at times during his opening keynote

speech in Davos, issuing a strong rebuke

against protectionism. If Xi wanted his carefully

calibrated and reassuring remarks to contrast

sharply with the style of U.S. President-elect

Donald Trump, he succeeded, in a speech

peppered with quotes from Dickens, Chinese

proverbs and his own jokes.

Xi spoke directly from the Davos playbook

— even naming it "Schwab-onomics" after

the WEF's grand seigneur. Some wondered,

however, if his description of the forum as a

"cost-effective brainstorming session" was a tad

backhanded.

He went on to defend economic globalization

from the attacks of populist politicians, arguing

it does more good than harm. It was an

alternate new world order to the one laid out

by the U.S. president-elect in an interview a day

earlier — and Xi seemed to be applying for the

vacant job as global sheriff.

Special Address by Joe Biden,

Vice President of the United States

In the final days of President Barack Obama's

administration, Joe Biden is addressing Davos for the

last time as Vice President. He's expected to share

his thoughts on global security and the relationship

between the United States and Europe.

ARTIFICIAL INTELLIGENCE:

Is it replacing or amplifying humans? The

judgements were mixed at an Infosys

session on "Keeping the machines in check."

One angle Playbook had never considered

before: the ability of algorithms to teach

themselves to breach antitrust laws without

knowing it. The WEF has produced a handy

summary of Ginny Rommetty (IBM), Satya

Nadella (Microsoft), and others weighing in

on the role of AI. IBM launched a new set of

principles it is committed to using regarding AI.

REAL WORLD: Days before Trump's

inauguration, General Motors announced

it would invest $1 billion in the U.S. and

Wal-Mart promised to create 10,000

additional jobs there by the end of the year.

Bayer announced an $8 billion research

investment in the U.S. after discussions with

the Trump team.

An economist's view: Li Daokui, from Tsinghua

University: "One of the few things on which

China and Trump agree is that the dollar must

fall," h/t La Stampa's Marco Zatterin.

Christine Lagarde's 2013

warning about inequality

In the session Squeezed and Angry: How to

Fix the Middle-Class Crisis, IMF Managing

Director Christine Lagarde spoke about the

Davos speech she gave in 2013 warning

about rising inequality.

Here is excerpt from her speech - watch from

13:55 for her main warning:

"You can be absolutely sure that nations

will revert to their natural tendency of

hiding behind their borders, of moving

towards protectionism, of listening to

vested interests, and they'll forget about

transcending those national priorities."

—Christine Lagarde, speaking in 2013

"Why did people not listen, I don't know,

but certainly I got a strong backlash, from

economists in particular saying that it

was not really any of their business to

worry about these things," she said in this

morning's session.

P r i v a t e

c a p i t a l

welcome: "In

the past, we've relied

on governments to

power our countries;

we now need to bring

in the private sector

to help empower

our economies and people," said Cyril M.

Ramaphosa, South Africa's deputy president,

during a panel discussion on the future of

energy across the African continent.

The Klaus Schwab reply: "We cannot go

back to old policies," the forum's founder

said. "We cannot take recipes which may

have worked in the old world but are not

working anymore in the new world."

The most popular line came when Xi likened

protectionism to "locking yourself in a dark

room," in that "you keep out wind and rain but

also air and light." He added that "no one will

win a trade war."

THRIVING AT DAVOS: It's the serendipity,

stupid: Keep your eyes open and chunks of

your agenda free. You will be late at times.

You will run into old friends and interesting

people. MBR

Source: POLITICO Davos Playbook; POLITICO SPRL

32 33

www.maltabusinessreview.net
---
Malta Business Review

DENTAL CARE

MOVE IT MOVE IT

With

New Beginnings!

How many times have you looked in the mirror and said to

yourself…. I should have fixed my teeth a long time ago? Time flies.

Things get in the way, university, career moves, family and more.

Before you know it, years have gone by without doing anything

about it. Then one fine morning you wake up and decide for your

own benefit that enough is enough. Where do you start from?

Extra-oral after treatment

The consultation

Treatment planning

34

Intra-oral after treatment

Extra-oral before treatment

Intra-oral before treatment

DR JEAN PAUL DEMAJO

Dental and Implant Surgeon, Trained in

London working in private practice in Malta

Setting up the first appointment for a

consultation is probably the biggest step.

After years of procrastination, you finally

bring forward all your thoughts and

emotions and tell the dentist all you wish

to achieve from your teeth and smile. This

information is very important allowing the

dentist to come up with the right treatment

plan targeting YOU, and enabling you to

set the ball rolling for the start of your

transformation. Timeframes and costs

told, you consent for the treatment and all

systems go!

A Case Study

Following a thorough consultation

including clinical and radio-graphical

examination, options for treatment

are discussed and decided on. General

dentistry such as gum and tooth health

is addressed first. Once stabilized

the cosmetic treatment plan may get

underway. Implants, crowns, veneers and

bridgework may all be included using

several materials to be chosen from.

Simultaneous tooth whitening regimes

may also accompany the treatment. And

finally a maintenance program to keep

all dental work and underlying teeth and

gums in good shape.

A middle-aged career woman with a very active social life finally takes the plunge and

addresses her lifetime dream of fixing her smile. Knowing that orthodontic (brace)

treatment would have been the best plan when she was young and also that it is still an

option, she opts for a cosmetic job to give her the immediate result she wishes.

The treatment consisted of all-ceramic metal free restorations; 6veneers, a 3-tooth

bridge and a crown. Additional techniques used included a minor bone grafting

procedure and periodontal plastic surgery.

These cases are best tackled by experienced clinicians who know the ins and outs of

treating these clinical situations also using particularly high caliber materials not to

mention managing those unexpected problems both during and after treatment. Ask

your dentist!

MBR

TA' KANDJA CARGO COMPLEX

Mqabba Road, Ta' Kandja Limits of

Siggiewi SGW 2606

In collaboration with

For COST EFFECTIVE

Shipping Service

From Sicily and any part of Italy

No matter the size or weight

For a reliable and easy daily service

Tel: +356 2144 3031 / +356 2146 0427

E-Mail: kevin@attardholdings.com.mt

Website: www.attardholdings.com.mt
---
Malta Business Review

FOCUS

FOCUS

Malta Business Review

Why Russia

Is Using the

Internet to

Undermine

Western

Democracy

Powerful Russians were terrified by the

internet in 2011. Now they have made

sure we are, too.

By Maria Farrell

At a recent international meeting on

internet freedom and democracy,

one of the chairs made an unusual

request: He asked contributors to share

only research results, not anecdotes. I was

puzzled—why did this need to be said?

The couple of hundred attendees were

policy wonks and government ministers.

Politicians' talking points and newspaper

editorials might base their calls to action

on horror stories, but the professionals

look for the data, right?

Half an hour later, a panel opened up to

the audience for questions, and then I

understood. A woman from an "official"

Russian nongovernmental organization

started to speak. Though her English was

excellent, her statement-as-a-question

was pretty incoherent. We can't have

unfettered internet freedom, she said,

because just a few months ago, a boy in

central Russia got hooked on an online

game. When his parents cut off his access,

he tried to kill them. I think she said one

of them survived. It was all a bit emotional

and confusing. But her point was as clear

as it seemed ridiculous: The state must

control the internet to stop boys in central

Russia from stabbing their parents with

kitchen knives.

Now, I live in the United Kingdom, where

the state does more surveillance than any

other functioning democracy and requires

extra-legal and untransparent censorship by

internet service providers (because "Won't

somebody think of the children?"). But even

to me, this statement—at an international

meeting, no less—sounded borderline

unhinged. I wasn't the only one. Around the

room, people smirked as they fiddled with

their interpretation headsets. A few raised

eyebrows and exchanged knowing smiles.

Chatting to a European diplomat afterward, I

asked what had just happened. "Oh, it's just

what they do now," he said. He had recently

worked at the U.N. in New York and observed

Russia's new M.O.: tell scary stories and

wreck the chance of a reasonable discussion.

Trolling, basically. Gesturing around at the

room of people mostly from Europe and

countries on Europe's periphery, he said,

"They don't want this kind of thing to work."

By "this kind of thing," he meant the

multistakeholder internet governance

model, which brings together governments,

business people, civil society, activists, and

internet engineers. Russia's discomfort with

it is well-known. Along with China, Saudi

Arabia, and Iran, Russia has long lobbied at

the U.N.'s International Telecommunication

Union to keep decision-making to

governments.

But as I wrote a couple of weeks ago, U.S.

foreign policy on the internet hasn't played

so well abroad, either. Internet Freedom

can sound like just another way to lock

in U.S. tech firms' first-mover advantage

and de facto monopolies. American "soft

power" seems anything but benign to

leaders of autocracies. To them, the muchtouted

ability of tech giants like Twitter and

Facebook to facilitate revolutions looks like

deliberate sedition by a foreign power.

Russia's leaders already see Western

conspiracy everywhere: the Orange

Revolution, the Arab Spring, the entire

internet. All of these play out in Moscow

as plots by the U.S. and its allies to ensure

the world order protects only Western

values and therefore Western interests.

And we play right into their hands, saying

the internet is a samizdat—the famously

hand-copied literature of opposition to

Soviet rule—and claiming the Che Guevara

of the 21st-century is a network. (And rather

ahistorically, too, given the United States'

violent antipathy to Guevara's aims.)

Does the internet drive people-powered

revolutions? Maybe. It's complicated. But

2011 began with the Arab Spring chasing out

the rulers of Tunisia and Egypt, and ended

with Moscow's middle classes taking to

the streets in Facebook-organized protests

against electoral corruption. Facebook did

more than just make it easier to organize;

in a year of popular revolution, it let some

Russians feel they were part of something

bigger, that they had a chance. It was a

profound shock to Putin's government. To

Putin's ex-KGB mindset, there is no such

thing as spontaneous, popular protest. In

his world, power is vertical. Someone is

always pulling the strings. So the Russian

state married its existential pessimism to the

West's internet cheerleading. The internet

had to be brought under control.

The Red Web, by Andrei Soldatov and

Irina Borogan, shows that before 2012,

Russian internet censorship was surprisingly

decentralized and inconsistent. It took the

shock of the short-lived middle class revolt

for Russia to really go on the offensive.

Opposition websites were hit with powerful

and coordinated distributed denial of service

attacks, trolling, and disinformation. Deluged

with pro-government propaganda, local

news platforms basically gave up trying to

separate fact from political fiction. The sheer

volume of fake news, plus its sophistication,

meant algorithms could no longer tell the

difference. (To be fair, humans—even those

in democracies—have trouble sorting fake

news from real, too.)

To Putin's ex-KGB mindset,

there is no such thing as

spontaneous, popular protest

In 2012, new censorship measures were

brought in, using technologies that

indiscriminately block addresses and

inspect each packet of data. The official

rationale? "To protect the children." Data

localization rules were also introduced,

requiring data about Russian citizens to

be stored on servers physically located in

Russia. The official rationale? To protect

Russians against American surveillance,

post-Snowden. The internet in Russia

was starting to come under control, but

for a state that believed it was facing an

existential threat, it wasn't enough.

Russia turned its attention abroad. At

a 2012 U.N. meeting to create binding

international telecommunications rules,

Russia and Iran lobbied hard to increase

the role of states in internet governance. A

last-minute procedural U-turn caused most

Western countries to walk out. The chance

for global agreement was dead. While the

authoritarian states failed in their highprofile

U.N. efforts, they continue to make

steady progress in standardization study

groups where real work gets done. But it

still wasn't enough.

When Russia finally emerged from internal

chaos, it was eager to take its place in the

international order.

The Russian state lacks the discipline

and capacity of the Chinese state. It is

too insecure to think long-term, as the

Communist Party of China does. Nor does

Russia offer a lucrative enough market to set

its own terms of engagement with foreign

firms. So Russia can't assume into itself the

parts of the internet it wants (economic

growth) and isolate and expel the parts it

rejects (accelerated political change). But the

internet, with its politically and economically

disruptive power, remains both a symbol and

a channel of Western values and interests.

A purely defensive Russian response was

never going to be enough.

So Russia did the only thing it could: It

took the West's proudest, strongest, most

transformational tool and helped to turn

it against us. Internet jiujitsu, in the form

of information war (what we used to call

propaganda) and cyberwar (plain old

hacking and sabotage), turned the energy of

the networks against their creators.

Russia almost certainly hacked the

computers of U.S. election officials and

the Democratic National Committee, and

funneled its damning findings through

willing stooges. This is not a fringe view. We

still don't know whether the U.S. presidentelect

shares more with Vladimir Putin than

just an onanistic cult of toxic masculinity.

Links between the U.S. right and the Kremlin

are murky, though I expect more information

will emerge. But even if we find proof,

millions of Americans will simply refuse to

believe it. Homegrown propaganda sites will

amplify and disseminate disinformation, as

they did all through the U.S. election. Russia's

adversary during the U.S. presidential

election was not Hillary Clinton but faith in

the American electoral process.

Kremlin propaganda outfits like RT and

Sputnik aggressively push a mix of news and

conjecture whose aim is not to convince

viewers that a particular narrative is true

but rather that they live in a world where

disinterested, objective fact does not, indeed

cannot exist. Their stories are disseminated

further by right-wing populists around

Europe. The Kremlin has funded far-right

parties' growth across Europe, just as the

Soviet Union funded far-left ones in the Cold

War. But this time, the aim is not to create a

new, socialist world order, but to destroy the

possibility of any stable global order at all.

And the internet is key to that. As the

internet's democratization of speech cuts

across traditional channels, more people's

views can be heard. But in a deluged ideas

market, the law of supply and demand

applies. Each view is worth less, and our

ability to reflect and discriminate between

them disappears. Hearing everyone's

Cont. on pg 38

36 37

www.maltabusinessreview.net
---
Malta Business Review

FOCUS

TRANSPORT & LOGISTICS

Malta Business Review

Vladimir Putin in Berlin on Oct. 19. 2016

Cont. from pg 36

opinions on everything all the time sums to

a helpless sense that it's all broken and no

one can be trusted. We retreat further into

our echo chambers where dissenting views

become unknown unknowns. For Putin, this

stuff is pure gold. The loss of civility and trust,

and the radical flattening of political space,

which the Kremlin so feared, turn out to be

perfect for turning democracy against itself.

It can be insidious. The recent statesponsored

attempts on the Gmail accounts

of well-known U.S. progressives likely isn't

aimed at finding out who they know and

what they think—just reading the New

York Times tells you that. It signals that

our private talking and thinking spaces

are no longer secure. Writers who believe

they are listened to by even a "friendly"

government will self-censor. When you can't

think, talk, and listen freely, you don't act

independently. Civil and political rights aren't

just nice to have; they're the basis of a stable

and scalable global order. (There are good

historical reasons we codified all this stuff

after World War II.)

What to do? Understand first that this is

something we are largely doing to ourselves,

and second that Russia's profound cynicism

is, paradoxically, utterly sincere. Yes, the

Kremlin has remade the Russian internet

in its own paranoid, hierarchical, and

slightly shambolic image. Yes, the Russian

government is aggressively spreading its

nationalist and nihilist world view around

the world. But ask yourself why, in little

more than a decade, Russia switched from

being an enthusiastic joiner of international

institutions to a wrecker, why Russia become

the ultimate online and offline troll.

It signals that our private

talking and thinking spaces

are no longer secure

We in the West ideologically and materially

helped to wreck Russia's post-Communist

economy and make it a kleptocracy. People

died. When Russia finally emerged from

internal chaos, it was eager to take its place

in the international order. But the credibility

to Russians of that order was damaged

by several events, including the bombing

of the Chinese Embassy in Belgrade, the

invasion of Iraq, and the U.K. and France's

2011 adventure in Libya. As the West

punishes Russia for invading its neighbors

and slaughtering Syrian innocents, Russia

might observe that we believe in rule-bound

self-restraint only when it suits us. I am just

EDITOR'S

Note

as frightened and angry as anyone else

that Russia is using the best things about

democracy—openness and freedom of

speech—to undermine it. But I can partly

see why it acts as it does.

The tactic I saw being used by the "official

NGO" woman was just a Kremlin technique,

sure. But the anger and fear motivating

her comment seemed genuine. Powerful

Russians were terrified by the internet in

2011. Now they have made sure we are, too.

For people like me who work in internet

governance, the biggest challenge of the

next decade is no longer how to get the

next billion online, or even how to curb the

global monopolies taking over the traditional

roles of government. It's how to protect the

most important part of our global critical

infrastructure: democracy.

This article is part of Future Tense, a

collaboration among Arizona State

University, New America, and Slate.

Future Tense explores the ways emerging

technologies affect society, policy, and

culture. MBR

Sources: SLATE, NEW AMERICA, AND ASU

Maria Farrell is an Irish writer and consultant on internet governance and policy,

based in London. She blogs at Crookedtimber.org.

Looking

into the

Future

By David Abela

2016 was a turbulent year for the shipping

industry. Personally, the following three

issues were the main topics discussed in

our own forums. First, we had the new

form of terrorism where the aggressors

hijacked freight trucks to conceive their

attacks. The Nice and Berlin attacks

immediately spring to mind. We also

had to make do with weekly problems in

the French port of Calais where irregular

immigrants where constantly trying to get

into the UK illegally by climbing into moving

freight trucks. This resulted in increased

security, which in turn resulted in several

delays, which also affected Maltese

imports from the UK. Finally, the Hanjin

Shipping Line (one of the world's largest

shipping lines) bankruptcy brought about

a global stock market meltdown especially

in the Far East, great discomfort to the

thousands of families directly concerned

and huge delays for the shipments that

were being handled by Hanjin at the time

of its financial collapse. Tens of Maltese

importers were directly affected by this.

If we look at the local market, one has to

say that imports and exports continued to

increase steadily. It is no secret that the

Maltese economy is faring magnificently

in spite of the uncertain economic

environment still felt throughout the

world and one can feel the good factor

in almost all the sectors of the

local economy. Over here

at EuroBridge,

we have truly

enjoyed 2016

which resulted

in us breaking

all the records

established just

the previous year.

Towards the end

of the year, we

got the 'cherry on

the cake' when we were awarded Malta's

Best in Business 'Outstanding Industry

Contributor' Award.

As we look to 2017 and beyond, us

at EuroBridge know there are many

challenges ahead. We will embrace such

challenges and make sure that we continue

towards our aim to offer complete

customer satisfaction. In fact, there are

3 main projects we are already working

on with the customer in mind. First is to

move into our new state-of-the art office in

Qormi, which will occur over the next few

months and secondly, to make as many as

our procedures as paperless as possible

increasing our efficiency throughout.

Finally, we have also started the process to

digitalize the local delivery process, which

will give our customers the opportunity to

know in real time when their next delivery

will take place.

In the meantime, we will continue

searching for better deals and improve our

foreign networks as much as possible. We

are already renowned for our efficiency

when dealing with our customers and

their shipments but we know there is

always room for improvement. This can

only be achieved by staying on your toes,

listening and discussing issues with all

your partners, them being colleagues,

customers or suppliers.

If you would like to know more about

EuroBridge and its services, we invite you

to visit our website www.eurobridge.com.

mt. We would also be thrilled if you could

communicate directly with us by calling

our office on 22487000 or send us an

email on sales@eurobridge.com.mt. We

always sign with our motto 'Yours to count

on' and it is our intention that you feel you

can always count on us for your shipping

needs. MBR

38 39

www.maltabusinessreview.net
---
Malta Business Review

BEST PRACTICE

8 Best Practices for

Improving Your Work-Life Balance

By Paul Petrone

MALTA'S BEST ENTREPRENEUR OF THE YEAR AWARDS

SMARTCITY MALTA | FRIDAY, 30 TH JUNE

2017

MALTA'S

BEST

ENTREPRENEUR

OF THE YEAR

AWARDS

2017

MALTA'S LARGEST AND INTERNATIONALLY RECOGNISED BUSINESS AWARDS

Make 2017 the year where your personal life and professional life are finally treated equally.

Work-life balance is the Yeti of the professional world – often discussed but rarely seen. And even

the people who have claim to seen it, well, you probably don't believe them anyway.

In reality though, it is achievable. It's just a skill, and like any other skill, there are best practices

you need to learn to master it. Good thing for us, "Chaos Crusher" Dave Crenshaw has spent

his career studying work-life balance to uncover those best practices, which he shared in his

LinkedIn Learning course, Balancing Work and Life.

Eight of those best practices are:

1

Create a line in the sand between

work and personal time.

A "line in the sand" is the time each day where you

stop your work and start your personal life each

day, Crenshaw said in his course.

Not everyone needs the same "line in the sand"

– for some people it might be 6 or 7, for some

people it might be 4:30 and then back to work

from 8 to 8:45, and then off again. The point is to

have a clear line and honor it, Crenshaw said.

2

Schedule power-down time

between that line in the sand.

Once you hit your "line in the sand", you should

have some power-down time where you don't

immediately take up family responsibilities,

Crenshaw said. For many people, this is the

commute, where Crenshaw said it is essential to

focus your mind on non-work related thoughts.

If you don't have a commute or your commute

is short, there are other options. For example,

you could exercise or do a hobby, Crenshaw said.

Whatever you do, this 30-minute-or-so powerdown

time will give you more energy for the rest

of the day.

3

Create a tech-free sanctuary.

One of the biggest threats to a good work-life

balance is our phones and tablets, which are

constantly buzzing with new texts and work

emails. If you aren't careful, you'll get swallowed

up by all these updates and essentially be working

all the time.

To fix that, Crenshaw recommends having a tech-

free sanctuary in your house. Maybe it's your

bedroom, so you aren't checking email before bed.

Also, when you are with your family, you should do

your best to stay off your phone, Crenshaw said.

This will make that time higher quality and it sends

a message that they come first, not work.

4

Use just one calendar.

One problem Crenshaw sees again and again is

that people have multiple calendars – say one for

work and one for personal – or no calendar at all.

A better solution is to have just one calendar, he

said.

The reason is that you are just one person and

you only have so much time in a week. By having

one calendar, you hammer home that point home,

Crenshaw said. Also, it's easier to stay organised

that way.

5

And don't schedule every minute

of that calendar.

Along those lines, Crenshaw recommended not

trying to fill up every minute of your calendar with

tasks, meetings and appointments. Instead, give

yourself time to handle the unexpected or even

just to give you time to reflect.

6

Schedule your vacations well in

advance and make a plan.

Often, before we go on vacation, we work more

and our work-life balance is thrown out-of-whack.

To fix this, Crenshaw recommends scheduling your

vacations as far in advance as possible and then

planning accordingly.

It's also essential to keep your vacations free

of work. This will actually allow you to be more

productive when you get back, as often your best

ideas come when you aren't so consumed by the

daily grind.

7

Proactively schedule time when you

are hit with something unexpected.

We all have unexpected events in our lives,

whether they be positive or negative, which can

drastically change your work-life balance. Using a

positive example, your business suddenly booming

is a great thing, but it can also mean more work

and therefore affect your work-life balance.

How should you handle unexpected events like

this?

First, acknowledge the unexpected event and

realize the impact it's going to have on your time.

Then go to your calendar and literally schedule

time to allow yourself to either process that

unexpected event (if it's negative) or make time for

it (if it's positive). The quicker you can make a plan

for dealing with whatever the unexpected event is,

the better you'll be able to handle it.

8

Focus on results, not busyness.

Finally, Crenshaw said the biggest key to having

a great work-life balance is changing your

perception. And that means focusing on results,

instead of busyness.

For example, you aren't successful because you

work 10 hours a day or even if you are a top-five

salesperson at your company if that's affecting

other parts of your life. You're successful if you

are getting positive outcomes in all areas, meaning

happiness in your job and happiness in your

personal life.

That means valuing both your personal and

professional time equally. The quicker you do that,

the quicker you'll attain a lasting work-life balance.

Along with time management and other business

skills, LinkedIn Learning has thousands of courses

on the latest tech and creative tools. MBR

Credit: LinkedIn Learning

CELEBRATING

6 YEARS

OF ENTREPRENEUR

EXCELLENCE

INFO

FOR FURTHER

INFORMATION PLEASE

CONTACT

Margaret Brincat

• M: 9940 6743

•

VISION, GROWTH AND PEOPLE

40
---
Malta Business Review

F&B INTERVIEW OF THE MONTH

WASTE MANAGEMENT

Malta Business Review

BEYOND

EXPECTATIONS...

By Jean Paul Abela

When sitting down with Noel Borg of Mannarinu Caterers, the conversation inevitably turns

to the humble beginning of their catering business in the 1950s. Years later the business was

inherited by the younger son Noel and his wife Bridget who nowadays along with their two

sons manage a company committed to creating catering that surpasses expectations.

"Going that extra mile for our clients has

always been part of our vision as we seek

to provide delicious food with added

touches of class, creativity and quality,"

says Noel Borg of Mannarinu Caterers.

Nothing sets the tone of one's celebration

quite like an elegant, delicious menu.

One of the most important choices one

will make, as far as guests' enjoyment is

concerned, is the cuisine one chooses to

offer. Whether one is having a reception

with an offering of small bites and

tasty treats, or planning out a refined,

three-course meal – one must have full

confidence in his wedding caterer.

The hallmarks of Mannarinu caterers

With over 50 years' experience in the

industry, Mannarinu and its highly trained

team has the knowledge to guide it's

clientele to perfection. Mannarinu has keen

attention to detail, high level of customer

service coupled with a true sense of style in

food display and table settings.

The team is passionate about making every

event an incredible experience, regardless

of the size. Whether entertaining a few

friends for a special occasion, hosting a

substantial amount of guests for a lavish

gala, or planning a garden wedding,

dedicated staff will assist the clients' needs

and challenges before flawlessly planning

the event.

What kinds of cuisine does Mannarinu

Caterers specialise in?

Mannarinu is well known for its vast

selection of food items, from traditional

delicacies to recent innovations. All items

are carefully produced locally from the

finest and most natural ingredients with

no added preservatives. Mannarinu can

also customise menus to one's unique

taste. Food stations are a creative way to

showcase the character of the new couple

while wowing guests and pleasing an array

of picky palates. Mannarinu's signature

dishes exquisitely fuse classic recipes

along with innovative items. Guests may

feast their eyes and bellies with spicy

tuna, crazy crab, cooked salmon and Ebi

kyuri at the Sushi table. The key to a show

stopping coffee table is all in the detail and

understanding on how best to display your

delicacies. With over thirty types of mini

petite fours and two chocolate fountains,

our coffee table makes a statement at your

wedding. The Cheese and Parma table

includes cheeses from a variety of regions

as well as quality salami and Parma ham.

The Pasta table also offers an array of

pasta accompanied with different sauces.

For an extra touch of class and celebration,

guests will have the opportunity to choose

from a selection of whiskies from the

Whisky Bar.

The key to a show stopping

coffee table is all in the detail

and understanding on how

best to display your delicacies

Although Mannarinu's past has been a

celebration of success and the present

is very bright, the journey never stops.

The future entails continuous hard

work. "You're only as good as your last

performance. The past is part of history

but you have to build on last week or last

night's performance to ensure the future

remains strong," explains Noel. MBR

All Rights Reserved / Copyright 2017

Wasteserv acquires National

Champion status in the European

Business Awards

WasteServ Malta Ltd is

one of the Maltese

National Champions

selected for The European Business

Awards 2016/2017. The independent

awards programme, sponsored by RSM

International, now in its 10th edition, has

tens of thousands of participants and this

year spans 34 different countries.

Wasteserv entered the competition

under the Environmental and Corporate

Sustainability award category and

has been chosen after the first phase

of judging. The independent panel

evaluated participants on the core values

of innovation, ethics and success and

National Champions will now go through

to the second stage of the competition,

which also includes a public vote. You

can watch our story & vote for us by

Wednesday 1st March!

http://www.businessawardseurope.

com/vote/detail-new/the-awardfor-environmental-corporatesustainability-1/19836

Wasteserv Chairman, Mr David Borg said,

"It is truly an honour for Wasteserv to have

been selected as a National Champion

in this prestigious competition. We are

extremely proud of the work we've done

so far to serve the local community and

we are glad to see our achievements

being recognised at this level in Europe."

Wasteserv's success in improving

drastically the waste management

infrastructure in Malta over the past 2

years formed the basis of the company's

entry into the competition. Between

April 2015 and February 2016, Wasteserv

Malta inaugurated 4 new facilities – a

Civic Amenity site at Ta' Qali, a central

location in Malta, an Autoclave Rendering

Plant complementing the incinerator

facility in Marsa, an underground

new waste facility in Gozo and finally

the biggest achievement being the

inauguration of the €50 million 'Malta

North' facility located within the Magħtab

Environmental Complex. In line with

Wasteserv's vision, a vision redefined

following a rebranding exercise launched

in July 2015, all these new facilities

contribute to 'creating resources from

waste' either through the preparation

of materials for recycling or through the

generation of renewable energy from the

treatment of non-recyclable waste. MBR

For further information:

www.businessawardseurope.com

www.wasteservmalta.com

42 43

www.maltabusinessreview.net
---
Malta Business Review

BUSINESS TURNING POINT SERIES

BeSmartOnline!

Malta Business Review

BeSmartOnline!

continues the fight

against online risks:

Funds allocated for

the 4th phase of

the BeSmartOnline!

project. A number of

initiatives planned to

be implemented over

the next 30 months

Lessons all entrepreneurs can learn from business pivots

By Nathalie Clarkson

According to one estimate, as many as 20 per cent of businesses have undergone a significant transformation as they

have grown. Whether your business is looking to pivot or not, there are important lessons to be learnt from this trend.

Are you at a turning point in your life or career? Then read on to find the inspiration for making the most of it.

Listen to your

customers

No matter what

kind of product

or service you're

running you need

to know what your

customers think of it. Photo

sharing service Flickr started

life as an online roleplaying

game, but they realised that

the most popular part of their

offering was the small photo

sharing element. When it came

to looking at pivoting, it was

clear to the team what direction

the product should be going in

as they knew what their users

liked.

"It turned out the fun was in the

photo sharing," Caterina Fake,

co-founder of Flickr, said in a

2006 interview with USA Today.

"Had we sat down and said,

'Let's start a photo application,'

we would have failed. We would

have done all this research and

done all the wrong things."

Take inspiration

from everything

Had Howard

Schultz not

travelled to Italy

in 1983, your

morning coffee

could look very

different. The Starbucks CEO

was inspired by the European

coffee shops that he visited

to change the direction of the

business.

"I saw something in Italy which

was the genesis of it all,"

Schultz said in a 2013 interview

with ABC CBN. "What I saw

was people coming together

and human connection over

coffee and it was the romance

of the beverage that was the

genesis of the idea."

In the same way,

entrepreneurs should always

be aware of what they're

seeing and experiencing and

consider how it could affect

their business.

Think outside

the box

N i n t e n d o

might now be

synonymous with

video games but

the company's roots

are actually in trading cards.

Between the years of 1889 and

1956, the company exclusively

created playing cards. It wasn't

until they found themselves

struggling to survive in the

Japanese toy market in 1966

that the company developed its

first product, an extending arm

released as the 'Ultra Hand' in

time for the Christmas rush. It

sold over a million units.

However, the story goes that

this toy would never have been

created had it not been for

maintenance engineer Gunpei

Yokoi who was responsible for

fixing conveyor belts at the factory.

He developed the product for his

own entertainment. However,

spotting it in the factory was

potentially the best move Hiroshi

Yamauchi, president of Nintendo

at the time, made as Yokoi went

on to create the Gameboy –

one of Nintendo's most popular

products of all time.

Stay ahead of the

game

Android started

its life as a camera

operating system

that would allow

users to connect

their camera to their PC.

However, the team quickly

realised that the sharp decline

in camera ownership meant

that their product was heading

for a niche market. As such,

they decided to pivot into

mobile operating systems – a

market where there was and

is a huge potential for growth.

"We decided digital cameras

wasn't actually a big enough

market," said co-founder Andy

Rubin. "I was worried about

Microsoft and I was worried

about Symbian, I wasn't

worried about iPhone yet."

Launching with a mobile

operating system in 2005 put

Android significantly ahead of

their major competitor Apple,

which didn't enter the market

until 2007 – which offers an

explanation as to why Android

enjoyed a 88 per cent market

share in 2016. MBR

Creditline: Virgin Group Digital

Following the successful application

for EU funds under Connecting

Europe Facility, the fourth phase of

the BeSmartOnline! project was officially

launched during a press conference held

this morning.

This marks yet another important

milestone for the consortium, which

can now continue its work as the 'Safer

Internet Centre' in Malta.

BeSmartOnline! has been the national

flagship initiative that promotes the

safer use of the Internet for the past

six years. These funds will allow it to

carry on this mission over the next 30

months. The project is coordinated by

the Malta Communications Authority and

implemented through a consortium made

up of the Foundation for Social Welfare

Services, the Office of the Commissioner

for Children, and the Directorate for

Quality and Standards in Education (DQSE).

The overarching mission of the consortium

is to proactively safeguard the well-being

of children as they navigate and explore

the Internet in order to ensure a positive

online experience. It also aims to help

children fully recognise and reap the

benefits of the many opportunities that

the Internet can present. This is done

through the implementation of a number

of awareness-raising and educational

initiatives targeting children and their

supporting networks, particularly parents,

carers, and educators. In this regard, the

learning objectives and outcomes of the

Personal, Social and Career Development

(PSCD) subject, which focus on digital

citizenship, are instrumental in reaching

all students within compulsory schooling.

Appoġġ, through the Foundation for Social

Welfare Services, has been offering the

services of a helpline, which is provided

through the national supportline 179,

through which the general public,

especially children, carers and educators,

can seek help in the event that they have

fallen victim to, or encounter cases of

online risk. The helpline has had significant

impact, receiving over 270 calls in 2016,

with cyberbullying and sexting topping the

reasons for support.

Aġenzija Appoġġ also administers a hotline,

an online portal accessible through www.

childwebalert.gov.mt where individuals

can report websites containing images

or videos depicting child sexual abuse

material (CSAM) . In 2016, approximately

32 web pages containing over 3200 child

sexual abuse images were analysed and

inputted in the iCCAM platform. Through

this platform the Maltese Hotline alerts

international colleagues about CSAM

hosted on their countries' servers. As

of last year, the hotline also started

contributing to the ICSE (International

Child Sexual Exploitation) image database

managed by Interpol.

A number of resources developed over

the past year were also presented during

the launch. Resources included: a digital

game that promotes critical thinking

and which has since been installed on

all tablets distributed in primary schools.

The PSCD section with the Department of

Curriculum developed workbooks for all

students in years 3, 4 and 5.

Commenting during the launch,

Minister Emanuel Mallia highlighted the

importance of finding the right balance

between on the one hand harvesting an

economic environment that supports the

proliferation of innovative technologies

and services and, on the other hand,

instilling the necessary skill set in the

younger generation and the supporting

community to ensure a healthy and positive

digital experience, without engendering a

sense of fear of technology. 'Our aim is

to ensure that everyone fully enjoys the

benefits of technology. Whilst the benefits

are plentiful, risks are still a reality and

they need to continue to be addressed.

This project, together with other initiatives

such as the Malta Security Strategy, which

will be launched in the coming weeks,

contribute to making the Internet a safe

place for our users. It is heartening for me

to see such collaboration between entities

and the truly positive outcomes that are

resulting,' continued the Minister.

On his part, Minister Evarist Bartolo

lauded the initiatives being undertaken

and how these are fully supporting

and complementing the digital literacy

programme. 'The synergies created

between the BeSmartOnline! project

partners and numerous education

departments it has worked with over the

years are truly commendable and proof

that pulling the same string can really

render results. Although digital natives,

our students still need to understand and

appreciate the need for proper online

conduct—it is not a technology issue, but

rather a behavioural one. Just as we teach

them the rules of the street, we need to

instil the same mindset for the online

world. The BeSmartOnline! project has

been instrumental in this regard and the

initiatives rolled out over the years have

truly complemented our digital literacy

programme.'

Minister Michael Farrugia made

reference to the importance of a strong

support system and the indispensable

services offered by the helpline 179 and

the hotline. 'Education and technical

knowledge are both critical elements

that need to be addressed in a coherent

manner and it is highly reassuring to see

that the BeSmartOnline! Project is doing

exactly this. MBR

Creditline: Doi/The Ministry For Competitiveness

And Digital, Maritime And Services Economy

44 45

www.maltabusinessreview.net
---
Malta Business Review

MARKETING

MARKETING

Malta Business Review

A

new generation of businesses (new

technologies, new business models,

new leadership) is emerging to

address a new generation of customers

(new audiences, new geographies, new

aspirations). Marketing exists to connect

businesses and customers, in relevant and

profitable ways.

A new approach to marketing is therefore

required. Some of the new approaches,

and maybe the language, will be familiar.

But not all, and not joined up as a

fundamental approach to driving business

performance. Together, some call it

Marketing 4.0 or Exponential Marketing,

but whichever labels you apply, it involves

a seismic shift in philosophy and practice.

It fundamentally challenges every

marketer who still turns first to their

strategic plan. And then to their advertising

agency, or even their web developer.

It is fundamentally digital in mindset,

but human as well as technological. It

demands analytical thinking, content and

networks, but also vision and creativity.

It requires new types of leaders, and a

new mindset for every marketer. It is built

around 7 transformations. These are the

"new rules of marketing" ...

The New Rules of

MARKETINGBy Peter Fisk

4. Brand Storytelling

Forget brands built around

who you are – brand logos,

slogans and ownership.

People engage with brands

about them, brands that

reflect their aspirations, and

brands that connect them

with other people who share

their values and aspirations.

Brand stories are living

fables, encouraged by the

company, but interpreted and

spread by people to people.

Content must be realtime and

relevant, and keep moving

forwards. Encouraged but not

controlled. Inspiring, human

and memorable.

5. Social Influencers

Forget advertising, whether a

TV campaign with 30 second

slots, or even personalised

mailings – people are not

listening, and they don't

trust you. Instead they trust

people like them, friends and

peers. Word of mouth in a

digital world, PR and celebrity

endorsement is replaced by

Instagramers or Youtubers

who they trust. Brand stories,

advocates, and community

building help to guide and

shape this influence.

6. Enabling Experiences

Forget customer experiences

as a semi-automated series of

incentivised touchpoints built

around the "sale", think instead

from a customer's perspective.

Think about the experience

they have – the outcomes, not

the inputs, what they do not

what you do. Which is usually

more about how they use,

apply and exploit the products

and services which they buy,

rather than the purchase itself.

Use their language, think about

their experience, and how they

use, store, apply and even dispose

of products and services.

Enable them to achieve more.

7. Exponential Growth

Forget an obsession with sales

volumes, even revenues, which

are the short-term measure

of sales people. Marketers

should be focused on growing

the business – profitably and

sustainably – creating a better

business future, and a longterm

platform and guide for

customers. Think profitably.

Think growth. Think economic

value creation. Exponential

growth is now the expectation

of investor, achieved by

harnessing the power of

branded networks, social

influence and agile business

models. Fast, exciting and

rewarding.

1. Growth Hacking

Forget strategic planning that is slow,

structured and stable – instead think

of strategy like a portfolio of fast and

relentless experiments, seizing and shaping

the best opportunities for growth. It still

needs direction and choices – a vision still

matters, making sense of change, having

a clarity purpose, and a defined context

in which to hack. Strategy becomes agile

and creative, outside in, big ideas and

small experiments, driven by changing

markets and customer aspirations, rather

than fixed by your own capabilities and

products.

2. Customer Analytics

Forget mass-market segmentation,

whether geographic, demographic or

anything else. People are individual,

and don't want standardised solutions.

The power of big data, connecting and

interpreting, automating and exploiting

– together with more qualitative and

creative insights through customer

immersion and "design thinking" – is

used to focus, engage, customise, deliver,

support, enable the right customers over

time. Linking to the hack culture, is the

ability to keep learning, about people,

about yourself, and what works.

3. Platform Innovation

Forget innovation around a product, or

even a service. Think strategically about

how you can shape the market, in particular

the platform that engages buyers and

sellers, suppliers and distributors. Business

model innovation, channel innovation,

price innovation, then follow. Innovation

is about shaping the market and all its

dynamics to your advantage, whilst also

personalised for each individual through

micro-innovation – collaborative and

customised solutions and experiences.

These new rules of marketing, and specifically

the 7 transformations, are the cornerstones

of my next book and also of a new range of

inspiring keynotes and practical workshops.

We explore each mantra in detail, with

detailed case studies together with the tools

and partners for action.

a provocative challenge for change. Of

course, solutions are not black and white.

Every business still has a mix of structured

and hacked strategy, uses a box of earned

and paid media, and has a balance of push

and pull. But it is a rapidly changing area,

a revolution.

the future, engages the customer and

aligns the organisation to deliver. It is the

growth engine, the innovation catalyst and

customer champion. Markets are changing

at incredible speed, requiring new agility

and new capability.

Whilst of course, every market and every

business is different, the 7 mantras are

Marketing is the driving force of business

– it moves the business forwards, shapes

There has never been a more exciting time

for marketing, or to be a marketer.

MBR

46 47

www.maltabusinessreview.net
---
Malta Business Review

ECA REPORT

Malta Business Review

European Court of Auditors Report

2015 presented to Parliament

Photo: DOI / Pierre Sammut

"For a reform to work it has to be built

on transparency and accountability,

together with strong financial foundations.

Citizens cannot possibly begin to consider

trusting the European Union Institutions

unless they are convinced that we are

appropriately taking care of their money

and that we are keeping a good account of

how we are doing this."

This was the message delivered by Mr Leo

Brincat, Member of the European Court

of Auditors (ECA) when on Monday, 12

December 2016 he presented the Court's

Annual Report covering the financial year

2015 to Deputy Speaker Ċensu Galea

and then to a joint session of the Public

Accounts Committee, the Economic and

Financial Affairs Committee as well as the

Foreign and European Affairs Committee.

The ECA Member said that European

citizens are interested in the source of

the budgetary funds; how they are spent;

what is the present financial situation; and

whether the accounts represent a true and

fair view, as well as whether the estimated

overall level of error remains significantly

above the materiality threshold of 2%.

People want to know whether the

European Institutions are transparent in

the way they manage these finances, even

more so at a time when public interest

and awareness are becoming increasingly

evident as to the determination of whether

there were errors, waste and/or potential

fraud during the past financial year. Saying

that the level of error stood at 3.8% does

not mean that €5bn from the EU finances

were wasted. What would have actually

happened is that, at the testing stage the

ECA would have verified whether the EU

budget was used in accordance with their

intended purpose, whether the costs

charged were properly calculated, and

whether the eligibility conditions were

adhered to. In fact, the percentage of 3.8%

refers specifically to this.

The report clearly shows that errors relate

mainly to ineligible costs being declared

by beneficiaries. Additionally, some of

the projects that were examined did not

meet eligibility conditions set out in the

regulations and/or the national eligibility

rules.

Mr Brincat announced that while the

European administrative expenditure had

the lowest estimated level of error (0.6

%), the Court again found the highest

estimated levels of error in EU spending

under 'Economic, social and territorial

cohesion' (5.2 %) and for 'Competitiveness

for growth and jobs' (4.4%). The ECA

Member remarked that if the Commission,

authorities in the Member States or

independent auditors had made use of

all information available to them, they

could have prevented, or detected and

corrected a significant proportion of the

errors before the related payments were

made.

Mr Brincat highlighted the expressed EU

Audit's concern that the Commission has

not produced a cash flow forecast covering

the next 7 to 10 years. He made this

remark in view that such a forecast would

EDITOR'S

Note

enable stakeholders to anticipate future

payment requirements and budgetary

priorities. The ECA Member also welcomed

the spending of EU money in line with the

principles of sound financial management:

economy, efficiency and effectiveness.

In the 2015 Annual Report, Malta is

mentioned generally in the context of the

reporting data on all 28 Member States,

as well as being sampled for reviews in

the Court's assessment of the European

Commission's control systems. During

2015, no specific findings on Malta were

reported in the Annual Report.

During the meeting, Mr Brincat explained

in detail the Court's commitment to

further renew and strengthen itself, after

pointing out that the ECA is presently

facing a number of new challenges and

opportunities.

He concluded by saying that as the Court

is approaching the 40-year mark since its

establishment, its commitment towards

its inter-institutional enhancement and

strengthened links with stakeholders is

increasing thus, helping it to continue

working towards fulfilling its own mission

MBR

statement.

Creditline: House of Representatives/DOI

The European Court of Auditors is the independent external audit institution of the European Union

established by the EU Treaty. The ECA plays a crucial role in ensuring effective EU accountability to

citizens for the public funds put at stake to meet EU objectives by identifying risks to the financial interests

of EU citizens; providing independent assurance on EU financial management; and advising policy makers

on how to improve the use of EU public funds. The Court of Auditors operates as a collegiate body of 28 Members, one from

each Member State. The college adopts: Annual reports (on the EU budget and the European Development Funds, covering the

reliability of accounts, the regularity of income and spending and performance issues); Specific annual reports (on EU agencies and

bodies); Special reports (assessing the economy, efficiency and effectiveness of selected areas of the EU budget); Landscape reviews

(on selected areas of EU policy, analysing broader challenges and long term trends) and Opinions (on new or revised rules and

regulations with financial impact audit reports and opinions by the Court). ECA's publications contribute to public oversight of

the implementation of the EU budget and to informed decision-making on EU governance arrangements, policy and programme

design and the allocation of EU funds. Spending totalled €145.2 billion in 2015, or around €285 for every citizen. It represented 2.1

% of the total general government spending of EU Member States. The full 2015 Annual Report of the European Court of Auditors,

together with other materials, including photos and videos, can be accessed on the ECA website at http://www.eca.europa.eu/en/

Pages/AR2015.aspx

48 49

www.maltabusinessreview.net
---
Malta Business Review

iGAMING: THE EMPLOYER BRANDING TOUR

Videoslots.com

A workplace away from work

FOR SALE

buy. sell. rent. consult.

FOR SALE

By Thomas Mahoney

We thank you for tuning in again to read about the forefront of employer branding. Our tour's second

stop takes us to a leading iGaming employer brand…Videoslots.com

Videoslots.com boasts to be the

world's largest and most innovative online

casino offering players over 1800 games,

exceptional customer service and unique

features like no-other. A Casino that is

constantly coming up with Innovative

products and ideas such as the unique

'Battle of Slots'. The organisation's core set

of values are introduced by the following

phrase; 'Tickle the Family', which stands

for; Transparency, Innovative, Creative,

Kick-ass, Leaders, Entrepreneurs and

Family members.

When walking through the front door at

Videoslots.com the instant feeling one gets

is purely colourful and fun! It feels exactly

like walking into a luxurious home with the

most part of it being an office. Visually it's

an attack of cool ideas such as mural art,

office décor and an overlay of green colour

coming from numerous clusters of plants

at the end of each line of working stations.

This organisation really embraces their

employer branding concepts! Videoslots.

com promises anyone who forms part

of the 'family' to benefit from working

in brand new offices and in an eclectic

ambience with great flexibility.

I was toured around by Lorraine, the Events

and Office Coordinator and Ulle, the Chief

Operating Officer whom both introduced

me to their growing concepts. As their

slogan states, working there just feels like

a work place away from work, rather than

spending another day at a regular office.

On route to satisfying their objective they

have created a cosy and comfortable

working atmosphere. This also contributes

to maximize the best working attitudes

whereby staff members are extremely

friendly, and everyone is ready to assist

other team members to highly perform

and progress well.

By now you would think, 'WOW, this is just

great'. Wait, there is more! The top floor is

mostly dedicated to employee recreation.

One can find a stunning terrace with ample

space, chairs and tables for recreational

purposes, from where one could also

work or also hold team meetings or team

events.

The product brand is very customer

centric, and the customer support agents

are highly trained on all the products and

EDITOR'S

Note

services Videoslots.com offers before they

are permitted to effectively participate on

the job and get in contact with customers.

Employees also partake in 'team leader'

battles giving support agents a platform

to showcase their skills sets and abilities,

which gives them a chance to get noticed

and to climb a step higher in their personal

career at Videoslots.com.

Managers are continually trained on

leadership skills by an external company

using the company's values to develop

themselves, as well as to perform better

and achieve more for the organisation.

Most recently, two of the casino's senior

members were chosen as the winners

of iGaming Idol in Malta. They picked up

awards for 'Product Idol of the Year' and

'Customer Service Idol of the Year'.

Amongst the most generous employer

branding initiatives here are some of the

most prominent ones; a generous annual

fitness allowance; 'My Plan' development

program; flexible working hours' scheme;

fresh fruit daily; weekly get together over

a fully-fledged breakfast; monthly team

events, social parties, days out, and other

activities; VIP tickets to cultural events,

festivals, and football matches; travel car

allowance; transport for shift workers; and

last but not least an annual company trip

(this year featured an all-inclusive 5*****

trip to the colourful city of Barcelona).

When walking through the

front door at Videoslots.com

the instant feeling one gets is

purely colourful and fun

My visit narrative says it all, there is

merely anything else I can add. Would I

recommend this organisation? Absolutely

YES! Videoslots.com is a true employer

branding example. TOP! MBR

Thomas Mahoney (MBA) is an Employer Branding Specialist & Project Director

at the Malta Gaming Authority.

C

M

Y

CM

MY

CY

CMY

K

IKLIN FULLY DETACHED BUNGALOW

€1,800,000 PP16117

Located in a highly sought after area Spread over 1150sqm of

land Dining/sitting room Spacious kitchen leading to outdoor

area Pool with a large BBQ area Three bedrooms Three

bathrooms An interconnecting three car garage Underlying,

fully equipped, three bedroom flat-let Surrounding garden

BORMLA

PALAZZINO

€550,000 PP20142

Baroque style, semi-converted 17th Century Palazzino Ideal as

a Boutique Hotel Central courtyard, Sala Nobile, barrel vaulted

high ceilings, birth room, rain water cellar Airspace Can be

developed further

ST.JULIAN'S FULLY DETACHED VILLA

€3,500 MONTHLY LFDV38296

Furnished, fully detached villa Open plan kitchen / living /

dining Pool with decking area Three/four bedrooms

Three bathrooms Fully equipped flat-let

SALES

48, Erin Serracino Inglott Street, Iklin, Malta

(+356) 2258 4000 (+356) 9999 9983

FOR SALE

TO LET

SLIEMA

APARTMENT

€1,550,000 PP19781

Forms part of the prestigious Tigne Point development An

internal are of 177sqm Entrance hall Fully equipped Kitchen

including Siemens appliances Living/dining area leading to a

spacious front terrace with open sea views Two bedrooms Two

bathrooms (one en suite) 2 parking spaces Highly finished

including parquet/marble flooring, intelligent lighting, motorized blinds

VALLETTA

CORNER APARTMENT

€300,000 SAPT38316

Meters away from the heart of Valletta Brand new

73sqm Corner apartment Fully finished Served with

lift

ST.JULIAN'S

APARTMENT

€1,450 MONTHLY PP18834

Five minutes away from St. Julian's promenade Brand new,

highly finished Fully furnished Spacious kitchen / living /

dining area leading to a front balcony with distant sea views

Three bedrooms Two bathrooms Optional garage

LETTINGS

65, St George's Road, Spinola Bay, St Julian's, Malta

(+356) 2258 4010 (+356) 9999 9983

FOR SALE

TO LET

50

info@benestates.com

benestates.com
---
Malta Business Review

ECONOMY

BUSINESS APPOINTMENT

Malta Business Review

An Economy

Mediterrania Capital Partners appoints

Senior Director for Sub-Saharan Africa

that is facing a

number of threats

I

n its staff concluding Statement on Malta published on 16 December 2016, the International

Monetary Fund (IMF) gave its assessment on the Maltese economy. Similar to the assessment

given by the Central Bank earlier on this month, the IMF's report speaks of an economy that

is growing but also of an economy that is facing a number of threats.

The IMF in particular makes reference to:

• the possible negative effects of Brexit on the Maltese economy;

• the economic and financial risks arising out of the rapid increase in property over the

past months;

• the need for more responsible and sustainable public spending;

• the delay in Air Malta's restructuring;

• Enemalta's elevated government-guaranteed debt;

• the need to incentivise long-term savings and for further measures to align the

effective retirement age with life expectancy;

• challenges being faced by the local banking sector;

• the need to bolster further the resilience of the private sector;

• the need for ongoing vigilance of the financial sector particularly in view of the

demand for the Individual Investment Programme (IIP) and of the importance played

by the financial services sector and gaming sector to the local economy.

None of these points were made by the

DOI which was, again, selective in its report,

seeking to hide from the public the full picture

of what is being stated by the IMF.

These points were raised by the Nationalist

Party over the past months. Our economy

could very well be skating ahead but one

needs to constantly check on the thickness

of the ice beneath our feet. It is clear from

both the IMF and Central Bank's reports that

there are cracks in the system which need

to be addressed while there is still time. Left

unchecked, these cracks could lead to very

serious consequences and threaten the

sustainability of our economy.

The Nationalist Party is again calling on

government to take heed of these challenges

and of the challenges highlighted by the

Central Bank of Malta rather than focusing

solely on the selective economic indicators.

The Nationalist Party furthermore refers to

its policy papers, in particular to the two prebudget

documents, to the policy paper An

Economy for the People and the Policy for

Retailers, containing hundreds of proposals

that can help boost the country's economic

performance even further.

The Nationalist Party reiterates the need for a

stronger focus on small economic activities, in

particular to start-ups and innovation-driven

enterprises. The future of our economy

cannot be sustained merely on the back

of consumption trends but needs to be

based on substance and a strong local SME

environment. MBR

Creditline: From PR signed by Mario de Marco,

Deputy Leader of Parliamentary Affairs &

Shadow Minister for Finance, PN; Claudio Grech,

Shadow Minister for the Economy, PN.; PN Media

INSIST PN

OFFICIALS

Strategies to

combat the dangers,

drive productivity

enhancements, and

build present and future

prosperity.

31 January 2017, Malta/Barcelona.

Mediterrania Capital Partners, the

regional Private Equity firm focusing on

growth investments for companies in

North African and Sub-Saharan countries,

announces the appointment of Mr Pacôme

Zahabi as Senior Director for Sub-Saharan

Africa, based in Abidjan.

With 20 years of professional experience in

the finance industry in Africa, Mr Zahabi is

responsible for identifying new investment

opportunities and driving financial and

risk analysis of potential projects. He is

also in charge of the legal processes and

negotiations related to new investments,

for the monitoring of Mediterrania Capital

Partners' portfolio companies in the region

as well as for the exit strategies.

"We are delighted with the appointment of

Mr Pacôme Zahabi to lead our operations

in Sub-Saharan Africa. Mr Zahabi's strong

financial background and deep experience

in a wide range of industries and markets

are an enormous asset for Mediterrania

Capital Partners, and make him the ideal

candidate to drive our expansion plans in

the region", said Albert Alsina, CEO and

Mr Pacôme Zahabi, Senior Director for the Sub-Saharan region, Mediterrannia Capital Partners

Managing Partner of Mediterrania Capital

Partners.

Prior to joining Mediterrania Capital

Partners, Mr Zahabi collaborated with

La TULIPE Group, an Independent

Advisory and Investment Banking Firm

which offers financial services to Private

and Corporate Sector Organisations,

Institutional Investors, Family Offices, and

Governments. Mr Zahabi also worked

at NSIA Participants, SA, where he was

Group Head Investments, and spent three

years at UBA Group in different positions

related to Credit Analysis, Global Investor

and Securities Services, and Business

Development. Mr Zahabi also worked at

the Central Depository & Settlement Bank

(DC/BR) as Head Operations and Business

Development for Ivory Coast and West

Africa; and at the Bourse Régionale des

Valeurs Mobilères (BRVM) for Ivory Coast

and West Africa, as CFO.

Mr Zahabi is a graduate from ESLSCA,

Paris, France; and holds a Master's Degree

in Audit and Consulting from ESCP-AP from

Paris, France. He speaks English, French

and Spanish. MBR

About Mediterrania

Capital Partners

Mediterrania Capital Partners (www.

mcapitalp.com) is a dedicated Private Equity

firm focusing on growth investments in

SMEs and mid-cap companies in Africa.

The company started its operations in 2008

under "Fons Mediterrania Capital" and since

2013 is an independent General Partner

Structure. With offices in Abidjan, Algiers,

Barcelona, Casablanca, Tunis, and Malta,

Mediterrania Capital Partners takes an

intensely proactive, hands-on approach to

implementing its growth strategy by leading

the governance of the companies and driving

the key internal value creation process.

The partners of Mediterrania Capital have

extensive experience in managing companies

spanning commercial experience, strategy

formulation, finance, and operations.

Consistent with its strategy, Mediterrania

Capital Partners continues to search for

SMEs with an equity value of €25 million

to €400 million and expansion strategies

into North African and Sub-Saharan African

markets. Mediterrania Capital Partners is

a regulated financial investment manager

licensed by the Malta Financial Services

Authority (MFSA). Mediterrania Capital II is

also an MFSA regulated Private Equity Fund.

For more information, please contact

communications@mcapitalp.com.

Website: www.mcapitalp.com YouTube

channel: www.youtube.com/channel/UCmBxa-

EDilIWakYJr1_J6SQ LinkedIn: www.linkedin.

com/company/mediterrania-capital-partners

52 53

www.maltabusinessreview.net
---
Malta Business Review

MALTA GOVERNMENT SECURITIES

EU TOP STORY

Malta Business Review

Malta Government Securities

2017 Indicative Calendar

Securities with maturity of more than one year

Maximum amount of issuance

The Treasury announces that the issuance

of Malta Government Securities with

maturity of more than one year for the

financial year 2017 has been set not to

exceed € 600 million.

Purpose of issuance

It is planned that the funds raised from the

borrowing programme shall be applied to

finance the Central Government borrowing

requirements for 2017 including:

• The redemption of five (5) MGS issues

amounting to €371,824,689 which are

due to mature as hereunder

20th August

2017 € 71,963,700

3.75% MGS

2017 (IV)

• Financing of Central Government

deficit estimated at €128.3 million; and

• Effecting changes in the Central

Government debt portfolio, as and

when required, in line with the

Government's debt management

policies.

Types of issuance

The issuance programme will be covered

by the issue of three different types of

securities:

• The conventional fixed rate MGS;

• The Floating Rate MGS (FR Bond)

linked to the six month Euribor; and

• Malta Government Savings Bonds

The conventional fixed rate Malta

Government Stock shall be the Treasury's

primary financial instrument by which to

fund the central government borrowing

requirements during the year 2017.

Maturity and terms of issuance of

Malta Government Stocks

The maturity structure of the 2017 MGS

issues will be a mix of short and medium

to long term MGS. The exact maturity and

details on whether the offer will be for a

new stock or a re-opening of an existing

MGS will be announced one (1) to two

(2) weeks prior to the opening of each

issuance.

The terms and conditions of MGS issues

will be published in the Government

Gazette prior to the actual date of each

issue.

Collective Action Clauses (CACs) in newly

issued Malta Government Stocks

In accordance with paragraph 3 of

Article 12 of the modified version of

The Treaty establishing the European

Stability Mechanism (ESM), all new MGSs

issued on or after 1st January 2013 will

incorporate the Model Collective Action

Clauses (CACs).

Treasury Bills

Antonio Tajani

elected president:

"I will be a

spokesman for the

whole Parliament"

Antonio Tajani was elected president

of the European Parliament on 17

January, succeeding Martin Schulz.

Tajani, an Italian member of the

centre-right European People's Party

(EPP) group and vice-president of

the Parliament, received 351 votes in

the fourth and final round of voting,

compared to 282 votes for Gianni

Pittella, the Italian leader of the S&D

group. His term in office will end in

2019, when the next elections for the

European Parliament will be held.

The election took four rounds of voting

over 12 hours. At the press conference

following the election, Tajani said: "This

was a long day of democracy."

The new president also thanked his

predecessor Martin Schulz for the work

he did as well as the MEPs who voted

for the other candidates, telling them he

would be a "president for everybody".

Tajani said he would seek to ensure that

Parliament would be strong and have its

views heard by the Council, representing

national governments in the EU. He also

said he dedicated his election to the

victims of last year's earthquakes in Italy.

The election on 17 January started at

9.00 CET with speeches given by the

candidates and concluded 12 hours

later with the announcement of Tajani

becoming president. In addition to Pitella,

the other candidates were Helga Stevens

(ECR, Belgium), Jean Lamberts (Greens,

UK), Eleonora Forenza (GUE/NGL, Italy)

and Laurentiu Rebega (ENF, Romania).

Guy Verhofstadt, the Belgian leader of

ALDE, was also a candidate, but withdrew

before the first in favour of Tajani. Tajani

received the most votes in every round

and the final round was only between

him and Pittella. MBR

Tajani served in the Italian army and worked as a journalist before entering politics

with Forza Italia. He was first elected to the European Parliament in 1994 and served

as a spokesperson for Italian prime minister Silvio Berlusconi, the leader of Forza

Italia, in 1994-95. He became the commissioner in charge of transport in 2008 and

take over responsibility for the industry and entrepreneurship portfolio in 2010.

Tajani, who holds a law degree and is married with two children, was re-elected as

MEP in 1999, 2004 and 2014. Following his latest re-election he was elected vicepresident

of the European Parliament. He is the Parliament's 30th president and the

15th since the first Parliament elections in 1979.

Avoid unnecessary legal costs when chasing your debts

5th

September

2017

FRN MGS

2017(V)

€25,000,000

Alongside the conventional fixed rate

MGS, the Treasury is expected to offer a

limited amount of the Floating Rate MGS

linked to the six-month Euribor via the

auction system for institutional investors

as well as a limited amount of Malta

Government Savings Bonds for pensioners.

Frequency of issuance

• Auctions will continue to be held on

a weekly basis, typically on Tuesday

of the auction week.

• The maturity structure of issues

will include a mix of 28-day, 91-

day, 182-day, 273-day and 364-day

Treasury bills.

Creditinfo Pressure Letters

An alternative method of collecting money owed to you

that is both Inexpensive and Effective

6th

November

2017

4.25% MGS

2017 (III)

€263,853,300

Ex-Church Property Stock redeemable

between 1st January 2017 and 31st

December 2017

7% MGS 2017 (I) € 668,998

7% MGS 2017 (II) € 10,338,691;

The Treasury intends to fund the financing

requirements for 2017 over four (4) to five

(5) issues. The first MGS issue is expected

to be launched in February 2017. The

issuance of the Malta Government

Savings Bonds is expected to be launched

in the second half of 2017. As part of its

issuance strategy, the Treasury will need

to retain the flexibility and capability to

adapt quickly to changing market and

other conditions and, where necessary,

review and readjust the amount that will

be allocated for each issue as well as the

intervals of issuances.

• The issuance is expected to focus on

the 91-day and 182-day tenor.

• An issuance calendar of Treasury

Bills showing the tenor, the auction

date and the issue (settlement) date

will be published in the Government

Gazette on a monthly basis for the

next month.

• The Treasury Bills Prospectus may

be viewed under the Treasury Bills

section on the Treasury's website at

www.treasury.gov.mt. MBR

Source: Ministry of Finance/DOI

Close to €500,000 of

debt paid back in 2016 alone

2131 2344 - info@creditinfo.com.mt - www.creditinfo.com.mt

Over 45,000 letters sent on behalf of

companies and individuals.

54 www.maltabusinessreview.net 55
---
Malta Business Review

COMPANY PROFILE FITCH RATINGS

Malta Business Review

A Business

IMPERATIVE

By David Demicoli

CasaSoft Ltd. is a team of highly creative

designers, talented developers and

strategic thinkers full of passion and

innovation. CasaSoft's aim is to help

businesses expand digitally and online, by

striving to deliver projects of exceptional

quality. We build outstanding projects

which are extremely user-friendly, highly

functional and which deliver results.

CasaSoft started off in Mark's bedroom,

the founder, who was following his

dream of showing local businesses how

to properly devise a digital strategy.

Today, CasaSoft has moved to new offices

and expanded its team to eight highly

talented individuals.

For CasaSoft, delivering high-quality

services, providing innovative solutions,

and sustaining the optimum customer

satisfaction, was a vision set from the

very early beginning. It realised from

the early beginning that this was what

customers were looking for. This has led

to CasaSoft's growth from an organisation

which was securing a few local clients,

to a leading organisation which is now

providing solutions to a wide portfolio

of high-profile, local and international

clients.

In September 2016, CasaSoft was

selected as the National Champion in the

European Business Awards, competing in

the category for the 'Award for Customer

Focus', which recognises organisations

that have enhanced their prospects and

profitability by putting the customer at

the heart of their business. The EBA is

Europe's largest business competition

set up to celebrate business excellence

and practice in the European business

community. The second stage of this

competition opened on January 9th 2017,

whereby the general public can vote for

their most preferred company. You can

support CasaSoft by watching their video

and voting for them on the EBA website

(www.businessawardseurope.com/vote/

detail-new/malta/19095). Your support

is greatly appreciated!

In November 2016, CasaSoft also won the

Malta's Best in Business Award as the Best

Online Web and Design Agency, for the 2nd

consecutive year. This award is awarded to

the best company providing the best digital

landscape, designing great experiences for

customers along the way.

These are not CasaSoft's first awards.

Amongst the various awards, some of the

other prestigious awards were the two

international Design Firms Awards in 2015

and 2011 and The Best Flash Website Award

in the Digital Arts 2009 Awards.

CasaSoft invests strongly in the quality of

service that it provides to its clients. This is

reflected in their 100% money back guarantee

which was launched in recent years. CasaSoft

involves its valued clients throughout the

entire project so as to be certain that it is

shaped and developed with them, designing

until clients are far more than happy, ensuring

an outcome which meets and exceeds their

requirements. CasaSoft provides its clients

with a long-term strategy with a profitable

return on investment.

CasaSoft's aim is to help businesses expand

digitally - whether it is with design and

branding, web design, web development,

software development, web applications,

and even marketing and strategy. They build

outstanding projects which are extremely

user-friendly, highly functional and which

deliver results. This is all done with impeccable

attention to detail which results in satisfied

customers and exceptional solutions. Most

of CasaSoft's clients reach to them directly,

either because they fall in love with their work

or else because they are recommended by

previous clients. This speaks volumes on how

highly regarded CasaSoft is by its past and

current customers. MBR

FIMBank welcomes

Fitch Ratings upgrade

Fitch Ratings has upgraded Malta-based

FIMBank's Long-Term Issuer Default Rating

(IDR) to 'BB', from 'BB-', and its Support

Rating to '3' from '5'. In its report, the rating

agency also confirms the outlook for the

Bank as being 'Stable'. The agency's report

highlights the fact that the upgrade takes

into account the demonstrated record

of capital and funding support provided

to FIMBank by Kuwaiti-based Burgan

Bank, and its sister bank, Bahrain-based

United Gulf Bank, as well as the increased

management and operational integration

of FIMBank with Burgan Bank.

Commenting on the news of FIMBank's

upgrade by Fitch Ratings, Group CEO

Murali Subramanian explained that "Strong

and demonstrated parental support as

required, for the funding and capitalisation

of FIMBank, is the main reason Fitch have

cited for this ratings upgrade. While we

welcome this decision, we believe the best

is yet to come. We have unrelenting focus

on delivering the kind of performance

which is expected to progressively render

ever stronger returns to our shareholders.

It vindicates our strategy based on a series

of organisational restructuring, operational

review, and cost control measures, which

we have been implementing over the past

18months". He added that "As a result of this

strategy, 2016 has been a turnaround year

for the Group, and this is also reflected in

the improved profitability of our operations.

Moreover, legacy misadventures of prior

years are being dealt with firmly, and will be

fully behind us in 2017".

Noting the dynamic process of

transformation being undertaken at

FIMBank, and its anticipated positive

effect on the Bank's profitability, the Fitch

Ratings report concludes by stating that "a

successful restructuring of FIMBank and a

strong recovery in its financial metrics could

result in FIMBank's VR being upgraded".

For more information about MBR FIMBank plc,

visit www.fimbank.com

CasaSoft Team at BiB Awards 2016

56 57

www.maltabusinessreview.net
---
Malta Business Review

FINANCE & ECONOMY

CSR/MALTESE LANGUAGE

Malta Business Review

Finance Minister meets European Banking Federation

Minister for Finance Edward Scicluna

met with a delegation from the European

Banking Federation, during which he

expounded on the priorities of the 2017

Maltese Presidency of the Council of the

European Union.

The meeting focused on the Capital

Markets Union, insolvency law, the need

for educational programs to empower the

public, risk reduction measures, taxation,

and solidarity among member states.

Furthermore, Minister Scicluna stressed

that Malta has the ability to assess the EU's

problems and challenges from a vantage

point which is different from other member

states, due to its size and geographical

position. He indicated that due recognition

should be given to the needs of the

Maghreb Region and the flow of economic

migrants from North Africa to the EU.

The European Banking Federation

delegation was led by Chief Executive

Wim Mijs, Head of Public Affairs Enrique

Velázquez and Head of Banking Supervision

Gonzalo Gasós.

Accompanying the Minister at the meeting

were Deputy Governor Central Bank

Alfred Mifsud, Permanent Secretary Alfred

Camilleri, Chief of Staff Tania Brown, and

Head of the Presidency Unit Matthew

Buttigieg. MBR

Sources: Ministry of Finance/DOI

Photo: DOI - Jason Borg

FIMBANK CSR

CLIPS ON MALTESE

LANGUAGE DESTINED

FOR SCHOOLS

The Nationalist Party

calls on Government to

act on the challenges

flagged by the Central

Bank of Malta

In its economic forecast published

recently, the Central Bank of Malta revised

downward its GDP growth projections

stating that "the most significant revision

arising in 2016. The downward revision

is mainly driven by the less upbeat

assessment for exports, taking into account

the negative surprise in goods exports

in the first half of the year and a less

optimistic outlook for foreign demand".

Besides projecting a deceleration in GDP

growth, the Central Bank is also predicting

a slight increase in unemployment in

2017-2019.

The Central Bank report also highlights the

risks associated with sustaining economic

growth with one-off measures, as revenues

from the IIP programme are expected to

be halved over the coming three years.

This report sheds light on the economic

and financial impact of a forecasted

decrease in government revenue resulting

from this drop. To mitigate for this drop

in revenue, the Central Bank is expecting

government to place a restrain on public

sector expenditure. The Central Bank is in

this context considering the new public

sector collective agreement as a possible

risk to maintaining fiscal projections on

target.

The Central Bank has also confirmed

that disposable income, - that is people's

available cash at hand - is drastically going

down as a result of this slowdown in

economic activity.

Despite's Governments efforts at labeling

this issue as a perception, the CBM is

projecting a further drop of 37% over two

years, which is worrying in the context of

an inflationary rate which is rearing its ugly

head again.

The Nationalist Party notes that all in all,

this report tallies with and vindicates the

Nationalist Party's view on a number of

fronts namely, that while on the whole the

economy is performing well:

• the manufacturing sector continues

to face challenges and is losing

its competitive edge, a fact

that government is refusing to

acknowledge;

• Government failed to create any new

economic activity bar the selling of

citizenship programme;

• economic growth in the past years

was fuelled mainly by one-off events

and that in the absence of such events

GDP growth is going to take a knock;

• the fast rate of growth in government's

recurrent expenditure over the past

three years is unsustainable; and that,

• the real income of Maltese families

is being eroded by inflation. The

Maltese economy is working for some

but less so for many others who are

struggling to make ends meet.

The Nationalist Party is calling on

government to recognise and act on these

challenges. The Nationalist Party over

the course of this administration did not

limiting itself to highlighting economic

concerns but came out with concrete

proposals and alternatives. The Nationalist

Party is again inviting government to give

due consideration to these proposals in

the interest of all but not least of those

families who are not benefiting from

economic growth and those businesses,

particularly manufacturing concerns and

small and medium sized businesses, who

are seeing their competitive edge being

eroded. MBR

Creditline: PN Media Information Office

Minister for Education and Employment, the Hon. Evarist Bartolo at FIMBank's head office in St. Julian's

Schoolchildren attending

government, church and

independent schools will

soon have access to a series

of video clips which trace the meaning of

specific words in Maltese, and which focus

on the origin and meaning of Maltese

proverbs. These educational clips, produced

by FIMBank plc as part of its Corporate

Social Responsibility programme, will be

distributed to all primary and secondary

schools in Malta. This initiative was

announced by FIMBank Group Chairman Dr

John C. Grech, during a recent visit by the

Minister for Education and Employment,

the Hon. Evarist Bartolo at FIMBank's head

office in St. Julian's.

In 2015, FIMBank plc had partnered with

Public Broadcasting Services Ltd (PBS) in

an initiative which saw the broadcast of a

series of 30-second video-spots, focusing on

Malta's linguistic heritage. The series of 100

clips, entitled 'Kelma Kuljum' (or 'A Word

Everyday'), includes both Maltese words

used colloquially, as well as others which are

being utilised less frequently. Meanwhile,

earlier this year, as a continuation of this

project and as part of its CSR programme,

FIMBank launched a new series of video

clips which focus on Maltese proverbs and

their meanings, entitled 'X'jghid il-Malti?'

('Maltese sayings'). The new series has

been featured extensively on PBS and the

Bank's social media channels.

Commenting on this initiative, FIMBank

Chairman Dr John C. Grech stated that "As a

Malta-based institution we feel we owe it to

the people of Malta to help raise awareness

of our Islands' rich cultural heritage. This

consideration has always been a mainstay

of our Corporate Social Responsibility

programme. The Maltese language is

recognised as being an essential part of

our DNA. Its uniqueness, derived from

its eclectic mix of Semitic and Romance

influences, is appreciated and endorsed

by linguists worldwide. We are proud to

be in a position to highlight its beauty and

relevance."

The Hon. Evarist Bartolo stated that he is

"grateful that FIMBank is investing in the

teaching of the Maltese language in our

schools. Such support helps us to reach

more kids in learning their language in an

interesting way. We need more different

programmes to reach more kids as am

not satisfied that nearly half of our fifth

formers are not passing their SEC exam in

Maltese. We need different programmes

and different methods of assessment in

Maltese to reach more students."

Jason Zammit, FIMBank's Head of

Marketing and Administration, said that

the video spots had proven to be quite

popular with Maltese viewers. He added

that "very positive and encouraging

feedback had been received after the spots

from both campaigns were posted on

Facebook and YouTube, where they were

shared extensively by users. Getting people

engaged and talking about our linguistic

wealth is precisely the main objective of our

project. This helped us to better understand

the potential of this tool for the benefit of

schoolchildren and their teachers." MBR

For more information about FIMBank plc, visit

www.fimbank.com.

For further information please contact:

Jason Zammit, Head of Marketing & Administration,

FIMBank plc

58 59

www.maltabusinessreview.net
---
Malta Business Review

AVIATION NEWS

DEBATE: BLOGS

Malta Business Review

CUSTOMER

e x p e r i e n c e i n v e s t m e n t s

Emirates was named World's Best Airline

2016 at the Skytrax World Airline Awards,

and in the past year, the airline continued

to work hard to deliver memorable

experiences for its customers.

Emirates continued to strengthen its inflight

entertainment (IFE) offering. With the

airline now operating an all-Airbus A380 and

Boeing 777 fleet, this means customers on

all Emirates flights can access on-demand

entertainment with up to 2,600 channels of

movies, music, TV shows, games and more,

to choose from.

Reflecting the increasingly connected

digital lifestyle, over 8.8 million Emirates

passengers connected to Wi-Fi on board

in 2016. In addition, more than 400,000

phone calls were made in-flight, and 1.7

million sms messages were transmitted by

passengers.

For its premium passengers, Emirates rolled

out a range of enhancements onboard

with luxury in mind. New additions in First

Class included the world's first moisturising

lounge wear designed for an airline,

keeping skin hydrated during the flight. New

blankets were introduced including plush

faux sheep-skin blankets for First Class and

soft duvets for Business Class passengers.

Emirates also partnered with VOYA luxury

spa products for its passengers to enjoy

in its signature shower spa, dedicated

lounge bathrooms and First and Business

Class washrooms. In addition, Emirates

and luxury Italian brand Bvlgari redesigned

the airline's exclusive amenity kit bags by

giving them a sleek, modern look. So far

in 2016, 2.75 million First and Business

Class amenity kits have been distributed on

Emirates flights.

Building on the strength of its loyalty

programmes, the airline's frequent flyer

programme Emirates Skywards marked

a milestone of 16 million members by

launching Cash+Miles. The innovative

flight redemption programme allowed

members to redeem a combination of cash

and Skywards Miles on any Emirates flight,

reducing the cost of tickets and making any

seat available for members. The airline also

revamped its corporate loyalty programme,

Emirates Business Rewards, delivering a

more competitive and easier redemption

process for flights as well as upgrades at any

time for businesses.

BRAND

A P P E A L

Emirates topped The Brand Finance

Global 500 report as the world's most

valuable airline brand in 2016, with the

airline's brand value growing more than

17% to US$ 7.7 billion. Throughout 2016,

Emirates continued to use sports, musical

and cultural events as a platform to engage

with its customers and fans.

In October, Emirates returned with

Hollywood actress, director and producer

Jennifer Aniston for another fun global

advertising campaign that showcased the

iconic Emirates A380.

In November, Emirates teamed up with

Dubai Miracle Garden to construct the

world's largest floral installation through

a life-size version of the Emirates A380,

covered in more than 500,000 fresh

flowers and living plants.

Emirates operates daily scheduled

flights between Malta and Dubai on a

Boeing 777-300 aircraft. Emirates flies

twice weekly to Malta, on Mondays and

Wednesdays, via Larnaca in Cyprus, and

on Sundays, Tuesdays, Thursdays, Fridays

and Saturdays the airline operates the

Dubai - Malta route on a circular routing

via Tunis in Tunisia. Emirates unveiled

plans to re-route its daily service between

Dubai and Malta via Larnaca, Cyprus, from

1st February 2017. MBR

How and

why your

customers

engage

with

bloggers?

By George Carol

I'm sure all marketers out there

know the terms "opinion leaders,"

"influencers" and know about

"turning customers into brand advocates."

But, I am not sure if all marketers

acknowledge how much influential

fashion, travel and other bloggers have

become over their target audience.

Something to seriously think about.

It's all about their influence, their trust and

– their reach!

According to reliable sources and

statistics, 5-10 percent of social media

users are responsible for 60 to 80 per

cent of influence. Especially in beauty and

fashion industry, customers tend to follow

number of bloggers at once to see what is

trending. The most popular blogs with the

highest number of followers work as socalled

hubs in the blogosphere and have

the highest influence on their followers.

The influencing power of bloggers lies in

the engagement with consumers. They

trigger conversations and are credible

because they are normal people just like

us with families and real lives. They aren't

top models, but the woman or daddynext-door

types that are trustworthy. And,

the similarity between reader and blogger

makes a big impact on the final purchase

decision. Got it?

A good, professional fashion blogger also

adds value and expertise because he or

she discovers, evaluates, compares and

introduces products to a wide audience.

And the blogger also helps to explain how

the products can be used to achieve a

particular look. The real bloggers, not the

wanna-be-ones, who buy fake likes and

followers are the ones you want to be

watching out for going forward.

Fashion & Travel Blogger Grazielle Camilleri

Fashion

blogger turned

journalist?

A shining example of a fantastic blogger

that made her hobby into a profession is

Grazielle Camilleri, a Maltese blogger with

more than 20,000 followers on Facebook

and another 20,000 Followers on

Instagram. She recently won Malta's Best

in Business Award for Best Start Up in 2016.

In December 2015, she published her first

blog and a year later she is going strong,

spreading the message to her strong-target

audiences that are hungry for information

and fresh content with beautiful imagery

and excellent writing skills. Check her out

at www.graziellecamilleri.com

So, do I market online or via bloggers?

My reply to you is to find a pleasant balance

to do both. One works best alongside the

other. You will reach your various target

markets this way. Some of your customers

are constantly on their iphones while

others prefer their traditional hardback

magazine coffee to read with their cup of

tea in the garden at tea time!

Stay tuned for more marketing tips!

MBR

60 61

www.maltabusinessreview.net
---
Malta Business Review

COMPANY LAW

AVIATION & POLITICAL EVENTS

Malta Business Review

ANNUAL COMPANY LAW

CONFERENCE'S SUCCESS BODES

WELL FOR FORTHCOMING

CONFERENCE

Almost 200 lawyers and other

professionals working in the commercial

law field convened at the latest Annual

Company Law Conference, which once

again proved a significant success.

This annual event is organised by the

Department of Commercial Law within

the University of Malta in collaboration

with the Malta Law Academy, and the

Chamber of Advocates.

The Conference, chaired by Dr David Fabri,

Head of the Department of Commercial

Law within University's Faculty of Laws,

addressed the most recent regulatory

developments in the field of Company

Law. Other leading speakers from the

Department of Commercial law discussed

topics such as the provisions relating to

squeeze-out of minority shareholders,

practical applications of article 402(3)

(g) of the Companies Act, duties and

responsibilities of Company Directors,

developments in EU Company Law, and

a review of recent company law court

decisions and interpretations.

In his opening address, Minister for Finance,

Prof Edward Scicluna explained that 3,800

new companies have been registered

by September 2016, bringing the total

number of registered companies up to

around 50,000. The Minister also noted

how over 1,000 companies were involved

in local mergers during the last five years,

with another 55 Maltese companies being

involved in cross-border mergers.

EDITOR'S

Note

By James Vella Clark

"This reflects the vibrant landscape within

which local limited liability companies,

entrepreneurs and investors are operating

and confirms the importance for local

practitioners to keep up with the everevolving

body of corporate law emanating

from the EU. It is in this light that the EU

seeks to enhance effective administration

of cross-border insolvency proceedings and

to establish common framework for the

benefit of all stakeholders," said the Minister.

In his closing address, Dr George Hyzler,

President of the Chamber of Advocates,

noted with satisfaction how the Annual

Company Law Conference is acting as a

vital forum for Malta's legal professionals

to discuss and adjourn themselves with

the latest legal developments.

"Our profession is a very vibrant one

where the application of the law

is constantly being challenged and

reinterpretation reflects the changing

environment in which we operate.

The Annual Company Law conference

serves as a solid point of reference for

commercial lawyers to convene and

keep themselves updated with the latest

developments," said Dr Hyzler.

The next joint event will be the Annual

Consumer Law Conference which will be

held on 15th March 2017 at the Chamber

of Advocates to coincide with World

Consumers Day. MBR

As from this month, CORPORATE IDENTITIES has been appointed to handle

the Chamber of Advocates public relations and public affairs. Therefore, should

you require any input from the Chamber, you can contact Corporate Identities,

James Vella Clark, to assist you in your queries.

THE BUREAU OF

AIR ACCIDENT

INVESTIGATION

SIGNS MOU

WITH AAIB, UK

The Maltese Bureau of Air Accident

Investigation (BAAI), established under

Maltese law for the investigation of

air accidents and incidents, has signed a

Memorandum of Understanding with the

Air Accidents Investigation Branch (AAIB),

Department for Transport, United Kingdom.

The purpose of this MOU is for both

countries to cooperate in relation to aircraft

accident and incident investigations, sharing

experience and expertise in investigation

techniques in various specialist fields,

equipment and research. Such cooperation

shall enhance aviation safety in Malta and

the United Kingdom.

The BAAI will benefit from the opportunity

to gain hands-on experience, with observer

status at accident sites and subsequent offscene

investigative activities.

The parties have also agreed to exchange

views on the latest development in

European and International standards and

share experiences on developing legislation

in the territory of each participant that

governs aircraft accident and incident

investigation.

BAAI Chief Investigator Captain Frank

Zammit said, "After various discussions I am

pleased to have signed this agreement as

it is another means to increase the BAAI's

knowledge and expertise in aviation safety."

The UK Air Accidents Investigation Branch

acting Deputy Chief Inspector of Air

Accidents said "the UK AAIB is pleased

to be able provide assistance to Malta

through this agreement, it is beneficial that

EPP Congress in Malta will

be held at a crucial time

for Europe

Speech by Partit Nazzjonalista Leader Simon Busuttil during the EPP Summit

being held in Brussels

"I am very proud that our European

People's Party chose Malta for its 2017

Congress which will be held on the 29th

and 30th March 2017. I look forward to

welcoming you on our island of eventful

history and beckoning future," stated a

beaming Simon Busuttil during a recent

Press Conference.

"During the same days, the EPP Group

will be holding its Study Days at a venue

which is at a walking distance from the

Congress' venue. This Congress is being

held during Malta's Presidency of the EU,

during a crucial year for Maltese politics,

as the general election will be within

the 12 months following the Congress

and at a time when the EU is at a cross

roads. It is thus why I urge you to attend

this Congress whilst seeing that your

parties are represented with the number

of delegates that have been recently

States are able to increase their knowledge

and expertise in aviation safety through

accident and serious incident investigation

using the experience of other established

Safety Investigation Authorities".

Minister for Tourism Dr Edward Zammit

Lewis stated that, "this MOU is another step

in the right direction for Malta to continue

investing in expertise with a country like the

United Kingdom which has deep expertise

in the aviation industry." He stated that

this MOU complies with Malta's vision in

strengthening safety and security within

the Aviation industry. MBR

Source: Ministry of Tourism/DOI

approved during the last EPP Political

Assembly," said Dr Busuttil, adding on

that, "The comprehensive theme of the

Congress will be the future of Europe.

Because politics is about people. It is

time we put our heads together to pave

a bright future for our fellow Europeans,

especially after the Brexit vote."

The Congress will also be discussing

migration which is a challenge for both

Malta itself and the Mediterranean

region. Preparations for the Congress

are well underway. Delegations led by

the EPP Assistant Secretary General have

been visiting Malta during the last year

and most of the spade work has been

carried out. "At Partit Nazzjonalista we

are working very hard for this largest

event of its kind ever to take place on

our island," concluded Dr Busuttil. MBR

62 63

www.maltabusinessreview.net
---
Malta Business Review

ENVIRONMENT

CULTURE

Malta Business Review

DR JOSÉ HERRERA PRESENTS

MALTA'S PRESIDENCY PRIORITIES

AT THE EU ENVIRONMENT

COUNCIL MEETING IN BRUSSELS

Minister for Sustainable Development, the Environment and Climate Change José Herrera with

Slovak President Donald Tusk. Photo: Ray Attard

Minister for Sustainable

Development, the Environment

and Climate Change José

Herrera presented Malta's Presidency

priorities at the Council of the European

Union on environment in Brussels. Dr

Herrera said that Malta would like to

focus on initiatives that will promote a

competitive, resource-efficient and lowcarbon

economy within the framework

of the 2030 Sustainable Development

Agenda.

on the revision of the Emissions Trading

Scheme as well as advance discussions

on the Commission Proposals for sectors

not covered by the Emissions Trading

Scheme: namely, the Effort Sharing

Regulation and the Land Use, Land Use

Change and Forestry Regulation.

Dr Herrera said that Malta, together

with its counterparts, will also give

due attention to the EU's follow-up on

emissions from aviation, following the

International Civil Aviation Organisation

General Assembly, and will further

advance the Circular Economy agenda by

making substantial progress in negotiating

proposals to amend six waste directives.

Additionally, the Maltese Presidency

plans on progressing on a number of

other open as well as new files, including

the amendment to the scope of the

Restriction of Hazardous Substances

Directive, the recast of the Persistent

Organic Pollutants Regulation, the Fitness

Check of the Birds and Habitats Directives,

and the Environmental Implementation

Review.

Minister Herrera also announced that

Malta will be hosting a union for the

Mediterranean Ministerial Meeting

in April, where we hope to see the

adoption of a Water Strategy for the

Mediterranean in Valletta along with an

Informal Ministerial Meeting in April,

where climate change adaptation, marine

litter and water re-use will be discussed.

The Parliamentary Secretary for the EU

Presidency 2017 and EU Funds Dr Ian Borg

launches the official cultural programme of

the 2017 Maltese Presidency of the Council of

the EU, themed rEUnion. Dr Borg said that in

a present reality where political unrest looms

over the continent and the rest of the world,

the spirit of reunion taken up by this culture

programme is a much needed breath of fresh

air. Culture is a single thread in different hues;

uniting people from all walks of life, across

nations, genders, age groups and class, in one

melting pot of diversity and togetherness.

"The citizen is right at the centre of the 2017

Maltese EU Presidency, and this is reflected

in the multidisciplinary nature of its varied

culture programme, with over 90 different

events set to take place across the Maltese

Islands, in the central hub of Brussels,

Luxembourg and Strasbourg, and across the

globe," commented Dr Ian Borg.

During his address, Dr Borg announced that

More than 1,100 artists and 29 Cities

across the globe

the Official Opening Ceremony of the 2017

Maltese EU Presidency is scheduled for

the 11th January and will take place at the

Mediterranean Conference Centre. 'BAHR'

will be performed by the Malta Philharmonic

Orchestra under the direction of Mro. Brian

Schembri, who will accompany national dance

ensemble ŻfinMalta in their interpretation of

Albert Garzia's original music score composed

for the occasion.

The Malta Philharmonic Orchestra, under

Mro. Brian Schembri's direction, will also

be accompanying world-renowned Maltese

tenor Joseph Calleja, in the concert set to

herald in the 2017 Maltese EU Presidency on

16th January at the BOZAR Centre for Fine Arts

in Brussels. The concert will feature classical

masterpieces written by great composers,

including three Maltese greats, Charles

Camilleri, Carlo Diacono and Joseph Vella.

The culture programme will then take flight,

with events coming from several different

disciplines populating each of the six months

from January to June 2017. Photography,

painting, architecture, digital arts, music,

singing, dance, theatre, fashion and history

are among the different disciplines which

make up this colourful cultural programme,

which will feature both well-established

and up-and-coming artists, both local and

We are Quality

international.

In the spirit of rEUnion, Dr Borg explained

that the 2017 Maltese EU Presidency culture

programme encourages the participation

of citizens, with several projects depending

directly on the citizen's involvement.

Apart from featuring the citizen as well as

the artist in a variety of spaces, the 2017

Maltese EU Presidency culture programme

also features the Maltese Islands and different

aspects which make up their geographical,

historical, anthropological and social realities.

Among the most interesting events centred

on the Maltese Islands, is the three-month

exhibition 'Malta – Land of Sea', curated by

Sandro Debono at the BOZAR Centre for Fine

arts.

In his concluding remarks, Parliamentary

Secretary Borg thanked Arts Council Malta

and the Valletta 2018 Foundation for their

collaboration and in putting together this

varied culture programme. The full culture

programme can be found on the official

culture website for the 2017 Maltese

Presidency of the Council of the European

Union: reunion.org.mt. MBR

Creditline: THE PARLIAMENTARY SECRETARIAT

FOR THE EU PRESIDENCY 2017 AND EU FUNDS

In the area of climate change, the

Maltese Presidency will continue to build

on the momentum achieved by the Paris

Agreement, and will focus on the UNFCCC

negotiations following the recent COP22

in Marrakech.

The Maltese Presidency of the Council

of the European Union will also seek to

make concrete and substantial progress

The Minister for Sustainable Development,

the Environment and Climate Change

thanked the Slovak Presidency for its hard

work and collaboration with Malta as the

incoming Presidency. MBR

Video link: https://goo.gl/swAFWl

Creditline: THE MINISTRY FOR SUSTAINABLE

DEVELOPMENT, THE ENVIRONMENT AND

CLIMATE CHANGE

PROFESSIONAL WATERPROOFING MATERIALS & RESIN FLOORINGS

Visit our showroom for professional advice on how to protect your home.

The Resin and Membrane Centre, 264, Old Railway Track, St. Venera

Web: www.theresincentre.com E-mail: info@theresincentre.com Tel: 27 477 647 Mob: 99 477 647

64 65

www.maltabusinessreview.net
---
Malta Business Review

NEWSMAKERS

PHOTO: DOI - Omar Camilleri

The Parliamentary Secretary for the EU

Presidency 2017 and EU Funds Ian Borg is

pleased to announce that eight projects,

which include nine Maltese partners, have

been approved for funding under the second

call for project proposals in connection with

the INTERREG EUROPE Programme.

Parliamentary Secretary Ian Borg said that

these projects, which shall address the four

priority axes tackled under this programme,

focus on research, technological

development and innovation, enhancing

Eight projects, involving nine Maltese partners, selected for funding under the

second call for project proposals of the Interreg Europe 2014-2020 Programme

the competitiveness of SMEs, a low carbon

economy, protection of the environment as

well as the promotion of resource efficiency.

The budget allocated to the nine partners

participating in such projects which include

public bodies, bodies governed by public

law and also a private not-for-profit partner,

amount to €1.2 million in ERDF funds.

The third call for project proposals under

the INTERREG EUROPE Programme is

envisaged to open in March 2017. This call

which might be the final opportunity for

prospective applicants to participate in this

Programme shall also focus on the 'classic'

interregional cooperation projects similar

to those funded under the first and second

call for project proposals.

For further information on the above

mentioned call or on the INTERREG EUROPE

2014-2020 Programme in general, kindly

contact the Territorial Cooperation Unit

within FPD either by phone on 2200 1142 or

by email: fpd.meaim@gov.mt. Information is

also available on the FPD's website

http://eufunds.gov.mt/ and the Programme's

website http://www.interregeurope.eu/.

Parliamentary Secretary Ian Borg invites

interested prospective applicants to start

the preparatory work required before the

publication of the next call while thanking

the Territorial Cooperation Unit within the

FPD for their availability and help in any

guidance required. MBR

Source: THE PARLIAMENTARY SECRETARIAT

FOR THE EU PRESIDENCY 2017 AND EU FUNDS

Emirates announces daily service from Dubai to Malta via Cyprus

Cyprus is again reachable on daily basis from

Malta on Emirates

Emirates unveiled plans to re-route its

daily service between Dubai and Malta

via Larnaca, Cyprus, from 1st February

2017. This means that the current five

weekly flights with routing Dubai/Tunis/

Malta/Dubai will be changed to Dubai/

Larnaca/Malta/Larnaca/Dubai, the same

as the current flight operating every

Monday and Wednesday. The Malta route

allows travellers to book tickets between

Malta and Cyprus.

Travellers from Malta can once again enjoy

daily access to Larnaca, as Cyprus is only two

hours away. The daily Dubai-Larnaca-Malta

service will be operated by a state-of-the-art

Boeing 777-300ER aircraft in a three-class

configuration, with eight Private Suites in

First Class, 42 lie flat seats in Business Class,

and 310 spacious seats in Economy Class.

As with all Emirates flights, passengers also

enjoy generous baggage allowances: 50 kilos

in First Class, 40 kilos in Business Class, and

up to 35 kilos in Economy Class.

Starting 1 February 2017, EK 109 will depart

Dubai at 0750hrs, arriving in Larnaca at

1020hrs. It will then depart Larnaca at

1150hrs, arriving in Malta at 1325hrs. The

return flight, EK 110, will leave Malta at

1455hrs, arriving in Larnaca at 1815hrs. It will

Cyprus Tourism Organisation

then depart Larnaca at 1930hrs, and land in

Dubai at 0125hrs the next day. The timings

are ideal for onward connections from Dubai

to Australia, the Middle East, Asia, Africa and

North and South America. Businesses and

traders will also benefit from the aircraft's

belly-hold to carry cargo on the Boeing 777-

300ER aircraft by Emirates SkyCargo offering

23 tonnes of capacity per flight. MBR

Further information and flight schedules are

available from: www.emirates.com/mt

Corruption index: Malta loses 10 places to 47, worst place ever, PN reacts

Malta has lost 10 places in one year on the

Corruption Perceptions Index, falling to its worst

ever 47th placing since it started to be monitored

by Transparency International in 2004.

The latest figures were published last night, with

Malta dropping from the 37th place in 2015

to the 47th in 2016. Malta has figured among

the list of countries vetted by Transparency

International since 2004, when it appeared

in the 25th place, which it kept in 2005 and

remains its best placing. Since then, besides the

28th place obtained in 2006, Malta has been

yo-yoing between the 33rd place in 2007 and

the 47th placing in 2016, its worst placing ever.

In 2008, Malta was 36th, in 2009 45th, in 2010

37th, in 2011 39th, in 2012 43rd, in 2013 45th, in

2014 43rd, in 2015 37th and, now, in 2016, 47th.

All through 2016, Malta was in the international

limelight for the wrong reasons after Minister

Konrad Mizzi was the only serving minister in an EU

country to be named in the Panama Papers scandal.

In reaction, the Nationalist Party made reference

to the story as revealed by The Malta Independent

this morning, saying that this confirmed that the

government led by Joseph Muscat is the most

corrupt in history. The position Malta obtained, at

number 47, is the worst ever, and relates to 2016

which was a year in which the Panama Papers

scandal involving Konrad Mizzi and Keith Schembri

erupted. This classification is a bad advert for Malta,

and it is worse because potential investors look at

such classifications seriously. This is worrying for

Malta's economy, the PN said. More than ever

before, the country needs different politics which

raise standards, and it is only the Nationalist Party

under Simon Busuttil that can guarantee this, the

PN said. From all the promises made by Muscat,

the only one that was achieved that Malta is first in

Europe - in corruption, the PN said. MBR

66
---
Salaroo

.com

Online Payroll

Software

Simple Efficient Cheap