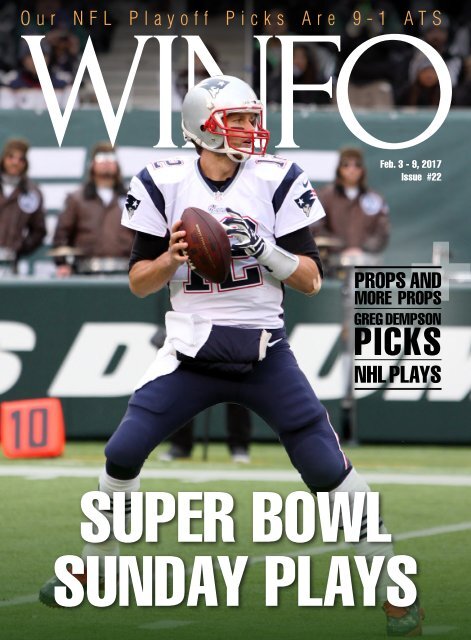 Winfo Issue #22
Super Bowl Picks - Winfo sports betting weekly has you covered for the Super Bowl. Game picks, Over/Under plays and Super Bowl props
Super Bowl Picks - Winfo sports betting weekly has you covered for the Super Bowl. Game picks, Over/Under plays and Super Bowl props
SHOW MORE
SHOW LESS
You also want an ePaper? Increase the reach of your titles
YUMPU automatically turns print PDFs into web optimized ePapers that Google loves.
WINFOFeb. 3 - 9, 2017

Our NFL Playoff Picks Are 9-1 ATS

Issue #22

+

PROPS AND

MORE PROPS

GREG DEMPSON

PICKS

NHL PLAYS

SUPER BOWL

SUNDAY PLAYS
---
IN THE ISSUE

IN THE ISSUE

4

8

3 The Good, The Bad, The Ugly

4-5 Greg Dempson

6-7 5 Minutes With....

8-9 Wine and Whining

10-11 NFL Analysis

12 Sponsored Content

13 Mister Quinn Bets

14-15 Totally Covered

16-17 NHL Analysis and Picks

18 Futures Foray

6

14

2
---
THE GOOD, THE BAD AND THE UGLY

WINFOFeb. 3 - 9, 2017

Our NFL Playoff Picks Are 9-1 ATS

Issue #22

SITTING AT THE

ADULT TABLE

THE BEER WAS COLD, THE ROOM LOUD AND THE COMPANY

SUBLIME...IT WAS LAS VEGAS CIRCA EARLY 2000S,

DURING THE DARK WEEK BEFORE SUPER BOWL SUNDAY.

+

PROPS AND

MORE PROPS

GREG DEMPSON

PICKS

NHL PLAYS

SUPER BOWL

SUNDAY PLAYS

Sitting at the table in a funky

lounge at the old Imperial Palace

was:

Herr Hockeymeister, the late Bobby

Bryde, being...well...he was being

himself, which means a bit of an agitator

(the word "prick" was tossed toward

Bobby more than once, always

with a smile). If you knew Bobby, you

would know what I mean.

Rich Baccilieri, the head sportsbook

guy at Caesars Palace, looking

suave, laughing, teasing and giving

out nuggets of info from a "behind the

book" perspective.

Bobby Baccilieri, Rich's brother and

a former Vegas sportsbook manager.

He was a big guy with a big heart and

big personality.

Bobby and Rich were East Coast

guys. They had that east coast

attitude – ball busters, but really good

guys, tough but genuinely supportive

and loyal.

We also had two professional Vegas-based

sports bettors at the table.

One who was well-known to most and

one who was a real "under the radar"

gent. Both wagered for a living and

had been doing so for a number of

years. They had an endless stream of

anecdotes and harrowing tales about

the world of sports betting through the

eyes of a professional.

Art Manteris stopped by for a quick

hello (Superbookie as he was tagged

back then, based on his book of the

same name). Art was running the

place over at the Las Vegas Hilton,

along with Chuck Esposito.

The Las Vegas-based write Buzz

Daly, who also wrote for Winner's

Edge (until a little disagreement on

content, which we'll maybe write

about another time) did a fly-by to say

hi, grab a slice of marinara pizza and

talk Super Bowl.

If my memory serves, Howard

Schwartz, from Gambler's Book Club

was at the table for a while as well. At

the time Howard wrote a weekly column

for Winner's Edge. He was a great guy,

with no end of stories of his own.

Wine, beer and stories flowed well

into the night. It was pretty cool having

a seat at that table, listening to this

crew talk everything betting, from both

sides of the window.

Someone suggested heading up

to the Stardust to meet up with Joe

Lupo...and one of those classically

great nights continued.

The Good

Let's start the Good section off this

week not with a nod to a record from

last week, but with a welcome to a

couple of new contributors. We've

been fans of Mike Quinn's for a while.

His podcast is a great listen and he's a

knowledgeable handicapper who goes

about his business the way we like. He

puts in the work and genuinely wants to

give valuable information to help you win.

You can check Mike out on Page 11.

We also chatted with Jeff Sherman

from the Westgate Las Vegas SuperBook

to talk Super Bowl betting

action. Jeff is a highly respected oddsmaker

who doles out some Super

Bowl insights.

Enjoy the Super Bowl, remember to

play it cool when it comes to betting

(it's still only one-game - don't overdo

it!). Best of luck!

3
---
GREG DEMPSON

SUPER BOWL PICKS:

NEW ENGLAND PATRIOTS

VS. ATLANTA FALCONS

The most money wagered on

an individual game in North

America is this contest, the

Super Bowl. There isn't much that

can be said about this game that I'm

guessing the majority of you who

are reading this article don't already

know.

Some years I have made substantial

wagers on the big game and other

times it has been a recreational

wager, it varies from year to year

but what doesn't seem to vary much

from year to year is the appearance

of the New England Patriots as the

AFC representative.

This time around the Patriots are a

firm 3 point favorite across the board

with the "Vig" ranging from –3 at

–115 to –3 +104 at one of the more

popular books. If you want to buy the

line down off that key number of –3

your juice climbs to the –135 range.

Compare that to taking New England

on the money line, (if you are

so inclined.) The point I am making

is would you rather be in at – 135

laying 2.5 points or just having to

win the game straight up at –150?

I offer that observation up as "food

for thought" just as there will be a

lot of nachos, pizzas, finger foods,

brewskis and cocktails consumed.

My interest in this game isn't on food

consumption or alcohol but on making

a successful first half wager as

well as seeking live betting opportunities

and perhaps wagering on the

second half.

New England is presently a 1-point

favorite in the first half….or if you

prefer, the money line has them

listed at –135 and –130.

4
---
GREG DEMPSON

THE PATRIOTS HAVE ALSO FARED WELL IN THEIR THREE POST

SEASON CONTESTS IN THE FIRST HALF WINNING BY AN

AVERAGE SCORE OF 18.0 TO 9.7.

After covering against the spread by

21

or more combined points in their last

three games, play ON non conference

favorites in the first half. This system is

91–48 = 65.5% ATS

the past decade as well as

25–11 = 69% ATS

the past three seasons.

After covering ATS by

35

or more combined points in their

last five games, play AGAINST non

conference underdogs in the first half.

This system is

77–40 = 66% ATS

since 1983.

Tom Brady and Josh

McDaniel have consistently

been able to outscore

opponents in the first half

Angles

• In New England's five games

played on a natural surface this

season they outscored their opponents

by an average score of 16.0

to 7.4 in the first half.

• The Patriots have also fared well

in their three post season contests

in the first half winning by an average

score of 18.0 to 9.7.

• Atlanta is a scoring machine, but

when I review the red zone efficiency

of each team, the edge goes to

the Patriots. I anticipate that New

England will be able to prevail in

the first half vs. the high flying Falcons

and limit their scoring capabilities

when inside the 20 yard line.

First Half Systems

• After covering against the spread

by 21 or more combined points in

their last three games, play ON

non conference favorites in the

first half. This system is 91–48 =

65.5% ATS the past decade as

well as 25–11 = 69% ATS the past

three seasons.

• After covering ATS by 35 or more

combined points in their last five

games, play AGAINST non conference

underdogs in the first half.

This system is 77–40 = 66% ATS

since 1983.

My Winfo Record

My Winfo record is 7–6 ATS with the

regular season and playoffs.

This Week's Selection

My Winfo Super Bowl selection is on

New England at –130 on the money

line in the first half.

Good luck!

5
---
5 MINUTES WITH...

5 MINUTES WITH... JEFF SHERMAN,

WESTGATE LAS VEGAS SUPERBOOK

Heading into Super Bowl Sunday, we connected

with Jeff Sherman of the Westgate

Las Vegas SuperBook to talk about the

wagering action on the big game. From what

the early action looked like, to prop betting, Jeff

gives us a View from Vegas.

Winfo: After you posted the lines, what did the

early action look like and what are you seeing

now as the game gets closer?

Jeff: Early action was predominantly Patriots

and over support from the general public...

since then, sharp players have been keeping

the line in check by supporting the Falcons

and the under...we can get the desired action

keeping the game on 3 and moving the price at

this point, and I would expect that to continue

to kickoff.

Winfo: The Westgate Las Vegas SuperBook

is known for their massive prop sheet and this

year's has more than 400 offerings. Since

you've been in the industry, how has the prop

side of the Super Bowl changed?

Jeff: The props have grown exponentially,

where we have reached around 400 this year...

we add variations to traditional props, such as

the popular safety wagering option...this year

we added whether there will be a safety in the

1st half, and whether there will be a safety in

the 2nd half.

6
---
5 MINUTES WITH...

KORDELL CAME IN

AT QUARTERBACK.

HE TOOK THE SNAP

IN THE SHOTGUN

FORMATION AND

ROLLED OUT OF THE

POCKET. THE WHOLE

ROOM JUST ERUPTS,

'THROW IT! THROW

IT! THROW IT!'

Needless to say, if a safety occurs

we will be on the hook for 2.5 times

the liability versus previous years...

this is a very popular option with the

general public...the cross sport props

have also grown...included this year

are two Vegas Golden Knights props

that will give the bettor action into

their inaugural NHL season.

Winfo: Jeff, what's the difference

between the early betting action you

see when the props first go live and

the action you'll take this weekend?

Jeff: When we open the props, it

is 99% sharp players betting their

perceived value...they support mostly

the "no" and "under" options of the

props...when the public arrives

Thursday through Sunday of Super

Bowl week, they predominantly

support the opposite sides of the

sharps...we will generally see "yes"

and "over" support rebound to the

point where the book will ultimately

need the sharp side.

Winfo: What have been the most

popular props so far? Anything stand

out as an unusual betting pattern or

unique plays this year that you haven't

seen for recent games?

Jeff: So far, the safety props have

been has been popular with the general

public, and the sharps have been

heavily supporting Tom Brady's pass

attempts, they've gone from 36.5 to

39.5. Tevin Coleman's rushing yards

has gone from 47.5 to 36.5, but

nothing overly unusual or unique at

this point.

Winfo: Looking back over the years,

are there any prop results, whether

good for the book or bad, that have

been particularly memorable?

Jeff: The most memorable prop we

dealt was SUPER BOWL XXX, Steelers-Cowboys,

Jan. 28, 1996.

"We had one, 'Will Kordell Stewart

catch a pass, have a rushing

attempt and throw a pass?' During

the course of the year, he did it

twice. And this line went from 'no'

minus-250 to 'yes' minus-300. We

had so much money on it.

As the game went on he was a receiver

and caught a pass and he also

had a rushing attempt. The only thing

he needed to do was throw a pass.

Sometime in the third quarter, Kordell

came in at quarterback. He took the

snap in the shotgun formation and

rolled out of the pocket. The whole

room just erupts, 'Throw it! Throw it!

Throw it!'

It was so funny. It just felt like everybody

in that room had that proposition.

And he cocked his arm to throw,

then he just tucked it in and ran. The

crowd in the room went nuts...and he

never had another chance to throw

a pass.

That was one we won. It was just an

amazing proposition."

Check out the Westgate Las Vegas SuperBook if you're heading to Vegas and be sure to stop by Jeff's Twitter feed at

twitter.com/golfodds (yeah, by the way, Jeff is also recognized as the world's authority on golf odds).

7
---
WINE AND WHINING

WINE &WHINING

by Neil Alexander

When it comes to gambling I'm agnostic with respect to

team favorites. However, I'd be lying if I didn't admit to

various team allegiances since my youth, and as much

I as try to ignore them in my handicapping, subconsciously

they may play a role. Occasionally a deep

understanding of a team can lend itself to making a confident bet, but

it often leads to stay aways for me. Hold that thought as I delve into

my Super Bowl pick.

Immediately following the conference games last weekend, I fell under

the Falcons spell as they handily dismantled the Packers from the

kickoff and didn't let up until the final whistle. How can you not? An

MVP-esque campaign from Matt Ryan, a stud WR in Julio Jones, and

OCCASIONALLY A DEEP

UNDERSTANDING OF A

TEAM CAN LEND ITSELF TO

MAKING A CONFIDENT BET,

BUT IT OFTEN LEADS TO

STAY AWAYS FOR ME.

8
---
WINE AND WHINING

sound #2 and #3 receivers in Sanu and

Gabriel. Throw in not one, but two RBs

who can both catch and run it out of the

backfield, and sprinkle in an offensive coordinator

in Kyle Shanahan who drew it all up

in the laboratory.

Of course, the counter argument to this

narrative is that they were playing the

depleted Packers in the familiar confines

of their home turf. The Pack was down to

third string corners, no true RB, severely

banged up WRs and a QB who was fighting

flu symptoms. In retrospect, the gaudy

final result was perhaps due just as much

to Green Bay's inadequacies as it was to

Atlanta's explosive firepower.

However, the media and public are eating it

all up. Although the Patriots are three- point

favorites, many are wondering how will

their defense possibly stop the Falcons?

Let me know if this sounds at all familiar.

We have a high-scoring team from the

NFC South, who are garnering much of the

public love. They are led by their soonto-be

league MVP QB and are facing a

team in New England with a veteran QB,

who's been here before (many times), with

a better defense and coach in Belichick.

Remember Super Bowl L? Anyone?

Back to my opening . . . I grew up a stone's

throw from the former Rich Stadium, now

New Era Field in Orchard Park, New York.

The early 90s were unbelievable with Jim

Kelly, Thurmon Thomas, Andre Reed,

Bruce Smith and many others plying their

wares. No, they never won a Super Bowl,

but how amazing it was to cheer for a team

that had a legitimate shot at winning every

game for about a 5-year span. The reason

I bring this up is that I think my fondness

for the Bills and a consequent dislike of the

Patriots clouded my judgment last week in

the Conference Final. Suffice to say, I will

not make the same mistake twice.

Yes, Atlanta has impressive weapons but

also significant deficiencies on defense.

Give me the coach and QB that have

already won four Super Bowls. In fact, I'd

take Belichick with two weeks to prepare

against anyone. I think three points is a

small margin to lay and we the media hype

and public love of the Falcons to thank.

Yes people, I'm a Bills fan and even I'm

backing the Pats at -3!

The Wine

Wolf Blass Gold Label Chardonnay 2014

It was brought to my attention that the

wine reviews have been predominately red

focused. I'm going to rectify this somewhat

with a nice Aussie Chardonnay this week.

This beauty has aromas of peach, nuts,

melon, and toasty oak. On the palate you

are immersed in the full-bodied flavors

of apple pie, hazelnut, tropical fruit and

minerals, which is balanced with zippy

acidity and appropriate alcohol. The finish

is long and creamy. This wine is perfectly

balanced and a great complement to many

food pairings. Serious value here!

This wine comes

from the high-altitude

Adelaide Hills.

9
---
NFL ANALYSIS AND PICKS

SUPER BOWL PICK AND PROPS

It's the last game of the NFL

season – there's no need to bet it

like it, if you know what we mean.

Don't load up and go overboard. Our

advice, as it always has been for the

Super Bowl, is to enjoy the game, play

a few props for fun, don't step up your

wagering just because it is the last

game of the season.

For us here at Winfo, it's been a nice

run with the NFL. We started publishing

a few weeks after the season

kicked off, but we're happy with how

it's turned out.

We highlighted 12 Best Bets this season,

going 10-2 against the spread.

With our Game-By-Game weekly NFL

plays, we finished up with a 70-53-4

ATS mark.

The playoff record is currently sitting

at 9-1 ATS with one game to go.

We'll continue on each week, expanding

our coverage to more NHL, NBA,

College Basketball, golf, European

Premier League and more. Join us

here each week.

And now here is the write-up and pick

on that final game – good luck!

Atlanta Falcons vs.

New England Patriots

Line: Patriots -3

Over/Under: 58

Set-Up: Nothing but the utmost

respect for Coach Belichick and we

give him a clear edge in the coaching

department in this one. That needs to

be acknowledged up front. And yes,

when Belichick is given a couple of

weeks to prepare for an opponent it

can result in a tough day for that foe.

That said, it is worth noting that the

Patriots have lost the last three times

they've been to the Super Bowl (I

know right now many of you are either

scratching your head or yelling at

THIS ATLANTA

OFFENSE CAN CREATE

MISMATCHES

OF THEIR OWN.

MISMATCHES THAT

REALLY STRESS A

DEFENSE, EVEN A

DECENT ONE.

us "what are you talking about, the

Patriots won their last time herel!).

Yes, we know the scoreboard says

the Pats won Super Bowl XLIX vs. the

Seahawks, but....Seattle beat them,

they just didn't beat them. The Pats

were one Marshawn Lynch carry

away from being officially 0-3 in those

last three trips to the big one.

That's not taking anything away from

how good Belichick is at designing

game plans, but it does provide some

perspective.

This high-powered

Atlanta offense will give

their cheerleaders a lot of

opportunity to get moving

Looking at the actual matchup, New

England boasts a defense with impressive

numbers, but we keep coming

back to who that defense faced

to pile up those stats - and juxtapose

that to what will be expected of them

vs. this Falcon offense.

Yes, Belichick and co. will have a

plan. A good one. And they'll create

some confusion that Kyle Shanahan

and Matt Ryan need to sort through,

but the thing is, this Atlanta offense

can create mismatches of their

own. Mismatches that really stress

a defense, even a decent one. So

while Belichick is a master at keeping

opponents off-balance and chasing

adjustments, this offense is built to

turn the tables and is very capable

of keeping the Pats' coaching staff

off-balance and trying to find solutions

on the fly.

Julio Jones will garner a lot of attention,

but with the extra help needed to

try and take him away, it opens room

for the running game and other receivers

to win their one-on-one battles.

Add in that New England are not a

10
---
NFL ANALYSIS AND PICKS

great pass rushing unit - if they blitz to

get pressure, going single coverage in

the secondary, Ryan and his support

staff will exploit that.

When Brady has the ball, this young

Atlanta defense is a concern, as they

will have trouble getting off the field.

And don't get us started on the Red

Zone edge New England enjoys on

both sides of the ball. This defense

starts four rookies, which is pretty

much unheard of for a team that has

gone this deep in the playoffs. They

have been getting better, but it's not

a great matchup. Luckily they do not

need to face the Patriots second best

player, tight end Rob Gronkowski.

Edelman and Hogan are elusive, and

Brady's a surgeon, but we like the

fact the Falcons can score points with

long, clock-chewing drives, or quick

strikes. They're going to score, which

helps take pressure off the D.

Blowouts have not been part of the Patriots'

Super Bowl narrative. They either

win close ones or lose close ones. This

sets up to be another one of those.

We'll take the three points with an underdog

we feel can win the game.

Super Bowl Play: We're taking the

Falcons +3

Playoff Record: 9-1 ATS

Best Bets: 10-2 ATS

Overall Season Game-by-Game

Record: 70-53-4 ATS

Super Bowl Prop

Plays

1. TOM BRADY RUSHING

YARDS

Okay, so Brady isn't nimble or fleet

of foot...and his total rushing yards in

his past Super Bowl appearances is

actually a negative number (-5), but

with this Falcon defense spread out

and an O-line that gives Brady room

to step up, we think there'll be at least

a couple of opportunities for him to

lumber up the middle and keep the

chains moving.

Brady Over 2.5 Yards (-110)

2. WHAT WILL BE THE RESULT

OF THE FIRST COACH'S CHAL-

LENGE IN THE GAME?

We had it in our minds that these two

haven't been keen to toss the red flag,

but even we were surprised when we

did a little research and found out that

they're REALLY reluctant to reach

for the flag. Coach Quinn challenged

three plays all season (winning two)

and Belichick was even stingier, taking

the refs to task a single time this

year – which was a win.

We like the odds that if one of them

does ask for a challenge, they'll win it

(if there isn't a challenge your wager

will be refunded).

The play will be Overturned at -115

Will either

coach win their

firstchallenge?

We think so and

booked a prop

on it.

3. TOTAL RECEPTIONS BY MO-

HAMED SANU:

Over 4½

Belichick has always had a lot of success

taking away an opponent's best

weapon, forcing them to go elsewhere

for plays. We expect Julio Jones to

be getting a lot of extra attention,

which should result in extra looks for

other weapons, including Mohammed

Sanu. Matt Ryan trusts him and he

is the first read on a good number

of plays, including in the Red Zone.

And if the Falcons do get down by a

couple of scores, they'll dial up the

passing game. We like Sanu to grab

five catches or more.

We'll take the Over 4.5 receptions

with Sanu

Doubling Julio Jones will

create stress for the Pats'

defense in other areas

4. WILL ANY PLAYER OTHER

THAN BRADY OR RYAN AT-

TEMPT A PASS?

I'm not cheering for an injury to either

QB at all (however if one does happen

this cashes), but we have a shot here

if there's a gadget play called. Think

Julian Edelman, Mohammed Sanu or

a fake punt. With a line of +250 on the

"Yes" side, we'll put a small play on this

and hope one of these coaching staffs

are ready to pull out all the stops.

Yes +250

11
---
VANCOUVER THEATRESPORTS

"Sponsored Content"

5 TIPS FOR BETTER MEETINGS

Meetings can be a drag – but they

don't have to be.

For a lot of us, meetings are a part of

everyday life. The Improv for Business division

at Vancouver TheatreSports have

been helping organizations of all sizes to

transform meetings into super-charged

brainstorming sessions, increasing the

return on the time invested.

They do so through their unique improv-based

approach – an approach

they've pioneered and perfected over

the two decades they've been working

with organizations across Canada.

Here are 5 quick tips from Ken Lawson,

the lead facilitator for the Improv

for Business Division at Vancouver

TheatreSports, that you can apply to

jump-start creativity and collaboration

in your next meeting.

Tip #1 "Yes, And"

The foundation for a creative and

collaborative meeting is trust; each

attendee should know that they

can contribute ideas freely, without

judgment or obstacles being placed

in their way by colleagues. As a team,

committing to the principle of "Yes,

And", the core tenet that improvisation

is based on, produces an environment

where all ideas are accepted, supported

and given a chance.

Tip #2 Active Listening

Try this at the start of your next strategy

meeting. It's an activity we call "Listen

Better, Listen Worse", highlighting

the importance of being engaged

when listening to other speak.

To facilitate the exercise, start by

having one person speak to the

group on a tic their passionate about

(the Canucks, running, travel, etc.).

Instruct the group who are listening to

really engage, listening intently. After

a minute or so, instruct the group to

"listen worse," or disengage. They

can change to more passive body

language, start checking their phones,

looking around the room, shuffling

their feet or walking away. Ask the

speaker how they felt when the group

was engaged, and how they felt when

the group disengaged.

The listeners then learn active listening

techniques, such as appropriate eye

contact and using affirmatives and

nodding, which encourages speakers

to continue and forces listeners to be

fully present in the conversation.

Tip #3 Get Rid of the Gadgets

Pretty straight forward. The Improv

Mindset is all about being fully present.

A group of meeting attendees all checking

their phones at various times blocks

that. Leave the phones at your desk.

Tip #4 Take a Breather

Effective two-way communication during

a meeting requires moments of silence.

Pause for a second before you reply to

a question. It allows you to absorb what

was said (active listening) and to organize

your thoughts, resulting in clearer and

more confident responses.

Tip #5 It's About The Team

Great improv is about teamwork and

making your fellow cast mates look

good. Meetings can be so much more

effective when attendees aren't overly

protective of their own ideas. The

Improv Mindset is about being open

to change and allowing your ideas to

evolve based on the contributions of

others. Clinging to your own contribution

prevents you from recognizing

other ideas from the group that might

better solve the problem.

If everyone focuses on the "glory of

the group", understanding it's not

about having the best idea, but about

collaborating to discover the best idea

and solutions.

Learn more about The Improv Mindset

and how Vancouver TheatreSports

can help your organization with our

Improv for Business workshops.

If you're interested in receiving an

information pack please email Jeff at

development@vtsl.com.

12
---
MISTER QUINN BETS

PROVEN WINNER VS. NEWCOMER:

WHO'LL RAISE THE LOMBARDI TROPHY?

by Mike Quinn

The Patriots enjoy

a clear edge in

the Head Coach

matchup in this one.

The draft is over, OTAs are long

gone, training camp is a distant

memory, the regular season has

concluded and Super Bowl week is

finally upon us! The only question left

to answer is who'll raise the Lombardi

Trophy this Sunday night…the proven

winner or the newcomer?

The spread is set at a field goal for

this year's clash between the Atlanta

Falcons and the New England Patriots

with Belichick and Co. as the favorites.

When examining the game from an

ATS perspective, there are a lot of

angles to consider. Let's dive deep!

My approach to the Super Bowl is

different than during any other part of

the NFL season. By this point, both

teams are "public" and there is a ton

of readily available information for

all to digest. What bettors need to

consider are the variables that aren't

factored into the number.

First, let's examine the coaching

matchup. There is a vast chasm

that is causing a major mismatch in

coaching this week. Bill Belichick

has an enormous experience advantage

over Dan Quinn, not to mention a

much higher football IQ. I simply can't

see Dan Quinn beating Bill Belichick

in a Super Bowl. Sometimes analysis

is quick and simple and doesn't need

advanced metrics or multi-layered

examinations. That is what we have

here when investigating the coaching

matchup for Sunday's big game.

Next, let's talk about Tom Brady.

Very simply…this is a man on a

mission. He wants to stick it to the

league over what happened with

Spygate and Deflategate and put all

the naysayers to rest one final time.

He wants that fifth title to put him over

Montana and Bradshaw. An overlooked

piece of Brady's season is the

fact that he "rested" for those first four

games; his aging body is much fresher

than ever before by this juncture.

The identity of this Falcons team is

scoring early and often. Belichick has

made a Hall of Fame career on slowing

down and stopping high-powered

offenses that most thought couldn't

be stopped. If the Falcons struggle to

move the ball early on in this game, it

could spell trouble; as the hallmark of

a Belichick Super Bowl defense is that

they get stronger as the game wears

on. Not to mention that this might be

the strongest all-around defense the

Belichick/Brady era has seen.

For most of the season, Atlanta was

not pressuring quarterbacks at a very

high rate. The scheme seemed to

change a bit against the Packers. If

they have any chance in this one, they

will need to do more of that against

the Patriot offense.

The fact of the matter is that New

England owns the edge in a lot of the

intangibles in this one, in addition to a

stronger "trench" game between the

offensive and defensive lines.

Super Bowl Play: There is a lot of

value with New England -2.5 -125;

which is my wager.

Remember, it is only one game, don't

go crazy because it's the Super Bowl.

Be disciplined and exercise money

management. The size of your wager

should be dictated by the size of the

edge you believe you have. Good

luck and keep cashin'!

Mike has been developing his approach to handicapping sports for over a decade. He has been featured across many

platforms in the industry, including appearances on SBNation. Mike hosts his own weekly podcast during the football season

with various distinguished guests. Mike emphasizes a disciplined approach to sports investing with money management

as the cornerstone. You can find all his content at misterquinnbets.com and on Twitter @misterquinnbets.

13
---
TOTALLY COVERED

Julio Jones and the Falcon

offense might start slow (hence

that Q1 prop bet), but look for

some fireworks in the big game

SUPER BOWL 51

OVER/UNDER

REPORT

by Jarvis Simes

After two weeks of handicapping and

Super Bowl hype, it's finally time to

see which of these two teams are

ready to grab hold of their own Lombardi

Trophy and make history.

Some are calling it the most important

game in either franchise's existence

but most of those writers work for a

local paper in either Boston or Atlanta.

Either way, the prep team in Houston

has done a great job building up the

event and delivering the package in

an informative, entertaining fashion.

And right about now, who can't use

a brief distraction from the reality of

everyday life?

The benefit of all this time between

the Conference Finals and Super

Bowl is the opportunity to check off

all your boxes. The risk is an over

investment in what is still just a single

game. Money management is certainly

an important aspect of successful

sports betting and while I would never

suggest throwing it out the window

completely, I think it's okay to treat this

weekend like a Vegas getaway. Set a

budget, have some fun and try to do

the majority of your wagering BE-

FORE the Jack and Cokes or tequila

shots begin.

My plays to finish the season here are

a flat bet on the total, a first quarter

prop and a bailout bonus prop with

odds too good to refuse.

NEW ENGLAND vs. ATLANTA

Over/Under Odds: 58

Let's be honest. You could build a

case for either one of these teams to

win this game. Atlanta's defense has

started to gel and the past six Super

Bowl dogs that held at least five of

their past six opponents to 21 points

or less are 5-1 ATS, averaging 26

points per game.

New England led the league in

defensive scoring, they've held two

playoff foes to 16/17 points and only

one team in their past nine games has

scored more than 17 points against

them. A few of their opponents were

twinkles (Rams, Jets twice, Niners),

but they went on the road to Denver

and held them to three, went into

Miami and shut them down and then

kept Pittsburgh in check. Yeah, RB

Bell was out but we can go on making

an excuse for why New England won

almost every single game they played

this season. At some point, you have

to accept they are a 16-2 SU team

that is outscoring opponents 28-16.

Any playoff team that has held more

than six of its past nine opponents to

17 points or less is a 66-percent bet to

go over the total. All eight games beyond

the Wild Card Round since 2010

went over the total by an average of

more than seven points. The "live"

team outscored its opponent 32-21

and the three games with a total of 47

or more finished with final scores of

51, 52 and 53 points.

In all games from Round 3 or 4, the

"Over" is 16-4 and it's worth noting

that New England was involved in

all four of the Unders from 2001-07.

Two Super Bowls (2001 and 2004),

and two January home wins over

California based teams including the

infamous Tuck Rule game against

14
---
TOTALLY COVERED

Oakland. Since 2008, the record in

this angle is 8 Overs and 0 Unders.

17-3-1 O/U with games averaging

around 54.5 points, clearing by 6.5

points per game.

SUPER BOWL PREDICTION +

FIRST QUARTER PROP

While Atlanta has made huge strides

this season, the Patriots are playing a

similar style we have come to expect

from them over the years. Their turnover

margin was +12 but that's only five

better than in 2015 and Super Bowl

teams in this profile are 6-1 ATS with

four of seven games finishing in the

50's for total points.

None of the first quarters finished with

more than 10 points so while I expect

an eventual shootout, I'm seeing value

on this first quarter total to stay under.

Note that my flat bet on the total is for

roughly four times the amount of this

first quarter prop.

**TC Super Bowl Pick: Patriots and

Falcons OVER

**First Quarter Prop: Take the Under

13 points

One of my books offered a special

prop paying back at odds of 21 to 1

if the game's final scored landed on

exactly 51 points. Considering that

51 is a key number, seven more than

44 and three more than 48, not to

mention exactly seven less than the

common posted total of 58, I did some

research.

Since 2002, exactly 134 regular season

games have finished with 51 total

points scored. The most common final

below that mark is 41 points, with 160

games. Above 51, no other number

even comes close, the next most

frequent being '52' at 83 hits.

In playoff games since 2002, only seven

have landed on 51 and although

that doesn't sound like much, we have

to keep things in perspective. We are

only dealing with 165 games in that

time span and no number greater than

51 has hit more than six times.

Below 51, the seven most common

numbers are as follows:

37 = 14 times

38 = 8 times

41 = 7 times

31, 34, 43 and 8 = Four-way tie at 6

times apiece.

A $50 bet on this prop pays $1,050

and a $5 pays $105. Given the possibilities,

this prop was worth a shot

for me.

Our overall record this season was

7-5 and hopefully we can finish on a

high note. Drop by my site on Saturday

for updates or additional props.

Good luck and enjoy the game!

BALL HOGS

Atlanta only has 11 turnovers this

year (1st) and New England 14

(3rd). When you have two offenses

with such good ball security in the

playoffs, there is a good chance we

see some fireworks, especially once

the Wild Card riffraff are weeded

out. The "Over" is 77-percent overall

and riding a streak of 9 Overs and 1

Under since 2014.

13 of the 23 Overs cleared their mark

by double-digits and 10 of those 13

were in closely matched games with

faves laying -5 points or less. Overall,

the lower lined games went 13-4-1

O/U. In games played on turf, the

total for all faves and small dogs is

SYNCHRONICITY PROP

Totally Covered is written by Jarvis Simes, lead handicapper at Pick Sixty

Sports. Jarvis spent years working with Winner's Edge, focusing on NHL and

pro football. A hardcore number cruncher, Jarvis is a certified SDQL Master and

shares information @PickSixtySports as well as www.picksixtysports.com.

Going to need at least one

field goal to hit my "exact

score" prop and cash a nice

payday.

15
---
NHL GAME PICKS AND ANALYSIS

STARS GIVE HAWKS RUDE WELCOME

Saturday, February 4th

Chicago Blackhawks at Dallas

Stars

The Hawks have had the Stars

number so far this year, sporting a

3-0 mark in their previous meetings

(two in Chicago and one in Dallas).

They've all been close, but that

doesn't make you feel any better if

you're the team with the goose egg.

But this could be a good spot for the

home side to break the losing streak.

Chicago has been muddling along,

losing games on a regular basis and

finding it difficult to create a good

number of quality scoring chances.

Coach Quenneville has been juggling

lines in an effort to get things going,

yet to find something that clicks. In

the Stars favor is the fact Chicago

isn't dominating the puck possession

game right now – in fact they're

spending a substantial amount of

time without the puck, chasing and

defending.

Dallas has been playing better hockey

the last stretch as they make a run for

a playoff spot. Yes, they slipped up on

home ice Thursday night vs. the Jets

(while Chicago beat the lowly Coyotes),

but that actually helps this play.

We should get an attractive line on the

home side in a good spot.

Take the Stars

Anaheim Ducks at Tampa Bay

Lightning

It's hard to really get behind this Lightning

team right now, but we'll take a

shot with them in this spot. They just

dropped their last home start, a not-so

pretty 5-2 result vs. the Senators.

Hopefully they arrive at the rink ready

to play here. This is still a lineup that

can compete with the better teams in

either conference, but they're struggling

with consistency and have been

all year. Tonight they face a good

Western Conference team that is

playing the second game of a fivegame

Eastern swing (the Ducks were

in Florida yesterday). We should get

a very attractive number on a home

team that hasn't looked good, but one

that can bite. We like the set-up.

Take the Bolts

Minnesota Wild at Vancouver

Canucks

The Canucks have been a good home

team all season and we expect that to

show through in a solid bounce-back

game from them after that Thursday

loss to the Sharks. Obviously this is

a difficult ask – for them to beat one

the hottest teams in the league, but

Vancouver have been up to big challenges

in front of the hometown fans,

where they're 7-1-1 in their last eight.

They should have Jannik Hansen

back in the lineup, which will give the

third line a boost (at least we expect

he'll land with Sutter and Granlund,

but who knows, maybe he takes

Burrows spot on Horvat's line). But

with Hansen slotted back in, the top

three lines start to round out nicely vs.

a Wild roster. They do give up a little

along the top line and the Wild boast

one of the best second lines in the

league, but Vancouver can get their

matchups with last change on home

ice and should be able to limit Minnesota's

scoring chances.

This is the last home game before

they head out on the road for six

games. Look for them to come away

with a win. We'll back the home team

at a good price.

Take the Canucks

Tuesday, February 7th

Anaheim Ducks at NY Rangers

The Rangers goaltending has been

an issue this year, or more accurately

King Henrik has been struggling in a

lot of his starts. That said, we watched

most of the last four games he's

played (and have seen many over the

course of the season) and something

that jumps out at you when watching

this New York team play – man they

give up a lot of top quality scoring

chances. Defensively they can be

as leaky as it gets. From the tops of

the circles down guys are getting a

surprising number of open looks and

it seems like every time down the ice

there is no end of time and space

when playing the Rangers. That

doesn't bode well for them vs. a good

Anaheim team.

We'll go with the underdog Ducks.

Last Week's Record: +3.04 Units

Season Record: +7.45 Units

THIS IS A DIFFICULT ASK – FOR THEM TO BEAT

ONE THE HOTTEST TEAMS IN THE LEAGUE, BUT

VANCOUVER HAVE BEEN UP TO BIG CHALLENGES

IN FRONT OF THE HOMETOWN FANS

16
---
NHL GAME PICKS AND ANALYSIS

The Ducks should

get some attractive

chances at Madison

Square Garden on

Tuesday night

Will the Stars' fans get

to stick it to the Hawks

Saturday night?

17
---
FUTURES FORAY

OSCAR OPPORTUNITIES

Oscar stands 13½

inches tall and

weighs 8½ lbs.

And the Oscar goes to . . .

The 89th Academy Awards is set for

February 26 and we've got some be tting

strategies that you can use to heig hten

the fun and excitement of the big night.

Conventional wisdom suggests that

there are few surprises on Oscar night.

Typically the favorites in early February

are the winners at the big show. So if

you see a non-favorite price increase,

it's for a reason and you should stay

away. That said, it is crucial to keep

abreast of Oscars buzz during the next

few weeks. There is often some value

to be had while nominees lose or gain

momentum.

Not all awards pre-cursor shows are

created equally. That is to say that the

results of some award shows are poor

predictors of Oscar night winners. Step

right up Golden Globes and BAFTA

Awards. Stick with the various guild

awards and you will have a clearer

vision of the respective winners. We

speak of the Directors Guild (DGA),

Producers Guild (PGA) and Screen

Actors Guild (SAG) respectively.

Finally, shop around. There is considerable

variation among numerous online

books. Here's how we view the main

categories:

Locks

Best Picture – La La Land

Best Director – La La Land

When a film receives as many nominations

as La La Land (14), historically

they capture the double, i.e. Best Picture

and Director awards. See Titanic

and All About Eve.

Best Actress – Emma Stone; she won

the SAG and will win the Oscar.

Best Supporting Actress – Viola Davis;

paying $1.02 - $1.09. How is that

for a lock?

Solid Favorite

Best Supporting Actor – Ali is pretty

much a lock paying between $1.04

- $1.16, however, some on staff are

having a go with Michael Shannon. His

prices are wildly variable paying out

between $8.50 - $31.00.

Possible upset

Best actor – Casey Affleck is the favorite

paying anywhere between $1.50

to $1.83 (see, it pays to shop around)

but Denzel is coming on strong. A week

ago Mr. Washington was paying 4 or 5

to 1. That ship has sailed however after

he won the SAG award last week. Now

he is priced between $1.83 and $2.50.

Good luck and enjoy the show!

18