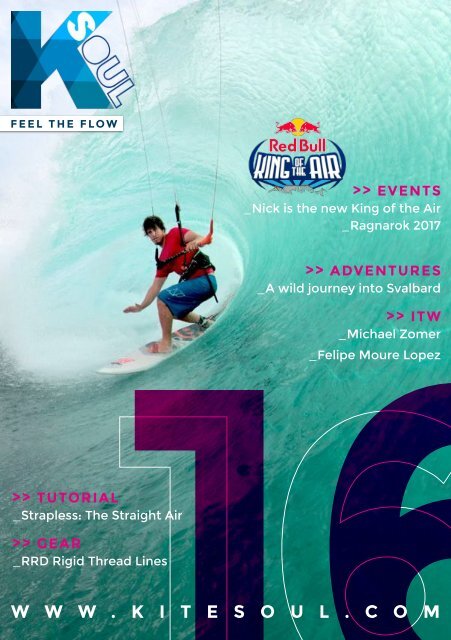 Kitesoul Magazine #16 English Edition
In this issue: Riders Column - Colleen Carroll, Red Bull KOTA 2017; ITW Nick Jacobsen, Ruben Lenten; Events: Ragnarok 2017, Banga Foil 2017; Journeys: In the Kingdom of the polar bears, The Wall Ride; Characters: Michael Zomer; Schools: Canary islands; Trends: How about learning kite-foil? Product focus: RRD rigid lines; Felipe Moure Lopez: Blind Judge 5 challenge and much more.
In this issue: Riders Column - Colleen Carroll, Red Bull KOTA 2017; ITW Nick Jacobsen, Ruben Lenten; Events: Ragnarok 2017, Banga Foil 2017; Journeys: In the Kingdom of the polar bears, The Wall Ride; Characters: Michael Zomer; Schools: Canary islands; Trends: How about learning kite-foil? Product focus: RRD rigid lines; Felipe Moure Lopez: Blind Judge 5 challenge and much more.
SHOW MORE
SHOW LESS
Create successful ePaper yourself
Turn your PDF publications into a flip-book with our unique Google optimized e-Paper software.
EVENTS

_Nick is the new King of the Air

_Ragnarok 2017

>> AdVENTURES

_A wild journey into Svalbard

>> ITW

_Michael Zomer

_Felipe Moure Lopez

>> TUTORIAL

_Strapless: The Straight Air

>> GEAR

_RRD Rigid Thread Lines

W W W . K I T E S O U L . C O M
---
WAVE | SURFSTYLE

Foto: Jason Wolcott

FOLLOW CORE KITEBOARDING:

corekites.com facebook.com/corekites instagram.com/corekites twitter.com/corekites #corekites
---
CORE Kiteboarding – a Hiss-Tec brand // Fehmarn, Germany

phone IT: +39 3351015128 // info@corekites.com // 54.445874 N : 11.191058 O

THE SUPER AGILE WAVE SPECIALIST

PURE WAVE.

MORE GAME.

A kite for explosive off-the-lips and smooth bottom turns. A kite that stays put

while riding down-the-line or getting tubed.

Raise your game with the Specialized Section. A purebred wave kite with 3 struts,

lightweight ExoTex construction, perfect balance and super quick reflexes.

Section. All wave. All the time.
---
Introducing the most advanced

kite canopy material ever made

*

OVER 30% STRONGER = Unmatched durability

OVER 30% STIFFER = Prevents distortion for ultimate control

QUADRUPLE RIPSTOP = Minimal stretch in every direction

PERFECTLY BALANCED WEAVE MATRIX = Optimal strength-to-weight ratio

UNPARALLELED RESPONSIVENESS

-MADE Worldwide leader in high-performance textiles

AN INDUSTRY FIRST, EXCLUSIVE TO NAISH

20/ KI TE RANGE

PIVOT

FREERIDE/WAVE

SLASH

PURE WAVE/STRAPLESS

TORCH

PRO PERFORMANCE FREESTYLE

SIZES

5 | 6 | 7 | 8 | 9 | 10 | 11 | 12 | 14

SIZES

4 | 5 | 6 | 7 | 8 | 9 | 10

SIZES

5 | 6 | 7 | 8 | 9 | 10 | 11 | 12 | 14

*ALSO FEATURED ON 2017/18 KITES

Agenzia per l'Italia: Ocean Avenue . info@oceanavenue.it . +39 328 6442519

NaishKiteboarding naish_kiteboarding naishkites.com
---
Editor

David Ingiosi

david.ingiosi@kitesoul.com

Wave Thecnique Editor

Mitu Monteiro

Freestyle Thecnique Editor

Alberto Rondina

Thecnical Expert

Renato Casati

Photo & Video

Maurizio Cinti

Design

Giuseppe Esposito

Tradutions italian-english

Daniela Meloni

FEBRUARY 2017 - MARCH 2017

TWO-MONTHLY

Texts

Roberta Pala, Collen Carroll, Kari

Schibevaag, Noé Font, Felipe Moure

Lopez, Reo Stevens, Michelle Hayward.

Photos

Svetlana Romantsova, Chris Bobryk,

Andre Magarao, Matthew Fitchen, Red

Bull Courtesy, Tom Magne Jonassen,

Trond Tyss, Vincent Bergeron, Alexandru

Baranescu, Courtesy Banga Foil, Toby

Bromwich, Lukas Stiller, Tim Mckenna,

JT Pro Center, Gabriele Rumbolo, Todd

Glaser.

Cover:

Rider Keahi de Aboitiz

Photo Jason Wolcott

Publisher and advertising

VISU Media

Via Cavour, 20

24030 Ambivere (BG)

Amministratore Unico

Federico Sugoni

fs@kitesoul.com

Registration Tribunale

di Bergamo n°10/2014

del 15/04/2014.

Periodicità bimestrale

Copyright Kitesoul Magazine

All content is copyright of Kitesoul

Magazine / Visu Media Srl.

FEDERICO SUGONI

Publisher

He's a manager and a businessman.

He fell in love with kiteboarding

almost 10 years ago in

the wild and amazing North

Shore of Oahu (Hawaii). Aside

from kiteboarding there is

only one other important

thing in his life: his baby

daughter.

He's responsible for the 2014

launching of KiteSoul Magazine.

DAVID INGIOSI

Editor in Chief

Professional journalist and

video maker with a solid

experience in sailing, sea

adventures, travels and water

sports, he has been reported

the "blue world" from the

inside for more than 15 years.

He fell in love with kitesurf

several years ago in Sardinia,

then travelled all over the

world as Iko instructor.

MAURIZIO CINTI

Film-maker

Movie buff and keen photographer.

He's a skater, snowboarder

and wakeboarder,

but he actually burns with

passion for kiteboarding. He

started off with freestyle a

few years ago, but nowadays

he's more into chasing big

and powerful waves. This is

what he loves the most.

GIUSEPPE ESPOSITO

Art director

Kiter since he was in the baby

pram, he is a rider for RRD

Italia and he have a Bachelor

in Comunciation Design at

Politecnico di Milano.

With this assignment, he

finally has been able to put

together his two passions:

kite and design.
---
KITESOUL MAGAZINE

Feel The Flow

MITU MONTEIRO

Technical Editor-Wave Riding

He comes from Sal. Official

F-one and Manera rider.

2008 KPWT World Champion

and three-time Vice World

Champion. He started to surf

and windsurf as a kid and but

he definitively fell in love with

kitesurf as soon as he discovered

it.

ALBERTO RONDINA

Technical Editor-Freestyle

He's the best Italian rider of

the competitive kiting world.

Cabrinha, Neil Pryde and

GoPro official team rider

and four-time Italian Champion.

Alberto has won the

2001 edition of the European

Championship and third

place in the 2012 PKRA World

Championship.

RENATO "DR. KITE" CASATI

Technical Expert

RRD Wave team rider. Kiteboarder

since 2000, he has

been PKRA athlete and judge.

He's a professional sportswriter

for several technical

magazines. He lives between

Como Lake and Sardinia, but

he spends every winter in the

waves of Cabo-Verde.

DANIELA MELONI

Professional translator

Daniela mainly lived abroad

where she graduated

in Law and worked. She

discovered her passion for

water actvities back in 2007

when she moved back to the

Sardinian west coast and met

her husband, the kitesurfer

Enrico Giordano. Professional

translator since 2009. She is

a SUP lover and an amateur

photographer and never

misses to photo or video

shoot a Kite or Sup wave

session!
---
EDITORIAL

Rider Kelly Slater | Photo Todd Glaser

Kitesurfing still tastes of salt and

not of chlorine

Artificial waves parks for surfers are now spreading

all over the world. Increasingly big, accessible

and efficient. In January 2017, a Spanish Company

called Wavegarden specialized in pools and

water parks announced that it has just developed

a new technology capable of creating 1.029 waves

per hour that means over 16 waves per minute.

While they want to keep this patent still secret,

the Iberian technicians have added that the new

system would allow to have waves up to 2.10 metres

high, cutting through the pools for about 18

seconds. The project is called The Cove, and it will

debut in the upcoming months in Australia when

the first water parks for surfers, equipped with

this futuristic technology, will appear in Sydney,

Melbourne and Perth with the brand name Urbnsurf

(www.urbnsurf.co/media-coverage.html).

So then, how will the artificial surf evolve? One

could easily imagine that in the near future whole

surfers' generations, perhaps living hundreds

kilometres away from the first beach overlooking

the ocean, will use these admission-fee simulating

facilities for training at any time, in spite of

weather conditions, seasons and culture of the

sea. Surfing will be like going to the gym. No more

days spent sounding out the weather reports searching

for the next swell, no more stacking up

kilometres along the coast searching for the best

wave, no more time spent practising the true surfer's

art, which is patience. The new chlorine surfers

will enter any pool, for one or two hours they

will ride hundreds of waves, identical and perfect

and they will become extraordinary.

What will happen is what also happened to free

climbing with the advent of artificial walls and

indoor facilities thanks to which today a 12-year

old kid can climb VI grade walls, where bear

hands climbing times have halved and one year

of training is enough to climb the world rankin-
---
gs. Twenty years ago, anyone climbing a VI grade

wall would go directly on magazine covers. In

other words, the surfing technique will evolve by

the second. Even Kelly Slater has become a testimonial

for these water parks dedicated to comfy

surfers. Way to go, that's progress baby! As long

as one does not believe that things such as the

mystery of the ocean, the solitude in the pipe, the

hell in a wipe out can ever be removed from surfing.

Luckily, at least for now, kitesurfing is not at risk

of turning into a simulation sport. Those who choose

to surf pulled by a kite still have to consider

the weather conditions to go chasing wind and

waves, still have to get in the car and reach the

coast, and above all still have to enter the ocean

with the proper respect. And, once up there, on

the peak of a wave, always a different one, they

will remain amazed by the magic of nature.

David Ingiosi
---
SUMMARY

PORTFOLIO

RIDERS COLUMN

EVENTS + ITW

18 30 32

Portfolio

Colleen Carroll

Nick Jacobsen is the new

king of the air

+ Ruben Lenten

JOURNEYS

CHARACTERS

SCHOOLS

104

The Wall Ride

116

Michael Zomer:

I, extreme filmmaker

128

In the Canary Islands the

sons of the ocean are

raised

BASIC STRAPLESS

FOCUS

178

The straight air

182

F-one: Furtive V1/ Speed

Gun
---
EVENTS EVENTS JOURNEYS

62 74 88

Last stop: Ragnarok

Banga Foil

In the kingdom of the

polar bear

TRENDS

EQUIPMENT

VIDEO SAGA

138

How about learning kitefoil?

Slingshot launches

the Academy

148

Portfolio RRD lines: the revolution

is called 'Rigid Thread

Lines'

160

Portfolio Felipe Moure Lopez and

his Blind Judge 5 Challenge
---
18

PORTFOLIO

Alex Neto

RIDER: Alex Neto

PHOTO: Andre Magarao
---
20 PORTFOLIO

Reo Stevens

RIDER: Reo Stevens

PHOTO: Tim Mckenna
---
22 PORTFOLIO

Jeremie Tronet

RIDER: Jeremie Tronet

PHOTO: JT Pro Center
---
24 PORTFOLIO

Ismail Adarzane

RIDER: Ismail Adarzane

PHOTO: Gabriele Rumbolo
---
26 PORTFOLIO

PATRI MCLAUGHING

RIDER: PATRI MCLAUGHING

PHOTO: Toby Bromwich
---
WWW.KITEWORLDSHOP.COM

THE EUROPE-

AN'S ON LINE

KITESHOP

KITEWORLDSHOP.COM is the ultimate online store for

enthusiasts of any board sport who want only the best

for their passion.

A booming catalogue that includes: Kitesurf,

Kiteboards, Surfboards, SUP, Wetsuits, Clothing and

original Accessories from the best brands at the best

price, always available 24/7 365 days a year.

Great offer, ease of purchase, transaction security, best

price guarantee, return policy extended to 30 days, fast

shipping and a Customer Service always there to satisfy

any of your queries as well as help you make your

choice. All of that makes KITEWORLDSHOP.COM your

perfect companion for your secure online orders.
---
Photo: Alanvan Gysen – Courtesy Cabrinha

HOT LINE: +39 02 400 30 467

RIVENDITORE UFFICIALE
---
30

RIDERS COLUMN

Colleen Carroll

Blue Palawan. Many might still

be largely unfamiliar. While

last year's inaugural event was

deemed a huge success industry

wide, park riding and namely

park competitions, can sometimes

fly under most Kiteboarders'

radars.

Dubbed the most tropical kite

park on earth, Blue Palawan is

perfectly poised on the eastern

shoreline of Palawan Island, one

of the most famed islands out of

the over 7,000 islands that com-

prise the Philippines. Voted to

house some of the best beaches

in the world, it's no wonder all of

the best park riders, myself included,

are eager to return to the

stunning atoll.

However, it is not only the easy

breezy lifestyle and luxury living

that we have to look forward to.

Hanging in the wake of this year's

event, lies the likely trajectory

for the coming year of the Kite

Park League tour. Now of course

nothing will be set after only one

event yet, as we saw last year,

it can be a solid indicator as to

who are the real contenders for

the coming season.

Will Sam Light take another win

for the men, continuing his long

reigning dominance of kite park

events? Or, will Brandon Scheid

who has long nipped at his heals

finally take that top seat? However,

it is far from a two-man

race to the top this year and

looks like Light and Scheid will

have to work harder than ever if
---
RIDERS COLUMN

It's coming in the trade winds…

× Colleen Carroll ×

Text Colleen Carroll | Photo Toby Bromwich, Lukas Stiller

they want to secure their usual

podium spots. With young riders,

Noe Font and Ewan Jaspan,

as well as other podium finishers

from the 2016 season such

as Craig Cunninghan and Christophe

Tackmore dedicated than

ever, in my opinion, no one's fate

is sealed.

Not only has the men's competition

heated up over the past

year of park riding but, new

comers to the women's scene

have noticeably shaken things

up. It was world champion, Karolina

Winkowska who broke onto

the park scene adding 2016 KPL

Champion to her list of accolades.

Attempting to chase her

down for the title myself over the

past year after having a rough

start of the season, I can attest

that the competition is tougher

than ever before on the women's

front. And it wasn't only

Winkowska who made her mark

on the 2016 KPL, known park

competitor Sensi Graves came

in full force as well as household

name BrunaKajiya and up

and coming rider Annelous Lammerts

who all proved themselves

formidable competitors.

With more pro riders focusing

their efforts into the park than

ever before, the upcoming competition

is sure to be captivating.

Make sure to check back in the

next issue for a full recap of what

went down during the event and

who was able to prove themselves

better than the rest.
---
32

EVENTS

Nick Jacobsen is the new king of the air

i s t h e n e w k i

Michelle Hayward

Photo credit: Red Bull Courtesy
---
n g o f t h e a i r

On January 2nd in the evocative frame of Big Bay in South Africa it took place

the Red Bull King of the Air 2017 which proved once again to be one of the most

successful and spectacular competitions in the world. The 18 competing athletes

expressed the state-of-the-art of the Big Air discipline. Three true legends

battled for the title in the final that was held just after the sunset: Ruben Lenten,

Aaron Hadlow and Nick Jacobsen. In the end, the King of the Air was the Danish

rider: insane, brave and lethal.
---
34

EVENTS

Nick Jacobsen is the new king of the air
---
After almost two weeks of no wind, or at

least not any wind strong enough for the

Red Bull Kind of the Air, the wind finally

blew! When the thick white cloud starts

to creep over Table Mountain, then you

know the wind is going to pump, and

that is exactly what it did on Thursday

2ndJanuary, just 3 days before the end of

the waiting period for the event. By 3 pm,

the wind had hit 25 knots and they decided

to start the competition, this gave

the organisers just enough time to finish

the event on the same day.

This year Red Bull chose only 18 of the

top competitors in the world to take

part in Big Bay, South Africa. The judg-
---
36

EVENTS

Nick Jacobsen is the new king of the air
---
ing criteria also changed slightly this

year as 70% of the score was determined

by height while 30% was determined by

the extremity of the moves. There was no

limitation to how many moves each rider

could do, though only the top 3 moves

were counted as part of the final result.

Riders were encouraged to go as extreme

as possible, and they did not disappoint!

Though the wind was strong, and picked

up to 30 knots throughout the afternoon,

there were not many waves and riders

had to be careful to select the right

wave to boost off. There were more waves

downwind but each rider decided to stay

upwind, clearly careful not to get stuck
---
38

EVENTS

Nick Jacobsen is the new king of the air

too far downwind and out of the competition

area.

One of the crowd favourites was Aurelien

Petreau, a French rider who was new to

the event. He stunned the spectators with

his huge board off dead man. The youngest

rider, Willem van der Meij, who is just

19, genuinely showed that his age is not

a hindrance by also proving himself as a

crowd pleaser. The Megaloop Late Backroll

was a firm favourite of many of the

riders. Gijs Wassenaar, Jerrie Van de Kop,

Lasse Walker and Ryan Siegelberg were

just a few of the riders who named it
---
as their signature move. We also saw a

lot more riders doing a "one-footer" and

combining it with high jumps and even

Megaloops. This year there were also a

lot more riders unhooking during their

heats.

Of course the legends of the sport really

stood out and made it right through to

the finals. Ruben Lenten was hungry to

make his comeback and did so stylishly

with his signature move, the "Boogie

Loop" (Megaloop Front Roll). Aaron Hadlow

did also not disappoint, as he effortlessly

showed off his signature high
---
40

EVENTS

Nick Jacobsen is the new king of the air
---
handle-passes and impressive loops.

The one legend that could not compete,

however, was Kevin Langeree who unfortunately

broke his ankle just weeks before

the event. But, although he was on

crutches, and still recovering from an

operation, he was there to support his

fellow riders!

Thankfully, there were no major injuries

this year and none of the riders had to be

rescued or taken to hospital. Of course,

there were a few riders that crashed

their kites like Stuart Downey and Lewis

Crathern, but they managed to quickly

launch them and continue their heats.

Lewis Crathern then even went on to do
---
42

EVENTS

Nick Jacobsen is the new king of the air
---
the highest jump of the day. Most of the

riders had two of the same kites and a

few boards, as seen when Graham Howes

lost his board and soon enough had

another one given to him so that he did

not have to body drag to try to retrieve it.

Oswald Smith's old ankle injury caused

him a bit of pain, though he still managed

to claim the Mystic Move of the Day

award. Ruben Lenten also complained of

a sore rib, though he rightfully made it

into the finals. The finals took place just

after sunset but that did not stop the

crowd from going crazy: whistling, clap-
---
44

EVENTS

Nick Jacobsen is the new king of the air

ping and cheering the riders on. Fuelled

by all the Red Bull that was being handed

out, they did not mind watching the riders

compete in the dark.

The finals were really close but Nick

Jacobsen truly stood out with his variation

and all over extremity, placing him

in first place.
---
46

EVENTS

Nick Jacobsen is the new king of the air

The new King of the Air! Aaron Hadlow

came in second place and Ruben Lenten

made his comeback with a well-deserved

third place.
---
THE KITESOUL CORRESPONDENT

Michelle Sky Hayward, amongst the VIPs as our reporter

Michelle Sky Hayward is a 25-year-old

professional kitesurfer. She lives in Cape

Town, South Africa with her husband

Neil. She is passionate about kitesurfing

but besides that, she enjoys going to the

gym, spending time at the beach, travelling

and of course writing. This is what

she had to say about her experience reporting

at the King of the Air:

I had an amazing time reporting at the

Red Bull King of the Air! Kitesoul is a

great magazine to work for and it allowed

me to gain VIP media access during the

event. This way, I could meet some of

the riders and people in the media and

I got to have the best view! The conditions

were perfect, the event is well run

and the whole vibe was electric. This is a

world-class event and I was so happy to

be able to experience it first hand.
---
48

EVENTS

Nick Jacobsen is the new king of the air
---
50

Nick Jacobsen

The winner's words

The winner's words

We reached the winner of the Red Bull King of the Air 2017

Nick Jacobsen in Dubai (United Arab Emirates) where he

flew straight after the competition and here is what he

told us about his amazing victory.
---
52

Nick Jacobsen

The winner's words

"I just got to Dubai to shoot a project I have been working

on for quite some time now. Thank you so much

for all the kind words about King of the Air. Here is an

update on what went down: I went to Cape Town in the

middle of October 2016 to train for King of the Air and

to shoot with Cabrinha for the switch blade and all that

went really well. And just by riding every day in strong

conditions with the switch blade I chose to ride that

kite for the event. I felt comfortable on it and everything

about the switch blade just felt right. I had great expectations

about myself this year for King of the Air

because I really wanted to win it but I thought it was

quite impossible for me! I would just have been happy

to make it onto the podium. The day just went extremely

well and all of a sudden, I was in the finals against

two legends in the industry, two guys that I have always

been looking up to. I have been following Ruben

Lenten and Aaron Hadlow since they started, they were

my great inspirations. I know everything about them

and now we are great friends and it was so great to ride

with them. They are both Red Bull riders and I was with

them in the Red Bull finals so I was pretty stoked. When

I won it, I was so happy, it still hasn't sunk in yet and

it was a week ago. My main focus right now is this project

I am doing in Dubai so this whole thing with win-
---
54

Nick Jacobsen

The winner's words
---
ning the King of the air just went into the sand in a way

which I am a bit bummed about. But when this project

is done in a few weeks I'll go to either Bora Bora or Bali

or something for a few weeks just by myself without my

phone, without my laptop and then just let everything

sink in and I'll go on a small holiday. It looks like I'm

on holiday all the time but I'm actually not, I do a lot of

different things all the time".
---
56

ITW

Ruben Lenten, happy to be back but my ribs failed me

R U B E N

happy to be back

but my ribs failed me

Still in Cape Town working on new gear,

Ruben Lenten answers to Michelle

Hayward's questions and comments about

the competition and his fantastic third

place.
---
58

ITW

Ruben Lenten, happy to be back but my ribs failed me

How do you feel about the event?

Well every year I'm looking super forward

to see this event take place. Last year

I couldn't compete due to my battle

against cancer but this year I made

sure I was strong and confident enough

to compete with the world's best again.

This event is definitely the most exciting

event on the calendar and probably the

only event that really pushes the big air

riding to new levels. And the Megaloop

Challenge in the Netherlands of course.

It was my mission to enjoy riding with all

the boys and showcasing my style of riding

to the world. I managed to keep my

head cool and make it through my heats

with some of my signature moves and

eventually made it to the final. Unfortunately,

I took a big hit on my ribs in heat

1 and in the beginning of the final I had a

big crash right on it again and this just

put me out of it… I was in pain and super

emotional for some reason, I just couldn't

pull myself together. Coming in 3rd

is not a shame but for next year, I've got

my eyes on the prize. :-D The crown! Bring

on some more wind and waves please!
---
60

ITW

Ruben Lenten, happy to be back but my ribs failed me

What do you have planned next?

My plans are falling into place pretty

nicely and the year is filling up quickly

with all sorts of happenings. From

extreme projects, travelling for shoots,

demos and events to public speaking

and coaching around the world. My main

mission remains to push and promote

the sport globally to make people just as

happy as kitesurfing makes me. And of

course taking it to the next level by some

outstanding projects. For now, we still

have some time in Cape Town to work on

gear. I am building some insane carbon

boards with a local shaper and I'll sell

these through my web shop soon. Exciting

times! :-)
---
62

EVENTS

Last stop: Ragnarok
---
Last stop:

Ragnarok

From 30th March to 2nd April, the

Hardangervidda mountain plateau in

Norway will welcome more than 300

athletes from around the world that

will compete in the Red Bull Ragnarok,

an extreme marathon dedicated

to snowkiting. It doesn't matter

whether with skis or a snowboard: the

fatigue, the bravery and the desire

for adventure are the same for every

competitor.

Testo: David Ingiosi

Photo: Red Bull Courtesy
---
64

EVENTS

Last stop: Ragnarok

The snowkiting heroes are about to return to the

fighting arena. In fact, according to the Scandinavian

mythology, the term Ragnarǫk refers to

the final battle between the powers of light and

order, which challenged the powers of darkness

and chaos and following which the entire world

would be destroyed and only the greatest would

survive. That's how the Red Bull Ragnarok

event, a snowkite competition, scheduled from

30th March to 2nd April 2017 in Haugastøl, Norway,

borrows the epic from that ancient myth

to pay tribute to the men and women of today.

Competitors similar to warriors who in this extreme

trial on ice challenge themselves and the

elements with just one objective: be the first to

cross the finishing line.
---
A t t h e f i n i s h i n g

l i n e t h r o u g h t h e

g r e a t e s t e f f o r t s

The 6th edition is ready to start

This year more than 300 athletes from 30 countries

will gather at the starting line of this great

competition that smacks of adventure, fatigue,

bravery and which now rates as one of the most

anticipated events in the international snowkite

circuit. At its 6th edition, the event will take

place on the Hardangervidda mountain plateau,

a large snow-capped area, about 260 kilometres

Northwest of Oslo and which between wintertime

and springtime offers fantastic conditions

for this discipline.
---
66

EVENTS

Last stop: Ragnarok

The racetrack is a lap circuit about 15-20 kilometres

long to be repeated five times. The competitors,

who will all line up at the starting line,

must complete the course by using only their kite

and either skis or a snowboard at their choice.

There will be four categories: Men skis, Women

skis, Men snowboard and Women snowboard.

Lastly, along the track the athletes must follow

specific "gates" set up by the organizers to record

the passing of each participant through a

gps device.

The cold, the fatigue and the meteorological aspects

represent the unknown elements of the

race

A specific and tested race formula for a unique

competition which offers a lot of fun, show and

thrill both for those who actually do it and grit

their teeth to give their best to get to the end,

and for the audience that follows the race supporting

anyone of the competitors.

It goes without saying that it's not a picnic on

the snow. It is a backbreaking trial lasting normally

longer than 6 hours. It strains muscles and

mind of the athletes who have to deal with the

cold, the fatigue and especially with the sudden

change of weather conditions, which often mark

the divide between those who can cross the

finishing line and those who have to walk back

to the base camp. The wind in these expanses

of snow and ice can be a friend or an enemy.

Who's been there knows it well.
---
A d v e n t u r e f a t i g u e

b r a v e r y
---
68

EVENTS

Last stop: Ragnarok
---
Susi May: "once in a lifetime"

Over the years, many world champions and outstanding

athletes from kitesurfing and snowkiting

took part to this competition. Everyone keeps

a strong memory of that experience and a great

source of inspiration whether it was a victory or

a withdrawal. The German champion Susi May,

at the end of the 2016 edition said: "No matter

how frustrated you feel, when you push yourself

to the limits you always learn something about

kitesurfing. It's one of those "once in a lifetime"

experiences in one of the wildest and most fascinating

places in the world".

On the other hand, the three time world champion

Steph Bridge who was able to win the Red

Bull Ragnarok race warns those who are about

to do this extreme race: "Choose the right equipment.

Before the start eat carbohydrates and be

well hydrated. You must persist and be positive.

I wasn't able to finish the race twice, but at the

third time, I won it". The Canadian champion

Peter Martel, a regular in Haugastøl, echoes her:

"Nothing will go as planned. But trust yourself

and don't give up".
---
70

EVENTS

Last stop: Ragnarok

For sure, things do get serious at Ragnarok. You

do not know how you will leave that arena but

one thing is certain: you will enter as a warrior.

Enjoy the battle everyone!
---
N o t a p i c n i c

o n t h e s n o w
---
72

EVENTS

Last stop: Ragnarok

PROGRAM & INFO

• Thursday March 30th

16:00 – 21:00 Registration - Haugastøl Turistsenter

- You must show up for accreditation or your place will be given away. No exceptions. .

• Friday March 31st

09:00 am Pre-race meeting - Haugastøl Turistsenter

- In case the race is postponed to Saturday, a notice will be texted to each competitor.

10:00 am Transfer to the race course

12:00 pm Race starts

- In case the weather conditions prevent the race from taking place on Friday, it will be postponed

to Saturday.

• Saturday April 1st

09:00 am - If the race will not be completed on Friday, it will continue on Saturday

20:00 Banquet dinner - Haugastøl Turistsenter

22:00 Awards ceremony & after party

• Sunday April 2nd

Return

- The timetable can be subject to change

- In case the weather conditions prevent the race from taking place on Saturday, it will be

postponed to Sunday.

www.redbull.com/no/no/snow/events/1331603570189/red-bull-ragnarok
---
74

EVENTS

Banga Foil

itw Roberta Pala

photo Alexandru Baranescu & Courtesy Banga Foil
---
The Formula Kite World Championship

took place in Weifang,

China. Sixty athletes took part

to the competition. For the Men

category, the Monegasque

Maxime Nocher conquered the

victory using a "made in Italy"

foil, the Banga BF016WA. As

far as Women are concerned,

the title went to the American

Daniela Moroz. First one among

the Italians, in sixth place,

Mario Calbucci, and in second

place Axel Mazella both from

Banga team just like Nocher.

As is known, there are high

probabilities that kiteboarding

will become an Olympic

sport, with the foil discipline,

already in 2020. Banga foil is

the result of a project started

in spring 2015, which aimed at

developing in 12 months the

fastest hydrofoil for Formula

Kite competitions. The aerodynamic

design was entrusted

to a project team with great

experience over the America's

Cup and cat C-Class foil. The

design of the structure and the

making of it was supervised by

Luca Filippi. Banga Foil comes

as a branch of PROtect Tapes

using the same logics and the

pursuit of excellence. The initiator

of both activities is Pietro

Parmeggiani who takes care

of the operational aspect, the

management and marketing.

Banga foil production is 100%

Italian, it has specialized suppliers

and partners, since Italy

is an excellence for composite

materials. Banga foil placed

five athletes in the top 10 positions

at the Weifang World

Championship (and in 10th

place, there is the other Italian

Riccardo Andrea Leccese).

Besides Calbucci there are the

French Julien Kerneur (7th)

and Theo Lhotis (8th) and the

Russian Elena Kalinina second

for Women. Next event for Foil

Kite will be the Gold Cup final

to be held in Qatar from 15th to

19th November. Prize money:

€ 20.000.
---
76

KITEFOIL

Banga Foil, the Italian brand flies high

itw Roberta Pala

photo Alexandru Baranescu & Courtesy Banga Fo

the

Italian brand

flies high

Following Maxime Nocher's worldwide

success, the interest in Banga Foil has had

a stunning growth. It's a young brand, born

from the passion of two professionals, a

Made in Italy product which whipped the

others during the last Foil World circuit. We

had a chat with Pietro Parmeggiani, one of

the two creators of the idea that gained the

top position in the foil world.
---
KS_How did you create the Banga Foil

project?

Pietro Parmeggiani_We started this project in

spring 2015.

Banga Foil is an idea of Luca Filippi and Pietro

Parmeggiani, both 50 years old, with 40 years

experience in various types of sailing. Luca's

experience is related to sailing, sailmaking, catamarans,

foil, advanced composite materials

coupled with endless manual skills and creativity.

I am the CEO of a major multinational group but

I also have my own company that deals with advanced

materials (PROtect Tapes) which among

its customers rates the America's Cup team, the

Imoca60, Olympic athletes, just to name a few,

but we also range over other industries such as

F1, motorcycles and wind power.

KS_Where does the name Banga come from?

PP_I could just tell you that Banga is the title of

the eleventh album of Patty Smith or the name

of my cat when I was a child but I would lie. Luca's

son, Marco, used to repeat this word, we

liked it and we used it.
---
78

KITEFOIL

Banga Foil, the Italian brand flies high

KS_What was the main motivation that made

you enter the Foil world?

PP_We dreamt of creating the best performing

foil in the market, light, with no compromises.

We were also sure, that the foil would have become

an Olympic sport and we had to be ready

when that happened. We entrusted the best foil

designers and structural engineers in order to

achieve our goal.

KS_Are Luca and yourself also two foil-kiters?

PP_No, we aren't. We keep on saying that we

should start but then we get caught in other priorities,

but we will, because we both like speed.

KS_What are the main features of your foil?

PP_Our foil is 995mm long, with the front wing

of 630mm. The materials used are high modulus

prepreg carbon and oven cooked. To get the

best quality we made carbon moulds. An important

aspect is the hand-made finishing which takes

a lot of time, attention and experience, the

Banga product is not painted!

The production is 100% Italian and it is carried

out in an ultramodern factory.

The front wing, fuselage and back wing are one

single piece which connects to the mast.
---
KS_Where do you purchase the raw material

and what can you tell us about the factory

that manufactures the final product? How

much time did it take before you found the

right partners, suppliers and manufacturers?

PP_Italy is a very innovative country in relation

to composite materials, think for instance of industries

such as aviation, car and all the production

sites of the major multinational companies.

In addition, there are a few independent

Italian companies which manufacture very high

quality products.

I have 20 years of experience in manufacturing

and I am an organization maniac so when we

started the project, we designed a factory specifically

for Banga.

Product quality is a matter of method and regularity

of production materials, process control

and we tried to create the best conditions to

achieve this objective.

We work in a geographical area full of skilled

workers, and finding the right staff for such an
---
80

KITEFOIL

Banga Foil, the Italian brand flies high

exciting project wasn't difficult.

KS_Who is behind the design of the Foil?

PP_It was necessary to aim high for such an

ambitious project, developing it with internal resources

was unthinkable. Luca and I, each one

for a different reason, have to do with the world

of sailing and of the America's Cup, so we involved

a group of people, both Italians and from

abroad. The decision of Luna Rossa to leave the

Cup helped us out as it freed valuable resources

for our venture.

KS_From the first version of Banga foil up to

today, what are the aspects that you mostly

had to keep into account?

PP_The complexities are diverse, the choice of

the profiles, the size of the wings, the length of

the mast, geometries, in addition to these there

are the rigidity and torsion related to the small

size of our foil.

Experience teaches that mathematical models

and computer simulations can only partly simulate

reality, therefore we had to create prototypes,

but these can be made only once the

moulds are realized. We made a few prototypes,

tested them in the water for many hours and

the final version began giving its results at the

competition in Gizzeria. Since then it has been

a boom.
---
KS_Who are the Banga Foil athletes in the

world?

PP_After Gizzeria, we have been rushed, everybody

wanted Banga Foil but in early 2016 we

only had a few athletes, both from Italy and from

abroad, our brand was totally unknown, despite

the fact that Maxime Nocher was already using

Banga Foil. The World Cup in China and the final

leg in Qatar represented our consecration.

The rest is already history, Maxime Nocher wins

the world circuit and six other athletes in the top

ten positions (Maxime Nocher, Axel Mazella, Titouan

Galea, Theo Lhostis, Julien Kerneur and

Mario Calbucci), Simone Vannucci and Andrea

Beverino in Italy, Alejandro Climent Hernandez

in Spain, and the speed record-man, Alex Caizergues.

In the Women ranking we are second

with Elena Kalinina and I can't go on without

mentioning Jade O'Connor who helps us a lot in

the development.

KS_What is the contribution by the professional

athletes to the design, development

and testing phases?

PP_Luca is in charge of the relations with external

designers and testers. We are always there

during competitions, to provide maximum support

to the athletes, but also to gather important

information for future developments. Professional

athletes are essential to keep improving the

product, they have a perception that allows us

to make minor changes, but which do make the

difference. I am only in charge of the commercial
---
82

KITEFOIL

Banga Foil, the Italian brand flies high
---
and organisational management.

KS_Is Banga a foil only for the Pro circuit?

PP_Absolutely not. We sell very well to the general

public too; we have customers all over the

world from Australia to the USA, from Denmark

to South Africa. Banga is very easy to use, so

every rider can have one and have fun.

KS_After the boom in the past two years and

the foilboard more and more present even in

the quiver of sports enthusiasts, how do you

see the development of your foil outside the

professional sport competitions?

PP_We are working on a freeride version and

hopefully we will be able to talk about it soon.

KS_The Foil Kite world is constantly evolving,

on what does the research and development

team mainly focuses its efforts? Choice of

the materials? Advanced applied engineering?

PP_I believe that this is only the beginning of a fascinating

world. We work in different directions,

and for sure, the most important aspect is the

design of the foil, the profile, and the geometries.

The materials are equally important, therefore

although our consumption is reduced, we work

with various companies to have what's best on

the market.
---
84

KITEFOIL

Banga Foil, the Italian brand flies high

KS_What do you think about the introduction

of kiteboarding at the Olympic Games?

PP_Olympic Games? I think that kiteboarding

has all the right characteristics to become an

Olympic sport, maybe it's still a little early because

kitefoil is not so common at global level

yet and not so popular among girls. There is

also a dispute related to the monopoly of the

big brands.

When we started this project, we did think of

the Olympics and of the potential developments

of this sport. We don't obviously have the same

power as the major brands, but we do have the

organizational and production capacity to potentially

play the game.

KS_What are your projects for the 2017? On

which aspects of the design/manufacturing

are you concentrating?

PP_We are working on the evolution of the

BF2016001WA which won everything in 2016. It

won't be a Banga 2, but the outcome of a new

project, this is why we have great expectations.

First testing sessions in the water should already

take place by the end of January 2017.
---
86

Journeys

In the kingdom of the polar bear

In the kingdom of the polar bear

It is a journey she much longed for the one through which Kari

Schibevaag takes us, the frozen lands of Spitsbergen Island, in

the Norwegian archipelago of Svalbard. Chasing the wind for

snowkiting, with a group of friends riding snowmobiles, where at

midnight the sun is still up in the sky and the polar bear is the

undisputed lord.

Text: Kari Schibevaag

Photo: Tom Magne Jonassen & Trond Tyss
---
88

Journeys

In the kingdom of the polar bear

Let's go North
---
The island of Spitsbergen is located

so far up on the northern

hemisphere that the sun actually

never comes up or it never drops

down, it just depends on the season.

But either way, it's an island

that I've always been dreaming

of in the back of my head.

It's winter outside, but it's raining

like it was autumn already.

It's sad to see that the winter

is raining away and the winter

wonderland I love so much is

nearly gone. What is happening

to the world? Normally it's so

cold that it's hard to be outside,

but temperatures have been

changing rapidly and it's pouring

down with rain from the sky.

In February 2016, I broke my

nose in Cape Town, and the

doctor told me to stay away

from the winter and sun. But

what to do when you can't enjoy

the 2 best things in the world?

I planned for a quiet winter at

home, but after customizing my

goggles, I decided to try to go to

the mountains to snowkite and

get away from this sad rain.

How to get to the

ends of the earth

When tourists think about Norway,

they usually picture it dark,

cold and full of snow and also

some polar bears and reindeers

walking around in the streets …

Actually yes, we have this.

This place where the polar bears

are taking over is the archipelago

of Svalbard. The population

counts 2.000 people and 3.000

polar bears. Situated north of

mainland Europe, it is about

midway between continental

Norway and the North Pole. The

islands of the group range from

74° to 81° north latitude. The

largest island is Spitsbergen.

I always had a dream to go there,
---
90

Journeys

In the kingdom of the polar bear

At full blast on a snowmobile

but it's far from where I leave.

It's also good to know some local

people when you decide to go.

It's an island far up north and I

have been looking at the place

for snowkiting for a long time.

I´ve planned trips up there before,

but something always came

up, so I could not go.

Luck was about to change. It

was bad weather and not a lot of

snow where I was planning to

go. I was looking at the weather

forecast and it predicted storms

all over me. I was just looking

at Svalbard like I always do

and it looked like it was sunny

for the next week. I was sitting

dreaming that I could go there,

but it was not planned and I

did not have a place to stay so

I was just dreaming.

The next morning I woke

up and saw a message on my

phone. It was a friend asking

me to go to Svalbard. They had

a house and a guide waiting

for them so I just had to take
---
the plane. I was right away looking

at the tickets and booked

one straightaway for the night.

It's easy to get there, it's just

direct flight from Oslo (with a

pit stop in Tromsø). But the hard

thing is to get a place to stay

in the high season. I was lucky

to stay with friends and also to

know them so I could join them

for trips. The airport is in Longyearbyen,

a small city with some

hotels and hostels so you really

need to know where to stay before

you book a trip.

I waited too long to

come up here!

When I arrived, the sun was

shining with powder in the

mountains. It felt like I had

landed on a white moon. My

first thoughts were… why didn´t

I come up here before? I saw

white mountains with no trees

around. It was just perfect for

snowkite and skiing. I was in

heaven.

The first day I spent it around

town with Tom and Christian

waiting for the other ones to

come. We went kiting a bit in

an area overlooking the town. It

was already midnight sun, so we

could be outside 24/7.

What a place and what a country.

Norway never stops to impress

me. There were reindeers

walking around in the streets

and Christian, the local, told us

that they were walking around

on the whole island and citizens

on Svalbard, could hunt

one each every year. They were

so cute with their small legs.
---
92

Journeys

In the kingdom of the polar bear

The reindeers at Svalbard have

smaller legs than the normal

mainland reindeers and they are

not afraid of people at all.

Svalbard Islands have something

that the mainland of Norway

does not have and that´s polar

bears. They are the biggest bears

on this planet and the most

dangerous predators, but they

look so cute. I knew they were

around, so the first day I was a

bit afraid of walking around. I

talked to the locals and they told

me stories about the polar bears

coming into town, but that was

not something happening every

day.

When the bear

comes to town

We were kiting in Adventsdalen

(close to town) and everyone told

me that for sure there would not

be any polar bears there. I had so

much fun climbing the mountains,

riding over the frozen

water and jumping around. What

a place! I forgot all about the

polar bears and focused all on
---
the super cute reindeers and the

amazing nature surrounding me.

Two days later, a young hungry

polar bear came into town. The

local authorities tried to scare

him away with a helicopter and

snowmobile, but after several

attempts, they had to shoot him

with tranquilizer and fly him

away to the other side of the

island.

I was a bit lucky not to meet

him when I was out there kiting

without a rifle. I went straight

ahead to get a rifle so I could

wear this when I went kiting.

The polar bear came in just at

the place I was kiting before so

I found it safer to have one just

in case another one decided to

make a stop in town.
---
94

Journeys

In the kingdom of the polar bear

Last station: Isfjord

Radio

After some days, everyone arrived

at Svalbard and it was time

for a trip. We used snowmobiles

fully packed with kite gear and

ski gear. Gunvor had a friend

working as a guide and we were

lucky he wanted to join us. We

were going to Isfjord Radio, a

radio and weather station where

we booked a place to stay. Gunvor

used to work at Isfjord Radio

before and was super excited to

show us the place and also to get

back to this amazing area.

We started up in amazing sunny

conditions with no wind and

just moon landscape around us.

The guide made a route we followed.

We told him that if there

was wind, we wanted to kite, so

he knew that we all were looking

for wind. It is crazy at Svalbard.

It's split in different areas and

suddenly we came to a place that

was Russian, Barentsburg. We

had to stop and just look around.

It was very different from the

Norwegian town.

This was Russia if you know

what I mean. There were a hotel

and a bar serving Russian beer

and vodka.
---
Kite & Rifle
---
96

Journeys

In the kingdom of the polar bear

After some hours drive, we

found wind at a glacier. It was

powder, sun and wind and we

all packed up the kite gear and

some wind sails. It was so nice

to kite around there with the

amazing mountains around and

also a bit scary to know the

polar bears could be lurking

around.

A storm is coming

up, let's leave

After some time the weather

suddenly changed, fast like it

often does and a big storm came

up. We decided to pack down

and drove fast down to Isfjord

Radio. At Isfjord Radio it was

really windy but we managed to

get in and find our house.

Ifjord Radio is located at Kapp

Linne by the Isfjord on Spitsbergen

Island. The station was
---
The polar bear king of Svalbard

established in 1933, and has

played an important role in the

telecommunications between

the Svalbard archipelago and the

outside world. Now it's a hotel

where you can stay when you

are visiting Isfjord Radio. It is

reachable only by boat, snowmobile

or dogsled.

When we came to Isfjord, they

had excellent food ready for us
---
98

Journeys

In the kingdom of the polar bear

and we got a good hot shower

before we went to bed. We

were all tired and it was a big

storm outside. We all were

wondering if it would stop,

so we could return home the

next day, but you never know

at Svalbard. It is an island in

the middle of nowhere, so you

just have to cross your fingers.

The next morning it was still

stormy and the outside door

in the house broke. It was full

of snow in the hallway, but

they told us that this was normal

so they would fix it when

the wind stopped a bit.
---
The charm of midnight

sun

We decided to start the trip

back to Longyearbyen after

a long good breakfast, but

that was not so easy. It was

one-meter powder and still

snowing. The terrain was not

easy and the snowmobiles

went falling over all the time.

However, it was super fun to

drive in the snow, so maybe

we were just playing too

much in the powder and that

made us fall over. Anyway, it

was fun and so soft snow.

Just before we reached back

into Longyearbyen, the sun
---
100

Journeys

In the kingdom of the polar bear

In the

kingdom of

the polar

bear
---
came back and we got this super

beautiful midnight sun in

the town. In April, the sun is

always up, so it's hard to relax

when you have the sun shining

all the time. Going to bed

was for sure easy to cancel.

The next days we stayed

around Longyearbyen. We did

just small trips around with

the kites and snowmobiles. It

was beautiful and windy conditions

so we did not need to

travel too far in order to have

great experiences.

Svalbard is an amazing place

to be. I was so sad when

jumped on the plane back

home, but I knew it was time

to return home. But on the

way home, I knew I would be

back next winter and with

even bigger plans for trips up

there. Now we plan to cross

Svalbard from South to North

with a kite. I am so looking

forward to this and I hope

we will succeed to make this

dream come true.

See you all in April 2017

when the "Green Wind" team

(Svalbard Snowkite Expedition)

will pack its gear and

travel across the total length

of Svalbard, only using the

power of the wind. I can't

wait!:)
---
104

Journeys

The wall ride

Text: Noé Font

Photo Vincent Bergeron
---
In the Madeleine Islands, East of the Canadian coast,

the North Kiteboarding team searches for a spot to

do the Vegas 2017 photo shooting and they land on

a beach studded with red cliffs. The scenery is ideal

to set up a rail and try to climb those evocative walls.

The wind though can play nasty tricks.
---
106

Journeys

The wall ride
---
The Madeleine Islands are a small chain of islands way out on the

East Coast of Canada. During the summer months, the temperatures

go up and the winds kick in which leads to very good conditions

for kiting. I did a trip there with the rest of the North freestyle

team for the 2017 Vegas photo shoot.

The weather wasn't what we expected during the first week, it

was cold, very cold. The wind was blowing from the north, that's

why it was so cold. We all thought it was going to be much warmer;

however, we scored epic sessions. Vince showed us many

spots and all of them had potential. It was just the beginning of

the trip so we kept exploring the area and dialing our tricks on the

new features we built.

There was this one spot that stuck in my mind for a few days. These

10 to 15m cliffs along one of the inlets with rocky red walls were
---
108

Journeys

The wall ride

Shall we set a wall ride up?
---
the perfect spot to set up a wall ride, but the only way that was

going to work was with South West winds which unfortunately are

very rare at this time a year. Apparently Craig and Vince had been

there previously but didn't get to ride them. We wanted to setup

an incline rail up to the top part of one of the rock walls. The cliffs

stick out and create little bays so it was just perfect to wall ride

the top of the cliff and land on water downwind of it.

A few days later, on a very cloudy and cold day Vince mentioned

there was a chance of it blowing south west. That could be our

only chance to ride that spot during our stay there so we headed

to the beach. The wind was really light barely enough to ride but

we still gave it a try. Drove the uHaul as close to the cliffs as possible

and, carried the pipe and legs on knee-deep water all the way

out there. It was very tricky to secure the pipe on the cliff. It was

slippery and we were balancing it with a little rock we found. We

went back to the truck and although we could tell it wasn't windy

enough I still decided to pump up my 14.5m Vegas and give it a try.

To hit a set up like this you want to be powered and able to get

more power out of your kite instantly in case anything goes wrong.
---
110

Journeys

The wall ride

Waiting for South-West winds
---
There were a few puffs of wind and I was riding back and forth approaching

the rail but I couldn't get enough speed. I stuck around

for quite a while, Craig even pumped his own kite and tried for a

bit but there wasn't enough wind for us to feel confident enough

to hit it.

I almost gave up so many times, but kept remembering that it

could be the only chance I had to ride that feature. It was getting

very frustrating, sometimes you work a lot to get everything lined

up and the wind doesn't cooperate. That's what makes kite park

riding so special. It's never good, until you have an epic day that

makes all the other bad ones worth it.

That put things into perspective for myself, we were out there far

away from contests, tours and judging trying to make something

special. All the work you put by finding the location, building the

rails, getting the crew together and setting up a feature like that

pays off when you come up with photos like this.

In the end, I only got about three hits on the feature, definitely not

what I was hoping for after waiting for a gust for so long but that's
---
112

Journeys

The wall ride

Never give in

how it is sometimes. We ended up getting one okay shot so it was

worth it. Park riding itself is already very hard make happen, when

you're trying to get shots like this one where you only have a handful

of opportunities.
---
Charming Hotels

and Constant Winds.

Let this

Brazil

surprise

you.

members of egroup.net.br

Visit our websites and book your next kite trip!

JERICOACOARA • CEARÁ • BRASIL PREÁ • CEARÁ • BRASIL vilakalango.com.br • ranchodopeixe.com.br
---
63.855670 - 22.697039

64.824104 - 23.379523

64.245745 - 14.969012

THE EXO HARNESS

64.048018 - 16.189157
---
64.048018 - 16.189157

The EXO harness can significantly increase the length of your sessions thanks to its comfort. We worked with

a human kinetic science lab to help us on this project, their scientific approach and knowledge of human

morphology enabled us to create a harness providing a level of comfort that was previously nonexistent.

The EXO has been developed to optimize load distribution and thus prevent the rider from having misplaced

pressure points such as on the floating ribs or lower back. The body no longer has to compensate for pressure

on the wrong areas with muscle contractions or taking unnatural positions. This reduces the fatigue and pain

of the rider, allowing him or her to ride longer and with more comfort.

manera.com

Italian Distribution - E-mail: lucamarcis@hotmail.com
---
116

Characters

Michael Zomer: I, extreme filmmaker

Text:David Ingiosi

Photo: Michael Zomer Courtesy
---
Michael Zomer

I, e x t r e m e f i l m m a k e r

The young dutch video-maker has just finished filming Ruben

Lenten chasing storms. He had already worked together with the

"king of megaloop" back in 2015 when they produced the innovative

web series called Ten Days with Len10. Here, he tells us

about himself, about his passion for action sports and about

his friendship with Lenten. He expresses his impressions about

kiteboarding video productions but above all, he explains what

it means today, to be a video-maker who constantly deals with

extreme situations.

One of Ruben Lenten 2016

latest works is Code Red,

a captivating video project

where this dutch athlete

just few months from

his victory against cancer

got hold of his life again

and started doing what

he does best: the extreme

kiter. The video focuses on

an adventurous journey

during which Ruben chases

storms across three

European countries. Not

only wind blowing at over

50 knots, but during the

filming, the "master of extreme"

had to put up with

the cold and ice in Iceland,

through snow-capped

lands where also his jeep

broke down. He endured

the currents along the

dutch coast, which he

knows by heart but yet he

had never encountered so

strong before. Lastly, he

had to find his way out of

the Irish rocks, looking for

remote spots and even entering

the water at dusk.

In such adverse conditions

Michael Zomer was

there to capture those impressive

images; a young

but yet already well known

Dutch video-maker specialised

in action sports

who had already worked

with Lenten when filming

the innovative web series

Ten days with Len10. We

reached Michael who had

just landed in Cape Town

where he will be staying

during 2017 and he granted

us this interesting interview

in which he tells

us a little bit about himself,

of his relationship

with Ruben Lenten and especially

about his job as

video-maker of extreme

situations.
---
118

Characters

Michael Zomer: I, extreme filmmaker

KS_Michael, when have you decided to

become a professional video-maker?

I think I've always been fascinated by

cameras and video. From a very young

age (10), I 'borrowed' my dad's handy

cam and started to film my mates during

skateboarding and other stupid stuff. In

that time I didn't believe this was an actual

job, everybody could just apply for

but over the years, I developed my skills

and upgraded my equipment and people

and brands started to see that I was doing

something unique. I guess from that

point my passion for filmmaking turned

into a daily job.

KS_What kind of filming education

have you received and is there any
---
"master" that inspires your works?

I actually went to an art school, but I

didn't attend many classes in filming

there, I just went on doing it myself. On

top of that, I've watched so many skateboard

and snowboard movies so this is

definitely where my inspiration is coming

from. So if it comes to action sports

productions Ty Evans and the whole

Brainfarm crew are true legends for me.

If it comes to storytelling I got really inspired

by the way Vice magazine does

this.
---
120

Characters

Michael Zomer: I, extreme filmmaker

How far can you get?
---
KS_What do you like to shoot the most

and what's your favourite filming style?

'Cause I'm a real thrill seeker and my

roots are in action sports I just really

love to capture things that involve risk

and adventure. I like to go beyond average

to capture that one unique shot or

situation I got in mind. This is something

you cannot learn in film school or

wherever; I think it has to do with your

own personality and commitment, how

far will you go? Over the time I've created

my own style by mostly shooting run and

gun and just anticipate on the situation

or setting so you know where to be to record

that shot in the most beautiful way.

Unfortunately, this is also how I always

end up standing in water or hanging outside

driving verticals ha-ha.

When did you meet Ruben Lenten and

how did your professional collaboration

with him start?

I met Ruben 3 years ago for the first time

in Cape Town. I was asked to create a web

series about his daily life and around

the King of the Air. For over a month, I've

shared the same square meter with Ruben

which have been really intense at

times for the both of us. After all, I think

this has created such unique moments

and the love-hate relation Ruben and I

share is the core of our friendship.

KS_In the 10 Days with Len10 web series,

there is a behind-the-scenes style

that shows Ruben not just as a professional

kiteboarder but also as a real

guy who wants to enjoy life. That personal

and sometimes self-ironic approach

was shared between you both?

Because I'm quite down to earth and

never really treat Ruben as a professional

kitesurfer or somebody with an image

he eventually has become more himself

to me. In the beginning we had such a

hard time to get used to each other and

he used to call me a farmer 'cause I can

be quite straight to him and do not always

agree with his behaviour or arguments.

Over the time, we started to accept

our differences in personalities and

even learned from each other at times. I
---
122

Characters

Michael Zomer: I, extreme filmmaker

think this made me able to get to his real

personality and capture him in the most

pure way.

In Code Red, you went along Ruben

searching for storms. How is it shooting

in those conditions? Do you have

any special gear?

Shooting in extreme weather

conditions is always a challenge

and there are many risks involved,

not only for yourself but

also for the expensive equipment.

I've learned a lot from

experience and shoots where

things got damaged or even totally

destroyed. I try to prevent

risk and damage to a minimum

to be always connected with

my crew and Ruben by waterproof

walkie-talkies and wrapping

all camera gear up in rain

covers and plastic bags. Still I

can't avoid sand and salt that

goes everywhere so after every

shoot I've to take my tripod with

me under the shower and clean

my 30.000 euro RED Epic-W and

lenses with air dust, wet wipes, brushes

and other special stuff. Having a good

insurance is key!.

KS_Are you a kitesurfer too? If so, does

it help when you work with Ruben?

What do you think about the movies

this sport has expressed until now?

To be honest I'm not a kitesurfer, hahaha.

But I think if you compare kiteboarding

with other action sports it's quite new. I

think it hasn't showed it's full limits yet

and this is what makes the sport really

challenging, it triggers riders to keep

pushing it and to be more creative. So

by thinking this there will be a whole lot

more new crazy things and locations to

capture in the future.
---
KS_Nowadays kitesurf movies are not

just about action, but the storytelling

is getting much more space in it. As a

storyteller, do you like this trend?

I think storytelling in action sports has

become a really important thing because

nowadays not only the people that do

the same sport are interested in these

movies but there is a way bigger audience

interested as well. They might not

be as interested in the technical tricks

and skills but they like to know more

about the lifestyle around the sport or

the personality of the riders that travel

the whole world. I personally like to add

this kind of volume to my movies 'cause
---
124

Characters

Michael Zomer: I, extreme filmmaker

Ruben, love & hate

it reaches a way bigger audience and it's

also a more challenging way of filmmaking

instead of just capturing the action.

KS_Who is the best kitesurf filmmaker

out there in your opinion?

Eyeforce did an insane job on Chapter

One but I also really like what Andy Gordon

did in the video he shot with Aron

Headlow, this is what being creative is

about!.

KS_In the movies history there are few

films that were able to represent the

beauty and the real spirit of surfing.

Can you imagine a great kitesurf movie?

Yeah I think Chapter One is a good first

example. If the sport keeps growing there

might appear some more.
---
Chapter One revolution
---
126

Characters

Michael Zomer: I, extreme filmmaker

KS_What are the projects you are working

to at the moment and what about

your 2017 plans?

I decided to go wherever the wind might

blow in 2017. On the first of January I've

left my home country and went on an exciting

new adventure. Together with all

my equipment, I've moved to Cape Town

and for the time being this will be home.

Now I'm working on several film projects,

one of them with Lasse Walker and

another Red Bull project around the King

of The Air. Besides that, I've no specific

plans or any film projects lined up for

the near future. I like to believe that as

long as I follow my passion it will all find

it's way eventually! I'll might even start

kiteboarding myself this year, ahahah!
---
128

Schools

In the Canary Islands the sons of the ocean are raised

In the Canary Islands the

sons of the ocean are raised

On the Island of Fuerteventura, at playa Sotavento, since a

couple of years there has been a sea and water sports school

dedicated to young riders, aged 3 up to 23 years old. It's called

Club Hijos del Mar and it was created by an Italian couple

who moved to the Canary Islands with an ambitious dream: to

teach the ocean to children.
---
David Ingiosi

photo Hijos de Mar Courtesy

Their names are Alexandra,

Pedro, Mario, Sara and

Jakue. They have happy

faces and smiling eyes beneath

their wet hair, they

joke around whilst going

up and down the beach in

their tight neoprene wetsuits,

always with a board

under their arm, no matter

whether it is a surf board

or a sup or a kitesurf one.

They are the sons of the

sea, or better of the ocean

as here in Fuerteventura,

in the Canary Islands,

the waves that endlessly

break on the coast come

from the Atlantic. And

those children love playing

with waves all the day

long just like they see dolphins

do it, they want to

surf them, slide over them

and ride them as much

as possible, challenging

their balance. A primordial
---
130

Schools

In the Canary Islands the sons of the ocean are raised

instinctive and very formative

game for the kids of

Club Hijos del Mar school,

an association which was

founded a couple of years

ago by Roberta Trocchio

and Roberto Caruso, an

Italian couple who decided

to move to Fuerteventura.

The school is dedicated

to raising young people,

from children to teenagers,

with the culture of the

sea.

"My husband and I have always

been fond of the sea

and water sports - Roberta

explains - and all our holidays

were dedicated to

the practice of windsurfing,

surfing and kitesurfing.

When our children Alessandro

and Virginia were born,

quite naturally they too

wanted to practice these

activities. Then a few years

ago, we bought a house

in Fuerteventura and we

looked for a sea school designed

especially for children,

but there wasn't any.

This was pretty peculiar

for an island like this one

which represents a Mecca

all over the world for water

sports enthusiasts. So we

decided to move there and

to open one ourselves".

An arduous dream,

but René Egli believed

in it
---
Sea school for

kids

This is how Roberta e

Roberto thought of building

a multidisciplinary

sport centre to do with

the ocean and dedicated

to kids from 3 to 23

years old. A school fully

dedicated to sports, training

and sessions in the

sea but which would also

spread the culture and respect

for the blue planet.

At first, the couple tries

to cooperate with some

already existing surfing

centre along the beaches

of Fuerteventura, but it is

not easy to convince them.

"They would tell us that a

kitesurf school for children

would never work - says

Roberta - that tourism on

the island had a more adult

target, but we didn't give

up, because we believed in

the project".

God job they didn't give up

because after a short while

they meet someone who

considers their idea a bit

ambitious, but definitely

interesting. That person is

not Mr. nobody, but René

Egli in person, a gentleman

who arrived in Fuerte

in 1984 aboard a wrecked

Golf car and laid the foundations

of what is now the

world's largest windsurf

and kitesurf school which

welcomes every year more

than 25.000 sportsmen.

"Rene immediately took

to heart the project - tells

Roberta - and made available

its Cabrinha equipment

and some space inside the

Pro Centre 1 on Sotavento

Beach and that's how we

started".

Learning sports

and ocean safety by

playing

This how the married couple

founded the Club Hijos

del Mar, registered it as a

non-profit sports association

and required membership

to both the Federación

Canaria de Surf and

the Federación Canaria de

Vela. This way the Centre

begins to offer surf, wind-
---
132

Schools

In the Canary Islands the sons of the ocean are raised

Fun and safe

lessons

surf, sup and especially

kitesurf lessons to children

and during its first

year gets nearly 100 membership

requests both by

local families and by visitors

on holiday. Roberta

and Roberto hold the first

lessons, as they are two

Iko kitesurfing instructors,

then a team of collaborators

slowly shapes

up, Sergio Ruiz (kitesurf),

Emilio Marquéz (Surf),

Paolo Mazzoli and Giorgia

Quattuzzo (sailing), all of

them capable to devote

themselves to the young

budding surfers who have

special needs and want to

have fun in total safety.

Working with children involves

great responsibility

and a specific focus aimed

at making every sport activity

absolutely fun and

safe. "During our lessons

we favour the practical aspect

both on the beach and

in the water - continues

Roberta - and we always try

to use a simple language,

full of figurative references

linked to their world in

order to make everything

perfectly understandable.

So even when we explain

manoeuvres and technical

topics, such as safety procedures,

the imperative is

never dramatizing, but get

them involved and responsible

by playing games".

Once the lessons finish,

the fun continues in collateral

activities, such as

equipment maintenance,

cleaning the beach, but

also with walks along the

coast and trips on the island.

Playa Sotavento, an

amazing gym

You can play with the

ocean, but you cannot

mess around with it. The

sea is a dynamic element

subject to many unknown

factors, first of all the

meteorological ones and

must be addressed with

the right preparation,
---
training and awareness

of the risks involved. The

spot of Sotavento is certainly

a terrific gym to

face the ocean. Here the

wind blows all year round,

often with an intensity of

3-4 on the Beaufort scale,

it comes from the shore

and sometimes it is extremely

gusty. «For the

very first lessons we take

advantage of the large lagoon

that arises with the

high tide near the coast

- explains Roberta - then

once the kids master the

technique we take them

in the sea with the supervision

of the instructors

and the support of rescue

boats. Currently, we are

trying to perfect the training

activities through debriefing

video of the sessions

and the creation of a

freestyle simulator on the

ground.

Since last year, Club Hijos

del Mar has also been

organizing swimming

lessons, an absolutely

necessary step to enter

the ocean and tackle the

waves safely. For the time

being swimming pools are

made available to the association

by some resorts

and hotels on the island,

but maybe in the future

there could be ad hoc facilities

for the kids.

Competitions and clinics

by top riders

Therefore, there are swimming

courses, athletic

training, stretching and

training sessions in the

water for the Hijos del

Mar, as well as competitions.

Every year Fuerteventura

hosts a rich season

of events such as

world circuit events of

windsurf and kitesurf,

stand up paddle and surf

competitions, this way

young kids in the island

become familiar with the

competitive dimension of

sports. «The number of international

competitions

for young kids is increas-
---
134

Schools

In the Canary Islands the sons of the ocean are raised

ing - says the Iko instructor

- we try to lead them

to competitions with the

right attitude, encouraging

them to compete with

each other in a playful climate.

So far we have taken

part to the Manga Xperience,

the Campeonato de

España Kiteboarding Wkt

Junior and the Championnat

de France de Kitesurf

Boarder Cross.

Among the most promising

"sea children" chasing

victories there are Alexandra

Torres, Alessandro Caruso,

Pedro Reyes, Jakue

Rodriguez, Alejandro Munoz,

Mario Wirz, Sara Ruiz

and Joan Mir. During competitions,

all of them make

use of the advice of some

top riders that often hang

out at the school, such as

the Spanish kiteboarders

Julia Castro and Nina Font

or the Cape Verdean Luis

Brito.

Children of today are

the riders of tomorrow

As water sports always

come with travelling even

just for the sake of experiencing

new spots and

different conditions, Club

Hijos del Mar also organizes

kitecamps around the

world. «During the winter
---
Kids go travelling,

parents stay at home

we managed take the kids

to Brazil, about twenty of

them and they could not

wait to leave - says Roberta

- these are also very

formative experiences,

not only sportswise, but

help develop the team

spirit, adaptability qualities

and getting to know

different cultures. That's

why parents do not take

part to these trips».

The ocean represents a

school of life for children

and this is the principle

on which Roberta and

Roberto decided to make

their bet. But children represent

the future and this

is why Club Hijos del Mar

this year has launched

the project named Kids

Are the Future, to spread

the culture of the sea and

water sports to as many

children as possible. Children

who today play with

the waves and practice

sports, but tomorrow, also

thanks to the ocean, will

certainly be better people.
---
136

Trends

How about learning kitefoil? Slingshot launches the Academy

How about learning kitefoil?

Slingshot

launches the Academy

The famous brand, created in 1999 by the Logosz

brothers, Jeff and Tony, has created a series of

online video tutorials completely free and designed

like a real and complete basic course for those who

want to approach the kitefoil discipline.

Text: David Ingiosi

Photo: Matthew Fitchen
---
138

Trends

How about learning kitefoil? Slingshot launches the Academy

As it picks up speed, the

board gets off the water

and the silence begins. All

around us only the sound

of the wind blowing and

pushing our kite. That's

what it feels like to glide

aboard a kitefoil. Those

of you who still haven't

heard of this spectacular

discipline of kitesurfing,

it's probably because they

live in a cave. In fact, over

the past two years, kitefoiling

has spread like an

avalanche sweeping the

tribe of riders, enlarging

this way the boundaries of

this sport toward horizons

that today are still evolving

and far from being defined.

Boards equipped with

futuristic fins

Basically, in kitefoiling

the rider uses a board

with special hydrodynamic

appendages called hydrofoil,

with the shape

of an inverted T, through

which the gliding board

rises completely off the

water so as to greatly reduce

friction and navigate

at incredible speeds. As

for the kites, you can use

regular inflatable kites or

better foil kites. The advantages

of kitefoiling are

various. Apart from the

amazing feeling of gliding

half a meter above the water,

you can already navigate

with just 5-6 knots

of wind intensity, you can

get in the water even if it

is chopped as the board

glides over the breakers

and finally it's possible to

ride up-wind with an up to

40 degrees angle.

Experienced riders actually

do anything with

a kitefoil: breathtaking
---
carvings, gigantic jumps

and freestyle manoeuvres.

What is certain is that

this sport will continue to

spread like wild fire, especially

now that the World

Sailing looks at kitefoil as

a possible candidate for

the Tokyo 2020 Olympics.

Kitefoil, safety first

and foremost

Meanwhile, the number of

foil-kiters is increasing all

over the world, new materials

are being tested, the

number of competitions

increase and of course, as

it happens when a sport

becomes a trend, new enthusiasts

approach this

discipline. Kitefoiling apprenticeship

isn't however

an easy one at all, not even

for an experienced kiter.

It takes time, dedication

and patience as well as

qualified instructors and

possibly focus-on lessons.

And it is with the objective

of making the approach to

this new disciple as easy

as possible, reduce the

learning times and practice

it safely, that recently

the famous brand Slingshot

has launched the

Slingshot Kite Foil Academy,

an educational project

with online video tutorials

completely free and progressive.

Ten lessons: from

zero to hero

10 lessons (plus two bonus

ones) are available

at www.foil-academy.com.

On top of explaining what

kitefoil is, what it can be

done with it, these lessons

are a proper basic course,

which includes the neces-
---
140

Trends

How about learning kitefoil? Slingshot launches the Academy
---
sary quiver to be used, the

assembly of the appendages,

safety procedures,

the body drag, water start,

riding, changes of direction

and jumps. Special

attention is devoted to the

control of the board lift

over the water, the body

posture and the proper

weight balance.

Slingshot invests in

foil: from equipment

to team riders

The Slingshot Kite Foil

Academy follows the introduction

by the American

Brand of the first

Multi-Mast Flight School

system dedicated to foil

neophytes through which

the discipline can be

learnt progressively using

three different must sizes.

Furthermore, on January

4th Slingshot Kiteboarding

announced the entry

of two new riders among

the ranks of its team, and

for the first time in the

history of the brand, they

are foil specialists.

We are talking about the

Mexican athlete Adam

Withington who is currently

taking the foil to

its maximum acrobatic

expression at global level

and the young American

rider Fred Hope who although

being only 15 years

old has made himself

known all over the world

for his aggressive style

and his extraordinary talent.
---
142

Trends

How about learning kitefoil? Slingshot launches the Academy

www.foil-academy.com

Kitesoul gives it a try

However, Slingshot does

not restrict the Academy

project only to foiling

for the discipline of kiteboarding.

In fact, it is already

working on lessons

dedicated also to windsurfing,

wakeboarding

and stand up paddle. In

short, it's foiling mania.

That's why Kitesoul Magazine

too, certain of the

increasing success that

kitefoiling will have in

the future of our sport,

accepts the challenge

launched by Slingshot and

its Academy. In the next

issue of the magazine in

fact it will be published

an interesting report of

the kitefoil self-learning

test by the editors of Kitesoul

who will follow step

by step the video lessons

of the American Brand and

will try to experience the

magic of gliding in midair.

Stay tuned!
---
Alex Fox:

thanks to Slingshot foiling

is today within everyone's

reach

Slingshot brand manager and team rider explains in this

interesting interview how the Foil Academy project was

created and what riding level can be reached by attending

every lesson. And, above all, the work carried out by

the American brand in terms of design and materials

aimed at spreading this fantastic discipline that will revolutionize

the world of kiteboarding and not just that.
---
144

Interview

Alex Fox: thanks to Slingshot foiling is today within everyone's reach

KS_When and how the Foil Academy's idea came up

and what's the long term goal with it?

Foil Academy came about because of the success of the

multi-mast Foiling Flight School package we launched

in early 2016. The concept of being able to learn with

three different mast lengths- starting small and graduating

in length as you improve- was an instant hit all

over the world. It didn't take long for us to realize why:

as kite foiling exploded in recent years, a huge number

of kiters remained hesitant to invest in gear because

they were intimidated and didn't have the right learning

tools.

I guess you could say we inspired ourselves. As soon as

we saw how well received the Flight School system was,

we realized we were providing the right tools for learning,

but there was still a huge opportunity, and need,

for teaching people how to use those tools properly.

There are plenty of tutorials out there on foiling, but

until Foil Academy, there has never been one cohesive

resource where riders can find everything they need in

an easy-to-follow format.

Our vision for the future is to have continually evolving

content, for Kite Foil Academy as well as for the other

full courses we are developing for other facets of foiling,

like Windsurf, Surf, SUP and Wake.

KS_How long did it take to complete the project and

who in your team has been involved?

From planning and developing scripts and content,

filming (both in studio and in the field), editing and

producing video, creating support text and narration,

developing graphics and branding, uploading and organizing

everything in the online software, adding fin-
---
ishing touches and marketing the course, the project

was a huge undertaking that took team effort.

In all, it took a good few months of work shared by our

very talented Slingshot crew.

KS_Starting from zero and with a good approach

which level is supposed to be reached for who follows

all the lessons of your course?

Of course, this really depends on the individual rider,

their skills and their learning curve, but in general we

think average riders who follow the course material

and use our Flight School package and Hover Glide Foil,

will be up and riding confidently with a full-sized mast

and will have the skills to start learning tacks, gibes

and transitions.

The course features some amazing advanced content

as well, but for the most part that is designed as a teaser,

or motivator, to highlight what is possible with foiling.

The step-by-step instruction we provide is aimed

at teaching the basics and getting riders foiling confidently

as quickly and safely as possible.

Beyond the basics, it's time on the water, repetition

and developing muscle memory that will take riders to

the next level.

KS_The concept of a video course for free sounds like

a great expression of customer care philosophy for a

brand like yours. This can be the start of a new phase?

With kites as safe and user-friendly as they are these

days, foiling is one of the few disciplines in kiteboarding

that people are still genuinely intimidated by. From

a brand perspective, we see a couple direct benefits to

providing the course to anyone who wants it, for free.
---
146

Interview

Alex Fox: thanks to Slingshot foiling is today

First, as you said, it is a great expression

of customer service. Slingshot

has always prided itself on excellent

and personal customer service and

this is our way of addressing a need

we heard from many of our customers.

Second, and just as important, is that

we are in the business of getting people

out on the water and having fun

on all types of Slingshot gear. Foiling

as an amazing aspect of kiteboarding

and we are confident it is going to continue

to grow in popularity. There's no

benefit to us if people are intimidated

by foiling and are unwilling to try it, or give up because

they have a bad experience. By providing a free learning

resource, we are investing in foiling as a whole, and

in the possibility of creating customers who see value

in the course and decide to invest in the equipment it

utilizes.

KS_The kitefoil discipline is growing up all over the

world and Slingshot is knee deep into this movement.

What's the best innovation in your hydrofoil gear?

If we're using "knee deep" as the metaphor, I'd say

we are free and clear and racing ahead, while others

are knee deep in the rearview.

If you look at what we've innovated over the last couple

of years, and what we have coming in the near future,

it's clear that Slingshot carving out a name as a premier

foil brand, and not just in kiteboarding. Tony Logosz,

our chief designer, has his ear to the ground and is

very in tuned to the future of all types of foiling. This
---
is an exciting and rapidly changing movement, and it's

safe to say we have one of the most innovative and forward-thinking

designers in the industry on our side.

To answer your question specifically, I think our multi-mast

Flight School system and Hover Glide foil is

our best innovation to date. Flight School instantly

made foiling more achievable and accessible to riders

around the world. The fact that every manufacturer in

the industry is scrambling to create their own version

is a testament to its efficacy.
---
148

Equipment

RRD lines: the revolution is called 'Rigid Thread Lines'

RRD lines: the revolution is called

Rigid Thread Lines

After years of study and research Roberto Ricci

Designs developed the Rigid Thread Lines, an innovative

formula for lines made of synthetic, rigid

and high modulus fibre which represent the state

of the art of this product at global level. Roberto

Ricci explains it in an interesting interview.

Text: David Ingiosi

Photo: Svetlana Romantsova, Andre Magarao e Chris Bobryk
---
150

Equipment

RRD lines: the revolution is called 'Rigid Thread Lines'

Dyneema is the innovative synthetic fibre

In the past recent years, the evolution of kitesurfing equipmenthas

made great strides in terms of materials, design and concept. A continuous

research that sees the various brands in the market constantly

committed to developing products increasingly effective in

terms of performance, lines, ergonomics, appearance and style. Design

studies and manufacturers are mainly focused on kites, boards

and bars. It appears that not as much attention is dedicated to another

part of the equipment, just as important: the lines of the bar.

These represent a crucial factor for the control of a kite through the

control bar and they greatly influence its performance, as well as being

subject to heavy loads both whilst navigating as well as during

the maneuvers. This shows how the lines are the part of the equip-
---
1.5 million m RRD lines all over the world

ment most exposed to wear and tear and,in the worst case, to breakage.

Nowadays, those manufacturers who want to offer efficient lines,

highly-performing, up to date and to technology, have no other choice

but to start from the specific needs of this sport and of its practitioners

and avoid to recycle concepts, materials and production

systems borrowed from other disciplines. These principles are the

basis on which the Roberto Ricci Designs team developed the Rigid

Thread Lines, new concept lines made of synthetic fibre with fantastic

features and technical properties. We get a detailed explanation

by Roberto Ricci, owner of RRD, who we contacted for this interesting

interview.
---
152

Equipment

RRD lines: the revolution is called 'Rigid Thread Lines'

KS_Every year RRD makes some changes

to bars as well as to the kites. The

lines however have been the same for

6 years. Tell us how the development of

the RigidThread Lines came to be...

The Rigid Thread Lines were entirely developed

by Werther Castelletti, the RRD

designer, who put together this idea

with an Italian manufacturer of lines. Together

we created an exclusive formula

to develop a kite bar which shows to be

the biggest evolution for kite bars worldwide.

It took us a long time before we

decided to change the lines because we

wanted to be 100 percent sure, actually

1.000 percent sure, to create an effective

product capable of meeting our needs.

Currently after producing about 1.5 million

meters of lines in the world we are

confident that our product represents

without a doubt a reference which allows

us to fly high in the global market .
---
KS_Could you describe in detail the

materials with which these lines are

made of?

The lines are entirely built in Dyneema,

a high load synthetic fibre patented

by the company Dupont here in Europe

and which in the United States is called

Spectra, the name of the company which

patented itoverseas. The characteristic

of this material is its high resistance to

traction and an elongation percentage

close to zero. Also, it is quite rigid and

very resistant to cuts and abrasions. We

used these technical qualities to create

unidirectional fibre lines from the

attachment point on the bar up to the

tips of the kite. This natural and perfect

position of the fibres prevents the lines

from losing any tension, as if they were

electric wires, to avoid twists and perfectly

follow the direction of the forces

involved between the kite and the bar.

Another extremely important part of the

work was the creation of a special external

hard sock of Dyneema with a compact

and micrometric structure which

protects the lines from cuts and friction,

it prevents the creation of that sort of

fluff that covers traditional lines after

a while, reduces the formation of knots

and extends the lifespan of the lines.
---
154

Equipment

RRD lines: the revolution is called 'Rigid Thread Lines'

KS_How do these lines react to the prolonged

exposure to sunrays and salt?

Sun, sand and salt are the lines' worst

enemies because they affect the physical

and technical properties of the fibres

by reducing the load resistance, increasing

the wear and tear and compromising

the lifespan of the lines. Salt influences

the stretching properties of the lines

as it crystallizes within them and when

the lines stretch, for example during a

kiteloop, these salt crystals prevent the

line from returning to the initial position.

As opposed to normal threaded lines in

the market which over time are subject

to the opening of the strands, our lines

are fully protected by the outer sock,

just like that plastic cover that protects

the copper wires inside electric cables.

This way the Dyneema fibres don't ever

get in contact with atmospheric agents.

There are many Brands which systematically

announce fantastic bars evolutions

which however have threaded lines

easily prone to wear and tear. I believe

that a serious approach to the evolution

of the bars cannot be separated from an

equally thorough designing for effective

lines, strictly designed for the needs of

this sport. During these 6 years in RRD

we focused on how to make the most out

of technology, materials and the evolution

in this field.
---
No risks of breakage
---
156

Equipment

RRD lines: the revolution is called 'Rigid Thread Lines'

KS_The lines are produced in Italy,

and surely, this is a choice in favour of

quality. Who are your developers and

who are the manufacturers?

Werther develops every aspect, whereas

in relation to the manufacturing all I can

say is that it is internal to the RRD factory.

KS_What are the benefits of these lines

in radical conditions, for instance during

kiteloops at the King of the Air?

In relation to that I wouldn't say there

are that many differences in terms of

performance compared to other lines on

the market. Let's say that the rider may

experience a more direct feeling with the

kite than with other bars because our

lines have a very reduced stretch therefore

a more immediate and precise response

of the kite to the movements on

the bar. The benefits are really the result

of a personal appreciation. What's sure

is that those who ride in radical conditions

won't need to check whether the

lines have stretched or broke after each

session because this is absolutely unlikely.
---
158

Equipment

RRD lines: the revolution is called 'Rigid Thread Lines'

KS_In Freestyle are there any differences

in the feeling for example when

performing the pop?

Here again, I would say that it's about a

more direct feeling with the bar and the

fact that the kite responds much more

precisely, without any delay and dispersion

of power, especially when changing

direction of the kite.

KS_Do you think there is still some

room for improvement in a product already

so successful? Are you considering

some new solution?

No, we were trying lines with a different

diameter, thinner lines, and we got

to the point of reducing them by over a

millimetre so the lines were still strong

enough, but we felt that the benefit of

thinner lines would have been just the

weight, only useful for super light wind

condition for foiling for example. Therefore,

for now, as far as the lines are concerned

we are super happy to have such

an outstanding and unrivalled product

worldwide.
---
160

Video saga

Felipe Moure Lopez and his Blind Judge 5 Challenge

Is it possible that a nearly 40 years

old rider can land one of the most

difficult and spectacular manoeuvres

in Freestyle, the Blind Judge 5? This

is the bet of Felipe Moure Lopez, a

Spanish enthusiastic rider who created

a funny video saga about his personal

challenge hoping to inspire those who

wish to fully enjoy kitesurfing despite

the age.

and his Blind Jud
---
ge 5 Challenge
---
162

Video saga

Felipe Moure Lopez and his Blind Judge 5 Challenge

This is the story about a

rider born in 1978. A man

who learnt kiteboarding

when he was 30 years old,

it's not a bad moment in

life, in general. You can be

in good shape, you have

more money than when

you are younger, sex is better

when you are 30 than

when you are 20 and your

willpower is stronger than

when you were a teenager

and just having a shower

was something so hard

to do when you were lying

on the sofa Thirties are a

good moment in general,

maybe alopecia can concern

a bit, you may have it

or not but the concerning

is always around you. So,

except for that, thirties

are great!

This man who learnt to

go upwind in his thirties

didn't know the mess

he was about to get in,

he didn't know that he

was starting to play the

most addictive videogame

in history. That thing,

the kiteboarding, which

seemed harmless and

even healthy (it is a sport

in the end, sport is good),

became a hard drug.

Kitesurf like a

videogame: passing

the levels

At the beginning, kiting

was just something else

between all his hobbies,

it was just another videogame.

He passed the first

stage (going upwind), then

jumping, then rotations,

second stage passed!

Then he went for the bonus

stage (grabs hooked in,

easy and fun, the same as

when you have to destroy

a car in Street Fighter II).

Then he changed level

from easy to intermediate

and started to unhook. And

just then, when everything

seemed to get stuck, it

was the moment when the

real craziness started, the

most addictive stage of

the videogame. If you pass

this stage, there is no way
---
164

Video saga

Felipe Moure Lopez and his Blind Judge 5 Challenge

back! We are talking about

the handle pass! Apparently,

it seems a kid's thing,

easy: ride fast, go downwind,

unhook, pop with

kite at 45 degree and pass

the bar behind your back

from one hand to the other

one, then look at the water

again and land as you can.

Easy? Bullshit! The poor

guy we are dedicating this

lines spent one year trying

to pass this stage of

the simple handle pass

in the air (the Blind Judge

trick). But he got it. It was

at the end of 2012 in Brazil

when he was able to pass

this stage. And, as we said

lines before, there was no

way back, that trick which

looked impossible at the

beginning came true and

a new World appeared in

front of his eyes, a world

of possibilities wider than

King Kong's penis!

My rider buddies are

all younger than I am

In that moment, 34 years

old, he didn't realize that
---
he had put off all his previous

projects and he had

left aside the piano, the

pencil and his drawings,

the gym, the Step classes,

the PlayStation and the

Tekken, the Rollerblades,

he even gave up his habit

of watching Fight Club

(amazing movie) once per

week. His old life had disappeared,

everything was

kiteboarding. Everything

in his life became trying

new tricks and talking

about them with his kite

friends: Hey, man, yesterday

I got a new trick!

The Hinterberger! Hinter

what? Hitler? Ana Frank?

Where? Burger? What

the hell are you talking

about?. Yes, this was the

typical answer of anybody

of his age. Why? Obvious!

Because the people who

knew what a Hinterberger

is, are pretty much younger!

(usually).

The Freestyle 30+: it

can be done!

He felt alone so he decided

to make a video to encourage

people of his age

to try freestyle tricks. The

Freestyle 30+ video saga

and its famous shout... Excuses!

or Gallina! (chicken

in Spanish). He wanted to

say that age doesn't matter,

he wanted to inspire

people of every age to play

at the same level of the

videogame, he wanted to

show that it was possible

to do nearly all the freestyle

tricks you can see in

competitions, even when

you are not a young boy.

And he did it! You can see it

in that saga: blind judge3,

heart attack, Smobe, Hinterberger,

315, KGB... All

this videos are full of

sense of humour, provocation

and inspiration

for people of about 35-40

years of age who still feel

more or less young but

who start to feel too old for

trying tricks or facing the

Newtons of a hard landing

riding boots. He inspired

them and soon, some old-
---
166

Video saga

Felipe Moure Lopez and his Blind Judge 5 Challenge

Watch th

web cana

episodes

Challeng
---
e Felipe Moure Lopez

l with the three

of The Blind Judge 5

e:

ies started to be seen in

the lagoons, grandpas like

him trying to pass the bar,

riding hard with C-kites

and boots and shouting

Excuses! when any of their

friends talked about pain

in the knees, in the back

or in the forearms.

Double Handle Pass:

the going gets tough

But this was not enough

for him, he still wanted to

draw more attention! He

wanted to inspire more

and more people; he still

wanted to shout louder

age doesn't matter. So, he

came up with and idea.

The simple handle pass

appeared to be impossible

years ago, ok, but it

was possible in the end,

it's possible now. So, if

the double handle pass

seems to be impossible

now, it has to be possible

someday. This man about

to be 40 wanted to go for

a double handle pass! The

Blind Judge 5 became his

next goal, a powered double

handle pass (Backside

315 is the real name) only

performed by legends and

professional riders of the

World Championship. It's

not an easy trick, less than

100 people in the world

are able to do it nowadays

and, moreover, there is

only a woman in the World

(Bruna Kajiya) able to get

it. So, now the videogame

is in the Final Stage, Extreme

difficulty Level is

on! The challenge for him

now is to become the oldest

man in the world able

to do a Blind Judge 5!

That's The BJ5 Challenge.

Felipe Moure still hasn't

overcome it, but he won't

stop until he gets it and,

when he finally gets it, he

will make his message

clear: It's not about age.

It's about attitude.
---
168

Interview

A lot of irony, great motivation, nasty accidents. But I enjoy the path
---
A lot of irony, great

motivation, nasty

accidents. But I enjoy

the path

Let's find out, through his own words,

something more about Felipe Moure Lopez'

story and about what this rider has to tell

the world:
---
170

Interview

A lot of irony, great motivation, nasty accidents. But I enjoy the path

KS_Why do you want to make the buzz with your challenge?

As many things in life, it's all about marketing, how many

people are out there doing amazing things? Millions! But,

if they don't make the buzz, they won't inspire anybody, all

that amazing things will be lost in time like tears in the rain

(Blade Runner, hehehe...). If I got the Blind Judge 5 alone in a

remote lagoon, for me it would have been an orgasm anyway,

it's a personal goal and the first being pleasured is I. But if I

do it alone, I won't inspire anybody! I don't want to die alone

in a lagoon! I want to die inspiring people! Hahaha!.

KS_Little Summary about the Evolution of the Challenge?

Episode I: Egypt. July 2015. Lots of Pushups. Just two Blind

Judge 5 attempts. Very difficult, not high enough to rotate,

not fast enough to spin This trip was just an approach to the

trick.

Episode II: Brazil. November 2015.

Lots of Pullups. Several attempts of

Blind Judge 5. Hard work improving

my pop. The trick is closer but I go

too high and hard and I broke my

meniscus. What a bummer!

Episode III: Brazil. August 2016. Lots

of Squats. I recovered from my knee

injury and I got closer to the trick

than ever! I do lots of attempts and

everyone is closer than the last one.

But I broke my femoral biceps in the

same lagoon I broke my meniscus

months ago! I have to stop my attempts.

Currently, I have totally recovered
---
from the meniscus and the femoral biceps injuries but I still

haven't got the Blind Judge 5. Grrr!.

KS_How did you come up with the idea of the pushups in

the First Episode?

It was because a great friend of mine (Phil Larcher, rider from

Liquid Force) and myself were drunk one night, talking about

being fit and we made the typical bet let's see who is more in

shape by the 1st of October of this year. So, the bet gave me

an excuse to do pushups anywhere and anytime: at a party,

at the high school where I work (actually, I'm a computer science

teacher) while I teach, waiting for the lift or even in the

boarding queue. Everything because I wanted to be stronger

than my friend Phil and, at the same time, I didn't realize I

was getting a stronger chest to prevent shoulder injuries (in

the end, shoulder is weak for handle passes). During those

days, I would get close to somebody and would tell him/her

give me a number (he/she didn't know what was the purpose

of the number) and after they told me the number I would

do as many pushups as the number they had told me. It was

so funny and people always laughed a lot about that stupid

thing. I still try to follow that habit which I named Random

Pushupping, you do a lot of pushups randomly along the

day and sometimes, when you make counts before going to
---
172

Interview

A lot of irony, great motivation, nasty accidents. But I enjoy the path

bed you realize you've

done 500 reps! Bloody

Hell! Flipping hard! After

this crazy (and very

healthy) habit, including

so many pushup

scenes (pyramids, Luxor

temple, airplane corridor,

boarding queue,

etc.) it was something

I didn't decide. It came

naturally by itself. The

same as it happened

with the scene of the

pushups over the car

roof. We didn't decide

that scene at the beginning,

it was something

like... Hey, look

what a beautiful light right now, Hey, look at the desert, such

a beautiful frame, Hey, look at the car, Pushups?, Pushups

over the car?, Pushups over the car running?, Yeees, let's

do it... It was something like that. Planning things in life is

something good, but you always have to leave -at least- half

of the plan open for improvisation. That's the way of letting

the real good things happen...

KS_What about the naked scene with the cows in Episode

II?

One of the greatest moments in my life, hahaha! I went to a

secret lagoon... (nothing is secret using Google earth) with

Manel Arpa (North), Bas Koole (Airush), Sergio Turégano

(Best) and Pau Gisbert (Cabrinha). We went there because
---
Manel was running out of time to film his video, he was about

to leave Brazil and he needed an empty lagoon with no kiters

around. And so it was. No kiters and no people around, that

was not a secret lagoon, it was a ghost lagoon! So I decided

to go around naked because it was really funny being there

with nobody around, running and kiting with my Big George

swinging at the sun, hahaha! Then, I suddenly saw a group of

cows, I put the tripod in a good place, the cows looked at me,

we felt the love and we flowed together! It was another scene

that I didn't decide. It was a great moment! No planning, no

cameraman, just me, the tripod and the cows. Unforgettable!

KS_And what happens when you fail a BJ5 attempt?

It depends on how close you are to the Blind Judge 5. You

can see the progression along the 3 episodes. In Egypt, Episode

I, I still hadn't tried it very much. So, instead of a 540

degree rotation I did a 450 rotation, that's a heelside edge,

board crossed to wind direction. A big crash, as if the board

gets stuck in the water and you get thrown backwards like

Indiana Jones whip. The result is a neck contracture, which

needs 2 days to recover. That's nothing. In Episode II in Brazil,

I was more committed for the BJ5, my pop was harder so

I got higher with time enough to do a 540 degree rotation.

The heelside edge (and the flipping 2 days neck contracture)

disappeared from my life, the crashes were not so painful

anymore. I progressed on my Blind Judge 5 adventure! Then

the only thing I was focused on was to go higher and higher

so as to have more time to complete the rotation and catch
---
174

Interview

A lot of irony, great motivation, nasty accidents. But I enjoy the path

the bar in the second handle pass, but I ignored the fact that

the higher and more powered you go, the harder the landing

is… And I got injured in the last attempt (the last attempt of

Episode II is the real moment of the injury). Broken meniscus,

Bone contusion, blah, blah, blah!

KS_And how did you recover? Did you need surgery?

At the beginning I was a bit scared. It was the first injury in

my life and I was 37. And it was not the typical ankle little

thing, was something in the knee. The Knee! So important! So

big! "our knees, our wheels" (my mother always says that) I

did an RMI and they said Broken meniscus, maybe you need

surgery. But… I kept myself positive trying to think as less as

possible about it. I did cycling like a sick, I stretched a lot

and got my left leg stronger than King Kong's rocket. In the

end, I didn't need surgery. Yahoo!

KS_After being injured, during the recovery, did you think

about giving up the challenge?

No, of course I didn't. And the reward for keeping on trying is

than I can go on answering what happens now when I fail the

Blind Judge 5. Nothing happens! After recovering from the

knee injury, I worked a lot on the trick and now I get higher

enough to do the whole rotation so I don't suffer the heelside

edge and at the same time, I don't go so high that my legs
---
cannot stand it. Now

I'm even closer! Check

it in the Episode!

KS_What happens

with Liam Whaley,

what does he have

to do with your challenge?

He's been a good

friend since 2012,

when I was in Brazil

trying to do my first

handle pass, he was

16 and I was 34. Yes,

I know, big age difference,

but I'm used

to it. Since I started

kiteboarding, some

of my best friends are

pretty much younger

than I am. Moreover,

I usually kite in Tarifa

with all these kids

(they were kids when I

first met them): Maxi

Gómez, Liam, Jerome

Cloetens, Manu de Pfyffer The thing is that, Liam is the Freestyle

World Champion; he is an influent person in the kite

world. He helps me to make the buzz with this story and we

have real fun together filming and inventing stupid things

and stupid advices like doing lots and lots of pushups, lots

and lots of pullups or inflating the kite using my anus. In

that sense, it's just fun for making people laugh and, in the

end, reaching more people to inspire!

KS_Why so much nudity in your videos?

Really, I don't know... Do you remember what I told you before

about plans in life and let some place for improvisation.
---
176

Interview

A lot of irony, great motivation, nasty accidents. But I enjoy the path

Well, I don't know why but

when I start improvising

I always end up naked,

hahaha! Anyway, being

naked is always funny

and always makes people

smile.

KS_So, what's next?

You still haven't got the

Blind Judge 5, what are

you going to do now?

Obvious! I will make another

Episode! Episode IV!

Where? Still don't know.

Exercise? Still don't

know. Pushups, Pullups,

Squats, and the next is...

maybe naked handstand,

who knows? Will I get the

Blind Judge 5 in the next Episode? Who knows... At the moment,

I'm going to Coche Island in Venezuela next week just

for training, winter was not very windy here in Spain this

year and I have to get my skills back, I feel as if I'm not able

to do a simple Blind Judge 3, so I have to recover my confidence.

Maybe I film my Episode IV in Coche, let's see.

KS_And just to finish how do you know there is nobody

older than you who is able to do the Blind Judge 5?

I don't know. That was one of the reasons to make the videos,

just to find out. But at the moment, nobody has complained

about it so I suppose there isn't any oldie like me able to do

it. Let's see if I can be the first. But, the most import of all

is that: it doesn't matter if I can get it or not. Anyway, I'm

inspiring people to create their own challenges, their own

goals and go for them! Go for your goals and enjoy the path,

even if you blow your knee, enjoy the path...

Big hug to everybody!
---
178

Wave strapless

Lo straight air

Everything must have

a beginning and the

beginning of strapless

freestyle tricks starts

with the straight air, as

this trick is the start to

all other tricks. Having

the ability and being able

to recognize when the

board is secure to your

feet without straps is

essential to progressing

your strapless abilities.

B y R e o S t e v e n s
---
1.

Like any jump, whether it's strapped or

strapless, to leave the water you must

load up the kite and board by setting a

rail and edging against the kite. This creates

added tension in the lines that you

will use to lift you off the water.

2.

As you load up your board, turn the nose

of the board slightly into the wind, just

enough so as you leave the water the

bottom of the board is faced into the

wind. You may point the toes of your feet

to help you do this if you feel necessary.

3.

Though out the air, make sure to keep

the bottom of the board facing into the

wind; if the upwind rail goes low enough

for the wind to hit the top of the board,

the board will fly off your feet.

4.

Spot your landing and land like you

would a normal strapped jump.

TIPS

Take your back hand off the bar, it is easier

to rotate your body to a position that

allows you to get the bottom of the board

up and facing the wind.

Use the chicken loop to speed up or slow

down to stay connected with your board

in the air.

If possible, time your take off with a

'kicker' such as a small wave or chop to

help you initiate your jump.
---
Conquer

Every Set

MAD DOG SERIES

PERFORMANCE WAVE

Get one step closer to pro. Born from the DNA of our pro-model boards—which are ridden by the world's

top watermen, such as Kai Lenny—the Mad Dog series fuses elite shaping and constructions with

accessible design. With low-profile rails, significant volume and approachable widths, Mad Dog boards

strike the perfect balance between stability and responsiveness, so you can carve with confidence.

CARBON PRO

LIGHTWEIGHT & STIFF

CRISP & DIRECT FEEL

BAREBONES

CLASSIC, SURF-STYLE FLEX PATTERN

EASY ON THE WALLET

LENGTH

WIDTH

VOLUME

7'10"/238.8 cm

29"/73.7 cm

101L

8'1"/246.4 cm

29"/73.7 cm

111L

8'6"/259.1 cm

29"/73.7 cm

121L

7'10"/238.8 cm

29"/73.7 cm

101L

8'1"/246.4 cm

29"/73.7 cm

111L

8'6"/259.1 cm

29"/73.7 cm

121L

Agenzia per l'Italia: Ocean Avenue

.

info@oceanavenue.it

naishsup.com NaishStandUpPaddling NaishSUP

.

+39 328 6442519

frankiebees.com, Rider: Kai Lenny
---
182

PRODUCT FOCUS

F-One

Product focus

F-ONE Furtive V.1

www.f-onekites.com

Testo e foto courtesy F-One

SIZE: 5m² 6.4m² 8m² 10m² 12m²

WIND RANGE: +30 knts +25 knts 20 > 35 knts 1 2 > 26 knts 8 > 22 knts

Comfortable and fast, this kite

has a fantastic flying range

which provides great tolerance

to wind variations, especially in

the high range. Its high aspect

ration and its 5 struts, control

the profile. It ensure maximum

traction at the edge of the window.

Its W5 bridle is innovative

and brings together the function

of the bridle and a 5th line!

The FURTIVE is ideal for long-distance

racing, speed riding and

hang-time sessions.
---
F-ONE Trax HRD

Carbon Series

F-ONE's Trax has an unrivalled

shape. This board offers smooth

riding, incredible drive, earlier

planning as well as better

upwind performances.

Its carbon construction considerably

improves the board's

strength and weight.
---
184

PRODUCT FOCUS

F-One

Product focus

Speed Gun - Alex Caizergues

Pro Model - Carbon Series

The new AC21 Speed board

pro Model has a unique shape

designed for speed and pure

adrenaline. Using a narrow and

asymmetrical outline for a maximum

top end speed, the board's

secret lies in its rocker line

combined with a single concave

and flex distribution for an optimum

balance between control

and speed. This board tears up

the spots as soon as the wind

blows.
---
KITESOUL È ANCHE IS ON SU APP APP STORE! STORE!

SCARICA DOWNLOAD LA NOSTRA OUR APP APP ANDE

FEEL THE FLOW

NON PeRDete IL NEXT PROSSIMO next ISSUE NuMeRO ISSue April GIune - may DICeMBRe - out JuLY on out - GeNNAIO the on 2 th th of IN APRIL April uSCItA 2017 IL 2 DICeMBRe 2015

Per informazioni o suggerimenti More info at: contattateci info@kitesoul.com all'indirizzo info@kitesoul.com

Per la pubblicità sul magazine Adv: adv@kitesoul.com

o sul nostro sito adv@kitesoul.com