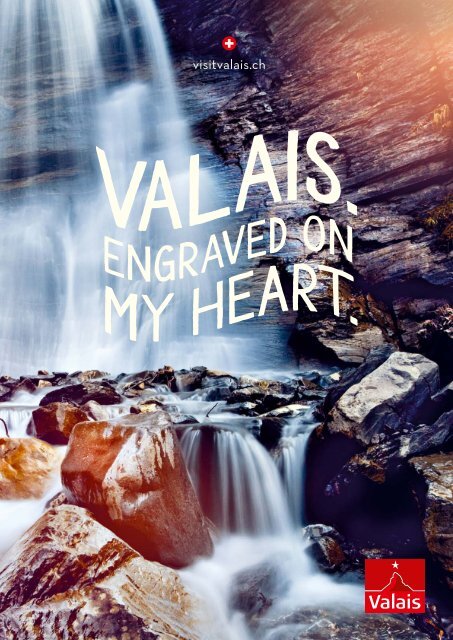 Valais. Engraved on my Heart.
Create successful ePaper yourself
Turn your PDF publications into a flip-book with our unique Google optimized e-Paper software.
visitvalais.ch

1
---
© Schweiz Tourismus – BAFU/Marcus Gyger

2
---
ong>Valaisong>.

Who are you?

3
---
You are the home

we yearn for,

a fairytale and dream.

You are the dark

glistening granite,

the glimmering snow.

4
---
5
---
© Christian Pfammatter

6
---
High as the sun in an

eternal blue sky,

tranquil in the still

beauty of night.

A sea of flowers.

The taste of luscious fruit.

7
---
Crystal clear waters

and heady scents.

Simplicity and splendour.

You are light and desire.

Laughter and mystery.

8
---
9
---
You are the tablewhere

there is always a seat.

You are the doorthat reveals

the warmest welcome.

10
---
11
---
12
---
You are calmness

and serenity,

overflowing with life.

13
---
14
---
You are the rock.

You are the diamond.

ong>Valaisong>.

ong>Engravedong> on my heart.

15
---
16
---
ong>Valaisong> and the sun: an enduring

love story. The sun gives our valley

300 sunny days a year, and just

as the sun's rays bathe the wonderfully

unspoiled landscape in a

majestic light, you too can recharge

your batteries – surrounded by our

mountains, meadows, vineyards and

trees beneath the incomparable

ong>Valaisong> sky.

17
---
Ideal downhill skiing in winter, glacier slopes in the summer.

ong>Valaisong>' winter paradise is the only one in Switzerland with guaranteed snow all year long.

18
---
Our winter fairytale lasts

the whole year round.

ong>Valaisong> has 300 days of sunshine

and 365 days of winter

sports. Our ski slopes, extending

from 1,500 metres to more than

3,000 metres above sea level, are

a skiing, snowboarding and sledding

paradise that is the stuff of legends.

With guaranteed snow. ong>Valaisong> also

offers a winter wonderland that can

be explored on snowshoes or on foot.

But what happens in the height of

summer? You will find that you can

even then have fun in the snow high

up on our glaciers.

In summer, hiking paths snake past

bubbling mountain streams and mystical

Alpine lakes, while spectacular

mountain bike trails run along mountainsides

and through thick forests.

With its inspiring landscapes and magnificent

hot springs, ong>Valaisong> provides a

place to recharge one's batteries the

whole year round for those seeking

time out from action-packed lives.

19
---
Go for a dip, breathe and relax: ong>Valaisong> recharges your batteries with its beneficial hot springs.

20
---
Golf becomes an Alpine sport on Europe's highest-altitude golf courses.

21
---
Happiness is breathing in the mountain air and leaving tracks in the snow.

22
---
Step by step through the pristine glacier snow – with the peak before your eyes … and the valley at your feet.

23
---
Spectacular rides through the impressive landscape alternating with rapid drops offering breathtakingly scenic views.

24
---
ong>Valaisong> is a rock you want to embrace, and not just for mountain climbers.

25
---
Clouds of powdery snow in the glistening sunshine: snow flurries ong>Valaisong> style.

26
---
© Schweiz Tourismus – Roland Gerth

On the trail through the 'Jungfrau-Aletsch', a UNESCO World Heritage site, walking through millions of

years of natural history.

27
---
A treat for every tastebud: nowhere do

the fruits of nature taste sunnier than

in ong>Valaisong>. Our harvests are bursting with

sunshine, overflowing with our farmers'

passion for the very best local produce,

and infused with that very special

magic which runs through ong>Valaisong>, and

ong>Valaisong> alone.

28
---
29
---
Sunbeams shine on grape clusters everywhere, but in ong>Valaisong> they fall in love.

30
---
Our passion for nature

bears its own unique fruit.

If you like natural products, you will

love what ong>Valaisong> produces. Here,

we grow tasty seasonings and golden

grains, wonderful fruit and excellent

wines. Rich harvests infused with

thousands of hours of sunshine, and

the passion of our wine growers, herdsmen

and farmers. Here, in these wild

mountains, we have been learning

how to reach the heights of quality for

centuries.

The difference lies in the flavours: our

specialty meats and cheeses are indescribably

delicious. Our wildlife is

further evidence that everything which

comes from ong>Valaisong> is something quite

special: ong>Valaisong> Blackneck goats, ong>Valaisong>

Blacknose sheep, strong-willed, lovable

Herens cattle that are typically

native to our valleys.

31
---
Adrian Baer / NZZ

Bathed in sunshine, handpicked and only from here: AOP saffron from Mund is a rarity which is one-of-a-kind in Switzerland.

32
---
The high art of traditional Alpine cheesemaking is passed down from generation to generation.

33
---
Powerful Herens cattle indigenous to ong>Valaisong> establish their hierarchy in spectacular traditional cow fights.

Brown-furrowed crusts and an unmistakable sourdough taste: ong>Valaisong> rye bread AOP.

34
---
Raclette AOP melts in the mouth and is the stuff of firm friendships.

35
---
The Monte Rosa hut is a perfect example

of how visions become reality in ong>Valaisong>.

Not only is ong>Valaisong> ready for the future,

but our local innovations are the basis

of many projects that are under way

to shape a sustainable future.

36
---
37
---
Top-quality engineering in the mountains: the Grande Dixence dam is an impressive wall, with crystal clear water and clean energy.

38
---
When it comes to

research, ong>Valaisong>

can move mountains.

Renowned for its wide variety of

skills and crafts, ong>Valaisong> is also a

hub for groundbreaking new

technologies, drawing on its wealth

of experience, striving for new experiences

and moving forward. Be it

hydropower, biotech, IT or engineering,

innovation is at its peak here,

interspersed by our massive Alpine

summits.

ong>Valaisong> inspires good ideas, an inestimably

valuable and fruitful centre of

business and education. Our universities

radiate tradition and modernity,

security and openness. And whatever

endeavour is close to your heart, this

is the place to make it happen. Impressive

projects see the light of day

in ong>Valaisong>, and contribute to moving

the world forward.

Grande Dixence SA – Photo: essencedesign.com

39
---
In ong>Valaisong>, we drink pure spring water while researching the latest water treatment technologies for those who aren't so lucky.

© Etat du ong>Valaisong>, Céline Ribordy

© Etat du ong>Valaisong>, Thierry Parel

This is where ambitious projects are driven forward with fire and flame.

40
---
© Denis Emery/photo-genic.ch

Science in the valley rises to the heights, tackling the great questions of life.

41
---
Those who seek an education at a university of applied science here have lofty goals.

42
---
ong>Valaisong> industry combines high precision with trailblazing innovation.

© FDDM, Christian Laubacher

© Etat du ong>Valaisong>, François Perraudin

300 sunny days a year are a good reason to bet on the power of the sun, and on the strength of ong>Valaisong> industry.

43
---
ong>Valaisong> is a feast for the senses. Be it a big

party or traditional fair, everyone's invited.

For centuries, people from ong>Valaisong> have been

good at celebrating both the things of

everyday life – and that which is exceptional.

44
---
45
---
One of the oldest and most unique ong>Valaisong> customs: 'the terrible' Tschäggättä. These frightening figures wearing furs and carved wooden

masks walk the streets in Lötschental during carnival.

46
---
The source of legends,

myths and contemporary

success stories.

S

haped by an uplifting history,

ong>Valaisong> has many a tale to tell,

with fortresses, castles and museums

providing evidence of a glorious

past. Over the centuries, ong>Valaisong>

natives have learned how to nurture a

spirit of togetherness and conviviality.

A wide variety of events bring together

both local people and foreigners –

with cow fights and cattle drives being

high on the list of preferred events. All

contribute to an overriding sense of

authenticity.

In ong>Valaisong>, the annual calendar is studded

with exciting highlights. Modern

music festivals and sports events take

place all year, featuring the best musicians

and athletes in their disciplines.

ong>Valaisong> is shaped by common experiences,

which give rise to fertile encounters.

This fusion is an inspiration

for artists, and be it theatre, dance,

exhibitions or classical concerts – the

ensuing creations are the perfect embodiment

of the spirit of ong>Valaisong>, symbolising

its open-minded nature.

47
---
© Rilaak

For centuries, proud castles and fortresses have been rising majestically over the mighty mountains of ong>Valaisong>.

48
---
Fondation Pierre Arnaud, © Federico Berardi 2013

Museums in ong>Valaisong>: inspiration from creative art and the dreamlike Alpine panorama.

49
---
Fr

DE

CH

it

li

at

many roads lead to ong>Valaisong>

through historic mountain

passes ( ):

1 Forclaz

2 Simplon

3 Nufenen

4 Furka

5 Grimsel

6 Lötschberg

7 Great St. Bernard

sion. The capital

of ong>Valaisong> is home

to the oldest

playable organs

in the world.

Val d'Hérens.

Home of the

powerful, combative

Herens cattle.

lake Geneva

Chablais. The region

with the largest selection

of recreational

parks in Switzerland.

st. maurice's abbey:

The oldest Christian

monastery in the world.

martigny. This

Roman town

is known for its

cultural and

historical heritage,

St. Bernard

breeding kennels

and the Pierre

Gianadda

Foundation.

Chamoson.

The largest

wine-growing

municipality

in ong>Valaisong>.

Derborence.

This nature

reserve is home

to Switzerland's

last primeval forest.

st-léonard.

Europe's largest

underground lake.

University of applied

sciences and arts, Western

switzerland: Based in

Sierre, the university offers

a wide range of courses

and is a world leader in

tourism research.

6

1

st. Bernard's Hospice: Origin of

the world-famous St. Bernard breed

of dogs.

7

Grande Dixence. The world's

highest gravity dam.

50
---
5

4

3

the rhone river: Running from the Rhône

glacier through Lake Geneva into the French

Mediterranean Sea.

the aletsch glacier: The largest glacier in the Alps is part of

UNESCO's 'Swiss Alps: Jungfrau-Aletsch' World Heritage site.

mund: The only Swiss village where saffron is cultivated.

2

Visperterminen: Home of the highest-altitude vineyard in Europe.

Pfyn-Finges nature Park: One of Europe's largest pine forests grows here.

Gornergrat Bahn: Europe's highest-altitude open-air rack railway.

matterhorn. This striking Swiss landmark is the most-photographed mountain in the world.

A touch of ong>Valaisong>, and you're captivated for life.

For more about ong>Valaisong>' high points, go to visitvalais.ch

51
---
Printed in Switzerland | Free brochure. Not for sale.

ong>Valaisong>/Wallis Promotion

Rue Pré-Fleuri 6

P.O. Box 1469 | CH-1951 Sion

SWITZERLAND

+41 (0)27 327 35 90

info@valais.ch | www.visitvalais.ch

52