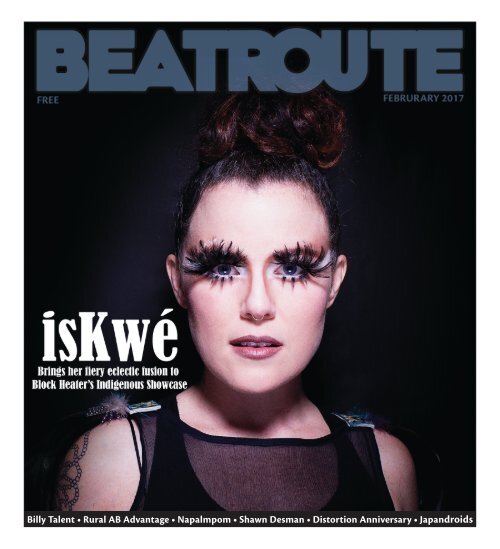 BeatRoute Magazine Alberta print e-edition - February 2017
BeatRoute Magazine is a monthly arts and entertainment paper with a predominant focus on music – local, independent or otherwise. The paper started in June 2004 and continues to provide a healthy dose of perversity while exercising rock 'n' roll ethics. Currently BeatRoute's AB edition is distributed in Calgary, Edmonton (by S*A*R*G*E), Banff and Canmore. The BC edition is distributed in Vancouver, Victoria and Nanaimo.
BeatRoute Magazine is a monthly arts and entertainment paper with a predominant focus on music – local, independent or otherwise. The paper started in June 2004 and continues to provide a healthy dose of perversity while exercising rock 'n' roll ethics.

Currently BeatRoute's AB edition is distributed in Calgary, Edmonton (by S*A*R*G*E), Banff and Canmore. The BC edition is distributed in Vancouver, Victoria and Nanaimo.
SHOW MORE
SHOW LESS
Create successful ePaper yourself
Turn your PDF publications into a flip-book with our unique Google optimized e-Paper software.
Billy Talent • Rural AB Advantage • Napalmpom • Shawn Desman • Distortion Anniversary • Japandroids
---
Friday February 3rd

$10Advance Tickers*

Parab Poet & the Hip Hop Hippies

Heavy Mountain

Fermented Beat Orchestra

Dawnzen

Doors: 9:00pm 18+ with ID

Saturday February 4th

$72Advance Tickers*

Philips Brewing & co. presents

Jonathan Toubin's Soul Clap with

DJ Tubbs & Carl Cassidy.

Bands Crystal Eyes

Real Sickies

Lab Coast

Child Actress

Doors: 9:00pm

Sunday February 5th

SUPERBOWL

SUNDAY

TAILGATE PARTY and

CHILI COOKOFF! !

Free! Doors 2pm

Friday February 10th

The Ex-Boyfriends

The Allovers

Synthetiques

Doors: 9:00pm

$70

Saturday February 11th $70Advance Tickets*

Palentine's Day with

Mark Mills

Citysleep

Woohoo

Doors: 9:00pm

Friday February 17th

Bad Animal

Tiger Milk

Crooked Spies

Doors: 9:00pm

$72Advance Tickets*

Saturday February 18th $10Advance Tickets*

IAmThe Mountain

Andrew Phelan (The River andThe Road)

Peach Pit

Sunday February 19th

Pop-up Clothing Market

and Brunch

Doors: 10:30am

Friday February 24th

Free

$12Advance Tickets*

Napalmpom LP Release! with

Melted Mirror

Borscht

Doors: 9:00pm

Saturday February 25th

$10Advance Tickets*

Borys (Edmonton)

Lower Platform

Pyramid Indigo (Edmonton)

Doors: 9:00pm

Saturday March 3rd

Danny Laj and the Looks

Supervisions

and Guests

Saturday March 4th

Witchstone LP Release

Numenorean

Monolith AB

$70Advsnce Tickets*

$10Advance Tickets*
---
FIXED

Editor's Note/Pulse 4

Bedroom Eyes 7

Vidiot 15

Calgary Beat 26

Edmonton Extra 28

Book Of Bridge 30

Letters From Winnipeg 31

Let's Get Jucy 34

This Month in Metal 39

FEATURES

Blockheater 16-18

CITY 8-11

PARTICLE + WAVE, Forms Of Sound Festival,

Getto Boys, die Laughing, Cabaret

Contemporain

FILM 13-15

The Oscars, Flashback Film Festival, I Called

Him Morgan

TABLE OF CONTENTS

MUSIC

rockpile 21-31

Billy Talent, The Rural Alberta Advantage,

Matthew Good, Napalmpom, The

Northern Coast, Fake James, Andrew's

Pale Horses, Griffest, Stay In Edmonton,

Doug Hoyer, Bummer Club, Satisfied Life

Prints, Festival du Voyageur

jucy 33-34

Shawn Desman, Wortyh, Smalltown DJs

roots 37

Eric Bibbs, Tami Neilson

shrapnel 38-39

Distortion 10th Anniversary, Witchstone

REVIEWS

cds 41-47

Japandroids and much, much more ...

live 49

BIG Winter Classic

BEATROUTE

Publisher/EIC

Brad Simm

Marketing Manager

Glenn Alderson

Production Coordinator

Hayley Muir

Managing Editor/Web Producer

Shane Flug

Music Editor

Colin Gallant

Section Editors

City :: Brad Simm

Film :: Jonathan Lawrence

Calgary Beat :: Willow Grier

Edmonton Extra :: Levi Manchak

Book of (Leth)Bridge :: Courtney Faulkner

Letters From Winnipeg :: Julijana Capone

Jucy :: Paul Rodgers

Roots :: Liam Prost

Shrapnel :: Sarah Kitteringham

Reviews :: Jamie McNamara

This Month's Contributing Writers

Christine Leonard • Arielle Lessard • Sarah Mac • Amber McLinden • Kennedy Enns •

Jennie Orton • Michael Grondin • Mathew Silver • Kevin Bailey • Jackie Klapak •

Hayley Pukanski • Nicholas Laugher • Arnaud Sparks • Brittney Rousten •

Breanna Whipple • Alex Meyer • Jay King • Alec Warkentin • Paul McAleer • Mike Dunn •

Shane Sellar • Kaje Annihilatrix • Dan Savage • Claire Miglionico

This Month's Contributing Photographers & Illustrators

Michael Grondin • Hayley Pukanski • Jim Agaptio • My-An Nguyen

Front Cover

Nat Caine

Advertising

Ron Goldberger

Tel: (403) 607-4948 • e-mail: ron@beatroute.ca

Distribution

We distribute our publication in Calgary, Edmonton, Banff, Canmore, and Lethbridge.

SARGE Distribution in Edmonton – Shane Bennett (780) 953-8423

e-mail: editor@beatroute.ca

website: www.beatroute.ca

E-Edition

Yumpu.com/BeatRoute

Connect with BeatRoute.ca

Facebook.com/BeatRouteAB

Twitter.com/BeatRouteAB

Instagram.com/BeatRouteAB

Copyright © BEATROUTE Magazine 2017

All rights reserved. Reproduction of the contents is prohibited.

Rural Albeta Advantage - page 22

BEATROUTE • FEBRUARY 2017 | 3
---
pulse

SELLOUT IS NOT A DIRTY WORD

The Gathering Music festival, February 24 – Banff

"Selling out" is doing something for money that you otherwise

wouldn't do. And we've all sold out at some point;

think about the shitty jobs you've taken, and the principles

you compromised even a little, to pay the rent.

But nothing is more reviled than the image of the musical

sellout. That musician or band who left its core fan base

of their moms and 12 other people to gravitate towards the

possibility of a bigger following, better concert bookings,

and, yes, more money.

Money matters. But so does how you earn it.

Technology has made it possible for anyone with an Internet

connection and Garage Band to cut and sell a single.

This democratization of music has flooded the market with

options and has forced musicians to further differentiate

themselves and find new revenue streams.

So in this new world where it's all but up to the artists

to find and engage their own financial backers, where do

you start?

JIM BEAN and CANADA MUSIC WEEK

How about with your favorite brand?

Smart brand leaders know that straight advertising

simply can't generate the emotional connection that

music naturally offers. And musicians are beginning to

understand that when they partner with the right brands

that honor their music and their values, they are actually

protected from selling out in the traditional sense.

"The right artist is out there for most brands," says Mixmag

CEO, Jerry Perkins, who recently inked a seven-figure

deal with Smirnoff to curate original music experiences

for the drinks company. "A lot of them (artists) will be uncomfortable

if the brand feels wrong. It's a case of matching

their values as closely as possible."

Selling out has never been this creative, respectful and

authentic. In fact, bands that connect with the right brands

haven't sold out at all. They are rooting for the long-term

viability of their music careers and accept that some

aspects of the profession must be run like a business. And

businesses evolve.

Brand/band relationships are way more beneficial and

respectful to the musician than the older, mega record label

model that disadvantaged scores of artists while executives

made millions.

Today, when bands pair up with brands that align with

their image and beliefs, they get to keep their integrity AND

pay their rent.

Ryan Gill is President and Partner of Cult Collective Ltd. and

the Chairman of The Gathering. For more info go to

www.cultgathering.com

Yo! Wanna perform at Canadian Music Week? Jim

Beam is looking for independent artists to apply

for the Jim Beam Make History Talent Search – you

can win travel, accommodation and a slot at CMW

for the 2017 Indies Awards on April 19 in Toronto.

Selected applicants participate in a local round

before being considered by a national panel for the

top prize. Submit to participating radio stations (in

Vancouver, Calgary, Montreal and Toronto) or at

Indies.ca for consideration. Everything you need to

know is at jimbeam.com.

4 | FEBRUARY 2017 • BEATROUTE
---
MADE YOU BLUSH... an extravagant Valentine's Cabaret Sunday Feb. 12

Originally from Toronto, Francesca

Galea ventured out west and enrolled

in the professional training program at

Decidedly Jazz Danceworks . Thereafter,

she set her sights on Las Vegas where she

quickly learned she was a Canadian girl

who was a bit too sweet. "I thought it

would be all roses and easy, but it's not.

It's about who you know, and I was tired

of auditioning for other people so I decided

to produce my own." The result of

that is Accalia Entertainment Company

based in Calgary that she runs with her

partner and stage tech, Paul Marino.

Accalia, according to Galea, means

she-wolf pack. "I'm a bit of a she-wolf,

and we found other she-wolfs and we're

ready to take over the world! My concept

is to be the sexy Cirque du Soleil."

Accalia is a passion project completely

funded by Galea that's not-for-profit and

reaches out to the community through

its event for support.

On Sunday, February 12, Made You

Blush: A Valentine's Day Cabaret takes

place at 628 Stage and Lounge. The

show is geared towards couples to start

off an romantic evening. "There will

be ten acts in total including dancers,

acro-ballet, a couples pole act, spoken

word, a singer-guitarist, and a DJ playing

before after and between acts," says

Galea. "The night will also be filled with

games, prizes, lots of champagne, oysters

and chocolate covered strawberries.

There's no nudity, but it's very sexy, it's

very elegant and driven towards a 25

plus crowd for sure."

For more info go to www.facebook.com/

accaliaentertainment/

Accalia artists, dynamic dancing duo, Francesca Galea and Kim IIott.

BEATROUTE • FEBRUARY 2017 | 7
---
CITY

PARTICLE + WAVE

installs a new reality

A weekend of glitch and entire month of exhibition await.

What do you get when you combine light, sound, texture,

esthetics and philosophy into an immersive artistic

experience? The answer itself is a fascinating equation;

one that has been given life and room to breathe thanks to an

immersive three-day celebration of multimedia art known as

PARTICLE + WAVE.

"We started out in 2012, as sort of an experiment during

Alberta Culture Days, and our second one was in 2015, so we're

trying to make it a biannual event," says programming director

Vicki Chau, "EMMEDIA wanted to do a festival that focuses on

the realm of live audiovisual performances and more on projection

art and sound art. It kind of emerged around the same time

that Soundasaurus, the Multimedia Sound Arts Festival that was

put on by Tammy McGrath, at the EPCOR Centre (now known

as Arts Commons) was ending. When Tammy left, Soundasaurus

died away and there was a need for a sound-arts festival in the

city, so PARTICLE + WAVE picked that up; along with all of the

other aspects of media arts, as well as sound, to give the Calgary

community something that's a little bit different."

Offering a glimpse into the brave new world of multimedia

works and installations, PARTICLE + WAVE is the ideal point of

entry for those seeking to expand their knowledge of how digital

technologies are being manipulated to create provocative works

of art that challenge the limits of audio-visual presentation and

performance. On the other side of the brain, the festival has been

carefully curated so as to provide a frictionless transition between

environment and experience, thereby rendering even the most intimidatingly

complex examples both accessible and approachable.

"It's interesting to be able to evolve a festival along with what

the artists are producing and to be able to find the venues around

the city, such as Festival Hall, that can facilitate their kind of

work," says Chau. "Our partners have been fantastic in supporting

us in showcasing the kind of art that can't be shown anywhere

else. Because PARTICLE + WAVE exists in a celebratory mode

it is the perfect vehicle for us to present to people who are not

already familiar with EMMEDIA or media arts. Everything we do,

by Christine Leonard

except for the Feature Night, is free. So, we want to entice the

public to come back to EMMEDIA and partake of the year-round

events that we have to offer beyond the festival, as well."

While PARTICLE + WAVE's biggest soirée takes place on February

2nd, group exhibition Digital Artifacts runs February 4 to March 4 at

U-Hall TRUCK, and Janus will run February 3 to 25 at EMMEDIA. Mapping

artificial intelligence from the inside out, Janus, produced by Toronto-based

multimedia pioneer and guest lecturer Tasman Richardson, is a

prime example of using modern software "hacks" to reanimate obsolete

computer systems. Richardson's colourful and stimulating brand of technomancy

involves stimulating vintage Atari 2600 consoles to give birth

to their own original sounds and images. According to semiotic sampler

Richardson, running a device through its virtual death throes in order to

capture the "nowness" of the elusive binary life flashing before your eyes

is just the tip of the cybernetic iceberg.

"I call it fishing for the invisibles," Richardson elaborates. "Normally,

in post-'87 technologies, you'd get a blue screen that would censor (as

in censorship) and stop any unstable static or noise that happens when

you turn on your TV, just to make it more palatable. The problem is

that it also cancels out any beautiful, subtle, nuanced glitches that the

machines are building and generating. The glitches come straight from

the console itself, with no cartridge inside it, and you have to use power

failure and brown-outs to ween the machine off of its stabilizing power

in order to generate the glitches. So, there's a real movement of trying to

harness those glitches and that's called fishing for them."

PARTICLE + WAVE's main events take place February 2nd to 4th at

various venues in Calgary. Shows Digital Artifacts and Janus throughout

February at U-Hall TRUCK Contemporary Art in Calgary and EMME-

DIA respectively.

FORMS OF SOUND FESTIVAL

not yer grandpappy's classical fest

by Alex Meyer

In the beginning of February, the University of concerts, the festival will host interactive sound

Calgary's School of Creative and Performing Arts, installations featuring sound clips from U of C music

in conjunction with New Works Calgary, will be alumni along with what is being dubbed Soundscavenger:

hosting the Forms of Sound Festival: a collection

guests are invited, with the help of an app and

of international and local artists premiering and a pair of headphones, to wander around the Rosza

playing compositions for students, as well as the Hall and have small pieces play in your ears, dependent

public, across four nights at the Eckhardt-Gramatté

on where you are. In doing so, you can compose

Hall. The venue is an acoustic marvel, and a your own piece of music merely by walking through

sonic gem in Western Canada, designed to project different places.

the sound onstage into the audience with perfect The Forms of Sound Festival has brought together

clarity and resonance. BeatRoute sat down with a wide variety of local artists along with a series of

event organizer David Eagle and Calgary New guest composers from places like Toronto, Montreal

Works' artistic director Laurie Radford for more and Berlin. "These pieces are meant to stretch our

info on a festival steeped in innovation, radical understanding of music and sound," Eagle continued.

artistic expression, and connecting high art with "It is, in part, an exploration into sounds you just can't

the wider community.

imagine coming out of instruments."

"The field of new music is expanding and changing From January 31st to February 3rd, wildly innovative

so quickly," Eagle says. "The Forms of Sound Festival is

musical journeys will be performed, often with

a way to bring some of the new activities to the larger inventive and interactive multimedia accompaniments.

will play alongside a live performance, were meant thews. Along with works from Max Murray, Annesley

public."

to convey the rich multicultural history of Istanbul, Black, and German artists Benjamin Schweitzer,

The festival succeeds in this by hosting midday Original pieces will be performed by Land's End which for many centuries has been the confluence of Stefan Streich, and Gordon Fitzell.

workshops with the artists themselves. These workshops,

Ensemble and U of C's Wind Ensemble, and also ancient civilizations, ideas, and cultures.

Forms of Sound delivers on its titular promise,

which take place every day of the festival, allow include a five-channel, electro-acoustic performance The festival culminates on February 8th with showcasing multi-disciplinary acts more interested in

those curious about the artists' techniques and ideas from David Berezan, compositions from Anna Pidgorna

Berlin's prestigious ensemble mozaik. A brazenly what sound can be than what it used to be, has been,

can sit down and engage in dialogue in tandem with

& Analia Llugdar, and an operatic performance experimental septet of virtuoso musicians who cease-

and is. The most important criteria for performers

hearing some of the compositions in a more personal where the singer's movements will trigger sounds that lessly push the limits of what music is, they pluck and and composers are that they be visionary, exploratory

setting. This culminates on February 7th, when play around the audience and complement the live strum and blow their instruments across new sonic and interested in the way music intersects. It ain't yer

Berlin's esteemed ensemble mozaik (lowercase and musicians on stage. It also includes a piece by Ilkim landscapes and evoke a wild spectrum of emotion. grandpappy's classical fest.

misspelling intentional) 'reads' short compositions Tongur, who travelled to Istanbul to record pieces in ensemble mozaik will play six different works written

from students and provides feedback.

the acoustically rich archways and ancient architectural

by Canadian and German composers, including a Forms of Sound runs Feb. 1-8 at various venues in Cal-

In addition to the daily workshops and evening

wonders found there. These recordings, which world premiere by Canadian composer Michael Matgary,

with a focus on the U of C campus having access.

8 | FEBRUARY 2017 • BEATROUTE CITY

Just because their training is classical doesn't mean what they showcase at Forms of Sound will be.
---
ELECTRO-ACOUSTIC MUSIC

TRANSISTOR

CABARET CONTEMPORAIN / FRANCE

FEBRUARY 22 – 25 . 2017

"MORE THAN A BAND OF GIFTED

MUSICIANS, CABARET CONTEMPORAIN IS

A FUSION OF POP MUSIC, EXPERIMENTAL

SOUNDSCAPES, TECHNO, MINIMALIST ROCK,

AND IMPROVISED JAZZ"

– LE PARISIEN

BUY YOUR TICKETS NOW!

ONLINE: theatrejunction.com | PHONE: 403.205.2922 | 608 1 ST STREET SW // Calgary, AB

FOLLOW US: TheatreJunction | #BEthejunction
---
DIE LAUGHING

what even is comedy, anyway?

die Laughing (lowercase is stylistically intentional) is Calgary's deadliest

new monthly party. The death toll for their first show was… Nah, I'm

messing with you. The whole "die" part comes from the German word

for "the," and the only thing you have to fear is confronting your notions of

limits in comedy and maybe peeing yourself a little. The monthly event takes

place at Wine-Ohs and features stand-up, music and the unexpected.

Organized by Sarah Adams, Jeff D'Silva and Evan Wilson, die Laughing

comes with a certain pedigree for when keeping it weird works best. Adams

and Wilson co-curate the comedy program at Sled Island, and were honoured

with runner-up Best Comedian at Best of Calgary 2016 and a 2015 Top 40 Under

40 shout-out respectively. D'Silva has done every style of comedy from talk

show host to music, and has made popular videos for Funny or Die (there's

that word again). There's plenty more to say about these folks but why don't I

step aside and let the funny people do the talking?

Of their first show back in January, Adams recalls: "You missed flying jokes,

two accidentally booked house bands (electronica dj Ecigs and folk duo

Somerset & Bridlewood), more fun music, plus we literally murdered 2016 FOR

GOOD." And for February's show? Wilson teases: "Next one is our valentimes

[sic] day hangover show," with Adams making bold promises like "we are having

a WEDDING. And possibly a divorce!"

On the sake of this being a variety show as opposed to just stand-up sets,

D'Silva notes: "Variety encourages everyone to experiment a little more. It's

like a great community college and we are merely freshmen," while Adams

adds, "We're exploring what funny even is, and it can kinda be anything, so

that's fun!"

Finally, the three were asked what their wildest dreams for die Laughing are. The

responses were good to choose between.

Adams: "We become a hotly anticipated weekly weirdo shit show, all the cool

comedians who come through town BEG us for spots, we no longer use our legs

but are instead carried on shoulders 24/7, a wealthy but distant relative dies and

leaves us their fortune, our doctors declare us to be in perfect health, we start a

dog sanctuary, global warming is reversed, Jemaine Clement proposes to Sarah,

Trump is impeached.

D'Silva: "I hope we become the greatest variety comedy troupe ever

by Colin Gallant

known and we change the world with our comedy but then breakup shortly

after playing a rooftop show because of ego and artistic differences. All of

us go on to have successful solo careers but we never reach the lofty heights

established by our years together." (There was a whole Beatles theme to his

responses but then I went and ruined it with editing.)

Wilson: "Board game, action figures and the cover of BeatRoute. (Not sure if it's

a photo or like a cartoon likeness, but we'll take it.)"

The next die Laughing (pronounced "the Laughing") takes place on February

15th at Wine-Ohs. Organizers have also locked down March 8th and April 19th

for the following two events.

PLACES PLEASE

by Sara Elizabeth Taylor

Sometimes theatre is big: long cast lists full of largerthan-life

characters, shocking dramatic moments and

ever-changing sets. But some of the most powerful

theatre experiences are more intimate, with smaller

stages and only a handful of characters. Calgary's

theatre companies seem to be embracing the small

theatre movement; here are three that are showing

plays this month featuring three or two actors, or even

just a single person onstage.

Skylight

Theatre Calgary

Engineered Air Theatre

February 14-25

Theatre Calgary is leaving their usual space, the Max

Bell Theatre, for the cozier setting of the Engineered

Air Theatre as part of their new initiative tc Up Close,

expanding their artistic programming by presenting

plays in more intimate settings. When two former

lovers reconnect on a crisp London evening, their

vastly different backgrounds and the history they share

together clash. The ensuing conflict is deeply personal

and shockingly confrontational.

THE CAVE

The Cave is a quintessential indie club with old brick pillars,

low ceilings and the instant vibe you are in one of Montreal's

basement pubs in the Plateau Mont-Royal or a Vancouver

Gastown "dive" where you can find the best indy bands. This

was the concept in creating this 130 person venue.

We want to make this a "peoples place" where the local

music community feel, respected, and appreciated. We want

to offer a venue that hosts whats popular in Calgary whether

its Paint-Nite Calgary, a local jam night (every Thursday), or

a Burlesque show with an emphasis on local original music.

The venue offers no gender or age specific. Saturdays feature

Calgary indie bands, with local craft beer and drink specials.

Entrance is through the back door and down the stairs

adding to the unique feeling you are entering an old school

basement club.

Music Director & Booking Agent

Kat Westermann 403-336-1097

Please contact Kat directly for any information,

she is the heart of our music development.

General Manager

Lindsay Chadderton

email: bookings@gettoboys.ca

website: www.gettoboys.ca

facebook: https://www.facebook.com/gettoboysyyc

Kat Westermann

The Cave's Booker

Soliciting Temptation

Sage Theatre with Shadow Theatre (Edmonton)

Joyce Doolittle Theatre at Pumphouse Theatres

February 23 - March 4

A middle-aged white man visiting a poor country

decides he wants the kind of intimate, hands-on

experience that you won't get on any tour. The girl

who shows up at the door of his hotel room is young

-- perhaps too young. But he quickly learns that's not

the only surprise in store when the girl reveals that

she's there to trap him as a sex tourist and threatens

to tell his job and his family. What ensues is a battle for

power between two intricate characters, with both

determined to gain the upper hand.

Gracie

Alberta Theatre Projects

Martha Cohen Theatre

February 28 - March 18

As a child, Gracie didn't understand that her community

was different; after all, she spent her days much

like many other kids her age: riding bikes, spending

time with family, going to church. Except her church

was the Fundamentalist Church of Jesus Christ of Latter-Day

Saints, a Mormon denomination whose members

practice polygamy. And as she enters her teenage

years, she's facing new pressures from her community

-- including the prospect of a forced marriage to a

man much older than she is. The temptation of the

world outside of her small community in Bountiful,

B.C., is calling her -- but can she take the leap? See the

world through Gracie's eyes in this gripping and tender

one-woman show.

10 | FEBRUARY 2017 • BEATROUTE CITY
---
CABARET CONTEMPORAIN

giving techno that human warmth

components of a DJ set – a tall order considering how

at odds the two worlds are. Consistently pushing for

more and more improvisation, then, feeds into the

Cabaret's newest undertaking: what they've taken to

calling Transistor.

"Transistor is a little different. In the past, even

live, our songs have had a beginning, middle and

end. There was more structure. But with Transistor,

we're no longer exactly sure what songs we're playing

in what order. The music never stops, effectively."

Courty explains. It sounds like a logistical nightmare,

but the way he articulates it inspires confidence and

trust in their vision.

"We keep the terms of each song loose, so we can

adapt and evolve in accordance with the crowd's

energy. We have songs that can be played for three

minutes or 20. And it's a real guessing game – sometimes

people tell us they couldn't hear the guitar. But

they don't realize that the guitar doesn't sound quite

like a guitar!"

by Max Foley

Effectively, much like your favorite DJ, Cabaret

Contemporain caters to their audience based on

just about every factor you can imagine. It's all but

guaranteed that over the span of their four-day stint

at Theatre Junction, you won't see or hear the same

thing twice. Amongst mentions of new original works

and remixes, Courty sweetens the deal.

"We're always reinventing ourselves, and the base

material's always wildly different. So odds are that

Calgary will be hearing music that we've never played

for anyone, anywhere."

If the Cabaret is just a taste of the possibilities

that exist when it comes to analog-digital interplay,

then it's safe to say the future of music as a whole is

guaranteed to be interesting.

Cabaret Contemporain perform Transistor in Calgary

from February 22nd-25th at Theatre Junction GRAND.

Avant-garde French ensemble create improvised electronic with classical instruments.

so fresh

electric avenue

bringing back the best of the nineties

It's 2017, and the distinction between analog and

electronic is harder to make than ever. Top 40's

dropping pop-rock bands in favour of DJs cookie-cutting

our favorite electronic tropes. Psychedelic

'70s rock acts are back in vogue and swapping

out conventional instruments for synths and drum

machines. Whatever side you're on, wherever you

fit in, everyone's feeling the squeeze to innovate,

and to differentiate themselves.

Part of the fun of this Darwinian struggle is the

absolute avalanche of weirdness that it has triggered.

For every act that makes it to the Top 40, there's a

blizzard of uncompromising talent to be explored by

those daring and discerning enough to branch out.

Enter Cabaret Contemporain, an eight-person orchestra–cum–techno

collective, consisting of traditionally

trained musicians from the Conservatoire de Paris.

The Cabaret consists of one pianist, one guitarist,

one drummer, two double-bassists, a sound engineer,

and two producers. However, double-bassist Ronan

Courty describes a surprisingly "utopic, leaderless" dynamic

between them all, gesturing animatedly with a

beer in one hand and a rolled cigarette in the other.

"We're basically just a group of friends. We have

someone who's always talking, one who knows

when to shut up, one who does stupid shit when

he's been drinking… We have that sense of balance,"

he explains, crackling through a Skype connection

from Paris.

"We play music we've made together. We all

contribute to one another's segments in a way that

complements everyone else."

Using analog instruments to create avant-garde

electronic music was pioneered by the likes of Kraftwerk,

and in recent years implemented by Moderat,

Tycho, Jaga Jazzist and Portico, to name but a few.

Ronan cites these as inspirations, alongside names as

varied as Dawn of MIDI, Nat King Cole, Jon Hopkins

CITY

and Jeff Mills.

"At first, we pretty much outright copied our favourites

– Hopkins, Mills. But we would go shopping

in hardware and curio stores for things to add to our

instruments, to make them sound like the building

blocks of electronic music."

"But at the same time, we wanted to emphasize

how desperately human we are. There are things that

we do that machines can't, and vice versa. We were

looking to give human warmth, through imperfection,

to music that can sometimes sound quite cold

and robotic."

Rifling through the group's discography evokes a

beautiful, organized chaos, a harmony of their aforementioned

idols' sounds – an expedition at one's

fingertips that comes highly recommended.

Perhaps the most impressive part of the Cabaret's

stylistic repertoire, however, is their process. Courty

describes coming together as individuals who had

previously collaborated in various configurations,

slated for traditional careers in jazz and composition,

before blasting off in a completely unexplored direction.

The Cabaret sought to trade in their contemporary

training for more "danceable" music.

"For me, [this new project] was liberating. When

we met, we were slated for more typical careers in

our fields. I was going to be a jazz double-bassist,

which wasn't nearly as exciting as this new thing we

were exploring. It was completely different in that

everything was improvised."

Courty pauses for a second, energetically mimicking

a traditional double-bass groove. "I don't think

I've played double-bass the way it's meant to be

played in years."

Improvisation is a quintessential part of the

Cabaret's process. The group's affinity for all things

electronic led to them exploring how they could reconcile

their contemporary training with the integral

iconic films from

the decade on the big screen

friday

february 10th

with sets by

dj kool dreemz

Organicstatic

alpha papa echo

dj scruff

Alox

BEATROUTE • FEBRUARY 2017 | 11
---
FILM

(MOSTLY NOT SERIOUS) OSCAR PREDICTIONS

from Denzel 2020 to 'How do ya like them apples, Ben?'

by Mathew Silver

It's that time of year, folks. The 89th Academy Awards

are upon us, and you're likely scrambling for some

trustworthy information so that come February

26th you can impress your cohorts with movie knowledge

without actually having watched the movies. Fear

not, we've got your back.

The Oscars are a special time; a time to reflect on

some of the most ground-breaking, interesting, and

well-crafted films of the year. Yet, one can't argue that

there is a degree of self-congratulatory back-patting, as

we further indulge the Hollywood elite with two things

they certainly don't need: awards and more screen

time. But hey, some of them righteously earn that back

pat. Some of the films released last year, and the talent

involved in creating them, were able to impact our lives

and inspire our minds. Here are our predictions for the

ones we actually think deserve the Oscars, as well as

some tongue-in-cheek selections for good measure.

We just call it how we see it, folks.

Side note: If you want to make a lot of money betting

on the awards, make these selections.

BEST PICTURE

La La Land

To start on a serious note, La La Land stands out as a

welcome trip down nostalgia lane with two Hollywood

home-run hitters in their prime, Emma Stone and Ryan

Gosling. The bubble gum surrealism and the meet-cute

relationship bedrock make it a bubbling and bright

anecdote to an industry shrouded by cynicism and

formulaic reboots. Its success at the Golden Globes

hints toward a similar fate at the Oscars.

BEST ACTOR

Denzel Washington, Fences

Denzel Washington plays a former professional

baseball player turned sanitation worker named Troy

Mason. Which is to suggest that Washington plays to

his strengths throughout, a spoken-word dynamo in

a Pittsburgh neighbourhood where tough conditions

breed even tougher talkers; a milieu where Washington

always seems to thrive. His speech is so pointed and robust

that simple speculation becomes hardened truth

- the type of gravitas that makes him a compelling and

unflappable leading man. Vote Denzel 2020.

BEST ACTRESS

Ruth Negga, Loving

Ruth Negga's performance takes place completely

under the surface. Her quiet struggle as Mildred Loving

FILM

boils and eventually bubbles, never evaporating in the

mid-century American battle against segregation. As

the film itself struggled to overcome lazy casting in

other roles, her resiliency is particularly poignant considering

the current political climate, and should stand

as an example of determined grace amidst emotional

chaos.

Okay, moving on to not-so-serious…

OSCAR DARK HORSE PICKS

Dwayne "The Rock" Johnson,

Central Intelligence (Best Actor)

Dwayne didn't even get nominated for this award,

but I would never rule "The Rock" out. Nobody

– and I mean nobody – thought he was going to

defeat Stone Cold Steve Austin at Wrestlemania

XIX with three Rock Bottoms. But guess what?

He did.

Furthermore, Dwayne is the biggest and most

prolific movie star on Earth right now, which is remarkable

for several reasons. Dwayne used to be

a professional wrestler, not to be confused with

real acting or a real sport. To transition so seamlessly

to being a Hollywood celeb is an achievement

in itself. Here are some other reasons: the

latest instalment of Baywatch, his contributions

to the Fast and Furious franchise, and teaching

my grandma the People's Elbow at an IHOP once

(R.I.P Gam Gam).

Dark Horse (Best Picture)

There actually was a movie named Dark Horse

this year, so it would be ironic (or coincidence?) if

it won this award. I didn't even bother to see the

movie, but this is how Rotten Tomatoes describes

it: "Dark Horse offers a thoroughly crowd-pleasing

look at an incredible – and inspirational – real-life

story that will thrill equine enthusiasts and novices

alike." In my opinion, "equine enthusiasts" are often

overlooked as a movie-going demographic, which

makes it all the more likely that the Academy will

recognize the originality of this film.

Mr. Fuzzypants, Nine Lives

(Best Supporting Animal)

It takes nothing short of transcendent acting to

play the role of Kevin Spacey trapped inside a

cat's body. But that's exactly what Mr. Fuzzypants

did in Nine Lives, my favourite movie of 2016.

Not only did he teach us a valuable lesson about

the correlation between capitalism and family

neglect, his cat-like apathy throughout the film

was undoubtedly a metaphor for Spacey's decision

to star in this film, despite being a legitimate actor.

Awe-inspiring.

ACTOR AND ACTRESS MOST LIKELY TO DED-

ICATE HIS/HER ACCEPTANCE SPEECH TO A

POLITICAL CAUSE

Denzel Washington - Fences

Denzel Washington will almost certainly announce

his intention of running for President

of the United States in 2020. Since the line

between politics and entertainment has been

inexorably blurred, the search for the next actor/

actress-turned-politico is in full swing. Denzel

would be a great candidate because: a) he already

has a presidential-sounding last name b) he has

an uncanny ability to deliver a monologue, and

that's about 80 per cent of the job, and c) everybody

loves Denzel Washington.

Emma Stone - La La Land

Emma Stone will use her platform to promote

her latest philanthropic effort. It's a non-profit

called Actors Not Using Speeches for Politics or

Otherwise (otherwise known as ANUS POO).

Along with Mark Wahlberg, she founded the organization

to stop actors from using acceptance

speeches to parade their moral superiority on

topics that the general public will almost certainly

sympathize with.

Actor Most Likely To Use His Acceptance Speech

to Finally Get Little Brother's Last Laugh

Casey Affleck - Manchester by the Sea

Chances are pretty good that Casey Affleck will

dedicate his time on stage to chastise his parents

for favouring older brother Ben his entire life. He'll

talk about overcoming the adversity of being the

forgotten child, and mention how he convinced his

brother to take the role of Batman, knowing full

well that nobody could match the performance of

Christian Bale. Look who's laughing now, big bro!

Watch the ceremonial back-patting Feb. 26. You can

also make a (for real!) fun date night of it during

CIFF's viewing party at the Palace Theatre, which will

include live entertainment, prizes, refreshments and

a silent auction.

live music

Feb 4:

danny vacon

Feb 11:

sean hamilton

Feb 18:

long jon lev

Feb 25:

mike watson

saturday nights

weekly specials

late night movies

$5 pints, $1 oysters

$1/2 off wine

$2.50 tacos

$7 beer flights

$5 draft pints

$3 jack daniels

midtownkitchen.ca

BEATROUTE • FEBRUARY 2017 | 13
---
FLASHBACK FILM FESTIVAL

by Jonathan Lawrence

take a trip to the past on the big screen

Relive old favourites at Eau Claire Market this February.

Watching a classic film on the big screen

(the 50-footer, not 50-incher) is an amazing,

and often once-in-a-lifetime experience.

Not only can newer audiences experience such

lauded cinematic works as if they were just released,

but it gives more mature audiences a chance to

witness their favourite film the way it was originally

meant to be watched. Even if you've seen these films

a dozen times, it will certainly be a new and exciting

experience in the theatre. The thunderous roar

of the T-Rex in Jurassic Park will leave you rattled, relationships

will blossom from quoting The Princess

Bride with that cutie sitting next to you, and Brad

Pitt's abs will be even more visible in Fight Club.

Sorry kids, but you can leave those 3D glasses at

the door. This line-up of ground-breaking and timeless

films doesn't need, and doesn't care for, big-budget

digital effects. These films are known for their superb

acting, dialogue, story, music and, above all, originality.

We are hard pressed for these types of films in this

day and age, so make sure to take advantage of this

wonderful opportunity courtesy of Cineplex.

And what a line-up it is: Fargo and Blood Simple,

Air Force One, Groundhog Day, Heat, Legend, Shallow

Grave, Starship Troopers, The Fugitive, Running Man,

Trainspotting and, of course, Pulp Fiction, to name a

few. We spoke with Scott Westby, executive producer

at Full Swing Productions, to give us a little insight as to

what makes this festival so great.

"Cineplex has an amazing line-up of popcorn

movies from the '80s and '90s that have defined

genres (Heat, Jurassic Park), launched careers

(Blood Simple, Fight Club) and ignited the inner

filmmaker in countless people," Westby says. "Every

single one of these movies, if you haven't seen it

yet, is worth your time."

In his own words, these are Westby's top six films to

see at the Flashback Film Festival.

Blade Runner: The Final Cut: "Yet another example

of how Harrison Ford dominated Hollywood during

these decades. I personally don't like Ridley Scott's "Final

Cut" as much as the original release, but this is still

a must-see sci-fi; beautiful on the big screen, and timely

with Blade Runner 2049 coming out in October."

Fight Club: "A formative movie for generations of

young men. If you weren't quoting Fight Club in high

school or college, then you've missed out. Aside from

Lord of the Rings, this is my favourite movie. Go see it."

Heat: "This heist movie so strongly defined its genre

that watching it now may feel like watching one big

cliché, but there's nothing like an original. Fantastic

story and action, and probably one of the best casts

ever assembled. Buy popcorn."

Jurassic Park: "Even if you've seen it a thousand times,

nothing beats Jurassic Park on the big screen. It's

incredible how well the effects hold up after almost

25 years. If you can bring someone who's never seen it

before, you're in for a treat. "

The Fifth Element: "This is the Kit Kat of movies. It's

nobody's #1 favourite, yet everybody loves it; off-thewall

sci-fi with great action and laughs to spare. Chris

Tucker at his best (and most annoying), Gary Oldman

flaunts his ridiculous range, and Bruce Willis and Milla

Jovovich both at their hottest."

The Princess Bride: "This might only be on this list

because I haven't seen it in over 10 years but I just love

it so much. Maybe it's time to see it again, and what

better excuse than a limited-run theatre experience?"

Flashback Film Festival happens Feb. 3 – 9 at Eau

Claire Market.

I CALLED HIM MORGAN

heartfelt documentary chronicles jazz musician's demise

A

cold and dismal snowfall opens this

heartfelt documentary that details a

talented Jazz trumpeter's fall from grace,

his return to form, and his eventual demise at

the hands of his own wife. A downbeat jazz tune

accompanying the nostalgic winter imagery sets

the mood. I Called Him Morgan is a true story

that manages to capture a variety of literary and

cinematic themes; it has the grit of Taxi Driver

with the tragedy of Shakespeare, yet ultimately

remains a positive and unforgettable story.

Lee Morgan was an incredibly gifted trumpet

player, known as one of the all-time greats to many.

"There was never any doubt Lee was going to be a

star," Charlie Persip of Dizzy Gillespie's band said.

"He knew how to tell a story musically," said Wayne

Shorter, Grammy-winning saxophonist. His success

grew rapidly throughout the late-1950s and 1960s,

even when jazz's popularity was in decline.

On top of being a musical prodigy, Lee was

young, handsome and had a keen sense of fashion.

Unfortunately, like many young people who experience

the heights of success, Morgan found himself

at the mercy of drug addiction, and by 1967 he was

broke and sleeping on the streets. He was unrecognizable

to even his own bandmates, who mistook

him for a homeless man.

It was then that Lee Morgan's life took an

ultimate turn for the best - as well as the worst. He

met his partner-to-be, Helen Morgan, a woman 13

years his senior while strung-out and freezing out

on the cold winter streets. In an interview in the

film, she sadly remembers asking him why he didn't

have a coat. Immediately, she became his caretaker,

and their subsequent relationship was arguably

more mother-son than romantic. In the same interview,

she states that she "took over total control of

Morgan's life."

by Jonathan Lawrence

Although Helen Morgan managed to clean Lee

up and get his life and career back on track, the

relationship was doomed from the onset. Helen's

own son was the same age as Lee, and Lee was

becoming involved with another woman. The

conditions were ripe for a destructive relationship.

In 1972, on a cold, snowy night reminiscent of

the film's opening images, Helen Morgan stepped

into Slug's Saloon, where Lee was performing,

holding a pistol. The scene was right out of a

Western film, one witness said. Over 20 years later,

Helen Morgan still cannot believe, nor understand,

why she shot and killed Lee who was only 33 at

the time. "I couldn't have did this, this must be a

dream," she reflects.

Although the murder of Lee Morgan by his

own partner is not a surprise, it is the journey to

that curious plot twist that is both compelling and

perplexing. The documentary is perhaps more so

a character study of Helen Morgan than it is of Lee.

Though their relationship was so nourishing at the

beginning, it's hard to believe how destructive it

ultimately became. The worst part is, no one saw

it coming.

"They was so tight, it was like, you think of Lee,

you think of Helen," says bandmate and saxophonist

Billy Harper. "Helen, Lee."

This is director Kaspar Collin's second documentary

to feature a brilliant jazz musician's

too-soon departure from Earth, the first being

2006's My Name is Albert Ayler. Additionally,

the documentary was shot on 16mm by Selma

cinematographer Bradford Young, giving the

film its vintage, grainy look, which couldn't be

more fitting to the story.

I Called Him Morgan screens Feb. 1 at Eau Claire

Market.

Witness the tragic tale of one of jazz's unsung heroes in this dark documentary.

14 | FEBRUARY 2017 • BEATROUTE FILM
---
THE VIDIOT

rewind to the future

by Shane Sellar

The Accountant

Blair Witch

Deepwater Horizon

Ouija: The Origin of Evil

When the Bough Breaks

The Accountant

The worst part of being an accountant is that your

friends always ask for free audits.

That is exactly why the bookkeeper in this thriller

chooses not to have any.

Despite his autism, Christian (Ben Affleck) grows

up to become the most sought-after bean counter

in the underworld. Dispatched to his clients via a

disembodied voice, his latest audit is of a reputable

robotics firm.

Alongside the company's internal accountant

(Anna Kendrick), Christian uncovers the misappropriation

of millions. Their findings, however, only end

up making both CPA's the target of a hired gun (Jon

Bernthal).

Fortunately, Christian's military upbringing has

made him a proficient killer himself.

While the concept of a special needs anti-hero is

highly laughable, the kinetic action, frequent plot

twists and stone-faced Affleck help this unorthodox

actioner overcome its minor infirmities – like

plausibility.

Incidentally, having autism would actually make

accountants more interesting people to talk to.

The Birth of a Nation

If it weren't for slavery, America would have been just

another Upper Canada.

However, this historical drama contends that without

slavery there would be no United States at all.

In order to assist his impoverished master Samuel

Turner (Armie Hammer), well-educated slave Nat

Turner (Nate Parker) agrees to preach the good

word at neighbouring plantations. This act not only

serves to sooth any agitated slaves, but to also line his

master's pockets.

Having to bear witness to all of the inhumanities

ignites a rebellious flame in Nat, and soon his

sermons turn to declarations of mutiny against their

slave masters.

A powerful and poignant depiction of the real life

1831 slave revolt that ravaged Virginia, this debut by

controversial director Nate Parker may accentuate

the story slightly but still delivers an impactful and

stirring message.

Furthermore, the best strategy against southern

slavers is to first cut off their mint julep supply.

Blair Witch

The first thing you should do when lost in the woods

is head to the nearest house made of candy.

Regrettably, the hikers in this horror movie head

to a dilapidated cottage.

When footage of his missing sister surfaces on

the Internet, James (James Allen McCune) heads to

Burkittsville to retrace her sojourn into the haunted

forest.

Accompanied by a documentary film student

(Callie Hernandez), a pair of locals (Valorie Curry,

Wes Robinson) and his two friends (Corbin Reid,

Brandon Scott), James sets off in search of the cabin

where the initial Blair Witch Project footage was

found 20-years before.

The unwanted follow-up to the godfather of the

found-footage subgenre, this long gestating sequel

should have stayed in limbo. Relying on the same

shaky-cam scares that helped the original only makes

this sequel feel like a repetitive remake.

Moreover, witch in the woods rumours are usually

started by grow-ops.

Deepwater Horizon

The best part about offshore drilling is that you get

to wear your swimsuit to work.

Mind you, the rig crew in this drama should've

worn flame retardant trunks.

When drill crew captains Mike Williams (Mark

Wahlberg) and Jimmy Harrell (Kurt Russell) board

Deepwater Horizon, they discover the proper safety

measures have not been taken to stabilize the well.

Concerned, they urge their BP rep (John Malkovich)

to authorize a pressure test.

Shortly after the test commences, there is a

massive explosion. Now Mike must evacuate his

team (Dylan O'Brien, Gina Rodriguez) before the rig

collapses.

Inspired by the 2010 BP oil spill, this harrowing survival

story is certainly heart pounding and inspiring.

However, the human component feels aggrandized,

while the environmental devastation has been minimized

for the sake of high-octane entertainment.

Even worse, under maritime law all oil spilt into

the ocean automatically becomes the property of

the mer-people.

Inferno

With all of its homophobes, suicide bombers and

televangelists, who would ever want to end up in

Heaven?

Which might be why the Harvard professor in this

thriller is exploring the alternative.

Linguist lecturer Robert Langdon (Tom Hanks)

wakes up in an Italian hospital with a bullet wound

and memory loss. When the assassin (Ana Ularu)

shows up to finish the job, a nurse (Felicity Jones)

helps Langdon escape.

The pair later locates a coded painting of Dante's

Inferno that they must decode in order to stop an

overzealous biologist (Ben Foster) from releasing a

doomsday virus.

The third entry in the religious text deciphering

series, this installment maintains the globetrotting

appeal but loses the pious intrigue in exchange for

scattershot action scenes, a heavily altered ending

and two hollow performances that border on

ham-fisted.

Moreover, there is no God that approves of Langdon

cavorting with a younger woman.

Keeping Up With the Joneses

The worst thing about living next-door to a spy is

everything they lend you releases knockout gas.

Mind you, noxious fumes aren't needed to convince

the wary couple in this action-comedy.

From the day the Joneses (Jon Hamm, Gal Gadot)

moved next-door, the Gaffneys (Zach Galifianakis,

Isla Fisher) have been suspicious of their good looks

and enviable careers. It's not until they discover a

listening device in their home that they suspect the

couple of being secret agents.

With their cover now blown, the Joneses agree to

partner with the bumbling Gaffneys to accomplish

their mission: delivering missile defensive Intel to an

arms dealer (Patton Oswalt).

With a weak premise and an unrecognizably svelte

Galifianakis, this suburban spy-spoof struggles to

find laughs in its capable cast. The action portion is

equally tepid.

Another telltale sign your neighbour is a spy: all

the books they borrow you have been redacted.

Ouija: Origin of Evil

The best thing about communing with the dead

through an Ouija board today is they all communicate

in abbreviations.

In the sixties, however, specters, like the ones in

this horror movie, had to actually spell complete

words.

Single mother and sham spiritualist Alice (Elizabeth

Reaser) uses her daughters to help swindle her

clients during staged séances by pretending to be

their relatives.

When Alice adds a spirit board to the act her

youngest (Lulu Wilson) starts to actually channel

entities in the home, including her father. Meanwhile,

the eldest (Annalise Basso) seeks help from a priest

(Henry Thomas).

Despite being a sequel, this frightful follow-up surpasses

the forgettable original in all aspects. Filling in

the blanks from the first, Origin of Evil also explores

some interesting new themes concerning the afterlife

while maintaining ample scares.

Incidentally, Ouija boards are only good for

reprimanding dead relatives over the pittance they

bequeathed you.

When the Bough Breaks

The easiest way for a childless couple to get a baby is

to hang around a Walmart washroom.

Unfortunately, the parents in this psychological

thriller impregnated a surrogate instead.

Unsuccessful in their attempts to conceive, John

(Morris Chestnut) and Laura (Regina Hall) ultimately

decide to fertilize another woman's eggs in order to

start their family.

While their proxy Anna (Jaz Sinclair) appears to be

the perfect choice, she soon develops an unhealthy

attraction towards John that finds her driving a

duplicitous wedge between the couple that could

not only cost them their unborn child, but also their

own lives.

A glorified Lifetime movie masquerading as a

major motion picture, this substandard melodrama

even lacks the tautness and titillation needed to be a

movie of the week. Low on ingenuity and craziness,

this psycho stranger story fails at being bad.

Besides, if the surrogate wants you dead won't

your baby inherit that bloodlust?

He's a Self-Preservation Officer. He's the…

Vidiot

FILM

BEATROUTE • FEBRUARY 2017 | 15
---
BLOCK HEATER 2017

round two brings diversity while aiming local

by Mike Dunn

They're not saying that you have to stick it to the man, but Block Heater sure as hell has artists who do.

photo: Luc Savoie

It's year two of Calgary Folk Fest's winter music

extravaganza, Block Heater. A three-day music

festival, Block Heater takes the daytime workshop

and evening concert format of the staple

summer festival, and brings it to four venues

throughout Calgary's oldest neighbourhood of

Inglewood. Calgary Folk Fest's own Festival Hall

is the hub for the weekend, but it's only a quick

walk over to the historic Lantern Church for the

headlining performances. Ironwood Stage and Grill

serves as a comfortable spot to roost and enjoy

both food and beverage during a show, and this

year's addition of the Alexandra Dance Hall brings

rootsy magic to a non-traditional music space.

As the organizers of Calgary Folk Fest prepare

to host the sophomore edition of Block Heater,

they are taking special attention to ensure a little

more diversity in this year's lineup, both in genre

and culture. "Last year was mainly roots and indie

rock, right up the middle," artistic director Kerry

Clarke tells BeatRoute from their office above

Festival Hall. "This year, it's a little more diverse.

We have the indigenous showcase, and another

showcase that's more of a world music focus,

with some reggae, calypso, and funk. It's a little

more reflective of the summer festival, from an

eclectic standpoint.

"I think it's a strength of both the [Calgary]

Folk Festival and Block Heater," marketing manager

Matt Olah attests. "A lot of folk festivals tend

to lean toward the traditional. We're programming

really diverse lineups, with something for

16 | FEBRUARY 2017 • BEATROUTE

everyone, so you can see your favourite roots

or indie rock acts, and you get to experience a

completely different style like [electronic], or

afro-cuban styles, or modern and traditional

indigenous music."

The indigenous showcase features four diverse

aboriginal acts from across the country, including

DJ Shub, one of the founding members of A Tribe

Called Red; Winnipeg-born isKwé, who melds

trip hop, R&B, and electronic music with political

lyrics, treatises on reconciliation and peace;

Anishinaabe singer-songwriter Leonard Sumner,

who brings stories, life lessons, and philosophies

to life with a fusion of the classic roots styles with

free-flowing rap interludes; and Eya-Hey Nakoda,

the award-winning, intergenerational Stoney Nakoda

powwow group primarily based on Morley's

Stoney Reserve, who recently collaborated on the

Making Treaty 7 project with other musicians,

artists, and actors.

"This is critical music and culture," says Clarke,

of presenting indigenous music, "It's a celebration

for people from a number of different indigenous

nations, and it's something that many of us have

maybe overlooked. These are the founding peoples,

and these artists should always be included

in festival programming. Placing a focus on this

music is a celebration of their culture, and of the

excellent music being created in the form."

As with the summer festival, in the knowledge

that folk and roots music has always taken it

upon itself to address larger social issues, Clarke

mentions that the festival encourages artists to

share their views on the contemporary moment

or of narratives of historical import, if that's what

artists feel the times require: "Whether it's Steve

Earle and his feelings on the death penalty, which

he feels very strongly about, or the political

messages behind DJ Shub's music, lyrics are really

important to us at the [Calgary] Folk Festival, it's

the core of what we do, so I think it's important

for our artists to feel comfortable sharing that,

and never feel like they have to hide it. What's

really interesting is that now you have artists like

Tanya Tagaq, A Tribe Called Red, who are clearly

indigenous, they're incorporating traditional

sounds like throat singing or drumming, or visual

styles, and they're reaching a mainstream audience

but they're making it their own sound."

The festival has added a few more regional,

national, and international artists for this edition,

with Australian alt-country wildman Henry

Wagons, Toronto folk-rockers NQ Arbuckle, Texas

singer-songwriter Hayes Carll, and Vancouver

provocateur C.R. Avery all making the trip to Calgary

to play the various venues around Inglewood.

"We're not saying 'You have to stick it to the

man' out there," adds Olah, "but the artists know

they have the freedom to present their work and

say what they feel."

Block Heater's lineup this year also features a

number of veteran and emerging local acts, once

again an indication of Folk Fest's dedication to

promoting the local music community. Ranging

from the soulful strains of Dojo Workhorse, to

the ambient eclecticism of Evan Freeman, and

including a diverse array of local and regional acts

including the indie rock of Scenic Route To Alaska

from Edmonton; Calgary's dark-folk breakouts

Reuben and The Dark, the retro pop soul of The

Torchettes; and emerging soulful country acts

JJ Shiplett; Sykamore, and Mariel Buckley; Block

Heater is ensuring that local musicians get a wellearned

opportunity to play alongside some of the

best and most eclectic roots acts around.

"We counted yesterday," mentions Olah, "and

half of the artists on the bill are Albertans, and

we feel that does a lot for the local scene."

"There are artists we think are making interesting

music and fit with the eclectic nature of

the festival," says Clarke. "We like to share the

love with the local artists, whether through Block

Heater, the summer festival, or with our concert

series at Festival Hall. It's important to us, in a

way we're bringing the world to them, whereas

if they tour they have to bring themselves to the

world. So by having them be part of the collaborative

sessions, or have someone like Mariel

[Buckley] open for Hayes [Carll] is quite a tip of

the hat to the work they've done, you know? Like,

"This is where we think you should be, and these

are the people we think should see you.'"

Block Heater takes place at Festival Hall, the Lantern

Church, the Alexandra Dance Centre and the Ironwood,

February 10th to 12th.
---
isKwé

bridging cultures as a member of many

Indigeneity is the most visible element of isKwé's

musical personae, her name means "Woman" in

Cree, and her performances incorporate indigenously-anchored

facepaint, but she also identifies

strongly with the Irish half of her family, and draws

commonalities between the two. She identifies

"parallels" between the colonizers of Canada, and

the English occupation of Ireland, and specifically

the systematic erasure of the native languages in

both. isKwé's eloquence in bridging cultures and

communities this way makes her a figure to be paid

attention to, and her music commands just as much

attention and respect.

isKwé hails from Winnipeg, as so many of Canada's

most exciting indigenous artists do. Despite the Peg's

mixed pop-cultural reputation, it is a fantastic incubator

space for a variety of reasons, and even though

these are facts, we are going to put them in quotes

because isKwé tells it much better than we ever could.

"Manitoba is the highest funded province for the arts,"

isKwé attests, and "Winnipeg has the largest indigenous

population per capita in Canada."

isKwé argues that arts funding is especially important

in "areas that are a little more low income,"

because it gives artists focus and freedom, and as a

result "tend to generate really interesting art scenes."

Thus cities like Winterpeg are a "breeding ground" for

artists of all kinds, but especially the indigenous.

"Sometimes" and "Nobody Knows" are two singles

from an upcoming release, both of which are raucous,

expressly political, and undeniably infectious. Her

early work is more paced, with soft beds; tracks often

open with piano chords and build into electronic R&B

grooves. isKwé self-describes her first record as "a really

good reflection of eight years of growth," but that her

most recent recordings have brought her closer to her

"deep down spirit."

The title lyric of single "Nobody Knows" illustrates

the dual frustration and anger of not knowing what is

continuing to happen to countless missing and murdered

indigenous women, but also the ignorance that

so many of us live in surrounding this issue, and isKwé

"won't let you look away anymore." This track also

finds her stretching and experimenting with her voice

in unprecedented ways. The track pulsates behind

her emotive vocals. isKwé gravitates towards strong

and harsh bass, explaining that "low end frequencies

and sounds are what resonate with [her] the most,"

anchoring her performance, and "vibrat[ing] [her] in

[her] core."

Block Heater's Indigenous Showcase is part of

the Canada 150 initiative, which offers spotlight to

indigenous arts and culture, but in the shadow of the

Truth and Reconciliation Commission, isKwé aptly

points out that "nations have been here far longer

than [150 years]." Even if positive work is being done,

Canada has not "fully reconciled" until "active listening

has taken place… as a whole." A process that she

argues is still ongoing.

Vehemently political, isKwé was part of the recent

Women's March in spirit, "protesting by being

at home with [her] family" in Winnipeg. After all,

what is the purpose of movements like these if not

to enable us to be comfortable and safe with our

families? It was also her birthday, and even tireless

activists, poets, musicians, artists and curators like

isKwé deserve a day off.

Catch isKwé in full force as part of the Indigenous Showcase

at Block Heater, February 10th at Festival Hall.

by Liam Prost

isKwé's music comes from a place not everyone identifies with. Somehow, she still speaks to all of us.

photo: Nat Caine

HAYES CARLL

brings authenticity to country music's divisive climate

Whether it's bleak or hilarious, Hayes Carll offers himself true in his music.

Forty-one-year-old Hayes Carll has an easy

Southern style, with long hair and a scruffy

beard to complement a wardrobe that often

consists of a simple white T-shirt, or a ruffled long

sleeve unbuttoned at the top. His performances –

like his outfits – are completely devoid of excess,

so don't expect extreme displays of outward energy

from Carll when he performs at the Alexandra

Dance Hall and Lantern Church this Block Heater.

photo: Jacob Blickenstaff

Expect him, his guitar, and all the rich stories that

he's accumulated over the course of a life in music.

His quiet character and understated performances

are a welcome departure from the "country pop" image

that has pervaded the genre over the last decade.

Think sunglasses, leather jackets, and trucker hats; the

on-stage pageantry of Jason Aldean, Keith Urban, and

Luke Bryan. Carll says that American audiences are

growing desperate for authentic voices in their music.

They don't want a product that's processed and

playing to the lowest common denominator. "There's

a sort of mainstream versus alt-country battle being

waged right now. And I guess it has for a long time,"

Carll tells BeatRoute. "I think there's a movement

towards guys who write their own stuff, and aren't

trying to be anything but themselves."

While the pop acts rely on grandeur, Carll takes

a more modest and intimate approach during his

shows, making music that invites the audience to

draw meaning from the lyrics, instead of just bopping

along to the beat. "I'm a bit more laconic and dry,

and I like being able to get my thought across with an

eyebrow raise more than a fist pump… Springsteen,

I'm not."

And he's never pretended to be the Boss either.

When he started in music, he knew he would

never make it big because of his singing or guitar

playing. Instead, he would have to write authentic

music that resonated with the audience. And he's

developed a reputation for doing just that, using

his wry wit to offset the brutal honesty in his lyrics,

transitioning effortlessly from satire to severity. "If

I could make people laugh and cry, run the whole

length of emotions – you couldn't go wrong with

that," says Carll. "I'm drawn to really heavy, dark

stuff, or things that help you articulate an emotion

that you're feeling… I'm also a sucker for things

that make me laugh."

by Mathew Silver

You might catch Hayes singing a tune about Jesus

stealing his girlfriend, or a booze-fuelled threesome

that ended prematurely, before sinking into a

heart-wringing ballad about the impermanence of

romantic love. He says that injecting humour is the

perfect way to balance heavier material.

Lately, he's been forced to reflect on the American

political climate, and his responsibility therein. Carll

is troubled by those that say actors and artists should

keep their opinions on politics out of the public

forum, because he's seen the consequences firsthand

when they don't. "The idea that we're supposed to

keep quiet is bizarre to me. I think if this election

proved anything, it's that if you want to affect change,

you have to go do it. Staying uninvolved is no longer

an option."

Recent election results find many Americans

talking moving to Canada. Trips to the Great White

North are often familiar for the road-ready American

country artists, and Carll is no exception. In fact, as an

authentic Texan, he attests that Calgarians really are

the Texans of the North. "[Calgary] reminds me of a

sister city to Fort Worth. It's got a real Western vibe,

but it's also got an underground artsy current to it

that I like."

Hayes Carll will performs as part of Block Heater on

February 11th at the Lantern Church and Alexandra

Dance Hall.

BEATROUTE • FEBRUARY 2017 | 17
---
NQ ARBUCKLE

taking the long road to a lasting body of work

Neville Quinlan, charmer at the head of NQ Arbuckle, is as frank (and hilarious) as they come.

In a time of increasing attention deficits, Neville

Quinlan is still willing to put in the effort as a

craftsman of a larger picture. Having released

five full-length albums since forming NQ Arbuckle

photo: Heather Pollock

by Mike Dunn

in 2002, Quinlan has concentrated on avoiding the

hype machine, preferring to take his time with his

releases, and promoting the old-fashioned way: by

playing to the smaller rooms that dot the Canadian

musical landscape, and finding fans in the same

fashion, by making friends.

"We've rarely played the big stages. We've built

our following in small rooms, watching audiences

grow by five people here, 10 people there," Quinlan

tells BeatRoute. "It's impossible to not engage with

the people when you're building a small audience.

In our experience, you can't just sit back in the green

room and not get to know your crowd. Fortunately,

the crowds have always been really easy-going, and

everyone at our shows tend to be big drinkers, so

the bars are happy to have us back."

As a musician, Quinlan has always been

reticent to delve into the constant promotional

cycle, steadfast in his belief that the audience still

wants to hear full albums. "There's a constant

need for bands to reach out, to engage digitally

with the audience," he says. "Artists and the

industry look at singles as a way to extend the

business cycle, with a short period of promotion,

before doing it all over again. There's the inclination

to be constantly releasing. But albums come

naturally to us. To go into the studio for one song

is foolish for what we do. It's never been about

one song, it's about presenting a body of work."

With that as the band's overriding principle,

they're currently at work on the follow-up to 2015's

The Future Happens Anyway. "The last record, the

production at least, was a shamble. I was still writing

in the studio. The new one is about half-written. We

go into the studio when we want to, once everything's

ready and worked out. We record mostly live

off the floor, so it sounds like us; we work it up to

a place where it naturally sits. I mean, I peaked on

guitar at 14. The guys are much more accomplished,

and when we're working it out," Quinlan mentions

irreverently, "they don't exactly make their opinions

known in a kind way."

NQ Arbuckle began as a band after Quinlan

recorded his first album. "I was asked to do a very

last-minute opener set. Luke Doucet was hanging

out, and offered to produce the first record, so I flew

out to Vancouver and we made the album out there."

Says Quinlan with a chuckle, "The guys were all in

other bands around Toronto, and they decided they

could do a better job backing me up."

The band, including twin brothers Peter and

Mark Kesper on guitar and drums respectively,

bass player John Dinsmore, and "new guy"

keyboardist Jason Sniderman (a member since

2008), have never burned themselves on the cold

road of Canadian touring. "It's never boring for

us," says Quinlan, with a notable tone of appreciation

for the long-earned respect the band has

gained. "We've never gone out for so long that we

got tired of each other. When we go on the road

together, it's only for 10 days here, a couple weeks

there. We're never out so long that it's not special

for us."

NQ Arbuckle plays The Ironwood on February 10th and

Festival Hall on February 11th as part of Block Heater.

KRIS ELLESTAD

fighting stigma through folk

Artists' relationships to creation and inspiration

have always, at best, been tricky to pin down. Add

to that a laundry list of personal struggles, an underdeveloped

mental health care system, and a festering

stigma surrounding depression and anxiety and you've

got a recipe for artists and personal ruin. But this can also

bring growth, or just maybe, a chance for something in

the middle, a nourishing and gradual equilibrium.

Kris Ellestad, an unassuming and talented fair-folk singer-songwriter,

has the kind of quiet attitude that can make a

loud room hush. His relationship to public performance has

grown, but not without its knots. "Enough circumstances

align[ed] to decrease my anxiety to the point that I can share

more than a joke or some self-effacing navel gazing," Ellestad

tells BeatRoute via email from Oslo, Norway.

It's Ellestad's lived experience that contributes to his

earnest ability to connect, though his intention is to be less

personal and write music for others, those things tend to be

tightly packed, and "changing relationships, careers, identities,

and families" in the past few years underpin the emotive

core of his work.

Having performed with Amelia Curran's 'It's Mental' initiative,

a grassroots advocacy group working to "destigmatize

and support those dealing with mental health issues," Ellestad

is no stranger to the convoluted ways both our health

care system and social networks deal with hardship. "Until

mental health is treated as seriously as any other physical

ailment we will continue to be a sick and hurting society."

Ellestad personally experienced ineffectual counseling

that left him worse off than he came in, and Ellestad's been

outspoken about his experiences with mental health. "If

anything", he writes, "I've gotten better at manifesting or

discovering hardship." The biggest change in his perception

18 | FEBRUARY 2017 • BEATROUTE

of mental health coming from a place of acceptance. "I

finally accepted that using medication was not an admit of

weakness or defeat."

He emphasizes most people's need for a full lifetime

of support rather than an overreliance on medication

and crisis counseling, which can be a drop in the bucket.

"I'm lucky to be alive thanks to my family, not the

medical system," he says, making it clear he feels these

systems have failed him.

Ellestad has used his music and songwriting as a tool to

work through his own struggle, but even this methodology

is fraught. "I think art is naturally therapeutic when you allow

yourself to explore your life and express any real feeling" he

argues, but "with music, the place where it gets sticky is when

you channel a river of negativity into a song as catharsis and

end up retraumatizing yourself every time you play it."

Ellestad has experimented with electroacoustic rock,

orchestral chamber-folk and everything in between, but Kris

himself is a gentle tinkerer, who identifies in music with the

"feeling of capturing something that's chosen to reveal itself"

and believes that "the best songs [he's] written felt like [he]

didn't write them at all."

Through it all, Ellestad perseveres to create new music, if

his work on Faebles (2015) is any indication he'll continue

to find heart in arrangements, or as he says in a charmingly

self-deprecating manner, "find a way to complicate things."

His newest release features a burning church and is

focused on vocal arrangements set to simple acoustics

but feels like a grand lullaby, "Going home… Where I can

do no harm."

Catch Kris Ellestad February 10th at the Ironwood Stage and

Grill as part of Block Heater.

by Arielle Lessard

An artist's candid discussion of his journey with mental health and its effects on his music.
---
BEATROUTE • FEBRUARY 2017 | 19
---
THE

CAVE

Sat. Feb. 4

COWPUNCHER

ALEXA BORDEN

LAURA HALVORSEN

Sat. Feb. 11

DANE

THE HEIRLOOMS

Sun. Feb. 12

VALENTINE'S BURLESQUE

with HURRICANE FELIX

and THE MANIK MEN

DOWNSTAIRS

720 – 16th Ave. NW

Sat. Feb. 18

TURTLE PEOPLE

THE WELLS

Sat. Feb. 25

CRYSTAL EYES

SQUANTO

MISTER MYSTIC

Every Thursday Night

OPEN STAGE with CASH

DRINK SPECIALS

$2.75 Village Draft 14 oz.

$5.50 Barcadi doubles

Doors Open 9 pm

20 22

| FEBRUARY JANUARY 2015 2017 • BEATROUTE FILM CITY
---
ROCKPILE

BILLY TALENT

conquering fear on epic new tour

by Nieva Burns

While drummer Aaron Solowoniuk will be kept off the tour due to a battle with MS, he's still very much a part of the band.

It's pretty hard to believe Billy Talent has been

around for 23 years. It probably makes the fans

who've been around since 2001's "Try Honesty"

feel old. But when BeatRoute caught up with Ian

D'Sa, lead guitarist, backup vocalist, songwriter and

producer for the band's newest album Afraid of

Heights, it's obvious that this is a band that's only

getting wiser with age.

Afraid of Heights has been hailed as a return to

the original Billy Talent sound after a minor stray with

Dead Silence. "As a band, we've definitely developed

our own sound over the years, and when you really

have a strong sense of that identity, it is a little bit easier

to go in and know what the drums should sound

like or the guitar should sound like, and it gets easier

as you get older," D'Sa says.

He discusses the long process of putting together

the new album, recalling "we had put out a greatest

hits record, so there was almost a four year gap (between

Dead Silence and Afraid of Heights)."

A lot has happened in those four years, some of it

scary, hence the name of the album. "Things change

in your life and in the world as you're working on

something […] This album was definitely affected

by things going on, everything from Brexit to what is

going on with Trump right now made its way lyrically

to this record."

Afraid of Heights reflects on mature ideas, says

D'Sa: "It really is a metaphor for us as humans — being

afraid of progress and change and doing the right

thing. The way I look at it is when (you are) younger,

you care about those things and you feel those things

but you're kind of in your own little bubble …then

ROCKPILE

as you get older you start seeing the impact of these

things globally."

The album also touches on fear of commitment.

When asked if it's scary being in a band for so long,

D'Sa laughs, "it's kind of like a marriage…The four of

us for 23 years now. That's longer than a lot of marriages.

It is a commitment and you do have to sacrifice

a lot to do this for a living."

The band has their roots in Pezz, which was founded

in 1993 with the same four original members, Ian

D'Sa, Ben Kowalewicz (vocals), Jon Gallant (bass)

and Aaron Solowoniuk (drums). Afraid of Heights is

the first tour and album without drummer Aaron,

however he's been able to stay involved in the process

despite the shocking news in 2016 that his battle

with multiple sclerosis (MS) was going to keep him

off the drum kits and the tour. Jordan Hastings from

Alexisonfire was hand-picked to play instead.

"We may not have had 23 years with him but we

love him the same and he's a part of a band…that we

consider brothers. It was a hard shoe to fill for Jordan,

but at the same time it's incredible that he's doing

this and he's incredibly sensitive to Aaron's situation

as well."

Solowoniuk was still heavily involved in Afraid of

Heights, "When we were making our record he was

around." Aaron also directed the "Louder Than The

DJ" music video, a popular song off the new record

that pokes fun at the rise in electronic music and the

aging rock scene.

D'Sa comments, "the video turned out amazing

and he had a lot to do with that. It's always great

having him around."

Billy Talent fans have a lot to look forward to on

this tour. "We've been using a big set piece and production

which we've never really done before." The

set will feature design elements from the album cover,

drawn by comic book animator Igor Hofbaue. D'Sa,

who used to have a career in animation and enjoys

choosing artwork for the albums, expresses, "I love

being able to find a style that will match the music …

It's kind of got an old Eastern European propaganda

style to it, which I love."

This will be Billy Talent's first big Canadian tour

since Dead Silence. They just returned from a European

tour, "we were pretty much all over Europe, we did

a big tour in Germany and Austria and Switzerland

and before that we were in U.K. for a month." Billy

Talent has a huge fan base in these countries, as well

as in Canada where they sold 53,000 copies of Afraid

of Heights in the first week.

"We have an idea of what really works well and

what doesn't work well. This album we still want to

push the envelope lyrically and musically, but we have

an idea of what we're really good at and what our

limitations are as well. But I think probably that just

comes with age."

Billy Talent perform at the Abbotsford Centre in (you

guessed it) Abbotsford on February 16th, the Grey

Eagle Event Centre in Calgary on the 18th, the Shaw

Conference Centre in Edmonton on the 21st, the Brandt

Centre in Regina on the 22nd and the MTS Centre in

Winnipeg on the 23rd. More Canadian dates can be

found online.

THE GATEWAY

SAIT CAMPUS CENTRE

1301 16 AVENUE NW

ALL SHOWS ARE 18+ | VALID GOVERNMENT ISSUED ID REQUIRED

THESE EVENTS ARE OPEN TO ALL SAIT

STUDENTS, STAFF, FACULTY & GUESTS

BEATROUTE • FEBRUARY 2017 | 21
---
THE RURAL ALBERTA ADVANTAGE

ashes to ashes and the ghost of home that never lets you go

While many of us jumped on the train

of thinking of 2016 as a formative hell

beast of a year, one we gave credit

to for any metaphorical fire and brimstone we

experienced either directly or indirectly, The

Rural Alberta Advantage frontman Nils Edenloff

was one of hundreds who experienced fire of the

literal kind.

As wildfires tore open the fabric of his hometown

of Fort McMurray, AB, narrowly missing his parents

who had returned there from visiting him in his new

home of Toronto just days before, he was face to

face with a sudden and desperate homesickness.

"I felt like I left on my own terms," he admits. "But

there was always that idea that if I wanted to I could

always go back to Fort McMurray."

"The fact that maybe there won't be something

to go back to was sort of hard to wrap my

head around."

The result of this period of reflection and loyalty

to the grassroots that grew him was the new single

"Beacon Hill," released like a New Year's gift to fans

in early January. The track, a dramatic but relentlessly

optimistic morsel of Canadiana, has a tone that

suits the hearty resolve of tens of thousands of people

who evacuated the city, fatality free, last spring.

It is a resolve that runs deep in Edenloff's Alberta

blood and equipped him to deal with the other

bombshell that 2016 was sporting: the departure of

decade long band mate Amy Cole in September.

Cole, who left to explore other artistic avenues,

left a large hole in the family dynamic of the band;

one since inhabited by singer and musician Robin

Hatch, friend of drummer Paul Banwatt.

"It's hard to lose someone you've been family

with for 10 years," he confesses. "But Robin is a lot

younger than Paul and I so she's making us work a

little harder."

The result is a road-test-worthy amount of new

material and North American and European tour

legs to see what sticks for a return to the studio in

the spring. After a hiatus from new music that Edenloff

worried would contribute to a loss of interest

in his band and their brand of earnest story-telling,

same day sell out shows in the Albertan home land

(as well as one in Vancouver) renewed his belief in

the bond with the fans that share his lineage.

"It felt good that people remember us because, I

dunno, things move fast in this day and age."

So as the new lineup marches on, through the

ash and dust of 2016, they do so with an evolved

sense of visibility and new stories steeped in the

smoke and the earnestness of their home soil.

"Any place you spend a considerable amount of

time in is going to leave an indelible impact on you

whether you realize it at the time or not," he muses.

"Alberta was so supportive from day one. It'll always

be 'where I am from.'"

The Rural Alberta Advantage will be playing the Fox

in Vancouver on February 25th, Commonwealth in

Calgary on March 1st, Bo's in Red Deer on March

2nd, and The Needle in Edmonton on March 3rd. All

shows are sold out.

The Rural Alberta Advantage return west with a new member and lease on life.

by Jennie Orton

photo: Vanessa Heins

MATTHEW GOOD

taking the long road back to midnight

Matthew Good relives a classic while working on a new release.

Seventeen years later and the popularity of Matthew Good's

1999 release, Beautiful Midnight, still proved itself relevant after

holding the number one spot on the Canadian Vinyl Chart in

early 2016. After selling large amounts of back catalogue vinyl and

holding strong in the charts, a conversation between Good and his

manager took place, which became the catalyst for the five-song

album revisit.

"It's a fantastically fun thing to do," says Good. "There's years of

perspective, especially when it's something you've done and it's that old,

you're kind of like, 'Yeah, okay, I'm going to look at this in a whole new

way.' From that aspect it was a lot of fun."

Heavily known for earlier works "Symbolistic White Walls," "The

Future is X Rated," "Anti-pop" and "Apparitions," Good has continued

to release solo albums with the same consistency and vigour; roughly

releasing an album every year since 2003, each showcasing his artistic

growth year to year.

The new EP, I Miss New Wave: Beautiful Midnight Revisited, recorded

in The Tragically Hip's The Bathouse Recording Studio, took songs

that Good saw room for improvement on to reflect greater technical

restraint and the obvious maturity that comes with two decades of

work and life. The energetic take on "Suburbia" finds its place on the

EP with a slight change in atmosphere from what might be expected;

Good's personal favourite, "Born To Kill," dials back the guitars and lets

the vocals lead. A slowed down "Load Me Up" caps the EP off, leaving

listeners with an entirely new experience from a song they've known for

years. The touches he's put on each track shows a tempered take on the

by Jamie Goyman

'90s edge everyone felt and is something that's a more fitting description

of Matthew Good in 2017 and establishes where he is as an artist.

"Creativity, in however fashion it comes to you, is always an exorcist,"

Good says. "I think it's just one of those things that you either do or

you don't do and it has basically all the control and you're kind of just

a conduit."

The kickoff for the Canadian tour in early February happens in Victoria,

reaching all the way to Halifax by March end. That hustle already felt

is only the beginning of the upcoming circus, the nationwide celebration

of Canada's 150th birthday.

"When that happens, especially as a musician in this country, things

tend to go off because there's a lot of shows," explains Good.

Already planning for the upcoming new album release this fall, Good

began recording early January and should see it finished sometime

before the summer. A release that will most likely make it into your rotation

and complement, if not amplify, the West Coast atmosphere.

The tour will have Beautiful Midnight performed in its entirety.

However, if you want a proper introduction as a first time listener, "Non

Populace" is Good's suggestion.

"As a piece of music as a whole I think that it does something as

far as I'm concerned, something I think more music should do. It's

got elements that are very exploratory. It has movements in it like a

symphony," he says. "When you get something really right, you get

something really right."

Matthew Good performs February 11th at the Alix Goolden Performance

Hall in Victoria, the 14th at the Port Theatre in Nanaimo, the 16th to

18th at the Commodore Ballroom in Vancouver, the 19th at the Kelowna

Community Theatre, the 24th at the Grey Eagle Event Centre in Calgary,

the 25th at River Cree Resort & Casino in Enoch, the 26th at O'Brian's

Event Centre in Saskatoon and the 28th at the Burton Cummings Theatre

in Winnipeg.

22 | FEBRUARY 2017 • BEATROUTE ROCKPILE
---
NAPALMPOM

upping the ante of their Core Competencies

Everyone remembers their first Napalmpom

show: the energy that lit up the room while

watching these five affable guys collapse and

spit beer on each other, all while playing electrifying,

Thin Lizzy-reminiscent guitars riffs that brought out

the professional air guitarist in you. It's been a wild

ride for the guys of Napalmpom since their first

album dropped in the fall of 2014, and now two and

a half years later they drop their newest album, The

Core Competencies of Napalmpom.

Working on this album since the drop of their

first, The Unconditional Love of Napalmpom, the

guys have been working hard at trying to advance

their sound, make it more colourful, sing louder and

prouder, but still not be taken too seriously. "After we

completed the first album we just kind of thought to

ourselves, 'hey we can actually do this,'" says guitarist

Shawn Petsche.

Taking the leap from "Feint of Heart," the rock and

roll ballad from the first album, the band agrees it

was that song which has inspired and encouraged the

sound for the new album. Proving they've got more

going on than just great guitar solos, the newest album

from the band features a more prominent rhythm section

(Ian Baker on bass and Matthew Bayliff on drums),

complementing guitars (Petsche and Craig Evans), and

lyrics written primarily by sweetheart vocalist P.J. Lavergne,

who joined the band halfway through writing

the first album.

Becoming more confident as a band, the guys

collectively agree this album is a massive improvement

from the last. Describing it as more of a pop album,

Napalmpom believes the musical advancements

they've made as a band have given them more space.

Everything has its place, and there is no self-indulgence.

Together, they also agree the biggest difference and

improvement this time around is Lavergne's vocals, his

confidence and addition to the song writing process. "I

like pop songs," says Lavergne, "I write what I want to

write about, in a simple way that's fun to perform and

listen to."

by Jackie Klapak

Thematically differing from the last album, which

featured numerous anthems dedicated to drinking and

party nights, the newest album gives tribute to the last

two years of life. With numbers inspired by love and

heartbreak, old friends and new, and weird experiences

uncommon even in the life of a rock and roller – this

album brings together the perfect summary of life and

love in the city.

Starting to create sketches of new songs, the goal

this year for Napalmpom is the same as it's always

been: create a great collection of songs. With multiple

upcoming shows, desires to travel, and a cheeky mission

to win the Polaris Music Prize (they have a Polaris

Prize Victory Lap Tour planned for April, two months

before the prize's longlist is even announced), the five

guys aren't slowing down now.

"There are people who are seeking a rush in life. For

me, it's writing a song and banging my head against the

wall till it's right," says Petsche. "It's a really frustrating

process, but really satisfying when you hit replay and it

sounds like how you want it to be."

With new songs off the album that have been

played live for a while, and some yet to be performed

on stage, the guys are both excited and anxious

to play them for the first time. "Songs transition

different from a recorded sound to playing live. Some

of these songs might benefit from presentation, but

some might not; the new stuff is a little more orchestrated,"

says Evans. "We'll turn up the guitar amps

and kick it out, but these songs might need some

tinkering on stage."

Overall, the guys are just doing what they love to do,

and learning and growing along the way. Continuing

to connect with audiences through the sweet relief of

rock and roll, Napalmpom's newest will surely bring

out the best of you and put a smile on your face.

The Core Competencies of Napalmpom is out February

24th. Celebrate with the band in Calgary at The Palomino

that same day, and in Edmonton at The Buckingham

on the 25th.

Napalmpom close out February with their sophomore album release.

photo: Heather Walker

ROCKPILE

BEATROUTE • FEBRUARY 2017 | 23
---
TOURING ROUNDUP

W

ell folks, in a terrible month that's typically

reknowned for a Hallmark holiday vaguely

celebrating love or something, we picked

out a very diverse selection of events to keep the month

rolling in fine form, cardboard hearts in tow or not.

From Brooklyn, to Manhattan, all the way to the quiet

streets of Calgary, Jonathan Toubin brings his Soul Clap

event home on February 6th at the Palomino Smokehouse

and Social Club replete with its fabled dance competition

trademark. What started as a way to share epic

soul tunes has turned into a pop-culture phenomenon

and travelled the world. With local celebrity guest judges

for the dance competition, live performances by locals

The Tontos, Altameda, HexRay, and The Fags, and support

from the illustrious DJs Tubby and Carl, this night

will be the most action-packed, feel-good destination for

ages, so dust off those moves and get your hot pants on.

Smashmouth, the band that launched a million viral

videos and memes (check out "Allstar Auto Tuned so all

the notes are 'C'" if you want to be delightfully perplexed)

returns to Calgary, riding a wave of "20 years of Fush You

Mang." There's definitely something to be said for these

revival tours, that throw us back to childhood summers

and remind us what it was like before the weight of life

brought us down. Check these playful cats out at the

Grey Eagle Casino on February 18th, if only to see if you

can still sing every word in time.

If you're looking for something a little more current,

The Pack A.D., who unfortunately had to drop off of BIG

Winter Classic's roster at the last minute have made good

in their promise to get here ASAP. In a super show of

epic proportions, this time featuring All Hands On Jane,

Port Juvee, and The Shiverettes, the dynamic duo will

be beating hearts like drums in their fuzzy fierce fashion,

February 18th at Dickens Pub.

And finally, former Canadian, now Texas rose, country

singer Whitney Rose brings her blend of titillating twang

to Commonwealth on February 25th with the release of a

new album as of the end of January. The musician entirely

self-produced her latest South Texas Suite EP, out now

on Six Shooter Records, and it's just as hook heavy as her

previous work. Simple, sugary, but with an old western

soul holding it all together, Whitney Rose will turn Commonwealth

from its usual beat heavy atmosphere to one

more hat and boot heavy to close out a short and feisty

little month.

• Willow Grier

Whitney Rose

Jonathan Toubin

The Pack A.D.

CALGARY PHILHARMONIC ORCHESTRA

11 MARCH 2017

8PM // JACK SINGER CONCERT HALL

COMEDY MEETS

THE ORCHESTRA

A WRY LOOK INTO THE WORLD OF

CLASSICAL MUSIC

HOSTED BY COLIN MOCHRIE

THE MUSIC IS EVERYWHERE

CALGARYPHIL.COM | 403.571.0849

24 | FEBRUARY 2017 • BEATROUTE ROCKPILE
---
CALGARY BEAT

This is Colin the music editor filling in for Willow Grier. This month's

theme: lightning round!

THE NORTHERN COAST

folk-rock and juicy blues

by Alex Meyer

FEB. 4 – DICKENS: The "Choose Life" Trainspotting Party with Dead Pretty.

Free screening of Trainspotting at 7 p.m., Dead Pretty play tunes (including

covers from the soundtrack), London Calling dance party after. $5 unless you

get there before 9 p.m..

FEB. 5 – Home & Away: Super Bowl Party with dirt cheap beer and plenty

of games. MVP of the event is the Tecmo Super Bowl Nintendo game tournament!

FEB. 8 – Commonwealth: OK Social's Valentine-themed get together for arts

workers. Free entry, proceeds (thanks in part to Big Rock) go to the Calgary

Sexual Health Centre.

FEB. 11 – Palomino: Palentine's Day with Mark Mills (THE Mark Mills), Citysleep

and Woohoo. Sexiest/Cepsiest party all month.

FEB. 15 – Shelf Life Books: Presented by Woolf's Voices, this'll be a night of

all kinds of art, all focused on celebrating the feminine in all of us.

FEB. 15 – Broken City: Rockin' 4 Dollar$ bday #2. Another year older,

another year shyster! Sign-up is easy on the R4$ Facebook page. Get to it.

FEB. 16 – A.K.A. THE MOST IMPORTANT DAY OF ALL – Local 510: BeatRoute's

third issue release party with sitstill, Andrew's Pale Horses (read

about 'em right here in Calgary Beat), Craving Ways and one guest we're

keeping under wraps. Please come!

FEB. 17 – Vern's: Feed the People Fundraiser supporting the Calgary

Inter-faith Food Bank. Tons of bands and art, with our boy Tom Bagley

(illustrator of many a BeatRoute cover, you may remember him best from the

last few Sled Island issues) playing in Forbidden Dimension and donating his

art for auction!

FEB. 19 – BATL Calgary: Major Minor presents Punk Rock Axe Throwing:

four hours of music, beer, axe throwing, and appropriate safety measures in

place. All ages, as always, but under-agers yet to turn 16 can't throw axes for

very sensible legal reasons. They can still enjoy the music, though! $35 with

axes, $10 for minors who are legally prohibited.

FEB. 19 – Sunalta Community Centre: The Polliwog Prom is a fundraiser

for grassroots summer event Frog Fest. Not much has been revealed about

the festivities, but most of us have a story – or at least a friend with a story –

about the shenanigans that go on at Frog Fest. Let's support it, yeah?

FEB. 25 – Tubby Dog: A show that's free, all-ages, and filled with weird meat/

fake-meat products? C'mon already: Go see The Foul English, The Pagans of

Northumberland and After the Disaster!

• Colin Gallant

The Northern Coast follow up on packing out the house at BIG with a release party at Nite Owl.

photo: Paige Woodbury

Arron Cook always knew he had a lot of songs to sing. A

little serendipity brought him together with guitarist

Hunter Hansen and, over beers at the Ship & Anchor,

they planted the seeds of what would be The Northern Coast.

"We talked to each other about what we wanted with our

music and we immediately clicked," Cook explains. From there

they began to jam and right away came up with first single,

"Georgia Moon," a song propelled by thick bluesy guitar tones

and Cook's charming and powerful voice. "We got together to

jam and our first session together we made a song and a vision

of what we wanted to do," Hansen agreed.

Acting as each other's muses and equipped with a voice and

a guitar, they fleshed out their ideas and began painting a grand

musical vision of life in the north in all its raw beauty. And

while that may be construed as something cold and unforgiving,

there is a warmth borne from a well of deep passion found

in Cook's rustic yet resonant voice and Hansen's smooth and

melodious guitar. These songs were initially acoustic, folksy

skeletons. Both Hansen and Cook heard the blasting blues rock

that dwelt at each song's heart. And It wasn't until drums, bass

and a load of amps were added that they blossomed into what

they had envisioned from the beginning.

On February 17th The Northern Coast release their debut EP

Revelry, a six-song voyage through the heart of the prairie sea.

It's an EP that celebrates life and all it gives you, from heartbreak

to euphoria. "You can't know what life will do but, this EP

is just about revelling in all of it, we went through a lot while

writing and recording this and it's about really embracing it all,"

Cook smiles. It's with that heart-on-your-sleeve bravado The

Northern Coast has sailed its way through the burgeoning Calgary

music scene. It's been nearly two years in the making, and

the time spent forming their sound and honing their vision was

well spent. They understand there is no half-assing, that what is

given is earned. With that in mind they went out recorded with

Kirill Telichev, who had previously worked with Calgary staples

The Dudes and HighKicks.

Their February release is merely the first stepping-stone to

what they wish to achieve. Already they're working with Josh G

Williams at OCL Studios for their first full-length production.

They also have extensive touring planned later in 2017 after

performing at Calgary's BIG Winter Classic.

Along with their single "Georgia Moon," Revelry is stacked with

a varied collection of folk-rock tracks steeped in a juicy blues. The

punchy and pounding "Fickle" flows into a heartfelt portrait of

loss in "Rusted Love," a song that ripples with intensity. Bounding

from that emotional high it moves into "Just Rattle," a track

with a driving throb that courses its way down an empty prairie

highway. It finishes with the swaying, playful "Animal," that is

both relatable and self-effacing. All of these tracks are propelled

by Cook's sonorous voice and Hansen's slick and crisp guitar

notes. "I think it's a good representation of what we like to think

of as The Northern Coast sound," Hansen conveys. It's a tight,

complete bundle of songs that comes in just under 20 minutes.

They've been sitting on the release for quite some time and are

excited to share it with Calgary and beyond. In the meantime,

they intend on perfecting their already emotional and bombastic

live show that thrums with energy.

The Northern Coast release Revelry with a party at Nite Owl on

February 17th.

26 | FEBRUARY 2017 • BEATROUTE ROCKPILE
---
FAKE JAMES

keeping the accidents

by Jonathan Crane

GRIFFEST

my brother's never-ending birthday party

by Jackie Klapak

photo: Johnathan Crane

Calgary act Fake James draws his name from Chet Faker

and James Blake; an indication of the auditory space his

music inhabits. It was artists like these (who rode in on

the U.K.'s wave of electronica-driven noir R&B) that initially

drove Taylor Odishaw-Dyck, the artist behind Fake James, to

begin experimenting with electronic music production two

years ago.

"I started making these demos on my dad's iPad on GarageBand,

and by the end of those two years I had over 100

demos to choose from. I started to realize that I could actually

define my own sound based on just my experimentation," says

Odishaw-Dyck.

Although the iPad was the only equipment at his disposal,

Odishaw-Dyck also wanted to incorporate the influences of

live-music artists like Ben Howard, Alt-J, and Sublime.

"I'd never had a real microphone when I was making these

demos, so I would record vocals and acoustic guitars just using

Apple headphones in my front coat closet," says Odishaw-Dyck.

ANDREW'S PALE HORSES

debut EP comes to the stage this month

Andrew Ellergodt is a Calgarian musician who not only

writes all his own lyrics, but also all of the musical components

for his band, Andrew's Pale Horses.

"I recorded everything myself, but I have a band that plays on

stage," says Ellergodt. A self-taught musician, Ellergodt says he

was never a very "technical guy when it comes to playing music. I

usually just learn by ear."

The band consists of Scott Steneker on drums, Ethan Harder

on the bass, Graham Fox on the electric guitar and keyboards, and

Ellergodt, lead vocals and composer. They're all "good high school

friends," says Ellergodt.

Andrew's Pale Horses has formally been playing together since

November 2014, with their first live performance only a few

months later in March 2015.

Since then, Ellergodt has been writing and recording tracks,

the band has massed somewhat of a local following, and they

are now releasing their first hardcover, a five-track EP, titled

Early Medicine.

"When it comes to the stuff I'm doing right now," says Ellergodt,

"I don't really enjoy writing it with (other) people." He laughs that

the process behind this EP was a lot of "locking myself in a room."

Ellergodt is a multi-talented musician, and his system for making

music is quite a unique one.

"Sometimes I'll start with the drums; I'll make a two- or

three-minute track, then go over that with the guitar, the bass,

and the keys. I build the songs off one particular jam."

This sort of building-block style of writing music is not one

seen very often, and Ellergodt has become adept at all the

instruments needed for his particular sound: A sound that

he describes as having "no central theme, or any coloration

between themes in songs."

ROCKPILE

"So when you listen to these demos you hear a little bit of extra

static every time a vocal comes in, you hear a little bit of the odd

foley sounds of you tapping your foot on the wall by accident

because you're in a closet."

Odishaw-Dyck also had very little experience with singing,

something that ended up working in his favour by giving his voice

a distinct airiness and an unexpected signature vibrato.

"The vibrato actually just came out of nowhere one day," says

Odishaw-Dyck. "I heard it happening, and a couple days later I

decided to start really taking care of my voice, and so it's been like

a year or so since I first realized I could do that."

The result of these diverse influences, like the rudimentary

recording techniques and Odishaw-Dyck's ongoing discovery

of his own abilities, created a sound that resided in a grey-area

in terms of genre. This is precisely where many of his icons like

James Blake lie, and so he takes it as a sign that he's headed in

the right direction.

"I would like to have more of a vague sub-genre," says Odishaw-Dyck.

"One time, I posted a demo of 'Slak,' this was one of

the early demos, and somebody commented 'nice hypnotic folk

vibes,' and as soon as they said that I figured that that had to be

something that stuck."

The 2016 release Spirit World Filler was a collection of some of

these demos that began on his iPad, with each one representing a

different avenue of genre experimentation.

Although he's enlisted local electronic artist Vanilla Sun as a

collaborator, Odishaw-Dyck vows that future releases will still

stem from productions that began on his iPad. Creating music

that mirrors real life is central to his ethos, and so his goal moving

forward is to be able to replicate many of the imperfections that

his rudimentary tools instilled in the music.

Stay tuned for news on Fake James releases. We've been assured

there will be some soon.

words and photo by Foster Modesette

Simply a manifestation of all the emotion he was "feeling this

last year."

Originally a screamo, and emo lover, Ellergodt says his new

interest in singer-songwriter folk has given his music more of a

"full rock band arrangement."

"My influences are pretty eclectic," says Ellergodt. "A far as the

tones, I really do like the psychedelic tones, with lots of modulation

on the guitar." Though the lyrics aren't as psychedelic, as one

would expect.

At the time of this interview, the music available on Sound-

Cloud and Bandcamp is sparse, but there is a definite jazzy feel to

it. Most of it is calm, and easily grooveable music. Early songs such

as "Sseeeedd" and "Pawn" are incredibly catchy, and one expects

the EP to be filled with much of the same.

The Early Medicine EP release party takes place later this

month, and the band has plans for a possible Alberta and B.C.

tour later this summer.

Early Medicine is out on February 24th with a party at Nite Owl

Editor's note: One of our most promising new contributors, one Jackie Klapak, gives

an op-ed on Calgary's best rock-a-thon-meets-fundraiser, Griffest. The event supports

mental illness and arts initiatives open to all ages, with her brother Griffin playing

the enigmatic star. Read on for her inside account of what's become a philanthropic,

family-oriented institution in the city. You can also read Jackie's words on Napalmpom,

right here in Calgary Beat.

What started off as a special 13th birthday party for a young music enthusiast

with autism has become a yearly fundraiser show to benefit

youth of all ages who experience mental illness. Despite the work

involved to put it together each year, the day the event comes and the impact

afterward make all efforts worthwhile.

For the past three years I've watched my dad and brother, Griffin, befriend

musicians and gain connections with some of Calgary's finest. Upon looking back,

it all seems a bit surreal. Though sometimes surprised at how far Griffin's name has

excelled, along with the festival, I'm mainly just proud to be a part of a family doing

rad things.

Originally the plan was to hold it once and give donations to The Behaviour

Therapy and Learning Centre, as well as Griffin's school program, which helps kids

like him. It then grew into a yearly event, with proceeds again going to Behaviour

Therapy Centre.

Starting last year, part of the proceeds went to Autism Aspergers Friendship

Society (AAFS), who will also get full donations this year. With having a hard time

making friends and connecting with others, it was decided we donate to an association

dedicated to helping out kids around Griffin's age group who are also going

through the same struggles and stages of life as he is. The money donated to AAFS

goes toward to the many music and art programs available, and the remainder is

distributed among the rest of the programs.

"It helps with kids of all ages, and all angles of the spectrum," says Dean Svoboda,

executive director at AAFS. "Kids will see a value or learn passion. They'll take part

in things they might have not before, and learn something about themselves they

didn't know before."

The music and arts programs given to these kids let's them express themselves in

a creative and healthy way, getting them involved in much more. Growing up I've

watched my brother go from isolation to being the one in the spotlight. Without

opportunities for expression and self-realization we're not sure where Griffin would

be. It's deeply important for kids to receive these opportunities and achieve their

potential, just as we feel Griffin has.

After receiving a micro-grant from OutloudYYC last year, the bar has been

set high for this Griffest. With rumoured acts to play such as Pretty Ugly, yearly

returners Napalmpom, and No More Moments, alongside Griffin's own band,

Chained by Mind, the possibilities for the upcoming Griffest lineup are incredible.

With a variety of bands of different ages and genres, Griffest will continue to

rock and give back.

Griffest takes place early (2 p.m. doors) on March 5th at Broken City with all ages

invited to attend. Lineup TBA, with the above article offering a hint or two on what

you can expect. $10 donations for those over 12 years of age, $5 for those under,

support AAFS and The Behaviour Therapy and Learning Centre of Calgary.

photo: Kalley Newel

BEATROUTE • FEBRUARY 2017 | 27
---
EDMONTON EXTRA

CRAIG MARTELL'S STAY IN EDMONTON PROJECT

all roads lead to home

words and photo by Levi Manchak

Craig Martell's on a newfound mission to retain Edmonton talent.

Edmonton. It's the most Edmontonian

thing you can do," is something

"Leave

that's been said more than once around

town. It's another thing altogether that recently

caught BeatRoute's attention though. A post

made by Craig Martell through his Double Lunch

Productions' Facebook page that ended with the

statement: STAY IN EDMONTON. (But seriously,

fuck that name.) It's the kind of statement that can

put an existential crisis into perspective. In order

to de-mystify what Martell meant by STAY IN ED-

MONTON, BeatRoute reached out to talk about

what he was proposing. It turns out that it's more

of a plan than a plea.

With the storied Wunderbar long gone, his Double

Lunch label up and running, and a constellation of

new venues in the city to book shows for, Martell

found himself looking for a way to fly out of the

comfortable flat spin he was in. Martell asked himself,

"The last year has been quite frustrating but also

quite inspiring in a lot of different ways. The stuff that

is always stressing me out isn't anymore. What do I do

now? Do I give up or are there additional contributions

that I can make?"

During a discussion with Caleb Caswell while

recording an episode of The Teardown podcast, a

new vision came in to focus for Martell. It wasn't

one single thing that there was a lack of in the

city. The thing causing a seasonal exodus of artists

out of Edmonton was that few could imagine

sustaining themselves solely through their art

in Northern Alberta. Musicians, artists, and the

scene surrounding them are all forced to act

globally because they can't support themselves if

they only think locally.

Martell highlights one of his main frustrations:

"If someone wants to follow their dream and move

I'll never knock them for it. But the two prevailing

attitudes that bother me a bit are people who move

to Montreal and will be doing nothing and then they

come back and talk to people who stay here to do

something like they're making a mistake. Like they're

blowing it, 'Look, I know you did incredible things

in Edmonton this year, but I went to a loft party in

Montreal!' That's troublesome to me." He continues,

"It's also troublesome when people who are really

young feel like they have nothing else to achieve here

in Edmonton, when you can. You have to think of

new things to achieve."

For anyone who lives in Edmonton and has

tried to put two fingers on the neck of the local

music community to take its pulse it's evident

that, at times, it can feel like a main artery has

been severed before any kind of scene is discovered

and that the talent has already spilled out

to other cities. Martell's new goal is to slow the

hemorrhage of talent to other cities by giving

artists and musicians a reason to remain in

Edmonton. With the good will he's built up with

businesses, venues, and musicians in the city he's

transcended the role of local band aid. His STAY

IN EDMONTON idea is not a suture, its full-on

triage. Martell envisions the initiative as prioritizing

several things, "There [are] three main steps I

need to take with a few little things in between.

One is to bring awareness to what's happening

here. Two is bringing people who are from different

walks of life together. And three is to create

an inclusive space for people to collaborate."

It's difficult to dive in to anything when it's

impossible to find the diving board. Part one of

Martell's plan is straightforward; it's doing things like

a curated listing of a wide variety of different kinds

of events as well as helping publicize the events by

doing things like showing artists how to write a press

release. Supporting the all-ages community is also

important to Martell as he feels that it's a group that's

been under-assisted over the last while. "Through all

my years at The Wunderbar, people would come in

and ask me, is there an all-ages scene in Edmonton?

My answer would be 'I don't know,' I'm in my 30s. I

shouldn't know! But when the sewing machine [venue]

started a small group of younger people would

come to every show, even when they didn't know

who was playing," says Martell.

Civic tribalism, as a concept, is as ridiculous as

calling something STAY IN EDMONTON and Martell

stresses that inclusivity is at the heart of the

project, "The other idea that I want to get rid of is

that there's an us and them thing. People that seek

out things have always held a little disdain for the

people that don't get it, but we've all not gotten

it at some point," and that, "to nurture talent is

important." Perhaps the most important part of

his plan is that Martell hopes to outfit a common

space with a professional CD/tape duplicator, a

button maker and design/screen printing setup.

"All of a sudden, all the money that we send to

other cities for production stays in Edmonton," he

explains. He hopes to ensure that the space will

be accessible to more than just an inside cadre of

scenesters. People from all ages and backgrounds

will be able learn how to use equipment and share

skills within the space. Martell adds, "We need to

find ways to bring people together that isn't just

going to shows."

Convincing artists, musicians, as well as all the

tangential people involved in stitching together a

cohesive artistic scene to not move away and support

a kind of civic tenacity isn't something a well-meaning

hash tag alone is going to accomplish. Some

things require a straightforward DIY approach and

someone who brings enough personal credibility to

make the project palpable. Another obvious thing

any project requires to take shape is money. Martell

has several ideas to experiment with to address

funding: grants, continuing his pay-if-you-can model

for shows, or possibly a frequent gig-goer card. He's

even considering an unconventional idea similar to a

Patreon-styled funding system where people donate

what they can on an ongoing basis. The full scope of

the project is kind of like a bootleg version of a real

life band camp.

The broad approach of his project hopes to form

a tangible way for Edmonton's artistic community

to be sustainable within its own city. Martell's STAY

IN EDMONTON initiative takes a wide-angle view.

From his perspective, if the community can support

itself, include more people, and pool its skills then

people will consider leaving less. The well will only

get deeper and a lot better to swim in, but seriously,

fuck that name.

28 | FEBRUARY 2017 • BEATROUTE ROCKPILE
---
DOUG HOYER

a stepping stone on his personal trek

When BeatRoute reached Doug Hoyer to

discuss his new album Stepping Stone,

a little Star Trek talk was unavoidable.

A longtime fan of the show, Hoyer's new album

includes the track "My First Star Trek Convention."

The song is a playful glimpse into his solo day spent

at a convention in Atlanta, GA, a quick drive away

from his current home in Athens. The song is far

from cryptic in describing Hoyer's experience at the

convention, including talking to Gates McFadden

(TV's Beverly Crusher) about her time as choreographer

for the movie Labyrinth and what it was

like to work with David Bowie. While the theme

of this song implies that the entire record will be

wistful and charming there are welcome moments

of vulnerability.

The majority of Stepping Stone was recorded

by Hoyer in Athens, GA, a city geographically

disconnected from his comfortable collection

of collaborators in Edmonton. "It felt a little

more homemade than usual even though I do

often record myself," he explains. "Back home in

Edmonton I could call someone up and ask them

to do a part for a song. I've met musicians down

here, just not in the same familiarity, so eventually

I realized I could use my own skills and

develop some new skills along the way. Instead

of violins you get harmonica. Instead of a horn

section, you'll get some slide guitar."

Another shift for Hoyer in creating the new

album was aiming for more of a personal feel.

The intention is noticeable in tracks like "Into the

Wild," which is a lovely ode to his wife, who works

as a biologist. The song incorporates slide guitar

and endearing imagery like feeding the cats to

pass the time while she's out in the wild working.

Within the desire to create a more personal

record, Hoyer reveals his fear of the sound being

too somber. "I was kind of worried that I'd be

bumming people out. But after sending it to

friends and hearing it's the funniest record I've

done… it makes me question a little bit what it

is I made! I think it does reflect a wider range in

my personality. I think it reflects who I am and

where I am today."

It may not be long before we get another

record from Hoyer, who is currently finding work

as an extra for film and television productions.

by Brittany Rudyck

Taking on the roles of different characters, he's

been inspired to tell the stories of these fictional

people. "Working on Stepping Stone there were

pieces that fit together and some that didn't,"

Hoyer recalls. "Working as an actor I began

writing a bunch of songs from these perspectives

that weren't my own. I realized I had two different

albums on my hands so my goal for the rest

of the year is to finish writing this second record

which will be called, Background Actor."

It appears as though music is Hoyer's primary

focus but as he puts it, "music is a pretty enticing

distraction." Hoyer intends to direct his focus

at the distance education program he's currently

enrolled in while preparing to move from

Athens. "Our visas expire in August so legally

we'll have to leave," he laughs. "We're going to

go wherever my wife finds work. It could be anywhere,

you know? We're just waiting on where

life will take us."

Doug Hoyer's Stepping Stone release party happens

Saturday, February 11th at 4 p.m. (free entry) at The

Empress Ale House.

Doug Hoyer walks wherever life carves his next stepping-stone.

photo: Levi Manchak

ROCKPILE

BEATROUTE • FEBRUARY 2017 | 29
---
BOOK OF BRIDGE

BUMMER CLUB

join the club, it's a bummer

by Courtney Faulkner

Is everything a bummer?

"Always," says Arnaud Sparks, guitarist, vocalist

and catalyst of the group Bummer Club, while laughing.

It's easy to see that this running joke is a play on

perception, and once you do you join the club.

"It's almost like it's a failsafe," says Brittney Ruston,

who joined the band last summer as a guitarist and

vocalist, and has made a considerable impact on the

evolution of their sound, now co-writing the songs

with Sparks. "You can get away with doing anything...if

it's bad, it's a bummer, if it's not, then it's just funny, so

no matter what you're in the clear."

"You can be sloppy, you can have a bad show, and

then it's this conceptual piece, 'Oh it was just a bummer,

it was a bummer the whole time, it was a bummer

for you, it was a bummer for me, everyone had a bad

time, it was great.' And then if it isn't, then people are

like, 'Oh you guys are called Bummer Club, but you

aren't sad and terrible.'"

"The sloppiness, the 'What are we doing next?' That

helps us," says Sparks.

"Even when we're tight, it still has that element of

nobody really knows what's coming next, which is fun,"

says Ruston. "It's fun to surprise yourself."

The band is rounded out by a solid rhythm section,

with Jon Chapman on drums and Connor HD playing

bass, allowing more experimentation to take place.

"As a game with myself, I asked myself what could

I get away with," says HD. "As the dynamic and the

relationship grew with the band, we're able to read

each other a little bit better. Jon and I have a really

good relationship in the rhythm band, so often

we're nodding to each other and making inside jokes

during songs."

There's a balance between the four, and push and

pull between the alternating dynamics that's creates an

interesting equilibrium.

"You can see it even in what we wear on stage," says

Ruston. "Arnaud and i have committed to this bummer,

all black, we're going to be melancholy, and then

Conner and Jon are like, we've got our colourful board

shorts and our print T-shirts and our hats."

The four can create a range of sounds, anything

from loud, screaming, post-punk, to a more delicate

drone-folk, centered on minimalist, cryptic lyrics.

"'Colours is about the end of the world...colours are

swirling out of everything, and that's what's ending

the world," says Sparks. "But you're fine with the

world ending."

"I spent eight hours mixing that song this week, and

I didn't even know that," says HD.

The songwriting has moved towards an abstraction

since Sparks and Ruston began collaborating.

"It's less direct experience driven and more

here's an idea, and how can we show this idea...and

sometimes it's more how can we hide this idea," says

Ruston. "A lot of it was cutting those words out. So

instead of using ten words to say this one thing, we'll

only use two or three."

Bummer Club, who you may have seen play at

Calgary's BIG Winter Classic recently, are kicking off

a 10-day tour starting on Thursday, February 16th

with Swim, WINT, Bubblewrap, and The FAPS at The

Slice in Lethbridge. On Friday the 17th they'll play

with Manaray and Time Boy at Tubby Dog in Calgary,

and Saturday the 18th with Power Buddies, l.n.

baba, Brunch Club, and Trampoline at The Sewing

Machine Factory in Edmonton. The tour continues

into B.C., with stops in Abbotsford, Victoria, Vancouver

and Kelowna.

"Bummer Club really facilitates not being perfect all

the time, because it's in those moments that you're not

perfect that you get that cool stuff," says Ruston. That's

what we're feeding off of."

Listen to Bummer Club's "Live @ CJSW" compilation on

Bandcamp, and search "Bummer Club Winter Tour" for

a full list of tour dates.

SHAELA MILLER PRESENTS

THE WINDY CITY OPRY

warm welcome to touring country acts

Country crooner and sad songstress

Shaela Miller knows how to pull at your

heartstrings, with songs about heartache

and love lost, powered by her emotive voice and

telling lyrics.

"I'm a very emotionally based writer, it's all my

emotions," says Miller. "It can be a very naked feeling

sometimes, I'm just letting it all out there for

everyone to see, this is my life, this is what's going

on inside my head."

"It's very therapeutic," says Miller. "I had this ball

of burning in me, for like a month, was feeling tight

and things were going on in my life, and I was just

like I just need to write a song, and nothing was

really coming out, and finally I just sat and it all

came out so quick. Sometimes it just has to be the

right day, the right moment, the right hour in the

evening, and it just spilled out, seven verses just

like that."

"Sometimes it's just a fleeting moment of a feeling,

you just feel this surge and the metaphors you

choose to get it out there, some people may take it

in a different way. You take from it what you need."

Inspired by her friends in Boots & the Hoots,

who host the Pine Cone Opry in Red Deer on the

last Thursday of the month, Miller has started the

Windy City Opry in Lethbridge to give touring acts

a place to play mid-week.

Miller was contacted by Eliza Mary Doyle, who

were on tour with Rugged Little Thing in December,

and knew it was time to set her inspiration

into motion.

"They're both banjo acts, mostly female-fronted...and

I thought of my good friend Amy Nelson,

who plays old time banjo in Calgary, I was like this

would be a perfect bill," says Miller. "That is going

to be the premise, touring acts or out of town acts,

basically trying to build up the bands in Lethbridge

so that when they come back for a Friday or

by Courtney Faulkner

Saturday show, people will say, 'Oh I saw this band,

they were awesome,' and they'll tell their friends

and come out."

The Windy City Opry takes place the second

Wednesday of the month, at the re-opened venue

The Slice. Miller plays a few songs to open the

night at 8 o'clock sharp. You can dance your heart

out to some great country music, and be home in

bed before midnight, able to get up for work in the

morning with a smile on your face from the fun of

the night before.

This month find your way to The Slice on

February the 8th to party with the band that

started it all, Boots & the Hoots, along with the

Danny Dyck Trio of Lethbridge opening, and

of course the 'Heartache Honky-Tonk Queen'

herself, Shaela Miller.

"I think I'm just adding to what great scene we

already have," says Miller. "I love it. CKXU does

such a great job, there's a lot of really great local

bands who are doing things all the time, we have

a great art scene, art walks and gallery openings. I

think Lethbridge has a great little culture."

Shaela Miller Band is also recording a new

album this month, with anticipation of it being

released for this summer's festival season.

"We're going to do as much live as possible, to

capture all the magic. I'm excited about it, I haven't

released an album in a long time," says Miller.

"They're all really dark, songs in minor keys, it's

just what's coming out of me right now. Even my

honky-ton stuff, they're all lyrically pretty sad and

dark. I'm more inspired by sadness and darkness,"

says Miller. "The songs speak for themselves, they

need to come out of me."

The next Windy City Opry is Wednesday, February

8th at the Slice with Boots & the Hoots, Danny

Dyck Trio and Shaela Miller.

photo: Lorelai Hoffarth

30 | FEBRUARY 2017 • BEATROUTE ROCKPILE
---
letters from winnipeg

SATISFIED LIFE PRINTS

t-shirts or bust

Satisfied Life Prints is trying to fill a void with affordable services—including trades.

punks printing for punks, but

I wouldn't put that on a banner

"We're

or anything," says Laura Rewucki,

one half of Satisfied Life Prints, a silk-screening

company that prides itself on its DIY ethics and

basement origins.

Since setting up shop in 2015, Rewucki (full disclosure:

my sister) and her partner, Joey Belanger

(also of punk bands Denial // Error and Sniff), have

FESTIVAL DU VOYAGEUR

party like a fur-trader

photo: Adara Moreau

focused their business around tour merch, show

posters, and the odd tie-dyed band bootleg. (We'll

refrain from noting which bands to prevent them

from getting sued.)

"We set ourselves apart in that we offer

equitable services for people like us—musicians,

artists, and creatives that don't have a lot of

money," says Rewucki. "We're not trying to get

rich off of this, and we know what it's like to

be broke." A testament to that creed is the fact

that Satisfied Life is open to smaller runs and, on

occasion, bartering.

"I've done smaller runs of 12 and taken trades of

tapes and records for shirts," says Belanger. "I think

people like that…I remember being in bands and

not being able to find anyone that was reasonable

enough to print shirts through, so we'd always

have to print them in the States and get them

shipped to Winnipeg. That's another reason why

we got into this. It's hard for a lot of the smaller

music communities to get their shirts printed,

because they can't afford it."

And the pair knows the community they're

operating in, working with wares like a producer

works with a recording, with a careful understanding

of when something needs to be rough and when it

needs to be polished. "I think some shirts need to

look kind of bad," Belanger says. "But in a good way.

Attention to detail and a sense of style are important

in screen printing."

In the past year or so, Satisfied Life has printed

merch for Winnipeg shop/label Eat 'Em Up Records,

and groups including Genex, Whip, Human

Music, Infector, Withdrawal, Karoshi, and REALiTY

GROUP, along with a special 40th anniversary

T-shirt for '70s classic rockers Harlequin (lead vocalist

George Belanger is Joey's dad, by the way).

They're happy to print most things, for that

matter—even your wedding invitations. "We did

by Julijana Capone

wedding invites for our friends Ferro and Stib from

Whip," says Rewucki. "We don't ordinarily do that,

but it was an interesting challenge."

All things considered, they seem to have been

up for the task from the start, making t-shirts

using a DIY method they say they wouldn't

recommend to anyone, before upgrading to a

professional set-up.

"We used to dry shirts in our oven," says

Rewucki. "But we had to be super careful not to

burn them or light them on fire. It was a pretty

crazy time, but we made it work. From the beginning,

this project has just been a lot of trying,

failing, and figuring it out."

While Satisfied Life Prints was born out of a desire

to fill a void in the silk-screening market in the

Prairies, it was also intended to fill a void in the pair's

creative lives.

"I've always had jobs where I would have to cover

my tattoos, and conform to the stranglehold of corporate

culture," says Rewucki. "I wanted to have a job

where I had some creative control and could dress

however I want, and in the end got what I put into it.

That's more of the seed of it than anything."

For more information about Satisfied Life Prints,

head to satisfiedlifeprints.com. You can also find

many of their punk and metal shirts at Music Trader

and Eat 'Em Up Records in Winnipeg or at a merch

table near you.

by Julijana Capone

it gets really cold in Winnipeg, instead

of complaining about the weather, we just

"When

throw a party," says Julien Desaulniers,

artistic producer for the Festival du Voyageur, touted as

Western Canada's largest winter festival.

"We want to embrace winter," he adds. "That's the whole

ethos: taking winter on."

Not your usual winter fete, this celebration is specifically

rooted in French-Canadian and Métis culture, while also

conjuring the spirit of the voyageurs that paddled their

canoes along the banks of the Red and Assiniboine rivers

around the 18th and 19th centuries. Indeed, the "joie de

vivre" or love of life—despite hardship—of those burly travellers

can still be felt in the fortitude of Winnipeg's citizens

even today.

For 10 days over February, Winnipeggers don their

moccasins, toques and ceinture fléchées and get down

like it's 1815. "When you walk into Festival, you smell the

wood chips on the ground, you're eating the maple taffy,

listening to a seven-piece traditional band from Quebec,

like Le Bal à l'huile, and you're like, 'This is it. This is the

voyageur…I'm in 1815.'"

Sound a little out of your millennium? It's not, really. Especially

when it comes to the cornucopia of music.

Over 170 acts from across the country will grace stages

at Voyageur Park and venues in and around St. Boniface

(Winnipeg's French borough), including quirky Regina singer-songwriter

Étienne Fletcher, folk-rocker Mélanie Brulée

and veteran Acadian party-starter Danny Boudreau, as well

as Montreal-based sister duo Les sœurs Boulay, dance-pop

chanteuse Laurence Nerbonne, and pop-rock par excellence

ROCKPILE

from Alexandre Désilets.

"We love to represent la Francophonie across Canada,"

says Desaulniers. "We always take care to hire Francophone

bands from Western Canada, Ontario, and Acadian and

Quebec bands. We want to show the diversity of Francophones

in Canada."

Over at the Discothèque on Ice (a.k.a. the frozen river

trail), a selection of crate-diggers, such as DJ Kasm, DJ

BEEKEENI and Cedrik Le Fantastik, will spin their fave French

tunes from Gainsbourg to Daft Punk.

Even non-French acts, spanning just about every musical

appetite, are on the bill—from gloomy darkwave courtesy

of Ghost Twin to surf-rock from The Catamounts and heartstring-pulling

pop via Calgary's MBF (a.k.a. Michael Bernard

Fitzgerald). Plus, tons more.

And being the inclusive event that it is, the festival will be

adding a Winter Pride Celebration for Winnipeg's LGBTQ

community to its 2017 programming. "It's time," says Desaulniers.

"We've been around for 48 years and we want to be as

inclusive as possible…It's gonna be one hell of a party."

Aside from honouring the jovial ways of the voyageur, the

festival is, in many ways, a celebration of coming together as

a community—served in the language of love. "I like to think

of myself as a product of Festival du Voyageur, because my

birthday is in November, which is exactly nine months after

the festival in February," says Desaulniers, with a laugh. "I like

to think that the festival had something to do with that."

Festival du Voyageur runs February 17-26. For more information

on the festival, full lineup details, and ticket prices, head

to festivalvoyageur.mb.ca.

Les soeurs Boulay will appear at the 48th edition of Festival du Voyageur.

BEATROUTE • FEBRUARY 2017 | 31
---
JUCY

SAHWN DESMAN

approaching music and life with passion and maturity

The Toronto born and raised prodigy, Shawn Desman, is

still doing what he loves and bringing his authentic self

to all that he does. Packing over two decades of musical

experience and stage performance under his belt, Shawn Desman

is coming through Alberta to serenade the heartstrings of new

and old fans on Valentine's week.

Anyone who's paid any attention to Canadian music since the

early 2000s will have heard his name; Desman has had a successful

career since his very debut, self-titled album in 2002, which went

gold in Canada. From there he went on to win a JUNO with his

follow up album, Back for More, for best R&B recording in 2006.

Since then Desman has kept busy with a variety of projects,

expanding his love for both musical production and dance. He runs

a Toronto-based dance competition, Move, which has become the

fastest growing dance competition nationwide. Whereas dance is his

original passion, music quickly fused with him, becoming something

he wanted to take the reins of. Over the years Desman has taken a

more hands-on approach to the production side of his music.

Trying not to become overwhelmed with writing and producing

all of his music, Desman relishes the fruits of the labor and growth

that accompanies each step he takes. "That's the devil in the details,

you're your biggest critic," Desman explains. "When you're so close to

the project you're always questioning everything. I'm always looking

for outside ears and getting others' opinions. That's what's been the

key to my success."

His performance has also grown from the basic choreographed

dance routines, accompanied with pre-recorded background tracks.

Over the last four years Desman has been performing with a threepiece

band. "Before it was just me and a bunch of dancers jumpin'

around out there, but I think I'm passed the dancer stage now,"

Desman jokes. "It's more about everything else, musically."

Far removed from the slick, sidestepping, heartbreaking days of

his early 20s, Desman exudes a maturity that shows not just in his

dedication to his professional career, but within his personal life

as well. Along with producing music and dance, Desman balances

family life with his wife, Chantelle Leonardo, and their three children.

"Family life is crazy," he laughed, before boasting, "but I wouldn't

trade it for the world. There's nothing like having a family and kids,

it's amazing."

Something else that has inspired Desman has been his involvement

with the organization Free the Children. After choreographing

for the We Day performance in 2001 and designing some promotional

shirts as well, he took a trip to Kenya and saw first-hand what

he was supporting. "It's life changing, the things we take for granted.

Our problems are so miniscule in comparison to the things some

have to endure," he says, highlighting how the trip put his life into a

new perspective. "We're spoiled, and not through any fault of our

own. It's just the cards we were dealt. So, it's great to give back."

Desman, like any good musical artist, also gives back to his fans

through his passion for performing. "Over the years I've been able to

garner a catalogue of songs that people love. The live band adds an

element of excitement and interaction. From the old stuff to the new

stuff and everything in between, it's a fun show," Desman encourages,

with a modest expression that confirms why he's been able to

sustain a healthy and successful career without any of the blemishes

which many icons in the pop-star world seem to incur.

Get "Shook" with Shawn Desman at the Marquee in Calgary on

February 16th, Envy Nightclub on February 17th and Club NV in Fort

McMurray on February 18th.

Shawn Desman's career is more prolific than you may remember.

by Jay King

WORTHY

prolific progenitor continues the switch-ups

Worthy is celebrating 10 years of running Anabatic Records.

At the onset of 2017, Sean Williams, also

know as Worthy, doesn't have any manifesto-like

declarations about what he thinks

dance music needs to do in the new year, he'd

simply like to see a bit less cheese.

"My wish before was for it to get a little bit more

mainstream and people to take notice, and that's

JUCY

kind of happened," says Williams. "At this point I'd like

to see a little bit less cheesiness within in it I guess, the

music's become a little bit too poppy."

He laughs while saying this, a sign that he

probably doesn't get too worked up about what's

happening in the underground or the overground.

He's spent the entirety of his career building his own

movements, first as a co-founder of the Dirtybird

parties in Golden Gate Park, and then as the founder

of Anabatic records.

The last three years in particular have not only propelled

him to new heights, they've taught him more

about how to keep innovating as an artist.

In 2014 he released his first full-length album, Disbehave.

Two years before its release, Williams found

himself feeling confined by routine.

"Before I was doing the album I was just like, 'I

got to make this banger track, I got to make this big

dance floor hit,' and I just hit this wall this one day,"

says Williams. "I just opened up my Ableton program,

and I just started writing this really different track."

This deviation away from the familiar then became

one of the album's central themes.

"Just from that one track, and just feeling kind of

burned out on making the big dance floor tracks,

that inspired me to start writing an album that was

more of a listening piece rather than a bunch of

dance floor hits," says Williams.

Last year saw Williams transition back into making

singles, and this new focus stayed imbued in his

productions.

"From writing the album I definitely felt

I grew exponentially as an artist, just from

exploring all the different sounds that I allowed

myself to get into," says Williams. "And I think

I've taken that into my productions as well, that

I've done since then."

This is why many of his productions over the last

by Jonathan Crane

year have been released on labels other than Dirtybird

and Anabatic.

"Moving from [the album] I decided I wanted to

get back into just working on tracks, and trying to get

on some different labels that I haven't explored before,

and just expose my sound to a broader audience

by doing these collaboration with these other labels

and their fan bases," says Williams. "Just to kind of

build up my name a little bit more in a different way,

a different organic way."

He cites Defected Records, in particular, as a label

that tends to differ substantially from the Dirtybird,

bass-infused sound.

"It's refreshing, and artistically keeps me happy

and thinking forward," says Williams. "So yeah, after

I finish a track done in a different direction, it's like

'okay where does this fit in?'"

This year marks the tenth anniversary of Anabatic,

and to celebrate Williams is releasing a compilation of

some of the central tracks in the label's history.

"I just want to do a retrospective of all those really

good songs that I've had the opportunity to put out

there for all these different artists," says Williams.

With all the roles that Williams has played over

the years, it's apparent that his central role is that of

a progenitor. Whatever direction his music takes, the

road ahead is one that will continue to be decidedly

his, decidedly Worthy.

Worthy brings his One on One tour to the Hifi Club on

February 23rd.

BEATROUTE • FEBRUARY 2017 | 33
---
SMALLTOWN DJS

Almost 20 years in, nowhere close to done by Max Foley

LET'S

Smalltown DJs will be releasing new music throughout the winter and into the spring.

photo: Michael Benz

GET JUCY!

funtime in February

Hear me now! Let's Get Jucy, here once

more, hoping 2017 has been gentle on

you all thus far. Get ready to dance away

the winter blues: it's going to be a good month

for music!

Shit gets real extra-quick this month with

Birmingham's house music mastermind Chris

Lorenzo gracing the stage at the Hifi Club on

the 2nd. Known not only for his solo work,

which saw the release of his debut album

Destroy the Image drop very recently, but also

for his work as one half of Cause & Affect, and

for ghostwriting much of Hannah Wants' early

material. His music is cutting edge, and his

sets are always off the hook. It's not uncommon

for him to launch into old-school jungle

or drum and bass after getting the dance floor

riled up with his brand of house music.

February 4th is really quite insane. At Getto

Boys Bar & Grill, Bass Cupid has tunes on two

floors with the "Swingers Stage" featuring b2b

sets all night. At Distortion, you can catch

dubstep legends Truth (will still be a good

show despite Joker having to drop off the bill).

Over at the Hifi, you can take in some Bass

Coast vibes, presented by the BassBus Radio

stage and featuring Sabota, Jah Raven, Esette

and Bambooloo. Too much man, too much!

On the 9th, don't miss Dubfounded, a new

night "rooted in reggae and dub culture" presented

by the Sub Chakra massive at Habitat.

In addition to sets from locals Letr.B, Syntax

and 1za — the latter of which will be playing

strictly vinyl sets — this night will also feature

a special performance from Big Al; known

fondly around these parts for starting the

legendary, now defunct Dub at the Pub and

owning one of the greatest record stores on

the planet, Recordland. A most suitable fit for

a night like this, I'd wager.

On February 11th at the Nite Owl, Club

Nacht number three takes place, this time

featuring the triumphant return of Chuurch,

back from an undoubtedly fruitful time spent

down in Los Angeles. Also on the bill is Mel

G representing NYC's Teklife label as well as

Homesick and Hood Joplin.

For any of my Edmontonian readers,

Edmonton's coolest new label, Kudatah, is

presenting an evening called Kudatah Gateways

on the 16th featuring James Deen and

the Kudatah DJs.

Le Cirque de la Nuit returns again with another

intriguing instalment entitled Muzique.

In addition to the carnival-esque setting they

so carefully curate, the music accompanying

it will be incredible at this event. CloZee, a

festival favourite from France will perform,

as well as a very special performance from

Qdup and Everyman. The latter two artists

are currently touring together, paying tribute

to two beautiful souls the electronic music

community lost: Jon Horvath of Fort Knox

Five and Nicholas "Pumpkin" Alvarado. This

will be a surreal all encompassing experience

and it takes place on the 18th.

YouTube celebrity, Lil Dicky, the man

whose rapping and videos are as bewilderingly

impressive as they are hilarious and

entertaining is playing a sold out show at the

Palace Theatre (f.k.a. Flames Central) on the

25th. This astounding popularity is actually

indicative of his very real talent. This will be

one crazy show for sure.

That's it for me this month - please hit me

up with shows/ideas/labels/conspiracy theories

you'd like to see featured in the section at

paul@beatroute.ca. Ciao!

• Paul Rodgers

Fresh off their busiest year to date, Mike Grimes

and Pete Emes (Smalltown DJs) are starting off

2017 strong. With almost 20 years of collaboration

under their belts, Emes' optimism burbles

through the phone palpably as he lays down the

duo's plans for this year.

"Before you called, I was just listening to this EP we

worked on with Neon Steve. He sent us a track that

we worked on, and then we sent him one and he

returned the favour," Emes starts. "That one's got a few

labels buzzing and should be out in a month or two."

"We've also got a single coming out on Fool's Gold

at the end of March, and a bootleg we did with Skratch

Bastid that we're making a video for. That should

be out in the next few weeks."

Needless to say, the duo has a lot on their plate.

Between fueling the ever-advancing legacy of the Hifi

Club and turning over a drastically different leaf this

year, Emes' attitude concerning their past belies the

values that put Smalltown DJs on the map in the first

place, continuing to keep them there to this day.

"We've played at Fabric twice. We played with

[Steve] Aoki and [DJ] AM in their heyday. Our two

sets at Bass Coast this year were some of our favorite

DJ memories ever," he recounts. "But as soon as those

moments are over, it's fuel you use to move forward.

It's about what's next."

What is next for Smalltown DJs, then? It's hard

to believe anyone would fault them for retiring

and resting on their laurels. Yet Emes describes

a change of direction that some might see as

backwards, considering their aforementioned

accomplishments: a focus on really nailing their

original productions.

"The longer we work on our production, the closer

it comes to sounding the way we want it to for our

DJ sets. It's a little different than a producer learning

how to DJ. And we're not newcomers, but we still have

something worthwhile to say, and to create."

Delving deeper into the Smalltown DJs' manifesto

reveals a glimpse into what fueled this change

in direction: what Emes describes as "good music,

good times and as little pretension as possible."

Emes and Grimes have undertaken many a labor of

love – this, then, is just the next logical step in their

progression as artists.

However, don't think for a second that 2017 will

make hermits out of the duo. "We're looking to

make more DJ moments this year," Emes proclaims.

And with their annual Mountain Magic tour beginning

to take shape, the return of Hifi special 'My

People,' and a slew of new music in the works, the

future seems bright. All in a day's work for Calgary's

hometown heroes.

Catch Smalltown DJs at the Hifi Club on February 11th

with Sacha Robotti and Sirus Hood, and alongside

Worthy at the Hifi on the 23rd.

Syntax will again perform as part of Dubfounded on February 9th at Habitat.

photo: Matt Godfray

34 | FEBRUARY 2017 • BEATROUTE JUCY
---
ROOTS PICKS

ERIC BIBB

TAMI NEILSON

Eric Bibb is one of the leading bluesmen of his generation. A progressive preservationist, a fiery singer

with true soul, gospel and folk roots, enjoyable and accessible, his blues are honest and powerful.

Bibb performs Friday, Feb. 10 at 8:00pm and Saturday, Feb. 11 at 8:00pm Arts Commons, Martha

Cohen Theatre with Michael Jerome Browne.

With a soulful voice straight from the golden age of country and rockabilly music, Tami Neilson has

been described as "A red-hot honky-tonker, somewhere between Patsy Cline and Wanda Jackson with

perhaps just a little bit of Peggy Lee sophistication." On tour with Colin James, Neilson plays Winnipeg

Feb. 25, Saskaton Feb. 26, Regina Feb. 27, Medicine Hat Mar. 1, Edmonton Mar. 2 and Calgary Mar. 3.

Deicha Carter Feb 2

Chad Holtzman & mike

peters Blues duo FEb 9

Caleigh Cardinal Feb 16

The Goods Feb 23

ROOTS

BEATROUTE • FEBRUARY 2017 | 37
---
MUSIC FOR LOVERS

Keep it locked on CJSW 90.9 FM or subscribe to these podcasts via cjsw.com to

hone your romantic side this winter. Set the mood and maintain the vibe with these

sultry, sexy songs for lovers... and friends with benefits.

KNOTTED ROOTS (Sundays, 3:00PM - 4:00PM)

Think of Knotted Roots as a set of silk bed sheets, an hour of luxuriously smooth

future soul and R&B that will surely get the cheeks rosy.

SUFFRAGETTE CITY (Tuesdays, 2:00PM - 4:00PM)

Feel the allure of this decidely feminine program featuring the enchanting sounds and

celebrations of women in music.

OWSLEY AURORA (Fridays, 5:30AM - 7:00AM)

Make your sweetie a coffee and start your day with a cuddle and a caffeine kick as

Cavan's velvety baritone voice brings you afrobeat, funk, and jazz.

PHONOGRAPH FROLIC (Mondays, 1:00AM - 3:00AM)

Allow yourself a step into a world past where lovers lane and holding hands was

apropos. This charming old time music will leave you love-struck and starry-eyed.
---
SHRAPNEL

DISTILLERY/THE D/DISTORTION

iconic hardcore venue celebrates a decennary of distorted memories

Despite setbacks and venue changes, Distortion celebrates a decade in business this February.

It's not every day that a music venue gets to celebrate a landmark

10th anniversary and such an occasion is even more impressive

when that nightclub is one that caters to a predominantly hardcore

following. Fortunately for the citizens of Calgary, the venerable

institution known as Distortion has endured a decade of slings and

arrows while playing an important role in carving out the city's

cultural identity.

"The struggle is really. It's really real!" says co-owner Sean "Taco" Close.

"When we bought the first Distillery Public House (a.k.a. D1), at 839 -

5 Ave. S.W., none of us had owned a bar before. We had to find investors,

take out loans on our homes and start moving with what was happening

on the music scene. We started doing weekend shows and then suddenly

we weren't just a pub for the lunchtime suits anymore. The landlords

didn't want us in there, so when it was time to renew our lease they

pulled out an old clause and denied us. Which was totally bullshit. But

we had momentum, so we started looking for another location."

As fate would have it, a hot tip led close to a hidden gem in the form

of the old Lucifer's Ballroom underneath Quincy's Restaurant on 7 Ave.

S.W. Soon The Distillery (a.k.a. D2) was up and running with a glorious

domed ceiling arching above 10,000 square feet of blistering sound and

throbbing lights. The spot became a speak-easy destination for metal

and punk fans who favoured the underground bar for its heavy act

packed calendar and '70s throwback décor.

"We called it our Rock 'n' Roll Ballroom and it rocked in there,"

recalls Close.

"But it also came with its own set of problems. We had a couple of

floods, pipes blew up, and yet somehow despite dealing with all those

things, while trying to put up with our slumlord, we had four or five

years of awesomeness in that place. Just when there was a light at the

end of the tunnel the carpet got yanked out from underneath us and we

got shutdown and kicked out."

With commercial real estate at a premium in Calgary at that time

the entire operation was put on hiatus for several months while the

co-owners sought alternate accommodations. Concerts that had

already been booked were diverted to other venues around town, as

were loyal staff members, such as lifer Bonnie Parker, who waited to

learn The Distillery's fate.

"The whole bar was in the garage at my house; the sound system,

everything," Close recalls.

"Our backyards were full of chairs and all of the bar furniture, I even

used one of our bar tables as my patio table, cuz there was no room for,

you know, all this stuff. And then we found the bar in Eau Claire at 222

- 7 St. It was a small place, but it had a little kitchen and good potential

photo: Sarah Kitteringham

and we thought we could make it work and called it The D."

Sadly, the third incarnation of the venue was met with an unneighbourly

shitstorm of political posturing and bureaucratic red tape that

would make for an untenable situation.

"That threw us for a loop. We fought and figured out a way we could

adhere to all the clauses and stipulations that were put upon us. But we

had constant complaints from a handful of the community. They kept

bullying us and it just came to the point where they severely restricted

our operations. Our landlord knew we had gotten screwed, and had lost

a shitload of money, so he broke the lease for us and wished us luck. We

weren't sure we were going to recover or if The Distillery would just fizzle

out. Once again, the bar got packed up, but this time it was a longer

haul. We spent almost a year discussing finding another space. We were

selling all our stuff and trying to survive and keep the dream alive."

Things seemed bleak indeed after the collapse of D3. Business partner

and friend Philly moved away, while Close, co-owners Andrew Jay, Mark

Russell, and general manager Katie Bevan picked up the pieces. Given the

traumatic transplantations of the past, the crew realized that finding the

right setting for a loud-as-Hell nightclub was essential to the fulfillment

and survival of their collective vision.

"We looked at a whole bunch of places, and a friend of ours mentioned

that the Atlantic Trap & Gill was closing down. And sure enough

it was. So, holy shit! We decided to give it one more go! We got it put

together and wanted to change the name but to retain the big D, so

we came up with the name Distortion. When we went back to the city

they actually welcomed us with open arms and gave us all our licenses

without batting an eye. We're two years at this address come April!"

Close continues: "This last year has been one of the hardest for the

whole city, let alone to be up and running with a fresh lease, but we've

always been DIY. The same staff has followed us from the old locations;

our current team of ten is rad and has the same idea. We had to do a

lot of cleaning and painting and soundproofing, so we all put on our

overalls and jumped in there and did it ourselves. It's really starting to

feel like home."

Finally ensconced in an ideal 280-person capacity locale beneath the

Days Inn at 3828 Macleod Trail, the new-and-improved Distortion is a

cozy opium-den of the west that also claims one of the most charming

bathrooms on the nightclub circuit. At last the tenacious team behind

the bar, where they might very well know your name, can take a moment

to reflect on just how far they've come.

"Way back in the day I was just a promoter working with Calgary Beer

Core and putting on shows at The Underground, Point on 17th, The

Castle and then The Distillery," says Distortion co-owner Mark Russell.

by Christine Leonard

"But instead of just being a music promoter, I wound up getting

into the business, as the saying goes. I went from working as head

bouncer to one day being appointed manager at D2, and it has just

sort of grown from there."

Quick to commend his colleagues for their "No bullshit attitudes,"

Russell appreciates how close the staff has become and the personal

milestones that have arisen along the way.

"These are my family members; they're not just friends anymore. And

the fact that they've trusted me for so long, and put me in the position

I'm in, means a lot."

Echoing that sentiment of belonging and sense of community,

Distortion's general manager (and wife to owner Sean Close), Katie

Bevan, has come of age along with the business and has helped

build The "D" from the ground up more than once. A former

waitress and bartender, who moved up the ranks to promoter and

booker, Bevan has seen a million faces come through her establishment's

doors and the thousands of bands she's put on stage have

undoubtedly rocked them all.

"Our directory of bands and contacts has grown very large over

the years, so that makes it easy. As does dealing with the same people,"

Bevan reports.

"I probably get a dozen messages a week from who are looking to set

up shows. I try to find a place for them and make sure I'm building bills

where the bands are complimenting each other. Sean has to trust me;

we're married. In fact, we just celebrated our 10th anniversary!"

A rare opportunity to comb through a mountain of gig posters and

photographs from the many performances that have taken place at their

four sites, Distortion's tenth anniversary is not just an accomplishment

for the staff and owners, but a testament to the resilient character of the

scene they have worked so hard to foster.

"It's quite crazy when you think about all of the killer shows we've had

through the different rooms," reminisces Bevan.

"Everything from the electronic and hip-hop nights to our breadand-butter

punk and metal. I'll never forget how insane and packed

Del tha Funkee Homosapien was. I remember one of the first big

name we had in was The Real McKenzies and I was like, 'No way!'

Since then we've done seven shows and formed a relationship with

them. The Bronx was a super-wicked fan girl moment for me. The

Mad Caddies, too. Such a party. Meanwhile, I'm finding all of these

amazing posters for Anvil and Napalm Death and Pig Destroyer and

the festivals we've hosted like Sled Island and Noctis. We've had a

blast and we've had our setbacks. It's not easy rebranding yourself

and getting your name out there. The scene changes so quickly, we're

keeping our ear to the ground and watching out for up-and-coming

bands. My goal is pretty much to keep making Distortion bigger and

badder. As long as the 'Man' doesn't bring us down this time!"

Masterminding the metal-fueled anniversary celebrations, Bevan

has racked up an evening of debauchery that will entail performances

by a pantheon of bands who have all come together to toast the iconic

venue and commemorate ten loud years of blood, sweat and beers

with an epic party.

"Our ten-year show is going to be crazy! It all started with looking for

a list of ten Calgary-area bands who have played the scene for ten years,

or more," she says.

"I thought it would be cool if they could come together and share

this accomplishment of being a very small business in the city of Calgary

for a decade. I started messaging the list and everybody was on-board. I

even persuaded [hardcore beer chuggers] BDFM and [local stoner rock

icons] Hypnopilot to reunite. It's going to be a busy evening with a freak

show, contortionists and an experimental second stage that's sponsored

by Long and McQuade. And, of course, plenty of that special energy that

hasn't been duplicated anywhere else."

Celebrate the Distortion / The D / The Distillery 10-year Anniversary Party

on Saturday, February 11th at Distortion. Hypnopilot, Bloated Pig, Caveat,

The Press Gang, No More Moments, BDFM, Exit Strategy, and many more

will perform.

38 | FEBRUARY 2017 • BEATROUTE SHRAPNEL
---
WITCHSTONE

ballad of the Sludgelands

by Christine Leonard

This Month

In METAL

Calgary band Witchstone drop Mortal Fear of Infinity on March 4.

Defrosting the frozen heart of winter with

a searing spike of psychedelic doom

metal, Calgary's Witchstone has been

delivering their febrile mutations since first appearing

on the prairie moors in 2011. Stubborn

enough to weather the upheaval of ongoing

personnel changes, founding members guitarist/

vocalist Sean Edwards and bassist/vocalist Andrew

Sanderson fleshed out the banshee band's

thinning ranks with the complimentary talents

of inventive drummer Marcello Castronuovo

and emotive guitar ace Ian Lemke (Blackrat).

"We used to be sort of droney and stonery,

where we'd all be playing the same riff. And now

it's a lot more inspired by '70s proto-metal like

Iron claw, Coven, Black Widow and newer bands

who are doing stuff like that, such as Blood Ceremony,"

says lead guitarist Lemke of Witchstone's

unfolding aesthetic.

The intense quartet self-released a brooding

bedroom demo EP recorded in February of 2012,

and two years later surpassed that introduction

with a Sabbathy four-song cassette, Tales of the

Riff Riders. In May of 2016, the band tag-teamed

it with Quebec despots The Death Wheelers to

release a split album titled Summon The End

(Sunmask Records). Witchstone's contributions,

the turbid "The Sludgelands" and the ten-minute

mark toppling "Altar Riot," propelled the quartet

towards the realization of Witchstone's highly-anticipated

forthcoming LP, Mortal Fear of Infinity.

"Around [the] same time we were recording

our split, we recorded our new material with Pat

Palardy of Public Lunch Studios, so the two sessions

overlapped a little bit," reports Lemke.

"It was the most professional studio environment

I've ever recorded in. We had a lot of

different ideas and experimented a lot, it was nice

having someone who was really open minded

and honest when he thought something wasn't

working out."

According to the dual guitarists, the material

that comprises Mortal Fear of Infinity sees the

band seeking out untrodden pathways and rising

to new heights of self-actualization.

SHRAPNEL

photo: Witchstone

"On this album, we intentionally went for a different

kind of heavy. We didn't go with amps to 11

and high distortion. We actually went a lot cleaner

than we ever have before," Lemke observes.

"I think this is the first album where we've

gotten through our voice as a band and it feels like

this is what we're supposed to sound like. Sean and

I have really gelled together; I think we've finally

figured out our sound."

Thrusting their point across with a subtle blade,

Edward and Lemke divided songwriting duties

down the middle.

"It's been great writing with Ian in this new way,

because he's such a talented lead player. The subject

matter is pretty dark and reflects both death

and love. It's a serious album and not so fantasy or

fiction based," says Edwards, who also explored and

refined his vocal techniques.

"We're trying to establish a vocal sound, so that

we're closer to singing than just brutal screaming."

"This album especially is way more full of occult

metaphors for real-life hardship, so we thought

we'd go with a witchy vibe," agrees Lemke.

"I started to do backing harmonies, which is the

first time I've ever sung on an album."

A breakthrough album in many respects, the

production experiments Witchstone conducts on

Mortal Fear of Infinity necessitated the addition

of a fifth dimension to an already hypnotic live

set; a quest that ended at the hands of keyboard

enchantress Jolene Toner.

"On the split, and this album, we are just a

four-piece, but we all agreed that there should

be some keyboards, treats, layers and little

tidbits on the new album for extra effect,"

clarifies Lemke.

"We approached Jolene [because] she's an

old friend of ours. She's a Jack-of-all-trades-type

character, a versatile musician, and very easy to get

along with... We're excited to have a future recording

with her on it."

See Witchstone at their album release party on

Saturday, March 4th at the Palomino Smokehouse

and Bar with Numenorean and Monolith A.B.

To kick off the month, on Friday, February

3rd local prog act Illuminated Minerva

are performing with Saskatchewan's beautiful,

slow burning post metallers the Basement

Paintings. Ambient industrial act Redress and

the psychedelic folk rock band Rak and Targus

will be joining the festivities. Show is at Distortion

in Calgary; tickets are $10 at the door.

The following Friday, February 9th, Distortion will

be hosting the return of Calgary traditional metallers

Hellrazer, who are performing with thrashers

Accostal, Detherous, and ChaosBeing. It's Hellrazer's

debut with new drummer Murray Jonasson,

and is their first gig in a year! Head down and fork

out $10 at the door to help them celebrate.

On Saturday, February 18th, head to The Forge

in Edmonton to celebrate the release of All Else

Fail's fifth studio album The Forever Lie. The crowd

funded project continues their lineage of experimental

metal with classical and synth elements,

skillfully integrated alongside diverse vocals. The

band will perform with Dahlmers Realm, Arrival

of Autumn, and Driven to Exile.

A killer all ages hardcore gig will be touching

down in Edmonton on Thursday, February 23rd

at the Sewing Machine Factory. Toronto's emotive

screamo hardcore act Die Hexe will be performing

with Rayleigh, Paroxysm, and Of Worth on a bill

booked by Clean Up Your Act Productions. Tickets

are $10 at the door.

An evening of fuzzed out stoned riff worship will

meet you at the Rendezvous Pub in Edmonton on

Friday, February 24th when monstrous blues-outer-space

rockers The Mothercraft perform with

Cellardor, Vehement Dissent, and Solarcoven.

Advance tickets are $10, door cost is $15.

All the way over in Vancouver, local scene

legends Haggatha will be celebrating the release of

their fifth album, aptly tiled V. They'll be performing

at the Antisocial Skateboard Shop with The Rita

and Ceremonial Bloodbath. If you dig sludge

metal à la Eyehategod and Buzzov•en that's less

about being a sister fucker and more about societal

ills, then Haggatha will satisfy your itch. (Sarah

Kitteringham)

Turn up for the #666KMChallenge and the local metal scene.

Speaking of local metal... we've got some words

from Kaje Annihilatrix regarding the emerging

hashtag #666KMChallenge.

As the bassist and vocalist for Odinfist, one of

the co-founders of West Metal Entertainment and

Armstrong MetalFest, and a co-chair of The Western

Canadian Metal Festival Alliance (WCFMA),

Jesse Valstar is an integral part of the underground

western Canadian metal community. Given his

work in the underground scene, he was inspired after

hearing about the 100 km diet concept to create

a similar challenge for Canadian metal heads.

"It's an initiative brought forth by the WCMFA to

encourage fans of local, underground heavy metal

to showcase their support, buy a shirt/album/etc.

from a band located within 666 [kilometres] of

you, take a picture of it, and post it online. People

already do this, people love to brag on social media,

it's free advertising for the bands," Valstar jokes.

As a musician, promoter and festival organizer,

Valstar knows firsthand the time and financial

commitments required from musicians and notes

that as part of his rationale.

"For a local band to record an album or make

merchandise, it's an incredible investment and it's

not always easy to sell merch at shows if you're the

unknown band hidden in the back corner. The goal

of the challenge is that, for example, I post merch

that I bought at a local gig, share it, and now people

in my network that may not know of the band are

now aware of the band. People are introduced to

a name they might not hear of otherwise, and the

band gets both the sale and free advertising. When

you have more revenue aside from band dues, you

can get the better guy to record your album or get

the better design for your shirts, you can spend

more on higher quality gear. We want bands to

succeed; supporting the community is our main

goal. We want to give fans another way to support

their favourite bands."

You heard em! Share your pics with the hashtag

#666KMChallenge, and support your local metal

scene. (Kaje Annihilatrix)

• Sarah Kitteringham & Kaje Annihilatrix

BEATROUTE • FEBRUARY 2017 | 39
---
FF17FullPgBHad2.qxp_Layout 1 2017-02-01 1:34 PM Page 1

NEW THEATRICAL CONCERT INSPIRED BY

THE JOURNEY OF THE SOJOURNERS

KHARI WENDELL MCCLELLAND

JOEY

LANDRETH

T h e W h i s k e y T o u r

WEDNESDAY, FEB.15, 8 PM

FESTIVAL HALL 1215 10 AVE. SE

TICKETS + INFO:

CALGARYFOLKFEST.COM • 403.233.0904

FEBRUARY 17 - 19

FESTIVAL HALL 1215 10 AVE. SE

DOORS: 7:00 PM • SHOW: 8:00 PM

TICKETS + INFO:

CALGARYFOLKFEST.COM • 403.233.0904

FEBRUARY 28 2017

FESTIVAL HALL 1215 10 AVE. SE

DOORS: 7:00 PM • SHOW: 8:00 PM

TICKETS + INFO:

CALGARYFOLKFEST.COM • 403.233.0904
---
musicreviews

Japandroids

Near to the Wild Heart of Life

Anti-

Japandroids' music has a funny way of playing with

nostalgia. Maybe it's the sonic reminiscence of a rock

era long since passed, or possibly the youthful, halcyon

lyricism of guitarist and vocalist Brian King, but the Vancouver

duo have built their name on heartfelt garage

rock that constantly asks, both lyrically and sonically, for

the listener to remember days gone by.

Together with drummer, and occasional

woah-woaher, David Prowse, Japandroids have been

pummeling the ear drums and heart cavities of fans

across the world, not only earning them a reputation

as one of the most consistently hard-working touring

bands of the last decade, but as one of the most

downright enjoyable rock acts of the last decade as

well. Almost five years after the release of their last

instant-classic album, 2013's Celebration Rock, the

boys return with a new album, a new label, and a new

outlook on life.

Unfortunately, Near to the Wild Heart of Life, the

Vancouver duo's first album for Epitaph imprint Anti-, is

a mixed-bag that often has a hard time finding a place in

between the nostalgia and the future. Japandroids have

fought hard to remain in a drunken, youthful glow, but

they've inadvertently made one of the strongest reminders

of nihilistic determinism. Everything good will end.

Springst-emo is dead. Long live Springst-emo.

Japandroids rose to prominence on the quality of

their scrappy, guitar-drums rock-revivalism, bashing

through slapdash odes of youthful exuberance, like

on Celebration Rock standout "Younger Us," singing

"Remember saying things like 'we'll sleep when we're

dead' / And thinking this feeling was never gonna end /

Remember that night you were already in bed, Said 'fuck

it' got up to drink with me instead!"

Near to the Wild Heart of Life is full of that same

bashing dynamic, but the youthfulness is gone, replaced

with vapid beer rock, and I-read-On-The-Road-in-university

tales of travel and hedonism. All throughout,

Near to the Wild Heart of Life sounds like it was crafted

to be cut-and-pasted into countless Hockey Night in

Canada highlight reels and B.C. tourism commercials.

It's never more obvious than the acoustic-guitar-anchored

"North East South West," which sounds like

Arkells doing a cover of Said the Whale doing a cover

of Springsteen. The song sounds like it was steeped in

Canadiana to the point that it's quite shocking how

often Japandroids sound like The Trews on this album

(and no, that's not a compliment).

Unfortunately, things get a lot worse before they get

much better. "I'm Sorry (For Not Finding You Sooner)"

is a dirge-y, feed-backed snoozer of a rock ballad that

is processed to the point that it sounds as if Savage

Garden tried to make shoegaze and failed. Luckily, the

song functions as a sort of interlude at only two and a

half minutes.

On any other eight-track album, that may be a

complaint, but Japandroids use the next track, the

seven-minute "Arc of Bar," to make you wish they'd stuck

with shorter run times. The song isn't really that abrasive

on the ears. Led by an alarmingly simple "yeaaaaah,

yeaaaaah" chorus, it's actually fairly enjoyable sonically.

Unfortunately, it's also the song that displays some

of King's worst lyricism to date. It's filled with clichés,

making King sound like a cross between the human

embodiment of the "That Guy in Your MFA" Twitter

account and a tone-deaf Craig Finn. It's filled with

cringe-worthy bar patron poetry like the opening lyric,

according to Genius: "Hustlers, whores, in rooms galore

/ A sinking city's stink / An arc of bar, a flesh bazaar /

Of diamonds, dust, and drink / The jukebox jamming,

the lions lamming / The jokers doing the dealing / And

queens are over jacks."

Yet, when the lyrics aren't this kind of flowery,

Kenny Loggins fever dream, they're over-simplified

and uninspired. The lead-off title track features the

lyric: "And it got me all fired up / To go far away /

And make some music from the sound of my singing,

baby / So I left my home / And all I had / I used to be

good but now I'm bad."

That song saves itself by being damn catchy, but its

simplicity leaves nothing left to examine past face value.

While Japandroids never felt like a band that

demanded intellectualism, their lyrics had heart; a

youthful simplicity that recalled simpler times and

fewer responsibilities. Often on Near to the Wild

Heart of Life, it feels as if that simplicity has been

replaced by overworked cliché.

Everywhere on this album, Japandroids embrace

the aesthetic that brought them such success with

Post-Nothing and Celebration Rock, but these new

songs seem to lack the immediacy and free will of those

previous works. Frustratingly, a lot of the tracks on this

album flirt with that early quality, but instead, their near

misses prove that a middling album from a great band

proves to be even worse than a terrible album from a

bad band.

"Midnight to Morning," for example, is just a There

is Nothing Left to Lose-era Foo Fighters song with less

instruments; "No Known Drink or Drug," sits King's voice

in the back of the mix leaving perfect space for Prowse

to fill in with some ill-advised "sha-na-na-na-nahs."

"In A Body Like A Grave" is this album's slow-burning

closer, just like "Continuous Thunder" was on

Celebration Rock. Remaining consistent with the

seven songs previous, it just makes you want to put on

"Continuous Thunder."

Japandroids didn't make drastic changes to the

formula on Near to the Wild Heart of Life. Sure, there

are new layers that they have added into the mix, with

synths and acoustic guitars finding their way into the

duo's wheelhouse, but it's still clear something is off. The

immediacy of Post-Nothing and Celebration Rock has all

but disappeared, leaving in its place a Japandroids that

often sound like they're mimicking their scrappier beginnings,

but leave no room for errors to arise. Instead,

Japandroids sound like a more professional band, or at

least a band that has been recorded more professionally.

Growing old is inevitable, but Near to the Wild Heart

of Life certainly doesn't make a strong case for it.

• Jamie McNamara

illustration: Cristian Fowlie

BEATROUTE • FEBRUARY 2017 | 41
---
Austra

Future Politics

Pink Fizz Records

Bleak visions of tomorrow, being excited by what technology

can offer, but terrified of the direction we're ultimately choosing

to harness that power towards. That technological malaise is

the basis of Austra's newest release, Future Politics, a synth pop

heart-to-heart that couldn't come at a better time if you're feeling

vulnerable and uncertain about the future. Coincidentally, there

was a golden (allegedly) opportunity to pick the album up on

the morning release of January 20th, throw it on and let Austra

take you to a happier place before the presidential inauguration

happened later that afternoon (especially if you needed a reason to

get out of bed).

The Toronto-based band's first release since 2013, Future Politics

is Austra mastermind Katie Stelmanis' own call to action. In her

words, a call "to put together our collective visions and hopes and

make a future to stand behind… Not just hope in the future, but

the idea that everyone is required to help write it, and the boundaries

of what it can look like are both fascinating and endless. It's

not about being political, it's about reaching beyond boundaries, in

every single field."

Radical and energetic, Future Politics turns to offer an anthem of

hope and it delivers with substantial punch. Through emotionally

charged lyrics and energetic, driven synth pop, it offers an experience

that guides you into dark visions of dystopia, with moody

reflectiveness and melancholic undertones, before pulling back

towards her vision of a shining future.

The album is full of dramatic operatic vocals and catchy rhythms

reminiscent of Massive Attack and The Knife, yet unique on its

own merit. Elements of darkwave, house, trip hop, opera and other

genres drift in and out of eleven tracks as the mood shifts. Despite

touching on a menagerie of genres, Future Politics has an orchestrated,

cohesive feel to it that's only brought in tighter by the

overarching theme and message.

"Utopia" blends in elements of house and synth pop while Stelmanis'

dynamic vocal energy acts as an emotional manifesto. The

structured, driven rhythm, a contrast of operatic prowess and slowly

shifting, heavy and dark atmosphere in the track "Beyond a Mortal"

unite to create a captivating combination. A fast paced, resonating

chorus of bells in "Freepower," create a refined, flowing and simultaneously

powerful sound that builds to a dance worthy crescendo.

Future Politics has a very dance oriented sound. It fits closer to

Austra's prior release Olympia than their breakout album Feel It

Break, but builds on that solid foundation with rich, atmospheric

texture, a more refined sound and lyrics that move in to engage

you directly.

• Andrew Stirling

42 | FEBRUARY 2017 • BEATROUTE

Cloud Nothings

Life Without Sound

Carpark Records

On the first single off Cloud Nothings' latest album, frontman Dylan

Baldi sings "I want a life that's all I need lately / I am alive, but all alone," in

a truthful and ardent way, creating the longing and honest feeling present

throughout Life Without Sound.

The newest album by the Cleveland four-piece brings along the

beloved qualities such as fuzzy, yet melodic, guitars and sing along catchy

choruses attributable to the band, but comparably brings a feel of something

more polished and perfected.

Aside from the collaborative album they did with Wavves back

in 2015, this is Cloud Nothings' first album back since 2014's

Here and Nowhere Else. In the time between, it's evident the guys

from Cloud Nothings have taken the time to put life into lyrics,

constructing an album set to create the perfect soundtrack to the

modern and mundane life.

Dylan Baldi's drowsily powerful vocals preach compelling and

relatable stories of living day by day, and watching it pass by you.

The words and stories delivered through the album will find a way

to connect and attach themselves to the softest parts of your own

personal experiences, creating a nostalgic aura around you - even if

you're living in the current moment.

Though the album starts off with a slower and more reserved

sound, the band sinks their hooks by the second song, with its

irresistible guitar and melodious build up. During the album, Cloud

Nothing's keep it simple, but still meaningful. Relevant to youth and

the qualities of finding your place in the world and yourself. The

multiple noise pop ballads dedicate themselves to latching on to the

feeling of disassociation in association.

By the fourth song, the album reaches its most excitable, and

perhaps, most anxious feel. Though the album confesses tales of

isolation and withdrawing yourself from present moments, the

track entitled "Darkened Rings," brings distressed tones and lyrical

restlessness, sure to make you click repeat. Just after is their third

released single, "Enter Entirely." A power pop ballad with screeching

guitar and fiery vocals sung sincerely. Beside it is "Modern Act:" the

first released single off the album, which captured the attention of

many for all the right reasons. The grainy and upbeat pop guitars

mixed with cymbal splashes create the lively background to candid

lyrics, fulfilling our deep desire to feel understood.

The final song starts with the same self-contained sound as the first

song, but builds to a triumphant end, wishing that the album wasn't over

so soon. Overall, the album is gripping. It hits home and accepts the hidden

insecurities we have about being alone. The polished and perfected

piece that is Life Without Sound will leave you excited and itching for

more of whatever Cloud Nothings have in store.

• Jackie Klapak

Sampha

Process

Young Turks

Sampha has just barely skirted the public eye for six years, but

it's safe to say he's your favourite pop star's favourite pop star.

Having worked in varying capacities with the likes of SBTRKT,

FKA Twigs, Beyoncé, Solange, Frank Ocean, Drake, and Kanye

West, it's dumbfounding that his full-length debut Process is

only now upon us. For an artist who has previously spent his

time on the sidelines, it's been well worth the wait: Process is

earnest, vulnerable, and deeply personal.

Throughout the album, Sampha moves through a full range

of human emotion like the scales on his piano. He's gratified on

"(No One Knows Me) Like The Piano," nostalgic on "Kora Sings,"

and vindictive on "Under." None of the emotions he's conveying

are beyond reason – it's not a concept album, but each song

has a meditative quality that evoke the album's title: Process.

He's processing every single thing he's feeling for the listener as

he works it out for himself. His voice, like hot stone, conjures

pleasure and pain through its placement.

"Blood On Me," the album's second single, sees the artist at

his most frantic as he awakens from a nightmare all too real. "I

wake up and the sky is blood red / I'm still heavy breathin' / felt

so much more than dreamin'," he manages to utter through the

breathlessness of jolting out of a dream, attempting to discern

reality. Midway through the song, the harrowing percussion

breaks away as he coos over his protector, the piano. It's a

moment of respite amidst a sea of personal demons and a song

that's otherwise unrelenting.

On "Under," Sampha is most unlike himself. Of his repertoire,

it relates most closely to his alt-R&B contemporaries, and shies

away from the slow, piano-driven ballads that precede it. "Timmy's

Prayer" furthers the sentiment of Sampha's adaptability,

as his voice gracefully glides over the rattling electronic music

beneath.

With a song at the core of the album titled "(No One Knows

Me) Like the Piano," it's clear where his comfort and background

lie. However, wide-range early influences like Brian Eno or West

African Wassoulou music help shake up the production and

offer instrumentation you might expect on a Bjork record. This

prevents the few strictly piano songs from feeling too hokey.

The album's credits are almost exclusively between Sampha

and co-producer Rodaidh McDonald. Process leaves the artist's

star-studded CV behind, proving that sometimes, working

things out for one's self is the best form of healing. If the past six

years were Sampha's process, the performance to come should

be superlative—and tender.

• Trent Warner
---
Bonobo

Ryan Adams

Prisoner

Pax Am/Blue Note

Although Ryan Adams has released music at an

impressive pace for nearly two decades, his latest

album, Prisoner, feels like it was a long time coming.

Adams' last release was 1989, a Taylor Swift cover

album that came out of nowhere, shocking fans

and receiving lukewarm reviews from critics. While

Adams' version of 1989 revealed a different side to

Swift's music, stripping back the chewy and tasteless

pop fat, it limited his ability to play to his strengths.

Prisoner, on the other hand, sounds like a project

crafted by a veteran, incorporating years of experience

into an album that is fuelled by heartbreak, but

elevated by a mature sense of forgiveness. It is his

best release since 2004's Love is Hell.

Prisoner starts off with "Do You Still Love

Me," a track that blends organs with electric

guitars, only intensified by a thunderous chorus

that overshadows the entire album. Adams

takes his listeners back in time with a song that

was meant for a sold-out stadium, delivering his

lines with enough passion to make Born in the

U.S.A-era Springsteen seem uninspired.

Prisoner is consistently good in many ways.

Even though the first track advertises a different

product, all is forgiven because Ryan Adams has

been through enough heartbreak to last a lifetime.

Maybe his next album will focus on a different

topic, but that would just be disappointing.

• Paul McAleer

William Basinski

A Shadow In Time

2062 Records

The ambient work of avant-garde composer William

Basinski is one of the rare examples of great

creation coming from the twilight of inevitable

decay.

Perhaps best known for his series The Disintegration

Loops, a collection of four albums made

from deteriorating tapes of his previous work,

Basinski's multi-decade career has been mired

in the idea of the meditative power of looped

soundscapes. On A Shadow In Time, his latest

release, he revisits the lonesome, subaqueous

atmosphere that his best compositions have

encapsulated.

44 | FEBRUARY 2017 • BEATROUTE

Consisting of two 20-ish minute long tracks,

A Shadow In Time plumbs the familiar depths of

many ambient themes: the passing of time and a

mood of omnipresent foreboding.

"For David Robert Jones," — a eulogy for the

late David Bowie — features a heavily layered

expression of leaving, complete with undulating

waves of sound, while the title track opens

with an almost crystalline fragility and swelling

drone, before tailing off into an immaculate

spattering of piano.

A Shadow In Time isn't so much a two-track

compilation as it is an experience, and one that

makes as substantial a place as any for one to

jump off into the void of Basinski.

• Alec Warkentin

Big Wild

Invincible

Foreign Family Collective

Something big is coming for recently relocated

Bay Area producer Big Wild. Jackson Stell,

originally from Lancaster, MA, just has the look

and feel of a born-and-raised California boy. His

music sure sounds like it, too. Over the last couple

years, Stell has been making waves within

the west coast electronic scene, playing gigs at

last year's Coachella, Lightning in a Bottle, and

Shambhala in 2015. He was picked up by heavy

hitters Odesza, brought on tour, signed to their

record label, and hasn't looked back since.

His new EP, Invincible, has the impression

of that of a wily, old veteran behind it. Each

of the five tracks has a different emotion, but

keep his trademark sound in the mix. The intro

track, "When I Get There," with a deep bassline,

smooth breaks and buildups, is something that

you only pray you could be greeted by at an

open air massive. The rest of the EP stuns, too.

Calling on vocal cameos from Yuna, and iDA

HAWK on the first single, "Invincible," Big Wild

has created a complete, almost orchestral, piece of

work. We should all be expecting this Californian to

come crashing into the festival scene this summer.

• Jay King

Bing & Ruth

No Home of the Mind

4AD

To string together the words "up-and-coming"

with "ambient artist," especially in a genre that

prides itself on its slow pace, might not make

sense at first. Still, if anyone is worthy of that

distinction, it's 4AD newcomers Bing & Ruth.

No Home of the Mind, the five-piece's first

effort for the label, breezes through its blissful

ten tracks, at some points resembling label-mate

Tim Hecker's Dropped Pianos EP, and at others

successfully emulating the rising swell of Stars of

the Lid's The Tired Sounds Of (except with less

drone).

No Home of the Mind also separates itself

from the at-times overlong airiness that is commonly

found within other ambient recordings,

keeping all tracks at easily-consumable lengths

and featuring an array of left-field turns that

showcase the collective's knack for recognizing

the many parts needed for constructing a balanced

atmosphere.

As ambient producers go, Bing & Ruth are

the new breed in regards to composition, a

welcome fresh expression in a genre that seems

to be dominated by the same unchanging acts,

and the malleability of No Home of the Mind is

a reminder of what makes this genre so good in

the first place.

• Alec Warkentin

Bonobo

Migration

Ninja Tune

Bonobo is known for consistency, quality, and

a sound that remains uniquely recognizable no

matter how it varies in tempo, genre, or creative

output. When he drops a new album, it's highly

carries certain expectations.

His latest, Migration, reflects its theme as

each track holds a feeling of wistful displacement

and nervous excitement in varying

capacities. This connecting line through all the

songs gives the LP a distinctive feel that makes it

stand out among Bonobo's releases. Rather than

showing off a wide range of energy and emotion,

honing in on this theme makes it hold up as

more of a story than just a compilation.

That isn't to say it remains static. The theme

carries the album forward in equal measure with

the nuanced evolution of the track sequencing,

which builds steadily from Bonobo's contemplative,

instrument-driven alt-folk tendencies

to his multilayered, hypnotic, dance-friendly

sound. The first half of the album relies on

outstanding vocal guests for its sparse dreamlike

sound, broken up by the aptly named "Outlier,"

an upbeat 4/4 number that's miscast within

the slow opening of the album. The lead single,

"Kerala," marks a turning point toward Bonobo's

signature deep house style, reaching a crescendo

with the standout number, "No Regrets," before

winding down with some soulful broken beat on

"Figures."

• Kevin Bailey

Cairobi

Cairobi

Some Other Planet Records

With the same dreamy atmosphere of Tame

Impala, but with a decidedly European edge,

Cairobi's self-titled follow up to their 2015 EP,

Distant Fire, is full of psychedelic magic carpet

rides to get lost in. "Gristly Words," a weird and

experimental ditty starts everything off with

weird timing and ethereal vocals, boasting a

jazzy heartbeat for a psych-flavoured track that

features more than enough to keep your ears

busy. By the time you get to "Systems of Mutual

Doubt," you are up to your neck in a sci-fi sized

sonic landscape: jangly far off guitar, chirps and

distant swells, it's a weird ride, but one that is

surprisingly easy to get into. A standout track is

"Zoraide," with its multi-layered percussion and

upbeat tempo, it thumps deep under your skin

while leaving an optimistic taste in your mouth;

the confident stream of consciousness vocals

playfully leap over the relentlessness of the production.

As you lay back into the weightlessness

of the closing track "No Better Ending," you have

to appreciate the craftsmanship in this release; it

is a fizzy, ambitious, gently throbbing, sashaying

selection of tracks that are never too long but

surprisingly complex. Perfect music for space

travel or getting very lost in the forest.

• Jennie Orton

Scott Cook

Further Down the Line

Independent

Alberta troubadour Scott Cook has been crisscrossing

the globe for the past 10 years, sleeping

in his van and making his living playing his earnest

and sympathetic folk songs to appreciative

audiences worldwide. On his sixth full-length

release, Further Down the Line, Cook once again

puts his altruistic view of the world not only on

his sleeve, but also to the test, with folk songs

that conjure the spirit of his protest-folk influences,

while leaving his signature on the form.

The heft of "Alberta, You're Breaking My

Heart" is a particular standout, with Cook

piecing together the laments of the people lost

under the weight of the boom/bust cycles so

common to this province, "My days are dirty,

your nights are lonely / Baby, are you sober?

/ Tried to turn it over but it wouldn't start /

Alberta, you're breaking my heart."

Cook's regard for the downtrodden is a

constant theme, as in "If He Showed Up Now,"

where he imagines the return of Christ as a dirty

and ragged figure come back to find a world

where those who claim him as their savior

would likely regard him as a zealous revolutionary,

and put him to death once again.

Cook has travelled far and wide to find the

heart of an increasingly agitating world, and his

genuine hope for it is palpable. He brings dark

stories to life under the guise of pleasant, and

excellently played folk music, which is just as

subversive as screaming it over the roar of fullthroat

punk rock.

• Mike Dunn

Crystal Fairy

Crystal Fairy

Ipecac Records

Crystal Fairy's debut album is a beautiful fusion

of lumbering, heavy sound and piercing vocals.

The band is comprised of King Buzzo and Dale

Crover (The Melvins), Terri Gender Bender (Le

Butcherettes), and Omar Rodriguez-Lopez (The

Mars Volta). The Melvins' influence is heard in

Buzz's sludgy riffs and Dale's galloping drums.

Omar's bass lines bounce off the heavier riffs,

generating a full, deeply textural sound.

Terri's vocals are the highlight of this album.

Her power and varied pitch range cut sharply

through the heavier instrumentals. Like thick,
---
lack oil in water, the opposing sounds swirl to

create a conflict of chromatics without being

muddled. The lyrics are cryptic and poetic, producing

imagery that complements the emotive

vocals and heavy riffs. Terri's knack for annunciation

draws the listener's ear towards emotionally

salient lyrics bringing them alive.

The album has plenty of heavy hitting songs

like "Chiseller" and "Drugs on the Bus". Tracks like

"Under Trouble" and "Sweet Self," offer a change

of pace with psychedelic, ambient background

noise and metallic guitar tones. The album ends

with a sinister, riff-heavy Christmas carol. The

goofy lyrics suggest that despite a combined "150

years of musical experience," showing Crystal

Fairy don't take themselves too seriously.

• Bridget Gallagher

In fact, as one makes their way through

Saturday Night, the harder it exactly is to pin its

genre down, and by the time it reaches the title

track — a sparse post-punk anthem featuring

echoing, angular guitar-work and a foreboding

angelic choir — any hope of a central theme is

entirely lost.

Although this is essentially a minimal criticism

for an ultimately strong release, it does

lead to the album feeling more than slightly

disjointed, but hey, Aristotle be damned: the

parts of Saturday Night equate to more than the

sum of the whole.

• Alec Warkentin

Egyptrixx

Pure, Beyond Reproach

Halocline Trance

Foxygen

Tim Darcy

Saturday Night

Jagjaguwar

In a shift of direction from his work with Montreal

art-rock band Ought, Tim Darcy's first solo

record Saturday Night, showcases a rare and

diverse talent, finding him extrapolating the

best parts of a veritable scattershot of genres

from Americana to post-punk.

Through the first few tracks of Saturday

Night, Darcy successfully channels the guitar-driven

energy of alt-country artist Ryan

Adams ("Tall Glass of Water"), churns through

the chords of a track that could pass as a Neutral

Milk Hotel B-side ("You Felt Comfort"), and

even croons his way through a fitting homage to

the hits of yesteryear ("Still Waking Up").

Egyptrixx is an artist who doesn't like to linger.

None of his releases stay in the same gear, and

no live performance will replicate exactly what's

he's recorded.

Having seen him in fall 2016 loosing brutal,

corrosive noise crises, and in 2015 keeping lull

with cerebral ambience, this reviewer finds Pure,

Beyond Reproach to be a delightfully unresolved

dispute between Egytrixx's punitive and soothing

instincts.

This LP pairs sounds of nature with claustrophobic

patterns of battering percussion

and light-headed synth malfunctions. It's like a

headache at a spa or a daydream during a prison

sentence. Things move when they should stay

still. There is peace in feeling manic.

No particular song deserves mention above

another, and this may not be a start-to-finish

listening experience for everyone. Take it in chunks

as you do life's stimuli and take a break if you need

to. Pure, Beyond Reproach is therapy for those

who need to be as unsettled as they are at peace.

• Colin Gallant

Foxygen

Hang

Jagjaguwar

Foxygen's new eight-track album, Hang, is an

orchestral experiment that starts strong, but

seems to showcase the background orchestra

more than the band itself.

Featuring a 40-person orchestra on every

song, the melodies are theatrical and entertaining,

especially on songs like "Follow the Leader,"

"Avalon," and "America," with powerful string

and horn sections, and comical melodies; they

sound like something you'd hear in an old-timey

saloon, or during an episode of Looney Tunes.

However, the tracks become repetitive and

melancholy, leaving one wanting more of the

CHECK OUT WWW.INDIES.CA FOR DETAILS 2017

BEATROUTE • FEBRUARY 2017 | 45
---
Kehlani

rock excitement that Foxygen's earlier albums

possessed. Hang feels like the duo's darkest,

most cartoony album yet.

Deviating from this, "On Lankershim" includes

some uplifting melodies and a nice addition of

country rock including some background slide

guitar and catchy vocals.

Hang has at least one or two songs that are

memorable, though for the most part, the

album serves best as background music for easy

listening, and not much for paying attention.

• Foster Modesette

Jake Ian

The Trestle

Independent

Jake Ian's The Trestle, his first full-length since

2014's It Don't Really Matter Anymore, finds the

Edmonton singer-songwriter taking his first spin

as producer and engineer, having recorded the

album with a modest home studio setup. The

results are encouraging. The sound Ian captures

on The Trestle finds a pleasing folk tone, not unlike

a Guy Clark or John Prine collection. Homey

and warm, with a relaxed atmosphere, Ian makes

impressive strides from a technical aspect.

The backwoods feel is prominent throughout,

the kind of tones that might bring the horses

closer to the house. The Trestle is a plaid and

denim record, fitting as easy as a worn-in John

Deere cap. The more uptempo cuts sway like

the late-night two-step at a rural community

hall dance.

"Headin' To The Trestle" is the kind of upbeat

shaker the farm boys are happy to tip a bottle

back to, and "The Tale of Wesley Muskrat" hides

its hard times in an catchy chorus melody, with

a regal steel shimmering in the background.

Like Clark or Prine, Ian is willing to let a slow

burn see its way through, and in some cases,

it works, as on "Drunk Woman Blues," with a

submerged tremolo providing a sonic contrast

to the cleanliness of the arrangement.

Other times, the free reign afforded by

helming a project on your own can result in

songs that can feel overlong, but with Ian's hardearned

ability to make an album like The Trestle

on his own, he'll be a fixture in Alberta folk

music for years to come.

• Mike Dunn

Kehlani

SweetSexySavage

Warner / TSNMI

With a contemporary pop landscape ruled by

tropical house and soft EDM, Kehlani is minty

fresh. Her laidback, sugary sweet throwback R&B

has already landed her a swathe of adoring fans

(dubbed the Tsunami Mob – her label is TSNMI

and her nickname is 'Kehlani Tsunami'), and a

Grammy nomination for her second mixtape,

You Should Be Here (she is the first woman and

second artist ever to do so).

Fitting then, that her debut, SweetSexySavage,

references TLC's iconic CrazySexyCool. The

album is even interspersed with interludes á la

any true, old school R&B classic. Her lyrics aren't

particularly deep, but their simplicity bears an

honesty unlike much else out there right now.

In a few places, SweetSexySavage hugs the

sweet bubble gum pop world too closely, but

overall it glows by evoking the period Kehlani

seems most rooted in. A time when Brandy,

Monica, and Lauryn Hill dominated radio play

with their infectious melodies and lyrical hearts.

R&B might not need saving, but Kehlani is making

a stand for what once was.

• Trent Warner

Kid Koala

Music To Draw To: Satellite

Arts & Crafts

Kid Koala's Music To Draw To: Satellite is an

understated, slow tonal journey across a simple,

white landscape. Aided by the soft, gentle voice

of Icelandic singer Emilíana Torrini, Kid Koala

has made precisely what he set out to make.

Soft, dreamlike sounds to have on while

immersed in a project. Each song is less a song

and more a canvas for the listener to impose their

thoughts, ideas and visions on. Not only is the album

an accompaniment to drawing, it is also great

to read to, write to, or listen to while taking a long,

contemplative walk through a wintry landscape.

46 | FEBRUARY 2017 • BEATROUTE
---
It is a vast departure from Kid Koala's turntablist

roots, both in tone and pace. And while the

Montreal-based artist has put down his tables in

favour of strings and synths, there are still songs

found here amidst the ambience.

"Collapser" and "Fallaway" are swaying, meandering

pieces that break the surface from what

is otherwise a languid ambient journey that

gently drifts by while the listener calmly draws,

or reads, or writes.

• Alex Meyer

Bill and Joel Plaskett

Solidarity

Pheromone Records

When you've entered 'do no wrong' territory as

Haligonian singer-songwriter-rocker-poet Joel

Plaskett has, expectations become outrageously

high. In response to the obvious pressure, it

seems Plaskett has been making less and less

grandiose records as time goes on.

The worst thing you can say about 2015's

Park Avenue Sobriety Test is that it's small. The

titular song referencing a particularly sharp turn

in a backstreet in Dartmouth, NS; smallness is

not the record's curse, only its caveat.

Solidarity is a similarly small release, bringing

in his English-born father for co-singing and

song writing duties.

Bill Plaskett's contributions are traditional

and unpolished. Listening to Bill's wheezy delivery

almost feels like listening to one's own dad.

Unlike Joel's beatnik Canadiana lyricism, Bill's

writing is gooey and straightforward, warmed in

the corners by glowing new-folk arrangements.

There's a reason why the dad is billed (pun intended)

first as well, the record is almost evenly

split between who leads each track, a conceit

that does more to introduce us to Bill than to

add more to Joel's legacy. But the record's most

inviting moments are when the duo are singing

together, most notably on the smile-inducing

title track: a protest song with cheek-to-cheek

Nova Scotian earnestness.

An unobtrusive fiddle anchors the song in

tradition, while the younger Plaskett picks up the

song with a sly guitar solo near the end.

Solidarity is profoundly unpretentious. No

one would blame you for dismissing it as insubstantial,

but to do so would be to ignore the joy

of small, friendly, family music.

• Liam Prost

Priests

Nothing Feels Natural

Sister Polygon Records

After 20+ listens of Priests' first full-length,

Nothing Feels Natural, it's no pleasure to try

and cram the dynamic nuance of their genre

wandering and personal-meets-political lyrical

subjects into a review of digestible length.

Despite running only 34 minutes, it's a

robust work that's as comfortable roaming

sonically as it is with translating first-hand

experience into an assured worldview.

Opener "Appropriate" kicks off as straightforwardly

punk rock in sound as the album gets –

yet somehow closes naturally with an implosion

of sax screed. By the second half of the disc,

Priests have tackled anthemic indie rock, no

wave and post-punk. After that, an orchestral

interlude prefaces a back half that shrieks, shimmies,

twangs and jangles.

To properly open a conversation on the

themes of the record is moot given the rhythm

at which we consume criticism today. What

saves this review is that Priests' music is filled

with hooks, variety, and an irate aim to question

that will implore you to make your own inquiries.

• Colin Gallant

Ramshackle Glory

One Last Big Job

Self-Released

Priests

The last time this reviewer ordered music from

Pat the Bunny it came with the 50th anniversary

edition of the Fifth Estate, proudly stating its

support of "revolution everywhere since 1965,"

and the second issue of Black Seed, a green

anarchist journal.

He is someone whose politics is inseparable

BEATROUTE • FEBRUARY 2017 | 47
---
48 | FEBRUARY 2017 • BEATROUTE

from his music; a fact he's recognized. That's why

last year Pat the Bunny released a note calling it

quits. His politics had just shifted too far from

what they once were. The note also promised

one more Ramshackle Glory album, one of Pat's

main projects.

And here we are with the aptly titled One Last

Big Job, that final, promised album from Arizona-based

folk-punk group Ramshackle Glory.

The album stays true to the group's roots, both

musically and politically.

The band rapidly shifts between soft acoustic

guitar ballads and accordion-driven, breakneck

punk anthems. Nick Berger, along with Pat,

provide most of the vocals for the record. The

contrast between Nick's airy serenades and

Pat's half-scream, half-campfire sing-a-long tone

highlight the contrasts that fuse so well on the

record.

Lyricism is important in any folk or punk

record and that goes for folk-punk, too. Ramshackle

Glory's take on these genres is biting,

blunt and self-aware. They're as likely to illicit a

chuckle as they are to provoke actual political

thought.

Now is the time to express dissatisfaction with

the world they channel so well and shout along

with these anarchists in their outstanding swan

song.

• Cole Parker

The Sadies

Northwest Passages

Dine Alone Records

With country music making leaps in respectability,

from the underground up to the mainstream,

a Canadian music fan could be forgiven for being

a little smug in their knowledge of the catalogue

of The Sadies, one of Canada's longest-running

and hardest working alt-country acts.

They were an instrumental band to begin

with, their dexterity gleaned and honed from

growing up in the barroom country scene,

eventually adding vocals and harmonies, giving

their frenetic roadhouse workouts a bit more of

a Southern California vibe.

The psych-folk of "Riverview Fog" kicks off

their latest, Northwest Passages, airy swirls

around a fingerpicked acoustic, with a desert

twang swelling in the background, before the

odd high-hat based beat picks up, slightly discordant

with the laid-back harmonies. It's similar

in feel to Beachwood Sparks' 2011 comeback

album The Tarnished Gold. The cut serves as a

countdown, as the greasy rock n' roll of "Another

Season Again" goes straight for liftoff, a reminder

that few Canadian bands have distilled the

giddiness of 60's psych-folk with such hip-shaking

danceability as have The Sadies.

If there's a mild weakness on Northwest Passages,

it's in the simplicity of some of the lyrical

themes. That could just be nitpicking, especially

when the vocal harmonies and are delivered

so well. The Sadies have once again brought

forward a lush collection of cinematic and atmospheric

alt-country, as emblematic of the style as

anything being produced in Canada today.

• Mike Dunn

Peter Silberman

Impermanence

ANTI-

Very few artists flit with the emotional capacity

of listeners quite as well as Peter Silberman,

frontman and primary lyricist for indie-rock

group The Antlers. On Impermanence, his first

solo release, the man behind the devastating

concept album Hospice, attempts to draw heavily

on that same temporal vein.

Unfortunately, he can't quite seem to find it.

Much like the later years of post-rock pioneers

Talk Talk, Impermanence focuses on wandering,

forlorn guitar notes vibrating at a glacially slowpace

as Silberman's falsetto croons across the

album's six tracks.

Unlike Talk Talk, however, Silberman provides

little to no contrast or relief from wave after unrelenting

wave of laments, resulting in a finished

product that ultimately blends into an amorphous

blob of muddled melancholia.

There are a few moments of saving grace,

however, such as the nine-minute opener "Karuna,"

which is ideally Silberman's most successful

attempt at the sound he was presumably going

for, and "New York," which features an almost

Cohen-esque reverence and song structure.

In short, Impermanence showcases the sound

and lyricism that Silberman has perfected over

his many albums with The Antlers but ends

up sabotaging itself by not letting the listener

breathe for a damn moment.

• Alec Warkentin

Teen Daze

Themes For Dying Earth

FLORA

Themes For Dying Earth is the first full-length

album release from Teen Daze on FLORA, a label

started by the Fraser Valley artist and Sled Island

2012 alumnus himself.

Since the start of the decade Teen Daze has

been featured on the hit YouTube channel Majestic

Casual multiple times. For those that are

unfamiliar with him, this should provide some

sense of what he sounds like.

The vast majority of songs featured on that

channel sound like they could soundtrack all the

emotional, yet uplifting scenes from a Netflix

original series about teen angst, or the angst of

characters in their early 20s who are meant to be

relatable to teens.

Themes For Dying Earth falls into that category.

While some of Teen Daze's earlier works

leaned closer to dance music, this album is centered

on the dreamier side of pop, with airy lead

vocals appearing on many of the tracks.

Even though it's not a Netflix series, if you

muted Skins and played this album it would

probably totally fit whatever's happening on

screen. In fact, you'd probably cry and sniffle

even harder every time Cassie steps into the

frame.

• Jonathan Crane

Xiu Xiu

FORGET

Polyvinyl

Xiu Xiu

The new album by avant-indie troupe Xiu Xiu

starts off with a slice of Miami booty bass. Rideor-die

fans of the band ought not be surprised

by any perverse avenue Jamie Stewart and co.

choose to explore at this point.

After 15 years of pop, noise, folk and exploration

of subjects like child murder, abortion and

fetishism, we're pretty much ready for anything.

The joy of being a Xiu Xiu fan is the freedom

to embrace the morose and the ebullient, often

less than three minutes apart. FORGET delivers

on that tradition, and here we find graveyard

dirge guitars playing spare foil to chunky, variedin-tone

synths.

Stewart's personality is always what carries a

Xiu Xiu record, but consistency among sonics

throughout the album makes this one of their

most palatable.

"Wondering" is the pop hit, "Faith, Torn

Apart" is the one you feel queasy listening to,

"The Call" is the track that walks the line wall

between them. While the tracks are very different

in tone, there's a cohesion with past Xiu Xiu

themes and their musical strengths that give the

album an admirable maturity.

While not the wildest record in their discography,

FORGET benefits from an extenuation

of the band's recent development as cinematic

sound-renderers; the mastery of Plays Twin

Peaks, their Twin Peaks score covers album from

last year, shines in some passages above Stewart's

dominance.

Here, Xiu Xiu is finally a band better able to

show than tell.

• Colin Gallant
---
livereviews

BIG Winter Classic

Calgary, AB

January 19-22, 2017

The BIG Winter Classic has always been a festival that feels like a family

reunion. Get to a stage early and you'll be making friends with whoever else is

standing there. Haven't heard a band yet? The person you're standing beside

is going to tell you why they're so awesome.

The entire weekend had local acts pulling crowds as big as the major

headliners – and it was easy to see why. Moments like the freaky, fresh, and

delightfully sassy Pancake, the newly black and gold bespeckled The Wet

Secrets, and the chill-by-the-fire vibes of Port Juvee made us wish Last Best

would have shows all year.

The Rondel Roberts Band made us realize that the R&B and soul revival

the world has been enjoying has in fact come to Calgary. And with a solid

day that included locals Odder Otter & Brom eliciting enthusiasm from the

crowd to the thoughtful Reason the Citizen, hip hop was well represented.

Upstairs at Broken City, everyone braved the cold decked out in their new

Big Rock red toques under a log cabin motif, realizing that maybe we are quite

typically Canadian. With the sounds of big sexy, shredding rock from Fever

Feel, the hypnotic psych-folk of The Ashley Hundred and the "holy shit is this

real life?" of Napoleon Skywalker, that totally wasn't a bad thing. Quite the

opposite, actually.

• Willow Grier

photos:

BEATROUTE • FEBRUARY 2017 | 49
---
SAVAGE LOVE

three little kinks...

I am quite the follower on social media—Facebook and Twitter in particular.

I make no trolling comments, no #MAGA hashtags; I just look with my male

gaze. Like Laura Mulvey says, the male gaze is only natural. I've lost interest

in pornography, so I use everyday pictures of women, typically selfies. It helps

me to know the story behind the face and body. None of these pics are pornographic—just

feel-good selfies by young women posted on social media. I

don't communicate with these people, because that would be creepy. I'm not

worried about whether this is abnormal. I just wondered if people would be

okay with this, if people were aware of behavior like mine when they post,

and if I should ask these girls for their permission to wank to their selfies.

–Not Anthony Weiner

So long as you're wanking alone, wanking with a reasonable expectation of

privacy, and not bothering anyone who isn't a sex partner or a sex-advice

professional with your wanking, NAW, you can wank to whatever you'd

like—except for images of child rape, aka "child pornography."

You remind me of the proverbial shoe salesman with a foot fetish. (Full

disclosure: proverb of mine, not a proverb of Proverbs.) Let's say a guy

working in a high-end shoe store has an intense attraction to feet. Is it

inappropriate for him to get an obvious boner while helping women try

on shoes? Of course it is. It would also be inappropriate for him to drool

or pant—and it would be super inappropriate of him to ask the women

he's serving if he can jack off about their feet after his shift. But if he can

be completely professional, if he can go eight hours without giving off any

signs of secret perving, that guy can (and probably should) sell shoes. And

he's free to upload mental images to his spank bank for later—we're all

free to do so, NAW, and it's only creepy if the people whose images we're

uploading/repurposing are made aware that we're uploading/repurposing

them.

So in answer to your question, NAW, under no circumstances should

you ask the girls whose selfies you're wanking to for their permission.

People who post revealing pictures to social media—men and women—

know they run the risk of their pics being wanked to by random strangers.

But there's a difference between knowing some stranger might be wanking

to your pics and hearing from one of those wanking strangers. Being asked

by a wanker for permission to wank drags the social-media poster into the

wanker's fantasies—and not only is that creepy, NAW, it's also no way to

show your gratitude. If some stranger is going to make your day by posting

a hot pic, why would you ruin theirs—or make them think twice about

ever posting a revealing pic again—by telling them exactly what you're

doing while you gaze at their pics?

If you saw a woman on the street that you thought was hot, you

wouldn't stop her to ask if you could wank about her later. You would no

more ask a stranger that question than you would flash your penis at her

because, NAW, it would constitute sexual harassment. (Promise me you

wouldn't do either of those things.) You would instead walk on by, minding

your own business while discreetly filing her mental image away in your

spank bank. You should behave similarly on social media: Don't harass,

don't send unsolicited dick pics, and don't ask for permission to wank.

Finally, NAW, your question inspired me to read feminist film theorist

Laura Mulvey's 1975 essay "Visual Pleasure and Narrative Cinema," in

which she coined the phrase "male gaze." Mulvey describes the male gaze

as phallocentric, patriarchal, pervasive, and socially constructed—she

never describes it as natural.

A problem has cropped up for me ever since the reports of Donald Trump's

pissing Russian hookers made the news. Every time someone on social media

tries to make a comment about how disgusting that is, someone else jumps

in and scolds that person for "kink shaming." The problem for me is that by

normalizing my piss fetish, you're making it dull for me. Piss was one of the

few things that even the kink community found disgusting. I now find myself

looking for different porn because, eh, a lesbian pissing in the mouth of another

lovely lady on a train platform? No big whoop anymore, it seems. My

polyamorous boyfriend and I found each other without knowing we shared

a love for piss. Neither of us had ever had someone to enjoy that with before.

The one thing the piss porn I've been watching for half my life completely

failed to capture is how goddamn amazing it is to embrace and make out

with a person you love dearly while you're both covered in each other's piss.

If you personally don't want to kink shame, that's fine. I get it. But everyone,

please stop telling your friends not to kink shame so that my boyfriend and

I can get back to the business of pissing on each other and feeling disgusting

about it and horny because of it.

–Pissed Off Slut Wife

I have grappled with this same conundrum, POSW. If a kink is boner- or

slicker-inducing to some precisely because it's so transgressive and disgusting

to most, efforts to normalize said kink—by shaming kink shamers, for

instance—could piss away that kink's power to induce all those boners and

slickers. But I'm confident that the kink shamers will continue to have the

upper hand for decades to come, despite the best efforts of the kink-shamer

shamers. So your kink will continue to induce enough revulsion and

disgust generally to keep you and your boyfriend feeling disgusting and

horny in perpetuity.

My partner and I have been playing with male chastity devices. We've been

considering going to a strip club while his cock is caged up and getting him

lap dances. Is there some etiquette for this with the dancers? Do we let the

dancer know before she is on his lap? Or do we not mention it? Is it rude

to get a dancer involved at all? I've not yet found an etiquette guide for this

situation.

–Letting Our Cage Kink Show

by Dan Savage

"I think I speak for most dancers when I say I don't care what's going on

underneath a customer's pants," said Bobbi Hill, a lap dancer based in Portland,

Oregon, strip club capital of the United States. "Grazing over a stiff

object in the crotch region is not an uncommon experience when giving

a lap dance, and depending on the texture of the device, I might not even

give it a second thought."

While your concern for lap dancers is commendable, LOCKS, the

person most at risk of injury is your partner. Nothing is more fun than

inducing an erection in someone who's locked in a male chastity device—a

necessarily painful and punishing erection—but the devices are unyielding

(ideally) and the cock flesh is weak (even when hard). A dancer who grinds

down on your partner's crotch is likelier to hurt him.

That said, lap dancers don't like surprises. If a dancer grinds down on

your partner's crotch and feels something hard, clunky, and un-cock-like

in his pants, "she might go into air-dance mode," said Hill, "which is essentially

a lap dance where you make as little contact with the customer's

crotch as possible. Of course, you can never go wrong investing in a

stripper's patience and well-being—try handing her a Benjamin as you

explain your situation."

Just in case you're not interested in dancers who are hers, LOCKS, I ran

your question by a male stripper.

"I don't think most dancers would mind if a customer was wearing a

male chastity device as long as it caused no physical harm or discomfort,"

said Aaron, a dancer at Stag PDX, Portland's new male strip club. "If all

parts of the device are safely tucked away between your legs while you

receive the lap dance, there should be little to worry about. But if the

device has parts that protrude—and could possibly harm an overzealous

dancer while they grind up on you—you may want to be more cautious. It

also never hurts to ask the dancers

what they're comfortable with."

Strippers! They're just like us!

You can ask them questions! They

will answer them! They respond

positively when you take their

comfort into account! They also

appreciate large tips! And good

personal hygiene! And clients who

aren't completely shitfaced!

Listen to Dan at

savagelovecast.com

Email Dan at

mail@savagelove.net

Follow Dan

@fakedansavage on Twitter

50 | FEBRUARY 2017 • BEATROUTE