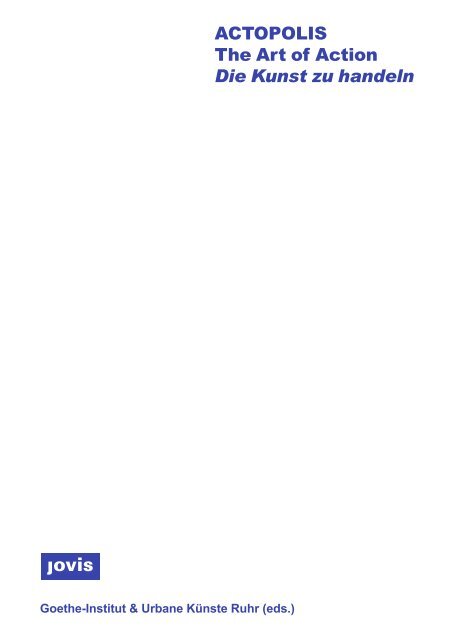 ACTOPOLIS: Die Kunst zu handeln
ISBN 978-3-86859-472-0
ISBN 978-3-86859-472-0
SHOW MORE
SHOW LESS
Create successful ePaper yourself
Turn your PDF publications into a flip-book with our unique Google optimized e-Paper software.
Goethe-Institut & Urbane Künste Ruhr (eds.)

ACTOPOLIS

The Art of Action

Die Kunst zu handeln
---
6 Foreword: Goethe-Institut

10 Foreword: Urbane Künste Ruhr

12 Foreword: Artistic Directors

27 ANKARA / MARDIN — URBAN COMMONS

Commanding Heights (34) Donkey Work (36)

Foucault's Typewriter (38)

Spaces of Exodus (40) Territorial Islands (42)

The Residual (44) Urban Defenders (46)

48 Claiming, Collaborating, Collecting

51 ATHENS — THE SOFT POWER LECTURES

Athens–Oberhausen: The Energy of

Two Cities (62) Interviews (64)

How much I enjoy listening to people

in the elevator speaking Romanian (66)

Where will you go after this? (68)

Soft Power Screenings: The Gaze (70)

From Sunset to Sunrise (72)

South: Ideas around a European

Geography of Top and Bottom (74)

The Soft Power Lectures Show (76)

78 Making, Playing, Recording

81 BELGRADE — FORMALLY INFORMAL

Bgd Art (92) City Guerilla (94)

Druga Scena (96) Expiration Date (98)

Gaudeamus igitur (100)

102 Researching, Sharing, Talking

How to Organise an Organisation (104)

Indivisible Unalienable (106)

Initiatives (108) Kamendynamics (110)
---
Low-Fi Video Remembered (112)

The Rehearsal (114) A Study of an Individual Case:

Drawing Exhibition with a Publication (116)

Wall Newspaper (118) U10 Art Collective (120)

122 Education, Heritage, Infrastructure

125 BUCHAREST-SOUTH— BUILD YOUR OWN CITY

Be a Mayor for Ten Minutes (134)

The Other Map of (South) Bucharest (136)

Southern Stories (138)

142 Labour, Migration, Nationalism

147 OBERHAUSEN — BUILD A NEW CITY

Archaeological City Museum (154) City Centre (156)

Everything as of Tomorrow (158)

Gutehoffnungsgeister (160) Parzelle 1 (162)

The Monster (164)

168 Segregation, Self-Organisation, Social Struggle

171 SARAJEVO

Green Pavilion Sarajevo (180)

Sarajevo Album (182) Sarajevo Cloud (184)

188 South, Urban Geography, Urban Warfare

191 ZAGREB — INVISIBLE BELONGING

Communities of Care (202) Connecting :

Installation and Seminar for Walkers (204)

Full Range Society (206)

Spaces between (Living) Places (208)

The Road to Belonging (210)

Image Credits (214) Colophon (216)
---
Foreword

Goethe-Institut

"We do not say that a man who takes

no interest in politics is a man who

minds his own business; we say that

he has no business here at all."

PERICLES, Athenian politician and general

(after Thucydides)

"This book [The City in History]

opens with a city that was, symbolically,

a world: it closes with a world that

has become, in many practical aspects,

a city."

LEWIS MUMFORD, philosopher, historian,

architecture critic

Nothing provides a better example

from which to study the dynamics of

global change than urban development.

Not only are perceptions of this term

gradually freeing themselves from their

Eurocentric shackles — in other words,

we are abandoning the traditional idea

of a city with a town hall, a market

square, and a church in the centre —

but the monstrous figures for urban

growth in themselves also testify to the

enormity of global change.

In the nineteenth century, only

10 per cent of the world's population

lived in cities. By the turn of the twentyfirst

century, this figure had risen to

around 50 per cent. And the proportion

of city dwellers among the world's population

is predicted to increase further

to 75 per cent by 2050. Cities are hence

increasingly becoming seismographs

of social change, and as the principal

centres of discourse they are having an

impact on society, science, and culture.

The Goethe-Institut has been

con cerned with the connection between

culture and the city for some time and

has made it one of its main focuses.

Branches of the Goethe-Institut the

world over have initiated artistic projects

that explore urban cultural themes; like -

wise in South-East Europe, a region

witnessing rapid processes of change.

One could even say that the cities

of South-East Europe are in a state

of continuous physical transformation.

ACTOPOLIS began its work

in 2014 with some preliminary studies.

Zagreb and Ankara, Bucharest and

Athens, Sarajevo and Belgrade, and

finally Oberhausen became the points

of departure for a project involving more

than seventy curators and artists from

seven cities in seven countries that

went into the production phase in 2016.

The results are presented in condensed

form here.

6

Foreword
---
The cities of South-East Europe have

all suffered political, economic, and

ecological wounds since the Iron

Curtain was lifted. The burning issues

this raised are just as relevant now as

they were then: Who does a city belong

to? Who makes a city? Who decides

how it is organised and administered?

Who has access to its resources,

who benefits from them? Investors?

Citizens? And how do citizens become

proactive? Do they all have the

same recourse to the art of action in

order to be heard and gain influence

over THEIR city? How does the urban

context determine the form of action?

These were the questions

that were posed even before the

project began. Hence the attitudes

and prin ciples informing this project

and determining its direction are

important, just like the many other

projects of the Goethe-Institut. These

include the exchange of knowledge

and experience, encounters, and getting

acquainted in the unfamiliar environment

of a partner city. Experimenting

jointly with different methods on-site.

Experiencing reactions first-hand.

Cooperating across frontiers in times

when travel has become almost impossible

for many creatives. Community

building across borders.

Angelika Fitz developed the

concept for ACTOPOLIS together

with the Goethe-Institut, bringing the

necessary experience and knowledge

to bear. The Ruhr region in turn,

with its diverse experience in dealing

with migration and urban transformation

processes seemed to be an ideal

setting. Urbane Künste Ruhr and

its artistic director Katja Aßmann were

thus predestined to become our partner.

An initiative as complex as

ACTOPOLIS, whose catalogue can only

be a milestone on the artistic road to

action, could not have evolved without

the help of multiple actors. They

deserve respect for their competent

work, recognition for their determination,

and gratitude for their personal

com mitment. We would like to thank

all those involved and specifically the

professional and highly experienced

team of artistic directors Katja Aßmann,

Angelika Fitz, and Martin Fritz as well

as the local curators Ana Dana Beroš

(Zagreb), Ștefan Ghenciulescu and

Raluca Voinea (Bucharest), Danijela

Dugandžić (Sarajevo), Elpida Karaba

and Glykeria Stathopoulou (Athens),

geheimagentur (Oberhausen), Pelin Tan

(Ankara / Mardin), and Boba Mirjana

Stojadinović (Belgrade). We would also

like to thank our colleagues at the local

branches of the Goethe-Institut, and

finally the Federal Ministry of the Environment

(BMUB) without whose generous

support this catalogue could not

have been produced in its present form.

The curators, artists, urbanists,

and activists brought their creative

energy, their knowledge, and their

dedi cation to the project. We are especially

indebted to them for their work

and their impressive cooperation.

Athens, February 2017

JULIANE STEGNER, Director of the South-East

Europe Programme, Goethe-Institut Athens

MATTHIAS MAKOWSKI, Regional Director for South-East

Europe, Goethe-Institut Athens

7

Goethe-Institut
---
Vorwort

Goethe-Institut

"Denn bei uns heißt einer, der an

unserer Stadt keinen Anteil nimmt,

nicht ein stiller Bürger, sondern

ein schlechter."

PERIKLES, attischer Politiker und Feldherr

(nach Thukydides)

"Einst war die Stadt das Symbol

einer ganzen Welt. Heute ist die ganze

Welt im Begriff, Stadt zu werden."

Nach LEWIS MUMFORD, Philosoph, Historiker,

Architekturkritiker

An kaum einem anderen Beispiel lässt

sich globale Veränderungs dynamik

so gut studieren wie an dem der Stadtent

wicklung. Nicht nur, dass sich die

Perzeption des Begriffs zunehmend

aus seiner eurozentrischen Gefangenschaft

löst, man also Abschied nimmt

von der überlieferten Vorstellung

der Stadt mit Rathaus, Marktplatz und

Kirche in der Mitte. Auch die allein

schon monströsen Zahlen urbanen

Wachstums zeigen einen monumentalen

Wandel.

Noch im 19. Jahrhundert

lebten nur zehn Prozent der Weltbevölkerung

in Städten. An der Wende zum

21. Jahrhundert waren es bereits etwa

50 Prozent. Bis 2050 soll der Anteil

der Stadtbewohner / innen an der Weltbevölkerung

bei 75 Prozent liegen. Damit

werden Städte immer mehr zu Seismografen

gesellschaftlicher Veränderungen,

sie sind die Zentren der maßgeblichen

Diskurse und wirken damit in

Gesellschaft, Wissenschaft und Kultur.

Das Goethe-Institut beschäftigt

sich seit Langem mit dem Zusammenhang

von Kultur und Stadt und

hat die sen zu einem seiner Schwerpunkte

gemacht. Seine Themen greifen

Goethe-Institute in künstlerischen

Projekten weltweit auf, so auch im

Südosten Europas. Hier vollziehen sich

diese Veränderungsprozesse rasant,

man könnte sagen, die Städte Südosteuropas

befinden sich im Aggregatzustand

ständiger Transformation.

Mit Vorstudien begann

ACTOPOLIS bereits 2014. Zagreb und

Ankara, Bukarest und Athen, Sarajevo

und Belgrad und schließlich Oberhausen

waren die Ausgangsorte eines Projekts,

das 2016 mit über 70 Kurator / innen

und Künstler / innen aus sieben Städten

und Ländern in die Produktionsphase

eintrat und dessen Ergebnisse hier

zusammengetragen sind.

8 Vorwort
---
Politische, ökonomische und ökologische

Wunden taten sich in den Städten

Südosteuropas auf, als der "Eiserne

Vorhang" sich hob. Die Fragen stellten

sich damals mit der gleichen Brisanz

wie heute:

Wem gehört die Stadt? Wer macht

die Stadt? Wer entscheidet über ihre

Gestaltung und Verwaltung? Wer hat

Zugang zu Ressourcen, wer hat einen

Nutzen davon? Investoren? Bürger /

innen? Und wie agieren die Bürger /

innen? Bedienen sie sich alle derselben

Kunst zu handeln, um sich Gehör und

Einfluss in IHRER Stadt zu verschaffen?

Wie be stimmt der städtische Kontext

die Art des Handelns?

Schon vor Projektbeginn stellten

sich diese Fragen. Deshalb sind

die Haltungen und Prinzipien wichtig,

die diesem Projekt wie vielen anderen

Projekten des Goethe-Instituts eine

Richtung geben wollen:

Wissens- und Erfahrungsaustausch,

Begegnungen. Einander

im Umfeld des anderen kennenlernen.

Methoden vor Ort gemeinsam mit

den Partnern erproben. Reaktionen

selbst miterleben. Grenzüberschreitende

Zusammenarbeit, gerade in

Zeiten, in denen das Reisen für viele

Kulturschaffende fast unmöglich

geworden ist. Grenzüberschreitendes

community building.

Angelika Fitz hat mit dem Goethe-

Institut das Konzept für ACTOPOLIS

entwickelt. Sie brachte die notwendige

Erfahrung und das nötige Wissen mit.

Das Ruhrgebiet wiederum erschien

uns mit seinen vielfältigen Erfahrungen

im Umgang mit Zuwanderung und

städtischen Transformationsprozessen

ein idealer Raum, Urbane Künste Ruhr

und seine künstlerische Leiterin Katja

Aßmann waren daher ein prädestinierter

Partner.

Eine so komplexe Initiative wie

ACTOPOLIS, deren Katalog nur ein

Meilenstein auf dem Weg der Kunst

zu handeln sein kann, entsteht nur mit -

hilfe zahlreicher Akteur / innen. Ihnen

gebührt Respekt für ihre kompetente

Mitarbeit, Anerkennung für ihr Durchsetzungsvermögen

und Dank für das

persönliche Engagement. Stellvertretend

für alle danken wir dem erfahrenen

und professionellen Team der künstlerischen

Leiter / innen Katja Aßmann,

Angelika Fitz und Martin Fritz sowie

den lokalen Kura tor / innen Ana Dana

Beroš (Zagreb), Ștefan Ghenciulescu

und Raluca Voinea (Bukarest), Danijela

Dugandžić ( Sarajevo), Elpida Karaba

und Glykeria Stathopoulou (Athen),

geheimagentur (Oberhausen), Pelin

Tan (Ankara / Mardin) und Boba Mirjana

Stojadinović (Belgrad). Unser Dank

gilt auch den Kolleg / innen der beteiligten

Goethe-Institute und schließlich

dem Bundesumweltministerium (BMUB),

ohne dessen großzügige Unterstützung

dieser Katalog nicht in dieser Form

entstanden wäre.

Ihre kreative Kraft, ihr Wissen

und Engagement setzten die Kurator /

innen, Künstler / innen, Urbanist / innen

und Aktivist / innen ein. Für ihr Werk

und die beeindruckende Kooperation

gilt ihnen unser beson derer Dank.

Athen, im Februar 2017

JULIANE STEGNER, Leiterin der Programmarbeit

Südosteuropa, Goethe-Institut Athen

MATTHIAS MAKOWSKI, Regionalleiter Südosteuropa,

Goethe-Institut Athen

9

Goethe-Institut
---
Foreword

Urbane Künste Ruhr

Ever since it was founded in 2012,

Urbane Künste Ruhr has been realising

artistic projects in the many towns and

cities of the Ruhr region. Not only do

the various structures, existing conditions,

and key issues in the Ruhr require

new approaches and ideas from the

municipalities themselves — collaboration

with international partners has

also enabled them to take a fresh look

at (seemingly) recurring problems

on a regular basis.

For all the wealth of experience

that the many, very differently structured

joint projects with other countries

have yielded, ACTOPOLIS occupies

a very special place in the programme

of Urbane Künste Ruhr. Artists, curators,

activists, and urbanists from seven

different cities — in seven different

countries — have spent more than three

years working together and jointly

addressing the same set of questions

in a process of intensive exchange

covering every phase of the project.

In this respect, ACTOPOLIS not only

occupies a unique place in the work

of Urbane Künste Ruhr, it has also

played a groundbreaking role for other

inter national cooperations concerned

with urban life in the future.

Although Ankara / Mardin,

Athens, Belgrade, Bucharest, Sarajevo,

Zagreb, and indeed Oberhausen have

problems, potential, and opportunities

that are specific to those cities, it has

become clear in the course of the project

that certain issues are of concern

to all cities, including social inequality,

the precarious living situations of some

of their inhabitants, and the current

movement of refugees to and within

Europe. Yet each of the seven cities

is operating under different conditions

and with a different set of resources

and therefore treats these issues in

its own way, both on the political level

and in the form of interventions staged

by activists and artists.

An exchange of the kind that

took place within the framework of

ACTOPOLIS is of central importance

for Oberhausen and the entire Ruhr

region. It has afforded them a glimpse

of how other cities go about tackling

similar problems and thus not only

offered a new perspective on how our

cities are structured but also encouraged

the city and region to rethink

and reshape these structures via joint,

small-scale interventions in a transnational

process. This is precisely

what made working on the ACTOPOLIS

project such a valuable experience.

We would like to express our

sincere gratitude to the project leader

Juliane Stegner and to Angelika Fitz

and Martin Fritz for their close, intensive,

and fruitful collaboration. A special

word of thanks too to the curators,

artists, activists, and urbanists who

helped to shape ACTOPOLIS in such

a variety of ways.

KATJA AßMANN, Artistic Director, Urbane Künste Ruhr

LUKAS CREPAZ, Managing Director, Kultur Ruhr GmbH

Vorwort

Urbane Künste Ruhr

Seit ihrer Gründung 2012 hat Urbane

Künste Ruhr in den vielen Kommunen

des Ruhrgebiets künstlerische Projekte

realisiert. Die unterschiedlichen

Struk turen, Voraussetzungen und

zentralen Themen in den Städten des

Ruhr gebiets erfordern nicht nur neue

Herangehensweisen und Ideen – auch

die Arbeit mit internationalen Partnern

liefert immer wieder einen neuen

Blick auf das (scheinbar) Altbekannte.

10

Foreword
---
Trotz dieser zahlreichen Erfahrungen

aus ganz unterschiedlichen Projektstrukturen

und der internationalen

Zusammenarbeit nimmt ACTOPOLIS

im Programm von Urbane Künste Ruhr

einen besonderen Stellenwert ein.

An dem Projekt arbeiteten Künstler / innen,

Kurator / innen, Aktivist / innen und

Urbanist / innen aus sieben verschiedenen

Städten – und sieben verschiedenen

Ländern – über drei Jahre hinweg

ge meinsam an den gleichen Fragestellungen.

Über alle Phasen des

Projekts hinweg fand ein intensiver Austausch

zwischen den unterschiedlichen

Akteur / innen statt. ACTOPOLIS ist in

dieser Hinsicht nicht nur einzigartig für

die Arbeit von Urbane Künste Ruhr,

sondern ebenso richtungsweisend für

andere internationale Kooperationen,

die sich mit der Zukunft des urbanen

Lebens beschäftigen.

Obwohl Mardin, Athen, Bukarest

oder auch Oberhausen ganz eigene

Probleme, Möglichkeiten und Chancen

aufweisen, wurde deutlich, dass

bestimmte Themen für alle Städte von

Bedeutung sind: soziale Ungleichheiten,

teilweise prekäre Lebenssitua tionen

und die aktuelle Bewegung geflüchteter

Menschen nach und in Europa. Und

doch sind die Voraussetzungen und Formen

des Umgangs mit diesen Themen

in den sieben Städten unterschiedlich,

auf politischer Ebene ebenso wie in

Form aktivistischer und künstlerischer

Interventionen.

Für Oberhausen und das gesamte

Ruhrgebiet ist ein Austausch, wie er im

Rahmen von ACTOPOLIS stattge funden

hat, von zentraler Bedeutung. Er vermittelt

einen ganz anderen Umgang mit

ähnlichen Problemstellungen und liefert

nicht nur einen neuen Blick auf die

Struk turen unserer Städte, sondern regt

dazu an, diese in einem transnationalen

Prozess gemeinsam zu überdenken

und in gemeinsamen Interventionen in

kleinem Maßstab neu zu gestalten.

Genau dies machte die Arbeit an

ACTOPOLIS zu einer so wertvollen

Erfahrung.

Für die enge, intensive und

fruchtbare Zusammenarbeit möchten

wir uns sehr herzlich bedanken bei

der Projektleiterin Juliane Stegner

sowie bei Angelika Fitz und Martin Fritz.

Unser besonderer Dank gilt den beteiligten

Kurator / innen, Künstler / innen,

Aktivist / innen und Urbanist / innen,

die ACTOPOLIS so viel fältig gestaltet

haben.

KATJA AßMANN, Künstlerische Leiterin,

Urbane Künste Ruhr

LUKAS CREPAZ, Geschäftsführer, Kultur Ruhr GmbH

11

Urbane Künste Ruhr
---
Foreword

Artistic Directors

What you are reading here is an interim

report. The international cooperation

project ACTOPOLIS | The Art of Action

is still far from completion. In many

cities the participants are still busy

analysing the results of their projects.

New mate rial will change the exhibition

as it tours, and many a study may find

itself being overtaken by events just as

it was about to be published. A project

like ACTOPOLIS, which is devoted

to contemporary strategies for action

in the city, is a work in progress — just

like cities themselves, in fact. Even

on comparatively recent photographs

of urban scenes, it is enough to pick

out details like car designs, technical

equipment, and advertising posters

to be able to date the image. Before

and after the moment recorded in a

photograph, urban development goes

on in a dynamic process. And our

awareness of the fact that recording

something can also change it means

that urban life is sometimes staged

spe cifically with a future audience

in mind, thus imbuing the material

with even more layers of indeterminate

complexity.

Apart from accepting the dynamic

nature of urban development, another

given for ACTOPOLIS from the

very beginning was the fact that action

in the city and commitment to change

are the domain of those who have steadfastly

spent many years addressing

the built and social living environment

in their city and have thus contributed —

in ways that were often unappreciated —

to its development. For ACTOPOLIS,

two things followed from this: first,

a concept designed to take into account

that any action in urban space is a

communal, communicative, and longterm

process and that therefore

the concept itself had to be processoriented;

and second, a decision to

bring on board local curators, working

autonomously for the most part, whose

concepts provided the basis for the

activities in the parti cipating cities.

Following the initiative of Juliane

Stegner and a preliminary concept put

forward by Angelika Fitz, the respective

local branches of the Goethe-Institut

invited Ana Dana Beroš in Zagreb,

Ștefan Ghenciulescu and Raluca Voinea

in Bucharest, Danijela Dugandžić in

Sarajevo, Elpida Karaba and Glykeria

Stathopoulou in Athens, Pelin Tan

in Ankara and Mardin, and Boba Mirjana

Stojadinović in Belgrade to undertake

this assignment; they were joined by

geheimagentur in Oberhausen, which

was invited by the project partner

Urbane Künste Ruhr.

Armed with a concept and

the people to make it happen, the

ACTOPOLIS Lab in Oberhausen kicked

off the project in autumn 2015, combining

local action with transnational

dialogue. The Lab provided a forum

for all the participants to present their

project proposals to the others, with

a view to providing a synopsis for joint

discussion at an early point in the

process. It quickly became apparent

that ACTOPOLIS would encompass

just as many shared aspects as specific

differences. As an additional frame

of reference the participants also took

a critical look at the two organisations

sponsoring the project: the Goethe-

Institut and Urbane Künste Ruhr.

The question arose as to whether an

"asymmetry of power" was not already

inherent in such a constellation,

mirroring the kind of asymmetry that

also characterises or even precipitates

con temporary urban conflicts. It was

to the credit of the participating actors

that they were able to chart productive

paths through this discursively and

12

Foreword
---
pragmatically challenging terrain.

Many of the dialogues that began in

the ACTOPOLIS Lab continued

during the micro-residencies, a programme

of fifty brief reciprocal visits

by the participants that took place

throughout the project.

The curators organised

ACTOPOLIS using tried and tested

teams that brought a variety of experience

with them. The titles of their

concepts underlined the interest of

the participants in influencing their

respective urban societies via specific

action formats: thus the research- and

analysis-oriented concepts in Ankara /

Mardin emphasised the need for

"urban commons" in times when the

provision for many inhabitants of cities

does not amount to anything more than

an Invisible Belonging, as the project

title in Zagreb aptly describes it. Both

Ober hausen's project Building a

New City and Bucharest's Build Your

Own City as well as the ACTOPOLIS Lab

Sarajevo focused on concrete interventions

in the urban space and linked

this approach with installation-based

strategies. Under the title Formally

Informal, the Belgrade projects took

as their theme the significance of

self-organi sational processes, while the

Temporary Academy of Art in Athens

staged a series of Soft Power Lectures

to explore the possibilities for destabilising

dominant images and narratives

(that frequently brand cities as "exotic")

with counter-narratives.

Understanding for differences

grew, making the shared aspects stand

out more strongly. All over the world,

urban societies face similar challenges

or, to be more precise, all over the

world those members of urban societies

seeking to preserve the city as a place

of community living and shared experience

in times of economic exploitation

and privatisation face similar challenges.

Despite all the local, historical, and

political differences, in many places

we can observe alongside the global

movements towards concentration

and standardisation, similarly motivated,

locally anchored constellations

of actors trying to counter intolerable

political and economic circumstances

with alternative ways of living and

acting. Urban activists from Bucharest,

philosophers from Athens, architects

from Mardin, artists from Zagreb,

curators from Sarajevo, and urban

researchers from Oberhausen all concur

on this point, and their activities are

geared towards finding enclaves

in which it is still possible to shape

the city and urban society.

More than two years after the

project began and sixteen months after

the Lab in Oberhausen, we now have

an extensive collection of material from

all the participating cities. More than

forty-five projects were realised between

April and late autumn 2016. The activities

they embraced yielded such

a broad repertoire of options for action

that it seemed to make sense to try

to identify the topics and methods that

the various approaches had in common.

The result of this analysis — conducted

together with the participants — led to

the creation of an ACTOPOLIS Glossary,

in which the projects' main topics and

methods were summarised. These

terms and their open-ended definitions

have since served as a flexible template

for communicating about the projects

across all the different contexts. The

process of examining the projects from

an observer perspective has identified

several key common aspects, which

can only be summarised here. For more

information, please refer to the detailed

reflections in the curators' texts.

13

Artistic Directors
---
The ACTOPOLIS Lab in Oberhausen kicked off the project

in autumn 2015. The Lab provided a forum for all the

participants to present their project proposals to one another,

with a view to providing a synopsis for joint discussion

at an early point in the process. The work-in-progress was

documented in drawings by María García.

Am Beginn stand das ACTOPOLIS Lab im Herbst 2015 in

Oberhausen: In ihm präsentierten alle Beteiligten ihre

Projektansätze, um diese bereits zu einem frühen Zeitpunkt

in einer Zusammenschau zur Diskussion zu stellen.

Die Arbeitsprozesse wurden von der Zeichnerin María

García dokumentiert.
---
36 Ankara / Mardin — Urban Commons
---
Donkey Work

The research focuses on the donkeys

used by the Mardin municipality

for collecting refuse, especially

in the narrow streets of the district

of Old Mardin.

Im Mittelpunkt des Projekts stehen

die Lastesel, die in den engen

Gassen der Altstadt von Mardin von

der Stadtverwaltung zur Straßenreinigung

eingesetzt werden.

The research project focuses on the

use of animals as workers in Mardin.

Since 2009 the municipality has been

using donkeys to collect and carry

garbage in certain streets in the old

city that large vehicles cannot pass

through. During the research, Özengi

interviewed the main actors, from

the municipality to the owners and

workers who take care of the donkeys,

while at the same time filming the

donkeys' living and working conditions.

Treating the animals as workers,

this research project seeks to look

at the relationship between human

institutions and animals from the

perspective of labour.

Das Projekt beschäftigt sich mit

der Verwendung der Arbeitskraft

von Eseln in Mardin. Seit 2009

setzt die öffentliche Stadtreinigung

von Mardin in für den Autoverkehr

unzugänglichen Straßen Esel ein.

Im Rahmen unseres Projekts sollen

die Hauptbeteiligten – von den

Beamt / innen der Stadtverwaltung

bis zu den Eselhalter / innen und

-pfleger / innen – befragt und der

Tageslauf und die Arbeitsbedingungen

der Esel filmisch dokumentiert

werden. Wir betrachten die Esel

als Arbeiter und wollen das Verhältnis

Mensch – Tier aus dem Blickwinkel

der Arbeitswelt thematisieren.

37 Project: Önder Özengi → Format: video, research → Venue: Mardin
---
40 Ankara / Mardin — Urban Commons
---
Spaces of Exodus

The project focuses on the rapid

transformation of the residential

forms and social patterns of Mardin

since the city was designated a

reception point for Syrian refugees.

Das Projekt untersucht den Wandel

von Wohnformen und sozialen

Mustern in Mardin, seitdem die Stadt

als Zwischenstation für syrische

Flüchtlinge dient.

Syrian refugees live outside camps

in cities across Turkey, most of them

unregistered and with no passport.

These non-camp refugees are

beginning a makeshift new life while

they wait for the war to end so that

they can go back to their homeland.

The project aims to investigate the

conflicts arising in the local area and

reveal the interim dwellings occupied

by the refugees. The project sets

out to visualise the intricate condition

of Mardin, and the problems posed

by spatial transformations and

speculation at the local level. The

mapping and visual observations act

as triggers to promote an understanding

of the presence of refugees

— as workers, political actors, and

sometimes as relatives — and the life

they share with the people of Mardin

in the kaleidoscopic conditions

of the city's current circumstances.

Syrische Flüchtlinge, die in vielen

Städten der Türkei außerhalb von

Lagern leben – meistens ohne Pass

und ohne Registrierung –, führen

ein provisorisches Leben auf Zeit,

während sie auf das Ende des

Krieges und eine Rückkehr in ihre

Heimat warten. Unser Projekt

beschäftigt sich mit den vor Ort

entstehenden Konflikten und dokumentiert

die Interimswohnformen

der Flüchtenden. Dabei versuchen

wir, die durch Transformation und

Spekulation entstehenden Probleme

für die Stadt Mardin sichtbar zu

machen. Gesammelte Kartierungen

und Bilder liefern Anstoß, die Anwesenheit

und das Zusammenleben

der Flüchtlinge mit Menschen

aus Mardin als Arbeiter, politisch

Handelnde und teils auch als Verwandte

unter den facettenreichen

Bedingungen der aktuellen Lage der

Stadt zu verstehen.

41

Project: Eda Soyal → Format: research → Dates: June–September 2016 → Venue: Mardin →

Participants: refugee inhabitants
---
Athens–Oberhausen:

The Energy of Two Cities

Where does the assumption that the

crisis produces creative subjects

and "creative cities" come from?

Wie ist die Annahme entstanden,

dass die Krise kreative Subjekte und

"kreative Städte" erzeugt?

The Soft Power Lectures performative

series begins with the visit of the

Temporary Academy of Arts (PAT) to

the ex-industrial city of Oberhausen

in Germany. PAT attempts to think

out loud about the conditions governing

programmes of urban development

in six Balkan cities. The

Academy is invited to bring art into

play in matters relating to the city,

immigration, and labour. Utilising

lectures as one tool amongst a number

of other media, PAT attempts to

highlight the contradictions, hidden

agendas, and its own controversial

role as an artistic / educational

programme with regard to contemporary

methods of gentrification and

com pliance affecting cities and their

subjects. Where does the assumption

that the crisis produces creative

subjects and "creative cities" come

from? How are narratives of contemporary

urban centres as "energies"

constructed? How can these energies

be symbolically capitalised in

market terms? In what way are they

made to conform to regulative art

and urban projects.

Die Veranstaltungsreihe The Soft

Power Lectures beginnt mit der

Reise der Temporären Kunstakademie

(PAT) in die ehemalige Industriestadt

Oberhausen. Die PAT versucht,

laut über die Bedingungen für

die Durchführung von Stadtentwicklungsprogrammen

in sechs Balkanstädten

nachzudenken. Die PAT ist

aufgefordert, die Kunst in Bezug

auf die Gegenstandsbereiche Stadt,

Migration und Arbeit ins Spiel zu

bringen. Vorlesungen sind eines von

mehreren Medien, mit denen die PAT

versucht, Widersprüche, heimliche

Absichten und ihre eigene kontroverse

Rolle als Kunst- / Bildungsprojekt

gegenüber den gegenwärtigen

Erscheinungsformen der Gentrifizierung

und der Willfährigkeit zu

beleuchten, von denen Städte und

ihre Bürger / innen betroffen sind.

Wie kam es zu der Annahme, die

Krise erzeuge kreative Subjekte

und "kreative Städte"? Wie sind die

Narrative über moderne urbane

Zentren als "Energien" aufgebaut?

Wie kann man von diesen Energien

unter Marktbedingungen symbolisch

profitieren? Wie werden sie an

regulierende Kunst und urbane

Projekte angepasst?

62

Project: Temporary Academy of Arts (PAT) → Format: lecture, performance, installation, video →

Date: 27 February 2016 → Venue: State of Concept, Tousa Botsari 19, Athens → Participants: Elpida

Karaba (lecture); Panos Sklavenitis, Constantinos Ηadzinikolaou, Anastasia Douka (artworks)
---
63 Athens — The Soft Power Lectures
---
Where will you go after this?

The lecture aims to explore the

exotic view of Athens as a Southern

experiment of creative sustain ability

in times of crisis.

Der Vortrag untersucht den exotischen

Blick auf Athen als südliches

Experiment kreativer Nachhaltigkeit

in Krisen zeiten.

Can we problematise the emphasis

that is placed exclusively on the

positive aspects of characteristics

such as flexibility, sustainability,

performativity, resourcefulness,

creativity, informality, etc., which

have lately become fixed points of

reference for both institutions and

the art scene? Athens is delineated

as a focal point of resistance that

can educate and suggest strategies

of survival and novel ways to make

art without money, through alternative

economies and communitarian

practices. What problems does

this image create, viewed through

the lens of a European landscape of

precarity, of cuts in funding for

cultural programmes and the humanities,

and the establishment of art

as an unpaid hobby?

68

Project: Temporary Academy of Arts (PAT) → Format: lecture → Date: 31 March 2016 →

Venue: Athens School of Fine Arts, Piraeus Street, Athens → Participants: Despina Zefkili ( lecture)
---
Können wir die ausschließlich positiven

Vorzeichen von Eigenschaften

wie Flexibilität, Nachhaltigkeit, Performativität,

Einfallsreichtum, Kreativität,

Informalität usw., die in letzter

Zeit feste Bezugspunkte nicht nur

für große Institutionen, sondern auch

für den Athener Kulturbetrieb sind,

kritisch hinterfragen? Athen wird als

Zentrum des Widerstands dargestellt,

das Überlebensstrategien erlernen

und vorschlagen sowie neue Wege

finden kann, wie Kunst ohne finanzielle

Mittel mithilfe alternativer wirtschaftlicher

und kommunitaristischer

Praktiken machbar ist. Wie problematisch

ist dieses Bild in einem

prekären Europa, wo Mittel für Kultur

und Geisteswissenschaften

gekürzt werden und Kunst nur noch

als unbezahltes Hobby gilt?

69 Athens — The Soft Power Lectures
---
Recording

Recording visually is a bodily experience. Although subjectivity

is the main protagonist, the image regime is dependent

on the action and layers of research, which leads to a

shift in the role of the subject (who is recording). Visual and

sound recording in research are also related to forensics,

in which recording serves as an image-based act of forensic

evidence.

Pelin Tan

Visuelles Aufnehmen ist eine körperliche Erfahrung.

Obwohl die Subjektivität die Hauptakteurin ist, hängt das

Bildregime vom Handeln und den Erkundungsebenen ab,

was zu einer Verschiebung in der Rolle der (aufnehmenden)

Person führt. Im Rahmen der Erforschung stehen Bildund

Tonauf nahmen auch mit der Forensik in Zusammenhang,

bei der Aufnahmen als bildbasierte forensische

Beweise dienen.

80

ACTOPOLIS Glossary
---
el

gRA

de
---
Bgd Art

A Map of Belgrade's

Visual Arts Venues

A bimonthly, bilingual printed

map with an up-to-date programme

of Belgrade's art spaces

Ein alle zwei Monate in zwei

Sprachen erscheinender Stadtplan

mit dem aktuellen Programm der

Belgrader Kunsträume

In accordance with contemporary

trends and promotional possibilities,

the project Bgd Art map acts as a

mediator for over ninety Belgrade art

galleries and their audience — the

regular one, the non-audience, and

the potential audience from the local

community and wider. With the aim

of creating new contents in the city

and connecting different sectors and

resources, Bgd Art map offers

audiences up-to-date information on

all current and permanent shows as

well as other additional programmes,

opens exhibition spaces for new

audiences, and contextualises the

art scene. The result is a much-needed

but as yet non-existent, bimonthly,

bilingual printed map showing

the Belgrade art space programme,

accompanied by a website containing

additional information.

Den aktuellen Trends und Werbemöglichkeiten

folgend tritt das

Projekt Bgd Art map als Vermittler

für über 90 Belgrader Kunst galerien

und ihr Publikum auf – für das

Stammpublikum, das Nichtpublikum

und das potenzielle Publikum aus

Belgrad und der Region. Ziel von

Bgd Art map ist es, neue Inhalte

in der Stadt zu schaffen und verschiedene

Sektoren und Ressourcen

miteinander zu verknüpfen; das

Projekt bietet Interessierten daher

aktuelle Informationen über alle

laufenden und dauerhaften Ausstellungen

und über weitere Programmangebote;

es verschafft Ausstellungsräumen

ein neues Publikum

und stellt die Kunstszene in einen

größeren Zusammenhang. So

entstand ein dringend benötigter,

bislang allerdings nicht existierender

zweisprachiger Stadtplan, der alle

zwei Monate das Programm der

Belgrader Kunsträume vorstellt.

Eine begleitende Internetseite liefert

zusätzliche Informationen.

92

Project: Aleksandar Nikolić → Format: publication → Dates: May–December 2016 → Venues: over

50 galleries, museums, and art / project spaces around Belgrade → Participants: Mirjana Stojadinović,

Marija Radoš, Virdžinija Đeković, Darka Radosavljević, Mane Radmanović, Đorđe Stanojević,

Miroslav Karić, Andrija Stojanović, Luka Knežević-Strika
---
Ta

Braće Baruh |

Dubrovačka

Dunavska

9

a GALERIJA BEOGRADSKE TVRĐAVE

UMETNIČKI PAVILJON "CVIJETA ZUZORIĆ"

vića

83, 84, 705

Brankov most

SAVA

Pop Lukina

Crnogorska

Kneza Mihaila

Brankova

Rige od Fere

Kralja Petra

Višnjićeva

Cara Dušana

MALA GALERIJA ULUPUDS-a GALERIJA ZVONO

| Dunavska

Kalemegdan |

USTANOVA KULTURE PAROBROD

O3ONE

BIBLIOTEKA GRADA BEOGRADA

GALERIJA PETRA DOBROVIĆA

| Studentski trg

Dušanova | Gundulićev venac |

FAKULTET LIKOVNIH UMETNOSTI

ZADUŽBINA ILIJE M. KOLARCA

SALON MUZEJA SAVREMENE UMETNOSTI

GOETHE-INSTITUT BELGRAD KUĆA LEGATA

MUZEJ ZEPTER GALERIJA SINGIDUNUM

GALERIJA ULUS SRPSKA AKADEMIJA NAUKA I UMETNOSTI

INSTITUT SERVANTES

KONAK KNEGINJE LJUBICE

FRANCUSKI INSTITUT

GALERIJA HAOS

MUZEJ PRIMENJENE UMETNOSTI

NACIONALNA GALERIJA

| Skadarska

| Džordža Vašingtona

PRODAJNA GALERIJA BEOGRAD

STARI GRAD | Trg republike

| Bulevar despota Stefana

KULTURNI CENTAR BEOGRADA

DOM OMLADINE BEOGRADA

Brankov most |

GALERIJA GRAFIČKI KOLEKTIV Dom omladine |

KOMBANK ART HOL

29, 41

28, 31, 35, 37,

14

29

39,

59, 78, 83

, 12, 14

66, 74

53,

67, 68, 71,

84, 95

83, 84,

07

KULTURNI CENTAR GRAD

Zeleni venac |

REMONT

Terazije |

Nušićeva

Dositejeva

Francuska

| Dorćol

Skadarska

GALERIJA BARTCELONA

ULIČNA GALERIJA

GALERIJA CANVAS

Žorža Klemansoa

GALERIJA 212

Venizelosova

Cvijićeva

Pančevački mo

Bulevar despota S

Kraljice Natalije

Trg Nikole Pašića

Kosovska

Majke Jevrosime

27. marta |

KULTURFORUM

| Takovska

PALILULA

Ekonomski fakultet |

GALERIJA SULUJ

Takovska

RADIO-TELEVIZIJA SRBIJE

| Glavna pošta

Gavrila Principa

Stari savski most

Karađorđeva

UMETNIČKI PROSTOR U10

Pionirski park |

27. marta

| Tašmajdan

Kralja Milana

Resavska |

maj"

VIJE

SAVSKI VENAC

Savska

| Nemanjina

Admirala Geprata |

Masarikova

| London

MUZEJ PAJE JOVANOVIĆA

| RK "Beograđanka"

STUDENTSKI KULTURNI CENTAR

| Kneza Miloša

| Birčaninova

Cvetni trg |

MUZEJ GRADA BEOGRADA

Beogradska

| Pravni fakultet

Dalm

UNIVERZITETSKA BIBL

|

Tehnički fakultet |

Sarajevska

Resavska

Nemanjina

CENTAR ZA KULTURNU DEKONTAMINACIJU

Trg Slavija |

Njegoševa

Krunska

Golsvordijeva

Sinđ

Kneza Miloša

Pasterova

Kralja Milutina

Bulevar oslobođenja

Makenzijeva

GO Vračar |

IZLOŽBENI PROSTOR OPŠTINE VRAČAR

| Kalen

Maksima Gorkog

Katanićeva |

VRAČAR

Bulevar kneza Aleksandra Karađorđevića

jzera 2

|

D E F

Autoput E-75

93 Belgrade — Formally Informal

Južni Bulevar
---
110 Belgrade — Formally Informal
---
Kamendynamics

A Schematic Depiction of

Class Struggle in Kamendin

How to contextualise and visualise

some problems pertaining

to the social housing project

in Zemun Polje?

Ein soziales Wohnungsbauprojekt

in Zemun Polje – Probleme der

Sichtbarmachung und des breiteren

Kontextes

The activist research explores the

possibility of creating a mural about

class relations and class struggle

in the neighbourhood of Kamendin

in the suburb of Zemun Polje, where

large numbers of poor people,

particularly Roma families, live in

social-housing apartments.

The research and documentary

approach is focused both on relations

towards problems of class

society on the capitalist periphery

and on communal or institutional

capacities for the realisation of

a critical political work in the public

space. The idea is discussed with

the inhabitants of Kamendin, local

authorities, and the institutions

in charge of social housing.

Das aktivistische Forschungsprojekt

lotet Möglichkeiten aus, ein Wandgemälde

zum Thema Klassenverhältnisse

und Klassenkampf im Viertel

Kamendin des Vorortes Zemun

Polje zu gestalten. Hier leben viele

arme Menschen, insbesondere

Roma- Familien, in Sozialwohnungen.

Der dokumentarische Forschungsansatz

fokussiert sich nicht

nur darauf, wie Probleme der

Klassengesellschaft an der kapitalistischen

Peripherie angegangen

werden, sondern richtet den Blick

auch auf die kommunalen und

institutionellen Möglichkeiten, um

ein kritisches politisches Werk im

öffentlichen Raum zu realisieren.

Die Idee wird mit den Bewohner / innen

von Kamendin, den Behörden

vor Ort und den Institutionen des

sozialen Wohnungsbaus diskutiert.

111

Project: Nebojša Milikić & Tadej Kurepa → Format: activist research, discussion → Dates: February–

June 2016, 29 May 2016 (discussion) → Venue: ACTOPOLIS apartment, Bulevar Despota Stefana 36,

Belgrade → Participants: Vahida Ramujkić (drawings); Zorana Pavlović, Slobodan Mitrović, Đorđe

Popović, Milovan Pavlović (interviewees)
---
The Other Map

of (South) Bucharest

Cultural and social entrepreneurship,

DIY and maker space, circular

economy

Kulturelles und soziales Unternehmertum,

Do-it-yourself- und

Makerkultur, Kreislaufwirtschaft

For an outsider, the places we are

talking about are rather difficult

or even impossible to find. In recent

years different kinds of places have

arisen in the neighbourhood situated

south of the city centre — from

spaces for cultural events or the

maker movement, production workshops

for social design, contemporary

art centres, and a radio broadcasting

station to a large natural

urban delta in need of protection.

The current phenomenon represented

by all these initiatives and places

should eventually turn the "bad"

part of the city into an appealing one,

a place to be, a cool destination. We

are researching and mapping these

energy points. The Other Map of

(South) Bucharest shows the spots

that are generating urban change

and becoming an artwork in

themselves.

actpolis.the art of action

2

1

14

Locuri pe hartă / Places on the map

136

1. La Stela și Dana

2. The Ark

3. tranzit.ro / București

4. Halele Carol / Expirat @ Halele Carol

5. Fabrica / Urban Collectors / Circa 1703 - 3071

6. Replika – Centrul de teatru educațional

(Educational Theatre Center)

7. CNDB - Centrul Național al Dansului (National

Center of Dance)

8. Industria Bumbacului:

Atelier de producție & Deschis Gastrobar / Nod

Makerspace / La firul ierbii

9. WASP - Working Art Space and Production

10. Intrarea Violoncelului Makerspace

11. Ateliere fără frontiere / Bio&co

12. 360 Hub

Project: Cosmina Goagea → Format: print and online publication, research → Dates: 23–28 May 2016 →

Participants: Maria Alexandrescu (artworks); Marius Weber (graphic design)

13. Jazz Pong

14. ASF Frăția București

15. Parcul Natural Văcăr

Park)

16. Casa Experimentelor

Experiments)

17. Autobaza
---
Für Außenstehende sind die Plätze,

um die es hier geht, kaum oder

überhaupt nicht zu finden. In den

vergangenen Jahren sind im Stadtteil

südlich des Stadtzentrums verschiedene

neue Orte entstanden – Räume

für Kulturveranstaltungen, Makerspaces,

Produktionsworkshops für

Social Design, Zentren für zeitgenössische

Kunst, ein Radiosender sowie

ein großes naturbelassenes Areal,

das geschützt werden soll. Die

Dynamik, die von all diesen Initiativen

und Orten ausgeht, soll aus dem

"schlechten" Teil der Stadt letztendlich

einen attraktiven, angesagten,

coolen Stadtteil machen. Wir erforschen

diese Orte und erstellen eine

Karte ihrer Energiepunkte. The Other

Map of (South) Bucharest weist die

Orte aus, von denen städtischer

Wandel ausgeht und die selbst zu

Kunstwerken werden.

7

12

Celălalt

BucureștiSuD

O HARTĂ A LOCURILOR BUNE

the other

BucharestSouth

A MAP OF GOOD PLACES

5

3

4

6

9

8

10

16

17

15

11

2016

13

ești (Văcărești Natural

(The House of

137

Bucharest—Build Your Own City

© 2016 Urbane Künste Ruhr / Goethe-Institut
---
Archaeological City Museum

An archaeological museum

for the new city

Ein archäologisches Museum

für die neue Stadt

As a visitor to Oberhausen, one

inevitably ends up coming face to

face with the city's industrial past.

Europe's first chewing-gum museum

bids farewell to the past and tells the

story of today. Instead of digging

deeper, it investigates the uppermost

"stratum". However, the museum

is not just an area for viewing chewing-gum

exhibits. It also prompts

ideas and discussions about the role

of museums and about identity

politics in the local context.

Als Besucher / in Oberhausens landet

man unweigerlich in der industriellen

Vergangenheit der Stadt. Das erste

Kaugummimuseum Europas verabschiedet

sich vom Alten und erzählt

die Geschichte von heute. Anstatt

in der Tiefe zu graben, untersucht es

die oberste "Erdschicht". Das

Museum dient nicht nur als Ausstellungsfläche

für Kaugummiexponate,

sondern gibt Anstoß zu Gedanken

und Gesprächen über die Rolle des

Museums und über Identitätspolitik

im lokalen Kontext.

154

Project: Susanne Kudielka and Kaspar Wimberley → Format: installation →

Dates: 1–11 September 2016 → Venue: Marktstraße 107, Oberhausen
---
155 Oberhausen—Building a New City
---
Why We Travel

Saša Šimpraga exhibits his work

Why We Travel at the main station:

a small metal plaque listing reasons

why people should travel, extracted

from an old guidebook.

Saša Šimpraga zeigt in Why We

Travel (Warum wir reisen) eine kleine

metallene Plakette am Hauptbahnhof,

die Gründe aus einem alten

Reiseführer zitiert, warum Menschen

auf Reisen gehen sollten.

Project: Saša Šimpraga → Format: installation → Dates: 1–11

September 2016 → Venue: Willy-Brandt-Platz 1, Oberhausen

ACTOPOLIS Radio

A live radio show about ACTOPOLIS,

composed of interviews and field

recordings conducted in participating

cities

Aus Interviews und Field Recordings

aus beteiligten Städten entsteht live

eine Radiosendung über

ACTOPOLIS.

Project: Haris Sahačić → Format: live radio show → Dates:

1–11 September 2016 → Venue: city centre, Oberhausen

Polio: The Official

ACTOPOLIS Dance

The Rehearsal

Irena Ristic's Sociodrama Workshop

is an interactive presentation of her

research on the self-organisation

of the cultural scene in Oberhausen

and Belgrade.

Irena Ristics Sociodrama Workshop

ist eine interaktive Präsentation ihrer

Forschung zur Selbstorganisation

der kulturellen Szene in Oberhausen

und Belgrad.

Project: Irena Ristić → Format: workshop →

Date: 9 September 2016 → Venue: city centre, Oberhausen

Build Your Own City

In Build Your Own City Ștefan

Ghenciulescu reports on "citizen

mayors", gold fever, guerilla

restoration, post-apocalyptic wildlife,

and other urban adventures

in Romania.

Ștefan Ghenciulescu berichtet

in Build Your Own City über Bürger-

Bürgermeister / innen, Goldrausch,

Guerilla-Restaurierung, postapokalyptische

Tierwelt und andere städtische

Abenteuer in Rumänien.

Project: Ștefan Ghenciulescu → Format: lecture →

Date: 9 September 2016 → Venue: city centre, Oberhausen

Together with interested inhabitants,

Jörg Luchtenberg creates his own

dance for the new city.

Jörg Luchtenberg entwickelt zusammen

mit interessierten Bewohner/

innen einen eigenen Tanz für die

neue Stadt.

Project: Jörg Luchtenberg → Format: interactive

performance → Date: 3 September 2016 → Venue: city centre,

Oberhausen

166

Oberhausen—Building a New City
---
Work Like a Donkey,

Live Like a Man!

Work Like a Donkey, Live Like a Man!

is Önder Özengi's tale of the division

of labour between humans and

donkeys collecting rubbish on the

streets of Mardin (Turkey).

Önder Özengi erzählt in Work Like

a Donkey, Live Like a Man! von der

Arbeitsteilung zwischen Menschen

und Eseln, die in den Straßen von

Mardin (Türkei) den Müll aufsammeln.

Project: Önder Özengi → Format: lecture →

Date: 9 September 2016 → Venue: city centre, Oberhausen

Amorous Writer in Residence

The new city not only has a post

office, it also has an "amorous"

writer in residence. During her performance

Marie-Luise O'Byrne-

Brandl helps people formulate

their love letters and give them

an imaginative flourish.

Die neue Stadt hat nicht einfach eine

Postfiliale – sie hat eine amouröse

Stadtschreiberin. In ihrer Performance

hilft Marie-Luise O'Byrne-

Brandl Menschen beim Formulieren

und fantasievollen Ausschmücken

ihrer Liebesbriefe.

Title Observation Deck

A private roof terrace is made open

to the public. Visitors can savour a

splendid view of the new city, while

enjoying a cool drink.

Eine private Dachterrasse wird der

Öffentlichkeit zugänglich gemacht.

Hier kann man den Ausblick auf die

neue Stadt genießen. Dazu werden

kühle Drinks serviert.

Format: interactive performance → Dates: 1–11 September

2016 → Venue: 4th floor, Lothringer Straße 60, Oberhausen

With a Little Help

Panos Sklavenitis presents his

poster series With a Little Help in

the urban space. The series features

the artist's friends, portrayed

as exemplary citizens of a new city.

Panos Sklavenitis stellt im Stadtraum

seine Posterserie With a Little

Help vor, auf der der Künstler seine

Freunde als exemplarische Bürger /

innen einer neuen Stadt präsentiert.

Project: Panos Sklavenitis → Format: poster installation

→ Dates: 1–11 September 2016, presentation on 3 September

2016 → Venue: inner City Oberhausen

Project: Marie-Luise O'Byrne-Brandl → Format: interactive

perfor mance → Date: 6 September 2016 → Venue: station

forecourt, Oberhausen

167

Oberhausen—Building a New City
---
Sarajevo Cloud

What if we could observe individual

experiences of common public space?

Was wäre, wenn wir individuelle Erfahrungen

mit dem gemeinsamen öffentlichen

Raum beobachten könnten?

Sarajevo Cloud is a multimedia

installation that collects individual

visions of Hastahana Park by using

the physical space as a form of

"augmented reality". The sculpture

Sarajevo Cloud, mounted on the

Green Pavilion, invites inhabitants

and visitors to the city to share their

visions with others via the smartphone

app Sarajevo Cloud. The

purpose of Sarajevo Cloud is not just

to shape the space in Hastahana

Park and to enable people to share

their personal experiences and

visions of the city with others but

also to give all users of the app

the opportunity to become designers

of the public space and thus to

override or blur the boundaries between

shared physical and individual

virtual space or even to dissolve

them altogether.

184

Project: Asmir Mutevelić, Kenan Vatrenjak, Ibrica Jašarević, Vedad Islambegović →

Format: intervention, mobile app → Dates: 6 June – 30 September 2016 → Venue: Sarajevo
---
Sarajevo Cloud ist eine Multimediainstallation,

die individuelle Visionen

des Hastahana-Parks sammelt,

indem sie den physischen Raum als

augmented reality nutzt. Die Skulptur

Sarajevo Cloud, die am Green Pavilion

angebracht ist, lädt die Bewohner/

innen und Besucher/innen der

Stadt dazu ein, ihre Visionen mit

anderen zu teilen, indem sie die

Smart phone -App Sarajevo Cloud

nutzen. Die Sarajevo Cloud soll nicht

nur erlauben, den Raum des

Hastahana-Parks zu gestalten und

persönliche Erfahrungen und

Visionen der Stadt mit anderen

zu teilen, sondern soll auch allen

Nutzer / innen der App die Möglichkeit

bieten, Designer / innen des öffentlichen

Raums zu werden und so die

Grenzen zwischen dem gemeinsamphysischen

und dem individuellvirtuellen

Raum außer Kraft zu

setzen, zu verwischen oder ganz

aufzuheben.

185 Sarajevo—ACTOPOLIS Lab Sarajevo
---
Communities of Care

"You am I, I am another"

"Du bin ich, ich bin ein Anderer"

Communities of Care is an experiment-based

workshop, designed for

neighbourhood communities, committed

to inventing, engineering, and

sharing tools for everyday use that

can help overcome a specific obstacle

generated by the system (legal

status and migration, marital status,

labour conditions, systemic violence

carried out by bureaucracy, legislation

and the concept of state and

nation, the institutionalisation of

rights, etc.). In order to go beyond

what is possible, we have to go

further than what is currently imaginable,

or even legal. In other words,

we are invited to devise our political

imagination beyond obedience.

202 Zagreb—Invisible Belonging
---
Communities of Care ist ein Experimentalworkshop

für nachbarschaftliche

Gemeinschaften, der sich

mit der Erarbeitung, der Entwicklung

und dem gemeinsamen Einsatz

von Mitteln für den Alltagsgebrauch

befasst, die bei der Überwindung

spezieller systemimmanenter Hindernisse

(rechtlicher Status und Migration,

Familienstand, Arbeitsbedingungen,

systemische Gewalt durch

Bürokratie, Gesetzgebung und

das Konzept von Staat und Nation,

die Institutionalisierung von Rechten

usw.) hilfreich sein können. Um den

Rahmen des Möglichen zu sprengen,

müssen wir über das gegenwärtig

Vorstellbare hinausgehen oder sogar

die Grenzen der Legalität überschreiten.

Mit anderen Worten: Wir

sind aufgefordert, unsere politische

Vorstellungskraft jenseits von Gehorsam

weiterzuentwickeln.

203

Project: Selma Banich → Format: workshop, intervention → Dates: April–May 2016 → Venue: Folka

neighbourhood, Zagreb → Participants: Selma Banich, Marija Borovičkić, Mila Čuljak, Ivana Rončević,

Ana Vilenica (artists and cultural workers); Ana Opalić (photographer); Matija Kralj (video);

Luka Juras (design); Ana Suntešić (public relations)
---
OBERHAUSEN

ZAGREB

BELGRADE

SARAJEVO
---
BUCHAREST

ANKARA

ATHENS

MARDIN