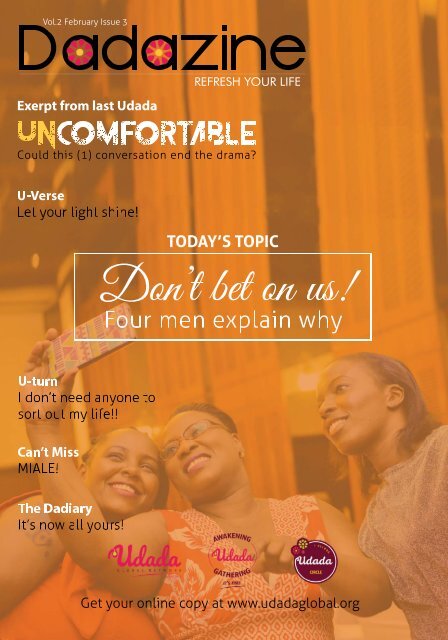 DONT BET ON US
Amplify understanding between men and women.
Amplify understanding between men and women.
SHOW MORE
SHOW LESS
Create successful ePaper yourself
Turn your PDF publications into a flip-book with our unique Google optimized e-Paper software.
Dadazine

Vol.2 February Issue 3

REFRESH YOUR LIFE

Exerpt from last Udada

UNCOMFORTABLE

Could this (1) conversation end the drama?

U-Verse

Let your light shine!

TODAY'S TOPIC

Don't bet on us!

Four men explain why

U-turn

I don't need anyone to

sort out my life!!

Can't Miss

MIALE!

The Dadiary

It's now all yours!

Get your online copy at www.udadaglobal.org

DADAZINE

1
---
Do you want to

grow in your spiritual confidence?

Do not delegate your relationship

with God to anyone else.

Join Laimani for Miale

Starts In March 2017

Registration ongoing @

www.alabastron.org

Call- 0719 504 104

DADAZINE

2
---
Karibu UDADA

Welcome to a brand new

UDADA. We are calling it

UDADA REVAMPED!

And our new slogan is:

She Smiles,

I Smile©

The recent events especially in the global and local

political arena, have rekindled and REVAMPED our

determination and focus for UDADA.

I am specifically talking about Hillary Clinton losing

the presidential race in USA and Amina Mohamed

losing the African Union Commission election.

There are many other events in the other spheres of

society; socially, economically and even religiously

that we could site. However these two were a major

blow for us as women. And they only awakened me

to the purpose of the UDADA Global Movement and

why NOW can't wait....

DADAZINE

3
---
Remember our purpose

is changing how we see

ourselves as women,

changing how we view

each other as women and

changing how society

views women and girls.

For a movement

to be effective,

it must gain

momentum.

So now is the

time our dear

dadas, to tag

as many

women as

possible into UDADA and make this our new culture.

That is why we have made our gatherings FREE and

hustle Free – no pre-registrations, door payments

etc. So that indeed when she wins we win; and

when she smiles I smile.

So as the Dada at the forefront, allow me to charge

you to reach out to women wherever you interact

with them; in their offices, elevators, chama,

churches, mosques, bridal showers, baby showers,

weddings, matatu, clubs, discos, conferences and

invite them to join this movement.

@NikoUdada,

She Smiles, I Smile.

Let us amplify UDADA in 2017.

Udada Hug,

Laimani

DADAZINE

4
---
What Is

Udada?

You are beautiful and capable

Change how you view yourself

When she wins, we all win

Change how we view each other

Our daughters need space to thrive!

Change how society views women and girls

DADAZINE

5
---
UDADA

Pillars:

1. Healing women to women relationships

2. Developing Spiritual Confidence in women

3. Inpowerment and Empowerment

4. Light the Udada candle of other

women by spreading the Light of Hope

Inpowerment is your new language

#UDADA is our new culture

DADAZINE

6
---
7 th

march

2017

@ALL SAINTS CATHEDRAL

(OPP SERENA HOTEL)

5:30PM

DADAZINE

7
---
The Dadiary

We would like to change this Dadiary around.

We want you to be sending us your voices of your UDADA

experience! What was your highlight?

What was your takeout? What touched you? Then we will feature

your own experiences here!

please include name, a selfie and how many times you've

attended UDADA. Send an email to: niko@Udadaglobal.org

I am Jane and I attended the last Udada

gathering! My highlight was..................................

...................................................................................

..................................................................................

Hi Dadas! I am Shiko and I really enjoyed the

last Udada! I liked what the speaker said

about..........................................................................

...................................................................................

...................................................................................

Hey guys! Si this Udada has challenged me!

When we were asked about.............I went like....

...................................................................................

...................................................................................

DADAZINE

8
---
Udada

Verse

Let your

Light

so shine

before men, that they may see

your good works, and glorify

your Father which is in heaven.

matthew 5:16

DADAZINE

9
---
From Our Last Gathering:

UNCOMFORTABLE

Speaker: Laimani Bidali

(An excerpt)

Peace is not the

absence of war

Uncomfortable conversations are

necessary conversations.

They make us uneasy.

This is because they require a

level of risk, vulnerability and

healing…kinda squeezing a boil.

The process is uncomfortable,

painful and ugly stuff comes

out, but the end result is

healing, relief, easiness and

normalcy.

DADAZINE

10
---
So how do you do it:

Philippians 2:3-4 (AMP)

Do nothing from selfishness

or empty conceit [through factional motives,

or strife], but with [an attitude of] humility [being

neither arrogant nor self-righteous],

regard others as more important than yourselves.

4

Do not merelylook out for your own

personal interests,

but also for the interests of others.

A: affirm the person - you and them

B: bare understanding - this happened…

what happened?

C: confess the impact (for every action there is an

equal and opposite reaction you and the

relationship: feelings yours and theirs -

OWN your message (WHY &what I am saying)

D: dignify the person you and them

E: END: see you next time: or the relationship is over

The full session is available on DVD.

Call 0717304120

DADAZINE

11
---
the presence

of

another

woman's

beauty,

is not

absence

of yours

DADAZINE

12
---
Nothing can

dim the

light

which shines

from

within

-Maya Angelou

DADAZINE

13
---
-Turn

I Don't Need Any One To

Sort Out My Life!!!

(Conso Alabastron Season 27)

I learnt about Alabastron through My colleague at the

office but also had seen the program on TV some years

back and I really liked it and wished I was the one up

there. For many years I was battling with, rejection,

unforgiveness and over the years have read many books

I have volumes of them on forgiving and loving again,

healing emotional, damaged heart, your rejection is

showing up and many more but nothing worked, I have

even gone to a counselor but I still go back to the old

self.

Having been rejected by 3 men at the point where the

relationship is grown and almost getting married,

having a mother that I was not getting along for many

years, losing a job and had to discontinue school

because of that and just a few months before I joined

the class, dealing with a divorce it was too much weight

on my shoulders. This made me bitter, angry to self and

others, and I even started drinking alcohol secretly and

dating a non-Christian (yet I was a believer) even before

the divorce was over.

DADAZINE

14
---
I don't need other

people's

affirmation, or

acceptance for me

to be whole.

Learning how to set

boundaries with

myself and others,

and then ACTUALLY

Alabastron has helped me

realize I don't need any one

to sort my life. I don't need

to date one man after

another to be

fulfilled as I am whole and

complete as I am.

setting these boundaries was IN-powering! Learning

how to forgive and ACTUALLY forgiving remains one of

my greatest lessons that made a tremendous change in

me For me Alabastron was like a blender; when

blending fruits, the blender will blend everything;

nothing is lost; all the nutrients are captured and the

outcome is so sweet.

Everything was taken care of at once in one package

and the outcome is this renewed Conso. I am even

shocked at myself that am not shouting and yelling at

people! Am not getting really angry with people and I

can forgive easily, and let go of things I could hold on

to so much. I can easily say am sorry and really mean it

from my heart.

Thanks Coach Beatrice and the team. May God bless

you richly and continue to give you the strength and the

grace to deal with other women as well. What you are

doing is amazing and working wonders in the lives of

women and by extension their families.

No amount of words can explain.

DADAZINE

15
---
An UDADA circle is a small

group comprising of 3-12 women

who meet up at least once a month

to discuss more intimately the lessons

learned from the UDADA gatherings and apply these

lessons while keeping each other accountable for

their growth and progress.

Why an UDADA circle?

What is an UDADA circle?

The UDADA gatherings happen for only one evening in a

month. This is such a limited time for one to de-brief and

process all that has been discussed in that one evening.

For this reason the circles then offer a platform for us

as women to process all that we are learning in these

gatherings by meeting and sharing our views,

experiences and resolutions as well as celebrating out

results.

Through this sharing we are able to get to know each

other and be known, hold each other accountable and

build strong lasting friendships as sisters all of which

pushes this movement forward. UDADA seizes to

become just a gathering of women and girls, but rather

a lifestyle and a culture.

DADAZINE

16
---
How to form/join an UDADA circle?

An Udada Circle could be near your area of residence,

your workplace or even church, depending on what is

convenient for you.

Option 1

You can register your already existing group of friends

or 'chama' to be an UDADA circle. Registration can be

done on our website http://www.udadaglobal.org/

Option 2

You could also join an already existing UDADA circle by

registering to be placed into one that is closest to you

on our website http://www.udadaglobal.org/

Option 3

You can start a new circle at your workplace or with

other dadas you didn't know before. You just need to

identify a venue, offer to convene the first 3 meetings,

then we will direct other dadas towards you.

These first meetings can even be held at a restaurant

of your choice. E.g Java or Growers etc.

Let us assist you set up one by calling us on 0717304120

For more info on UDADA circles,

talk to our U-Circles Champion on 0717304120 or email

niko@udada.org

DADAZINE

17
---
Sponsoring

Visibility and Connection with women

Do you offer women:

- Products

- Services

- Events

- Workshops

- Conferences

- Organizations such as NGos that are

committed to women empowerment

DADAZINE

18
---
Is your product or service growing with the UDADA

movement?

Are women and girls your target audience?

You could reach and grow your clients through

partnering with us.

The different UDADA platforms we have will give

mileage to your brand by reaching a wide audience.

These include:

1. Monthly UDADA gatherings with over 500

women of all ages in attendance

2. Monthly UDADA magazine dabbed 'dadazine'

circulated at the UDADA gatherings and beyond,

also uploaded on our website.

For more information on how you can book your

advertising space please contact us on

niko@udadaglobal.org

DADAZINE

19
---
DON'T MESS

With

M Y S I S T E R

You

mess with

HER

You

mess with

ME

SISTERHOOD IS MORE BEYOND BLOOD.

IT'S UDADA

THIS MARCH 7 TH 2017

@ALL SAINTS CATHEDRAL

5:30pm - 8:00pm

SAVE THE DATE

Remember

to get your Dadazine conveniently online @

www.udadaglobal.org

DADAZINE

20