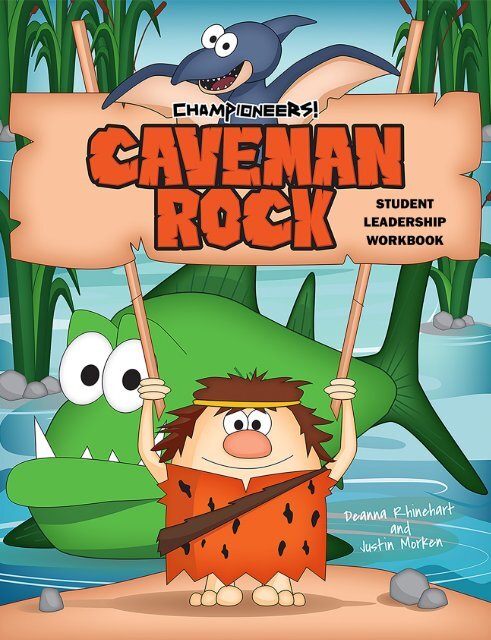 Caveman_Rock_Magazine_Sample
You also want an ePaper? Increase the reach of your titles
YUMPU automatically turns print PDFs into web optimized ePapers that Google loves.
This clever dramatic presentation explores the age-old internal struggle with one's inner sense of

value, how our perception is often defined by our environment and how easily it can alter our

gauge for right and wrong. Al-x is a self-conscience teenager of the prehistoric 50's who wrestles

to find what truly defines a caveman verses how everyone else defines one's worth. Helped by his

own reflection and the wisdom of an old fishing soul, Al-x finds himself before his fate is sealed.

This is one fish tale that will change your life as much as the ones who lived it!

This Championeers! adventure is full of twists and turns as Al-x and his friends discover the

difference between peer pressure and peer power as they learn "Survival of the Fittest" from a

whole new perspective.

Leadership Theme: Identity and Truthfulness

Critical Youth Issue: Peer Pressure

Championeers! Honor Pin: Truth

Championeers! Leadership Project: Caveman Carnival

Guests of Honor: Local Police Officers
---
Hey There Parents & Jr. Caveboys and Cavegirls!

Welcome to Caveman Rock!

Championeers! is the only IQ-EQ

Leadership Education system in the

world that uses the performing arts to

empower students in school while

giving them tools to succeed in life.

It's AWESOME!

We believe the best teacher a child

will ever have is you, so we put you in

the driver's seat with these wonderful

family resources.

We provide the basic tools and

lessons based on universal values that

are common to everyone. They are

things like: be kind, be honest, and

don't hurt people. You take them from

there and discuss them with your

children using your own unique family

values and belief systems.

In this unit we are training Peer

Leaders to help peer pressure proof

their schools using the tools of truth and

identity.

Peer pressure is a huge issue on

school campuses around the world.

When it is properly harnessed it can

turn your school into a center of selfgovernance,

innovation, and high

achievement. When it is not harnessed

it leads to bullying, rejection and

teasing, creating an emotionally unsafe

environment that robs many children of

their full potential. These early

experiences often define children

throughout their livetimes!

As a Championeers! Peer Leader,

students lead through service to create a

campus culture where every child feels

safe and valued. This only happens if

everyone realizes how amazing every

single person truly is.

This is the journey of Caveman

Rock.

Not everyone is going to look, think

or act the same. We are all wonderfully

different. That's what makes us special.

Healthy peer pressure helps us

celebrate our uniquenesses while

providing a culture that honors every

member of our great big "Social

Family."

Enjoy, and remember - this is just a

launching pad for family discussions.

You are the superhero your child is

waiting to hear from. Additional info

and resources include:

How to Peer Pressure Proof Your

Children, E-Course.

Family Night Adventure Packs

with weekly adventures all planned

out for you to have a blast!

Supplemental games and resources.

Available at:

www.FamilyNightAdventures.com
---
The Championeers! is a leadership program that synchronizes the

performing arts, academics and leadership training to empower

students to succeed in school and in life. All materials within this

magazine are the property of Championeers! unless credited

otherwise. Artwork is the compilation of Shutterstock, Dollar Photo

Club, CanStockPhoto, and original designs. Graphic designs were

created by Justin Morken, Isaiah Guerrero, and Deanna Rhinehart.

Championeers! is division of Advanced Ed Solutions, Inc., an Idaho

corporation.

©2016 Championeers! | www.championeers.com
---
CHALLENGE REWARDS

Cavemen love a good challenge. If we

tackle every challenge head on, then we

can overcome anything. Challenges can

even be turned into powerful tools that

make us strong and brave. To help you

find your courage, you'll receive a new

leadership challenge each week based on

the lessons you learn in Caveman Rock!

Earn a sticker by completing your

leadership challenges.

Complete all your challenges and earn the

Championeers! Honor Pin!

Collect all the Honor Pins to graduate from

Championeers! Leadership Institute as a

certified Championeers! Peer Leader!

Collect all of the

Participation Dog Tags

Earn Your

Honor Pin
---
I'LL BE ME and YOU BE YOU!

Hey Jr. Cavemen, as Peer Leaders it's important for you to know what peer pressure is, how

it works and what you can do to stop it. Today's lesson is on comparison and learning to like

ourselves for who we are.

Have you ever compared yourself to someone else? We all do. We notice who has the same

color hair and eyes or how tall we are compared to other children in our class.

Comparison is very normal and it's a good thing. One of our greatest needs as people is to

belong in social groups; we want to be liked by the people around us. To do this we compare

ourselves to make sure our actions and appearance are similar to everyone else so we "fit in." In

fact, even adults compare themselves. Clothing fashions, hair styles, and language trends are

formed as a result. Comparison helps people live in society together much like the members of a

really big family, and that's an awesome thing!

Comparison becomes negative peer pressure when we exclude or do selfish things that hurt

other members of our "Really Big Social Family." Can you imagine having a family movie night

and not letting one of your siblings watch

because they laughed funny? We'd never do

that, yet so many times, kids at school are made

fun of for looking or acting different than

everyone else. Comparison is good when it

causes us to want to achieve greater goals and

I'll Be Me and

You Be You,

That's What

Makes Us Rock!
---
do our personal best. It's good to be a team member, even wear the same team jersey, we just don't

ever want to lose our uniquely wonderful self in the process. The way you stop comparison from

turning into negative peer pressure is to like yourself for who you are then work to be the very best

you, you can be.

LEADERSHIP CHALLENGE - THE THANKFUL GAME!

Leaders don't need to copy other people because they like who they are. This week's challenge is

to learn The Thankful Game. This game is super simple and will help you realize how amazing you

are! Tonight when you go to bed I want you to wiggle your toes and consider how great they are. Did

you realize you couldn't keep your balance if you didn't have toes?! Then, simply be thankful for

them! Next, think about your wonderful, amazing feet! They are incredible! Think of all the things

you can do because you have feet, then be thankful for them. Work your way up through your whole

body. Your legs, knee caps, hips, spine, all your organs, eye lashes and ears…

everything you can think of from your toes to your nose.

Do this every night this week and continue to do it every night

of this course. You will soon realize that you are

incredible! Even iIf you never did a single thing,

your existence is MARVELOUS!

You are special indeed! You

don't need to copy anyone

when you are great

just the way

you are!
---
CHAMPIONEERS! IQ-EQ LEADERSHIP EDUCATION

THE ULTIMATE SCHOOL ENRICHMENT PROGRAM TO STOP PEER PRESSURE!

Championeers! is a leadership-based, performing arts curriculum

that empowers students to succeed in school while gaining skills for life!

www.championeers.com