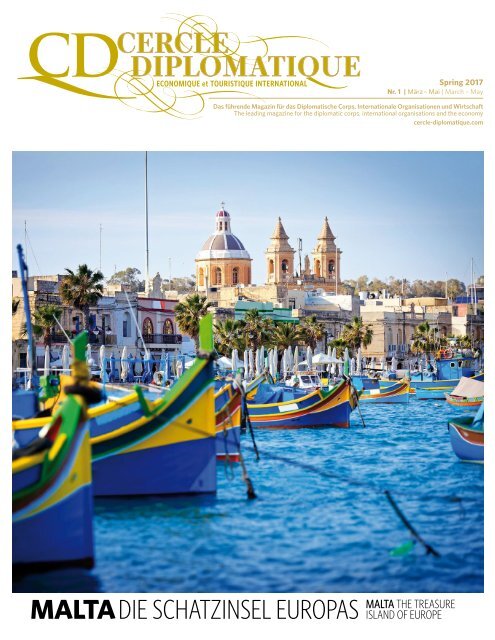 CERCLE DIPLOMATIQUE - issue 01/2017
CD is a bi-lingual, independent and impartial magazine and is the medium of communication between foreign representatives of international and UN-organisations based in Vienna and the Austrian political classes, business, culture and tourism. CD features up-to-date information about and for the diplomatic corps, international organisations, society, politics, business, tourism, fashion and culture. Furthermore CD introduces the new ambassadors in Austria and informs about designations, awards and top-events. Interviews with leading personalities, country reports from all over the world and the presentation of Austria as a host country complement the wide range oft he magazine.
CD is a bi-lingual, independent and impartial magazine and is the medium of communication between foreign representatives of international and UN-organisations based in Vienna and the Austrian political classes, business, culture and tourism. CD features up-to-date information about and for the diplomatic corps, international organisations, society, politics, business, tourism, fashion and culture. Furthermore CD introduces the new ambassadors in Austria and informs about designations, awards and top-events. Interviews with leading personalities, country reports from all over the world and the presentation of Austria as a host country complement the wide range oft he magazine.

SHOW MORE
SHOW LESS
Create successful ePaper yourself
Turn your PDF publications into a flip-book with our unique Google optimized e-Paper software.
Spring 2017

Nr. 1 | März – Mai | March – May

Das führende Magazin für das Diplomatische Corps, Internationale Organisationen und Wirtschaft

The leading magazine for the diplomatic corps, international organisations and the economy

cercle-diplomatique.com

MALTA DIE SCHATZINSEL EUROPAS

MALTA THE TREASURE

ISLAND OF EUROPE
---
RECONNECT.

Der neue ŠKODA KODIAQ bereits ab 25.690,– Euro.

Der neue ŠKODA KODIAQ setzt Maßstäbe. Die Kombination aus robuster Schönheit und intelligentem Design macht den ŠKODA KODIAQ

zu einem SUV der Extraklasse: der Innenraum – optional mit bis zu sieben Sitzplätzen – lädt zu Entdeckungstouren mit der ganzen

Familie ein. Bleiben Sie in Verbindung – mit der Natur ebenso wie auf Wunsch mobil mit ŠKODA CONNECT. Überzeugen Sie sich selbst

vom neuen ŠKODA KODIAQ und vereinbaren Sie schon jetzt eine Probefahrt. Ab dem 10. März 2017 bei Ihrem ŠKODA Betrieb.

Symbolfoto. Stand 02/2017. Details bei Ihrem ŠKODA Berater. Alle angegebenen Preise sind unverb., nicht kart. Richtpreise inkl. NoVA und 20% MwSt.

Verbrauch: 5,3–6,9 l/100 km. CO2-Emission: 137–156 g/km.

skoda.at

facebook.com/skoda.at

youtube.com/skodaAT

instagram.com/skodaAT
---
DER KOPF SAGT JA.

DAS HERZ SOWIESO.

AB 399 € /MONAT *

EDITORIAL

Liebe Leserinnen, liebe Leser! | Dear Readers,

MASERATI GHIBLI DIESEL. AB 399 € * MONATLICH

3 JAHRE HERSTELLERGARANTIE • ROAD ASSISTANCE • WARTUNGSPAKET PREMIUM

Es sind längst nicht mehr nur die Emotionen, die für einen Maserati sprechen, sondern auch die Vernunft.

Dank seinem sparsamen 5.9 Liter/100 km kombiniertem Verbrauch ist der Ghibli Diesel ein exzellentes

Beispiel für Effizienz, ohne dabei auf die für Maserati typische Sportlichkeit zu verzichten. Das macht den

Ghibli Diesel zum perfekten Auto für jeden Tag.

Kraftstoffverbrauch (l/100 km): innerorts 7,7 - außerorts 4,9 - kombiniert 5,9; CO 2-Emissionen: kombiniert

158 g/km; Effizienzklasse: B. Ermittelt nach EG-Richtlinie 1999/94/EG.

Abbildung enthält Sonderausstattung.

*

Freibleibendes Leasingbeispiel für den Maserati Ghibli Diesel auf Basis aktuell gültiger Konditionen: Listenpreis € 76.699,–, Barzahlungspreis

€ 71.331,–, Anzahlung € 21.400,–, Restwert € 37.080,–, Monatsrate à € 399,–, Gesamtkreditbetrag € 71.705,–, Gebühren inkl. staatl. Vertragsgebühr

€ 1.674,–, Sollzinssatz fix 0,04%, eff. Jahreszins 1,35%, FCA Ratenschutz ableben (optional) € 375,–, Gesamtbetrag € 73.432,–,

Fahrleistung 20.000 km p.a., Laufzeit 36 Monate, Voraussetzung: Bankübliche Bonitätskriterien, Wohnsitz/Beschäftigung in Österreich.

Ein Angebot der Maserati Financial Services, eine Zweigniederlassung der FCA Leasing GmbH.

Alle Angaben inkl. Ust. und NoVA. Erhältlich bei allen teilnehmenden Partnern. Für weitere Informationen und ein konkretes Leasingangebot

wenden Sie sich bitte an einen Händler Ihrer Wahl. Stand 02/2017

pappas.at

PHOTO: ROIS & STUBENRAUCH

Wussten Sie, dass die Johanniter das Malteserkreuz

im Jahr 1126 zu ihrem offiziellen

Symbol machten? Keine andere Ära

hat so deutliche Spuren auf Malta hinterlassen, dem

diesmal unsere Titel-Geschichte gewidmet ist. Und

wir dürfen uns schon jetzt auf das nächste Jahr freuen,

wenn Valletta 2018 Europäische Kulturhauptstadt

sein wird (zu lesen ab Seite 30).

Das für viele noch unbekannte Montenegro ist

die kleinste Republik des ehemaligen Jugoslawiens,

mit rund 295 km Küste. Aufsehen erregt auch das

Großprojekt "Porto Montenegro" mit seiner Lage in

der traumhaften UNESCO-geschützten Bucht von

Kotor, die eine Top-Marina mit ebensolchem Service

verbindet (ab Seite 46).

Sehr stolz sind wir in dieser Ausgabe auch auf die

Tatsache, dass für unser bereits drittes "Botschafter-

Gipfeltreffen" diesmal die Exzellenzen aus Kenia

und Südafrika an einem Tisch zum gemeinsamen

Gespräch Platz genommen haben. Botschafter Michael

Oyugi aus Kenia und Botschafter Tebogo Seokolo

aus Südafrika diskutierten darin u.a. die Errungenschaften

der aufstrebenden Wirtschaft des

afrikanischen Kontinents wie auch die Partnerschaften

mit Europa und China, zu lesen ab Seite 54.

Bernd Wiesberger und Matthias Schwab sind

Sportler, die beweisen, dass Österreich auch als

Land des aktiven und erfolgreichen Golfsports verstärkt

wahrgenommen wird. Die beiden sind Teilnehmer

der Lyoness Open 2017, ein Turnier, das in

bewährter Art und Weise von 8. bis 11. Juni im Diamond

Country Club in Atzenbrugg (Niederösterreich)

abgehalten wird (ab Seite 132).

Erfolge schätzen auch wir und arbeiten mit Freude

permanent am Ausbau unseres Vertriebs, um

Cercle Diplomatique einer noch größeren hochwertigen

Zielgruppe vorzustellen. Unser Partner der

ersten Stunde war und ist dabei die Wiener Privatklinik.

Mit dem Rudolfinerhaus, einer weiteren führenden

Privatklinik Wiens, haben wir einen neuen

Partner im Gesundheitsbereich gewinnen können,

wo wir ab nun nicht nur im öffentlichen Bereich,

sondern auch in den Patientenzimmern mit unserem

Magazin aufliegen.

Wir wünschen Ihnen eine angenehme Lektüre!

Did you know that the Johanniter, a voluntary

humanitarian group related to the Brandenburg

Bailiwick of the Order of St John,

made the Maltese cross their official symbol in the

year 1126? No other era has left as many traces on

Malta than the one which we have dedicated our title

story to this time. And, of course, we are already

looking forward to next year, when Valletta is set to

be the European Capital of Culture of 2018 (p. 30).

Montenegro, still unbeknownst to many, is the

smallest republic that emerged from the former Yugoslavia

and enjoys around 295 kilometres of coastline.

The project "Porto Montenegro" is indeed a

small sensation, with its fabulous location at the

UNESCO-protected bay of Kotor, and connecting a

world-class marina with an equally excellent service

(page 46).

We're also particularly proud of the fact that we

have managed to bring the respective excellencies

from Kenya and South Africa around a table for our

now third "Ambassador Summit" Ambassador Michael

Oyugi from Kenya and Ambassador Tebogo

Seokolo from South Africa discuss, among other

matters, the achievements of the African continent's

emerging economy as well as the partnerships with

Europe and China, start reading on page 54.

Bernd Wiesberger and Matthias Schwab are athletes

who prove that Austria is starting to be perceived

as an increasingly active and successful country

when it comes to golfing. The two are participating

at the Lyoness Open 2017, a tournament held between

8 and 11 June at the Diamond Country Club

in Atzenbrugg (Lower Austria). Find out more starting

on page 132.

We also appreciate our own successes and continue

to work diligently at expanding our distribution

in order to be able to present Cercle Diplomatique

to an even wider audience. Our partner from the

very beginning was and will always be the Wiener

Privatklinik. With the Rudolfinerhaus, an additional

leading private clinic in Vienna, we have been able

to gain a further partner from the health sector, resulting

in our magazines to be laid out in patient

rooms in addition to the public sphere.

We sincerely hope that you enjoy your read!

Herzlichst, | Yours,

Maserati Vertriebs- und Servicepartner

PAPPAS AUTO GMBH

MOMMSENGASSE 26, 1040 WIEN

Telefon: 01-505 46 11 0 / info.wien4@pappas.at

Maserati Servicepartner

KONRAD WITTWAR GMBH

8051 GRAZ

RETTERWERK GMBH

6060 HALL IN TIROL

GEORG PAPPAS AUTOMOBIL GMBH

INNSBRUCKER BUNDESSTRAßE 111, 5020 SALZBURG

Telefon: 0662-4484-5305 / info.salzburg@pappas.at

PAPPAS AUTOMOBILVERTRIEBS GMBH

4030 LINZ

Andrea Fürnweger

Herausgeberin | Editor

Mag. Alexander Bursky

Herausgeber | Editor
---
CERCLE DIPLOMATIQUE –

ECONOMIQUE et TOURISTIQUE

Nr. 310

Ausgabe | Issue 01/2017

März – Mai | March – May

CONTENTS

Cover story

MALTA

Seite | page 30

Mit der EU Präsidentschaft

in der ersten Hälfte des

Jahres 2017, ist Malta ins

Scheinwerferlicht

europäischer Politik gerückt.

Bereits davor zeigte die Insel

schon beeindruckende

wirtschaftliche Stärke.

With the EU Presidency in

the first half of 2017, Malta

has moved into the spotlight

of European politics. Yet

even before, the island

showed impressive

economic strength.

10

12

14

30

38

46

52

62

68

70

LE BULLETIN

First things first

Der neue Bundespräsident Van der Bellen stellt sich dem Proust-Fragebogen. The new Federal

President Van der Bellen faces the Proust Questionnaire.

Die neuen Botschafter | The new Ambassadors

Akkreditierungen durch Bundespräsident Alexander Van der Bellen. Accreditations by Federal

President Alexander Van der Bellen.

Offizielle Empfänge | Official Receptions

Die großen Empfänge der vergangenen Wochen. The great receptions of the last few weeks.

LE MONDE

Coverstory Malta | Cover story Malta

Die Schatzinsel Europas. The treasure island of Europe.

Malta

Botschafter Keith Azzopardi im Interview. Interview with Ambassador Keith Azzopardi.

Gipfeltreffen der Botschafter | The Ambassadors' Summit

Südafrika trifft Kenia. South Africa meets Kenya.

Montenegro

The wilde Schönheit des Adriatischen Meeres. The wild beauty of the Adriatic Sea.

Wassenaar Abkommen | The Wassenaar Agreement

Die wichtige Rolle der Kontrolle von Waffen. The crucial role for control for arms.

Essay

Europa: Die Zukunft wird ganz anders. The future will be different.

News

Neuigkeiten aus aller Welt. Latest update from around the globe.

110

114

116

118

122

126

130

132

138

142

144

148

150

152

Wiener Festwochen | Vienna Festival

Neuer Intendant, neues Programm. New director, new programme.

Botschafter der Musik | Ambassador of Music

Star Geigerin Patricia Kopatchinskaja. Star violinist Patricia Kopatchinskaja.

Museum Visit

Zu Besuch im Technischen Museum Wien. Visiting the Vienna Technical Museum.

Kunst | Arts

Kulturelle Highlights im Frühjahr. Cultural highlights in spring.

Immobilien | Property

Wohnkultur in jeder Hinsicht. Residential culture in all its facets.

Lifestyle

Trends für den kommenden Frühling. Trends for the spring season.

Made in Austria

Handwerk pur von Frey Wille. Pure craftsmanship made by Frey Wille.

Golf

Die Lyoness Open 2017. The Lyoness Open 2017.

Ambassador's Drive

Palästinas Botschafter auf CD-Testfahrt. Palestine's Ambassador on a test drive.

Motor

Eleganz auf und neben der Straße. Elegance on and next to the road.

Weekender

Flandern, Das Goldene Dreieck. Flanders, the golden triangle.

Upcoming

Wo es uns gefällt. Where we love to be.

Buchempfehlungen | Must read

Lesenswertes über Österreich. Book tips on Austria.

Mein Wien | My Vienna

Der Botschafter der Schweiz. The Ambassador of Switzerland.

74

80

82

86

92

94

98

100

102

104

L'AUTRICHE

IKT in Österreich| ICT in Austria

Österreichs digitales Rückgrat. Austria's digital backbone.

Zukunftslabor | Future Lab

Stefan Doboczky über den Erfolg von Lenzing. Stefan Doboczky on Lenzing's success.

Wirtschaftsnews | Business news

Neues aus Österreich. News from Austria.

SAVOIR VIVRE

Eventlocations in Wien | Event locations in Vienna.

Die schönsten Veranstaltungsorte. The finest locations to meet or celebrate.

Connaisseur | Connoisseur

Essen und trinken mit Stil. Wine and dine in style.

Reise | Travel

Top-Hotels und -Restaurants aus aller Welt. Top hotels and restaurants around the world.

Table Talk

GM Becker lud zum Lunch ins Meliá Vienna. GM Becker invited to lunch at the Meliá Vienna.

Check In

Palais Hansen Kempinski Vienna.

Hideaways

Entspannung für Ihre kleine Frühlings-Auszeit. Relaxation for your spring timeout.

Exportschlager Musical | Musicals as export hit

Wien-Produktionen sind international gefragt. Viennese productions are sought after.

156

168

5

6

169

LES RENDEZVOUS

Veranstaltungen | Events

Exklusive Veranstaltungen im Fokus. Exclusive events in focus.

LE GUIDE

Adressen | Addresses

Nützliche Adressen für die internationale Gesellschaft.

Useful addresses for the international community.

Titelbild | Cover

In der Hauptstadt La Valletta, Malta. | In the capital La Valletta, Malta.

Editorial

Inhalt | Contents

Impressum | Imprint

COVERPHOTO: FOTOLIA; PHOTO: MALTA TOURISM

Dieses Foto zeigt "Popeye Village", eine Kulissenstadt auf Malta, die

der Regisseur Robert Altman 1979 für den Film "Popeye" aufbauen ließ.

This photo features "Popeye Village", built in 1979 as a film set for the

production of "Popeye", directed by Robert Altman.
---
LE

BULLETIN

IN LE BULLETIN ERFAHREN

SIE, WER DIE NEU

AKKREDITIERTEN

BOTSCHAFTER IN

ÖSTERREICH SIND UND

WELCHE OFFIZIELLEN

EMPFÄNGE UND EVENTS

IN DEN VERGANGENEN

MONATEN STATTGEFUN-

DEN HABEN.

LE BULLETIN TELLS YOU WHO

THE NEWLY ACCREDITED

AMBASSADORS TO AUSTRIA

ARE AND WHICH OFFICIAL

RECEPTIONS AND EVENTS

TOOK PLACE IN THE PAST

FEW MONTHS.

TIMELESS QUALITY

AND STYLE.

SINCE 1836.

www.jse.wien

1010 Vienna, Austria

Weihburggasse 27

STORES AUCTIONS HUNTING MANUFACTURE
---
LE BULLETIN FIRST THINGS FIRST

Alexander Van der Bellen

"Mein Traum vom Glück? Mit mir im Reinen sein."

"My idea of happiness? To be at peace with myself."

Eingereicht von Rainer Himmelfreundpointner | Submitted by Rainer Himmelfreundpointner

AD PERSONAM

Die letzten paar Dinge, die Sie wahrscheinlich noch nicht über Österreichs neuen Bundespräsidenten

gewusst haben, beantwortet Alexander Van der Bellen hier im berühmten "Marcel Proust-Fragebogen".

Austria's new Federal President Alexander Van der Bellen

answers the famous Marcel Proust

Questionnaire.

PHOTO: WOLFGANG ZAJC

Wo möchten Sie leben? Wo es nicht weit zu einer Buchhandlung

ist.

Was ist für Sie das vollkommene irdische Glück? Ich fürchte,

das gibt es nicht.

Welche Fehler entschuldigen Sie am ehesten? Beistrichfehler.

Was ist für Sie das größte Unglück? Solche Fragen zu

beantworten ;-).

Ihre liebsten Romanhelden? Ulrich aus Musils "Mann ohne

Eigenschaften".

Ihre Lieblingsgestalt in der Geschichte? Winston Churchill.

Ihre Lieblingsheldinnen/-helden in der Wirklichkeit?

Jemand, der Menschen hilft, denen es nicht so gut geht.

Ihr Lieblingsmaler? Velazquez und Maria Lassnig.

Ihr Lieblingsautor? Dashiell Hammett.

Ihr Lieblingskomponist? Johann Sebastian Bach und Amy

Winehouse.

Welche Eigenschaften schätzen Sie bei einer Frau am

meisten? Intelligenz und Kompetenz und Humor.

Welche Eigenschaften schätzen Sie bei einem Mann am

meisten? Intelligenz und Kompetenz und Humor.

Ihre Lieblingstugend? Gelassenheit.

Ihre Lieblingsbeschäftigung? In der Freizeit: Lesen und mit

meinen Hunden spazieren gehen.

Wer oder was hätten Sie gern sein mögen? Architekt.

Ihr Hauptcharakterzug? Ausgleichend.

Was schätzen Sie bei Ihren Freunden am meisten? Ihre

Freundschaft.

Ihr größter Fehler? Ungeduld.

Ihr Traum vom Glück? Mit mir im Reinen sein.

Was wäre für Sie das größte Unglück? Politisch – das

Zerbröseln der EU.

Was möchten Sie sein? Zukunftsoffen bleiben.

Ihre Lieblingsfarbe? Die Frühlingsfarben.

Ihre Lieblingsblume? Enzian.

Ihr Lieblingsvogel? Dohlen.

Ihr Lieblingsschriftsteller/in? Patricia Highsmith.

Ihr Lieblingslyriker? Ernst Jandl.

Ihre Helden der Wirklichkeit? Menschen, die anderen

uneigennützig helfen.

Ihre Heldinnen in der Geschichte? Friedensnobelpreisträgerin

Malala Yousafzai.

Ihre Lieblingsnamen? Natascha, Irina.

Was verabscheuen Sie am meisten? Krieg.

Welche geschichtlichen Gestalten verabscheuen Sie am

meisten? Hitler und Stalin.

Welche Reform bewundern Sie am meisten? Die Einführung

der Schulpflicht unter Maria Theresia.

Welche natürliche Gabe möchten Sie besitzen? Musikalität.

Wie möchten Sie gern sterben? Vorbereitet.

Ihre gegenwärtige Geistesverfassung? Zuversichtlich.

Ihr Motto? Ubi bene, ibi patria.

Where would you like to live? Close to a bookshop.

What represents total happiness for you? I am afraid there is no

such thing.

What mistakes are you most likely to forgive? Comma mistakes.

What do you consider the greatest misfortune? Answering

questions like these ;-) .

Your favourite novel heroes? Ulrich from Musil's "The Man

Without Qualities".

Your favourite historical figure? Winston Churchill.

Your favourite heroes from real life? Someone who helps people

who aren't doing so well.

Your favourite painter? Velazquez and Maria Lassnig.

Your favourite author? Dashiell Hammett.

Your favourite composer? Johann Sebastian Bach and Amy

Winehouse.

Which personality traits do you value the most in a woman?

Intelligence, competence and humour.

Which personality traits do you value the most in a man?

Intelligence, competence and humour.

Your favourite virtue? Serenity.

Your favourite activity? During leisure: reading and going on

walks with my dogs.

Who or what would you like to have been? An architect.

Your main personality trait? Balancing.

What do you value the most about your friends? Their

friendship.

Your biggest flaw? Impatience.

Your dream of happiness? Being on good terms with myself.

What would you consider the biggest tragedy? Politically, the

crumbling of the EU.

What do you want to be? Remain open to the future..

Your favourite colour? The colours of spring.

Your favourite flower? Gentian.

Your favourite bird? Jackdaws.

Your favourite fiction writer? Patricia Highsmith.

Your favourite lyricist? Ernst Jandl.

Your real life heroes? People who selflessly help others.

Your female heroes from history? Nobel Peace Prize laureate

Malala Yousafzai.

Your favourite name? Natascha, Irina.

What do you detest the most? War.

Which historical figures do you hate the most? Hitler and Stalin.

Which reform do you admire the most? The introduction of

mandatory schooling under Maria Theresa.

What natural gift would you like to possess? Musicality.

How would you prefer to die? Ready.

Your current state of mind? Confident.

Your motto? Ubi bene, ibi patria.

MARCEL PROUST FRAGEBOGEN | PROUST QUESTIONNAIRE

Alexander Van der

Bellen wurde am

18. Jänner 1944 in Wien

geboren. Seine Mutter war

eine gebürtige Estin, der

Vater gebürtiger Russe mit

niederländischen Vorfahren.

Nach mehrmaliger

Flucht vor den Sowjets

fand die Familie in

Österreich eine neue

Heimat, zunächst in Wien,

dann im Tiroler Kaunertal.

Er studierte Volkswirtschaft

in Innsbruck und wurde

1980 als Ordentlicher

Professor an die Universität

Wien berufen. Von 1994 bis

2012 war er Abgeordneter

zum Nationalrat, von 1997

bis 2008 Bundessprecher

der Grünen und von 2012

bis 2015 Mitglied des

Wiener Gemeinderates.

Seit 26. Jänner 2017 ist

Alexander van der Bellen

neunter österreichischer

Bundespräsident der

zweiten Republik.

Alexander Van der

Bellen, born 1944, grew up

in the Kaunertal in Tyrol. He

has studied economics in

Innsbruck and has lectured

as Professor for Economics

at the University of Vienna

from 1980 to 1994.

Between 1994 and 2012 he

was a Member of

Parliament and from 1997

to 2008 head of the Green

Party in Austria. Since

January 26th, 2017,

Alexander Van der Bellen is

Austria's 9th President of

the Second Republic.

Hintergrund. Der Fragebogen auf dieser Seite war in den Pariser Salons Ende des 19. Jahrhundert das

Gesellschaftspiel Nummer Eins und hat einen Wettstreit um die geistreichsten Antworten entfacht.

Der französische Autor Marcel Proust hat ihn zwar nicht erdacht, dafür aber gleich zweimal – 1885

und 1890 – ausgefüllt. Seither wird der Fragebogen, dessen Autor unbekannt ist, ihm zugeschrieben.

Background. The questionnaire on this page was extremely popular in the salons of Paris at the end

of the 19th century and actually has triggered an intellectual race for the most lucid answers. The

French author Marcel Proust is said have to have anwered it twice – in 1885 and 1890 – most

enthusiastically. Since then, the questionnaire is simply named after him.

10 Cercle Diplomatique 1/2017

Cercle Diplomatique 1/2017

11
---
LE BULLETIN CREDENTIALS

Neue Botschafter bei Bundespräsident Alexander Van der Bellen

Newly accredited Ambassadors met Federal President Alexander Van der Bellen

Zum ersten Mal

For the first time

Nur ein paar Tage nach seiner eigenen

Angelobung zum österreichischen

Bundespräsidenten, die im Parlament in

Wien stattfand (im Bild unten), nahm

Alexander Van der Bellen die Beglaubigungsschreiben

der neuen Botschafter in

Wien entgegen.

Only a few days after his own

inauguration as Austrian Federal

President, Alexander Van der Bellen was

handed over the credentials of the new

Ambassadors to Vienna.

Brendon Charles

Hammer

Ambassador of the Federal, Parliamentary

Monarchy Australia

H. E. H. E. H. E.

Ricardo Neiva

Tavares

Ambassador of the Federal

Republic of Brasilia

Dieudonné

Kere

Ambassador of the

Republic of Burkina Faso

Credentials: January 2017 Credentials: January 2017 Credentials: January 2017

Haytham A. H.

Shoja'aadin

Ambassador of the

Republic of Yemen

H. E. H. E. H. E. H. E.

L o t fi

Bouchaara

Ambassador of the

Kingdom of Morocco

Juan Fernando

Rojas Samanez

Ambassador of the

Republic of Peru

Hamad

Alkaabi

Ambassador of the

United Arab Emirates

Credentials: January 2017 Credentials: January 2017 Credentials: January 2017 Credentials: January 2017

Born 1958

Married, two children

Education

1987: PhD Chemistry, Australian National

University

Professional Career

2013-2016: First Assistant Secretary,

Americas Division, Department of Foreign

Affairs and Trade (DFAT)

2010-2013: Deputy Head of Mission,

Australian Embassy in Tokyo, Japan

2009-2010: First Assistant Secretary,

Southeast Asia Division, DFAT

2004-2009: Deputy Director-General,

Office of National Assessments

2003-2004: Assistant Secretary,

Parliamentary & Media Liaison Branch, DFAT

2003: Assistant Secretary, Iraq Taskforce,

2002-2003: Assistant Secretary, Americas

Branch, DFAT

1999-2003: Assistant Secretary, Defence,

Intelligence and Security Branch,

Department of the Prime Minister and

Cabinet

1998-1999: Director, Nuclear Trade and

Security Section, DFAT

1995-1998: First Secretary, later Counsellor

(Political) Australian Embassy, Washington

1993-1995: Deputy Director, Chemical and

Biological Weapons Arms Control Section,

DFAT

1989-1993: Analyst, Office of National

Assessments

Born on August 16, 1957

Married, 4 sons

Education

1997: Course of High Studies in Diplomacy,

Instituto Rio Branco, Brasília.

1985: Advanced Course for Diplomats,

Instituto Rio Branco, Brasília

1983-1984: École Nationale d'Administration

- ENA, Paris

1979-1980: Instituto Rio Branco (Brazilian

diplomatic Academy), Brasília

1976-1978: Faculty of Law, Universidade de

Brasília

Professional Career

2013-2016: Embassy of Brazil in Rome,

Ambassador

2008-2013: Mission to the European Union,

Ambassador

1998-2001: Embassy in Canberra, Counsellor

1995-1998: Mission of Brazil to the United

Nations in New York, Counsellor

1989-1993: Embassy in Tokyo, First Secretary

1986-1989: Embassy in Paris, Second and

First Secretary

1Born on April 8, 1960 in Tenkodogo

Education

2010: Master degree Law, Economy,

Management, International Economics and

Globalization, University of Grenoble

2004: Master degree in Political Sciences,

Master in Public Administration, European

Institute of Public Affairs and Lobbying,

Brussels.

Professional Career

2016: Ambassador Extraordinary and

Plenipotentiary and Permanent

Representative (UNOV, IAEA, UNIDO,

CTBTO) of Burkina Faso in Vienna.

2015-2016: Ambassador, Deputy

Permanent Representative to the European

Union, Deputy Head of Mission to the

European Atomic Energy Community,

Chargé d'Affaires a. i of Burkina Faso in

Brussels.

2014-2015: Minister Counsellor at the

Embassy of Burkina Faso in Brussels.

2006-2013 : Director of International

Cooperation at the National Assembly of

Burkina Faso.

2009-2013: Administrative Secretary for

the African region of the Parliamentary

Assembly of the Francophonie (PAF)

PHOTOS: RIGEAUD, CARINA KARLOVITS & DANIEL TRIPPOLT/HBF

Born on February 10, 1975

Married, two children

Education

Master of Business Administration(MBA),

Maastricht School of Management, The

Netherlands and Sana'a university.

Postgraduate training in diplomacy and

International Relations, Corvinus University

of Budapest. Course on International

Relations and in the International Institute

of Human Rights. Bachelor degree in

Economics, Faculty of Administration and

Economy, Baghdad University.

Professional Career

2016: Designate Ambassador of the

Republic of Yemen in Vienna

Chargé d'Affaires of Embassy of the

Republic of Yemen, Deputy Ambassador at

Embassy of the Republic of Yemen

2012-2013: Political and Economic Affairs

at the Embassy of the Republic of Yemen

in Rome, permanent Representative of

Yemen to the Food and Agriculture

Organization FAO, and the other UN

agencies based in Rome (IFAD and WFP)

Head of the EU Unit at the European

Department, Ministry of Foreign Affairs

Yemen Embassy in The Hague, The

Netherlands

Minister's office - Ministry of Foreign

Affairs

Born on January 3, 1968 in Moscow

Education

1996: University of Rabat, Master degree in

Public Law with a Major in International

relations.

1992: National School of Administration

(Rabat) Major in Diplomacy.

Professional Career

2013: Chief of Cabinet of the Minister of

Foreign Affairs and Cooperation since

October

2012-2013: Deputy Permanent

Representative of the Kingdom of Morocco

at the Permanent Mission to the United

Nations in NY and at the Security Council

2009-2013: Counselor at the Permanent

Mission of Morocco to the United Nations

2008-2010: Head of Unit in charge of

General Assembly and Security Council

issues

2001-2003: First secretary at the

Permanent Mission of the Kingdom of

Morocco to the United Nations in Geneva

in charge of disarmament and

humanitarian issues

1992-1994: Secretary of foreign affairs,

United Nations Directorate in charge of

disarmament and international security

(MFAC)

Born on June 24, 1948 in Arequipa

Married

Education

2013: International Relations Complementary

Academic Program, Diplomatic

Academy of Peru

1984: XXIII Advanced Professional Training,

Diplomatic Academy of Peru

1974: Diplomatic Academy of Peru

Professional Career

2017: Ambassador of Peru in Austria

2014-2106: Ambassador of Peru in Chile

2010-2011: Ambassador, Permanent

Representative of Peru to the International

Organizations United Nations

2006-2010: Ambassador of Peru in Bolivia

2000-2004: Ambassador of Peru in Costa Rica

1996-1998: Minister, Consul General of

Peru in New York

1994-1996: Minister in the Embassy of Peru

in France

1989-1992: Minister Counsellor at the

Embassy of Peru in Bolivia

1982-1985: First Secretary and Counsellor

at the Embassy of Peru in Brazil

1976-1981: Third and Second Secretary at

the Embassy of Peru in Luxembourg

1976-1981: Third and Second Secretary,

Permanent Mission of Peru to the

European Union

1976-1981: Third and Second Secretary,

Embassy of Peru in Belgium

Born 1981 in Al Ain, UAE

Education

Bachelor in Nuclear Engineering Purdue

University in Indiana (USA)

Master in Nuclear Engineering Purdue

University in Indiana (USA)

Professional Career

Since 2009: Member of the Board of

Management of the Federal Authority of

Nuclear Regulation in the UAE serving as

deputy Chairman of the Board.

Since 2008: UAE permanent representative

to the International Atomic Energy

Agency (IAEA)

2008: Special Representative for

International Nuclear Cooperation

Since 2007: developing a peaceful nuclear

energy programme in the UAE,

represented the UAE Government in

multiple UN and Multilateral forums

Executive Affairs Authority in Abu Dhabi

with work focused on energy planning for

the Emirate

12 Cercle Diplomatique 1/2017

Cercle Diplomatique 1/2017

13
---
LE BULLETIN REVIEW

Official receptions

Find more

photos online

cercle-diplomatique.com

December 2016

Presentation of the winter issue in celebration of the 45 year

anniversary of "Cercle Diplomatique" at the Park Hyatt Vienna

Many guests gave the editors, Andrea Fürnweger and Alexander Bursky, the honour of welcoming the fourth issue of 2016 and also

the 45th anniversary edition of the magazine, with the cover story on Russia, enjoying delicious food and pleasant encounters.

Top: The Russian Ambassador, H.E. Dmitry Lyubinskiy (2nd r.)

with Monique Dekker (2nd l.), GM Park Hyatt Vienna, and the

CD editors. Below: The wife of the Prime Minister of Belize,

Kim Simplis Barrow (middle), enjoyed her stay in Vienna with

H.E. Joel Nagel, Ambassador of Belize (2nd l.).

PHOTOS: DODGE & BURN

The entertainment programme included the presentation of

the Russian Costume Theatre (at the very top r. and top l.)

under the lead of Alla Denissova and a show of the Russian

sand painter Irina Titova (top, middle). Guests also enjoyed

the musical performance of the "young masters Ensemble".

14 Cercle Diplomatique 1/2017

Cercle Diplomatique 1/2017

15
---
LE BULLETIN REVIEW

December 2016

Lebanon

On the occasion of National Day the Chargé d'Affaires a. i. Salim Baddoura invited to a reception at the residence.

December 2016

Albania

The venue was the Diplomatic Academy Vienna to celebrate

National Day.

Left: Chargé d'Affaires a. i.

Salim Baddoura.

Left: H.E. Roland Bimo and his wife

Mimoza (middle) with H.E. Ravesha Lleshi,

Permanent Representative of Albania to

the International Organisations.

INTERNATIONALE

APOTHEKE

INTERNATIONAL

PHARMACY

December 2016

Romania

National Day was celebrated with a reception at the Vienna Stock Exchange Halls.

YOUR INTERNATIONAL

HEALTH EXPERT SINCE 1870

Wir stehen für Engagement, Service

und Leistung in Sachen Gesundheit,

Schönheit und Wohlbefinden. Im

Sinne unseres Mottos "Gesund werden

und Gesund bleiben" betreuen

wir all unsere Kunden mit fachlicher

Kompetenz in über 13 Sprachen.

We stand for commitment, service

and efficiency concerning health,

beauty and well-being. According

to our motto "get well and stay well"

we care for all our customers with

competence speaking more than

13 languages.

PHOTOS: HARALD KLEMM

PHOTOS: HARALD KLEMM

Kärntner Ring 17, 1010 Wien

T: (+43 1) 512 28 25

F: (+43 1) 512 28 25 – 9

www.internationale-apotheke.at

Top: H.E. Bogdan Mazuru (l.) and his

wife Emilia (2nd l.) and right to them

H.E. Cristian Istrate, permanent

representative of Romania to the OSCE

and the UN and his wife Gabriela Carmen.

16 Cercle Diplomatique 1/2017

Cercle Diplomatique 1/2017

17
---
LE BULLETIN REVIEW

December 2016

Palestine

On the occasion of National Day a reception was held at the Diplomatic

Academy Vienna.

December 2016

United Arab Emirates

National Day was celebrated with a reception at the Kursalon Vienna.

Left: H.E. Salah Abdel Shafi (r.)

Left: H.E. Hamid Alkaabi (middle)

December 2016

20 year anniversary of the Wassenaar Arrangement

Federal Minister Sebastian Kurz invited on the occasion of the anniversary to his ministry.

PHOTOS: DODGE & BURN

PHOTOS: DODGE & BURN

Top: H.E. Philip Griffiths from the Wassenaar Arrangement

18 Cercle Diplomatique 1/2017

Cercle Diplomatique 1/2017

19
---
LE BULLETIN REVIEW

December 2016

Kenya

On the occasion of Independence Day a reception was held at the Austria Trend Hotel Savoyen Vienna.

December 2016

Qatar

To celebrate National Day a reception was given at Palais Coburg.

Top: H.E. Ali Al-Mansouri (r.)

Top: H.E. Michael Oyugi (l.) and his wife

Diana (2nd left)

FINE ANTIQUES

WATCHES

JEWELLERY

PRECIOUS METALS

PHOTOS: DODGE & BURN

Auktioneum GmbH

Spiegelgasse 19

1010 Wien

Tel: +43 1 890 90 95

E-Mail: office@auktioneum.com

20 Cercle Diplomatique 1/2017

EXQUISIT ONLINE SHOPPING

www.auktioneum.com

Cercle Diplomatique 1/2017 21
---
LE BULLETIN REVIEW

December 2016

Japan

On the occasion of the 83rd birthday of His Majesty, the Japanese Emperor Akahito, a reception was

held at the residence.

January 2017

Austrian-Belgian Society

The traditional New Year´s Reception was held at the Bezirksmuseum Josefstadt.

Left: H.E. Kiyoshi Koinuma

(very left) and his wife Meiko

(2nd l.) with H.E. Mitsuro

Kitano (2nd r.) and his wife

Yoshie.

The French Ambassador

H.E. Pascal Teixeira da Silva

(bottom, very right) gave a

speech on the topic of current

challenges in Europe.

For refreshment, traditionally

Belgian culinary delights

were served such as snacks,

waffles, chocolate and beer.

Below: The President of the

Austrian-Belgian Society,

Stefaan Missinne.

December 2016

Bosnia

On the occasion of Armed Forces Day a reception was given at the Hotel De France.

Right: H.E. Tomislav

Leko (middle) with

Col. Slobodan

Tanasilovic (l.) and

H.E. Sanjin Halimovic.

PHOTOS:DODGE & BURN, NAPOLEON RAMOS

22 Cercle Diplomatique 1/2017

Cercle Diplomatique 1/2017

23
---
LE BULLETIN REVIEW

January 2017

Malta

On occasion of the Malta EU Presidency 2017 a piano concert and a reception were held

at the Haus der Ingenieure.

January 2017

Consular Corps

The New Year´s Reception for accredited honorary

consuls in Austria was held at Palais Pallavicini.

Top: The honorary consuls

Wolfgang Andreas Breitenthaler

(l.), Peter Freissler (middle)

and Raoul Käuffler inivited on

behalf of the U.C.C.A. (Union of

the Consular Corps in Austria).

C

The Ambassador of Malta, H.E. Keith

Azzopardi (r.) with his wife (2nd l.) and

his daughter and the Ambassador of

Kenya, H.E. Michael Oyugi (l.) and his

wife Diana.

M

Y

CM

MY

CY

CMY

K

June 2016

Consular Corps in Tyrol

Governor Günther Platter invited to a New Year´s

Reception at the Grand Hotel Europa in Innsbruck.

PHOTOS: OURIEL MORGENSTERN, BEIGESTELLT

Above: Honorary Consul

Ernst Wunderbaldinger.

24 Cercle Diplomatique 1/2017

Cercle Diplomatique 1/2017

25
---
LE BULLETIN REVIEW

February 2017

New Year´s Reception of the new Federal President

It was the first time for Alexander Van der Bellen to receive the international diplomatic corps.

February 2017

Iran

National Day was celebrated with a reception at the residence.

Left: The new Austrian Federal

President, Alexander Van der

Bellen (middle) and his wife,

Doris Schmidauer (left to him).

H.E. Ebadollah Molaei (left) and H.E. Reza Najafi.

February 2017

Serbia

On the occasion of National Day a reception was held at the Diplomatic Academy Vienna.

PHOTOS: DODGE & BURN, PETER LECHNER/HBF, CARINA KARLOVITS/HBF UND DANIEL TRIPPOLT/HBF

Top: H.E. Pero Jankovic (left) and H.E. Vuk Zugic (middle).

26 Cercle Diplomatique 1/2017

Cercle Diplomatique 1/2017

27
---
W I E N E R P R I V A T K L I N I K

LE

MONDE

VIENNA PRIVATE HOSPITAL

RECOMMENDED BY LEADING DOCTORS

© karlheinzfessl.com

FIRST CLASS PRIVATE HEALTHCARE

The VIENNA PRIVATE HOSPITAL – situated in the centre of

Vienna in ultimate proximity to the University Hospital offers

highest medical competence with the leading specialists from

a great variety of fields. Built in 1871, the Vienna Private

Hospital became the flagship in the private healthcare sector.

The Vienna Private Hospital successfully combines decades of

clinical experience with the state-of-the-art scientific methods

in modern medicine.

With a variety of interdisciplinary medical centres of excellence

our hospital provides medical expertise, equipped with the modern

technology (PET/CT, multi-slice SPECT/CT) at the highest level.

STATE OF THE ART MEDICINE, ELEGANCE AND LUXURY – IN THE HEART OF VIENNA

Multilingual expert staff ensures convalescence in a luxurious

ambience in the Art Nouveau style. Our excellent cuisine meets

the individual culinary, religious and ethnic needs of our patients.

Welcome in The Vienna Private Hospital – Your Health is Our Passion!

MAIN MEDICAL FIELDS

Cardiology • Angiology • Cardiac Surgery • Obesity Management

Weight Loss surgery • Endocrinology/Metabolic diseases Abdominal

Surgery • Vascular surgery Neurosurgery • Brachial Plexus

and Peripheral Nerve Surgery • Reconstructive Surgery Oral

and maxillofacial Facial Reconstruction Surgery • Orthopaedics

surgery • Bone Tumor Surgery • Minimal invasive Implants

& Prosthetics Surgery • Trauma surgery • Physical medicine and

rehabilitation • Rheumatology • Immunology • Ophthalmology

Pulmonology • Gynaecology • Urology • Check-Ups

1090 Vienna/Austria · Pelikangasse 15 · Phone: +43 1 40 180-8700 · Fax: +43 1 40 180-2254 · Mail: info@wpk.at

HIER FINDEN SIE EINE REIHE

HOCHINTERESSANTER

BERICHTE ÜBER DIE

LÄNDER DIESER WELT UND

IHRE VERTRETUNGEN IN

ÖSTERREICH, GESPICKT MIT

INTERVIEWS UND

STELLUNGNAHMEN VON

EXPERTEN AUS DEM IN-

UND AUSLAND.

HERE YOU WILL FIND A

NUMBER OF HIGHLY

INTERESTING REPORTS ON

THE COUNTRIES OF THE

WORLD AND THEIR

REPRESENTATIONS IN

AUSTRIA, PEPPERED WITH

INTERVIEWS AND EXPERTS'

OPINIONS FROM AUSTRIA

AND ABROAD.
---
LE MONDE MALTA

THE TREASURE

EUROPE

ISLAND OF

With the EU Presidency in the first half of 2017, Malta has moved into the

spotlight of European politics. Those who take a closer look are already admiring

the impressive economic strength, the tiny island country in the Mediterranean

has achieved in recent years. An exploration of the Malta miracle.

Text: Rainer Himmelfreundpointner

MALTA

PHOTO: MALTA TOURISM

The famous "Azure Window" in

Dwejra on the northern island of

Gozo has been washed out of the

cliff by the waves and the winds

and stands as a gateway to the

Mediterranean Sea.

30 Cercle Diplomatique 1/2017

Cercle Diplomatique 1 /2017

31
---
LE MONDE MALTA

Valletta is well-known for its

picturesque views and narrow

streets (right) as well as

its numerous shopping

possibilities (below).

A breath-taking view from the

oceanside over the hills of Valletta

with the famous St. John's

Cathedral guarding them.

PHOTOS: FOTOLIA (2), MALTA TOURISM

When it comes to Malta, there are those

who think of it as this small country in

the Mediterranean Sea, consisting of

three tiny islands – Malta, Gozo and ... hhhm ... Comino,

right? – south of Sicily. Poor chaps, they obviously

have never been there.

And then there are those having already been lured

by fate to Malta – like in ancient times it happened

to Odysseus who was seduced by the Goddess

Calypso to spend seven years in Gozo, they say. These

people belong to the lucky crowd. You may recognise

them by their "did-you-know-that"-habit, they

simply can't keep their mouths shut talking about the

wonders and curiosities they have come across during

their visit. Just kindly ask "How was your trip

to..." and they will unstoppably go like did you know

that...

• the name "Malta" derives from the Greek word μέλι

or "meli" which means "honey";

• there are exactly 365 churches, one for each day, but

no rivers or lakes;

• Valletta is Europe's smallest capital, with less than a

square kilometre in size;

• the megalithic temples of Ggantija on Gozo island,

one of the country's three UNESCO World

Heritage Sites, are older than the Pyramids of

Egypt, dating back to between 3,600 and 2,500 BC;

• there is maybe nothing more beautiful than the

"Azure Window" in Dwejra on Gozo – a rock

monument which has been washed out of the cliffs

by myriads of waves and the winds and stands

majestically as a gateway to the Mediterranean Sea;

• Mdina, the old capital of Malta, is called the "City of

Silence" because time seems to stand still there;

• all over the country you can find these cute, old

British telephone cabins, but also have to drive on

the left side, because Malta has been a colony of the

United Kingdom until its independence in 1964;

• the picturesque scenery of Malta has proved to be

the perfect playground for many blockbuster

movies like "Gladiator", "Troja", "The Count of

Monte Christo", "World War Z" or the endless TVseries

"Game of Thrones", and let's not forget

"Popeye the Sailor" with Robin Williams.

True lovers of Malta could endlessly go on and on

listing such outstanding features. And they are constantly

becoming more and more. Every year, some

additional two million folks are getting addicted to

Malta. That's the number of visitors the country,

which only has a population of some 445,000 people,

An overview of Valletta, the

smallest capital of Europe, which

spreads out only over less than a

square kilometre.

Building complex at the National

Corporation KazMunaiGas

Round Square.

32

Cercle Diplomatique 1/2017

Cercle Diplomatique 1/2017

31
---
LE MONDE MALTA

An evening view of Victoria, the commercial

and administrative center of Gozo, with its

majestic citadel towering over the castle.

FACTS &

FIGURES

The magnificent interior of the St. John's

Cathedral, built between 1572 and 1577, is

one of the finest examples of

Baroque art in Europe.

Don't miss out visiting one of the

traditional glass blowing shops . It is

traditional handicraft at its best.

has welcomed in 2016. Because Valletta, along with

Leeuwarden in Friesland, will be Europe's Capital of

Culture 2018, such record tourism figures might not

have reached the ceiling yet.

With the beginning of this year, Malta has taken

over the Presidency of the European Union for

the first half of 2017, thus moving into the focus of

European politics which has to confront severe problems

as well internally as externally. "Malta's EU Presidency

comes at a time when Europe is facing great

challenges", says Keith Azzopardi, the Ambassador of

the Republic of Malta to Austria in an interview with

Cercle Diplomatique, starting at page 38. "People are

sending clear signals to the EU, amid growing populism

in Europe and beyond. Therefore, our core mission

is to listen to what people are saying and to bring

Europe closer to the people."

So Malta has chosen the theme "Re-Union" as the

core of its Presidency, with issues like single market,

social inclusion, security or Europe's neighbourhood

on the top of the long list of priorities. Plus, to no

surprise, migration – the number one topic in Europe

for about two years. After the closing of the refugee

route from the Middle East via Turkey and

Greece, all the way through the Western Balkans into

the heartland of the continent in 2016, the dangerous

crossing of the Mediterranean sea – which actually

has turned into a graveyard for thousands of African

refugees, while another 181,000 more lucky ones

have reached Italian shores last year – is back in the

focus of European migration politics again.

Once the Mediterranen may have been regarded

as, in the lyric words of David Abulafia, a historian,

as "the most vigorous place of interaction between

different societies on the face of the planet". But today,

for Europe it represents only danger and instability.

So, as a matter of fact, Malta's presidency, according

to the official wording, draws attention to the

Mediterranean's "ongoing conflict, socioeconomic

challenges, terrorism, radicalisation and humanrights

violations".

Chief among these concerns, of course, is migration

which is nothing new for Malta. Between 2002

and 2012 thousands of refugees fleeing war-torn African

states like Somalia and Eritrea threatened to

overwhelm the tiny island. Utterly unprepared for

the arrivals, the Maltese shoved them into what critics

called grim detention centres, which remain

open today. Malta's bid for solidarity from its EU

PHOTOS: MALTA TOURISM

partners went nowhere. And in addition its relationship

with Italy soured in rows over responsibility for

migrants picked up at sea.

Thanks to a, some say, "mysterious deal" between

Italy and Malta not acknowledged by either side until

today, things have changed in the meantime and

only few irregular migrants now disembark on the

islands of Malta. But the central Mediterranean route,

which now runs almost exclusively between Libya

and Italy, has Europe's attention again and therefore

been the primary issue at the last EU Summit held in

early February in Valletta.

In preparation for this event, Joseph Muscat, the

Prime Minister of Malta, has courted leaders of European

and African countries in a diplomatic tour de

force to promote his bigger idea for a grand solution

in the Mediterranean region. He wants the EU to

strike deals with African countries similar to that agreed

with Turkey in March 2016, which drastically

slowed the flow of migrants to Greece.

Parts of this plan had already leaked during the

week before the summit. For example, joint naval patrols

of North African waters, mainly with the marine

forces of the still highly unstable Libya or the need

for additional financial help in return to migration

control efforts. Even the old notion of offshore asylum-processing

centres in countries like Egypt and

Tunisia has been revived during discussion ahead of

the gathering.

Many of them have been agreed upon at the high

level meeting last February with the so called Malta

Declaration, which is regarded as a milestone in

addressing the migration crisis on which Europe's

countries are deeply divided. For instance, the importance

of having stable, secure and proper institutions

in Libya, which has become a haven for smugglers

from where they send migrants to Europe, has

officially been acknowledged. Also, EU leaders commited

themselves to increase their efforts to disrupt

the business model of this cruel and murderous human

trafficking. And they promised to come up with

the necessary resources, mainly financially, to train

and equip the Libyian national coast guards to

strengthen their boarder management capacities.

"So the EU is finally committed towards securing

its southern border through concrete actions agreed

upon in Malta", Ambassador Azzopardi is summing

up the results of the Summit. And he is adding to

that: "Something that Malta has for many years been

calling for."

This positive outcome of the EU Summit in February

is not the only success story Malta has delivered

in recent years. In regard to its economy, it is one

of the best performing countries of the European Union,

due to a strictly applied national reform and stability

program imposed by the European Commission

in 2012. Malta's GDP, albeit nominally only 24.3 billion

dollars small, has been growing at a rate of 4.1 percent

in 2016, faster than most EU countries. Furthermore,

with a mere 5 percent, the unemplyment rate is

lower than EU average, and investment activities – in

2016 alone, Malta was able to attract some 160 billion

Euros of foreign direct investment – and domestic

consumption are amongst the strongest in Europe.

"The services sector is the stronghold of Malta's

economy, contributing to almost 80 percent of its

GDP and employing more than 70 percent of the

country's workforce", Gudrun Hager, Austria's Commercial

Counsellor for Malta, reports (see page 43).

"Also industries such as gaming, financial services

and banking, IT and tourism are flourishing. Besides

services, manufacturing of high-tech products and

components for the automotive, electronics and medical

industries have become one of the mainstays of

the country's economy."

Many experts, looking for a cure for the ailing

economy in Europe, are turning their eyes to the

Malta miracle. The country has managed to keep its

souvereign debt at a Maastricht-conform level of

around 60 percent of its GDP and is enjoying a budget

deficit of only 0.7 percent. Its tourism sector is

thriving and expected to employ some 35 percent of

the workforce in 2025. Thanks to its liberal regulations,

Malta also has become Europe's capital of interactive

gaming, hosting some 283 online gaming and

betting companies which also boost the IT and software

sector and already contribute nearly 10 percent

to the GDP. In part, this has been triggered by the

"Digital Malta Program" which already has convinced

companies like HP, Cisco and Microsoft to set

up training centers on the island. Finally, the real estate

market is booming, car-sharing and E-mobility

are top government priorities, as well as the promotion

of renewable energy sources and the construction

of efficient waste diposal plants – the latter representing

quite a number of business opportunities

for Austrian green-tech-companies, according to

Commercial Counsellor Hager.

Already the dozens of Austrian companies active

in Malta have experienced an impressive increase in

MALTA

Official Name:

Republic of Malta

Capital: Valletta

Area: 316 sqkm 2 (207th largest

country in the world)

Population: 445,500

(2014 estimate)

Official languages: Maltese,

English, Maltese Sign

Language

Religion: Roman Catholic

Currency: Euro (EUR)

GDP: 10,5 billion $ (nominal,

estimate 2016)

GDP per capita: $ 24,297

million (nominal, estimate

2016)

Government: Unitary

parliamentary republic

• President:

Marie Louise Coleiro Preca

• Prime Minister:

Joseph Muscat

History:

around 5200 BC:

First settlements

around 3600 BC:

Temple period

8th century BC: Colonisation

by Phoenicians and Carthage

218 BC: Roman rule after 2nd

Punic War,

870: Arab period

1194-1530: Rule of

Kingdom of Sicily

1530-1798: Hospitaller rule

1800-1964: Rule of British

Empire

1964: Independence

since 2004: EU membership

Grand harbour of Valletta,

Europe's Capital of Culture

in 2018.

The delicious food, the beautiful sea and

paradise-like underwater diving attractions

as well as numerous possibilities for

relaxation have attracted a record mumber

of nearly 2 million visitors to Malta in 2016.

34

Cercle Diplomatique 1/2017

Cercle Diplomatique 1/2017

35
---
LE MONDE MALTA

WINNING

IN SHORT

TECHNOLOGY

Valletta 2018

– European

Capital of Culture

Mediterranean

dimension. Valletta,

together with the Dutch

city of Leeuwarden, the

capital of Friesland, will be

the European Capital of

Culture in 2018. Since the

capital of Malta is seeing

itself "as a city that is a

symbol of Europe meeting

its Mediterranean

dimensions", the

programme of events will

very much embrace this

broad approach.

Highlights. The

celebrations in 2018 will

start – no surprise – with

the "Carnival" which is one

of the oldest events in

Malta. February will see

the beginning of "Modern

Music Days" with "Digital

Projections" all over

Valletta's buildings. The

city will also host the

"Malta World Music

Festival" and the

"Ghanafest" and various

conferences like the one on

"Community Spaces".

Especially interesting

might be the art project

"Presents of the Future"

which is run by Austrian

collective Time's Up.

The logo of the Valletta

campaign for European

Capital of Culture 2018.

Top: The Rabat Catacombs, heritage of the times of megalithic

settlement between 3,600 and 2,500 BC. Below: The Malta

Aviation Museum, reflecting the importance of this industry.

Top: Cars with heavy fuel consumptions are something for hip

exhibitions, modern Malta counts on e-mobility. Below: Classic

architecture meets contemporary design in Valletta.

exports of some 10.6 percent in 2016, amounting for

some 161.6 million Euros of goods and services in

2016, a heavy surplus compared to imports of some

107 million Euros. And because the Vienna Airport

holds a share of 50 percent of the Malta International

Airport, Austria is a major investor in the country as

well. This is also due to a large investment of the Austrian

gaming giant Novomatic into the Dragonara Casino

at St. Julian's, one of Malta's touristic hotspots.

"Malta offers numerous advantages to foreign investors

which are worth to be explored", says Azzopardi.

So what is the secret behind this Maltese success

story? "We are saying that the market is not a bad

thing, that government should leave it to the private

sector to do what the private sector does best", Malta's

Prime Minister Joseph Muscat, a social democrat heading

the government after a landslide election victory

of his Labour Party in 2013, recently told the "Economist"

prior to the EU Summit. "It needs regulation

(and) to intervene where there are market failures and

social issues, (but) the only credible way of developing

infrastructure, of investing, is by roping in the private

sector rather than being antagonistic to it."

Hand in hand with this economically rather liberal

course, he insists that his government is putting forward

"pure social democrat ideas" like universal free

childcare, for instance. "We are the first country in

Europe, perhaps in the Western world, to introduce

that", he proudly reports. "That has unleashed the tremendous,

previously untapped potential of the female

labour force." Also, the government has lowered public

energy bills by 25 percent, managed to increase

pensions for the first time in 25 years or introduced

private sector key performance indicators in the public

sector, mainly in health care where the waiting list

for hospital surgeries could be shortened decisively.

"So we have not always reinvented the wheel, only managed

to put forward a few ideas", Muscat says. "But it

is more a matter of mentality than anything else."

For the realistic part of the growing number of

Malta watchers, this mixture of liberal economics guided

by a social democrat political framework – Muscat

relates a lot to the politics of Bill Clinton, Tony

Blair or Gerhard Schröder – is working well as a decent

explanation of the Malta miracle.

But the more romantic fans, like some historians as

well, have a very different version of the true secret of

this unique country. Just ask them, and they ask back:

Didn't you know, that Malta once has been the legendary

site of Atlantis? Indeed, that old spirit of luck

seems to be still around.

PHOTOS: MALTA TOURISM

Gaming innovation starts here.

This is what our brand ambassador Niki Lauda stands for. Because

above all, we owe our success as one of the leading international

gaming technology groups to our innovative strength. It is continually

developed at our headquarters in Austria, at our 20 technology centers

and 13 production sites worldwide, as well as through our collaborations

with leading technical universities.

More information on www.novomatic.com

36

Cercle Diplomatique 1/2017
---
LE MONDE MALTA | INTERVIEW

MORE TO SEE

H.E. Keith Azzopardi

"Addressing security is not an option but rather a must."

The Ambassador of the Republic of Malta to Austria points out the major policies of the

current Malta EU Presidency, especially its strategy on the issues of migration and security,

and tries to offer some hints to improve the sad trade figures between Malta and Austria.

Interview: Rainer Himmelfreundpointner

CD: Ambassador Azzopardi, Malta assumed the Presidency of

the European Union for the first time ever as of January 2017.

Can you share with us main issues of what your Presidency is

all about?

Keith Azzopardi: Malta's Presidency of the Council

of the EU comes at a time when Europe is facing great

challenges. It also comes at a time when people are

sending clear signals to the EU, amid growing populism

in Europe and beyond. With this as a background,

our core mission is to listen to what the people

are saying and bring Europe closer to the people.

This is reflected in the theme chosen for Malta's Presidency

– rEUnion and also in the priorities Malta has

set for the six-month Presidency term: migration,

Europe's Neighbourhood, security, the single market,

social inclusion and maritime. People are demanding

answers and Europe must deliver. At the same time,

we are pragmatic and are aware that we do not have

the key to solve all Europe's problems. Instead, the

work we have initiated during this Presidency will

continue in the months and years to come.

MORE TO DISCOVER

H.E. KEITH AZZOPARDI

PHOTO: RALPH MANFREDA

At the EU Summit last February, the first under Malta's EU

Presidency 2017, European leaders have agreed upon a new

plan to secure the Mediterranean migration route counting

on the cooperation of Libya. Many ideas of this plan have

been proposed by Malta. Would you give us some more

background on this?

One must keep in mind that for many years, Malta

was on its own trying to overcome this crisis: the migration

crisis. We have first-hand experience and know

how pressing the need is for all Europeans to come

together in a spirit of solidarity to address this phenomenon.

The 2015 Valletta Summit was an unprecedented

event, bringing so many Head of States from

European and African countries that led to an agreement

on an action plan. Around 400 Senior Officers

from Europe and Africa also met in Malta earlier this

month to follow-up on the Valletta Summit. The Malta

Declaration, which was agreed at the informal EU

Summit in Valletta last February is another milestone.

European leaders acknowledged what Malta has been

calling for, for many years – the importance of having

stable, secure and proper institutions in Libya, which

unfortunately has become a haven for smugglers sending

migrants to Europe. There is now a clear commitment

to increase efforts in this regard as well as to

disrupt the business model of smugglers. The necessary

resources, including financial resoures, will be

available to train and equip Libyan national coast gu-

*including all taxes. Subject of availability

MORE TO REMEMBER

SUNSHINE ALL YEAR ROUND

VIENNA-MALTA-VIENNA

Up to April 4 times a week

In Summer 9 times a week

directly from Vienna

www.airmalta.com

from€138 *

MALTA IS MORE

WWW.VISITMALTA.COM

Since September 2013, Keith Azzopardi serves as

Ambassador of the Republic of Malta to Austria and

Permanent Representative of Malta to the OSCE and

international organisations in Vienna. Prior to that, he

acted as a political adviser at the European

Parliament including issues of security and defense.

38 Cercle Diplomatique 1/2017
---
LE MONDE MALTA | INTERVIEW

PROMOTION

"Instability beyond Europe's borders

could have ripple effects on the

stability of the European Union.

Our security is also interlinked with

that of our neighbours."

Our aim is to conclude legislation that was already

being negotiated, in a collective effort, while also remaining

committed towards the completion of the

Internal Energy Market. As I said, the challenges Europe

is facing are complex. We do not intend to be

revolutionary but we are rather aiming at proposing

minor solutions to these big challenges.

Malta: 50 years of economic development

Industry is not the first thing which comes to mind when

Malta is mentioned. Better known for a vibrant history and as

a holiday destination, the small island nation also has a strong

manufacturing base and associated support services which

contribute over 30% to the country's GDP.

Ambassador Keith Azzopardi

with CD-author Rainer

Himmelfreundpointner.

ards to enhance their border management capacity. In

short, the EU is finally committing towards securing

its southern border through concrete actions agreed

upon in Malta.

Malta itself is considered as a safe and secure country.

Nevertheless you still chose security as one of the

presidency's priorities. Why so?

Addressing security is not an option but a must. Following

what has happened in Brussels, Paris, Istanbul

and in other parts of the world, adds to the pressure of

ensuring the security of European citizens. We must

remain vigilant. Malta will seek to achieve progress on

current initiatives aimed at combating terrorism and

in better managing the Union's external borders. Security

is also interlinked to that of our neighbours. As

an overarching priority of Malta's Presidency, particular

attention is being given to the Mediterranean. This

includes the situation in Libya, the democratic transition

in Tunisia and the deepening of relations between

the EU and the League of Arab States. Instability beyond

Europe's borders could have ripple effects on the

stability of the Union. Having said that, engagement

with the Eastern Neighbourhood and Russia will remain

important, as will the EU's relations with the

Western Balkans and Turkey.

The single market also features high on Malta's EU

Presidency agenda. What is your strategy to improve the

current situation and overcome any shortcomings?

We strongly believe that the single market is the

Union's biggest asset. We need to exploit the single

market and develop the digital single market, which

could benefit European citizens and businesses alike.

Brexit adds to the challenges Malta has to face during its

presidency. As a member of the Commonwealth and a

country with very strong ties to United Kingdom, how will

Malta deal with this?

It is quite an irony that a country currently presiding

the Commonwealth is holding the Presidency of the

Council of the EU at a time when the UK will trigger

Article 50, the process by which it will eventually cease

to be an EU member. The UK will get the best deal

possible but, one understands, this has to be inferior

to EU membership.

Let's now talk about more, hopefully, light and interesting

issues. Since your accreditation as Ambassador to Austria,

which personal impressions of the country have you gathered

so far?

After more than three years living in Austria I have to

admit that I still cannot have enough of the scenic

beauty of the country's mountains and nature, the picturesque

cities and small towns in different regions.

Vienna is a classic example. One cannot live in Vienna

and not appreciate the music it offers. I have to mention

the beauty of Graz – a city with such a Mediterranean

flair and rich culture, or the crystal-clear lakes in

Carinthia. I can go on and on. I have visited the country

before, but living in a country for a longer period,

gives you another perspective of the country and the

opportunity to appreciate what one cannot fulfil during

a short trip. I will definitely carry with me this

positive image of Austria no matter where my destiny

will take me next.

How is the current relationship between Malta and Austria?

Can you also provide us with a glance at the historic

development of relations between Malta and Austria?

Very good indeed! Actually, our relationship with

what we know today as Austria dates back to the 16th

century. Between 1530 and 1798, there were among

the Knights of Malta quite a number from the Austrian

territories. They held important posts in the

Government of Malta, in diplomacy, navy and military.

Since the relations between the two countries were

Story continues on p. 42 ➝

PHOTOS: RALPH MANFREDA

PHOTOS: MALTA ENTERPRISE • ENTGELTLICHE EINSCHALTUNG

A

sector which in its early days in the 50s and 60s made use of Malta's low

cost base, industry in Malta has thrived in spite of challenging global circumstances.

Changing cost structures, while still very competitive when

compared to the Western European nations, led operators to switch to products

with a high added value which necessitated the input of a well-trained workforce.

Indeed, this workforce is the main resource which Malta has and, in view of this,

successive administrations have invested heavily in the educational sector to ensure

a steady supply of trained employees.

This ability to adapt to a changing world has resulted in an advanced manufacturing

sector which covers a remarkably wide range of areas including automotive

components, plastics, precision engineering, pharmaceuticals and medical devices.

This deliberate policy of spreading of risk has meant that Malta has been

able to consistently weather international economic upheaval as downturns in

specific sectors are more than compensated for by the continued strong performance

of other areas of the economy. The past year saw the country deliver the

highest growth rates in the EU, with an increase of over 6% in GDP and with

predictions for this year looking equally positive.

All this provides that essential factor so important to any investor: stability. It

is this economic, political and social stability which has provided a bedrock for

existing operations and serves as an attraction to a steady stream of new investors.

It is no fluke that in 2017 the country will be marking 50 years of operations of a

number of important investors who have developed, adapted and thrived in Malta.

In addition to this stability, there are a multitude of other factors which collectively

make Malta an ideal base for business. Chief amongst these is the abovementioned

quality of the human resources, who are invariably described by

investors as productive, flexible, easily trained and loyal. The fact that English is

an official language simplifies not only the provision of training, but also interactions

with other stakeholders and suppliers as well as access to legislation.

A highly developed communications infrastructure ensures reliable interaction

with other countries, while daily flight connections to various international

hubs facilitate the appropriate levels of contact between supplier and client. The

transparent, fully onshore, yet remarkably competitive tax system is undoubtedly

another important factor in attracting investors to Malta. A system which is in full

conformity with EU legislation, is backed up by over 60 Double Taxation Agreements

and yet allows for competitive tax rates is one which adds a great deal of

value to any Malta-based operation. These benefits are further complemented by

a wide range of assistance provided by Malta Enterprise, the country's economic

development agency, which seeks to ensure that any investor will get the best possible

benefits out of a Malta operation. This comprises assistance during the initial

information-gathering phase including the organisation of fact finding visits;

investment aid and access to finance to facilitate investment; as well as the allocation

of industrial space.

All the above factors, together with the fact that Malta can offer an excellent

quality of life thereby making it an attractive base for management and their families,

make this small yet energetic island an ideal location for any investor wishing

to access various markets in the EU as well as North Africa and the Middle East

from a location which offers long term peace of mind.

Further information may be accessed on www.maltaenterprise.com.

Malta has been a home to a thriving manufacturing industry

for half a century

40 Cercle Diplomatique 1/2017
---
LE MONDE MALTA | INTERVIEW

LE MONDE EXPERT´S VIEW

"The trade volume between Malta

and Austria is not the most impressive.

Also, tourism is definitely

one of the sectors where we could

achieve more favorable figures."

"Impressive increase"

Gudrun Hager, Head of Advantage Austria in Milan

Keith Azzopardi (left) with

Cercle Diplomatique's

publisher Alexander Bursky

and author Rainer

Himmelfreundpointner.

formally established in 1966, this cooperation was

best demonstrated in a number of bilateral agreements

signed over the years. One has to mention our

close collaboration in the multilateral fora, including

at the EU level. Malta and Austria also share many similarities

– both are small nations and proud EU

Member States that retain their neutrality clause in

their respective Constitutions. Besides that, both

countries also share the same concerns, such as the

phenomenon of migration. As a matter of fact, maintaining

good relations is essential and in the best interest

of both countries. These good relations were reinforced

by the state visit to Malta of H.E. President

Emeritus of Austria, Dr Heinz Fischer in April 2012,

which was reciprocated by a state visit to Austria by

H.E. President Emeritus of Malta, Dr George Abela in

January 2014.

But total the trade between Malta and Austria unfortunately

is not very impressive, amounting to some 40 million Euros

of Austrian exports to Malta and some 12 million Euros of

imports from Malta. What can be done to improve our trade

relations? Where would you highlight the most promising

areas, projects or investment opportunities to improve

economic ties between Malta and Austria?

I agree that trade figures are not the most impressive.

Even if there was an increase recently, I must admit

that there is room for improvement, although we continue

to seek ways how to better these numbers. But

the picture is not so bleak. There are a large number of

local companies with Austrian shareholding, some of

which are found in the banking and investment sector,

but also in other sectors. The Vienna International

Airport is a classic example. Other companies operating

from Malta are specializing in iGaming, injection

moulding, electronics and pharmaceuticals, to name a

few. In addition, Austria also represents a very important

market segment for Malta for the teaching of

English as a foreign language. I have to say that the

tourism sector is definitely one where we could achieve

figures that are more favourable. Other sectors in

Malta, which are worth investing in are IT, financial

services, aviation, pharmaceuticals and the manufacturing

sector. Malta offers numerous advantages to

foreign investors that is worth for the Austrian businesses

to explore.

Actually, with Valletta becoming European Capital of Culture

2018 all eyes will focus on Malta and its touristic attractions.

Can we also go deeper into the many cultural and touristic

treasures of Malta as a travel destination?

The UNESCO heritage capital Valletta is a real gem.

And to be awarded the prestigious title of the European

Capital of Culture 2018 will continue to consolidate

its place among the best cultural and historical

places on the world map. Several cultural events will

be taking place both in Malta and abroad next year. In

Malta, one can find more heritage sites per square kilometre

than any other county around the globe; our

country probably has the highest density of historical

places of the world. It is a living testimony to over

7,000 years of history. The co-Cathedral of St John in

Valletta is a true gem of Baroque art and architecture,

not to mention the stunning view of the grand harbour

from the Upper Barrakka gardens, built by the

Knights of Malta. Malta is also home to the oldest

freestanding structures in the world – the Megalithic

Temples which are even older than the pyramids of

Egypt. Visitors to Malta cannot afford to miss a visit to

the old capital Mdina, also known as the Silent City or

to the Cittadella castle in Gozo, Malta's sister Island.

Malta is literally packed with attractions and places of

interest.

Finally, if you take a look into the future, what would be your

vision of Malta and its role in Europe?

Malta is not just the smallest EU Member state but

also still young as an independent nation. Despite

the challenges and limitation, which comes with size,

we have managed to turn the tides in our favour over

the years. Our thriving economy is one example. Yet

we are also strong promoters of civil rights and social

welfare. We believe in the European value of putting

people first. Europe is not only about political or economic

issues. Therefore, size should not prevent us

from continuing to lead by example in Europe in the

future.

FOTOS: PHOTOS: XYXXYXYXY

RALPH MANFREDA

PHOTO: BEIGESTELLT

Gudrun Hager

is Austria's Commercial

Counsellor for Italy and

Malta, located in Milan.

Prior to this, she held

similar posts in Greece,

Poland, China, USA,

and was responsible

for Switzerland and

Liechtenstein.

Why Malta's economy is growing faster than that of most European countries.

Malta's economy, albeit small, has been

growing faster than most EU-countries,

backed by an increase in investment

activities and strong domestic consumption.

In 2016, GDP is expected to have grown by a

solid 4,1 percent. The unemployment rate is stable

and significantly lower than the EU-average,

amounting to a mere 5 percent in 2016. The services

sector is the stronghold of Malta's economy, contributing to

almost 80 percent of its GDP and employing more than 70 percent

of the country's workforce. Industries such as gaming, financial

services and banking, IT and tourism are flourishing. Besides

services, manufacturing of high-tech products and components

for the automotive, electronics and medical industries has become

one of the mainstays of Malta's economy.

Globally, Malta is a preferred investment location in the financial

services and insurance sectors, with foreign companies

leveraging the country's clear regulations and tax advantages. In

2016 alone, the island attracted foreign direct investments of 160

billion Euro. One of the major foreign players in Malta is Austria,

its largest investment being its stake in the island's international

airport. Vienna International Airport is holding a majority share

in Malta International Airport, thus contributing to the thriving

Maltese tourism industry. In 2015, Austria exported goods and

services worth 161,6 million Euro to Malta and imported a total

of 107 million Euro. From January to November 2016 Austrian

exports of goods have increased by an impressive 10,6 percent.

Aviation is set to become one of Malta's fastest growing industries.

Malta is already manufacturing components for Airbus and

Boeing. A new aviation cluster is promoting the development of

the aviation services sector while also emphasizing R&D in the

production of components and unmanned aircrafts.

Austrian companies can capitalize on their excellent reputation

and know-how in tourism and tourism infrastructure. We

also see significant market potential for suppliers of green technology.

In a European context, Malta is still lagging behind in

terms of alternative energy sources. Merely 1,1 percent of Malta's

total energy consumption are generated by renewables. Efficient

waste disposal plants are practically missing on the island. New

projects in the logistics sector such as the construction of a large

logistics hub in Hal Far could also offer interesting business opportunities

to Austrian exporters.

42 Cercle Diplomatique 1/2017

THE LUXURY OF TODAY IN THE VILLAGE OF TOMORROW

Das Almdorf chalet village in Carinthia is a special place.

Located on two sunny, slightly staggered plateaus in the

Nock Mountains, our accommodation is reminiscent of

an old village but with the modern amenities you'd find

in a luxury hotel. In rustic alpine chalets or exclusive

luxury cottages surrounded by breath-taking nature, you

will experience true community, local food and drinks

and an atmosphere of art, exchange and visionary

ideas. You will be spoiled, inspired and motivated.

You can retreat or participate as you like, always in the

comforting knowledge that everything here is done

regionally and sustainably, which can only make things

better. Come and expierence this unique haven.

COME IN PEACE

PHONE

+43 4275 7201

www.almdorf.com
---
LE MONDE PROMOTION

The Cooperation Council for the

Arab States of the Gulf (GCC)

H.E. Dr. Abdullatif bin Rashid Al- Zayani, Secretary

General of the Cooperation Council for

the Arab States of the Gulf (GCC) , shed light

on the different phases of the GCC since its inception,

along with the success it achieved in various spheres.

On the driving force behind establishing the Cooperation

Council for the Arab States of the Gulf (GCC), he said,

"On 25 May 1981, Their Majesties and Highnesses,

the leaders of the United Arab Emirates, Kingdom of Bahrain,

Kingdom of Saudi Arabia, Sultanate of Oman, State of Qatar

and State of Kuwait convened in Abu Dhabi, United Arab Emirates

and agreed on a practical and realistic framework of cooperation joining

the six countries, namely the Cooperation Council for the Arab

States of the Gulf (GCC) in a bid to achieve coordination, integration,

and unity among them in all relevant fields. The decision was not arbitrary

but came as a realization and translation of the long-ingrained

ties joining the six countries as they share the same religion, culture,

language, values, interests, and destiny. Since its inception, the GCC

was envisaged to safeguard the member states' interests, ensure their

safety and security, and to attain the aspirations of their peoples. The

purpose and objectives behind forming such a solid entity are summed

up and highlighted in the introduction of its article of association,

"Member countries of the council agreed on its establishment based

on their belief that coordination, cooperation and integration among

them serves the sublime objectives of the Arab nation, and for directing

their efforts to supporting and serving Arab and Islamic issues".

The Secretary General explained the factors which enabled the GCC to succeed in

dealing with many regional, and international political issues,

"History, geographical location, and common borders have been

instrumental in enabling GCC countries to form a fixed stance towards

many regional and international issues based on United Nations conventions

and international laws in a bid to deal with the international

community as one homogeneous group. Their principles revolve

around maintaining good relations with their neighbours, respecting

other countries' sovereignty, and adopting discussion and negotiation

as an effective method of settlement of dispute among nations. Moreover,

it never hesitated to support the Arab and Islamic issues as well as

promoting cooperation with foreign countries.

As a result, the GCC has become a role model to be emulated by

other regional political, economic and cultural organizations in the

world".

As the GCC countries share the same destiny, the Secretary General pointed out

the efforts exerted and measures taken by the GCC countries to safeguard their

sovereignty and ensure their security,

"Their Majesties and their Highnesses the leaders of the GCC states

in the twenty first session of the Supreme Council meeting, which was

held in the Kingdom of Bahrain on 31/12/2000 signed a joint defense

agreement. Such military cooperation entails carrying out joint military

training, and exchanging of expertise and capabilities.

The formation of a joint force known as " The Peninsula Shield" in

1982 to protect the security of member states and deter any military

aggression is regarded the crowning achievement of this cooperation.

By the same token, the GCC countries agreed in 1987 upon a comprehensive

security strategy as framework of cooperation in the security

field. It includes, inter alia, traffic, rehabilitation, counter-terrorism,

crime and drug combating, immigration, passports, airport security,

border and coastal security and civil defense. To apply

this strategy on the ground, specialized committees

were formed to discuss the mechanisms of implementation.

The establishment of GCCPOL based in

Abu Dhabi has also reinforced the GCC capabilities

to combat terrorism, organized crime, and narcotic

drugs. As for the GCC Emergency Management Centre

based in Kuwait, it was established with the main

aim to detect and avert any serious risks, threats or hazards

facing any of the GCC countries. It has also played a

pivotal role in carrying out specialized training courses and

programs for experts and specialized personnel from GCC countries

in collaboration with the International Atomic Energy Agency

(IAEA)".

As far as economic integration and human development are concerned, the Secretary

General reiterated that they have always been on the list of the GCC highest

strategic priorities:

"The GCC established customs union in 2003, after which the

Common Gulf Market was established in 2007 to guarantee equal

treatment of all GCC citizens in all economic fields such as transportation,

residence, work in the public and private sectors, social insurance,

retirement, investment activities, ownership of real estates, the right to

establish companies, education, health and social services.

At the same time, the GCC has always been concerned to enhance

and strengthen its relations with its most important partners through

strategic dialogue, mutual agreements, technical cooperation, and free

trade negotiations.

Among these prominent partnerships is the strategic partnership

with the United States of America where the first joint summit was held

in Camp David in May 2015, with the second summit being held in

Riyadh in April 2016. As for the United Kingdom, the first GCC- UK

summit was held in the Kingdom of Bahrain from 6-7 December 2016

on the sidelines of the 37th GCC Annual Summit. The summit discussed

the main components of the strategic partnership between the

United Kingdom and the GCC in the political, military, security, economic,

and cultural fields, along with political issues of joint concern.

As far as the European Union is concerned, the GCC ratified a joint

cooperation agreement with the EU in 1988. As per this agreement,

yearly meetings are held at ministerial level in addition to regular meetings

of the joint cooperation and political dialogue committee and

technical committees. In addition, the GCC formed strategic partnerships

with a number of international groups and countries such as

France, Australia, Japan, Canada, Russia, China, and Turkey.

The decision of the Supreme Council in 1993 to treat GCC citizens

working in other GCC members equally with the nationals of the hosting

country during their service demonstrates the strong belief of

GCC Countries collectively that humans are the objectives of development.

This decision was reinforced by another decision in 1995 to streamline

the employment procedures of national labour in GCC countries

and facilitate their movement".

H.E. reaffirmed the GCC willingness to continue its march of progress:

"The Cooperation Council for the Arab States of the Gulf (GCC)

will continue to exert its utmost efforts to fulfill its long-term objectives

and meet the expectations of its peoples, armed by the wise directives

and far-sighted vision of Their Majesties and Highnesses, the leaders of

the GCC Countries. It shall also spare no effort to enhance its presence

and stand out among organizations in the international arena".

PHOTOS: RALPH MANFREDA, BEIGESTELLT. ENTGELTLICHE EINSCHALTUNG

The Permanent Observer Mission of the Gulf

Cooperation Council (GCC) to the United Nations

(UN) in Vienna

Wipplingerstrasse 34/230, 1010 Wien, Austria

Tel: 004315322221

Fax: 00431532222120

e-mail: mission.vienna@gccsg.org
---
LE MONDE KENYA MEETS SOUTH AFRICA

The Ambassadors' Summit #3

"Closing the borders is no sustainable solution to the problem of migration."

In Cercle Diplomatique's third Ambassadors' Summit, H.E. Michael A.O. Oyugi from Kenya and

H.E. Tebogo Seokolo from South Africa discuss the achievements of the rising economy of the African

continent and the role of mutual partnerships with Europe and China. And they address the migration

crisis in Europe from an African perspective – not exactly that what European politics wants to hear.

Interview: Rainer Himmelfreundpointner

H. E. MICHAEL A.O. OYUGI

As a career diplomat, Michael Adipo Okoth

Oyugi prior to his appointment as

Ambassador of Kenya to Austria in 2013, has

served at the Kenyan Embassies in

Switzerland and Paris, and as Director of the

Africa and the African Union Directorate at

the Ministry of Foreign Affairs of Kenya.

PHOTOS: XYXXYXYXY

PHOTOS: RALPH MANFREDA

CD: Ambassador Oyugi, Ambassador Seokolo,

Africa since around the mid-90s has delivered an

impressive economic performance with an

average growth rate of some 6 percent which

even after the financial crisis is expanding by

some 5 percent. On the other hand, two thirds of

the African people have to live with less than 2

dollars a day, 20 percent are not sufficiently

nourished. What has to be done for improving this

situation?

Michael A.O. Oyugi: African countries

have increasingly placed more importance

to economic issues rather than political

to address the challenges facing them,

whether man-made or resulting from natural

causes. Part of the goal is to accelerate

development by amongst other things, promoting

economic integration of the continent,

as spelled out in the policies of the

African Union. The idea is to create larger

markets, especially for intra African trade

because national markets on their own

have proved to be too small for meaningful

trade expansion. So this is the way to go:

develop our infrastructure and remove

obstacles to free trade in the continent. I

think we have the right blueprint to do so.

Tebogo Seokolo: In recent years we

have seen the African continent improving

for the better, and one of the reasons for this

was the democratisation process that gai-

H. E. TEBOGO SEOKOLO

The Ambassador of South Africa to

Austria (since 2013) has also served as

Ambassador to Turkey, Azerbaijan and

Uzbekistan (2008-2011) and has held

various high administrative and

government positions in South Africa.

46

Cercle Diplomatique 1/2017
---
LE MONDE KENYA MEETS SOUTH AFRICA

"African countries are on a

broad move to diversify their

manufacturing capacities. That

is the real story behind the

slogan of 'Africa Rising'."

"I see a wave of development that is

sweeping the African continent. More

and more countries are coming up with

value added strategies instead of

simply exporting their commodities."

ned momentum on the continent. More

and more African states are now hosting

democratic elections. It is not where we

want to be, but we are certainly on the right

track. Also a reduction of conflicts on the

continent has been experienced, as more

African governments are taking responsibility

for peace and security which goes hand

in hand with economic development. Secondly,

the African continent with a population

of some 1,1 billion people, represents

a huge market in which there is still massive

scope for development. This presents a

good opportunity for our partners in the

north to do business in and with Africa.

Which African countries in your view could serve

as a best practice example of economic and

democratic development and possibly as a role

model for others?

Oyugi: I would rather not break it down

to particular countries because what we see

is a wave of development in the desired direction

sweeping the continent. Governments

in African countries are today very

conscious that they are responsible for

their citizens and that they have got to do

what their people expect from them – for

instance creating jobs or developing human

resources or infrastructure. Some

countries may have realised these faster

than others, but increasingly such policies

are in place throughout the continent. It is

still true that many African countries are

basically more or less still producers of basic

commodities like oil, coffee or tea. But it

is also true that we are increasingly working

to come up with value addition strategies.

Thus, it is no longer only a matter of

simply exporting oil or coffee. We are now

promoting, like in Kenya, the processing of

these commodities. And it is only a matter

of time and we will see this replicated all

over the continent. So value addition is really

what we are working on and targeting.

Seokolo: The process of diversification

of our economies from commodities, on

which some countries are heavily dependent,

remains a challenge. But now there is

a broad move to diversify the productive

capacities of most African countries, and

that is the story behind the slogan of "Africa

Rising". In South Africa, for example, in

the mining sector, we are very strict to impose

rigorous policies and strategies to ensure

that we are not only exporters of raw

materials. In order to enhance our manufacturing

capacity, the issue of technology

transfer with our partners in the north requires

attention. As we speak now, we have

to import most of the components. But we

have to turn around Africa from being an

assembly arena into a manufacturing space.

In South Africa, already in the automotive

sector, a certain percent of components

used to be locally manufactured inside the

country. As a result of this policy, intervention

there has been a gradual increase of

local manufacturing content. The big question

is how to improve this to develop more

sustainable jobs. We are aware that we have

to develop additional local skills and we are

therefore adapting the dual educational

system in South Africa to address the skills

needs.

Is Europe still a sufficient partner in improving the

African manufacturing capacities, given the ever

larger footprint China is leaving on the continent?

Seokolo: We do not see the relations

between Africa and China and between Afri-

PHOTOS:

PHOTOS:

XYXXYXYXY

RALPH MANFREDA

ca and Europe as competitive but as complimentary.

Most African countries have a long

relationship with Europe – and I don't foresee

this coming to an end, in fact these relations

continue to be deepened. On the other hand,

there is a growing relationship with China

but it is certainly not going to substitute the

long-standing relations with Europe.

Oyugi: It all is a matter of building mutually

beneficial partnerships. Many African

countries need and indeed are transforming

their economies from that of raw

material and primary commodity producers

– a heritage from colonial times – to

modern manufacturers of finished goods.

And you can't modernise based on the old

colonial model. So in terms of such modernisation,

there is a lot of reason for a number

of African countries and China to cooperate,

especially in infrastructure. In

Kenya, for instance, China has been involved

in financing the development of roads,

railways and energy infrastructure which is

beneficial to our value-addition efforts. But

we also continue to engage in mutually beneficial

cooperation in various fields with

European countries.

What is the quality of the current relationship

between Africa and Europe? For more than 300

years, Europe has colonised most of the continent.

Then, after the wave of independence, Europe has

nearly forgotten the continent, reduced its

engagement to development aid and left a

vacuum. Has not China rapidly moved into this?

Seokolo: You are raising an important

question. The history of Africa and Europe

is certainly rooted in colonialism. Europe

should not forget that very part of its history

and its obligations to the African continent.

But we as Africans are not prisoners

of that history. We continue to play our

own part in developing our continent. And

that is why Europe and the EU should continue

to assist and commit itself to develop

Africa – with investments, with technology

transfer, with the abolishment of trade barriers,

for example in agriculture because

the playing field is not yet leveled.

Oyugi: Removal of protectionist poli-

"WIE MENSCHEN

DENKEN UND LEBEN,

SO WOHNEN SIE"

Johann Gottfried von Herder

(1744 – 1803), deutscher Philosoph

Ein Projekt der

EXCLUSIVE TOWN HOUSES &

EIGENTUMSWOHNUNGEN IN DÖBLING

The Ambassadors' Summit at Palais Hansen

Kempinski Vienna, at the "Henri Lou" venue:

Kenia's Ambassador H.E. Michael A.O. Oyugi,

the South African Ambassador H.E. Tabogo

Seokolo, CD publisher Andrea Fürnweger and

CD author Rainer Himmelfreundpointner

(from right to left).

Andreas Beil

+43 1 878 28-1218

andreas.beil@buwog.at

www.pfarrwiesengasse23.at

Provisionsfrei für den Käufer

Barbara Mayrhofer

+43 1 512 76 90-414

b.mayrhofer@ehl.at

48 Cercle Diplomatique 1/2017

Unverbindliche Visualisierung. Änderungen vorbehalten.

Kein Rechtsanspruch ableitbar. – HWB: 19,53 kWh/m²a
---
LE MONDE KENYA MEETS SOUTH AFRICA

FACTS &

FIGURES

The Ambassadors of Kenya and

South Africa share the view that

Europe has left a gap in the

needs to invest into the

improvement of African

infrastructure. And that China

has rapidly identified this gap

and stepped into it.

The Story of

Africa Rising

During the last two

decades, the African

continent has experienced

an outstanding economic

growth rate of some 6

percent in average. The

African Union, consisting

of 53 of the 54 African

states, accounts for a GDP

of some 2 trillion dollar

and has set out ambitious

goals in its "Agenda 2063"

– a common market with

trade barriers and the

creation of an infrastructure

all over the continent.

Migration in and

out of Africa

Apart from millions of

displaced persons inside

the African continent –

most of them in the

Democratic Republic

Congo, Sudan, Somalia or

the Central African

Republic – an increasing

number of people is fleeing

the continent to Europe. In

the so called "Khartoum

process", started in 2014,

Europe is trying to contain

migration out of Africa via

"tailored deals" with a

commitment of some 8

billion Euro for countries of

migrant origins.

cies on agricultural products in the European

Union is one of the most important

issues for a closer mutually beneficial partnership

between Africa and Europe. The

EU has made some concessions to Africa,

but that is not sufficient and there is still a

lot that could be done. Assistance in financing

infrastructure development in Africa

by European partners, needs to be enhanced

for instance by the simplification of the

procedures involved with focus on priorities

laid out by African countries. Infrastructure

has deteriorated. And investments

in their development have not been

forthcoming as have been expected thus

resulting in funding gaps. And these gaps

often have been filled by China. That is an

area that has not got sufficient attention of

traditional mutual partners, that is, the

countries of the EU and the West.

Seokolo: We need to remember that

there has been a huge deficit in the development

of African infrastructure. The infrastructure

of Africa was not meant to facilitate

intra African trade, instead it was

designed to transport raw materials to the

ports and meant to facilitate exporting materials

outside the African continent. As

the Ambassador of Kenya indicated, China

has taken a keen interest in financing infrastructure

projects on the continent.

Confronted with a migration crisis, many

European leaders are promoting the idea of

linking an increase of investments and development

aid not only to the fight against corruption

and implementation of the rules of law in certain

African countries, but also to stricter controls of

migration flows out of Africa. Especially

considering the growing African population,

which will be around some 2,5 billion people in

2050. What is your position on the migration

issue?

Seokolo: Closing the borders is not a

solution to the problem. The world is globalising

and you cannot stop the movement

of people. The only long term solution

is to create equal opportunities for all

and for Europe to assist in accelerating the

development of the African continent.

That's all we need. We need our own population

for our development. Some of those

who are fleeing are highly educated. If opportunities

are created in our own countries

that may have positive impact on the

phenomenon of immigration.

PHOTOS: RALPH MANFREDA

Oyugi: Since you can't stop people from

moving, it is more realistic and useful to

look at the reasons for the movement. The

approach we see now is typical of the relations

between Africa and many parts of the

developed world. It's the kind of reaction

you could call "First Aid". It's like when

your finger is bleeding you put a plaster on

the wound, but you don't look at the cause

of that bleeding which could well have

deeper internal causes that go untreated. So

we have to look at what generates these movements.

That's why we need a partnership

that really goes to the bottom of issues.

But isn't the European approach to Africa right

now: First you hold the migrants back, then we

give you the money?

Oyugi: That's a very short-term approach

which does not provide sustainable

solutions and is in fact a manifestation of

the opposite of a genuine partnership because

it is very much one-sided. At the end

of the day, that kind of solution is an imposed

one. It is not a solution that is mutually

agreed or developed by the two sides. We

have to come back and find solutions that

address the mutual concerns of both sides,

Europe and Africa.

So in regard to so called "hotspots" at the borders

of the African continent to control migrants, you

are not in line with these proposals?

Seokolo: Let me put it this way: We

prefer a sustainable solution to the issue of

immigration. People leave their countries

either because there is conflict in their areas

or in pursuit of economic opportunities.

So peace and development go together.

That is why we perceive a greater role for

the United Nations in assisting to resolve

this matter. As a matter of fact, more than

70 percent of issues that are discussed by

the UN Security Council are about Africa,

yet the continent does not have a substantive

voice at it. That is why South Africa has

Experience contemporary luxury that honors the past.

argued for the reform of the Council so

that it can better respond to the issues

which affect most of its members. We are

also aware as Africans that we carry the

primary responsibility of developing our

continent. We believe that the adoption of

the development plan of the African continent

known as "Agenda 2063" will go a

long way towards developing Africa.

What are the goals of this Agenda, which refers to

the 100 years of the African Union in 2063?

Seokolo: An integrated, developed,

free and prosperous African common market

over the whole continent.

Oyugi: There are seven main aspirations

in the 2063 Agenda. These include building a

stable peaceful, prosperous, globally influential,

fully integrated and interconnected continent

in which for instance, it would be easy to

travel across from Cape Town in the south to

Cairo in the north, from Mombasa in the east

coast to Douala on the west coast.

Enjoy modern amenities and historical atmosphere in prime location at the prestigious Ring Boulevard and benefit

from preferred embassy rates. For more information contact +43 1 311 88 or visit ritzcarlton.com/vienna

VIENNA

50 Cercle Diplomatique 1/2017

Offer valid through December, 2017, subject to availability. Rate is per room/per night, based on single or double occupancy, exclusive of taxes, gratuities, fees and other charges; does not apply to groups; cannot be

combined with any other offer and is not applicable for Rewards redemption. Advanced reservations are required. No refund or credit for unused portion.

©

2017 The Ritz-Carlton Hotel Company, L.L.C.
---
LE MONDE MONTENEGRO

The wild beauty of the Adriatic Sea

Contrasting impressions:

While the capital Podgorica

(left) is growing into a small

metropolis, rural places like

Budva (right) capitalise on

their very special charms.

FACTS &

FIGURES

Only a one hour flight away, Montenegro presents itself as an up and coming

luxury tourism destination and one of the most developed EU membership

candidates.

Text: Rainer Himmelfreundpointner

Best of Montenegro.

Like Ulcinj City, a town on the

southern coast of Montenegro,

and the capital of Ulcinj

Municipality with a

population of some 10,000,

the coast of Montenegro

offers a lot of attractive travel

destinations.

PHOTOS: NTO, BRATISLAV TABAŠ, MARCIN KONSEK

Do you remember the late 80s and 90s in Vienna,

a period in which the city was as hot

as a vulcano, night was turned into day, and

anybody who would not want to appear as completely

nuts had to hang out in certain bars and restaurants

only. If you wanted to belong to the in-crowd,

you simply had to show up at the Alt Wien, the Neu

Wien, the Salzamt, the Salzgries or the Oswald&Kalb

– the very hotspots where media met politics, where

creative debated with finance, where ad went mad.

All these places have not been run by Austrians – no,

gastronoms from Montenegro had been throwing

the show. You would be welcomed by Ivo from Podgorica,

the capital, served by Bane from Budva, just

a 15 minutes drive away from the famous hotel island

Sveti Stefan, and sometimes you might as well

have been kicked out of the place in early morning

hours by Zladko from the beautiful Perast with

whom you better not messed up.

Those were the good old times, when Montenegro

ruled the Vienna city nights. If you want to experience

something similar today you can just book a

one hour flight by Austrian Airlines which is serving

the route Vienna—Podgorica every day. Having arrived

in Montenegro, you might just explore all the

atttractive dining and hangout opportunities the capital

has to offer – by the way: don't miss "Kastan", a

very special local dish – or set out right away to discover

a country which for good reasons is labeled

"the pearl of the Mediterranean".

Montenegro is sort of the wild beauty south of the

Adriatic Sea and unique in many ways. Nowhere else

you can find so much natural wealth, beauty, mild

beaches, clear lakes, fast rivers, and gorgeous mountains

in such a compact area as in Montenegro. In the

morning you can wake up along the beautiful Adriatic

coast, have lunch on the banks of Skadar Lake,

and enjoy an evening walk in the Montenegrin

mountains.

So it comes at no surprise that Montenegro, which

has just about the size of the Schleswig-Holstein province

in Germany, is heavily trying to capitalise on

its natural beauties and tourism, which contributes

over 20 percent to its small GDP (see box right), is at

the core of the national development strategy of

Montenegro, that has gained independence from

Serbia in June 2006. "It is hard to compete with the

big Mediterranean countries, since our coast has

only got 295 kilometers. So we decided for a masterplan

with a high-end infrastructure for luxury tourism",

Ivan Milić, the Ambassador of Montenegro to

Austria, says in an interview with Cercle Diplomatique.

"In the beginning, for many people this sounded

like utopia. But in the meantime you can really

feel this luxury approach that can compete with

many resorts in the world" (also see page 60).

Montenegro has counted some 1.8 million visitors

last year, and most of them have based their trips

in three high-end tourism development centers from

which they can take day-tours to explore other parts

of the country.

The first and foremost one certainly is Porto

Montenegro. Located in the beautiful UNESCO protected

Bay of Kotor. With the sea on the doorstep

and architecture that mirrors the nearby Venetian

towns of Kotor and Dubrovnik, it features a luxury

Regent hotel, waterfront homes, a nautical village

and a superyacht marina. And it is complemented by

signature restaurants, lively bars and a wide range of

sports, leisure and cultural activities. Milić: "It is

maybe the most famous tourism landmark of our

country."

Then there is a major touristic and real estate development

in Lustica Bay, also with luxury hotels,

marina and golf course and backed by the Swiss-

Egyptian Orascom Group. And finally, the finance

group Azmont Investments from Azerbaijan has

chosen Portonovi, which is near Herceg Novi, for

another huge tourism project worth some 650 million

Euro.

Many of the activities have attracted Austrian

companies as well to engage in Montenegro. With a

volume of some 370 million Euro, according to the

National Bank of Montenegro, Austria is amongst

the five biggest investors there. The Erste Bank and

the Steiermärkische Sparkasse as well as Uniqa insurance

have opened branches in Montenegro. And the

Austrian construction giant Strabag is partly involved

in the Porto Montenegro project. Additionally,

Austrian telecom companies are helping to build up

telecommunications infrastructures in the country.

And Voith, the expert in energy and power technology,

is upgrading three hydro power plants as a contribution

to Montenegro's plan to renew its energy infrastructure,

since the country is only using some 27

percent of its hydro potential.

Thanks to this range of development efforts, Montenegro

is expected to enjoy a GDP growth rate of

Montenegro

Official name:

Montenegro – Crna Gora

Capital and largest city:

Podgorica

Official language:

Montenegrin

Ethnic groups:

45% Montenegrins

28.7% Serbs

8.6% Bosniaks

4.9% Albanians

Religion: 59 % Christian,

23 % unaffiliated, 17 % folk

religion (e.g. santeria)

Government:

Parliamentary republic

• President: Filip

Vujanović

• Prime Minister: Duško

Marković

History:

• 625: Formation of Duklja

as a vassal of Byzantine

Empire

• 1042: Independence

gained at Battle of Bar

• 28 August 1910:

Kingdom proclaimed

• 1 December 1918:

Formation of the

Kingdom of Yugoslavia

• 29 November 1945:

Became a part of the SFR

Yugoslavia

• 27 April 1992: Dissolution

of SFR Yugoslavia

• 3 June 2006: Independence

regained after the

referendum

Area: 13,812 km 2

Population: 630,000

GDP: 4.25 billion $ (2016

estimate, nominal)

GDP per capita: 6,783 $

(2016 estimate, nominal)

Herceg Novi - a view of

the old castle tower with

the historic town wall

entrance.

Picturesque scenery at the

coast of Montenegro: The

bay of Boka Kotorska with

its famous tiny church island

(left) and a view on the town

of Perast from the west.

52 Cercle Diplomatique 1/2017
---
The Venetian-style rooms

of the luxury hotel Regent

Porto Montenegro boast an

awe-inspiring view of the

beautiful Boka Bay.

Don't miss out the Mimoze Festival which

brings together all the beauties of Montenegro

at one spot.

superyacht

Marina

Luxury

residences

Mamula Island with a diameter of

only some 200 meters is another

attraction in Montenegro.

internationaL

shopping and dining

Five-star Regent

Porto Montenegro Hotel

Yacht Club featuring a 64m pool,

sailing and sports facilities

Naval Heritage Museum

A year-round calendar

of international events

"Where the

fashion people go"

- HARPeR's bAzAAR (uk)

Donji Stoliv – a pleasant

seaside village with a huddle

of stone houses surmounted

by a grand church is only 9.5

km away from Kotor.

+ 382 (0)32 661 059 • portoM ontenegro. c o M

Bridge on river Tara.

National cuisine: Montenegro

still offers many

places which are not yet

crowded by legions of

tourists.

some 3.4 percent in 2017, definitely above European

average. As a matter of fact, according to a recent report

from the EU Commission, Montenegro is regarded

as one of the most advanced EU membership

candidates in the Western Balkans. Since it has started

membership negotiations in 2012, 26 chapters of

negotiations have be opened and two of them already

been provisionally closed, meaning they are basically

agreed on. But the report also states that further

efforts are still required, mainly aiming at the "depolitisation

of public services" and to achieve

Western standards in regard to the fight against corruption,

organised crime and freedom of press, the

EU says. Also the growing rates of souvereign debt

and unemployment raises concerns in Brussels.

Both of these two issues have to been seen in connection

to one of Montenegro's biggest infrastructure

projects – the construction of a highway from

the Adriatic harbour of Bar to Boljare at the Serbian

border. Its route stretches over some 170 kilometers,

crossing mountainous terrain, with some 50 tunnels

and over 100 bridges. At costs of projected 800 million

Euro it amounts for roughly a fifth of national

GDP and is boosting the debt level which already

resulted into a downgrading by the rating agency

Standard & Poors. On the other hand, a big project

like this should have extremely positive employment

effects and attract additional investments like from

the Chinese Exim Bank which is supposed to credit a

huge part of the highway construction costs.

In the meanwhile, Montenegro is trying not to get

involved into the many unsolved problems obstacling

the development in the Western Balkans. At

least three of its four neighbouring countries – Bosnia

and Herzegowina and Serbia and Kosovo – are

still burdened by internal instability or boiling conflicts

with each other. That is part of the reason,

Montenegro also is seeking Nato membership which

actually has already been granted but not yet ratified.

Says Ambassador Milić: "For us the Nato membership

is the guarantee for peace and security in the region,

since its umbrella is going from Portugal to Cyprus,

and the only part of the Mediterranean coast

not under it is Montenegro."

A look at the famous Sveti Stefan island

near Budva in Montenegro – well known

because of its concentration of hotels on

an area of only 1.46 hectars.

PHOTOS: NTO, WIKIMEDIA COMMONS, REGENT PORTO MONTENEGRO

"Elegant, aristocratic

and refined"

- TelegRAPH (uk)

FiVe-star

hoteL

regent pooL cLuB

residences

aWard Wining

spa

Among 15 best hotel restaurants

by Conde Nast Traveler

World luxury Hotel Awards

Winner

best Resort Meeting Hotel

A Year-round calendar of

international events

54 Cercle Diplomatique 1/2017

+382 (0) 32 660 660 • regenthoteLs.coM/regent-portoMontenegro
---
LE MONDE INTERVIEW

H.E. Ivan MiliĆ

"Montenegro is in the middle of geo-strategic battle again."

The Ambassador of Montenegro about his country's road to

EU and Nato membership, its strategy as a luxury tourism

location and new dangers in the Western Balkan region.

Dream Bigger

Discover must-have designer fashion

always 30-70% less

Make your trip to Vienna extra special,

with a luxury shopping experience like

no other. Just 30 minutes from the city

centre, you'll find sought-after brands

at 30-70% less. With over 140 stores

to discover, you can dream bigger

at Designer Outlet Parndorf.

Bally

Interview: Rainer

Himmelfreundpointner

Give your wardrobe essentials

a luxurious update. From statement

shirts to timeless accessories, these are

the investment pieces to want now

- and love forever.

Polo Ralph Lauren

H.E. IVAN MILIĆ

H.E. Ivan Milić is serving as

Ambassador of Montenegro

to Austria since June 2015.

Prior to that, he held the

Ambassadorship to Slovenia

and various high positions in

the Ministry of Foreign Affairs

and European Integration of

Montenegro. He holds a

degree of the Faculty of Law

in Podgorica.

CD: Ambassador Milić, although the trade volume between

Montenegro and Austria has increased 2016, it still amounts

only for some 45 million Euro, with Austrian exports of some

38 million Euro. What can be done to improve this?

Ivan MiliĆ: Let me answer this in a provocative way:

Does Austria need Montenegro to boost the trade volume?

No. Do we need Austria? Yes, of course. So the

ball is in our yard. But it's not so easy. There are not so

many products from Montenegro you can buy here in

Vienna or Austria, sometimes wine, grappa, beer and

some aluminum. Our economy is very small, mainly

oriented to services, and the number of our products

is not very big. So we certainly have to do more.

What are the biggest current projects for the development of

Montenegro?

We are mainly building up our infrastructure

with a focus on energy and tourism. Montenegro is

using currently only 27 percent of its hydro potential,

so there is much room for development. The most

important project, with a volume of more than 1.3

billion Euro right now, is the construction of a massive

underwater cable from Italy to Montenegro by

the Italian company Terna. Once it is finished, Montenegro

will become the crossroad for energy exports

from the Western Balkans to the EU.

The main economic sector of Montenegro still is tourism

which contributes some 21 percent of its GDP. Which are the

most important projects in this sector?

Actually, Montenegro has welcomed some 1.8

million visitors, including some 78,000 guest from

Austria last year, which was a 6 percent increase

compared to figures of 2015. It is hard to compete

with the big Mediterranean countries, since our

coast has only got 295 kilometers. So we decided for

a masterplan with a high-end infrastructure for luxury

tourism. In the beginning, for many people this

sounded like utopia. But in the meantime you can

really feel this luxury approach that can compete

with many resorts in the world. There are several

projects in this respect. The first one is the Marina

PHOTO: RALPH MANFREDA

Our Top Tip

Unwind at St. Martins Spa and Lodge.

The first lodge resort in Central Europe

combines thermal wellness with the

natural beauty of the National Park

Neusiedler See – Seewinkel.

Our Brands

Choose from Coach, Polo Ralph Lauren,

Swarovski and many more.

Getting Here

We're just 30 minutes by car

from Vienna city centre.

Tax Free Shopping

Non-EU citizens can enjoy a tax refund

on products purchased in our centre.

DKNY at Watch Station

RayBan

by Wutscher Optik

Story continues on p. 58 ➝

#FashionReimagined

designeroutletparndorf.at

60 Cercle Diplomatique 1/2017
---
LE MONDE INTERVIEW

While Montenegro is on a good track

in EU membership negotiations,

Ambassador Milić says, he sees the

attractiveness in other Western

Balkan countries going down.

primary strategy, which means membership in the

EU and the Nato. We are close to becoming the newest

and 29th member of Nato, and we hope the ratifications

process will be finished by the end of 2017,

since there are only four countries left to ratify. For

us, the Nato membership is the guarantee for peace

and security in the region, since its umbrella is going

from Portugal to Cyprus, and the only part of the Mediterranean

coast not under it is Montenegro. Concerning

EU integration, we can easily say that Montenegro

is the leading country of the Western Balkans

on this track. But we are not happy that other countries

are lacking behind, because it would be much

easier for us if they would be on a similar level of integration.

Unfortunately, the region is again very

much burdened with unresolved issues and there are

new dangers in the regions. Actually Montenegro is

unique in this sense and does not have any conflicts

with its neighbours. And we have to thank Austria as

it is one of the biggest supporters of Montenegro's and

Western Balkans' EU integration.

Porto Montenegro, which is the newest and maybe

most famous landmark of our country. The project is

going very well with a luxury Regent hotel recently

built. The second one is the Lustica Bay development

by the Swiss-Egyptian Orascom Group. The project

is on 6,9 milion squaremeters of land, with 7 hotels,

marina and golf course planned, and the value well

over one billion Euro. At the end of last year they already

have sold 96 apartments. And the third important

project is Portonovi in the vicinity of Herceg

Novi by Azmont Investments from Azerbaijan. It has

a net value of some 650 million Euro and we are very

proud that they have chosen Montenegro for this investment.

The first One & Only luxury resort in Europe

will be in Montenegro. And let me also mention

one of the most prestigious hotel brands of the world,

the Amman, which we have in Montenegro since years.

By the way, the tennis player Novak Đoković has

his wedding there.

Montenegro has started EU membership negotiations and

seems to be on a very good track. But there are areas like

corruption, organised crime or freedom of press on which

sufficient development has not yet been achieved, according

to the EU. How is Montenegro addressing these issues?

Montenegro has set its foreign policy goals right

after its independence in 2006 and has never changed

them. European and Atlantic integration is still our

But an enlargement of the EU seems not to be on the table.

Right. For example, the Malta Presidency doesn't

have enlargement in its focus. Also President Jean-

Claude Juncker has indicated that there will be no

enlargement in the next five year. I fear, that the region

of the Western Balkans is out of the focus because

of the many problems Europe is facing. But, we don't

want to be on the crossroad of civilisation again. If

you leave the region aside or not integrated, then you

will have the old problems because the region is not

developed enough. Therefore we are fighting for a

European perspective. This is the very one idea that

unifies us. Unfortunately, in other countries of the

region, the attractiveness of the EU is going down

and people are thinking about alternatives.

What about Montenegro?

You probably know, that we had an attempted

coup d'etat recently. This was not alleged, this was

real and a big danger for my country because our society

is still divided in some way. We don't have a

consensus on our Nato membership, for example. So,

like many times in the past, Montenegro is in the

middle of a geo-strategical battle again. And that is

why values of the most developed EU and Nato

countries have to be implemented into our society.

In my opinion, this will mean peace and stability for

Montenegro and the region.

PHOTOS: RALPH MANFREDA

PHOTOS: XYXXYXYXY

NEU

AB

APRIL

Los Angeles

PERFEKTE WELLE

Mit myAustrian fliege ich mit herzlichem Service nonstop ins spektakuläre Los Angeles.

Dort finde ich zwischen Wellen und Strand meinen persönlichen American Dream.

the charming way to fly

58 Cercle Diplomatique 1/2017
---
PROMOTION

Lyoness – an international company

with a regional focus

The Lyoness Shopping Community

distinguishes itself by its strength in the

regional area and offers its Members a

successful global network of Loyalty

Merchants

With six million Members and 70,000 Loyalty Merchants, Lyoness

has become one of the world's largest shopping communities.

The company, which has been on the market for the past 14 years,

is now active in 47 countries. Around 1,000 employees ensure the perfect

support for both Loyalty Merchants and Members. The latter can enjoy

attractive shopping benefits: They will receive up to 5% Cashback as well as

Shopping Points for every purchase made at a Loyalty Merchant, whether in

store or online. These can then be redeemed at the Merchants in exchange

for special Deals. The Members' greatest benefit: Lyoness operates crossnational

and cross-sector. Membership for shoppers at Lyoness is free of

charge and non-binding. As a global shopping community the company

provides a large international network of Loyalty Merchants, at which the

Lyoness shopping benefits can be used. A Cashback Card registered in Austria

can therefore be used globally, e.g. on holiday. OMV and booking.com

are among Austria's top Loyalty Merchants.

thermore, the CFF has also introduced education and aid projects in many

other countries, by supporting social institutions and educational programmes.

More at www.lyoness-CFF.org.

The Greenfinity Foundation (GFF) was called to life in 2011 and has

since implemented environmental and climate projects around the world.

More than 100 wells were built in Brazil in order to provide clean water for

the people in one of the country's driest regions. The Philippines is home to

one of the CFF's largest projects: Biological gardens were planted at the San

Roque Elementary School, supported by the CFF, in order to counteract the

students' and the entire regional population's malnourishment. Furthermore,

the GFF promotes the use of alternative energy and has since equipped

several schools on three continents with photovoltaic systems. More than

25 projects in 20 different countries have been implemented by the GFF so

far. More at www.lyoness-GFF.org.

Lyoness provides added value not only to its Members, but to the companies

as well. With the Cashback Solutions, Lyoness has created a professional

customer loyalty program specifically for the SME sector. Thus, small

and medium-sized enterprises can attract new and loyal customers in an

efficient manner and simultaneously save on advertising and marketing

costs. The B2B options are extremely attractive for SMEs: It is now possible

for them to gain Lyoness Loyalty Merchants as customers and to receive

Cashback when making purchases for their company at those Loyalty Merchants.

Lyoness is also in touch with the latest digital trends and introduced an

enhanced version of the Cashback App at the end of February 2017. The

app is available world-wide and can be downloaded as an Android or iOS

version. The app offers a location-based Loyalty Merchant search including

a distance indicator in metres or kilometres, a current overview of the

amount of Cashback and Friendship Bonus, the number of collected Shopping

Points as well as a display of the favourite shops. Shopping Points can

now be redeemed via the App. Shaking the smartphone brings about the

barcode of the Cashback Card, thus making shopping and saving money

even easier.

Taking centre stage: Corporate Social Responsibility

Lyoness is well aware of its social responsibility. The Child & Family

Foundation (CFF) was founded in 2008 with the aim of supporting and

promoting disadvantaged children, adolescents and their families. In accordance

with the motto "Education. Opportunities. Future." more than 70

aid and education projects were funded and implemented over the last few

years.

The CFF thereby places its focus on the education sector. In 2013, a severely

damaged school in Qunu, Nelson Mandela's birth place, was rebuilt

with the help of Mandela's family. In addition, the CFF has implemented

long-term school projects in Honduras, Nigeria and the Philippines. Fur-

PHOTOS: LYONESS/ALEX KRAMEL; ISTOCK • ENTGELTLICHE EINSCHALTUNG

Very important for Lyoness Members: Every single purchase made at

Lyoness Loyalty Merchants supports projects run by both of these foundations.

Not only are you saving money but are also helping the world become

a better place.

Involvement in popular sport

Aside from its social commitment, Lyoness has also been active in the

field of sports since 2015. Taking over the title sponsorship for the Lyoness

Open and the consequent involvement in golf sport was an important strategic

decision for the company. As an international shopping community,

engaging in popular sport was the next logical step. Lyoness therefore introduced

the SK Rapid Cashback Program together with SK Rapid Wien in

2015. Aside from a personal website, Lyoness also provides a Cashback

Card in the club's own design, with which fans of SK Rapid can secure Lyoness

shopping benefits around the world. The same model was implemented

in 2016 with Österreichische Sporthilfe and many renowned clubs in

other countries, such as Poland, the Czech Republic, Slovakia, Croatia and

Italy. A trendsetting cooperation with MotoGP was also established in

2016.

Money back with the CDW Cashback Card

Since the start of the New Year, the existing cooperation with the Club

Diplomatie & Wirtschaft (CDW), which dates back 5 years, has been intensified.

It was instantly clear to both Lyoness and the CDW that their very

productive collaboration should be raised to the next level due to their international

outlook. For this reason, the CDW Cashback Card was brought

to life, which is available at any time free of charge. It goes without saying

that all benefits which the other Cashback Cards have to offer also apply to

the CDW Cashback Card.

Registrations for the CDW Cashback Card are now possible at the

Club Diplomatie & Wirtschaft. Contact: KommR. Josef Vuzem,

Tel. +43 (0)664/300 00 00. www.cdw.or.at

SERVICE INFORMATION

All Lyoness partners and offers

can be found at

www.lyoness.com.

The new Cashback App

Free registration:

Membership for shoppers

at Lyoness is free of charge

and non-binding.

More information can be

found at www.lyoness.com.
---
LE MONDE WASSENAAR

ARRANGEMENT

"Global risks have greatly expanded."

Interview: Rainer Himmelfreundpointner

FACTS &

FIGURES

Widely unknown, the Wassenaar Arrangement plays a crucial role for export controls of conventional

arms and dual-use goods, preventing them falling into the wrong hands. Ambassador Jean-Louis

Falconi of France, who holds the 2017 WA Plenary Chair, and Ambassador Philip Griffiths,

the Head of the Vienna-based Secretariat, explain how it works.

H.E. JEAN-LOUIS FALCONI

Ambassador Falconi, a "Chevalier de l'Ordre

national du Mérite", is the Ambassador and

Permanent Representative to the United Nations

and International Organisations of France in Vienna

since September 2016. The graduate of the Ӄcole

Supérieure des Sciences Economiques et

Commerciales" and the "ENA" also served as

Director of the French General Secretariat for

Defense and National Security.

H.E. PHILIP GRIFFITHS

PHOTOS: XYXXYXYXY

PHOTO: RALPH MANFREDA (2), WASSENAAR ARRANGEMENT

The WA Ambassadors Falconi (right) and Griffiths during the interview at the WA Secretariat in Vienna.

CD: Ambassador Falconi, this year France has the responsibility

of chairing the Wassenaar Arrangement Plenary, the

overall decision-making body, taking over from Finland in

2016. As the Permanent Representative of France to the

International Organisations in Vienna, can you please outline

your major focus points?

Jean-Louis Falconi: It is an honour for France

and for me personally to assume the WA Plenary

Chair in 2017. France was one of the founding members

of the WA which can be seen as the post-Cold

War successor to the Paris-based COCOM – the Coordinating

Committee for Multilateral Export Controls.

France attaches a high importance to the WA's

work. As is well-known, conventional arms are those

that are used with the most devastating consequences

around the world, in particular small arms and light

weapons which are also the weapons of choice of terrorists.

Export licensing is an important instrument

by which governments can help prevent such weapons

and related goods and technologies from falling into

the wrong hands.

Even if the 41 participating states stick to the Wassenaar Arrangement

recommendations, what about other exporting

countries?

Falconi: Of course, national controls are most effective

when they are applied together with efforts by

other countries sharing a similar commitment to vigilance

and restraint, in particular those that are major

producers and exporters of the relevant items. This

cooperation is an underlying rationale of the WA,

both in terms of protecting national and international

security, and in seeking to create a level playing-field

for international trade. While challenges remain, the

WA has a solid record of consensus-based work over

twenty years and has established itself as a repository

of international expertise in this area. Its control lists

and guidance documents are freely available on the

WA website. And an increasing number of non-WA

countries base their export controls on the WA's

work without seeking to join, while several applications

for WA membership are currently under consideration.

Ambassador Griffiths, in your responsibility as current and

third head of the WA Secretariat here in Vienna with only 13

employees, can you please go into detail of how the

Wassenaar Arrangement really works in reality?

Philip Griffiths: The WA Participating States

come together to agree on lists of items that should

require an export licence at the national level, to share

information on transfer risks in different parts of the

world, as well as details of their own transfers and licence

denials, and to develop non-binding guidelines

for effective export control procedures and practice.

On average, around 25 group meetings involving a to-

The Wassenaar

Arrangement

Basics. The WA is an

intergovernmental forum

for cooperation on export

controls for conventional

arms and dual-use goods

and technologies (e.g.

sensitive items that have

military as well as

commercial applications).

The currently 41 WA

Participating States share

information and cooperate

to address challenges to

international and regional

peace and security posed

by the destabilising

accumulation and diversion

of conventional arms, and

to prevent the acquisition of

these and related items by

terrorists.

WA Members. Argentina,

Australia, Austria, Belgium,

Bulgaria, Canada, Croatia,

Czech Republic, Denmark,

Estonia, Finland, France,

Germany, Greece, Hungary,

Ireland, Italy, Japan, Latvia,

Lithuania, Luxembourg,

Malta, Mexico, Netherlands,

New Zealand, Norway,

Poland, Portugal, Republic of

Korea, Romania, Russian

Federation, Slovakia,

Slovenia, South Africa, Spain,

Sweden, Switzerland, Turkey,

Ukraine, United Kingdom,

United States of America.

wassenaar.org

The celebration of 20 Years

Wassenaar Arrangement took

place at the Austrian Foreign

Ministry in December 2016.

62 Cercle Diplomatique 1/2017

Ambassador Griffiths was appointed to Head of the

WA Secretariat in June 2012. Prior to that he was

New Zealand´s Ambassador and Permanent

Representative to the International Organisations in

Vienna. He has also served as Ambassador to

Poland, Estonia, Latvia and Lithuania and held other

postings in Europe, Asia and the Middle East, as

well as senior positions in the Ministry of Foreign

Affairs and Trade in Wellington, New Zealand.

Cercle Diplomatique 1/2017

63
---
LE MONDE WASSENAAR

ARRANGEMENT

"Rapid technological

advances, many

driven by the civilian

sector, have increased

the need to respond

in timely and

coherent way to the

evolving international

threat landscape.

At the same time,

the WA makes clear

that it does not impede

bona fide civil

transactions."

tal of more than 1,600 officials from WA Participating

States are held each year. The objective is to achieve

common understandings and to assess the scope for

coordinating national export control policies. All WA

decisions are taken by consensus. The WA's work is

characterized by a balance between collective agreement

on key principles and the preservation of national

discretion in implementing them. The role of the

Secretariat is to facilitate and support interaction

among the participating states. In 2016, in addition to

celebrating its 20th anniversary, the WA conducted a

fifth self-assessment with a view to improving its overall

functioning. Some specific 2016 outcomes included

further changes to the WA lists taking into account

international security developments,

technological advances and market trends, an updating

of best practices, for example on brokering and

enforcement, and establishment of a regular review

mechanism for all such documents, as well as adoption

of new internal guidelines for outreach activities

and agreement to promote technical dialogue with

some other export control regimes.

Given the central role of the WA control lists, what drives the

changes to these lists and what are they aimed at?

Falconi: I believe that the WA can be proud that

its control lists continue to be seen as the international

standard for export controls on conventional arms

and dual-use goods and technologies. WA governments

invest considerable resources in the core technical

work of keeping the lists up-to-date. They consult

industry in this process. Of course, export controls

and the risks being addressed have expanded in the

twenty years since the WA was established. Rapid

technological advances have increased the need to respond

in a timely and coherent way to the evolving

international threat landscape. This is a priority for the

WA. At the same time, the WA makes clear that it does

not impede bona fide civil transactions and that it is

not directed against any state or group of states.

Griffiths: The WA Control Lists are more extensive

than those of other international export control

regimes concerned with weapons of mass destruction

and their means of delivery. For instance, the WA

Dual-Use List contains more than 1,000 entries, ranging

from special materials, to electronics, computers,

lasers and navigation, marine and aerospace equipment.

Drawing on the former COCOM lists, which

were used as a basis at the start, the WA has been continuously

developing and reviewing its Munitions and

Dual-Use Lists to ensure their strategic and technical

relevance. This is an iterative process, typically involving

each year some 80-90 different proposals like

new entries or modifications, relaxations or deletions

of existing entries and some thirty expert meeting

days in Vienna, as well as intensive intersessional

work. It is vital, for both national security and commercial

interests, that the WA list specifications are set

precisely to focus licensing decisions on items of concern

while allowing other items to be traded freely.

Where necessary, of course, WA members also control

non-listed dual-use items through a "catch-all" mechanism,

which enables account to be taken of all proliferation

risks, as well as UN Security Council mandated

sanctions and embargoes or relevant regional or

national measures.

Which are the main criteria for dual-use goods to get listed

by the Wassenaar Arrangement?

Griffiths: While the main WA selection criterion

for munitions items is whether they are a major or key

component for military capability, the criteria for dual-use

items are more complex, including foreign availability,

the ability to control an item's export effectively,

the ability to specify it clearly and objectively,

and non-duplication with other export control regimes.

The WA lists have continued to expand in the

dual-use area, in particular, where Participating States

PHOTOS: XYXXYXYXY

PHOTOS: XYXXYXYXY

PHOTOS: RALPH MANFREDA

see the WA as the appropriate forum in which to

address emerging technologies of concern. It is significant

that new technologies with military potential,

which were traditionally developed by defence industries,

are now increasingly being developed in the civilian

sector and then used for military applications.

This reversal complicates the challenge of seeking to

minimise the lag between rapid technological advances

and the pace with which effective export control

list changes can be agreed and implemented.

Given the rapid advance of digitalisation, what is the WA

doing about cyber security and other merging technology

challenges?

Griffiths: In 2013, the WA adopted new export

controls related to "cyber tools" and internet surveillance

systems which, under certain conditions, may

be detrimental to national security and international

stability. A challenge has been to find the right balance

between controlling technologies for the generation of

"intrusion software" on the one hand, and not hindering

the development of industry expertise on the

other. Work has continued in the last three years to

further refine understandings, while proposals related

to "3-D printing" and communications interception

and monitoring equipment have also been under consideration.

These and other new technologies, e.g. related

to drones and artificial intelligence, can be expected

to remain in focus given their potentially

disruptive impacts. On the other hand, export controls

on some information security and related equipment

have been relaxed or removed taking into account

the increasing integration of such functionalities

in consumer products.

How is the WA contributing to the fight against terrorism?

Falconi: The WA's focus is on sharing information

to prevent the diversion of licensed exports to terrorist

purposes. In this context, a particular focus has been

on proliferation risks related to Small Arms and Light

Weapons or SALW, including Man-Portable Air Defence

Systems, socalled MANPADS. The WA lists and

regularly updated Best Practice guidelines already provide

for export controls on these arms and their ammunition.

However, in the light of recent developments,

including terrorist attacks in some WA

Participating States themselves, and given the existence

of illicit trade and secondary markets, further attention

is being given to strengthening standards in this area,

such as those for the permanent deactivation of firearms.

Sharing information obviously is one of the key elements for

making the Wassenaar Arrangement work. But how does the

WA ensure and promote its effectiveness?

Falconi: The WA represents a political rather

than treaty-based commitment by each of its Participating

States. All measures taken with respect to the

WA, including meeting the agreed reporting obligations,

reflect this voluntary undertaking to cooperate

to promote transparency and responsibility. The pooling

of information, both general and specific, and the

opportunity provided to raise any matters which Participating

States may wish to bring to the attention of

partners, helps to build confidence and is a crucial

part of the benefit derived from the WA. WA reporting

goes further, in scope and frequency, than is required

under the United Nations or the Arms Trade Treaty,

known as ATT, and includes national arms transfers,

as well as transfers and denials of certain dual-use

items, to non-WA countries on a six-monthly basis.

Denials reporting draws like-minded partners' attention

to acquisition activities that one Participating State

considers detrimental to the WA's objectives, thereby

helping others to avoid inadvertent undercuts.

Also, Participating States are to notify export approvals

of certain controlled items where export was previously

denied, although I do not recall such instances.

The reporting database is continuously available

"In 2013, WA adopted

new export

controls related

to 'cyber tools'. A

challenge has been

to find the right balance

between controlling

technologies

for the generation of

'intrusion software'

on the one hand,

and not hindering

the development of

industry expertise

on the other."

64 Cercle Diplomatique 1/2017

Cercle Diplomatique 1/2017

65 63
---
LE MONDE WASSENAAR

ARRANGEMENT

"We are confident that, when its

Participating States are pulling together,

the Wassenaar Arrangement will continue

to further enhance its contributions

to international peace and security."

NEW!

24-hour online booking

www.zwd.at

"Particular vigilance

will be required in

respect to the fast

evolution of communications

and

other technologies

with potential military

implications."

to Participating States on the secure WA communications

system to support transparency and consistency.

In addition, many WA Participating States have

well established public reporting requirements and

make national export licensing decisions public.

While the WA is a voluntary undertaking, and there

are consequently no formal verification or compliance

monitoring mechanisms, all Participating States recognise

the importance of meeting their commitments.

At any time, any Participating State may seek

further information, within the WA forum or bilaterally,

as to the rationale behind another's national licensing

decision. In this way, and by the exchange of

national implementation experiences, the WA provides

for an element of peer learning and peer review.

What are the major current and future challenges for WA?

Falconi: Export controls and the risks being

addressed have greatly expanded in the twenty years

since the WA was established. Warfare and instability

associated with conventional military threats have not

gone away. At the same time, international developments,

including security challenges related to preventing

destabilizing accumulations of conventional arms,

regional conflicts, and the proliferation and diversion

of increasingly sophisticated dual-use goods and technologies

to non-state actors, including terrorists, reinforce

the need for effective national export controls,

both within the WA and globally.

The continued relevance of the WA is dependent on

its capacity to adapt to trends and technological developments.

In that context, particular vigilance will continue

to be required in respect of the fast evolution of

communications and other technologies with potential

military implications. Ensuring the cooperation of

industry and the research sector in addressing challenges

related to intangible transfers of technologies will

also be crucial.

Griffiths: Continuing active outreach to non-

WA members will also be important in achieving the

WA's goals by promoting the widest possible application

of effective export control systems. The WA held

a successful technical workshop in Vienna in June

2016 for an expanded group of outreach partners as a

focus of its 20th anniversary programme. In this regard,

the Arms Trade Treaty is a valuable complementary

development and one that WA Participating States

have welcomed.

So even given the many armed and deadly conflicts, you

remain confident in regard to the WA's contribution?

Falconi & Griffiths: Yes. There is no doubt that

without multilateral efforts to regulate such transfers,

the world would be confronted with many more challenges

to peace. We are confident that, when its Participating

States are pulling together with a sense of

common purpose, the WA will continue to exercise

leadership in this important area and sustain and

further enhance its contributions to international security

and stability.

PHOTOS: RALPH MANFREDA

IMPLANTOLOGY | FULL CERAMICS | PROPHYLAXIS

A BEAMING SMILE

AND HEALTHY TEETH

ENRICH YOUR LIFE!

The Zahnklink Wien Döbling is a modern dental clinic

specialising in implantology and complex dental

restoration. In our clinic, you are greeted by a highly

qualified team and a friendly atmosphere. State-of-the-art

treatment methods, the very latest dental technology with

the utmost precision and prompt appointments ensure a

bright smile.

We offer

• Emergency treatments

• Dental implants

• Restorative dentistry

• Cosmetic dentistry

O P E N I N G H O U R S : MO - FR, 8.00 am - 4.00 pm

Your advantages

• Dentistry and aesthetics at the highest level

• In-house technical laboratory

• Innovative treatment methods

• Highly qualified, motivated team

66 Cercle Diplomatique 1/2017

C O N T A C T : Zahnklinik Wien Döbling, Sieveringerstraße 17, 1190 Vienna, +43 1 320 97 97, office@zwd.at, www.zwd.at
---
Fine hotels

LE MONDE ESSAY

"The future will be different from

anything we can imagine."

CERCLE

DIPLOMATIQUE

selected by

ECONOMIQUE et TOURISTIQUE INTERNATIONAL

can also be found in these exclusive hotels:

Philippe Narval

was raised in the Austrian

Lake District. After receiving

a scholarship, he completed

his secondary education at

the Lester B. Pearson United

World College in Canada

and holds university

degrees from Kings College

London and the University

of Oxford. His background

includes project

management, PR and

fundraising work for

international NGOs and

independent art institutions.

He spent several years of

his professional life living

and working in Eastern

Europe, South America and

the Middle East. In March

2012, he assumed the role

of managing director of the

European Forum Alpbach.

Philippe Narval, Managing Director of the European Forum Alpbach, shares his

thoughts on the 2017 general theme: "Conflict and Cooperation".

We had made such a cosy home for ourselves

in the market society that promised

us, over the decades, that each generation

would be materially better off than its predecessor.

Now we're starting to feel that this story has come to

an end, just as the Holocene era is also coming to an

end. The end of this geological epoch, which for so

long granted our planet the most stable ecological

and climatological conditions in its history, has

passed without ceremony. Scientists have decided

that there is enough evidence to proclaim a new

epoch under the name Anthropocene.

This is the timeframe during which the human

species is the defining factor in the ecosystem. All

that's left for the scientists to decide is which markers

in the planet's sedimentary layers best represent the

Anthropocene's beginning. According to scientists

like Jan Zalasiewicz, there is no shortage of candidates

for the role: they range from the radioactive sediments

left by the atomic tests of the 1950s to the massive

deposits of chicken bones – the quintessential

sign of mass animal husbandry – in our planet's waste

heaps. In any case, the date will lie somewhere in

the 1950s and 60s, the decades of the baby boomers,

the official start of our planetary omnipotence.

A Planetary Stewardship

What would a society that offers honour and dignity

to creation look like? How would it respect our

planetary limits? How can we change our culture to

one of planetary stewardship, when the conflict

against natural forces and scarcity, to which humanity

was subject for millennia, seems so deeply anchored

in our unconscious? All over Europe people, organisations

and companies have already shifted from

the single-minded quest for profit and are setting

themselves more sustainable goals. What would it

take to promote these forms without placing the values

of an open society at risk? Could Europe maintain

its place on the global stage if it decided to restructure

its economic system?

New Battle Lines

Only a few allow themselves such thoughts in

times like these, while the battle lines are being

drawn: between generations, between nation-states

The European Forum

Alpbach with the general

theme "Conflict &

Cooperation" will take place

from August 16 to

September 1, 2017

alpbach.org

and between people living in successful technology

centres and those in the periphery. In times of uncertainty,

we rely on familiar institutions and patterns of

behaviour. This puts a supranational institution like

the European Union under pressure. Yet, the EU remains

probably the most successful exemplar of cooperation,

conflict resolution and prevention. Its

great achievement is to have created institutions in

which we "act together". The currency and fiscal union

makes an economic union urgently necessary, but

there is no consensus on this. The EU's security strategy

is an impressively verbose document; in reality

we present no united face to the world. The expansion

strategy has been frozen, and we've been dithering

over terms such as "social union" or "defence

union" for years. And no-one can really imagine acting

in solidarity beyond the frontiers of their own

country.

A minority of pioneers are now calling for a European

Republic and the dissolution of nation-states.

Whether we have a republic or not, the essential demand

is, at long last, to consistently implement the

subsidiarity principle. The disillusioned, however,

seek only a reduction of the Union's responsibility to

the Single Market and shared external border protection,

and are willing to sacrifice freedom of movement

within Europe. But who can fall in love with

Frontex or the Single Market?

The refugees in Europe have shown us with particular

clarity where the fracture lines in the EU run.

They also challenge us to ask who we are and what

values we're supposed to be defending. What does it

mean to be a European, what do we expect from new

arrivals, what do we actually stand for? Refugees,

along with the rest of us, require answers to these

questions.

As European-minded citizens we should, however,

also ask ourselves what we're prepared to argue

and stand up for, abilities we've lost. How pleasant it

is to be passively tolerant! But without conflicts and

argument held in a civilised spirit, we won't get by.

We won't be capable of negotiating a shared life with

our new neighbours and we won't be able to defend

Europe against the domestic enemies in our democracy.

We know instinctively that the future will be diffe-

PHOTOS: PETER MAYR, BERNHARD AICHNER/TIROL WERBUNG

rent from anything we can imagine, but we still cannot

help wondering about it. Societies are only as strong as

their most powerful dreams. But what are Europeans

dreaming of in times like this when the fantasy of

ever-increasing prosperity has come to an end?

What have we still to offer when the apparent task

at hand is to create future visions of a "reductive modernism"?

Do digital tools enable us to design new

forms of cooperation in a decentralised, non-hierarchical

way? The central thesis of Carl Frey and Michael

Osborne is that just under 50% of occupations

will disappear when robots move off the factory

floor and into other workplaces in the form of selflearning

systems. But is there a profit to balance out

the loss? The question is whether we'll have to completely

redefine work itself within society.

The Juxtaposition of Conflict and Cooperation

The juxtaposition of conflict and cooperation

does not infer a simple opposition – one bad, the

other good. Transnational networks such as the mafia

or cartels only function in the economy because

they're based on successful cooperation. Elsewhere,

there's an important strand within organisational

studies arguing we need conflicts to drive change

processes and for fertile ground for innovation. A

society no longer able to conduct arguments in a civilised

and open way atrophies and slides into totalitarianism.

The question remains, nonetheless, how

large, violent conflicts start and end. What narratives

fuel them and what instruments can we use in the

21st century to prevent them? What conflict-resolution

tools can we deploy? World peace through global

cooperation – still a noble aim? Who still speaks

of such things today? Who dares to dream so big?

The evolutionary biologist Martin Nowak has

proved that systems based on cooperation are more

resilient in the long term. Humanity has always developed

in a zone of tension between conflict and

cooperation. We will only solve challenges of the future

on this planet together and in partnership, that

much is sure. But do we even know which structures

are suited for this; which post-nation-state models

are needed at a global level, which at a local level?

How and where can we learn to cooperate in a complex

environment? The idea of democracy as the

highest school of cooperation is worn-out, but what

would happen if we rediscovered it? We convinced

democrats must be ready to argue for democracy. If

we don't, who will?

General Manager

KR Engelbert Jandl

VILA VITA Pannonia ****

Storchengasse 1

7152 Pamhagen

T. +43 2175 2180-0

vilavitapannonia.at

These selected hotels offer

CERCLE DIPLOMATIQUE - ECONOMIQUE et TOURISTIQUE INTERNATIONAL

as a special service:

Almdorf Seinerzeit ● Hotel Altstadt Radisson Blu ● Hotel Astoria ● Astoria Relax & Spa-Hotel ●

Hotel Bristol A Luxury Collection Hotel Vienna ● Austria Trend Hotel Europa ● Fleming's Deluxe Hotel

● Golden Hill Country Chalets & Suites ● Hotel de France Wien ● Hotel Goldener Hirsch A Luxury

Collection Hotel Salzburg ● Gradonna****s Mountain Resort ● Hilton Danube ● Hilton Vienna Plaza ●

Hilton Vienna ● Hotel Imperial A Luxury Collection ● Steigenberger Hotel Herrenhof ● Imperial Riding

School Renaissance Hotel Vienna ● Interalpen-Hotel Tyrol ● Kitzbühel Country Club ● Hotel Kitzhof

Mountain Design Resort ● Hotel Lamée ● Loisium Langenlois ● Loisium Südsteiermark ● Meliá Vienna ●

MGallery by Sofitel Hotel am Konzerthaus Vienna ● Park Hyatt Vienna ● Palais Coburg ● Palais Hansen

Kempinski Vienna ● Austria Trend Hotel Park Royal Palace Vienna ● Austria Trend Parkhotel Schönbrunn

● The Ritz-Carlton Vienna ● Sacher Salzburg ● Sacher Wien ● Austria Trend Hotel Savoyen Vienna ●

Schloss Fuschl, A Luxury Collection Resort & SPA ● Romantik Hotel Schloss Pichlarn ● The Guesthouse

Vienna ● Austria Trend Hotel Schloss Lebenberg ● Sofitel Vienna Stephansdom ● Stanglwirt ● Vienna

Marriott Hotel ● Vila Vita Pannonia

Would you like to belong to these exclusive hotels?

If so, please contact us!

office@firstclassmedia.at

ECONOMIQUE et TOURISTIQUE INTERNATIONAL

68 Cercle Diplomatique 1/2017
---
LE MONDE NEWS

Latest update from around the globe

Text: Daniela Pötzl

MEDICAL INNOVATION

Against preterm

birth

TOURISM

New Lisbon Airport

The Portuguese government stated

recently that Lisbon could be welcoming

its second airport in 2019. Minister of

Planning and Infrastructure Pedro Marques

explained that environmental impact

studies at the planned area, now the

Montijo Air Force base, will be conducted

this year to ascertain the viability of the

location to welcome commercial

passenger flights. The New Lisbon Airport

(Portuguese: Novo Aeroporto de Lisboa,

NAL) is the currently planned site for new

construction, originally scheduled to

replace or complement the current Portela

Airport. The global design firm HOK won

the competition to create the airport with

four proposed runways. hok.com

NEW BUSINESS

Start me up!

The Hong Kong start-up

scene has made strong

advances in the last few

years, especially due to

initiatives such as "StartmeupHK".

As per the Global

Start-up Ecosystem Ranking,

Hong Kong today ranks 25th,

but is by far the fastest

growing one at the same

time. In 2016, the number of

new enterprises increased by

24 per cent. Many

entrepreneurs consider Hong

Kong their gate to Asia and

especially to China. Joint

projects between Austria and

Hong Kong are already being

planned.

wko.at

startmeup.hk

OFID

Maldivian cooperation

The Director-General of the OPEC Fund for International Development

(OFID), Suleiman J Al-Herbish, has concluded a high-level mission to

the Maldives, where he met with Maldivian President Abdulla Yameen

Abdul Gayoom, and signed a loan agreement to co-finance expansion of

the Ibrahim Nasir International Airport. During the meeting with

President Yameen, Al-Herbish spoke of OFID's "unwavering support" to

the socioeconomic development of the Maldives.

ofid.org

The Maldivian

President Abdulla

Yameen (r.) with

OFID Director-

General, Suleiman J

Al-Herbish.

PHOTOS: FOTOLIA, HOC, OFID, UNIDO

Carmentix and the University

of Melbourne announced the

"Preterm Birth Biomarker

Discovery" initiative. The aim

of this collaborative clinical

study is to validate novel

biomarkers discovered by

Carmentix and biomarkers

previously discovered and

validated at the University of

Melbourne in a combined

panel and to assess the risk

for preterm birth as early as

20 weeks of gestation. "If

validated, this new panel of

biomarkers may shed hope to

significantly reduce the

number of preterm birth

cases on a global scale," said

Nir Arbel, CEO Carmentix.

carmentix.com

SURVEY

At the highest level

TELECOMMUNICATIONS

End of charges

Results of the GfK Consumer Climate Europe study for the fourth

quarter of 2016 show that consumer confidence experienced very

positive growth. The consumer climate for the 28 EU countries rose by

5.6 points to 17.9 points in December, its highest value since January

2008. The topics dominating headlines in Europe during the fourth

quarter of 2016 were the war in Syria, terrorism in Europe, the US

presidential election at the end of November, and the continued rise of

nationalist parties and tendencies in virtually all European countries. It

is clearly evident, however, that all this negative news has not rubbed

off on consumers.

gfk.com

As of 15 June, Europeans will be able to travel in the EU without roaming charges, after representatives of the

European Parliament, the Council and the Commission agreed on how to regulate wholesale roaming markets. It

means that when travelling in the EU, consumers will be able to call, send SMS or surf on their mobile at the same

price they pay at home. The agreement makes "roam-like-at-home" sustainable for people and businesses, while

ensuring cost recovery and keeping national wholesale roaming markets competitive.

ec.europa.eu

UNIDO

For small enterprises

A delegation from the Bank of China (BOC) led by Executive

Vice-President Liu Qiang (pictured r.) met recently with Li Yong,

the Director General of the United Nations Industrial

Development Organization (UNIDO) in Vienna to explore joint

activities and discuss partnership modalities, with a particular

focus on supporting the growth of small- and medium-sized

enterprises. As the next step, the two parties will develop

concrete proposals for joint activities. unido.org

Liu Qiang (r.)

from the Bank of

China met UNIDO

Director General,

Li Yong.

70 Cercle Diplomatique 1/2017

Cercle Diplomatique 1/2017

71
---
L'AUTRICHE

DER NAME IST

PROGRAMM. IN

L'AUTRICHE DREHT SICH

ALLES UM DEN STANDORT

ÖSTERREICH, SEINE

WIRTSCHAFT UND SEINE

BEDEUTUNG AUF DEM

INTERNATIONALEN

PARKETT.

THE NAME SAYS IT ALL.

IN L'AUTRICHE THE FOCUS IS

ON AUSTRIA, ITS ECONOMY

AND ITS ROLE ON THE

INTERNATIONAL STAGE.

Luxury Living.

in the heart of vienna – surrounded by art and cuLture

schiLLerPark, 1 st district

More information:

+43 (0)2236 865 068 or www.seestebau.com

A project of the compAny group
---
L'AUTRICHE INFORMATION & COMMUNICATIONS TECHNOLOGY

Silicon Austria – Österreichs digitales Rückgrat

Silicon Austria – our country's digital backbone

Schluss mit dem Jammern: Österreichs Informations- und Telekommunikationsindustrie

ist Weltspitze und ihr Ruf dringt bis ins Silicon Valley.

Stop complaining – Austria's ICT industry is part of the world's Champions

League with a first class reputation even by Silicon Valley standards.

Text: Rainer Himmelfreundpointner

IKT in Österreich.

ICT in Austria.

Die Fakten: 60.000 Beschäftigte,

190 hochspezialisierte

Unternehmen, 76

Milliarden Euro Umsatz.

The facts: 60,000 employees,

190 hightech-companies,

76 billion Euro sales.

Tod auf Level eins – so wird es Ihnen wahrscheinlich

auch gehen, wenn Sie das erste Mal

den "Space Pirate Trainer" im Wiener Research

Center for Virtual Reality and Visualization

(VRVis) am Tech-Gate gleich neben der UNO-City

ausprobieren. Das VRVis ist eine der Speerspitzen

der heimischen Informations- und Telekommunikationslandschaft

(IKT), ganz vorne mit dabei an der

Virtual-Reality-Front, und der Space Pirate Trainer

ist eines der besten VR-Spiele des Vorjahres.

Und es fühlt sich, nachdem Sie die VR-Brille aufgesetzt

haben, so an: Sie stehen allein auf einer Plattform

hoch über den Wolken auf einem fremden Planeten.

Hinter Ihnen ein cooler Raumgleiter, über

Ihnen ein bedrohliches Alien-Mutterschiff, vor Ihnen

auf dem Display winzige, sehr böse Kugeldrohnen,

die Sie mit diabolischen Kameraaugen ins Visier

nehmen und aus allen Rohren loslasern. Sie

weichen natürlich aus, wehren die tödlichen Strahlen

mit einem Schild ab und ballern zurück, was das

Zeuge hält – pfiff, pfiff, pfiff. Sie killen auch eine

Drohne nach der anderen, springen herum, um

nicht getroffen zu werden, fühlen sich schon wie

Han Solo. Aber irgendwann, ganz plötzlich von links

hinten, erwischt es Sie – vielleicht bei schlappen 350

Punkten so wie mich. Tod auf Level eins eben. Der

High-Score liegt bei 504.175 Punkten.

Wer einmal das VRVis besucht hat, der bekommt

eine recht gute Ahnung davon, dass der Slogan von

"Silicon Austria" nicht ganz weit hergeholt ist und

dass Österreich tatsächlich in allen möglichen Bereichen

der IKT-Querschnittstechnologien global ganz

vorne mit dabei ist. Das ist natürlich ein weites Feld,

das auch hierzulande von Virtual- und Augmented-

Reality-Experimenten wie im VRVis über zur Herstellung

von Leiterplatten, wie bei AT&S oder Computerchips

etwa für Handys von Apple oder

Samsung, wie beim ams bis hin zu Künstliche-Intelligenz-Anwendungen

wie etwa beim Bilderkennungs-Startup

CogVis, reicht. Selbst die Experten

tun sich schwer, es genau abzustecken.

Grob gesagt, sind in diesem Sektor laut Fachverband

für Elektro- und Elektronikindustrie der Wirtschaftskammer

Österreich gut 300.000 Personen beschäftigt,

Tendenz rasch steigend. In der Studie

"Electronic Based Systems in Österreich" (2016) hat

der neue Bundesminister für Verkehr, Innovation

und Technologie, Jörg Leichtfried, den Kernbereich

der IKT-Zukunftsbereiche genauer unter die Lupe

nehmen lassen. "Diese EBS sind die Basis für aktuelle

Schlüsseltechnologien", sagt Leichtfried. "Sie machen

Maschinen intelligent und ermöglichen damit

Industrie 4.0, selbstfahrende Autos, intelligente Infrastruktur

oder das Internet der Dinge."

Diese Untersuchung kommt zum Schluss, dass

über zehn Prozent des heimischen BIPs direkt oder

indirekt von solchen Produkten und Dienstleistungen

der Elektronikindustrie abhängen und in Österreich

jährlich "mehr als 60.000 in 188 Unternehmen

mit 190 Standorten beschäftigte Personen über 76

Milliarden Euro Umsatz" erwirtschaften, davon

17,25 Milliarden Euro in Österreich.

Eine weitere Analyse des unabhänigigen Technologie-Beratungsunternehmens

technopolis, das sich

auf besonders forschungintensive IKT-Betriebe wie

zum Beispiel Infineon in Kärnten (F&E-Quote: etwa

25 Prozent) oder den oberösterreichischen Steuerungsspezialisten

Bernecker+Rainer (rund 14 Prozent)

konzentriert hat, kommt zu ähnlichen Ergebnissen.

Demnach halten etwa 130 hochspezialisierte

PHOTOS: FOTOLIA, HELGE BAUER (2), JOHANNES PUCH

Spezialisierte Cluster

Die heimische IKT-Branche

konzentriert sich in Wien,

Graz, Linz und Kärnten.

Specialised clusters, The

Austrian ICT industry is

concentrated in clusters in Vienna,

Graz, Linz and Carinthia.

74 Cercle Diplomatique 1/2017

Cercle Diplomatique 1/2017

75
---
L'AUTRICHE INFORMATION & COMMUNICATIONS TECHNOLOGY

IT-Infrastruktur.

Die modernen Netze der

Telekom Austria bilden das

Rückgrat der IKT-Industrie.

IT infrastructure. Telekom

Austria serves as the

backbone of the

country's ICT industry.

Virtuelle Realität.

Das Wiener Research Center for

Virtual Reality and Visualization

zählt zu den Top-VR-Forschungsinstitutionen

in Europa.

Virtual reality. The VRVis is one of

Europe´s leading research centers

for Virtual Reality.

heimische Betriebe in den Bereichen Mikroelektronik,

Embedded Systems und Smart Systems sogar bis

zu 85.000 Fachleute im Brot und haben innerhalb

von Österreich mehr als 15 Milliarden Euro Umsatz

in den Büchern stehen. Fazit: Der Begriff "Silicon

Austria" ist alles andere als ein hohle Phrase.

Das Rückgrat dieser weit gefassten Hightech-

Branche bilden natürlich die knapp 100 heimischen

Forschungs- und Entwicklungseinrichtungen mit

knapp 4.000, meist akademischen, Beschäftigten, die

sich vor allem um die drei Universitäts-Zentren

Wien, Graz und Linz mit der Außenstelle für Computerwissenschaften

in Hagenberg gruppieren. Auch

in Kärnten sind an den Standorten Villach und Klagenfurt

F&E-Akteure vorhanden, "wobei hier im

Vergleich zu Linz oder Graz eine kritische Masse

fehlt", wie die EBS-Studie anmerkt.

Rund um diese akademischen Hotspots haben

sich jene knapp 190 Betriebe angesiedelt, die in Sachen

IKT in Österreich den Ton angeben. Während

der Standort Wien klar von Equipment-Herstellern

dominiert wird, überwiegen in Linz die Komponenten-Erzeuger.

In Graz lässt sich fast die Hälfte der

Unternehmen ebenfalls dem Segment Equipment

zuordnen. Rund ein Viertel der Betriebe ist im Bereich

Software tätig. Und am Standort Klagenfurt

überwiegen auch klar die Equipment-Hersteller. Übrigens:

Etwa 30 dieser Hightech-Firmen dürfen den

begehrten Titel "Hidden Champion" auf ihre Fahnen

heften. Das heißt: Sie sind unangefochtene Weltmarktführer

in ihrem – mitunter oft sehr großen –

Nischenbereich.

Wie so viele andere Branchen in Österreich, sind

auch die meisten IKT-Unternehmen noch einmal in

regionale Cluster unterteilt, die von intensiver Kooperation

und ständigem Nachschub an akademischen

Fachkräften aus den nahen Universitäten oder

angeschlossenen Forschungseinrichtungen geprägt

sind. In Oberösterreich und Niederösterreich etwa

dominierten die beiden Mechatronik-Cluster, in denen

es vorwiegend um den Geräte- und Apparatebau

sowie von speziellen Technologiekomponenten geht.

Rund um Hagenberg bei Linz hat inzwischen auch

der IT-Cluster internationale Anerkennung gefunden,

dessen Ruf in Sachen Industrie 4.0, IT-Security,

Neue Formen der Mobilität und Digital Business

sich sogar bis ins kalifornische Silicon Valley durchgesprochen

hat.

In Kärnten wiederum haben sich zwei Cluster herausgebildet:

Einer konzentriert sich ebenfalls auf

IT-Security, E-Commerce und Open-Source-Lösungen,

der andere ist landesweit als "Silicon Alps" bekannt

und dort finden sich eher Betriebe, die mikroelektronische

Komponenten und Lösungen für

Consumer-Electronics – vom Handy bis zum Auto

– entwickeln. In der Steiermark spielt vor allem der

RFID-Hotspot eine immer bedeutendere Rolle. Falls

Sie bereits mit Ihrer Bankomatkarte kontaktlos bezahlen,

ist die Wahrscheinlichkeit hoch, dass der

"Radio Frequency Identification"-Chip von dort

stammt. In Tirol schließlich hat sich der dortige IT-

Cluster auf die Anwendungsbereiche Tourismus und

Gesundheit spezialisiert. Aber auch Entwicklungen

in den Bereichen IT-Sicherheit sowie die Themen

Vernetzte Systeme und Industrie 4.0 sind hier ganz

vorne gereiht. Und in Wien finden sich, kein Wunder,

all diese Clusterschwerpunkte.

PHOTOS: TELEKOM AUSTRIA, INFINEON, VRVIS (3), VRVIS/GCVISION.AT/ASFINAG, ERICH HUSSMANN, FREQUENTIS

Nicht umsonst hat der deutsche Technologie-Gigant

Siemens sein Entwicklungszentrum für den gesamten

CEE-Bereich in der Bundeshauptstadt angesiedelt.

"Wir schätzen die hohen technologischen

Kompetenzen und die guten und gewachsenen Beziehungen

zu den Zielmärkten in Zentral- und Osteuropa",

so das Urteil von Harald Loos, dem Leiter

der Siemens Corporate Technology CEE, über die

Informations- und Kommunikationstechnologie-

Szene in Österreich. "Das sind natürlich wichtige

Voraussetzungen für Hightech-Projekte und neue

Marktchancen im Osten." Am besten bringt es vielleicht

Stefan Poledna, der Vorstand der Wiener

Hightech-Schmiede TTTech, ohne deren Steuerungs-Produkte

kein Auto fahren, kein Flugzeug

fliegen und kein Satellit im All schweben könnte, auf

den Punkt: "Österreich ist ein Top-Standort für F&E

im Bereich 'embedded computing' und die Nähe zu

wichtigen Bildungseinrichtungen ermöglicht es,

hoch qualifizierte Arbeitskräfte für TTTech zu interessieren

und international einzusetzen."

Kurzum: Keine Spur von Tod auf Level eins, sondern

Erfolg auf jedem IKT-Level.

Death on level 1 – you better prepare for that

experience when playing the "Space Pirate

Trainer" for the first time at the Vienna

Center for Virtual Reality and Visualization (VRVis)

at the Tech-Gate, just a step away from the UN headquarters.

VRVis is one of Austria's leading institutions

in the information and telecommunications

technologies (ICT) landscape, doing research at the

frontiers of VR, and the Space Pirate Trainer is one of

the best VR-Games hitting the market last year.

Once you have mounted your VR gear, you will

find yourself standing on a plattform high above the

clouds of an unknown planet. At the back of you a

space glider, above a menacing alien mothership and

in front of you, on your display, a lot of tiny, evil drones

with diabolic camera eyes and throwing

thousands of deadly laser beams at you. You try to

avoid them by stepping aside, you defend yourself

with a shield, and you are shooting back like Han

Solo – swooff, swooff, swooff. But finally they get you

from behind, like me – and dead you are at level 1

with a mere 350 points. High score is at 504,175

points.

Anyone visiting the VRVis will start believing in

the slogan "Silicon Austria", since it is only one of the

many examples for the country's ICT sector being a

top global player. The industry reaches out from state

of the art developments in Virtual and Augmented

Reality like at the VRVis via the production of curcuit

boards at AT&S or sensor chips for Apple and

Samsung handys to artificial intelligence applications

like the visual detection systems of the Vienna

based startup CogVis.

According to the Association of Electronic Industry,

the ICT sector employs some 300,000 persons in

Austria, with a rising tendency. And in a new study

("Electronic Based Systems in Österreich", 2016) the

Austrian Minister for Traffic, Innovation & Technology,

Jörg Leichtfried, concludes that "more than

60,000 persons working at 188 companies with 190

locations are generating over 76 billion Euros of revenue"

in the ICT sector, with 17.25 billion Euros directly

in Austria. "The EBS are the key-enabling-technologies",

says Leichtfried. "They make machines

intelligent and they help realizing industry 4.0, selfdrining

cars, intelligent infrastructure or the internet

of things." Another analysis, provided by the independent

technology consultant "technopolis", delivers

similar results. technopolis has concentrated on

Komplett-Systeme.

Wenn es um komplexe

Kommunikationssysteme

geht, ist das Wiener

Unternehmen Frequentis

eine der weltweit ersten

Adressen.

Complete systems. Anybody

looking for complex

communications systems will

certainly knock on the doors

of Vienna based Frequentis.

76 Cercle Diplomatique 1/2017

Kärnten-Cluster.

Chip-Hersteller wie

Infineon dominierten

die IKT-Szene in

Kärnten.

Carinthian cluster. The

ICT landscape in

Carinthia is dominated

by chip producer

Infineon.

Cercle Diplomatique 1/2017

77
---
L'AUTRICHE INFORMATION & COMMUNICATIONS TECHNOLOGY

Vitale

Start-up-Szene.

Das Start-up Festival Pioneers

ist immer wieder voll von

neuen jungen IKT-Betrieben.

Vital start-up scene. Austria's

vital start-up landscape is full

of young ICT companies.

companies with an outstanding R&D-quota – like

Infineon in Carinthia (some 25 percent) or the producer

of electronic steering equipment

Bernecker+Rainer in Upper Austria (around 14 percent)

– and has counted some 130 highly specialised

firms in the areas of Microelectronics, Embedded

Systems and Smart Systems with up to 85,000 experts

employed and overall sales in Austria of at least 15

billion Euros.

Their backbones certainly consist of the nearly

100 Austrian research and development institutions

with around 4,000 mainly academic personal which

are located around the three university centers in Vienna,

Graz and Linz (including the near village of

Hagenberg, the home of computer sciences). In Carinthia,

mainly in Klagenfurt and Villach, some

R&D actors have emerged as well, "but compared to

Linz and Graz, they are lacking a critical mass", the

EBS study remarks. All these academic hotspots act

like gravitation centers magically pulling the ICT

companies under their umbrellas. Most of them are

producers of electronic equipment and components,

many are first class software developers and some 30

of them may even be called "Hidden Champions" –

meaning that the companies are world market leaders

in their industry niches, which nevertheless often

amount to billion-dollar-markets.

In the course of specialisation, a couple of regional

clusters have emerged which are defined by intense

cooperation and a steady flow of academic experts

from the near universities and their R&D

agencies.

Upper and Lower Austria, for instance, are dominated

by two mechatronic clusters which concentrate

on device and equipment manufacturing technology

and are full of component suppliers. Also, the IT

cluster in Hagenberg near Linz has been successful

in building up an international reputation in the areas

of Industry 4.0, IT security, new forms of mobility

and digital business. In Carinthia, there are two main

clusters, one for IT security, E-commerce and Open

Source Solutions, the other is known as "Silicon

Alps" because of its high-end components for mobiles

or cars. In Styria, the RFID hotspot is playing an

ever more important role. If you have a contactless

credit card, its "Radio Frequency Identification" chip

may well originate from there. Finally, the IT cluster

in Tyrol is dealing with solutions in the areas of tourism

and healthcare, IT security and has a focus on

networked systems and Industry 4.0. And in Vienna,

which is no wonder at all, you will find all of the cluster

topics in an outstanding concentration.

This is one of the reasons, why the German technology

giant Siemens has located its corporate technology

center for CEE in Austria. "We not only value

the high level of technological competence but the

good and matured relations to the target markets in

Central Eastern Europe as well", says Harald Loos,

the head of this department. "Naturally these are important

pre-requisites for high-tech projects and

new market opportunities in Eastern Europe." Maybe

there is no better verdict about Austrian ICT

scene than the one of TTTech-manager Stefan Poledna,

the leading aeronautics- and space technology

company: "Austria is a top location for R&D in the

field of embedded computing", he says. "The proximity

to important educational facilities enables TT-

Tech to interest and internationally deploy highly

qualified employees." In short: No trace of death at

level 1, but success on any level of ICT.

Raumfahrt-Technologie.

ITK-Unternehmen von

Siemens bis TTTech stehen für

den Hightech-Ruf Österreichs.

Space technology made in

Austria is provided by

companies like Siemens or

TTTech, only to name two.

PHOTOS: MICHAEL HOLMES, SEBASTIAN-KREUZBERGER, NASA/JPL-CALTECH (3)

INDUSTRIE +

FORSCHUNG =

ARBEIT +

WOHLSTAND.

Wissen ist Österreichs größtes Kapital. Die Übersetzung in Produkte

und Dienstleistungen schafft Arbeitsplätze der Zukunft.

Foto: dieindustrie.at/Mathias Kniepeiss

78 Cercle Diplomatique 1/2017

www.iv-net.at
---
L'AUTRICHE FUTURE LAB

Stefan Doboczky

Mit jeder Faser ein nachhaltiges Unternehmen

A sustainable company – with every fiber

Textile

Nachhaltigkeit

Textile sustainability

Der Vorstandsvorsitzende und CEO der Lenzing Gruppe über die Kreislaufwirtschaft in der Textilwelt.

The Chairman of the Board and CEO of the Lenzing Group talks about circular economy in

the textile world.

ABOUT THE AUTHOR

Der promovierte Chemiker

Stefan Doboczky (Doktorat an

der Technischen Universität Wien

und MBA der Schweizer Business

School IMD) verstärkt die Lenzing

Gruppe mit internationaler

Managementerfahrung und

langjähriger Asien-Expertise seit

Juni 2015. Davor war er seit 1998

in unterschiedlichen Führungspositionen

beim holländischen

Chemie-Konzern Royal DSM in

Europa und Asien tätig.

Stefan Doboczky holds a PhD in

chemistry from the TU Wien and a

MBA from Swiss Business School

IMD. Since June 2015, he brings to

Lenzing a broad international

management experience and

extensive expertise in Asia. Before,

he has worked in various

management positions for the

Dutch Life Science & Material

Science group Royal DSM in

Europe and Asia since 1998.

Kleidung ist ein Thema, worauf viele

Personen großen Wert legen. Nicht

jeder weiß allerdings, aus welchem

Material seine T-Shirts, Pullover und Hosen

oder seine Outdoor-Kleidung sind. Ein

Material, dass sich hervorragend für diese

Kleidungsstücke eignet, ist die botanische

Faser Tencel®. Sie wird von der Lenzing AG

in Österreich, Großbritannien und in den

USA erzeugt. Als Rohstoff wird Faserzellstoff

verwendet, ein Produkt, das ausschließlich

aus Holz gewonnen wird.

Die Lenzing AG produziert diese Faser

seit den neunziger Jahren im sogenannten

Lyocell-Verfahren im burgenländischen

Heiligenkreuz. Im Jahr 2004 wurde nach

einem längeren Bietergefecht der Konkurrent

Courtaulds übernommen und die

Produktionslinien in Großbritannien und

in den USA kamen dazu. Seit 2014 stellt

Lenzing die Tencel Faser auch am Stammsitz

in Lenzing her, in der weltweit größten

Anlage.

Weil die Nachfrage nach dieser sehr

hautfreundlichen und Feuchtigkeit-regulierenden

Faser höher ist, als das Angebot,

baut Lenzing jetzt eine weitere Produktionsstätte

neben das bestehende Werk in

Mobile, Alabama. Es soll 2019 in Betrieb

gehen. Nach der jüngsten Erweiterung in

Lenzing wird mit der Ausbau in Alabama

vor allem dem Umstand Rechnung getragen,

dass nicht nur die meisten Kunden der

Lenzing AG im Ausland zu Hause sind,

sondern dass die Fasern auch ausschließlich

in US-Dollar verrechnet werden, was

neben diesen Dollar-Einnahmen auch

Dollar-Ausgaben notwendig macht, um

den Schwankungen der Wechselkurse

nicht zu sehr ausgesetzt zu sein.

Mit dieser Investition von knapp 300

Millionen Euro will Lenzing den Anteil der

Spezialfasern am Gesamtumsatz von derzeit

etwa 43 Prozent auf 50 Prozent anheben.

Denn die Spezialfaser Tencel schwankt

im Preis nicht so stark wie die Standardfaser

Viscose, ein Schwesterprodukt, das

Lenzing ebenfalls an mehreren Standorten

aus dem Rohstoff Holz produziert.

Weil der Bekleidungs-Markt wächst

und wächst - derzeit werden im Jahr etwa

150 Milliarden Kleidungsstücke hergestellt

-, wächst auch die Herausforderung der

Entsorgung dieser T-Shirts, Hosen und

Röcke. Die Lenzing AG hat auf diese Herausforderung

jetzt eine erste Antwort gefunden:

In der neuen Faser Refibra TM wird

als Rohstoff der Zuschnittabfall aus der

Produktion von Baumwollbekleidung verwendet.

Dabei wird diese Baumwolle zu

Zellstoff verarbeitet und gemeinsam mit

klassischem Faserzellstoff wieder in eine

Tencel Faser verwandelt.

Die Refibra Faser wird derzeit vom

PHOTOS: FRANZ NEUMAYR, LENZING AG

weltweit größten Modehändler Inditex in

den Geschäften seiner Tochter Zara verkauft.

Sie ist ein Beitrag zur Kreislaufwirtschaft,

die in Zeiten von steigendem Kleidungsverbrauch

für die Branche eine

essentielle Zukunftsabsicherung ist.

Wem die Tencel Fasern noch nicht in

Kleidungsstücken begegnet sind, ist vielleicht

in Hygieneprodukten schon damit in

Berührung gekommen. Denn diese Faser

wird wegen ihrer biologischen Abbaubarkeit

innerhalb von längstens 26 Wochen

gerne in Feuchttüchern oder in kühlenden

Gesichtsmasken verwendet. Märkte, die

vor allem in Europa, den USA und in Japan

und China stark wachsen. Und Produkte,

auf die die Menschen in den Industrieländern

immer mehr Wert legen.

Clothing is something many people

attach great importance to. However,

not everyone knows exactly

which materials her or his T-shirts, pullovers,

trousers or outwear are made of. The

botanic fiber Tencel® is ideally suited to

make these garments. It is manufactured

by Lenzing AG in Austria, Great Britain

and the USA. The raw material used is dissolving

pulp, a product derived exclusively

from wood.

Lenzing AG has been producing this fiber

in Heiligenkreuz, Burgenland (Austria)

since the 1990s, applying the so-called

Lyocell process. Following a prolonged

bidding war, Lenzing acquired its competitor

Courtaulds in 2004 along with the production

lines in Great Britain and the USA.

Lenzing has also been making Tencel fibers

since the year 2014 in the world's largest

Tencel plant located on the premises of

its heads office in Lenzing.

Demand for this very skin-friendly

and moisture-regulating fiber is higher

than the existing supply. For this reason,

Lenzing is building another production facility

next to its existing plant in Mobile,

Alabama (USA). The new plant is scheduled

to be put into operation in 2019. Following

the recent expansion in Lenzing,

the investments in Alabama not

only take account of the fact that most Lenzing

AG customers are outside of Austria,

but also that the fibers are only invoiced in

US dollars. Accordingly, expenditures in

US dollars are necessary alongside US dollar

income in order to avoid being overly

exposed to exchange rate fluctuations.

On the basis of investments totaling

close to EUR 300 million in the new factory,

Lenzing aims to raise the company's share

of specialty fibers as a proportion of total

revenue to 50% from the current level of

43%. Selling prices for the specialty fiber

Tencel do not fluctuate as much as the

standard fiber viscose, a sister product also

produced by Lenzing from the raw material

wood at several of its plants.

The clothing market keeps growing, evidenced

by the approximately 150 billion

garments manufactured each year. The result

is a growing challenge to dispose of all

these T-shirts, trousers and skirts. Lenzing

AG has developed an appropriate response.

The new fiber Refibra TM utilizes waste

fabrics from the production of cotton

clothing as its basic raw material. This cotton

is processed into pulp and subsequently

converted into a Tencel fiber in combination

with conventional dissolving pulp.

The Refibra fiber is currently being sold

by Inditex, the world's largest fashion retailer,

in the stores of its subsidiary

Zara. This fiber represents a contribution

to the circular economy and an essential

means of safeguarding the future of the industry

in times of increasing clothing consumption.

Whoever has not yet seen or heard

of Tencel in garments may have already

come acrosshygiene products containing

this fiber. Tencel is popular for use in

wipes or in cooling face masks due to its

biodegradability within a period of no

more than 26 weeks. These are fast-growing

markets, particularly in Europe, the

USA, Japan and China, and products people

in industrialized countries are putting

more and more emphasis on.

Die Lenzing Gruppe hat diesen Februar bei

Premier Vision in Paris, eine der weltweit

wichtigsten Stoffmessen, eine neue Fasergeneration

vorgestellt, die auf den Resten aus der

Produktion von Baumwollbekleidung basiert.

Refibra ist die erste Zellulosefaser, die neben

Holz als Rohstoff Recycling-Materialien

verwendet. Sie wird im Rahmen des sehr

umweltfreundlichen Tencel Produktionsprozesses

hergestellt. Damit treibt Lenzing neue

Lösungen in Richtung einer Kreislaufwirtschaft

in der Modebranche voran und bietet eine

Lösung für die Herausforderung, dass sich der

Bedarf an Kleidung bis zum Jahr 2025

verdoppelt haben wird. Denn 80 Prozent der

von uns nicht mehr verwendeten Kleidungsstücke

landen auf Mülldeponien. Jährlich werden

geschätzte 50 Millionen Tonnen an Kleidung

entsorgt. Transparenz wird in den Textilbranchen

immer wichtiger, um beispielsweise die

Herkunft von Materialien nachweisen zu

können. Damit Kunden sich auch sicher sein

können, dass die Faser aus Recycling-Material

tatsächlich in den Textilien zu finden ist, hat

Lenzing ein neues Identifikationssystem

entwickelt. Dieses System macht es möglich, die

Refibra Faser in den fertigen Textilien

festzustellen. Dadurch wird Transparenz in der

gesamten Verarbeitungskette sichergestellt.

Lenzing has developed a new fiber based on

cotton scraps and wood. Refibra is the first

cellulose fiber featuring recycled material on a

commercial scale and was launched this February

at Premier Vision textile fair in Paris. The

fiber is produced in the Tencel production

process. Refibra from cotton scraps and wood

will further build Lenzing's reputation as a

leader in the field of environmental fiber

technology and will push new solutions in the

textile industry towards circular economy by

recycling production waste. The eed for clothing

will be doubled by the year 2015. Since 80

percent of our used apparel end up as waste,

estimated 50 million tons of clothing are

disposed per year. Transparency becomes more

and more an issue in the textile industry to

prove for example material origin. To assure

customers that the fiber, made from recycled

material, is really in the textiles, Lenzing has

developed a new identification system which

makes it possible to identify the Refibra fiber in

the finished textile. This guarantees transparency

in the overall processing chain.

lenzing.com

80 Cercle Diplomatique 1/2017

Cercle Diplomatique 1/2017

81
---
L'AUTRICHE BUSINESS

Neues aus Österreich

News from Austria

Text: Daniela Pötzl

Landwirtschaft | Agriculture

BIO-Europameister | ORGANIC European Champion

Stadt-Tourismus | City Tourism

Weitere Steigerung | Further increases

Mit 14,96 Mio. Gästenächtigungen hat Wien 2016 trotz schwieriger

geopolitischer Rahmenbedingungen sein bisher bestes Ergebnis aus 2015 um

4,4 % übertroffen. Rund 81 % der Gästenächtigungen 2016 in Wien waren

internationale Nächtigungen. Innerhalb Wiens zehn nächtigungsstärkster

Herkunftsmärkte wuchsen Deutschland, Österreich, Spanien, die Schweiz und

Frankreich im einstelligen Bereich. Zweistellig entwickelten sich – trotz Brexitbedingter

Pfund-Schwäche – Großbritannien und China, das 2016 erstmals in

Wiens Top 10 Einzug hielt.

With 14.96 million overnight stays in 2016, Vienna has, despite the current

difficult geopolitical circumstances, surpassed its record result from 2015 by

4.4%. Around 81% of overnight stays in Vienna in 2016 were international

stays. Vienna's most crucial markets of origin in terms of overnight stays

were Germany, Austria, Spain, Switzerland and France, which grew by single

digits. Two-digit growth was observed for – despite the Brexit-imposed

weakness of the Sterling – the UK as well as China, which made it into

Vienna's top 10 for the first time in 2016.

wien.info

PHOTOS: WIEN TOURISMUS/PETER RIGAUD, DRAGAN TATIC, ERWIN HAIDEN, SCHANTL PR

Die biologische Landwirtschaft in Österreich verzeichnete in den

vergangenen beiden Jahren ein beachtliches Wachstum. Immer mehr

Betriebe entscheiden sich für den Einstieg in die biologische Wirtschaftsweise.

2016 gab es in Österreich 21.820 Bio-Betriebe, das entspricht

einem Anteil von 19% von allen landwirtschaftlichen Betrieben. 571.585

Hektar werden biologisch bewirtschaftet (Stand 2016), was einen Anteil

von 22 Prozent an der landwirtschaftlichen Gesamtfläche bedeutet. Der

Flächenzuwachs pro Jahr - 2015 auf 2016 waren es etwa 26.500 Hektar

- entspricht in etwa der Größe von Malta bzw. etwa 38.000 Fußballfeldern.

Wenn schon nicht beim Fußball, so ist Österreich nach wie vor

Europameister in Sachen Bio.

Organic farming in Austria was able to score a significant increase in the

last two years. More and more businesses are joining the organic

agriculture market. In 2016, there were 21,820 organic businesses in

Austria, making up 19% of all agricultural enterprises. 571,585 hectares

are being cultivated organically (as of 2016), making up 22% of all

agricultural land. The land increase per year – from 2015 to 2016 – was

around 26,500 hectares, approximately the size of Malta or 38,000

football fields. And since we didn't make it in football, Austria nevertheless

continues to be the European Champion when it comes to all things

organic.

bio-austria.at

Kultur | Culture

Kulturjahr Österreich-Kroatien | Cultural year

Austria-Croatia

Über 100 hochklassige und vielfältige Kulturveranstaltungen stehen im

gemeinsamen Kulturjahr Österreich-Kroatien unter dem Motto

"Gemeinsam Kultur erleben" auf dem Programm. Eröffnet wurde es von

BM Sebastian Kurz, seinem kroatischen Amtskollegen Davor Stier (r.) und

Moderatorin Mirna Jukic. Die Begegnungen von Künstlern der beiden

Länder sollen dazu beitragen, dass langfristige Kooperationen auf

institutioneller Ebene herbeigeführt werden. Die über 62.000 Menschen

mit kroatischem Hintergrund, die heute in Österreich leben, bilden

übrigens die fünftgrößte Gruppe von ausländischen Staatsbürgern.

More than 100 high-class and diverse cultural events are set to take place

under the joint cultural year Austria-Croatia under the slogan "Experiencing

culture together". The event was opened by Austria's Minister for

Foreign Affairs and Integration Sebastian Kurz, his

Croatian counterpart Davor Stier and moderator Mirna

Jukic. The encounters between artists from the two

countries are meant to contribute to increasing long-term

collaborations on an institutional basis. The more than

62,000 people with a Croatian background living in

Austria today incidentally make up the fifth largest group

of foreign nationals in the country. bmeia.gv.at

Tourismus | Tourism

Nachhaltiger Nationalpark | Sustainable national park

Die Generalversammlung der Vereinten Nationen hat das Jahr 2017 zum "Internationalen

Jahr für Nachhaltige Tourismusentwicklung" erklärt. Die Ferienregion Nationalpark Hohe

Tauern vertritt dabei Österreich als alpiner Beitrag bei der UNO. Die Ferienregion setzt

schon seit längerem auf sanfte Mobilität. Mit der "Nationalpark Sommercard Mobil"

können Gäste neben Gratis-Eintritten in allen Nationalpark-Ausstellungen, Museen, Bädern

und den Bergbahnen der Region auch ein Tagesticket auf die Großglockner Hochalpenstraße

und kostenlos Bus und Bahn in der Region benützen. Auto-Fahrten im Ausmaß von

60 Tonnen Treibstoff konnten so bereits 2016 eingespart werden.

The General Assembly of the United Nations has declared 2017 as the "International Year

for Sustainable Tourism Development". The holiday region Nationalpark Hohe Tauern

represents alpine Austria at the UN. The holiday region has been putting an emphasis on

eco-friendly mobility for some time now. With the "Nationalpark Sommercard Mobil"

guests can, next to free entrance to all national park exhibits, museums, baths and

gondolas, also receive a day ticket to the Grossglockner Hochalpenstraße and free access

to buses and trains in the region. Car rides to the extent of 60 tonnes of fossil fuel have

thus already been saved since 2016.

nationalpark.at

Bildung | Education

Herzlich willkommen, Frau Direktor!

Welcome, Ms Director!

Die Danube International School hat eine neue Direktorin. Michelle Purghart har nach

mehrjähriger Tätigkeit als Direktorin in Kalifornien sowie Lehraufträgen in Südkorea und

den USA mit Beginn des Schuljahres 2016/17 die pädagogische Leitung der Danube

International School Vienna (DISV) übernommen. Purghart hat ein Doktorat in "Educational

Leadership" von der UC Los Angeles und Irvine sowie einen "Master of Education"-

Abschluss mit Schwerpunkt Lehrplanentwicklung der Universität von San Diego. Ihre

Lehrqualifikation erwarb Michelle Purghart an der McGill University in Montreal für die

Fächer Englisch und Sport. Sie besitzt sowohl die kanadische als auch die tschechische

Staatsbürgerschaft und hat sich mit ihrem Ehemann und ihrem fünfjährigen Sohn in Wien

niedergelassen. "Ich bin von der Bedeutung des lebenslangen Lernens zutiefst überzeugt

und freue mich sehr über diese neue Herausforderung", stellt die neue Direktorin fest.

The Danube International School has a new director. Michelle Purghart has, after a few

years' duty as director in California as well as lectureships in South Korea and the USA,

taken over the pedagogical leadership of the Danube International School Vienna (DISV)

for the start of the academic year 2016/17. Purghart received a doctorate in "Educational

Leadership" from the UC Los Angeles and Irvine

as well as a "Master of Education" degree with

a focus on curriculum development from the

University of San Diego. Michelle Purghart

received her teaching qualifications from McGill

University in Montreal for the subjects English

and P.E. She possesses both Canadian as well as

Czech citizenship and has now moved to Vienna

together with her husband and her five-year-old

son. "I am very confident in the importance of

life-long learning and really look forward to this

new challenge," the new director asserts.

danubeschool.com

82 Cercle Diplomatique 1/2017
---
SAVOIR

VIVRE

LUXURY-PENTHOUSES

IN THE HEART OF VIENNA

"Das Hamerling" represents urban luxury. In the heart of Vienna's 8th district – the Josefstadt, these elegant apartments

are comfortably situated on a single level, ranging from 130 m² to 210 m². Each penthouse has a generous private terrace

with a breathtaking view – overlooking the Vienna skyline or the leafy Hamerlingpark.

PURE LUXURY – THE EXCLUSIVE SERVICES AT THE HAMERLING

Concierge service · underground parking · private restaurant with in-house-catering · fitness area · cleaning service ·

laundry service · nursery · private garden · situated directly on Hamerlingpark

IN "SAVOIR VIVRE" DREHT

SICH ALLES UM DIE SCHÖNEN

DINGE DES LEBENS WIE KULTUR

& REISEN, KULINARIK & HOTELS,

AUTO & SPORT, UHREN &

SCHMUCK, MODE & DESIGN,

WELLNESS & GESUNDHEIT

UND VIELES MEHR.

"SAVOIR VIVRE" FOCUSES ON

THE BRIGHT SIDE OF LIFE SUCH

AS CULTURE & TRAVELLING,

HOTELS & RESTAURANTS, CARS &

SPORTS, WATCHES & JEWELLERY,

FASHION & DESIGN, WELLNESS

& HEALTH AND MUCH MORE.

T +43 (0)1 716 90 1660

M +43 (0)664 6000 8660

verkauf@dashamerling.at

www.dashamerling.at

A PROJECT OF ARE DEVELOPMENT,

MHH DEVELOPMENT AND SORAVIA GROUP
---
SAVOIR VIVRE EVENT LOCATIONS

Kommt, lasst uns feiern!

Come on, let's celebrate!

Text: Daniela Pötzl

Das Angebot an Veranstaltungsorten der verschiedensten Art ist in Wien breit gefächert. So kann für jeden

Geschmack und jede Größe der Gesellschaft der richtige Rahmen sowohl für geschäftliche Einladungen als

auch private Feierlichkeiten gefunden werden. CD hat exquisite Locations für Sie zusammengestellt.

Vienna offers a great variety when it comes to event venues of any kind. There is something here for everyone,

no matter the style or group size, whether business gatherings or private celebrations. CD has put

together a list of the most exquisite locations for you.

1 Elegante Locations | Elegant locations

CASINO BAUMGARTEN

Festsaal mit Bühne | Festival hall with a stage

Das Casino Baumgarten verfügt über einen prachtvollen 285 m2

großen Festsaal mit Bühne und eine 200 m2 große Terrasse mit

direktem Übergang in den Casino-Park und bietet ausreichend

Platz in historischem Umfeld: 250 Gäste bei Gala-Bestuhlung,

600 Gäste bei Stehempfängen.

The Casino Baumgarten contains a magnificent 285 m2 large

festival hall with a stage, as well as a 200 m2 large terrace with

direct access to the casino park. It also provides plenty of space

within its historic environment: there is room for 250 seated and

600 standing guests.

casino-baumgarten.at

PALAIS DAUN-KINSKY

Meisterlicher Barock | Masterful Baroque

Wirich Philipp Lorenz Graf von und zu Daun, Fürst von Teano, ließ in den Jahren 1713 bis 1716

das beeindruckende Barockpalais errichten. Kein kaiserliches Anwesen ist derart reich mit

künstlerischen Schätzen ausgestattet. Auf den Mittelpunkt des Palais auf der Freyung, den

einzigen ovalen Festsaal der Stadt, war – so sagt man – sogar das Kaiserhaus etwas neidisch.

Count Wirich Philipp von und zu Daun, Prince of Thiano commissioned the construction of the

impressive Baroque palace between 1713 and 1716. No other imperial estate is as endowed with

this many artistic treasures. It is said that even the imperial court was somewhat envious of the

centre of the palace on the Freyung, the only oval festival hall in the city.

palaisevents.at

ALBERTINA

Zu Gast im Museum | Invitation to the museum

Das Museum nahe der Wiener Staatsoper birgt neben zahlreichen

Kunstschätzen ein weiteres historisches Juwel: die Habsburgischen

Prunkräume. Das einstige Wohnpalais der Herrscherdynastie

ist für Veranstaltungen jeder Art buchbar.

The museum close to the Vienna State Opera contains, next to

countless of artistic treasures, an additional historical jewel: the

Habsburg state rooms. The former living palace of the ruling

dynasty can be booked for events of any kind.

albertina.at

86 Cercle Diplomatique 1/2017

PALAIS SCHÖNBURG

Mit Pracht-Garten | With a splendid garden

Das über 300 Jahre alte Palais, geplant von Johann Lukas von

Hildebrandt, liegt inmitten einer 15.000 m2 großen Parkanlage.

Das aufwändig restaurierte Barockjuwel mit einzigartiger Akustik

steht für Firmenfeiern, private Feste, Pressekonferenzen, Seminare

oder Workshops mit bis zu 350 Personen zur Verfügung. Die

Rasenflächen auf beiden Seiten des Gebäudes (1.600 m2) sind

für Festzelte mit bis zu 500 Personen geeignet.

The more than 300-year-old palace, planned by Johann Lukas von

Hildebrandt, lies in the midst of a 15,000 m2 large park complex.

The elaborately restored baroque jewel with unique acoustics for

corporate events, private parties, press conferences, seminars or

workshops, can fit up to 350 people. The lawns on both sides of

the building (1,600 m2) are suitable for marquees with up to

500 people.

palais-schoenburg.at

PHOTOS: VON DEN LOCATIONS BEREITGESTELLT

PALAIS NIEDERÖSTERREICH

Prunk mit Technik | Pomp and modern equipment

Das Landhaus – der ehemalige Sitz des niederösterreichischen

Landtages – wurde detailgetreu renoviert und ist seit 2005 als

Palais Niederösterreich mit prunkvollen Räumlichkeiten und

modernster Technik für stilvolle Events buchbar. Für wärmere Tage

eignet sich auch der Innenhof als stimmungsvolle Kulisse.

The land house – the former seat of the parliament of Lower Austria

– was renovated with plenty of attention to detail and since 2005,

can be booked as Palais Niederösterreich with pompous rooms as

well as modern equipment for stylish events. On warmer days, the

inner courtyard also makes for an atmospheric backdrop.

palais-niederoesterreich.at

>>

Cercle Diplomatique 1/2017

87
---
SAVOIR VIVRE EVENT LOCATIONS

2 Trendy Locations

k47.wien

360° Rundumblick | 360° view

SCHLOSS LAUDON

Exotisch am Wasser | Exotic by the water

Der vollverglaste, zwei Stockwerk hohe Kubus sitzt als Rooftop auf dem

Kaipalast. Die rundum laufenden Terrassen bieten Rundumaussicht über

die Stadt. Herzstück ist eine LCD-Video-Wall von mehr als 5,3

Quadratmetern, bestens geeignet für eindrucksvolle Präsentationen mit

High-End Audiotechnik, Funkmikrofonen & Head Sets, WLAN und

diversen Präsentationsmonitoren.

The fully-glazed, two-story tall cube is located on top of the Kaipalast,

functioning as a rooftop. The completely surrounding terraces offer a

360° view around the city. The heart of the place is a more than 5.3

square metre big LCD video wall, ideally suited for impressive

presentations with high-end audio, wireless microphones & headsets,

wireless internet and various presentation screens. k47.wien

HAUS DER MUSIK

Für alle Gelegenheiten | For any occasion

Das Wasserschloss aus der Barockzeit bietet einen Freskensaal

mit exotischen Motiven, die Bibliothek mit der Originalausstattung

aus 1780 sowie das sogenannte Sisi-Zimmer. Im Schloss –

das seit 1976 als Schulungszentrum der Verwaltungsakademie des

Bundes fungiert – und seinen Nebengebäuden, stehen zudem

über 10 Seminarräume und eine Reihe von Gruppenräumen zur

Verfügung.

The water castle from the Baroque period offers a fresco hall with

exotic motifs, the library with the original decor from 1780 as well

as the so-called Sisi room. The castle, which has been used as the

training centre of the Federal Academy of Public Administration

since 1976, as well as its adjoining buildings, contain more than 10

seminar rooms and a series of group rooms.

bka.gv.at

Ob Konzert, Dinner, Firmenpräsentation oder Diskussionspanel: Der glasüberdachte Innenhof, das

Dachgeschoss mit Veranstaltungssaal und zwei Ebenen mit Blick über die Dächer Wiens bis zum

Stephansdom bieten im Haus der Musik mit technischer Ausstattung auf höchstem Niveau viele

Möglichkeiten, um Veranstaltungen außergewöhnlich zu machen.

Whether concerts, dinners, corporate presentations or discussion panels: the glass-roofed inner

courtyard, the top floor with an event hall and two stages providing a view across Vienna's

rooftops all the way to St. Stephen's Cathedral, offer countless of opportunities and high-end

technical equipment to make any event at the Haus der Music more than extraordinary.

hdm.at

>>

PALAIS SCHÖNBORN-BATTHYÁNY

Imperiales & Modernes | Imperial & modern

Die Bel Etage verbindet imperiales Ambiente mit moderner Kunst

und fortschrittlichster Technik und ist imperiale Location für

Pressekonferenzen, Meetings, Seminare, Gala-Abende oder

Konzerte. Geeignet für zwei bis 250 Personen, mit barockem Flair

sowie modernster Medientechnik.

The Bel Etage unites imperial ambience with modern art and

advanced equipment, making it the imperial location for press

conferences, meetings, seminars, gala evenings or concerts. It is

suitable for two to 250 people, with a Baroque flair as well as

state-of-the-art media equipment.

palaisschoenborn-freyung.at

VIENNA BALLHAUS

Kleinod im Hinterhof | Jewel in the rear courtyard

Die denkmalgeschützte Location in der Berggasse, mit dem

Speisesaal eines Gasthauses aus dem Jahre 1870, wurde 2016

stilecht revitalisiert. Der ehemalige Gartentrakt bietet nun eine

Mischung aus Biedermeier, Neo-Barock und Modernität. Die

Betreiber sind offen für alles – aber nur bis 2 Uhr morgens.

The protected landmark location at Berggasse with a dining room

in the style of an 1870s style guest house was restored true to its

original style in 2016. The former garden now offers a blend of

Biedermeier, neo-Baroque and modernism. The operators are open

to anything – but only until 2 in the morning.

viennaballhaus.com

PHOTOS: VON DEN LOCATIONS BEREITGESTELLT

AN IMPERIAL

NATIONAL DAY

CELEBRATION

Your National Day at Hotel Imperial Vienna.

Celebrate in Excellence.

RESERVATION & INFORMATION:

EVA SOMMER

GROUPS & EVENTS MANAGER

TEL. + 43 1 501 10 – 404

EVA.SOMMER@LUCURYCOLLECTION.COM

HOTELS THAT DEFINE THE DESTINATION

88 Cercle Diplomatique 1/2017

HOTEL IMPERIAL

A LUXURY COLLECTION HOTEL

KÄRNTNER RING 16 . 1015 VIENNA . AUSTRIA

WWW.IMPERIALVIENNA.COM

FOLLOW US

#imperialvienna
---
SAVOIR VIVRE EVENT LOCATIONS

3 Aussergewöhnliche Locations | Extraordinary locations

GERSTNER SALONS PRIVÉS

Farbenfrohes Ambiente | Colourful ambience

Die neueste Location der Stadt, vis-à-vis der Wiener Staatsoper, in

prominenter Lage: Das prunkvolle Interieur bietet einen festlichen

Rahmen für repräsentative Bankette, Empfänge und individuell

inszenierte Events mit hauseigener Kulinarik. Die Salons stehen für

Abendveranstaltungen in Einzelnutzung oder als exklusives

Gesamt-Ensemble zur Verfügung.

The newest location in the city opposite the Vienna State Opera,

in a renowned spot: the splendid interior offers a festive space for

representative banquets, receptions and individually staged

events with in-house cuisine. The lounges are available for

evening events for single use or an exclusive entire ensemble.

gerstner.at

GARTENPALAIS LIECHTENSTEIN

Fürstliche Inszenierungen | Courtly stagings

Das Palais im Besitz der Familie Liechtenstein in der Rossau ist

mit seinem weitläufigen Park ein beliebter Ort für außergewöhnliche

Veranstaltungen und gern genutzte Kulisse für Filmdrehs und

Fotoshootings. Die wunderschönen barocken Räumlichkeiten, der

herrschaftliche Garten und die ehemaligen Damenappartements

können gebucht werden.

The palace owned by the Liechtenstein Family in Rossau, as well

as its spacious park, are a popular location for extraordinary

events and are often used as backdrops for film productions and

photo shoots. The beautiful Baroque rooms, the stately gardens

as well as the former ladies' apartments can all be booked.

palaisliechtenstein.com

LIEBHARTSTHALER BOCKKELLER

Edel im Gasthaus | Exquisite times at the inn

Die Gebrüder Gammer besaßen in Ottakring ein Gasthaus, das inmitten eines weitläufigen

Gartens lag, der an die 2.000 Personen fasste. 1906 ließen sie ein zweites Gasthaus erbauen:

den Bockkeller. Der im ersten Stock gelegene lichtdurchflutete Saal "für besondere Anlässe" mit

Deckenfresken und Elementen des Barocks und der Gründerzeit übt heute einen besonderen

Zauber aus.

The brothers Gammer owned a guest house in Ottakring, located at the centre of a spacious

garden, which could provide space for up to 2,000 people. In 1906, they commissioned the

construction of a second inn: the Bockkeller. The light-flooded hall, located on the first floor and

marked by frescoed ceilings and elements from the Baroque and founding days, continues to cast

a spell on onlookers to this day. wvlw.at

NATIONALBIBLIOTHEK

Stilsicherer Rahmen | Stylish setting

Moderner Purismus oder doch lieber barocke Pracht? Die

unterschiedlichen Epochen und Stilrichtungen verleihen am

Josefsplatz oder in der Herrengasse jeder Veranstaltung ein

einzigartiges Flair. Die freie Wahl von Catering-, Technik- und

Dekorationsunternehmen garantiert absoluten Gestaltungsspielraum

für bis zu 1.300 Gäste.

Modern purism or rather Baroque opulence? The various different

epochs and styles at Josefsplatz square or at Herrengasse provide

any event with a unique ambience. The wide selection of catering,

equipment and decoration companies ensures plenty of creative

freedom for up to 1,300 guests. onb.ac.at

HAUS DER INGENIEURE

Modern & Geschichte | Modern & history

Das Haus der Ingenieure wurde mit seiner Revitalisierung zu

einer unverwechselbaren Location voll Geschichte und

Substanz. Nach Vorbild englischer Clubhäuser in der

Formensprache der italienischen Renaissance errichtet,

bietet es den perfekten Rahmen für Events, klassische

Konzerte oder Konferenzen.

The regeneration of the Haus der Ingenieure has made it an

unmistakable location full of history and substance. Modelled

after English club houses and inspired by the forms of the

Italian Renaissance, it offers the perfect space for events,

classic concerts or conferences.

hdi-wien.at

anyact.at

PHOTOS: VON DEN LOCATIONS BEREITGESTELLT

PALAIS SCHÖNBURG

The "Residence for Events" is located in the center of Vienna (4th district), surrounded by 15.000 sqm of beautiful garden.

This elegant Baroque Palace is the ideal location for receptions, gala dinners, presentations, company and private events.

90 Cercle Diplomatique 1/2017

www.palais-schoenburg.at
---
SAVOIR VIVRE CONNOISSEUR

Essen und trinken mit Stil

Wine and dine in style

Text: Daniela Pötzl

Landung in Schwechat

Touch down in Schwechat

Jamie Oliver hat sich nach dem Brexit-Votum nach neuen Standorten umgesehen. Nun kommt der britische Starkoch auch nach

Österreich. Am Flughafen Wien werden im Terminal 3 auf Ebene 1 künftig auf mehr als 800 m2 "Jamie´s Deli", "Jamie´s Italian" und eine

freistehende Bar zu finden sein. Umgesetzt werden die Lokale bereits ab diesem Frühjahr bis zur Jahresmitte 2018.

Jamie Oliver started looking around for new locations after the Brexit vote. And now the British celebrity chef is going to be coming to

Austria. Soon visitors to Vienna Airport will be able to enjoy his culinary offerings at "Jamie´s Deli", "Jamie´s Italian" and a free-standing

bar in Terminal 3 on level 1 covering an area of more than 800 m2. They will be opening between this spring and the middle of 2018.

foodtravelexperts.com, viennaairport.com

Die Welt des guten Brotes |

The world of great bread

Innovatives am Spittelberg | Innovative cuisine at Spittelberg

Harald Brunner,"Urgestein" der Wiener Gastronomieszene und zuletzt im Heurigen Spaetrot in Gumpoldskrichen (NÖ) als Spitzenkoch

tätig, verwöhnt nun im "Das Spittelberg", dem ehemaligen Kussmaul. Das innovative und dabei unverkrampft-kreative Konzept bietet,

getragen von einer Rotisserie von Molteni, (Wiener) Küche in Höchstform: Chili-Blunzen und Krautvariationen bis hin zu im Ganzen

gebratenen Stücken vom Dry-Aged-Beef, zartes Iberico-Schwein, Ente, frische Fische aus heimischen Gewässern und erlesene

Gemüsevariationen von der Wiener Gärtnerei Bach. Neben Kaffee von Alt Wien werden im hauseigenen Wintergarten, dem "Salettl",

auch traditionsreiche Wiener Desserts wie Apfelstrudel, soufflierte Topfen-Palatschinken und saisonale Tartes serviert.

Harald Brunner, a "veteran" of Vienna's culinary scene and most recently the top chef at the Heuriger Spaetrot restaurant in

Gumpoldskirchen (Lower Austria), now treats guests to his delicacies at "Das Spittelberg", formerly Kussmaul. The innovative and

laid-back creative concept, with a rotisserie from Molteni taking centre stage, offers (Viennese) cuisine at its best – chilli

blackpudding, various cabbage recipes through to dry-aged beef roasted whole, tender Iberico pork, duck, fresh fish from local

waters and select vegetables from Gärtnerei Bach plant nursery in Vienna. Guests can enjoy coffee from the Alt Wien coffee

roasters in the restaurant's own conservatory, "Salettl", as well as traditional Viennese desserts such as apple strudel, souffléed

curd pancakes and seasonal tarts. das-spittelberg.at

PHOTOS: JOACHIM HASLINGER, BOCUSE D´OR, JAMIE OLIVER, ANDREA PELLER, BEIGESTELLT, ÖWM/HIMML, PIZZA BROS

Siegreiche USA | Victorious USA

Das Finale der Jubiläumsausgabe des internationalen Köche-Wettbewerbs

"Bocuse d'Or", der heuer sein 30-jähriges Jubiläum feierte, ging auch heuer

wieder in Lyon über die Bühne. 24 der vielversprechendsten Köche der Welt

traten im Finale gegeneinander an. Am Ende gewann Mathew Peters aus

New York, die Silber- und Bronze-Medaillen gingen an Norwegen und

Island. Österreich schaffte es vorab heuer nicht in die Qualifikation.

The finale of the "Bocuse d'Or" international cooking contest, which is

celebrating its 30th anniversary this year, took place in Lyon again this

year. 24 of the most promising chefs in the world competed. Mathew

Peters from New York won, silver and bronze went to Norway and

Iceland. Austria didn't qualify this year. bocusedor.com

Die Reise zum Wein | The journey to wine

Vinexpo präsentiert mit "Vinexpo Explorer" ein innovatives Markenkonzept

für die Weinwelt, bei dem flüssige Pretiosen nicht im Konferenzraum

getestet, sondern vor Ort besucht werden. Den Auftakt wird heuer Österreich

von 11. bis 12. September bestreiten. Eine exklusive Auswahl von 100

internationalen Weinhändlern wird verkosten und persönliche Kontakte zu

den teilnehmenden Weingütern knüpfen können. Gruppenreisen in die

Weinbaugebiete bieten dann einen detaillierteren Austausch und weiterführende

Geschäftsverhandlungen.

"Vinexpo Explorer" from Vinexpo is an innovative brand concept, unique in

the world of wine, which includes visiting wine growers and tasting their

fine wine locally instead of simply in a meeting room. It kicks off this year

in Austria 11 to 12 September. 100 international wine merchants have been

carefully selected to taste wine and meet the participating vineyards.

Group tours to the wine-growing regions in turn provide the perfect

opportunity to network and do business. vinexpo.com

TOP 5 OPENINGS

Neu in Wien | New in Vienna

Moderne österreichische

Küche

/ Modern Austrian cuisine

ludwigvan.wien

Paris in Wien

/ Paris in Vienna

La Mercerie, Berggasse 25,

1090

Extravagante Bar

/ Exceptional bar

no99.at

Trendy Poké Bowls & Sushi

Burritos

missmaki.at

Brot ist sein Leben. Nun schlägt Bäckermeister Fritz

Potocnik nach über 40 Jahren Berufserfahrung mit

BROTocnik ein neues Kapitel auf. In seiner Backstube

wird traditionell handwerklich gearbeitet und mit

biologisch unbehandelten Mehlen und Getreiden

gebacken. Des Bäckers Werke sind auch in Wien

erhältlich. Wer mehr wissen mag, kann auch einen der

stets schnell ausgebuchten Kurse mit ihm in der Ersten

Waldviertler Bio Back-Schule besuchen.

Bread is his life. Now after more than 40 years of

professional experience, master baker Fritz Potocnik is

starting a new chapter in his life with BROTocnik. He

uses traditional techniques and bakes with organic

flour and grains at his bakery. His produce is also

available in Vienna. Anyone interested in finding out

more about bread can also take part in one of his

courses which always book out quickly, at the Erste

Waldviertler Bio Back-Schule baking school.

brotocnik.at, bio-backschule.at

Vom dunklen Korn |

All about the dark grain

Auf Österreichs Feldern

wächst mehr Roggen als in

den gesamten USA. Für die

Waldviertler Destillateurin

Jasmin Haider-Stadler

(Whiskydestillerie Haider) und Autor Roland Graf mit

ein Grund, dem Getreide eine längst überfällige

Würdigung zu widmen. Die beiden zeichnen in

"Roggen' Roll – die erstaunliche Karriere eines

Getreides" den Aufstieg des Roggens, aber auch seine

Ablöse durch Neu-Züchtungen wie Triticale nach.

More rye grows in Austria's fields than in the entire

USA. For Jasmin Haider-Stadler, a distiller from

Waldviertel in Lower Austria (Whiskydestillerie

Haider), and author Roland Graf simply one more

reason to pay homage to this grain and give it the

recognition it deserves. In "Roggen' Roll – die

erstaunliche Karriere eines Getreides" ("Rye'n'Roll –

the amazing career of a grain") the two portray the

rise of rye as well as how new varieties such as

triticale knocked it off its perch. shop.roggenhof.at

Pizza aus Sauerteig

/ Pizza with sour dough

pizzabros.at

92 Cercle Diplomatique 1/2017

Cercle Diplomatique 1/2017

93
---
SAVOIR VIVRE TRAVEL

Fernweh

Itchy Feet

Die besten Hotels und Restaurants aus aller Welt. | The best hotels and restaurants around the world.

Text: Gerald Sturz

PHOTOS: BEIGESTELLT

Paris

Le Roch Hotel

Aus Paris ist von einem neuen, sehr stylischen

Pied-à-terre zu berichten. Das kleine, intime Le Roch

Hotel, das zur Gruppe der Design Hotels gehört, ist ein

ruhiger Rückzugsort inmitten der Stadt. Mit seinem

grünen Innenhof, seinem Hammam, seinem Spa und

mit seiner freundlichen Innengestaltung strahlt es

Eleganz und Stil aus. Die Lage ist ausgezeichnet: Es

liegt im 1. Arrondissement, es ist nicht weit zum

Louvre, zur Place Vendôme – und zu den Luxusboutiquen

an der Rue Saint-Honoré.

Paris boasts a new ultra stylish pied-à-terre. The small

intimate Le Roch Hotel, which belongs to the group of

Design Hotels, is a peaceful retreat in the heart of this

bustling city, radiating elegance and style thanks to its

courtyard garden, hammam, spa and friendly interior

design. Its location is excellent, in the 1st Arrondissement,

not far from the Louvre, Place Vendôme and the

luxury boutiques on Rue Saint-Honoré.

designhotels.com

Marrakesch / Marrakech

Amanjena

Nach einer umfassenden Renovierung hat das Amanjena Resort am Rand von Marrakesch vor einige Zeit

wiedereröffnet. Amanjena heisst "friedliches Paradies" und genau das ist dieses Resort auch. Mit seinen

rötlichen Säulen, erdigen Tönen und türkisfarbenen Elementen im Pool und Wasserbecken spiegelt das

Amanjena die Farben der Olivenhaine, Berberdörfer und des Atlasgebirges in der Umgebung wider. Im

Amanjena findet der Gast zwei hervorragende Restaurants, das eine mit marokkanischer, das andere mit

japanischer Küche, eine großzüge Wellness-Anlage, mehrere Pools, eine Bar, einen Teesalon, eine

Bibliothek, Zigarren- und Schischa-Lounge. Gleich nebenan ist der Platz des Golfclubs Amelkis, nicht weit

ist es zum Royal Golf Club, dem ältesten und exklusivsten Golfclub von Marrakesch.

The Amanjena resort on the outskirts of Marrakech reopened a while ago after a thorough refur-bishment.

Amanjena means "peaceful paradise" and that perfectly describes this resort. Amanjena, with its red

columns, earthy tones and turquoise elements in the pool and water basin, reflects the colours of the

nearby olive groves, Berber villages and Atlas mountains. Guests will find two excel-lent restaurants here,

one serving Moroccan and the other one Japanese cuisine, as well as a spa-cious spa, several pools, a bar, a

tearoom, a library and a cigar and hookah lounge. The Amelkis Golf Club is right next door and the Royal

Golf Club, the oldest and most exclusive golf club in Mar-rakech, is only a few minutes away.

aman.com

94 Cercle Diplomatique 1/2017

Mauritius

Constance Belle Mare Plage

An einem der schönsten Strände an der Ostküste von Mauritius befindet sich

das Constance Belle Mare Plage Resort. Nach einer umfangreichen Renovierung

hat es kürzlich in neuem Glanz eröffnet. Vieles, das dem Resort seinen

unverwechselbaren Charakter gegeben hat, wurde erhalten. Dank eines

überarbeiteten Designs und einer neuen Farbpalette, erscheint es nun verjüngt

und frisch. So wird es ganz den Ansprüchen der heutigen Zeit gerecht. Die

Schlafzimmer, Suiten und Villen wurden in einem schicken Stil komplett neu

gestaltet. Jetzt fügt sich das Constance Belle Mare Plage noch besser in seine

natürliche Umgebung ein und unterstreicht die bevorzugte Lage: an einem zwei

Kilometer langen weißen Sandstrand, umgeben von tropischem Grün. Auch der

im Jahre 1994 eröffnete Golfcourse Legend wurde aufpoliert. Die dichte

Vegetation wurde gelichtet und die Löcher 1, 2, 4, 9 und 18 wurden neu

angelegt. Somit entstand eine komplett neue Topographie mit einem besseren

Gesamtblick über die Löcher.

The Constance Belle Mare Plage resort lies on one of the most beautiful

beaches on the east coast of Mauritius. It recently reopened in new splendour

after undergoing an extensive renovation. The resort has retained many

elements that had given it its distinctive character. Thanks to the revised design

and a new colour scheme, it now looks fresh and rejuvenated and in line with

modern standards. The bedrooms, suites and villas have been given an elegant

makeover. Constance Belle Mare Plage now blends better with its natural

setting while emphasising its advantageous location – on a white sandy beach

stretching two kilometres, surrounded by tropical greenery. The Legend Golf

Course that opened in 1994 was also revamped. The dense vegetation was cut

back and the 1st, 2nd, 4th, 9th and 18th holes redone, creating a completely new

topography and an improved overall view of the holes.

bellemareplage.com

New York City

Flora Bar & Coffee

Nicht nur Besucher des Met Breuer Museums an der Madison Avenue steuern zielstrebig Flora Bar &

Coffee, das Restaurant des Museums, an. Auch für New Yorker, die gerade nicht auf einen Museumsbesuch

aus sind, ist das Lokal an der Upper East Side zu einem kulinarischen Treffpunkt geworden. Das liegt an den

wunderbaren kleinen Tapas-ähnlichen Häppchen, die Küchenchef Ignacio Mattos zubereitet. Auch Frühstück

und Lunch sind eine Empfehlung wert. Die "homemade sticky buns", die zum Frühstück serviert werden,

haben die New York Times kürzlich zu einer echten Lobeshymne veranlasst. Man tut gut daran, sich sein

Gebäck bereits am Vortag reservieren zu lassen: Die "sticky buns" sind schnell ausverkauft.

Not only visitors to the Met Breuer Museum on Madison Avenue head straight to Flora Bar & Coffee, its

restaurant. Even New Yorkers who have no intention of visiting the museum go to the restaurant on the

Upper East Side to simply enjoy the culinary offerings. Not surprising, once you have tasted the wonderful

tapas-like delicacies prepared by the master chef Ignacio Mattos. But breakfast and lunch are just as

delicious. The New York Times recently praised the homemade sticky buns served at breakfast. It's best to

reserve the sticky buns the day before you want to buy them as they sell out very quickly.

florabarnyc.com
---
SAVOIR VIVRE TRAVEL

Your stay

in the heart of Vienna

www.my-place.at

Our two elegant apartment hotels

MyPlace City Centre and MyPlace

Riverside are centrally located

and offer exclusive contemporary

accommodation!

Messenien / Messenia

Costa Navarino

Messenien, die Region an der Westküste der Halbinsel Peloponnes, ist eine außergewöhnlich schöne, vom

Massentourismus noch verschont gebliebene Gegend: Sie hat großartige Strände, mit der Bucht von Voidokilia

eine der schönsten Meeresbuchten Europas, endlose Olivenhaine und Ausgrabungen aus mykenischer und

frühhellenistischer Zeit – und mit der Costa Navarino auch ein Urlaubsziel der Extraklasse. Hier befinden sich zwei

Luxusresorts, das Romanos und das Westin, die jeden nur erdenklichen Luxus und Vergnügen bieten. Der

Golfplatz The Dunes Course, der von Bernhard Langer entworfen wurde, wurde im vergangenen Jahr von der

International Association of Golf Tour Operators als "European Golf Resort of the Year" ausgezeichnet.

Messenia, the region on the west coast of Peloponnese, is an exceptionally beautiful area, still un-spoilt by mass

tourism. It has great beaches (Voidokilia bay is one of the most beautiful bays in Europe), endless olive groves

and archaeological finds dating from the Mycenaean and Early Hel-lenistic periods. Costa Navarino is also a

holiday destination extraordinaire. There are two luxury resorts here, The Romanos and The Westin, offering an

abundance of luxury and pleasure. The golf course designed by Bernhard Langer was presented the "European

Golf Resort of the Year" award by the International Association of Golf Tour Operators last year.

costanavarino.com

New York City

Le Coucou Restaurant

New Yorks Gourmets können sich zur Zeit gar

nicht vor Begeisterung über das sehr stylische

Restaurant Le Coucou einkriegen. Küchenchef ist

Daniel Rose, ein Amerikaner, der in Paris mit

seinen Bistros Spring und La Bourse et La Vie

einen durchschlagenden Erfolg hatte. Die Küche

des Restaurants, das sich im sehr schicken,

ebenfalls sehr angesagten 11 Howard Hotel im

Stadtteil Soho befindet, ist von einer raffinierten

Interpretation französischer Klassiker geprägt;

auch die Weinliste macht Eindruck. Die

Zeitschrift New York bezeichnete Le Coucou

neulich als das "absolute best new restaurant in

New York".

New York's gourmets can barely contain their

excitement about the very stylish Le Coucou restaurant

at the moment. Daniel Rose is the head

chef, an American who enjoyed huge success in

Paris with his bistros Spring and La Bourse et La

Vie. Located in the very chic and trendy 11

Howard Hotel in Soho, the restaurant's cuisine is

shaped by refined twists on French classics and

an impressive wine list. New York magazine

recently described Coucou as the "absolute best

new restaurant in New York".

lecoucou.com

PHOTOS: BEIGESTELLT

MyPlace City Centre

Vorlaufstrasse 3 | A-1010 Vienna

MyPlace Riverside

Rossauer Lände 23 | A-1090 Vienna

Whether for one week, for one month or for a

whole year – by yourself or with your family –

on business or pleasure – or even for medical

reasons, our serviced apartments offer everything

you may require to make you feel comfortable

and relaxed.

• Beautiful and centrally located in the

1st and 9th district of Vienna

• Boutique Residence

• Spacious and fully furnished accommodation

(37m² to 105m²) with one or more

bedrooms

• Luxurious studios, suites and apartments

feature functional and elegant décor

• The modern ambience is characterized by

exquisite design and warm colors

• Fully equipped kitchenette including

Nespresso coffee machines

• Complimentary WIFI

• Complimentary use of the fitness room

and business corner

• Roof terrace with views over Vienna

We offer "all-day" concierge services and our

staff are available for any questions or requests.

Central Sales & Reservations

Tel.: +43 1 317 17 17 - 75

Fax: +43 1 513 17 17 - 77

Email: reservations@my-place.at

96 Cercle Diplomatique 1/2017
---
SAVOIR VIVRE TABLE TALK

Zum Lunch im Hotel Meliá Vienna | Lunch at the Hotel Meliá Vienna

General Manager Bastian Becker lud zu drei köstlichen Gängen im "57 Restaurant & Lounge" im höchsten Gebäude Österreichs.

General Manager Bastian Becker invited to a delicious three-course lunch at the "57 Restaurant & Lounge" in Austria's tallest building.

Text: Daniela Pötzl

BASTIAN BECKER

GM Bastian Becker im Gespräch

mit CD Chefredakteurin Daniela

Pötzl. GM Bastian Becker with

CD´s Editor in chief, Daniela Pötzl.

Beef Tatar mit Frühlingszwiebeln,

Grammeln & Grammelbutter.

Beef Tartare with spring onions, greaves

& greaves butter.

PHOTOS: HOTEL MELIÀ VIENNA, PÖTZL

Als ich pünktlich kurz vor 12 Uhr

den DC Tower 1 nahe der Wiener

UNO City betrete, erwartet mich

General Manager Bastian Becker schon am

Empfang. Doch da erspäht er plötzlich einen

ihm bekannten Gast, plaudert nur unweit

von mir charmant und sagt dann

schmunzelnd herbeieilend zu mir: "Diese

Dame kenne ich von einem CD-Event."

Diplomatie verbindet eben.

Wir besteigen den Lift, der uns in nur

27,5 Sekunden zu den beiden obersten

Ebenen ins "57 Restaurant & Lounge"

bringt. Die stets prachtvolle Aussicht lässt

heute auf sich warten. Optimistisch entscheiden

wir uns trotzdem für einen Tisch

bei der großzügigen Fensterfront. Die folgenden

drei Gänge bringen Farbe auf den

Tisch und Sonne im Herzen, nicht zuletzt

durch den freundlichen und kompetenten

Service.

Seit April 2016 ist Bastian Becker nun

als General Manager im Meliá Vienna,

dem ersten Hotel der spanischen Kette in

Österreich, im Einsatz. Der gebürtige Freiburger

absolvierte die Hotelfachschule

Heidelberg. Angeregt zu deren Besuch

wurde er nicht zuletzt durch einen langjährigen

Ferien- und Aushilfsjob während der

Schulzeit in einer Metzgerei mit angeschlossener

Gastronomie, erzählt er während

der Vorspeise, dem Beef Tatar. Seine

Hotel-Karriere startete er dann bei Dorint.

Gemeinsam mit seiner Frau und seinen

beiden Söhnen bewohnt Becker nun ein

Haus nahe der Stadt. "Wien verbindet Tradition

und Moderne perfekt und bietet ein

abwechslungsreiches kulturelles Angebot",

stellt er beim Hauptgang – Lammstelze für

ihn und Rinderfilet für mich – fest.

Das Meliá Vienna ist für die Hotel-

Gruppe ein prestigeträchtiges Flaggschiff.

In Zukunft will das Haus noch mehr

Corporate Gäste ansprechen und deren

Partnerhotel sein. "Wir bieten diverse

Veranstaltungs räumlichkeiten für alle

Gelegen heiten, sei es für ein Meeting oder

gar für einen Ball", so Becker.

Unter Beckers Leitung arbeiten Menschen

aus 32 Nationen, fast wie eine Art

eigene kleine UNO City. Bastian Becker ist

mit jedem einzelnen Teammitglied, eine

"Meeting-Kultur", in der alles auch persönlich

besprochen werden kann, wichtig,

denn: "Ich möchte als Vorgesetzter greifbar

sein."

Gerade wird das Dessert, ein Calvadosmousse,

serviert. Bastian Becker erzählt

mit Verve von den Neuerungen beim

Sonntagsbrunch, der auch von externen

Gästen sehr geschätzt wird: "Der neue

SKYLIFE@MELIÁ-BRUNCH57 bietet

Schmankerl in Buffetform sowie eine Live

Cooking Station." Exklusiv sind die neuen

"Austern Girls", die die Meeresfrüchte mit

einem Bauchladen anbieten.

Und wo verbringt ein Hotel-Manager,

der ein so außergewöhnliches Haus führt,

selbst gerne seinen Urlaub? "Da ist meine

Frau immer der Scout und bucht kleine

Hotels, so z.B. in der Toskana. Da nehme

ich mich dann auch ganz bewusst aus dem

"Analyse-Modus" raus", bekennt er abschließend

beim Espresso. Am Pool im

Weinberg kann dann auch der Fachmann

einfach entspannen.

When I arrived at the DC Tower 1

just in time before 12:00, near

the Vienna International Centre

(UNO City), General Manager Bastian

Becker already expected me at the reception.

But then he suddenly spots the familiar

face of a guest, charmingly chats with her

for a second or two and then tells me, "I

know this lady from a CD event." Well, diplomacy

never fails to connect.

We enter the elevator which, in only

27.5 seconds, takes us up to the two highest

floors where the "57 Restaurants & Lounge"

is located. No sight of the usually marvellous

view today, however. Nevertheless, we

optimistically opt for a table next to a large

window façade. The following three courses

bring colour to the table and joy to our

hearts, especially in consideration of the

friendly and competent staff and service.

For around a year now, Bastian Becker

has been on duty at the Meliá Vienna. The

Freiburg native graduated from the Heidelberg

Hotel Management School. One of his

inspirations to join the industry was a longterm

holiday and temporary job during his

school days at a butchery with an adjacent

restaurant, he tells me during the appetiser,

beef tartar. His hotel career then began at

Dorint. Since April 2016, he has been the

General Manager at the Meliá Vienna, the

Spanish chain's first hotel in Austria.

Together with his wife and his two sons,

Becker now lives in a house close to the

city. "Vienna perfectly combines tradition

and modernity and provides a very diverse

cultural programme," he declares during

the main course. The Meliá Vienna is a

prestigious flagship for the NH Group. In

the future, they plan on appealing to even

more corporate guests and becoming their

partner hotel. "We offer a diverse set of

event spaces for all occasions, whether

meetings or even a ball," says Becker.

Under Becker's leadership, people from

32 nations work together as if they were a

little UN city of their own. Bastian Becker

cares about every single team member.

This is also demonstrated by his approach

to staff meetings, where everything can be

personally discussed. "I want to be approachable

as a boss," he says.

The dessert, a calvados mousse, is being

served. And then our discussion also turns

a little more "culinary". With passion, Bastian

Becker tells of the changes in the Sunday

brunch, which is also very much appreciated

by external guests. "The new

SKYLIFE@MELIÁ-BRUNCH 57 offers delicious

treats in the form of a buffet as well

a live cooking station. The beef tartar is

also available," he reveals smilingly. Exclusively,

the new "Oyster Girls" serve the

fresh seafood from a hawker's tray.

And where does a hotel manager who

leads such an extraordinary hotel like to

spend his own holidays? "My wife is the

scout when it comes to holidays and prefers

to book small hotels, in Tuscany for example.

Then I also very consciously switch

off my 'analytic mode'," he reveals during

the final espresso. And thus, even the industry

expert finally gets to relax a little by

a vineyard pool.

startete seine Hotel-Karriere bei Dorint. Erste Erfahrungen sammelte er

im Rooms Division Bereich, bevor er in die Direktionsebene aufstieg.

Nach seiner Tätigkeit für die NH-Hotels, wechselte er 2013 zur Meliá-

Gruppe. Seit April 2016 ist er General Manager im Meliá Vienna.

began his hotel career at Dorint. He collected his first experience in the rooms

division before moving up to director level. After having worked for the Spanish

hotel chain NH Hotels, he started to work for the Meliá Group in 2013. Since

April 2016, he has been the General Manager at the Meliá Vienna.

INFO:

MELIÁ VIENNA

Donau City Strasse 7

1220 Wien

Tel.: +43 (0) 1 90104

melia.com

57melia.com

Küchenchef Rene Poysl und sein Team verwöhnten mit Bio

Rinderfilet mit Bratkartoffeln und Gemüse zum Hauptgang und

einem Calvadosmousse mit eingelegten Äpfeln und Estragoneis als

Dessert. Chef Rene Poysl and his team spoiled with organic beef filet

with roast potatoes and vegetables for the main course and calvados

mousse with soused apples and tarragon icecream as dessert.

98 Cercle Diplomatique 1/2017

Cercle Diplomatique 1/2017

99
---
SAVOIR VIVRE CHECK IN

Palais Hansen Kempinski Vienna

Ein Gespräch mit GM Peter Knoll | A conversation with GM Peter Knoll

Interview: Daniela Pötzl

Über welche Veranstaltungs- bzw. Banketträumlichkeiten,

die für Botschaftsempfänge geeignet sind, verfügen Sie?

Das Herzstück unseres Bankettbereichs ist der Ballsaal Theophil. Mit

281 m2 ist er der größte Veranstaltungsraum des Hauses und bietet

Platz für bis zu 265 Personen. Neben unseren weiteren acht

Konferenzräumen bietet unser Executive Board Room das Highlight

für ein High-Tech Meeting. Und unsere Henri Lou Event Location

schafft das richtige Flair für einen exklusiven Empfang oder ein

Gala-Essen in kleiner Runde.

PHOTOS: PALAIS HANSEN KEMPINSKI VIENNA

Wodurch zeichnet sich Ihr Hotel aus?

Das Palais Hansen Kempinski ist modern, innovativ und unkonventionell.

Gelebte Geschichte trifft auf modernes Lebensgefühl und das

spiegelt sich auch architektonisch wider: Historische Elemente und

zeitgemäßes Design verschmelzen mit einfachen Linien und klaren

Farben.

Welche Charakteristika machen Ihr Haus so besonders?

Sei es der eigene Butler, die besonderen Blumenarrangements oder

einfach nur die außerordentlichen kulinarischen Kreationen – wir

bemühen uns darum, für unsere Gäste besondere und unvergessliche

Erlebnisse zu schaffen, indem wir kompromisslos unsere Aufmerksamkeit

auch auf die kleinsten Details richten. Unser motiviertes und

engagiertes Team geht akribisch auf Wünsche ein, sodass sich die

Gäste immer 'special' fühlen.

Welche Suiten haben Sie im Angebot?

54 Suiten und fünf verschiedene Kategorien mit einer Wohnfläche bis

zu 320 m2 bieten – mit klassischem Design, Wiener Stilelementen,

dezenten Farben und edlen Stoffen – die perfekte Atmosphäre für

jeden Aufenthalt. Die Präsidenten Suite, unser Highlight unter den

Suiten, erstreckt sich entlang des Schottenrings.

Wie sieht es mit den Sicherheitsvorkehrungen aus?

Das Hotel ist rundum freistehend und die Tiefgarage liegt außerhalb

der Hotelmauern, was eine Sicherung des Gebäudes ungemein

unterstützt. Die permanent abgesicherten Treppenhäuser wie auch

Aufzüge lassen keinen externen Besucher in die Gäste-Etagen dank

des elektronischen Kartenzugangs. Ein ausgeklügeltes CC-TV

Überwachungssystem lässt eine lückenlose Sicherung aller

öffentlichen Bereiche wie übrigens auch in der Präsidenten Suite zu.

Welche Business Facilities bieten Sie?

Alle Zimmer sind mit WLAN sowie dem iPad-Entertainment-System

ausgestattet, das nicht nur die Steuerung sämtlicher Funktionen im

Raum, sondern auch Bestellungen beim Room Service, Buchungen

von Spa-Treatments und die Lektüre von Tageszeitungen ermöglicht.

Besonders erwähnenswert ist: Das Business Center hat 24 Stunden

geöffnet – an 365 Tagen im Jahr.

What makes your hotel exceptional?

The Palais Hansen Kempinski is modern, innovative and unconventional.

Lived tradition meets modern lifestyle and this is also reflected

architecturally: historic elements and contemporary design blend with

simple lines and clear colours.

What features make your hotel so special?

Whether the personal butler, the special flower arrangements or just

the extraordinary culinary creations – we try to create special and

unforgettable experiences for our customers by focusing our

attention on even the smallest details. Our motivated and dedicated

team is very meticulous when it comes to our guests' wishes so that

they are guaranteed to always feel special.

What types of suites do you offer?

54 suites and five different categories with a residential area of up to

320 m2 with classic design, Viennese stylistic elements, gentle colours

and exquisite fabrics provide the perfect atmosphere for any stay. The

Presidential Suite, our highlight when it comes to our suites, stretches

along the Schottenring boulevard.

Which kinds of safety precautions do you take?

The hotel is completely detached and the underground car park is

located outside of the hotel walls, which is extremely beneficial in

terms of the security of the building. The permanently secured

staircases, as well as the elevators, keep external visitors from

entering the guest floors thanks to exclusive access via electronic

card. An ingenious CCTV security system allows for a seamless

safeguarding of all public areas as well as the Presidential Suite.

What business facilities do you offer?

Every room is equipped with wireless internet as well as an iPad

entertainment system which not only allows for controlling various

functionalities in the room but also for ordering room service, booking

spa treatments as well as requesting newspapers. Especially worth

mentioning: the business centre is opened 24 hours a day, 365 days

a year.

What type of event or banquet rooms do you have which are

suitable for embassy receptions?

The Theophil ballroom is the heart of our banquet area. With 281 m2

it is the biggest event room in the building and provides space for up

to 265 people. Next to our additional 8 conference rooms, our

Executive Board Room is another highlight for high-tech meetings.

And our Henri Lou event location provides the right atmosphere for

any kind of exclusive reception or a gala dinner for a small group.

INFO:

PALAIS HANSEN KEMPINSKI VIENNA

Schottenring 24

1010 Wien

Tel.: +43/ (0) 1 236 1000

kempinski.com

General Manager Peter

Knoll über das Palais Hansen

Kempinski Vienna.

General Manager Peter Knoll

about the Palais Hansen

Kempinski Vienna.

100 Cercle Diplomatique 1/2017

Cercle Diplomatique 1/2017 101
---
SAVOIR VIVRE HIDEAWAYS

Wunderbare Fluchten

Great Escapes

Zeit für eine frühlingshafte Auszeit? Wir haben vier Empfehlungen für Sie! | Time for a spring break? We have four recommendations for you!

Willkommen im Puradies!

Welcome to "Puradies"!

MEHR ENTSPANNUNG

MORE RELAXATION

In absoluter Alleinlage ist in Leogang (Salzburger Land) mit

dem neuen Puradies auf 500.000 m2 ein unvergleichliches

Wohlfühlareal entstanden. Mit seinen 14 Luxus-Chalets

(60-120m2 groß) sowie 80 stylischen Zimmern und Suiten

mit 4* Superior Service, begeistert es mit ganz besonderem

Flair. Ideen aus aller Welt wurden mit Holz aus dem eigenen

Wald umgesetzt. Für die Bar aus 16.000 Eichenholzwürfeln

hat Gastgeber Michael Madreiter in Asien seine

Inspiration gefunden. Das Badhaus "Innere Mitte" – von

außen eine romantische Berghütte aus sonnengegerbten

Altholzbalken – birgt im Inneren eine ultimative Wellnessoase

mit 360°-Himmelsblick. Die größte Suite des Hauses ist

80 m2 groß und bietet zudem das 35m2 große Private Spa

"Wolke 7" (auch als Day Spa buchbar). Und im Natursee vor

dem Badhaus können Gäste an warmen Tagen gerne

abtauchen. Das puradiesische Lebensgefühl findet in

unterschiedlichen Restaurants, unter anderem mit der

Verwendung von Produkten aus der eigenen Bio-Landwirtschaft,

einen weiteren Höhepunkt. Auf sportlich Aktive

warten Wanderwege und Klettersteige, ein 720 Kilometer

langes Rad- und Mountainbikenetz sowie Europas größter

Bikepark, 120 Kilometer Lauf- und Nordic-Walking-Strecken,

Canyoning, Rafting und Golfplätze.

The new "Puradies" is a 500,000 m2 feel-good zone in a

perfect solitary location in Leogang (Salzburger Land).

With its 14 luxury chalets (60-120 m2 areas) as well as 80

stylish rooms and suites with superior four-star service, it is

bound to astonish with its unique flair. Ideas from all over

the world are realised through wood from the local forest.

Host Michael Madreiter found inspiration for the bar made

of 16,000 oak wood cubes in Asia. The bath house "Innere

Mitte" (inner centre) – from outside a romantic mountain

hut made of sun scorched and aged wood beams – contains

the ultimate wellness oasis, as well as a 360° sky view. The

biggest suite is 80 m2 big and additionally provides a 35 m2

private spa area "Wolke 7" (which can also be booked as a

day spa). And guests are also more than welcome to take a

dive into the lake in front of the bath house. More joie de

vivre can be enjoyed in the various restaurants, which,

among other things, boast with organic local produce.

Sports enthusiasts can look forward to the hiking trails and

climbing routes, a 720-kilometre-long cycling and mountain

bike network and Europe's biggest bike park, 120 kilometres

of running and Nordic Walking trails, canyoning, rafting and

a golf course.

Ratscher Landhaus

Die Süd-Steiermark lässt sich hier von ihrer schönsten Seite

genießen, mitten in den Weinbergen. Ab Mai stehen die

neuen Panoramazimmer bereit. Verwöhnt wird man mit

steirischem Backhendl, hausgemachten Mehlspeisen und

einer Kollektion feiner Weine.

The south of Styria can be enjoyed from its best side in the

midst of the vineyards. Starting in May, there will be new

panorama rooms available here as well. Additionally, you

will be spoiled with Styrian deep-fried chicken, homemade

pastries and a collection of fine wines.

ratscher-landhaus.at

102 Cercle Diplomatique 1/2017

Ansicht eines Schlafzimmers

(oben) und der außergewöhnlichen

Bar aus Holz (r.).

View of a sleeping room (top) and

the exceptional bar, made from

wood (r.).

Die Gastgeber Philipp und Michael

Madreiter (oben, von l.), das

Badhaus (l.) und darunter eine

kulinarische Köstlichkeit, zubereitet

von Küchenchef und Haubenkoch

Andre Stahl.

Philipp and Michael Madreiter are the

hosts (top, from l.), the bath house

(l.) and below a culinary delight,

prepared by toque-chef Andre Stahl.

PHOTOS: PURADIES, FOTO@DER-MACHER.AT, MATTHIAS KRONFUSS, DAS REGINA

INFO:

Puradies

Rain 9

5771 Leogang

Tel.: +43/(0) 6583/ 8275

puradies.com

Villa Antoinette

Dieses feinsinnig renovierte Jugendstil-Juwel am Semmering

bietet bis zu 13 Personen Platz und wird bevorzugt an

geschlossene Gruppen vermietet. Besondere Extras: die

wunderbare Gartenterrasse, das beheizte Außenschwimmbecken

und sogar ein eigenes Heimkino.

This lovingly renovated Art Nouveau jewel at Semmering

provides space for up to 13 people and is preferably rented

to closed groups. Special features: the wonderful garden

terrace, the heated exterior swimming pool and even a

home cinema. villa-antoinette.at

Hotel Regina

Olaf Krohne verliebte sich als

Kind in Bad Gastein. Heute

betreibt er dort ein Hotel, das

er mit viel Verve, Stil und Mut

zu einem Hot Spot für

Großstädter gemacht hat. So

lebt der ehemalige Top-Kurort wieder wunderbar auf.

As a child, Olaf Krohne fell in love with Bad Gastein. Today,

he operates a hotel there which he has turned into a hot

spot for city dwellers with plenty of vigour, style and

bravery. The former excellent spa town has thus found new

life. dasregina.com
---
SAVOIR VIVRE VIENNA MUSICALS

Konnichiwa Elisabeth!

Privet Vampirov!

In Toki o schmachtet Elisabeth, in Moskau tanzen die Vampire. Musicalproduktionen

aus Wien sind international gefragt wie nie zuvor und finden vom Fernen

Osten über Russland bis zum Broadway ihr begeistertes Publikum.

Elisabeth yearning in Tokyo, vampires dancing in Moscow. Musical productions

from Vienna are in international demand like never before and find especially

enthusiastic audiences in the Far East, Russia and on Broadway.

Text und Interview: Rois & Stubenrauch

PHOTOS: TOHO ASAMI; EMK; TOHO LT.D.

ELISABETH.

Über 11 Mio. Besucher

haben das Erfolgsmusical

weltweit

gesehen.

More than 11 million

viewers enjoyed the

succesful musical

worldwide.

Gleich vierfach stand Kaiserin Elisabeth im

blendend weißen Kleid auf der Bühne, flankiert

von zahlreichen weiteren Hauptrollen

in mehrfacher Besetzung. Die Vervielfachung der

Charaktere des Erfolgsmusicals "Elisabeth" letzten

Herbst in Osaka war allerdings nicht einem besonders

kreativen Regieeinfall geschuldet. Vielmehr gab

die Takarazuka Theater-Kompanie das Musical anlässlich

seines 20-jährigen Bühnenjubiläums in Japan

als aufwändige Show, die sämtliche Hauptdarstellerinnen

aller neun Produktionen der letzten 20 Jahre

auf der Bühne vereinigte.

20 Jahre Elisabeth in Japan

Mit der Aufnahme von "Elisabeth" ins Repertoire

der Takarazuka Revue, einer sehr populären, rein

weiblichen japanischen Musiktheatertruppe, begann

1996 die internationale Erfolgsgeschichte der Musicals

aus Wien. "International hat das Wiener Musical

einen äußerst guten Ruf ", betont Franz Patay, seit

dem Wechsel seines Vorgängers Thomas Drozda an

die Spitze des Kulturministeriums im Mai 2016, nun

Geschäftsführer der Vereinigten Bühnen Wien.

"Man spricht mittlerweile sogar von einem eigenen

Genre, das die Vereinigten Bühnen Wien begründen

konnten: Das Wien-Musical!" Insbesondere im Fernen

Osten laufen VBW Produktionen wie "The Visit"

(auf Deutsch: "Der Besuch der Alten Dame"),

"Rudolf " und natürlich "Elisabeth". Mittlerweile

knackte die erfolgreichste deutschsprachige Musicalproduktion

weltweit die 11 Millionen Zuschauer

Marke – mit anhaltendem Erfolg. "Wir bemerken

gerade in Japan eine große Faszination österreichischer

Stoffe. Das Kaiserreich ist sicherlich aus der

dortigen Geschichte heraus ein sehr beliebtes Thema,

auch ist der Sisi-Kult dort weit verbreitet."

Erfolgreich auch in Shanghai und Moskau

Japan ist jedoch nicht das einzige Land, in dem

die Wiener Musicals Erfolge feiern. In 21 Ländern

und 16 Sprachen, von Südkorea bis zum Broadway

waren die VBW-Musicals schon zu erleben. Zur Jahreswende

etwa stand "Mozart!" im Shanghai Culture

Square Theatre am Spielplan. Als einmonatiges Gastspiel

in deutscher Sprache, für das sämtliche Original-Kulissen

und -Kostüme in Containern mit der

Transsibirischen Eisenbahn nach China transportiert

wurden – ebenso wie beim "Elisabeth" Gastspiel

vor zwei Jahren. "Das Shanghai Culture Square sucht

sich grundsätzlich nur handverlesene Produktionen

mit sehr hoher Produktionsqualität aus, umso schö-

MOZART!

Der südkoreanische Star Park Eun-tae in der Hauptrolle einer Produktion des

Musicals in Seoul.

The South Korean star Park Eun-tae in the main role of a musical production in

Seoul.

104 Cercle Diplomatique 1/2017

Cercle Diplomatique 1/2017 105
---
SAVOIR VIVRE VIENNA MUSICALS

DON CAMILLO & PEPPONE.

Die jüngste Koproduktion der Vereinigten

Bühnen Wien mit dem Theater St. Gallen

läuft seit Januar im Wiener Ronacher.

Since this January, the youngest co-production

of VBW and Theater St. Gallen is on the

programme at Vienna´s Ronacher.

SCHIKANEDER.

Das VBW-Musical soll bald auch am Broadway zu sehen sein.

The VBW musical is soon to be scheduled at the Broadway.

musical's 20-year stage anniversary by uniting all the

lead actresses from all nine productions of the last 20

years.

REBECCA.

Oak Joo Hyun als Mrs.

Danvers in der südkoreanischen

Produktion des

VBW-Musicals, nach dem

Roman von Daphne du

Maurier.

Oak Joo Hyun plays Mrs.

Danvers in the South Korean

production of the VBW

musical, adapted from a

novel by Daphne du Maurier.

ner also, dass unsere Musicals für sie die erste Wahl

waren", meint Patay zufrieden. Über Lizenzproduktionen

auf Chinesisch sind jedenfalls bereits Gespräche

mit Produzenten vor Ort am Laufen.

Bereits seit 2011 läuft "Tanz der Vampire", für dessen

Produktion es den Vereinigten Bühnen Wien

gelang, Oscarpreisträger Roman Polanski zu gewinnen,

sehr erfolgreich in Sankt Petersburg. Im Oktober

2016 ist das Musical nach Polanskis Kultfilm nun

auch in Moskau angelaufen. Patay: "Das russische

Publikum liebt "Tanz der Vampire", ich war selbst bei

der Premiere in Moskau und war überwältigt von

den Reaktionen der Zuschauer." Mit weltweit mehr

als 8 Millionen Besuchern ist die Geschichte um die

nicht ganz so furchtlosen Vampirjäger "Elisabeth"

inzwischen bereits dicht auf den Fersen. Insgesamt

über 23,5 Millionen Zuschauer haben die Musicals

der Vereinigten Bühnen Wien in den letzten 20 Jahren

gesehen. Bis zu einer Million Musicalfans besuchen

jedes Jahr die internationalen Produktionen

der VBW – gut 500.000 sind es in Wien. Und während

die Wiener Aufführungen mit rund 21 Millionen

Euro jährlich subventioniert werden, lukriert

die VBW mit jedem Ticket ihrer internationalen

Gastspiele und Lizenzproduktionen gutes Geld.

Schikaneder am Broadway

"Wir haben das Glück, dass wir bei den Vereinigten

Bühnen Wien wirklich ausschließlich hochqualifizierte

Mitarbeiter haben, die auf höchstem internationalem

Niveau arbeiten", sieht Christian Struppeck,

Musicalintendant der VBW, einen entscheidenden

Grund für den Erfolg. Die großen Namen der Musicalwelt

geben sich daher in Wien die Klinke in die

Hand. So hat etwa Sir Trevor Nunn, dreifacher Tony-

Award Preisträger, bei der im Herbst angelaufenen

Neuproduktion "Schikaneder" Regie geführt. Die

Musik stammt aus der Feder des dreifachen Oscar-

Gewinners Stephen Schwartz. Für das Musical um

die turbulente Entstehungsgeschichte der Zauberflöte

laufen denn auch bereits Verhandlungen um eine

Aufführung am Broadway – gerüchteweise mit Hollywood-Star

Hugh Jackman in der Hauptrolle!

Hochkarätige Neuproduktion in der Warteschlange

Neben der für September 2017 angesetzten Premiere

eines Musicals mit den Hits von Austropop

Legende Rainhard Fendrich durchläuft mit "Der

Dritte Mann" gerade ein weiterer, hochspannender

Wien-Stoff die VBW Musical Schmiede. Die Weltpremiere

im Ronacher ist für 2018 anvisiert. Auch

hier konnte mit Oscar Preisträger Christopher

Hampton und dem Komponisten George Fenton,

der für den Score von "Ghandi" verantwortlich

zeichnete, wieder ein sehr hochkarätiges Team gewonnen

werden. Wie die Oscar prämierte Bildsprache

des Schwarz-Weiß-Klassikers auf die Musicalbühne

geholt wird, ist noch ein gut gehütetes

Geheimnis – dass mit "Der Dritte Mann" die internationale

Erfolgsgeschichte der Vereinigten Bühnen

Wien fortgeschrieben wird, steht aber jetzt schon

fest.

Dressed in her white dress, Empress Elisabeth

appeared on stage no less than four times,

accompanied by many more multiply cast

lead roles. The idea of diversifying the characters of

the highly successful musical "Elisabeth" for the performance

in Osaka last autumn was, however, not

due to an act of ingenious directorial creativity.

Much rather, it was the Takarazuka theatre company

itself which facilitated an extravagant show for the

PHOTOS: EMK; VBW / DEENVANMEER

20 years of Elisabeth in Japan

The inclusion of "Elisabeth" into the Takarazuka

Revue's repertoire in 1996, a very popular and completely

female Japanese music theatre group, marked

the beginning of the Viennese musical's international

success story. "The Viennese musical enjoys a

very high international reputation," stresses Franz

Patay, Managing Director of Vereinigte Bühnen

Wien (VBW) since his predecessor Thomas Drozda's

switch to the top of the Ministry of Culture in May

2016. "They're already talking about a genre of its

own, founded by VBW: the Vienna Musical!" Particularly

in the Far East, VBW productions such as

"The Visit", "Rudolf " and of course "Elisabeth" – meanwhile

the most successful German-language musical

production which has reached the 10 million viewer

mark – run with continuous success. "We are

currently noticing a huge fascination in Japan when

it comes Austrian works. The Austrian Empire is, surely

due to the local history, a very popular topic there,

and the Sisi cult is also very widespread there."

Successful in Shanghai as well as Moscow

Japan, however, is not the only country in which

Viennese musicals are enjoying tremendous success.

So far, VBW musicals have been presented in 21

countries and in 16 languages, from South Korea to

Broadway. At the turn of the year, for example, "Mozart!"

hit the stage of the Shanghai Culture Square

Theatre. A one-month-long guest performance in

German, for which the entire set of original props

and costumes were shipped to China in containers

via the Trans-Siberian Railway, just like for the "Elisabeth"

guest performance two years ago. "The

Shanghai Culture Square generally only handpicks

productions with extremely high production values

which makes it even more special for us that our musical

was their first choice," Patay says contently.

Talks with local producers are already underway regarding

licensed productions in Chinese.

"Dance of the Vampires", for which VBW managed

to commission Oscar-winning director Roman

opening hours:

Monday - Saturday

12:00-15:00 and 17:30-23:00

Sundays and public holidays

17:30-22:00

Patara - Fine Thai Cuisine

Petersplatz 1 1010 Wien

+43 1 997 1938-0

106 Cercle Diplomatique 1/2017

www.patara-vienna.at
---
Christian Struppeck

VIENNA MUSICALS SAVOIR VIVRE

Christian Struppeck ist Musical-Intendant

der Vereinigten Bühnen Wien und u.a. Autor

der Musicals "Schikaneder" und "Der

Besuch der alten Dame". | Christian

Struppeck is the Musical Director of the

Vereinigte Bühnen Wien (VBW) as well as

the author of the musicals "Schikaneder"

and "The Visit".

DER BESUCH DER ALTEN DAME.

Das Musical nach Friedrich Dürrenmatts Klassiker feiert in

Japan große Erfolge.

The musical, adapted from Friedrich Dürrenmatt´s classic, is a

big hit in Japan.

VBW-Musicals in Wien:

Sie waren kürzlich mit den VBW für ein

Gastspiel in Shanghai. Wie hat das Publikum

im Culture Square Theater"Mozart!"

aufgenommen?

Die Premiere in Shanghai war sehr beindruckend,

wie auch schon 2014 bei "Elisabeth" - dieses Mal

vielleicht sogar noch ein wenig emotionaler. Ganz

generell ist zu sagen, dass in Asien, noch mehr als

bei uns, Opulenz bei der Ausstattung von Musicals

sehr wichtig ist. Persönlich finde ich es immer sehr

spannend, die verschiedensten Inszenierungen

unserer Musicals in den diversen Partnerländern

anzusehen, da dies künstlerisch neue Aspekte zeigt

und die Show in einem anderen Licht präsentiert.

Wie transportieren Sie das Wiener Flair bei

den Musicalaufführungen in der jeweiligen

Landessprache, etwa in Japan oder Korea?

Ich denke, alleine durch die österreichische

Geschichte, die in vielen Produktionen essentieller

Teil der Handlung ist, transportieren unsere

Musicals Wiener bzw. österreichischen Flair in die

Welt.

Wie stellen Sie bei den Lizenzproduktionen

den hohen Standard der VBW Musicals, was

die Musik und Ausstattung anbelangt, sicher?

Wir sind bei unseren Lizenzproduktionen immer in

alle wesentlichen künstlerischen Prozesse

involviert, sei es Regiekonzept, Bühnenbild,

Kostüme oder Casting. Auch inhaltliche

Änderungen aufgrund der kulturellen Unterschiede

werden von uns mit den Autoren diskutiert. Das

wichtigste ist, stetig in gutem Kontakt mit den

Partnern zu bleiben.

Gibt es manchmal auch so etwas wie ein

Kulturclash bei den internationalen

Aufführungen der VBW?

Ja, immer wieder. Beispielsweise hat "Der Besuch

der alten Dame" in Japan ein anderes Ende als bei

uns in Wien. Es ist dort undenkbar, dass die

weibliche Hauptrolle, Claire Zachanassian, im

Schlussbild in eine andere Richtung abgeht als der

Totenzug von Alfred Ill. In Korea werden manche

Kleinigkeiten im Text von "Mozart!" oder

"Elisabeth" geändert, da viele historische Aspekte

hierzulande Allgemeingut, vor Ort aber unbekannt

sind.

Spielen bei der Auswahl der Stoffe

touristische Überlegungen, welches

Wien-Bild mit den Musicals transportiert

werden soll, eine Rolle?

In der Entwicklung neuer Musicals versuchen wir in

erster Linie Stoffe zu finden, die dem österreichischen

Publikum gefallen könnten. Erst danach denkt

man an die Lizenzierung ins Ausland. Wenn man

aber bedenkt, dass über 23,5 Millionen Menschen

weltweit eine unserer Produktionen gesehen haben,

dann glaube ich sehr wohl, dass dies einen

positiven Einfluss auf den Tourismus nach Wien hat.

Recently, you had the chance to present a guest

performance at the Culture Square Theatre in

Shanghai. How did the Chinese audience

respond to "Mozart!"?

The premiere in Shanghai was very impressive, just

as it was for "Elisabeth" back in 2014. Perhaps it was

even more emotional this time around. Generally, it

seems that Asia values opulence in the decor of a

musical even more than we do in Austria. Personally,

I always find it very exciting to see the different

implementations of our shows in the various partner

countries, as this always reveals new artistic aspects

whilst presenting a show in a different light.

How do you bring the Viennese flair to the

performances in Japan or Korea for example,

which are performed in the local national

language?

I think that Austrian history itself – an essential

element in the plots of many of our productions

– helps transport the Viennese or Austrian flair of

our musicals into the world.

The VBW's musical productions have reached a

very high standard when it comes to music and

decor. How do you ensure that the licensed

productions meet this standard?

We are always involved in all the crucial artistic

processes of our licensed productions, whether

directorial conceptualisation, stage design,

costumes or casting. We also discuss any potential

changes in content with the authors, which

sometimes must be undertaken due to cultural

differences. The most important thing is to maintain

good contact with the partners and to find mutual

understanding and to value the respective artistic

standpoints.

Is there ever such a thing as a culture clash

during the international shows of the VBW?

Yes, that does happen from time to time. "The Visit",

for example, has a different ending in Japan than at

home in Vienna. It would be unfathomable in Japan

for the female lead role, Claire Zachanassian, to walk

in a different direction than Alfred III's funeral

cortege during the final scene. In Korea, some small

details are changed in the script, especially when it

comes to pieces like "Mozart!" or "Elisabeth", as we

take knowledge of various historical aspects for

granted here, whereas they are much less known

there.

When selecting the shows, does the image of

Vienna delivered through the musicals – in other

words, touristic considerations – play a role?

When developing new musicals, we focus on finding

material that will appeal to the Austrian audience.

Only afterwards, we give thought to foreign

licensing. But when you consider that more than

23.5 million people globally have seen one of our

productions, then I do believe that this must have

had a positive impact on tourism in Vienna.

ELISABETH.

VBW Geschäftsführer Franz Patay und Musical-Intendant

Christian Struppeck mit dem Takarazuka Ensemble beim

20-jährigen Bühnenjubiläum von "Elisabeth" in Japan.

Franz Patay, Managing Director of VBW, and Musical Director

Christian Struppeck are celebrating the 20th stage anniversary

of "Elisabeth" in Japan.

Polanski, has been running very successfully in Saint

Petersburg since 2011. In October 2016, the musical,

based on Polanski's cult film, finally arrived in

Moscow. Patay says, "The Russian audience loves

"Dance of the Vampires". I was there during the premiere

in Moscow and I was completely overwhelmed

by the audience's reaction." With more than 8 million

visitors globally, the story about the not exactly

fearless vampire hunters is slowly starting to catch up

with "Elisabeth". A combined 23 million visitors have

seen VBW's musicals in the last 20 years. Up to one

million musical enthusiasts watch VBW's international

productions every year, 500,000 of those in Vienna

alone. And whilst the Viennese performances

enjoy yearly subsidies of around 21 Million euro,

VBW earns good money with every ticket sold for its

international guest performances.

Schikaneder on Broadway

"We are very lucky to have such a highly qualified

team at VBW, capable of working at a very high international

standard," Christian Struppeck, Musical

Director of the VBW, considers one of the main reasons

for the success. Which is why so many big names

from the musical world can't keep their hands

off Vienna. Trevor Nunn, three-time Tony Award

winner, for example, directed the new production

"Schikaneder" for an autumn release. The music was

musicalvienna.at

vbw-international.at

PHOTOS: PETER RIGAUD; VBW; TOHO LT.D.

composed by the three-time Oscar-winner Stephen

Schwartz. Negotiations are already underway for a

Broadway performance of the musical about the turbulent

creation story of the Magic Flute – rumour

has it, none other than Hollywood star Hugh Jackman

is set to play the lead role!

High-calibre new productions in the queue

Next to the September 2017 premiere of a musical

comprised of Austropop legend Rainhard Fendrich's

greatest hits, "The Third Man" is another, very exciting

Vienna piece under production in VBW's musical

forge. The world premiere is planned to take place

at Vienna's Ronacher theatre in 2018. Here too, the

producers were able to get a high-calibre team on

board, with names including Oscar-winner Christopher

Hampton and composer George Fenton, responsible

for the "Gandhi" score. Nevertheless, how

exactly the Oscar-awarded visual language of the

black and white classic is to be translated onto the

musical stage remains a secret for now – but it is already

more than clear that the VBW's international

success story will continue with "The Third Man".

Kammermusikalische Highlights wie das "Forellenquintett",

die Arpeggione-Sonate oder "Der Hirt auf dem Felsen",

aber auch seltener gehörte Klavierwerke von Schubert und Liszt.

Freitag, 5. Mai 2017, 20:00 Uhr

Gottlieb Wallisch I

Franz Schubert

Mit: Bernarda Bobro, Sopran / Matthias Schorn, Klarinette /

Rainer Honeck, Violine / Sebastian Bru, Violoncello /

Gottlieb Wallisch, Klavier

Samstag, 6. Mai 2017, 19:30 Uhr

Chorus Viennensis

Franz Schubert und das Volkslied

Chorus Viennensis / Leitung: Florian Maierl

Ramsch und Rosen (Volksmusik-Duo)

Sonntag, 7. Mai 2017, 11:00 Uhr

Gottlieb Wallisch II

Franz Schubert, Franz Liszt

Mit: Rainer Honeck, Violine / Innokenti Grabko, Viola /

Sebastian Bru, Violoncello / Christoph Wimmer, Kontrabass /

Gottlieb Wallisch, Klavier

"Schikaneder"

Neues Musical über die turbulente Liebesgeschichte

hinter der Zauberflöte. | New music about

the turbulent love story behind the Magic Flute

Raimund Theater, bis 21.6.2017

"Don Camillo und Peppone"

Die berühmte Geschichte um den streitbaren

katholischen Pfarrer und den kommunistischen

Bürgermeister erstmals als Musical, Österreichische

Erstaufführung. | The famous story about

the pugnacious catholic priest and the communist

mayor, for the first time as a musical, Austrian

premiere.

Ronacher, bis 25.6.2017

VBW-Musicals International 2017:

"I am from Austria"

Das Musical mit den Hits von Rainhard Fendrich.

The musical with Rainhard Fendrich's greatest hits.

Raimund Theater, Weltpremiere 16.9.2017

"Tanz der Vampire"

Das VBW-Musical kehrt nach Wien zurück.

| The VBW musical returns to Vienna

Ronacher theatre.

Ronacher

ab 30.9.2017

"Tanz der Vampire": Deutschland, Russland, Schweiz, Tschechische Republik, Ungarn | Germany,

Russia, Czech Republic

"Rebecca": Korea, Deutschland, Tschechische Republik | Korea, Germany, Czech Republic

"Mozart!: Shanghai

"Rudolf: Korea

"Elisabeth": Japan

Zyklus

Schubertiade

in the

Konzertsaal der Wiener Sängerknaben

Am Augartenspitz 1, 1020 Wien

Tickets unter Tel. +43 1 347 80 80,

www.muth.at oder an der Kassa

108 Cercle Diplomatique 1/2017
---
SAVOIR VIVRE VIENNA FESTIVAL

Bühne als Zukunftslabor

The stage as a future lab

Text: Rois & Stubenrauch

Die Wiener Festwochen 2017 versprechen

unter dem neuen Intendanten Tomas

Zierhofer-Kin spannende und kontroversielle

Theater- und Opernevents am Schnittpunkt

von Utopie, Gesellschaftsdiskurs und

neuen Formen der Bühnenkunst.

The Vienna Festival 2017 under newly

appointed director Tomas Zierhofer-Kin

promises exciting and controversial theatre

and opera events which intersect utopia,

social discourse and new forms

of stage art.

Wiener Festwochen

2017

Die traditionelle Eröffnungsfeier

am Wiener

Rathausplatz findet am

12.5. statt.

The traditional opening

ceremony will take place

on 12 May at the Viennese

Rathausplatz.

Wenn Parsifal auf dem Mond Richard Wagner,

Marlon Brando und Barbarella begegnet,

kann das nur heißen: Die Wiener

Festwochen, Wiens genreübergreifendes Kulturfestival,

beschert dem Kulturkalender der Hauptstadt wieder

einmal ungewohnte Begegnungen. Bei der mit

Spannung erwarteten Festwochenproduktion "Mondparsifal

Alpha 1–8 (Erzmutterz der Abwehrz)" lässt

der exzentrische deutsche Künstler Jonathan Meese,

der für Bühnenbild, Ausstattung und Regie in Bernhard

Langs Oper nach Richard Wagner verantwortlich

zeichnet, die mythische Figurenwelt Wagners in

einer Mondbasis der Zukunft auf seinen persönlichen

HeldInnenkosmos treffen. Die mit dem Klangforum

Wien unter Stardirigentin Simone Young musikalisch

hochkarätig besetzte Produktion sorgt sicherlich für

einige Kontroversen, ist auch der neue Intendant der

Wiener Festwochen, Tomas Zierhofer-Kin, überzeugt:

"Wenn Jonathan Meese und sein kongenialer Partner,

der Komponist Bernhard Lang sich Richard Wagners

'Parsifal' annehmen, treffen künstlerische Urgewalten

aufeinander: Meese und Lang dekonstruieren die Mythen

Wagner und Parsifal, laden sie neu auf und kreieren

so ein zeitgenössisches künstlerisches Kraftfeld,

das die Idee Oper in Inhalt und Form neu definiert."

Eine neue Ära für das Traditionsfestival

Mit Tomas Zierhofer-Kin, der sich bereits als Leiter

des Donaufestivals mit unkonventionellem Programm

einen Namen gemacht hat, gehen die Wiener Festwochen

ab 2017 in eine spannende neue Ära, in der die

Türen des Festivals zu genreübergreifenden Formen

des Theaters, Performance und neuen Formaten weit

aufgestoßen werden – während die Klassikschiene in

Zukunft deutlich kürzer treten muss. Anfang der

1950er Jahre ins Leben gerufen als überlebenswichtiges

Fenster zu Europa und der Welt, das Wien nach

den dunklen Jahren des Nationalsozialismus wieder

mit dem internationalen Kulturleben vernetzte, zählen

die Wiener Festwochen seit mehr als sechzig Jahren

zu den wichtigsten Kulturevents Österreichs mit

internationaler Strahlkraft. An diese historischen

Stränge anknüpfend sollen die Wiener Festwochen, so

Neo-Intendant Zierhofer-Kin bei der Vorstellung des

Festwochenprogramms, Genres, Gedanken und Ideen

miteinander vernetzen und so zum Probierfeld einer

Gesellschaft der Zukunft werden.

Von Oper über Performance bis Hamam

Das dezidiert politische Theater-Verständnis des

PHOTOS: MIKE RANZ; LUKAS BECK

KLANGFORUM WIEN.

Spielt in Bernhard Langs Oper

"Mondparsifal Alpha 1-8".

Playing "Mondparsifal Alpha

1-8" in Bernhard Lang´s opera.

110 Cercle Diplomatique 1/2017

Cercle Diplomatique 1/2017

111
---
SAVOIR VIVRE VIENNA FESTIVAL

LES ROBOTS NE CONNAISSENT PAS LE

BLUES ODER DIE ENTFÜHRUNG AUS

DEM SERAIL.

Mozarts Oper trifft auf Performance.

When Mozart´s opera meets performance.

HAMAMNESS.

Performativ-intellektuelle

Massagen bei 45 °C.

Performative and intellectual

massages at 45°C.

Wiener Festwochen

12.5.-18.6.2017

Simone Young dirigiert

Bernhard Langs neue Oper.

Simone Young conducts

Bernhard Lang´s new opera.

ISHVARA.

Opern-Happening

von Tianzhuo Chen.

Opera-happening

by Tianzhuo Chen.

neuen Intendanten lässt dann in "Les Robots ne connaissent

pas le Blues oder die Entführung aus dem

Serail" die Camerata Salzburg mit dem deutsch/ivorischen

Performance-Ensemble von Gintersdorfer/

Klaßen zusammenprallen oder im Opern-Happening

"Ishvara" von Tianzhuo Chen, dem Enfant Terrible

der chinesischen Kunstszene, avantgardistische

Popkulturen und Religion aufeinander treffen. Weitere

Höhepunkte aus dem – durchaus streitbaren –

Festwochenprogramm sind etwa Peter Brooks neueste

Theaterarbeit "Battlefield", die sich 30 Jahre nach

seiner legendären, neunstündigen Version des Sanskrit

Epos erneut mit dem Mahabharata auseinandersetzt

oder die breit gefächerte, von Bonaventure Soh

Bejeng Ndikung kuratierte Festwochenausstellung

"The Conundrum of Imagination", die sich vom Leopold

Museum bis auf ein weitläufiges, ehemaliges

Fabriksgelände beim Wiener Hauptbahnhof erstreckt,

und das angestammte Festwochenterritorium

gehörig ausweitet. Die neue Spielstätte im 10.

Bezirk wird als "Performeum" temporäre Bühne für

spannende Performances und interaktive Arbeiten

wie "Hamamness", die das Publikum bei 45 °C und

hoher Luftfeuchtigkeit sowohl physischen als auch

intellektuellen Massagen aussetzt.

"Wir begreifen die Wiener Festwochen als ein groß

angelegtes geistiges wie sinnliches Experiment, das

herrschende Denk- und Handlungsmuster in Frage

stellt, aber auch Raum schafft für ekstatische Erfahrung

und Utopien produziert", bringt Zierhofer-Kin

seine Vision auf den Punkt. Eines ist jedenfalls jetzt

schon klar: Die Wiener Festwochen 2017 bringen intensive

und kontroversielle fünf Wochen packendes

Theater-, Performance- und Opernerlebnis.

When Parsifal meets Richard Wagner, Marlon

Brando and Barbarella on the moon,

you can be sure that the Vienna Festival

has started. Vienna's genre-transcending festival once

again provides unusual encounters that greatly enrich

the capitals' cultural calendar. The eccentric German

artist Jonathan Meese, who is responsible for the stage

design, equipment and direction in Bernhard

Lang's opera sets the mythical figures of Wagner on a

moonbase of the future. In this highly anticipated festival

production called "Mondsparsifal Alpha 1-8

(Erzmutterz der Abwehrz)", Meese's personal Heroic

cosmos encounters Wagner's iconic characters. The

Klangforum Vienna led by the famous conductor Simone

Young will ensure utmost excellency in the musical

department. Director Zierhofer-Kin is convinced

that this production will spike quite a

controversy. "When Jonathan Meese and his congenial

partner and composer Bernhard Lang take on

Richard Wagner's Parsifal, they create a contemporary

artistic field of force that redefines the idea of opera

in terms of content and form."

A new era for the traditional festival

With Tomas Zierhofer-Kin, who has already

made a name for himself with an unconventional

programme as the director of the Donaufestival, the

Vienna Festival will enter an exciting new era in

2017. He will transcendent beyond traditional forms

of theatre, performances and new formats – while

the classical approach will take a back seat in the future.

Established in the early 1950s, the Vienna Festival

was one of Austria's most important cultural

event with international appeal for more than sixty

years. Critical to survival, it opened up a window to

Europe and the world, which re-connected Vienna

with international cultural life after the dark years of

National Socialism. According to director Zierhofer-

Kin, the Vienna Festival should connect genres,

thoughts and ideas to create testing grounds for a

society of the future.

From opera to performance to hammam

The new director's decidedly political approach to

theatre provides for the Camerata Salzburg to clash

with the German/Ivorian performance ensemble of

Gintersdorfer/Klaßen in "Les Robots ne connaissent

pas le Blues oder die Entführung aus dem Serail" or

for the collision between avant-garde pop culture

and religion by means of the opera event "Ishvara" by

Tianzhuo Chen, the enfant terrible of the Chinese art

scene. Additional highlights from the – certainly

provocative – festival programme are, for example,

Peter Brook's newest theatre work "Battlefield",

PHOTOS: KNUT KLASSEN; ZHANG YAN; ANJA BEUTLER; MARKUS MORIANZ; MONIKA RITTERSHAUS

which once again deals with the Mahabharata 30 years

after his legendary, nine-hour-long version of the

Sanskrit epic or the exhibition "The Conundrum of

Imagination", curated by Bonaventure Soh Bejeng

Ndikung which stretches from the Leopold Museum

to a large, former factory premise near Vienna's main

railway station thus massively expanding the usual

territory of the festival. The new venue in the 10th

district is called the "Performeum", a temporary stage

for exciting performances and interactive works

such as "Hamamness", which expose the audience to

physical as well as intellectual massages at 45° C and

high humidity.

"We see the Vienna Festival as a large-scale intellectual

and sensory experiment that questions the

dominant pattern of thought and action, but also

creates space for ecstatic experience and utopias,"

Zierhofer-Kin summed up his vision. One thing is

already clear: the Vienna Festival 2017 brings intensive

and controversial five weeks of exciting theatre,

performance and opera experience.

»… a place where

excellence meets passion . «

Tomas Zierhofer-

Kin ist neuer

Festwochen

Intendant.

Tomas Zierhofer-

Kin is the new

director of the

Vienna Festival.

Festwocheneröffnung

12.5.2017, Wiener Rathausplatz

Mondparsifal Alpha 1-8 (Erzmutterz der

Abwehrz)

Oper von Bernhard Lang nach Richard Wagner |

Opera by Bernhard Lang, based on R. Wagner

Regie: Jonathan Meese, Musikalische Leitung:

Simone Young, Klangforum Wien, Arnold

Schoenberg Chor

4., 6. & 8.6.2017, Theater an der Wien

Les Robots ne connaissent pas le Blues

oder die Entführung aus dem Serail

Musiktheater nach der Oper von W. A. Mozart |

Musical theatre based on the opera by W. A.

Mozart

26., 27. & 28.5.2017, MuseumsQuartier Halle E

Democracy in America

Theater, Italienisch mit deutschen Übertiteln |

Theater, Italian with surtitles

Regie: Romeo Castellucci

23., 24., 25. & 26.5.2017, Volkstheater

Battlefield

Theater, Englisch mit deutschen Übertiteln

Theater, English with German surtitles

Regie: Peter Brook, Marie-Hélène Estienne

16., 17., 18. & 19.6.2017, MuseumsQuartier

Performeum

18.-28.5.2017, 10., Laxenburgerstraße 2a

Vollständiges Programm | Programme:

festwochen.at

112 Cercle Diplomatique 1/2017

IB World School – Music and Arts Academy – Superior Boarding

Bastiengasse 36 – 38 | 1180 Wien | Austria | www.amadeus-vienna.com
---
SAVOIR VIVRE AMBASSADORS OF MUSIC

Culture Talk Patricia Kopatchinskaja

Ein Interview mit der moldawisch-österreichischen Stargeigerin über den normierten Kulturbetrieb, ihre musikalische

Zusammenarbeit mit Teodor Currentzis und ihre anstehenden Auftritte in Österreich.

An interview with the Moldavian-Austrian star violinist about the standardisation of culture, her musical collaboration with

Teodor Currentzis and her upcoming performances in Austria.

Interview: Rois & Stubenrauch

INFO

PERSONAL DETAILS

PHOTOS: JULIA WESELY; ERIC MELZER (2); CLAUDIA HÖHNE

Mit Ihrem unkonventionellen, sehr persönlichen Spiel

entlocken Sie auch bekannten Stücken neue, ungehörte

Klänge - was ist das Geheimnis Ihrer Spielweise?

Ich habe Komposition studiert. Ich weiß, dass vor dem

Niederschreiben der Noten eine Fantasie gestanden hat, eine

Ahnung, eine Sehnsucht, die in den Noten nur unvollkommen

niedergelegt ist, wie in einem Gefängnis. Das Spielen der Noten

allein genügt nie. Der Interpret muss das Gefängnis der Noten

sprengen und wieder die ursprünglichen Fantasien und

Sehnsüchte wachrufen.

Sie stammen aus einer Musikerfamilie, Ihre Eltern tourten

mit einem moldawischen Volksmusikensemble durch die

Sowjetunion. Hat Ihr direkter und manchmal kratzbürstiger

Stil seine Wurzeln auch in der Volksmusik?

Das sicher auch. Ich spiele aber am liebsten zeitgenössische

Musik. Dort werden alle Möglichkeiten der Klangerzeugung

durchexerziert, vom Kratzen bis zur Tonlosigkeit. Natürlich

versuche ich, solche Erfahrungen auch in die Interpretation des

klassischen Repertoires einzubringen.

Sie und Teodor Currentzis werden derzeit als "Dreamteam"

der Klassikwelt gefeiert. Welche musikalischen Überzeugungen

verbinden Sie mit dem exzentrischen Dirigenten?

Ich stoße mich ganz erheblich am Wort "exzentrisch". Wir leben

in einer Zeit, wo alles international normiert wird. Kleiderläden

sehen von Wien bis Tokio identisch aus, das Beethoven-

Violinkonzert wird überwiegend gleich und in einer Tradition

gespielt, die nachweislich falsch ist. Das Kuriose ist, dass daran

niemand Anstoß nimmt. Und jetzt nimmt einer Mozarts Don

Giovanni in die Hand und fragt sich, was will dieser Notentext

musikalisch sagen? Was will er der heutigen Zeit sagen?

Und dann übt er mit seinem Ensemble besessen und wochenlang,

bis diese Aussage kristallklar zugespitzt ist, bis er keiner Phrase

mehr etwas schuldig bleibt. Ja, das ist ungewöhnlich in unserem

wattierten, normierten Kulturbetrieb. Aber exzentrisch? Nein und

nochmals nein! Alle sollten so arbeiten.

Currentzis bringt sein Orchester MusicaAeterna mit –

ist es eine besondere Herausforderung, mit einem so

ungewöhnlichen Klangkörper zu musizieren?

Currentzis arbeitet mit diesem Ensemble seit über zehn Jahren. Es

gibt keine Verständigungsprobleme – jeder weiß, wie es geht. Es

ist ein Traum, mit diesen Leuten zu spielen.

Ihr Repertoire umfasst die komplette Musikgeschichte,

gibt es Komponistinnen und Komponisten, die Sie ganz

besonders lieben?

Mein Herz schlägt zuerst für zeitgenössische, neu geschriebene

Musik. Hier möchte ich den jüngeren amerikanischen Komponisten

Michael Hersch nennen, der mir 2015 ein erschütterndes

Violinkonzert geschrieben hat, oder den jungen Spanier Francesco

Coll. Dann kommen die Klassiker der Moderne, Kurtag, Ligeti,

Galina Ustvolskaya.

Sie haben lange in Wien gelebt, an der Universität für

Musik und darstellende Kunst studiert. Hat ein Auftritt im

Wiener Konzerthaus eine spezielle Bedeutung für Sie?

Ja natürlich. Im Konzerthaus erhielt ich meine ersten Chancen.

Hier feierte ich meine ersten Erfolge. Und das Konzerthaus ist mir

bis heute treu geblieben – und ich ihm.

With your unconventional and very personal style, you manage to

produce entirely new impressions even with well-known pieces

– what is the secret to your approach to music?

I have studied composition. I know that there was an idea prior to

writing down the notes, an intuition, a desire, which has partly

been captured in the notes, like in a prison. Playing the right notes

itself is not enough. The interpreter must break open the prison of

the notes and reawaken the original ideas, intuitions and desires

embedded in it.

You come from a family of musicians, your parents toured through

the Soviet Union with the Moldavian folk music ensemble. Does

your direct and sometimes prickly style have its roots in folk

music as well?

Certainly. But I prefer to play contemporary music. There, all the

ways in which music can be generated are explored, from

scratching to soundlessness. Of course, I try to bring such

experiences into my interpretation of classical pieces as well.

You and Teodor Currentzis are currently celebrated as the dream

team of the world of classical music. What musical convictions

connect you with the eccentric conductor?

I really take offence at the word "eccentric". We live in a world

where everything is being internationally standardised. Clothing

shops look the same from Vienna to Tokyo, the Beethoven violin

concerto sounds the same everywhere and is played in a tradition

which has been proven to be wrong. The curious thing is that

nobody takes offence in that. And now, somebody takes up

Mozart's Don Giovanni and wonders, what is this set of notes

trying to convey musically? What does it want to convey to

today's world? And then he passionately practices with his

ensemble for many weeks, until its statement has been

crystallised to perfection and every phrase has been elaborated

upon. Yes, that is unusual in our padded, standardised way of

producing culture. But eccentric? No, and for the last time, no!

Everyone should work this way.

Currentzis is bringing his orchestra MusicaAeterna along – is it a

particular challenge to work with such an unusual orchestra?

Currentzis has been working with this ensemble for more than ten

years. There are no issues concerning communication – everyone

knows how it all works. It's a dream to be playing with these

people.

Your body of work includes the entire history of music, from the

renaissance to pieces of contemporary music specifically

composed for you, as well as your own compositions. Are there

any works or composers that you love especially?

My heart beats primarily for contemporary, newly written music.

Here, I would like to mention the young American composer

Michael Hersch, who wrote a staggering violin concerto for me in

2015, or the young Spaniard Francesco Coll. And then there are

the modernist classics, such as Kurtag, Ligeti, Galina Ustvolskaya.

You have lived in Vienna for ten years and studied at the

University of Music and Performing Arts, Vienna.

Does a show at the Konzerthaus Vienna have a special

significance for you?

Yes, of course. I got my first chances at the Konzerthaus. I also

celebrated my first successes here. And the Konzerthaus has

remained loyal to me to this day – and I to it.

Patricia Kopatchinskaja mit/

with Teodor Currentzis und/

and MusicAeterna

Wolfgang Amadeus Mozart,

Konzert für Violine und

Orchester KV 218/ Concerto for

Violin and Orchestra KV 218

11.3.2017, Wiener Konzerthaus

konzerthaus.at

Alban Berg Violinkonzert

"Dem Andenken eines Engels"/

Alban Berg violin concerto "To

the Memory of an Angel"

10.8.2017, Salzburger Festspiele

salzburgerfestspiele.at

Die Ausnahme-Violinistin im Spiel mit

Teodor Currentzis und MusicAeterna.

The exceptional violinist, music-making

with Teodor Currentzis and MusicAeterna.

Mit ihrer temperamentvollen und energetischen Spielweise zählt Patricia

Kopatchinskaja zu den gefragtesten Geigenvirtuosinnen der Gegenwart und ist

bereits mit fast allen führenden Symphonieorchestern Europas aufgetreten. Die aus

einer moldawischen Musikerfamilie stammende Violinistin studierte an der

Universität für Musik und Darstellende Kunst Wien und am Konservatorium in Bern,

wo sie seit 1998 lebt. Langfristige musikalische Zusammenarbeiten verbinden Patricia

Kopatchinskaja u.a. mit dem Dirigenten Teodor Currentzis, dem Komponisten und

Dirigenten Péter Eötvös oder der Cellistin Sol Gabetta.

114 Cercle Diplomatique 1/2017

With her temperamental and energetic style, Patricia Kopatchinskaja is considered

among the most popular contemporary violinists and has already performed with

nearly all leading symphony orchestras in Europe. The young violinist from a

Moldavian family of musicians studied at the University of Music and Performing Arts,

Vienna as well as the Konservatorium music school in Bern, where she's lived since

1998. Long-term musical collaborations connect Patricia Kopatchinskaja with, among

others, conductor Teodor Currentzis, the composer and conductor Péter Eötvös and

the cellist Sol Gabetta.

Cercle Diplomatique 1/2017

115
---
SAVOIR VIVRE MUSEUM VISIT

Von Dampflok zu Hightech

From steam engines to high-tech

Technisches Museum Wien | Vienna Technical Museum

Text & Interview: Rois & Stubenrauch

DIRECTOR'S TALK

INFO

Sonderausstellung

"Die Zukunft der Stadt".

Temporary exhibition

"The future of the city".

Das TMW ist eines der

ersten repräsentativen

Stahlbetongebäude

Österreichs.

The TMW is one of the first

representative reinforced

concrete buildings in Austria.

Mit seiner einzigartigen, bereits zu k. u. k.

Zeiten begründeten und über 160.000

Objekte umfassenden Sammlung zählt

das 1918 eröffnete Technische Museum Wien mit

seinen charakteristischen, überkuppelten Ausstellungshallen

zu den führenden Technik-Museen

weltweit. In verschiedenen Themenblöcken spannt

sich auf rund 28.000 m² der Bogen von historischen

Eisenbahnen über die Geschichte der Schwerindustrie

und Luftfahrt bis zur Medienwelt. Weitere Highlights

sind das interaktive Hochspannungslabor oder

das älteste Schaubergwerk Europas unterhalb des

Gebäudes. In Kooperationen mit den Universitäten

beleuchtet das Technische Museum zudem in wechselnden

Ausstellungen Fragestellungen aktueller und

zukünftiger technischer Entwicklungen.

The Vienna Technical Museum founded in

1918 is renowned for the characteristic domed

exhibition halls accommodating its

unique collection of over 160,000 objects. It is well

established amongst the world's leading museums of

technology. 28,000 m² are divided into various themed

areas from historic railways to heavy industry

and aviation going all the way to modern media.

Other highlights include the interactive high-voltage

laboratory or the oldest showcase mine in Europe

directly below the building. In collaboration with

universities, the Vienna Technical Museum also examines

various questions surrounding current and

future technical developments in alternating exhibitions.

PHOTOS: APA FOTOSERVICE PREISS, INGE PRADER, TMW

Gabriele Zuna-Kratky

Wie positioniert sich das Technische Museum im Spannungsfeld

zwischen Archivierung und dem Blick auf technische

Entwicklungen der Zukunft?

Wir hüten mit Bedacht unsere historische Sammlung, legen jedoch

Wert auf die aktuelle Präsentation und Vermittlung nach neuesten

Standards. Mit dem dreiteiligen Ausstellungsprojekt "weiter_gedacht"

positioniert sich das TMW auch international als zukunftsorientiertes

und interaktives Haus der Technik.

"Die Zukunft der Stadt", die aktuelle Ausstellung,

beschäftigt sich mit Themen wie Mobilität und Energieversorgung

in den Städten der Zukunft. Welche Rolle spielt

dabei die Technik?

Die Stadt ist unbestritten der Lebensraum der Zukunft. Auf nur zwei

Prozent der Weltoberfläche beherbergen die Städte rund die Hälfte der

Weltbevölkerung – deshalb sind Städte der stärkste Antrieb für

Forschung, Innovation und Technologieentwicklung.

Das Technische Museum unterhält Kooperationen mit

mehreren Universitäten. Welche Vorteile ergeben sich

daraus?

Kooperationen mit wissenschaftlichen Institutionen sind unerlässlich

für ein Museum, da sie Wissenstransfer ermöglichen und den

MuseumsbesucherInnen stets die neuesten Forschungsergebnisse und

Entwicklungen präsentiert werden können. Diese Zusammenarbeit

Direktorin Technisches Museum Wien | Vienna Technical Museum Director

Nach ihrem Studium der Soziologie und Erziehungswissenschaft an der Universität Wien und ihrem Doktorat (Schwerpunkt Museumspädagogik)

leitete Gabriele Zuna-Kratky das Medienservice im Bildungsministerium und war Direktorin der Österreichischen Phonothek. Seit

2000 ist Gabriele Zuna-Kratky Direktorin des Technischen Museums Wien, daneben ist sie Mitglied verschiedener wissenschaftlicher

Beiräte und Vizepräsidentin der Ludwig Boltzmann Gesellschaft.

After completing her studies in sociology and education and a doctorate (museum education at the University of Vienna), Gabriele Zuna-Kratky directed

the media service at the Ministry of Education and was director of the Austrian record library Phonothek. Since 2000, she has been director of the

Vienna Technical Museum and is a member of various scientific advisory boards and vice president of the Ludwig Boltzmann Society.

zeigt sich z. B. in der Versuchsstation "vertical farming" (Lebensmittelproduktion

in vertikalen Gewächshäusern) in der aktuellen Ausstellung,

die von der TU Graz und der BOKU Wien betreut wird.

Sie sind seit dem Jahr 2000 Direktorin des Technischen

Museums. Hat sich die gesellschaftliche Wahrnehmung des

Themenkomplexes Technik in dieser Zeitspanne verändert?

Technik ist "weiblicher" geworden. Die gesellschaftliche Sicht der

Technik unterliegt ja der steten Wandlung – von Euphorie bis strikte

Ablehnung. Heute gehen immer mehr Frauen einen technisch-naturwissenschaftlichen

Bildungsweg und ergreifen Berufe, die früher eher

männlich konnotiert waren.

How does the Technical Museum position itself between

archiving and creating views on future technological

developments?

We carefully look after our historical collection, but also attach great

importance to the current presentation and mediation according to the

latest standards. With the three-part exhibition project "weiter_gedacht"

(thinking forward), the Vienna Technical Museum is also

positioning itself internationally as a future-oriented and interactive

institution.

"The urban future", the current exhibition, deals with topics

such as mobility and energy supply in the cities of the future.

What part does technology play?

The city is indisputably the living space of the future. On only two

percent of earth's surface, the cities are home to around half of the

world's population. This is why cities are the strongest driver for

research, innovation and technological development.

The Technical Museum cooperates with several universities.

What are the resulting advantages?

Cooperations with scientific institutions are indispensable for a

museum as they enable great knowledge exchange. Visitors can

always be presented with the latest research and developments.

A witness to this cooperation is for example the "vertical farming" test

center (food production in vertical greenhouses) in the current

exhibition, which is supervised by the University of Technology Graz

and BOKU Vienna.

You have been director of the Technical Museum since 2000.

Has the social perception on the topic of complex technology

changed during this time?

Technology has become more "feminine". The social view on

technology is subject to constant change – from euphoria to strict

rejection. Today, more and more women choose a technical or scientific

path of education and take on professions that were formerly more

masculine.

Aktuelle

Sonderausstellung

Current exhibition

Die Zukunft der Stadt

weiter_gedacht

09.06.2016 - Juni 2018

The urban future

"thinking_forward"

09.06.2016 – June 2018

Hochspannungsvorführung

Beeindruckende Show rund um

die faszinierende Welt der

Elektrizität.

Täglich 11:30 und 14:30.

High voltage demonstration

Impressive show about the

fascinating world of electricity.

Daily at 11:30 and 14:30.

Online Sammlung

Das TMW macht als erstes

Bundesmuseum seine

kompletten Bestände über eine

Online Datenbank der Öffentlichkeit

zugänglich. Seit Jänner 2016

sind 160.000 Datensätze über

die TMW-Homepage abrufbar.

Online collection

As the first federal museum, the

Technical Museum makes its

complete collections accessible

to the public via an online

database. Since January 2016,

160,000 records are available

via the Technical Museum

Vienna website.

Österreichische Mediathek

Das nationale Ton- und

Videoarchiv mit über 1,5

Millionen Einträgen ist seit 2001

im TMW beheimatet.

Austrian Media Library

The national sound and video

archive with more than 1.5

million entries has been located

at the museum since 2001.

mediathek.at

INFO:

TECHNISCHES MUSEUM WIEN

Mariahilfer Str. 212

1140 Wien

technischesmuseum.at

"In Bewegung" (li.)

Ausstellungsbereich "urban energy"

(re.)

"In motion" (left)

Exhibition area "urban energy" (r.)

Dampflok 1.20 (li.)

Pferdeeisenbahn "Hannibal" (re.)

Steam locomotive 1.20 (left)

Horse railway "Hannibal" (r.)

116 Cercle Diplomatique 1/2017

Cercle Diplomatique 1/2017

117
---
SAVOIR VIVRE ARTS

Kultur-Highlights Frühjahr 2017

Cultural highlights spring 2017

Text: Evelyn Rois

Antik Monumental Modern | Ancient, monumental, modern

Osterklang und Höllentanz | OsterKlang Festival and Hell Dance

Tanz in seinen vielfältigsten Facetten steht im Zentrum des OsterKlang Festivals vom

3.4.-16.4.2017 im Theater an der Wien, dem Wiener Konzerthaus und der Hofburgkapelle.

Der musikalisch-tänzerische Bogen spannt sich dabei vom Norwegischen Nationalballett mit

den Ballettaufführungen "Ghosts" und "Carmen" über das ganz im Zeichen des "Ballet Russe"

stehende Konzert des Staatlichen Sinfonieorchester Russlands, bis zum kabarettistischen Tanz

und Swing Intermezzo "Höllentanz" von Georg Wacks.

Dance in all its diverse incarnations are at the centre of the OsterKlang Festival from 03.04. to

16.04.2017 at the Theater an der Wien, the Konzerthaus Vienna and the Hofburg Chapel. The

music and dance event spans the Norwegian National Ballet with the ballet performances

"Ghosts" and "Carmen" to the State Academic Symphony Orchestra of the Russian Federation

marked by the "Ballet Russia" as well as the cabaret dance and swing intermezzo "Höllentanz"

(Hell Dance) by Georg Wacks.

osterklang.at

"Ghosts"

nach Ibsens Drama,

Norwegisches Nationalballett.

adapted from Ibsens´s drama,

Norwegian National Ballet

PHOTOS: ERIK BERG; SANJIRO MINAMIKAWA; JULIA FRANK-AVRAMIDIS / LEMPERTZ; MUTH; BELVEDERE WIEN; PRIVATBESITZ; ARENARIA

Tenor Cosimo Panozzo.

Notte Italiana

Die Wiener Sängerknaben, der

italienische Tenor und Pavarotti

Schüler Cosimo Panozzo und der

aus Venedig stammende Dirigent

Manolo Cagnin begeben sich, am

31.3.2017 im Wiener Konzertsaal

Muth, einen Abend lang, auf eine

wunderbare musikalische Reise:

Von Norditalien bis Neapel – von

Vivaldi bis Cherubini – von der

Motette bis zur Oper. Bella Italia!

The Vienna Boys' Choir, the Italian

tenor and student of Pavarotti

Cosimo Panozzo, as well as the

Venetian conductor Manolo Cagnin

are set to embark upon a wonderful

musical journey on the evening of

31.03.2017 at the Vienna concert

hall MuTh: from northern Italy to

Naples – from Vivaldi to Cherubini

– from the motet to the opera. Bella

Italia!

muth.at

Joannis Avramidis, Großer

Kopf, um 1970.

Big Head, around 1970.

Tina Blau, Frühling im

Prater, 1882.

Spring at the Prater, 1882.

Es ist die bisher größte, retrospektiv angelegte Ausstellung des griechisch-österreichischen

Bildhauers Joannis Avramidis: Ein Jahr nach dessen Tod zeigt das Leopold Museum Wien vom

19.5.-4.9.2017 das umfangreiche Oeuvre des Künstlers: Organisch, monumentale Skulpturen, in die

Höhe strebende Figuren und Figurengruppen, geprägt von einem höchst eigenständigen Stil.

To date, it is the largest retrospectively laid out exhibition of the Greek-Austrian sculptor Joannis

Avramidis: a year after his death, the Leopold Museum Vienna will present the artist's extensive body

of work between 19.05. and 04.09.2017: organic, monumental sculptures, figures and groups of

figures reaching up high, marked by an extremely individual style.

leopoldmuseum.org

Frühlingsimpressionen | Spring impressions

Tina Blau, Belvedere, 1895.

Noch bis 9.4.2017 gibt es die Chance, einen umfassenden Einblick in das großartige

Werk von Tina Blau zu gewinnen. Die 1845 in Wien geborene Malerin war maßgeblich

an der Entwicklung des "österreichischen Stimmungsimpressionismus" beteiligt und

Mitbegründerin der Kunstschule für Frauen und Mädchen (die akademische

Kunstausbildung stand Frauen in Wien erst ab 1920 offen). Im Rahmen der Reihe

"Meisterwerke im Fokus" zeigt das Belvedere zahlreiche Hauptwerke aus allen

Schaffensphasen der Malerin.

You still have the chance to gain a broad inside-look into the fantastic works of Tina

Blau until 09.04.2017. The painter, born in 1845 in Vienna, played a significant part in

the development of Austrian Impressionism and cofounded the Art School for

Women and Girls in Vienna (women were only permitted to engage in academic art

training starting in 1920). As part of the series "Masterpieces in Focus", the

Belvedere will display countless of key works from the painter's various creative

periods.

belvedere.at

Oper im Steinbruch

Opera in a stone quarry

Die grandiose Freiluftbühne inmitten

der schroffen Felsenlandschaft des

Steinbruchs von St. Margarethen im

Burgenland ist auch diesen Sommer

wieder Schauplatz für Intrigen,

Dramen und Arien: Verdis berühmte

Oper "Rigoletto" sorgt vom

12.7.-19.8.2017 für opulentes

Musikvergnügen, während in der

Opernlounge musikalische und

kulinarische Genusse zusammenfinden.

Karten sind bereits erhältlich.

The grandiose open-air stage amid

the rugged rock landscape of St.

Margarethen's quarry in Burgenland

is, once again, the perfect setting

for schemes, dramas and arias this

summer: Verdi's famed opera

Rigoletto will provide opulent musical

enjoyment from 12.07. to

19.08.2017, whereas both musical

and culinary pleasures will flow

together in the opera's lounge.

Tickets are already available.

arenaria.at

Rigoletto.

118 Cercle Diplomatique 1/2017

Cercle Diplomatique 1/2017 119
---
SAVOIR VIVRE ARTS

Globalisierung und Weltmeere

Globalisation and the oceans

Untitled.

Untitled.

Marie Spaemann

& Christian

Bakanic.

Feten Feten.

Die Thyssen-Bornemisza Art Contemporary – TBA21 – Ausstellungshalle

im Augarten Wien (mit hübscher Sonnenterrasse und dem netten "Au

Café") widmet sich der künstlerischen Auseinandersetzung Allan Sekulas

mit dem Thema Weltmeere. Die Schau "OKEANOS" zeigt vom

21.02.-14.05.2017 die großen fotografischen Reihen und filmischen

Arbeiten des amerikanischen Künstlers und Weltenbummlers (1951–2013),

die sich mit der zentralen Funktion der Ozeane in den globalisierten

industriellen Systemen und deren fragilen Ökosystemen beschäftigen.

The Thyssen-Bornemisza Art Contemporary – TBA21 – exhibition hall in

the Augarten Vienna (with a gorgeous sun terrace and the neat "Au

Café") is dedicated to Allan Sekula's artistic engagement with the

theme oceans. The exhibition "OKEANOS" will display the American

artist and cosmopolitan's grand photographic series and cinematic

works between 21.02 and 12.05.2017, which deal with the central

function performed by the oceans as part of the globalised industrial

system as well as their fragile ecosystems. tba21.org

ARNULF RAINER

PINSELRAUSCH noch bis 30.4.2017

Frisch gemischt und neu gemalt

Täglich von 10 bis 17 Uhr

KUNST UND SPIEL

After Work im Arnulf Rainer Museum &

Chill-Out im Casino Baden

Jeden Mittwoch um 18 Uhr

KUNST UND GENUSS

Exklusive Führung &

Abendessen im El Gaucho Steakhouse

Jeden Donnerstag um 19 Uhr

Im ehemaligen Frauenbad

Josefsplatz 5, 2500 Baden

www.arnulf-rainer-museum.at

Allan Sekula, Middle

Passage, chapter 3,

Fish Story, 1994.

Architektur Tour

Rundgang durch die Geschichte

des historischen Badehauses

Jeden ersten Freitag im Monat um 15 Uhr

Marie Spaemann

und Christian

Bakanic.

BADENER MUSEENTOUR inkl. Lunch

Arnulf Rainer Museum, Beethovenhaus und Kaiserhaus

Jeden ersten Sonntag um 10 Uhr

Blick auf die Welt

A glance at the world

Die Liebhaberin. /

The lover.

Vom 28.3.-2.4.2017 ist Graz ein Muss für Cineasten: Die Diagonale zeigt die jüngsten Höhepunkte des

österreichischen Filmschaffens, darunter viele Premieren, etwa "Die Liebhaberin" des österreichisch/

argentinischen Regisseurs Lukas Valenta Rinner, "Untitled", das von Monika Willi zu einem Reisefilm

verdichtete filmische Vermächtnis Michael Glawoggers, oder das Porträt dreier Garderobiers an der Wiener

Staatsoper, der Mailänder Scala und der Oper von Odessa von Pavel Cuzuioc "Secondo Me".

Between 28.03. and 02.04.2017, Graz becomes an absolute must for cineasts: the Diagonale film festival

presents the most recent achievements of Austrian cinema, among them several premieres such as "A

Decent Woman" by Austrian/Argentinian director Lukas Valenta Rinner, "Untitled", Monika Willi's travel

documentary composed of the cinematic legacy left behind by Michael Glawoggers, or the portrait of three

cloakroom attendants at the Vienna State Opera, Milan's La Scala and the Odessa Opera, directed by Pavel

Cuzuioc and titled "Secondo Me". diagonale.at

Todo Acordeón!

Auf einen Schwerpunkt mit spanischer Akkordeonmusik darf

man sich am Internationalen Akkordeon Festival Wien vom

25.2.-26.3. 2017 freuen: "La Bandada Mancini", "Els 3 Peus Del

Gat", "Ander Tellelria", "Feten Feten" oder das "Barcelona

Gipsy balKan Orchestra" werden unter dem Motto "Viva

España" auf Spanisch quetschen und fiedeln. Dazwischen

gibt es Bewährtes aus dem Festival-Repertoire, wie die

"Stummfilm Matinee", bei der Filmklassiker mit entsprechend

musikalisch fideler Live-Vertonung über die Leinwand

flimmern.

Visitors to the International Accordion Festival Vienna have

plenty to look forward to between 25.02. and 26.03.2017,

including a focus on Spanish accordion music: "La Bandada

Mancini", "Els 3 Peus Del Gat", "Ander Tellelria", "Feten

Feten" or the "Barcelona Gipsy balKan Orchestra" will

perform their Spanish tunes under the motto "Viva España".

In between, audiences will get to see and hear established

festival regulars such as the "Silent Film Matinee", where

classic films are presented with live music.

akkordeonfestival.at

PHOTOS: FILMLADEN LOTUS FILM; NABIS FILMGROUP; ANDREJ GRILC; FETEN FETEN

PHOTOS: THE ESTATE OF ALLAN SEKULA; CARLA BARBERO, COURTESY OF ADRIÁN VILLAR ROJAS UND RUTH BENZACAR GALERÍA

DE ARTE, BUENOS AIRES

Gigantisch! | Gigantic!

Zum 20-Jahr-Jubiläum des Kunsthaus Bregenz entwickelt Shootingstar

Adrián Villar Rojas eigens für das KUB vor Ort eine seiner monumentalen

Arbeiten. Die sämtliche Maßstäbe sprengenden Betonskulpturen des

argentinischen Künstlers sind spätestens seit der Documenta 13 in aller

Munde. "The Theater of Disappearance" erzählt von der Geburt der

Menschheit bis hin zu ihrer Apotheose und verwandelt das KUB in eine

gigantische, apokalyptische Höhle. Spannend! 6.5.-27.8.2017.

For the 20-year anniversary of the Kunsthaus Bregenz, shooting star

Adrián Villar Rojas is exclusively developing one of his monumental

works on-site for the KUB. Word around the Argentinian artist's

concrete sculptures, that routinely collapse established conventions,

have been spreading like wildfire ever since the Documenta 13. "The

Theater of Disappearance" tells the story of the birth of mankind, all the

way to its apotheosis, transforming the KUB into a gigantic, apocalyptic

cave. Exciting! 06.05.-27.08.2017.

kunsthaus-bregenz.at

Adrián Villar Rojas.

Mi familia muerta

(My Dead Family),

2009.

Hieronymus Bosch | Titian

Rembrandt | Rubens | Van Dyck

The Paintings Gallery of the Academy of Fine Arts Vienna

1., Schillerplatz 3 | Tue – Sun 10 am – 6 pm | www.akademiegalerie.at

Attention! New address in autumn 2017

120 Cercle Diplomatique 1/2017

1702-GGCercle Diplomatique-Bosch-95x125,5-drucken.indd 1 16.02.17 16:59
---
SAVOIR VIVRE PROPERTY

Wohnkultur in vielerlei Hinsicht

Residential culture in all its facets

Luxuswohnungen mit Ausblick sind begehrt. Die Fülle an Kunst- und

Kulturstätten in der nächsten Umgebung machen Wiener Innenstadt-

Immobilien zusätzlich zu besonders begehrten Objekten.

Luxury apartments with a view are in high demand. The multitude of

local art and cultural institutions make Vienna's city centre properties

among the most sought-after in the world.

Text: Michaela Hocek

AM KAISERFORUM.

Nibelungengasse 15 ist die Adresse

des exklusiven Wohnprojekts der

Real-Estate.

Nibelungengasse 15 is the address of

Real-Estate's exclusive residential

project.

GOETHEGASSE 1.

Beim Projekt von Otto Immobilien sind Kunst, Kultur,

Kulinarik und Shopping nur wenige Minuten entfernt.

Art, culture, cuisine and shopping are only a few

minutes away from Otto Immobilien's project.

PHOTOS: STEPHAN HUGER, OTTO IMMOBILIEN/MARTIN WOSCHITZ

Wien hat nicht nur als Weltstadt, sondern

auch als Wohnstadt ein Ass im Ärmel, das

liebend gerne gezogen wird: die Atmosphäre

aus Weltoffenheit und Flair. Die eindrucksvollen

Zeugnisse der Wiener Architektur sind ebenso

Fixpunkt wie kulturelle Veranstaltungen in renommierten

Theatern, Opernhäusern und Museen mit

Weltruf. Und so verschmelzen all diese charakterstarken

Statements der Innenstadt zu einer exklusiven

Melange. Cercle Diplomatique hat einige beeindruckende

Projekte lokalisiert, um auch von innen zu

zeigen, was den Charme dieser Ikonen ausmacht.

Am Kaiserforum

Ästhetik und Individualität definieren die Domizile

an der geschichtsträchtigen Adresse Nibelungengasse

15/Babenbergerstraße 7. Wo zur Jahrhundertwende

die Aristokratie residierte, wird heute der

Bezug zur Kunst im Entree spürbar, wo zeitgenössische

Werke des Wiener Künstler-Ehepaars Ernst

und Eleonor Friedrich in Kooperation mit Andrew

Stewart, einem Künstler aus London, installiert sind.

Goethegasse

Unter dem Motto "Imperiales Wohnen" ist diese

Immobilie als Sinnbild für exklusive Gemütlichkeit

im Umfeld des UNESCO-Weltkulturerbes (ja, diesen

Status trägt das gesamte historische Stadtzentrum

Wiens) zu verstehen. Nahe an Albertina, Staatsoper

und Hofburg beeindrucken die Penthäuser mit hohen

Räumen, 360° Rundumblick, begrünter Dachlandschaft

und Outdoor-Spa. Für die Innenausstattung

zeichnen Profis wie Ateliers Christian L.

Einwaller und Interior Moments – Isabelle Farrokhnia

verantwortlich.

Bösendorferstrasse

Das gewisse Etwas ist auch hier zu spüren. Das

Penthouse mit fast 300 Quadratmetern hat nicht nur

herrschaftliche Innenräume, sondern auch eine Terrasse

mit windgeschützter Panoramaverglasung zu

bieten. Abseits der mediterranen Klimazone kein

schlechter architektonischer Kniff, um die imposan-

122 Cercle Diplomatique 1/2017

te Aussicht in Richtung Ringstraße und Karlsplatz

möglichst ganzjährig genießen zu können. In unmittelbarer

Nachbarschaft zu Musikverein, Staatsoper

und Albertina bleibt auch hier das herrschaftliche

Wohnen im Kontext zu Kunst und Kultur erhalten.

Schillerplatz

1870 war das Jahr, in dem die Geschichte dieses

Gebäudes ihren Lauf nahm. Die Planung des früheren

"Hotel Britannia" wurde von Carl Tietz anlässlich

der regen Bautätigkeit rund um die nahende

Weltausstellung in Angriff genommen. Einigen ist es

sicher noch als Fernmeldeamt in Erinnerung. Vor

nicht allzu langer Zeit inszenierte Paulus Manker

noch sein epochales Werk "Alma" über vier Etagen

in diesem Haus. Heute finden sich hier erstklassige

Wohnungen, die im Zusammenspiel aus Alt und

Neu mit kreativer Architektur und fortschrittlicher

Technik genügend Weite für einmaliges Lebensgefühl

einräumen.

Zum Abschluss unseres Stadtrundgangs überlassen

wir Johanna Seeber, Vorstand der Seeste Bau AG,

als Expertin für Luxusimmobilien das Schlusswort,

die im Interview den Blick aufs Wesentliche schärfte:

"Moderne Wohnansprüche gehen mit der Verschmelzung

von Tradition und innovativen Technologien

einher. Vor allem exklusive Innenstadt-Lagen

in historisch interessanten Gebäuden mit hohen

Räumen, aber auch die Kombination aus Klassik und

Moderne zählen. Großzügige und repräsentative

Eingangsbereiche, hochwertige Ausstattung und innovative

Hightech-Features wie Bussysteme für Unterhaltung,

Beleuchtung und Alarmanlagen sowie

kontrollierte Wohnraumlüftungssysteme mit Klimadecken,

die auch aus der Ferne durch Smartphones

und Tablets steuerbar sind, werden heute bei Top-

Immobilien erwartet."

"Die Goethegasse ist für Kunst- und

Kulturliebhaber die ideale Adresse:

Oper, Albertina, Musikverein, Burgtheater

und die wichtigsten Museen

sind nur wenige Schritte entfernt. Das

Gebäude selbst strahlt mit Ballettschule

und Kostümwerkstatt der Wiener

Staatsoper künstlerisches Flair aus".

"The Goethegasse is the ideal address for

any art and culture lover: the Vienna State

Opera, the Albertina museum, the Musikverein,

the Burgtheater as well as the city's remaining

important museums are only a few

steps away. The building

itself radiates artistic

flair as it includes a

ballet school and the

costume workshop

of the Vienna

State Opera."

Michaela Orisich

Maklerin

Otto Immobilien

Cercle Diplomatique 1/2017 123
---
SAVOIR VIVRE PROPERTY

INSIDER'S TALK

Luxussegment mit Mehrwert

Luxury segment with added value

Johanna Seeber, Vorstand der Seeste Bau AG | Chair of the Seeste Bau AG

Wie weit beeinflusst der Kunst- und

Kulturstatus von Wien Kaufentscheidungen

von Immobilieninteressenten?

Bei internationalen Kunden spielt in manchen Fällen

der herausragende Kunst- und Kulturstatus Wiens

eine große Rolle und somit auch die Lage – und

zwar die fußläufige Nähe – zu den Kunst- und

Kulturstätten im ersten Wiener Gemeindebezirk.

Wen spricht das Projekt Schillerplatz 4

konkret an?

Das Klientel des Schillerplatz 4 interessiert sich für

das exklusive Luxussegment und sucht Immobilien

in hervorragenden Lagen mit außerordentlicher

Architektur und hochwertiger Ausstattung. Auch

der atemberaubende Blick über die Dächer Wiens

der hellen Penthäuser gehört zu den Kaufgründen

unserer exklusiven Interessenten aller Altersgruppen,

sowohl national als auch international.

Wie wichtig sind renommierte Interior-

Designer?

Für Kunden in diesem Luxussegement ist

hochwertiges und exklusives Design sehr wichtig.

Oft lassen sich unsere Kunden die Wohnungen von

namhaften Innenarchitekten und Interior-Designern

komplett einzugsbereit bis in das kleinste Detail,

wie Besteck und Handtücher, einrichten.

How much does the status of Vienna as an art

and culture city influence the property

purchasing decisions of interested customers?

When it comes to international customers, the

status of Vienna as an art and cultural city can play

a big role and thereby also the location – meaning

reachability by foot – in regard to the art and

cultural institutions within the first city district of

Vienna.

What clientele does the project Schillerplatz 4

specifically address?

The clientele of Schillerplatz 4 is particularly

interested in the exclusive luxury segment and is

looking for properties in outstanding locations with

exceptional architecture and high-quality

furnishings and equipment. The breathtaking view

over the roofs of Vienna's bright penthouses is one

of the reasons to purchase one of our exclusive

properties by our national and international clients

of all age groups.

How important are renowned interior designers

such as Steinwender?

For customers interested in this luxury segment,

high-quality and exclusive design is very important.

Many times, our customers like to have their

apartments completely furnished by well-known

interior architects and interior designers, all the way

to the very last detail such as the cutlery and the

towels.

Vienna does not only enjoy a reputation as a

metropolis, but also as a residential city,

where people like to flock from all around

the globe due to its historic atmosphere, openness

and flair. The impressive testimonials of Viennese architecture

are as much a focal point as the cultural

events in the renowned theatres, opera houses and

museums with a world reputation. And thus, all these

elements of the city centre merge into one exclusive

blend. Cercle Diplomatique has put together a list

of impressive projects to provide an inside look at

what constitutes the charm of these iconic places.

Am Kaiserforum

Aesthetics and individuality define the domiciles

at the historical address of Nibelungengasse 15/Babenbergerstraße

7. Whereas the aristocracy still resided

here at the turn of the century, today's ambience

is marked by a relationship to the arts, where contemporary

works by the Viennese artist couple Ernst

and Eleonor Friedrich in collaboration with Andrew

Stewart, an artist from London, are exhibited.

Goethegasse

As per the motto "Imperial Living", this property

is to be understood as a symbol for the exclusive

comfort within the setting of a UNESCO World Heritage

Site (yes, this status is held by the entire historical

city centre of Vienna). Close to the Albertina

museum, the Vienna State Opera and the Hofburg

palace, penthouses impress with their high ceilings,

360° all-round views, green roof landscapes as well

as an outdoor spa. Pros from studios such as Christian

L. Einwaller and Interior Moments – Isabelle Farrokhnia

are responsible for the interior design.

Schillerplatz

1870 was the year in which the history of this

building began. The planning stage of the former

"Hotel Britannia" was put into motion by Carl Tietz

on the occasion of the busy construction activity

around the imminent World Fair. Some might still

remember it as the telecommunications centre. Not

too long ago, Paulus Manker directed his epochal piece

"Alma" across four floors in the building. Today,

you will find first-class apartments resulting from

the interplay between old and new with creative architecture

and advanced technology providing a truly

unique living experience.

PHOTOS: RICHARD TANZER, SASCHA VAN DER WERF, TONI RAPPERSBERGER, OTTO IMMOBILIEN/MARTIN WOSCHITZ

the distance from the Mediterranean climate, ensuring

that residents can enjoy the imposing view towards

Ringstrasse and Karlsplatz throughout the

year. In close proximity to the Musikverein, the State

Opera and the Albertina museum, grand living

within the context of art and culture is part of the

overall residential experience here.

To conclude our city tour, we give the final word to

Johanna Seeber, chair of the Seeste Bau AG and expert

concerning luxury properties, to provide a focused

look at what matters most. "Modern living standards

go hand in hand with the blending of tradition and

innovative technology. Exclusive city centre locations

in historically interesting buildings with high ceilings,

but also the combination between classic and modern

are particularly crucial. Generous and representative

entrances, high-class decor and innovative high-tech

features such as systems for entertainment, light and

security, as well as monitored room ventilation systems

with climate ceilings that can be controlled from

a distance via smartphones and tablets, are expected

in high-class properties today."

BÖSENDORFERSTRASSE.

Penthouse mit Pool im Ringstraßenpalais in unmittelbarer Nähe zur Staatsoper von Marschall Real

Estate.

Penthouse with pool in the Ringstrassenpalais in close proximity to the State Opera, by Marschall

Real Estate.

SCHILLERPLATZ 4.

Ein geschichtsträchtiger Ruhepol inmitten

der Stadt, der von kulturellen Institutionen

Wiens umringt ist.

A historical haven in the middle of the city,

surrounded by Vienna's cultural institutions.

Bösendorferstrasse

If you are looking for that certain something, this

is a good place to start. The penthouse with almost

300 square metres does not only have grand interior

rooms but also a terrace with windproof panoramic

glazing. Not a bad architectural touch considering

124 Cercle Diplomatique 1/2017
---
SAVOIR VIVRE LIFESTYLE

Farbe auf dem Vormarsch

Colour on the rise

Text: Michaela Hocek

Inspiration Wikinger

Inspired by Vikings

Zart schmelzend | Softly melting

Der neue "Rouge Coco Gloss" überzeugt mit einfach

anwendbarer Textur und dem pflegenden Hydraboost-

Komplex. Für sofortige Feuchtigkeit und weiche Lippen

sorgen Jojoba-Wachs, Sonnenblumen, Mimosen und ein

Hauch Kokosöl. Das gelähnliche Finish erzielt einen

Spiegelglas-Effekt und die enthaltenen Oligopeptide

maximieren das Lippenvolumen auf natürliche Weise.

The new "Rogue Coco Gloss" persuades with an easily

applicable texture and the nurturing hydraboost

complex. Jojoba wax, sunflowers, mimosa and a touch of

coconut oil provide immediate moisture and soft lips.

The gel-like finish achieves a mirror glass effect and the

contained oligopeptides maximise lip volume in a natural

way. chanel.com

Für die neue Edition des "Pen of the Year" hat sich Faber-Castell auf eine Zeitreise in das 9. Jahrhundert begeben und sich intensiv mit einem Volk und großen Seemacht aus

dem hohen Norden auseinandergesetzt: den Wikingern. Im Schaft der edlen Vikings-Kollektion sind hauchdünne Plättchen aus rötlich schimmernder Maserbirke eingelegt, die

als "Baum des Schutzes" verehrt wurde. Die Kappe ziert ein Karneol, der Schaft ist kühl glänzend platiniert und die Feder aus 18 Karat Gold in Bicolor.

For the newest edition of the "Pen of the Year", Faber-Castell has embarked upon a journey back in time to the 9th century to carefully explore the civilisation and great sea

power from the high north: the Vikings. Part of the shaft of the exquisite Viking collection is endowed with paper-thin plates made from reddishly shimmering curly

birchwood, which the Vikings worshipped as the "Tree of Guardianship". The cap is decorated by carnelian, the shaft has a shiny platinum-plated finish and the nib is made of

18-carat bicolour gold. faber-castell.at

Moderne Männer

Modern men

Versace zeigt für die kommende

Saison leichte, fließende,

funktionale Kleidung, die auch

als Lagenlook funktioniert. Dazu

zählt der ultra-leichte Parka oder

schwerelose Trench ebenso wie

Zipp-Blouson und Jersey-Anzug.

Die Gentlemen von Versace

zeigen Charakter.

For the coming season, Versace

is presenting light, flowing,

functional clothing which also

works as a layered look. This

includes the ultra-light parka

and the weightless trench as

well as the zip blouson and the

jersey suit. Versace's men are

showing character. versace.com

Schmuck-Pionierin

Jewellery pioneer

Marie Boltenstern hat mit der Schmucklinie

"Fabulous Nora" farbenfrohe Ohrhänger als

modische Statements designt, die aus dem

3D-Drucker kommen, mit ihrer extrem leichten

Textur faszinieren und nach Wunsch zusammengestellt

werden können.

With her jewellery collection "Fabulous Nora", Marie

Boltenstern has designed colourful earrings as a

fashion statement. Made from 3D-printers, they are

guaranteed to fascinate with their extremely light

texture. The earrings can also be customised as

desired. fabnora.com, boltenstern.com

Geniale Idee | A genius idea

Malerische Mode

Pictorial fashion

Johnny Talbot und Adrian Runhof haben für dieses Frühjahr dschungelinspirierte Outfits designt, die der

weiblichen Silhouette mit pointierter Taille und voluminösen Röcken schmeichelt. Durch die fantasievollen

Prints mit hohem Blau- und Rotanteil auf feinstem Seiden-Jacquard gewinnt die Kollektion an Leichtigkeit.

Maxi-Kleider, überweite Hosenbeine und XXL-Ärmel sind die Must-haves der Saison.

Johnny Talbot and Adrian Runhof used the jungle for inspiration to design outfits for the spring that accentuate

the female form with pointed waists and voluminous skirts. The creative prints with plenty of blue and red

tones on the finest silk jacquard give the collection the appropriate lightness. Maxi dresses, baggy trouser legs

and XXL sleeves are the season's must-haves. talbotrunhof.com

PHOTOS: BEIGESTELLT

Blickfang in Pastell

Eye-catcher in pastel

Casadei zeigt für den Frühling ein

klassisches Modell, das durch seinen

Absatz im Metallic-Look, die schmale Linienführung

und den edlen Rosaton die

Blicke auf sich zieht. Dieses und weitere

It-Pieces mit bunten Plateaus, frühlingshaften

Prints, fruchtigen Motiven und

floralen Stickereien, gibt es bei

Salamander.

For the spring, Casadei is presenting a

classic model, guaranteed to attract looks

from all around due to its metallic looking

heel, the slim lining and the exquisite rose

tone. These and other it-pieces with

colourful plateaus, spring-like prints,

fruity motifs and floral embroideries are

available at Salamander.

salamander.at

15x10x2,5 cm: Das sind die Maße der Impibag (=important bag), die auf

engstem Raum die wichtigsten Dinge verstaut und sich mit austauschbaren

Umhängeriemen dem Outfit der Trägerin anpasst. Die Taschen

aus buntem Echtleder sind praktisch und jederzeit greifbar – untertags

und abends.

15x10x2.5 cm: these are the dimensions of the Impibag (=important

bag), which stows away the most important things in the smallest

possible way while being adaptable to the wearer's outfit due to its

interchangeable strap. The bags, made from colourful genuine leather,

are practical and can be worn at any time – day and night.

impibag.com

126 Cercle Diplomatique 1/2017

Cercle Diplomatique 1/2017 127
---
SAVOIR VIVRE LIFESTYLE INTERIOR

Blick für's Detail

Eye for the detail

Text: Michaela Hocek

Geometrisches Design | Geometric design

"Trio" von Cor besteht aus drei Grundelementen, die dem Erstentwurf

von 1972 treu bleiben. Auf der "imm Köln" wurde eine neue karamellfarbene

Ledervariante präsentiert. Die Verarbeitung ist edel: Naturbelassene

Häute werden mit Wachsemulsion versiegelt. Die doppelten

Außennähte sorgen für plastische Kanten.

"Trio" by Cor is composed of three basic elements which remain loyal to

the first design draft from 1972. A new caramel-coloured leather

variation was presented at the imm trade show in Cologne. The

workmanship is exquisite: natural skins are sealed via wax emulsion.

The double external seams provide vivid edges.

cor.de

Spielwiese Badezimmer

Playground bathroom

Extra für Nassräume hat Tom Dixon eine neue Kollektion an

Accessoires, Leuchten sowie Handseife und Balsam designt. Die

einzelnen Teile der "Washing! Lid"-Linie aus weißem Marmor, blauem

Glas und kupferplatiniertem Edelstahl können individuell kombiniert

werden. Die Neuheiten sind ein weiteres formschönes Kapitel des

Londoner Autodidakten.

Tom Dixon has designed a new collection of accessories, lamps as

well as hand soaps and balms specially for wet rooms. The individual

pieces of the "Washing! Lid"-series made of white marble, blue glass

and copper-plated stainless steel can be combined individually.

These new items are an additional elegant chapter in the self-taught

Londoner's career.

tomdixon.net

Flagshipstore-Eröffnung | Flagship store opening

Royale Inspiration

Royal inspiration

In Zusammenarbeit mit BN präsentiert Marcel Wanders Tapeten, die nicht mit

Opulenz und Noblesse geizen. Das Unterfangen, dekorative Kunst mit der Lust

vergangener Dekaden an Mustern in einen zeitgemäßen Kontext zu rücken, ist

absolut geglückt.

In collaboration with BN Wallcoverings, Marcel Wanders presents wallpapers

that are not exactly stingy when it comes to opulence and noblesse. The

endeavour to place decorative art with the desire for patterns from past decades

in a contemporary context has been an absolute success.

marcelwanders.com

Geschmackvolle Kooperation

Tasteful collaboration

Nespresso und Riedel haben sich für die "Reveal"-

Kollektion zusammengetan, um Espresso-Verkostungsgläser

für intensive Grand Crus zu entwickeln.

Das Ergebnis ist ein Glas, das typische Röstnuancen

und robuste Geschmacksnoten perfekt zur Geltung

bringt.

Nespresso and Riedel have come together for the

"Reveal" collection in order to develop Espresso

sample glasses for the intensive Grand Crus. The

result is a glass that perfectly accentuates the brand's

typically toasty aromas and robust flavours.

nespresso.com

PHOTOS: BEIGESTELLT

Auch im Interieur-Bereich ist Crossover aus exklusiven Marken und

Trendsettern "in". Ein Besuch im kürzlich eröffneten ersten österreichischen

Flagshipstore von Zara Home (Kärntner Straße 49) könnte sich

durchaus lohnen.

Even in the interior design sector, crossovers between exclusive brands

and trendsetters are more than fashionable right now. A visit to the

recently launched Austrian flagship store of Zara Home (located at

Kärntner Straße 49) could definitely pay off. zarahome.com

We take care of the details

to make you feel at HOME.

FRANZ BASCHA MÖBELMANUFAKTUR – MADE IN AUSTRIA

INTERIOR DESIGN, UPHOLSTERY, FABRICS AND REFURBISHMENT

We provide you with high-quality and comfortable mattresses, as well as

stylish and luxurious bed designs to fulfil your individual needs. Beautifully

crafted interiors, curtains and cushions complete the amenity of your residence.

128 Cercle Diplomatique 1/2017

Franz Bascha Möbelmanufaktur

Showroom: Burggasse 85, A-1070 Vienna

b@franzbascha.at

www.franzbascha.at
---
SAVOIR VIVRE MADE IN AUSTRIA

Im Bann der Zeitlosigkeit

Captivated by timelessness

Text: Michaela Hocek

Mit Hommagen an weltberühmte Künstler wie Gustav Klimt oder Monet

hat Frey Wille rund um den Globus hohe Bekanntheit erlangt.

With homages to world-renowned artists such as Gustav Klimt or Monet,

Frey Wille has managed to achieve global recognition.

Frey Wille

Stephansplatz 5

1010 Wien

Tel.: +43 (0) 1 5134892

Lobkowitzplatz 1

1010 Wien

Tel.: +43 (0) 1513800914

shop.freywille.com

Handwerk pur.

Pure craftsmanship.

Bei der "Hommage à Gustav

Klimt" treffen maskulines

Schwarz und Gold auf

feminine Pastelltöne.

At "Hommage à Gustav

Klimt", masculine black and

gold tones meet feminine

pastels.

PHOTOS: BEIGESTELLT

Die Kollektionen "Hommage à Gustav Klimt",

"Hommage à Hundertwasser" und "Hommage

à Claude Monet" zählen seit einigen

Jahren zu den beliebtesten Kollektionen der österreichischen

Schmuckmanufaktur, die 1951 in Wien gegründet

wurde. Die Künstler, Goldschmiede und

Schmuckemailleure, die im Headquarter in der Gumpendorfer

Straße 81 ihre Kreativität ausleben, schaffen

völlig neue, eigenständige Designs mit Bedacht auf die

spezifischen Besonderheiten und wesentlichen Merkmale

der neuinterpretierten Berühmtheiten. Jahrelange

Kunststudien und Inspirationssuchen, unzählige

Skizzen und Aquarelle gehen der Entstehung der

Schmuckstücke voraus. Parallel dazu werden frei inspirierte

Kollektionen wie "Heavenly Joy" oder "Golden

Kalinka", die von europäischer und humanistischer

Philosophie, von immateriellen Werten und einer intensiven

Freude am Leben geprägt sind, kreiert.

Im Zentrum jedes Schmuckstückes steht kostbares

Email. Das flüssige Glas wird in mehreren Schichten

aufgetragen. Von der Grundierung über das Auftragen

bis zum Reinigen und Brennen fallen mehr als 80 Arbeitsschritte

an. Spezielle Farbrezepte, die Nuanceabweichungen

innerhalb der Kollektionen verhindern,

und 24-karätiger Goldstaub kommen zum Einsatz.

Die hauchdünnen Plättchen werden per Handarbeit in

die Fassungen eingesetzt. Bei den Schmuckformen erfreuen

sich Ringe und Anhänger großer Beliebtheit.

Der Halbmond-Anhänger ist mit seiner ikonischen

Form seit über 30 Jahren untrennbar mit dem Unternehmen

verbunden. Ein besonders beliebter Klassiker

sind die Armreifen, die die größte Fläche für das

künstlerisch designte Email bieten. Neben Accessoires

für Damen und Herren wie Tücher, Krawatten, Handtaschen,

Gürtel oder Manschettenknöpfe sind LES

PARFUMS FREY WILLE starkes Ausdrucksmittel der

Firmen-DNA. Die ersten vier Eau de Parfums für Damen

wurden Ende 2014 nach mehr als drei Jahren Entwicklungsarbeit

in Frankreich als "Bijoux Liquides"

(flüssige Schmuckstücke) lanciert. Im Frühjahr 2017

wurden zwei Herrendüfte ergänzt. Sie tragen der Internationalität

der Marke und dem breiten Kundenspektrum

mit höchster Qualität und Eleganz Rechnung –

1+4 "Hommage à Claude Monet" in floraler Neuinterpretation.

"Hommage à Claude Monet" in a floral reinterpretation.

2 "Sphinx Magique" ist einer der vier Damendüfte.

"Sphinx Magique" is one of four fragrances for ladies.

3 "Lion of Babylon" ist eines der Designs der Men's

Collection. "Lion of Babylon" is one of the designs

in the Men's Collection.

1

gemäß der Tradition und Firmenphilosophie von Frey

Wille.

The collections "Hommage à Gustav Klimt",

"Hommage à Hundertwasser" and "Hommage

à Claude Monet" are considered among

the most admired collections of the Austrian jewellery

production company founded in Vienna in 1951.

The artists, goldsmiths and jewellery makers, who

practice their craft and creativity at the company's

headquarters at Gumpendorfer Straße 81, create entirely

new and independent designs with attention to

the specific peculiarities and essential characteristics

of the newly interpreted artists. Many years of studying

art and searching for inspiration, countless of

sketches and aquarelles preceded the genesis of the

new jewellery pieces. Freely inspired collections, such

as "Heavenly Joy" or "Golden Kalinka", which are influenced

by European and humanistic philosophy,

immaterial values and an intense joie de vivre, are

crafted at the same time. At the centre of each and

every jewellery piece lies precious enamel. The liquid

glass is applied in several layers. The entire process,

from the foundation and the application to the cleansing

and the firing, takes more than 80 working steps.

Special colour compounds that prevent the smallest

deviations within a collection as well as 24-carat gold

dust are used. The paper-thin plates are added to the

bases by hand. When it comes to the various types of

jewellery, rings and pendants enjoy particular popularity.

Due to its iconic shape, the half-moon pendant

has been inseparable from the company for more

than 30 years. Another very beloved classic are the

bracelets, which offer the largest surface area for the

artistically designed enamel. Next to accessories for

ladies and gentlemen, such as shawls, neckties, handbags,

belts or cufflinks, the fragrance lines "Les Parfums

Frey Wille" are another very strong way for the

company to express its principles. The first four eau

de parfums for ladies were launched in France at the

end of 2014 as "Bijoux Liquides" (liquid jewellery)

after more than three years of development. They

contribute to the brand's internationality and its wide

customer range due to their high quality and elegance

– entirely in accordance with Frey

Wille's tradition and company philosophy.

3

"Handwerk,

Wiener Wurzeln

und Liebe zur

Kunst machen

Frey Wille aus."

"Craftsmanship,

Viennese roots

and the love of art

all constitute Frey

Wille."

Friedrich Wille

CEO und Eigentümer

CEO and owner

Erfolgsgeschichte

Success story

Zurzeit betreibt Frey Wille

mehr als 80 eigene Boutiquen

in über 30 Ländern und eine

Online-Boutique. Der

europäische Markt – allen

voran Frankreich aber auch

Deutschland und UK – sowie

der heimische Markt sind sehr

wichtig. Die wichtigsten

Exportmärkte sind Russland,

China und Dubai.

Currently, Frey Wille runs more

than 80 boutiques in more than

30 countries as well as an

online boutique. The European

market, especially France, but

also Germany and the UK as

well as the domestic market is

crucial. The most

important export

markets are Russia,

China and Dubai.

4

2
---
SAVOIR VIVRE LYONESS OPEN 2017

Zurück in die Zukunft

Back to the future

Das Bootshaus des DCC (Diamond

Country Club) ist beim Turnier der

VIP-Bereich (re).

During the tournament, the boat house

at the DCC (Diamond Country Club)

will be turned into the VIP area (r.).

Im Rückspiegel betrachtet, kann man über die Lyoness Open eines jedenfalls

behaupten: Das Turnier, das Christian Guzy aus der Not heraus 2010 nach Atzenbrugg

geholt hat, ist nicht weniger als die Rettung des österreichischen Profi-

Golfsports. Und es hat, im Paso Doble mit dem Diamond Country Club, eine

gelungene Metamorphose durchlebt.

In retrospective, one thing can certainly be said about the Lyoness Open: the

tournament, which Christian Guzy had brought to Atzenbrugg in 2010 as an

emergency measure, is nothing less than the salvation of Austrian professional

golfing. And it has gone through a successful metamorphosis as a paso doble with

the Diamond Country Club.

Text: Klaus Nadizar

Bernd Wiesberger,

Österreichs

erfolgreichster Golfer.

Bernd Wiesberger,

Austria´s most

successful golfer.

PHOTOS: FRONT9

Es war ein sonniger Spätseptember-Sonntag im

Jahr 2010, an dem der Spanier José Manuel

Lara sich den allerersten Titel im Diamond

Country Club holte. Das wird den meisten Golffans

weniger in Erinnerung geblieben sein als der furiose

Auftritt eines gewissen Matthias Schwab. Der damals

15-jährige Rohrmooser wurde bester Österreicher

der 2010 noch als "Austrian Open" geführten Veranstaltung.

Lange lag Schwab auf Top-10-Kurs, ehe eine

kurze Schwächephase am Schlusstag "nur" Rang 32

erlaubte. Der damals noch aktive Markus Brier belegte

Rang 45. Bernd Wiesberger war gar nicht erst am

Start sondern konzentrierte sich 2010 auf die Challenge

Tour. Noch ein interessantes Detail am Rande:

Danny Willett, Masters Champ 2016, verpfisterte die

letzten drei Loch des Finaltages und vergab damit seine

Siegeschance.

2017, wenn die achte Auflage der nunmehr als

Lyoness Open bekannten European Tour-Veranstaltung

im Diamond Country Club ins Haus steht, feiert

Matthias Schwab als Profi seine Premiere. Und

wo, wenn nicht in Österreich wäre das schöner und

emotionaler.

Im Mai beendet Schwab seine Karriere als US-

College-Golfer beim großen Saisonfinale für die

Top-Uni Vanderbilt in Nashville, Tennessee. Schon

davor erhält er sein Diplom als "Bachelor of Sport

Management". "Natürlich ist es ein Vorteil auf einem

Platz seine Profikarriere zu starten, an den man nur

gute Erinnerungen hat", sagt Schwab, der als ganz

große heimische Hoffnung im Profigolf gehandelt

wird. Schwab, während der letzten Jahre Dauergast

in den Top 10 der Amateurweltrangliste, sieht das

nicht ganz so und kokettiert mit der ihm zugedachten

Rolle: "Ich habe in Wahrheit bis jetzt noch nichts

geleistet. Meine Amateurkarriere ist nichts wert."

Dass dem nicht einmal ansatzweise so ist, zeigt das

Interesse der Sportleragenturen am 22-jährigen Österreicher:

Diese standen Schlange, um sich die Vermarktungsrechte

an Matthias Schwab zu sichern.

Auch Sponsoren gibt es vermutlich schon, der Zufall

spielt im Leben Schwabs kaum eine Rolle.

"Entlastung" für Wiesberger

Wohl kaum einer wünscht sich erfolgreiche heimische

Golfspieler mehr als Bernd Wiesberger. Seit

2011 darf der Burgenländer nämlich die Last des Local

Hero de facto alleine stemmen. Kamera ab und

Bernd bekommt das mediale Scheinwerferlicht voll

ab. Umso beeindruckender seine Bilanz im Diamond

Country Club: Neben seinem Sieg 2012 und

Platz 2 im Jahr 2014, stehen weitere Top-Platzierungen

und gerade Mal zwei Runden über Par im Lyoness-Open-Portfolio.

Wie sehr der Druck der Fans

und Medien sich in negative Kräfte verwandeln können,

zeigte der Auftritt Wiesbergers 2015: Nach seinem

Sieg 2012 und dem knapp verlorenen Play-Off

um den Titel 2014 war die Erwartungshaltung allerorts

derart groß, dass selbst ein bereits durch grandiose

internationale Auftritte gestählter Wiesberger

kapitulieren musste. Nach einer 79er-Runde am ersten

Tag 2015 streicht er die Segel im Diamond Country

Club – zum bislang ersten und einzigen Mal.

Dass Bernd Wiesberger nach wie vor das Zugpferd

und die Lokomotive für die Lyoness Open ist,

wird sich so schnell wohl nicht ändern: Kein österreichischer

Golfer war je erfolgreicher als der nunmehr

32-jährige Top-Athlet aus Oberwart. Seit 2015

kontinuierlich in den Top 50 der Welt zu finden, ist

der dreifache Toursieger Wiesberger auch zum

Stammgast bei sämtlichen Majors und WGCs avanciert.

Entsprechend dicht ist damit auch sein Terminkalender.

Seinen Auftritt in Österreich lässt sich

Wiesberger aber nicht nehmen. "Es ist nicht einfacher

geworden, meinen Turnierkalender schlau zu

planen. In den USA dürfen die Managementfirmen

der Spieler nicht mehr um Einladungen anfragen.

Das müssen wir Spieler selbst machen, und die Veranstalter

lassen sich zusätzlich Zeit. Aber im Diamond

Country Club zu spielen, ist nicht nur eine

Pflicht, sondern vielmehr eine Ehre", sagt Wiesberger,

der mehr Meilen in der Luft zurücklegt als auf

den Fairways.

Wenn er von 8. bis 11. Juni 2017 in der Nähe von

Wien bei den Lyoness Open aufteet, hat Wiesberger

innerhalb von nur vier Monaten bei Events von Qatar

über Kuala Lumpur, von Mexiko bis Georgia

(USA), eventuell China sowie England abgeschlagen.

Neben Wiesbergers Titelambitionen und dem

Premierenauftritt als Pro von Matthias Schwab gibt

es noch einen dritten Österreicher, dem man bei den

Lyoness Open 2017 die Daumen halten kann: Der

Doppelstaatsbürger Sepp Straka, der 2017 sogar eine

Karte auf der amerikanischen web.Com-Tour erspielt

hat, darf sich über eine Einladung des Veranstalters,

der "Golf Open Event GmbH", freuen. Straka

hat wie Schwab seine Golfkarriere auf einer

Top-Uni in den USA vorangetrieben und ist 2016 ins

Profilager gewechselt.

132 Cercle Diplomatique 1/2017

Cercle Diplomatique 1/2017 133
---
SAVOIR VIVRE LYONESS OPEN 2017

"Hole-in-one"-Preis BMW i-8, Blick

auf das Par-3 Schlussloch, Ausstellerbereich

(v.l.n.r.).

"Hole-in-one"-prize BMW i-8, sight on

the par-3 last hole, area for exhibitors

(from left to right).

Diamond

Country Club

Zuschauerandrang beim

1. Abschlag (oben).

Der Sieger der Lyoness

Open 2016, der Chinese

Ashun Wu (unten).

Watching crowds at the first

tee (top).

The Chinese Ashun Wu won

the Lyoness Open 2016

(below).

Lyoness Open – der Top-Event in Österreich

Als sich Christian Guzy, der Eigentümer des Diamond

Country Club, 2010 kurzfristig dazu entschlossen

hatte, den European Tour Event in Österreich

doch nicht sterben zu lassen, fiel wohl ganz

Golf-Österreich ein Stein vom Herzen. Der Fontana

GC hatte jäh das Interesse an der European Tour verloren,

eine Rettung des Tour-Events schien kaum

mehr möglich.

Wohl hatte Guzy Interesse bekundet, wollte dem

Platz aber Zeit geben, sich zu entwickeln. Guzy hatte

die Anlage erst vor kurzem übernommen und aus

einer hochwasserbedingten "Aulandschaft" erst

2010 wieder einen Golfplatz gemacht. Trotzdem riskierte

Guzy den Schritt, den er rückblickend wohl

nicht mehr bereut: Aus der Notlösung von 2010 entstand

ein schmucker European Tour Event, der bei

den Spielern und Offiziellen höchste Anerkennung

genießt.

Wie der Platz selbst entwickelte sich auch die Lyoness

Open jedes Jahr weiter, was sich in den Zuschauerzahlen

niederschlägt, vor allem aber in der

Zufriedenheit der Sponsoren & Partner. Ali Al-

Khaffaf, Geschäftsführer der veranstaltenden "Golf

Open Event GmbH": "Wir versuchen jedes Jahr aus

dem Jahr davor zu lernen, hören uns die Meinungen

und Kritiken ganz genau an, um noch mehr auf die

Bedürfnisse der Zuschauer und VIP-Gäste eingehen

zu können." Für 2017 versucht der Veranstalter auch

wieder neue Ideen für Zuschauer, VIP-Gäste und

Kooperationspartner umzusetzen, die vor allem das

Areal um das 18. Grün betreffen. Dazu Al-Khaffaf:

"Wir denken permanent über Neuerungen nach, wie

wir das Turnier noch stärker für Unternehmen

schmackhaft machen können."

Was das Spielerfeld betrifft, gibt man sich seitens

der Veranstalter vorsichtig optimistisch: "Es kommt

durch die extrem hoch dotierten Events nach den

Lyoness Open ein wenig Bewegung in das Thema.

Wir hoffen heuer ein zumindest ebenso stark besetztes

Feld wie 2016 zu präsentieren und sind jedenfalls

froh, dass wir den Termin im Juni behalten haben.

Für einige Turniere auf der European Tour wird es

2017 deutlich schwieriger werden, dem Publikum

ein starkes Feld zu präsentieren."

Diamond CC – mehr als ein Golfclub

Man darf es durchaus als kleines Wunder bezeichnen,

dass die European Tour weiterhin in Österreich

aufteet und noch viel mehr, dass sie es auf

dem Diamond Country Club tun. Wie schon vorhin

erwähnt war die gesamte Anlage kurz vor dem Aus.

Zu oft hat das Hochwasser und in der Folge ein hoher

Grundwasserspiegel dem Platz zu schaffen gemacht

und dem Gründer der Anlage schlaflose

Nächte bereitet. Erst durch die Übernahme der Anlage

durch Christian Guzy im Jahr 2009 hat sich die

Situation entspannt. Der Grund: Massive Investitionen

in allen Bereichen des Platzes. Nicht nur

designtechnisch – unter anderem durfte Miguel Angel

Jimenez Hand anlegen – sondern vor allem im

Bereich der wasserbedingten Problemzonen. Es

wurden Teiche gegraben, kilometerlange Entwässerungsleitungen

angelegt und gewisse Spielbahnen so

angepasst, dass die sensiblen Zonen aus dem Spiel

genommen wurden.

All das dürfen eine Woche lang die Stars der European

Tour genießen, vielmehr aber die Mitglieder

und Greenfee-Gäste des Diamond Country Club.

Diesen präsentiert sich nach den Jahren der Metamorphose

mittlerweile ein Top-Resort internationalen

Zuschnitts mit zwei wunderbaren Plätzen. Auch

dass zwei Clubhäuser zur Verfügung stehen, lässt jedes

Golferherz höher schlagen. Clubmanager Christian

Hieke sieht aber nicht nur darin ein ganz außergewöhnliches

Asset: "Der Ausbau der Anlage mit

dem Hotel am Platz, dem fantastischen Trainingszentrum

und der rundum gelungenen Infrastruktur

zeigt langsam auch international seine Wirkung:

2017 haben wir jede Menge Buchungen von ambitionierten

Golferinnen und Golfern, die unser Angebot

zu schätzen wissen." Als vorläufig letzte Ausbaustufe

steht ab Herbst 2017 am Plan. Das "Diamond

PHOTOS: FRONT9

PHOTOS: FOTOLIA, FRONT9

Performance Center", ein mit modernsten Geräten

ausgestattetes Golftrainingscenter, wird mit einem

angeschlossenen Spa-Bereich das Angebot für Mitglieder

und Gäste abrunden und so ganzjährig die

Möglichkeit bieten, seinen Golfschwung unter professioneller

Anleitung zu verbessern.

It was a sunny, late September Sunday in 2010

when the Spaniard José Manuel Lara won his

first title at the Diamond Country Club. Most

golf enthusiasts, however, probably don't remember

the event quite as well as Matthias Schwab's furious

performance. That Sunday, the 15-year old from

Rohrmoos became the best Austrian player of the

competition which was still known as the "Austrian

Open" in 2010. For quite a while, Schwab clung to his

spot in the top 10, before a bad phase on the final day

"only" resulted in 32nd place. Markus Brier, still active

at the time, made it to 45th place, Bernd Wiesberger

wasn't even playing in 2010 and was instead concentrating

on the Challenge Tour. And another

interesting little detail: Danny Willett, Masters

Champion of 2016, missed the last 3 holes of the final

day and thus his shot at the trophy.

2017, when the eighth edition of the European

Tour event, now known as the Lyoness Open, is to be

held at the Diamond Country Club, is also the year

in which Matthias Schwab finally gets to make his

professional debut. And where else could it possibly

be better and more emotional to do so than in Austria?

Schwab ended his career as a US-college golf

player in May after a great season finale for the elite

Vanderbilt University in Nashville, Tennessee. Previously,

he had received his bachelor's degree in Sports

Management. "Of course it is beneficial to launch

your career on a course you only have fond memories

of," says Schwab, who is treated as Austria's great

professional golfing hope. Schwab, a regular entry in

the top 10 World Amateur Golf Ranking of the last

couple of years, doesn't see it exactly that way and

merely flirts with the role he was given, "To tell you

the truth, I haven't achieved anything as of right now.

My amateur career isn't worth a thing." The fact that

this couldn't be further from the truth is demonstrated

by the great interest that athlete agencies have

expressed in the 22-year-old Austrian, as they waited

in in long lines to get their hands on Matthias

Schwab's marketing rights. And there are plenty of

sponsors as well. Coincidence doesn't really play a

role in Schwab's life.

"Relief" for Wiesberger

Few others wish for successful local golf players

as much as Bernd Wiesberger does. Since 2011, the

Burgenland native has been carrying the weight of

the title of the "local hero" all by himself. The golfer

is fully engulfed in the limelight of the media which

makes his performance at the Diamond Country

Club even more impressive. Next to his victory in

2012 and second place in 2014, there are several

other top rankings as well as only two rounds over

par in his Lyoness Open portfolio. His performance

in 2015, however, showed how quickly the pressure

from the fans and the media can transform into negative

energy – after his victory in 2012 and the narrowly

lost playoff for the title in 2014, the expectation

was so great that Wiesberger, though hardened by

several grandiose international appearances, had to

give up: in 2015, after a round of 79, Austria's number

one threw the towel at the Diamond Country

Club – for the first and only time thus far.

That Bernd Wiesberger continues to be the driving

force behind the Lyoness Open is probably not

going to change anytime soon. No Austrian golf

player has ever been more successful than the now

32-year-old athlete from Oberwart. Steadily found

in the top 50 of the world in 2015, the three-time

tour champion has also advanced to becoming a regular

at all Majors and WGCs. His calendar is filled

up accordingly. His performance in Austria, however,

is something that Wiesberger won't miss out on.

"Planning my tournament calendar hasn't gotten

any easier. In the USA, the management companies

behind each player are no longer permitted to request

invitations. Us players need to do that ourselves

now and the event organisers like to take their

time. But playing in the Diamond Country Club is

not only a duty but even a matter of honour for me,"

says Wiesberger, who covers more miles up in the air

than on the fairways. When appearing at the Lyoness

Open close to Vienna between 8 and 11 June 2017,

Wiesberger will have finished off a journey spanning

Qatar, Kuala Lumpur, Mexico, Georgia (USA) as

well as China and England in just four months.

Next to his title ambitions and Matthias Schwab's

professional debut, there is a third Austrian you can

cross your fingers for at the Lyoness Open 2017: the

dual-citizen Sepp Straka, who even won a

Der Club wurde seit der

Übernahme durch Christian

Guzy mehrfach zu Österreichs

Golfclub des Jahres gewählt.

Auch die Küche rund um

Gastronom Gerhard Becher

zählt ebenfalls zu den Besten

des Landes. Speziell das

Boathouse, eines der beiden

Clubhäuser, ist eine der besten

Party-Locations des Landes.

Nachwuchsarbeit ist eines der

Top-Themen, das vom

pulsierenden Clubleben im

Diamond Country Club

vorangetrieben wird. Kinder

bis 14 Jahre spielen hier gratis!

Aktuell besteht der Club aus

dem Diamond Course, dem

Country Course und dem Park

Course.

Since Christian Guzy's takeover,

the club has been named

Austria's golf club of the year

several times. Restaurant

proprietor Gerhard Becher's

kitchen is also considered

among the best in the country.

Especially the Boathouse, one of

the two club houses, is one of

the prime party locations in the

country.

The next generation is a key

topic, advanced by the Diamond

Country Club's pulsating club

life. Children of up to 14 years

can play here for free!

Currently, the club consists of

the Diamond Course, the

Country Course and the Park

Course.

Top-Events 2017

Lyoness Open 8.-11. Juni /

June

European Team Championship

11.-15. Juli / July

Texas Scramble World

Championship 11.-13. August

134 Cercle Diplomatique 1/2017

Cercle Diplomatique 1/2017 135
---
SAVOIR VIVRE LYONESS OPEN 2017

Lyoness Open

2017

Zahlen & Fakten

Facts & figures

Wasserreiche Spielbahnen

im DCC (re.).

Der Sieger 2015, Chris Wood (unten).

Watery pitches at the DCC (r.).

The winner of 2015, Chris Wood

(below).

TREFFEN SIE EINE GUTE ENTSCHEIDUNG-

SCHLOSS FUSCHL RESORT & SPA!

Montag, 5.6.2017 und

Dienstag, 6.6.2017: Offizielle

Trainingstage

Mittwoch, 7.6.2017: Europ.

Tour Pro-Am & Dinner

Donnerstag, 8.6.2017:

1. Turniertag

Freitag, 9.6.2017:

2. Turniertag, CUT

Samstag, 10.6.2017:

3. Turniertag

Sonntag, 11.6.2017: Finaltag

und Siegerehrung

Teilnehmer:

156 Pros & Amateure

Modus: 4 Runden Zählspiel,

Cut nach 2 Tagen für die Top

65 Spieler & schlaggleiche

Preisgeld: 1 Million Euro

Siegerscheck: 166.666 Euro

Eintritt:

Montag bis Freitag: frei

Samstag & Sonntag: je 20

Euro, Weekend-Pass für

Samstag & Sonntag: 30 Euro

Monday, 5.6.2017 and

Tuesday, 6.6.2017: Official

Training Days

Wednesday, 7.6.2017:

European Tour Pro-Am &

Dinner

Thursday, 8.6.2017: 1st

Tournament Day

Friday, 9.6.2017: 2nd

Tournament Day, CUT

Saturday, 10.6.2017: 3rd

Tournament Day

Sunday, 11.6.2017: Final Day

and Award Ceremony

Participants:

156 Pros & amateurs

Mode:

4 Round Stroke Play, Cut after

2 Days for the 65 leading

players & ties

Winner's cheque: 166,666

Euro

Cash prize: 1 Million Euro

Winner's cheque: 166,666

Euro

Entrance:

Monday to Friday: free of

charge

Saturday & Sunday: 20 Euro

each, Weekend-Pass for

Saturday & Sunday: 30 Euro

card for the American web.Com-Tour, is excited

about an invitation from the event organiser Golf

Open Event GmbH. Straka has, like Schwab, accelerated

his golfing career at an elite university in the

USA and has gone pro in 2016.

Lyoness Open – the top event in Austria

When Christian Guzy, the owner of the Diamond

Country Club, quickly decided in 2010 to not let the

European Tour Event in Austria die off, a weight was

probably lifted from the hearts of golf lovers across

Austria. As the Fontana GC had lost interest in the

European Tour, the event's rescue seemed nearly impossible.

Although Guzy had expressed interest, he wanted

to give the course some time for development. Guzy

had just taken over the facility and managed to turn

a flooded landscape into a golf course again in 2010.

Nevertheless, it was a risky step for him, one which

he does not regret. From the emergency solution in

2010, a stylish European Tour Event was born that

enjoys high recognition from players and officials

alike.

Like the course itself, so did the Lyoness Open develop

more and more from year to year, which can be

deduced from the audience numbers, but especially

from the satisfaction of the sponsors and partners.

Ali Al-Khaffaf, CEO of the organising company Golf

Open Event GmbH, "Each year, we try to learn from

the year before and listen closely to the opinions and

criticisms in order to accommodate the needs of the

audience and the VIP guests even more." For 2017,

the organiser is working hard on new ideas for the

audience, VIP guests and cooperation partners related

to the area next to the 18th hole. "We are constantly

thinking about innovations to make the tournament

even more tasty to enterprises", Al-Khaffaf

says. Concerning the playing field, the organiser presents

himself carefully optimistic. "Due to the highly

remunerated events, things are starting to happen in

regard to that topic. So we hope to present an at least

as well manned field as we did in 2016. In any case,

we are happy that we managed to keep the date in

June. It's going to be rather difficult for several other

tournaments on the European Tour in 2017 to present

such a strong field to the audience."

Diamond CC – more than just a golf club

It may very well be described as a small miracle

that the European Tour is going to continue happening

in Austria, and even more so that it will be held

at the Diamond Country Club. As mentioned previously,

the entire facility was close to being shut down.

Floods, as well as high groundwater levels, too frequently

tampered with the course, giving the facility's

founder one headache after another. The situation

finally relaxed when Christian Guzy acquired the facility

in 2009. The reason was massive investments in

the course's each and every corner. And not just in

terms of appearances – Miguel Angel Jimenez was

able to contribute as well – but especially in terms of

the water-induced problems. Ponds were trenched,

kilometre-long drainage pipes built and certain fairways

adjusted in such a way that the sensitive zones

were removed from the game.

All of this will certainly be enjoyed by the stars of

the upcoming European Tour, but perhaps even

more so by the members and the Diamond Country

Club's green fee guests. After years of metamorphosis,

they will be able to experience an elite resort at an

international standard with two wonderful courses.

And the fact that two club houses are available as

well is guaranteed to make every golfer's heart beat

faster.

Club manager Christian Hieke, however, notes

even more factors that make this an extraordinary

asset, "The development of the facility with the hotel

close to the course, the fantastic training centre and

the overall accomplished infrastructure is slowly starting

to gain international traction. We received

countless of bookings from ambitious golfers for

2017 who appreciate our offer."

An additional and – at least tentatively – last step

will be the development of the project in this autumn.

The planned "Diamond Performance Center",

a golf training center stocked with the most modern

equipment and also enclosed spa area, will top off the

range for members as well as for guests – and will

therefore be able to offer the possibility to brush up

one´s swing under professional guidance.

PHOTOS: FRONT9

Mit seiner einmaligen Lage, unverwechselbaren Persönlichkeit und einzigartigen

Eleganz ist das Schloss Fuschl der perfekte Rückzugsort für alle, die Ruhe und

Erholung in privater Atmosphäre suchen – und gleichzeitig der ideale Ausgangspunkt

für Erlebnisse in der Natur.

MAKE A GOOD DECISION –

SCHLOSS FUSCHL RESORT & SPA!

The historic Schloss Fuschl's mission has always been to provide an unforgettable

stay for every guest. Nestled in Austria's "Sound of Music" Salzkammergut region,

the storybook resort is just 20 minutes from Salzburg away and world-renowned

for its spellbinding natural beauty and intoxicating atmosphere.

VIP-Tickets & Sponsoring

auf Anfrage | on request:

nw@golfopenevent.com

SCHLOSS FUSCHL, A LUXURY COLLECTION RESORT & SPA

SCHLOSS STRASSE 19.

5322 HOF BEI SALZBURG

TEL: +43 6229 2253 0

EMAIL: INFO@SCHLOSSFUSCHL.COM

WWW.SCHLOSSFUSCHLSALZBURG.COM

136 Cercle Diplomatique 1/2017
---
SAVOIR VIVRE AMBASSADOR´S DRIVE

Auf der Straße: BMW 520d xDrive. Am Steuer: S.E. Sami Ukelli

On the road: BMW 520d xDrive. At the steering wheel: H.E. Sami Ukelli

Der Botschafter der Republik Kosovo auf CD-Testfahrt. | The Ambassador of the Republic

of Kosovo performs a test drive for CD.

PHOTOS: RALPH MANFREDA

Am besten gefällt ihm der Schlüssel des neuen

"BMW 520d xDrive" – ein Mini-Computer

mit Display, mit dem man den Wagen sogar

einparken kann. Behutsam wiegt er das Teil in seiner

Hand, streicht über den kleinen Bildschirm, drückt

hier, presst da. Und dann macht er einen auf David

Hasselhoff und lenkt die Limo so wie weiland der

Knight Rider seinen "Kitt" per Fernsteuerung souverän

in die Parklücke. "Echt cool", schmunzelt er.

Willkommen beim vierten "Ambassador's Drive"

von "Cercle Diplomatique", der sich langsam zu einem

kleinen Fixpunkt im hektischen Getriebe des

diplomatischen Lebens in Wien entwickelt. Diesmal

wird die Mitte Februar 2017 präsentierte Sport-Limousine

der gerade gestarteten siebten Generation

aus der BMW 5-Reihe auf Herz und Nieren getestet.

Am Steuer sitzt Sami Ukelli, der Botschafter der Republik

Kosovo, der selbst ein älteres 5er-Modell als

Dienstwagen nutzt und recht genau weiß, wo und

wie er den Wagen ausreizen kann.

Oder besser: an den vielen neuen Hightech-Gadgets

herumspielen kann. Im Nu horcht er den Bordcomputer

mit etwas Getippe auf dem Touchscreen-

Display aus – siehe da: man kann die Zieladresse

sogar mit dem Finger schreiben. Ähnlich verspielt

geht's auf dem Weg nach Klosterneuburg weiter: Mit

sanftem Fingerkreisen dreht er die Radio-Lautstärke

hoch, dann wechselt er mit einem Wischen den Sender,

und als ein Anruf von der Botschaft reinkommt,

nimmt er ihn mit einer Zeigefinger-Geste über die

Kommandozentrale an. Solche Spielereien machen

Ukelli sichtlich Spaß. "Eins A", sagt er bloß.

Tatsächlich ist der kleine Ausflug für den Vertreter

des jüngsten, seit 2008 unabhängigen Staates Europas,

der in Linz Sozialwissenschaften studiert und

dort auch seine Frau, eine Albanerin, kennengelernt

hat, eine willkommene Abwechslung zu einem Alltag

im Krisenmodus wegen des ungelösten Konflikts

mit Serbien. Soeben hatte Belgrad einen Propaganda-Zug

ins kosovarische Mitrovica geschickt – mit

dem provokanten Schriftbanner "Kosovo ist Serbien"

bestückt. Bereits zuvor hatten Kosovo-Serben in

Mitrovica genau auf jener Brücke, die den Norden

und den Süden friedlich verbinden soll, eine Mauer

errichtet. "Die Serben wollen einfach nicht akzeptieren",

seufzt Ukelli, "dass wir ein eigener Staat sind."

Dann erzählt er mit schweren Worten, wie sehr

dieser kleine, junge Staat noch an den Folgen des

Krieges zu leiden hat: ein Drittel der Bevölkerung

ausgewandert, mehr als 50 Prozent Jugendarbeitslo-

Sami Ukelli vor dem

brandneuen BMW 520 in

Wien-Heiligenstadt.

Sami Ukelli in front of the

brandnew BMW 520 in Vienna's

Heiligenstadt district.

138 Cercle Diplomatique 1/2017

Cercle Diplomatique 1/2017 139
---
SAVOIR VIVRE AMBASSADOR´S DRIVE

sigkeit, mühsamer Kampf gegen die organisierte Kriminalität.

"Unsere Wirtschaft wächst jetzt zwar wieder,

2016 sogar um vier Prozent", sagt Ukelli. "Aber

das reicht noch nicht für den Durchbruch." Und so

preist er die vielen Investitionsmöglichkeiten im Kosovo,

die sprachbegabte, junge Bevölkerung (Durchschnittsalter:

27,9 Jahre) und die große Hoffnung auf

einen weit entfernten EU-Beitritt.

Dann nimmt er das Steuer – der Wagen ist bisher

halbautonom wie auf Schienen gefahren – wieder

fest in die Hand und steigt tief aufs Gas – "mal sehen,

wie er anzieht, immerhin sind wir ja auf einer Testfahrt".

Eine Freude, wie das Auto losdüst. Schließlich

hebt er zwei Finger zum Victory-Zeichen vor das

Display – und der BMW 520d xDrive weiß, dass er

nach Hause fahren muss. Ukelli schmunzelt wieder.

Obviously Sami Ukelli, 44, the Ambassador of

the Republic of Kosovo, likes to play. Before

starting to our forth "Ambassador's Drive"

in the brand new BMW 520d xDrive, he fumbles

with the car's digital key, tele-parking it via minidisplay.

While driving the sports-limo – which is one

of the highlight-models of the 7th generation of the

BMW 5 series – to Klosterneuburg, he tunes the radio

with a finger gesture, swipes through the channels

and tips and tips and tips on the hightech touchscreen,

smiling like a lucky child. Then he delivers

his short verdict: "A plus".

For Ukelli, who has studied Social Sciences in

Linz where he also met his Albanian wife, the testdrive

for CD certainly is a welcome break from his

daily work in crisis-modus due to the still unsolved

conflict with Serbia. Just a few days ago, a Serbian

propaganda train was sent from Belgrade to Mitrovica

with the grim banner-message "Kosovo is Serbia".

And some weeks before, Kosovo-Serbs have erected

a wall on the bridge of Mitrovica that should peacefully

connect the north and south of Europe's youngest

country which only gained independence in

2008. "Serbia cannot accept that Kosovo now is a

state of its own", Ukelli sighs.

Then he outlines the sad economic conditions his

country has to fight with – a war legacy which led to

the emigration of a third of the population and is leaving

more than 50 percent of the young without jobs.

But Ukelli is full of hope, and so he holds up his fingers

for victory – which is also a gesture command

for the BMW to semi-autonomously drive home.

INFO:

bmw-wien.at

140 Cercle Diplomatique 1/2017

PHOTOS: RALPH MANFREDA

Vor der Ausfahrt: Botschafter Sami Ukelli (2.v.r.) mit CD-

Herausgeber Alexander Bursky (2.v.l.), Franz Mayerhofer

von BMW Wien (r.) und CD-Autor Rainer Himmelfreundpointner.

Before the cruise: Ambassador Sami Ukelli (2nd r.) with CD

publisher Alexander Bursky (2nd left), Franz Mayerhofer,

BMW Vienna (r.) and CD author Rainer Himmelfreundpointner

(l.).

Botschafter Sami Ukelli aus dem Kosovo hat gut lachen – er hat den neuen

BMW 520d xDrive auf der Testfahrt zur Stiftskirche in Klosterneuburg (ganz

oben) auf Herz und Nieren geprüft und meint kurz und bündig: "Eins A."

With a smile, Sami Ukelli, the Ambassador of the Republic of Kosovo, delivers

his verdict of the test drive of the BMW 520d xDrive (with a short stop at the

church of the Klosterneuburg Monestary) – "A plus".

BMW 520d xDrive – die Sport-Limousine

BMW 520d xDrine – the sports limousine

Mit fast acht Millionen verkauften Fahrzeugen ist die BMW 5er-Reihe ein echter

Klassiker, der nun für die siebte Generation (weltweiter Verkaufsstart war Mitte Februar

2017) noch einmal verbessert wurde. Der BMW 520d xDrive zählt zu den sportlichen

Top-Modellen der 5er-Reihe und besticht nicht nur durch seine Dynamik in Aussehen

und Fahrverhalten, sondern auch mit jeder Menge modernster Technologie, wie man sie

von der 7er-Reihe gewohnt ist – etwa Sprach- und Gestensteuerung sowie Touch-Screen.

The classic BMW 5-series with its nearly 8 million sold vehicles has just started into its

7th generation in mid February 2017. And the BMW 520d xDrive is one of its new sports

limos delivering an all-eyes-on-effect thanks to its dynamic looks and driving features. It

is also packed with state-of-the-art-technology only found in the 7-series.

Technische Daten Technical data

Motor Engine

4 Zylinder R/4/4 | 4 Cylinder R/4/4 TwinPower Turbo Tech

Antrieb Drive

8-Gang Steptronic, 0-100 km/h: 7,6 sec. | 8-gear steptronic , 0-100 km/h: 7,6 sec.

kW (PS) kw (HP) 140 kW/190 PS

Hubraum Capacity 1.995 ccm

Kraftstoffverbrauch/

Fuel consumption

4,0 l/100 km (kombiniert combined)

Preis Price BMW 520d xDrive € 55.320,– (inkl./ incl. NoVA & 20% Mwst./ VAT)

BMW WIEN

BMW Austria GmbH

S A L Z B U R G

c o n t e m p o r a r y

BMW Wien ist eine direkte Niederlassung der BMW Group und präsentiert die

komplette Welt von BMW. Bestens ausgebildete Verkaufsberater stehen Kunden aus

der Diplomatie und von Internationalen Organisationen an den beiden Standorten in

1190 Wien-Heiligenstadt und 1220 Wien–Donaustadt zur professionellen Beratung zur

Verfügung.

BMW Vienna is the local branch of the German BMW Group and is offering the

complete universe of BMW, the Bavarian luxury car maker. Its highly trained sales staff

is serving clients from diplomacy as well as international organisations at both outlets

in 1190, Vienna-Heiligenstadt and 1220, Vienna-Donaustadt most professionally.

BMW WIEN HEILIGENSTADT

Heiligenstädter Lände 27

1190 Wien

Diplomatic Sales:

Franz Mayerhofer

Tel.: +43 (1) 360 61/2254

franz.mayerhofer@bmw-wien.at

Bernhard Troppert

Tel.: +43 (1) 360 61/2225

bernhard.troppert@bmw-wien.at

22 – 25 juni 2017

internationale messe für zeitgenössische kunst,

klassische moderne & antiquitäten

BMW WIEN DONAUSTADT

Rautenweg 4-6

1220 Wien

messezentrum salzburg ∙ hallen 3/5

do – sa 11.00 – 19.00 ∙ so 11.00 – 18.00

www.art-salzburg-contemporary.com

Diplomatic Sales:

Michael Klos

Tel.: +43 (1) 259 35 46/32 52

michael.ka.klos@bmw-wien.at

Florian Ebmer

Tel.: +43 (1) 259 35 46/32 50

florian.ebmer@bmw-wien.at

bmw-wien.at

Cercle Diplomatique 1/2017

141
---
SAVOIR VIVRE MOTOR

Eleganz auf und neben der Straße

Elegance on and next to the road

Text: Rois & Stubenrauch

Lexus LC 500:

477 PS pure Eleganz

477 HP of pure elegance

Motor Engine

V6 Benziner, R4 und V6 Diesel

Antrieb Drive

Allrad serienmäßig / standard four-wheel drive

kW (PS) kw (HP) 132 – 250 (180 - 340)

Hubraum Capacity

1.999 – 2.995 ccm

Kraftstoffverbrauch Fuel consumption Super 10,9 / Diesel 7,2 – 6,2 l/100 km

Preis Price ab | from € 56.950,–

Was für ein Auto! Mit dem LC 500 ist Toyotas Luxus-Ableger Lexus ein echter Wurf gelungen. Eine messerscharfe Linie, weit

ausgestellte Hinterräder und der riesige Kühlergrill signalisieren unmissverständlich: Hier geht es kompromisslos zur Sache. Ein 477

PS starker V8 Saugmotor und das weltweit erste serienmäßig eingebaute Zehngang-Automatikgetriebe sorgen für puren Fahrspaß.

Ob so viel Hedonismus beschlich die Ingenieure dann vielleicht doch ein wenig das schlechte Gewissen und der sonst für seine

verantwortungsbewussten Hybridantriebe bekannte Autobauer reichte noch die

Hybridversion LC 500h mit einem V6 Motor und 356 PS Systemleistung nach.

What a car! Lexus, Toyota's luxury spin-off, has achieved great things with the LC

500. Razor-sharp lines, wide rear wheels and the huge radiator grille send a clear

signal – this is a car without compromise. A 477 HP V8 naturally-aspirated engine and

the world's first standard ten-speed automatic transmission offer a driving experience

like no other. As a car manufacturer renowned for its responsible hybrid drives, the

engineers were aware that they also had to add a hybrid version, which comes in the

shape of the LC 500h with a V6 engine and 356 HP.

Motor Engine

V8 Ottomotor / V6 Ottomotor und Elektromotor

V8 petrol engine /V6 petrol engine and eldctric motor

Antrieb Drive

Hinterradantrieb / rear-wheel drive

kW (PS) kw (HP) 351 / 220 und 132 (477 / 299 und 179)

Hubraum Capacity

4.969 / 3.456 ccm

Kraftstoffverbrauch Fuel consumption k. A. / n/a

Preis Price

Richtpreis LC 500 ab ca. 120.000,– / LC 500h ab

ca. 105.000,– | Base price LC 500 start at 120,000 /

LC 500h start at 105,000

Mercedes E-Klasse All Terrain: Luxuriöser Abstecher ins

Gelände | Luxurious foray into off-road terrain

Land Rover Discovery: Grenzenloses Offroad Vergnügen | Unlimited off-road fun

Der Discovery beeindruckt auch in der 5. Auflage mit seiner legendären Geländegängigkeit. Die extrem hohe Wattlinie (900 mm!) lässt den im Land Rover-Werk Halewood

bei Liverpool gefertigte Geländewagen mühelos durch hüfttiefes Wasser pflügen, mit dem neu entwickelten Aluminium-Monocoque ist er zudem 480 kg leichter als sein

Vorgänger. Im Innern sorgen Echtholzfurniere und feines Leder, ein Panoramadach und sieben individuell umklappbare Sitze für die ausgewogene Balance zwischen wildem

Offroad Abenteuer und luxuriösem Fahrkomfort.

The fifth-generation Discovery has retained its impressive legendary off-road capability. The extremely high wading depth of 900 mm allows this off-road vehicle, built at the

Land Rover plant in Halewood near Liverpool, to simply plough through waist-high water. It is also 480 kg lighter than its predecessor thanks to its state-of-the-art aluminium

monocoque body. The interior boasts real wood veneers and premium leather, a panoramic roof and seven folding seats, striking an even balance between wild off-road

adventure and luxurious driving comfort.

FOTOS: XYXXYXYXY

PHOTOS: JAGUAR LAND ROVER LIMITED/NICK DIMBLEBY; LEXUS; AUDI AG; DAIMLER AG

Audi Q2: Liebling, ich habe den SUV geschrumpft!

Honey, I shrunk the SUV!

Seine bullige Erscheinung und 20 cm Bodenfreiheit lassen keine Zweifel

aufkommen: Der neue Audi Q2 ist ein waschechter SUV, wenn auch mit knapp über

4 Meter Länge einer der Kleinsten seiner Klasse. Denn der Q2 soll auch im

Großstadtdschungel gute Figur machen. Und da sind Features wie Wendigkeit,

lediglich 1.220 kg Leergewicht, Connectivity und ein freches Design nun mal starke

Assets. Bei der Ausstattung darf sich der Q2 (gegen Aufpreis) großzügig bei den

höheren Modellen seiner Klasse bedienen: Head-up-Display, Touchpad,

Einparkassistent... - die feine Palette aus dem Hause Audi.

Its brawny appearance and 20 cm ground clearance leave no room for doubt that

the new Audi Q2 is a genuine SUV even though it is one of the smallest in its class,

measuring barely 4 metres in length. After all, the Q2 also has to look good in the

urban jungle. And features such as manoeuvrability, low 1,220 kg empty weight,

connectivity and a daring design are all strong assets. The Q2 comes with

technologies (for an additional charge) found in larger models: head-up display,

touchpad, parking assistant and more – the premium range from Audi.

Motor Engine

R4 Benziner, R4 Diesel

Antrieb Drive

Vorderradantrieb, 2.0 TDI quattro permanenter Allradantrieb

/ front wheel drive, 2.0 TDI quattro permanent fourwheel

drive

kW (PS) kw (HP) 85 – 140 (116 - 190)

Hubraum Capacity

1.395 – 1.968 ccm

Kraftstoffverbrauch Fuel consumption 5,8 – 5,2 Super / 5,1 – 4,1 Diesel

Preis | Price ab | from € 24.950,–

Ende 2016 hat Mercedes seine E-Klasse um den All Terrain erweitert. Und da in

Stuttgart keine halben Sachen gemacht werden, kann der All Terrain mit

Eigenschaften auftrumpfen, die auch ein ausgewachsener SUV kaum besser

hinbekommt. 19 Zoll Reifen und die serienmäßige Dreikammer-Luftfederung

sorgen für viel Bodenfreiheit, die sich im "All Terrain" Modus noch einmal um 2

cm erhöhen lässt. Eine ausgeklügelte Elektronik lässt den All Terrain Steigungen

bis zu 70% bewältigen. Und bei all dem geniesst man den vollen Komfort der

E-Klasse.

The All-Terrain joined the Mercedes E-Class at the end of 2016. And as the

engineers in Stuttgart don't do things by halves, the All-Terrain gets to show off

attributes that a full-size SUV would be proud of. 19-inch wheels and the standard

three-chamber air suspension cater for greater ground clearance, which increases

by 2 cm in the "All-Terrain" mode. Sophisticated electronics let the All-Terrain

cope with slopes of up to 70%. Not forgetting the exclusive comfort that comes

with the E-Class.

Motor Engine

R4 Diesel

Antrieb Drive

Permanenter Allradantrieb 4matic / permanent fourwheel

drive 4matic

kW (PS) kw (HP) 143 (194)

Hubraum Capacity

1.950 ccm

Kraftstoffverbrauch Fuel consumption 5,2 l/100 km

Preis | Price ab | from € 62.250,–

142 Cercle Diplomatique 1/2017

Cercle Diplomatique 1/2017 143
---
SAVOIR VIVRE WEEKENDER

Flandern | Flanders

Das Goldene Dreieck

The Golden Triangle

1

2

Auf nach Flandern, in eine Region, in der man das gute Leben zu schätzen weiß!

Off to Flanders, a region where the good life is still appreciated!

Text: Gerald Sturz

The Port House.

Die Stararchitektin Zaha

Hadid hat mit ihrer Glasund

Stahlkonstruktion

Antwerpen ein neues

Wahrzeichen gegeben.

With her construction made

of glass and steel, star

architect Zaha Hadid gave

Antwerp a new landmark.

PHOTOS: VISITFLANDERS

Wer das gute Leben und die Freude am feinen

Geschmack sucht, der ist gut beraten,

einen Ausflug nach Flandern zu unternehmen.

Flandern, das ist eine von drei Regionen Belgiens;

sie umschließt Brüssel, die Hauptstadt, und grenzt

im Norden an die Niederlande. Hier spricht man Flämisch,

was eine Variante des Holländischen ist.

Es heißt, die Flamen seien Genussmenschen.

Stimmt. Und jeder, der diesen Teil Belgiens besucht,

wird schnell feststellen, dass auch er sich diesem Lifestyle

nicht entziehen kann. Und der sieht dann so aus:

Dinner in einigen der besten und spannendsten Restaurants

Europas, wie etwa im Restaurant Hof van

Cleve von Peter Goossens, das sich in der Nähe von

Gent befindet, oder im Restaurant Hertog Jan von Küchenchef

Gert De Mangeleer in Brügge; Nächte in

wunderbaren Hotels wie dem eleganten De Witte Lelie

in Antwerpen; Shopping entlang der Schuttershofstraat

oder am Graanmarkt in Antwerpen; Schokolade

von Dominique Persoone in Brügge, dem jungen

Wilden unter den Chocolatiers, oder von Joost Arijs,

dem Avantgardisten in Gent; erfrischende Kunsterlebnisse

im MAS, dem Museum aan de Stroom, in

Antwerpen oder im S.M.A.K., dem Stedelijk Museum

voor Actuele Kunst, in Gent. Ja, liebe Freunde und

Kollegen, so lässt es sich leben.

Wer Flandern besucht, wird sich vor allem in jenem

"Goldenen Dreieck" bewegen, das aus den Städten

Antwerpen, Brügge und Gent gebildet wird. Antwerpen

hat Europas zweitgrößten Hafen und seit

kurzem hat dieser Hafen auch ein ebenbürtiges Wahrzeichen:

das Port House. Es wurde von der kürzlich

verstorbenen Stararchitektin Zaha Hadid gestaltet

und war wohl eines der meistfotografierten Bauwerke

des letzten Jahres. Auf ein historisches Gebäude aus

der Zeit der vorletzten Jahrhundertwende hat Hadid

eine spektakuläre, riesige, sehr dynamische Stahl und

Glas-Konstruktion aufgesetzt.

Das Port House passt ins Bild, das Antwerpen von

sich zeichnet: eine Stadt der Avantgarde. Bekannt ist

Antwerpen nämlich in erster Linie als Heimat einiger

der bekanntesten Avantgarde-Modedesigner: Dries

van Noten, Ann Demeulemeester, Walter Van Beirendonck,

Martin Margiela.

Auch das Restaurant Jane passt ins Bild. Es ist in

der Kirche eines ehemaligen Militärkrankenhauses

untergebracht und zeichnet sich durch ein dezidiert

avantgardistisches Dekor in gotischen Räumen aus.

Über den Tischen schweben ein recht spaciger Luster

und ein Neon-Totenkopf. Die Küche von Sergio Her-

8

man und Nick Brill spielt ziemlich genial mit Elementen

unterschiedlicher Küchen.

Antwerpens bekanntester Sohn aber war Peter

Paul Rubens. Das Rubenshuis, wo er gelebt und gearbeitet

hat, sollte jeder, der nach Antwerpen kommt,

besucht haben.

Auch Gent beeindruckt mit Kunst. Berühmt ist vor

allem der Genter Altar. Er befindet sich in der Kathedrale

St. Bavo und zeigt "Die Anbetung des Lamm

Gottes" der Brüder Hubert und Jan van Eyck. Gent ist

entzückend. Wie Antwerpen und Brügge hat es auch

eine goldene Vergangenheit. Lange Zeit war es ein

Zentrum des Korn- und Tuchhandels. Die schönen

Gildehäuser entlang der Leie und die ehemaligen

Speicher sind Zeugen jener Zeit.

Eine ganz andere Sache ist Brügge. Brügge ist das

touristische Zentrum Flanderns. Aus gutem Grund.

Es ist die Stadt der Grachten, der verspielten Bürgerhäuser,

der Türmchen und der Giebeln. Kein Wunder,

dass die gesamte historische Altstadt zum Weltkulturerbe

erklärt wurde.

Im 13. und 14. Jahrhundert war Brügge eines der

wichtigsten Handelszentren Europas.

Es ist vermutlich gar keine so schlechte Idee, einen

Besuch Flanderns mit einer Straßenbahnfahrt zu beschließen.

Nach soviel Kultur, Kunst und avantgardistischer

Raffinesse ist es ein guter Ausklang. Schließlich

ist es ja nicht irgendeine Straßenbahn mit der man

fahren kann. 67 Kilometer lang ist die Strecke der

Kusttram, der Küstenstraßenbahn. Zweieinhalb Stunden

braucht sie, um sie abzufahren und sie führt entlang

der flämischen Küste, von De Panne nach Knokke,

durch an Koksijde, Oostende und Zeebrugge. Das

sind Bade- und Kurorte mit einer großen Tradition.

Könige und Prinzen kurten hier ebenso wie Intellektuelle

und Künstler. Die Orte hier erzählen spannende

3

7

4

ANTWERPEN | ANTWERP

1 Museum Mayer van den Bergh.

2 Silvio Brabo Statue am Grote

Markt. Silvio Brabo statue at the

Grote Markt ("Great Market Square")

3 Museum aan de Stroom.

4 Küchenchef Nick Brill (Restaurant

Jane). Nick Brill is the chef at the

Restaurant Jane.

5 Die Boutique von Modedesigner

Dries Van Noten. The boutique of

fashion designer Dries Van Noten.

6 Blick auf Antwerpen. View over

Antwerp.

7 Die Kathedrale St. Bavo.

The St. Bavo Cathedral.

8 Das spektakuläre Riff Aquarium

im Zoo Antwerpen.

The spectacular reef aquarium at the

Antwerp Zoo.

5

6

144 Cercle Diplomatique 1/2017

Cercle Diplomatique 1/2017 145
---
SAVOIR VIVRE WEEKENDER

GENT | GHENT

1 Das Sterne-Restaurant Volta.

The Michelin-starred Restaurant Volta.

2 Waffeln, eine belgische Spezialität.

Waffles are a Belgian speciality.

3 Gildehäuser am Ufer der Leie.

Guildhalls on the waterfront of the

river Leie.

2

1 2

TIPP

ModeMuseum

Antwerpen

In den 1980er Jahren

mischten die sogenannten

Antwerpen Six mit ihren

avantgardistischen

Entwürfen die Modeszene

auf. Sie alle waren

Absolventen der Koninklijke

Academie voor Schone

Kunsten van Antwerpen.

Ihnen und der Geschichte

der Schule ist das

ModeMuseum Antwerpen

gewidmet. Die aktuelle

Ausstellung widmet sich

Martin Margielle, einem der

sechs, und seiner Arbeit für

das Modelabel Hermès..

In the 1980s, the

so-called Antwerp

Six shook up the

fashion industry

with their

avant-garde designs.

They were

graduates of the

Koninklijke Academie voor

Schone Kunsten van

Antwerpen.

The ModeMuseum Antwerp

is dedicated to them and

their school's history. The

current exhibition is

dedicated to Martin

Margielle, one of the six, as

well to his work for the

fashion label Hermès.

momu.be

5

4

Geschichten. Und wenn das Wetter wieder einmal

recht heftig ist, dann erinnert man sich daran, dass

Flandern "Überschwemmtes Land" heißt.

Those looking for the good life and the pleasures

of fine flavours will be more than satisfied

with an excursion to Flanders. It is one of the

three regions of Belgium and surrounds Brussels, the

capital city, and borders the Netherlands up north.

The local language is Flemish, a variation of Dutch. It

is often said that the Flemings live for pleasure. This is

true. Anyone who visits this part of Belgium will

quickly realise that they too won't escape the way of

life here. And it looks a little something like this: dinner

in some of the best and most exciting restaurants

in Europe, such as Restaurant Hof van Cleve by Peter

Goossens, located near Ghent, or Restaurant Hertog

Jan by chef Gert De Mangeleer in Bruges, nights at

wonderful hotels, such as the elegant De Witte Lelie

in Antwerp, chocolate by Dominique Persoone in

Bruges, the young and wild one among the chocolatiers,

or by Joost Arijs, the avant-gardist in Ghent. In

addition, refreshing art exhibitions in the MAS, the

Museum aan de Stroom in Antwerp, or in the

S.M.A.K., the Stedelijk Museum voor Actuele Kunst

in Ghent. Yes, dear friends and colleagues, all this

sure makes for a quality life! Those who visit Flanders

will probably be spending much of their time in the

so-called "Golden Triangle" consisting of the cities of

Antwerp, Bruges and Ghent. Antwerp contains

Europe's second biggest harbour and as of late, this

harbour possesses a worthy landmark: the Port

House. It was designed by the recently-deceased star

architect Zaha Hadid and is perhaps one of last year's

1

3

BRÜGGE | BRUGES

1 Die Bonifaciusbrug, Brügges kleinste Brücke.

The Bonifaciusbrug, the city´s smallest bridge.

2 Statue von Jan van Eyck am Jan van Eyckplein.

The statue of Jan van Eyck at the Jan van Eyckplein.

3 Beer Museum.

4 Stadtbesichtigung.

City sightseeing.

5 Cuberdons - eine lokale Süßigkeit.

Cuberdons are local sweets.

most photographed buildings. Hadid placed a spectacular,

huge and very dynamic steel and glass construction

on top of a historic building more than a

thousand years old. The Port House fits right into the

image that Antwerp has created for itself: a city of the

avant-garde. After all, Antwerp is primarily known as

the home of several of the best-known avant-garde

fashion designers: Dries van Noten, Ann Demeulemeester,

Walter Van Beirendonck, Martin Margiela.

The Restaurant Jane also fits into this picture. It is located

in the church of a former military hospital and

its gothic rooms are furnished with a decidedly avantgarde

decor. A quite intergalactic chandelier, as well

as a neon skull, hang down from the ceiling. Sergio

Herman's and Nick Brill's kitchen plays ingeniously

with the elements of several different cuisines.

Antwerp's best-known son, however, was Peter Paul

Rubens. The Rubenshuis, where he lived and worked,

should be visited by anyone coming to Antwerp.

Ghent also impresses with its art scene. Of particular

fame is Ghent's Altar. It is located in St. Bavo's

Cathedral and displays the "Adoration of the Mystic

Lamb" by the brothers Hubert and Jan van Eyck.

Ghent is delightful. Like Antwerp and Bruges, it too

has a golden history. For a long time, it was a centre

for grain and textile trade. The beautiful guild houses

along the river Leie, as well as the former granaries,

are relics of the time.

PHOTOS: VISITFLANDERS

Bruges is an entirely different affair. Bruges is

Flanders' tourist centre. And for a good reason. It is a

city of canals, playful townhouses, little towers and

gables. Thus, it comes as no surprise that the entire

historic old town has been declared a World Heritage

Site. In the 13th and 14th centuries, Bruges was one

of Europe's most important trade centres.

It might be a great idea to conclude a visit to Flanders

with a tram ride. After this much culture, art

and avant-garde ingenuity, it makes for a great finish.

And, after all, this is not just any tramline. The Kusttram,

the coastal tram, is 67 kilometres long. It takes

two and a half hours to complete a journey along the

Flemish coast, from De Panne to Knokke, through

Koksijde, Oostend and Zeebrugge. They are both

historical and traditional bath and spa towns. Kings

and princes, as well as intellectuals and artists, came

here to indulge in various health regimens. Today,

these towns tell exciting tales. And when the weather

starts getting ferocious once again, one quickly remembers

why the place is called Flanders, which

means "flooded land".

2018 –

Rubens-Jahr

in Flandern

Reisen Sie 2018 in

die Heimat des großen

flämischen Barockmalers

RUBENS, dem dieses Jahr

vor Ort gewidmet sein wird.

Einen Vorgeschmack können Sie sich im

Kunsthistorischen Museum Wien holen,

wo von 17. Oktober 2017 bis 21. Jänner 2018

die Rubens-Ausstellung "Peter Paul Rubens -

Kraft der Verwandlung" stattfinden wird.

3

Mehr Information zu Flandern: www.visitflanders.com

146 Cercle Diplomatique 1/2017

VISITFLANDERS

Cercle Diplomatique 1/2017 87
---
SAVOIR VIVRE UPCOMING

Wo es uns gefällt

Where we love to be

Text: Daniela Pötzl

PHOTOS: CONCORDIA BALL/PHILIPP LIPIARSKI, INSELHOTEL IM FAAKER SEE, VAMED/SMETANA,

STEIERMARK TOURISMUS/HAGSPIEL

Hideaway

Elegante Anreise | Elegant journey

Reif für die Insel? Mit diesem eleganten Wassertaxi

kann man dem Alltag für einen Kurzurlaub

entfliehen. Im romantischen Inselhotel im Faaker See

mit Seerestaurant, kann man die Seele baumeln

lassen. Die Insel im Faaker See entfaltet ihren Zauber

heuer von 12. Mai bis 17. September.

Ready for island holidays? This elegant water taxi

allows you to leave behind everyday life. At the

romantic island hotel in lake Faak with a lake

restaurant, you finally have the opportunity to

simply lean back and enjoy. This year, the island in

lake Faak is open to visitors who want to be

spellbound between 12 May and 17 September.

inselhotel.at

Sommer-Event | Summer event

Imposante Ballnacht | Monumental ball night

Seit über 150 Jahren lädt der Presseclub Concordia, die Vereinigung

österreichischer Journalisten und Schriftsteller, zum schönsten und

größten Ball des Sommers ins Wiener Rathaus. Beim Concordia Ball

finden sich dort rund 2.000 Gäste aus dem In- und Ausland ein,

darunter namhafte Repräsentanten aus Politik, Wirtschaft, Kunst &

Kultur und den Medien. Am 2. Juni 2017 findet er zum 120. Mal statt.

Unter dem Motto 'Komm, tanz´ mit mir!' wird diesmal zur schwungvollen

Ballnacht nach Indien geladen.

For more than 150 years, the Presseclub Concordia, the association of

Austrian journalists and writers, has been holding its annual event at

the Rathaus, Vienna. The Concordia Ball, one of the most beautiful

and biggest balls in Vienna, brings together around 2,000 guests

from home and abroad, including renowned representatives from

politics, business, art & culture and the media. On 2 June 2017, the

ball will take place for the 120th time. Under the motto 'Come, dance

with me!', this year's event invites its guests to a swinging ball night

to India.

concordiaball.at

Freizeit | Leisure time

Neues Wahrzeichen |

New landmark

Laa an der Thaya im nördlichen

Weinviertel hat einen neuen touristischen

Hotspot: In 17 Monaten hat die Vamed das

Premium Day Spa Refugium Silent Spa

geschaffen, das mit sakralen Stilelementen,

stimmungsvollen Räumen der Ruhe

und persönlichem Service punktet. Für den

dritten Erweiterungsschritt der Therme

Laa wurden 21 Mio. Euro investiert.

Laa an der Thaya in the Weinviertel

region in Austria has received a new

tourist hotspot: the Vamed, the Austrian

enterprise specialising in healthcare

services, took 17 months to create the

premium day spa "Silent Spa", which

scores with sacred stylistic elements,

atmospheric spaces of tranquillity and

excellent personal service. 21 million euro

were invested into what is now the third

development step in the completion of

the Therme Laa resort. vamed.com

Apfelblüte in Puch.

Apple blossom season in Puch.

Tourismus | Tourism

Die Steirische Art |The Styrian way

Wenn´s Frühling wird, kommen die Steirer nach Wien! Im Gepäck haben Sie sonnigen Frühlings-Urlaub und neue, genussvolle regionale Produkte.

Und Musik und Brauchtum bringen sie ebenfalls mit. Der ganze Wiener Rathaushausplatz macht von 6. bis 9. April 2017 Lust aufs steirische

Lebensgefühl unter freiem Himmel. Holen Sie Ihre Tracht aus dem Schrank und genießen Sie!

As spring approaches, the Styrians make their way into Vienna! Along with them, they bring the sunny spring holidays and new, delightful

regional products. And they haven't forgotten their music and local traditions either. Between 6 and 9 April 2017, the entire Rathausplatz in

Vienna is dedicated to the Styrian way of life under the open sky. Dust off your traditional costume and join us!

steiermark.com

Mehr Technologie

für Verwöhnte !

Seit Jahren investiert Berger massiv

in die Zukunft und setzt seinen

Wachstumskurs vor allem im hochwertigen

Katalog- und Magazindruck fort. Kontaktieren

Sie uns und erfahren Sie mehr!

Ferdinand Berger & Söhne GmbH

Horn | +43 (0) 2982 4161 - 0

Wien | +43 (0) 1 31335 - 0

Vertretungen:

OÖ | Tirol | Stmk.

www.berger.at

148 Cercle Diplomatique 1/2017
---
SAVOIR VIVRE MUST READ

Lesenswertes über Österreich

Books on Austria worth reading

Text: Gerald Sturz

Reinhard Sudy

Steirische Bergseen

Insider-Tipps für die schönsten Seen, Wasserfälle

und Klammen – damit die Wanderung zum

Erlebnis wird.

Insider tips on the most beautiful lakes, waterfalls and

ravines in the region – promising to turn any hike into

a real adventure.

Stefan Bogner / Jan Karl Baedeker

Escapes: Winter.

Traumstraßen im

Schnee

Alpenpässe in Deutschland, Österreich, der

Schweiz und Italien zeigen ihre beste Seite.

Alpine passes in Germany, Austria, Switzerland and

Italy at their finest.

Stefan Hefele / Eugen E. Hüsler

Alpenwelten

Wilde, ungezähmte Bergwelten mit vielen nahezu

unbekannten Regionen werden vorgestellt.

Wild, untamed mountain worlds and countless of

nearly unknown regions on display.

Walter Niedermayr Monika Frenzel Stefan Dech / Reinhold Messner / Nils Sparwasser

Raumaneignungen:

Lech 2015/2016

Die Bergwelt um Lech am Arlberg steht im Fokus

von Walter Niedermayrs neuester Fotoserie, die er

in zweijähriger Arbeit realisiert hat.

After two years of dedicated work, the mountain

world around Lech am Arlberg is the focus of Walter

Niedermayr's newest photo series.

Tirol: Land der Berge.

Zukunftsreich

Die Bilder renommierter Tiroler Fotografen zeigen

ein Land, das sich seiner Wurzeln und seiner

Vergangenheit bewusst ist.

The pictures by the renowned Tyrolian photographer

show a land which is fully conscious of its roots and

its past.

m4 Mountains.

Die vierte Dimension

Berge, auf denen Geschichte geschrieben wurde:

Dieser exklusive Band präsentiert sie auf völlig

neue Weise.

Mountains where history was written: this exclusive

photo book presents them in a completely new light.

Vor einiger Zeit postete der amerikanische

Schauspieler Ashton Kutcher ein Bild des Grünen Sees

von Tragöß auf Instagram und schrieb: "A magic

moment: Take a look at the real life Atlantis". Es ist

tatsächlich ein magischer Ort, den er da für sich

entdeckt hat. Doch der Grüne See ist nur einer von

mehr als 300 Bergseen in der Steiermark, jenem

Bundesland, das auf Grund seines Waldreichtums als

das "Grüne Herz" Österreichs gilt. Altausseer See,

Grundlsee, Toplitzsee – so heißen drei andere, sehr

bekannte Seen. Einer ist reizvoller und wildromantischer

als der andere. Der Steiermark-Kenner Reinhard

Sudy nimmt nun den Leser mit auf seinen Wanderungen

zu den schönsten dieser steirischen Bergseen.

Some time ago, the American actor Ashton Kutcher

posted a picture of the Green Lake in Tragöss on

Instagram and wrote: "A magic moment: Take a look

at the real life Atlantis". It is indeed a magical place

that he had discovered there. But the Green Lake is

only one of more than 300 mountain lakes in Styria,

the province often referred to as the "green heart" of

Austria due to its rich forests. Altaussee Lake, Lake

Grundl, Lake Toplitz – these are the names of three

other, very well-known lakes. One is more appealing

and romantic than the other. The Styria expert

Reinhard Sud