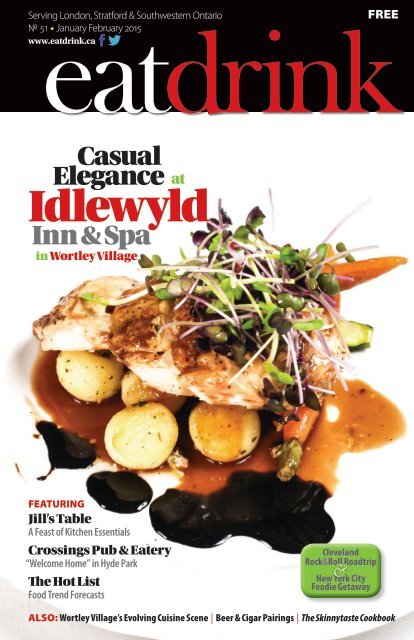 Eatdrink #51 January/February 2015
The LOCAL food & drink magazine serving London, Stratford & Southwestern Ontario since 2007
The LOCAL food & drink magazine serving London, Stratford & Southwestern Ontario since 2007
SHOW MORE
SHOW LESS
You also want an ePaper? Increase the reach of your titles
YUMPU automatically turns print PDFs into web optimized ePapers that Google loves.
Serving

eatdrinkFREE

London, Stratford & Southwestern Ontario

№ 51 • January February 2015

www.eatdrink.ca

Casual

Elegance at

Idlewyld

Inn & Spa

in Wortley Village

FEATURING

Jill's Table

A Feast of Kitchen Essentials

Crossings Pub & Eatery

"Welcome Home" in Hyde Park

The Hot List

Food Trend Forecasts

Cleveland

Rock&Roll Roadtrip

&

New York City

Foodie Getaway

ALSO: Wortley Village's Evolving Cuisine Scene | Beer & Cigar Pairings | The Skinnytaste Cookbook
---
Unplug in STRATFORD

with international

chefs and local flavour

Engage in a gastronomic journey in Stratford this

winter as you savour the best of Stratford Chefs

School student creations guided by international

chefs at lunch and dinner. Or tie on your apron and

learn the art of "Nouveau Ontario" cuisine with

your partner in hands-on cooking classes. Book your

Savour Stratford Tastings, exploring seductive

Spanish wines and cheese or Scotch and Chocolate.

Revel with Canada's dairy farmers at CheeseFEST

and savour specialty cheese dishes chefs are

creating during Stratford says Cheese!

Watch for Stratford is for Lovers, your special

February treat!

You deserve a Savour Stratford culinary getaway

this winter at one of the Inns of Stratford.

Book your winter getaway at

visitstratford.ca
---
UPCOMING ENTERTAINMENT AT THE IDLEWYLD

Sonja Gustafson with pianist Charlie Rallo

Friday, January 23rd, 2015

Dinner and show 7:00pm - 10:00pm

$60 Inclusive

Jennifer Thorpe with pianist Charlie Rallo

and bassist George Mitchel

Valentines February 13th & 14th, Two Shows

Dinner and show 7:00pm - 10:00pm

$75 Inclusive

Murder Mystery Dinner:

The Blarney Stone Murder

Friday, March 13th, 2015

Dinner and show 7:00pm - 10:00pm

$65 Inclusive

Our Famous Saturday Afternoon Tea

January 17th | February 21st | March 21st, 2015

2:00pm - 4:00pm

$40 Inclusive

36 Grand Ave London, Ontario N6C 1K8

ph 519.432.5554 | www.idlewyldinn.com | IdlewyldInnAndSpa
---
Serving London, Stratford & Southwestern Ontario

•

www.eatdrink.ca

A Classic Celebration Destination

Special for the

Holidays

Our Annual

Epicurean

Gift Guide

& More!

Books • Beer • Plants • Theatre • Music

ALSO:

FREE

FEATURING

Chocolate Barr's

Stratford's Chocolatier Provocateur

Old East Village

Food for Thought

The 10th Annual Show: Bigger & Better

| SmartAPP | Jamie's Comfort Food | Deliciously Lost in Italy

Serving London, Stratford & Southwestern Ontario

•

www.eatdrink.ca

THE HOLIDAY I SUE

On The Thames

A Classic Celebration Destination

Special for the

Holidays

Our Annual

Epicurean

Gift Guide

& More!

Books • Beer • Plants • Theatre • Music

ALSO:

FREE

FEATURING

Chocolate Barr's

Stratford's Chocolatier Provocateur

Old East Village

Food for Thought

The 10th Annual Show: Bigger & Better

| SmartAPP | Jamie's Comfort Food | Deliciously Lost in Italy

r?

eatdrink

inc.

The LOCAL Food & Drink Magazine

eatdrinkmag

@eatdrinkmag

Think Global.

Read Local.

Publisher

Chris McDonell – chris@eatdrink.ca

Managing Editor Cecilia Buy – cbuy@eatdrink.ca

Contributing Editor Bryan Lavery – bryan@eatdrink.ca

ethicalgourmet.blogspot.com

Copy Editor

Kym Wolfe

Social Media Editor Bryan Lavery – bryan@eatdrink.ca

Advertising Sales Chris McDonell – chris@eatdrink.ca

Finances

Michael Bell – finance@eatdrink.ca

Graphics

Chris McDonell, Cecilia Buy

Writers

Jane Antoniak, Darin Cook, Dave Hammond,

Antony John, Nicole Laidler, Bryan Lavery,

Lori Maddigan, Tracy Turlin, Allan Watts,

Rick Weingarden, Rick Young

Photographers Steve Grimes, Bruce Fyfe

Telephone & Fax 519 434-8349

Mailing Address 525 Huron Street, London ON N5Y 4J6

Website

City Media

Printing

M&T Printing Group, London ON

© 2015 eatdrink inc. and the writers. All rights reserved.

Reproduction or duplication of any material published in eatdrink

or on eatdrink.ca is strictly prohibited without the written permission

of the Publisher. eatdrink has a circulation of 15,000 issues

published six times annually. The views or opinions expressed in the

information, content and/or advertisements published in eatdrink

or online are solely those of the author(s) and do not necessarily

represent those of the Publisher. The Publisher welcomes submissions

but accepts no responsibility for unsolicited material.

eatdrink

THE HOLIDAY ISSUE

Tableside at

Michael's

On The Thames

eatdrink

Tableside at

Michael's

eatdrink.ca

Read every issue online,

no matter which device you prefer.

Every Page • Current Issue • Back Issues

Plus!

New Stories Only Online

Plus!

OUR COVER

A locally-inspired fine

dining menu at Idlewyld

Inn & Spa befits the

casual elegance of the

recently restored inn.

Upbeat Lunches | Intimate Dinners | Dietary Needs Accommodated | Ample Free Parking

Delicious

Love!

Valentine's Day

Reservations

Required

bistro & caterer

46 Blackfriars Street, London | 519-667-4930 | www.blackfriarsbistro.com
---
Thank You London

for making 2014 a

memorable year for us.

2014

2013

Chamber of Commerce 2014

Business of the Year Award

Greater K-W

London

2014 Consumers Choice

Award Winner

Chamber of Commerce

Skills for Tomorrow Award

Guelph

2014

DIAMOND

Diamond Award

2014 Kitchener Post

Readers Choice

Choice Platinum Award

Guelph Tribune

Readers

Diamond Award

2014 Record

Readers Choice

Buffalo Wild Wings ®

2014 Vendor of

Excellence Award

We would like to thank our loyal customers and our dedicated team for

helping us make these awards possible.

46

www.mtprint.com

Kitchener • Waterloo • Cambridge • Guelph

London • Brantford • Welland
---
contents ISSUE № 51

JANUARY/FEBRUARY 2015

22

25

28

14

44

FOOD WRITER AT LARGE

10 The Hot List: Food Trend Forecasts

By BRYAN LAVERY

RESTAURANTS

14 Casual Elegance at Idlewyld Inn & Spa in Wortley Village

By BRYAN LAVERY

25 Welcome Home, to Crossings Pub and Eatery in Hyde Park

By LORI MADDIGAN

SPOTLIGHT

18 The Evolution of London's Wortley Village Cuisine Scene

By BRYAN LAVERY

CULINARY RETAIL

22 New and Revised: Jill's Table stays focussed on the home cook

By KYM WOLFE

ROAD TRIPS

28 Cleveland: A Rock 'n' Roll Road Trip

By JANE ANTONIAK

NEW & NOTABLE

34 The BUZZ

TRAVEL

38 A Foodie Getaway to New York City

By JANE ANTONIAK

IN THE GARDEN

42 Sprouts — Super Food, Super Fun!

By ALLAN WATTS and RICK WEINGARDEN

WINE

44 An EPIC Wine Tasting, at the London Wine & Food Show

By GARY KILLOPS

BEER MATTERS

46 Beer and Cigar Pairing

By THE MALT MONK

COOKBOOKS

49 The Skinnytaste Cookbook by Gina Homolka

59

Review by TRACY TURLIN

53

BOOKS

53 Food: A Love Story by Jim Gaffigan

56

Review by DARIN COOK

THEATRE

56 On the Boards: More from The Fringe

By RICK YOUNG

MUSIC

60 Sound Bites: A World of Sound

By NICOLE LAIDLER

THE LIGHTER SIDE

62 Behind the Scenes

By KYM WOLFE

THE BUZZ

62

34
---
navigate

№ 51 | January/February 2015 www.eatdrink.ca 7

LAMBTON

SHORES

great

SARNIA

CENTRAL

& POINT

LAMBTON

EDWARD

ST.CLAIR

RIVER

DISTRICT

TO

TIMES

TOURISM

SARNIA-LAMBTON

LET US GUIDE YOU THROUGH

OUR VACATION PLAYGROUND!

in

Lambton

County

art

Let our

INSPIRE

YOU

call or click for your FREE travel guide and map

also available at southwestern ontario visitor centres

1.800.265.0316

www.tourismsarnialambton.com/EatDrink
---
8 www.eatdrink.ca

№ 51 | January/February 2015

note from the publisher

Uncorking Another Vintage Year

By CHRIS McDONELL

W

e look forward to seeing you

at London's bigger, better

and tastier wine and food

experience. Now in its 10th

year, the 2015 London Wine and Food

Show expands to the Western Fair Agriplex

January 15–17. This is the definitive place to

explore new tastes and culinary trends on

an extravagant walk-around wine and food

tasting tour. Be sure to visit our eatdrink booth

and enter our draw to win a Lexus Reflections

President Package. Rest assured that we don't

spam or sell or trade email addresses, so don't

be shy about entering our draws. We don't

want you to miss this one!

London continues to grow a reputation as a

hot-spot for authentic culinary experiences.

An increasingly large number of enthusiastic

and creative farmers, bakeries, butcheries,

chefs, cooks, culinary retailers and educators,

and passionate restaurateurs are advancing

the local palate and our regional culinary

identity. We here at eatdrink are currently

assembling the 2015 London's Local Flavour,

the Tourism London Culinary Guide. This

guide offers tangible proof that Londoners

are not just advocating "eating and drinking

local" and "eating seasonal," they are actively

and creatively enhancing and renewing

other established cuisines. Local Flavour

helps businesses participate in two popular

economic trends: culinary tourism — a

vital component of the tourism experience

— and the local food movement. This guide

effectively promotes London as a leading,

diverse, year-round culinary destination, and

we'll let you know how to get your hands on

one in our next issue.

Many of you are reading our digital versions

of eatdrink and London's Local Flavour,

and thank you for doing so. There are many

compelling reasons to make our publications

available online. The ecological cost of printing

a magazine is something we've considered,

part of why we're small (although we also

love our user-friendly size). But we will always

distribute hard copies in select locations

throughout London and our region and we

recently expanded our print circulation by 33%

so our devoted readers can find a copy while

we continue to attract new followers. But we

encourage you to visit our website and follow

us on Twitter and Facebook. We publish some

stories exclusively online, and we don't want

you to miss a word.

Cheers!

Win a Lexus Road Trip!

from

eatdrink

Enter our Draw for a Lexus Reflections President Package

The comprehensive appearance reconditioning service will completely rejuvenate

your vehicle. While the fully-trained Appearance Technicians detail your vehicle,

you will be provided with a beautiful Lexus to drive for a weekend!

&

Enter at www.facebook.com/eatdrinkmag

Contest ends February 20, 2015. Complete details online.
---
FINE FOOD

in Downtown London

Downtown London would like to welcome the businesses

and restaurants of Richmond Row to the new boundary!
---
10 www.eatdrink.ca

№ 51 | January/February 2015

food writer at large

The Hot List

Food trends to track in 2015

By BRYAN LAVERY

The end of one year and the

beginning of another is the perfect

time to re-examine the role of

culinary trends as a gauge

of popular culture. How we eat,

what we eat, and where we eat are

all indicators of the larger popular

consciousness. Tastemakers and

trend analysts use a variety of ways

to determine what's hot and what's

not. The fact is that most gastronomic

trends have a shelf life.

Technological innovation, food

science, increasingly inquisitive

customers and rising labour costs will be

driving factors in food and beverage trends

at restaurants and hotels next year,

according to a recent report by food

and restaurant consulting firm

Baum + Whiteman. The culinary

world continues to embrace

smartphones, mobile apps and

all sorts of devices and programs that

interface directly with the consumer.

Locally, think of The SmartAPPetite

app which communicates to users

not only what, when and where

local food can be procured, but

offers reliable dietary information

and nutritional recipes as well.

One of the top trends in 2015

will be the continuing popularity

and obsession with fermented

foods (think kombucha made with

tea, sugar bacteria and yeast, or

other aged, pickled or cured foods).

Pistachios will be the nuts du jour. We are

being told to expect to see smoked flavours

as this year's taste sensation.

This past year, the

preoccupation with chilies and

heat continued — ghost chiliinfused

honey is one taste that's

gaining considerable buzz. Food

The SmartAPPetite app

Pistachios

Beet Ice Cream

Laser Labeling

lovers continue to seek out their next big

chili high, and upscaled spicier ramen

noodles are at the top of that list.

Waffle sandwiches and flavoured

salts are popular. In New York City,

savoury ice creams and savoury

yogurts including beet, parsnip and

carrot, and Middle Eastern flavours

like hummus and spicy harissa oil are

the rage. Pimm's Cup #1 (the drink

of Wimbledon) is finally making a

comeback. Matcha (finely milled

or fine powder green tea) and

coconut sugar are among the top

predictions as food trends.

Energy protein bars made from cricket

flour helped introduce the idea of

insect-eating to North America.

The discussion about eating

insects is just beginning, but

it is not expected to go away,

as environmental sustainability

and nutrition become progressively

convincing arguments. Chef Jeff

Stewart of Creepy Crawly Cooking,

along with the bug experts from

Cambridge Butterfly Conservatory

featured bug cooking demos this

year at Savour Stratford. Besides

learning about entomophagy (the

practice of eating insects) there

were lots of free samples.

A Spanish company has

developed laser labeling for fresh

produce, which can apply logos,

provenance specifics and even QR

codes on to fruit and vegetables.

Farewell, annoying and un-ecofriendly

stickers and welcome

benign food tattoos.

The kombu salad, with its

iodine crunch of seaweed,

is unlikely to become as

over-hyped as the kale boom
---
№ 51 | January/February 2015

but its popularity is on the rise. Speaking of

seaweed, according to Baum + Whiteman,

"Consumers recognize it as a packaged

snack and as a California roll's wrapper.

But chefs are adding it (often silently)

to poaching broths, seafood sauces,

even risotto, for its punch of umami and

evanescent background flavor and dash of

salinity. They're inspired by a sustainable

sea-to-table ethos ... and also by new-Nordic

cooks searching for food under tree stumps

and boulders."

Chef Rene Redzepi in Copenhagen's Noma restaurant,

Restaurant Magazine's "world's best restaurant"for the

fourth time in five years

Chef Rene Redzepi and chef de cuisine

Daniel Giusti of Copenhagen's Noma

restaurant (short for nordisk mad meaning

Nordic food) serve dishes prepared under

tenets drawn up for the New Nordic cuisine.

In 2010, 2011, 2012, and again in 2014, Noma

was ranked as the "world's best restaurant"

by Restaurant Magazine, based on a poll

of international chefs, restaurateurs,

gastronomes and restaurant critics. Each

year the awards provide a snapshot of

the world's gastronomic scene — an

internationally acknowledged and esteemed

reference point which showcases leading

trends from around the world.

After the innovations of the New Nordic

cuisine in Scandinavia and chef Ferran Adrià's

experimental modernist cuisine at El Bulli in

Spain, interest

in Mexican

and Latin

American

cuisines has

been spiking

among food

enthusiasts. Culinary pundits are expecting

to see further international expansion of

Peruvian cuisine in the near future.
---
12 www.eatdrink.ca

№ 51 | January/February 2015

Traditional Mexican is making way for

top-quality takes on tacos and ceviche at

high-end restaurants around

the globe — taking inspiration

from one of the world's most

esteemed kitchen auteurs,

innovative Mexican chef

Enrique Olvera. It seems

that everyone is interested in

finding new ways to reinterpret

the taco.

A highly refined version

of Newfoundland cuisine is

a strong contender for the

world's next "it" cuisine.

According to Derek Dammann

of Montreal's Maison Publique

and Jamie Oliver's Canadian

partner, chef Jeremy Charles's

wild foods at Raymonds, and

chef Todd Perrin's Mallard

Cottage, "will make St. John's the next major

food travel destination in the world."

Made in small batches with

specialized, local ingredients,

"craft everything" has become a

foodie mantra. The movement

for craft beer brought new

enthusiasm, flavours and sales to

the beer industry. Look for this

movement to encompass other

beverages and culinary items,

as millennials are being given

credit for driving most of the

upcoming trends.

To start a food trend from

agriculture is "one of the riskiest"

things an entrepreneur can do, states

Toronto writer David Sax in The Tastemakers:

Why We're Crazy for Cupcakes but Fed Up

with Fondue. "Yet every day," he writes,

"there are countless farmers,

scientists and gardening

dreamers with a trowel in

their hand, digging in the dirt

and planting the seed they

hope will one day change the

way we eat."

Over the years, I have often found it

remarkable the way culinary experts, food

media, market researchers and trend

predictors seize a collective thought or idea

with such a synchronicity of timing. This

certainly has been the case with regard to

the "local food" movement, the food truck

and night market phenomena, and the

Mallard Cottage, St. John's

ascent of culturally diverse street food being

re-imagined in restaurant kitchens.

When I go out to dine, I am

attracted to restaurants that

support local farmers, smallscale

producers and food

artisans by procuring and

featuring local ingredients,

products and wines.

Patronizing farm-to-table

restaurants makes perfect

sense because it supports and

sustains economic activity

on a local level. I primarily

support small-scale farmers

and frequent farmers'

markets and only shop in

grocery chains as a last resort.

To keep informed and stay

up-to-date with the culinary

world, I regularly attend food

events, press preview dinners and consult

with culinary innovators, chefs, farmers

and food artisans who are interdependent,

community-focused,

passionate and interested

in advancing the culinary

conversation not only in Ontario

but across the country.

Savour Stratford continues

to be a prime example of

collaborative culinary innovation

by linking food to place with the

still emerging, modern cuisine

du terroir and its commitment

to origin and season. Highlights

of Savour Stratford this past

year included the "Intimate Tutored

Talks and Tastings" with culinary experts

discussing trends from foraged wild edibles

to fermentation, preserving seafood, the

pairing of craft beers and sampling

Ontario VQA wines, and

The Grand Tasting, a stylish

garden party showcasing

chefs and producers who

were paired to create a

strictly terroir-driven regional

tasting experience. It is easy to see the

local food movements are not short-lived

trends, but transformations in the collective

mindset of chefs and culinary specialists

around the globe.

BRYAN LAVERY is eatdrink's Food Writer at Large.
---
Stratford is

more than

great theatre

55 GEORGE ST. W. STRATFORD

519.272.2828 | CHOCOLATEBARR.COM

OPEN 7 DAYS A WEEK

CRAFT

BEER*

SERIES

Indulge Your Senses!

Nosh Monday

Culinary adventure featuring small

plates — Savoury and Sweet $39/person

Sunday Colonel Collins'

Fried Chicken

— 10 Craft Beers Family on Tap Meal — Deal (feeds four)

Every Sunday night from 5:00pm until

it sells out! Only $49.99

Friday BurgerGlory

Try our famous Mercer Burger with a

pint of craft beer for just $15!

*fries sold separately

* 4 courses paired with 4 brews for just $65. Reservation recommended.

Muskoka – February 19; Lake of Bays – March 19

MERCER HALL

INN | RESTAURANT | BAR

BRUNCH

LUNCH

DINNER

EVENTS

104 Ontario Street, Stratford | 519.271.92 02 | www.mercerhall.ca

Get up-to-date info on our exciting events! fb.com/mercerhall twitter.com/MHResto
---
14 www.eatdrink.ca

№ 51 | January/February 2015

restaurants

Idlewyld Inn & Spa

Casual Elegance in London's Charming Wortley Village

By BRYAN LAVERY

Situated in London's quaint Old South

neighborhood, the historic Idlewyld

has sustained its grandeur for over a

century. Purchased by Farhi Holdings

after it unexpectedly closed last fall, the

Inn was originally built as a private home

for former London mayor Charles Smith

Hyman. What started out as a mansion

built in 1878 has now evolved into London's

premier inn and spa, boasting membership

in organizations such as Distinguished Inns

of North America. The Victorian character,

landscaped grounds, well-kept gardens

and overall ambience of the Inn appeals to a bucolic setting. New lighting, furniture,

travelers who are looking for unique and landscaping and an opulent copper roof

intimate accommodations.

were added to the building. The beautifully

Shmuel Farhi immediately recognized the manicured gardens also feature a white

immense potential in the Idlewyld Inn, a marble gazebo that overlooks a pond with

three-storey grand Victorian-style mansion. a fountain and a natural waterfall. The

Farhi had previously purchased and restored refurbished adjoining 19th-century Carriage

the Elm Hurst Inn & Spa which is located House has become a popular destination for

just off Highway 401 in Ingersoll. Elm Hurst weddings and corporate events.

has been a southwestern Ontario landmark General Manager Alon Gurman provides

since it was built by James Harris in 1872. the staff members at both the Idlewyld Inn

The original mansion was transformed into & Spa and the Elm Hurst Inn & Spa with

the Elm Hurst Restaurant, and is considered the vision and guidance to excel at fulfilling

by many to be an architectural marvel with guest expectations. Effie Gurman is the

signature gingerbread trim, an Italianate Idlewyld Inn & Spa manager. The husband

tower, and gothic window arches. Today, and wife team previously worked together

this mansion stands grand and dignified in running the former 600-room Hyatt Regency

Hotel Dead Sea in Israel.

The Idlewyld offers 21 guest rooms,

each uniquely decorated to capture the

Inn's distinctive allure, an on-site spa and

a fine dining restaurant. A day spa has

been added to the Inn's amenities, with

two massage tables, and manicure and

pedicure stations.

After an extensive renovation last

spring the property has been restored

to its former glory and the Inn's guest

rooms, reception areas and dining rooms

have also been newly updated, keeping

The Parlour the character and charm of the original
---
№ 51 | January/February 2015 www.eatdrink.ca 15

The Drawing Room

property. The new owners have added many

elegant touches to the property including a

stunning outdoor fountain.

With unique furnishings, window

treatments and gleaming exotic woods and

other amenities, the Idlewyld steps across

the threshold of elegance to a grander era.

Rooms are fitted with flat-screen televisions,

but antique armoires and desks remain,

maintaining an elegant ambience combined

with a touch of the contemporary.

The original mansion included a formal

parlour, a dining room, and an informal

parlour for the lady of the house, a library

with private study, and a ballroom. The

master bedroom was once attached to a

sunroom, now the second floor landing,

while the third floor would have been used

as servants' quarters.

Today, The Parlour, one of two common

areas off the small foyer, retains its original

leather Lincrusts-Walton wallpaper from

1878. The wallpaper was meticulously

restored by Agnieszka Cukrowski of

Unsigned Murals during the recent upgrades

to the Inn. Other notable installations of

Lincrusts-Walton wallpaper included six

staterooms on the Titanic and at the White

House in Washington DC.

During the most recent renovations, The

Drawing Room had a tin ceiling added to

give it more character, adding to the overall

charm of the room. A baby grand

piano still provides entertainment

at the entrance to the dining room.

The largest suite, called the Library

(because it originally was the

home's library) features a king-size

bed, separate living room with

pull-out couch, and the original

fireplace which boasts an intricate

wooden mantle with ceramic

inlay. The room also maintains its original

coffered ceilings.

Two well-appointed dining rooms are

a reflection of the casual elegance around

which the Idlewyld has built its reputation.

The rooms are smart and impeccable,

combined with well-spaced tables,

comfortable armchairs and banquettes.

Chef de cuisine Trevor Stephens received

classical "Red Seal" training at Fanshawe

College. He comes to the Idlewyld Inn & Spa

after spending nine years at the Elm Hurst

Inn & Spa, where he was the sous chef. The

restaurant offers a locally-inspired menu

of contemporary and traditional choices,

complemented by a selection of international

and local wines, and draught ales are on tap.

Stephens' menus are loaded with

ingredients which, along with the stylish

dining room, evoke the phrase fine dining.

Hearty French onion soup is a reliable

antidote to cold, blustery weather and

is exquisitely prepared by Chef, with

caramelized onions in a deeply flavoured

broth and a blend of perfectly melted

Gruyère and Parmigiano-Reggiano cheeses.

To accompany the soup, my guest ordered a

side of delectable golden brown frites, which

he decreed was the perfect benchmark for

comparison between different fine dining

establishments. It would seem that the

Idlewyld has no peer in this department.

The Dining Room
---
16 www.eatdrink.ca

Be sure to try the seared slices of crispy

duck breast confit. The breast meat was

grilled to a seductive char on the outside

and deep pink within and accompanied by

an arugula salad. The arugula was tossed

in blood-orange vinaigrette and garnished

with dried cranberries, toasted almonds

and shaved Parmigiano-Reggiano. Another

dish that tests the kitchen's mettle was the

house-made charcuterie tasting board.

The board features duck, pistachio and

cranberry rillettes, pork belly and vegetable

terrine, sliced smoked brisket and other

accoutrements like pickled vegetables,

savoury jams and chutneys.

A half a dozen pillow-shaped ricotta

and potato gnocchi with garbanzo beans,

roasted eggplant and yellow zucchini,

№ 51 | January/February 2015

A King Estate Room

wilted spinach, tomato concassé and shaved

Parmigiano-Reggiano provided an enjoyable

multi-cultural amalgam of flavours. A table

of six women beside us pronounced the very

rustic looking quiche a hands-down winner.

1 2

10

1 House-Made Pastrami

Sandwich

2 Roasted Turkey and

Arugula Pinwheels

3 Escargot Bourguignon

Vol-au-vent

4 Slider Trio of Beef, Lamb &

Turkey

5 Pan-Seared Scallops 3 Ways

6 Braised Veal Osso Buco with

Buttered Egg Noodles

7 Seared Duck Breast &

Arugula Salad

8 Pan-Seared 8oz Filet of Beef

9

& Chanterelle Mushrooms

9 Pulled Chicken Vol-au-vent

10 Rosemary-scented Roasted

Ontario Lamb Rack

4

3

5

8 7

6
---
№ 51 | January/February 2015 www.eatdrink.ca 17

There is veal osso bucco, roasted Ontario

lamb rack, bone-in centre cut pork loin

chop and filet of beef with chanterelles on

the dinner menu. Desserts are impressive,

including a sticky date pudding served

with crème Anglaise and toffee sauce —

"it's perfection," my dining companion

commented — and a perfect French

apple tart served warm with chèvre ice

cream and caramel sauce. The service is

knowledgeable, polished and deferential.

Many hoteliers fight the perception that

their establishments are for the exclusive

use of out-of-town guests. The Idlewyld

has finally lain to rest the idea that hotel

dining is strictly for tourists and special

celebrations. The grounds, front porch and

elegant ambiance of the hidden Garden

Courtyard create welcome retreats to enjoy

al fresco dining in season.

According to the ever hospitable maître d'

Ed Bloor (who many patrons will remember

from the former Maggie's Supper & Jazz

Club), the Inn seeks to be a "drop-in-asyou're-walking-by"

type of place for the Old

South neighbourhood."

The Idlewyld Inn & Spa

36 Grand Avenue, London ON

519-432-5554

www.idlewyldinn.com

breakfast: 7–10am mon–fri;

8–11am sat, sun & holidays

lunch: 11–3pm mon–fri; 11:30–2pm sat

dinner: 5pm–9pm tues–sat

brunch: 11am-2pm on sundays

afternoon tea: 2pm–4pm on the third

saturday of each month

BRYAN LAVERY is eatdrink's Food Writer at Large.

The Spa

January 23 rd – February 8 th

$25, $30, $35, & $40
---
18 www.eatdrink.ca

№ 51 | January/February 2015

spotlight

Locally Supported and Independent

The Evolution of Cuisine in London's Wortley Village

By BRYAN LAVERY

Wortley Village has

a lengthy past

as a residential

suburb of London

with a uniquely independent personality.

This history of the village is reflected in the

concentration of recognizable architectural

styles (Victorian, art deco and mission-style)

and an aesthetic combination of heritage

buildings dating from the area's early years

between 1850 and 1930. The well-preserved

heritage character of many of the homes

and long-standing public buildings, along

with the pedestrian-oriented streetscape of

the Wortley Road commercial strip, give the

neighbourhood an identifiable charm and

cultural uniqueness. The area is bordered

by Wellington Road to the east, Wharncliffe

Road to the west, Horton Street to the north

and Commissioners Road to the south.

A walkable and bicycle-friendly community

whose residents have a reputation for their

significant contributions to the creative vitality

of London, Wortley Village is a respected core

neighbourhood. A panel of judges from the

Canadian Institute of Planners named Wortley

Village Canada's Great Neighbourhood for

2013 in both the Grand Prize and People's

Choice categories. "It has a true identity.

When you think of great neighbourhoods,

you think of physical spaces as well as the

people," said judge John Fleming, a member

of the Canadian Institute of Planners, who is

also London's Managing

Director of Planning, and

City Planner of London.

Back in 2002, Wortley

Village was dubbed one of Canada's "coolest

neighbourhoods" by enRoute magazine.

The publication noted Wortley Village's

"gorgeous old homes as well as every kind

of merchant and shop run as independent

businesses. Residents don't even need a car."

Home to artisans and artists, unique

home-run and independently owned

shops, services, restaurants and nightlife,

the Wortley Village mixed-use commercial

strip has evolved organically over time to its

present revitalized state. The streetscape is

a varied collection of interesting buildings

bustling with boutiques, restaurants, cafes,

small-scale from-scratch bakeries, and

one of the best ice cream vendors in the

city. There are landmark retailers, like the

recently renovated and environmentallyfriendly

Quarter Master Natural Foods —

one of the original health food stores in the

city, having served Wortley Village and the

community for over 30 years.

There's a very strong café culture in

Wortley Village, with a diversity of outdoor

culinary experiences for everyone. On the

corridor the staggered buildings are mostly

set back from the street and in season this

allows patrons to enjoy dining at a sidewalk

café, in a secluded courtyard setting, under

a pergola, or on an elevated patio or a

charming side-street terrace. The following

section highlights some of the interesting

culinary options found in Wortley Village:

The Village Harvest Bakery

This nearly 20-year-old Wortley Road

institution, helmed by Sharon Landry and

Douglas Huskilson, is a scratch bakery that

has been operating since 1997. This is true

artisanal baking — rustic, with an emphasis

on quality wholesome ingredients and
---
№ 51 | January/February 2015

freshness. The bakery retails over 30 types

of bread and a selection of high-quality

specialty items, including diabetic-friendly

muffins, granola, cookies, squares and tarts

baked daily on site. The bakery is known for

their pies, in particular cranberry pecan,

apple and three-berry flavours. One of the

breads the bakery is known for is Adelaide's

Nova Scotia Brown. Village Harvest

Bakery's apprentice Eric reflects their

collaboration with the Youth Opportunities

Unlimited organization. All the baking is

from scratch and with as many locallysourced

Ontario ingredients as possible.

The bakery offers seniors and the unwaged

10% off their purchases daily.

145 Wortley Road, 519-667-1199

Sweet Onion Grill

The Sweet Onion Grill is located in the

premises previously occupied by Ciao Bistro,

and Relish, across from the Black Walnut

Café. This informal, bistro-style restaurant

is operated by the restaurant-savvy Ross

Agathos (father of Zack Agathos of the newly

opened Icarus Resto Bar) formerly of Ross

Eagle Custom Sports and Huron House/

Dancing Greek Restaurant. Agathos' new

hire, Welsh-born chef Chris Powell, has

put together a traditional menu, albeit not

locally-focused, having assimilated many

influences. The restaurant looks to Greece

as an accent, not necessarily a theme.

Pan-fried pork belly is served with sweet

Lunch & Dinner

7 Days a Week

Book

Now for

Valentine's

Day

Mediterranean

Open Kitchen

Farm to Table Inspired

Licenced

519 Richmond Street (near Dufferin) 519 601 7110

www.icarusrestobar.com

Downtown London's

Upscale Authentic Thai Restaurant

Book your Holiday Party now!

onion marmalade and port reduction.

Saganaki prepared with kefalograviera

(hard sheep's milk cheese) is flambéed with

ouzo tableside. The service is genuine and

hospitable and the price point is the most

accessible in the village. There is a nicely

situated outdoor terrace in season.

135 Wortley Road, 519-204-5575

Manisay and Rafael (Fouzan) invite

you to join them for dinner or lunch

519.850.1222 120 Dundas St. at Talbot

www.thaifoonrestaurant.com
---
20 www.eatdrink.ca

Mai's Café and Bistro

This spot in Wortley Village has an

unimposing frontage leading into a compact

and pleasant interior, where aromatics of

Thai cuisine permeate the narrow room, and

the queue for takeaway is constant. There's

an assortment of traditional Thai fare and

an unexpected variety of Western food on

the unconventional menu. Generally, Mai's

offers a satisfying dining experience with

curry dishes, pad Thai, pasta, fish and chips

and a Canadian breakfast. The Thai food

is the real reason to go, though. Kai, Mai`s

sister, is a welcoming and knowledgeable

presence in the restaurant. Many of you will

remember Mai as the former owner of Café

Milagro in Byron.

142-A Wortley Road, 519- 679-1221

Black Walnut Bakery Café

On a recent weekday morning at Black

Walnut Bakery, customers lined up in front

of the glass counter for shiny apple tarts,

melt-in-your-mouth scones, lemon squares

and a variety of savoury delicacies. From the

welcoming hospitality and the rich aroma of

fresh coffee, to the smell of pastries baking

in the ovens, the Black Walnut Bakery Café

is a destination café experience. With close

attention to detail and strong relationships

with the community, co-owners Wilson

and Mandy Etheridge create a warm,

neighbourly vibe. The Etheridges strive

to provide a unique coffee experience by

roasting their own distinctive organic, Fair

Trade and Rain Forest Alliance coffees

under the Black Walnut label. Specialty

trained baristas are adept at handcrafting

№ 51 | January/February 2015

espresso drinks with organic syrups using

the latest top-of-the-line equipment. The

Black Walnut offers scratch baking every

morning, seven days a week, as well as a café

menu of artfully prepared made-to-order

sandwiches, seasonal soups and salads,

frittatas, bread, squares and light meals.

Nothing is served in the café that isn't handcrafted

and made in their scratch kitchen.

134 Wortley Road, 519-439-BAKE (2253)

Old South Village Pub

Located in a restored heritage home, the

Old South Village Pub is a warm, inviting

old English-style pub and a good choice

for relaxing alfresco in Wortley Village. The

pub is located in the heart of the village, so

there's a great view of the neighbourhood.

The menu includes homemade woodoven

pizzas, steak and Guinness pies and

"the best" sweet potato fries. The pub also

features a selection of popular Indianinspired

dishes. The pizzas are a favourite of

locals in Wortley Village.

149 Wortley Road, 519-645-1166

Gusto Food and Wine Bar

Open since September 2012, Gusto is a

welcome addition to Old South's dining

scene. The restaurant is housed in a

refurbished Victorian home that was

formerly an antique shop and then the late

lamented Casa Cubano restaurant. Chef
---
№ 51 | January/February 2015 www.eatdrink.ca 21

Stephen Burns shows off his skills with a

menu that includes charcuterie and tapasstyle

plates with "sharables" like risotto balls,

pulled pork sliders and signature meatballs.

The restaurant is known for its cracker-thin

crisp pizzas. Dine inside or al fresco in

season on the attractive verandah.

175 Wortley Road, 519-937-1916

Wortley Village Fire Roasted Café

Fire Roasted Coffee has built its reputation

on roastings, tastings, retail, wholesale, by the

cup, and by the bag. The outpost café with its

large picture window attracts Wortley Village

hipsters, coffee aficionados, students and

professionals with laptops. The café is known

for its simple honest fare: freshly-roasted

coffee, baked goods and pastries (provided by

the Artisan Bakery in Old East Village), locally

produced beer, and a small wine list curated

by local wine expert Michael Buck.

Last year, entrepreneur David Cook

approached Kendra Gordon-Green of the

with owner Dave Tuckey, whose grandfather

opened the store in 1946, to incorporate a

new flagship Fire Roasted café in the plans. In

the meantime, Cook views the Wortley Road

location like a pop-up restaurant where he is

able to create a complementary niche and a

distinct footprint in the neighbourhood.

138 Wortley Road, 519-601-9477

BRYAN LAVERY is eatdrink's Food Writer at Large.

an experience to savour ...

casual fine dining

world-inspired cuisine enhanced by

local and seasonal ingredients

private dining rooms for lunch & dinner

Join us for Londonlicious Jan 23–Feb 8

former Little Red Roaster, seeking to take

over their space in order to give Fire Roasted

a presence and higher profile in Wortley

Village. Now there are plans to expand

Tuckey Home Hardware into the current

café space in 2015. A deal has been reached

523 richmond st.

just N of the Grand Theatre

OPEN MON–SAT

lunch & dinner

519-850-1500

blacktrumpet.ca
---
22 www.eatdrink.ca

№ 51 | January/February 2015

culinary retail

Plus ça change ...

New and revised, Jill's Table is still focussed on the home cook

By KYM WOLFE

Jill's Table now has a new table…

and a new kitchen…and a new

website. But a warm welcome

by knowledgeable staff, unique

gadgets, hard-to-find foods, and

popular cooking classes are still on

the menu as Jill celebrates 15 years of

business in the Market district.

"We looked at our 15 year

anniversary as an opportunity to make

a few changes and refocus," explains

owner Jill Wilcox. What started as

a project to update the kitchen's

appliances morphed into a bit of a

store makeover, with a new location for

the expanded kitchen area and a new store

layout that she feels improves the flow of the

space. "The renovation gave us a chance to

zero in on what is essential to a home cook.

We want people to get as much enjoyment

out of food as we do."

Wilcox was pleased that the entire

renovation required the store to be closed for

only three days, and that the regulars are as

happy with the changes

as she is. "We've had

nothing but positive

feedback from our

customers. We moved

the cash desk to the

front, so now we can

greet people as soon

as they walk in. One of

our regulars told us it

feels like a good oldfashioned

general store."

A general store with

a European flair, that is

— Wilcox says the new

design was influenced

by the many shops

that she has visited in

Europe, where she has

sourced many of the

The inviting storefront on King Street,

across from Covent Garden Market

exclusive products that you will find on her

store's shelves. "It's incredibly important

to keep up with trends," says Wilcox, who

regularly attends industry shows and travels

to foodie destinations.

The store carries a number of exclusive

and branded items, including olive oils

that are produced for Wilcox in Tuscany;

tea towels made

by a Swedish

company that has

been family owned

and operated since

1692; a Jill's whisk,

wooden spatula, and

chef's knife; an ipad

holder for easy recipe

reading, along with

Jill's own hard-copy

series of cookbooks,

and more.

There are also

whimsical items like

food-themed socks,

Hands-on owner Jill Wilcox

in the newly renovated

demonstration kitchen
---
№ 51 | January/February 2015

wine glass lamp shades to create unique

table mood lighting, and fun and funky ring

holders to keep jewellery safe while you're

working in the kitchen.

With a nod to the new generation of

online shoppers, Jill's Table offers a selection

of items that can be purchased through the

website (jillstable.ca), including themed

gift baskets for every occasion, from the

chocolate lover's basket to the charcuterie

entertaining board. Wilcox recognizes

the importance of a well-branded online

presence and has recently created a new

staff position — a marketing and events

coordinator who will also maintain the

store's online presence, from the freshly

updated website to social media like Twitter,

Facebook and Pinterest.

Jill is self-taught in the kitchen and

she believes that learning to cook is an

important basic skill. "We want people to

get as much enjoyment out of cooking as we

do. We want to get more people cooking and

eating together around their dinner tables

Jill's Table offers an array of practical and whimsical

products: food, kitchenware, tableware and gifts

Let the Skating Tradition Continue!

Enjoy a skate at our Outdoor Rink, weather

permitting. Skating only.

Rink Open: 11am – 7pm Monday to Friday

10am – 7pm Saturday

11am – 6pm Sunday

Valentine's Day – February 14

Valentine's Dinner

It's the perfect time to make your reservation for

that perfect Valentine's Day. Special menus for

Valentine's Day at both locations.

Waldo's Bistro & Olive R Twist

(519) 433-6161 (519) 204-9184

Valentine's Flowers

Flowers, when only the best are right for your

Lovely!

Bloomers & Forget Me Not Flowers

(519) 675-1133 (519) 850-3300

Valentine's Day Chocolates

If it's your sweetie that needs to be satisfied,

try London's Finest!

Forrat's (519) 455-2285

The Chocolate Factory (519) 663-5787

The Ice Creamery (519) 642-0202

For more information please visit our website

Affordably Fresh, Friendly & Local

coventmarket.com

/coventgardenmarket

Market Hours

Mon. to Thurs. 8am — 6pm

Friday: 8am — 7:30pm

Saturday: 8am — 6pm

Sunday: 11am — 4pm
---
24 www.eatdrink.ca

№ 51 | January/February 2015

Recent renovations in the kitchen included

replacing the mirror with a screen,

allowing students a better view during

cooking classes.

on a regular basis."

To that end Jill's Table hosts a series of

cooking classes, some delivered by local

chefs who demonstrate how to make the

different dishes. In the newly renovated

kitchen, a screen has replaced the mirror

over the counter, to provide a better

view of the preparations. Afterwards

guests enjoy sharing the meal together

at communal tables. Classes can focus on

anything from pizza, pasta or vegetarian to

different ethnic dishes, and offerings change

with the seasons. For the 2015 winter classes,

menus range from hearty soups and stews

to Italian, Moroccan and Latin American

dishes. There are also smaller hands-on

classes where participants help prepare the

meal or learn kitchen basics, like knife skills.

With the new kitchen, Wilcox also plans to

offer daytime classes this year, including

corporate team-building sessions, providing

an interactive experience and opportunity

for staff to break bread together.

Another way Wilcox is sharing her passion

for home cooking and the practice of family

meals is through the Jill Wilcox Foundation,

which she launched in 2012. The foundation

raises funds and grants donations to

food-related and learning projects that

support women and children in need. The

2014 recipients included Reconnect at the

Market, an alternative education program

at Thames Valley District School Board that

re-engages students who have left school

without graduating. Jill conducted a cooking

class for the participants in the program

and provided grocery cards and food totes,

containing some essential kitchen items for

the students.

The foundation also supported the

building of a culinary garden at Merrymount

to grow a variety of vegetables and fruits that

will be used in the organization's kitchen.

This year it is Jill's goal to conduct cooking

classes for some of the families that use

Merrymount's services.

As she reflects on the past 15 years,

operating a store that is open six days a

week, being involved in the community

and in other projects that are important to

her, Wilcox says, "Retail is taxing, and the

challenges seem to be getting bigger all the

time. I might slow down a bit, but I'm really

excited for the next chapter." She plans to

continue conducting culinary tours twice a

year in the Languedoc-Roussillon region of

France, which she has been involved in for

the past five years. This year she also plans to

set sail with Oceania Cruises in June, to host

a food lovers' Mediterranean adventure.

Jill's Table

115 King Street, London

519-645-133

www.jillstable.ca

KYM WOLFE is a local writer who enjoys cooking when she

has time, and family dinners all the time. www.kymwolfe.com
---
№ 51 | January/February 2015 www.eatdrink.ca 25

restaurants

Welcome Home

to Crossings Pub and Eatery, in Hyde Park

By LORI MADDIGAN

Fairway Pub Group,

owner of Crossings

Pub and Eatery

and Practical

Henry's Public House,

has one simple goal: "to

offer people a place to

experience enjoyment."

Crossings Hyde Park

location opened four years

ago and has attracted a loyal

following of patrons who

visit regularly for the food, Crossings — a city pub in a country setting

the drinks, and the fun.

Customers enjoy a diverse

selection of upmarket pub fare in a warm and changes annually, customers can choose

homey countryside setting. On a cold, winter from four seasonal menus, as well as daily

day, what could be better than traditional food and drink features. Executive Chef

shepherd's pie, steak & Guinness pot pie, or Dan Garlough says, "Most of our food is

Crossings best-seller — gourmet meat loaf? locally sourced and 95% of our menu is

A steaming bowl of chicken corn chowder house-made." While standard menu items

or one of the other daily soup creations, are prepared according to specification to

along with a melted brie and house-made ensure a consistent customer experience,

strawberry preserve grilled cheese sandwich Garlough says, "Since most of our dishes

would also hit the spot. For something a little are made to order, we have the flexibility

spicier, patrons might order a side of jalapeno to accommodate dairy-free, gluten-free,

bacon mac and cheese, which pairs well with vegetarian and other special requests."

a cold draught from Crossings' extensive

Crossings recently introduced Chicken

selection of beers — bottled and on tap. Dinner Tuesdays. For $11.99, customers can

In addition to the regular menu, which savour a quarter-chicken dinner (choice of

white or dark meat) with potatoes,

gravy, house-made baked beans,

fresh coleslaw and a roll. The

chickens are brined overnight to

produce flavourful, moist cuts.

On Sundays, Crossings offers a

brunch menu from 11:00 a.m. to

2:00 p.m., and a prime rib dinner

after 5:00 p.m. The restaurant also

holds regular Whiskey Dinners,

at which customers can sample

chef's creations accompanied by a

variety of whiskeys. The New Year's

Eve event, featuring an elegant four
---
№ 51 | January/February 2015

course meal served with sparkling wine and

live entertainment, is also popular.

The commitment to customer enjoyment

extends beyond delicious food, friendly

service and a cozy atmosphere. On Monday

evenings, customers compete for prizes in

the Pubstumpers trivia contest, while sharing

freshly prepared pub fare such as chicken

wings, pulled pork tacos, sweet potato

perogies, nachos, and deep dish pizza. Local

acoustic artists perform every Saturday from

8:00 p.m. until midnight. In the warmer

weather, musicians entertain up to 70 patrons

outdoors on one of London's best patios,

which features a well-stocked bar with 30

beers on tap. General Manager Christina

McGrath, better known to regulars as Teeny,

attributes much of Crossings' success to the

staff. "We're like a family," she says. "And we

extend that to our customers. It's all

about making people feel welcome.

We want to make sure everyone

leaves happy."

Crossings in Lambeth opened

its doors in fall 2014 and offers

customers the same quality

menu, extensive beer, wine and

cocktail list, and fun events as

the Hyde Park location. The new

restaurant also has a wonderful

patio customers can look forward

to enjoying in the months to come.

Both Crossings locations, being

neighbourhood pubs, embrace community

involvement by sponsoring youth sports

teams and running events throughout

the year to benefit local charities like the

Thames Valley Children's Centre. Patrons

wishing to support local charities while

enjoying food, beverages and fun can

attend the annual Beerfest at the Hyde Park

location's patio, meet local brewers and

beer reps, and sample from over 70 different

beers. The Wine and Scotch event is another

such perennial favourite; guests roam from

station to station on the upper floor of the

Hyde Park location, sampling foods that

are expertly paired with a wide selection of

wines and scotches.

The Hyde Park venue is also available

for private events. With separate rooms on

the main and upper floors, Crossings can

The upmarket pub fare at Crossings

includes an artisinal meatloaf sandwich

served with Guinness gravy (above),

fish and chips with house cut fries, and

BBQ braised beef ribs served with Mac n

cheese and market fresh vegetables
---
№ 51 | January/February 2015

accommodate small parties,

or groups of up to 100 guests.

McGrath says, "We host holiday

parties, receptions and even

weddings. Groups can use the

entire second floor where we

will set up a private bar and food

stations with our chef-created

hors d'hoeuvres." Crossings also

offers flexible set-priced menus.

Whether you're looking for

comfort food and a cold pint,

a mouth-watering burger and

fresh-cut fries, an elegant

seafood linguine with fine wine, or fun

and games over cocktails, music and pub

fare — on your own or with a large group

— Crossings offers a welcoming, homey

environment for everyone.

Fairway Pub Group is rebranding Maxwell McCoy's &

Crave at Richmond/Fanshawe Park Road as Practical

Henry's Public House and renovating the premises.

The new menu will be introduced in the spring.

Sample from the extensive

selection in the Whiskey Room

Crossings Pub and Eatery

Hyde Park: 1269 Hyde Park Road, London

519-472-3020

Lambeth: 2300 Wharncliffe Rd. S., London

519-652-4020

www.crossingsgrill.ca

sunday–thursday: 11 am–11 pm

friday–saturday: 11 am–1 am

LORI MADDIGAN is a London area freelance writer who

believes that good food inspires good writing.

Watch for news of

our new showroom

in Wingham, ON.

Opening 2015!

For cooking at its finest, we offer steam ovens, true convection ovens, gas and induction cooktops and a microwave/grill combination.

For cooling, we sell the top European brand – Liebherr – featuring everything from built-in refrigerators to

temperature-controlled wine coolers. We are excited to now be offering Smeg, from their retro '50s-style refrigerators and bar fridge

to their full line of sleek and modern stainless steel appliances.

THE EUROPEAN APPLIANCE STORE

Everything an appliance should be

39822 Belgrave Road, Belgrave ON – just North of Blyth www.theeuropeanappliancestore.com 1-877-543-2437
---
28 www.eatdrink.ca

road trips

Cleveland:

A Rock 'n' Roll Road Trip

№ 51 | January/February 2015

SPONSORED BY

By JANE ANTONIAK | Photography by BRUCE FYFE

Pretty much anyone born after

1950, and the children they

raised while playing rock 'n'

roll music in the car and family

room, will likely enjoy letting it roll on

down the highway to Cleveland for a

musical get-away road trip that also

features impressive foodie offerings.

Cleveland? Yes, Cleveland. Only five

hours of easy driving from London, it is

the home of the very impressive Rock

and Roll Hall of Fame and Museum,

It is also the home of a century old

indoor market, of Iron Chef Michael

Symon (who has several restaurants in

Cleveland and the surrounding area) and a

vibrant cultural/university neighbourhood.

Cleveland surprised positively in so many

ways that it is on the radar to return with our

young adult children for more music and

food experiences.

Love cannoli? Enjoy some at Theresa's,

in the historic West Side Market

A favourite destination for visitors to Cleveland:

The Rock and Roll Hall of Fame and Museum

The easiest way to get there from London

is to cross into Michigan at Sarnia/Port

Huron, by-pass Detroit while listening to

some Motown music and make your first pitstop

in Toledo, Ohio. True rock and roll fans

know what it is to crave munchies and they

won't want to miss getting a hot dog at Tony

Paco's, just off the 1-75. This neighbourhood

eatery has been serving up Hungarian style

food since 1932, including crunchy sweet

and hot pickles, deep fried pickles, chili,

cabbage rolls and its famous hot dogs. This

is the place made famous by M*A*S*H star

Jamie Farr a.k.a. Klinger (a native Toledoan)

who mentioned Tony Paco's hot dogs in

several episodes of the 1970's TV sit-com.

Now, Jamie Farr's autograph is on a cased

hot dog bun in the café — along with

hundreds of other celebrity autographed

buns on the walls. From musicians like Billy

Joel to American presidents and Hollywood

stars, the café has captured popular history

in this unique manner. "It's fun to work

here," says Shannon Brzezowski. "You never

know who will walk in the doors!" If you are

really hungry, opt for the MOAD: Mother Of

All Dogs which is the equivalent of four dogs,

topped with chili. Washed down with Tony

Paco's Anniversary Ale, it is just the ticket for

a classic American café experience.
---
COMMANDING

ATTENTION WITHOUT

SAYING A WORD.

The Lexus NX is a bold new take on the

Compact SUV. Expertly crafted – boasting

the first ever Lexus with a Turbo – NX is a

harmonious pairing of style and creativity,

embodying progressive luxury.

NX

$43,575

Win a Lexus Reflections President Package from Lexus of London!

This comprehensive appearance reconditioning service will completely rejuvenate your vehicle.

And while the fully-trained Appearance Technicians detail your vehicle,

you will be provided with a beautiful Lexus to drive for a weekend. Take an exciting Lexus Roadtrip!

Enter at www.facebook.com/eatdrinkmag

Contest ends February 22, 2015. Complete details online.

Congratulations Sam Cuttell,

winner of our

Nov/Dec Lexus Draw!
---
30 www.eatdrink.ca

The West Side Market has been catering to the appetites

of locals and tourists since 1840

Once in Cleveland, plan to give yourself

at least half a day at the Rock Hall. Situated

downtown near the shores of Lake Erie, the

Rock Hall has six levels that tell the story of

rock and roll music from the early influences

to hip-hop. There are special displays

on Elvis, the Beatles, the Rolling Stones,

Michael Jackson, the Who, the Supremes,

Beyoncé, Chuck Berry, Pink Floyd. Theatres

show films on the history of rock and also

present multi-media highlight presentations

on inductees. Special exhibits into 2015

include a first-person narrative of the

personal story of Paul Simon's life, which is

not to be missed.

To put the popularity of the Rock Hall

into perspective: 400,000 people visit it

annually according to Carl Harp, the Hall's

communications co-ordinator. In 2015

they expect to welcome their 10 millionth

guest. Yet, because of the spacious layout, it

doesn't seem crowded.

To fuel your visit to Cleveland, a trip to

the historic West Side Market is a must.

Operating since 1840, this is the home to

№ 51 | January/February 2015

everything from delicious warm, soft pita

sandwiches at Steve's Gyros to classic

cannoli at Theresa's. One entire hall sells

produce while a second, larger hall, offers

meats, cheeses, noodles, baked goods,

coffee, perogies, olive oils, popcorn,

Scottish pastries and so much more.

Perhaps this market is the inspiration

for internationally recognized restaurant

owner Chef Michael Symon. The Iron

Chef of the Food Network operates Lola

downtown and Lolita in funky Tremont.

The modern Mediterranean bistro with

an open kitchen and wood-burning

oven serves spectacular plates including

house cured meat trays of salami, chorizo,

pickled veggies and quail eggs. Symon

prides himself on sourcing local ingredients.

The charcuterie board at Lolita, Michael Symon's

restaurant in the chic Tremont neighbourhood

Even in early winter he had beets from a

garden program in Tremont called Refugee

Response. Modern Italian takes on quail

were delicious and diners are encouraged to

eat with their hands. This sleek and fun spot

is not to be missed and worth the drive from

downtown.

Culture lovers will flock to Cleveland's

Museum of Art near Case Western Reserve

University. The museum has free admission

and is located in the University Circle area,

where the Cleveland Orchestra makes its

home in Severance Hall. Nearby are some

interesting restaurants including L'Albatros

Brasserie + Bar. This French restaurant,

operated by Chef Zack Bruell, offers

contemporary takes on cassoulets, fish,

chicken and more. The barley with seasonal

vegetables was a nice change of pace and

very flavourful.

L'Albatros restaurant offers a contemporary

take on classic French cuisine
---
№ 51 | January/February 2015

If it's not music, food or culture that

brings you to Cleveland it very likely will be

professional sports entertainment. The city

streets are lined with stadiums and arenas,

where the uber-loyal fans of the Cavaliers

of the National Basketball Association, the

Browns of the National Football League and

the Indians of Major League Baseball come

to support their teams.

Yes, Cleveland! What a blast! A very worthwhile

rockin' road trip to beat the blahs!

www.thisiscleveland.com

www.rockhall.com

www.ClevelandArt.org

JANE ANTONIAK is a culinary road tripper for eatdrink

magazine by weekend and the Manager, Communications &

Media Relations at King's University College, London.

BRUCE FYFE is a regular contributing photographer for

eatdrink magazine and Librarian at Weldon Library, Western

University, London.

.

Join us for

Londonlicious

Jan. 23–Feb. 8

Reserve Now for

VALENTINE'S DAY!

117 King Street

across from Budweiser Gardens

519-434-2272 (CASA)

www.lacasaristorante.com

"Enjoy consistently

outstanding Italian and

Mediterranean cuisine

enhanced by local and

seasonal ingredients."

OPEN

Monday–Saturday

Lunch & Dinner

Destination for the food lover

Enjoy a unique night out at a

Jill's Table Cooking Class.

Open

Valentine's

Day!

Saturday, Feb. 14

OPEN

Robbie Burns

Day

Saturday, Jan. 24

Always Available

for Caterings!

115 King Street, London, ON

jillstable.ca 519-645-1335

Closed January & February

except as noted above.

Reopening in March.

Reservations Recommended.

519.238.6224

42 Ontario St. S., Grand Bend

www.finearestaurant.com
---
Cut

A

Above!

The Farm Boy full service meat counter is bursting with

flavourful ready to cook premium meats including handcrafted

artisan sausages, gourmet stuffed chicken breast and over 20

varieties of fresh kebabs, made fresh in our kitchen. And for

beef lovers, you'll love our Farm Boy Premium Beef; cut from

Alberta AAA, deeply marbled, trimmed beyond industry

standards and naturally aged a minimum of 14 days – it's all

we sell, and your complete satisfaction is guaranteed.

1045 Wellington Road

Store Hours: Mon-Fri 8AM - 9PM, Sat 8AM - 8PM, Sun 8AM - 7PM
---
100% Canadian, Deeply Marbled

PREMIUM

BEEF

• Cut from the top 20% of Alberta AAA beef

• Naturally aged a minimum of 14 days

• Deeply marbled and expertly trimmed

Farm Boy Freshly Made

ARTISAN

SAUSAGES

• Handcrafted fresh daily with lean Canadian

pork, chicken or turkey

• With mouthwatering ingredients like double

smoked bacon and Balderson aged cheddar

• None of the bad stuff like MSG or fillers

Sign up for our e-newsletter

Scan the code and sign up today!

farmboy.ca/london
---
34 www.eatdrink.ca

№ 51 | January/February 2015

The BUZZ ... new and notable

How's your appetite for winter? Getting full? Don't

give up yet — there's plenty to enjoy around

our region; restaurants, breweries, and inns, as

well as tourism associations, are offering events

and special winter promotions aplenty. Our regional tourism

websites have great ideas, and here are some from eatdrink:

The tenth annual London Wine & Food Show moves to

the Western Fair Agriplex January 15–17, for a bigger,

tastier show. The larger venue and streamlined ticketing

should help everyone have a great time sipping, chatting,

tasting and exploring. Tickets are only $10 for opening night

on Thursday (5pm–10:30pm), Friday is again the popular

Ladies Night (5pm–10:30pm), and Saturday is an all-day affair

(noon–10:30pm). Remember that the free seminars fill up

early, so check the schedules as soon as you arrive at the show.

And please drop by the eatdrink booth to enter our draw and

say hello! www.londonwineandfoodshow.com

Londonlicious will run January 23 to February 8 this year, with

restaurants offering 2-course lunches ($15 or $20) and 3-course

dinners ($25, $30, $35 & $40). Try new restaurants and indulge

yourself with some extra nights out at a bargain price. For a list

of participants and menus, go to www.londonlicious.ca.

The Habitual Chocolate micro-facility at Talbot and King is

relocating back to its site at the Western Fair Farmers' &

Artisans' Market. The business produces a large variety of

hand-crafted, single-origin chocolate that it retails by the bar

and in drinking-chocolate form. In addition, they make a full

line of fine confectionery and baker's chocolate for culinary

purposes. Swiss-trained lead chocolatier and pastry chef

Philippe Lehner has purchased the business from owner

Dave Cook. www.habitualchocolate.com

Taste of Huron is running a special Winter Dining Program

from February 18–28. Participants include Goderich's Burdan's

Red Cat Farm & Bakery and Samuels Hotel, the Benmiller

Inn & Spa, Bayfield's Black Dog Village Pub & Bistro,

Eddington's of Exeter, Blyth's Queens Bakery and Auburn's

Try Our NEW Grilled Seafood Menu Items!

Robinson Maple Products. Enjoy a 3-course lunch for $10–

$15 and 3-course dinners from $29–$39. www.tasteofhuron.ca

Benmiller Inn and Spa in Goderich offers a Snowflake

Package starting at $131 per person. That includes a special gift

($20 value) awaiting your arrival, over-night accommodations,

a three-course à la carte dinner for two and a full Huron County

breakfast in the morning. www.benmiller.ca

Explore the restaurants and culinary experiences of Essex County

during Winter Bites Restaurant Week from WindsorEats.

Indulge in 3-course meals at participating restaurants from Jan.

12–18 for only $10–$35. Over 25 restaurants serve up local cuisine

and flavours from around the globe. www.windsoreats.com

Take a drive to experience the Festival of Ice at participating

Essex Pelee Island Coast Wineries, for an array of ice, snow

and wine-filled activities. Follow the Wine Route to find ice

sculptures, skating, bonfires, mulled wine, tours, food and

best of all delicious Canadian Ice wine made in your backyard.

Admission is a canned food donation to the local food banks.

Also, you will be entered in a draw to win a gift basket featuring

wine from all participating wineries. February 7–8, noon–5 pm.

Celebrate for three weekends in January as the Niagara

Region is transformed into a wintry wonderland. Now in its

20th year, the Niagara Icewine Festival offers plenty for

every taste, from elegant gala evenings to irresistible wine

and food pairings and outdoor activities, from exploring Ice

Street Villages to marshmallow roasting along the famed

wine route. Dairy Farmers of Canada will present seminars

featuring unique artisanal cheeses that complement the

icewines. January 9-24. www.niagarawinefestival.com

Dead Elephant Ale from St. Thomas' Railway City Brewing

Company is now easier to buy. "With 80% of beer being

purchased through the beer store, we have had many customers

ask us if we were available at the Beer Store," notes Paul

Corriveau. "Now we can simply reply 'Yes'." Although Railway

City has been selling their Dead Elephant Ale in LCBO stores

ENJOY

Authentic

Greek Wines

& Beer

OPEN LATE!

Sundays 4–9

MON−SAT 11–10

EAT-IN OR

TAKE-OUT

572 Adelaide Street, London

519-434-6736

www.mykonosrestaurant.ca
---
№ 51 | January/February 2015 www.eatdrink.ca 35

throughout Ontario for 6 years, The Beer Store's "Pack-up" pricing

allows customer savings with purchases of more than a single

can. Dead Elephant Ale is available in singles, 4, 8, 16 or a case

of 24. Railway City brews eight distinct brands of premium craft

beer: Iron Spike (Blonde, Copper & Amber), Dead Elephant

Ale, Canada Southern Draft, Honey Elixir, Black Coal Stout

and, most recently, their Cranberry Festive Lager. They also

brew monthly limited one-off beers featuring locally-grown

ingredients. The Brewery features an onsite retail store with hourly

tours and samples, 7 days a week. www.railwaycitybrewing.com

If you enjoy preparing your meals with fresh local produce,

and are looking for a little inspiration, visit Foodland

Ontario's website. As well as food facts, availability and

nutrition guides, there are seasonal recipes, currently

including Steamed Apple Maple Pudding, All Ontario Frittata .

The Telegraph House, a heritage inn in Port Stanley, is

opening up its dining room on a limited part-time basis. The

liquor license should arrive in the new year, when Jon and

Vicci Coughlin will be offering dinner on Friday and Saturday

nights. Enjoy Lake Erie Yellow Perch, Jon's famous flat iron

steak and daily specials. The Coughlins encourage BYOW

(bring your own wine — commercially available only please).

Flying away this winter? On The Fly is a cozy café offering

breakfast, lunch and dinner, located post-security at London

Airport. Fully licenced, On the Fly is one of the newest regional

restaurants to feature beer from Railway City Brewing Co.

Downtown London …

London City Council unanimously passed the boundary

expansion of Downtown London, as of January 1, taking in

Richmond Row and the surrounding area all the way to the

north side of Oxford St. and to the Thames River. Richmond

Row will retain its unique identity under the Downtown

London umbrella. www.downtownlondon.ca

For over 30 years, the Chinese Canadian National Council has

celebrated Chinese New Year with the London community. As part

of its strategic plan to reach out to a larger community and raise

awareness of the Chinese arts, culture and heritage, Dragon Gala

has become an annual fundraising event supporting local and

international charitable organizations. This year's gala will be

held February 21 at the London Convention Centre.

Join members of the Ontario Wine Society at Aroma

International Restaurant's Wine Room on January 27,

for an inaugural tasting event. The evening begins at 6:30.

Contact OWSlondonchapter@rogers.com. for information and

reservations. www.fginternational.com

Wich is Wich is an upscale sandwich shop with an open

kitchen, opening soon at 125 King Street (across from the

Covent Garden Market). The 40-45 seat shop will offer dine

in, grab & go, and catering services. Customers will be able to

email their orders in and pick up orders. The business is the

www.davidsbistro.ca

ALWAYS

a 3-course

prix fixe menu

option

432 Richmond St.

at Carling • London
---
36 www.eatdrink.ca

brain-child of Elaine Sawyer (on-air radio show host) and her

son chef Josh Sawyer (formerly of the Byron Freehouse).

The Crystal Lounge is close to opening on Richmond Street,

across from the Grand Theatre in the old Maggie's Supper &

Jazz Club location, beside the Church Key Bistro-Pub.

The Big Mouth Deli has opened at 397 Clarence just south of

Dundas. The menu includes Montreal smoked meat sandwiches,

homemade soups, and salads. www.BigMouthDeli.ca

Every Monday is comedy night at The Poacher's Arms, when

many stand-up comedians hit the stage for the evening. Every

Tuesday at Poacher's is Trivia night. www.poachersarms.ca

Your love of all things Italian begins at

№ 51 | January/February 2015

Stratford …

Explore "Nouveau Ontario" cuisine in the beautiful kitchen of

The Bruce. Participate in interactive cooking classes, creating

a four-course meal, along with complementary wines.

Hands-on and designed for any age or ability, aprons and

towels are provided, just bring comfortable shoes and your

passion for cooking. Classes are offered only on 4 Sundays,

starting January 11. www.thebruce.ca

Bradshaws kicks off their annual January Sale on Friday

January 9th at 9:30am. This is the venerable Stratford retailer's

only sale of the year, and you'll find incredible deals. For the first

three days of the sale, almost the entire store is at least 20%

off, with some items at 30– 75% off. Special deals are arranged

with Bradshaws suppliers, so think ahead for future birthday,

anniversary, shower and wedding gifts. Coffee and snacks will

be served to keep your energy levels high! The sale lasts the

entire month. www.bradshawscanada.com

Come out for a night of fun at The Parlour Inn. On January

17th, at Murder Mystery Dinner Theatre: Survivor, Murder in the

Outback, the actors are right there amongst the audience. The

story unfolds throughout dinner and is a great event for parties

or couples. Another mystery awaits your solution on February 6,

The Valentines Day Masseur. www.theparlour.ca

Celebrate the Burns! Spend an evening at Mercer Hall, honouring

Scotland's most famous son: poet, author, soldier, and statesman.

And eat haggis of course! Begin at the bar with a complimentary

themed cocktail and snacks. Then proceed to the private dining

room for a sit down dinner. January 24th. www.mercerhall.com

Savour Stratford offers two cheese-related Tutored Tastings

at the Milky Whey Fine Cheese Shop. On January 24, Cider

and Cheese is an opportunity to discover something new for

your palate. January 31 is Italian Wine & Cheese Pairing. In

February, the Tutored Tastings will be Scotch and Chocolate,

Soft & Supple Cheese meets Fortified Libation, and Spanish

Wines & Cheese Pairings. www.themilkywhey.com

Stratford Chefs School is holding the Canadian Guest Chef

Dinner Series in February at The Prune Restaurant. All

dinners are $65 per person and include wine pairings. www.

stratfordchefschool.com

Stunning Views

Excellent Food

Ambiance Galore

CRONUT

Thursdays!

TUES, WED, FRI, SAT & SUN 11am–5pm

THURS 11–9 • Closed MON

Available for Private Events for up to 60

rhinolounge.ca | 519.850.5111

at

MUSEUM

LONDON

421 ridout st.

Book Now for

Valentine's Day

Café Open TUES to FRI, 11–4

SUN Brunch, 11–4

Dinner 3rd THURS of every month

Available Evenings for Private Events

theriverroom.ca | 519.850.2287
---
№ 51 | January/February 2015

CheeseFEST is a complimentary networking social event

that brings together dairy producers, workers in commercial

industry, and consumers. It takes place on the first evening of

the Canadian Dairy XPO (CDX). Features will include a massive

cheese buffet featuring cow, sheep, goat, Ayrshire and water

buffalo cheeses, a world-renowned cheese carver, local

wines and micro brews (cash bar). February 4, at The Rotary

Complex. www.dairyxpo.com

Mercer Hall's Supper Club attendees have fun with their

food! February 28th will see the Roaring Twenties revived

à la The Great Gatsby. Themed cocktails and snacks will be

followed by a dinner of four-plus courses. Themed attire is

encouraged — dress to impress! www.mercerhall.com

"Reasonably priced, fresh, well-executed

Ethiopian cuisine ..." — Bryan Lavery, eatdrink magazine

We want your

BUZZ!

Do you have culinary news or upcoming events

that you'd like people to know about?

eatdrink has thousands of readers across

Southwestern Ontario

Get in touch with us at

editor@eatdrink.ca

• Vegetarian

Options

• Takeout

• Catering

• Reservations

Recommended

ADDIS ABABA Restaurant

LUNCH Tues–Fri 11am–1pm

DINNER Tues–Fri 5–10pm • Sat 12–10pm • Sun 2–10pm

465 Dundas Street 519 433-4222

www.tgsaddisababarestaurant.com

142 fullarton at richmond
---
38 www.eatdrink.ca

№ 51 | January/February 2015

travel

Direct to The Big Apple

A foodie getaway to New York City

By JANE ANTONIAK | Photography by BRUCE FYFE

Feel like a Korean-Mexican fusion

burrito, loaded with spicy beef,

kimchi, rice and beans for lunch?

Followed by a slice of creamy

cheesecake? Maybe a late night slice of pizza

with tangy tomato, mozzarella, olive oil and

fresh basil? No place does street food better

than New York — where 10,000 food carts

and trucks serve up everything from jerk

chicken to waffles for very reasonable prices.

That kind of lunch is just a few hours away,

with the recent launch of United Airlines

direct service linking London and Newark

airports. You can leave London at 6 a.m.,be

on the ground in Newark by 7:30, hop on a

New Jersey transit train, and 20 minutes later

you could be in Penn Station, in the heart

of Manhattan. Grab a hand-rolled bagel at

Pick A Bagel on 8th Avenue & 53rd Street and

you're set for fun in the Big Apple!

The new flight service allows for an easy

get-away to some new foodie adventures over

two or three days. The return flight to London

leaves Newark at 8 p.m., so travellers can

have three full days in New York — which was

plenty for us as we packed in two culinary

walking tours, a Broadway play, a TV show

taping and a walk through Central Park. There

may have been a little shopping too!

Central Park

Home base after leaving Penn Station was

the newly renovated Row NYC Hotel, 700

8th Avenue in the heart of Broadway, two

blocks from Times Square and within walking

distance of Central Park and several TV

studios. This Hollywood themed

hotel was formerly The Milford

but re-opened as Row NYC after a

two-year, $140 million renovation

to the 1331 rooms, bar and lobby.

Claiming to be "more New York

than New York", the hotel features

wall murals of famous New York

scenes, including the food carts!

The breakfast pastries are beyond

fabulous — made by some

pretty famous Manhattan chefs

like Francois Payard. The late

Hungry customers line up for lunch at

the Korilla food truck
---
№ 51 | January/February 2015

night Neapolitan hand-stretched pizzas are

amazing. Row NYC has very clean, although

small, rooms (but who comes to New York to

spend time in the room?). The staff are super

friendly and combined with reasonable (for

New York) rates, this is a great location for a

quick get-away visit.

Even though the subways and trains

are easy to manoeuvre, the best way to

experience New York is on foot — especially

if you are searching for interesting bites and

beverages in unique neighbourhoods.

If you truly want a Korean-Mexican fusion

burrito, jerk chicken and the best Halal food

then the Food Cart walking tour given by

Turnstile Tours is not only tasty, filling and

fun but also provides an interesting history

of street food in New York. Over several

hours our guide, Brian Hoffman, (eatthisny.

com) a food blogger, actor and street food

fanatic gives a passionate overview of the

community of food carts and trucks. He

also promises "no hot dogs, pretzels or

chestnuts" along the way.

A second culinary walking tour with

New York City Urban Adventures took us

deep into the Lower East Side where, over

three hours, we visited and tasted our way

through Chinatown, Little Italy, Nolita and

the Bowery. This tour, Tenements, Tales

and Tastes, was expertly led by Nikki Padilla

who not only spoke Italian in Little Italy but

greatly respected the story of immigration,

being an Italian/Puerto Rican herself. On this

tour we saw a Chinese funeral procession, a

bride buying flowers outside New York City

Hall, and avant-garde fashions in SoHo and

along the way enjoyed piping fresh pork

dumplings (the best deal in the city at five for

$1!) prosciutto and fresh mozzarella, creamy

baked knish from a 1910 shop, and oven-fresh

pretzels from Loreley Biergarten.

All this walking and sampling explains

why this trip to New York was not about

destination dining but instead about

touring and tasting. 'Though we did wind

our way to a table one night, for a "Woody

Allen" sandwich at Carnegie Deli on 7th

Ave at 53rd. The sandwich "made famous"

in Broadway Danny Rose is a huge, as in

really huge, tower of pastrami and corned

beef on rye. This must be shared! With a

side of light, crispy onion rings — we were

glad we were doing a lot of walking — this

was a delectable treat along with a mug of

Brooklyn lager.

SUNDAY BRUNCH

11am−2pm

Sun–Tues 11am–11pm, Wed/Thurs 11am–midnight, Fri/Sat 11am–1am

A Taste of Europe since 1974

• Private Rooms

• Free Room Rental

• Wi-Fi

• Murder Mysteries

• Holiday Parties

40YEAR

Anniversary

122 Carling Street (at Talbot, around the corner from Budweiser Gardens)

519-679-9940

Open Daily for Dinner

www.marienbad.ca

Lunch Monday–Saturday
---
№ 51 | January/February 2015

One of the few original Jewish restaurants remaining in

the Lower East Side, this knishery has been operating

since 1890

At times one must take a break and sit in

New York. Why not be entertained at the

same time? Free tickets are available for TV

show tapings and we managed to get two

online (in advance) for The Late Show with

David Letterman. On occasion, tickets are

given away outside the Ed Sullivan Theatre.

This is an excellent show that features great

music by the Paul Schaffer Orchestra. I had

to cheer for the guy from my hometown of

Thunder Bay! Plus, it was fun to hang out

prior to the taping in The Three Monkey's

Bar, where local beers were on tap.

Given ROW NYC Hotel's

location, a Broadway play was

another natural choice. Just

around the corner from the

hotel is the Neil Simon Theatre

where Sting's new musical,

The Last Ship, opened in late

October. If you like Sting you

will really enjoy this musical

inspired by his childhood in

Wallsend, England. He grew

up near the shipyards and

the musical takes us back to

a time of change in industrial

England. Sting himself is going

to guest perform in the musical

in early January 2015.

The delightful thing about New York is

that something new awaits around every

corner. Whether it's a stroll through the

impressive New York Public Library or a

visit to Strawberry Fields in Central Park, no

matter which direction you head you will

find something of interest. In many ways,

the trip can't be planned, as plans quickly

change in the city.

One thing is for certain, you won't go

home hungry.

We departed Penn Station, with bagels

and lox in our bags, around 5 p.m. and

within three stops were back at Newark

airport for the flight home. It is so lovely to

take one direct flight back to London, having

only a few people in line in customs, and be

back in your car home by 10 p.m. Whirlwind?

Yes. But isn't that what going to New York

is all about? That, and a great bagel. And

a Korean-Mexican burrito. And some

prosciutto. And those dumplings….

www.flylondon.ca

www.rownyc.com

www.turnstiletours.com

www.newyorkcityurbanadventures.com

www.urbanoyster.com

JANE ANTONIAK is a culinary travel writer for eatdrink

who is glad to do a lot of walking when tasting her way through

a city. She is also Manager, Communications & Media Relations,

King's University College.

BRUCE FYFE was particularly pleased to take photos of the

John Lennon memorial at Central Park. He is a regular travel

photographer for eatdrink and a full-time Librarian, Weldon

Library, Western U.

ROW NYC offers contemporary accommodations

conveniently located in the heart of Manhattan
---
№ 51 | January/February 2015

February 18–28, 2015

$ 29- $ 39 $ 10- $ 15

3 course dinner 3 course lunch

PARTICIPATING RESTAURANTS
---
42 www.eatdrink.ca

№ 51 | January/February 2015

in the garden

Sprouts: Super Foods, Super Fun!

By ALLAN WATTS and RICK WEINGARDEN

As winter takes hold, we crave

things that are good for us.

Our senses direct us to choose

healthier foods, and salads

take on a whole new relevance. The

availability of fresh and local becomes

more challenging, but not impossible!

Sprouts are an economical, easy to grow

and nutritious option.

Sprouts are germinated seeds in their

infancy. They are consumed before they

develop any leaves. For this reason,

they don't require any special light or

temperature to grow at this early stage.

Once sprouted, and ready to eat - usually

in only 4 days - they can be refrigerated for

a few days and stay very fresh.

Consider sprouts as a new ingredient

in your greens or fresh food arsenal. Yes,

they can be eaten by themselves, but

even better, they add texture and flavour

to a variety of dishes. On their own they

do have an earthy flavour profile. It is

important to taste and appreciate different

types of sprouts. This tasting will help

define the quantity and type you want to

add to other dishes. Use your imagination,

as the possibilities are unlimited. Small seed

varieties (Alfalfa, Broccoli, Kale, Clover)

sprouted, are very fine and are delicious

used in wraps, sandwiches and smoothies,

dolloped into cream soups, stirred into egg

Sprouts flavour profiles include this Spicy Lentil (left) and Broccoli Brassica Mix

Crunchy Bean Mix

Salad with Crunchy Bean Mix

dishes, or in salads. Larger seed selections

(Peas, Beans, Lentils) offer more texture and

crunch, and are especially great dressed in a

salad. Sprouted Peas have a delicious, fresh

pea taste and crunch. You don't want to

'cook' your sprouts, as they will lose a great

deal of their

nutritional

value.

After trying

many sprouters,

a favourite

one is the

'Easy Sprout'.

It's patented

design makes

sprouting

truly easy

and fun. With

an inner seed
---
№ 51 | January/February 2015 www.eatdrink.ca 43

The patented design of "Easy Sprout" makes growing

sprouts simple and fun

chamber, the unit allows for air circulation

for the seeds while sprouting, and produces

perfect sprouts every time. The size is also

very convenient to produce a good amount

per batch, and it doesn't take up much

room. Many of us have tried the mason jar

method and if you are comfortable with a

very exacting routine, it works just fine. The

convenience of Easy Sprout allows you to

process two batches at once, which helps to

maintain a constant supply.

When choosing your sprouting seed,

begin with fresh, healthy, organic seed.

Consider that you are going to eat this seed

and you want to know its pedigree! One

company, Mumm's Sprouting Seeds, is a

Canadian company offering a great selection

of single seed varieties and seed mixes. They

also only sell certified organic seed. This

means non-GMO seed. A popular selection

of Mumm's Seed is offered at our booth at

Western Fair Farmer's Market.

Sprouts are a super-food. While Broccoli

sprouts or the brassica family are considered

to be the most powerful, nutritionally

speaking, Alfalfa sprouts have a high

antioxidant capacity. Each family of seed

offers specific health benefits that may be

helpful for you or your family. However, it's

important to remember that they are all very

good for us and each also offers different

flavour experiences. Enjoy the variety of

seeds or seed mixes offered to keep your

interest "fresh." For more information on the

health benefits visit www.sprouting.com,

Mumm's Sprouting Seeds site.

Although the use of sprouts as a food

source for man is as old as man's use of

seeds, it is only in recent times that science

has begun to unravel the chemistry of a

sprouting seed, and its potential significance

in both human and animal nutrition.

Although a dry seed is characterized by

a remarkably low metabolic rate, just

moistening of the seed triggers tremendous

and complex changes.

Anyone who enjoys gardening will

enjoy 'growing' sprouts. Any cook will also

appreciate the freshness of growing your

own and the variety of flavours. Children

also really like the idea that they can help

produce food — good food, for the family.

It has been a popular project choice that

starts families on a path to better eating.

Grow your own food on your counter

this winter. Enjoy your sprouts and your

experience.

RICK WEINGARDEN and ALLAN WATTS own

Anything Grows SEED Co. (www.anythinggrows.com). They can

be found at the Western Fair Farmers' & Artisans' Market on

Saturdays, and at various gardening events around the region.
---
44 www.eatdrink.ca

№ 51 | January/February 2015

wine

An EPIC Wine Tasting

At the London Wine & Food Show

By GARY KILLOPS

Wineries from Lake Erie North

Shore will be uncorking their

passion at the 10th annual

London Wine & Food Show at

Western Fair this January. This will be the

fourth year the group of wineries, known as

Essex Pelee Island Coast or EPIC wineries

have brought their wines to the London/

Middlesex market.

"The proximity between London and

Essex County makes it close enough to

make a day trip out of it," explains Melissa

Muscedere of Muscedere Vineyards. Tom

O'Brien, owner of Cooper's Hawk Vineyards

agrees, "London is close to EPIC wine

country. We want the folks of London to

sample our wine, then come visit us."

The wineries of Lake Erie North Shore are

less than a two-hour drive from London.

Leave the house around 9 a.m., and arrive

in the region around 11, when many of the

wineries open for business. Visit three or

four wineries and be back home around 7 in

the evening. The perfect day trip!

Jody Goslin, Master Taster at Oxley Estate

Winery and usually the one pouring Oxley's

wines at the London Wine & Food Show says,

"This is our third year attending. Every year,

appreciation for our wine region continues

to expand. More and more people in London

and surrounding area are learning just how

amazing our wines are, and how fabulous

our region is." Goslin

goes on to say "people

at the London Wine

& Food Show become

interested in our story,

and then they visit our

winery the following

summer. That's just as

much our reward as it

is theirs."

Oxley Estate Winery

will be showcasing their

latest wine release called

"Ripper Red" at the show.

This wine is a fascinating

blend of Regent and

Merlot grapes. Dark ripe

fruit notes with hints of

vanilla, a full-bodied red

wine offering a savoury

lip smacking finish. A

must try at the show!

The history of the Regent grape at Oxley

is interesting. This dark-skinned varietal,

originally developed in Germany, was the

first wine bottled by Oxley. Regent is not

well-known by Ontario wine drinkers and

Oxley has a plan to change that. Regent

offers deep dark colour, soft velvety tannins

and fruit forward notes to the wine.

Muscedere Vineyards will be pouring

several soon-to-be-released wines at the

Wine & Food Show. They will offer tastings

of their 2011 Syrah, 2012 Pinot Noir and 2013

Sauvignon Blanc. After spending a couple of

years in the barrel, the Syrah has been aging

in stainless steel tanks waiting to be bottled.

I tasted this wine with Rob Muscedere this

past August and we both agree that this is

the best Syrah yet from the family vineyard.

Classic white pepper notes, cherry fruit

and a spicy finish. The

2013 Sauvignon Blanc

offers intense citrus and

gooseberry notes. It's a

rich and complex wine

with impeccable acidity.

Cooper's Hawk Vineyards

will be pouring

several interesting

wines at the show that

will be showcased at

LCBO boutique stores in

late September.

Talon Red, a blend of Cabernet Franc,

Merlot, Baco, Cabernet Sauvignon and

Marechal Foch, is a complex, well-structured

wine that demands attention. Layered aromas
---
№ 51 | January/February 2015 www.eatdrink.ca 45

and flavours of dark fruit, leather, cedar, vanilla

and pepper spice may be discovered in a glass

of this wine. This wine has been in the bottle a

little over a year and is drinking well right now.

Talon White is a captivating blend of

Auxerrios, Riesling, Gewürztraminer,

Viognier, Savagnin,

and Sauvignon Blanc.

Compelling aromas in

the glass invite a taste.

Intriguing and intricate

citrus fruit and flowery

notes balanced with

by lively acidity that

supports a long finish. A

great sipping wine!

Viewpointe Estate

Winery will be offering

two new wine releases that will also be

available at the LCBO in February. Its

2011 Big Bluff Red is a compelling blend

of Pinot Noir, Merlot, Cabernet Franc and

Petit Verdot. Claudia Taylor, winemaker

at Viewpointe, says the winery will also

offer tastings of its 2013 Big Bluff White.

Taylor describes this wine as a luscious

blend of Chardonnay,

Sauvignon Blanc and

Auxerrois. In addition

to the new wine

releases, Viewpointe

Estate Winery will

be pouring several

of its award-winning

Cabernet Francs.

The London Wine &

Food Show has allowed

wine lovers to discover

the wineries of Lake

Erie North Shore. The wineries suggest a visit

to the region over the weekend of February

7th and 8th for their annual Festival of Ice, an

EPIC weekend wine tour where each winery

will present a unique winter experience, from

ice-skating, a snowman-building contest and

professional ice sculpture carvings. Wines

from the region will be paired with local

culinary delights.

GARY KILLOPS is a certified wine geek who loves to talk,

taste and write about wine. He shares his wine tasting notes on

EssexWineReview.com

You could ride in one of these vehicles

or ...

You can relax and leave the driving

to us!

Diamondz DD provides car and driver retrieval service

7 days a week, 364 days a year,

in an effort to offset impaired driving statistics.

Call us for information on corporate retainers

and Special Event packages!

519-457-9700

www.diamondzdd.com

Sunday to Thursday: 6pm–4am • Friday & Saturday: 5pm–4am

London's Celebration Destination

31

New Wine List!

NEW

MENU

Continental cuisine – with a

contemporary twist! – and Tableside Cooking.

From an amazing Caesar Salad to flaming coffees,

Michael's makes your celebration an event.

Lunch Weekdays

Dinner 7 Nights a Week

1 York Street

(just West of Ridout)

519-672-0111

MICHAEL'S ON THE THAMES

Baby Grand Pianist

Complimentary On-Site Parking

www.michaelsonthethames.com
---
46 www.eatdrink.ca

№ 51 | January/February 2015

BEER MATTERS

beer matters

Letting the Smoke Get In Your Beer

Beer & Cigar Pairing

By THE MALT MONK

At the risk of offending some, I'm

writing about my two favourite

weaknesses: craft beers and handcrafted

cigars. One of the emerging

trends in crafted beer circles is pairings with

hand-crafted cigars. If you enjoy a fine cigar

with a brandy or port, you will probably

enjoy that cigar with an intense artisanal ale

as well. When you get a great brew matched

with the right cigar, it's a sensory banquet.

I don't pretend to be a cigar expert, nor will

I recommend specific types — cigar taste is

as divergent as beer styles. I'll leave that to

the cigar magazines or your local cigar store

owner's recommendations. However, you

only need the basics of cigar configurations

and flavours to get started.

Size Counts

Cigar length is relevant to the character of

the smoke. Length ranges from 4 to over 7

inches and width (ring gauge) range from

.25 inch to over an inch in diameter. Cigars

with smaller diameters provide a more

intense smoke. Conversely, cigars with

larger diameters produce smoke that is fuller

in flavour. When pairing cigars to beer, the

general rule of thumb is this: the lighter and

more subtle the character of the beer, the

smaller and more lightly coloured the cigar

should be.

Wrap That Rascal

The cigar's wrapper is a large part of the cigar's

flavour/aroma character. Typically, the darker

the wrapper, the more full-bodied, earthy and

robust the cigar, and conversely, the lighter the

wrapper's colour, the lighter the taste will be.

The wrapper types you need to know about

range from light to dark as follows:
---
№ 51 | January/February 2015 www.eatdrink.ca 47

• Candela (light green, herbal, herbaceous,

leafy);

• Claro (light yellow/brown, toasty, woody,

light spice);

• Colorado Claro (light brown, toasty-cocoa);

• Colorado (medium brown, roasty, cocoacoffee);

• Colorado Maduro (fudge brown, roasted

cocoa nibs);

• Maduro (dark porter brown);

• Oscuro (blackish brown, deeply earthy

and robust).

Stuffing Matters

Blended filler tobaccos create a wide variety

of distinct impressions when combusted. A

complex conjugation of flavours is derived

from fillers blended from various growing

regions, curing styles and climates. Here's a

short, rough summary:

• Dominican (generally a milder, toasty,

even sweet tobacco, my favourite fill to

pair with a Colorado wrapper and light

and amber ales, even some fruit beers);

• Honduran (slightly more full-bodied or

spicy than Dominican, my go-to filler for

imperial wheat ales and hellerbock);

• Havana (medium- to full-bodied, goes well

with most dark or tawny Trappist ales);

• Jamaica (mild, lighter than Dominican, a

spicy filler for specialty ales like barreled

strong and spiced ales);

• Maduro (dark, deeply cured tobacco

ranges from sweet and mild to powerfully

rich and heavy with earthy-chocolatecoffee

flavours, a natural for Imperial

stouts, double porters, smoked porters,

coffee stouts and dunkler doppelbocks).

Matching

Pairing the subtle and powerful flavours of craft

beer and cigars isn't much different than with

foods. You want either complimentary or similar

(sympathetic) flavour pairings, seeking a

harmonious relationship between the flavours

of your smoke and the malt and hops, which

are all competing for your palate and nose.

Neither should overpower the other. Common

ground can be your best friend but pairings

based on contrasting flavours work well too.

One of my favourite pairings is a Madurowrapped

Reyes classic and a Trappist dubbel.

The roasty coffee notes coming from the cigar

contrast with the dark ripe fruits and toffee

One of 2014's

TOP 10

Beer Bars

in Canada
---
48 www.eatdrink.ca

tones found in most big ales. The contrasting

flavours enhance the character of the other.

Taste, Don't Inhale, Sip, Don't Gulp

Remember that this is an act of pure

sensation. Draw on the cigar slowly and run

the smoke over your tongue and through

the nose, then sip and savour the brew. You

need the time and space to relish this guilty

Malt Monk's Pick o' the Month

A miraculous thing happened for

me this year: my favourite beer

style and my favourite craft brewer

got together and produced what

is (for me) the best artisanal dark

weizenbock this side of the Atlantic.

My go-to beer was Schneider

Aventinus, an authentic Munich

dunkler doppelbock weizen. But it

now has a challenger in Side Launch

Brewing's Colossus Dopplebock

Dunkelweizen. Michael Hancock,

formerly of Denison's fame, has

really come into his prime as a

brewing artisan and one taste of this

delicious creation affirms that. The pour from

№ 51 | January/February 2015

pleasure — cigar smoking is not really an

indoor activity! I enjoy a cigar and brew

pairing on my patio, or at the campsite, or

after a great meal with a dark dessert beer in

front of the fireplace. You have to discover

that special place for yourself, just as you

must find a favourite cigar that sets the whole

experience up. Cheers and enjoy your search.

the tap puts a turbid cola-coloured

brew in the glass with a puffy offwhite

cap which lasts well. Aromas

and tastes of clove, succulent fruit

and bubble gum meet roasty-cocoa

and coffee tones, with a dry, clean

finish. What a brew! I have reserved

a fine Puros Indios Pyramid to enjoy

with a bottle of this fine Weizenbock

on my next ice fishing trip.

THE MALT MONK is the alter ego of D.R.

Hammond, a passionate supporter of craft beer

culture. He invites readers to join in the dialogue at

maltmonksbeerblog.wordpress.com/

Valentine's

Day Dinner

Book your romantic

with us!

Special Valentine

Menu

on February 14th

JOIN US FOR

LONDONLICIOUS!

Express Lunch?

Fine Dinner?

Romantic Dinner?

Family Dinner?

Take-Out?

Delivery?

Gift Cards?

Good Food?

Excellent Service?

Reserve Now!

Corporate Meetings | Multimedia Projector | Private Events

519-601-7252

428 Clarence Street, London

www.rajafinedining.ca
---
№ 51 | January/February 2015 www.eatdrink.ca 49

cookbooks

The Skinnytaste Cookbook

By Gina Homolka with Heather K. Jones

Review and Recipe Selections by TRACY TURLIN

Have you ever indulged in so much

rich holiday food that you crave

lettuce for days afterwards? Now

that it's all over I can admit that

I've hit my official fruitcake limit (don't tell

anyone, I love the stuff). Fortunately, I was

saved from a week of iceberg blandness by

a copy of The Skinnytaste Cookbook. (Gina

Homolka with Heather K. Jones, R.D.;

Clarkson Potter; 2014)

Gina Homolka started the popular blog

skinnytaste.com in 2008. Since then, she's

been combining her graphic arts background

with her love of food that doesn't add to

her waistline. Her approach is based on the

Weight Watchers philosophy that healthy

eating is a lifestyle rather than a diet, and

allows everything in moderation. She avoids

processed foods in favour of fresh, seasonal

ingredients and practices portion control.

These changes allow food lovers to eat

healthily while still enjoying food.

In the introduction, she addresses all

the reasons we give for not cooking our

own healthy meals. Then she busts

them wide open. The Skinnytaste

Cookbook includes a key that lets

you easily identify recipes that

are suitable for vegetarian

or gluten-free diets. They

also show us which recipes

are quick to make, freezerfriendly

or suitable for the

slow cooker. There she goes,

taking away those excuses.

It is also essential that

skinnytaste recipes work for

the whole family. A plan that

involves cooking two dinners

every day isn't likely to last

very long. This isn't "diet" food.

In addition to over 100 great

recipes, Gina teams up with Registered

Dietician Heather K. Jones

to offer

nutritional

advice and

food facts

that will

simplify

healthy

eating.

Jones has a

holistic approach to health.

She understands that food choices are about

a lot more than just groceries.

Photographer Penny De Los Santos did

a great job with the pictures in this book.

The first time I browsed through it, I marked

at least a half-dozen recipes that looked

delectable. I didn't find a lot of dishes

that were new to me but I found a lot of

favourites that were considerably healthier

than their traditional recipes.

The first dish I tried was the Sweet 'n'

Spicy Sriracha-Glazed Salmon. I was so

pleased to find a delicious salmon dish

that wasn't glazed with maple syrup. Don't

get me wrong, I love the stuff but if

you watch any cooking shows

on television, you'd think that

Canadians eat nothing but

salmon, blueberries and

maple syrup. With a side

of "Canadian" bacon.

Homolka's recipe uses

honey for sweetness but the

sriracha is the key for me.

The spicy sauce balances the

rich fattiness of the fish and

is perfectly countered by the

Gina Homolka honey.

Too-Good-To-Be-True

Baked Potato Soup is one

of skinnytaste.com's most

popular recipes and it's easy

to see why. This tastes freakishly

like a decadent, loaded baked potato
---
50 www.eatdrink.ca

but has all the comfort of a bowl of soup.

I've always been a bit wary of soup that's

supposed to taste like some other food - if

I wanted pizza, I'd eat pizza - but this one

really worked well for me.

There are a few salads in this book that are

so hearty, the name salad seems misleading.

The BLT Salad with Avocado, and the Buffalo

Chicken Salad seem so much like pub grub

that I wished the author had included a beer

in the calorie count.

№ 51 | January/February 2015

There's much to love in The Skinnytaste

Cookbook. Most of all, I'm grateful to the

author for giving me back the chance to

eat deliciously real food even after the

overindulgence of the holiday season. It

feels like I found an extra Christmas gift

hidden under the back of the tree.

TRACY TURLIN is a freelance writer and dog groomer in

London. Reach her at tracyturlin@gmail.com

Recipes courtesy of The Skinnytaste Cookbook (Gina Homolka with Heather K. Jones, R.D.; Clarkson Potter; 2014)

Bonus Recipe from the

Skinnytaste.com website,

an excellent resource for

recipes and more.
---
№ 51 | January/February 2015

One Pot Cheesy

Turkey Taco Chili Mac

Serves 8

Turkey chili with taco seasoning, beans, and pasta

shells topped with cheese – this is pure comfort in a

bowl and it's packed with protein and fiber so it fills

you up. Bonus points for only dirtying one pot!

FOR THE HOMEMADE TACO SEASONING

1 ½ tsp garlic powder

1 ½ tsp cumin

1 tsp kosher salt

1 ½ tsp chili powder

1 ½ tsp paprika

½ tsp oregano

FOR THE CHILI

1.3 lb 93% lean ground turkey

1 medium onion, chopped

3 cloves minced garlic

1 red bell pepper, chopped

10 oz can rotel tomatoes with green chilies

14.5 oz can pink or red beans, drained

8 oz tomato sauce

½ can (8 oz) fat-free refried beans

1 (15 oz can) reduced sodium chicken broth*

1 ¾ cups water

8 oz gluten-free shells* (or whole wheat)

¾ cup part-skim shredded sharp cheddar

cheese*

2 tbsp fresh cilantro, chopped

2 tbsp chopped scallions

*Check labels for gluten-free

Heat a large Dutch oven or pot with a fitted lid over

medium-high heat and spray with oil, brown the

turkey breaking it up with a wooden spoon as it

cooks. When cooked through, add the onions, garlic,

pepper and taco seasoning; cook 2-3 minutes.

Add the canned tomatoes, beans, tomato sauce,

refried beans, chicken broth and water. Bring to a

boil, cover and simmer about 15 minutes. Adjust salt

to taste.

Stir in the uncooked pasta and simmer uncovered

over medium heat until al dente, about 6 minutes or

according to package directions.

Remove the pot from heat and top with the cheese,

cover and let sit for about 2-3 minutes, until the

cheese melts. Serve immediately, garnished with

fresh cilantro and scallions.

Per Serving (1 generous cup)

Calories 341

Protein 24 g

Fat 9 g

Sugar 4 g

Carbohydrate 40 g Sodium 893 mg

Fiber 8.5 g

Cholesterol 60 mg

Trust...

Taste...

Quality...

Comfort

Food

Specialties

Open six days a week.

Hensall, Ontario

Just off Hwy 4, 45 minutes north of London.

Available in London at

Saucy: Meats & So Much More

at Western Fair Farmers' Market

on Saturdays!

www.metzgermeats.com

519-262-3130

Local Beef • Pork • Lamb • Poultry

Specialty European Meat Products
---
52 www.eatdrink.ca

Sweet 'n' Spicy Sriracha-Glazed Salmon

Serves 4

This is one of my favorite ways to prepare

salmon. The marinade in this recipe is the

perfect combination of spicy, sweet, and

savoury - in fact, I also love to use it with

steaks or chicken. The Sriracha sauce (aka

rooster sauce) is a must, and you can find it

in the Asian section of most supermarkets.

№ 51 | January/February 2015

¼ cup reduced-sodium soy sauce (or tamari* for

gluten-free)

2 tablespoons honey

1 tablespoon rice vinegar

1 tablespoon Sriracha sauce (or to taste)

1 tablespoon grated fresh ginger

1 tablespoon minced garlic

1 pound wild salmon fillet,

cut into 4 (4-ounce)

pieces

1 ½ teaspoons sesame oil

2 tablespoons finely

chopped scallions for

garnish

*Read the label to be sure this

product is gluten-free.

In a 1-gallon zip-top plastic

bag, combine the soy

sauce, honey, vinegar,

Sriracha, ginger, and

garlic. Add the salmon,

toss to coat evenly, and

refrigerate for at least 1

hour, or up to 8 hours,

turning the fish once.

Remove the salmon from

the bag, reserving the

marinade. Heat a large

sauté pan over mediumhigh

heat and add the

sesame oil. Rotate the pan

to coat the bottom evenly

and add the salmon. Cook

until one side of the fish is

browned, about 2 minutes.

Flip the salmon and cook

until the other side browns,

2 more minutes.

Reduce the heat to low

and pour in the reserved

marinade. Cover and cook

until the fish is cooked

through, 4 to 5 minutes.

Place a piece of salmon on

each of 4 serving plates

and sprinkle with the

scallions.

Per Serving (1 Piece)

Calories 229

Fat 8.5 G

Saturated Fat 1.5 G

Cholesterol 51 Mg

Carbohydrate 12 G

Fiber 0.5G

Protein 26 G

Sugars 9 G

Sodium 587 Mg

PERFECT PAIRINGS

This is perfect served over brown rice with

Roasted Sesame Green Beans (page 272). For a

fantastic, quick, low-carb option, I make zucchini

noodles. Use a spiralizer or mandoline fitted

with a julienne blade to cut the zucchini into

spaghetti-like strands, then sauté them with a

little sesame oil and garlic for 2 minutes.
---
№ 51 | January/February 2015 www.eatdrink.ca 53

Too-Good-To-Be-True Baked Potato Soup

Serves 5

This soup is one of my most

popular recipes on Skinnytaste.

It offers everything you love

about a baked potato in

soup form! In fact, a fan once

described it as a "warm bowl

of awesomeness." You can

totally enjoy it without the guilt

because it's soooo much lighter

than a baked potato. That's

because I hide some cauliflower

in there, which gives the great

taste and texture for fewer

calories.

2 medium russet (baking)

potatoes, about 6 ounces

each

3 ½ cups (16 ounces)

cauliflower florets (from 1

small head)

1 ½ cups Swanson 33% less

sodium chicken broth*

1 ½ cups 1% reduced-fat milk

½ cup light sour cream

6 tablespoons chopped fresh

chives

¾ teaspoon kosher salt

Freshly cracked black pepper

10 tablespoons shredded

reduced-fat sharp cheddar

cheese

3 slices center-cut bacon,

cooked and crumbled

*Read the label to be sure this

product is gluten-free.

Pierce the potatoes all over

with a fork and microwave on high for 5 minutes.

Turn them over and microwave until tender, 3 to 5

minutes longer. (Alternatively, bake at 400° F for 1

hour or until tender.) Let cool. When cool enough to

handle, peel and coarsely chop the potatoes.

Set a steamer basket in a large pot and fill with

about 1 inch of water. Bring the water to a boil

over high heat. Add the cauliflower, cover, and

steam until tender, 5 to 6

minutes. Drain, remove the

steamer basket, and return the

cauliflower to the pot.

Set the pot over medium heat

and add the broth, milk, and

potatoes. Bring to a boil. Use

an immersion blender to purée

the soup until smooth. Add

the sour cream, 3 tablespoons

of the chives and

season with the

salt and black pepper

to taste. Reduce the heat to low and cook, stirring

occasionally, until thick and creamy, 8 to 10 minutes.

Remove the pot from the heat. Ladle the soup

into 5 soup bowls. Top each with 2 tablespoons of

cheese, and divide the remaining chives and the

bacon among them. Serve hot.

Per Serving (1 Generous Cup)

Calories 200

Fat 7 G

Saturated Fat 3 G

Cholesterol 17 Mg

Carbohydrate 23 G

Fiber 3.5G

Protein 14 G

Sugars 6 G

Sodium 323 Mg
---
54 www.eatdrink.ca

№ 51 | January/February 2015

books

A Comedian Stands Up for Food

Food: A Love Story by Jim Gaffigan

Review by DARIN COOK

Stand-up comedian Jim Gaffigan may

not be a chef, or even know how to

cook much of anything outside of a

microwave, but that shouldn't make

his opinions in Food: A Love Story (Crown

Archetype, 2014, $31.00) any less reliable.

He has a passion for food equivalent to any

gastronome, even though his tastes tend to

be less haute cuisine and more hot dog. His

enthusiasm is evident in statements such

as: "A world without cheeseburgers is not

a reality I want to partake in," and "It is a

known fact that it is impossible to eat quality

Mexican food and not be in a good mood

afterward."

Gaffigan insists that he is not part of

foodie culture, and he simply claims to

be an eatie, which he defines as someone

who continually looks for the best meal in

the near vicinity. He admits, "I often find

myself thinking about what I will eat at my

next meal while I'm in the middle of eating

a meal." He doesn't have the stamina of

foodies searching for the next best dish,

and his only research comes from his own

meals with food that he really likes. As a

comedian travelling the country, he has

eaten everywhere and has devised a United

States map based on food, with regions such

as Coffeeland on the

Pacific Northwest coast

and Mexican Foodland

in the Southwest states.

Although he does

address a wide

spectrum of cuisine,

Gaffigan prefers junk

food. Super Bowl

Sunday is not so much

about football, as a

culmination of all the

unhealthy food in one

sitting. He approaches

food with

wild

abandon.

When

eating

a pint

of ice

cream

at

home,

he always

tosses the lid in the

garbage. He knows he won't be

needing it because he's not a quitter and

won't stop until the carton is empty. He

approaches an All-You-Can-Eat buffet as a

challenge, and doesn't want to let the buffet

down by not eating enough. He feels bad if

he leaves when he's full because that would

make it an All-You-Want-To-Eat buffet. Or

picking only a few healthy options off the

buffet would make it an All-You-Should-Eat

buffet. Only by emphasizing the CAN does

he get his money's worth. He has such an

attachment to pizza that he once considered

a paternity test to see if two of his children

were actually his own, after they told him

that Chicago deep-dish pizza was weird

because it was different than flat pizza.

Even though Gaffigan

stresses that being

slightly overweight

gives him experience in

the field, some readers

may disagree with his

assessments, given

that he has no problem

with pigs in a blanket,

but has a strong dislike

of all seafood: lobster

and shrimp are too

Jim Gaffigan close to bugs; fish are

just too fishy tasting;
---
№ 51 | January/February 2015

using a hammer and a nutcracker to get

meat out of a crab should be a red flag that

it's not worth the effort. But he does have

an intense appreciation of New York City

bagels, poutine, doughnuts, cheesecake, and

quiche. He also has a tremendous love of

steak and bacon, and dedicates many pages

to those meats and others that he loves, like

bologna, bratwurst, and pastrami.

Nor does he have much good to say about

vegetables and fruit. He writes: "Even when

people seem excited to see fruit, they are

really just relieved it's not vegetables." He

goes on to say that "the only thing that raw

vegetables have ever been good for is the

careers of hummus and ranch dressing." The

one redeeming vegetable he acknowledges

is the carrot when he writes: "Cake is so

powerful it can even make carrots appealing.

This is accomplished in the form of carrot

cake covered with cream cheese frosting.

The best part of all? It doesn't taste like

carrots. That's why instead of a salad, I

normally just order a carrot cake."

Gaffigan's relationship with food is not

politically-correct or pro-organic (his way

of supporting farmers is by ordering a

hamburger with a fried egg and bacon, so

that one burger covers the cow, pig, and

chicken raised by the farmer). He is often

irreverent and disrespectful to healthy food,

and the book might even be classified as an

ode to unhealthy food, but his observations

are funny — LOL funny, ROFL funny, and

unexpectedly-snort-through-your-nose

funny — with an endless string of one-liners

combined with a hilarious commentary

on his personal obsession with food. His

parting words of wisdom for his readers are:

"I hope your coffee is strong, your cheese

is sharp, and your guacamole is chunky."

That is sound advice from a self-proclaimed

eatie who knows his way around Seattle,

Wisconsin, and New Mexico.

Meats & So Much More!

Hormone & Drug-Free Ontario Beef, Pork, Bison & Lamb

100% Local — from Our Farmers to Your Table

We are your London outlet for Metzger Meat Products,

The Whole Pig, Blanbrook Bison Farm and Lena's Lamb,

with sauces and spices from

The Garlic Box, Pristine Olive, Stonewall

Kitchen, and Traditional Portuguese Sauce.

Western Fair Farmers' & Artisans' Market: Saturdays, 8am–3pm

226-376-6328 • jardines@saucymeats.com

Formerly RESTAURANT EQUIPMENT & SUPPLY CO.

More Brands

Larger Inventory

Same Great

Service!

Jim Gaffigan will be performing standup comedy at The

Colosseum at Caesars in Windsor on February 7.

DARIN COOK is a freelance writer who lives and plays in

Chatham-Kent, and keeps himself well-read and well-fed by

visiting the bookstores and restaurants of London.

Open to the Public: Mon-Fri 8-5

234 William Street, London • 519-438-2991

www.trimen.com
---
56 www.eatdrink.ca

№ 51 | January/February 2015

BEER MATTERS

on the boards

More from The Fringe

By RICK YOUNG

While the 2015 London Fringe

Festival may be months away,

Executive Producer Kathy

Navackas is not resting on her

laurels after a highly successful 2014 event.

She has been hard at work planning and

organizing the annual 12-day theatre festival,

staging a couple of one-off Fringe shows,

and securing new venues for the shows

which will entertain Londoners June 2 to 13.

Heading into its sixteenth year, the

London Fringe has for all intents and

purposes become a full-time, year-round

event for the ubiquitous Navackas.

This September, the Fringe reprised

Judy: Stonewalled!, one of the most popular

shows from the June festival with Jayson

McDonald's Magic Unicorn Island (formerly

known as World War Three) on the same bill.

Navackas is excited about two Fringe

productions coming up in January and

February. First up is Jon Lachlan Stewart's

show Big Shot, a co-production of the Fringe

and London's Grand Theatre, being staged

in the McManus Studio Theatre in the Grand

Theatre, January 22 to 24.

In light of recent events

in the United States, the

show's plot is extremely

timely, as this synopsis

from the show's Press

Release suggests:

"A shooting has

just occurred on the

Vancouver Skytrain, and a

twelve-year-old boy who

was at the scene of the

crime retells it all for the

audience, in the style of his favorite action

movies. Complete with slo-mo stops, freeze

frames and fast-forwards, the boy weaves

in and out of every character involved, all

a part of Vancouver's diverse, fractured

communities. Big Shot is a portrait of the

cultural tensions that spark violence within

an urban community — and a riveting piece

of multi-media physical theatre."

Playright and actor

Jon Lachlan Stewart

Playwright Jon Lachlan Stewart is electrifying

in the role of the boy, says Navackas. "It's

a really, really good high energy show done

up in movie form and we're thrilled to be

co-producing the show with the Grand," says

Navackas. "Stewart's physical transformation

into the various characters is spellbinding

and not to be missed."

For a preview, visit www.youtube.com/

watch?v=WzHOsW4GF18&feature=youtu.be

Some artists approach the London Fringe

to come back when on they are on tour.

Such is the case with Mike Delamont, who

brings his highly popular God is a Scottish

Drag Queen, back to London for three

encore performances February

19 to 21 at the Grand Theatre's

McManus Studio Theatre.

Written and performed by

Delamont, God is a Scottish

Drag Queen was an

audience favourite

and was selected as

the Funniest entry in

the 2014 festival. It will be

the perfect antidote for the

February blues!

Navackas says an amazing line-up of

new and returning international, national

and local theatre companies is already in

place for the June London Fringe Festival.

She is especially excited about the addition

of three new Old East Village performance

venues — the Palace Theatre, Procunier

Hall, and the Palace's Rehearsal Hall (The
---
Bank) — for Fringe 2015.

"Venue accessibility

and affordability have

been ongoing issues

facing the London Fringe,"

says Navackas. "We are

unable to find enough

affordable space in the

downtown, so adding

these three spaces will

allow for the continued

growth of the festival."

Faith Coates, General

Manager of the Palace,

is thrilled with the

news that the Fringe

is coming east. "It was

like Christmas and my

birthday rolled into one

— incredibly exciting

news that we could put

together three venues

so that Fringe could

make the OEV part of

the Festival. We are over

the moon and ready to

welcome everything and

everyone Fringe to the

OEV culture district,"

says Coates.

She adds, "Kathy and

I have talked for years

about bringing Fringe

to the OEV. It has been a

dream of ours for a long

time and I am so happy

that things finally fell into

place. To be able to connect

the downtown arts scene with the OEV is

incredibly exciting and I know that everyone

here is going to pull out all the stops to wel­

PortStanley

FestivalTheatre

5

2 01

SEA S O N

come all the Fringe patrons and troupers."

The Fringe will continue to present

festival offerings at the McManus Studio,

SUBSCRIBE

&SAVE!

NOW AVAILABLE

CALL 519.782.4353

portstanleytheatre.ca

SPONSORED BY:
---
58 www.eatdrink.ca

№ 51 | January/February 2015

Spriet Family Theatre, The Arts Project, and The Good

Foundation Theatre. Popular activities like the Dundas

Street Festival and Nuit Blanche will also continue in

the downtown. New will be an Old East Village Street

Festival on June 6.

For more information about the London Fringe, visit

www.londonfringe.ca/

Also on the boards is the King's Players' Bare: A

Pop Opera January 29-31 at King's University College's

Kenny Theatre. According to Taylor Bogaert, one of the

play's producers, Bare is "centred on a group of friends

in their senior year at a Catholic boarding school. The

main characters, Peter and Jason, carry on a closeted

romance. Peter wants to go public with their affair, but

Jason isn't so keen on the idea, and feels that his entire

world would crumble if the relationship got out. The

teenage characters of

St. Cecelia's deal with

issues of sexual identity,

diversity, inclusion,

bullying, drugs, alcohol,

teen pregnancy, samesex

marriage and

suicide throughout

the story." Call 519-

200-3430, or email

KPtctickets@gmail.com

for tickets.

Help celebrate theatre

excellence in London

at the 13th annual

Brickenden Awards

Night, January 26, at

the Wolf Performance

Hall. For more information,

visit www.

brickenden.org/

RICK YOUNG, whose work

has been published in local,

regional and national print and

online publications, was the

Managing Editor, Publisher and

founder of The Beat Magazine,

an independent London arts

magazine, from 2009 to 2014.
---
№ 51 | January/February 2015

SEASON SPONSOR

IRRESISTIBLE STORIES

EVERYONE WILL BE

TALKING ABOUT

Ladies

The

FOURSOME

By Norm Foster

By Lynn Nottage

JAN 20 TO FEB 7 FEB 17 TO MAR 7

TITLE SPONSOR

GET YOUR

TICKETS TODAY!

GRANDTHEATRE.COM

519.672.8800
---
60 www.eatdrink.ca

BEER MATTERS

sound bites

A World of Sound

By NICOLE LAIDLER

№ 51 | January/February 2015

Sean Mativetsky performs music for tabla,

at Western University.

Photo by Caroline Tabah

If variety is the spice of life, then

London's 2015 music scene is off to

a flavourful start, with something to

appeal to every taste and budget.

Those lucky enough to make their

own schedules should check out the free

Fridays-at-noon concert series at Western

University's von Kuster Hall. Held weekly

throughout the academic year, the series

is a wonderful opportunity for Londoners

to hear an eclectic mix of music performed

by faculty, students, and renowned guest

artists.

The January line-up includes an

interactive recital by pianist Jason White on

January 9, and a collaborative performance

of baroque chamber music for violin, cello,

and harpsichord featuring members of

Toronto's Tafelmusik Baroque Orchestra

and Western's Early Music Studio Band on

January 16.

A week later, on January 23, Montreal's

Shawn Mativetsky presents a program of

traditional and new music for tabla.

Drawn to traditional Western percussion

at the age of seven, Mativetsky became

fascinated by the by the north Indian hand

drums and continued studying tabla while

pursuing his master's degree in classical

music at McGill University.

"As my career developed, tabla took over,"

he says. Today, Mativetsky is a sought-after

tabla performer and educator who gives

lectures, workshops and performances

internationally.

This January, his busy schedule brings

him to Western University's music faculty,

where he'll be running student workshops in

addition to his Friday performance.

The solo recital includes a traditional tabla

work as well as three original compositions

commissioned by Mativetsky: Les arbres

céleste (1998, rev. 2010) by Bruno Paquet,

Ke-Te (2006) by Western Music faculty

member Paul Frehner, and Something to Say

(2014) by Tawnie Olson.

"I've been commissioning people to write

for table since 1999, collaborating closely in

creating this new repertoire, bridging Indian

classical and Western classical genres,"

Mativetsky says. www.music.uwo.ca

February begins on a high note, with

UWOpera's production of Puccini's La

Bohème taking to the Paul Davenport

Theatre stage from January 30 to February 8.

Premiered in Turin, Italy in 1896, La

Bohème is now one of the most performed

operas of all time. "Audiences really love it,"

says Western University voice professor and

director of operatic studies, Theodore Baerg.

"It's wonderful music, and we have the

students who can sing it."

The story of love and loss among Paris

bohemians is set in an artists' garret, where

the poet Rodolfo struggles to make ends

meet while pursuing his craft — and the

pretty seamstress next door. "It's about the

challenges that young artists have, and that

hasn't changed substantially from the 19th

century to 2014," notes Baerg.

Despite the difficulties facing young

performers, Baerg says there are plenty of

young people interested in pursuing careers
---
№ 51 | January/February 2015 www.eatdrink.ca 61

in opera. In fact, he says interest

in the art form has steadily grown

across North America over the past

20 years.

"There are now young artist

programs in Vancouver, Victoria,

Calgary, Toronto and Montreal. And

they all hire. There are significant

opportunities to perform and

study."

Now in his 19th year with

UWOpera, Baerg continues

to enjoy mentoring the next

generation while enjoying his

own international singing career.

"Working with young singers who

have real potential is completely

inspiring," he says. Check www.music.uwo.

ca for performance times.

Tafelmusik Baroque Orchestra returns to

London February 6 when they bring "A

Baroque Fest" to Aeolian Hall. For this

performance, Toronto's world-famous early

music ensemble will be lead by Romanian

baroque violinist Mira Glodeanu. The

program features virtuosic works from the

late baroque era, including music by Bach,

Vivaldi, and Telemann.

Western University voice

professor and director of

operatic studies Theodore Baerg

leads UWOpera's production of

La Bohème. Photo by Helen Tansey

Tafelmusik Baroque Orchestra performs at

Aeolian Hall on February 6. Photo by Sian Richards

The Aeolian, with its wonderful acoustics,

is the perfect place to showcase the group's

acclaimed sound. www.aeolianhall.ca

If you've ever wanted to hear someone

play the bones, you're in luck. Stratford

Symphony Orchestra's March 7 concert

at Knox Presbyterian Church includes

percussionist and composer Graham

Hargrove performing a new work featuring

the simple folk instrument.

The remainder of the "Hot Latin Nights"

concert will present more traditional fare,

with works by Piazzolla and Scarlatti.

Now in its 10th season, SSO has developed

a loyal and growing audience. "The SSO

fills a musical niche in our city," says SSO

manager and librarian, Liesel Deppe. "We

offer art and entertainment during the

months when the Stratford Festival is on

hiatus."

Many people move to Stratford to retire

from big-city life, she notes. They are used

to being exposed to the arts and appreciate

being able to attend an orchestral concert

without having to travel long distances.

www.stratfordsymphonyorchestra.ca

At the time of writing, the future of Orchestra

London was in doubt. It is with sadness that

we report that the organization's financial

difficulties have forced the cancellation of

the rest of its 2014/15 concert season.

NICOLE LAIDLER is a musician-turned-writer and the

owner of Spilled Ink Writing & Wordsmithing. Visit her at

spilledink.ca
---
62 www.eatdrink.ca

№ 51 | January/February 2015

the lighter side

Behind the Scenes

By KYM WOLFE

It's Culture Days weekend and I decide

to take a behind-the-scenes tour of

the kitchen at the London Convention

Centre. I want to see what it takes to

pull together a three-course meal for more

than 1,000 guests — something Chef David

Elrik and his crew do on a regular basis.

Apparently I will learn a few industry secrets.

Might come in handy the next time I host a

sit-down meal for loads of people.

As soon as I walk past those signs that say

"authorized staff only" I feel like I have been

transported into a world of

ginormous things. Coffee

brewers with baskets as

big as my head. A delivery

elevator that can accommodate

a tank or a helicopter

(and actually has for

past events). Massive cooking

cauldrons — one holds

2,000 cups of soup. Huge

utensils to stir, blend, mash

and otherwise manipulate food. A gas-fired

skillet as large as a dining table, with gears to

lift and tilt the entire surface. A convection

oven that looks like a large walk in closet —

roll in a trolley of raw poultry, hook it up to

spin like a giant rotisserie…and presto! ... out

comes beautifully cooked chicken.

Elrik shows us a Rational oven with push

button controls. "Even we could be chefs if

we used one of those!" says a member of our

group. Sure, using that piece of equipment

looks easy ... but managing the rest of the

operation — not so much.

The pace and logistics involved in creating

hot, fresh, tasty meals for large groups,

sometimes in multiple meeting rooms, must

be a nightmare at times! The largest meal that

Elrik has overseen was for 1,850 people. That's

not the norm, but 1,000 is old hat. There can

be a number of rooms in use at the same

time, each with different menus and different

schedules, so timing is always critical.

Prep work starts the day before: chopping,

slicing, dicing, even putting grill marks

on steaks so they can be oven cooked just

before serving. Aside from appetizers,

soups, salads and entrées, the kitchen also

produces its own ice cream and sorbets.

Pastries are made by Petit Paris, under

Elrik's direction — he says it's akin to having

his own pastry chef who works offsite.

I picture the beehive of activity on a crazy,

busy night. Dirty dishes are crated and rolled

into a massive machine-washed, rinsed and

ready to use in one minute, start to finish!

Workers who unload the

piping hot dishes wear

surgical tape on their

fingertips to keep their

skin from scalding. There

is a heated dish room right

beside the plating area. With

their efficient assemblyline

system, staff can plate

200 hot meals onto the hot

dishes in just 10 minutes.

Once they are stored in the massive holding

units, they become the responsibility of the

serving staff.

If you're going to oversee this scale of a

kitchen it helps to be tall, and to be able to

roll with whatever challenges arise. At 6'3"

Elrik has a bird's eye view of his domain,

and although he looks like he could be fresh

out of chef's school, he's actually 46 years

old. No sign of early aging due to stress. He's

either incredibly resilient or he has good

genes on his side!

I end the tour with a new appreciation

for what goes on behind the scenes at the

convention centre. But am I ready to serve a

perfectly prepared meal in my own kitchen,

on heated plates, to a couple of dozen dinner

guests? Maybe … if I get one of those Rational

ovens … and my own sous-chef …

KYM WOLFE is a local writer who loves to explore places

that would normally be off-limits. www.kymwolfe.com
---
Your next crush

has arrived!

Harvested & Crushed

In October and November,

London's FRESHEST Extra Virgin Olive Oils

Are Here!

Come Say "Hello"...

Ciao,

¡Hola,

and

Olá

TM

To Our NEW Ultra Premium (UP)

Extra Virgin Olive Oil Lineup From

California, Italy, Spain, Tunisia & Portugal!

All Natural • Gluten Free • Non-GMO • Healthy

The

Pristine

live

Tasting Bar

462 Cheapside Street ( @ Maitland ) | London | 519-433-4444

www.thepristineolive.ca
---
Grab your skates and head downtown

to the Covent Garden Market

Rotary Rink

Skating rink is open everyday

(skating only)

Monday to Friday:

11am — 7pm

Saturday: 10am — 7pm

Sunday: 11am — 6pm

Weather permitting

coventmarket.com

/coventgardenmarket

Market Hours

Monday to Thursday: 8am — 6pm

Friday: 8am — 7:30pm

Saturday: 8am — 6pm

Sunday: 11am — 4pm