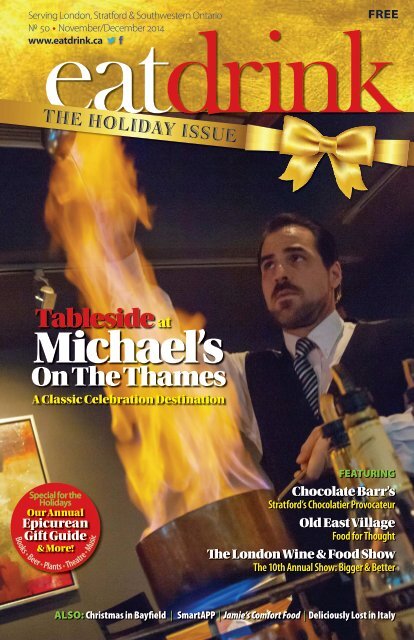 Eatdrink #50 November/December 2014
A LOCAL food & drink magazines serving London, Stratford & Southwestern Ontario since 2007
A LOCAL food & drink magazines serving London, Stratford & Southwestern Ontario since 2007
SHOW MORE
SHOW LESS
Create successful ePaper yourself
Turn your PDF publications into a flip-book with our unique Google optimized e-Paper software.
Serving

eatdrinkFREE

London, Stratford & Southwestern Ontario

№ 50 • November/December 2014

www.eatdrink.ca

THE HOLIDAY ISSUE

Tableside at

Michael's

On The Thames

A Classic Celebration Destination

Special for the

Holidays

Our Annual

Epicurean

Gift Guide

& More!

Books • Beer • Plants • Theatre • Music

FEATURING

Chocolate Barr's

Stratford's Chocolatier Provocateur

Old East Village

Food for Thought

The London Wine & Food Show

The 10th Annual Show: Bigger & Better

ALSO: Christmas in Bayfield | SmartAPP | Jamie's Comfort Food | Deliciously Lost in Italy
---
Savouring the magic

of STRATFORD

Come enjoy Stratford's heritage district wrapped in fresh cedar boughs

and sparking lights as you wander the Victorian Christmas Trail

collecting stocking stuffers along the way.

Take an international gastronomic journey at dinner with the Stratford

Chefs School students. Celebrate the upcoming season with gourmet

ideas for the holidays and special tastings from our popular Tea and

Chocolate to Blue Cheese and Port or a "Griswald" Supper Club dinner.

And lots of Christmas family cheer - from a Christmas family tradition,

A Wind in the Willows Christmas to holiday arts and crafts shows.

Renew your holiday spirit on horse-drawn carriage rides and strolling

the Chocolate Trail.

NOVEMBER

Tue-Sat Stratford Chefs School dinners at The Prune

15-16 Rotary Arts and Crafts Show

22 Savour Stratford Tutored Tasting, The Milky Whey Fine Cheese Shop

29-30 Heritage Downtown Christmas Open House

DECEMBER

Tue-Sat Stratford Chefs School dinners at The Prune

6 Community Messiah, St. Joseph's Church

13 Savour Stratford Tea and Chocolate Tasting

17-30 A Wind in the Willows Christmas, Masonic Hall

For all our holiday events visitstratford.ca/christmas
---
Book Your Festive Holiday Lunch or Dinner!

Spa Open House

November 18, 5–8PM

Gorgeously Renovated Bedrooms,

Drawing Rooms & Meeting Spaces

NEW FALL MENU

In-House Spa, Offering Pedicures,

Manicures, Facials & Body Treatments

Restaurant Open 7 Days a Week for Breakfast, Lunch, Dinner & Brunch

Executive Chef Trevor Stephens

Toll Free 1-855-432-5554

www.idlewyldinn.com

LONDON'S PREMIER HISTORIC INN, NEWLY RESTORED
---
Serving London, Stratford & Southwestern Ontario

•

www.eatdrink.ca

A Classic Celebration Destination

Special for the

Holidays

Our Annual

Epicurean

Gift Guide

& More!

Books • Beer • Plants • Theatre • Music

ALSO:

FREE

FEATURING

Chocolate Barr's

Stratford's Chocolatier Provocateur

Old East Village

Food for Thought

The 10th Annual Show: Bigger & Better

| SmartAPP | Jamie's Comfort Food | Deliciously Lost in Italy

Serving London, Stratford & Southwestern Ontario

•

www.eatdrink.ca

THE HOLIDAY I SUE

On The Thames

A Classic Celebration Destination

Special for the

Holidays

Our Annual

Epicurean

Gift Guide

& More!

Books • Beer • Plants • Theatre • Music

ALSO:

FREE

FEATURING

Chocolate Barr's

Stratford's Chocolatier Provocateur

Old East Village

Food for Thought

The 10th Annual Show: Bigger & Better

| SmartAPP | Jamie's Comfort Food | Deliciously Lost in Italy

eatdrink

inc.

The LOCAL Food & Drink Magazine

Think Global.

Read Local.

Publisher

Managing Editor

Chris McDonell – chris@eatdrink.ca

Cecilia Buy – cbuy@eatdrink.ca

Contributing Editor Bryan Lavery – bryan@eatdrink.ca

ethicalgourmet.blogspot.com

Copy Editor

Social Media Editor

Advertising Sales

Finances

Graphics

Writers

Photographers

Kym Wolfe

Bryan Lavery – bryan@eatdrink.ca

Chris McDonell – chris@eatdrink.ca

Michael Bell – finance@eatdrink.ca

Chris McDonell, Cecilia Buy

Jane Antoniak, David Chapman, Darin Cook,

Dave Hammond, David Hicks, Antony John,

Nicole Laidler, Bryan Lavery, Tracy Turlin,

Claudia Viani, Allan Watts, Rick Weingarden,

Rick Young

Steve Grimes, Bruce Fyfe

Telephone & Fax 519 434-8349

Mailing Address

Website

Printing

eatdrinkmag

@eatdrinkmag

525 Huron Street, London ON N5Y 4J6

City Media

M&T Printing Group, London ON

© 2014 eatdrink inc. and the writers. All rights reserved.

Reproduction or duplication of any material published in eatdrink

or on eatdrink.ca is strictly prohibited without the written permission

of the Publisher. eatdrink has a circulation of 15,000 issues

published six times annually. The views or opinions expressed in the

information, content and/or advertisements published in eatdrink

or online are solely those of the author(s) and do not necessarily

represent those of the Publisher. The Publisher welcomes submissions

but accepts no responsibility for unsolicited material.

eatdrink

THE HOLIDAY ISSUE

Tableside at

Michael's

On The Thames

eatdrink

Tableside at

Michael's

eatdrink.ca

Read every issue online,

no matter which device you prefer.

Every Page • Current Issue • Back Issues

Plus!

New Stories Only Online

Plus!

OUR COVER

Michael's On The Thames' Sommelier/

Captain Andrew Fratepietro shows great

showmanship flambéing tableside.

Photograph by Steve Grimes

(www.grimesphoto.com)
---
Celebrating

46years

in the printing industry

www.mtprint.com
---
contents ISSUE № 50

NOVEMBER/DECEMBER 2014

FOOD WRITER AT LARGE

8 Food for Thought, in Old East Village

By BRYAN LAVERY

8

RESTAURANTS

20

12 Tableside at Michael's On The Thames

By BRYAN LAVERY

12

CULINARY RETAIL

15 Chocolate Barr's Stratford's Chocolatier Provocateur

By DAVID HICKS

20 The eatdrink Epicurean Gift Guide

ROAD TRIPS

24 Christmas in Bayfield

By JANE ANTONIAK

28

SPOTLIGHT

28 The SmartAPP Stands Out

By BRYAN LAVERY

15

FARMERS & ARTISANS

41 The Food Web: Part 4 — Autumn to Winter

By ANTONY JOHN

NEW & NOTABLE

32 The BUZZ

TRAVEL

43 Get Deliciously Lost in Italy

24

By CLAUDIA VIANII

IN THE GARDEN

47 Decorating Outside In

By ALLAN WATTS and RICK WEINGARDEN

WINE

49 The 2015 London Wine & Food Show

By CECILIA BUY

47

BEER MATTERS

52 What to Give the Discerning Foamhead

By THE MALT MONK

COOKBOOKS

55 Jamie's Comfort Food by Jamie Oliver

55

Review by TRACY TURLIN

BOOKS

59 Book Ideas for Fiction-loving Foodies

Review by DARIN COOK

59

62

BASED ON THE DREAMWORKS ANIMATION

MOTION PICTURE AND THE BOOK BY WILLIAM STEIG

Book and Lyrics by David Lindsay-Abaire. Music by Jeanine Tesori.

THEATRE

62 On the Boards: Holiday Theatre Offerings

By RICK YOUNG

MUSIC

66 Sound Bites: Seasonal Treats

By NICOLE LAIDLER

THE LIGHTER SIDE

70 The Not So Family Christmas

By DAVID CHAPMAN

THE BUZZ

70

32

52
---
SARNIA

& POINT

EDWARD

LAMBTON

SHORES

ST.CLAIR

RIVER

DISTRICT

CENTRAL

LAMBTON

navigate

№ 50 | November/December 2014 www.eatdrink.ca 7

great

TO

TIMES

TOURISM SARNIA-LAMBTON

in

LET US GUIDE YOU THROUGH OUR

VACATION PLAYGROUND!

Lambton

County

Starbright Christmas shows: Nov. 25-Dec. 3, 2014 • Victoria Playhouse Petrolia

CELEBRATE

holidays

the

with US!

call or click for your

FREE travel guide and map

also available at southwestern ontario visitor centres

800.265.0316

tourismsarnialambton.com/EatDrink
---
8 www.eatdrink.ca

food writer at large

Food for Thought

in the Old East Village

№ 50 | November/December 2014

By BRYAN LAVERY

There is an on-going surge of

redevelopment that has gradually

strengthened the vitality of the Old

East Village (OEV) neighbourhood.

It's not exactly classic gentrification —

instead, it's a more inclusive grass-roots

kind of rebirth, one that reflects and

accommodates the diversity of the OEV's

residents and business owners while

encouraging community engagement.

The Old East Village Business Improvement

Area (OEVBIA) is a community-driven

urban reinvestment and revitalization initiative

working in partnership with the Old East

Village Community Association (OEVCA) and

a variety of community partners to help stimulate

neighbourhood stability and encourage a

blending of viable commercial activities along

and off the Dundas Street corridor.

According to Dr. Jason Gilliland (HEAL

& Department of Geography at Western

and OEVIA executive board member) "The

OEVBIA and its advisors have been working

on an economic development to strengthen

the area as a food district."

To the uninitiated, the OEV has a longstanding

reputation as a destination for

community, health and social service

Unique Food Attitudes

The Root Cellar Organic Café

agencies. The area has also become the

undisputed centre of all things counterculture

and the centre of the city's edgy

art and music scene, as well as a growing

restaurant cluster on the corridor. Sarah

Merritt, manager of the OEVBIA, observes

"The spacing of the food businesses and

restaurants on Dundas Street is creating a

very walkable food district".

The neighbourhood contains 28% of the

city's listed and designated heritage properties

as well as some key city venues. Dundas Street

is home to the London Clay Arts Centre,

the Palace Theatre, the Aeolian Performing

Arts Centre and the Western Fair Farmers' &

Artisans' Market (WFFAM).

A revival of culinary entrepreneurs and

food enthusiasts has gravitated to the OEV

and has added to the mix of established

culinary businesses like Mykonos, Tony's of

London, Vietnam Restaurant and True Taco

Authentic Comedor Latino.

Creative, independent, and cultishly

popular restaurants and cafés like The Root

Cellar, Unique Food Attitudes, Momo's at

the Market, Ten Up Chinese and Sushi,

The Starving Artist Bistro, Asmara Caffee

and East Village Coffeehouse have added

another level of diversity and accessibility

to the cultural fabric and the evolving

restaurant/café scene in the neighbourhood.

A business like The Wisdom Tea Shop is
---
№ 50 | November/December 2014 www.eatdrink.ca 9

an example of OEV landlords taking the

ultimate plunge by opening their own small

businesses in their own buildings.

The WFFAM continues to serve as an

anchor for the village by providing a setting for

enhanced culinary programming, and cultural

and civic activities that complement the

market and its location in a neighbourhood

previously identified as a food desert.

The market itself has a plethora of more

than sixty small-scale food makers that

include Saucy Meats, which brings together

small-scale farmers, butchers and customers

through a unique artisanal business model;

Café Bourgeois chef/caterer Mary Ann Wrona,

whose healthy catering and gourmet-to-go

café form a repertoire of the Polish culinary

tradition; and Downie Street Bakehouse,

which features from-scratch, hand-shaped,

artisanal and specialty breads made with time

and care by baker Alan Mailloux.

Visionary culinary entrepreneur and

WFFAM owner Dave Cook says, "Market

management supports smaller-scale

producers and farmers in an economic

environment that's challenging for anyone

not performing industrial-scale agriculture,

with opportunities for informal mentorship".

As an informal incubator for emerging

businesses the WFFAM has evolved into

a regional culinary epicentre for smallscale

food makers and farmers, "foodies"

and innovators. Cook, who is at the

vanguard of local culinary innovation, is

looking to open a 20,000 to 25,000 square

foot food production facility in the OEV

to accommodate two to three anchor

tenants (including his Fire Roasted Coffee

All 'Bout Cheese

Momo's at the Market

Company) and other spillover market

opportunities and interests. Cook estimates

that the current economic impact from the

WFFAM is $7.5 million annually.

Various food businesses have emerged

from the market to open or expand into

retail and wholesale businesses in the

OEV, downtown London or other farmers'

markets. Miki Hambleck's Hungary Butcher,

Rick Peori's All 'Bout Cheese, and Theo and

Gerda Korthof's Artisan Bakery have all set

up shop on Dundas Street across from the

market. On the Move Organics, a premium

market vendor, recently opened a pop-up

retail location on the corridor close to its

progeny, the Root Cellar Organic Café.

The market continues to be home

to an evolving community of culinary

professionals who are actively fostering the

development of a distinctive food district

and encouraging innovation in food and

sustainable strategies for the development

of quality culinary practices. Cook's many

business interests interlock and promote

one another, and the success of the WFFAM

illustrates the potential economic spin-off of

a food production facility in OEV.

The OEVBIA continues to work on a

local economic development plan for the

neighborhood that involves the creation

of an "agri-food district," and considers

building stronger linkages between the

farmers' market and the neighboring

commercial corridor as a central objective.

In the meantime, there continues to be

discussion regarding an eco-food hub and

a possible social enterprise grocery store in

the OEV.

The following page highlights just some of

the interesting dining options found in the

Old East Village:
---
10 www.eatdrink.ca

№ 50 | November/December 2014

The Root Cellar Organic Café

Community-focused, local, sustainable

and accountable are the words used to

describe the Root Cellar's philosophy. With

an emphasis on "from scratch" seasonal

menus, the culinary team led by chef Dani

Gruden-Murphy procures ingredients from

local organic farmers for this hip artisanal

culinary collective and London's first

co-operatively owned nanobrewery.

623 Dundas Street, 519-719-7675

True Taco Authentic Comedor Latino

True Taco continues to wow diehard tacolovers

by providing superior

Mexican and El Salvadorian

cuisine in new and much

larger premises. An allday

breakfast of huevos

rancheros (sunny-side up

eggs with homemade sauce

and locally-sourced beans

and tortillas) is a staple.

Tacos and pupusas are

house specialities. Burritos,

tacquitos, quesadillas,

enchiladas and tamales are

also on offer. The standout

is the chicken Milanesa. 789

Dundas Street, 519-433-0909

Unique Food Attitudes

The success of Barbara Czyz's foodiemobbed

bistro is due to its modern

European cuisine, chalkboard offerings, and

attentive vibe. Specialties include goulash

with potato pancakes, krokiety (crepes) and

red borsch made from beets, slow cooked

cabbage rolls, and tender peirogi with sweet

and savoury fillings. 697 Dundas Street, 519-649-2225

Mykonos

Heidi and Bill Vamvalis are pillars of hospitality,

and have been serving Mediterranean

cuisine and traditional English Fish and

Chips for over 38 years. Mykonos sports a

festive covered patio at the back of the restaurant,

which is heated during the cooler

weather. The Mykonos Platter with moussaka,

pastichio, souvlaki, tsaziki, tiropitaki,

spanakopita, loukanica and dolmathaki is

outstanding. 572 Adelaide Street N., 519-434-6736

The Spring (You Yi Cun)

An OEV mainstay, The Spring has recently

changed hands. The décor could still use

a rethink. The signature wonton "purses"

— house-made pork dumplings — are

True Taco Authentic Comedor Latino

browned to pan-fried perfection. We love

the sautéed Asian eggplant with chili and

sauce, al dente long green beans bathed in

a fiery sauce, spring rolls and crispy deepfried

wontons. 768 Dundas Street, 519-266-4421

Chi Hi Vietnamese

Chef Trinh's Chi Hi Vietnamese restaurant

features traditional Vietnamese fare

including bánh mì (black bean tofu or

beef subs), pad Thai, vegetarian Singapore

noodles, beef noodle brisket soup, and black

bean tofu vermicelli. 791 Dundas Street, (beside

Aeolian Hall at Rectory) 519-601-8448

Tony's of London

Tony's Famous Italian

has been serving pizza,

panzerotti, lasagna,

chicken parmigiana and

other Italian-inspired

comfort foods in this

cavernous dining room

since 1961. 980 Dundas Street,

519 544 4520

The Vietnam Restaurant

Long Duc Ngo, the

welcoming hands-on

proprietor, offers a selection

of accessibly priced noodle, rice and

soup dishes. The substantive menu includes

superb spring rolls, pho, sizzling hot pots, and

many seafood and chicken dishes. Pho Dac

Biet is the signature rice noodle broth with

rare and brisket beef, beef balls and tripe with

fresh herbs. 1074 Dundas Street, 519-457-0762

Thai Taste

This family-owned unassuming hole-in-thewall,

with cramped booth seating offers superior

Thai food. Served with pride and attention

to detail Thai Taste is an OEV favourite.

Don't be put off by the narrow interior—the

food shines. 671 Dundas Street, 519-646-2909

Starving Artist Bistro and Lounge

This small open-kitchen bills itself as a café,

breakfast and brunch restaurant. This is

where you'll find some amazing work from

local artists displayed in the cozy dining area.

Try the First Nation's bannock tacos if they

are available. 680 Dundas Street, 226-680-0526

BRYAN LAVERY is a contributing editor and eatdrink's

Food Writer at Large.
---
Authentic

CULINARY

EXPERIENCES

FROM FARM TO TABLE, LONDON'S CULINARY CULTURE

IS COOKING WITH LOCAL FLAVOUR

www.londontourism.ca/culinary

TOURISM

tourismlondon

@tourism_london

LONDON

C A N A D A
---
12 www.eatdrink.ca

№ 50 | November/December 2014

restaurants

A Classic Celebration Destination

Tableside Cooking at Michael's On The Thames, in London

By BRYAN LAVERY

Photography by STEVE GRIMES

My passion for French cooking

was ignited when I travelled

through France at age 22. A

year later I was asked to run the

kitchen at The Vineyard, one of Toronto's

first wine bars. In those days, French

cuisine dominated the fine dining scene.

My mentor was a serious gastronome who

informed and educated my palate by wining

and dining me in the most prestigious

fine dining institutions in Toronto. All of

these establishments — Napoléon, Three

Small Rooms, Auberge Gavroche, Fenton's,

Les Cavaliers and the dining rooms at

the King Edward Hotel and the Westbury

Hotel — were French, and enjoyed august

reputations and discerning clientele. The

same welcoming hospitality, and the same

discreet but impeccable service were

extended to everyone.

Tastes are transitory and altered sensibilities

have brought changes to the cuisine and

classic styles of restaurant service that I

esteemed in my early career. Good value to the

patron does not mean cheap prices. It refers to

the quality and quantity of the food, the level of

service, and the décor and ambience.

To my mind, French food has always

been the cuisine synonymous with refined

Enjoy an intimate atmosphere with

comfortable and private dining areas.

In the Sun Room, Michael's diners can enjoy a view of

the Thames river and surrounding parkland

taste and, to some extent, it still is. To this

day I appreciate the skill and showmanship

of French-style service. French service is

distinguished by the fact that all or part of

the preparation of the dish, or at least the

finishing of it, is done in the dining room. This

type of service requires a cart or gueridon and

organized mise en place to facilitate cooking

at the side of the patron's table. Tableside

preparations might involve sautéing or

flambéing an item, or carving it, boning a fish

or composing a salad from scratch.

Classic tableside cooking is part of the

innate charm of Michael's On The Thames.

The restaurant is at once appealing and

traditional, and yet old-school: Caesar salad

for two, prepared tableside, as well as

flaming dishes, also done tableside

including whole Dover sole meunière,

pepper steak "Dorchester" with

brandy demi-glace, cherries jubilee

and strawberries alla Marco.

If you're hungry for steak Diane

the dining room staff will create that

at a tableside cart for you too. It is

not a classical French recipe, though

its preparation is at least a cousin to

the French (steak coated in cracked

peppercorns accompanied by a

cognac and butter sauce). It's all about

elegance, presentation, and personal
---
№ 50 | November/December 2014 www.eatdrink.ca 13

At select times during dinner, a rotating cast of talented pianists

play sophisticated classics and jazz on the baby grand piano

Maria Homolay prepares Caesar salad,

with French-style tableside service

attention. The showmanship starts with a

tender cut of beef tenderloin pounded thin

and pan-fried in butter to your preference.

It then is topped with a rich sauce of more

butter, shallots, and mushrooms, and

flambéed with brandy and a splash of fresh

cream. An intoxicating wine bouquet and

fragrant beef aroma emanates from the pan.

The same goes for the Brome Lake duck à

l'orange, whose boozy sauce will be whisked

and flambéed a few inches from your table.

One evening while dining with my nephew,

service professional Maria Homolay served

us juicy-on-the-inside, seared and roasted

Chateaubriand. The Chateaubriand, which

can be ordered for a table of two, is served in

the traditional manner accompanied

by a variety of vegetables and crowned

with béarnaise sauce. Chateaubriand

and béarnaise sauce have a natural

kinship, with the sauce of clarified

butter emulsified in egg yolks,

white wine vinegar and flavoured

with tarragon playing off the beef

tenderloin. There was naturalness to

the way Homolay moved and worked

— a professionalism that has made

many dining experiences at Michael's

On The Thames memorable. It offers

classic French flair for diners who

prefer a bit of finesse while dining—

and appreciate a bit of interaction

with their tableside preparation.

For thirty-one years and counting,

Michael's On The Thames has been

regarded as London's "celebration

destination," and for good cause.

Owner-operator Brian Stewart,

executive chef Denis Clavette,

kitchen manager Dave Wyler and their

kitchen brigade consistently give patrons

what they want, and that is why the restaurant

remains popular. There is no attempt to be

trendy or cutting-edge at Michael's.

Besides tableside cooking, there are prix

fixe menus and many à la carte selections that

mostly stick to tried and true classics. There is

Cobb salad, colossal shrimp stuffed with crab

and wrapped in pancetta and finished with

a Pernod beurre blanc drizzle, baked west

coast halibut with lemon beurre noisette,

and even the Valencian classic, paella. In

Chef's hands, paella is a fragrant combination

of Metzger's chorizo, duck confit, mussels,

scallops, shrimp and saffron rice.

Standing, from left: Owner/Founder Brian Stewart and

Sommelier/Captain Andrew Fratepietro. Seated, General

Manager Joelle Lees and Sous Chef Chris Morrisson
---
14 www.eatdrink.ca

№ 50 | November/December 2014

1

2

1 Steamed Mussels

"Meunière"— cultivated

mussels steamed in white

wine, fresh basil, garlic,

and butter.

2 Insalata Alla Caprese

— sliced tomatoes,

Bocconcini cheese, and

basil leaves drizzled with

extra virgin olive oil,

balsamic vinegar, sea salt,

and fresh ground pepper.

3 Rack of lamb roasted with

fresh mint and finished

with demi-glace and port

wine.

4 Jumbo black tiger-eye

shrimp cocktail served

with traditional cocktail

sauce.

4 3

An experienced entrepreneur (Stewart

owned Sam the Record Man franchises), and

inspired by his inveterate restaurant patron

father's appreciation for fine dining, Stewart

recognized he'd found the ideal location for his

new endeavour the minute he saw the former

tile and cement warehouse which gave way to

Guildwood Lighting in the early 1960s.

The restaurant has an intimate atmosphere

with its private dining areas, an enclosed sun

room beside the Thames River, the sophistication

of a baby grand piano overlooking the

dining room, oak decor, tables with plenty of

elbow room and a stone fireplace. A rotating

cast of pianists that include David Priest and

Dean Harrison play classics and jazz on the

baby grand at select times during dinner.

Until a few years ago, Jack Di Carlo had

been the maître d' at Michael's since 1986.

He created a lasting impression on the

clientele, greeting and serenading customers

and cementing the restaurant's reputation

as a romantic dining destination. It is a

reputation that endures.

General Manager Joelle Lees and certified

sommelier/captain Andrew Fratepietro

are warm and hospitable and, in addition

to applying their skills and charisma as

restaurant professionals, are focused on

creating great dining experiences. Good

service is one of the primary things diners

consider in judging the value of a restaurant.

The service here is a welcome throwback,

countering the prevalent attitude of casual

service that favours over-familiar waiters

and high pressure upselling tactics.

Fratepietro's wine list is a virtuous

representation of the style and cuisine of the

restaurant and has options for many different

types of wine drinkers, both in terms of price

point and style. There are some excellent

consignment wines on the list.

While many restaurateurs and chefs are

working to comprehend and respond to the

expectations of the food savvy Generation

X and the Millennial Generation, Michael's

remains an intentional and charming

anachronism while appealing to the

tastes and preferences of its changing

demographic.

Michael's On The Thames

1 York Street, London • 519-672-0111

www.michaelsonthethames.com

open for lunch weekdays

open for dinner 7 nights a week

BRYAN LAVERY (ethicalgourmet.blogspot.com) is eatdrink's

Food Writer at Large.

STEVE GRIMES (www.grimesphoto.com) is a regular

contributor of photographs to eatdrink.
---
№ 50 | November/December 2014 www.eatdrink.ca 15

culinary retail

Raising the Chocolate Barr

New Digs for Stratford's Chocolatier Provocateur

By DAVID HICKS

How can a small

city cope with the

presence of not one

or two, but three,

specialty chocolate shops? It is

a burden the locals seem willing

to embrace. In fact, one of the

faux marketing jokes around

Stratford is, "Come for the plays,

stay for the chocolate."

All the more reason,

now that Chocolate Barr's

Candies is settled into their

new downtown location. Last winter,

Derek and Jacqueline Barr bought the

downtown heritage building dating from

1889, originally the residence of a railway

engineer. Renovations began on the former

Sun Room Restaurant in February and they

re-opened in July. "It was a six-year search

[for a building] and a six-month renovation,"

says Derek, "And we wondered if we'd hit

our July opening deadline, but we're here

and loving it now."

Moving from their decade-long residency

on Stratford's busy Ontario Street raised

a few eyebrows in town. "We had a great

landlord, great foot traffic and good

Chocolate Barr's new location, on George Street

visibility," says Jacqueline. "But dark tinted

and curtained windows on the sunny side

of Ontario St. wasn't great for displaying

perishable food items," she says with a smile.

"By buying and building, we could

design and renovate for the store layout

and displays we wanted, with more of an

open kitchen concept so people can see the

way we work. That, and accommodating a

35-foot cooling tunnel."

Derek & Jacqueline Barr

Jaccqueline Barr, behind the counter
---
№ 50 | November/December 2014

Chili peppers and fruit are prepared for incorporation

into chocolates and candies

What to choose? The truffle counter offers an array of

choices — standards and weekly specials

Cupcakes, and custom orders — just ask!

Dramatic Timing?

Still, given how Stratford's retail sector can be

theatre-dependent, it's forgivable to wonder

about the timing. Hoisting a small vat of

molten caramel with his "lead systems and

production guy," Matt Gardner, Derek says,

"Actually, we are twice as busy already, and

summer is our slower period because of all the

chocolate holidays [that fall outside summer]:

Thanksgiving, Hallowe'en, Christmas, New

Year's Eve, St. Valentine's Day and Easter."

"We have 80 or 90 regular customers who

come in throughout the year, and because

we are in a direct sightline from the Avon

Theatre and Studio Theatre now, we're

seeing an influx of new people."

"Special events like Savour Stratford and

the Stratford Chocolate Trail tourism program

help too." (And it probably doesn't hurt

customer traffic that they're right across the

street from Stratford's downtown LCBO store.)

The Rheo Grande

Derek was born and raised in Stratford,

and Rheo Thompson, the doyen of mint

chocolate, was a family friend. Derek worked

for him through high school. "I was actually

headed for a career in mining, but then

Bre-X [mining company scandal] happened

and Ontario industry hit hard times. So I

came home and Rheo suggested I work at

the shop again until I figured things out. And

I was there from 1999 to 2003."

In the meantime, he met Jacqueline. "So

here was a great guy who made chocolate for

a living … What was there to think about?"

When the Barrs went out on their own in

2003, "It was crazy — we were busy right off

the bat," says Derek.

But how does it work in a town of 30,000

to be one of three chocolate shops, within

two blocks of the venerable Rheo Thompson

Candies and Rocky Mountain Chocolate

Factory? "Stratford just loves its chocolate and

we have a history with handmade chocolate

that goes back to at least the 1950s," says

Derek, pointing to the century-old marble

cooling table. "Having three specialty shops

in town just makes the town even more of a

destination. Our competition does a great job,

and I think we make each other better."

You Say "Cocoa," I Say "Cacao"

"Candy Makers, Chocolate Makers and

Chocolatiers … I guess we do all of them,

including small-batch items where we buy raw

cacao beans, roast and grind them, and use it

in specialty items. We have fresh Bean-to-Barr

single origin chocolate from either Trinidad,

Bolivia or Peru at any given time," says Derek.

"Our cacao is fair trade and organic, and the

sugar is organic, but we don't major on those

points," adds Jacqueline. "Our focus is that our

Bear-to-Barr chocolate is soy-free and while

our facilities don't allow us to label anything

as such, we do make a range of dairy-free and

sugar-free items available."

Experimentation and innovation keep the

candy game interesting for the Barrs. Jack's

Barr (nicknamed for Jacqueline) is among

the most popular, made with 70% chocolate,

toffee, salt and pepper. Or there's the

Espresso Barr made with espresso coffee …
---
№ 50 | November/December 2014

Even the packaging gets that extra special touch

no chocolate, just powdered espresso beans,

cream and sugar.

Trifling with Truffles

But the showstopper is Barr's unique

range of truffles that pushes confectionery

boundaries: Balsamic Vinegar Truffle,

Honey & Black Pepper, Chili Pepper, Scotch

Bonnet, Roasted Garlic, Curry, Molé, Goat's

Cheese (with cheese from C'est Bon), Ancho

Chili (Antony John's Soiled Reputation), The

Macallan 12 Year Old Scotch, Jameson Irish

Whiskey, Guinness Stout … and usually a

"New This Week" item.

"We like to do random things to keep it

fun," says Derek. "Like when a farmer walks

in with five pounds of dried chili peppers.

What are you going to do?"

Barr's has shipped chocolate as far as

Japan, "but for a local martial arts group I

did series of truffles using Japanese flavours,

including wasabi, soy sauce, green tea, ginger

and plum wine. They turned out great."

So, any flops? Jacqueline rolls her eyes.

"Yes! Lemon Zest & Thyme Butter Ganache. I

told him it wouldn't work."

Derek just shrugs again, with his wellknown

mischievous smile, "If you're going

to do this seven days a week, you have to try

these things."

Chocolate Barr's Candies

55 George St. West, Stratford

519-272-2828

www.chocolatebarrs.com

monday–saturday: 9am–6pm

sunday: 10am–5pm

DAVID HICKS is a Stratford writer and branding consultant

who does not have a chocolate problem. Unless it's all gone.

For cooking at its finest, we offer steam ovens, true convection ovens, gas and induction cooktops and a microwave/grill combination.

For cooling, we sell the top European brand – Liebherr – featuring everything from built-in refrigerators to temperature-controlled wine

coolers. We even offer a humidity-controlled humidor for indoor leisure and an outdoor refrigerator for the pool/patio area.

For lifestyle appliances that are second to none, make the relaxing drive to Belgrave Ontario. We will demonstrate,

in our live showroom, how you can cook, bake, cool and preserve with some of the most energy-efficient appliances available.

THE EUROPEAN APPLIANCE STORE

Everything an appliance should be

39822 Belgrave Road, Belgrave ON – just North of Blyth www.theeuropeanappliancestore.com 1-877-543-2437
---
Stratford is

more than

great theatre

— 10 Craft Beers on Tap —

INN | RESTAURANT

Book your Christmas

party with us and stay

overnight in one of our

boutique guest rooms.

Packages start at $99/person

PRIVATE

DINING ROOM

great for staff or family

CHRISTMAS

PARTIES

CHRISTMAS

PARTIES

NO room rental fee

BRUNCH • LUNCH • DINNER • EVENTS

104 Ontario Street, Stratford | 519.271.92 02 | www.mercerhall.ca

Get up-to-date info on our series of exciting events! fb.com/mercerhall twitter.com/MHResto
---
118 Ontario St., Stratford

519-814-9439

themilkywhey.ca

Beautiful made-to-order gift baskets

are available for the foodies on your list!
---
20 www.eatdrink.ca

№ 50 | November/December 2014

culinary retail

The eatdrink Epicurean Gift Guide

Suggestions for the Foodies in Your Life

It's that time of year again,

and the "it's better to give

than to receive" mantra

is much easier to embrace

when you are able to avoid the mall and all

of its frantic energy. Instead, find yourself

an independent retailer who has done a lot

of the work of finding original gift ideas for

you. Whether it's a big present for someone

close to your heart, a hostess gift for your

friend who always goes all out to celebrate

the season, or a small

"stocking stuffer" gift

just to put some extra fun into

someone's life, there are plenty of new

and exciting products to choose from this

season. We put the word out that we were

looking for suggestions, and this is what we

came up with!

Once Upon A Tree is committed to using

local and sustainably harvested wood.

Known for their "live edge" serving boards

and exquisite burl bowls, now Once Upon

a Tree has created a beautiful Walnut iPad

Holder exclusively for Jill's Table. Perfect for

displaying recipes in the kitchen, it is a true

blend of nature and technology. $49.99

Our regular eatdrink cookbook reviewer

Tracy Turlin was thinking along similar lines:

"I spend a lot of time in the kitchen trying

new recipes so I need a way to keep my books

safe and out of the mess," she wrote. "The Oxo Good Grips

Pop-up Cookbook Holder has a clear screen that protects

the pages and holds the book open at the same time.

The spatter screen pulls down and out of the way to

allow you to turn the pages

easily. The holder folds

flat for easy storage

on your cookbook

shelf or gadget

drawer." $27.99

"If you prefer to

find your recipes online,

you can still keep them close to you

while you cook with the iPrep Tablet Stand

and Stylus by Prepara. It has a weighted and non-slip

base to securely hold any popular tablet or e-reader. It

adjusts to 4 angles for optimum reading and the stylus

stores in the hinge when not in use. This stand also

folds flat for easy storage." $29.99
---
№ 50 | November/December 2014

The euroSCRUBBY (www.euroscrubby.

com) is an abrasive, non-scratch cleaning

cloth that is safe for almost every surface

including non-stick pots and pans, glass/

ceramic cooktops, glass shower doors and

so much more. The euroSCRUBBY is also

environmentally friendly as it lasts

anywhere between 6

months to 2 years,

depending

upon use,

meaning it

reduces waste

going to landfills from

green scouring pads and many similar

products. $2.99

Carrie Wreford, co-owner of Stratford's

venerable Bradshaws shop, has her finger

on the pulse of what's on trend this year, and

surprised us by suggesting a food item. The

King George Christmas Pudding contains

delightful ingredients

such as sultanas,

brown sugar, dried

fig and apricots,

citrus, pear and

holiday spices,

making these

1-pound Canadian-made

Christmas

puddings a

delicious treat for

yourself or to give as a gift.

Just steam and serve, this is the perfect traditional

English holiday dessert. $24.95

Jamie Griffiths, owner of The Pristine Olive in

London, has come up with a charming way to

help customers try his products (over 60 flavours

of oils and balsamics!). He has created

six unique Sample Pack Combinations, containing

many of his most popular items. Each

sample pack holds six individually labeled,

60ml bottles, enclosed in The Pristine Olive's

new, custom-designed gift box. Perfect for

people who wish to try a little bit of everything!

$30 (Gourmet Pack $34)

SINCE 1819

AT THE HISTORIC ARVA FLOUR MILL

MEATS

Certified Organic

Local &

Gluten-Free

Products

Summer Hours

TUES–SAT 10–5

2042 Elgin St, Arva ON

519-601-6456

www.arvamillhouse.com

OUTLET

Formerly RESTAURANT EQUIPMENT & SUPPLY CO.

Your Christmas

Kitchen Chef Store

More Brands

Larger Inventory

Same Great Service

Let our staff

show you the most

requested gifts!

Perfect ideas for every Foodie on your list!

Open to the Public: Mon-Fri 8-5

234 William Street, London • 519-438-2991

www.trimen.com
---
22 www.eatdrink.ca

№ 50 | November/December 2014

Lawrence Burden, from London's Kiss the Cook shop, suggested

this set of Le Creuset Espresso Mugs. "It really is the "c"

factor with these," wrote Lawrence. "CUTE! People

are buying them for espresso, but also

for individual desserts." These petite

mugs will inject a pop of colour into

any kitchen. The durable enamelled

surface resists staining, chipping and

cracking, and is easy to clean. Providing

a totally hygienic surface, it will not absorb

odours or flavours. Microwave, freezer and

dishwasher safe. The set of six is even on promo

for Christmas. $49.99 (regularly $120)

Carrie Wreford also drew our attention to holiday dinnerware

with wide appeal. "From chef, writer and member of

the celebrated Conran design family, The Sophie Conran

by Portmeirion dinnerware collection is the best-selling

dinnerware pattern at Bradshaws," writes Carrie. "This

award-winning oven-to-table

collection is recognizable

by its curved edges

and rippled bodies

that give the charm

of traditional

pottery. The line is well-priced,

beautifully packaged and offers a

wide range of serving pieces.

NEW this holiday season is the

limited Christmas Collection

from Sophie Conran, meant

to be mixed into your current

assortment to spruce things us

for your holiday table setting.

All pieces are freezer-to-oven,

microwave- and dishwashersafe."

Dinnerware

(12-piece set) $179

Pudding

Basin $19.95

Those "in the know" are already aware of the European

Appliance Store in Belgrave, just north of Blyth, but

their Marketing Manager Jonathan Roeland is trying to

get the word out further. We asked him for a gift suggestion

that might work for almost anyone, not that we'd

complain if someone tucked a deluxe

new range under our tree! Easier to

wrap is the Chef's Design Gourmet

Specialty Pan & Buffet Server. The

large 12" non-stick griddle surface is

perfect for sautéing, searing, or browning.

The heavy triple-ply flat bottom

resists warping and conducts heat quickly

and evenly. The Gourmet Specialty Pan

goes form the

range top or

oven straight

to the table for

elegant food

presentation.

The pan also works well for serving

cheese, crackers, sausage and

other cold or hot hors d'oeuvres.

$119.99 (40% off

regular price

of $199)
---
№ 50 | November/December 2014

Our intrepid book reviewer, Darin Cook,

chipped in with a couple of novel ideas (pun

intended). He identified a couple of needs

that most of us can relate to. "If you've ever

wanted to have all types of cheese listed

right before your very eyes, get The Charted

Cheese Wheel (www.popchartlab.com),"

writes Darin.

"You'll never be

at a loss for inspiration

to meet

all your cheese

needs with this

attractive print

adorning your

kitchen walls. The

Charted Cheese

Wheel references

65 cheeses from

around the world

in the unique

formation that resembles, what else, but a

wheel of cheese. $29, framing extra

"Nobody told me there would be math

involved in cooking," continued Darin. "A

quick glance at the Oversized Cooking

Measurements

Tea Towel can

provide some

relief. With all

those measurements,

sometimes

mental

gymnastics

put a crimp

in one's culinary

creativity.

This simplified

measurement conversion

graphic is printed on a 20 x 28 inch tea towel

that does all the calculations for you, while

providing a convenient place for drying your

hands at the same time." $16

Busy preparing for the holidays?

Let Us Help!

Since 1972

Gift

Certificates

Available

Come by for a

delicious meal of

Home-cooked

Fish & Chips!

"Homemade Goodness

with a Gourmet Touch"

1050 Kipps Lane, London

E&D_LocomotiveED_Nov2014_ART.pdf TUES–THURS: 3–7:30 1 201

519-673-6606

FRI: 12–7:30 SAT: 3–7:30

www.kippslanefish.com

Closed SUN & MON

Bradshaws, 129 Ontario Street, Stratford

www.bradshawscanada.com

The European Appliance Store, 39822 Belgrave Rd,

Belgrave www.theeuropeanappliancestore.com

Jill's Table, 115 King Street, London

www.jillstable.ca

Kiss the Cook, 551 Richmond Street, London

www.kissthecook online.com

The Pristine Olive, 462 Cheapside Street, London

www.thepristineolive.ca
---
24 www.eatdrink.ca

road trips

Shop, Stay and Play

Christmas in Bayfield

№ 50 | November/December 2014

SPONSORED BY

By JANE ANTONIAK | Photography by BRUCE FYFE

Want to pack some fun into

your Christmas shopping?

A short road trip to Bayfield

may be just the answer. Only

an hour's drive from London along some

picturesque side roads, and located on

the shores of magnificent Lake Huron,

the historic village offers interesting

shopping alongside unique dining and

accommodations. For the foodie, it's a

place to enjoy craft beers and local cuisine,

and to pick up culinary gifts, all while

supporting independent businesses.

The annual event Christmas in Bayfield

kicks off on the weekend of November 8th

and continues every weekend until New

Year's. Main Street merchants celebrate

by lighting Christmas trees in Clan Gregor

Square beginning on November 7th. Some

businesses offer discounts, including no-tax

specials and draws for baskets of goodies.

The joy of heading to Bayfield lies in the ease

of the destination. With ample angle parking

up and down the wide main street, it is a

popular road trip for those who like ease upon

arrival. Situated on Highway 21 between Grand

Bend and Goderich, road trippers like to make

Bayfield the central location for a weekend

get-away, even in the off-season. It is one of

the few lakeshore villages where most shops,

restaurants and Inns remain open year-round.

Upon arrival visitors will notice the newly

Bayfield Town Hall

opened, modern LCBO store adjacent to

the new Foodland grocery store on Highway

21 just south of the main entrance to the

village. If you are staying in the area, these

are great new additions.

There are several outstanding options

for overnight accommodations. The Red

Pump Inn — known widely for its restaurant,

operated by Bayfield legend Harry Israel —

has seven luxury suites. Each is individually

decorated with a European flair and features

unique artwork. All have private balconies

or patios.

Across the street from "The Pump" — as

locals call it — is The Little Inn, now under

the new ownership of Joanne and Mike

Oliver. The historic Inn was opened in 1830

and claims to be the longest continuously

operating Inn in Ontario. There are rooms

The Red Pump Inn

The Little Inn of Bayfield
---
Win a Lexus Reflections President Package from Lexus of London!

This comprehensive appearance reconditioning service will completely rejuvenate your vehicle.

And while the fully-trained Appearance Technicians detail your vehicle,

you will be provided with a beautiful Lexus to drive for a weekend. Take an exciting Lexus Roadtrip!

Enter at www.facebook.com/eatdrinkmag

Contest ends December 15, 2014. Complete details online.
---
26 www.eatdrink.ca

№ 50 | November/December 2014

and suites in the main building, which

also houses a lovely sitting room, bar and

restaurant. Or, guests can stay across the

road in the Guest Cottage. Some rooms offer

fireplaces and soaker tubs. There are also B

& B's in Bayfield and private cottage rentals.

As well there are some local area hotels with

unique offerings. The Hessenland Country

Inn in St. Joseph's on highway 21 offers guest

rooms along with delicious German and

European cuisine. About 25 minutes' drive

away is Samuels Hotel in Saltford, which

offers modern guest rooms, some of which

have a view of the Maitland River.

Dining options in Bayfield are diverse,

especially considering the small size of the

village. Pub-lovers flock to the Albion Hotel,

another historic building, for wings, fish

and chips and sports screens. Next door is

the revered Black Dog Bistro operated by

cookbook author Kathleen Sloan-McIntosh

and her husband Ted McIntosh, in yet

another nineteenth-century building. It's

a special place to kick back and enjoy a

relaxed atmosphere while sampling from

a choice of 21 draft beers or sipping one

of 150 whiskey offerings. This time of year,

an Irish Whisky

speciality coffee

whipped up by

bar manager Peter

Meades is just the

remedy after a day

on the road. "There

are eight speciality

coffees in all and

we sell a lot of them

during Christmas

in Bayfield," says

Meades. Having

tried one, it's easy

to understand why.

Graham Watson shows off some fresh chocolate treats

(left). Hiis Charles St. Market shelves are full of party

and holiday favourites such as gourmet dips (above).

Jenn Watson (right), amid the eclectic selection of

houseware, clothing and accessories at Hive, including

some beautifully decorative bowls (above).

The bistro makes

some great burgers,

including one that

comes with buttery

deep-fried onion

rings.

Next to the

Bistro is the Black

Dog Pantry where

Kathleen and her

daughter Alysa

King produce

take-away pot

pies, assorted

cookie boxes and fruit and nut Christmas

cakes. "People also place special orders for

mincemeat tarts and we try out best to meet

the demand," says King. The baking and

cooking is done in an open kitchen inside

the pantry shop, adjacent to an impressive

cheese display cooler. All you need for a

home party awaits you here.

For shopping, the street offers a wide variety

of merchants and merchandise from books

to original art. Hive is a funky newer addition.

Owner Jenn Wallace proudly offers "an eclectic

mix that is vintage-inspired, bohemian,"

including home accessories, clothing and

jewelry. Her slate cheese boards from The

Slate Company in Scotland are a perfect gift

— you can write on them with chalk! Hive also

has a nice collection of tea mug and strainers

plus serving trays and dishware.

Across the street is Charles St. Market,

operated by Jenn's brother Graham Wallace.

Here you can buy cheese and crackers for

that new cheese board along with a full line

of Sugar & Spice chocolates made in nearby

Exeter. The asparagus tortilla chips will

make your Christmas party a bit different.

The Market also sells Olive-Me & Co oils
---
№ 50 | November/December 2014

and balsamic

Irish Coffee at

The Black Dog Bistro

vinegars, from

London.

"We see a lot

of people return

to their cottages

in the weeks

leading up to

Christmas, "

says Wallace.

"It's a good

weekend getaway

to relax

before Christmas

gets too

busy."

A warm cup of coffee awaits at Shop

Bike Coffee Roasters where owner Leanne

Kavanagh also sells unique "retro" candies

from Britain and the US. She roasts her own

beans and sells cups of coffee and beans.

Her coffee would be great with the delicious

offerings of The Pink Flamingo bakery,

across the road from The Little Inn. Owner

and author Erin Bolger makes fantastic

cupcakes and much more. She gained fame

on Dragon's Den with her hilarious book The

Happy Baker:

A Daters Guide

to Emotional

Baking. Now she

lives in Bayfield

and delights

customers with

her humour and

goodies.

Bayfield can

be the perfect

location for a

short road trip

that combines

culinary and

Some Main Street shop signs

shopping in

great accommodations.

Full details and a schedule of events can be

found at www.villageofbayfield.com

Dinner Thursday to Sunday

Lunch Wednesday to Saturday

Reservations Recommended

Book NOW for your

Christmas Lunch or Dinner Party

& Reserve for New Year's Eve!

519.238.6224

42 Ontario St. S., Grand Bend

www.finearestaurant.com

discover the charm

of the season!

JANE ANTONIAK is a regular road warrior contributor

to eatdrink. She is also Manager, Communications & Media

Relations at King's University College, London.

BRUCE FYFE is a photographer for eatdrink magazine and

Librarian at Weldon Library, Western University, London.

.

"Evidence that you don't have to be in

a big city to create great things!"

— The Globe & Mail

527 Main Street, Exeter 519-235-3030

30 min North of London • 20 min East of Grand Bend

30 min West of Stratford

www.eddingtons.ca
---
28 www.eatdrink.ca

№ 50 | November/December 2014

spotlight

The Smart APPetite App Stands Out

A "Local" Collaboration

By BRYAN LAVERY

Recently I was the guest of Dr.

Jason Gilliland (Director, HEAL

and Department of Geography

at Western) and Margaret

Milczarek, the project manager and

research associate for the SmartAPPetite

initiative, for an outstanding lunch at the

Church Key Bistro-Pub. Dr. Gilliland and

I ordered the warm duck salad (which he

highly recommended) with duck leg confit

on greens, roasted mushrooms, candied

almonds, Stilton cheese and white balsamic

and raspberry vinaigrette. Milczarek, a

passionate food enthusiast, ordered the

steamed P.E.I. mussels that were served with

frites, and brought me up-to-date on several

interesting culinary-related activities she

had recently attended.

We were there to discuss the launch of the

smartphone application, or "app," and an

accompanying interactive website that will

help make healthy

local food more

accessible, and its

interrelated strategies.

SmartAPPetite is a

Western University

community-led

initiative that aims to help keep participants

accountable to their nutrition goals and to

maintain healthy diets. It also helps users

access local food businesses, farmers and

other advocates and proponents of eating

and sourcing food locally.

Incidentally, I have been acquainted

with Dr. Gilliland for several years in his

capacity as an advisor to the Old East Village

BIA and through my work at the Western

Fair Farmers' & Artisans' Market, where

he and his team, led by Michael Clark

(Old East Village senior researcher and

programs administrator), conducted several

studies and customer surveys, as well as an

economic impact comparative analysis of

farmers' markets.

Milczarek is responsible for overseeing

the advancement of the project, providing

strategic direction and leadership for The

SmartAPPetite team, and is the liaison for

various staff stakeholders and collaborators.

The project was inaugurated last summer

as a twelve-week pilot with 200 participants at

the Western Fair Farmers' & Artisans' Market

who provided feedback on the design and

various applications of the app. A prototype

app has been in the beta testing phase for

months and will soon become a bona fide

"farm-to-fork" digital resource.

The SmartAPPetite team has two chief

goals. First of all, they want to make it easier

for consumers to access healthy, locallysourced,

meals by improving food literacy

and the awareness of what home-grown

Margaret Milczarek, Project Manager, at the

London Potter's Guild in the Old East Village
---
№ 50 | November/December 2014 www.eatdrink.ca 29

(Left to Right): Mark McGregor (graduate student), Dr.

Jason Gilliland, Gabriela Heslop (Brescia student and

SmartAPP volunteer)

foods are available in our local communities.

Secondly, they want to shine a light on the

importance of southwestern Ontario's local

food economies and facilitate their roles as

local economic development tools.

The collaborative project is a Labour

Market Partnership,

and is funded by the

Ministry of Training,

Colleges and Universities

and Western University.

It is being led

by Dr. Gilliland's lab,

the Human Environments

Analysis Laboratory

(HEAL) and

The Department of

Geography at Western

University, with collaboration

from other

partners such as Brescia

University College,

Wilfrid Laurier University,

Old East Village

BIA and the London

Training Centre.

HEAL is committed

to research on public

health and the built

environment (the built

environment encompasses

places and

spaces created or modified

by people including

buildings, parks, and

transportation systems),

Laurier is offering

specialists in geography and environmental

studies and Brescia's strength is embracing the

diversity of food and nutrition research.

London Training Centre (LTC) executive

director David Corke said that the LTC is

presently the host organization and administrator

of this Labour Market Partnership

(LMP) project. LMP's are funded by the

Ministry of Training Colleges and Universities

here in Ontario

Corke elaborates, "Our connection and

interest rest both with local food and regional

economic development. A large part of the

work of our organization, in addition to training

and our work with food, also involves

helping people find work and careers. We

believe that a reinvigorated and re-imagined

regional food system, one that establishes

linkages between consumers and producers

through technology such as SmartAPPetite,

will encourage growth in the food sector and

by extension — new businesses and careers

for people."

In addition to Gilliland, Milczarek,

Clark and Corke, the SmartAPPetite

Team includes Dr. Sean Doherty (Dept. of

Geography & Environmental Studies, WLU),

Dr. Colleen O'Connor (Registered Dietitian,

Food and Nutritional Sciences Division,

Brescia University College), Dr. Richard
---
30 www.eatdrink.ca

№ 50 | November/December 2014

Left: Participants at the Essex County Workshop, at

the Kingsville Public Library, with Dr. Rick Sadler (back

left), Mark McGregor (back right), Michael Clark (front)

Below: At Feastival, the London Training Centre's

annual fundraising event: (L to R) Mark McGregor, Dr.

Rick Sadler, David Corke (Executive Director

of London Training Centre), Michael Clark

(graduate student and Old East Village Senior

Researcher & Programs Administrator

Sadler (Post-

Doctoral Fellow),

Dr. Andrew Clark

(Post-Doctoral

Fellow), and

Mark McGregor

(MA Candidate

and Research

Associate).

While there may seem to be similar apps

currently available, Dr. Gilliland stated, "Smart

APPetite is unique in its approach because

it embraces the diversity of food." Dozens of

students from Brescia gathered data and in

total over one hundred academics lent scientifically

validated expertise to the project. The

app and an integrated website being designed

by London digital agency Inner Geek Media

will actively provide users with information

about nearby local food options based on

their preferences and/or dietary restrictions.

The objective, Dr. Gilliland emphasized, "is to

develop an app that can communicate to users

not only what, when and where local food can

be procured, but offer reliable dietary information

and nutritional recipes as well. The challenge

will be keeping the content updated and

scientifically valid to maintain credibility."

Every so often, the team will send the user

short personally customized tips with information

about the health benefits of specific

foods, what is seasonal now, what

foods are available near you, or how

to prepare or store food properly.

You will be able to let them know

when and how often you want to

hear from them. With the app, you

can search for independent restaurants

that are part of the Smart APPetite

ideology. You will be able to get

the restaurant's address and phone number,

a link to its website and a brief description of

the restaurant and cuisine.

The team has facilitated workshop consultations

to evaluate how best to design

the app to make sure it user-friendly for the

widest variety of users as possible. Attendees

have represented various stakeholders ranging

from farmers (from agriculture to cattle),

producers, processors, distributors, niche

businesses, chefs, restaurateurs, regional

economic development and health unit representatives

and local food advocates. Consultations

were held in Elgin County (Arts

& Cookery Bank), Old East Village (London

Potter's Guild), Lambton County (Wyoming

Library), Essex County (Kingsville Library),

Middlesex & London (Central Library),

Perth County (The Local Community Food

Centre), and in Oxford County (Gunn's Hill

Artisan Cheese).

The team has also attended many local

food-focused events as well as being in

touch with stakeholders from Chatham-

Kent and Huron counties. Be sure to

check out the launch and progress of the

SmartAPPetite at www.smartappetite And

be sure to go to the Church Key Pub and

order the confit of duck salad.

BRYAN LAVERY is a contributing editor and eatdrink's

Food Writer at Large.

Dr. Colleen O'Connor (co-investigator from Brescia and

Registered Dietitian), Grace McGartland (The Arts &

Cookery Bank in West Lorne) & Christine Scheer (CGM).
---
№ 50 | November/December 2014 www.eatdrink.ca 31

Giving never tasted so good...

Since 2012, we've donated a percentage of all sales in November to Prostate Cancer Research

at London Regional Cancer Program at London Health Sciences Centre.

With your support we can do it again!

119 King Street, London, ON

(519) 675-9995

www.abruzzi.ca
---
32 www.eatdrink.ca

The BUZZ ... new and notable

The cold weather's coming, but don't let that

stop you from indulging your inner gastronome.

Some of the outdoor markets remain open, and

the indoor locations are also flush with fresh

products. Check out a new (or new-to-you) restaurant or

café in the neighbourhood. Take a day trip further afield to

discover something delicious (or just to sip on your favourite

wintertime beverage when you reach your destination). Head

back to class — cooking class, that is — to learn some new

tricks. Or nourish your mind, with something like this ...

Concerned about bees? World-renowned bee expert Dr.

Laurence Packer will share his insights on wild bees and

will be joined by an expert panel to discuss conservation

and restoration strategies in London. Find out about the

issues, and learn some practical steps we can take. Plight of

the Pollinators: Making London Pollinator Friendly,

November 24 from 7-9 p.m. at Wolf Performance Hall (Central

Library, 251 Dundas St. London) Attendance is free.

Jill Wilcox recently hosted an elegant open house to celebrate

Jill's Table's 15th anniversary and to introduce the brand new

kitchen. Jill partnered with McKaskell Haindl Design Build to

create a wonderful new space so you can enjoy time around the

table with great friends and food. This fall as part of their cooking

class line-up they are welcoming back chefs Paul Harding,

Josie Pontarelli, Vicci Coughlin, Chris Squire, Steve James

and Emily Richards. New to the Jill's Table kitchen this season

are Eric Neves from The Only on King and Justin Wolfe of The

Early Bird and Rock Au Taco. www.jillstable.ca

Dickens' Dinner—An Upper Canada Christmas Carol.

Enjoy a Victorian Christmas dinner followed by a performance

of An Upper Canada Christmas Carol: A Play by Jason Rip.

Colonel Thomas Talbot may be the most powerful man in his

35,000 acre "principality" along the shore of Lake Erie in early

№ 50 | November/December 2014

Win a Lexus Road Trip!

from

eatdrink

and

19th century Upper Canada, but he is not known as a kind

man. Discover for yourself if a parade of tranquility-shattering

phantoms can change his ultimate fate. November 28–

December 13. www.fanshawepioneervillage.ca.

Kiss the Cook cooking class instructors for the next few

months include Danijel Markovic of Kantina, Chris

Squire, and Neil Baxter from Rundles in Stratford. www.

kissthecookonline.com

Farm Boy has plans to open two new fresh market stores

in London, to be located at 109 Fanshawe Park Road East

("Masonville") and 1415 Beaverbrook Avenue ("Beaverbrook").

The new stores will create 260 new jobs for the region when

they open in the spring of 2015. The grocery is well known

for its fresh produce, butcher quality meats and hundreds of

unique private label items. www.farmboy.ca/london

Paul Harding, proprietor/chef of The Only On King, was

honoured as one of this year's 20 Under 40 award recipients.

The program recognizes accomplished London industry leaders

who are under the age of 40 who also give back to their

community. The 2014 recipients will be profiled in a special print

and digital supplement to be distributed with the November

issue of Business London. The recipients will also be feted at a

cocktail reception at the London Music Hall on November 12.

We here at eatdrink are currently compiling London's

Local Flavour, the 2015 Tourism London Culinary Guide.

This guide continues to confirm that Londoners are not just

advocating "eating and drinking local" and "eating seasonal,"

they are actively and creatively enhancing and making new

other established cuisines. Local Flavour helps businesses

participate in two popular economic trends — culinary

tourism and the local food movement. Likewise, more and

more environmental and ethical options such as sustainable

Enter our Draw for a Lexus Reflections President Package

The comprehensive appearance reconditioning service will completely rejuvenate

your vehicle. While the fully-trained Appearance Technicians detail your vehicle,

you will be provided with a beautiful Lexus to drive for a weekend!

Enter at www.facebook.com/eatdrinkmag

Contest ends December 15, 2014. Complete details online.
---
№ 50 | November/December 2014 www.eatdrink.ca 33

seafood, vegan, vegetarian, gluten-free and organic are being

offered. For more information, contact bryan@eatdrink.ca or

chris@eatdrink.ca

"It felt like home and we put down our roots," says Brenda

Daniel of From the Meadow, who has been farming since

1978. She and her husband Dave, along with their daughter

Heather, grow, harvest and manufacture a variety of natural

herb products on their 5-acre plot. They call their (MyPick®

local farmer verified) business an "adventure" and are

passionate about creating revitalizing and relaxing healing

creams, scrubs, shampoos, soaps, make-up and more with

their own culinary herbs and other natural ingredients. Their

products are available at their "Farmacy" at their farm in

Elgin County and at the Western Fair Farmers' & Artisans'

Market. vimeo.com/72948434

Smokin' Good fishmonger John England has expanded his

line of fresh and smoked fish at the Western Fair Farmers'

& Artisans' Market. England offers a wide selection of

seasonally-available fresh lake fish and shell fish that include:

Lake Erie perch, pickerel, and smelt; Iceland arctic char and

salmon, Campbell River salmon, wild chinook and coho

salmon, gravlax, oysters and P.E.I. mussels. England is also

known for his smoked pork, chicken and salmon.

In Restaurant News …

Thaifoon Restaurant has new owners, Mainsay Visouvath

and Fouzan (Rafael) Beg, relatives of former owners

Eddy and Alex Phimphrachanh. The kitchen continues to

set Thaifoon apart with bang-on aromatic specialties from

the Thai culinary canon and with a keen eye for detail and

presentation. The minimalist room is sleek, with a sexy,

upbeat soundtrack, rich dark woods and ultra-soft leather

banquettes. www.thaifoonrestaurant.com

Olive R Twists opened in mid-October in the Covent Garden

Market after months of refurbishment. The restaurant is

co-owned by Chris Doris, co-owner of Doris Family Produce

in the market, and Greg Efstatheu, a restaurateur/chef from

Ingersoll. Menus feature casual bistro fare. The 75-foot-long bar

uses state of the art tap technology. Find your favourite craft

and draft beers, handcrafted cocktails, and an intriguing menu

of classic and trendy martinis.

The sale of the Honest Lawyer building, which also housed

Downtown Kathy Brown's, is expected to be finalized at

the end of October. Restaurateur Marvin Rivas, who blends

tradition and ingenuity in true Latin American style at his

downtown hot-spot, Che Restobar, plans to put an upscale

restaurant with an atrium on the main floor and residential

apartments on the upper floors.

Downtown London's

Upscale Authentic Thai Restaurant

Book your Holiday Party now!

Mainsay and Rafael (Fouzan) invite

you to join them for dinner or lunch

519.850.1222 120 Dundas St. at Talbot

www.thaifoonrestaurant.com
---
34 www.eatdrink.ca

Tabitha Switzer and David Coulter have been running La

Noisette Bakery for a few months now, and getting rave

reviews. Located in Bellwood Plaza (Oxford and Gammage, in

London) they offer breads, pastries, sandwiches, soups, and

Patrick's Beans. Always fresh-made, and offered with a smile.

Find La Noisette Bakery on Facebook.

The Church Key Bistro-Pub offers top-notch cooking and

chef Michael Anglestad has a repertoire of flavours that are

big, brash and rustic but thoroughly cosmopolitan. Pastry chef

Cliff Briden is also at the top of his game. Best of all, owners

Vanessa and Pete Willis have created a welcoming place for

Your love of all things Italian begins at

№ 50 | November/December 2014

locals to meet and imbibe. The Church Key serves one of the

best Sunday brunches in the city. www.thechurchkey.ca

Established and operated by brothers Peter, Theodoros and

Elias Vergiris, The Mascot was a family-run restaurant that

relied on a loyal clientele of regulars for 43 years. The Mascot

closed in October when the family retired. The building, near

Dundas and Richmond, was purchased by Michael Manuel

of the London Music Hall.

Speaking of brunch, panoramic views and the tailored simplicity

and elegance of The River Room Café and Private Catering

make it a pleasing spot for lunch or Sunday brunch. Jess Jazey-

Spoelstra's kitchen has a deserved reputation for the quality

of the ingredients and the knowledgeable and expressive

exuberance of the preparations. Currently open just for lunch,

Jazey-Spoelstra tells eatdrink that she plans to open the

third Thursday every month for dinner starting in the New Year.

Jazey-Spoelstra's smart Rhino Lounge Bakery and Coffee

Shoppe, situated in the former gift shop at Museum London,

is now serving made-to-order sandwiches on Pastry Chef

Michele Lenhardt's daily bread (flavours change). And don't

forget about Lenhardt's delicious cronuts on Thursdays. www.

northmoore.ca/theriverroom/

Felipe Gomes provides an experiential culinary offering at

Aroma Mediterranean Restaurant,with amenities and

facilities for cooking classes, corporate team building exercises

and a private conference room for up to 30. Gomes's other

project is the Aroma Café, a Parisian-inspired coffee house

offering patrons a selection of speciality sandwiches, café au

lait, croissants and pâtisserie. www.fginternationalcorp.com

Icarus Resto Bar on Richmond Row, next to Black

Trumpet, has gotten off to a smash success. Uber-chef

Thomas Waite is plating up some very innovative

and interesting modernist-inspired and reimagined

Mediterranean and Greek dishes in the open kitchen. The

hospitable Zack Agathos and his service-oriented staff are

keeping the place humming. www.icarusrestobar.com

Stunning Views

Excellent Food

Ambiance Galore

CRONUT

Thursdays!

TUES, WED, FRI, SAT & SUN 11am–5pm

THURS 11–9 • Closed MON

Available for Private Events for up to 60

rhinolounge.ca | 519.850.5111

at

MUSEUM

LONDON

421 ridout st.

Book Now for

HOLIDAY

LUNCHES

Café Open TUES to FRI, 11–4

SUN Brunch, 11–4

Available Evenings for Private Events

theriverroom.ca | 519.850.2287
---
№ 50 | November/December 2014

Linda D'Andrea of Black Trumpet tells us that Chef Jason

Eccles and Chef James Smith at La Casa and Chef Scott

Wesseling at Black Trumpet have just introduced new

lunch and dinner menus for the upcoming holiday season.

www.lacasaristorante.com & www.blacktrumpet.ca

Blu Duby has become one of London's hottest downtown

restaurants — just try getting a last-minute reservation on

a weekend night. Chef Jamie Craig has recently joined Blu

Duby, bringing a culinary philosophy of appreciation for fresh

quality commodities and consistent proper preparation. In

addition to his passion for cooking, Jamie finds great satisfaction

in helping to discover and develop the talents of his younger

chef apprentices. He keeps his own skills current and sharp by

participating in culinary festivals like Savour Stratford, and

Canada's Gold Medal Plate event. www.bluduby.com

Chef de Cuisine Trevor Stephens holds an Interprovincial Red

Seal Certificate and received classical training at Fanshawe

College. He comes to Idlewyld Inn & Spa after spending nine

years at their sister Inn, Ingersoll's Elm Hurst Inn & Spa, where

he achieved the title of sous chef. Nestled in London's quaint Old

South neighborhood, the historic Idlewyld has sustained its air

of excellence for over a century. What started out as a private

residence in Victorian times has evolved into London's premier

boutique hotel, boasting membership in such organizations as

Distinguished Inns of North America and gaining the prestigious

designation of being named one of Ontario's Finest Inns. Check

out Chef Stephen's new menu online. www.idlewyldinn.com

Members of the London Brewing Cooperative will be

talking about their brewing practices during two special

events in November, both at The Root Cellar. Called Farm

to Fork: The People's Pint, the events run from 6 to 9 pm,

November 12 and 27. Cost is $50, which includes a threecourse

meal and a flight of beers. www.londonbrewing.ca

Lunch & Dinner

7 Days a Week

Mediterranean

Open Kitchen

Farm to Table Inspired

Licenced

Book

Now for

Holiday

Parties

519 Richmond Street (near Dufferin) 519 601 7110

www.icarusrestobar.com

"Reasonably priced, fresh, well-executed

Ethiopian cuisine ..." — Bryan Lavery, eatdrink magazine

Poacher's Arms is London's oldest pub. True to the pub

tradition, it offers good solid hearty food at accessible prices.

Co-owner Jim Lee tells us that the menu has been revamped

and polished to include some great new items. The pub now

carries 5 new rotating craft beers on draught that they are

constantly changing, which has generated a lot of positive

feedback from their regulars. www.poachersarms.ca

Restaurateur Mike Smith has installed a brewery in the

basement of his Jim Bob Ray's bar and is getting geared

up to launch a line of locally-brewed craft beer. The primary

market for his beer will be his own establishments: Jim Bob

Ray's, Joe Kool's, Fellini Koolini's Italian Cuisini, The

Runt Club and P Za Pie. However, Smith is also working on

attaining licensing and developing a brand so he can retail

his craft beers in other establishments, joining other local

craft brewery favourites like London's Forked River, Railway

City in St. Thomas, the fledgling Black Swan Brewery in

Stratford and the new Strathroy Brewing Company.

• Vegetarian

Options

• Takeout

• Catering

• Reservations

Recommended

ADDIS ABABA Restaurant

LUNCH Tues–Fri 11am–1pm

DINNER Tues–Fri 5–10pm • Sat 12–10pm • Sun 2–10pm

465 Dundas Street 519 433-4222

www.tgsaddisababarestaurant.com
---
№ 50 | November/December 2014

In Coffee News ...

Locomotive Espresso is now retailing the Aeropress (similar

to a French press) and the KeepCup (the world's first barista

standard reusable cup) which are both getting rave reviews.

They continue to brew the classic favourites, and the flat

white (Aussie) and cortado (South America) beverages are

gaining popularity. And, for espressophiles, Locomotive is

hosting a December bus trip to Toronto. Tour the Pilot Roaster

tasting bar and three selected espresso bars, and get your fill

of coffee for the day. www.locomotiveespresso.com

www.davidsbistro.ca

ALWAYS

a 3-course

prix fixe menu

option

432 Richmond St.

at Carling • London

Brilliant

Holiday Celebrations!

Patrick Dunham's goal is to offer high quality coffee blends that

are roasted locally and sourced ethically. Dunham caters to the

specific needs of clients and his strategy includes offering fund

raising opportunities to non-profits as well as demonstrating

transparent community involvement. Beans are roasted in small

batches and blended to attain tailor-made tastes and complexities

that cannot be found in single varietal selections. Look for

Patrick's Beans on Facebook, or at Ogilvie's Market, Sunnivue

Farm near Ailsa Craig, The Arva Flour Mill, Time to Chill in

Woodstock, The Root Cellar, Hungary Butcher and The Rhino

Bakery and Lounge. www.patricksbeans.com

Around The Region ...

Yoda's Private Catering has moved! The small (but mighty!)

catering company is now located at 481 Talbot Street, St.

Thomas. Stay tuned for their grand opening in January 2015.

Open to the public every Wednesday for #walkinwednesday

from 10am–6pm with seasonal soups, frozen entrees and

lunch specials, with plenty of vegetarian and gluten free

options. letyodacookforyou.com

The folks at Railway City Brewing are pleased to announce

that they have just received another order of new 40HL and

20HL fermentors, increasing brewing capacity by 50%. Stop

in for a visit, and check out the new equipment. They will be

releasing Cranberry Festive Lager in November at a Thursday

Night Release event. Featuring cranberries from Bala, Ontario,

the lager will be available from the LCBO as part of Railway

City's Holiday Gift Pack. www.railwaycitybrewing.com

"A place you

can depend on

and delight in"

— eatdrink

46 Blackfriars Street, London

519-667-4930

www.blackfriarsbistro.com

EXPRESS LUNCHES

INTIMATE DINNERS

EXTRAORDINARY

CATERING

DIETARY NEEDS

ACCOMMODATED

AMPLE FREE PARKING

The Little Inn, the heart of hospitality in heritage Bayfield, has

changed ownership. After 33 years, Gayle and Pat Waters have

turned the business over to new owners Mike and Joanne

Oliver. The Olivers will be making a few changes to maintain

and update the building. The inn has been the centre of the

Huron County village since 1832 and has been Four Diamond

CAA rated for more than 20 years. www.littleinn.com

Air Canada's award-winning inflight magazine, enRoute,

announced their Top 10 list of Canada's Best New

Restaurants 2014, as well as the Best New Restaurants 2014

People's Choice Award. On a month-long culinary journey that

took noted food writer Andrew Braithwaite from Tofino,

British Columbia to St. John's, Newfoundland, he discovered a

group of chefs, sommeliers and restaurateurs who continued
---
№ 50 | November/December 2014 www.eatdrink.ca 39

to explore this country's terroir and redefine what it means

to dine out in Canada. Read more: ethicalgourmet.blogspot.

ca/2014/10/air-canadas-enroute-magazine-announces.html

Stratford …

Mercer Hall Craft Beer Dinner Series. Chefs Tim Larson

and Sean Collins create 4 courses matched with 4 beers

from a different craft brewery each month. Learn about the

breweries and the process while enjoying seasonal and staple

products from these artisan breweries. Overnight packages

are available with Mercer Hall guest rooms. On November 20,

the partner brewer is Flying Monkeys Brewery from Barrie.

On December 18, Block Three Brewing Company from St.

Jacobs will be there. www.mercerhall.com/supper-club

Want to be a food critic? Stratford Chefs School aspiring

chefs are preparing favourite classic menus with passion and

skill and invite you to join them. The Classic Dinner Series is

served at The Prune, while 3-course lunches designed by

the students take place at Bijou Friday and Saturday. www.

stratfordchef.com

Mercer Hall presents The SUPPER CLUB. This is a long table

dinner with a themed menu and guests are encouraged to dress

up to match the theme. How about donning that ugly Christmas

sweater for "The Griswalds" dinner? Tickets are $50, include a

feature cocktail and 4-5 course dinner. Cocktails begin at 6pm

If your senses light up with the first signs of Christmas, then

Stratford's annual Yuletide Tour of Home is the place you'll

want to start. Presented by the local chapter of IODE, the tour

features four beautiful city homes and one gracious country

home, all decorated by local designers in the tantalizing

sights, sounds, textures and aromas of the season. At Royal

Palisade tourers can feast on hot mulled cider and mouthwatering

Christmas goodies created under the direction of

executive chef Liz Tracey. November 22 and 23. 519-271-8745,

stratfordiode@gmail.com, or on Facebook.

Bradshaws Christmas Open House is an annual shopping

tradition in downtown Stratford, marking the beginning

of the holiday season. Visit this event for delicious food

samplings, new product demos, and the best assortment of

holiday gifts, foods and kitchenware. Enter to win door prizes

and receive a FREE gift with purchase. Thursday November 6th

5–8pm. www.bradshawscanada.com

We love Monforte Dairy's 30 varieties of artisanal cheese

available at over 30 farmers markets, and catching a local

seasonal meal (preferably with cheese!) at Monforte

on Wellington, a relaxed osteria style restaurant. Now

the Monforte Home Farm is part of the family, where

the community will come for sustenance, learning and

revitalization. In March 2015, the Monforte Dairy Artisanal

Cheesemaking School will be launched.

Try Our NEW Grilled Seafood Menu Items!

growers & creators of fine lavender products

DISCOVER

Steed & Company Lavender, part of a

45-acre horse farm just outside of Sparta

INDULGE

in our unique handcrafted lavender products

ESCAPE

in the wonderful scent

and calming powers of lavender

519-494-5525

47589 Sparta Line, Sparta

buds@steedandcompany.com

Open Wed-Sat 10-5; Sun 12-4

Mother's Day to December 20

www.steedandcompany.com

Join us for our

Christmas

Open House

November

22 & 23

ENJOY

Authentic

Greek Wines

& Beer

OPEN LATE!

Sundays 4–9

MON−SAT 11–10

EAT-IN OR

TAKE-OUT

572 Adelaide Street, London

519-434-6736

www.mykonosrestaurant.ca
---
40 www.eatdrink.ca

№ 50 | November/December 2014

and dinner is served family-style in the private dining room.

December 20. 519-271-9202, www.mercerhall.ca/supper-club

Slow Food Perth County Sunday Market is moving inside,

to a NEW location — The Falstaff Family Centre, Stratford,

35 Waterloo Street, Stratford. The market you know and love

is open Sundays from 10 am–2 pm all year round. www.

slowfoodperthcounty.ca

Blue Cheese and Port, one of

the classic food and beverage

pairings will be discussed and

tasted with several variations

of blue veined cheeses and

3 different ports. Saturday,

November 22 at The Milky

Whey Fine Cheese Shop.

www.visitstratford.ca/tastings

Stratford Farmers' Market is

a year-round market operating

since 1855. Fresh produce, crafts,

meat and cheese. Stratford Rotary Complex–Agriplex, 353

McCarthy Rd., Stratford. Saturdays 7 am–12 pm. 519-271-5130.

www.stratfordfairgrounds.com

We want your

BUZZ!

Do you have culinary news or upcoming events

that you'd like people to know about?

eatdrink has thousands of readers across

Southwestern Ontario

Get in touch with us at

editor@eatdrink.ca

Scotch and Chocolate: Share the warmth as Kristene

Steed of Rheo Thompson Candies pairs up with a whisky

expert for a smooth tasting of scotch and chocolate. Saturday,

December 13. www.visitstratford.ca/tastings

A Wind in the Willows Christmas — Join Alternative

Theatre Works this holiday season in this delightful familyfriendly

adventure to Mole End! This fresh adaptation by

Alternative Theatre Works

of A Wind in the Willows is

back and sure to be a holiday

classic in Stratford. Special

guest Graham Greene takes

on the character of Toad,

joining some of Stratford's

most beloved actors, Stephen

Russell, Brad Rudy and

Robert King. Come and

share this heartwarming tale

of friendship, generosity and

the joy of being home for

Christmas in Stratford. The cast

is pleased to welcome Stratford actress Jessica Seguin as

Head Mouse! The Masonic Hall, December 17–30. Don't miss

out on an experience that is sure to bring joy to your whole

family this festive season. www.visitstratford.ca/wind

Reserve Now for Your

HOLIDAY PARTIES

Open WED to SUN

11am to 10:30pm

"Pure

Chinese"

Cuisine

—eatdrink

NEW

MENUS

NOW HERE

Five Fortune Culture

RESTAURANT

366 Richmond Street at King

www.fivefortuneculture.com

226 667 9873

117 King Street

across from Budweiser Gardens

519-434-2272 (CASA)

www.lacasaristorante.com

"Enjoy consistently

outstanding Italian and

Mediterranean cuisine

enhanced by local and

seasonal ingredients."

OPEN

Monday–Saturday

Lunch & Dinner
---
№ 50 | November/December 2014 www.eatdrink.ca 41

farmers & artisans

The Food Web

Part 4 — Autumn to Winter

By ANTONY JOHN

The passing of Labour Day heralds

a number of changes to our farm.

From now until the snows of

December, we are entering full

harvest mode, and everything rides on its

successful conclusion.

We have invested up to eight months

on some crops such as celeriac and leeks,

seeding, transplanting, weeding, more

weeding, and protecting them from various

pests and diseases. All this has soaked up

large amounts of time, space, organic inputs,

and labour, and it's too easy to lose one's

shirt over inefficiencies at harvest time.

There is a system for doing everything on a

farm. I learned that fresh out of university

on my first trip home to Tina's farm. The

only thing that kept me going mucking out

the calf pens was pride, as Tina out-paced

me time and again, forking manure-packed

straw into a wheelbarrow. She had a system,

and I would do well to learn it.

It is therefore a good thing that when

the time comes to harvest the fruits (well,

vegetables) of our labour, our crew has had

eight months

to learn the

various systems

we've developed,

to quickly and carefully

harvest each of the 50 or so crops we grow. I

don't think I can say enough about the skill

level required to efficiently harvest items

requiring a high degree of in-field editing for

our discerning customers, or how impressed

I am by our team's ability to carry it off week

after week, in any weather.

There is more than just a shift in tempo

and scenery on our farm as we move into fall.

Around the middle of August, the soundscape

changes, almost overnight. Now that the

young of the season have fledged and left their

nests, male birds no longer need to expend

energy advertising territories (remember,

efficiency), and so they stop singing. Fall

is the time of the insects. The farm chorus

switches from the complex harmonies and

arias of the birds, to the buzzes, chirps, and

trills of cicadas, grasshoppers, crickets, and

katydids, while the ever-present bees provide
---
42 www.eatdrink.ca

Harvesting the leeks and Dino Kale

To market, to market

Kalette sprouts

a background drone (pun intended), and

more and more butterflies appear, to feed

on developing flowers. It's as if the insects

are providing a soundtrack for the buzz of

energy and electricity on our farm as it gears

up for fall harvest.

The most important consideration in the

crops we grow isn't yield, it's flavour. As I

see it, there are four forces at work that, in

combination, will have a huge bearing on

the flavour of the food we grow. They are:

seed, soil, climate, and the farmer.

There is huge variation in flavour

intensity and profile within each vegetable

seed variety available on the market, and

the farmer typically balances practical

№ 50 | November/December 2014

considerations such as days to maturity or

ease of mechanical harvest, with the flavour

characteristics of each variety, as he makes

his choice of what to grow (yes Virginia,

there IS a trade off here).

Soil also has a massive bearing on flavour

development, and the farmer (working with

soil consultants), has the ability to manage

much more than the N, P, and K levels

(nitrogen, phosphorus and potassium),

to boost flavour and shelf life through

micronutrient management as well.

Climate, and its impact on flavour, is the

main reason why our farm is such a late

finisher in the harvest race. As root crops

develop, fall frosts trigger a biochemical

reaction in the still-growing crops. Belowfreezing

temperatures signal the plants to

manufacture anti-freeze, so the roots survive

the winter, and that anti-freeze (luckily for

us), is sugar. Successive frosts cause the

plants to convert the starches in their roots

into sugars (evolutionarily speaking, that's

one of the reasons they have starchy roots

in the first place). Once again, it's up to

the farmer to take advantage of this or not,

through planting and harvest timing.

As with most things in life, it seems that

one can't grow good tasting food without a

trade-off in effort.

As the Snow Buntings arrive in December

to overwinter on our farm (and eat our

pigweed seeds!), we will be wrapping up

our harvest and, hopefully, filling our cold

storage with healthy, tasty vegetables for

our restaurant and market customers,

through Christmas dinner and into the cold

months of winter. Come January, we start

the cycle again.

ANTONY

JOHN is an

organic farmer,

painter and avid

birdwatcher.

He lives near

Stratford. This is

the fourth and

final in a series

of reflections

on the food we

grow and buy.
---
№ 50 | November/December 2014 www.eatdrink.ca 43

travel

Deliciously Lost in Italy

By CLAUDIA VIANI

Ihave lost count of how many times

I have been to Italy, and whenever

someone asks me where to go and what

to see there I simply tell them to "get

lost". Whether you're travelling independently

or on a scheduled tour, to truly capture the

essence of this beautiful destination make sure

that you always find time to explore and to

make discoveries on your own.

I recently travelled there with 27 photo

enthusiasts, and our 14-day journey began

in the Eternal City. First stop was a mostly

private stroll on the antique Appian Way,

one of the earliest and most strategically

important roads of ancient Rome. Today it

is mainly enjoyed by locals, as a passeggiata

and an escape from the summer heat

and tourist crowds ... which we also later

encountered. Few cities in the world

can compare with Rome and its ancient

wonders…the Colosseum, the Forum, the

Palatine Hills and, of course, the three main

piazzas — the Trevi Fountain, Spanish

Steps and my favourite, Piazza Navona. The

other must-see is Vatican City, showcasing

Saint Peter's Basilica, Vatican Museums,

and one of Michelangelo's masterpieces,

the Sistine Chapel.

A delicious discovery in the Tuscan city of Lucca

For three days we walked, experienced, and

photographed, and soon discovered that most

of the tourists are gone by sundown, allowing us

to savour quiet evenings dining al fresco in local

cafés and trattorias. Fresh-out-of-the-oven lasagna,

minestrone and various pasta dishes with local wine

selections were enjoyed by all…diets forgotten or

ignored. My most memorable Roman dish was ricotta

and spinach filled homemade ravioli, with either a

porcini mushroom or gorgonzola sauce. The owner

proudly allowed me to sample both. Unfortunately I

discovered this dish on our last evening.

We moved on to Tuscany, travelling bright and

early towards the Val D'Orcia region. After busy and

hectic Rome, this provided a peaceful and serene

environment. Brief stops to enjoy a local village

At San Donato Winery, on the hills of San Gimignano
---
44 www.eatdrink.ca

№ 50 | November/December 2014

Il Duomo dominates the

skyline of Florence. Left,

detail from a statue in St.

Peter's Basilica in Rome

antique car show

and the quaint hilltop

town of Pienza

left us all wanting

more of the same,

but Siena awaited.

We were welcomed with a

typical Italian Sunday pranzo

(mid-day meal). After the antipastos

and three types of pasta

were served, I recognized the

panic in everyone's faces, upon

the realization that this was

only the second course of our

lunch, with at least two more to

come. I have often witnessed

this reaction at my parents'

home with first-time meal

guests. We persevered and

after lunch waddled through

what was left of our afternoon

in what is likely Italy's loveliest

medieval city. Fortunately

Siena was built over three hills,

allowing us to walk off most of our meal.

Next stop and base for five days was

Lucca. A beautiful Tuscan town protected

by perfectly preserved thick 16th-century

walls, Lucca is a city to stroll through.

Featuring some of Italy's finest medieval and

Renaissance architecture, superb cuisine

and shopping, a few of the must-sees are

the Piazza Anfiteatro (built on the site of an

original Roman amphitheatre), the Guinigi

Tower with a tree growing on top, and of

course the city's wide walls — which can be

enjoyed either on foot or by bicycle (the town

offers bike rentals by the day or the week.)

Everyone loved Lucca. This is where we

enjoyed the best thin-crust wood oven pizza

and savoured two other memorable dishes:

local meat-filled tordelli with ragout sauce

(probably lovingly handmade by someone's

nonna), and tagliatelle with freshly shaved

white truffles. Need I say more? Oh yes —

local wines and gelato!

As a traditional Lucchese I ended each

meal with a corretto (espresso coffee with

a splash of liquor — I preferred Sambuca).

Our group leader is now also hooked, and

will be trying it at home.

From Lucca we enjoyed a day trip to Cinque

Terre, the perfect sunny day allowing us to

reach the five villages by boat. Another day

brought us to Monteriggioni and a leisurely

wine tasting and lunch at a nearby winery,

which resulted in the cancellation of a planned

visit to San Gimignano. These things happen

when one is experiencing la Dolce Vita.

Buildings are terraced on the steep and rugged

landscape of Cinque Terre
---
№ 50 | November/December 2014

A Taste of Europe since 1974

40YEAR

Anniversary

Giovanni, barista at the Bar Spuntineria da Aristo di

Lorenzo Togneri, in Barga, offered samples of local

cheese and cured meats

We also enjoyed our trip to another

medieval town, Barga — aka "The most

Scottish place in Italy". The link to Scotland

dates back to the early 1850s and many

locals still maintain a strong connection

to their Scottish roots. Arriving in the early

afternoon allowed us the luxury of wandering

the streets practically on our own. For avid

photographers this is a wish come true, as

there will not be any (other) pesky tourists

featured in their perfectly framed shot!

Giovanni, a very colourful barista at

the Bar Spuntineria da Aristo, invited me

to sample local cured meats and cheese,

which this area of Tuscany (Garfagnana) is

well known for in culinary circles. In return

I promised that I would mention him and

include his photograph with this article.

We moved on to Florence (our home for

three nights) via brief visits to the seaside

town of Viareggio and the Piazza dei

Miracoli in Pisa. Our photographers were

quite creative in their compositions while in

Pisa, one actually framed a perfect shot of

the tower so that it no longer leaned!

Along with group visits to iconic landmarks

and points of interest such as the Cathedral of

Santa Maria del Fiore, Brunelleschi's Duomo,

Michelangelo's David and Ponte Vecchio,

we ventured out on our own and came back

• Private Rooms

• Free Room Rental

• Wi-Fi

• Murder Mysteries

• Holiday Parties

122 Carling Street (at Talbot, around the corner from Budweiser Gardens)

519-679-9940

Open Daily for Dinner

www.marienbad.ca

Lunch Monday–Saturday

Tuscany, Wine & Cuisine

8–18, 2015

May 8–18, 2015

EXCLUSIVE

TOURS

Accommodation for 7 nights at

Villa Marta, located outside historic

Lucca, and 2 nights in Rome.

Group Host is Sommelier Bob Latham,

instructor at the Stratford Wine School & Stratford Chefs School.

Experience local wine, cuisine and renowned attractions in Lucca,

Pisa, Florence, Siena, San Gimignano, Rome and the gorgeous Tuscan

countryside. Enjoy private wine & olive oil tastings, and wine pairings

with most dinners. Limited to 20 passengers so please book early.

For more information on this exciting tour, contact:

Carlson Wagonlit Travel

450 Columbia St. W. Unit 6, Waterloo ON

1-800-267-9269

email: waterloo@carlsonwagonlit.com

www.cwtvacations.ca/waterloo TICO Registration 50020877
---
46 www.eatdrink.ca

№ 50 | November/December 2014

The hill town of Montalcino, in

Tuscany is famous for its Brunello

(one of Italy's best-known and

expensive wines)

with exciting discoveries. One was the English

Cemetery, where over half of the unique and

decorative graves are occupied by members

of the Anglo-Florentine community of the

early 1800's, including poet Elizabeth Barrett

Browning and American sculptor Hiram

Powers. Another was the incredible church

and museum of Santa Croce, the burial

place of Michelangelo, Dante, Machiavelli,

Leonardo da Vinci and Galileo. I also enjoyed

losing myself in a local

Sunday afternoon antique

flea market.

After much gelato and

many photographs of this

Renaissance city, we moved

on to the last leg of our

incredible trip, Venice! One

of the most interesting and

lovely places in the world,

this "open air museum"

contains the world's most

artistic masterpieces per

square kilometer. It was

built on a marshy lagoon and is almost the

same as it was six hundred years ago. Linked

by over 450 bridges it provides delightful

surprises at every turn. One of the highlights

was a guided tour of Venice's famous La

Fenice Opera House, a renowned landmark

in the history of Italian theatre. Like the

phoenix for which it was named, it finally

rose from the ashes for a third time in 2004.

Restored to its former glory, it has since

regained its status among the world's top

opera houses.

Whether you partake in a gondola ride,

visit one of the many cathedrals or galleries,

or enjoy a cappuccino in St. Mark's Square

while watching the world go by, Venice is not

to be missed. Whenever I visit I make a point

of venturing away from the popular areas to

discover the calm, beautiful, magical side

of this city. Before long I find myself in a

Venice with kids kicking a soccer ball around

a deserted campo, and locals sitting in park

benches chatting with their neighbors. I

briefly close my eyes and take in the familiar

aroma of fresh cappuccino coming from

nearby cafés.

That is how I feel most at home and

deliriously lost in Italy!

CLAUDIA VIANI is an avid traveller and has worked in

the travel industry for over 35 years. She is a Director, Leisure

Operations Canada, for Carlson Wagonlit Travel..

Colourful buildings line the canal in Burano,

an island in the Venetian Lagoon
---
№ 50 | November/December 2014 www.eatdrink.ca 47

in the garden

Decorating Outside-In

Bring Nature Indoors for Outstanding Holiday Displays

By ALLAN WATTS and RICK WEINGARDEN

You might be surprised what you can find for

holiday decorating in your own yard. Check

it out now to survey the possibilities

for when the time is right. Pour

yourself a holiday drink to put you in the mood,

and try to look at your outdoors with new eyes.

Have two drinks and you will! Remember that

using fresh means that it has a "shelf life" and by

cutting your own you get the freshest!

Any evergreen can work beautifully in holiday

arrangements. Each has its own character and

fragrance. Take advantage of your private source

and design accordingly. Maybe something

could use a little pruning? If so, wait until you're

ready to decorate before you prune.

Twigs are very popular for winter arrangements

and red osier dogwood is a favourite because of its

perfect deep red colour. However, any twig with an

interesting bark will give you a great look: birch,

paperbark maple, willow, curly willow and kerria

are all great choices. Look at your trees and shrubs

without the leaves with this in mind, and again,

maybe something needs a little pruning.

If you have conifers in your garden, you have

a source of cones. Spruce, pine and even the tiny

cones on cedars are decorative. Cones can be

arranged in a clear vase with berries added, or

incorporated into arrangements for your table or

outdoor urns and wreaths.

Don't worry if you don't have your own, you can

still be crafty by supporting locally sourced greens

from markets and independent garden shops.

Indoor Blooming Beauties!

If you enjoy long-blooming flowers indoors in the

winter months, they don't get more rewarding than

Amaryllis. Most are native to South Africa and are

sold in the fall for us to enjoy, potted up indoors.

The larger the bulb, the more blooms — the topsize

bulbs often give you two to three stalks each with

five to seven flowers per stalk — what a show!

Planning is important as different varieties

bloom at different times. There are a few varieties

that will bloom for the holidays, but act fast as

their bloom time is approximately six weeks from

Winterberry on White Birch

Holiday arrangement

Red Osier Dogwood, Boxwood, Cedar cones

Winterberry and Pine
---
48 www.eatdrink.ca

№ 50 | November/December 2014

Beautiful indoor winter blooms — Amaryllis (left)

is available in numerous colours and varieties, and

Paperwhites (below left) offer a fresh spring scent.

planting. These early bloomers come in crisp

whites, cherry reds and combinations of the

two — perfect for a holiday arrangement.

Often they are planted singly, and can be

placed anywhere, but a grouping of three

or five in a large container makes a great

feature centrepiece. For holiday bloomers,

choose from some new arrivals this year:

Vixen — a deep red; Comet — a white petal

with red brush strokes; Blitzen — red petals

with white accents; or Dancer — pure white

petals with a green throat. Many other

varieties are available that will bloom into

the new year — perfect for winter enjoyment

and for gift giving. There are more colours

and variety options with the later bloomers.

Colours such as chartreuse, deep red, pinks

and lemon yellow are so welcome in the

middle of winter. Later blooming choices

also offer lush double petal varieties and

novelty selections that are shorter and

multi-flowering. They offer great value and

last for weeks in bloom. For best and most

reliable results, pot up your Amaryllis in a

container with drainage, using fresh potting

soil. Finish the pot with moss, cones or

decorative stones.

Paperwhites are another favourite for

indoor arrangements as they are very easy to

grow and produce a great show. Customers

have commented lately their strategy for

Paperwhites is to buy extra bulbs and pot up

some now (approximately six weeks to bloom

from planting). Store the extra bulbs in the

crisper for planting into the new year. Many

love the sweet fresh spring fragrance, but if

you find the fragrance too strong, place your

arrangement in your foyer or somewhere

you're not sitting — they can take the cool

drafts of the door opening and closing.

Paperwhites are typically not planted in

soil. Using a dish or favourite container with

no drainage, fill the bottom two to three

inches with stones, pea gravel or glass beads,

etc. Place the bulbs on the "stones" and top

up with enough more stone to hold the bulbs

in place (one inch). Fill with water to the

bottom of the bulb and your work is done!

Surprisingly, both Amaryllis and

Paperwhites grow best in indirect light and

away from any heat source, so they make an

easy to grow, perfect houseplant.

Using your garden as your private collection

of holiday materials is both challenging and

rewarding. You might be surprised with what

you find and will very likely enjoy creating

your own fresh arrangements. The Amaryllis

and Paperwhites work well with fresh material

for holiday decorating, as they give the

complimentary textures and pop of colour.

Enjoy your holiday decorating and have a

happy holiday season.

RICK WEINGARDEN and ALLAN WATTS own

Anything Grows SEED Co. (www.anythinggrows.com). They can be

found at the Western Fair Farmers' & Artisans' Market on Saturdays,

and at various gardening events around the region.
---
№ 50 | November/December 2014 www.eatdrink.ca 49

wine

Launching 2015 in Style

The 10th Anniversary London Wine & Food Show

SAMPLING OF THE FINEST CUISINE,

CRAFT BEERS, SPIRITS AND WINES.

By CECILIA BUY

London is situated in one of the most

agriculturally productive areas of

farmland in Ontario, and for over

a hundred and fifty years Western

Fair has hosted fairs, competitions, sales

and other events for farmers, producers and

consumers from the surrounding region.

About ten years ago the Agriplex was

constructed specifically to host livestock

shows and agricultural events in the

Western Fair District.

Around the same time, Londoners

flocked to the first annual Wine &

Food Show, a three-day event that

celebrates the culinary life of Ontario.

This coming January will see a very

apt convergence of venue and event,

when the 10th Annual Wine& Food

Show is held in the newly refurbished

Agriplex.

Each successive year the Wine &

Food Show has provided more visitors

the opportunity to discover and enjoy

more food and beverage products, and

related businesses and services. The

move to the Agriplex will offer a much

larger space than the previous location

(the combined Progress and Canada

buildings). Upgrades to the electrical,

heating/ventilation and air-conditioning

systems, as well

as improved

food- and

beveragerelated

facilities

will make

the new venue more pleasurable January 15-17, for 2015 both

THU 5PM–10:30PM | FRI 5PM–10:30PM | SAT NOON–10:30PM

visitors and exhibitors.

So, what exactly can you expect from this

98%

$

10

Plan on buying products

showcased by exhibitors*

would recommend

98% this show to others* 89

Celebrate the 10th anniversary of the London Wine & Food Show

by expeiencing the event on opening night for only $10

#LDNWineFood

WesternFairDistrict

@WesternFair

Entertaining chefs, such as 2014 visitor Bob Blumer (above),

cookbook author and TV "gastronaut," attract appreciative

audiences throughout the three-day event

show? Advance tickets are twelve dollars.

If you plan to taste (of course you plan to

taste!) you'll get ten sample coupons

for ten dollars. (There is a couple's

package available). Exhibitors offer

samples for varying numbers of

coupons.

Visit individual winemakers, brewers

and distillers from across Ontario,

as well as agents and international

distributors. Check out booths where

local and regional restaurateurs,

caterers and hotels and inns offer

The show presents dozens of unique

opportunities to try something new

*2014 L
---
50 www.eatdrink.ca

№ 50 | November/December 2014

information,

as well as food

samples from

their chefs.

Discover artisanal

cheeses,

chocolates

and pastries,

organic foods,

and locally

roasted coffees.

If you can think

of a food or a

beverage that

is produced in

Southwestern

Ontario, you'll

The Cooking Stage presents demonstrations on cooking, food

and wine pairing, and more

probably find it at the Wine & Food Show —

offered by the people who make it, bake it,

or brew it, ready and willing to answer your

questions.

Have a taste (or a thirst) for knowledge?

There are cooking stage presentations by

chefs, mixologists and food producers.

Take a seat to enjoy the action or get up

close so you can be one of the lucky ones

to get a sample of the finished dish. There

are also demonstrations and sampling

sessions for classic wine and cheese and

other food pairings and tasting seminars on

your favourite beverages: wines and beers,

certainly, and perhaps even on bourbon

or vodka. (Tasting seminars are free, and

popular. So register when you arrive to make

sure you have a place.)
---
№ 50 | November/December 2014 www.eatdrink.ca 51

Sample coupons are the

currency of the Wine

& Food Show, allowing

visitors to get a taste

of the many food and

beverage selections on

offer.

And because you'll be having fun

with all this tasting and discovering,

you might decide to plan your

next day trip, weekend road trip,

or extended vacation, with the

help of regional tourism or winery

association representatives.

The London Wine & Food Show

has become one of the premier

culinary events for both exhibitors

and visitors. Don't miss this one!

The 10th Anniversary London

Wine & Food Show

Western Fair District, 900 King

Street, London

www.westernfairdistrict.com

thursday january 15, 5–10:30pm

friday, january 16, 5–10:30pm

saturday, january 17, 12 noon–

10:30pm

Must be 19+ years to attend.

CECILIA BUY is eatdrink's Managing Editor

featuring:

an experience to savour ...

casual fine dining

world-inspired cuisine enhanced by

local and seasonal ingredients

private dining rooms for lunch & dinner

NEW

MENUS

Crêpes and More • Fried Rice Delite

Dominic's Italian Eatery • Treats

London's Shawarma • Sushi N Sushi

Daily Planet Café

OPEN MON–SAT

lunch & dinner

523 richmond st.

just N of the Grand Theatre

519-850-1500

blacktrumpet.ca
---
52 www.eatdrink.ca

№ 50 | November/December 2014

BEER MATTERS

beer matters

What to Give the Discerning

Foam-Head Who Has Everything

By THE MALT MONK

As I pen this

column, I

still savour

the afterglow

of this autumn's

profusion of crafted

seasonal brews — fresh

piquant wet hop ales,

spicy pumpkin ales,

rich satisfying orange

Marzens, warming

amber harvest ales and the first of the big

dark brews of the frigid quaffing season.

Autumn 2014 saw the best selection of local

and imported crafted seasonal brews that I

can recall. It's a great time to be a craft beer

fan, with so much choice on tap at your local

craft beer oasis.

This column will be a shameless plug for

gift shopping — mostly for those who have

a special foam-head they want to buy for,

but may be a bit unsure where to start. If you

haven't the requisite beer nerd knowledge

to hunt down the exotic brews a manic

beirophile craves, don't stress — this is giftcertificate-at-his-favourite-watering-hole

territory. Or you can shop the beer gift packs

that appear at the LCBO. But, if you want to put

something special under the tree, something

that won't fail to delight the most ardent

beer lover, you can't go wrong with specialty

glassware, or unique/collectable bottle

openers or other breweriana —signs, coasters,

trays, mats, tap handles, etc.— all of which are

prized collectables in brew nerd culture.

Appropriate glassware is an essential part

of the proper presentation and enjoyment

of artisan-crafted beers. Yes, the different

shapes of beer glasses have a purpose. This

is so important that many world class beer

cafés in Europe will not serve beer unless the

proper glassware is available:

Weizen Glass

Design: Tall and slender, rounded out into a bulge at the top.

Reason A nice thick cap which forms in the top bulb really

increases the enjoyment of a wheat beer, holding in all

those great spicy phenols and fruity esters — a

full complement to an unfiltered hefeweizen's

taste. It also gives a visual show of the brew's

heading, effervescence and opaque coloring.

Beer Styles: Weizen, Heffeweizen, Witbier,

Weizenbock, Gose
---
№ 50 | November/December 2014 www.eatdrink.ca 53

Pilsner Flute

Design: Tall glass, slender, tapering at the bottom,

sometimes with a stem.

Reason: The height of the glass allows the beer to

show off its colour and carbonation. A nice head

can be built at the wider top opening, which will

trap the floral-biscuity aroma of the beer while

the bubbles spiral up from the bottom of the

glass to feed the head.

Beer Styles: Pilsner, Helles Lager, Maibock, Dampftbier,

Steam Beer

Stangen

Design: 100 ml -200 ml straight-walled cylinder,

usually thin glass. The name translates as "pole,"

used in Cologne and Leipzig.

Reason: Highlights the effervescence and aids in

"quaffing" more than one beer.

Beer Styles: Kolsch, Gosebier

French Jelly Tumbler

Design: Thick ribbed tumbler in 1 and ½ pints

Reason: Originally used for making preserves,

became the preferred glass for serving Belgian

witbiers and lambics.

Beer Styles: Witbier, Weissbier, Lambic

Nonic (UK Pint)

Design: Basically cylindrical, wider at the mouth than the

bottom, with a slight bulge just below the rim.

One of the most common beer glasses, with

several European variations.

Reason: Wide mouth allows proper amount of

head to form. Glass won't slip from hands when

sweating because of the grip bulge. Easy to

handle, stack and store.

Beer Styles: Lager, Pale Ale, ESB, Mild Ale, IPA, Stout, Porter,

Beer cocktails

Dimpled Mug

Design: Round and squat, thick sides, with a

handle.

Reason: Allows a large quantity of beer, with

plenty of room for head. Sturdy enough for

sliding down the bar and for toasting. Use

handle to hold the beer without warming it. A

quaffer's delight.

Beer Styles: Golden/Amber Ale, Lager, IPA, Porter, Bock,

Stout, Cream Ale — any session beer.

Stoneware Stein

Design: From plain to elaborately decorated fired stone

vessel — usually 1 liter, often with a hinged lid.

Reason: Traditional Germanic beer vessel keeps

beer cold, closed cap keeps head and beer

fresh (and insects or other airborne objects

out of your beer), hard to break.

Beer Styles: Pale lagers, Marzens, Hellerbier,

Edelhell, Altbier, Dunkel

You could ride in one of these vehicles

or ...

You can relax and leave the driving

to us!

Diamondz DD provides car and driver retrieval service

7 days a week, 364 days a year,

in an effort to offset impaired driving statistics.

Call us for information on corporate retainers

and Special Event packages!

519-457-9700

www.diamondzdd.com

Sunday to Thursday: 6pm–4am • Friday & Saturday: 5pm–4am

One of 2014's

TOP 10

Beer Bars

in Canada
---
54 www.eatdrink.ca

Flute

Design: Elegant and tall, resembling a champagne

glass with a slightly shorter stem

Reason: Presentation — allows the colours of the

beer to tease the eye as the natural bubbles

spiral up the sides, particularly lambic fruit beers.

Design aids carbonation retention.

Beer Styles: Lambic, Faro, Weizenbock, Saison,

Printemps, bottle-conditioned sparkling brews

Tulip/Thistle

Design: The tulip glass has a bulbous body, supported by a

stem. Narrows and then widens at the top. The

Thistle's bottom bulb more pronounced and is

the only glass for scotch ales.

Reason: Use stem to hold the beer without warming

it. The mouth design promotes a nice hefty

head, trapping delicious flavor within the beer,

and holding its aromas close.

Beer Styles: Scotch Ales, Pale Ale, Strong Ale, Old/Reserve

ales, DIPA, Lambic, Gueuze

Goblet/Chalice

Design: Large heavy body, wide mouth opening, supported

by a thick stem. Bottom walls of glass are thick,

sometimes becoming thinner near the mouth.

Reason: Traditional monastic ale vessel. Scores

in the bottom of the glass allow continual

carbonation, and often support up to two full

inches of head.

Beer Styles: Belgian IPA, Belgian Strong Dark Ale,

Trappist, Dubbel, Tripel, Quadrupel, etc.

Malt Monk's Pick o' the Month

Despite the novelty name, Nickelbrook's

Pissed Off Pete's Pumpkin Porter (limited

availability, on tap only) is a

seriously good, sturdy dark brew

with a decent malt backbone

and a spicy-roasty demeanor.

It taps off a shimmering deep

dark brown cola color with ruby

highlights and holds its creamy

off-white cap well. The aroma is

big with roasty-cocoa, a very slight

smokiness then highlighted with

pumpkin pie spices (cinnamon,

nutmeg, allspice, some cloves)

plus a barely detectable musty

herbaciousness mingling with the

hop tones. The flavour is a delight

with elements coming together

on the palate in a well-managed amalgam,

giving a great sense of enjoyment and

comfort as it slowly goes a bit dry, in a clean

roasty-zesty finish. Great brew with a goofy

name — rebrand it and my money says it

would be a popular seasonal in bottle or can.

№ 50 | November/December 2014

Snifter

Design: The bottom bulges into a bowl shape,

tapering into a narrow mouth, just as

traditional cognac and brandy glasses.

Reason: Head and aroma retention. Meant for

refined beers with a strong bouquet aroma, to

give nose access to these beers as they warm

in the glass.

Beer Styles: Barleywine, Strong Ale, Pale Ale, IPA, Eisbock,

Double Stout, Robust Porter, Tripel, Quadrupel,

Foot/Yard/Boot

Design: Unique glassware for fun and beer games. The yard

and foot glass are named for their height. Typically

a long cylinder with a trumpet mouth bulging

out into a bowl at the bottom. The boot glass

resembles a boot, and is usually of thicker glass.

Reason: The yard glass is mostly used for pub

contests, to see who can drink the most beer

the quickest. Legend has it this contest was

developed by stagecoach drivers, who drank

much in a hurry — a stand is needed for these.

The boot glass owes its origins to a crafty general

who bragged if his troops won he'd drink beer

from a boot.

Beer Styles: Usually mild or moderate session ales and lagers.

Where to shop? Support your local retailers:

www.bradshawscanada.com

www.jillstable.ca

www.kissthecookonline.com

www.trimen.com (formerly Restaurant Equipment & Supply)

Foam Watcher News

Beer Lab Brewing Company is up and

running in London. The business plan calls

for small batch, barrel aged artisinal beers

to be sold on tap solely at Milos' Craft Beer

Emporium. Beer Lab Brewing is a collective

enterprise involving Adil Ahmid, Milos

Kral (of Milos

pub) and the

"Denim Bros."

So far they

have produced

an interesting well-hopped pale utilizing

Citra, Nelson Sauvin, and Mosaic hops

called "Hellooooo Nurse," a heavy session

ale. Brown Porter and other great barreled

offerings are in the conditioning stage.

Capacity is small so the released brews are

gobbled up quickly — best to keep informed

when one goes on tap. There is a Facebook

page for release info.

THE MALT MONK is the alter ego of D.R. Hammond, a

passionate supporter of craft beer culture. He invites readers to join in

the dialogue at maltmonksbeerblog.wordpress.com/
---
№ 50 | November/December 2014 www.eatdrink.ca 55

cookbooks

Jamie's Comfort Food

Scrumptious Happy Classics

By Jamie Oliver

Review and Recipe Selections by TRACY TURLIN

Jamie Oliver has made it his life's

work to make good food accessible

to everyone. He's made a meal in 15

minutes, made it affordable, brought

it to school lunches, brought it into

communities, and had it prepared by at-risk

youth. He has tried to reduce the risk of poor

health due to lack of nutrition in at least two

countries. There's no doubt that he knows

about food.

In his latest book, Oliver brings us his

take on the food that makes us feel fantastic.

Jamie's Comfort Food; Scrumptious Happy

Classics isn't about unusual ingredients

or trendy techniques. It's about making

delicious food that fills you up physically

and emotionally — and about making the

best possible version of that food.

These are the recipes you cook because you

want to surprise your other half with a special

meal, because you had a hard week and need

some pampering, or because your friends

are coming over to watch a game and have a

few drinks. The ones you make because

you got a promotion and want to

celebrate. These are recipes for

real life.

I believe that the best

cookbooks inspire readers

with great photos,

and this book delivers

in spades. Every dish

has at least one picture

by award-winning photographer

David Loftus

and they all look amazing.

There's even a beautiful

picture of porridge, something

I would have thought

impossible. To anyone who loves

food, this book is worth the 40 bucks just

for the photos.

Oliver

surrounds

himself with a team of experts

whose food-ninja skills shine through in this

book. There's a photo index with nutritional

information to help you decide how the

recipes fit into your lifestyle. Estimated

preparation times make it easier to plan your

meal and the index lets you know which

recipes are suitable for vegetarian diets. All

of this in a book which is not meant to be

about dieting, time-saving or vegetarianism.

It speaks to Jamie Oliver's belief that food is

a part of life, all the time and should always

be just that simple.

The biggest challenge in this review

was deciding which recipes to try first. My

husband was kind enough to make the Best

Bun Cha Bowl, as he knows it's one of my

favourite weekend lunches. This

version was very satisfying. I

particularly like the shredded

cabbage tossed with the

tangy dressing. It was a

nice kick among all the

fresh vegetables. I'd

probably skip the pork

next time and double

up on the shrimp. The

beauty of this recipe

Jamie Oliver is that it's infinitely

adaptable. If you like your

food spicy, as we do, I'd

suggest adding extra chiles

to the dressing, or use your

favourite hot sauce. A shot of Sriracha

would make this just right.
---
56 www.eatdrink.ca

The Eggplant Parmigiana Sandwich is

a new twist for me but I'll use any excuse

to make homemade bread. In this case a

gorgeous focaccia was the perfect vehicle for

the wonderfully messy eggplant parmigiana.

I did scale back the recipe; the original was

written to serve 16 people! It's definitely on

the menu the next time we have a bunch of

people over.

Anyone who has watched Jamie Oliver

cook on TV is familiar with his fast-paced,

high-energy style of talking. The recipes

№ 50 | November/December 2014

read exactly the same way. You can almost

hear him narrate the story of the food as you

read. If the book has one flaw, it's that all this

wordiness makes the print tiny. It's a small

price to pay for such an inspiring cookbook.

I hope my family isn't reading this right now

because for Christmas they are all getting a

copy of Jamie's Comfort Food.

TRACY TURLIN is a freelance writer and dog groomer in

London. Reach her at tracyturlin@gmail.com

Recipes courtesy of Jamie's Comfort Food; Scrumptious Happy Classics (Harper Collins Publishers Ltd; Sept 2014; $38)

Best Bun Cha Bowls

Serves 4

50 minutes

539 calories

1 large handful of shelled unsalted peanuts

¼ of a green cabbage

1 bunch of fresh mint (1 oz)

½ a bunch of fresh basil (½ oz)

4 scallions

½ an iceberg lettuce

7 oz bean sprouts (ready to eat)

½ an English cucumber

2 carrots

5 oz vermicelli rice noodles

8 large raw shell-on jumbo shrimp

7 oz pork belly (skin removed)

1 onion

4 tablespoons hoisin sauce

DRESSING

3 fresh red chiles

2 heaping tablespoons superfine sugar

2 tablespoons white wine vinegar

4 tablespoons fish sauce

2 limes

This is a Vietnamese classic from Hanoi —

"bun" means fine noodle, "cha" means fatty

pork — and it's often served in markets at

lunchtime when you're allowed to grill on the

street. It's served cold in summer and hot in

winter, so it's a real all-year-round dish. The

idea is to build your own bowl, choosing the

combination of meat, herbs, and veggies that you

fancy. I've paired pork belly with delicious sticky

shrimp here, to give this version an extra edge.

What we're going to do is assemble a load of little

bowls and plates of garnishes, but we'll kick it off by

making a big jam jar of dressing. Finely chop 2 chiles

and place in a large clean jar with the sugar, vinegar,

fish sauce, lime juice, and 1/3 cup of boiling water.

Secure the lid and shake well until sugar is dissolved.

Toss the peanuts in a frying pan, smash them

up with a mortar and pestle, and place in a

bowl. Very finely slice the cabbage (ideally on a

mandolin — use the guard!) and scrunch well with

4 tablespoons of the dressing and an extra swig

of vinegar in a bowl. Pick the mint and basil leaves

into bowls of cold water. Trim and finely slice the

scallions and the remaining chile, shred the iceberg

lettuce, and put it all on a little plate with the bean

sprouts. Halve the cucumber lengthwise and seed
---
№ 50 | November/December 2014

with a teaspoon, then finely slice (I like to use a

crinkle-cut knife). Peel the carrots and grate into

another bowl. Pour boiling water over the noodles,

cover, and leave to soak for 5 minutes, or until soft,

then drain and refresh under cold water.

Gift Certificates +

Seasonal Gift Baskets

Available!

Peel the shrimp, leaving the tails on, run your knife

down the back, and pull out the veins, then run the

knife down again to butterfly them. Chop the pork

belly quite finely and fry in a hot pan until golden

while you peel and finely slice the onion, then add

it to the pan. Stir-fry for 5 minutes, then throw in

the shrimp. Cook for a final couple of minutes, add

the hoisin to glaze everything, and tip onto a plate.

Place all your garnishes in the middle of the table

with the jam jar dressing and four large serving

bowls, and let everyone build their own exciting

bun cha bowl.

*Embrace the spirit of this recipe and

tweak the ingredients to your liking. Grilled

squid would be delicious, as would slices

of perfectly cooked steak. It's also a great

opportunity to embrace any seasonal

veggies you can get your hands on.

Trust...

Taste...

Quality...

From the Field

to Our Kitchen to

Your Table

Holiday Meal

Cuts

Comfort Food

Specialties

EST. 1996

Local Ontario Ingredients

Non-GMO • Organic Lines

Canning Classes

Wedding Favours & Gift Baskets Available

London, Ontario

519-680-7912 • surelyhomemade.com

Open six days a week.

Hensall, Ontario

Just off Hwy 4, 45 minutes north of London.

Available in London at

Saucy: Meats & So Much More

at Western Fair Farmers' Market

on Saturdays!

www.metzgermeats.com

519-262-3130

Local Beef • Pork • Lamb • Poultry

Specialty European Meat Products
---
58 www.eatdrink.ca

Eggplant Parmigiana Sandwich

№ 50 | November/December 2014

Serves 16

2 hours 40 minutes Plus Proofing

476 Calories

FOCACCIA

1 x ¼-oz package of active dry yeast

7 ½ cups strong bread flour, plus extra for

dusting

quality extra virgin olive oil

PARMIGIANA

8 medium eggplants

7 oz stale bread

7 oz Parmesan cheese

8 cloves garlic

1 bunch fresh basil (1 oz)

olive oil

1 teaspoon dried oregano

1 ¼ cups red wine (Barbera d'Alba or d'Asti

from Piedmont is perfection, or use a

Valpolicella or Chianti)

4 x 14-oz cans of plum tomatoes

3 x 4-oz balls of mozzarella cheese

8 oz arugula

1 lemon

Having a mouthful of this sandwich should be

a human right. Eggplant parmigiana, which is

a beautiful veggie side dish or main in its own

right, is at the heart of this story but rammed

into a soft light focaccia as a sarnie [sandwich]

it's a total game changer. It's a great party

food, especially at lunchtime with a delicious

green salad and a few nice cold beers.

Whisk the yeast into 2 ½ cups of tepid water

and leave for 5 minutes. Put the flour and 1

teaspoon of sea salt into a large bowl and create

a well in the middle. Pour in the yeasty water and

use a spoon to bring in the flour until it becomes

too hard to mix, then bring it together with clean

floured hands and knead for 5 minutes, or until

elastic. Cover and leave in a warm place for 1 hour,

or until doubled in size. Knock back the dough,

then push it into a large roasting pan (12 x 16

inches). Drizzle with 4 tablespoons of extra virgin

olive oil and poke it all over with your fingertips,

right to the bottom. Sprinkle with salt and pepper,

then leave until doubled in size again.

While the bread is proofing, preheat the oven to

350ºF. Slice the eggplants lengthwise into ¾-inchthick

slices. Season generously with salt and leave

to drain in a colander for 20 minutes. Tear the bread

into a food processor and whiz to fine crumbs,

sprinkle over a large baking sheet, and bake for 10

minutes. Switch to the fine grater blade and whiz up

the Parmesan. Peel the garlic and finely slice with

the basil stalks, then fry in a large frying pan on a

medium heat with a splash of olive oil and oregano

until lightly golden. Pour in the wine, bring to a boil,

and cook away, then squash in the tomatoes and

add 1 can's worth of water. Bring back to a boil, then

simmer for 20 minutes. Wipe the eggplant slices

with paper towels and fry them in a little olive oil in

batches in a large frying pan on a high heat for a few

minutes on each side, or until golden.

Cover the base of a roasting pan (10 x 14 inches)

with one-third of the eggplants, top with onethird

each of the tomato sauce, basil leaves, bread

crumbs, and Parmesan, then tear over a ball of

mozzarella. Repeat twice, then drizzle with a little

olive oil. Once the focaccia has doubled in size, very

gently place it in the middle of the oven. Place the

parmigiana at the bottom of the oven and cook

both for 40 minutes, or until the focaccia is lightly

golden and cooked through and the parmigiana

is bubbling. When you remove the focaccia and

parmigiana from the oven, drizzle the focaccia all

over with at least another 4 tablespoons of olive oil

and (this is important) leave the parmigiana to rest

for 30 minutes. Divide them both up into portions

and stuff the sandwiches, adding some lemondressed

arugula. It's messy, but awesome.
---
№ 50 | November/December 2014 www.eatdrink.ca 59

books

Gift Ideas For Fiction-loving Foodies

A selection of novels about chefs, food,

restaurants, kitchens and cookbooks

by DARIN COOK

Most foodies are familiar with

Anthony Bourdain's irreverent

look at the world of chefs from a

nonfiction point of view, but they

may not know he has also written a handful

of novels with chefs as the protagonists. Bone

in the Throat (1995) is one of three such

works of fiction and, as with all of his novels,

relies as much on criminality and corruption

as it does cooking. Bourdain tends to have

mobsters, wise guys, loan sharks, con men,

and murderers mingling with waiters, chefs,

bartenders, busboys, and dishwashers in the

restaurant world.

This story is about Chef Tommy following

his culinary dreams in an attempt to

escape from his binding family tree rooted

in organized crime. Harvey, the owner

of the restaurant where Tommy cooks,

struggles to keep his business afloat in the

competitive New York restaurant scene, but

it doesn't help that gangsters are continually

surrounding him, to be paid at any cost.

Amid the dark and

macabre storyline,

Bourdain never fails

to describe in great

detail the activity in

a restaurant kitchen,

because it is what he

knows best. Having

been in the thick of it

himself, his words paint

pictures of an active

restaurant, as when

describing Tommy de-boning and filleting a

salmon before making a fish stock — it's not

integral to the plot, but an important portrait

of what the character does on a regular basis

to make him who he is.

In The Cookbook Collector (2010), author

Allegra Goodman introduces us to two

sisters, Jess and Emily, surrounded by a cast

of assorted characters caught up in some

way in the newfound wealth in Silicon Valley

during the Internet technology revolution.

Unlike her sister, Jess is not attached directly

to dot-com companies, but rather works in

an antiquarian bookstore for George, who

has been asked by elderly Sandra to appraise

a cookbook collection for possible purchase.

Crammed into the cabinets of her kitchen,

Sandra has 837 volumes of valuable, leatherbound

cookbooks in various languages.

During the appraisal process, George and

Jess come across handwritten notes, menus,

clippings, poetry, and sketches in the pages

of the cookbooks. George is interested in

the collection for its aesthetic and historical

value and intends to display them as a

collection in a museum-like manner. Jess

is charged with cataloguing the books; as

she delves into her new job, she yearns to

learn more about the

original owner, who is

not Sandra after all, as

the layers of collectors

attached to these

cookbooks grows.

There is a lot more to

this story than perusing

cookbooks, and the

characters are peppered

with a plethora of

the complexities
---
60 www.eatdrink.ca

and hardships that life can inflict. As Jess

deals with personal tragedies and rocky

relationships, the story behind the cookbooks

leads her to a life she would never have

predicted, and their antique recipes come in

useful for a very special occasion.

All things Chinese, including culinary traditions,

are revealed through the eyes of Lindsey

Owyang in The Dim Sum of All Things (2004)

by Kim Wong Keltner. Raised in San Francisco,

Lindsey generally scorns her ethnic heritage,

but can't get away from it at home, where

her grandmother keeps recipes and customs

from her homeland alive. Lindsey is also a

closet meat-eater working as a receptionist

for a vegan magazine, and we have to wonder

where this incongruity will lead her.

The plot mostly

revolves around Lindsey's

obsession with a

romantic interest in her

office, and even though

Chinese food is not

pivotal to the story, it is

always present as a main

player, such as in Chinatown

restaurants and lavish

banquets with shark

fin soup and Peking duck

prepared in traditional Chinese style.

The narrative of the story naturally reveals

such Chinese eating customs as serving

others first before taking food yourself. We

learn about the traditional dishes of Chinese

holidays, like neen-goh prepared specially

for Chinese New Year, and mooncakes

served during the autumn equinox. But even

with Chinese culinary customs prevalent in

her American household, Lindsey has her

eyes opened further when she visits China

with her grandmother. It is here that she

learns that China is nothing like the pavilion

at Disney World, and every meal was unlike

Chinese food she had back home, except

for some of those authentic dishes her

grandmother recreated in their home.

Many important discussions occur at a

dinner table while communing over food,

but as Dutch author Herman Koch reveals in

The Dinner (2013), they are not always lighthearted

and good-natured. Amid the hubbub

of a fashionable restaurant in Amsterdam,

Koch sets the stage for a horrific tragedy that

links two couples. The tension between the

№ 50 | November/December 2014

diners is palpable, but the reason for their

meeting remains buried beneath polite

dialogue and the perusing of menus.

From appetizers to main course, the suspense

builds during the

progression of dinner,

until dark secrets are

revealed and the truth

comes out during dessert.

Between the delivery

of meals and drinks,

serious topics, family

issues, and societal

problems are discussed

and chilling revelations

that the couples share

from their past are disclosed. The story is a

thrilling page-turner, set amongst the normal

but frenetic activity of a restaurant service.

What starts out as an ordinary meal between

friends evolves into a riveting and disturbing

discovery wedged between the bookends of

the aperitif and digestif.

My Year of Meats (1998) by Ruth Ozeki introduces

us to Jane Takagi-Little, a controversial

documentarian working on an unusual project

with a Japanese television station. Travelling

across the United States, Jane shoots episodes

of My American Wife which features a series of

women preparing home-cooked meals, allowing

Japanese audiences to witness "traditional

family values symbolized by red meat in rural

America." The story is told through the eyes of

two main women — Jane the filmmaker, and

Akiko, a Japanese wife who dutifully watches

the show and makes

the recipes in her own

kitchen.

The meat company

sponsoring the show

continually reminds

Jane that "Meat is the

Message" so that rump

roasts, briskets, baby

back ribs, and T-bone

steaks are front and

centre for Japanese housewives to see on

their screen. There is a dichotomy to this

message, however; Akiko is told to make the

red meat dishes from My American Wife to

feel healthier and provide the nutrients to

help along her attempts at pregnancy, but as

a documentarian Jane discovers that some

American feedlots and slaughterhouses don't

always follow the rules.
---
№ 50 | November/December 2014

The novel itself is a pseudo-documentary,

disguised as fiction, full of social,

environ men tal, medical, and personal issues

that go far beyond cooking meat. Jane pushes

the boundaries of her documentarian licence,

but the meat company paying her bills has

plenty to say about her indiscretions in trying

to effect social change, rather than adhering

to the mandate of advertising the cuts of meat

on American dinner tables.

Set on the island of Sicily, La Cucina (2000)

by Lily Prior tells the story of Rosa Fiores

living on her family farm in a time when

siestas were taken to break up the day

and pasta was made by hand in a way that

sounds more like a leisurely pastime than

kitchen drudgery. Rosa says "La cucina …

has formed the backdrop to the lives of our

family, the Fiores, as far back as, and further

than, anyone can remember. This kitchen

has witnessed our joys, griefs, births, deaths,

nuptials, and fornications for hundreds of

years." An ancient, oak

table is as central to the

kitchen as the kitchen is

to the house. This is the

table on which Rosa was

born when her mother

started labour while

making pasta one day.

After the untimely,

Mafia-related death of

her first love, Rosa exiles

herself to the kitchen

to deal with lost love in what she calls her

"culinary catharsis." She finds solace in the

kitchen by dabbling in endless food-making

projects from the bounty of the farm —

cheese making, pasta rolling, bread baking,

vegetable pickling, fruit preserving, and

livestock slaughter.

After many years, a mysterious

Englishman who is researching ancient

Sicilian cookbooks appears at the library

where she works and a budding romance

relieves her of years of grief. After years of

mourning, and plenty of hard work in the

kitchen to please others with outstanding

Italian food, Rosa finds out that some

dreams do come true and redemption can

be achieved.

DARIN COOK is a freelance writer who lives and plays in

Chatham-Kent, but keeps himself well-read and well-fed by

visiting the bookstores and restaurants of London.

Destination for the food lover

Enjoy your holiday season

around the table.

115 King Street, London, ON

jillstable.ca 519-645-1335

Meats & So Much More!

Now Accepting

Orders for

the Holidays

EatDrinkAd_Revised.indd 1 2014-10-15 1:29

Hormone & Drug-Free Ontario Beef, Pork, Bison & Lamb

100% Local — from Our Farmers to Your Table

We are your London outlet for Metzger Meat Products,

The Whole Pig, Blanbrook Bison Farm and Lena's Lamb,

with sauces and spices from

The Garlic Box, Pristine Olive, Stonewall

Kitchen, and Traditional Portuguese Sauce.

Western Fair Farmers' & Artisans' Market: Saturdays, 8am–3pm

226-376-6328 • jardines@saucymeats.com
---
62 www.eatdrink.ca

№ 50 | November/December 2014

BEER MATTERS

theatre

On The Boards

Holiday Theatre Offerings

By RICK YOUNG

This is my first On the Boards

column for eatdrink magazine.

I will be writing about all things

related to the myriad of regional

professional and amateur theatre companies

in the London area.

Some of you may know me as Richard

Young, the former publisher/managing editor

of The Beat Magazine, an independent print

and online arts publication that covered the

local arts scene from 2009 until 2014. I am a

retired secondary school History and English

teacher, professional musician, freelance

writer — and avid theatre patron.

A smorgasbord of theatre ...

As the holiday season approaches, there is

a smorgasbord of regional theatre offerings,

with something for everyone and every age.

So let's take a look at what's on the boards.

The Grand Theatre

(www.grandtheatre.com),

offers up Shrek the Musical

on its main stage from

November 19–December

28. Sure to please parents

and children alike, the production

is based on the highly popular

2001 animated feature film. Downstairs in

the more intimate McManus Theatre, the

Western Department of English presents Dr.

Faustus, November 5–8 while Mark Kileen's

By The Book Theatre presents A Few Good

Men November 25–December 6,

a courtroom drama made famous

by actor Jack Nicholson's infamous

line, "You can't handle the truth" in

the 1992 movie.

In the heart of the Old East Village

Entertainment District, the

Palace Theatre (www.palacetheatre.

ca) offers up the classic Broadway

musical Mame, directed by John Gerry and

starring Deborah Mitchell in the lead role,

December 4–14. Gerry promises a leaner,

Before I begin with my preview of holiday

theatre offerings, I want to acknowledge the

fine work of my eatdrink predecessor, Donald

D'Haene, in covering the local theatre scene

and for all of the selfless contributions he has

made to raising public awareness of the efforts

of local thespians in The Beat

Magazine, his website DISHing

with Donald and through The Beat

DISH Awards which he staged for

4 years. His columns and reviews

were always entertaining and

enlightening — and a tad irreverent, as only

Donald can be. Thanks Donald!

pared down interpretation of the musical

which will feature two baby grand pianos

on the stage. In the smaller Procunier Hall,

Donald D'Haene and Dave Semple present

the two-man show Hosanna, Michel

Tremblay's raw depiction

of love between a

transsexual drag queen

and a homosexual biker

November 6–15.

"The love story makes the story

universal," says Donald D'Haene, who

plays the drag queen. "Tremblay depicts characters

we rarely see on the London stage."

D'Haene is thrilled to be back on stage.

"Besides being the role and challenge of a

lifetime, when you're 'dancing' on stage with

an actor as brave, open and honest

as Dave Semple, it certainly raises

your game. Dancing with someone

you trust makes the process

indescribable."

The ARTS Project (www.artsproject.ca)

presents Jayson McDonald's

detective fantasy The City That

Eats You, featuring Meghan Brown

and Valerie Cotic, November 5–8, while Neil

Simon's Fools is brought to the stage by The

King's Players November 27–29.
---
SUNDAY BRUNCH

11am−2pm

Sun–Tues 11am–11pm, Wed/Thurs 11am–midnight, Fri/Sat 11am–1am

№ 50 | November/December 2014

London's Original Kids Theatre Company

(originalkids.ca) offers up several productions

including Crazytown November 7-9; Disney's

Winnie the Pooh for Kids November 13 to 16;

Bye Birdie Young Performer's Edition November

20-23; Shout The Mod Musical November

27-30; The Wedding Singer December 4-7; The

King & I December 12-21; capped off by the

perennial family favourite A Charlie Brown

Christmas December 13 and 14. Tickets for

OKTC productions tend to sell out quickly, so

get yours early to avoid disappointment.

Moving outside of London, we drop in on

the Elgin Theatre Guild (www.elgintheatreguild.ca)

which is presenting James Barry's

Snow White and The 7 Dwarfs done up in

British pantomime or panto style December

4–14. For the uninitiated, panto is a participatory

style of musical comedy designed

specifically for family entertainment and

usually performed during the Christmas

season. Audience members are encouraged

to sing along and to shout out responses to

the performers. Perfect fare for families this

holiday season.

Stratford's Alternative Theatre Works'

(alternativetheatreworks.com) holiday

season production is A Wind in the Willows

Christmas

which runs

December

18–30 at the

Stratford Masonic Concert Hall.

Theatre Woodstock (www.theatrewoodstock.com)

brings Rogers & Hammerstein's

South Pacific with its legendary score featuring

songs like "Some Enchanted Evening,"

"I'm Gonna Wash That Man Right Outa My

Hair" and others to The Market Centre Theatre

November 27–30 and December 3–6.

Over in Theatre Tillsonburg's Otter Valley

Playhouse (www.theatretillsonburg.com),

theatre-goers can catch the British farce

Sex Please, We're Sixty, November 6–9 and

November 13–16.

In a nutshell, there is a rich selection of

live theatre on the boards in our area this

holiday season, and much of it is family fare.

Get out and support your local artists!

RICK YOUNG, whose work has been published in local,

regional and national print and online publications, was the

Managing Editor, Publisher and founder of The Beat Magazine,

an independent London arts magazine, from 2009 to 2014.
---
№ 50 | November/December 2014

CELEBRATE THE HOLIDAYS

WITH THE WHOLE FAMILY!

SEASON SPONSOR

Featuring

LIAM TOBIN

FROM THE SMASH

HIT ELF!

BASED ON THE DREAMWORKS ANIMATION

MOTION PICTURE AND THE BOOK BY WILLIAM STEIG

Book and Lyrics by David Lindsay-Abaire. Music by Jeanine Tesori.

Originally produced on Broadway by DreamWorks Theatricals

and Neal Street Productions.

NOVEMBER 19 TO DECEMBER 28

GET YOUR TICKETS TODAY!

GRANDTHEATRE.COM | 519.672.8800

SEASON SPONSOR

TITLE SPONSOR
---
66 www.eatdrink.ca

№ 50 | November/December 2014

BEER MATTERS

music

Sound Bites

Seasonal Treats

By NICOLE LAIDLER

November is a busy month at

Western University's Don

Wright Faculty of Music. The

faculty's Symphony Orchestra

takes to the stage of the Paul Davenport

Theatre, November 13 and 14, with an

ambitious program that includes Richard

Strauss' symphonic poem, Death and

Transfiguration. "It's very beautiful music

about the last moments of somebody's life,"

says conductor Alain Trudel.

The concert also showcases the talents of

two young concerto contest winners, with

pianist Natalia Skomorokhova performing

the first movement of Beethoven's

"Emperor" Piano Concerto No. 5, and

saxophonist Mathew Henry playing Jacques

Ibert's Concertino da Camera.

Western Music will present two one-act French operas by

Maurice Ravel November 21–23 at the university's Paul

Davenport Theatre

Next up is an operatic double-bill, featuring

Maurice Ravel's L'heure espagnole (The

Spanish Hour) and L'enfant et les sortilèges

(The Child and the Magic), November 21

to 23. Both one-act operas are directed

by Michael Cavanagh, and performed by

students in the faculty's prestigious voice

program. First performed in 1911, L'heure

espagnole is a musical comedy set in a clockmaker's

workshop in Toledo, Spain. L'enfant

et les sortilèges had its debut in Monte

Carlo in 1925, although Ravel began writing

the score in 1917. The plot unfolds like an

early 20th-century "Toy Story" as playroom

objects come to life

and teach a mischievous

boy a lesson

he won't soon

forget.

"The music

is outrageously

difficult for the orchestra and

the singers," says Trudel. "The students are

very courageous." www.music.uwo.ca

Handel's Messiah is the gift that keeps on giving.

Despite being debuted in April, it is now

a Christmas tradition and most performances

play to a packed house, bringing good cheer to

the audience as well as the box office.

This season, Orchestra London gives

the popular oratorio the Tafelmusik-touch

under the baton of Ivars Taurins,

December 3 at St. Paul's Cathedral.

The orchestra also serves up some

lighter holiday fare at Centennial Hall,

with a "Christmas Pops" concert for the

whole family (December 7) and "A Very

Elvis Christmas" (December 12 and 13)

featuring award-winning Elvis tribute

artist, Stephen Kabakos.

www.orchestralondon.ca

Charles Dickens' A Christmas Carol is

another staple of the season. This year,

two productions give the Victorian classic a

decidedly musical twist.

More than one thousand people are

expected to deck Centennial Hall on

December 10 for the Unity Project's 7th

annual Christmas Carol fundraiser. The

pay-what-you-can event features dramatic

readings by prominent London lawyers,

with musical accompaniment provided by

Orchestra London, The London Singers and

H.B. Beal Singers.

"Our production of A Christmas Carol carries

on Charles Dickens' own tradition," notes

Sylvia Langer, development manager of the
---
Celebrate the Holidays

A NUTCRACKER CHRISTMAS

Nov. 29 / 7:30 pm

Amabile Choirs join the orchestra for Festive

classics: The Nutcracker by Tchaikovsky and

Hansel und Gretal by Humperdinck.

HANDEL'S MESSIAH

Dec. 3 / 7:30 pm

Ivars Taurins conducts the ever-popular

Orchestra London tradition featuring the

London Pro Musica choir.

FAMILY CHRISTMAS

POPS

Dec. 7 / 2:30 pm

Bring the whole family and join Brian

Jackson for our seasonal favourite.

A VERY ELVIS

CHRISTMAS

Dec. 12 & 13 / 8:00 pm

Elvis Impersonator Stephen Kabakos'

remarkably authentic performance will

create an unforgettable holiday journey.

GET YOUR TICKETS TODAY! orchestralondon.ca 519-679-8778
---
68 www.eatdrink.ca

John D. Huston will perform

his acclaimed one-man performance

of A Christmas Carol on

December 21 at Aeolian Hall

Unity Project for

Relief of Homelessness

in

London. Langer

explains that

Dickens presented

dramatic

readings of his

popular ghost

story, donating

all proceeds

to local charities

for the

poor. www.

unityproject.ca

Those looking

for a more

intimate Dickens

experience

may be interested

in John

D. Huston's acclaimed one-man performance

of A Christmas Carol, December 21 at Aeolian

Hall. The afternoon show will feature the

sounds of London's 20-member Wassail Choir

singing Dickensian carols in period costume.

№ 50 | November/December 2014

"It's always a treat for me to perform in an

appropriately Victorian environment, and the

1882 built Aeolian Hall really fits the bill," says

Huston on his website. "The hall's renowned

acoustics should make this the intimate

theatrical experience that Dickens strove to

bring his audiences." www.aeolianhall.ca

Tenor Ross Mortimer, mezzo-soprano

Amanda Perrera and collaborative pianist

Denis Jung return to the Aeolian stage for

their second annual Carols by Candlelight,

December 18.

"After last year's sold out evening, we

hope to once again share our joy and fill

the audience with the holiday spirit," says

Mortimer. The trio will perform everything

from popular Christmas carols to wellknown

Gospel selections, with a bit of opera

thrown in for good measure.

"There are such deep-rooted traditions

and emotions that come with each

Christmas song. It's amazing when people

come up to you after a concert and share

their unique experiences of the music we

just performed," Mortimer says.

Book now

for Your

Holiday

and

Christmas

Party!

Gift Cards Available

for the Perfect

Holiday Gift!

519-601-7252

428 Clarence Street, London

www.rajafinedining.ca
---
№ 50 | November/December 2014

A portion of the evening's proceeds will

support The Unity Project for Relief of Homelessness

in London. www.aeolianhall.ca

The New Year kicks off January 10 at Wolf

Performance Hall with a chamber music

concert featuring six well-known London

musicians — Ian Franklin, oboe, Mary Beth

Brown, violin, Sharon Wei, viola, Jeremy

Hake, cello, Josh Grunmann, piano, and Ron

George, French horn.

The concert is the brainchild of Renée

Silberman, director of Serenata Music. "I

always like to support and promote local

talent," she says.

Mozart's Quartet for Oboe and Strings

is likely the most familiar musical territory

covered by the diverse group, who will perform

in various combinations. "The idea is to bring

very colourful music out of the mothballs,"

says Silberman. www.serenatamusic.com

NICOLE LAIDLER is a musician-turned-writer and the

owner of Spilled Ink Writing & Wordsmithing. Visit her at

spilledink.ca

SWEET

DREAMS

ARE

MADE

OF

THIS

START CREATING

A LIFETIME OF

MEMORIES WITH

LE CREUSET THIS

HOLIDAY SEASON

Mon–Wed & Fri–Sat: 10–5:30 | Thu: 10–6:30 | Sun: Noon–5

551 Richmond Street, London

519-850-5477 ○ www.kissthecookonline.com

Welcome to a TASTE

of Downtown London!

Our dining guide gives you a delicious roadmap to the many

restaurants that call London's downtown their home.

Whether you are looking for a farm-to-table meal featuring

the best of local food and beverage choices, or a quick bite

on the go, you can find it in our new dining guide.

Visit our office at 123 King Street to pick up your copy.

You will find more listings for our restaurants online at

www.downtownlondon.ca.

123 King Street

519.663.2002

www.downtownlondon.ca

@Downtown_London DowntownLondon
---
70 www.eatdrink.ca

№ 50 | November/December 2014

the lighter side

The Not So Family Christmas

By DAVID CHAPMAN

Let me say right away that I had a

wonderful childhood. I loved my

parents and sisters (most of the

time) and apart from the incident

with the shoe polish, have a lot of great

memories. That incident occurred one year

around Christmas. We, as a family, were

getting ready to go to the pantomime

— a great British tradition

of theatre mixed with

slapstick. The male

actors would dress as

females and vice versa.

There would be much

silliness, as only the British

can do. This particular

production was Dick Whittington,

a perennial favourite at Christmas.

Of course, we all had to wear our

best outfits and polish our shoes. This

was where the problem arose. While

polishing my shoes I got some on the soles!

I proceeded to walk all through the house,

leaving in my wake a trail of black shoe

polish. My mother was not impressed and

I received what is commonly called a thick

ear. The shoes did look great though.

Another great Christmas memory

involves my first working one. To many

people, being obliged to work nights and

holidays is something negative. But I

thought: This means I am an adult, a man

of the world! (a very small one mind you).

Somehow it was exciting to be finishing

work at 9 p.m., when everyone else was

probably in bed. (Lisburn was a pretty

boring town). So the thought of working

Christmas was appealing.

I still have the menu from that

Christmas Day in 1965. For the

grand sum of 27 shillings and

sixpence one would enjoy a

four-course dinner, with all

the trimmings (to save you

having to google what the

heck 27/6 is, it would be

about four dollars). There

was consommé, roast

turkey with gammon (you

can google that), chestnut

stuffing, and of course,

Christmas pudding. The

menu was signed by the

chef with a personal note thanking me

for my good work. At least I thought it was

personal, until I found out that everyone

got the same acknowledgement.

The nicest part of working that

Christmas, though, was that I could open

presents when I got home, and all the

relatives had left.

DAVID CHAPMAN has been a creative and respected

fixture on the London restaurant scene for over 20 years. He is

the proprietor of David's Bistro. (www.davidsbistro.ca)

London's Celebration Destination

31

New Wine List!

Gift Certificates

– The Perfect Gift!

RESERVE NOW

for Your

Christmas &

New Year's Party

Continental cuisine – with a

contemporary twist! – and Tableside Cooking.

From an amazing Caesar Salad to flaming coffees,

Michael's makes your celebration an event.

Lunch Weekdays

Dinner 7 Nights a Week

1 York Street

(just West of Ridout)

519-672-0111

MICHAEL'S ON THE THAMES

Baby Grand Pianist

Complimentary On-Site Parking

www.michaelsonthethames.com
---
Delicious gift ideas

yule love

Select from over 60 flavours of oils and balsamics.

Sample the freshest oils from across the globe, paired

with savoury white & dark balsamic vinegars

from Modena, Italy.

Freshly bottled to suit every taste.

6 Sample Pack Combinations

in a custom-designed gift box

Gift

Cards

Custom

Gift Baskets

Sample

Packs

Corporate

Gifts

Stocking

Stuffers

The

Pristine

live

Tasting Bar

462 Cheapside Street (@ Maitland) | London | 519-433-4444

www.thepristineolive.ca
---
SAMPLING OF THE FINEST CUISINE,

CRAFT BEERS, SPIRITS AND WINES.

January 15-17, 2015

THU 5PM–10:30PM | FRI 5PM–10:30PM | SAT NOON–10:30PM

presented by

98%

$

10

Plan on buying products

showcased by exhibitors*

Celebrate the 10th anniversary of the London Wine & Food Show

by expeiencing the event on opening night for only $10

would recommend

Plan to dine at a restaurant

98% 89%

this show to others*

they saw at the show*

*2014 London Wine & Food Show Survey

#LDNWineFood

WesternFairDistrict

@WesternFair