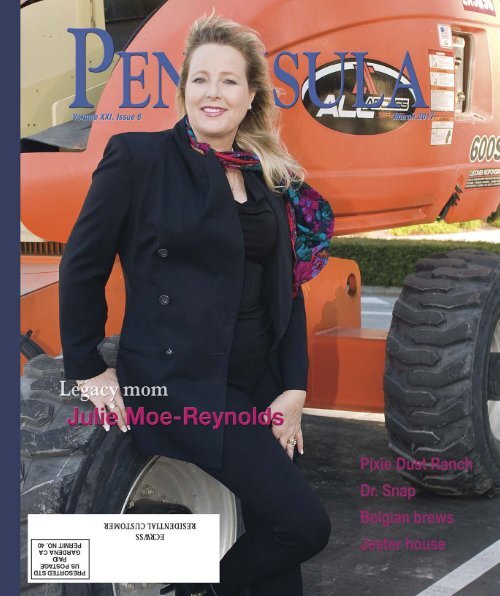 Peninsula People March 2017
Do you know the secret to free website traffic?
Use this trick to increase the number of new potential customers.
Volume XXI, Issue 8 March 2017
---
March 2017 • Peninsula 3
---
PENINSULA

Volume XXI, Issue 8

March 2017

P A L O S V E R D E S P E N I N S U L A M O N T H L Y

NOW SERVING YOU IN 2 LOCATIONS!

With the great goodness of Mama

in Rolling Hills Estates, we now offer

our Cafe' - a smaller version in Malaga Cove Plaza!

Specializing in Mama's Spaghetti & Meatballs with

our newly inspired flatbreads, salads and more!

Join us for Lunch & Dinner Mon-Sat.

• Outdoor Patio Seating • Lots of Free Parking

36 Malaga Cove Plaza

Palos Verdes Estates

(310) 375-6767

815 Deep Valley Drive

Rolling Hills Estates

(310) 377-5757

www.mamaterano.com

ON THE COVER

Photo by David Fairchild

Julie Moe-Reynolds on the

construction site of the Palos

Verdes Performing Arts Center

PROFILES

16

28

32

52

60

64

Pixie Dust Ranch

by Esther Kang Rescuing animals and breaking the Cubs'

"Billy Goat Curse."

Legacy mom

by Esther Kang Julie Moe-Reynolds follows in her parent's

footsteps in guiding the Palos Verdes Performing Arts Center

construction of a new conservatory.

Dr. Snap

by Brian Gillogly Belgian-born Peninsula resident Dr. Clem

Hiel stepped away from aerospace to find new applications for

space age composites, including towers without fasteners.

The Jester home

by Stephanie Cartozian A Hollywood fashion designer enlists

his college friend Lloyd Wright to design a home in remote

Portuguese Bend.

Catalina without the view

by Richard Foss Catalina Kitchen at Terranea Resort offers

food to match its world class view, even though the view

doesn't include Catalina Island.

Brouwerij West

by Ed Solt Brouwerij West celebrates its first anniversary as

a cultural hot spot in a former San Pedro Navy warehouse.

HIGHLIGHTS

8 Farm to Terranea tasting

12 Inauguration breakfast at Trump National

20 Caballeros installation

24 Nimitz model unveiled

36 YMCA launches fundraising campaign

50 League of Women Voters

58 Bhumitra party on Pennsylvania Avenue

DEPARTMENTS

39 Peninsula calendar 65 Around and about

69 Home services

Peninsula in mail and on web

To better serve readers and advertisers, Peninsula

magazine will now be mailed to over 23,000 Peninsula

homes. In addition, a new PeninsulaPeople.com website

is being launched with the publication of this issue of the

magazine.

STAFF

EDITOR

Mark McDermott

PUBLISHER

Stephanie Cartozian

PUBLISHER EMERITUS

Mary Jane Schoenheider

ASSOCIATE PUBLISHER

Richard Budman

DISPLAY SALES

Tamar Gillotti,

Amy Berg,

Shelley Crawford

CLASSIFIEDS

Teri Marin

ADVERTISING

DIRECTOR

Richard Budman

ADVERTISING

COORDINATOR

Teri Marin

GRAPHIC DESIGNER

Tim Teebken

FRONT DESK

Judy Rae

DIRECTOR OF

DIGITAL MEDIA

Daniel Sofer (Hermosawave.net)

CONTACT

MAILING ADDRESS

P.O. Box 745

Hermosa Beach, CA

90254-0745

PHONE

(310) 372-4611

FAX

(424) 212-6780

WEBSITE

www.easyreadernews.com

EDITORIAL

PenPeople@

easyreadernews.com

ADVERTISING

(310) 372-4611

displayads@

easyreadernews.com

Please see the Classified Ad

Section for info.

FICTITIOUS NAME

STATEMENTS (DBA'S)

can be filed at the

office during regular

business hours.

(310) 372-4611

Peninsula is a supplemental

publication of Easy Reader, 2200

Pacific Cst. Hwy. #101, PO Box 427,

Hermosa Beach, CA. 90254-0427.

SUBSCRIPTIONS

Yearly domestic mail subscriptions

to Peninsula are $80, foreign $100

payable in advance. The entire

contents of Peninsula are copyrighted

2017 by Peninsula People,

Inc.

6 Peninsula • March 2017
---
S P O T L I G H T O N T H E H I L L

Grand tastings

Terranea Resort Celebration

The Third Annual Farm-to-Terranea Celebration of Food and Wine

took off to a hungry crowd of oenophiles and foodies over a three

day weekend. Special engagement chefs came from all parts of the country

to share their specialty cuisines and wisdom with inquisitive guests.

The Pork Reception was particularly delectable with many chefs preparing

pork in a multitude of ways such as with truffles, chimichurri sauce,

inside wontons and other wondrous feats. The Grand Tasting showcased

90 different wineries including Westerly, a standout Santa Barbara

Cabernet Sauvignon made by Adam Henkel who previously was an integral

part of the winemaking team at Harlan Estate wines. Sponsors

who helped to make the event a success included Kinecta Federal Credit

Union, Sysco, OneHope and Choura Events.

1. Phyllis Bowie and Terranea

Executive Chef Bernard Ibarra.

2. Bob Piotrowski, Erin Cosgrove-

Rosci, Shari Campbell and Ken Smith.

3. Gaye and Neil Vancans.

4. Christopher Klapp, Alyson

Marchiondo, Jeff Bussani, Tiffany

Hathaway and Sam Aronson.

5. Jessie Burns and Hilary Feutz.

6. Zachariah Carrubba.

PHOTOS BY STEPHANIE CARTOZIAN

7. Selman and Pauline Shaby, David

Buckley and Chef Paul McCabe.

8. Aiy and Zun Liang.

9. Abigall Parera, Virna Bolang,

Andrew Long, Chef Tim Wood and

Jessica Wood.

10. Karen Steinwachs and

Steve Escobar.

11. Ken Baranda, Brian Peralez,

Joshua Lucas and Eduardo Bolanos.

12. Chef Tim Wood at the

Pork Reception.

1

2 3

4 5

6

7

8

9

10

11 12

8 Peninsula • March 2017
---
March 2017 • Peninsula 9
---
S P O T L I G H T O N T H E H I L L

Inauguration Day

at Trump National Golf Club

An ice sculpture of Donald Trump greeted guests

at the sold out presidential inauguration day

breakfast hosted by Trump National Golf Course in

Rancho Palos Verdes. Breakfast was $45.17, in recognition

of the local businessman becoming the 45th

President of the United States in the year 2017.

PHOTOS BY STEPHANIE CARTOZIAN

1. The Presidential Seal –

in ice.

2. Breakfast guests.

3. Christina Ramos, Grinny

Sand, Patricia Morales, Lael

Sunny Meagher, Candace

Camper and Tom

Kirkpatrick.

4. Christina Ramos,

Candance Camper, Evelyn

Robinson and Chanell

Temple.

5. & 6. Breakfast guests.

1

2

3

4

5

6

12 Peninsula • March 2017
---
March 2017 • Peninsula 13
---
14 Peninsula • March 2017
---
March 2017 • Peninsula 15
---
Cat Spydell does not normally

follow baseball. But

last year, at the urging of

several friends, the Rolling Hills

resident took Buttercup, her female

pygmy goat, to Wrigley Field

for the first game of the Chicago

Cubs versus the Cleveland Indians

World Series.

Spydell and her friends hoped

Buttercup would break the "Billy

Goat Curse," which dated back to

the 1945 World Series, between the

Cubs and the Detroit Tigers. During

the fourth game of that series,

Billy Goat Tavern owner William

Sianis and his pet goat Murphy

were ejected from from Wrigley

Field because Murphy smelled so

bad.

"Them Cubs, they ain't gonna

win no more," Sianis swore on his

way out of the stadium. The Cubs

lost the 1945 series and wouldn't

win another one until Buttercup

Pixie Dust Ranch

by Esther Kang

Pixie Dust Ranch pygmy goats Buttercup (in foreground) and Dixie. Buttercup broke the Chicago Cubs "Billy goat curse." Photo courtesy of Pixie Dust Ranch

The empress of

"If you don't have extreme rules when you're raising cats or helping find homes for cats,

you become the crazy cat people that you're trying to rescue them from."

made her appearance and the

Cubs came from behind to upset

the Indians.

"Buttercup is the one who broke

the curse," Spydell recalled with

amusement as she leaned back on

a wooden lawn chair in her backyard.

"It was quite the antic. I was

just anti-curse, not really for a

team, you know?"

Buttercup is among the motley

crew of rescue animals Spydell

looks after in her Rolling Hills Estates

backyard, a vast, storybooklike

menagerie (and federally

registered wildlife habitat) furnished

with recycled wooden

fences, wires, rocks and handpainted

signs. Radagast, Spydell's

internet famous 2-year-old peacock,

sits on a perch in his wire enclosure,

while Drinian, the

135-pound Colorado Mountain

dog, roams quietly. Mushroom, the

blind ancient rabbit, hangs out on

the other side of the yard, next to

the desert tortoise. Three goats stay

down in the dirt canyon, where

Spydell, as a 10-year-old girl, kept

her first pony, Baby.

"I lived down there," she said,

gesturing toward the canyon. "I

was that dirty kid who owned a

pony and was gone all day and

came home with twigs in my hair.

I'd just go barefoot horseback riding

for the whole day. It was like

having a car."

Spydell, who lives with her partner

Bobby, her 90-year-old mother

and her adult son, estimates that

over 200 cats have at one point

stayed here, along with, among

others, hermit crabs, a pygmy

hedgehog from Africa, doves and

chickens. Word of mouth brings

animals needing a home to her

doorstep.

"It's more like spirits using me as

a puppet," she said. "I'm not a nonprofit

— I'm just me in my backyard."

Spydell, who is an author, editor,

publisher, environmental activist

and nondenominational minister,

found her calling as an animal

whisperer during her college years

(she holds a bachelor's and master's

degree in English Literature).

Her father Joe Leach, a longtime

city manager for the City of Rolling

Hills, got her a job in the city's animal

control department. Initially,

her job centered around dog licensing

and patrolling. But it didn't

take long for her superiors to recognize

her natural prowess with

animals.

"So next thing I know, they're

bringing me out in the truck," she

recalled with a laugh. "They'd go,

'We have three vicious pit bulls,

then throw me in the back of the

truck. Then what happened was,

they brought in eight orphaned kit-

16 Peninsula • March 2017
---
tens that were two days old and

they were going to put them to

sleep. And then they said, 'Well,

you know, you could take them.'"

By the end of the summer, Spydell

found herself nursing 13 kittens

in her backyard.

"That was the first time I'd ever

even owned a cat," she said, noting

that now she knows better than to

welcome all with open arms.

"If you don't have extreme rules

when you're raising cats or helping

find homes for cats, you become

the crazy cat people that you're trying

to rescue them from," she said,

laughing.

Rolling Hills Estates is known for

roaming peacocks. Over 1,000 peacocks

are estimated to be living on

the Palos Verdes Peninsula. Rad is

a licensed education bird and

tamer than thought possible. Every

day after sunset, like clockwork,

Spydell tucks him into his bed — a

cozy perch inside her garage.

Rad, Drinian and her split-faced

calypso kitten Athena are part of

the "traveling family," that Spydell

takes to libraries, music festivals

and schools. Until this past October,

they traveled in Sunshine the

School Bus, a colorful RV conversion

with a bed in the back. Unfortunately,

Sunshine was hit by a

semi-truck when Bobby was driving

up north. Fortunately, Bobby

was alone.

"We're still trying to figure out

what to do," Spydell said. "For now,

we're hauling [everyone] around in

my Nissan Infinity."

Spydell sits on the Rolling Hills

Estates' Environmental Advisory

Committee and is a longtime member

of the Palos Verdes Tree Society,

which helped preserve 80 of

the city's landmark Brazilian Pepper

trees on Palos Verdes Drive

North. In 2012, Spydell ran for City

Council on an environmental platform.

Her most recent concern is coyotes.

As a member of Residents

Against Killing Coyotes, she has

spearheaded efforts to educate residents

about the most effective

way to deal with the Peninsula's

coyote population. Some residents

have advocated shooting the coyotes

dead, but Spydell argues that

that only makes matters worse.

"There's a saying in the coyote

circle: kill 100 to make a million.

Every time you kill one alpha in a

pack, you divide the pack," Spydell

said. "Packs divide like cells."

In a few years, Spydell hopes to

move to Northern California,

where she lived for seven years,

working at odd jobs, including candle

maker, gardener, house sitter,

and preschool teacher. This time

around, she plans to acquire property

in the Redwoods and open a

retreat center. It will be one-part

meditation center, one part rock

festival grounds.

"It's about 'What do we really

need?' versus 'What do we have?'"

Spydell said. "If you just live low,

you can live how you want and not

be a slave to the system, not be a

slave to the paycheck, not be a

slave to anything and have so

much more freedom."

"We'll stay off the grid and just do

our thing," she said. "It's taken me

a long time to figure that out." PEN

Cat Spydell with her pet peacock Radagast. Photo by Esther Kang

March 2017 • Peninsula 17
---
LILY LIANG PRESENTS:

NEW

LISTING

999 Paseo la Cresta, Palos Verdes Estates $11,999,000 www.999PaseolaCresta.com

Extraordinary Mediterranean inspired estate on nearly an acre of land with no expense spared! The floor plan of this home provides

you with the modern lifestyle and all of your entertaining needs. With 6 en-suites, a separate maid's quarters, library, formal

living and dining, family room that opens to the fabulous gourmet kitchen, movie theater, music room, billiards room, wine

cellar, service/tech room-brain of the home, and multiple storage rooms throughout. The master retreat is everything you imagined,

a separate room for closet for the lady of the house with floor to ceiling custom designed cabinets with glass doors and spa

like bathroom. Additional amenities include a full sized elevator, safe/panic room, 4 custom designed marble fireplaces, and a

smart house with a sophisticated security system. There are over-sized French doors that open to multiple terraces, creating an

easy indoor/outdoor feel enhanced by panoramic Catalina, Ocean, Malibu to Santa Monica Mountains views. Escape to the

private resort-like backyard that will make you feel like your away on vacation and offers endless entertaining options from intimate

gatherings to grand events ! Complete with a salt-water pool, fountains, spa, European statue, tennis/basketball court,

gym and a built-in grill, all encompassed by a lush grassy yard. This property exudes elegance from top to bottom and is a timeless

showpiece.
---
PALOS VERDES' FINEST HOMES & ESTATES FOR OVER 30 YEARS!

NEW

LISTING

2701 Via Elevado, Palos Verdes Estates

One of the largest estates ever offered in the heart of Malaga Cove in

Palos Verdes Estates with panoramic views of the Queen's Necklace.

A royal wrought iron entrance leads you down a long driveway with

massive, historic wooden gates followed by a stone and wood bridge to

an oversized circular carport replete with waterfalls and gorgeous

landscaping. Family-owned for over 40 years, on apx 4 sweeping acres

and 3 parcels of land next to parkland with striking ocean, city and golf

course views. This home is apx 10,000 sqft with abundant character,

quality, and detail including a sun-drenched pool overlooking the Pacific

Ocean, citrus and flower gardens, and large grassy areas for reception

and entertaining. A truly private compound that is beyond compare.

$26,680,000 www.KingoftheHill.me

12 San Miguel, Rolling Hills Estates

Located on a quiet cul-de-sac in the 24-hour guard and gated

community of Vantage Pointe. This beautiful property has 5 en-suites

stretching over 4,500 sq. ft. on a lot about 20,000 sq. ft. Lovely views of

Catalina Island and the Pacific Ocean could be enjoyed from most

major rooms. Great two story ceilings in foyer, living room, and library.

There are two separate but attached 2 car garages (4 spaces total),

library with built-in shelves that overlooks the pool. Huge family/media

room opens to the back yard with lush landscaping, a separate area for

the beach style salt water pool/spa/waterfall. Built in 2001 and with

some recent updates, do not miss this beauty!!!

$3,599,000 www.12SanMiguel.com

NEW

LISTING

2612 Via Campesina, Palos Verdes Estates

Located in beautiful Malaga Cove, this home with a French inspired

architectural design has 4 bdrms, 3ba, and 2,700+ interior sq ft. It has

been so well maintained with a superior curb appeal that offers multiple

fruit trees and is equipped as a smart home with a fantastic security

system. The living room has a soaring vaulted ceiling and fireplace. The

formal dining area overlooks the side yard with a stone patio, lush

greens and flowers. Next to the kitchen is the family room with a

fireplace, custom cabinetry and opens to the private and serene

backyard with a built-in BBQ. Spacious master suite with vaulted ceilings,

Jacuzzi tub, separate shower & 2 closets including a walk-in. Two of the

upstairs bedrooms also have vaulted ceilings & French doors that open

to balconies with a view of the ocean & spectacular sunsets. Only 2

blocks to shopping, restaurants, banking, & the post office in historic

Malaga Cove Plaza. Truly an outstanding value!

$1,799,000 www.2612ViaCampesina.com

550 Silver Spur Rd. Suite 240, Rolling Hills Estates, CA 90275
---
S P O T L I G H T O N T H E H I L L

66th Caballeros

Installation Brunch

Caballeros del Rancho Palos Verdes held its annual members' meeting

to install directors and officers at the historic Red Onion Restaurant

on January 22. In the olden days, members would ride horses to the Red

Onion. Today the conveyance of choice is horseless carriages. Caballeros

works to preserve trails and easements that provide open space and access

along roadways and between properties, contributing to the spacious

ambiance of the community. About 50 miles of Peninsula trails are

available for all to enjoy. Caballeros board meeting are held the third

Wednesday of each month at 7:30 p.m. in the Rolling Hills City Council

Chambers.

1. Lynn Gill and Hal Winton.

2. Val Decker, Carla Routt, Inez Foye

(back to camera), Gerry Belleville and

Marion Ruth.

3. Allen Lay, Sue Breiholz and Dottie

Lay.

PHOTOS BY LYNN GILL

4. Dave Breiholz and Jill Smith.

5. Roger and Christa Hawkins and

Pam Crane.

6. Jill Smith, Sally Swart and

President Jack Smith.

1

2 3

4 5

6

V ilicich

Watch & Clock

Established 1947

Celebrating

Our

70 th

Anniversary!

(310) 833-6891

714 S. Weymouth Avenue

San Pedro, CA 90732

Not affiliated with Rolex USA

20 Peninsula • March 2017
---
BRAND

NEW

LISTING

LUXURY

CUSTOM

MANSION

CROWNVIEW

RANCHO PALOS VERDES

7 Bedroom Suites, 8.5 Bathrooms, 7,587 sq ft Home, 34,950 sq ft Lot,

Breathtaking Unobstructed 270 Degree View from Ocean to Harbor, Custom Built Contemporary

Mansion on Top of Hill with Private Gated Driveway, $600,000 of Remodeling in 2015

OFFERED AT $4,250,000

www.3323Crownview.com

PALO VISTA

RANCHO PALOS VERDES

6 Bedrooms Suites, 10 Bathrooms, 12,841 sq ft Home, 65,413 sq ft Lot

Gated Luxury Mansion with Ocean, Catalina & Trump Golf Course Views

2-Story Master Suite, Indoor Pool & Spa, Many Exquisite Features

OFFERED AT $4,950,000

NEW

LOWER PRICE

NEW

LISTING

paseo la cresta

PALOS VERDES estates

7 Bedrooms, 11 Bathrooms, 10,400 sq ft Home, 42,412 sq ft Lot

Magnificent Gated Estate offering a Unique Combination of Luxury and Comfort

Sweeping Ocean, Bay and Treetop views. Exquisite Finishes and Fine Appointments Throughout

$8,450,000

www.1414PaseoLaCresta.com

SAN RAMON

RANCHO PALOS VERDES

3 Bedrooms, 3 Bathrooms, 2,138 sq ft Home, 39,757 sq ft Lot

Single Level Home with Rambling Yard and Canyon/Harbor Views

Flat Lot off Cul-de-sac for the Ultimate in Privacy

OFFERED AT $1,199,000

www.2729SanRamon.com

#1 Real Estate Team 2010 - 2016, 6 Years in a Row, RE/MAX Estate Properties

Stephen Haw/Team Leader

何 精 益

310.503.9886

skh8828@gmail.com

Kim Hall

Serving the South Bay

310.721.7526

KimHallHomes@gmail.com

Cristina Go

AREAA SB Founding President

310.971.0404

gocristinago@gmail.com

Lauren Yoon

로렌 윤

310.619.4989

laurenyoon17@gmail.com
---
Fine Homes and Luxury Properties

NEW

LISTING

GREAT

COASTLINE VIEW

IN ESCROW

BRAND

NEW

LISTING

IN ESCROW

SAN RAMON

RANCHO PALOS VERDES

4 Bedrooms, 2 Bathrooms, 1,746 sq ft Home, 11,287 sq ft Lot

Well Maintained, Original Condition, Single Level Home

Close to Schools with Easy Access to Freeways

Offered at $1,025,000

www.2809SanRamon.com

via somonte

PALOS VERDES estates

Spectacular Coastline and Queen's Necklace View in Malaga Cove

Bring your Architect/Contractor. Need Major Remodeling or Rebuild

Currently 3 Bedrooms, 2 Bathrooms, 2,365 sq ft Home on 8,102 sq ft Lot

OFFERED AT $1,795,000

www.797ViaSomonte.com

MORO BAY

RANCHO PALOS VERDES

4 Bedrooms, 3.5 Bathrooms, 2,995 sq ft Home, 10,030 sq ft Lot

2nd Master Bedroom on Main Floor, Office, Bonus/Great Room

City Lights & Mountain Views, Located in a Quiet Cul-de-sac

OFFERED AT $1,425,000

www.28918MoroBay.com

BIG FLAT

LOT

SHOWCASE

PROPERTY

GREAT

INVESTMENT

LAUREL DRIVE

RANCHO PALOS VERDES

1.21 Acre Gated Vacant Lot has Large, Flat Building Pad

Panoramic Catalina, Ocean & Endless Sunset Views!

Private & Secluded Location in Lunada Pointe. Rare Find Opportunity

OFFERED AT $3,500,000

CREST ROAD

RANCHO PALOS VERDES

5 Bedrooms, 6.5 Bathrooms, 8,533 sq ft Home, Guest House

PANORAMIC VIEW of Queen's Necklace & Downtown LA

Architectural Masterpiece, Luxury Features, Beautiful Landscape

OFFERED AT $3,995,000

www.LuxuryPVhome.com

HAWTHORNE BLVD

TORRANCE

2 Bedrooms, 2 Bathrooms, 55+ Village Court Condo

Resort-like Amenities including Pool, Spa & Gym

Walk to Excellent Shopping & Restaurants

OFFERED AT $469,000

Local Experts with International Connections to get YOUR Properties SOLD

Natsuko Fujii

藤 井 奈 都 子

310.941.2468

nfujii10@gmail.com

Alicia Enrique

Real Estate Specialist

310.720.4852

aliciahomes1@gmail.com

Dede Hsu

郝 蒂 蒂

310.722.9222

dedehsu@gmail.com

Rod Yoon

롸드 윤

213.663.8888

RodYoon@gmail.com
---
S P O T L I G H T O N T H E H I L L

L. A. Maritime Museum

Christens new Nimitz Model

Yas Komorita, a volunteer at the Los Angeles Maritime Museum

in San Pedro and long-time resident of Rancho Palos Verdes, recently

completed work on an 11-foot model of the US Navy aircraft

carrier NIMITZ. The model was unveiled in the Museum's Navy Hall

on Saturday, August 27. Komorita, a native of Japan, served in the

Japanese Navy before emigrating to the U.S. and enjoying a successful

career at TRW. His wife Cleo volunteers in the museum's gift

shop. The model was built over a period of 20 years and required approximately

12,000 hours of labor. In conducting his initial research

for the model, Komorita received help from the Navy. But after September

11, 2001, the Navy's assistance was withdrawn, so Komorita

relied on the Japanese magazine "Ships of the World" for details.

The model is remote-controlled and includes flashing lights, spinning

propellers, and a moving aircraft elevator. by Marifrances Trivelli

PHOTOS BY EMMA CLARK

1. Cleo and Yas Komorita.

2. Model runway of U.S. Navy aircraft carrier Nimitz.

3. Model aircraft carrier lineup on runway.

Southern California's Newest Marina

Happy St. Patrick's Day!

Guest Slips Available!

1

2

Marina Amenities

• SLIPS from 28' to 130'

• Dry Storage w/Crane Launching

• New Restrooms w/Showers

• Ice Machines & Laundry

• Pumpout - Public & In-Slip

• Ample FREE Parking

Shortest

Run to

Catalina!

Marina (310) 514-4985 • Dry Storage (310) 521-0200

Cabrillowaymarina@westrec.com • cabrillodb@aol.com

www.westrec.com/marina/cabrillo-way-marina

2293 Miner St., San Pedro, CA 90731

NOW

OPEN!

3

24 Peninsula • March 2017
---
Chris Adlam

310.493.7216

www.chrisadlam.com

Gorgeous 4 bedroom home with panoramic ocean, Catalina and coastline views! With over 3100 square feet, this

Rancho Palos Verdes home is beautifully remodeled through-out. Pool, spa, 3-car garage and more! $1,995,000
---
Chris Adlam

310.493.7216

www.chrisadlam.com

Beautiful, contemporary 6 bedroom home in Palos Verdes Estates. Over 5400 square feet, high ceilings, a

spacious and open floor plan with ocean views, pool and spa, 3 car, attached garage and more. $3,199,000
---
Chris Adlam

310.493.7216

www.chrisadlam.com

Incredible 4 bedroom (plus office) home on one of the most desired streets in Lower Lunada Bay! Over 3500 square

feet...updated and ready for move-in! Great floor plan and a large, flat backyard with pool, spa, and grassy play areas!

$2,649,000
---
Supermom with business brawn

The new head of Palos Verdes Performing Arts Center is a

powerhouse family and business woman

by Esther Kang

By 5 o'clock most mornings, Julie Moe-

Reynolds is up and running. With a hot

breakfast in tow, the mother of three hits

the road at the crack of dawn with her middle

son Travis — a freshman at Loyola High School

in downtown LA — for his early morning water

polo practice. Upon returning to the Hill, if it's

one of her three assigned days, she picks up a carpool

of kids, along with her 13-year-old daughter

Ashley, for class at Ridgecrest Middle School.

Then, she gets her own day started.

After running her environmental engineering

firm Essentia for 15 years, the Rolling Hills Estates

native is accustomed to multitasking. On top

of the company and the kids, she was devoting at

least 20 hours a week to help run the Palos Verdes

Performing Arts Center, a family legacy since its

founding. Moe-Reynolds significantly upped her

involvement after the passing of her mother Joan

Moe, a co-founder, who remained active in the

nonprofit until succumbing to cancer four years

ago.

"I was trying to help steer the ship and trying

to figure out who should be on the ship," she

said, adding with a laugh, "I didn't sleep a lot. It's

overrated."

Last July, Moe-Reynolds sold her company interests

after building the business from a few employees

to a dozen offices across the country. In
---
January, following a year and a half as PVPA's volunteer

executive director, the nonprofit named the

53-year-old its full-time executive director.

In her usual fashion, Moe-Reynolds hit the

ground running. In addition to its annual $1 million

fundraising efforts, her team has undertaken

a capital campaign to build a new conservatory for

its more than 800 students and dozens of productions.

The $5.3 million project, across the street

from the Norris Theater, will be triple the size of

the conservatory PVPA currently leases. The

fundraising campaign is about halfway to its goal.

"We still have a bit to go," she said. "We're looking

to community again, and businesses. The nice

thing is, if it's on your own property, it's going to

stay there forever."

When Moe-Reynolds was a third grader at Rancho

Vista Elementary (she grew up a mile away

from her current home), her mother attended the

school talent show to watch her daughter sing. Seeing

the kids performing in the multipurpose room

planted the seed in Joan Moe's mind to build a

proper theater for the community. It was a long

process, but in September, 1983 PVPA celebrated

the opening of the Norris Theater. Moe-Reynolds

was 19 at the time, a freshman at California

Lutheran University with a double major in biology

and business (her oldest son Colton now attends

the school.)

"Dinner conversation was the Norris Theater

and what we're going to do about it," she recalled.

Following graduation from college, Moe-

Reynolds excelled in her career, breaking glass ceilings

in the notoriously male-dominated

engineering industry. She wore various hats at

TRW Aerospace for eight years then at Jacobs Engineering

for five. In 1995, at age 31, she became

the first woman to become a senior vice president

at Professional Industry Services, a national environmental

engineering firm founded in 1968.

It was also around this time, that PVPA's pavilion

was erected. Without enough funding to hire an

outside contractor, her father Dick Moe, an engineer

and volunteer executive director at the time,

paired up with his daughter's husband John, a federal

agent with a knack for construction, and led

the charge in much of the grunt work from plumbing

to electrical. Several years later, when Moe-

Reynolds joined the board of directors, it again

became even more of a family project.

"All of us were picking up a hammer and

nail," she said. "Instead of going skiing that

Christmas, our whole family and the kids —

my family and my brother's family — we put

in the flooring because we couldn't afford to

pay outside contractors to do it."

The family business vibe, true to the smalltown

ethos of the Hill, extends beyond Moe-

Reynolds' immediate family. Abby Douglass,

her best friend since Moe-Reynolds was 6

years old, is the board president, and the two

have assembled a team of directors and staff

with a strong female presence – seven out of

10 to be exact. When it comes to hiring the

right person for the job, Moe-Reynolds said she

doesn't consider gender, just their qualifications

and work ethic.

"I don't like someone who talks about doing

it," she said. "I like someone who does it and

follows through. It happens that these seven

women all do that."

Dave Diestel, another longtime friend of the

Moes and a board director for five years in the

early 2000s, has known Moe-Reynolds since

she was a teenager. For the past 20 to 30 years,

he has watched her jump in at the drop of a

hat to help her parents and the theater, often

taking charge of fundraisers. Diestel, who was

involved in the hiring of the last five executive

directors, said there has never been a better fit.

For Moe-Reynolds, he explained, this post is

not merely a 9 to 5 job. It's a commitment and

a lifestyle.

"She's a mother, a wife, a leader in the community

and just a perfect fit for the Norris,"

Diestel said. "She's working with younger people

and older folk, many of whom are

founders. She relates to all of us very well. She

really just does everything."

Moe-Reynolds has fond memories of growing

up on the Peninsula. When her parents

bought her a horse in third grade, it fueled a

lifelong love of riding. There was no need for

a driver's license, she said, because she galloped

around town on her horse. She became

an avid competitor. Between 1995 and 2003,

she won seven world and reserve world titles

in American Paint Horse Association competitions.

But, when she gave birth to her third

child, she sold all 17 of her horses.

Moe-Reynolds wants to keep the legacy of

the Palos Verdes Performing Art Center alive

for generations to come.

"I hope it's here forever, long past me," she

said. "I hope my great, great, great grandchildren

are taking classes and performing on

stage." PEN

Julie Moe-Reynolds prepares for breakfast on the

go before taking her son to early morning water

polo practice.

Photos by David Fairchild

29
---
30 Peninsula • March 2017
---
Clement "Clem" Hiel, PhD. and his wife Hilde (center) are joined by family and friends at the Belgian General Consul's house in Washington D.C., following Dr. Hiel's

acceptance of the Tibbetts Award at the White House. (Left to right) Tom Hiel, Mariana Zimmermann, Hank K. Stevenson, Esq., the Hiels, Tim Kelly, Joan Kelly, and

Patricia and Fred Shooshani. Photo courtesy of the Hiel family

Professor

'Snap'

Belgian-born,

Peninsula resident

Dr. Clem Hiel

develops composites

to build towers and

protect against

terrorists

by Brian Gillogly

In 2013, gunmen fired on a Pacific Gas and Electric

substation outside of San Jose for 19 minutes

and then escaped by car. A blackout of

Silicon Valley was only averted by rerouting power

from neighboring power plants. Former Chairman

of the Federal Energy Regulatory Commission Jon

Wellinghoff described the attack as "the most significant

incident of domestic terrorism involving

the grid that has ever occurred."

Homeland Security officials suspected the attack

was a practice run for a large-scale assault that

could cripple the U.S. electrical grid. Despite a

$250,000 reward offered by Pacific Gas and Electric

and AT&T, the gunmen responsible for the attack

were never found.

But thanks to Peninsula resident Clement "Clem"

Hiel, the chances of a similar attack succeeding

have been greatly diminished.

Hiel is the founder of Composite Support & Solutions

(CSSI). Following the power station attack,

Hiel was asked to develop composite protection

walls for the electrical substations.

"One night I came up with a very simple idea

that worked extremely well and that was very affordable,"

he said.

Protecting the electrical grid is just one of many

contributions the Belgian-born engineer has made

to U.S. security.

Last January, Hiel was invited to the White

House to accept the 2017 Tibbetts Award, presented

each year by the U.S. Small Business Administration.

The award honors businesses that

have made "a visible technological impact on the

socio-economic front."

Hiel received the award for CSSI's development

of a new "snap-joint" technology for rapid installation

of lightweight, exceptionally strong communications

towers.

Boeing technology fellow and UCLA professor

Dr. Hamid Saghizadeh said of the new technology,

it has "formidable potential for diffusion into a

whole range of applications, from aeronautics and

space to civil engineering and construction."

CSSI's snap-joint technology, Hiel said, dates

back to early Japanese society, which built large

structures without screws or nails. Hiel utilized

space age composites, such as resins or ceramics,

combined with graphite or glass fibers, to bring

snap-joint technology into the modern era.

In 2008, CSSI installed a prototype snap-joint

tower on a launch pad at Vandenberg Air Force

Base in Oxnard. Last year, a 118-foot tower, constructed

by CSSI at Hanscom Air Force Base in

Massachusetts further improved the process. Key

32 Peninsula • March 2017
---
parts had a tolerance of 20 microns, or approximately the thickness of a

human hair.

"The current tower technology is more advanced," says Hiel. "This is especially

true of its manufacturing. It's like going from transistors to integrated

circuits."

Hiel's interest in engineering began in his native city of Antwerp, where,

from ages 12 to 18, he studied welding, fabrication and mechanical drawing

at a vocational school. He subsequently attended the Antwerp Institute of

Technology and then university in Brussels, where he first came in contact

with the then futuristic materials called composites.

His ambition was to develop more efficient diesel engines. However,

when one of his professors pointed out that future diesels would utilize

composites, Hiel changed course. That detour took him to the National

Aeronautics and Space Administration (NASA) for a post-doctoral studies

in composites. A year later, he returned to Belgium to accept a university

teaching position, only to resume employment with NASA three years later.

For the next decade, Hiel worked at NASA's Ames Research Facility at Moffett

Field, in Silicon Valley. He then decided to branch out on his own to

explore opportunities for composites beyond the aeronautics industry.

"You have to disconnect yourself from the past. That's how you move

into the future. That's how you create and innovate," he said.

When Hiel's brother, a baker back in Belgium, asked Hiels to create a

non-stick composite pan that could withstand 450 degrees Fahrenheit, he

initially declined. "I explained to my brother that plastics used in the space

program might be suitable, but they would be too expensive."

But then he recalled a basic principle of physics he had learned at age 13

in vocational school. "Temperature doesn't increase as long as you are evaporating

water. It remains at 212 degrees Fahrenheit." That insight led to the

development of an inexpensive polymer and a process that allows baking

bread in one-third the normal time. The process uses both microwave and

conventional ovens. The pans are now marketed in Europe under the name

"Clean Baking Products" (www.cbpb.be).

The problem of conflagrations along the U.S.'s aged electrical grid led

Hiel's CSSI to develop composite firewalls to contain the blazes. Not only

did CSSI develop space age plastics capable of withstanding high temperatures,

but it also fashioned them so they could be easily assembled in the

field.

"In 2008, firewalls were our bread and butter. That year, they earned our

company a top innovation award from the American Society of Civil Engineers

(ASCE)."

The firewalls made CSSI the logical company for Homeland Security to

turn to following the 2012 attack on the Silicon Valley power station

Another successful CSSI project is a composite, high voltage cable, for

which Hiel holds the patent. "It is being produced in Irvine and currently

employs about 130 people in high-quality, manufacturing jobs. At this time,

26,000 miles have been produced and installed, all over the world."

There have been potholes along the way, literally. In 2012, Hiel joined a

team of engineers from Jet Propulsion Lab, Aerospace Corporation and

UCLA. They were enlisted by the City of Los Angeles to come up with a

technology to fix potholes.

"The idea was that the City would fund us to do the work and the City

would own the patents and could then license the technology all over the

world. In this way, Los Angeles could solve its pothole crisis and generate

a revenue stream in the process." However, the City balked at the funding

proposed for research and development and a German group came up with

a similar idea and captured the market.

Hiel and his wife Hilde have two children, Lynn and Tom. Both children

attended elementary and high school on the Peninsula. Lynn earned her

masters degree in civil engineering at U.C. Berkeley, She currently manages

a German building information modeling team while also pursuing a second

masters degree in construction law and mediation at Kings College in

London. Tom received his masters degree in structural engineering from

U.C. San Diego and works at Aerospace Corporation in El Segundo.

In addition to heading CSSI, Hiel teaches Materials Selection and Design

at UCLA.

"It's a very demanding field. You have to create but you also have to know

the laws of physics that limit you. And, sometimes, you come up with a

breakthrough idea that allows new engineering possibilities," he said.PEN

March 2017 • Peninsula 33
---
34 Peninsula • March 2017
---
March 2017 • Peninsula 35
---
"R

S P O T L I G H T O N T H E H I L L

South Bay YMCA serves

Families of all means

egardless of ability to pay, no one is ever turned away," Torrance-

South Bay YMCA board member Jerry Marcil said. To provide

funds for the YMCA's many programs, the group hopes to raise $680,000

this year. "Our annual campaign gives the community an opportunity to

come together and support vital youth, seniors and parent-child programs,"

Marcil added.

To learn more about Y's cause contact Su Hwang at 310-602-4880 or

SuHwang@ymcala.org or visit ymcala.org/tsbgive.

PHOTOS PROVIDED BY THE YMCA

1. Bill Applegate, Craig Leach, Dan Vogelzang, John Kirk, Mike Griffiths and John

Turner.

2. Kirk Rentz, John Koenig, Bill Oberholzer, Carol Boots Magee, Jerry Marcil,

Mark Hebson, Nick Peters and Tom Gray.

3. Jean Adelsman, Tracy Underwood, Amy Zimmerman, Ned Stromme, Vera

Jimenez and Dean Reuter.

1

2

3

36 Peninsula • March 2017
---
Vista Sotheby's Top Producer 2016

WITH THANKS AND APPRECIATION TO MY CLIENTS

FOR MAKING 2016 SUCH AN EXTRAORDINARY YEAR!

THE SOUTH BAY'S

HIGHEST-PRICED SALE

OF THE YEAR!

2101 ROSITA PLACE, PALOS VERDES ESTATES

Represented Buyer | $11,900,000

505 CALLE DE ARBOLES, REDONDO BEACH

Represented Seller | $2,100,000

1108 VIA ZUMAYA, PALOS VERDES ESTATES

Represented Seller | $1,800,000

700 ESPLANADE #34, REDONDO BEACH

Represented Seller | $1,250,000

PATTY SULLIVAN WORKS WITH BUYERS AND SELLERS IN ALL PRICE

RANGES. SHE TAKES GREAT PRIDE IN CARING AND SUPPORTING HER

CLIENTS THROUGH THE TRANSACTION EVERY STEP OF THE WAY.

"She listened to our concerns and requirements… she has made our new house

and community feel like home." PRICEWATERHOUSECOOPERS

PATTY SULLIVAN | 310.418.7906 | PSULLIVAN@VISTASIR.COM | PALOSVERDES-BEACHCITIES-HOMES.COM

CalBRE# 01462636
---
38 Peninsula • March 2017
---
eventcalendar

CALENDAR OF COMMUNITY EVENTS

Compiled by Teri Marin

You can email your event to our address: penpeople@easyreadernews.com

All submissions must be sent by the 10th of each month prior to event taking place.

The South Coast Botanic Garden hosts its annual Cherry Blossom

Festival and also the inaurgural Spring into Fitness 5K Walk/Run this

month. The Cherry Blossom Festival is Saturday and Sunday,

March 4 and 5, from 9 a.m. to 5 p.m. The Spring into FItness 5K

is Sunday, March 19 at 7:30 a.m. Run proceeds will benefit the Pediatric

Unit at Torrance Memorial Medical Center. The garden is located

at 26300 Crenshaw Boulevard, Palos Verdes Peniinsula. For more information

call (310) 544-1948. Or visit SouthCoastBotanicGarden. org.

On going

Native Plant Nursery

Monday – Friday, 9 a.m. Enjoy nurturing seedlings and help shrubs grow for

habitat restoration projects. Must RSVP 48 hours in advance. Sign up at

pvplc.volunteerhub.com.

Rapid Response Team

Fridays and Saturdays, 9 a.m. - noon. Work alongside PVP Land Conservancy

staff protecting important wildlife habitat by closing unauthorized trails. Tasks

include trail maintenance, building fence, installing signage and more. Work

at various locations where work is most needed. Directions to sites emailed

upon sign up. No experience needed. Ages 15 and up.

pvplc.volunteerhub.com.

Saturday, February 25

Fashion Show

The Bedecked, Bejeweled and Bedazzled Vista's for Children 17th Annual

Fashion Show and Boutique/Luncheon in the Queen Mary Ballroom. 1126

Queens Hwy, Long Beach.10 a.m. - 4 p.m. Vistasforchildren.org for more

info.

Abalone Cove hike

Enjoy a guided hike led by the Los Serenos Docents down to Abalone Cove.

1:30 p.m. Learn about the native fauna and flora, along with interesting facts

about the local tide pool. The hiking difficulty is moderate to strenuous. Wear

sturdy shoes. 5970 Palos Verdes Dr S, Rancho Palos Verdes. Parking fees

waived up to 45 minutes prior to the event and 30 minutes after. Free. (310)

377-5370 or visit losserenos.org.

Un Tributo a Mexico

Grandeza Mexicana Folk Ballet Company, led by Artistic Director Jose

Save $50

on laser treatments*

*Minimum treatment price $275, hair removal excluded.

March 2017 • Peninsula 39
---
eventcalendar

Vences, showcases the splendor of Mexican Folk dance from regions throughout

Mexico. 7:30 p.m. Warner Grand Theatre, 478 W. 6th St., San Pedro.

(310) 548-2493 or warnergrand.org.

Honey Country

Rooted in three-part harmonies and southern twang, this country trio can be

heard on HBO's True Blood and Go Country 105. 8 p.m. Grand Annex, 434

West 6th St., San Pedro, (310) 833-4813 or grandvision.org.

Sunday, February 26

Hockey Hero celebration

Promenade Ice Chalet presents Our Hockey Heroes, featuring LA Kings Crew,

Kings Chariot, Marty McSorley, Vic Venasky and Ian "Hawk" Turnbull to celebrate

National Hockey Week. Enjoy ice activities, obstacles and relays with

PIC hockey students ages 12 yrs. and younger. 1 -- 3 p.m. Various local

fundraising partners will be raising awareness and funds benefitting The Kings

Care Foundation. PV Net will have a booth where kids create using a 3D pen.

Ruby's Diner will offer milk shakes and Premier Bank will teach kids the importance

of money management. 550 Deep Valley Dr. Rolling Hills Estates.

The Belle of Amherst

Actress Melanie Jones mesmerizes in this one-woman play as Emily Dickinson,

the daring poet of 1800s New England. Followed by afternoon tea (with

scones, sandwiches, dessert). 2 p.m. Benefits Meet the Music. Grand Annex,

434 West 6th St., San Pedro, (310) 833-4813 or grandvision.org.

Oscar Viewing Party

Appetizers, dinner, drinks and more! At Temple Emet, 2051 W. 236th St.,

Torrance. Starting at 3 p.m., $36 per person RSVP. Check website for details:

TempleEment.org or call (310) 316-3322.

40 Peninsula • March 2017
---
March 2017 • Peninsula 41
---
William J. Wickwire, M.D.

Certified, American

Board of Dermatology

Neal M. Ammar, M.D.

Certified, American

Board of Dermatology

DERMATOLOGY & SKIN SURGERY

BEACH CITIES DERMATOLOGY

M E D I C A L C E N T E R

Say Goodbye to Stubborn Fat....

Two Coolscuplting Devices to Treat Two Areas at Once!

Specialists in Skin Cancer Detection

• Skin Cancer • Mole Removal & Mohs Surgery

• Reconstructive Facial Surgery and Scar Revision

• Acne & Accutane Treatment

• Warts, Rashes and Cysts • Leg Vein Sclerotherapy

• Hair Loss & Propecia • Restylane, Radiesse, Perlane,

Juvederm & Sculptra • Botox and Dysport Injections

• Age Spots & Sun Damage • Laser Surgery

• Microdermabrasion • Glycolic and Chemical Peels

• Ultraviolet B & PUVA • Pediatric Dermatology

310-798-1515

www.beachcitiesderm.com

Redondo Beach —

520 N. Prospect Ave., Suite 302

Palos Verdes —

827 Deep Valley Drive, Suite 101

Buy One, Get One

FREE

South Bay's

best equipped

Dermatology

Center!

All PPOs Accepted

Evening & Sat.

Appts. Available

Robert T. Downs, Sharon A. Bryan* ** + ++, Christopher M. Moore* ** + ++, Rebecca L.T. Schroff** + ++, Jan T. Inoue*

* Certified Family Law Specialist by the State Bar of California Board of Legal Specialization;

** Certified Trusts & Estates Specialist by the State Bar of California Board of Legal Specialization;

+ Chosen to 2016 Super Lawyers; ++ Chosen to 2015, 2016 and 2017 editions of Best Lawyers of America ©

Honored by our peers for our professional excellence,

Moore, Bryan, Schroff & Inoue LLP

2016 Super Lawyers

Certified Family Law and Trusts & Estates Specialists

Complex Property • Custody • Support Issues

Personal Service • Exceptional Results

Cost Effective • Timely Resolutions

(310) 540-8855

21515 Hawthorne Blvd, Suite 490, Torrance

www.mbsllp.com | mail@mbsllp.com

eventcalendar

Tuesday, February 28

Shrove Tuesday Luncheon

Sponsored by the St. John Fisher Women's Council. The luncheon is an annual

fundraiser for local charities. Guest Speaker will be Bishop Joseph Sartoris.

$25. 9 a.m. to 1 p.m. Reservations can be made at the Parish Office, 5448

Crest Rd., RPV. Call Elaine Sweers at (310) 377-7704 for more info.

Thursday, March 2

Jazz Expression Night

Enjoy a night of Jazz Expression from outstanding high school jazz bands

along with special musical guest The Jesse Palter Band. 6:30 p.m. Trump National

Golf Club, 1 Trump National Dr., Rancho Palos Verdes. Tickets: $10

presale, reserved seating at freedomcommunity.com or by mail or $15 at the

door. Casual buffet ticket: $25. For more information (800) 501-9801 or

admin@freedomcommunity.com.

Teen blessings speaker

Dr. Wendy Mogel, clinical psychologist and bestselling author of "The Blessing

of a Skinned Knee," will speak on Myths and Misconceptions -- The Hidden

Blessing of Raising Teenagers. Mogel is a frequent guest speaker on issues

from talking to kids about death and embracing the chaos of messy rooms to

the protection and promotion of self-reliance, resilience and accountability.

Designed for middle school and high school students and their parents. Appropriate

for all ages. 7 p.m. Free. Followed by dessert and coffee. Books

available for purchase after the lecture. Congregation Ner Tamid: 5721 Crestridge

Road, Rancho Palos Verdes. RSVP requested nertamid.com/rsvp.

Friday, March 3

Back to Broadway

Act II, a support group of the Palos

Verdes Performing Arts, will stage its

annual community variety show at

the Norris Theatre featuring music

from popular Broadway musicals,

with talented singers, dancers and

musicians from the community. Complimentary

wine served opening

night. Proceeds will benefit the Palos

Verdes Performing Arts. Showtimes

are 7:30 p.m. on March 3 and 4

and 2 p.m. March 5. $25 for adults

and $15 for youth aged 18 and

under. (310) 544-0403 or go to

palosverdesperformingarts.com.

27570 Norris Center Drive in

Rolling Hills Estates.

Beady eyes

Seaside Beaders, a special interest

group of the Embroiderers' Guild of

America, meets at 9:30 a.m. Idele

will teach part one of a beaded

kaleidocycle. Must sign up for $20

pattern in advance. Pattern will be

sent by pdf. Visitors welcome. You

can always bring your own project

to work on. For more information,

call Idele (310) 540-6104 or visit

www.azureverdeega.com/bead_

projects.com. St. Francis Episcopal

Church, 2200 Via Rosa, PVE.

42 Peninsula • March 2017
---
March 2017 • Peninsula 43
---
FEE ONLY FINANCIAL PLANNER

• Are you in or approaching retirement?

• Do you want to stop worrying about your

investment portfolio?

• Do you lose sleep wondering if you may

outlive your nest egg?

• Do you want to know if you are on the

right path financially?

• Do you want to take control of your

finances?

• Do you feel you need a second opinion on

your portfolio?

If you answered "yes" to any or all of the

above questions, you may need to contact

me, to provide you with a personal financial

plan designed to help you take control

of your finances, reduce anxiety and ultimately

achieve your financial goals. There

is no cost or obligation for the initial meeting,

as it is an opportunity for you to learn

more about me, and for me to determine

if I can help you achieve your financial

goals and objectives.

As a fee-only financial planner I will be

compensated solely by my clients, I do not

accept commissions, referral fees, or

compensation from other sources, and I am committed to acting in

your best interest.

Abbas A. Heydari, CFP®

Certified Financial Planner

and Registered Investment Advisor

Providing Financial Services

in Torrance since 1986

21515 Hawthorne Blvd., Suite 1020

Torrance, CA 90503

E-mail: aahfp@Yahoo.com

Web: www.aaheydari.com

Phone: (310)792-2090

44 Peninsula • March 2017
---
OCEAN VIEW TENNIS COURT ESTATE

1505 Via Castilla in Lunada Bay

5 bedrooms |5 bathrooms | 5222 sq ft | 15,404 sq ft lot

Office/den, two family rooms, vaulted ceilings, pool and spa. Ocean views from almost every room in the house!

Offered at $3,795,000

Robin DeBraal

310-383-9488

debraalremax@cox.net

CAL BRE# 00925326

Cheryl Rau

310-872-9098

c.rau@cox.net

CAL BRE# 01373136
---
RPV Residents

eventcalendar

Saturday, March 4

Cherry blossom fest

Enjoy the ornamental cherry trees' spectacular blooms at the South Coast

Botanic Garden. In Japanese culture, the cherry blossom represents the fragility

and beauty of life. Visit Guest Services or the Gift Shop for additional information

about the Festival. Bring your own picnic to enjoy on the Upper, Lower

or Sakura meadows. 9 a.m. - 5 p.m., Saturday and Sunday.26300 Crenshaw

Blvd., Palos Verdes Peninsula. (310) 544-1948.

Family Hike

Bring your family and join a PVP Land Conservancy guide to discover habitat,

wildlife and more on an easy hike with amazing views of the city. Free. All

ages welcome. 9 a.m. George F Canyon, 27305 Palos Verdes Dr E, Rolling

Hills Estates. For more information (310) 547-0862 or RSVP at: pvplc.org.

Outdoor Volunteer Day at Portuguese Bend Reserve

Help restore important wildlife habitat while looking out at a beautiful view.

George F Canyon, 27305 Palos Verdes Dr E, Rolling Hills Estates. 9 a.m. -

noon. Sign up at pvplc.volunteerhub.com.

Creative Expressions

Opening reception for "Creative Expressions" at the Artists' Studio Gallery at

The Promenade on the Peninsula, featuring abstract artist Lois Olsen, painter

Kathie Reis and glass artist Howard Schneider. 2 to 5 p.m. Artist will discuss

their work, beginning at 3 p.m. 550 Deep Valley Drive space #159, across

from the fountains. (310) 265-2592 or artists-studio-pvac.com.

Friday, March 10

Dog Training

Advanced Rally AKC Competition class offered through Lomita Obedience

Training Club, a non-profit organization. This class is designed for people and

their dogs who already know the rally novice stations and are ready to learn

and/or practice advance and excellent stations. Classes are 6 weeks long

and will be held at Ernie Howlett Park (flat area near the horse barns) in Rolling

Hills Estates. To learn more please call (310) 530-4814 or visit LomitaDog-

Training.org.

Do you change your automobile oil and filter? If you do, call EDCO your trash/recycling

hauler and arrange for a free pickup. Then, place your used oil and/or filter in a tightly

sealed container or ziplock bag. EDCO will pick them up and drop off an oil recycling kit

that contains a 15-quart drip pan, empty 1-gallon container, funnel, shop rag, cardboard

floor mat and information on used oil and filter. Call EDCO at 310-540-2977 or go to

www.rpvrecycles.com.

Household Hazardous Waste/Electronic Waste Roundup

Sat. April 8th from 9:00 am to 3:00 pm

RPV Civic Center, 30940 Hawthorne Bl.

Composting Workshop (Beginners Level)

Sat. April 15th from 9:30 am to 11:30 am, Hesse Park, Fireside Room

Document Shredding/Electronic Waste Roundup/Free Mulch Giveaway

Sat. April 22nd from 8 am to 11 am

RPV Civic Center, 30940 Hawthorne Bl. (RPV Residents Only)

For Household Hazardous Waste (including Sharps disposal)

and Electronic Waste Disposal, go to:

Gaffey SAFE Center

Address: 1400 N Gaffey St, San Pedro, 90731

Phone: 800.988.6942

Open Saturdays and Sundays

from 9am to 3pm

Saturday, March 11

Outdoor Volunteer Day

At Alta Vicente Reserve, help restore this unique canyon habitat, home to many

threatened and endangered wildlife species. 9 a.m. - noon. 30940

Hawthorne Blvd, Rancho Palos Verdes. Sign up at pvplc.volunteerhub.com.

Stories, Songs and more

Share the joy of storytelling with your children and introduce them to the

beauty of the natural surroundings. Enjoy spending time with retired Children's

Librarian Carla Sedlacek for stories and activities featuring nature themes, exciting

props and songs. Free.10 a.m. 1600 W. Paseo del Mar in San Pedro.

RSVP at pvplc.org, Events & Activities.

Guided Nature Walk

Presented by the Palos Verdes Peninsula Land Conservancy. Explore the White

Point preserve and demonstration garden followed by a visit to the tide pools

at Royal Palms State Beach. Free and open to the public. 2 p.m. 1600 W.

Paseo del Mar in San Pedro. For more information, contact (310) 541-7613

ext. 201 or sign up at pvplc.org/_events/NatureWalkRSVP.asp.

Wounded Warriors

Readers Theatre Repertory will hold a benefit for Wounded Warriors. A light supper

will be served followed by a performance of "Adoring Gertie," 5 to 8 p.m. at the

Croatian Cultural Center, 510 W. 7th St., San Pedro. Suggested donation

$20. Reserve now. Seating is limited. For more information call Jean Alden

(310) 377-2034.

46 Peninsula • March 2017
---
eventcalendar

Purim Gala

Dine, dance and be entertained! Music, comedy, magic, and raffle with bountiful

gift baskets galore! $118 person at 6 p.m. DoubleTree Hotel by Hilton,

21333 Hawthorne Blvd., Torrance. Check website for details TempleEmet.org

or call (310) 316-3322.

The Texas Tenors

From Bruno Mars to Puccini, the charismatic trio brings its exciting repertoire

of country, Broadway, rock and opera to the Norris stage with breathtaking

vocals and a touch of irresistible cowboy charm. Since their whirlwind debut

as the highest-ranked singing group in the history of "America's Got Talent,"

The Texas Tenors have accumulated a long list of awards, accolades and excited

fans. 8 p.m. Tickets $60 -- $70. 27570 Norris Center Drive in Rolling

Hills Estates. (310) 544-0403 or go to palosverdesperformingarts.com.

Sunday, March 12

Bird walks into a garden

Are you interested in birds? Join Steve Dexter, Ed Griffin and Manuel Duran

of the Palos Verdes/South Bay Audubon Society to tour the South Coast

Botanic Garden in search of birds. No experience required, but binoculars

are recommended. The group meets in the Courtyard and then heads out. 8-

11 a.m. South Coast Botanic Garden, 26300 Crenshaw Blvd., Palos Verdes

Peninsula. (310) 544-1948.

Cactus & Succulents

Jeff Moore's program, "Under the Spell of Succulents," deals with how we engage

with succulents -- growers, collectors, landscaping, container gardens,

and niches such as bonsai, crests, and variegation -- and is aimed at both

novice and long-time enthusiast. 1 p.m. to buy plants, meet other cartophiles,

and have refreshments. Program is at 1:30 p.m. South Coast Botanic Garden,

26300 Crenshaw Blvd., Palos Verdes Peninsula. For more information visit

southcoastcss.org.

Bluegrass voices

Included with Garden admission. Bring a picnic and enjoy the Windy Ridge

Bluegrass Band as they play traditional, contemporary and original bluegrass

songs. Acoustic instruments blend with vocals in lead and harmony. Concert

will be held in the Amphitheater, 3-5 p.m. No registration required. South

Coast Botanic Garden, 26300 Crenshaw Blvd., Palos Verdes Peninsula. (310)

544-1948.

March 2017 • Peninsula 47
---
4203 Spencer St., Torrance, CA 90503

(310)214-5049 • www.pevelers.com

Appointment Recommended

Showroom Hours: Monday Thru Friday 10-5

Closed Saturday and Sunday

License #381992

• Serving the South

Bay for over 35 years

• Full Service Contractor

• Complete Installation

• New Construction

• Remodeling

• Second Floors

• Additions

• Cabinets

Visit Our

Kitchen &

Bath

Showroom

eventcalendar

Chamber music

Chamber Orchestra of the South Bay, the resident classical orchestra of the

Palos Verdes Performing Arts Center, continues its 2016-17 season at the Norris

Theatre with featured soloist Los Angeles Philharmonic's concertmaster,

Martin Chalifour and COSB's principal oboist Joseph Stone. Under the direction

of Frances Steiner, the program will open with Stravinsky followed by J.S.

Bach. Following intermission is a new work by Cantor Stephen Richards Serenade

for the COSB. 8 p.m. Prior to the concert, there will be a Preview Talk

by Chuck Klaus, starting at 7:15 p.m. Single tickets are $63 and will be available

through the Norris Theatre Box Office, (310) 544-0403, ext. 221. Further

information on the COSB and its future concerts can be found by visiting

palosverdes.com/chamberorchestra.

Full Moon Hike

Palos Verdes Peninsula Land Conservancy. Explore nocturnal sights with an

expert naturalist under a full moon at the George F Canyon Nature Preserve,

27305 Palos Verdes Dr E, Rolling Hills Estates. Time to be announced. Must

be age 9 and up. $12 per person. Reservations required at pvplc.org, Events

& Activities.

Wednesday, March 15

Birding with Wild Birds Unlimited

Explore the birds making a home in the restored habitat at the beautiful White

Point Nature Preserve. Binoculars supplied for beginners. The program is free.

All ages welcome. 8:30 a.m. 1600 W. Paseo del Mar in San Pedro. RSVP at

pvplc.org, Events & Activities.

Calendar cont. on page 66

48 Peninsula • March 2017
---
March 2017 • Peninsula 49
---
S P O T L I G H T O N T H E H I L L

League of Women Voters

Celebrates 60th anniversary

The Palos Verdes League of Women Voters celebrated its 60th

anniversary in July with music by the Penny Royal Players at a

historic home in Palos Verdes. While the organization does not endorse

candidates, members do take positions on ballot measures,

following comprehensive study. Its goal is to educate citizens and

foster dialogue on important issues, from healthcare and climate

change to immigration and affordable housing. For information

about League of Women Voters visit lwvpalosverdes.org.

PALOS VERDES PENINSULA

REPUBLICAN WOMEN FEDERATED

Meeting, Lunch and Speaker -$30

Tuesday, March 28, 2017- 10:30 social

11:00am-1:15pm meeting

Palos Verdes Golf Club

3301 Via Campesina,

Palos Verdes Estates, CA

1. Karen Buresh, Kaitlin Chang,

Wendy Burkhard and Megan

Wescott.

2. Theodora Sonnischsen, Judi

James and Fran Brown.

3. Elayne Nahman, Eve Edmond

1

and Connie Davenport.

4. Renata Harbison and Cindy

Kondon.

5. Janet MacLeod, Madeleine

Drake, Paulette Reiss and Sue

Reese.

2

FEATURED SPEAKER

Larry Greenfield

"Conservatism + Trumpism, equals a

Winning Governing Coalition"

Fellow in American Studies of Claremont

Institute; Board of Endowment for Middle

East Truth; Board of Israel Christian Nexus;

Director of Reagan Legacy Foundation

RSVP by Thursday March 23

Barbara Hart (310)544-9810

or PVPRWF @ aol.com

Gentlemen always welcome

3

5

4

50 Peninsula • March 2017
---
Prompt Professional Discreet

"My heartfelt thanks for your spectacular service."

Lauren Yu - Del Cerro neighborhood

Kathy Siegel & Michele Swift Chodos

www.PalosVerdesAgents.com

310 729.0913 • 310 897.6488

CalBRE 01877303 / 00890714
---
The Jester House

The master bedroom, with the Wayfarers Chapel, another of Lloyd Wright's designs, in the distance.

How architect Lloyd Wright and the magic of an Old Hollywood love story combined to create an enduring

architectural masterpiece in Rancho Palos Verdes

by Stephanie Cartozian

The Jester House is emblematic

of post-war Palos Verdes.

It speaks of a simpler time

on the Peninsula, when views

were of open hillsides and ocean

and the hum of a passing car was

rarely heard. The Rancho Palos

Verdes home was designed by

Frank Lloyd Wright's son, Lloyd

Wright in 1949.

The residence is still owned by

its original family. The late Ralph

Jester and his wife Lois had two

sons, Lee and Leven. In the early

1940s Ralph was an officer in the

Army Air Corps and made films in

Ecuador, South America and the

South Pacific. Later, he became a

Hollywood costume designer. His

love interest Lois, was a New York

fashion model 20 years his junior.

They met serendipitously one

night in 1944 at a costume party in

New York. Lois had just moved to

The backyard view with a terracotta fish the Jesters brought back from Mexico.

Photos by Tony LaBruno

the state from Alabama with her

sister. Money was tight so in her

closet she found a blue, longsleeved

flannel nightgown to wear

to the soiree, with her hair in pigtails.

It was a carefree time. She

saw him as her soulmate. "He really

was," she says now, still aglow

with the memory 73 years later.

They married not long after, in

1945, and found this Portuguese

Bend lot a few years later. Before

the war, Ralph had lived in Palos

Verdes at the Vanderlips' chauffeur

quarters (known as "The Casetta at

Villa Narcissa"), also located in Portugese

Bend, so he knew the area

well. The lot he selected for his

own home was "rocks and rubble

and resembled a moonscape," his

son Lee says, recalling early photographs.

Before moving to Palos Verdes,

Ralph Jester knew Frank Lloyd

52 Peninsula • March 2017
---
A long balcony off the kitchen invites al fresco dining.

Wright and the Vanderlip family well, having

lived and studied art and architecture at Yale

University. Upon his graduation in 1924 with a

liberal arts degree, he traveled to Vienna for a

brief time to study architecture, subsequently

moving onto Paris for five years to study sculpture.

"My father was a lifelong scholar," recalls Lee.

Ralph's friendship with Frank Lloyd Wright

strengthened over the years. In 1932, he was invited

to be an apprentice at the architect's legendary

estate at Taliesin, Wisconsin. At the time,

Ralph was living in New York, working as a theatre

designer. He'd just been offered a job to go

to Hollywood and work for filmmaker Cecil B.

DeMille on the 1934 version of "Cleopatra."

Though honored by Frank Lloyd Wright's invitation,

he chose to work in Hollywood. For the remainder

of his career, Ralph stayed with

Paramount Pictures as a costume designer, art director

and production designer. The most notable

film he was the costume designer for was "The

Ten Commandments" for which he and fellow

designer Edith Head were nominated for an

Academy Award in 1956 (losing to "The King and

I"). In 1958 he designed the costumes for "The

Buccaneer" with Yul Brynner (also nominated for

an Academy Award, losing to "Gigi"). The movie

that brought the entire family to Madrid to live

for six years was "Solomon and Sheba," in which

Tyrone Power was cast as Solomon. He suffered

a massive heart attack during the filming and

died at the untimely age of 44. Yul Brynner took

over the role, requiring the entire film to be

reshot. Following this strenuously long production,

Ralph decided to retire and enjoy Spain with

his two sons and wife. They employed a cook

and three maids to help tend to the family and

they attended the Berlitz School to learn Spanish.

But the family always kept its home in Palos

Verdes. Lee explains that when his father purchased

the lot, with views of Portuguese Point,

Sacred Cove and Inspiration Point, he was so

elated that he brought his young wife to the spot

and made them a picnic.

The family has now spent over half a century

in their home on the hill. Some trees that had outlived

their lifespan were recently removed, clearing

the way for sweeping, panoramic ocean

views.

"It's low tide and those black rocks you see in

the ocean are basalt," Lee says, looking out over

the view. "It's the basalt that holds up the points."

Lee said his father's Hollywood career was intense

and he found refuge and solace being outside,

doing gardening and masonry work. The

landscaping is lush and meandering, leading to

what the family refers to as their "Secret Garden."

Lee recently found a toy tractor buried in the

Secret Garden for over 50 years, by the bushes

where he and his brother Leven used to play.

There are 75 rose bushes and fruit trees of varying

types, including Meyer lemon, Eureka lemon,

tangerine and orange.

Lois said when the kids were older, this spot

became her particular refuge.

"I could go to the Secret Garden," she says. "I

didn't have to answer the phone, no one knew I

was there and I could go down there and read for

hours."

The family's longstanding friendship with the

Vanderlips and the Wrights helped to create Wayfarers

Chapel, one of the most revered architectural

achievements on the hill. According to Lee,

the Vanderlip family had 3.5 acres of land they

wanted to donate to the city for a chapel. They

originally requested that Ralph help design it. Realizing

that the architecture could perhaps be better

orchestrated by his friend, Lloyd Wright, he

recommended him to the Vanderlips. The chapel

was completed in 1951 and is often referred to as

the "tree chapel" because Wright's design was inspired

by the northern California redwood trees

and their majestic canopies. At the time of its

completion, it stood alone on a hillside just behind

the Jester home. The two monuments to this

day are bound by a shared vision and the ties of

three families. The architectural drawings for the

The view of the Jester house from the backyard shows off Lloyd Wright architecture with its angular lines.

March 2017 • Peninsula 53
---
Timeless

Centuries ago when the world's finest clockmakers were

hard at work, their aim was to create a mechanical marvel

that operates continuously and last forever. Imagine

a hand made complex mechanism of inter-working parts designed

to keep time accurately. Your clock is a work of art and

your job is to keep this timeless treasure healthy for the next

generation.

Your clock reminds you of its presence every time you wind

it. If the accuracy of the clock is not what it used to be, or the

chimes are not as strong or rhythmic, or maybe it just stops;

that means your clock is talking to you and telling you that its

endless life is in jeopardy.

It is imperative to maintain and service your clock regularly.

Oil gets old and dry forcing the train of gears to work twice as

hard to accomplish their goal. This results in damage that drastically

shortens the life of a fine timepiece.

Michel Medawar has been extending the lives of timepieces

for over Sixty years as his father did Sixty years before. He is

the inventor of the first talking clock in the world. He is a graduate

from Patek Philippe in Geneva, Switzerland, The Theod

Wagner Clock Co. in Wiesbaden, Germany, and the Howard

Miller Clock Co. in Zeeland, Michigan. Call him so that he may

come to your home and offer you a free estimate for servicing

your clock. Or bring your wall or mantel clock to our store to

see our showroom and receive the same complementary diagnosis.

The original 1950s kitchen includes a working General Electric stove.

chapel from Wright's office include a nod to Ralph Jester for his contribution

to its design. Wayfarers Chapel is listed in the National Register of

Historic Places.

When Frank Lloyd Wright came out to visit Ralph in 1938 he was inspired

to design a house for his friend in the Portuguese Bend area. He

completed the plans, but didn't build the house. In 1971, archivist and architect

Bruce Brooks Pfeiffer used the plans for what had become known

as the Ralph Jester Project, to build a home in Scottsdale, Arizona. The

plans and a model of the Ralph Jester Project are at the Guggenheim Museum

in New York.

The Jester home is essentially untouched by time. Everything is in its

place, immaculate and enduring. The kitchen stove is the original General

Electric from the '50s, still operational and pristine. The built-in book

We are located at 810C Silver Spur Rd., in Rolling Hills Estates, Ca.

90274. Or call us at (310) 544-0052

Open 10:00 am - 6:00 pm Tuesday - Saturday

810C Silver Spur Road • Rolling Hills Estates • CA 90274

Call 310.544.0052

The Jester home newly built in the late 1940s and the "moonscape" gravel and

wide open Portuguese Bend area still undeveloped. Photo courtesy of Lee Jester

54 Peninsula • March 2017
---
"Mr. Australia"

New Zealand and Fiji Too!

Your So. Bay Expert for Amazing, Customized,

Independent Travel Packages "Down-under."

For a conference or appointment:

Rick Stone, "Mr. Australia"

310-793-6013

mraustralia@verizon.net

www.MrAustralia.net

Proudly Affiliated with

Beach Travel, Hermosa Beach

The living room retains its original parquet floors and built in bookshelves. Over

the fireplace, the oil painting of Lois Jester was done in Spain.

shelves are immense and house collections on art, travel and landscaping.

The artwork are original oils of family members who are represented in

grand gesture and remembrance, including great grandparents. A piece of

wood from a 12th century monastery in Spain is mounted in a frame.

Everything is displayed with genius and a spark for the story behind it.

Lois tells of a time when she placed the children in the care of their aunt

and uncle and embarked on a trip to Venice, Italy, with her love Ralph.

They brought back the stone fountain outside, one that no longer flows

but serves as a memory of their time together. Lois herself could still be a

fashion model. Her demure Alabama drawl is so alluring to listen to, she

makes you want to stay for more conversation. Maybe next time, when

it's not raining, another cup of tea can be shared in the Secret Garden. PEN

Vinyl Windows

Replacement and New Construction

BUY ONLINE

AND SAVE BIG $$$

WWW.1STWINDOWS.COM

VINYL, ALUMINUM, WOODCLAD

Lowest Prices Up Front • No Games

Show Room 562-494-9069

CONTRACTOR REFERRAL • Fax 562-494-2069

CONCRETE - For the Drought-Conscious

Lee Jester and his mother Lois with a portrait of Ralph Jester.

] u

t

• Stamping

• Driveways

• Pool Decks

• Arificial Turf

• Patios

• Stonework

• Pavers

• Foundations

LIABILITY INSURED • WORKERS COMPENSATION

Casey Lindahl - Founder & President of Lindahl Concrete Construction, Inc.

310-326-6626

Call for Showroom address

Call for estimate

LindahlConcrete.com

Lic.#531387

March 2017 • Peninsula 55
---
Schlichter & Shonack, LLP

DECORATED ATTORNEY JAMIE KEETON PROTECTS SOUTH BAY

RESIDENTS FROM LEGAL SLINGS AND ARROWS

When legal difficulties threaten the livelihood and security of

affluent South Bay residents, they can turn to decorated attorney

Jamie Keeton, who has saved clients millions of dollars,

and won more than $13 million in judgements and settlements.

Keeton, and her colleagues at the local Schlichter & Shonack, LLP

firm, aggressively represent clients from individuals to Fortune 500

companies, up and down the state and federal court systems.

Throughout, they remain dedicated to giving their clients individual

attention, and keeping their costs low.

Keeton says the life success of many South Bay residents makes

them targets for legal trouble, sometimes from unexpected sources

such as neighbors, ex-business partners, ex-spouses or domestic employees.

When such troubles strike, "Jamie is the go-to person," founding

partner Kurt Schlichter said, pointing to her recognition by the Super

Lawyers rating service four years running.

"She's the lawyer you want to nail down before the other guy

does," Schlichter said.

Keeton represents plaintiffs and defendants in personal injury and

general civil litigation, and has handled cases ranging from assault

and battery at high-profile Orange County nightclubs to multimillion

dollar real estate litigation,

including construction

defect

cases.

She handles all

phases of trials and

mediations, and is

backed by the rest of

the firm's ten accomplished

lawyers.

And her sympathies are always with the people in her own back

yard.

"We're not a big Century City firm, or a big downtown firm. You

won't have to wait an hour and a half to meet with us for five minutes,"

she said.

"You'll have our cell phone numbers, and you'll run into us at

Trader Joe's," Schlichter said.

"We'll hold your hand at 10 o'clock at night because you're in litigation,

and it's scary. Everything you've worked for could be at

risk," Keeton said. "Big corporations rely on us, but you can get us on

the phone at night."

SPONSORED CONTENT

Schlichter & Shonack, LLP | 2381 Rosecrans Ave., Suite 326 | El Segundo | 310-643-0111 | jlk@sandsattorneys.com

Mortgage Bank Est. 1998 NMLS 2043

South Bay Branch Office Grand Opening

Full Line of Mortgage Products Offered:

4 Conforming

4 Jumbo

4 Investment Properties

4 2-4 Unit Properties

4 Non-QM

4 5+ Units/Multi-Family

4 Free Mortgage Pre-Approvals!

Attn: Loan Officers

Now hiring full &

part-time L.O.'s.

All experience levels

considered.

Paul Popovich - V.P., Branch Manager

(310) 421-4214

paulp@nationsmtg.com

NMLS #486413

Pyramid Office Building

22939 Hawthorne Bl., Suite 202

Torrance, CA 90505

Mike Giltner - Sr. Loan Officer

(310) 421-4670

mikeg@nationsmtg.com

NMLS #322053

56 Peninsula • March 2017
---
Brad N. Baker, Michael Petersen, Albro Lundy, Christine Daniels, Evan Koch, Kent Burton, Teresa Klinkner, Clint Wilson

Baker, Burton & Lundy, P.C.

No slowing down for giant-killing law firm

Baker, Burton & Lundy, the Hermosa Beach law firm with a

nationwide reputation and billions of dollars won for its

clients, shows no sign of slowing down as it enters its fifth

decade.

The attorneys would have plenty of laurels to rest on, if they

were so inclined. BBL has won more than $4 billion in verdicts

and settlements for Californians, along the way making roads

safer, and utility rates lower across the state.

The firm has at times spent hundreds of thousands of dollars

to battle cases that promised no profit, to protect harmed victims,

including those maimed in preventable accidents or exploited

by people in positions of power. BBL can truly boast

small-firm attention and large-firm results.

"We just want to see justice done," said BBL partner Albro

Lundy.

Lundy heads the firm's growing litigation arm, which recently

added attorney Michael Petersen, who was raised in the South

Bay. The team's recent and current work includes the cases of:

• An English tourist wounded in an officer-involved shooting on

the Venice Beach Boardwalk;

• A wrongful death lawsuit from a collision of two planes off

Point Fermin;

• A physician accused of massively overcharging a medication-addicted

patient;

• A South Bay resident whose house began sinking, allegedly

in connection with a neighbor's basement project; and

• Class action cases against storage companies accused of

false advertising and not disclosing kickbacks when selling insurance

to customers. BBL has assembled a multi-firm team to

tackle the cases.

Lundy also was preparing for a courtroom appearance in a

morgue negligence case of a hospital accused of releasing

the wrong body for burial, causing a family to lay to rest a 90-

year-old woman rather than their 50-year-old relative. Lundy

said the body was exhumed after the mix-up was discovered.

While BBL continues to expand its decorated practice, the

firm is beginning its third expansion of its storefront on Hermosa's

iconic Pier Avenue, where it holds the distinction of the

longest standing owner-occupier.

The firm's practice specialties include business, employment,

personal injury, elder abuse, real estate, estate planning and

probate litigation.

Partner Kent Burton devotes himself to real estate and business

transaction law with attorneys Clint Wilson and Teresa

Klinkner. Partner Brad Baker and bilingual attorney Christine

Daniels focus on estate planning, probate and trust litigation.

Baker has argued twice before the U.S. Supreme Court. Lundy

has won an affirmative verdict from the state Supreme Court

and the CAOC Trial Lawyer of the Year award, and works with

Petersen and Evan Koch, recognized as a Rising Star by Super-

Lawyers.

Petersen, the new kid on the block, had been clerking three

years for BBL until he passed the July bar and signed on as an

associate attorney in the litigation arm.

"It's a great team," Petersen said. "It's a family environment

where we support each other and back each other up."

BAKER, BURTON & LUNDY | 515 Pier Avenue, Hermosa Beach | (310) 376-9893 | info@bakerburtonlundy.com

SPONSORED CONTENT

March 2017 • Peninsula 57
---
S P O T L I G H T O N T H E H I L L

Bhumitra hosts Presidential

Inauguration party

Rolling Hills resident Arun Bhumitra hosted a Presidential Inauguration

Day party at his Pennsylvania Avenue residence for South Bay

elected officials. Guests viewed the Presidential cavalcade making its way

to the swearing in ceremony on the steps of the U.S. Capitol.

PHOTOS COURTESY OF ARUN BHUMITRA

J. QUINN CONSTRUCTION, INC.

Custom Concrete & Masonry

1. Hermosa Beach Mayor Hany Fangary, Torrance Mayor Pat Furey, Beverly Hills

Mayor John Mirisch, host Arun Bhumitra, Rancho Palos Verdes council members

Jerry Duhovic and Susan Brooks and Mark Warner, deputy to Los Angeles County

Supervisor Janice Hahn.

2. Brothers Shelly and Arun Bhumitra.

3. Arun Bhumitra awaits the start of the Presidential cavalcade.

4. The limousine carrying President elect Donald Trump makes its way down

Pennsylvania Avenue to the steps of the U.S. Capitol.

1

• Pools, Spas, Fountains

and Waterfeatures

• Firepits and Fireplaces

• Outdoor Cook Centers

• Stone and Tile Patios

2 3

• Interlocking Pavers

• Retaining Walls

• Driveways

(310) 325-6790

www.quinnpools.com

License B, C-8, C-53 #775677

4

58 Peninsula • March 2017
---
March 2017 • Peninsula 59
---
Kitchen on a

CLIFF

by Richard Foss

Stone-oven flatbread. Photos by Brad Jacobson (CivicCouch.com)

The fried deviled egg at Catalina Kitchen was as stylish as it was delicious and a promising start to the meal

As anybody who goes to Catalina Island regularly can attest, the food

on the island is mostly oriented to the tourist trade. I'd rather eat

where I can see Catalina than at most of the places located there.

But there are surprisingly few places on the Peninsula with that view,

and the restaurant named after the island isn't one of them. Catalina

Kitchen is angled so that it has a view of the cove rather than the island.

This is more than compensated for by the dining experience, which offers

attractively presented riffs on California cuisine, with a few novel twists.

On arrival at the restaurant, which is located on the pool level of Terranea

Resort, you'll be offered a choice of dining indoors or out. We unhesitatingly

went outdoors, despite the coolness and were seated at an attractive table

with cushioned benches on one side and chairs on the other. Only after we

sat down did we discover that the benches are several inches lower than

the chairs, and the people on benches found the table level awkwardly high.

When we asked to move, our server indicated that this wasn't the first time

he had received that request. We moved to a table with four chairs and enjoyed

greater comfort.

We had expected a seafood-centric menu, typical of places with an ocean

view, and there is an impressive raw bar, chowder, and some seafood entrees.

Nevertheless the offerings are balanced with crepes, pastas, pizzas,

and meat items, so there's something for everybody. We ordered a starter

of fried deviled eggs and some cocktails to keep body and soul together

while we decided on our main courses.

Coating and frying the whites of hard boiled eggs before making deviled

eggs out of them is starting to catch on, and it's more than a novelty. The

crisp exterior adds a dash of style to what is usually a casual picnic item,

an extra layer of texture to something that is otherwise all about cool creaminess.

Each half egg had a paper-thin slice of radish, a sliver of applewood

bacon, a dusting of chives, and sprigs of micro-greens to complete both the

presentation and flavor. It was as stylish as it was delicious and a promising

start to the meal.

We considered ordering more starters but saw some substantial plates

going to other tables, so went straight to main courses. These were a steak

salad; cavatelli pasta with eggplant, olives, chard, and ricotta; black cod in

a miso glaze; and a half-chicken in what was described as a tomato-mustard

crust. I had ordered the chicken because I was curious about the idea of

crusting anything with tomato, which can be very sweet when concentrated.

In this case the mustard counterbalanced it effectively, creating an

appealing spicy-sweet combination. It's a great trick, and one I have never

seen anywhere else. It arrived with garlic spinach and a parmesan potato

gratin and was an excellent, full meal.

There was nothing as innovative about the miso-marinated cod, because

that combination is already just about perfect. The accompaniments made

the dish here: a medley of English peas with bacon and sweet and sour

pearl onions in tarragon butter sauce over Yukon mashed potatoes. The fish

in the caramelized glaze and the earthy, smoky, and slightly pickled flavors

in the vegetable mix were perfect together.

The other two dishes were more about execution than innovation. The

steak salad was just what you'd expect: a good spring mix salad with a marinated

sliced steak on the side. You might not expect that spring mix to be

over a potato salad that owes more than a bit of inspiration to German tradition,

or to find big slices of blue cheese on the side so you could add them

where you want them or eat them separately, but they did round out the

dish nicely. As for the pasta, the kitchen played it straight here. The cavatelli

60 Peninsula • March 2017
---
Ahi poke.

Catalina Kitchen.

pasta (which has been compared to tiny hot dog buns) was in a light tomato herb sauce

with Japanese eggplant, green olives and Swiss chard with a sprinkling of ricotta cheese.

Parmesan and red pepper were offered on the side, and I thought the dish was improved

with a little of each because the ricotta didn't have quite enough flavor to sustain my

interest.

With dinner we ordered a carafe of Villa Oneiro Chardonnay, made from grapes grown

about a mile from Terranea. It seemed like the best thing to do in a restaurant that emphasizes

local ingredients, including sea salt gathered from the property, and it's a fine

wine, besides.

We had saved enough room for dessert, and ordered a caramel cheesecake crème

brulee, a cookie and ice cream combination called "Heaven in a box," a chocolate

budino, and a classic crepe suzette. We realized after all this arrived that we had overordered.

The ice cream and cookie combination was huge.

I'm not a big cheesecake fan but this one was something special. The layer of cheesecake

was topped by a layer of crème brulee, a neat idea, and served with a berry compote

that added a nice, tart fruitiness. The crepe suzette was delicate and light, the chocolate

budino a dense, rich pudding enlivened with a dash of caramel and sea salt and ornamented

with very dark chocolate wafers. Only the Heaven in a Box was unbalanced,

the chocolate chip cookie a bit too rich with the chocolate, strawberry, and vanilla gelato.

This might have been better with shortbread or an oatmeal cookie – something neutral

to better complement the flavors of each ice cream.

Our meal for four with four drinks and a small carafe of wine ran $287, which is not

out of line for the food, location, and quality of the experience. Catalina Kitchen is good

enough that it could flourish in any downtown location in the South Bay, or in Los Angeles

itself, and that is the highest praise for a resort restaurant. They're not just depending

on the view to sell food. They're delivering a world class experience.

Catalina Kitchen is at Terranea Resort, 100 Terranea Way, RPV. Open daily, 7 a.m. – 10

p.m. Valet or street parking, wheelchair access good. Full bar, vegetarian/vegan items. Menu

at terranea.com (310) 265-2836. PEN

March 2017 • Peninsula 61
---
S P O T L I G H T O N T H E H I L L

Culinary Institute Kickoff

With NFL Superstars

The Culinary Institute of America's (CIA) Culinary Kickoff Scholarship

event boasted an all star cast of celebrity chefs, including

Michael Mina and Charlie Palmer and athletes including Olympian Simone

Biles and NFL Hall of Famer Marshall Faulk. Hosted at Brennans

of Houston, TX, Faulk said, "I figured what better way to synergize both

the culinary and sports worlds and raise money for a cause that is dear

to all of our hearts." Elite wine partners were in gear such as Kosta

Browne and Charles Woodson Wines along with Williams Sonoma. Noteworthy

CIA alumni include Anthony Bourdain, Cat Cora and Michael

Mina. For more information visit ciachef.edu/scholarships-by-campus.

PHOTOS BY MIKE COPPOLA, JASON KEMPIN

AND GETTY IMAGES

1. Alex Brennan-Martin, Michael

Mina and Charlie Palmer.

2. Marshall Faulk and TV personality

Sage Steele.

3. Sara Lua Agah and musician

Michael Franti.

4. Michael Franti, Sage Steele, Wendy

Steele and Chad Steele.

5. J. Bowman, Marshall Faulk,

Charles Woodson, Sage Steele and

Michael Franti.

6. Ron Biles with Olympic Gymnast

Simone Biles.

1

2 3

4 5

6

Suzy Zimmerman, Agent

Insurance Lic#: OF71296

4010 Palos Verdes Dr N, Suite

103

Rolling Hills Estates, CA 90274

Bus: 310-377-9531

www.zimziminsurance.com

That's when you can count on

State Farm®.

I know life doesn't come with a schedule.

That's why at State Farm you can always

count on me for whatever you need –

24/7, 365.

GET TO A BETTER STATE.

CALL ME TODAY.

NOW

OPEN

1101198.1 State Farm, Home Office, Bloomington, IL

62 Peninsula • March 2017
---
BRAND NEW LISITNG!

PANORAMIC VIEWS!

31021 GANADO DR., RANCHO PALOS VERDES

Panoramic Ocean and Catalina Views greet you as you enter this very special home. 4+ bedrooms. Over 3000 sq ft with formal Living room and Dining room highlighted by

dramatic fireplace and sliding glass door access to the beautiful ocean views. Gourmet kitchen has an informal eating area and fabulous views. A very spacious Family Room

provides that extra space for great family living and entertainment. This is one of a very few unique floor plans in the neighborhood. Call for private showing!

ASKING $1,475,000

MIRA CATALINA AREA!

3538 BENDIGO, RANCHO PALOS VERDES

4 bedrooms plus office or playroom. Lots of space for the family with peek a boo views

of Catalina & Ocean. Located on a small flat cul de sac street walking distance to elementary

school and Marymount University. Newer windows with custom window coverings.

Just redecorated with new paint and new carpeting. Spacious Living Room

with PV Stone fireplace and formal dining area in addition to separate family room off

spacious kitchen is perfect entertaining.

ASKING ONLY $1,299,000

ONE OF A KIND IN THE GATED CITY

5 CHUCKWAGON ROAD, ROLLING HILLS

This is truly "One of a Kind" in the gated city of Rolling Hills. There is loads of space

for the family and friends in this 5 Bedroom 6 Bath home surrounded by lush greenery

and uniquely designed pool & spa with view. The entrance off Chuckwagon has a custom

designed driveway with plenty of space for additional cars and a 3-car garage with

direct access to the home. Other special features of the home include skylights, cam

lighting, parquet wood flooring, inside laundry room with sink and storage galore.

ASKING ONLY $3,999,000

Call Phyllis for All

Your Real Estate Needs!

Phyllis Weitzman

Top Producer

phyllisweitzman@cox.net

310-413-5150
---
Brouwerij West's Saison Extra Ale features a characteristically artistic label. Photo by Brad Jacobson (CivicCouch.com)

Brouwerij West makes leap from #whenwillyouactuallyopen to one year anniversary celebration

Craft beer creativity doesn't just happen in the fermenter. The colorful

labels on bottles and cans make bottle shops an adult Willy Wonka's

factory. On a grander scale, a brewery's creativity can be seen in the

tasting room – most commonly a repurposed factory or warehouse. Three

years ago, in San Pedro, brewer Brian Mercer of Brouwerij West (a Dutch

word pronounced brewery) took on reimagining a 73-year-old, former

WWII Navy storage warehouse.

Mercer had been contract brewing since 2010. He had found a niche

within the local craft brewing scene by importing a special sugar for use in

brewing Belgian style beers.

"I had been traveling to Belgium, enjoying their different breweries, and

found we were missing a few things," Mercer said. "The correct sugar was

one."

His time spent in Europe shaped what would become Mercer's style of

beer – a program not overly concerned with IPAs. His bottles, featuring labels

designed by noted artists, were sold up and down California.The Dog

Ate My Homework blackberry saison, followed by the Super Orange and

Bitter Blonde became Mercer's calling cards. Dave Hollop, a former investment

banker, philanthropist, and attorney, with a passion for home brewing,

shared Mercer's vision. In 2013, he joined Brouwerij West and the duo

sought out a brewery location.

"We were considering downtown LA and El Segundo," said Hollop. "We

actually signed a lease for a location in Belmont Shores."

The decision to launch in Long Beach was quashed when Mercer and

Hollop found the ideal spot in San Pedro – just down the street from Mercer's

San Pedro childhood home and walking distance from the new

Cabrillo Marina and the soon to be renovated Ports of Call.

"I remember as a kid riding my bike through these empty warehouses.

There used to be rows and rows of these buildings. We'd sneak in," Mercer

said.

"We have to thank former Port of Los Angeles Executive Director Geraldine

Knatz for opening them up for us to look at, as well as Wayne Blank

– who took on the risks with a vision," Mercer added.

Blank turned an old rail yard into the Santa Monica arts mecca Bergamot

Station. He then opened Crafted: At the Port of Los Angeles, a collection of

more than 100 artists, crafters and food makers. The space just across from

Crafted was perfect for Mercer and Hollop. But setbacks kept postponing

the opening, leading to the jibing social media hashtag #whenwillyouactuallyopen.

"While the building was beautiful, we had the suicidal task of retrofitting,

as well as building a brewery and tasting room and brewing beer," said Mercer.

"We were all zombies. I had many sleepless nights."

Every inch of the 26,000 sq. ft. warehouse was refurbished. The end result

is an enchanting, open space. A warming ambience illuminated from

the string lights hanging down the from the rafters complements a wooden

bar and communal benches. Solar panels provide the power and the brewery

uses 30 percent less water than most breweries.

"I like to joke it's like a big wooden tent," Mercer said.

64 Peninsula • March 2017
---
Van Hamersveld LA art installation

around&about

The Brouwerij West Crew (left to right) Graham Strong, Ely Davidson, Brian

Mercer, Dave Hollop and Jeremy Czuleger. Photo by Brad Jacobson (Civic-

Couch.com)

After opening last February, Brouwerij West quickly became one of San

Pedro's cultural hotspots. It embraced the city's thriving art scene on their

event flyers and San Pedro's rich musical history as home to the iconic

punk rock band Minutemen.

"In early June, we launched the FujiPop music series to celebrate the release

of our German style, unfiltered pilsner," Hollop said. "It turned into

a series that took place over the summer, taking on a life of its own."

Minutemen's Mike Watt and his second band Mike Watt+The Missingmen

and the local cult band of electronic synthesized neanderthals Fartbarf,

played the series. Seminal pop punk band Toys That Kill, the all

female surf band BonBons (another San Pedro gem), and LA indie rock

sensation L.A. Witch also played FujiPop.

"In the absence of more South Bay venues offering both groovy vibes

and delicious beers to complement rad shows, it's dreamy to see blossoming

cultural corners in local breweries picking up the slack," said Jeff Vincent,

of music station DirtyHippyRadio.com.

And don't forget the beers. Brouwerij West's take on classic Belgian-style

and farmhouse ales, mixing traditional ingredients and methods with new

inspirational takes, has pushed them to the frontier of beer. Brouwerij West

has developed an IPA program and introduced classics like "Mor Mor" a

12.5 percent Belgian-style quad; German pils and pale malt, made with

Candi Syrup and sugar; and "Dog Ate My Homework" in cans.

"We really love making beer," said Mercer. "The fresh fruit we source,

the Belgian ingredients – we go all out."

His and Hollop's efforts have placed the brewery on the "Best New Breweries"

lists assembled by LA Weekly, Thrillist, and Beer Advocate.

On Saturday, February 25, Brouwerij West celebrates its one year anniversary.

A beer tasting brunch will take place from 11 a.m. to 3 p.m.,

featuring some of Brouwerij West's as-yet unreleased, mixed fermentation

beers, as well as variations of their classic, pulled-out-of-the-cellar, firstyear

favorites.

"Our brunch will have a beer focus," said Mercer. "Come evening time,

we'll have our celebration."

Long Beach's Shady Grove Foods will slow-roast a whole pig in the

morning for serving at 2 p.m. The pig will be roasted in a pomegranate reduction

and served on steamed buns, along with ginger scallion rice and

seasonal vegetables. Other food trucks on-site will include Tomski Sausage,

District Burger, Cocina Fresca, and LA Cake.

LA's Kim and the Created will headline the evening's music. Frequent

Brouwerij West player DJ Paul E Wog E Wog will provide the beats.

LA's all female Crow Baby, heavy jammers Flying Hair, and indie rock's

Hoop Screams will add to the eclecticness of sound.

"I am very proud that we'll be releasing our first Anniversary Beer," Mercer

said. "Remember, as a family man myself, our tasting room and events

are kid and four legged friendly."

For more information on Brouwerij West and tickets to the February 25 One

Year Anniversary Party, go to brouwerijwest.com. PEN

John Van

Hamersveld

with his largescale

prints of

Mozart,

Lennon, Hendrix

and

Beethoven at

the Bank of

America Plaza

on Bunker Hill

n It's not only been an endless summer, it's been an endless career for Palos Verdes

resident John Van Hamersveld, whose vibrant pop art imagery has been on view

in Hermosa Beach (the mural on 14th St.) and in Manhattan Beach (last year's

"JVH:D&A" art show), and now it's brightening up the plazas and skyscrapers of

downtown Los Angeles.

Presented by Arts Brookfield, "Signs of Life" is a large-scale installation, in two

locations, FIGat7th (735 Figueroa St.) and the Bank of America Plaza on Bunker

Hill (333 S. Hope St.). The former is largely comprised of colorful vinyl panels

that adorn the fencing above the newly-opened shopping complex, and the latter

consists of blown-up portraits of Mozart, Beethoven, John Lennon and Jimi Hendrix,

placed in windows facing Hope St. and the Walt Disney Concert Hall.

The Feb. 10 Psychedelic Valentine's Day Love-in & Happy Hour was dampened

somewhat by a steady downpour, but headphones were handed out to attendees

who could then walk (or dance) around the sheltered parts of the lower courtyard

to the frenetic beat of their choice.

Presumably better weather will serenade the members of the Los Angeles Chamber

Orchestra who'll in turn be serenading listeners during "Lunch with LACO,"

taking place from noon to 1 p.m. on March 10 and 24 (during the weekly Bunker

Hill Farmers' Market), on the Bank of America Plaza. They'll be performing music

by, you guessed it, Mozart, Beethoven, John Lennon and Jimi Hendrix.

"Signs of Life" harks back to the pop art of the mid-1960s and yet seems to be

thoroughly in sync with the here and now. John Van Hamersveld has racked up

another success. The work is up through March 31. More at

ArtsBrookfield.com/signs-of-life. -- Bondo Wyszpolski

TMMC auxiliary volunteers raise record $300K

n Torrance Memorial Medical Center's Volunteer Auxiliary presented a check for

$300,000 to the Torrance Memorial Foundation at its 2017 Auxiliary Board Installation

Lunch. The donation is the highest check amount given at one time, and

Auxiliary board of

directors Gail Long,

Tina Trudnowski,

and David Sato

present a

$300,000 check

to the Torrance Memorial

Foundation

Sally Eberhard,

Mark Lurie MD and

Laura Schenasi.

Photo by Deidre

Davidson

Around & About cont. on page 68

March 2017 • Peninsula 65
---
Calendar cont. from page 48

Thursday, March 16

South Coast Rose Society

South Coast Rose Society monthly meeting begins with social hour at 7 p.m.

Speaker will be Steve Bening of Star Roses. Public welcome. For further information,

see them on Facebook. South Coast Botanic Garden, 26300 Crenshaw

Blvd., Palos Verdes Peninsula.

Saturday, March 18

Outdoor Volunteer Day

At White Point Nature Preserve, 1600 W. Paseo del Mar in San Pedro. Help

beautify the native demonstration garden and surrounding habitat. 9 a.m. -

noon. Sign up at pvplc.volunteerhub.com.

Sunday, March 19

Luminaries & NOVAs "Spring Into Fitness"

The Luminaries and NOVAs of Torrance Memorial Medical Center will host

MATTUCCI

Plumbing • Heating • Cooling

Since 1990 • License # 770059, C-36 C-34 C-42 C-20 A

D E P E N D A B L E • P R O F E S S I O N A L • A F F O R D A B L E

w w w . m a t t u c c i p l u m b i n g . c o m

WINTER SPECIALS

$ 9 8 0

Residential Water Heater

40 gal. installed! ($1080 - 50 gal. also available)

Includes hot & cold water supply lines

Expires April 30, 2017

Deidre

DAVIDSON

PHOTOGRAPH Y

(310)

869-1099

davidsonfoto@aol.com

$ 7 5

Rooter Service - Main Line

Must have clean-out access. Some restrictions may apply.

Expires April 30, 2017

FULL SERVICE PLUMBING, HEATING AND COOLING

SEWER VIDEO INSPECTION

ROOTER SERVICE

COPPER REPIPES

F R E E

E S T I M A T E S

M e n t i o n t h i s a d w h e n

s e t t i n g u p a p p o i n t m e n t .

3 1 0 . 5 4 3 . 2 0 0 1

Thank You

For Your

Vote!

ON CALL

24 HOURS

7 DAYS

66 Peninsula • March 2017

2013

eventcalendar

the inaugural "Spring Into Fitness 5K Walk/Run" at the South Coast Botanic

Gardens. 7:30 a.m. Proceeds support the renovations of the Pediatric Unit

and Neonatal Intensive Care Unit (NICU). Registration is $30. Participate as

individual, teams, or virtually. All participants receive t-shirt, post-event refreshments

and raffle tickets. Children under age 13 must be accompanied by an

adult. To register or for more information, visit active.com. Corporate or individual

sponsorship, please contact the Luminaries at (310) 517-4728. 26300

Crenshaw Blvd., Palos Verdes Peninsula.

Los Cancioneros Master Chorale Mozart and Jenkins

Classical concert features Mozart's Coronation Mass accompanied by orchestra

and selected soloists from California State University, Long Beach. In addition,

more contemporary work -- Karl Jenkins' soul-stirring Stabat Mater,

accompanied by strings, brass, and ethnic percussion. 7 p.m. $25, parking

is free. Purchase tickets in advance, contact De Giebler (310) 779-3072 or

digiebler@specialletters.net. Armstrong Theatre (Torrance Cultural Arts Center),

3330 Civic Center Drive, Torrance.

Tuesday, March 21

Free space

Free admission for all visitors to the South Coast Botanic Garden every third

Tuesday of the month. Garden is open 9 a.m. to 5 p.m. 364 days a year.

26300 Crenshaw Blvd., Palos Verdes Peninsula. (310) 544-1948.

Music that feels Good

Native son Sammy Miller returns with his band The Congregation. 7 p.m. in

the Kelly Johnson Fieldhouse at Palos Verdes Peninsula High School. Tickets to

the concert are available online at PVPHSJazzBand.yaposdy.com for $15 or

$20 at the door the day of the event. Advance purchase is encouraged as

the event is expected to sell out. 27118 Silver Spur Rd. Rolling Hills Estates.

Wednesday, March 22

Birding with Wild Birds

Presented by the Palos Verdes Peninsula Land Conservancy. Explore the birds

of George F Canyon during nesting season. Free and all ages welcome. 8:30

a.m. 27305 Palos Verdes Drive East, Rolling Hills Estates. RSVP at pvplc.org,

Events & Activities.

Thursday, March 23

The Azure Verde Chapter

The Embroiderers' Guild of America

meeting at 9:30 a.m. Nationally

known teacher, Melinda Sherbring,

will teach part one of a stumpwork

project she designed for the chapter.

Sign ups needed for the kit. Visitors

are welcome. St. Francis Episcopal

Church, 2200 Via Rosa, Palos

Verdes Estates. (310) 540-6104 or

visit azureverdeega.com/calendar.

Saturday, March 25

Plant Sale

South Coast Rose Society will hold

its annual Spring Garden Plant Sale,

at South Coast Botanic Garden.

Members' presale 7 - 9 a.m. with

10% off. Public is welcome 9 a.m. -

4 p.m. The Society will be selling

roses, pruners and its famous rose

cocktail mix, great for fertilizing

roses. For further information, please
---
eventcalendar

see us on Facebook. 26300 Crenshaw Blvd., Palos Verdes Peninsula.

Guided Nature Walk & Plant Sale

At the White Point Nature Preserve 9 a.m. Visit White Point Nature Preserve

and attend a Naturalist-guided hike. Enjoy coastal views and learn more about

the plants, animals, restoration area and more! 9 a.m. Stick around for a native

plant sale, noon to 2 p.m.1600 W. Paseo del Mar in San Pedro. Hike

meets at the information kiosk between parking lot and Nature Center. (310)

541-7613 or RSVP at pvplc.org, Events & Activities.

Slime Snails & Slugs

Join Natural History Museum's Jann Vendetti to become a snail and slug citizen

scientist. 11 a.m. White Point Nature Education Center & Preserve, 1600 W.

Paseo del Mar in San Pedro. Free. RSVP to pvplc.org: Events &

Activities/Whitepoint Presentations or call (310) 541-7613.

Mystery at the Banning Mansion

Friends of Banning Museum presents, 2017 Wisteria Regale. Silent auction,

hosted bar, elegant dinner, music, Banning High School scholarship presentation.

Victorian-era attire admired, not required! 5 - 9 p.m. at 401 East M

Street Wilmington. $150 per person, RSVP (310) 548-2005.

Tuesday, March 28

Republican math

The PVP Republican Women Federated presents speaker Larry Greenfield, a

fellow in American studies of Claremont Institute and Director of the Reagan

Legacy Foundation, will present "Conservatism + Trumpism, equals a Winning

Governing Coalition." 10:30 a.m. at the Palos Verdes Golf Club. Gentlemen

always welcome. Meeting, lunch and speaker, $30. RSVP by March 23:

(310) 544-9810 or PVPRWF@aol.com. 3301 Via Campesina, PVE. PEN

March 2017 • Peninsula 67
---
Brides and Grooms

Newly Engaged Couples

Provide your photos and we will

write your love story

To be shared in the

Peninsula magazine

Great gift idea from parents

and in-laws to share your family's

news announcement

Also available for wedding venues

Around & About cont. from page 65

around&about

will go toward the transformation of the North Patient Tower. The more than 900-

member Auxiliary collected the money through various fundraisers and proceeds

from the Torrance Memorial Auxiliary Gift Shop. The record donation was the

result of an increase in gift shop sales revenue in 2016 under the volunteer management

of Gail Long and Tina Trudnowski and their leadership team.

Power of Peace Mural at Ridgecrest Intermediate

n A collaboration between Native American artist Gage John Lazare and about

50 Palos Verdes middle school students created this large scale outdoor mural

symbolizing peace and unity. The school's motto is: Ready to Inspire Someone.

photo by Amy Theilig Photography

Call 310-372-4611 for rates and sizes

Ridgecrest eighth grade teacher Joseph Delleva . Photo by Stephanie Cartozian

DAVID FAIRCHILD PHOTOGRAPHY

Mother Teresa, Gandhi, Ellen De-

Generes and Nelson Mandela were

selected as icons carrying this global

message. The peace symbol in the

center shows what the artists wish to

see more of in the world. Each artist

signed the work with a handprint.

Ringman bids farewell

n Pete Eliopulos, known affectionately

by his Peninsula customers as "The

Ring Guy," is closing his Hillside Village

jewelry store in the next few

months. The Torrance native opened

his first jewelry store in his hometown

in 1986. He moved to Hillside Village

in 1998. Between now and closing,

Eliopulos said he hopes to have the

opportunity to say goodby to his longtime

friends and customers. PEN

"Its Like You're There All Over Again"

310-316-5547 WWW.DAVIDFAIRCHILDSTUDIO.COM

Pete Eliopulos.

68 Peninsula • March 2017
---
Classifieds Your Local Expert Community 424-269-2830

CONCRETE CONSTRUCTION GARAGE DOORS MUSIC LESSONS PLUMBING POOLS & SPAS

QUIXTAR

Concrete & Masonry

Residential & Commercial

310-534-9970

Lic. #935981 C8 C29

CONSTRUCTION

Vocal Technician

Piano Teacher

Vocalist

Jeannine McDaniel

Rancho Palos Verdes

20 year experience

All Ages

310-544-0879

310-292-6341

Jeannine_mcdaniel2001@yahoo.com

Thank You South Bay for

50 Years of Patronage!

Residential • Commercial • Industrial

POOLS • SPAS

HARDSCAPES

New Construction

& Remodeling

Excellent References

Horusicky Construction

310-544-9384

www.Horusicky.com

Credit cards accepted

Lic #309844, Bonded, Insured

Call us to Discuss the

ENDLESS POSSIBILITES

GARDENING

PAINTING

Plumbing 24/7 • Heating

Air Conditioning

pfplumbing.net

800-354-2705 • 310-831-0737

ROOFING

Extreme

Hillside Specialist

Foundation Repair Experts

Grading & Drainage

Retaining Walls,

Fences & Decks

310-212-1234

www.LambConBuilds.com

Lic. #906371

Reserve

your space in the

next

Pub Date: Mar 25

Deadline:

Mar 10

s

G

Call direct

(424)

269-2830

D

Remodeling

Design

Kitchens

Bathrooms

Room Additions

New Construction

classifieds

424-269-2830

ELECTRICAL

LYNCH

ELECTRIC &

Licensed & Insured

CONSTRUCTION

General

Building

Contractors

• Residential

Troubleshooting

• Remodel Specialist

Scott K. Lynch

P.V. Native

Cell

310-930-9421

Office & Fax

310-325-1292

www.LynchElectric.us

Lic 701001

Charles Clarke

Local Owner/General Contractor

Ph: (310) 791-4150

Cell: (310) 293-9796

Fax (310) 791-0452

"Since 1990" Lic. No. 810499

HANDYMAN

Handyman

Services…

Fix It Right the

First Time

We like small jobs

/ Free estimates

What we do…

Plumbing,

Electrical, Drywall,

Painting & more.

Valente Marin

310-748-8249

Unlic.

PLUMBING

MATTUCCI

FULL SERVICE PLUMBING • COPPER REPIPES

SEWER VIDEO INSPECTION • HEATING

DRAIN & SEWER SERVICE • COOLING

TRENCHLESS SEWER REPLACEMENT

Santos Painting

Interior/Exterior

Termite • Drywall • Stucco Repair

Acoustic Ceiling • Wall Paper Removal

Reasonable Prices

310-413-6565

Bonded + Ins. Lic. #856799

classifieds

424-269-2830

PLASTERING

Patch Master

Plastering

Patch Plastering

Interior • Exterior

• Venetian Plastering

• Ceiling Removal

• Drywall Work

• Acoustic

Ceiling Removal

• Water & Fire Restoration

310-370-5589

Lic. # 687076 • C35-B1

PLUMBING • HEATING • COOLING

DEPENDABLE • PROFESSIONAL • AFFORDABLE

ON CALL

24 HOURS

7 DAYS

FREE ESTIMATES

310.543.2001

CALIFORNIA

Lic. #770059

C-36 C-20 A

2013

classifieds

424-269-2830

ROOFING

Tile Reroof and

repair specialist

310-847-7663

Family owned

business since 1978

Lic 831351

SOLAR ENERGY

classifieds

424-269-2830

WINDOWS

www.epicglasstinting.com

Safety &

Security

800-903-5309

California Contractor License 980257

March 2017 • Peninsula 69
---
310.539.6685 310.884.1870

310.326.9528 866.BEYOND.5

310.997.1900

www.cflu.org

©

CUT * COLOR * STYLE

310.530.5443 310.534.9560

310.539.2191

310.326.3354

310.539.2993

310.530.4888 310.534.0220 310.530.3079 310.326.4477

New Smiles Dentistry

Stephen P. Tassone, DDS

310.791.2041

310.517.0324

310.530.0566

310.517.9366

310.326.8530

310.530.3268 310.539.3526

TORRANCE

TOWNE BEAUTY

CENTER

310.325.2960

310.891.2237

310.539.1808

310.530.8411

WineShoppe

310.539.1055

Northwest Corner of Crenshaw Blvd. & Pacific Coast Hwy.

in Torrance ~ For Information, Call 310.534.0411

A LA CAZE DEVELOPMENT COMPANY PROJECT

72 Peninsula • March 2017