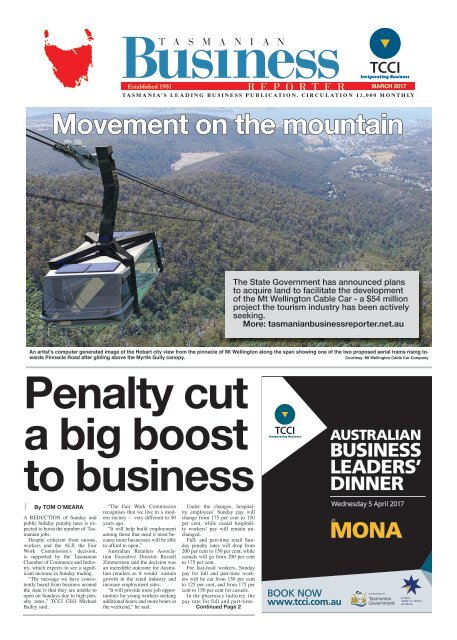 Tasmanian Business Reporter March 2017
In the March Tasmanian Business Reporter we look at the impact of reduced penalty rates for Tasmanian business, welcome the introduction of the new Statewide Planning Scheme and reveal the latest graduates from the 2016 Tasmanian Leaders Program.   You'll also find news of our outstanding results in the Australian Tourism Awards and the new PhD project designed to further our expertise and understanding of local tourism.  
In the March Tasmanian Business Reporter we look at the impact of reduced penalty rates for Tasmanian business, welcome the introduction of the new Statewide Planning Scheme and reveal the latest graduates from the 2016 Tasmanian Leaders Program.
 
You'll also find news of our outstanding results in the Australian Tourism Awards and the new PhD project designed to further our expertise and understanding of local tourism.  
SHOW MORE
SHOW LESS
Create successful ePaper yourself
Turn your PDF publications into a flip-book with our unique Google optimized e-Paper software.
MARCH 2017

T A S M A N I A' S L E A D I N G B U S I N E S S P U B L I C A T I O N . C I R C U L A T I O N 1 2 , 0 0 0 M O N T H LY

Movement on the mountain

The State Government has announced plans

to acquire land to facilitate the development

of the Mt Wellington Cable Car - a $54 million

project the tourism industry has been actively

seeking.

More: tasmanianbusinessreporter.net.au

An artist's computer generated image of the Hobart city view from the pinnacle of Mt Wellington along the span showing one of the two proposed aerial trams rising towards

Pinnacle Road after gliding above the Myrtle Gully canopy.

Courtesy: Mt Wellington Cable Car Company

Penalty cut

a big boost

to business

Wednesday

By TOM O'MEARA

A REDUCTION of Sunday and

public holiday penalty rates is expected

to boost the number of Tasmanian

jobs.

Despite criticism from unions,

workers and the ALP, the Fair

Work Commission's decision,

is supported by the Tasmanian

Chamber of Commerce and Industry,

which expects to see a significant

increase in Sunday trading.

"The message we have consistently

heard from business around

the state is that they are unable to

open on Sundays due to high penalty

rates," TCCI CEO Michael

Bailey said.

"The Fair Work Commission

recognises that we live in a modern

society – very different to 50

years ago.

"It will help build employment

among those that need it most because

more businesses will be able

to afford to open."

Australian Retailers Association

Executive Director Russell

Zimmerman said the decision was

an incredible outcome for Australian

retailers as it would sustain

growth in the retail industry and

increase employment rates.

"It will provide more job opportunities

for young workers seeking

additional hours and more hours at

the weekend," he said.

Under the changes, hospitality

employees' Sunday pay will

change from 175 per cent to 150

per cent, while casual hospitality

workers' pay will remain unchanged.

Full- and part-time retail Sunday

penalty rates will drop from

200 per cent to 150 per cent, while

casuals will go from 200 per cent

to 175 per cent.

For fast-food workers, Sunday

pay for full and part-time workers

will be cut from 150 per cent

to 125 per cent, and from 175 per

cent to 150 per cent for casuals.

In the pharmacy industry, the

pay rate for full and part-time

Continued Page 2

BOOK NOW

www.tcci.com.au

AUSTRALIAN

BUSINESS

LEADERS'

DINNER

5 April 2017

at

MONA
---
2 Tasmanian Business Reporter - MARCH 2017

NEWS

Disability no barrier to gainful employment

FINDING staff who are

reliable, loyal and punctual

can sometimes feel

like looking for a needle

in a haystack.

In a challenging labour

market, one initiative is

helping to change that.

JobsABILITY assists

businesses to secure

work-ready staff.

Supported by the Tasmanian

Chamber of

Commerce and Industry,

the Tasmanian Hospitality

Association, Tourism

Industry Council Tasmania,

TasICT and the Tasmanian

Small Business

Council, the JobsABIL-

ITY initiative aims to

increase the number of

people with disability in

employment.

Increasing labour market

participation rates for

people with a disability

realises real benefits for

people with a disability,

their employers and the

Tasmanian economy.

Abour 25 per cent of

Tasmanians have a disability.

It is from this community

that businesses draw

their employees, customers

and business partners.

T A S M A N I A' S L E A D I N G B U S I N E S S P U B L I C A T I O N . C I R C U L A T I O N 1 2 , 0 0 0 M O N T H LY

JobsABILITY offers

great benefits for employers

and businesses

including:

• loyal, productive

staff who take less sick

leave and are less likely

to injure themselves in

the workplace;

• qualified staff - 45

per cent of employed

people with disability

work in professional and

managerial roles;

• staff who are solution-focused.

People with

disability generally possess

high problem-solving

skills through creatively

rethinking how

to manage difficult situations;

and .

• a range of financial

and material support provided

to employers in

many instances.

To find innovative,

loyal, work-ready staff

go to www.jobsABILI-

TY.org.au or phone the

JobsABILITY Project

Officer on 03 6212 7306

to discuss recruitment

needs.

For an extended story

on JobsABILITY

and details of some

success stories, visit

www.tasmanianbusinessreporter.com.au

e dition

Tasmanian Business Reporter can now be delivered directly to your inbox. With our 30,000-strong monthly print

readership, our new up-to-date digital distribution will keep Tasmanians abreast of the all latest in local business

news. From this month we will distribute electronic editions of the Tasmanian Business Reporter as we go to print.

To confirm your copy sign up to our mailing list via

tbreditorial@fontpr.com.au

Tasmania's business newspaper is published

monthly by the Tasmanian Chamber of Commerce

and Industry. It is distributed to businesses in

Tasmania as well as key decision-makers.

Circulation: 12,000

Managing Editor: Tom O'Meara

Ph: 0418 135 822

Editor: Becher Townshend

Ph: 0418 370 661

Special Projects: Gil Sellars

Ph: 0448 901 371

gil@thetrustedmediaco.com.au

Advertising: 0401 252 586

www.tasmanianbusinessreporter.com.au

Editorial & Advertising email:

TBReditorial@fontpr.com.au

Publisher:

Tasmanian Chamber of Commerce and Industry

309 Liverpool St, Hobart, TAS 7000

Ph: 6236 3600 Fax: 6231 1278 admin@tcci.com.au

TFGA House, 194-196 Cimitiere St, Launceston TAS 7250

Ph: 6331 1144 laun@tcci.com.au

Production:

aldridge.media

Ph: 0431 241 775

aldridge.media@iinet.net.au

Printer: The Mercury

Level 1, 2 Salamanca Square, Hobart, 7000

Business leaders

taste island state

BY KRISTEN

FINNIGAN

A SHOWCASE of Tasmanian

business and

a headline dinner at

MONA will welcome

Australian business leaders

when they meet in

Hobart next month.

The Australian Chamber

of Commerce and Industry

Business Leaders'

Conference will bring

together management

from Australia-wide

chambers for two days of

discussion with high profile

Tasmanian business

leaders and members of

parliament.

"We are extremely

excited to welcome the

chambers to Hobart,"

TCCI CEO Michael Bailey

said.

"It is a perfect opportunity

for Tasmanian

business to meet with,

and lobby, other national

chambers.

"It will be a great

chance for TCCI to

showcase Tasmania to a

national audience," he

said.

On offer during the

conference will be two

Business welcomes

cut in penalty rates

From Page 1

employees will reduce

to 150 per cent from 200

per cent and to 175 per

cent for casuals.

An average casually-employed

retail sales

assistant would lose up to

$40 a shift for a full days'

work on a Sunday under

the changes.

The TCCI has been arguing

for a reduction in

pay rates for many years.

"This is the outcome

of an independent review

that determined penalties

legislated in 2013 were

out of whack."

Mr Bailey said the

minimum wage would

not be impacted by the

decision.

Fair Work is an independent

commission designed

to remove wage

decisions from being political.

The minimum wage

($17.70/hour) is the lowest

wage that is legally

allowed to be paid for a

full-time adult.

"Last year the minimum

wage was increased

– by much more than the

growth in the Tasmanian

economy.

"Business accepted

this decision and got on

with it.

events – a breakfast

on the Thursday and

an exclusive dinner on

Wednesday night, to be

held at MONA.

The dinner will start

with a journey on the

MONA Roma ferry

from Hobart to MONA,

followed by a cocktail

reception at the Turrell

space, a tour of MONA,

and culminating with

a spectacular dinner in

the Nolan Gallery, before

returning to Hobart

on the MR-1.

"Hobart offers an interesting

and exciting

Launching

JobsABILITY

are MLC Josh

Willie, left,

Stephen Long

from the

Tasmanian

Hospitality

Association,

MHA Jacquie

Petrusma, Ross

Kent from the

Tasmanian

Hospitality

Association

and NDS

State Manager

David

Clements.

opportunity for Australian

Chamber delegates

to experience the beauty

of Tasmania," said Australian

Chamber CEO

James Pearson.

"I look forward to

the opportunity to meet

with members of the

TCCI during our stay,"

he said. .

Bookings and

further

information can be

found at

www.tcci.com.au

or by contacting

events@tcci.com.au
---
Tasmanian Business Reporter - MARCH 2017 3

NEWS

Best and brightest pass test

TASMANIA'S brightest

leaders have graduated

from the 2016 Tasmanian

Leaders Program.

Twenty four participants

have spent 11

months exploring Tasmania's

key challenges

and opportunities in areas

such as community,

business, economics

and government through

seminars, case studies,

field trips and retreats.

Often described as a

life-changing journey,

the program enhances

each participant's leadership

capacity, while

prompting them to develop

a vision for Tasmania's

future.

The graduating group

will expand the Tasmanian

Leaders Program

Alumni to 224.

Tasmanian Leaders

chair Ginna Webster

said the diverse group

of graduates would add

to the program's talented

and passionate alumni

who were actively contributing

to leadership in

the community.

"We are looking forward

to what these enthusiastic

and inspirational

group of leaders do

next to make Tasmania a

better place," Ms Webster

said.

Graduates are:

Robin Barnes, Lecturer,

Access and Social Inclusion

University of Tasmania.

Louise Bishop, Manager -

Tasmania, Zinfra.

Donna Brown, Manager,

Environment, Health and

Safety, Hydro Tasmania.

Shuhong Chai, Associate

Dean, Learning & Teaching,

University of Tasmania

- Australian Maritime

College.

Daryl Connelly, Executive

Officer, Cradle Coast

Innovation.

Michael Giudici, Surveyor

General, Land Tasmania.

Chris Griffin, CEO, Tourism

Northern Tasmania.

Daniel Hackett, founder,

RiverFly 1864.

Jeff Harper, Regional

Chief, Tasmania Fire

Service.

Theresa Hay, Acting Director

Science Program

- Land Defence Science &

Technology Group

Prue Horne, On a gap

year and discovering her

next step.

Kacee Johnstone, Communications

Advisor – Strategic

Projects,

Department of Health and

Human Resources.

Fiona Kerslake, Research

Fellow, Tasmanian Institute

of Agriculture, University of

Tasmania.

Stuart Loone, General

Manager, Spring Bay Mill

(Triabunna Investments

Pty Ltd).

Susan McLeod, Senior

Environmental Consultant,

GHD Pty Ltd

Alexandra Mitchell, policy

analyst, AgriGrowth Tasmania,

Department of Primary

Industries, Parks, Water

and Environment.

Leigh Oswin, Change

Manager, Ashley Youth

Detention Centre.

Monica Plunkett, Owner/

Creative Director, Halibut

Creative.

David Pyefinch, Director,

Madfinch Pty Ltd.

Malcolm Reeve, General

Manager, Ochre Recruitment

Pty Ltd.

Kieran Rimmelzwaan,

Project Manager/Estimator,

Vos Construction and Joinery

Pty Ltd.

Lance Stapleton, Department

Manager, TasWater.

Amanda French (Street),

Senior Project and Research

Officer

Relationships Australia,

Tasmania

Ursula Taylor, Communications

Officer, Derwent

Estuary Program and Cradle

Coast NRM.

The group of graduates of the 2016 Tasmanian Leaders Program.

Waterfront project at centre of tourism study

THE University of Tasmania

and Federal Group

will jointly fund a PhD

project designed to better

understand Tasmania's

tourist offering, using

the yet-to-be-opened

MACQ01 on the Hobart

waterfront as a case

study.

Tasmanian School of

Business and Economics

Chief Project Investigator

Dr Kim Lehman said

the project was an opportunity

for the successful

PhD candidate to be embedded

in the new hotel

from before its opening,

to understand what is important

to tourists visiting

the state.

Areas of focus include

the interpretation of cultural

heritage, service

quality, sense of place

and the localisation of

food and beverages.

Deputy Vice-Chancellor

(Research) Professor

Brigid Heywood said

the project was a major

build on existing tourism

'big data' expertise and

technology in Tasmania,

and would provide the

tourism industry with

valuable qualitative and

quantitative data to support

their operations.

"The University of

Tasmania is well renowned

for conducting

research with real-world

applications, and our island

state is the perfect

place to explore a new

tourism offering such

MACQ01," Professor

Heywood said.

"This is a significant

opportunity for a candidate

to undertake original

research in an area of

international importance,

and to help us better understand

an industry

worth $2 billion in visitor

spend each year.

"The project also allows

us to establish a collaborative

relationship

with a significant industry

partner, and we will

work together with the

Federal Group to continue

to contribute to the

development of cultural

capital on our island."

Federal Group Executive

General Manager

Corporate Affairs,

Dr Daniel Hanna, said

the business would gain

unique insights from the

research, which would

also assist other tourism

businesses in Tasmania.

"Tourism is a critical

industry sector now and

into the future, and industry-focused

research

projects such as this will

have the potential to help

the industry better understand

the innovations

that resonate with our

visitors," Dr Hanna said.

State steals tourism's gala show

TASMANIA has again stolen the

show at the Australian Tourism

Awards, winning more medals than

any other state.

The gold medal winners at the

awards, held in Darwin on Friday,

February 24 were:

The Tasmanian Walking Company,

Ecotourism;

RiverFly 1864, Specialised Tourism

Services;

The Old Woolstore Apartment

Hotel, Business Event Venue (and inducted

into the Hall of Fame);

Saffire Freycinet, Luxury Accommodation;

and

Three Capes Track, Gustav Award

for New Tourism.

The Government has praised the

industry for its success, saying

it demonstrated Tasmania's strength

in eco-tourism to prove that the state

can balance the protection of natural

areas with a growing tourism industry.

Winners are grinners: Premier Will Hodgman with the

state's tourism shining stars after dominating

the national awards again.

Chief project investigator Dr Kim Lehman, left, Federal Group executive

general manager corporate affairs Dr Daniel Hanna and deputy

vice-chancellor (research) Brigid Heywood outside the MACQ01 development

on the Hobart waterfront.
---
4 Tasmanian Business Reporter - MARCH 2017

THOUGHT LEADERSHIP

www.tcci.com.au

Bring on a new planning scheme

Michael

Bailey

TCCI Chief Executive

LAUNCESTON has

been crying out for projects

to stimulate the

economy and provide

jobs – to give locals

something to be positive

about for the future of

their children.

The proposed $20

million redevelopment

of Launceston's iconic

eyesore, the derelict CH

Smith building, is one of

those shots in the arm.

We were thrilled with

the news that a private

developer with a great

track record, Errol Stewart,

was willing to invest

more money into the city

by finally doing something

with the key site.

Along with project

partner Artas, the proposal

would utilise the

facade and other useable

components of the ruin,

with the addition of modern

buildings.

The Launceston City

Council was on board

with a contribution to

pay for much needed

parking, funded through

the State Government's

Northern Economic

Stimulus Package.

The Heritage Council

gave it the tick of approval

to the delight of

the community at large.

Unlike proponents of

the past who have shouted

grandiose designs for

the site without following

through, Mr Stewart

was walking the walk

quite soon after talking

the talk.

He immediately started

spending money on

the site, cleaning it up

and ordering dozens of

timber piles to stabilise

the new buildings.

But, he was hit by a

hurdle at the last minute.

The cynics among us

aren't surprised.

At the eleventh hour

– literally the last day

allowed – the Heritage

Preservation Society

Tasmania lodged an appeal

against the proposal

with the Resource Management

and Planning

Appeal Tribunal.

The very grand sounding

"Heritage Protection

Society of Tasmania" appears

to be nothing more

than a handful of retired,

or soon to be retired,

Launceston people

Its aim is "promoting

An artist's impression of the proposed CH Smith development in Launceston shows old and new.

and ensuring the preservation

and maintenance

for the public benefit,

of places and objects of

beauty or having an historical,

scientific, artistic

or architectural interest

knowledge of, interest

in, and respect for those

places and objects; and

the provision and maintenance

of activities and

services to facilitate their

enjoyment by the public."

Despite great work by

Artas to develop a concept

that retains and celebrates

the best parts of

the site's heritage values

- the society wouldn't

compromise.

It has after all, to the

best of my knowledge,

appealed every proposal

for this site over the last

20 years.

It wants the developers

to adhere to all previous

permits imposed on the

site relating to different

proposals - preventing

some of the most dilapidated

buildings from

being removed - therefor

making any new project

cost prohibitive.

How ridiculous. There

is no public benefit or

enjoyment in having this

project stymied. What

value is there in allowing

this site to sit unused and

further stagnate?

The RMPAT Appeal

would not be heard for

months - I've heard different

reports of between

six and eight months.

The cost of having a

project sitting in limbo,

and the uncertainty of

what the RMPAT judges

would rule, was too

much for Mr Stewart to

swallow.

He has sat down with

Mr Morrell and they

have agreed to add a new

condition to the Devel-

opment Application to

allow the project to proceed

with the support of

the HSPT. As we go to

print, the details haven't

been released publicly.

While the outcome is

positive, it's more a reflection

on Mr Stewart's

business acumen and

civil leadership than anything

else - the whole situation

is a stark reminder

of why planning reform

in Tasmania must be

completed, and completed

quickly.

Changes to the third

party appeal provisions

need to be made.

Along with CH Smith,

here are two examples of

how challenging and out

of touch the current system

is;

• A local retailer had

a development held up

because of one retired

librarian from a suburb

across the other side of

the city. She appealed

arguing that an old,

non-listed house that

needed to be demolished

on site should be saved

because a goshawk was

nesting in the chimney.

This person actually confessed

at the hearing that

she only did these sort of

things to keep her mind

working - it cost the retailer

$250,000.

• Then there's the factory

development that

was delayed because of

two people from a suburb

way across the river

argued that there was a

potential noise issue. It

almost bankrupted the

business.

Of course there needs

to be an avenue of appeal

for the general public

when something is absolutely

not in the best

interest of the public and

place.

But there has to be

common-sense.

Here's also hoping that

this is the final time that

this can happen in our

state.

Bring on the new

planning scheme, fast.

Business needs to live by Quick Response code

THE Quick Response

Code – known as the QR

Code – is increasingly

being used in international

marketing as it

gives instant access to a

business's website from

a smartphone, without

having to separately access

a web browser.

The mobile user can

access a QR Code reader

app on their phone and

scan the code, or use the

built in QR reader in the

Sally

Chandler

Tradestart Adviser

WeChat app. It is very

fast, simple and catches

the user's immediate attention

with no delay.

Having an optimised,

mobile-friendly website,

allows the user to then

research the business in

detail and obtain information

on the product offering,

certification and

in Tasmania's case, provenance.

QR Codes are

being used for marketing

on business cards, product

labelling, brochures,

supermarket shelves,

newspaper and magazine

advertising and billboard

style advertising such as

on illuminated signs and

train station walls in international

markets.

The WeChat messaging

app, which has an

inbuilt QR Code reader,

is used throughout Asia

but is extremely popular

in China where it has

around 600 million users

– half the population.

Use of the WeChat

app accounts for more

than half the time Chinese

mobile users spend

online and 55 per cent of

users access it more than

10 times a day. It is extremely

powerful and is

used for messaging, videos,

voice calls and payments.

So when considering

promotion for export it is

Congratulations to

Michael Warren

vitally important to keep

in mind that your website

is now more frequently

being accessed by mobile

users rather than PC

users.

It must be mobile-friendly,

well-designed

so it can be easily

navigated, and it should

contain appropriate

translations for relevant

international markets.

Additionally, all marketing

material including

At a recent awards night Michael was again accepted into the Mercedes-Benz Star Guild for an amazing

fifth time, an award that only sees three sales people across rural dealerships nationally accepted.

He also received national Rural Sales Consultant of the Year for both New and Pre-Owned Vehicles,

an award that's never been accepted by the same person in the same year.

business cards must contain

a QR Code.

QR codes can be created

online free of charge

or with the help of marketing

professionals.

For international

trade and investment

assistance contact

the TCCI's Trade-

Start adviser, Sally

Chandler, at sally.

chandler@tcci.com.

au or 1300 559 122.

37 - 41 St. John Street, Launceston Phone 6334 8444. After hours: Michael Warren 0437 661 050 LMCT 3117

zest. 2466_TG

2466 Buckby Mercedes-Benz Michael Warren Business Reporter 90 x 260mm (LHP).indd 1 23/02/2017 2:24:35 PM
---
Tasmanian Business Reporter - MARCH 2017 5

THOUGHT LEADERSHIP

www.tcci.com.au

Registering

workplace

asbestos

Full steam ahead for

Tasmanian shippers

By CRAIG

HORTLE

THE Workplace Health

and Safety regulations

state that a person with

management or control

of a workplace must ensure

that an asbestos register

is prepared and kept

at the workplace.

This clearly states that

if you are in control of a

workplace – if you own

the building or not – you

are required to have an

up-to-date asbestos register.

How can you comply?

The regulations go on to

explain that a competent

person needs to inspect

the workplace to identify

asbestos material.

A competent person is

an individual who has the

experience or qualifications

to identify asbestos.

The best place to find

a competent person is on

the Worksafe Tas website.

Click on, "Safety",

then "Safety Subjects",

then "Asbestos", and you

will find a list of asbestos

assessors and removalists

who would be regarded

as competent people to

identify asbestos.

When the asbestos is

identified it is not necessary

to remove it.

If the asbestos is intact

and not degrading you

can leave it in place.

The purpose of the

register is identify its location,

and if any work

is to be carried in that

area then it should be removed

by a licenced removalist.

The register should

contain the following:

• record any asbestos

or asbestos containing

material (ACM) identified

at the workplace under

regulation;

• the date on which the

asbestos or ACM was

identified; and

• the location, type and

condition of the asbestos

or ACM; or

• state that no asbestos

or ACM is identified at

the workplace if the person

knows that no asbestos

or ACM is identified,

or is likely to be present

from time to time, at the

workplace.

If the building was

constructed after December

31, 2003, it is

unlikely that asbestos

containing material was

used in the construction

therefore a register is not

required.

The register should be

provided to the following:

• a worker who has

carried out, carries out or

intends to carry out work

at the workplace;

• health and safety representatives

who represent

workers that carry

out or intend to carry out

work at the workplace;

• a person conducting

a business or undertaking

who has carried out,

carries out or intends to

carry out work at the

workplace, and;

• a person conducting

a business or undertaking

who has required,

requires or intends to

require work to be carried

out at the workplace.

More information can

be found in the code of

practice "How to Manage

and Control Asbestos

in the Workplace​".

For information

on how to achieve

this please contact

Craig Hortle or

Janelle Whitehouse

at the TCCI on 1300

559 122. For more

information contact

safety@TCCI.com.au

Travis Brooks-Garrett of Freight and Trade Alliance addressing the packed forum at the Australian Maritime College.

Brett

Charlton

Agility Logistics

THE Tasmanian shippers

forum held last

month at the Australian

Maritime College sold

out within the first two

weeks that it was announced

and had a waiting

list of over 40 people.

The co-branded event

hosted by the Freight

and Trade Alliance, the

Tasmanian Logistics

Committee, DP World

Australia and the Australian

Maritime College

was attended by 120

people.

Shippers and service

providers were educated

with presentations from

Brendan Bourke (CEO

Port of Melbourne),

Paul Weedon (CEO

TasPorts), Dr Oanh

Nguyen (MLM - Australian

Maritime College),

Vlad Jotic, Senior

(Manager Commercial,

New Ports and Landside

– DP World), Steve

Farquer (General Manager

Tasmania - Qantas),

Tom Holyman (General

Manager Trade – ANL),

Brandon Vermaak, (International

Trade – Commonwealth

Bank of Australia),

Marcus James

(General Manager – Department

of Infrastructure

and Regional Development),

Ann Johannsen

The new A-Class. Ready for a new generation

A dynamic sporty design and unmistakable diamond radiator grille make the new A-Class the centre

of attention. It delivers new levels of safety as standard with COLLISION PREVENTION ASSIST PLUS

and features up to five drive programs for comfort without compromise. With Apple CarPlay for

intuitive smartphone integration, the new A-Class is ready when you are.

From

$42,990

www.mblaunceston.com.au

Drive Away

(Cluster Trade Manager

– Australia), Travis

Brooks-Garrett (Freight

and Trade Alliance and

Australian Peak Shippers

Association .... and me.

I have had the opportunity

to speak to attendees

at the forum and, without

exception, all stated that

the presentations were

outstanding, the content

was interesting, the

speakers engaging and

the master of ceremonies

good looking.

The take home message

of the day was that

Tasmania is currently

sitting in the sweet spot

when it comes to services

for Tasmanian shippers –

with an increase in capacity

across Bass Strait,

three of the largest shipping

lines competing for

Tasmanian international

trade shipping – two of

which are calling direct

into Tasmania, and a

freighter aircraft service

to China from Hobart –

Tasmanians have never

had it as good for choice

and competition.

A word of warning

resonated however that

the current volumes from

Tasmania cannot sustain

all the current services

in the trade and at some

point adjustments would

need to be made (unless

of course Tasmanian

businesses can raise

production and output to

meet the new found capacity).

With such an excellent

attendance and

interest, FTA and the

Tasmanian Logistics

Committee will certainly

be looking to make

this an annual event.

As you read this

edition I am currently

travelling Asia with

the Trade Delegation

as well as some other

stops along the way.

One of the areas

I am exploring is the

ever evolving e-commerce

markets in China.

I look forward to

writing about this in the

next article.

37 - 41 St. John Street, Launceston Phone 6334 8444. After hours: Michael Warren 0437 661 050 LMCT 3117

zest. 2466_TG

2466 Buckby Mercedes-Benz A-Class Business Reporter 90 x 260mm (RHP).indd 1 23/02/2017 2:28:22 PM
---
6 Tasmanian Business Reporter - MARCH 2017

THOUGHT LEADERSHIP

Meet challenge of sale

when profits declining

Dean

Demeyer

Business Broker

THE problem with selling your

business while it is on a decline

may be obvious from the outside,

but for many hard working business

owners, the problems are often

quite hard to accept or even see.

In simple terms, it is difficult to

price the business on historical data

because the trend indicates that

those profits are diminishing.

So, what are your options?

The first option is to accept reality

and price the business on the

most recent year's profits, or lower.

Emotional

This is often a hard decision to

execute given the emotional attachment

owners have with their business,

but in order to attract a buyer

it may be the only viable course of

action.

The second option is to continue

running the business until you can

demonstrate that that business performance

is picking up or levelling

out.

Though this course of action

may mean a few more years in the

business, a consistent and steadily

performing business is significantly

more likely to sell than a declining

business.

Dividends

If you are selling a business in

this state you cannot relax while

the business is on the market

It may not be a quick sale, but

given the strength of selling businesses

with consistent revenues and

profits, it will pay dividends in the

long run.

Marathon

The last 100 metres in a marathon

can often be the most important.

So, if you are thinking of selling

you shouldn't wait until your

business is in decline, in a state that

is the least appealing to buyers, before

you decide to "cash in".

Neverthless, buyers are prepared

to pay a lot more for increasing

profits.

This is John; he is an employer in the

Construction Industry.

John employs single contractors.

John registers his contractors with

TasBuild, it's the law.

JOHN IS SMART.

THE Hodgman Government

is committed to

assisting small businesses

to start, expand and

reach their full potential,

creating value and new

jobs in Tasmania.

Recent surveys show

continuing positive

trends in both business

and consumer confidence,

with sustained

growth in retail turnover,

exports and strong

support for the state's

business policies.

Unemployment is also

down – close to the national

average for the

first time in years – but

there is still a lot of work

to be done.

That is why we remain

focussed on jobs and the

www.tcci.com.au

Small business a

jobs growth path

Recent surveys show

continuing positive

trends in both business

and consumer

confidence

businesses that create

them.

There has never been

a better time to start or

grow businesses in Tasmania

and the Hodgman

Government is supporting

them with a new Enterprise

Centre Tasmania

(ECT) Program with

new advisers, mentoring

services and assistance

for businesses in growth

phase, as well as startups.

The $2.6 million

2017-2020 ECT Program

provides free, professional

advice from

experienced business

advisers located in seven

regional Enterprise

Centres across the state:

North, Central South,

Central North West,

West, East, South East

and South West.

In addition to the services

offered under previous

ECT programs,

each Enterprise Centre

has new resources to assist

mature businesses

with specialised needs

associated with growth

and expansion.

This, combined with

a new statewide Mentoring

for Businesses

in Growth program and

a $600,000 Supporting

Small Business with Apprenticeship

and Traineeships

Program, also

commencing in 2017,

recognises that starting

a business is just the beginning.

H O T E L

ENJOY THE WATERFRONT

The Hodgman Government

understands

that employing people

involves significant

cost and risk, particularly

for small business,

and we are committed

to supporting

Tasmanian businesses

through these critical

growth phases.

I encourage all small

business owners to visit,

browse and subscribe

to the Business Tasmania

portal at www.business.

tas.gov.au, or phone the

BT team on 1800 440

026, to learn about the

full range of information

and services available

to help grow your

business and create

jobs in Tasmania.

Birchalls final chapter closes

AFTER 173 years of

trading, Launceston's

iconic Birchalls store has

shut its doors for the last

time.

Birchalls has operated

in Launceston since

1844 but was shut on

Saturday, February 25,

because a buyer could

not be found to start a

new chapter in the business'

life.

It had been a local institution,

selling books,

newspapers and magazines,

toys, as well as

served as an education

and arts centre.

The building is set to

be redeveloped in the

coming year.

Birchalls managing director Graeme Tilley

shuts the doors for the last time.

Picture: Paul Scrambler, The Examiner

Be like John.

Register your contractors with

TasBuild. Call 6294 0807

15% off midweek when you mention this offer!

Negotiated corporate rates & group packages available. Conference

and meetings facilities. Wireless/broadband internet. Cafe and catering.

Security parking and lifts. Mini gym & sauna.

6270 1444 / 1300 733 422 15 Hunter Street, Hobart

www.zerodavey.com.au
---
8 Tasmanian Business Reporter - MARCH 2017

FOCUS ON BUSINESS

Benefit of

investment

in innovation

By CHRIS WILLIAMS

CEO St Lukes Health

St.LukesHealth has a long and proud

history in Tasmania. It is our passion

for Tasmania which drives us to deliver

the best possible service for our

customers, and to be innovative in

our product offerings to ensure our

Tasmanian business is at the forefront

of private health insurance delivery

in Australia.

Through high quality of service,

the loyalty of customers and the increased

business confidence in Tasmania,

St.LukesHealth has been able

to grow its brand significantly over

the past two years . Our success has

been due to investment in customer

services, people and technology.

We employ more than 80 staff

statewide and, in what reflects our

growth in business and brand, we increased

our FTEs by 10.4 in 2016.

In the north of Tasmania, we have

customer care centres at Smithton,

Burnie, Devonport and Launceston.

In the south, at the beginning of

StLukes' new mobile claiming app has had positive feedback from members.

November last year we moved our

customer care centre from Murray

Street to Liverpool Street, next to the

new Myer development – our largest

retail centre in Tasmania.

Lead by Birrelli Architects, a

locally owned and nationally-renowned

firm, we have almost completely

refreshed our customer-facing

services across the state.

We have moved away from what

was a traditional banking environment

to a contemporary, modern retail

experience.

The environment is a genuinely

personal interaction between our

customer care consultant and the

member. The new look Customer

Care Centres embody our customer-centric

philosophy and continued

innovation, being a significant step

away from the old counter-style of

service from a bygone era.

The new environment is an open

yet personal environment for members

to interact with staff.

The scope of our development is

not limited to our existing centres.

To meet growing demand and seeing

further opportunities in Tasmania,

in December 2016 we opened

a new customer care centre in the

Channel Court Shopping Centre at

Kingston.

Our investments in customer services

is benefiting our business.

The private health care industry

growth rate for hospital policies was

0.6 per cent for the FY2016.

St.LukesHealth experienced a

growth in hospital policy holders of

7.1 per cent. And with the success

and popularity of our Gap Free Dental

benefit, we have also seen ancillary

policy holders grow by a staggering

9.8 per cent.

In what is an amazing achievement,

in February St.LukesHealth

was awarded the 2016 Roy Morgan

Satisfaction award for Private

Health Insurer for our consistently

high levels of customer satisfaction

throughout the entire year.

Beating the biggest funds across

the country in an industry where

competition is fierce, St.LukesHealth

members, Australia-wide, have rated

this Tasmanian based, not-for-profit

organisation as best in its class.

We believe these results have been

a direct response to our continued

innovation and improvements to the

customer experience.

Further innovation in our mobile

claiming application has clearly improved

our customer experience.

The mobile claiming app has had

significant and positive impacts in

several areas of our business, including

workflow and claims management

efficiency. However, the most

overwhelming impact has been the

positive feedback from members.

The work done in this area was

recently recognised by the Launceston

Chamber of Commerce, with the

2016 Award for Excellence in Innovation

presented to St.LukesHealth.

It is our ability to innovate and

prioritise the needs of our members

that sets us apart. It's true to say innovation

and investment will benefit

business.

preventative dental *
---
Tamar waterfront revival

THE Tamar Valley is

now home to a new accommodation

experience

after a $5 million investment

in the Rosevears

Hotel, with more development

in the pipeline.

Owner and developer

Allan Virieux purchased

the site in 2011 after

identifying its great potential.

The long-term resident

of the Tamar Valley has a

passion for boats and the

river, and is now giving

visitors to the region the

opportunity to experience

both.

The refurbishment of

the Rosevears Hotel and

the recent construction of

26 accommodation suites

and a luxury day spa on

the existing land was officially

opened by Premier

Will Hodgman.

"This is an enormous

vote of confidence in

Tasmania's booming

tourism industry and in

particular the northern

visitor economy," Mr

Hodgman said.

"Visitors to the Northern

Tasmanian region increased

by 20,000 in the

year to September 2016,

and developments like

this will help meet our

increasing tourism and

corporate demand."

The hotel accommodation

extends the existing

offering which includes

waterfront dining, function

rooms, art gallery,

private boardroom and

adjoining 'secret' cellar.

The new accommodation

consists of 26 rooms

comprised of 22 single

bedroom rooms, four

with a second bedroom –

of which six have an outdoor

hot tub.

Stage three, due to

start later this year, is a

30-berth marina on the

Tamar River.

The existing business

employs 16 Tasmanians

including 10 full-time

and a further six casual

employees.

The accommodation

will create an additional

eight full-time jobs

Sporting spectacle a world showcase

BY KRISTEN

FINNIGAN

DERBY and Tasmania

will be showcased to

the world on April 8

and 9 during Australia's

first Shimano Enduro

Tasmania – the second

round of an eight-round

international series.

A winding, exhilarating,

fearful 80km

network of trails threads

through towering eucalypts

in the hills surrounding

Derby and the

Blue Tier, a perfect combination

for the mountain

biking Formula 1.

Intricately designed

and meticulously constructed

by World Trail,

an organisation led by

the enigmatic Glen

Jacobs, the mountain

bike trails deliver a

world-leading mountain

bike experience.

Five hundred riders,

including 30 professional

teams and their crews,

will attend. More than

2000 spectators will

experience this unique

sporting spectacle in

Derby—the ultimate test

of skill, speed, fitness

and bravery.

Significantly, this

will include a contingent

of up to 40 national

and international

journalists and photographers.

The event will be

live-streamed to the

world—more than 1.5

million viewers tune in

to see the intense action

that the Enduro World

Series provides.

General Manager

Operations of sponsors,

Bell Bay Aluminium,

Ray Mostogl, said: "In

another first for Tasmania,

the Enduro World

Series mountain bike

event is a wonderful

tourism and business

opportunity for the state

and will showcase the

best of what Tasmania

Allan Virieux, right, shows the Tamar River view to Premier Will Hodgman.

has to offer to a global

audience. "Bell Bay

Aluminium is delighted

to be the naming rights

partner for the Enduro

World Series Corporate

Breakfast."

This event will make

Derby, and Tasmania, an

international sensation.

The Tasmanian

Chamber of Commerce

and Industry is proud to

partner with Bell Bay

Aluminium and the

Dorset Council to host

the Enduro World Series

Corporate Breakfast in

Launceston on April 4.

Guest speakers will

be Glen Jacobs and

Tasmanian Business Reporter - MARCH 2017 9

The business includes

tours and transport with

a fleet that includes

Tamar Taxis, a Limousine

and five buses of

varying sizes catering

for groups and events of

all sizes.

Mr Virieux's foray into

tourism follows his 25-

year career in contracting.

He started Venarchie

Contracting 25 years ago

as an owner-operator,

with just a single truck

and an excavator.

Venarchie now employs

about 100 staff,

has turnover exceeding

$25 million per annum

and operates a fleet of

about 300 items including

light vehicles, trucks

and specialist equipment.

Enduro Tasmania will attract up to 40 national and international journalists and photographers.

Picture: Flow Nation

Salmon

science

THE independent Marine

Farm Planning Review

Panel has given a

positive report to government

on the controversial

Okehampton Bay

salmon farming project.

The panel said the environmental

science supported

salmon farming

at the site and that the

monitoring and management

of salmon farming

in Tasmania was considered

to be world's best

practice.

The government said

the report debunked

claims made by green

groups on the suitability

of the site and environmental

impacts.

International EWS Director

Chris Ball, plus

stars of the international

EWS scene.

www.tcci.com.au for

further details.

Printing Technology

and Tradition.

more than just fine printers.

p. 03 6332 1400

www.footandplaysted.com.au

99-109 charles street launceston tasmania 7250

NEWS

Skills

Fund

round

opens

APPLICATIONS are

now open for the next

round of the Skills

Fund Demand Led

program with up to

$4.7 million available

to support business

and industry growth in

Tasmania.

The Skills Fund

provides funding for

subsidised training

for job seekers and

existing workers, with

a key focus on skills

that take people into

productive careers and

the jobs required by

industry

It's designed to

stimulate significant

private investment

through the employer

contributions, State

Growth Minister Matthew

Groom said.

"A skilled and productive

workforce is

central to Tasmania's

economic and social

success," Mr Groom

said.

"Every time someone

receives high quality

training it supports

them in finding a

job, making a career

change, or being more

productive at the job

they have – all of which

are outcomes that will

drive our state's growth

and productivity."

The Skills Fund

is open to endorsed

Registered Training

Organisations and

applications close Tuesday,

March 7, 2017.

The last grant round

in December saw $4.17

million available for

training for over 2300

Tasmanian learners.

Here's just some of the things we do regularly...

• Books • Magazines • Newsletters • Catalogues • Annual Reports

• Business Cards • Letterheads • Posters • Flyers • Corporate Branding

• Logo Design • Packaging • Wine Labels • Stickers • Swing Tags

• Mail-Outs • Folders • Forms & Invoices • Variable Data Printing

• Language Translation • Web Design • Proof Reading

• Copywriting • Large Format Signage & Display

Whatever your needs, get in touch.

We're here to help.
---
TASMANIA'S LEADING BUSINESS PUBLICATION. CIRCULATION 17,000 MONTHLY

10 Tasmanian Business Reporter - MARCH 2017

APPOINTMENTS AND ANNOUNCEMENTS

Top chefs share

kitchen secrets

TasTAFE Drysdale students work with chef Jacques Reymond during

the 2016 Great Chefs Series.

THE next generation of cookery

and hospitality workers will have the

opportunity to work with some of

the world's most influential culinary

minds this year as part of TasTAFE's

Drysdale's Great Chefs series.

Following the success of last year's

series, in 2017, TasTAFE Drysdale is

bringing the likes of Alain Passard,

Dominque Crenn and Christian Puglisi

to Tasmania to work with its students

and offer degustation dinners to the

public.

Drysdale Division Manager Maree

Gerke said the dinners gave students

the opportunity to work side-by-side

with some of the best chefs in the

world to hone their techniques.

"This is a remarkable real-life learning

opportunity for our cookery and

food and beverage apprentices who

will have the opportunity to serve front

of house at the degustation dinners at

our Drysdale restaurants in Launceston

and Hobart.'' she said.

"Our events students are also heavily

involved in the planning and execution

of the dinners," Ms Gerke said.

"Great Chefs is a great example of

how TasTAFE Drysdale is building the

capacity of the hospitality industry and

chefs to meet the growth of our ever

expanding industry in Tasmania,"

Passard, Crenn and Puglisi will

travel to Launceston in late March

and early April, providing students

with life-changing mentoring and the

opportunity to learn new techniques

and methods as they prepare 10 course

degustation dinners for the public.

Alain Passard's Arpege restaurant

in Paris earned three Michelin stars

in 1996 and has maintained all three

ever since. San Fransisco's Dominique

Crenn was named the world's best

woman chef in 2016.

Christian Puglisi's Relae in Copenhagen,

is a two-time winner of

the most sustainable restaurant in the

world.

www.greatchefsseries.com.au

Thinking of selling or

buying a business?

Australia's largest specialist

business broker network is

now in Tasmania.

Call Dean Demeyer on

0419 382 359 for a FREE, no

obligation assessment

of your business.

IN BRIEF

St Lukes' satisfied

customers

ST LUKES Health has won the

2016 Roy Morgan Customer

Satisfaction award for Private

Health Insurance.

The award caps off a stellar

2016 for the expanding

Tasmania company, which also

won eight of the 12 monthly

customer satisfaction awards

for the private health insurance

industry.

The Launceston-based

company's opposition included

the nation's largest health

insurers such as Bupa,

Medibank, nib and ahm.

St LukesHealth CEO Chris

Williams said the not-for-profit

organisation had come a long

way since it was established in

Launceston, 65 years ago.

STEM Relocation

INFRASTRUCTURE Australia

has approved the business

case for the relocation of

the University of Tasmania's

Science, Technology,

Engineering and Mathematics

(STEM) facilities to Hobart CBD

APPOINTMENTS

Plum position for

Pearshouse

ROBERT Pearshouse has been

appointed chairman of Master

Plumbers Australia Ltd (MPA).

MPA is a national peak body

that adopts

united policy

positions on

licensing,

regulations

and plumbing

issues.

Mr

Pearshouse,

from Rosetta

Plumbing,

was previously

the Tasmanian

Director to MPA Ltd, providing

consultation on a wide range

of policies and procedures that

impact Tasmania's plumbing

industry.

WANTED

Business

movers and

shakers

• Promotions

• Appointments

• Awards

• Celebrating

success

Share the news

with the

Tasmanian

business

community

Robert

Pearshouse

and added the project to the

Infrastructure Priority List.

The list includes all nationallysignificant

infrastructure

investments Australia needs

over the next 15 years.

"This is a city-shaping plan

with a proven business case.

Shifting the University's STEM

facilities to a new purpose-built

facility in Hobart's CBD will boost

the State economy and show

the major benefits that come

from strategic infrastructure

Property position

KEYRAN Pitt QC has been

appointed as president of the

Property Agents Tribunal.

Mr Pitt has years of experience

in the legal profession, with his

principal area of practice being

in planning and environmental

law.

He has served as president of

the Bar Association of Tasmania

and as the chairman of directors

at the Centre for Heritage

Companies.

Meanwhile, Ann Cunningham

has been named as chair of

the Property Agents Board

and Andrew Wright as a new

member, with Adrian Kelly

reappointed as a member.

Bartlett's new role

WP - Advert Feb17 - Proof 4.pdf 1 24/02/2017 9:08:21 AM

AUSTRALASIAN digital

SOLUTIONS

IN PRINT

your print specialist for over 90 years

transformation company Fronde

Systems Group Ltd, has

announced former Tasmanian

Premier David Bartlett as its new

chairman.

David Bartlett was recently

named by The

Australian

as one of

Australia's

Top 50 most

influential

people in

technology.

Fronde's

acting

chairman Sandy

Maier said the

St LukesHealth

Manager

Compliance

and Member

Services

Debbie

Sweeney, left,

CEO Chris

Williams and

Board

Chairman Chris

Dockray.

investment," said Infrastructure

Australia Chairman Mark Birrell.

"STEM skills are increasingly

important for Australia's

economic competitiveness. With

the University's existing STEM

facilities nearing the end of

their usable life, the proposed

relocation to the Hobart CBD has

the potential to drive a 60 per

cent increase in undergraduate

demand in an area where

Australia urgently needs to boost

student uptake.

David

Bartlett

company was delighted to attract

someone of Mr Bartlett's calibre

to its board.

"His background in technology,

government, and governance,

and knowledge of the Australian

market, are all relevant to our

strategy to grow our business.

Full Off-Set,

Digital and

Wide Format

Capabilities

Binding and

Finishing

Variable Data

and Mailing

Warehousing

and Distribution

Online Ordering

and Inventory

Management

www.finnbusinesssales.com.au

Send your news

snippets, with a

high quality photo,

to TBReditorial@

fontpr.com.au

6391 8481

sales@paperstat.com.au

www.woolstonprinting.com.au
---
Tasmanian Business Reporter - MARCH 2017 11

EVENTS NEWS

ABOVE: John Wilson – Australian Super and Sarah Fitzgerald – GHD.

WHAT:

2017 CEDA

Economic and

Political

Overview

WHERE:

Grand

Chancellor

WHEN:

Monday,

February 20,

2017

ABOVE: Louise Charsley – Australian Super and Matthew

Collings – BSCAA.

LEFT:

Megan

Sperring -

Department of

Treasury and

Finance, left,

and Abigaill

Shelley -

Department of

Treasury and

Finance.

ABOVE: Ben Luttrell – CEDA, left, and Michael Workman –

Commonwealth Bank

ABOVE: Stephen Rochester – Tasmanian Public Finance

Corporation, left, and Jason Kambovski – Westpac.

ABOVE: Richard Curtis – Nyrstar, left, Kathryn Westwood – Nyrstar,

and Victoria Newton - TasNetworks.

LEFT:

Time

Rutherford –

KPMG, left,

and

Paul Ranson –

B&E and TCCI.

LEFT:

Thomas

Webster –

TasNetworks,

left,

and

Ben Wagner

– TasNetworks.
---
Tasmanian Business Reporter - MARCH 2017 12

PROPERTY MATTERS

Offices open for business

Scott Newton

Property Matters with

Knight Frank

Knight Frank Hobart's office sales and leasing

specialists Hayden Peck and Richard Steedman

give an update on the Hobart office sector in tis

month's article

THE recent release of the Property

Council of Australia's (PCA) Office

Market Report 2017 indicates that

Hobart has the third strongest office

market in the country.

According to the report, Hobart's

CBD office market has a vacancy

rate of 8.2 per cent, which is significantly

stronger than the national average

of 10.5 per cent.

The financial centres of Sydney

(6.2 per cent) and Melbourne (6.4

per cent) continue to lead the way

while the slowdown in mining activity

has hit the resource dependent

markets of Brisbane (15.3 per cent),

Perth (22.5 per cent) and Darwin

(22.5 per cent).

With a net absorption of 1325

sqm, this is the first time in three

years Hobart's office market has recorded

positive demand.

Hobart's "A grade" sector makes

up about half the stock and contin-

ues to be the strongest sector with

a vacancy rate of only 5.7 per cent,

while "B grade" is 13.3 per cent,

"C grade" is 11.0 per cent and "D

grade" is 6.0 per cent.

Hobart's CBD office market is

dominated by the State and Commonwealth

Governments who occupy

about two thirds of the office

stock, predominately in the "A

grade" sector.

Recent years has seen many tenants

make a flight for quality, moving

into higher quality buildings

with larger, more efficient floor

plans and upgraded building services.

This move has seen a general

softening in demand for lower

grade/quality buildings.

In recent years, Hobart's office

stock level has remained relatively

static with supply additions (ie:

new buildings) being offset by stock

withdrawals.

There are exciting developments in Hobart's CBD.

As a result of the growth of other

property sectors, in particular hospitality,

we have seen a number of

lower grade office buildings converted

to alternative uses or demolished

for re-development.

This has assisted in keeping the

vacancy rate down, and in effect

represents a replenishing of the office

market stock.

Historically, new supply has been

demand driven, with new office accommodation

primarily resulting

from pre-commitment by major tenants

with very little speculative development.

Given the relatively high cost of

commercial construction in Tasmania,

economic rentals in excess of

current market levels are generally

required to justify development,

hence future office development is

unlikely to occur without substantial

pre-commitments.

This provides existing buildings

with a competitive advantage and

assists in maintaining a low vacancy

rate.

During 2017, Stage 1 of the Parliament

Square re-development will

come online with the completion of

the office building fronting Salamanca

Place.

This building is to be occupied by

the State Government and has a lettable

area of about 16,275 sqm.

The development is to comprise a

mixture of office, hotel, cafe/restau-

... renewed

economic

confidence in

Tasmania is

having a

positive impact

on Hobart's

office property

market.

rant and car parking uses as well as

significant public open spaces and is

hoped to improve the link between

Hobart's CBD and the Sullivans

Cove/Salamanca historic waterfront

precinct.

With the demolition of 10 Murray

Street and the recent sale of 80 Elizabeth

Street which is to be converted

to an alternative use, the net gain

to the office stock will be relatively

limited, softening the building's impact

on Hobart's office market.

The level of office vacancies can

be seen as a proxy for white collar

employment, and with renewed economic

confidence in Tasmania, this

is having a positive impact on Hobart's

office property market.

PROPERTY VIEW

MARCH 2017

For sale by expressions of interest

INVESTMENT WORTH BANKING ON!

Lots 1-4, 21-23 Best Street, Devonport

An opportunity to acquire four strata suites in

one line that comprise high quality retail and

office accommodation within an excellent CBD

location.

• A new 7 year lease with two further 3 year

options

• Fully leased to B&E, a leading Tasmanian

financial institution

• Annual fixed increases with market review at

exercise of option

• Floor area: 586sqm (approx); land area

670sqm (approx)

Nick Bond: 0414 395 007

Rob Dixon: 0408 134 025

View at KnightFrank.com.au/3482421

For sale by expressions of interest

A BANKABLE INVESTMENT

Unit 1, 5 Bayfield Street, Rosny Park

High quality, strata titled retail and office

accommodation in a core Rosny location.

• A new 7 year lease with two further 3 year

options

• Leased to B&E, a leading Tasmanian financial

institution

• Fixed increases with market review at option

period

• Floor area: 179sqm (approx lettable area); up

to 10 onsite car parks

• Commencing rental $74,400pa plus

outgoings and GST

Matthew Wright: 0458 290 588

View at KnightFrank.com.au/3502353

For sale by expressions of interest

UNPRECEDENTED OPPORTUNITY

5-7 Sandy Bay Road, Hobart

Knight Frank presents a once in a lifetime

development opportunity in a highly soughtafter

precinct.

• Exclusive address

• Leaseback for 3 years with a 1 year option

• Attractive net rental (holding income)

• Three street frontages

• Equidistant to Hobart CBD and Salamanca

• Uninterrupted views from elevation

• North-easterly aspect

Total site area: 4,868sqm (approx)

Hayden Peck: 0412 766 395

Scott Newton 0409 186 261

View at KnightFrank.com.au/3501991

For sale or lease by expressions of interest

WELL POSITIONED WAREHOUSES

29 & 30 Faulkner Drive, Latrobe

No. 29: Clearance height of 6.5m (approx)

with speed door access. Colorbond clad with

skylighting. Warehouse contains an area of

1,210sqm (approx). Offered vacant possession.

No. 30: Larger warehouse, clearance height of

6.3m (approx). Constructed c1996, clad with

Colorbond, and contains an area of 2,420sqm

(approx). Currently leased on a 'holding over',

with further income generated from a road

licence fee.

• Properties will be offered individually or

combined

Nick Bond: 0414 395 007

Rob Dixon: 0408 134 025

View at KnightFrank.com.au/3479687

5 Victoria Street, Hobart P: 03 6220 6999 KnightFrank.com.au 41 York Street, Launceston P: 03 6333 7888