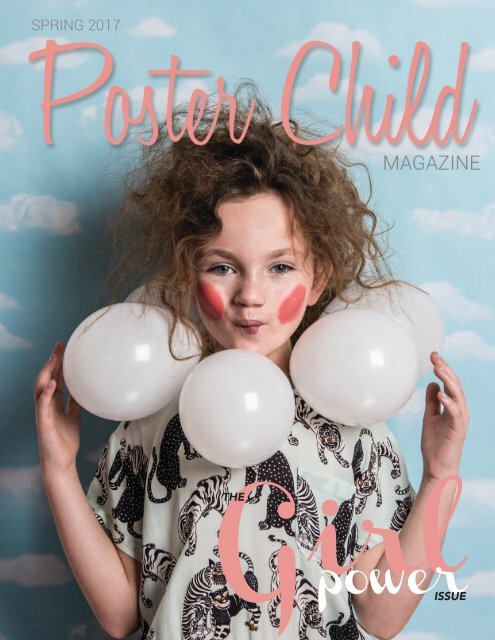 Poster Child Magazine - Spring 2017
The Brand New issue of Poster Child Magazine for Spring 2017
The Brand New issue of Poster Child Magazine for Spring 2017
SHOW MORE
SHOW LESS
Create successful ePaper yourself
Turn your PDF publications into a flip-book with our unique Google optimized e-Paper software.
THE

Girl

power

ISSUE
---
40

cover story:

when she dreams

12

TOP 4 TRENDS

From seaside stripes, to

ultra-cool khakis, we are

sharing our favourite trends

for spring plucked straight

from the runway.

4

THE CONTRIBUTORS

Get to know a few of the

talented individuals who

made this issue happen!

6

ONLINE EXCLUSIVE

A preview of our newest

Online editorial by Michelle

Wilson.

7

EDITOR'S NOTE

FASHION

11

WHAT WE'RE LOVING

The fruit may be sour but

these lemon patterned

pieces are super sweet!

NEWS

18

THIS JUST IN

We're dishing on the coolest

new gear, collaborations and

lines available in stores and

Online this spring!

LIFESTYLE

24

BABY GEAR ROUND UP

Who knew parenthood could

be so chic? If you need the

most functional baby basics,

we've got you covered.

26

AN AVERAGE

WEDNESDAY

Get to know mom blogger

Brianne Manz of Stroller In

The City in our exclusive

interview and explore her

neighbourhood!

SPRING /17
---
FEATURES

32

DESIGNER Q&A

We introduce you to a

stunning new girlswear

collection - Outside The Lines

-from Britain.

36

SPOTLIGHT

Swimear line Envya offers

designs that have us wishing

for warmer weather! Learn

more in our mini Q&A.

EDITORIALS

40

WHEN SHE DREAMS

Our Spring 2017 cover story

by Josephina Carlier takes us

to a cloudy dreamland where

anything is possible.

50

WHO RUNS THE

WORLD? GIRLS

How do you raise strong,

courageous girls? Ask these

momtrepreneurs! Captured in

editorial style by Mai Tilson.

64

CELEBRATING ME

Photographer Felicia

McGowan reminds us to stop

and celebrate yourself from

time to time in a fun-filled

fashion story!

80

HERE'S TO STRONG

WOMEN

May we know them, may

we raise them. Photographer

Shannon Sewell

captures girls in their

element.

82

FUN AND FLORA

After a long winter there

is nothing more exciting

than waiting for spring

blossoms, soft colours and

milkshakes! Captured in

photos by Evgenia Karica.

96

GIRL POWER

Showing off their skate

board skills and cool girl

style, Vianez and Cassidey

channel serious girl

power. Photographed by

Sara Pine.

110

FEMALES OF

THE FUTURE

The gallery is open and

portraits are hung with

care. Photographer Erica

Allen shares a stunning

portrait serious featuring

girls who are going BIG

places!

GIRL

POWER

96
---
the

contributors

Jaclyn White

Stylist

(pg.50)

Sara Pine

Photographer

(pg.96)

Your dream wardrobe

consists of...

ANYTHING MY STYLIST

FRIENDS TELL ME THAT

GROWN UPS SHOULD

WEAR. SWEATS ARE MY

JAM.

Dream vacation...

SOMEWHERE WARM

WHERE MY BOY DOG

HUDSON CAN SUNBATHE

AND WITH A LAKE WHERE

MY DOG LEILANI CAN

SWIM.

Two things you could never

dream of giving up...

PITBULLS AND DINNER

PARTIES.

Best piece of advice for a

fellow dreamer...

TRY. EVALUATE.

TRY HARDER.

A woman you dream of

being more like...

AMANDA PALMER OR

SUSAN SONTAG

4

Robyn breen shinn

Photographer

(pg. 26)

Your dream wardrobe

consists of...

Lots of jeans and lots of

boots.

Dream vacation...

Thailand

Two things you could never

dream of giving up...

Instagram and Cheese

Best piece of advice for a

fellow dreamer...

"Just keep swimming"

A woman you dream of

being more like...

Dame Marjorie "Maude"

Chardin (from Harold and

Maude)

Erica Allen

photographer

Your dream wardrobe

consists of...

Ace & Jig, Doen, Rag

and Bone

Dream vacation...

Bora Bora

(pg.110)

Two things you could never

dream of giving up...

My girls, Avocados and

Scuba diving

Best piece of advice for a

fellow dreamer...

Keep dreaming no matter

what!

A woman you dream of

being more like...

Jane Goodall

Your dream wardrobe

consists of...

Not a lot! Quality and

uniqueness is key. My dream

wardrobe would consist of

a few statement pieces that

showcase jaw dropping

artistry and a few everyday

basics made from high

quality fabrics.

Dream vacation...

The world! When it comes

to the ultimate dream, let

me put everything into a

backpack and just go

everywhere.

Two things you could never

dream of giving up...

My family/friends and my

freedom.

Best piece of advice for a

fellow dreamer...

Be fearless, be strong and

just do it.

A woman you dream of

being more like...

My mom. She is the ultimate

woman. I am the luckiest

girl in the world because I

was raised by the strongest,

kindest, most patient and

supportive mother. She is

no doubt the most beautiful

person I will ever have the

privilege of knowing, if I can

be one thing, being more

like my mom would be it.
---
on the go?

TAKE US WITH YOU

Read Poster Child Magazine on the App. Download today!

posterchildmag.com
---
the

online exculsive

6

www.posterchildmag.com
---
the

editor's note

With a never ending stream of disappointing TV

news reel and a political climate so hot I feel like

cranking the AC, it only seemed fitting to focus

the latest issue of Poster Child Magazine on a

positive message we can all get behind - GIRL

POWER. Whether you are a girl, have a girl or

are the child of a girl, I'm sure you agree!

In the wake of the recent election I, like many

others, felt pretty depleted. I really wanted to

create something uplifting to send out into the

world with the outlet we've created. So, we

asked photographers to shoot GIRL POWER

editorials. Boy did they deliver! We hope you

feel as empowered and inspired as we did putting

this issue together.

What is the best thing about

spring and your favourite

trend for the season? Tag

@posterchildmag in your

Instagram pictures or

comments!

Can't wait to hear from you!

Together with Plan International, Poster Child

Magazine believes that gender equality is central

to achieving long-term change in this world.

We envision a world that values girls, promotes

their rights and ends injustice! Because I am a

Girl supports millions of girls in getting the education,

skills and support they need to move

from poverty to a future of opportunity.

We are excited that proceeds from this issue

of Poster Child Magazine will support this

cause and empower girls in developing nations

around the world!

xo Rebecca Poier

Poster Child Magazine

Editor-in-Chief
---
the

poster child Team

EDITOR-IN-CHIEF: REBECCA POIER

PUBLIC RELATIONS: ERICA STEVENSON

PHOTOGRAPHER: FELICIA MCGOWAN

ADVERTISING: TRACEY LUTH

INTERNS: NASTASIA DELMEDICO

CONTRIBUTERS

JOSEPHINA CARLIER, DEIDRE RODRIGUEZ, CLELIA

BERGONZOLI , VALERIE & PEYTON @ NEW YORK MODEL

MANAGEMENT, ERICA ALLEN, LIZZY WILLIAMS, SARA

PINE, JESSIE JAMZ, JAVON RHONE, SAMANTHA FRYL-

ING / ART DEPARTMENT, VIANEX / WREN MGMT AND

CASSIDEY, PRODUCTION ON 5TH, MAI TILSON, JAC-

LYN WHITE, MELANIE WHITE, BRIANNE MANZ, ROBYN

BREEN SHINN, MEGAN DENDINGER, HEATHER ROME,

MICHELLE WILSON, FELICIA MCGOWAN, ENGELINA WI-

BOWO, VENUS /GENERATION MODEL MANAGEMENT,

SHANNON SEWELL, ALYSSA UNDERWOOD, GRACE,

EMMA, KAIA, NINA, EVGENIA KARICA, VIOLA CHERRY,

VICTORIA MARS, VERA BELYAVSKAYA, MARIA MONTANÉ,

LINA AND EMMA R, RAYA W, JADEN L, BLOSSOM S.

SPONSORS & AFFILIATES

PLAYTIME NEW YORK, MINI BODEN, ELAIS & GRACE,

ALEX & ALEXA, MAMAS & PAPPAS, SMALLABLE,

STRIDERITE, HERSCHEL SUPPLY, AMOUR BOWS

ADVERTISING POLICY

POSTER CHILD MAGAZINE INC. ACCEPTS ADVERTISING BASED ON SPACE

AVAILABILITY AND CONSISTENCY WITH ITS MISSION TO INSPIRE A STYLISH

CHILDHOOD. POSTER CHILD MAGAZINE INC. IS NOT RESPONSIBLE FOR

THE CONTENT OF THE ADVERTISEMENT, THE PRODUCTS OFFERED OR THE

VIEWPOINTS EXPRESSED THEREIN.

EDITORIAL NOTE

NO PORTION OF THIS MAGAZINE MAY BE REPRINTED, DUPLICATED OR TRANSMITTED WITHOUT THE WRITTEN

PERMISSION OF THE PUBLISHER. PHOTO OR ARTWORK SUBMISSIONS ARE MADE AT THE RISK OF THE SENDER;

POSTER CHILD MAGAZINE WILL ASSUME NO LIABILITY FOR LOSS OR DAMAGE. OPINIONS EXPRESSED IN POSTER

CHILD MAGAZINE ARE THOSE OF THE AUTHORS AND DO NOT NECESSARILY REFLECT THE VIEWS OF THE

PUBLISHER. POSTER CHILD MAGAZINE DOES NOT ASSUME LIABILITY FOR CONTENT.

8
---
1

FASHION

#nowtrending

7

2

What we're loving

When life hands you lemons you can make

lemonade. Or, you can wear those lemons proudly!

6

4

3

WIN

AN AWESOME

HERSCHEL PRIZE

PACK! (PG.122)

5

1. Hair bow by Simonetta 2. Dress by Catimini 3. T-Shirt by Sonia Rykiel Enfant 4. Dress by Oscar de la Renta

5. Backback by Herschel 6. T-Shirt by Scotch Shrunk 7. Jacket by Gap. Image courtesy of Oscar de la Renta
---
FASHION

1

2

TOP

SPRING 20174

TRENDS

Our four favourite trends for spring

are here to inject fun into your kiddo's

wardrobe this season!

7

Spring 2017 says "ahoy there" to

nautical stripe fashions that have

us ready to hoist the main sail.

Your kids will look ship shape in

bristol fashion, guaranteed.

6

1. Hat by Tartine et Chocolate, 2. Swimsuit

by 3 Pommes, 3. Dress by Ralph Lauren,

4. Boots by Joe Fresh, 5. Top by Une Fille,

6. Jacket by Petit Bateau, 7. Jumper

by June and January.

Seaside Stripes

5

Model wears: Stella Jean

3

12

4
---
FASHION

1

4

6

2

5

7

3

Khaki is one of Spring 2017's most

noteworthy looks! Stick with a

classic trench, test out a structured

romper or just don that khaki green

tone - we think kids will love it!

Model wears: Long live the queen

1. Jacket by Joe Fresh, 2. Jacket by Mayoral,

3. Shorts by Scotch R'Belle, 4. Romper by

Macarons, 5. Overall by Zadig & Voltaire,

6. Dress by Burberry, 7. Pants by H&M.

14

Model wears: H&M

khaki cool
---
1

a Cold Shoulder

2

From formal attire to playwear, one

of mom's favourite summer trends

has been playfully reimagined for

daughters. So, go ahead and give

them the cold shoulder!

8

1. Top by Once, 2. Dress by Milly Minis,

3. Dress by MSGM, 4. Top by Cat &

Jack @ Target, 5. Top by H&M,

6. Top by Ralph Lauren, 7. Top by Gap,

8. Top by Love, Fire @ Nordstrom

3

7

4

Model wears: Velveteen

Model wears: Alisha V

5

6
---
1

Model wears: CAPE

MEllow Yellow

2

From soft lemon chiffon to bright

chartreuse, this season there is a

cheery shade of yellow to suit

every kid, no matter their skin tone!

1. Dress by Lili Gaufrette, 2. Romper by

Marin + Morgan, 3. Top by Wolf & Rita, 4. Sandals

by Bonpoint, 5. Top by Il Gufo,

6. Shorts by Jean Bourget.

3

6

4

Model wears: tuc tuc

5
---
News

#thisjustin

this just in

18
---
Discover the season's hottest collaborations,

most anticipated styles and the coolest new

gear arriving in stores and Online this spring.

Read on for all the juicy details!

by Nastasia Delmedico
---
News

#thisjustin

Lace Up For H&M's

Boxer and Ballerina

Studio Collection

Known for telling magical tales through

each piece in every collection, H&M's 2017

Spring/Summer collection features casual,

sporty apparel inspired by the athletic stages

of boxing and ballet. Pernilla Wohlfahrt,

H&M's creative director, describes their newest

season as a way to exhibit ballerinas and

boxers "and the worlds which they inhabit."

In mixing delicate ruffles with relaxed hoodies

and pairing boxing sneakers with reversible

nylon bomber jackets, H&M's latest line

is all about blending together the different

worlds of movement.

Whether gearing up for the ring with a pair

of tattoo-printed boxer shorts or arriving for

warm-up wearing striped track pants before

changing into a dress with a pintuck neckline,

both narratives are driven by H&M's

LOVE detailing to applaud the display of

compassion. The colour palette, along with

the embellishments of gold crocodiles and

heart prints, sticks closely to the theme of

harmonizing contrast using red, black, white

and gold throughout the collection. As for

accessories, the selection will include tattoo-printed

tights - a bottom to easily tuck

into unisex boxing sneakers or classic ballet

footwear - and LOVE sweatbands to keep

inside a swan-like backpack with mandatory

jump rope.

Designed with the creative impulse to integrate

the softness of ballet with the edginess

of boxing, the stage-ready collection

will launch on March 2nd in select stores

and online.

www.hm.com

20
---
Brand New Cybex

MIOS Stroller Is All

About Fashionable,

Effortless Movement

Channeling inspiration from Charles and

Ray Eames' influential designs and creative

confidence, Cybex has released the MIOS

stroller to add to their notable assortment

of baby carriers, car seats, and strollers

designed for the industrial landscape of a

modern lifestyle.

Catering to urban parents on the go with

an aesthetic nostalgia for retro-design, the

MIOS offers flexibility, all wheel-suspension,

and an innovative structure taken from designs

of the past but modified for contemporary

functionality.

Along with its easily expandable and contracting

light-weight frame and adjustable

sun canopy, the MIOS supports a convenient

3-in-1 travel option that adapts as children

grow and require alternative travelling arrangements.

Together with fashion-forward

features - including snack trays and insect

protectors - and a compact design to move

effortlessly through confined spaces, the

MIOS also provides a child with a natural

cooling system thanks to its breathable and

comfortable fabrics. Available in a variety of

canopy colours and stylish prints, the MIOS

design is intelligently practical and ideal for

travelling around city terrain with ease.

www.cybex-online.com
---
News

#thisjustin

Wolf & Rita x JC de

CASTELBAJAC Paris

SS17: Designing

Happyculture

Combining art with sophisticated design,

the Wolf & Rita x JC de CASTELBAJAC

2017 Spring / Summer collaboration is a colourful

medley of poetry, imagination, adventure

and youthful curiosity.

From busy, multi-coloured forest prints to

simple, hand-drawn surrealist designs, the

collection evokes a fantastical world that

aids creative power. Along with accessories,

the artistic European collaboration includes

playful dresses, jumpers and swimsuits, as

well as shirt and pant sets in primary shades

of blue, yellow, red and green.

Together with animal prints and Picasso-like

cubism, the designs vary in shape and size

to open up new means of expression via

spirited children's wear - all of which are

consciously made locally, in Portugal. The

original Parisian influence of JC de CASTEL-

BAJAC Paris in tandem with Wolf & Rita's

modern take on traditionalism is uniquely

brought together to experiment with their

notion of Happyculture.

www.wolfandrita.com

22
---
Adidas Originals x

Mini Rodini SS17 Part

II: Rabbits, Rackets,

And Runners

Swedish illustrator, artist, founder and creative

director of Mini Rodini, Cassandra

Rhodin, and Adidas Originals continue their

creative partnership with the second edition

of a sporty SS17 collection scheduled for release

on March 9th.

Part two of the one-of-a-kind collection features

cartoon-like rabbit and tennis graphics

atop timeless light blue and pink Firebird

tracksuits which are also displayed on

an assortment of vests, shorts and tank top

sets, caps and innovative skort-like cuts.

These selective pieces are complimented

with a modified version of the classic Adidas

Stan Smith model with a neutral knitted

upper.

Designed for boys and girls, the collection

was created with Mini Rodini and Adidas

Originals' ethical, social and environmental

standards in mind with all pieces thoughtfully

made from organic cotton and recycled

polyester. Likewise, the limited footwear

designs are also environmentally conscious

and are in part made from various recycled

materials. The creative prints juxtaposed

with classic Adidas athleisure is the perfect

balance for catering to the imaginative lifestyle

of the energetic youth.

Upon its global release, the unique collection

- geared to children ages 3 to 6 - will be

available at Mini Rodini stores in Odengatan,

Vallgatan and Skomakaregatan, as well

as available for purchase online. Select Adidas

Originals retailers and online vendors

will also support the second launch of the

year-long collaboration.

www.minirodini.com
---
Lifestyle

The Beaba babycook baby food maker allows

you to prepare fresh, flavourful and energetic

meals for your babies and toddlers in 15 minutes!

www.beabausa.com

When your little one's sick, the last thing you

want to do is wake them up for a temperature

check. The FeverFrida Thermonitor is a

wireless device that records temps every four

seconds, thanks to a tiny Bluetooth monitor

and patch placed under the armpit.

www.fridababy.com

Whether at home or at a restaurant, eating

time will be fun for baby and easy for

parents with the portable Lobster clip-on

high chair from Phil & Teds.

www.philandteds.com

baby gear round up

Ultra cool tech, mess-free meal prep and on-the-go

solutions you seriously can't live without!

Who imagined parenthood could be so chic?

Baby will love sleeping, playing and lounging around

in this comfy, portable sleeper docking station that is

lightweight and easy to travel with in or outside of the

home. This adorable Dock A Tot sleeper is from the Mrs.

Mighetto Collection exclusively at Nordstrom.

www.shop.nordstrom.com

Easily organize all of your and

your little one's essentials in a

streamlined, downtown-chic

backpack that's as effortlessly

fashionable as it is practical.

www.skiphop.com

The ultra-compact Bo

stroller by Mima is destined

to be a favourite with both

you and baby. With the

three-position full recline

and adjustable leg support,

your little one will be

snoozing in total comfort.

The 360º swivel wheels and

innovative handbrake system

will have you steering

like a stroller pro, while the

super-easy, one-hand-open

design will keep you sane

on the busiest of days.

Perfect for babies 6months

up to 44lbs!

www.mimakidsusa.com

READ OUR FULL

REVIEW OF THE BO

STROLLER ON

POSTERCHILDMAG.COM

24
---
Lifestyle

26
---
AN AVERAGE

WEDNESDAY

With Stroller in the city

Fashion showroom owner turned mom and

blogger, Brianne Manz knows that being a

mother doesn't mean you need to lose sight

of the cool stuff. Brianne shares all about her

fast-paced New York life on her lifestyle blog

Stroller In The City: a go-to destination online

for city living tips, kids fashion and all things

moms love! With kids Ryder, Siella and

Gemma in tow, Brianne takes on the city.

photography by Robyn Breen Shinn
---
Lifestyle

28
---
"If you're prepared

and organized you

are ready for any

surprises or last

minute curveballs."

Tell us a bit about yourself and Stroller In the City!

I am both a full-time blogger and full-time mother. I used

to work in the fashion industry. I owned my own showroom

for years and sold it right before I had my first child

in 2008.

Where do you live and why do you love your

neighbourhood?

I live in Battery Park City in Manhattan. It feels like a little

suburb of Manhattan…like a gated community. We're

still in the city but we are surrounded by parks.

What is an ideal day with Ryder, Siella & Gemma like?

Exploring different neighborhoods in the city together is

always fun. We wander around, try new restaurants and

play at the many playgrounds or museums that surround

us.

What is your secret to starting off the week on the

right foot?

Prep and organization…that's pretty much my secret for

life. If you're prepared and organized you are ready for

any surprises or last minute curveballs. I make sure to

write lists of the things that need to get done, make sure

my food shopping is complete for the week, and I even

meal plan!

Do you have an anti-stress remedy?

I'd love to say that I meditate regularly but who has time?

Taking a little "me time" is always a de-stresser. Even if it

is a ten-minute walk or a solo lunch—sometimes checking

in with me is the best way to decompress. It gives me

the focus I need to handle other stressful situations with

grace.

We know you love to travel when you aren't strolling

the city. Where are you planning to visit this year?

We have a few places in mind this year. We are heading

to Disney World in a few weeks and will be experiencing

a Disney Cruise for the first time. And we have plans to

add a few ski trips this winter as well.

What is your weekend routine with the family?

We have sports practice and games on the weekends

usually so we're still running all over the place. But I like

to have a big fun breakfast together at least one of the

days. I also love to escape the city during the weekends

so we are always taking day trips outside the city!

What are your top five must-have items for Spring

2017?

Hmmmm, I haven't thought that far out yet, but I am

thinking hats, boho dresses, and a great bag!

Visit Brianne Online: www.strollerinthecity.com

Join her adventures on social media:

@strollerinthecity
---
IN BRIANNE'S NEIGHBOURHOOD

Looking for the greatest places to eat and shop?

Brianne shares some of the best spots in her neighbourhood!

One World

Observatory

911 Memorial St. Paul's

Chapel

Favourite eats

1. Laughing Man Coffee & Tea

1 North End Ave, New York, NY 10282

2. Tiny's & The Bar Upstairs

135 W Broadway, New York, NY 10013

3. Marc Forgione

134 Reade St, New York, NY 10013

4. El Vez

259 Vesey St, New York, NY 10282

5. Eataly NYC Downtown

3, 101 Liberty St, New York, NY 10006

6. Olive's

225 Liberty St, New York, NY 10281

Favourite shops

1. The Mysterious Bookshop

58 Warren St, New York, NY 10007

2. WTC Oculus

10007, 2 3rd Ave, New York, NY 10003

3. Babesta

Three World Financial Center, 230

Vesey St, New York, NY 10281

Other faves

1. Sprinkles Cupcakes

225 Liberty St, New York, NY 10281

2. Blue Ribbon Sushi Bar

225 Liberty St, New York, NY 10281

Our favourite sites

1. One World Observatory

285 Fulton St, New York, NY 10006

oneworldobservatory.com

2. 911 Memorial

200 Liberty St #20, New York, NY

10006

www.911memorial.org

3. St. Pauls Chapel

209 Broadway, New York, NY 10007

www.trinitywallstreet.org

30
---
Designer Q&A

Outside The Lines

After having worked for years in womenswear friends Philippa and Kate established

Outside the Lines, a British girlswear brand brimming with sophistication,

femininity and a sense of humour that appeals to girls and parents alike.

32

Outside the Lines is a brand new girlswear label

established in 2016 by Philippa Cloete and Kate

Please offering a carefully considered clothing collection

for ages 3-10. The collection has a unique

and contemporary feel infused with extra touches

and includes all the pieces required for a capsule

wardrobe for girls.

The soft colour palette and investment in rich and

interesting fabrics with little details, creates a relaxed

and interchangeable look that appeals to

free-spirited girls who wish to explore their own

style.

We had the pleasure of interviewing Philippa and

Kate about their exciting new label. Read all about

it in this issue's designer Q&A!

How and why did you launch Outside the Lines?

We initially had the idea for Outside the Lines over

18 months ago sitting in a restaurant in Paris brainstorming

ideas for a girlswear label which was good

quality yet still a considered purchase.

Both of us have worked in womenswear and the

fashion industry for a number of years for some

of the biggest names on the high street including

Next, Topshop and Marks & Spencer, and shared

the same vision that there were plenty of girlswear

brands at the designer and high street end of the

market but very little in between. We really felt that

there was a gap for a girlswear label that doesn't

compromise on quality but also doesn't 'break the

bank'; thus Outside the Lines was born.

We developed the name Outside the Lines which

comes from the ethos that it's ok for girls to colour

'outside the lines', essentially to be creative and

create their own style that is unique to them.
---
Designer Q&A

34
---
What made you want to design for children?

As parents ourselves to two girls (Philippa) and two

boys (Kate), we dreamt of working together to create

our own childrenswear label. As soon as we had

children, we became obsessed with kids' fashion

but struggled to find good quality, stylish clothing

for our own children that were still accessible. We

are big fans of soft muted colours and the little finishing

details that really make clothes stand out.

What is your brand's mission statement or goal?

To offer a carefully considered yet affordable girlswear

collection with plenty of style that doesn't

compromise on quality or design.

What are the motivations or inspirations behind

the SS17 designs?

For Spring / Summer '17 we have created a collection

that is inspired by global travel combining

elements of bohemian '70s style with a more contemporary

look for free-spirited girls who wish to

explore their own style. With a nod to the folk trend,

the 30-piece collection is presented in a colour palette

of soft greys and neutral shades with ethnic

handicraft touches in pops of neon, complemented

by denim chambray workwear pieces with an Eastern

influence. Folk-inspired tassels and pom-poms

reminiscent of the '70s, make an appearance, keeping

the bohemian spirit of this collection alive.

Highlight pieces in the collection include the all-inone

playsuit punctuated with white embroidery, the

pom-pom tapestry jacket in accents of neon and

the white lace petticoat dress with pretty tie closure

for the back - perfect for a summertime look.

Is there a style decade you are inspired by?

There is no particular decade we are particularly

inspired by but we like to design classic pieces

for girls that can be dressed up or down and won't

date.

What makes your label stand out in the

industry?

We have spent a long time ensuring we offer great

quality yarns and fabrics that are soft and luxurious

in beautiful textures and cool patterns - perfect

for layering or making a statement on their own.

The investment in rich and interesting fabrics and

the unique designs really sets us apart from other

brands.

What do you have coming up that you are really

excited about?

We have just finished showing our AW17 collection

at Playtime Paris, the childrenswear tradeshow, and

we were delighted to receive such a positive response

from stockists all over the world so we look

forward to Outside the Lines going global.

What is/are your favourite item/s from the

current collection?

Philippa: My favourite pieces from the SS17 collection

are the pompom tapestry jacket, the frilled

sleeve trimmed stripe tee and the chambray dress.

Kate: The navy embroidered all-in-one playsuit, the

frill sleeve waistcoat and the sequin swing vest are

some of my favourite pieces from this collection.

Designers Philippa and

Kate invite you to vist

outside-the-lines.

co.uk to learn more

and browse their

new Spring and

Summer 2017

collection!
---
ENVYA photography by Megan Dendinger

KIDS

+ styling by Heather Rome

36
---
spotlight

With warm weather on the horizon,

or perhaps a spring break

getaway planned, you are no

doubt daydreaming about

lounging poolside or basking on the

beach with your family.

With years of expertise designing beautiful

swimwear for women, Envya Kids

offers a perfect balance of chic and

playful swim fashions that we've fallen

in love with. Whatever your taste, Envya

has adorable swimsuits that are guaranteed

to make a splash this year!

We asked the Envya team to tell us a bit

about their kids' collection in this quick

Q&A.

What can you share about the brand

Envya for those who aren't familiar?

Inspired by the lifestyle of the free-spirited

SoCal girls, Envya Collection was

designed to fit perfectly into a laid-back

beach lifestyle. The fusion of playful yet

edgy silhouettes creates an effortless

balance of bold and contemporary sophistication.

Our collections are distributed

in over 20 countries, throughout

boutiques, resorts and Online stores.

What inspired you to introduce a

collection for girls?

It started with a women's line collection

in 2009. Combining our passion with

over 20 years' industry experience and

manufacturing techniques, not only we

desire to create fashion pieces for women,

but for the little ones as well, so we
---
continue to spread positivity, creativity

and above all, fun to the children's market.

We came up with a collection for kids

as a mini reflection, from size 4 to 12,

with clean lines and practical details.

We highlight a child's natural beauty using

eye-catching colors and cute prints,

focusing on well-made, great fitting

garments with safe fabric and materials.

What are you influenced by?

I search for new things all the time.

My inspiration comes from trips to the

ocean seaside, places like Spain, Caribbean

where I found the quaint old

beach towns, interesting street styles,

bold and colorful architecture; the kids

around, the things they say, their look

and their imaginations!

What are the themes for the new

collection?

This summer the theme will be playful,

with bright color-blocks, prints like

pineapples, waves, and floral. We also

added some sweet details and appliqués

like flower buds, pompoms and

cute bows. Splashing in the water will

be extra fun with our different range of

girl's swim collection.

Visit Envya Online:

www.envya.com

38
---
spotlight
---
on left: Blue Angel Jumpsuit by Molo

on right: Korean Tigers Jumpsuit by Molo

40
---
when she dreams

PHOTOGRAPHY & CONCEPT BY JOSEPHINA CARLIER

STYLING BY DEIDRE RODRIGUEZ

HAIR & MAKEUP BY CLELIA BERGONZOLI @ UTOPIA

MODELS: VALERIE & PEYTON @ NEW YORK MODEL MANAGEMENT
---
42
---
on left: Floral Tiered Sundress by Hucklebones

on right: PomPom Tee by Tia Cibani , Skirt by Molo
---
on left: Canal Dress by Molo

on right: PAOM Tent Dress by Snarkidtecture

44
---
Top by Mimisol, Pants

by AKID, Shoes by

Marc Jacobs Jr, Pom

Pom by Amour Bows
---
on left: 3D Circle Dress by Tia Cibani

on right: Ramsi v-neck top by Molo, Belle

Paradise Bird Skirt by Molo.

46
---
Vest by kidpik

Jumper by Illudia

via Childsplay
---
48
---
on left: Puebla Tunic by Tia Cibani,

Cloud 7 Leggings by PAOM

on right: Aslak Denim Shorts by Molo,

Cold Shoulder Pollera Top by Tia Cibani
---
50
---
who run the world?

GIRLS

photography by Mai Tilson | styling by Jaclyn White | Beauty by Melanie White
---
Rebecca Poier

mother to Isla

founder of Poster Child Magazine

on left: garments by H&M, dress by PLUM

on right: garments by H&M, top by Hucklebones

52
---
"Tell your daughter she is beautiful. But teach

her that beauty is found in intelligence, in

confidence, in kindness and in perseverance."
---
54

"Utilize their strengths in a positive way. Encourage their dreams.

Let them fail, so they learn how to fix problems. As a mom, it's

hard to watch our kids stumble. However, I have found that it's

the "getting back up" that teaches the best lessons."
---
Rachel Radu

mother of Claudio, Layla and Lydia

founder of Rachel & Co.

Rachel founded her wedding and event

company, Rachel and Co., shortly after

her twin daughters were born. In doing

so she successfully created a business

that allowed her to be available to her

kids and have a career too!

www.rachelandco.ca

on left: garments by H&M, tie pants

by Tuchinda, bow by Amour Bows

on right: garments by H&M
---
Ada Chan

mother of Alfie and Ava

founder of Minimodel Gallery Inc.

Minimodel Gallery is an Online children's boutique

for the modern family. Minimodel Gallery strives to

select garments, toys, and décor brands that are

high fashion as well as practical and good quality.

It is important that every collection captures the

magical personalities of the children.

When shopping for her son, Ada couldn't find

pieces she liked and began looking overseas. She

had the idea of opening up a children Online store

but didn't begin the process of creating Minimodel

Gallery until maternity leave with her daughter. She

used the time to put on a customer hat and build

her website with a personal perspective.

www.minimodelgallery.com

on left & right: garments by H&M,

bow by Amour Bows

56
---
"Don't be afraid to let them explore and to express themselves by

way of small rebellions and decisions. Let them know that it is okay

to learn from their mistakes and celebrate their strengths... If you

foster a strong, courageous girl, she will be an independent thinker

who will stand up for herself as well as support others in need!"
---
58

"Constantly remind them of the power they have to do and become anything and

everything they want. I started my business by finding my passion and staying

true to my voice and what I had to offer the world. I want my daughters

to know that they possess a perfect combination of special talents that make

them uniquely them and that as long as they are true to what they love,

all things are unapologetically possible."
---
Christine Dovey

mother of Natasha, Scarlett,

Malcolm and Jasper

Designer, Stylist and Blogger

After the birth of her second child,

Christine traded in her job as a

teacher for a career that fed her

passion for design. She started with

a personal design blog that quickly

had clients approaching with requests

to help style and design their

spaces too. Christine incorporated

her business 3 years ago and now

focuses on interior design, styling

work and lifestyle media for print,

social media and television.

www.christinedovey.com

on left & right: garments by H&M,

bow by Amour Bows
---
60

garments by H&M, orange and pink

bows by Amour Bows, orange dress by

Tuchinda.
---
62
---
TO ALL THE

LITTLE GIRLS

Never doubt that

you are valuable

and powerful

and deserving

of every chance and

opportunity in the world

to pursue and achieve

your own dreams.
---
6452. Poster Child Magazine

Celebrating Me

Photography & Creative direction: Felicia McGowan

Model: venus ariel | Beauty: Engelina Wibowo
---
Dress by PLUM, iloveplum.com
---
66
---
On the left:

Vintage Top

On the right:

Top by Tia Cibani
---
on the left:

Headband by Tia Cibani, Top by Raspberry

Plum via Kidding

on the right:

Skirt by Tia Cibani, Dress by Raspberry

Plum via Kidding, Socks by Zubii, Shoes

by Salt Water Sandals

58 68

56. Poster Child Magazine
---
on the left: Headband by Tia Cibani,

Under shirt by Tia Cibani, Top by

Raspberry Plum via Kidding

on the right: Skirt by Tia Cibani, Top

by Arrow Folks, Socks by Zubii, Shoes

by Lucky Top

70
---
72

Dress by PLUM via iloveplum.com, Plum dress, Socks by Target, Shoes by Hoo
---
68 74
---
76
---
78
---
80
---
82
---
Fun and

Flora

Photography: Evgenia Karica | Creative Direction: Maria Montané

Beauty: Viola Cherry + Victoria Mars | Assistant: Vera Belyavskaya

Models: Lina, Emma, Raya, Jaden & Blossom.
---
84
---
86
---
88
---
90
---
92
---
94
---
Garments by Crewcuts

Accessories by Zara Kids
---
Shirt by Munster Kids, Jacket by Up and

Away, Shorts by Catimini.

96
---
GIRL

POWER

PHOTOGRAPHER: SARA PINE

WARDROBE: JESSIE JAMZ

WARDROBE ASST: JAVON RHONE

HAIR & MAKEUP: SAMANTHA FRYLING / ART DEPARTMENT

MODELS: VIANEZ / WRENN MGMT + CASSIDEY

PRODUCTION: PRODUCTION ON 5TH

SPECIAL THANKS: TO H
---
98
---
on left: Shirt by 3 Pommes, Overall Dress by

Chipie, Headband by Amour Bows

on right: Shirt by Munster Kids, Jacket by

Up and Away, Short by Catimini, Socks by

Stance, Shoes by Novesta
---
on left: Shirt by I Dig Denim, Overalls

by Mini Boden, Shoes by Pazitos

on right: Shirt by Chipie, Pants by

Chipie, Shoes by Pazitos

100
---
102
---
on left: Jacket by Chipie, Romper by Stella Cove,

on right: Shirt by Sugar Clothing, Skirt by

Catimini, Headband by Amour Bows, Socks by

Pair of Thieves, Shoes by Novesta
---
104
---
on left: Shirt by Mini Rodini, Pants by I Dig Denim,

Socks by Pair of Thieves, Shoes by Pazitos

on right: Shirt by Mini Rodini, Shorts by Anthem

of the Ants, Socks by Stance, Shoes by Pazitos
---
104 106
---
Sweatshirt by Mini Rodini, Skirt

by Mini Rodini, Socks by Pair of

Thieves, Shoes by Pazitos
---
108

Dress by Hello Simone,

Jacket by Up and Away,

Socks by Pair of Thieves,

Shoes by Pazitos
---
on left: Dress by I Dig Denim, Headband by

Amour Bows, Socks by Stance, Shoes by Pazitos

on right: Top by Stella Cove, Shorts by

Chipie, Headband by Amour Bows,

Socks by Stance, Shoes by Pazitos
---
110

FEMALES OF

THE FUTURE

PHOTOGRAPHED BY ERICA ALLEN

STYLED BY LIZZY WILLIAMS
---
Astrid wearing Caroline Bosmans
---
Pheobe & Dahlia wearing Soapbox Kids

112
---
114
---
Maxine wearing Skirt by Soapbox Kids and Top by Scotch R'Belle

Hazel wearing PLUM
---
Brooks wearing Zara

Coco wearing Soapbox Kids

116
---
118
---
Kinda wearing Stella McCartney Jacket and Zara Skirt

Francis wearing PLUM
---
Maysa & Aida wearing Soapbox Kids

120
---
enter to win

1 of 2 herschel prize packs

for him:

Herschel Heritage Youth backpack in

Limoges Crosshatch & Outfield Youth Cap!

for her:

Heritage Kids backpack in Lemon Drop

& matching lunch bag!

Preserving the classic appeal of the popular silhouette, but

sized for children 7 and up, the Herschel Heritage Youth

backpack is a stylish schoolyard staple! Inspired by schoolyard

sports, the unstructured six panel Outfield Youth snapback

cap features custom felt Herschel Supply branding.

Offering the same look and feel as the classic silhouette, but

sized for children ages 3 to 6, the durable Herschel

Heritage Kids backpack is perfect for a trip to the

playground The durable Herschel Pop Quiz Lunchbox

features a soft and insulated main snack compartment that

easily wipes clean, making it the perfect cafeteria companion.

Visit: PosterChildMag.com/contest

122
---
August 6-8, 2017

Metropolitan Pavilion

& Altman Building

200 collections

Fashion & Lifestyle

picaflor inc. 2017 illustration Anna Kövecses

CHILDREN'S & MATERNITY TRADE SHOWS WORLDWIDE!

520 collections

July 1 - 3

Parc Floral

de Paris

100 collections 200 collections 200 collections

July 5 - 6

Palazzo

Italia

August 6 - 8

Metropolitan Pavilion

& Altman Building

August 22 - 24

Belle Salle

Shibuya Garden

FOR PROFESSIONALS ONLY

GET YOUR PERSONAL PASS ON:

www.iloveplaytime.com