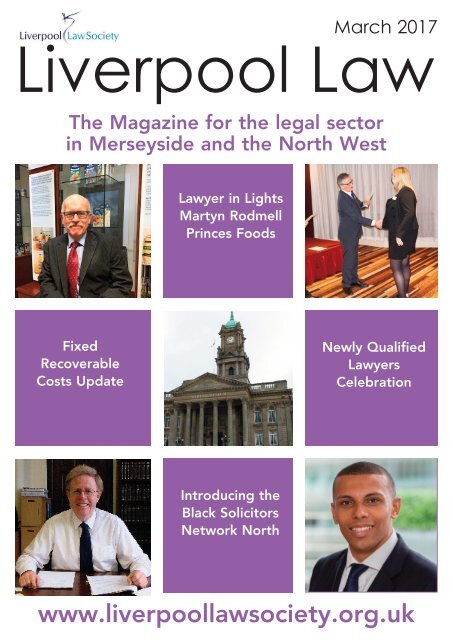 Create successful ePaper yourself
Turn your PDF publications into a flip-book with our unique Google optimized e-Paper software.
March 2017

Liverpool Law

The Magazine for the legal sector

in Merseyside and the North West

Lawyer in Lights

Martyn Rodmell

Princes Foods

Fixed

Recoverable

Costs Update

Newly Qualified

Lawyers

Celebration

Introducing the

Black Solicitors

Network North

www.liverpoollawsociety.org.uk
---
Feel like an office

dance-off winner,

every day

Compiling a Contract Pack electronically has never been so enjoyable

Paperless Contract Packs are here with new eCOS from InfoTrack. Our innovative technology

empowers you to compile the contract pack (TA6, TA10, title and plan) entirely online. Now you and

your clients are able to fill out and sign contracts electronically, all without having to print a single

page. Fast, easy and secure - our enjoyable technology gives you and your firm the smoothest moves.

We're moving conveyancing on. Sign up now.

Visit www.infotrack.co.uk/winner

eCOS

Searches SDLT AP1 Land Registry
---
Editorial

Welcome

to the March edition of Liverpool Law

Liverpool Law

Needs YOU!

Liverpool Law Society Magazine

is produced by and for Liverpool

Law Society Members. This is

our opportunity to share our news,

events and celebrations with our

friends in the legal community.

Hello and welcome to this edition of Liverpool Law.

As always the articles are many and varied and my

thanks as always to our regular contributors, to all

those who have taken up the call to provide input and

articles for the magazine with particular mentions in

this edition to Matt Taylor and Rachel Eley. I would

also like to thank David Pilling for a very informative

assessment of the Fixed Recoverable cost seminar

which took place in Manchester recently. The article

will no doubt be of considerable assistance to all of

those who operate in the personal injury and civil

litigation arenas.

On the subject of arenas, this issue also promotes the

annual gladiatorial battle that is the MJLD v LLS

Quiz which takes place on the 30th March. The LLS

are the defending champions I believe, although

whether the utterance that "you will win nothing with

kids" comes back to haunt them remains to be seen!

Please support what should be a great evening if you

can.

I should also mention the MJLD awards for which

nominations close @ 5pm on 17th March so please

see the article featured later in the magazine.

Looking to do something different, this month we are

running what we hope will be a 'fun' competition for

the readership. Nothing to it really - you just need to

write a review of a movie, book, play, album,

favourite box set etc.. We will be looking to publish a

few of the readers reviews each month and one

author will be rewarded with their choice of a bottle

of prosecco, red or white wine, very kindly supplied

by R&H Fine Wines of 12 Queen Ave (just off Castle

Street) Liverpool and my thanks to Dev at R&H for

sponsoring this. Please give it a go!

And finally, next month we will be delving into the

archives of the history of individuals within the

Liverpool Legal Profession having recently been

provided with some very interesting historical

photographs. More on that next month and in the

meantime, I hope you enjoy this edition.

Peter Holland

Editor

editor@liverpoollawsociety.org.uk

Town

Hall

Fine Wines

Castle Street

Queen Avenue

Dale Street

0151 345 0306

Fine Wines

All members' contributions to

Liverpool Law are warmly

welcomed. Please send your

article (and photo captions where

possible) or request for further

information, or assistance to the

editor at

editor@liverpoollawsociety.org.uk

Photographs should be provided

in the highest resolution possible

to ensure a good reproduction.

The views and opinions expressed

in Liverpool Law are those of the

individual contributed and not

those of the Liverpool Law

Society.

Published by Baskerville

Publications Limited

Apt 327 Holden Mill

Blackburn Road

Bolton

BL1 7PN

Email: j.baskerville@jbaskerville.co.uk

Editorial Committee

Dates 2017

Charity spotlight...

R Charity

The Royal Liverpool University Hospital's R Charity is

looking for local business to help raise £10million in order to

provide treatment that will transform lives in the new Royal

Hospital.

R Charity's £10million Appeal will provide specialist

equipment to areas including stroke, breast cancer, radiology

and patient experience helping thousands of people across

Merseyside.

R Charity: focus on stroke

One of the key goals of R Charity's appeal is to provide a

service above the NHS promise of care for some of the most

vulnerable people who come into hospital.

In the UK, a person suffers a stroke every three minutes.

The Royal is currently one the best providers of stroke care in

the UK, with some of the lowest mortality rates in the

country.

R Charity's £2million Stroke Appeal will make care even

better to help stroke patients out of bed and home quicker,

providing them with the dignity and independence they

deserve.

Money raised for R Charity's Stroke Appeal with help fund

monitoring systems designed to improve patient safety and

reduce the likelihood of stroke patients falling during their

recovery.

Funds will also go towards specialist chairs in rooms of

patients recovering from a stroke, to help them move towards

recovery in a safe environment tailored to their needs.

"I never expected my journey through the stroke unit;

however the treatment I received was second to none.

Without their quick acting care and their attentiveness, my

experience could have been so much different. Thanks to

them, I am back on my feet and enjoying life to the full

with my family and friends."

– Terry Stubbings, Liverpool Town Crier and stroke

survivor

R Charity is looking for businesses to take up their

challenge of turning £100 to £1,000 towards their

appeal.

If you think your business or team can find a fun

and exciting way to turn £100 to a grand within

three months, contact R Charity's corporate

partnerships manager Lauren Davies on 0151 706

3153 or email lauren.davies@rlbuht.nhs.uk.

06/03/2017 AT 13:00

03/04/2017 AT 13:00

02/05/2017 AT 13:00

05/06/2017 AT 13:00

03/07/2017 AT 13:00

07/08/2017 AT 13:00

04/09/2017 AT 13:00

02/10/2017 AT 13:00

Deadlines 2017

20TH MARCH FOR APRIL

13TH APRIL FOR MAY

15TH MAY FOR JUNE

19TH JUNE FOR JULY

17TH JULY FOR AUG

14TH AUG FOR SEP

18TH SEP FOR OCT

www.liverpoollawsociety.org.uk

3
---
From the President

President's Mentions

Hello everyone, trust you are

well. I wasn't, had man flu -

yes it does exist and it was

bad.

I have been looking at the

news lately and two items are

repeated incessantly - Trump

& Brexit- but it occurred to me

that when you look at the legal

systems of the two allegedly

greatest democracies of the

world UK & USA, you see

some significant differences at

present.

I have always thought whilst

not perfect the British system

is the best. This was illustrated

recently by the High Court &

Supreme Court decision on

Brexit. No-one, not even the

P.M. or Government, is above

the law. It may have been

academic but it tested some of

the great minds and illustrated

that the Rule of Law & Justice

must prevail. The Prime

Minister & Government

complied.

Look across the pond and we

see Trump trying to be a

dictator and putting his own

yes -men in place to ensure he

gets his own way- watch this

space!

We are still very busy at Helix

(LLS) with the changes that

HMG are trying to impose.

The idea of divide & rule is

still alive and kicking with the

proposed 10% hike in Q.C.s

fees and threat of further

reduction to Solicitors &

Higher right fees. Continued

tightening of the belt

regretfully.

I note The Law Society have

appointed an interim CEO to

bridge the gap until a

permanent appointment is

made. I note that Robert

Bourns is determined to press

ahead with reforms and he

would welcome input from us

all.

I was fortunate recently to

meet with him when in

London and get his views

directly on several issues, he

certainly has the members of

the profession at heart, having

been a Partner in a provincial

firm dealing with not only

commercial & private matters

but also Legal aid cases.

I attended the ANWLS dinner

last month when the smaller

Societies in Lancashire &

Cumbria met to try to revive

their association, it was a very

pleasant evening and I thank

all organisers and officers.

The Vice President Joe Egan

was present and gave a rallying

cry. I understand that a

decision has been made to relaunch

ANWLS with a

summer social event and will

be expanded to include local

groups and organisations from

the North West and will

continue to keep the

connection with Liverpool &

Manchester law societies. The

problems with ANWLS

illustrate the difficulties

everyone in the profession is

facing - too little cash and time

and so much to do. Maybe we

can help subject to time & cost

- ideas please particularly from

those on the fringes of

Merseyside who feel a little left

out.

I was pleased to welcome our

Presiding Civil Judge His

Honour Judge Graham Wood

Q.C. to the recent NQ evening

when we had 44 newly

qualified solicitors & 8 pupil

barristers. It was certainly

heartening to see and hear the

enjoyment & enthusiaism the

youngsters displayed -

congratulations to them all

and grateful thanks to Graham

for his address and

presentation of the

Certificates. I hope all are

being proudly displayed in the

offices.

I would encourage all of you

to make use of the modern

communications and give us

your views of all things legal

on LinkedIn & Twitter please.

What effect will Brexit have on

us - what can LLS do for you,

how can we help.

By the time you read this all

nominations for the Legal

Awards will be in & I would

ask you to book your place for

the highlight of the year in

May at the Rum Warehouse -

save the date 12 May 2017.

Finally, I have set in motion

the Annual Dinner for

November - an exciting new

venue & exciting speakers - no

more news for now - just save

the date - 16th November

2017.

Bye for now.

John Ballam

President

Sponsored by

Diary Dates

Like us on Facebook

www.facebook.com/

LiverpoolLawSociety

Sat 25 March

Thu 30 March

Wed 26 April

Fri 12 May

Tranmere Rovers corporate event – SOLD OUT

Merseyside JLD vs LLS Quiz night

Cyber Conference

Legal Awards Ceremony

Follow us on Twitter

@LpoolLawSociety

Thurs 16 November

Annual Dinner

Join us on Linked In

Photographs for Liverpool Law

https://www.linkedin.com/

company/liverpool-law-society

If any member has photographs of Merseyside or surrounding areas and would like them to be

featured on future front covers of Liverpool Law, please email editor@liverpoollawsociety.org.uk.

4 www.liverpoollawsociety.org.uk
---
Local News

5

www.liverpoollawsociety.org.uk

New committee and charity

quiz for YRes Merseyside

The new committee of Young Resolution Merseyside, the local

branch for young members of the national association of family

lawyers, has launched a recruitment drive for new members as

well as announcing the return of its ever-popular Charity Quiz

Night on 9 March 2017.

New Chair of the group Matthew Taylor of Weightmans is joined

on the committee by Secretary Sarah Achilles (MSB), Treasurer

Richard Rigg (DWF) and PR representative Danelle Foley (Mooney

Everett) along with Natalie Hargreaves (Brabners), Jennifer

McCarthy and Sinead Cassidy (both DWF), Renn Moucarry and

Lindsey Potter (both PMC Family Law), and Hannah Malone and

Rebecca Charity (both Berkson Globe Partnership). The group is

now looking for more aspiring family lawyers – including law

students and trainees – to join the committee and help the group

grow from strength to strength. Anyone interested in joining should

contact matthew.taylor@weightmans.com or get in touch through

the group's Facebook or Twitter pofiles.

YRes provides an opportunity for Resolution members who are

starting out on their career path to share their experiences, concerns

and ideas, ask questions, and develop skills and knowledge in a

friendly and supportive environment.

The group runs a series of social and educational events, with the

first event of the year, the annual Charity Quiz, taking place on 9

March 2017 at 6.30pm at Revolution in St Peter's Square. Hosted

once again by regular quiz masters Mark Senior and Clive Baker, the

event will raise money for NYAS. Tickets are £5 per person to cover

entry and food, with a maximum team size of 6. The event is open

to all, not just YRes members or young family lawyers, and places

can be reserved by emailing SarahAchilles@msbsolicitors.co.uk

Annual Charity Quiz

Hosted by Quiz Masters extraordinaire Clive Baker and Mark Senior

Where: Revolution Fleet Street, Liverpool, L1 4DQ

When: 6:30pm - Thursday 9 March 2017

Tickets: £5 per person (inc. entry & food)

RSVP: to SarahAchilles@msbsolicitors.co.uk

In Aid of

Order of Play

6:30pm Arrival

7:30pm Quiz Begins

(3 rounds + 1 picture round)

8:15pm Food Served

8:45pm Quiz Resumes

(3 further rounds)

9:30pm Raffle & Close

* Maximum team size is 6

Raffle

£2 per ticket or £10 for a strip

Bar Snack Buffet menu

Buttermilk Fried Chicken Strips

Calamari

Burger Sliders

Mini Garlic Flatbreads

Garlic Fries

Margherita Pizza Roll

Pepperoni Pizza Roll

Drinks offers

Selected 2-4-1 Cocktails

Cocktail Pitcher £14

Selected Draught Beer / Cider £3

Selected Bottles £2.50

Selected Spirits & Mixer £3

Open to everyone; not just members of Young Resolution

Liverpool Law Golfing Society

The Liverpool Law Golfing Society dates back to 1895. The year

Jonathan Berkson has accepted an invitation to serve as Captain

of the Society.

The annual members competition will take place at Heswall Golf

Club on Wednesday 7th June 2017. All solicitors and barristers

practising in the Merseyside area are welcome to take part in the

competition and become members of the Society. For those either

wishing to join or for existing members wishing to play please

contact the Secretary Brian Lawlor on the details given below who

will confirm tee times. Dinner will be in the clubhouse and the

annual general meeting will take place immediately after the dinner.

The competition on the day will be for the Cunliffe Cup for the best

Stableford score which was first presented in 1895. The Harold

Christian Jones Scratch Cup is presented for the best scratch score

with the Jack Rycroft Tankyard for the best Stableford score for

handicaps between 18 and 24. Last year the Cunliffe Cup was won

by the 2016 Captain Keith Jones, the Harold Christian Jones

Scratch Cup by Chris Hayes and the Jack Rycroft Tankard by Sean

Sexton.

The Society will play two matches the first against the Crown

Prosecution Service has been fixed for Monday 3rd July 2017 at

Ormskirk Golf Club. This year responsibility for arranging the

match against the accountant rests with the accountants who will

finalise the date and venue for the annual fixture which will take

place early September. Again any member wishing to play in either

of those matches should contact the Secretary.

The Secretary's details are Brian Lawlor, Morecrofts LLP, 2

Crown Buildings, Liverpool Road, Crosby, Liverpool L23 5SR,

email: bl@morecroft.co.uk , telephone: 0151 924 9234.

All existing and new members will be made most welcome.

-
---
Local News

News from the Sub-Committees

Criminal Practice Committee

The general feeling was that a half day conference was preferable

providing we could get recognised speakers. Jo will make enquiries

and this can be considered further at the next meeting.

Criminal Practice Committee Meeting 26th January, 2017

This was a well-attended meeting. Various topics were discussed and

there was additional an additional presentation by Leanne Galbraith

confirming the up to date position with regard to the Common

Professional Platform. She has since forwarded the slides from the

presentation which have been circulated. Leanne discussed the

successful on line forum set up in the Liverpool Civil Courts and

was looking for any feedback with regard to setting up the same for

the Criminal Courts. Leanne also brought us up to date with where

the present platform position is and it's clear that shortly it will go

live as between the cps and the police on Robberies and S18 matters.

We will be kept informed and invited in to the blogs and material as

it is issued. Any feedback on the potential for a Criminal Law

Practitioners forum can be forwarded to me.

Keith Townend attended with Nicola Johnson from the Court to

confirm that a review is to take place with regard to the listing of

cases in the Magistrates Court. The purpose of their attendance was

stated to allow engagement with defence practitioners so that views

and representations could be made. I emphasised the importance to

the committee of engagement in this process as decisions could be

made which will impact on all of us. I have invited representations

to be made to me so that I can put forward views, concerns and

suggestions made by the practitioners in this process. I would

welcome any feedback via e mail or by phone. My email address is

john.weate@rmnj.co.uk and my mobile is 07767413894.

We were asked by Jo Downey about having a training conference.

Commercial

Leases Update

with

Richard Snap

pe

on Tuesday

4th April, 9:30am

12:45

pm

C ommercial lease

e s continue to be much litigated

an nd several

regulatory

chang

nges have

occurred withinin the

last year.

The course

aims

to look at

these change

s.

Topics covered include:

Recent case

law on break clauses

Deeds of

Variation and Guarantors

Landlord

and Tenant Act 1954 update

Dilapidat

ions

SDLT and

rent changes

Legionella

Reports

Changes to

CPSE Enquiries

The Energy

Act 2011 and the Green Deal in relation to

commercial leases

Rating empt

y properties case law

To see more

Venue:

Sponsored by:

Liverpool Law

Society,

Second Floor, Helix,

Edmund Street, Liverpool, L3 9NY

informa

ation or

to

book, visit: www.liverpoollaw

wsociety.

y.org.uk

I advised the meeting of the intended extension of the S.28

procedures and the on-going consideration at Government level on

this issue. It is likely that this procedure will be extended to

witnesses under 18 and possibly extended to adult witnesses in

various types of cases such as sexual allegations and domestic

violence. This is likely to create all sorts of problems for

practitioners particularly advocates who presently conduct s.28 cross

examination prior to the normal court business. Should it be

extended it may well create listing problems as the restrictions on

questions will not apply in many of the proposed extended cases as

they apply now. I will be attending a further meeting later this

month and will report back to the committee.

The committee were made aware of matters from the last Court

users meeting on the 12th January, 2017. Practitioners are asked to

follow the protocol for requesting pre-sentence reports in advance of

ptph hearings where the Magistrates have not ordered one.

Practitioners must e mail case progression indicating guilty pleas

and asking for judicial consideration of a psr and the reasons for it.

This will then go to a judge who will make a direction. The

practitioners on such a direction should ensure that arrangements

are then made with CC probation for the preparation of the report

and advise the client to get there for the time ordered. Probation

have asked that where stand down reports are ordered we do not

hassle them asking when will it be done. They will upload onto the

DCS when completed and would appreciate no distractions from

practitioners chasing them up!!!

The committee were made aware of complaints from Court Staff

with regard to the state of the robing room. I advised the user group

that solicitors do clean up after themselves and do not tend to leave

lots of case papers hanging about. It is politely requested that we

continue like this so that we don't get the blame for the mess often

seen in the robing room.

The next meeting of the court

users group is the 13th April,

2017 and if there are any matters

any practitioner would like me to

address at that meeting could they

please e mail me.

John Weate

Chair

With over 60 members Atlantic Chambers is able to offer a wide

range of expertise within our specialist practice groups.

Civil Litigation including Clinical Negligence,

Family, Chancery & Commercial, Crime,

Employment, Proceeds of Crime & Public Law

4-6 Cook Street, Liverpool L2 9QU

T 0151 236 4421 F 0151 236 1559

DX: 14176 Liverpool 1.

E-mail: info@atlanticchambers.co.uk

6 www.liverpoollawsociety.org.uk
---
Local News

Newly Qualified Lawyers Celebration

On 26th January LLS and MJLD members

came together at the Hard Day's Night

Hotel to celebrate the achievements of all

of the Solicitors and Barristers who

qualified in Liverpool and Wirral during

2016.

This event has gone from strength to

strength with the support of the MJLD and

this year saw HHJ Graham Wood QC

present the 42 newly qualified solicitors and

9 barristers with their certificates welcoming

them to the profession and wished them all

well in their careers.

It was particularly heartening to see a wide

spread of firms represented and able to offer

careers to new solicitors and barristers with

newly qualified lawyers from 12 different

member firms and 6 chambers.

The Nebulaes

The President, John Ballam had some

words of wisdom for all of those entering

the profession – preparation is the key. As a

holder of one of these certificates you can

also apparently demand of your managing

partner that it be framed and hung in

reception!

For the first time this year, the LLS prizes

were also presented at this event. The

Timpron Martin, Rupert Bremner, Atkinson

and Enoch Harvey prizes are awarded for

achievement in professional examinations

based on the results of the Legal Practice

Course at the University of Law in Chester

and the Liverpool John Moores University

and for the first time from BPP.

The Prize winners for 2016 were Ory

Ejuoneatse of DLA Piper, Will Eggleston of

Brabners, Harriet Edwards of Weightmans

and Clare Marsh of Weightmans. The

awards are now funded by Liverpool Law

Society through its charitable funds and

each prize winner received a copy of 'A

Century of Liverpool Lawyers', together

with a cheque for £100.00.

The E. Rex Makin Prize is awarded to the

youngest Solicitor to be admitted to the roll

in the Liverpool constituency. The winner

this year was Josh Makin of Morecrofts.

The Muir Matthews Prize is awarded to a

young or trainee solicitor in Liverpool who

is judged to have made the largest

contribution on an all-round basis. The

winner was Richard Burrows of

Weightmans who is currently also the chair

of the MJLD. Both of these winners

received a cheque for £50 and a copy of 'A

Century of Liverpool Lawyers'.

After the presentations and pictures there

was the chance for some networking and a

celebratory drink with peers and more

senior (!) members of LLS.

Weightman's NQs

Hill Dickinson's NQs

EAD's NQs

HHJ Graham Wood makes the

presentations

Nina Ferris

Vice President

Hill Dickinson LLP

The Prizewinners

www.liverpoollawsociety.org.uk

7
---
News

Councillors' Summit – Thursday 19 January

It was mainly a case of

developing themes previously

raised when General

Committee members met

Councillors on 19 January,

together with some new topics.

The three Local Authority

representatives were Cllr Ruth

Bennett (Liverpool), Cllr Jane

Corbett (Liverpool) and

Councillor John Stockton

(Halton).

Kirsty McKno, as Chair of LLS

Civil Litigation Committee,

summarised the LLS's response

to the Soft Tissue Injury and

Small Claims PI limit proposals.

Of particular importance to the

Councillors were two points.

First, the economic impact on

the Liverpool area for potential

losses in litigation practices'

employment. Second, the

difficulty which lay people

would have in pursuing claims

given the Portal's requirements.

Chris Topping, as Chair of LLS

Access to Justice Committee,

briefed the Councillors on the

latest campaigns. The main point

highlighted was the Review of

the LASPO legislation, and

Chris asked for Councillors to let

him know of "advice deserts"

indentified by them, so as to

provide evidence to submit to

that Review.

I then reported on Government's

Bills which could have an impact

on Local Authorities. I

confirmed that the Children and

Social Work Bill – mentioned at

the last meeting – is progressing

through its Parliamentary stages.

Also highlighted was the Local

Government Finance Bill,

concerning Non-Domestic Rates

and Business improvement

Districts of which there is one in

Liverpool , published only days

earlier on 13 January.

Another Bill which I spotted was

the now-withdrawn Private

Member's Representation of the

People (Voter Proof of Identity)

Bill. It struck me that this might

be the first indication of

stringent ID checks which Local

Authorities could in due course

have to supervise at Polling

Stations. I also mentioned recent

Decisions reported in the Law

Society "Gazette" relating to

Library closures and to sale of a

Local Authority's land.

A new topic raised was that 2017

sees the first Election for the

Liverpool Region Metro Mayor.

Cllr Stockton summarised the

powers which the Mayor will

exercise as being those in the

areas of Employment Skills,

Housing and Transport.

Cllr Corbett spoke about the City

Council's contribution to the

nationwide Better Business

Forum. It was noted for the

diary that on Friday 10 March at

St George's Hall there will be an

event promoting the forum, and

that local solicitors might want

to attend.

Following the meeting, Cllr

Stockton forwarded a message

from his fellow Halton member

Cllr Peter Lloyd-Jones, who

practised as a Solicitor. Cllr

Lloyd-Jones was unable to attend

the meeting, and stressed his

concern about two points. First,

the very low Legal Aid rates for

criminal practice and, second,

the way in which Employment

Tribunal Fees have deterred

many potential Applicants.

If LLS members want to raise

any issues with the Councillors

at our next meeting – which is

fixed for 13 July – please let me

know. Additionally, a request to

members: if LLS members who

have links with Councillors and

believe that they might like to

engage with LLS, please liaise

with me and with those

individuals.

Jeremy Myers

LLS Parliamentary Liaison

Officer

-

8 www.liverpoollawsociety.org.uk

-
---
Interview

Lawyer in Lights

Martyn Rodmell

Head of Legal, Princes Foods

This month's Lawyer in

Lights is Martyn Rodmell,

Group Legal Counsel and

Head of the Legal Team at

Princes Group.

Princes is a local treasure, an

historic company established

in Liverpool in 1880 and has

developed into an

international food and drinks

company involved in the

manufacture and distribution

of branded and customer own

brand products sold

throughout the UK and

internationally.

I had an introduction to the

portfolio of leading brands,

including many household

names, when I had the

opportunity to interview

Martyn at Princes head offices

in the Royal Liver Building.

Princes are based on the 5th &

6th floors, within the Royal

Liver Building and enjoy

amazing views over the River

Mersey.

Princes has a far reaching

supply chain to provide raw

materials for its global

operation. For example fruit

imported from Spain,

sweetcorn, chicken and

pineapple from Thailand,

corned beef from Brazil and

tomatoes from Italy to name

but a few. These foods are

processed and sold to markets

in the UK and Ireland,

mainland Europe and beyond.

Martyn joined Princes in

October 2000 having started

his career in private practice

but moved in-house early in

his career. Before joining

Princes he worked as Head of

Legal at Lex Vehicle Leasing

based in Sale. As well as the

exciting prospect of setting up

a legal team, as a Formby man

there was the added bonus he

was able to give up the commute

when he moved to take up the

post in Liverpool.

When Martyn joined Princes he

worked with one colleague, who

carried out a Company

Secretarial role. Martyn has

grown the legal team which now

consists of 4 solicitors, a

chartered legal executive and a

trainee. One member of the

legal team, an Italian advocate,

is based at Princes offices in

Southern Italy.

Martyn's main role is the overall

management and supervision of

the legal department and is keen

for the team to develop

relationships direct with their

internal clients consisting of

Directors and managers. As well

as being head of the legal

department and on the Brexit

committee, he is also Secretary

to the Compliance Committee.

Princes operates a strict Code of

Conduct with a commitment to

high standards and puts

compliance at the forefront of

the way it does business. The

legal department handles most

of the legal work of the

company with support from

external lawyers for some

foreign work in overseas

jurisdictions.

Martyn stressed to me the

importance of in-house lawyers

understanding the business they

support, its priorities and

business plans and being

personally organised as well as

knowing the work within the

pipeline and being able to

manage the unexpected. With a

company of this size, Princes

invests heavily in plant and

equipment with the legal team

ensuring that the Company

contracts on approved terms and

conditions. This part of the

legal team is headed up by my

Assistant Group Legal Counsel,

who has two legal managers

reporting to her. The legal team

also approves marketing

material to ensure that it is fully

compliant with rules and

regulations both here in the UK

and where relevant in Europe.

This responsibility rests with the

Senior Legal Manager who has

a trainee working with her.

The work the team carries out

means that members of the team

need have an understanding, as

a minimum of English Law, and

a working knowledge of the

principal Civil Codes in

mainland Europe. I did ask

Martyn if all of the contracts

came through in English and he

confirmed not, the team can

translate French and German

but given the difficulties with

language differences, they are

more likely to instruct external

lawyers for Polish matters.

The Italian Advocate, deals with

legal and operational work

relating to Princes' operation in

Italy and French retailers Terms

& Conditions.

All in-house lawyers I have

spoken to, have stressed that inhouse

is not an easy option.

Martyn's day starts shortly after

8am and he generally does not

leave the office until around

7pm and keeps fit by running in

the evenings. He is married with

two grown up children. His wife

is a Chartered Accountant. His

son is currently at Liverpool

University doing a Business

Degree, and his daughter is a

Junior Doctor.

I asked Martyn, generally, if he

got much opportunity to travel

given that Princes has factories

and offices across the UK and

overseas, from Glasgow to

Chichester as well as Poland,

France, Italy and Mauritius.

Martyn does travel a little

around the offices and

factories but Princes' operates

a sustainability policy and

meetings are more likely to be

held by videoconference.

I asked Martyn if he agreed

in-house legal teams should

time record to show their value

to the company? Martyn is

definitely anti time recording!

He feels that there is no

difference between

implementing a time recording

policy in a legal department

from a finance department.

Also he wouldn't want to

discourage people approaching

the legal department for help,

in the fear of the cost it would

incur, and in any event, he

cannot see the value of time

sheets to the company. A

successful legal team can

demonstrate its value to the

business without the necessity

of time sheets. A very clear

answer.

I was a bit astonished at the

amount of work the team

covered and how they were

able to be informed enough to

communicate across different

jurisdiction. Martyn pointed

out that the team has to be

cost effective to the company

and work closely together.

My last question was "what is

the best part about the job?"

The answer being "working as

a team" and of course the

social events which he told me

were particularly good!

Sylvia Shepherd

DLA Piper

www.liverpoollawsociety.org.uk

9
---
News

Joint V Meeting

The first Joint V meeting of 2017

took place in Manchester on 9th

February. I attended along with

Vice President Nina Ferris, and

CEO Sarah Poblete.

Unfortunately our President was

unwell and unable to join us.

We spent the first part of the

meeting going through the usual

activity reports from each society,

discussing each other's past and

future events, and also the actions

each society was taking in order to

respond to consultations on behalf

of their members. It is always

useful to hear and learn from what

others are doing, and it is

interesting to hear what events

work well, and that some work for

some societies and not others. All

our societies are different, and yet

we all have the same purpose, to

represent our members, bring

them together and to champion

the local profession.

The agenda contained a varied list

of items. As the Joint V we now

have representation in the

discussions about the future

governance of The Law Society,

and John Hughes the Birmingham

President, had attended a meeting

on our behalf, and was able to

report back. We discussed pro

bono activities, as it transpired

that all five societies have similar

programmes going on with regard

to this, and we agreed to share

minutes and templates between us.

We talked about the visits Lord

Justice Jackson was making to the

various areas to discuss his

recommendations on fixed costs.

Representatives from Liverpool

and Manchester had attended the

recent Manchester event and were

able to report back. Interestingly

he seemed to be addressing

different work types in different

parts of the country, and it was

not surprising that he had chosen

the North West to concentrate on

Personal injury work. We had

quite a debate about how possible

it will be to introduce fixed costs

in general litigation work, and

how we can ensure that we

express our members' views on

this.

We discussed the concerning news

that it appeared there was a move

to redraft s.31 of the CPR on

disclosure, seemingly without

consultation. Few present were

aware of this, but we agreed that

this was something that we did

need to investigate and if

necessary, highlight as an issue;

the problem being that an attempt

to reduce costs of disclosure could

result in a watering down of the

robust rules on adverse disclosure,

which contribute to to making

English and Welsh courts the

jurisdiction of choice.

We discussed how the Joint V had

developed and decided that we

now needed some form of

clarification of what we were, and

what we stood for. With all our

societies and their memberships

being so different, there may be

many areas where we were unable

to form a common view, but there

were also many where we could.

For lunch, and the afternoon, we

were joined by National President,

Robert Bourns, who admirably

simply asked us what we wanted

to discuss and allowed us to

interrogate him on whatever we

wished! This resulted in a

stimulating and interactive

afternoon during which we

discussed governance of the

society (at some length), the

progress of the recruitment of the

new CEO, Brexit and its effects on

our members, the reputation of

the profession and the many

consultations that are currently

ongoing or being considered. We

had a particularly long

conversation about the Personal

Injury proposals and the

government's attitude that

solicitors as a profession were

resilient and would adapt and

cope with the significant loss of

work this would involve. Robert

reported to us on the meetings

that The Law Society had had

with the MOJ and their seeming

unwillingness to engage on this

issue. We also talked about the

purpose of The Law Society, both

now and in the future, and the

importance to the profession of

having a representative body,

when both the SRA and the LSB

had openly stated that they did not

consider it their role to comment

on policy issues.

The next meeting is due to take

place in June and will be hosted

by Leeds. As always, if anyone

has any issues which they would

like to be discussed with the Joint

V, or any questions about the

meetings, then please contact the

Liverpool Law Society office.

Alison Lobb

Immediate Past President

Morecrofts LLP

Tracy Thompson launches bespoke Law

Management Consultancy

After over two decades in the legal industry, most recently as Managing Partner of a Liverpool

law firm, lawyer Tracy Thompson has developed a new consultancy firm to support North

West law firms' growth and sustainability.

Tracy Thompson Associates will focus on the core elements which small to medium sized law

firms require the most; business planning, strategic guidance, risk & compliance services and

marketing strategy. The aim of the business is to contribute to the well-being of law firms and to

leave a positive impact on those businesses.

Thompson boasts an inarguable record in the aforementioned coupled with an excellent strategic

growth track record and as a law society Lexcel consultant she is also passionate about firms

achieving the recognised legal practice management standard as a benchmark for excellence.

Tracy Thompson said 'Having spent so long working in the industry, I understand the need for

smaller firms to be able to obtain specialist advice and assistance where they perhaps lack the

internal skills to deal with important matters which have a determining effect on the future of their

business. My consultancy will allow firms to access the very specific areas where they require

expert support without the need to commit to employing someone as services can be provided on

an ad hoc, retained or project basis."

10 www.liverpoollawsociety.org.uk
---
News

Introducing the Black Solicitors

Network (BSN) North

Meet the Chair of BSN: Kyle Blackburn

Kyle Blackburn is a Business

Development Manager for

JMW's referral network,

Lawshare. Kyle joined JMW in

2014 from Pannone where he

worked for eight years in various

business development roles.

Lawshare currently has over 290

law firms across the North West,

ranging from sole practitioners to

large multi-site commercial firms

and Kyle spends much of his time

travelling the region visiting

Lawshare members.

Kyle studied for a law degree

whilst working at Pannone and is

currently studying for the LPC

and an MSc. He will be taking up

a training contract with JMW in

September 2018 and hopes to

eventually specialise in either

commercial litigation or family

law.

The Black Solicitors Network was

launched over 20 years ago in

London in response to Legal Aid

Franchising. Kyle says "The

Network was launched because

the introduction of Legal Aid

Franchising was affecting High

Street firms, many of whom

employed BME lawyers. An early

success was a delay in the

introduction of civil contracting

which gave all firms further time

to plan and prepare. That dialogue

was of benefit to all firms not just

BME led practices."

The BSN North was re-launched

earlier this year and the initial

committee elected Kyle as Chair

of the network. Since the launch,

membership has already grown to

around 70 members within

Greater Manchester. Kyle's

mandate is to establish BSN as the

primary voice for BME lawyers

and growing the membership. Its

target membership geographically

covers the Midlands, up to Carlisle

in the North.

Kyle adds "Membership of the

Black Solicitors Network is open

to anyone interested in equality in

the profession, from students to

partner level solicitors. We have

members in private practice, local

authorities, central government

departments, the CPS and also the

Judiciary. It is a very broad church

and we have no political

affiliations."

Nationally the BSN has over 6,000

members and is the largest

recognized Law Society Special

Interest Group. In October 2006

BSN was the recipient of the

Judge's Award for Outstanding

Contribution to Promoting Race

Equality by the Law Society and

Commission for Racial Equality.

With a full time career, studying

for the LPC and Chairing the

BSN, Kyle has little time for

'hobbies". He is also renovating a

house, but says that when time

permits, he attempts to play

squash and enjoys travel and the

theatre.

If you would like further

information about the Black

Solicitors Network, please

contact Kyle at

kyle.blackburn@jmw.co.uk

Latest News from the BSN

It has been a busy couple of months: October saw the official launch

of The Black Solicitors Network in the north. Many hours of work

culminated in a grouping of some of the north's most prominent BME

lawyers gathering at DWF's Manchester office to share their

experiences of entering the profession and overcoming the obstacles

one would expect to face.

Amongst our illustrious guests was the Lord Mayor of Manchester, who

gave a short speech expressing his pleasure at seeing such an enthusiastic

group, whose aims are to encourage diversity in the profession and foster

a culture of

In November, BSN hosted its annual Diversity Awards in London. Law

Society Vice President, Joe Egan, introduced ideas to attract talent and

support people as they develop their legal careers. We heard about the

innovative work being undertaken by numerous solicitors, who the Law

Society call 'The Ambassadors', who assist solicitors with social

mobility. A further 10 inspiring solicitors (willing to nominate

themselves or a work colleague) to help others interested in knowing

more about the law. For further information email ask-anambassador@LawSociety.org.uk

I also met with Jerry Garvey, The Law Society's Diversity

Representative, to discuss the many ways they are seeking to support

BSN's objectives. We will be working more closely with The Law

Society over the coming year to offer new and interesting courses for all

ranges of lawyers.

The Committee is now busy planning our next event, which is likely to

be a social gathering in February or March at a venue to be confirmed.

Plans are also underway with our 'Springboard' programme, which is

aimed at providing students from all backgrounds with advice and

guidance on navigating their way from degree to qualification. We hope

to pair a student with a lawyer mentor who will give one-to-one support

for a few months to help in their preparation for training contract

applications.

If you would like further information on any of the initiatives or

would like to join BSN, please feel free to contact me at

kyle.blackburn@jmw.co.uk

-

www.liverpoollawsociety.org.uk

11
---
Management Feature

Strictly Boardroom

WHAT DO CORPORATE LAWYERS DO WHEN SELLING A

COMPANY?

This is the first of a series of articles taking you 'behind the scenes' of

common corporate transactions and illustrating some of the techniques

that corporate lawyers employ to get the best deal for their clients. What

follows will be reassuringly familiar to those experienced in transactional

work and hopefully assist those less experienced to take on the challenge

with greater confidence.

In this article, we look at a company sale where the corporate lawyers are

acting for the selling shareholders. A subsequent article will look at how

lawyers approach things differently when acting for the buyer.

Let's assume that you have received an indicative offer from a reputable

company that wants to buy the entire issued share capital of your private

limited company. You have taken some accountancy advice on the offer price

and been advised that it is at or above market value. You and your coshareholders

consider this is the right time to sell and are keen to proceed.

Let's also assume that you have been recommended to a law firm that

specialises in company transactions. They have given you a fee budget for the

transaction and, quite reasonably, you want them to explain exactly what

they will be doing for their fee and what benefit you will get from instructing

them.

You'll know if you're in good hands if the lawyer leading their team puts the

kettle on and makes some tea. This is not perhaps the most technical thing

corporate lawyers do but there are few better ways to start a relationship. The

explanation of what is involved should go something like this.

Understanding the deal drivers - Corporate lawyers are often criticised for not

spending enough time listening to their clients to properly understand why

the transaction is taking place and what the key objectives are. The process of

selling a company 'belongs' to the sellers and not their advisers and so the

tactics and timetable should be worked up collaboratively.

Engagement letters - The engagement letters of all professional advisers

(including lawyers, accountants, corporate finance advisers and other due

diligence providers) are legal contracts and should, ideally, be considered

with the benefit of legal advice. Typically, this advice will cover the scope of

the professional's work, the fees they propose to charge, how and when the

fees are to be paid and the wording of any proposed limits on liability. As it

is the shareholders of the company, rather than the company itself, that will

be the contracting party, other issues include the recoverability of VAT and

what fees, if any, are due if the transaction does not complete.

Confidentiality agreements - Before entering into any meaningful discussions

with a potential buyer it is essential that a properly drafted confidentiality

agreement (a non-disclosure agreement or NDA) is put in place to protect the

company's confidential business data including information about finances,

customers, employees and know-how. Corporate lawyers will advise on issues

such as who the contracting parties should be, how to define the nature of

the transaction, how long the agreement should last and, importantly, the

contractual remedies available in the event that the proposed buyer breaches

the terms of the agreement.

Heads of terms - Converting an indicative offer into formal heads of terms is

a key step in any transaction as it establishes the ground rules between the

parties, gets some agreement on key deal points and flushes out any potential

stumbling blocks at an early stage. The process aims to minimise the risk of

everyone wasting further time and money. Heads of terms can be drafted by

the sellers themselves with input from their financial and legal advisers or

drafted by the advisers for the sellers to approve. Important legal issues are

around the overall legal structure of the deal, which matters the deal is

conditional upon, who the contracting parties should be, which elements of

the heads of terms are binding and non-binding, confidentiality and

exclusivity. Buyers tend to push for some form of exclusivity period to reduce

the risk of them investing money in instructing advisers and conducting due

diligence only to have the deal pulled from under them. Not all sellers agree

to this and those that do should take great care not to lock themselves into

one specific buyer on onerous terms.

Enquiry memorandum - Prior to preparing the first draft of the sale and

purchase agreement based on the agreed heads of terms, the buyer's lawyers

will very likely send through to the sellers or their lawyers a long list of

questions about the business. The aim of this 'enquiry memorandum' is to

help the buyer better understand the detail of the business and to formulate a

due diligence plan. Many of the questions create traps for the unwary as the

buyer will no doubt seek to rely on the answers given during or after the

transaction. The job of the sellers' lawyers is to ensure that answers are given

in the correct way. There is an element of protocol to this based on

established commercial practice and, correctly done, the answers should offer

the selling shareholders a high level of protection from future claims for

breach of warranty, non-disclosure or misrepresentation.

Dealroom - To avoid exchanging large volumes of documentation and data

by email or in paper format, it is now common to set up an online dealroom

where everything is stored in a secure password-protected environment

accessible only by the professional advisers. The dealroom provides a single

repository for all information that a seller wishes to provide to a buyer. The

sellers' lawyers usually set up the dealroom, advise on how information

should be presented and then manage the access to it.

Due diligence - Due diligence is the process by which the buyer attempts to

verify that the asset being bought is worth what the buyer has offered. As

well as reviewing the sellers' responses to the enquiry memorandum and the

contents of the dealroom, the buyer and the buyer's professional advisers

may want to conduct other investigations into the company. These

investigations might include interviewing selected staff and customers (once

it is clear the deal will happen), auditing IT systems and financial data and

reviewing legal contracts and intellectual property rights. The role of the

sellers' lawyers is to advise on issues of confidentiality and assist the sellers in

responding to any issues arising from the buyer's due diligence process in the

right way.

-

12 www.liverpoollawsociety.org.uk
---
Management Feature

Sale and purchase agreement - This is commonly

drafted by the buyer's lawyers and it is the job of

the sellers' lawyers to go through it carefully and

amend it in a way that protects the selling

shareholders. The agreement should reflect the

agreed heads of terms and include details of the

company being sold, the price being paid, the

payment structure, the security being given in

relation to any deferred consideration, any

restrictive covenants being given by the selling

shareholders with regard to their future business

activities and the terms of any involvement the

sellers may have with the company. The

agreement will also reflect any warranties

(contractual promises) that the buyer's will ask

the selling shareholders to give about the

company. Negotiating the terms of the agreement

is where the skills and experience of the sellers'

lawyers are perhaps most in evidence as this tends

to be where the 'deal' is won or lost. How hard a

bargain each party can drive depends to a large

degree on their relative bargaining positions but it

is not unfair to say that a good lawyer can play a

poor hand more effectively that a poor lawyer can

play a good hand. Securing the right deal is about

knowing which cards to play and when to play

them. For sellers, a good outcome is achieved

when, at completion, the headline price offered at

the outset has not been reduced without good

reason and that, following completion, there are

unlikely to be any warranty claims that could

claw back the sale proceeds paid to the sellers.

Much of the negotiation tends to be around the

nature and form of the warranties being given

and the limitations as to when and how the buyer

can make a claim under the warranties.

Disclosure letter - Selling shareholders can be

protected from a claim for breach of a warranty

in the sale and purchase agreement in three main

ways. The first way is for the warranties to be

worded correctly. So, for example, a warranty that

says 'there is no outstanding litigation against the

company' can be qualified to say 'the warrantors

have not received written notice of any litigation

against the company'. This may appear to be

semantics, but it can make all the difference if it

turns out that a claim had been brought against

the company but this had not yet come to the

notice of the shareholders. The second way is to

limit the buyer's ability to bring a warranty claim

by limiting the time within which a claim can be

brought and by excluding minor breaches below

certain value limits (called 'de minimis' claims).

The third way is via a document called a

disclosure letter. This letter is issued by the sellers

with the assistance of their lawyers shortly before

completion and discloses anything that the sellers

Continuing Competence –

Chat & chew!

want to make the buyer aware of that could cause

the sellers to be in breach of a warranty. So,

taking the same warranty above as an example,

the disclosure letter might say 'with regard to

warranty X, the sellers disclose that a claim has

been brought against the company from XYZ

Limited, details of which are attached to this

disclosure letter in Appendix 1'. If the buyer

accepts this disclosure (without the protection of

an indemnity, a retention or a price adjustment)

and proceeds to complete the transaction, the

buyer will not be able to sue the selling

shareholders for breach of that warranty arising

from the disclosed matter. Had the warranty not

been disclosed against in this way, the chances are

the buyer could bring such a claim.

Pre-completion consents and consultations -

Completion of the sale of a company may be

dependent on the sellers securing various

consents from banks, regulators, competition

authorities and others. It may also be dependent

on carrying out certain consultations, for example

with the company's employees. Managing these

issues can be tricky and time-consuming and

needs the sellers and their professional advisers to

work closely together to make this run smoothly.

Completion - At last, the day comes when the

due diligence process has been finalised, the

documentation is agreed, the necessary consents

have been obtained and consultations concluded

and the parties are ready to complete. The parties

will commonly meet together with their advisers

present, sign all the documentation and complete

the transaction. Whilst this should really be an

administrative process, it is surprising how many

issues can be raised at the last minute and the

sellers' lawyers may need to act robustly to bring

matters to a satisfactory conclusion. The last job

for the sellers' lawyers is to receive payment for

the shares, settle any agreed liabilities, distribute

the net proceeds to the selling shareholders and

attend to any post-completion formalities.

Oh, and to open a bottle of chilled champagne to

enable the parties to toast a successful outcome!

© O'Connors LLP. O'Connors is a Liverpool

and London-based corporate and commercial

law firm that advises businesses on start-ups,

structures, funding, private equity investment,

mergers, acquisitions, disposals, joint ventures

and commercial agreements. For further

information, please contact John Spofforth,

David Malone or Mark O'Connor at

O'Connors via www.oconnorsllp.co.uk.

On Friday 20th January, I got together with a couple of training contacts* over an

informal lunch, to discuss the new continuing competency regime.

Although only a small group there was a varied range of firm sizes and roles represented,

which made for a really interesting discussion.

It was helpful for me in my role to hear about the processes, problems & possible solutions,

we could share. Hopefully this feeling was reciprocated by the attendees as they asked to

come back!

There will be another 'chat & chew' session on Friday 19th May, 12.30pm. If you would

like to attend, please contact: cpdevents@liverpoollawsociety.org.uk

*If you are involved in any aspect of training within your firm, this event is for you.

Jo Downey, Director of Education & Training,

Liverpool Law Society

Email: jo@liverpoollawsociety.org.uk Tel: 0151 236 6998 ext 22

www.liverpoollawsociety.org.uk

13
---
Movers & Shakers

Santander incubator hub to

offer free Kirwans legal clinic

O'Connors expands Corporate Team

with appointment of Christina Millan

Leading law firm Kirwans has joined forces with Santander to

provide a free legal clinic at the bank's first incubator for fast

growth firms in Liverpool.

Commercial lawyer James Pressley will host the monthly sessions,

which will offer legal advice to the early-stage businesses based

there.

Assistance will be given on all aspects of business and intellectual

property law, ranging from start-up necessities to growth funding

advice.

The Santander incubator hub opened in July 2014 as a way for the

bank to support new enterprises in ways other than direct finance.

It assists 30 early-stage businesses with scalable business models and

ambitions to create employment opportunities through its wider hub

community in sectors ranging from education and health

technologies to gaming, media, construction and design.

The incubator's 'hothouse' environment means that budding

businesses can develop their skills and contacts while also accessing

essential practical support such as the legal advice provided by

Kirwans.

Lynne Robertson, incubator manager at Santander said: "Research

shows that businesses are more likely to succeed and grow if they

have access to mentoring, advice and a network of contacts, and as a

bank we're in a strong position to offer this.

"We tailor our support to meet the needs of the businesses. This

means that rather than run a traditional accelerator programme we

take a 'just-in-time' approach to make sure we provide the support

that each business needs at the right time for them.

"Working with other stakeholders is critical to what we do; offering

the type of support that Kirwans is providing means that we help

our founders future-proof their businesses, giving them access to

professional advice they may otherwise not obtain."

James Pressley from Kirwans said: "The continued emergence of

new business ventures is a vital component of the growth of the

economy, both on a regional and national basis, which is why it is

imperative that they are given as much support as possible in their

early months of trading.

"It is common for new start-ups to focus on making sales, but they

may overlook important legal obligations, so Kirwans' legal presence

at Santander's incubator should help to reassure and guide

companies through what can appear to be a minefield of start-up

legalities."

Liverpool and London-based law firm, O'Connors, has appointed

corporate lawyer Christina Millan to its corporate team as it

continues to build for the future. Christina joins from the

Liverpool office of DWF LLP where she handled a wide variety

of corporate and commercial transactions and corporate

governance work.

O'Connors has gained a national and international reputation for

delivering corporate, commercial, insurance and regulatory advice

and sector expertise to help clients evaluate and manage risks and

opportunities, wherever in the world they are doing business.

Christina's appointment expands the firm's capacity to handle the

growing number of corporate transactions now being generated from

within the firm's entrepreneurial client base.

Christina said: "I am very passionate about the North West having

lived, trained and worked here and I see a growing demand from the

region's successful businesses to buy specialist professional services

locally, where such services are available. I believe the O'Connors

legal project management model, which enables experienced

transaction lawyers to stay hands-on at all times and deliver better

support, cost control and results for clients, is exactly what the

market is looking to buy and I am hugely excited to be part of this

innovation."

Commenting on Christina's appointment, head of corporate John

Spofforth said: "Christina brings many things to the firm, in

particular her corporate transaction experience and project

management skills which fit perfectly with our business model. Our

team now comprises eleven lawyers and a five-strong experienced

support group. As the economy continues to defy the global

uncertainties and transactional activity continues to increase, I could

see us making further appointments during this year."

O'Connors was founded in 2003 and is highly ranked by Legal 500

for the 'quality of client care' and for 'combining intellectual

knowledge with a savvy approach to issues'. The firm has developed

a national and international reputation for clear thinking and for

effective management of large and complex projects and

transactions. Clients include manufacturers, distributors, hirers,

technology companies, investment funds, insurers, insurance brokers,

public sector bodies, financial advisers and legal services businesses.

14 www.liverpoollawsociety.org.uk
---
Made a claim on your insurance and want to improve your risk profile before PII renewal?

Want to grow your practice?

Looking to improve operational performance?

Implementing Lexcel can help achieve this, and much more.

To discuss the benefits Lexcel can bring to your practice call Tracy Thompson on 07702 040784 or

email tt@tracythompsonassociates.co.uk

www.tracythompsonassociates.co.uk

LEXCEL CONSULTANCY * BUSINESS PLANNING * RISK & COMPLIANCE SERVICES * MARKETING STRATEGY * INTERNAL AUDITING * AWARD/TENDER/PII APPLICATION ASSSISTANCE

Industry recognition

for niche lawyers

A Wirral- based niche personal

injury defence firm, has been

shortlisted for a prestigious

award by the body which

promotes Liverpool's maritime

industry as a world class

Centre of Excellence.

DGB Solicitors is up for the

Mersey Maritime Industry

Awards 2017 in the Maritime

Professional Services category.

The Hoylake-based law firm was

formed by Principal, Debbie

Black in 2003 and specialises in

the defence of personal injury

claims, in particular marine

related injury claims. DGB

provide bespoke representation

for a mix of insurance

companies, P & I Clubs and

businesses.

The firm has developed a highly

competitive business which is

fast becoming a market leader in

innovative client care and

specialist advice. The team, led

by Debbie Black, has created a

strong market presence and are

delighted to have been

nominated in such an important

business category.

Debbie said "When I took a step

off the ladder of a large

corporate firm in 2003, my

business vision was to provide a

high calibre, competitively

priced, flexible legal service to

clients. This inevitably involved

considering the way in which

legal services are delivered,

embracing a number of business

technologies."

"We are highly collaborative,

innovative and outward-looking;

committed to sharing good

practice and ideas. We are keen

to promote the North West as

the "go to" destination for

expertise in maritime

professional services and to

work with others to establish

this.

Debbie Black

Mersey Maritime's Chief

Executive, Chris Shirling-Rooke,

has stated that "… the number

and quality of entries for the

2017 Mersey Maritime Industry

Awards has risen for the third

consecutive year, which will

make for an exciting awards

evening".

Responding to this Debbie

continued: "This makes it all the

more thrilling to be shortlisted

alongside other highly

prestigious firms. It's terrific

recognition for the team and all

their hard work. Small and

medium sized businesses are

absolutely crucial to the

economy in the current climate

and this type of award provides

that extra incentive to those at

the sharp end who are working

away. It also helps to put the

North West firmly on the map

as the innovative and thriving

business destination we all know

it to be."

The winner will be announced

by BBC presenter Louise

Minchin at a black tie Awards

Dinner on 9th March 2017 at

Liverpool Football Club.

Rachael Allen joins Hill Dickinson's

growing property team

Rachael Allen has joined International law firm Hill Dickinson's

property team as Senior Associate.

Rachael has crossed the Pennines and returned to her home town of

Liverpool, after having gained a wealth of experience in dealing

with real estate transactions within the esteemed real estate team at

Nabarro. Rachael joined Nabarro's real estate team in Sheffield as a

newly qualified solicitor back in 2005.

Rachael will work within Hill Dickinson's growing property and

construction team, which is led by David Swaffield, and will advise

a wide range of clients on property work including sales,

acquisitions, landlord and tenant matters, due diligence, corporate

and banking support work.

Commenting on her return to Liverpool and joining Hill Dickinson

Rachael said: "I am really pleased to be returning to Liverpool, the

city where I went to school, college and university, and where my

family still live.

Hill Dickinson has an extremely strong client base including names

such as DHL, Peel, Iceland, Cammell Laird and Co-operative

Group. Its property team is one of the fastest growing in the north

and it was a great opportunity for me to join at a time of rapid

expansion and to be working alongside some of the leading property

law professionals in the UK."

Head of Hill Dickinson's Property team David Swaffield said:

"Rachael brings over a decade of property law experience to the

firm and joins us at an important time as this dynamic team builds

on its recent success and plans for further growth in 2017."

Rachael Allen

www.liverpoollawsociety.org.uk

15
---
Movers & Shakers

MSB appoint 5 new partners following

major recruitment drive

Leading Liverpool law firm MSB

Solicitors has appointed 5 new partners

after staff numbers rose by more than 30

per cent in 2016.

Brad Armstrong, Hayley Catherall, Paul

Gallagher, Nicola Harris and Emma Palmer

will join 9 existing partners with effect from

March 1.

Brad Armstrong joined MSB just last year

to manage the expansion of the firm's plot

sales department. The team marked a

record year, which saw them complete more

than 1,250 units in the Liverpool city

region.

Paul Gallager heads up Crown Court

litigation at MSB and joined the firm when

it was founded in 1988. Paul has been an

accredited police station representative since

the inception of the scheme in 1996 and

predominantly represents clients in serious

crime cases, including murder and drug

importation.

Nicola Harris graduated in law from the

University of Liverpool in 2004 and joined

MSB as a trainee solicitor the following

year. She qualified as a solicitor in 2007

before working as an associate in the firm's

matrimonial department.

Nicola is on the Law Society Children's

Panel and is a Resolution-accredited

specialist in domestic violence and

children's issues.

Emma Palmer joined MSB in 2007 having

graduated from University of Leicester.

With particular expertise in women's and

children's matters, Emma is on the Law

Society's Children Panel and is a Resolution

accredited specialist in child abduction,

domestic abuse, forced marriage and

honour based violence.

Both Nicola and Emma have two children

under the age of four.

Hayley Catherall has been with the firm for

more than 10 years, and is one of a number

at MSB who followed a non-traditional

route into law. Hayley qualified as legal

executive in 2000 and a Fellow in 2002,

having taken up work as an assistant in a

solicitor's office after leaving school.

L-R: Emma Palmer, Paul Gallagher

Hayley Catherall, Nicola Harris and

Brad Armstrong

firms promise to support, enable and

promote all members of staff.

"I'm incredibly proud to be part of a firm

that has succeeding in creating an

environment where all our staff can achieve

their potential.

"When I joined MSB in 2000, it was an allmale

partnership and I was the only female

solicitor. 16 years later, we now have an

equal gender partnership with 7 female

partners and 28 female solicitors working in

the firm – so clearly we have created an

environment in which women feel they can

achieve.

"In the last four years, there have been 20

babies born within the firm and all of those

women, like Nicola and Emma, have

returned to work at MSB. It is an incredible

achievement and something I am very

proud of."

Managing partner at MSB, Paul Bibby adds:

"It is an exciting time for MSB and this

announcement of our new partners follows

a year of accelerated recruitment in the firm

in order to meet the demands of new work.

"We are now a 14 partner firm and can

confidently draw on the experience of

people like Paul Gallagher, who has been

with us since our inception and has had a

demonstrable impact on our growth and

development over the years – and Brad

Armstrong, who joined the firm in only

2016 but has already overseen a record year

for his department.

16 www.liverpoollawsociety.org.uk

Hayley has a wealth of experience in all

aspects of family law and is an accredited

Resolution specialist in the areas of cohabitation

and domestic violence.

Partner and head of the family team at

MSB, Emma Carey said: "I am beyond

delighted that 3 of my team have been

invited to be partners with the firm. Not

only is this testament to their hard work,

commitment and capability – but also to the

"It is clear we have the right mix of skills

and expertise now to continue to drive

forward and I am incredibly excited for the

year ahead."

MSB grew its team by almost a third last

year and now employ more than 100 staff

and consultants across 3 offices in Allerton,

Wavertree and St Paul's Square.
---
Bar News

Complete Counsel expands team

Complete Counsel, which launched in 2015, is an innovative digital based model which

enables Barristers to practise as sole practitioners or from existing Chambers, but with

appropriate support from experienced experts on a contractual basis.

Claire Labio, Practice Director commented 'We are approaching our second anniversary and

experience has so far shown that if a Barrister does engage and follow the guidance given they will see real

growth in terms of practice and cash flow. What started out as a project that others in the profession said

would never last nor attract more Barristers than the 1 it started with, is now flourishing and is 7 strong.

We are about to achieve ISO 9001 accreditation having passed Stage 1, demonstrating our ability to

consistently provide a quality management system and enhance client satisfaction.I was recently asked if

Barristers using the service from outside of Liverpool were just 'Door Tenants'. Traditionally Chambers

accepted Barristers on to their door to enhance their offering visually whilst not really having much to do

with the actual development of that Barristers practice. We do not use the term 'Door Tenant' for that very

reason. Our Barristers receive on to one personal development whether they are with us full time or not.'

The two new additions are Tom Goodhead and James Byrne, both practitioners at 9 Gough

Square in London. Tom and James were looking for a northern base to complement their

southern practices in a way which would help them but would not conflict in relation to their

primary tenancy. Claire explained 'Tom and James are experienced PI, Clinical Negligence and

Product Liability specialists.

Michael Sherry

They recognised that we could offer them solid links and exposure in the North which would in

turn increase their practices'

Tom Goodhead

"I have always undertaken a significant amount of work in the North West but have never had

a base to call home in the region. Through Complete Counsel and the exceptional clerking of

Claire Labio, I have the opportunity to service existing clients better and look forward to

meeting new clients in the region."

James Byrne

"I am finding already that working with Claire and the Complete Counsel team will be

invaluable to me in building my practice in the North West.

Tom Goodhead

The personal relationships that they have with the leading Liverpool firms has opened doors for

me which would have been very difficult to unlock without them."

Tom and James are not the only ones using the service in this way. Michael Sherry, Head of

Temple Tax Chambers has been with Complete Counsel for a year now. Michael specialises in

private client, tax planning, VAT and related areas. He is originally from Bolton and already

had some connections in the area. Michael wanted to develop his practice in the North, but in

a way which was cost effective and would not create any conflict in relation to his continuing

practice as Head of Chambers, Temple Tax Chambers.

Michael Sherry

"Whilst maintaining my position at Temple Tax as Head of Chambers, I see making the Bar

more accessible to professionals and clients in the North West a priority for a specialist. It is

a question of using a service that has local knowledge and will develop contacts and

opportunities."

James Byrne

Further information about Complete Counsel contact.

claire.labio@completecounsel.co.uk

Need an expert in medical or

dental negligence?

Refer to us. City

: Allerton : Garston

0151 733 3353

www.gadllp.co.uk

www.liverpoollawsociety.org.uk

17
---
Feature

Fixed recoverable costs review seminar

Manchester 7th February 2017 report

Prior to the seminars attendees were circulated a note from Jackson

LJ regarding the series of seminars quoting from Final Report of

Briggs LJ and from the Lord Chancellor's paper to Parliament of 15th

September 2016, both expressing the view that costs remained

disproportionate in small to medium value cases.

The note made clear what was expected of the participants:

The purpose of the seminars is to obtain constructive input from court users into

this exercise. People who come along and simply say "don't do it at all" will not

be providing any assistance. By all means let people say, if it be their view, "I

don't agree with fixed recoverable costs, but if you are going to do it, this is what

I recommend …"

Finally, the note made clear Sir Rupert's view:

Although I hold the view that fixed recoverable costs would be beneficial for lower

value cases, I will keep an open mind for the time being about what types and

levels of cases should fall within such a regime and what the costs figures should

be.

The structure of the seminar comprised a brief introduction from Sir

Rupert, then two twenty minute talks, general discussion followed by a

further two talks and discussion.

Sir Rupert emphasised at the outset that his remit was to extend fixed

costs to those cases in the fast track that are not currently subject to fixed

costs and to cases on the multi track which can properly be the subject of

fixed costs. In particular, he would not just be looking at costs

themselves but also procedures themselves. He stated with reference to

the seminars that took place prior to his previous reports that the

contributions made in the seminars were invaluable.

The first formal talk was given by John Mead, Technical Director of the

NHSLA. He was clear about the NHSLA's position. It was fully in

favour for fixing costs across all personal injury litigation and that in

respect of clinical negligence cases the damages ceiling for such costs to

apply should initially be £100,000 with a view to extending that to

£250,000 shortly thereafter. There should be limited exceptions to that

and gave examples of group litigation, cases involving what he termed

"serial offenders" be they individuals or otherwise, where there had been

unreasonable/unprofessional behaviour and cases of "exceptional

complexity" within the context of clinical negligence claims generally.

The reason for that position was that despite LASPO (which he

considered to have been largely a success) disproportionate costs were

still a significant problem and some examples were given. In short, as

long as costs were being recovered by reference to an hourly rate there

was "no incentive to stop the meter running". He was also of the view

that costs budgeting was not working as well as it could with incurred

costs being a particular problem in clinical negligence cases which were

approximately one third of total recovered costs and that some court

approved budgets were still disproportionate.

In terms of the mechanics of fixed costs the NHSLA advocated a

scheme that differentiated by stage and value of the claim as opposed to

its complexity. He suggested that there may be a discount for an early

admission of liability but that this should be accompanied by earlier

disclosure by both side of breach of duty and causation evidence. He

suggested that this should be done but the Claimant with the letter of

claim and by the Defendant with the letter of response.

The second formal talk was given by Darryl Allen QC on behalf of

primarily PIBA but also PNBA. The position of both organisations was

that whilst it was recognised that fixed costs would be extended

horizontally to all fast track work any extension to multi track cases was

firmly opposed. In that respect, personal injury and clinical negligence

litigation was different to all other types of civil litigation given its nature

and that invariably it involved an individual taking on a sizeable

institution.

He stated that fixed costs in the fast track thus far had not improved

access to justice – the status quo had been at best maintained. Whilst

fast track litigation could be characterised as litigation by numbers that

was not the case for multi track cases where the swings and roundabouts

effect of fixed costs would not work. Access to justice would be harmed

18 www.liverpoollawsociety.org.uk

by extending fixed costs to the multi track as there was a danger that low

value but complex claims would not be taken on with similar results as

predicted by the Association of District Judges in relation to extending

the ambit of the small claims track.

He attacked the arguments in favour of vertical extension of fixed costs,

being reducing costs and certainty as "illusory" in that if fixed costs

were calculated by reference to damages the costs liability could only be

known at the conclusion. It was incumbent on those advocating change

to prove that (a) costs were too high and (b) existing control measures

don't work and can't work in the future.

In that respect, he stated that is was the experience of PIBA and PNBA

members that budgeting was now working well. If it was asserted to the

contrary then some properly evidence-based analysis of budget approved

by the court should be undertaken. Comparing fixed costs to budgeting,

fixed costs were "a blunt tool" whereas budgeting provided "bespoke

fixed costs".

If costs were to be fixed than such should be done not just by reference

to damages but to the other factors that make up the current

proportionality test.

In respect of the likely impact on his members then the experience of

fixed costs in the fast track is that the junior Bar was no longer involved

in such cases pre-trial despite Sir Rupert's view in his previous reports

that the junior Bar had a valuable role to play in such cases. That lack of

involvement of led to Counsel being instructed on a CFA basis on

poorly prepared cases that had little prospect of success that were being

run due QWOCS where there was little to lose by doing so. In that

respect of fixed costs were to be extended into the multi track then the

work currently done on such cases by the junior Bar should be ringfenced.

If not, "the personal injury Bar will wither".

There then followed what I thought was the most telling exchange of the

first half of the seminar between Master Cook (QBD Master) and Sir

Rupert. Master Cook stated that whilst the introduction of budgeting

had been fraught with difficulty it was now working in the High Court

especially as more budgets were being agreed between the parties. The

problem that remained was incurred costs which cannot be interfered

with at the budgeting phase (although comments can be made as to the

level of such costs). He advocated that ways to control pre-issue and prebudgeting

costs should be considered including fixing such costs.

Sir Rupert than asked Master Cook that if control of pre-issue and prebudgeting

costs could be achieved should he be looking at fixing costs on

the multi track for clinical negligence cases. Master Cook's response was

that in those circumstances "costs budgeting will do the trick" as there is

no "typical" clinical negligence case and the most sophisticated way to

deal with such cases is by active costs and case management.

Master Cook added that one of the problems with budgeting initially

was in the form and extent of the training provided to the judiciary but

this had now been addressed so as to ensure greater consistency between

court centres. Sir Rupert stated that he would emphasise the importance

of training in costs management in his report.

Thus to the second half.

The first formal talk was from Brett Dixon of APIL who is also a

member of the Civil Procedure Rules Committee. He emphasised that

the seminar should not be about costs but about the rights of those

injured and their access to justice.

It was only now that the full effects of fixed costs could be evaluated in

light of some of the recent Court of Appeal decisions in relation to

aspects of the scheme.

Relating costs purely to value was wrong in APIL's view. Examples of

cases where that created inequities had been provided in APIL's written

response to the consultation. It was only in fast track personal injury

litigation that costs could be fixed. He cited Professor Fenn's views that

he did not support fixing costs in cases beyond the fast track at the

present time.

Collaboration was already taking place on a cross party basis in relation

to NIHL claims and in particular in relation to the preparation of the
---
Feature

Serious Injury Guide. In cases where both

parties adhered to that Guide settlements of

substantial cases can be achieved by cooperation

prior to the issue of any

proceedings.

Finally, it was APIL's experience that costs

budgeting was now working well and all of the

available data supported that view.

Finally, Nigel Teesdale put forward the views

of FOIL. FOIL had been a long term

supporter of fixed costs. He highlighted that

there were still issues with the current regime

which needed addressing and gave the costs of

Part 8 costs only proceedings and credit hire as

examples. In the latter respect consideration

should be given to increasing the fast track

limit for cases involving substantial claims for

credit hire.

He commented on the draft grid that formed

part of Sir Rupert's January 2016 lecture and

accompanying paper (which had defined the

stages of fixed costs by reference to the stages

of a costs budget). He expressed concern in

defining which stages had been reached using

that approach as a Claimant would be

spending time dealing with disclosure, witness

and expert evidence pre-issue. There was a

danger in seeing litigation as a jigsaw rather

than as a chronological process and he

advocated a sophisticated chronological

approach to staging.

More generally, FOIL was of the view that

fixed costs should be extended but in an

incremental manner rather than by way of a

"big bang". In that context, it was appropriate

to fix costs for lower value multi track personal

injury claims.

Finally, he referred to the various other

initiatives and consultations in being, such as

the Department of Health fixed costs

consultation, consideration of NIHL claims,

the small claims limit review and the reports

by Briggs LJ amongst others and emphasised

the need for a joined up approach to reform

generally.

As part of the documents circulated ahead of

the seminar were papers by Kerry Underwood

putting forward fully worked grids of fixed

costs across the fast track and the multi track

for claims of up to £250,000 for both personal

injury claims and all other forms of civil

litigation. Sir Rupert therefore invited Kerry to

speak to those papers.

In a typically forthright address, he stated that

the system was not there to serve solicitors, the

junior Bar or costs lawyers. Self-serving

submissions were politically deeply

unattractive. There had been abuse of the

system and that had to be recognised, from

referral fees, the manner in some NIHL claims

were conducted and the relationships between

some firms of solicitors and medico-legal

agencies.

In general, fixed costs work. In particular, he

cited that the Intellectual Property and

Enterprise fixed costs scheme was generally

liked by the lawyers using it (based on views

expressed at the Leeds seminar).

Where problems arose with the interpretation

of any fixed costs scheme then cases should be

fast tracked to the Court of Appeal for

determination in a matter of months rather

than years.

In respect of the tables and figures he had

produced then he commented that where cases

settle early costs should be lower, the current

Portal costs were too low and the current postallocation

pre-listing stage should be removed

particularly as many fast track claims were

listed for trial upon allocation in any event.

Where liability is in issue the trial advocate's

fee should be doubled from the figures in the

tables. He agreed with the suggestion that

provision be made for abated brief fees by way

of a separate fee to reflect pre-trial preparation

by the advocate. Beyond that the Bar was vital

but there would be nothing new about fee

sharing. Such had been the case previously in

respect of criminal magistrates' court work.

The final general discussion then took place.

In response to points made by Paul Edwards

of Hill Dickinson that there should be

exceptions to fixed costs for child abuse

litigation, marine and shipping claims and

other claims with an international dimension,

Sir Rupert floated the notion of an

"intermediate" track between the fast and

multi track to which fixed costs would apply

(potentially with ring-fencing for Advices etc..)

and "full" multi track claims which would

proceed by way of budgeting.

Sir Rupert emphasised that the seminars were

part of a fact-finding exercise and any

suggestions he made during the course of

them were just that.

Further speakers addressed issues of conduct

especially in clinical negligence litigation.

Speakers on behalf of Claimants highlighted

the difficulties of dealing with the NHSLA in

particular which drove up costs. By way of

response it was suggested that Claimant's

representatives increased costs by drip feeding

offers, making partial disclosure and frontloading

costs generally.

Finally, Sir Rupert asked Senior Master

Fontaine to give her comments on matters

raised. She expressed her concern that

personal injury and clinical negligence

litigation beyond the fast track has its own

special difficulties and nuances as previously

highlighted by Darryl Allen QC especially in

relation to clinical negligence litigation.

Process needed to be looked at in conjunction

with costs. She cited the streamlined procedure

for mesothelioma claims which meant that she

had never had to budget such a claim partly as

the costs were lowered by the process that had

been put in place.

She endorsed the comments made earlier by

Master Cook regarding the effectiveness of

budgeting in that it now works well as in part

more budgets were being agreed between the

parties but that the issue of incurred costs

needed to be addressed.

Sir Rupert then thanked everyone for

attending and that his initial report will be

published by 31st July 2017.

David Pilling

Barrister

Liverpool Civil Law.

-

www.liverpoollawsociety.org.uk

19
---
Council Member's Report

Council Member's Report

The latest news from Charlie Jones, Council Member for Merseyside

I attended a Council meeting in

Chancery Lane on 8 February

2017. You will probably

appreciate that this Council

meeting was the first meeting

following the resignation of

Catherine Dixon. President

Robert Bourns gave Council a

full de-brief as to what had

occurred following Catherine's

indication that she was

considering her position towards

the end of 2016. Discussions had

taken place but ultimately she

found it necessary to hand in her

resignation at the beginning of

2017. By this time she had

managed to find herself an

alternative position. Robert was

congratulated by Council for the

way in which he handled an

extremely difficult situation.

Council wished Catherine well in

her future career, and thanked

her for what she had done in her

short time with the Law Society

as Chief Executive, and resolved

to move on.

To that end, Paul Tennant has

been appointed as interim CEO.

Paul has had long term experience

as Chief Executive of Orbit

Housing Group, and for a time

was also Chair of the Housing

Representative Body. He therefore

has experience of being CEO of

not for profit organisations, and

there is confidence that he will be

able to assist us on an interim

basis, while the task of appointing

a permanent replacement CEO

continues. The purpose of the

appointment is intended to

support the Society deliver the

agreed business plan.

Stakeholders, including the LSP

and the SRA have been informed.

President Bourns is now putting in

hand the important task of seeking

a permanent replacement for

Catherine, and it is felt that it is

important that the governance

issue is resolved before anyone

takes the job on. This makes

eminent sense.

To that end, the issue of

governance continues at pace. It is

likely that even if governance is

not resolved by the time Robert's

presidency finishes, he will see

that issue through to the end in

any event. There is much resolve

to properly address this issue. I

have said before that Rome was

not built in a day, however, and I

suspect even the Romans may

have been easier to deal with than

lawyers! Change for change sake is

not worth it and we must get it

right.

At the next Council meeting on 22

March, there will be a facilitated

governance discussion. In the

meantime, outside governance

facilitators, from The Good

Governance Institute, have been

appointed to explore what we

need, why we need it, and where

we are going. This issue is in

hand, and rest assured Council is

aware that you, the profession and

membership, want it dealt with

soon.

The night before the Council

meeting we had an interesting and

very useful presentation from

Sophia Adams Bhatti, Director of

Legal Regulatory Policy at the

Law Society. Sophia is

responsible for energising the

various groups that produce the

replies to consultation papers. As

you will note if you are involved

in Liverpool Law Society, there

are a lot of consultation papers

that affect our profession. We

have volunteers that do it at

Liverpool Law Society, some

under pressure, some willingly, but

whichever, it takes a lot of time.

Not all consultation papers are

responded to, because those

volunteers do not have sufficient

time. At Chancery Lane, it is

right and proper that all

consultation papers affecting our

profession should be responded to.

This takes a lot of work, often

unheard of and unseen and

unrecognised work. Sophia is

responsible for overseeing this.

You would be surprised at how

much is involved. The Law

Society groups that affect our

profession are endless, and I name

just a few here:-

Criminal, Housing, Law

Management, Civil Justice,

Family, Commercial, Company,

Commercial Property, Residential

Property etc etc. The list is long.

This all has to be looked into for

the benefit of our profession in the

little silos in which we work. If

you are interested in hearing and

learning more about these groups

and the work that Sophia does,

look on the TLS website, or

contact me. I am sure you would

be surprised at what is involved.

On 2 February 2017 I attended a

20 www.liverpoollawsociety.org.uk

Dinner at ANWLS in Leyland.

This was an interesting dinner at

which Joe Egan, DVP of the Law

Society, explained what had

happened with regard to Catherine

Dixon. It was clear, even a month

on, that there was still some

misinformation up and down the

country! Joe put matters right.

On 31 January 2017 I attended a

meeting of the Civil Justice Group

in London and also the Law

Society Gazette Editorial

Advisory Board. In so far as the

latter is concerned, I have received

some comments from members

about the content of the Gazette.

I would be interested to receive

further comments from anyone

else. Is this what you want?

What could be in it, but is not?

What should be excluded? Should

there be local articles in the

National Gazette? It is your

publication. Let me know. Also,

the cost of the paper edition is

enormous. In these days of IT,

can I encourage those who can to

stop taking the paper copy, and

only read it on-line. It is exactly

the same, but does save forests.

The Civil Justice Group are

obviously concerned in relation to

the proposed reforms to the small

claims limit and most particularly

the government's apparent

intention to ban the concept of

whiplash compensation below

£10,000. Liverpool Law Society

presented a response to the

consultation paper, and The Law

Society did likewise: a very well

worked through document.

Attempts were made to focus on

the damage to access to justice. It

was also pointed out indirectly

that the Treasury will suffer, if

lawyers are not in employment.

Individual firms also provided

responses. In Liverpool, very well

done to Kirsty McKno, for all her

hard work and enthusiasm and

drive in this respect.

Cyber security is becoming a

considerable concern, and in that

respect I would refer you all to the

Law Society's latest blog from

Mark Leiser, who looks at what

firms can learn from the scandal

of the Panama papers leak. The

weakest link in law firm cyber

security is ……….. Its people!

This area of concern should not

be underestimated. There has

been good Law Society coverage

in the media, not least the

interview of the President on BBC

Television News and BBC Radio

Birmingham about professional

standards in the Solicitor

profession following the finding

on Phil Shiner by the SDT.

Robert stressed the high

professional and ethical standards

that solicitors are held to and the

robust, effective and transparent

regulatory disciplinary procedures

required to deal with misconduct.

This point should not be forgotten

when one considers that there is a

continuing attempt to devalue the

work of solicitors, and therefore

devaluing our standards.

The government has also claimed

that there is no evidence that

Employment Tribunal fees are

limiting access to justice. The

Law Society challenges this.

President Bourns pointed out that

"The evidence in (the

governments) own report suggests

that tens of thousands of people

are slipping through the cracks".

The Society will be responding to

the government's consultation that

accompanies the government's

long awaited review on the impact

of fees.

There are a lot of other things

going on too, but I cannot go on

for ever …… Thank goodness you

will say!!! Be that as it may, your

Law Society is working hard for

you and please, therefore, if you

get the opportunity, let me know

what you think about anything at

all that affects our Profession.

Charlie Jones. Weightmans LLP.

Co Council Member Merseyside

and District. 01512427919.

Charlie.jones @weightmans.com
---
Private Client

Why Wills?

I am a solicitor with three years' PQE

working in the Wills, Trusts and Probate

Department at MLP Law Ltd. When I talk

to other solicitors about my area of

specialism, the impression they tend to have

is that working in a Private Client department

would be a joyless and bleak affair. As a

result, it is often an area of law which many

law students, trainees and newly-qualified

solicitors do not even consider qualifying

into.

In some ways, these initial impressions of my

work may ring true. Yes, I do talk about death

every working day of my life. I can either be

dealing with the administration of an estate, or

meeting with clients to discuss what they can

do now to protect their assets and ensure that

their families are well provided for after their

death. I also deal just as often with discussions

about loss of mental capacity, and what would

happen if someone is unable to deal with their

affairs themselves in the future. These subjects

are hardly light-hearted. However, I rarely feel

that my day-to-day work is depressing. In fact,

often, a little bit of well-timed humour and

friendly conversation can make clients feel

more at ease with such difficult conversations.

There have been times when my job has been

incredibly sad. Seeing terminally ill clients is

always difficult, as is seeing a client who has

clearly lost their mental capacity. Preparing

deathbed Wills are always an unpleasant

experience, but I have been fortunate to have

done very few of these so far in my career.

Meeting with the family of a person who has

recently died can also be difficult but,

surprisingly, most families are very

unemotional when they come in to discuss a

relative's estate. This seems to be either

because the death was expected so they have

come to terms with the situation prior to the

person's death, or because they are focusing on

dealing with practical matters, rather than on

their grief. However, in all of these types of

situation, I have always taken comfort in the

fact that I am directly helping and reassuring

the clients at an extremely difficult time for

them personally.

I understand why people might feel that

working as a Private Client lawyer may not be

for them. I myself did not intend to qualify

into this area. I did not study any Private

Client modules during my degree or my LPC,

and was under the same impressions about the

gloomy nature of the work as many other

people. I fell into a Private Client role when I

first started working as a paralegal and, since

then, have never even considered doing

anything else as a career. I am passionate

about my line of work and I really enjoy my

job. It is also an area of law which I think has

much to offer for a newly-qualified solicitor.

Some people may feel that this line of work is

not for them, as it may not be as fast-paced or

high-pressured as they would like. Whilst the

pressures of Private Client work may not come

from time-related deadlines, it is very technical

work, which comes with its own challenges. I

do a lot of drafting of documents; Wills,

Lasting Powers of Attorney, IHT forms, Oaths

and trust documents. Drafting these

documents almost always involves an in-depth

consideration of a client's family circumstances

and their assets, and a wider consideration of

any tax implications. It is also important to be

good with numbers, as a Private Client lawyer

will spend a lot of time balancing estate

accounts and discussing tax planning.

I particularly enjoy that my days are extremely

varied. One minute, I may be visiting a client

in a care home to discuss a Lasting Power of

Attorney, the next I may be speaking to a

business owner to discuss how they can protect

their assets for future generations, and how to

mitigate their inheritance tax liability.

As a Private Client lawyer, giving proper advice

demands that you get to know your clients and

their wider family circumstances. Often, clients

(and sometimes their whole families) will come

back to you time and again to discuss their

changing family circumstances and review their

Wills, so you find that you often develop longstanding

relationships with your clients and

their families.

It is also the case that Private Client law is less

affected by a recession or changes in the law

than other areas. Everyone has heard

Benjamin Franklin's famous saying 'In this

world, nothing can be said to be certain, except

death and taxes' and a Private Client lawyer

deals with both! The recession did take a toll

on Private Client work and, nowadays, more

people are inclined to try and deal with the

administration of an estate or a Lasting Power

of Attorney themselves. The rise of Will

writers, and cheap Wills offered by companies

such as Groupon have also had an impact on

our work. However, it is fair to say that Private

Client work remains reasonably steady and

stable.

I would encourage anyone thinking about the

area they want to qualify into to consider

Private Client work, and not to automatically

dismiss this area due to any pre-conceived

ideas. It's a varied, interesting and technically

challenging job, and you might be better suited

to it than you think!

Rachel Eley

MLP Law Ltd

www.liverpoollawsociety.org.uk

21
---
Law Update

Court's permission required

to enforce a Suspended

Possession Order

For those of us involved in housing

law the Court of Appeal ruling in

Cardiff County Council v Lee

(Flowers) [2016] EWCA Civ 1034 may

be at the forefront of our minds.

When a residential landlord issues

possession proceedings against a tenant

due to a breach of tenancy they may

receive a Suspended Possession Order

(SPO) if the court can exercise

discretion.

If the SPO were then breached within 6

years the landlord would apply for a

bailiff's warrant which would

automatically be granted and a date set

for eviction. The enforcement team at

the County Court would simply process

the request and the case would move

over to the bailiff's department.

discretion to excuse a technical procedural error.

Lee appealed to the Court of Appeal where the

Council accepted that Rule 83.2 applied and

that it should have sought permission before

requesting the warrant. Lady Justice Arden

stated:-

"I reiterate that CPR 83.2 constitutes an

important protection for tenants. It is not to be

taken lightly. Social landlords must ensure that

from now on their systems are such that the

same mistake will not be made in the future".

The Court of Appeal did however agree with

the High Court in relation to 3.10 CPR.

Therefore to enforce a SPO landlords must now

apply for and obtain the court's permission

under Rule 83.2. This can be done without

notice but there is still an application fee to pay

in addition to the warrant fee.

Pursuant to CPR 83.3 that warrant

should not be issued without permission

of the court.

In March 2013 Cardiff City Council

issued possession proceedings against

Lee relying upon grounds of alleged

anti-social behaviour. The court gave a

two year SPO.

In August 2015 the Council applied for

a warrant due to alleged breach of the

SPO and an eviction date was set,

however Lee applied for a stay. The

application was dismissed and Lee

appealed.

On appeal the Circuit Judge ruled that

the Council had not followed the

correct procedure as it had failed to

apply to court for permission before the

warrant was issued, per CPR 83.2(3)(e)

which states that a warrant for

possession cannot be issued with the

court's permission where under the

order being enforced "any person is

entitled to a remedy subject to the

fulfilment of any condition, and it is

alleged that the condition has been

fulfilled".

The court held that this Rule applied to

enforcement of the SPO and therefore

issuing a warrant for possession

following breach of the SPO without

having obtained the Court's permission

was unlawful. Despite this, the appeal

was refused with the High Court

excusing the procedural error, referring

to CPR 3.10 which allows the court the

This process has clearly been overlooked for

some considerable time but may of course be

looked at again by the Supreme Court.

Phillip Coburn,

Associate Solicitor,

MSB Solicitors,

0151 281 9040

COUPE BRADBURY

SOLICITORS

LYTHAM

Looking to appoint a

full time

PRIVATE CLIENT LAWYER

For details see our Website

Recruitment page

www.coupe-bradbury.com

22 www.liverpoollawsociety.org.uk
---
Charity and CSR

Charity and CSR Matters

Hello! These are the pages to spread

news of your good deeds. If you

would like to tell others about your

CSR activities, please send me an

article. Equally, if you want to get

other lawyers involved in offering probono

advice, know of an opening for

a charity Trustee or want us to feature

a particular charity, then let me know

too. You can e-mail me at

matthew.smith@weightmans.com

LJMU Legal Advice Clinic

Matt Smith talks about his experience at the clinic and what you

can do to get involved.

This month I went along to the LJMU Legal Advice Clinic to

supervise two students dealing with an employment issue.

Paul Crowley & Co announced as

official charity partner of Zoë's Place

for 2017

The Legal Advice Centre offers free legal advice to students, staff

and members of the public. Students volunteer at the Legal Advice

Centre, gaining valuable legal experience.

In March 2015, the Legal Advice Centre was shortlisted for the

LawWorks and Attorney General Student Pro Bono Awards 2015

(Best Contribution by a Law School and Best New Student Pro

Bono Activity).

On this occasion the students had volunteered to help an individual

who had been engaged by a company as a driver on a (questionably)

self-employed basis and felt that the company had terminated his

contract due to his nationality. I was impressed at how diligently the

students had prepared for the meeting and how well they handled

the interview, as this was the first time either of them had done this.

The students don't provide advice during the meeting but aim to

gather enough information to write a letter to them after the meeting

and they did a very good job of it. I came away feeling that there

was something the students could do to genuinely help this person

and that I'd managed to give the students some pointers that will be

helpful in their development too. So we all got something out of it!

I would recommended getting involved with the clinic and there are

many different ways you can dos so. Their 'wish list' includes the

following:

• Ad-hoc requests for advice – they are able to offer commercial

property advice (subject to colleague's availability) but would

welcome the opportunity to reach out periodically for criminal law,

housing, and immigration advice, to those happy to be contacted.

• Training – the LAC covers basic topics in the induction

programme for students, but would be interested to have

professional skills training as well, particularly interviewing and

managing clients.

• Fundraising and profile raising – The LAC is grateful to hear

of gaps that have been encountered where they may be able to

develop new projects. Links with charities are welcome. With

external sponsorship the LAC can develop better student materials,

publicity for their services, client materials, and office equipment.

• Equipment – unwanted books (not too historic) are always

welcome.

• Collaboration on projects – the chance to shadow solicitors

working on pro bono cases in house; commercial property and

housing advice provision.

Contact: Rachel Stalker

R.Stalker@ljmu.ac.uk

Paul Crowley & Co, which has offices in Liverpool city centre,

Anfield and West Derby, has launched a fund raising programme

with Zoë's Place Baby Hospice for 2017.

The firm's conveyancing department will be running a campaign

throughout 2017, offering new and existing clients a complimentary

Zoë's Place teddy bear, with all proceeds going to the charity.

Staff will participate in a number of fundraising events, including

the 'Tough Mudder' challenge, as well as monthly staff fundraising

events and quizzes.

The firm will also be involved in the charity's official fundraising

events throughout the year, including its 'boxing dinner', 'ladies

lunch' and 'it's a knockout' events. The team will also be involved in

'jumpology' and 'bubble rush' events, and an indoor and outdoor

abseil.

Paul Crowley, Senior Partner, says: "We are incredibly proud to

offer our support to such an important and valuable local charity.

Zoë's Place Baby Hospice is a cornerstone of our local community,

supporting many families through very difficult times and so this is a

perfect way for us to offer our support.

"As a firm, we have a commitment to giving back to the local

community and the partnership is a great way for us to be able to do

so. We hope that our work will help to raise awareness for Zoë's

Place amongst our new and existing clients, and encourage others to

get involved too".

Samantha Lee, corporate and events fundraising officer at Zoë's

Place, says: "Zoë's Place is over the moon that Paul Crowley & Co

have chosen to support us over the next year. I was touched by their

overwhelming love for our wonderful hospice when they visited and

we find this often helps with fundraising.

"By sharing our bear with clients who take up the firm's

conveyancing services, together we can spread awareness about the

hospice which will make life a little easier for many families across

the Northwest. I would like to thank the firm for their support and

Zoë's Place is looking forward to working together."

24 www.liverpoollawsociety.org.uk
---
Charity and CSR

EAD hold day of charity events in aid of NW

Cancer Research

Stephanie Walker, Nikki Westergren and Sean McCann from

EAD are organising a charity event in aid of North West Cancer

Research which will take place on Friday 31st March 2017. The

day will include a 5k run from EAD's office, a judged 'bake off',

raffle, quiz and Boules!

North West Cancer Research is a local, independent cancer research

charity fighting the toughest cancers in North West England and

North Wales. The Charity was established in 1980 and more than

thirty six years' later they continue to fund some of the best cancer

research at the University of Liverpool, Bangor University and

Lancaster University.

Regrettably, each one of us will have been affected by cancer in one

way or another and E.A.D. hope to come together in this event to

raise awareness and as much money as possible to donate to their

chosen charity.

Stephen Pinder, Partner, said 'Everyone at EAD is really looking forward

to the charity day on 31st March. I believe that everyone is touched by the

impact of cancer and we hope to raise a lot of money to support this great

cause. At the same time, it will be an opportunity for all colleagues to come

together and I hope it will be a fun day with lots of activities happening

across the firm. I am particularly looking forward to seeing 40 or more

people running the 5k along the waterfront in our matching t shirts'

www.gcs-title.co.uk | 01435 868050 | underwriters@gcs-title.co.uk

Guaranteed Conveyancing Solutions Limited is authorised and r

egulated by the Financial Conduct Authority

.

Registered in England and Wales No. 3623950

Legal Indemnity Insurance

www.liverpoollawsociety.org.uk

25
---
"SAN CARLO HAS THE INGREDIENTS

OTHERS CAN ONLY DREAM OF"

The Observer

Aldo Zilli now part of

the San Carlo team

WWW.SANCARLO.CO.UK

41 Castle St, Liverpool, Merseyside, L2 9SH

liverpool@sancarlo.co.uk | T: +44 (0)151 236 0073

@SanCarlo_Group

WINNER OF THIRTY FIVE PRESTIGIOUS AWARDS
---
-

-

-

-

-

-

-

-

-

- -

-

-

-

-

-

-

-

-

-

-

-

-

-

www.liverpoollawsociety.org.uk

27
---
Regulation

Regulation Update

The latest regulation news from

Michelle Garlick of Weightmans LLP

This month's focus is very much on the theme of disciplinary findings and

firm closures – neither of which are particularly uplifting news items

(sorry, but I am an SRA regulatory lawyer and positive, happy stories are

not that easy to find!). Important lessons are to be learnt from them so

here goes:

Reports from the SDT

The headline news story in the past month was of course the striking off of

owner of Public Interest Lawyers, Phil Shiner, having been found guilty of

five counts of dishonesty in addition to admitted failings in relation to

referral fees.

In case you missed it(?!) Shiner's firm received more than £1.65 million

through a fee sharing agreement with Leigh Day & Co solicitors and an

individual, Mazin Younis, in relation to Iraqi civilian claims against the

British government. Investigations by the SRA had followed the outcome of

the Al-Sweady public inquiry in 2014 which cleared British soldiers of

murdering detainees.

Among the 22 charges found against him, Shiner

• encouraged and authorised unsolicited direct approaches to potential

clients

• authorised and procured his firm to enter an agreement providing financial

benefits to Younis in order for him to change his evidence

• was dishonest in presenting the changed evidence from that third party

without explanation, and in sanctioning and approving the creation of

emails which did not describe the true reason for the agreement

•was dishonest when responding to two questions from the SRA during its

investigation.

The tribunal heard that Shiner has disregarded rules surrounding referral

fees, including the requirement to secure an advanced written agreement

between the parties involved and providing clients with information about

the arrangement.

The other headline news story from the SDT was the hearing of Julian

Charles Pike, partner at Farrer and Co who acted for News International and

was cleared of wrongdoing over the surveillance of lawyers pursuing phonehacking

cases against the News of the World newspaper.

The issues related to the surveillance (which Pike had suggested be carried

out) of two lawyers acting in the case against News International and the

instruction of a private investigator to look into whether the two lawyers

were in a relationship, amid concerns they were sharing information about

cases without their clients' consent.

The SDT found that the SRA had not proved that Pike acted without

justification or without placing limitations on the scope of any investigations

and found that it was clear that Pike had intended that the investigation be

undertaken lawfully and he had placed sufficient limits on the nature and

scope. Clearly good news for Pike (!) although he was still ordered to pay

£20,000 in costs after the SDT found the case to have been properly brought

by the SRA.

Surveillance and the instruction of private investigators is a thorny issue and

we should all be alert to the comments made by the Tribunal in this case

when it said that it found it 'repugnant' that solicitors would carry out

surveillance on other lawyers and that such surveillance should take place

only in "the most unusual of circumstances" . The tribunal wished to send a

message that, in those circumstances, solicitors had to "insist on

parameters".

From these two cases alone, there are a number of messages to take and

learn from in relation to the investigation and conduct of litigation, referral

fees, non-solicitation of clients, co-operating openly with the SRA and of

course the Principles, particularly those relating to integrity, upholding the

rule of law and the trust that the public places in the profession. Are you

comfortable that your fee earners are familiar with these Principles and how

they apply in practice? Do your audit/file review processes check for these

types of issues?

Firm Closures

Sadly, we have seen some firm closures and administrations in the last few

weeks including the European arm of KWM (the largest ever European law

firm collapse), Triton Global (a multi-disciplinary business which included

28 www.liverpoollawsociety.org.uk

Robin Simon as the constituent law firm) and Carter Law(a personal injury

law firm). There will of course be differing reasons for these closures but

unfortunately more collapses are forecast – one recent financial health

analysis of law firms based on annual accounts has predicted that at least 500

firms are heading for collapse in the next three years, with law firms at

greater financial risk than businesses as a whole.

And in other news:

SRA plans for clarity of fees

The SRA have announced the launch of a consultation this summer, on their

plan to require law firms to publish their fees for services, in line with the

recommendations of the Competition and Markets Authority that the legal

regulators set minimum standards for the publication of prices, provide

guidance to firms and consult on the issue before 30 September 2017.

Crispin Passmore, executive director for policy at the SRA, has said that the

changes would need to be made in phases and that the first phase would

focus on the "simplest areas" for pricing purposes such as divorce, wills and

conveyancing, along with areas such as commercial leases and terms of sale

for small businesses.

President of the Law Society, Robert Bourns, has, rightly in my view,

responded that the "provision of raw regulatory data without proper context

has the potential to mislead clients and undermine their ability to exercise

informed choice – more information does not inevitably mean better

information."

Start thinking now about how your firm will go about publishing price data

, what difficulties might you experience in capturing and interpreting the

data etc so that you can feed into this important consultation when it is

released.

Identity fraud in property sales

Any conveyancers out there will have heard of the recent case involving City

firm Mishcon de Reya which faced a £1 million pay out for breach of trust

after their client purchased a property from a tenant, posing as owner of the

property.

The Deputy High Court Judge held that the firm failed to seek an

undertaking from the seller's solicitors that it had taken all reasonable steps

when confirming the identity of the client but accepted that the firm had

acted honestly and innocently in regards to carrying out their role as the

buyer's solicitor. However, given that the firm was in a better position than

the client to face the financial consequences, he considered that the "only

practical remedy" was to target the City Firm!

The case has understandably created confusion and concern over the scope

of a solicitor's liabilities and what reasonable checks should be made during

the buying process. Permission to appeal has been granted and the decision

stayed pending the outcome of the appeal.

Unbundling

Keep an eye out for some guidance from the SRA on unbundling (which will

include case studies) to help solicitors assess the risks and to encourage them

to feel able to offer bespoke services. The SRA has said that it encourages the

use of unbundling, and solicitors not on the court record helping a litigant

with defined tasks for a fixed fee.

There are however risks including going further than agreed with the client,

and of clients not understanding the limits of the help they were paying for.

If you don't want to wait for the SRA's guidance, the Law Society has

published its own so if this is relevant to you, check it out.

Interim Chief Executive of the Law Society appointed

Paul Tennant, a non-lawyer former chief executive of housing association,

Orbit, has been named as the interim chief executive of the Law Society

following Catherine Dixon's resignation at the beginning of January. I wish

him well.

Michelle Garlick

Weightmans LLP
---
MJLD v LLS QUIZ

Thursday T 30th March, Revolution

(2 Temple Ct, Cavern Quarter, Liverpool L2 6PY), 6.30pm

Battle lines drawn, gauntlets

thrown, the 'young pretenders'

pitted against 'seasoned veterans'

– it can only be the 2017 MJLD v

Liverpool Law Society Annual

Quiz sponsored by Sacco Mann!

Want to show your boss who's boss? Feel

that trainee is getting a bit too 'big for their

boots'? *[Or if you're after a bit of fun and

some socialising, that's ok too, we

promise…]

VS.

Both the MJLD and LLS T would like to invite members to take up arms

(figuratively of course…) and do battle for the honour of becoming

crowned victors of Liverpool's prized annual legal quiz.

Though last year saw the LLS marginally pip the MJLD to the post for the

2016 title, the slate is now wiped clean, pride has been restored and it's all

to play for.

Demand is high for this event so we would encourage all those looking to

attend to register your interest early at

socialMJLD@gmail.com along with a list of

team members (maximum of 5 per team).

Anyone T without a team can be allocated to

one on the night. Tickets are priced at £3 per

person with all proceeds going to MJLD's

nominated charity, Crisis. All money will be

collected on the night. May the best team

win!

T

Commercial

Leases Update

with

Richard Snap

pe

on Tuesday

4th April, 9:30am

12:45

pm

C ommercial lease

e s continue to be much litigated

an nd several

regulatory

chang

nges have

occurred withinin the

last year.

The course

aims

to look at

these change

s.

Topics covered include:

Recent case

law on break clauses

Deeds of

Variation and Guarantors

Landlord

and Tenant Act 1954 update

Dilapidat

ions

SDLT and

rent changes

Legionella

Reports

Changes to

CPSE Enquiries

The Energy

Act 2011 and the Green Deal in relation to

commercial leases

Rating empt

y properties case law

To see more

Venue:

Sponsored by:

Liverpool Law

Society,

Second Floor, Helix,

Edmund Street, Liverpool, L3 9NY

informa

ation or

to

book, visit: www.liverpoollaw

wsociety.

y.org.uk

-

--

www.liverpoollawsociety.org.uk

29
---
Local Groups

News from the MJLD

THE MJLD STARS

OF 2017 AWARDS

This year, the MJLD is looking to find its 'Stars of 2017'.

Whether

it be

for

charity

work, fundraising

efforts, work

on

high

profile

cases

in

the

local

area

or

other personal

achievements, ements, we

would

like to

congratulate our

members that have

gone

above

and

beyond.

This year, there

will

be

three e awards

available

to be

won.

These

are:

• Star Paralegal or Apprentice or Costs Draftsperson of 2017;

• Star Trainee Solicitor of 2017; and

• Star Solicitor or Legal Executive of 2017

Nominations will close at 5pm on Friday 17 March 2017.

To nominate n either yourself, or

a

friend

or colleague, e, please

prepare

r e

200

words

maximum

on

why

you

believe

this

person

is

the

one

of

the 'Stars

of 2017'. Please

specify which of

the

three awards that

person

is

nominated for

and

send your nomination

to

our

designated

email

address:

mjldstarof2017@hotmail.com

otmail.com

The nominee must

work

in the Merseyside

area.

The shortlist will

be announced later

in

March,

and

the

winners

will

be

announced at

our

Annual

Charity Ball

on Saturday a

20

May

2017

at the

Doubletree ee

by

Hilton Liverpool.

ol.
---
Local Groups

News from the WLD

!

The very much anticipated Beauty Evening hosted by Harvey Nichols

Beauty Bizarre took place on Friday 10th February. Members were

treated to prosecco and canapes on arrival followed by massages, facials,

beauty treatments, make up masterclasses and much more. The evening

finished with the drawing of the raffle, which consisted of three very

generously donated prizes from the store and raised a total of £320 for

the WLD's nominated charity, Marie Curie. Each member was also

given a goodie bag of beauty products to take away. The WLD gives

their thanks to Kingsley Recruitment for sponsoring the event and

Beauty Bizarre for a great evening.

With a slight change to the events taking place prior to Christmas, the WLD began the festive season

with fizz tasting in November. The fun-filled night was held at the New Capital and consisted of

guesting tasting a variety of 7 specially selected champagnes, cavas and proseccos, which were

greatly enjoyed by all attending, and a quiz about the wines being tasted. Nibbles were provided to

assist in keeping everyone standing. The night was hugely successful and the WLD would like to

thank R&H Fine Wines for providing us with their knowledge of fine wines, New Capital for hosting the

evening and Kingsley for kindly sponsoring this event.

December saw the WLD committee attending their annual Christmas committee meal which was held

at Fazenda. The committee enjoyed a variety of cuts of meat followed by a fabulous selection of

miniature desserts.

To bring in the new year, the WLD is excited to announce the long awaited Harvey Nichols Beauty

Bazaar event on 10th February 2017. In anticipation of the popularity of this event, those interested

are requested to contact the WLD as soon as possible to reserve their places via email at

wldevent@gmail.com.

!

In order to raise as much money for

Marie Curie, the annual charity

quiz night will be taking place on

Friday 24th March at Leaf on Bold

Street. In addition to the quiz, a

raffle will take place with great

prizes up for grabs including

afternoon tea at Thornton Hall,

dinner for two at Gusto, bottles of

spirits donated by Whiskey Business

and much more. Tickets are £15 per

person, please submit your teams to

wldevent@gmail.com.

!
---
Share e via

LawConnect

Share via

LawConnect

Integrating ting with , a document

management system for small law firms and their clients

Organised Reliable

Safe

leap.co.uk/lawconnect/

onnect/