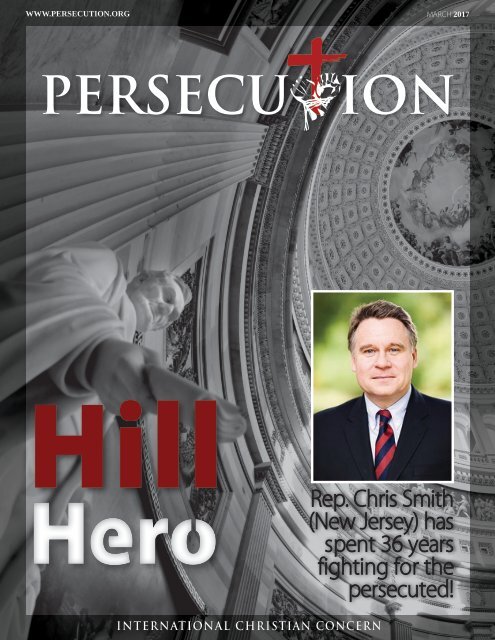 March 2017 Persecution Magazine (3 of 5)
Create successful ePaper yourself
Turn your PDF publications into a flip-book with our unique Google optimized e-Paper software.
WWW.PERSECUTION.ORG

MARCH 2017

PERSECU ION

Hill

Hero

Rep. Chris Smith

(New Jersey) has

spent 36 years

fighting for the

persecuted!

PERSECU ION.org

INTERNATIONAL CHRISTIAN CONCERN
---
Victory

in the Midst of Persecution

A recent judgment in favor of two Christians accused of

blasphemy in Pakistan provides a small, yet complicated,

ray of hope for Pakistan's Christian community.

By William Stark

"

At 6:00 a.m. I heard my

brother and wife crying

out as they were dragged

out of their house near

the brick kiln by their

hair," Iqbal Masih told

International Christian

Concern (ICC). "In

about 15 or 20 minutes,

a mob of thousands had

gathered at the brick kiln, shouting that they wanted

to kill my brother and his wife."

In November 2014, Pakistan's Christian community

witnessed one of the most brutal instances of persecution

in recent memory at a brick kiln located in

Kot Radha Kishan. The violence that came to shock

both the nation of Pakistan and the international community

was, as is often the case, sparked by the country's

notorious blasphemy laws and is often referred

to as the Kot Radha Kishan case or incident.

Motivating this murderous mob was the rumored

accusation that Shehzad Masih (Iqbal's younger

brother) and his wife burned pages of the Quran,

an act widely considered blasphemous in Pakistan.

Unfortunately, for Shehzad and his wife, extrajudicial

killings of those accused of blasphemy are all too

common. In fact, more than 60 individuals have been

murdered after being accused of blasphemy since the

2 PERSECU ION.org

MARCH 2017

INTERNATIONAL CHRISTIAN CONCERN
---
Kot Radha Kishan has become

infamous in Pakistan as the scene of

one of the country's most brutal and

shocking instances of persecution

— a couple beaten and burned alive

at the city's brick kiln by a mob of

thousands.

PERSECU ION.org

INTERNATIONAL CHRISTIAN CONCERN

3
---
A Small, Complicated Victory

In rare form, an anti-terrorism court in Pakistan

convicted 13 men for the brick kiln murders two

years after the incident. Five were sentenced to

death for their role in inciting a mob via mosque

loudspeakers.

laws were added to the country's penal code.

"They stoned Shehzad and his wife, then

they broke their legs and beat them until they

were unconscious," Masih told ICC. "The

mob put them over holes on top of the brick

kiln where the flames were coming out. They

were so badly beaten that they were unable to

get away from the flames."

Both Pakistan and the international community

were shocked by these brutal murders and

many of those involved, especially the local

religious clerics who had stoked the mob's

rage using sound systems at local mosques,

were quickly arrested.

Following the arrests, many Christians,

including members of the victims' family, did

not believe justice would be done in this case

because of the religious identity of the victims

and the rumored blasphemy accusation. Often,

cases against individuals or groups accused

of attacking religious minorities drag on at

a glacial pace. In the meantime, the accused

perpetrators are released on bail and allowed

to harass the religious minorities bringing the

charges until they are dropped.

This unfortunate truth is exemplified in

the results of the case against those accused

of burning down Joseph Colony, a Christian

neighborhood in Lahore. Despite a wealth of

photo and video evidence showing individuals

engaged in the attack and destruction of Joseph

Colony, many of the accused have been either

acquitted or released on bail as the trial drags

on. This stands in stark contrast to the speedy

conviction and death sentence handed down

to the Christian individual whose blasphemy

accusation initially set off the riot.

Fortunately, in the case of the brick kiln

murders, the family's doubts in Pakistan's justice

system were proven wrong. On November

23, 2016, over two years after the murders,

an anti-terrorism court officially sentenced

13 men connected with the violence. Of

those, five were sentenced to death, including

Mehdi Khan, Riaz Kambo, Irfan Shakoor,

Muhammad Hanif, and Hafiz Ishtiaq, a local

prayer leader. The harsh punishments were

given to these five individuals specifically

for their hand in making announcements over

mosque loudspeakers that incited the mob that

attacked and killed the Christian couple.

According to the Express Tribune, the convictions

handed down in November represented

the first time a case of such nature has been

decided in the favor of a religious minority in

Pakistan, whether it be a Christian, Hindu, or

Ahmadi.

"Civil society has been very consistent

on monitoring the developments of the Kot

Radha Kishan incident and the resulting judgment

that has come," Peter Jacob, Executive

Director at the Center for Social Justice told

ICC. "There wasn't a big response to the judgment

because it involved death sentences for

five people, but it was generally welcome that

justice in some form had been done."

When asked how this case was decided in

favor of religious minorities, Jacob credited

both Pakistan's Supreme Court and vigilant

civil society.

"This judgment has come after the intervention

made at the Supreme Court level. The

court at district level was able to deliver this

judgment because there was oversight by the

Supreme Court and civil society did not stop

monitoring."

Despite the eventual victory the Kot Radha

Kishan judgment represents, these sort of

victories are often complicated for Pakistan's

Christian community. Months after the murder

of Shehzad and his wife, a branch of the

Pakistani Taliban bombed two churches in

Youhanabad, a Christian-majority neighborhood

in Lahore. Following these March 2015

4 PERSECU ION.org

MARCH 2017

INTERNATIONAL CHRISTIAN CONCERN
---
ombings, Christians poured

into the streets in protest,

enraged by the bloody scenes

at their churches.

In the midst of the protests,

two Muslims rumored

to be involved in the church

bombings were lynched and

killed by the Christians. In the

weeks that followed, police

arrested over 100 Christians

from Youhanabad, often for

little more than their identity

as Christians from the

neighborhood. Following

the arrests, reports of torture

by police seeking to hone

in on the identities of those

involved in the lynching were

common.

The Kot Radha Kishan

judgment has spread fear

among many of the Christian

families of those accused of

the Youhanabad lynching

because they feel that their

loved ones will also be sentenced

to death, regardless

of the evidence, in a sort of

tit-for-tat judicial maneuver

to satisfy both Pakistan's

Muslim and Christian communities.

"We are worried for our

children when we

think and listen about

the convictions in the

Kot Radha Kishan

case," Sugran Bibi,

mother of one of the

accused, told ICC.

"My son was not

present at the lynching,"

Bibi continued.

"The police arrested

him from home

seven months after

the incident. Almost

two years have

passed and we don't

see any hope of our child

returning home."

Regardless of the implications

the Kot Radha

Kishan judgment has for

the Christians accused of

the Youhanabad lynching,

it should still be marked

as a victory for Pakistani

Christians.

For Christians living in

Pakistan, change comes

slowly and is often complicated.

Consistently ranked

among the most persecuted

Christians in the world,

officially ranked fourth on

Open Door's World Watch

"We are worried

for our children

when we think

... about the

convictions in the

Kot Radha Kishan

case."

– MOTHER OF IMPRISONED SON

List, the lives of Pakistani

Christians are widely

defined by the discrimination

and injustice they

endure because of their faith.

Amidst the intense persecution

and discrimination of

Christians in Pakistan, a ray

of hope came out of one of

Pakistan's most hot-button

issues, the country's blasphemy

laws. It is small and

complicated victories like

this that will eventually start

to turn the tide for Pakistan's

Christians and may someday

promise a brighter and

freer future.

Joseph Colony, a Christian neighborhood in Lahore, Pakistan, that was

burned to the ground, stands as a stark reminder of the continued injustice

and inequity of the country's blasphemy laws. In January, a Pakistani court

acquitted over 100 suspects charged with perpetrating this act on "insufficient

evidence," despite ample photographs and video footage of the event.

Asia Bibi

In June 2009, Asia Bibi was

accused by Muslim coworkers of

blaspheming against the prophet

Muhammad. As is often the case,

this false accusation was made

against Asia to settle a personal

score following a dispute between

Asia and her coworkers over the

use of a watering bowl.

Although false, the blasphemy

accusation came to radically

change both Asia's life as an individual

and Pakistan as a nation.

In 2010, Asia was formally sentenced

to death by the Session's

Court in District Nankana, Punjab.

In October 2014, the Lahore High

Court confirmed Asia's death sentence.

In July 2015, Pakistan's

Supreme Court decided to review

Asia's death sentence, but then

indefinitely adjourned on October

13, 2016, after one of the justices

recused himself from the case.

Widely considered the most

famous case of blasphemy, Asia's

case has seen many dramatic

moments including the assassination

of two major government

officials advocating on behalf of

Asia. It remains to be seen what

Pakistan's Supreme Court will do

with Asia's case, but there is hope

that one day she will be released.

PERSECU ION.org

INTERNATIONAL CHRISTIAN CONCERN

5
---
Home at Last

ICC completes construction of homes for 10

displaced Iraqi Christian families living in

tents for two years.

One of the families' tents

that they lived in for two

years after fleeing ISIS

violence.

6 PERSECU ION.org

MARCH 2017

INTERNATIONAL CHRISTIAN CONCERN
---
Top Left: One of the tents that

families lived in for two years

after fleeing ISIS violence.

Bottom Left: A family that ICC

has followed for the past year

shows appreciation for their new

home - a permanent structure on a

church's property.

Below: After two years of living

in tents on a church's property,

Christian families began moving

into the newly constructed

homes just before Christmas and

the first snow.

PERSECU ION.org

INTERNATIONAL CHRISTIAN CONCERN

7
---
You Can Help Today!

PERSECU ION.org

INTERNATIONAL CHRISTIAN CONCERN

SEND DONATIONS TO:

ICC

PO BOX 8056

SILVER SPRING, MD 20907

OR ONLINE AT

WWW.PERSECUTION.ORG

OR BY PHONE

800-ICC-5441

GIVING TO ICC VIA

YOUR WILL

Provide now for a future gift to ICC

by including a bequest provision in

your will or revocable trust. If you

would like more information on giving

to ICC in this way, please give

us a call at 1-800-ICC-5441.

Kot Radha Kishan has become

infamous in Pakistan as the scene of

one of the country's most brutal and

shocking instances of persecution

— a couple beaten and burned alive

at the city's brick kiln by a mob of

thousands.

© Copyright 2017 ICC, Washington, D.C., USA.

All rights reserved. Permission to reproduce all

or part of this publication is granted provided

attribution is given to ICC as the source.

International Christian Concern (ICC) is a nonprofit 501(c)(3) (all donations tax-deductible).

ICC makes every effort to honor donor wishes in regards to gifts. Occasionally, situations

arise where a project is no longer viable. ICC will then redirect those donated funds to the

fund most similar to the donor's original wishes. ICC uses 7.5 percent of each restricted

donation to carry out the mission of its segregated funds.

facebook.com/persecuted

@persecutionnews