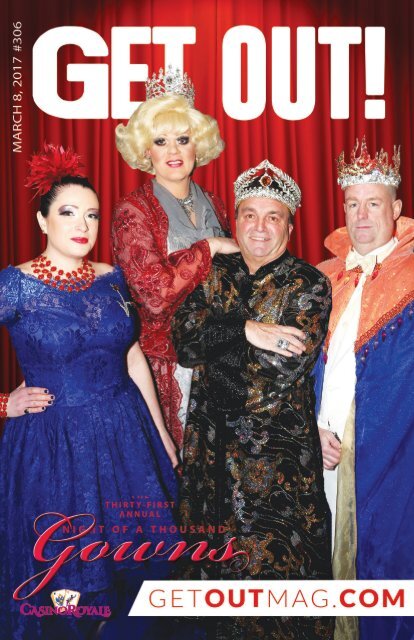 Get Out! GAY Magazine – Issue 306 – March 8, 2017
Featuring content from the hottest gay and gay-friendly spots in New York, each (free!) issue of Get Out! highlights the bars, nightclubs, restaurants, spas and other businesses throughout NYC's metropolitan area that the city's gay population is interested in.
Featuring content from the hottest gay and gay-friendly spots in New York, each (free!) issue of Get Out! highlights the bars, nightclubs, restaurants, spas and other businesses throughout NYC's metropolitan area that the city's gay population is interested in.
SHOW MORE
SHOW LESS
Create successful ePaper yourself
Turn your PDF publications into a flip-book with our unique Google optimized e-Paper software.
BY EILEEN SHAPIRO

CELEBRITY CORRESPONDENT

The spectacular and

abundantly talented,

popular and admired Queen

Peppermint will be taking

the stage on March 11 at The

Imperial Court of New York's

Night of a Thousand Gowns.

Aside from being one of

New York's most well-liked

performers, Peppermint can

dance, sing and lip sync. I

met her for the very first time

at Miss Fire Island and was

so impressed by her artistry

that I had to run over and

talk to her immediately. On

behalf of Get Out! magazine,

I would like to congratulate

her on being selected to

compete this season on

"RuPaul's Drag Race," and

I wish her the very best of

luck. It's well deserved.

Watch RuPaul's

Drag Race

Season 9

Season Premier

Friday March 24

at 8pm on VH 1

PEPPERMINT

Photo credit: logotv.com

Peppermint, what

involvement do you have

with The Imperial Court

of New York?

I am actually not in the

court, but I'm a big fan.

One of my mentors was

empress of the court,

Coco LaChine.

So you're performing this

year?

I'm going and performing.

Will you be doing

anything special for the

evening?

I'll be doing a little bit of

old and new. I'll be doing

some original songs and

also something new.

Even more important,

what will you be

wearing?

I have to wear a thousand

gowns. I'm actually putting

the feelers out, looking

for some designers,

and hopefully I'll have

something gorgeous

and long and glamorous,

befitting of an evening

with the court.

I'm sure that you will do

a fabulous job of that. Do

you attend every year?

No, I've only gone three

times. There's always

something going on at

the same time. There was

always a conflict. I've been

trying to get to perform

there for years. This is the

first time that we got it

together to make it work.

Well, I'm very excited

that you're going to

perform this year.

What does Night of a

Thousand Gowns mean

to you?

The Imperial Court is

extremely important. I

think that it embodies

some of the key principles

that I like to bring into

drag, which are obviously

glamour, and gowns, but

also charity. It's a charity

organization, and they get

together and do Night

of a Thousand Gowns,

in addition to other

wonderful fundraising

events, in an effort to raise

money to improve the

quality of life for LBGTQ

and LBGTQ youth. They

are extremely active in our

community. They really

put their money where

their mouth is. Literally!

They walk the walk, and

they talk the talk. They do

the work. That's important

to me. I was extremely

excited when they asked

me to do it this year.
---
HEALTH AND SEX BELONG TOGETHER

Healthysexuals

LOVE

SHARING

Talk about your sexual health. #NoFilter

VISIT

AND TALK TO A HEALTHCARE PROVIDER

HEALTHYSEXUAL, GILEAD, and the GILEAD Logo are trademarks of Gilead Sciences, Inc.

© 2017 Gilead Sciences, Inc. All rights reserved. UNBC3907 01/17
---
BY EILEEN SHAPIRO

CELEBRITY CORRESPONDENT

Linda Clifford, former

Miss New York State,

actress and singer of

R&B, jazz and house, will

be performing at Night

of a Thousand Gowns

on March 11 at the New

York Marriott Marquis.

Known for such hits as

"If My Friends Could See

Me Now," "Runaway

Love" and "I'm Yours,"

Linda Clifford was born

in New York and began

her career singing on a

local television station

as a child. She has had a

large following since the

'70s and has worked over

the years with artists

such as Curtis Mayfield

and Luther Vandross.

She is currently working

on some new projects,

which she was kind

enough to tell Get Out!

about when sharing

some questions and

answers.

What does being asked

to perform at Night of a

Thousand Gowns mean

to you?

I'm thrilled and honored

to have been invited to

this incredible event. I

love the idea of being so

close to royalty at an event

that has been celebrated

Linda

Clifford

for 30 years, each year

more grand than the year

before.

What do you have

planned for the night?

My plan is to entertain with

every ounce of my being

and hope that all will have

a fabulous time.

Is there something that

stands out during your

career that was either

funny or very special to

you?

Surely, standing next to

Dick Clark as I am about

to perform on American

Bandstand for the first

time, and him asking me

for the most exciting thing

that had happened so

far in my career. OMG!

I grew up watching that

show, learning to dance

from that show, learning

music from that show, and

listening to him talk to

me every week! This was

indeed the most exciting

thing ever and a day I'll

never forget.

You have worked with

many fabulous artists.

Who did you enjoy

working with the most?

There are so many

fabulous people I've

been fortunate enough to

work with. I could never

narrow it down to just

one. I will name a few for

you: Isaac Hayes, Luther

Vandross, Rita Moreno,

Shirley MacLaine, Teddy

Pendergrass and Curtis

Mayfield. Truly some

amazing folks to spend

time with.

After you received the

title of Miss New York,

you began acting. Why

did you leave acting to

concentrate on singing?

Singing has always been

my first love! If I could

sing in films, on Broadway,

anywhere, I would be

happy. I didn't see the

opportunity in film at that

time that I saw in touring

with a band, so I did

what any girl would do. I

kissed mommy and daddy

goodbye and went on

tour.

Are you currently

working on any new

projects at the moment?

New projects, funny

you should ask! I am

collecting songs for a

new CD, rehearsing for an

upcoming tour with a new

show, which will feature

the music of Miss Nancy

Wilson, as well as songs

from the Great American

Songbook, and of course

all of my own hits. It's

important to keep busy,

and I love what I do!
---
BY EILEEN SHAPIRO

CELEBRITY CORRESPONDENT

Sarah

Dash

On March 11, singer,

actress and songwriter

Sarah Dash will be

performing at Night of

a Thousand Gowns.

Dash has had a most

impressive career,

having started singing

with Patti LaBelle and

The Bluebelles. Dash

was also fortunate

enough to have toured

with The Rolling

Stones, and later with

Keith Richards & The

X-Pensive Winos.

As well as having a

prestigious solo singing

career, she also has

done backup vocals

for artists such as Bo

Diddley.

Dash took a

break to write her

autobiography titled

"Dash of Diva," and

then released a ballad

from a full-length

gospel album called

"I'm Still Here." She is

currently considering

going back into the

studio.

Are you excited to

be a part of Night of

a Thousand Gowns?

What will you be

performing?

Yes, I am very excited

to be a part of NOATG!

I will be performing

"Lucky Tonight," "Lady

Marmalade" and "Sinner

Man."

What was it like

working with Patti

LaBelle and the Rolling

Stones?

Working and singing

in the group Labelle,

which included singer

Patti LaBelle, was where

my development and

training as a singer and

entertainer came from,

and was the highlight

in my career. The next

highlight was working

with The Rolling Stones.

Before we morphed

into Labelle, we were

called Patti LaBelle

and The Bluebells. We

toured on The Stones'

first American and

Canadian tour. I sang

on Rolling Stones' CD

"Steel Wheels," singing

backups with Bernard

Fowler and Lisa Fischer.

Is it true that you

toured with Keith

Richards? What were

the highlights of that

tour?

Then later I was blessed

with the opportunity

to record and tour with

Keith Richards and The

X-Pensive Winos, Keith's

first solo CD. Singing/

covering on Winos tour

duets with Keith on

"Make No Mistake,"

"Time Is on My Side"

and "Shelter" was a

highlight indeed!
---
You have done a great

deal of charity work, as

well as a tribute to civil

rights. Can you tell us

about that?

I've done a great deal

of charity work, raising

funds for the homeless,

doing fundraisers with

NJ LGBT, standing with

civil rights for women

NOW membership and

with Evoluer House in

Philadelphia. I'm also on

the advocacy board with

The Grammys for rights

of artists around the

world.

Is there a song or

musical passage that

never fails to make

you emotional?

Yes, there is a song

that I wrote called "I'm

Still Here."

Do you have any

new projects on the

horizon?

Yes, there are new

projects on the

horizon. I'm in talks

with my manager and

producers about going

back in the studio.
---
3 DAYS OF MUSIC, DANCING &

COMMUNITY.

FRIDAY, JUNE 23

Patti LaBelle

Deborah Cox

DJ Lina

SATURDAY, JUNE 24

Tegan and Sara

Years & Years · Róisín Murphy · Gallant

Dimitri From Paris · Occupy The Disco

SUNDAY, JUNE 25

To Be Announced

Chus & Ceballos

Cindel · Scott Martin

FOR MORE DETAILS, VISIT NYCPRIDE.ORG
---
week in pictures >> BY MIKHAIL TORICH

MANSTER @ THE MONSTER
---
PUBLISHER MIKE TODD

MIKE@GETOUTMAG.COM (646) 761-3325

DESIGN AGOTA CORREA

AGOTACORREA@GMAIL.COM (347) 776-9568

NATIONAL ADVERTISNG REPRESENTATIVE

RIVENDELL MEDIA (908) 232-2021

CONTRIBUTORS

CELEBRITY CORRESPONDENT EILEEN SHAPIRO

IAN-MICHAEL BERGERON

ISSUE 306 - MARCH 8, 2017

Covers by Wilsonmodels

Pixie Aventura & Joseph Oster

Cover shot at Therapy Bar

NOATG Cover Shot at Metropolitan Room

Center: President Emperor XV Fantasia (Mark Costanzo)

Executive Producers Left to Right:

Princess Royale Q.T. Pie (Jen Cinclair)

Empress XXIV Farrah Moans (Christopher Crouch)

Emperor XXI Ritz Kraka (Jason Dull)

ADVERTISE

WITH

___________________

ANUNCIA

EN

The right price, the right distribution, the right

size, the right quality, the right quantity, the right

service 24/7 - everything is just right! Call us to

get the best prices in the tri-state area.

CALL TODAY & GET OUR

SPECIAL WELCOME OFFER!

MIKE TODD

(646) 761-3325

mike@getoutmag.com

The publications of MJT/GOOTH Magazine, getoutmag.com or any related

print or Web publications or social media accounts, their images, quotations or

articles, should not be construed to be an indication of the sexual orientation

of anyone portrayed therein.

All content © 2016 MJT/GOOTH Entertainment LLC.

MJT/GOOTH Entertainment LLC

47-16 67 St. Woodside, NY 11377

GETOUTMAG.COM

@getoutmag
---
COMMITTED TO Y

silky, smooth, non-s

5$ off any order -use code "5OFF"
---
OUR PLEASURE

-staining lubricants

at slikwillie.com
---
stories / GET OUT! MAGAZINE >> GETOUTMAG.COM

PART TWO

The Lawyer

BY IAN-MICHAEL BERGERON

@ianmichaelinwonderland

After barely talking for

a year, J messaged me

and asked if he could take

me out for dinner for my

25th birthday. I was still

embarrassed, but accepted

the chance to start over.

I showed up at Koi on 40th

Street, wearing a sequin

t-shirt and leather shorts.

We caught up

and ate the

most

amazing sushi I've ever had,

not to mention a few lychee

martinis. By the end of the

meal, I was feeling good.

"Let's go to Flannery's," he

suggested after paying the

bill. "It's my favorite bar."

We took a taxi to 14th

Street and went inside, the

skinny guy behind it smiling

wide. "Hey J! And you

must be Ian-Michael."

I blushed. "Uhm."

"I told him I'd be bringing

you around for a birthday

drink," J explained.

So we had a birthday drink.

And a regular bought us

shots. And then we had

another drink. I went to the

bathroom to pee, and while

I was at the urinal I heard

someone come in. "Ian-

Michael," the regular's

feminine voice rang out. I

slowly turned my head to

the side, mid-pee. "Uh.

Hello."

"He talks about you a

lot, you know," she said,

standing in the doorway.

I finished peeing and

zipped. "He does?"

"Yes," she went on as I

washed my hands. "Do you

like him?"

"Romantically? I don't

know. We're still getting to

know each other, I guess."

Missed part

one? Read it on

getoutmag.com!

sure what to say, excited

but nervous. The regular

bought us another round

of shots, and J bought us

another round of drinks,

which I drank—quickly.

By the time we left, I

was wasted. "Want me

to get you an Uber?" he

asked. I shook my head

no, stumbling along.

"We can get you a taxi if

you prefer?" I shook my

head again. My head was

spinning: No way was I

getting on anything that

moved. "Do you want to

come back to my place?"

I nodded eagerly. He lived

just around the corner and

up three flights of stairs.

I ran into the bedroom,

stripped to my underwear

and collapsed onto the

bed. My stomach churned:

I knew if I moved, I'd throw

up.

J came into the room,

saw me in my underwear,

and curled up behind me.

I felt the vomit, right in

my throat. I pushed him

away. "Are you OK?" he

asked me. I couldn't open

my mouth to speak: I

knew if I did, I'd throw up

all over his sheets. I just

shook my head. "Are you

uncomfortable? Should

I sleep on the couch?" I

shook my head no again,

still unable to speak. He

got up, and didn't return

before I passed out.

PHOTO BY STEVE BRENNAN

"Well, he's been talking

about you for a long time."

I went back to the bar, not

I woke and rolled over to a

note: "Decided to spend

the weekend in Paris." He

was gone. I blew it, again.
---
BY JAMES WELLS

MANAGER, THERAPY

A Peek at Pixie

New York City's sensational Latin queen, Pixie Aventura, is renowned for both her

incredible dance skills and impeccable lip-sync abilities. Since living here in the

Big Apple, I have watched her grow into one of this city's hottest chicas in heels.

Working with her every Wednesday at a little show called The Help at Therapy, I

get to see firsthand just how loved and respected she is by her weekly (and evergrowing)

fan base.

Hey guurl! Great show!

How do you feel after

stepping off that stage

not one, but TWO

encores later?

Well, definitely tired!

Haha! To tell you the truth,

I'm not even thinking

about it when it happens.

I'm going 60 mph on a

30 mph street. It's the

audience that keeps

me going, and if they're

having fun, I'm willing to

do anything.

You've built such a

strong following here in

New York. What would

you say accounts for

some of your success

in this competitive

industry?

Definitely smart, hard

work. I've been fortunate

enough to get many

opportunities, but I've

also specifically picked

and chosen all of them.

I have to think of myself

and be mindful of being

able to give 100% versus

stretching myself out too

thin. I'm also not afraid to

make fun of myself. I want

to laugh with you and let

the drama go somewhere

else. But don't try me; if

you come without being

called, I will hang up that

phone, slam the door, lock

up the library and hand

you the invoice.

Okrrr! How long have

you been doing drag

now?

That's always a hard

question. Technically I've

been doing drag since

2005 in college. I was one

of the founding divas of

the biannual drag show

at Otterbein University

(Otterbein College back

then). It was fundraiser

for many different

organizations, including

Alopecia Foundation,

Equity Fights AIDS and

the Columbus LGBT Youth

Center. When I moved to

NYC my mindset was not

to pursue drag but rather

only acting. Roads led me

back to drag, and I started

it up again around 2011. I

consider my professional

drag career to be six years,

but 12 years in the making.

Well, this career path is

definitely working for

you, babe. You hand

design a lot of your

own looks. What are

some of your biggest

inspirations?

There are many nights

when I can't sleep, and

I look up clothes and

designers and I download

any picture that catches

my eye. I let those inspire

me. Being in hardperformance

shows, I also

have to be mindful of

outfits that would allow

me to
---
perform to the best of

my abilities. It's hard for

me to able to go out with

a specific, intricate look,

because I usually am in

drag for work. But overall I

end up creating something

for myself, or from a nice

little Asian fairy, Yuhua

Hamasaki. I ask a lot out

of her. I do love Zac Posen

and Alexander McQueen.

Their designs range from

beauty and structure to

dark and chaos.

McQueen is LEGENDARY!

Speaking of queens, who

are some of your favorite

queens to work with here

in New York?

Well, I have to say, for the

most part I enjoy working

with all my drag girls, but

there are two that come

to mind immediately. The

first one is my gurl Bob the

Drag Queen, my co-creator

for The Help. To this day

we can get together and

make something fierce

happen after a long time

of not seeing each other.

Then my other sis happens

to be my current co-host

at The Help, Monet X

Change. We have too

much fun at the show, kikiing

or just talking shit. We

should only be so lucky to

have a job we truly enjoy.

I hear ya; it is truly a

blessing to be able to

go into work loving what

you do. What advice

would you offer to other

girls out there who want

to rise to the level of

success that you have?

FOCUS ON YOURSELF!

There's a big difference

between throwing shade

at other drag queens and

talking pointless crap

about other queens. I

believe that drag has no

definition; all are welcome.

As an artist, in general, you

will never stop growing,

so there shouldn't be time

to focus on other people's

"flaws," because you're

not perfect either. Don't be

jaded because someone

else has a gig and you

don't. They earned it

just like you'll earn your

own successes. The best

community comes from

enjoying everyone's

differences with a dash

from the shade tree. Isn't

that a thought for current

events?

Haha, AGREED. So

what's next for Pixie

Aventura?

I truly try to focus on the

present. I feel as a society

we want to figure out

what the future holds, but

once that arrives, so much

time has passed by. That's

sort of where I am. I know

what my passions are and

what makes me happy;

therefore, I try to enjoy the

present. There's always so

much going on anyways.

There are certain numbers

or looks that I have never

planned for, and then I'm

excited and surprised

when they come out of

nowhere.

As far as what's next

for me, I can only

say I will continue

to push myself

to new places.

My persona of

Pixie Aventura

has allowed

me to open

new doors

in different

fields, and

that's what

I'm excited

for. Even if

drag isn't my

peak as a

performer,

it has

become

a very

essential

learning

tool for the

rest of my

life.

Well, I'm excited to

see where you go and

what's in store for you.

You're honestly one of

my favorite people in

the world. See you next

Wednesday!

Pixie performs Sundays

at Barracuda, Tuesdays at

Hardware, Wednesdays

at Therapy, Thursdays at

Industry and Fridays at the

Laurie Beechman Theatre.

Pixie Aventura on

Facebook

@pixieaventura on

Instagram

James Wells on

Facebook

@sirjameswells on

Instagram

A New York favorite,

Therapy opens at 5

pm everyday with

food, happy hour,

and drag shows all

week long.
---
GRAND

OPENING

SPECIAL

One Hour Massage

only $60

Happy Hour

from 3:00pm to 6:00pm.

Complimentary glass of wine.

$10 OFF EVERY DAY

BEFORE 3:00PM

Like nowhere,

You've ever been!

Tel: 212 -879 -0402

www.UtopiaSpaNYC.com

965 Lexington Ave

Hours: 10:30am-2:00 am

2FL @ 70th Street

Trains: 6, F
---
10% OFF
---
BY EILEEN SHAPIRO

CELEBRITY CORRESPONDENT

PABLO FRANCISCO

REALLY FUNNY is the only way to describe

comedian Pablo Francisco. I laughed the entire

time that we spoke, and several hours later, I'm

still laughing!

Francisco has a long history of credits, beginning

in the 1990s, when he first appeared on MADtv,

and then procured his own half-hour special

on Comedy Central. He has appeared on "The

Tonight Show With Jay Leno," "Last Comic

Standing," "Late Night with Jimmy Fallon,"

"Tonight With Trevor Noah," "VH1's ILLustrated,"

and the list continues.

Francisco is known for his impersonations of

Chris Rock, Kermit the Frog, Mr. Magoo, George

Clooney, Ricky Martin, Dennis Hopper, Jimi

Hendrix and a host of others. As a matter of

fact, I got one of the best impersonations of

Trump ever during our conversation.

He is currently on tour throughout the country

and should not be missed if you really want a

good laugh!

You will be appearing

at The Paramount

in Huntington, Long

Island, this Friday.

What can audiences

expect?

Well, we're going

to start the party at

the Pablo show. It's

the perfect place to

go to bring a date,

because the lights go

down. I'm able to do

all the talking. We're

going to make fun of

everyone from Dog

the Bounty Hunter to

Mark Wahlberg. Steve

Kramer is going to

be opening up the

show. We're going to

basically try out some

new material that we

got for this one-hour

special that we have

coming up. It's called

"They Put it Out There."

It's about making fun

of people in a good

way. And it's making

fun of everything we

see out there now, from

the Kardashians all the

way to Bruce Jenner

changing his gender.

Do you get political?

No, not really. It's like

a vicious circle. We're

trying to do the Trump
---
thing: "Hello, I'm

Donald Trump, she

said that, and she said

this." It's fun to watch,

but if it's anything

political, it would be

like Martin Luther King

[impersonating King's

voice]: "I have a dream;

I have a wet dream."

Yeah, we get a little

political, but not too.

What happens if

you're out there live

and no one laughs?

Then it must be the

electricity went out,

or someone said the

N-word, or someone

just got shot. I've

been pretty lucky so

far. I've been having

a good outcome. If

it does happen, then

we say, "Thank you.

Goodnight." We'll hit

the fire alarm.

Were you born funny?

People encouraged

that. I had friends across

the street who would

make fun of my parents,

and then I'd make

fun of their parents. It

started as a hobby, then

the crowd got a little

drunker, and we started

being selective about

what kind of openers we

had, but it all depends

on how the crowd is.

I've been on a good roll

so far. Hopefully I can

continue it.

What comedians

inspire you?

I like Carlos Mencia,

Joe Rogan. I like Joan

Rivers, and I would also

say Richard Pryor. Those

are my top hitters.

What do you enjoy

most about being live?

You're feeling the

energy from the crowd.

The more laughter,

the more energy. We

all become one; we

become one big bond.

That's what's great

about it. You get to

speak your mind, and

people listen, and that's

fabulous.

Is there anything that

you would like to

promote for yourself?

Tell me about your

special.

It's going to be a

special; it's going to

be stand-up comedy

with some cartoons in

it. It would be like a

cartoon Dave Chapelle

show. Basically we're

going to hit everything

from the Internet, the

Plavix pharmaceutical

commercials. I'll just tell

everyone to start the

party at the Pablo show.

You can email me at my

Twitter and fill in some

requests. I'll be at the

Comedy Jukebox, if you

want. Start the party,

get your buzz on at the

Pablo show!
---
week in pictures

MISS BARRACUDA PAGEANT

>> BY WILSONMODELS / wilsonmodels.blogspot.com

STRUT @ ACME

OPENING NIGHT OF THE VIEW UPSTAIRS

SPUNK @ THE MONSTER
---
week in pictures

>> BY MISS MANAGEMENT PRODUCTIONS

BOXERS NYC #AMERICASGAYSPORTSBAR