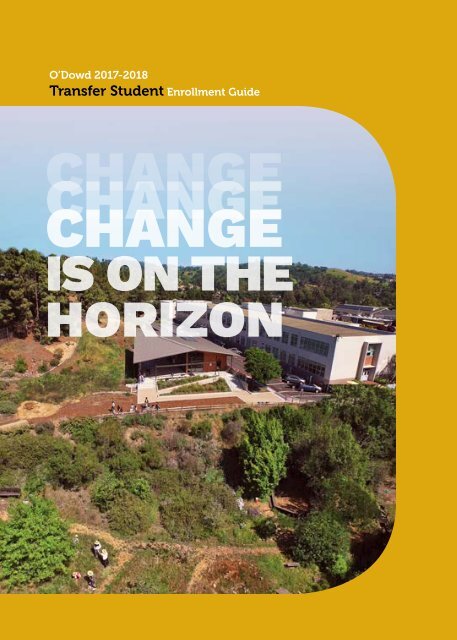 O'Dowd Transfer Students Enrollment Guide
You also want an ePaper? Increase the reach of your titles
YUMPU automatically turns print PDFs into web optimized ePapers that Google loves.
O'Dowd 2017-2018

Transfer Student Enrollment Guide

CHANGE

CHANGE

CHANGE

IS ON THE

HORIZON
---
table of contents

Register Online 4

Course Information 6

Academic Support 7

Student Life 8

Campus Map 10

LD/ADHD Services 11

Tuition Information 12

Parent Pledge Program 14

1:1 Laptop Program 17

Transportation, Dress Code,

Cafeteria 18

FAQs 20

Key Contacts

back
---
welcome to the

O'Dowd community!

When your student graduates, they will join our more than

14,000 alumni in California and throughout the world, equipped

to excel in college and beyond and to create positive change

in their communities.

We are excited to have your family join our forward-looking community as your student

embarks on an O'Dowd college preparatory journey that is both joyful in its experience

and profound in its impact.

An O'Dowd education is a priceless investment with successes and challenges that prepare

students to thrive academically and personally. We want your student to be happy, to explore

and to develop intellectually, morally and spiritually during

these formative high school years. Our outstanding faculty,

counselors, coaches and administrators will nurture success and

will work with you and your student to address challenges along

the way.

As your student makes new friends and explores and engages

in the breadth and depth of classes, activities and experiences

for which O'Dowd is known, they will forge an individual path

leading to self-discovery as well as a college choice just right for

them.

We look forward to getting to know you and your family and to

supporting your student on their personal journey.

Sincerely,

James Childs, M.A., M.Ed., Principal

Stephen Phelps, Ed.D., President

SAVE THE DATE!

GO DRAGONS!

NAVIGATING

O'DOWD

All transfer students and

their families are strongly

encouraged to attend.

On campus

Saturday, April 29, 2017

9 a.m. - 11 a.m.

• Meet teachers, counselors

and coaches

• Learn about student

co-curricular activities

• Order O'Dowd polos

and outerwear

• Learn about the Dragon

Parents Group
---
egister online

Please complete the online enrollment contract and submit the

non-refundable $1,100 registration fee. Your student's class space will

be offered to a student on our waitlist if we have not received your

completed registration and fee within a week of receiving acceptance.

ready, set, go!

The online registration process only takes 30-40 minutes.

Log-in to your portal at bishopodowd.schooladminonline.com/users/sign_

in to begin.

To fill out the form, you will need:

1. Health Insurance Information

2. Family Calendar

3. Financial information

Send these enclosed forms in the provided return envelope

to the main office within one week of acceptance:

1. Send your student's California School Immunization Record (with 2017 TB test

information; please keep a copy of TB test results) to the main office, not Admissions

(by Thursday, June 1, 2017)

2. For athletic participation, please complete the online athletic registration form at

bishopodowd.org/register-now-2017-18-odowd-athletic-participation (by Thursday,

June 1, 2017)

3. Request final transcript from current high school be sent to the Admissions office (by

Thursday, June 1, 2017)

Admissions questions? Please contact our Admissions team at (510) 553-8631 or

admissions@bishopodowd.org.

4 |
---
O'Dowd academics

course information

To select your student's classes, you and your student will talk/meet with your student's counselor

who will develop a schedule personalized to your student's strengths and interests while

fulfilling the O'Dowd college-prep graduation requirements.

1. Review the 2017-18 Course Catalog available online at bishopodowd.org/pdfs/administrative/Course%20Catalog%202017-18.pdf.

2. Contact your student's counselor for guidance as indicated in the acceptance letter.

3. After speaking with your student's counselor, schedule any necessary placement assessments

with the registrar at x605.

Tenth grade students' follow a core academic curriculum enhanced by courses in visual and

performing arts. In addition to their required courses, juniors and seniors choose from more

elective offerings including Advanced Placement (AP) classes, honors course options and

independent study. All students must enroll in a minimum of 30 units per semester.

Explore the variety of required courses and wide selection of electives with your student.

Read through our online 2017-2018 Course Catalog at bishopodowd.org/pdfs/

administrative/Course%20Catalog

6 |
---
academic support

O'Dowd supports student success and works with you and your student

to address challenges and leverage opportunities along the way. The

Academic Support Department includes six distinct programs. These

programs augment the help available from teachers before school, after

school and on the weekends.

academic support center

Staffed by adult and peer tutors, drop-in tutoring is available for all subjects.

Academic Support Center hours: Monday through Friday before and after school,

from 7-8:15 a.m., 3-5 p.m. Saturday and 1-3 p.m. Sunday.

study hall advisory

Students have access to an academic support liaison to help with organizational support, time

management and student advocacy.

SMART sessions

These sessions are content area specific, teacher-led study groups held before and after school.

Participating students commit to a fixed schedule.

dragon success

A study skills and mentoring program is available to freshmen and sophomores. Students work

closely with an adult mentor to develop self-advocacy skills and academic responsibility.

SSA (support for student-athletes)

Academic support for in-season athletes includes communication with coaches, counselors

and families.

catch-up support

This support is available for back to school transitions following concussion, medical leave or

other extended absences.

Questions? Visit the Student Support section bishopodowd.org/academics/student-support/

or contact:

Catherine Harris, Director of Academic Support, x334 or charris@bishopodowd.org

Malik McCord, Academic Support Liaison, x114 or mmccord@bishopodowd.org

| 7
---
student life

Opportunities for exploration, deepening of interests and achievement

of excellence at O'Dowd are grounded in college preparatory academics

and a wide range of co-curricular offerings.

arts

The arts program at O'Dowd prepares students to excel in a creative and design-driven world.

Your student can engage in and strive for excellence in a variety of arts expressions across

music, performing and fine arts. From theater, digital music, and ceramics to playing with the

Jazz Band, the opportunities for creative expression and learning abound.

athletics

O'Dowd Athletics has a long-standing tradition of excellence defined by a commitment to supporting

participation and skill development in order to achieve at the highest level athletically as

well as academically. We field 58 teams across 15 competitive sports with over 700 participating

student athletes, including many freshman team opportunities.

clubs

Does your student want to learn how to build robots? Or be a lawyer in Mock Trial? Is she proud

to be Armenian or interested in computer programming? Does he play Ultimate Frisbee or does

he have the entrepreneurial spirit? Committed to freeing political prisoners? Encourage them to

explore one of the many student-run clubs at O'Dowd.

debate

Award-winning, leadership skill building, nationwide traveling – that describes the debate

program at O'Dowd (Public Forum, Parliamentary, Lincoln-Douglas, and Policy). Every student

is welcome to learn how to compete in the exciting world of debate. Be part of the team

that goes to the top tournaments in the country to compete at the highest levels.

NHS/CSF

O'Dowd is proud to be a member school of both the National Honor Society (NHS) and the

California Scholarship Federation (CSF). NHS recognizes and honors students throughout

the country who exemplify academic excellence, personal character, leadership and service to

both school and community. CSF recognizes high standards of scholarship, service and citizenship

of students in California. Members of CSF and NHS are recognized at graduation.

student government

The Associated Student Body is led by an elected Executive Council. Every class also has its

own elected leadership team. Working together, these students organize events and activities,

dances and environmental action and is involved in all school spirit events as well as raising

social justice awareness.

8 |
---
campus ministry

O'Dowd's emphasis on spiritual development nurtures and sustains a diverse community of

faith and learning for all students and families, and is intertwined with advancing social and

environmental justice. Campus Ministry and the Religious Studies department align in their

goals to ensure that students benefit from a well-integrated spiritual education. The Campus

Ministry Team (CMT), a core group of senior leaders, provides leadership in all liturgies

and school-wide charity drives and enlivens the faith experiences for fellow students. Peer

Ministry is open to all students in each grade so that they can explore their own spirituality,

discuss issues relevant to faith and minister to their peers.

retreat program

O'Dowd's retreat program offers unique age-appropriate opportunities, from learning how to

be part of the O'Dowd community to attending and leading Kairos retreats. These experiences

expand our students' understanding of their faith and their place in our faith community.

service learning

Service Learning is an educational method that deepens understanding about and our

response to social justice through hands-on student service experiences within the greater

community. Though service experiences that happen locally and beyond, the learning about

justice is primary, and serves our Religion department curriculum. Each student completes

four projects designed to build life skills as well as knowledge of social justice. This program

partners with over 250 organizations annually. Students also may participate in intensive

service retreats in other parts of the U.S. and the world.

sustainability

The on-campus, four-acre Living Lab ecological study area and adjacent 5,000 squarefoot

LEED-Platinum certified Center for Environmental Studies (CES) are highly visible

aspects of a deep commitment to sustainability and the development of the next generation of

sustainability leaders.

O'Dowd is a leader in the Education for Sustainability (EfS) movement and a national

model of sustainability at the high school level. Sustainability informs all facets of O'Dowd

life: campus and operations, curriculum and education with an emphasis on place-based and

experiential learning, community engagement and overall culture.

Students actively participate in many sustainability co-curricular offerings including the student

action team, Sustainability Corps (S-Corps), and O'Dowd's Sustainability Certificate Program.

S-Corps leaders pair awareness and behavior change campaigns with hands on stewardship of

the Living Lab garden to further progress towards an environmentally sustainable, socially just

and economically viable world. The certificate program supports the development of real-world

sustainability skills through knowledge foundation, applied action, service and reflection.

Questions? Please visit bishopodowd.org for details. More information will also be

available at Navigating O'Dowd on April 29 (see page 3 for details).

| 9
---
N

The Classroom

Building contains almost all

of the classrooms at O'Dowd.

Rooms are numbered

sequentially from west

to east.

Living Lab and

Center for Environmental

Studies (CES)

CES

Living

Lab

W

Dominican Hall is home

to Campus Ministry,

Counseling, Academic

Support and the

Business Office.

Cummins Center houses the

president's office, Admissions,

Advancement and

Marketing/Communications.

Cummins

Chapel

101-102

201-202

Dominican

Hall

Classroom

Building

Library

and Tutoring

Center

Performing

Arts Center

Small

Gym

Hurley

Hall

Quad

Drama

and

Music

Rooms

Student

Center

Large

Gym

128-130

228-230

Art

Studio

Hurley Hall is the

heart of O'Dowd. The main

office as well as the

principals' and deans' offices

are located here. Rooms

22-25 are located on the

second floor.

The Student Center

houses the cafeteria and

student lounge. It looks

out on the Quad.

E

10 |

S
---
LD/ADHD services

We believe that intellectual and cognitive diversity enriches our campus

community. We welcome students from a broad spectrum of learning

profiles and provide resources that allow students to contribute fully to

our school.

O'Dowd LD/ADHD services are designed to support students with documented learning

disabilities and/or attention deficit through a team-based approach. A full-time specialized

counselor coordinates LD/ADHD services. Prior to the start of ninth grade, the counselor

meets with each student and family to create an Educational Care Plan outlining student

strengths, relative weaknesses and accommodations to the educational environment.

accommodations include:

• Preferential seating

• Extended time on teacher-designed assessments and assignments

• Use of laptop/computer for written output

• Text-to-speech resources (e.g. audio files of books)

our ld/adhd services encompass:

• An interface for close collaboration between students, their families and the school

• Design and documentation of appropriate and feasible accommodations

• Referrals and consultation regarding psycho-educational and related evaluations

• Facilitation of requests for accommodations on standardized tests such as the

SAT or ACT

• Support and counseling for the application and transition process to college

Questions? Please contact Juliet Arechiga, LD/ ADHD Counselor, x618

or jarechiga@bishopodowd.org.

| 11
---
tuition information

We are mindful of the investment that you are making in your student's

education. Here are the costs to attend Bishop O'Dowd High School

during the 2017-2018 school year and payment options:

$17,740 Tuition

$ 1,100 Registration Deposit (non-refundable)

$18,840 Total

Additional expenses may be incurred for technology, books and the Parent Pledge

contribution, as well as for optional student activities such as athletics, co-curricular clubs

and student programs.

Please remit your student's $1,100 deposit during online registration by Friday, March 24,

2017, using one of the payment options provided.

tuition payment options

• ANNUAL - Paying your tuition balance in full by July 18, 2017

A $17,740 tuition payment by check will be mailed to the school's lockbox address, due

on July 1, 2017 and considered late if not received by July 18, 2017. Complete annual

tuition payment instructions will be mailed to families in June.

• SEMESTER - Paying your tuition balance in two payments, the first is due July 1, 2017,

and the second is due December 1, 2017

A $8,870 semester tuition payment by check will be mailed to the school's lockbox

address, due on July 1, 2017 and considered late if not received by July 18, 2017. The

second semester payment of $8,870 will be due on December 1, 2017 and considered late

if not received by December 18, 2017. Complete semester tuition payment instructions

will be mailed to families in June.

• MONTHLY - Paying your tuition balance in 10 installments beginning in July of 2017

and ending in April of 2018 through Smart Tuition. The monthly due date is specified at

Smart Tuition registration

Families must register with Smart Tuition for monthly tuition processing. An annual fee

of $50 to Smart Tuition is combined with the first monthly tuition payment due in July.

Families will pay tuition of $1,774 per month beginning in July of 2017 and ending in

April of 2018.

Questions? Please contact Nancy MacKinnon, x171 or nmackinnon@bshopodowd.org.

12 |
---
parent pledge program

making the difference

Your participation in the parent pledge program makes all the difference!

Your commitment to O'Dowd's parent pledge program directly supports an enriched high

school experience for every student – in essence, the daily life of your sons and daughters:

• Dedicated and talented teachers;

• Small class sizes;

• Award-winning programs – debate, drama, athletics;

• Enriching campus ministry program;

• Expanded counseling center and comprehensive academic support.

what is the parent pledge program?

Tuition and fees cover 89 percent of the cost to educate your student at O'Dowd. In order to

minimize tuition increases and still provide an excellent O'Dowd education, we depend on the

generosity of parents, family and friends to help close the gap.

Parent pledge program dollars support the retention and development of our talented educators,

technology upgrades, facilities enhancements, counseling, academic support and co-curricular

programs – all the things that make O'Dowd an amazing place for our students to learn and grow.

what am I expected to give to the parent pledge program?

Each family participates in the parent pledge program by making a minimum four-year, tax-deductible

pledge of $1,800 per year on behalf of each student that attends O'Dowd. While we

realize that sending multiple children to O'Dowd can be a major financial commitment, the cost

to educate each student remains the same no matter how many of your children are attending

O'Dowd. Families who qualify or receive serious consideration for financial aid will be asked to

participate at a level in line with their particular financial situation.

what are the tax benefits of participating in the parent pledge program?

Unlike tuition, your gifts to the parent pledge program are 100 percent tax deductible to the

extent allowed by law.

if my employer has a matching gift program, does my employer's contribution

count toward the amount I pledged?

Matching gifts serve as an additional way to support your student's education at O'Dowd, and

we appreciate your efforts in making gifts to the school go further through these matching gift

programs. However, O'Dowd does not credit gifts made from employee matching gift programs

toward your annual pledge amount.

14 |
---
can my friends and family pay my pledge on our behalf?

Yes. Please contact Cathy McFann in the Advancement Office at

(510) 553-8632 or cmcfann@bishopodowd.org to make arrangements.

what are the pledge levels and payment options?

During the online registration process, you will be asked to select the

annual commitment level and payment option that you prefer:

• $834 monthly ($10,000 annually)

• $417 monthly ($5,000 annually)

• $313 monthly ($3,750 annually)

• $209 monthly ($2,500 annually)

• $150 monthly ($1,800 annually)

OPTION A: Annual direct debit payment in July

OPTION B: Semiannual direct debit payments in July and January

OPTION C: Twelve monthly direct debit payments

If you feel you are unable to participate at any of the suggested levels,

during the online registration please select the option to attend a one-onone

meeting to discuss your participation commitment.

You will be asked to schedule a meeting on one of the following dates:

April 25, 26, 27 and 29.

we appreciate your support!

Parents who donate $1,800 and above each year will be

recognized and invited to an annual reception in appreciation of

your generosity.

Your Parent Pledge

helps fund the gap

between tuition and the

true cost of an O'Dowd

education. Your gift

supports key features

and programs that

define and distinquish

O'Dowd:

• Dedicated and

talented teachers;

• Small class sizes;

• Award-winning

programs such as

debate, drama and

athletics;

• Enriching campus

ministry programs;

• Expanded

counseling center

and comprehensive

academic support.

Please give as

generously as you can

to ensure the ongoing

quality of an O'Dowd

education for your

student and their peers.

Parents who donate $2,500 and above each year will also receive

an O'Dowd Premium Pass that admits two to any O'Dowd

student event (i.e. sporting events, drama performances, etc).

We strongly encourage families with the financial capacity to

give at the highest level and to enjoy the increased impact they

have on the quality of education at O'Dowd.

Questions? If you have any questions about the parent pledge program,

please contact Cathy McFann in the Development Office

at (510) 553-8632 or cmcfann@bishopodowd.org.

| 15
---
1:1 Laptop Program

at O'Dowd

At O'Dowd, the personalized learning journey begins with the option for

students to choose their own laptop.

Students may:

• purchase a school-distributed and supported laptop

• or bring a school-approved Windows or Mac laptop.

All students are required to have an approved laptop to complement the educational

experience at O'Dowd.

It is highly recommended that students acquire an extended warranty (e.g. AppleCare,

GeekSquad or other). When you purchase the school-distributed laptop or AppleCare for

the Mac, your student will have immediate, on-site hardware support. Software support is

provided only for O'Dowd course-specific software programs.

All new students must:

• sign the O'Dowd New Student Laptop Contract (available during the online enrollment

process) and

• attend Tech Check, an introduction to our 1:1 Laptop program and technical

configuration of your device to work in our environment.

Tech Check open drop-in sessions will be available throughout the summer. Visit the Student

& Parent portal at bishopodowd.org/students-parents-portal/ for hours and check email

announcements after you complete your student's registration. Students who purchase an

O'Dowd laptop will receive it at Tech Check.

Students who have their own laptop must bring it for use during Tech Check.

Questions? Please visit Technology at bishopodowd.org/academics/technology/ or

contact Gavin Maeda, x276 or gmaeda@bishopodowd.org.

| 17
---
transportation,

dress code, cafeteria

How to get here

carpools

The Dragon Parents Group has sponsored a carpool website to help parents find carpools.

Sign up at bishopodowd.carpooltoschool.com to organize your O'Dowd carpool and to take

advantage of messaging and scheduling capabilities.

Student Parking Permits are available only to seniors. The cost for the permit is based on car

occupancy. The more kids in the carpool, the less the cost of the permit.

parking

To complement our campus-wide sustainability efforts, we encourage students to carpool or

take public transportation. We provide on-campus parking spaces reserved for seniors. There

are additional free parking spaces near our school entrance and in/adjacent to our lower lot.

We recognize that more students are driving to allow greater flexibility to participate in afterschool

performing arts, athletics, tutoring and club activities. We are assessing and developing

new and additional student parking solutions for the fall.

AC transit

There are two morning and afternoon chartered bus lines to/from O'Dowd that serve

our students:

• Route 682 starts in Rockridge and runs the length of the Highway 13 corridor.

• Route 680 runs along MacArthur Blvd. from Lakeshore Avenue.

BART

O'Dowd provides free and convenient transportation for students and staff on an O'Dowd

shuttle bus that runs twice in the morning and in the afternoon, to and from campus and the

San Leandro BART Station.

Half-price BART tickets ($16 each, valued at $32) are available to our students. The Teenage

Student Discount Certification form and instructions are available on our website.

For all transportation information, including schedules, use the Getting Here link in

the My O'Dowd section at bishopodowd.org.

18 |
---
What to Wear

At O'Dowd, we wear our name proudly—on our polo shirts, sweatshirts and club T-shirts.

Our dress code emphasizes that the way we look positively impacts the way we feel: proud to

be Dragons.

And, we make it easy!

• Approved O'Dowd polo and O'Dowd outerwear available exclusively at the Dragon Den

• Clean (no holes) pants, jeans, khakis, shorts to the knees, long skirts

• Shoes with backs or back straps

To receive your order for the start of the school year, we recommend

placing your order by June 1.

For information and to place orders, visit the online Dragon Den Store in the

Students & Parents portal under My O'Dowd at bishopodowd.org.

Where to Eat

Epicurean Group, dedicated to sustainable dining, manages our Cafeteria. This means locallyproduced,

natural foods for delicious meals! Grass-fed or Niman Ranch beef. Eggs from

cage-free raised chickens. Seasonal menus—sometimes with vegetables from our Living Lab!

Breakfast and lunch are provided every school day for easy purchase at our Cafeteria via

student meal cards.

For information and menus, visit the Students & Parents portal under My O'Dowd at

bishopodowd.org

| 19
---
FAQs

Please visit www.bishopowdowd.org for more information about topics

addressed here.

20 |

What is the deadline for sending

final 8th grade transcripts?

Bishop O'Dowd High School (O'Dowd)

requires that all final 8th grade transcripts be

sent to the school by June 23. Please contact

Admissions at admissions@bishopodowd.org

with any questions or concerns.

What occurs at the Parent

Education Meetings?

Parent education meetings address teen

choices and decision-making regarding health

and safety issues. All parents/guardians are required

to attend one session each year in order

for students to participate in school activities.

What is PowerSchool?

What is Schoology?

O'Dowd provides online access to grades.

Parents and students may check progress as

teachers update grades through PowerSchool.

Schoology is the learning management

system and provides an online complement

to your student's classes. Course homework,

review sheets, and assignments are examples

of resources posted on the Schoology site.

How do I contact teachers?

You are encouraged to contact teachers at any

time to partner with them on your student's

progress. Teachers are available through email

or voicemail (all teacher contact information

is posted on the school website). You can

expect a response within 48 hours. You will

have the opportunity to meet your student's

teachers at Back-to-School Night in early

September (see next question).

Why should I attend Backto-School

Night?

Back-to-School Night offers an opportunity

to "walk in your student's shoes," as parents

move through classrooms and meet teachers

based on their student's course schedule.

Each teacher makes a short presentation

on course expectations and policies.

May I request a meeting

with a teacher?

Parents are invited to schedule conferences with

teachers at any time during the school year.

How do I know which counselor

is assigned to my student?

Counselors are assigned alphabetically by

your student's last name. You can locate

your student's counselor assignment on the

Counseling page at www.bishopodowd.org.

May my student request

a particular teacher?

Student schedules and teachers are determined

by the course choices indicated on the

Preliminary Course Schedule. Students may

not select particular teachers.
---
What is the Academic

Support Center?

Bishop O'Dowd High School is committed

to providing academic support for all students

and offers free tutoring and academic coaches

before, during, and after school.

May my student take finals

at a time other than the

scheduled finals week?

Since finals are an important aspect of your

student's grade, please plan your vacations

accordingly as students are not allowed to take

exams outside of finals week.

What can I find on the

school website?

The school website, www.bishopodowd.org,

offers up-to-date information on all aspects

of the school. Please contact webmaster@

bishopodowd.org with website questions.

Where do I find the

school schedule?

Weekly schedules and updates are available on

the school website and in the Student Planner

distributed at the beginning of the year.

What does MP represent?

MP stands for "Meeting Period," which

occurs approximately twice weekly and offers

students the opportunity to meet with teachers

for tutoring.

Where can I find the school

rules and policies?

The school rules and policies are documented

for parents and students in the

Parent-Student Handbook and the Student

Planner. An electronic version of the handbook

is available on our school website under

the Parents and Families link.

What do I need to do if

my student is sick?

Please email the attendance office at

attendance@bishopodowd.org or call

(510) 553-8691 between 8:00 a.m. and

9:30 a.m. on the day of the absence.

What is the dress code?

Dress code policy is explained in the Parent-

Student Handbook and on the website.

When do I receive a calendar/

directory for the year?

The School Calendar and Student/Parent

Directory will be available online (password

protected) in early September. An electronic

version of the school calendar is available on

our school website and is updated as needed.

How can my student get

involved in freshman retreats?

Freshmen will be excused from school to

attend a required, day-long retreat with their

whole class on October 18. The follow up to

the retreat is "Peer Ministry," an optional faith

sharing group.

| 21
---
What types of clubs are

available for my student?

There are more than 50 student-run, school

clubs available for your student to join that

include academic, social, and sports-related activities.

Students can also form their own clubs

in areas that they are interested in. Encourage

your student to check out the clubs at the

O'Dowd Club Fair in September during

lunch.

What is Spirit Week?

Chances are you will hear a lot about our

famous Spirit Week. This week highlights

school pride through a variety of activities.

Expect talk about dress-up days, the

Night Rally, dance, hall decorations and

the Olympics.

What is service learning?

Service Learning is an educational method

that deepens understanding about and our

response to social justice through handson

student service experiences within

the greater community. Though service

experiences happen locally and beyond, the

learning about justice is primary, and serves

our Religion department curriculum. Each

student completes four projects designed to

build life skills as well as knowledge of social

justice. This program partners with over 250

organizations annually. Students also may

participate in intensive service retreats in

other parts of the U.S. and the world.

How many servicelearning

hours are required

for graduation?

Our Service Learning program is project-based:

four projects that build on each other. Across

four years students engage in a minimum of 100

hours of service.

How can I support my

student's O'Dowd experience

by getting involved?

There are many ways to support your student's

O'Dowd experience and to get involved. The

Dragon Parents Group is an excellent way to

meet other parents and to support your student's

experiences at O'Dowd. From fundraising

to parent education nights, formal volunteer

commitments to opportunistic ones, please

visit the Dragon Parents Group section of the

website or email dragonparents@bishopodowd.org

with questions.

22 |
---
key contacts

MAIN: (510) 577-9100

EMAIL: FirstInitialLastName@bishopodowd.org

For a complete listing, visit the school directory at bishopodowd.org.

school

PRINCIPAL

James Childs x113

Hurley Hall

ASSISTANT PRINCIPALS

Brian Judd x166

(Student Life/Activities)

Colette Roche x205

(Academics)

Jase Turner x143

(Academic Support, Athletics,

Summer Academy)

Hurley Hall

ACADEMIC SUPPORT

Catherine Harris, Director x334

Dominican Hall

ATHLETICS

Mike Bowler, Director x401

Carlos Arriaga,

Associate Director x412

Dominican Hall

CAMPUS MINISTRY

Greg Moore, Director x165

Dominican Hall

COUNSELING SERVICES

x605

DEANS

Gary Mason x155

Shannon Donahue '95, x192

Hurley Hall

FOOD SERVICE

Katia Groffman, Manager/Chef

katia@epicurean-group.com

LIBRARY

Annette Counts,

Librarian x187

Hurley Hall Library

O'DOWD SUMMER ACADEMY

summeracademy

@bishopodowd.org

PLACEMENT TESTS

Candy Promes,

Academic Coordinator x122

Hurley Hall

RECORDS & TRANSCRIPTS

Registrar x605

Dominican Hall

SECURITY

Mike Dixon, Campus Security

Coordinator x705

Cummins Center

STUDENT ACTIVITIES

Starr Saunders '98, Director x111

Hurley Hall

TECHNOLOGY

Romeo Baldeviso, CIO x137

Gavin Maeda, Director x276

Classroom Building

TUITION PAYMENTS

Nancy MacKinnon x171

Dominican Hall

administration

(Cummins Center)

PRESIDENT

Dr. Stephen Phelps x306

ADMISSIONS

Kerryn Pincus, Director x603

Moire Bruin, Associate

Director x333

Tricia Bevilacqua, Admissions

Associate x253

General Admissions Questions:

(510) 553-8631

admissions@bishopodowd.org

DEVELOPMENT

Rebecca Bischoff, Chief

Development Officer x308

Michelle Hawkins,

Development x301

Cathy McFann, Annual Fund

& Special Events x303

LizaDawn Ramirez, Alumni

Relations x317

Jen Ripley, Donor Relations, x619

MARKETING &

COMMUNICATIONS

Susan Andres, Marketing x311

Lisa Coffey Mahoney '76,

Communications x302

Donovan Rittenbach

webmaster@bishopodowd.org

Bishop O'Dowd High School

A Catholic College Preparatory School | 9500 Stearns Ave., Oakland, CA 94605

Finding God

in All Things

Accredited by the Western Catholic Education Association

and the Western Association of Schools and Colleges