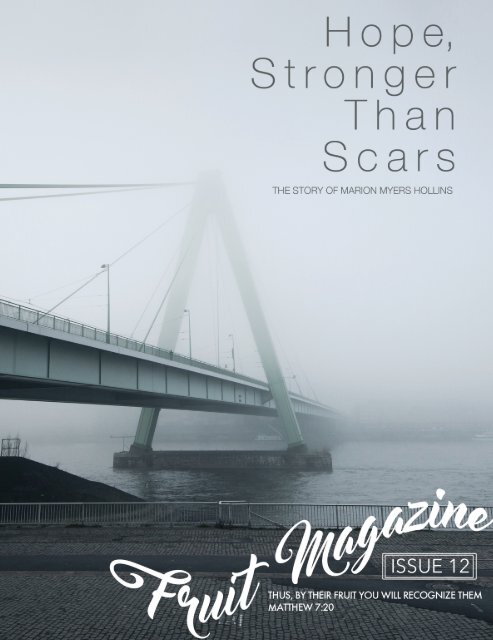 Hope Stronger Than Scars --- The Marion Wallace Story
During this powerful interview, Marion Wallace (Wife of Dr. Rick Wallace, published author, public speaker and psychologist), explains how she was able to not only survive CSA, but how she found healing, recovery and power through her faith in God, and her inexorable desire to win in life!
During this powerful interview, Marion Wallace (Wife of Dr. Rick Wallace, published author, public speaker and psychologist), explains how she was able to not only survive CSA, but how she found healing, recovery and power through her faith in God, and her inexorable desire to win in life!
SHOW MORE
SHOW LESS
Create successful ePaper yourself
Turn your PDF publications into a flip-book with our unique Google optimized e-Paper software.
ISSUE 12

CONTRIBUTORS

Tera Swigart

Editor-In-Chief

Tera also serves as graphic designer and writer for FRUIT.

and is the Executive Director of Freestyle

Ministries. She has been working with youth in the juvenile

justice system in various roles since 1999.

Chad Swigart

Graphic & Web Design

Chad oversees graphic elements of both print and online

versions of FRUIT. magazine. Chad is a freelance videographer,

video editor, graphics designer, web designer, and

musician.

Learn more: chadswigart.com

Barrell Richardson

Devotional: Fruit of the Vine

Barrell is the Juvenile Justice Ministry Director for Youth

For Christ Houston, which provides a myriad of enrichment

activities, bible studies, and mentoring for youth throughout

Harris County.

Learn more: facebook.com/YFCJJM/

Julie Waters

Columnist: Hey Ladies

Julie is an attorney and director of Free The Captives - an

organization that fights human trafficking and helps girls who

have been involved in prostitution, stripping, and

dancing.

Learn more: freethecaptives.org

James Odom

Columnist: Gangs 2 Glory

James is the founder of Alternative Behavior, an agency that

specializes in street gang education. He also serves as the

Gang Programs Coordinator for the Harris County Juvenile

Probation Department.

Learn more: alternativebehavior.org

Katharyn Schrader

Contributing Writer

Katharyn is a twenty-something pursuing her dream job

as a writer. She lives in Denver, Colorado and loves the

mountains, and finds joy in her family, community, and Jesus.

Follow her blog: hercrown.wordpress.com

FRUIT.

EDITORIAL

Editor in Chief: Tera Swigart

Contributing Editors: Kay Guerrero,

Barbara Howard, Richard Howard,

Katharyn Schrader, Louis Skipper

Contributing Writers: James Odom,

Barrell Richardson, Katharyn Schrader,

Tera Swigart, Julie Waters

ART

Graphic Design: Chad Swigart, Tera Swigart

PUBLISHER

FRUIT. Magazine is a publication of

Freestyle Ministries, Inc. a non-profit 501(c)3

whose mission is to equip and encourage

at-risk youth and youth within the juvenile

justice system to grow spiritually, develop

and maintain positive lifestyles, and use their

God-given gifts and talents to create change

in their generation.

FRUIT. is distributed free of charge and is

designed to promote reading and writing

skills, good decision making, creativity, and

spiritual growth in its readers.

If you are interested in supporting Freestyle

Ministries, Inc., please donate online at:

producefruit.org, or you can send a check to:

Freestyle Ministries, P.O. Box 580668,

Houston, TX 77258. We will provide you

with a copy of FRUIT. magazine as a thank

you for your gift!

CONTACT

Here at Freestyle Ministries, we love to hear

from our readers! If you have any questions,

suggestions, or prayer requests please contact

us and we will get back to you soon.

Freestyle Ministries, Inc.

FRUIT. Magazine

P.O. Box 580668

Houston, TX

77258

E-Mail: tswigart@gmail.com

Phone: 832-423-3126

Web Address: producefruit.org
---
ISSUE TWELVE

- C O N T E N T S -

produce!

Art and Writing of Our Readers

4

fresh picks music & book reviews

18

feature story hope stronger than scars

The Story of Marion Myers Hollins by Katharyn Schrader

20

fruit of the vine devotional

What'cha Looking At? by Barrell Richardson

24

hey ladies for our female readers

Your Body is a Temple: Protect It by Julie Waters

26

Gangs 2 Glory column

What Race are You Running? by James Odom

28

clean healthy living

Alleviate Depression Naturally? by Tera Swigart

30

inbox letters from Texas inmates

Suicide is Not The Answer

34

1
---
BECOME A FRUIT. MAGAZINE

thank you! individual and ministry partners

FRUIT.

Y O

magazine

U T H

is a publication

C O N

of

S

Freestyle

U L T

Ministries.

A N T

We rely entirely on donations to design, publish, and

distribute each issue of FRUIT. magazine.

We appreciate all of our partners and are incredibly grateful!

We need YOUR help to make the best possible magazine for youth across Texas!

We are looking for youth ages 11 - 19 to join the FRUIT. volunteer team.

Dave & Bobbie Armstrong All you need to do is fill out the form below and mail it to:

Logan & Savethrie Freestyle Asari Ministries, P.O. Box 580668, Houston, TX 77258

Lester If it is & too Raynita difficult Curry to write on this paper or if you need more space, simply write your

Jackie name, Freeman address, and answers on your own paper and mail it to the address above.

Rudy & Kay

As

Guerrero

a special thank you for your help we will send you a commemorative

certificate of congratulations for becoming a FRUIT. magazine youth consultant!

Elisa -----------------------------------------------------------------------------------------------------------------

Gonzalez

Cheryl Goyne

PLEASE PRINT CLEARLY

Dot Name: Guillot

Tom & Janet Harsin

Mailing Address:

William & Sandra Hoogterp

Mary Anne Kannard

1. Share what your favorite parts of FRUIT. magazine are and why.

Marilyn Lewis

Lewis & Joanne Mason

James & Cindy McClure

Alice Medcalf

Randy & Mary Jane Mooneyham

2. Share what your least favorite parts of FRUIT. magazine are and why.

Isaac Munoz

Ronnie & Connie Neill

Shelly Poteet & Mark Elliott

Richard & Reyna Rubio

Dana Sangerhausen

3. Share if you would like your facility to receive FRUIT. magazine more often and why.

Kathryn Schuller

Jackie Sciascia

Jason & Tara St. John

Joe & Jeanene Scott

Tina Stegall

4. In what ways has FRUIT. magazine helped you or others?

Chad & Tera Swigart

James &ValerieTullis

Bill & Dot Webb

Debra Wiggs

5. Share any ideas you have to improve FRUIT. magazine.

2
---
WHY I STARTED

F R U I T M A G A Z I N E

TERA SWIGART

I

just wanted to take a minute to tell you why I started FRUIT. magazine. As a teenager, I witnessed many of my

friends struggle with depression, loneliness, and anger. Many of them had serious issues at home with absent,

abusive, or drug/alcohol addicted parents. I saw them (and sometimes myself) turn to drugs, gangs, sex, running away

from home, cutting, etc. to deal with these feelings and problems. I still have countless letters from friends that grew

up in juvenile facilities and group homes - missing dances, friendships, family, and freedom. I witnessed broken-hearted

family and friends at way too many funerals for people who died way too young due to drug overdoses, drunk driving,

gang violence, and suicides. It was surreal. In the midst of all this turmoil, I was lucky to have two amazing parents

who prayed for me and my friends, welcomed them into our home, and taught me to seek God during those times. I

still made lots of mistakes, but I had a solid foundation to go back to.

When I was 19 years old, I lost one of my best friends. We had been close since we were six years old, playing together

at school and home. We grew up together. He spent a lot of time "locked up" and was finally out and I thought the

worst was over, but then he died of a drug overdose. I was devastated. I was done. One day, while I was walking and

praying, I told God that I just wanted to be free from the hurt. I told Him I was tired of being angry at Him and that

I wanted Him to clean me from all those ugly feelings. At that very moment it started raining! It was overcast and you

may call it coincidence but in my heart, I knew it was an answer to prayer. He was listening. I walked home like a kid,

splashing in puddles and enjoying the rain rather than hiding from it. My dad came out and joined me. Anyway, that

day I realized that I could become bitter and cynical about all I had seen or I could do something to try and prevent

other people from having to go through it.

I began mentoring and teaching art at the Fort Bend County Detention Center at 19 years old and later worked for

them planning enrichment activities and teaching life skills. Then I went to school and became a Chemical Dependency

Counselor and worked as a counselor at three different Harris County juvenile facilities. It was there that God gave me

the dream for FRUIT. magazine - to reach as many of these young men and women as I could and share with them

hope, encouragement, resources, and gang and drug education in a way that they would hopefully receive and consider

it. On top of that, God gave me the vision of publishing their art and writing so they could feel proud of themselves

for doing something positive and so that they could use their mistakes to help their peers.

I have now been working with youth in the juvenile justice system

for 16 years. I love these kids. You wouldn't believe some of their

stories - makes my past look like a fairy tale. So, I appreciate every

encouragement and every cent that you give to allow me to continue

working with them. This magazine is my heart and my passion. All

the glory goes to God; He has surprised me every step of the way!

CONTACT US

P.O. Box 580668

Houston, TX 77258

832.423.3126

tswigart@gmail.com

www.ProduceFruit.org

3
---
produce! art & writing of our readers

WILLIAM, 15

4

5
---
Matthew 7:20 says, "Thus by their fruit you will recognize them."

We want YOU to "produce fruit" by creating artwork and writing

to be published in our next issue! This is a great way to glorify God

with your talents and to encourage others. If your work is published in

FRUIT., we will mail you a copy of the magazine to have as a keepsake!

If you would like to submit any art or writing to be published in FRUIT.,

please complete a submission form and mail it along with your art/writing

to: Freestyle Ministries, P.O. Box 580668, Houston, TX, 77258.

You can use the submission form in this issue or download a submission

form from our website: producefruit.org. You can also scan and

e-mail your work and form to Tera Swigart at: tswigart@gmail.com.

ALSO, WRITE US WITH ANY QUESTIONS OR PRAYER REQUESTS.

We have lots of people ready to pray for you and answer any questions

you may have!

ANDREW, 17

ANDREW, 17

6

5
---
ANDREW, 17

6

CARLOS, 17
---
ARMONDO ANDREW, 17

CLEO, 16 CLEO, 16

S.L., 16

7
---
DALTON, 15

MY PAST HAS BEEN BAD

My past has been bad and it makes me sad,

But the future can be good - I used to fight for the hood.

When I be sitting in that cell – it felt like I was in hell.

But when I open up my Bible it brings me joy

Like when I was a little boy

I know I'm a sinner but I'm gonna be a winner.

My life has been terrible

But the clothes that I had on my back were wearable.

Life isn't fair sometimes.

People don't care when you going to court in shackles

– people just stare.

How could I be so heartless?

It's weird 'cause when I was hittin' licks I was fearless

But now I'm tryin' to change my life. I be cryin' at nightwishin'

I was with my family, that I'll get out of TYC

And soon be free again. Never gonna get in trouble again

– I'ma win. I'm never gonna sin from this point on.

JESSIE

INTO MY HEART

As I sit here I think of my past, how I'm in jail cuz of my

choice to do crime, I contemplate what my parents say.

Why couldn't I lead a good life? But, when I let Jesus

into my heart, my sins were instantly forgotten. My soul

was cleansed and made pure by the blood of God's only

begotten.

I was given light and life through Jesus Christ - the Lord,

the glorious Savior. Now I must read the Holy Bible –

and apply it to my daily behavior.

FREDERICK, 13

TO MY FRIENDS,

Jesus is the best man in the world, all you have to do is

seek him. If He can change my life, he can change yours

also. I started smoking when I was twelve, jumped off

the porch at a young age. Didn't care about God, my

savior, until I came to jail. I can't tell you how good His

word is, you have to see for yourselves. But, I promise

you, once you pick up the book of LIFE, you won't

wanna put it down.

We all need to make a change in our life. Stop this smoking,

drinking, sex and violence. This world is becoming a

dangerous place to live and the only way you can see this

happening is by picking up the Bible and reading and

understanding it. Make a change in life, be a leader – not

always a follower. I was a follower but God helped me to

become

8 7 a leader. God bless y'all!

SAMUEL, 17

THINGS I WAS DOIN' IN THE STREETS

I am locked up. I have been here for 10 months,

charged with a serious crime. You may wonder

how I got here. 10 months ago on October 31st,

on Halloween day, my life changed forever. I was

with some people that I used to call friends – but

they were really not my friends. We were drinking

and getting high, then later that day we did something

I wish I never would have done – it's in my

head like it was yesterday. I wish I could take it

back, but I understand that I did something bad

and if I have to do some time, I'm going to do it.

I wasn't bad overnight - we used to smoke marijuana.

I thought that was cool but it really was to

make me fit in with them fools. I wanted to smoke

more and more. I didn't care what other people

or my mom said. So one day, I just ran away from

home. I was just doing what I wanted to do. I was

breaking into people's houses and stores. I was doing

a lot of drugs and bad stuff and I didn't care.

I was just high every day. The streets and drugs

didn't give me nothing good. I was a part of a

gang. The gang didn't bring me nothing good. A

lot of my friends, my real friends, were killed and

I used to talk bad of my mom. My mom, she did

everything for me but I didn't do nothing for her

– just bad stuff. Now that I'm locked up, my mom

is the only one with me, helping me.

When I first got here I didn't believe in God and

now I do. God and your family are the only ones

who are going to be with you when something bad

happens. It's not too late to change. When I get

out of here I am going to change and be with my

family and the people I love the most. My life has

changed a lot because of the drugs and gangs. My

baby girl just died like two months ago and I was

really hurt and I wanted to help others to stay out

the streets because I know how it feels to be in

the streets – smoking and doing other stuff. I just

wanted to say that it is not too late to change. I

also wanted to say sorry to my mom for all the bad

things I did. Te quiero mucho. So for those of you

that want to change, it's not too late.
---
EDGAR

I want to share something with those who are

still doing all that wrong stuff because God has

opened my eyes to see the reality. I was one of

those persons that would spend most of the time

(or all the time) in the streets doing drugs, hanging

out with bad influences, doing bad stuff and being

on the run and all of that. I would do the stuff I

would set myself to do and still do things wrong.

It wasn't 'til one night I was walking with one of

my "friends" and we saw a truck started with nobody

inside and I told my friend that we could

get the job done – I was willing to risk it without

knowing where I was going to end up. When I attempted

to take the car, the cops got me, arrested

me, and took me to jail. I did not only face that

charge, but a drug charge as well.

After I got released, I kept doing the same stuff

and a couple of weeks later, I got caught up again

and did more time than what I thought I was going

to. But this time I decided to change for myself,

for good because I realized that all that stuff

I used to do, all those years I wasted on the streets,

on drugs, on all that nonsense, was worthless because

I realized that if I didn't change I would end

up locked up for life or dead. I wasn't always that

bad kid, I used to be good, I attended church, went

to school, etc. But if you hang around those that

are doing wrong you will eventually get caught up.

Now, I couldn't change on my own. God has been

there for me to help me achieve it. I am a new

creation in Jesus Christ. He helps me with my everyday

struggle and helps me stay on track.

I also wanted to change because I realized the pain

I was causing my family and especially my beautiful

momma. I seen my mom cry and I couldn't

take it. It broke me on the inside, I felt like I was

dying. I made a decision and a promise to myself,

my mom and to God, that I would make my

momma happy, I would make her proud, that she

would cry – but not of pain but of joy. I will walk

on stage and receive my diploma and whenever I

turn to look at her, I will see tears rolling down

her cheeks thinking to herself, "My son made it."

I want my momma to live a joyful life but I was

doing the opposite back then. But now, I got a

promise to make come true, I will not disappoint

my mom or God – I will make my momma happy.

CARLOS, 17

I'm locked up, sitting in the unit

thinking about my life.

Locked up in a cell

got me thinking more than twice

I did something wrong,

now it's time to pay the price!!

I just want to tell all the people

reading this right now

To make the right choice – I know how you feel!

I have been locked up more than 9 times – now

I'm over here being locked up since 2015 – that's a

year and two months and finally going home.

All this time makes me realize all the bad stuff I

was doing before and all the people that just tell

me that they was my "Homeboys."

They ain't real – they fake!!

I been locked up all this time and none of them

have written me a single letter or called my mom

to see how I'm doing. All this time I thought they

was real but they really ain't – they just want you

to be like them. I'm not telling you what to do or

how to live your life, I'm just tellin' you now the

choice is yours; it's up to you

But just think about all the harm you are doing

to your family!! And never forget God's always

gon' be there for you no matter what – He's ready

when you're ready.

CARLOS, 17

LOCKED DOWN

I'm stuck in the system and I can't get out.

Sitting on my cell with a lot to think about.

Sometimes I wanna run and get away from this

place

But I can't get out because these brick walls are

making me stay.

I did something wrong – now it's time to pay the

price

Now I'm flippin' the script 'cause I have to stay

strong.

Not only for myself,

But mainly for my mom…

It's a struggle everyday,

But I know everything is gonna be okay.

Now, I just pray to God and

Ask for forgiveness and one more last chance.

9 8
---
THOMAS

DAQUALYN, 16

9

10

JESSE
---
DAQUALYN, 16 GERARDO, 16

JESSE, 16 STEVEN, 17 TRAVION, 16

TRAVION, 16

TRAVION, 16

TRAVION, Sergio, 15 16

11
---
GERARDO, 16

SAMUEL, 17

THOMAS TRAVION, 16

12
---
JESSIE JUAN, 17

NOEL, 14 TRISTAN, 16

Jesus, 17

13
---
SAMUEL, 17 SAMUEL, 17

TYLER, 16 S.L., 16

S.L., 16

14
---
15
---
6

FRUIT.crossword puzzle

3

6

2

1

4

7

1

5

4

2

3

16

5

ACROSS

1. What organization can you call if you or someone you love is having suicidal thoughts? (PG 22)

2. How old was Marion Hollins when she first thought of committing suicide? (PG 21)

3. Fill in the blank: "You should treat your body with respect and ." (PG 27)

4. Fill in the blank: "With each choice we make, there are obstacles and ." (PG 28)

5. What did James Odom ask you to ask yourself? Fill in the blank: "What am I ?"(PG 29)

DOWN

1. What is the last name of the female musician we recommended? (PG 18)

2. What fueled Marion Hollins' depression? (PG 22)

3. The book in the Bible that has the verse, "For I know the plans I have for you, declares the Lord, plans to prosper

you and not to harm you, plans to give you hope and a future." (PG 24)

4. Who gives us the to ability to understand God's word and to view our circumstances as God does? (PG 25)

5. The prophet in the Bible who prayed, 'Open his eyes, LORD, so that he may see." (PG 25)

6. What is Tip 3 for alleviating Depression naturally? (PG 31)

7. Which vitamin "helps boost your immune system, which helps give you energy and an overall feeling of well-being.

It has also been shown to help with a more restful sleep." (PG 32)

8.Finish the Lecrae Quote: "If you live for people's acceptance, you'll die from their ." (PG 19)

ACROSS: 1.SUICIDELIFELINE 2.SIX 3.HONOR 4.SACRIFICES 5.ACCOMPLISHING/ DOWN: 1.DAIGLE 2.HOPELESSNESS 3.JEREMIAH 4.HOLYSPIRIT 5.ELISHA 6.MEDITATION 7.VITAMINC 8.REJECTION
---
ORDER YOUR

COPIES

OFFRUIT.MAGAZINE

For only five dollars per copy, you can provide the youth

you serve with FRUIT. magazine - an excellent resource

to inspire, educate, equip, and encourage them to make

positive lifestyle changes and to use their God-given gifts

and abilities to create change in their communities.

We currently have nine juvenile justice facilities in need of

sponsorship. These include:

Harris County Leadership Academy

Harris County BBRC

Dallas County Henry Wade Juvenile Center

Galveston County Juvenile Detention

Ron Jackson State Juvenile Correction

Giddings State School

Gainesville State School

Montgomery County Juvenile Detention

McLennan County State Juvenile Correction

Please consider ordering copies of FRUIT.magazine for

your facility/organization or make a difference in your

community by sponsoring one of the facilities listed above!

If you are interested in ordering or sponsoring, contact

Tera Swigart: tswigart@gmail.com, 832-423-3126

17
---
fresh picks music reviews

THE 6 TH

Artist: Flame

Genre: Hip Hop

HOW CAN IT BE

Artist: Lauren Daigle

Genre: Pop

I'm a huge Lecrae fan and feel he and Trip put out the

best Christian Rap out there. The 6th, in my book, has

added Flame to the elite group. The cream of the crop

got thicker since this release...granted his other stuff

has been great but this is the most complete album

I've heard from him.

Flame grabbed my attention with the very first song

and held it till the tracks went silent. I love Flame's

delivery, not fast or quick, but deliberate and almost

in a way that makes you feel his emotion-filled beliefs

through his words. You gotta check this album out if

you even "kinda" like rap music... or are simply trying

to get closer to God. Flame will walk you through

some pitfalls and questions Christians face that can't

help but assist you in your walk.

I pray Flame is gifted from God to keep producing

truth for years to come.

18

Lauren Daigle's latest album, How Can It Be, is one of

the best female Christian albums in a long, long time.

The music is beautiful and her lyrics are raw, personal,

and refreshingly unique compared to the typical Christian

worship albums.

God has used the trials in her life as a teenager to prepare

her for creating this worship CD. There is not a single song

on this album that you will not love. It's not elevator music,

but soulful, contemporary, and fresh. Lauren Daigle

reminds me of Adele or Amy Whinehouse with her sultry

nightclub voice yet it's uniquely Lauren Daigle and completely

worshipful.

She is best know for the title track "How Can It Be"

which is an introspective examination of personal

failure in light of God's goodness. This track won the

KLove Fan Award for best worship song of 2015. We

will not be suprised to see her bring home a Grammy!
---
ook reviews fresh picks

UNASHAMED

Author: Lacrae

Genre: Nonfiction

STEPHEN CURRY

Author: Clayton Geoffreys

Genre: Nonfiction

"If you live for people's acceptance, you'll die from

their rejection." Two-time Grammy winning hip hop

artist, Lecrae, learned this lesson through more than

his share of adversity—childhood abuse, drugs and

alcoholism, a stint in rehab, an abortion, and an

unsuccessful suicide attempt.

This short unauthorized biography will be very interesting

for sports fans and those that just like a good

inspirational story. The book follows Curry from childhood,

showing how he became one of the greatest

shooters of all time and shares several surprises

along the way.

Along the way, Lecrae attained an unwavering faith in

Jesus and began looking to God for affirmation. Now

as a chart-topping industry anomaly, he has learned

to ignore the haters and make peace with his craft.

The rap artist holds nothing back as he divulges the

most sensitive details of his life, answers his critics,

shares intimate handwritten journal entries, and powerfully

models how to be a Christian in a secular age.

This is the story of one man's journey to faith and

freedom. This is a great read and awesome way to

learn about the man behind the music.

His devotion to Christ and personal integrity is inspiring.

Curry's parents taught him to prioritize faith, family,

and academics above everything else - including

sports - Curry still clings to these priorities today.

Curry is a devoted follower of Christ who displays

his unselfishness on and off the basketball court. He

even writes Bible verses on his basketball shoes! The

legendary player feels God wanted to use him in the

league to show that not all successful athletes live the

celebrity lifestyle that comes with all the money and

fame. We definitely recommend this book!

19
---
HOPE

stronger

than

THE STORY

OF MARION

M Y E R S

H O L L I N S

scars

20
---
"Praise God," she

says, "that he cut

her face instead

of cutting her

neck. I saw the

bone in her face."

Marion was just a

child and shared a room

with her two brothers on

the night their father took a

garden hoe to their mom's face.

"My mother was a beautiful

woman, but that incident left her

scarred for the rest of her life."

And it just added to the scars

already damaging Marion's heart.

Marion remembers being six years old the first time

she walked into the kitchen on a mission to end her

life. She didn't skip or twirl around like little girls

are supposed to; she was looking for a knife.

She gingerly carried the dangerous device to the bathroom and proceeded

to press the blade into her little wrists. "Depression hit me at an early age," she

confesses. "I had already been through so much. I had seen so much. Every day

I went to school with my fingers crossed, praying that my mom would be alive

when we got home."

Marion and her brothers would return home from school to find their mom alive

but not living much of a life — covered in bruises from her husband's brutalities.

Little Marion lived in fear.

"I never knew when he was going to come home drunk, tearing up the house. Whenever he was

home I would stay near the boys," she remembers. "I lived in a world of dishes crashing, mother

screaming, children waking from their sleep." And that's not a world anyone should live in

— especially a child.

21
---
"The pressure of all of that combined was just too

much," she says. "I didn't want to live anymore because

I was tired of the emotional trauma I was going

through. I was trying to be strong for so long."

That's when the depression started leading to suicidal

thoughts: "I can't be strong anymore so I just want it

to end." What was supposed to be a secure and

peaceful time in her formative years was actually a

time of fear and darkness.

M A R I O N ' S D E P R E S S I O N

THREATENED TO SHORTEN HER

T I M E O N T H I S E A R T H .

*

B U T W H A T F U E L E D

H E R D E P R E S S I O N ?

H O P E L E S S N E S S

"I didn't know why I was here," she says. "I felt invisible.

I was always scared to death, and no one understood

what I was going through. I was hopeless."

The lack of hope in her life fueled her depression. The

introduction of hope to her life is what pulled her out. "I

didn't know anything about God," she admits. "But as I

got older, my grandmother taught me about Christ and

his love. His forgiveness. I started getting a little bit

stronger because I believed that there was something

out there more powerful than I could understand."

For someone who spent many years battling depression

and suicidal thoughts, Marion knows that only

one thing truly saved her from her darkness: having

access to hope."I grew up in impossible situations,

just like a lot of youth today," she says. "But thankfully,

I had that one person who had hope, who had an attachment

to something bigger."

"No matter what your situation is," she promises, "you

can make it out — and not just physically, but mentally

and emotionally as well. No, it's not going to be

easy. You have to relearn everything. You have to be

a fighter. There's a bigger calling on all your lives; you

have to believe in something bigger than you. Even in

the midst of all of your pain, God is in that. He is going

to turn it around. He is present; He can save your

soul. He can pull you out of despair, but you have to

believe it to receive it. Without Him it's almost impossible

to make it."

Now a real estate agent, administrative assistant,

and author, Marion has six children and three grandchildren.

"I'm a walking testimony of having lived the

street life and now doing something positive with my

life," she says. But things aren't perfect; it doesn't

work that way. To this day, she sometimes struggles

with darkness.

"I'm not going to say I'm one hundred percent," she

admits. "Everyone has to manage their emotions. If I

go back to my past for too long, I experience the guilt

I've been freed from so many times before."

The key, always, is clinging to hope. "I just have to

pray myself out of it," she says. "I cry out to God and

I regroup. I can't give up. I won't give up. My purpose

is bigger than even what I can see. That's why I tell

my story."

Marion is dedicating the rest of her life to sharing that

hope with youth who are growing up in the ghetto just

like she did. In her book, Ghetto's Forgotten Daughters,

she shares her whole story — including how she

got out.

22
---
FREE THE CAPTIVES

HAVE YOU BEEN INVOLVED

I N S E X T R A F F I C K I N G ,

P R O S T I T U T I O N ,

O R S T R I P P I N G ?

NEED HELP IN GETTING YOUR

LIFE ON THE RIGHT TRACK?

Reach out to

FREE THE CAPTIVES

We work with teens

in sex trafficking

by providing jobs,

mentoring, helping

with their education,

providing groceries,

furniture, and more

Call or text Julie Waters: 281-901-0794

W W W . F R E E T H E C A P T I V E S H O U S T O N . C O M

23
---
fruit of the vine devotional by barrell richardson

W h a t c h a

L o o k i n ' A t ?

What's good family? Hey I got a question for you…..Whatcha lookin at? For some of us, that's what we ask someone

who is staring, "mean mugging," or looking at us in a way that makes us feel uncomfortable. And when we're the ones

being asked that question, we tend to feel like we are being called out or disrespected. If you are anything like I used to be,

the automatic answer to that question is an aggressive, "I'M LOOKIN AT YOU!!" Lol, you know that's what we do. I know

how this question may come across, but I'm still seriously asking you today - this very moment, real-talk right now as you are

reading this - "Whatcha lookin' at?"

Whether you know it or not, lil homie, your answer to that question is incredibly important. The answer to that question

shapes our perspective and actions - not just for today, but it also shapes how we view our future as well. So I'm going to ask

you again, in your current situation - whatever it may be - what are you looking at? Do you view your situation as hopeless?

Do you view it as an end to the plans and dreams you had for yourself? Do you see it as punishment for past mistakes? What

do you see when you look in the mirror? Success? Failure? Potential? Whatcha lookin at?

I know many don't want to answer or even think about that question. There have been times in my life when the answer to

that question was painful. It was so painful because I was looking through the wrong lenses. I was viewing it from my limited

vision instead of viewing it through Gods eyes! Just like when a person wears glasses to correct their vision if they don't have

their glasses on, or have the wrong lenses, everything will be blurry and can even cause more damage to their eyesight. But with

the proper lenses, they can see with vivid clarity. It's the same with how we view life. From our flawed human perspective, our

circumstances can appear skewed - based on past hurts, mistakes, and failures. If we don't change our perspective we will never

see the beautiful life filled with hope and joy that God has prepared for us. It's not that it isn't there…it just that we don't see it.

God has made it pretty clear in His Word how He views our future when we follow Him. Jeremiah 29:11 says,"'For I know

the plans I have for you,' declares the LORD, 'plans to prosper you and not to harm you, plans to give

you hope and a future.'" God has plans for us and they're not based on anything we do or don't do, they're based on what

He wants to do for His children!! So, you wanna know how you can see yourself how God sees you, right? Good question …

man y'all are smart! Surprisingly, the answer to that question is fairly simple. To know God's plans for us, which will begin to

24
---
eshape our perspective and view of our lives, selves, and situations, we first have to have a relationship with Him. The only

way to start that relationship is by recognizing that you have sinned and that there is a penalty to be paid for that sin. You

need to ask forgiveness for those sins and turn away from them, believing that Jesus is the Son of God who paid the price for

your sins when He died on the cross and that He rose again three days later so that we can have eternal life in Heaven. For all

those who repent and believe will become God's children (Galatians 3:26) and will receive the Holy Spirit (Ephesians 1:13)

who gives us the power to change, to communicate with God, to understand His Word, and to view our circumstances as God

does. Once you are a child of God, you still have to put in the time to grow - spending time with God continually - reading

the Bible, praying, and spending time with other believers. The more time you spend with God, the more you will see how

God can use your circumstances to grow you into the strong person He created you to be. You will learn how valuable and

precious you are to Him.

Listen, I hear you - many of you are thinking, Brother B, I hear you, but you don't understand all the bad I've done and all the people I've

hurt! How could God truly have good plans for me after I've done all of that? I still make mistakes constantly, so why would God want to do good

for me? I hear what you saying but I just can't see it or believe it's true for me. I hear you Fam, and trust me, I've asked those same questions

myself many times. So let's do this: turn your Bible to 2 Kings, Chapter 6. Peep verses 8-17:

"Now the king of Aram was at war with Israel. After conferring with his officers, he said, 'I will

set up my camp in such and such a place.' The man of God sent word to the king of Israel: 'Beware

of passing that place, because the Arameans are going down there.' So the king of Israel

checked on the place indicated by the man of God. Time and again Elisha warned the king, so

that he was on his guard in such places. This enraged the king of Aram. He summoned his officers

and demanded of them, 'Tell me! Which of us is on the side of the king of Israel?' 'None

of us, my lord the king,' said one of his officers, 'but Elisha, the prophet who is in Israel, tells

the king of Israel the very words you speak in your bedroom.' 'Go, find out where he is,' the king

ordered, 'so I can send men and capture him.' The report came back: 'He is in Dothan.' Then he

sent horses and chariots and a strong force there. They went by night and surrounded the city.

When the servant of the man of God got up and went out early the next morning, an army with

horses and chariots had surrounded the city. 'Oh no, my lord! What shall we do?' the servant

asked. 'Don't be afraid,' the prophet answered. 'Those who are with us are more than those

who are with them.' And Elisha prayed, 'Open his eyes, LORD, so that he may see.' Then the

LORD opened the servant's eyes, and he looked and saw the hills full of horses and chariots

of fire all around Elisha."

You see Fam, sometimes you have to trust what God and others can see for you until you can see it for yourself. It's called faith!

What I and hundreds of others who are praying for you see for your future is a life filled with joy, purpose, success, strength,

and inspiration for others. Your triumph in your circumstances through your relationship with Jesus will inspire others if you

will allow him to mold you and bless you the way he longs to. Family, you may not know it yet, but you are a success story in

the making - That's what I'm lookin at......YOU!!!!

Okay fam, I gotta go, before you all get me in trouble with Tera for making this too long. You know Tera - the Founder of

FRUIT. magazine? C'mon Fam, check the front cover and catch up. Smh! Real-talk though…..I luv ya Fam and until we get a

chance to talk again…keep pushin!

In His grip, Barrell

25
---
hey ladies column for our female readers

Julie Waters, Attorney and Director of Free the Captives

This article is being written to keep girls OUT of the life

– out of prostitution and sex trafficking. If you, for one

minute, think pimpin' or being with a pimp is cool, I hope this

article makes you think twice. You don't want to come even

close to this danger. Once you get in it, it will mess up your

entire life. If you have already been in the life, don't give up.

There is hope, and there is a way out. (Read to the end.)

There are many reasons why girls get into the life. A dude said

he loved you. He said you could make lots of money together

and that you would never need to worry about anything again.

You wanted away from the rules of your mama. She never lets

you do anything. So you run away from home, and you run to

him. Turns out that dude was a pimp.

Or you are locked up in detention, and this girl starts talking

to you. She tells you about her dude and how they make a lot

of money together. "It's real easy and fun. I can hook you up.

Call me when you get out," she says. You like her. She's nice to

you and listens to all of your problems. You feel like you have

nowhere to go or no one to talk to when you get out so you

do call her when you are in the free. She is more than happy

to come pick you up.

Whatever the reason, once you are in the game, it is hard to

26

get out. If you've been doing this since you were 12 or 14

years old, you feel like you don't know anything else. It is all

you are used to - the fast life, the drugs, the excitement, the

illusion of money. But then you begin to realize, this life is not

for you. You don't like being used and abused. You don't like

being in jail. You don't like giving all your money to him. You

are tired. Your body is tired. Your mind is tired. And maybe

you've become pregnant and you realize you want something

more for you and your baby.

So you decide to leave. Leaving can be easy or really hard. It

depends on your pimp and that issue is a whole other article.

But let's just say your pimp lets you leave and now you are

free to do whatever you want. You want to start a new life.

You want to do things the right way. This is where things get

tough, especially if you don't have a good support system.

When you start your new life, you are probably going to want

a job. It is hard to go from making $200 or $500 a night to

making $7.25 per-hour (minimum wage). And that is if you

can find a job!! Many of the girls I work with have a hard

time finding places that are even hiring. Applying online is

not enough; you have to go in person and talk to the manager.

It is easy to get discouraged when you apply to a ton of jobs

online and no one ever calls you. At this point, it would seem
---
PROTECT

IT

really easy to call your dude and to go back to prostitution.

That money seems easy. But I want you to remember the true

cost. You were created by God. Did you know that your body

is special? In the Bible it is called a temple. "Don't you realize

that your body is a temple of the Holy Spirit, who lives in you

and was given to you by God? You do not belong to yourself,

for God bought you with a high price. So you must honor

God with your body" 1 Corinthians 6:19-20.

A temple is a special place, a holy place. During Jesus' time,

the temple was a place where people came to worship God.

People treated the temple with respect and honor. Therefore,

if your body is a temple like this verse says, you should treat

your body with respect and honor.

Furthermore, this verse says that God paid a high price for

you. You may think you made a lot of money when you were

with your pimp, but the price God paid was even higher.

When this verse talks about God paying a high price, it is

referring to Jesus dying on the cross for you. God allowed

his son, Jesus, to die for you and me. His death on the cross

is priceless. This means that you are worth more than $500 a

night. Jesus died for you. There is no amount of money that

you can earn in a night that is worth more than what Jesus did

for you. So honor God with your body. Do not go back to

that life no matter how hard things seem. You are worth so

much more.

Girl, Jesus loves you. No matter what has happened in your

past, He loves you. And because of that you can face this new

life – no matter how hard it seems. You are not alone. You are

loved. You are special.

And as for that job…well, I can try to help you with that. I

have a job program for girls in the Houston area who have

been involved in sex trafficking and prostitution. It is called

New Creations, and the girls make amazing, beautiful candles.

You get paid for making candles and also learn how to interview,

write a resume, and much more. New Creations is a

great way to get job experience.

At Free the Captives, we help with many things - tutoring,

shelter, groceries, mentoring, and more. But the one thing that

we do that the girls really like the most is our job program. So

if you are interested, you can call me at (281) 901-0794 and

be sure to leave a message. You can also text that number.

Remember, your body is a temple! You deserve respect and

honor, no matter what you've been through.

-Julie Waters is a lawyer who started the nonprofit, Free the Captives, to help

girls involved in prostitution and stripping in Houston, TX to rebuild their lives.

27
---
GANGS 2 GLORY column by james odom

WHAT RACE

AREYOURUNNING?

Ever sign up for a race? I recently signed up and

ran two (OCR) Obstacle Course Races. They're

definitely a challenge because not only are you

running a 5k, but you're expected to overcome obstacles

along the way. When I registered for these

races, I knew a few things would come with my registration.

I got an entry to participate, a t-shirt, and

also a medal upon completion. They were definitely

worth the time and effort it took to prepare for them,

plus it felt good to accomplish something I'd worked

so hard for.

love in a relationship. The races we run are called

life choices, and with each choice we make, there

are obstacles and sacrifices.

I thought about the analogy of running races when I

went to visit a young man who was shot in the head.

He too signed up for a race, the gang. Much like myself,

he knew what came with his registration only

instead of receiving a t-shirt and medal, he received

a gunshot wound to the head that left him unconscious

in the hospital fighting for his life.

As I completed each race, I posted pictures of myself

on Facebook. In some of the photos, I was covered

in mud, swimming under barricades, crossing lakes,

and jumping over logs on fire. People started commenting

on my newsfeed and asking why I would

do something like that. They didn't understand why

someone would make so many sacrifices to train for

a race that tortured them.

When someone makes the decision to join a gang,

deep down inside they're aware of the consequences

that come with membership. I remember when I

joined a gang at 14 years old; I was always aware of

the danger but never once did I think it would happen

to me. It wasn't until my best friend got paralyzed

before I started thinking about the choices I

was making in life.

Truth is, life is a race. We all sign up and make sacrifices

for something… endless nights of studying to

graduate or get a degree, long hours on the job to

get a paycheck, or investing time in someone to find

28

As I looked down at this kid lying motionless in the

Intensive Care Unit, I wondered what his decision

would have been if he could have predicted the

outcome. I'm sure he would have chosen another
---
oute, a safer route, one that ensured success and

put smiles on his loved ones' faces. Instead, tears

filled the room as everyone struggled to recognize

the person they loved so dearly.

I stared at him, bothered by the environment. He had

no clue who was coming to see him, who was praying

over him, or the countless times officers visited

his bedside hoping for an opportunity to ask questions

about the shooting. His eyes never opened,

his body never moved, and stiches ran across the

front and top of his swollen head. The only sound in

the room was the beeping from the machines keeping

him alive.

I feel prompted to tell you that life doesn't have to be

like this. This doesn't have to be your race! Competing

in the wrong event ends in tragedy. I would like

to challenge you to think about what you're investing

in. Ask yourself, "What am I accomplishing?" If you

train to be a gang member, will that make your family

proud, will you feel successful one day? Take it

from someone who has crossed the finish line: when

you run the right race, there is no better feeling than

looking at the smiles on your loved ones' faces.

Much like myself,

he knew what

came with his

registration - only

instead of receiving

a t-shirt and medal,

he received a

gunshot wound to

the head that left

him unconscious

in the hospital,

fighting for his life.

29
---
clean healthy living by tera swigart

TIP 1: EXERCISE

ALLEVIATE

DEPRESSION

NATURALLY

W H E T H E R Y O U H A V E S E R I O U S D E P R E S S I O N

BEING TREATED BY MEDICATIONS AND COUNSELING

OR IF YOU ARE GOING THROUGH A TIME OF

GRIEF, MILD DEPRESSION, OR EVEN JUST FEELING

HOMESICK, WE HAVE SOME GREAT TIPS TO HELP

R E L I E V E T H E S E S Y M P T O M S O N Y O U R O W N

OR ALONG WITH YOUR CURRENT TREATMENT.

Exercise is one of the best ways to get you feeling happier and healthier fast. Aerobic exercise increases serotonin levels

(hormones that make you feel happier naturally). All exercise will help you feel healthier, and healthier people have a more

overall feeling of wellbeing. It can also help you get into a positive routine, channeling some of those negative emotions

and releasing them in a much healthier way. We know that it can be challenging to get exercise while in a juvenile facility. Try

some of these ideas – with the permission of the staff and your doctor, of course!

WARM UP: Warm up exercises help to get the body loose and heart rate up. Run in place for thirty seconds, jumping jacks

for 30 seconds, stand forward and with arms out twist back and forth, large forward arm circles for 15 seconds, then reverse

for 15 seconds. Be sure to stretch your arms, legs, back and neck after warm up to prevent injuries during workout.

BURPEES: Burpees are a great overall exercise that can be done in small spaces: From a standing position squat down, drop

your hands to the ground and jump your feet back to assume a push-up position. Do a push-up. Jump your legs forward to

between your hands then jump up into the air bringing your knees to your chest and your hands into the air over your head.

PUSHUPS: Try a variety of pushups, Military, Wide, Staggered, Incline, Decline. Make it a game: Get a deck of cards and

some sort of receptacle. Sitting some distance from the target toss a card attempting to land it in the receptacle. If the card

doesn't make it and lands face up this is how many push-ups you will be doing. (Face cards equal 10.) Do the whole deck.

Repeat if you're a tough guy or gal (or if you are aces at tossing cards).

TRICEPS DIPS: Work the opposing muscle group by placing your hands on your bed, while facing away from the bed with

feet on ground, lift your body up and down. You can increase by straightening legs or placing legs on a chair.

SQUATS: This is another space saver exercise. Try wall squats – put your back against the wall and squat as if sitting in

30
---
a chair and see how long you can hold it. Another option is a jump squat- Squat from a standing position until your

fingertips touch the floor and then explode upwards, leaving the floor and raising your arms into the air. Repeat. Your

quads will start burning quicker than you probably expect.

JUMP LUNGE: From a lunge position (one foot out in front of you, knee at 90 degree angle, back foot behind you,

knee bent toward the ground) jump upward bringing both feet off the ground at the same time and switch your stance

ending in a lunge position with your other foot now in the front. The speed and number of reps are up to you.

CORE: Try holding a plank pose (hands in pushup position, feet and legs straight behind you, your back straight).

Throw in some crunches and leg lifts – lie flat on your back. Keeping your legs straight and toes pointed, lift one leg up

and do crunches, alternate legs.

COOL DOWN: Be sure to cool down, drink tons of water and stretch well. Yoga is excellent for reducing stress! If

something hurts, stop immediately – do not push yourself. The idea is to stay active – not to get hurt.

JOIN A TEAM: Sports are a great way to get consistent physical activity and build healthy relationships. Basketball,

for example, is GREAT aerobic exercise and usually is fun and can take your mind off what is bothering you.

TIP 2: TALK TO SOMEONE POSITIVE

Recognize the people around you who seem to bring you down – avoid if you can. Find someone who you look up

to or who is positive and spend time with him or her. Talk to your caseworker, counselor, youth pastor, or a favorite

teacher. Talking through your problems can help you get a better perspective and feel less alone. Try calling Teen Line

where teenagers help other teenagers: (800) TLC-TEEN or text TEEN to 839863.

TIP 3: MEDITATION

Meditation is a great way to relax when you feel sadness (or any negative emotion) creeping up on you. Now I know

some of you guys are thinking, yeah right, but if you try it, you will be amazed at how much it can relax you and get

your mind off all the junk. Also, you can do it without anyone realizing you are doing it. I'm not talking about the type

of meditation where you "empty your mind" but the type where you focus your mind on something positive. I will line

out some options for you to try.

SIMPLE BREATHING EXERCISE: Sitting on the floor with your legs crossed, straighten your spine as much as you

can and look straight ahead, or lie flat on your back with your legs straight, uncrossed and your arms at your sides with

your palms facing up. Relax your stomach and shoulders. Then begin breathing slowly. Breathe in through your nose

and out through your mouth (remember to keep your stomach and shoulders relaxed!). You can close your eyes, or if

you feel uncomfortable doing that, just focus on one spot in front of you. (If you are in class you can still practice this

while sitting in your chair).

Count up to five as you breathe in and then count to five as you breathe out. After doing that a couple of times, count

to seven. Increase the number until you count to 10 or 12 (in and out). As you breathe in, you should feel your stomach

rise, and as you breathe out, you should feel it fall.

As you breathe in, try saying to yourself (silently so you don't look crazy), "breathe in peace, calm, relaxation" and as

you breathe out, say to yourself, "breathe out anger, frustration, fear" (or whatever negative emotion you want to release).

This is a great time to ask God to remove those feelings from you as you breathe out and to replace them with

positive feelings as you breathe in.

SIMPLE BREATHING EXERCISE WITH VISUALIZATION: After you have mastered the simple breathing exercise,

you can add visualization. I will share with you one of my favorite things to visualize while meditating, give it a try!

Lie on your back and slow your breathing (as described above), close your eyes and visualize that you are lying on the

beach. There is no one around for miles, just you. (Don't go adding someone else to this!) Imagine what it would feel

like lying on a big beach towel on the sand. Imagine how it would feel with the sun against your skin with a nice cool

breeze blowing by.

Now, imagine what it looks like. The sand is white, the sky is blue with just a few small white fluffy clouds, the water is

crystal clear and the waves are crashing against the beach. After you have done that, imagine what you would hear, the

sound of the waves, wind, and the cries of a few seagulls. Continue by imagining the way it might smell, like salt water

and sand. Then just lie back and enjoy- if you stick to it, you will find yourself feeling very relaxed and peaceful. You

can picture any place that makes you feel peaceful.

31
---
TIP 4: FOODS TO EAT

Eating a well-rounded diet filled with lean meats such as fish, turkey, and chicken, along with plenty of fruits and vegetables

and healthy carbs like brown rice, oats, whole grain breads and pastas is a great way to improve your mood.

SUPER FOODS: These foods are loaded with vitamins that help with an overall feeling of well-being. apples, broccoli,

sweet potatoes, spinach, kale, cabbage, avocado, blueberries, beans, walnuts, salmon, and dairy free chocolate.

TIP 5: FOODS TO AVOID

REFINED SUGAR: Refined sugar causes our blood glucose levels to plummet, resulting in a sugar hangover that disrupts

our mood, depletes our energy, and is linked to sleep disorders.

ARTIFICIAL SWEETENERS: Aspartame blocks the production of the neurotransmitter serotonin and causes mood dips,

headaches, and insomnia. (Splenda appears safe for now.)

PROCESSED FOOD: White bread, doughnuts, canned meats (not tuna), or snack foods cause the same impact on your

blood sugar levels as eating a basket of jellybeans. Bagels are processed the same way donuts are. After the initial insulin

boost, you will end up fatigued, irritated, and blue.

HYDROGENATED OILS: Stay away from any fried foods. Anything that is cooked with hydrogenated oils and contains

trans fats could potentially contribute to depression. They can also cause health issues that will complicate depression.

FOODS HIGH IN SODIUM: Fat-free foods might be good for your waistline but not all that great for your emotions.

The excess sodium in these products can disrupt your neurological system, contributing to depression, and can lower your

immune system's response and cause fatigue.

ALCOHOL: Alcohol is a central nervous system depressant. If you have a history of a mood disorder this can make it

much worse. Your central nervous system is responsible for taking in information through the senses, controlling motor

function, as well as thinking, understanding, and reasoning. It also controls emotion. Alcohol slows all this down, making

symptoms of depression much worse. It also can lead to addiction and major health issues. You need to deal with the underylying

causes of depression instead of covering them up.

CAFFEINE: According to some experts, even a modest amount of caffeine can contribute to depression and anxiety. Caffeine

disrupts sleep, making it more difficult to fall asleep and to stay asleep; those disturbances affect mood. It can cause

agitation, tremors, and nervousness. Energy drinks, particularly, are bad news as some of them contain the caffeine equivalent

of 14 cans of soda.

DRUGS: Many prescription and illicit drugs can actually cause you to use up large amounts of serotonin or dopamine and

cause feelings of depression. If you are taking prescribed meds, ask your doctor about this. If you have been abusing drugs,

then you need to quit. Remember that it takes time for your body to build the serotonin back up in your system.When these

are low, you may feel depressed and use again, but really you are only making the problem worse.

If you used one or more of these drugs you may feel sad and apathetic for several months. But it helps to understand that it

is a chemical problem in your brain and it will get better as everything gets back to normal… don't give up and don't relapse!

TIP 6: SUPPLEMENTS THAT CAN HELP

B VITAMINS: A deficiency in B vitamins such as folic acid and B12 can trigger depression in some people. You can take

a vitamin B supplement with the permission of your doctor - or eat foods that are rich in B vitamins to ward off anxiety.

These include chicken, leafy greens, peanuts, oranges and other citrus fruits, rice, nuts, and eggs.

VITAMIN D3: A deficiency in Vitamin D has been linked to Seasonal Affective Disorder. Many people are deficient in

Vitamin D and have no clue. So, get some sunshine! However, this still might not be enough. Talk to your doctor about testing

your vitamin D levels and he/she can give you a supplement and you will be feeling much better in no time!

VITAMIN C: Vitamin C is a great vitamin to take daily. It helps boost your immune system, which helps give you energy

and an overall feeling of well-being. It has also been shown to help with a more restful sleep.

HERBAL TEAS: There are several herbal teas that can help you to relax such as peppermint tea and chamomile tea. Green

tea is a great antioxidant that helps with overall health - but remember to get the caffeine free version.

32
---
TIP 7: STAY CLOSE TO GOD

Make some time at the VERY beginning of your day to read some scripture and pray. Ask God to guide your steps

throughout the day. Ask Him to help keep you from temptation and to remind you of all the blessings that you have. Ask

Him to teach you what He wants you to learn while being locked up so that this time spent away from family and friends

won't be for nothing.

Then, throughout the day when you feel that negativity creeping in, just pray and ask for Him to help you. Consider inviting

others in your unit to participate – if the whole unit starts out on a good note, then all will go better for everyone. I worked

in one unit where this worked great! If you can play music try listening to your favoite praise band, or Christian rap/rock!

TIP 8: KEEP AN ATTITUDE OF THANKFULNESS

Try keeping a journal of everything you are thankful for throughout the day. Think of the smallest things you may take for

granted and write them down. Think back over your life about all the things that helped and encouraged you and write them

down. As you go through your day, when you find yourself grumbling or angry, remind yourself of others who have it far

worse than you and thank God for it.

Say thank you to the staff, friends, and family who have done something kind for you or your unit. Write letters to people in

the free that you never said thank you to. Having this attitude of thankfulness will keep you from those pity parties.

TIP 9: FIND WAYS TO HELP OTHERS

Do something to help someone else. Helping others helps keep your problems in perspective and helps you feel good about

yourself. Submitting work to FRUIT magazine - sharing your story so that other young men and women may learn from it

is a way to start. You can also be a positive role model to the people around you. If you are at home, try volunteering your

time at a local food pantry, homeless shelter, animal shelter, or with your home church. Not only will you feel better and will

be helping others, these things look great on your resume, college applications, and with probation officers.

TIP 10: LAUGH!

Read a funny book, watch a funny show, laugh with your friends. Try to develop a new hobby that you enjoy to fill your time.

Laughter really is great medicine. Just be sure not to laugh at the expense of others (unless they are laughing, too)!

"LAUGHTER HEALS ALL WOUNDS,

AND THAT'S ONE THING THAT

EVERYBODY SHARES. NO MATTER

WHAT YOU'RE GOING THROUGH,

IT MAKES YOU FORGET ABOUT

YOUR PROBLEMS. I THINK THE

WORLD SHOULD KEEP LAUGHING."

- KEVIN HART33
---
inbox adult inmates share how to stay free

34
---
K I L L I N G H O P E

I've heard it said that the saddest death of all is the death of

hope. After nearly thirty years in this prison, I've seen too

many times the faces of men who lost all hope. They ended

their own lives while in a prison cell. They all had one thing in

common, the absence of hope.

Not only hope for them, but by taking their own life, they also

took the hope from those they left behind. Your fate and your

destiny are rarely all your own. No matter how alone you may

think you are, there's always at least a small part of your existence

tied to someone else's. It might be your family, friends,

or even a complete stranger – even in your most complete

loneliness, you still matter to someone. I've lost my hope too

many times to count in this place, but I refuse to give up the

chance to let someone receive hope through me. I experience

the hope I give in my wife's love and my daughter's smile. I

had to learn for myself how to find hope in other places or

other people when my own seemed lost or at least forgotten.

I've counted the pills, I've held the razor, and I've tested the

sheets in those desperate moments of my life. But in the end,

I knew that my way out of my hopeless feeling would kill the

hope in others. The sadness I felt, or even the loneliness that

haunted me, would always be less than the hopelessness I'd

created in the hearts of those I love by ending my own life.

Life ain't always fair and living ain't always easy, but the worst

thing of all would be destroying the hope of others. I'm part

of a group called the Street Sweepers and we care about you

and our hope is that you will give yourselves the opportunity

to give hope and joy to your friends, family, and people you

haven't even met yet – not take it away.

- Red

A G A M B L I N G M A N

Does the pain become too much to take? Do you wonder

how much more 'til you break? You'll be surprised at how

much a human can endure. I was ready to throw in the towel

years ago. But, no matter how much poison I poured into my

body, no matter how outrageous the odds I faced, I couldn't

succeed. Thank God. Still, I now have more scars and chemical

imbalances than I know what to do with. But the fact remains

that God has a purpose for me. It's up to me to fulfill it.

I remember one time I was going to attempt it. I had depression

that felt like a dagger in the heart that constantly digs. I

would beg God, "Make it quit." And all I would get back was

silence. I was piling problems on top of problems - a rebel

stuck in disobedience. I would intend to repent again, but end

up recommitted to sin. The Lord saw my heart and He knew

my soul - my passions and ambitions for Him to use me. Still

I would end up wanting to end it all.

Dozens of days I've faced death in a haze – Razors, knives,

guns and chains – popping pills to kill pain. Over amping on

crank, running rampant on cocaine. Every morning, I woke

thinking I couldn't face my mistakes. Another time when I

was on the brink, I had the pedal to the metal on streets. I

was a rebel unleashed - riding reckless in Texas. I'd been up

for almost two weeks – ready to die for my penance - going

120 as I weaved.

The last time I pumped the plunger and felt the frost rake

through my veins. I thought, 'O God, please let it end. Don't

let me wake from this binge.' That time I saw Him in a vision:

It looked like Crystals - the bridge He was teaching me to

make, leading to a lavish estate. He told me that all the havoc

I'd lived through was allowed for me to partake – 'cuz He

needed me to relate to you youth who would walk in my wake.

When things start going wrong and you don't think you can

take anymore, you might need to check yourself. Hebrews

12:4-6 tells us that God disciplines us and corrects us because

He loves us. The ones who get away with everything are the

ones who should be worried. God doesn't let us get away with

things because He has plans for our lives. You can be the one

to listen to another troubled spirit. You can be the one who

feeds a hungry stomach. Use your heart for God to gather

His lost children that only you know where to find. You'll be

surprised at how filling a life with purpose can be.

My prayers are always with you. Every time I read your stories

in FRUIT. magazine, you have this 270 pound muscled

and tattooed "murderer" crying like a big ol' baby. There IS

someone out there who cares. Even if it's just some grizzly

teddy-bear.

In God's love, L.B.

35
---
local flavor community resources

DRUG / ALCOHOL ABUSE

>ALCOHOLICS ANONYMOUS

Phone: 713-686-6300

Website: www.aahouston.org

>ALANON / ALATEEN

For friends and family of drug/alcohol abusers.

Website: www.houstonalanon.org

Mental / Physical Health

>BELTWAY 8 SOUTH CRISIS PREGNANCY CENTER

The center provides free and confidential support services for

those involved in unplanned pregnancies. They also provide

classes in prenatal care, delivery, parenting, life skills, and Bible

studies.

Phone: 281-484-0005

Website: lifelinecpc.org

>CRISIS INTERVENTION OF HOUSTON

TeenLine: 713-529-TEEN is a 24-hour crisis hotline for teens

to talk about their problems with other teens who are trained to

help.

>CRISIS PREGNANCY HOTLINE

1-800-848-5683

>FREE THE CAPTIVES

Free the Captives helps teenaged girls who have been involved

in sex trafficking, prostitution, and stripping. We help these girls

rebuild their lives by providing jobs, mentoring, tutoring, groceries,

furniture, spiritual support and more.

Website: FreeTheCaptivesHouston.com

Phone: 281-901-0794

>MHMRA OF HARRIS COUNTY

If you are in a psychiatric emergency or need information,

please call 24 hours a day.

Phone: 713-970-7000

>NATIONAL SUICIDE PREVENTION LIFELINE

No matter what problems you are dealing with, they want to

help you find a reason to keep living. You'll be connected to

a skilled, trained counselor at a crisis center in your area, 24

hours a day, 7 days a week.

Phone: 1(800) 273-8255

Website: suicidepreventionlifeline.org

>TRIAD PREVENTION PROGRAM

TRIAD provides countywide prevention and early intervention

services to divert youth and families from involvement with the

CPS, mental health, and/or juvenile justice systems.

Phone: 713-295-2600

>UNITED WAY HELP LINE

2-1-1 Texas/United Way HELPLINE is 24 hours a day, 7 days a

week, in many languages. They have extensive resource lists

for help with whatever you may need: food, shelter, counseling,

parenting resources, etc. 2-1-1 also serves as a primary point of

contact during times of disaster.

Phone: 211

36

SPECIAL INTERESTS

>HOUSTON PUBLIC LIBRARIES

Get access to Internet, books, CDs, DVDs, and homework help.

Website: www.houstonlibrary.org

SPIRITUAL GROWTH

>ELEVATE CHURCH

Each week Elevate Church shares energetic worship and an inspiring

message from Lead Pastor, Brandon Barber. There is no dress code.

They believe God cares more about the condition of your heart than

your outward appearance. They know you will feel right at home.

Services are Sundays at 10am and 12pm.

Website: elevatepeople.tv

Location: 333 South Jensen Dr, Houston, TX. 77003

>EYES ON ME RADIO

Eyes On Me Radio is a radio broadcast that promotes Houston

Christian Hip Hop music and fosters mature Christian dialogue in

order to encourage a Biblical lifestyle. The show is hosted by Tre9. DJ

Overflow is the program director.

The show is currently live on the air every Wednesday night from

11pm-12am on Houston 90.1 FM, Galveston 89.5 FM, and Goodrich/

Livingston 90.3 FM.

>EYES ON ME, INCORPORATED

Vision: Eyes On Me Inc. is committed to creating a positive environment

using Biblical principles and standards to shape youth culture

for lifelong success and stability in the world. This is led by Tre9 and

wife, Amanda Herring. Check out their website to see all they are doing

and to find a Hip Hop Hope night in your area!

Website: eyesonmeinc.com

>NGEN RADIO

NGEN radio is YOUR music experience. Playing the best in today's

hit music from artists like Lecrae, TobyMac, Skillet, Switchfoot, and so

many more. You can listen online or on your phone: NGENradio.com

or live at: 89.3 KSBJ HD-2 (Houston), 92.5 KWUP HD-2 (Bryan/College

Station), 93.1 FM (Bryan/College Station).

>SPECIAL YOUTH SERVICES

The department of Special Youth Services provides pastoral care to

youth remanded to juvenile justice centers and placement facilities

within the Archdiocese of Galveston/Houston. Special Youth Services

also promotes and coordinates pastoral services to youth and their

families who are at a high risk of becoming involved with the juvenile

justice system.

Ms. Franchelle Lee, Director, Phone: 713-741-8739

Deacon Daniel Gilbert, Pastoral Minister, Phone: 713-320-1915

>YOUTH FOR CHRIST

Youth For Christ seeks to engage youth within the juvenile justice

system in a variety of programing from Bible studies to

mentoring. They seek to establish relationships that will continue as

youth transition to their communities. Barrell Richardson is the Juvenile

Justice Ministry Director for Youth For Christ Houston.

Website: yfchouston.org

Contact: 832-326-3202, brichardson@yfcmail.org
---
The SHWEIKI

Get-All-Three Guarantee

PRICE. QUALITY. SPEED.

HASSLE FREE

PRINTING...

TO THE RESCUE

www.SHWEIKI.com

SUPER SHWEIKI SPECIAL!

50 FREE

POSTCARDS

www.SHWEIKI.com

4" X 6" Full Color 2 sided

10pt Gloss w/UV

Scan Here To Get Our

Crystal Clear Guarantees

Scan this

code with your

smartphone

5,000

POSTCARDS

10,000

FLYERS

FULL COLOR

1,000

MAGAZINES

FULL COLOR

4" x 6" • 10pt Gloss Card Stock • UV one side

8.5" x 11" • 70# Gloss Paper

FULL COLOR

8.5" X 11" • 16 pages • 60# Gloss Paper

FREE

QUOTE & SAMPLES www.SHWEIKI.com

37