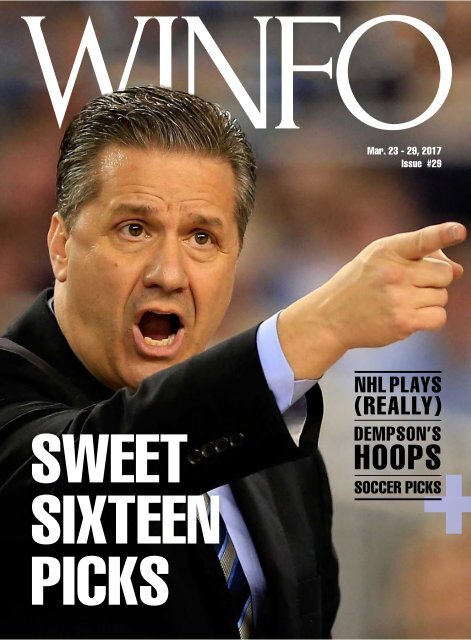 WINFO Issue #29
Sweet Sixteen Picks - this week Winfo magazine has a handful of March Madness picks, plus the NHL and European soccer.
Sweet Sixteen Picks - this week Winfo magazine has a handful of March Madness picks, plus the NHL and European soccer.
SHOW MORE
SHOW LESS
Create successful ePaper yourself
Turn your PDF publications into a flip-book with our unique Google optimized e-Paper software.
WINFOMar.

23 - 29, 2017

Issue #29

SWEET

SIXTEEN

NHL PLAYS

(REALLY)

DEMPSON'S

HOOPS

+

SOCCER PICKS

PICKS
---
IN THE ISSUE

IN THE ISSUE

7

3 The Good, The Bad, The Ugly

4 Greg Dempson

5-6 Wine and Whining

7 Kyle's Picks

8 Improv for Business

9 NHL Analysis and Picks

10 Futures Foray

11 Handicapping Talk

10

5

11

2
---
THE GOOD, THE BAD AND THE UGLY

THE GOOD, THE BAD

AND THE UGLY

The Sweet Sixteen is set...

your bracket is busted...

Duke is gone (freeing

up all that hate to be directed

elsewhere)...ah, is it Thursday

yet?

It was a pretty wild weekend

of upsets last week to get us

here, but we do now have

a healthy mix of the usual

suspects (Kentucky/North

Carolina, etc.), high-seed

contenders (Kansas, Gonzaga,

UCLA, Zona, etc.) and

the obligatory appearance by

Cinderella (Xavier and South

Carolina) squaring off.

WINFO

The

Mar. 23 - 29, 2017

Issue #29

SWEET

SIXTEEN

PICKS

NHL PLAYS

(REALLY)

DEMPSON'S

HOOPS

+

SOCCER PICKS

For me, I'll have a few plays

going. Still making final

decisions on a few matchups,

but I did get over some

pretty major trust issues and

let Gonzaga back into my life. I played them pretty early, laying the points, in

their matchup vs. West Virginia. Looking over their non-conference schedule,

this is a battle tested team, who play good defense, create mismatches down

low and are playing a Mountaineer team that while the pressure defense can

be very disruptive, they can go cold offensively.

So I am in on the Bulldogs.

Best of luck with all your Sweet 16 and Elite 8 plays on Saturday and Sunday.

This might sound like a bit of a broken record, as Jason says it often and

so do we here on this page – but be sure you play within your means, take

it easy and don`t force plays just because they happen to be on TV or big

matchups and don`t chase losses. Enjoy the action, but be responsible.

Good

Greg hit his NCAA play last issue,

as he had the Over in the Florida

Gulf Coast vs. Florida State game.

Check out Greg's hoops' play this

week on Page 4.

Neil had a nice weekend on the EPL

fixtures, booking a nice profit on a

two for three run. This week the EPL

is dark, making way for international

friendlies and World Cup qualifiers.

Neil has three plays from these

matches. You can check them out

on page 6.

Jason Holliday gave out his first

March Madness play, along with his

handicapping tips article. He liked

the Princeton Tigers getting seven

points, which was a winner. Jason

has another play and more tips this

week in his column. You can check

that out on page 11.

The Bad

A bit of a tough week for Kyle with

his NCAA picks, as he ended up 1-3

ATS with his plays. That takes his

overall college hoops picks since

joining the team to 5-5 ATS. This

week Kyle has plays from the Sweet

Sixteen matchups. You can check

them out on page 7.

Have a great week.

3
---
GREG DEMPSON

by Greg Dempson

SWEET 16 PICK - BRUINS

VS. WILDCATS

The Ball tips at 9:35 ET at the

FedEx Forum in Memphis

Tennessee. The Wildcats had

their 42 game home winning streak

snapped this season as the Bruins

knocked off Kentucky, (97-92,) on

December 3. In the 2015 campaign

the Bruins took care of business at

home vs. Kentucky, (97-87,) as 6.5

point dogs. To be sure, it is tough

to defeat coach Calipari twice in the

same season but it is my belief that

UCLA has the weapons to take care

of business once again. In that December

mat the Bruins had six players

score double-digits while shooting

53% from the field vs. only 41.2% for

the Wildcats. UCLA boasts perhaps

the number one lottery pick in freshman

Lonzo Ball who has a support

group that features7.0 junior player

Welsh who averages 10.8 PPG while

increasing his scoring in their two

tournament games netting 27 points.

The Bruins had a combine 47 assists

vs. the Bearcats and Kent State vs.

9 turnovers. The Bruins have a high

octane offense and led the nation in

scoring averaging 90.3 PPG, field

goal percentage at 51.9% plus assists

at 21.5 per game as well as assists to

turnover ratio. They were no slouches

on defense either holding opponents

to a 42% "success" rate in field goals.

Kentucky barely escape the Shockers

of Wichita State, (93-90.) Kentucky has

won 13 in a row with their last loss on

February 4 at Florida, (88-66.) Of those

last 14 the Wildcats went 5-8-1 ATS.

Sweet Angles

• From game 16 out this season

Kentucky is 4-13 ATS vs. good ball

handling teams that commit 14 or

less turnovers per game.

• The Bruins are 10-02 ATS in their

last 12 non conference games.

• The Wildcats are 1-4-1 ATS in their

last six tournament games.

• UCLA went 15-03 straight up in

road/neutral site games this season

and this game is basically at pick.

• Kentucky is 0-3-2 ATS as a favorite

of 6.5 or less in their last five tournament

games.

• Bruins coach Alford/Team is 37-

19 ATS and +16.10-units in road

games after playing 5 consecutive

games as favorite.

• Wildcats coach Calipari/Team is

26-49 ATS and -27.90-units) after

allowing 25 points or less in the first

half last game.

• UCLA's coach Alford/Team is

+18.30-units after two consecutive

wins by 10 or more points.

• Kentucky's coach Calipari/Team

is -24.40-units vs. teams who are

called for 17 or less fouls per game.

Putting it in Neutral

• Play on Neutral court teams as a

favorite or pick, (applies to UCLA,)

after two straight games when

committing 11 or less turnovers and

playing against an opponent that's

off a game committing 8 or less

turnovers. This system is 139-85 =

62% ATS since 1997 with the team

live in this system going 181-49

straight up for a success rate of

72.4%.

NCAA Play

For this Friday night match-up I am

backing the UCLA Bruins at -105 on

the money line.

Record

Last week's NCAA selection won, taking

my basketball record to 4-2-2 ATS

You can receive more picks from Greg

at his site – www.gregdempson.com

4
---
WINE AND WHINING

WINE &WHINING

by Neil Alexander

That's a little bit better now. After my 0-3

hiccup from two weeks back, I rebounded

nicely with a two for three day on the

EPL fixtures. I split on my both teams to score

bets. In the West Brom v Arsenal match, both

teams were on the score sheet by the 15th

minute. Crystal Palace v Watford tripped me

up though as Palace won the match 1-0.

They've only had two home clean sheets prior

to this match, and I didn't think that a third was

in the offing. I backed Bournemouth at home

for my third play at +115, and they won 2-0

over Swansea, thanks in small part to a first

half own goal. This evens the column soccer

record at 9-9; down 1.6 units. It's nothing to

write home about but heading in a more optimistic

direction.

5
---
WINE AND WHINING

THE EPL IS ON HIATUS FOR AN

INTERNATIONAL BREAK OF FRIENDLIES

AND WORLD CUP QUALIFIERS.

Le Volte's first vintage was 1991

The Wine

Ornellaia, Le Volte, Tuscany 2014;

$30

This is Ornellaia's entry-level wine,

which although produced in abundance,

is still a quality wine. It's

categorized as an IGT wine, which

essentially means it doesn't follow

the strict Italian wine laws of the region.

In this case, 50% of the blend

comprises the local Sangiovese

varietal, and international varietals

are blended to provide some softness

and structure. For this vintage,

it is 30% Merlot and 20% Cabernet

Sauvignon.

The predominant flavors are plum,

cherry, and licorice, with notes

of herbs and spices. It is medium

bodied, with high acidity and a long

finish. The Merlot provides roundness

to the blend while the Cabernet

Sauvignon adds structure. It is a

very approachable wine and flexible

to match with numerous food pairings

such as meat, tomato-based

dishes, and various cheeses.

The Picks

The EPL is on hiatus for an international

break of friendlies and World

Cup qualifiers. Let's employ the

same strategy that I rolled out for the

FA Cup, that is half unit bets.

Republic of Ireland v Wales

This is a crucial match as both countries

vie for World Cup qualification.

Ireland leads Group D, two points

ahead of Serbia in second, and four

points more than third-place Wales.

Wales in their past five matches

have 3 draws and a win and a loss,

while Ireland has 4 wins and a draw.

Ireland is in better form, but Wales

has more at stake so I think the net

result is a draw +200.

Romania v Denmark

There isn't much separating these

two Group E countries, as Denmark

is third in the group with 6 points,

while Romania is in fourth with 5

points. Poland is the class of the

group while Montenegro clings to

the second spot with 7 points. This

feels to me much like the game

above and incidentally, has identical

odds. I'm backing the draw at +200.

Friday 4-team parlay. For the FA

I unleashed a three-teamer that

cashed. In the same spirit, I give you

the World Cup Qualifier 4-teamer.

Turkey, Austria, Italy, and Spain to

win over Finland, Moldova, Albania,

and Israel respectively. This is a recreational

pizza and beer bet at +124.

Good luck and enjoy the International

matches.

6
---
KYLE'S PICKS

KENTUCKY GETS ANOTHER

SHOT AT UCLA

by Kyle Clifton

West Virginia vs. Gonzaga

The Bulldogs of Gonzaga take on

West Virginia in a 1 versus 4 seed

showdown in San Jose. Gonzaga has

had their struggles in their first two

games, while West Virginia struggled

vs. Bucknell but dominated Notre

Dame. Everyone in the country by

now knows what you are getting into

when you play West Virginia; that is

pressure defense, full length of the

court. Despite being experienced and

having solid guards, Notre Dame

couldn't handle the pressure and had

14 turnovers.

Gonzaga is immensely talented

despite their struggles so far in the

tournament. They are led by stud

guard, Nigel Williams-Goss, and have

five players that average 10 or more

points. They average more than 83

points per game, and are 6th in the

nation with 40.6 rebounds per game.

I believe the big problem for Notre

Dame was that they had just one day

to prepare for the Musketeers. Gonzaga

has had all week, and they have

a great coach. I think they are able

to handle the press at a decent rate.

West Virginia is not a good shooting

team and it they don't turn you over it

is likely they lose. I'll take the Zags!

Kyle's Pick: Gonzaga -2.5

Kentucky vs. UCLA

In a rematch of a game played way

back in early December, Kentucky

takes on UCLA. Kentucky has had a

couple close games this tournament,

while UCLA has won both games

pretty comfortably. The first matchup

between these two teams was an exciting

shootout won by the Bruins, 97

to 92. UCLA made 53% of their shots,

including 10 three pointers. Kentucky

shot rather poorly in the game shooting

just 41% but forced UCLA into

committing 18 turnovers.

This one is a showdown of the freshman

on both sides. Both teams are a

pathetic 1-4 against the spread in their

last five games. Malik Monk hasn't

even played a decent game on offense

so far this tournament, yet they

are in the Sweet 16. UCLA needs Ball

and Leaf to bring their A game to win.

I think Kentucky limits one of them. I

will take the Wildcats in a thriller.

Kyle's Pick: Kentucky +1

Butler vs. North Carolina

The Butler Bulldogs are tied for the

biggest underdog of the Sweet 16

slate, as they take on North Carolina

on Friday. The spread is currently

UNC -7.5. Butler has only lost one

game by more than 6 points since

January 14th. North Carolina was

down 5 with about four minutes left

against Arkansas and seemed like

they were going down until they went

on a 12-0 run to finish the game.

UNC definitely has the athleticism

advantage in this game, but Butler

is their classic gritty, tough team that

just doesn't beat themselves. Butler is

a solid 19-12 ATS this season while

UNC is just 17-16-2. I think the Bulldogs

are very competitive all game

and could even pull off the upset.

Butler and the points!

Kyle's Pick: Butler +7.5

Aside from being a diehard fan of the Indiana Pacers, Chicago Cubs, Duke Blue

Devils, Green Bay Packers and FC Dallas – Kyle is also a college basketball

handicapper with a proven record of success. You can get more of Kyle's picks

daily by following him on Twitter @KyleCliffy and checking out his blog

http://kylecliftonsports.weebly.com/

7
---
VANCOUVER THEATRESPORTS

"

"Sponsored Content"

REMARKABLY USEFUL

TOOLS AND PERSPECTIVES"

Contact us for more info about our Corporate Training Programs

"Simply put, no other staff-wide session to this

day has garnered as much praise. It was fantastic

to see the team uninhibited and fully engaged in

the moment, channeling their inner creativity in

a way that few had done before. "

Vern Biccum – Iridia Medical

"I wasn't sure about the improv –based training when I first

heard about it, but it was one of the best "cross-over" business

presentations I have seen. I think it brought remarkably

useful tools and perspectives to the entire team, and in

a very fun way."

Chris Metzger - Accenture

8
---
NHL GAME PICKS AND ANALYSIS

SHARKS GET ANOTHER

SHOT IN BIG

Thursday, March 23rd

Carolina at Montreal

The Habs are in the middle of a nice

homestand, but got tripped up by the

Red Wings a couple of nights ago in

front of the faithful. Admittedly, the

set-up was not ideal for Montreal, as

they were fresh off a pair of wins in a

home-and-home vs. rival Ottawa. It`s

not difficult to see that letdown spot.

However, that doesn`t explain why

their top line has been ice cold the last

couple of weeks (only two goals, both

by Pacioretty, in nine games). Coach

Julien split them up at the end of the

Detroit loss, but expect to see them

back together here.

Carolina have been on a bit of a tear

(for them), but this is still a team with

plenty of weak spots in their lineup.

With the Canadiens coming off that

loss and facing a team they should

feast on if they come to play, and we

trust Julien and the leaders will have

this team ready to go, this sets up as a

good spot to bank a win in regulation

time. The juice to win including OT is

way too high to even go near, but we

will go with Montreal to win in regulation

time, knocking the juice way down.

Take Montreal to win in regulation.

Dallas at Chicago

Clearly the Hawks are the better team

so we won`t go too far into the line

matchups, etc....but let`s just say when

future Hall-of-Famer Marian Hossa is

your third line winger, safe to say you

have a bit more depth than most teams,

and certainly more than the Stars.

Chicago had a rough start in their

last outing, losing on home ice to a

Dalthough they did battle all the way

back, they lost in OT.

Look for a team playing with a lot

more focus and energy from the opening

draw. When you enjoy the kinds

of edges the Hawks do in this one, it

should result in a regulation win.

Take Chicago in regulation time,

wiping away most of the juice.

Friday, March 24th

Tampa Bay at Detroit

The Lightning are still sniffing around

a Wild-Card spot, although when you

lose to teams like the Coyotes, you

make it pretty difficult for backers to

believe you actually care. That said,

we`ll take a shot on them here, but

only if they lost to the Bruins on Thursday

night. It`s not an ideal set-up even

then, but the Bolts should be able to

handle the Red Wings if the setup

comes together for us.

LAST WEEK'S RECORD:

+0.00 UNITS

(we bailed on you, sorry about that)

SEASON RECORD:

+6.44 UNITS

completely depleted Canucks lineup.

Crawford was bad in the crease

and his mates came out looking like

they were thinking it was going to be

stat night for everyone (racking up

some easy points). Not so fast. And

San Jose at Dallas

Revenge is a dish best served lukewarm

(or something like that). Dallas

clipped the Sharks 1-0 earlier this week

right here in Big D. A quick turnaround

and here we are again. We like the

Sharks in this one. The number will be

manageable and the Stars should be

as well. San Jose are struggling a little

right now, but watching their games,

they`re still creating chances and getting

pucks to the net. The results just

haven`t been there. But if they play like

they did the last time these two met,

they should win. They carried the play,

had the better chances and were the

better team, but didn`t get the win.

We like the Sharks

9
---
FUTURES FORAY

The Jayhawks

have the guards

to make them a

tough out.

NCAA BASKETBALL FUTURES

NCAA Tournament Futures

Let's take a final look at the NCAA Tournament

futures. We are down to 16 teams, but among

them, we see many pretenders and only a couple

contenders.

We are typically reluctant to recommend chalk,

but in this case, it is deserved. After the first

four days of action Kansas has emerged as our

favorite, and the books' favs to win it all. They've

got it all. A future NBA guard in Frank Mason,

length, a great perimeter game, equally great in

transition and a great coach. The current average

price for the Jayhawks to cut down the nets

is about +475.

If you're seeking some longer odds there are two

other teams that have an outside shot in our opinion.

We can get behind Arizona at +650 and Wisconsin

at +1800. We like both teams based on

both how they've looked and also their remaining

path out of their respective brackets and into the

final four, where anything can happen.

Updates

Let's take a look at the line moves from some

recent Futures Foray recommendations.

NHL Atlantic Division

Three weeks ago we suggested you take a shot

at Ottawa to win the Atlantic. At the time they

were +400. Montreal is still favored at -200,

however, Ottawa's odds have since shrunk to

+150. We still like our initial recommendation,

but only at +400. It's a stay away at +150.

NBA Western Conference

Once Durant went down with his injury we

suggested that you take a look at San Antonio

to win the West. It was looking like pure gold up

until about a week ago when the Spurs actually

took over the first spot. They've slipped a little

since then, but we still like our initial recommendation

when they were 4-1. Their current

odds are +260, so if you got in early, you got

the best number.

10
---
HANDICAPPING TALK

SWEET SIXTEEN TIPS AND PICK

by Jason Holliday

"How ya like them apples!!!!"

The text hit mere seconds after the

final buzzer in the Michigan - Louisville

game. It was quickly followed by four

more texts, each one increasingly

vulgar...too vulgar to print.

The digital assault was courtesy one

of my close friends, a Michigan alum

and a rather vociferous one at that

(he's almost as obnoxious as our

Notre Dame buddy - but both pale

when compared to the smugness of

our buddy who went to Duke - and

he didn't even graduate a Blue Devil,

getting kicked down the interstate

to finish up as a Seminole - I can

only imagine the condescension and

arrogance if he had a Duke degree

hanging in the office).

But Michigan buddy was hitting me up

as I had said I don't think they have

the depth to get by Louisville, and that

if their offense goes a little cold, they'll

have real difficulty recovering. I didn't

suggest a bet on Louisville, but I did

think they would go through. Big congrats

to the Wolverines and their fans

and congrats to anyone if your team

made it to the Sweet Sixteen. Pretty

exciting weekend ahead for you.

Over the last few weeks I've given

out tips on what to look for in the

teams you're backing, or going

against and while we have now seen

a couple of games from the final

16 teams, and have more data and

subjective factors to work with in

handicapping, I do still always stick to

some of the basics that were highlighted

in those previous columns.

Still give weight to teams that can hit

their free throws, are good at reducing

the scoring efficiency per possession

of their opponent, and grab rebounds,

limiting second chances for their opponent

and giving them extra shots.

A few points that standout for me

heading into the next round are:

• Speaking of defensive deficiency,

sorry Greg (U of M buddy), but they

allowed 1.11 points per possession

against Louisville. They're a very

good offense, but they need to be

as defensively it can get ugly.

• The Tar Heels can struggle on

the offensive boards. If there guys

aren't hitting their shots, this could

spell trouble.

• UCLA can score, no question. But

defense and rebounding are issues.

There's uncontested buckets to

be had for their opponents and a

rather diminutive Kent State team

schooled them on the boards in that

opener. Now that the competition

level has jumped way up, these

weaknesses could come back to

haunt them.

• You don't want to rely on Gonzaga

to hit free throws to cover for you.

They're not so good from the stripe.

• The Gamecocks are great defensively.

Love that part of their game.

As good as they are on that side is

about as bad as they can go on the

offensive side.

Sweet Sixteen Play:

Had a winner last week with my first

tournament pick, playing Princeton

plus the points.

This week, I like the Boilermakers.

This is a deep team who can spread

the scoring around and handle the

challenge Kansas' Mason and Jackson

present.

Taking Purdue +4.

Good luck!

March Madness Picks: 1-0 ATS

The Boilermakers get big, bad Kansas in the Sweet 16.

THE TAR HEELS CAN

STRUGGLE ON THE

OFFENSIVE BOARDS. IF

THERE GUYS AREN'T

HITTING THEIR

SHOTS, THIS COULD

SPELL TROUBLE.

11