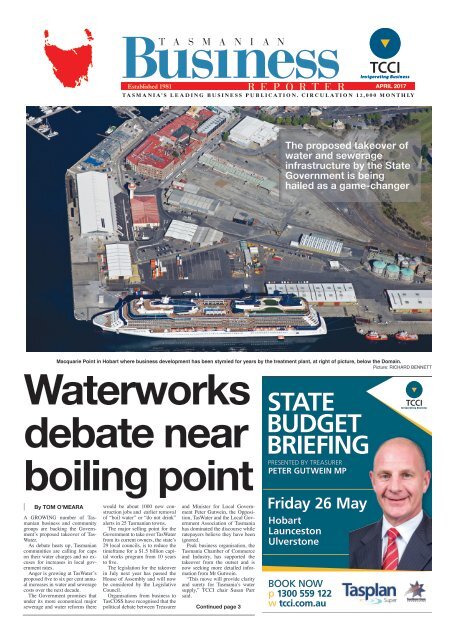 Tasmanian Business Reporter April 2017
This month we weigh in on the TasWater ownership debate and hear what the new leader of the Tasmanian Labor Party has to say about the future of health, education and infrastructure development in our state. You'll also find news of the Neil Buckby Motors expansion, a 4000 panel Launceston solar park and the Advanced Sensor Manufacturing Facility coming to Tasmania. 
This month we weigh in on the TasWater ownership debate and hear what the new leader of the Tasmanian Labor Party has to say about the future of health, education and infrastructure development in our state.

You'll also find news of the Neil Buckby Motors expansion, a 4000 panel Launceston solar park and the Advanced Sensor Manufacturing Facility coming to Tasmania. 
SHOW MORE
SHOW LESS
You also want an ePaper? Increase the reach of your titles
YUMPU automatically turns print PDFs into web optimized ePapers that Google loves.
APRIL 2017

T A S M A N I A' S L E A D I N G B U S I N E S S P U B L I C A T I O N . C I R C U L A T I O N 1 2 , 0 0 0 M O N T H LY

The proposed takeover of

water and sewerage

infrastructure by the State

Government is being

hailed as a game-changer

Macquarie Point in Hobart where business development has been stymied for years by the treatment plant, at right of picture, below the Domain.

Picture: RICHARD BENNETT

Waterworks

debate near

boiling point

By TOM O'MEARA

A GROWING number of Tasmanian

business and community

groups are backing the Government's

proposed takeover of Tas-

Water.

As debate heats up, Tasmanian

communities are calling for caps

on their water charges and no excuses

for increases in local government

rates.

Anger is growing at TasWater's

proposed five to six per cent annual

increases in water and sewerage

costs over the next decade.

The Government promises that

under its more economical major

sewerage and water reforms there

would be about 1000 new construction

jobs and earlier removal

of "boil water" or "do not drink"

alerts in 25 Tasmanian towns.

The major selling point for the

Government to take over TasWater

from its current owners, the state's

29 local councils, is to reduce the

timeframe for a $1.5 billion capital

works program from 10 years

to five.

The legislation for the takeover

in July next year has passed the

House of Assembly and will now

be considered by the Legislative

Council.

Organisations from business to

TasCOSS have recognised that the

political debate between Treasurer

and Minister for Local Government

Peter Gutwein, the Opposition,

TasWater and the Local Government

Association of Tasmania

has dominated the discourse while

ratepayers believe they have been

ignored.

Peak business organisation, the

Tasmania Chamber of Commerce

and Industry, has supported the

takeover from the outset and is

now seeking more detailed information

from Mr Gutwein.

"This move will provide clarity

and surety for Tasmania's water

supply," TCCI chair Susan Parr

said.

Continued page 3

STATE

BUDGET

BRIEFING

PRESENTED BY TREASURER

PETER GUTWEIN MP

Friday 26 May

Hobart

Launceston

Ulverstone

BOOK NOW

p 1300 559 122

w tcci.com.au
---
2 Tasmanian Business Reporter - APRIL 2017

NEWS

Training partnership delivers real-life benefits

AURORA Energy has

joined forces with Tas-

TAFE to deliver a suite

of customised qualifications

for its employees.

Fifty-two Aurora Energy

employees – close

to a third of its workforce

– undertook the Formal

Qualifications Program,

achieving qualifications

in Certificate III in Business

and Diploma of

Leadership and Management.

The tailored program

provided direct benefits

to Aurora Energy, integrating

with its culture,

values and strong customer

service focus.

Aurora Energy CEO

T A S M A N I A' S L E A D I N G B U S I N E S S P U B L I C A T I O N . C I R C U L A T I O N 1 2 , 0 0 0 M O N T H LY

Rebecca Kardos said the

energy retailer was committed

to supporting its

Tasmanian workforce

through providing opportunities

to obtain formal

qualifications together

with maintaining a workplace

that was up-skilled

and future proofed.

"As an organisation in

an ever-changing industry

we need to ensure

we have people with the

capabilities and mindset

to adapt and this is best

achieved by investing

in knowledge, skills and

leadership development

across the business,"

Mrs Kardos said.

"To have such a large

number of our workforce

accept the challenge

and go on and excel

to combine for a 100

per cent graduation rate

was outstanding."

TasTAFE Deputy

CEO/Chief Operating

Officer Lori Hocking

said TasTAFE

was proud to have a

long-standing working

relationship with Aurora

Energy to provide

tailored training for its

employees.

"By working closely

with Aurora Energy,

TasTAFE was able to

develop a training program

that was practical

and hands-on," she said.

Tips for savvy investment

MYSTATE is concerned

that Tasmanians could

be negatively impacted

if they do not understand

the full implications of

superannuation changes

announced by the Government

last year.

"The rules around

concessional and

non-concessional superannuation

contribution

caps have

changed, along with

some transition to

retirement income

stream rules," Wealth

Management Senior

Manager of Financial

Planning Todd Kennedy

said.

MyState Wealth Management

is arranging

a number of seminars

around to explain the

changes.

Seminars will be held

in Burnie on April 27;

Devonport on April 11

and May 17; Launceston

on April 12 and May 17;

and Hobart on April 11

and May 16.

e dition

Tasmanian Business Reporter can now be delivered directly to your inbox. With our 30,000-strong monthly print

readership, our new up-to-date digital distribution will keep Tasmanians abreast of the all latest in local business

news. From this month we will distribute electronic editions of the Tasmanian Business Reporter as we go to print.

To confirm your copy sign up to our mailing list via

tbreditorial@fontpr.com.au

Tasmania's business newspaper is published

monthly by the Tasmanian Chamber of Commerce

and Industry. It is distributed to businesses in

Tasmania as well as key decision-makers.

Circulation: 12,000

Managing Editor: Tom O'Meara

Ph: 0418 135 822

Editor: Becher Townshend

Ph: 0418 370 661

Special Projects: Gil Sellars

Ph: 0448 901 371

gil@thetrustedmediaco.com.au

Advertising: 0401 252 586

www.tasmanianbusinessreporter.com.au

Editorial & Advertising email:

TBReditorial@fontpr.com.au

Publisher:

Tasmanian Chamber of Commerce and Industry

309 Liverpool St, Hobart, TAS 7000

Ph: 6236 3600 Fax: 6231 1278 admin@tcci.com.au

TFGA House, 194-196 Cimitiere St, Launceston TAS 7250

Ph: 6331 1144 laun@tcci.com.au

Production:

aldridge.media

Ph: 0431 241 775

aldridge.media@iinet.net.au

Printer: The Mercury

Level 1, 2 Salamanca Square, Hobart, 7000

Aurora Energy employees who have achieved qualifications in Certificate III in Business

and Diploma of Leadership and Management.

Airport avenue a

runway success

Descendants of Marguerite Grueber join Hobart Airport CEO Rod Parry,

Franklin MP Julie Collins, Senator Eric Abetz and Clarence Mayor Doug

Chipman at the official opening of Grueber Avenue.

TO ALLOW for the

next stage of the Hobart

Airport runway extension,

the new access

road connecting Seven

Mile Beach to the Tasman

Highway – Grueber

Avenue – has been officially

opened by Tasmanian

Liberal Senator Eric

Abetz.

Grueber Avenue joins

the southern end of Holyman

Avenue which runs

along the western side

of the airport, and links

through to Surf Road in

Seven Mile Beach.

Tasmanian Marguerite

Grueber was one of the

first two Australian air

hostesses, hired in 1936

by Holymans Airways,

which became Australian

National Airways.

Grueber Ave is an important

part of the Hobart

Airport runway extension

made possible

through of $38 million in

funding assistance from

the Federal Government.

The 2.1km avenue will

allow continued access

to the Tasman Highway

when the section of Surf

Rd that runs along the

southern end of the runway

closes in April.

The closure is needed

to provide safe operation

of aircraft when the runway

extension project is

complete.

Pedestrian, cyclist and

non-vehicle access will

continue on Surf Road.

No other part of Surf

Road will be affected,

while Pittwater Road

will remain open for access

to the eastern end of

Seven Mile Beach.

Grueber Avenue will

also provide access to

the proposed Clarence

City recreational grounds

when developed, reducing

additional traffic go-

ing through the Seven

Mile Beach community.

The development of

Grueber Avenue provides

an easier, more

direct exit from Hobart

Airport for people dropping

off and picking up

visitors and also for users

of the long-term car

park. Work on the Hobart

Airport runway

extension remains ontrack,

with completion

due in March 2018.
---
Tasmanian Business Reporter - APRIL 2017 3

Buckby drives new business

NEIL Buckby Motors

continues to expand its

footprint in Launceston,

recently opening Renault

Australia's newest Renault

showroom in Margaret

Street.

General Manager Ben

Newman said the business

became the local

dealer for Renault cars

and vans in May, 2015.

A decision was made

to develop and open a

new showroom this year

to better showcase the

brand.

"When we took on the

Renault franchise we had

limited space, and now

with the new showroom

we can display up to 14

new vehicles," Mr Newman

said.

Mr Newman said the

Renault range had a vehicle

to suit most drivers.

The Clio is the small

hatch in the range, with

European styling and

a sophisticated design.

The Captur is a small

SUV that appeals to

those looking for low

prices and high specs.

The Megane is the sporty

hatch oozing quality and

style, which also comes

in a wagon. The all new

Koleos is a popular SUV

that suits Tasmanian conditions.

"It's not just Renault

cars that have a new

space, Renault vans are

also catered for," Mr

Newman said.

"Renault commercial

vehicles have become

a popular option

in the market with options

available from the

smaller Kangoo van to

the large Master van and

Master bus.

"The interest in the

Renault van range has

increased significantly

recently - there have

been national fleets including

Australia Post

running Renaults in

Tasmania and this has

helped create awareness

for the vans."

The Renault expansion

is the latest in a long list

of recent developments

for the business, which

was started in 1997 by

the late Neil Buckby.

The original showroom

still operates in St

John Street.

"The history of this

dealership and yard goes

well beyond this date

however, formerly running

as Webster Cars

in the 80s and 90s," Mr

Newman said.

The current owners

of Neil Buckby Motors,

Crichton Lewis,

Ben Newman and Elise

NEWS

Buckby

Motors' new

Renault

showroom in

Margaret St

continues to

expand the

company's

footprint in

Launceston.

D'Orazio have expanded

the Neil Buckby Motors

footprint over the past

decade, adding Renault,

Jaguar, Great Wall, JMC,

RAM, and Foton to the

existing brands Mercedes-Benz,

Subaru, and

Land Rover.

Support grows for Government TasWater takeover

From page 1

"Now we are moving

the debate on we want to

know the nuts and bolts

of the Government plan.

"This will help us understand

all the opportunities

that can be created

by the takeover.

The Labor Opposition

has committed to a

public-private partnership

at Macquarie Point

and TCCI is pushing the

Government for an answer

to the Macquarie

Point situation.

It will cost $150 milion

to relocate the infrastructure,

unlocking $1

billion in development at

the site.

The TCCI says infrastructure

needs to be suitable

for the growing population

and a burgeoning

tourism industry.

"Certainly the TCCI is

very concerned that more

than 20 places in our

state have a third world

water supply which is

just not acceptable," Ms

Parr said.

"You have to feel for

the residents who can't

drink the tap water and

then they have to warn

tourists from around the

world that they can't

drink the water. Really!"

Meanwhile, TasCOSS

argues that consumers

must be at the centre of

the debate and the priority

must be keeping prices

down.

TasCOSS CEO Kym

Goodes said pensioners

had to budget between

$500 and $700 a year

(and rising) to cover the

cost of receiving basic

water and sewerage services.

"Access to clean, potable

water is not just an

essential service, it's a

human right," Ms Goodes

said.

"We support decisions

that will achieve a 21st

century water and sewerage

system."

Nyrstar's

century

NYRSTAR'S Hobart

zinc smelter has officially

marked 100 years of

continuous operation.

The iconic industrial

giant employs 600 people

with another 3500

Tasmanians indirectly

dependent on the smelter.

The smelter contributes

about $800 million

towards Gross State

Product and 24 per cent

of total export value.

The company is investing

$52 million to

modernise and expand

its Lutana plant to process

minor metals used

in smartphones, flat

screens and solar panels.

TCCI is very concerned that more

than 20 places in our state have a third

world water supply

Many of the specialty

projects will be supported

by private enterprise

and in some cases, shared

contracts with TasWater

on strict deadlines.

Discussions before

the announcement made

it clear that the strategic

plan had been tested

and accepted as was the

financial aspect of the

takeover.

The takeover, if approved

by the Legislative

Council, will use Tas-

Water's strong balance

sheet to secure additional

funds to cover the projects.

Organisations supporting

the changes include

the Property Council,

Tourism Industry Council,

Master Builders Association,

TCCI and Tas-

COSS.

While LGAT in general

has rejected the

takeover, Launceston

City Council supports

change.

A number of East

Coast councils are also in

favour of rapid change,

given many business

owners in the region have

suffered consequences of

sewerage overflows on

seafood stocks.
---
4 Tasmanian Business Reporter - APRIL 2017

THOUGHT LEADERSHIP

www.tcci.com.au

Job excites new Labor Leader

BY RECECCA WHITE

STATE OPPOSITION LEADER

IT IS an enormous privilege

to have been elected

unanimously as the

Leader of the Labor Party

in Tasmania.

I'd like to thank former

leader Bryan Green

for his contribution to the

party and public life.

Bryan has been a

builder and has left his

mark on the state in areas

like irrigation and renewable

energy.

I'm excited about the

challenge ahead, with a

state election to be held

in the next 12twelve

months.

Labor's priorities are

clear. We are focused on

delivering better health

services, providing the

best public education

system we possibly can

and building public infrastructure

to leverage

and support private sector

investment.

Our strategy to complete

three vital water

and sewerage infrastructure

projects goes to the

heart of what we want to

achieve.

By partnering with industry

superannuation

funds, we would tackle

Launceston's ongoing

storm water problems,

move the sewerage treatment

plant at Macquarie

Point and deal with the

challenges at Cameron

Bay which are holding

back progress on MONA

stage two.

Each of these three

projects would allow for

substantial economic

growth through private

investment.

Tasmania's economy

needs an injection of

full-time employment

to reverse the trend towards

part-time and casual

jobs.

To do that we need to

back significant infrastructure

upgrades.

The three projects

identified by Labor are

not even on the Liberal

Government's radar. If

fact we've been criticised

for working on a solution

for Macquarie Point

by the Liberals who described

it as a "pet proj-

A constituent makes a point to new Labor Leader Rebecca White, centre, and MP Scott Bacon.

ect". Macquarie Point is

far from a pet project. It's

an incredible economic

opportunity which won't

proceed unless the water

and sewerage challenges

are addressed. We can't

afford to wait decades to

see action on the site.

I want to be an inclusive

leader who's prepared

to work as hard as I can to

get good outcomes for the

state.

Pre-selection for Labor

candidates for the next state

election opens in May and

I want to see a broad range

of people put their hand up.

The next Labor government

needs to have a diverse

range of skills and include

Tasmanians from all

walks of life.

Labor will win seats at

the next election and I want

to build a team of smart,

forward thinking people

Tasmania's

economy

needs an

injection of

full-time

employment

to reverse the

trend towards

part-time and

casual jobs

who want the best for Tasmania.

I look forward to engaging

with the business community

over the next few

months as I travel around

the state.
---
Tasmanian Business Reporter - APRIL 2017 5

THOUGHT LEADERSHIP

We must open the door

as opportunity knocks

The much-heralded MONA where the country's business elite will be wined and dined during the Australian Chamber of

Commerce and Industry Leader's Conference on April 5 and 6.

WHEN the country's

business elite arrives in

Hobart for the Australian

Chamber of Commerce

and Industry Leaders'

Conference we have a

rare opportunity to show

off our state in all its glory.

All of the state and

territory chamber heads

will be in attendance

from April 5 to 6, along

with the ACCI board and

management and another

72 peak association

heads from around the

nation.

Tasmania's top business

players will have the

chance to meet and network

with high-profile

CEOs and senior management,

who will meet

to discuss policy for the

chamber in the coming

few months.

The centrepiece of

the conference will be

the Business Leaders'

Michael

Bailey

TCCI Chief Executive

Sally

Chandler

Tradestart Adviser

Dinner at MONA, with

guests being ferried there

on the MR-1.

They will be wowed as

they are wined and dined

with Tasmania's best

produce and beverages.

No doubt the Tasmanians

in the crowd will

regale them with our island's

success stories –

the visionaries, the movers

and shakers and the

trail blazers.

It's not just a coincidence

that the location

of the event is one of our

greatest tales to date.

We all know how

much MONA has meant

to the Tasmanian economy.

David Walsh's museum

and the associated

MONA events and infrastructure

that have

followed are largely responsible

for driving

tourism and innovation

on this island in recent

years.

They say success

breeds success for a

reason. MONA has allowed

confidence to filter

through all levels of

business, resulting in

greater expenditure from

other tourism, retail and

hospitality businesses.

The challenge we have

now is to capitalise on

Directory importers' first port of call

THE Australian Suppliers

Directory sits on the

Austrade website and

contains the name and

contact details of Australian

exporters who go to

the site and register.

The directory is accessed

by international

buyers looking for Australian

goods and services.

To be included in the

Australian Suppliers Directory

exporters complete

an online form via

www.austrade.gov.au/

CompanyRego.aspx?-

folderid=1735

The eligibility criteria

is;

• the business must be

an established exporter

of Australian products or

services;

• if the business has

never exported before,

or has only exported irregularly,

the business

must meet the following

criteria in order to be

considered eligible for

inclusion in the Directory;

• the business must

have a current Australian

Business Number

(ABN);

• Australia must be the

main place of business;

• management must be

committed to becoming

an exporter and developing

the export side of

the business, including

a willingness to visit the

market;

• the business must

have an ability to assign

an export budget and financial

resources to get

into export, including a

budget to visit the market;

• a growth strategy

must be in place;

• marketing materials

such as a website (essential)

and e-brochures

must be in place with an

understanding that materials

specific to the international

market may need

to be developed; and

this phenomenon at every

opportunity and there

will be no better chance

than when we have hundreds

of influential business

men and women

from the ACCI here.

Many of them may not

have visited the island

before and many will

take the opportunity to

visit all parts of Tasmania

pre and post the conference.

Then it's our job to

ensure they come back

once the conference is

over and bring their family

and friends and hopefully

some cashed-up, investment-ready

business

associates.

The door is open for

domestic trade deals and

there is plenty of potential

for new investment

capital. If the multiplier

effect is applied, Tasmania

could stand to benefit

substantially.

• the business must

have capacity to build

supply capability.

A marketing message

of a minimum 100 words

is entered and the better

the entry in this section

the better the prospects of

being noticed by a potential

buyer.

The categories are extensive.

They are agribusiness,

arts and recreation,

building and

construction, business

and other services, consumer

goods non-food,

defence security and safety,

education and training,

environment and energy,

finance and insurance,

food and beverage, government,

health biotechnology

and wellbeing,

ICT, manufacturing (other),

mining, tourism and

hospitality, and transport.

Premier Will Hodgman

will be keynote

speaker at the dinner.

The recent tourism

figures showed a seven

per cent increase last

year and the Premier

said the figures confirmed

Tasmania as a

"tourism mecca."

The forum will also

hear from Australian

Chamber CEO James

Pearson who was extremely

impressed with

the strategic plan for

Tasmania and the performance

of the TCCI

in leading the business

community and advocating

strongly on their

behalf.

It is our chance to

prove that this state

will keep punching

above its weight when

it comes to business

projects and development

that drives the

economy.

When registering, a

business must detail the

countries they are currently

exporting to and

the countries they are legitimately

interested in

exporting to which may

require prior research to

make this nomination.

The Australian Suppliers

Directory is a free

service provided by Austrade

and I encourage all

exporters who are not

currently registered in the

Directory, to go to the site

and complete the online

form.

For international

trade and investment

assistance contact

TCCI's TradeStart adviser

Sally Chandler

at sally.chandler@

tcci.com.au or phone

1300 559 122.

www.tcci.com.au

Penalties

explained

Abbey

George

Workplace Relations

NO DOUBT you are aware of the penalty rates

decision that was handed down by the Fair Work

Commission in February after some 39 hearing days,

143 witnesses (of whom 128 were required for cross

examination) and 5900 submissions from the public –

what a decision it was.

In essence the decision affects the following Awards

in these ways:

Fast Food Industry Award 2010

• Reduces Sunday penalty rates in the fast food

industry (Level 1 only) from 150% to 125% (for permanent

staff) and 175% to 150% (for casual staff).

• Reduces public holiday penalty rates from 250%

to 225% for permanent employees and from 275% to

250% for casuals.

General Retail Industry Award 2010

• Reduces Sunday penalty rates in the retail industry

from 200% to 150% (for permanent staff) and from

200% to 175% (for casuals).

• Reduces public holiday penalty rates from 250%

to 225% for permanent employees and to 250% for

casuals.

Hospitality Industry (General) Award 2010

• Reduces Sunday penalty rates in the hospitality

industry from 175% to 150% (for permanent staff only).

• Reduces public holiday penalty rates from 250%

to 225% for permanent employees and from 275% to

250% for casuals.

Pharmacy Industry Award 2010

• Reduces Sunday penalty rates in the pharmacy

industry (7am-9pm only) from 200% to 150% for permanents

and from 200% to 175% for casuals.

• Reduces public holiday penalty rates from 250%

to 225% for permanent employees and from 275% to

250% for casuals.

Restaurant Industry Award 2010

• Reduces public holiday penalty rates from 250%

to 225% for permanent employees.

The Hair and Beauty Industry Award 2010 was also

the subject of a claim to reduce Sunday penalty rates

but this was withdrawn in September 2016.

The Full Bench is yet to reach a finalised decision

as to how the changes will be implemented but have

indicated that the following is likely:

• The Public holiday changes will take effect from 1

July, 2017;

• The variation to the early/late night loadings in

Restaurant and Fast Food Awards will take effect in

late March 2017; and

• The variations to the Sunday penalty rates will

take be phased in by a series of annual adjustments

taking place on 1 July each year.

Several Unions have vowed to fight this decision

and condemned the pay cut. Many businesses have

also made statements that they will not reduce the

penalty rates they pay despite this decision.

At TCCI there are a number of ways which we

can assist with any pay rate questions you have, for

example:

• Pay and conditions guides; • Pay rate audits;

• A partnership with the Australian Institute of

Management with TCCI members receiving 25% off

remuneration reviews if they contribute to the National

Salary Survey; • Access to our Helpline; • Access to

Consultants.

So, if there is anything we can help you with please

do not hesitate to contact us via our website, 1300

559 122 or workplacerelations@tcci.com.au
---
6 Tasmanian Business Reporter - APRIL 2017

THOUGHT LEADERSHIP

www.tcci.com.au

Cut in red tape a natural aim

THE National Business

Simplification Initiative

is a joint effort

between the Commonwealth

and States to address

red tape for businesses,

across all levels

of government.

In August last year,

Tasmania became one

of the first states to join

the initiative and develop

a pilot project for

red tape reduction in an

actively growing sector

of our economy.

We chose an issue

raised by our

award-winning nature-based

tourism operators,

who require

multiple licences, permits

and accreditation

to conduct business in

our national parks and

reserves.

Operators report that

several of these processes

require the same

information to be submitted

to different parts

of government.

The pilot project will

"map" the various regulations

and recom-

mend ways to streamline

them to save time

and effort.

This is not necessarily

about less regulation,

but a more

business-friendly compliance

process that will

let tourism operators to

get on with the job they

do best, providing quality

nature-based experiences.

The project started

when representatives

from the Commonwealth

Department of

Industry, Innovation

and Science came to

Tasmania earlier this

month to interview

nature tourism operators,

government departments

and industry

groups. They will report

their findings in June.

The State Government

has a plan to attract

1.5 million visitors

a year to the state by

2020 and by reducing

red tape we can ensure

that tourism operators

are working in the best

possible business envi-

ronment, as well as the

best possible natural environment.

Tasmania is already

reducing red tape

through major planning

and building reforms

and more than 70 other

areas identified through

consultation. But there

is still more work to do.

I expect the types of

solutions developed for

nature-based tourism

operators could also be

applied in other sectors

and settings and

encourage anyone with

a red tape problem, or

ideas for red tape reduction,

to contact the

Red Tape Reduction

Coordinator on 6165

5027.

Shannon Wells from

Par Avion, left, Luke

Martin from the

Tourism Industry

Council of Tasmania

and Roger Jaensch.

Workplace health and safety culture change

By CRAIG

HORTLE

ONE of the most difficult

problems in workplaces

is to change the

culture from the way we

have always worked to a

different way of achieving

the same outcome.

This is especially the

case when trying to implement

a culture of

working safely when

this may not have been

as important in the past.

The Workplace Health

and Safety Act makes

very clear the obligation

of the PCBU (person

conducting business or

undertaking) in promoting

and taking the lead

in ensuring a safe workplace.

To drive workplace

WE'LL BEAT ANY QUOTE *

& creative

Call Richard 0427 337 118

richard@devdesign.com.au

health and safety in a

workplace, there are

a few things to be addressed.

They are:

• management commitment

( both economically

and physically);

• the development of

a workplace health and

safety management system;

and

• buy-in from the entire

organisation.

With over 20 years

experience in marketing,

advertising and graphic

design, Dev Design provide

high quality design at a rate

that won't break the bank!

• Logo creation, branding

and corporate identity

• Magazines, catalogues

and corporate reports

• Website design

and development

• Social media and

digital graphics

...big or small, we design it all!

• QUALITY DESIGN

• FRIENDLY SERVICE

• AFFORDABLE RATES

• FAST TURNAROUND

devdesign.com.au

* Written quotes supplied by registered design companies

or similar obtained in 2017

We are going to deal

with the first aspect –

that is, management

commitment.

To ensure that the environment

is effective in

promoting a safe work

culture it is essential

that management set the

example in promoting

and talking about health

and safety. This can be

achieved by:

• the way we talk about

WHS to our supervisors

and employees;

• being prepared to

release personnel to develop

a workplace health

and management system;

• if there is an obvious

fix for a WHS issue, being

prepared to take the

necessary action to make

it happen; and

• take the lead in our

own personal actions to

ensure safety is a priority.

There may be an initial

financial outlay and

an ongoing commitment

to improve aspects of the

workplace.

... it is essential that management

set the example in promoting and

talking about health and safety.

The benefits far outweigh

doing nothing –

you will have a workplace

that has reduced

hazards and risks, you

will have a better work

environment that employees

will enjoy working

in and you will have

improved productivity

due to a happier workforce.

Printing Technology

and Tradition.

Here's just some of the things we do regularly...

• Books • Magazines • Newsletters • Catalogues • Annual Reports

• Business Cards • Letterheads • Posters • Flyers • Corporate Branding

• Logo Design • Packaging • Wine Labels • Stickers • Swing Tags

• Mail-Outs • Folders • Forms & Invoices • Variable Data Printing

• Language Translation • Web Design • Proof Reading

• Copywriting • Large Format Signage & Display

Whatever your needs, get in touch.

We're here to help.

more than just fine printers.

p. 03 6332 1400

www.footandplaysted.com.au

99-109 charles street launceston tasmania 7250

It can be achieved, it

just requires one thing –

the desire to make it happen,

which means taking

the lead as the manager

or business owner.

Contact Craig Hortle

or Janelle Whitehouse

at the TCCI on

1300 559 122.

safety@TCCI.com.au
---
Tasmanian Business Reporter - APRIL 2017 7

THOUGHT LEADERSHIP

Trade all about face-to-face meetings

Tassie's wares to the fore

Brett

Charlton

Agility Logistics

WHEN you step off that

Dash 8 at Launceston

airport and take in the

air, blue skies, space and

see your children waving

through the window, you

check yourself and tick

that box in your head that

tells you that you live

in the best place on the

planet.

I have a new phrase for

Tasmania – "we are living

on an ark."

Two and a half weeks

travelling through Hong

Kong, Japan, Korea and

China is an eye-opener

without the trade bent,

but being part of a delegation

representing the

state and, by proxy, the

rest of Australia, is another

level completely.

The Department of

State Growth trade and

investment department

excelled in creating an

engaging, informative

and smooth experience

that has allowed a group

of Tasmanian traders an

insight into Japan and

Korea markets.

Despite the leaps in

technology of our generation,

the bridging of cultures

is really something

that can only be done

face-to-face and the old

adage of "relationships"

is completely what it is

all about.

Someone once told

me that a shared bottle

of champagne can do infinitely

more good than a

church full of cardinals

– replace the champagne

with some good Tassie

pinot or gin and I think

that is pretty much right.

Seoul and Korea were

part of the Tasmanian

delegation for trade and

were represented by a

good cross-section of the

trading community. Fine

Brett Charlton at the headquarters of JD.com

in Beijing.

ucts – that said, it did

not appear to me that

our exotic location and

safe food manufacturing

equated into lofty returns

for exporters as a general

rule. There is some work

needed in that space.

Away from the delegation

I visited Hong

Kong, Guangzhou and

Beijing where the main

focus was to explore and

learn the e-commerce

channels.

It is certainly an eye

opener and something

that showcased for me

the embracement of electronic

mediums to be the

conduit for pretty much

everything that can be

purchased.

There was a very keen

desire to explore Australia

(not just Tasmania) as

a source for products and

I got the impression that

the boom of the industry

in China has restricted

the time for these companies

to source products

from overseas.

Taking what we have

to them is something we

need to embrace as it is

unlikely they have the

time to come to us.

www.tcci.com.au

Golden rule

for finance

Dean

Demeyer

Business Broker

GETTING finance to

buy a business is difficult

in Australia, but not impossible.

Most people apply to

one of the big four banks

because that is where

their home mortgage is.

However there are other

options to consider.

The best way to find

a loan is by using a specialist

commercial finance

broker, as opposed

to a mortgage broker.

This is my golden rule

for finding a loan to buy

a business.

And if you are serious

about buying a business,

another option to consider

is always to have a line

of credit set up against

your property, where

possible, to the highest

equity value you can get.

Once you have that

set up, you don't have

to worry about the bank

mustards, amazing gins,

great wines showcased

Tasmania's wares with

timber, aquaculture development

and other industries.

I was there to wave the

flag with our ability to

provide first-class freight

and logistics for getting

products to the markets

as well as to learn the

mechanics of importing

into such countries.

We had some excellent

meetings with trade

officials and importers

that showed us the potential

of their markets

for Tasmanian exporters,

but with the reminder

that we are living in a

global economy and that

while the economies are

evolving to a Western

bent, there is a need to be

competitive.

Australia is seen as a

very safe environment

to buy food-related proddenying

you an overdraft

when cash flow gets

tight.

You may want to keep

your property out of the

deal, but a lender isn't

going to let that happen.

Banks always want assets

as security and your

property is usually your

largest asset.

A home equity loan

will be wise given the

way lower interest rates

and much longer payback

periods.

Another tip – don't

quit your job right away.

Establish your finances

first while you are still

gainfully employed.

My last tip is to be

flexible about changing

banks. Your commercial

finance broker will

be looking for the best

and most suitable deal

for you and it may not be

your mortgage provider.

NEW TRACK, NEW EQUIPMENT, NEW TECHNOLOGY

NEW APPROACH, NEW ATTITUDE, NEW FOCUS

THE NEW STANDARD FOR FREIGHT LOGISTICS IN TASMANIA

SETTING A NEW STANDARD

FOR FREIGHT LOGISTICS

IN TASMANIA

Bookings:

1300 TASRAIL

freightbookings@tasrail.com.au

WWW.TASRAIL.COM.AU
---
8 Tasmanian Business Reporter - MARCH 2017

FOCUS ON BUSINESS

Old Woolstore

entersTourism

Hall of Fame

HOBART'S Old Woolstore Apartment

Hotel enjoyed another successful

night at the annual Qantas Australian

Tourism Awards last month,

being inducted into the Hall of Fame

after winning gold for the third consecutive

year in the Business Event

Venue category at the gala dinner

held at the Darwin Convention and

Exhibition Centre in February.

The Old Woolstore triumphed

against tough competition from all

states and territories to take home its

seventh gold award at national level

since 2008, along with the Silver

award for Deluxe Accommodation.

Chief Executive Officer Ben Targett

said: "Everyone at The Old

Woolstore Apartment Hotel will be

incredibly excited and honoured

to have been recognised as one of

Australia's most successful tourism

businesses.

"Over many years our team has

worked hard to provide genuine hospitality

and this result just highlights

their ongoing passion for creating

wonderful guest experiences."

"To achieve both national Hall of

Fame status in the highly competitive

Business Event Venue category

and Silver in Deluxe Accommodation

is an extraordinary acknowledgment

of the value of continual investment,

innovation and focusing

on the needs of our guests. To win

gold three years in a row is just phenomenal."

"We would also like to sincerely

thank our industry and commercial

partners, and of course our guests for

their ongoing support."

It was another successful year for

Tasmanian operators, winning a total

of 14 medals combined – five gold,

seven silver and two bronze - more

than any other state.

The Qantas Australian Tourism

Awards recognise and promote excellence

in tourism and are the pinnacle

of achievement for the tourism

industry across Australia.

As highlighted by their induction

into the Hall of Fame, The Old

Woolstore team knows how to deliver

events with consistency and personalised

service. Rich in history,

ideally located, and with all the extras

that appeal to business travellers,

the hotel is the obvious choice

for business events in Hobart.

The purpose-built facilities provide

a versatile and professional environment.

With a unique range of

CEO Ben Targett and team members

from the Old Woolstore in Hobart

celebrate a seventh gold award at the

Qantas Australian Tourism Awards

and, inset, the welcoming lobby at

the Sullivans Cove apartment hotel.

indoor and outdoor options to suit

almost any occasion, the property

specialises in residential multi-day

conferences for up to 170 delegates.

For larger event in Hobart, competitive

overflow accommodation

and conference options are available.

As an independent property, the

team has the flexibility to design

a conference package which best

suits needs. State-of-the-art digital

audio visual capabilities, including

Apple Airplay, provide for a professional

presentation. Catering can

be tailored to meet most styles and

budgets – from a casual outdoor barbecue

to an elegant three-course dinner.

Accommodation consists of a

unique choice of 242 fully serviced

apartments and hotel rooms.

Apartments are fully self-contained

with laundry and kitchen facilities.

In days of old the waterfront of

Sullivans Cove was Hobart Town's

most notorious area.

Today it is a vibrant inner-city location

where the welcoming heritage

facade of The Old Woolstore masks

Tasmania's finest apartment hotel

and conference venue.

Plan your next event with the

AUSTRALIAN TOURISM AWARDS'

HALL OF FAME AWARD WINNING

Business Events Venue Team

friendly

spacious

HOBART │ TASMANIA convenient affordable

CONTACT US NOW 03 6235 5355 WWW.OLDWOOLSTORE.COM.AU EVENTS@OLDWOOLSTORE.COM.AU
---
Tasmanian Business Reporter - APRIL 2017 9

NEWS

Sensor

production

face of

the future

Designer Richard Deverell deals creatively with the devil in detail.

Sky the limit in creativity

ONE Tasmanian design company

is taking to the sky in a bid to

further enhance his business.

Richard Deverell started his

own graphic design company,

Dev Design and Creative, in May

2016 - a natural progression given

his 20 years' experience in the

design, advertising and marketing

industry.

He already has plans to expand

the business to incorporate

aerial photography and video

production through the use of his

recently obtained drone, or as Mr

Deverell calls it "Sky Devil".

"When you own your own

business you get the opportunity

Solar

power

for the

future

to explore areas that interest you

personally," Richard said.

"'Sky Devil' does just that… I

get to enjoy the outdoors and see

things from a pretty cool perspective.

"I hope to combine my passion

for golf too, and provide flyovers

for local golf clubs, showcasing

the amazing courses Tasmania

has to offer."

Dev Design uses the slogan

"the devil is in the detail" and offers

a complete in-house design

service incorporating graphic

design, branding, print and web.

"I have worked with more than

80 new or existing business since

Dev Design started and it has

been really satisfying connecting

and reconnecting with people

I've worked with in the past.

My clients like the fact they

are talking to the person who

will be responsible for the actual

designing of their project.

"There is nothing more rewarding

for me than meeting

with a client, discussing their

vision and developing original

design concepts that meet their

requirements.

"And they get a great result that

doesn't break the bank, within

a time frame that suits their

needs."

LAUNCESTON will be home to a new

advanced manufacturing facility, producing

sensors which would previously

have been sourced from global hi-tech

giants such as Japan and China.

The University of Tasmania's Advanced

Sensor Manufacturing Facility

(ASMF), which will be operated

in partnership with Launceston firm

Definium Technologies, was launched

last month.

The facility is born out of both opportunities

and demand created by the

growing Sense-T research program, a

collaboration of the Australian Government,

CSIRO and the University of

Tasmania.

University of

Tasmania Deputy

Vice-Chancellor

(Research) Professor

Brigid Heywood said

the new facility was

a stellar example of

the type of advanced

manufacturing which

will define the future

capability of the state.

"This is smart, future-facing

manufacturing,"

Professor

Heywood said.

"This will position

Launceston and

Tasmania as an innovative provider of

advanced circuit board components and

electronic hardware design.

"This is a direct return on investment

by our Government in the Sense-T

project and shows what can happen

when we marry our distinctive research

strengths, our capacity in the STEM

disciplines, and a strong partnership between

the University, government and

industry."

The ASMF will manufacture sensor

Hi-tech electronic component

manufacuring defines

the fuiture capability of

manufacturing in Tasmania.

prototypes to be embedded across the

emerging Internet of Things and build

upon Definium's global reputation –

also serving as a training and education

centre for students at the University of

Tasmania.

It will:

• manufacture sensors which will

support an ecosystem of data collection

and analysis for Tasmanian businesses;

• support a network which will connect

with backend cloud-based communication

with multiple applications

for sectors including agriculture, viticulture

and aquaculture industries; and

• enable small companies and larger

organisations the unique capability to

rapidly deploy sensor

prototypes in a

cost and time-efficient

manner.

Sense-T Director

Associate Professor

Dr Stephen Cahoon

said that Sense-T had

developed a close

working relationship

with Definium Technologies

in recent

years and it was the

natural partner for the

ASMF.

"The ASMF is an

important component

of our data value chain as it will enable

21st-century sensor technology to be

developed in Launceston for our suite

of innovative projects," Professor Cahoon

said.

The sensors will collect real-time

data, that when combined with Sense-

T's data analytics capabilities, will

provide new business insights and evidence-based,

decision-making for managers

in a range of sectors from agriculture

to transport logistics.

A $2 million dollar solar

park project involving

4000 panels has been

launched in Launceston.

Nest Energy is undertaking

the project at

Merino St to take advantage

of improved solar

infrastructure that make

it more cost-effective to

compete against traditional

energy generators.

Nest's Mark Barnett

said the project would

have a 35-year lifespan

and would offset more

than 20,000 tonnes of

CO 2 .

Businesses in the

Kings Meadows area

will be offered the energy

produced at the site

and any remaining output

would be sold back

to the grid.

David Hillier, left, and Mark Barnett from Nest Energy show Treasurer

Peter Gutwein one of their solar panels.

Treasurer Peter Gutwein

said the project

would be one of the

state's biggest ever solar

power plants and was a a

clear sign that Tasmanian

businesses are confident.

"They're looking for

opportunities to grow

and they are investing in

infrastructure," Mr Gutwein

said.

"The flow-on benefits

of this investment are

significant. It will create

around 14 jobs during

design and construction

and will provide significant

cost savings to business

tenants that choose

to lease space at the old

wool store site in Merino

Street.

"Nest Energy's project

will also encourage other

businesses to be innovative

and creative."

H O T E L

ENJOY THE WATERFRONT

15% off midweek when you mention this offer!

Negotiated corporate rates & group packages available. Conference

and meetings facilities. Wireless/broadband internet. Cafe and catering.

Security parking and lifts. Mini gym & sauna.

6270 1444 / 1300 733 422 15 Hunter Street, Hobart

www.zerodavey.com.au
---
TASMANIA'S LEADING BUSINESS PUBLICATION. CIRCULATION 17,000 MONTHLY

10 Tasmanian Business Reporter - APRIL 2017

APPOINTMENTS AND ANNOUNCEMENTS

New floral bloom

after colorful past

IN BRIEF

Energy efficient

loan scheme

THE Westpac Group will be the financial

partner for the Tasmanian

Energy Efficiency Loan Scheme

(TEELS), which will provide up to

$10 million in the form of no-interest

finance for the purchase

of energy efficient products for

households and small businesses.

Energy efficient appliances such

as heat pumps, double glazed windows,

solar panels and solar hot

water systems are part of the program.

TEELS is a joint initiative of the

Tasmanian Government and Aurora

Energy.

Aurora Energy acting CEO

Grant Russell welcomed Westpac's

involvement and confirmed

that the scheme was on track for

commencement this month.

"We have had strong response

to our online TEELS registration

process with more than 450 people

already expressing an interest,"

Mr Russell said.

Penalty Rates

rev up

BRADDON Liberal MP Adam

Brooks has called on the business

community to "put their money

where their mouth is" after the Fair

Work Commission's penalty rates

decision.

"The business community has

long been on the record saying that

high wages on Sundays were stopping

them from opening longer

and employing more people," Mr

Brooks said.

"Now that the Fair Work Commission

has accepted their argument,

the ball is in their court to

deliver the jobs that they have

promised."

Timber talk

A SYMPOSIUM promoting the

opportunities for the use of Tasmanian

timber products in the construction

of the University's new

buildings in Burnie and at Inveresk

has been held.

The government said the $90

million Northern Cities Major

Development Initiatives and

the University's $300 million

Northern Transformation Project

required the "use of Tasmanian

timber and timber products

where possible during the construction

and fit-out stages of

infrastructure developments".

Resources Minister Guy Barnett

said the new buildings

should also showcase Tasmanian

wood products and help to

attract further interest for construction

interstate and overseas.

Thanks

Bruny Boost

BRUNY Island will receive a

$150,000 injection to upgrade infrastructure

identified as priority

projects by the local community.

Nationally-acclaimed tourism

operator Rob Pennicott will invest

$50,000 in the projects, with the

Kingborough Council and State

Government to each match the

amount.

Florists Karen left, and Olivia Bugelli at their new store Florage.

A MOTHER and daughter team from

the Gold Coast has transformed an

old Launceston cottage into a bright

and beautiful new business.

Interior stylist and florist Karen

Bugelli, along with her florist daughter

Olivia Bugelli, established Florage

two months ago and are busy not

only selling their floral and homewares,

but the benefits of working in

Tasmania as well.

"When we told people we were

coming to Tasmania everyone said

'why' and we say 'why not'," Ms

Bugelli said.

"It is an amazing part of the world,

a great place to have a small business

where the locals love having new

shops to explore and are very welcoming

and the tourists love coming

into quaint looking stores that are

different."

The floristry family bought their

George St property without an inspection

and spent eight weeks transforming

it into their new shop.

"This old tired house had many

uses over the years so the locals have

told us – every tradie who came told

us it used to be a brothel back in the

day," Ms Bugelli said.

She said feedback about the new

business, which specialises in bespoke

bouquet arrangements, had

been very positive.

"We strive to make our store different

so that shoppers can come in

and find something that they won't

get in a hundred other stores," she

said.

Thinking of selling or

buying a business?

Australia's largest specialist

business broker network is

now in Tasmania.

Call Dean Demeyer on

0419 382 359 for a FREE, no

obligation assessment

of your business.

APPOINTMENTS

Parry set for

take-off

AFTER seven successful years

transforming Hobart Airport,

Chief Executive

Officer

Rod Parry has

announced he

will finish in

the role at the

end of July.

Mr Parry

Rod Parry

has overseen

Tasmania's

major airport

through significant

change and growth, with an

additional 500,000 passengers

now travelling through the airport

each year.

This has been supported by

capital expenditure of over $60

million on projects including a

new arrivals area in the terminal,

resurfacing of the runway, and

significantly expanded retail, car

rental and parking facilities.

Mr Parry said commencement

of the 500m extension of the

WANTED

Business

movers and

shakers

• Promotions

• Appointments

• Awards

• Celebrating

success

Share the news

with the

Tasmanian

business

community

airport's runway to allow direct

flights to Asia and improved

access to the Antarctic is a key

achievement and one which has

the potential to change the future

of Hobart Airport and open up

new opportunities for Tasmania.

"I am proud of the achievements

of the Hobart Airport team

over the past seven years. The

next 12

months will see the completion of

the runway extension project and

the commencement of the

second phase of the terminal redevelopment,

with a further $60

million investment planned," Mr

Parry said.

Mr Parry said given the

achievements during his seven

years at the airport and the projected

completion of the runway

extension in March 2018, it was

an appropriate time for someone

else to lead in the next stage of the

airport's growth.

An International search is

underway for Mr Parry's replacement

and he will stay on during

the five month appointment process.

WP - Advert Feb17 - Proof 4.pdf 1 24/02/2017 9:08:21 AM

SOLUTIONS

IN PRINT

your print specialist for over 90 years

Sharp reservations

relocation

SHARP Airlines has relocated its

reservations centre from Hamilton,

Victoria to Launceston Airport

and has extended the operating

hours for the new centre.

Thirty three staff will now be

employed in Launceston.

The airline has made some $6m

in capital investment in Tasmania

and this

year will

carry over

22,000

passengers

through its

Launceston

terminal

as well as

approximately

420

tonnes of

airfreight.

Sharp Airlines operates regular

services from Launceston to

Flinders Island, King Island and

Burnie/Wynyard.

Sharp to focus on

Launceston

Full Off-Set,

Digital and

Wide Format

Capabilities

Binding and

Finishing

Variable Data

and Mailing

Warehousing

and Distribution

Online Ordering

and Inventory

Management

www.finnbusinesssales.com.au

Send your news

snippets, with a

high quality photo,

to TBReditorial@

fontpr.com.au

6391 8481

sales@paperstat.com.au

www.woolstonprinting.com.au
---
Tasmanian Business Reporter - APRIL 2017 11

EVENTS NEWS

EVENT:

Clifford Craig International

Women's Day luncheon

featuring specialist breast

cancer surgeon

Dr Chantel Thornton

LOCATION:

Grand Chancellor Hotel,

Launceston.

DATE:

March 10, 2017

ABOVE: Anne Forrest, left, Peter Milne, Marg Milne and Jean Montauban.

LEFT: Guest

speaker –

specialist

breast cancer

surgeon

Dr Chantel

Thornton.

ABOVE: Mary Johnson, left, and Pam Watkins.

LEFT:

Carrie Twine

and Kirsty

Dunphey

ABOVE: MC Sara Redman interviews "local hero" State MP

Sarah Courtney.

Part of the huge turnout for the International Women's Day

luncheon at the Grand Chancellor Hotel.
---
Tasmanian Business Reporter - APRIL 2017 12

PROPERTY MATTERS

North West outlook strong

Scott Newton

Property Matters with

Knight Frank

In this month's article, Knight Frank's

Commercial Sales and Leasing specialist, Nicholas

Bond, shares his insights into the North West Coast

commercial property market and his outlook for the

future

THE Cities of Devonport and

Burnie are benefitting from the continual

compression of yields in commercial

markets both nationally and

within Tasmania.

The Hobart market continues to

strengthen and as a result investors

are now looking towards regional

Tasmania for better priced opportunities

in the market.

In July 2016 the Tasmanian

Chamber of Commerce and Industry

reported that there was a significant

loss of business confidence in

the North West where businesses

had reported a negative view of the

Tasmanian economy.

With traditional North West Coast

industries such as mining, manufacturing,

and dairy under pressure,

these changes in confidence were

expected.

What has been interesting is that

the commercial property sector in

Burnie and Devonport seems to

have bucked the trend, with investors

seeing the region as an exciting

opportunity in which to invest.

A number of recent retail leasing

deals in Burnie and Devonport, on

the back of statewide growth in the

retail sector, are seen as signs of positive

momentum for the overall commercial

property market throughout

the North West.

Investment in the Devonport Living

City urban renewal project is

clearly on the minds of investors

looking at this market.

Investment in the re-development

of the new Hill Street Grocer Shopping

Centre is further evidence of

confidence in these markets with the

project – comprising a supermarket

Opportunities are opening up in Devonport.

and four specialty shops – opening

fully leased.

Vendors and purchasers are looking

closely at opportunities in and

around Stage 1 of the Living City

project bounded by Best and Oldaker

Streets.

A number of investment properties

have been offered to the market,

and the yields are certainly indicating

a strong level of confidence in

the North West.

On the back of a compression of

yields in our Hobart and Launceston

markets we are seeing investors

actively looking at North West

Coast opportunities.

Recent sales with strong leases

in place have traded at attractive

yields about 7.5 per cent.

The freight and logistics industries

continue to witness improved

sentiment from continued

investment by Tasports in the local

ports and the investment by

Searoad in a new vessel servicing

Bass Strait.

The enquiry level for modern

warehousing has strengthened and

companies are now struggling to

find suitable larger format modern

warehousing to satisfy their

requirements.

Knight Frank continues to be

involved in working with these

companies to secure purpose-built

Knight Frank ... has

recently established

an office in

Devonport to

service the North

West and West

Coast regions and

is experiencing a

very strong

level of enquiry

facilities or opportunities already

in the market and has recently established

an office in Devonport

to service the North West and

West Coast regions and is experiencing

a very strong level of

enquiry for both investment opportunities

and previously vacant

space.

In particular, we have witnessed

a strong uptake of commercial office

stock from new entrants to

the market as a result of the full

roll out of the National Disability

Insurance scheme.

We expect new opportunities to

continue to present as business confidence

returns.

PROPERTY VIEW

APRIL 2017

For lease

SHIPWRIGHTS ARMS HOTEL

29 Trumpeter Street, Battery Point

Sold

FULLY LEASED INVESTMENT

23 Forbes Street, Devonport

• Shippies - a Hobart institution

• Hisitoric, heritage listed hotel successfully

trading since c1846

• Includes public bar, lounge bar, dining

room, two function rooms, rear courtyard,

nine rooms, manager's flat, and offsite

parking

• Annual revenue around $1.87 million

• Over 18 years remaining on the lease

• Great location in popular Battery Point

• Recently refurbished three-bedroom

manager's flat

• Significant accommodation revenue

SOLD

• Modern, attractive, and versatile building

with estimated net area of 349sqm

• New 6 year lease with further 4 year option

to existing long standing tenant

• Annual CPI increases; market review at

exercise of option

• tenant pays usual outgoings

• On site car parking

• Net passing income: $47,500 + GST pa

(approx)

Sold prior to close of expressions of interest

under Vendor's instruction.

Nick Bond: 0414 395 007

View at KnightFrank.com.au/3294811

Outline indicative only

John Blacklow 0418 128 735

View at KnightFrank.com.au/3405337

Outline indicative only

For sale by expressions of interest

ICONIC SALAMANCA FREEHOLD

85-87 Salamanca Place, Battery Point

Sold

OCCUPY, INVEST OR DEVELOP

11 Oldaker Street, Devonport

Very few opportunities exist to purchase freehold

heritage assets in Salamanca Place — one of the

most sought after locations in Australia.

• Substantial c1830's Georgian heritage

property on Hobart's waterfront

• Five separate strata titles are offered for sale

individually or in one line

• Units 1-4 are high quality, self-contained

apartments; Unit 5 is leased to the Ball &

Chain, one of Hobart's premier restaurants

• Total net income is estimated at $404,236

SOLD

Living City

Stage One

• Strategically located on the northern edge

of the Devonport CBD, close to the

foreshore and river, and adjacent to

Devonport Living City Project

• Comprises extensively refurbished, modern

café/bakery, covered alfresco dining area,

entry ramp, large commercial kitchen with

expansive storage and preparation areas

• Site area: 556sqm (approx); floor area

323sqm (approx)

Outline indicative only

Scott Newton 0409 186 261

John Blacklow 0418 128 735

View at KnightFrank.com.au/3530784

Outline indicative only

Nick Bond: 0414 395 007

View at KnightFrank.com.au/3427292

5 Victoria Street, Hobart 41 York Street, Launceston Shop 6a, 48-54 Oldaker Street, Devonport

P: 03 6220 6999 P: 03 6333 7888 P: 03 6333 7888