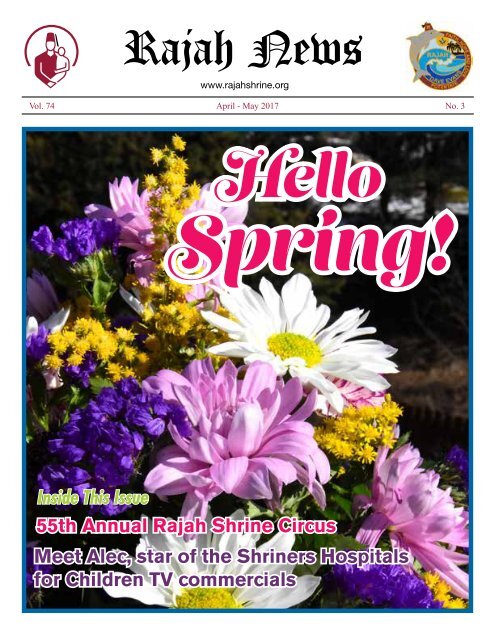 Do you know the secret to free website traffic?
Use this trick to increase the number of new potential customers.
Rajah News

www.rajahshrine.org

Vol. 74 April - May 2017 No. 3

Hello

Spring!

Inside This Issue

55th Annual Rajah Shrine Circus

Meet Alec, star of the Shriners Hospitals

for Children TV commercials
---
Help Us Make the World a Better Place for Children

• Planned giving opportunities, such as

Charitable Gift Annuities or Charitable

Remainder Trusts, wills, estates and bequests

• e-giving, personal fundraising pages, eBay

giving works

• Online donations

• Text to Give program (keyword

"dream" 25383)

Have you seen our commercials? Become a

monthly Love to the rescue ® donor at loveshriners.

org and receive a free Love to the rescue blanket.

Shriners Hospitals for Children ® relies on donations

from Shriners, corporations and the general public to

support its efforts to provide expert care, innovative

research and excellent medical education programs.

At Shriners Hospitals for Children, every donation

and gift – large or small – is greatly appreciated,

acknowledged and used efficiently and effectively

to improve the lives of the children in our care. We

need and depend on every one of our donors, and

are forever grateful for their compassion, unending

generosity and ongoing support.

How you can support our mission

There are a variety of ways to give to Shriners

Hospitals for Children:

• An annual monetary commitment through our

Annual Giving Program

• A one-time cash donation or monthly gifts

charged automatically on your credit or

debit card

• Matching gifts available through your employer

• Honorarium/Memorial Gifts

• A charitable bequest in your will, including

membership in the Dream Makers

Legacy Society

• Gifts of appreciated assets or real estate

More ways to help

Additional ways to obtain donations for Shriners

Hospitals for Children include:

• Facilitating a corporate gift, event sponsorship

or in-kind gift from your place of employment.

Or, if you are a business owner or decisionmaker

for your company, consider one of our

many opportunities for corporate sponsorship.

• Hosting a fundraiser at your home or

local business

• Attending a Shriners Hospitals for Children

fundraiser in your local area

• Donations can be designated to a specific

hospital and/or given in honor or memory of

someone special

Learn more and make a difference

To learn more about this tremendous philanthropic

effort that reaches across the U.S., Canada and

Mexico, please visit donate2shc.org, where you

can also sign up to receive a monthly newsletter

via e-mail. You may also call 855-401-4897, or

send a check payable to "Shriners Hospitals for

Children" to the Office of Development, Shriners

International Headquarters, 2900 Rocky Point

Dr., Tampa, FL 33607-1460.

When you donate to Shriners Hospitals

for Children, you are helping to ensure

that expert care for pediatric orthopaedic

conditions, burns, spinal cord injuries, and

cleft lip and palate will be available to

children in need now and in the future.

shrinershospitalsforchildren.org

OSNOV15HUMT

2
---
The Potentate's Message

Es Selamu Aleikum

Greetings Nobles,

Nobles, As I write Ladies this, and it Friends: is the morning of our first Circus show. I want to start off by

thanking all of the people who make our functions such a great success….YOU!

Without the help of the Nobles and their Ladies, we would not be a viable entity and

would just be a distant memory. So THANK YOU!!! Also a special thank you to the

office staff. They are the unsung heroes of our events, especially the Circus. If I start

singling out individuals, this article would be ten pages long! So I will make due here

with a sincere THANKS!

We have gotten off to a very good start this year. We have already had our first New

Noble/Lady event, and I am so very proud of the Divan and Aides, and their Ladies,

who made the event so successful. We spent the evening getting to know each other, and

then broke apart into Ladies and Nobles meetings. The Ladies had their own program

and even a craft event, making tutus for the children at the hospital. And judging by the

amount of laughter we men could hear, they were having a fine time of it. The Nobles

had a round table style event. We went around the room highlighting the fun and function of all of the clubs and units. It was one

of the most enjoyable evenings I have had in a long time.

The Membership committee is also hard at work on several fronts. Besides the New Nobles/Ladies event I spoke about above, we

are doing a special promotion to try to entice Nobles who had been suspended to rejoin our ranks. Typically to be restored a Noble

would need to pay two years dues for a total of $204.00, but for a limited time we are offering a $137.00 deal….the current years dues,

$102.00, plus the $35.00 the Temple paid to Imperial the year they were suspended. This a savings of $67.00…a great opportunity to

once again wear the title Noble. So I am appealing to all Nobles of Rajah to spread the word around their Blue Lodges. We all know

former Nobles who talk about coming back, except for the expense. Well, this is their golden opportunity to get back among us. So…

PLEASE spread the word. Pick up the phone and call that buddy of yours who you know wants to come back.

Another initiative the Membership committee is undertaking is trying to restart the Lodge Representative program. We are

looking for volunteers from all of the Blue Lodges in our jurisdiction to be a Rep. All that is required is you attend

your lodge on a regular basis and you are willing to stand up and give a very brief update on what is happening

at Rajah. For those of you who are adverse to public speaking, we will be providing you with the talking

points. All we ask is you are willing to stand up and talk for less than two minutes. So please consider this

opportunity to help your Temple. If you are interested please reach out to any members of the Divan.

Thanks for being a member. We need your support and participation. If you have any suggestions, or

criticisms, too…. let us know.

Yours in the Faith,

Dave

ALIEKUM ES SELAM Attest: Joe Hagan, Recorder

Contents

Recorder's Message................................................................4

Meet Alec Cabacungan..............................................................5

Motor Corps............................................................................5

Oriental Band Ladies Night.......................................................6

Oriental Band..........................................................................7

Rajah Clowns .........................................................................8

Lehigh Shrine Club ................................................................8

Special Bingo..............................................................................8

String ALIEKUM Band ES ............................................................................9

SELAM

Lebanon Attest: Shrine Club..............................................................9

Joe Hagan

Rajah

Recorder

Provost Guard.............................................................10

Legion Of Honor ..................................................................10

Save-A-Tape Program..............................................................10

Noble Riders.............................................................................11

In This Issue

Afternoon of Music..................................................................11

Good Friday breakfast..............................................................11

Circus........................................................................................12

Potentate's Ball.........................................................................14

Forks of the Delaware Tin Lizzies........................................15

Pote's Golf Outing....................................................................16

MASA Convention...................................................................17

Caravaners.............................................................................18

Rajah Chanters......................................................................18

Gettysburg Tour........................................................................20

Shrine Shirts.............................................................................21

The Chaplain's Study............................................................22

Obituaries..................................................................................23

Calendars..................................................................................24

3
---
RAJAH SHRINE

RAJAH SHRINE

Shriners International

4

Published February, April, June,

August, October, December

P.O. Box 40, Blandon, PA 19510

Telephone: 610-916-9000

Fax: 610-916-9100

www.rajahshrine.org

EDITOR

Sam Ellis

2409 Treeline Drive

Easton, PA 18040-7925

Phone: 610-390-6188

Email: sellis4947@aol.com

PHOTOGRAPHERS

Burnell Kreider, William Quinn

and Sam Ellis

NOTICE TO ALL

CORRESPONDENTS

Maximum article size is 450

words.

Copy deadline for the next

issue of the Rajah News is

May 10, 2017

NO EXCEPTIONS

E-mail or Mail your article

to Sam Ellis (Address Above)

BOARD OF DIRECTORS

ILLUSTRIOUS SIR

DAVID W. EVANS

POTENTATE

JARED R. KICHLINE

CHIEF RABBAN

MICHAEL J. ZERBE

ASSISTANT CHIEF RABBAN

MARVIN J. MILLER

HIGH PRIEST & PROPHET

WALTER G. NEWRUCK

ORIENTAL GUIDE

RONALD F. RAPP, P.P.

TREASURER

JOSEPH J. HAGAN, SR.

RECORDER

JOSEPH J. HAGAN, SR.

BOARD OF DIRECTORS

INSURANCE COMMITTEE

Every Thursday Evening at the Rajah Shrine Complex

Doors Open at 5:00 - Bingo Starts at 6:30

Open Every To The Thursday Public • Smoke Evening Free at • the Refreshments Rajah Shrine Available Complex for Purchase

Proceeds benefit Doors Rajah Open Shrine at and 5:00 are - Bingo not deductible Starts at 6:30 as charitable donations.

• Open To The Public • Smoke Free •

• Refreshments Available for Purchase •

Proceeds benefit Rajah Shrine and

RECORDER'S are not deductible as charitable MESSAGE

donations.

Joe Hagan

Hello Nobles,

As I sit and write this, I am looking forward to the Circus next week. It has

been very hectic in the office, with Anne-Marie out of the office for a couple of

weeks and Ill. Sir Ronald nursing a bad eye. However, we are managing to keep

all the balls in the air at one time.

Please check your dues card. If it does not have a 2017 sticker you are

delinquent. If you have paid your dues and have not received your 2017 sticker

please call the office, 610-916-9000. Again, as last year, the dues card and/or

sticker will be coming from Tampa so don't throw away any correspondence

without first going through it.

The Parade Season is coming very quickly. Please check the Rajah Shrine

Manual, page 3-6, for the rules pertaining to parading.

There is a lot happening here at Rajah Shrine. The annual Hospital Crusade

Kick-Off is Wednesday evening March 22, 2017, 6:00 P.M. at the Rajah Complex.

We will have a picnic dinner and then a small meeting. If you help at the Paper

Crusade or any fundraising for the Hospitals you are invited to come.

There will be a Good Friday Breakfast here at the Complex beginning at

8:00 A.M. It is $10.00 per person at the door, but please call the office, 610-

916-9000, to make reservations. This will help us have the proper amount of food

for everyone.

Our next Stated Meeting will be held on April 19, 2017. It begins at 7:00 P.M.

here at the Rajah Complex. You will need a current dues card to attend.

Have you told your Lady and family that, when you pass on, to give your

Shrine and Masonic effects (fez, jewelry, uniform, etc.) to a Mason in your family

or return them to the Shrine? Rajah will give them to some deserving Noble or

return them to the proper Masonic organization.

Please do not let these Shrine and Masonic items get into garage sales, flea

markets, or the wrong

hands. In the past this

Mini-Ceremonials shall be at the discretion

plan has been working

Potentate. To schedule, please contact the recorder at

very well. Thanks to all.

CEREMONIALS

Office Closed Good

Friday, April 610-916-9000. 14
---
Meet Alec Cabacungan:

Alec's the face of Shriners Hospitals for

Children TV commercials, who has captured hearts

across America with his famous commercials.

Alec is age 13 and is from Oak Park, Ill., a suburb

of Chicago.

Alec was on "Fox and Friends" recently, where

he said that the hospital has "a special place in

his heart," recalling his countless surgeries and

physical therapy there.

Alec suffers from Osteogenesis Imperfecta, a

brittle bone disease, and he has broken more than

60 bones in his lifetime. But that hasn't stopped

him from achieving his dreams of playing adaptive

sports. He participates in the city of Chicago's

adaptive sports program, where he is a starting guard

on the junior prep team of the Chicago Skyhawks.

"Because of Shriners, I can play wheelchair

basketball, I can play wheelchair softball," he said.

Alec's wheelchair basketball coach, Dan Ferreira, Adaptive Sport Program and Event

Facilitator for the Chicago Part District, said "for people with disabilities, the opportunity to

participate in sports can be healing and empowering. It can clearly change a person's life."

Shriners also gave Alec the amazing opportunity to interview NFL draftees back in April,

when several NFL prospects visited Shriners Hospitals for Children – Chicago. It was a dream

come true for him because he hopes to be involved in sports as an adult. He said that "when I

grow up I want to go to the Olympics. I want to be a Paralympian for basketball. I also want to be

an ESPN analyst and sports anchor in the Los Angeles area."

His parents are strong advocates, who have encouraged young Alec to be both independent

and well-informed. They hope that his sports ambitions will be as successful as the commercials

he hosts. The spots are part of a Direct Response Television Initiative campaign that is designed to

attract donors who will give monthly. The campaign is not only

creating a sustainable funding source, it is increasing awareness

of the Shriners Hospitals for Children and the incredible services

they provide.

CEREMONIALS

Mini-Ceremonials shall be at the discretion

of the Potentate. To schedule, please contact

the recorder at

610-916-9000

2017 CIRCUS DADDIES

The 2017 Circus was held after

the deadline for printing this issue.

In order to get as many Circus

Daddies acknowledged as possible,

we held the list until

the June/July issue.

"With my commercials, I love helping Shriners because

they've helped me so much," Alec said. "It's the least I could do."

MOTOR CORPS

Illustrious Sir Dave Evans

Greetings Nobles,

The Motor Corps had a very successful Horse Race event

with the Rajah Shrine Oriental Band. A very special thanks to

all the Nobles and their Ladies from both units for making the

evening run so smoothly.

A great time was had by all, and the ponies have been

put up for the winter after a hard day of racing. Again, a big

thanks to John Grumbein and Bill Trusty, and their respective

units. A wonderful example of units working together for the

betterment of all!

5
---
Oriental Band

Ladies' Night

Left: Harry Huhn

President Rajah Oriental

Band

Center: Paul Gluck

Past President Association

of Shrine Oriental Bands

Right: Wayne Grumbein

Mid-Atlantic Shine

Oriental Band Association

Left: Donald

Heimbecker receives

15-Year Service Award.

Jay Huhn (not pictured)

also received the award.

Right: Ted Werkheiser,

Jr. receives 30-Year

Service Award. Richard

Sosoka (not pictured)

also received the award.

6
---
ORIENTAL BAND

John Grumbein

What an event-filled month of February we had with the Band.

On February 11, the Band, along with the Motor Corps, hosted the annual Night at the Races to another sold-out crowd.

Illustrious Sir Bob Shank again did a tremendous job of being the master of ceremonies and calling the races. The kitchen staff,

headed by Karen Baran and Dory Homan, did a great job of providing food for the crowd. The two units worked hard all evening

selling tickets and serving beverages. The best news of the day was that the weather held out. We have been blessed. A little-known

fact is that it takes over 40 volunteers, Nobles, and Ladies, to put this show on every year. Thank you, Nobles, and Ladies. To all

that attended, a big thank you for your support. We hope all came away winners. Mark your calendars for next year's event which

will be held on Saturday, February 10, 2018.

Life Changes

Yo

our priorities change,

Your needs change,

Your idea of a perfect home changes.

You don't have to go it alone… I can help!

SAM KALBACH, ®

ACH, REALT TOR

Coldwell Banker Residential Brokerage

975 Berkshire Blvd., Suite 100

Wyomissing, PA

19610

484-256-4038 (cell) | 610-373-9900 (office)

www.homewithsam.com

© 2016 Coldwell Banker Residential Brokerage. All Rights Reserved. Coldwell Banker Residen l aitn

gr efully aekorB

supports the principles of the Fair Housing Act and the Equal Opportuni y t

Act. Operated by a subsidiary of NRT LLC. Coldwell Banker® and the Coldwell Banker logo a e r

registered service marks owned by Coldwell Banker Real Estate LLC. 85582 03/16

One week later, the two units were together again for the

annual Motor Corps/Oriental Band Member Appreciation Night

held at the Complex. The crowd of 60 in attendance enjoyed

a great meal and libation followed by entertainment from Bob

Trimble, who happens to be organist for Grand Lodge, and

Wayne and Julie Grumbein's children, Jarrett and Jayden,

playing the piano. Wonderful talents!

The following week, it was off to the Inn at Reading for our

annual Ladies Night. We incorporate our Ladies Night with the

mid-winter meeting of the Mid-Atlantic Shrine Oriental Band

Association of which our own Wayne Grumbein is President. The

hospitality was again fantastic with our ladies taking care of the

food and Ted Werkheiser taking care of the liquid refreshment.

Need I say more?

At Saturday evening's dinner, Illustrious Sir Dave Evans

presented service awards to the following Nobles of the Oriental

Band: Nobles Jay Huhn and Donald Heimbecker received 15-year

service awards; Nobles Ted Werkheiser Jr. and Richard Sosoka

were presented with 30-year service awards. Congratulations

Nobles! Thanks for your service to Rajah Shrine and the Band.

Also at Saturday evening's dinner, Association of Shrine

Oriental Bands representative Paul Gluck from Melha Shrine,

and a past president of the Association, collected over $5,700.00

in donations for the Ladder of Smiles. The Ladder of Smiles is

the Oriental Band's way of donating money for Shrine Hospitals.

Since 1962 the Ladder of Smiles has donated over 2 million

dollars to our philanthropy.

As I write this there is no slowing down. We are right in the

middle of Circus week. More on that in the next edition.

The Oriental Band is always looking for new members. To

see the Band perform, we have a You

Tube video. Just type in Rajah Oriental

Band into the You Tube search and

click away. It's different, but it's

fun. For further information contact

John Grumbein at 610-395-6578 or

jkgrumbein@aol.com.

In closing, please remember our

kids in our Hospitals. Bottom line, it is

what we're all about.

7
---
RAJAH CLOWNS

Dave "Trusty" DeTurk

Greetings Fellow Nobles!

It's been a while since you have heard from us, but we are back! As you read this, the circus will be finished and we thank all

who made it a huge success! During the circus, we welcomed two new clowns into the big top, Jeff Vickers and Larry Miller. They

did a great job for their first time at the circus. The clowns worked hard this year to make sure we had a new skit and we hoped you

enjoyed it as much as we enjoyed performing it. Huge thanks to the Chanters for their willingness to participate and join in the fun!

Just remember to wish Illustrious Sir Dave a Happy Birthday in a few months.

Now that circus is over we look forward to getting our fire truck out and hitting the streets in some parades. Many people are

enjoying our newest addition of the Director's Staff cars and of course we are happy to have the members of the Director's Staff

parading with us, too! This is a great way for both groups to come together and support our great philanthropy.

We would like thank our Past President Gene Blimline for his dedicated years of service and wish him well in retirement! In

January, we welcomed a new president, John Scalia, as well as other officers to our little circus ring. We are all working hard to

become the best unit Rajah has. In December of 2016 we had the opportunity to host the Snow Ball Dance for Rainbow Girls and

DeMolay Boys. In total, they had over 80 people! It was a great way for us to help them and bring back a long-missed event that

the Shrine always supported. If you're interested in joining the fun and fellowship, please contact any clown or our secretary Dave

DeTurk, 610-790-4996. We will help through the whole process from picking an outfit to the most important part of putting on

makeup! We meet the fourth Monday of every month, except July and August.

Keep on Clowning Around!

LEHIGH SHRINE CLUB

Roger C.Reis

Fellow Nobles –

The Lehigh Shrine Club usually meets on the first Wednesday of each month at the Brass Rail Restaurant on Lehigh Street in

Allentown. The Ladies are invited and we enjoy some social time, followed by a good meal. All Nobles are welcome to attend.

Our February 1 meeting was typical, with a meal of

soup, salad and pork chops, ending with ice cream sundaes.

We were fortunate to have three Past Potentates (Ill. Sirs

Ronald Rapp, William Remo and Lazlo Toth) share the

evening with us.

Unfortunately, due to some unforeseen logistical

problems, we had to postpone our Annual Ladies Night

from the March 17 date until an evening in October.

More information will be forthcoming. As this was to be

our monthly meeting, we decided to have a meeting on

March 1. A light turnout of Nobles and Ladies was due to

short notice and some illnesses. However, those who were

present enjoyed the meal of either fish or pot roast.

Ill. Sir. David W. Evans and Lady Sarah spent the

evening with us.

Our Annual Circus will be over when you read this

article. This is always a great event and should not be

missed. My Lady Jan and I will be at a box office window

for a few shows. We hope you attend and stop to say

"Hello." Remember to attend and support your clubs and

units. Without an active membership, we will cease to exist!

As always, it's GREAT to be a Shriner!

8

BINGO

Longaberger Basket, Pottery

& Vera Bradley Bingo

Friday, May 12th at the Rajah Shrine Complex

Doors open at 5:00 PM • Bingo starts at 6:30 PM

Ticket Donation - $20.00 for 30 Games of Regular Bingo

Specials Available

Door Prizes – Raffle Drawings – Food Available

For tickets, contact any Divan or Aide Lady

Proceeds Benefit Rajah Shrine

We appreciate donations from the Clubs & Units towards

the purchase of baskets, pottery, and Vera Bradley Bags
---
STRING BAND

Larry Christman

Greetings from your String Band,

We played at the Rajah Circus on Saturday,

March 11 at 2 P.M. We've had some good

rehearsals and are ready for a new season. Our

parade schedule is starting to fill up with our first

parade at Girardville on March 25th.

Did you know that the Rajah String Band is

celebrating its 60th anniversary? In 1957, five

banjo players were recruited and with this, the

String Band was organized. The String Band

is known in many communities for its colorful

float, which we use in parades and for concerts.

The float was designed by one of our members,

Nobel Harold Ulmer, and was constructed by

Trailmobile in Lancaster, PA in 1962. Another

member, Nobel Ralph Zimmerman, did all the

artwork on the float. There are approximately 30

playing musicians and 4 support personnel (drivers to pull the float). The band added

accordions, guitars, base guitars, saxophones and trumpets throughout the years. The band is unique in the style of music that

we play.

Throughout the summer and fall, the band participates in approximately

15 parades. The float is often the featured attraction along with the style of

music that we play. In the 60 years, the band has received many awards in

parades and at MASA. It is a fun and serious group of Shriners. With the

support of our Ladies, our purpose is "That we might play our instruments

so that someday, a physically challenged child may walk and play again."

There is an open invitation for musicians to play in the String Band.

Rehearsal is the second Wednesday of each month and 6 P.M. at the

Complex.

See you at the Parades.

LEBANON SHRINE CLUB

Dennis Royer

Hello from the Lebanon Co. Shrine Club,

We are gearing up for another year of fun and fellowship. The club is trying something new this year and that is selling candy as

an Easter/Spring fundraiser. To do this we're partnering with Home Run Candies from Lancaster (owned by Brother Tom Mehaffey

and his wife) to sell their fabulous home-made caramels. Anyone who has tried the candy says it is the best they have ever eaten.

Price is $10.00 a box. See one of our members to place an order.

We are always looking for Nobles and their Ladies to attend our monthly meetings. We meet the 4th Monday of each month at

6:30 P.M. Just give our new secretary, John Bainbridge, Jr., a call at 717-272-5466 to reserve a spot. Future meetings will include

Pot-Pie and Steak Nights. President John Bainbridge III is working on new and interesting programs for future meetings — details

later. We may be running our now-famous $1000 dinner ticket later in the year — stay tuned.

It should be noted that our meeting attendance has really been dropping. We should all try to visit and support our neighboring

clubs. If we all work together, we will remain strong. I am proud to be a Shriner and stand with Ill. Sir Dave Evans and the Divan,

along with all the Nobles of Rajah Shrine to keep us strong. Let's make 2017 a great year at Rajah.

9
---
10

RAJAH PROVOST GUARD

Greg Lewis, PP

Communications Officer

Another year, another successful circus and yes, we did it again. We are happy to say that the Provost Guard played a vital hand

in the success of Rajah's 55th Annual Shrine Circus in seeing that all of our visitors were parked properly and, after each show,

they exited in an orderly fashion. We are happy to report that although the weather was a little topsy-turvy for the five-day circus

run, it was not anything we have not endured before. We had four seasons in less than a week; starting with a balmy Wednesday

opening night, to a windy blustery Thursday night to a raw, chilly Friday evening to a rather bitter cold Saturday and to a sunny,

but bearable Sunday.

It may have been a little bit unsettling outside, but inside the Hamburg Field House it was nothing short of a splendid weekend

of fun and entertainment. Once again, the Hamid Circus produced a fabulous variety of entertainers, led by the Crown Prince of

Circus comedy, the one and only Johnny Rockett. Our sincerest thanks also to our fellow Nobles and their Ladies who helped to

make our presentation an enjoyable one for our guests.

Provost President Dennis Loch expressed his pleasure at seeing the camaraderie of our members pitching in and doing our

job on the outside, but inside the work ethic was truly amazing. A big tip of the fez to everyone that helped to make this circus

a huge success.

Every time you looked at Illustrious Sir Dave Evans, our Potentate, he was wearing a big smile as he observed the audience,

the circus acts and the workers in doing all that we could to make this circus one that we can be very proud to hold. Also, a big

thank you to Ill. Sir Ron Klee, PP for his leadership as the Circus Chairman in bringing this all together for one great big successful

weekend.

We can be very proud of the fact that we all worked together, inside and outside, Nobles, ladies and guests, to make this a

highlight of the year. Upon leaving after each performance, you could hear the audience talking about the great show and how much

they enjoyed seeing the circus.

To everyone that helped in any manner, you can be proud that all of Rajah put our best foot forward and it paid off. What a great

way to start the Shrine year.

To those that have never helped, or members that have not helped at the circus in a long time, it truly is a fun and rewarding time.

So get on the bandwagon and plan to get out and help next year.

LEGION OF HONOR

GREETINGS NOBLES!

DUES, DUES, DUES! Please don't forget to pay your Legion of Honor dues!!! They are still $10.00 a year and are due April

1st of each year. Send your dues payment to Dennis Hagan, Adjutant, 329 Parkview Road, Reading, PA 19606. Better yet, come

to the Legion meeting and pay in person, we'd love to see you!

Our Legion is doing Rajah Shrine proud as usual. We have three

Nobles running for positions in the Mid-Atlantic Shrine Assoc.

Legions of Honor! PC, Ill. Sir Bill Remo, PP, is running for 2nd Lt.

Cmdr; PC, PMC Barry Weisser has his hat in the ring for M.A.S.A.

Adjutant and PC, Rajah Recorder, Joe Hagan is up for Parlimentarian.

The best of luck to these three Nobles!

We could always use more help the last Thursday of each month

at Bingo. We need Nobles to volunteer to call back numbers or even

assist in the kitchen.

The Paper Crusades are also fast approaching and we'll need help

there as always. Come on out, get some fresh air and spend an hour

or two with your friends doing a feel-good job helping our hospitals.

The Legion Commander's Ball is coming June 24th honoring

Commander Bryan Stoudt and his Lady Belinda. It will be held at

the Inn at Reading so please make plans to attend this nice affair.

More details to follow!

"If at first you don't succeed, see if the loser gets anything."

— Bill Lyon

Dennis Hagan

Adjutant, PC, PMC

SHOP AT REDNER'S

AND HELP SHRINERS

HOSPITALS FOR

CHILDREN

SAVE-A-TAPE PROGRAM

We now are participating in the Redner's Save-a-

Tape program. All you need do is visit your nearest

Redner's Market, go to the office, and tell them you

want to sign up for "Shriners Rewards." When you

make purchases, just show them your card and then

bring the receipt to Rajah Shrine. We have collection

buckets in the multi-purpose building and in the

administration office.
---
NOBLE RIDERS

Richard Jessop

Nobles,

We are busy in our off season planning our fundraising events. We are looking at doing both a Spring and

fall breakfast event. Although we are still locking in the spring event, the fall event will be at the Complex on

October 22nd. Details will be in the next Rajah News as well on our Facebook page.

We also wish to confirm that Sunday, August 13, 2017 is the date of our annual Poker Run this year. For our

members, this is a President's Call and we would be more than happy to welcome any volunteers to help us

with this event. It will start/finish at the complex and — reminder — besides motorcycles, this is also open to classics and antique

vehicles. Feel free to reach out to Noble President Tom Conlon PP to offer your support.

The Noble Riders have also confirmed their participation

this year on July 30th for the Annual Christmas in July Ride

by the Centurion's Police based motorcycle club which raises

money for our Philadelphia Shrines Hospital for Children.

GOOD FRIDAY

BREAKFAST

Come join us for Good Friday Breakfast

on April 14, 8:00 AM at the Rajah Complex.

The cost is $10 per person. Please call the office

at 610-916-9000 for reservations.

The Rajah Shrine Chanters Presents their

25th "Afternoon of Music"

featuring a musical salute to "Legends in Concert"

The Rajah Chanters will perform selections from some of the best

known icons & legends in music and entertainment history.

Special guests include the Ringgold Band

and the Hamburg Community Choir

Sunday, April 9th, 2017 - 2 PM

Kutztown Area High School Auditorium

Tickets available at:

Dietrich's Men's Shop, Hamburg • Mr. Food, Kutztown

Hess Embroidery and Uniforms, West Reading

Admission: $15.00 per person

SPECIAL buy 2 tickets, get 1 FREE

For ticket information call Ed Engle, PP - 717-336-6108

Email: Edwin@dejazzd.com

Proceeds benefit Rajah Chanters

Please remember, if you know any Nobles or any

Brothers who ride, let them know of us as we are

always looking for new members. For any questions or

membership applications, please contact Noble President,

Thomas V. Conlon Sr. PP — tomtom1959@aol.com

(610.780.4020) or Noble CMO, Richard W. Jessop —

richardjessop@hotmail.com (347.410.0177).

Remember, we are on Facebook so please like our

page (and have your family and friends do so as well).

www.facebook.com/nobleridersofthemysticshrine

Switching to

Fleetwood Bank

is EASY!

Stop in one of our branch

locations and switch today!

Local People. Local Decisions.

Berks County's Only Locally-Owned Community Bank

www.fleetwoodbank.com

610-944-7666

11
---
THE 55 TH ANNUAL

RAJAH SHRINE CIRCUS
---
14

Rajah Shrine Potentate's Ball – 2017

"Enchantment Under the Sea"

Honoring Illustrious Sir

David W. Evans and Lady Sarah

Saturday, June 17, 2017

The Inn At Reading

1040 North Park Road, Wyomissing, PA 19610

Free Parking • Guests Welcome

Cocktail Hour with Cash Bar: 4:30 p.m. to 5:30 p.m.

Introductions: 5:40 p.m. • Dinner: 6:00–7:00 p.m.

Musical Entertainment by "James Hummel and Lorri Woodward Entertainment"

Dress for the evening – Tuxedo / Business Suit and Fez

Gowns / Cocktail Dresses for the Ladies

Sit Down Dinner Menu Entrees:

Flat Iron Steak with Mushroom Glaze

Grilled Key West Salmon

Chicken Saltimbocca (layered with Prosciutto Ham, Fresh Spinach

then finished with Italian Cheese Blend & Marsala Wine Sauce)

Price for Ball includes Hors d'oeuvres, Dinner, Reception & Hospitality Room — $57.00 per person

Hospitality Room with Luncheon is open from 11:00 a.m. – 3:00 p.m. and 11:00 p.m. until ?

Hotel Room — $104.00 plus tax (Choice of Traditional King or Traditional Double)

For Hotel Reservations please call the Inn at Reading at 610-372-7811 Refer to "Dave Evans Potentate's Ball"

ROOMS ARE LIMITED — DEADLINE – JUNE 2, 2017

Buffet Breakfast will be available for an additional fee on Sunday, June 18, 2017, 8:00 a.m. to 12:00 noon.

For questions call Roger Reis @ 610-351-7333

Name ________________________________________Lady's Name____________________

Address_____________________________________________________________________

City ________________________________________ State _______Zip _________________

Telephone ___________________________________ Unit/Club _______________________

# of persons attending _____________________Amount enclosed____________________

Dinner Choice: Flat Iron Steak_____ Grilled Salmon ______Chicken Saltimbocca ______

Please fill out reservation form above and make check payable to Rajah Shrine and forward to:

Roger Reis

2077 Rolling Meadow Drive

Macungie, PA 18062
---
Forks of the Delaware TIN LIZZIES

Sam Ellis

It was another great year at the Rajah Shrine Circus and our club was

proud to have participated in the five day, eight show event. The acts

were terrific, especially the tigers and the trapeze.

The Tin Lizzies were busy at the circus selling candy, peanuts and

shoofly pies.

Bagging the peanuts and baking the pies is a group effort. The ladies

are an important part of the team.

Congratulations to Circus Chairman, Illustrious Sir Ron Klee and all

the Rajah Shrine Nobles and Ladies who helped to make the 55th Rajah

Shrine Circus a huge success. Illustrious Sir Dave Evans and Lady Sarah

were everywhere, helping out and having a great deal of fun in the process.

On March 4th club members congregated at Larry Silfies' garage in

Klecknersville for our Annual Car Cleanup. All 16 Tin Lizzies and the hauler

are gone over in preparation for the long parade season ahead. Kudos to

club president (and club mechanic) Henry Faust and parade director Garrett

Newhartz for keeping the cars in top mechanical shape.

Ron Barron and Charles Rickinbach

selling peanuts at the

Rajah Shrine Circus

The parade season

is underway and our

club participated in the

Jim Thorpe Parade in

early March and the

Girardville Parade

in mid-March with

Bernville and

Malvern scheduled

in the spring.

These are just a

few of the 25 or

so parades we

will participate in this year.

Bagging Peanuts.

L - R, Elwood Lutsey, Patti Mathews,

Dean Mathews, Ruth Ruch, Mike Hopstock

Ray Barron is seen here

pressing pie shells for Shoofly

Pies.

The Tin Lizzies Pie Bakes are held on the first and third

Mondays of the month at Saint John's Church in Farmersville.

Volunteers are welcome. If you would like to order shoofly pies,

the best in the area, contact Sam Ellis at 610-390-6188. And a

reminder that we are selling shoofly pies at Boscov's in the

Palmer Mall, Easton, on the first and third Wednesdays of the

month. Stop by and pick up a great wet-bottom pie.

Ensinger Printing Service

P.O. Box 26 · 50 W. Main Street ·

Adamstown, PA 19501-0026

info@EnsingerPrinting.com

717-484-4451 · fax 717-484-1355

Typesetting & Design • Offset and Digital Printing

Letterheads • Envelopes • Business Cards • Carbonless Forms

Variable Data • Postcards • Brochures • Catalogs • Newsletters

Wide Format Posters • Tickets and More

Spring Special

500 Flyers or

1,000 Postcards

Just $75

Expires June 30, 2017

Flyers - 8.5"x11", one side on 100# gloss text

Postcards - 4"x6" on 100# gloss cover

15
---
RAJAH

POTES 60LF 60LF OUTIN6

Friday, Friday, June June 23, 2017 23, 2017

Rich Rich Maiden Maiden Golf Golf Course Course

234 234 Rich Rich Maiden Maiden Road, Road, Fleetwood, PA PA

Come Come tee it tee up it with up with Pote Pote Dave Dave

$55 $55 per person person prior prior to June to June li h li - $60 h - $60 after after June June li h li h

Includes: Includes:

Golf, Golf, Cart, Cart, Refres'hments, Buffet Buffet and and Prizes Prizes

FORMAT: FORMAT: FOUR FOUR MAN MAN SCRAMBLE

Coffee Coffee and and Donuts Donuts at Course at Course - 7:30 - 7:30 A.M. A.M.

Shotgun Shotgun Start Start at 8:30 at 8:30 A.M. A.M. Sharp Sharp (Rain (Rain or Shine} or Shine}

***Help ***Help Rajah Rajah Shrine Shrine by Sponsoring by a Tee a Tee or Green or Green for $25.00 for $25.00

ALL ALL PROFITS PROFITS GO TO GO THE TO THE RAJAH RAJAH SHRINE SHRINE GENERAL GENERAL FUND FUND

PUT PUT YOUR YOUR CLUB-UNIT-BUSINESS OR YOUR OR YOUR NAME NAME ON A ON HOLE A HOLE

List Your List Your Foursome-----------------------------------Cut on line on line and and return return

1.Team 1.Team Capt. Capt. ____________ Phone: Phone: _____ _ _

2.________________ Phone: Phone: _____ _ _

---------------- ------

3. 3. Phone: Phone:

4. 4. Phone: Phone: ------

***Tee ***Tee or Green or Green Sponsor: Sponsor: Name Name _____________ _ _

AMOUNT ENCLOSED$ ------

Make Make Checks Checks Payable Payable to Rajah to Rajah Shrine Shrine Golf Golf and and send send to: to:

Joel Joel M. Franco M. Franco - 274 - 274 W. 49 W. th 49 St. th -St. Reading, - Reading, PA 19606-3315 PA DEADLINE FOR FOR RESERVATIONS- FRIDAY FRIDAY JUNE JUNE 16 TH 16 NO TH EXCEPTIONS

NO (Your (Your help help in acquiring in acquiring prizes prizes is greatly is greatly appreciated.}

16
---
MASA CONVENTION 2017

Virginia Beach

September 7 – 10, 2017

AGAIN - 17 th Consecutive Year at Sheraton Oceanfront Hotel,

36 th & Atlantic Avenue, Virginia Beach, Va

LAST CALL

*VOTED BEST HOSPITALITY ROOM AT MASA FOR 2016*

$499.00 PER COUPLE/$449.00 SINGLE NO INCREASE IN PRICE SINCE 2009!

*****YOU PAY ONLY FOR YOUR THREE NIGHTS LODGING. HOSPITALITY ROOM, SATURDAY

POST PARADE LUNCHEON & PRE-REGISTRATION ALL COMPLIMENTS OF THE RAJAH SHRINE

WITH YOUR ROOM RESERVATION AT THE SHERATON! (All others will be charged accordingly.)

Extra Nights Lodging available at extra cost.

ROOMS ARE LIMITED – RESERVE EARLY!!!!

Light Hospitality Beginning Tuesday/Full Hospitality Room Opening Wednesday

Rajah Post Parade Party Saturday afternoon at hotel, Turtle Degree Saturday Night.

Reserve Room Early w/Payment of $150.00 Due By April 15 th

Remainder of Balance $349.00 Per Couple/$299.00 Single Due By June 30th

****Motor Coach Transportation Available to and from Virginia Beach, call Joe McCarthy 610-488-1382****

NO CANCELLATIONS AFTER AUGUST 1ST WITHOUT LOSS OF ONE NIGHTS DEPOSIT.

DETACH AND RETURN TO ADMINISTRATION OFFICE

_____Noble & Lady - $499.00 per couple - Children age 12 and under are Free.

_____Two Nobles - $499.00 (EXTRA NOBLES ADD $50.00 PER NOBLE)

_____One Noble - $449.00

RESERVE _____ EXTRA DAY(S) - DATES: Arriving_____________________Departing________________________

_____LADIES LUNCHEON - Friday, September 8, 2017 at 10:30 AM. PRICE TO BE DETERMINED!

NOBLE'S NAME_____________________________________________LADIES NAME_____________________________________

UNIT/CLUB_____________________________________SHRINE #______________DAYTIME PHONE________________________

ADDRESS__________________________________________CITY_________________________STATE_______ZIP_____________

MAKE CHECKS PAYABLE TO: RAJAH SHRINE

RETURN FORM AND CHECK OR CREDIT CARD INFO TO: RAJAH SHRINE, P O BOX 40, BLANDON, PA 19510

VISA MASTERCARD DISCOVER AMERICAN EXPRESS AMOUNT OF PAYMENT_________________.

V-CODE

CARD NO.

NAME ON CARD__________________________________________EXP. DATE _____/_____

LAST CALL

LAST CALL !!!

LAST CALL !!!

17
---
CARAVANERS

Ill. Sir Earl Binder

Nobles,

Do you have a motor home, Fifth Wheel, trailer, camper? If so, come join your fellow Nobles on fun and relaxing

fellowship getaways.

No camper? No problem! You are welcome to join us at any of our events to see what camping is all about. All are welcome!

We not only camp at our campground, the RAJAH OASIS, located at the Rajah Shrine Complex in the peaceful and quiet Berks

County countryside, we also travel to other campgrounds in eastern Pennsylvania to enjoy new scenery. Our club activities include

sightseeing, campfires, potluck meals, games, and fun events like a hoedown in the fall. We're always looking for new ideas, too!

Our camping season starts in April upon the return of many members who are snowbirds returning from their winter stay in Florida.

The 2017 Schedule:

- April 20 to 23 at the Rajah Oasis.

- May 25 to May 29 we travel to the West End Fairgrounds in Gilbert, PA where

we are joined by our brother Masonic group, NCT (Nation Camping Travelers).

- June 22 to June 25 at the Rajah Oasis

- July 27 to July 30 at the Mountain Springs Campground, in Shartlesville, PA

- August 13 to August 17 at the Country Acres Campground in Lancaster, PA

- August 31 to September 4 at the Rajah Oasis where we will be joined by the

NCT group.

- September 28 to October 3 at the Rajah Oasis

- October 26 to October 29 at the Rajah Oasis

We invite you to join us for any or all of our campouts by contacting our Wagon

Master Gerald Berger (610-395-4866 or gberger401@rocket.com) or President

Michael Artim (484-437-3710 or michaelartim@gmail.com) or Secretary Earl

Binder (484-357-7294 or my3bloodhounds@gmail.com).

We are looking forward to raising the flag at the Oasis to kick off the 2017

camping season.

RAJAH CHANTERS

Greg Lewis, PP

What a wonderful time we all had at the circus…. what a great weekend and what a great job the Chanters did

on singing "Happy Birthday" to our Potentate Dave Evans. I know you'll see elsewhere in this edition of the Rajah News how the

Rajah Clowns did a good job, too, but truth be known, we did enjoy being a part of the combined skit of singing to the Pote.

Speaking of the circus, the Chanters would like to thank everyone that helped to make this year's Rajah Shrine Circus a huge

success. A special thank you to those Nobles, ladies and friends that helped at the novelty stand. We sold a tremendous number of

souvenirs to the crowd of circus-goers and hope that they return to help us next year.

Up next for us is the Rajah Chanters 25th "Afternoon of Music." We've been planning and rehearsing for over a year and this

presentation of a "Salute to the Legends of Music" promises to be a winner. Please join us on Sunday, April 9th at Kutztown High

School Auditorium starting at 2 P.M. for a blockbuster of a show. We guarantee you a fun-filled musical salute to some of the finest

musicians, singers and performers ever to grace a stage. We will be presenting a broad selection of tunes from various genres of

music in a mixed bag of songs intended to please every musical palate.

Our directors, Bryan Hartman and Bruce Rohrbach, have been putting the Chanters through some rigorous rehearsals in

preparation for this years' Afternoon of Music and we assure you that this will be one of the finest presentations we have made in

past 25 years. The Chanters will be accompanied by some of Rajah's Concert and String Band members to add to our presentation.

Our special musical guests will be the Ringgold Band, under the direction of Jim Steidle. They are returning by popular demand

and we hope you will return, too, to see their star-studded presentation of great music.

So, come one, come all to the Chanters Afternoon of Music for a grand time and great music!!

Tickets are just $15 per person and will be available at the door. Get there early and get a good seat because we expect a big

crowd. Bring all of your friends and family to witness our "Salute to the Legends of Music."

18
---
Having trouble with everyday tasks?

Assured Assistance can help.

To arrange a FREE confidential,

no-obligation personal visit,

call 610-796-4737.

Senior Care | Housekeeping | Transportation | Laundry Services

Meal Preparation | Personal Hygiene | Shopping/Groceries | Errand Services

Companionship | 24/7 Coverage | And more...

Locally owned and operated | Fully insured and bonded | Equal Opportunity Employer & Provider

610-796-4737 | www.assuredassistance.com

Stair Lifts

• Locally Owned and Operated

• Expert Installation by Certified

Technicians

• Handles National Brands

Including Acorn

• Will Beat All Factory Direct

Sale Pricing

$

200

DISCOUNT

TO ALL NOBLES

AND FAMILIES

STAIR LIFTS

RAMPS

LIFT CHAIRS

FREE ESTIMATES

1-800-886-6364

19
---
Rajah Shrine 2017

Hosted by Potentate David and Lady Sarah Evans

Gettysburg, PA

Saturday - Monday

May 20-22, 2017

Gettysburg is the place where 165,000 soldiers met to fight for their beliefs. It is the place where Abraham Lincoln helped

mend a torn nation with his Gettysburg Address, and the place where millions have stood to reflect on the importance of

the events that occurred here and how those events shaped our nation.

Your Gettysburg Tour Includes:

Round trip transportation via private Elite motorcoach equipped with reclining seats and restroom.

Two (2) nights' accommodations at the Country Inn & Suites, Gettysburg. Baggage handling for one bag per

person included.

Four (4 included meals) – Two breakfasts, two dinners (Fairfield Inn & Farnsworth House)

Gettysburg film, "A New Birth of Freedom" – sponsored by The History Channel, the film places the

monumental events of the three day Battle of Gettysburg into the larger context of American history.

Admission to the Gettysburg Cyclorama - Longer than a football field and as tall as a four-story structure, the

Gettysburg Cyclorama painting immerses visitors in the fury of Pickett's Charge during the Battle of Gettysburg.

Admission to the Gettysburg Museum of the American Civil War – The museum's collections tell the story of

the Battle of Gettysburg through the perspectives of presidents, generals, soldiers, and civilians.

Driving tour of the Gettysburg Battlefield with licensed guide

Civil War Era Dinner Theatre at the historic Fairfield Inn- Enjoy a full course dinner while Professor Kerrigan,

illusionist and story teller, performs Civil War era magic, tells ghost stories and performs a Civil War séance.

Self-guided tour of the Seminary Ridge Museum – this award winning, state of the art museum, was the critical

lookout on the first day of the Battle, became a field hospital and fielded 19 th century debates about slavery.

Guided tour of the Shriver House Museum – Travel back in time and learn the other side of the story – the

civilian side of the Battle of Gettysburg. You'll discover how the young Shriver family, George, Hettie, Sadie and

Mollie, lived before, during and after the War.

Visit to the David Wills House – This house was at the center of the immense clean-up process after the Battle

of Gettysburg and where President Lincoln put the finishing touches on his Gettysburg Address.

Dinner at the Farnsworth House – Enjoy a buffet dinner while a costumed guide relates stories of life in

Gettysburg during the Civil War.

The Ghosts of Gettysburg Candlelight Walking Tour® - Guides dressed in period attire will take you on a stroll

through sections of town that were once bloody battlefields and where today it's not as quiet as it should be.

Self-guided visit to the Eisenhower National Historic Site – Discover the influence that Gettysburg and the

Civil War had throughout the life of President Dwight D. Eisenhower.

Services of a Boscov's Travel Tour Escort

All taxes and gratuities for included features

Gratuities for the tour escort, motorcoach driver and local guide

COST PER PERSON*

DOUBLE

OCCUPANCY

SINGLE

OCCUPANCY

$543 $715

All rates are subject to availability at time of booking.

OPTIONAL:

GROUP TRAVEL PROTECTION PLAN

Extensive plans to help protect your trip.

$58 per person, all categories

We encourage all travelers to purchase a plan at the

time of initial trip deposit.

20
---
Order your 2017 Shrine Shirts

––––– NOBLE'S SHIRTS –––––

Noble's shirts are strong blue, cotton/polyester, Port Authority, oxford/button-down

includes logo and name on right side of chest. These shirts run a little small.

Rajah Shrine logo will be on the left side of chest.

Short Sleeves: Sizes XS–XL: $38.50, 2X–3X: $44.50, 4X–5X: $48.50

Long Sleeves: Sizes XS–XL: $41.50, 2X–3X: $46.50, 4X–5X: $50.50

Indicate the number of shirts desired next to the size

Small_____/ Medium____/ Large_____ / XLarge_____/ 2XL_______/ 3XL_______/ 4XL______/ 5XL_____

Circle choice: short sleeve

OR

long sleeve

Noble's shirts are cobalt blue, cotton/polyester, short sleeve, moisture-wicking polo

includes logo and name on right side of chest. These shirts run big.

Rajah Shrine logo will be on the left side of chest.

Sizes XS–5X: $51.50

Indicate the number of shirts desired next to the size

Small_____/ Medium____/ Large_____ / XLarge_____/ 2XL_______/ 3XL_______/ 4XL______/ 5XL_____

––––– LADIES SHIRTS –––––

Lady's shirts are maui blue, cotton/polyester, short sleeve polo, includes logo and name on right side of chest.

Lady will appear in front of your name. Example: Lady Sarah

Sizes XS–XL: $25.50, 2X: $26.50, 3X: $30.50, 4X: $32.50

Indicate the number of shirts desired next to the size

XSmall____/ Small_____/ Medium____/ Large_____ / XLarge_____/ 2XL_______/ 3XL_______/ 4XL_____

$6.50

21
---
THE CHAPLAIN'S STUDY

Rev. David Newhart

22

One of the great disappointments I had when I visited the Holy Land was seeing the Upper Room.

This room is said to have been the place where Jesus had the Last Supper with his disciples. To

get there you must weave through many narrow streets, actually, narrower than what we call alleys

around here. When you finally come to the building you discover that the first floor holds what the

Jews consider the burial place of King David. On the floor above that is a rather large room, but very

plain, a few pillars and a niche in the wall on the west side. Nothing else is there. The reality is that

it is not important where this took place but what took place in that room.

The Passover meal for Jews is a farewell to slavery, I participate in one almost every year with my

Jewish "Mother", a dear friend in Selinsgrove who has made me a part of her family. It is a fancy

meal, with the best of recipes, the only restriction is that you must use Kosher foods and no wheat

flour or bread, or yeast may be used. Matzos are the only sort of bread allowed.

This was an important meal for Jesus to share with his disciples, there is no indication that he had

ever shared the Passover Seder with them in the past. That was why this meal was so urgent for

Jesus to share with his family, the disciples were his family and he needed them to understand the

significance of this Seder meal.

We now have this as our Sacramental meal, one that has the deepest significance to our faith and our relationship with Jesus

Christ. This is not simply a remembrance of what he did, but this meal fulfills the promise of his presence for all of us and the means

by which we receive the forgiveness of our sins. The remembrance is that our faith is tied to the Jewish Seder, it is the covenant

meal, that which fulfills the promise of God's love for us in our lives forever.

In Communion, we have a sacramental meal where Jesus has made a promise to us that our sins will be forgiven, he has

promised that he is present in the meal, and through this meal he lifts us up so we can become a part of his being. The Son of God

became a Son of Man so that the Sons of Men can become Sons of God. This is why we call the church the Body of Christ, because

we become part of his Body through the church. In baptism, we are made members of the church and receive his Holy Spirit.

It is this Spirit that is renewed each time when we once again receive his body through Communion, then and only then can we

know it and receive the forgiveness of sins.

When we celebrate the Eucharist, we celebrate that which ties us to all Christians throughout the world for every place and every

generation. We bring the Easter Christ into our bodies as he has risen among us his Spirit is present in the Wine and bread and he

has given us life everlasting. We are brought together in Christ and united with him in his body and therefore united with all people.

Joining in this fellowship is that which makes us the one true body of Christ regardless of our denomination. We celebrate World

Wide Communion each time

we come to his table of

fellowship. He it is who

unites into one Body, He

it is who has given us the

promise of everlasting life,

he it is who has given himself

completely for our salvation.

We are called together to

celebrate this as "…often as

you eat of this bread and drink

of this wine, you celebrate

my life and my death and

my resurrection." This is a

celebration that can neither be

done too often or cannot be

done without our reverence of

the totality of his grace.

HESS

Embroidery & Uniforms

A WOMAN OWNED COMPANY

513 Reading Avenue

West Reading, PA 19611

www.hesslettering.com

Phone: 610.372.6287

Fax: 610.372.0941

E-mail: hessemb@aol.com

Sam Beam

POLICE • FIRE • INDUSTRIAL • SECURITY UNIFORMS

EMBLEMS • BADGES • JACKETS

EMROIDERY • SILK SCREEN

MASONIC - SHRINE - OES

HOURS: MON., WED., THUR., & FRI. 9-5 • TUES. 9-7 • SAT. 9-1
---
JOSEPH P. DONLEY

Lebanon

DIED: SEPTEMBER 6, 2016

DONALD R. "RED" HART,

Shillington

DIED: JANUARY 28, 2017

RUSSEL B. HASSON

Lincoln Park

DIED: FEBRUARY 15, 2017

CLARENCE G. KLINGER

Hamburg

DIED: FEBRUARY 14, 2017

Lost

In

The

Desert

The last known address in our

records is listed below. If anyone

knows the whereabouts of the

following Nobles, please contact

Joseph J. Hagan, Sr., Recorder or

Anne-Marie at the Administration

Office, 610-916-9000.

Obituaries

WALTER C. LILLY

Bethlehem

DIED: JANUARY 28, 2017

EARLE M. OBERHOLTZER, JR.

Norristown

DIED: DECEMBER 18, 2016

ROGER G. REHRIG

DIED: OCTOBER 2016

MARTIN ALFIERO, JR.

Auburn

DIED: JANUARY 19, 2017

R. ASHTON

Easton

DIED: JANUARY 25, 2017

WAYNE F. SCHLOUCH

Mohnton

DIED: JANUARY 16, 2017

HARVEY L. SMITH

New Ringgold

DIED: JANUARY 22, 2017

RICHARD A. BALES, SR.

Hereford

DIED: FEBRUARY 2, 2017

ILL. SIR NORMAN L. BARINGER, PP

DIED: FEBRUARY 10, 2017

PAUL E. DERHAMMER

Allentown

DIED: JANUARY 28, 2017

23
---
Rajah Shrine

P.O. Box 40 , Blandon, PA 19510

Vol 74 April-May 2017 No. 3

A

PRIL

017

Sunday Monday Tuesday Wednesday Thursday Friday Saturday

1

23

Noble Riders

Concert Band

Caravaners -

Rajah

Concert Band

30

MARCH 2017

S M T W T F S

1 2 3 4

5 6 7 8 9 10 11

12 13 14 15 16 17 18

19 20 21 22 23 24 25

26 27 28 29 30 31

MAY 2017

S M T W T F S

1 2 3 4 5 6

7 8 9 10 11 12 13

14 15 16 17 18 19 20

21 22 23 24 25 26 27

28 29 30 31

LOH Spring

MASA

2 Board of

3 4 5 6 7 8

Directors

Oriental Band

Anglers

Rajah S.C.

Directors Staff

Lehigh S.C.

LOH Exec

BINGO-

Chanters

(Anglers)

Rajah Ladies

Cedars

Bethlehem S.C.

9 10 11 12 13 14 15

Concert Band

Lancaster O.B.

Legion of Honor

Car Club

Lancaster SC

GOOD FRIDAY

Tin Lizzies

Chanters

Past Captains

String Band

Spring Ladies Nite

BREAKFAST

Car/Truck

Dance Band

Night

Honoring Zembo

8 AM

Cleanup

Mounted Patrol

Carbon SC

COMPLEX

Bethlehem

BINGO-

Office Closed

S.C. Applebees

Palm Sunday

(Anglers)

Good Friday

Fundraiser

16 17 18 19 20 21 22

Chanters

Provost Guard

STATED

Caravaners -

Caravaners -

Anglers Ladies

Motor Corps

Brandywine SC

MEETING -

Rajah

Rajah

Nite

7 PM

Caravaners -

Rajah

Golf Club/

BINGO-

Easter

Cedars

Willow Hollow

(Chanters)

24 25 26 27 28 29

Lebanon S.C.

Schulkill S.C.

North Penn SC

Tin Lizzies

Cedars Ladies

Chanters

Membership

Night

Mtg. - 6:30 PM

BINGO-

Clowns

Units/Clubs -

(Legion)

7:30 PM

Cedars

Cedars

SPRING MASA AT IREM SHRINERS

Rajah

Bulletin

Board

Office Closed

Good Friday, April 14

Pote's Gettysburg

Trip - May 20-22

Pote's Golf Outing

June 23

Membership Picnic

June 25

APRIL 2017

BINGO EVERY

THURSDAY NIGHT

M

A

Y

Ladies Basket Bingo

May 12

Good Friday Breakfast

April 14

Stated Meeting

April 19

Hospital Crusade

May 26-27

Pote's Ball

June 17

2017

Mother's Day

Send in the Clowns

Glenn Sattizahn PP

Larry Bortz PP

Golf Club/

Lebanon Valley

Sunday Monday Tuesday Wednesday Thursday Friday Saturday

Board of

1 2 3 4 5 6

Directors

Oriental Band

Anglers

Rajah S.C.

Directors Staff

LOH Exec

BINGO-

Concert Band

Chanters

(Anglers)

Rajah Ladies

Bethlehem S.C.

7 8 9 10 11 12 13

Concert Band

Lancaster O.B.

Legion of Honor

Car Club

Lancaster S.C.

LADIES

Pops Concert

Chanters

Carbon SC

String Band

BASKET BINGO

Dance Band

BINGO-

(Anglers)

14 15 16 17 18 19 20

Chanters

Provost Guard

Mounted Patrol

Lehigh S.C.

Motor Corps

Brandywine SC

Bingo w/ Ladies

BINGO-

at Complex

(Chanters)

21 22 23 24 25 26 27

Lebanon S.C.

Schuylkill S.C.

North Penn SC

Tin Lizzies

Caravaners -

Caravaners -

Chanters

Membership

Caravaners -

Away

Away

Mtg. - 6:30 PM

Clowns

Units/Clubs -

Away

7:30 PM

BINGO-

HOSPITAL CRUSADE

POTE'S TRIP

(Legion)

REDNER'S - POTE'S CALL

28 29 Caravaners -

Chanters

30 31

Away

Caravaners -

Noble Riders

Away

Office Closed

Memorial Day

Cedars

Illustrious Sir

Dave Evans

MAY 2017

Thomas Conlon PP

and Lady Brenda

APRIL 2017

S M T W T F S

2 3 4 5 6 7 8

9 10 11 12 13 14 15

16 17 18 19 20 21 22

23 24 25 26 27 28 29

30

Lady Sarah

1

POTE'S TRIP

JUNE 2017

S M T W T F S

1 2 3

4 5 6 7 8 9 10

11 12 13 14 15 16 17

18 19 20 21 22 23 24

25 26 27 28 29 30