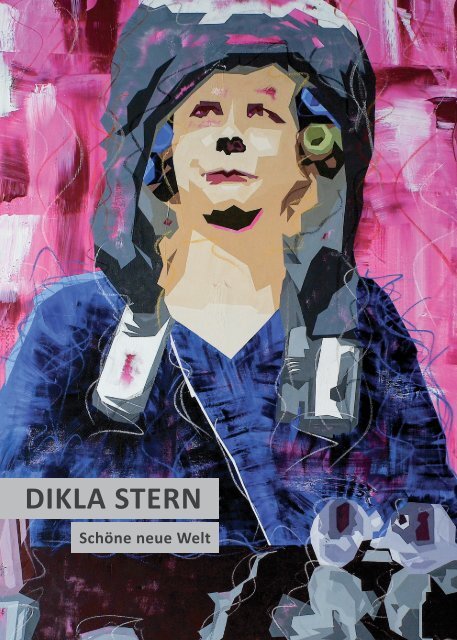 STERN CONTEMPORARY Online Booklet
You also want an ePaper? Increase the reach of your titles
YUMPU automatically turns print PDFs into web optimized ePapers that Google loves.
Ein ganz besonderer Dank gilt:

Very special thanks go to:

Stadt Annweiler am Trifels

Stadtbürgermeister Thomas Wollenweber, Annweiler

Das Team vom Hohenstaufensaal, Annweiler

Zukunft Annweiler e.V.

Familie Shavit, Tel Aviv

Familie Friedman, Mannheim

Jörg Ueltzhöffer, Mannheim

Julia Walter, Karlsruhe

David Bensaude, Paris-Mannheim

Dr. Michaela Hauptmann, Köln

Dr. Anna Kuchmiy, Moskau

Elmar Spitz, Mannheim

Dr. Anja Meyerrose, Zürich

Dr. Stephan Truninger, Zürich-Berlin

Alex Becker, Frankfurt

Für die freundliche Unterstützung vielen Dank an:

For the generous support, additionally thanks to:

Adrienne und Otmar Hornbach-Stiftung
---
Die Bar (Detail) / The bar (Detail) - 2015

Acryl auf Leinwand 130 x 180 cm, (Acrylic on canvas 70,8 x 51,2 in)
---
EINLEITUNG

SCHÖNE NEUE

WELT

Schöne neue Welt. Dieser Titel fasst

nicht bloß die hier gezeigten Malereien

und Fotografien von Dikla Stern

prä gnant zusammen, er ist auch programmatisch

für das gesamte Werk der

Berliner Künstlerin. Ob sie mit entschlossenem

Pinselstrich Menschen

charakterisiert oder Küchenutensilien

fotografisch in Szene setzt – stets zielt

sie hinter den schönen Schein, hinter

das nur vermeintlich harmlos Alltägliche.

Die Bilder selbst verbleiben dabei in

Andeutungen. Es sind nicht so sehr die

gezeigten Motive, als vielmehr die transportierten

Stimmungen und Gefühle,

die den Betrachter zu Geschichten inspirieren

und die Bilder sprechen lassen.

Diese Kunst fordert zur individuellen

Auseinandersetzung auf.

Nicht zufällig begann die 1972 in Israel

geborene und als Kind nach Deutschland

eingewanderte Dikla Stern ihre

künstlerische Laufbahn auf Oper- und

Theaterbühnen. Zwar rückte schon

bald die bildende Kunst ins Zentrum

ihres Interesses und sie wandte sich

von der Bühne ab, um in Tel Aviv am

Avni Institute of Art and Design Grafikdesign

und Kunst zu studieren. Aber

die Erfahrungen, die sie zuvor mit der

Darstellung von Geschichten, mit klassischen

und modernen Theaterformen,

machte, fließen bis heute in ihre Arbeit

ein. Ihre Bilder verschaffen dem Betrachter

eine Bühne für seine eigenen

Geschichten – ohne ihm dabei eine bestimmte

Erzählung vorzuschreiben.

Trotz dieser Offenheit vermitteln die

hier präsentierten Bilder – mögen sie

eine Gruppe Anzugträger, Skalpelle

und Spritzen oder etwas so banales und

scheinbar harmloses wie einen Pfannenwender

darstellen – allesamt eine ähnliche

Atmosphäre: Stets schwingt in ihnen

etwas Bedrohliches mit. Angst, ist ein

Thema, mit dem sich Dikla Stern schon

lange beschäftigt; nicht nur künstlerisch.

Für ihr Werk und ihr Selbstverständnis

als Künstlerin war immer auch die intellektuelle

Auseinandersetzung mit ihrer

Umwelt wichtig. Deshalb wählte sie den

Schwerpunkt Medientheorie und Philosophie,

als sie, zurück in Mannheim ihr

Studium fortsetzte und verarbeitete ihre

Erfahrungen in Israel und Deutschland

in einer Masterarbeit zur gesellschaftlichen

Produktion und Vermarktung des

Rohstoffs Angst. Spuren dieser intellektuellen

Beschäftigung finden sich auch

in den hier unter dem Titel "Schöne
---
neue Welt" gezeigten Arbeiten.

Seit 2011 lebt und arbeitet Dikla Stern

als freischaffende Künstlerin in Berlin.

Ihre Werke konnten schon in vielen nationalen

und internationalen Ausstellungen

bewundert werden: In Mannheim,

Leipzig, Karlsruhe, Berlin, Stockholm,

Brüssel, Florenz oder New York. Und

jetzt auch hier in Annweiler, im Hohenstaufensaal.

Dr. Stephan Truninger

INTRODUCTION

BRAVE NEW

WORLD

Brave New World: This title not only

succinctly encapsulates the paintings

and photographs shown here by Dikla

Stern, it also stands programmatically

for the Berlin artist's entire body of

work. Whether characterizing people

with decisive strokes of the brush

or theatrically staging kitchen utensils

in photographs — her aim always lies

behind the beautiful facade, behind

the only seemingly harmless everyday

world.

At the same time, the images themselves

remain at the level of allusion. It is less

the motifs presented than the moods

and feelings conveyed that inspire viewers

to construct narratives and cause the

images to speak. This art challenges us

to engage in an individual dialogue.

Dikla Stern was born in Israel in 1972

and immigrated to Germany as a child.

It is no coincidence that her artistic

career began on the opera and the ater

stage. It is true that visual art soon became

the focus of her interest and she

turned away from the stage in order

to study graphic design and art at Tel

Aviv's Avni Institute of Art and Design.

Nonetheless, the experiences that she

had previously gathered with the representation

of narratives and with traditional

and modern forms of theater still

continue to contribute to her work today.

Her images provide viewers with a

stage for their own narratives — without

simultaneously dictating a specific

story to them.

In spite of this openness, every one

of the images presented here — be it

a group of men in suits, scalpels and

needles or something as mundane and

seemingly harmless as a kitchen spatula

— conveys a similar atmosphere: They

always resonate with a sense of men ace.

Fear is a theme that has already occupied

Dikla Stern for a long time, and

not just as an artist. Her intellectual occupation

with the world around her has
---
always been important for her work and

for her self-concept as an artist. That is

why she chose to focus on media theory

and philosophy when, after returning

to Mannheim, she continued her studies

and dealt with her experiences in Israel

and Germany in a master's thesis on the

societal production and marketing of

the raw material of fear. Traces of this

intellectual occupation are also to be

found in the works shown here under

the title "Brave New World."

Since 2011, Dikla Stern has lived and

worked as an artist in Berlin. Her works

have already been presented in numerous

German and international exhibitions,

in cities including Mannheim,

Leipzig, Berlin, Stockholm, Brussels,

Florence and New York. And now here

in Annweiler, as well, in the Hohenstaufensaal.

Dr. Stephan Truninger

MALEREI | FOTOGRAFIEN

PAINTINGS | PHOTOGRAPHY

Auswahl | Selection

2008-17

Selfie - 2015

Acryl auf Leinwand, 140 x 110 cm (Acrylic on canvas, 55 x 43 in)

Photography Nr. 16 - 2017

Lambda - Print 60 x 50 cm (23,6 x 19,7 in)
---
Einschnitte / Cuttings - 2015

Acryl auf Leinwand, 80 x 90 cm (Acrylic on canvas, 31 x 35 in)
---
Photography Nr. 20 - 2017

Lambda - Print 60 x 50 cm (23,6 x 19,7 in)
---
Weltenkinder - 2014

Acryl auf Leinwand, 90 x 90 cm

(Acrylic on canvas, 35,4 x 35,4 in)
---
Todesspritzen / Lethal Injection - 2015

Acryl auf Leinwand, 80 x 90 cm (Acrylic on canvas, 31 x 35 in)

Privatbesitz (In private hands)
---
Photography Nr. 5 - 2017

Lambda - Print 60 x 50 cm (23,6 x 19,7 in)
---
Photography Nr. 1 - 2017

Lambda - Print 60 x 50 cm (23,6 x 19,7 in)
---
No Name - 2016

Acryl auf Leinwand, 110 x 110 cm (Acrylic on canvas, 43 x 43 in)
---
Die Nazibraut / The Nazi-Bride - 2008

Acryl auf Leinwand, 200 x 150 cm (Acrylic on canvas, 78,7 x 59,1 in)

Photography Nr. 4 - 2017

Lambda - Print 60 x 50 cm (23,6 x 19,7 in)
---
Hotel Stories I - 2008

Acryl auf Leinwand, 170 x 170 cm (Acrylic on canvas, 66,9 x 66,9 in)

Privatbesitz (In private hands)
---
Photography Nr. 12 - 2017

Lambda - Print 60 x 50 cm (23,6 x 19,7 in)
---
Was immer war und niemals ist und niemals war und immer ist /

What ever was and never is and never was and ever ist - Dyptichon 2009

Acryl auf Leinwand, 190 x 140 cm (Acrylic on canvas, 74,8 x 55,1 in)
---
Ménage à trois- 2009

Acryl auf Leinwand, 210 x 150 cm (Acrylic on canvas, 82,6 x 59,1 in)
---
Photography Nr. 18 - 2017 (left)

Photography Nr. 11 - 2017 (right top)

Photography Nr. 13 - 2017 (right bottom)

Lambda - Print 60 x 50 cm (23,6 x 19,7 in)
---
FOTOGRAFIE - 2017

Dikla Sterns Fotografien wirken

von weitem, als wären darauf abstrakte

Formen abgebildet, inhaltsleer

und intransparentt zugleich.

Teilweise sind Schatten deutlicher

zu sehen als die fotografierten Objekte

selbst. Dem ersten Blick des

Betrachters eröffnet sich nicht sofort,

wodurch diese Schatten entstehen

und wie sie entstanden sind,

ja, warum sie da sind.

Bei vielen Menschen erzeugen Dunkelheit

und Schatten Ängste, reale,

aber auch psychische, die uns in eine

unheimliche Stimmung versetzen.

Verstärkt wird diese Stimmung dadurch,

dass die fotografierten Objekte

überdimensional ausgestellt

werden. Je näher wir an die Fotografien

herantreten, desto detailreicher

sind sie; Kleinigkeiten, die mit

bloßem Auge gar nicht zu erkennen

wären, werden wahrnehmbar.

Durch dieses Mehr an Erkennbaren

wirken die Objekte zunächst noch

stärker verfremdet.

Gerade weil diese Fotografien starke

Erlebnisse auslösen, sind sie zunächst

einmal hässlich – hässlich,

so wie der Philosoph Vilém Flusser

es verstanden hat – denn sie brechen

mit den Konventionen, lassen

in uns zuerst und unmittelbar

verstörende oder ängstigende, auf

jeden Fall aber beunruhigende Gefühle

aufkommen. Uns Betrachtern

passen die Fotografien nicht in unsere

innere Ordnung hinein, unser

Gedächtnis kann diesen neuen Eindrücken

noch keinen gebührenden

Platz einräumen. Erst wenn wir die

Fotografien in Ruhe betrachten,

dem Neuen Zeit lassen, können

wir das Gesehene und das Gefühlte

einordnen und ihm einen Sinn geben.

Erst dann genießen wir die Fotografien

als schöne. So wird durch

die Gewöhnung aus dem Hässlichen

etwas Schönes.

Wenn wir uns also etwas Zeit nehmen,

nähertreten, hinschauen, dann

sehen wir, dass Dikla Stern in ihrer

aktuellen Arbeit in einer ganz

eigenen Ästhetik einige alltägliche

Gebrauchsgegenstände fotografiert

hat. Ein Küchenmesser, einen Pfannenwender,

einen Aufbewahrungsbehälter,

Esswaren, einen Karton,

eine Blechdose. Sie wurden in verschiedenen

Aufsichten aufgenommen

und dadurch entsteht für uns

Betrachter der Eindruck von skurril

verformten, eindrucksvollen Ob­
---
jekten, die häufig nur anhand ihrer

Schatten erkennbar werden, identifizierbar

sind.

Diese fotografierten Gegenstände

bekommen wir heute alle als neue

Waren in unserer universellen Lebenswirklichkeit,

global auf dem

Markt angeboten; das gilt für Nudeln

und Quinoa aber auch für das

Messer oder den Pfannenwender.

Diese Waren sind aus Karton, Plastik,

Glas, Metall, aus Werkstoffen,

wie sie heute weltweit verwendet

werden. Und selbst noch der Müll,

zu dem diese Waren alle irgendwann

werden, weil sie aufgebraucht oder

unbrauchbar geworden sind, ist

universell vorhanden. Indem Dikla

Stern diese Gegenstände abbildet,

schafft sie in ihren Fotografien eine

Abstraktion der Warenwelt und

kann ihren ganz subjektiven Dialog

mit der Kamera in einer Weltsprache

führen, die ja auch nur als abstrakte

universell verstanden werden

kann.

Allerdings bleibt Dikla Stern nicht

bei der Darstellung abstrakter universeller

Abfallwaren stehen. Sie

fotografiert nicht einfach Abfall.

Die geleerten und benutzten Warenhüllen

oder mit Farbe bemalten

und damit unbrauchbar gemachten

Alltagsgegenstände und Lebensmittel,

die normalerweise unbeachtet

im Abfall landen, werden bearbeitet,

verformt, verfremdet und neu

verpackt. Manchmal sind diese Eingriffe

sofort erkennbar, manchmal

dauert es etwas länger, sie aufzuspüren.

Hier wird noch einmal das

Hässliche schön, aber erst durch

die Bearbeitung der Objekte. Dadurch

wird auch die abstrakte, universelle

Sprache der Konsumgesellschaft

in etwas Neues verwandelt.

Denn wir sehen keine Readymades

– die in dieser Ausstellung abgebildeten

Waren aus dem Müll können

für jeden einzelnen Betrachter

schön werden, weil die Künstlerin

den kreativen Akt der Auswahl vorgenommen

und die vormals hässlichen

Waren individuell bearbeitet

und abgebildet hat. Das ist es auch,

warum die Fotografien keine Harmonie

vortäuschen, sondern etwas

Utopisches haben, das zugleich kritisch

ist. Sie zeigen uns die 'Schöne

Neue Welt'.

Dr. Anja Meyerrose
---
PHOTOGRAPHY - 2017

From a distance Dikla Stern's photographs

seem to depict abstract

forms, which are simultaneously

opaque and devoid of content.

At times, the shadows can be seen

more clearly than the photographed

objects themselves. A first glance

does not immediately inform view ­

ers what is creating these shadows

and how they were created, or indeed,

why they are there.

For many people darkness and

shadows generate real, but also psychological,

fears that place us in an

uncanny state. This mood is intensified

by the fact that the photographed

objects are exhibited in oversized

dimensions. The closer we

move to the photographs, the richer

they are in detail; little features

that could not be identified at all

with the naked eye become perceptible.

This increase in recognizable

elements initially seems to render

the objects even more alien.

Precisely because these photographs

stimulate strong experiences,

they are initially ugly — in

the sense of the philosopher Vilém

Flusser — because they break with

conventions, initially and directly

stirring thoughts that are disturbing

or frightening and, in any case,

unsettling. For us viewers, the photographs

do not fit into our inner

order: Our memory is not yet able

to assign these new impressions

an appropriate place. Only when

we pause and calmly consider the

photographs, giving time to what

is new, are we able to make sense

of and give meaning to what we

see and feel. Only then do we enjoy

the photographs as beautiful. Thus,

some thing ugly becomes beautiful

through our getting used to it.

This means that if we take some

time, if we move closer and look

closely, then we will see that, in her

recent work, Dikla Stern has photographed

several everyday utensils

in a highly distinctive aesthetic: a

kitchen knife, a cooking spatula, a

food container, foods, a box and a

tin can. They have been recorded in

various high-angled photographs:

For us, as viewers, this creates the

impression of bizarrely misshapen,

remarkable objects that often become

recognizable and identifiable

only through their shadows.
---
Today, the photographed objects

are offered to all of us as new products

on the global market in our

universal reality of life: This is true

of noodles and quinoa, but also

knives or spatulas. These products

are made of cardboard, plastic,

glass and metal in the manner these

are used around the world today.

And even the garbage — which all

of these products will become at

some point, because they will have

been used up or become useless —

is universally present. By reproducing

these objects, Dikla Stern generates

an abstraction of the world

of consumer products in her photographs

and is able to transfer her

entirely subjective dialogue with

the camera into a world language,

which can ultimately also be understood

only in terms of an abstract

universal.

However, Dikla Stern does not stop

at the depiction of abstract-universal

garbage products. She does not

simply photograph garbage. She has

reworked, reshaped, defamiliarized

and repacked what would normally

be tossed in the garbage without a

second thought: emptied and usedup

product containers and everyday

objects and food that have been

painted on and thus rendered useless.

Sometimes these interventions

are immediately recognizable, and

sometimes it takes somewhat longer

to track them down. Here the

ugly once again becomes beautiful,

but only through the objects' reworking.

In this way the abstract, universal

language of consumer society

is also transformed into something

new. What we see are not ready-mades:

The products from the garbage

reproduced in this exhibition are

able to become beautiful for each

individual viewer because the artist

has carried out the creative act of

selection and individually reworked

and photographed the formerly

ugly products. This is also why the

images do not pretend to any harmony,

but instead have a utopian

quality that is simultaneously critical.

They show us the "Brave New

World."

Dr. Anja Meyerrose
---
Photography Nr. 10 - 2017 (left)

Photography Nr. 02 - 2017 (right top)

Photography Nr. 14 - 2017 (right bottom)

Lambda - Print 60 x 50 cm (23,6 x 19,7 in)
---
Photography Nr. 09 - 2017 (left)

Photography Nr. 19 - 2017 (right top)

Photography Nr. 03 - 2017 (right bottom)

Lambda - Print 60 x 50 cm (23,6 x 19,7 in)
---
Werk 324/ Sieben- 2014

Acryl auf Leinwand, 180 x 130 cm (Acrylic on canvas, 70,8 x 51,2 in)
---
Endstadium / Final End- 2015

Acryl auf Leinwand, 110 x 80 cm (Acrylic on canvas, 43 x 31 in)

Photography Nr. 07 - 2017

Lambda - Print 60 x 50 cm (23,6 x 19,7 in)