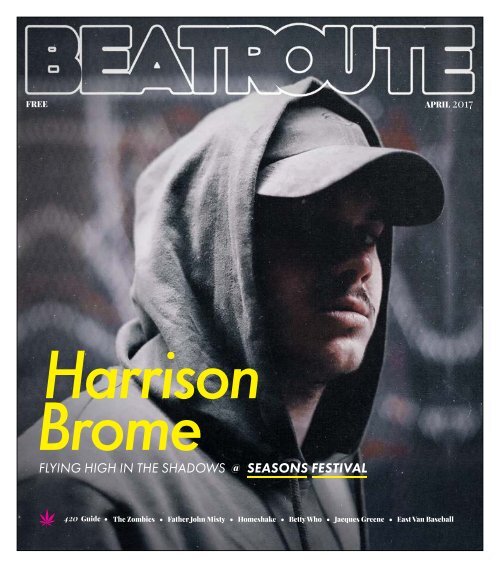 BeatRoute Magazine BC print e-edition - April2017
BeatRoute Magazine: Western Canada's Indie Arts & Entertainment Monthly BeatRoute (AB) Mission PO 23045 Calgary, AB T2S 3A8 E. editor@beatroute.ca BeatRoute (BC) #202 – 2405 E Hastings Vancouver, BC V5K 1Y8 P. 778-888-1120 BeatRoute Magazine is a monthly arts and entertainment paper with a predominant focus on music – local, independent or otherwise. The paper started in June 2004 and continues to provide a healthy dose of perversity while exercising rock 'n' roll ethics. Currently BeatRoute's AB edition is distributed in Calgary, Edmonton (by S*A*R*G*E), Banff and Canmore. The BC edition is distributed in Vancouver, Victoria and Nanaimo.
BeatRoute Magazine: Western Canada's Indie Arts & Entertainment Monthly
BeatRoute (AB)
Mission PO 23045
Calgary, AB
T2S 3A8

E. editor@beatroute.ca
BeatRoute (BC)
#202 – 2405 E Hastings
Vancouver, BC
V5K 1Y8

P. 778-888-1120
BeatRoute Magazine is a monthly arts and entertainment paper with a predominant focus on music – local, independent or otherwise. The paper started in June 2004 and continues to provide a healthy dose of perversity while exercising rock 'n' roll ethics.
Currently BeatRoute's AB edition is distributed in Calgary, Edmonton (by S*A*R*G*E), Banff and Canmore. The BC edition is distributed in Vancouver, Victoria and Nanaimo.
SHOW MORE
SHOW LESS
You also want an ePaper? Increase the reach of your titles
YUMPU automatically turns print PDFs into web optimized ePapers that Google loves.
FREE APRIL 2017

Harrison

Brome

FLYING HIGH IN THE SHADOWS @ SEASONS FESTIVAL

420 Guide • The Zombies • Father John Misty • Homeshake • Betty Who • Jacques Greene • East Van Baseball
---
April '17

PUBLISHER

BeatRoute Magazine

GRAPHIC DESIGNER

& PRODUCTION MANAGER

Alisa Layne

alisalayne.graphics

WEB PRODUCER

Jash Grafstein

COPY EDITOR

Robin Schroffel

FRONT COVER PHOTO

Maks Eidelson

FRONT COVER DESIGN

Randy Gibson

DISTRIBUTION

Gold Distribution

CONTRIBUTING WRITERS

Heather Adamson • Sadie Barker • Aja Cadman

Quan Yin Divination • Heather Fenton • Jamie

Goyman • Willow Grier • Carlotta Gurl • Alex

Hudson • Prachi Kamble • Noor Khwaja

Marion Lefevre • Sarah Mac • Lisa Marklinger

Paul Mcaleer • Amber Mclinden • Zoei Nijjar

James Olson • Sean Orr • Johnny Papan

K. Anne Pimento • Scott Postulo • Liam Prost

Molly Randhawa • Mitch Ray • Brittany Rudyck

Hogan Short • Stepan Soroka • Alex Southey

Alec Warkentin • Trent Warner • Gareth Watkins

Savannah Leigh Wellman • Christina Zimmer

MANAGING EDITOR

Jennie Orton

jennie@beatroute.ca

EDITOR-IN-CHIEF

Glenn Alderson

glenn@beatroute.ca

LOCAL MUSIC/

THE SKINNY

Erin Jardine

erin@beatroute.ca

04

05

06

09

10

11

WORKING FOR THE

WEEKEND

∙ with Tee Krispil

THE ZOMBIES

HOMESHAKE

CITY & COLOUR

JIMMY EAT WORLD

HARPOONIST & THE AXE MURDERER

ALEX AND ALLYSON GREY

THE SKINNY

-Me First & The Gimme Gimmes

-Mickfest

-Brant Bjork

-Dead Time

-Helms Alee

CITY

21

-Community Thrift & Vintage

-Back and Forth Bar

-Circle Game

-Storyhive

-East Van Baseball

GRASSFIELDS

22 -4/20 Events

-Wealth

-Weed Creativity

24

COMEDY

-Ivan Decker

-Ron Lynch

BOOZE

25 -BC Distilled Festival

-East Van Brewery Passport

-Bottoms Up

26 QUEER

-Queen of the Month

-Queerview Mirror

-Betty Who?

-From the Desk of Carlotta

CONTRIBUTING

PHOTOGRAPHERS &

ILLUSTRATORS

Asylum • Jeff Bassett • Ben Cope • Asia Fairbanks

Mathieu Fortin • Cristian Fowlie • Alysse Garfkjen

Jimi Giannatti • Matt Grayson • Chase Hansen

Hyfn2 • Corinne Kuan • Darrole Palmer • Payley

Photography • Jodie Ponto • James Rexroad

Kyle Reyes • Galen Robinson-Exo • Mats Schram

Graham Spence

ADVERTISING INQUIRIES

Glenn Alderson

glenn@beatroute.ca

778-888-1120

ELECTRONICS DEPT.

Vanessa Tam

vanessa@beatroute.ca

QUEER

David Cutting

david@beatroute.ca

CITY

Yasmine Shemesh

yasmine@beatroute.ca

COMEDY

Graeme Wiggins

graeme@beatroute.ca

14 SEASONS

-Alan Walker

- COVER - Harrison Brome

-Sosupersam

-Horsepowar

-Sam Gellaitry

17

BPM

-James Deen

-Riff Raff

-Clubland

-Jacques Greene

28 FILM

29

-Stoner Filmes

-This Month in Film

REVIEWS

-Father John Misty

-Black Mountain

- Red Hot Chili Peppers

-The Internet

38 HOROSCOPES

DISTRIBUTION

We distribute our publication to more than 500

locations throughout British Columbia. If you

would like BeatRoute delivered to your business,

send an e-mail to editor@beatroute.ca

FILM

Paris Spence-Lang

paris@beatroute.ca

LIVE

Galen Robinson-Exo

galen@beatroute.ca

BEATROUTE MAGAZINE

202-2405 Hastings St. E

Vancouver BC Canada

V5K 1Y8

editor@beatroute.ca • beatroute.ca

©BEATROUTE Magazine 2017. All rights reserved.

Reproduction of the contents is strictly prohibited.

Jimmy Eat World – Page 9

photo: ???

April 2017 3
---
GLENN ALDERSON

Tee Krispil is a young emcee/producer living and

performing in Vancouver. When she's not making

music and waxing poetic on the mic with her eloquent

flow, she can be found working for Wealth,

Vancouver's first fully licensed dispensary, writing

for their blog and managing their store. Wealth aims

to inspire positive change through the beneficial

healing properties of cannabis, which is right in line

with the creative and positive mindset Krispil employs

in her musical endeavors. Performing both by

herself and with her crew, The People North West,

her latest single, "Let It Slide," was produced by Moxsa

(Chapel Sound) and she is currently working on

a full-length solo album, One Way Ticket, due out

some time before the summer. In anticipation of

4/20, we caught up with the creative wordsmith for

a candid conversation about music, weed and everything

in between.

BeatRoute: How do you feel weed culture in

Vancouver has grown up around the arts?

Tee Krispil: Cannabis is definitely a helpful tool

when it comes to creativity. I'm a very high-strung

person naturally and I sometimes overwhelm myself.

When I smoke cannabis I'm transported to a

clear, relaxed mind state where creativity is at an alltime

high. I know many Vancouver musicians and

artists who also use cannabis as a creative tool; I'm

surely not an isolated case in that regard.

with TEE KRISPIL at WORTH

Tee Krispil is an innovative emcee who's married her art form and her day job.

BR: What relationship does your day job have

with your art?

TK: I work for Wealth as a store manager and inhouse

copywriter as well as part-time blogger for

their online publication. People management is

an important skill, no matter what field you're in.

It's definitely taught me how to be a better communicator,

which is essentially the goal of all art,

right? To communicate. As far as the copywriting/

blogging goes, it's directly related to my art in that

writing/researching/reading inevitably grows your

vocabulary and ability to better reiterate information

in new writing styles- keeping that writer

muscle strong helps proliferate my ability to pump

out songs.

BR: Your new single "Waste Away" has so many

layers and just a ridiculous flow. What inspired

the direction with that track?

TK: I was inspired by the excitement of actively

pursuing what I love. It's all about making the best

of your days.

BR: What are your observations of the hip hop

scene in Vancouver these days?

TK: It's really growing out here, at least from where

I'm standing. Opportunities keep presenting themselves,

there's amazing music being made out of

this city, the community is supportive, everything

is moving organically and it's great to be a part of it.

BR: What is the key to being prolific as an emcee

in Vancouver?

TK: It's a product of consistency. Being in Vancouver

or elsewhere, it's important to do things that

inspire you and keep you held in a creative flow.

Growth is hindered when desire to improve is void,

so staying humble is key.

BR: What is happening in West Coast hip hop

these days that you think is a unique flavour?

TK: What makes us so unique is definitely our

diversity. Where everyone in Toronto sounds the

same, no one in Vancouver sounds the same. We're

all super unique and bring our own flavours to the

scene. There are so many musicians who I look up

to out here, but I honestly can't think of any two

alike.

BR: What thematically drove your track "One

Way Ticket"?

TK: The title "One Way Ticket" is a play on words

in itself. It's meant to display the importance and

inseparability of each human to one another in

our quests as individuals. In order to "get to where

we're going" we can't escape oneness, we're a part

of each other, it's the ONE WAY ticket. It can be

interpreted a few ways though, symbolic for constant

pursuit and forward motion, or a story of

leaving the old behind and seeking new perspectives.

I guess you could say growth is the theme.

BR: The other single "Let it Slide" was produced

by Moxsa. Tell us about working with him.

TK: Working with Moxsa is bomb. He's become a

good friend over this past year and his work ethic

is so strong, it inspires me for reals. I'll send him my

vocals and the first draft is mixed within 24 hours,

it makes for a really smooth creation process. His

production style gets me excited about writing because

it just fits.

BR: What is next?

TK: Heavy question. With music? Well, the whole

album will be out end of spring. Doing lots of shows

with The People North West. Designing some limited

run TPNW merch that I'm super pumped to

release. We have a few music videos and singles in

the vault. Just going to keep creating and performing

and see where this thang takes us.

For more info on Tee, find her online at

www.teekrispil.com. For more on Wealth

and to read their online publication, visit

www.wealthblog.com.

THE ZOMBIES

reflecting on 50 years of Odessey and Oracle

YASMINE SHEMESH

The Zombies reflect on the hot ideas and scorched pages of their heyday.

HOMESHAKE

a breath of fresh air

After leaving Mac DeMarco's touring band in 2013, Peter Sagar, the

mind and voice behind Homeshake, stepped out of DeMarco's shadow

to pursue his own musical passions. Moving back to Montreal,

Sagar released three full-length albums: In The Shower, Midnight

Snack and, most recently, Fresh Air. The young songwriter's years

spent playing guitar for his dear friend Mac were not done so in vain,

but it was time for Sagar to pursue his own musical projects.

"Well it's very different from whatever I did with [DeMarco]. I never

really felt any personal accomplishment from it. It was like job, you

know? Only my coworkers were very close friends of mine. So it was a

good job, but it was just a job," Sagar tells BeatRoute. "It was nice playing

big crowds but it never really moved me or made me feel great.

We have been selling out a lot of shows with Homeshake, which is a

much crazier feeling. It's nice that people want to hear it."

Although Homeshake's music doesn't stray too far from DeMarco's

smooth vocals and funky bass lines, Sagar brings his own musical

twist to the table, embodying downtempo tunes intertwined with

synth beats, guitar and warped vocals.

Homeshake's most recent album, Fresh Air, was released in February

of this year. The album won't surprise any avid Homeshake fans,

with its classic soothing vocals and mesmerizing instrumentals that

keep listeners coming back. Fresh Air is the perfect record to play after

a long day, or even as a soft soundtrack to catch some Z's to.

In 1967, the Zombies headlined a series of concerts

at the Araneta Coliseum, in the Philippines. It was

a big deal, since the group hadn't found much

success yet, particularly not at home in Britain —

singles "She's Not There" and "Tell Her No" fared

better in Asia and the United States. After returning

to England, their record contract with Decca

finished and the band's primary songwriters, Chris

White and Rod Argent, were yearning to produce.

With a vision in place and a new deal inked with

CBS, the Zombies began working on their masterpiece,

Odessey and Oracle.

"That's really, for me, what life's about," says

White. "Writing songs." The bassist is speaking over

the telephone from New York, where he and his

bandmates are on a North American tour performing

Odessey in full for its 50th anniversary. Though

now critically celebrated, the album was so under-appreciated

when released in 1968 that, by the

time "Time of the Season" became a hit, the band

had split up. White went on to become a prolific

songwriter, collaborating with Argent and frontman

Colin Blunstone. Meanwhile, Odessey slowly

accumulated a cult following, with Tom Petty and

Brian Wilson leading the pack.

Indeed, Odessey is experimental and succinct

in sonic palette and prose. A gorgeous

collection of baroque pop vignettes that stands

independently from its contemporaries and

remains to be an emblem of the psychedelic

era. White never thought it would happen.

"I was going to be an art teacher," he laughs.

"All of a sudden, I'm a songwriter and a musician."

White and Argent shared a flat in North London

with Terry Quirk, the artist who would illustrate

Odessey's swirling cover. As roommates,

White and Argent bounced ideas off one another.

"I had a pedal harmonium and he had a baby

grand in his room," White remembers. "So, we

used to work on lots of things together. It was an

interesting, exciting time, but you don't think of it

as exciting then, you just think, 'it's all we can really

do.' You just want to write songs or record things."

In an effort to recreate the album cover for Pet Sounds, Homeshake's Peter Sagar found a deer.

Sagar's sensory music is accompanied by abstract album art created

by his talented partner, Salina Ladha. The cover for Fresh Air i s

a basic yet colorful drawing of a door leading outside to some fresh

air. "She does all art associated with band. I let her do whatever she

wanted and it was so perfect. She's my favorite artist in the whole

That summer, White penned seven of Odessey's

12 tracks. "We don't know, as writers, where these

ideas come from," he contemplates. "Sometimes,

I've heard songs I've written and I think, 'who

wrote that?' and someone will tell me, 'oh, you

did!' because it seems songs appear. And if you're

working with people like Rod Argent, whose a

great songwriter, and Colin's voice, you tend to

write for them." One of Oddesey's most personal

moments for White is "Butcher's Tale (Western

Front 1914)," inspired by the death of his uncle in

WWI's Battle of the Somme.

The Zombies recorded Odessey in Abbey Road,

on the heels of the Beatles who just wrapped Sgt.

Pepper's Lonely Hearts Club Band. They were also

the first band allowed in the studio that weren't

EMI artists. Armed with both limited budget and

time — a thousand pounds and three months —

they went into every session well prepared.

"We used to do three backing tracks in three

hours and then we'd do the vocals the next day,

and it was very, very fast," White recalls. "We'd

write songs, then we'd choose the songs in rehearsal,

routine them, and then go into the studios."

Now, life has provided the opportunity to revisit

something the band never had the chance

to. It's magical, White says. Playing Odessey live

whisks them back to the summer of 1967 — a

time of hot ideas and scorched music pages.

"I was rehearsing ['Butcher's Tale'] the other

day and I couldn't finish it. I broke down. That

emotion flooded back. And I said, 'sorry, I've got

to be professional, I've got to finish it!' but it was

such an emotional feeling. It's wonderful to feel

like that and not just do it out of routine or just

to earn a living. That's the important thing, really.

Perform and write songs."

The Zombies perform at the Commodore

Ballroom on April 21.

world." Hearing Sagar's voice light up as he spoke about his partner's

art sheds light on how the artist incorporates his hidden emotions

into his music.

Homeshake performs at the Rickshaw Theatre on April 14.

4 April 2017

April 2017 MUSIC

5

ZOEI NIJJAR

photo by Payley Photography

MUSIC
---
MUSIC

LEIF

VOLLEBEKK

JOHNNY

TWIN SOLITUDE

New album available now

CITY & COLOUR

taking the peaceful road with ease

PAPAN

photo by Alysse Gafkjen

ON TOUR

4/13/17 Quebec City, QC @ Le Cercle

4/14/17 Ottawa, ON @ First Baptist

4/16/17 Toronto, ON @ The Great Hall

4/21/17 Philadelphia, PA @ World Café Live Upstairs

4/25/17 Los Angeles, CA @ Echo

4/26/17 San Diego, CA @ Casbah

4/29/17 Oakland, CA @ Starline Social Club

5/1/17 Portland, OR @ Doug Fir Lounge

5/3/17 Seattle, WA @ Sunset Tavern

5/4/17 Vancouver, BC @ Biltmore Cabaret

5/6/17 Boise, ID @ The Olympic

5/7/17 Salt Lake City, UT @ Kilby Court

5/8/17 Denver, CO @ Lost Lake Lounge

5/10/17 Minneapolis, MN @ 7th Street Entry

5/12/17 Chicago, IL @ Schubas Tavern

5/13/17 St. Louis, MO @ Firebird

5/16/17 Pittsburgh, PA @ Club Cafe

"Devastatingly

beautiful"

- NPR

leifvollebekk.com

@leifvollebekk

secretcityrecords.com

@secretcityrcrds

Holding on to the love of his art form remains easy for Dallas Green in 2017.

Dallas Green is one of the most well known contemporary

Canadian artists working today. Originally

gaining notoriety as the guitarist and clean

vocalist of Ontario's post-hardcore quintet Alexisonfire,

Green made a complete stylistic change

when he released his first solo record, Sometimes,

in 2005 as City & Colour. This acoustic-folk project

would soon become Green's main act, releasing a

total of five albums thus far, each more evolved

than the last.

Green's soulfully somber voice often sings lyrics

of a melancholic nature, including themes of love,

death and self-reflection. "I guess I've always used

songwriting to kind of ruminate with things in life

that I'm trying to work through," Green explains.

"I think when it comes to life and death, those

are the two certainties we know in this world.

Hopefully between those two things you get to

experience love in your life, whether it's with your

family, significant other or yourself."

City & Colour recently released two new tracks

— "Peaceful Road" and "Rain" — which were originally

tracked for his 2015 release, If I Should Go

Before You, but he decided they didn't quite fit his

vision for that specific record. "I still really liked

the songs and wanted people to hear them so I

just kind of put them out on their own."

When asked if over the years songwriting has

ever come to feel like "work," Green responds: "It's

hard to call this work because it's something I love

to do. I've had jobs before, this is much different.

Does it get hard? Yes, sometimes very much so."

One of the difficulties Green cites is lack of financial

support put forth by major streaming services.

"You're kind of stuck as an independent artist

because streaming is how most people listen

to music nowadays, but those services don't really

pay the artists. It's a double-edged sword because

you want people to listen to your songs," he says.

"Most people would rather pay five bucks for a

coffee from Starbucks every morning than pay a

dollar for a song they could keep forever. But as a

singer-songwriter I just have to go with that."

Making a living on album sales alone has become

nearly impossible in this digital age. To

maintain stability, musicians must tour regularly.

Though Green confirms his enjoyment of travelling

and touring, he admits it's not always a glamorous

experience, even for artists as notorious as

himself. "I like touring, thankfully people are coming

to shows. Sometimes you get to visit these

beautiful buildings, and other times you walk into

a bar that smells like puke and you don't get to

shower."

Green is unsure what his career would be like

if he had began in 2017, as opposed to 16 years

prior. His only advice to upcoming artists is to be

honest. "I just write these songs for myself. If I can

make myself happy, at least a little bit at first, then

maybe someone after that can listen and take

whatever they need from it. All I ever did was try

to write music that I like and hope that people

would get it."

Green will be doing a solo tour as City & Colour

across British Columbia, covering 11 cities in

April. "This year I'm trying to spend a lot of time

going to places I've never been," Green states. "It's

a chance to go out and play, see if there's anybody

out there willing to hear me sing. Mix things up a

little bit, I like doing that."

City & Colour will be performing at the

Queen Elizabeth Theatre on April 6.

April 2017 7
---
MUSIC

JIMMY EAT WORLD

getting down on a deeper perspective with integrity

photo by Jimi Giannatti

CHRISTINA ZIMMER

In 2015, more than 20 years after the band was

formed, Jimmy Eat World returned to the studio

from a one-year break to record their ninth studio

album, Integrity Blues. Drummer Zach Lind, who

started off playing the saxophone before switching

to drums at the age of ten, explains the effect the

break had on the recording while spending some

quality time with his family in Arizona prior to the

band's upcoming tour: "I think it made a big difference.

I think it was the first time we'd ever done

anything like that where we really just truly took

a break and everyone was just sort of absolved of

any Jimmy Eat World responsibilities. And yeah, I

mean it really gave us a lot of new energy for making

Integrity Blues that we wouldn't have had, had

we not taken that break."

The band, whose constellation has remained

unchanged since 1995, had high ambitions for the

new record, explains Lind: "The previous album,

Damage, kind of sounds like we made it sort of

over a weekend at a friend's house or something

like that. It's definitely more casual and a little bit

rawer, almost sort of more like garage band rock.

Integrity Blues is like the opposite of that, where

we really wanted to make it sound like a big studio

album; something that was more intricate, something

that has more layers."

To realize this, Jimmy Eat World went "all out", as

Lind describes it: "We did everything in LA. It was

the first time since Futures [released in 2004 and

given Gold Status by the RIAA] that we booked

like really classic, great studio rooms to work in. We

hired a producer, Justin Meldal-Johnsen [Paramore,

M83], who was incredible to work with and really

helped us achieve what we were hoping to achieve

with this album."

The mission seems accomplished with sources

such as Pitchfork describing the record as "perhaps

Jimmy Eat World's best record since Bleed American"

released in 2001 and featuring the band's

biggest single to date, "The Middle," reaching number

five on the Billboard Hot 100 chart. Integrity

Blues combines variety and the desired big sound

with emotionally matured lyrics. In tracks like "Get

It Right," the restlessness described in the chorus

("I'm destination addicted, I just gotta be someplace

else, never good time never feel the space to

get it right") is reflected in the unforgiving beat and

a hammering guitar riff continuing throughout the

song, which is only occasionally interrupted by a

synthesizer that seems to add even more tension

to the track. "Sure and Certain" only compares to

this in terms of the felicitous interaction of music

and lyrics - the guitars are warmer, the melody

uplifting yet a bit melancholic, only the rhythmic

drums remain forceful as ever and are stepped up a

beat in the harmonious and encouraging "You Are

Free."

Lyrically, the record is encouraging a different

perspective on life, a shift from focussing on a

desired outcome to appreciating the present moment

according to Lind: "The general sort of theme

Jimmy Eat World are crafting an authentic symbiosis of message and sound on Integrity Blues.

throughout the record is about really trying to have

a perspective on your own life and seeing things for

what they really are, appreciating those things for

what they are and maybe not necessarily some sort

of outcome that you're searching for. On the one

hand it's good to have goals and it's good to strive

for something, but on the other hand, by being so

fixated on whatever outcome we're looking for, we

can miss the present moment and we fail to appreciate

what we have now."

Jimmy Eat World perform at the Commodore

Ballroom on April 26.

THE HARPOONIST AND THE AXE MURDERER

Apocalipstick takes rock ' n' blues duo to the end of the world

photo by Jodie Ponto

HEATHER ADAMSON

With a new album, big tour and a debut music video

on the go, the Harpoonist and the Axe Murderer

are coming out swinging in 2017. Matthew Rogers

and Shawn Hall make up this Vancouver-based

rock 'n' blues duo who have been on fire in recent

years, appearing on some of the most coveted festival

line-ups and venue stages across Canada.

Apocalipstick is the album and the name says

it all about how these two artists approach their

music and their lives. "The way we approached

this album is if the world is going to end, lets have

a party and indulge in things," explained Rogers.

"The world is becoming a pretty shitty place in a

lot of ways, so let's turn it around and enjoy it." This

is further exemplified in their debut video from the

album for their song "Forever Fool," a passionate,

reckless and take-no-prisoners visual story and

concept. "It is a tune about vengeance and turning

over a new leaf," says Rogers. "We wanted the plot

to have substance that reflected that."

Speaking of substance, Rogers admits the songwriting

process does not come easily and the fact

that they wrote and produced a new album is a

huge accomplishment, something they don't take

for granted. "Shawn and I have really different

styles, so the songwriting process can be heated

and difficult to get through," says Rogers. "We have

to do it because we are an original band, but we

have to fight through it and hope for the best for

what comes out on the other end."

Known for their dirty, gritty, blues rock sound,

they took Apocalipstick in more of a psychedelic

direction with groovy hooks. "It is a little noisier

and crazier, a bit out of the ordinary, including not

just sticking to three minute song lengths," shared

Rogers. "This album has also been a lot more collaborative

for us. We went for a jamming, live-offthe-floor,

Rolling Stones' Exile on Main Street vibe."

Looking ahead to their tour starting at the end of

March at some incredibly beautiful venues across

the country, the Harpoonist and the Axe Murderer

are ready to bring their new music to audiences

in a live show that is going to take it to a whole

new level with the incorporation of a drummer and

some other surprises up their sleeves. "We are always

trying to evolve and do something a little bit

different," says Rogers. "We have a different process

every time and thankfully we have never been unhappy

with the results."

The Harpoonist and the Axe Murderer perform

April 22 at the Commodore Ballroom.

Shawn Hall and Matthew Rogers take things to an indulgent state on their latest romp, Apocalipstick.

April 2017 MUSIC

9
---
ALEX AND ALLYSON GREY

finding the sacredness in art and the art in sacredness

JENNIE ORTON

Well within the mind lattice, amongst the Fibonacci

rhythm of the universe, Alex and Allyson

Grey hold court. Long a union forged by a mutual

love of the sacred and the psychic, the Grey's have

expressed through art what most of us feel but

cannot conceptualize. It is through their efforts as

teachers that the Grey's look to show us all how

we can find sacredness in art and within ourselves.

"Some artists have a vision but haven't developed

the skill to communicate it effectively. Some

artists have plenty of skill but haven't cultivated a

unique vision. The best artists cultivate both vision

and skill and dedicate their work to serving a higher

purpose," says Grey.

Alex and Allyson have developed a refuge called

CoSM in The Hudson Valley of New York where

they intend to help open minded and budding artists

to do just that.

"Forty wooded acres of beauty and several

buildings support CoSM community in powerfully

attuning with the Soul's regenerative creative forces

in the tranquil beauty of nature. At CoSM, we

host Winter Solstice, Spring Equinox, Summer Solstice,

Autumnal Equinox, Deities & Demons Masquerade

Ball, and weddings, baby blessings and

memorials. Grey House is filled with art and altars.

The Wisdom Trail through the woods features

natural beauty, altars, a labyrinth, a reflecting

pond, murals and sculptural installations. CoSM's

ten-bedroom guest house is open for guests every

night of the year. Day-visitors are welcome four

days a week," explains Grey.

It is not only funding but understanding of this

rare place and experiences offered there that bring

the Grey's to Vancouver for their four day event

in Vancouver. Offering an art workshop on April

27th at The Post on Hamilton, a feature presentation

at the Vogue on the 28th, a multimedia night

dubbed 'MetaCoSM' at the Imperial on the 29th,

and a book signing event at Banyen Books on the

Alex and Allyson Grey share their tips for getting the best view from your third eye.

30th, the Greys are hoping to stimulate the aether

we all seem so good at ignoring in our hustle to be

self-conscious Vancouverites while further funding

their efforts.

At these events, guests can expect to gain an

understanding of what has made the Greys a

particularly beloved pair of artists by those who

advocate consciousness expansion and creative

expression; everyone from Timothy Leary to

Deepak Chopra to Tool, most of whose album art

Alex Grey was responsible for. It quickly becomes

evident what it is about the Greys and their practice

that lends itself so well to finding sacredness

in the every day.

"From the mind of the creator to the public

meme stream, we recognize the impact of important

voices in our culture, important visions

for the future. We can only move toward that

which we imagine, so that puts the arts and media

in a powerful position to become drivers and

representatives of the collective imagination."

But if you are looking for a taste of "how to

better remember "a vision" amidst the tumultuous

inner waves of the psychedelicized mind",

Grey suggests to "try to remember the feeling you

are having when the vision occurs. Write it down,

and sketch even badly, soon after if possible. Then

when you create something and it begins to remind

you of that feeling then you are close. It

isn't easy. I have puke stained sketchbooks from

Ayahuascaville. Finally, it is about Surrender to

Love. Let go. Explore. Let your mind go free. If you

think you are in trouble, lie comfortably open, untangled,

close your eyes, breathe, look and listen.

Keep your inner eye open for the beauty."

For more information on the four-day

event, visit http://www.apparentproductions.com/

ME FIRST & THE GIMME GIMMES

cover band made good get their yayas out

GRAEME WIGGINS

When punk rock super-group/cover band Me

First & The Gimme Gimmes debuted in 1995 with

their seven-inch, Denver, and its two John Denver

covers, it would have been hard to imagine they'd

still be kicking 20 years later. Featuring a veritable

who's who of prominent punk musicians from the

Fat Wreck Chords' roster, including label head Fat

Mike from NOFX, the band seemed like mostly a

bit of a gag — funny and entertaining, but not exactly

likely to have longevity. Two decades and six

albums later, Me First are back with a new greatest

hits album, Rake It In: The Greatestest Hits, and an

accompanying tour.

For singer Spike Slawson, 20 years of history

has made the band more fun, with a caveat. "The

crowds have gotten bigger, which makes it harder

at first and easier at the end, if that makes sense,"

he says. "It's harder to stand up and face them,

but once they like you it's like a drug that would

be impossible to synthesize chemically. Especially

for a lot of musical types who were a sort of pariah

milquetoasts growing up when they're shown appreciation

and adulation in a live scenario. It's very

profound."

Picking which songs to cover is mostly a democratic

process. While every member can veto song

ideas, a number of the chosen songs don't necessarily

appeal to Slawson, and he likes it that way.

"I don't know if it's a layer of irony that gets put on

MICKFEST

giving back to a man who gave it all to the local scene

it when the guy that tries to sell the song doesn't

really like the song but somehow it works. There's

some kind of tension. I think most bands when

they actually achieve what they set out to achieve

like 100 per cent they probably wouldn't be as popular

or as resonant than if they had just tried and

maybe made 60 per cent of the way or less. Supposedly

the Talking Heads wanted to sound like a

Motown band. If that were the case, they would

probably still be playing in bars."

Not all songs work out and that sometimes

means dropping a favourite. For Slawson, deciding

which he was most disappointed to drop was easy.

"The Easybeats. It doesn't work for us because

The Easybeats did it perfectly," he says. "There's nowhere

to go but down from The EasyBeats' version

of 'Friday On My Mind' or anything else they did."

According to Slawson, finding and putting together

songs has gotten a little more difficult over the

years too. "It's gotten harder because we don't live

in the same town anymore so it's not something

that just sort of organically comes up from us playing

together all the time. I think a lot of bands that

have been together 20 years don't play together

all the time either. Considering how many fucking

best-of records we've put out, I guess it's kind of

gotten harder. If that's any indicator."

While the process might take a bit more work,

the live show is something different altogether.

photo by Corinne Kuan

The Vancouver music scene is joining forces to support Mick one of our city's rock heroes.

The original heroes of cover love share the energy and spectacle of their greatestest hits.

STEPAN SOROKA

Reading through a list of bands Mick Tupelo has

been involved in is like taking a decades-long

trip through Vancouver rock 'n' roll history. His

resume begins with The Bill of Rights, who along

with contemporaries like D.O.A. and Death Sentence

helped form a distinct Vancouver sound

amid the hardcore punk explosion of the early

1980s. An "intensely political band who combine

new music with crunching guitars and harsh gravelly

vocals," according to Vancouver fanzine No

Cause for Concern, The Bill of Rights released two

EPs with Mick heading up bass duties. Later, Mick

would do the same for The Bill of Rights' contemporaries

House of Commons, one of the few

bands who bridged the Vancouver/Victoria scene

divide during the 80s.

In the 90s, Mick took up guitar, vocal and

stand-up bass duties in The Deadcats. Known

as "the godfathers of Canadian psychobilly,"

The Deadcats boasted a career that lasted a full

two decades, including seven albums, numerous

North American tours and international releases

on labels in Japan, Germany and England. Add to

this a number of shorter-lived projects like Los Nitros

and The Highsiders and you begin to get an

idea of Mick's musical longevity and breadth. As

far as rock 'n' roll goes, this guy is a lifer.

Unfortunately, in 2010 Mick was diagnosed

with muscular dystrophy, a degenerative muscle

It's clear from his voice that, despite some negative

experiences ("I had a whole gallon jug of piss

thrown on me once. So they're not all positive!"),

he's just as excited to play live as he's ever been.

"To me, live keeps getting better. You can put the

truth to the lie of the recordings. You can bring the

fire in your guts and ridiculous costumes. The music

is secondary to the energy and spectacle. That's

the fun, dancing around and sweating and getting

my yayas out. I love playing live, that's kind of the

whole point of it for me now."

Me First & the Gimme Gimmes perform

May 3 at the Commodore Ballroom.

disease with no known cure. As his condition

worsened, Mick was forced to stop playing music

as well as to retire from the job he had held

for 20 years. Robbed of both his livelihood and his

passion, Mick became a self-described shut-in, requiring

a wheelchair to get around and suffering

falls that further exacerbated his already unmanageable

medical bills. With no signs of improvement

and a couple of unrelated surgeries looming

on the horizon, Mick's prognosis was not looking

good. That's when several friends decided to step

in and organize a fundraiser.

"I'm super happy to help out an old scene contributor

like Mick," says Seamus McGrath of Not

Yer Buddy, who is handling the promotional aspect

of the show. "We'll be doing a raffle at the

show and launching a corresponding GoFundMe

campaign." The bands playing the fundraiser,

which takes place at Pat's Pub on Friday, April,

21st, are all composed of Mick's former bandmates

and good friends, who are hoping to raise

some money towards, among other costs, the

$17,000 required for Mick to get a new power

wheelchair.

Mickfest 2017 takes place at Pat's Pub on

Friday, April 21st and features The Bad

Beats, Wett Stillettos, Cawama, Wichita

Trip, The Deadcats, Steady Teddy and the

K-Train Babies, Country Club Hustlers and

Crimson Clovers.

10 MUSIC

April 2017

April 2017 THE SKINNY

11
---
photo by Matt Grayson

Brant Bjork continues to harness California desert organics with friendly feels and deep grooves.

BRANT BJORK

stoner rock gypsy finds his home

HEATHER FENTON

No one knows for sure exactly when the term

"stoner rock" was conceived. And over the years

the meaning has been debated and often skewed.

I first heard the phrase somewhere around 1995.

And it was used to describe bands like Monster

Magnet, Sleep and Kyuss. Those three bands more

often than not are thought to be the innovators

of the genre. Brant Bjork was the drummer and a

main artistic contributor to Kyuss. He is, without

a doubt, a stoner rock icon. "Marijuana has always

been a part of my creative process and my music.

That's not to suggest that people need to get into

marijuana to get into my music," Bjork starts to

explain. "Stoner could mean a lot of things. To me

it's just the return of classic rock. The greatest rock

came from the late Sixties and the Seventies. And I

have a feeling that marijuana played a pretty extensive

role in the development of all that cool stuff.

But that is just my opinion."

After Bjork left the highly influential works of

Kyuss in 1994, he would drift as a drummer in a few

different bands. Most notably, he put in five years

behind the kit with the like-minded folk in Fu Manchu.

"After Kyuss I was heartbroken. It took me a

while to heal. Fu Manchu was the perfect band for

me to do that. I got to concentrate on just having a

good time," Bjork reminisces. "Around 2000, I felt it

was time to get back to tapping into my soul on the

level I was doing when I was a kid in Kyuss."

Since then, multi instrumentalist Bjork has

been on a one-man mission to make you forget

that he is best known as just a drummer in an influential

1990s band. In 1999 he would enter the

studio and track his debut solo album, Jalamanta.

He would write every note and play every instrument.

It is a fantastic gypsy desert beach journey

through smoked out waters. Over the next 15 years

he would churn out another nine albums under

different monikers with an array of support band

members, but all considered solo efforts. The music

is always steeped in California desert organics

with friendly feels and deep grooves. Late last year

he released his latest record Tao Of The Devil. As

he'd sometimes done before, he worked with a

band on this recording rather than do it all himself.

He ended up keeping his touring band from his

previous album on board, and it shows. The music

is tight and has a bit more stomp to it than some

of his past albums. Songs like "The Geeheen" and

"Stackt" contain the heavy strain of desert rock.

While songs like "Dave's War" go into the tripped

out mirage jam that Bjork is known for as well.

"It's ironic that I find myself in an almost 20 year

solo career. That wasn't my intention at all. I've always

enjoyed the process of being in a band. Every

collective group of musicians has a different personality

and that chemistry is represented in the

music that is created," Bjork continues. "Change

is natural and change is good. If you take the time

to study my output, you'll see where there is a lot

of guys coming and going. And the music reflects

that."

It's been a very interesting journey for Bjork so

far and it is still gaining momentum. The unique

confines of SBC will be the perfect venue for Vancouverites

to catch the latest chapter of his trip.

"There is no lasers or bombs going off. It's all about

grooving, dancing and having a good time. We will

be up there doing our thing. If you have to go get

yourself a couple of beers while were playing, then

go for it man. We're just rocking. All good."

Brant Bjork performs at SBC Restaurant

on April 12 with Royal Thunder and Black

Wizard.

shining a light on the value of photography in music

FROM THE DESK OF MITCH RAY

I've written before on topics such as the lack

of monetary value placed on the arts, the

unreasonable low rate of pay for musicians,

the stigma attached to crowdfunding and

other similarly bleak observations surrounding

the frustrating interplay between music

and money. What I'd like to do with this

piece is take a moment to shed light on the

people who shed light on others. The most

overlooked and underappreciated cogs in the

wheel of the music community: the photographers.

For whatever reason, their contributions

to the scene seem to have them firmly

placed on the lowest rung of the ladder when

it comes to financial reciprocation for their

work, as well as when it comes to giving them

their due credit.

I would argue that all aspects that comprise

a local music community are relatively

undervalued — musicians, poster artists,

promoters, door staff, etc. — but there might

not be one role that is more comparatively

thankless than that of the photographer,

especially given the amount of time it takes

to become proficient in that medium, the

amount of post-event work it takes to publish

the work done at the event, and the cost

of equipment such as lenses, the camera itself

and sometimes film and the developing

of said film. I think these are things that don't

normally cross the mind of the average person

involved in the music scene, and I must

admit that even from the perspective of a

promoter, when it comes to breaking down

the already sparsely divided finances from a

particular event, the photographer will usually

find themselves below the musicians,

sound tech, poster artist and even the door

person, as this is the standard practice.

There are two factors that I believe contribute

to this. The first is the unfortunate

and probably unavoidable financial reality

that I've already alluded to. The second is a

general lack of awareness and/or lack of respect

for photography as a profession and as

an art form. This is evident because of how

frequently we see the use of photos without

credit given or with a cropped out watermark.

It's a common occurrence on the social

media profiles of bands and individuals. Perhaps

even more unfortunately, it also notoriously

happens on sites for certain well known

music festivals. There really is no excuse for

it and no logic behind it. It's disrespectful at

best, to a certain degree it's theft and it can

only be attributed to laziness and a general

lack of awareness or respect. You wouldn't

use a song without permission or without

giving credit, and if you did and got caught

then the outcry would be loud and the backlash

unforgiving.

When it really comes down to it, the importance

of photographers within the scene

can't be understated. They shine a light on a

subsection of society that might otherwise

go overlooked by many, giving it a tangible

visibility. Without the visibility provided

there is no success for bands, there would be

less recognition for the events put on by venues

and promoters, and publications would

be far less effective. With the exception of

strictly off the radar underground scenes,

everyone else benefits and is somewhat reliant

on photographers. So if you see one of

your local photographers out and about, buy

them a drink. Give them guest list to shows

they aren't shooting. Refer them to paid gigs.

And go to bat for them when they are being

taken advantage of.

Mitch Ray puts on events and manages

artists under the name Art Signified.

photo by AsiaFairbanks

Brass

HELMS ALEE

a decade deep with no foot on the brakes

Hailing from the rain drenched shores

of Washington State, Helms Alee have

crafted a distinctive and instantly

recognizable blend of sludgy, experimental,

melodic hard rock. Each of the

trio's members, Dana James (bass/vocals),

Hozoji Margullis (drums/vocals),

and Ben Verellen (guitar/vocals) lend

their voices to create searing yet resonant

multi-part harmonies to their

music which shake the listener to their

core. Their fourth record Stillicide

might be their best yet with "Tit to

Toe" building into a soaring climax and

"Galloping Mind Fuk" living up to its

title in every pummeling capacity. As

to the exact origin of this sound, Verellen's

answer is direct "Having three

people with different backgrounds

and different voices, it came together

without a lot of intention. Just giving

it a go to see what comes out and the

sound of the band came together pretty

much immediately."

Along with their own diverse experience

in past projects, Verellen cites

tour mates post-rockers Russian Circles

and the legendarily heavy Melvins

as beacons of inspiration for Helms

Alee. "They've been creative for a long

time and keep at it consistently" says

Verellen "We spent 3 months out with

those bands last year and it was cool

to see how they do things and keep

it good and light but still get intense

when it comes to the music."

Last month marks the 10 year anniversary

of Helms Alee unleashing their

maelstrom upon the music world. For

Verellen the time has truly blazed by.

"[Hoz and Dana] are my best friends,

and we push each other all the time

in and outside the band" says Verellen.

"We feel real lucky that we're all

as motivated about music as we are.

[We're] planning to do this for a long

long time."

Helms Alee and Waingro play the

Biltmore Cabaret April 6.

Best buds for life, Helms Alee boast a well-crafted and carefully cultivated voice with their fourth record, Stillicide.

RECORD STORE DAY AT NEPTOON RECORDS

SATURDAY APRIL 22 - FREE INSTORE PERFORMANCES BY:

The Evaporators - Dopey's Robe - Sore Points - Jay Arner

Peach Pit - Douse - Hamm: One Man Band - & More TBA!

300+ RSD RELEASES - STOREWIDE SALE - BIG PARTY! - OPEN EARLY! - FULL DETAILS ONLINE

3561 MAIN STREET - 604-324-1229 - NEPTOON.COM

12 THE SKINNY

April 2017

April 2017 THE SKINNY

13

JAMES OLSON

photo by JamesRexroad
---
Seasons Festival

preview 2017

Spread out over five days, Seasons Festival is one of Vancouver's premiere multi-venue music and arts festivals

VANESSA TAM/JOHNNY PAPAN/MOLLY RANDHAWA

HARRISON

BROME

young, talented and just getting started

BPM

Above & Beyond

Above & Beyond are one of the most well

known progressive-trance trios hailing from

London, England. Creating a one of a kind

sound that contains synth-heavy jives, atmospheric

ballads and classic grooves, the

group has won many prestigious industry

awards and run the world renowned trance

and deep house imprints Anjunabeats and

Pomo

Anjunadeep.

Vancouver native Pomo, known personally

as David Pimentel, has been bringing the

funk back to electronic music. Often armed

with a synth keyboard and a live band

during his performance, Pomo has been

forging his own path both locally and internationally

with his groove-laden, 80s funk

inspired beats after having toured with Anderson

.Paak and Disclosure all within the

last year.

Kungs

ALAN WALKER

Alan Walker builds community with unifying progressive house smash hits

VANESSA TAM

Bursting onto the scene with his 2015 platinum hit

single, "Faded," Alan Walker is taking the progressive

house and EDM worlds by storm.

Growing up in Norway, Walker started making

music in 2012 and taught himself everything he

knows about music production by watching music

production tutorials online. "When I was just starting

to make music, I watched YouTube videos of

producers showing how they made their sounds,"

he explained over the phone after touching down

in Mexico for a show.

Curating a wide range of international and local talent from genres like R&B and rap

to progressive house and stadium grade EDM, Seasons has something for everyone

to enjoy. Pick up a five day wristband and check out our selection of six must-see acts

on this year's festival lineup.

Excision

19 year old Valentin Brunel, known internationally

as Kungs, has been enthralled

by the world of electronic music ever since

the success of his remix of "This Girl" with

Cooking on 3 Burners. What started as producing

feel-good bangers in his bedroom,

Brunel is now touring worldwide, sharing

tracks off his debut EP Layers which explores

everything from melancholy feelings

to happy summer beach vibes.

In the highly competitive world of EDM, where

many artists tend to keep their production tools

and techniques close to their chests, Walker has

chosen to make behind the scenes videos on You-

Tube showing his creative process behind some of

his biggest hits. This is his own way of feeding back

into the YouTube education pool that first inspired

him to start producing music nearly five years ago.

"I think that showing the creative process behind

the making of the songs can inspire younger people

and other producers so they can also get ideas," he

explains.

A strong force behind dubstep's rise to popularity

in North America during the early 2010s,

Excision is one of the loudest, filthiest and most

innovative players in dance music. Expect to be

immersed in robotic, space-like universes as he

explosively guides festival-goers through alternate

dimensions of time and solidifies the fact

that we are indeed a species living in the future.

Having already developed a signature progressive

style for his music, which is often layered with ethereal

vocals chanting positive messages, Walker has

quickly amassed a strong fan base that call themselves

"The Walkers" and mirror his signature onstage

outfit of a black hoody and a face mask. While

admittedly inspired by the hacker group Anonymous

and the television show Mr. Robot, Walker

maintains that his stage presence isn't a political

statement. "It's more like a symbol of unity and community

and not necessarily a movement," he says.

Which makes sense when considering the positive

self-affirming lyrics "I know I'm not alone" from his

latest single, "Alone."

Aside from a rigorous touring and festival schedule,

Walker is spending every free moment in the

studio to pump out as much new music as possible.

"For the time being, it's only going to be singles. No

albums or EPs are planned, all singles pretty much,

more featured vocalists, oh and also remixes."

Illenium

Denver-based producer Illenium had a killer

2016 with the release of soulful originals as

well as remixes for many mainstream artists

including Kaskade, Tove Lo and the Chainsmokers.

Creating ocean-like soundscapes

where synths crash softly like water on

beach-sand, he takes listeners through an

emotional audio journey with each track

he shares.

Juelz

Born and raised in Vancouver, Juelz, is a hip

hop and electronic music producer with a

diverse track record. With tracks ranging

from moody instrumentals to Sean Paul

club anthems, Juelz is no stranger when it

comes to playing live shows in his hometown

although this will be the artist's first

time on a festival lineup.

Alan Walker is set to perform at the PNE

Coliseum as part of Seasons Festival April

15th.

Alan Walker produces YouTube tutorials to inspire

VANESSA TAM

After listening to Harrison Brome's deep and

soulful voice through his music, expectations are

often blown away when meeting the young singer/songwriter

in person; a 21 year old elementary

school dropout. "I [pretty much just took that

time where I would've been in school] to focus

on my music. My mom has always been mad supportive,

it's great," said Brome over a cup of coffee

on a chilly Friday afternoon. "If I didn't have that

time [to work on myself], I probably wouldn't be

where I'm at right now musically."

Growing up in a creative environment in suburban

Richmond, Brome listened to a lot of Marvin

Gaye, Otis Redding and Nina Simone though his

mother who always shared her love of music with

her family. From a very young age, Brome suffered

from severe dyslexia growing up and never had

an easy time learning in a traditional setting. "I

couldn't read a book, like nothing," he shares.

"So my mom bought me a karaoke machine and

something to do with the beat kinda lead me

to be able to string shit together easier. It was

just happenstance that I started singing a whole

bunch." From that moment onwards, something

clicked in his mind and he knew that pursuing a

career in music was what he was meant to do. "I

knew that this was my purpose," he explains. "To

make music and that I had a voice that needed

to be heard."

Fast forward to 2015 when Brome was finally

ready to release his debut single, "Fill Your Brains,"

to the world which eventually culminated in a six

track EP by the same name. Dark and moody instrumentals

laid the foundation for the young

artist's soulful vocal range that draws inspiration

from the brood-

ing coastal city

he calls home.

"I don't know

who I would

put in my music

category,"

he mentions,

thinking out

loud. "Like a

James Blake meets The

Weeknd kinda vibe, but like Allan Raymond

too I think. He's a Toronto guy that's on a similar

vibe. I fuck with his stuff."

Building a strong initial following through Spotify

plays and blog features, Brome signed to local

record label Nettwerk Records and started working

closely with Blueprint to continue to develop

his career. "Oh, it's amazing," exclaims Brome on

the local support that he's receiving from a city

that's notoriously dismissive when it comes to

emerging local artists. "Like at my first show at

Fortune Sound Club [in Chinatown back in February],

I thought maybe like 400 people would

show but we packed up the place! I couldn't have

asked for a better first show in my city."

Surrounded by live plants and vibe setting

smoke and lights, Brome performed his newest

single "Body High" for a sold out audience for

the very first time. Showcasing the young artist's

vocal flexibility and incredible falsetto, the single

became an instant hit performed alongside other

fan favourites "Midnight Island" and "Fill Your

Brains."

Self taught in everything he knows about music

production from singing to playing the piano

and guitar, Brome likes to work with another person

to help get his instrumentals down while he

works on the rest of the song. "I usually have an

engineer or a co-producer [to work] with because

I'm not the best when it comes to the technical

aspects of producing," he admits. "So usually I'll

start with a certain sound on the keys and kind

of mumble a top line to it. Then I'll get one of my

producers to start making the drum beats and

then we build it from there. My producers are almost

like my translators [because] they help me

to get my ideas out, but at the same time I also

like bringing in ideas from other people. It's the

best [of both worlds really]."

When it comes to songwriting, Brome draws

from his own personal experiences and writes

about relatable topics that a wide variety of

people can understand. "I

would never

take back any of the shit that I've

ever gone through because then I wouldn't be

the person that I am today," he states confidently.

"Everything I write about

is my way to express shit;

it's cathartic. I'm speaking

my mind and still feel

like people understand

me, even though they're

interpreting [the lyrics] in

their own way."

As for what's coming

up next for Brome, he's

preparing to release a new

single with Pomo and is

booked to play a bunch of

shows and music festivals

around the world including

dates in the UK, Germany

and the Netherlands.

"I would love to do a lot of

collaborations with producers

as well as features,"

he mentions, already thinking

of the future. "I would

love to be able to sing on all

the hooks for rappers, that's

my kind shit. I think it'd be

awesome [to work with] a

female singer like Lully or

BANKS too. Having a female

singer with my vocal I think

would be dope, I've never

really experienced that so

that'd be fun. Count me in."

Harrison Brome performs

with Pomo at Fortune

Sound Club as part

of Seasons Festival April

13th.

"I don't have anything else. I dropped

out of school you know, if I don't have

music, I'm fucked. It's my life."

14 BPM

April 2017

April 2017 BPM

15
---
SOSUPERSAM

fall in real love with Sosupersam

PRACHI KAMBLE

Championing the revival of classic R&B with her monthly 143 parties,

a name derived from the "I Love You" pager word count from the 90s,

Sosupersam has the Los Angeles party scene on fire.

Regularly playing at LA's hottest venues, the party has taken on a

life of it's own and has popped up everywhere from Seattle to San

Francisco and New York City. "R&B is nostalgic. It's cute and ironic

again!" explains Sosupersam, aka Samantha Duenas. "I know it

sounds like an anomaly. People don't believe it until they come out

and then quickly become believers."

Duenas believes strongly in the psychological component of deejaying.

Knowing how to read the room, building an arsenal of dance

floor weapons and playing different parties with lots of different people

is key. Her strategy is simple, "You want to be relatable, a little bit

familiar, but also shed light on lesser known artists. People trust you

when you play a song that they like and they'll go with you when you

take them to a song that they don't know."

photo by HYFN2

Horsepowar's natural candor shines through her live performances.

SAM GELLAITRY

why just treat the ears when there are other senses just sitting there

MOLLY RANDHAWA

For most young people, figuring out what you want

to do with the rest of your life can be a daunting

task. For producer Sam Gellaitry, however, making

the decision to drop out of school at age 16 to focus

on music was natural for the young star. At age

17, his actions were reaffirmed when he signed to

LA based record label, Soulection. Now, three years

later, the producer has signed to his dream label at

XL Recordings and is crafting music that beautifully

orchestrates the cinematic sounds of his daily life.

The last time the Scottish-born artist stopped in

Vancouver was in October of last year opening for

the Glass Animals' How to be a Human Being tour

where he played a set of all his own music. "[It was]

very refreshing. It felt like a milestone because I never

used to play much of my own music in DJ sets,"

the young artist shares. "The fact that I can travel

playing my own music really strengthens my self belief

in producing and makes my music stronger."

Having just released the conclusive third EP from

Dropping her first EP titled Garden this past fall, the young artist

explored the rich spectrum of romance with her first crack at making

original music after hitting a creative plateau in her deejaying career.

"I was going through a lot of changes and a lot of travel, both of which

informed the themes of the EP," she says. "I was listening to a lot of

Janet Jackson circa 'All For You,' which heavily inspired the direction

[of the album overall]."

With her diverse background in dancing, modelling, advertising,

public relations and economics, Duenas' owes her creativity to multiple

sources. "Inspiration and creativity come in spurts," she muses.

"They are influenced by how much you've slept, what country you're

in, what you ate that day, or what your mom sounded like on the

phone earlier."

Being a female DJ may make Duenas stand out from the norm, but

she doesn't let that phase her. "I don't play into stereotypes like, 'oh a

female DJ probably dresses like a boy' or 'she'll flaunt her sexual attributes.'

The conversation should never be about me being female, but

about what I do and how well I do it."

Sosupersam performs at M.I.A. as part of Seasons Festival

April 13th.

HORSEPOWER

turning pain and experience into powerful music for the masses

MOLLY RANDHAWA

After having just returned back to Vancouver from Oakland, CA to

record an upcoming EP, Horsepowar is ready to deliver. Grabbing the

attention of CBC heavyweight Peter Mansbridge and other major

media outlets like Fader and Noisey, the 25-year-old Richmond native

who normally goes by the name Jasleen Powar, has been making

waves.

When it comes to performing, Powar isn't shy of the spotlight but

after being compared to artists like M.I.A for their similar "brown girl

aesthetics," the rapper wants to make it clear that she's not a gimmick.

"I can't claim Desi culture, but everything I do will be Indian just

because I am Indian," the artist said over a plate of hot wings sitting in

a crowded bar on Main Street.

Powar first began performing in the form of slam poetry in the

his Escapism trilogy, Gellaitry has a lot to take in over

his worldwide tour promoting the new record. With

an eye for capturing sounds through an objective

lens and quite literally, a camera lens, he encourages

his fans to take a peek into the sounds that he

composes through photography. "It's a great way of

capturing atmosphere and surroundings which [in

turn] inspire the music I make," he explains. "I like

the contrast between photography and production

because it's capturing something in the best way

possible rather than creating something completely

new and different."

Gellaitry pushes the sound in his new album

through enigmatic imagery, intricately detailing

the vivid sounds of his surroundings. He shares how

each of the songs off of his new EP has its own picture

to paint. "[My sound is] very hard to pinpoint

to a specific genre. I just call it 'electronic,'" explains

Gellaitry. With tracks like "Jungle Waters" being inspired

by film scores and "Acres" being inspired by

photo by Kyle Reyes

his hometown, Escapism III showcases the diversity

within the young musicians sound.

Sosupersam uses her magnetic personality and elegance to stand out

ninth grade, after the death of her older brother. The artist explains

how the experience was therapeutic and helped her express her

feelings of loss in a positive way. "I feel like [writing and slam poetry]

helped me not become a bitch." Working to channel her energies

into developing her own style as a rapper, the confidence that Powar

naturally radiates is undisputed. With years of experience performing

live under her belt, the artist's natural candor shines through.

However, even with the confidence that Powar carries, the rapper

reveals the struggles of remaining powerful, yet humble in her hometown.

"[People] say that you have to be a narcissist [in order] to be an

artist, but I don't believe that. If you wanna be successful, you gotta

know how to love yourself," she explains in between bites of wings.

"You can see through that shit when it's not authentic. This is real for

me, it's not a gimmick".

Having taken a hiatus from performing while working on her new

album, Powar expressed her excitement about showcasing her new

material at her upcoming shows. "I want [this record] to be very full of

itself, I want people to know that I am the shit and the urine."

Catch Horsepowar performing with Playboi Carti at Venue

as part of Seasons Festival April 12th.

Using photography and music production,Sam Gellaitry flawlessly paints a picture with Escapism III.

Catch Sam Gellaitry at Fortune Sound Club

as part of Seasons Festival April 13th.

JAMES DEEN

through being cool

VANESSA TAM

"Yo being cool is overrated," said Brennan

Henderson in between sips of pour over

coffee. "That shit's dumb."

Producing music under the name James

Deen since high school, Henderson originally

grew up in Kelowna, the hometown of

electronic music juggernauts Datsik and Excision,

before deciding to move to Vancouver

a few years ago. "It's funny because the

first ever article about me, well not the first

one but the biggest one, was on THUMP,"

he said reminiscing. "They premiered a song

and I think the title was just like, 'Hear a

song from a Kelowna producer that's not

Datsik or Excision.' Which is super funny."

Growing up in such an isolated town in

terms of music culture and diversity, Henderson

chose to publish most of his work

to Soundcloud which helped him find the

majority of his fan base through the internet.

His move to Vancouver, however, really

kickstarted the visibility of his music especially

around 2014 when comparable artists

Ryan Hemsworth and Wave Racer were experiencing

their heydays.

While clearly inspired by the shiny and

bright samples commonly associated with

2014's infatuation with PC Music, Henderson

has complete faith in his overall sound

RIFF RAFF

living perpetually in the moment

VANESSA TAM

Each person has a different maximum point of saturation when it

comes to the Houston, Texas born artist Riff Raff. For some people,

their tipping point was reached early on during the beginning

of the artist's career on Myspace, for others it was with the Neon

Icon album. There are still people out there who can't get enough

of Riff Raff, and maybe never will.

A physical manifestation of how popular culture and music

can shape a human being, Riff Raff was born as Host Simco to a

family of four where he experienced a complicated upbringing

before finding commercial success after being cast in the MTV reality

show From G's to Gents. Often recognized for his flashy outfit

choices and his intricate hairstyles, his viral singles "DOLCE &

GABBANA," "TiP TOE WiNG iN MY JAWWDiNZ" and "AiR CANA-

DA" more accurately define his overall vibe as an artist.

After a two-year hiatus from releasing new music after his first

LP Neon Icon came out in 2014, Simco decided to drop a whopping

three records over the past seven months, the latest of which

is titled Aquaberry Aquarius. "Sometimes music is fun," Simco says

about his music making process. "But sometimes it's not even fun

and I don't stay in the studio actually. I go in the studio probably

like three times a year. Or I only go to the studio when I have to do

a feature or like do an album. I don't just hang out at the studio."

Amidst the nine tracks on Aquaberry Aquarius that talk about

partying, luxury goods and making money all day, there are couple

tracks that shine a light on what's happening in Simco's life as a

person. Specifically, the track "I'm Not Waiting on the Summer"

touches on the time where the artist lost his father late last year.

"Yeah, sometimes I'll make a song talking about things that are

going on in my real life that I normally wouldn't do," he shares

over the phone. "The last time I did that, I made the "Time" song

and that was a long time ago. Now [with] "I'm Not Waiting on the

and his ongoing growth as an artist. "I think

there's been a natural progression [with my

work since then. For example, I] still keep a

lot of the elements that I enjoyed from the

style of music I made in the past, but I also

incorporate new stuff that I like, think and

feel now."

As a testament to his overall development,

the young artist prepares to release

his debut LP this month titled Never Been

Cool. "The bottom line when I make music

is that, it's all for myself," he explains. "I was

thinking about this recently while I was listening

to the demos of [the album] while I

was walking to work and I was like, 'Is this

pompous or is this like narcissistic?' And I

was like, 'No, because if I don't like the music

I make, then why would I make it?'"

Filled with a selection of inspiring vocal

features and moody atmospheric tracks

alongside his signature upbeat production

style, the album is really an audio representation

of how far he has come as an artist.

"It's just like a testament to my life," he says

confiently. "Because like, I've never been

cool and I'm also through being cool."

James Deen's debut LP Never Been

Cool comes out April 13th.

photo by Mats Schram

James Deen's bright and shiny debut LP,

Never Been Cool, comes out April 13.

With an action movie on the horizon, Riff Raff isn't slowing down.

Summer," that's like [referencing] my real life. I don't like to make

a whole album based on what's going on in my life because I think

that's like too like sad or depressing, so I don't know."

Currently in the midst of releasing his first action movie where

he will be acting in the lead role, Simco seems more self aware than

ever when it comes to his work and career. "I like to be in a good

mood sometimes so that's why a lot of my songs are like more

high energy and stuff," he says. "When I'm on stage I'm not sad or

thinking about what's going on in my life, I'm thinking about just

partying. So that's where I'm in my element I guess."

Riff Raff performs at the Harbour Event Center April

14th.

CLUBLAND

your month measured in BPMs

vanessa tam

Lucky us! Winter is almost over and with the arrival of spring

comes Vancouver's most illustrious high holiday. What better way

to celebrate than to check out some of the top hip hop and electronic

music shows we've highlighted just for you. The 420 gods

must be smiling down on us. Amen.

Mall Grab

April 7 @ The Waldorf Hotel

Hailing from Newcastle, Australia, Mall Grab is a relatively new

name in the deep house and techno scenes who can find inspiration

anywhere from popular internet culture to rap music. Known

for playing dusty house DJ sets that were once described as, "hella

stoned," you're definitely not going to want to miss this one.

Skepta

April 18 @ The Vogue Theatre

One of the most well known grime artists in the world, Skepta

returns to Vancouver in support of his latest release, Konnichiwa.

Aside from his latest feature on Drake's album More Life, the UK

top boy is most well known for his prowess as a MC in his popular

singles "Shutdown" and "That's Not Me."

Freddie Gibbs

April 20 @ Fortune Sound Club

Fredrick Tipton, more commonly known as Freddie Gibbs, is an

American rapper born in Gary, Indiana. Well known for his stylistically

diverse rapping ability, Tipton is back with a fresh new LP

titled You Only Live 2wice. Be sure to check out the track "Alexys"

from the new album produced by a couple Canadian favourites,

BADBADNOTGOOD and Kaytranada.

Nicolas Jarr

April 11 @ The Vogue Theatre

New York based experimental electronic music composer, producer

and recording artist Nicolas Jarr returns to Vancouver in

support of his lastest release Sirens. After working on a soundtrack

for the Cannes Film Festival 2015 Palme d'Or winning film Dheepan,

Jarr has continued to cultivate an almost cult-like fan following

for his internationally recognized ambient compositions.

Kehlani

May 1 @ The Vogue Theatre

Not one to shy away from controversy, Kehlani is an Oakland,

California born R&B singer and songwriter who speaks openly

about whatever she wants to in her music. Known for surrounding

herself with an all female team when it comes to production

and touring, Kehlani is currently on an upward spiral travelling the

world to promote her latest album, SweetSexySavage.

Kehalni

BPM

16 BPM

April 2017

April 2017 BPM

17
---
JACQUES GREENE

a moveable feast of a life story on one LP

photo oby Mathieu Fortin

Jacques Greene plunges his fans into earnest and melodramatic emotions with the release of Intimate.

JAMIE GOYMAN

18 BPM

Having graced the sound systems of numerous

clubs, lofts and warehouses around the world

with his music, the now Toronto based Jacques

Greene, known by his friends as Philip Aubin-Dionne,

has finally released his first full length album

Infinite and it's phenomenal. "I think a lot

of art and culture needs to be extravagant or extreme

[towards] whichever direction you want to

get people to," says Aubin-Dionne. "If you're trying

to make people feel sexy there are R&B songs

that are almost pornographic, about fucking, but

you [actually just] want to make people get close

and grind. It's almost a caricature of the mood."

The LP itself, chock full of earnest and melodramatic

emotions, not only tunes fans into where

Aubin-Dionne is headed musically, but also displays

the talent it takes to connect listeners to his

entire body of work in just one album. "It's sort of

exciting and scary time because the album is sort

of a manifesto of the Jacques Greene sound up

until this point, a sort of celebration of all those

EPs," he says. "With that comes the need to switch

it up. I'll have a bit of time in studio between a

couple festival things and hopefully be able to do

that. To just keep it going really."

Spending the past five years teasing fans with

EPS and singles, it would seem that the album

took longer than the five or six weeks during the

summer of 2015 for Aubin-Dionne to get the album's

11 tracks ready for mastering. With "Feel

Infinite," the second track on the album, setting

precedent for the remainder of the LP closing out

with the artist's own favourite track, "You Can See

All My Light." "Even to this day when I play it gets

me in my feelings and resonates a lot," tells Aubin-Dionne.

The only intentional vocal feature that happens

on the album is with How To Dress Well who is

artistically very much on the same level as Green.

"I really like the guy and we have very similar ideas

as far as our intersections with pop music. He's

a pretty smart guy and it's always fun to pick his

brain," explains Aubin-Dionne. "When it came

time to make this record I didn't want a producer

album that was full of random 'features.' It also

made so much sense to call upon a really good

friend and someone I trusted to work with how I

wanted this record to be." Infinite came from an

honest place and when something is created in

absolute purity, it can't be tarnished.

Deciding to bring half his studio with him on

tour, Aubin-Dionne has been working on a responsive

light set up to work alongside customized

projections with friends from Montreal:

Melissa Matos, Adam Hummell, Shadi Assadi and

Emmanuel Rinfret. "It's the first time I'm going on

tour with a full body of work, but the way I perform

it's going to be a little different every night,"

he says. "A bunch of the synths [I have] can't save

pre-set sounds so I have to make it up as I go

along. I want it to be sort of like a show that needs

to work out the ebbs and flows."

Catch Jacques Green performing live at

Fortune Sound Club April 9th.

April 2017
---
RIO

THEATRE

1660 EAST BROADWAY

APRIL

2

APRIL

3

APRIL

5

APRIL

8

12

APRIL

13

APRIL

16

APRIL

17

APRIL

19

APRIL

26

APRIL

28

APRIL

MAY

1

MAY

4

MAY

5

APRIL

HIGHLIGHTS

WWW.RIOTHEATRETICKETS.CA

MY LIFE AS A ZUCCHINI

EYE OF THE STORM XII

AN IMMERSIVE A/V EXPERIENCE

KRISTEN STEWART IN

PERSONAL SHOPPER

M. NIGHT SHYAMALAN'S

SPLIT

GHOST IN THE SHELL

(1995)

THE NORTHLANDER

FILMMAKERS IN ATTENDANCE!

KEDI

THE LURE

THE VOID

THE ROOM

THE GENTLEMEN HECKLERS PRESENT

KEVIN BACON IN

FOOTLOOSE

FIDDLER ON THE ROOF

THE RED TURTLE

THE 10

COMMANDMENTS

MONTY PYTHON'S

LIFE OF BRIAN

DAVID LYNCH:

THE ART LIFE

THE FICTIONALS COMEDY CO. PRESENTS

IMPROV AGAINST

HUMANITY!

#IAHATRIO

THE CRITICAL HIT SHOW

A LIVE IMPROVISED EPIC FANTASY

#DNDLIVE

THE SQUIDLING BROTHERS CIRCUS SIDESHOW:

CARAVAN OF CREEPS TOUR

THE EVIL IN US

FILMMAKERS IN ATTENDANCE!

PAUL ANTHONY'S TALENT TIME:

THE STAR WARS SHOW

FIRST THURSDAY OF EVERY MONTH!

THE GEEKENDERS PRESENT

THE EMPIRE STRIPS BACK:

A SCI-FI BURLESQUE ADVENTURE

*ALSO HAPPENING MAY 26 & 27

COMPLETE LISTINGS AT WWW.RIOTHEATRE.CA

CIRCLE GAME

captive on a carousel of time, the music of Joni Mitchell transcends once again

NOOR KHWAJA

STORYHIVE

video grant initiative gives bands a budget to create

JENNIE ORTON

As the music industry has evolved to suit changing

delivery methods and developing mediums, one

supplement to a good song has remained viable

and that is the music video. Not all artists can foot

the bill to complement their music with visual poetry

and that can make it difficult for those artists

to develop a brand and be visual to their fans. Enter

STORYHIVE: Music Video Grant Program.

A competition for serious artists with a vision

for a music video the program offers the chance

to pitch for their shot at one of 30 $10,000 grants

towards production costs. The application deadline

for this year's grant awards is April 14, with any Video

and Music Lead team eligible to pitch their music

video idea and plan for their production within

that time. Several local Vancouver artists have gone

on to produce music videos that helped launch

them into the public eye in a way that would've

been considerably more difficult without the STO-

RYHIVE grant.

Vancouver band Amistad, originally from Vernon,

BC, enjoyed early success with the grant program

on their very first pitch.

"Working with TELUS and STORYHIVE was a new

experience for us. This was our first time ever applying

for a music video grant, so to get the $10,000 on

the first try really blew us away. We used the funding

to make a music video for our song "HUMAN"

off our new EP 'Talk Peace to a Wolf.'"

The support is not only financial, but also the

photo by Asylum

If Joni Mitchell were first coming out

on the radio today, what would her

music sound like? This is the question

that guides Anna Kuman and Andrea

Cohen's millennial interpretation of

Mitchell's music in Circle Game. By

mashing up some of the politically

driven songs and adding additional

instruments, the production, which

premieres at the Firehall Arts Centre

on April 29, gives the "intrinsically

'70s" voice of Mitchell's music a modern

revamp.

After speaking with creators/directors

(and dynamic musical spouses)

Kuman and Cohen, it quickly becomes

clear that the delicate music

of one of Canada's most renowned

sweethearts couldn't have been in

better hands. The idea of the project

was sparked from Cohen's memory of

his mother's "tinny record player" and

her sing-alongs to the "sensory nostalgia"

that characterized Mitchell's

albums. "I remember being a kid and

thinking how kind of funny it sounded,"

Cohen laughs. While Cohen at

the age of eight couldn't grasp the "almost

religious connection" that earlier

generations had with Mitchell's

music, he later discovered the lyrics'

transcendent nature. Adding on to

the recognition of this intergenerational

relationship, Kuman explains

that the couple quickly became aware

of how "poignant her lyrics were to

[them] now as adults."

The creative process, too, stemmed

from the power of Mitchell's lyrics.

Cohen describes "riffing on a theme

of hers" or "really resonating with a

certain phrase and seeing where that

goes." In terms of the sound of the

re-imagination, Kuman admiringly

notes about her husband: "Andy is

a musical prodigy in his own right…

he has his own style that people will

catch on to." While influences from

many current artists, as well as Cohen's

original direction, are embedded

into the performance, the overarching

genre will be indie rock.

Many of the issues that Mitchell

artfully incorporates into her music

are still very much relevant today. Kuman

notes the parallels between feminist

values in Mitchell's work and the

current "influx of our generation becoming

politically charged" with controversial

policy changes. There are

also relevant relationships between

Mitchell's theme of environment and

current conversations. However, as

Cohen explains, many of his friends

and his generation, in general, "didn't

really know who she was." That is,

"except for maybe 'Big Yellow Taxi,'"

Kuman chimes in.

Issues in politics, environment, and

love present in Mitchell's music are

just as significant as they ever were.

bolstering energy that comes with having someone

believe in your artistic vision. Alberta band The Doll

Sisters found that part of the experience very nourishing.

"We felt supported not only financially, but we

felt validated in our art! It was so nice to know that

the folks at STORYHIVE believed in our project the

same way we did, and it made the experience that

much better."

For any artist with a song that just begs to be

Circle Game is a reimagining of Joni Mitchell's music for today's generation

Hopefully, Circle Game can help to

take the timeless influence of her

legacy and make it into something

new, connecting generational themes

and bringing things full circle. After

all, as Mitchell herself so beautifully

phrases, "we're captive on a carousel

of time."

Circle Game runs at Firehall

Arts Centre from April 29 –

May 20.

made into a visual experience, you have until April

14 to submit your pitch. Winners will be announced

by May 11 and then the winning videos will be published

via TELUS Optik TV On Demand and online

for a second round of voting after they are completed.

For more information on how to submit

your pitch, visit www.storyhive.com

photo by Jeff Bassett

Local bands such as Amistad have had the chance to thrive thanks to the support of STORYHIVE.

EAST VAN BASEBALL LEAGUE

peanuts and cracker jacks not included

SEAN ORR

pinball

brunch

cocktails

Ramones burgers

poutine

draught

vegan friendly djs

picklebacks

beers

mirth

wing wednesdays

quantum singularities

blue jays

¢o$mic bathroom

vegan wing mondays

live music

Gravel dust fills the air like late August wildfire

smoke. Wild hand gestures by real umpires. I don't

understand any of it. "What happened?" I ask, fully

aware of my naivety. "Greasy baseball." It was the

old hidden-ball trick, apparently. Although it was

probably an insignificant play in an even more insignificant

game, it felt momentous.

"You're not much of a sports guy," notes Bruce

Dyck, member of the Mount Pleasant Murder and

drummer for the now-defunct B-Lines. He recalls a

chance encounter when both our bands were on

tour in San Francisco. My band NEEDS had bought

me a ticket to a Giants game for my birthday. It

would be my first baseball game. "Well, I do like

hockey," I reply sheepishly.

"You're going to write about this," demands

Heath Fenton, another local musician involved

in the East Van Baseball League's Mount Pleasant

Murder chapter. He is drunk. I am going to politely

decline, having zero knowledge about this bizarre

summer ritual, when we are interrupted by an errant

foul. "Heads!" It's my chance to sneak away.

I stand next to some burly men who can only be

described as men who look like baseball. Like it's

the only thing they care about in the world. Tightly

creased ball caps, arms folded, wide stance, speaking

in riddles, saying things like, "Nice lights."

"That guy throws pretty hard," I say, now starting

to revel in my ignorance. "Yeah, he played in

college. In Louisiana." 'That doesn't seem fair,' I

think to myself. More riddles. Someone yells something.

Was it trash talk? I want to hear trash talk.

I want to hear Trash Talk. The inning is over and

pop-punk comes on instead.

I roam the edges of Strathcona Park, strewn

with squatting camper vans and a modified school

bus with a sauna in it. Someone has set up a kiddie-pool.

Sean Elbe, captain of the East Van Black

Sox, is walking around with just his jockstrap on.

I'm amazed by the dichotomy between rigid organization

and free-spirit.

Evan Wansbrough, better known as Evan October,

so named for baseball's post-season, expands:

"[The East Van Baseball League] is primarily embodied

by players who are musicians, artists, small

business owners — or patrons of those things

— based in East Vancouver. The balance we've

achieved comes from embracing and managing

a culture within the league that reflects the same

values as are applied in to those interests off the

field. There's a DIY mindset in the league, and a

healthy sense of friendly competition between

players that makes the league feel like home to our

players, as opposed to just their individual teams.

That's where we differ from other leagues."

Indeed, the musical pedigree is impressive.

HOT DOGS

servers who don't take shit

(and one who does!)

official home bar of

EVBL founders (L-R) Court Overgaauw, Justin White, Sean Elbe, Evan Wansbrough

Such musical entities include Youth Decay, Daggermouth,

Sunshine, The Greatest Sons, Parallels,

Tranzmitors, La Ti Da Records, The Corps, Broadway

to Boundary Records, Timbre Concerts, Isotopes,

Needles//Pins, The Courtneys, Rain City

Recorders, Fox Cabaret, Shockload, The Real McKenzies,

B-Lines, Ballantynes, The Uptights, Milk,

Teenburger, Regrets, The Tubuloids, Negative

Nights, Hot Loins, Vicious Cycles, and Nervous

Talk.

While I wrote above about the late summer finals,

it's now spring, and spring is to baseball what

Sunday is to church. This year, the EVBL is looking

to capitalize on last year's tremendous success.

2481 e Hastings

brunch sat + sun 11-3

happy hour 3-6 daily

open late

a guy forgot his kids here once

CITY

photo by Gaetan Harris

"This time last year our goal was to add a third

team to our sandlot group. We figured we could

probably pull it off. Once the word got out that we

were recruiting players we quickly ended up with

enough for three new teams for a total of five. This

season we are expanding yet again, this time doubling

in size to 10 teams. We never thought Vancouver

was such a baseball town."

Neither did I, and I never thought I'd be writing

about it. But here I am, excited for some more

greasy baseball in 2017.

For schedules and merchandise go to www.

eastvanbaseball.com

20 CITY

April 2017

April 2017 CITY

21
---
THE WEALTH SHOP

VANCOUVER'S FIRST LICENSED CANNABIS SHOP

I GOT

FIVE

ON IT.

SIGN UP ONLINE AT WWW.WEALTHSHOP.CA

4/20 CALENDAR

ZOEI NIJJAR

We've compiled a list of six marijuana-inspired events for you

to enjoy this 4/20 season, ranging from the iconic Vancouver

Art Gallery gathering to concerts to informative cannabis exhibitions.

President's Dream Colloquium: Marijuana

Legalization 2017

Join Dr. Beau Kilmer, the senior policy researcher and co-director

of RAND Drug Policy Research Centre, at SFU's Harbour

Centre campus on April 6 as he discusses the legal aspects of

marijuana use and the current state of research on the topic.

Admission is free.

Snoop Dogg with Cypress Hill, Method

Man, and Redman

On April 14, join the weed king himself at Rogers Arena for his

Wellness Retreat Tour and get into the 4/20 spirit a bit early.

4/20 Vancouver at Sunset Beach

Enjoy the holiday surrounded by sand, sun, and fellow marijuana

lovers. There will be a cannabis farmers' market, music,

public speakers, and much more. Come out to protest against

marijuana prohibition and to celebrate all things green.

4/20 Vancouver at the Vancouver Art Gallery

Celebrate April 20 at the Vancouver Art Gallery and enjoy

over 50 vendors, guest speakers, a 4/20 farmers' market, and

a 4:19 joint giveaway. There will also be a peaceful protest

against marijuana prohibition.

Alex Wiley's Stoner Symphony Tour

Keep the party going with Chicago rapper Alex Wiley as he

promotes his new album, Stoner Symphony, at Alexander Gastown

on April 21.

Cannabis Hemp Conference & Expo 2017

Held at the Nest at UBC on May 6 and 7, this event gives the

opportunity to learn about the therapeutic and medicinal

uses of marijuana from an array of guest speakers, authors,

and specialists. There will also be exhibits, live demos, samples,

and giveaways.

WEALTH SHOP

aiming to eliminate the negative stigma around modern cannabis use

VANESSA TAM

Safely tucked in the bottom left corner of

Canada, Vancouver has always been somewhat

of a liberal haven when it comes to

cannabis use while simultaneously serving as

a home base for marijuana enthusiasts. Both

Cheech Marin and Tommy Chong once lived

in the west coast metropolis, and current residents

include activists Marc Emery and Dana

Larsen. With over 200 dispensaries operating

around the city, most Vancouverites are being

exposed to the resilient weed every time they

leave the house.

"Additionally, I think there is also way more

science backed literature bringing the positive

properties of cannabis to the forefront,

you know not just the psychoactive high but

also the beneficial cannabidiol elements of

the plant," explains Brad Quevillon, one of the

co-founders of Wealth Shop, one of Vancouver's

first licensed cannabis dispensaries. "It

allows for more information to be put into

the public's view so people can educate themselves

and become a bit more comfortable

with the subject, which is something we see all

the time operating a licensed storefront. Once

people get over what they believe cannabis is,

they begin to feel comfortable enough to ask

questions and learn about how it can benefit

them personally."

"The whole concept behind Wealth Shop is

to really focus on health and wellness," added

Nico Sto Tomas, another one of the co-founders

of Wealth Shop. "We originally started the

brand probably two years ago when we identified

a large gap in the current market. Our

tagline is 'Rich in Health' because we want to

reposition what wealth is in people's minds.

True wealth is not about how much money

you have, but how healthy you are physically,

mentally and spiritually."

In terms of cannabis legalization in Canada,

it seems like a no brainer for anyone even

vaguely interested in the industry.

"I think we should go beyond legalizing

cannabis in BC and Vancouver," says Connor

Mcnamee, another one of Wealth Shop's

co-founders. "I would like to see it legalized

on more of a national scale, or even the world.

We've only just begun to scratch the surface

of cannabis research and with a little more

support from our governments around the

world we should be able to allocate more

funds to research and isolate specific cannabinoids

with diverse medical benefits. On the

recreational side, however, I'd love to see more

of an open-minded country partaking in cannabis

for recreational uses whether it's infusing

products or infusing food. It's just a matter

of time before we're able to use cannabis with

pretty much anything."

Wealth Shop is located at 4545 W 10th

Avenue.

Wealth Shop believes the true meaning of wealth isn't money but being rich in health.

So Loki

ART: DOES MARIJUANA

HELP OR HINDER?

local musicians discuss if there's a connection between cannabis and creativity

MARION LEFEVRE

Louis Armstrong first tried cannabis in the 1920s and

used it throughout his career. Lady Gaga told Anderson

Cooper in 2011 that she smokes "a lot of pot" when

writing music. Astronomer and astrophysicist Carl Sagan

wrote, "For the first time I have been able to hear the separate

parts of a three-part harmony and the richness of

the counterpoint," about his experience with marijuana.

So what does science say about weed promoting creativity?

Unfortunately, due to the prohibited nature of the

drug, science has been unable to conduct long-term

peer-reviewed studies on the matter. This means a lot of

our "hard data" has come from the anecdotes of users.

BeatRoute interviewed a few local musicians to get their

input on weed and the potentials and pitfalls of its creative

side.

Robbie Slade of HUMANS

"[I find it] helps — but only in very small doses, and at the

right point in my creative process. Too early on and I can

hit stumbling blocks. I find it helps me look at a project

from another perspective. It can be a gamble. Sometimes

it can cause anxiety, or tiredness. I try to stay away from

Grassifieds

the mild-acid-trip level of strength, and I don't really like

using cannabis to, like, spice [up] my life."

Richie Alexander of Did You Die

"I smoked it throughout high school almost every day. It

was a part of my lifestyle as a teen and from what I can

remember with weed, I don't really see it as a channel

for creativity at all for myself. I would write a song every

couple months, but without, I pump out so many more

songs. I work on them harder; it's a completely different

approach. I just want people to understand that marijuana

does work for a lot of artists when they are creating (I

know for a fact that a lot of hip-hop artists I listen to use

it and bang out some awesome stuff) but for me, personally,

it hasn't worked out that way."

Sam Lucia and Geoffrey Millar

of So Loki

"We find that weed definitely helps. It helps with creativity

but hinders productivity so we generally smoke while

writing and having creative dialogue, but when it comes

to the hard shit — stay sober, kids."

WEALTHSHOPCANADA

WEALTHSHOP

$5 OFF

your next purchase of $25 or more

LOCATED AT #104 - 4545 W. 10TH AVE

22 GRASSIFIEDS

April 2017

April 2017 GRASSIFIEDS

23
---
COMEDY

IVAN DECKER

Vancouver's voice of the millennial generation

JOHNNY PAPAN

Dubbed "one of the funniest and most

likable young comics in the country"

as well as "the hilarious voice of the

millennial generation," standup-comedian

Ivan Decker has been doing

comedy for over a decade. Getting

his first comedy-club gig at 19 years of

age, Decker has impressively worked

his way into television specials, Just

for Laughs appearances, award wins,

and a plethora of headlining shows

across Canada and the United States.

"I always liked performing and

being on stage. It could be a middle-child

centre-of-attention thing, I

don't know. If you wanna overanalyze

it, better get your notebooks out psyche

students reading this!"

Inspired by comics such as Jerry

Seinfeld, Chris Rock, and Dave Chappelle,

Decker's clean comedic style

is geared towards commenting on

personal experiences and social behaviours.

"I was working in a grocery

store when I first started, so a lot of

my act was about that," Decker confirms.

"I made a lot of jokes about cat

food."

With Vancouver being as tough as

it is to get by financially as an artist,

Decker unsurprisingly worked numerous

day jobs to support himself in his

early career, including: landscaping,

door to door sales, telemarketing, and

even spent an enjoyable time working

at Science World while building the

skills and resources to turn stand-up

comedy into a full-time gig.

As is the case with most comedians,

Decker's journey was a long, winding

road. "There was this one time I performed

in front of mayor Gregor Robertson

on Valentine's Day," Decker recalls.

"I would have figured he'd be at

some fancy restaurant, but instead he

was at this Vaudeville variety show in

an old former porno theatre." Decker

was the only comedian that night,

and was forced to perform alongside

many live bands. "I was in this crazy

environment where everybody is

talking. Since it's Valentine's Day people

are trying to find someone whom

they can exchange liquids with, and

I'm trying to calm them down. I don't

think Mayor Robertson laughed once

during my set. His date laughed,

though. Maybe that's why he didn't

like me."

Decker recently released his very

funny debut album I Wanted to

Be a Dinosaur, where he discusses

relatable topics such as finding a

Vancouver apartment on Craigslist,

watching Netflix, and the unwritten

social rules of public transportation.

Ron Lynch brings a bag of tricks to every show so he never gets stale.

RON LYNCH

no punchlines for this stand up guy

GRAEME WIGGINS

Sometimes stand-up comedy can

seem a little formulaic. A person gets

up on stage: set up, punchline, repeat.

Ron Lynch has been doing comedy

for a long time (though probably even

more famous for his appearances on

Bob's Burgers, and The Sarah Silverman

Program) and has defied that

convention from the beginning. His

comedy is almost a throwback to a

different era, though which era is a little

ill-defined. There's nods to magic,

ventriloquism, and an oddball sense

of slapstick about it.

Lynch describes it thusly, "it's probably

as far away from stand-up as you

can get without being called standup,

I guess. I do characters, I do the

Magician, a hypnotist guy, I do some

stand up. It's a little crazier than your

normal jokey joke type stand-up. I

Decker is homegrown talent who will make your girlfriend laugh in front of you

The album was recorded live at Vancouver's

Comedy Mix, where he'll be

headlining again mid-April. "Expect

to see me telling jokes. A lot of them.

It's upbeat. I'm not gonna talk about

the government, and try to make

you think while making you laugh,

I'm just gonna make you laugh. You

come, you have some drinks, you

have a good time." I Wanted to be a

Dinosaur can be found on iTunes and

Spotify.

probably have no set up and punchline

type jokes in my act. A lot of its

physical stuff. I don't talk to the crowd

that much but I work off the crowd."

The idea seems to harken back to

the theatricality of old vaudeville acts,

which featured comedians and other

performers. Lynch would agree, "It is a

little vaudevillian, yeah. I wouldn't call

it modern vaudeville or something

like that but it's based in my love of

vaudeville and taking that kind of humour

and modernizing it. It's a pretty

clean. I'm not saying I don't swear ever

or anything like that but it's basically

clean."

It didn't start out so off the beaten

path. While his sense of humour and

some of the sensibility was there early

on, the early life of a struggling comic

brought the harsh reality of typical

crowds into the mix which toned

down the absurdity level. "I would say

it's always been absurd, but when I

left Boston and went solo, I would go

on the road a lot. And when you go to

bar in the middle of nowhere you can't

be too crazy because people don't get

it. I did more jokes about airplane and

food and stuff when I was on the road

because I thought you had to please

the audience." Even then, sometimes

mainstream crowds forced unthinkable

choices: "There was one point, in

"I think the Vancouver comedy

scene is one of the best in North

America. Having performed all over

this country, I can say we really do

have something special here. It's not

just all the great comedians, it's also

the audience. They actually come to

shows."

Catch Ivan Decker at the Comedy

Mix April 13-15.

a really bad gig in Oregon and luckily

I brought on stage, just for a joke with

the other comic, the Playboy Book of

Party Jokes and just put that on the

stool, joking that I'd never have to get

to that. But eventually I just pulled it

out and started reading jokes out of it

and they loved it. So apparently this is

what you want, and I'm getting paid

either way."

This took a toll, and eventually he

moved forward, and has developed

his own audience. "I started working

the road so much that I didn't like

what was happening to my act so I

pretty much stayed in cities after that.

Though I did tour and do other stuff.

Now I do what I want to do. I think

people come to me, and like what I

do so I'm pretty happy with it." What

should his audience expect from his

Vancouver show? "I'm going to have

to do my entire act in French, right?

Maybe we'll have a guy on the side of

the stage repeating it in French. I'm

doing my act without any mention of

our president at all. That's what's hard

about it."

Catch Ron Lynch live April 5th

@ the Fox Cabaret

BC DISTILLED

BC's bold and brash approach to spirits sets us apart in a world of ancient grain.

While Mount Pleasant's Brewery

Creek has established itself as

an essential tourist stop for visitors

with a sweet tooth for craft

brew, another scene has quietly

become a goldmine for the

same. What has been affectionately

nicknamed "Yeast Van" by

brewers and regulars is a vibrant

brewery district inhabiting the

area of East Van between Clark

Drive to the west, Powell Street

to the north, Semlin Drive to

the east, and Grant Street to the

south. The breweries, which have

all lovingly popped up around

Storm Brewing, the originator

who began operations in the

area in 1993 before it was cool,

have created a concentrated and

largely co-operative district for

craft beer and spirits that is gaining

momentum exponentially.

That's where the East Van

Brewery Passport comes in. Developed

as a way to encourage

people to come enjoy what sets

Yeast Van apart, the challenge

is to collect a stamp at each

participating brewery with the

prize for doing so being a special

growler to take home and pass

out with.

Pop in to Bomber Brewing

and enjoy a refreshing start with

their Park Life Passionfruit Ale,

then hit up Callister Brewing for

a Blossom Dearie or to try one of

the collaborative casks they promote

from independent brewers

who use their facilities, then grab

the wallop of the Rye India Pale

at Doan's, the kick-you-in-theteeth

Jerkface 9000 at Parallel 49,

an OG pint of Black Plague Stout

at Storm, Czech-Style Pilsner at

Powell Street to wash down that

plague, and then stumble into

Odd Society for a sip of their

Wallflower Gin.

This culture of experimentation

is what makes this district

distinct. For example, at Odd

Society, they combine Canada's

general lack of strict distilling

traditions with innovative ways

The festival provides no better way to see what is being barreled in BC

Most regions throughout the

world that become known for

a certain style of distilling earn

their distinctions through years

of cultivating strict traditional

techniques and practices. And

much like the youngest child in a

family, Canada is not only just as

interested in these things as our

older counterparts, but we have

fewer rules and therefore can get

away with WAY more.

It is this newness to the practice

and the vagueness of the

overall rules that create an atmosphere

for experimentation

and artistry that makes BC Distilled,

in its fourth year as Canada's

largest spirits event reserved

exclusively for local distilleries,

so genuinely interesting.

"It's really a new-world approach

to making product," says

BC Distilled founder and organizer

Alex Hamer. "We aren't

bound by any tradition here and

that means we are able to make

whiskeys that are aged in barrels

that have had different things in

them in the past. None of that

would've happened 10 years ago,

and certainly wouldn't have happened

in the places where these

things traditionally come from."

Recently the province

changed the liquor laws to allow

for more participation by

independent distillers and more

creative license with production.

Since this development, the

number of craft distilleries has

increased exponentially, thus

achieving the province's goal of

creating a vibrant and inclusive

industry in the province for spirits.

And the results are intriguing

to say the least.

"We're getting to the point in

BC where we are developing a bit

of a terroir with gin; we're creating

some really unique styles,"

says Hamer. Case in point: Sheringham

Distillery in Shirley, BC,

has begun distilling both gin and

akvavit with hand-harvested sea

kelp.

With British Columbia being

a bounty of natural gifts, the

local flavours that can be locally

sourced are very exciting. The result

is a festival featuring a staggering

34 BC distilleries, which

amount to about 80 percent of

the distilleries operating in the

province. In one place, with a liver

of steel, you can see what your

province has been doing with

grain at the main tasting, which

takes place at the Croatian Cultural

Centre; one of three spirit

showcases taking place at Legacy

Liquor; or the Distillers'

Dinner at Forage. Hamer urges

newcomers to the festival to go

in prepared.

"You need to decide, 'Am I

going to focus on a region or a

type of spirit?' but you should really

come into it with a plan. You

need to figure out an approach;

there are too many products to

try them all."

to include international malts

within the rules about local BC

ingredients within the craft designation.

"For our peated malts we've

done something no one has

ever done before: for a variety

of reasons, we don't mash with

the peated malt; we put it in our

gin basket so we run the vapours

through and get the flavour

through vapour extraction,"

Glanz explains. Without using

the malt itself as fermentable

Challenge accepted, sir.

BC Distilled runs from April

3 – April 8. The BC Gin

Showcase is April 3, the

BC Whiskey Showcase is

April 4, and the BC Aged

Gin Showcase is April 5, all

at Legacy Liquor. The Main

Tasting Festival is April 8 at

the Croatian Cultural Centre.

Tickets for all of these

can be found at bcdistilled.

ca. The sold-out Distillers'

Dinner is April 7 at Forage;

visit the festival website to

get on the waiting list.

sugars, thus colouring within

the lines of the craft designation

rulebook, Odd Society brings

something new and exciting to

the neighbourhood collective

and those who have embraced it

as their new favorite crawl.

East Van Brewery Passports

can be picked up at any of

the participating breweries

mentioned in this piece.

East Van Brewery Passport offers a way to get to know the new hops zone.

BOTTOMS UP

getting to know your local bartenders

YASMINE SHEMESH

Ever wanted to know more about that person behind the bar

pouring your liquid courage? Here's your chance. This month,

meet Nina Mila from the Boxcar.

HOW DID YOU START BARTENDING?

My parents work in the restaurant industry so I feel like I've

been serving and bartending since I was eight years old. My

mom is going to love this answer.

HOW LONG HAVE YOU WORKED AT THE BOXCAR?

I've been working for the Cobalt and the Boxcar for just over a

year. Don't ask me where I was before; I've blocked it out.

BEST THING ABOUT YOUR JOB?

The best part of my job is definitely meeting new people and

finally feeling like I'm part of a community. We have an A-plus

staff and our regulars are comprised of some of the best people

in this city. I could go on forever about it.

FAVOURITE DRINK TO MAKE?

My favourite drink to make is whatever the heck you want. It's

not about me, it's about what's going to make the person I'm

helping happy. But if it's for me, I'd like a mezcal margarita, no

salt please — I'm salty enough as it is.

GO-TO ON A NIGHT OFF?

I can't lie because I'll get called out. My favourite place to drink

on my night off is the Boxcar. If it's Saturday and I'm feeling

adventurous, I'll go to Cobalt and visit my queen Alex Hulley

at the back bar for Glory Days. Otherwise, I'd go the Narrow,

especially if Jody Glenham is working!

TELL US ABOUT THE GREATEST NIGHT YOU'VE EVER HAD

AT WORK.

Any shift where everyone pays their bill, all my favourite pals

come in and I don't have to cut off a grown man and hear him

call me something rude.

THE WORST?

I don't have bad shifts at Boxy but if you want to hear about

some real horror stories from other gigs, come sit at the bar

and I'll tell you a tale (or five).

The Boxcar is located at 923 Main Street.

The Boxcar's Nina Mila knows how to shake it

24 COMEDY

April 2017

April 2017 •••••••••••••••••••••••••••••••••••••••••••••••••••••••••••••••••••••••••••••••••••••••••••••••••••••••••••••••••••••••••••••••••••

BOOZE

25

JENNIE ORTON

EAST VAN BREWERY PASSPORT

never has getting stamps by stumbling distance been so easy

JENNIE ORTON

photo by Food Gays Media Inc

BOOZE
---
DAVID CUTTING

The audience is roaring as the crescendo of

"Pity Party" approaches. On stage Ilona effortlessly

nails every movement and proceeds to

smash her face into a cake, only to finish the

performance lip-syncing her way to icon status

with a face full of blue icing. It's hard to

express the level of art that this queen brings

to the stage because it is very rare. She is ferocious

and unrelenting, and it is not lost on

anyone who watches her perform.

Her name seems very unassuming; however,

for most artists inspiration comes from

real life. She shares, "I worked at a fabric store

and I shared a cutting table with an 87-yearold

woman named Ilona. She was sassy just

like me. One day she said to me, 'You know, I

hate the gays but I like you,' so I started talking

about gay culture with her. She began bringing

me makeup because I told her I was interested

in drag. We got real close and I told her

that if I ever did drag that I would name my

character after her. She was so extra, she was

like a movie character."

There is a common narrative with many

artists surrounding adversity. The world we

live in is progressing in many ways and when

it comes to homophobia, the tides are turning

fast. Ilona shared that homophobia was

something that surrounded her her whole

life. "My family is very old-fashioned and

there were a lot of homophobic comments

growing up. When I was in high school and

found out about homosexuality I just knew

that I was; it was simple. I was worried about

coming out, because of my family's view, but

I thought about it and realized that I grew up

playing with dolls and wearing girls' clothing

so I hoped that my mom would just want me

to be happy," Ilona shares of her family. "After I

came out I realized that my family just needed

facts; they needed to know what homosexuality

is. When we looked back on that time

when comments were made when I was still in

Ilona

"Full living, Realness, Slaytina, Attacked, The look"

the closet, my mom said she was growing up

too and that she had no idea that it hurt me."

Drag became a form of expression for her.

It became her whole life. It took over. "I do

drag because it's such an amazing creative

outlet, cliché I know, but for me being able to

transform myself to look the way I want is so

empowering. I honestly don't have much confidence

as a boy so being able to look full hot

in drag is such a great way for me to get my

confidence together and channel that into my

day-to-day life as regular old me," shares Ilona.

"Being Ilona isn't just a drag character for me;

it's honestly who I am. It makes me so happy

when people call me Ilona, in or out of drag,

because it's a name I picked for myself and reminds

me of what I've built!"

Ilona is one of five members of The House

of Bitches, a drag family that is mothered by

Alma Bitches. Drag families, similar to real

photo by Chase Hansen

families, have the same ups and downs. These

relationships to Ilona are not a one-way street;

they serve as an opportunity for both parties

to learn from each other. It's a testament to

the fact that sometimes family isn't about the

blood that flows through your brain; rather,

it's an energy that likens your spirit to theirs.

"I am a sensitive person and I feel that

doesn't come across all the time. It has always

been easy to be a cold bitch because I don't

want to be hurt, so being a cold bitch is a way

to keep myself from getting hurt. But it's not

who I am. I am changing and growing and right

now I am focussing my behaviour and learning

from it. I am focused on my happiness."

Ilona performs at the Odyssey on the

last Saturday of every month for Lollipop,

among other places.

QUEER VIEW MIRROR

doing the right thing

THANKS JEM

Well, grab your tissues, because I have a bunch of issues.

Maybe my biggest issue involves the very ground we walk on.

I still can't believe we have people in power who do not believe

in doing the right thing. The right thing about the environment,

about women rights, about equality… Unless it's the "White"

thing.

That brings us to my next grievance. "White people" and the

self entitlement that comes with that. You know who you are and

what I am talking about, I do not blame anybody. I will however

call out the fact your life is easier; but most choose to bitch and

whine about mundane [even trivial adjectives], living egocentric

life styles and the falsehood that's represented by social media

accounts. Saying this, I can't lump everyone into one category and

say that all white people are awful.

But I just did.

First thing is realizing you [white people] are the problem.

Second thing is we are living in 2017; you must become aware of

this so called problem and have more gratitude in your everyday

mundane lifestyles. You should realize you're really fucking lucky

you have clean water and food available, even in our own country

of Canada, a country famously known for the raping of women,

children, land and cultures, we do not have clean drinking water

in half of our reserves. To worry about yourself like you are the

most important thing around you is to be glib about the reality

we have created and have done nothing to change.

Talk is cheap, people. So wake up and change, you lazy fucks.

The fact is we [all living things] are all important. Every damn

thing around you is important, but mostly you and everybody

else. Not just one group of humans who have more, but everybody.

If as a human race we shift our thinking towards inclusion

and love, we could move into the future of ourselves and make

not just yourself happy but us happy too.

So long story short: shut up and try harder.

Because when you know better you do better.

BETTY WHO

a radiant sophomore effort with heart and hustle

DAVID CUTTING

It's 2017: anyone can hit the recording

studio and make a song and be a

pop star now. One key factor that sets

Betty Who apart from these individuals

is her hustle.

On the cusp of the release of her

second full-length album, The Valley,

Who took a few moments to chat

with us about her newest project and

what kind of vulnerability went into

creating the sophomore album. "I

don't know why you would be an artist

if you're not willing to be vulnerable.

It makes it harder because you

are constantly exposed to what people

think of you," says Who. "I would

rather share myself entirely with people

and do it all the way and not feel

like I am not being true to my fans but

myself as well."

Who has a presence that radiates;

warmth on the phone was easy, as

were her new music insights.

"I think there is an energy you feel

from me the second I walk into a

room. I am quite myself. I am rarely

pretending to be anything that I am

not; I think that comes across when

FROM THE

DESK OF

CARLOTTA GURL

CARLOTTA GURL

Hello, wonderful people, and welcome back to the

inner sanctum of Carlotta's crazy mindscape, a

place where many have entered, but only few have

left.

I find myself marveling at the incredibly vast

and wildly colourful stories of our gay history lately.

Whenever I get the chance I try to impart some

small measure of wisdom from the things I have

learned while spending a large part of my life living

in Vancouver and being involved in gay culture

since the early '90s. I see many young people today

coming into the scene with very little understanding

of the trials and tribulations people had to go

through to make it okay to be gay in society today.

To understand oneself it is also important to know

where we came from, and what it took to get us

here.

I had the great fortune of being involved in a

groundbreaking made-for-TV miniseries recently

I am working with new people in and

out of the studio. I share how I am

feeling and we find a way to translate

that into songs."

The album opens with an incredible

intimate moment where we hear

a raw Who singing a capella: crisp,

concise, and with clear emotion. It's

a bold intro for a sophomore effort.

Who elaborates. "The inspiration for

that track was that I wanted there

to be something on the record that I

had done on my own that it was completely

mine; it was my vision. It feels

so connected because of that, which

is why I love collaborating but I wanted

there to be something that was

entirely mine. I took the day, I took

eight hours, I locked myself in the studio

and I created something with this

vision and this album in mind, and

this is me entirely. That's how The Valley

came to be; that's how I made my

record. I sat down, I wrote that intro

and then I named the album after it."

Who maneuvers her way around

songs about falling in love with your

best friend ("Blue Heaven Midnight

Crush"), explores the post-breakup

hookup with your ex ("Human

Touch"), gets a little tawdry and sexual

("Mama Say") and takes us to pop

heaven with her lusty '80s/'90s-inspired

pop anthem "Some Kinda

Wonderful."

Who is an open book but there

is something she still finds people

don't understand about her. Who

shares, "It's really simple, but people

don't know that I am really tall. I feel

like I talk about it a lot, but I am like

that focused on the start of the gay rights movements

from the early '70s and through all the eras

leading up to today. It's called When We Rise and

is a production from acclaimed directors Dustin

Lance Black and Gus Van Sant. I would advise everyone,

especially our younger gay culture, to view

this series in its entirety. It takes us from the early

days in San Francisco with pioneers in the gay

rights movement such as Cleve Jones and Harvey

Milk, all the way through the '80s showing how

AIDS affected everyone and took away so many

loved ones at the time. It continues on up till today

and shows how hard it was to achieve strides

in equality and to finally see the legalization of gay

marriage. I hope everyone has a chance to see this

Betty Who is reaching surprising heights, both figuratively and literally.

QUEER

photo by Ben Cope

six-two; I am like a very tall person.

That's very tall for a girl, so whenever

I meet someone they are blown away.

I'm like, 'How do people not know

this about me by now?' I guess you

don't see how tall I am in Instagram

photos, but that's something people

always assume, that I'm a cute fivenine.

I'm like, 'No no, I'm an aggressive

six-two.'"

Betty Who plays on April 27 at

the Imperial.

photo by Graham Spence

amazing miniseries and to learn much from it.

I would also encourage our gay youth to take

advantage of the many sources of information

in our community. If you get a chance, take the

opportunity to sit with an older gay person and

strike up a conversation; you never know what

you'll learn by being willing to listen. God knows I

bend enough ears when I'm out and about partying

in the community after a few drinks. Oh wait,

that may not be the best example. Anywho, that

ends my somewhat educational diatribe on the

importance of knowing gay history for this month.

Until next time, dahlings, be good to each other

and live life to the fullest... Now let's go for a cocktail.

Loving u all.

26 QUEER

April 2017

April 2017 QUEER

27
---
FILM

11 FILMS YOU DIDN'T KNOW WERE

PERFECT TO WATCH ON 4/20

Getting high before watching movies is, for many people,

a necessary ritual. And we've seen 'em all: the usual

suspects like Cheech and Chong, stand-up comedy specials

on Netflix, trippy musicals like Moulin Rouge. But

this is the year to try something new: pick any one of

these underrated yet marijuana-friendly films to watch

this 4/20.

Slither

This self-aware B horror flick is about slugs turning

townsfolk into zombies. Like any successful riff on a

genre, classic tropes from movies like The Blob are elevated

with an interesting story and hilarious screenplay.

Like all the best campy horror films, Slither is

filled with inventive deaths, plot twists, and character

one-liners to create a quirky movie-watching experience

that can only be enhanced by weed. Be careful,

though: smoke too much and you'll have more in

common with the slug-brained zombies than you

might hope.

HOGAN SHORT

Drunken Master

Not only is this some seriously classic kung fu, it's a

hilariously clever display of some of the best fighting

sequences of all time. Jackie Chan plays a kungfu

master whose skills rely on alcohol, and proffers

ripped-pants gags, self-crotch-hitting accidents, and

drunken shenanigans. This movie famously has some

of the most inventive and intricate fighting choreography,

and while a High Master would make more

sense for the purpose of this list, that doesn't exist

… yet.

Galaxy Quest

As the all-time favourite Star Trek movie (even if it

technically isn't), the official space pick for 4/20 viewing

is going to have to be Galaxy Quest. With an

incredible cast (Tim Allen, Sigourney Weaver, Alan

Rickman, Sam Rockwell), this is a hilarious comedy

with a seriously interesting plot and serious consequences.

Aliens recruit the retired cast of a Star

Trek familiar TV show in order to help them defend

their species against a war-loving alien general.

Super Size Me

A danger to watch with the munchies, but worth it.

Every time I see Morgan Spurlock in this fascinating

documentary, I get two thoughts. One thought is

that I am never eating fast food again. The second is,

"Except for this time because those fries and Big Mac

look so good." As he goes through every McDonald's

menu item, the cravings get very real. It also happens

to be captivating and incredibly entertaining no matter

how many times you have seen it.

Hunt for the Wilderpeople

Hunt for the Wilderpeople, from the mind of Taika

Waititi (What We Do in the Shadows) is not a cult

classic, like most other weed-worthy films, but it deserves

to be. This New Zealand-made film is the story

of a young delinquent boy and his newly adoptive

father going on the run from the police in the gorgeously

shot New Zealand wilderness. Hunt for the

Wilderpeople was one of the best movies of 2016

and it went completely unnoticed and unrewarded.

Now you are aware of it and 4/20 is the perfect day

to check it out. Get high and go on this hilarious and

exciting journey with your new favourite runaways.

Head to www.beatroute.ca to check out our

full list of stoner gems.

Slither

THIS MONTH IN FILM

HOGAN SHORT

Mine

The Transfiguration

A gritty film about a bullied and damaged young black boy named Milo growing up in Queens.

The movie follows him as he interacts with his community in this chilling slow-burn of a movie.

Oh, and it's also a vampire horror movie. This looks like Let the Right One In meets Moonlight in

the absolute best way possible. Opens April 7th.

Colossal

After being dumped, jobless party girl Gloria (Anne Hatheway) moves back to her hometown

when she realizes she is inexplicably controlling a giant sea monster that starts terrorizing South

Korea. She must look within herself to discover why. Need I say more? It looks original, creative, fun,

thoughtful, and hilarious. Also stars Jason Sudeikis and Dan Stevens. Opens April 7th.

Mine

A Marine (Armie Hammer) becomes stranded in the desert and must wait 54 hours until evacuation.

Forced to deal with sand storms, wild dogs, guerrilla fighters, and the harsh conditions of the

desert, he must remember his family and his reasons to live. He does this all standing in one place…

with his foot stuck in place on a triggered land mine. Opens April 7th.

My Entire High School Sinking Into the Seas

This hilarious looking film, animated through mixed media, follows a group of high school

students making their escape to the roof because, well, it's in the title. Created by acclaimed Graphic

Novelist Dash Shaw and voiced by Jason Schwartzman, Lena Dunham, and Susan Sarandon, (to

name a few) this destined to be cult classic looks to be a very unique ride filled with pop culture

references and genre homages. Opens April 14th.

Bill Nye Saves the World

Bill Nye has spent the last few years defending science. While Neil Degrasse Tyson is educating the

world on the front lines of the argument, Bill Nye has spent his time behind enemy lines. Whether

debating climate change deniers on FOX or debating creationist christians in their church, he finally

has his own platform to talk about these important issues. Expect celebrity cameos. On Netflix

April 21st.

Father John Misty

Pure Comedy

Sub Pop

Father John Misty is worth listening to because of

the work his listeners must put forth in order to

understand him. There's nothing he does that can

be taken at face value, whether it's a song, album,

interview, or short film, because, as he admits

himself, it's all for show. He admits this in many

ways: he smirks at whatever camera happens to

be trained on him, he over-exaggerates already

melodramatic stage antics.[Text Wrapping Break]

FJM gets away with this because he is an acknowledged

character; a moniker with which former

somber songwriter Josh Tillman can (ironically)

express a different, truer side of himself. Father

John Misty is an exuberant, attention-seeking,

self-serious singer – one who takes pleasure in

what sometimes feels like performance art. In all

of his music, it's clear Misty's usually making fun

of someone, but on Pure Comedy, the third album

he's released as Father John Misty, Tillman sets

his sardonic sights on making fun of humanity

and existence in general. [Text Wrapping Break]

In 2011, Tillman released his first album as Father

John Misty, the wandering, folk-rocking Fear Fun,

which may be the piece of art most clearly related

to the Misty character to date. It leans heavily

on aesthetics and musical styles established

in the early '60s and '70s by Kris Kristofferson

and Neil Young, the latter of whom Misty name

checks on the album's free-reeling riff on life in

Laurel Canyon, "I'm Writing a Novel." In 2014, he

released I Love You, Honeybear, where he continued

to keep his audience at arm's length, but

draws back the curtain ever so slightly, bridging

the gap in some ways between the man and the

character, even though his performances then

became more stylized (read: more ridiculous). On

"Chateau Lobby #4" he sings, "Dating for 20 years

just feels pretty civilian / I've never thought that /

Ever thought that once in my whole life / You are

my first time." Knowing that as he wrote Honeybear

he married his girlfriend turns his lyrics from

interesting character-wise to touching in a more

tangible, appreciable way.[Text Wrapping Break]

Now, on Pure Comedy, an album filled to the brim

with references to Misty himself, his past albums

and their obsessions with romancing L.A. life, and

pointed attacks on politics, love, and humanity's

exceptional ability to absorb and recycle these

things, he's his least funny – but it suits the present.

Another smirking comedian, arms-crossed

wearing a know-it-all persona isn't what we need,

we need someone known for jokes to revisit his

old seriousness and use how big a deal that switch

is to emphasize his point.[Text Wrapping Break]

On "Leaving L.A.," the crux of the album, it feels

as though he's pointedly acknowledging it's time

to hang up many of Misty's most enigmatic qualities

in pursuit of a more personally fulfilling, open

relationship with his audience; a method that,

based on the way the songs come across, and the

tone with which he delivers them, makes it easier

for him to comment on the present without the

trouble of framing everything within the context

of this other Self. Still, Tillman displays his relentless

self-awareness; he's always known exactly

how he's come across ("'These L.A. phonies and

their bullshit bands / that sound like dollar signs

and Amy Grant' / So reads the pull quote from my

last cover piece / titled, 'The Oldest Man in Folk

Rock Speaks'").

The irony of the album's first track "Pure Comedy,"

which gives the album its name, is that for the

first time this isn't in reference to his own kind of

comedy, it seems like it's a reference to everybody

else's. The song's accompanying music video de

picts (amid a chaotic swirl of crude cartoons) memes,

viral Youtube clips, and political sound bites,

all of which were cited and used again and again

throughout the presidential campaign and for a

time afterwards. For the first time Misty seems

comfortable not only creating something for his

fans to look at, but something he can look at too,

next to them, with them, instead of across from

them at a vantage point where he can take their

temperature and adjust accordingly.

There is slight disappointment with Pure Comedy

being made of the same (or similar) ingredients

found on I Love You, Honeybear. However, there

are some inspired arrangements from in-demand

composers Gavin Bryars and Nico Muhly, like on

the album's penultimate track, "So I'm Growing Old

on Magic Mountain," a song where Misty sounds

tired, resigned to the fact that he's spent too much

time running from adulthood, and is therefore

destined to become lost, unable to use his latent

self-awareness for anything other than perspective,

or at best to help others. Really, it's gorgeous. It is

reminiscent of Neil Young in style, and once that

becomes clear, there's little investigative work necessary

to draw it to one of Young's similarly themed

tracks, "Sugar Mountain." Another bright spot on

an otherwise musically satisfactory album comes

in the form of the Bowie, "Young Americans"-esque,

"Total Entertainment Forever," the only song

that balances lyrics and music as perfectly as anything

on Honeybear, where the inclusion of buzzing

horns successfully distracts from the increasingly

foreboding song lyrics – a method of delivery

which suits them perfectly, as throughout the song

Misty warns that although we're living in the greatest

age, where we seem to be our happiest, it's all

superficial happiness. [Text Wrapping Break]The

rest of the smartest arrangements on the album

should be considered as such not because they do

anything splashy, but quite the opposite: they leave

large space for the lyrics and Misty's unmistakable

voice (which has never sounded better).

Even with its similarities to Honeybear, the music

is intoxicating, immersive, and satisfying. Still,

Misty has always been a more gifted lyricist (able

to translate and articulate humanity's worst, modern

insecurities) than he is a musician, which he acknowledges

in a way on "Leaving L.A." "So I never

learned to play the lead guitar / I always more preferred

the speaking part."[Text Wrapping Break]He

bookends the album with the message that none

of this really matters – no matter how good or bad

it all may seem. "We're hurtling through space,"

he sings on "In Twenty Years or So." This message,

which he delivers like it's his ultimate point, contradicts

a lot of what he says throughout the album's

second act. It's an indication Misty's as confused as

we are. As he puts forth a variety of argumentative

theses that tackle why the country is the way it is,

where it's headed, and why it's headed there, it's a

comforting notion that he, too, is unable to make

reasoning the present seem like it's anything other

than a method of throwing everything at the wall

and seeing what sticks.

•Alex Southey

•illustration by Cristian Fowlie

28 FILM

April 2017

April 2017 REVIEWS

29
---
2417 EAST HASTINGS STREET

Beatroute Oct.indd 1

SAT APRIL 1 SUN APRIL 2

TUES APRIL 11

VALE

(OAKLAND)

NOSTRUM

DEATH WINDS

K A R A O K E PARTY EVERY W E D S NIGHT

TUES APRIL 18 / CHEAPSKATES TUES APRIL 25

RENT CHEQUE FRI APRIL 28 (last FRIDAY of the month)

THE EAST VAN GARAGE SALE

SUN APRIL 30 from 1-6PM (every last Sunday of the month)

2016-10-21 2:17 PM

TUES APRIL 4 THURS APRIL 6 FRI APRIL 7 SUN APRIL 9/23/30

RAMONA (SEATTLE)

DEAD BARS (SEATTLE)

NEEDLES + PINS

JESSE LEBOURDAIS

QUIETER (SEATTLE)

LEISURE CLUB

GUILT TRAP

BB

THURS APRIL 13 - SUN APRIL 16 MON APRIL 17

FESTIVAL

EAST VAN 90S ALT PARTY

FRI APRIL 7 11-2AM

PSYCHIC POLLUTION / LIÉ

SCREAMING QUEENS / LUST ERA

BLACK MAGIQUE / SEX PARK

DETACHED OBJECTIVES

ADRIAN H + THE WOUNDS

CYGNETS / BAND APARTE

QUANTIZE / BESTIAL MOUTHS

WIRE SPINE / TERROR APART

UNCSRD / GROUP VISION

GIRLFRIENDS + BOYFRIENDS

VACANT STARES/ TIMING X

EARLY

SHOW

WEEKEND DANCE NIGHTS

EAST VAN 90S PARTY

FRI APRIL 21 9:30-2AM

THE DARK

EIGHTIES

SAT APRIL 8

SAT APRIL 29

THURS APRIL 20

BORED

DÉCOR

RICKY RUTH

BAND

DEEP END

NEW WAVE

POST PUNK

1980S

DJ JEFF RPM

SAT APRIL 22

MADCHESTER

MONDAYS

HACIENDA CLASSICS

80s/90s UK + BRIT POP

MONDAYS WITH DJ SUZANNE

NO COVER/$4 HIBALLS

FREE POOL

Arca - Arca

Arca

Arca

XL Recordings

Arca is an artist that exists between

worlds. Intermittently, his beats might

attract fanfare from ravers, art aficionados,

or even up and coming pop

stars. If you're familiar with his experimental

sound, you'll know to expect

dissonant kick drums, howling synths,

or iconoclastic machine music. His

first album Xen was clearly influenced

by classical sounds and melodies, but

by 2014's Mutant he was forcing a new

musicality unlike anything before it.

On his self-titled third album, he brings

his own voice, his own history, and his

own language to the juncture of these

ideas.

While working on the album he was

inspired by his Venezuelan heritage,

and walks through a Victorian Burial

Ground (and popular cruising spot for

gay men) in London. As he says, "…so

much poetry: Life. Death. Gayness."

And there's a certain melodrama - a

certain pain - that gay men, historically,

have evoked so well. Think Oscar Wilde,

think Pedro Almodóvar. Arca is no

exception. Of the eight songs where his

vocals are present (thirteen make up

the album), all are in Spanish, and act in

direct obstruction to their instrumental

counterparts. "Coraje," a beautiful

choral arrangement will stretch your

heart strings and fill you with hope,

before it erodes into "Whip," a spastic

interlude, which syncopates obtusely

and assaults the listener, catching its

stride and shifting to a rhythmic hiphop

beat in the final counts.

Though his music may not be everything

to everyone at a given time, he

offers a labyrinth of sounds a listener

can get lost in, finding harmony in the

edges of musicality.

• Trent Warner

Do Make Say Think

Stubborn Persistent Illusions

Constellation Records

While Canada has a rich and diverse history

of musical expression, few genres

are so indebted to our cold, northern

climate as post-rock, and Montreal's

Constellation Records have been at the

forefront of the often scoffed-at niche

Amelia Curran Watershed

for so long that no other label even really

comes close.

Sure, there are other 'big' instrumental

groups, ones that have managed to

grace film scores and art installations

alike, but none are so deserving of their

due as Do Make Say Think, and Stubborn

Persistent Illusions — the collective's

first record in eight years — isn't

so much another fitting transplant into

the swell of Canada's post-rock repertoire

as it is a life-affirming appreciation

of the expressive power of sound

in its purest form.

As though brimming with energy

from their almost-decade away, Do

Make Say Think open up Stubborn

Persistent Illusions with "War on Torpor,"

a five-and-a-half minute anthem

of panicked percussion, fired off with

a frenetic urgency reminiscent of the

crescendoing buildups of 2000's Goodbye

Enemy Airship the Landlord is

Dead.

From there, "Horripilation" slips in

as the Yin to "Torpor's" Yang, showcasing

the archetypal Do Make Say Think:

sliding bass lines as addictive as any

earworm, brief reposes of crystalline

flittering held together by the puncture

of drum-strikes, and enough turns

to keep from dragging out its emotional

stay, before slipping in ceaselessly

to the shuddering "A Murder of

Thoughts."

The latter half of the album finds

DMST honing their introspective skills,

and from the placid "Her Eyes on the

Horizon" through to the hopefully

melancholic "Return, Return Again,"

the group further explores the swelling,

humming fragility found across

many of the records from Constellation's

stellar roster.

In their eight year absence, DMST

have reinforced their sound without

stagnation, returned to familiar

rhythms without relying on tropes, and

Stubborn Persistent Illusions strikes

down the notion that instrumentalists

offer nothing but lackadaisical ambiance.

• Alec Warkentin

Jom Comyn

I Need Love

Independent

Drake - More Life

Listening to the new Jom Comyn record,

I Need Love, feels exactly like

shaking off the dusty, dirty snow of

winter and sprinting into the sun while

wearing sparkly hot pants. Or being

able to fondly look back on a relationship

once it's over. That good feeling.

The 28-track record features several

Edmontonian all-star appearances including

Marlaena Moore, Jesse Northey,

Renny Wilson, Mitch Holtby and

more. It's broken up into bite size lovelorn

morsels, from tender and earnest

to twangy and sassy. The quality of the

album is in no way surprising, but the

sudden shifts between jangly country

on the track "All or Nothing," to cavernous

and somber tones on "Echo

Chamber," do offer wide variety. The

first single, "Why Do You Love Me?"

has a danceable, Motown vibe and

perks up some of the sadder tones on

the rest of the record.

Each full listen through offers up a

new set of emotions to comb through.

Sometimes while sitting quietly alone

in the dark, or up on your feet shakin'

it. The many layers and flavours present

on this album have already cemented

it as one of the best in 2017 thus far. I

think we have plenty of reasons to love

you, Jom Comyn. Plenty.

•Brittany Rudyck

Amelia Curran

Watershed

Six Shooter Records

After seven albums, it seems a strange

shift for Amelia Curran to be at her

most vehemently political on her latest

album Watershed. However, it's a welcome

change, as her sharp wit has been

present throughout her whole career,

and the political undertones of this album

especially are complemented by

the grit in her voice.

Lyrically, she's always been open, if

you've been paying attention and reading

between the lines. On Watershed,

she's more direct and more readily

available – something that can be attributed

to her work as a mental health

advocate in Canada over the past few

years.

At her softest and most tender on

"Act of Human Kindness," Curran calls

for empathy and love to ensure that

humanity makes it out of her perceived

darkness. Shortly after, she's at her

Fucked Up - Year of the Snake

hardest. On "No More Quiet," she is

backed by Canadian blues artist Shakura

S'aida for a feminist anthem against

the patriarchal status-quo often found

in the music industry. She sings, "…the

river has changed its direction, while

I've had to move my own inflection…"

while her voice maneuvers various

rhythms, powerfully, before reaching

a long drawl and celebratory, LOUD,

horns. This crescendo brings the song

home and demonstrates the artist's

prowess for wordplay.

Now at eight albums, Amelia Curran

is a Canadian musical institution showing

no signs of relenting. She's willing,

still, to share more with her audience,

but it's got to be a trade-off. If we're going

to get more from her, we've got to

start trying a little harder, as she sings

on the second last song "Try," in our

own way, to make this country a little

more loving.

• Trent Warner

Drake

More Life

Universal Music Canada

Drake's newest album, More Life, is

stylized as a playlist by the rapper for

a good reason. While the track listing

is 22 songs long, it feels like he's unable

to get a coherent message across to

listeners. With a few catchy tunes that

are both like and unlike Drake's usual

style, the overall theme of the album

seems like something we've heard before.

Solo tracks make rare appearances

on this album, with most songs including

features from a variety of artists

like grime dons Skepta and Giggs, to

South African house mainstay Black

Coffee, to a cast of many including Jorja

Smith, Sampha, Quavo, Travis Scott,

2 Chainz, Young Thug, Kanye West, and

PartyNextDoor.

It's not surprising that Drake's OVO

labelmate PartyNextDoor is featured

on the album either, continuing a long

trend of Drake hooks carrying the Toronto

auto-crooner's career. It's these

lacklustre coincidences that make the

playlist less than perfect. It doesn't

help that Drake's lyrical content covers

well worn territory. Drake's celebration

of success, word of warning to

the haters, and pining for women, are

Future Islands - The Far Fields

all themes that have been heavily overdone

by him already.

What's new on this album? Its sound

is disconnected, from a relatively interesting,

house-influenced "Passionfruit"

to what sounds like Drake's attempt at

a club hit, the Black Coffee sampling

"Get It Together."

It's no surprise the Kanye West-featuring

"Glow" is a playlist highlight.

"Watch out for me/I'm bound to glow"

won't go down as one of Kanye's most

lyrically complex hooks, but it has that

signature Kanye infectiousness that

adds to an otherwise mediocre track.

Overall, it seems like More Life was

a lot of tracks that Drake had nothing

to do with anymore, which explains the

playlist stylization of the album. Individually,

the songs are decent to listen

to, and it's the Drake fans are used to

and that's about it. Fans of Drake don't

expect revolutionary music from the

rapper, but rarely does his music feel

like this much of a grab bag.

•Amber McLinden

Fucked Up

Year of the Snake

Tankcrimes

Sitting atop a pedestal that few

post-millennium hardcore bands can

even begin to fathom, Canadian punk

outfit Fucked Up have been downright

prolific since winning the prestigious

Polaris Prize almost a decade ago for

The Chemistry of Common Life.

Year of the Snake, the latest 12" in

their acclaimed Zodiac Series, further

emboldens the crew as quasi-art-hardcore

forerunners, finding them mixing

methodical, diegetic noise with vocalist

Damian Abraham's telltale growl

over two new tracks: the 25-minute

epic "Year of the Snake," and "Passacaglia,"

which finds the group exploring a

more introspective, nuanced approach

to heavy and relentless.

While Fucked Up are no strangers

to bending the formula of what constitutes

a solid-while-still-brutal album,

the beauty of Year of the Snake lies in

its ability to avoid common hardcore

tropes: There's no egregious noise for

its own sake, no shriek or howl that's

not uncalled for or unwarranted, and

even the experimentalism, something

usually frowned upon in hardcore's

April 2017 31

REVIEWS
---
FEATURED CONCERTS

VICTORIA, BC

Jom Comyn - I Need Love

Mount Eerie - A Crow Looked at Me

The Real McKenzies - Two Devils Will Talk

JON & ROY

PLUS ASHLEIGH BALL (HEY OCEAN)

AND TERENCE JACK

SATURDAY, APRIL 8 | SUGAR NIGHTCLUB

FIVE ALARM FUNK

PLUS THE LEG-UP PROGRAM (FRI)

AND SWEETLEAF (SAT)

FRI, APR 14 & SAT, APR 15 | SUGAR NIGHTCLUB

THE HARPOONIST AND THE

AXE MURDERER

PLUS LEEROY STAGGER

FRIDAY, APRIL 21 | SUGAR NIGHTCLUB

LONGWALKSHORTDOCK

PLUS GROSSBUSTER AND NO TYPE

SATURDAY, APRIL 22 | SUGAR NIGHTCLUB

FOR FULL CONCERT LISTINGS & TO PURCHASE

TICKETS, PLEASE VISIT:

WWW.ATOMIQUEPRODUCTIONS.COM

FACEBOOK /ATOMIQUEPRODUCTIONS TWITTER @ATOMIQUEEVENTS

dedicated niche, is done immaculately and dystopian

instrumentals occupy more space on the

album than anything else.

In short,Year of the Snake is a strong release

from a band who obviously knows what they're

doing, and the only gripe, really, is when the fuck

is the next full length?

•Alec Warkentin

Future Islands

The Far Field

4AD

Around 12 seasons ago, Future Islands danced

their way into the mainstream spotlight with a

career-changing performance. Other than leaving

David Letterman elated and confused, "Seasons

(Waiting on You)" from 2014's Singles, landed a

spot on nearly every song of the year list. We've

been eagerly waiting for new material ever since.

"Ran" is the lead single from The Far Field

tasked with going toe-to-toe with "Seasons." Lyrically,

"Ran" is slightly less memorable, but Samuel

T. Herring's vocal performance carries the track

in a way that few musicians can. A love song that

features the line, "Nobody seems to me so perfect

and so sweet," sounds like it came from a

fifth grader's crayon-covered Valentine's Day card

when read out loud. When Herring delivers a line

like this, it is truly so perfect and so sweet.

"Shadows" is one of the finest Future Islands

tracks of all time, largely due to a surprise Debbie

Harry feature. Harry and Herring compliment

each other in a way that demands a full-length

duet album.

Herring's songwriting and vocals on this album

are its biggest strengths, but that's not to say the

instrumentation is lacking. Each track features

memorable bass, drums, and synths, but it's hard

to imagine how the album would hold up without

Herring. Other synth-pop and indie rock groups

spew interchangeable lyrics without believing in

them. With Herring driving the boat, every song

feels genuine and unique.

While "Seasons" remains undefeated as a single,

The Far Field showcases the band at their best, offering

a handful of songs that come close to taking

the crown.

•Paul McAleer

Mobina Galore

Feeling Disconnected

New Damage Records

Hailing from Winnipeg, Manitoba, punk rockers

Mobina Galore have returned with their second

full-length album, Feeling Disconnected.

As a duo, Mobina Galore only have a guitar and

drums in their arsenal, which seems not to matter

since they're totally fucking killing it. Comprised

of two fierce females, Mobina Galore are proving

to be a force to be reckoned with, while completely

kicking ass in a scene monopolized by men.

These ladies are dominating the fast, hard hitting

and melodic punk rock style. The vocals are

heavy but belted-out gently when required. Vocalist

and guitarist, Jenna Priestner possesses a

vocal range that many dream of, destroying both

melodious and scratchy stylings at will. The guitar

is fierce and Priestner executes addictive hooks

with ease and at a comparable class to veteran

punk bands. The thunderous beats are courtesy of

drummer, Marcia Hanson, who also provides the

perfectly harmonized backing vocals. Their sound

is an anthemic punk-style; fast, catchy riffs and aggressive

tempos. Tracks "Nervous Wreck," "Start

All Over," and "Going Out Alone" are all stellar examples

of the overall sentiment of Feeling Disconnected.

And despite the title of the record and the

underlying lyrical content, Feeling Disconnected

is sure to resonate with many listeners.

•Sarah Mac

Mount Eerie

A Crow Looked at Me

P.W. Elverum & Sun

It's reductive to try and encapsulate A Crow

Looked at Me purely in its context. This is an

album about the death of Phil Elverum's wife,

recorded in the room she died in, using her instruments.

Yes, the record is just as dreary as it

sounds, but it's hardly as simple. Elverum's work as

Mount Eerie, as well as The Microphones and his

own name, share a collective downtrodden temperament,

but nothing this forward.

The true genius of A Crow… comes from its detachment;

melodramatic it is not. From the first

line of the first track, Elverum introduces his own

discomfort with the act of grieving through song.

"When real death enters the house all poetry is

dumb," Elverum whimpers on "Real Death." The

record is stark, bare, and strikingly direct. Elverum

refuses to entertain fanciful notions of death

and dying, only it's unflinching, dark impenetrability.

This groundedness provides a realism

that reinforces the emotionality of the record. Elverum

reveals his grief like an old friend over coffee:

honestly, and with pause, with emotion welling

up in the breaks between the lines. We know

he's grieving because he tells us he is, but we feel

it because he doesn't want us to.

•Liam Prost

Prozzäk

Forever 1999

Lefthook Entertainment

There's something to be said about the movement

going on in the last few years; that whole resurgence

of somewhat popular bands from the early-to-mid-'90s,

throwing an album down like "yes!

We're still here! And it's not just for the royalty

cheques!" Except, IT IS JUST FOR THE ROYALTY

CHEQUES.

It seems we're living in an era where people

seldom hear the word "no" anymore. Maybe their

label agreed, and said of course the fans want to

hear more, even if the duo has been inactive for

twelve of their nineteen years in the business.

What's to say, then? You could look at Prozzäk's

Forever 1999 with the same sort of wonder and

amazement a toddler would look at anything.

Those words don't always have to imply a positive

connotation, by the way, but for fairness sake, uptempo,

bubble-gummy, radio electro-pop appeals

to some people because it's catchy, uncomplicated,

relatively easy to ignore, and won't cause allergies

or homicides.

To this reviewer, it's like deliberately causing

someone to suffer anaphylactic shock. "Love me

Tinder?" No, stick with "Sucks to be You." I know,

I know. Be nice. Unfortunately, numbers don't lie,

and if we can go ahead and compare this to prescription

anti-depressants (big reach there) it's

safe to bet that out of 100 people, at least 65% will

suffer an adverse reaction to this album.

•Lisa Marklinger

The Real McKenzies

Two Devils Will Talk

Stomp/Fat Wreck Chords

Canadian rebels The Real McKenzies have returned

with a brand-new album, Two Devils Will

Talk.

This latest album is a stellar example of the

McKenzies' style and sound, which after 25 years

hasn't slowed down or sold-out. Two Devils Will

Talk is the tenth full-length release from these

rowdy Scottish-Canadians, and the follow up to

2015's Rats in the Burlap. Two Devils features the

raw, thundering vocals of founding member and

frontman Paul McKenzie, as well as his bandmates'

perfected harmonies. Both accompanied

by the classic melodic tempos we all love raising

a glass and singing along to. The album is reminiscent

of early punk-rock scene, slightly gritty with

dark undertones. As always, the McKenzies combine

this with old-fashioned, Celtic-hymn-style

bones, giving the album a cozy pub feel we're all

April 2017 33

REVIEWS
---
Traditional English-Style Dry Ciders

New Flavour!

Shines - Heartworms

familiar with.

And who could forget the bagpipes?

A staple in the McKenzies' sound, bagpipes

can be heard throughout Two

Devils, which is something their fans

look forward to.

2017 marks the 25th anniversary of

the Real McKenzies and Two Devils

Will Talk is a perfect way to celebrate

such a momentous achievement. An

album which pays tribute to both their

Canadian and Scottish roots, as well as

the journey that got them here.

•Sarah Mac

The Shins

Heartworms

Columbia

To be honest, when I first listened to

this album it sort of irritated me. Coming

from the camp that listened to The

Shins for emotional reprieve when going

through sweetly powerful and sad

times, this album often feels too happy.

Perhaps it was my own foolhardy

intent of listening while lying morosely

in a dark bedroom. The sounds just

clashed.

Upon second listen, walking in a bright,

sunny and warm day, everything

clicked into place. The title track of the

album, "Heartworms," manages to capture

that impetuously squirmy feeling

of being unable to shake a crush, a love,

a feeling. There are moments that feel

overtly Beatles-y (the complex mysticism

and elation of "Fantasy Island"),

moments that feel like a humble southern

country throwback ("Mildenhall"),

Suicide Silence - Suicide Silence

and moments that do touch upon that

old Shins vibe of being somber and saccharine

at the same time ("The Fear,"

"So Now What"). With a perfectly balanced

production, this album slowly

scratched and crawled its way into my

heart, like its own little Heartworm. It's

burrowed its way in and is there to stay.

•Willow Grier

Suicide Silence

Suicide Silence

Nuclear Blast

Trying to improve on deathcore by

making it into nu-metal is like trying to

improve a pool of cold vomit by eating

it and turning it into shit. That's what

California's Suicide Silence have done on

their fifth and definitively worst album.

Self-titling an album is a bold statement:

this is us, pure Suicide Silence, the

closest you'll get to a best-of. It's probably

not a good move on SS's part to

abandon their sound (more or less prototypical

deathcore; death metal and

metalcore mixed without a single good

element of either) in favor of toneddown

baggy-shorts-core with a reliance

on clean singing that inflicts every one

of vocalist Hernan "Eddie" Hermida's

inane lyrics on you.

They've not only gone nu-metal for

no particular reason but released a

bad nu-metal record. Nowhere do they

match KoRn's groove or Deftones' soulful

slow burn: all that's left is a band that

could be on the 2006 Family Values Tour,

scheduled mid-afternoon between 10

Years and Deadsy then forgotten.

•Gareth Watkins

Surf Dads - All Day Breakfast

Surf Dads

All Day Breakfast

Grind Central Records

While it is doubtful that Regina duo

Chris Dimas and Gage McGuire are

fathers, they are the talent behind the

Surf Dads. After releasing three EPs,

they come at us with their first fulllength

album, All Day Breakfast. While

it might be a little bold to call them

the fathers of surf, this album is warm

and breezy and encapsulates the young

energy that summer brings. The first of

12 tracks, "Up All Night," is reminiscent

of bands like Weezer and Alvvays, with

the fast guitars, nimble drums and

starry-eyed vocals. It speaks to the mistakes

we make and the remorse that

often follows. It's like doing the walk of

shame in your head. Beyond the catchy

hooks and shimmery riffs, there is substance

in the lyrics. On one hand you

have the track "Pinpoint," where "dig

your own hole / I'll pass you a shovel"

is hollered out, only to have Beach

Boys like harmonies in "Apologies" two

tracks later. Yet the album flows well,

the energy is wired and to resist the

urge to dance like a maniac would be

futile.

• Aja Cadman

Tennis

Yours Conditionally

Mutually Detrimental

Tennis - Yours Conditionally

Staring at the cover of Tennis' new

album Yours Conditionally, I can't

help but feel that I'm staring at a sunbleached

portrait of my parents in

the mid to late '70s, shortly after they

would have met. The album harkens

to that period, where my parents were

falling in love; my mom had the same

tight curly hair, and my dad had a hilarious,

if not ironic, Gregg Allman-esque

mustache, both like Tennis' Alaina

Moore and Patrick Riley.

Through its softness, opener "In the

Morning I'll Be Better," reminds the

listener that your physical or mental

exhaustion can be cured by morning.

Atop Moore's soft falsetto, the reminder

is bittersweet, like ice cream melting

down the cone and into your hand on

a brazen summer day.

Like a long-term relationship or a

particularly scorching summer, the album

kind of moves in and out of a haze;

there are moments of heartache and

grandeur. Besides the above, "Modern

Woman" and "Ladies Don't Play Guitar"

are two standouts. The first is a

heartbreaking lament for friendships

lost, which uses musical repetition and

haze as a means to an end. The second

is a sarcastic take on the instances

where females have been (and still are)

treated as muses, not musicians, in music

journalism. The sting of its wit and

of its guitar don't go unnoticed.

Unfortunately for Tennis, I don't

think this album will stand the test of

time quite like my parents (29 years

and counting!). It's enjoyable, light,

airy, and sweet, but fades from mind

too quickly.

• Trent Warner

Western Addiction - Tremulous

Western Addiction

Tremulous

Fat Wreck Chords

For fans of San Francisco based hardcore

band, Western Addiction, it is

time to rejoice! The band has finally

released their very long-awaited follow-up

record, entitled Tremulous.

Released 12 years after their debut

album, Cognicide, Tremulous was

worth the wait. To produce this record,

many of the band's founding members

were called upon, which rooted Tremulous

with the same aggressive feeling

as their past recordings. The difference

from past releases is the distinctive

melodic sound, which gives the album

a twist that both fans and first-time listeners

will appreciate.

Tremulous is a dark and heavy album

featuring deep, brooding lyrics, but unlike

most hardcore releases, Tremulous

features frontman Jason Hall's finest attempt

at singing. Not the hoarse, scathing

vocals normally heard in the genre.

Songs like, "Righteous Lightning," will

have you chanting along, while "Honeycreeper,"

will have you yearning for a

circle pit. Although the overall feel of

Tremulous is dark, the rhythm has its

highs and lows; upbeat and melodic to

a steady downtempo.

The guys in Western Addiction haven't

lost their edge in the decade that's

passed, they've fine-tuned their sound

and perfected their style to produce a

record worthy of waiting 12 years for

and absolutely one to be proud of.

•Sarah Mac

Equal parts crisp, fruity and refreshing

In-stores and fresh on tap

big rock urban | 310 west 4th avenue

April 2017 35

REVIEWS
---
REVIEWS

Shoe Eater

Carapace EP

Independent

LA Vida Local

The first few seconds of this EP are not indicative of the rest of the listening experience.

Abrasiveness is an undertone that Shoe Eater plays with, but their simple, neat riffs and clean

vocals dominate the album's tug of war with melody and grit. There's definitely room to

perfect the growling whiney vocals characteristic of this genre, but Shoe Eater places a firm

footprint in Vancouver with this release.

• Erin Jardine

Aggression

Fragmented Spirit Devils

Xtreem Music

With their first album in 30 years, Aggression take up where they left off, old school, high

velocity, American-style thrash. Anchored by Denis "Sasquatch" Barthe's blistering, justthis-side-of-in-control

guitar-work and supplemented by vocalist Brian Langley's (ex-Infernal

Majesty) almost Lemmy-esque vocals. They've also added a little bit of death metal sounds

to the mix. It's on the edge of chaos in the best possible way. They also do a fun cover of

"Razamanaz" featuring Nazareth's Manny Charlton himself.

• Graeme Wiggins

I M U R

Little Death

Independent

I M U R's first full-length release is a collection of nine laid-back and pleasantly polished

songs. Singer Jenny Lea's jazzy vocals blend nicely with producer Mikey J Blige's sparse, yet

deceptively complex hip-hop and dance beats. The group's relatable attitude and easy sound

make it obvious as to why they garnered so much attention from festivals last year, and likely

will again this year based on this solid hip shaking release.

• Scott Postulo

Little Wild

Bodies

Dipstick Records

You can hear the hangover in Little Wild's newest release, BODIES – the distorted garage

rock and trippy visuals leave you feeling like you were just at a cigarette-smoking beer-cantossing

basement party. But you want to go back for more - probably because underneath

the howling vocals and rowdy guitars there's some infectious riffs and melodies that you can

actually sink your teeth into after the party clears out.

• Savannah Leigh Wellman

Black Mountain, Destroyer, zZz

Vogue Theatre

March 10, 2017

The Internet

The Imperial

March 16 2017

It truly was a special affair for fans of the Internet at the Imperial

on Thursday evening. The neo-soul group from Los Angeles

has truly come into their own in the few years since their

first Vancouver show in 2012. The atmosphere in the venue

was rich with anticipation to hear the chill groove and mellow

funk of the Internet.

The Internet Presents the Internet Tour was intricately

mapped out to showcase the talents of each individual artist

within the band. With Syd, Steve Lacy, and Matt Martians

having just released individual projects in the past couple

months; the close-knit group emphasized the promotion of

their individual works, as well as their latest album as a group,

Ego Death. Their bassist Patrick Paige II and their drummer

Christopher Allan Smith are also set to release solo albums in

the coming months.

Through each of the artists individual spotlights, none overpowered

the other. The dynamics of the band were authentic

and it was evident for everyone in the crowd to see that they

were just a couple homies jamming on stage. Through quirks

and giggles, the bands chemistry shone through and their energy

was unparalleled to what I have seen before.

Black Mountain and Destroyer are two of Vancouver's most

celebrated indie rock exports, but sharing a bill, they make for

a slightly strange pairing. While Destroyer is known for poetic,

cerebral songwriting, Black Mountain specializes in devil-horn-raising

hard rock, making for an enjoyable but slightly

uneven night.

Following a ho-hum selection of organ-driven dance rock

from Dutch duo zZz, Destroyer mastermind Dan Bejar took

the stage with an acoustic guitar for this solo performance.

While Destroyer's album arrangements are lushly ornate, Bejar

stripped his songs down to their bare essentials.

Those waiting for noisy riffs would need to be patient, since

Black Mountain opened their set with the eponymous ballad

"Black Mountain." Starting with only vocalists Stephen Mc-

Bean (who also played guitar) and Amber Webber, the rest of

the band gradually filed on stage to flesh out the ghostly number.

After that, they cranked the volume for "Stormy High,"

paving the way for a set filled with Zeppelin-esque fretboard

fireworks, horror-movie synths and epic jams. Highlights included

the hypnotic stoner rock grooves of "Wucan" and the

grandiose loud-quiet-loud dynamics of "Mothers of the Sun."

As powerful as the songs were, the overall effect was woozy

rather than invigorating: this mystical sludge was better suited

to blissing out rather than headbanging or moshing. But even

if neither of the main acts were quite at the top of their game,

they left no doubt that they are among our city's best.

•Alex Hudson

photo by Jash Grafstein

Surprising fans with a cover of OutKast's "Prototype", Syd's

confidence in her vocals manifested in unison with her band.

Closing the show with "All About Me" off of Syd's new record

Fin, it was clear the Internet takes care of the family that they

came with.

•Molly Randhawa

photo by Darrole Palmer

Red Hot Chili Peppers

Rogers Arena

March 18, 2017

Red Hot Chili Peppers used to be like

a Scotch bonnet pepper: exciting in

small doses, but a little too intense

for popular consumption. Nowadays,

however, they've matured into a fine

jalapeño: they're still spicy, but with a

little more nuance and a side of cheese.

For this night's Chili Pepper buffet,

spiciness came in flavours like funk

and rock, with tangy set-opener "Can't

Stop" giving bassist Flea a chance to

do some sexy gyrating while hot-asfuck

sk8erboi Josh Klinghoffer fried

up a sizzling funk guitar riff. Following

"Dani California," the Peppers pumped

out some smooth cheese in the form

of "Scar Tissue," and then got help

from a couple of backing musicians on

photo by Galen Robinson

the recent single "Dark Necessities."

The newer songs ranked a little lower

on the Scoville scale, but the dash of

keyboards and singer Anthony Kiedis'

tasty melodies added some rich and

delicious elements to the sonic stew.

The Red Hots preached a message

of peace and love, but there was nevertheless

a bit of an aggro-bro vibe in

Rogers Arena, and the sweetly smokey

"Californication" had the crowd hollering

like a frat house singalong. When

drummer Chad Smith paid tribute to

the recently deceased Chuck Berry

with a chant of "Chuck! Chuck! Chuck!"

it regrettably sounded a bit like "Chug!

Chug! Chug!"

In the end, all of the fans left the spicy

feast full, and presumably went home

to soothe their scorched tastebuds

with some milk and Pepto-Bismol.

•K. Anne Pimento

Isotopes

1994 World Champions

Stomp Records

Vancouver's baseball-punk band Isotopes pitch an in-your-face record mixing influences of

classic street-rockers with a modernized-pop feel. When it comes to writing tracks about

America's favourite pastime, 1994 World Champions has all the bases covered and will keep

you swinging from start to finish. No curveballs here, this surely is a homerun for punk rock

and baseball fans alike.

• Johnny Papan

The April Fools Childrenhood

Low Colour

Independent

Pop music tends to side thematically with the victims of love - the jilted, rejected and lost.

On Low Colour, Vancouver musician David Cowling (working under the spliced-together

pseudonym The April Fools Childrenhood) suggests listeners feel things from the side of

the rejector; and damn if it isn't very dark and sad over there. "Never Alone" and "Miss Resentment"

get to the point here with sheaths of shivering reverb, ghost-y vocals and jarring

moments of synth. Don't leave Low Colour on in the background; take the time to let these

five tracks sink in and feel the rumination in all its gloomy glory.

• Sarah Bauer

April 2017 37

REVIEWS
---
NEW MOON RISING: your monthly horoscope

Month of the Yang Wood Dragon: New Moon March 27, 2017; Full Moon April 10, 2017

QUAN YIN DIVINATION

•illustration by Syd Danger

The stem (element) of this lunar cycle is Yang Wood, adding fuel to

the annual fire stem of the Fire Rooster, and with this support the

annual energies take full charge. This is a time to move forward with

plans, initiate connections, and build toward the year's accomplishments.

The branch combo of the Rooster/Dragon adds the righteousness

and precision of metal to the mix, which makes this a very active elemental

transformation: the image is of a large log being chopped

up and added to a small fire. With plenty of fuel, the fire ignites and

we face a busy time of initiative and a powerfully productive cycle.

A good time to carefully examine your motives before taking action,

this month offers peak heights to those in favour, and record lows for

the ill fortuned. Risk adversity and due diligence are good measures

for these times as conflict paves the way for true growth and change.

Get it in writing and read it twice before signing.

Rabbit (Pisces): Seek solitude. Lay low and rest from over-exposure

and surround yourself with friends, lovers, and stargazers in

relaxed and cozy situations.

Dragon (Aries): Pick up the tab if you can, but avoid being

overly generous to those who are on the take. Some pressure falls to

you now for action where you might be conflicted. Be prudent with

your time and money.

Snake (Taurus): Collaborate to work your magic and meditate

on higher qualities to get higher results. Words are powerful, so keep

your comments clipped and to-the-point.

Horse (Gemini): Changes in the workplace and family connections

feel strained. Don't hesitate to retreat and allow time to pass

before making your next move.

Sheep (Cancer): Find fun in your social circles and personal

connections. Get together and discuss intellectual ideas and philosophical

truths. Party time! You're looking fine.

Monkey (Leo): Engage all fronts. Active romance, money matters,

work relationships, and family engagements. Balance it all and

find your advantage.

Rooster (Virgo): Active time management and swift decision-making.

Display the courage to make a self-correction when necessary

to set the tone of trust amongst comrades.

Dog (Libra): Make the most of every situation and keep your

attitude open, optimistic and loving. Look for the good in others and

you will find it there.

Pig (Scorpio): Feeling high society? Take in a romantic dinner

for two or share space with someone you love — double your pleasure

with good company.

Rat (Sagittarius): See results on your investment. Opportunities

for creativity abound as long as you stay out of the line of attack.

Dodge the bullet with your focus on creation.

Ox (Capricorn): Don't be hurt if lovers and friends don't have

as much time or attention for you as you'd like, and give your time

freely when it's needed. Connect to the divine and make the time.

Tiger (Aquarius): Procrastinate productively and get all of

the small stuff done. The heavy load of this month could throw you

off-balance — pick your battles and avoid petty quarrels.

Susan Horning is a Feng Shui consultant and Bazi astrologist

living and working in East Vancouver. Find out more

about her at QuanYin.ca.

June 10th & 11th

1024 Main Street @ The Ellis Building

Vendors/Brands email:

mainstreetbikeexpo@gmail.com

to get involved!

mainstreetbikeexpo

mainstreetbikeexpo.com
---
UPCOMING

SHOWS

APRIL & MAY 2017

FRIDAY MAY 5TH

TIMBER TIMBRE

THE VOGUE THEATRE

SUNDAY APRIL 9TH

COURAGE

MY LOVE

& THE NEW ELECTRIC

THE BILTMORE CABARET

DOORS AT 7PM

ALL AGES EVENT

SATURDAY APRIL 22ND

JON &

ROY

THE IMPERIAL

DOORS AT 8PM

19 + EVENT

WEDNESDAY MAY 3RD

HEATHER

MCDONALD

THE BILTMORE CABARET

DOORS AT 7PM

19 + EVENT

SATURDAY APRIL 22ND

NATASHA

KMETO

THE BILTMORE CABARET

DOORS AT 7PM

19 + EVENT

THURSDAY APRIL 27TH

CLOSE

TALKER

THE BILTMORE CABARET

DOORS AT 8PM

19 + EVENT

HOPSIN

4/5 | THE VOGUE THEATRE

VANESSA CARLTON

4/7 | THE RIO THEATRE

BLANK BANSHEE

4/21 | THE WALDORF HOTEL

JO JO

4/13 | THE VOGUE THEATRE

HELMS ALEE w/ WAINGRO

4/6 | THE BILTMORE CABARET

MALL GRAB

4/7 | THE WALDORF HOTEL

ODDISSEE & GOOD COMPNY

5/12 | THE BILTMORE CABARET

THE WILD REEDS

5/16 | THE BILTMORE CABARET

/MRGCONCERTS @MRGCONCERTS @MRGCONCERTSWEST

~

FOR MORE INFO AND TICKETS

GO TO MRG CONCERTS.COM ~